Posts from me are going to be a bit lighter over the next week as I continue my dad's round the world surprise birthday trip. As you may (or may not) know, I also have a points consulting service, whereby we help people redeem their airline miles. I have several colleagues working with me, and they're some of the most knowledgeable and passionate people I know in this hobby. They've offered to pitch in and write a few posts to give me a bit more time off while I'm traveling, so hopefully you'll enjoy the additional unique perspectives. This post is from my friend Tiffany, whom you've heard from before.
---
One of the fun things we often help people with over at PointsPros is piecing together awards for people who don't have quite enough miles in the right places for what they want to do. Ben talks all the time about how important it is to not over-diversify your mileage balances, but when someone already has miles in multiple places it's often too late for that advice.
Because this is all too common, it isn't unusual for us to book awards from multiple mileage sources. It's a bit trickier, but that's often the only thing that makes sense.
But what happens when you have multiple issuing carriers involved and there's a schedule change?
Madness, that's what happens.
Example: A way too complicated award redemption
We booked this award in January prior to the United devaluation, and when US Airways was still in the Star Alliance.
In terms of miles, they had approximately:
300,000 American Express points
150,000 Ultimate Rewards points
250,000 US Airways Dividend Miles
Which seem like very healthy amounts until you're talking about taking a family of five to Asia, and then it gets complicated. We used nearly every last point they had, and it took some serious finagling to get all the tickets lined up properly.
So it wasn't a pretty award to begin with — generally we like to keep everyone on the same PNR as much as possible. That makes it easier for all parties, particularly if there's any type of schedule disruption (which happens more often than not).
Given their mileage balances though, there wasn't really an alternative to booking separate itineraries. They would have had needed to purchase a horrific amount of miles to book everyone through the same carrier, and that just wasn't practical.
In the end we explained the risks and hoped for the best, booking a series of awards through US Airways, Aeroplan, and United, culminating in five different record locator numbers between the outbound and return flights for all the passengers.
We successfully made it through US Airways leaving the Star Alliance, and even all the havoc caused by cross-fleeting with American. With a week to go before departure, things were looking good.
And then, United, which was the operating carrier on the second segment, posted a schedule change. This created illegal connections and general havoc, so with only a few days before departure we set about trying to get everyone rebooked.

As Ben has written about before, schedule changes on award tickets can be amazing things. You can often secure a more direct routing, better products, or even just more convenient connections, depending on the carriers involved.
With three different issuing carriers, one of which is no longer a partner of the operating carrier, it gets a bit more complicated.
So how does one fix something like this?
Calling Aeroplan
United actually had one saver award seat available in first class between the origin and the international gateway city. This would eliminate a connection, so was a great solution for the Star Alliance tickets.
We called Aeroplan, the agent grabbed the space and reissued the ticket — easy as pie, even with the long hold times.
Calling United
Although United might have the least friendly phone agents in the industry, they are generally really good about opening up award space on their own metal to fix schedule changes on award tickets.
It took a few calls to find someone willing to check with a supervisor (as a side note, why are call center agents so resistant to asking for help from their management? makes no sense), but United eventually opened up award space for the two passengers on United tickets.
So far, so good, but the most fun airline was still to come!
Calling US Airways means never having to say you're kidding
Like all mileage aficionados, I have a love/hate relationship with US Airways. Sometimes (like when I'm booking an itinerary with an illegal stopover for fewer miles than should be required, and no that's not something we'll do for clients), I really like that their agents are often poorly trained.
But when you're trying to do something legal, rational, and relatively straightforward, it sure is painful.
The process went something like this:
Agent 1: You can't make changes to award tickets
Agent 2: This is United's problem, you have to call them
Agent 3: We can change you to a US Airways flight, but to do so we'd need to redeposit the award and start over, which would have a fee of $150 per person
Agent 4: You can't make changes to award tickets
Agent 5: We can't change this because it's a Star Alliance ticket, and now we're in oneworld
And so on.
And for the record, none of those things are true. You can make voluntary changes to US Airways award tickets, provided travel hasn't commenced, they can reissue tickets in case of schedule changes, etc.
We're always super polite, because the very worst thing that can happen in this situation is that someone decides to notate the record.
Unfortunately, Agent #8 was that someone. Which led to Agent #9 saying "You can't make changes to award tickets, and it looks like you've already been told that?"
Awesome.
It blows me away that if one agent makes notes about something that is not even a rule other agents will still blindly follow, but it happens pretty frequently. And now in this case we not only needed to convince a US Airways agent to read the rules, but to disregard the notes in the record.
So I did what any reasonable person would do in this case, and opened a bottle of wine.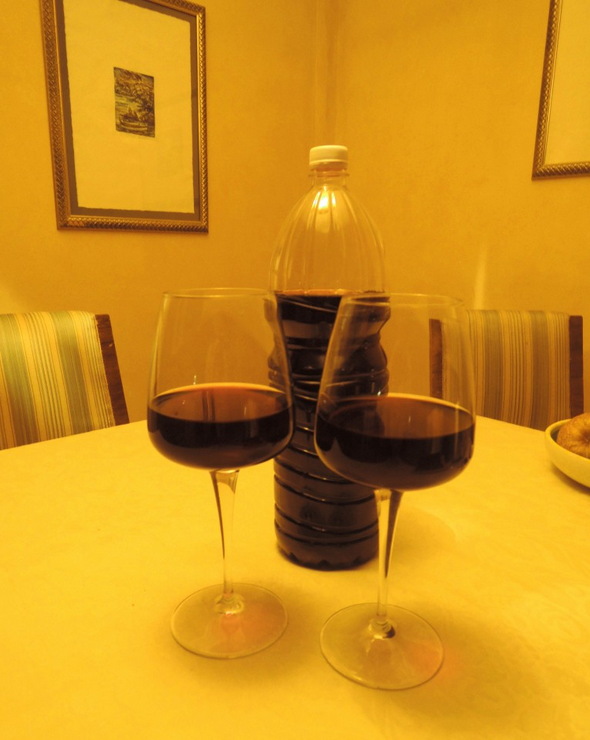 Fortunately I spend a lot of time in Sicily where they sell wine from vats for €2.40 a liter…
Eventually I got to an agent who sounded like she'd also been drinking friendly, and explained the situation. Well, with a few embellishments (the wine helps with this part too).
"So, ummm, I'm really hoping you can help here. My boss leaves on this trip in less than a week, there are several other tickets issued by other carriers, and with this schedule change he's very stressed, which is why I'm calling you at eleven o'clock at night. He's called over a dozen times, and I'm sure he's been less than pleasant to your colleagues. So if there are notes in the record that say 'passenger is a jerk' I'm really really really really sorry, and I'm just hoping you can help me fix this."
"Ha! Oh honey. Well, it says here that you can't make changes to award tickets, but that's not true. The problem is US Airways doesn't fly from YYY to ZZZ, so I'm not sure what we can do here."
"Well, American flies from XXX to ZZZ, which would eliminate a connection. I know y'all are still two airlines, but is it possible that there's someone on your end who is coordinating the transition and might be able to help please please please?"
"Hmmm. I don't know. Let me ask."
The answer (which I already knew) is yes, of course there's a desk liaising between the two airlines. They can open up award space and all sorts of things, but "let me ask" are often magic words when you're trying to get something done at US Airways.
Sure enough, 15 minutes later the tickets were reissued, and we were set.
Key takeaways
Schedule changes happen, particularly on award tickets, given they're often planned so far in advance. It's really important to keep an eye on your reservations and be proactive about fixing things.
It's tough when you're earning miles for an entire family, but do what you can to avoid over-diversifying your miles. This trip would have been much easier to plan and book if there'd been enough miles in a single account to redeem for all five passengers, even if only in one direction.
Be patient. It can be incredibly frustrating to fix award tickets. And even more so when you know how things are supposed to work.
Have you ever had a complicated change to an award ticket? How did you resolve it?