While I don't rent cars all that often (because usually I find it's easier to just order a Lyft), when I do rent cars in the US, it's through Silvercar. They're typically a bit more expensive than the "big guys," but renting with them is a joy.
What makes Silvercar different?
Silvercar is an innovative rental car company available in over 20 US markets, which exclusively rents Audis.
They used to just rent the A4, but in the meantime have expanded their selection of cars, including Q5s, convertible A5s, and Q7s.
Silvercar also uses technology in all kinds of great ways, including letting you pick a car with their app. The individual benefits will be of varying importance to different renters, though I find the combination of them to be quite valuable. Included with every rental is:
GPS
Satellite radio
A "fair refueling plan" (if you don't want to fill up the tank yourself, bring it back however full you'd like and they'll refill it at market price, plus a $5 fee)
Tolls are automatically charged to you, so you don't have to worry about how you'll pay for tolls, which is especially useful in Florida
The minimum age to rent from Silvercar is 22. Best of all, 22-24 year olds don't pay an underage fee with Silvercar, which is uncommon in the rental car industry.
Silvercar reviews
Silvercar has consistently had excellent customer service, at least in my experiences. My (always independent!) reviews include:
Silvercar locations
You can currently (until sometime in December 2020) rent Audis from Silvercar at the following airport locations:
Austin, TX (AUS)
Boston, MA (BOS)
Chicago, IL (ORD)
Dallas, TX (DAL)
Denver, CO (DEN)
Ft. Lauderdale, FL (FLL)
Las Vegas, NV (LAS)
Los Angeles, CA (LAX)
Miami, FL (MIA)
Newark, NJ (EWR)
Phoenix, AZ (PHX)
Salt Lake City, UT (SLC)
San Francisco, CA (SFO)
Seattle, WA (SEA)
Washington Dulles, VA (IAD)
Or at the following dealership locations (which seems less useful to me personally):
Boulder – Audi Boulder | 1799 Exposition Dr, Boulder, CO 80301
Charlotte – Audi Charlotte | 9300 E Independence Blvd, Charlotte, NC 28105
Chicago – Audi Exchange | 2490 Skokie Valley Rd, Highland Park, IL 60035
Dallas – Audi Dallas | 5033 Lemmon Ave, Dallas, TX 75209
Dallas – Audi Grapevine | 1260 E State Hwy 114, Grapevine, TX 76051
Denver – Audi Denver | 6060 S Broadway, Denver, CO 80121
Ft. Lauderdale – Audi Ft. Lauderdale | 1200 N Federal Hwy, Ft. Lauderdale, FL 33304
Las Vegas – Audi Henderson | 7740 Eastgate Rd., Las Vegas, NV 89011
Newark – Paul Miller Audi | 179 US-46, Parsippany-Troy Hills, NJ 07054
NYC – Brooklyn Downtown | 475 Clermont Avenue, Brooklyn, NY 11238
NYC – Brooklyn Williamsburg | 160 N 12th St, Brooklyn, NY 11249
NYC – Columbus Circle | 345 West 58th Street, New York City, NY 10019
Orange County – Audi Fletcher Jones | 375 Bristol St, Costa Mesa, CA 92626
Orlando – Audi North Orlando | 139 N Oregon St, Sanford, FL 32771
San Francisco – Union Square | 230 Grant Ave , San Francisco, CA 94108
Seattle – Audi Seattle | 4701 11th Ave NE, Seattle, WA 98105
Tampa – Audi Lakeland | 1215 Griffin Rd, Lakeland, FL 33805
Tampa – Audi Wesley Chapel | 2500 Lajuana Blvd, Wesley Chapel, FL 33543
Current Silvercar discounts
While Silvercar used to offer consistent promotions, they haven't been doing as much in 2020 due to Covid.
As of March 2023, there are no discount codes available, but we'll update this section if that changes.
However, through a targeted Amex Offer, you can earn $100 back when you spend $450+ with Silvercar by Audi by December 22, 2020.
That's not as generous as other credit card discounts, as I'll get into below.
How Your Credit Card Can Save You 20% On Silvercar Rentals
While Silvercar frequently has promotions for first time renters, there aren't as many offers for returning customers.
However, certain credit cards can save you money on all your Silvercar rentals, even if you're already a Silvercar customer.
One of the things that takes the sting out of Silvercar's higher prices is that it has been possible to get a discount with a Visa Infinite Card, the most popular of which is the the Chase Sapphire Reserve® Card (though if you have a legacy Ritz-Carlton™ Card or a United Club℠ Infinite Card those will work here as well).
Visa Infinite cardholders get 20% off Silvercar rentals, and there's no minimum rental period. So you can receive 20% off on a one day rental, while previously you wouldn't get any discount on a one day rental.
The new promotion code is VISAINF20.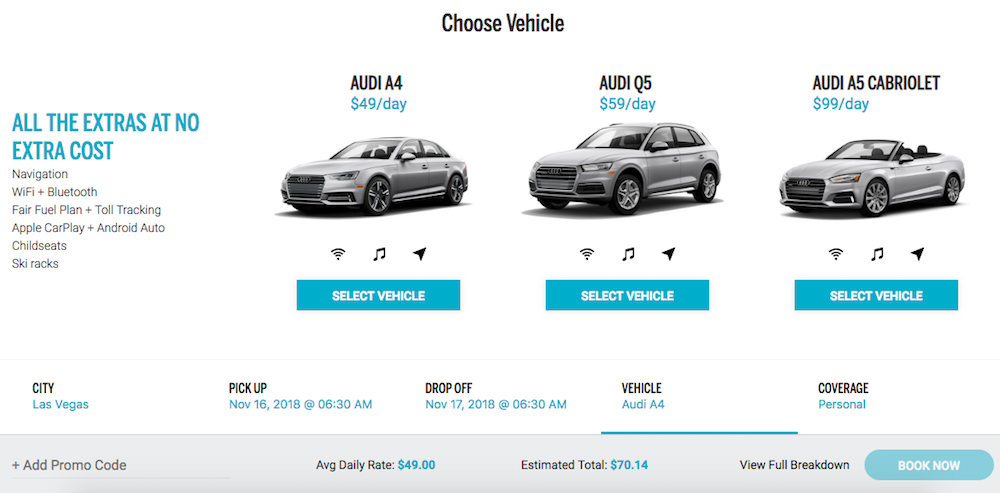 Silvercar Refer-a-friend program
Silvercar used to have a generous referral program, where you could get $25 in cash after your first rental if you're referred by an existing customer. Unfortunately this program has been discontinued as of October 15, 2020, and a replacement program hasn't been announced.
Silvercar Premium Rewards Loyalty Program
Silvercar rolled out a loyalty program in 2019, which is called Premium Rewards. I'm surprised it took them this long to launch a loyalty program. Given their limited footprint and growth aspirations, you'd think they would have wanted to introduce this a while ago to increase loyalty.
Silvercar's new loyalty program is straightforward — it's revenue based, there are no elite tiers, and points earning and redemption rates are relatively consistent. Furthermore, you're automatically enrolled with your first rental, so you'll start earning rewards instantly.
Earning Points With Silvercar Premium Rewards
With Silvercar's new loyalty program you earn one point for every dollar spent with them. This applies to all kinds of car rentals, but excludes taxes, fuel, coverage, and other fees.
During the booking process you'll see the number of points you earn displayed, though it's pretty straightforward.

Redeeming Points With Silvercar Premium Rewards
Redeeming Silvercar points is also straightforward. During the booking process you'll have the option to redeem points for your rental.
You have the option of redeeming either 50% or 100% points towards the cost of a rental. It seems that one point will get you roughly 9-10 cents towards the cost of a future rental, meaning this is essentially a program offering a 9-10% rebate.
For example:
Above I showed a rental that costs a total of $81, including a $65 base rate
You could book the same rental for 684 points plus the $16 in taxes and fees, so that's about 9.5 cents of value per point

That's a pretty solid return when you consider how straightforward the program is.
As far as points expiration goes, Silvercar can't seem to decide what their own policy is. The benefits page says that points don't expire as long as you have some activity at least once every five years, while the terms state you need some activity at least every two years. So…
Audi Acquisition
In 2016, Audi invested $28 million for a 20% stake in Silvercar. This made some sense, given the companies already had agreements which allowed the rental vehicles to be acquired at a more reasonable cost.
n 2017, Silvercar was fully acquired by Audi. Here's what Audi's press release had to say about the deal:
Audi plans to acquire Silvercar by expanding its minority share to 100 percent. The U.S.-based company has successfully specialized in digital services for flexible vehicle use in the high-end market segment. In the future, Audi and Silvercar intend to cooperate closely to expand the range of mobility products and services offered in the U.S. In addition to the core business of Silvercar, both partners also plan to further develop the successfully launched Audi mobility services in the U.S. market. The acquisition is currently subject to approval from the applicable regulatory authorities.

"Audi and Silvercar share the same vision," says Dietmar Voggenreiter, Board Member for Sales and Marketing at AUDI AG. "We want to open up a new, flexible way to access mobility for our customers while offering premium quality in every respect. Now we are joining forces and, together, are driving our initiative for innovative mobility services forward."
The good news at the time was that it meant business as usual for Silvercar. This wasn't like one of the "big" car rental companies taking over Silvercar, but rather Audi is essentially trying to cut out the middleman here, as they already supply the entire fleet of Silvercar vehicles.
I suspected most of the benefit of this takeover would be on the back end:
Audi can better manage Silvercar's fleet of cars, and decide when they're best off selling the cars as pre-owned based on the market
Given how good Silvercar has been with technology, the two companies could work closely together to develop a range of mobility services for both brands
Renting from Audi dealerships
In some locations, you can now rent a Silvercar from local Audi dealers. While this obviously makes logistical sense for Audi in terms of staffing and maintaining vehicles, in some markets it's coming at the expense of being able to rent a car at airport locations.
Overall thoughts on Silvercar
Personally I've always found the car rental experience to be unpleasant, though Silvercar has changed my perception of that. I appreciate that they use technology to streamline the experience, make their cars available to younger drivers, and consistently have nicer vehicles.
The consolidation with Audi has definitely changed the experience somewhat, and the lack of promotions and referral offers makes renting with them more expensive than it was previously.
I still value having a nicer vehicle, and a better experience, though if Silvercar stops being available at airports I can't imagine continuing to rent from them.
Have you rented a Silvercar? How was your experience?