Posts from me are going to be a bit lighter over the next week as I continue my dad's round the world surprise birthday trip. As you may (or may not) know, I also have a points consulting service, whereby we help people redeem their airline miles. I have several colleagues working with me, and they're some of the most knowledgeable and passionate people I know in this hobby. They've offered to pitch in and write a few posts to give me a bit more time off while I'm traveling, so hopefully you'll enjoy the additional unique perspectives. This post is from my friend Tiffany, whom you've heard from before.
---
Blogging is really hard!
Jotting down random stories when we're traveling together is one thing, but I have no idea how Ben cranks out 50+ posts a week. Just writing a handful while he's gone is tough!
He also said I could write about "whatever I wanted," which is an awful lot of responsibility. I mean, I would love to have a discussion about why it's so darn difficult to find a travel handbag for women who actually travel, but if Ben saw that headline on his blog he might stop drinking Champagne with me.
So I'm trying to exercise a bit of editorial restraint.
One thing I thought might be interesting to talk about is how to engage your significant other in miles and points. It's something Ben never really talks about, and Travis' wife is as much (if not more) of a travel geek than he is. I know a lot of us have trailing or reluctant spouses though, and it's an area where my perspective is a bit different than theirs.
Everyone's situation is unique, so I don't know that there are any right or wrong approaches. There are a few things I have learned the hard way that I thought might be interesting to share though, and I would really love to hear how other miles enthusiasts have gotten their significant others on board!
Don't sell mileage runs as vacations
I've screwed this one up spectacularly in the past.
I'm a big fan of using great fares to take weekends away, and my husband is even willing to add an extra segment to a work trip. But that's very different than saying "hey, do you want to go to Argentina with Ben and I?"
Because I know, and you know, that if Ben is involved, the routing to Bueños Aires looks like this: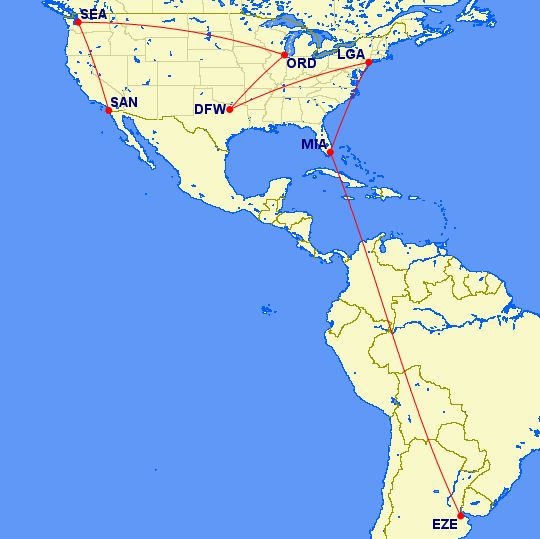 Whereas a normal person is expecting more of this: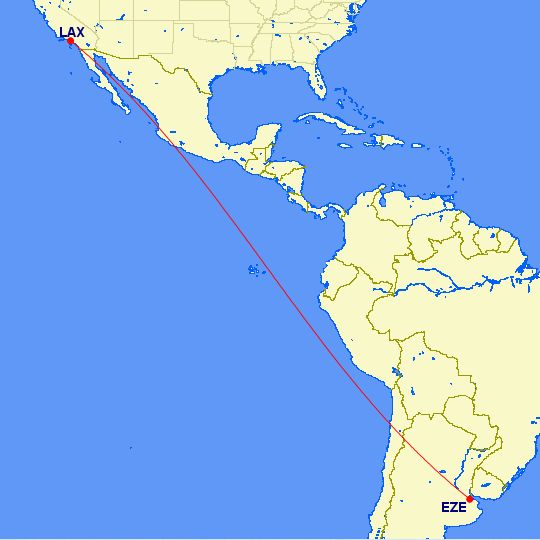 (Nevermind that's not even a route. Normal people don't know that.)
So we take the long weekends, and chase the fun fares, but if you're going to fly 25k miles in four days make sure everyone knows that ahead of time. Otherwise you'll end up with the response my husband gives when people ask about that trip to Argentina.
We took 12 flights to have breakfast on a nice patio and see the second, third, fourth, and fifth comings. So, ummm, fine? I guess?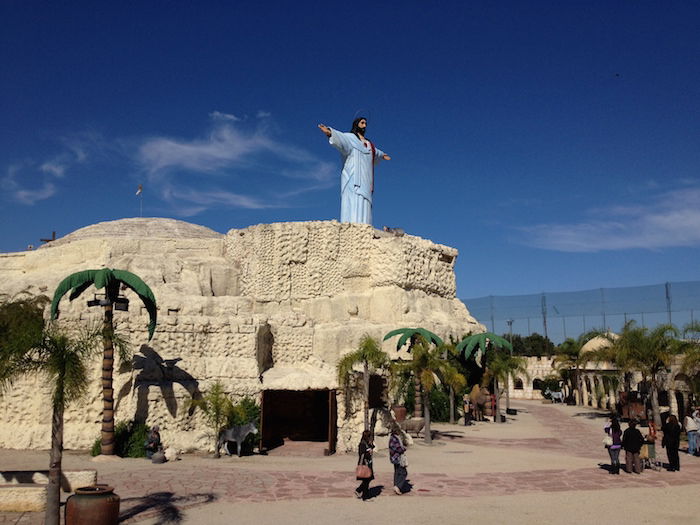 (We could have planned the ground activities better, to be fair)
Keep the credit cards simple
I mean, they're not really simple. There's nothing straightforward about having four dozen active credit cards in one household, but you know what I mean.
In our case, we've been playing the game for long enough that my husband is pretty motivated to help. But we still boil it down to 2-3 cards in his wallet at a time, at the very most.
And he does a great job with bonus categories for the most part, and tries to pay attention to what I'm doing. I mean, I got vanilla-flavored plastic for Valentines Day.
But having to call a bank is apparently equivalent to having an appendectomy without anesthesia, so I'm really super conservative about what cards he applies for, and how often. I'm also not going to drag him all over town looking for certain gift cards or ways to dispose of them. Our time together is just too precious.
Bribery can also work. Or the "hey, I just put a credit card in your wallet. It gets double points on gas and at Newegg, and we need to spend $3000 on it in the next three months, have a party" approach.
Now, my husband is an extraordinarily frugal person, and a crazy shopping spree generally results in like 200 feet of ethernet cables or something similarly "practical." This obviously won't work for everyone.
No cutting corners on travel together
For people with ostensibly flexible schedules, we don't see each other that often. We both have tendencies towards being workaholics, and while we both travel a ton, we don't really vacation.
At one point in time we had three days in London where I had booked three different hotels. There was a promo, I needed the stay credits, availability was tight, etc.
We've all been there, I'm sure.
But the look on my travel partners face as we walked with our bags across a crowded Leicester Square on the third day….well. Just not worth it, ultimately. At least not for us.
So when we do have time away, we go all out.
And to be clear, by "all out" I mean by the standards of miles and points people, not the aforementioned normal people.
We spend well over a hundred nights a year each in hotels, rarely together, so when we do have time I'm not going to worry about if it's the best use of a suite upgrade, or whether I'm getting the most optimal value for my points.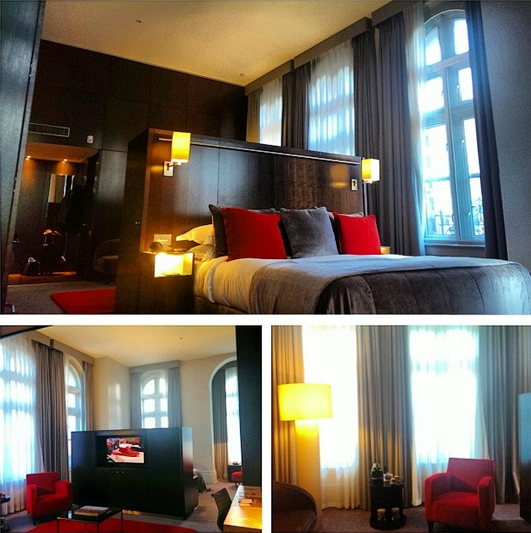 Now when we go to London we just stay at the Andaz, and everyone is happier
At the end of the day, the points are for using, afterall.
Remember why I play the game in the first place
Travel is a huge part of our life. We've been essentially nomadic since about April of 2010.
Miles and points enable our entire lifestyle — it makes it possible for me to accompany him on last-minute work trips when even a coach ticket would otherwise be thousands of dollars, gives him flight and hotel upgrades that make his required travel much less onerous, and lets us do some really cool things along the way.
So for us, my points "hobby" makes what would otherwise be a pretty crummy work travel situation part of a really amazing life.
And when he says things like "I'd really like to take my mom to Japan. Can we do that?"
The answer is "of course."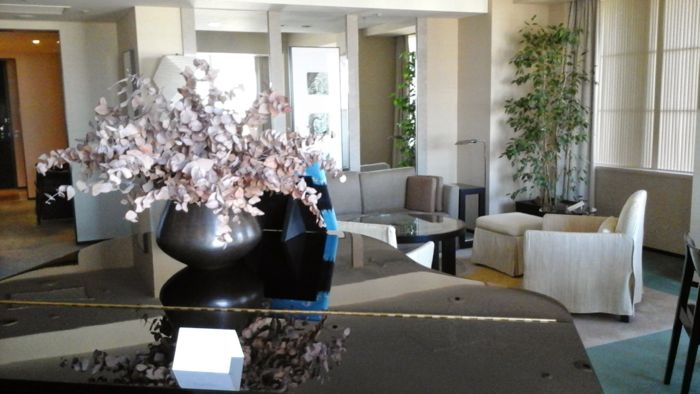 Being able to surprise your in-laws with the Governors Suite at the Park Hyatt Tokyo is just icing on the cake.
What about you? How does your partner feel about miles and points? What have you learned along the way?