Posts from me are going to be a bit lighter over the next week as I continue my dad's round the world surprise birthday trip. As you may (or may not) know, I also have a points consulting service, whereby we help people redeem their airline miles. I have several colleagues working with me, and they're some of the most knowledgeable and passionate people I know in this hobby. They've offered to pitch in and write a few posts to give me a bit more time off while I'm traveling, so hopefully you'll enjoy the additional unique perspectives. This post is from my friend Tiffany, whom you've heard from before.
---
Ideally we'd all have enough miles to get everywhere we wanted to go, but that isn't always the case, particularly for couples and families. So I thought it might be helpful to go through some examples of how to book awards from multiple accounts, or when you have miles in different programs.
I'll try not to get as deep in the weeds this time, but anyone who has tried booking awards for multiple people from multiple accounts will understand that this stuff is innately complicated.
As an example, let's say we have a couple in New York who wants to go skiing in Verbier for the Valentines/President's Day weekend. Just because they can, I suppose.
We're going to call them Chris and Sam.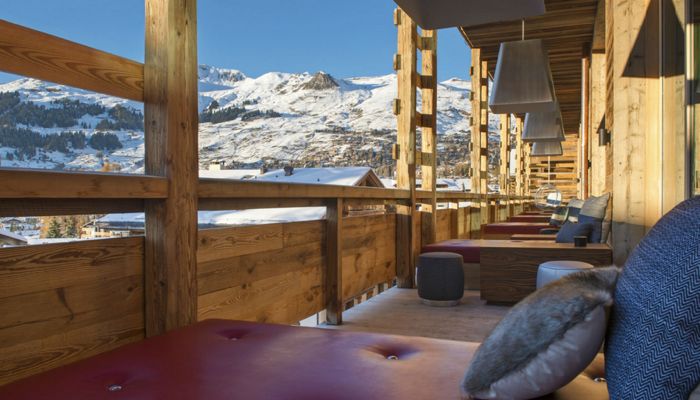 Confession: I'm a little obsessed with visiting the W Verbier
Fantastically, there is great Star Alliance award space on Austrian and Brussels: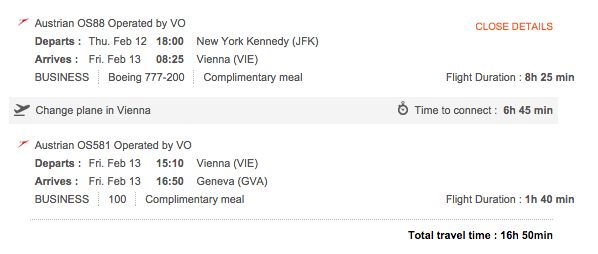 There are four business class seats on this Austrian flight, by the way, and potentially a shorter connection, though then you miss out on having lunch in Vienna, which would be a shame.
The return is textbook: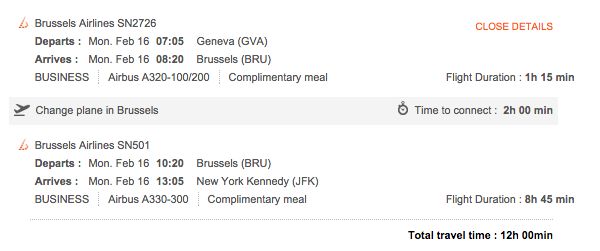 So, we have the award space. Let's talk through some scenarios of how to book this, and then we'll go over some of the tradeoffs involved when using miles from multiple sources.
Scenario A: All one program, multiple accounts
Let's imagine that in this case, the bulk of Chris and Sam's miles are in United MileagePlus.
United charges 70,000 miles one-way for a partner business class award between North America and Europe, so they would need 280,000 miles for the two of them round trip.
They have that many miles, but not divided equally. Their mileage breakdown is as follows:
Account 1 (Chris): 250,000 United miles
Account 2 (Sam): 75,000 United miles
So they technically have enough for two round trips, but you can't issue a single ticket with miles from multiple accounts, so we're going to have to get creative:
Purchase 30,000 more miles for Account 1, or transfer 30,000 miles from Account 2 to Account 1 so there are enough miles for two round-trips (~$475-$700). Bonus: they could add in a stopover, which might make the extra expense worth it.
Just use their existing miles, and split the award into four one-way tickets.
Skiing in Verbier already sounds expensive, so let's go with the second choice.
I think the best way to think of this is as four one-way tickets (an outbound and return for each passenger).
| Booked from Account #1 | Booked from Account #2 |
| --- | --- |
| Outbound for Chris | Return for Sam |
| Outbound for Sam | |
| Return for Chris | |
Ideally I'd book the outbound as a single record number. At the end of the day we're going to use 210,000 miles from Chris' account, and 70,000 from Sam's. This leaves them with somewhat awkward mileage balances, but I'm not sure how to avoid that in this case.
Scenario B: Multiple programs
If Sam and Chris have different miles and points, the situation is a bit different (obviously). Let's imagine that they have joint accounts in flexible points currencies, as follows:
American Express Membership Rewards: 97,000
Chase Ultimate Rewards: 150,000
This can get infinitely more complicated if there are multiple programs and multiple accounts, so let's try and keep it simple where we can.
In terms of options, we have the following Amex transfer partners:
| Airline Partners | Hotel Partners |
| --- | --- |
| Aer Lingus AerClub | Choice Privileges |
| Aeromexico Club Premier | Hilton Honors |
| Air Canada Aeroplan | Marriott Bonvoy |
| Air France-KLM Flying Blue | |
| ANA Mileage Club | |
| Avianca LifeMiles | |
| British Airways Executive Club | |
| Cathay Pacific Asia Miles | |
| Delta SkyMiles | |
| Emirates Skywards | |
| Etihad Guest | |
| Hawaiian Airlines HawaiianMiles | |
| Iberia Plus | |
| JetBlue TrueBlue | |
| Qantas Frequent Flyer | |
| Singapore Airlines KrisFlyer | |
| Virgin Atlantic Flying Club | |
American Express Membership Rewards transfer partners
And a few more options through Ultimate Rewards:
| Airline Partners | Hotel Partners |
| --- | --- |
| Aer Lingus AerClub | IHG One Rewards |
| Air Canada Aeroplan | Marriott Bonvoy |
| Air France-KLM Flying Blue | World of Hyatt |
| British Airways Executive Club | |
| Emirates Skywards | |
| Iberia Plus | |
| JetBlue TrueBlue | |
| Singapore Airlines KrisFlyer | |
| Southwest Rapid Rewards | |
| United MileagePlus | |
| Virgin Atlantic Flying Club | |
Chase Ultimate Rewards transfer partners
Since we've already found award space, we're really only interested in the Star Alliance airlines:
ANA [Amex] – 68,000 miles for one person round-trip
Air Canada Aeroplan [Amex] 90,000 miles for one person round-trip, 45,000 one-way
Singapore [Amex & Chase] 130,000 miles for one person round-trip, 65,000 one-way
United [Chase] 140,000 miles for one person round-trip, 70,000 one-way
Flexible points are aptly named, because as you can see we have a lot more options!
In general, I wouldn't personally mess with Singapore KrisFlyer here. They have very strict routing rules, would likely consider the outbound to be "backtracking," and are generally a pain to work with for partner awards. They also levy fuel surcharges, which are going to add up quickly here.
The best value with KrisFlyer miles is for bookings on Singapore, which is less expensive, and incredibly straightforward. I'm not sure it's worth the time and hassle to book the one-way return flights with a partner carrier — it is hands down worth 5,000 more Ultimate Rewards points to save on the fuel surcharges and be able to book instantly online, in my opinion.
So let's look at the other choices.
Option 1: Book two separate round trips
This is the best option if our imaginary couple wants to have a stopover. There are enough miles to book one round-trip through Aeroplan or ANA, and one round-trip through United.
Each program allows stopovers on round-trip tickets, so that could be a good way to stretch the value of their points. The risk is that if there is a schedule change or other disruption that would require them to be rebooked, they might not be automatically booked on the same flights.
Option 2: Book the outbound with one carrier, return with another
Given that this is a short trip, over set dates, this is the route I would likely take.
The outbound can be booked through United, for 140,000 miles for both passengers. The return can be booked through Aeroplan for 90,000 miles for both passengers, with no fuel surcharges on Brussels Air.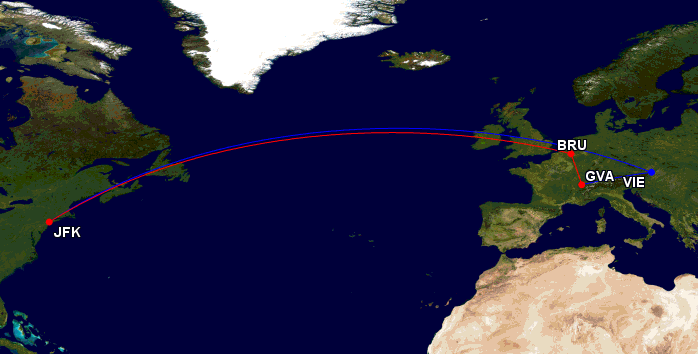 Blue for the outbound through United. Red for the return through Aeroplan.
They sacrifice the stopover, but in addition to saving cash, they are on the same itinerary in case of delays or irregular operations. Which is definitely a factor for winter travel, and might make their trip easier if things start to go poorly.
Choices and tradeoffs
Anytime you're booking with miles there is a balance between what is possible, and what is practical. If you've redeemed miles in the past, you probably found yourself asking some of the following:
Do I want the most direct routing, or the one with the lowest fees?
Which program has the best award chart in this case?
Is _____ worth the extra connection?
When you don't have enough miles in a single account to book the entire itinerary, there are a few more things to consider:
Stopovers
Most programs that allow stopovers only allow them on a round-trip (Alaska is an exception).
Stopovers can add a ton of value to your award ticket, but if you don't have enough miles in a single account it might not be worth the tradeoff of buying and/or transferring miles to top off the account.
If you have points in a flexible currency that's of course ideal, but otherwise the costs to purchase miles or move them from one account to another can add up quite quickly. A "free one-way" is even less free if you have to spend $500 to have enough miles in the first place.
Kids & novice travelers
I wouldn't hesitate to fly on split PNRs with Ben or my husband, but I'm not going to do that with my niece or my mom. Delays and misconnects happen, and while you can usually get the airline to accommodate you together, it's something to consider.
If you're traveling with children, I'd think it's pretty much mandatory for at least one parent to be on the same PNR as the child all the way through, just in case. But I don't have kids, so take that with a grain of salt.
It certainly makes it easier to change and fix tickets when people are on the same record in the same direction though.
Fuel surcharges
Different carriers have different rules here, so it's worth thinking about how these factor in.
In our scenarios above, Austrian has hefty fuel surcharges when booked through Air Canada Aeroplan, while Brussels doesn't.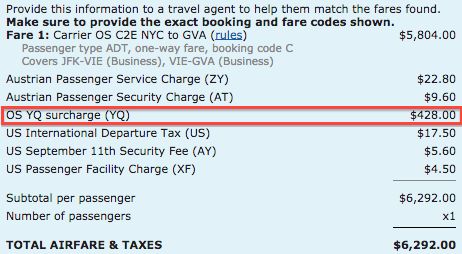 You're going to save about $400 per person by booking the outbound through United and the return through Aeroplan versus the reverse.
Cost versus speed
ANA has a fantastic distance-based award chart, and you could theoretically be looking at as few as 63,000 miles for a round trip to Europe in business class.
However, transfers from American Express Membership Rewards to ANA can take 2-3 days. Singapore KrisFlyer is a bit faster, but you're still looking at 12-24 hours. You also can't book partner awards online, so you're limited by the call center.
That's an eternity when it comes to award space, and not something I'd risk when you have multiple moving parts.
So most people are going to be better served by booking through Aeroplan in a situation like this, as the points transfers are instant and simple itineraries can be booked quickly online, even though the mileage premium is a bit higher.
Bottom line
Redeeming miles can be really tricky, and even more so when you have miles spread across multiple programs and accounts. This is an area where I think a lot of mileage nuts end up with paralysis by analysis, because there are so many pros and cons to each option.
In general, I tend to think the "best" choice here is highly individual, but my bias tends towards finding the balance between the lowest cost (including miles and fuel surcharges) and the most efficient method of booking the trip.
Have you booked awards from multiple sources? How did you approach the booking?