Reader Jeff emailed me yesterday to say that he's taking his first longhaul flight in first class soon (flying Cathay Pacific from Hong Kong to New York, for what it's worth), and wanted to know what my "routine" is for longhaul flights — when do I change into pajamas, eat, watch movies, etc.
Now, what I'd recommend doing and what I actually do are two very different things.
What I should be recommending is to:
Drink lots of water
Don't overeat or drink a lot of alcohol or carbonated beverages
As soon as you board the plane (or ideally even before that) adjust your time to what it would be at the destination, and sleep accordingly
But what's my actual pattern when I fly in international first class? Admittedly it varies based on flight length, time of day, etc., but in general I:
Get comfortable as quickly as possible
I don't care whether I'm in first or business class, I almost always change as soon as possible. Upon boarding I'm usually the first person to change into pajamas, and the last person to change out of them (heck, sometimes I've been known not to change out of them at all). 😉
Furthermore, I always request a pillow and light blanket right away. For me the enjoyment of a flight starts the second I'm in comfortable pajamas, slippers, and have a pillow and blanket (ideally with a glass of champagne in hand).
Eat after takeoff and stay entertained
Even when airlines have a dine on demand menu, I'll usually have my first big meal shortly after takeoff. I also drink. A lot.
If I'm traveling with someone I usually don't use the entertainment system at all. If I'm traveling alone I'll usually watch a sitcom or two on the entertainment system — I don't really have the attention span for movies.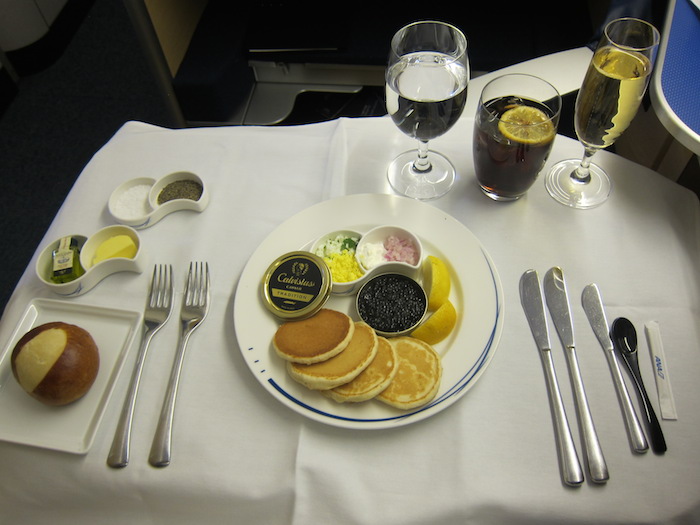 Nap/work off hangover
See the above about drinking a lot. 😉
Almost like clockwork, on longhaul flights I seem to take a 2-3 hour nap after the main meal service. I'm usually not much of a napper, but I guess the alcohol helps in that way. I find I'm usually surprisingly well rested and alert after that.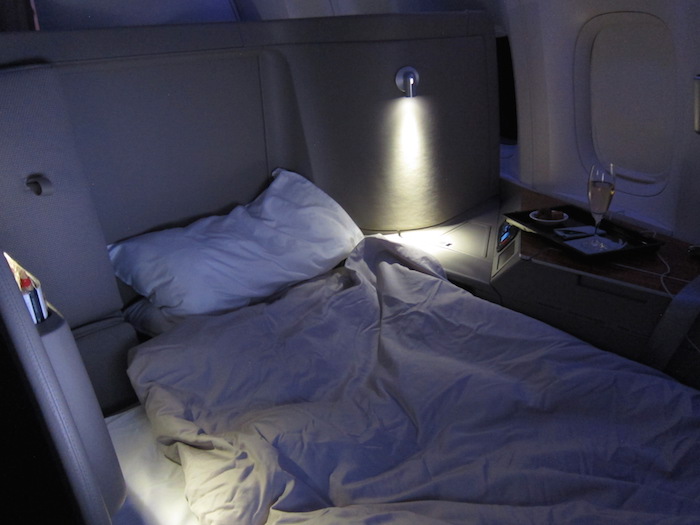 Get some work done/watch TV shows/be healthier
If the flight has Wi-Fi I'll usually get some work done at that point.
If it has an onboard bar, I'll usually head back there for the rest of the flight and drink some more (which I realize doesn't fulfill the "be healthier" heading above).
If it has an onboard bar and Wi-Fi I'll just take my laptop to the bar and work from there. 😉
In all honesty, I do try to get some work done and primarily drink water after the main meal. While I drink a lot on planes I'm rarely hungover, and that's because I drink a lot of water and front-load most of my alcohol consumption.
Reclined relaxing
If it's an ultra longhaul flight, I'll usually spend most of the rest of the flight in the fully reclined position watching TV shows or whatever. I find that's much more comfortable than using the entertainment system while seated in the "upright" position. Sometimes I'll ask the crew for extra pillows (if they have any), so I can sit up a bit while in the bed position. When airlines only give you one pillow it really isn't enough for watching TV in bed, in my opinion.
Bottom line
If flying is just a means to an end for you, don't do what I do. Just get aboard, rest as much possible, etc.
If you actually want to get enjoyment out of the flight I'd make sure you get comfortable as quickly as possible by changing (and stay comfortable for as long as possible).
If you like movies, take a look at the airline's entertainment selection in advance (many airlines publish it online), and maybe even don't see a movie you'd otherwise see on the ground so you can "save it" for aboard. If you don't like the airline's entertainment selection (there are lots of great airlines with horrible entertainment programming), bring your own entertainment.
And of course eat and drink well. If you're in first class they almost always have extras (except on Etihad), so if there's something you like in particular, don't feel sheepish asking for it.
Oh, and if you're specifically flying Cathay Pacific out of Hong Kong (as Jeff is), HAVE HONG KONG STYLE MILK TEA AND EGG TARTS!
I'd love to hear from you guys — what are your "rituals" on longhaul flights in first class?