I'm presently taking my dad on a surprise round the world trip to celebrate his "round" birthday. Even now the trip remains a surprise, as he's just finding out what we're doing and where we're going on a day-by-day basis.
Here are the previous posts about the trip:
---
A couple of weeks ago I wrote a post entitled "Is This The Most Luxurious Domestic US Flight?"
I was referring to Qantas' flight between Los Angeles and New York, which they operate as a "tag" flight for their Sydney service. This flight has to be booked in conjunction with an international flight — you can't fly exclusively between Los Angeles and New York on Qantas.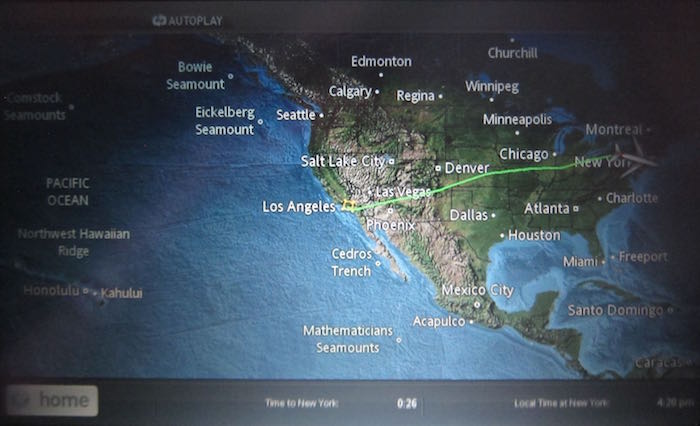 Qantas airshow between Los Angeles and New York
While Los Angeles to New York is probably the most impressive domestic market in terms of products to begin with, I was curious to see how Qantas stacked up.
If nothing else, the novelty of flying a 747 within the US was pretty awesome.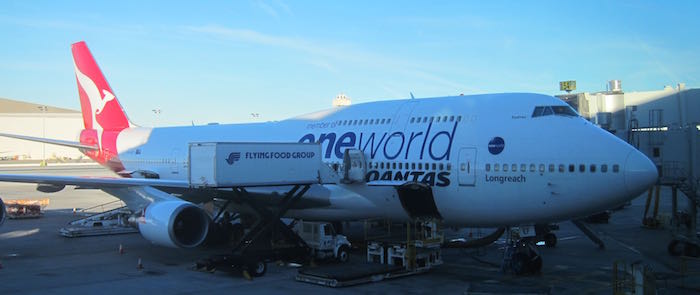 Qantas 747 Los Angeles Airport
Well, my dad and I spent our Turkey Day on this flight… how was it?
Qantas 747 business class seat
Qantas' 747s are in a three cabin configuration, with business, premium economy, and economy. Business class is fairly large, and consists of three cabins — one in the nose, one behind it, and one on the upper deck.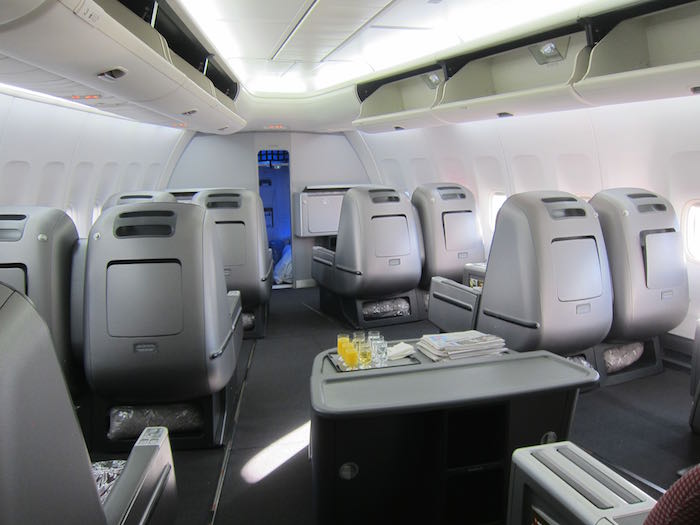 Qantas business class cabin 747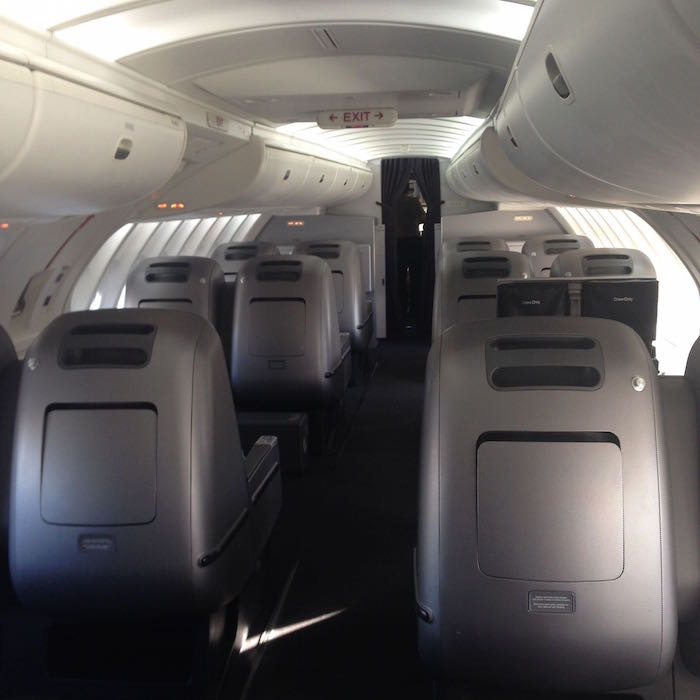 Qantas business class cabin 747
As far as forward facing business class seats go, these were extremely comfortable. There was a nice privacy shield between seats, the seats have a great massage function, and you can't beat being on the upper deck with "lockers" on the side. The window seat felt extremely private.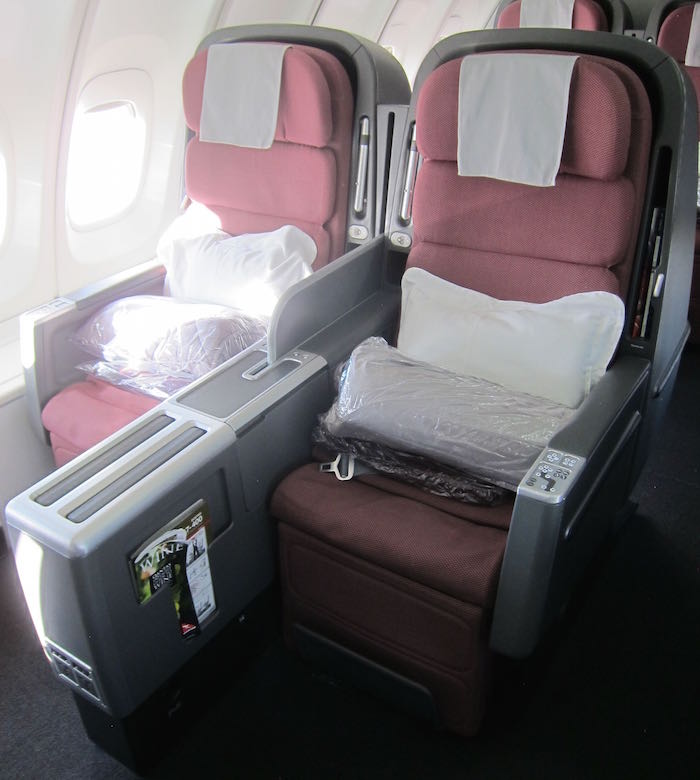 Qantas business class seats 747
Qantas business class food
Qantas served a light lunch on the flight. The meal was on the small side, though justifiably so, since virtually everyone aboard was connecting from Australia and just wanted to sleep. Here's the menu: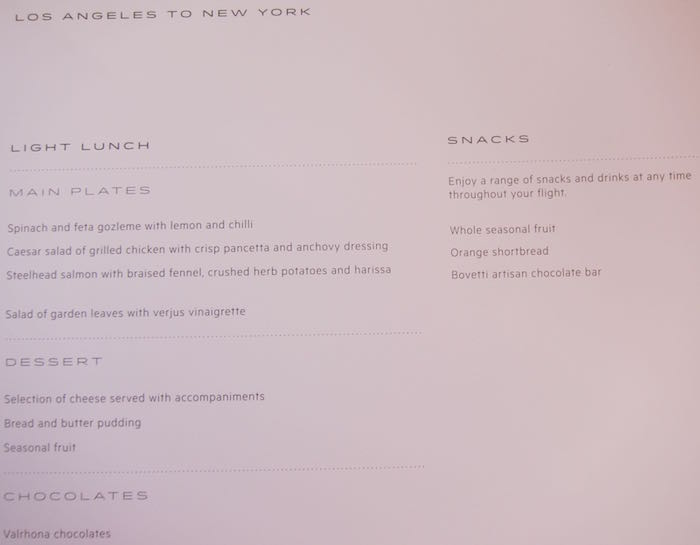 As you can see, they just offer a main course served with a side salad, plus dessert.
I had the salmon, which was served with harissa — it was better than the fish dish I had in first class the day prior.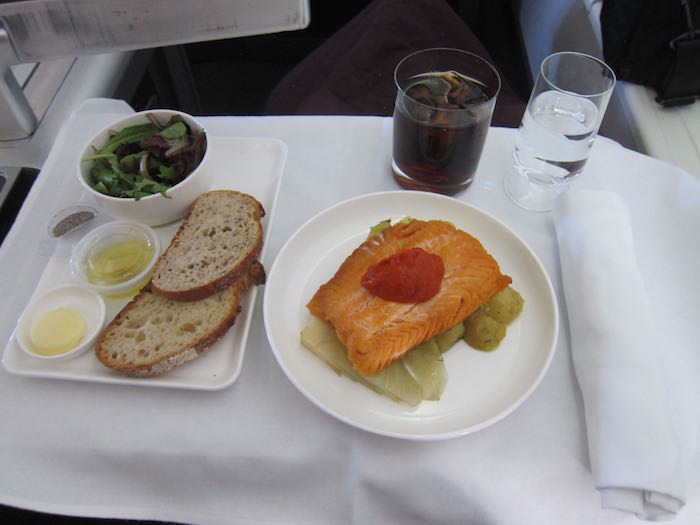 Qantas business class lunch
The bread pudding dessert was sinfully good.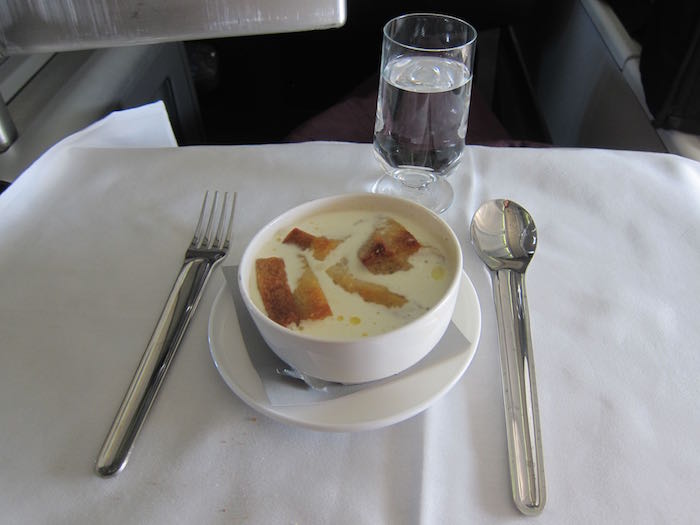 Qantas business class dessert
So the quality was fine, though the meal was definitely on the small side for someone not connecting from Australia.
Qantas business class amenities
Qantas offers a great pillow, blanket, and mattress pad in business class. After lunch I was able to comfortably nap for a couple of hours. I could easily imagine flying longhaul in Qantas business class.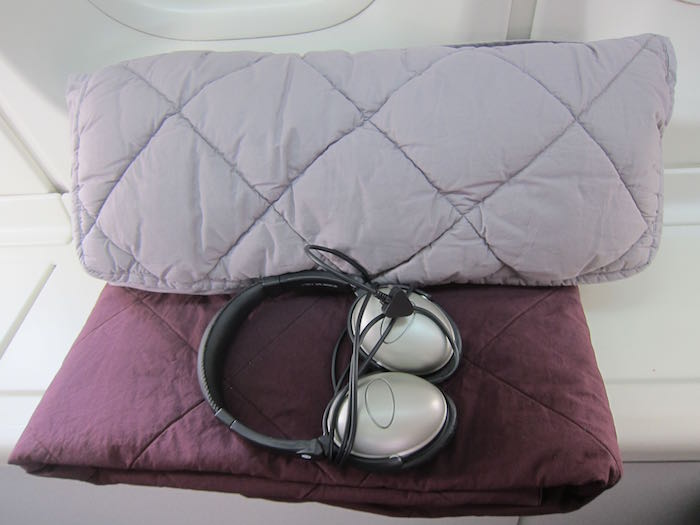 Qantas business class pillow, blanket, and headphones

There was no amenity kit, though, which I guess makes sense on such a short sector, especially since most passengers already received one on their previous flight.
Qantas business class service
We had two older guys working the upper deck, and they were top notch — attentive, friendly, proactive, and excited to spend a night in New York.
Qantas business class bottom line
I was impressed by the Qantas business class hard product. The seats are spacious, and when traveling with someone else are almost unbeatable.
That being said, in terms of the soft product on this sector, I wasn't blown away. I'm thrilled to have tried the flight for the novelty of it, though I do think American's A321 first class is a superior product (which I could have booked instead on a first class award). The meal service would have been more extensive, I slightly prefer the hard product, and they have Wi-Fi.
Possibly the best part of flying Qantas to New York is that the flight departs out of Tom Bradley International Terminal, so you can use the excellent oneworld lounge (which I'd argue is better than the Korean Air Lounge though not quite as nice as the Star Alliance Lounge).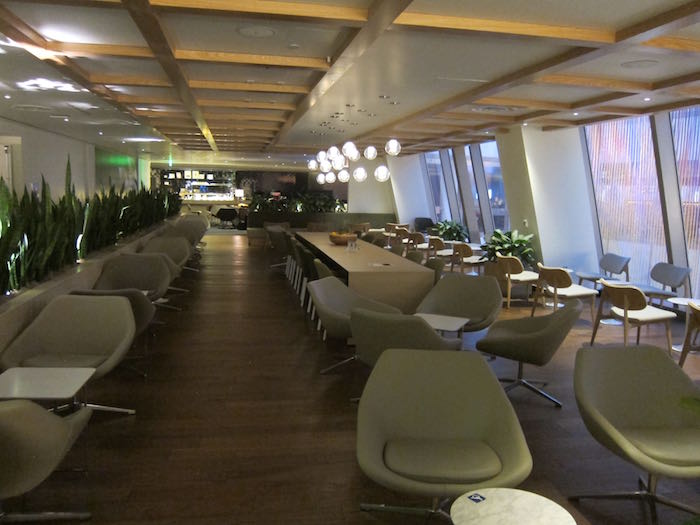 oneworld lounge Los Angeles Airport
What do you think? Would you want to fly Qantas business class between Los Angeles and New York?