---
I've actually stayed at the Park Hyatt Siem Reap previously, when my husband and I visited in 2014, and it feels much the same now as it did then. Siem Reap, on the other hand, has since changed to the point of being nearly unrecognizable, as extremely rapid development has transformed the town.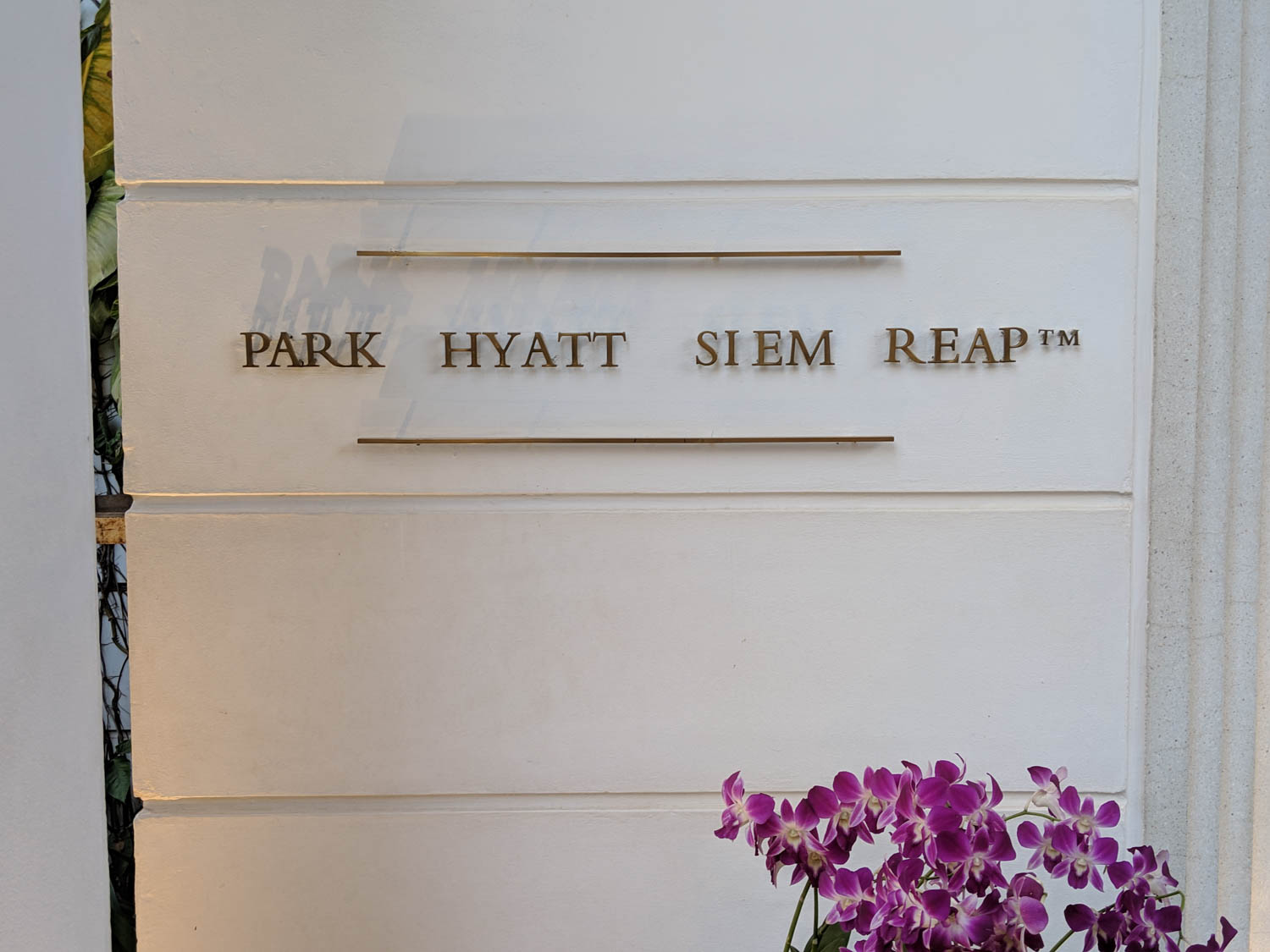 And it's interesting, because while I felt like Luang Prabang was about to be deluged by tourists in a fairly destructive way, it feels like Siem Reap is maybe starting to turn corner (after having been hit with their own destructive wave of tourists a decade or so ago). The influx of tourist dollars is finally being used for infrastructure, and while corruption still absolutely permeates the city (something that even impacted our stay at the Park Hyatt), there are visible signs of improvement.
Like, the airport is brand-new, and the roads in front of the Park Hyatt have been paved. We didn't see any children selling postcards or candy. There's an evolving culinary scene.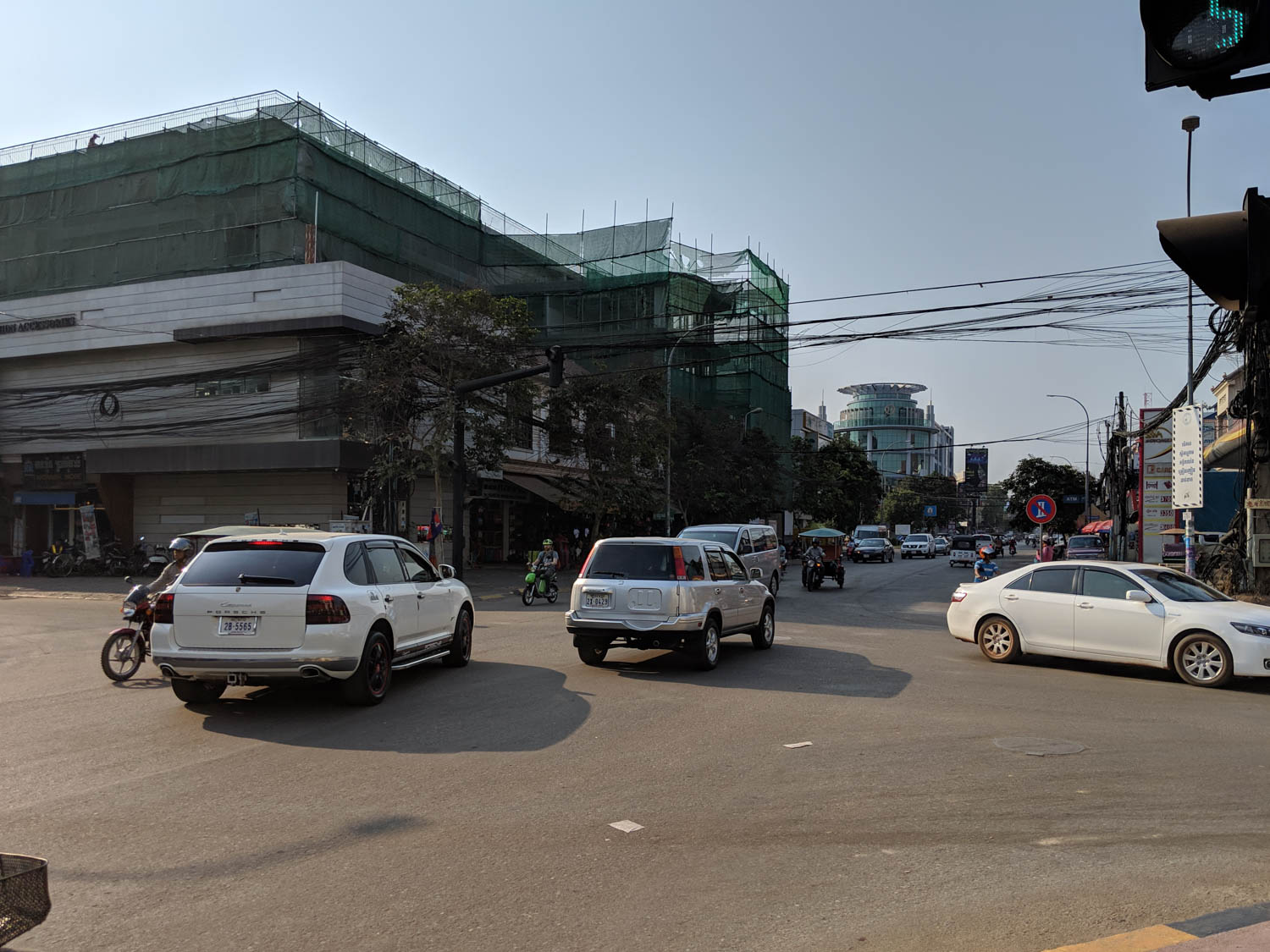 Those shouldn't be major descriptive details, but if you were in Siem Reap ten, five, or hell, even three years ago, you'll appreciate why those things were so noticeable.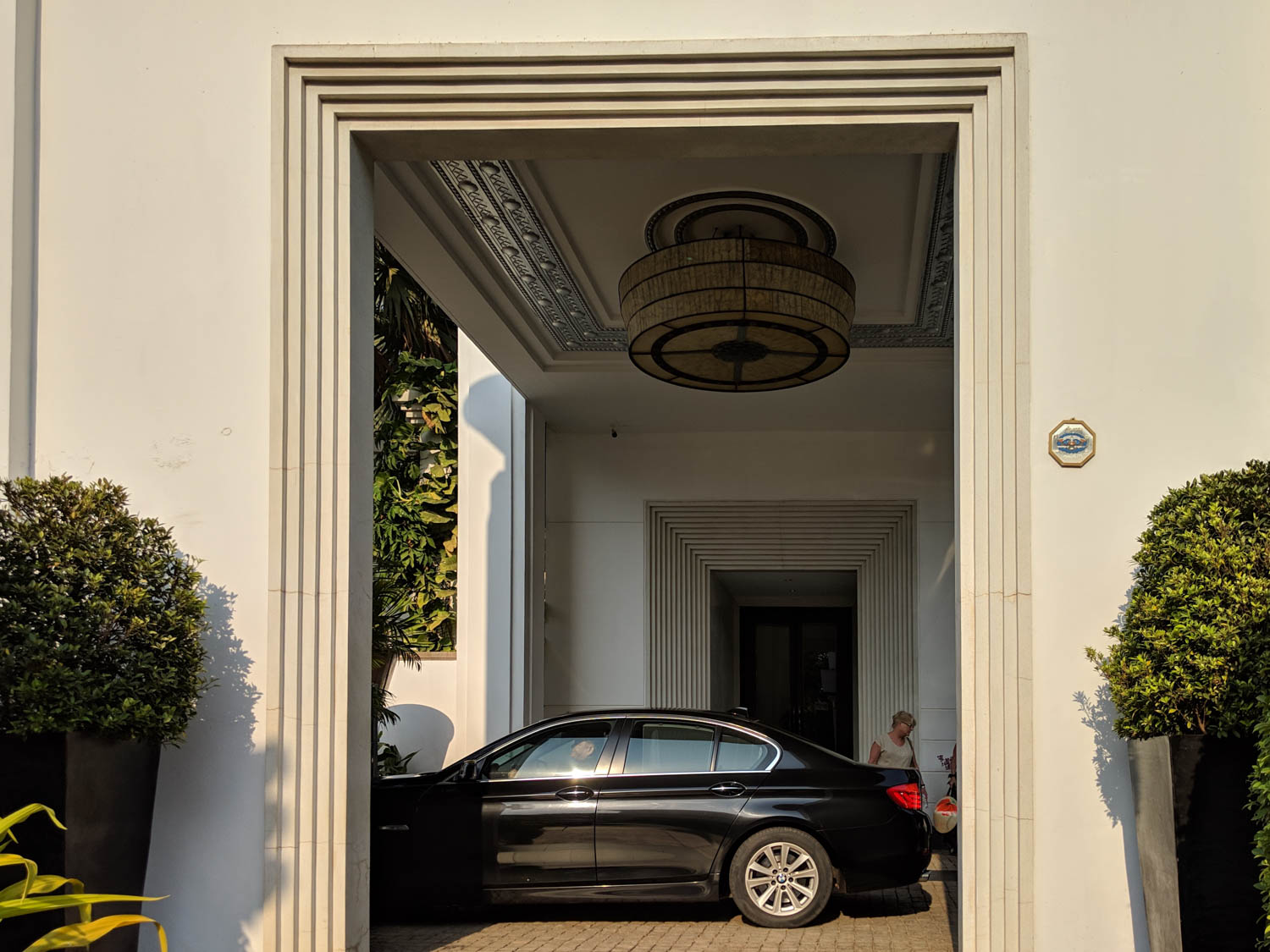 The nice is that while the Park Hyatt itself obviously hasn't moved, the location has become a bit more convenient. Obviously there are other properties on the outskirts of town that are more peaceful, or more convenient to Angkor, but as Siem Reap as a town is (slightly) less unpleasant these days, being in town and walking to restaurants and such was more enjoyable than it was on my last trip.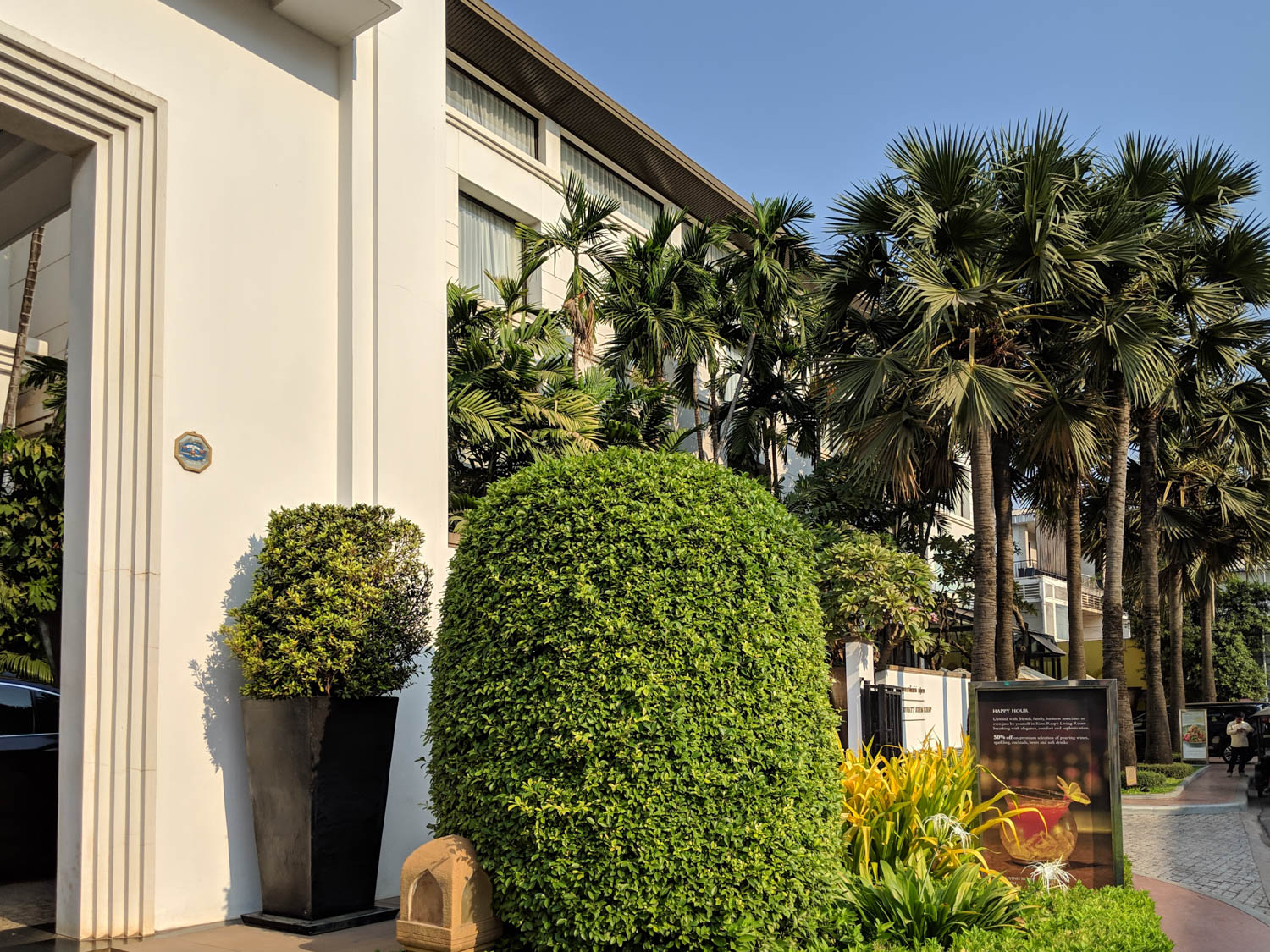 The property was built in 1957 as the stylish Hotel de la Paix, then was renovated and rebranded to the Park Hyatt Siem Reap in 2013. The decor is a whimsical mix of art deco and Khmer design, with interesting architectural details punctuated by pops of bold color.
The entryway, for example, has framed art niches, plush rose chairs, and bright pink lotus flowers: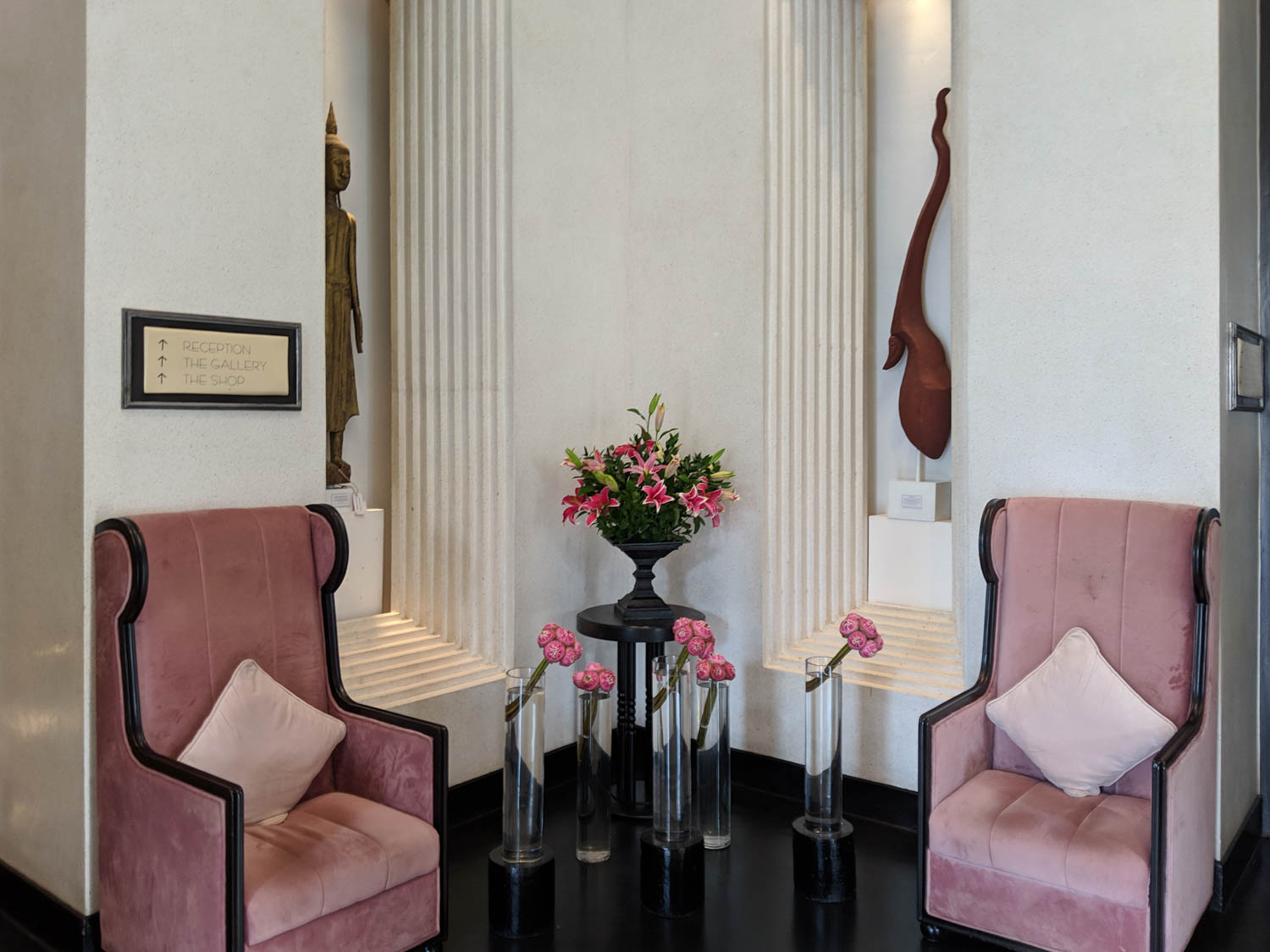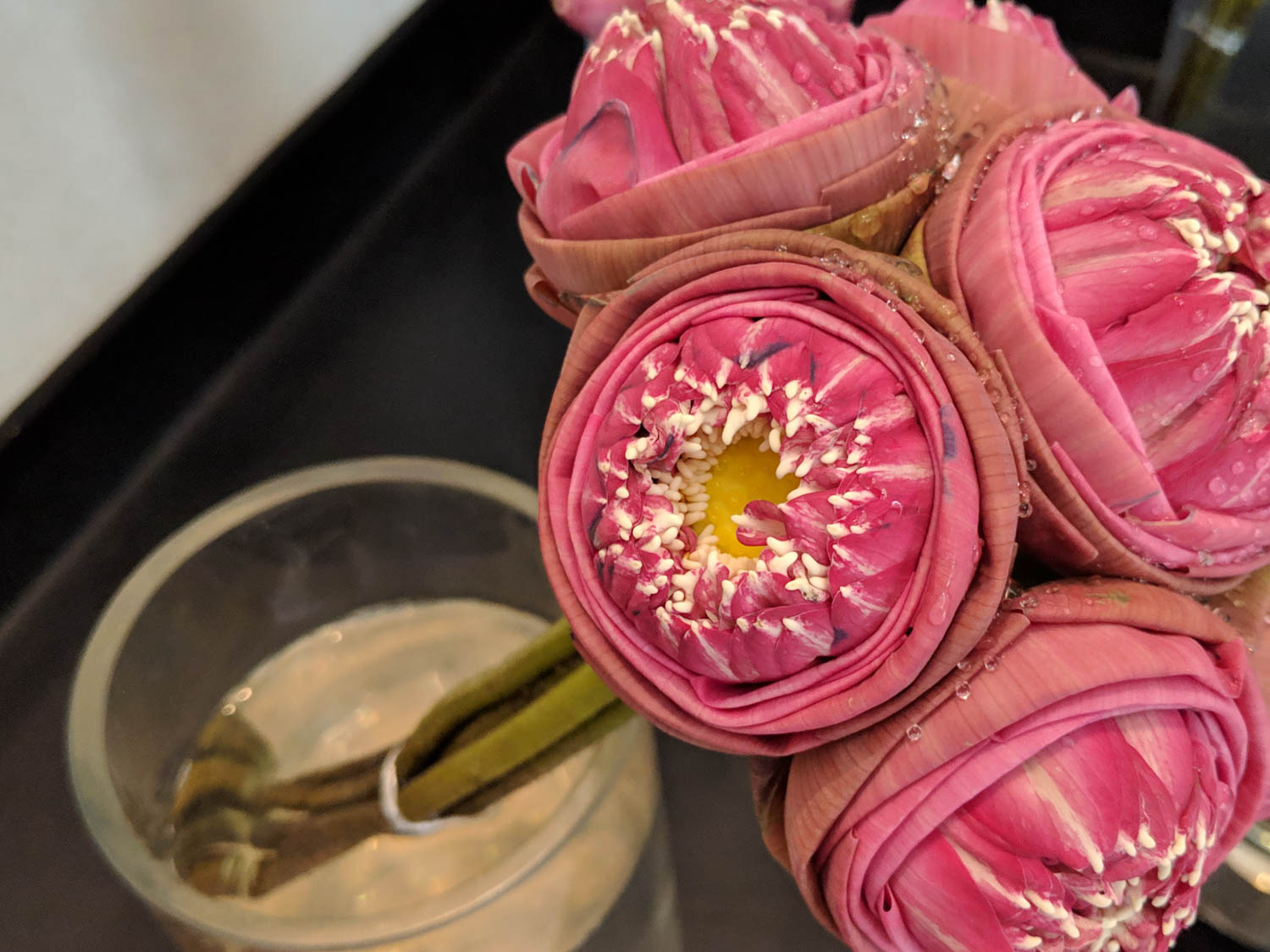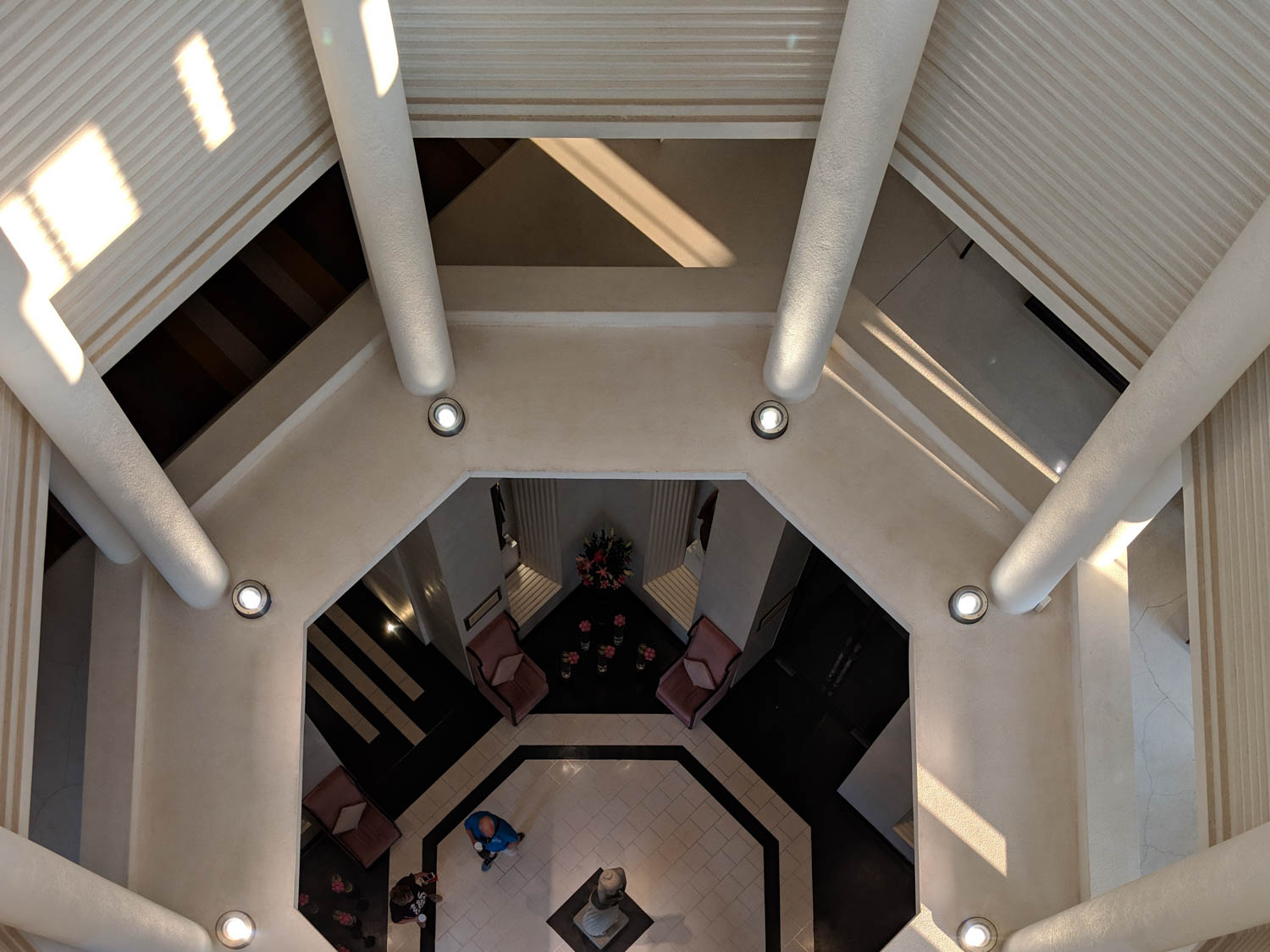 We arrived via taxi (more on why I don't recommend booking cars through the Park Hyatt later on), and were escorted into "The Living Room" — an area that is both used as the hotel bar and for handling check-in. The Park Hyatt Siem Reap does have a reception desk, but it's tucked away in a narrow hallway, so this is a much better way of managing the situation, especially as there were about a dozen other groups checking in when we arrived.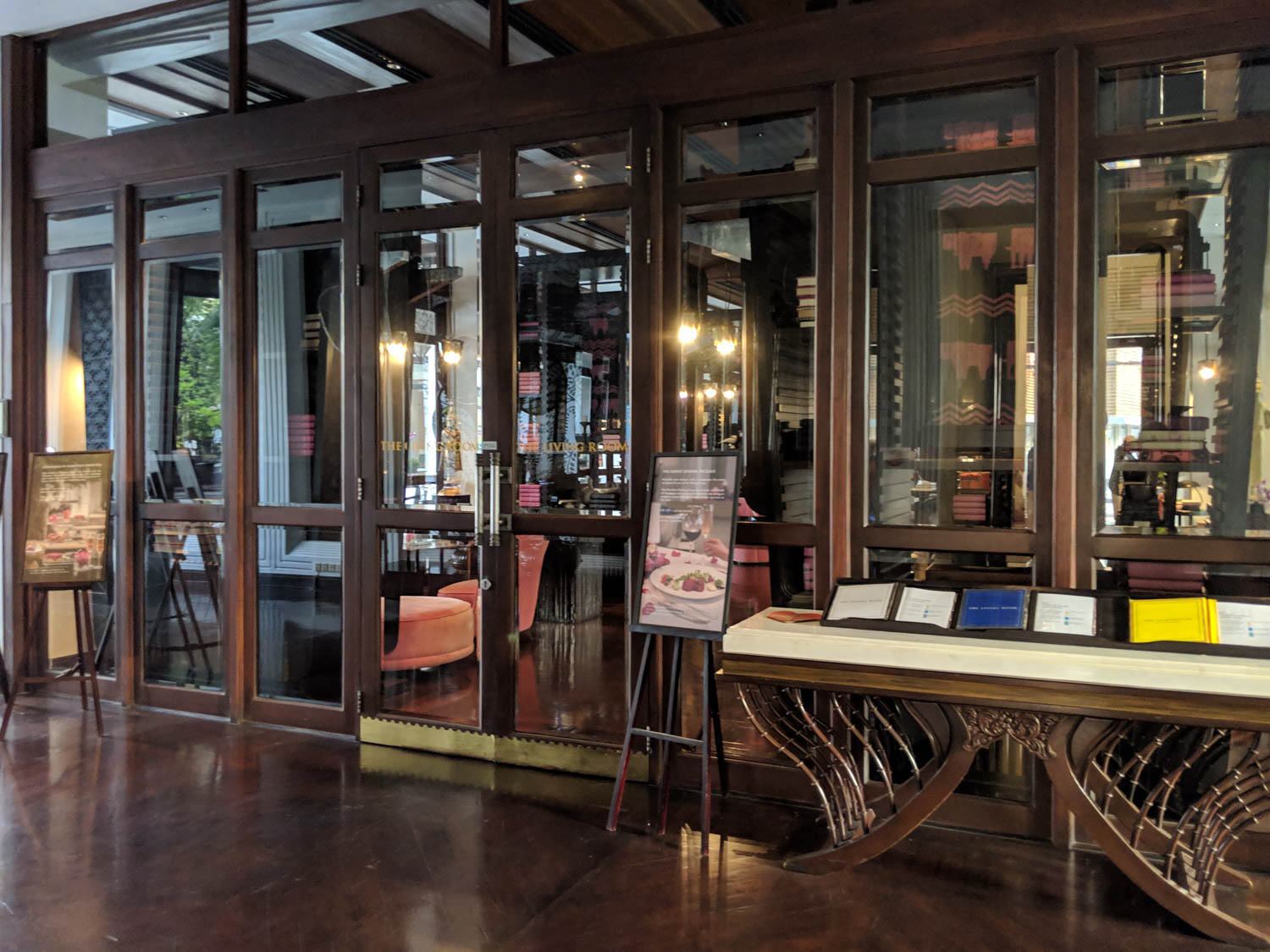 We were asked to take a seat in the back of the bar, then offered cold towels and a refreshing strawberry cocktail.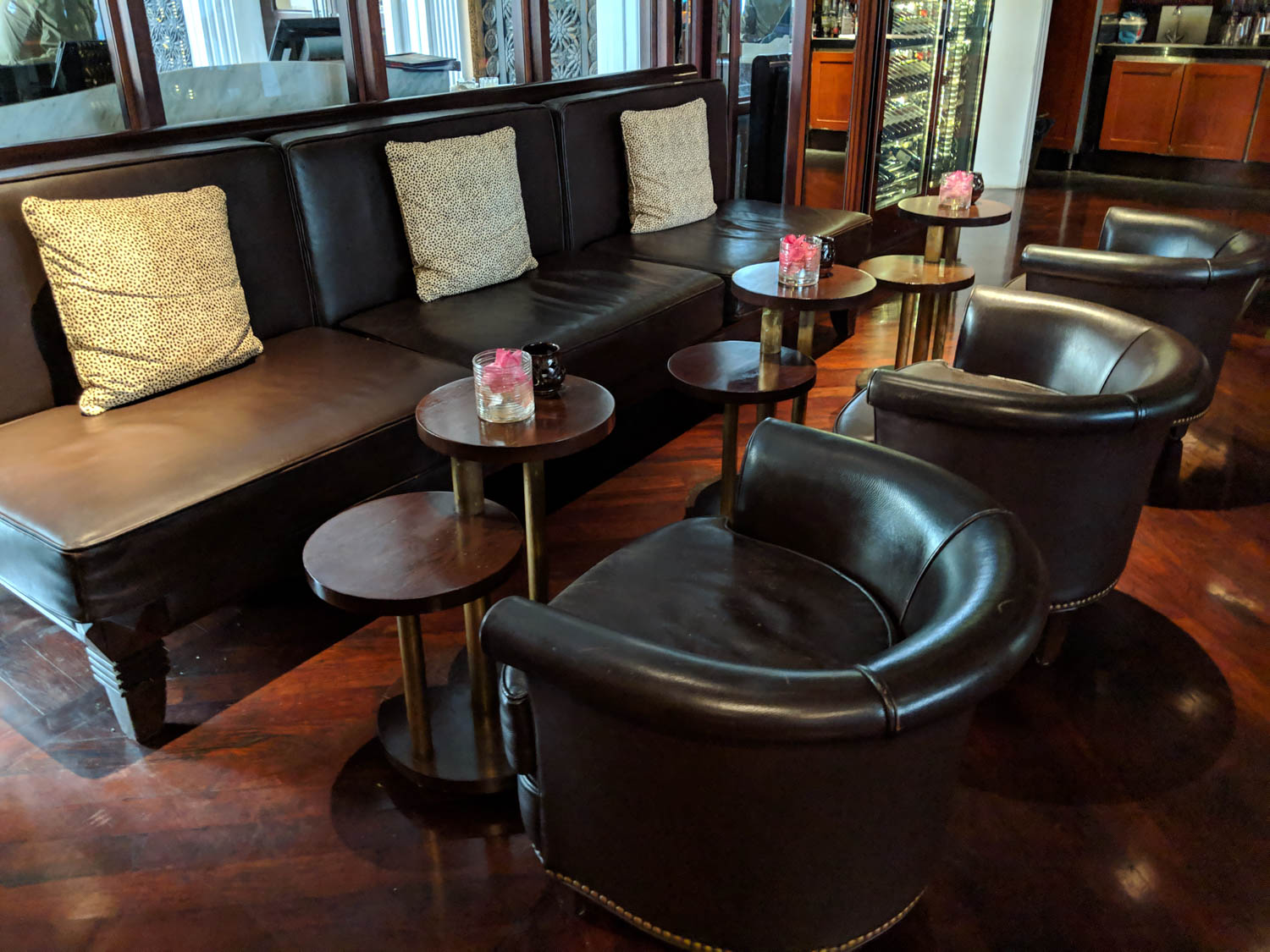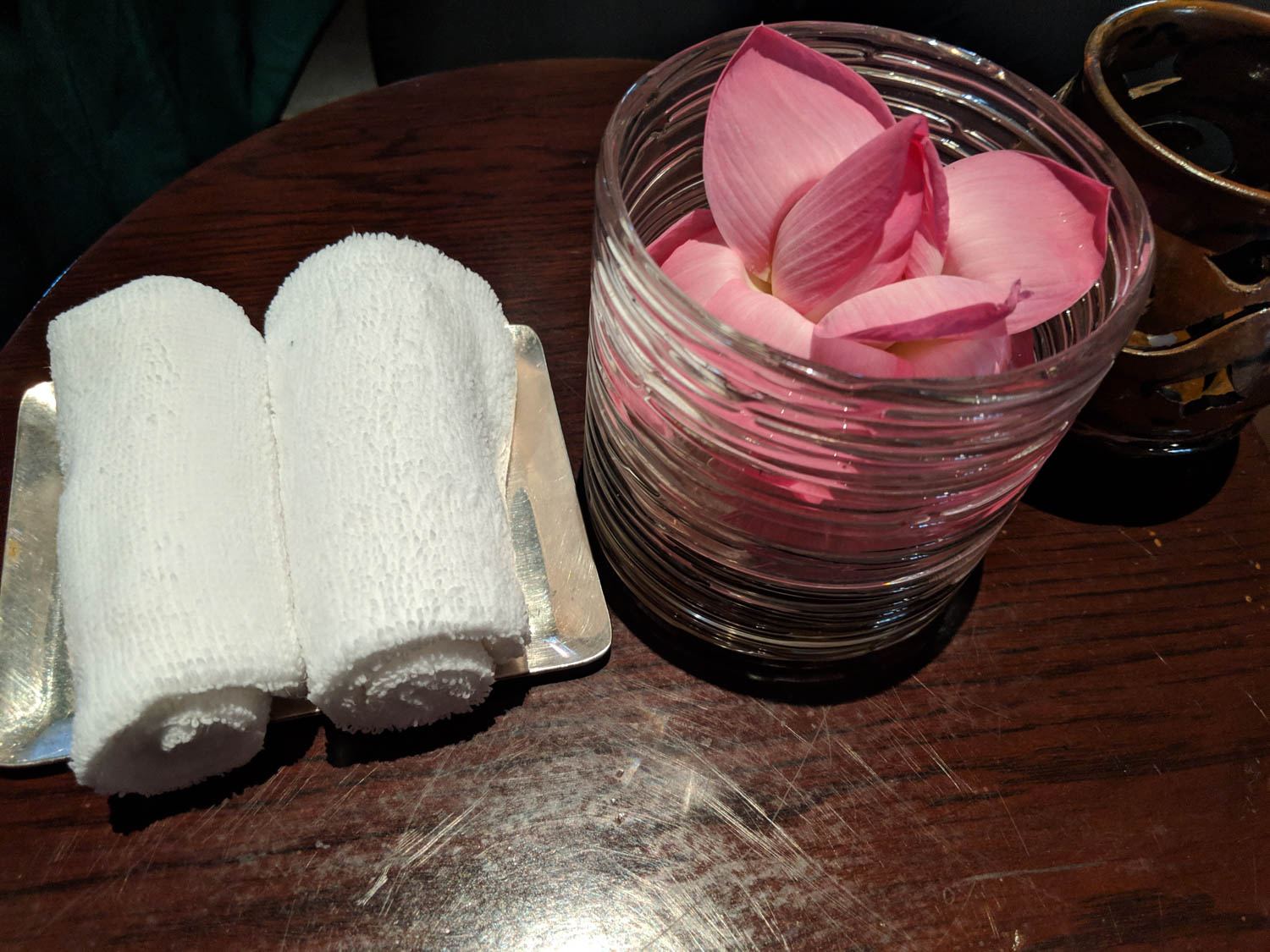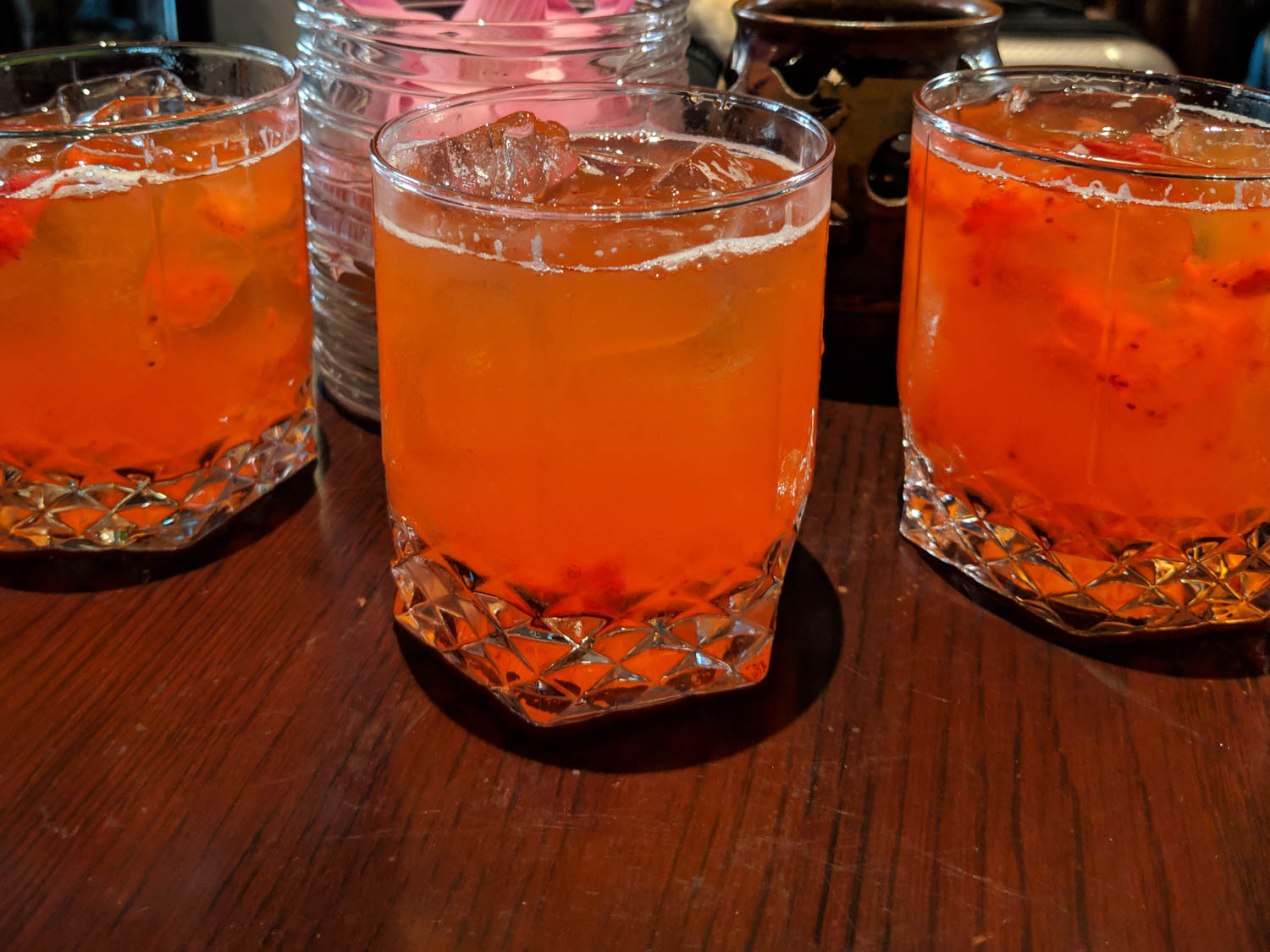 As we were checking in to suites, we were asked if we wanted to complete formalities in our room, but that is never my preference (especially when I need to take pictures), so we spent about 15 minutes in the bar going over paperwork and learning about the hotel amenities.
Afterwards, we were escorted up to our suites, which were on the third floor (or rather, accessed via the third floor).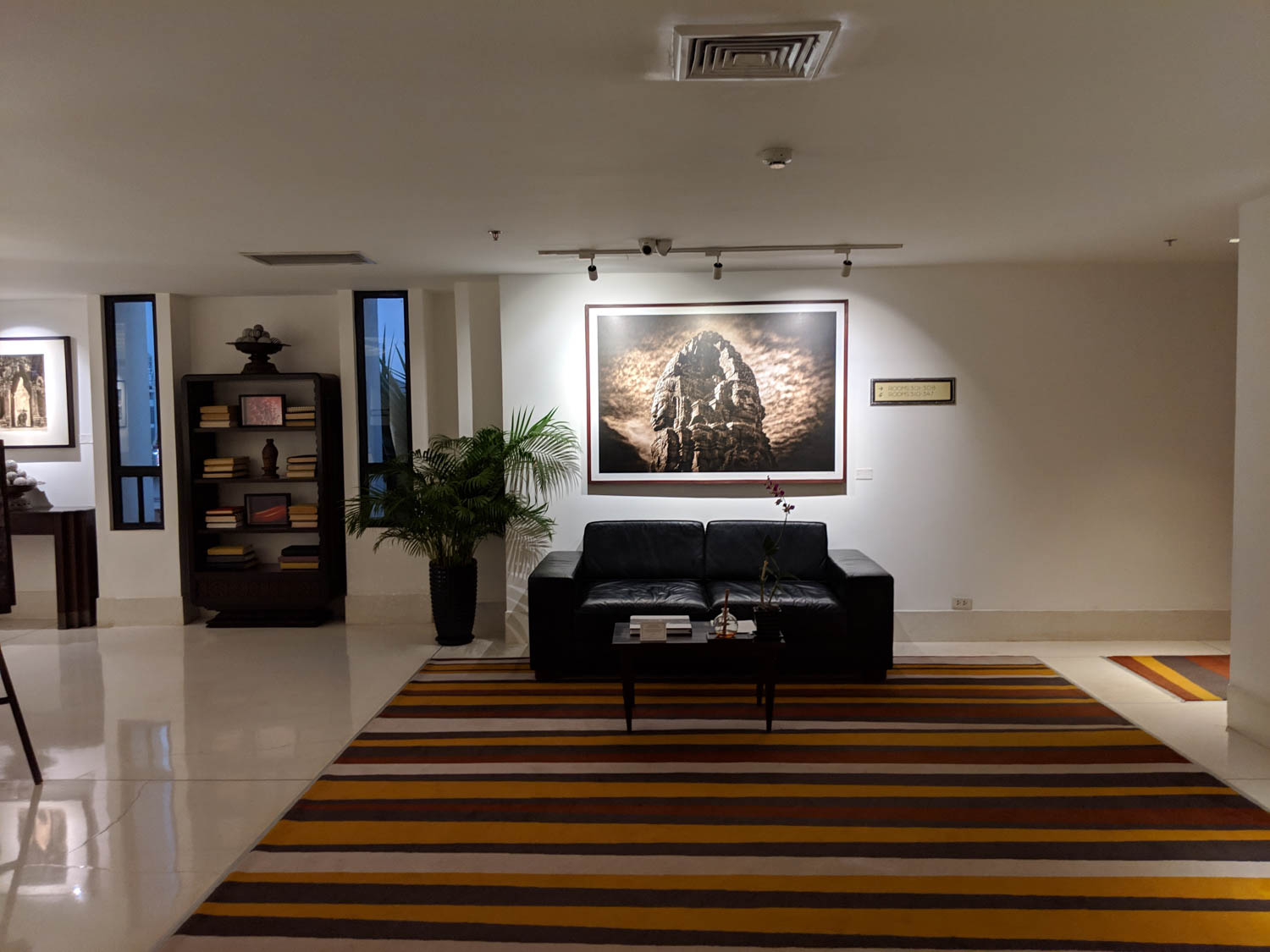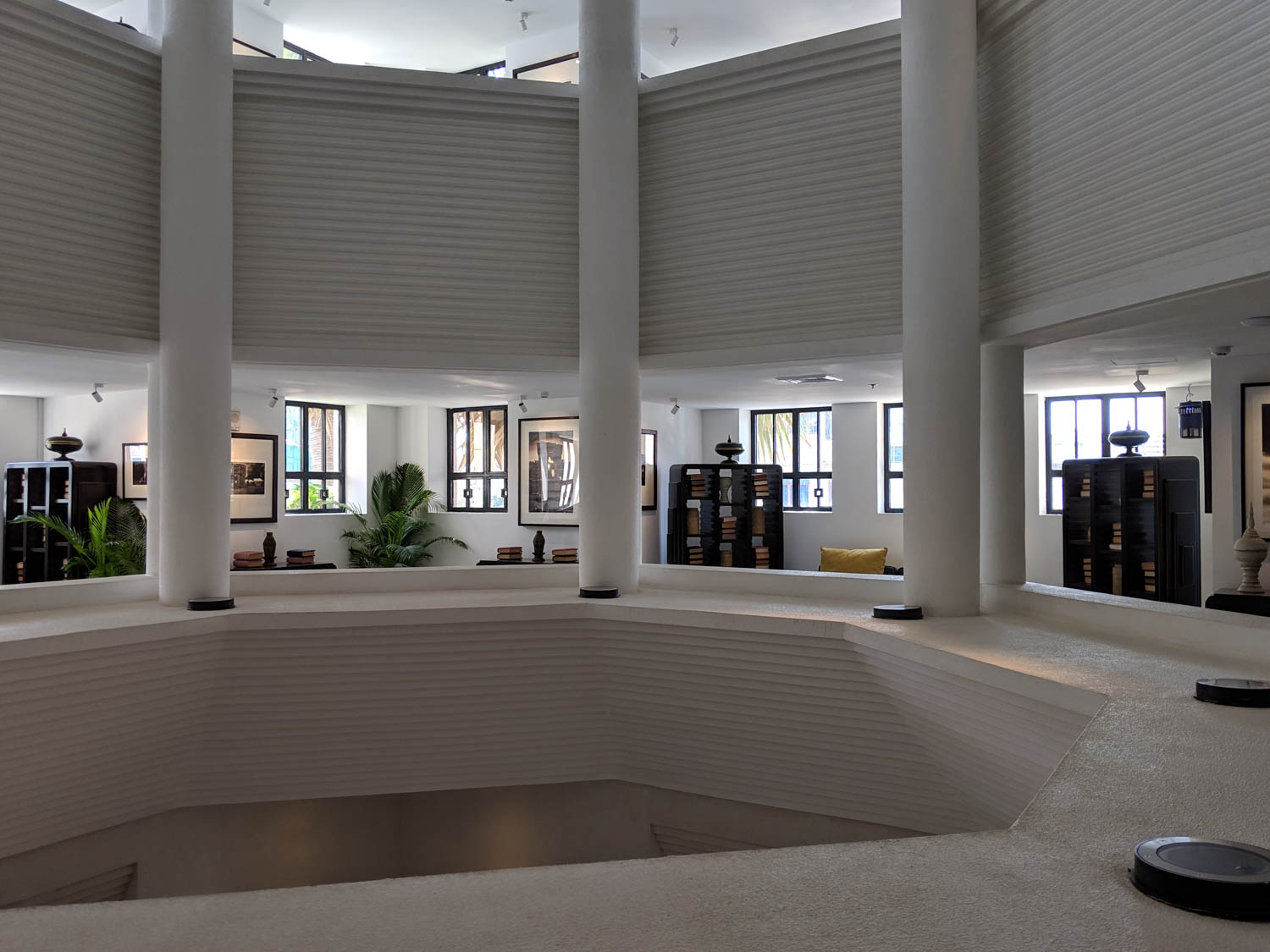 As a side note, one of the things I liked about the Park Hyatt Siem Reap was the mix of art, like this more classic print, in a modern frame, set above a bowl of eclectic objects: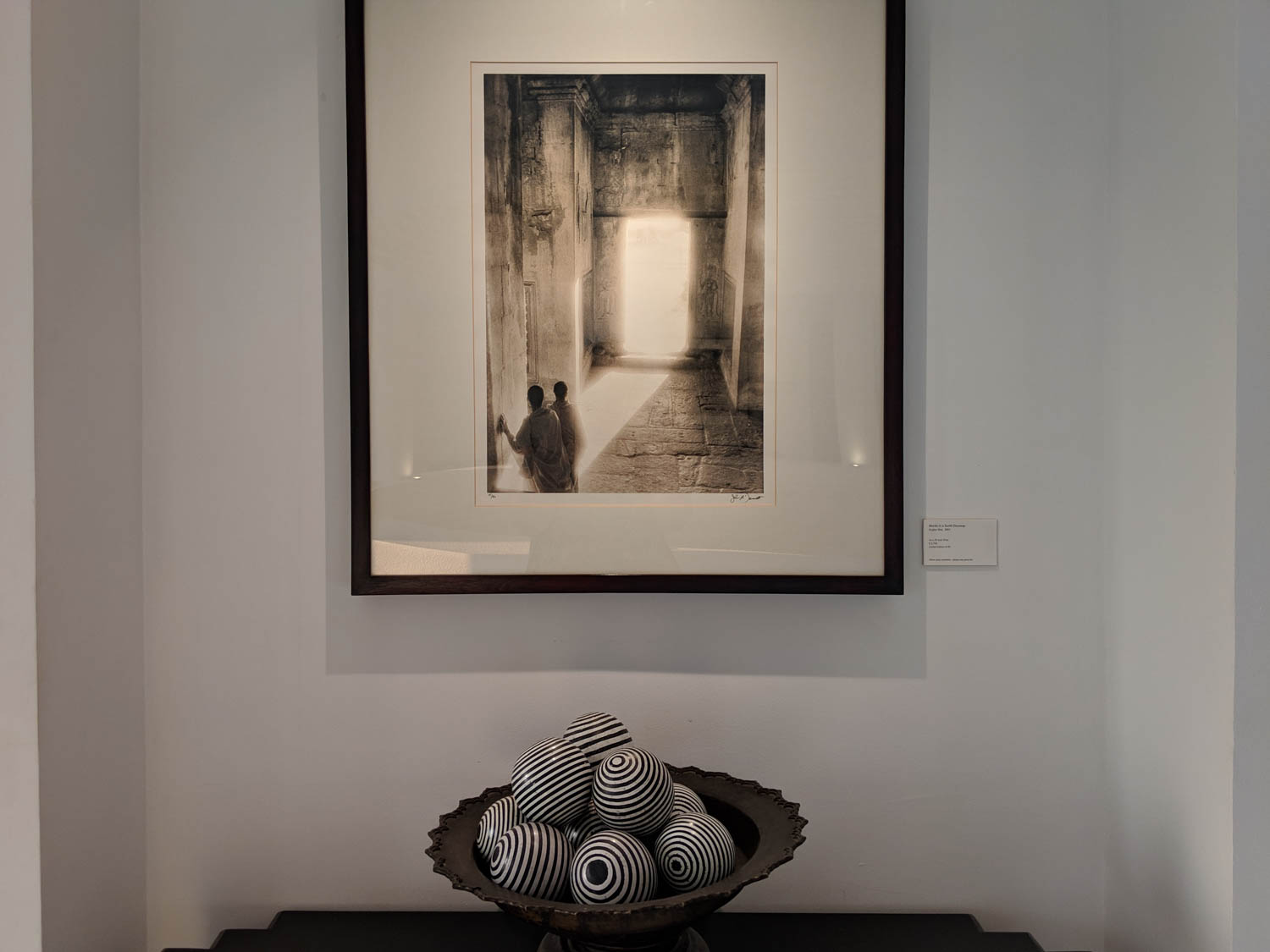 Those details really set the tone of the hotel, and made it feel both classic and current, which I enjoyed.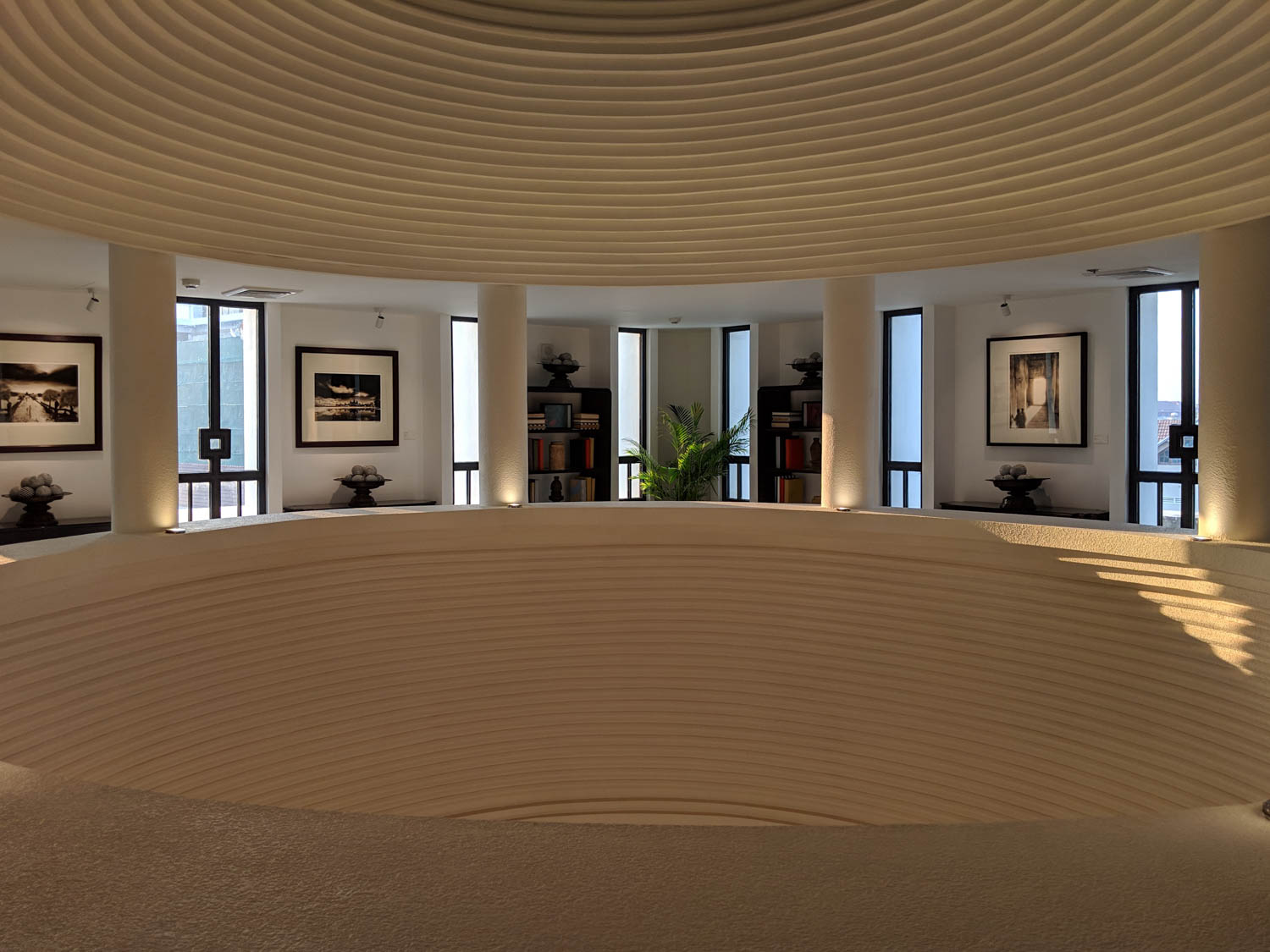 Park Hyatt Siem Reap Rooftop Garden Suite
The Park Hyatt Siem Reap has two different room types available using World of Hyatt points, at 12,000 points per night:
While it's the same size, and doesn't sound significantly upgraded, the "1 King Bed with Garden View" rooms aren't standard room types.
I mention this because depending on rates, this may be a good property to use points at, but typically when I've looked at booking, the rates for the base rooms (when available) were <$150. We value Hyatt points at .015 cents each, so 12,000 points are worth ~$180 to us. So this is a property I would typically book through Hyatt Privé or Virtuoso, to get some extra benefits on an already reasonable rate.
In this case, however, not only were there not any base rooms available on points, the Park Hyatt Siem Reap was offering a promotion on their suites that was only available by booking direct. With a shrug and an "it's the end of the trip, we paid roughly nothing in Hoi An, why the heck not?" I booked two rooftop suites, with breakfast included in the rate, for ~$250 each.
There are two of these rooftop garden suites at the Park Hyatt Siem Reap, and they're accessed via a hallway on the third floor.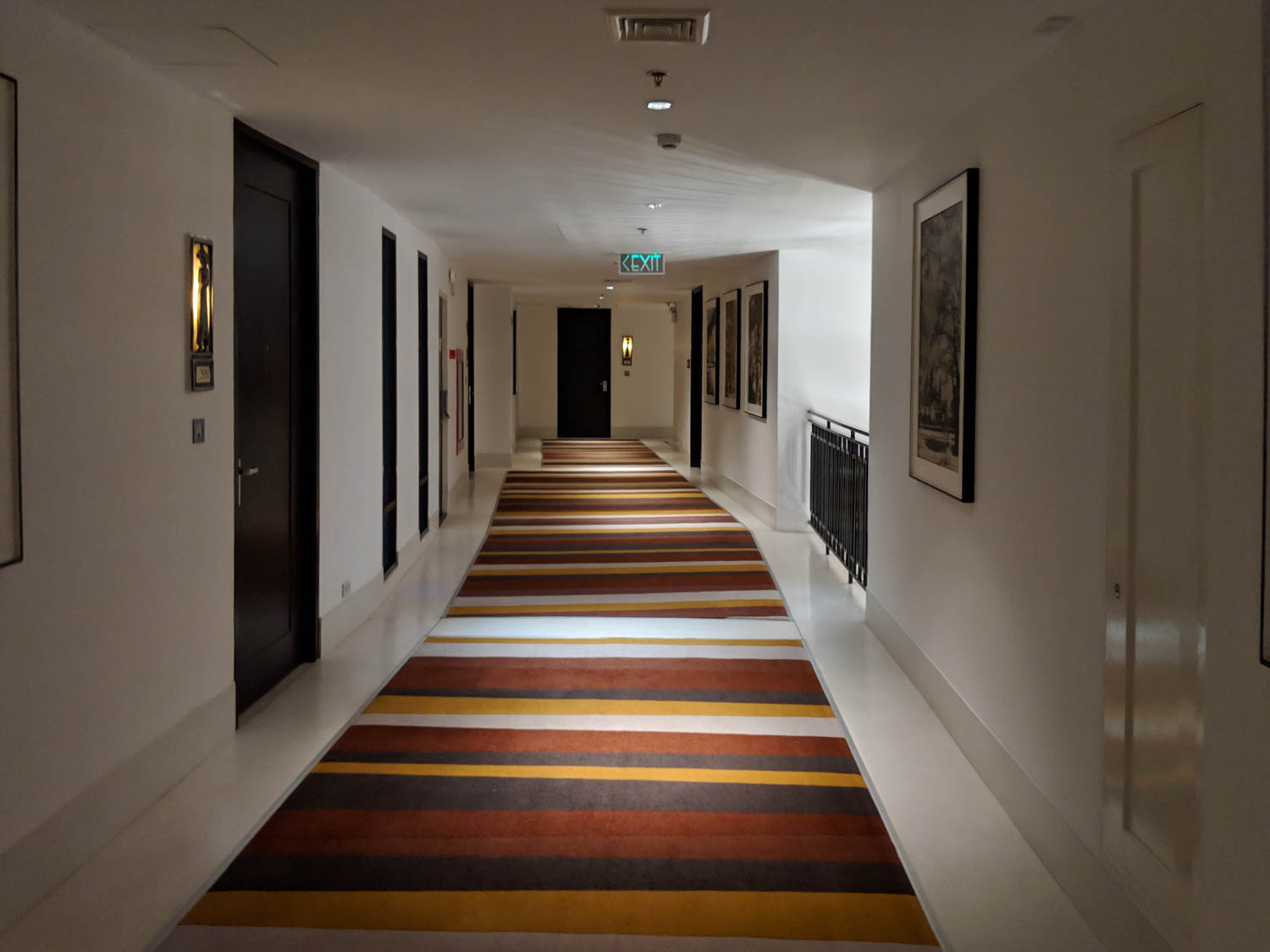 I say "accessed" because these rooms are up a flight of stairs — as the room signs somewhat indicate: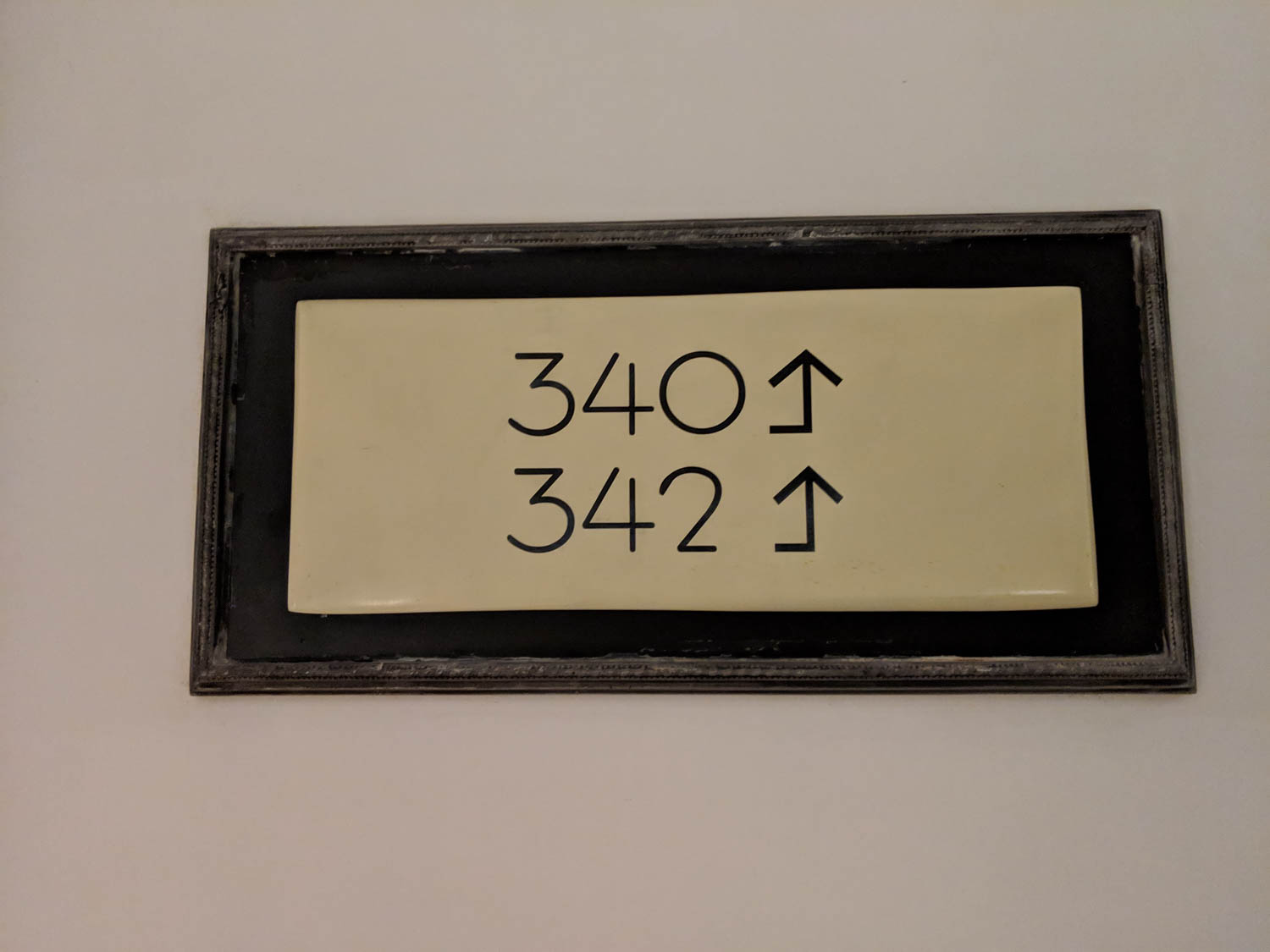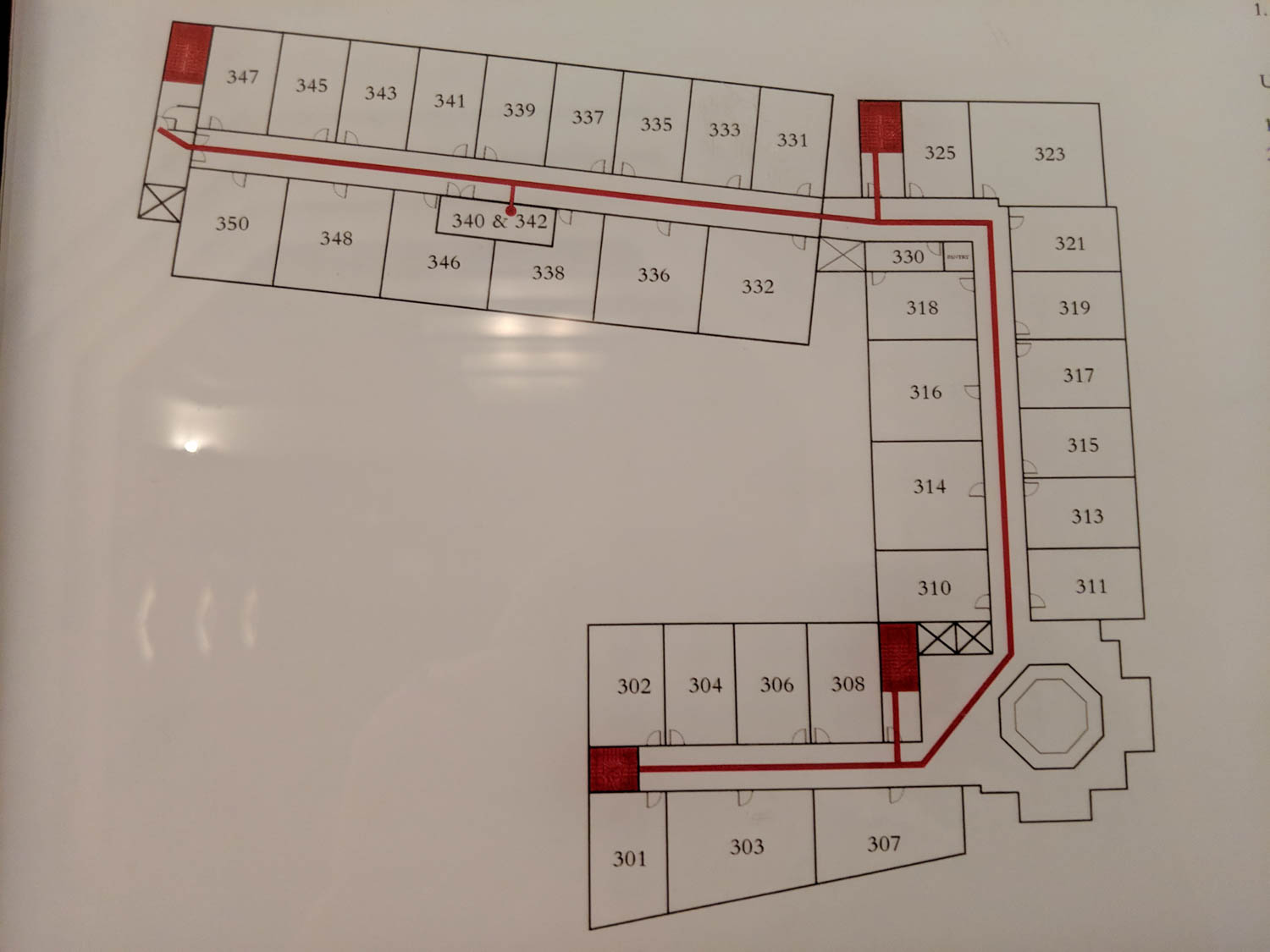 There is an electronic lock and deadbolt on the door to the third-floor corridor, so if you have booked both rooms, you can use that entry and the foyer as one big room: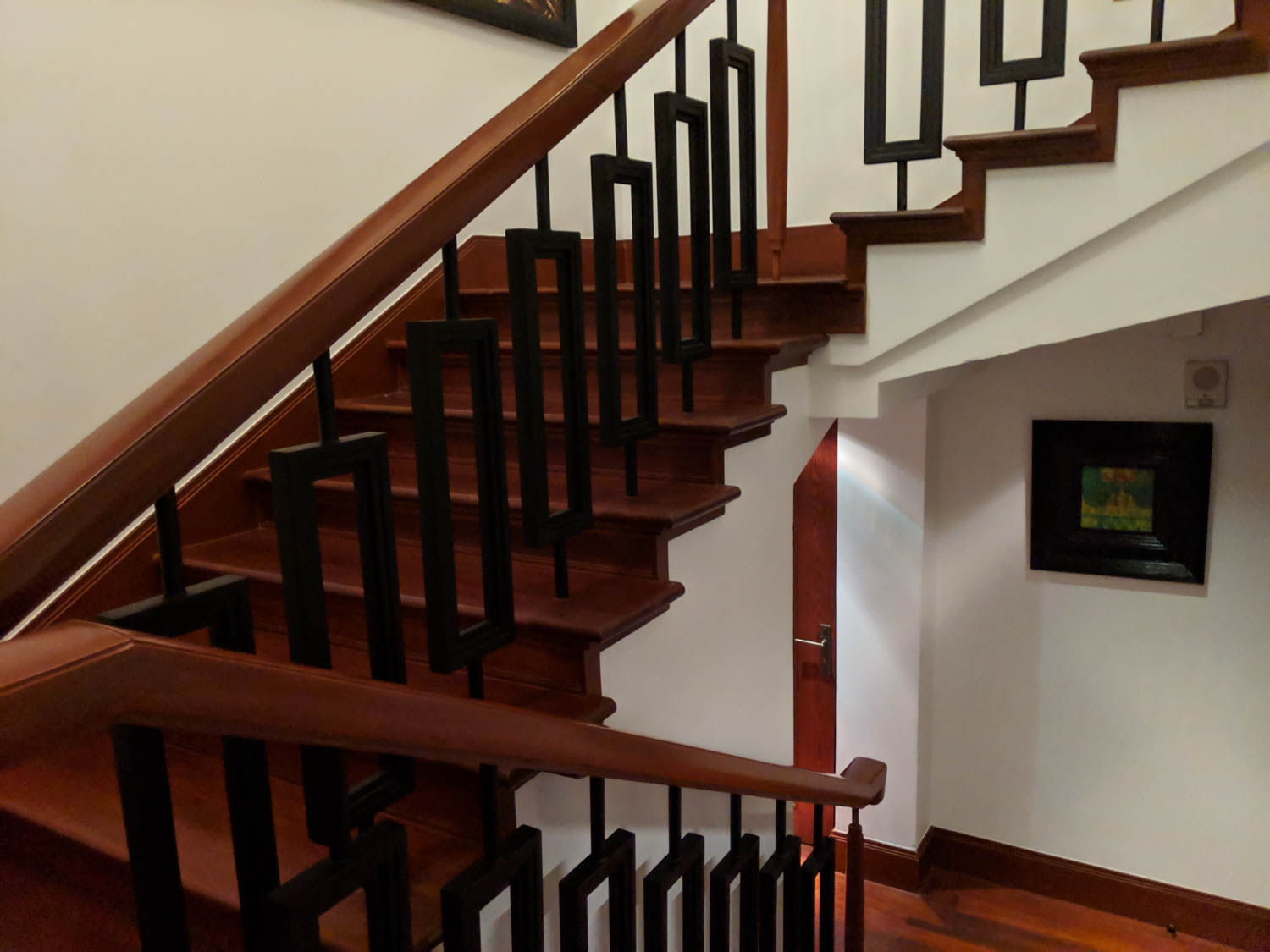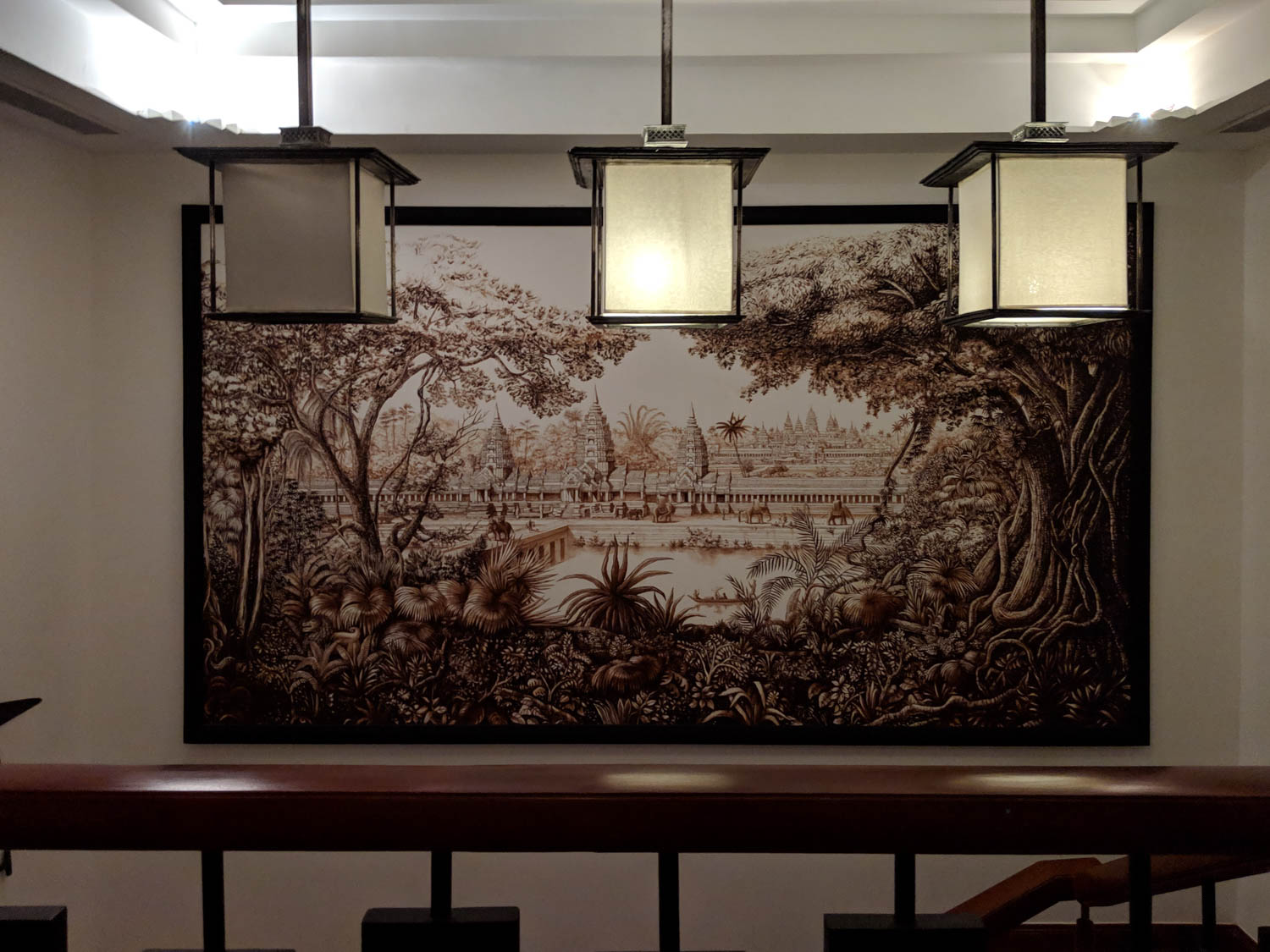 From the upper landing, room 342 is on the left, 340 is on the right, and the "pantry" areas of both suites can be accessed through those center doors.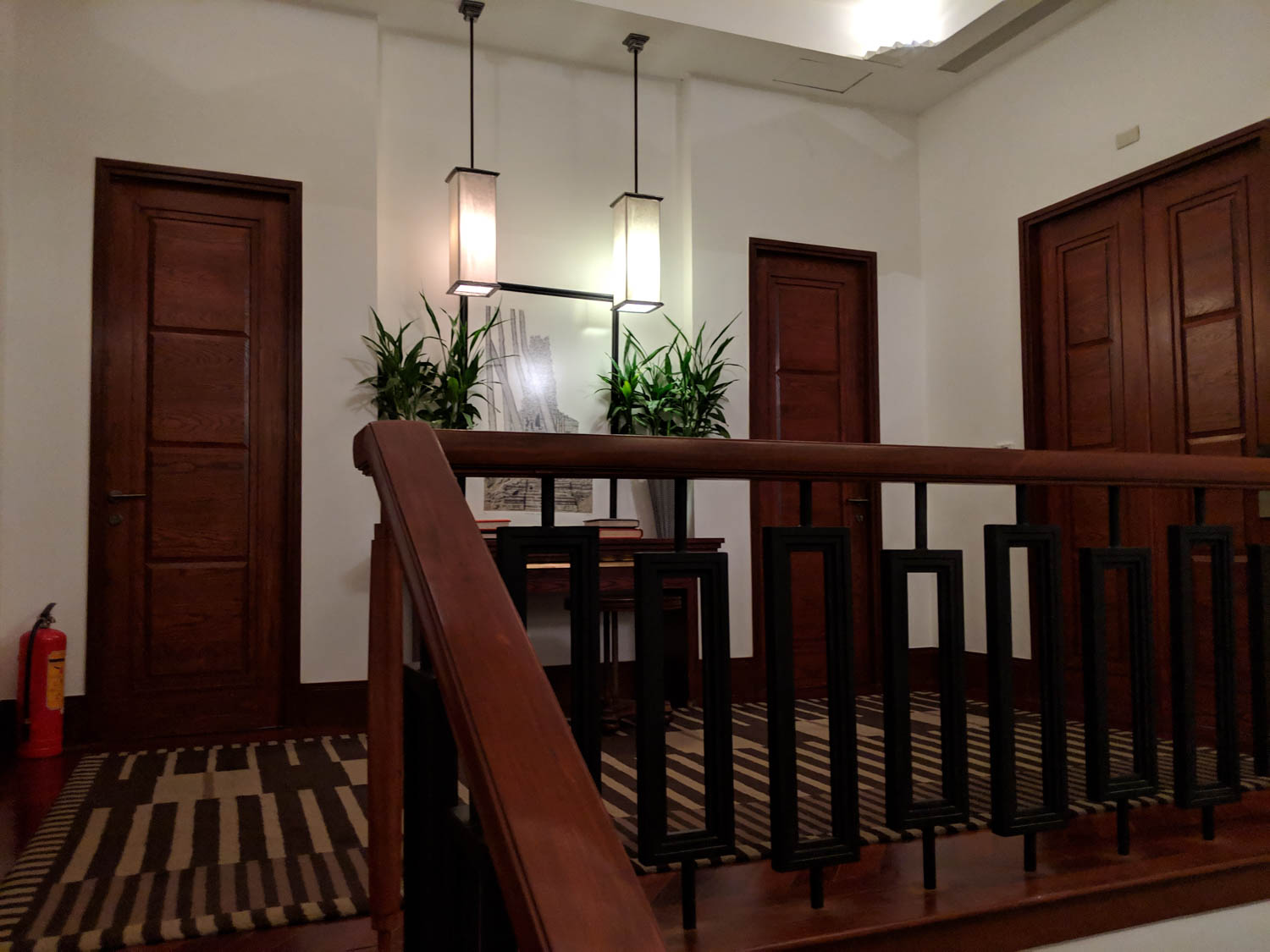 It was definitely a bit of overkill.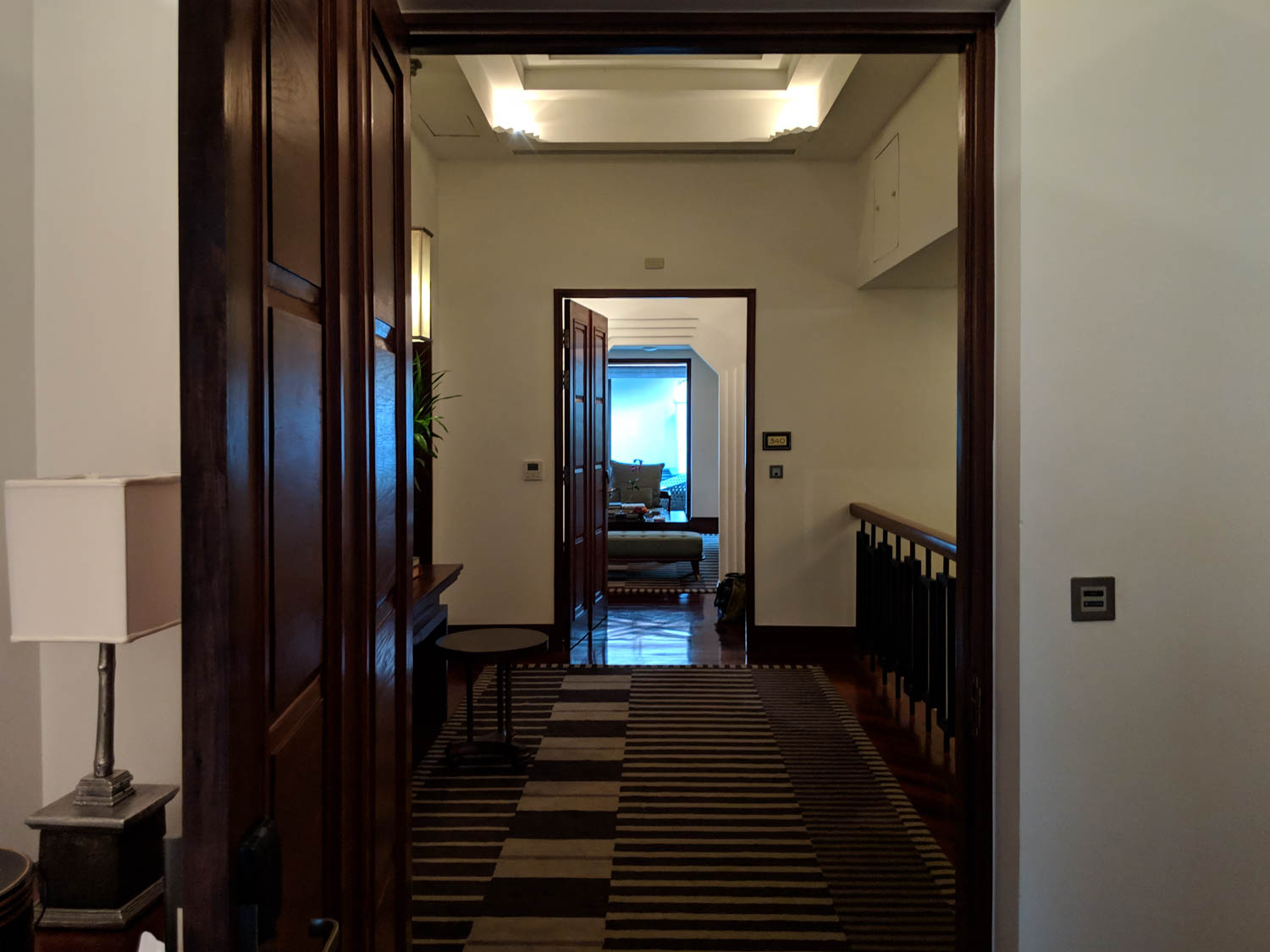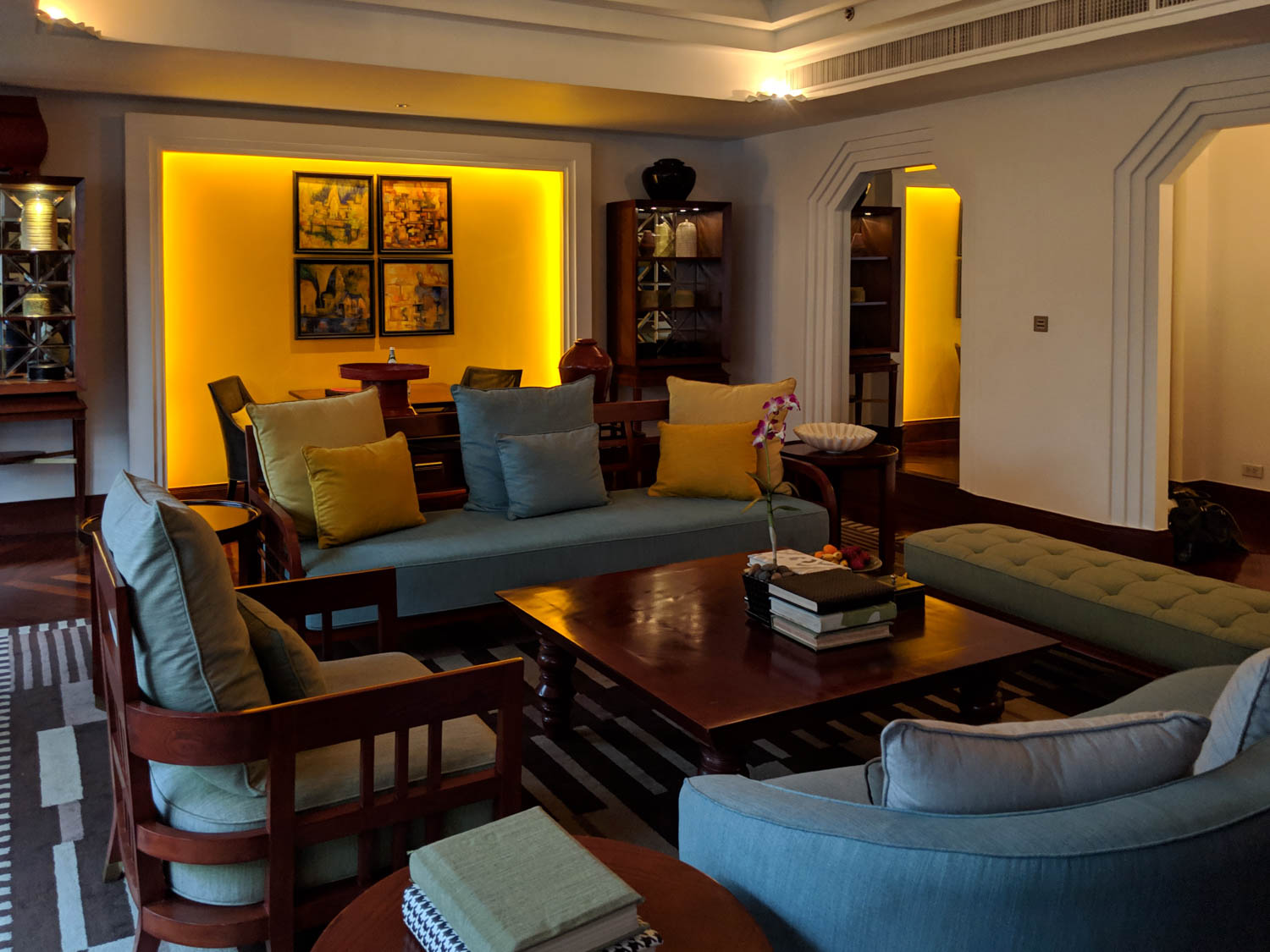 The suite opened to a large living room, with enough plush seating to host practically everyone I know.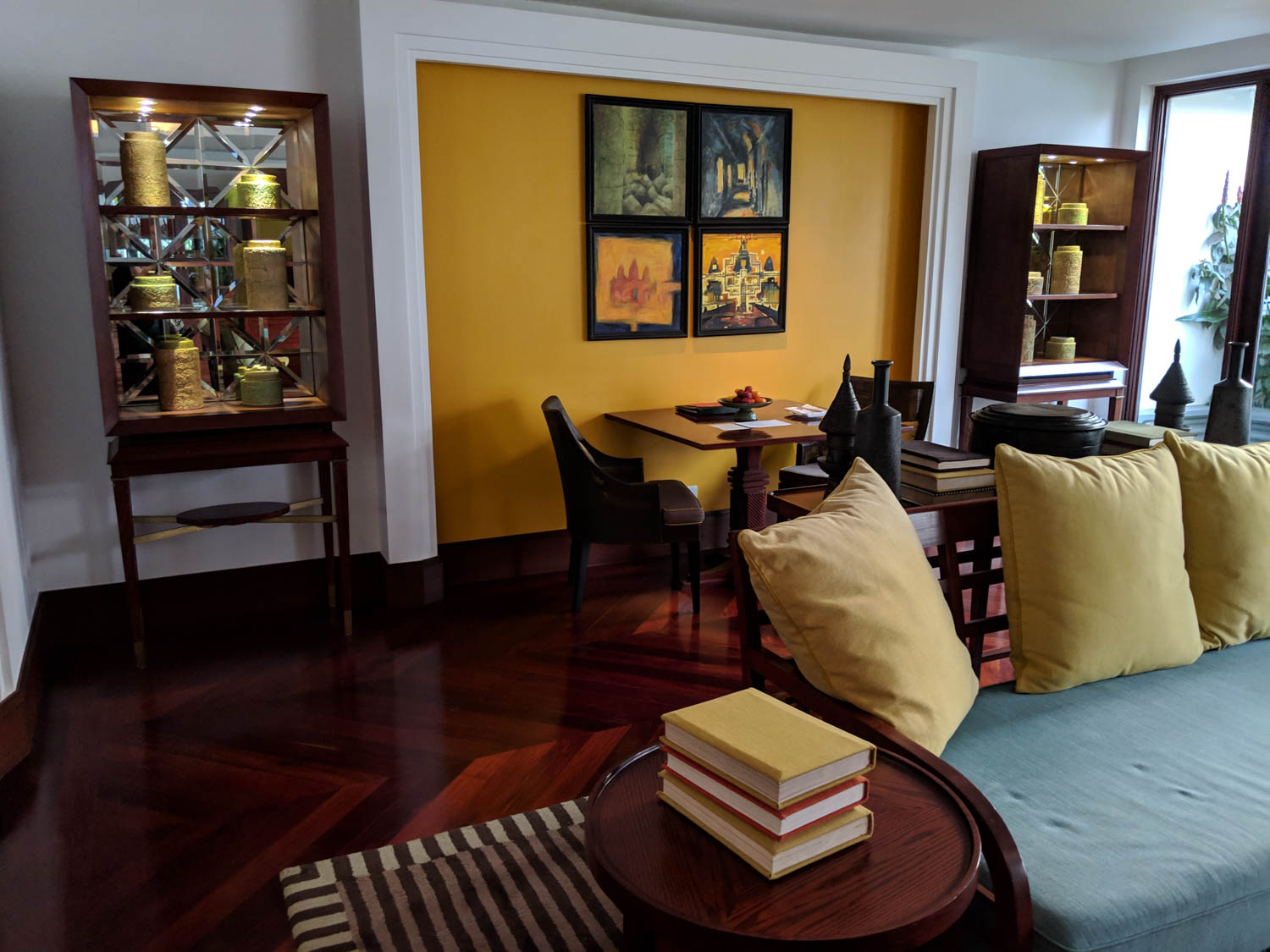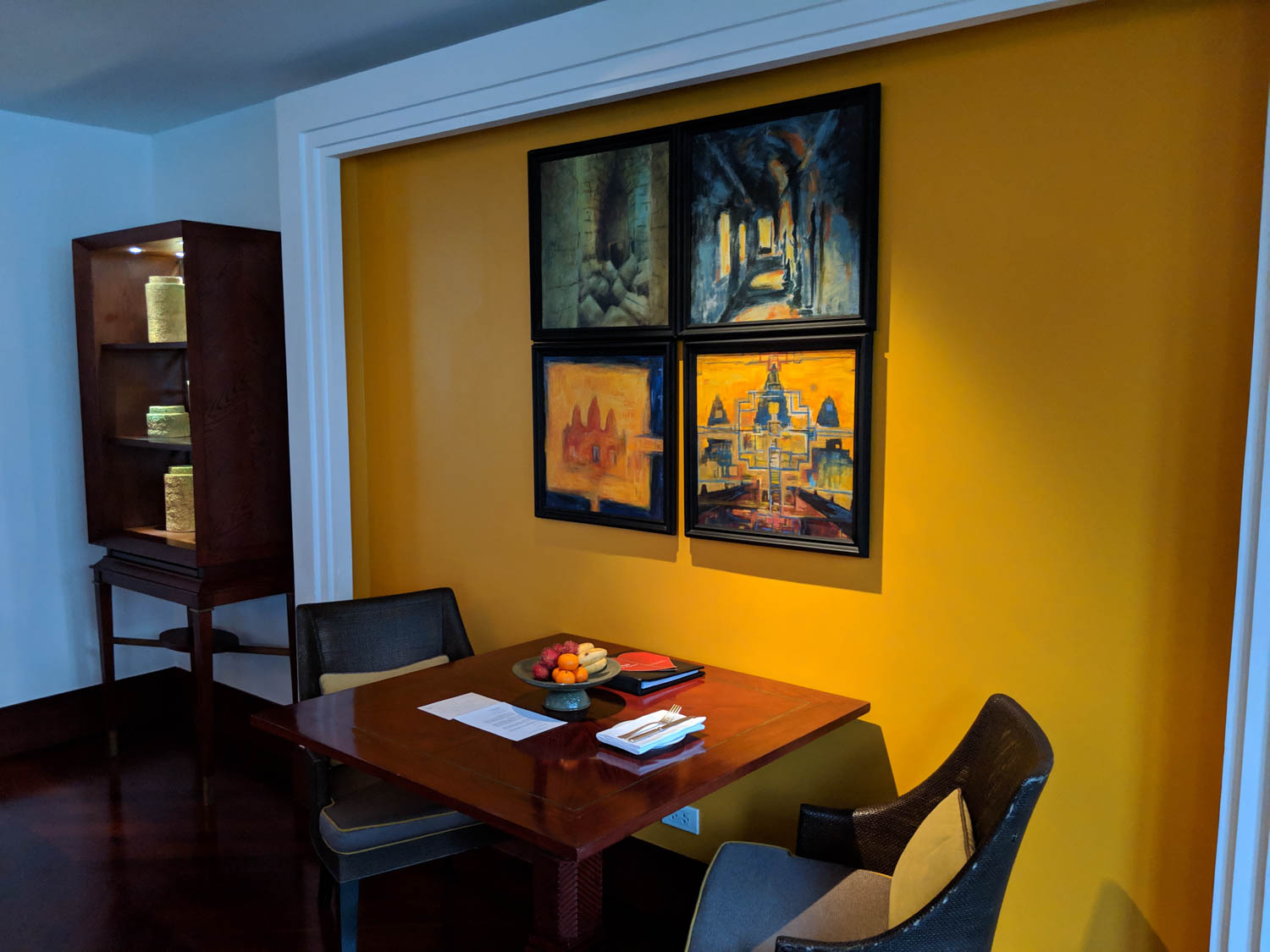 The living room had a large TV, and several thoughtfully-curated curio cabinets, accented by stacks of cloth-bound books.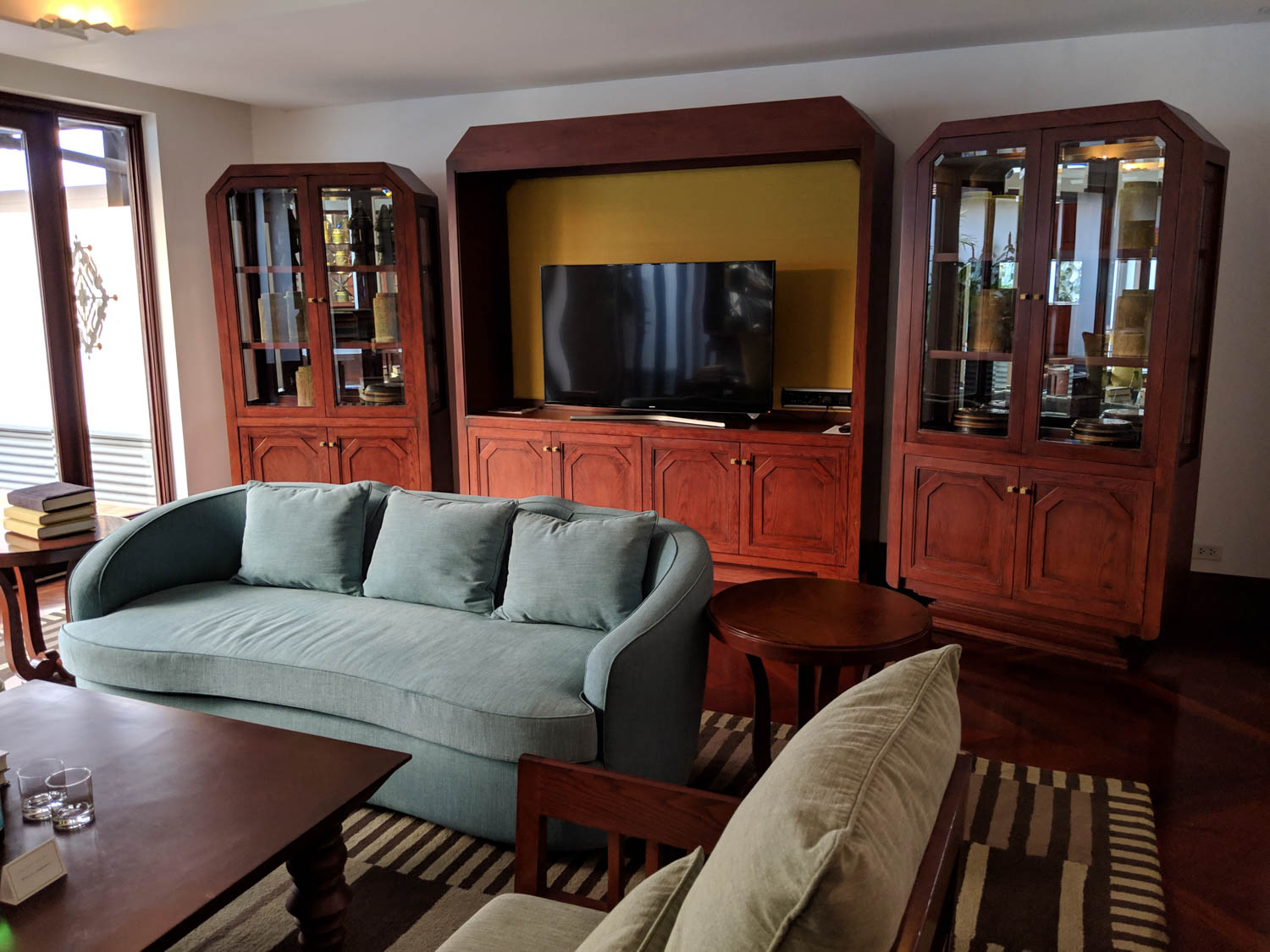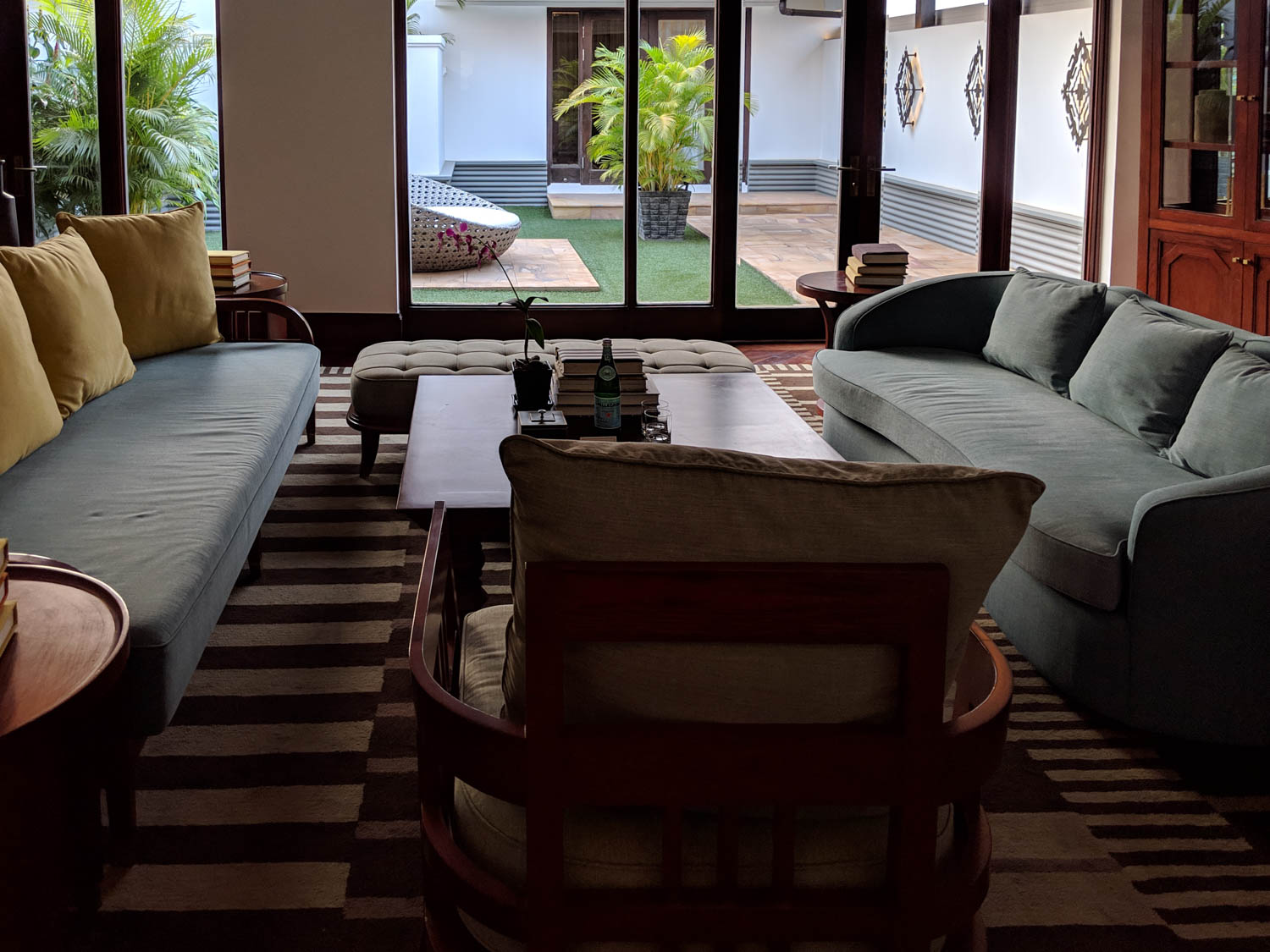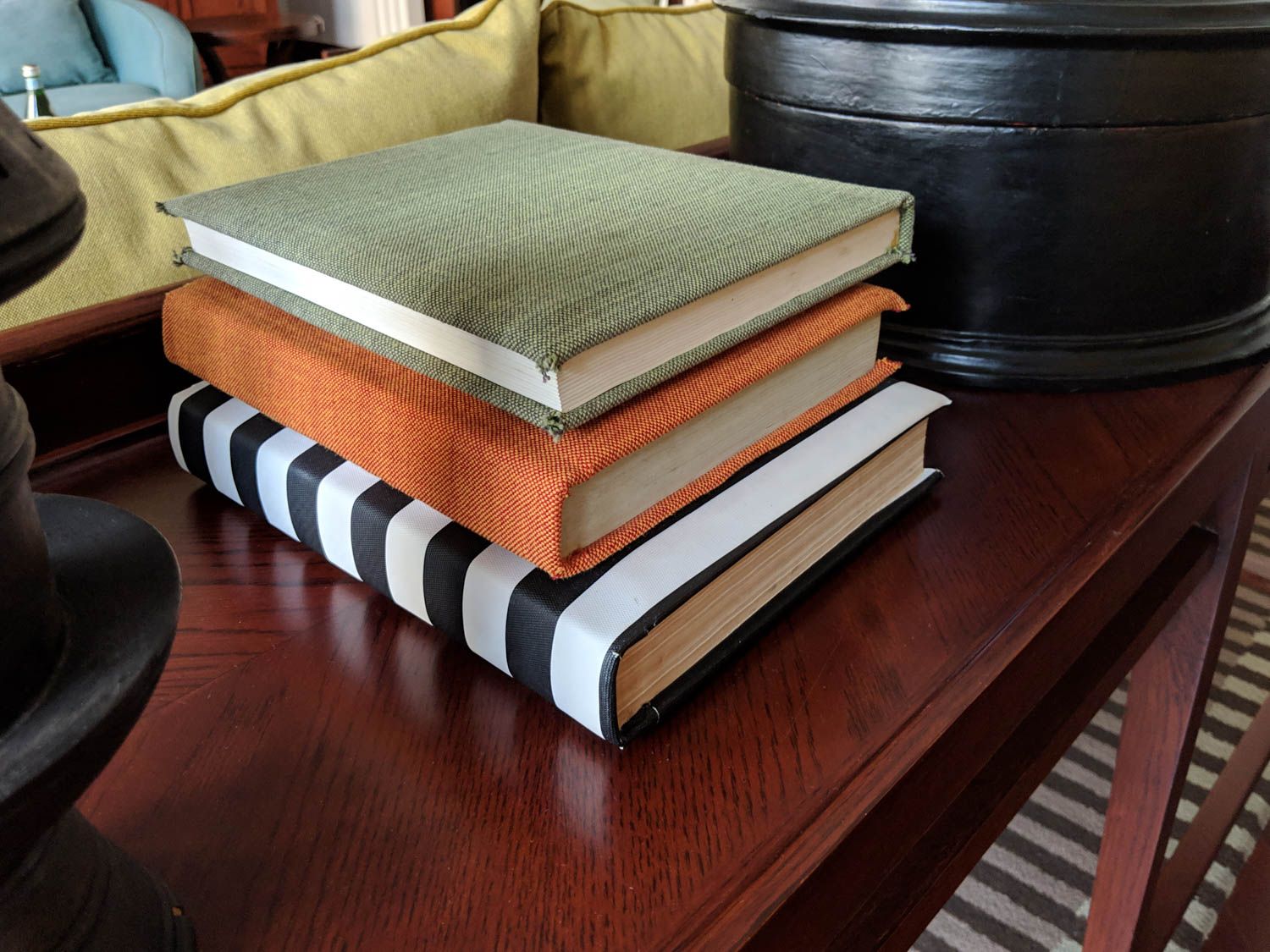 Plates of fresh fruit were waiting in both rooms, along with sparkling water and macarons: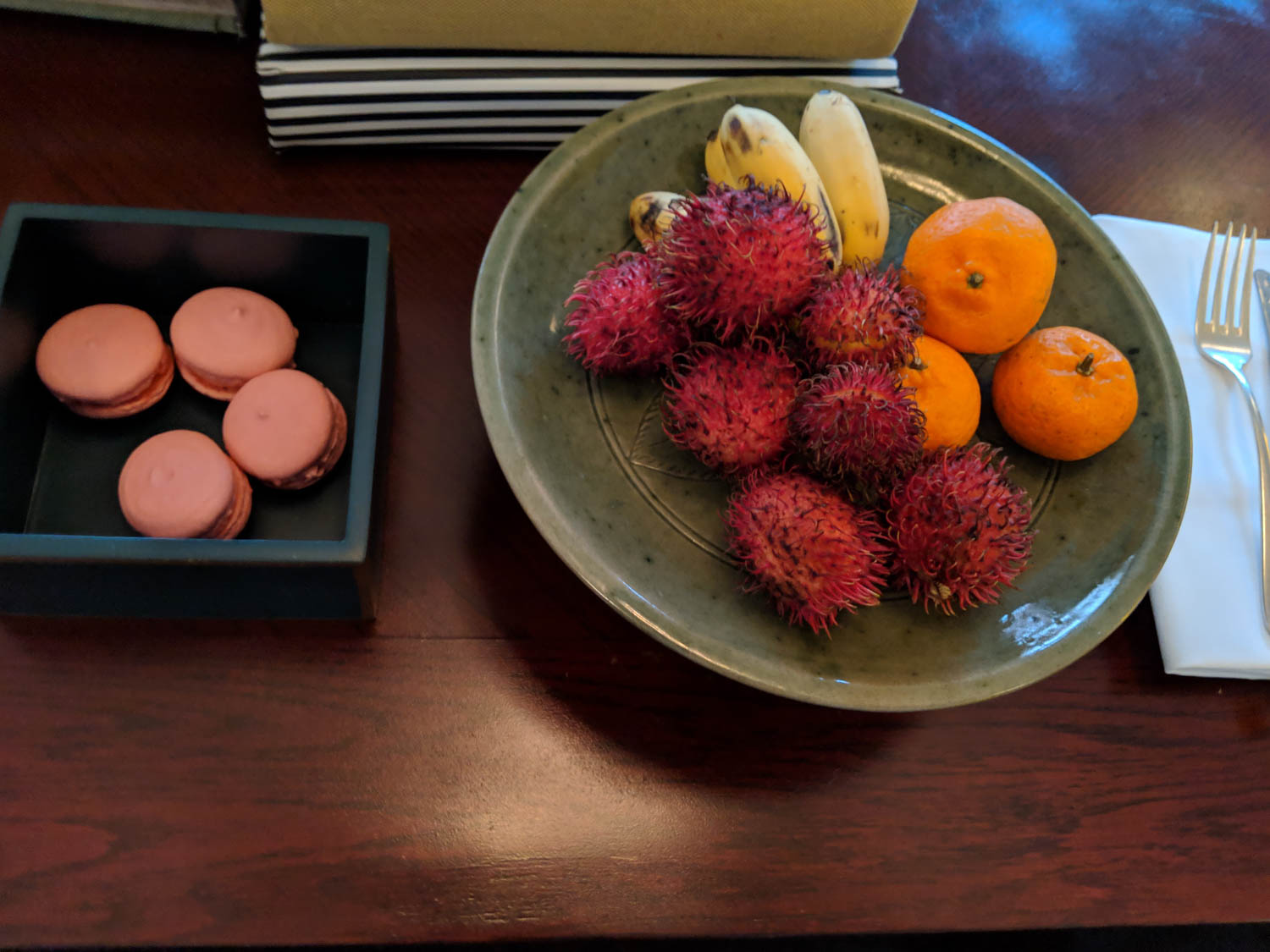 To one side of the living room was a narrow powder room, with a separate toilet area: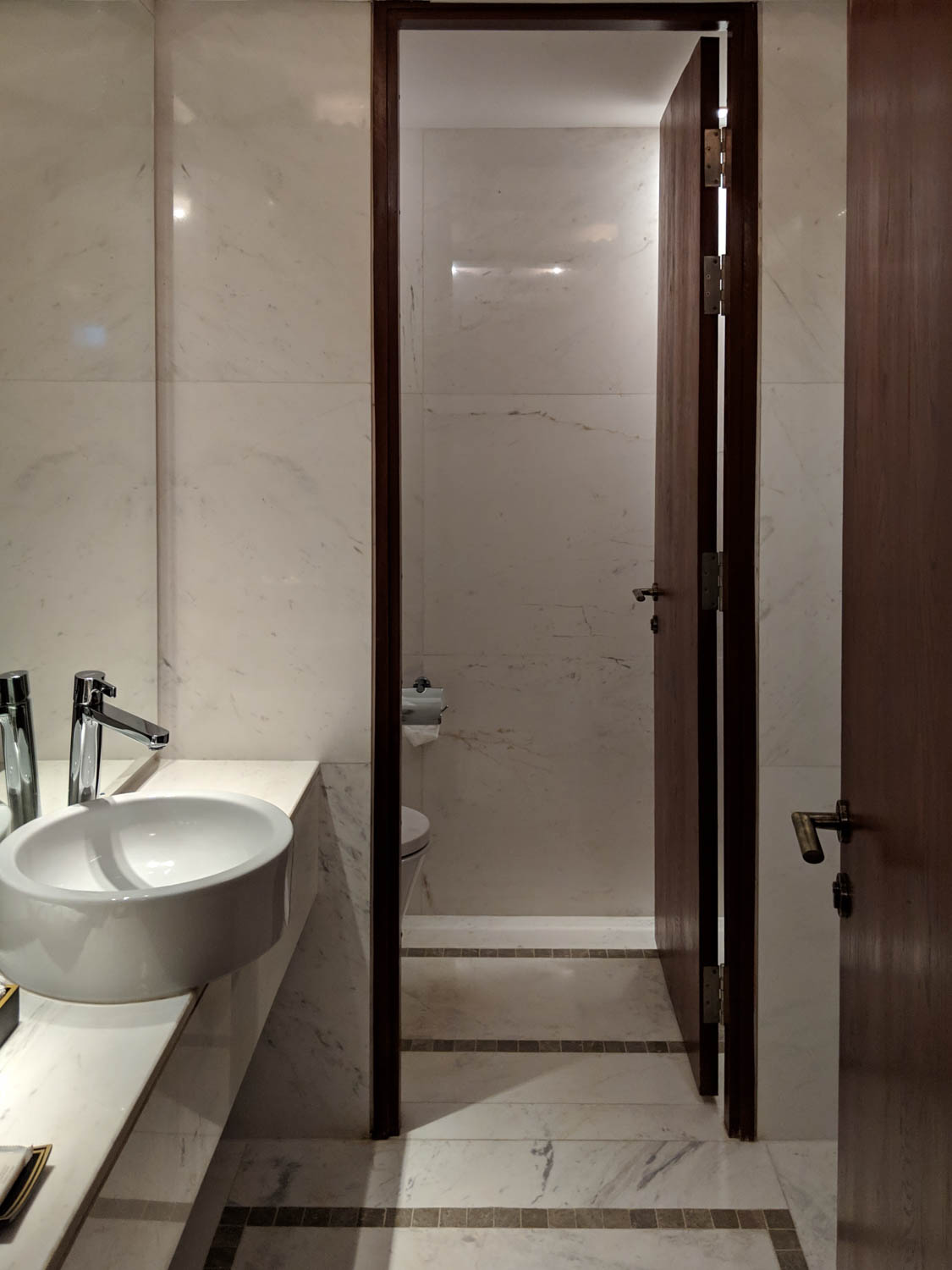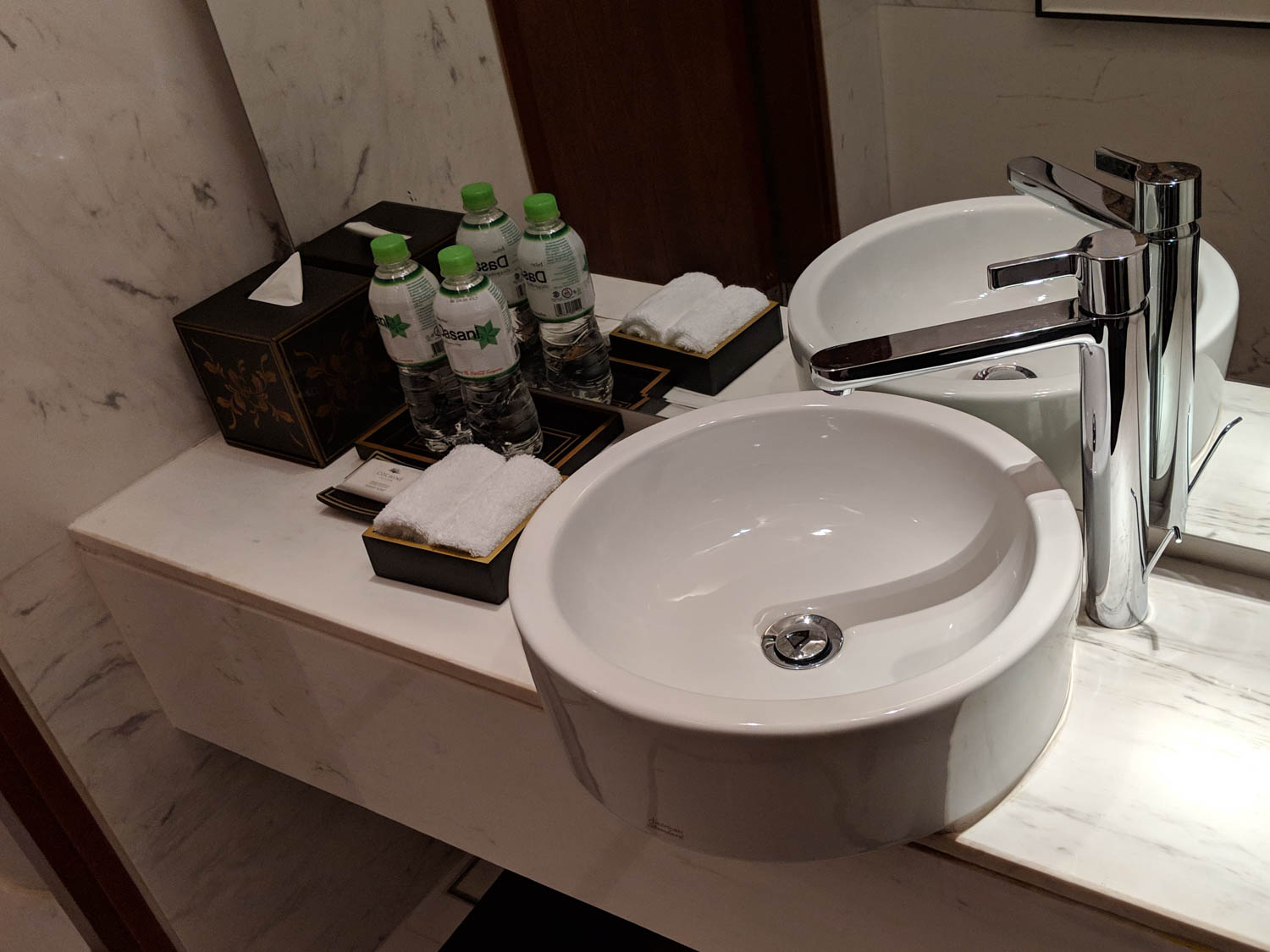 On the other side of the living area was a large "pantry" room with a sink, fridge/freezer combo, and the standard minibar and coffee setup (the latter of which really came in handy when I woke my family up at 4AM to go sightseeing the next morning).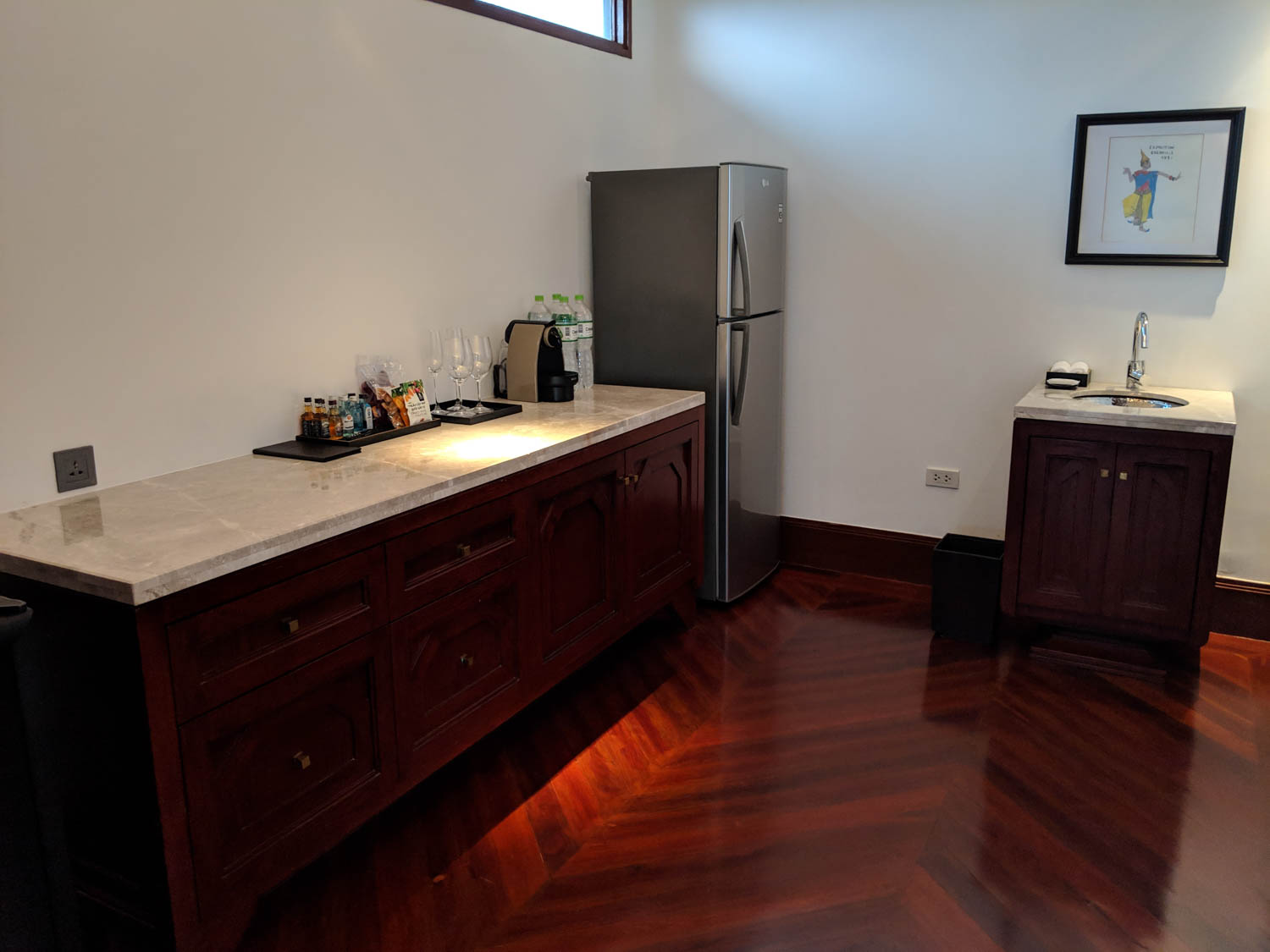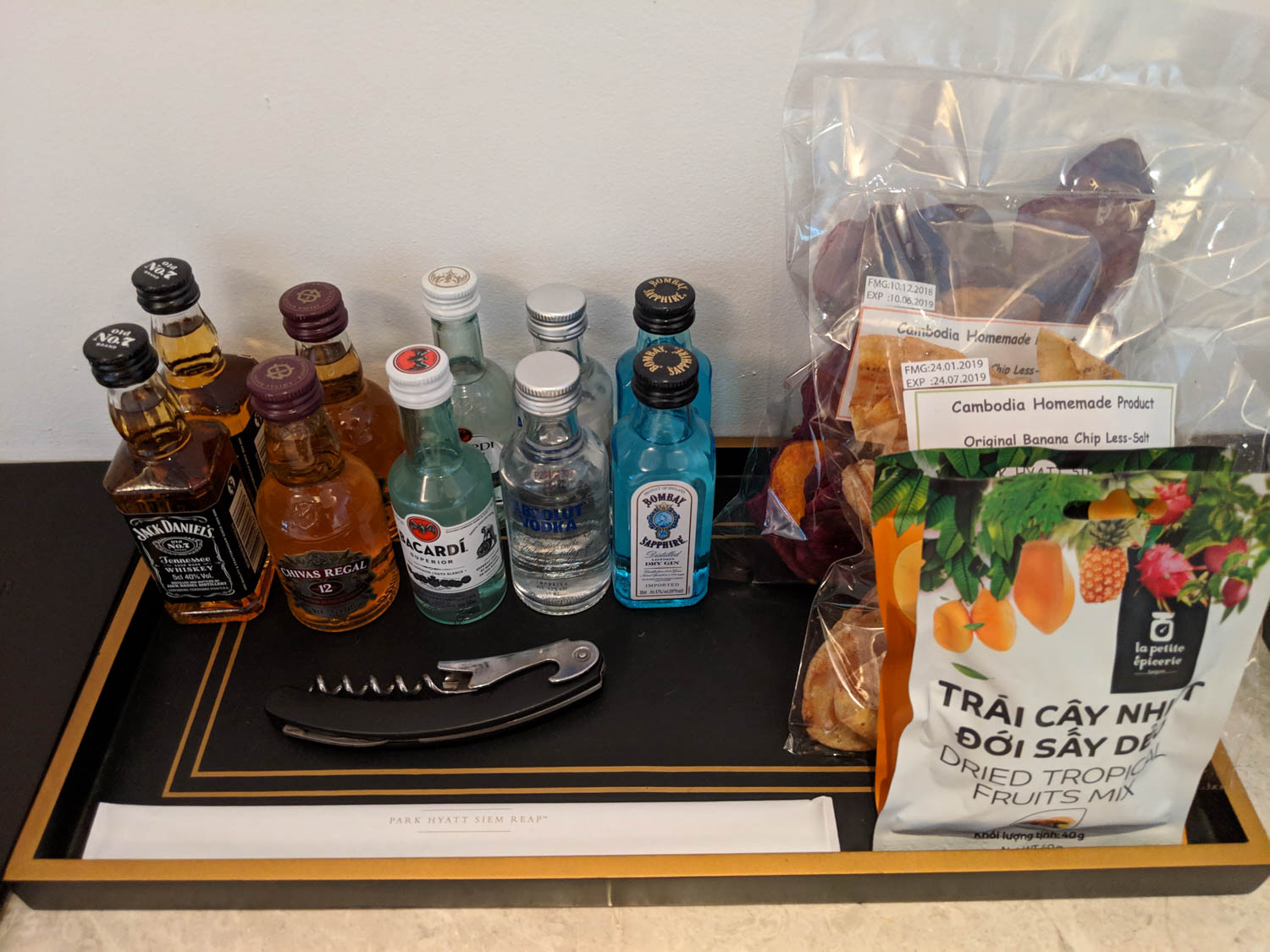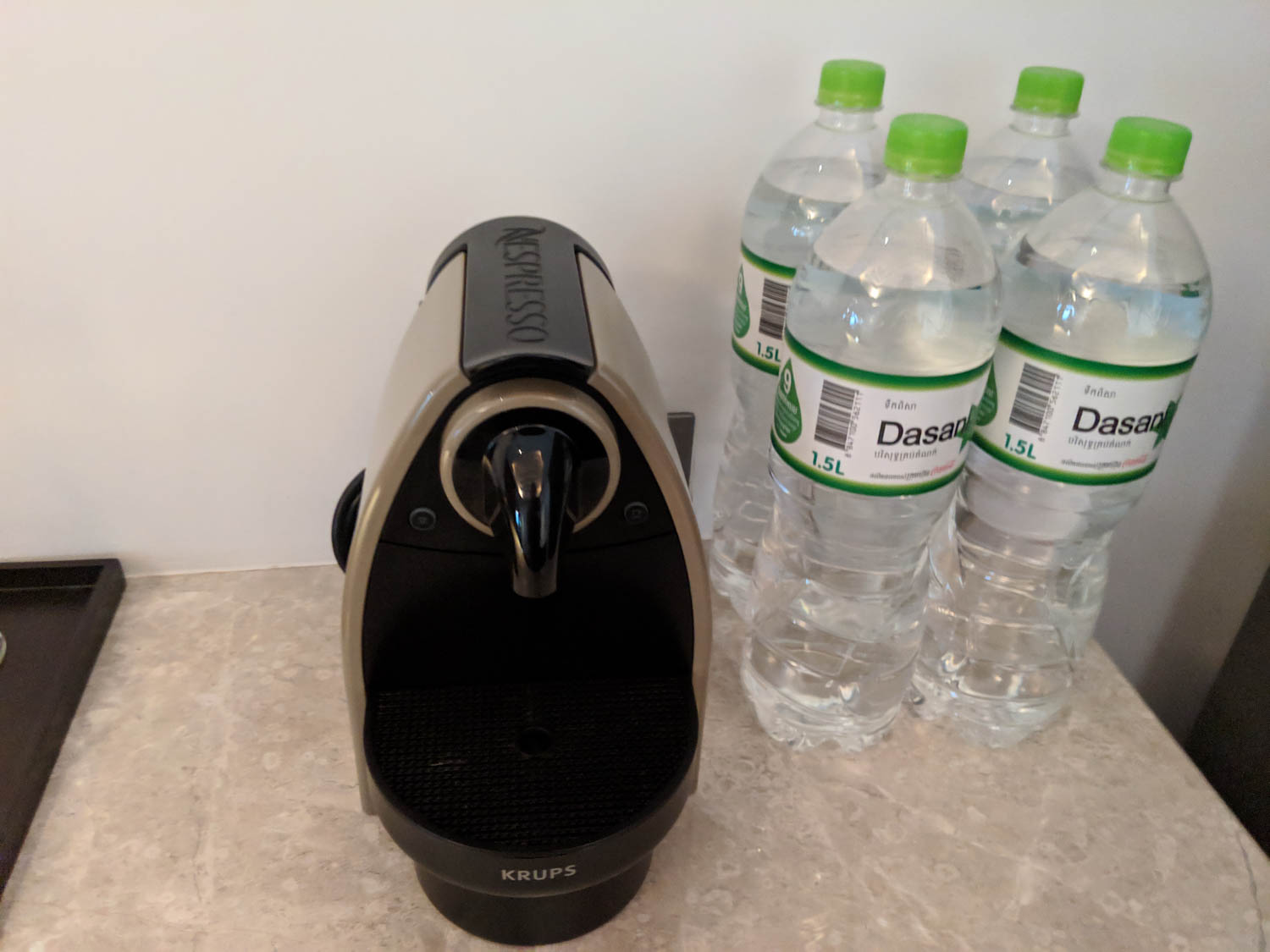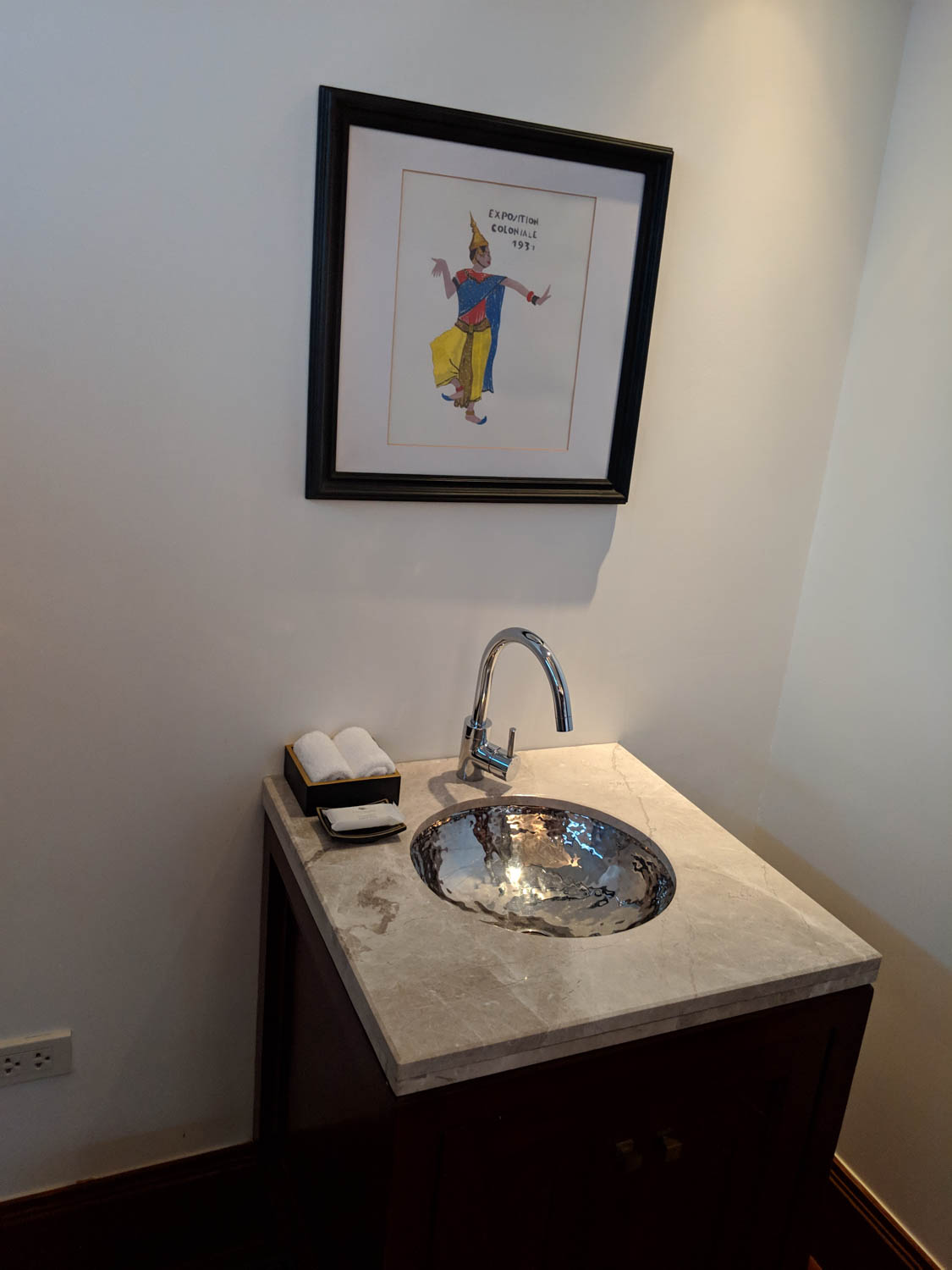 That being said, I don't really understand the point of dedicating so much space to a pantry. If you were having a large party in your room then I can see where having a staging/bar area with a separate staff entrance could come in handy, but that's not really something I think of doing in Siem Reap. But that might just be me.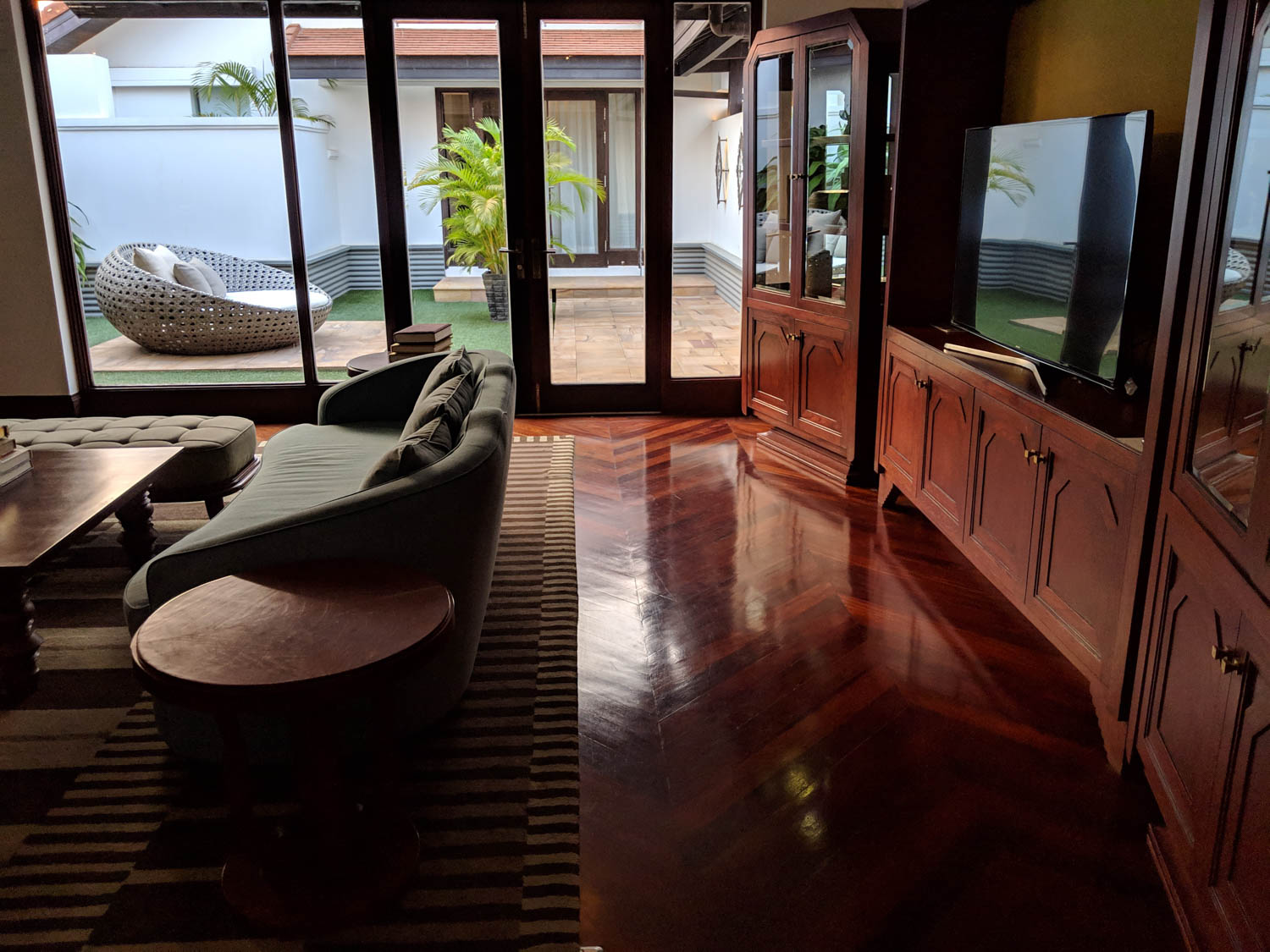 Anyway, the glass doors of the living room opened to a nice rooftop garden area, with a comfortable lounge chair.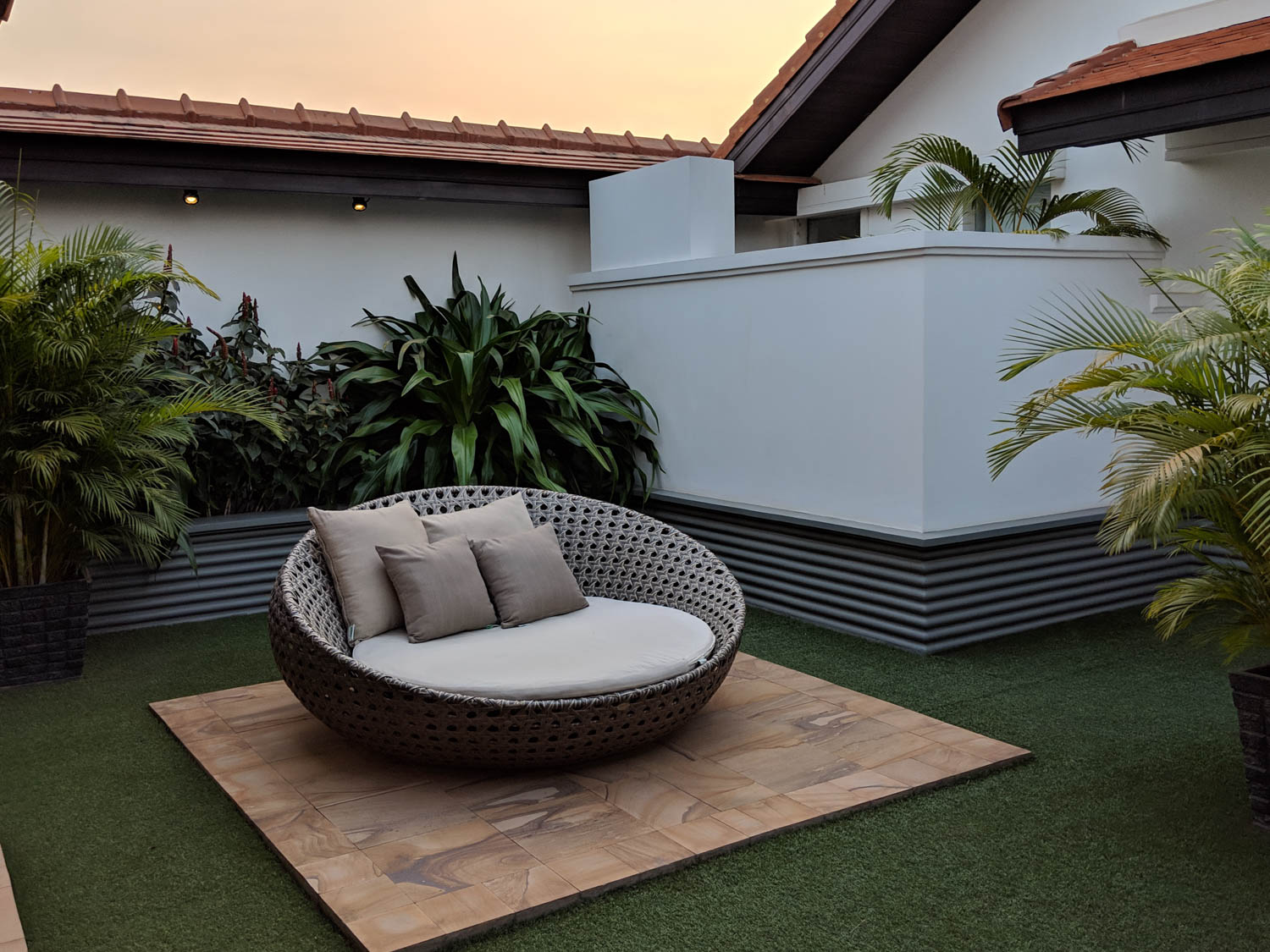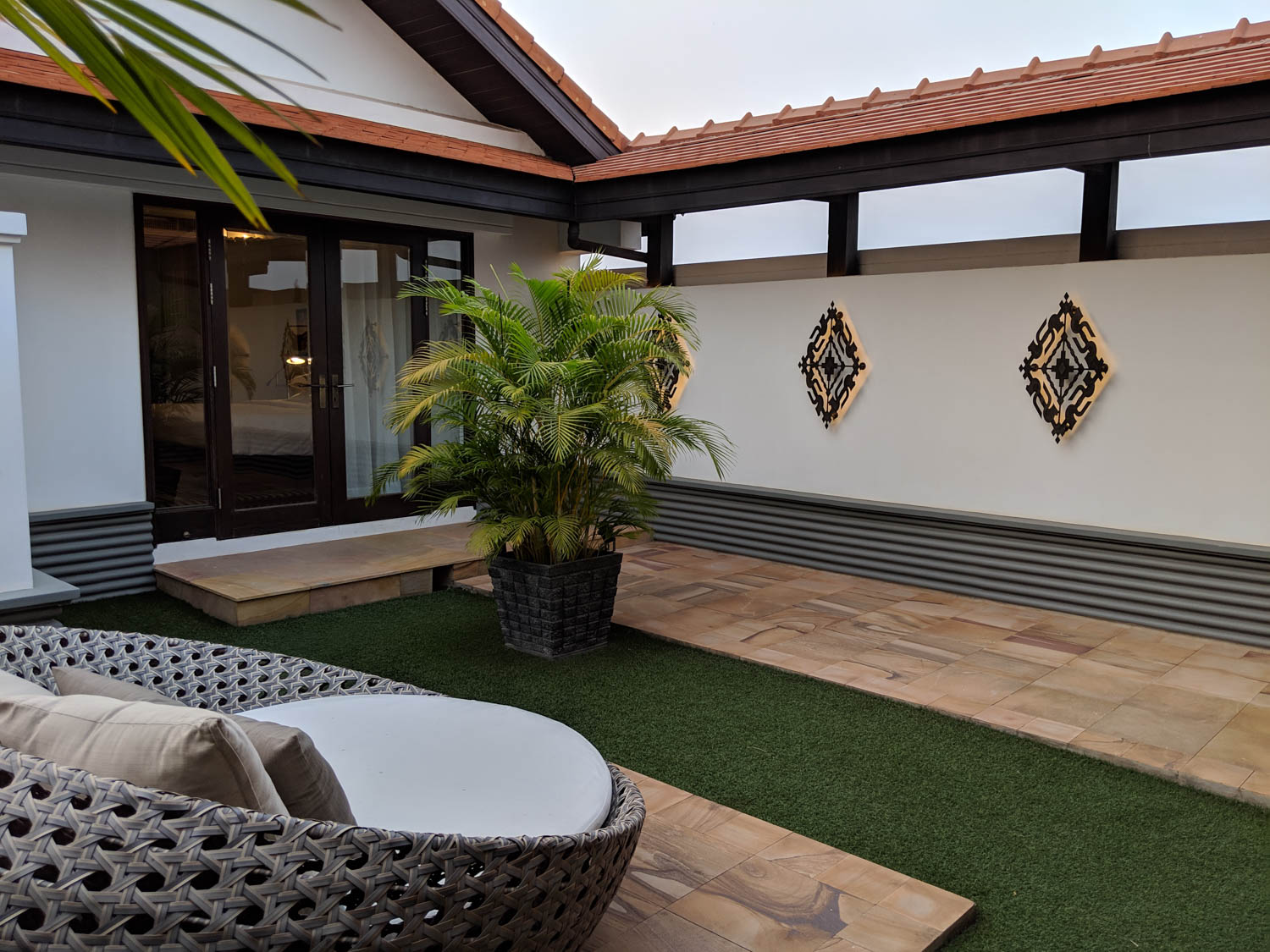 My mom wanted nothing more than to just spend some time reading in these chairs, though unfortunately Siem Reap was…quite fragrant…on the days we were there, so being outside while in town wasn't particularly pleasant.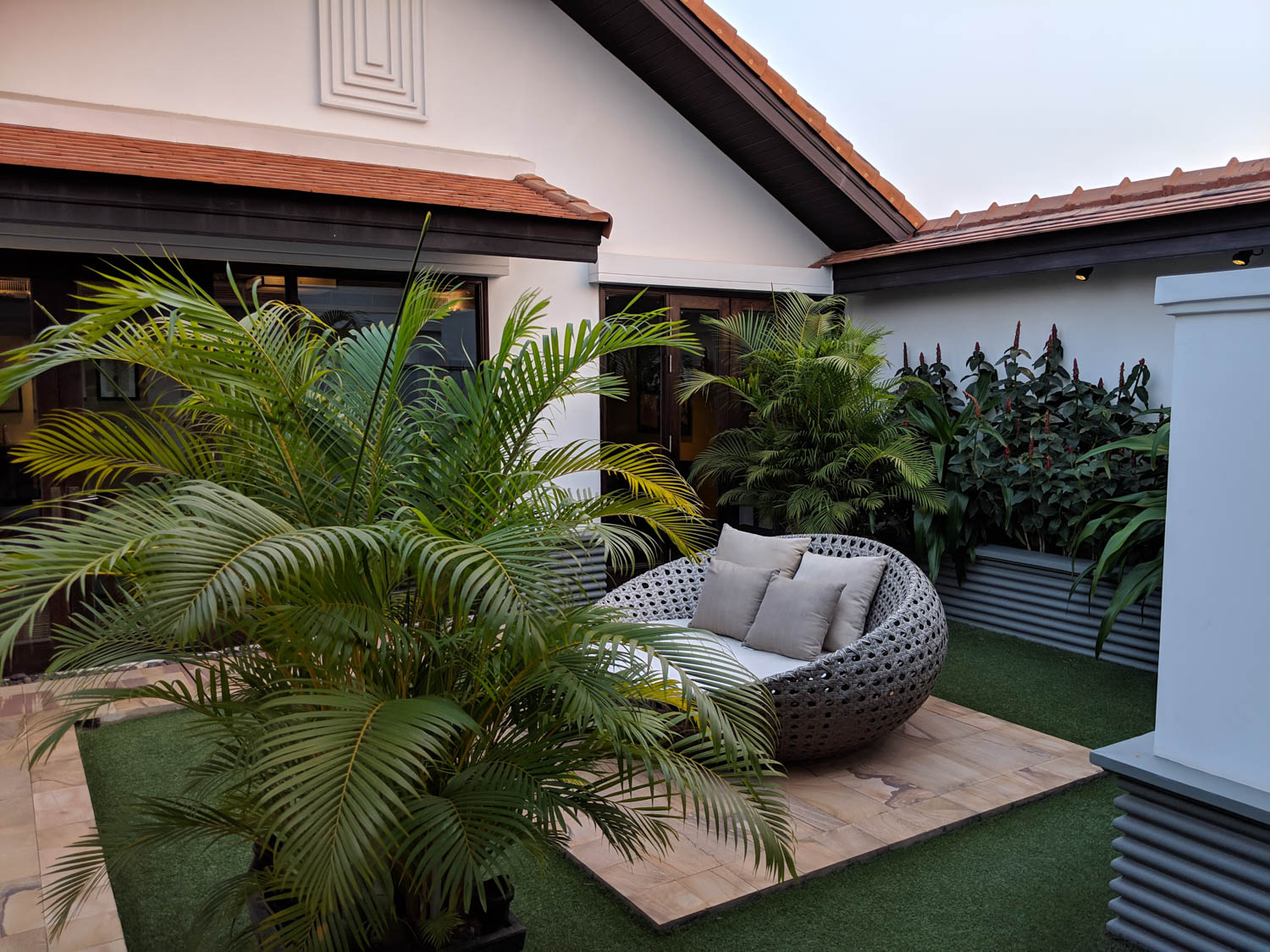 On the other side of the garden was another panel of glass doors that led to the bedroom.
As a reference point, the living rooms, bathrooms, and gardens of both suites were roughly identical, with maybe some slight variations in the accessories. The bedrooms were quite different though, and while both were nice, if you're booking just one of these suites, I'd be sure to ask for 342, rather than 340.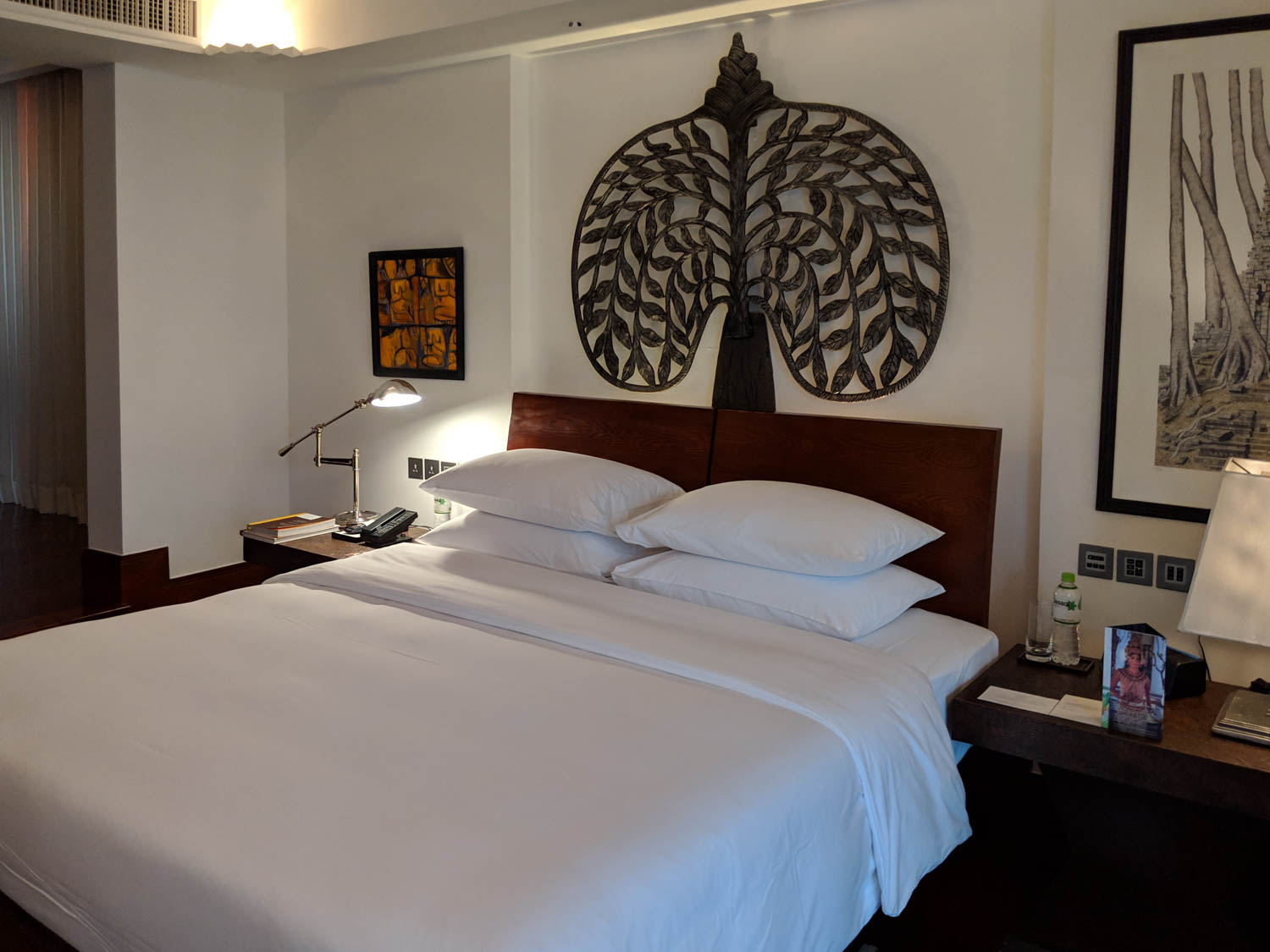 Both suites had a large king bed, and the same fun mix of decor styles that permeated the hotel.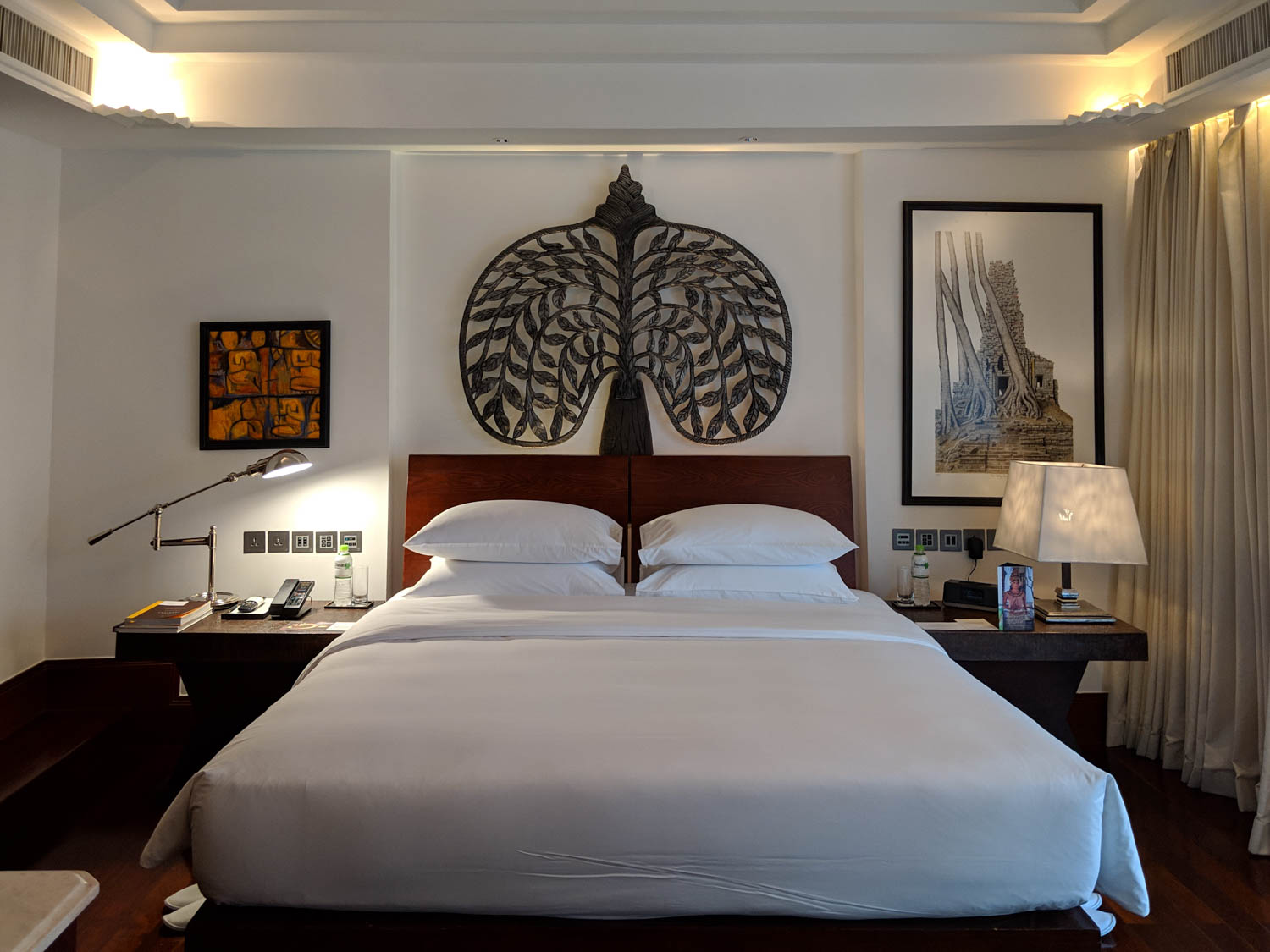 And there were dual walk-in closets as well, which were definitely appreciated, as we were all at the "exploding suitcase" phase of the trip.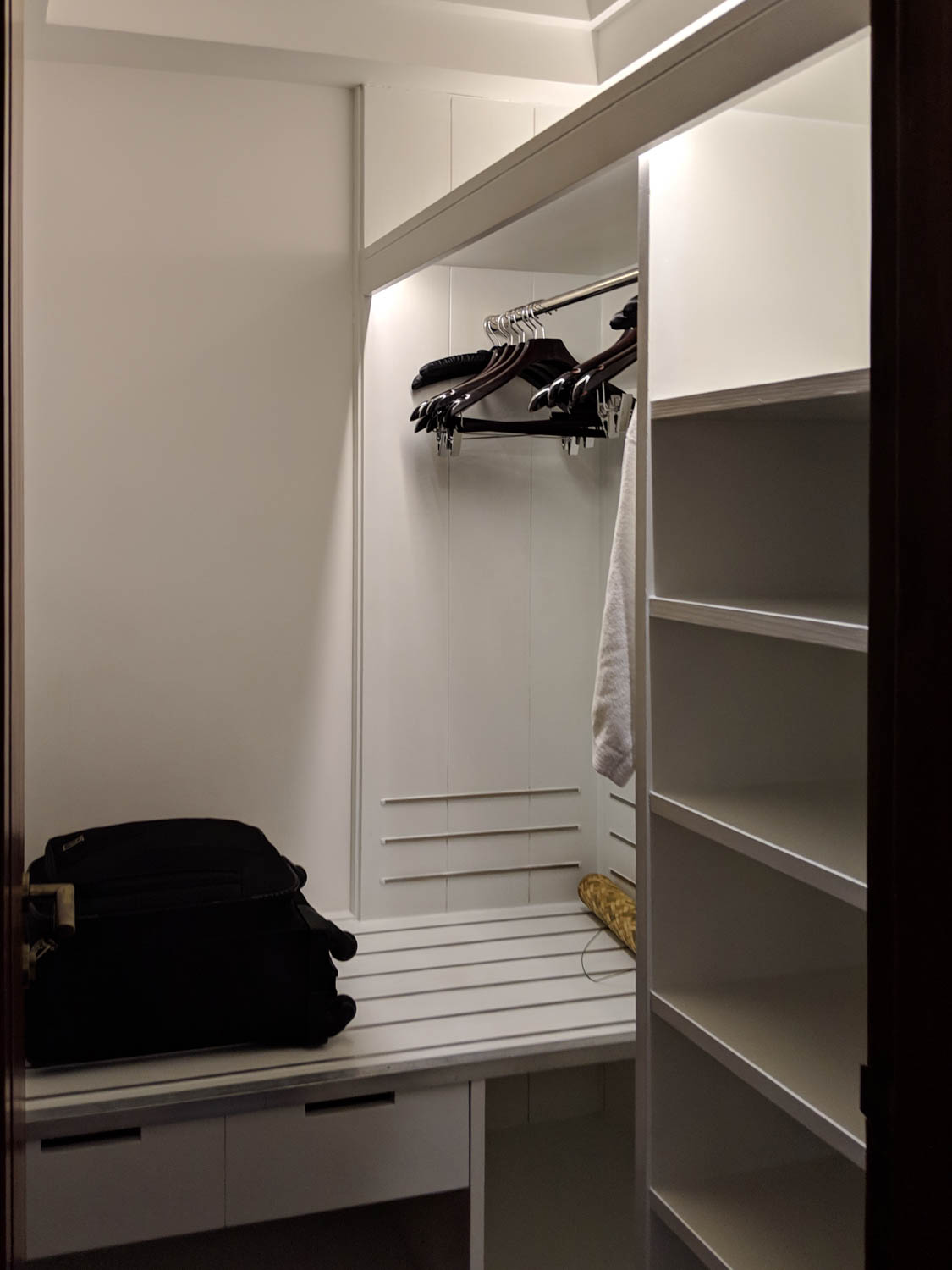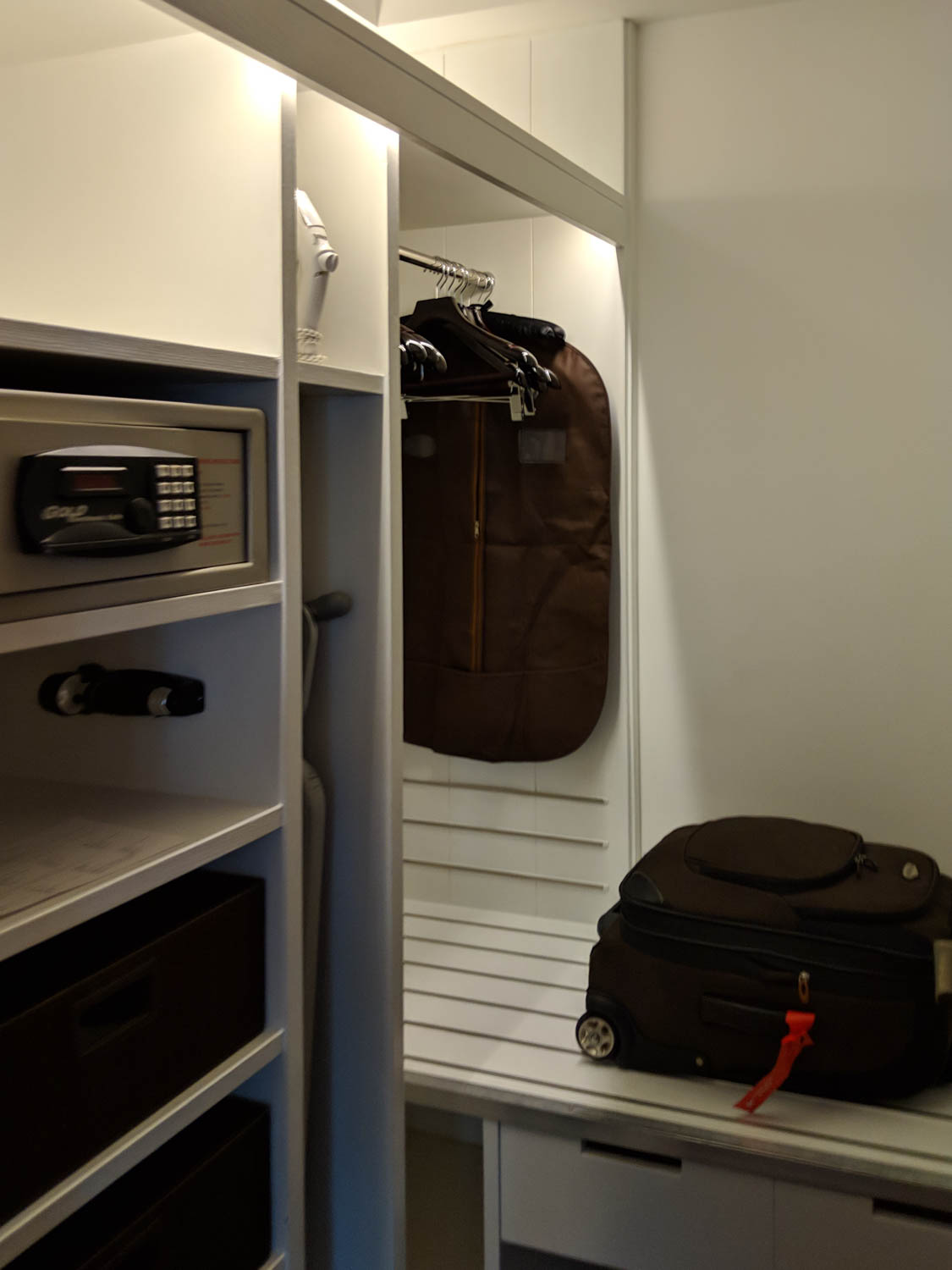 For suite 342, which is on the Western side of the building, a half-step led to a second seating area, with a chaise, two chairs, and floor-to-ceiling windows: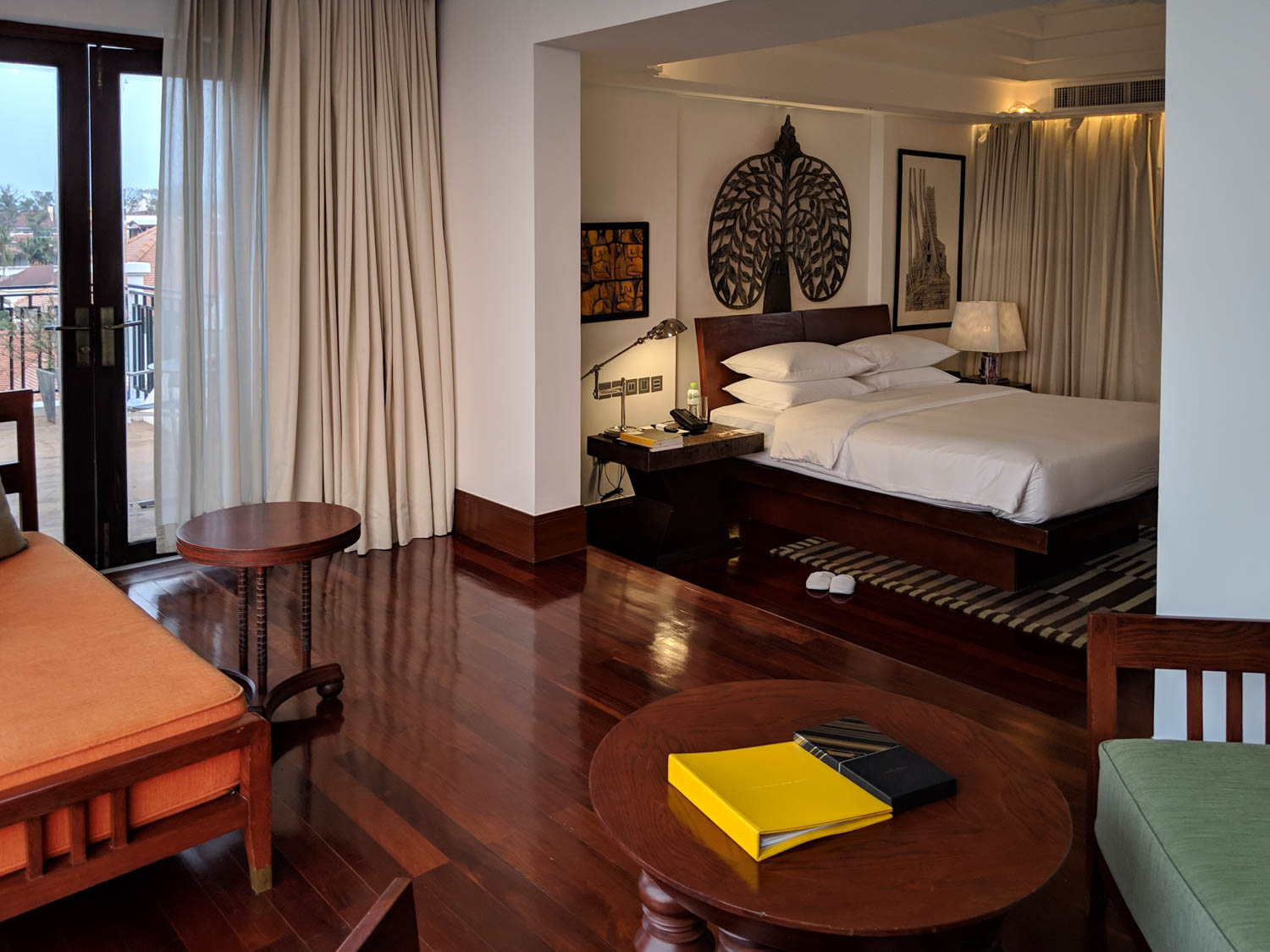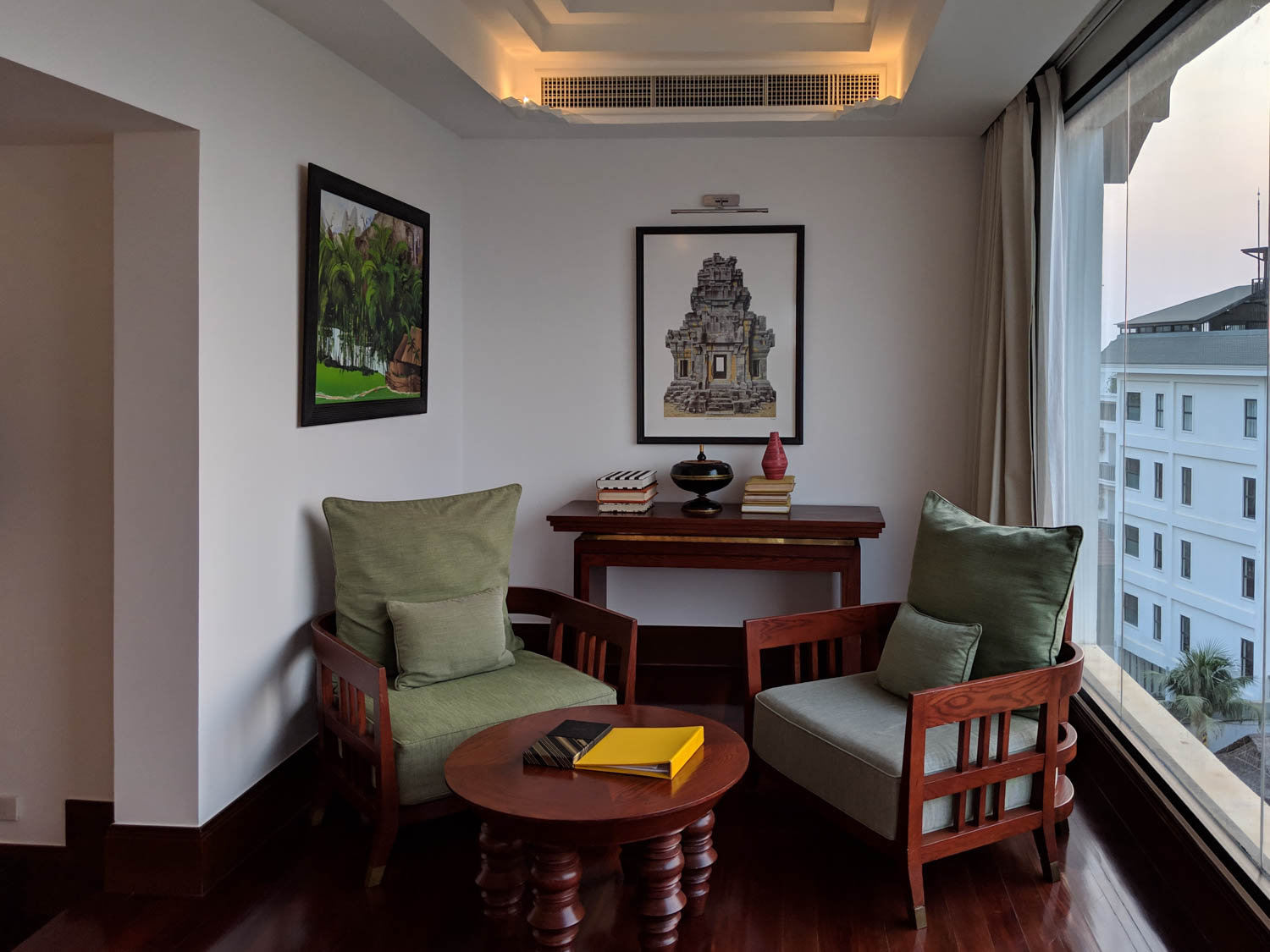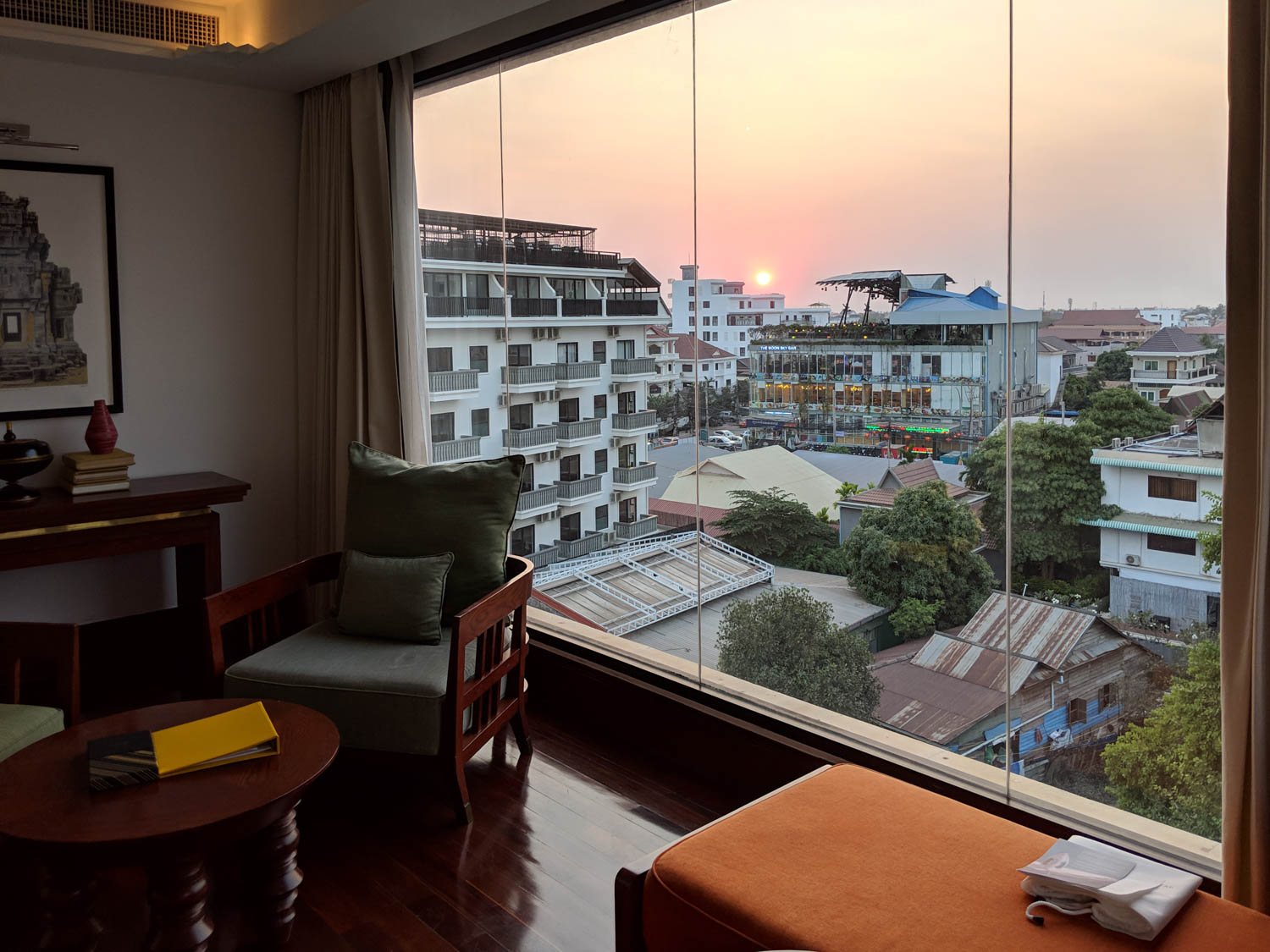 This room had a terrace as well, with views (such as they were) over the city: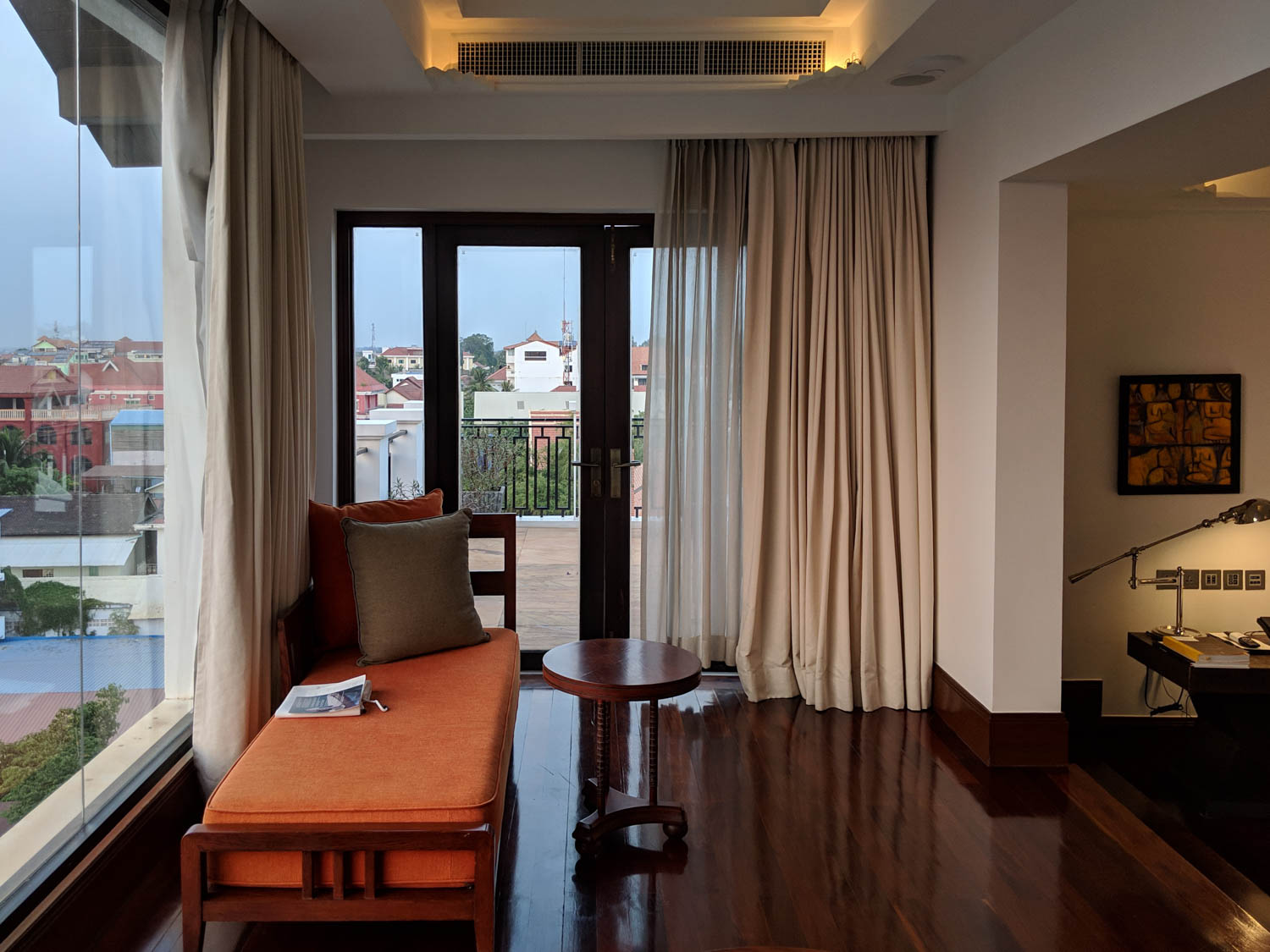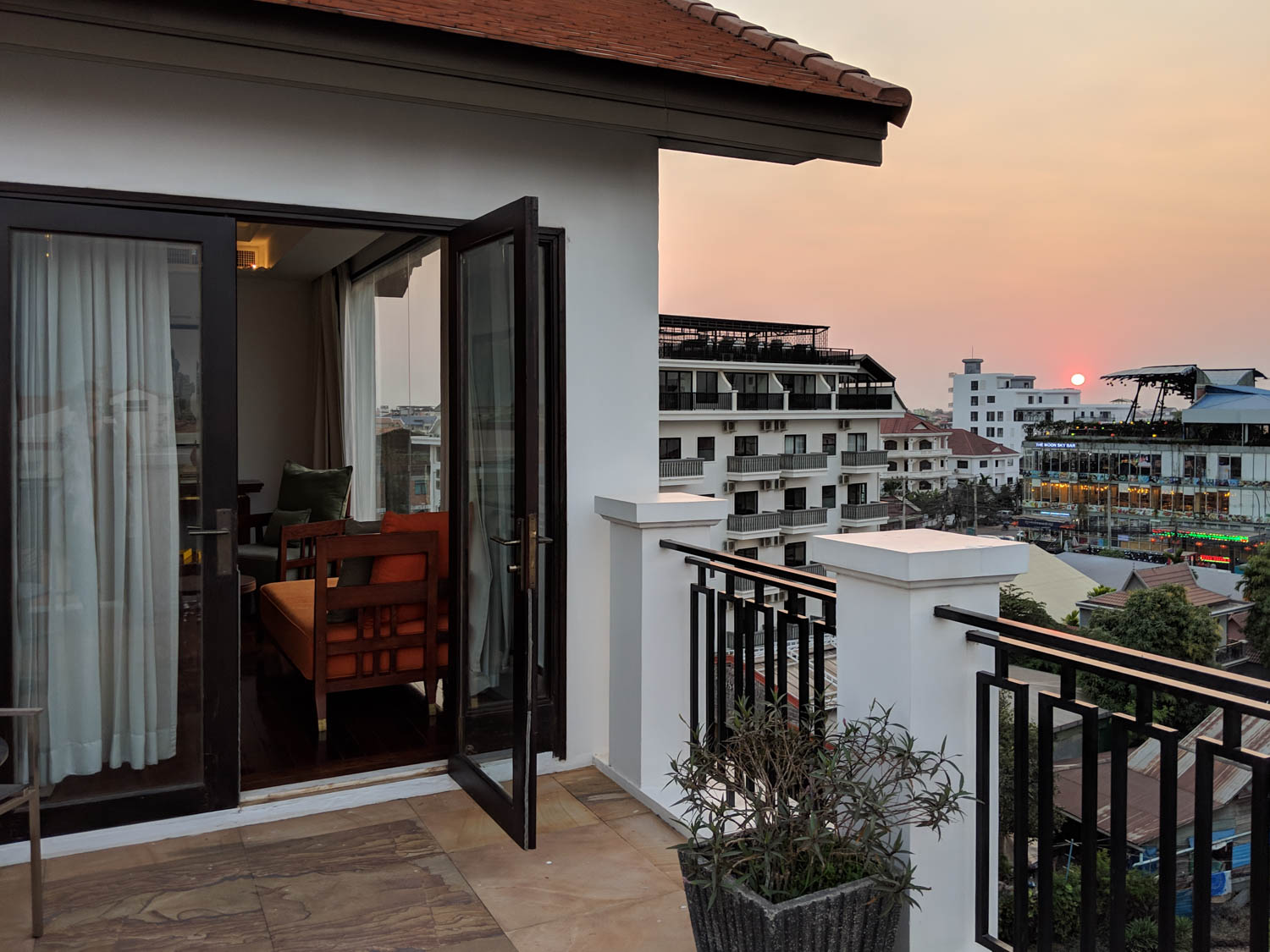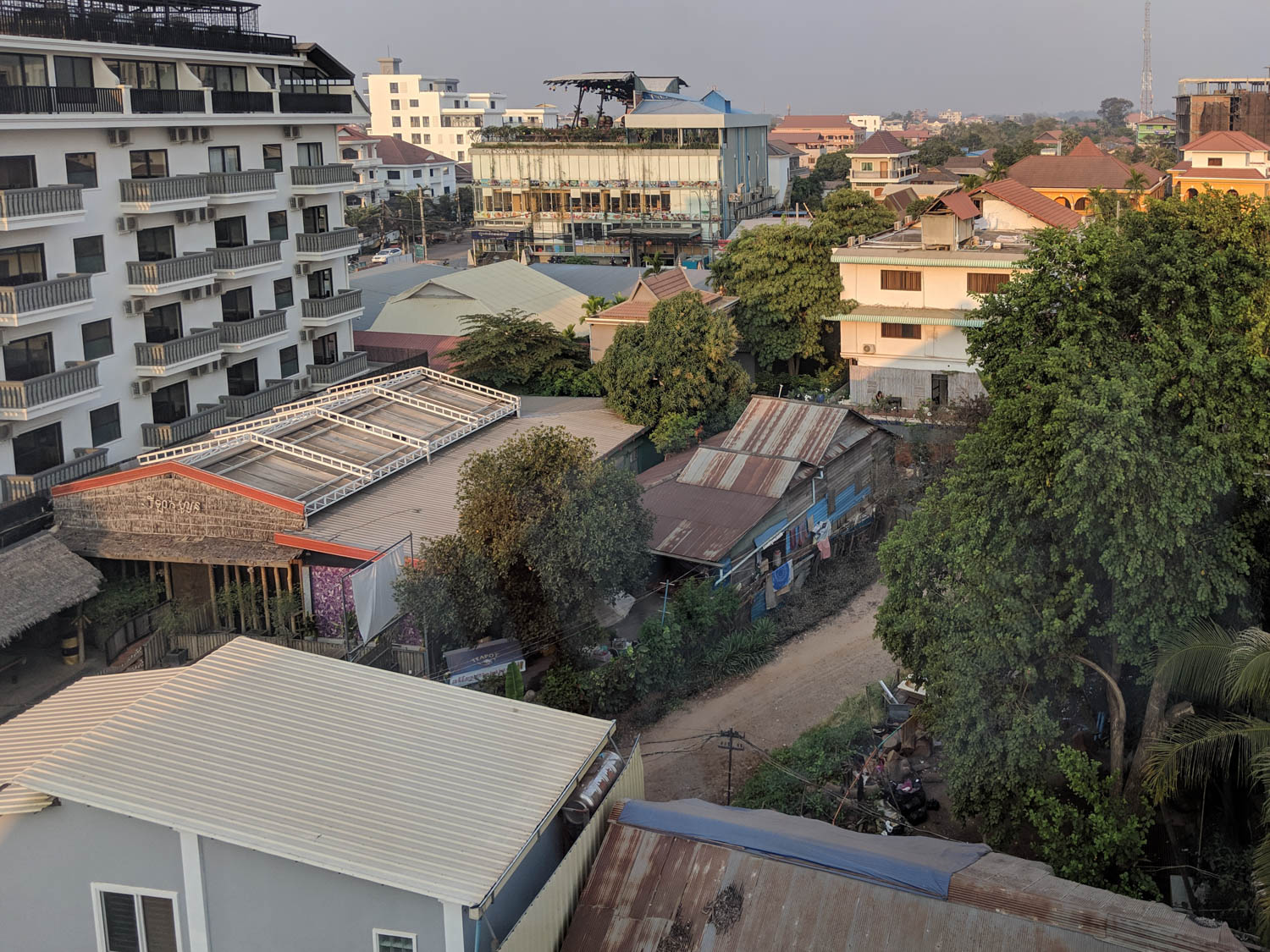 The bathrooms were through the closets in both rooms, and with the dual-sinks and marble-clad walls they were immediately pronounced as the best bathrooms of the trip.
Not that the competition was that steep, of course.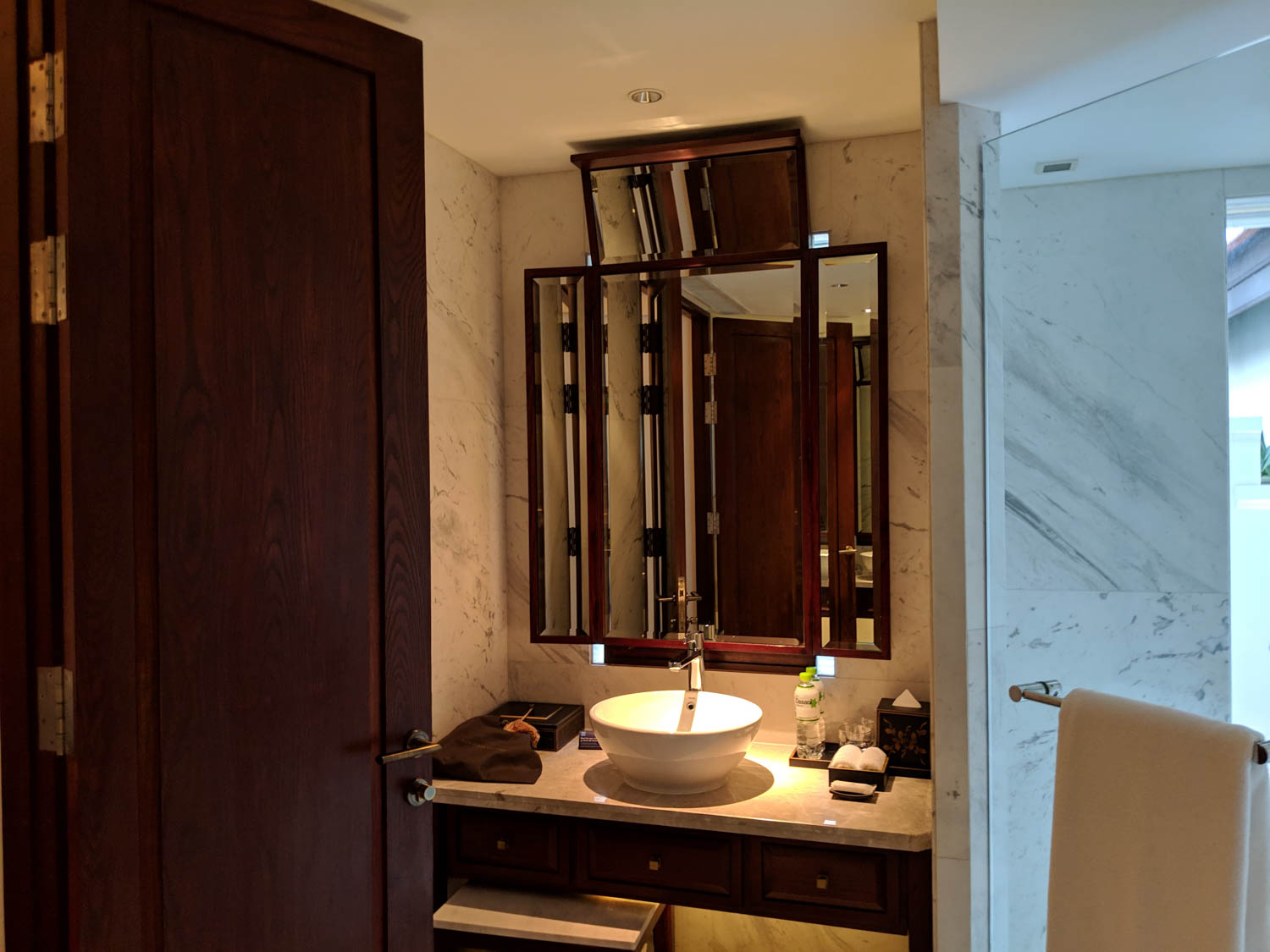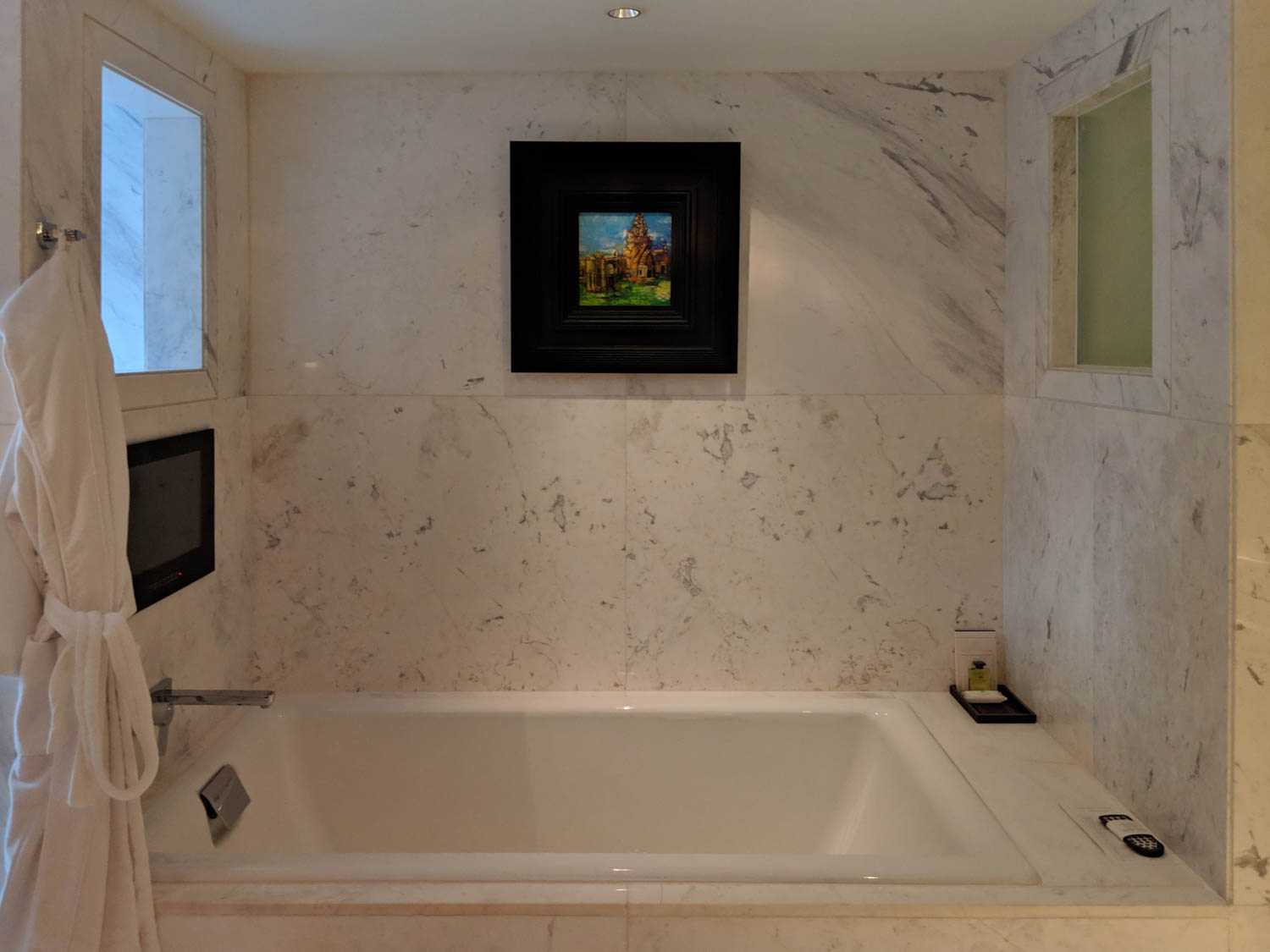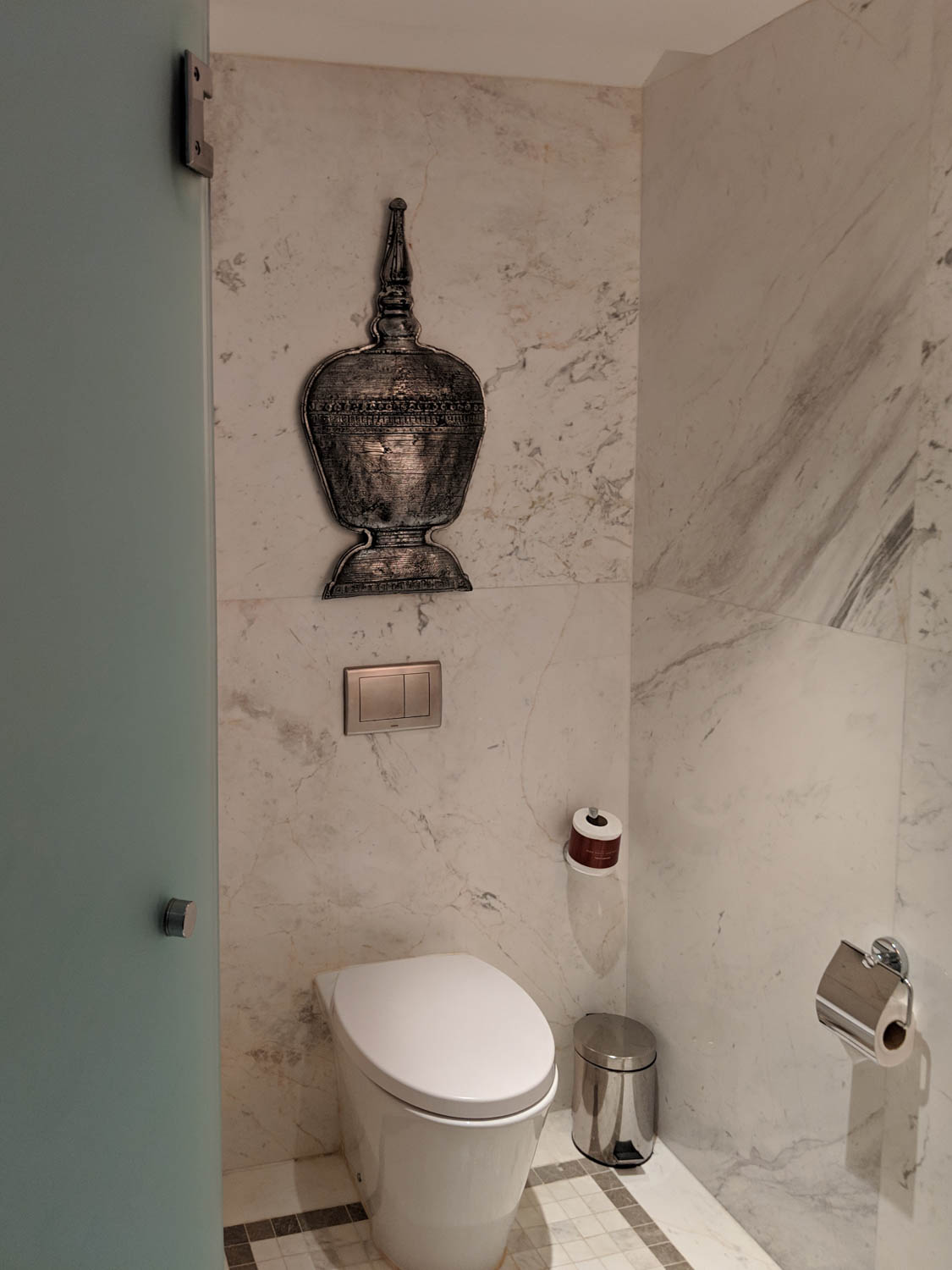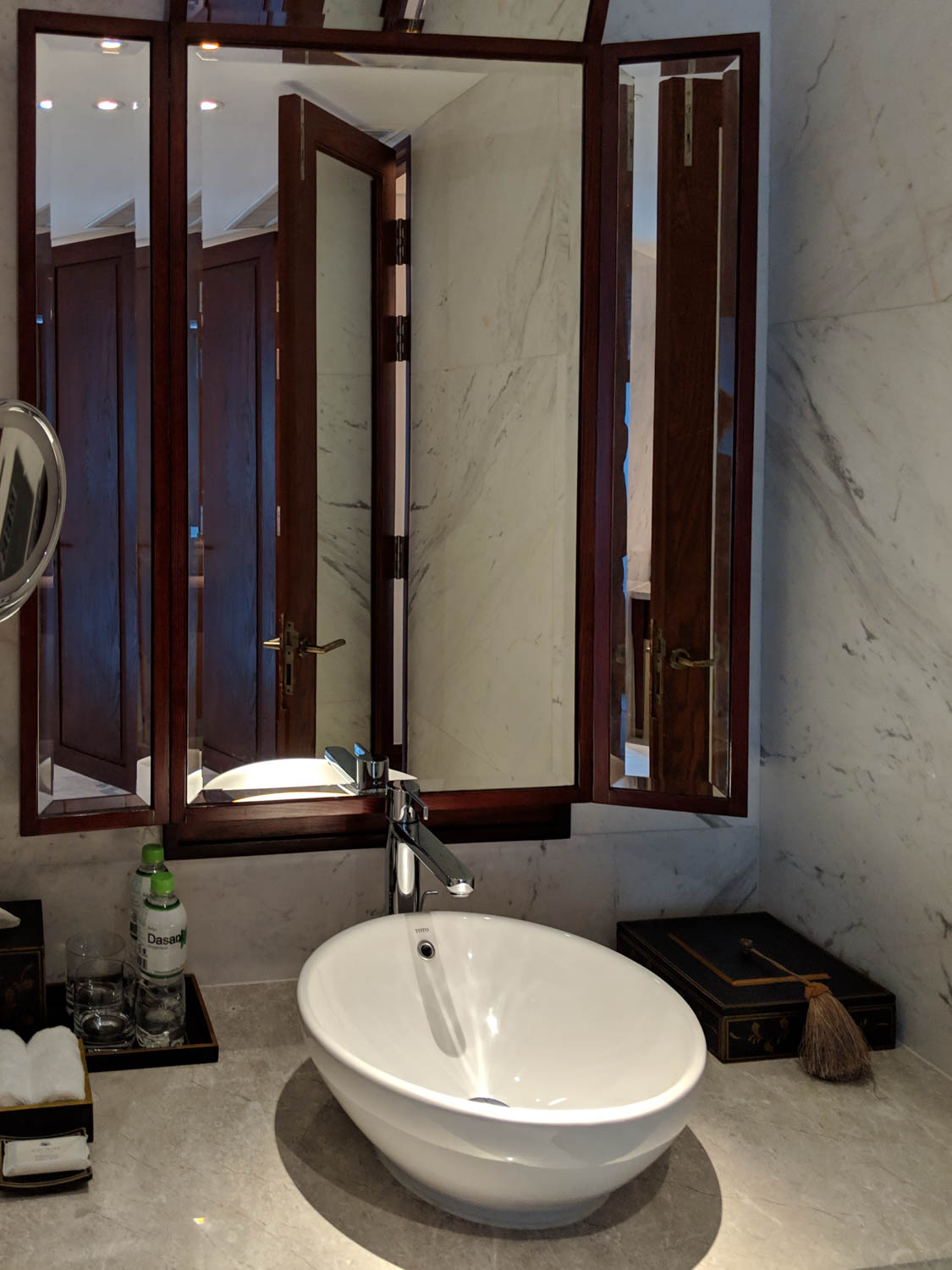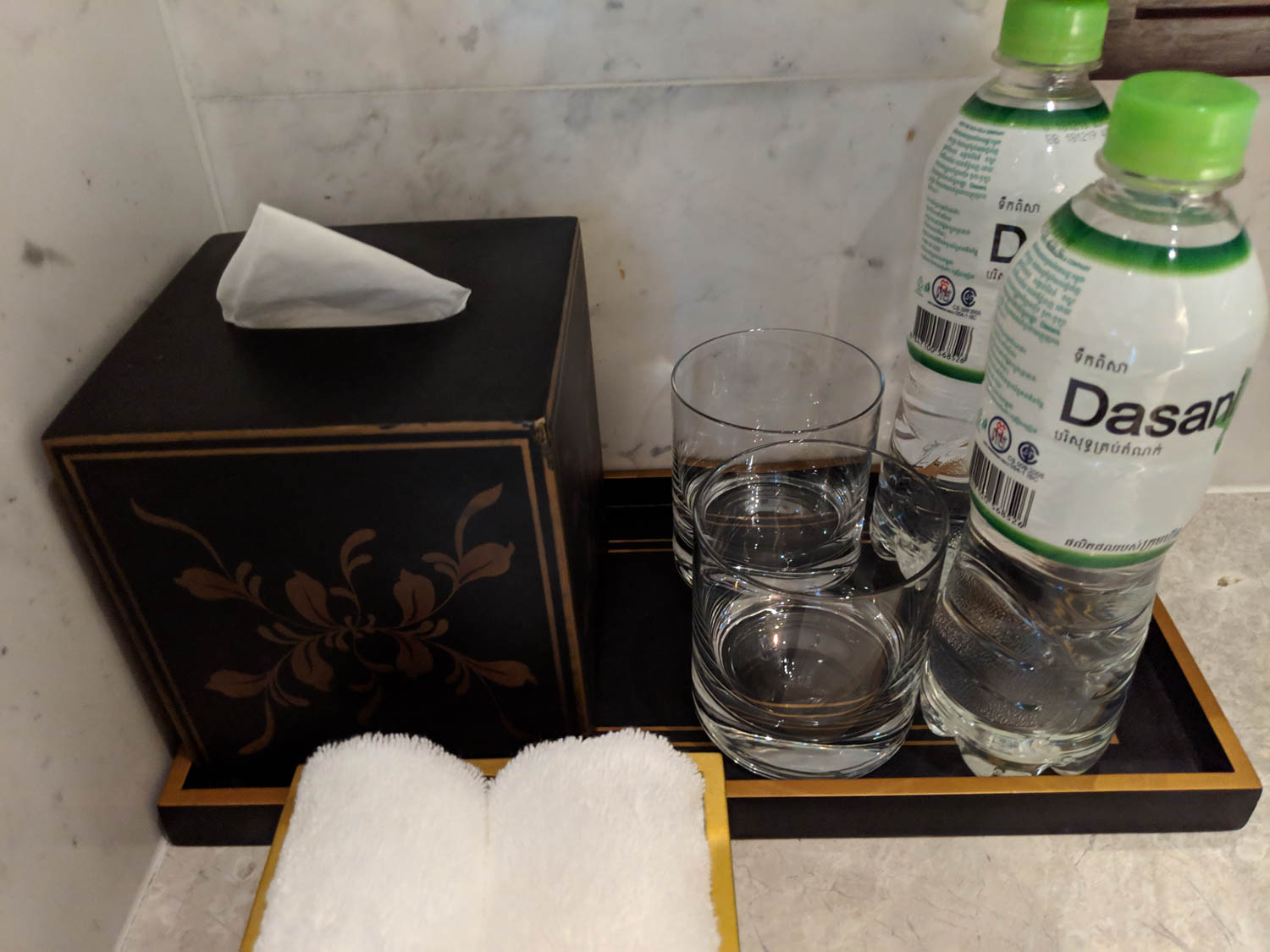 We were also pleased to see the same "Cochine" bath amenities we'd enjoyed so much in Saigon make a reappearance.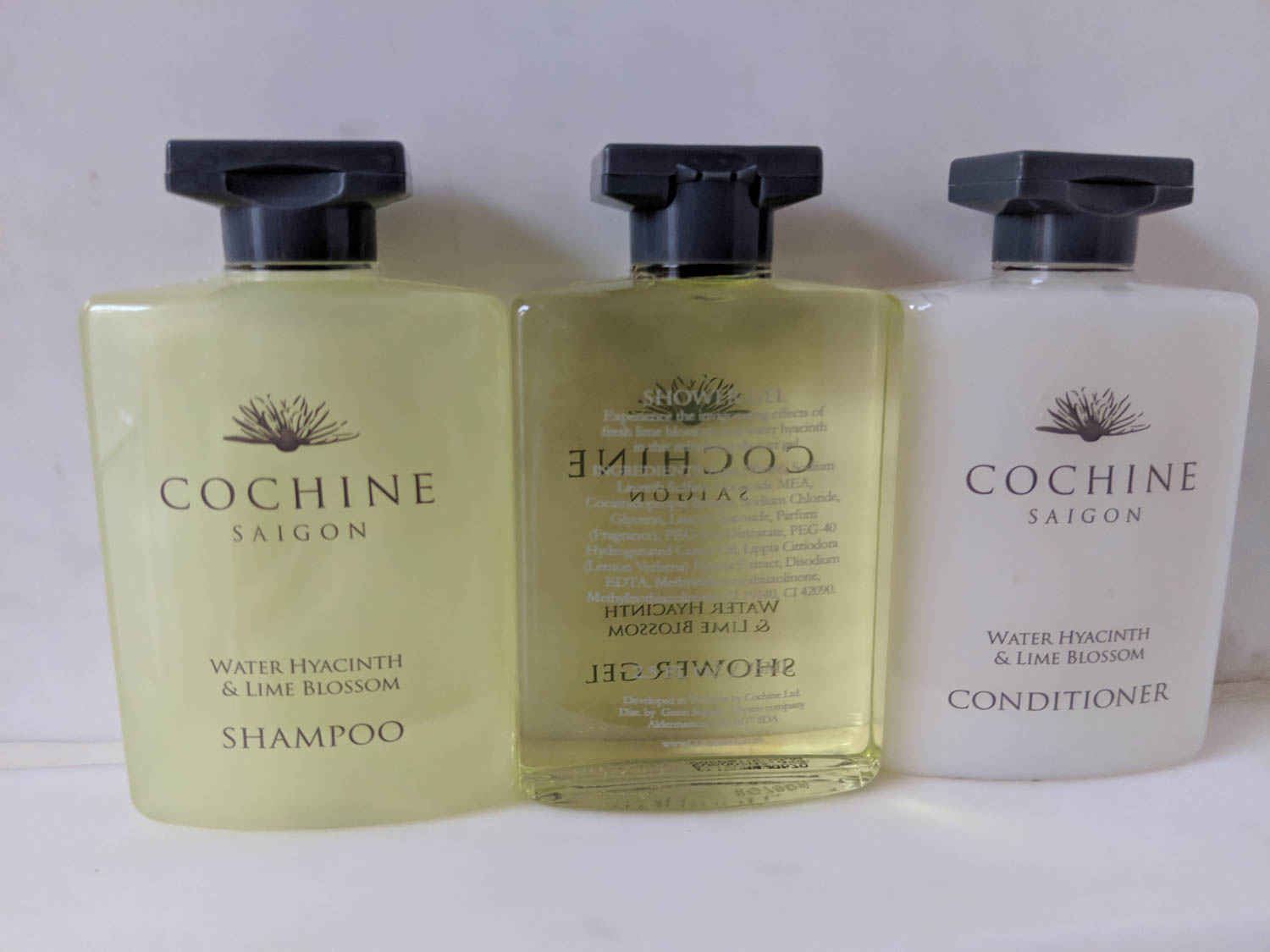 One quirk of the bathroom (because on this trip, all the bathrooms have to have quirks; it's basically a rule), was the shower.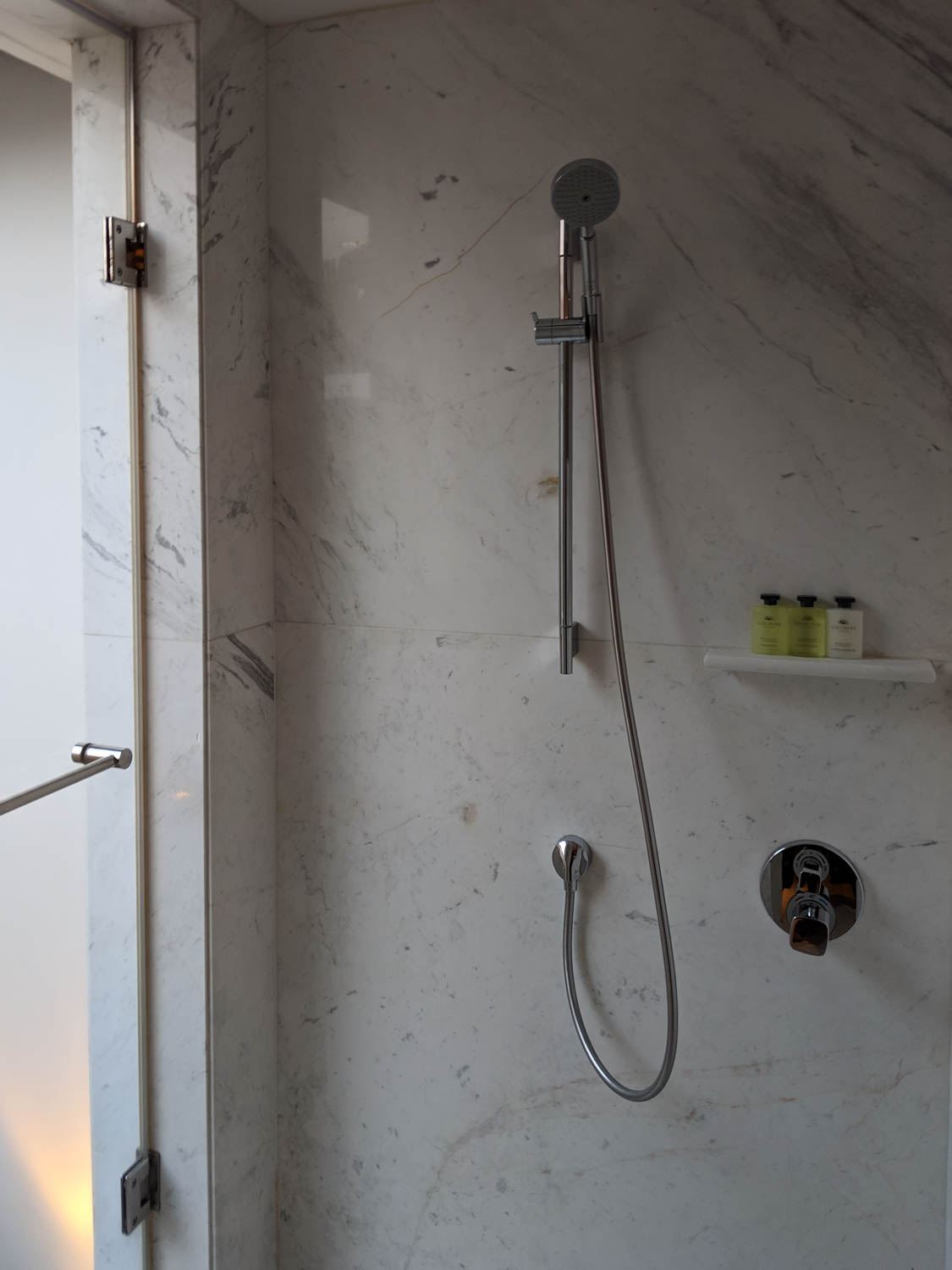 In addition to the perfectly functional indoor space, there was a second door leading through the shower to the garden: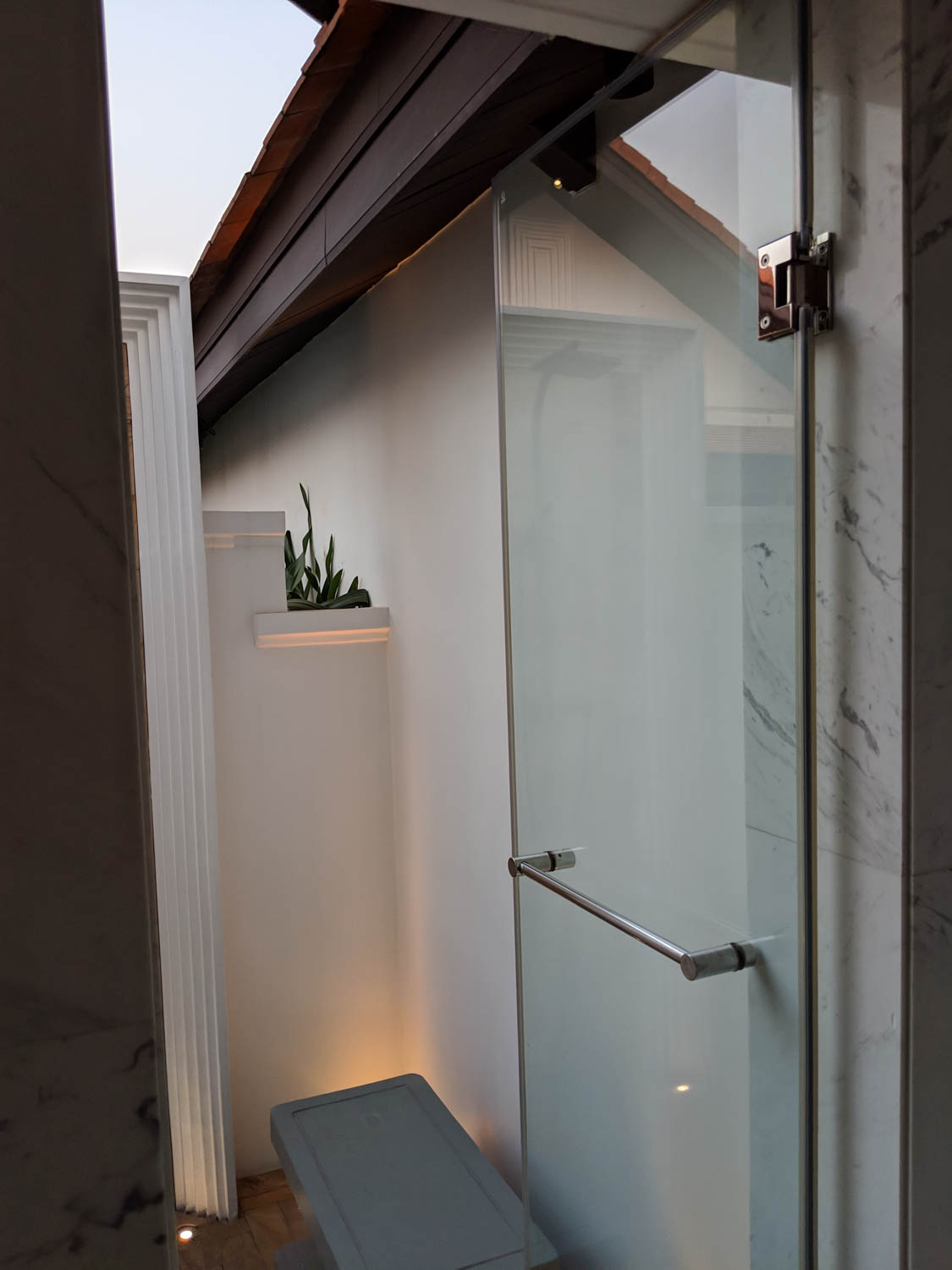 Where there was an outdoor shower!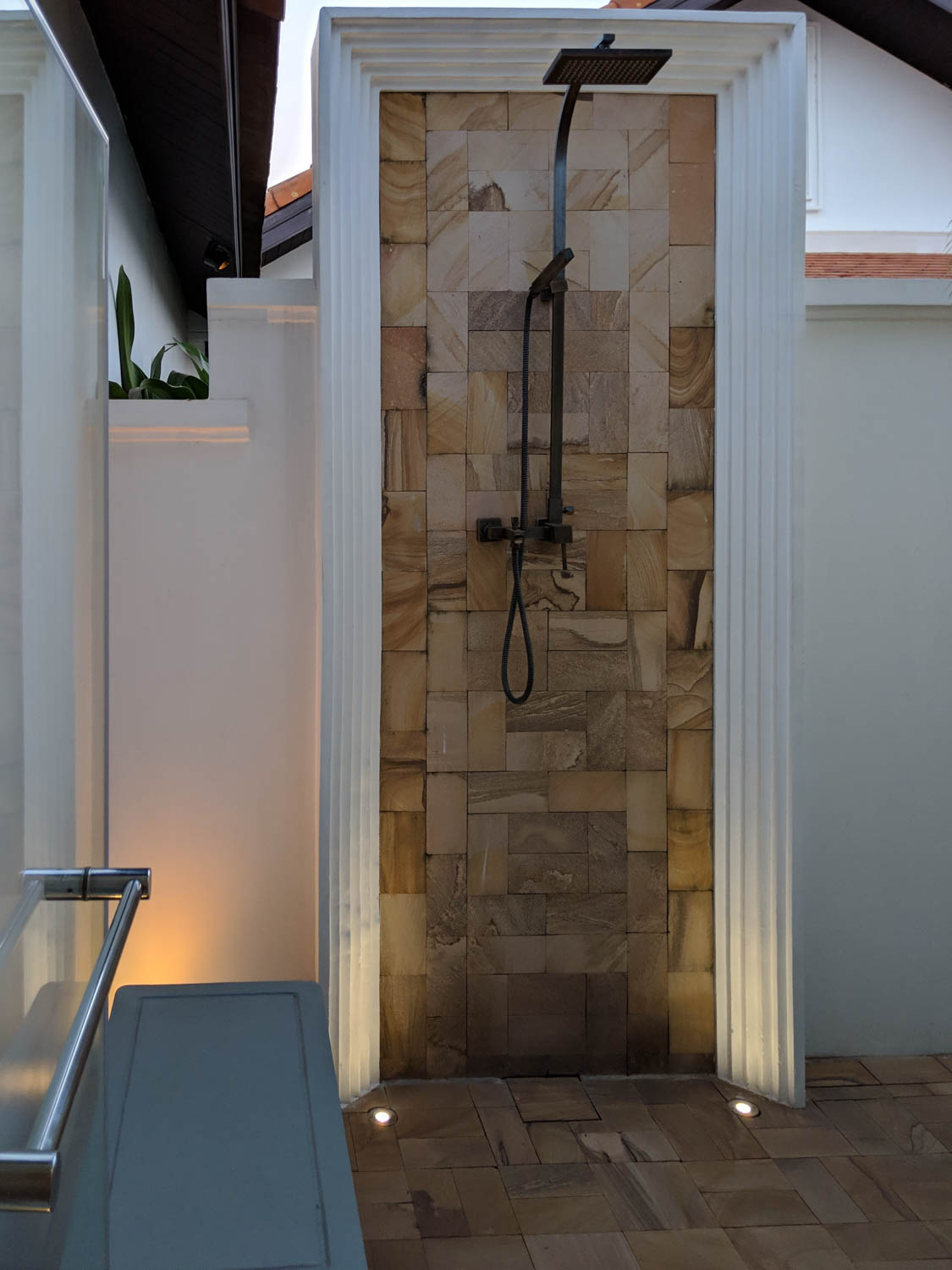 Which, I am all about an outdoor shower, and having multiple showers available is awesome. But the garden shower couldn't actually be accessed from the garden, only from inside the bathroom shower, and it wasn't really practical to use both at the same time.
So that was weird.
Just to show you the other bedroom, over in 340 the suite had the same plush king-size bed, and similar decor: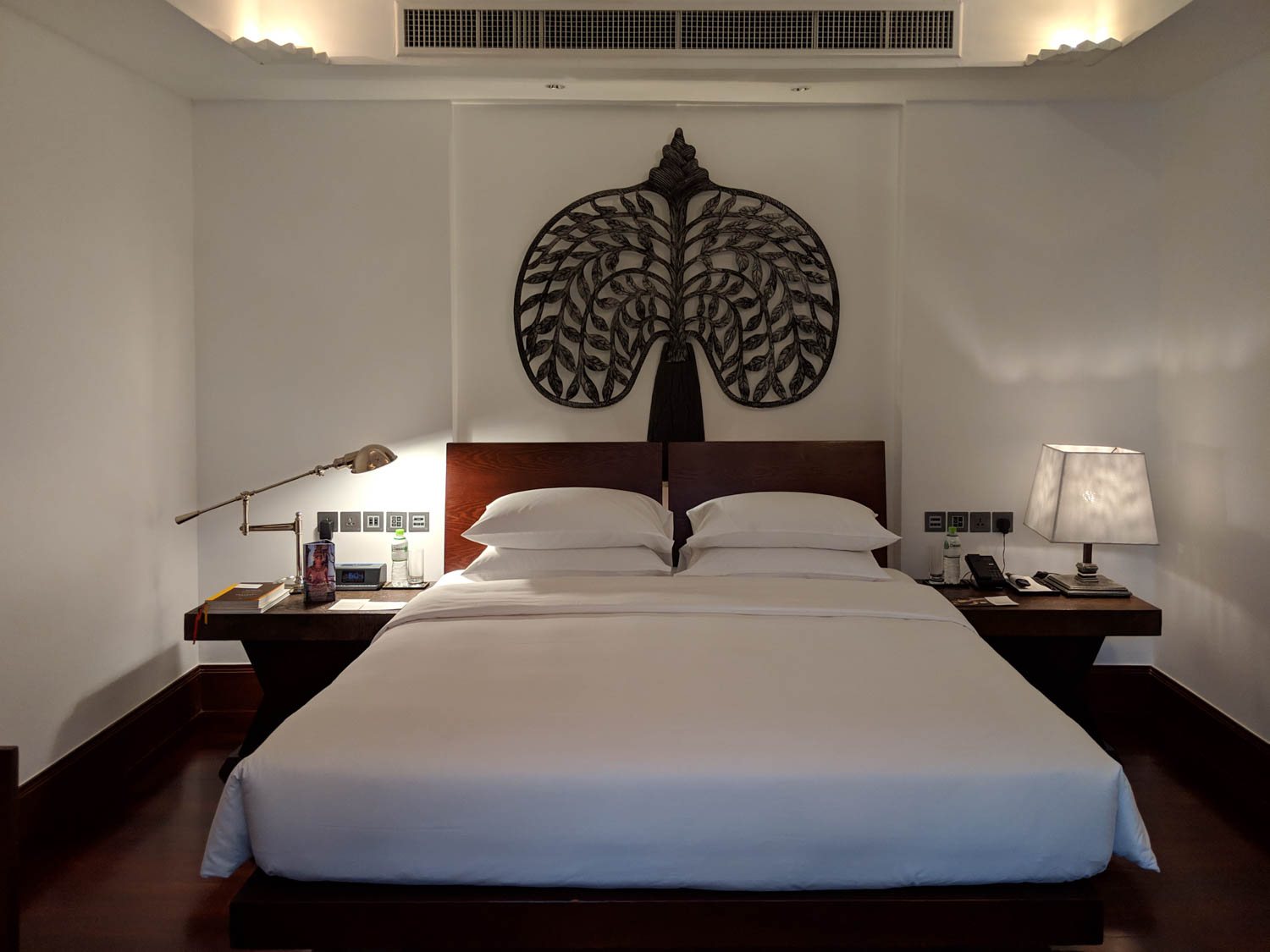 But rather than a separate seating area and terrace, there was a single chaise next to the bed: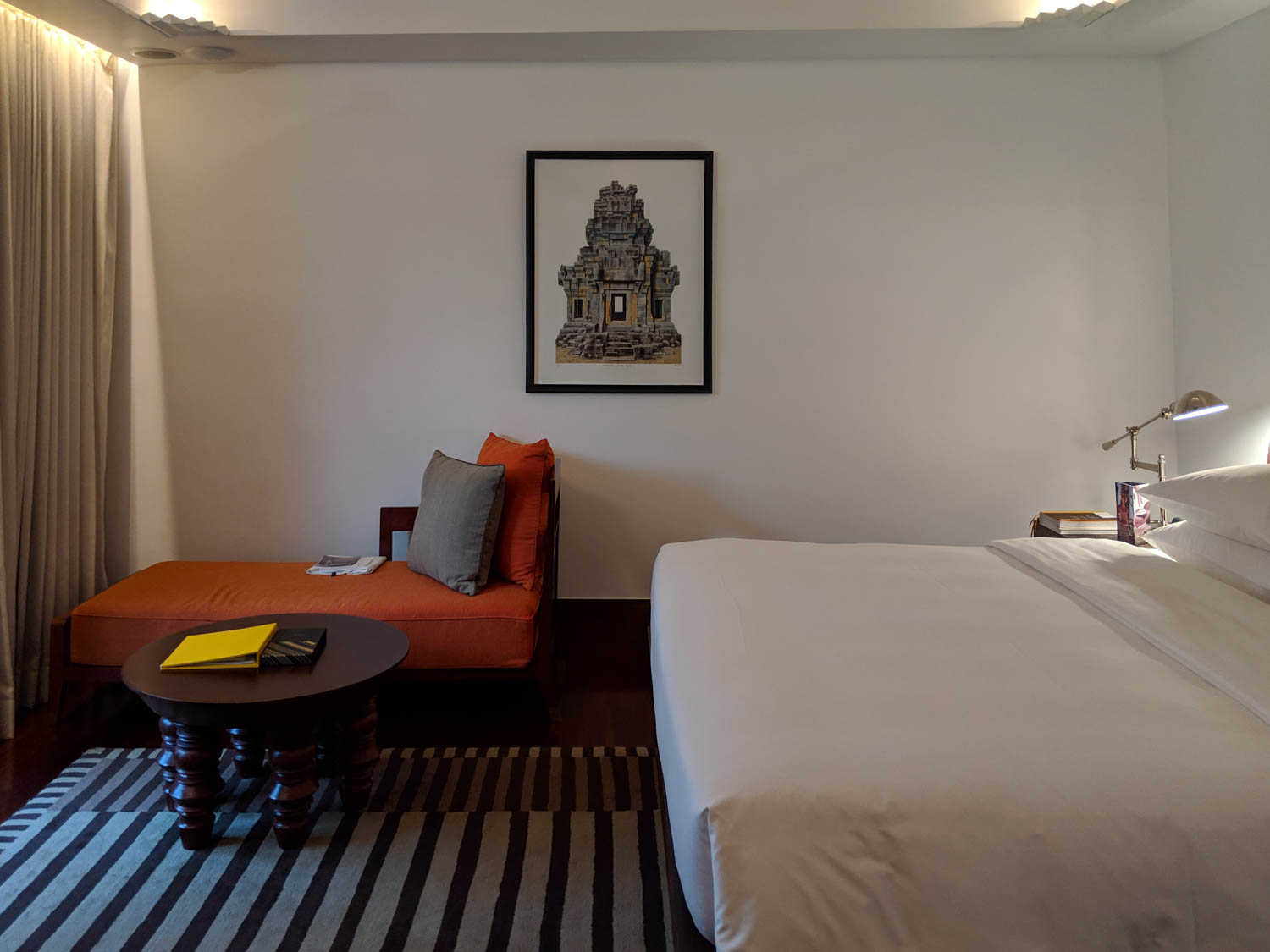 And the only windows were out to the garden (which, to be clear, was perfectly sufficient, and this was still an opulent and ridiculously oversized suite):
So these were very enjoyable rooms as a bit of a splurge, and the general prices of hotels in Cambodia made upgrading to this kind of suite less outrageous than it might have otherwise been. Of course, our moms loved it, which made it even more fun.
Park Hyatt Siem Reap restaurants
The main bar and lounge of the hotel is the "Living Room", where we checked in.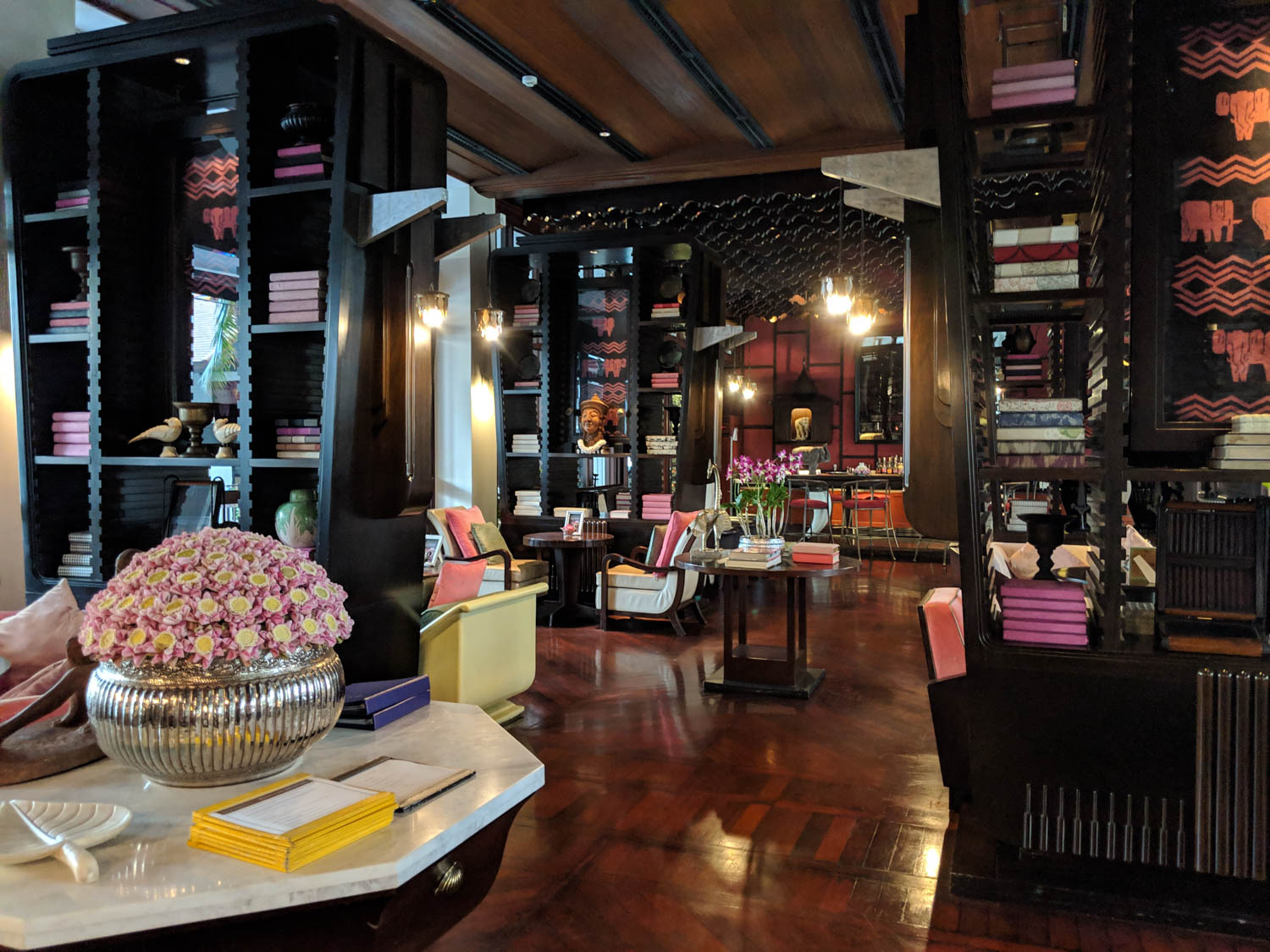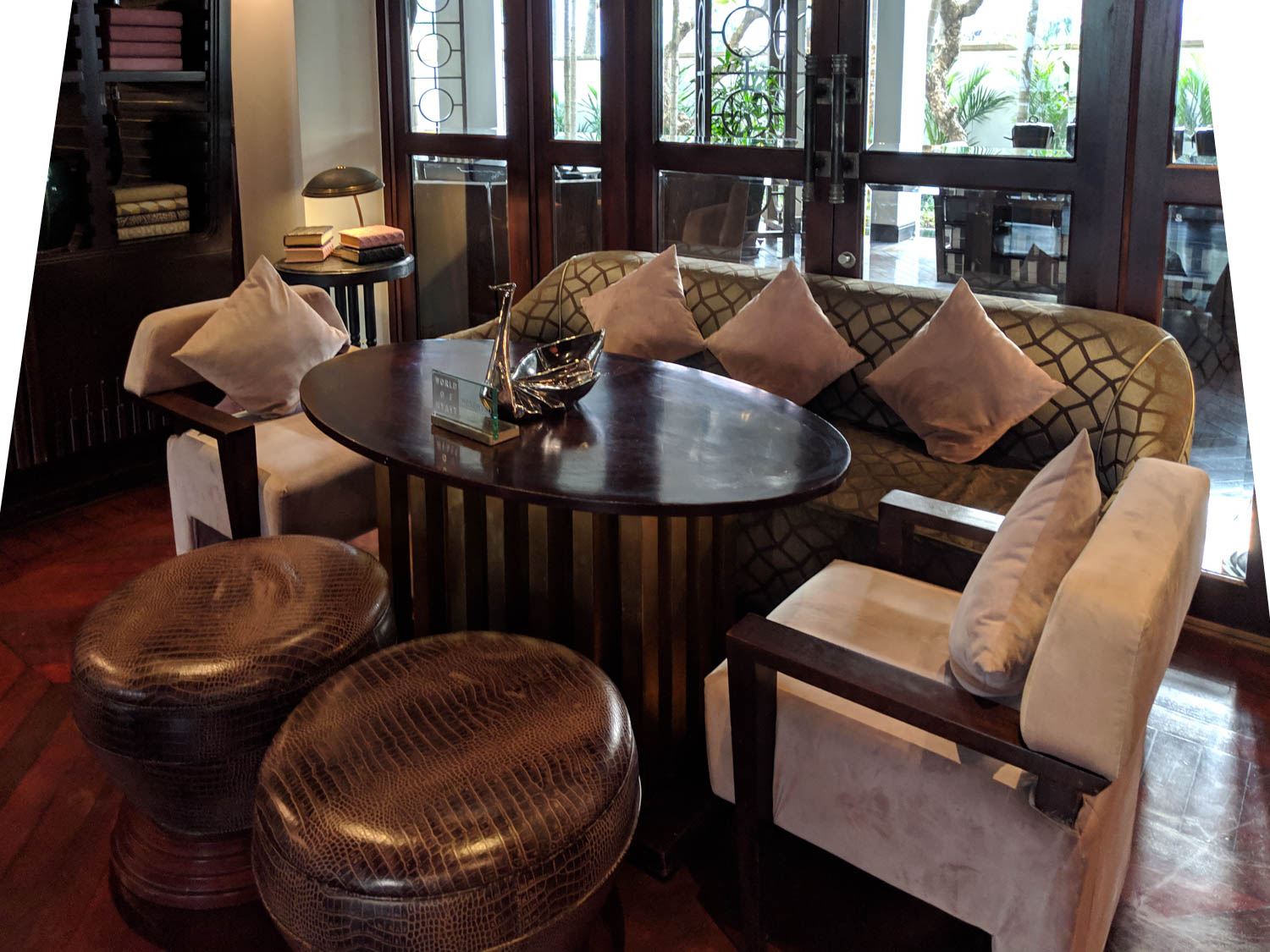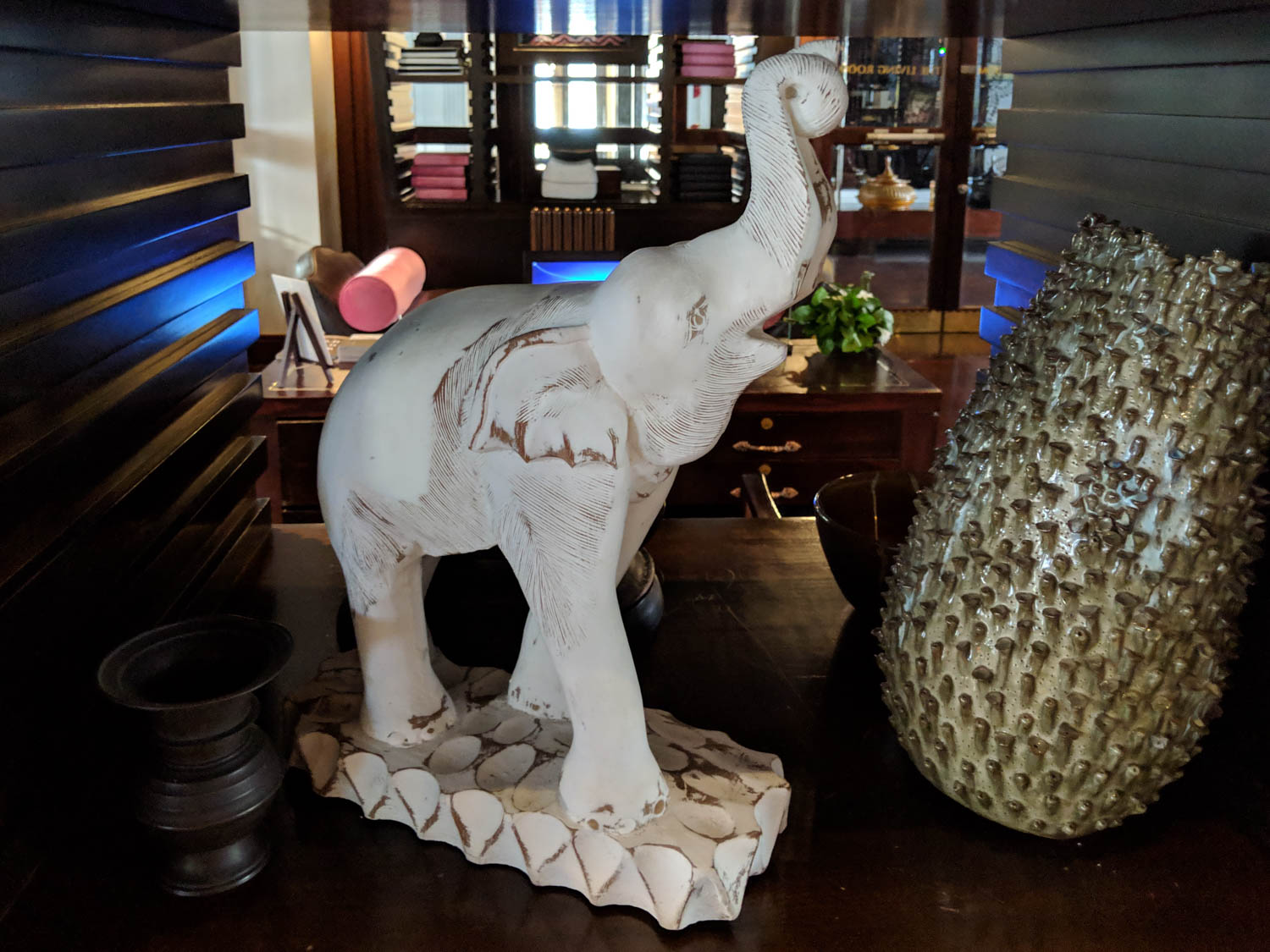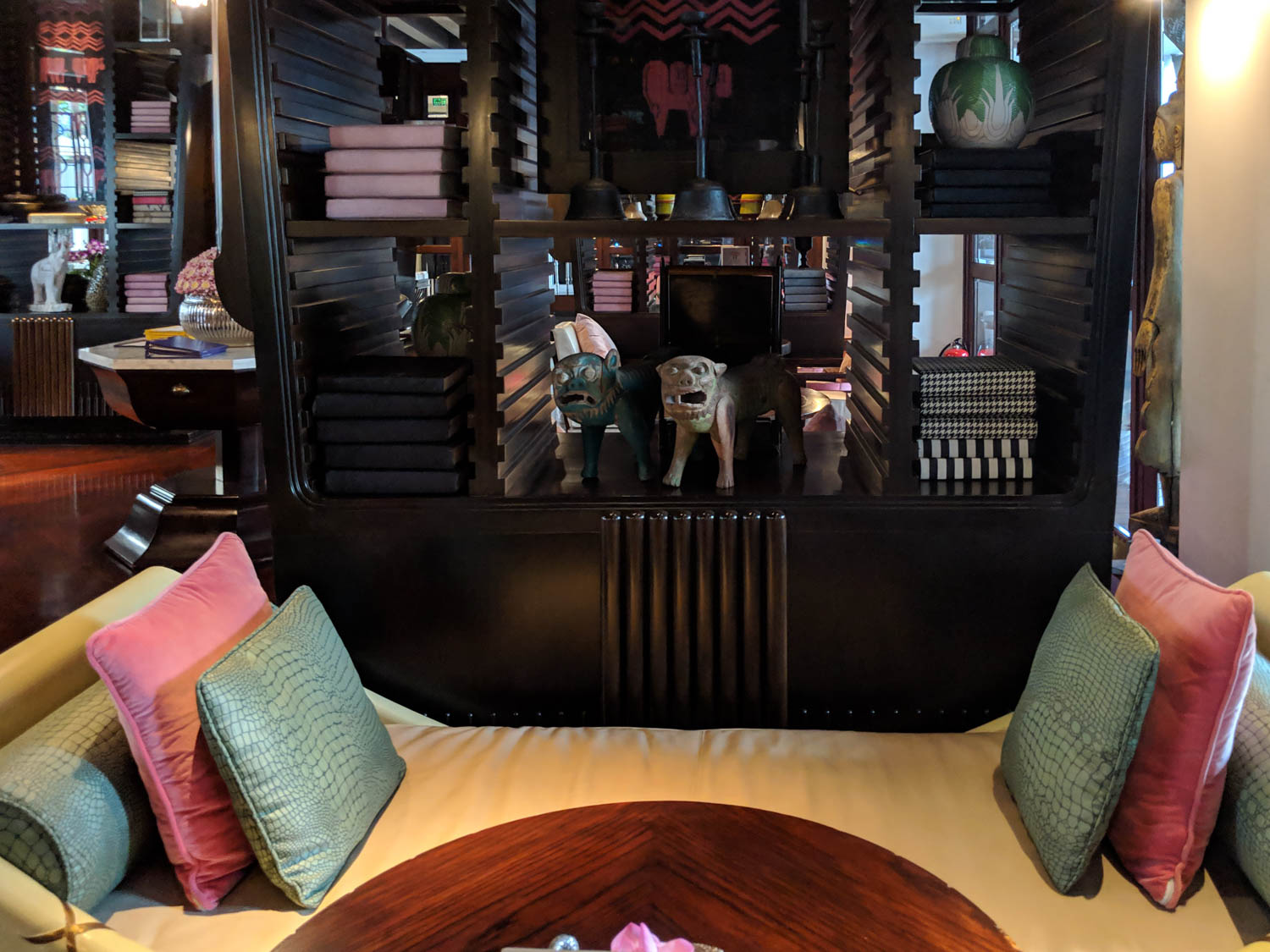 They also serve cocktails and an afternoon tea in this space, and it was an enjoyable place to get out of the heat.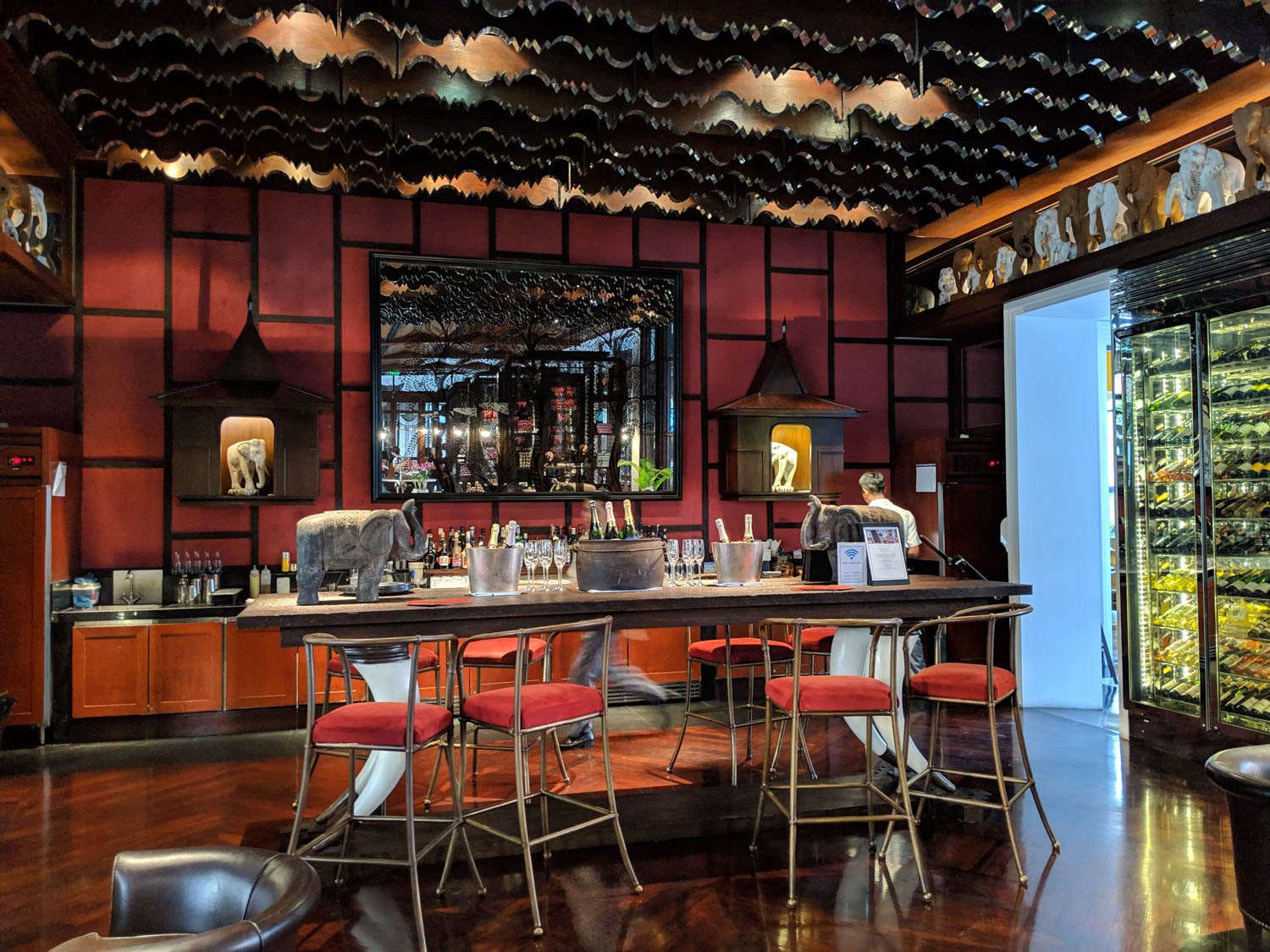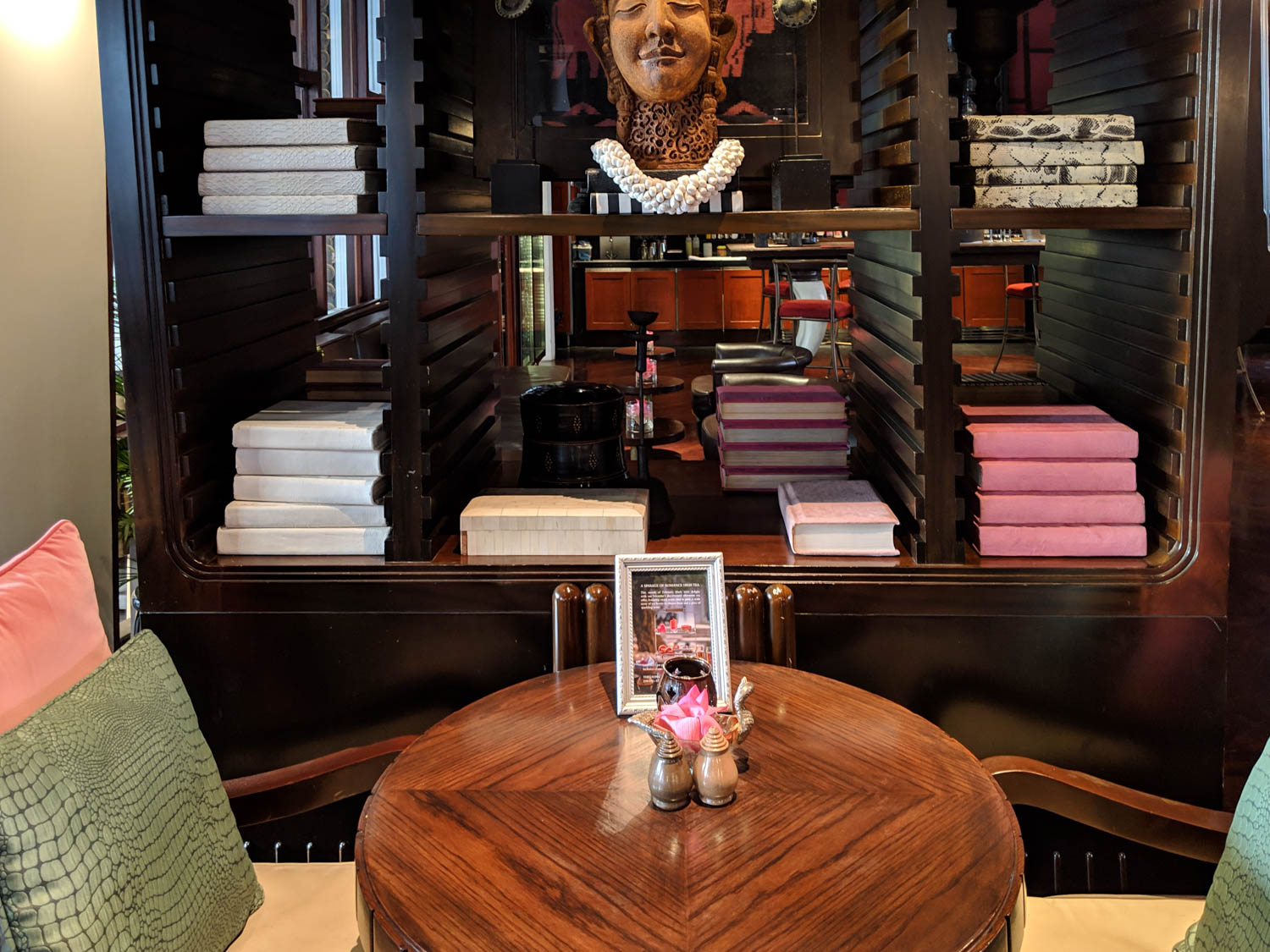 The Living Room was flanked by two terraces, both of which had and assortment of seating and a mix of ceiling and stand fans: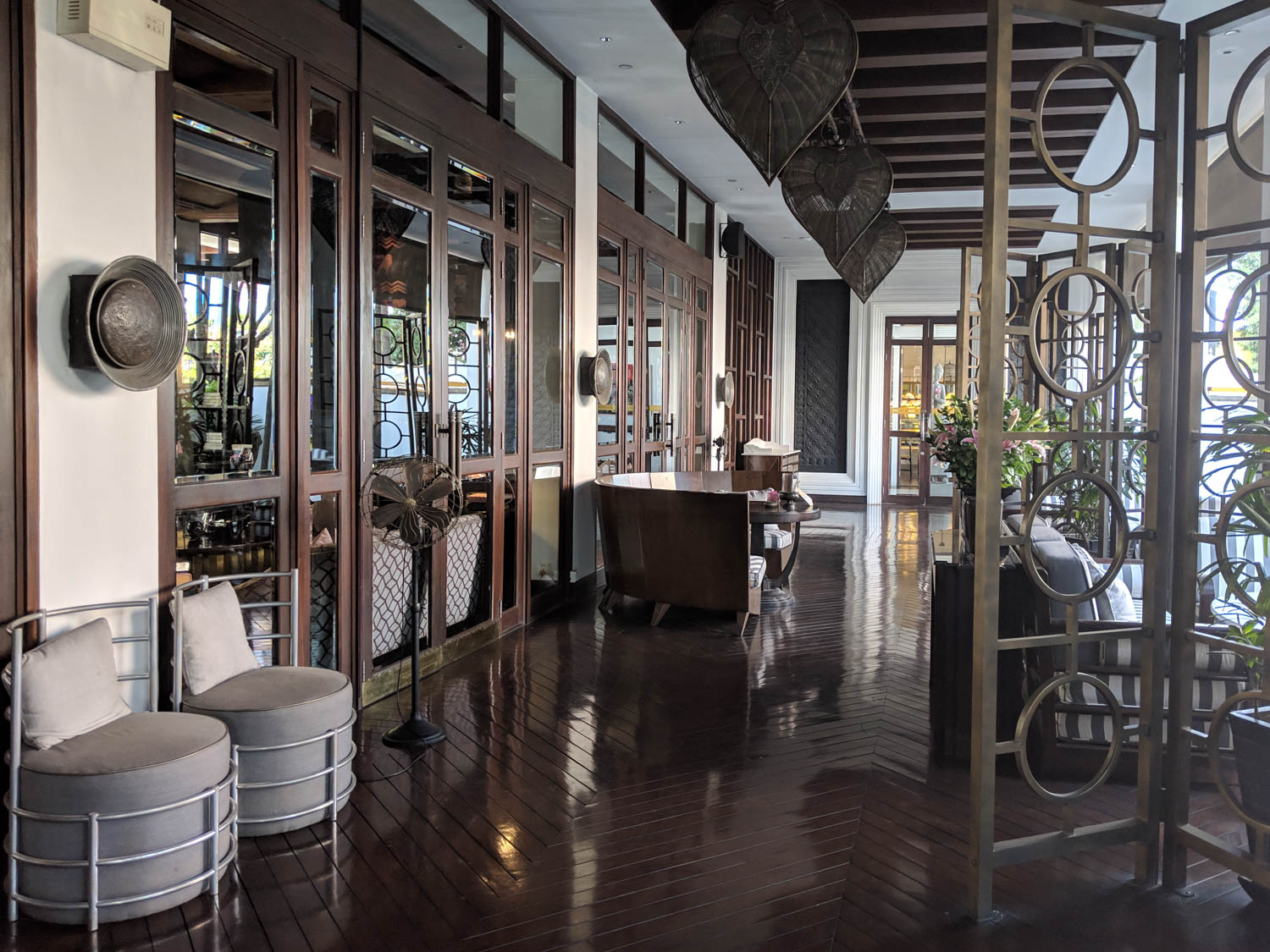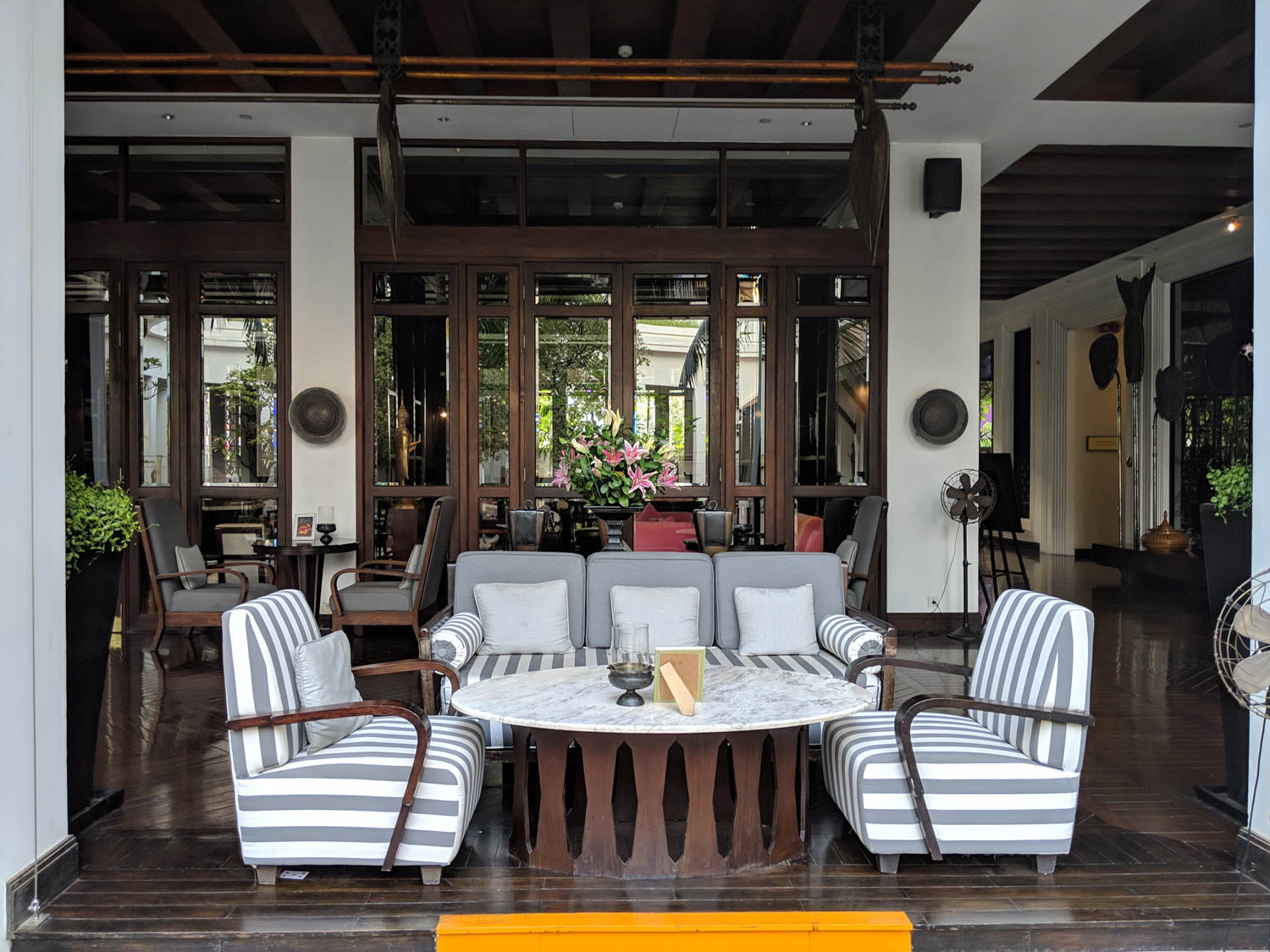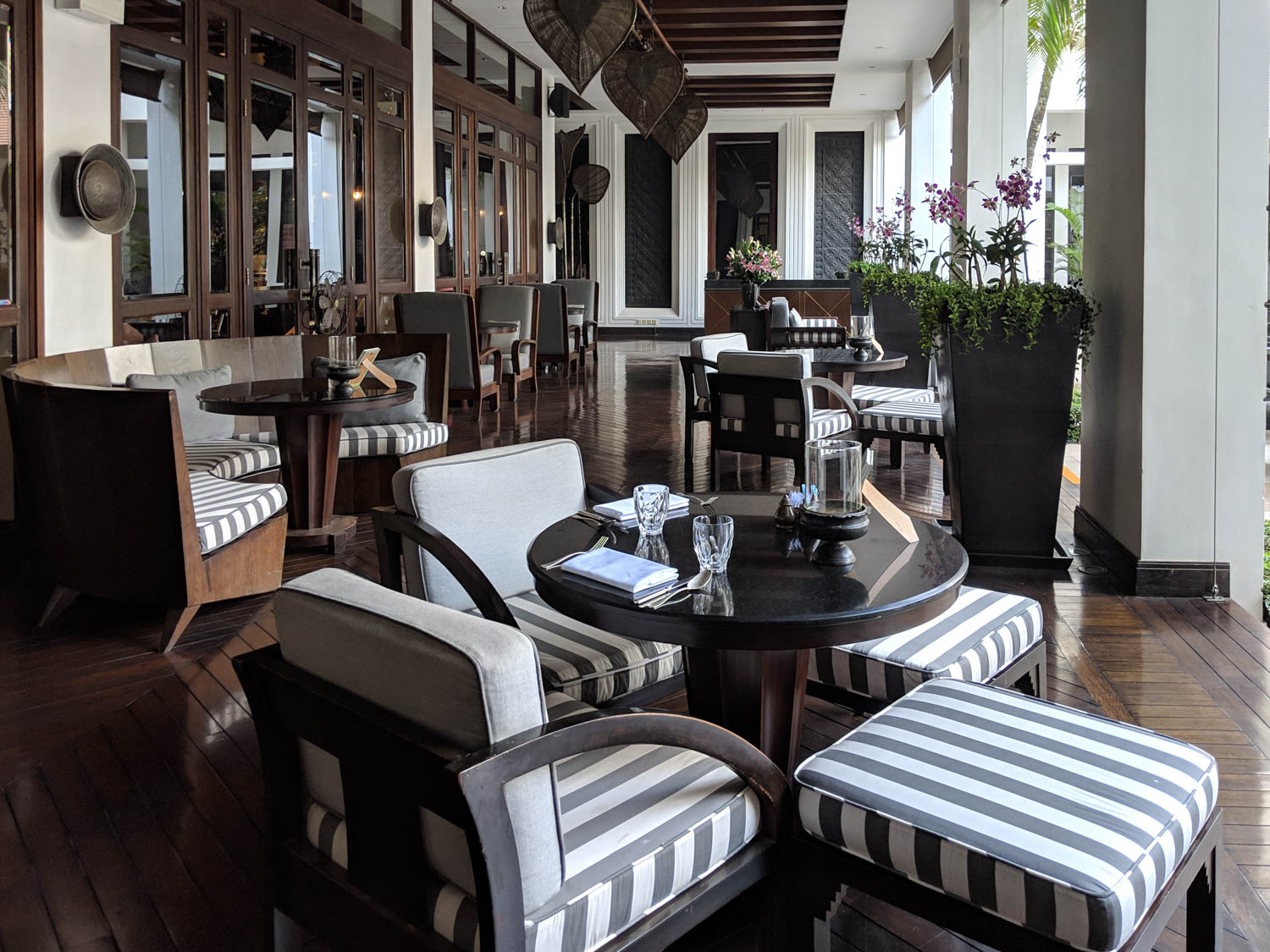 As a thoughtful touch, hand sanitizer and mosquito repellant were delivered along with the menus: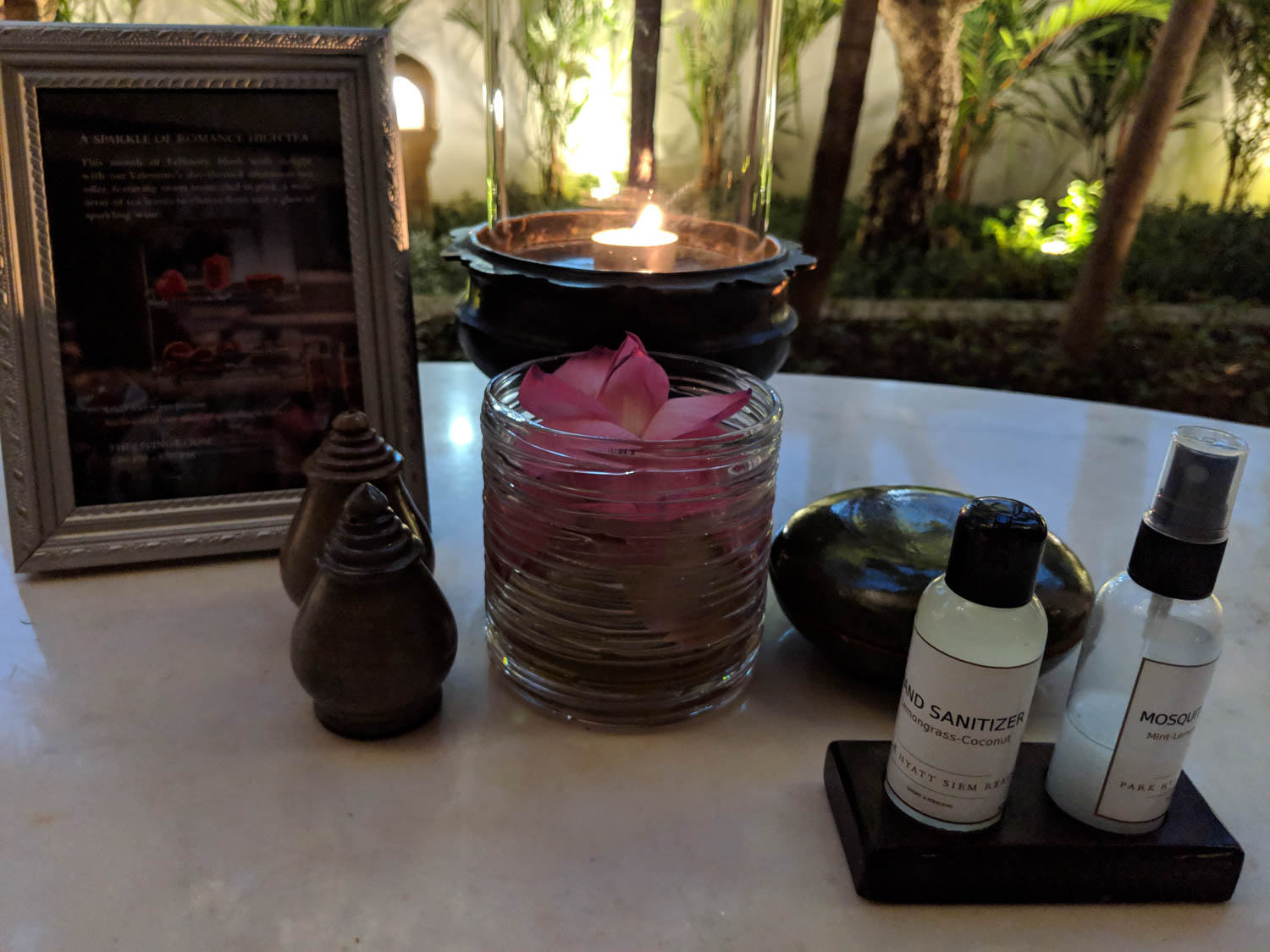 Happy Hour was also available in the Living Room — when I visited in 2014 there were additional bar specials for Hyatt elites, but that seems to have been discontinued (or at least wasn't offered).
And yes, these are the happy hour prices.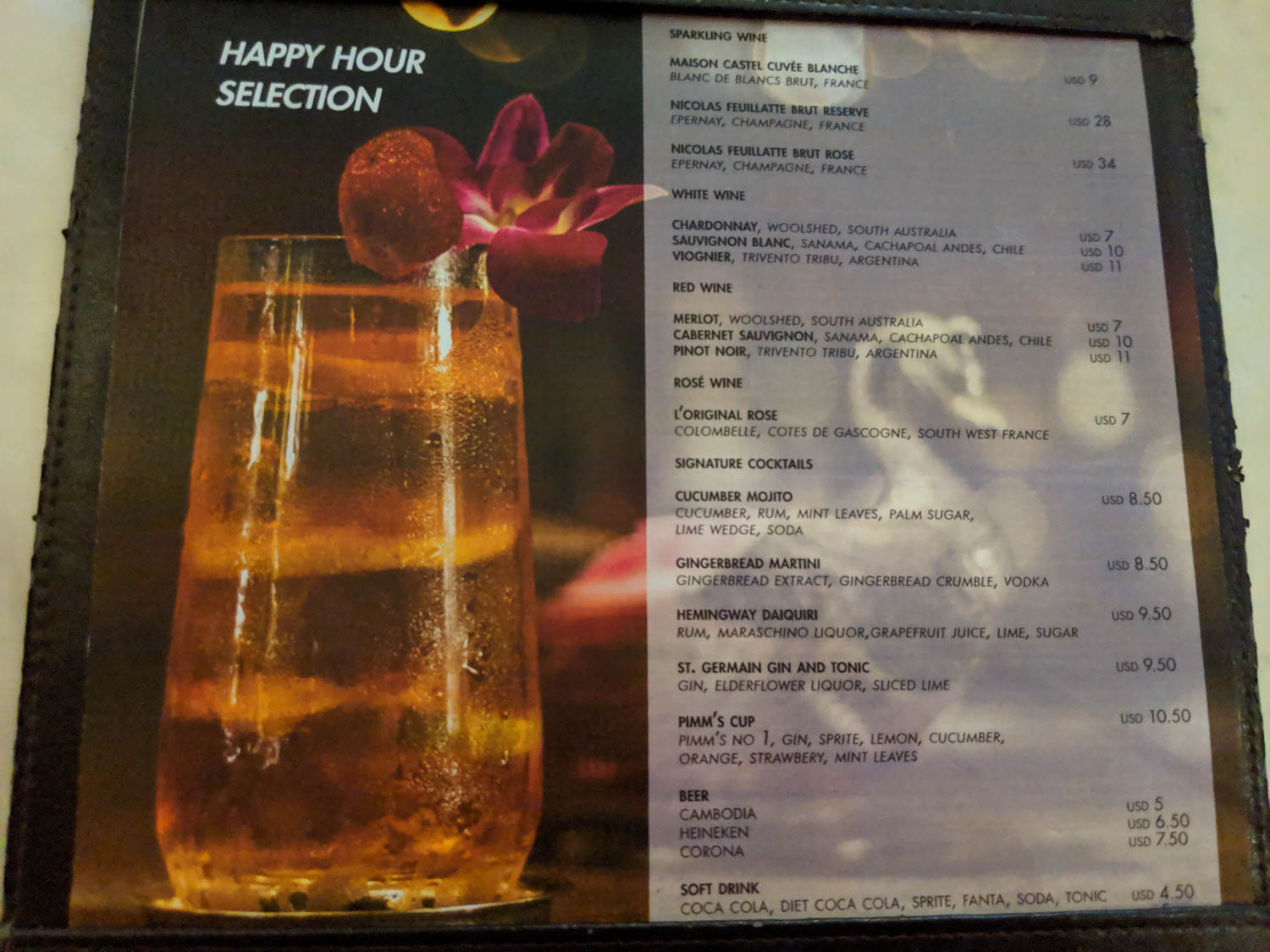 The Park Hyatt Siem Reap also has "The Glasshouse", which is a deli, coffee shop, and patisserie. It's a very cute space, and while we only visited to grab iced coffees to go, we saw lots of families trying different flavors of gelato.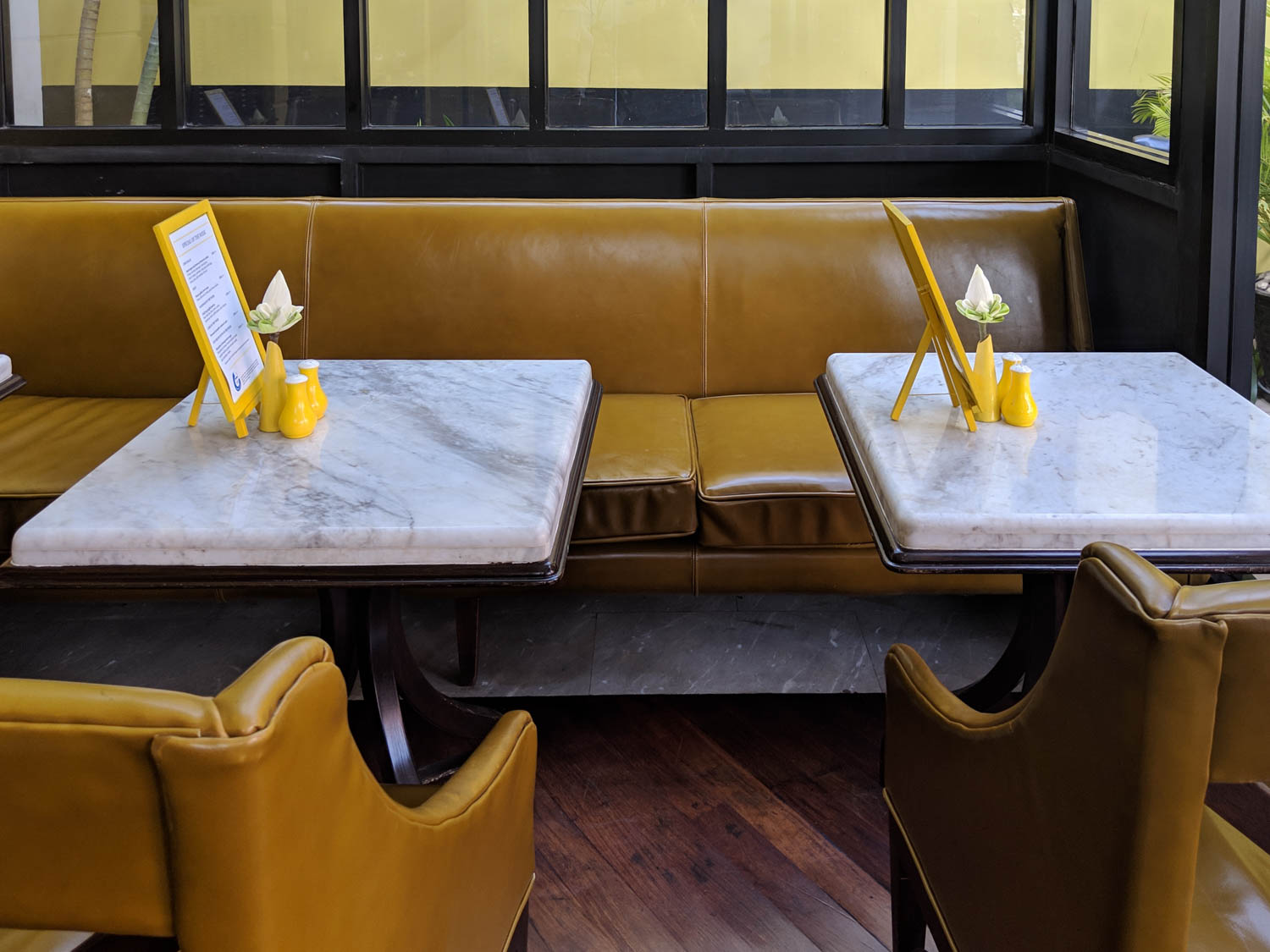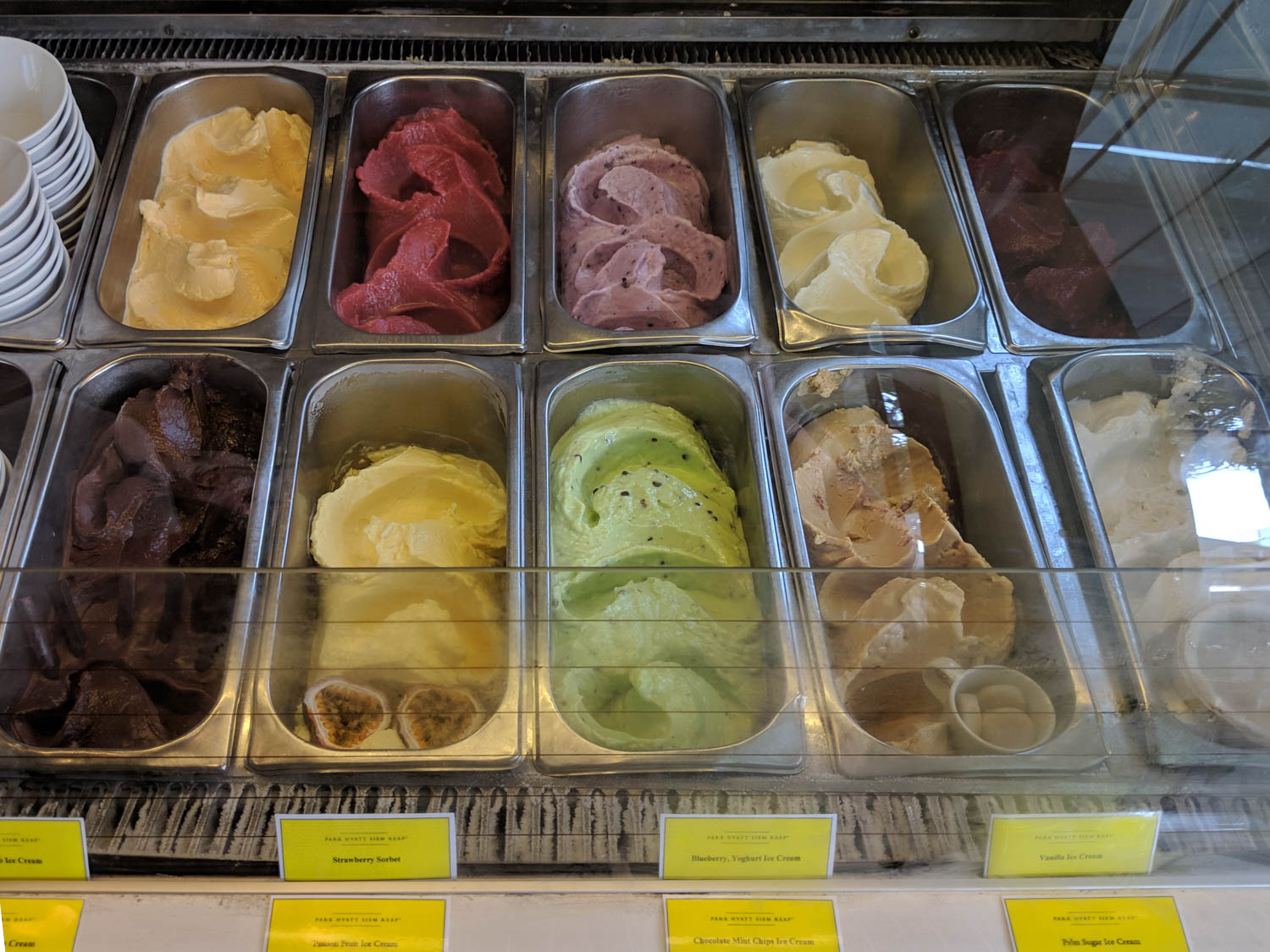 One of the terraces of the Living Room, along with the outdoor seating for the main restaurant (The Dining Room, where breakfast is served), flanked a stunning central courtyard, with this gorgeous tree: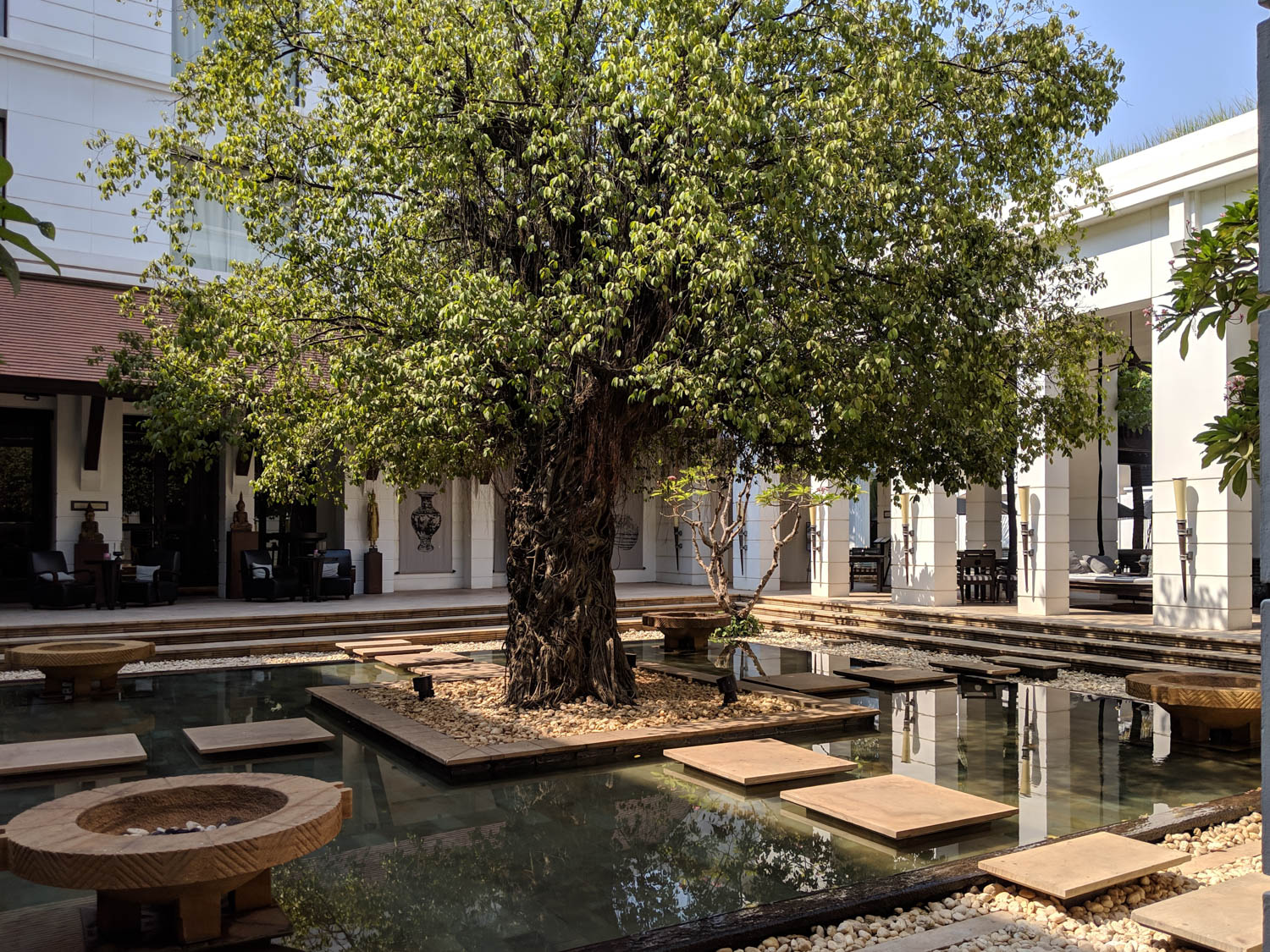 Park Hyatt Siem Reap Apsara show
Bottom line up front here: I would not really go out of my way to see Apsara in Siem Reap. Phnom Penh may be a different story, but most of the opportunities to see the traditional dances in Siem Reap are large productions with somewhat dubious buffet meals.
Like a luau, but in Cambodia.
So with that as a background, the alternative at the Park Hyatt is perhaps a good way to get a sense of the concept, without getting locked in to an entire evening.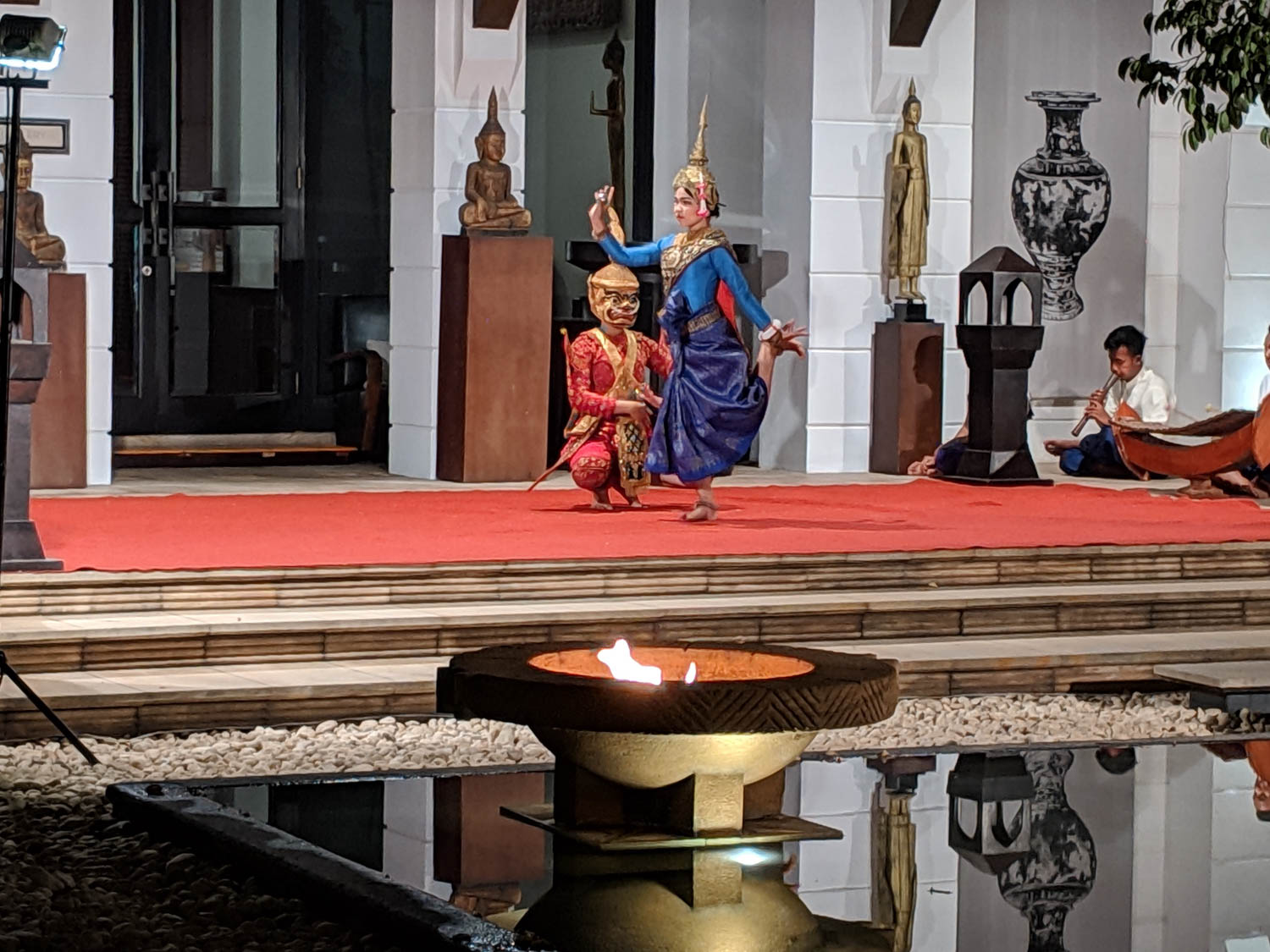 A few nights a week (and the schedule seems to vary, so your best bet is to email the concierge for days and times), the Park Hyatt Siem Reap hosts a "Cultural Dinner and Show" on the terraces surrounding the central courtyard.
The show is "review-style", featuring dancers and fighters (honestly, there were way more martial arts demonstrated — with the accompanying yelling — than I thought was particularly enjoyable over dinner), along with traditional musicians.
While there is a special menu available during the show, it's not required, so you can easily order off the regular menu, or just have a few drinks. As we knew we'd have a very early start the next morning, we decided it was easiest to just eat during the show, rather than going out afterwards.
We were offered an amuse bouche: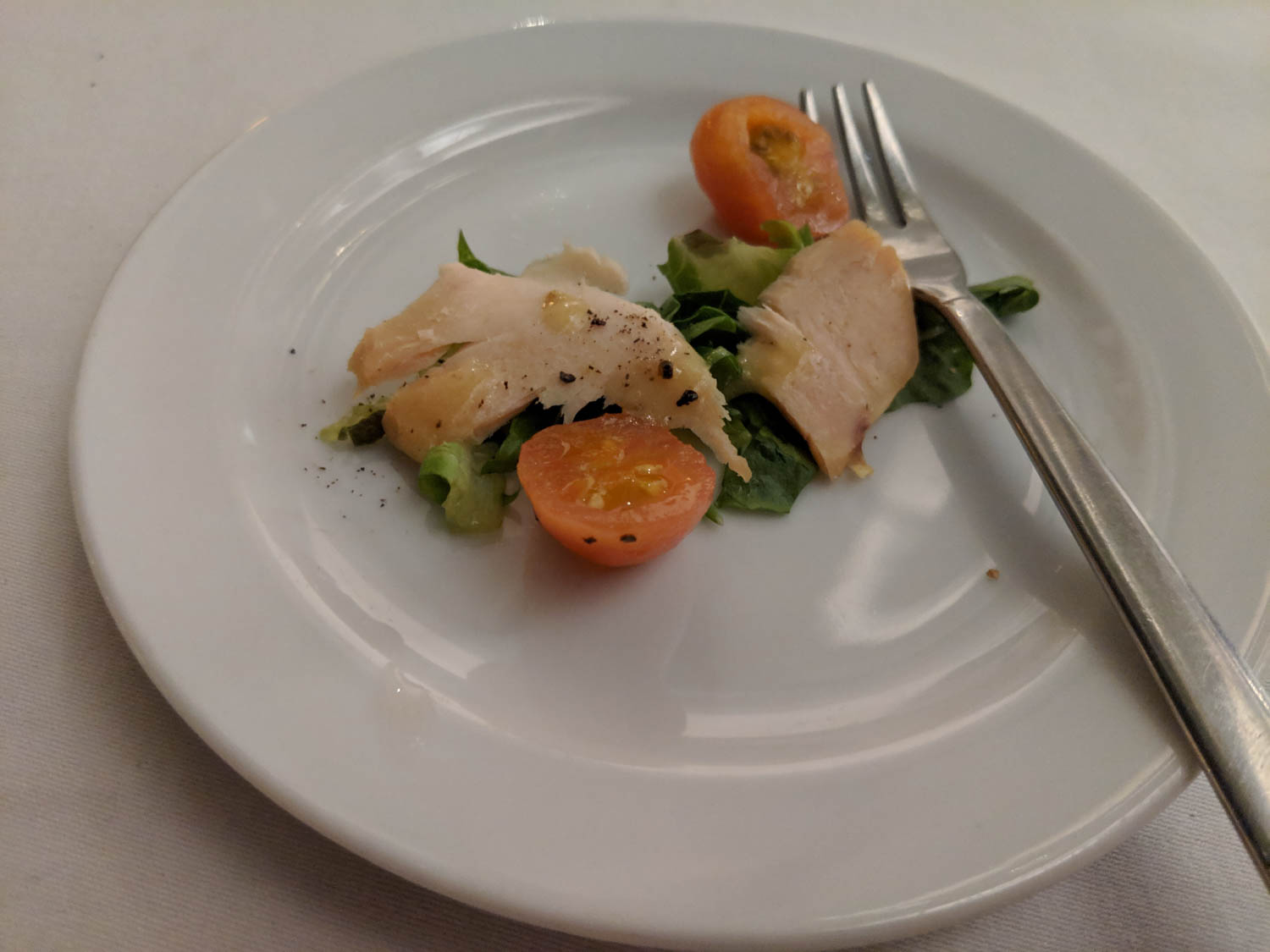 And then ordered a tasty seafood Amok (basically a fish curry), a stir fry, and two different chicken dishes: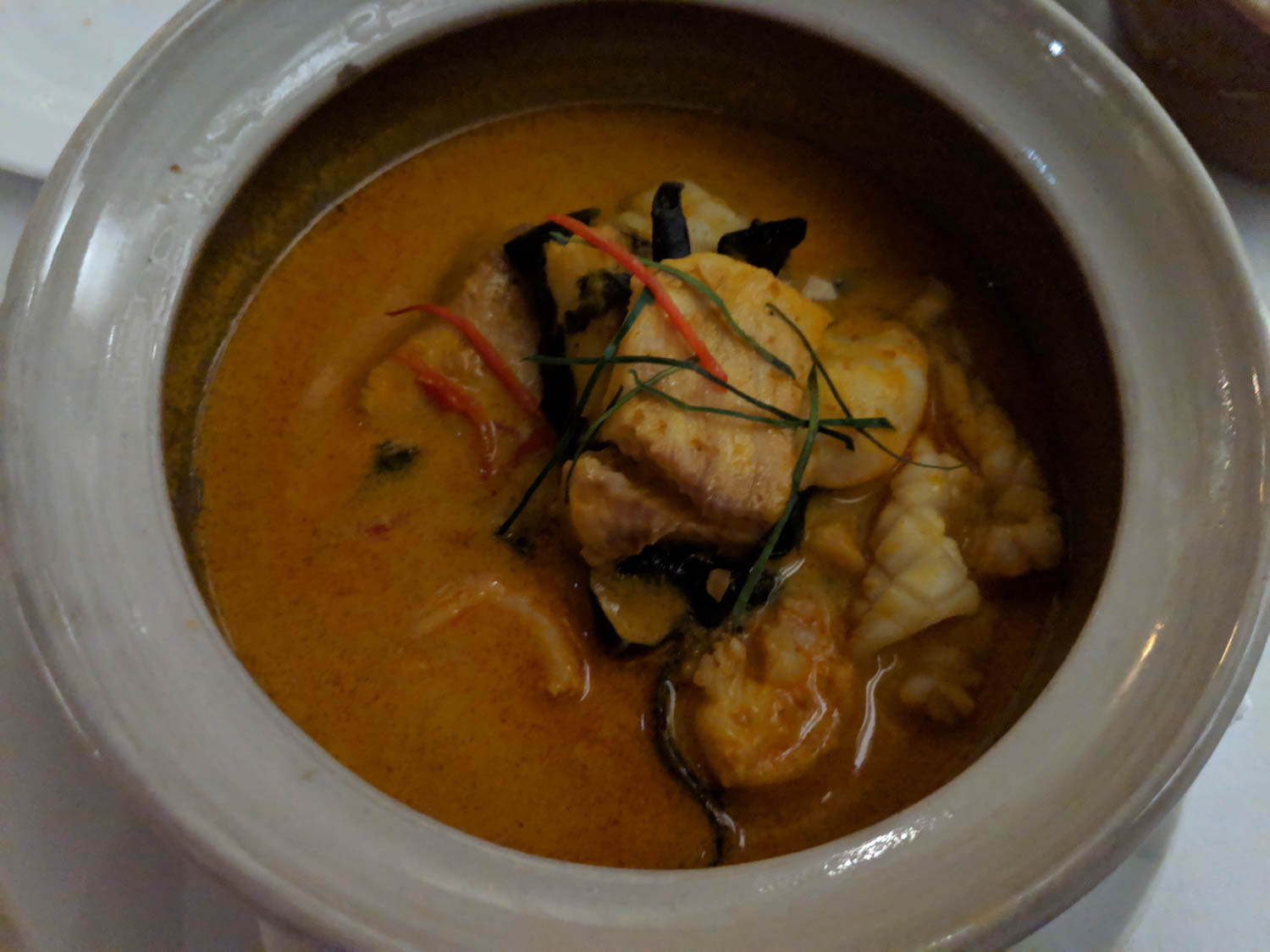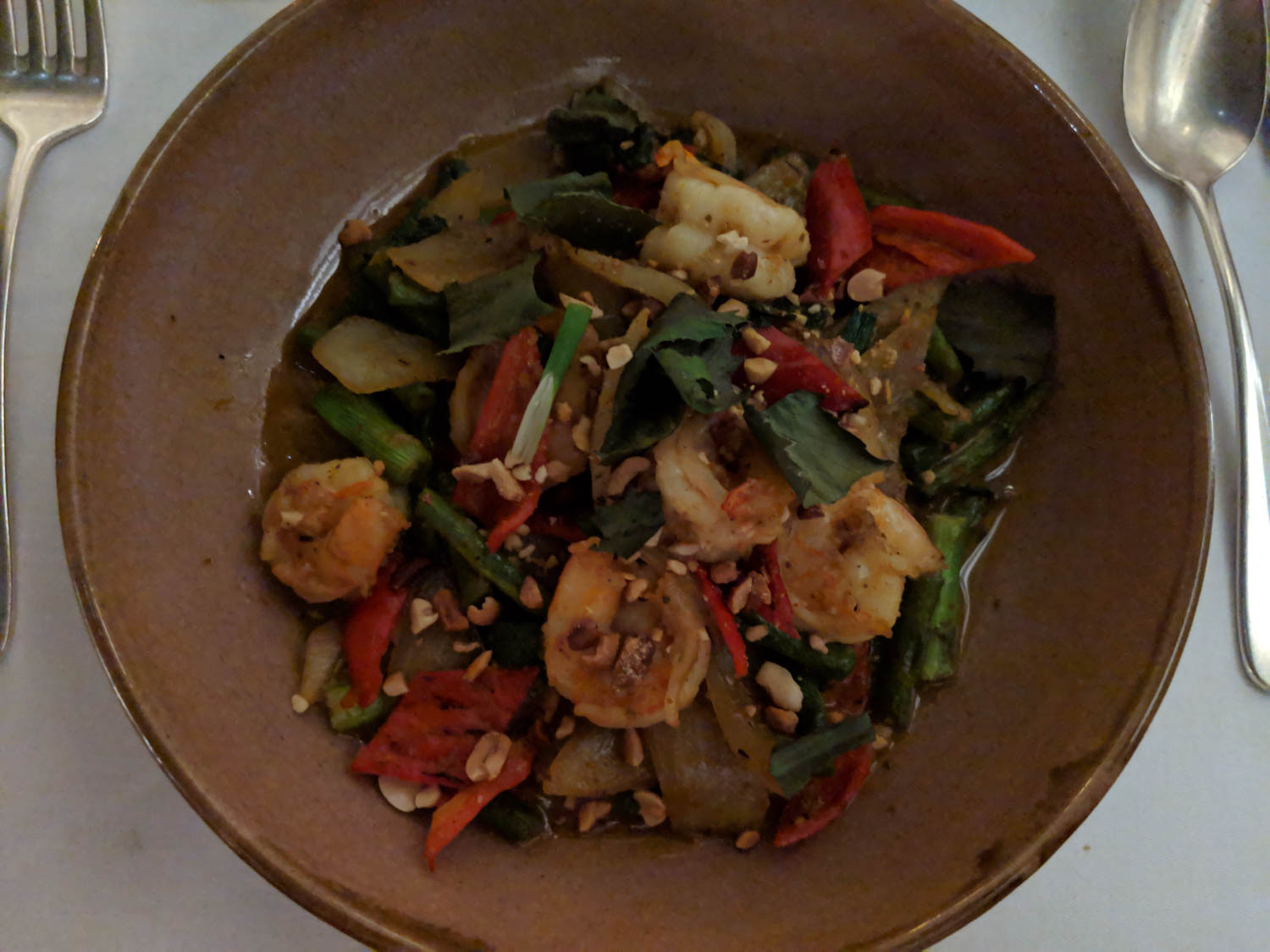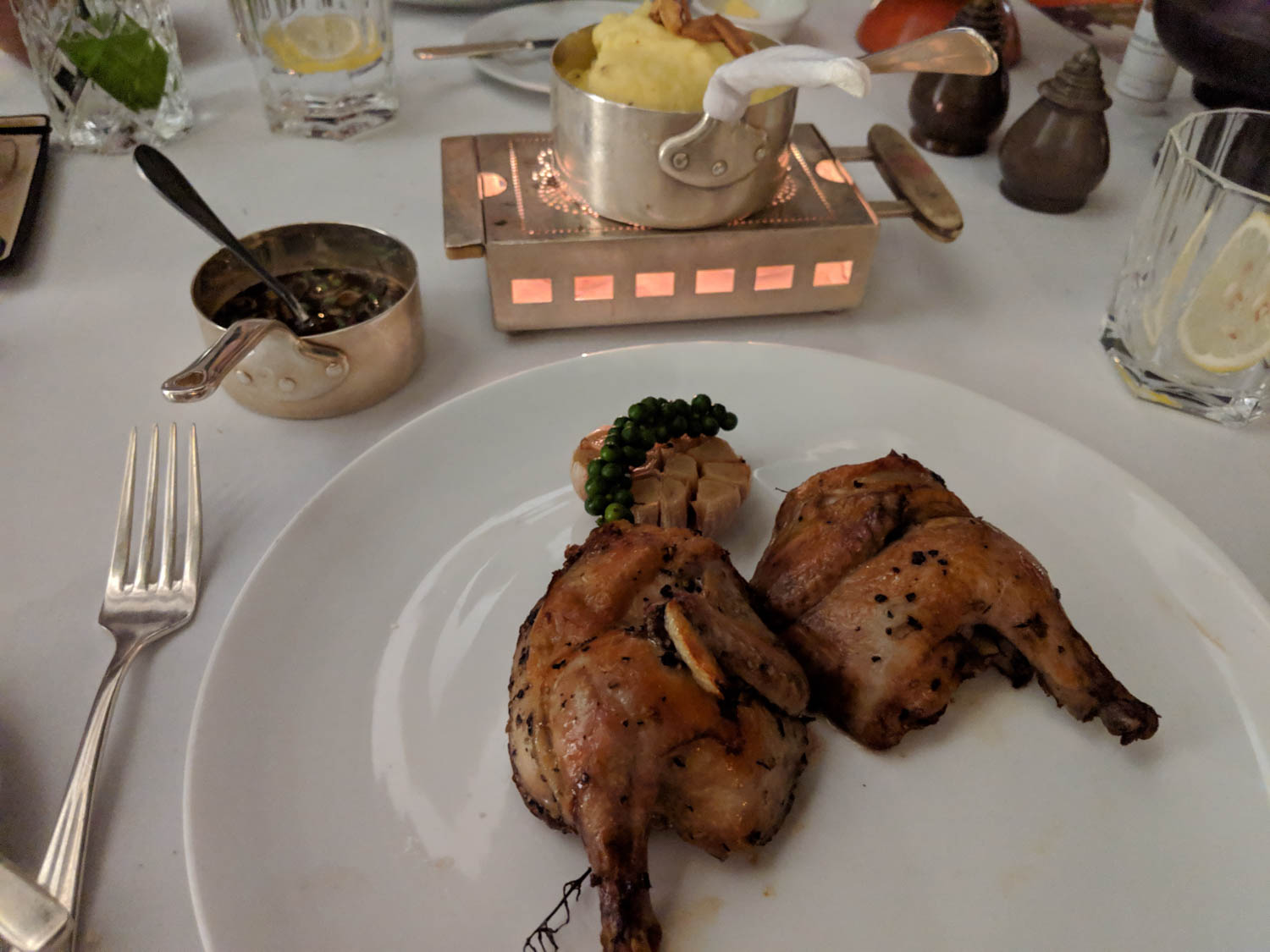 The food was decent, but nothing really stood out. The prices also seemed ridiculous for Cambodia, or really anywhere — my fish curry was $25USD (+tax and service charge), which is what I'd expect to pay in somewhere like LA. In fact, our entire meal at a little French place the next evening was under $40.
So I wouldn't really recommend eating here, though I don't have any complaints about the food, and the staff was helpful.
Park Hyatt Siem Reap breakfast
I do, however, have some concerns about the breakfast, which is served in The Dining Room from 6AM to 11AM.
When I was here in 2014, the breakfast situation seemed disorganized — platters were sparse, ordering eggs and coffee from the kitchen took ages, and nothing was really the right temperature. I chalked it up to the hotel transitioning to a Park Hyatt, and general growing pains, and figured things would be dramatically better this time around.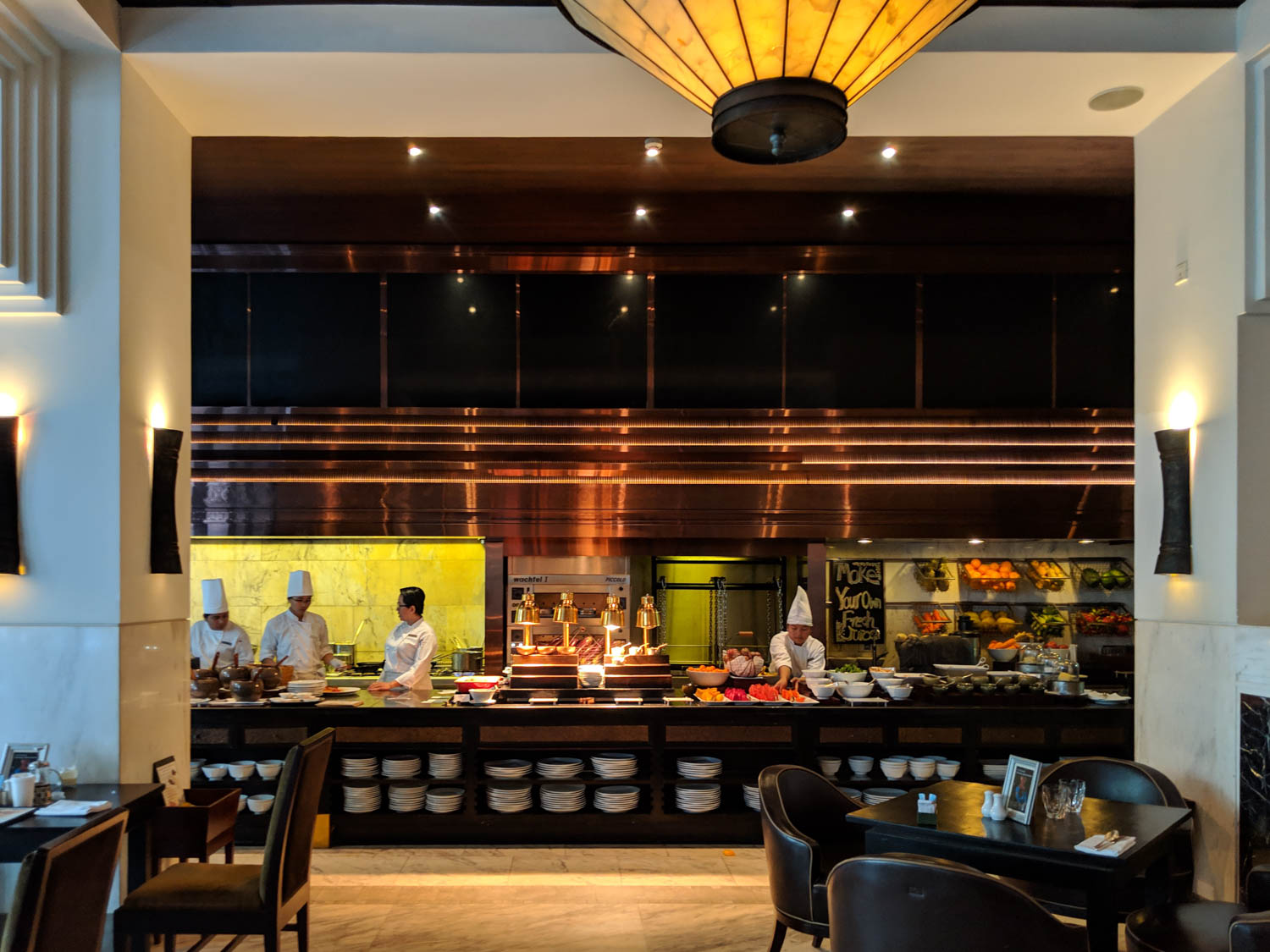 Nope.
Based on our experience at two different times in the morning — once at 10AM, after visiting the temples, and then the next day at 6:00AM, when they were just opening — I think the buffet spread may be limited by design. At least, we never saw it replenished on either day, so you can imagine how it looked by 10AM.
First thing in the morning though, it was pretty: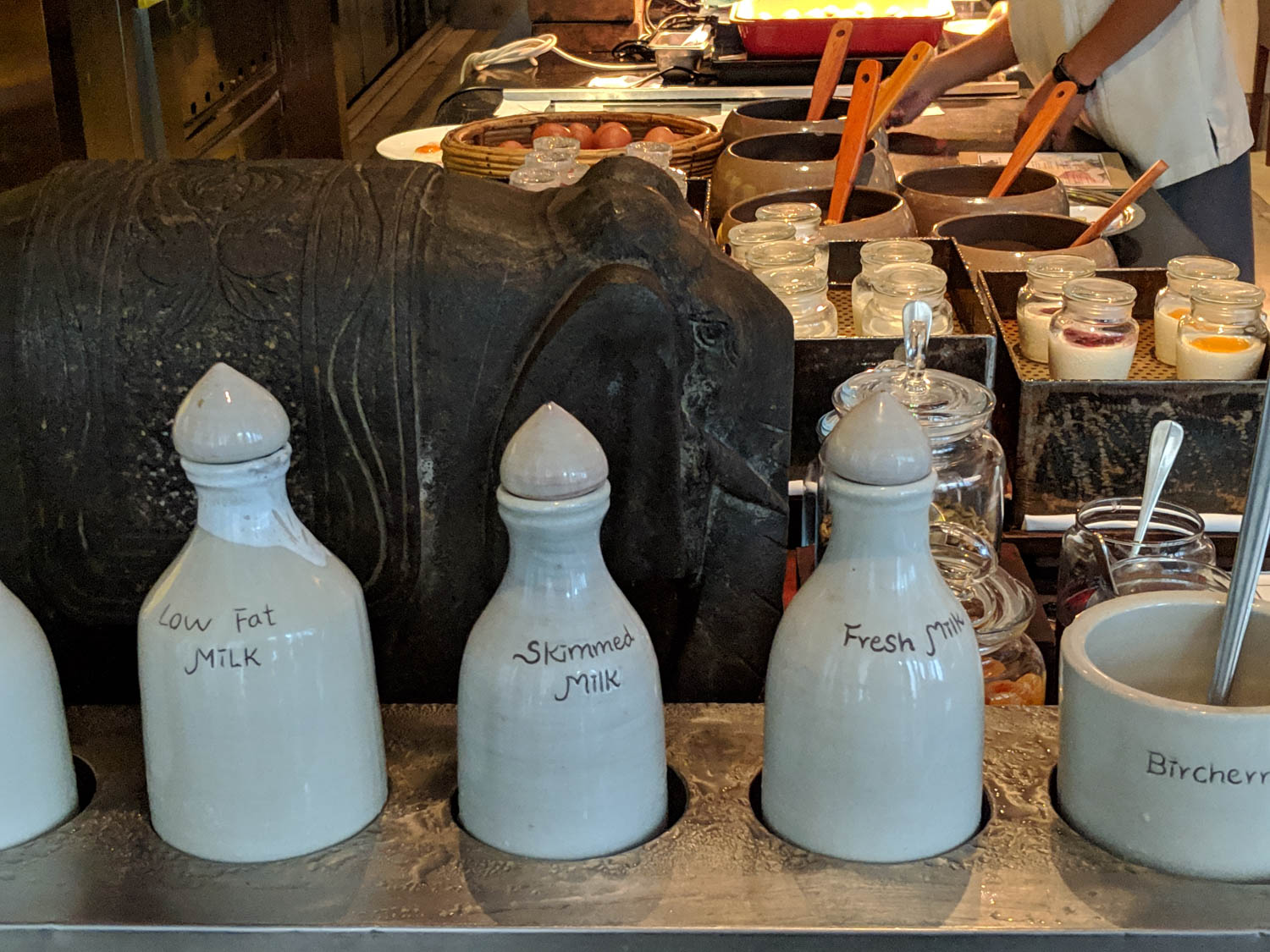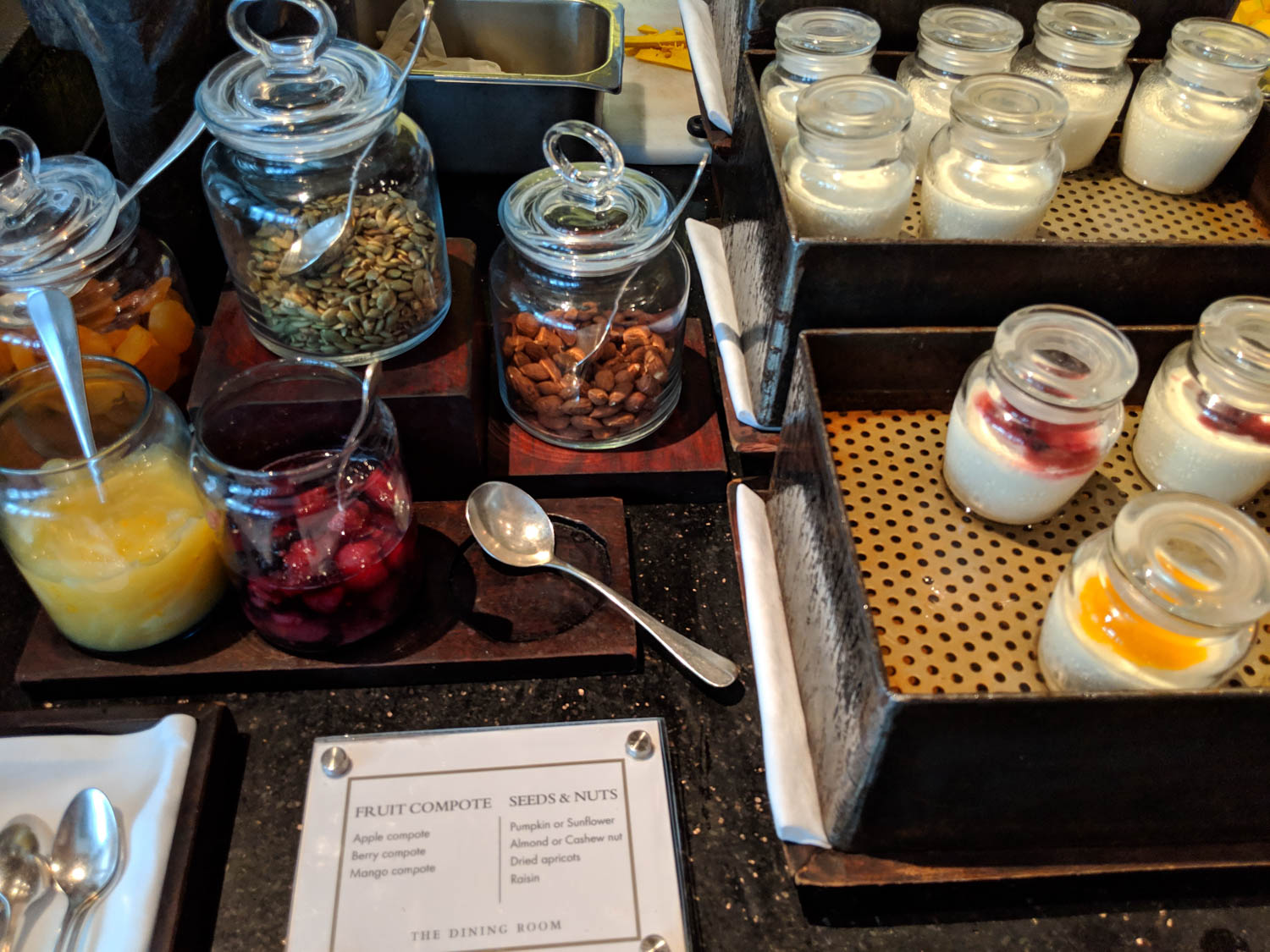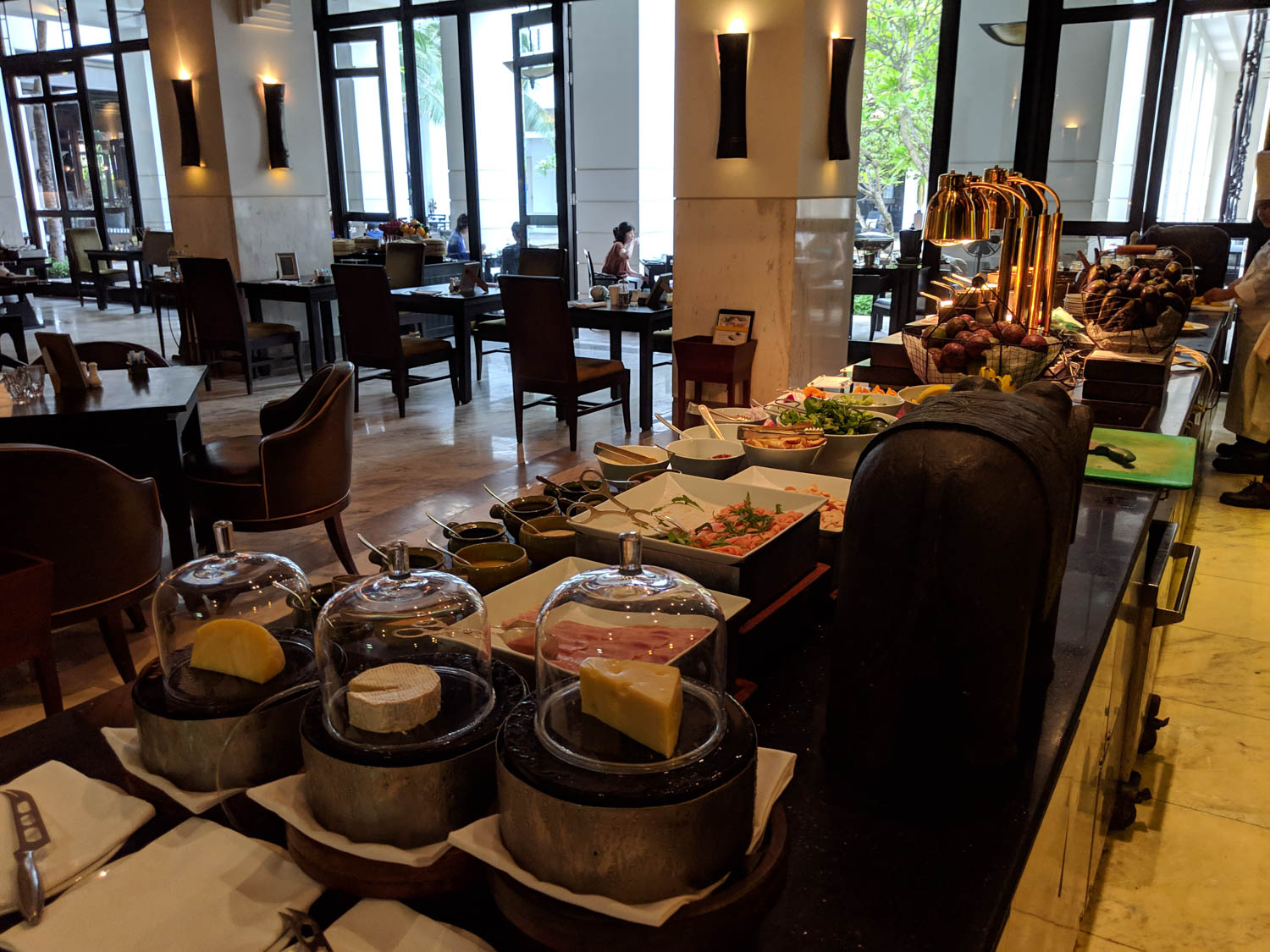 In addition to the typical things you'd expect to see at a breakfast buffet, there was also a juice/smoothie bar, which was a fun idea: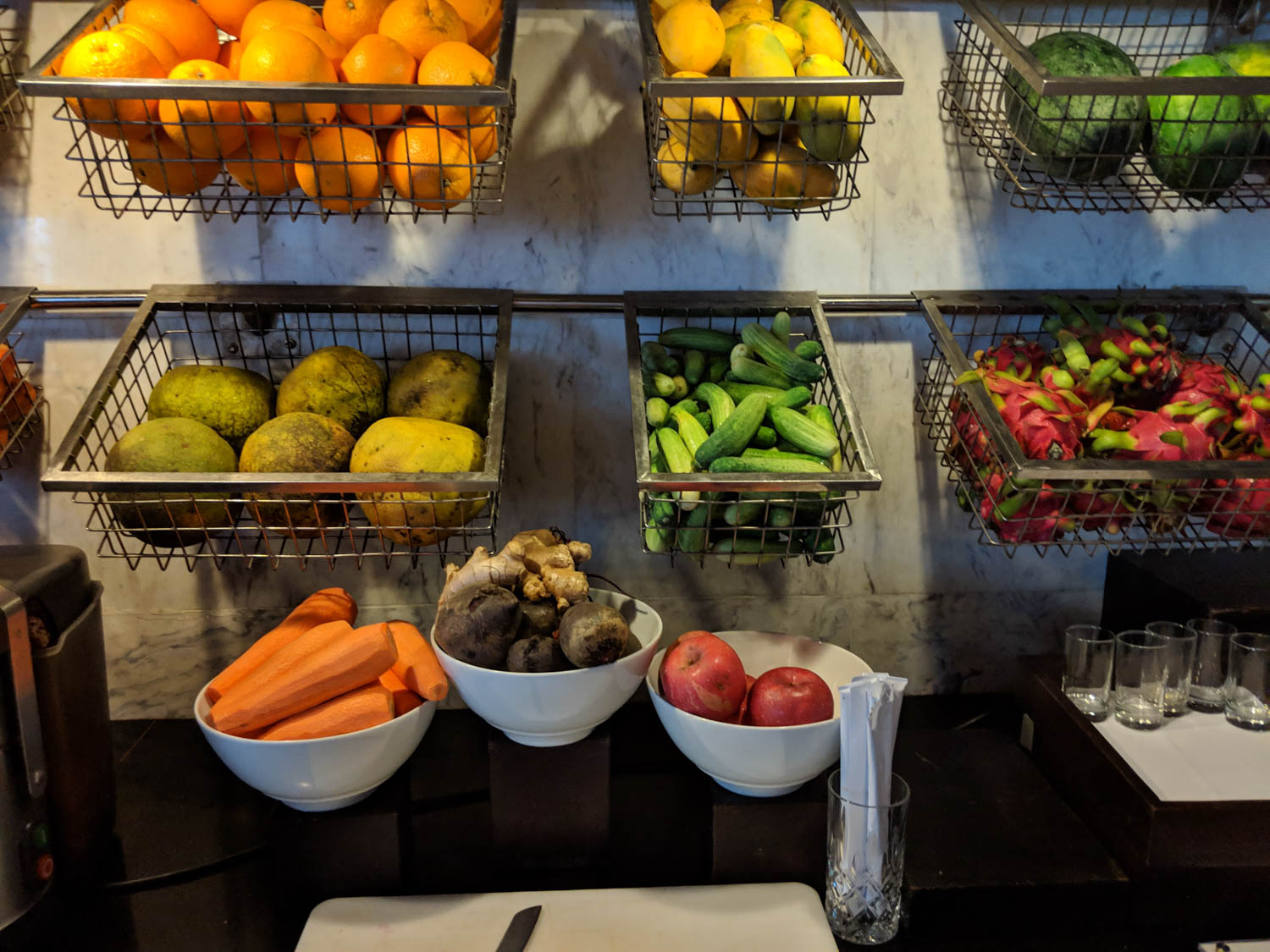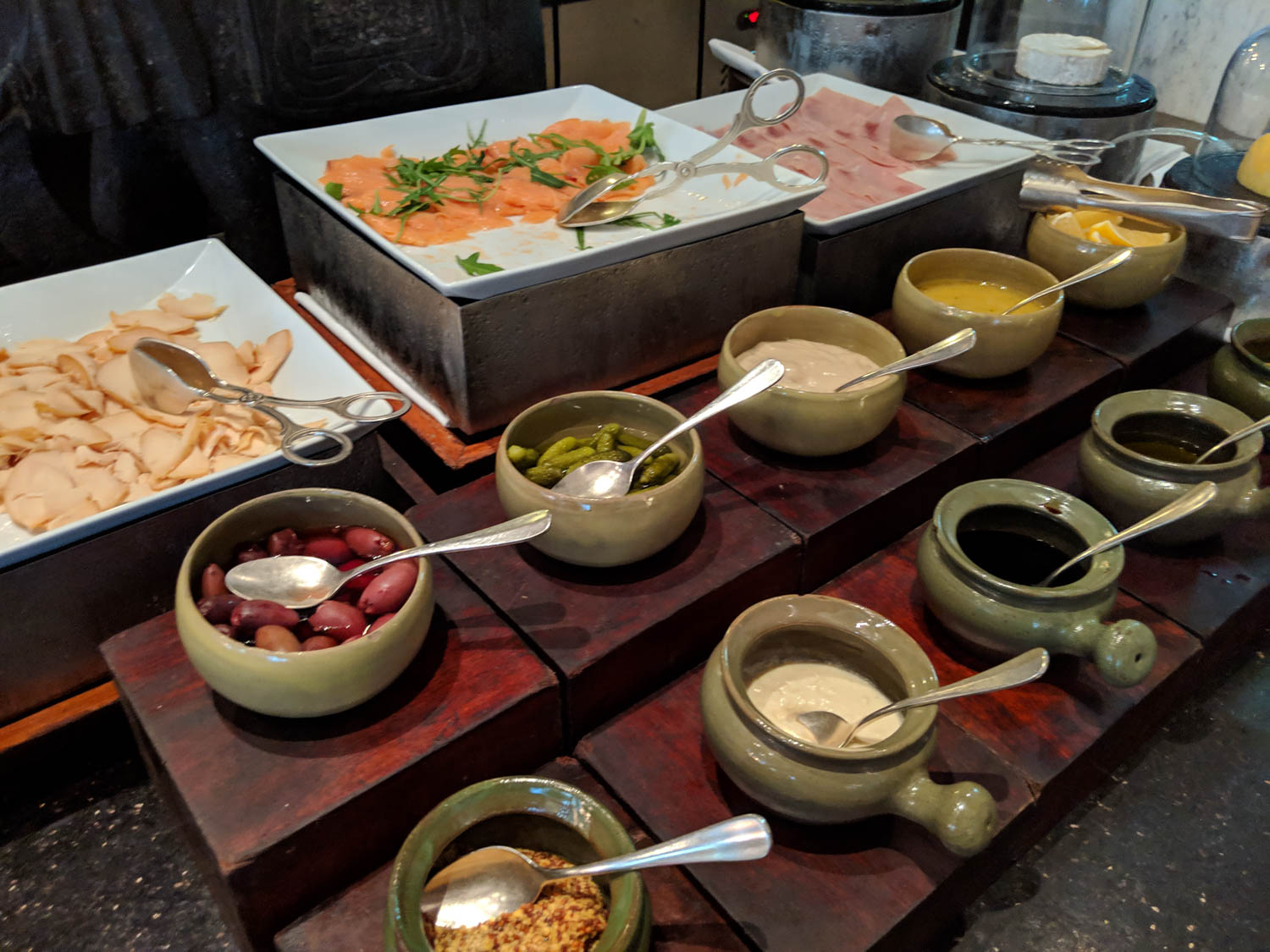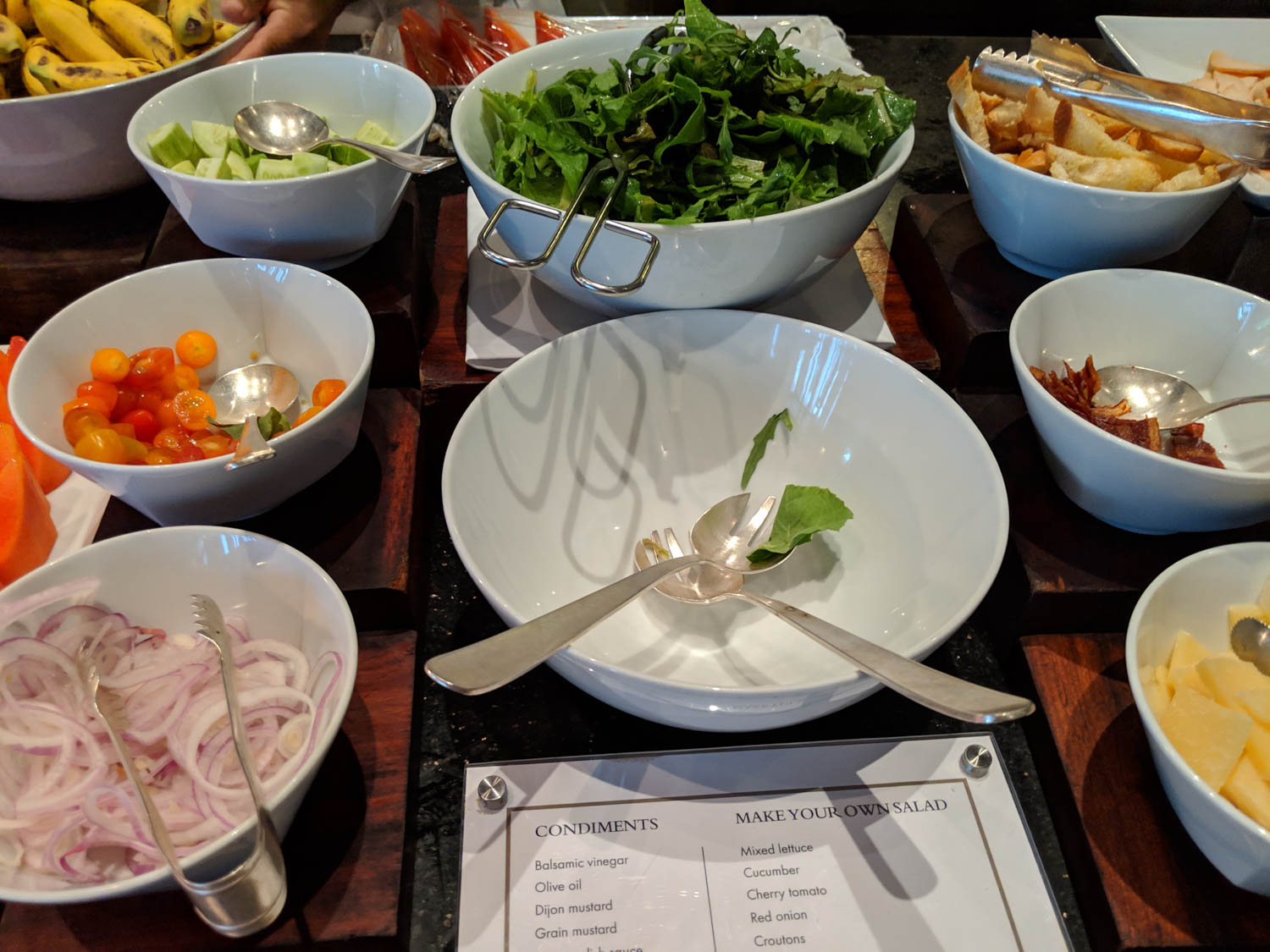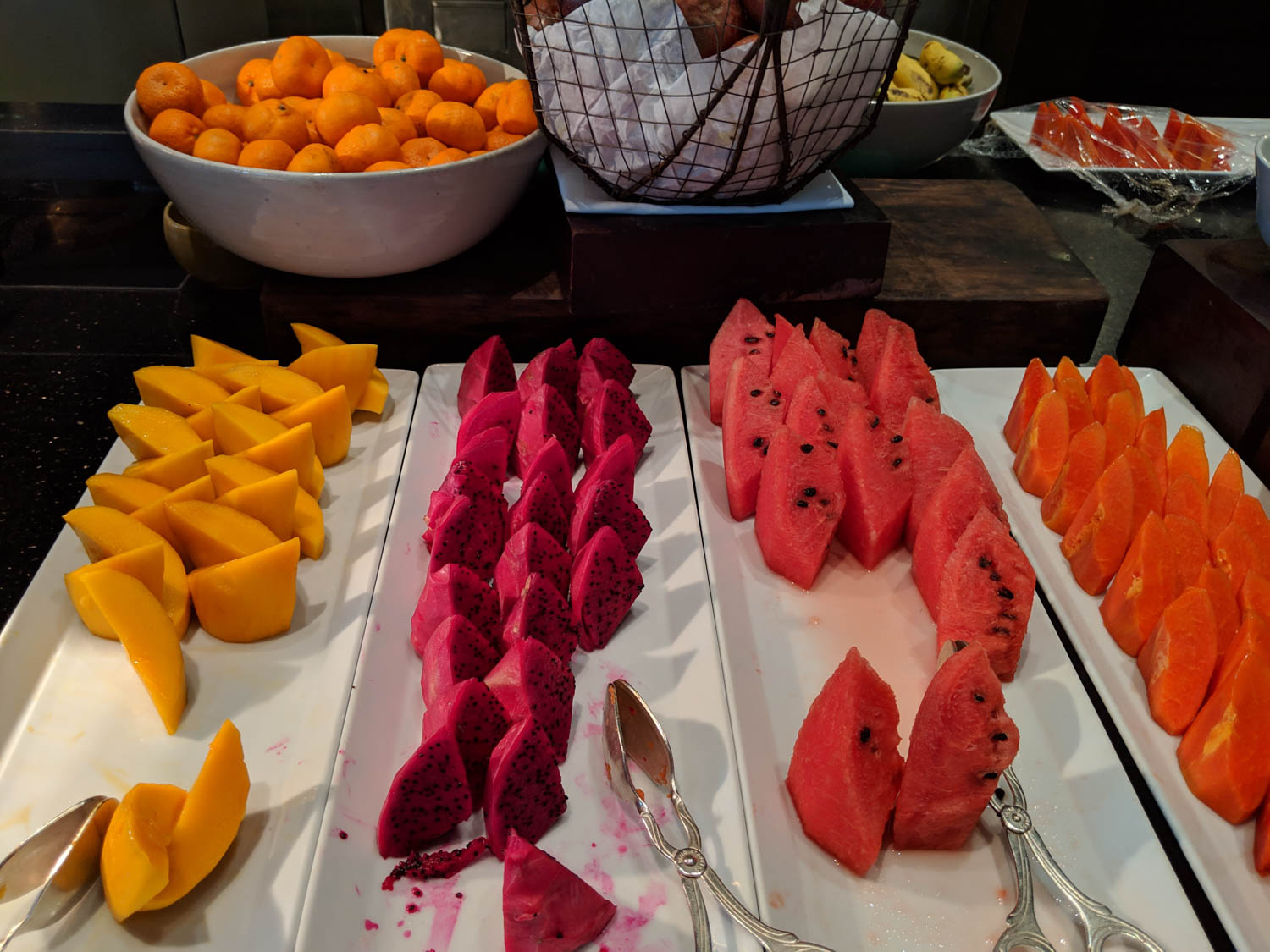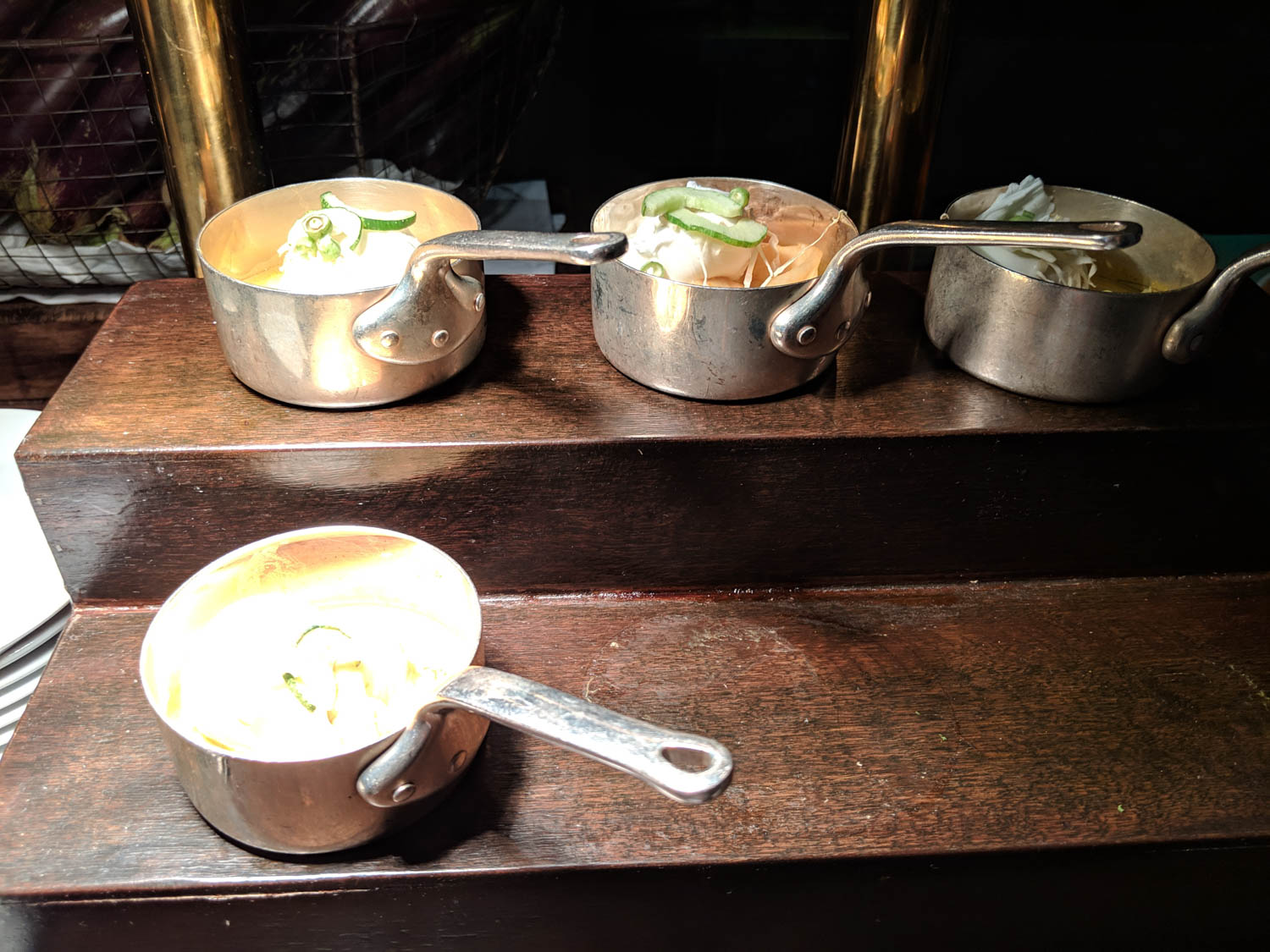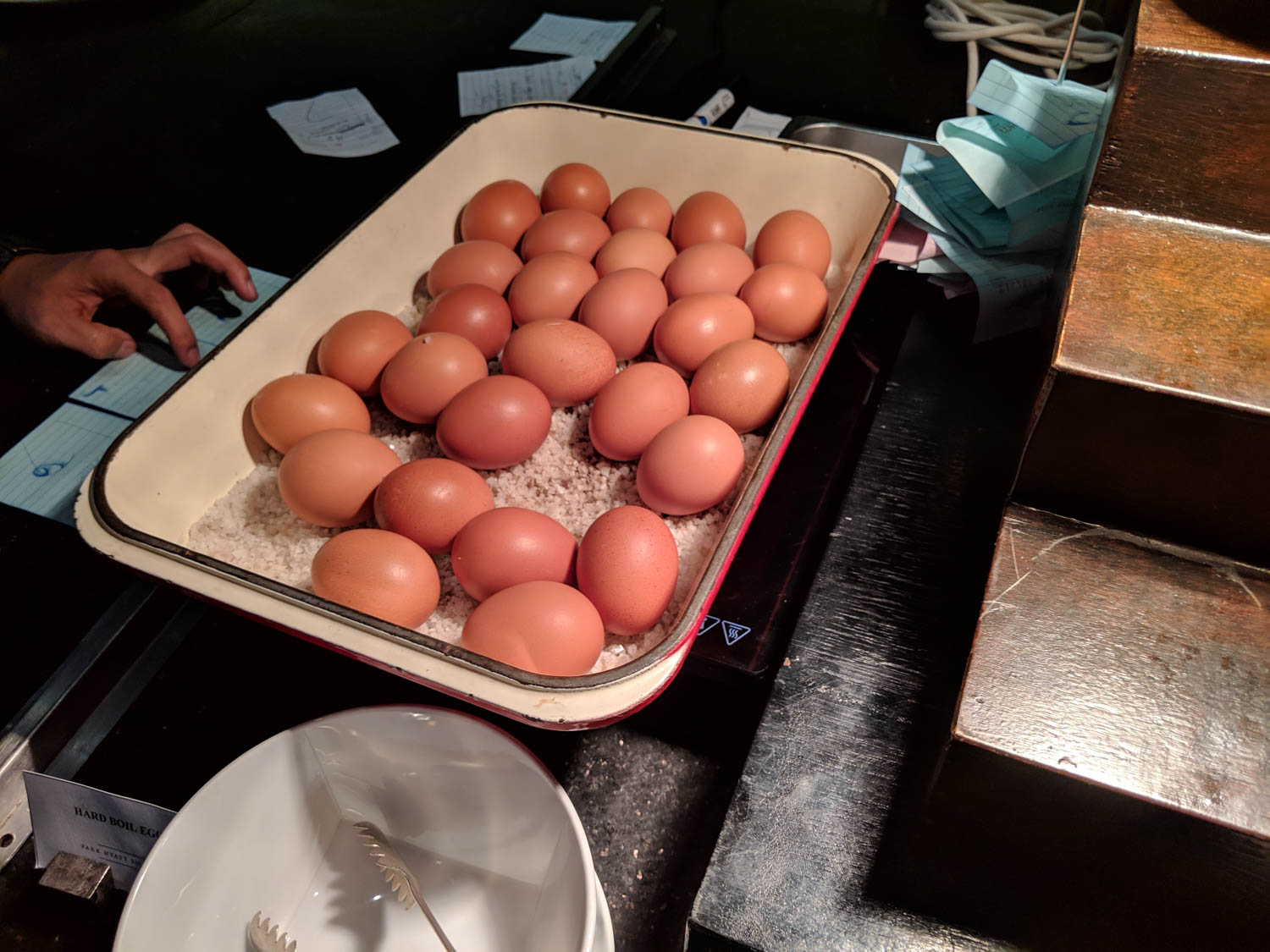 And there was a decent mix of Western and Asian options: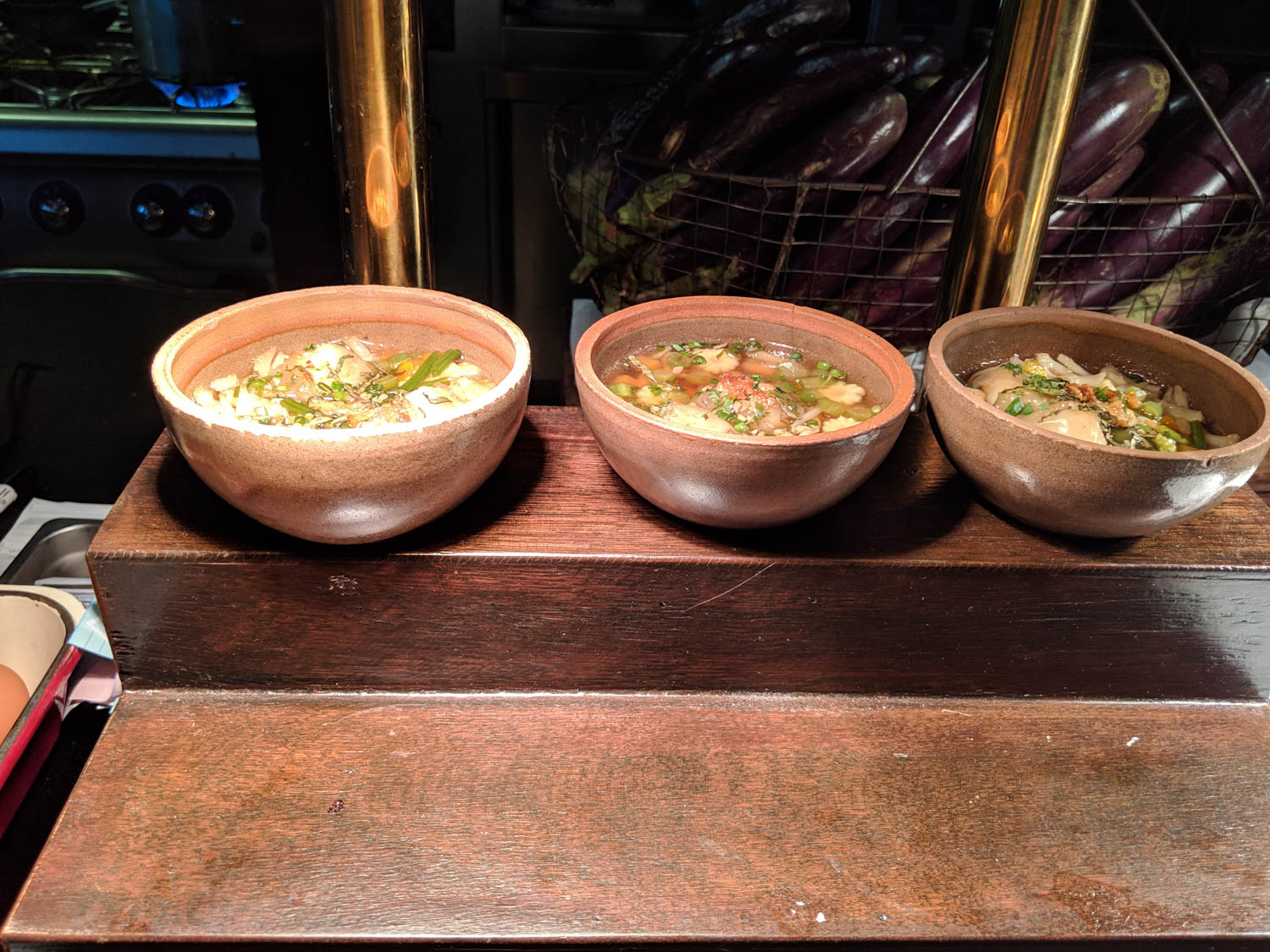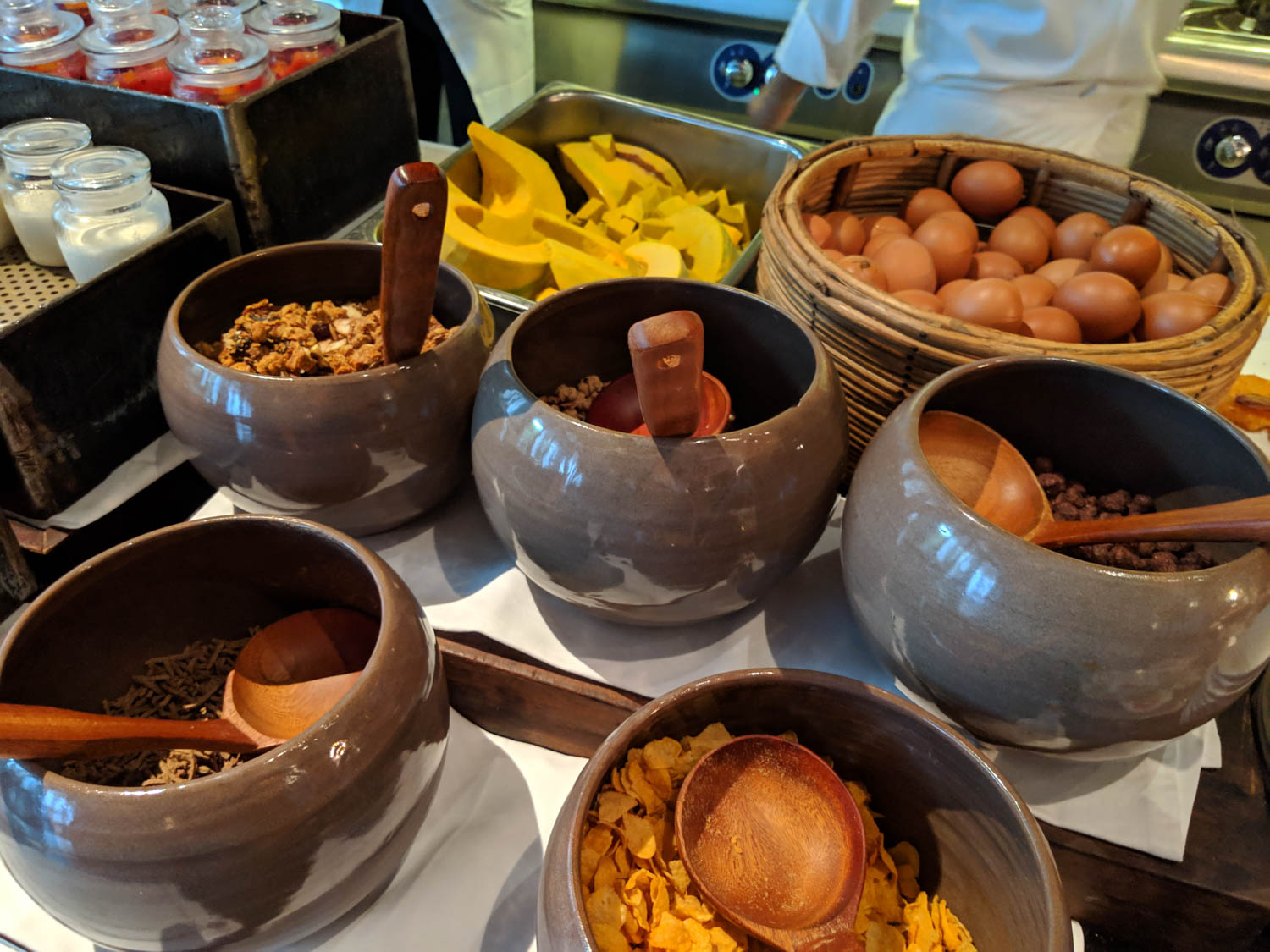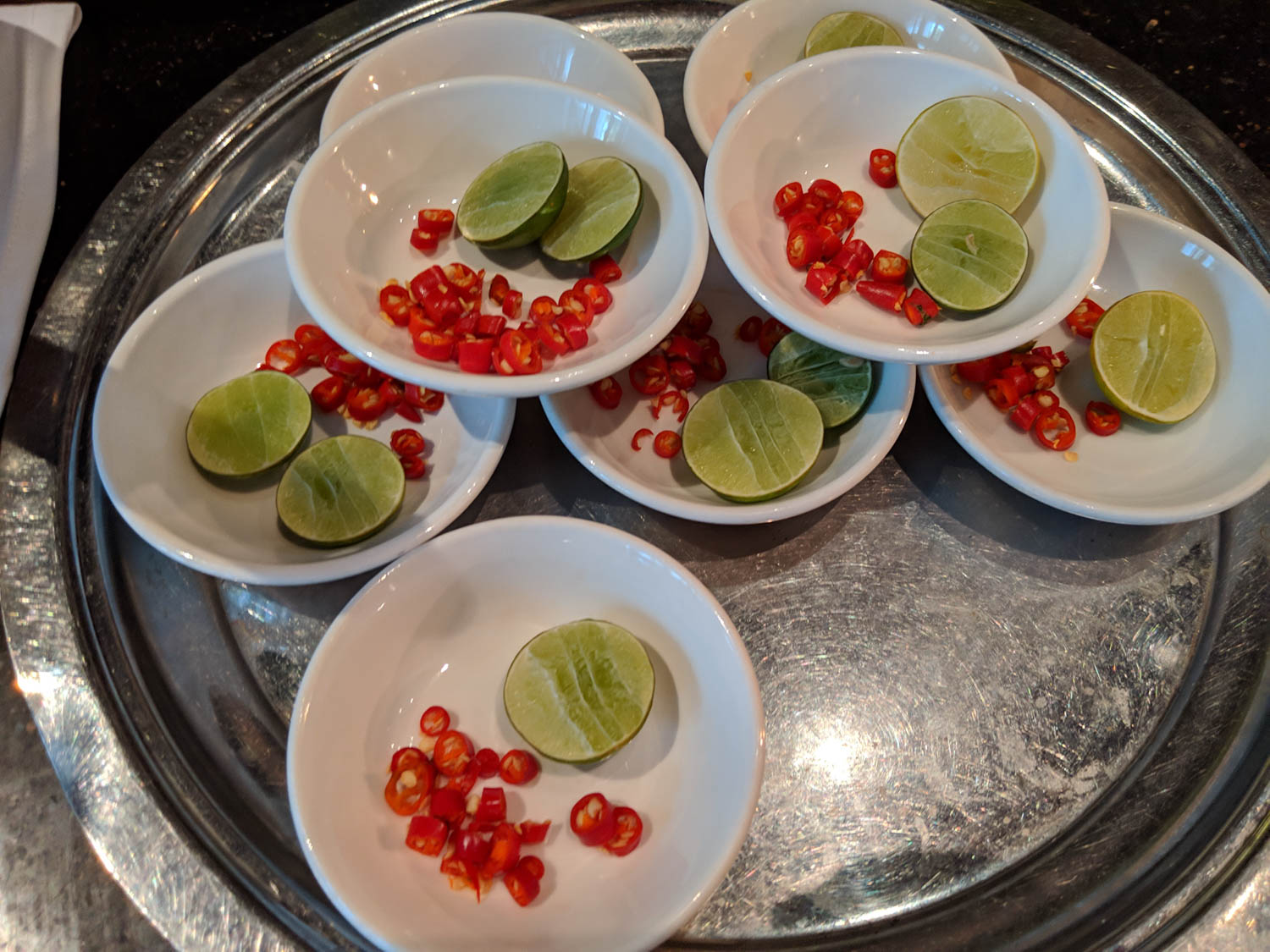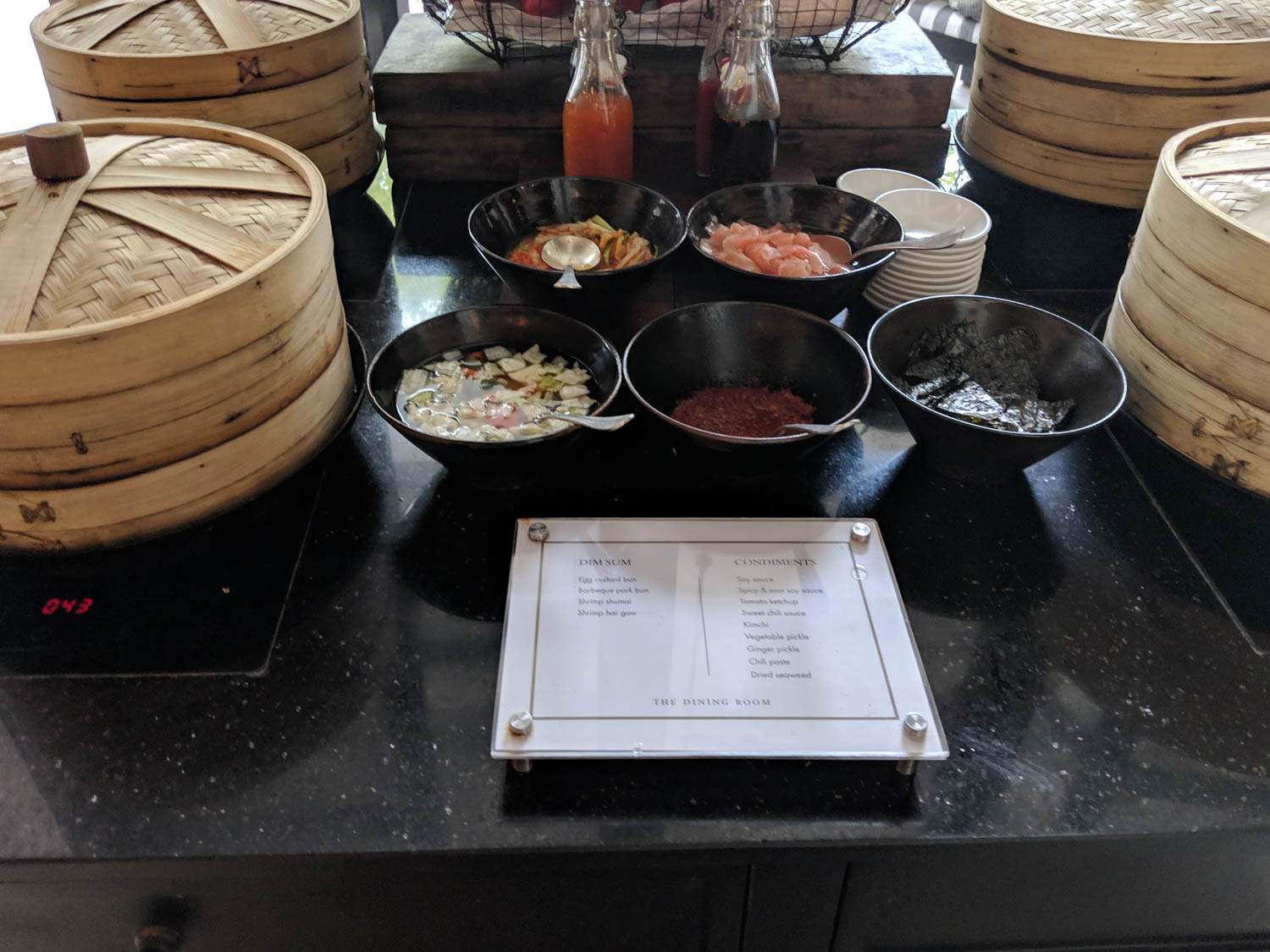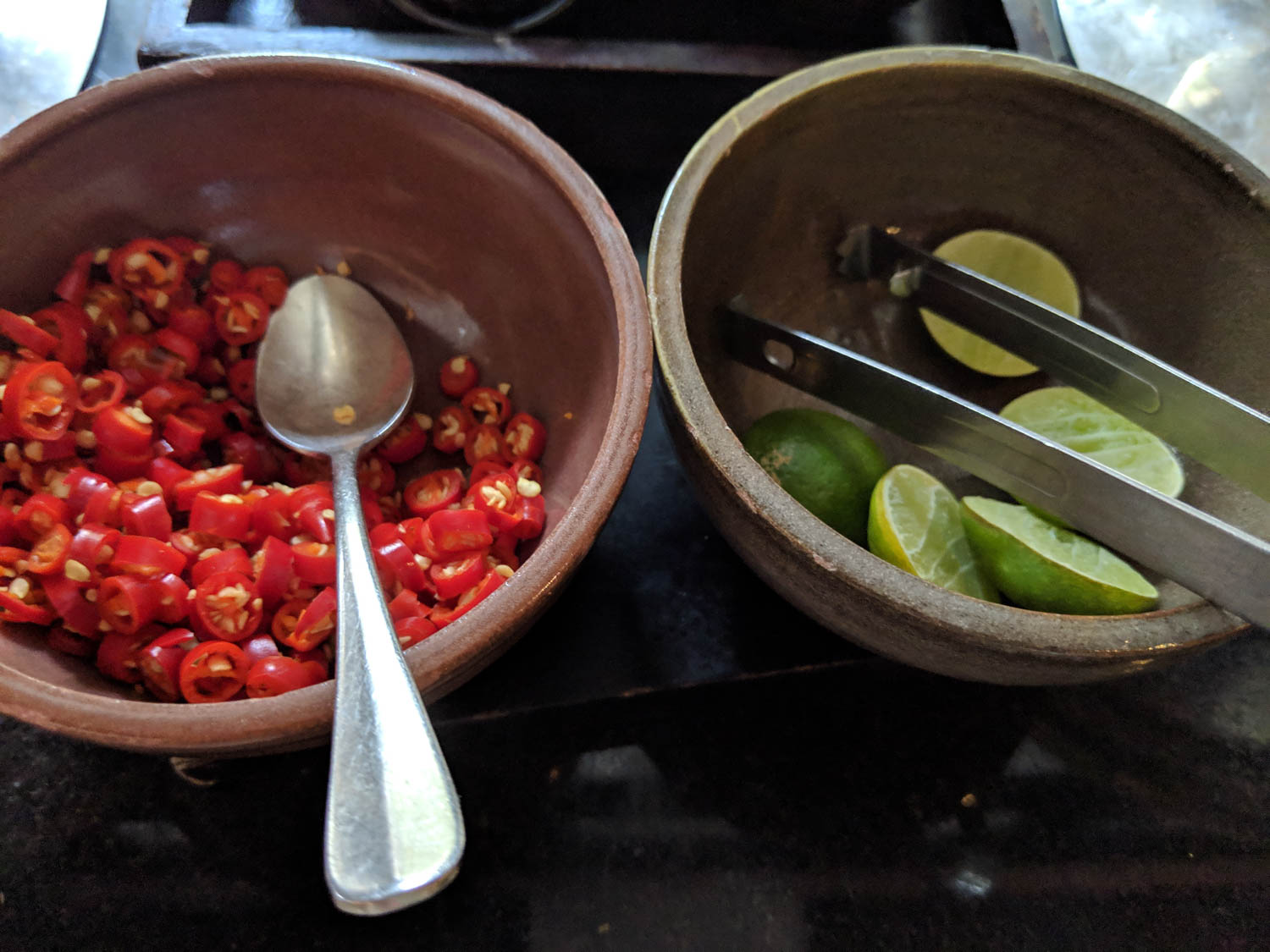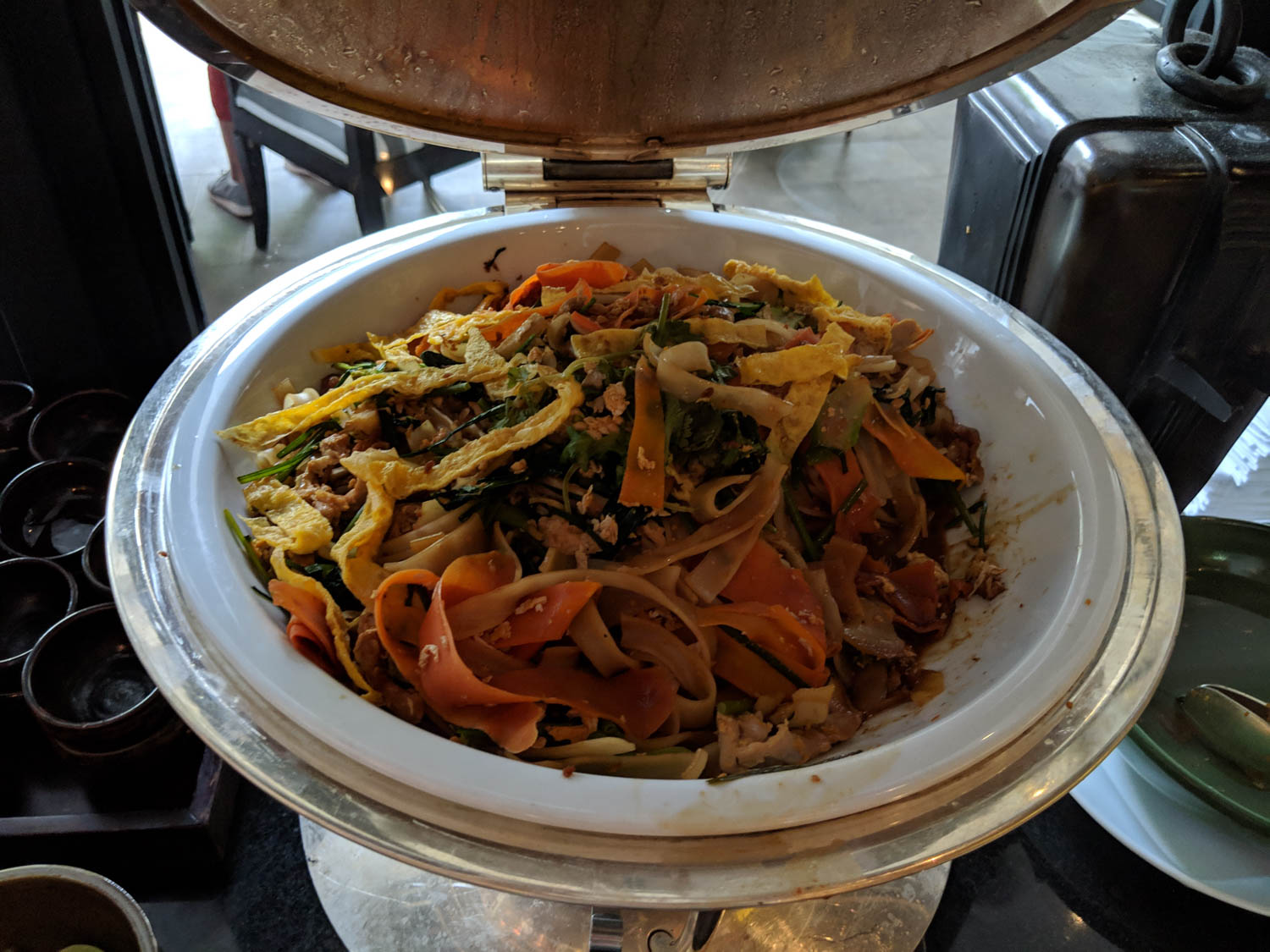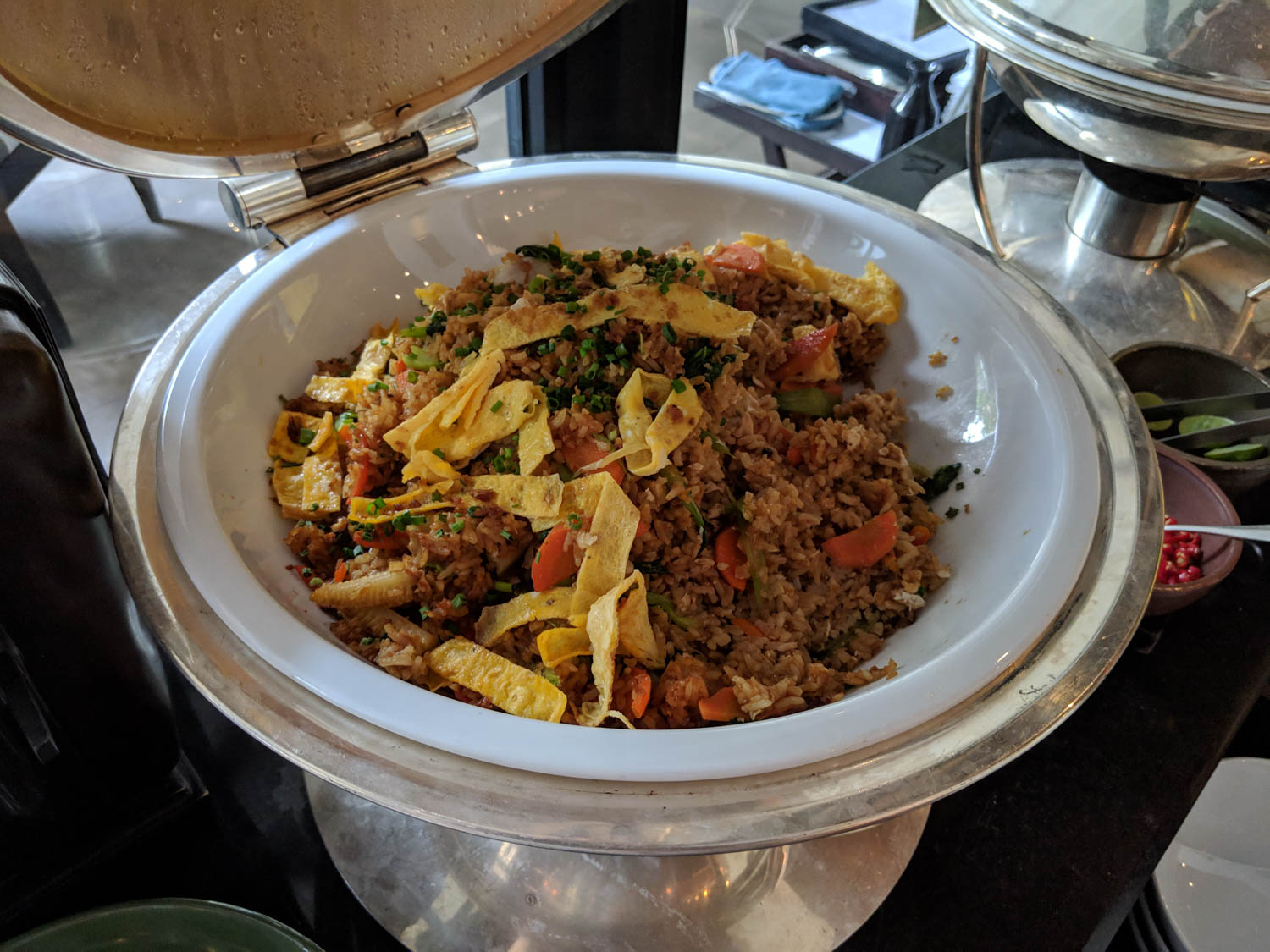 Then a small selection of baked goods, with a disproportionately large assortment of jams and spreads: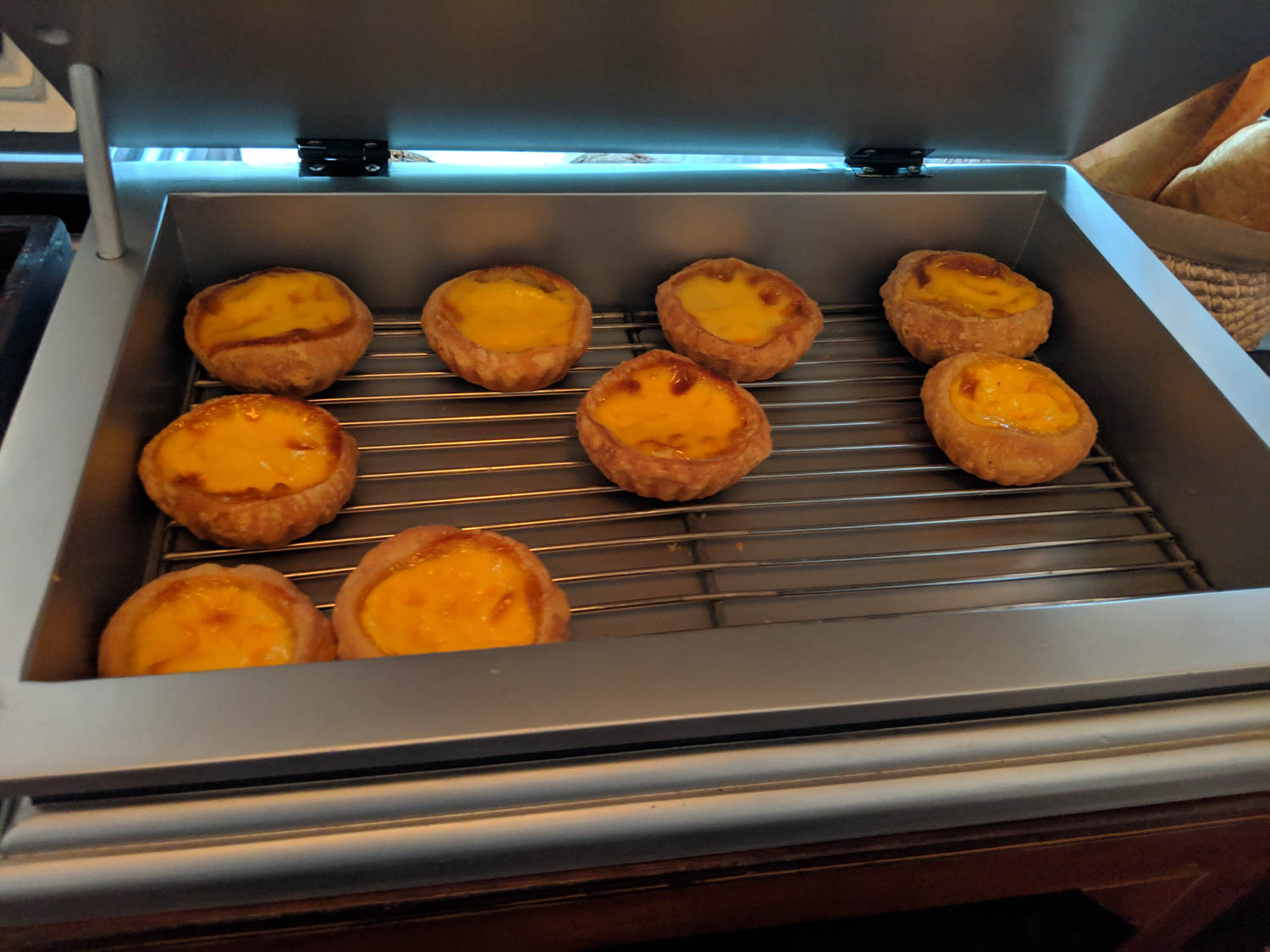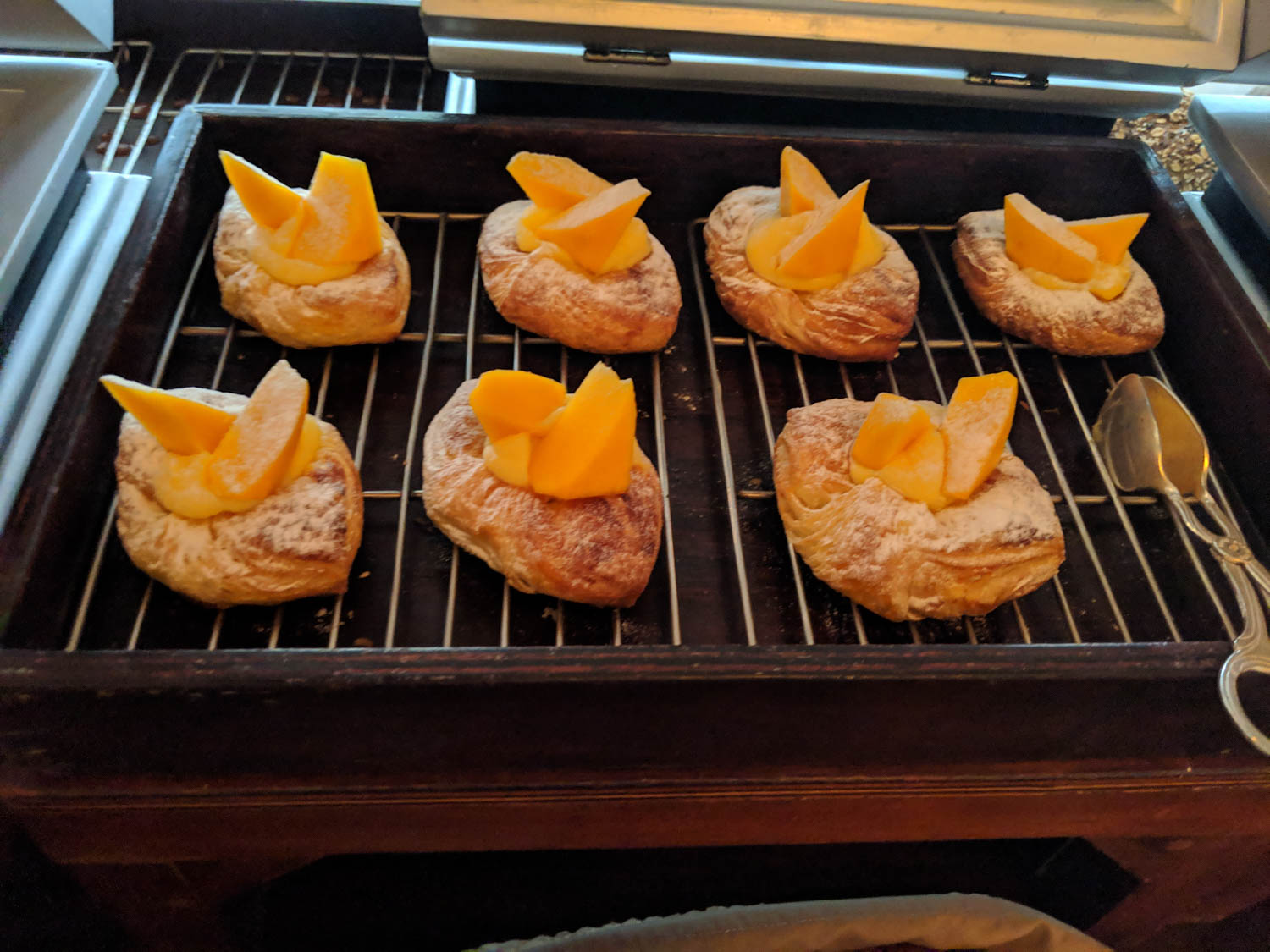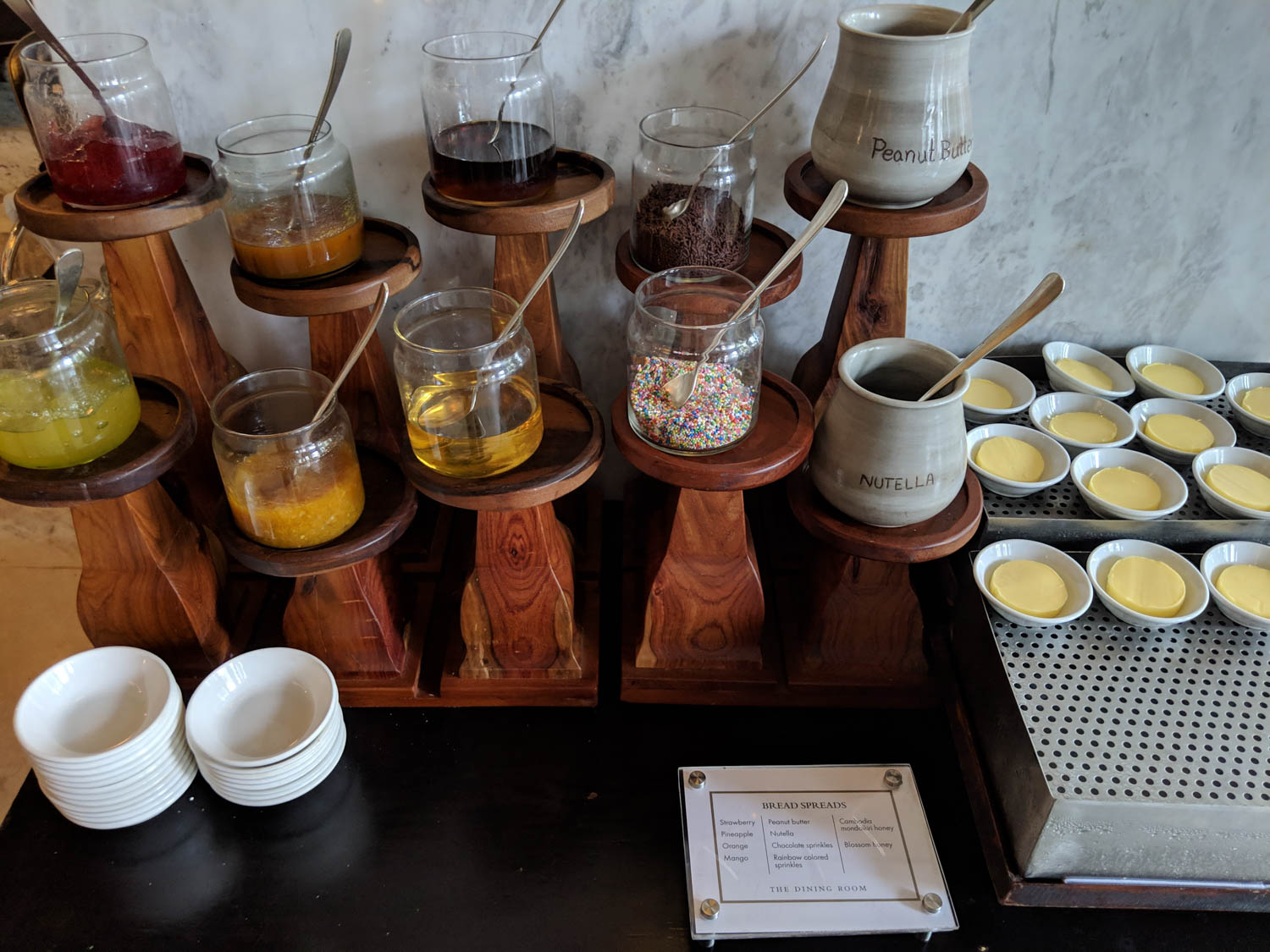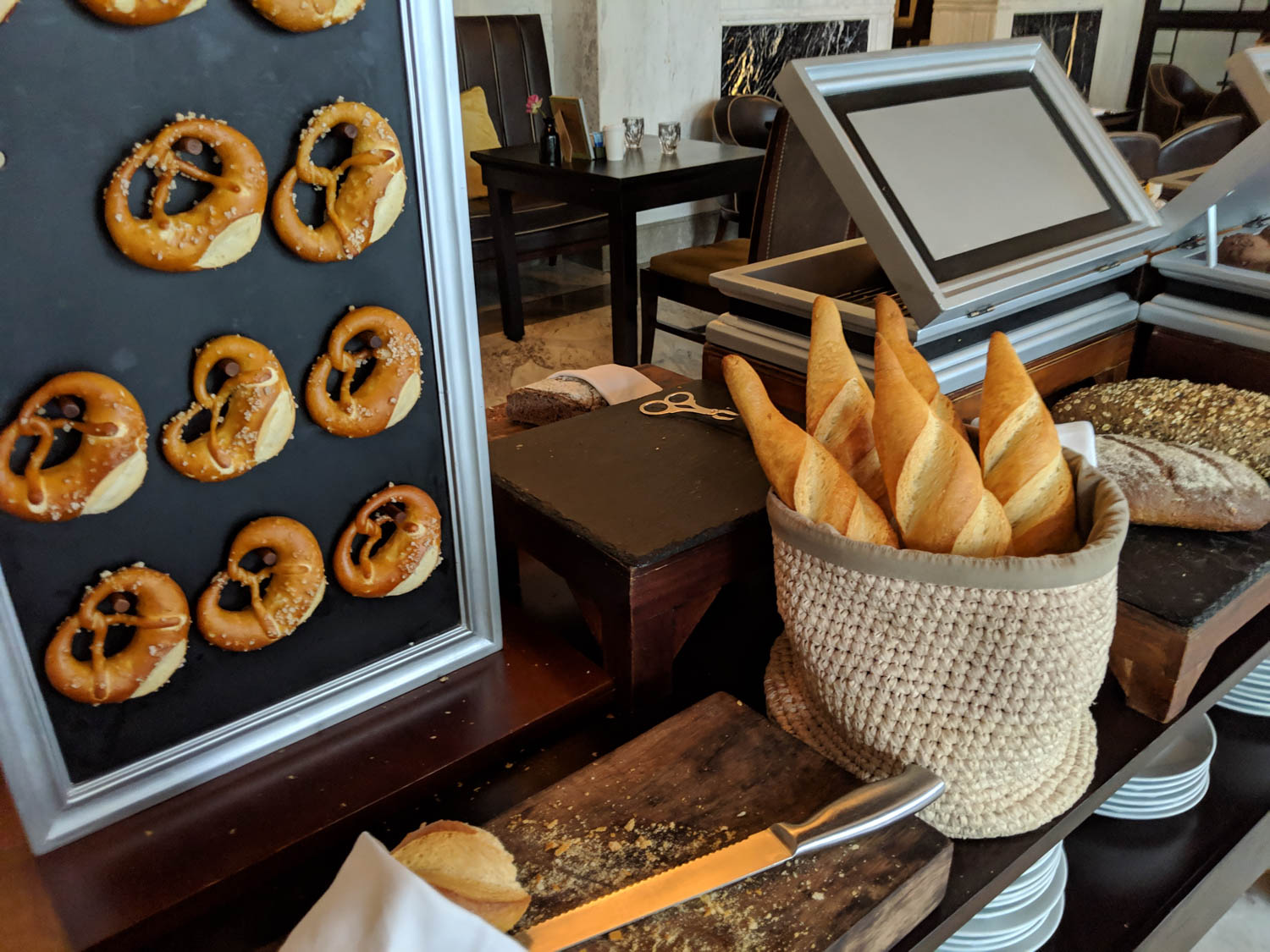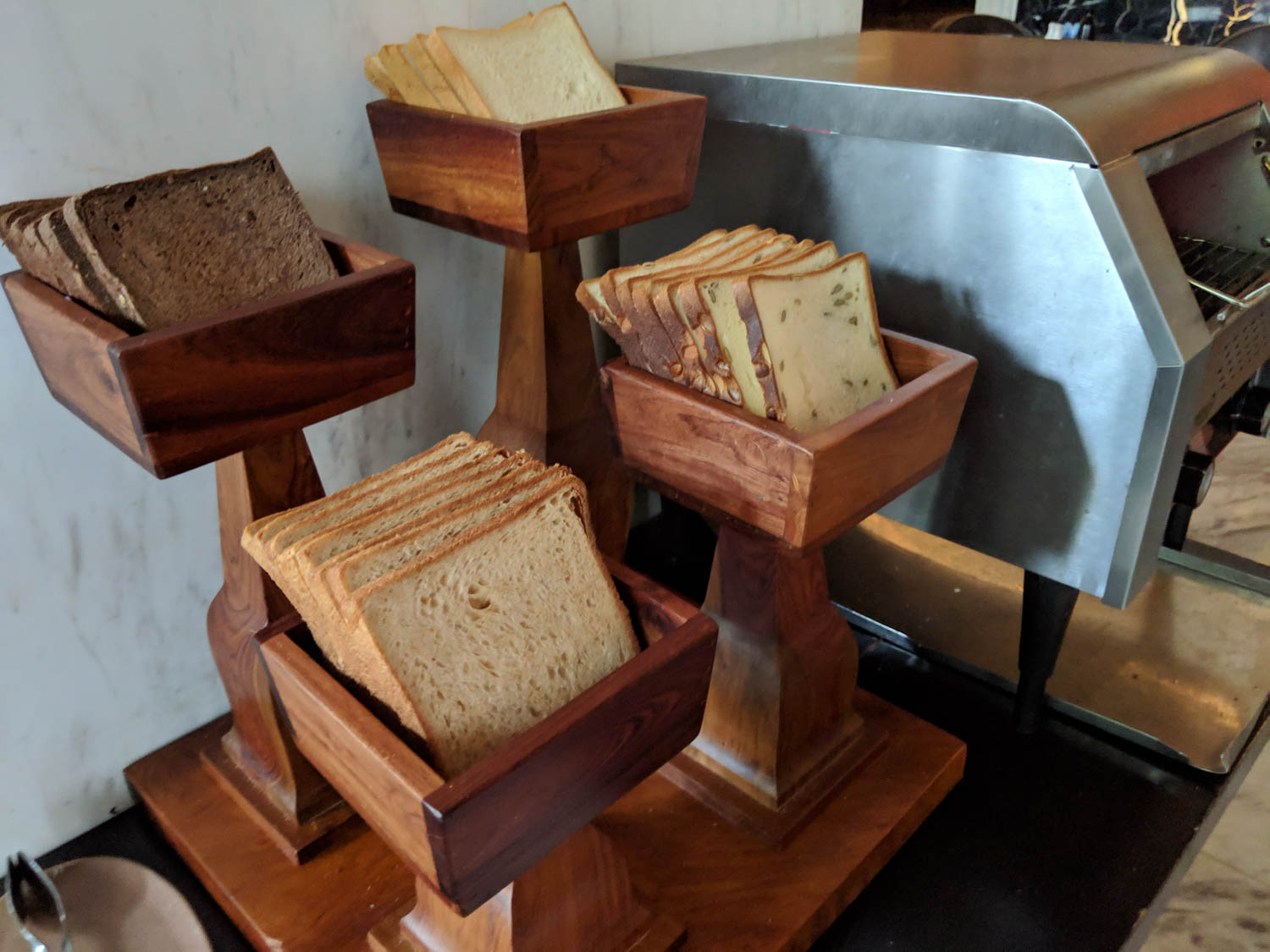 Coffee, eggs, and other entrees were available to order, and while they took a very long time to arrive, the presentation was beautiful: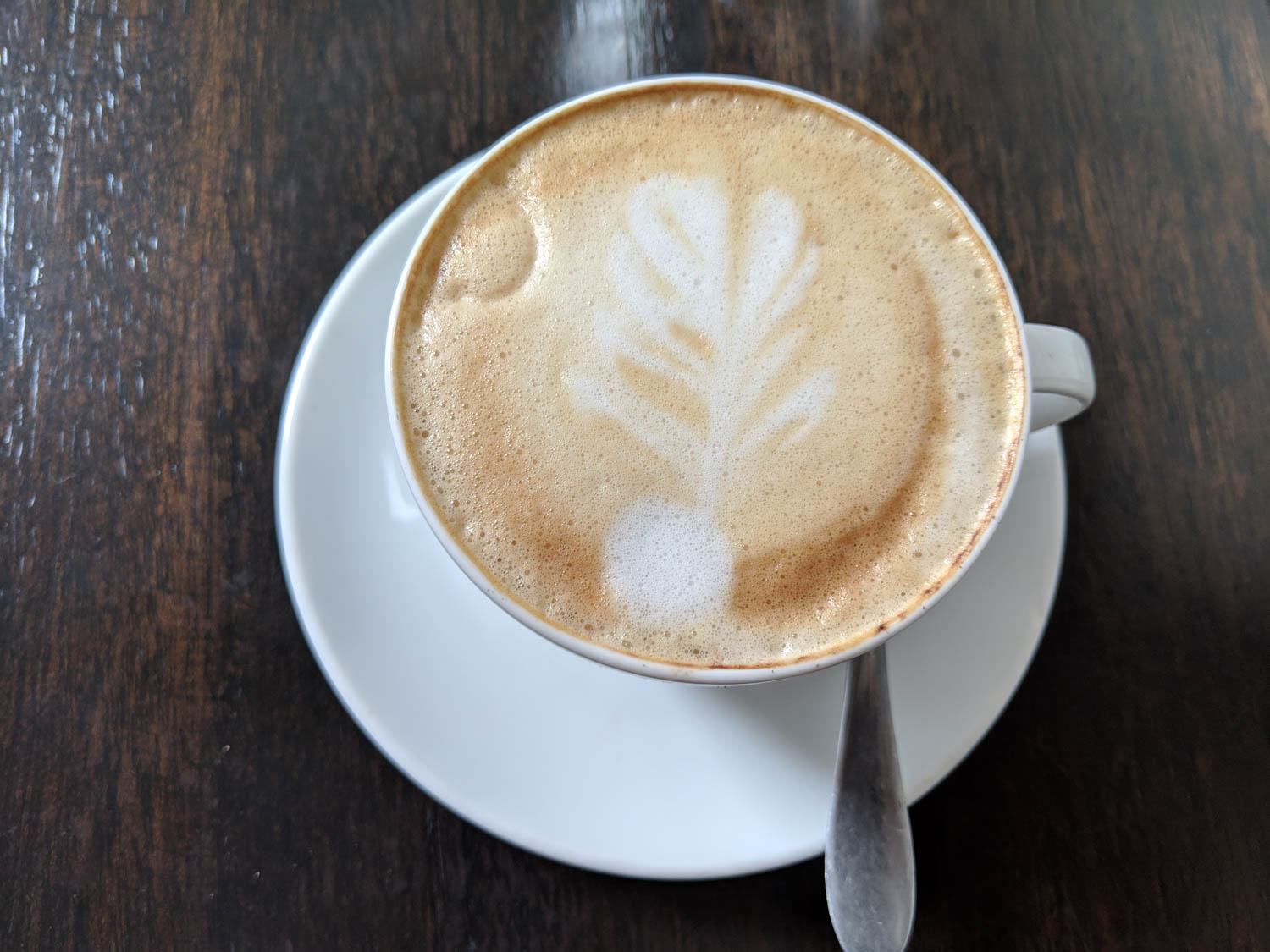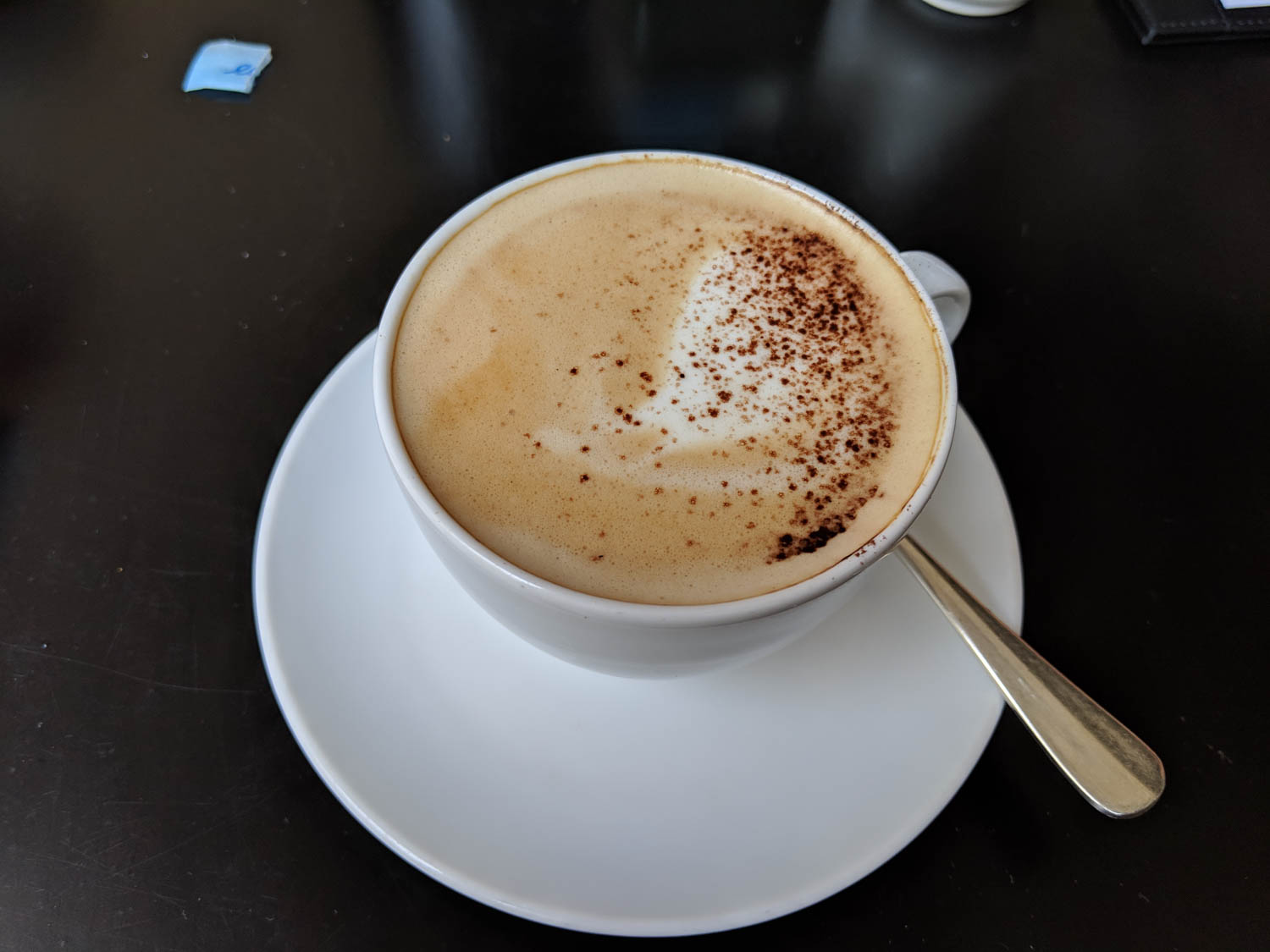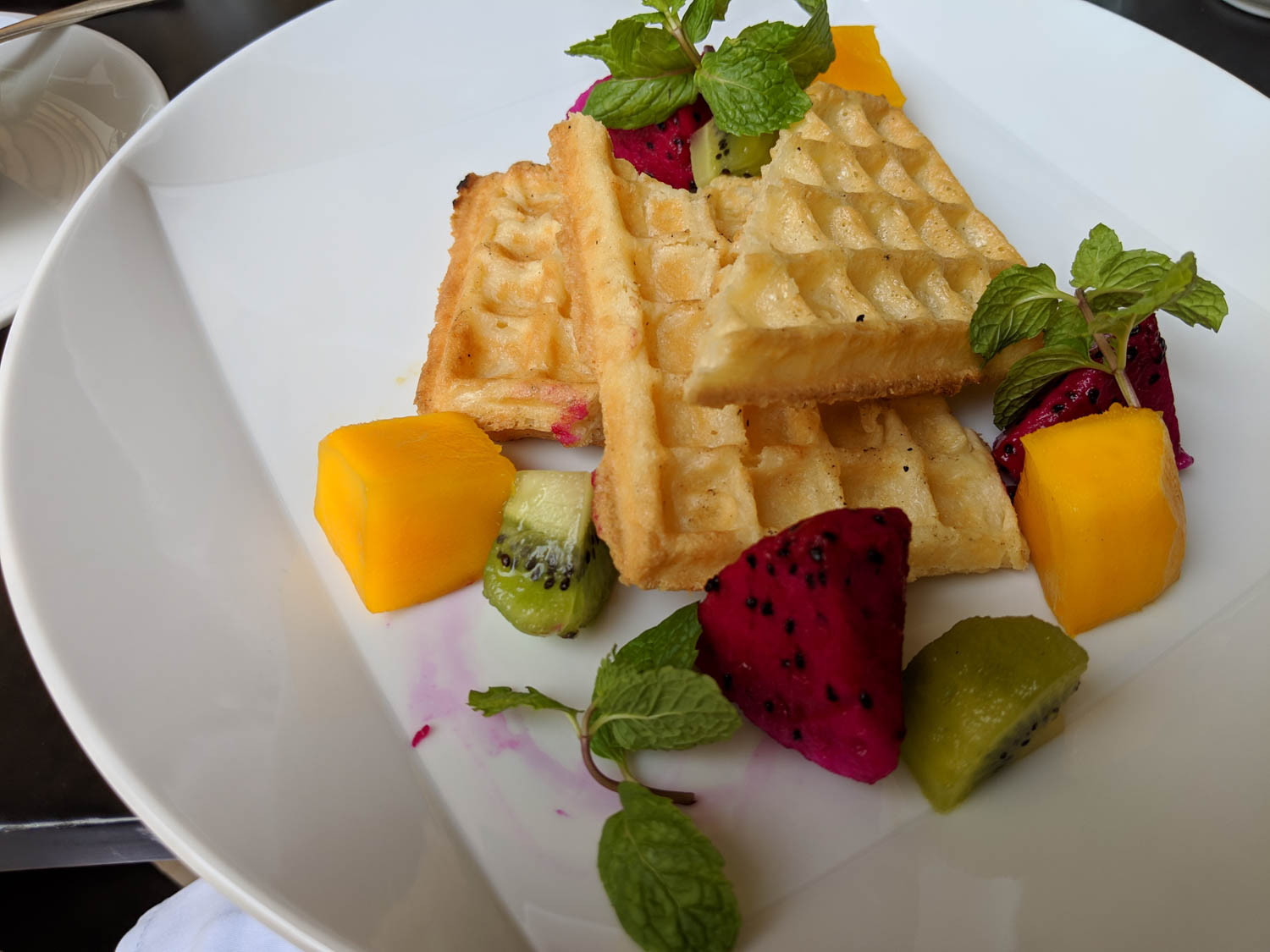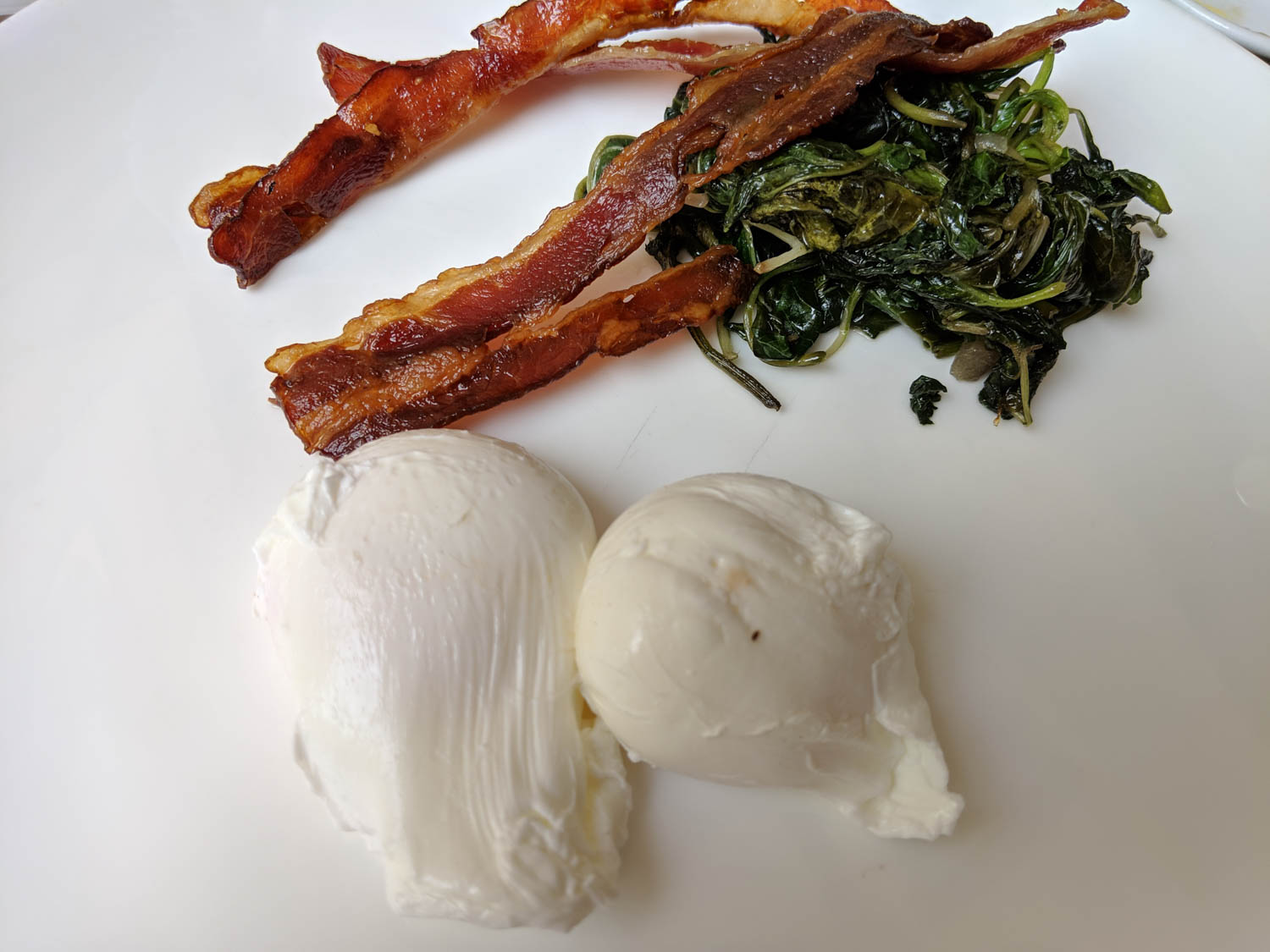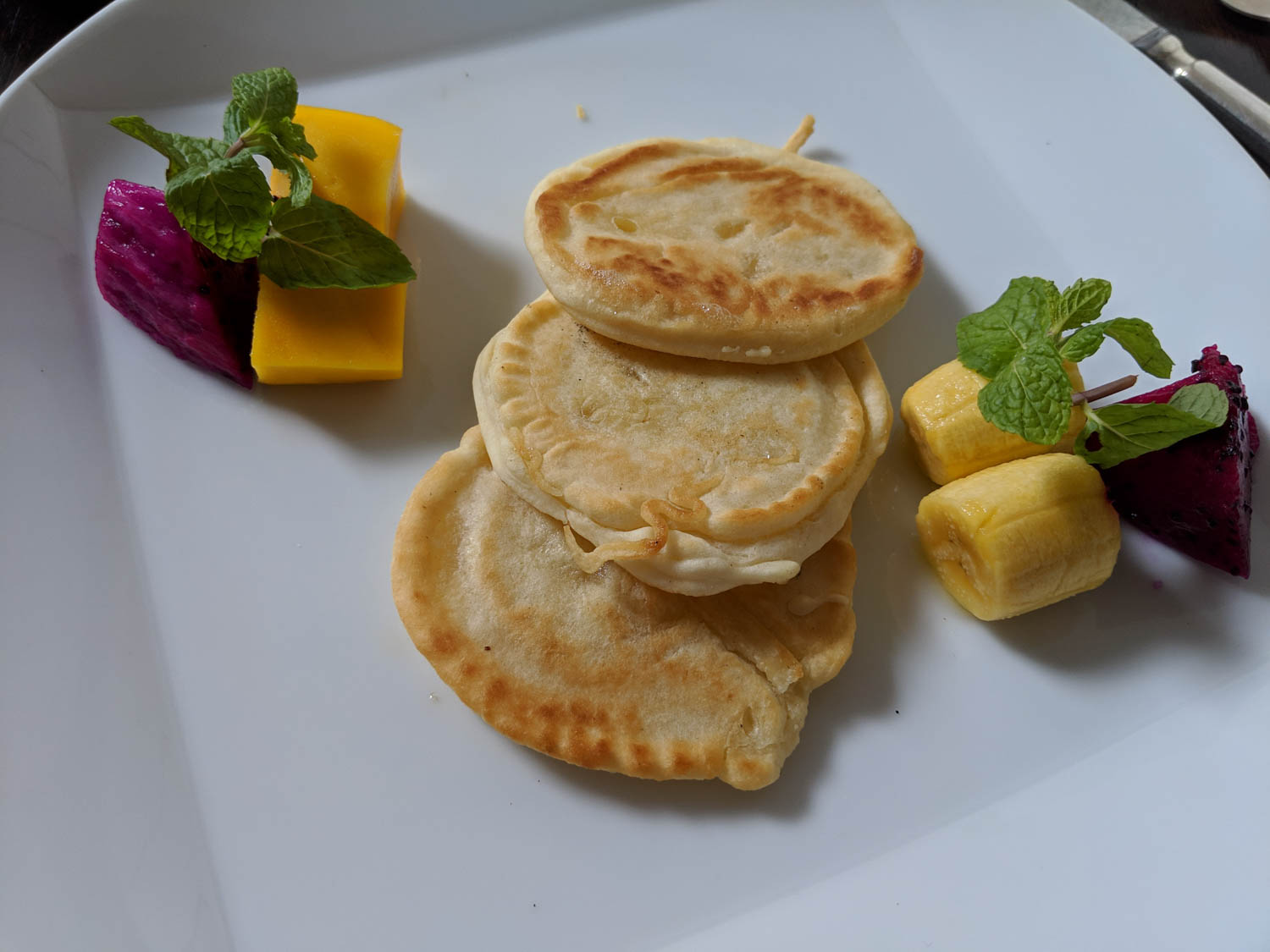 So overall I'd give the breakfast an "okay". I really love that it is served until 11AM, and the setting is particularly nice if you sit outdoors, but neither the selection nor quality were really standout.
Park Hyatt Siem Reap pools
Given how outrageously warm it can be in Siem Reap, having a nice hotel pool to retreat to can make all the difference, and the Park Hyatt has two.
There's a lap pool with a bit of seating on the lobby level: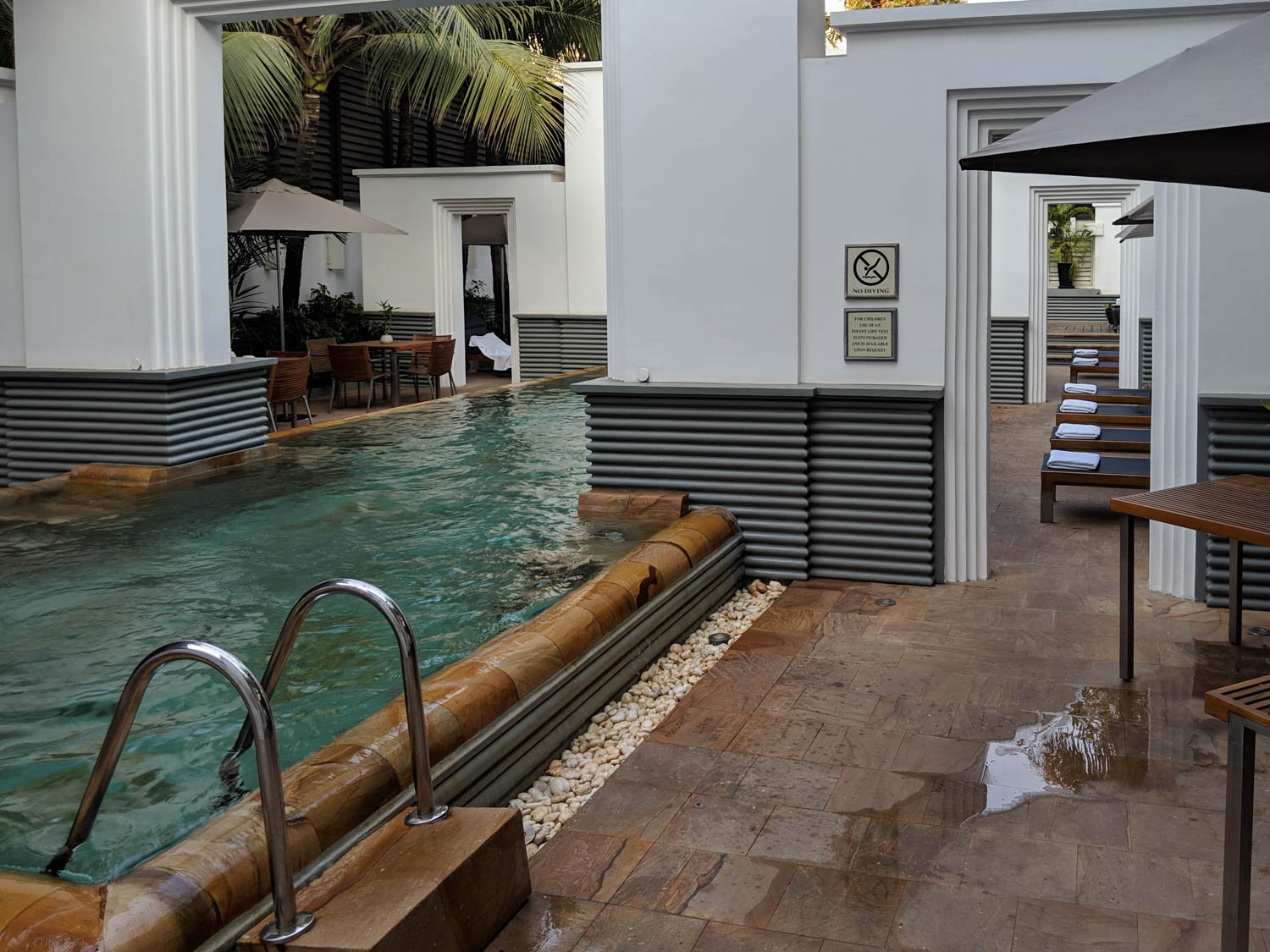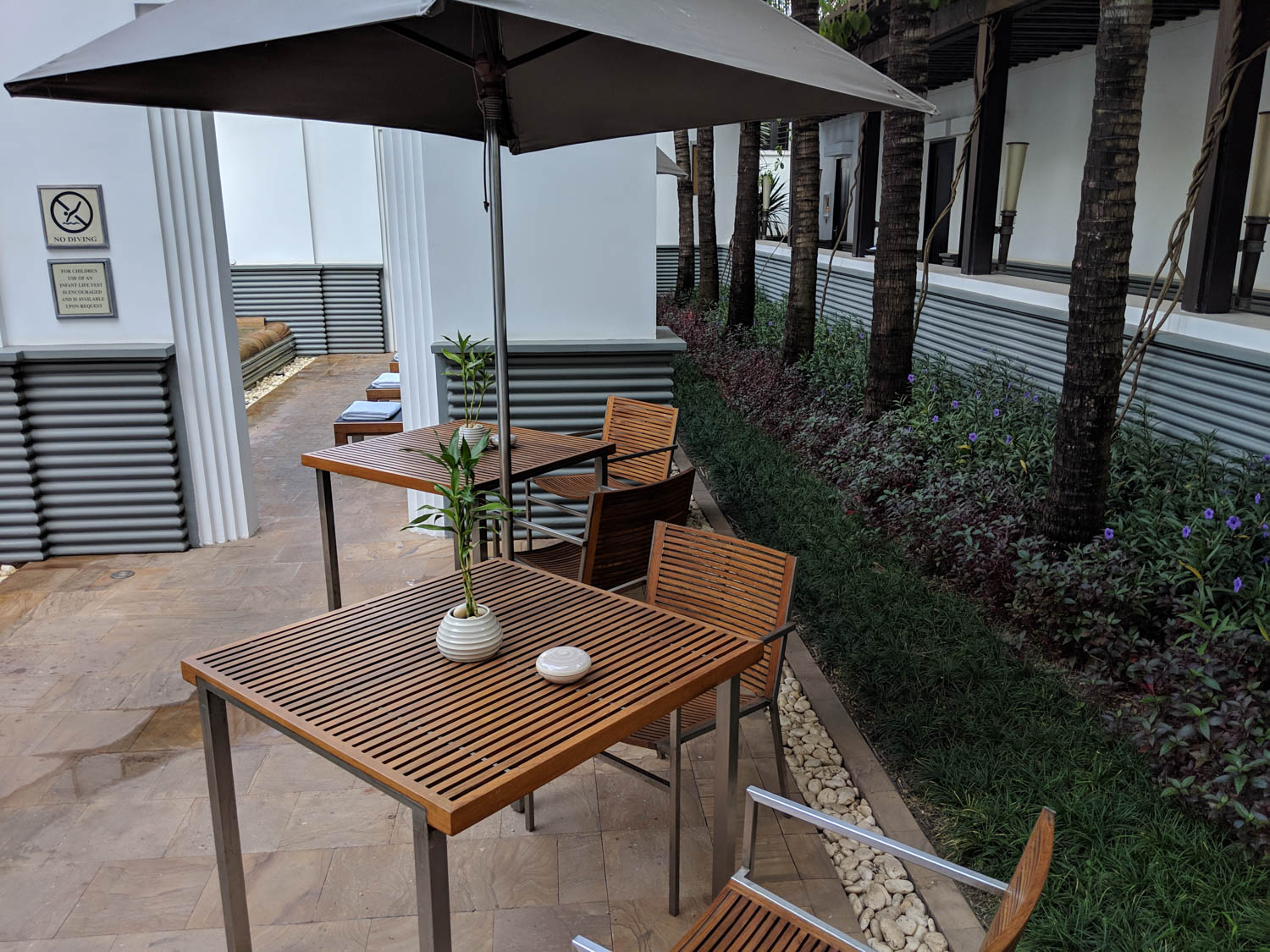 And then an expansive space on the second floor, adjacent to the spa and a little gym: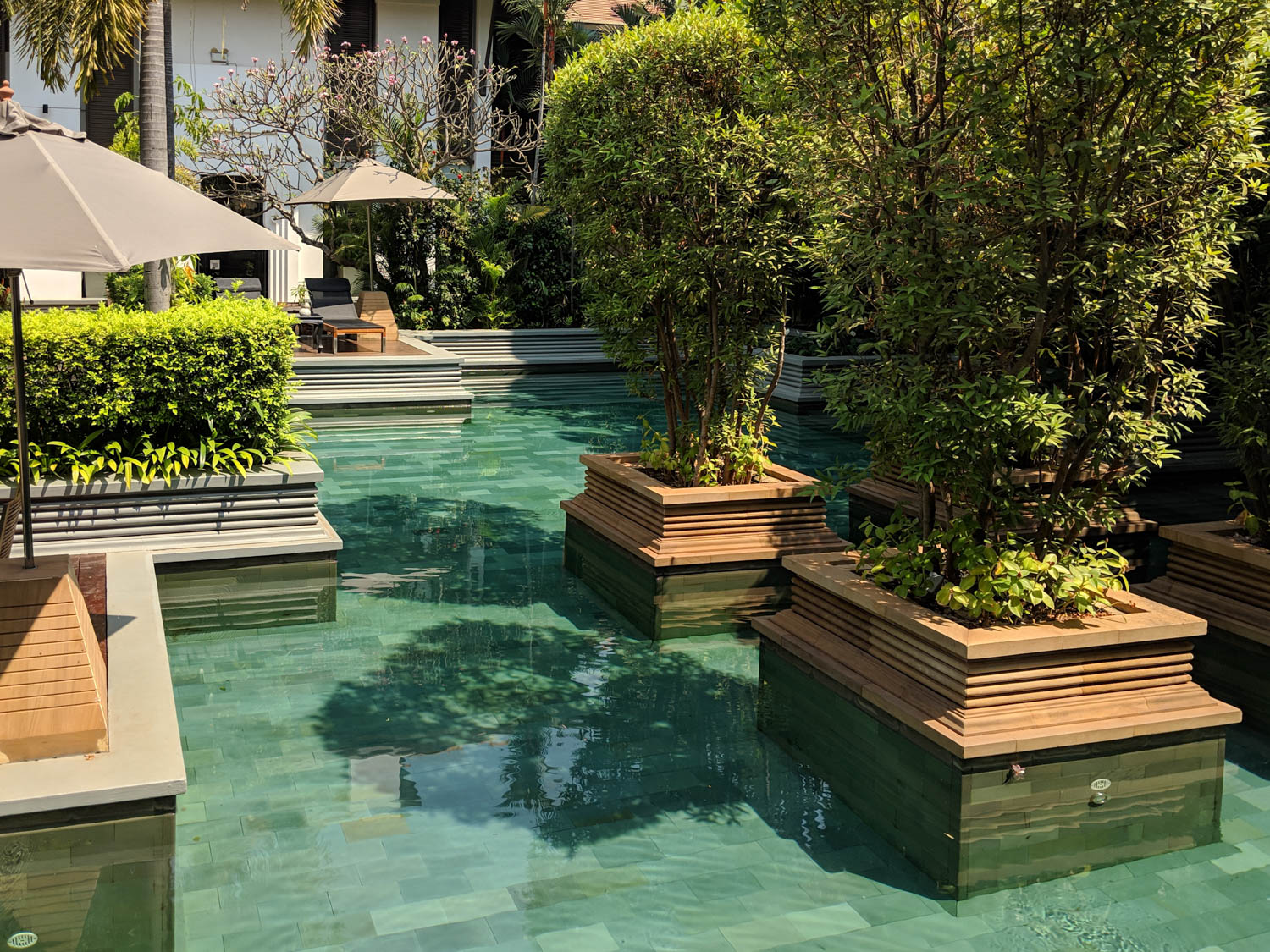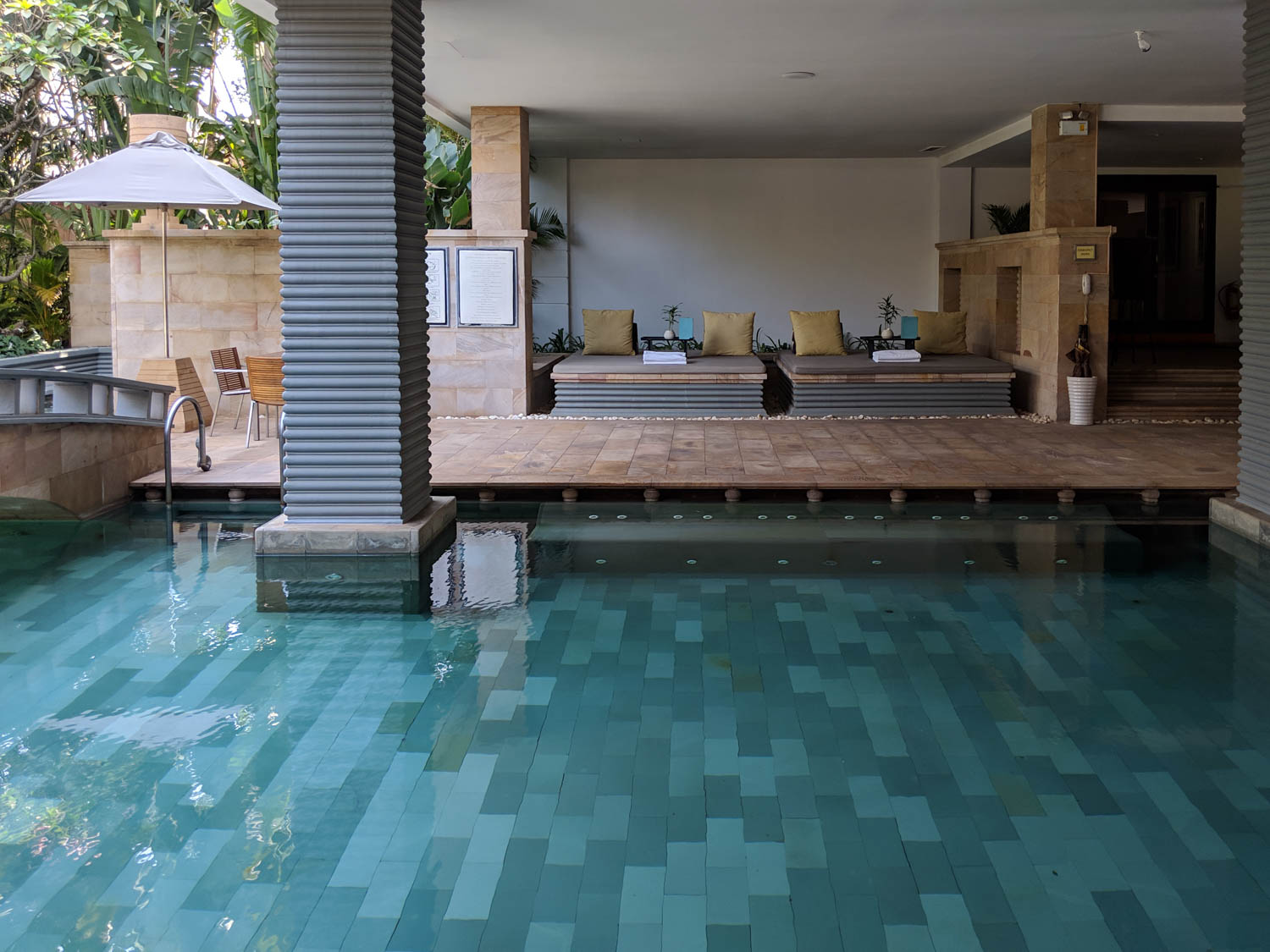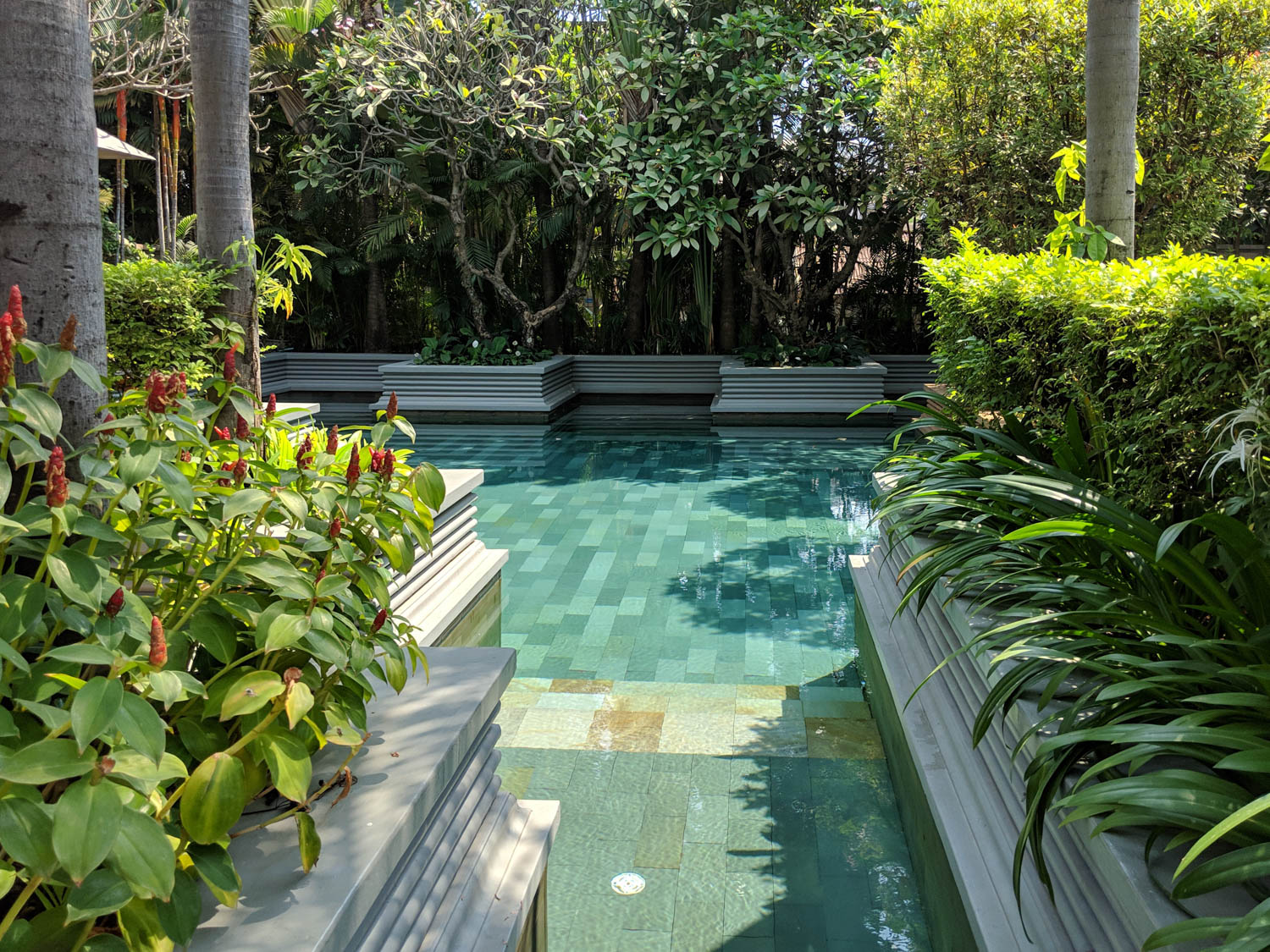 The pool design was stunning, and visually refreshing after a dusty morning in Angkor. We spent a couple of hours lounging poolside, which was a nice way to spend the afternoon before heading back out for more sightseeing.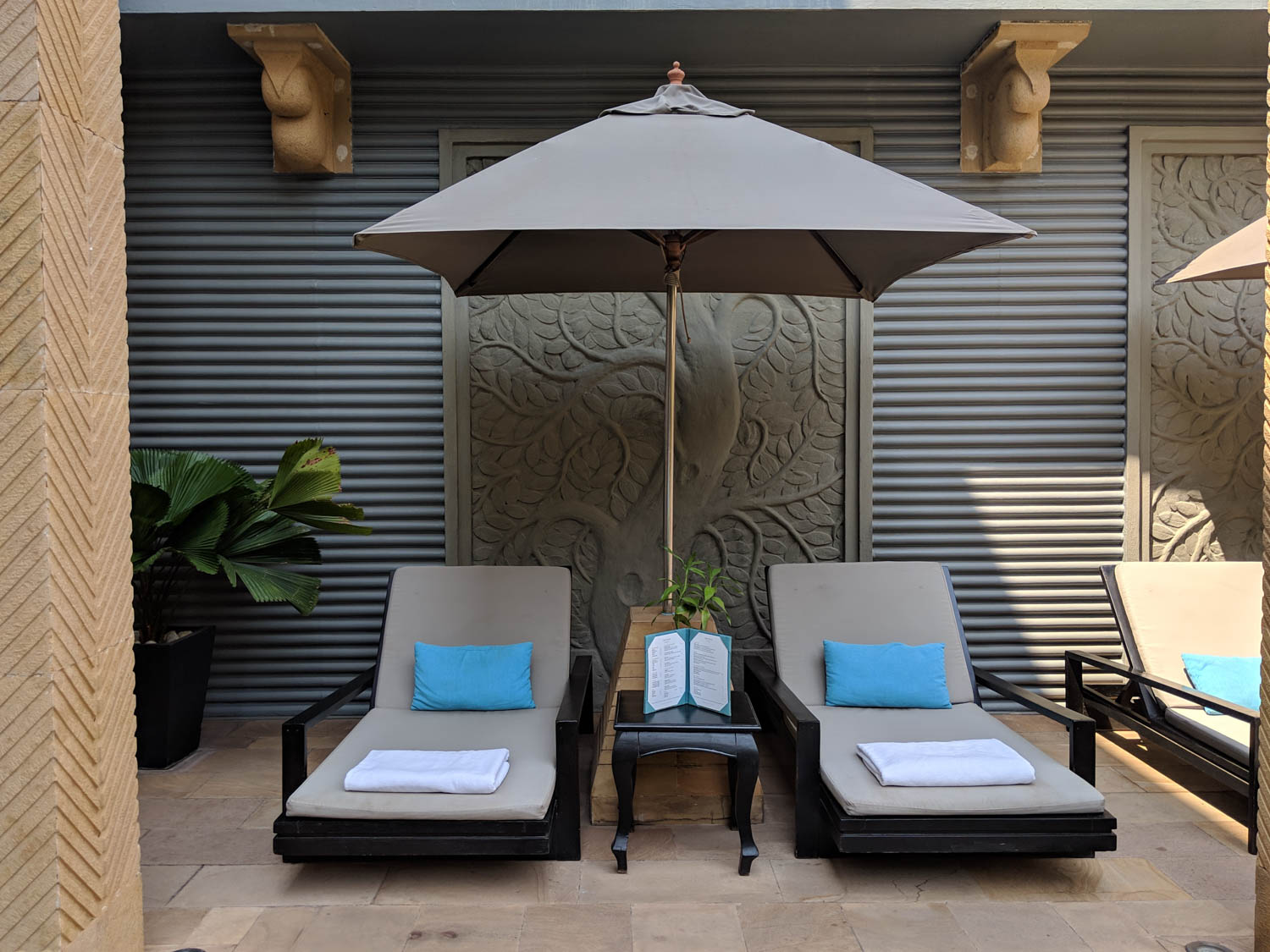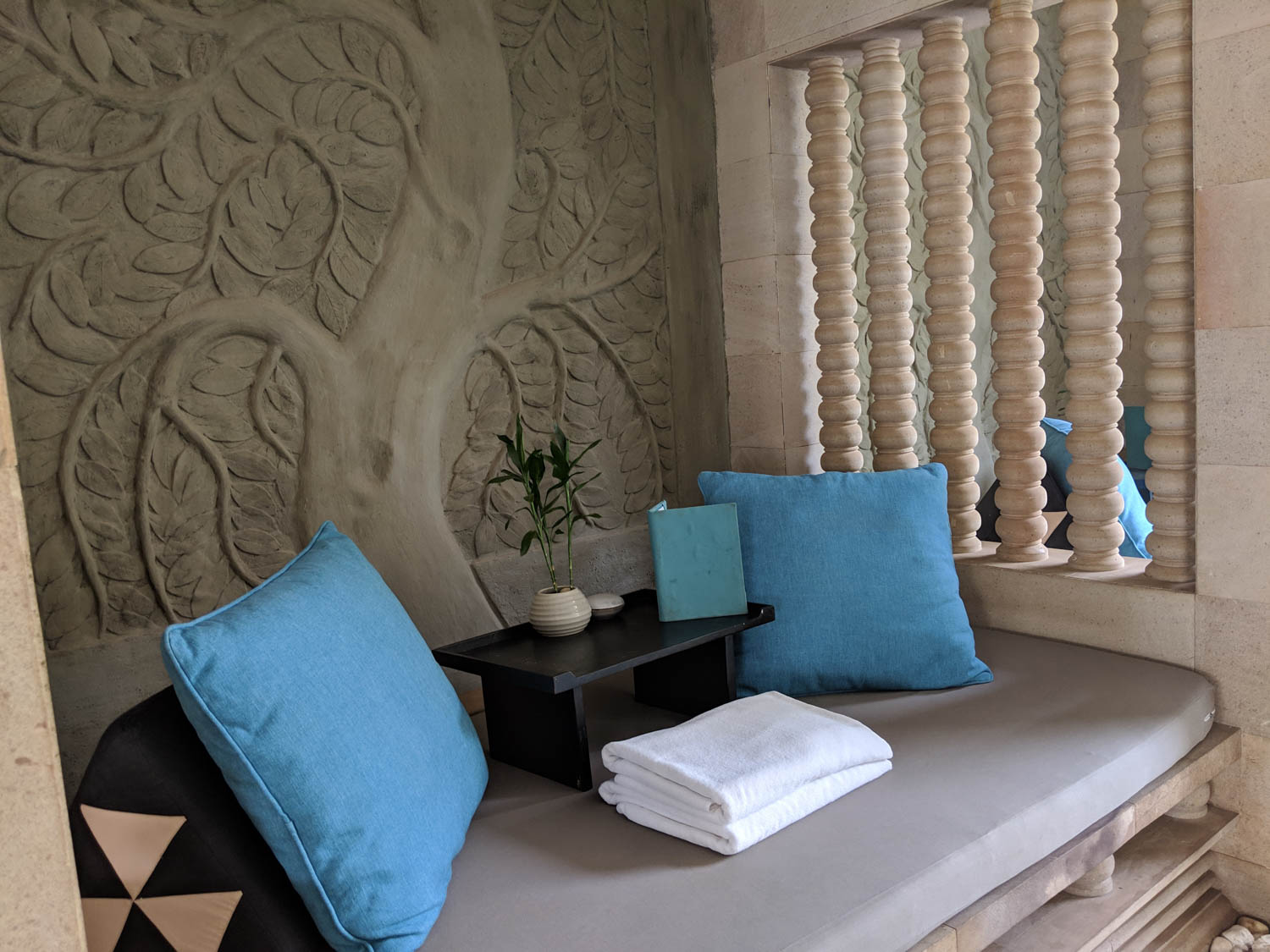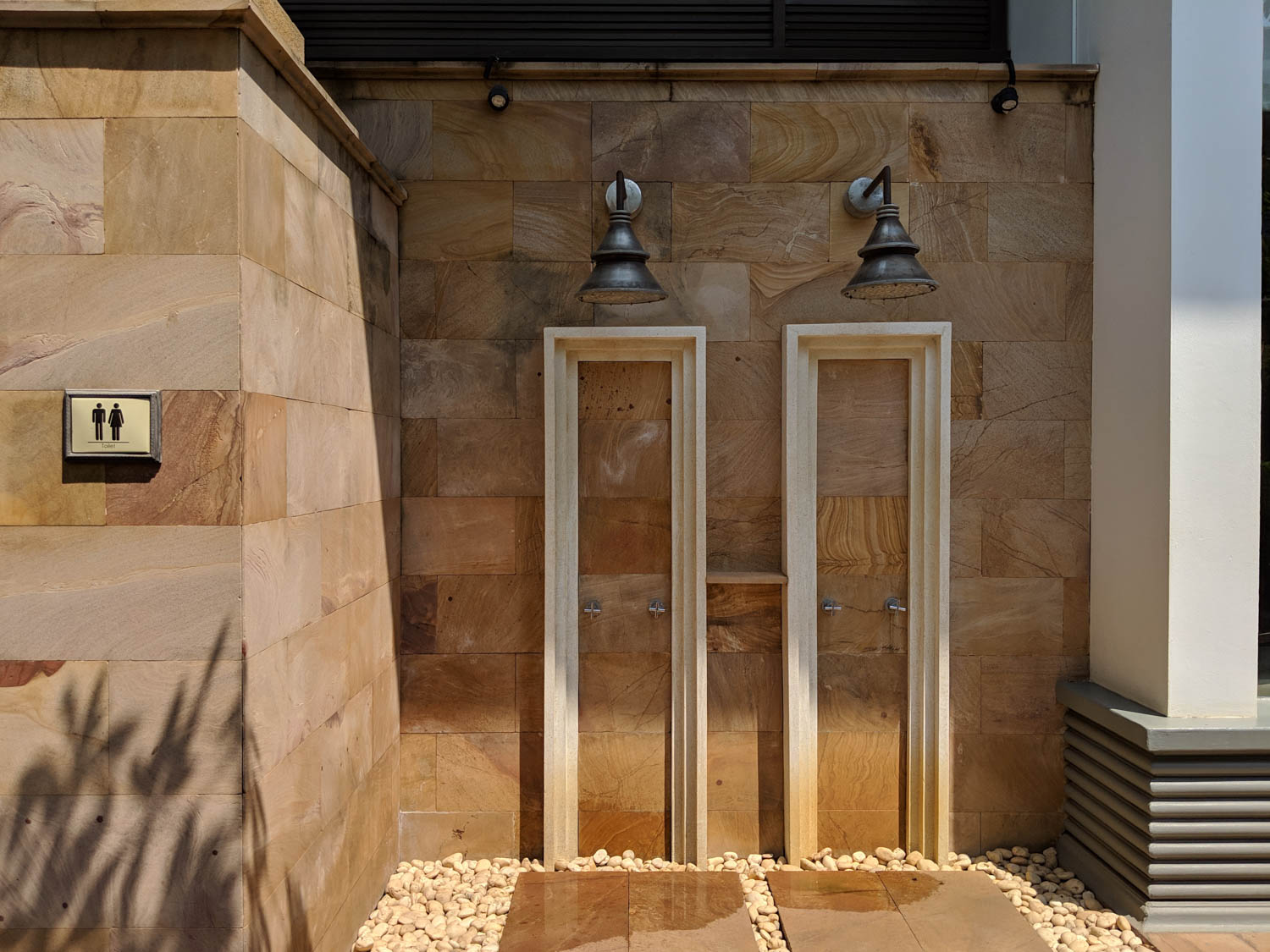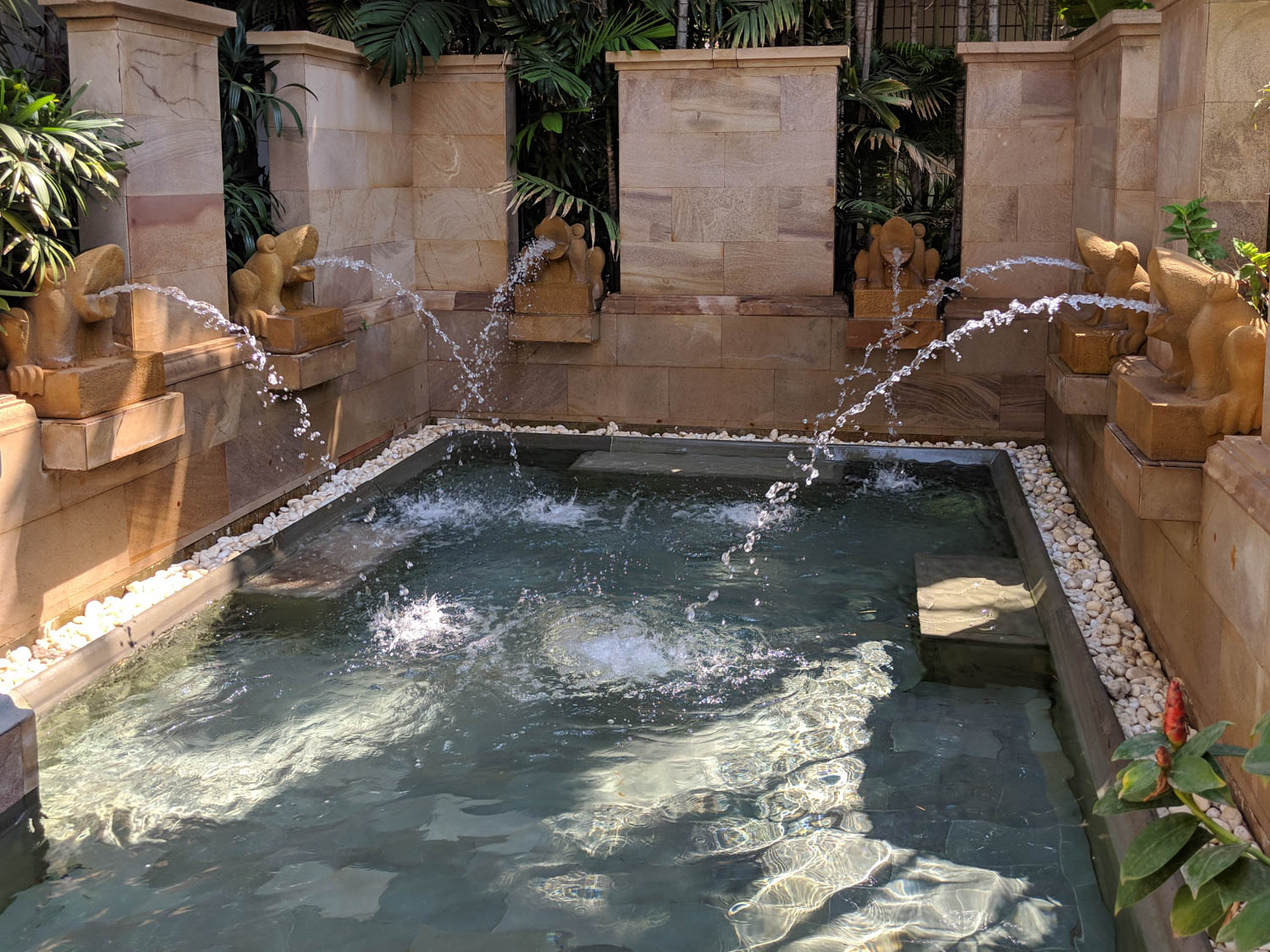 A tiny detail, but one we really enjoyed, was that every chair had a little fan. There were a few outlets as well, which I always appreciate, since I like to work outside whenever possible.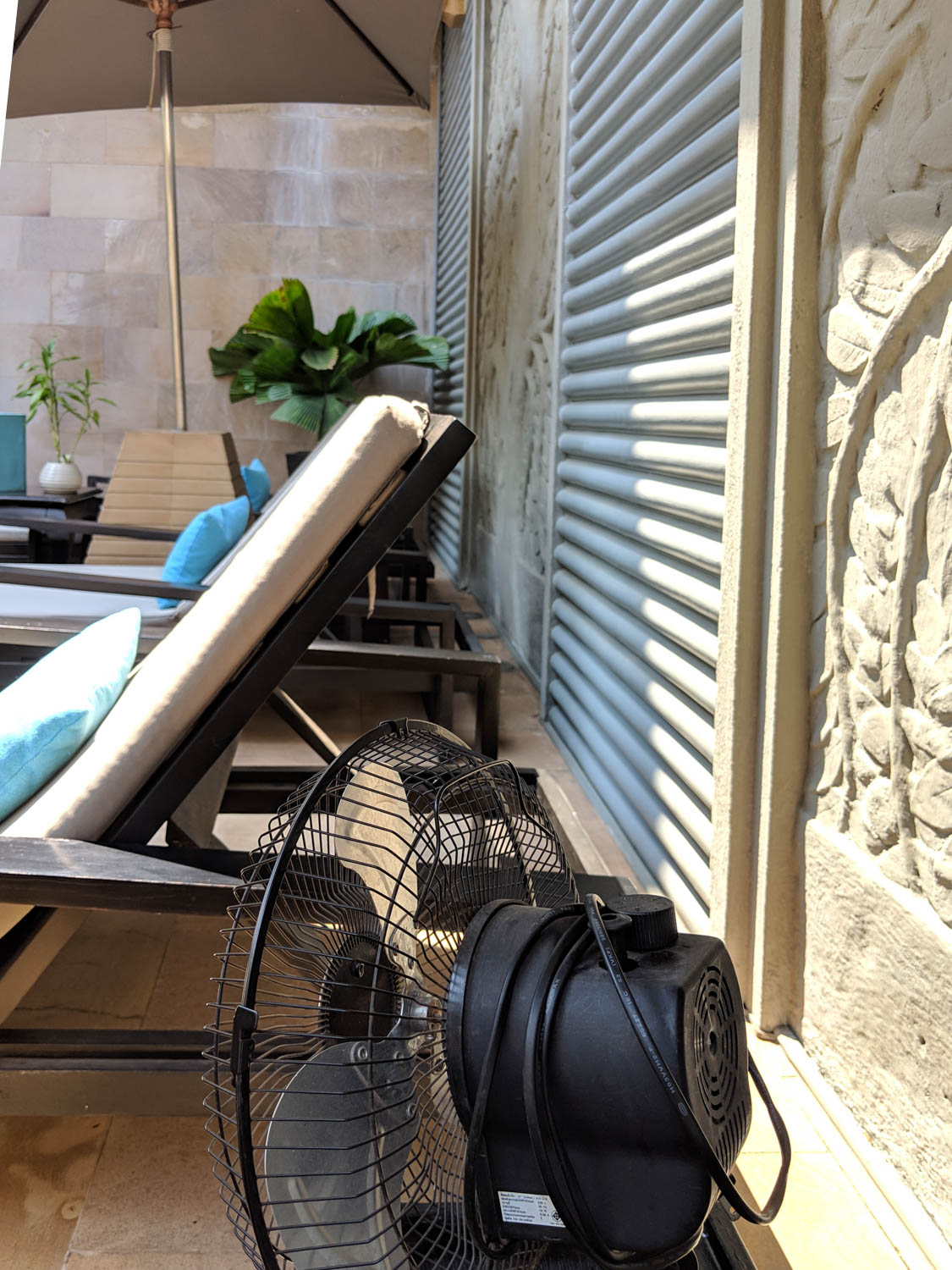 The pool area had a single attendant, but he did a good job of making sure everyone had water, offering things off the bar menu, and being generally attentive.
The concierge/front desk are perhaps not trustworthy
When I was at the Park Hyatt Siem Reap, the staff was incredibly helpful, and seemed like they really wanted us to have a good impression both of their hotel, and of their country. The interactions seemed very genuine.
On this trip — and it's possible that the clientele has just changed to where that's no longer a practical aspiration — we didn't particularly feel like the staff was interested in inspiring a return visit. Instead, it felt like the concierge/front desk staff in particular were on the take, or making recommendations with a primary focus on lining their pockets. Anything booked through the hotel also comes at a very high premium.
A van from the airport, for example, is set by law at $15, but the Park Hyatt lists it as $60 (and this is not even a luxury hotel car, which I'd understand charging a premium for). That's somewhat to be expected, but a pre-arrival email also offered a car and driver for the temples for a day at $143 per person — only when I questioned the price based on my last trip to Siem Reap was I given the (correct) price of ~$95 total for the day.
I was also unable to get the concierge to help with executing our arrival plan. Our flight arrived at 4PM, and since we had our visas we wanted to go directly to the Angkor ticket office, then into the park for the sunset, then to the hotel. Rather than working with us to make that happen (even with the understanding that we were prepared for delays or things to not go to plan), they insisted it wasn't possible.
(It was totally possible.)
On departure, we asked for the hotel to organize a taxi to the airport for a specific time. We confirmed it both the night before and in the morning before breakfast, but we ended up having to wait almost twenty minutes past the arranged time. When the van showed up, it was literally just "some guy in a van" and not a licensed taxi. Our moms were in the car before I was able to make adjustments, and it worked out fine in that we still paid the official price, but I very much felt like the hotel staff was splitting the fare with their cousin or something.
In a similar vein, we asked the concierge for help in making a restaurant booking our second evening. He took down all our info, then called us a few minutes later to say that he was unable to make a booking because the restaurant wasn't in "our system". I presume this meant there wasn't a commission for the hotel if we ate there, but as both the hotel and restaurant have telephones, I didn't particularly feel it was an acceptable answer for a hotel of any caliber, much less a Park Hyatt. We were able to make the booking ourself in a five minute phone call, so that was quite disappointing.
The Angkor Wat guide the hotel arranged was also very poor (though the driver was excellent). Based on these experiences, I would be hesitant to ask the hotel staff to plan any excursions or make any bookings, which is unfortunate, as when I was there a few years ago, the recommendations and guides were terrific across the board.
To be fair, Cambodia is incredibly corrupt right now, and so being on the take is a bit of the culture in Siem Reap. I'd have expected the Park Hyatt to be a bit insulated from that, but just a heads up that perhaps that isn't the case at present.
Overall thoughts on the Park Hyatt Siem Reap
I really like this hotel — the design and styling are unique, and I love that the property has a boutique feel. I do, however, feel like the property has gone downhill significantly since I was there five years ago. The food and beverage are only okay, but prices have gone up dramatically all the same. The fantastic Hyatt Globalist recognition seems to have been cut, and our interactions with the front desk and concierge made us feel a bit uncomfortable.
So no major complaints, it just felt a bit less special.
Have you been to the Park Hyatt Siem Reap? How was your stay?