---
Unlike Phu Quoc, Hoi An is a town that has figured out their tourism industry — to the max. The golden-hued UNESCO city is atmospheric, and charming, and in ways reminded me of Italy; particularly the towns on the Amalfi Coast.
There's a tacit understanding that as a visitor you will stroll the streets (maybe eating gelato) while shopping for kitschy souvenirs, have slightly over-priced coffee or cocktails overlooking the historic stone buildings, meander the countryside on a bicycle or scooter, and join every other tourist on a scenic boat ride through town.
The locals assume you want to do these things, because that's what people go there to do, and so they make it easy for you to do them. Thus regardless of your original intentions, you yourself will probably end up doing those things.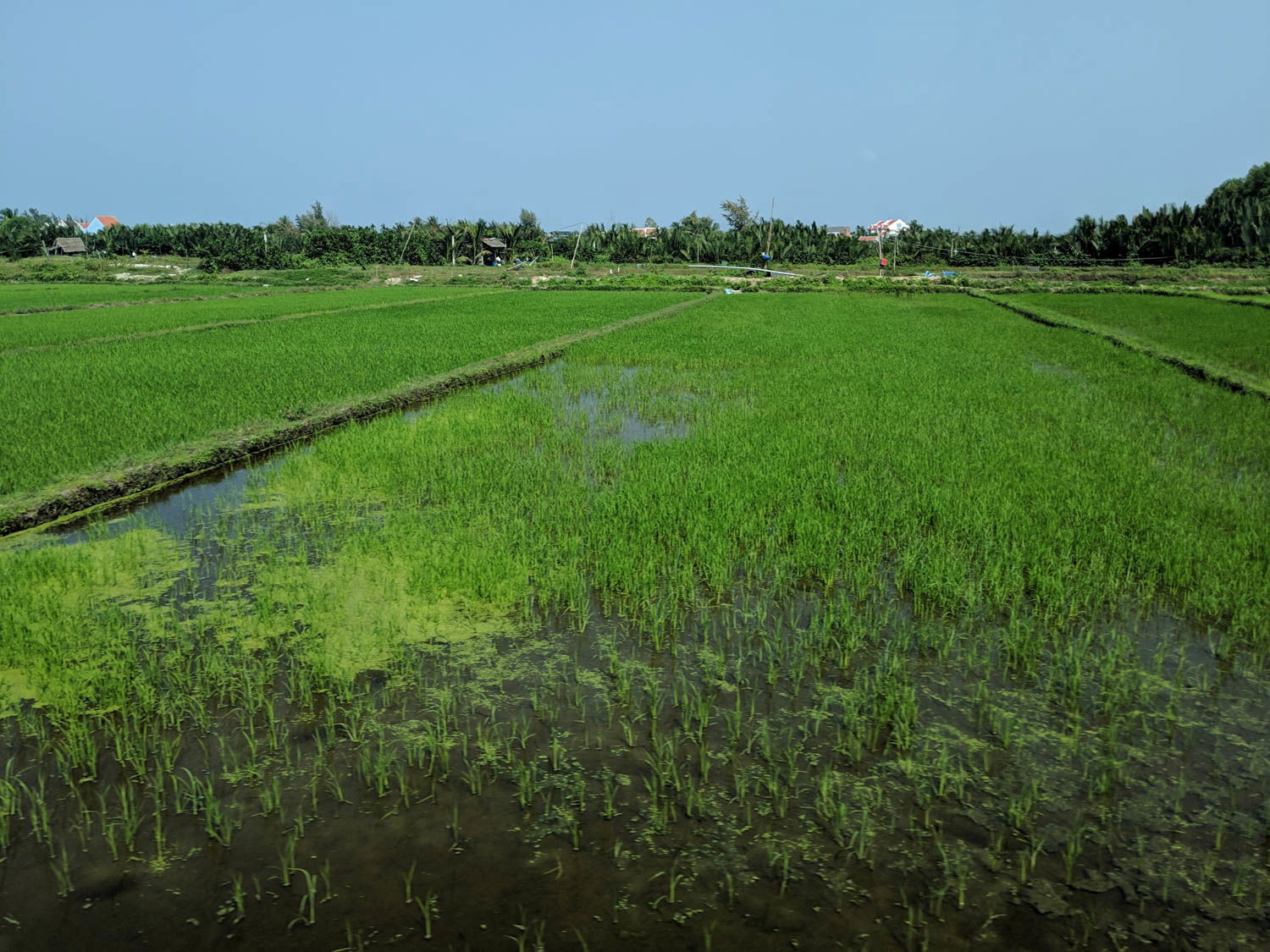 And you're going to have a great time doing so.
Like, I am NOT a "buy a painted hat and then take a sunset canal cruise with all the other tourists" kind of gal. You guys know that.
But you know what? We did, and it was awesome.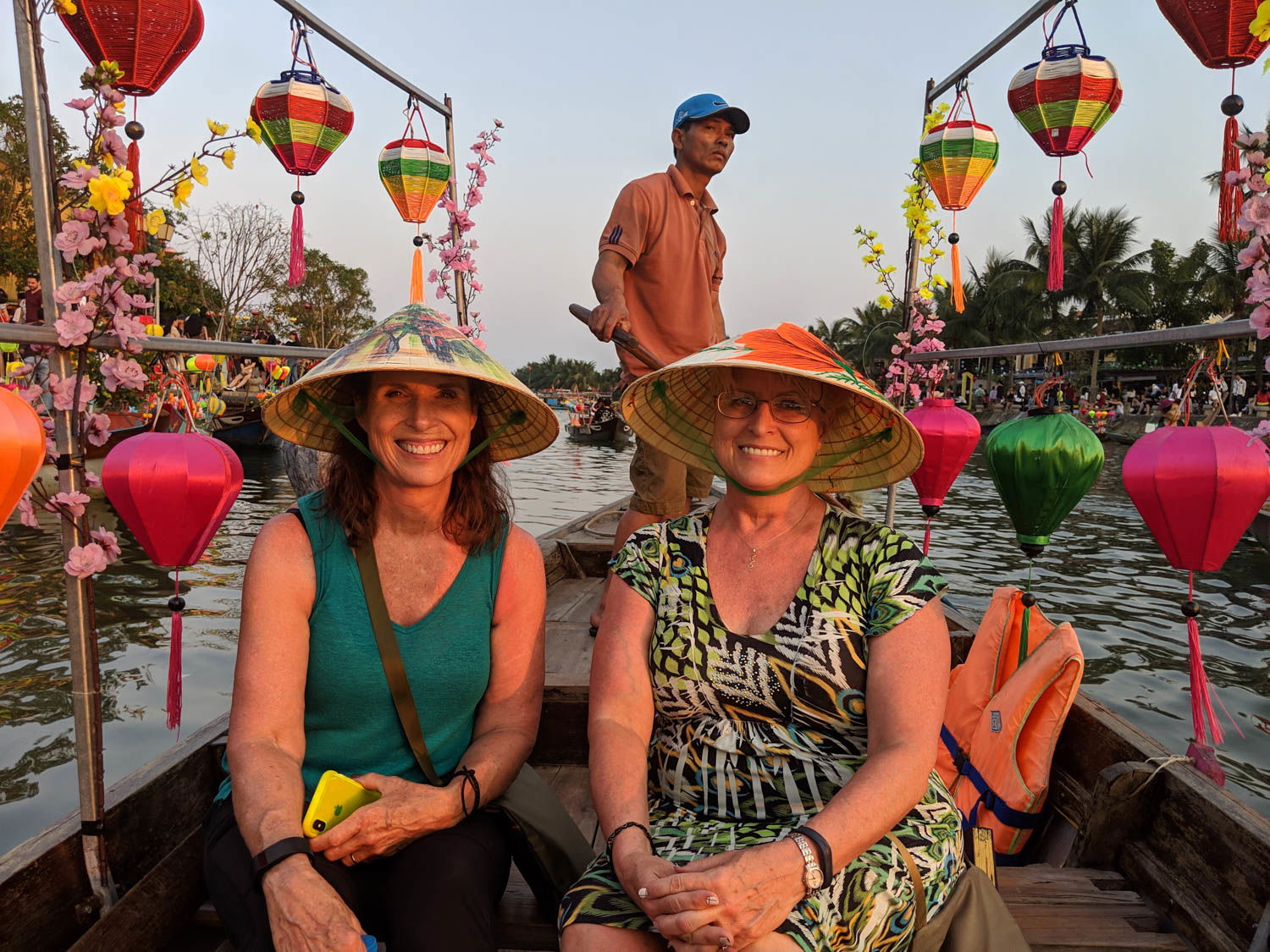 Now, keep in mind we were there over the peakiest of peak tourist season, so that definitely is a factor. Like so many places, a visit during the shoulder or off seasons would likely be much more atmospheric and tranquil.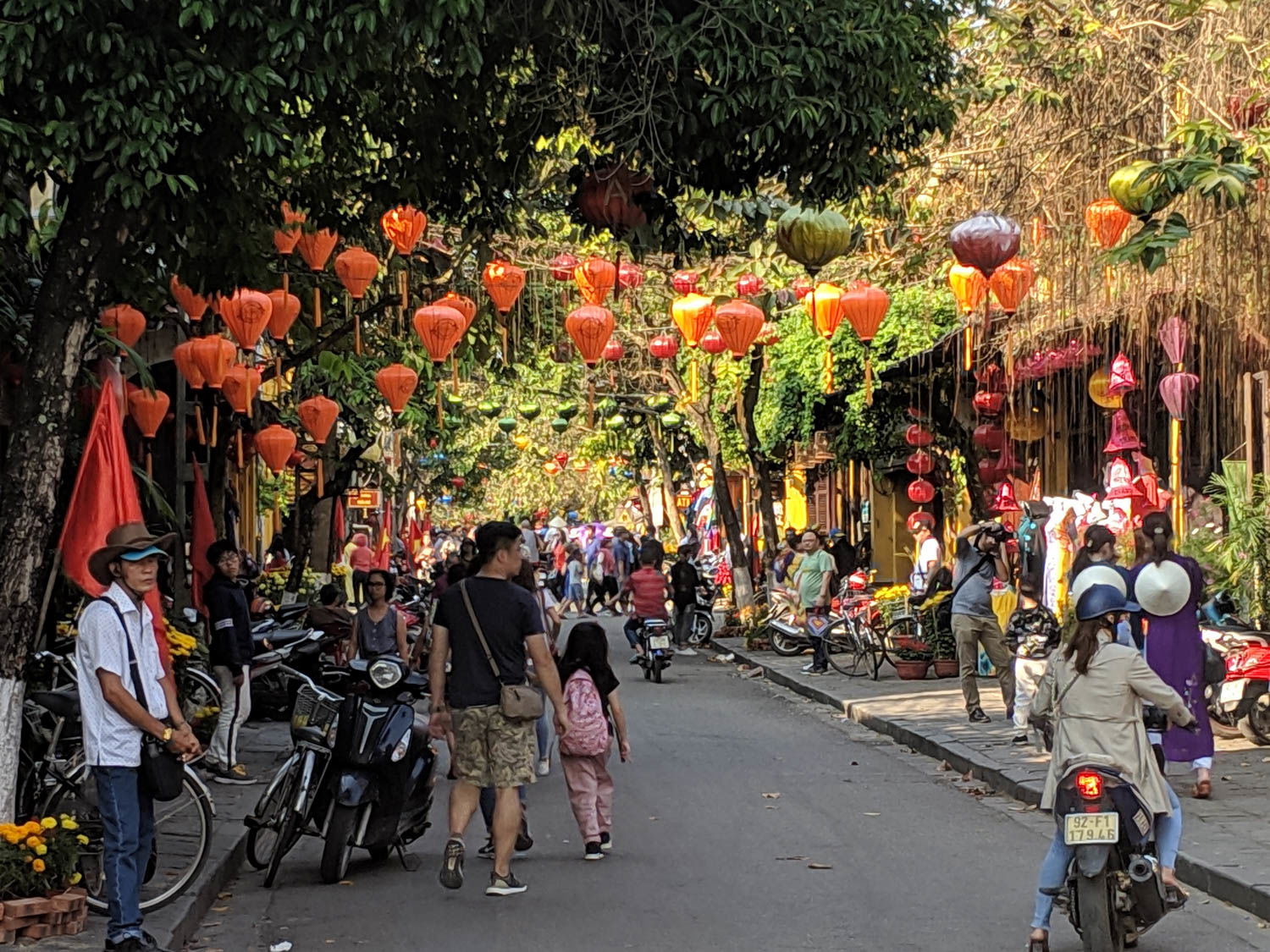 Exploring Hoi An
The historic center of Hoi An is absolutely covered in charm.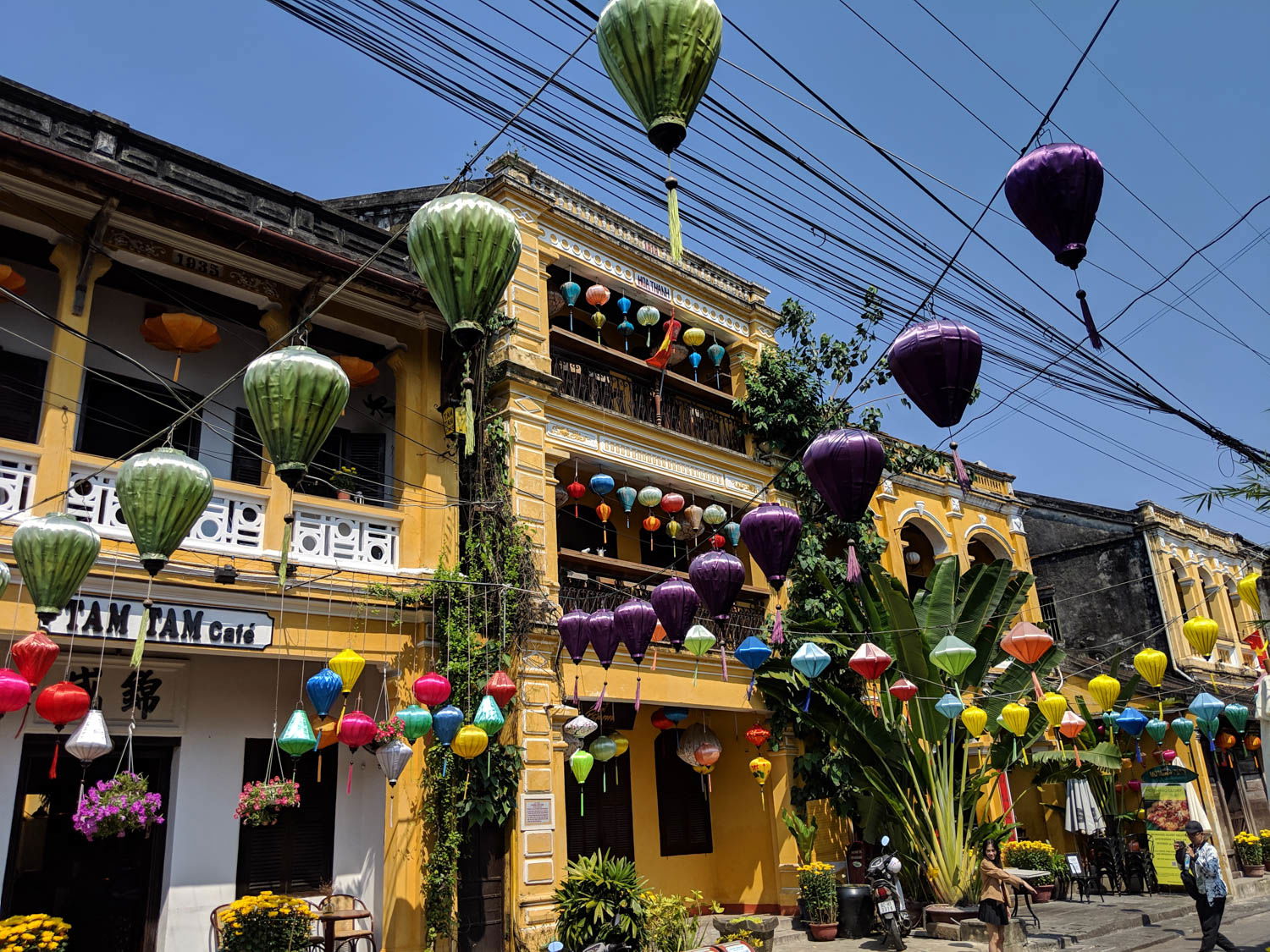 The golden-hued buildings are striking in the sun (though I imagine they glimmer beautifully on rainy days as well), and silk lanterns are everywhere.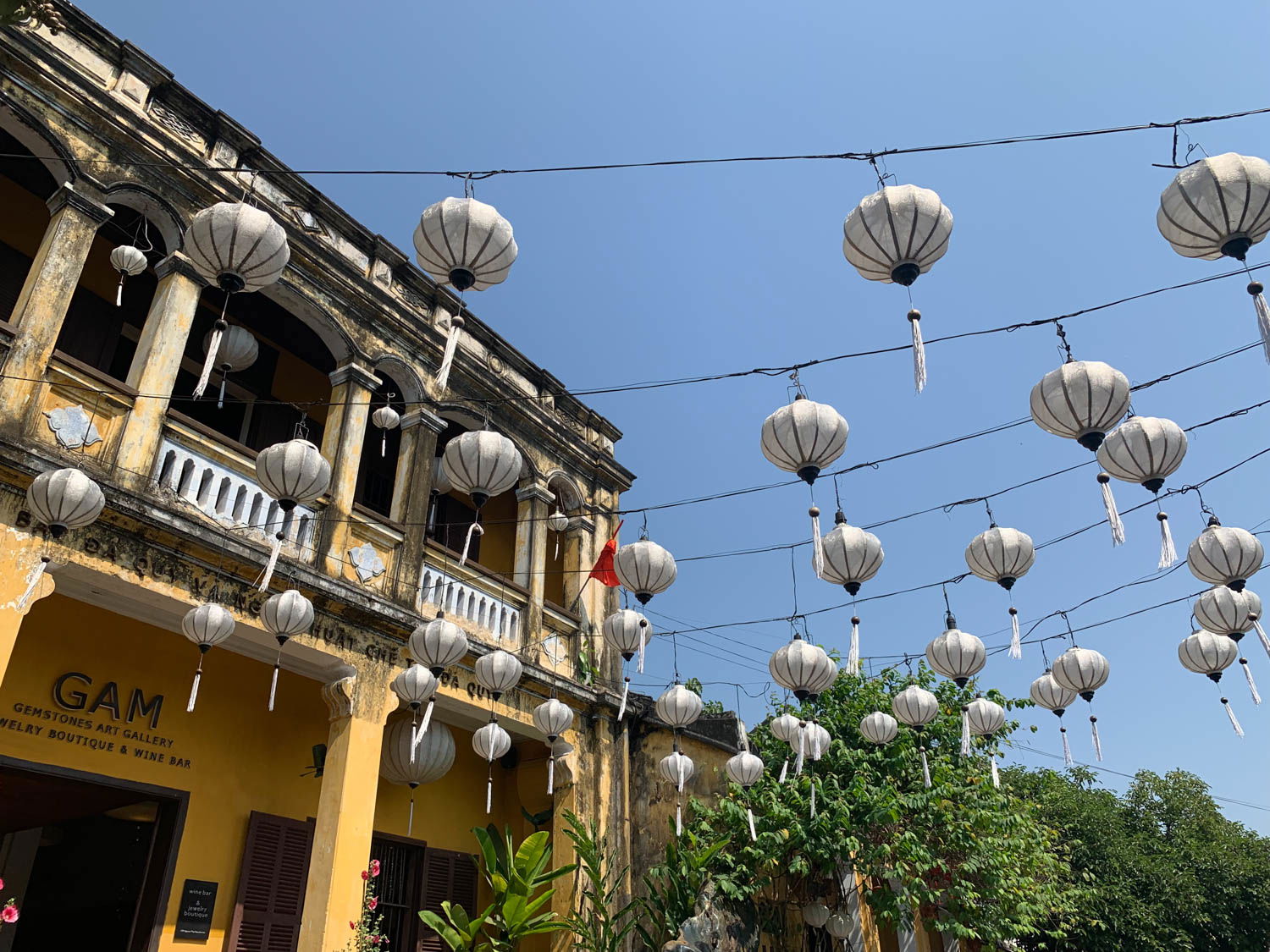 We enjoyed walking through the town (with our painted hats, because why not?), visiting old merchant houses, and doing some shopping.
The main streets of Hoi An had a good mix of tchotchkes and fine art, without many high-pressure sales people, which made for a pleasant experience. Our moms found some postcards and scarves and such, while Heather picked up a really cool piece of enameled egg-shell artwork: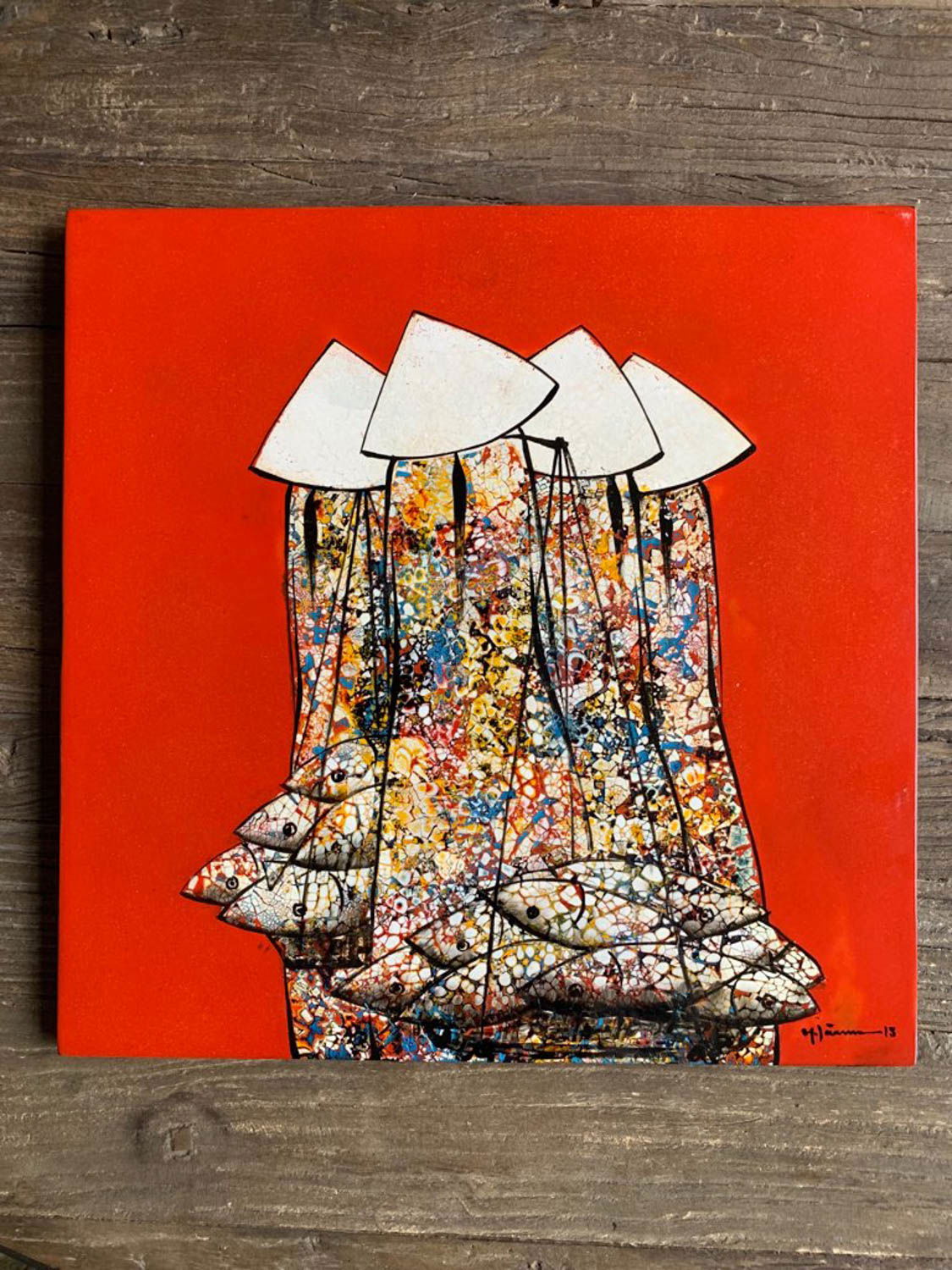 As the sun dropped everyone headed towards the river, where we did find a lot of high-pressure sales people.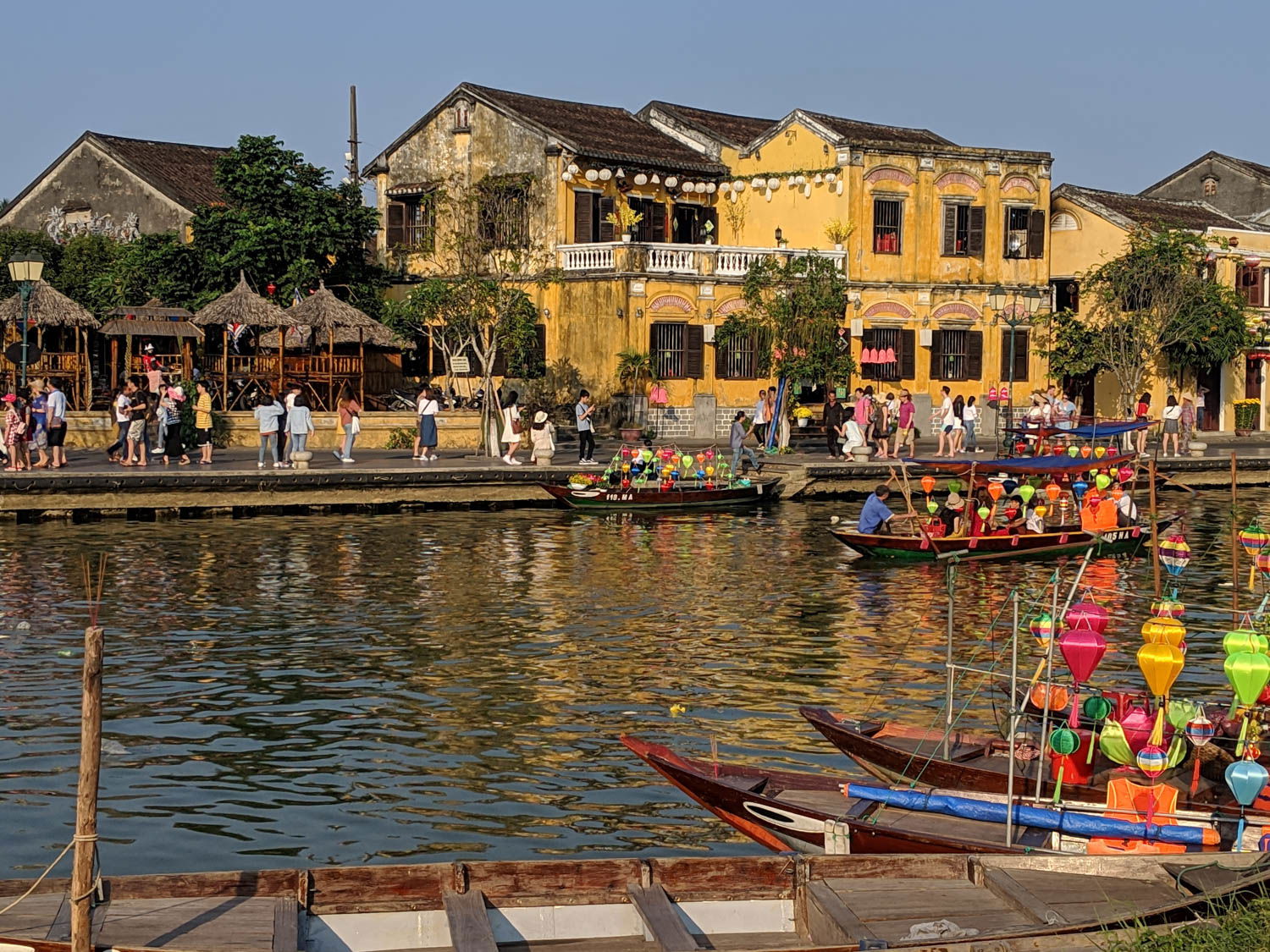 If you look like a tourist, and are anywhere near the river in the evening, you're going to be asked to go for a boat ride.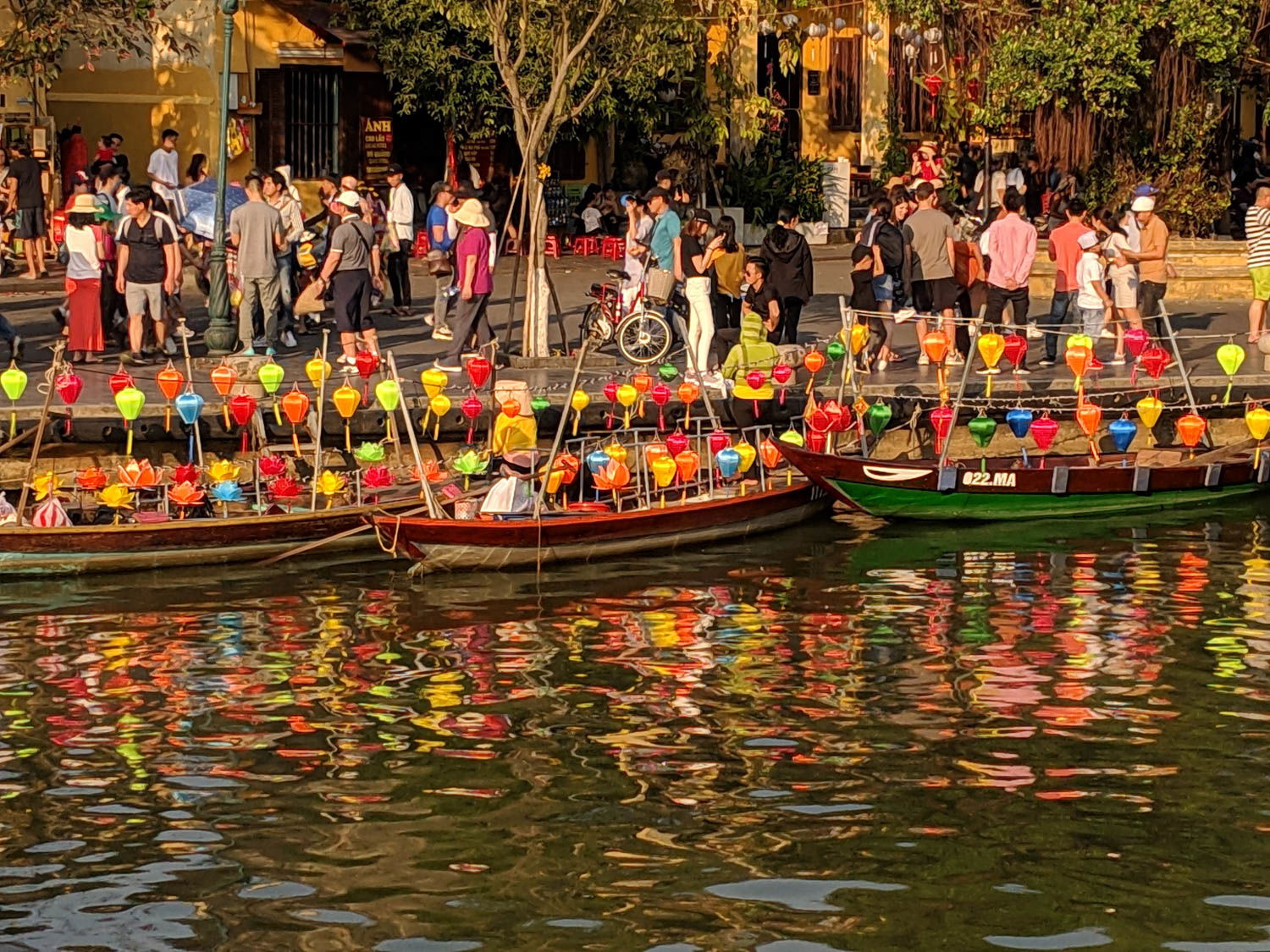 I'd recommend just embracing it, and negotiating a price you feel is fair. We paid ~$15 for a 30-minute trip for all four of us, as a reference point.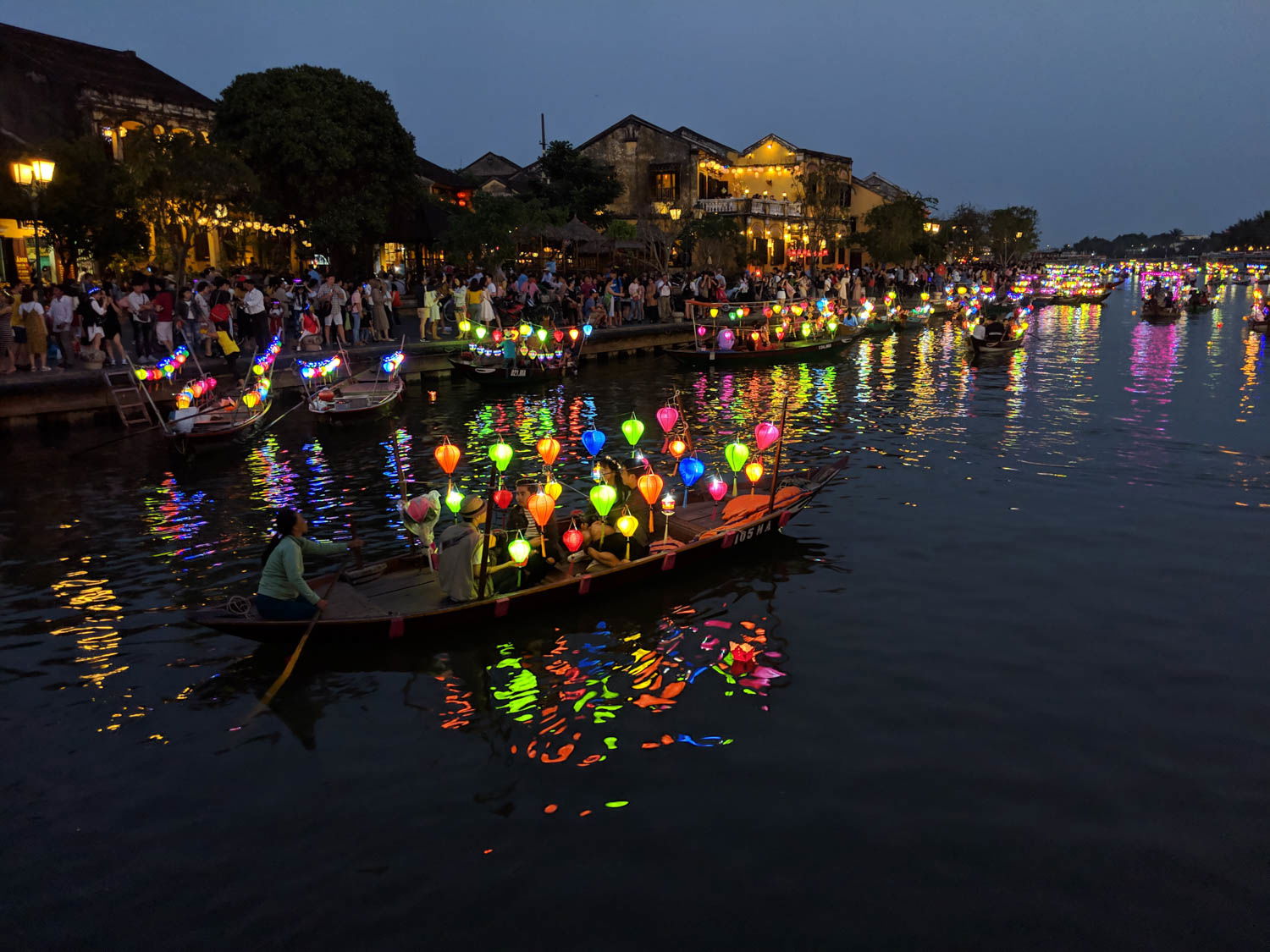 The historic area is closed to motorbikes in the evening, which was a nice reprieve, and made it easier to enjoy all the illuminated lanterns.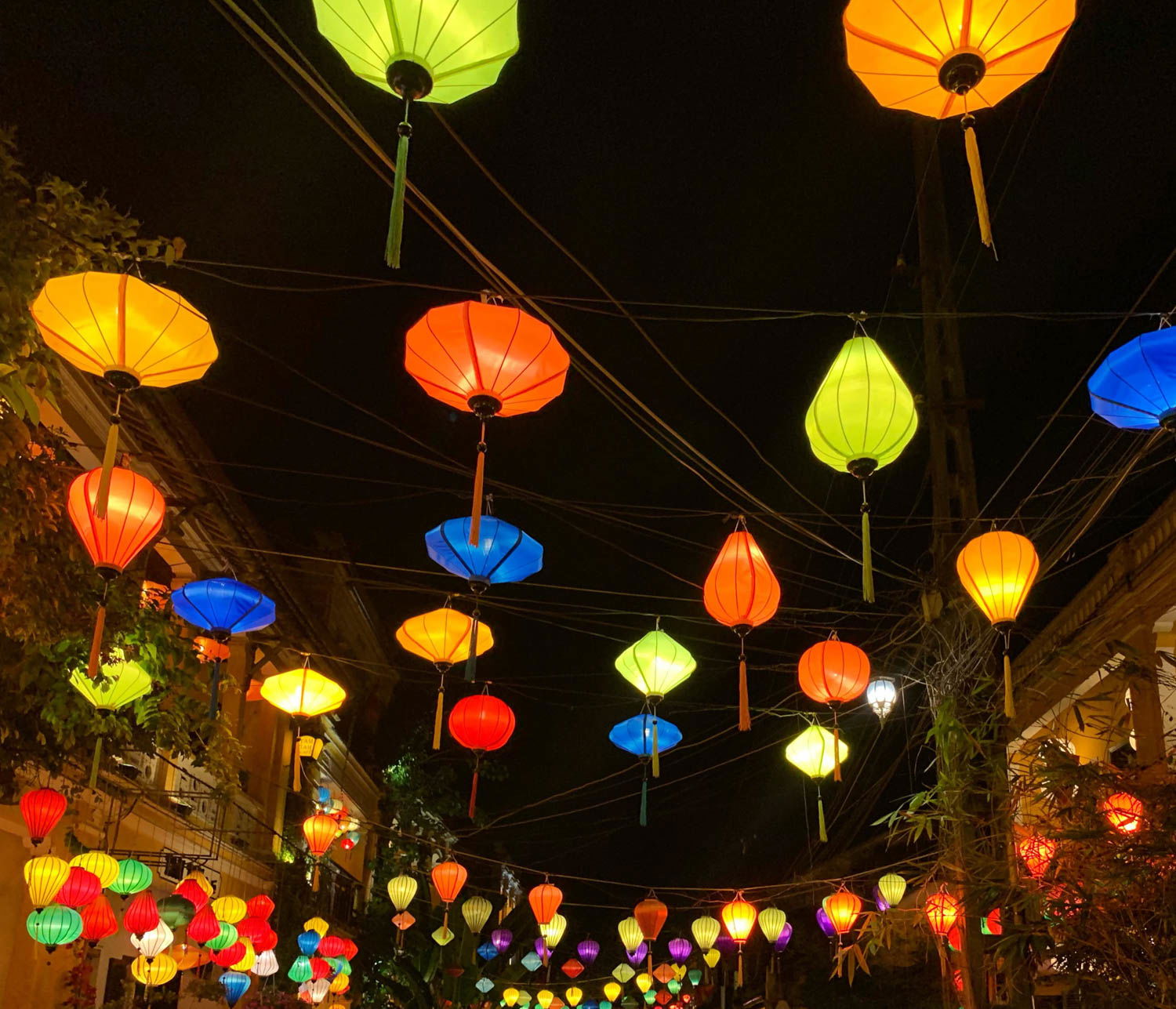 Granted, the sheer volume of lanterns made the whole place feel a little fake at times, but…they are pretty.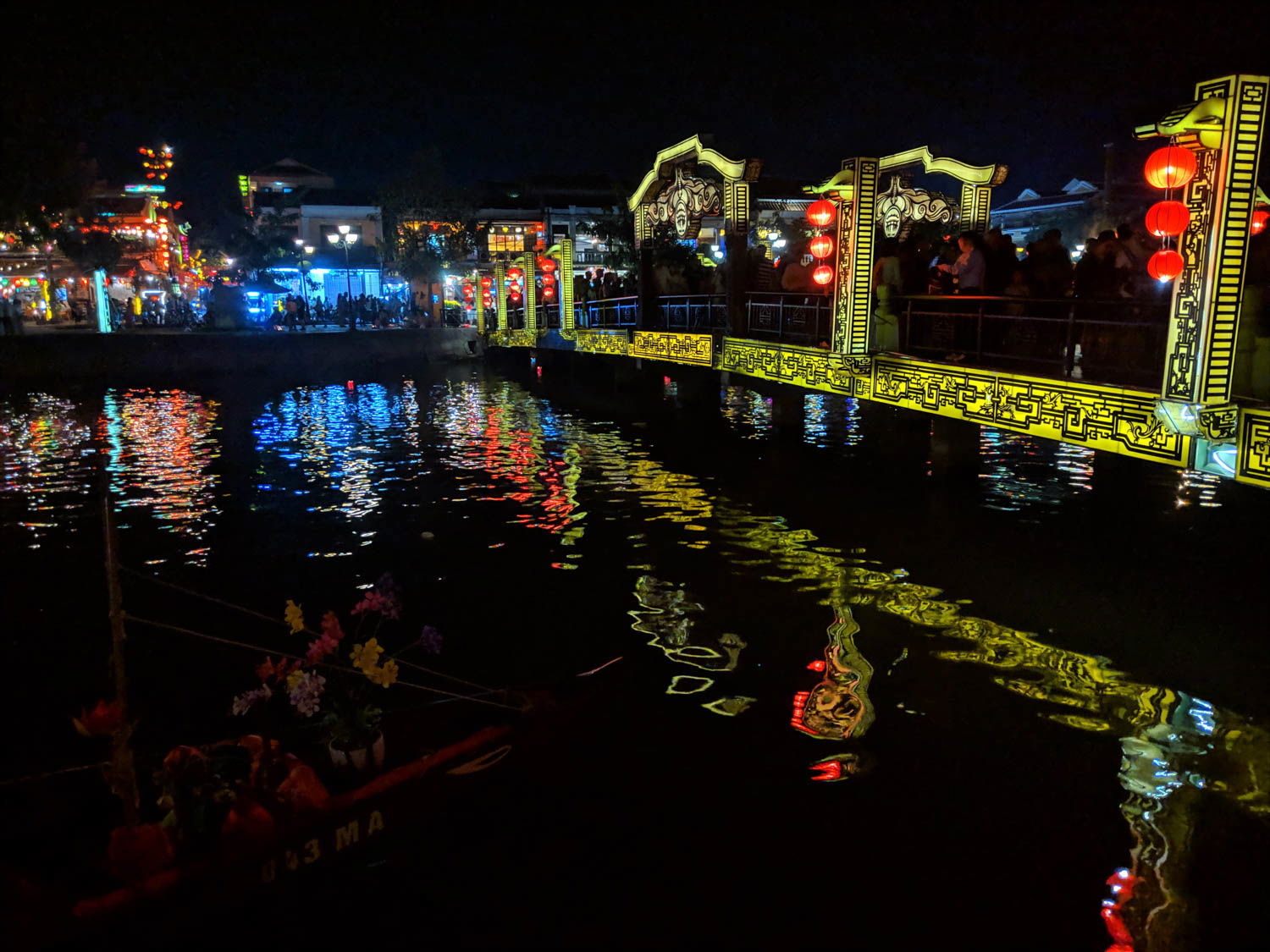 Hoi An wet market
I love markets, particularly in areas where part of the local culture is to pick up your fresh produce every day or so. There's something about the sense of community in the routine that resonates with me, and it was probably my favorite part of living in Sicily.
So I rarely turn down an opportunity for an early-morning street market visit, and Hoi An's did not disappoint.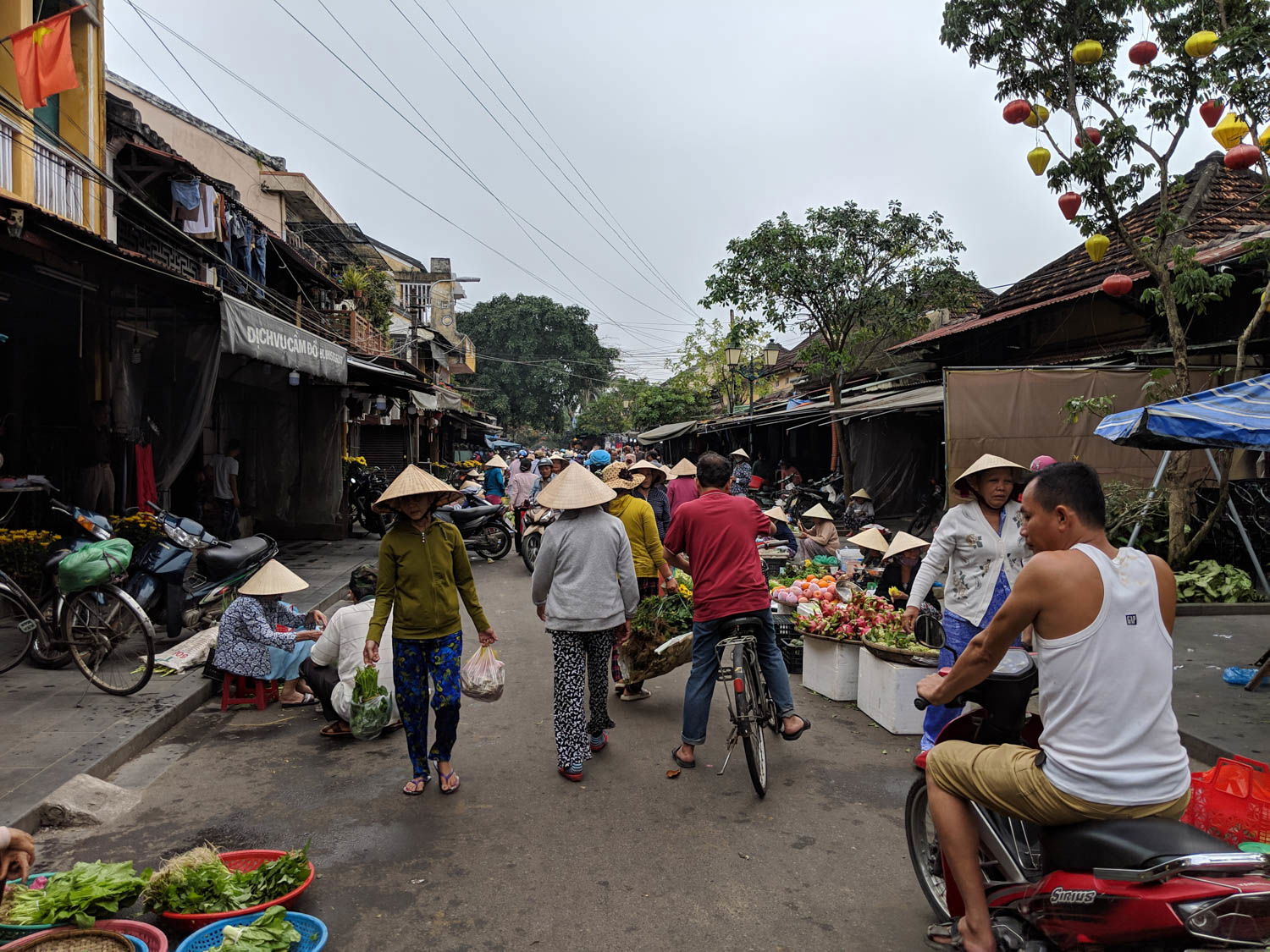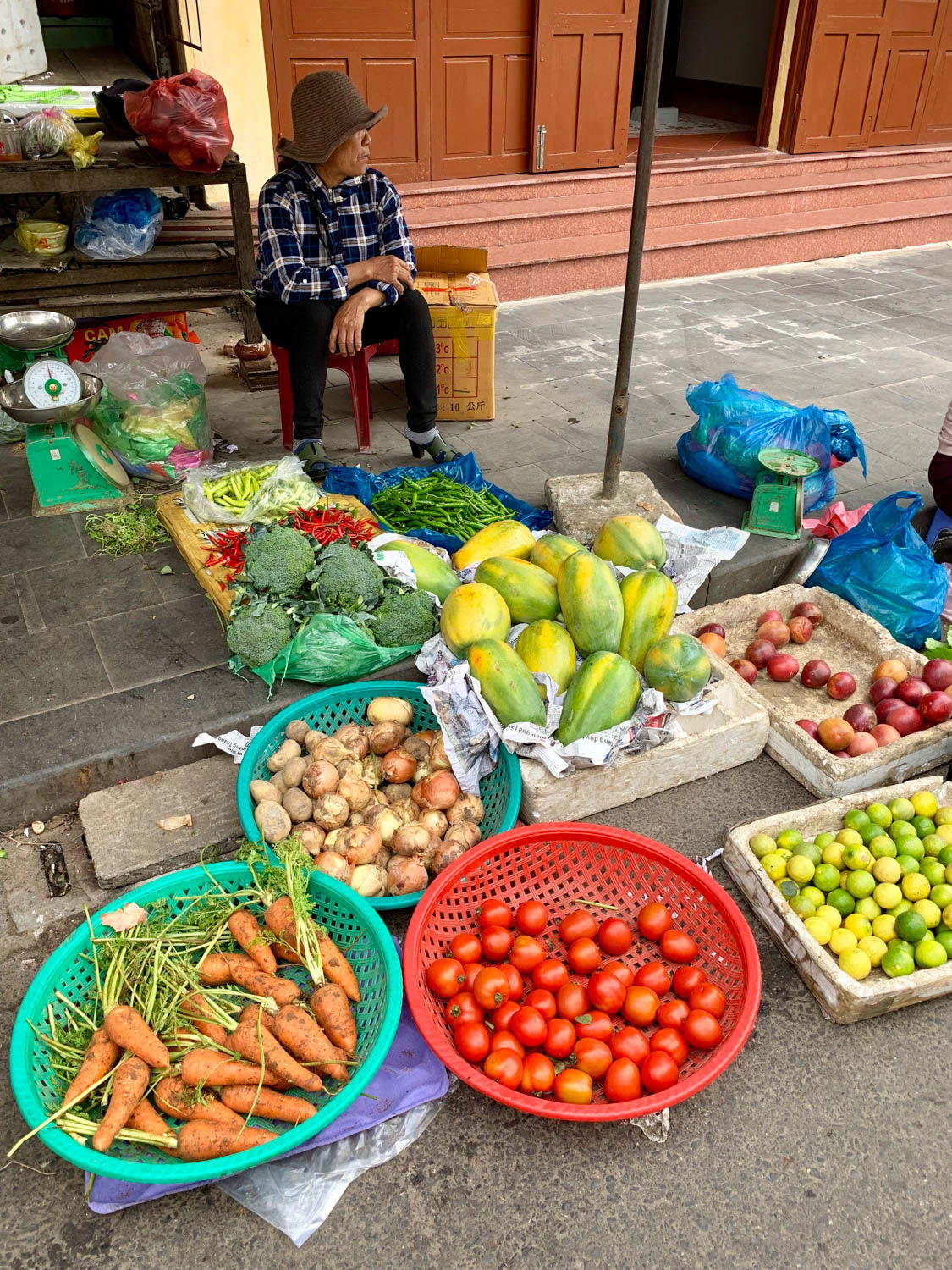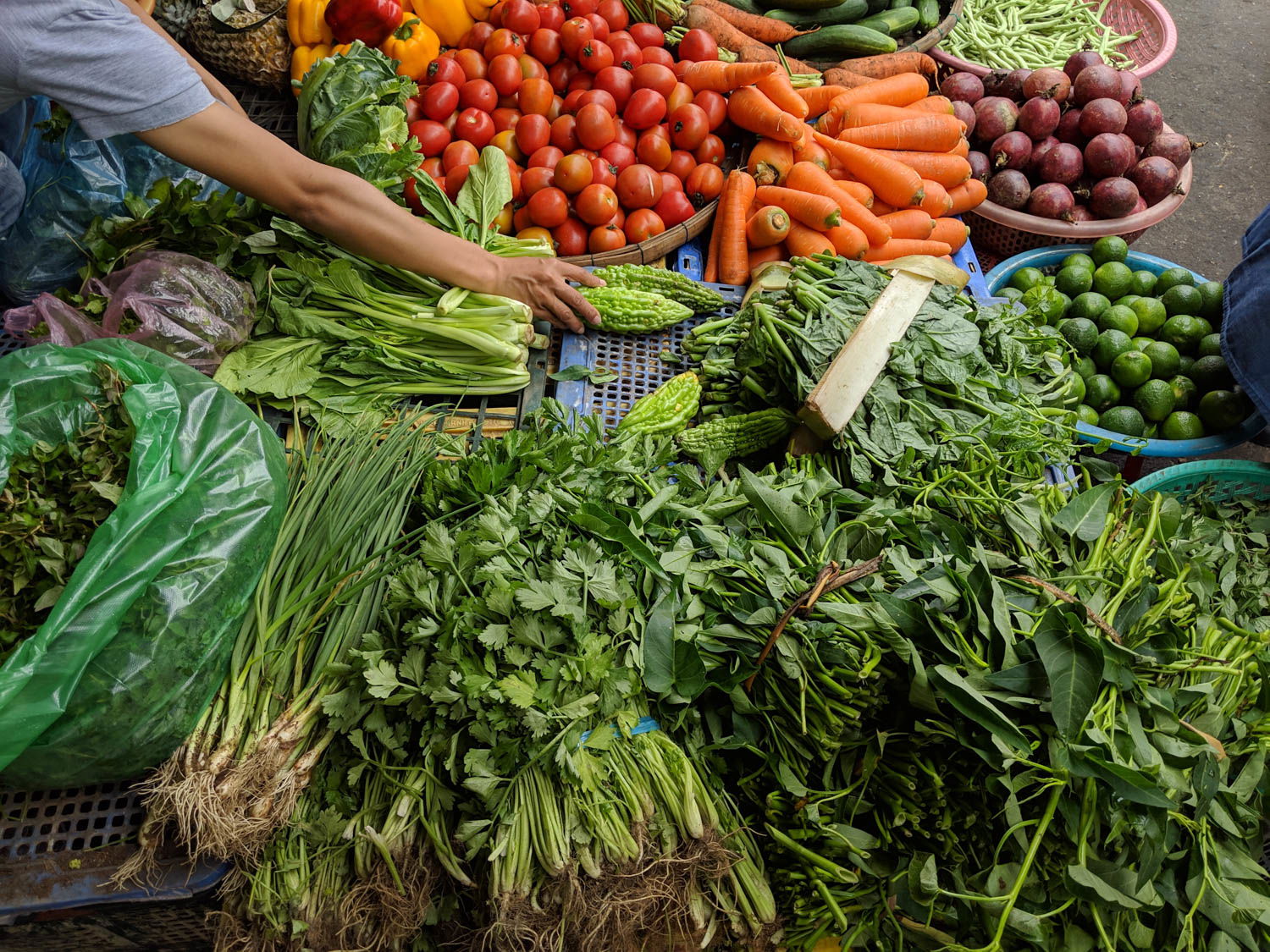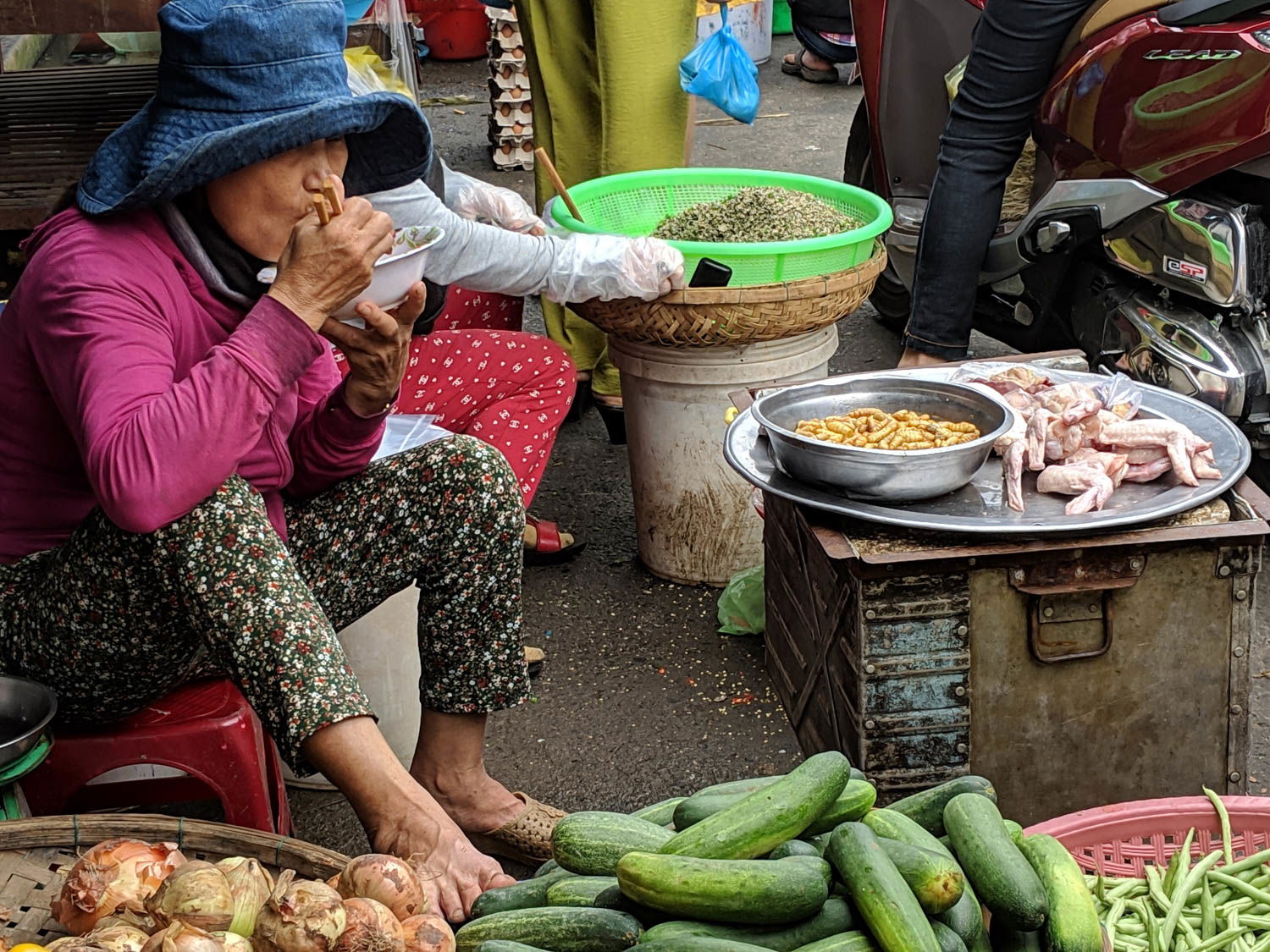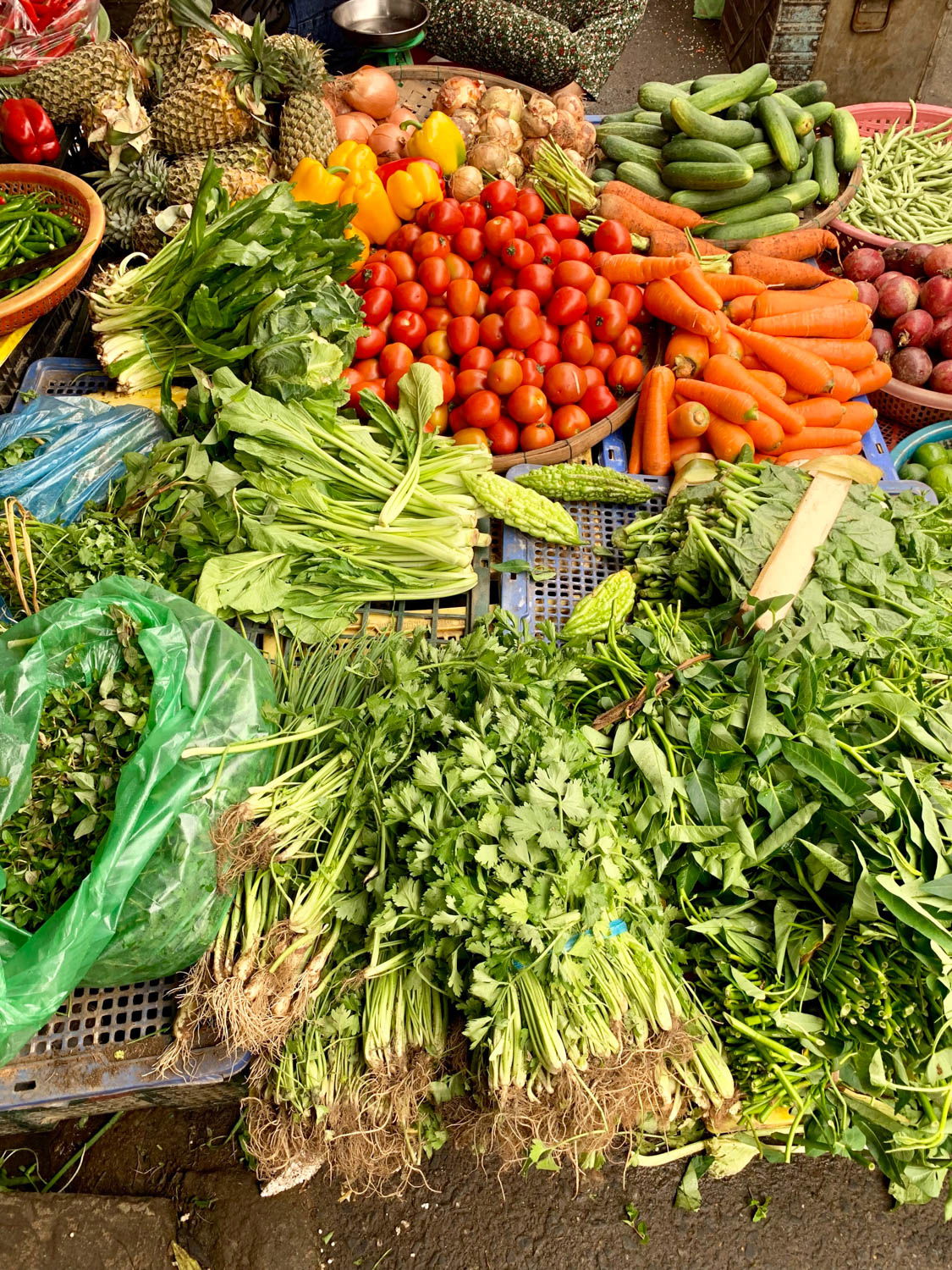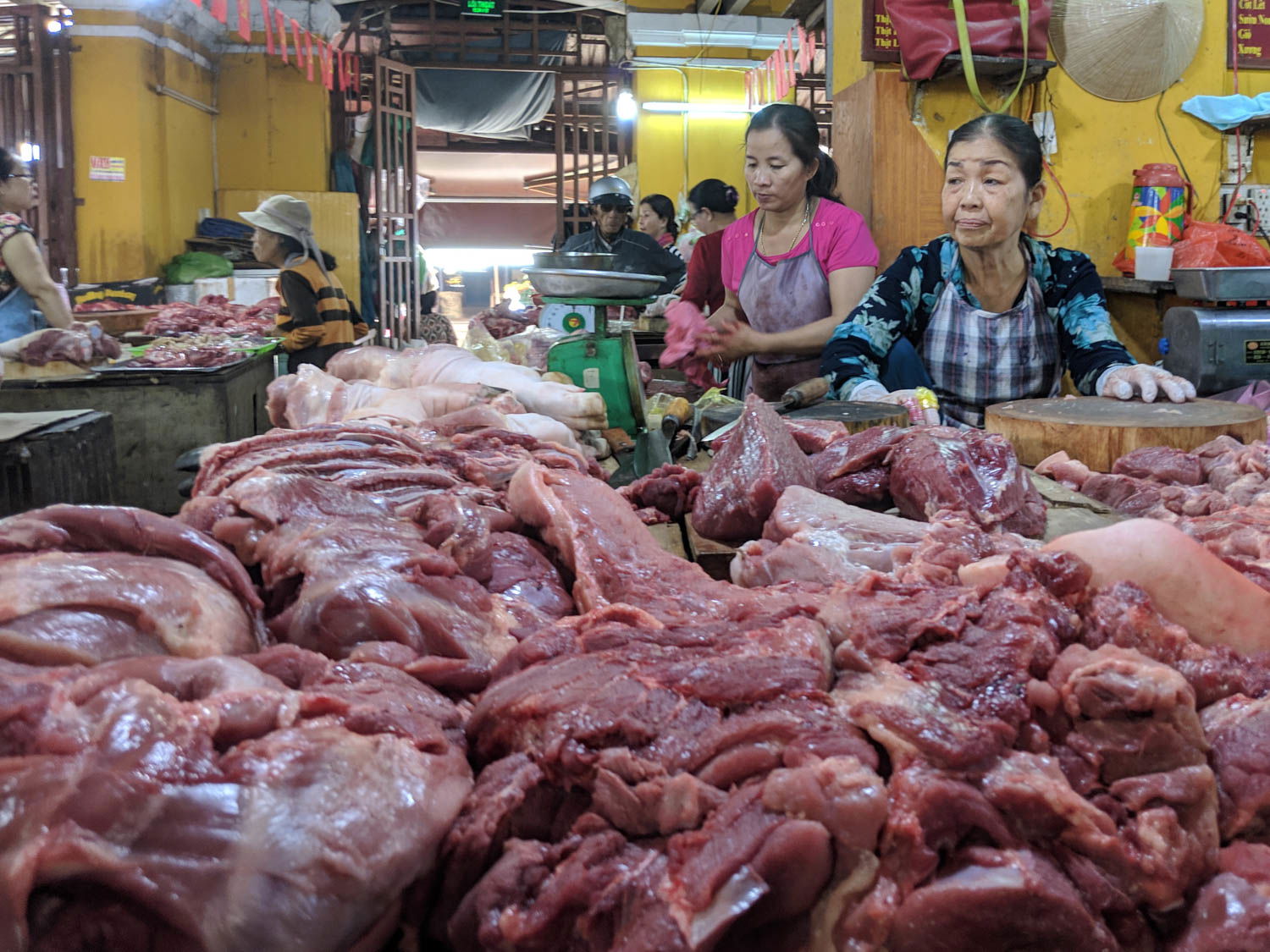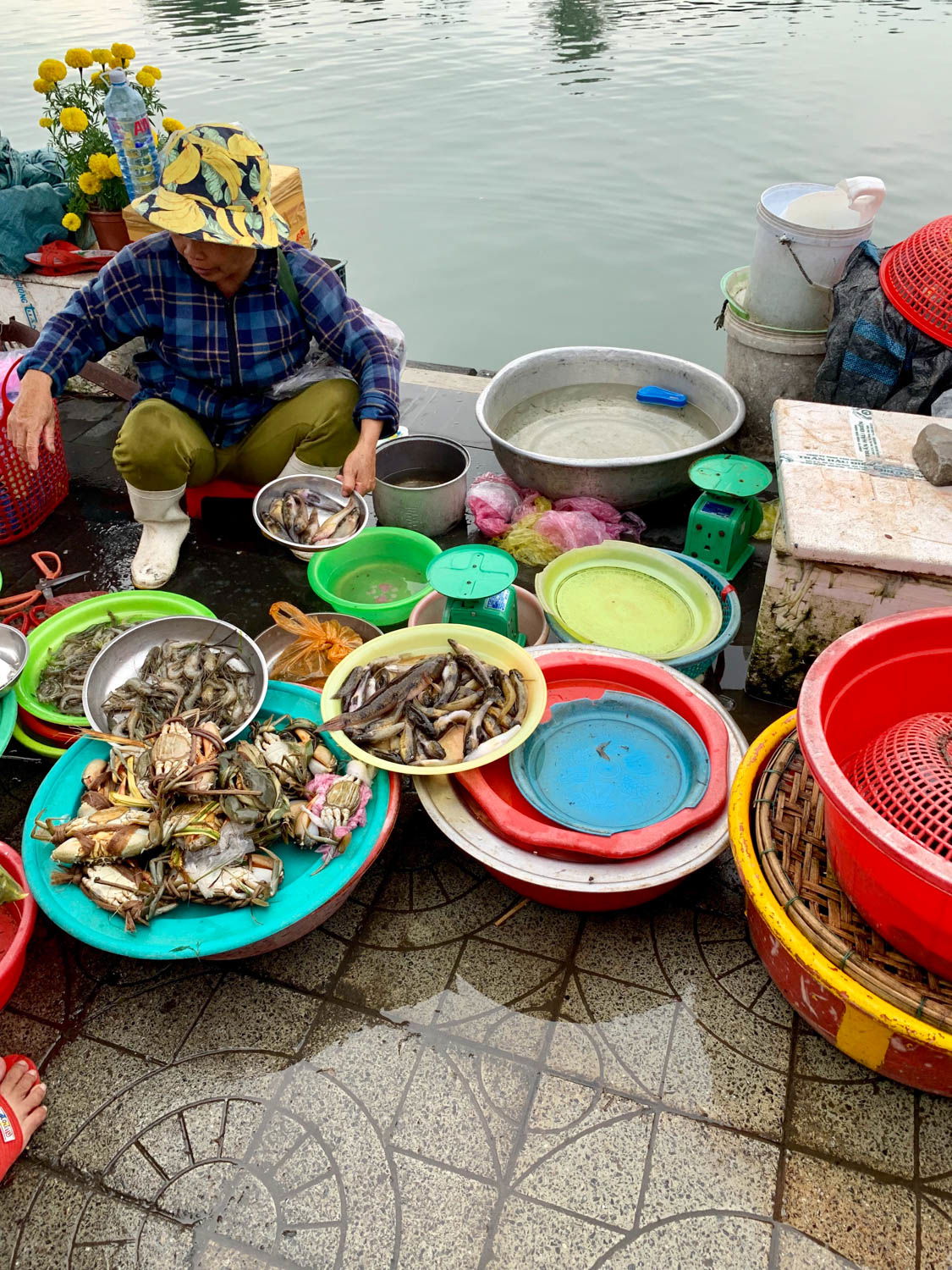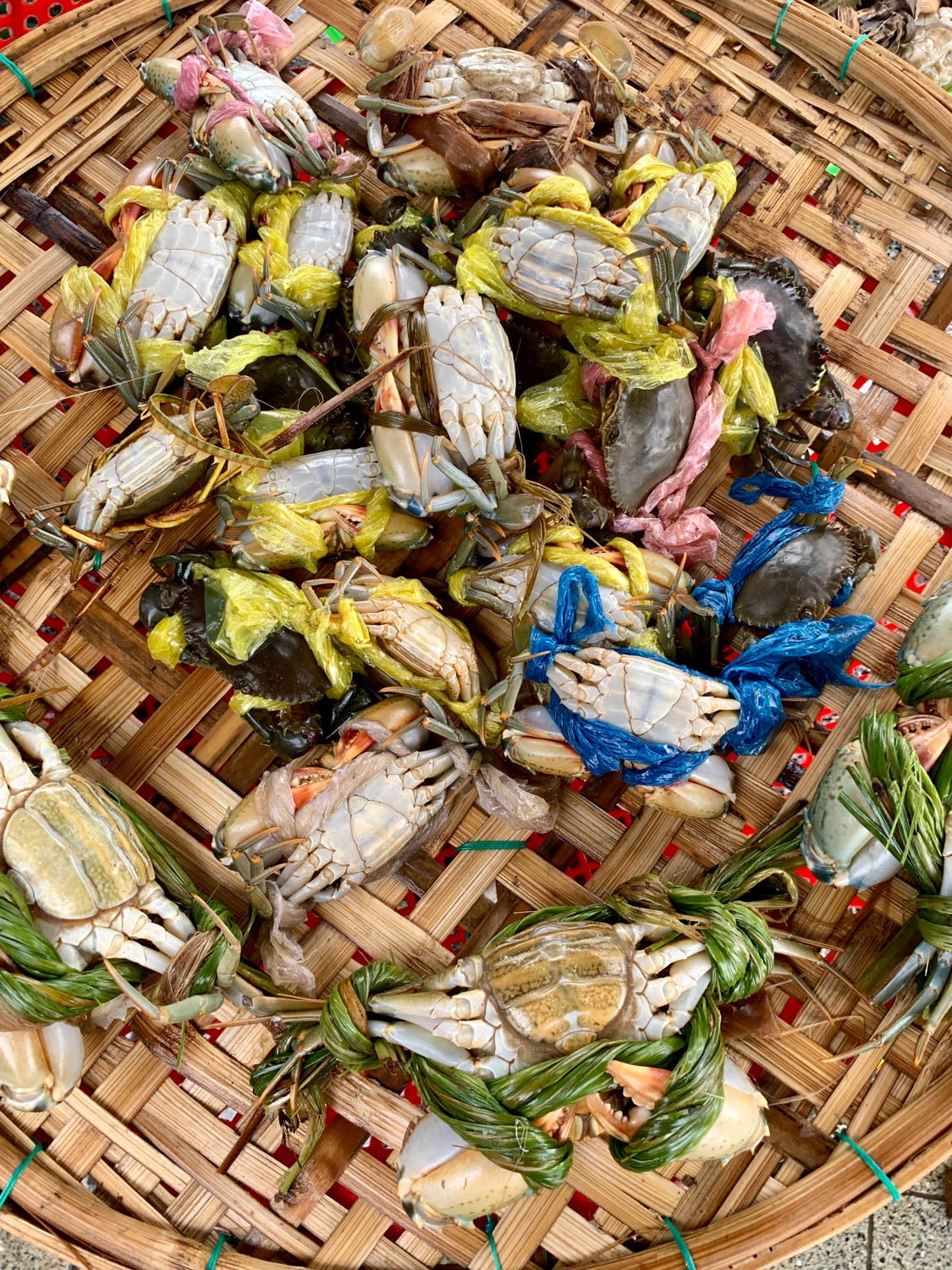 We also visited the market as part of our cooking class (more on that below), and I didn't love the experience in that context. The market streets are just too bustling for tours or explanations, but of course that authenticity is what I love about local markets.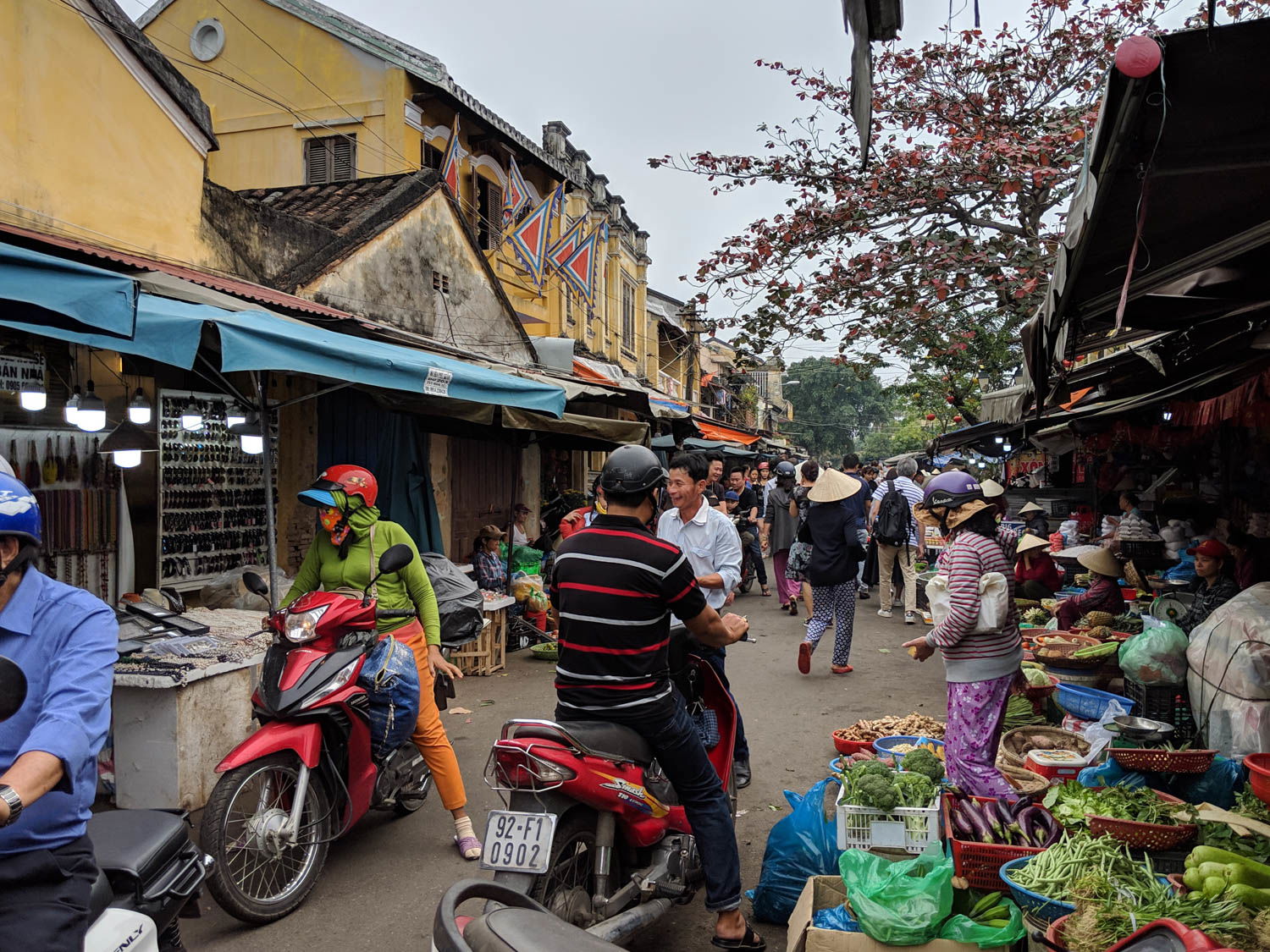 So I'd recommend strolling through on your own time, ideally without any particular aspirations, rather than trying to keep up with a group.
I've taken a few cooking classes on other overseas trips, but they've all been more low-key (and usually in someone's home). Hoi An has several cooking schools, both in town and in the countryside, and several people recommended making time for a class.
Heather chose the Thuan Tinh Island class, which is a very organized operation on the outskirts of Hoi An. We were picked up at our Airbnb in the morning, went to the market to pick up supplies for class, then took a boat along the river to their property.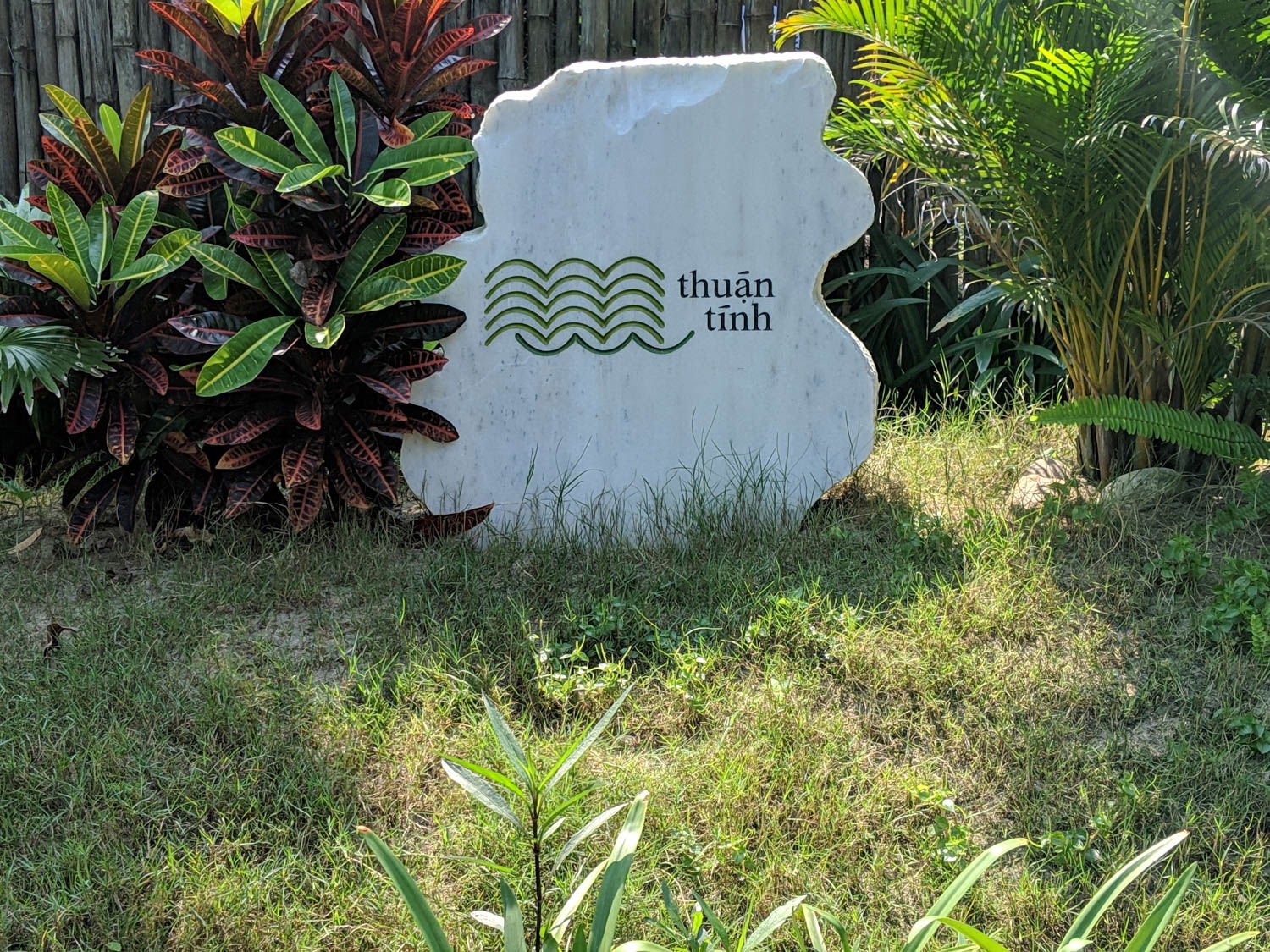 There were quite a few people attending the morning class (about 16), but after learning how to make rice milk we split into two groups, so the effective class size was only eight people.
Each class was set up in a "U" with the instructor in the center, and then four stations on either side.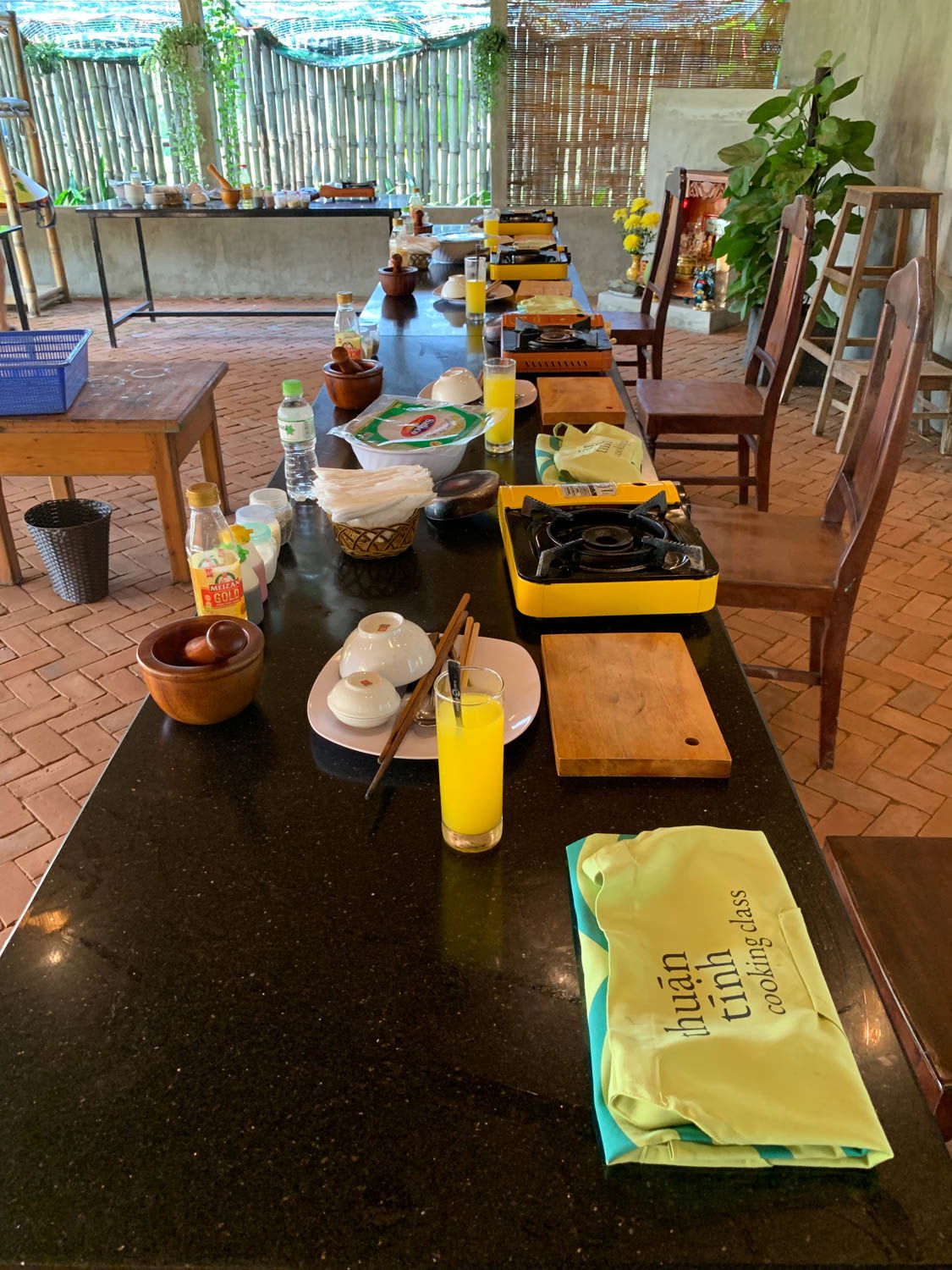 And each station had an apron, cooking tools, and a bunsen burner ready to go, along with an assortment of spices and condiments.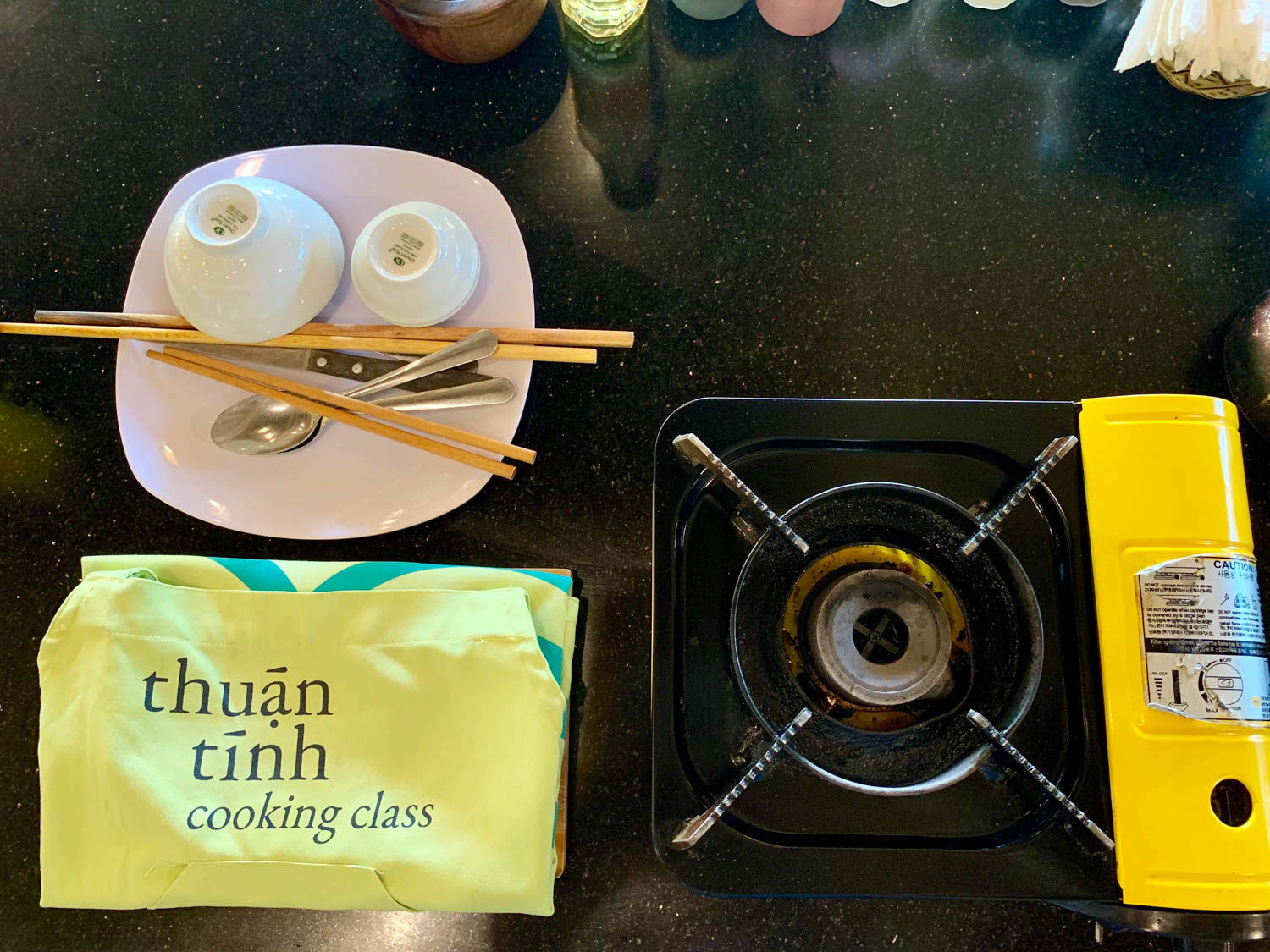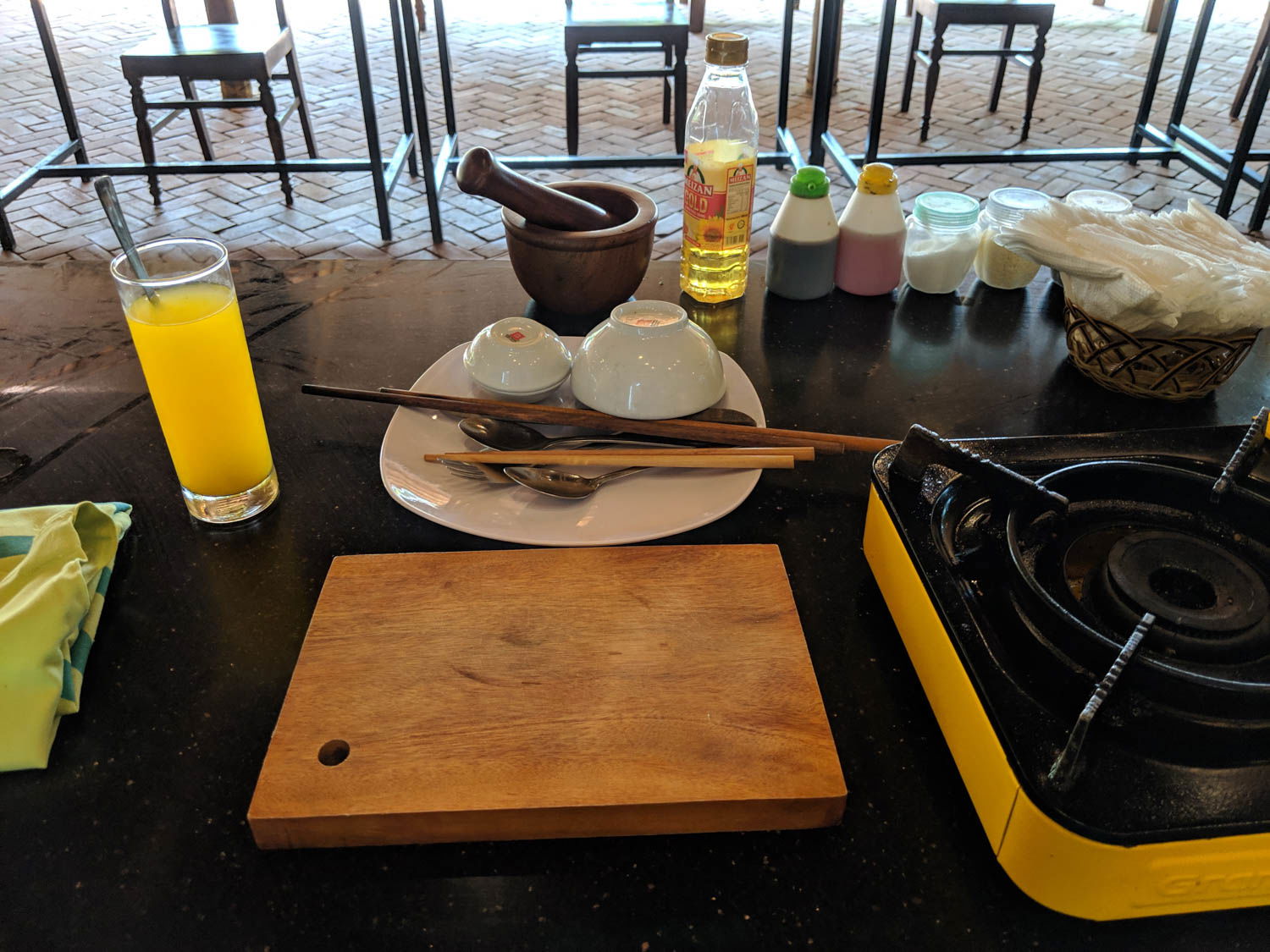 The format of the class was very consistent. We'd all gather around the instructor's station, see her prepare a dish, then go back to our areas where the prepped ingredients would magically appear, then we'd get a chance to make our own.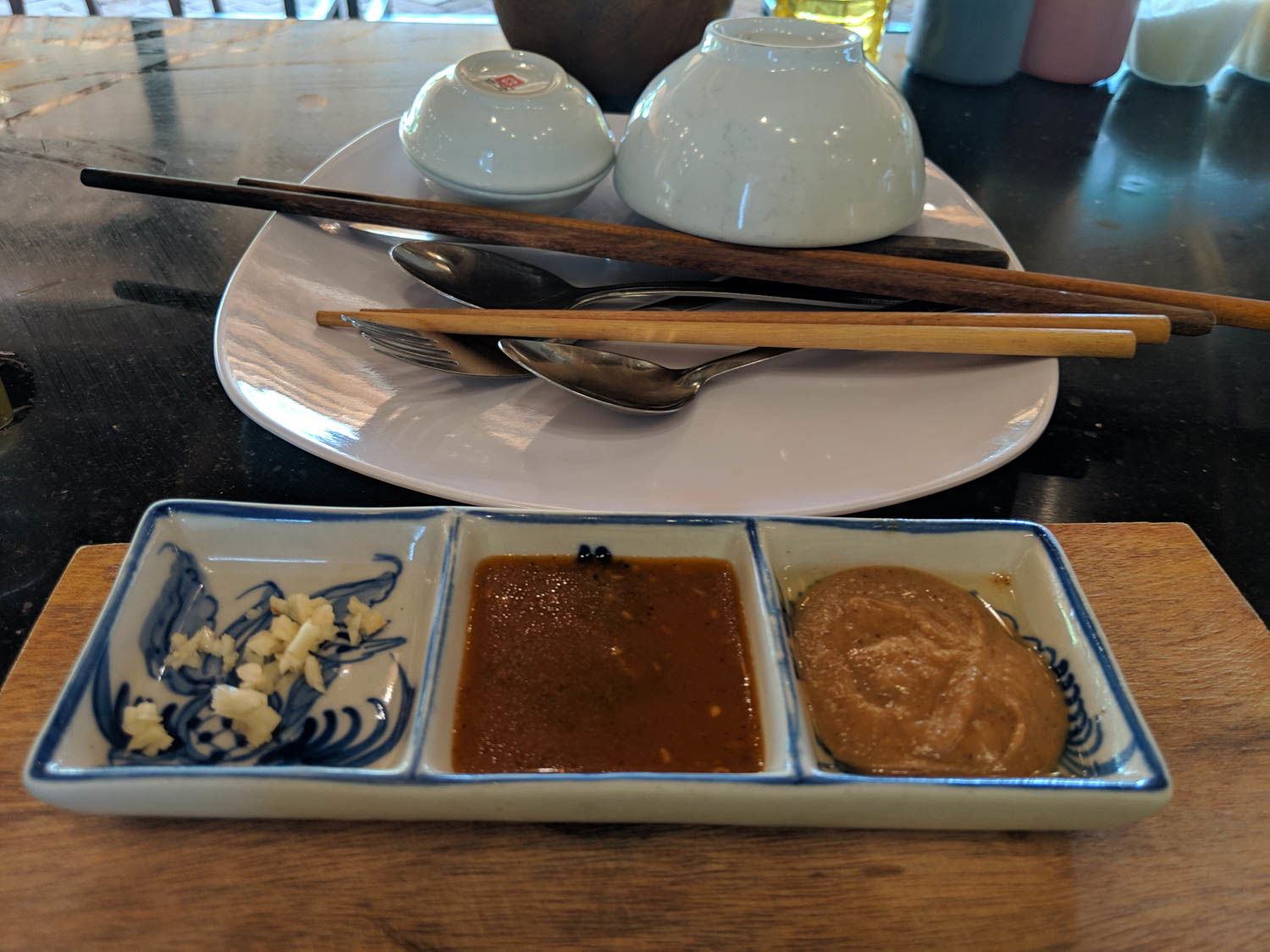 There were a few staff members walking around in addition to the instructor, and we were able to prepare everything without too much difficulty. I'm actually somewhat shocked at how attractively some of these dishes turned out!
So what did we make?
Pork and shrimp spring rolls (Goi Cuon):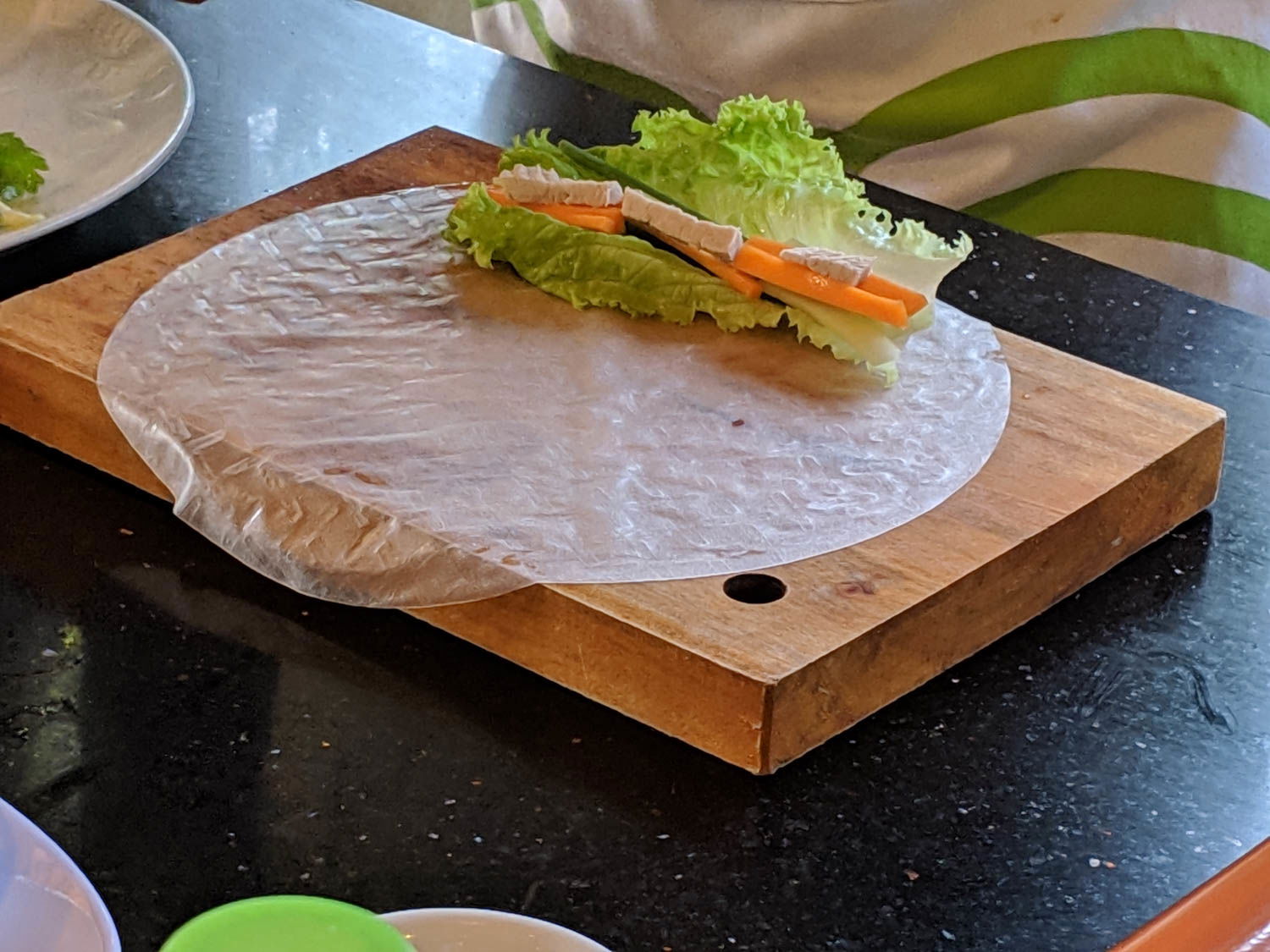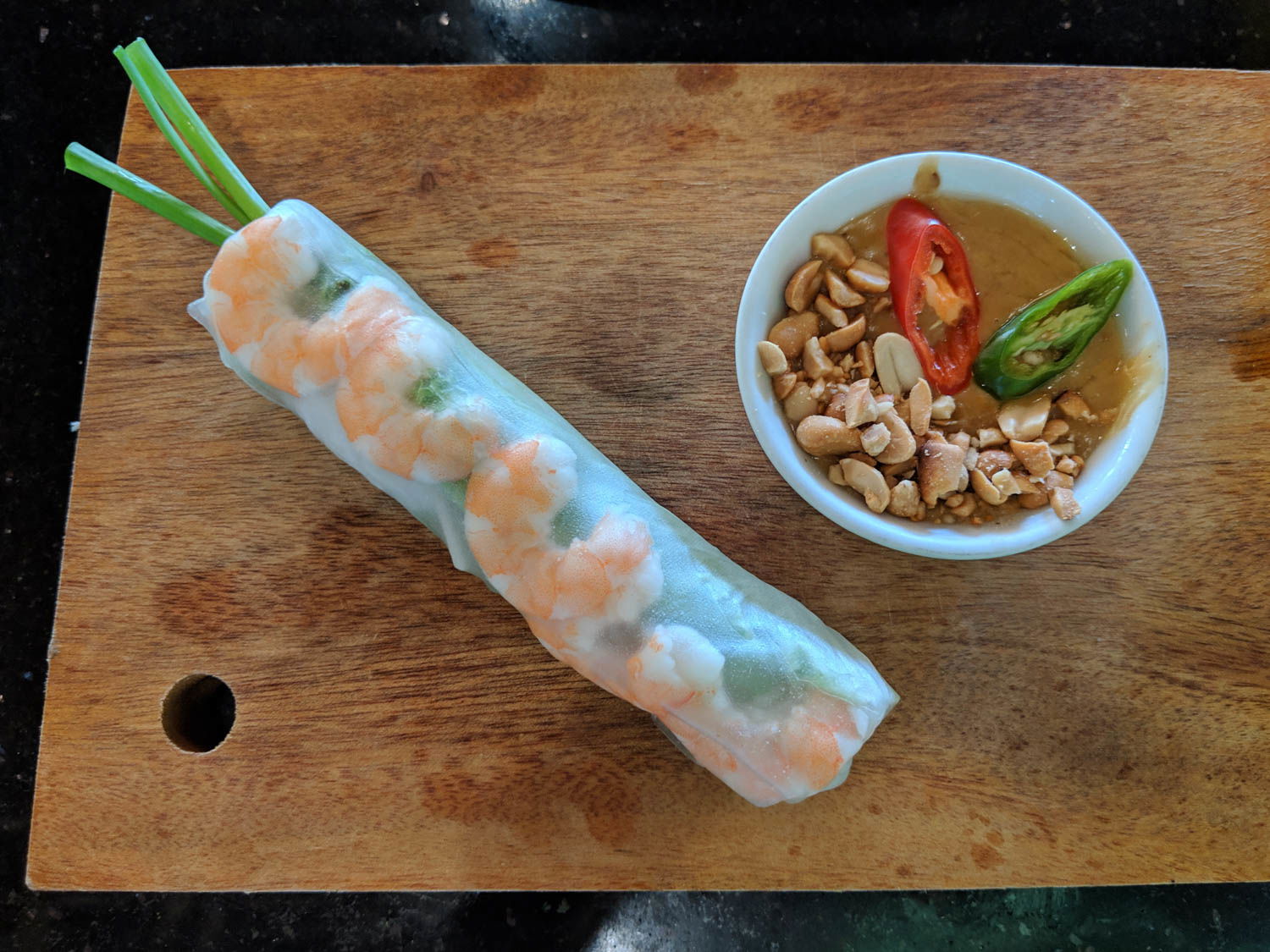 Tasty Bahn Xeo, which if you haven't had it is almost like a taco made by frying a rice-milk batter: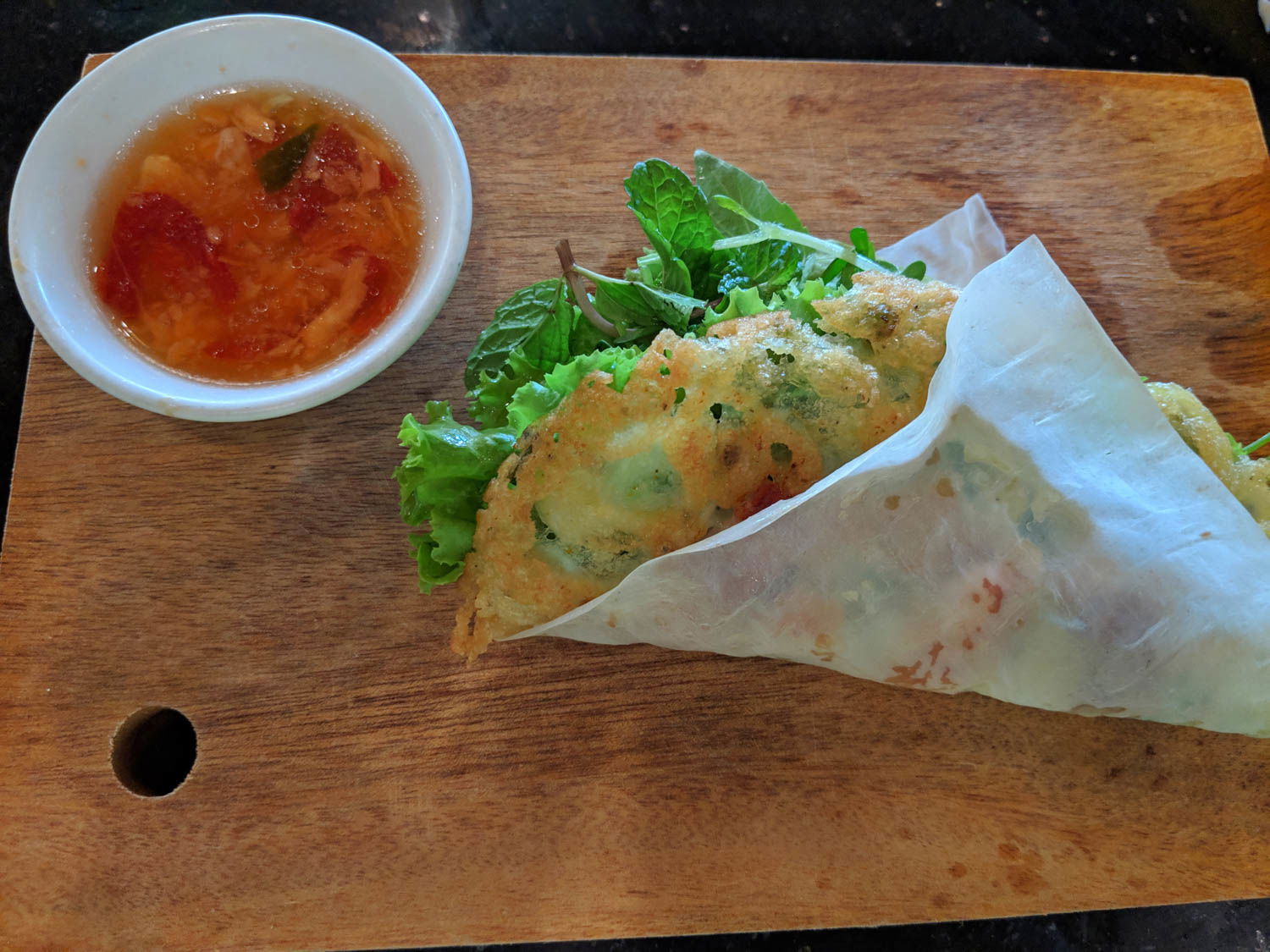 Then we spent a ridiculous amount of time decorating plates for Bun Bo Nam Bo — a noodle and beef salad dish (I was not great at the plate decorating, meanwhile my mom made butterflies out of her cucumber slices):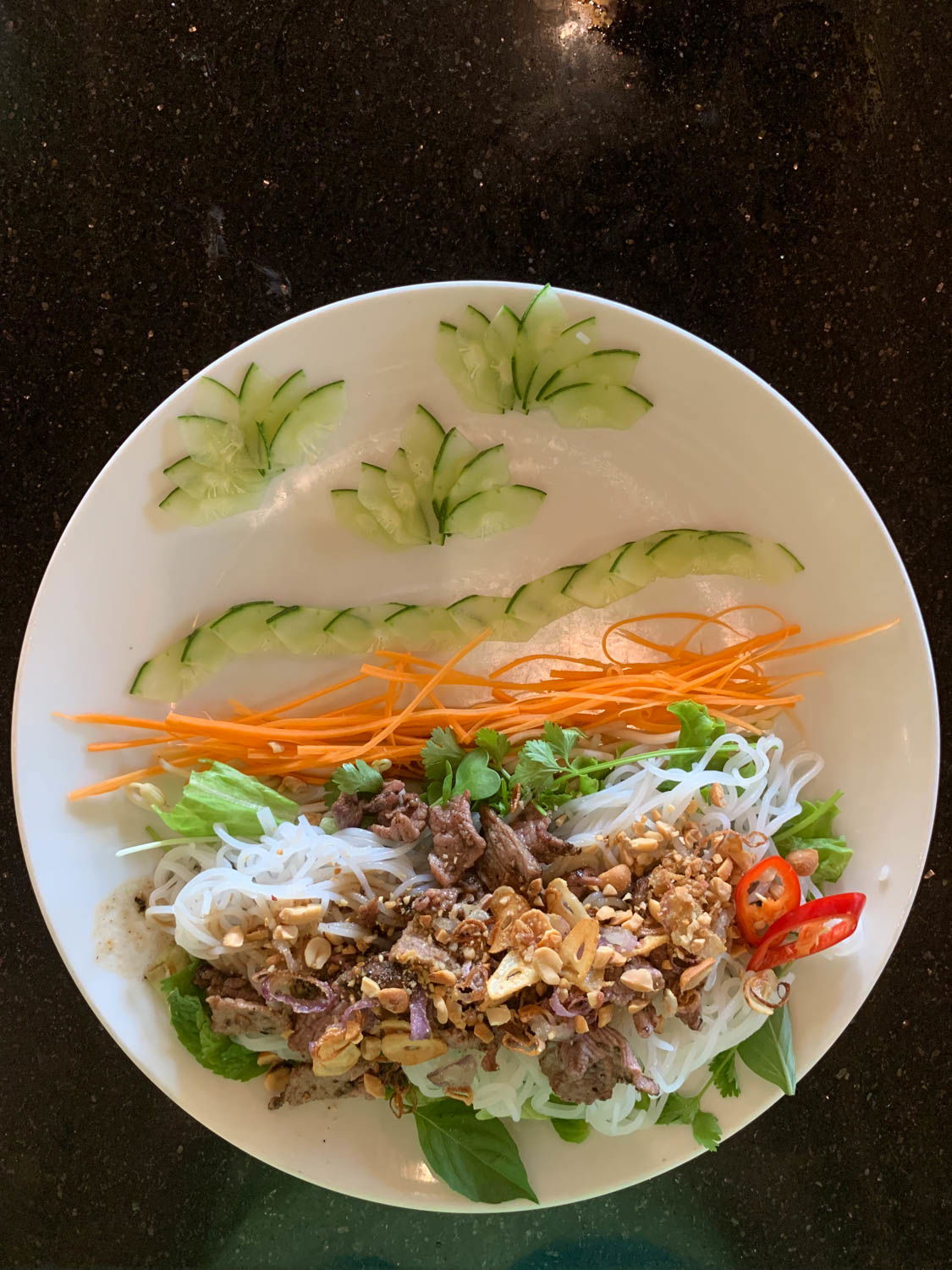 Then finished off with a Pho Bo Ha Noi (well, obviously we started the beef broth at the beginning of the class):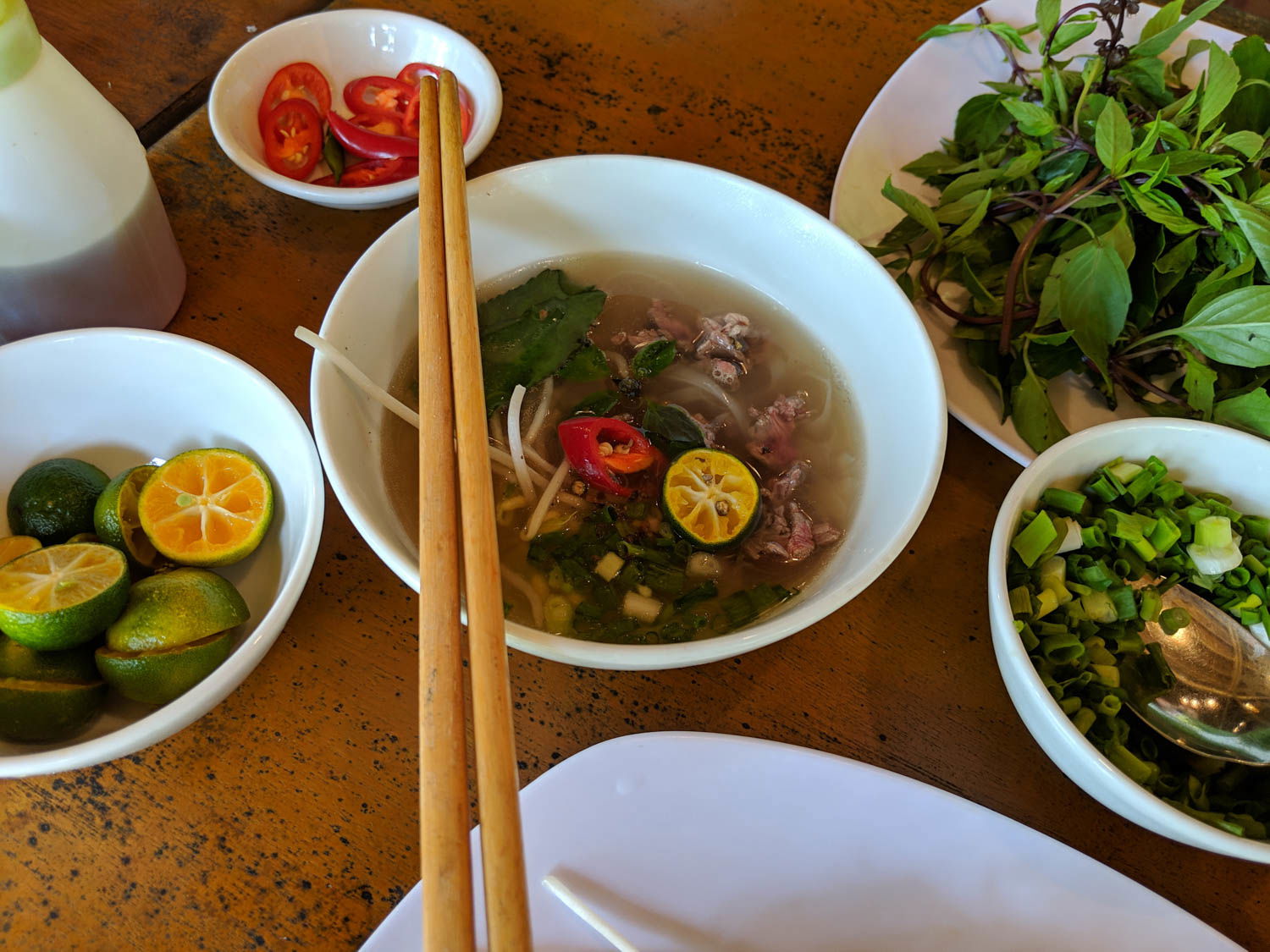 Heather and I have since made all these dishes at home, which I suppose is the best endorsement of a cooking school. The hardest part is obviously sourcing the ingredients in Spokane, but the recipes themselves have been easy to follow.
The main bit of feedback I have is that they should really be making the beef broth in a pressure cooker, or having a system where the previous day's classes provide the bone stock for the Pho on the following day. A two-hour simmer just isn't long enough for a bone broth to have any flavor, so the version we had in class was very bland compared to what I made at home with a longer cooking window.
But overall, this was a fun morning, and I'd recommend the class even for less proficient chefs, as everything was pretty approachable. The classes that include the market visit are $39/person, or there's a shorter evening class for $26/person. Even though I didn't love the market portion, I don't think I'd want to miss the opportunity to have a fun dinner elsewhere, so would probably opt for one of the day classes.
Heather gets full credit for finding and booking what might be the best $30 we spent on the entire trip — a traditional lantern-making class that we dropped our moms off at while we went for coffees.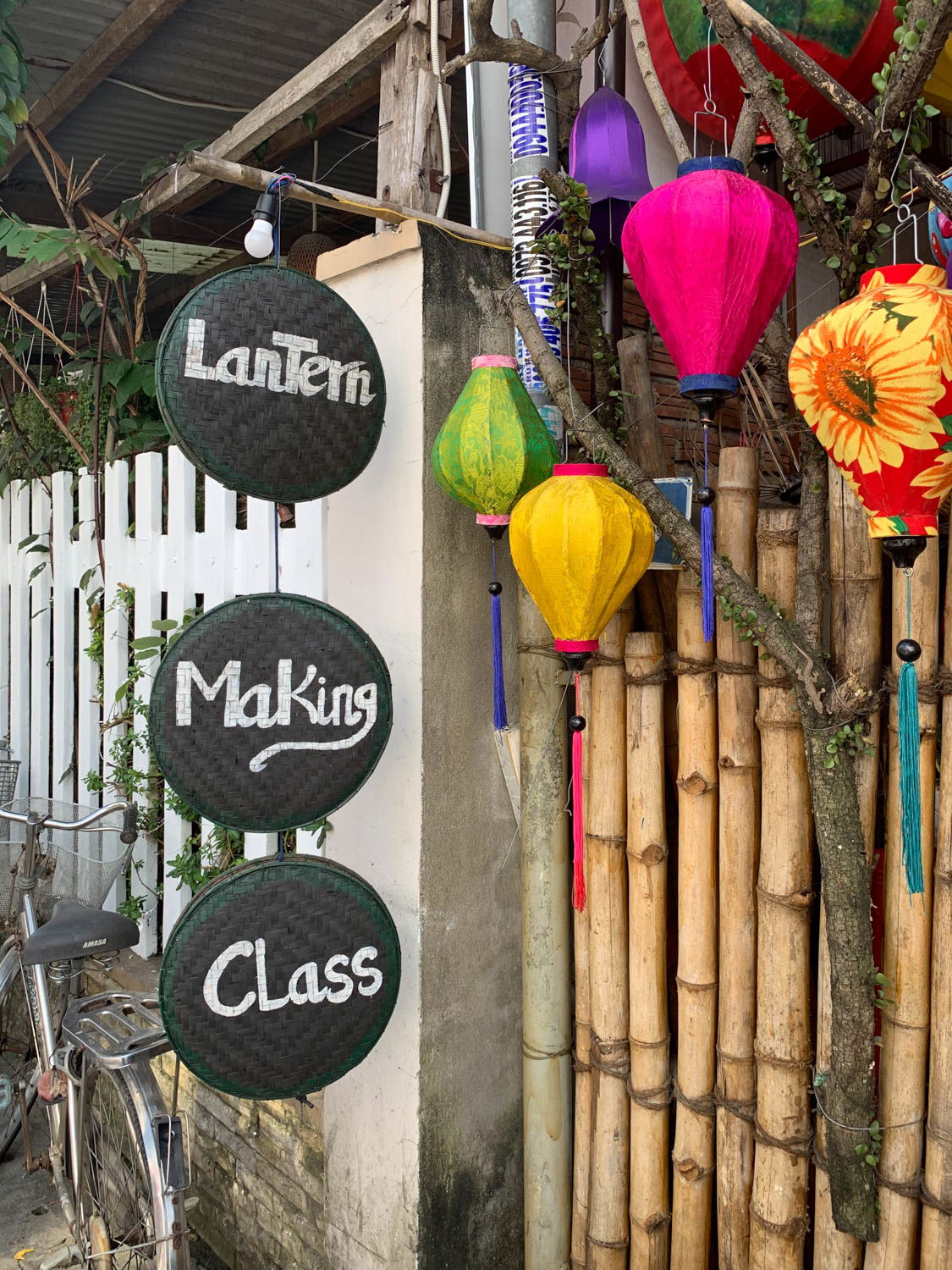 There are several of these classes in Hoi An, though we chose the one run by Hoi An Handicraft Tours. Two brothers have started offering classes in what used to be their grandfather's lantern shop, and at $15/person it seemed like the perfect alternative to spending hours shopping for a lantern as a souvenir.
The shop is tucked away on a side street just outside the historic center, and had tons of lanterns on display, in addition to all the materials.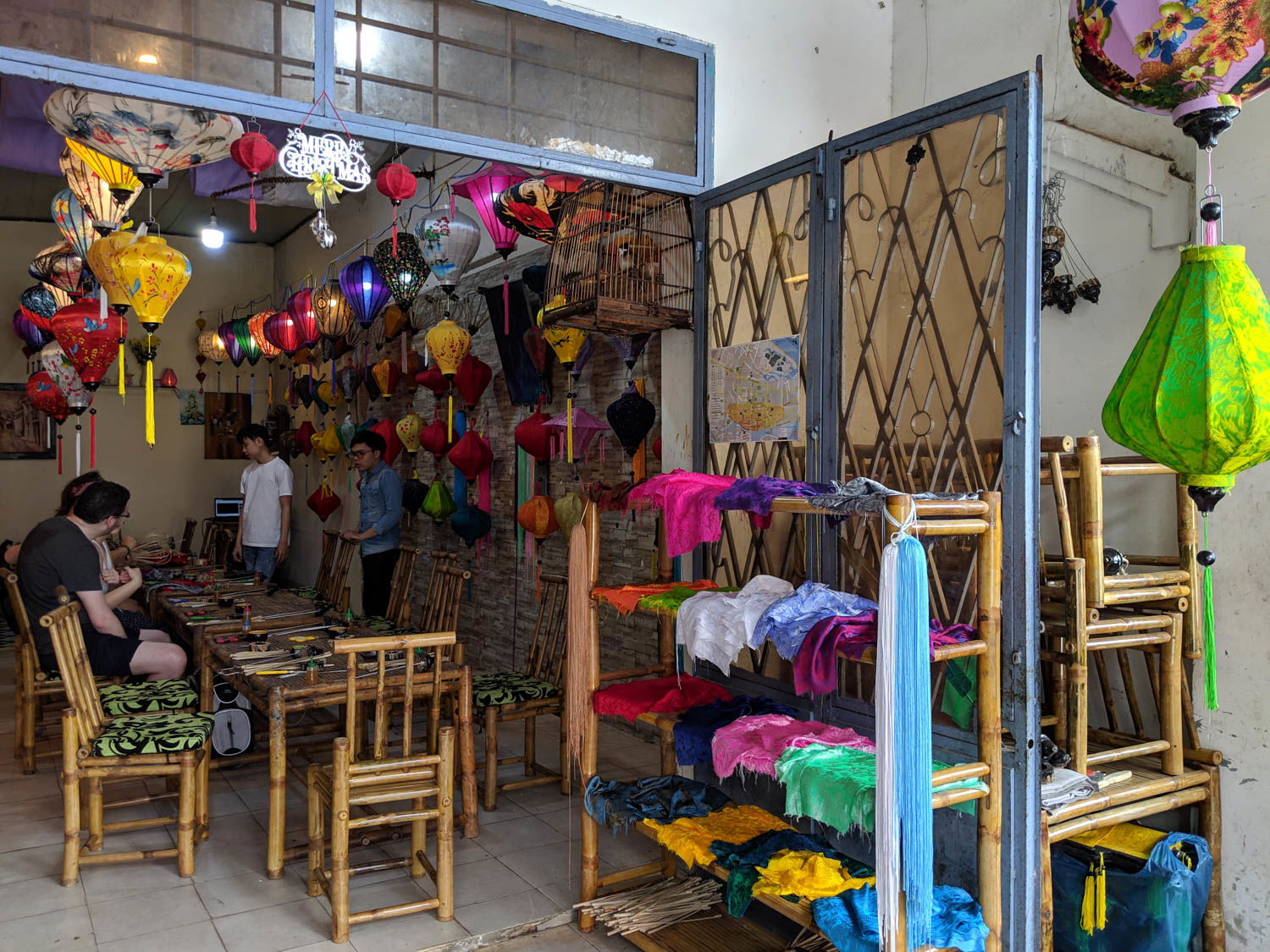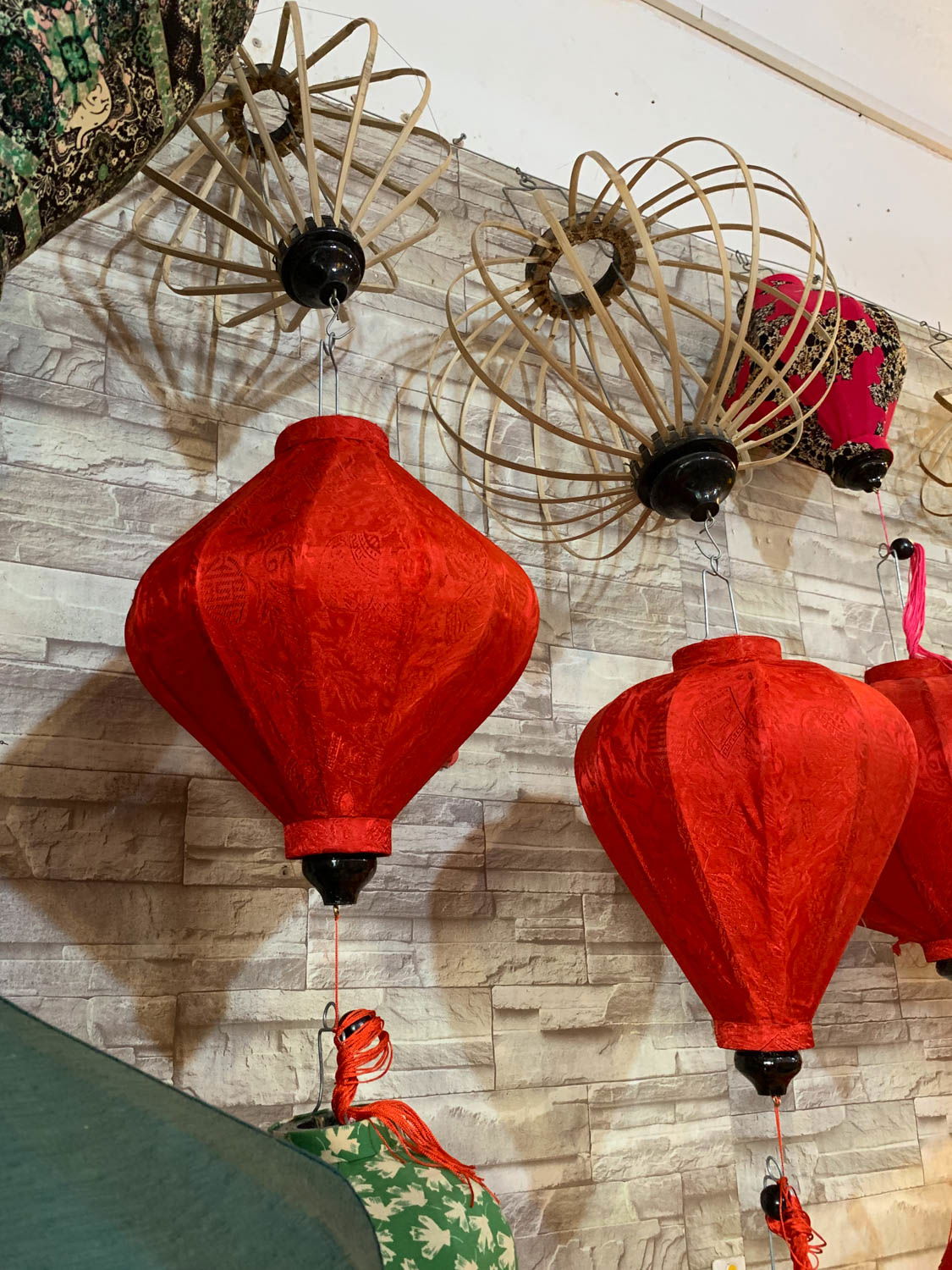 The owners welcomed our moms, sat them down at a table where their frame pieces and supplies were ready to go, and started explaining the history of the lanterns and giving an overview of the process before having them choose their fabric.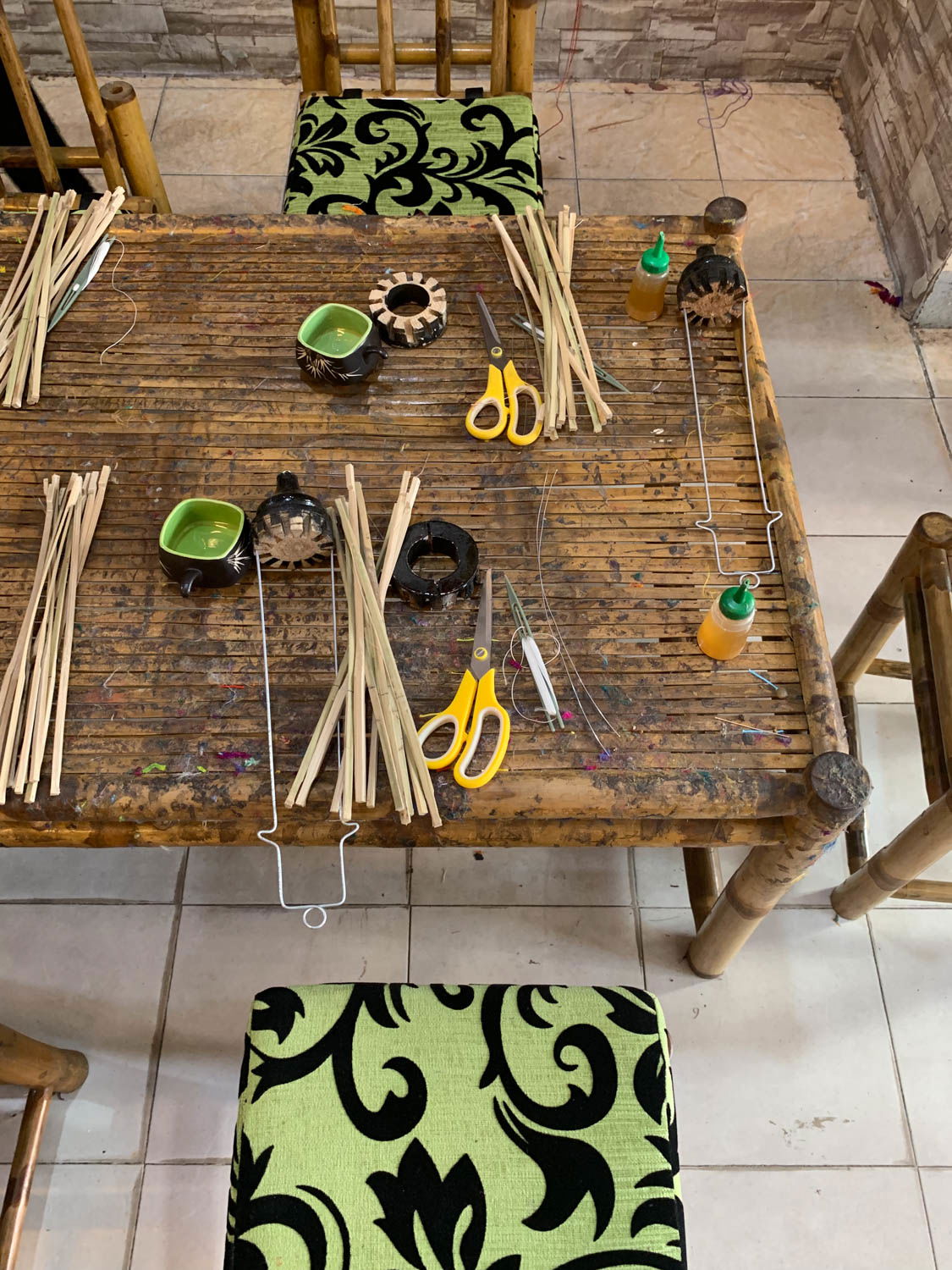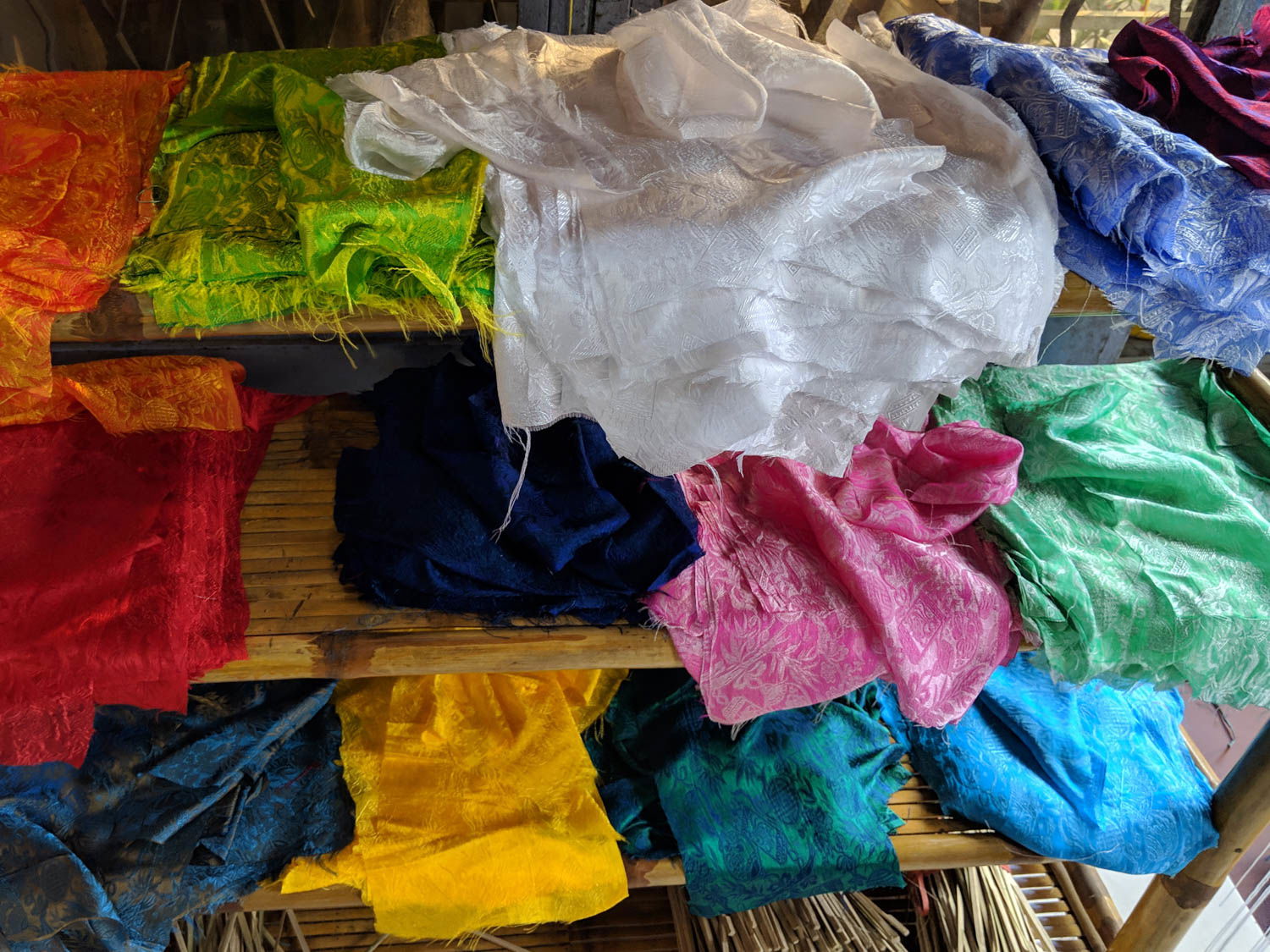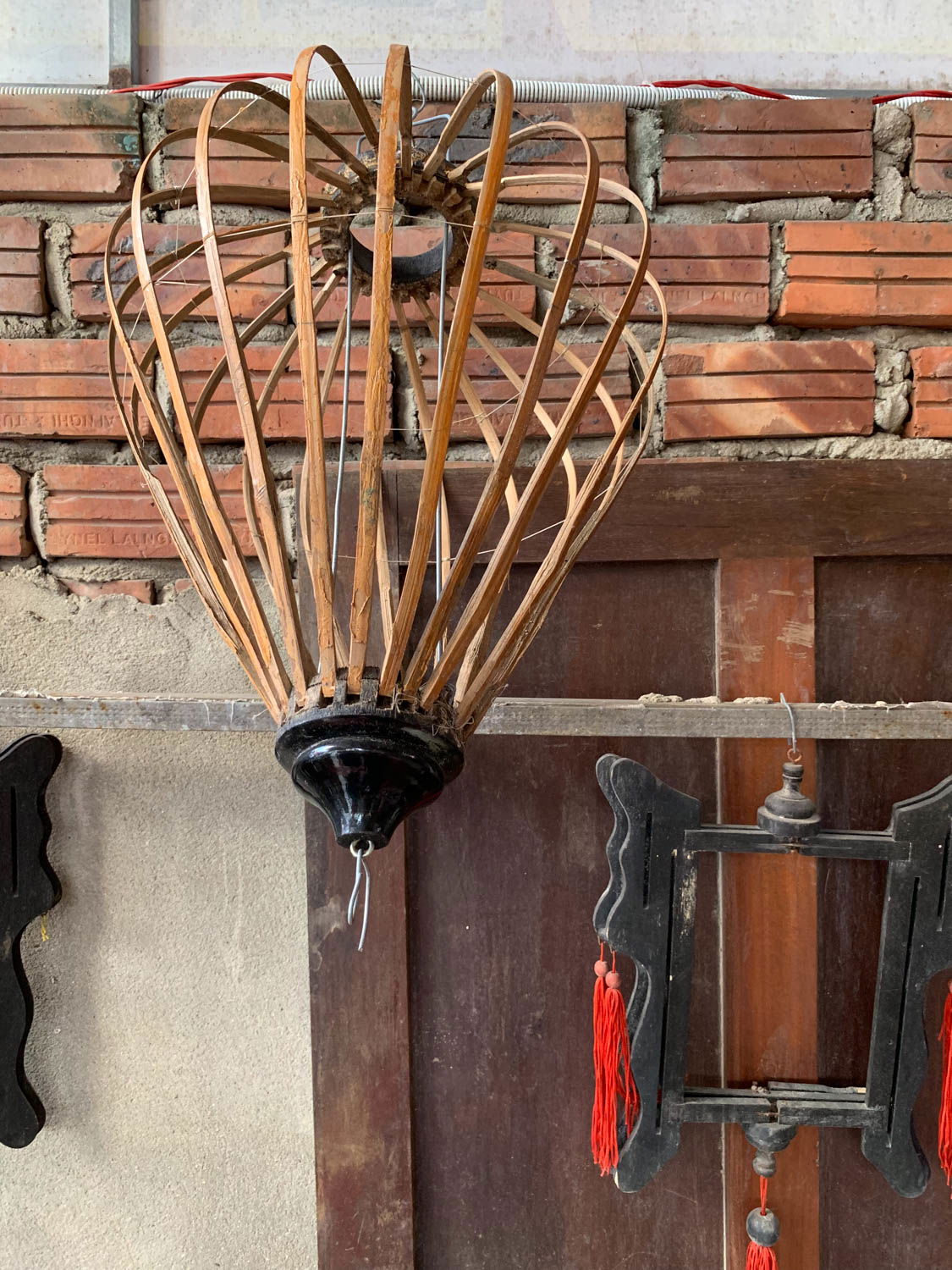 We had a lovely time elsewhere, then came back two hours later to a bustling shop with several in-progress lanterns.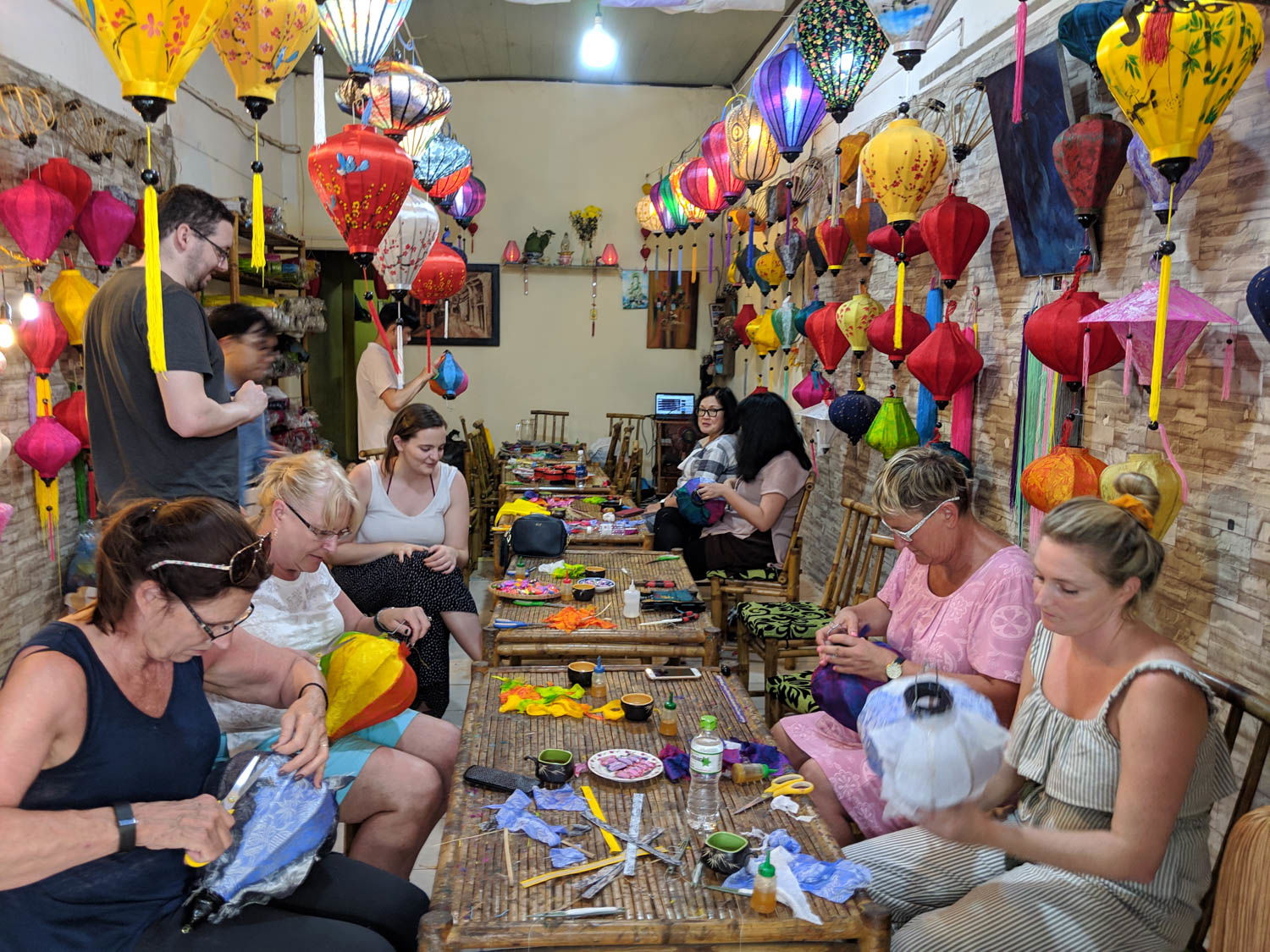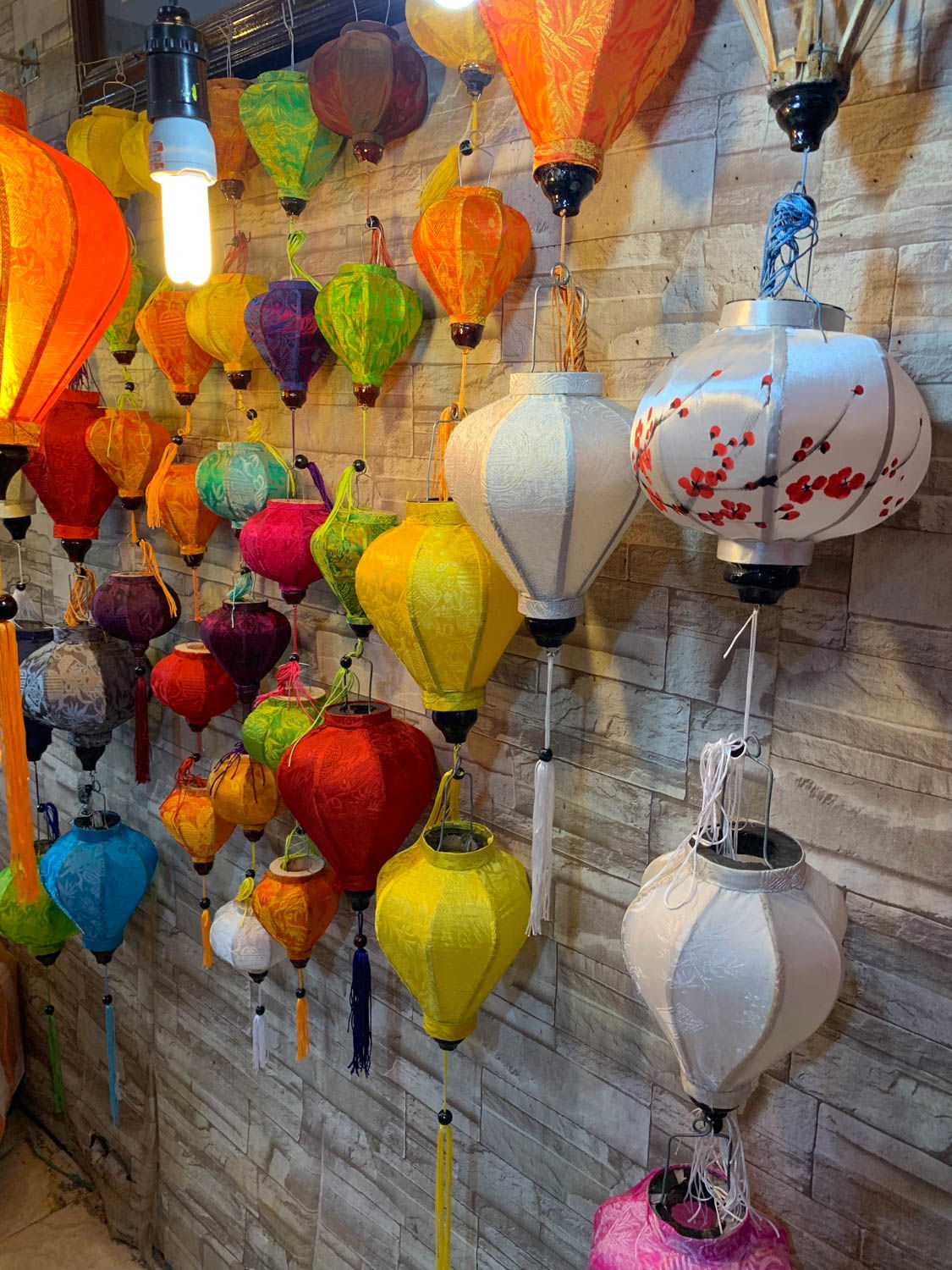 As a final touch, the staff hooked the newly-made lanterns to a strand of lights so they could see how they looked when illuminated.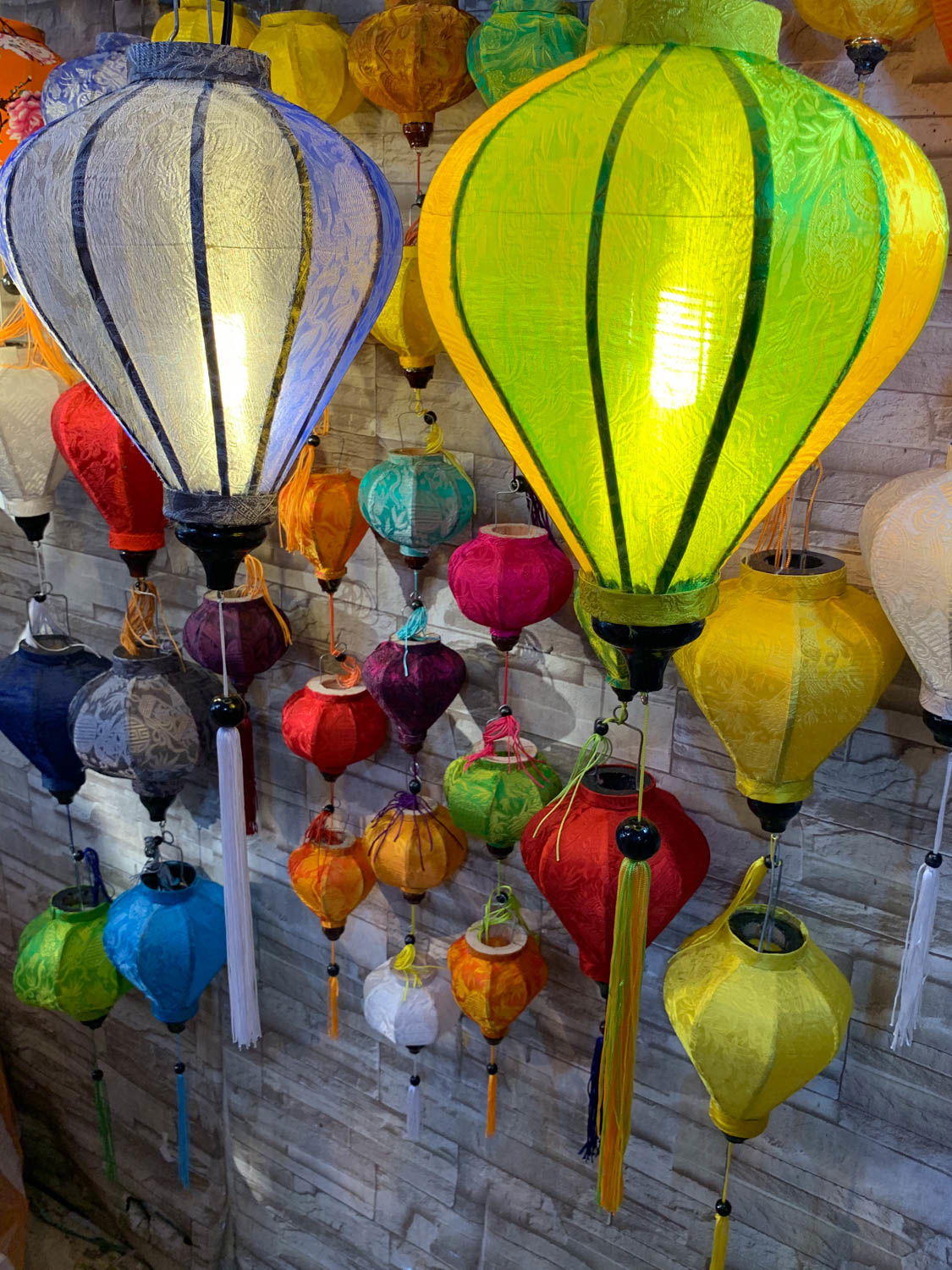 So this was a fun cultural activity, our moms loved getting to make their own lantern after seeing thousands around town, and it was a nice change of pace for them after all the standing and walking. Well worth the $15 each.
As a side note, I don't know if all Hoi An-style lanterns are collapsible, but one of the nice things about the lanterns you make here is that they fold down for travel, if that's a concern.
Hoi An cafes and restaurants
Given that we were there over Tet, many of the restaurants that we had on our shortlist were closed for the holiday. But the ones we were able to get into were all very good — I don't think you can go wrong with any of the top-rated restaurants in Hoi An based on that.
We very much enjoyed Morning Glory, where in addition to the eponymous sautéed morning glory we just ordered everything on the menu with "Hoi An" in the name or description to share.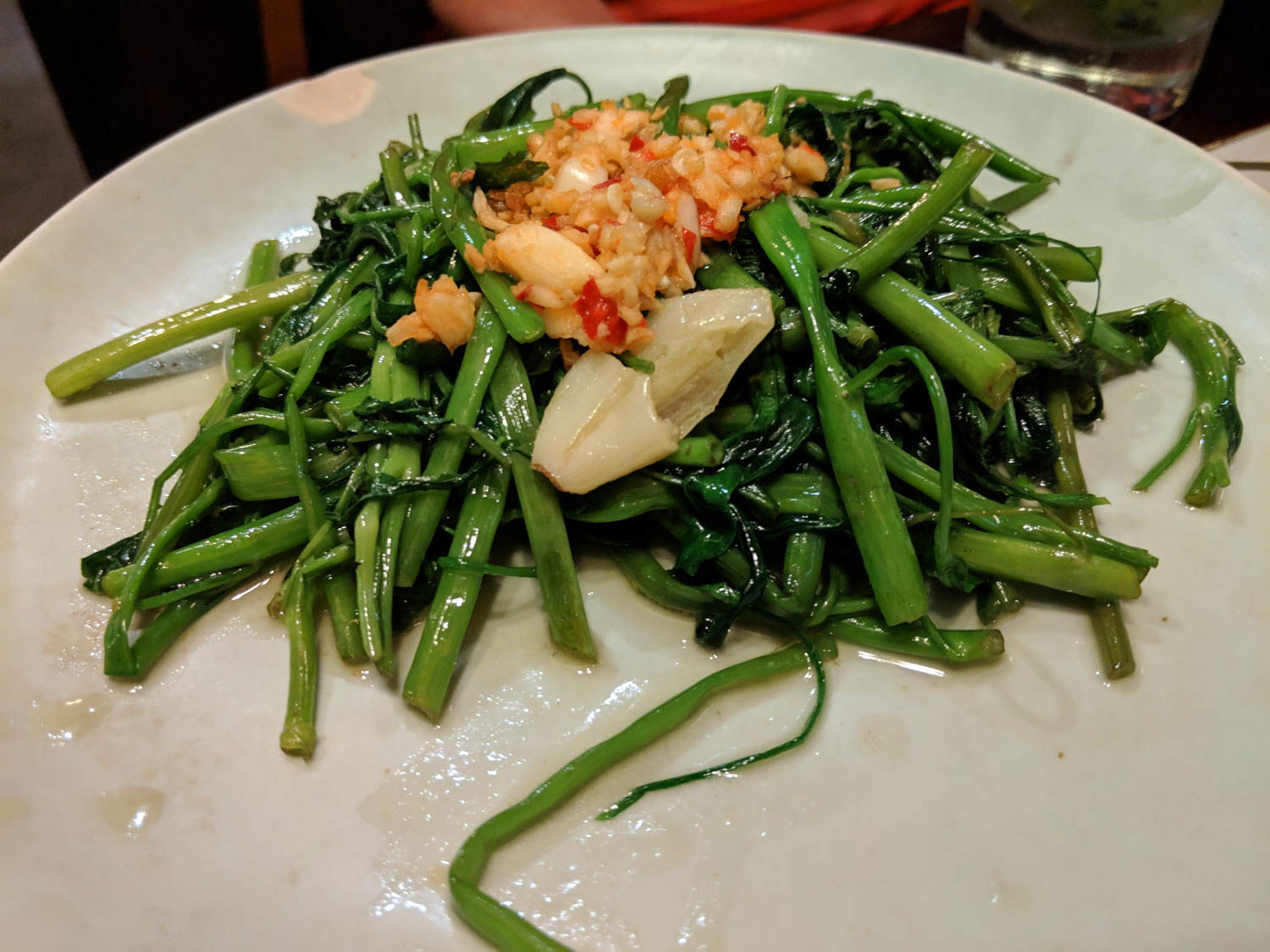 That led to a delightful al-fresco meal of white rose dumplings, a pomelo salad, tasty chicken rice, and cao lao noodles with pork.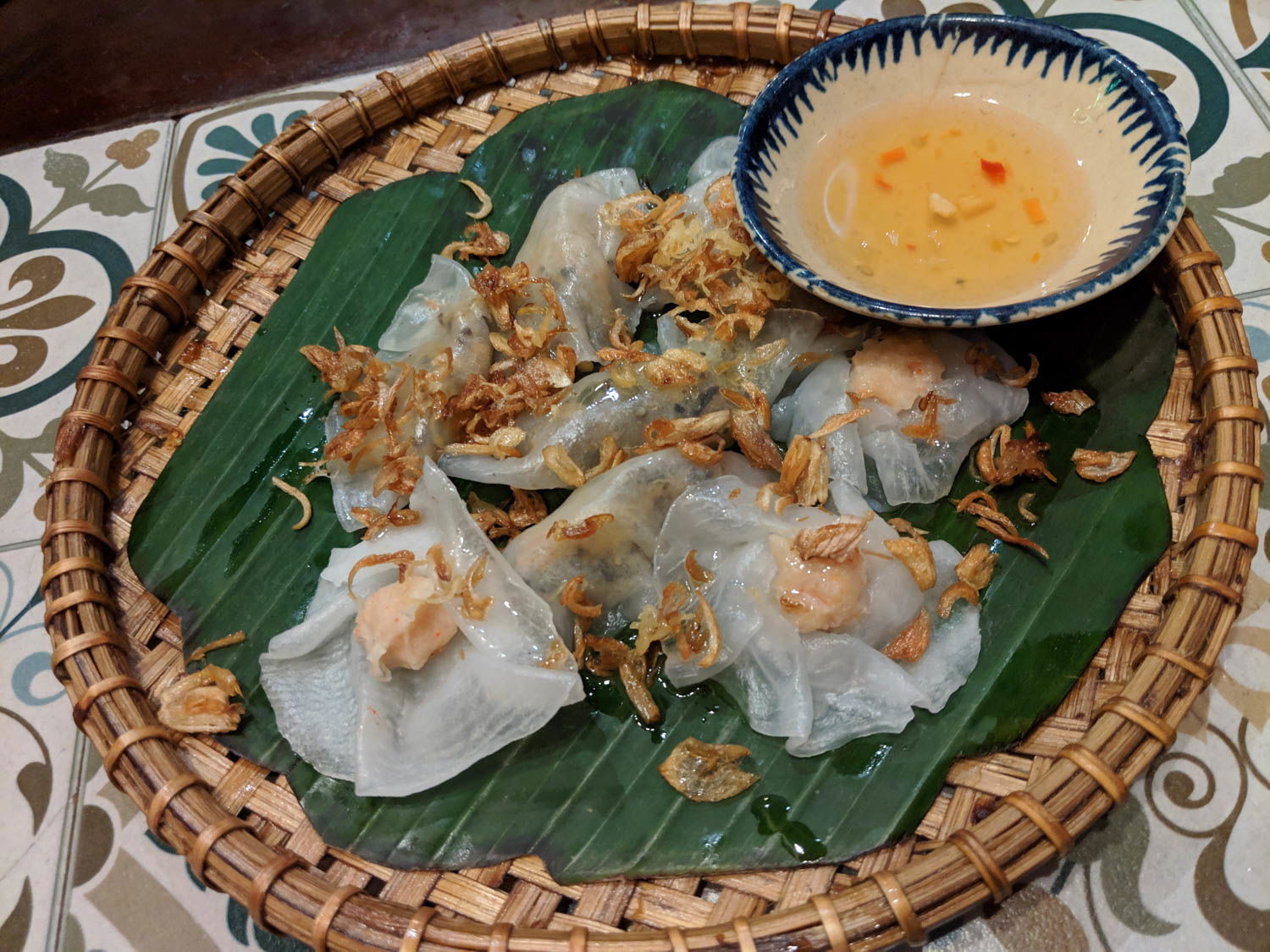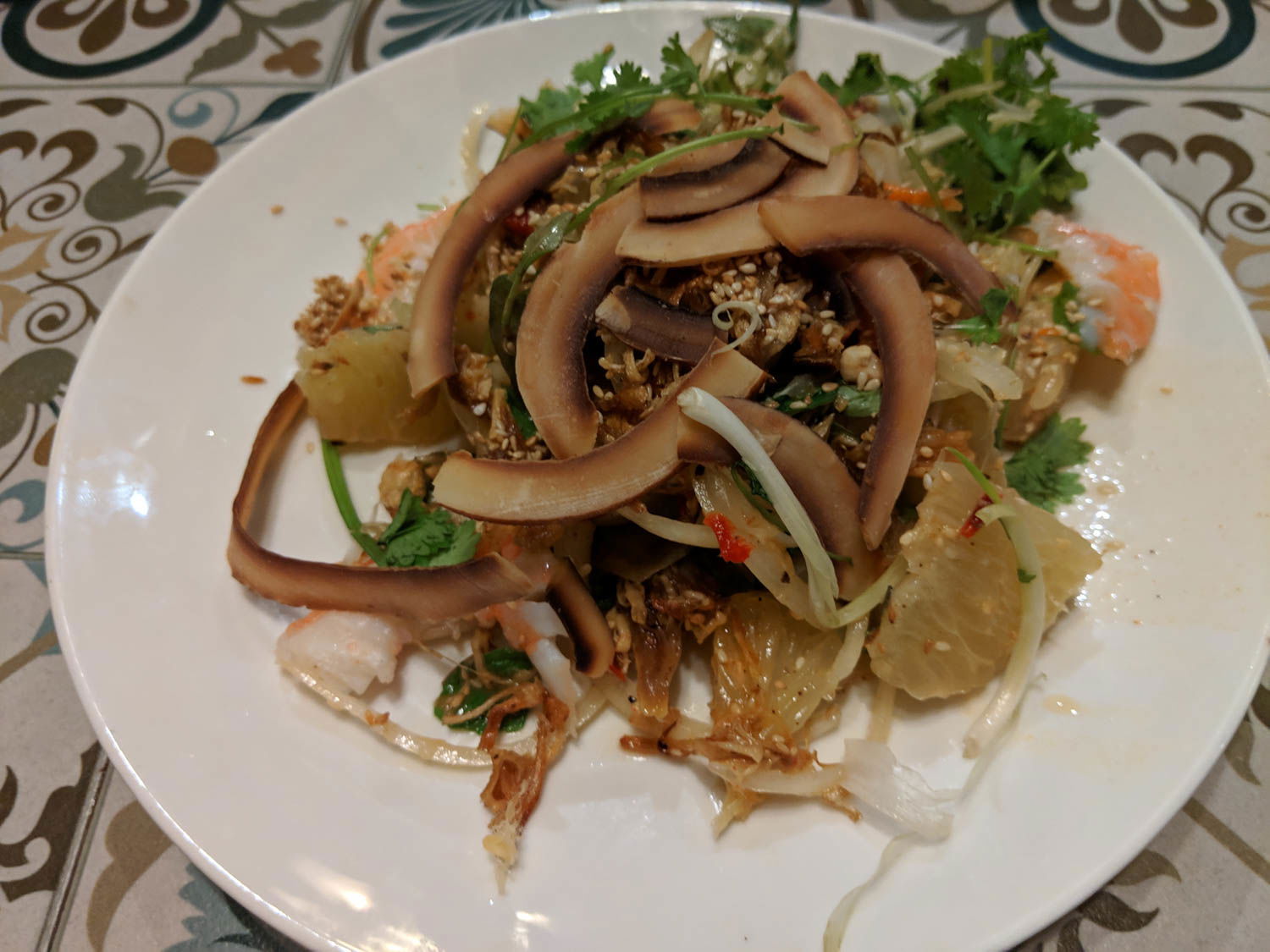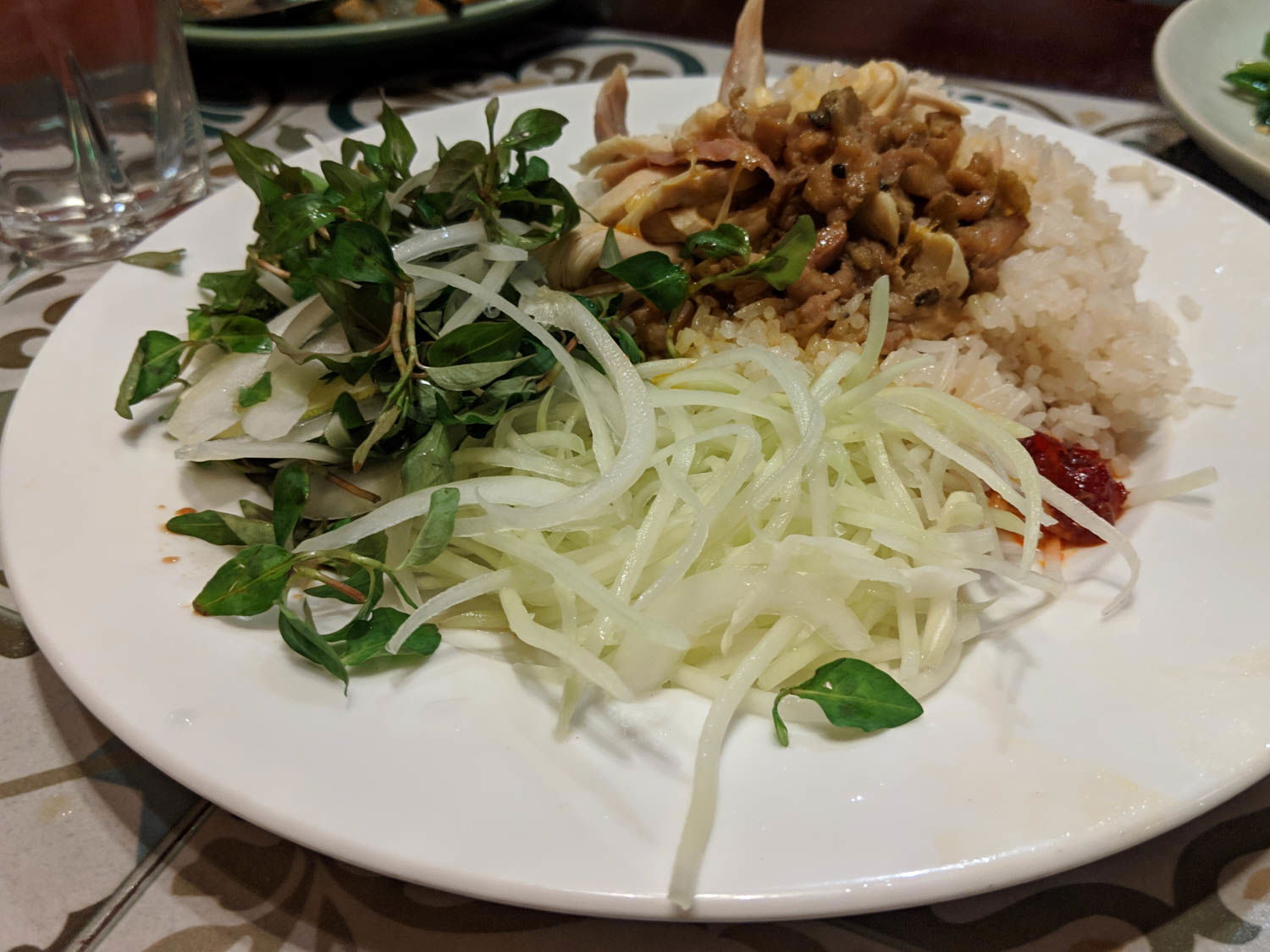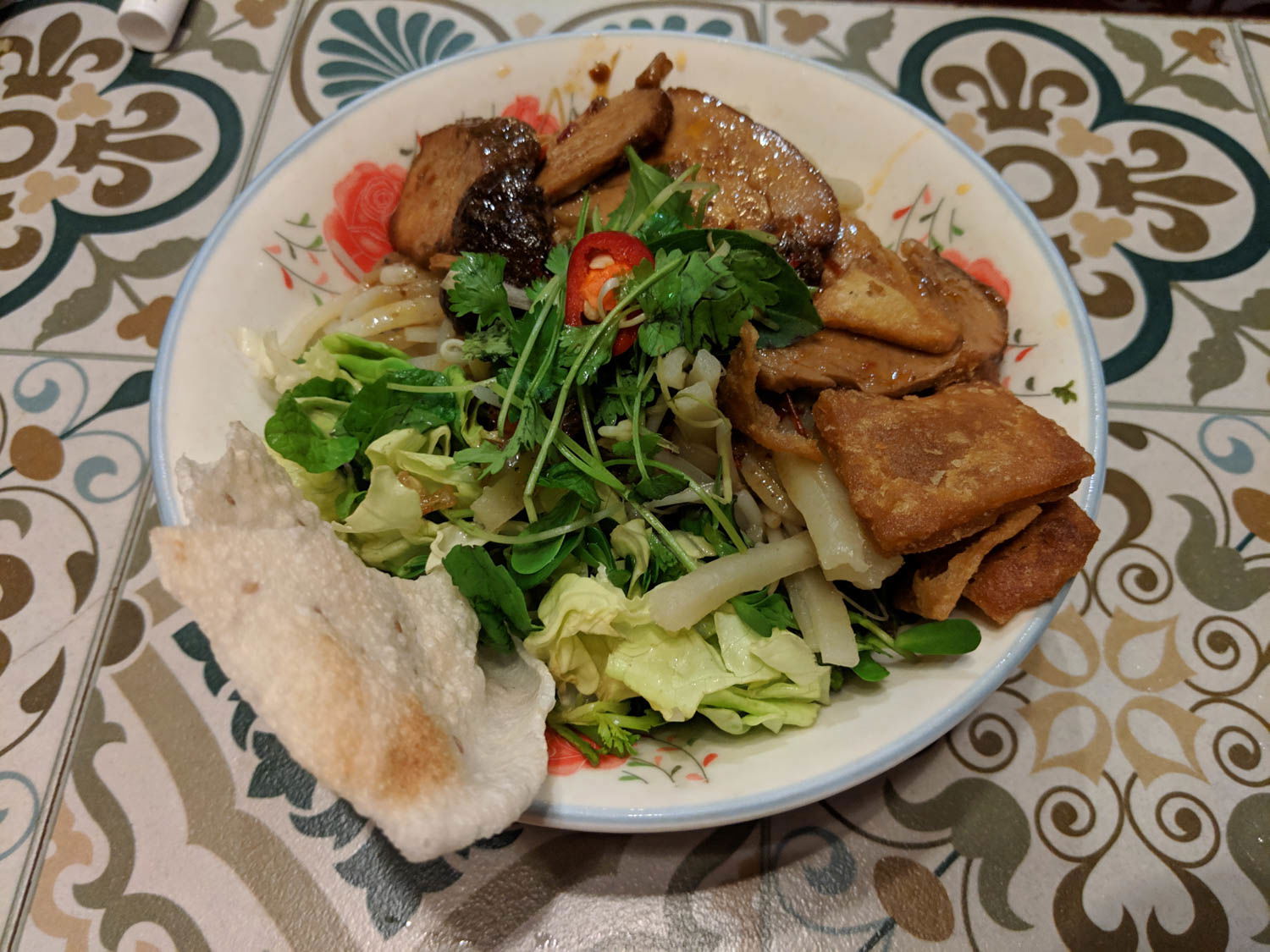 Tasty, tasty, tasty, and each dish was ~$5 or under.
We liked the upper patio at Cargo Club for drinks and views, and everyone else enjoyed the famous Banh Mi Phuong (delicious and under $1!). The Hoi An Moneybags at White Marble were a group favorite as well.
Really, for a smaller town, Hoi An had a solid assortment of restaurants, and while they were all touristy, because Hoi An is touristy, it didn't feel like getting an English menu was a direct pathway to poor cuisine like it can be in some places (looking at you, Dubrovnik).
Overall thoughts
We really enjoyed Hoi An, and our moms found it especially approachable, which was a nice contrast to bustling Saigon. The town has a ton of history, and has done an excellent job of marketing the heritage, so it is touristy, but in a way that I found pleasant (even when crowded).
I would definitely return — I'm intrigued by the tailor shop culture in Hoi An, which we weren't able to fully experience. I would say it's well worth visiting Hoi An for at least a day and an evening, even if you are staying elsewhere in the area.
Any tips for Hoi An you'd like to share with other readers?