---
Let's start this off with an unpopular opinion that I'm probably going to regret sharing:
While Satri House felt like the hotel you'd obviously stay at when disembarking from The Jungle Cruise, that paled in comparison to the Adventureland-without-the-Dole-Whip vibes permeating the town of Luang Prabang.
I'm sorry. I know Luang Prabang is revered in some circles as a magical gem of a place — a haven in the chaos of Southeast Asia, with fantastic cuisine, great hotels, and an approachable Night Market.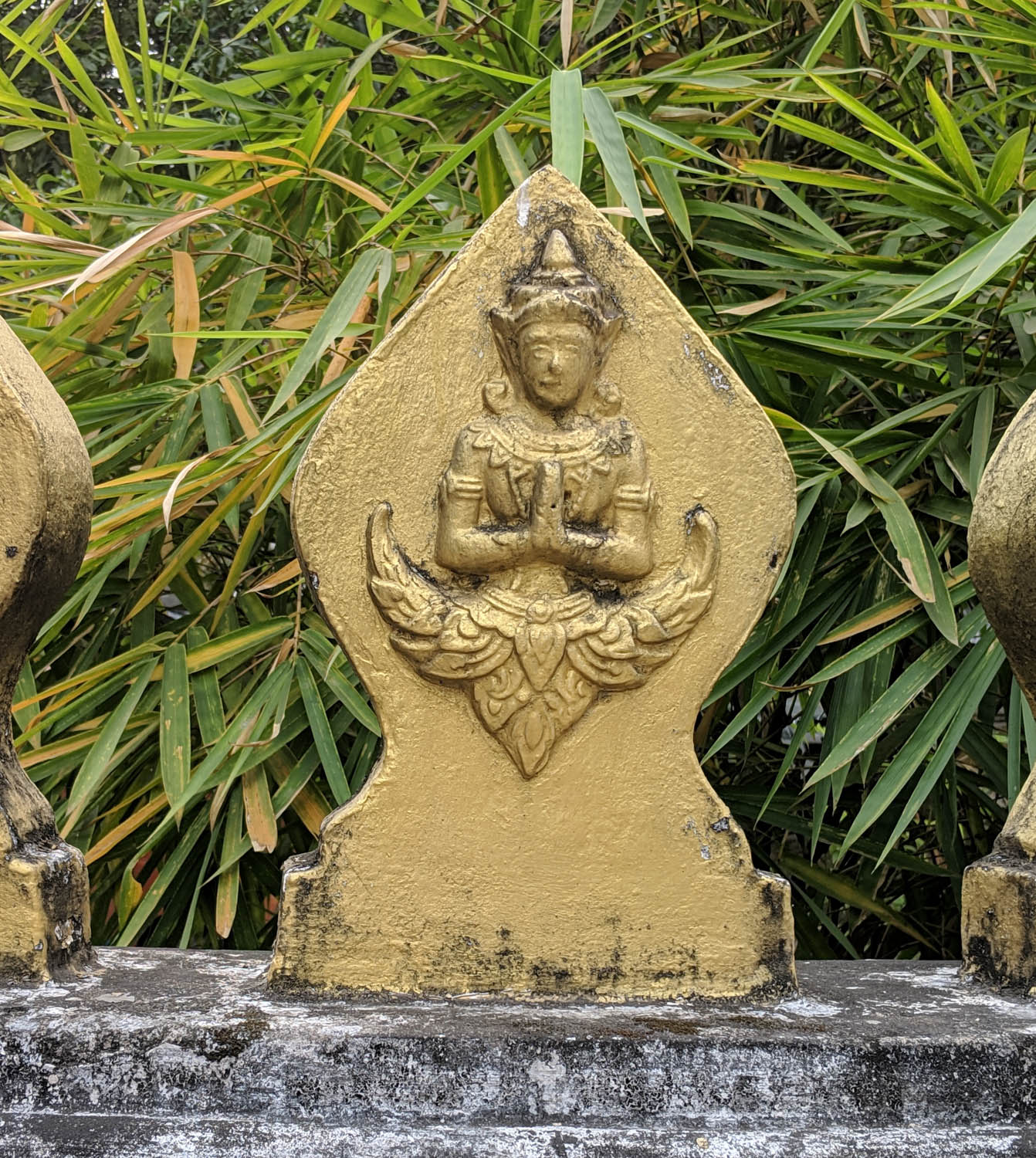 And it certainly is all those things. But that may be partly because (at least on the surface) Luang Prabang feels sterile and packaged; a Disneyfied manifestation of what some people expect Asia to be, at the expense of what the place truly is.
To be clear — we ended up loving our time in Laos; the people we met were lovely and kind, and the natural beauty is breathtaking.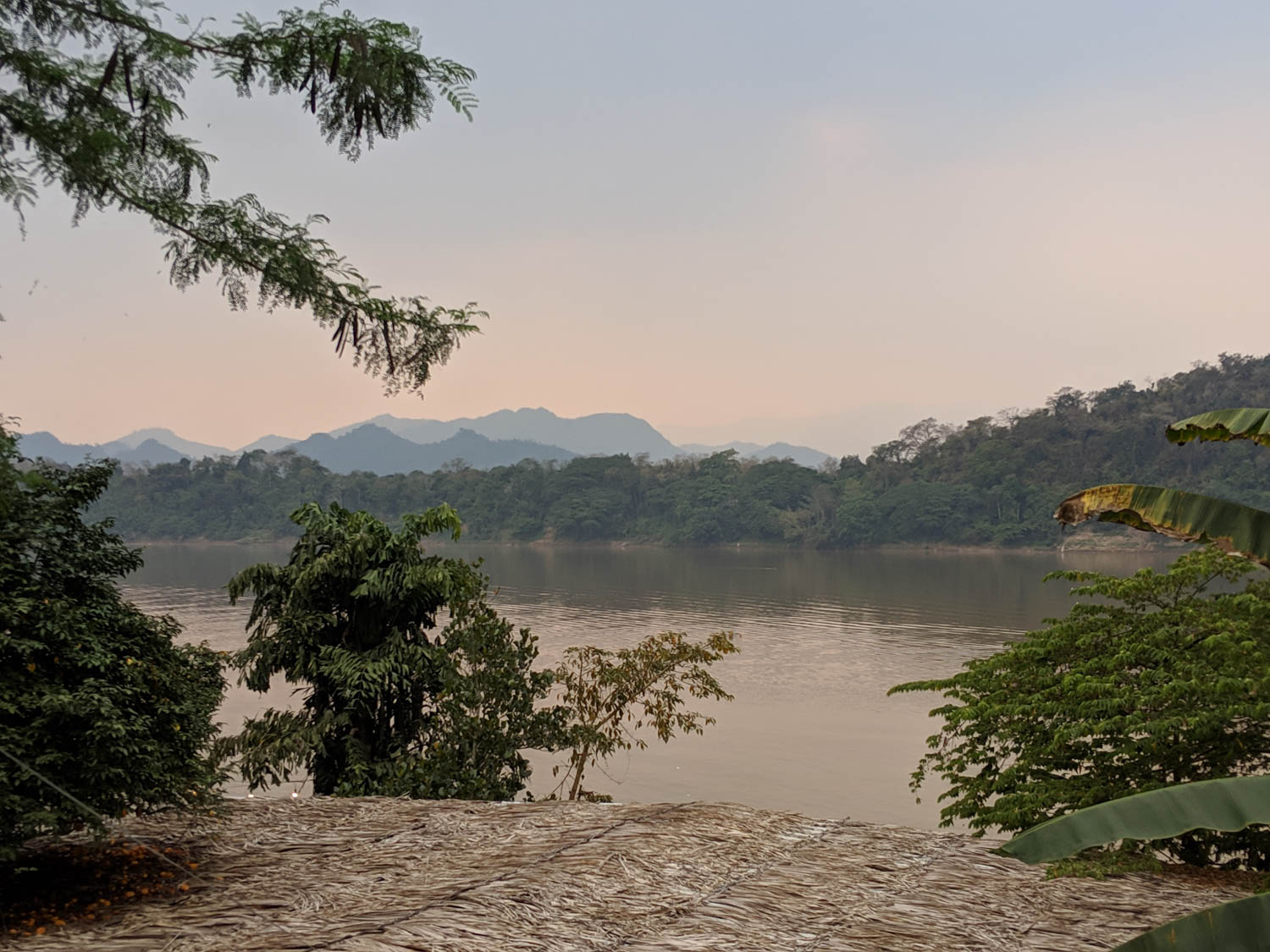 Particularly when you get out of town and into the more rural villages, the uniqueness of Laos and the warmness of the people becomes apparent. It's a beautiful place, with wonderful people.
But there are some major issues with the tourism industry in Luang Prabang. As my dear friend Stefan summarized quite perfectly:
Luang Prabang has become a tourism focal point well beyond the capacity of the town's natural footprint.
So I think it's irresponsible to be all "Woo! Visit Laos! Wear your perfectly-crumpled linen and straw fedoras while sipping cocktails on a terrace overlooking a town that invokes images of yesteryear!" without also addressing some of the challenges the town is having.
I don't say this to discourage anyone from visiting Laos, or from enjoying the relaxed pace of Luang Prabang. It's just that while I always try to be thoughtful in my travels, the time we spent in Luang Prabang shone a spotlight on why these efforts matter, and the consequences of unchecked tourism.
Irresponsible tourism is harming the religious traditions of Luang Prabang
Our first morning (and against the recommendation of the hosts at our hotel, who warned us it was "no longer nice") we took a pre-dawn bicycle ride to the center of town, to catch a glimpse of the centuries-old alms giving processional.
Recognizing that our interest in seeing this aspect of the culture in action potentially made us part of the problem, we researched and discussed ahead of time how to observe from a distance in a polite, respectful, and silent way.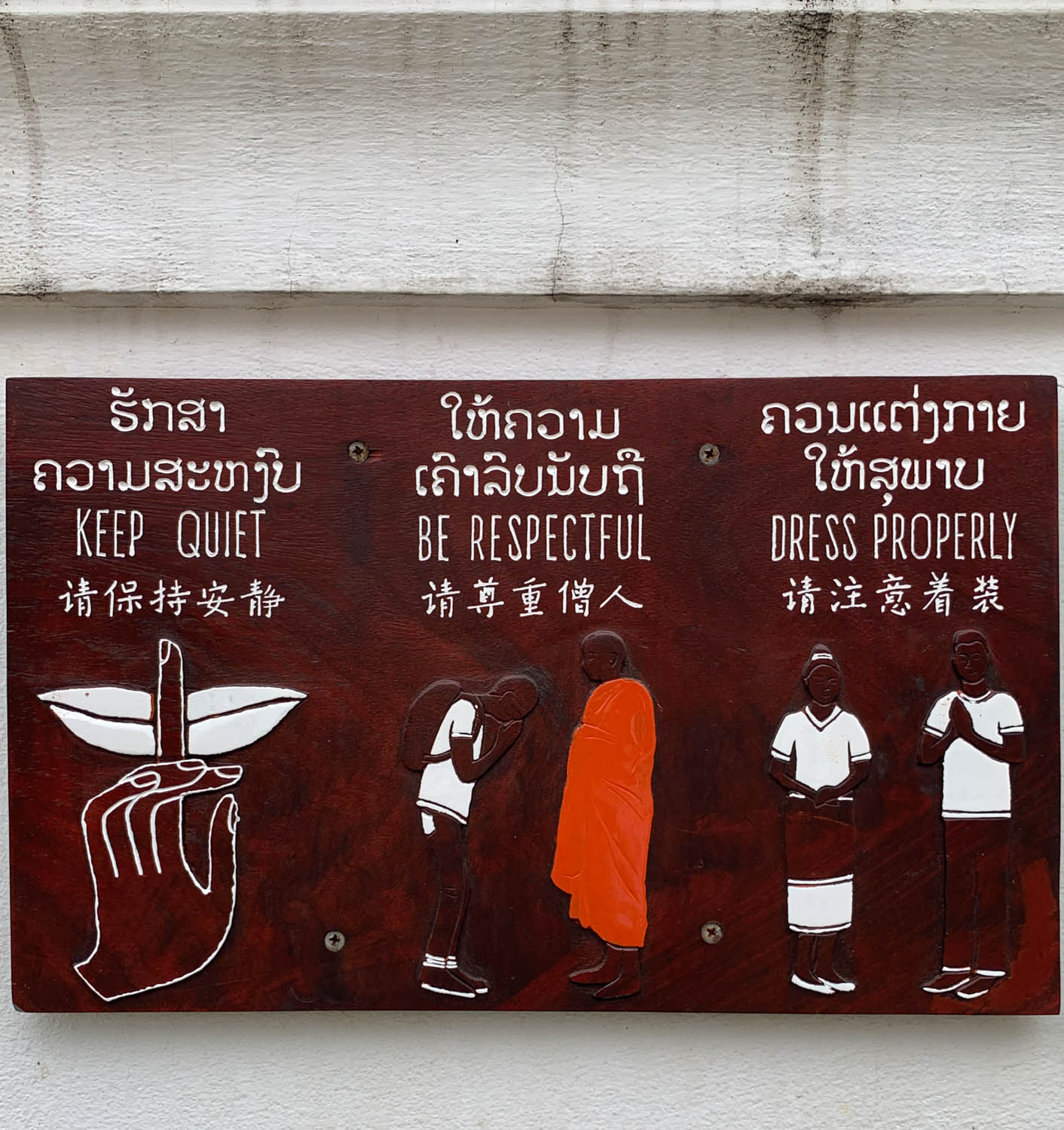 Other people did not make the same efforts, to put it mildly.
We arrived to find the main streets of Luang Prabang lined with plastic chairs, and touts hawking prayer-shawl rentals and food offerings of unknown origin, with some foreign tour guides having gone so far as to set up stand lights so their patrons' selfies would have better lighting.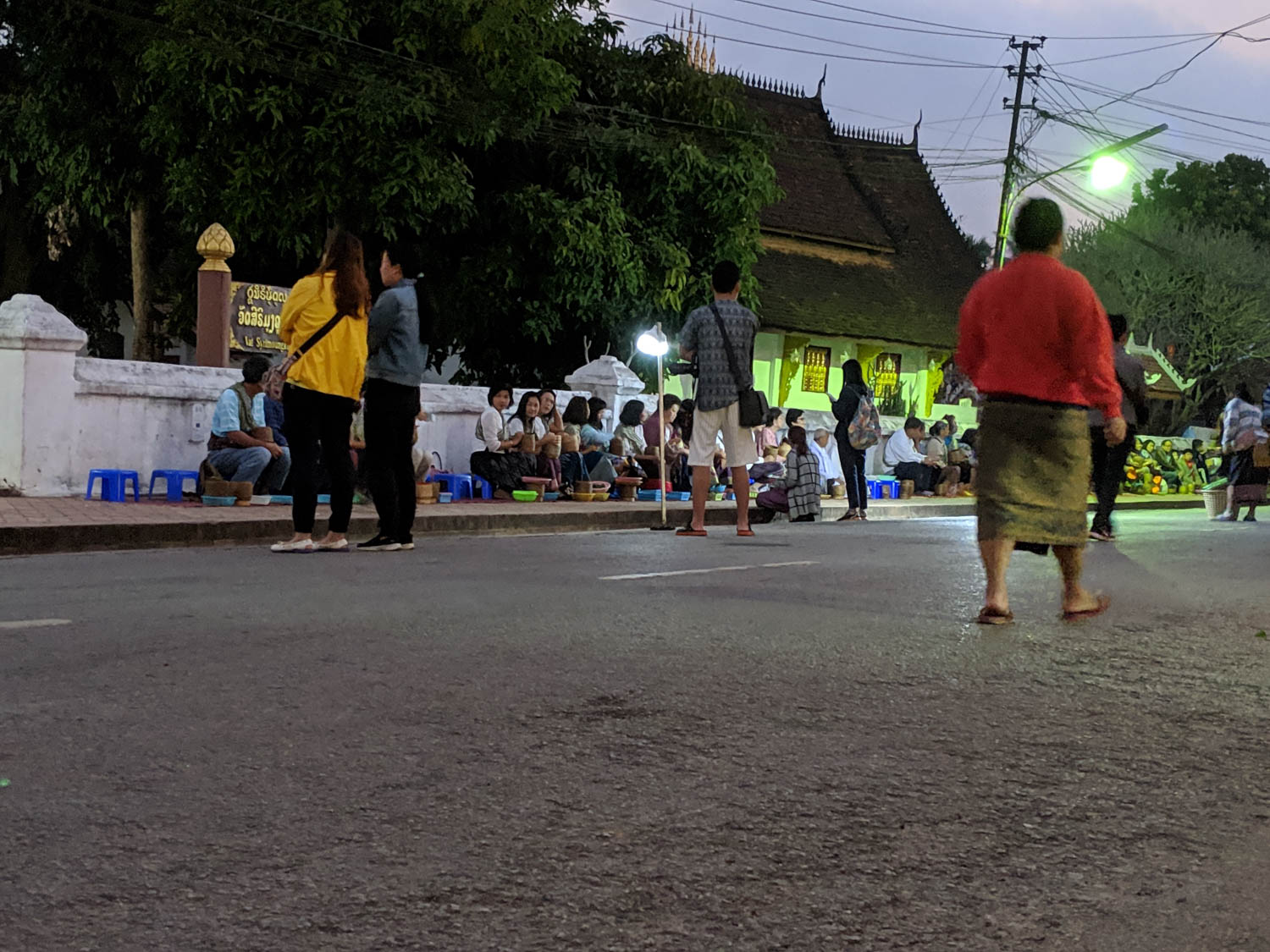 It was revolting.
Laos has had a difficult history. There's incredible poverty masked by the neatly white-washed buildings of central Luang Prabang. Tourism dollars have a huge impact on the economy, and are needed to improve living standards and educational opportunities.
But the influx of tourists comes at a cost, and in the rush to capitalize on the prosaic tranquility of the town, the social fabric has, perhaps, been damaged. As one local woman we were chatting with bemoaned:
I take food to the temple now. The offerings are part of who we are, but my home is not a zoo.
And based on the sickening displays of selfishness we saw from tour guides, and the corresponding slumped shoulders and thinly-veiled frustration of the monks and novices, I can see why fewer and fewer residents are participating in these ancient traditions.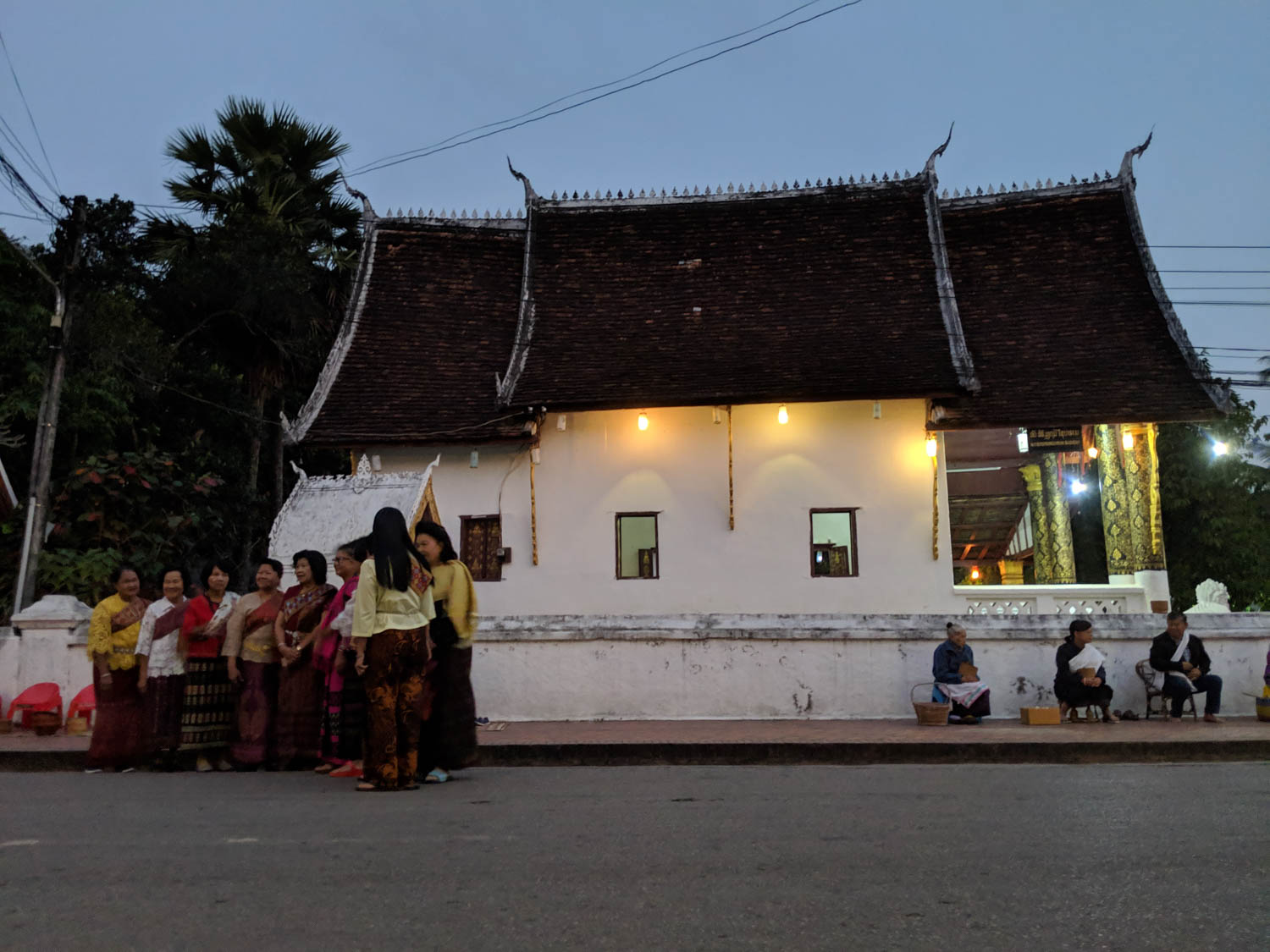 On a positive note, it seems that many other people and organizations recognize the societal challenges that come with rapidly-growing tourism, and efforts are being made to better protect the cultural heritage, educate tourists, and create a more sustainable situation for Luang Prabang.
So in that vein, and if you have similar priorities when you travel, here are some of the more potentially sustainable experiences we enjoyed in Luang Prabang.
I'm not saying these are necessarily the best things to do in Luang Prabang, or that there aren't other activities that might be more meaningful, or just more enjoyable. But in-between sampling some of the excellent restaurants in town, here are some things that at least made us feel like the dollars we spent were helping, rather than hurting.
1) Visit a monastery with Orange Robe Tours
We didn't find this group until our last day, but I'd highly recommend a tour here for your first day in Luang Prabang. Really, if the government of Laos were smart, they'd partner with this group to create some (possibly mandatory?) educational materials for people wanting to visit the town.
Orange Robe Tours is a project dedicated to preserving Lao Buddhist culture and supporting former Novices and Monks transition from the temple. Unlike monks in some Western traditions, entering the monastery is something that most Lao Buddhist men do "for a time" — possibly for a short interval during school holidays, or just before they're married — but even boys who join as novices while children aren't necessarily making a lifetime commitment.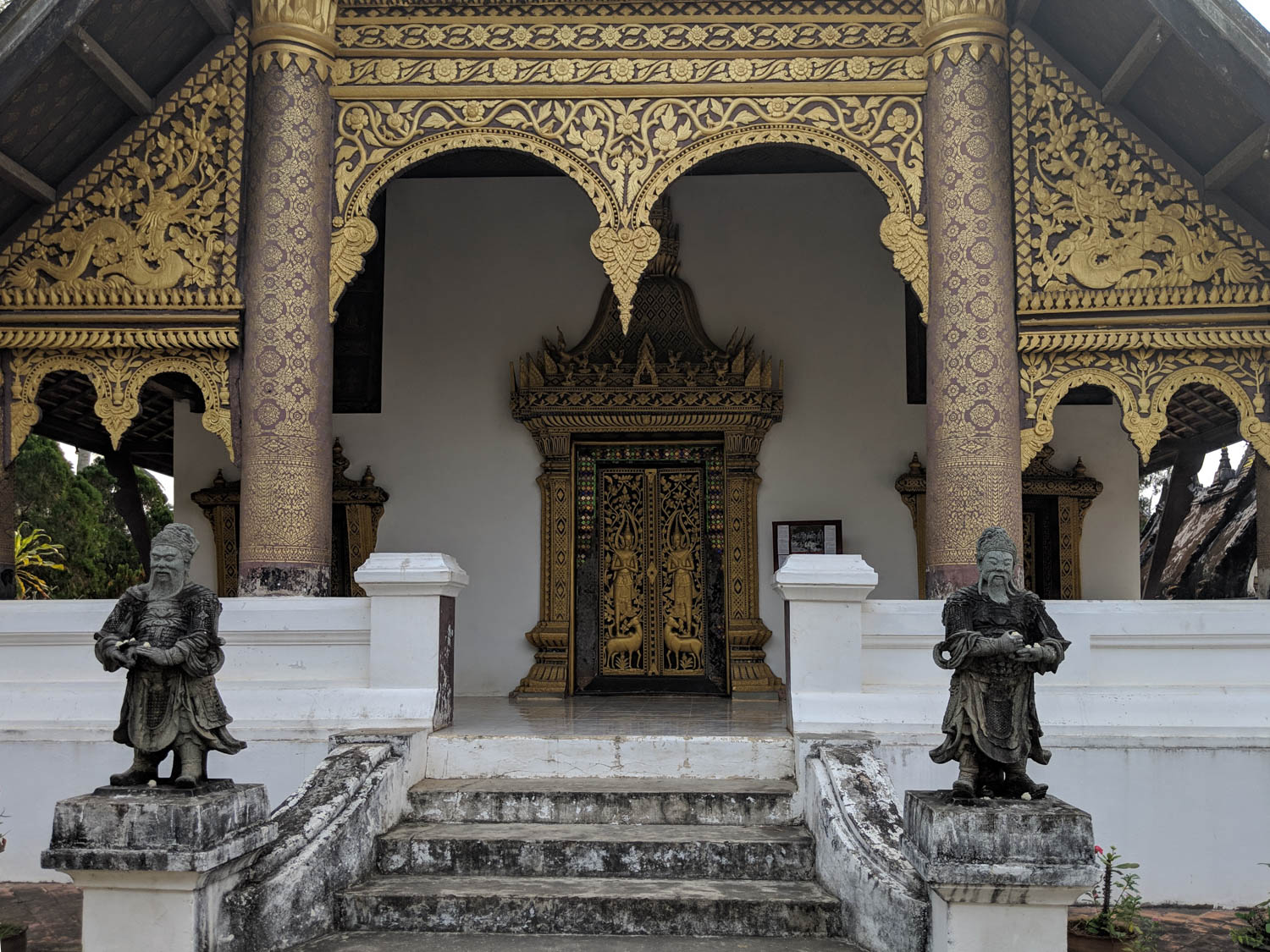 So there's a large contingent of young men who are leaving the temple environment at 17 or 18, and are over-educated but under-trained for returning to village life. They generally have learned multiple languages, and could be critical helpers in improving the economic and education situation in Laos, but there isn't really a support infrastructure there yet.
The idea behind Orange Robe Tours is that these young men who have recently left the temple are some of the best-equipped people in Laos to explain the traditions and values of the culture to visitors. So they offer tours each day to a local temple, dedicating time to learning about the monastery lifestyle, sharing their views on Buddhism, discussing how to visit and participate respectfully, and even guiding tourists through some meditation and mindfulness practices.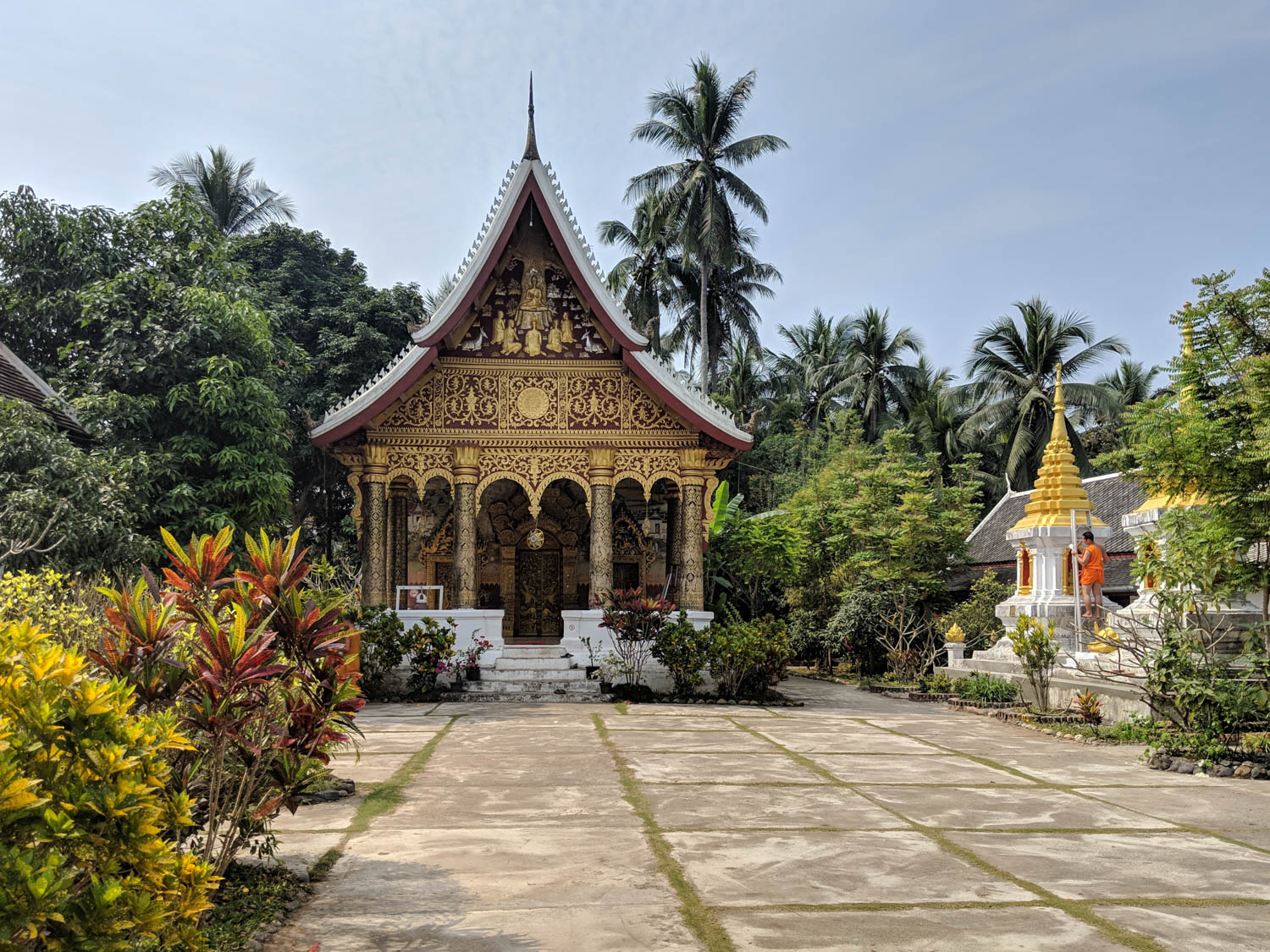 The guides are paid for giving the tours, the local temples receive a donation for hosting, and tourists get some meaningful insights that can influence the rest of their time in Laos. It's an enterprise where everyone benefits.
If you go (and I suggest you do), make time for the combination tour, which has both the cultural visit, and the guided meditation. This was a lovely experience, and created a human connection to the history of Luang Prabang that helped cut through the sterility of the tourist-focused main drag.
2) Hear Lao fables at Garavek
I will admit that I am a sucker for origin stories and mythology in general (I tend to feel that one of the best ways to understand a place is through the art and stories that evolve along with a culture), but even if you're not a huge fan of that sort of thing, I think you'll enjoy this.
Besides, it's ~$5 and 45 minutes.
Folktales and legends of Luang Prabang are told every night (in English) by a local storyteller, accompanied by a traditional musician. The unassuming theater only seats about 25 people, so you'll want to get there by 6PM to buy your ticket, then go grab a drink or take a walk by the river and come back for the 6:30PM performance.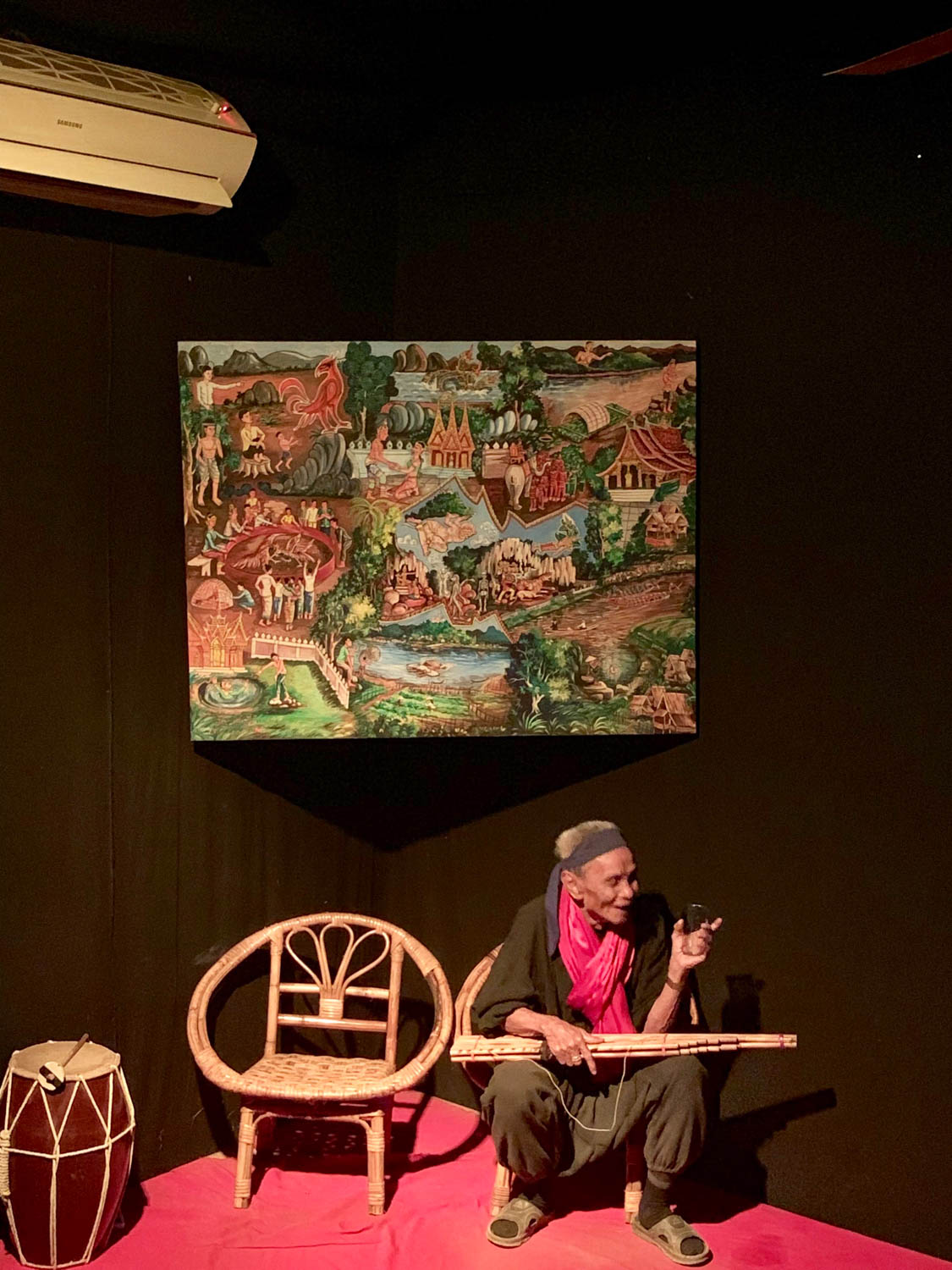 It goes without saying that this isn't a high-budget production, and if that's what you're expecting…well, you'll have a bad time. Instead it's a rather intimate and home-grown sharing of some local stories — the storyteller doesn't have perfectly unaccented English, and the bamboo mouth organ is homemade, and not perfectly tuned.
But that's what made it such an authentic and enjoyable experience, and attending a performance is a lovely way to help support some of these traditions.
3) Explore the natural landscapes of Laos
Helping to make maintaining natural areas an economically viable option is another one of those situations that can be a win-win (though there is of course a risk of over-tourism here as well), and you don't have to be a serious trekker to enjoy hiking in the forests around Luang Prabang.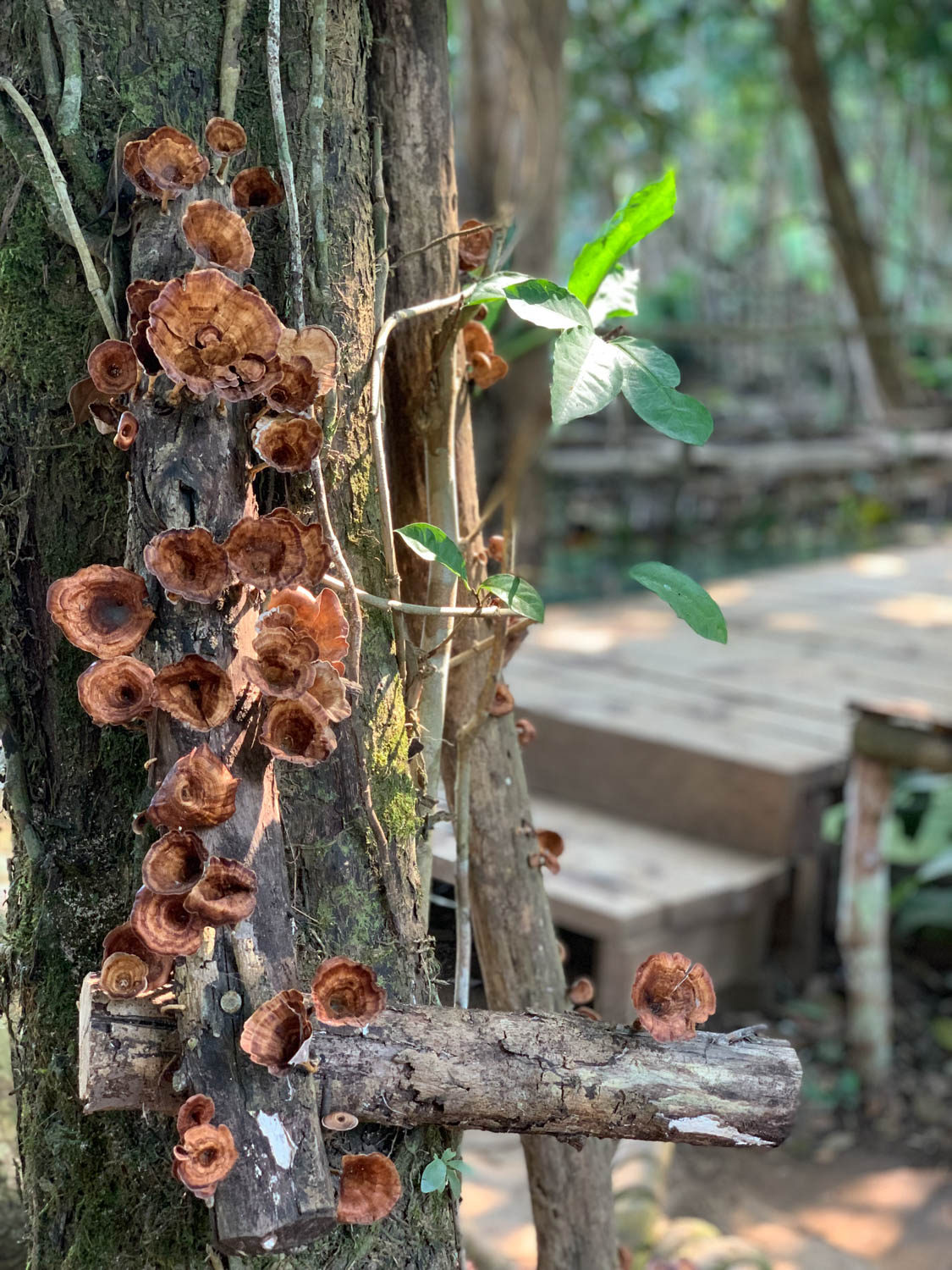 The Kuang Si waterfalls, for example, are only about 30 minutes outside of town by tuk-tuk. Admission to the park is 20,000 kip (~$2.30 USD), and the whole place seemed well cared-for.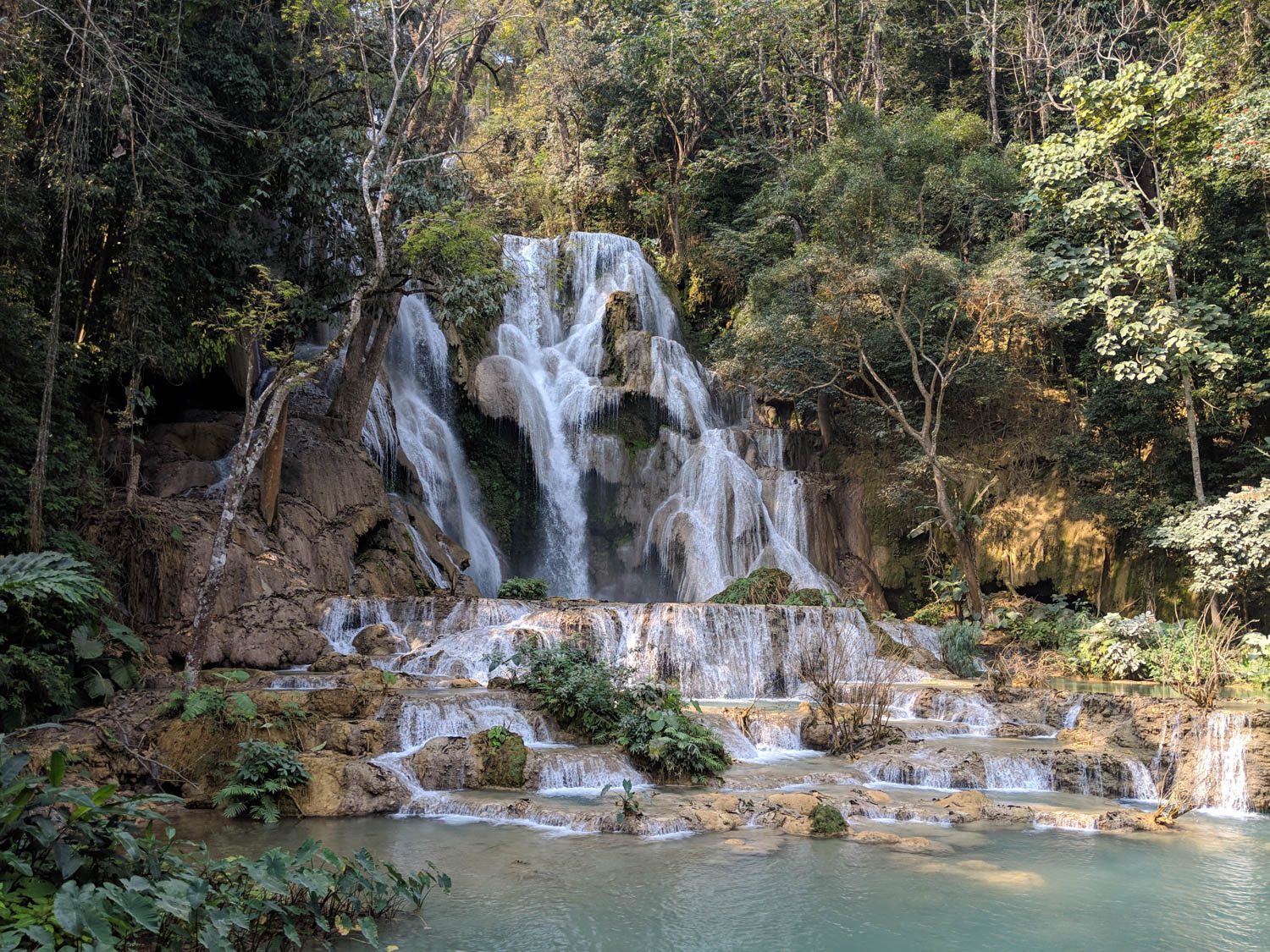 We spent a lovely morning here, and it was one of the highlights of our trip.
Tips for visiting Kuang Si falls
To start, I'd think about if you're wanting to hike (like we did) or swim (which only my mom was brave enough to do, because the water was roughly four degrees below frigid), or are there for photography purposes.
Hikers and nature photographers may want to arrive earlier in the day, before the crowds drop in for waterfall selfies, while swimmers may want to wait until the mid-day sun has warmed the pools a bit.
Here's a map to help: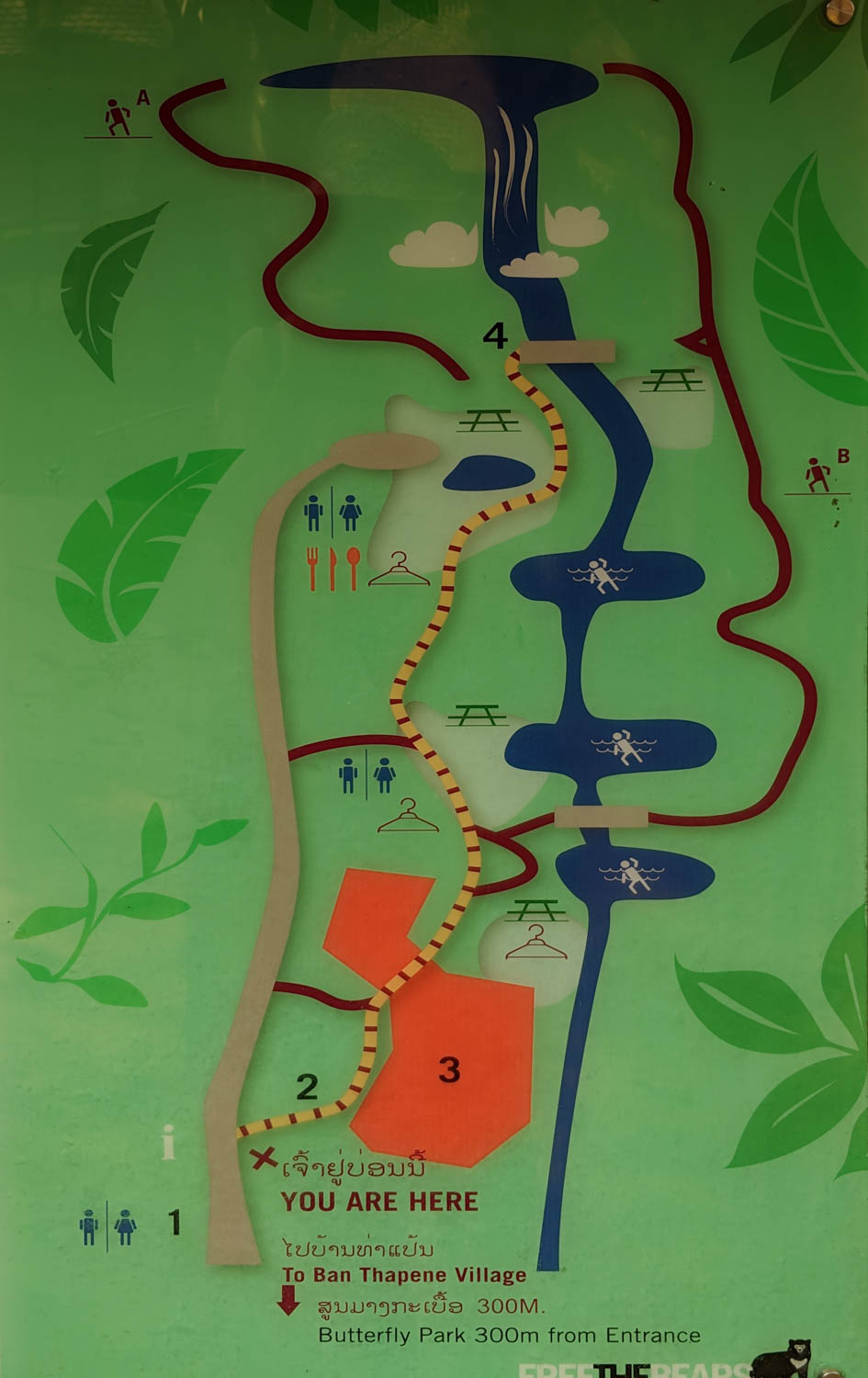 The grey box labeled with a "4" on the map is the main bridge across the front of the waterfall. This will get very busy as the day progresses, so if you want to just get there as quickly as possible, you can walk up the service road, which is the broad grey path on the map.
If you want to take a short (but somewhat technically challenging) hike, the red pathway labeled "A" to the left of the main waterfall will take you up to the source of the springs.
It's a beautiful trek, but it is steep, and pretty slippery. The uphill section had stone stairs cut into a smaller channel of water, as an example: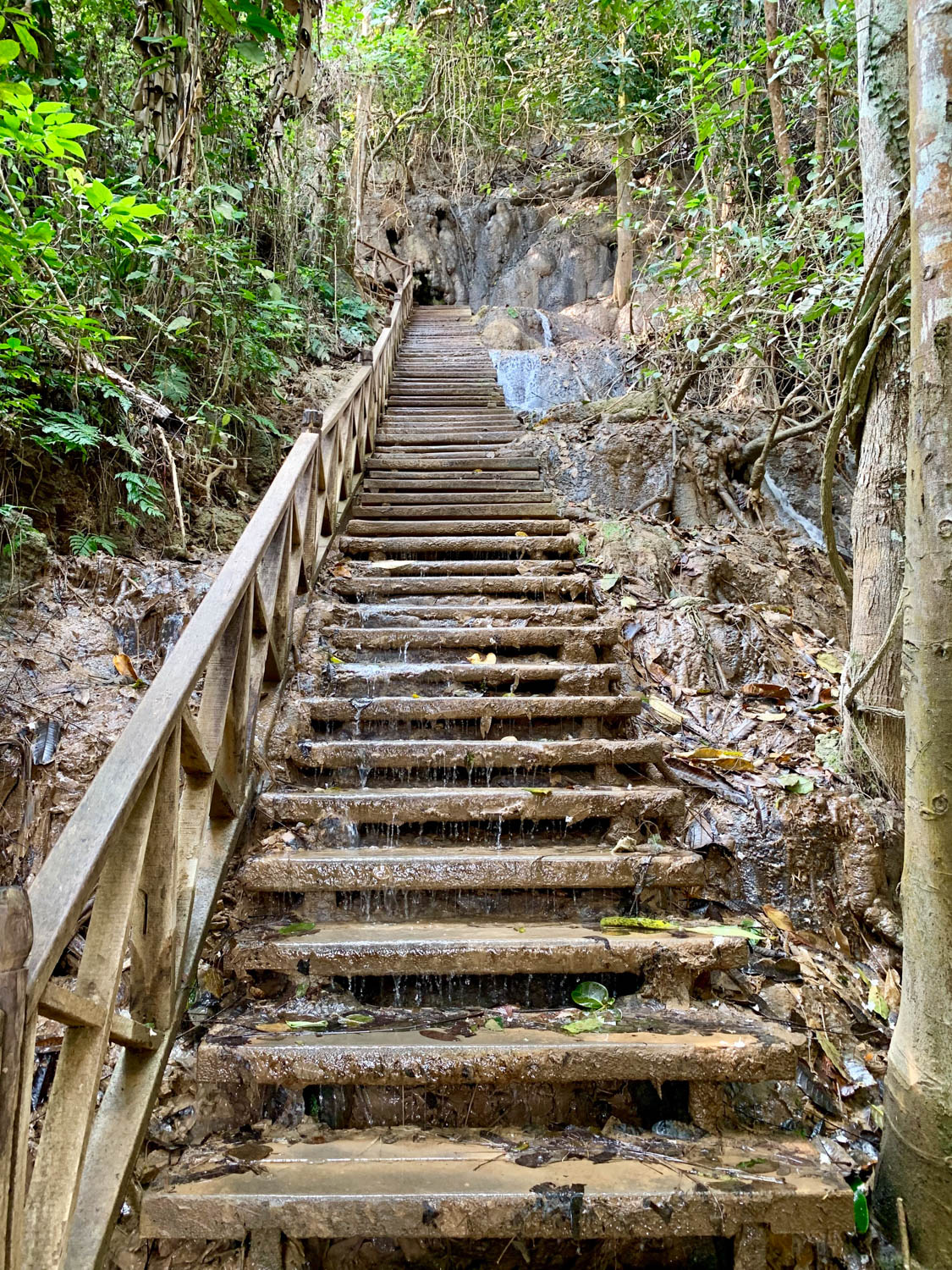 But the views were incredible, and it was neat to be able to look down over the cascading pools: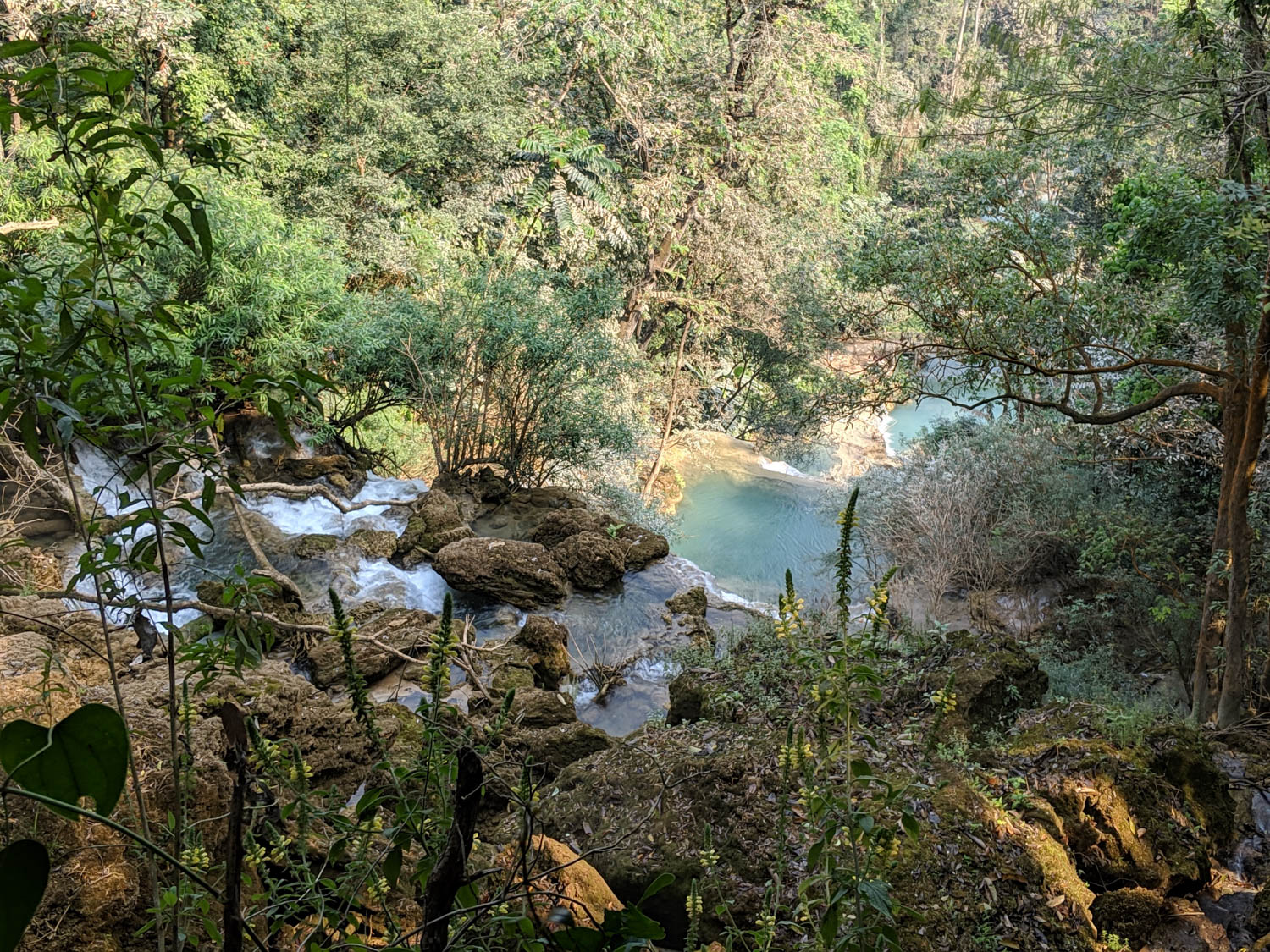 And the forested pools at the top were pretty: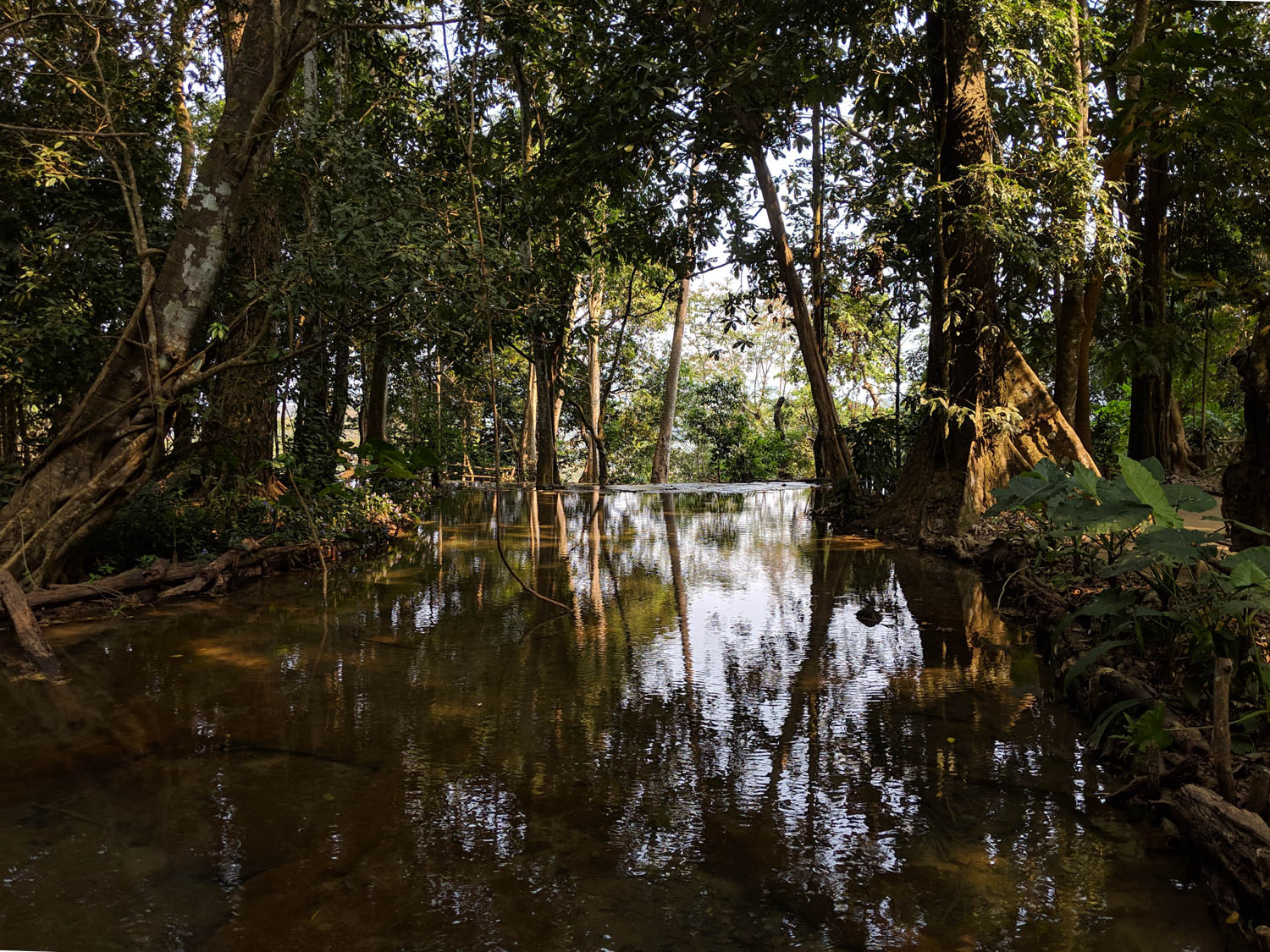 The idea is that all traffic goes clockwise, so everyone should take the path on the left of the falls to go up, and on the right of the falls to go down.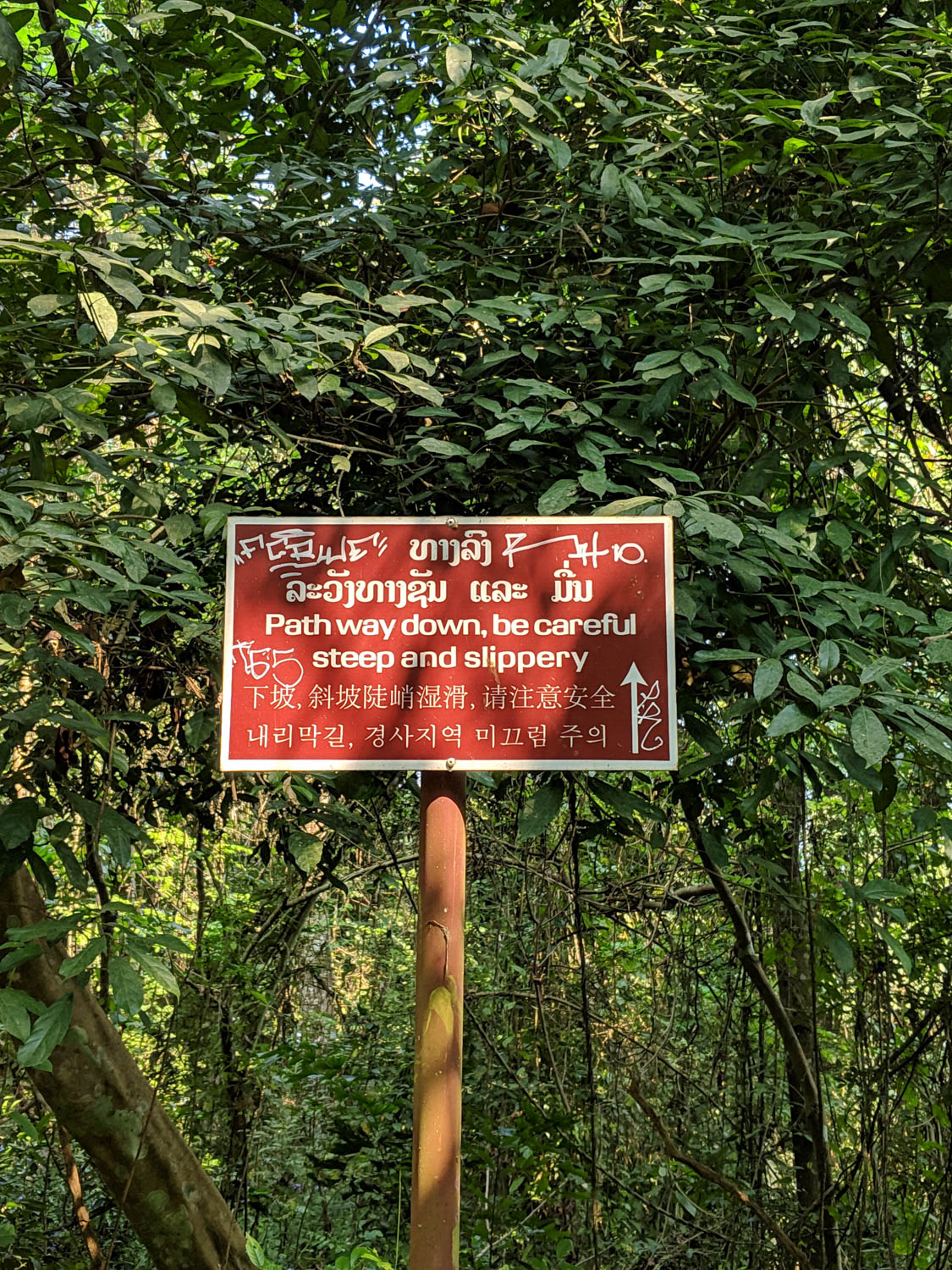 No exaggeration, this pathway is both steep and slippery, and as directional traffic isn't really enforced, it can be a little complicated in spots.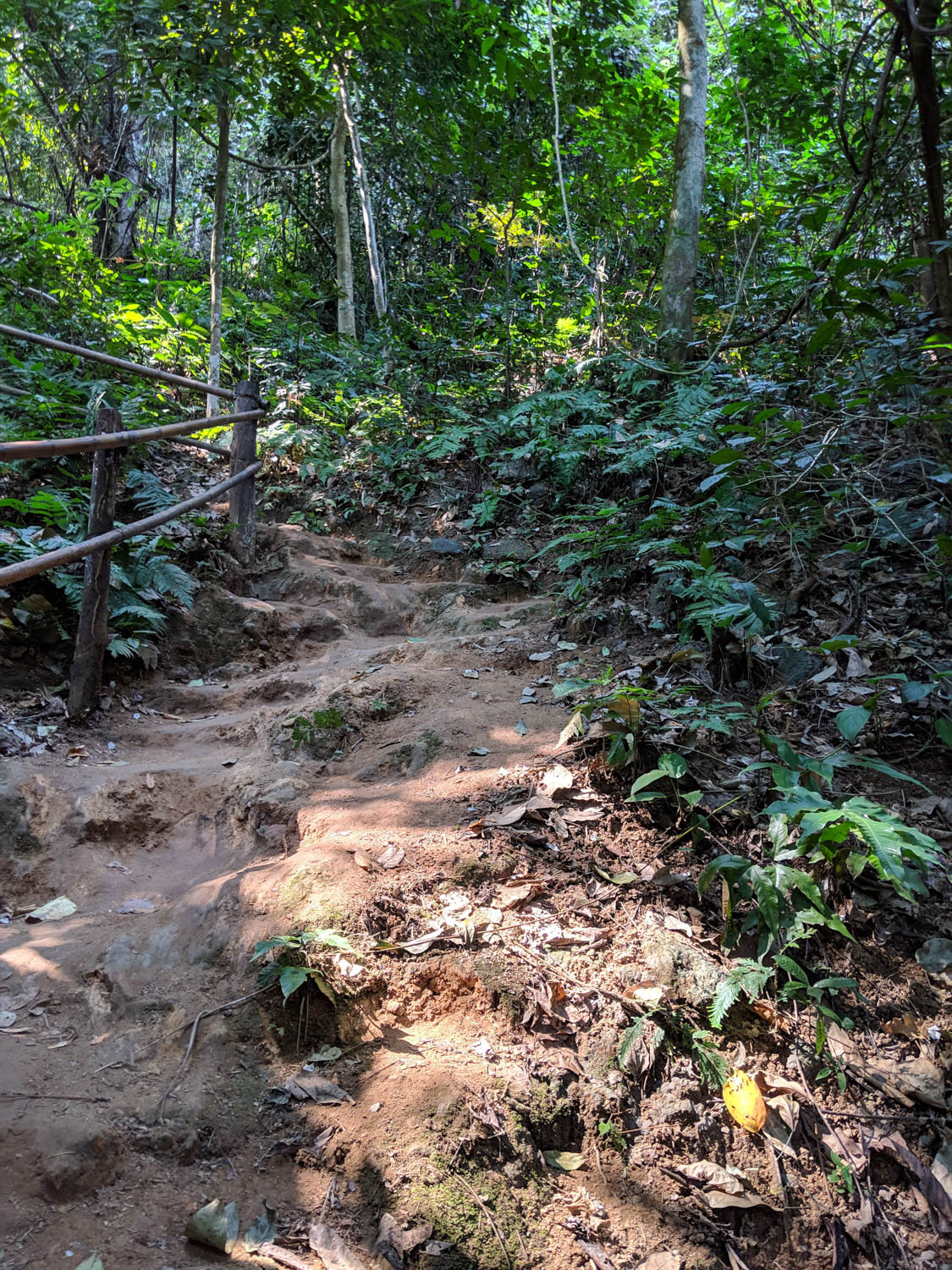 If you're visiting the falls for the views and to be outside in nature, take the striped yellow and red path. There are several signs along this route describing local trees and plants, plus you get to walk through the bear sanctuary: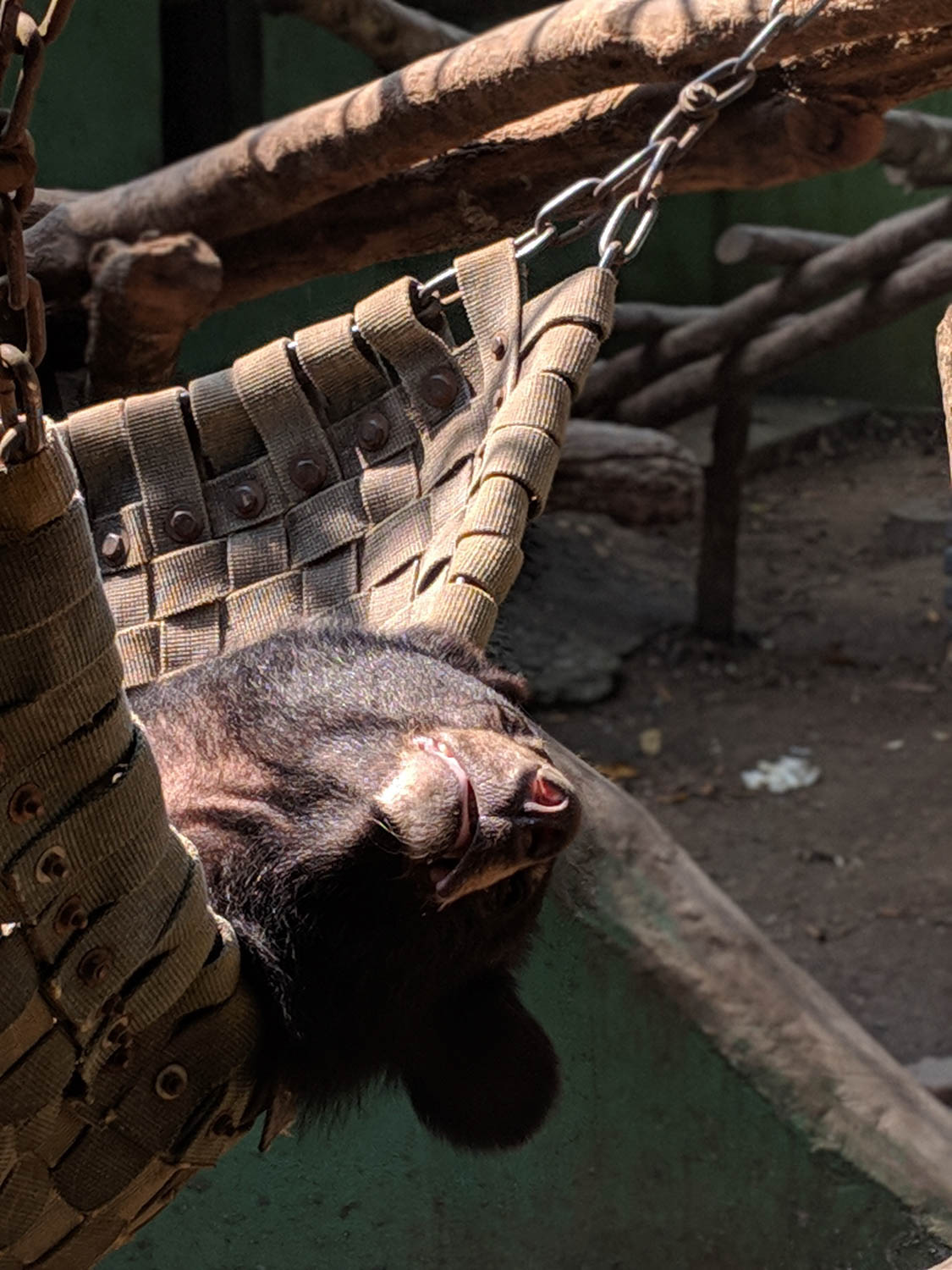 You may see more nature than you'd prefer though, so be sure to stay on the pathways: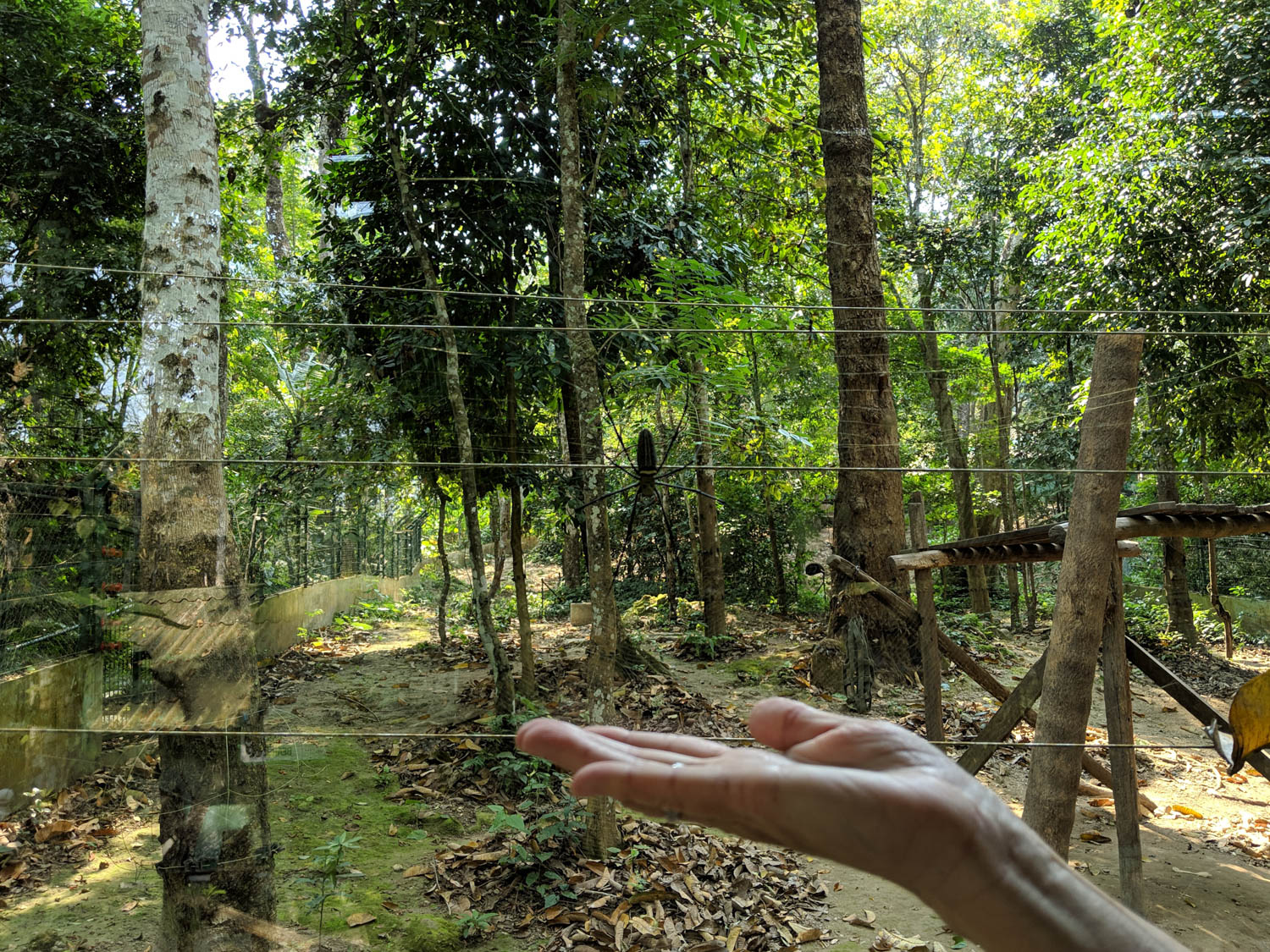 If you're mostly hoping to swim, I'd suggest cutting over to pathway "B" right after the bear sanctuary. This side of the river is less crowded, and has easier access if you want to get in the water: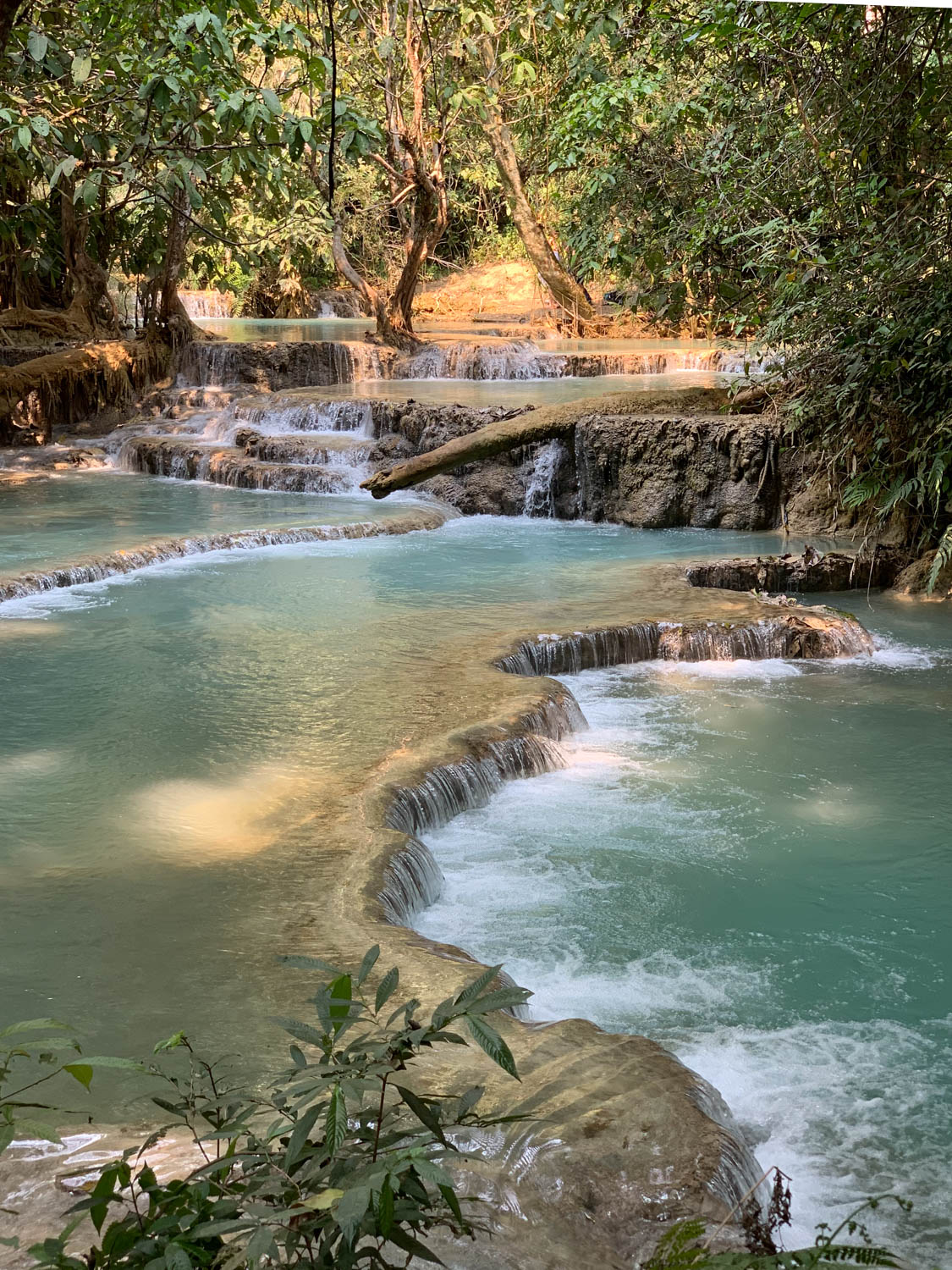 Regardless of which approach you take, I think this is an enjoyable way to spend a day or half day. And there are tons of similar places around Luang Prabang, so if this is something you enjoy, be sure to take time to seek out the less-accessible areas as well.
I know. Not everyone wants to go to a farm on vacation (if only because it can complicate your customs experience when returning home), but if you do go out to the Kuang Si falls, at least stop here for ice cream or coffee on the way back to Luang Prabang.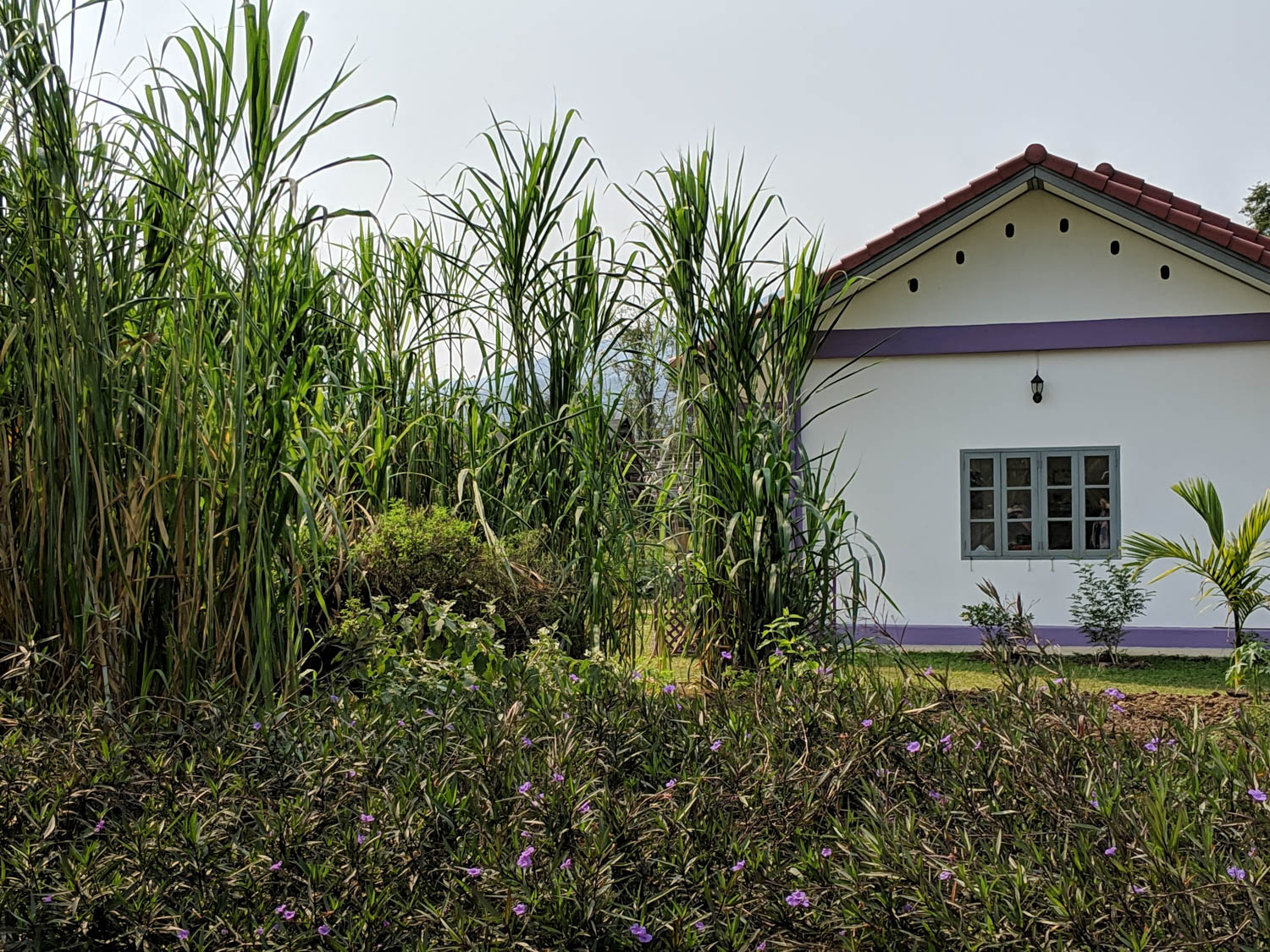 The Laos Buffalo Dairy was started by two couples, one Australian, and one American, after they fell in love with Laos on vacation and decided to take a hiatus from their jobs to spend a year or two in Laos working with locals to establish a little company to produce yogurt and cheeses that could be sold to hotels in the area. A bit of a passion project that would add value to the local economy.
They got much more than they bargained for, however. Turns out there was no dairy industry in Laos at all. The traditional animal husbandry skills that would have included milking water buffalo (and which are depicted in some of the temple mosaics dating back a thousand years), had pretty much been lost, or at least weren't being practiced.
Rather than giving up on the idea, they decided to take a step back, and create something to help revitalize the local agriculture. As the Australian co-owner exclaimed:
Welcome to what a mid-life crisis looks like! Some people buy a sports car, I somehow managed to quit my job, sell my house, and move my entire family to Laos.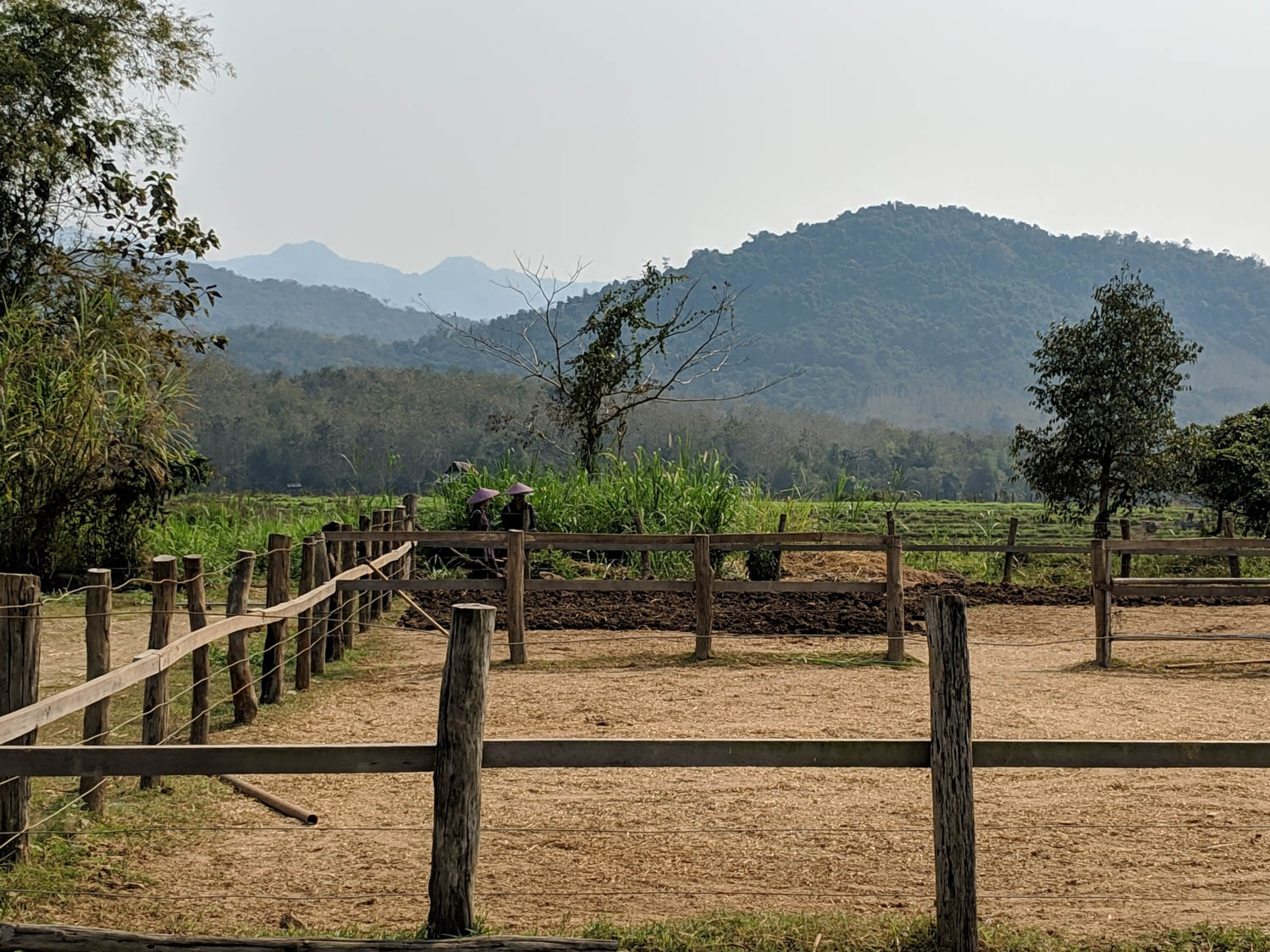 So the Laos Buffalo Dairy rents pregnant water buffalo from local farmers. They ensure the cows are getting proper prenatal nutrition and medical care, help with calving, then keep the cows and calves on-site for a few months to ensure the babies are healthy and vaccinated.
The extra milk collected from the cows is in fact made into ice cream and other products sold to Luang Prabang hotels, and the farmers receive a fee each month their buffalo are at the dairy.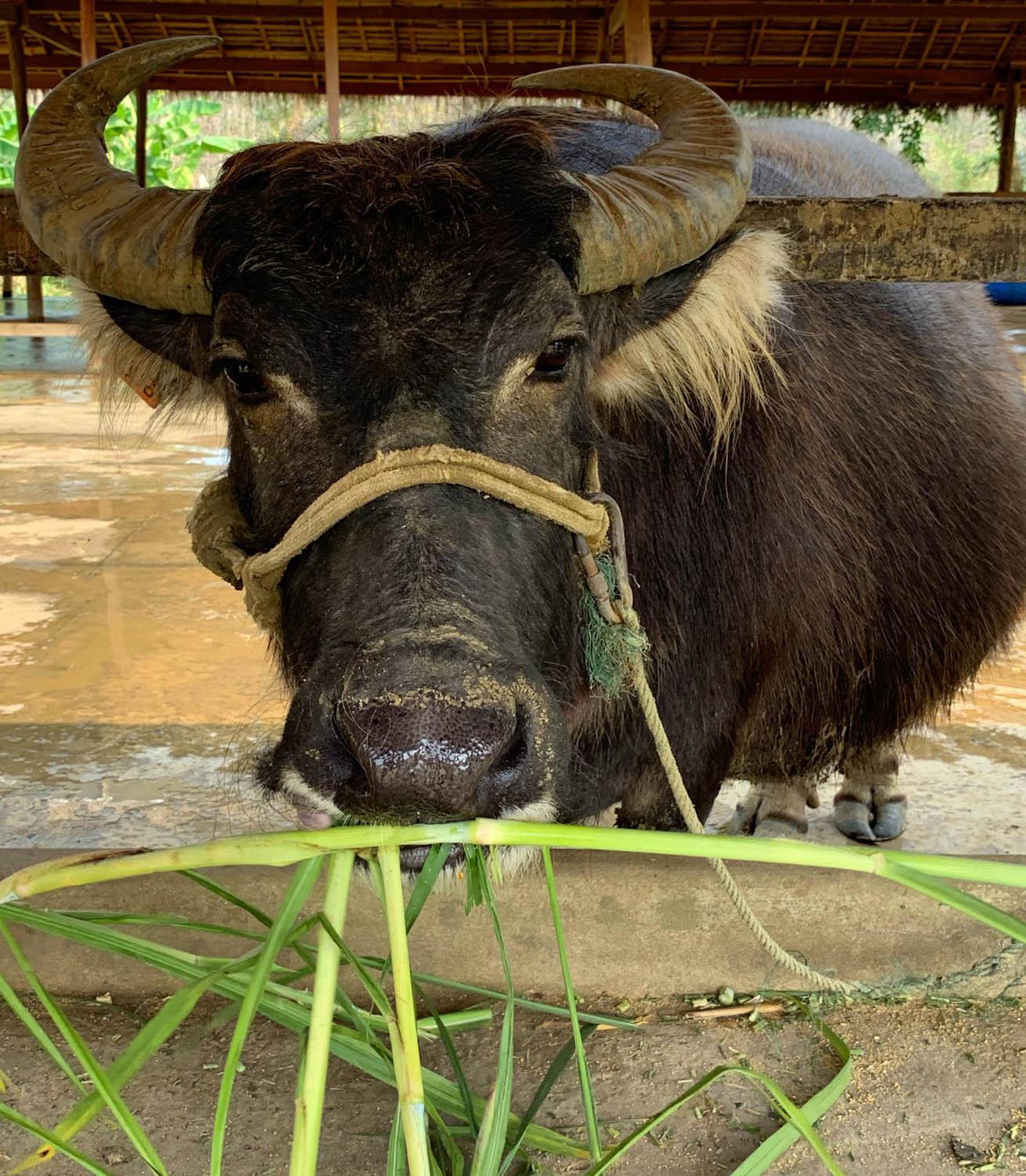 At the same time, the dairy offers classes and instruction to all the participating farmers (there are hundreds of buffalo from almost 20 different villages involved now). This goes beyond buffalo, so the dairy has chicken and rabbits and little piglets as well.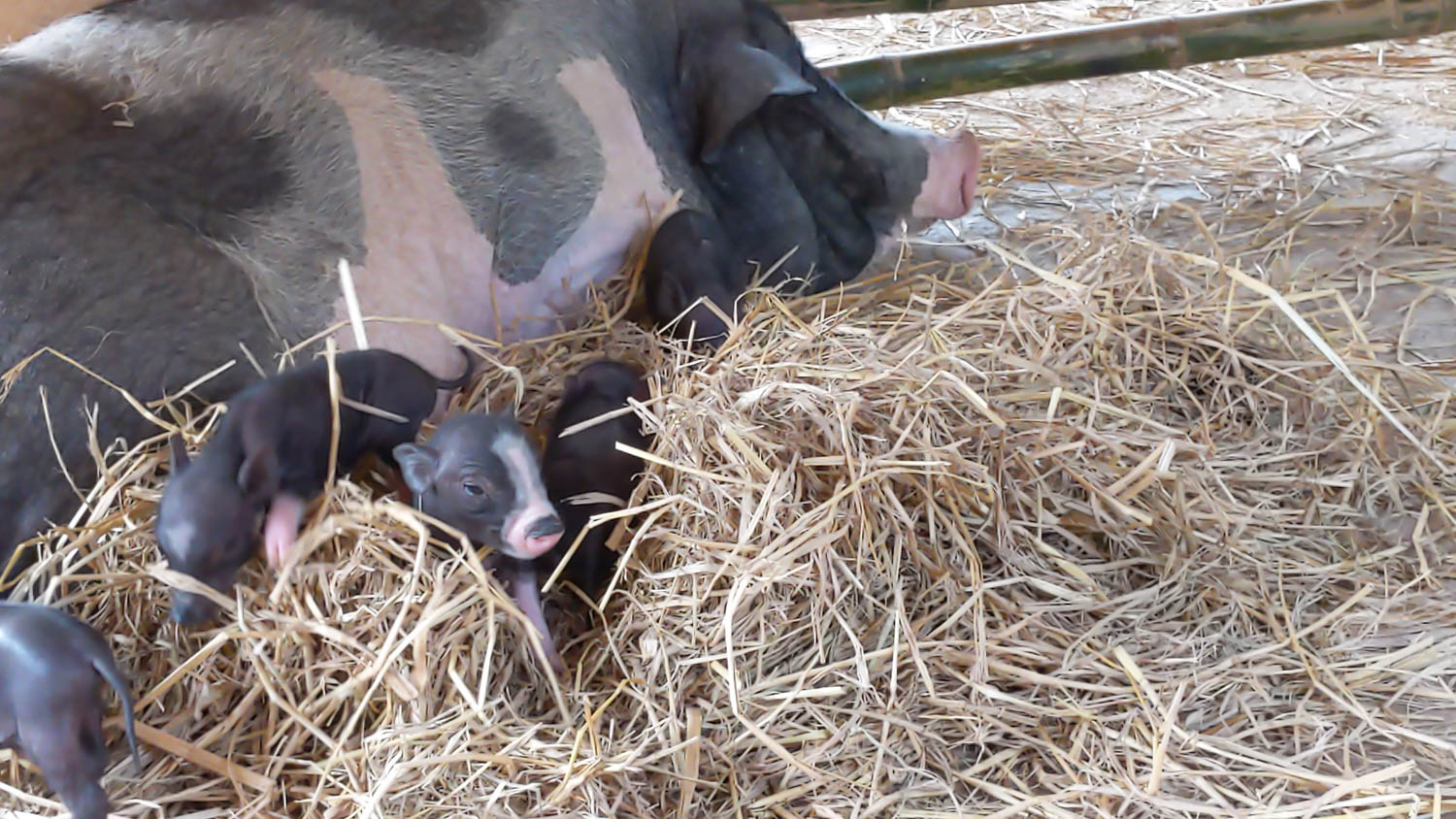 Previously up to 50% of buffalo calves born in the villages didn't make it to maturity, and while male buffalo are sold for meat, there wasn't much of a focus on the general health of the livestock (or even a reasonable way for most of these impoverished farmers to provide more than basic care for their animals).
So what would be a minuscule operation in a more developed country is having an outsized impact here.
You can purchase products made by the Laos Buffalo Dairy at several hotels in Luang Prabang, along with the Saffron coffee shop, so that's a way to lend support without trekking out to the farm.
But if you're in the area, I'd highly recommend stopping by. We thought it was tremendously educational, even on a short visit, and it gave us hope that there were some industries being created in Laos beyond just churning tourists in and out.
Plus, you can bottle feed a baby buffalo, which is just not one of those opportunities that comes along very often.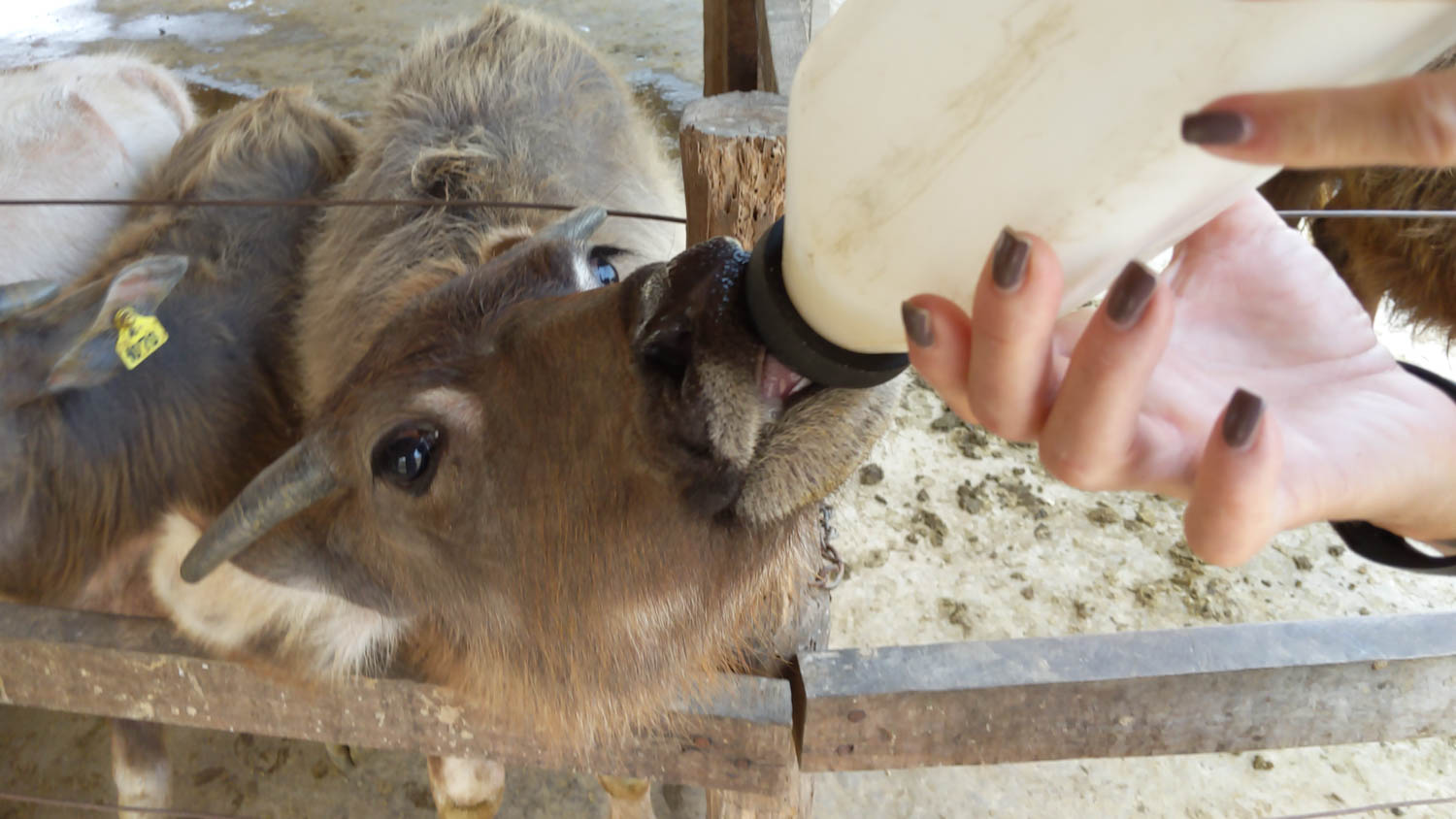 5) Do some responsibly-sourced shopping
It will come as no surprise at this point to hear that I didn't particularly love the Luang Prabang Night Market.
I mean, it was fine as far as Night Markets go, but it was crowded with tourists to the point where I felt like sushi on a conveyor belt, getting pushed past endless rows of mass-produced goods. There were certainly gems amongst the chaff, and the women running the various stalls were extremely kind and friendly, but there really weren't many unique products to be found.
As a side note, the people raving about "buffet street" and the food in the Luang Prabang Night Market are most likely the backpacker crowd. I love street food, and often prefer it to restaurant dining, but this setup violated pretty much all street food precepts (no steam, no queues, no locals), so is probably best avoided.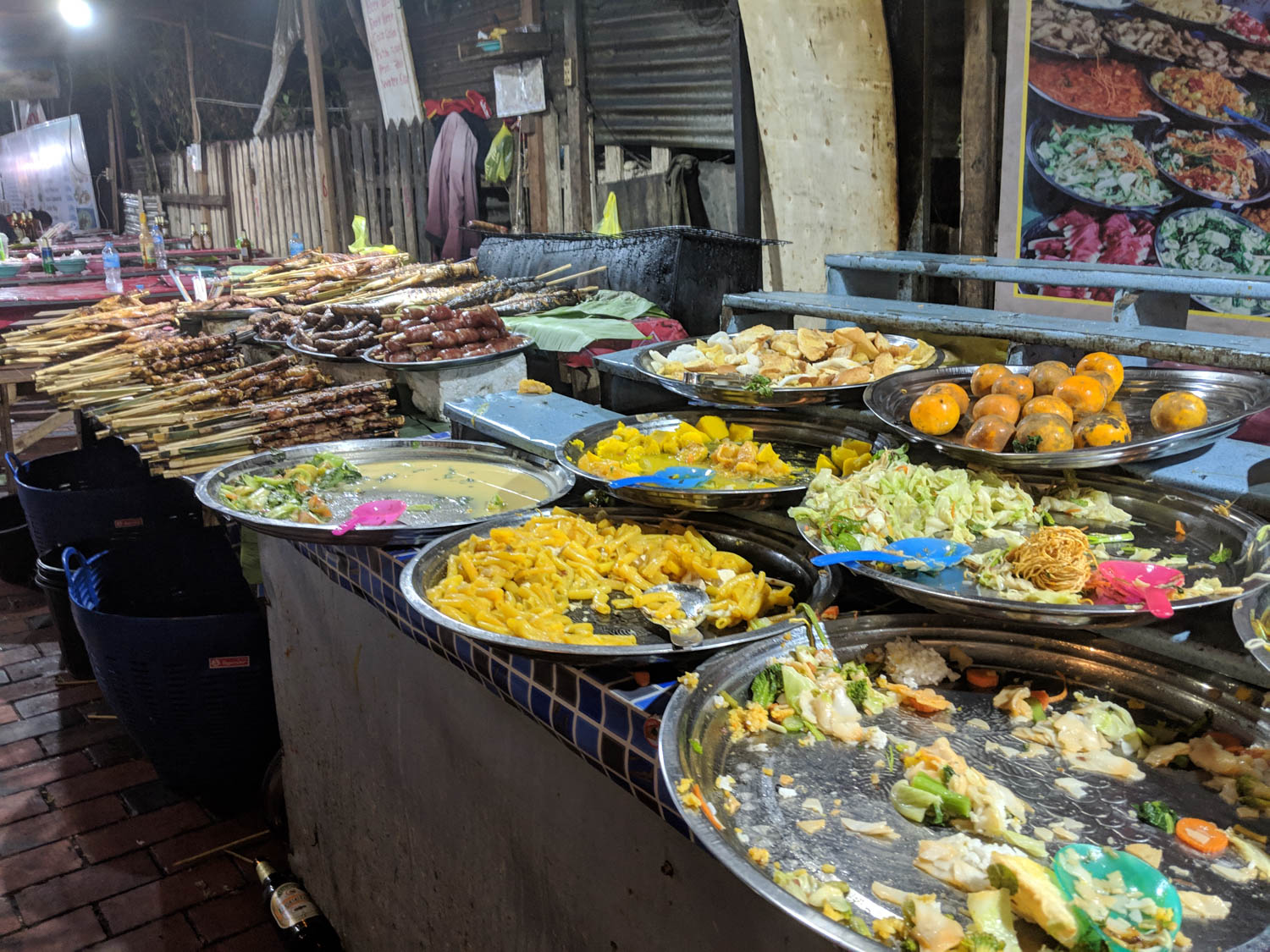 So I'd suggest enjoying one of Luang Prabang's many great restaurants instead, and doing some shopping during the day at one of the places in town committed to locally-sourced and sustainable products.
While the handicrafts aren't my personal style, for example, the Ock Pop Tok shop has a living crafts center in addition to their shops in town, and showcases a variety of materials and techniques of local Lao artisans.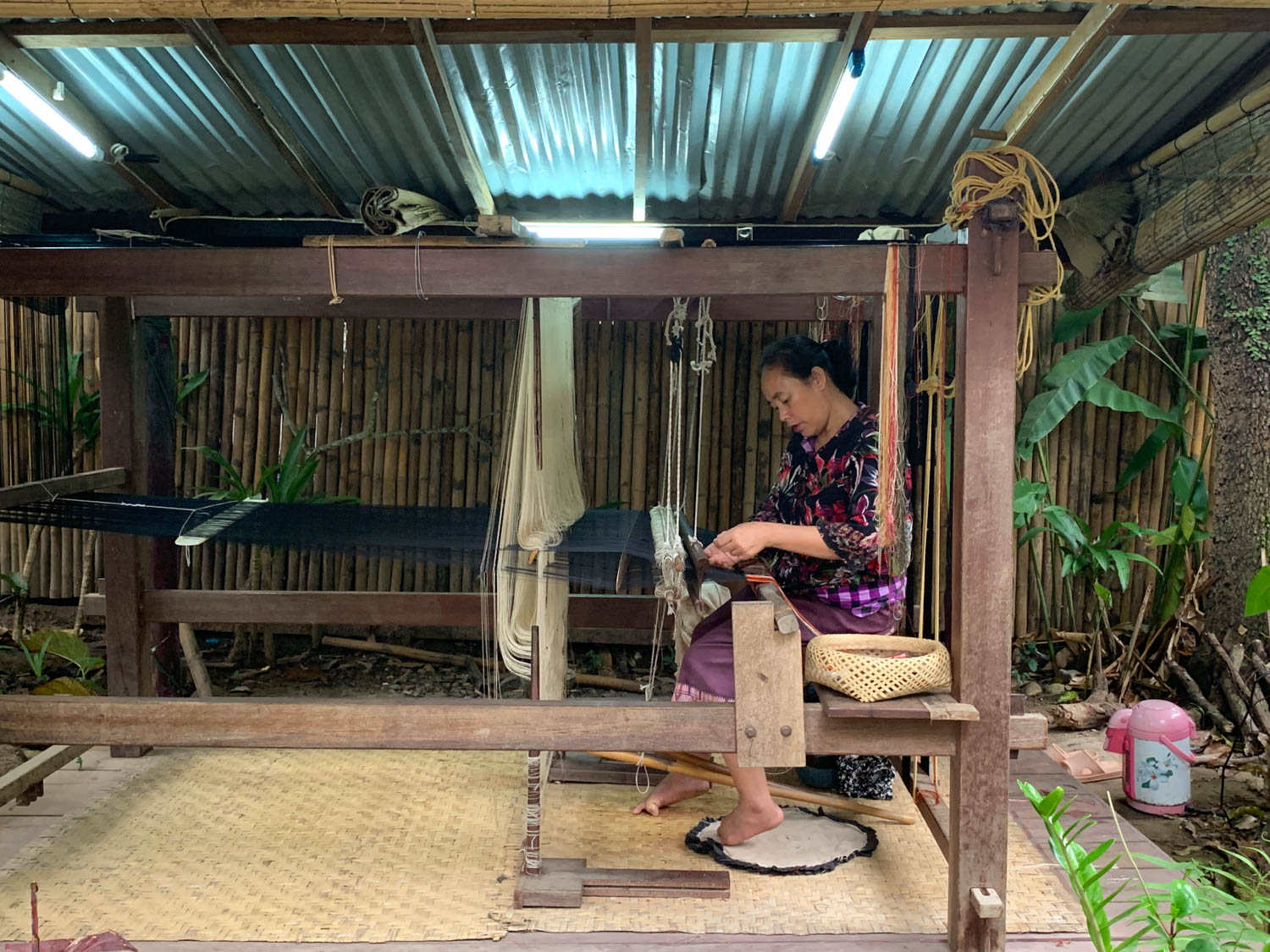 I did purchase a couple of oil paintings, done on traditional sa paper (I'd show you pictures of them, but they're off being framed). While the night market had some things done in a similar style, these were painted by the same ladies who were selling them, and I felt the artistry was a bit better. They're usually set up along the river bank, across from the Victoria Xiengthong Palace, for those interested.
6) Step into a historic home
We came across this almost by accident, as we cut through an alleyway on a walk through town.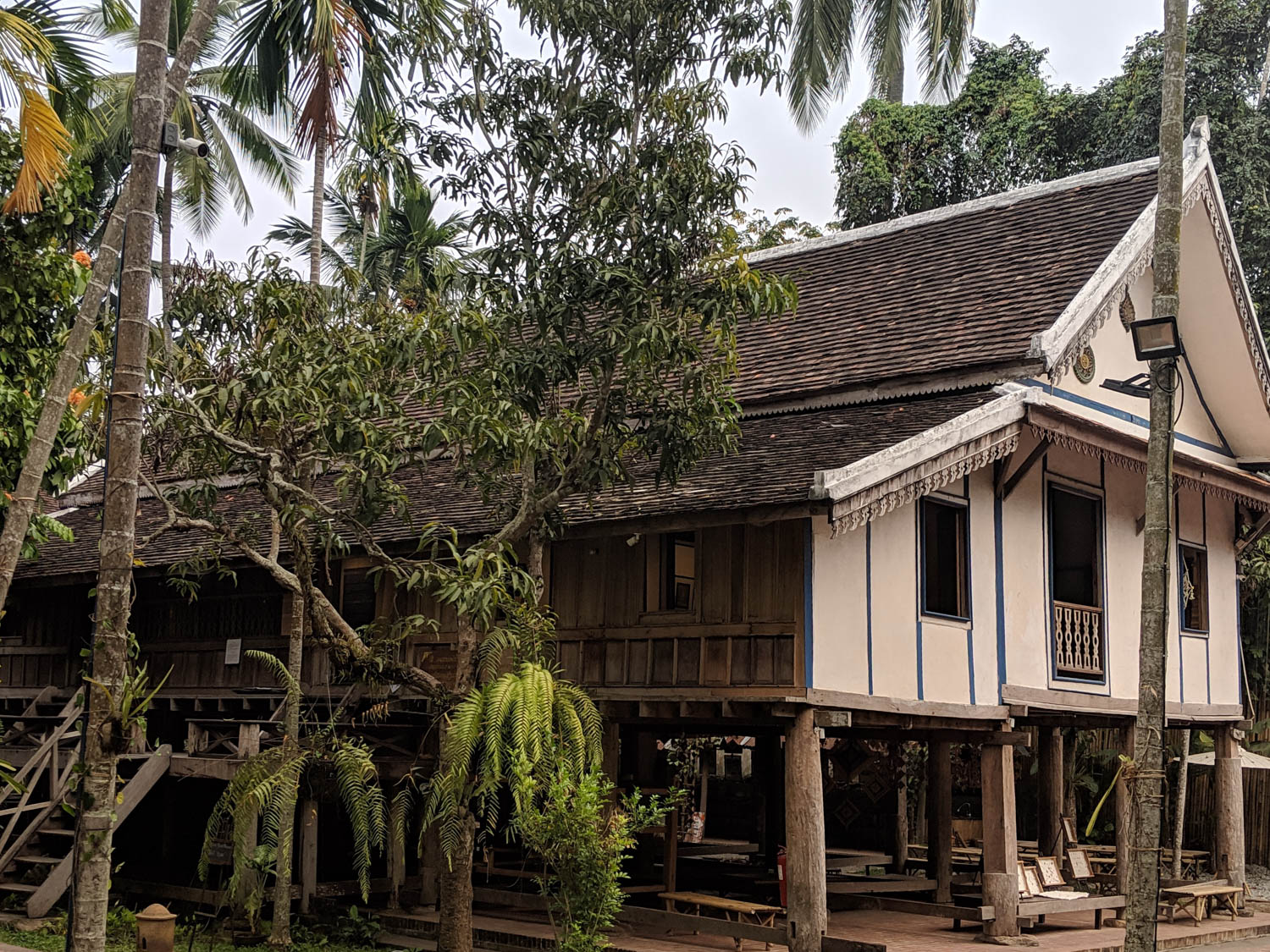 The Heuan Chan Heritage Center is an old house, converted into a museum, with the surrounding gardens used for classes, cultural activities, cooking workshops, and so forth.
You can explore the grounds for free, but there are costs for the various scheduled activities. Visiting the museum (which I'd recommend, as it provided a good, if shallow, baseline background of pre-Colonial Lao culture) is less than $2. There's a cute little coffee shop as well, so this is a nice stopping point to get out of the heat, if nothing else.
7) Cook with a local family
We didn't actually do this, which I'm kicking myself over, but Mike did this with his family, and has raved about the experience.
While there are several cooking classes and schools in Luang Prabang, Traveling Spoon is a very home-spun operation run by a former monk, his wife, and his mother our of their rural home. Literally, you're joining them in their home, using their outdoor kitchen, and interacting with their family.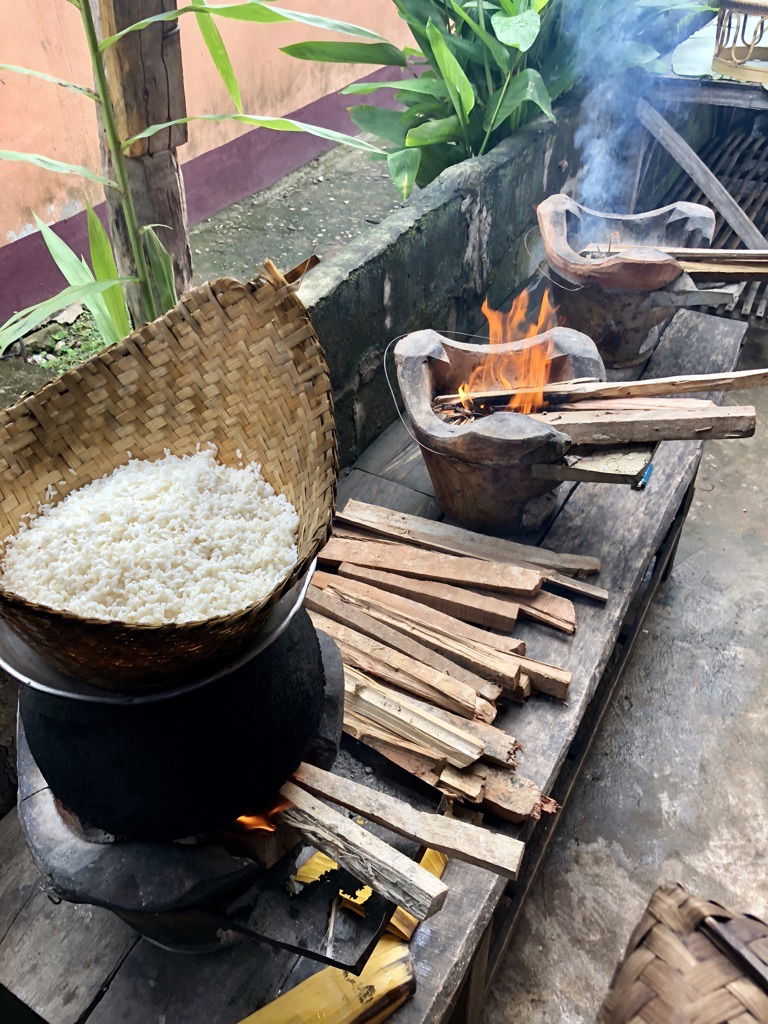 It's worth noting that while this about as intimate of an experience as you can have as a tourist to a place, it won't be for everyone. The village is extremely poor, and while Si and his family have more resources than some of their neighbors, it's a very humble home, without western plumbing, or other luxuries.
Which is part of what made it such a unique experience, and Mike's daughters are still talking about it.
Overall thoughts
Laos is incredible, and Luang Prabang is a beautiful town, that sadly seems to have more tourism than it can sustainably handle. I hope the local community decides it's worth the effort to enforce some restrictions, particularly where the dawn processional is concerned, because it's heartbreaking to see the abusive approach some people are taking.
Of course, it's a tricky balance, as doing things like charging a fee to enter the historic center or banning tour guides from setting up viewing areas on the streets could have a negative economic impact. Obviously Luang Prabang (and Laos in general) isn't the only place dealing with challenges like these, but it is inspiring to see so many groups focused on changing the course before the things that make the culture unique are lost.
In the meantime, I'd encourage anyone visiting Luang Prabang to enjoy the town, and everything it has to offer, but to also make an effort to engage in activities that support, rather than exploit, the local culture. If you can make time to escape into the countryside, where the larger tour groups rarely venture, you'll have even more opportunity to really get to know the place and the people, both of which are truly wonderful.
Have you been to Luang Prabang? What other things would you recommend?