---
We enjoyed a leisurely afternoon in Phu Quoc before heading to the airport around 4PM for our 6PM departure to Saigon, where we'd connect to Da Nang. The Phu Quoc airport is modern and efficient, and getting there 90 minutes before departure should be sufficient in most cases. The only challenge we ran into was that for whatever reason, we couldn't check in online for both segments. The contract check-in agent was confused by this as well, but just said we'd have to check-in again in Saigon.
Our flight ended up being delayed, and I was nervous about missing the check-in cutoff for the second flight, but when I explained the situation to the Vietnam Airlines gate agent, she called it in. The consensus was that the "system was down" and we'd just need to try later. They didn't seem too concerned.
Ultimately, I think it may have been related to the fact that SGN doesn't have sterile transit for domestic flights, and there being something hard-coded into the reservations system that thus separates out the flights. Once we boarded the first flight I was able to check-in for the second flight online without issue. Confusing, but not a big deal, and if it happens to you, you're not alone. Even with the delay and having to exit the airport and go back in, we had no issues making a 60-minute connection, and even ended up waiting quite a bit for boarding.
Other than that, the two economy flights were full, short, and uneventful. Vietnam Airlines brand video that they play during each flight is charming, but otherwise there isn't much to report.
We arrived at Da Nang Airport around 10:20PM. We were met by the driver our Airbnb hostess had arranged for us, and with no traffic it was a quick ~35 minute drive to central Hoi An.
We decided to stay in Hoi An rather than Da Nang primarily because of weather concerns — everyone cautioned that Da Nang wouldn't be warm enough to enjoy the beach in February, so we figured if it was going to be too cold to swim we'd prefer being in Hoi An than at a beach hotel — but also because Hoi An just looked like the kind of place our moms would adore (and they did!). I'll write more about Hoi An and the things we did in the next installment, but first let's talk about the accommodations.
While Hoi An does have some upper-end hotels, there aren't very many right in town. There's are a handful of larger hotels, including an Anantara on the outskirts, and a gorgeous-looking Four Seasons where the river empties into the sea, but the former looked uninspiring for the price they were asking over Tet (~$300/night), and while the latter looked incredible, $800+/night hotel rooms just aren't part of my life, especially when we're talking about six room nights.
So I started looking at various guest houses, ultimately settling on a two-bedroom place with a shared bath that I booked through Airbnb. We paid ~$50/night total for both rooms and breakfast for four once all was said and done. So keep that $12/person price-point in mind as we go through the review here 😉 .
NEW TO AIRBNB?
Earn A Discounted Stay or Experience
If you're new to Airbnb, you can get $40 off a home booking of $75 or more and $15 off an experience of $50 or more using our link — we get a credit as well, which we certainly appreciate.
The "Orchid House B&B" is tucked away on a side street close to the historic center, and is run by a darling family who lives in the house as well. Hoa, her husband Chau, and their son Pro were chatty and friendly, and we very much felt like we'd been welcomed into their home.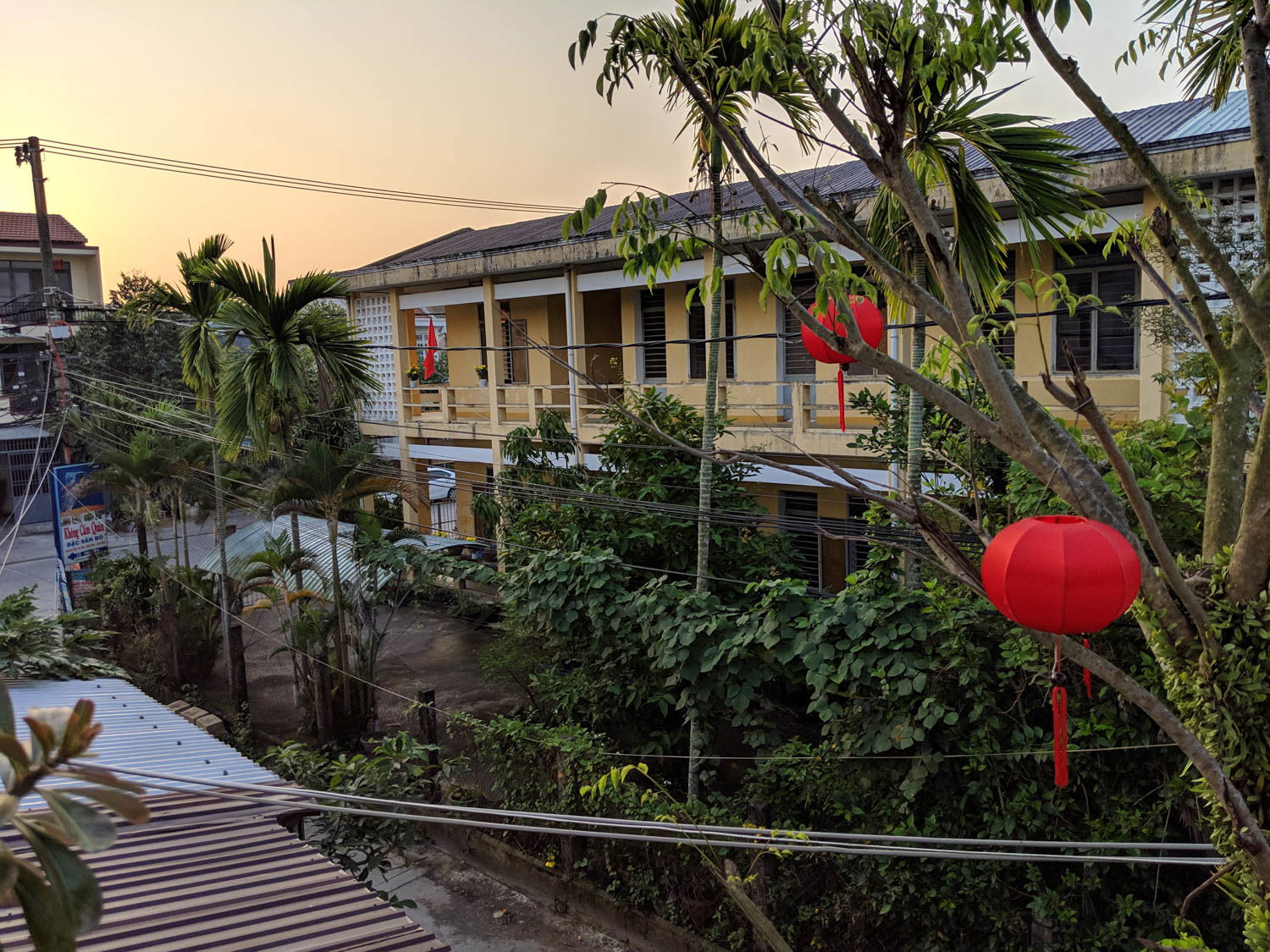 Actually, a review is probably unnecessary, because this photo of Heather playing a gambling dice game with Pro sums everything up beautifully: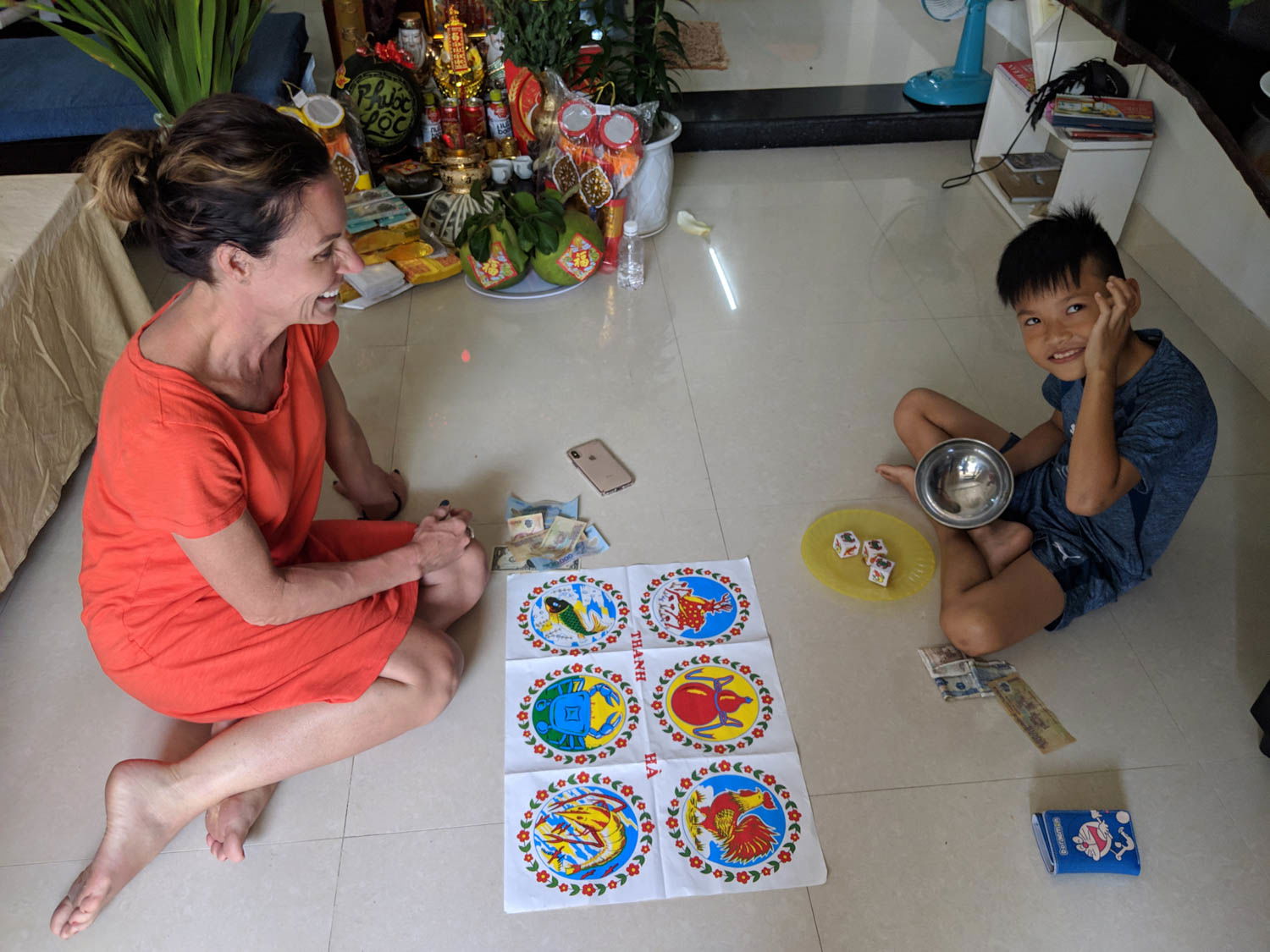 And then mom and dad joined in as well:
So that was a fun and very sweet morning.
Back to the space.
The house itself is a narrow three-story building that seems fairly recently-built, with a small garden patio in the front.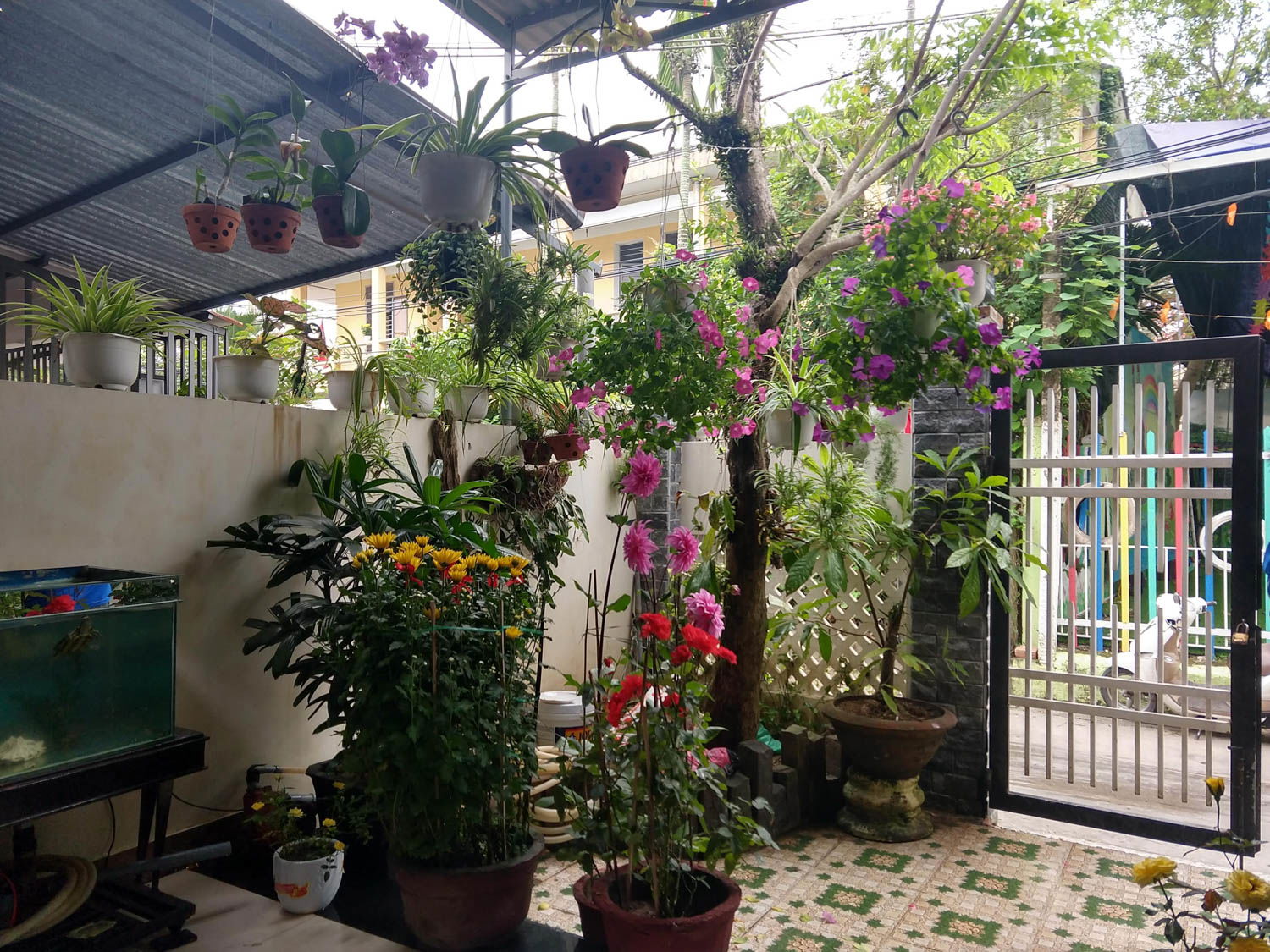 The main floor has a living room, a kitchen, and a bathroom (that the family was using as their main bathroom while we were there). Being there over Tet meant there were lots of extra decorations and bustle, which was fun.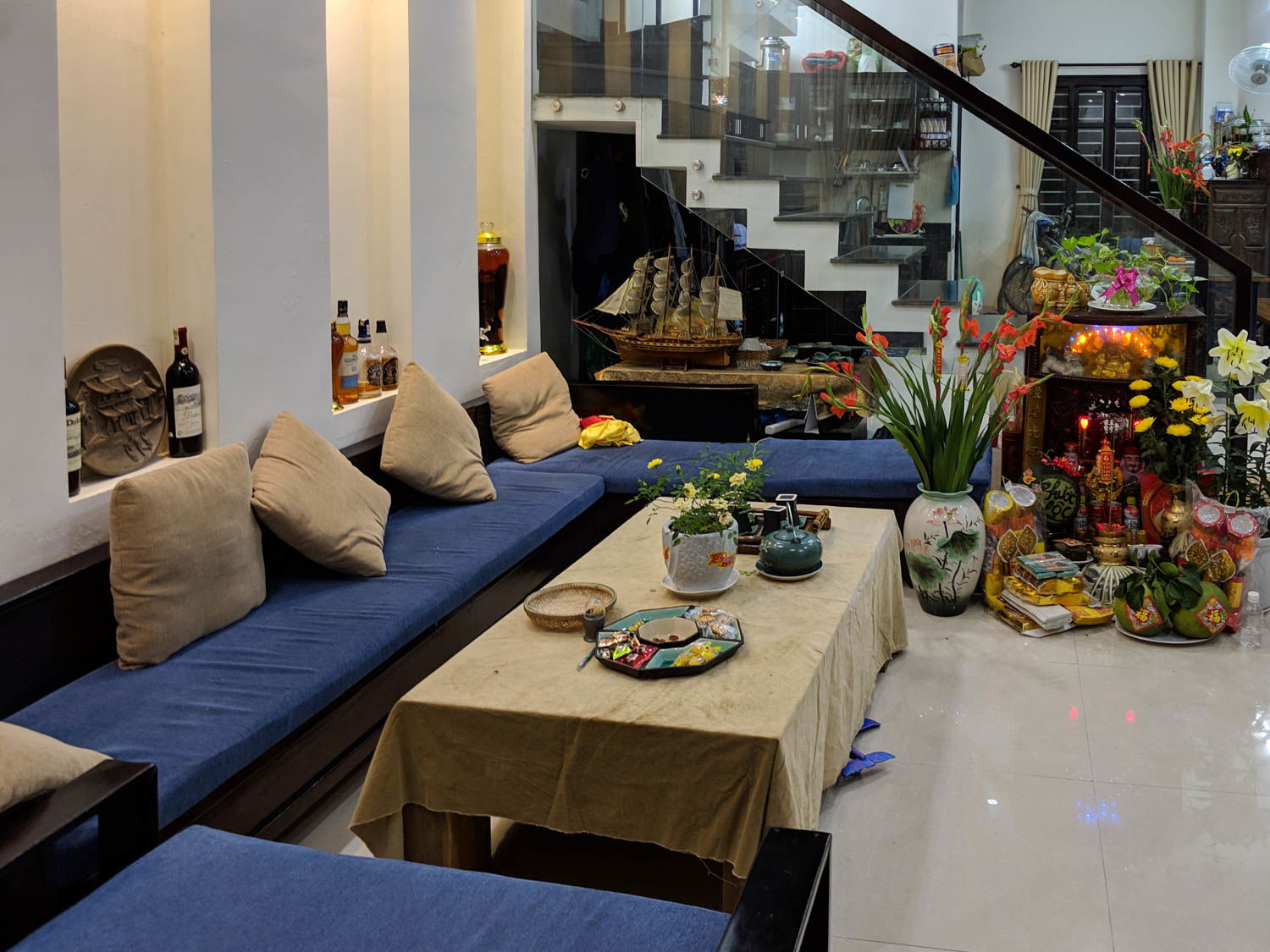 The stairs led to the upper floors, with the middle-level being reserved for guests.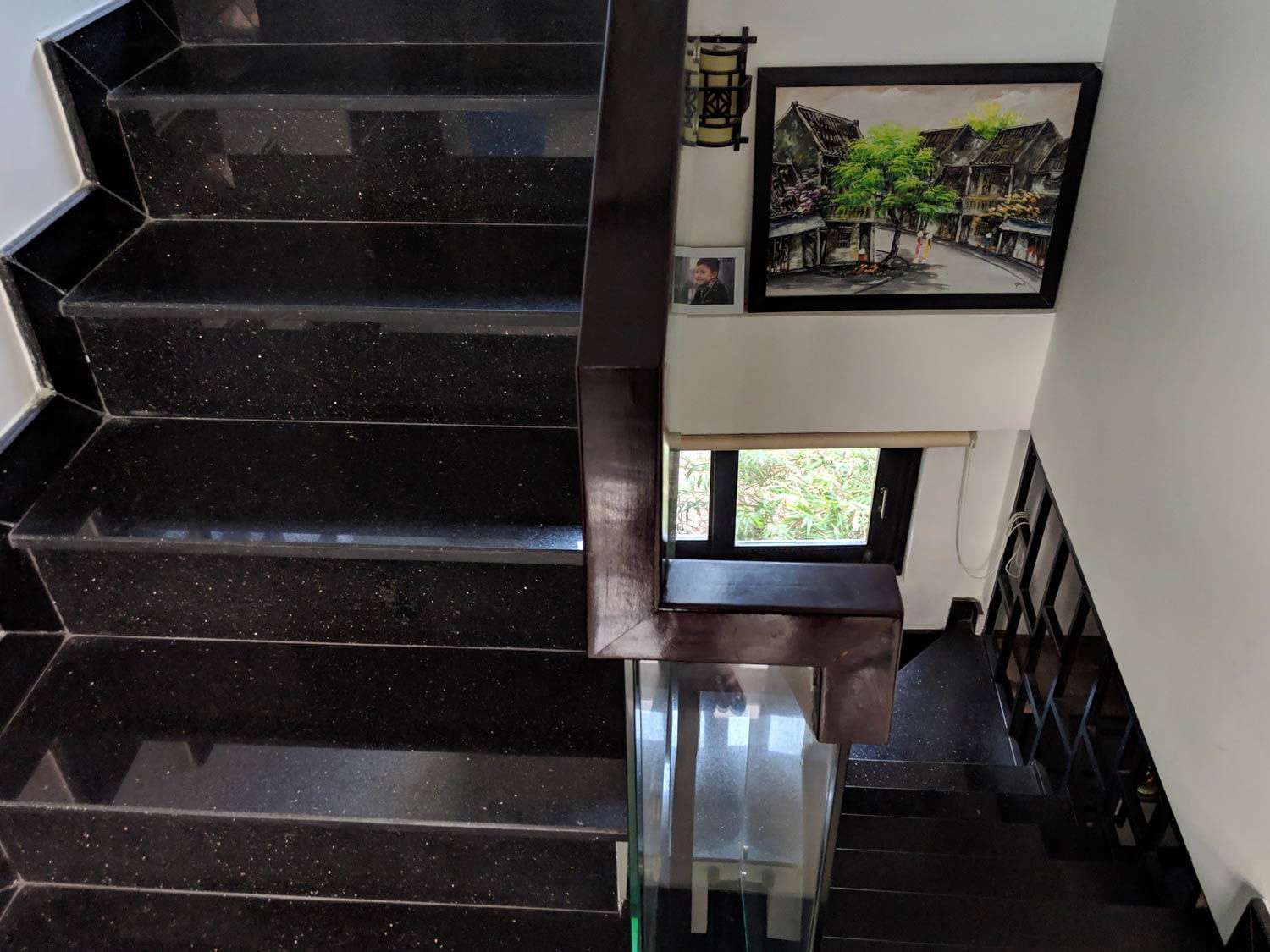 The landing had a separate sink and vanity area, with doors to both bedrooms and the shared bathroom.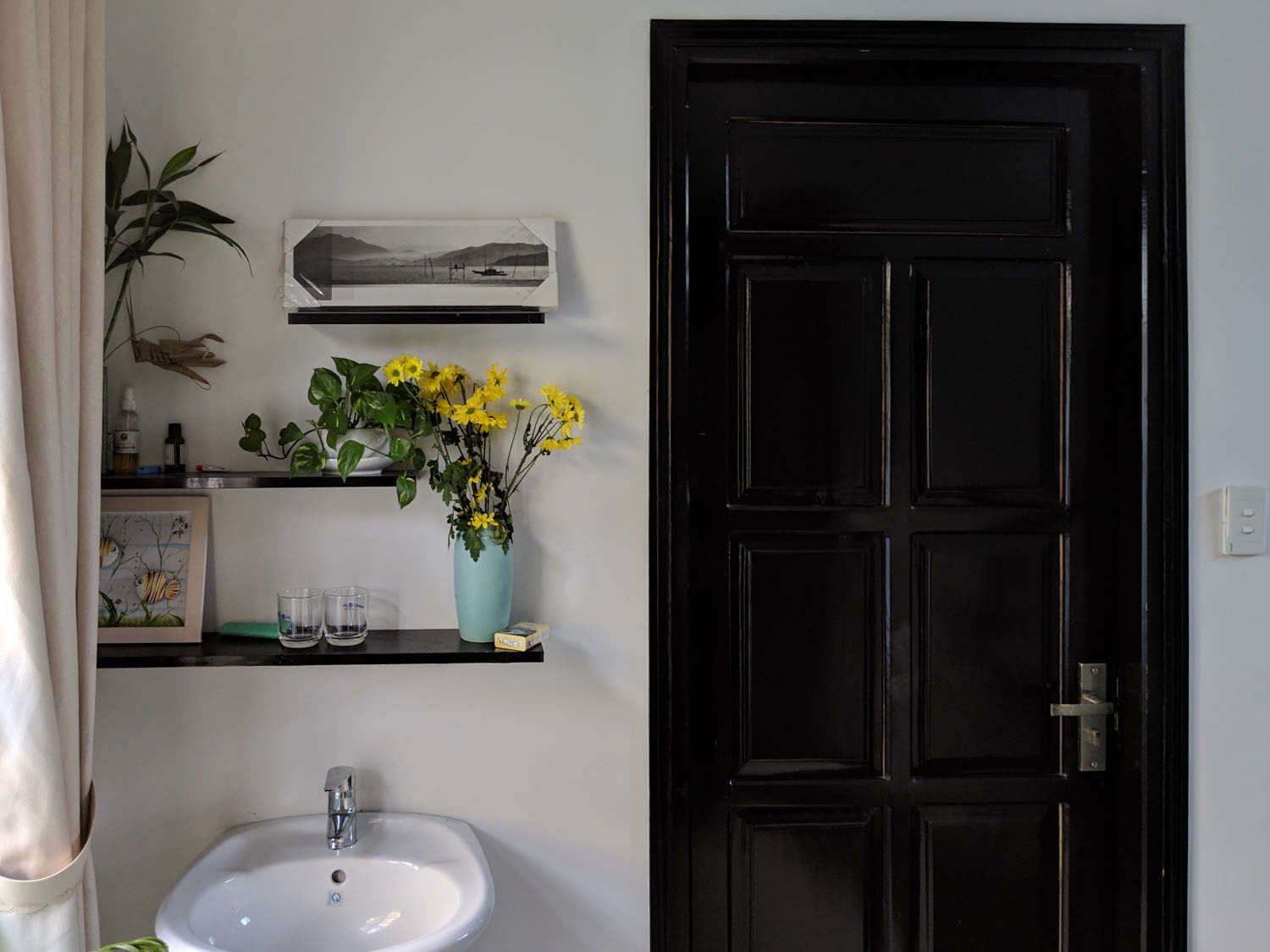 Both rooms were large, had separately locking doors, and very effective air conditioners.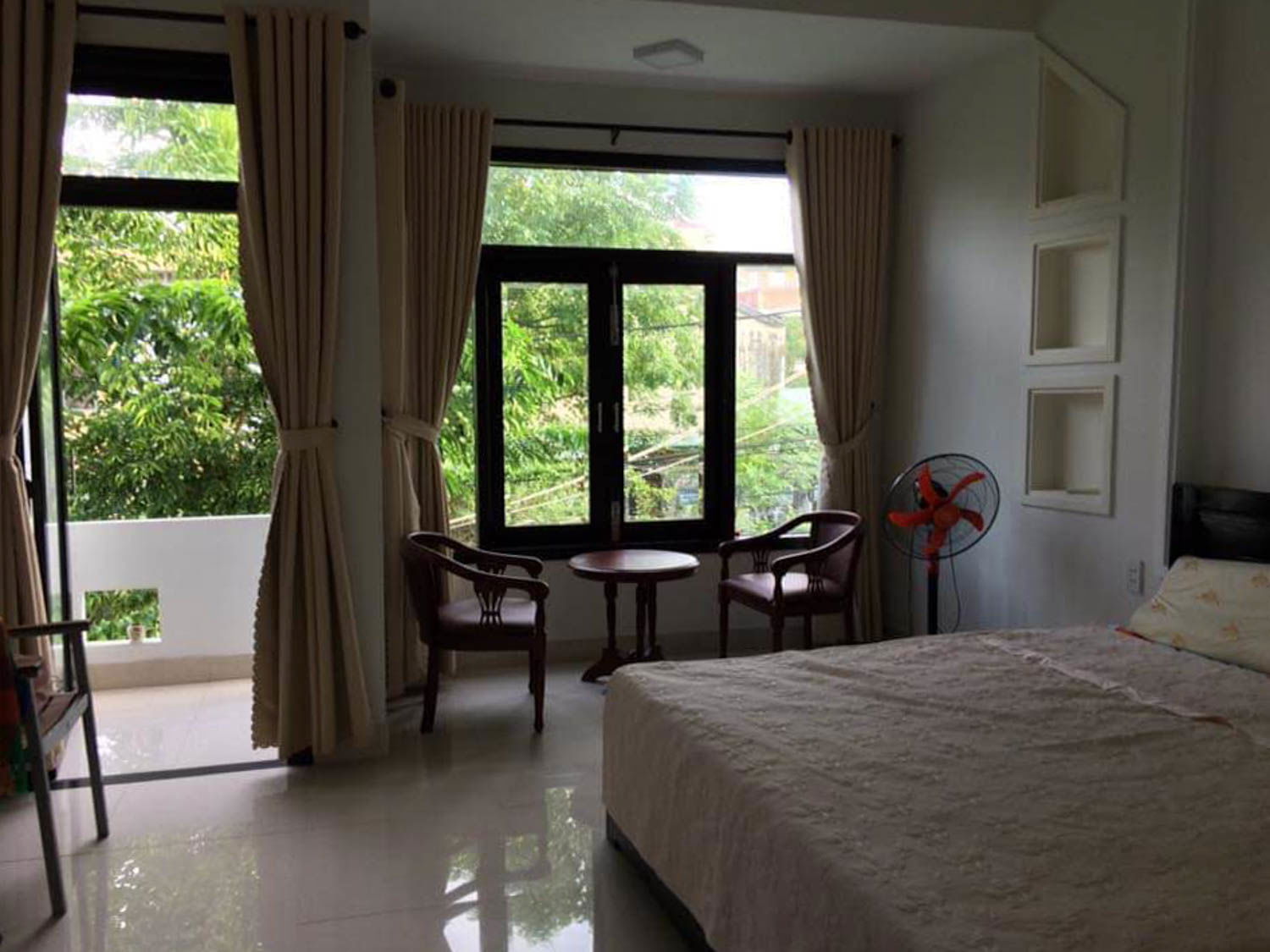 The beds in both rooms were large as well, though it's worth noting they were excruciatingly firm. I prefer a firm bed (I tend to sleep on my stomach), so I was fine, but Heather and our moms were sore in the mornings.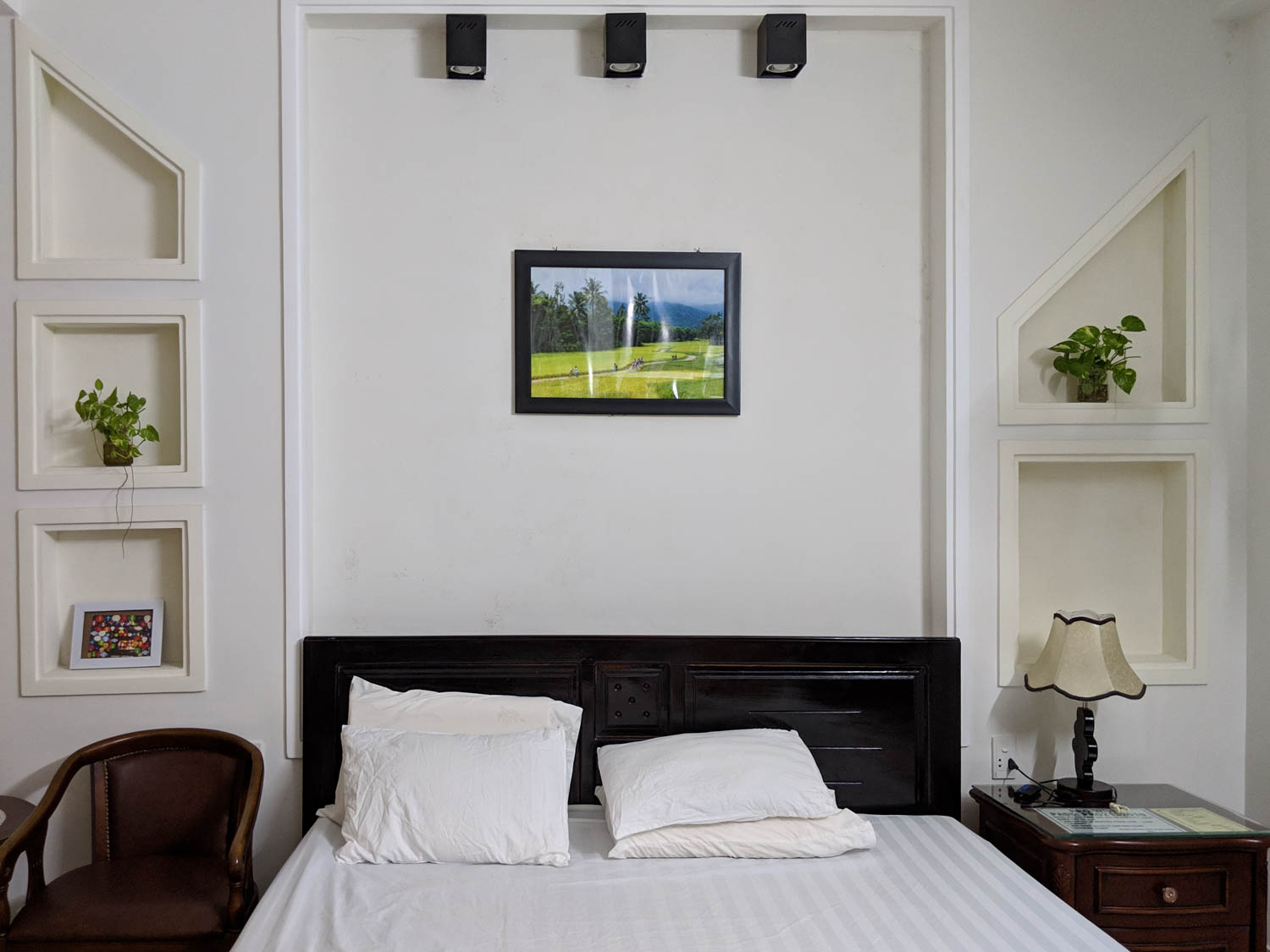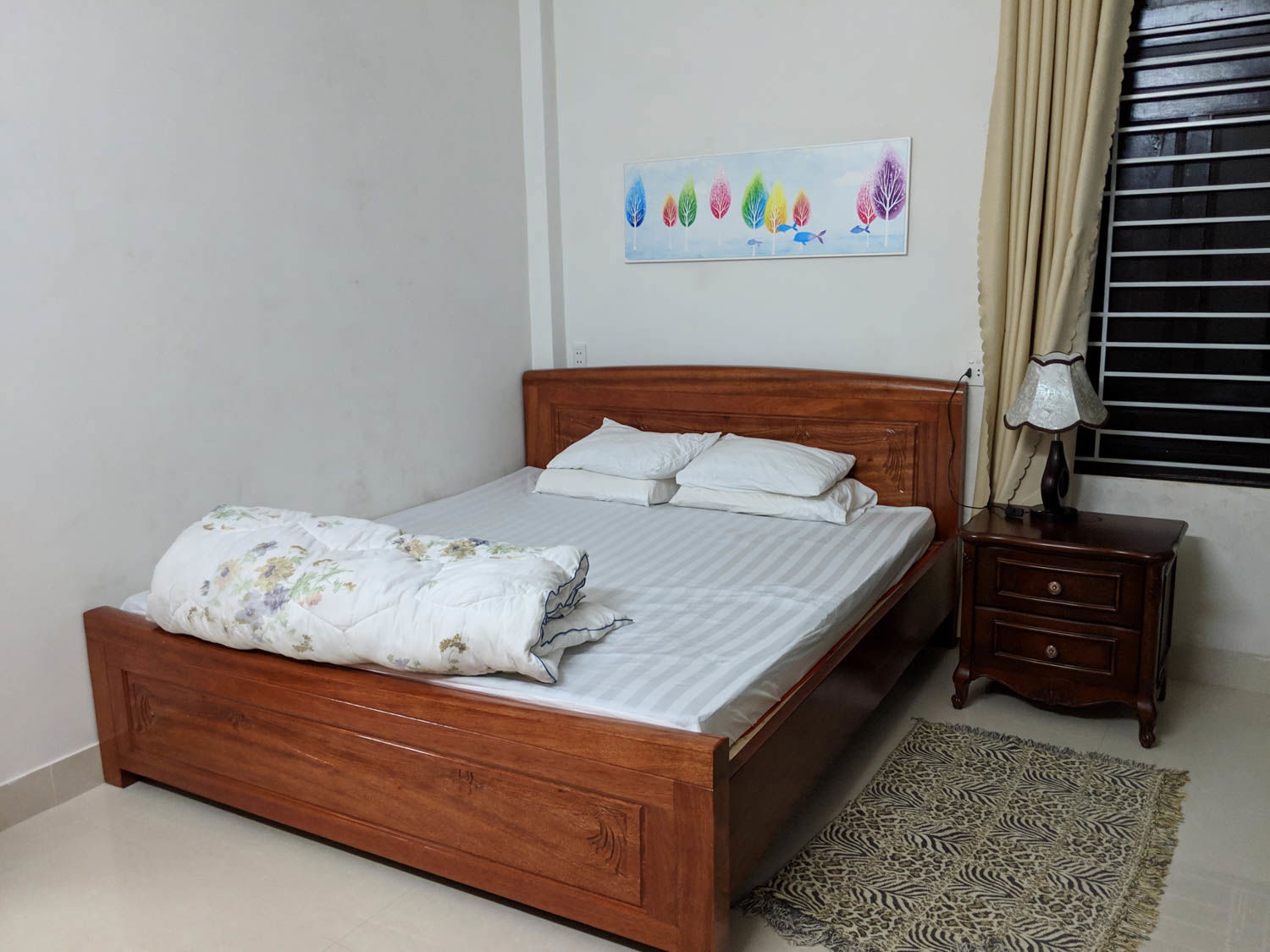 Each room also had a table and chairs with water and tea cups, and Hoa welcomed us to help ourselves to the filtered water from the fridge or the tea downstairs.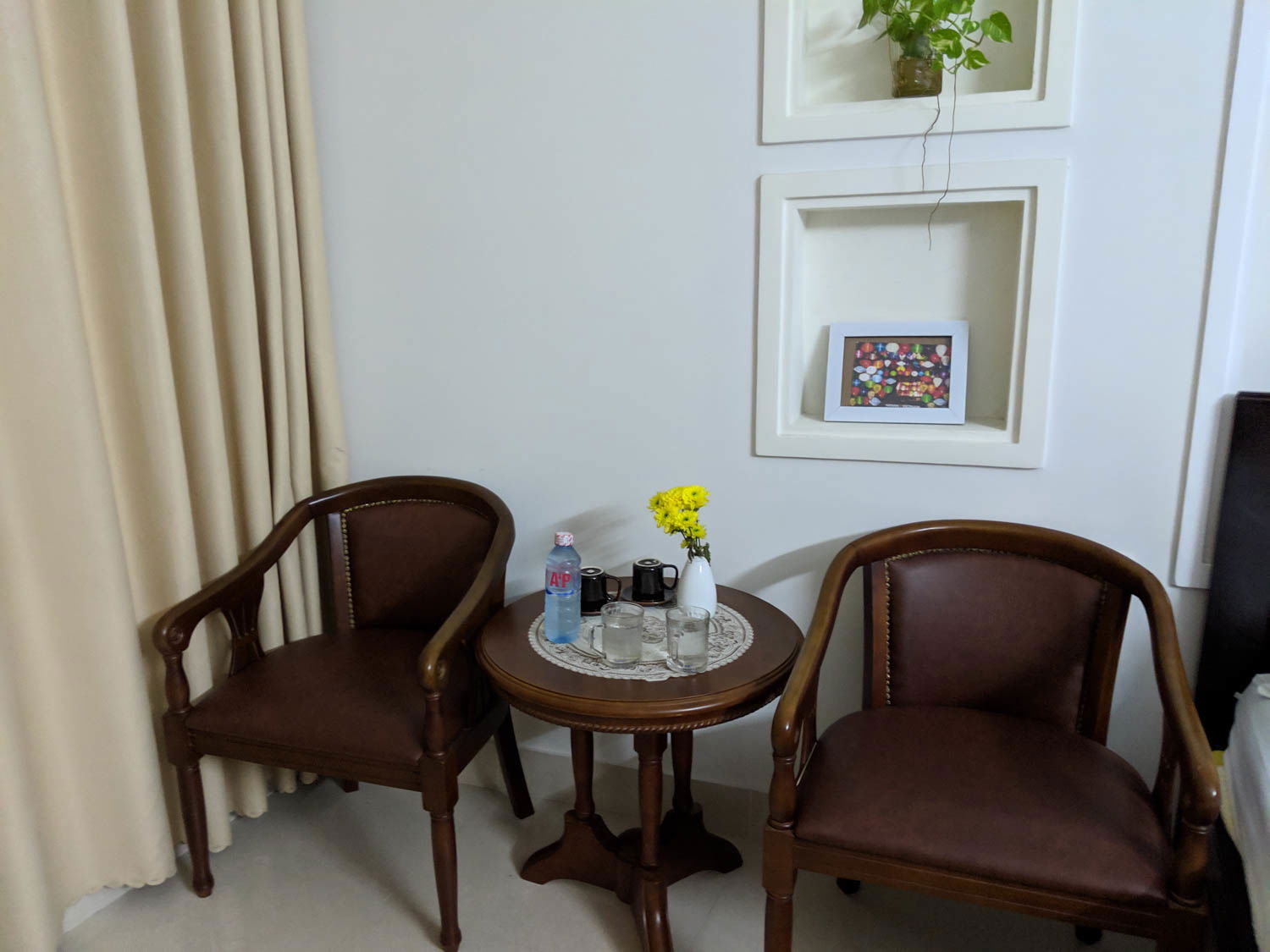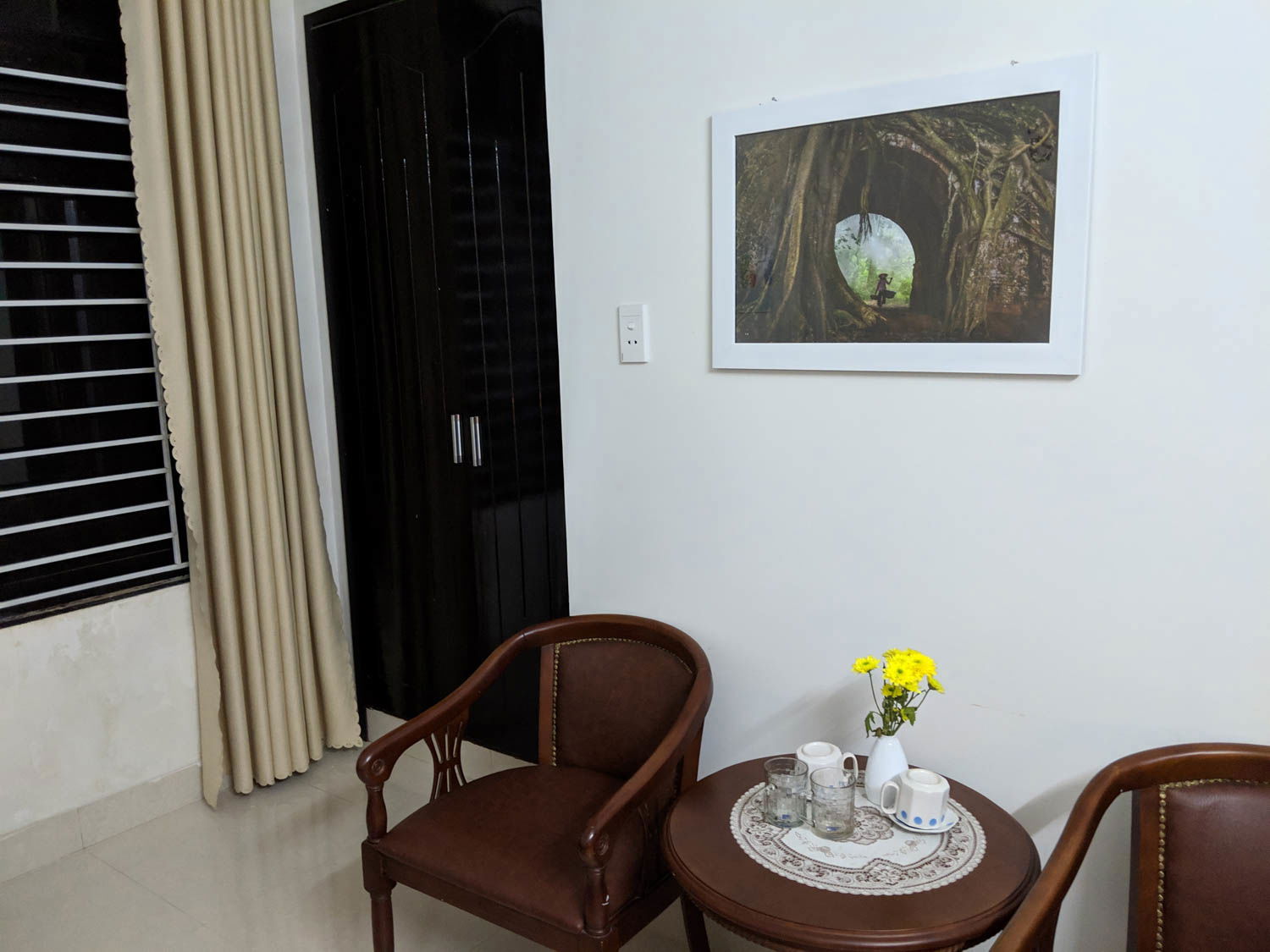 The bathroom was tiny, but functional. The abundant supply of towels was replenished daily, as I'm pretty sure Hoa was constantly doing laundry (she offered to do some of ours as well, which was very kind).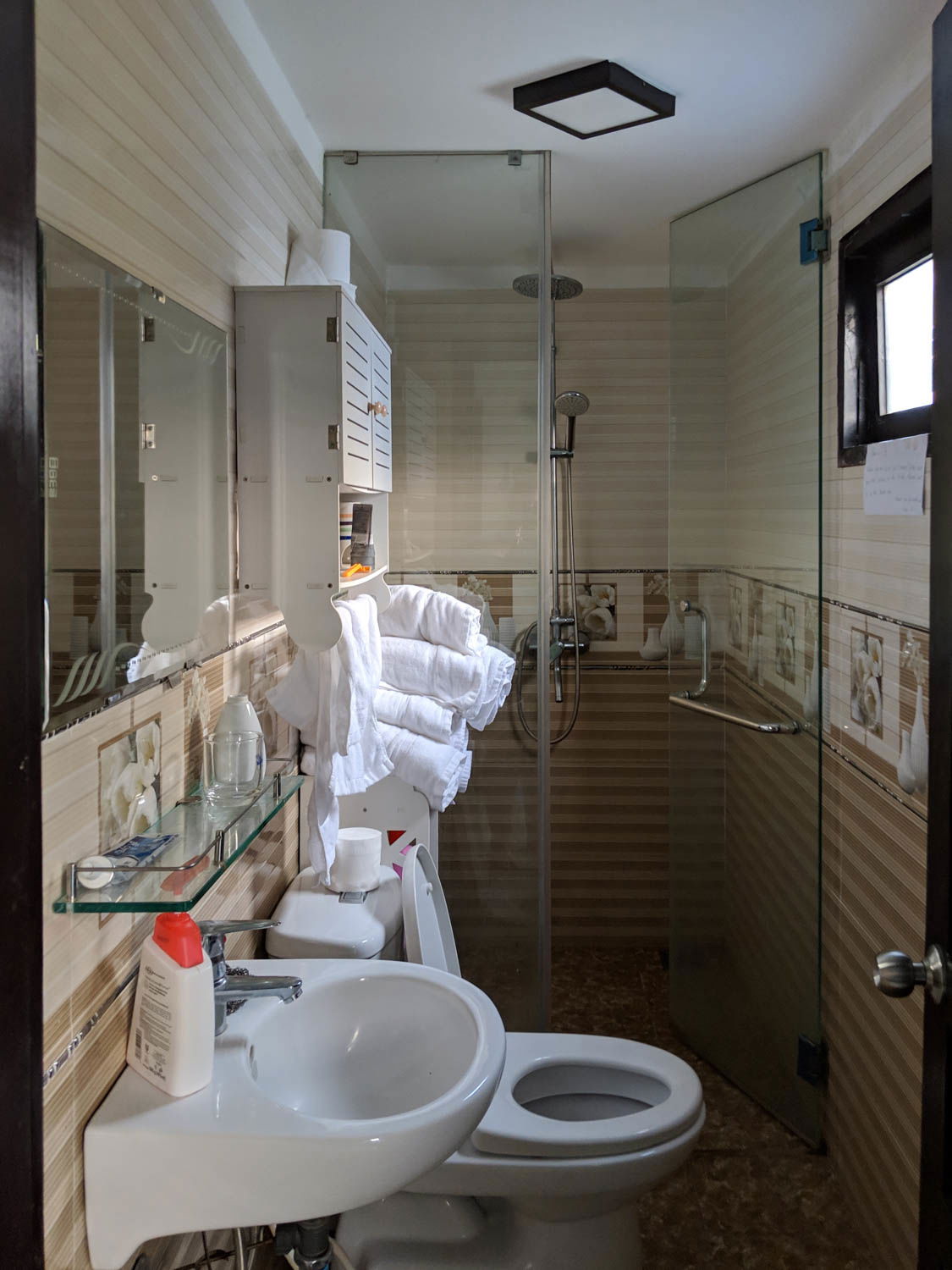 The one thing that was sorta odd was that we couldn't tell whether the supplies in the bathroom were meant for guests, or had been left there by the family, or what was going on.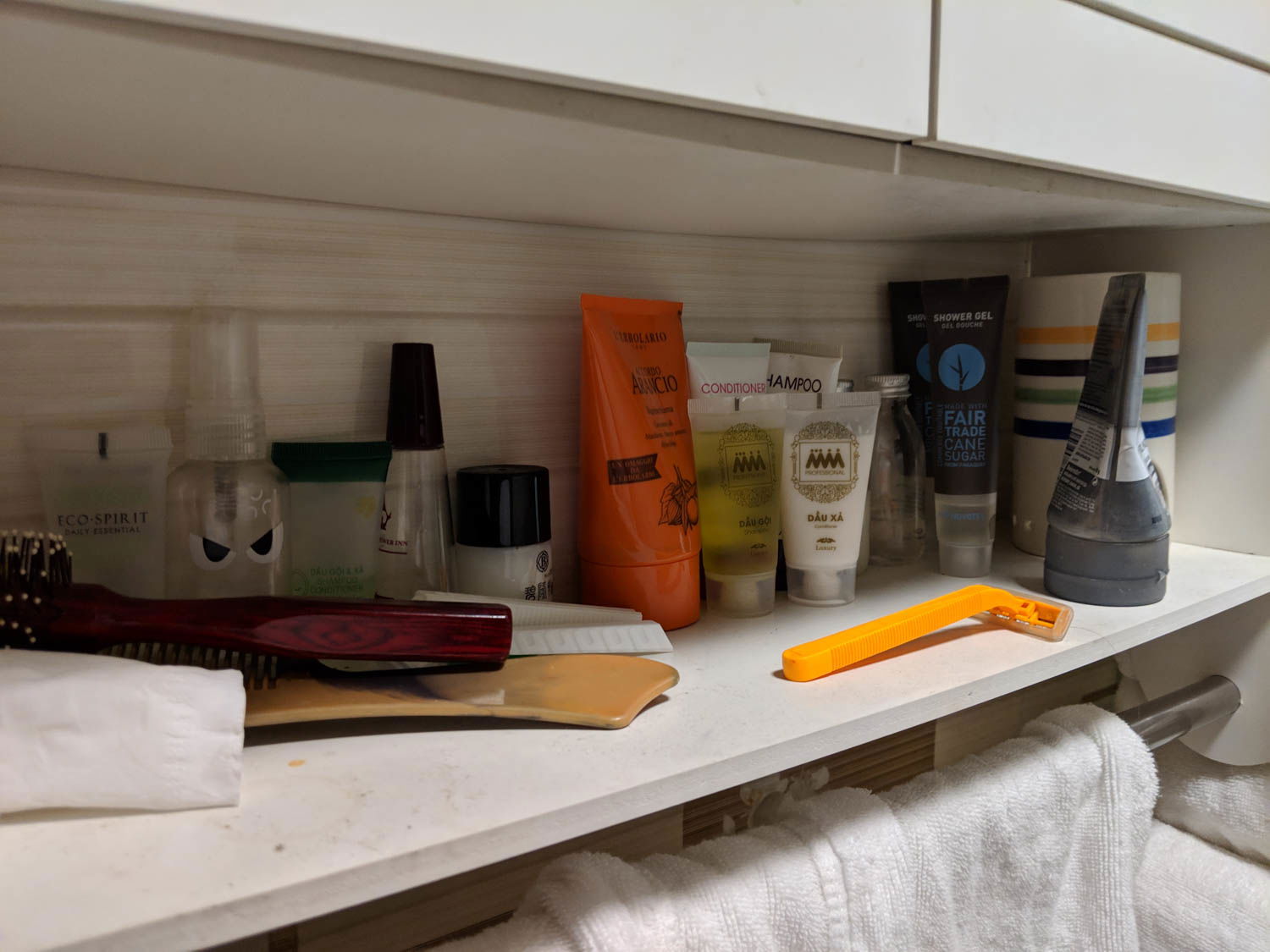 The bathroom could have also used a good scrubbing, but as we observed just how busy Hoa was with family obligations during Tet, it made sense why there might not have been time for a deep-clean. Truly, imagine running a B&B and a small business over a Thanksgiving weekend where you're hosting your in-laws levels of busy. Otherwise the house and bedrooms were neat and clean.
Hoa made breakfast for us each morning — she asked what we preferred but we just deferred to her — we enjoyed eggs, noodles, banh mi, and plenty of fresh fruit over our three-night stay.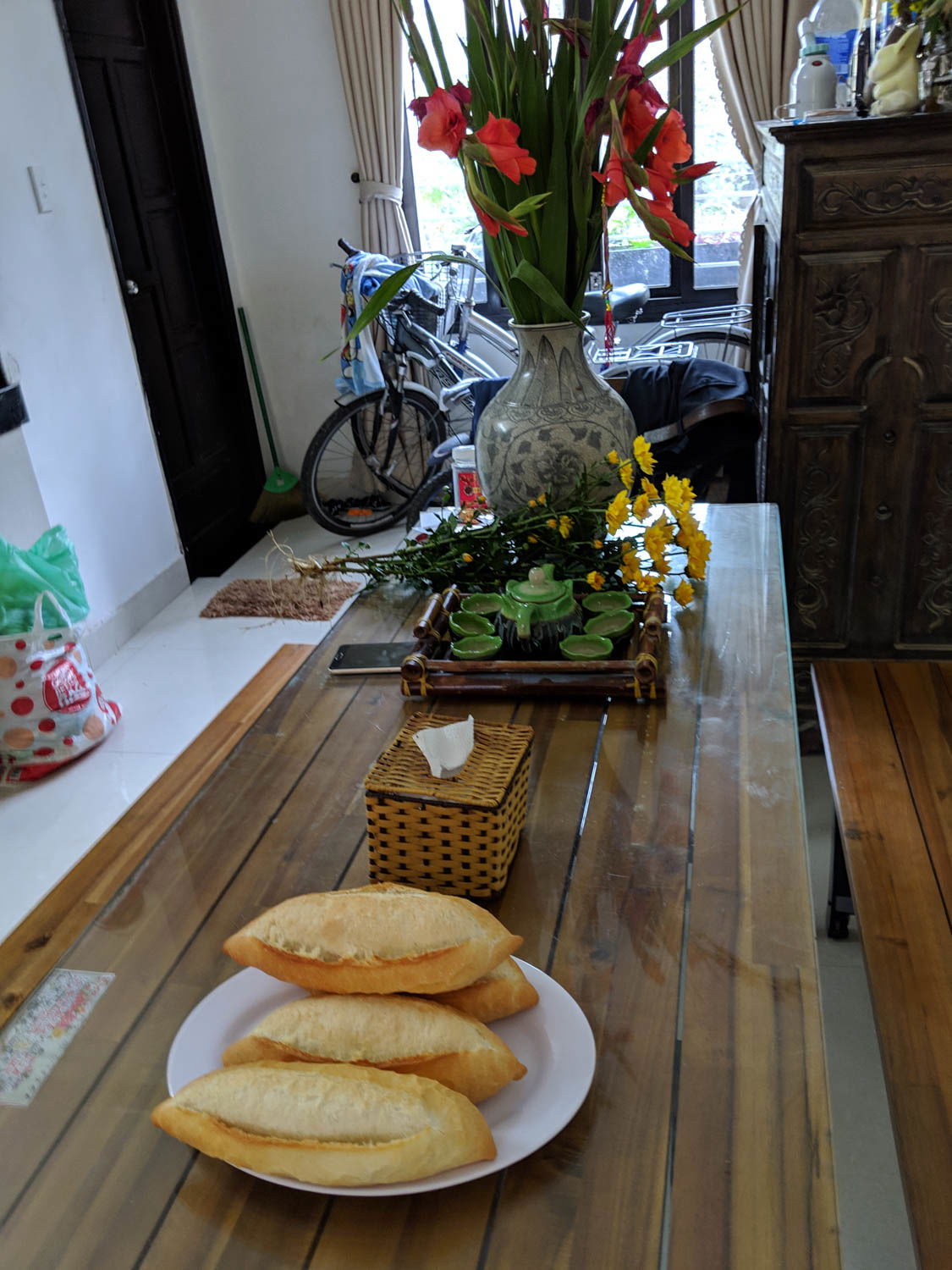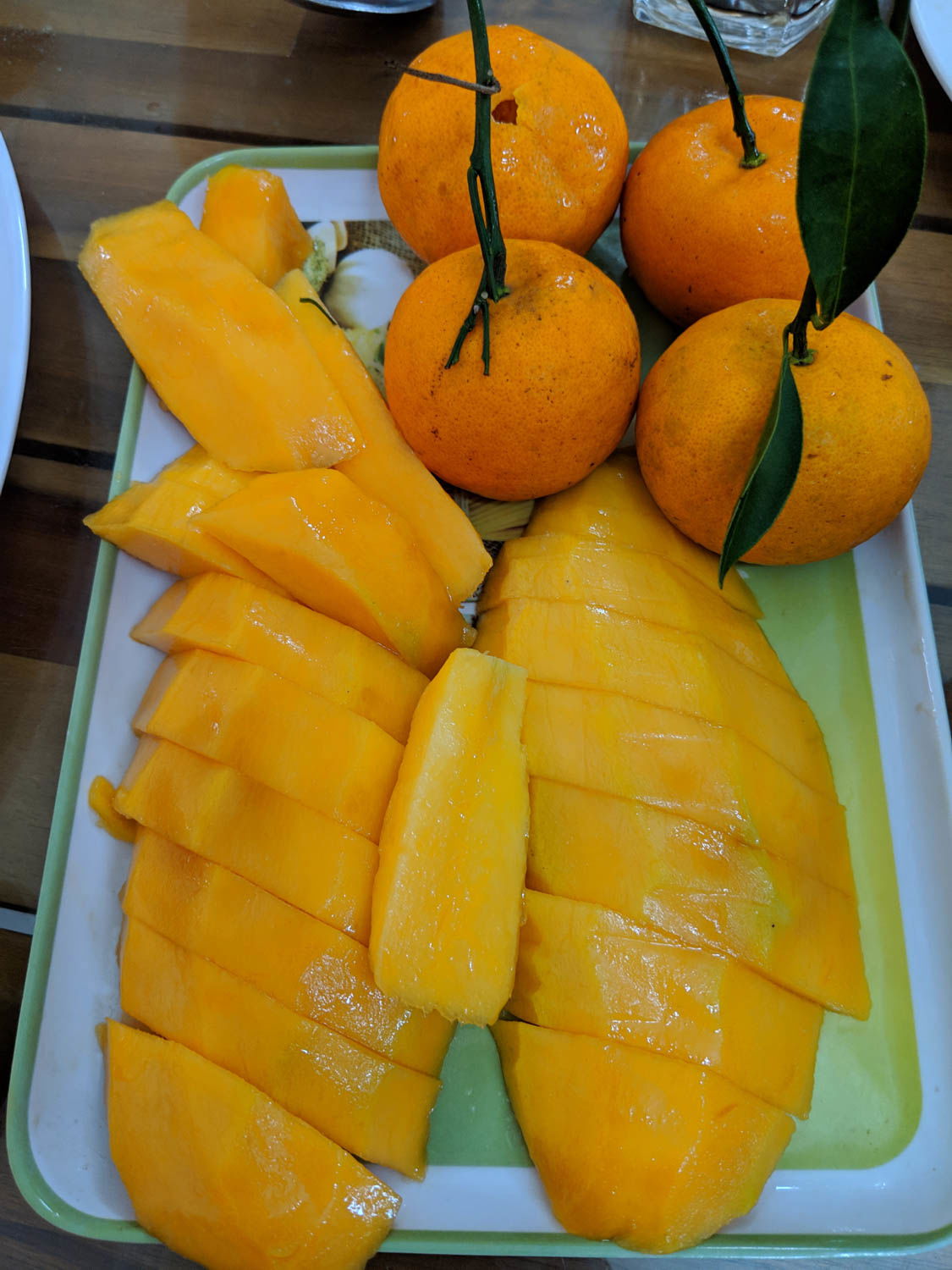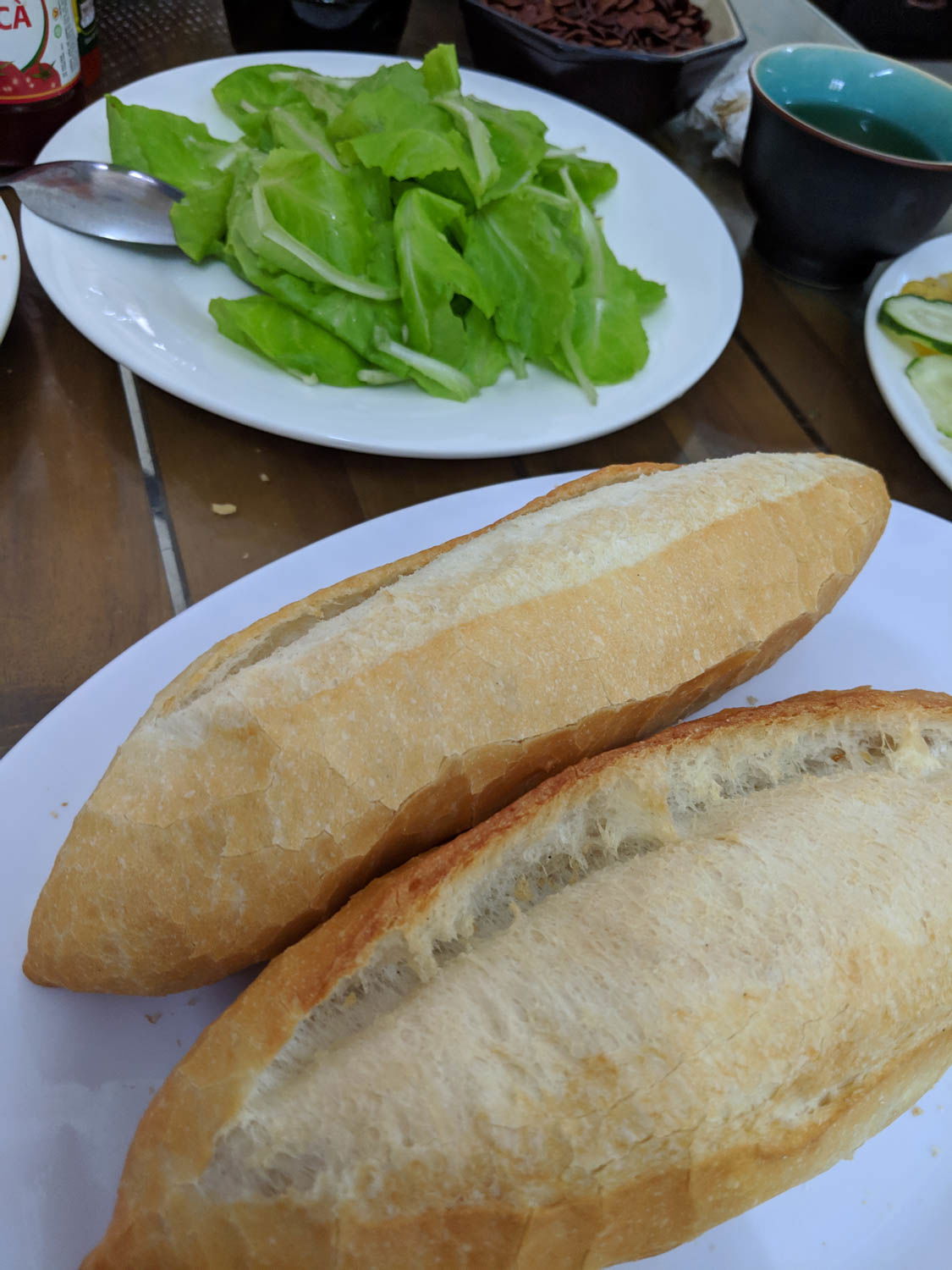 She provided Nescafe and tea as well, and then Vietnamese coffee once she learned that Heather and I liked it. Apparently that came as a surprise, because as Chau remarked "It's so strong, we say it's only for men!"
In addition to providing a wealth of information about the town, where to eat and shop (and where to avoid), Hoa stepped in with some tailoring assistance.
Hoi An is known for its tailor shops and bespoke clothing options, but as we were there on the first few days of Tet, all of those shops were closed. When we expressed some disappointment at how we'd timed our trip, Hoa (who owns a tailor shop herself), pulled out her measuring tape and swatches and started designing things for us around her kitchen table.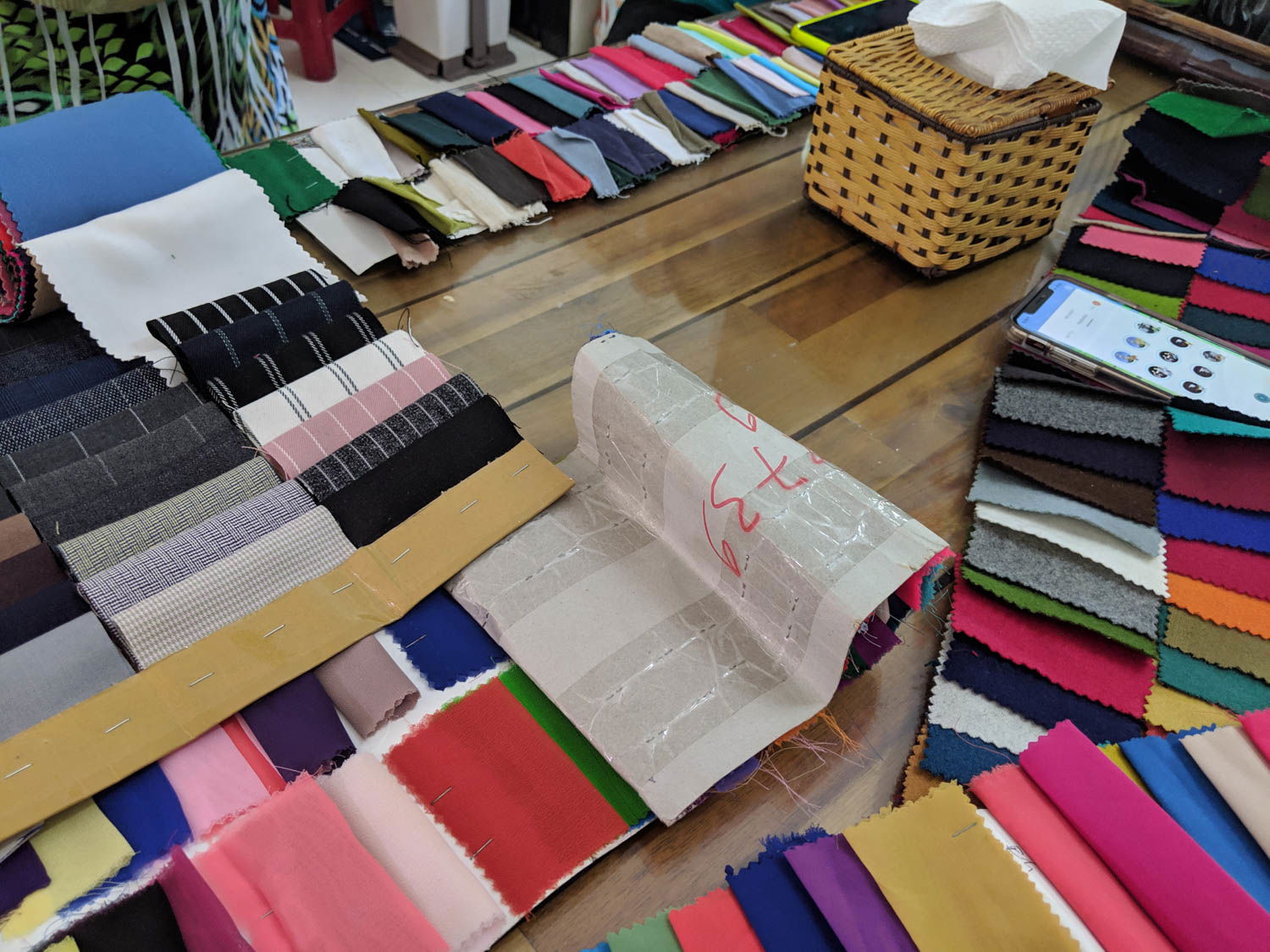 So that was fun too.
The neighborhood was quiet when we were there (again, holiday time), which was a welcome respite from the crowds in the center of town. There is what looked to be a school at the end of the block, so while there might be some morning chatter, I can't imagine it ever being too raucous.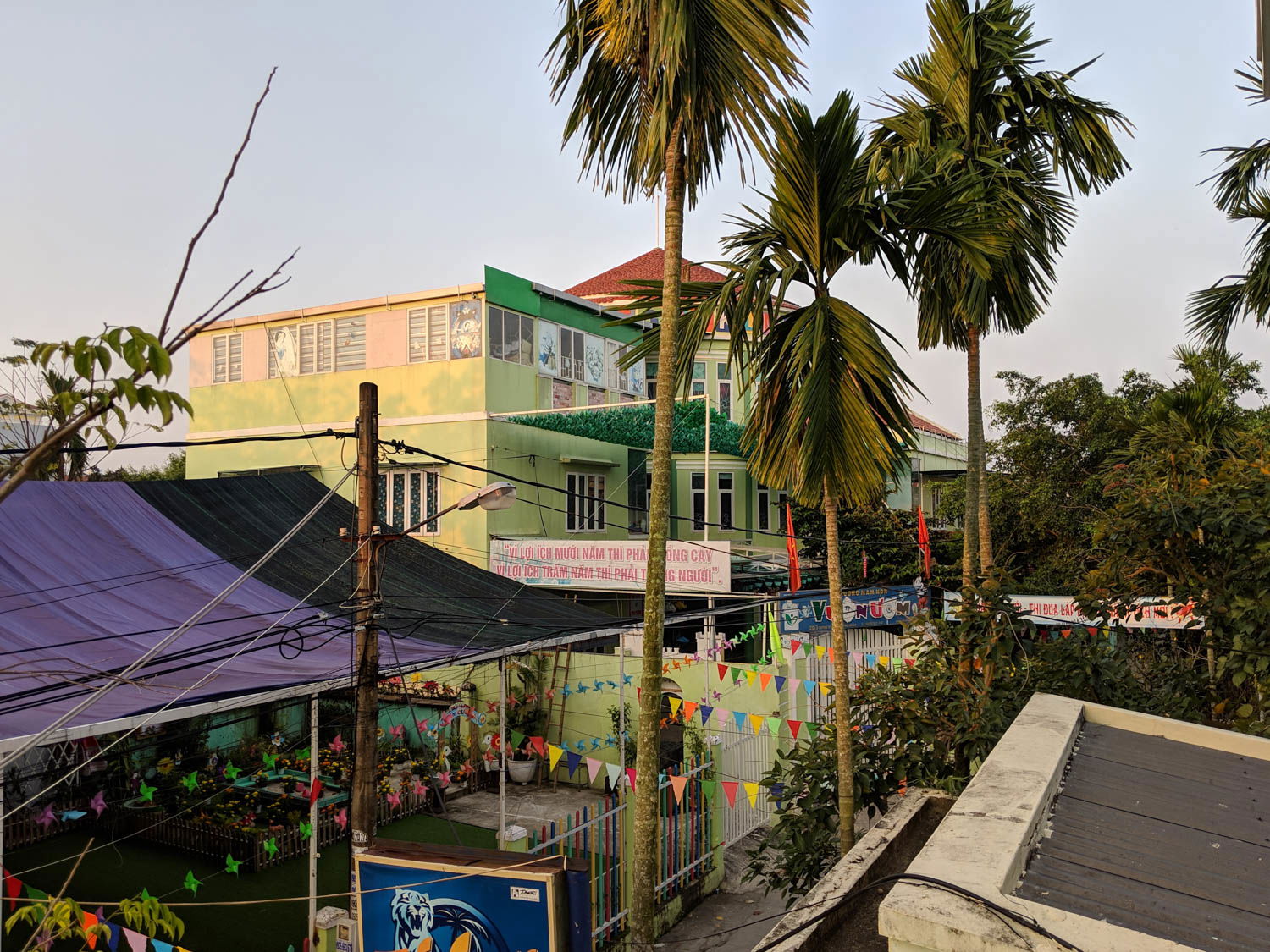 Overall, we had a lovely stay, and I was delighted with the experience, even though the accommodations were basic. I think the price we paid was fair (we gave her a bit extra for doing the laundry, though she didn't ask us to), and Hoa was incredibly helpful.
It's worth reiterating that you are very much staying in a family home, which is lovely in most ways, but was also a little awkward (and fabulous) when we came back from sightseeing one night and they had a dozen family members over playing cards on the kitchen floor. I don't think that would necessarily happen outside of Tet, but if that's something that would bother you you'll want to book a hotel instead. If you're looking for grander accommodations for a less outrageous rate than the Four Seasons, the Hyatt Regency and Sheraton in Da Nang was only about 15 minutes away, so hotels in that area could be a good compromise between the two cities.
I wouldn't necessarily stay here again myself, mostly because if I were back in the area I'd like to try some of the hotels in Da Nang, but have no hesitations in recommending this place to others.
NEW TO AIRBNB?
Earn A Discounted Stay or Experience
If you're new to Airbnb, you can get $40 off a home booking of $75 or more and $15 off an experience of $50 or more using our link — we get a credit as well, which we certainly appreciate.
For those who have been to Hoi An, where have you stayed, or where would you recommend?