---
There are a surprisingly large number of domestic carriers in Cambodia (though the majority are owned or at least subsidized by Chinese companies), and all have very tiny fleets, including:
Bassaka Air Limited (2 aircraft)
Cambodia Bayon Airlines (2 aircraft)
Cambodia Angkor Air (6 aircraft)
Cambodia Airways (3 aircraft)
JC International Airlines (5 aircraft)
Lanmei Airlines (6 aircraft)
Sky Angkor Airlines (4 aircraft)
Most of these carriers operate a mix of aircraft, including some Airbus A319s and A320s, so that could be a good alternative for those who don't prefer small planes. In many cases, however, an airline only flies a given route once a day (or once every few days).
I chose Cambodia Angkor Air primarily because of timing, but they also had three flights a day to Phnom Penh, so it seemed like there would at least be a chance of recovery if there were any irregular operations.
The only one of these carriers I'd consider avoiding at present would be Cambodia Bayon Airlines, as they exclusively operate the Xian MA60, which seems to have a disproportionate rate of operational problems.
Cambodia Angkor Air (K6) 106
Siem Reap (REP) – Phnom Penh (PNH)
Frida, February 15
Depart: 10:35AM
Arrive: 11:30AM
Duration: 55min
Aircraft: ATR 72-500
Seat: 11D (Economy Class)
While Siem Reap has a large new international terminal, the domestic terminal is pocket-sized, and in the same style as the old international terminal.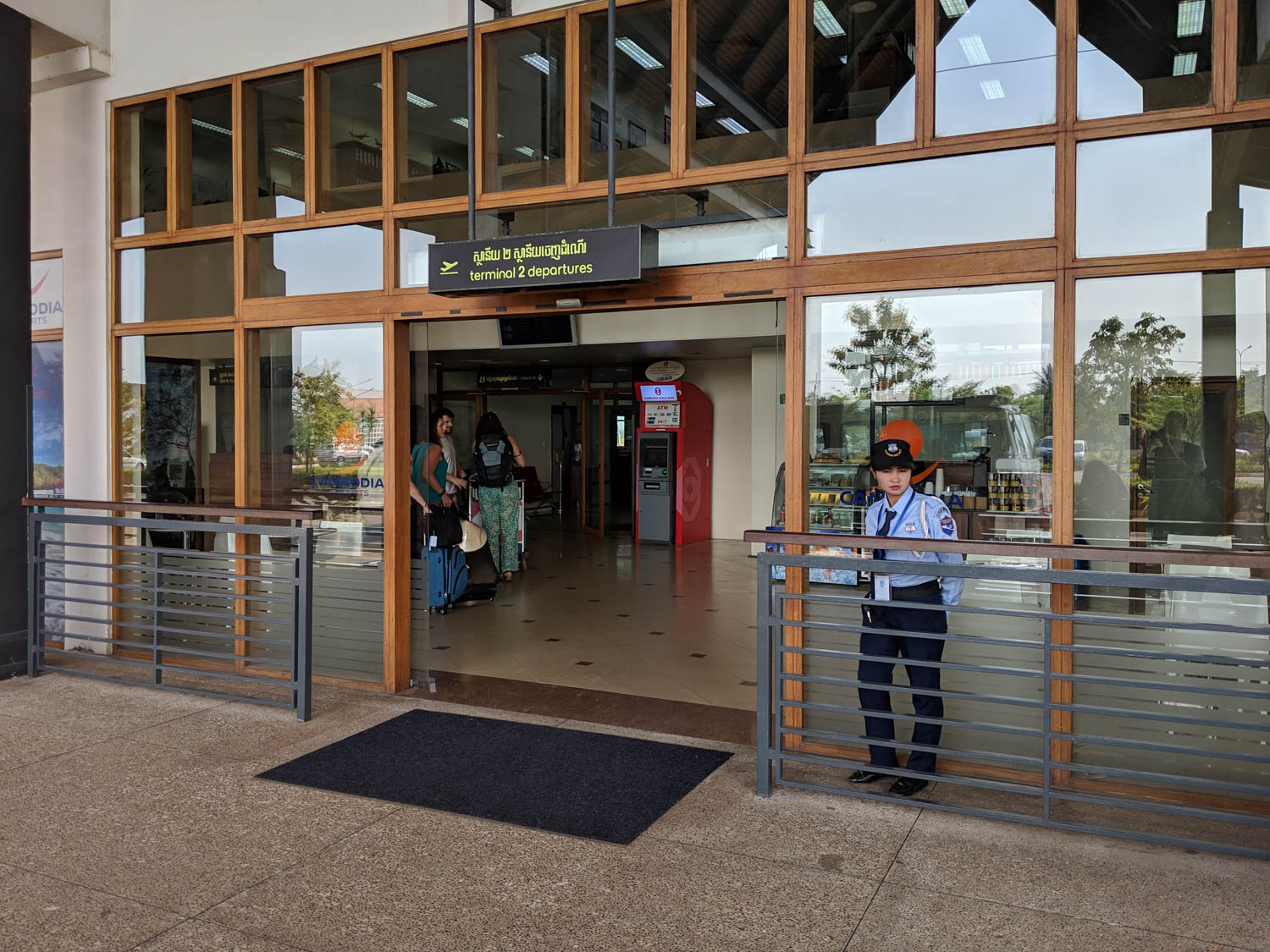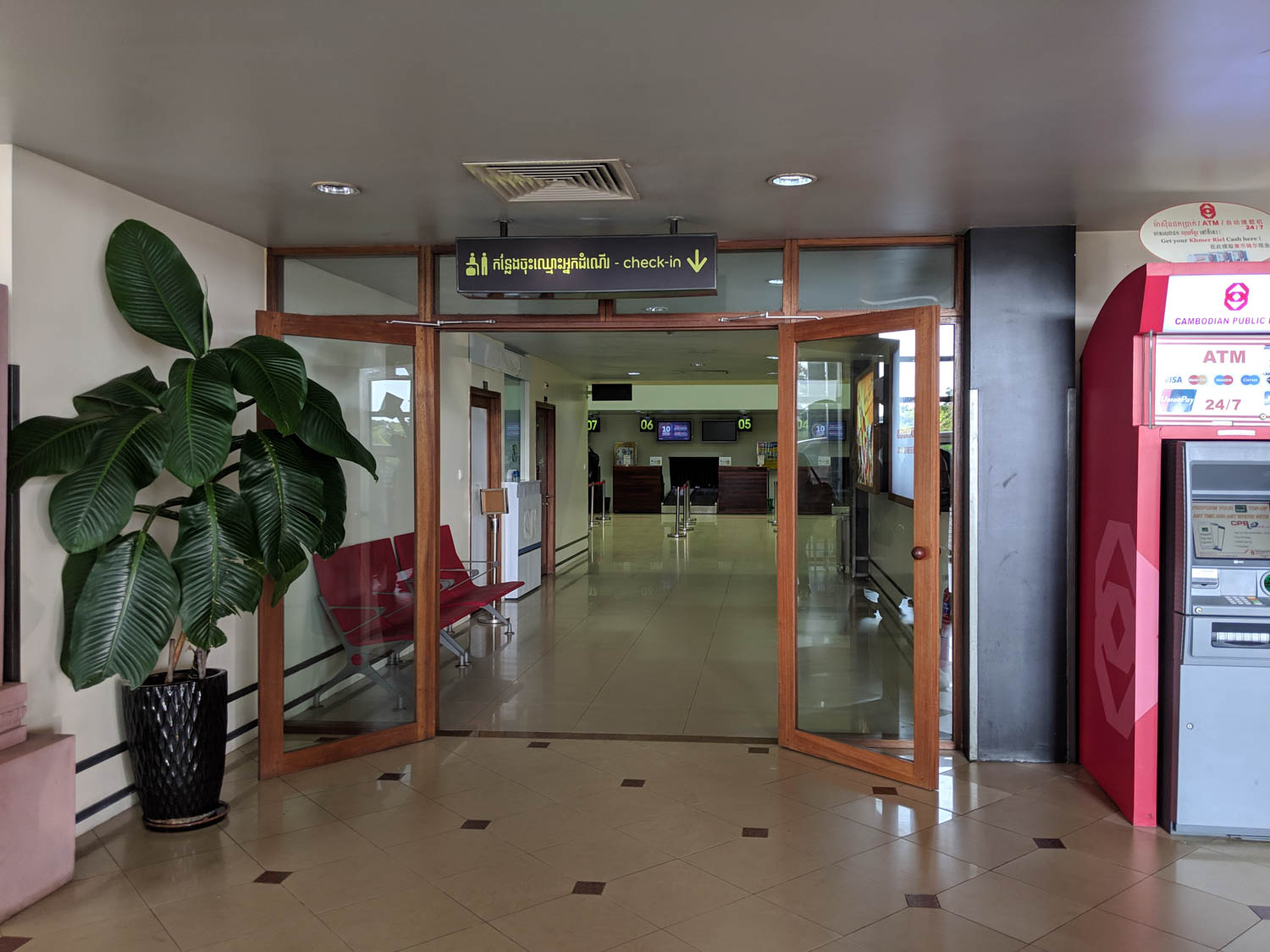 The check-in area consists of seven different counters, though only one was being used.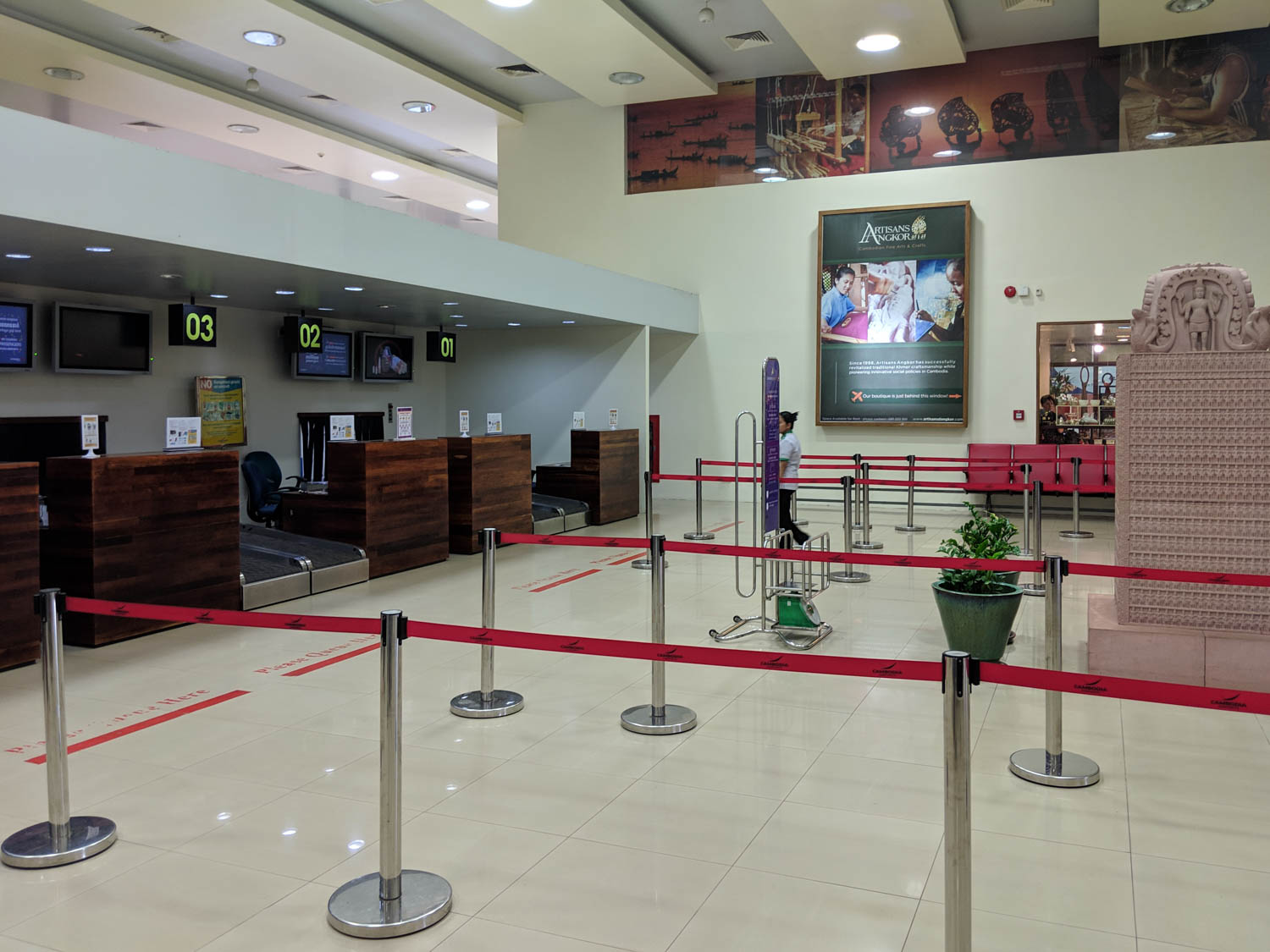 We arrived at the airport about 80 minutes before our flight, which in a way seems excessive for a short domestic flight from a tiny terminal, but given that we (and likely most passengers on our flight) would be checking bags, we wanted to make sure we had plenty of time.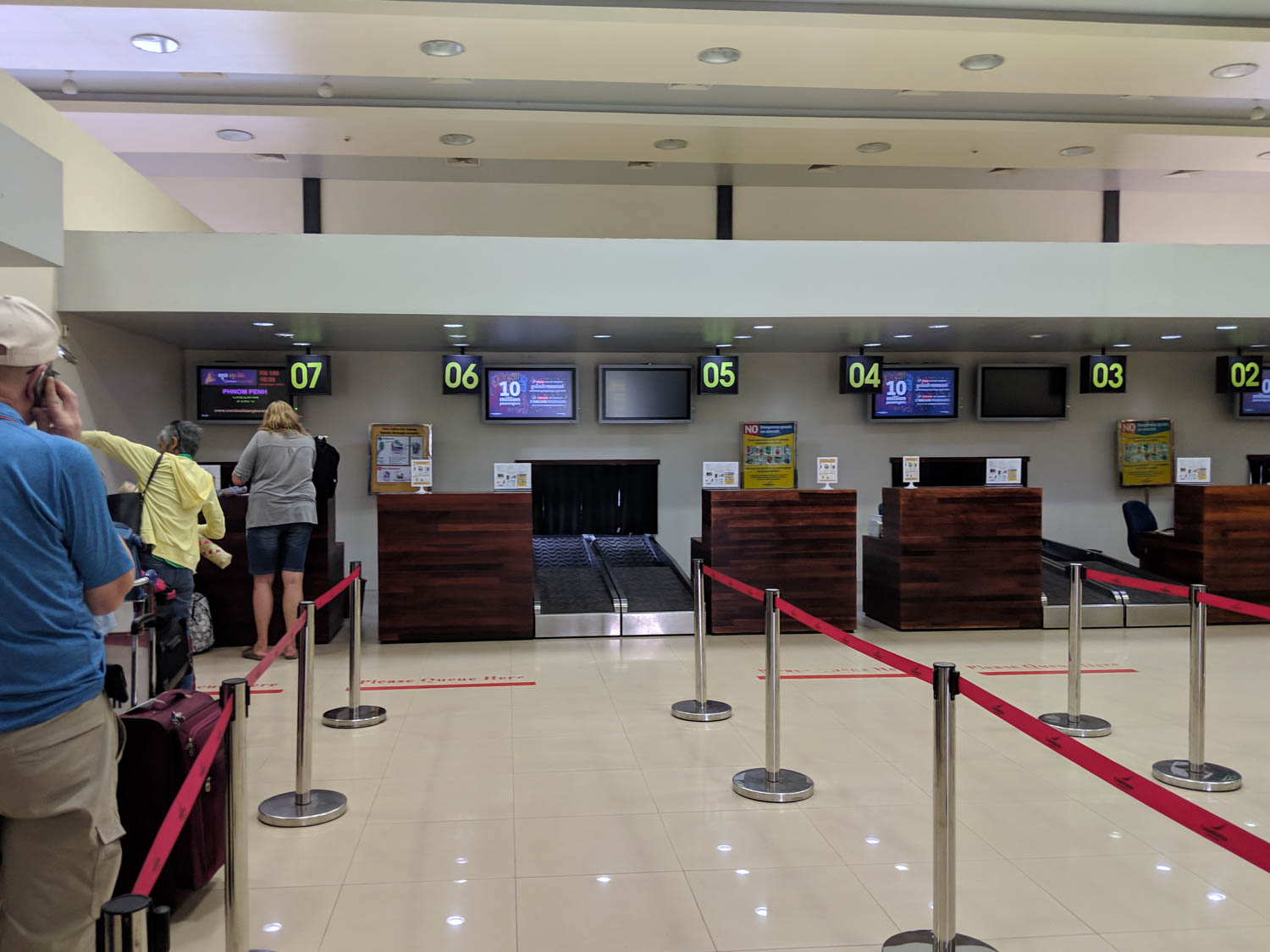 Check in took FOREVER. There were three other parties in the queue when we arrived (and one person at the counter), and no one had an excessive amount of baggage. It was over 30 minutes before we were helped, and checking our bags and getting boarding passes took about ten minutes for the four of us.
Eventually a second counter opened up, but that still seems like a very lengthy check-in process. Perhaps there was some kind of system issue that day, and we ultimately left on time with a full cabin, but it's something to be aware of.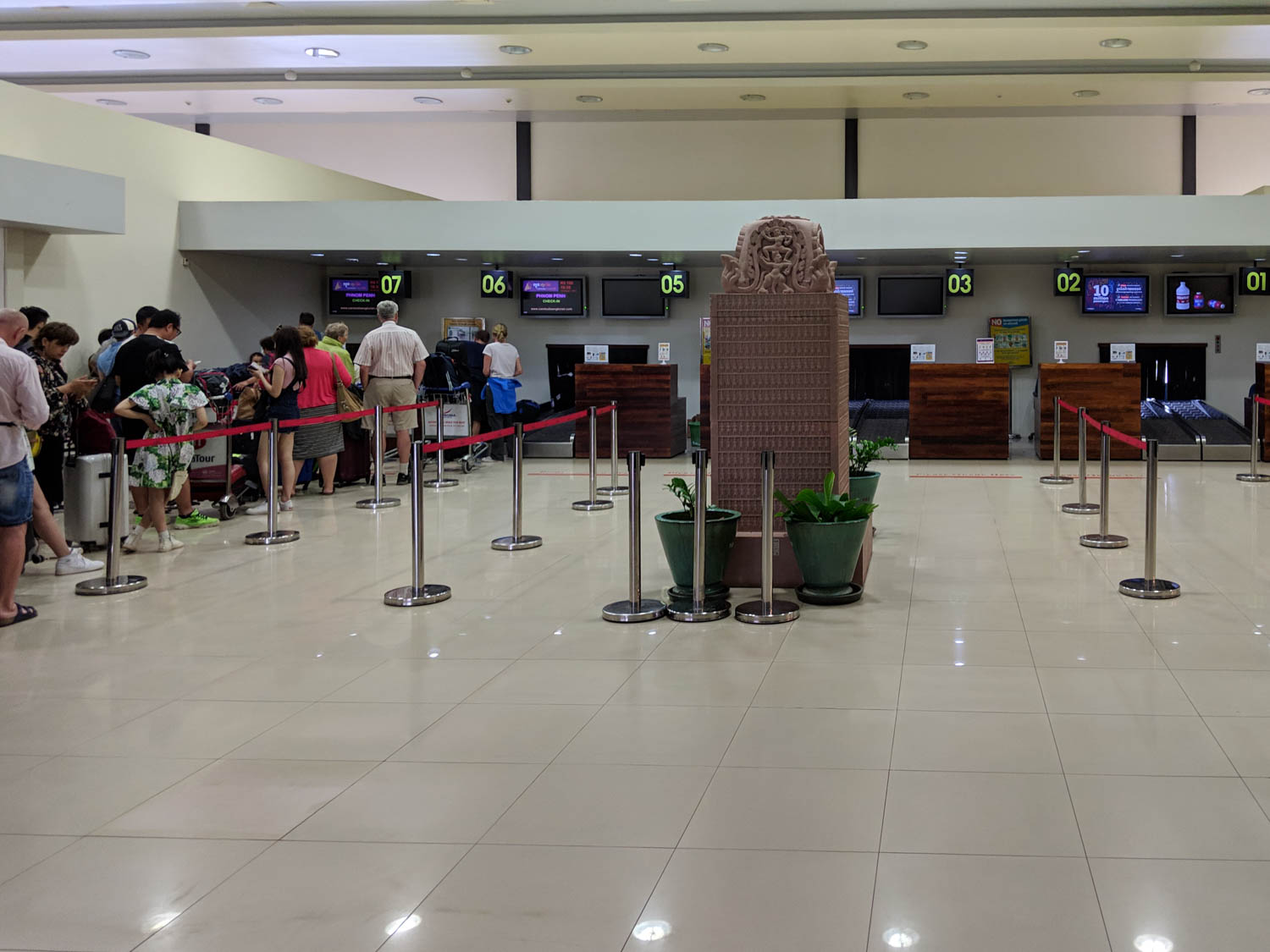 The security checkpoint was just to the left of where we'd entered the terminal, and was quick and efficient.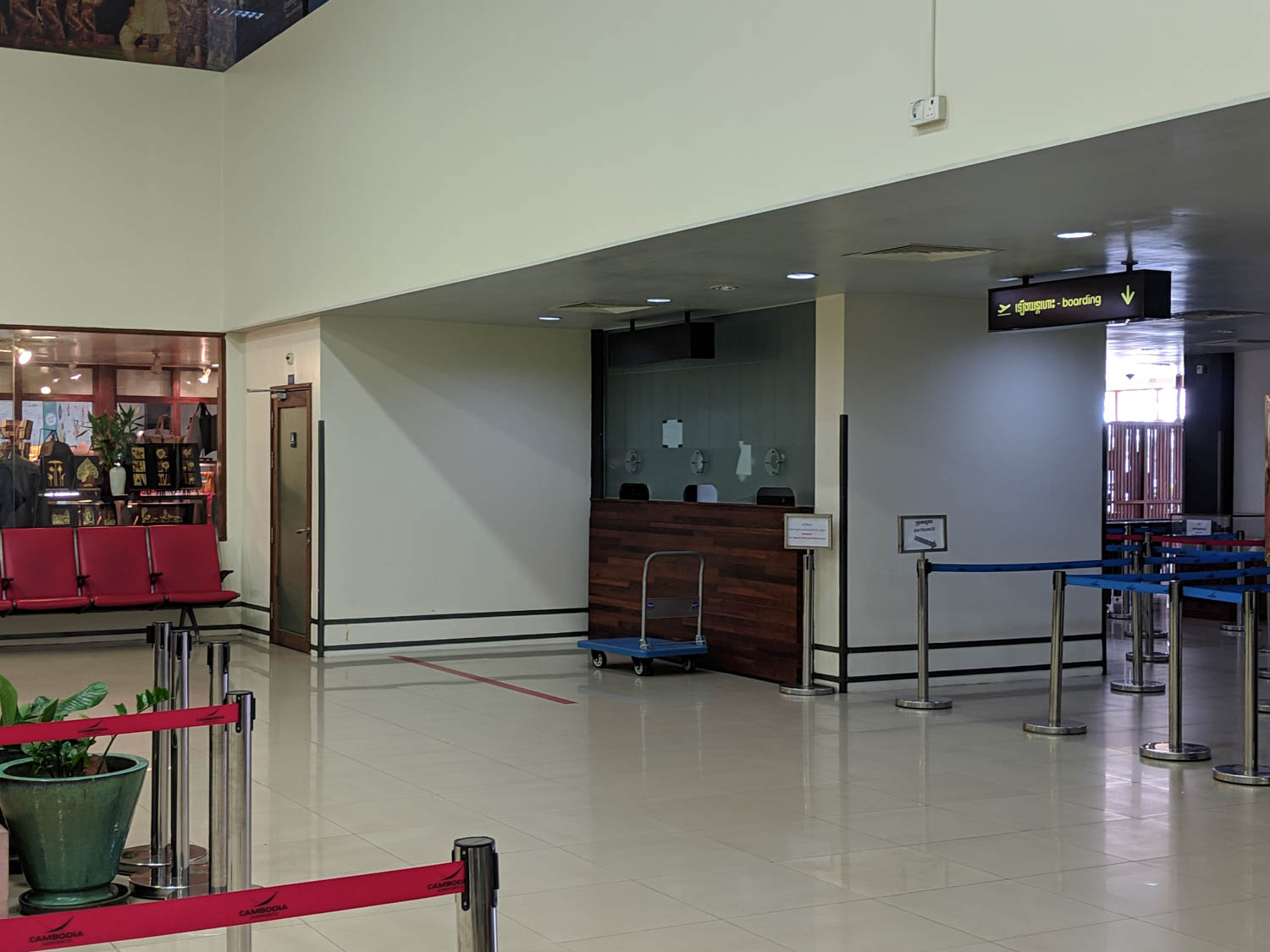 The waiting area had two retail shops (including one that only sold soap, which seems like a very specific choice), and a little cafe.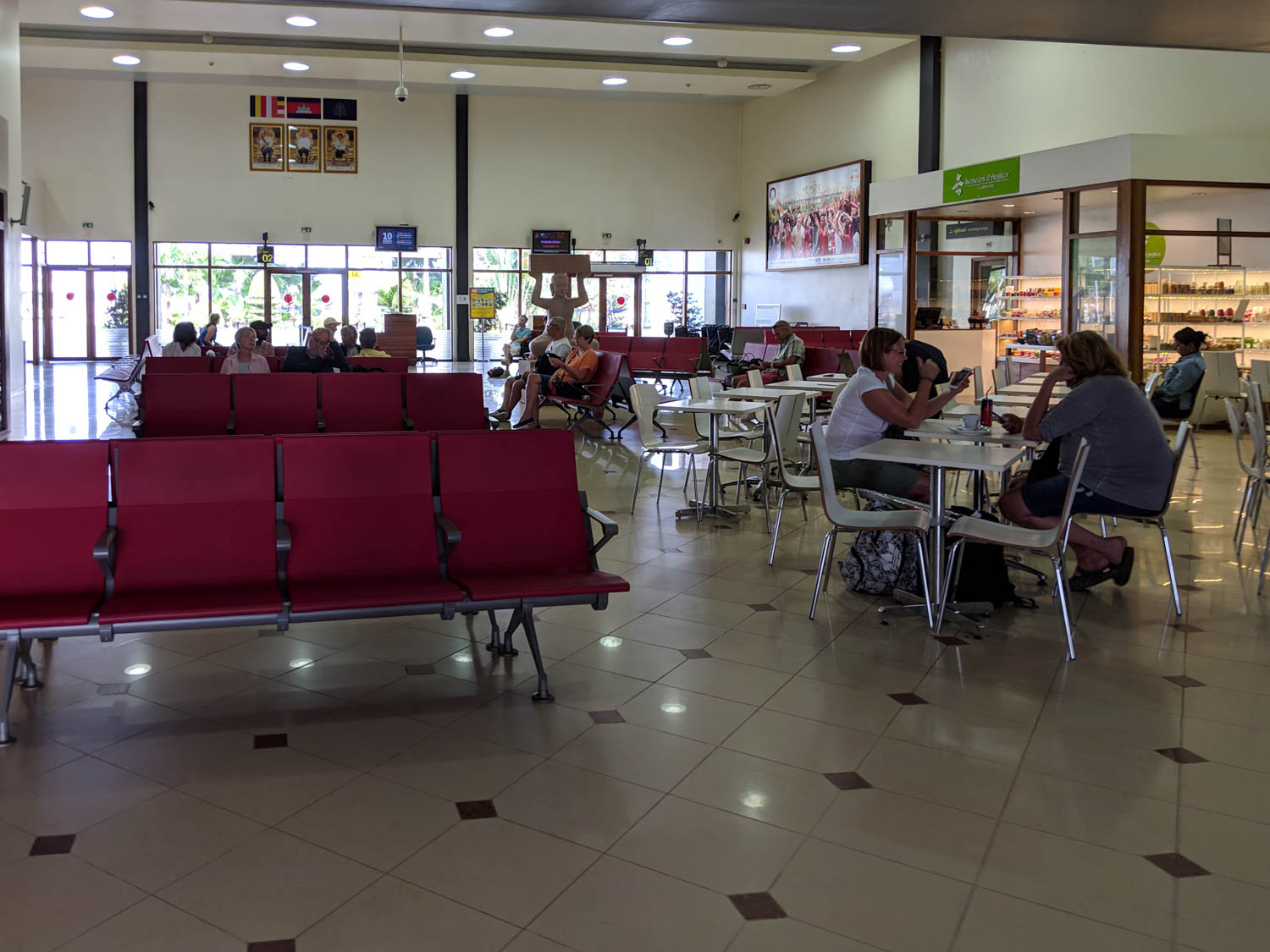 Eventually boarding was called for our flight, which consisted of a very unstructured stroll across the tarmac.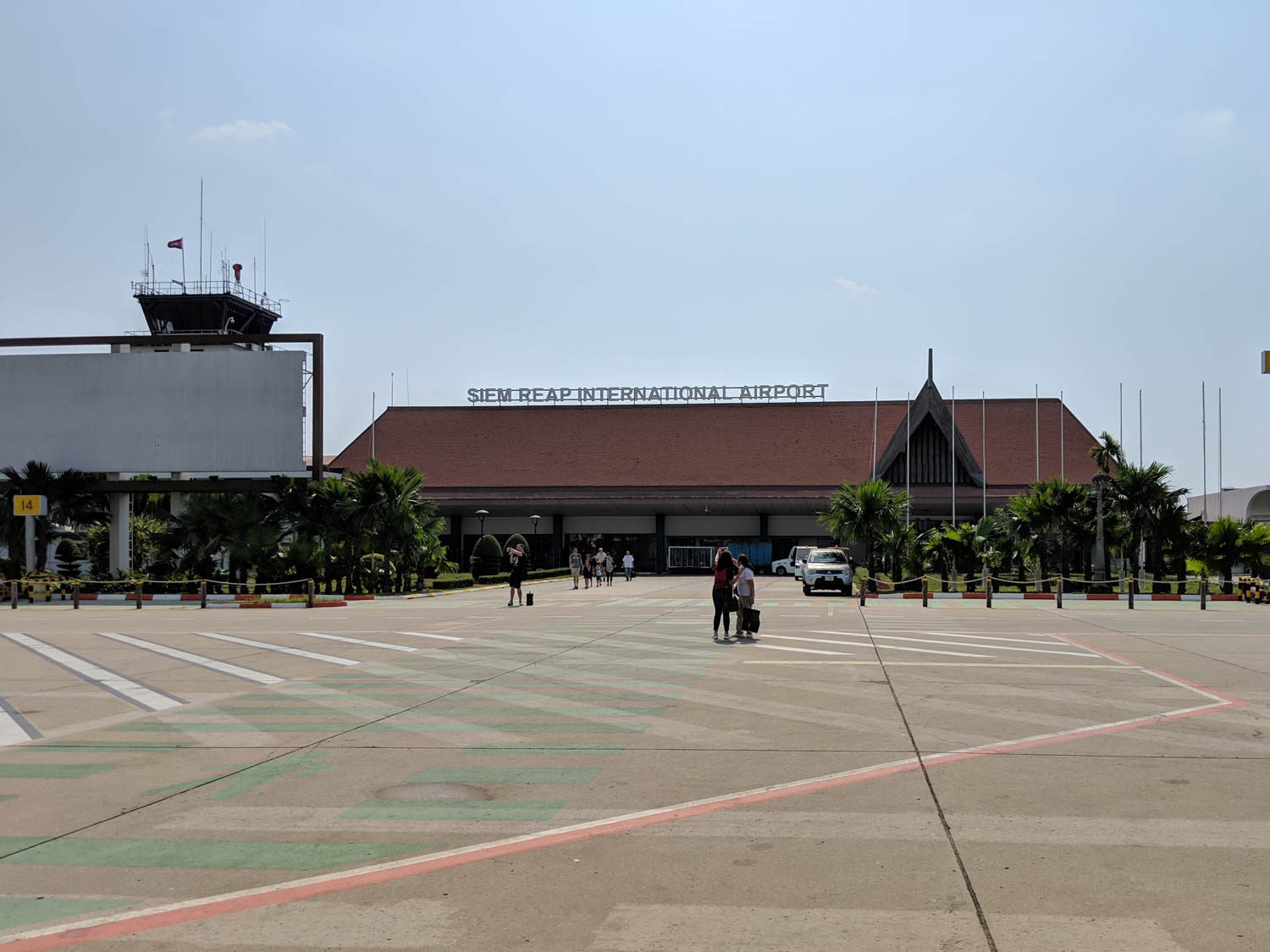 We did get to see an assortment of other Cambodian airlines on our way.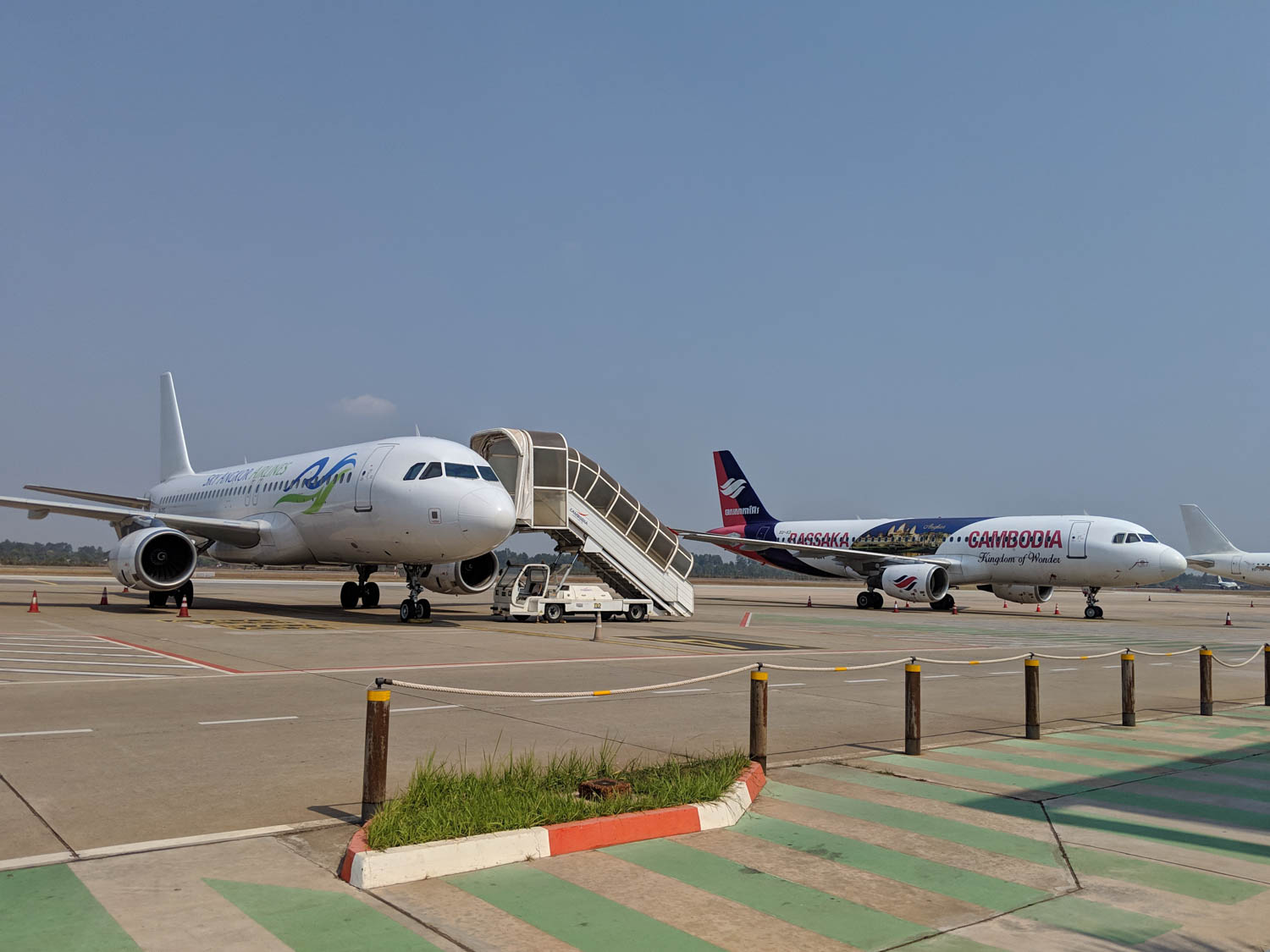 Boarding was of course done from the rear of the aircraft, and people were pretty organized about it.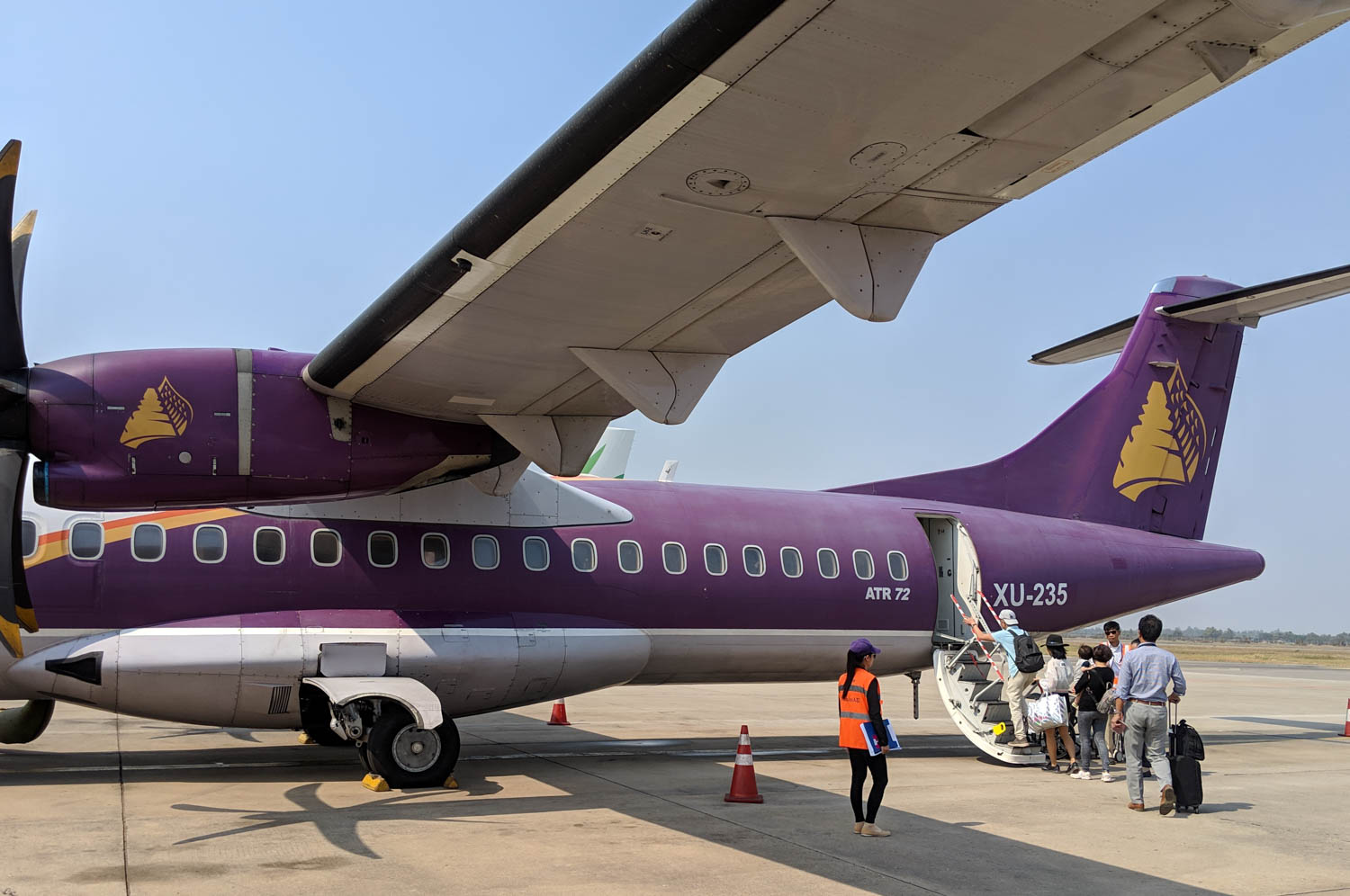 Cambodia Angkor Airways uses the ATR 72-500, which is basically identical to the Lao Airlines ATR 72 we flew earlier in the trip.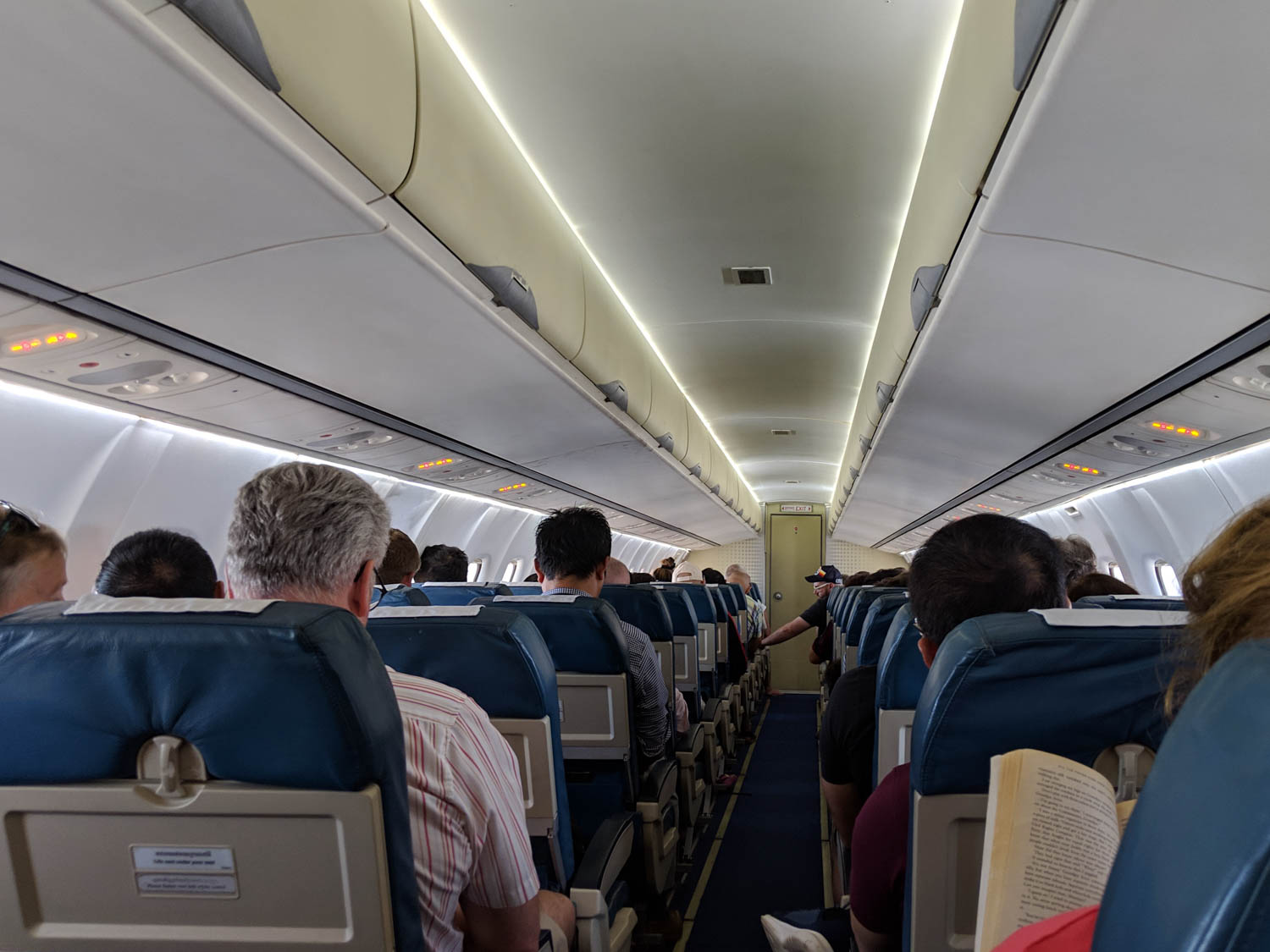 The flight attendants performed a quick safety demonstration, and we departed right away.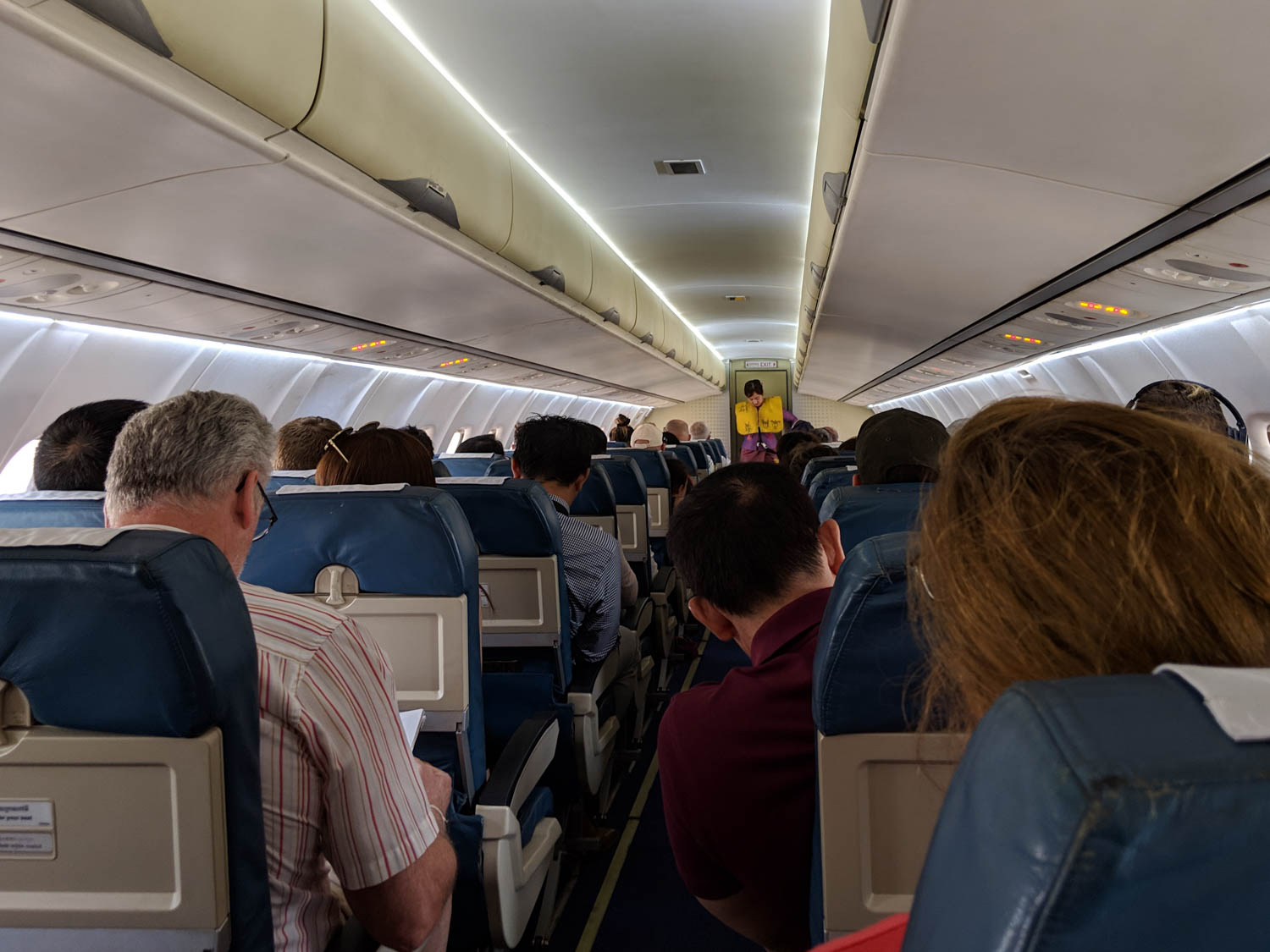 Unlike our Lao Airlines flight, this short flight didn't offer a snack or beverage service, though an assortment of drinks, snacks, and merchandise were advertised in the in-flight magazine.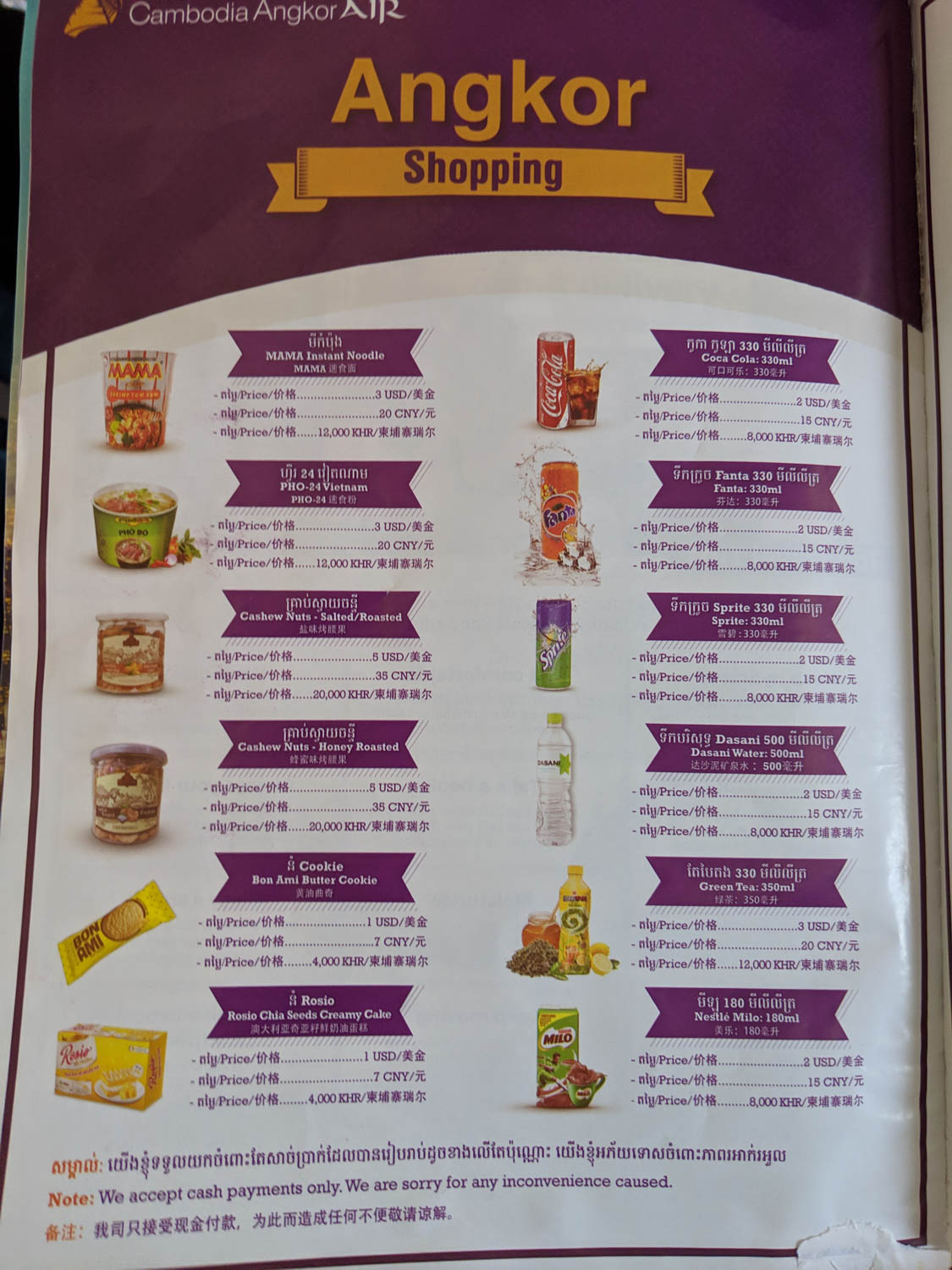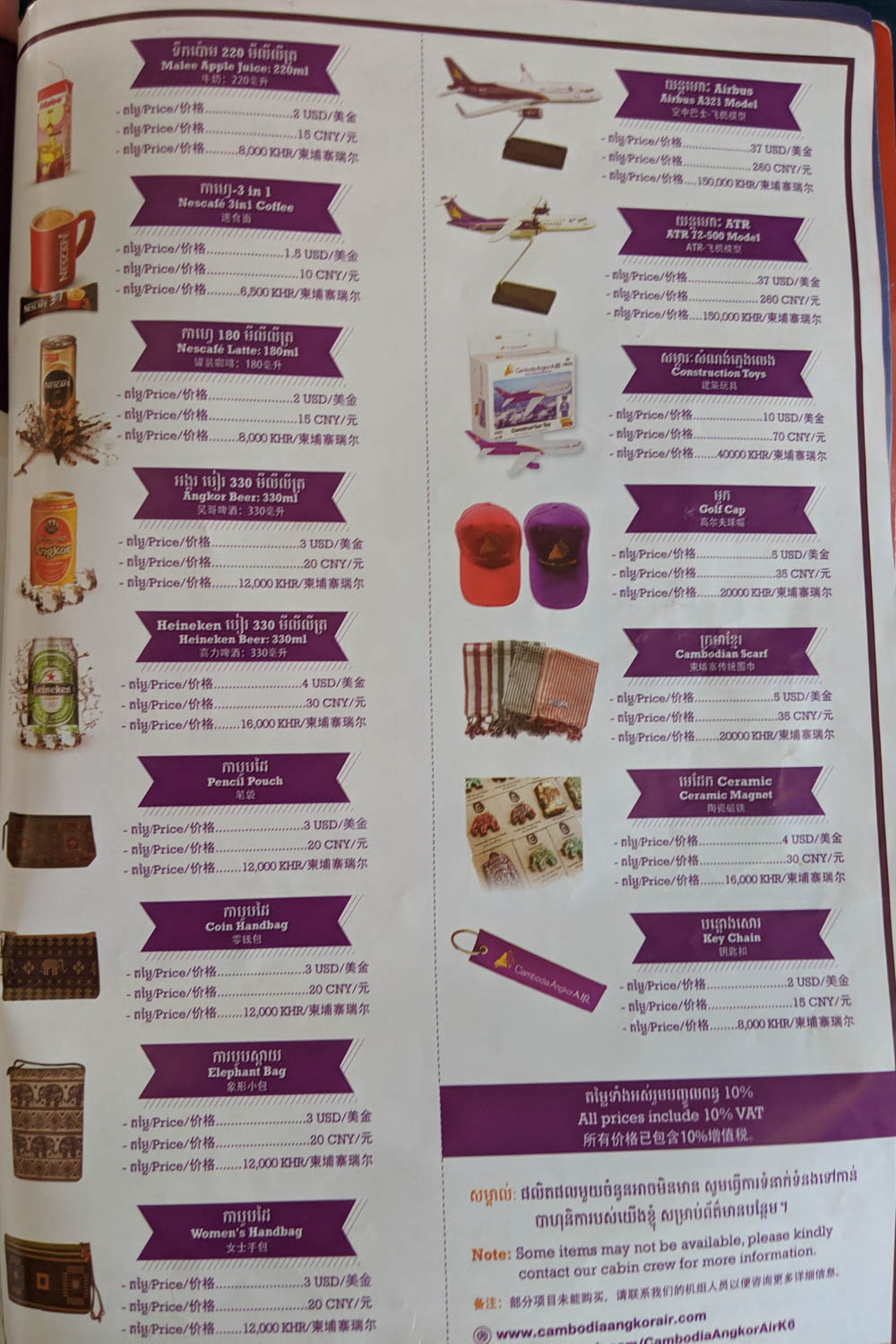 The highlight of the flight for me was actually the in-flight magazine, which included the seasonal flight schedule for the entire fleet. I remember poring over flight schedule pamphlets when I'd fly between Utah and Hawaii as a kid, so that was a fun treat.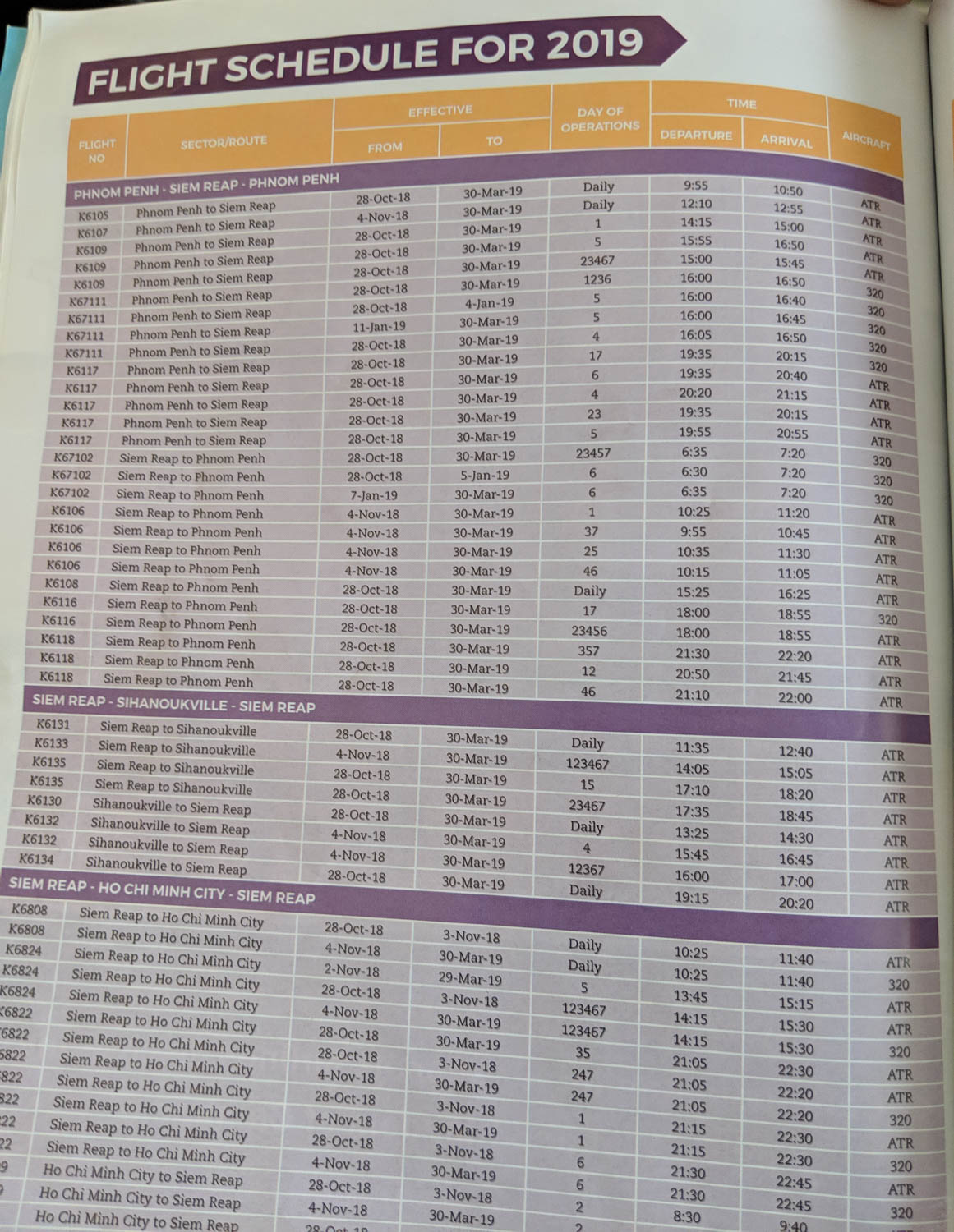 Otherwise, it was a fairly uneventful flight, though it did feel like it took an exceedingly long time to fly the ~150 miles. That might have just been the lack of any in-flight service to break things up though, and we arrived in Phnom Penh on schedule.
Has anyone flown any of the other domestic airlines in Cambodia? How were they?