---
Sorry for the delay on this folks — not to get too much into the sausage-making, but we had planned to pause this particular narrative while Ben finished sharing details on his trip to Sri Lanka, with the idea being that I'd publish the rest of this series while he was away on some planned travel for May. But sometimes life has other plans, so we're regrouping a bit. I'll finish this report out, and then we'll figure things out from there.
Anyway.
This story left off, if you'll recall, as we traveled to Laos after spending a chunk of time in Vietnam. While we would have loved to spend more time exploring other areas of Vietnam in more depth (and will absolutely return), we wanted to show our moms more of the region, which I think was a good choice in the end.
So. Luang Prabang.
Booking hotels in Laos
I'll talk about this a bit more in the next installment, with my thoughts on visiting Luang Prabang, but the city is…um, let's say "highly trafficked" by an even split of well-heeled Western Baby Boomers, large tour groups from elsewhere in Asia, and the under-30 backpacking crowd.
So when it comes to hotels in Luang Prabang, you can truly spend anything, and get anything. Hostels and guest houses for $10 a night? They abound. Posh ultra-luxurious resorts for $1000? Plenty of those too. And everything in-between.
I knew we wanted to be right in town, and was looking for a cozier property, so on Nick's recommendation we booked two junior suites at Satri House, for ~$190 per night each including breakfast, plus some taxes.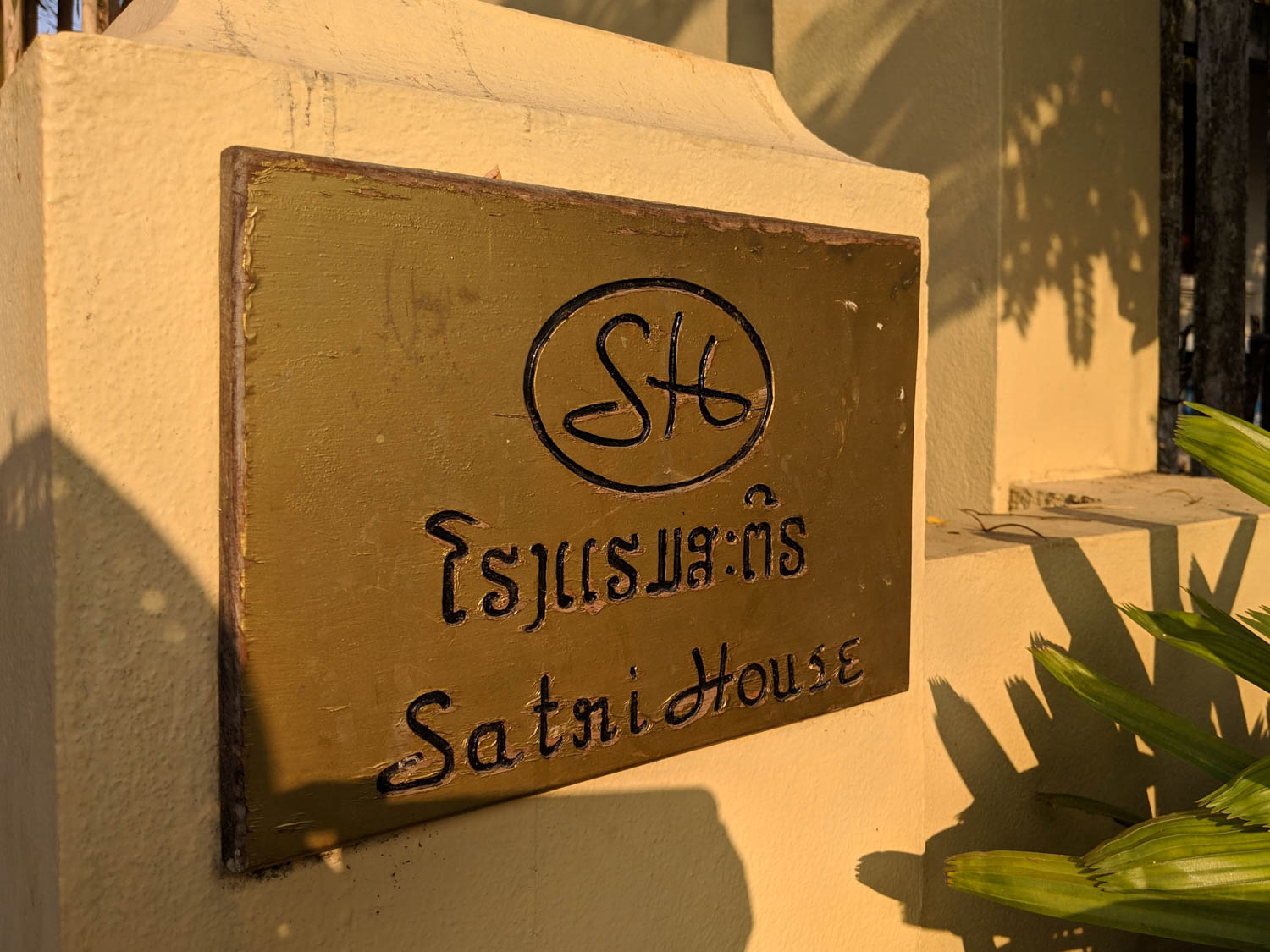 While Satri House doesn't have a rewards program of its own, booking through Hotels.com using my Capital One Venture meant that I earned 10x points on the stay, plus six nights in the Hotels.com rewards program.
That's a great return for independent properties, and as there really aren't many points hotels in Laos (though there is a well-regarded Sofitel in Luang Prabang), this is probably the best option for getting a bit of extra value, unless you're booking a premium property through FHR or Virtuoso.
Satri House in Luang Prabang
From the moment we arrived at Satri House, our moms fell absolutely in love with the hotel. The property is tucked away on a quiet residential street (and is itself comprised of a series of historic residences), and is surrounded by a walled garden.
Seriously, how is this for an enticing first impression?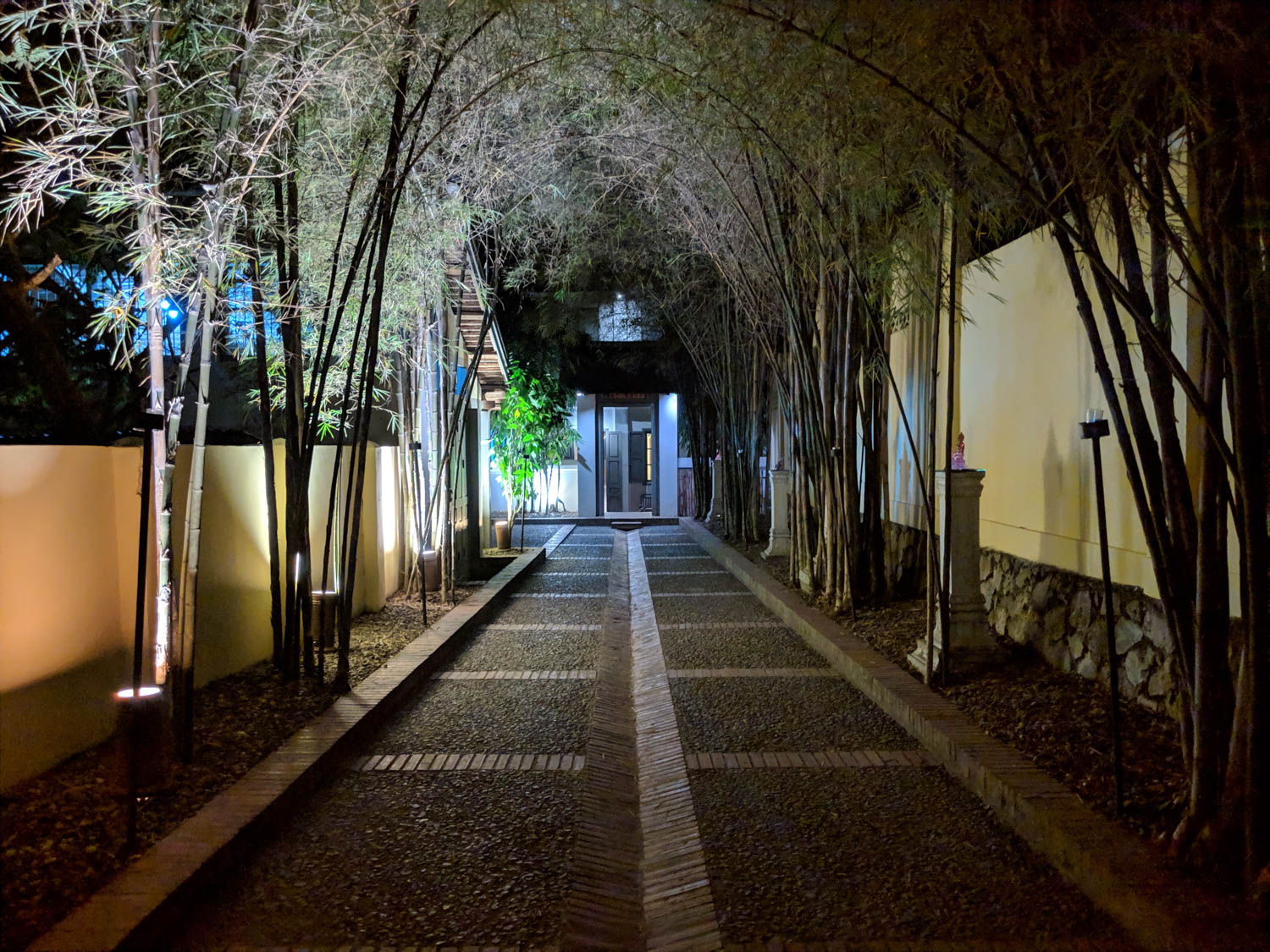 The entrance is slightly less swoon-worthy during the day, but I loved the little architectural details, the votive statues lining the pathway, and general sense of intimacy the arching trees provided.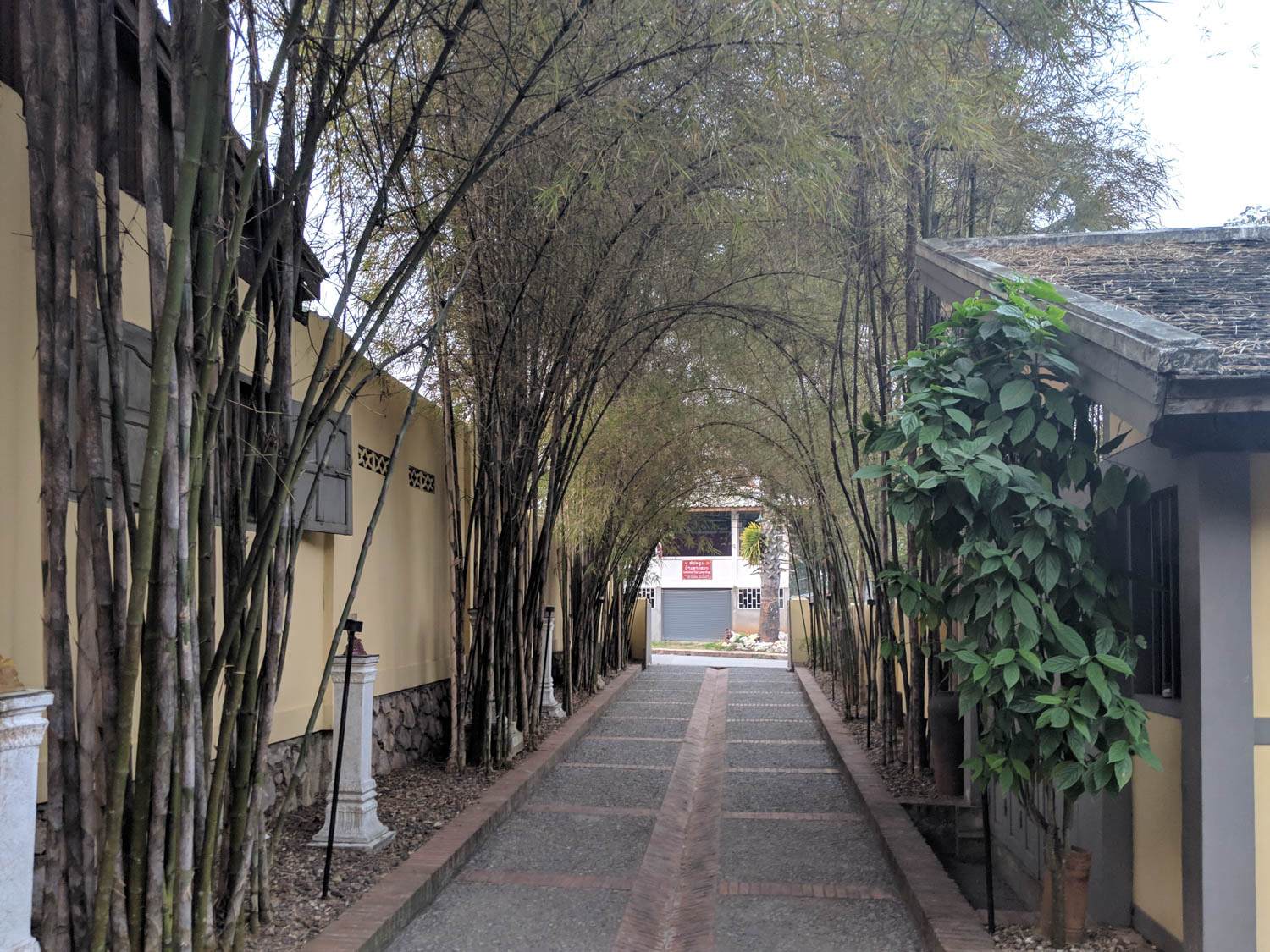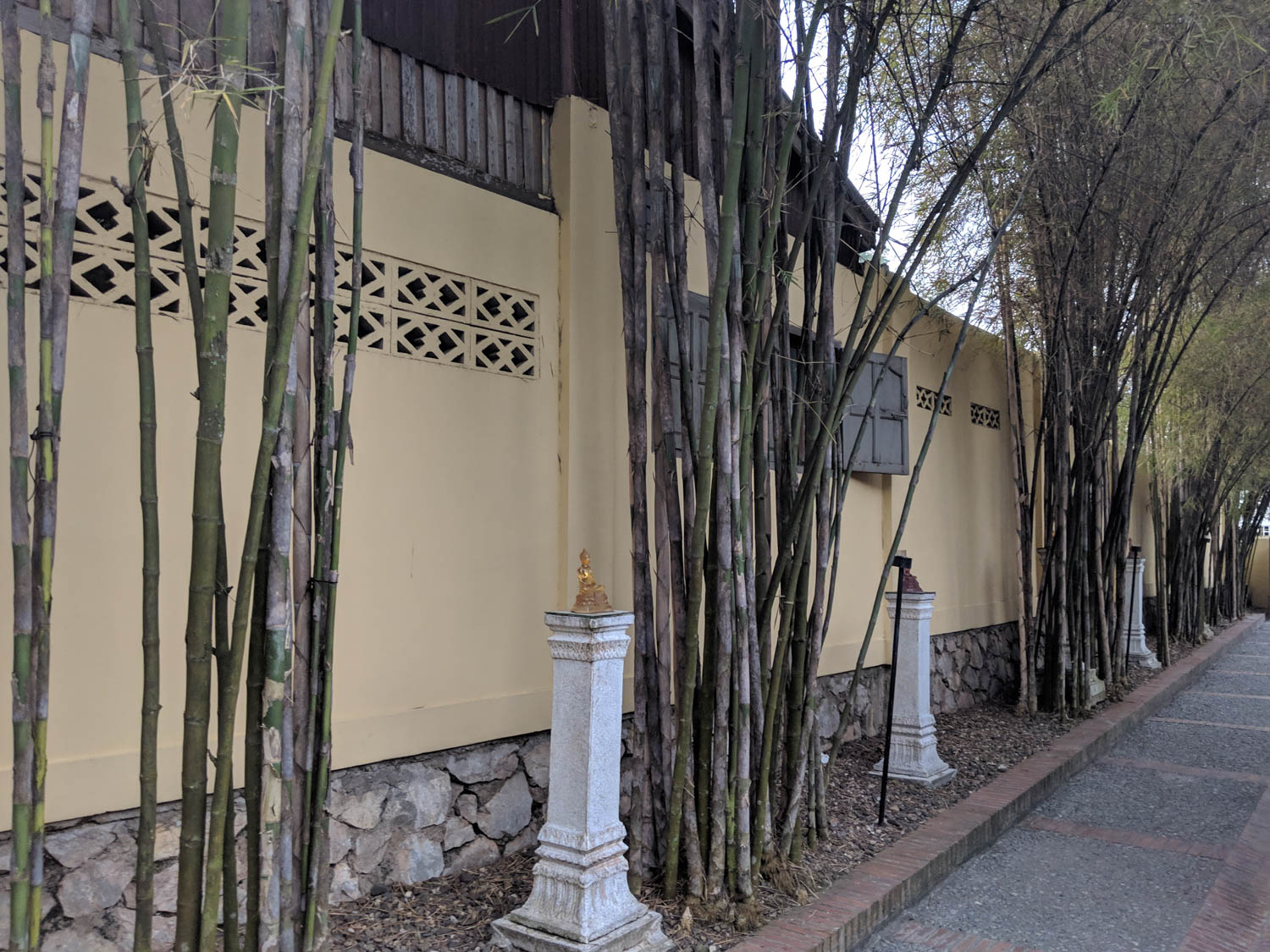 On arrival we were ushered past the portico, and then through an inner courtyard.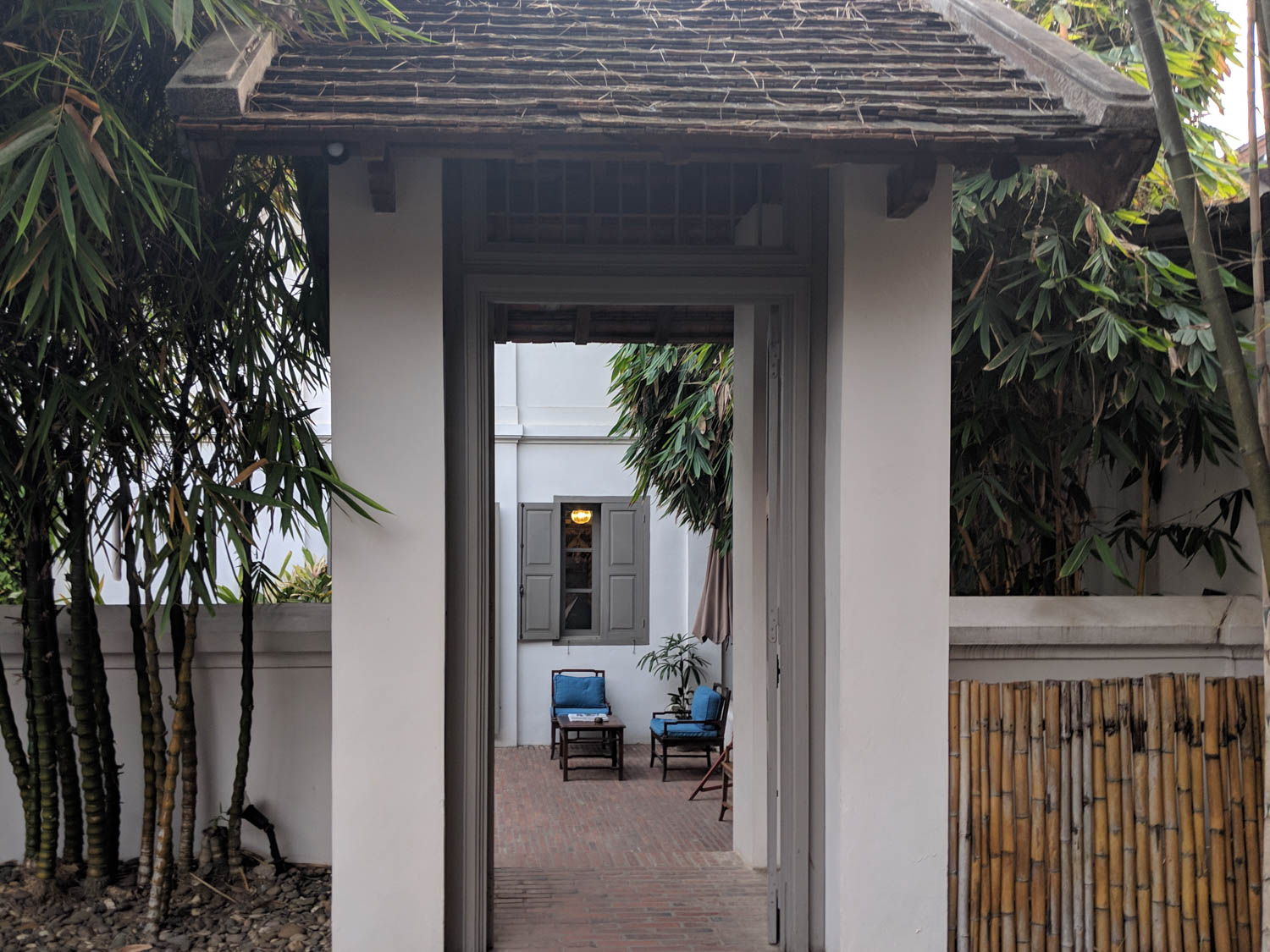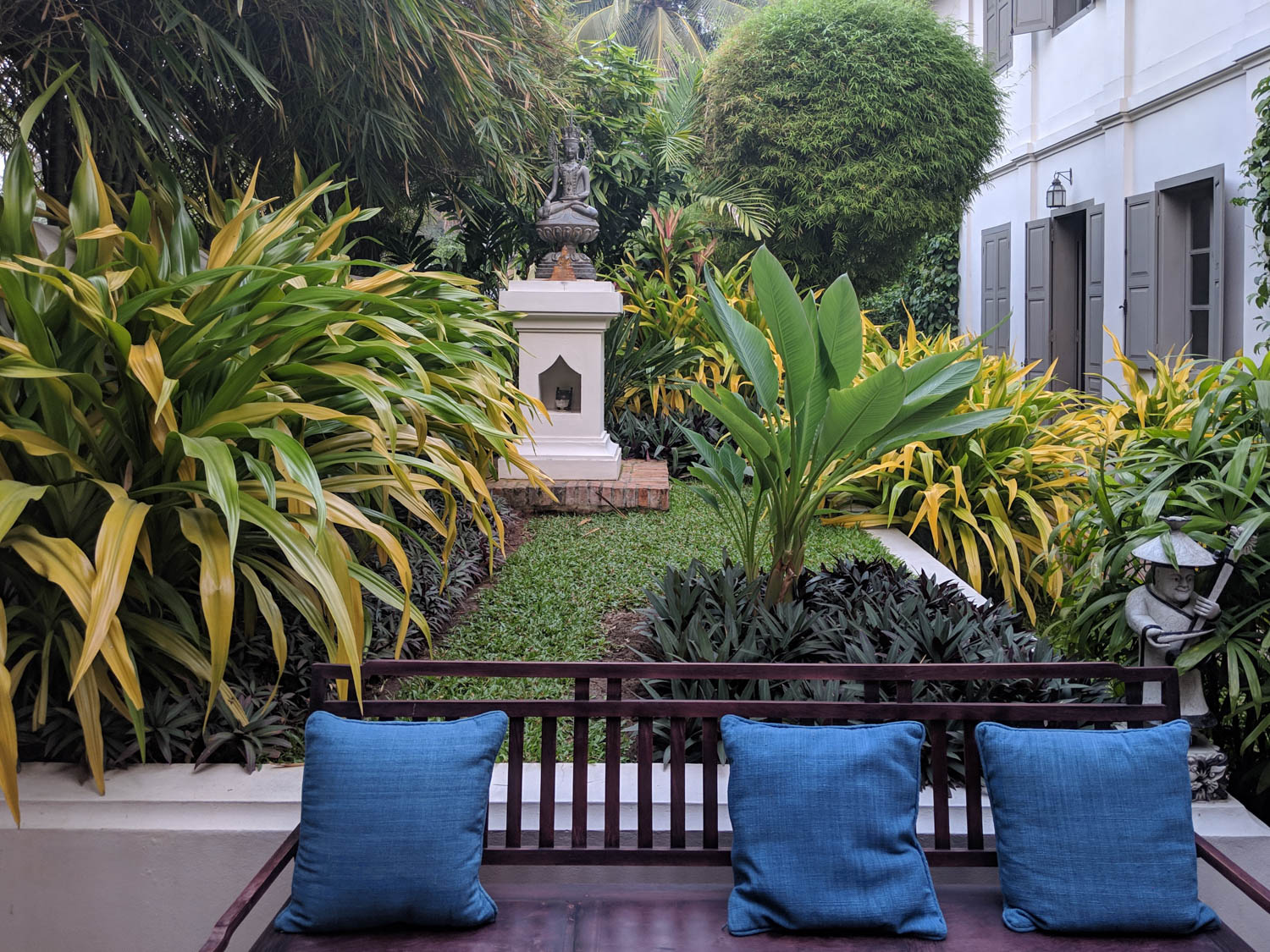 Satri House doesn't have a formal lobby as such, just a reception desk tucked under the staircase by the front door.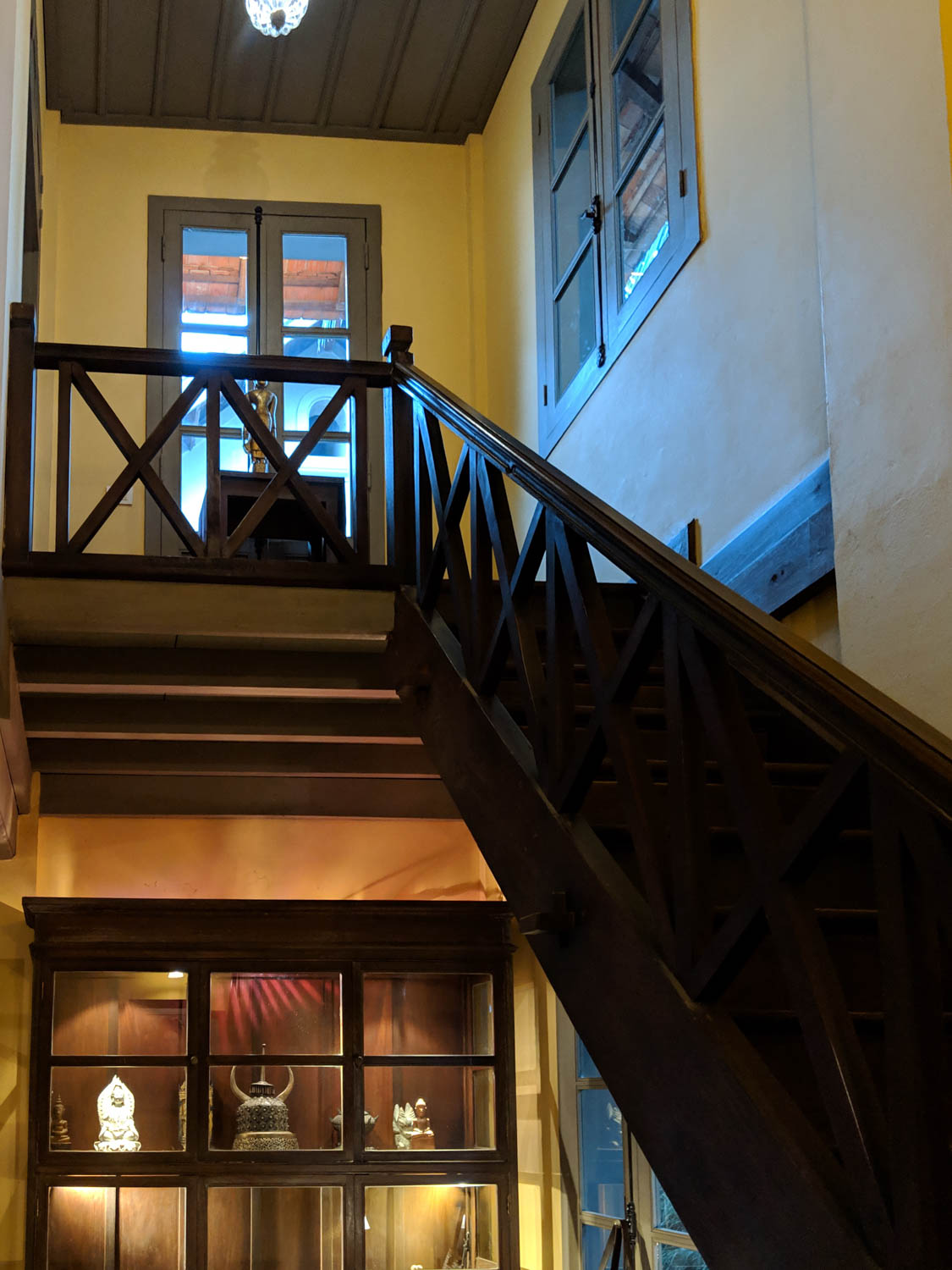 As soon as we entered, however, we were warmly greeted and escorted to the sitting room, and I can't even describe how giddy our moms were by this point. If the Jungle Cruise was a real-life experience, I'm pretty sure the hotel you went to after stepping off the boat would look exactly like this, so of course our moms loved every bit of it.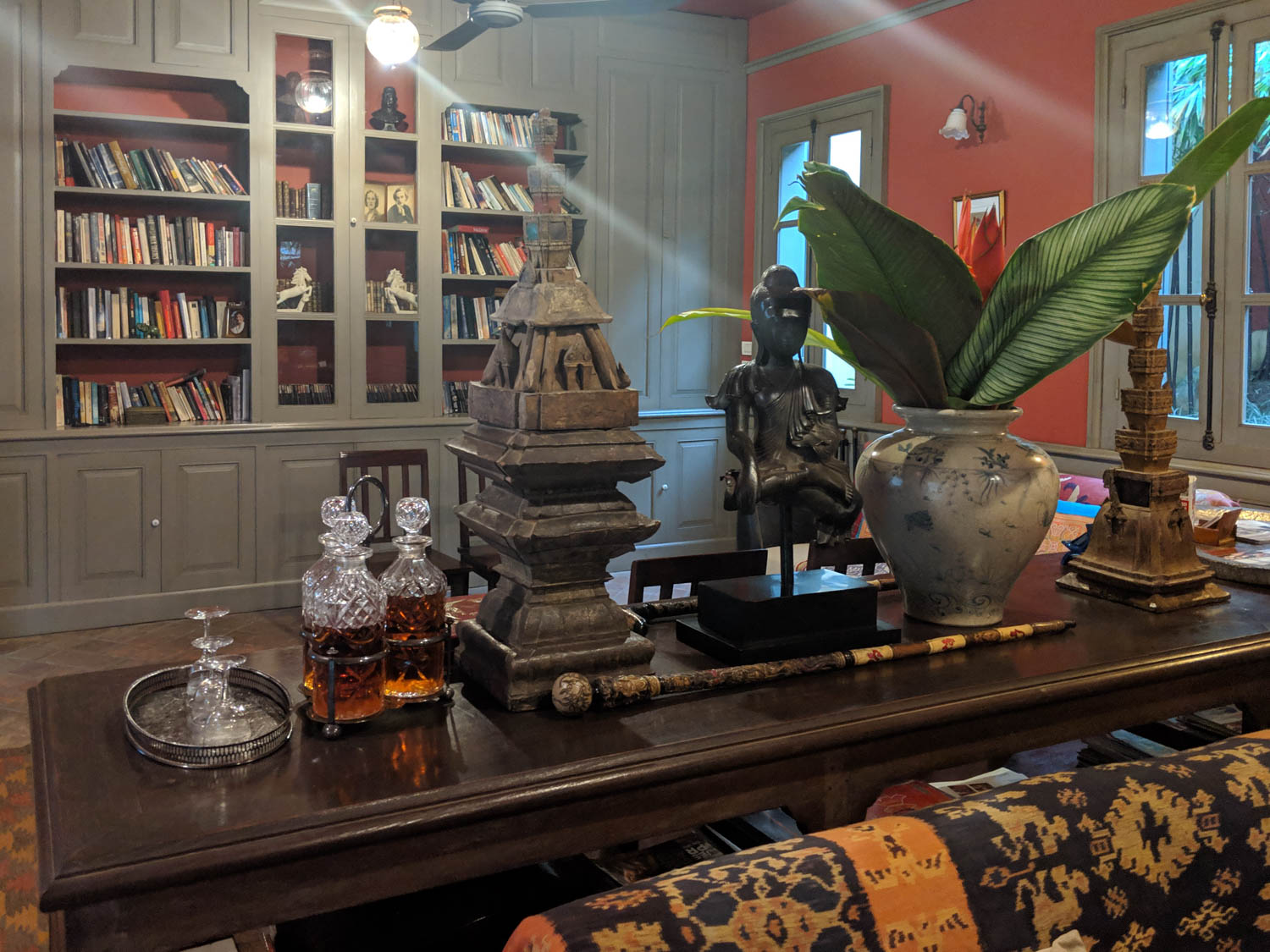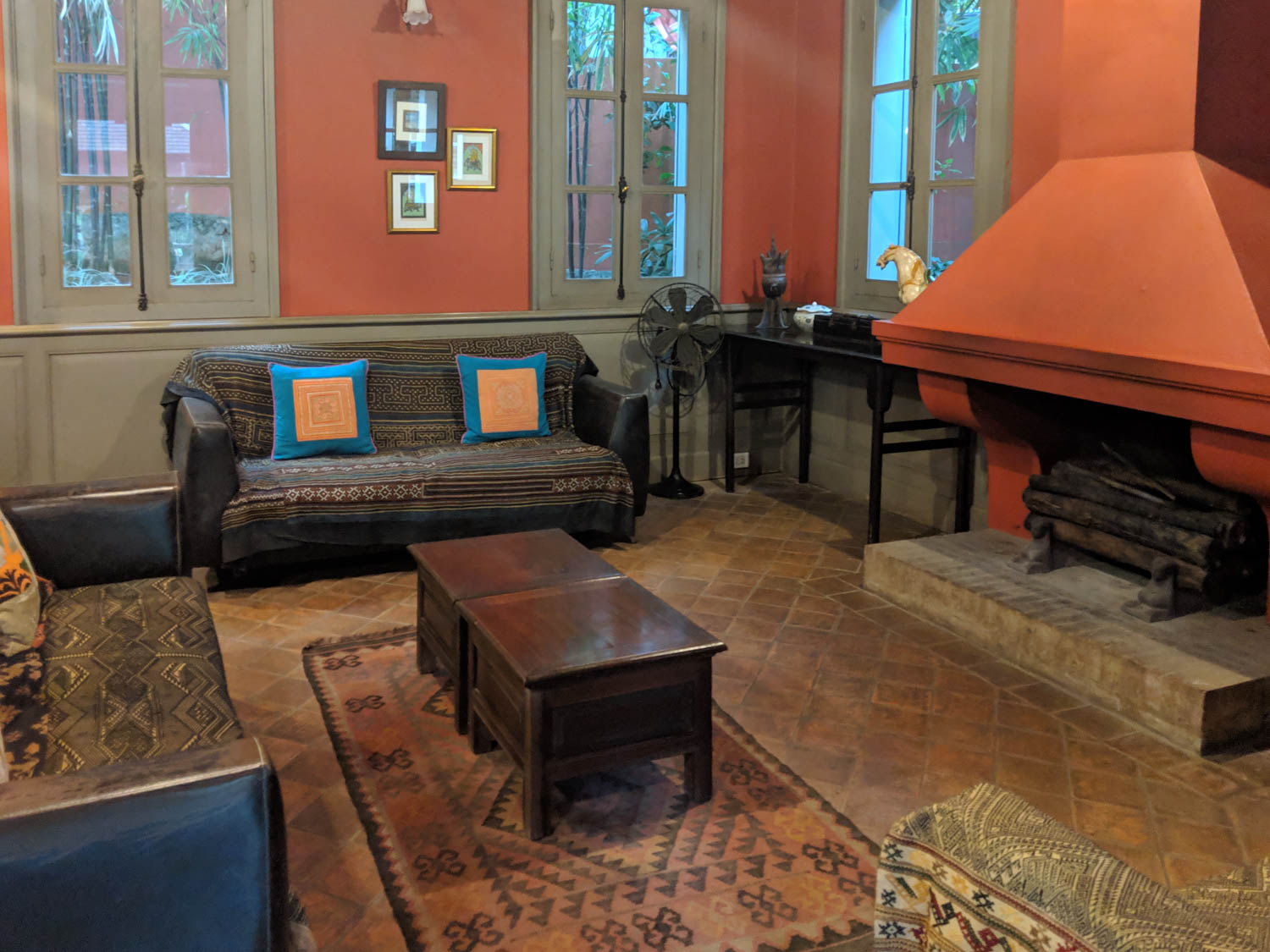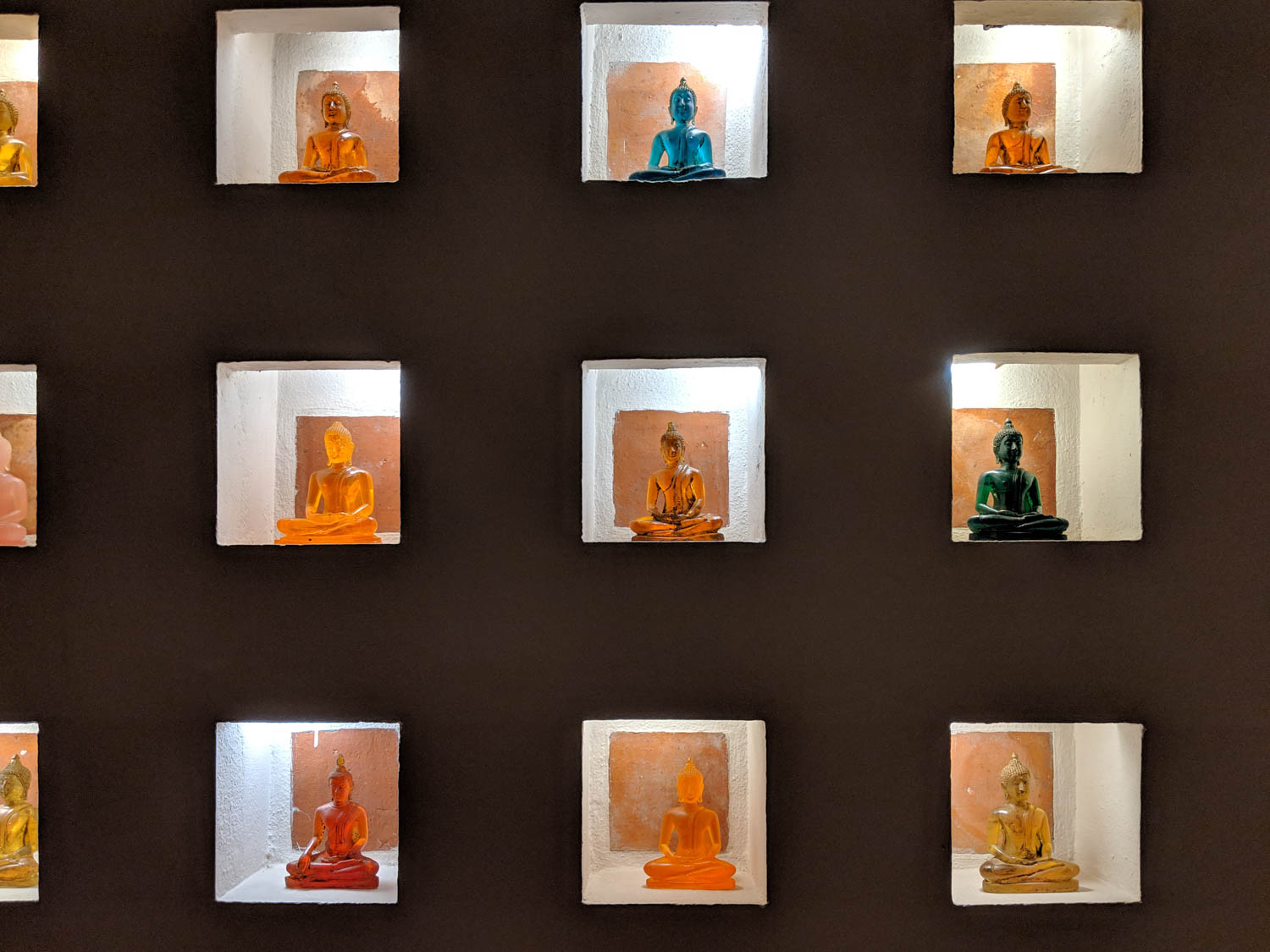 The host asked us what we'd like from the bar while we checked in, and a colleague whisked away to fetch a mix of gin & tonics and local beers that were subsequently snatched up before I could photograph them (our first lobby-served welcome drinks of the trip, so moms were over-the-moon).
We lingered over the check-in formalities — not out of inefficiency, but because the staff was so warm and welcoming. We were asked about our plans in Laos, discussed logistics for getting around town, and practiced a few words in Laotian. Just lovely.
About twenty minutes later, we were led through the central garden and ponds to our rooms — two junior suites, one above the other.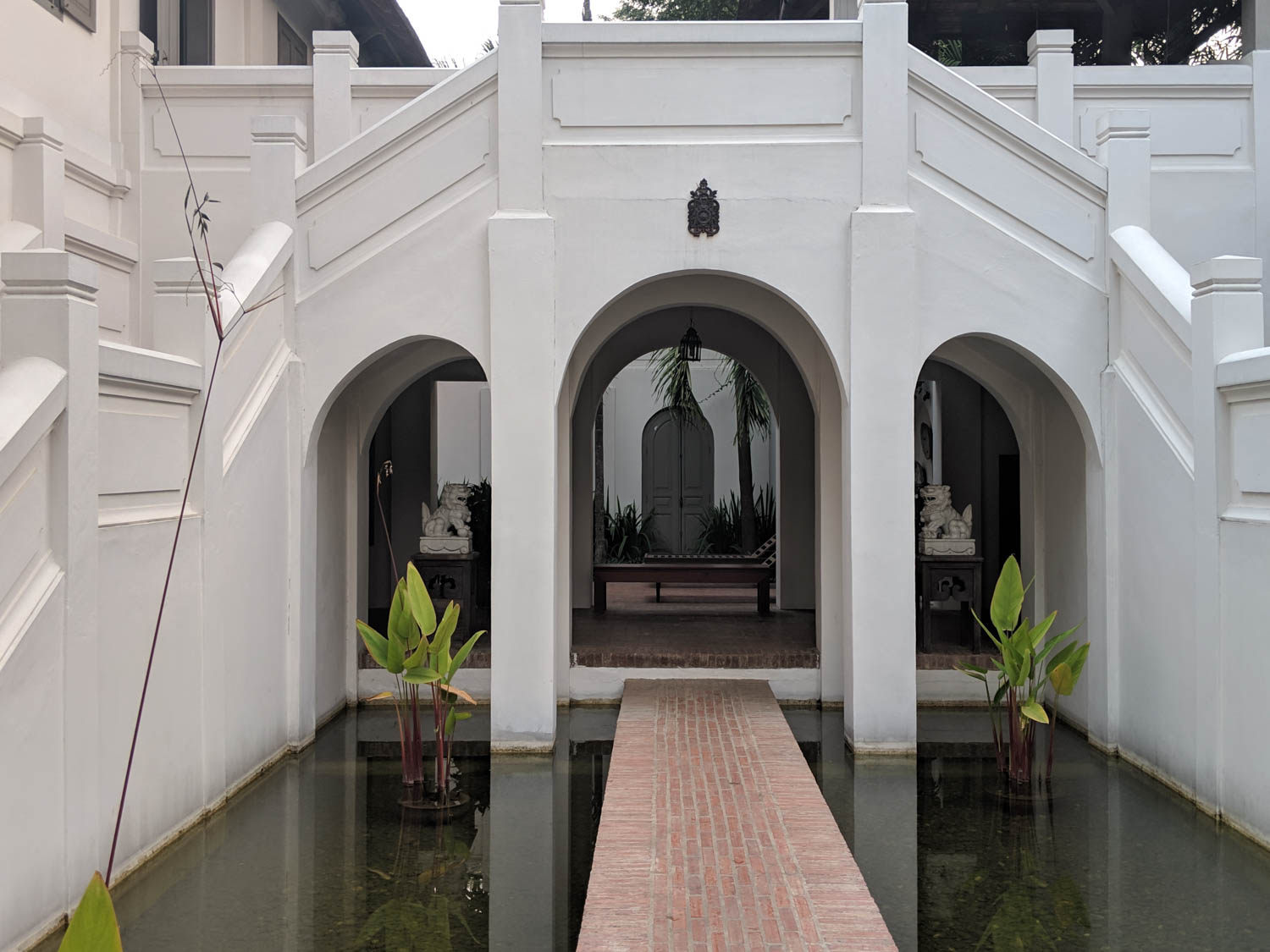 The first room was accessed by walking over a little brick bridge, and past a small courtyard that was shared with a couple of other rooms.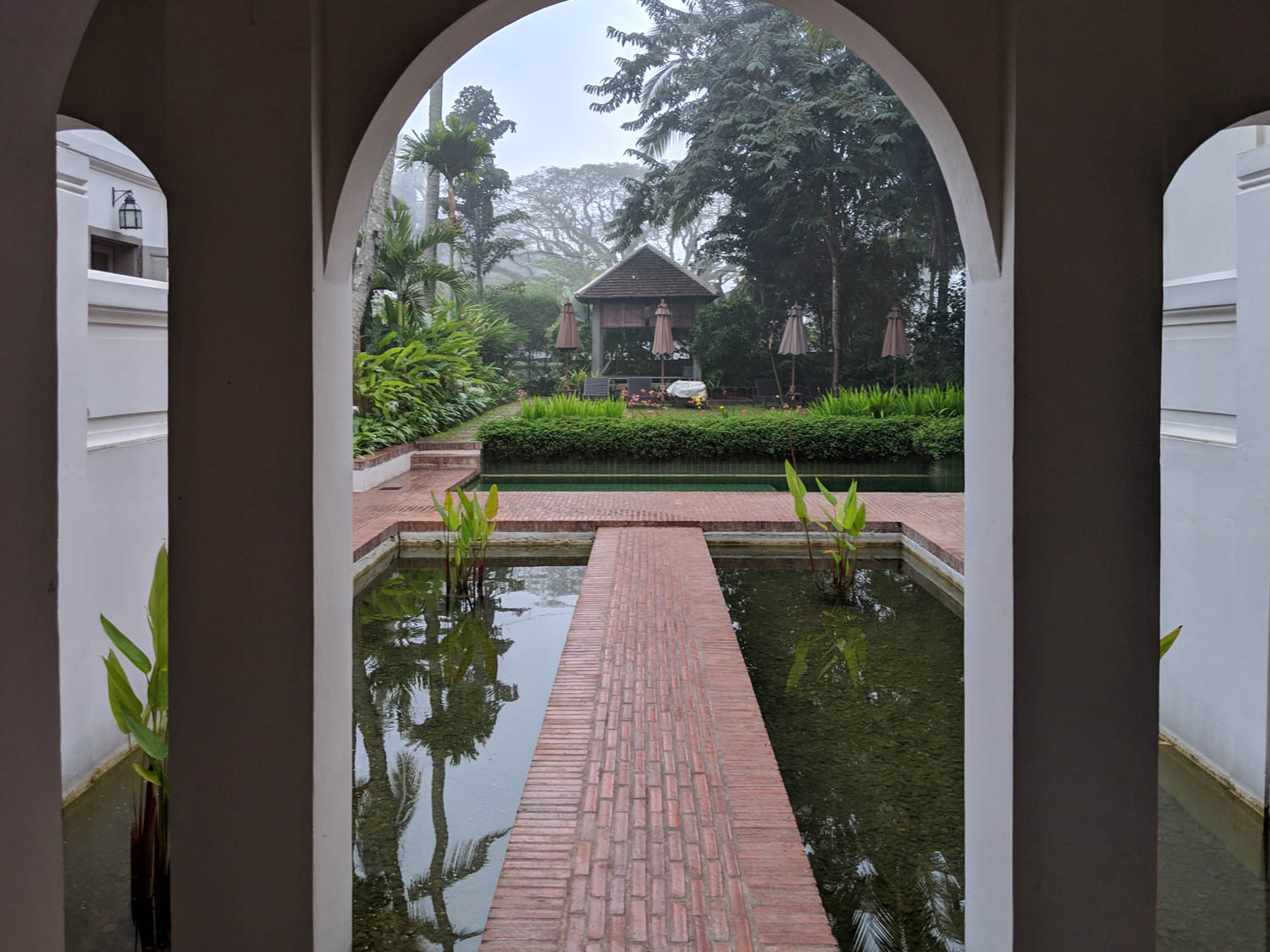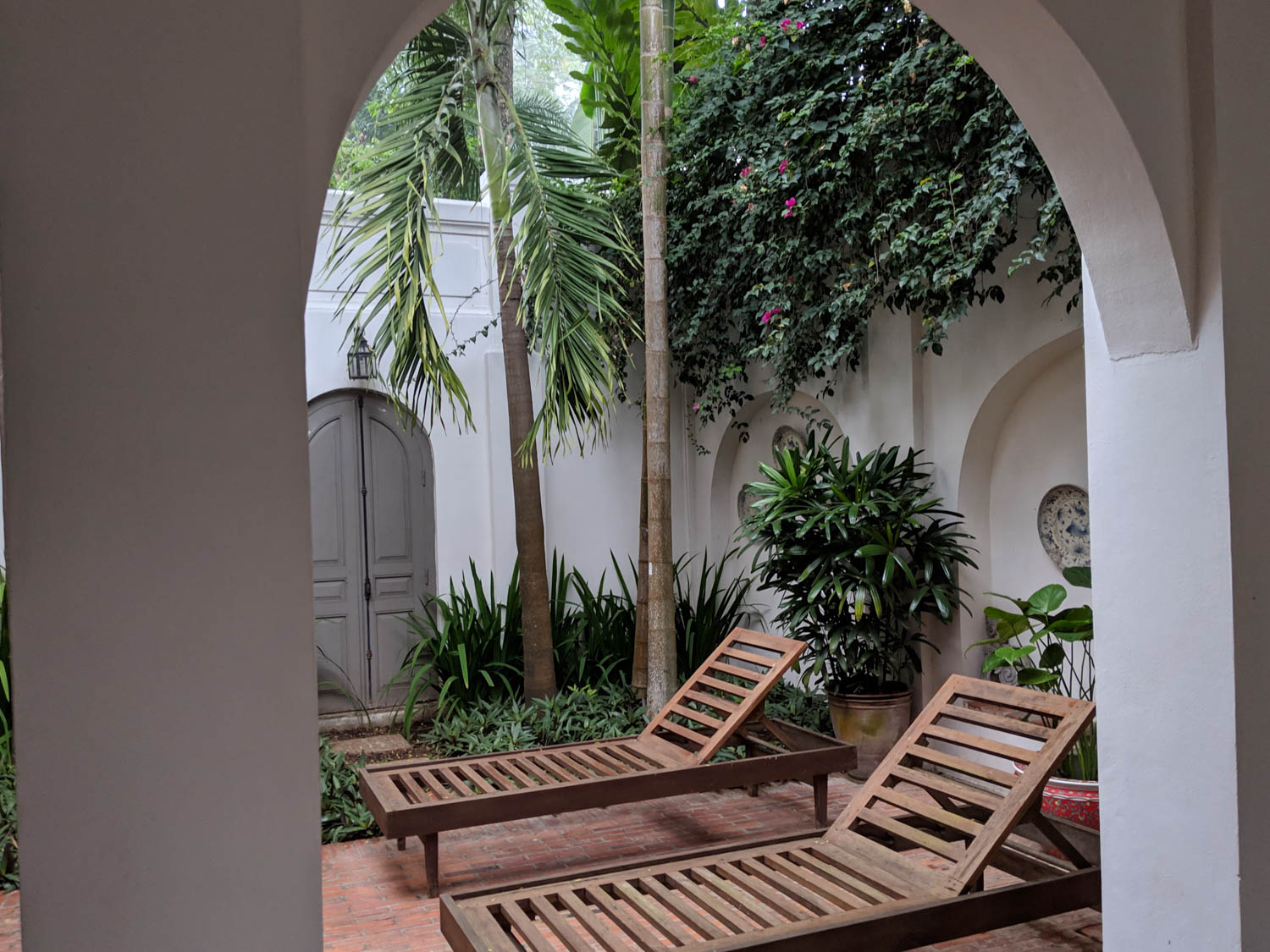 The rooms were entered through heavy wooden doors (which did not auto-lock on exit, as a helpful tip that only took us a day to realize), and then a closet-lined hallway opened to a high-ceilinged room.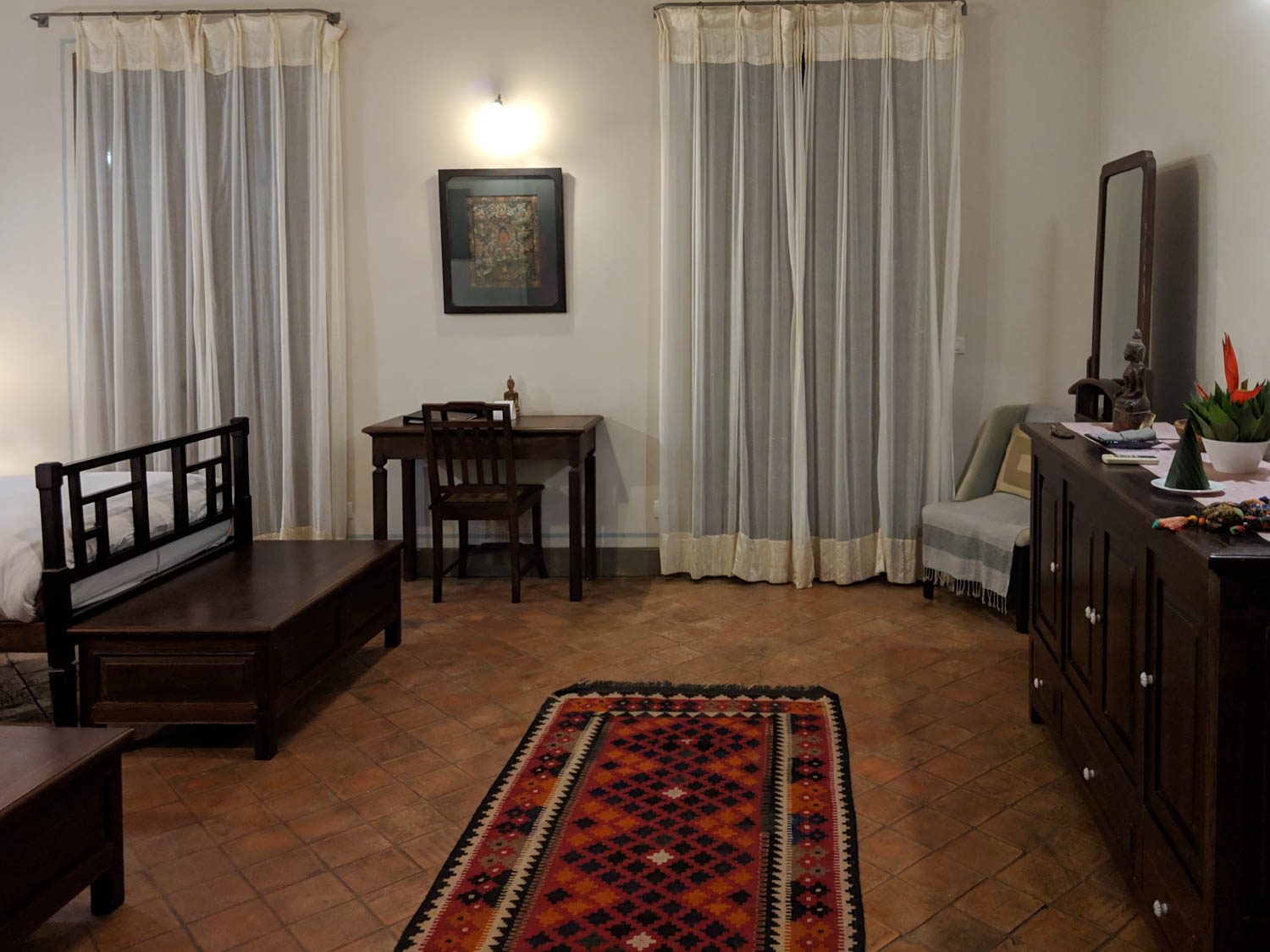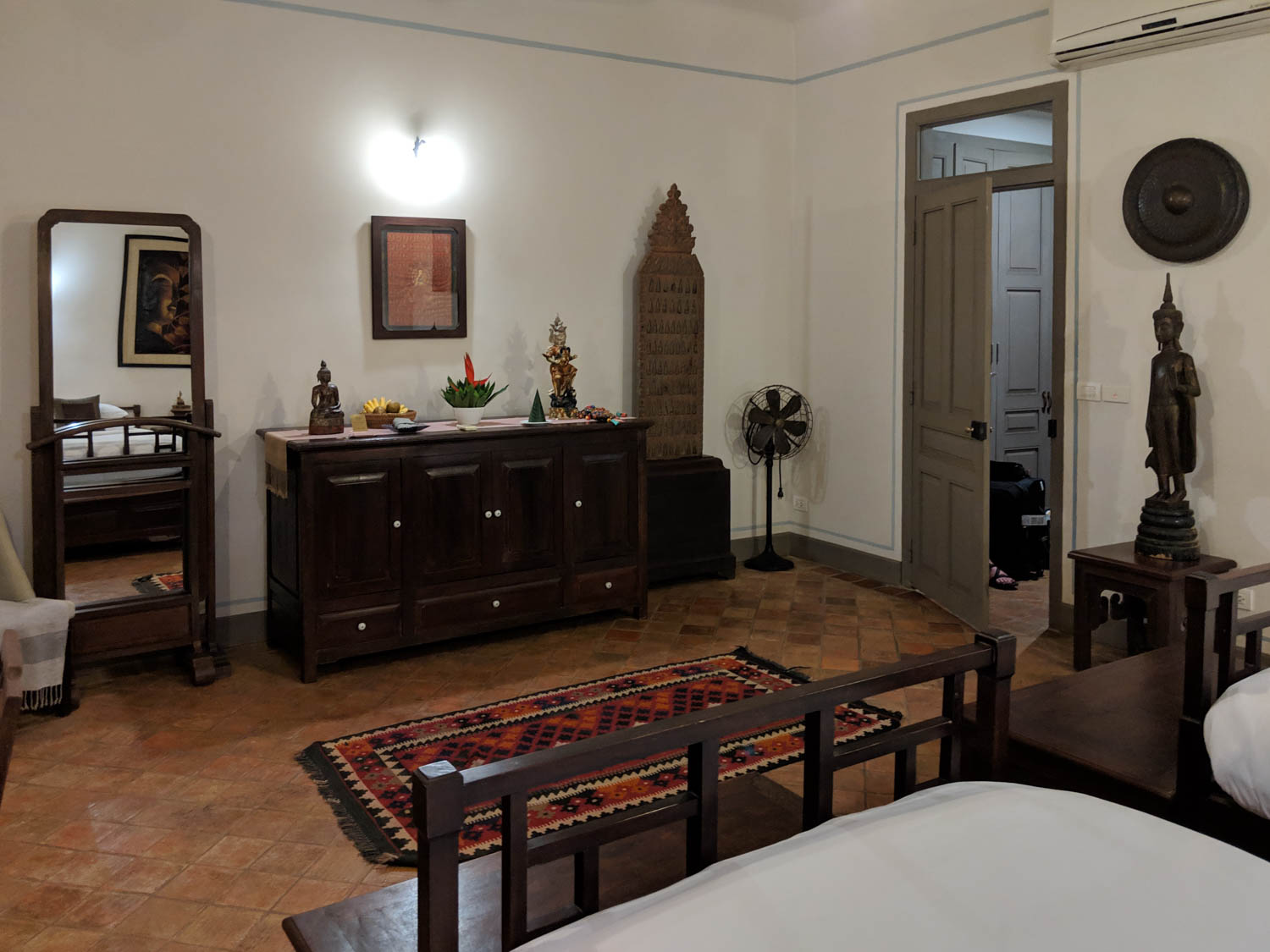 The suite had myriad decorative touches, including local handicrafts that our host explained were used to designate "do not disturb" versus "please refresh the room".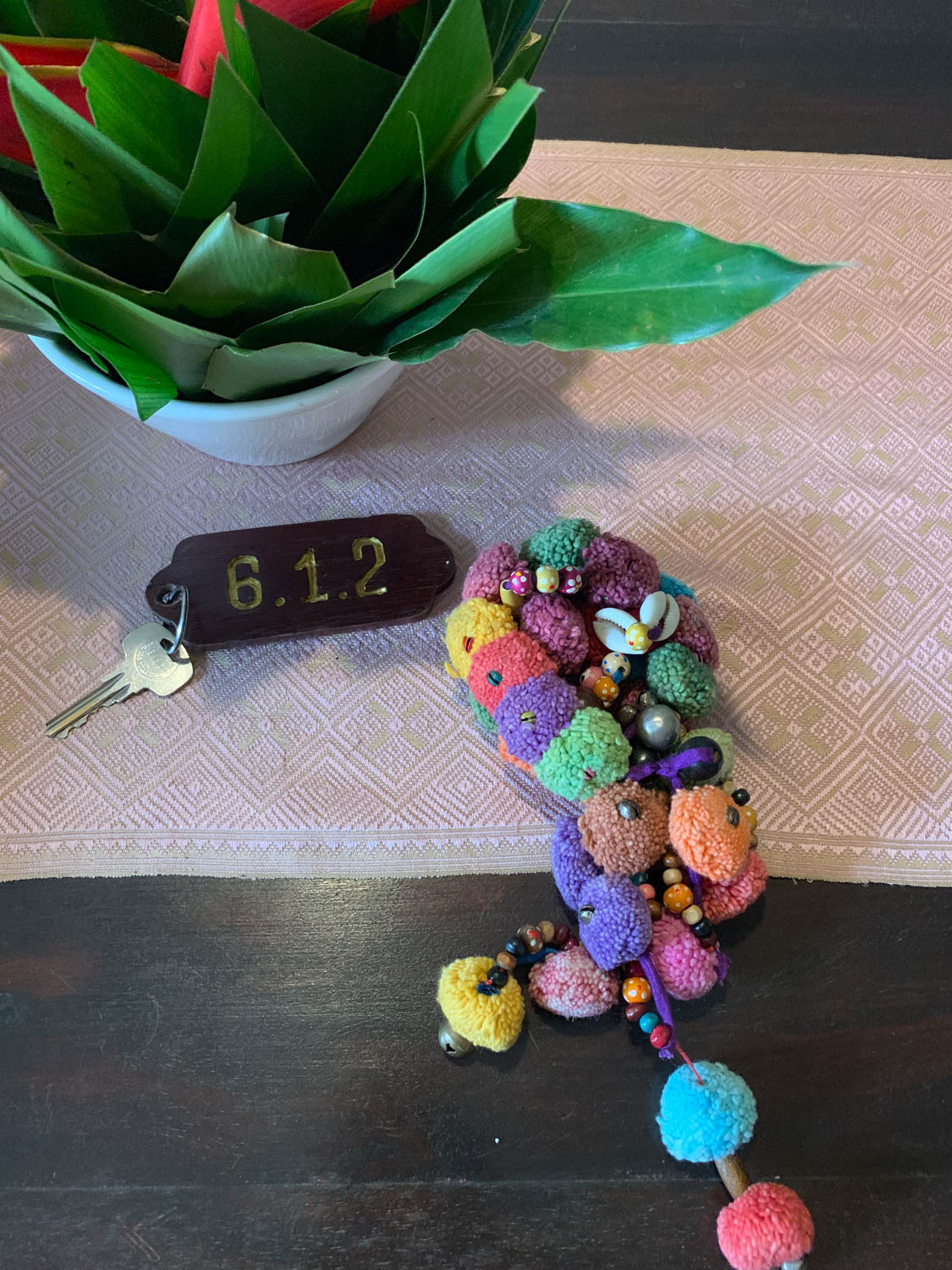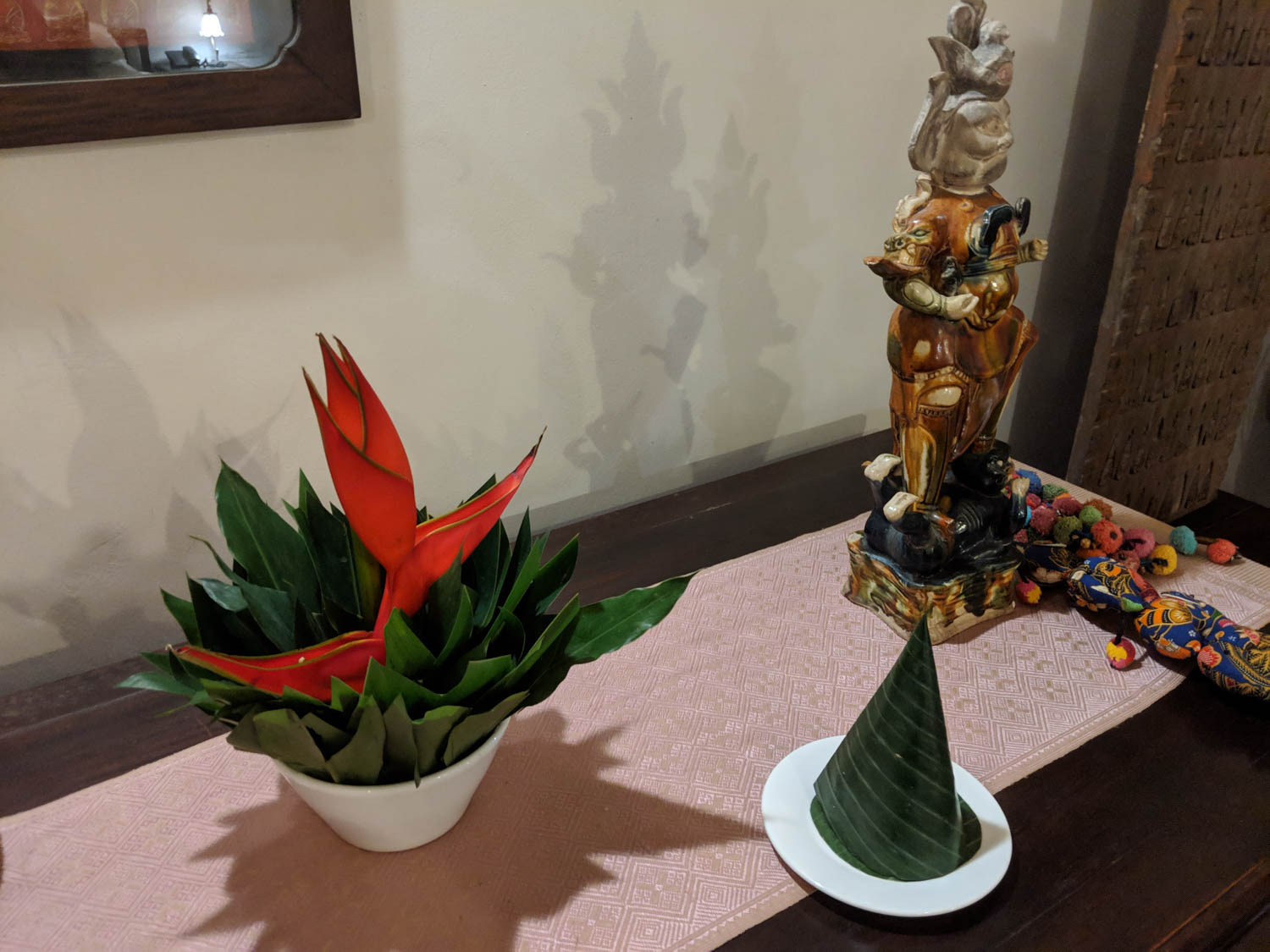 A fruit basket was waiting for us as well, and while that may seem like an impossible number of bananas, they were only finger-length.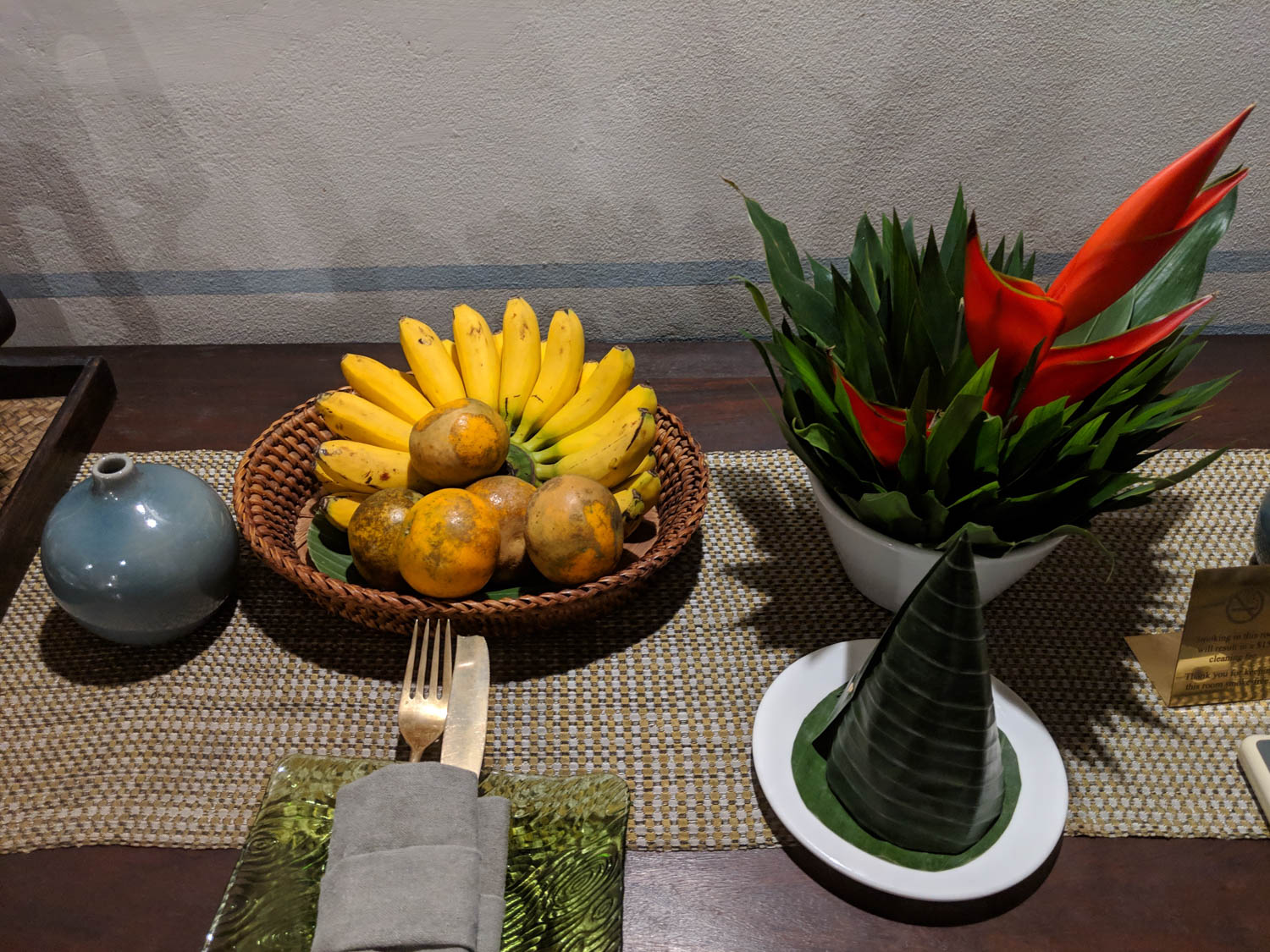 This suite had two twin beds, with chests at the foot of each.
They were charming as could be, and the linens were high quality, but the bed frames and mattresses themselves were pretty rickety, to where every time our moms rolled over upstairs we could hear the beds rattle.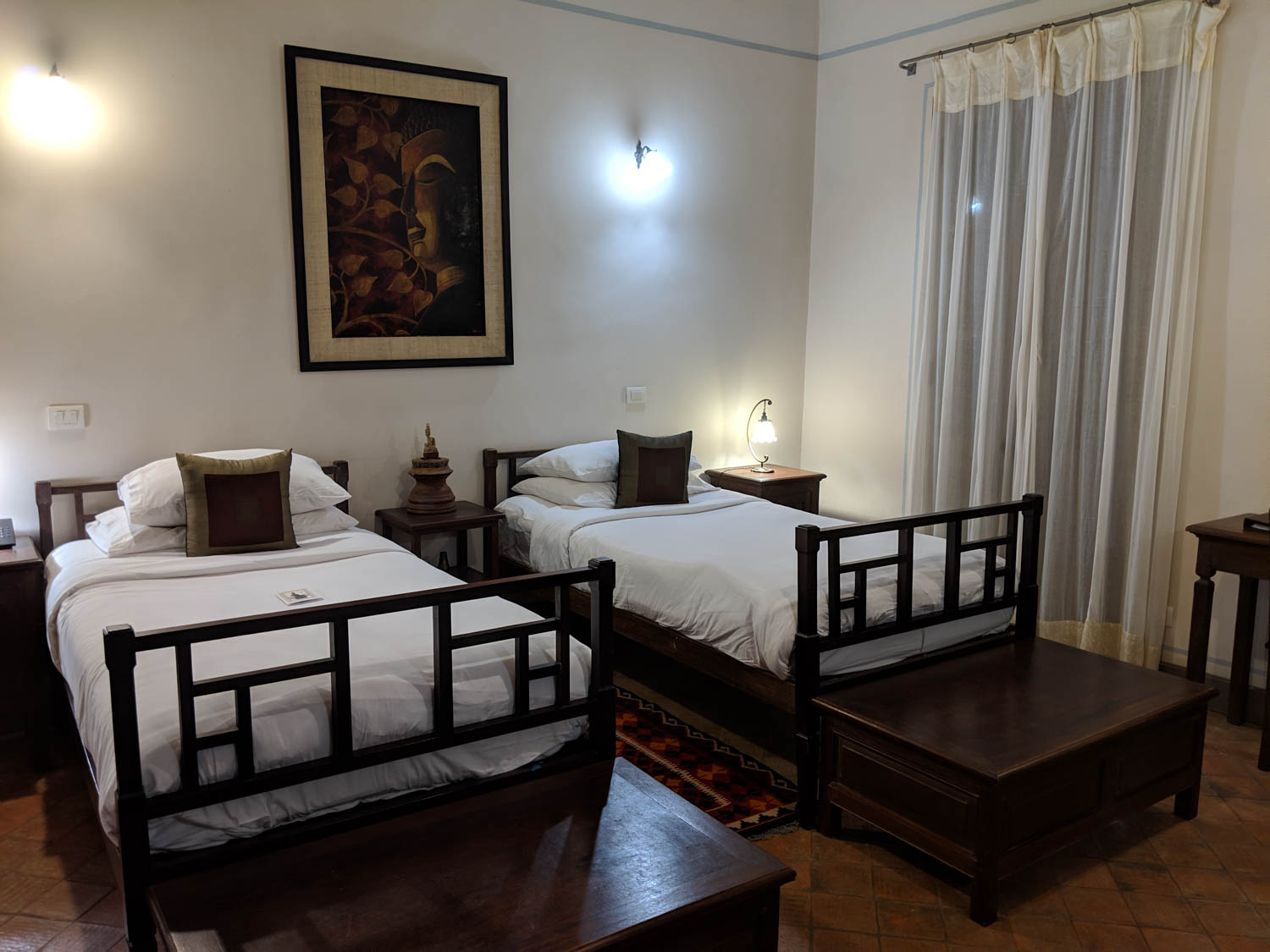 The bathroom was divided a bit impractically (though impractical bathrooms were a theme of this trip anyway), with the toilet room being off the entryway.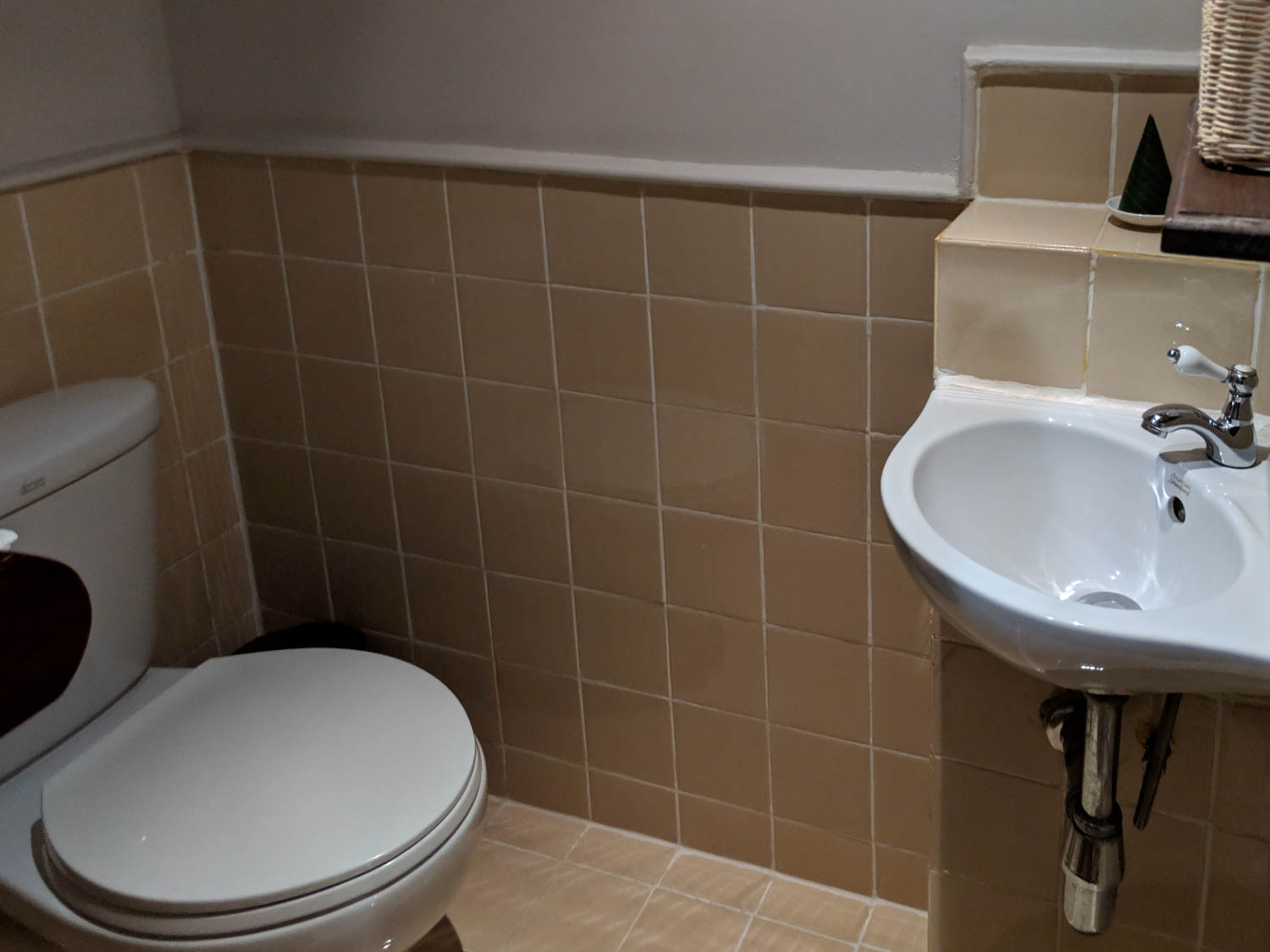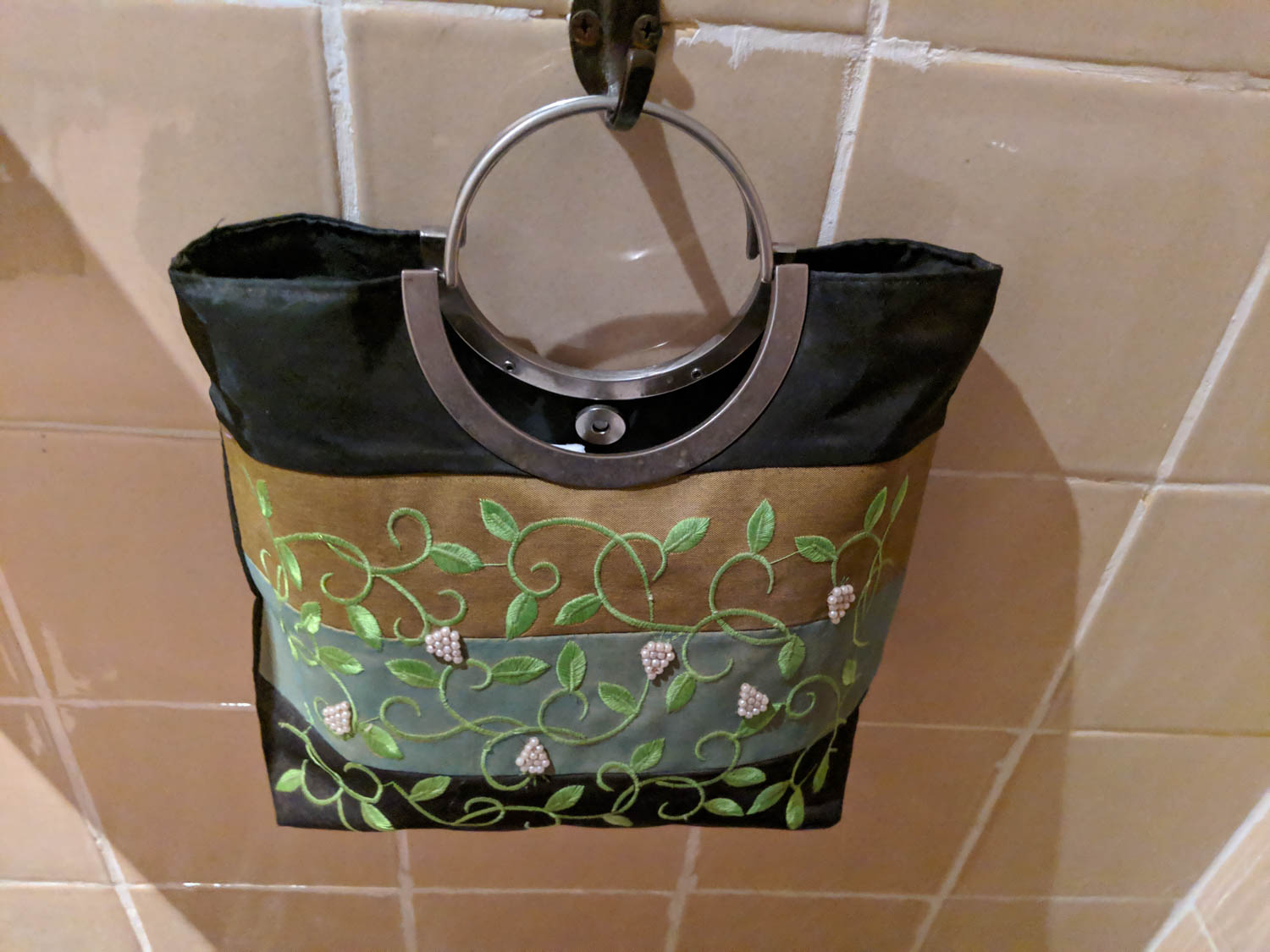 Then the main sink area, along with the tub and shower were through the bedroom.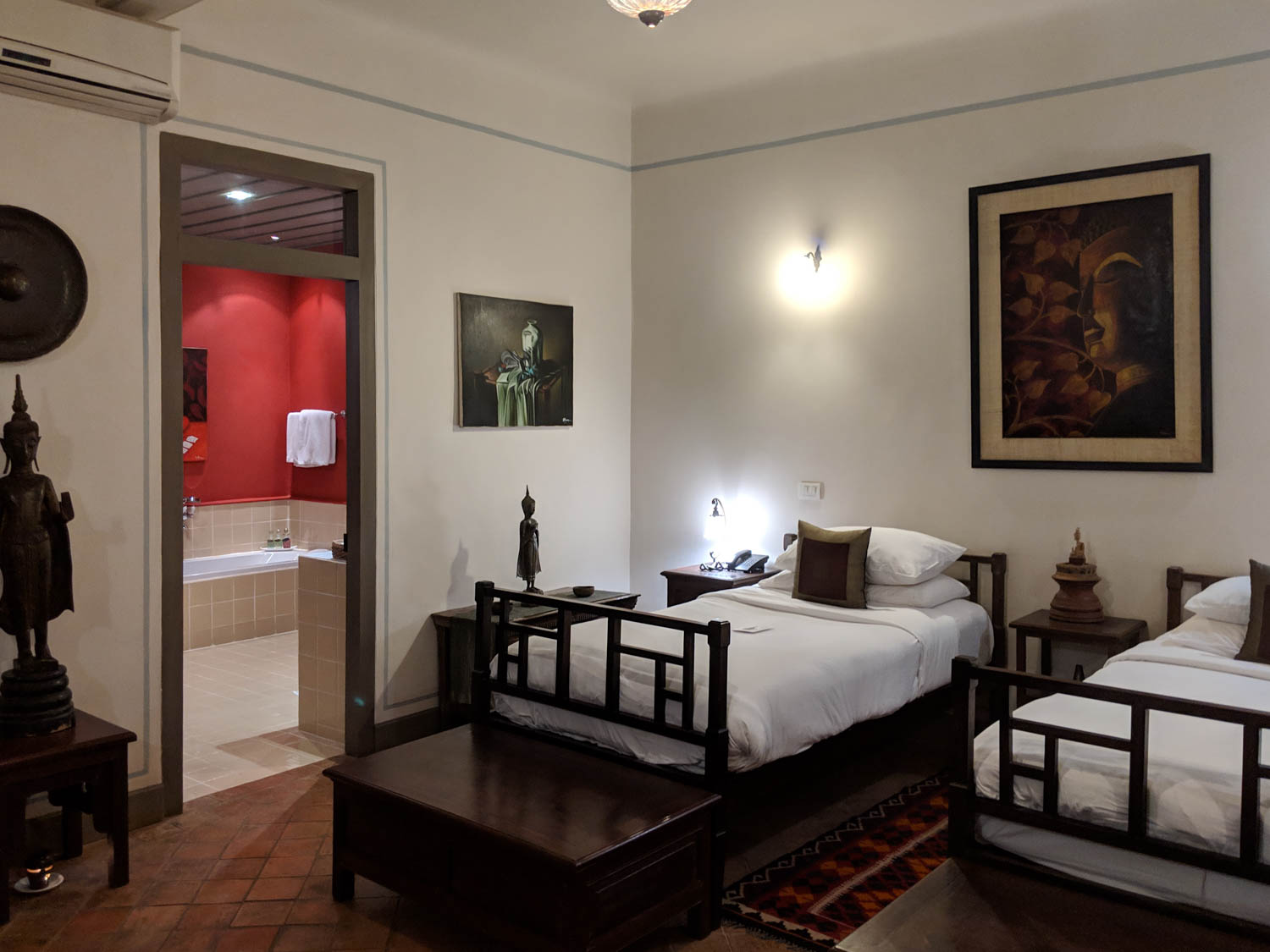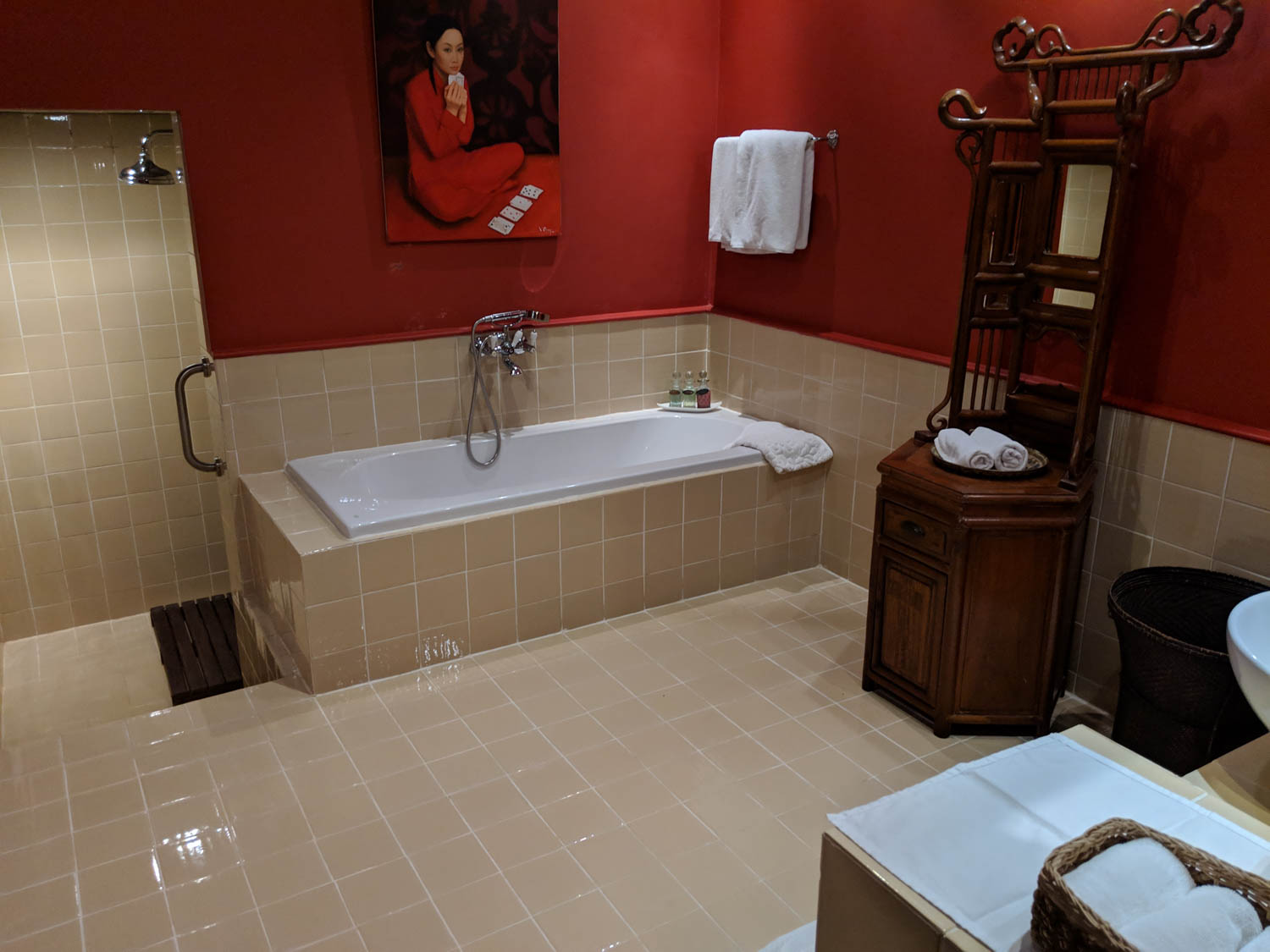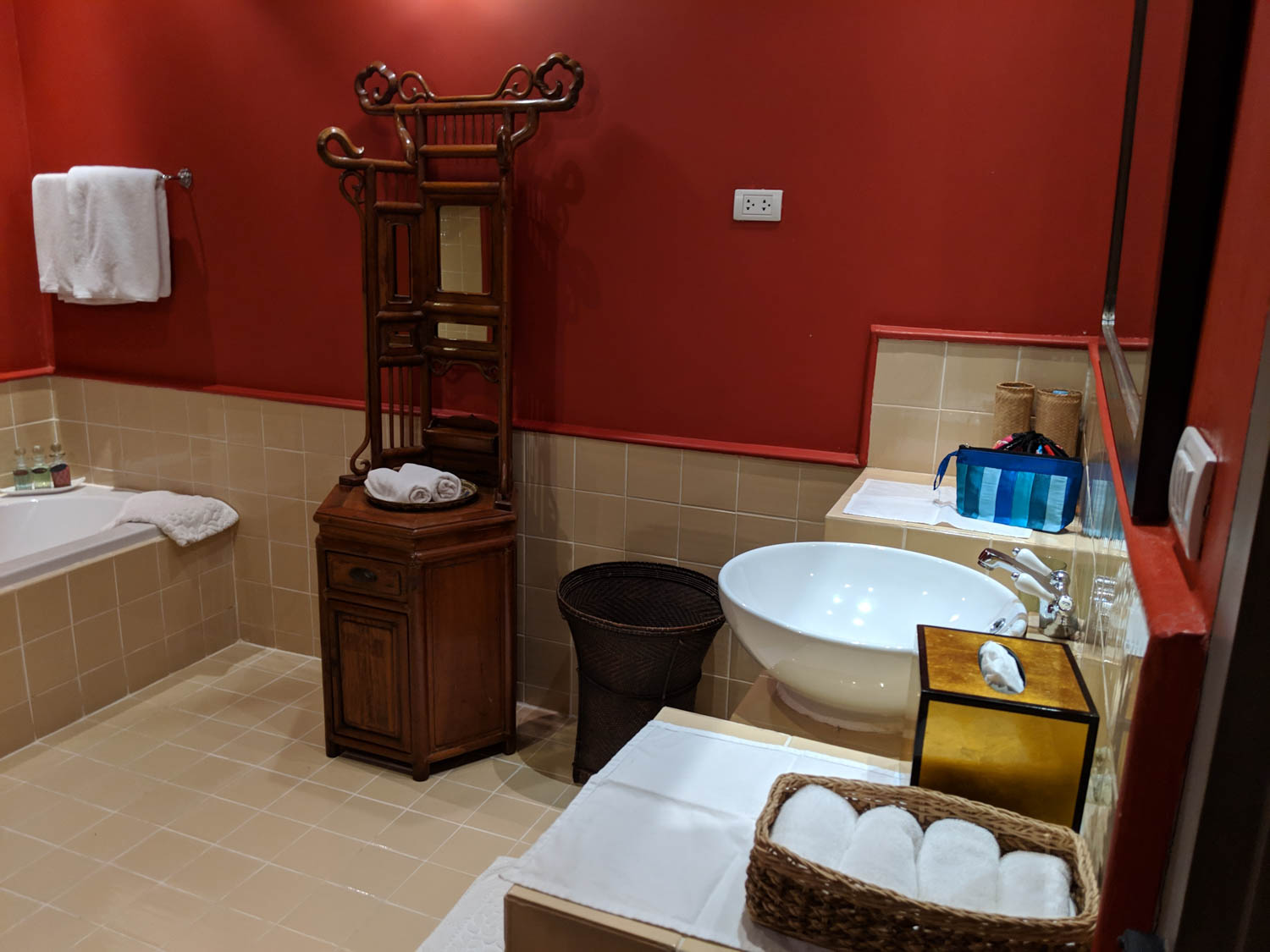 The bathroom, while large, was sorta meh. There wasn't anywhere to hang towels, for example, and the plumbing was challenging. The hot water was spectacularly hot, and separate taps meant it was difficult to get the temperature balanced.
The shower was also frustrating, as the fixtures weren't really positioned in such a way as to make great use of the space, and the openness of everything meant the bathroom got incredibly damp whenever anyone showered — not to mention that tile stairs are a bit impractical in a slippery environment.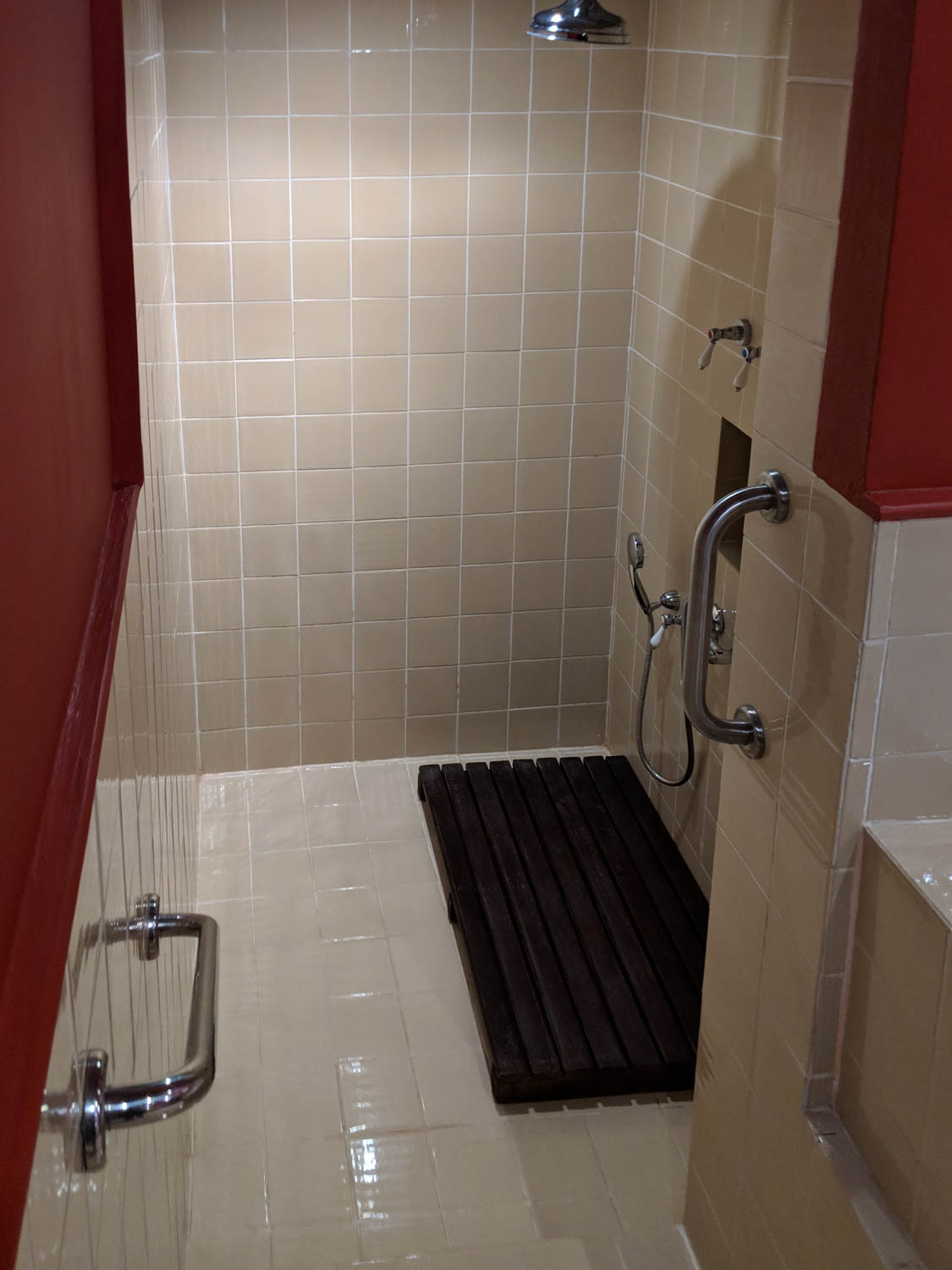 I did appreciate, however, that an effort was made to wrap all the bath necessities — water bottles, a hair dryer, and a mix of amenities were tucked into bamboo sleeves and silk pouches.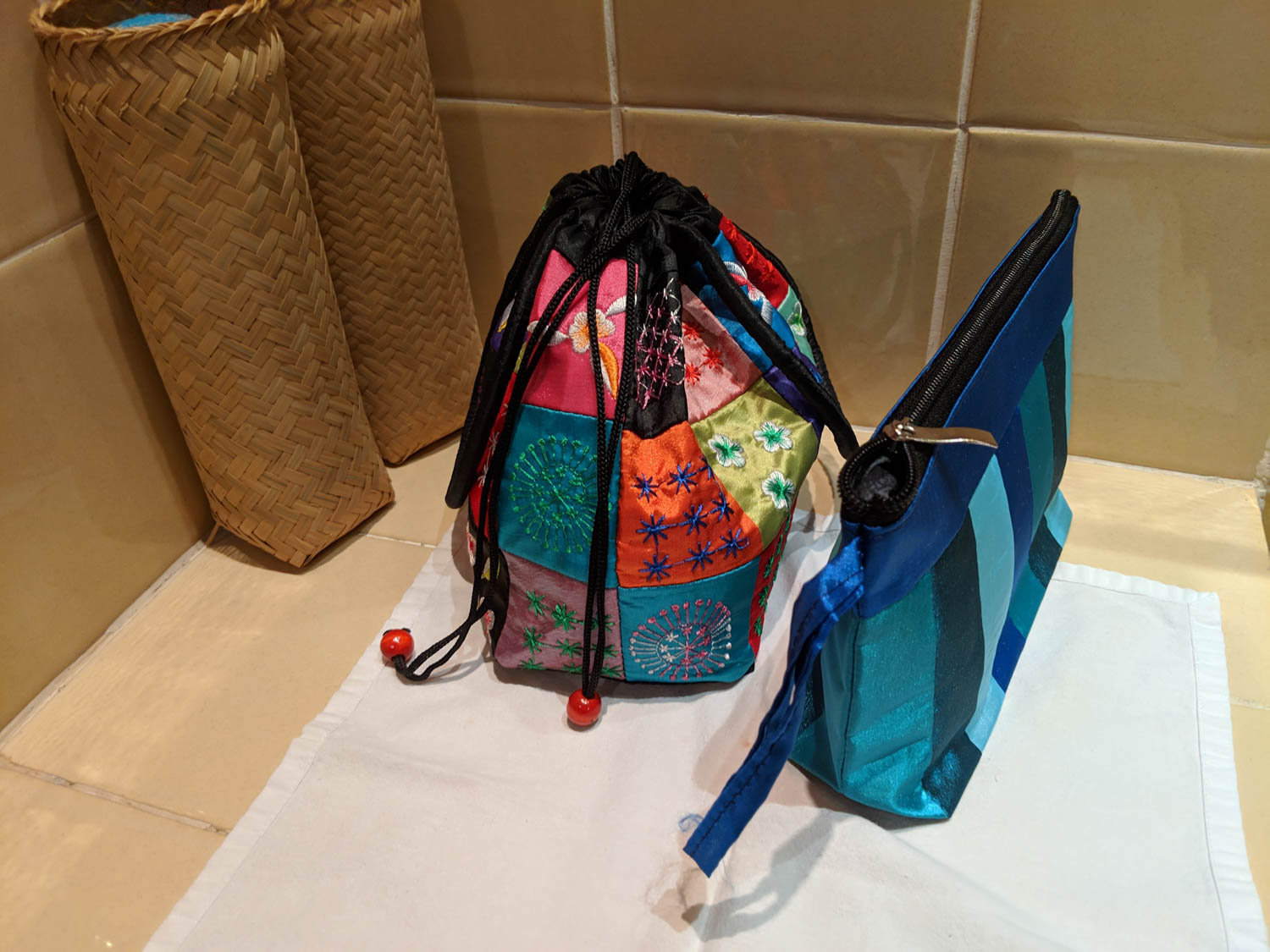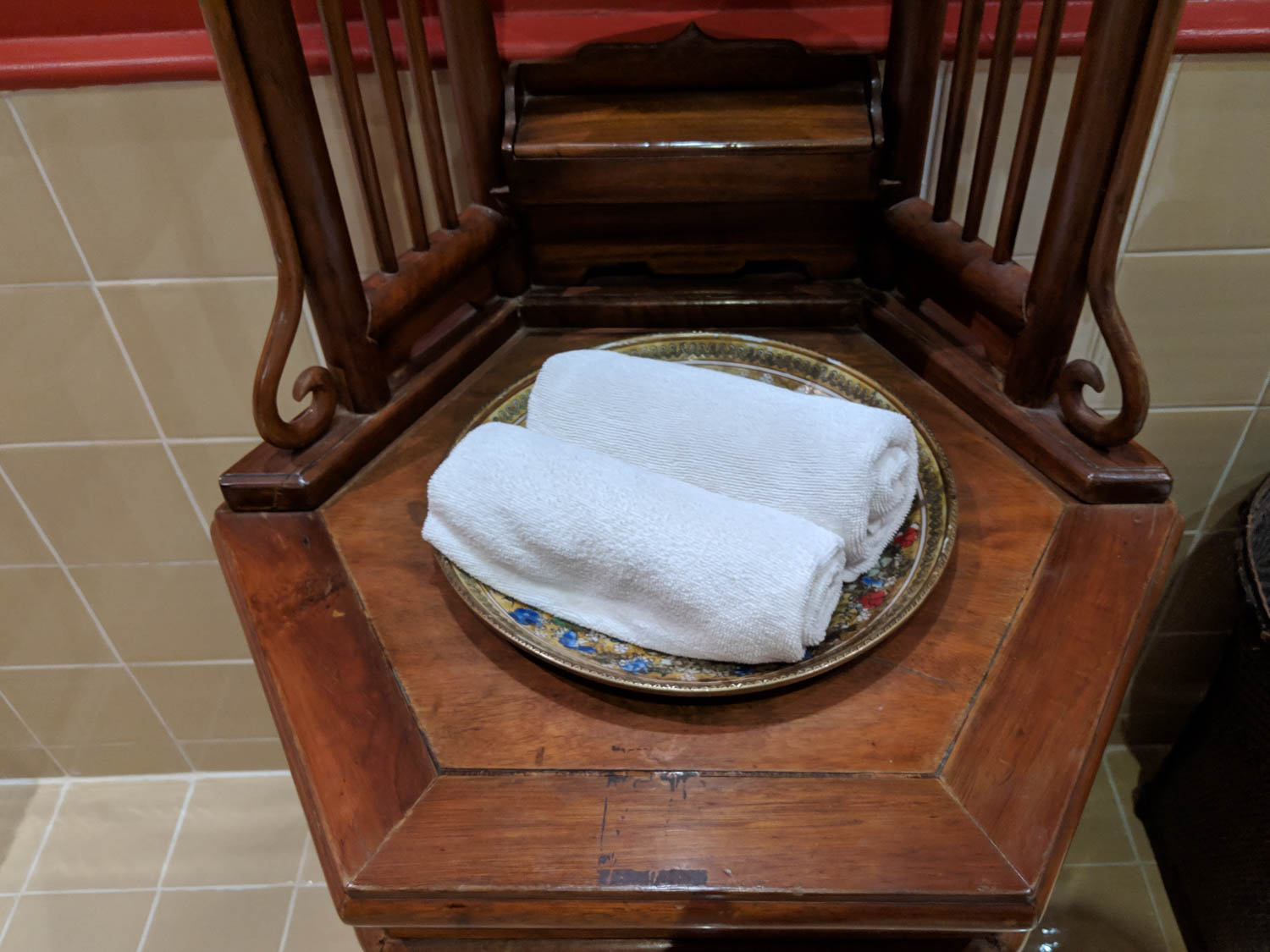 A tray on the tub had glass bottles of bubble bath, shampoo, and conditioner, which were cute, but also highly impractical.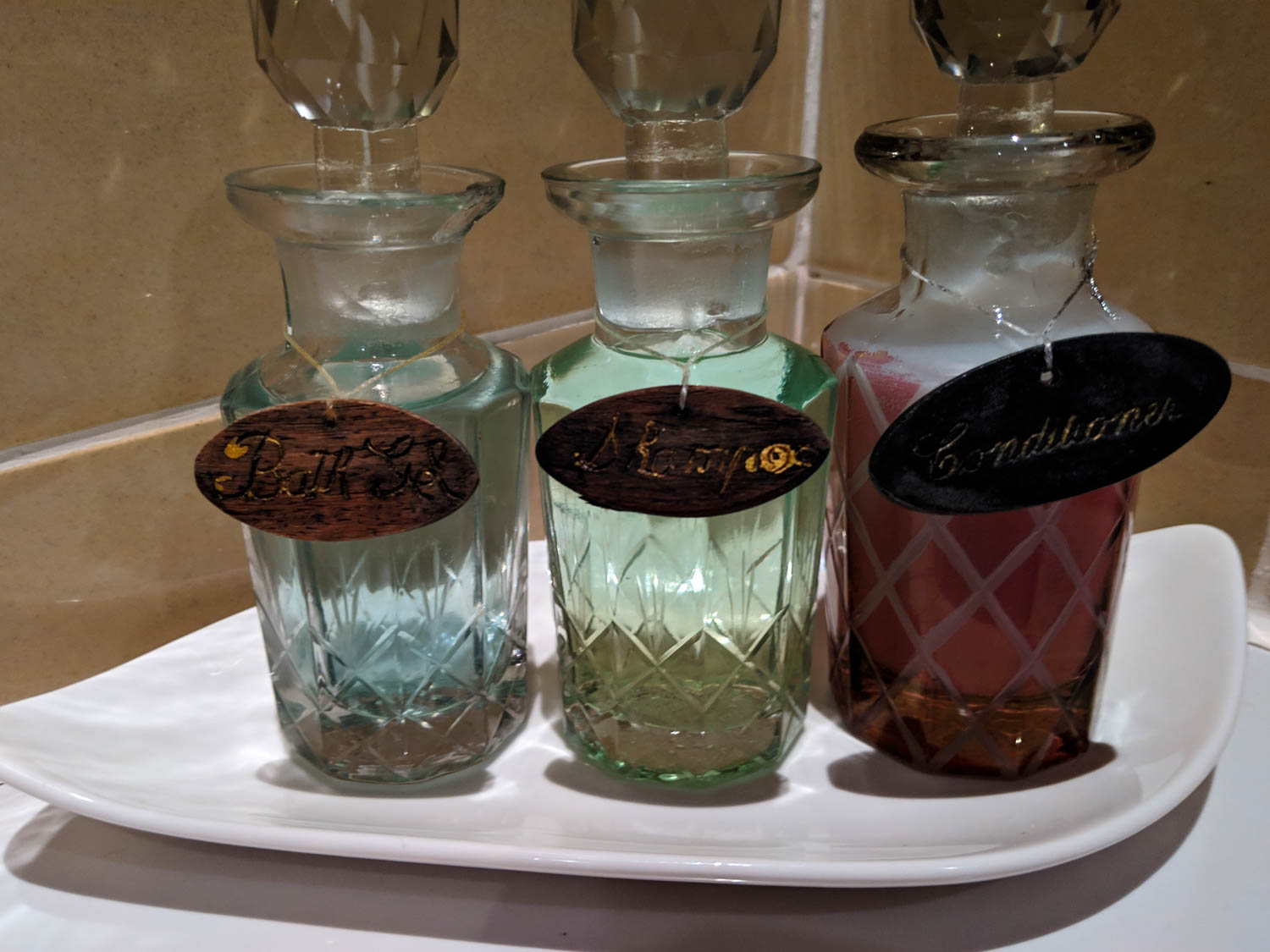 As our room was on the ground floor, the shuttered windows also served as doors to a patio area and garden.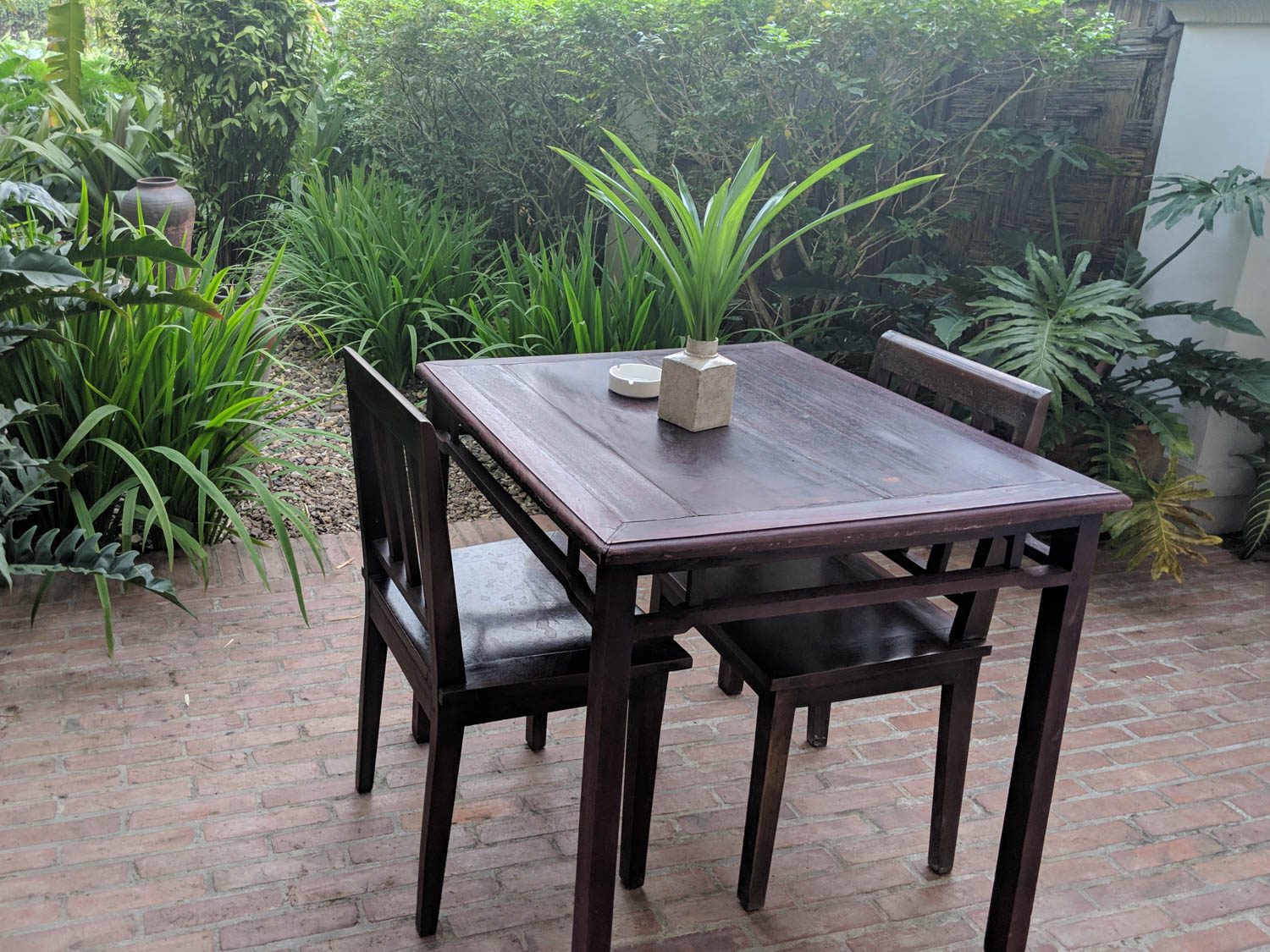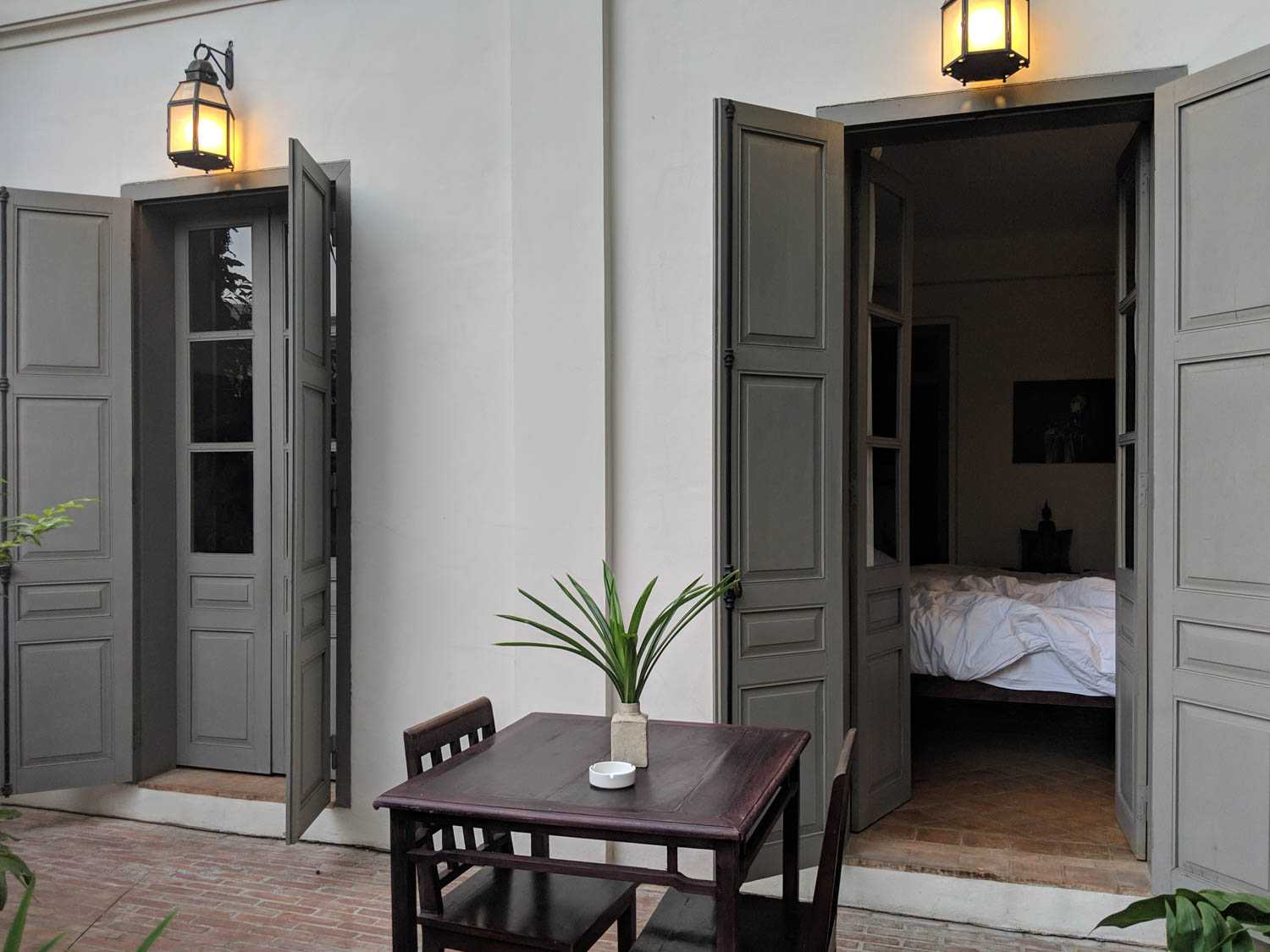 Our mom's room was directly above ours, next to a covered lounge area.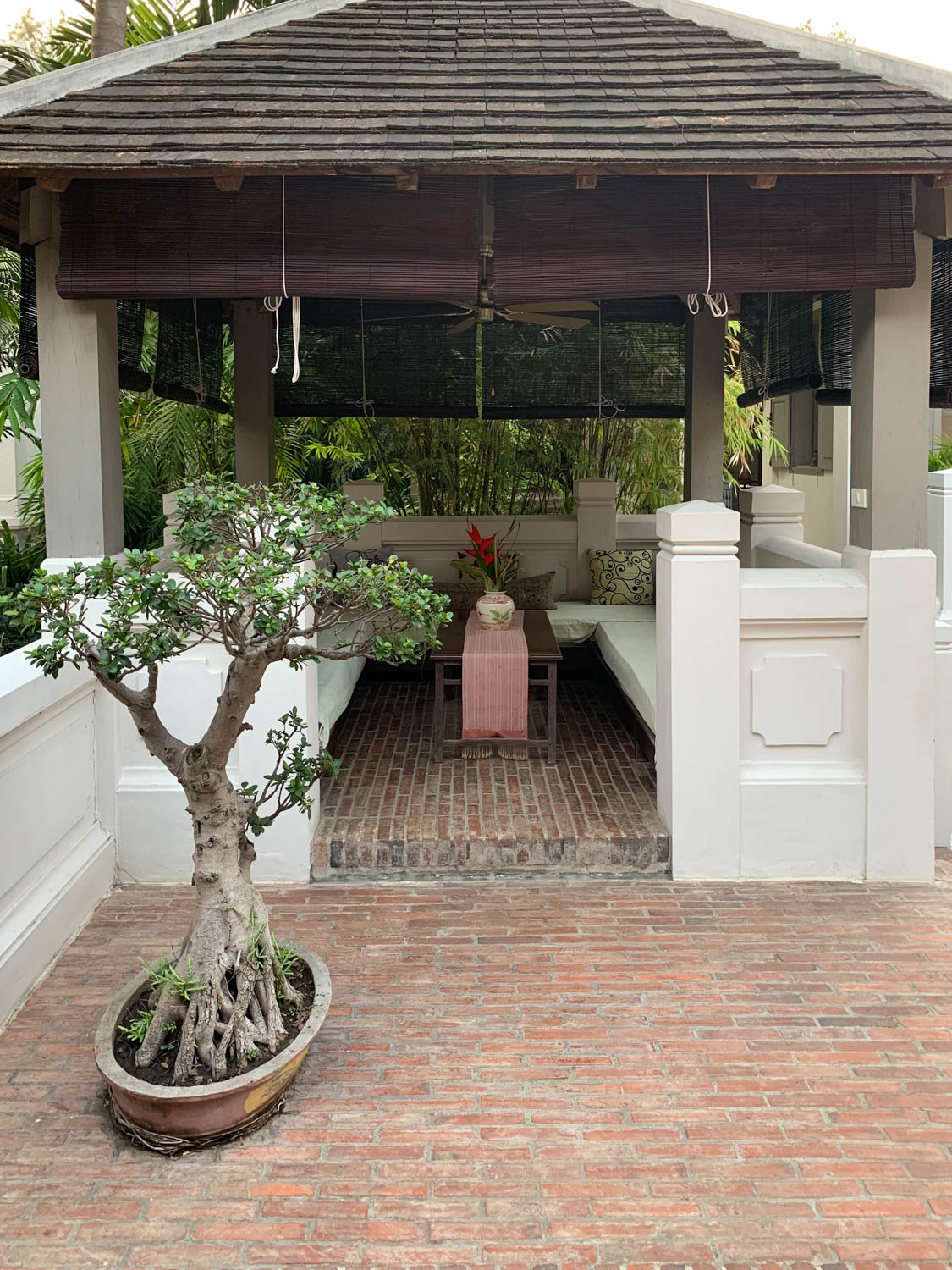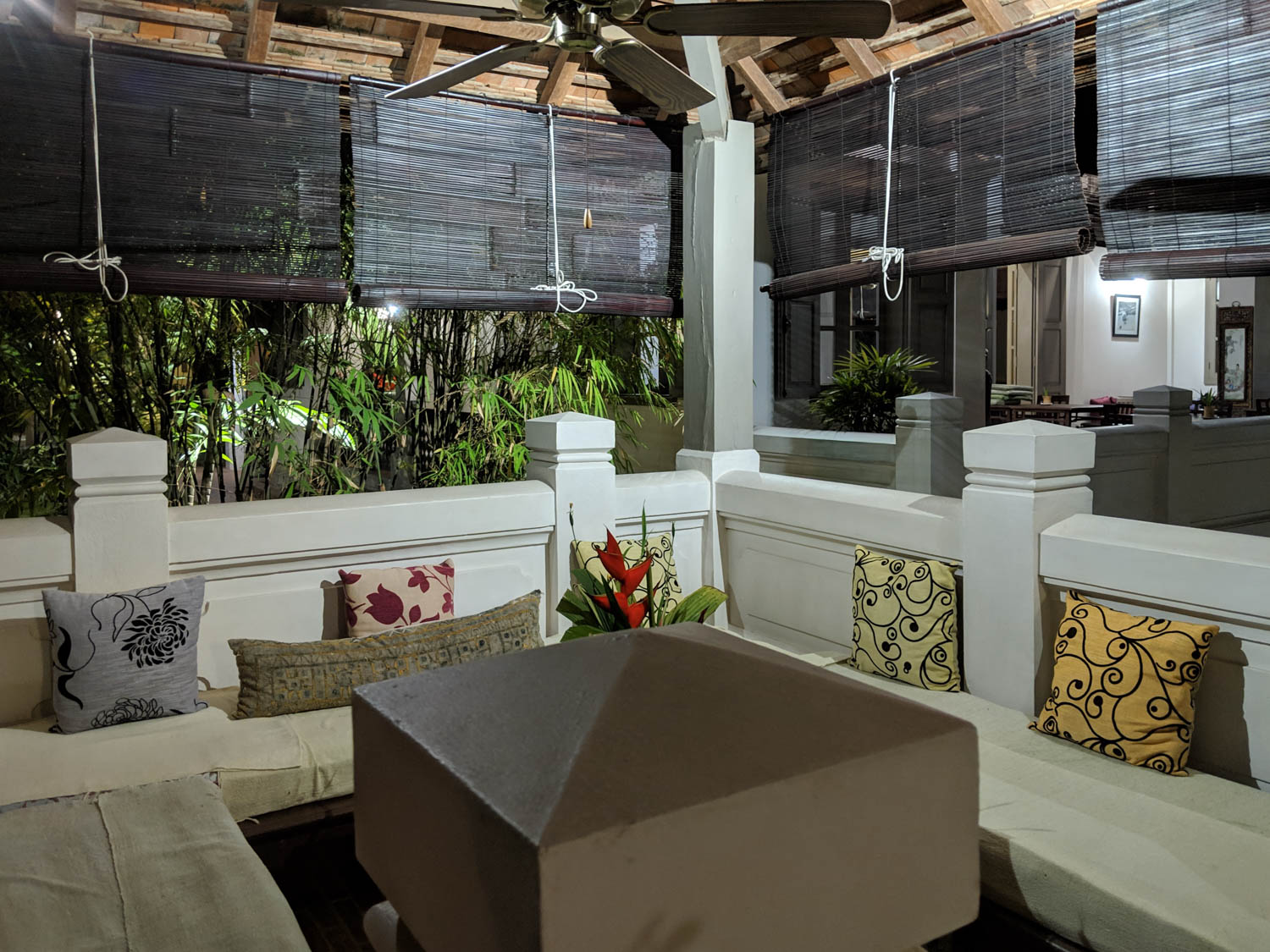 Their room had a similar setup, but with different decorations, and I've heard that my aunt literally squealed with glee when she saw the wood paneled ceiling.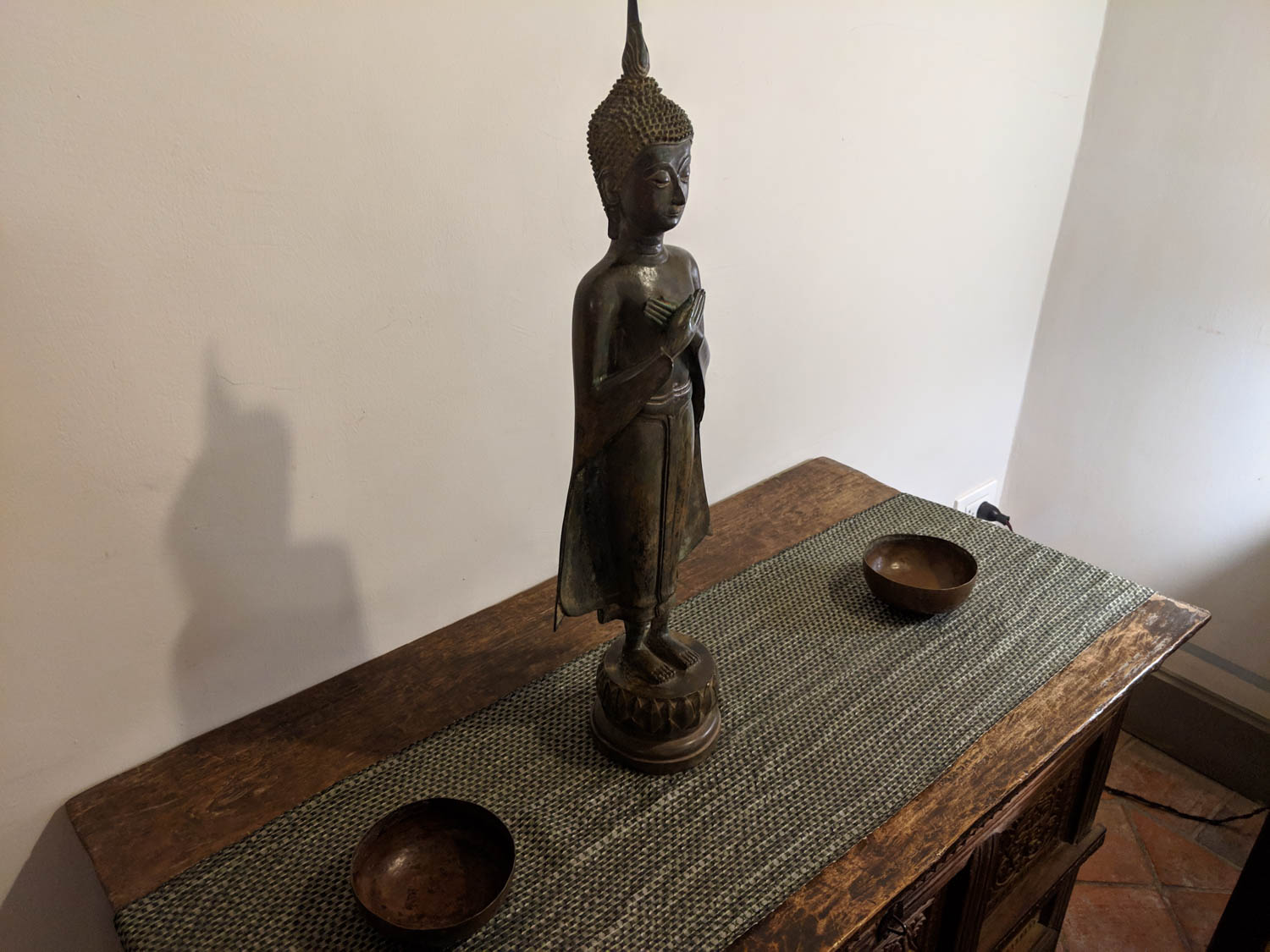 While our bathroom was a touch impractical, theirs was a downright safety hazard. It's hard to show in the photograph, but their tub, sink, and shower were all adjacent, with no water barriers between anything.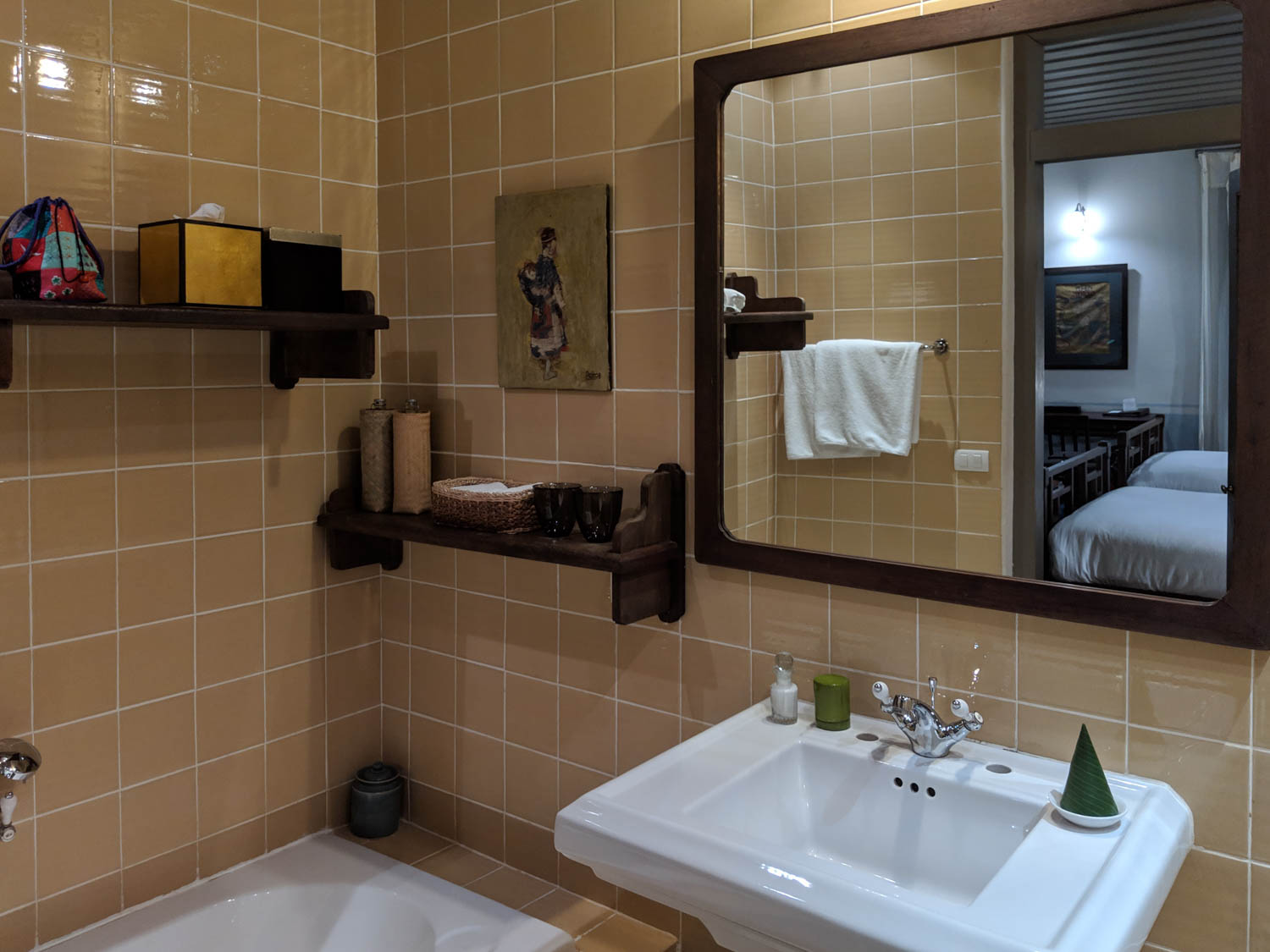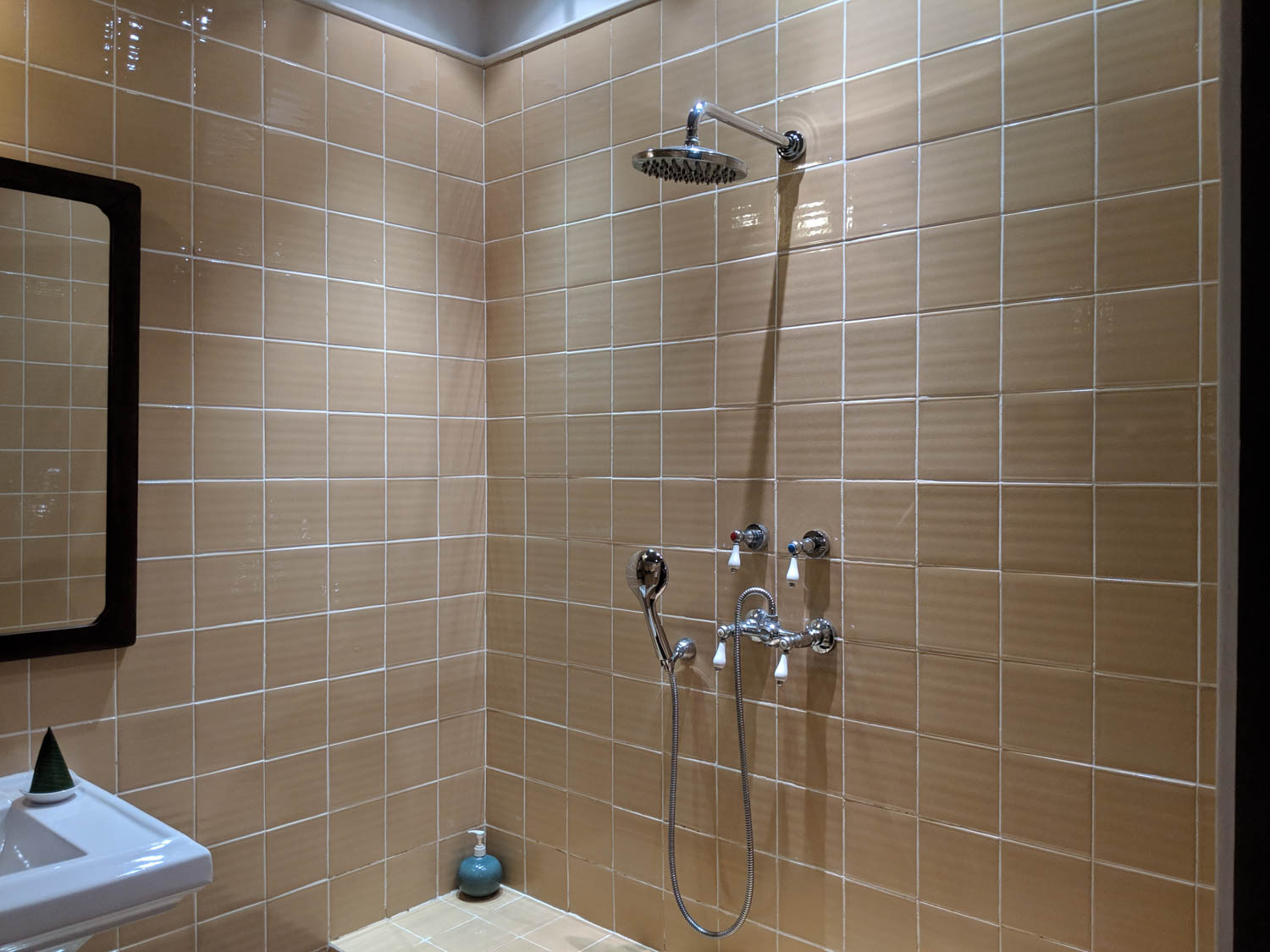 So using the shower turned the entire bathroom into a slippery mess, and drenched any items left in the bathroom.
They ended up taking a lot of baths.
Satri House restaurant
The hotel restaurant was above the spa, and just across from the upper suite (which was fun for our moms, as they got to walk across an arched bridge to get to breakfast, and definitely enhanced the jungle-cruise vibes).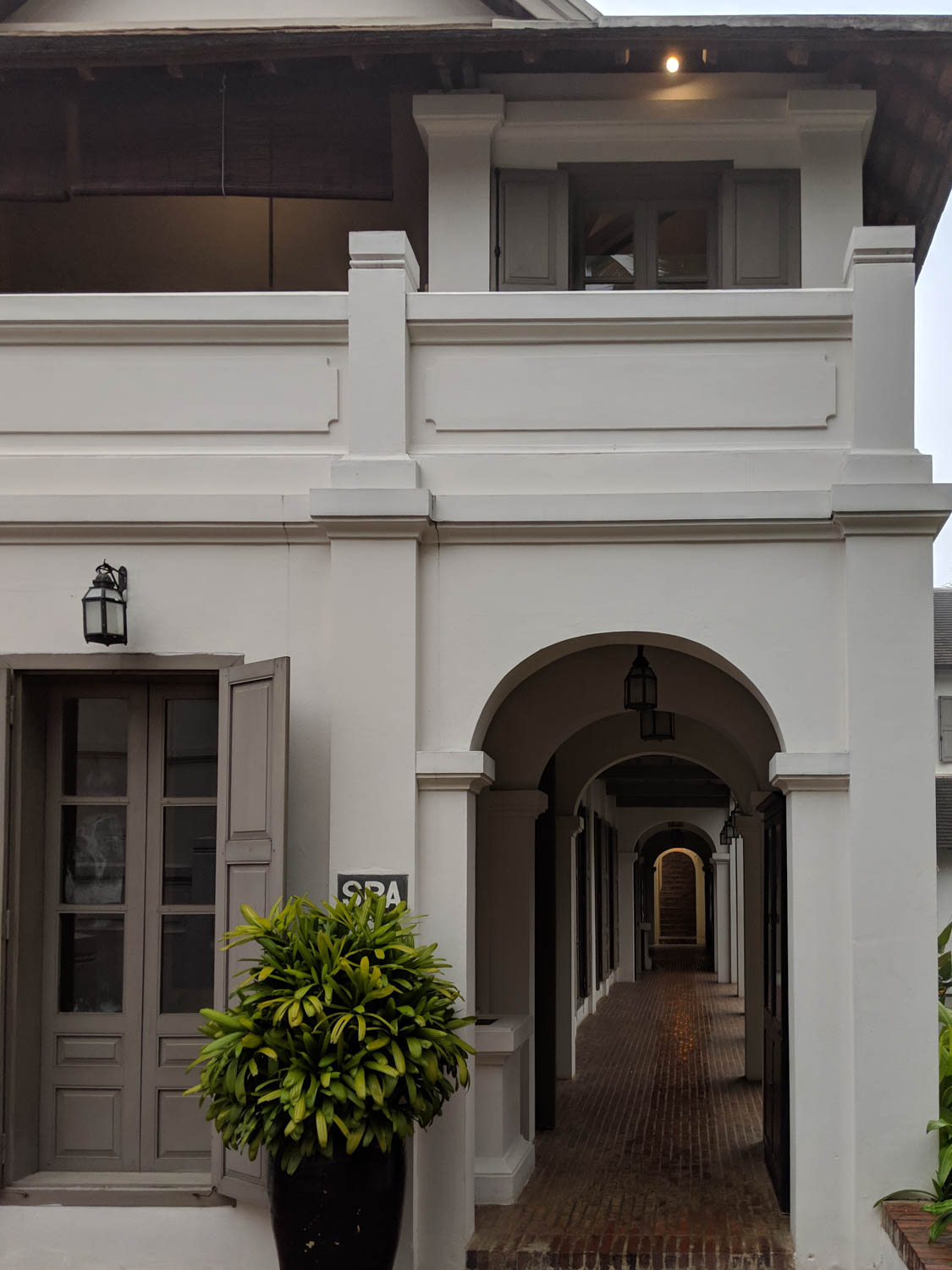 There main dining area was painted with a yellow and white trompe l'oeil effect, and had about a half-dozen tables.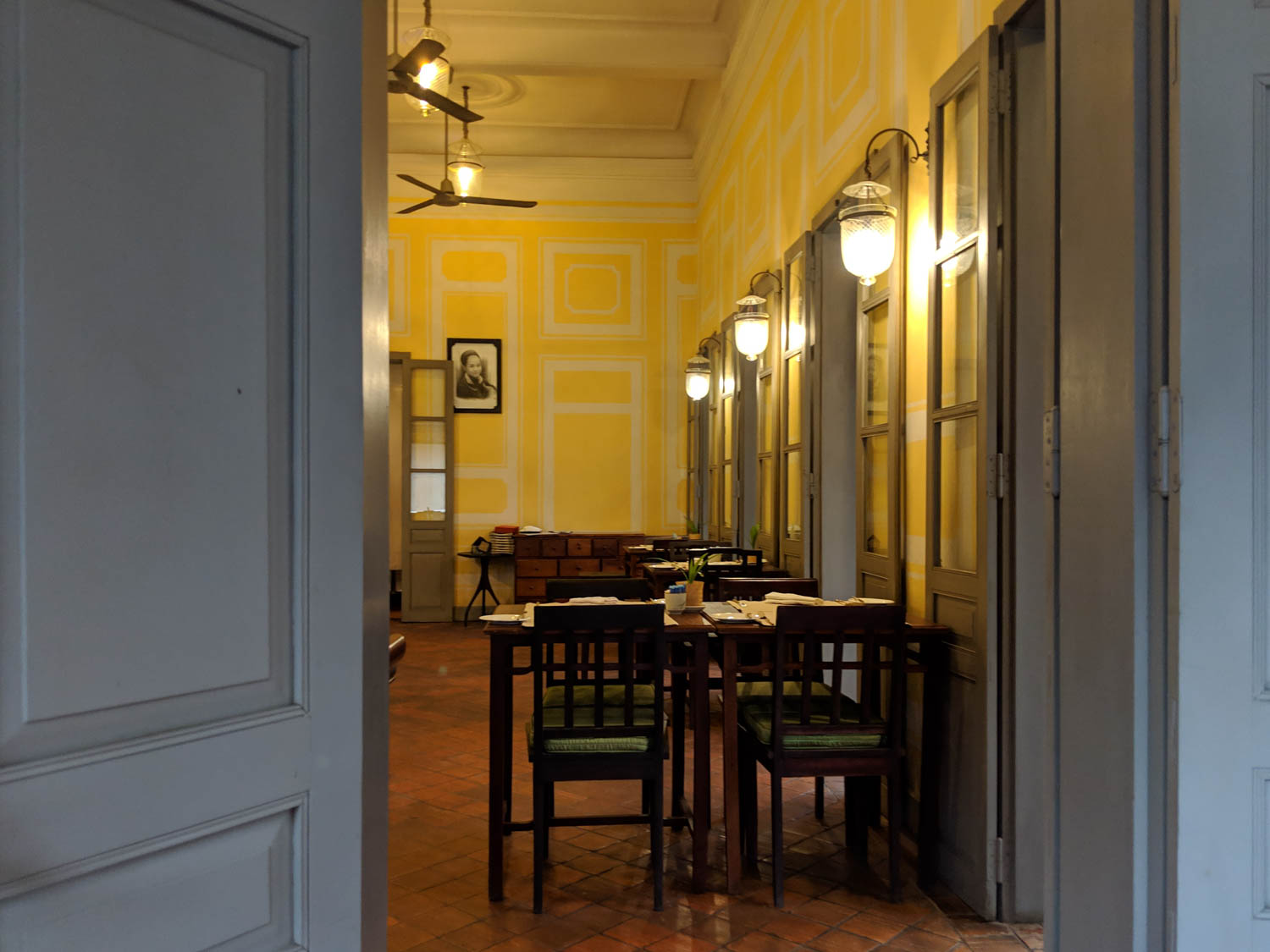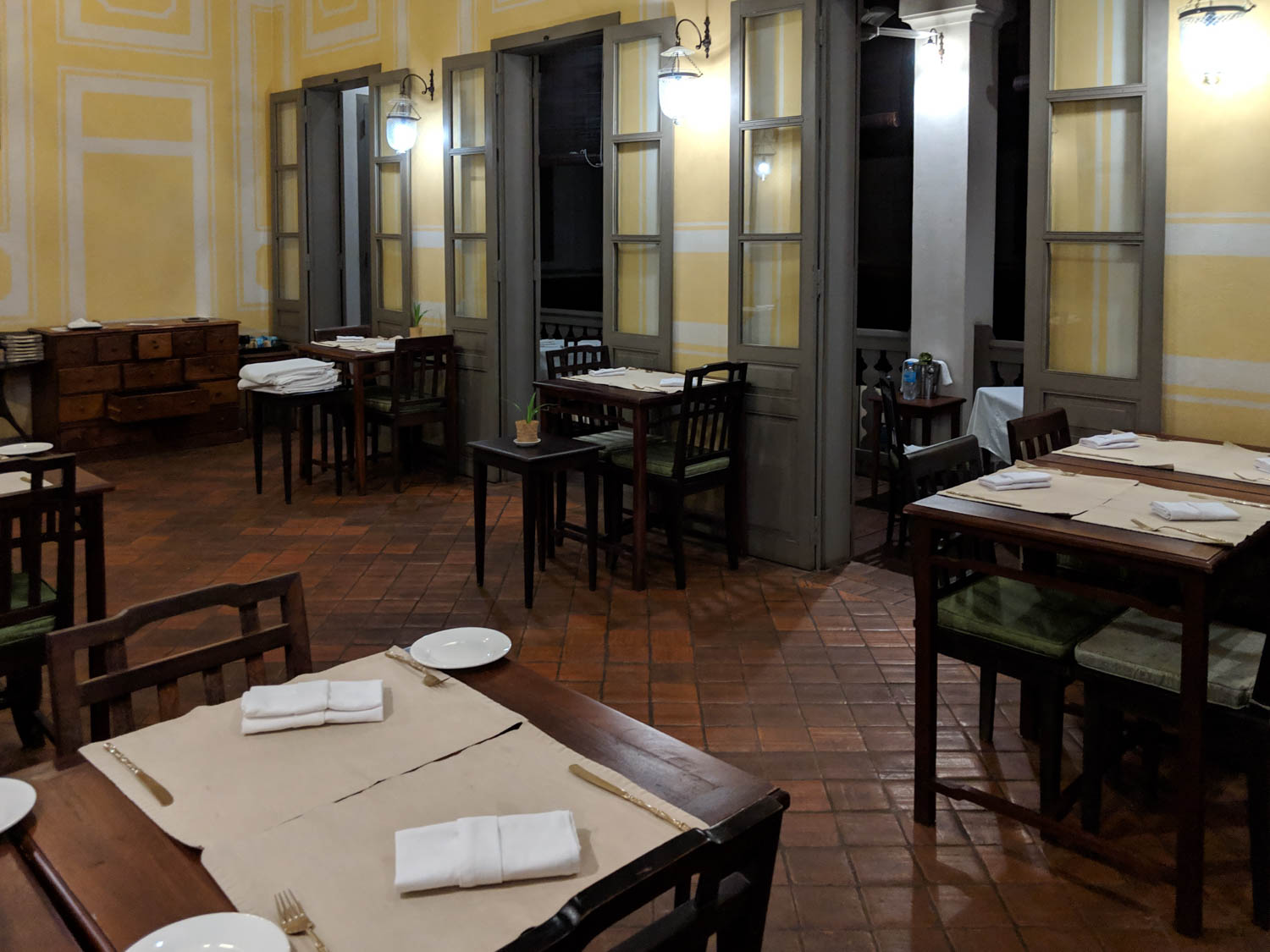 Then there were three terraces with additional seating.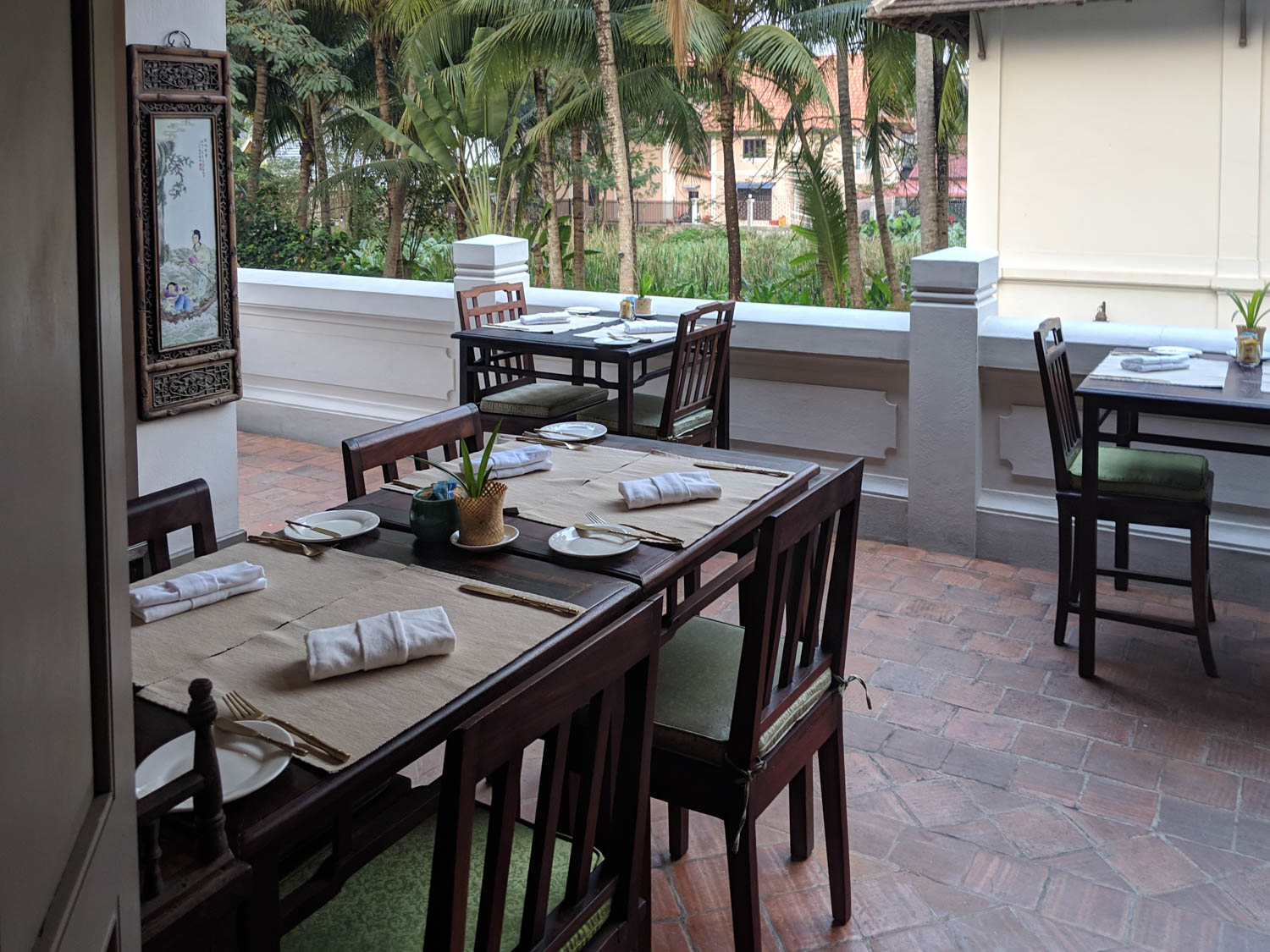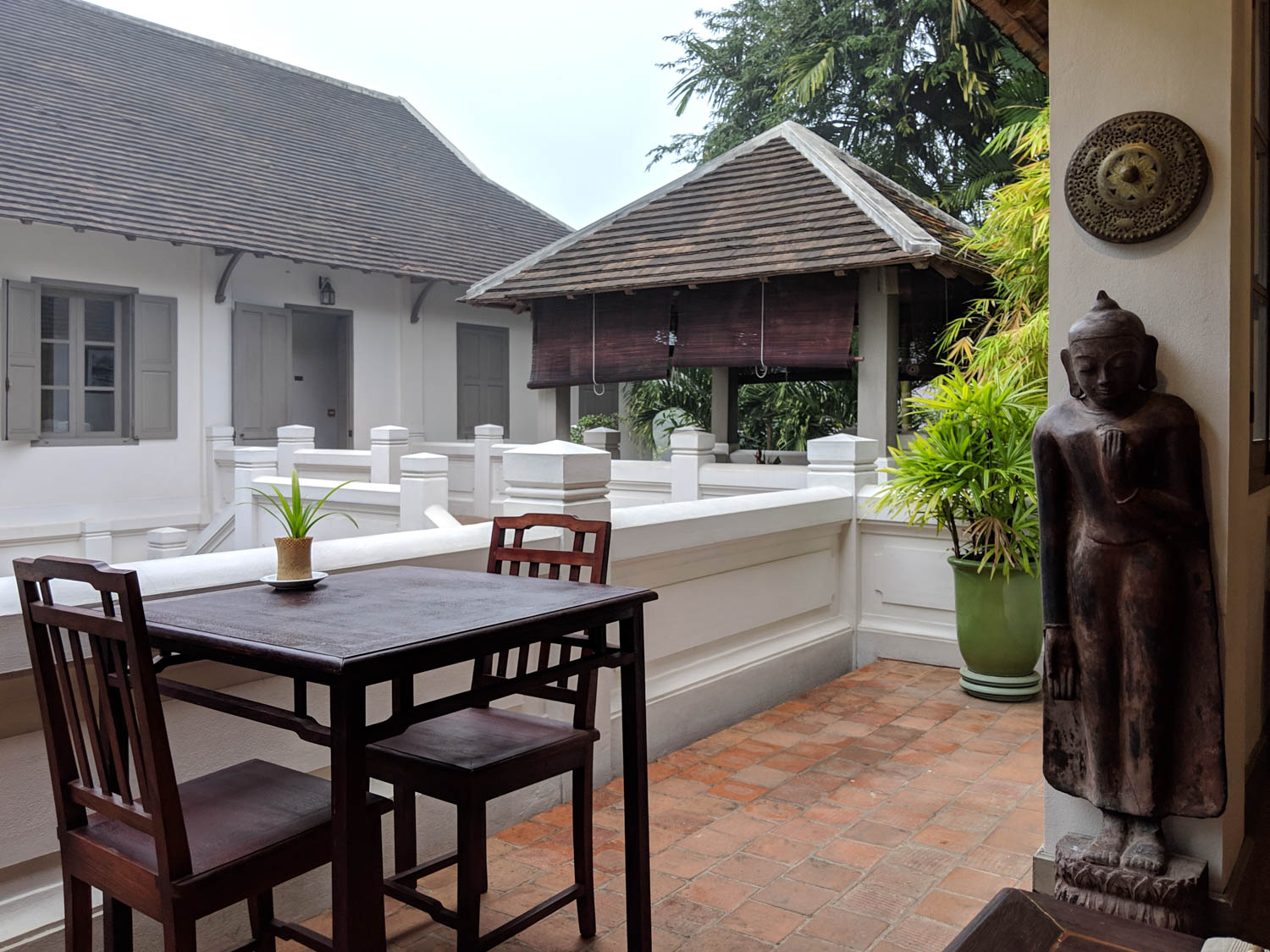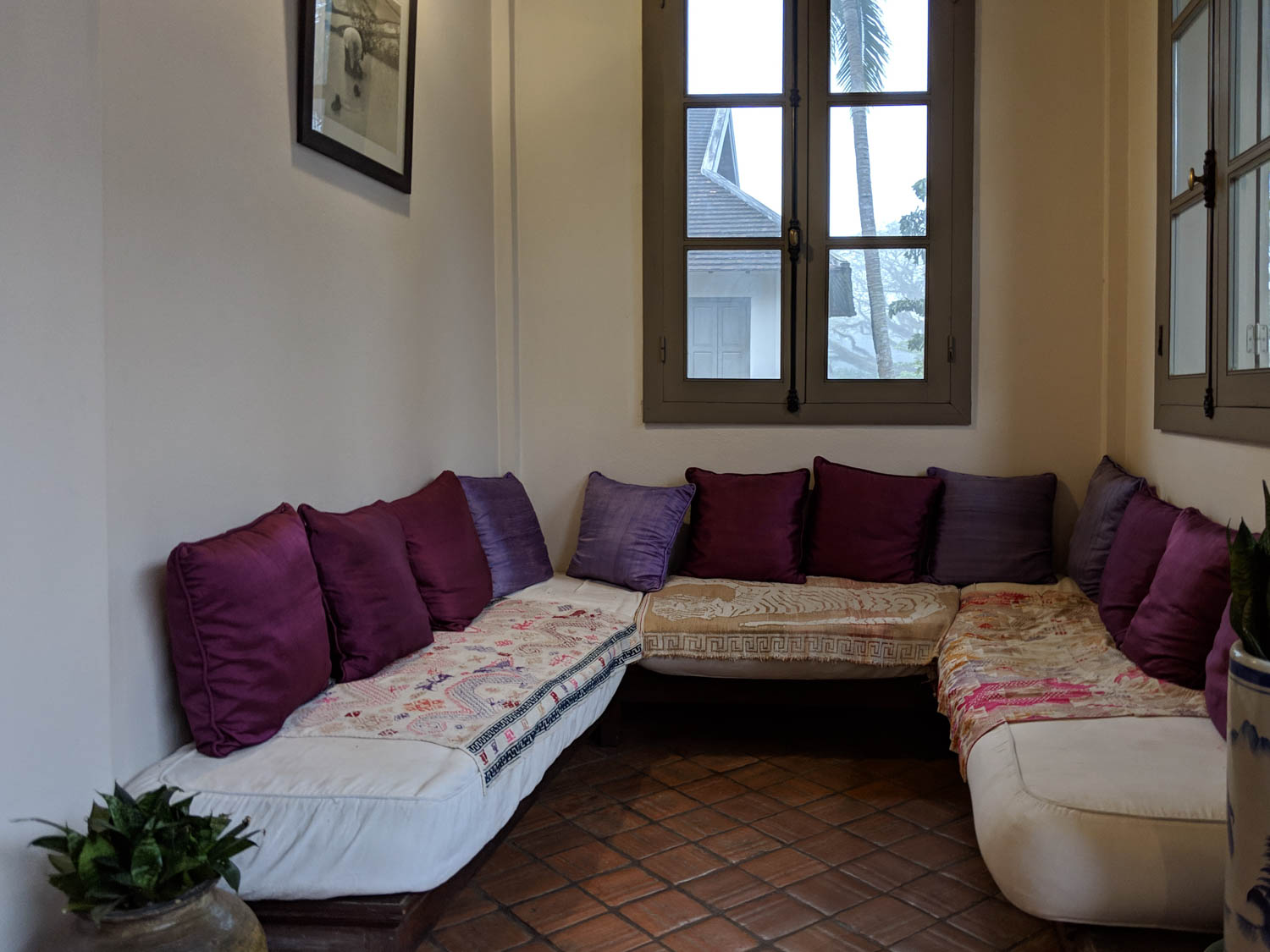 We sat outside every morning, at a sweet table decorated with pottery and statues.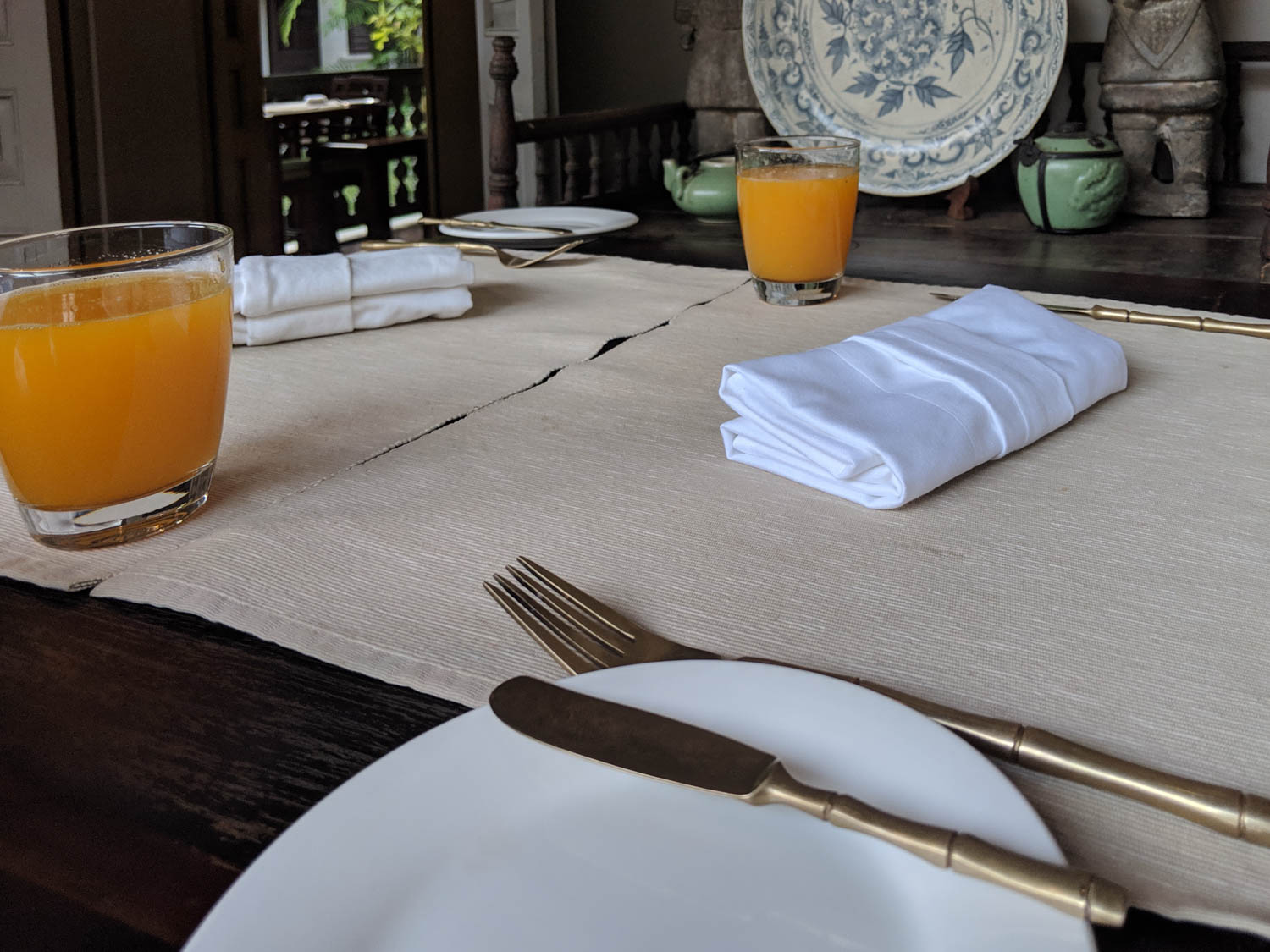 Breakfast was included in our room rate, though what, precisely, was included was always a bit of a mystery.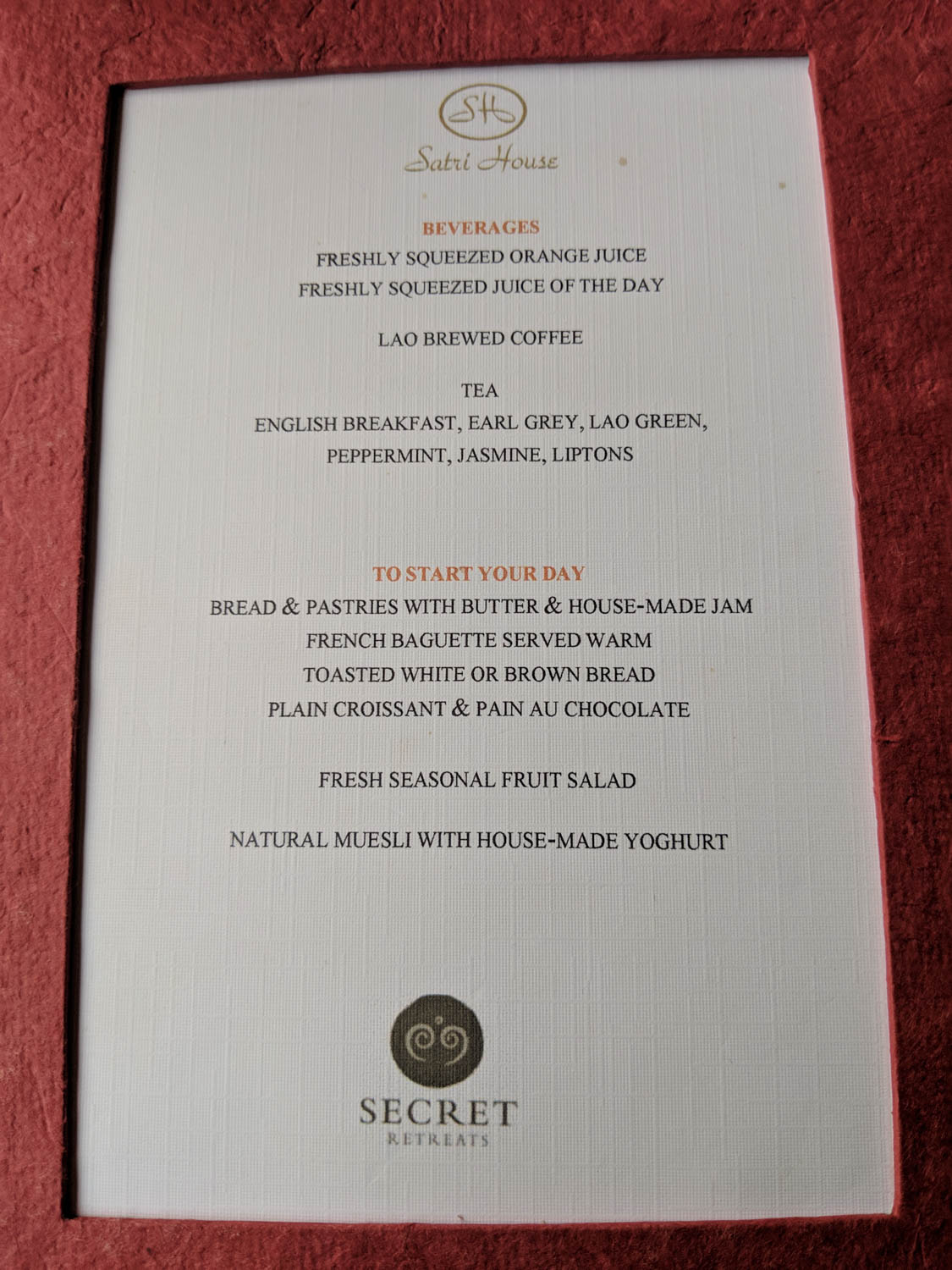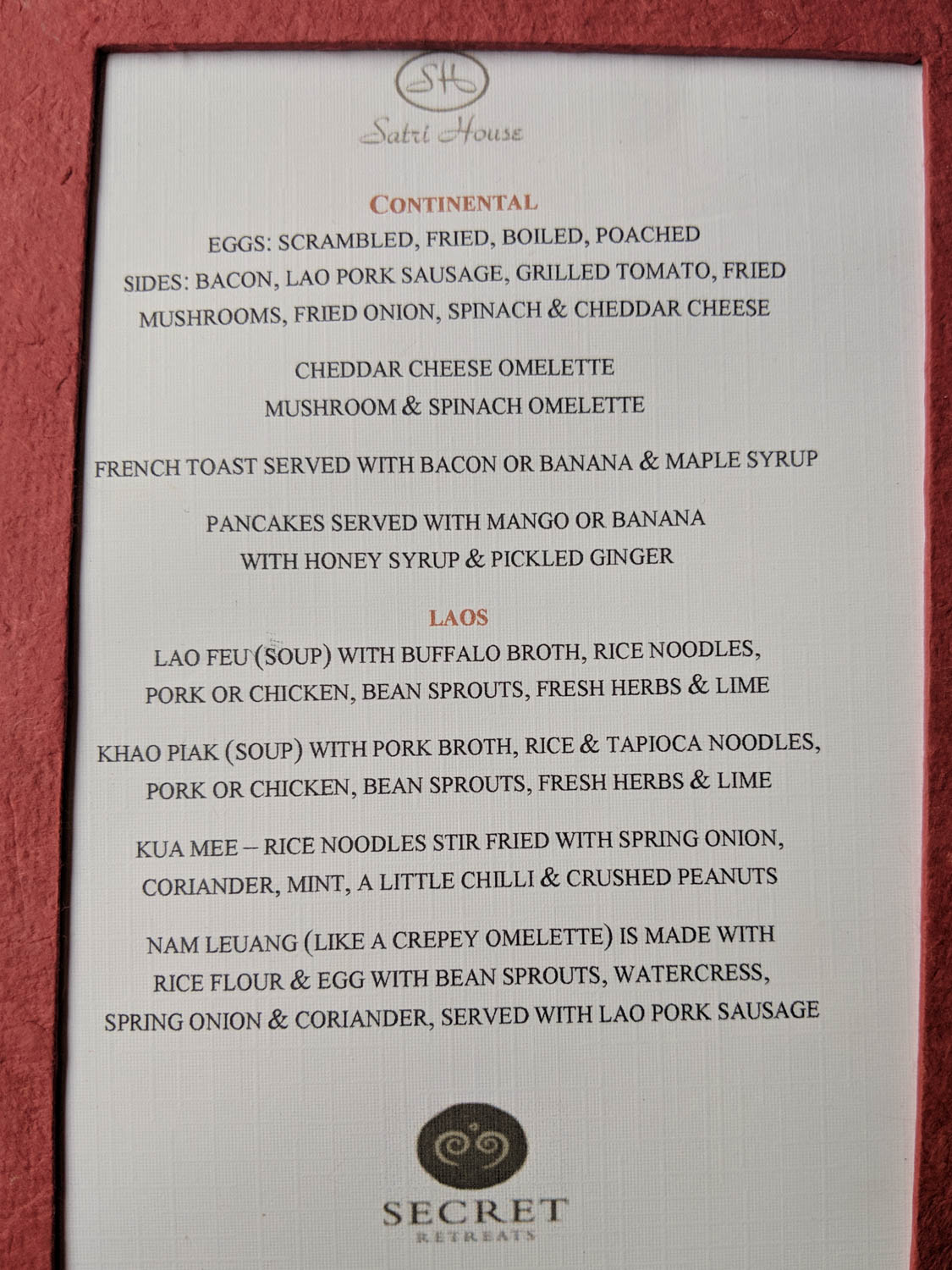 Some mornings we were brought juice without asking, though getting coffee took extreme diplomatic efforts. Some of us got fruit on some days, and I have no idea what combination of ordering caused that to happen.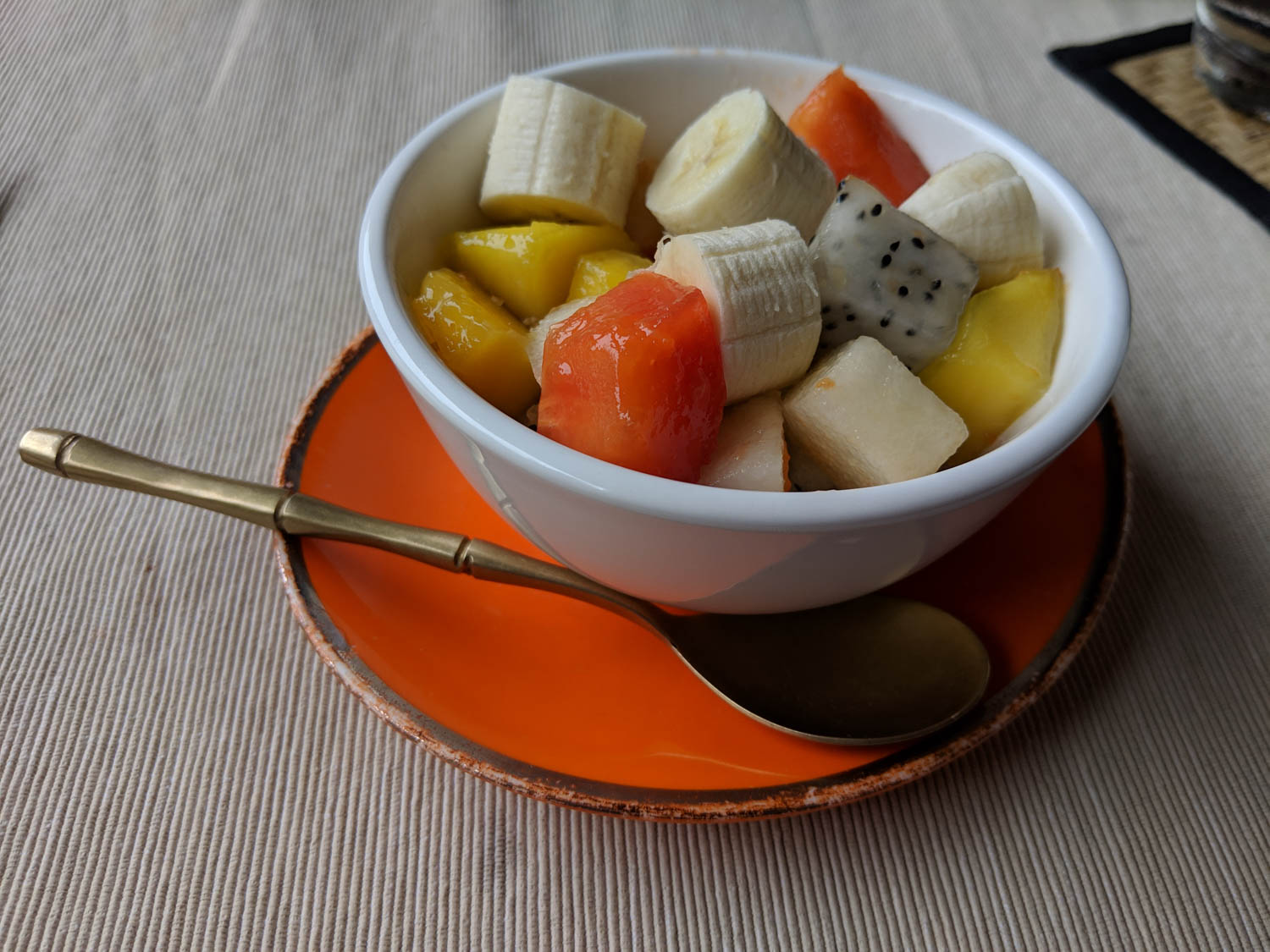 And some days a request for a croissant was met with a croissant, and others an entire basket of bread and pastries (accompanied by three types of jam, including a tasty tamarind):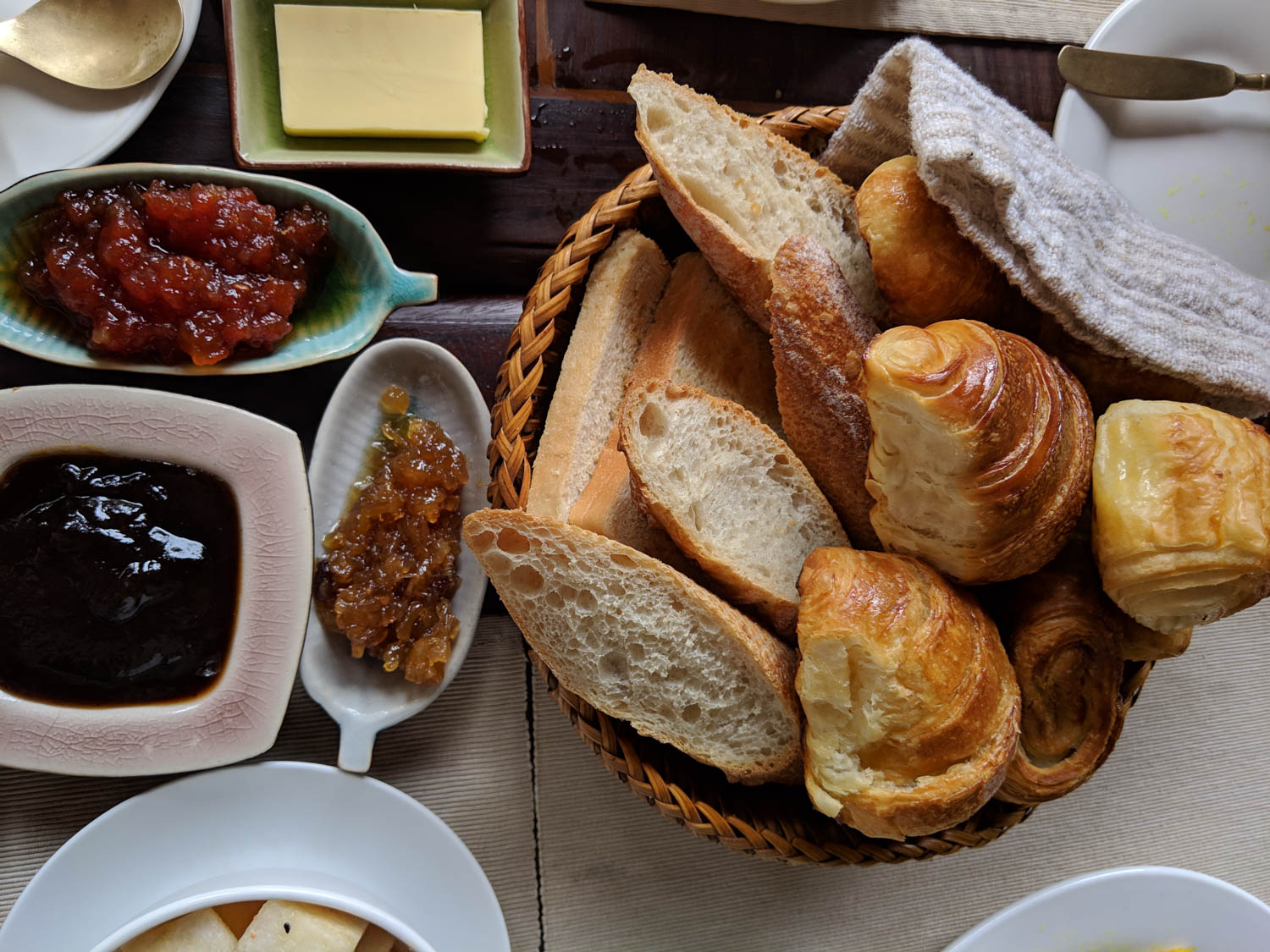 While the menu reflected the culinary heritage of Luang Prabang, with a mix of French and Laotian cuisine, the Western options were not very good (beyond what I've heard of the pastries).
The "French-style" omelet, for example, was somehow both greasy and unevenly cooked, while the Nam Leung (which is basically an omelet anyway), was delicious.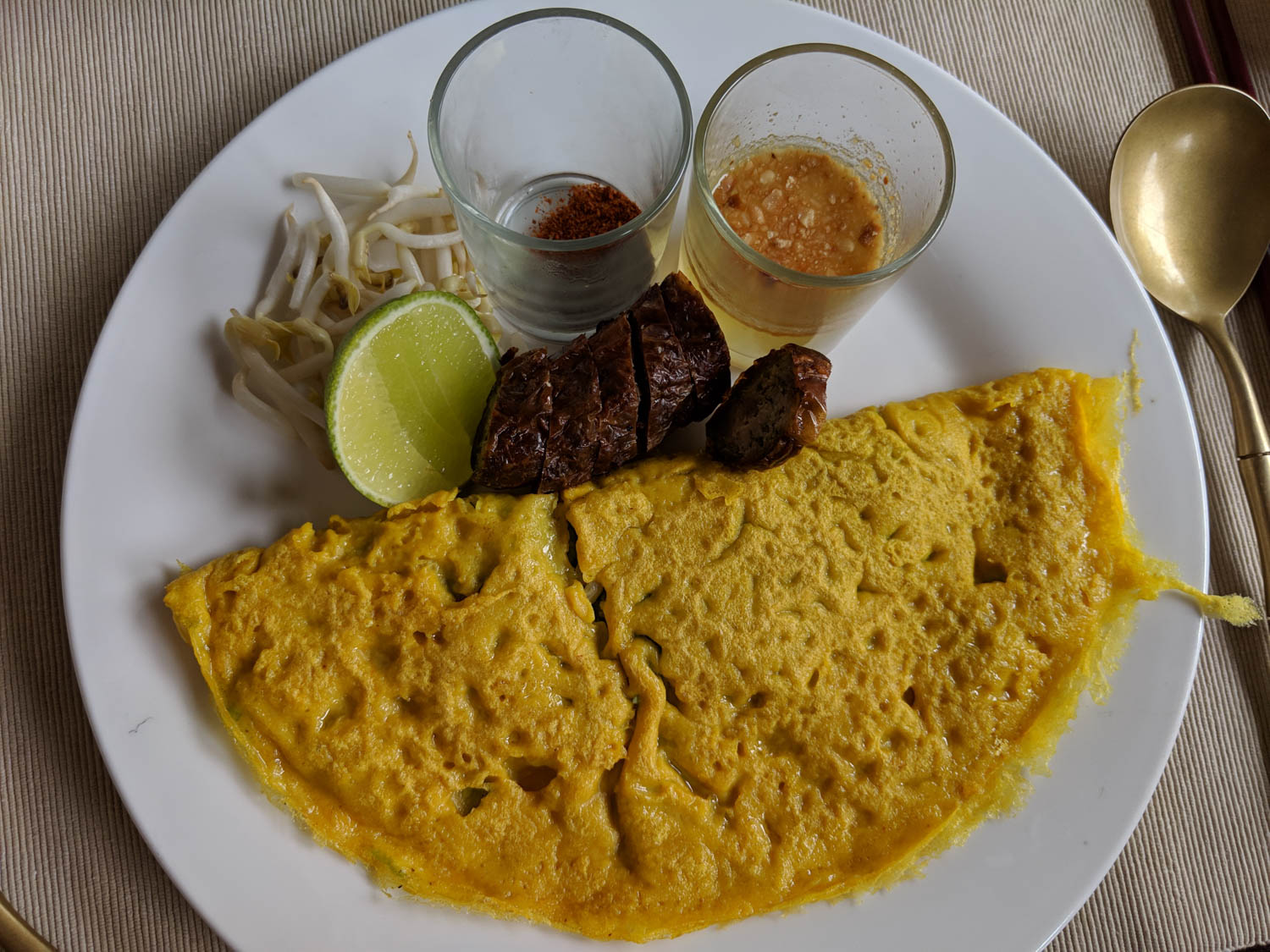 So we stuck to the Laotian dishes after the first day, which were all quite enjoyable.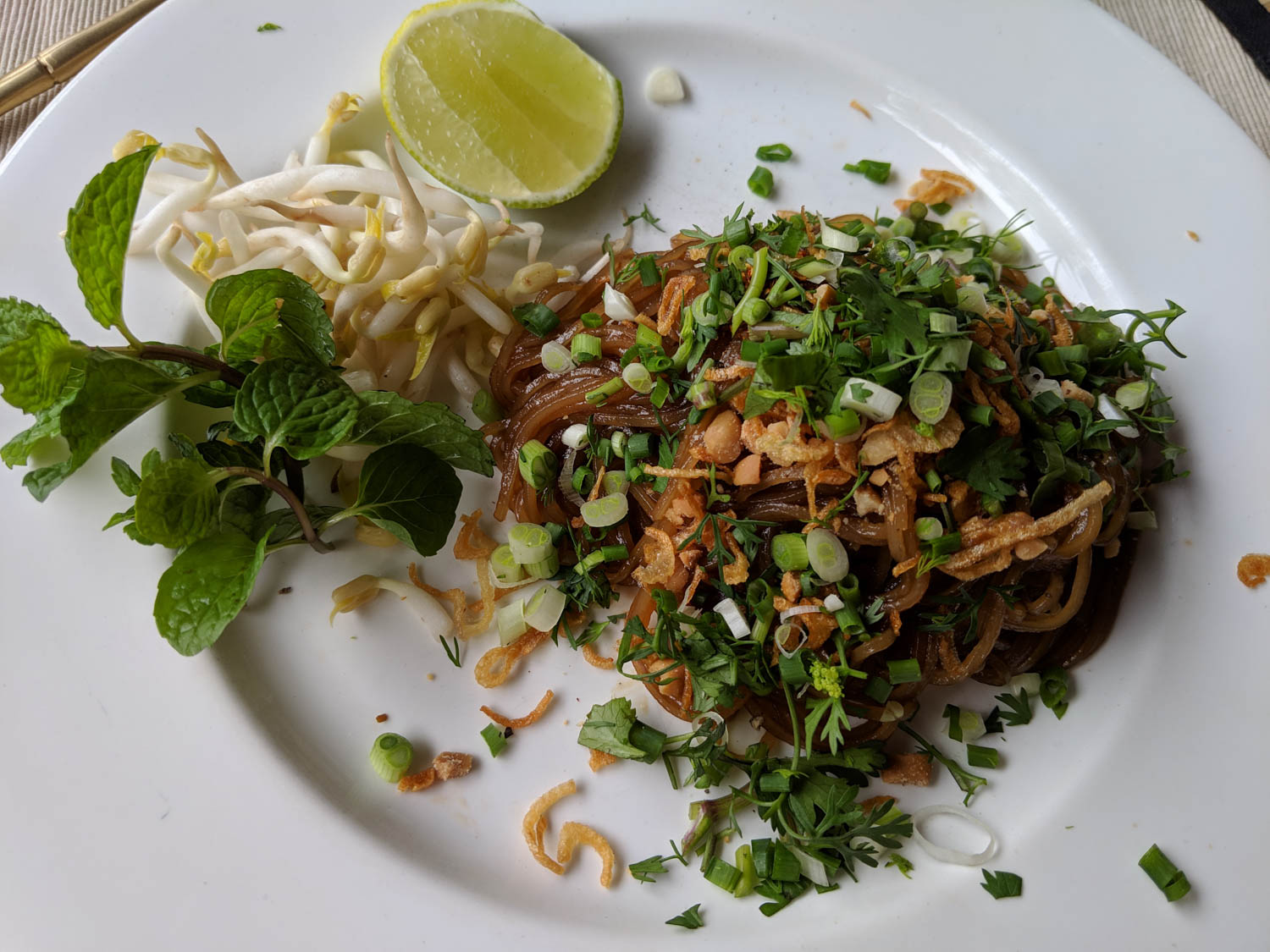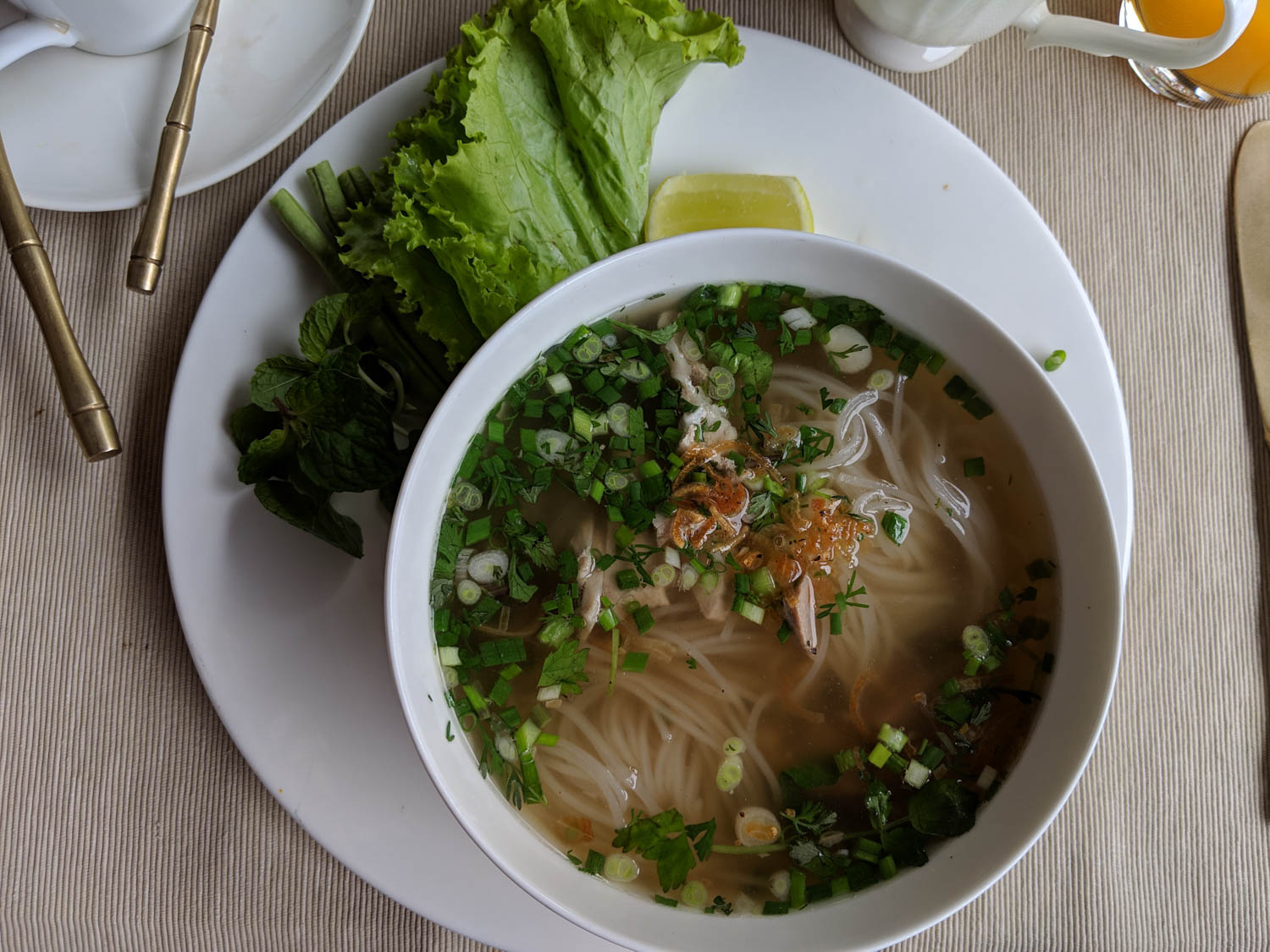 Overall the breakfast was a bit hit-or-miss, and communication was a bit more challenging than seemed necessary. But the environment was pleasant, and the majority of the food was good.
We also had a light dinner at Satri House the night we arrived. It was nearly 10PM at that point, and we had an early morning planned, so we didn't want to venture out for a full meal.
I can't speak to the full experience, as we just ordered a few small things, but there was a selection of Western and Laotian dishes, and what we had was well-prepared.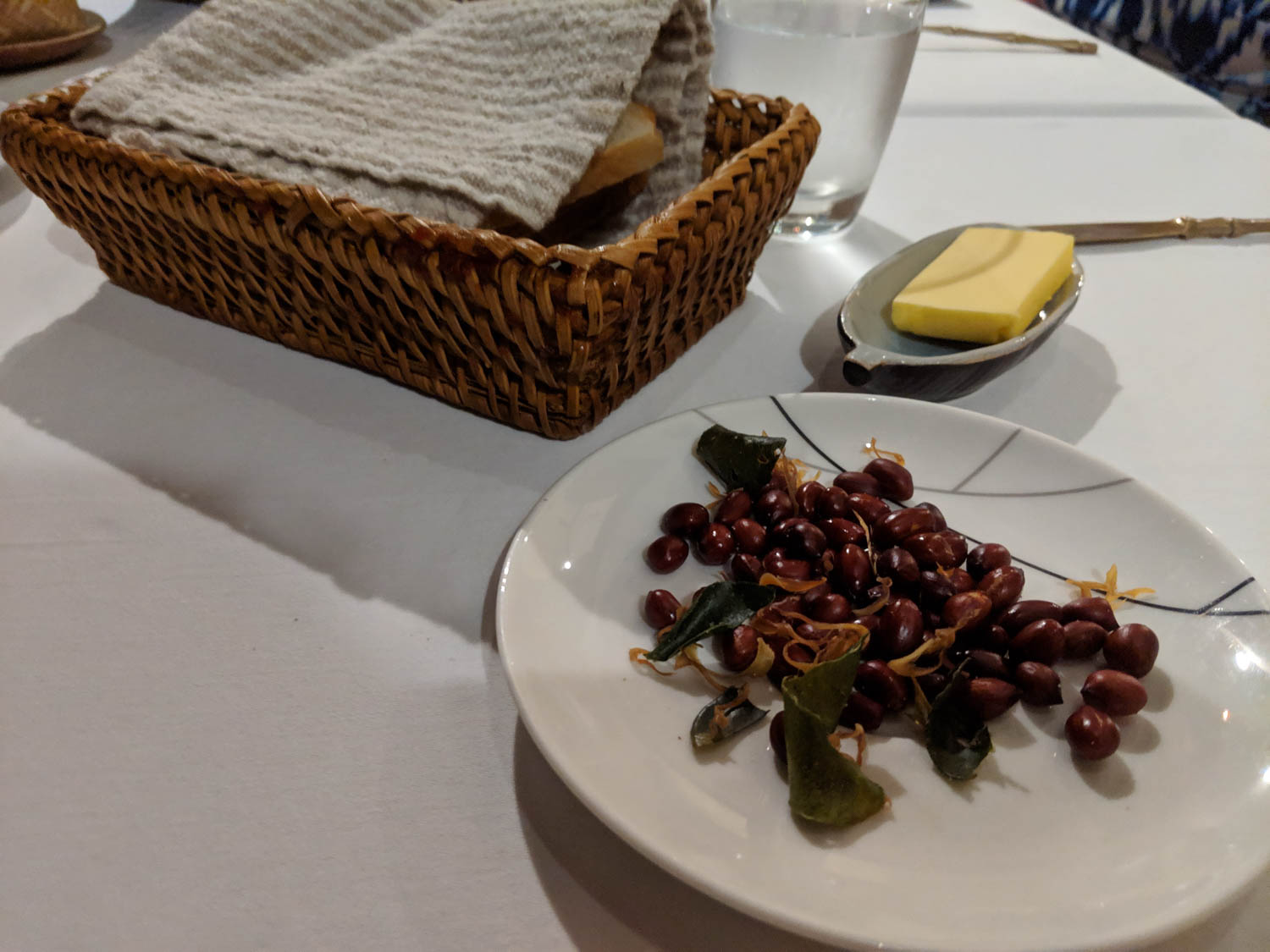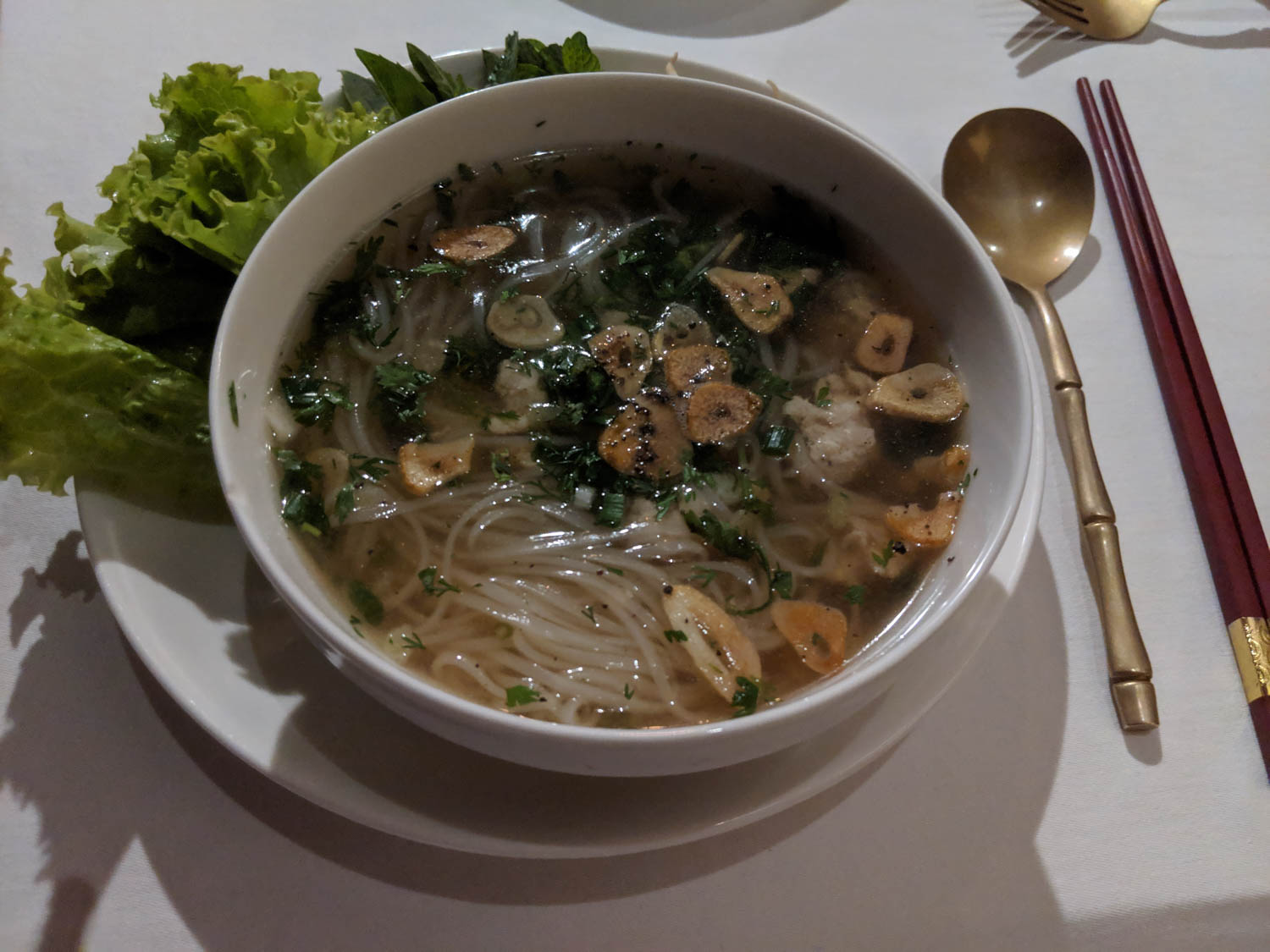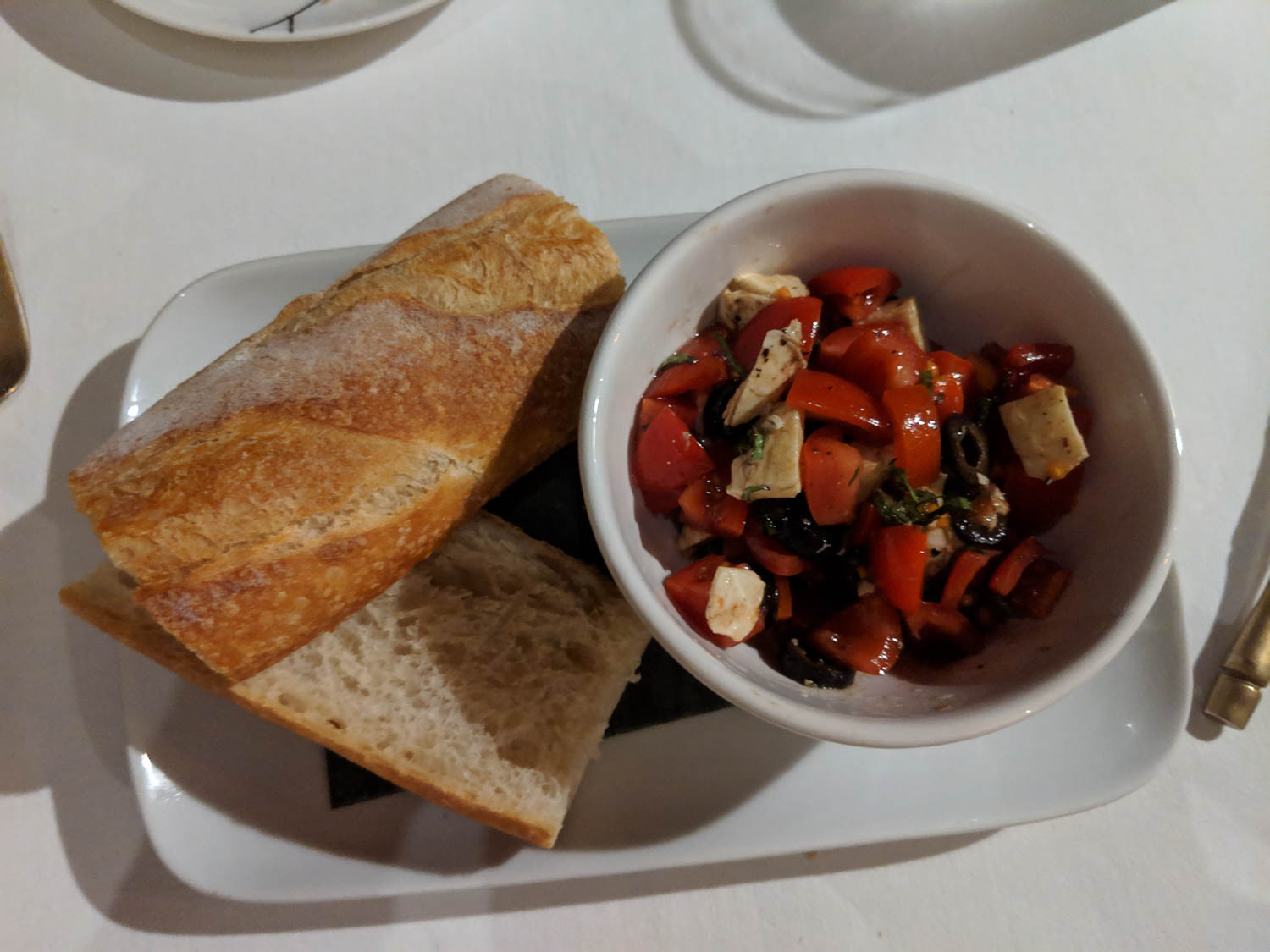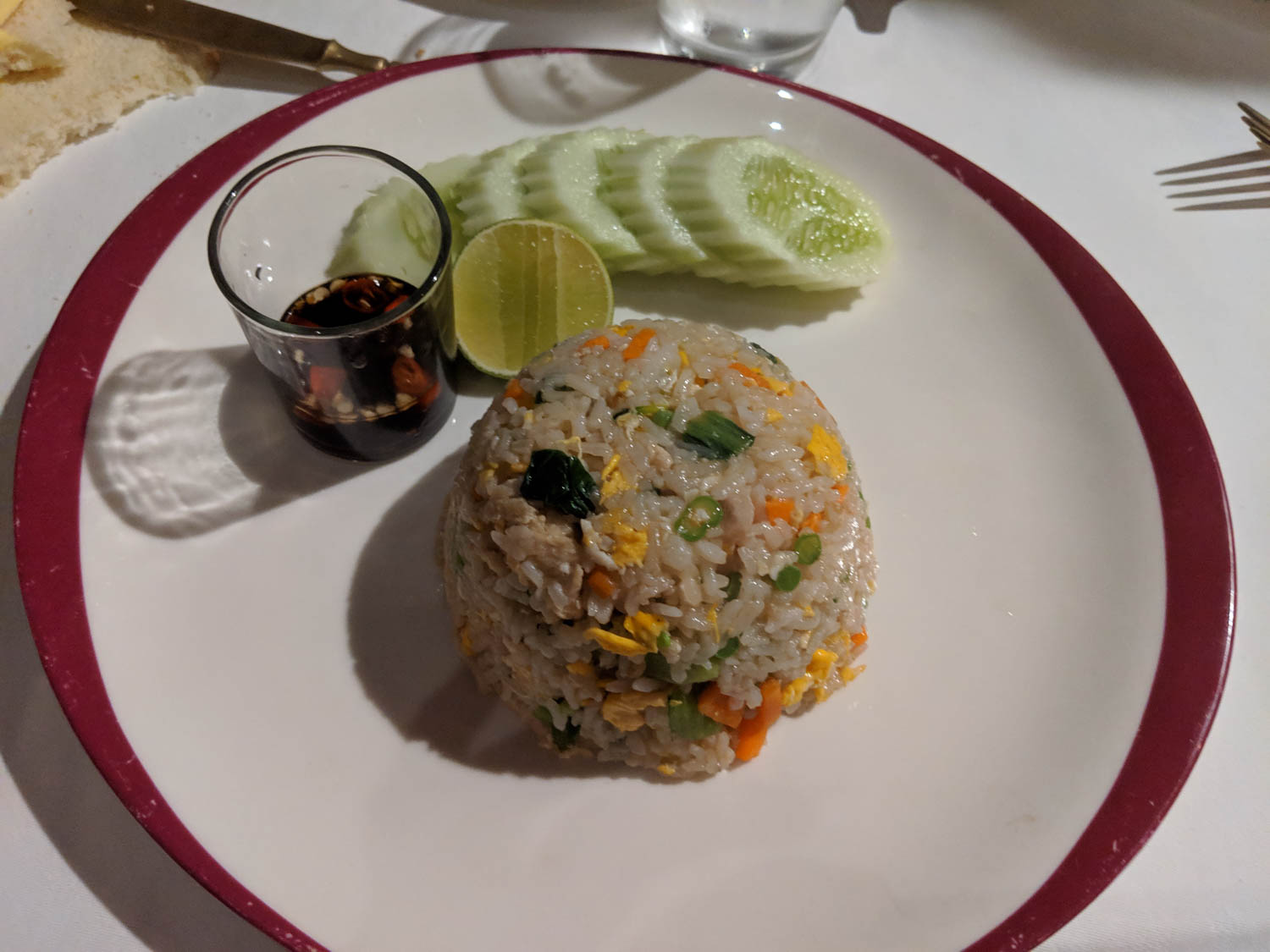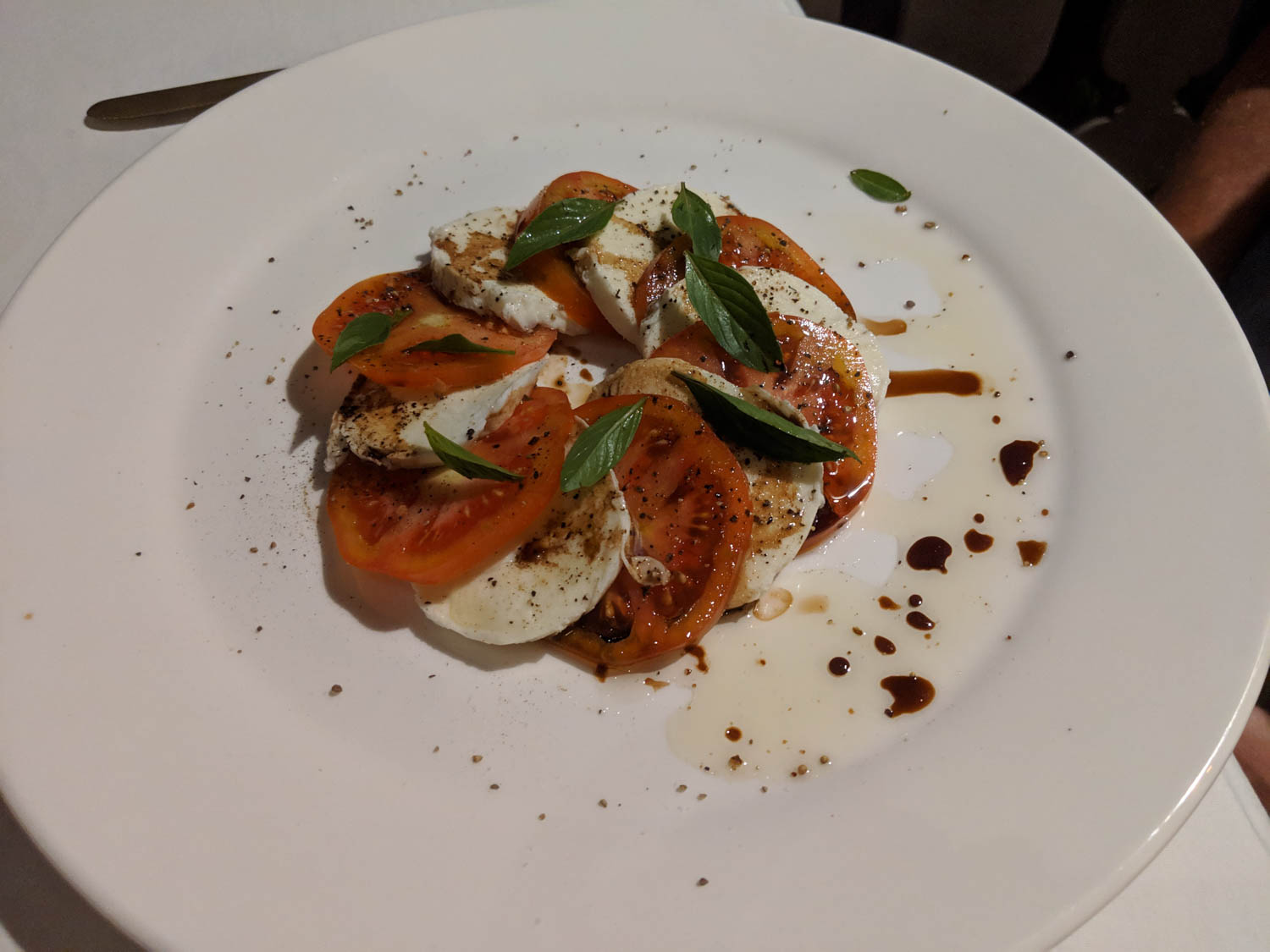 Luang Prabang has a plethora of delicious restaurants though, including the stunning Manda de Laos, which is just across from the back gate of Satri House, so there's no real reason to eat dinner here unless you're arriving late and hungry like we were.
Satri House hotel grounds
Because portions of the hotel were originally residences, there are several different buildings, with gardens and pathways throughout, like this central pond just past the reception area: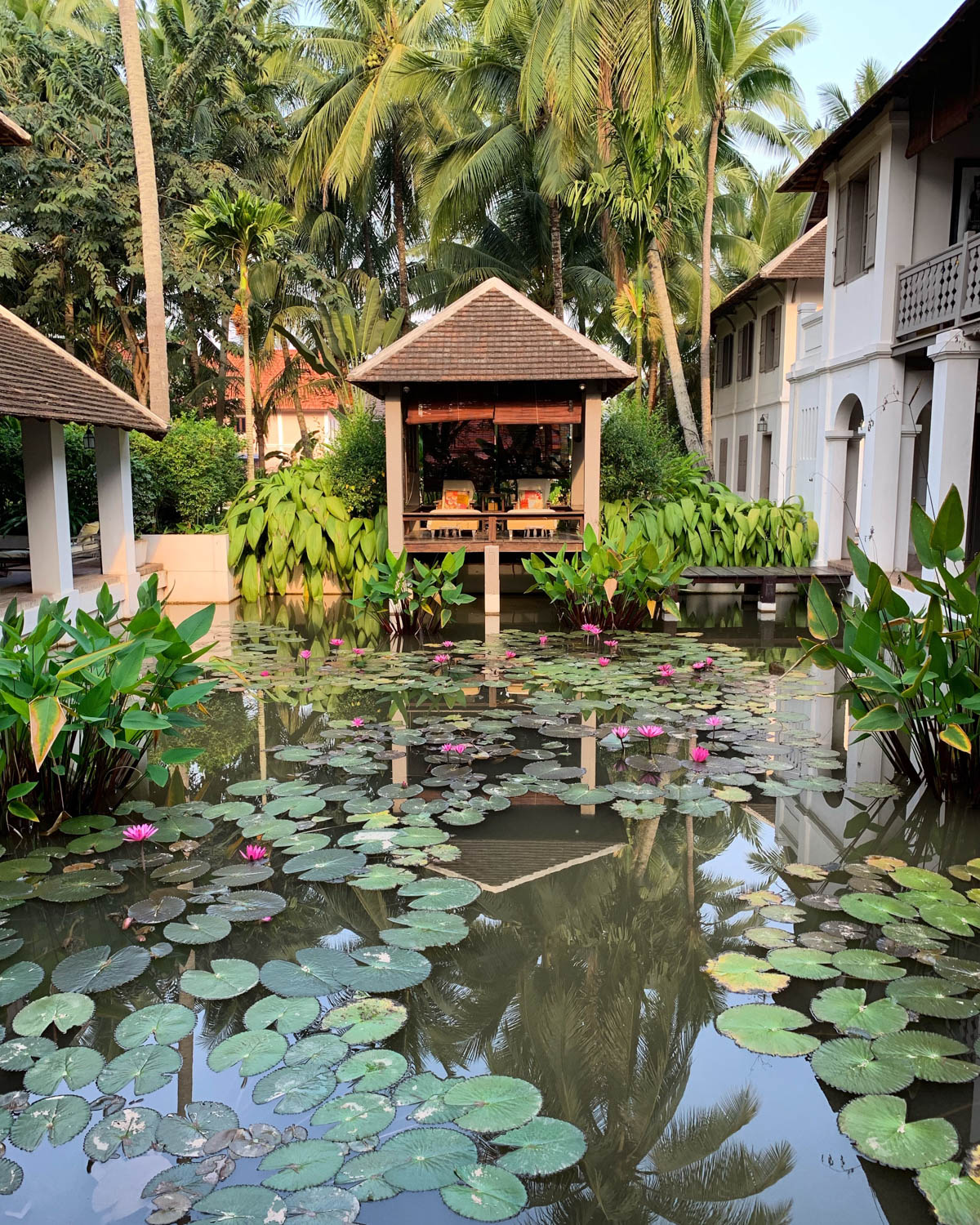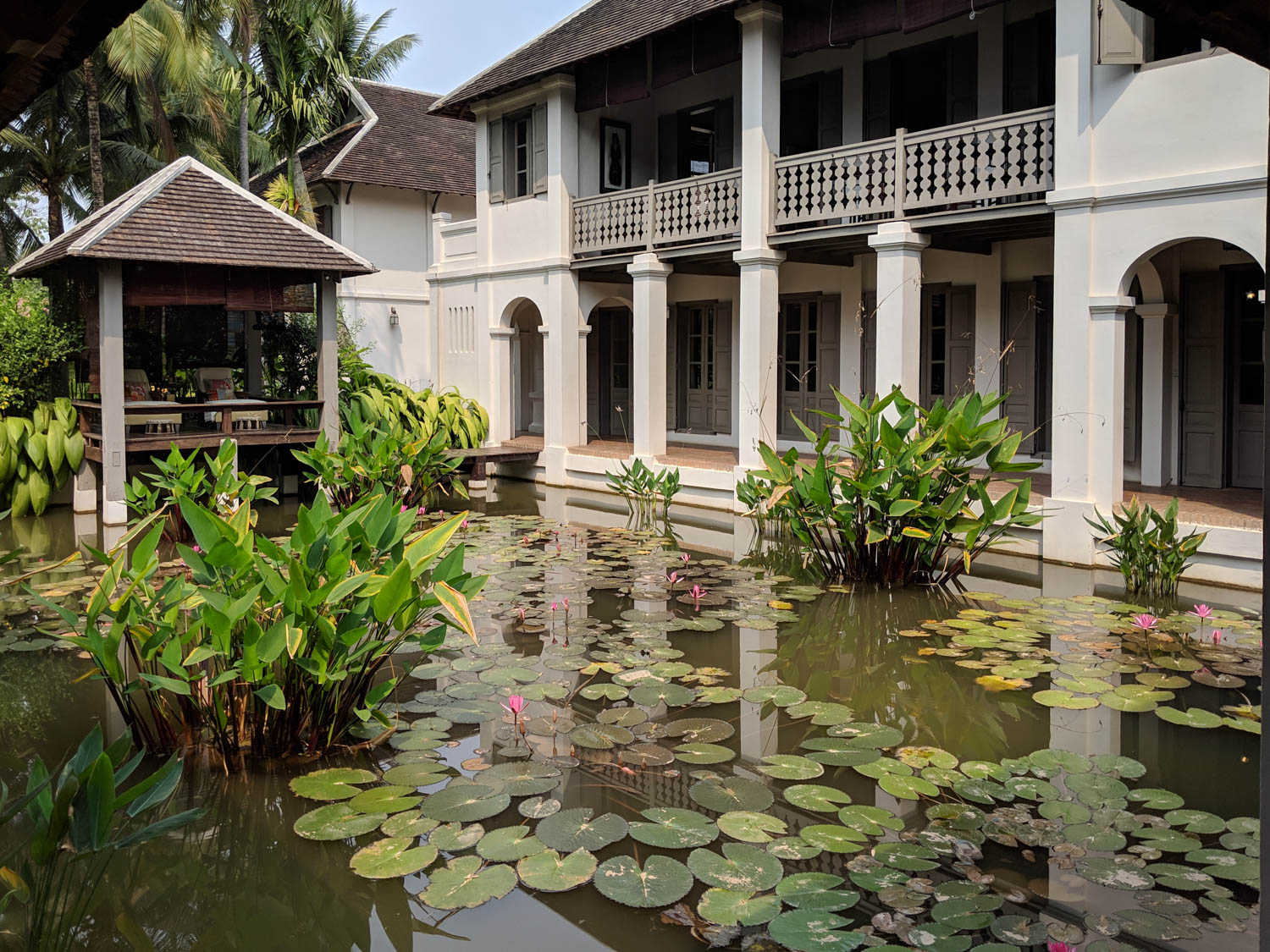 Seating areas were tucked away throughout, and we saw many people just relaxing for hours with their books.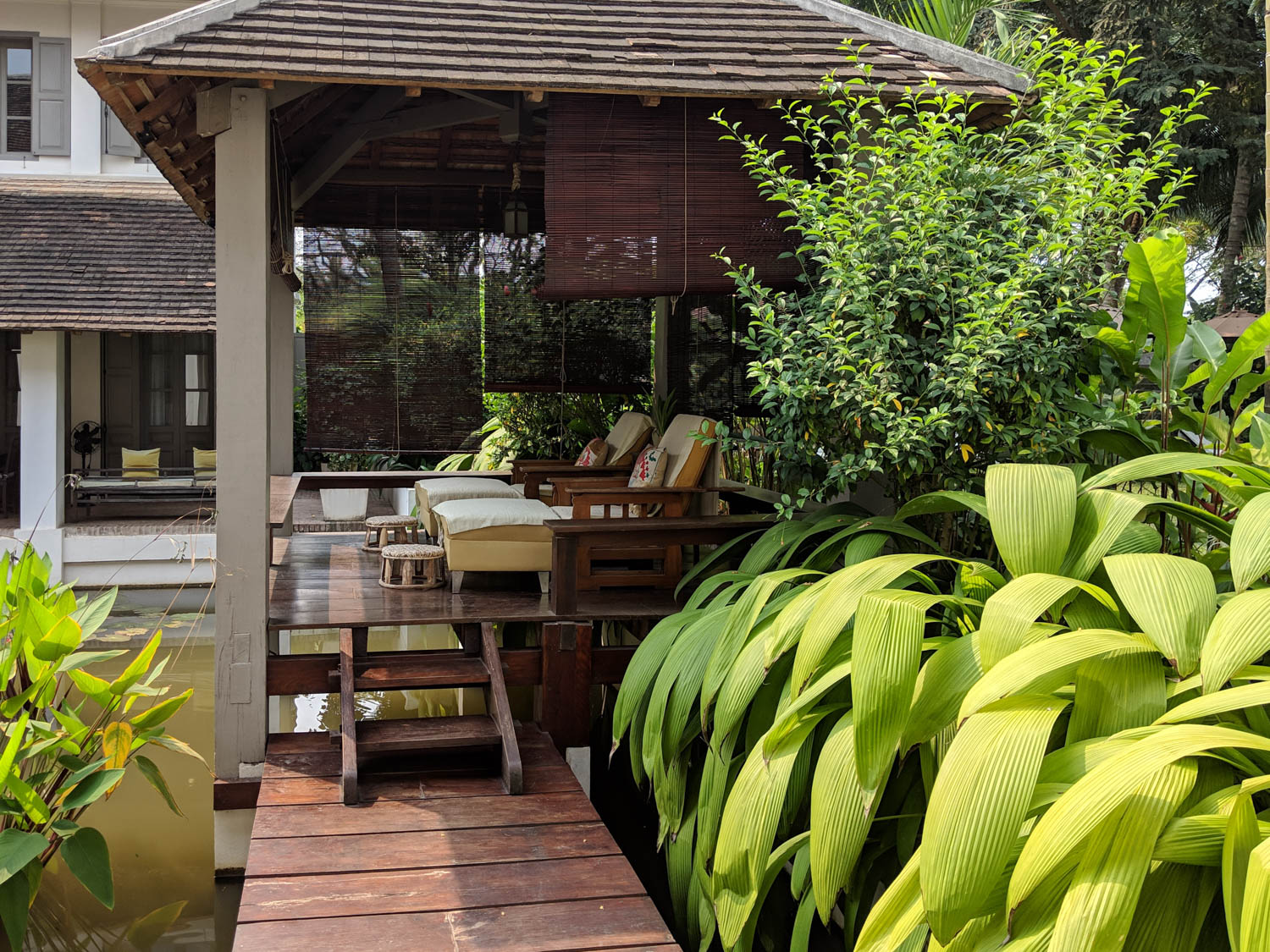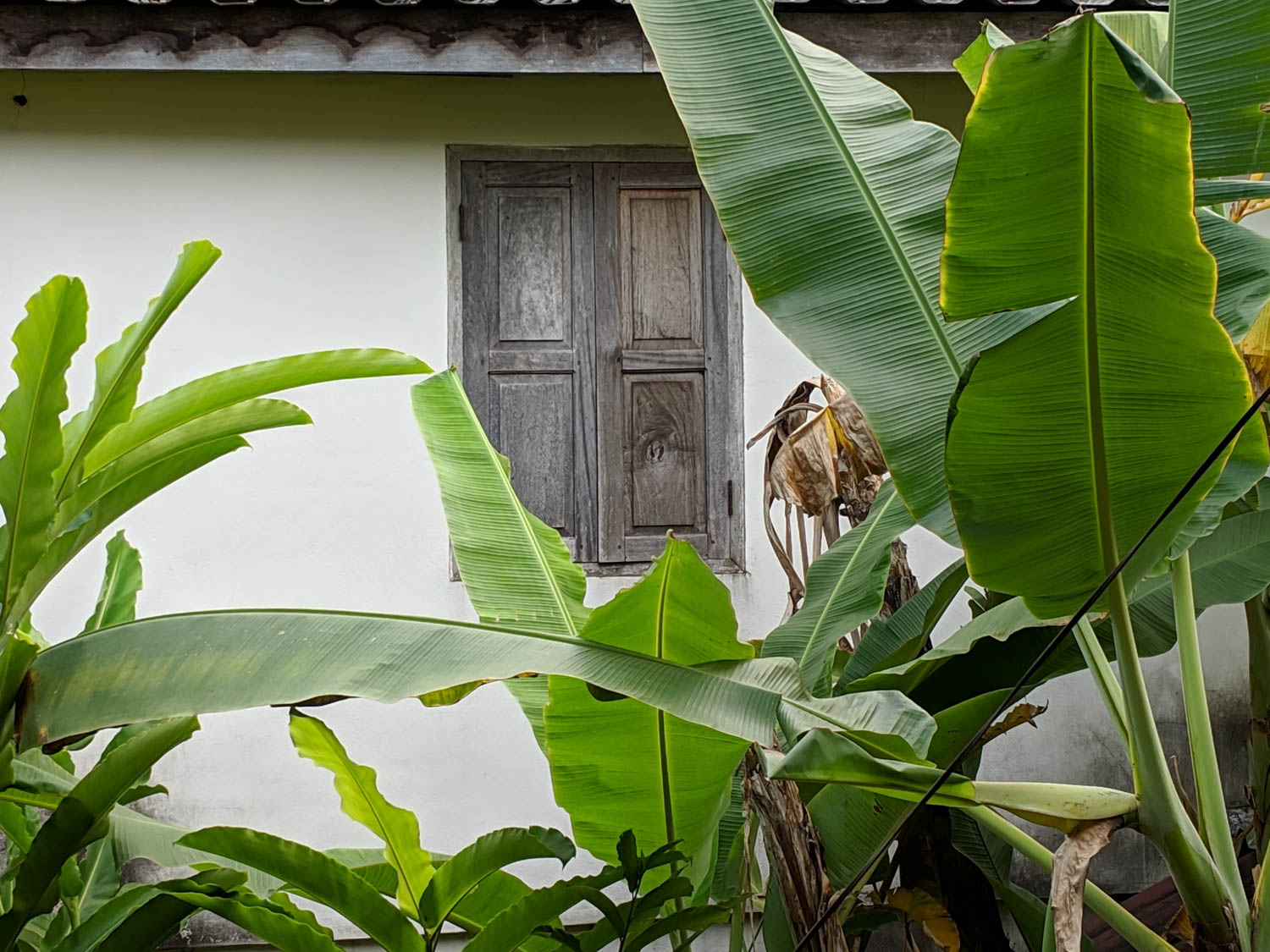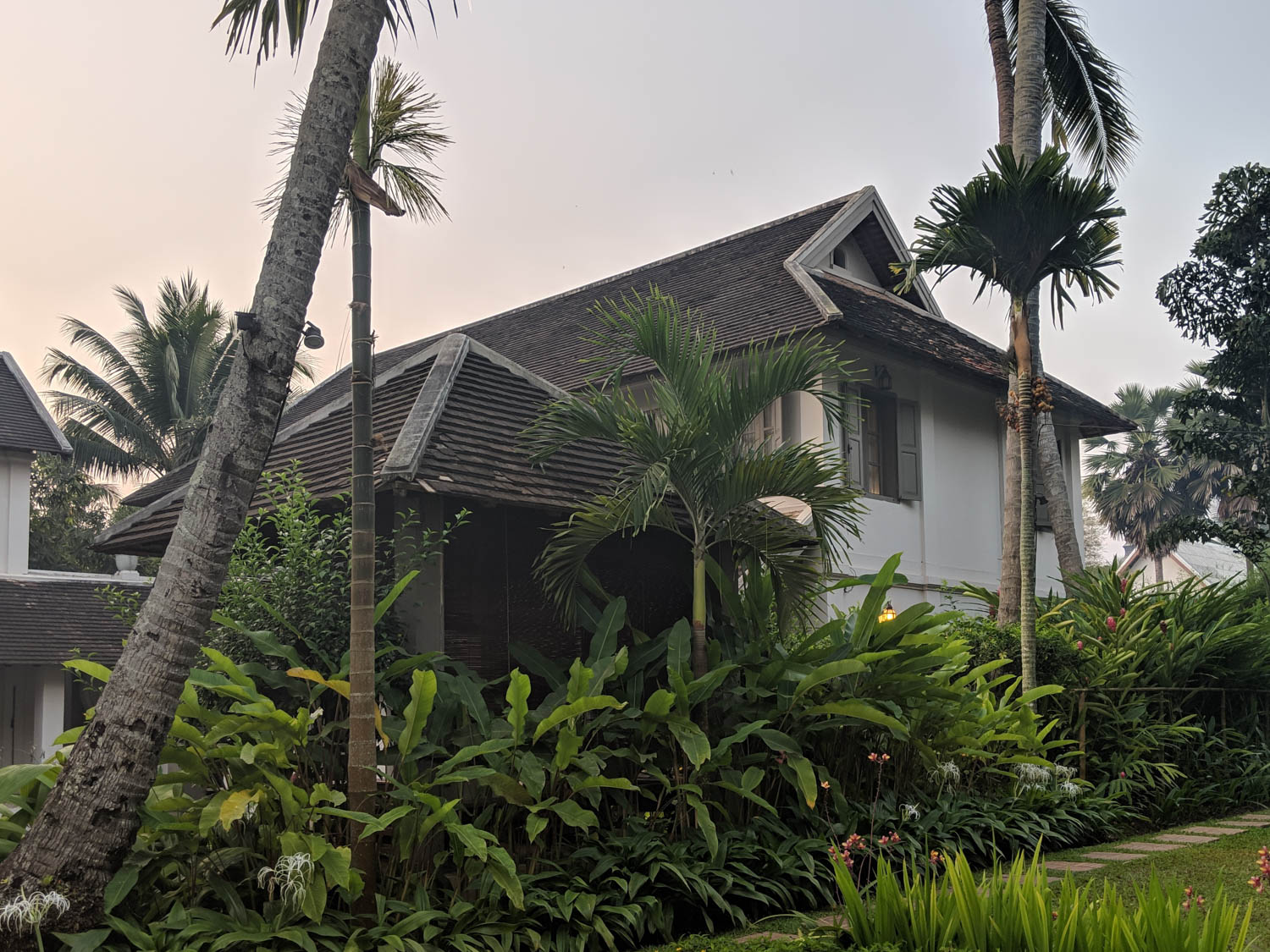 While we didn't make use of it, Satri House advertises a full-service spa, which is off the main courtyard.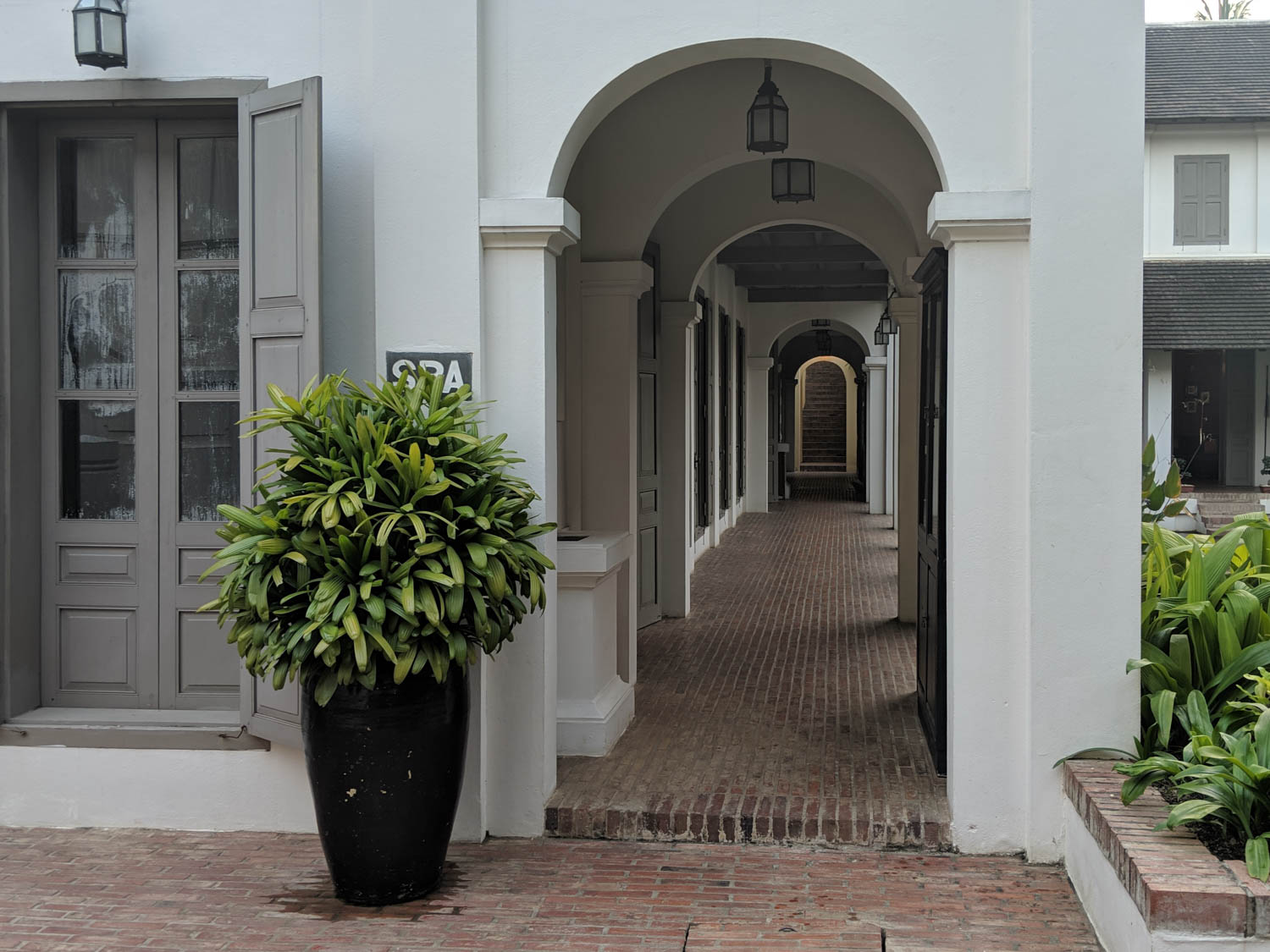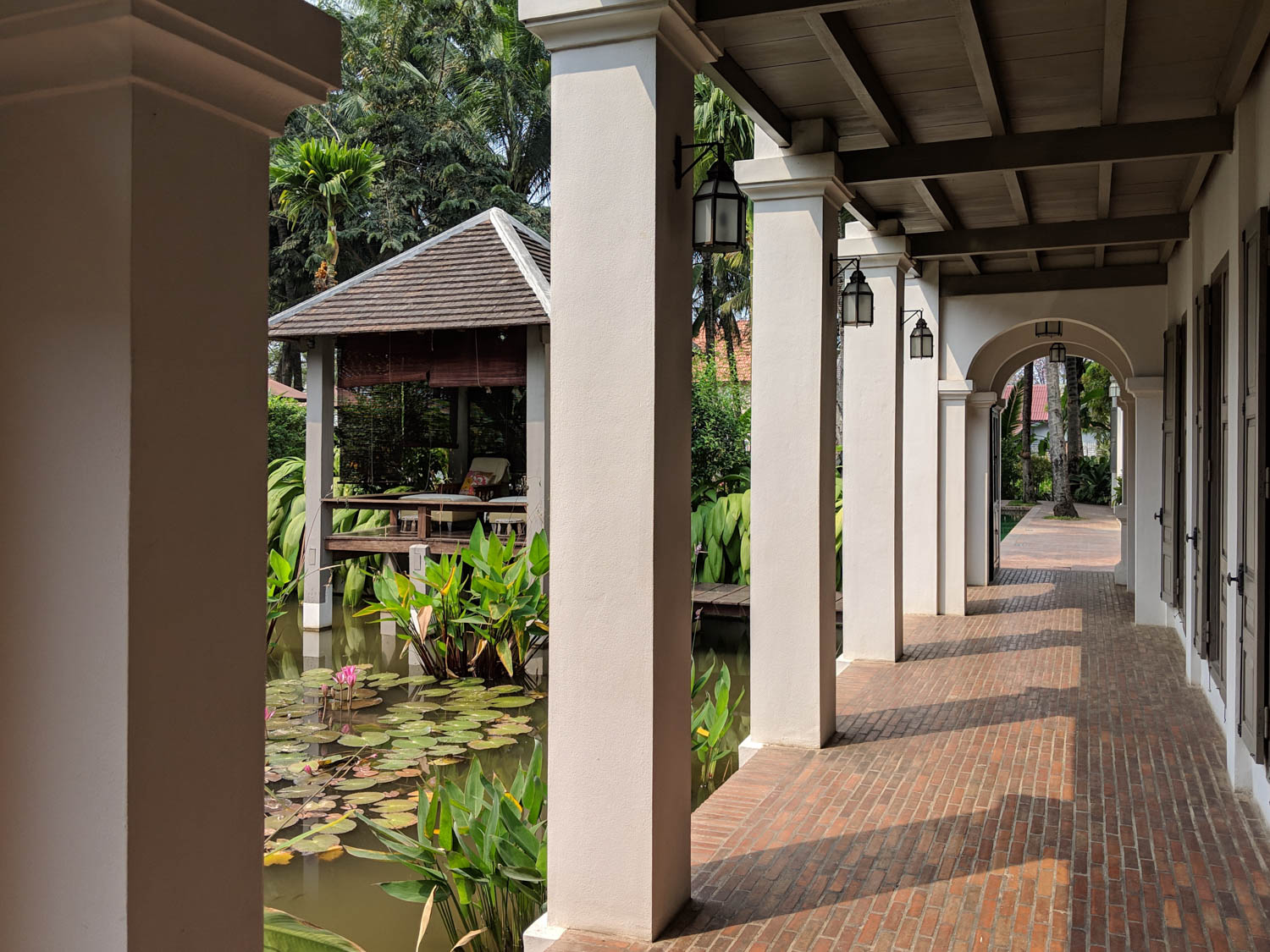 The doors were open one morning, so we got a quick peek at one of the treatment rooms at least: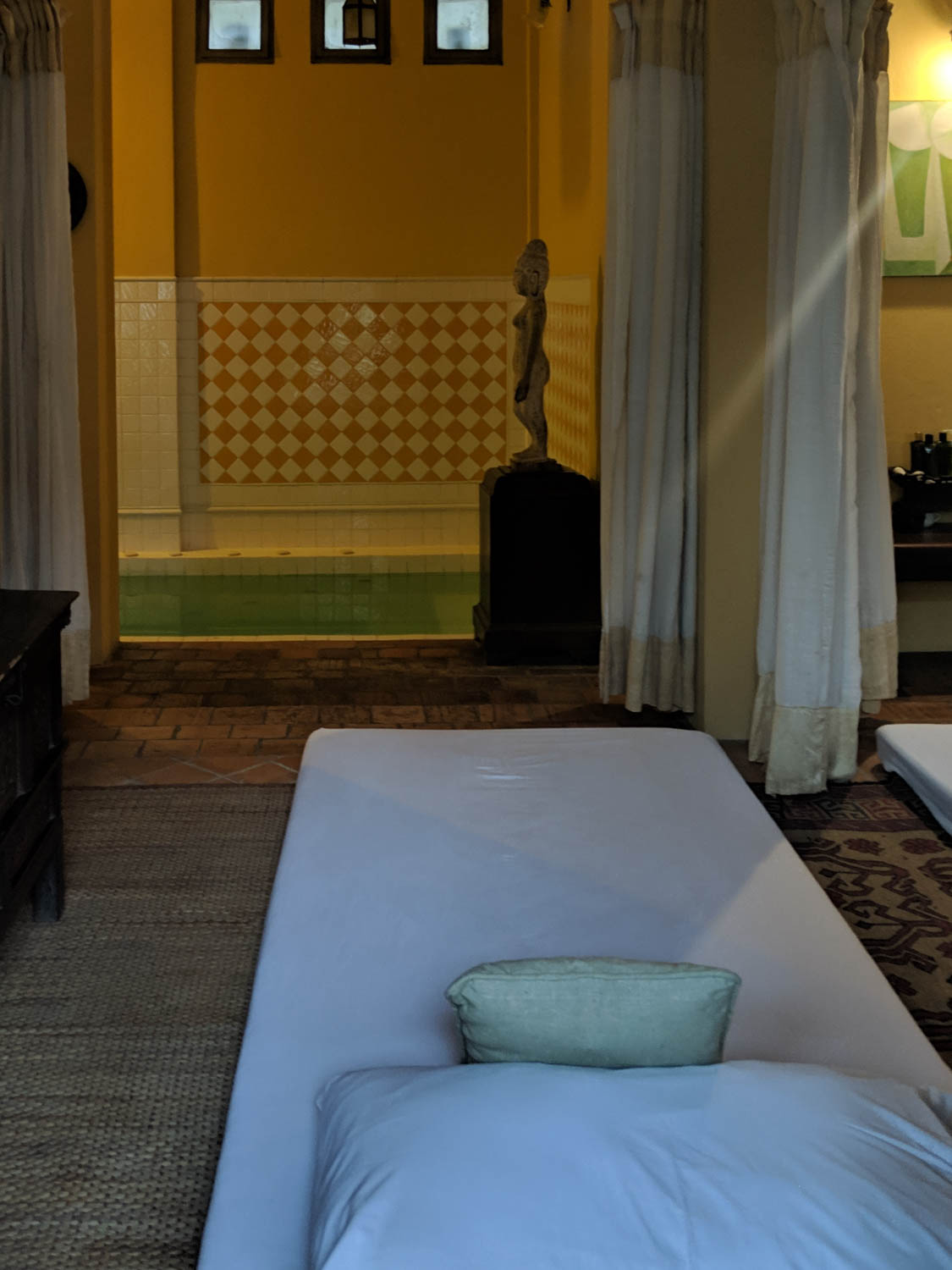 In addition to the ponds, there were a few pool areas as well (at least, I think everything tiled was intended as a pool).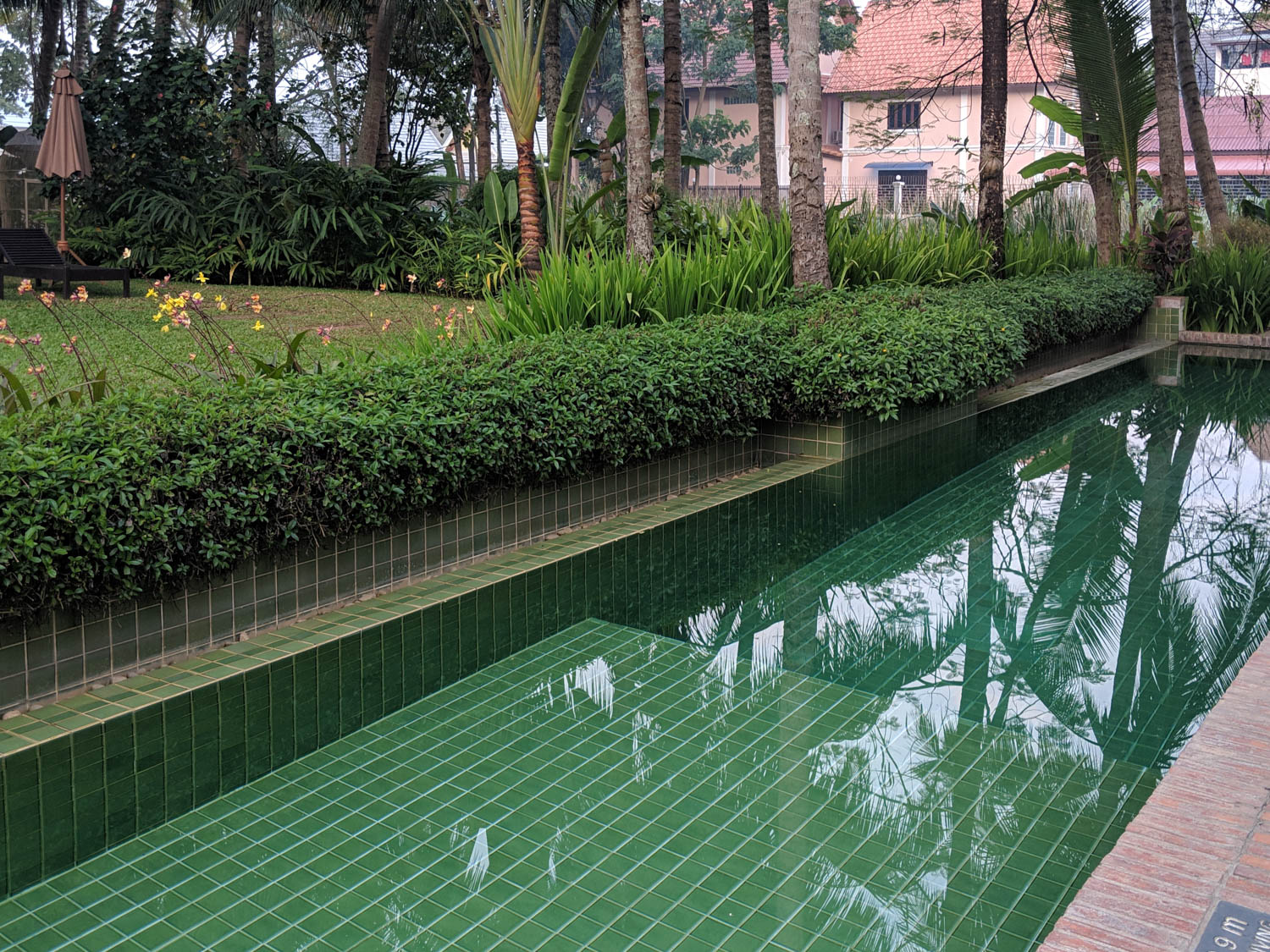 There was definitely a main pool, with a bar. We tried to spend a bit of time here one afternoon though, and it was a pretty disappointing experience. There weren't enough chairs, the water was freezing, and the single staff member had far too much to do with setting up towels, taking drink orders, making drinks, and possibly serving as bartender for the restaurant as well.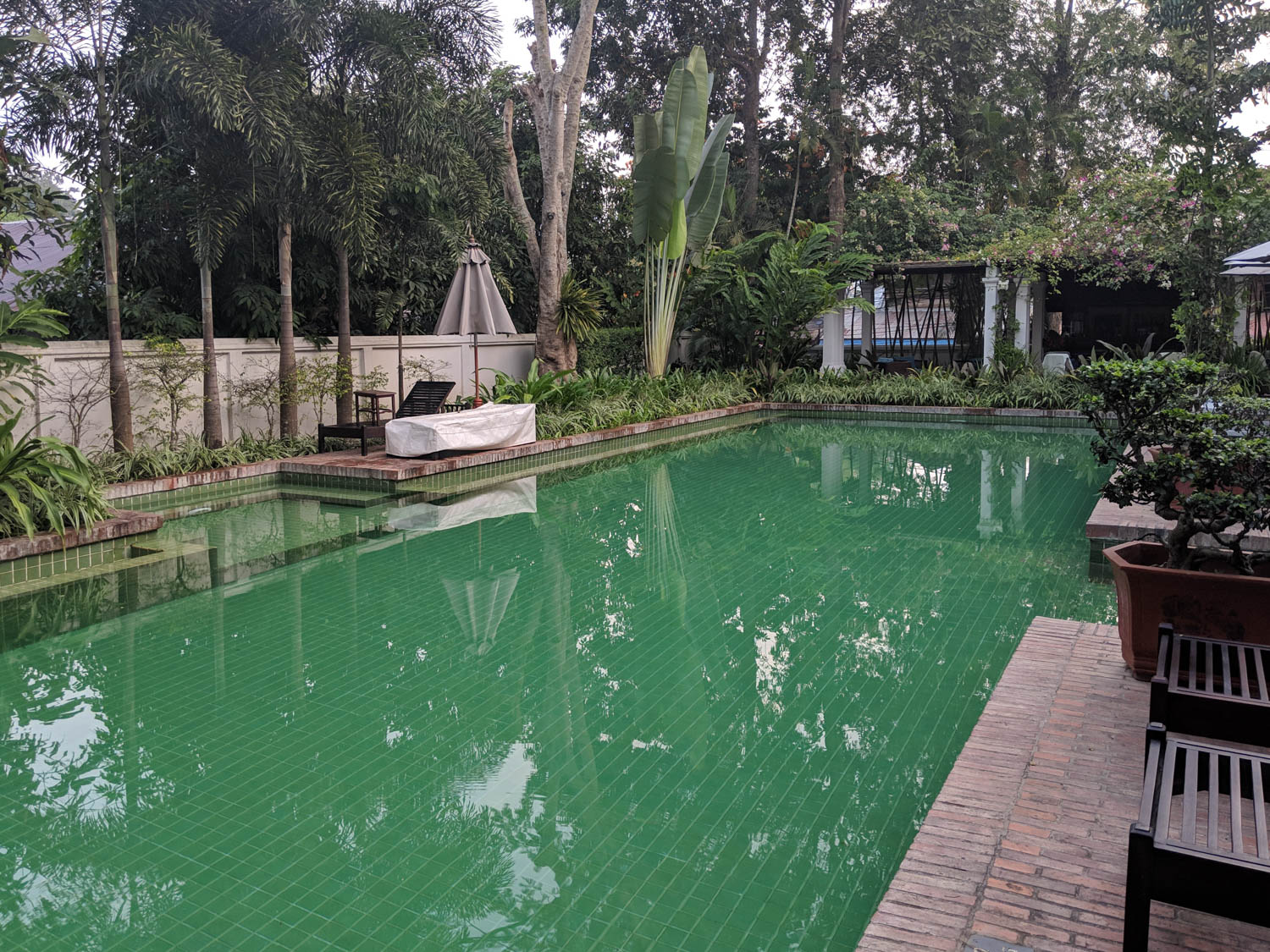 So if pool time is super important to you (though really, with all the beautiful waterfalls nearby, it needn't be), this hotel wouldn't be my first choice.
Satri House had a large stash of bicycles for guests to use — there were a few dozen bikes by a little guard house between the portico and front entry path, and they were free for anyone to take.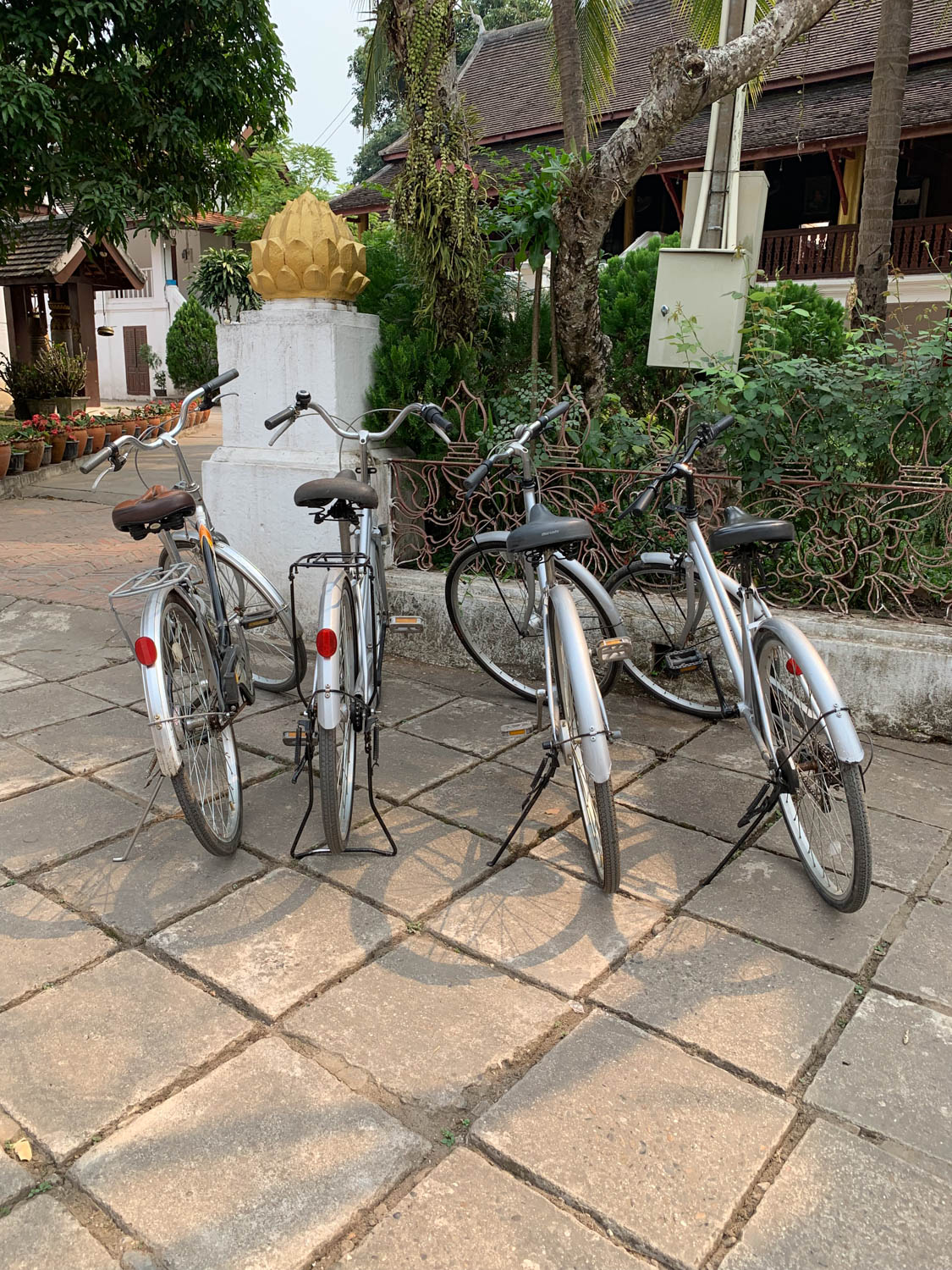 The bikes were a fun way to get around town in the early morning or during the day, but would probably be a liability during the busier evenings. And I must caution that the bicycles themselves were of a universally abysmal quality, with very dubious maintenance and safety features.
Though, that may have made them more fun. If there is one memory of this trip that I will treasure for the rest of my life, it will be of riding through pre-dawn streets on lightless bicycles, with my mom's (of course) emitting a piercing shriek that caused the locals to turn and stare as we rode past.
Basically magical.
Overall thoughts
I'm slightly conflicted about Satri House, in a way I'm not quite sure how to articulate.
The property is charming, in every sense of the word. The residential feel, the mix of colonial architecture with local decor, and the enthusiastic welcome we received all set the tone for an incredible stay.
But oddly, the more time we spent at the hotel, the less I liked it. The beds weren't that comfortable, the bathrooms were annoying, the Wifi only worked intermittently, and while some of the staff were marvelously helpful, others were just…present.
From little things, like the struggle to get service around the pool, to more tedious ones, like advertising laundry service by just placing items in the basket, which led to the hotel calling our tuk-tuk driver while we were out sightseeing to confirm that we wanted those items washed, but culminated in no laundry ever actually being done.
Not anything major, and nothing to recommend against the property — there were just enough things that made me go "huh?" to where if I were to return to Luang Prabang, it wouldn't necessarily be a no-brainer to stay here again. Which is a little sad, as my first impression was that this was obviously the perfect hotel choice in Luang Prabang.
Regardless, I'm glad we stayed here, as those initial vibes really set the tone for our visit to Laos, and made our moms fall instantly in love with the country, which is really more than you can ask for.
Do you have a hotel in Luang Prabang that you've loved?