---
We only had a quick 30ish hours in Hanoi. That was enough to get a taste of the city, begin to appreciate the culture and mix of architectural styles, and of course enjoy some great local cuisine.
We loved strolling in the neighborhoods around Hoàn Kiếm Lake (and seeing all the families dressed in their finest clothes taking New Year's portraits), sampling the coffeehouse culture, and experiencing the crush of people.
It's obviously not enough time to have a true appreciation for a city, or experience even a fraction of the cultural activities on offer. But I thought it would be fun to compile a list of some of the things we did, and that I think are enjoyable no matter how long (or short!) your visit to Hanoi.
How to cross the street in Hanoi
If this sounds like an odd thing to preface my list with, well — you've never been to Hanoi.
Everything we did was within walking distance of our hotel, and we ended up walking many, many miles during the time we were in Hanoi. So I'm not saying I'm a street-crossing expert (though my years in Sicily certainly gave me a confidence advantage), but there are four basic rules that will significantly reduce the amount of time you spend wondering when on earth you'll have a clear shot to cross. Which will actually never happen.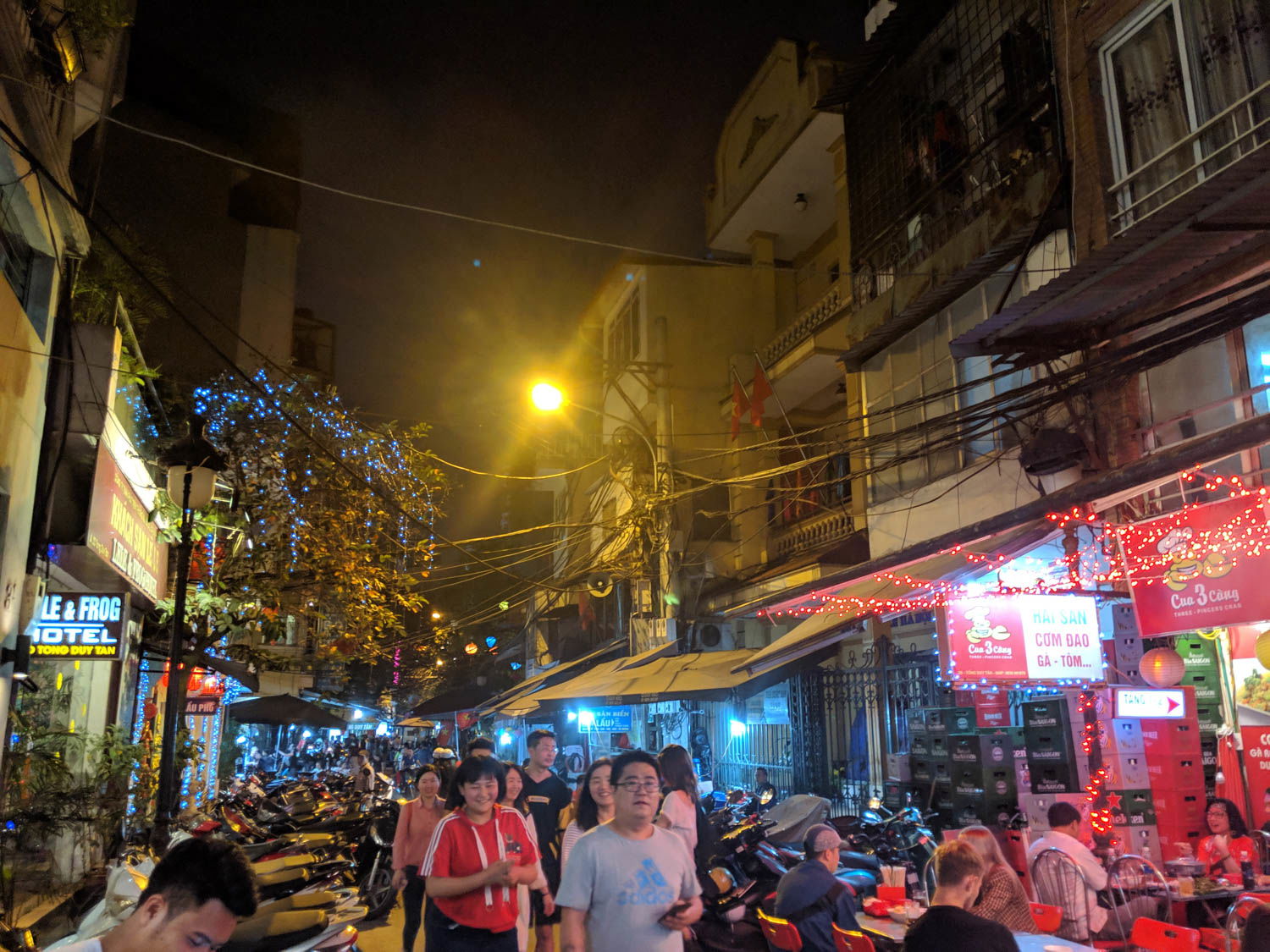 1. Never look the drivers in the eye
It doesn't matter whether they are in a car or on a motorbike — Hanoi drivers have a lot to be managing already. Having pedestrians try and make eye contact is distracting, and thus actually reduces your chances of crossing safely.
2. Make yourself more visible
You don't need to wear certain clothing or anything, but raising your arm so that drivers can see you will make a big difference. If you're in a group, clump up and move as a unit so that you're collectively a larger obstacle to avoid.
If drivers can see you, they will make an effort to not run you over, basically.
3. Maintain a constant rate of speed
Naturally, you're going to want to slow down to make sure a scooter saw you (but see #2), though you'll want to resist that temptation.
Chaotic as it looks, drivers are actually paying attention, and are anticipating the traffic ebbs and flows. So if you're moving across the street in a visible fashion, at the same speed the entire time, they'll adjust.
If you speed up (or slow down), you change the dynamic for everyone — and not just the drivers nearest to you, but the ones behind them that can't see you.
4. The bus is king of the road
All the above rules apply to motorbikes and small cars, who are prepared to adjust to pedestrians. Buses are not.
Not only are they large, and at a different visual plane, they are heavy. With ~30 seats and carrying half again as many people standing, they actually can't just effectively stop or slow down for pedestrians, which is bound to lead to accidents.
So don't cross in front of the bus. Please.
With that out of the way, let's talk about the fun things you can (safely and efficiently!) walk to.
1. Water puppet theater
We had some friends recommend that we go here, and I'm so glad that we did. The Thang Long Water Puppet Theater has daily performances of Vietnamese water puppets, accompanied by traditional musicians and singers.
Now, you may not think that a puppet show is something you'd naturally enjoy, but let me just say — there are smoke-and-fire-breathing dragons.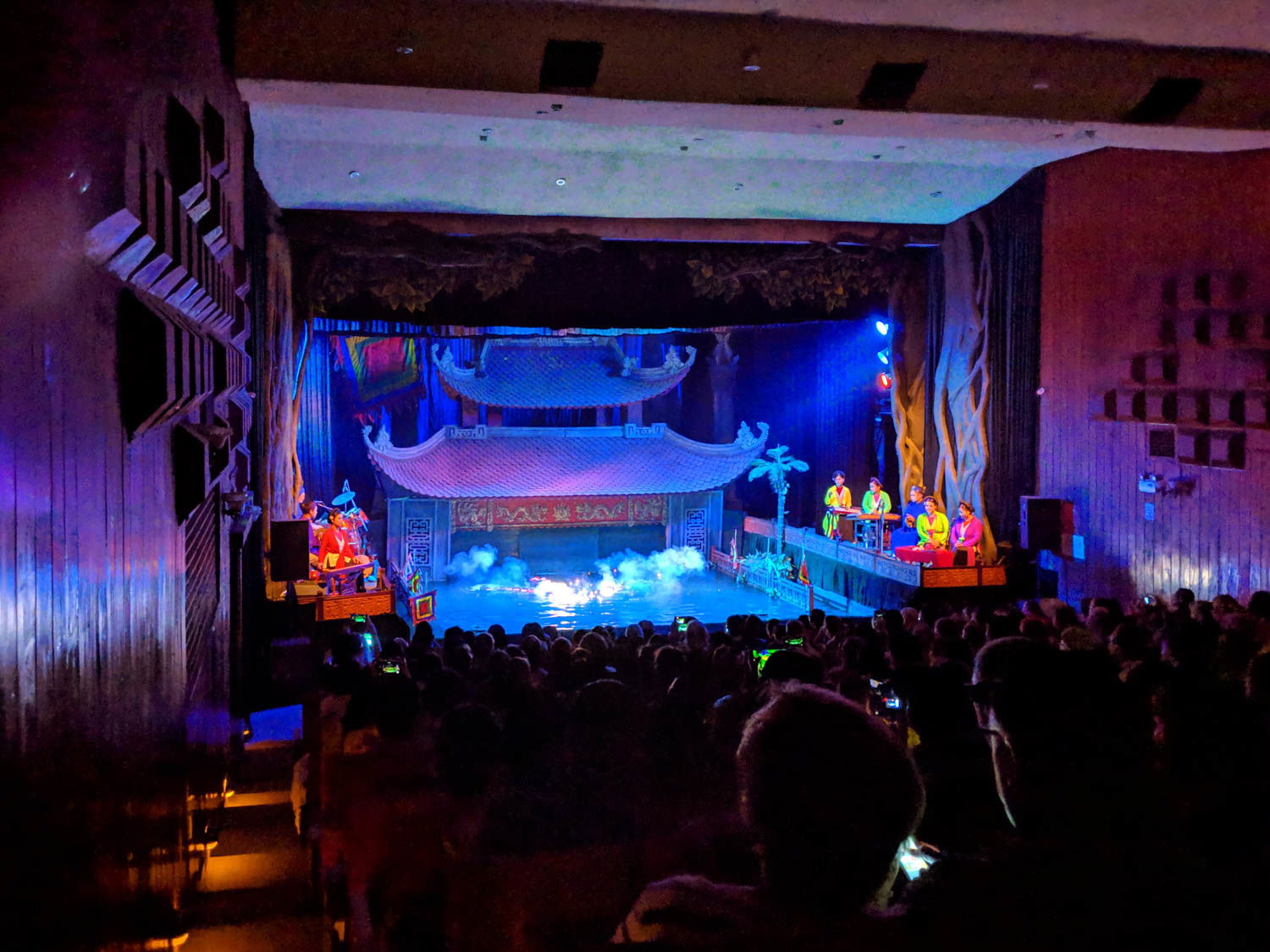 That being said, this isn't actually like, thrilling theater. But it is a good introduction to some Vietnamese mythology and musical traditions.
And at ~$8 for the 45-minute performance, it's not a huge investment in terms of either time or money.
2. Street food tour
An OMAAT reader suggested we try the Sticky Rice Hanoi food tour, which does indeed look amazing. The guys who run it were out of town for Tet, but since we had the idea of a Hanoi food tour in our heads, we went ahead and booked an Old Quarter Street Food tour with Awesome Travel.
Our guide Rocky met us at the exit to the puppet theater, then started by taking us to their company headquarters, where they also run a little cafe and series of classes: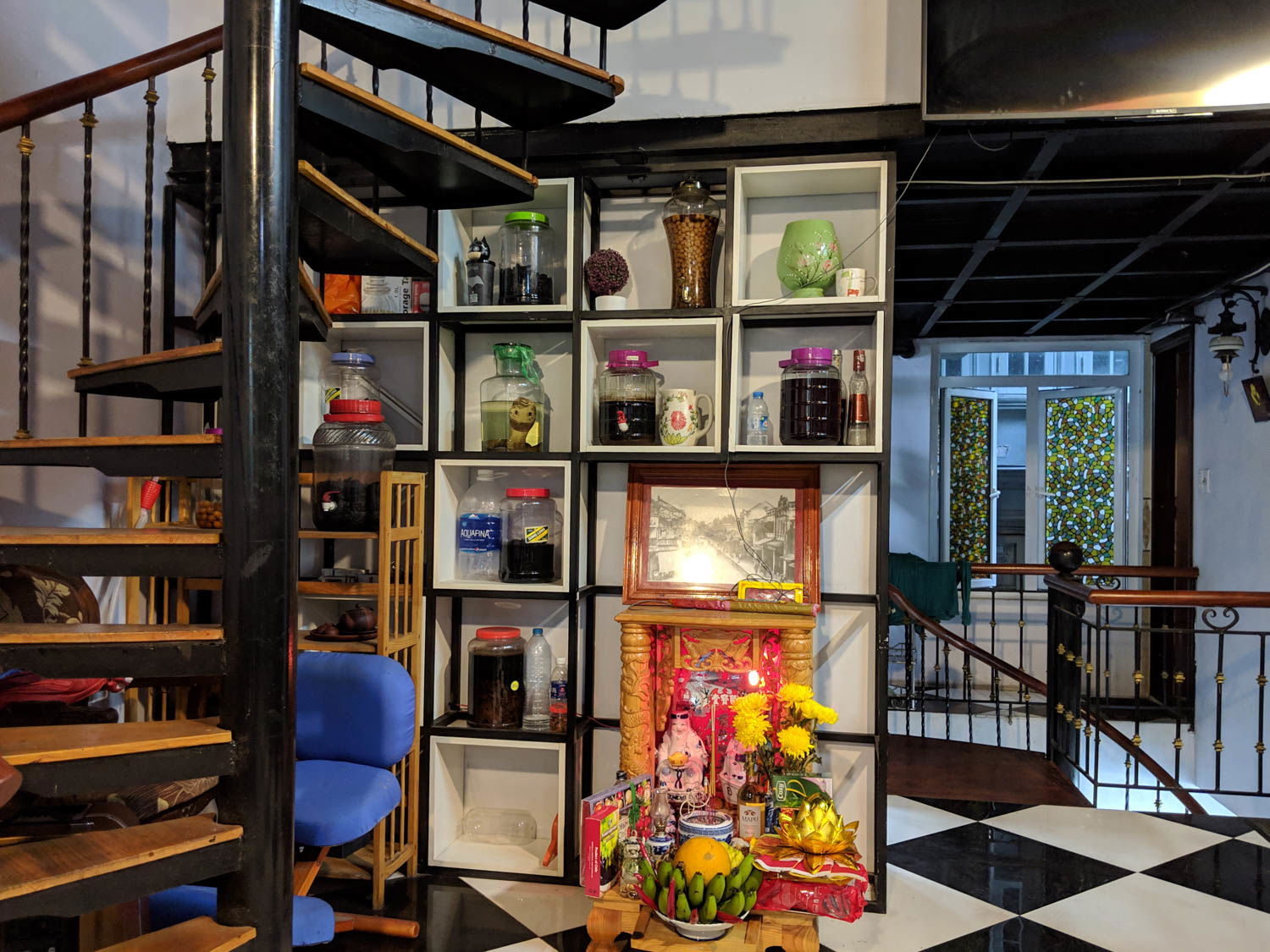 We sampled a few dishes there (which was nice, as the quiet environment meant we got lots of explanations):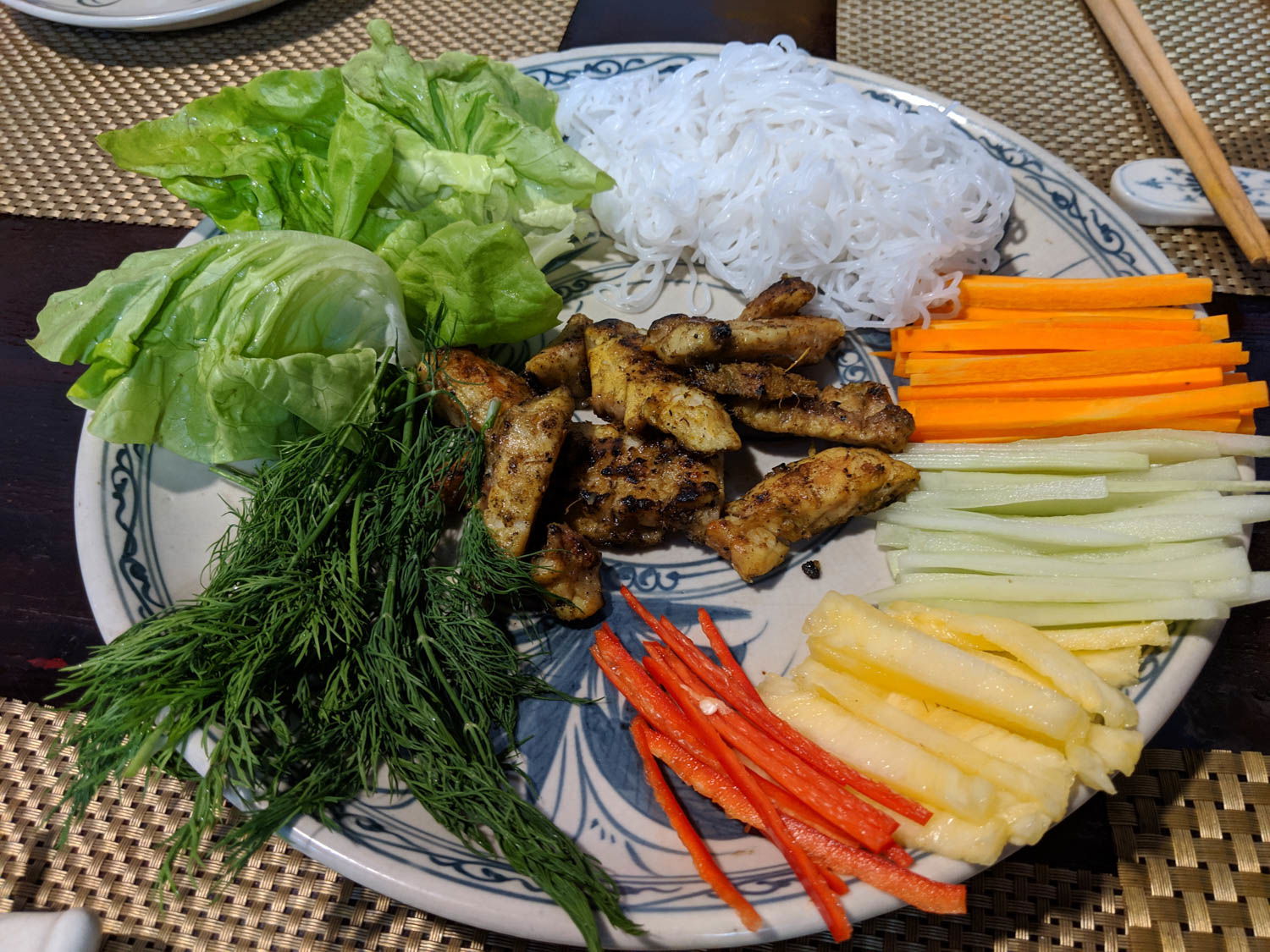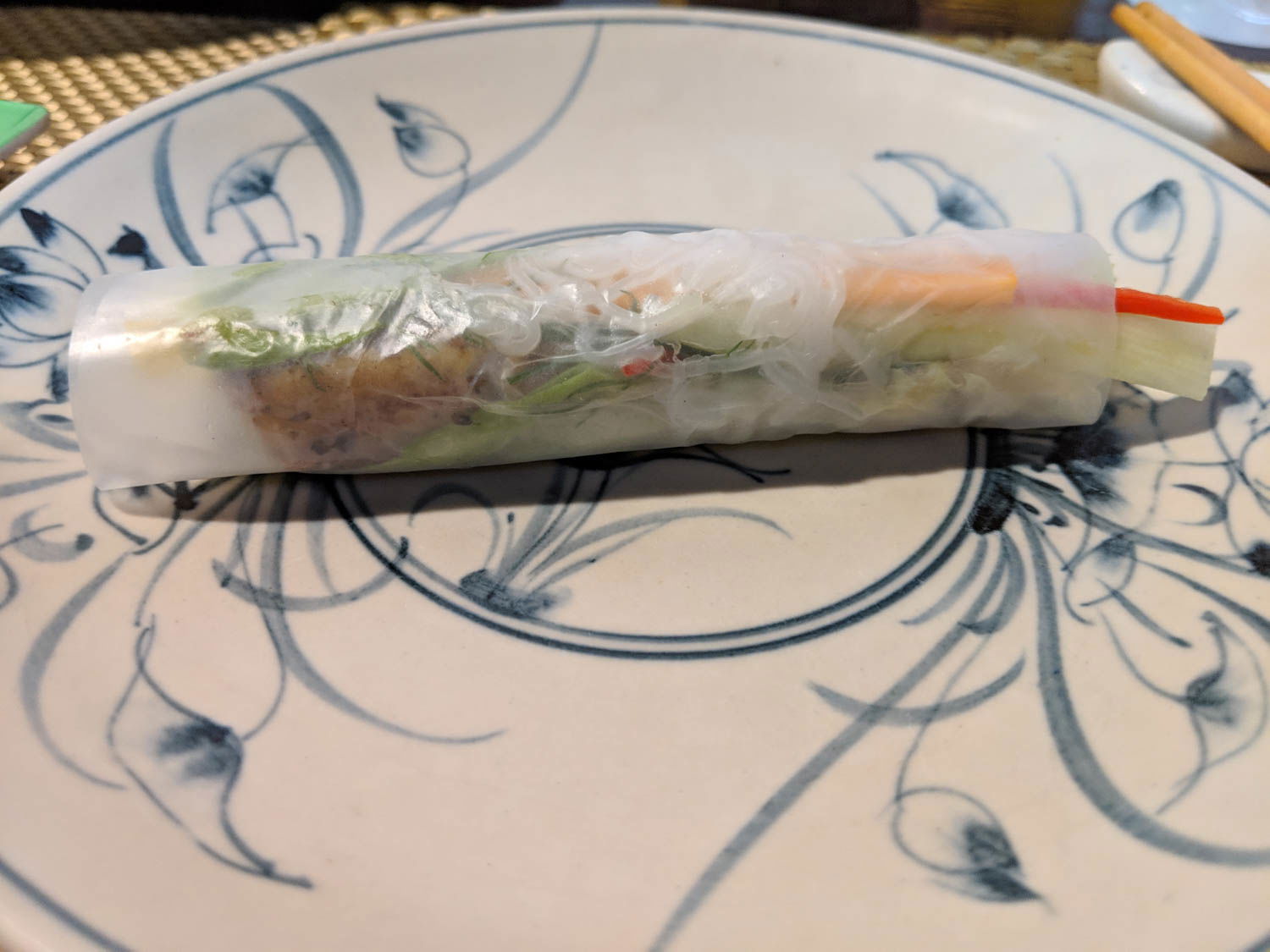 Then we headed out into the city, where we went to several different restaurants in the Old Quarter, pausing along the way to learn about the history of the neighborhood, why the architecture was how it was (taxes, in many cases!), so there was much more than just food involved.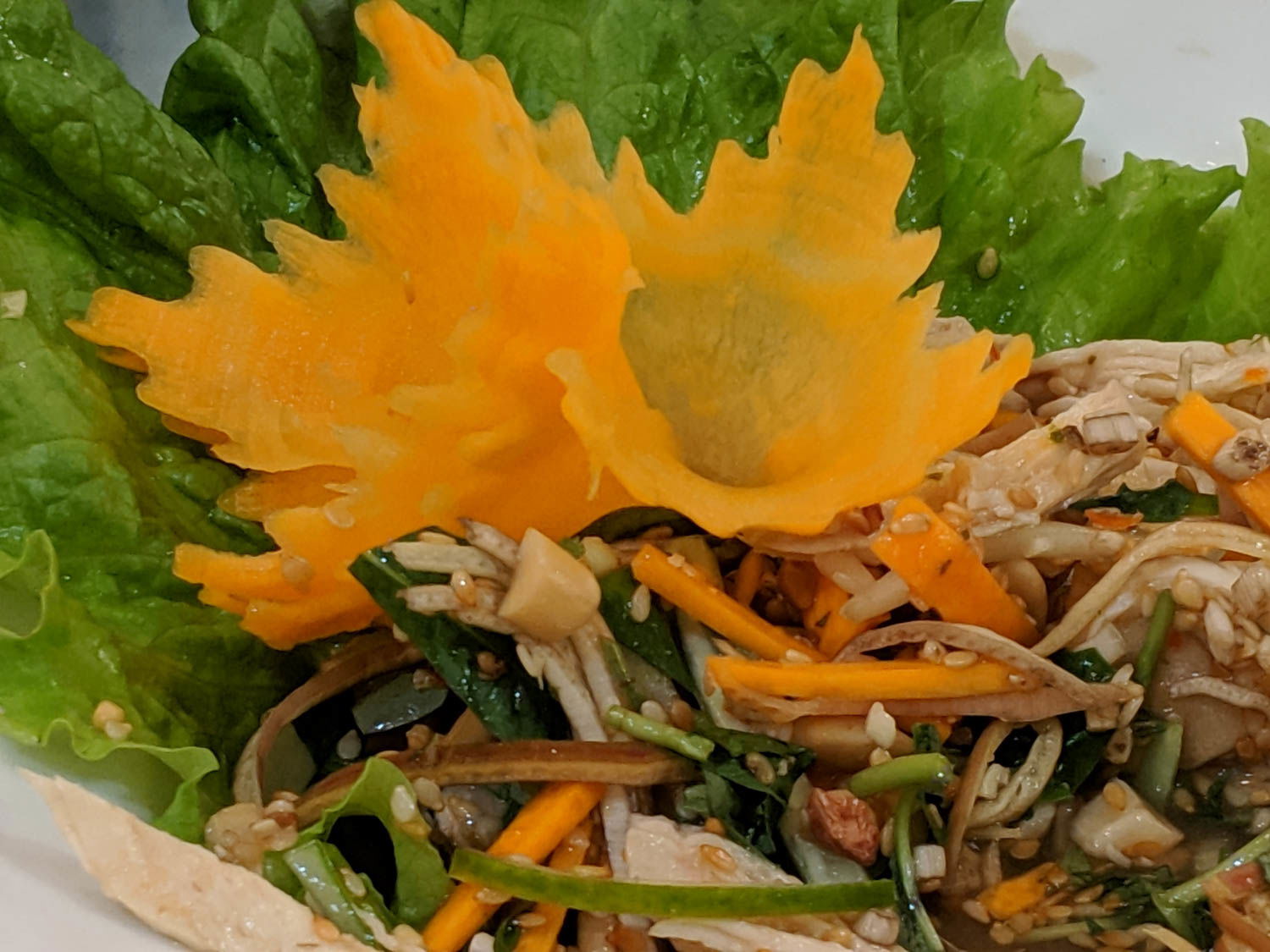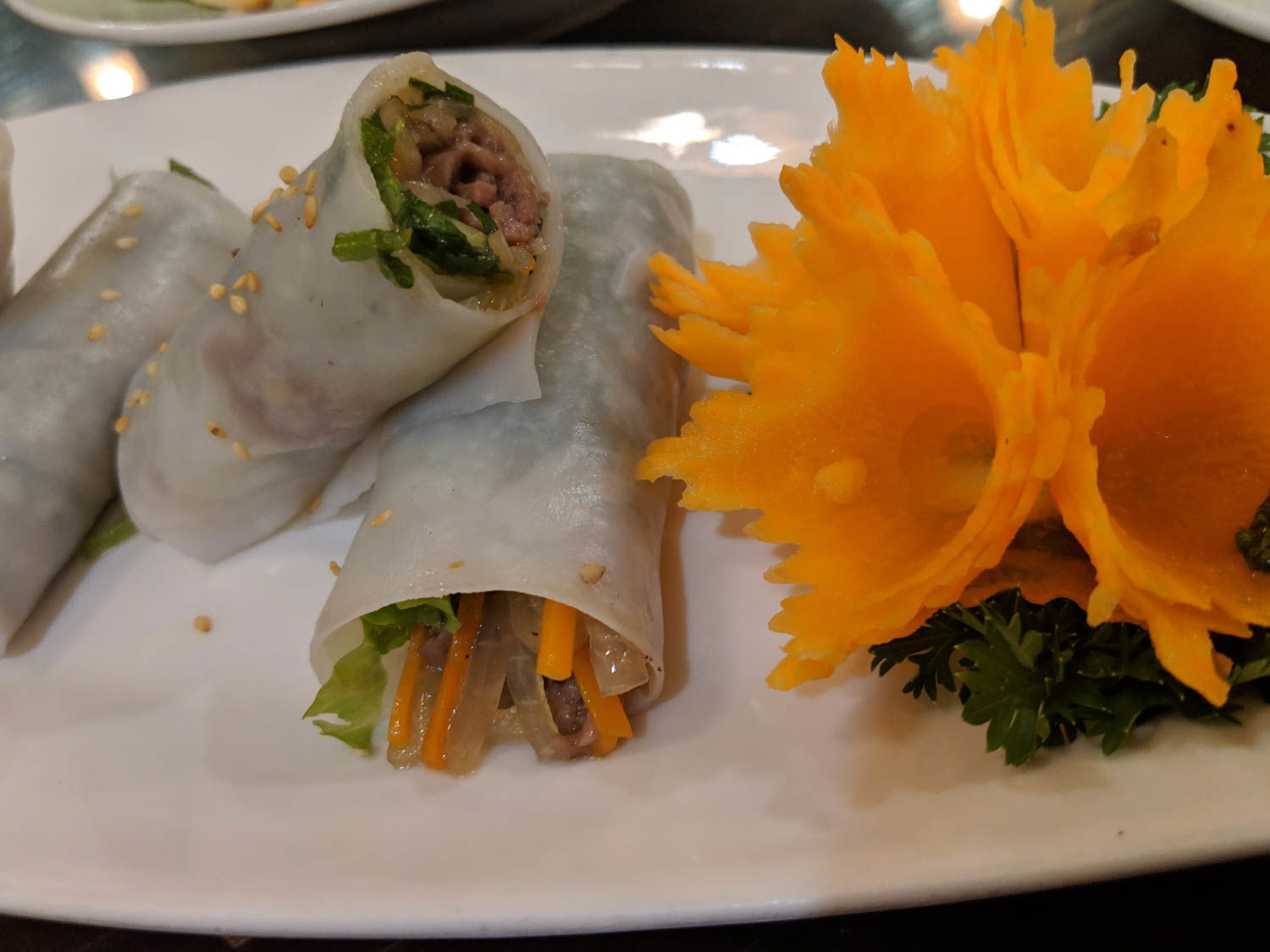 The food was great too though, especially as we'd tried some of these dishes in the southern or central parts of Vietnam (and made some in our cooking class!), and it was neat to see the regional variations.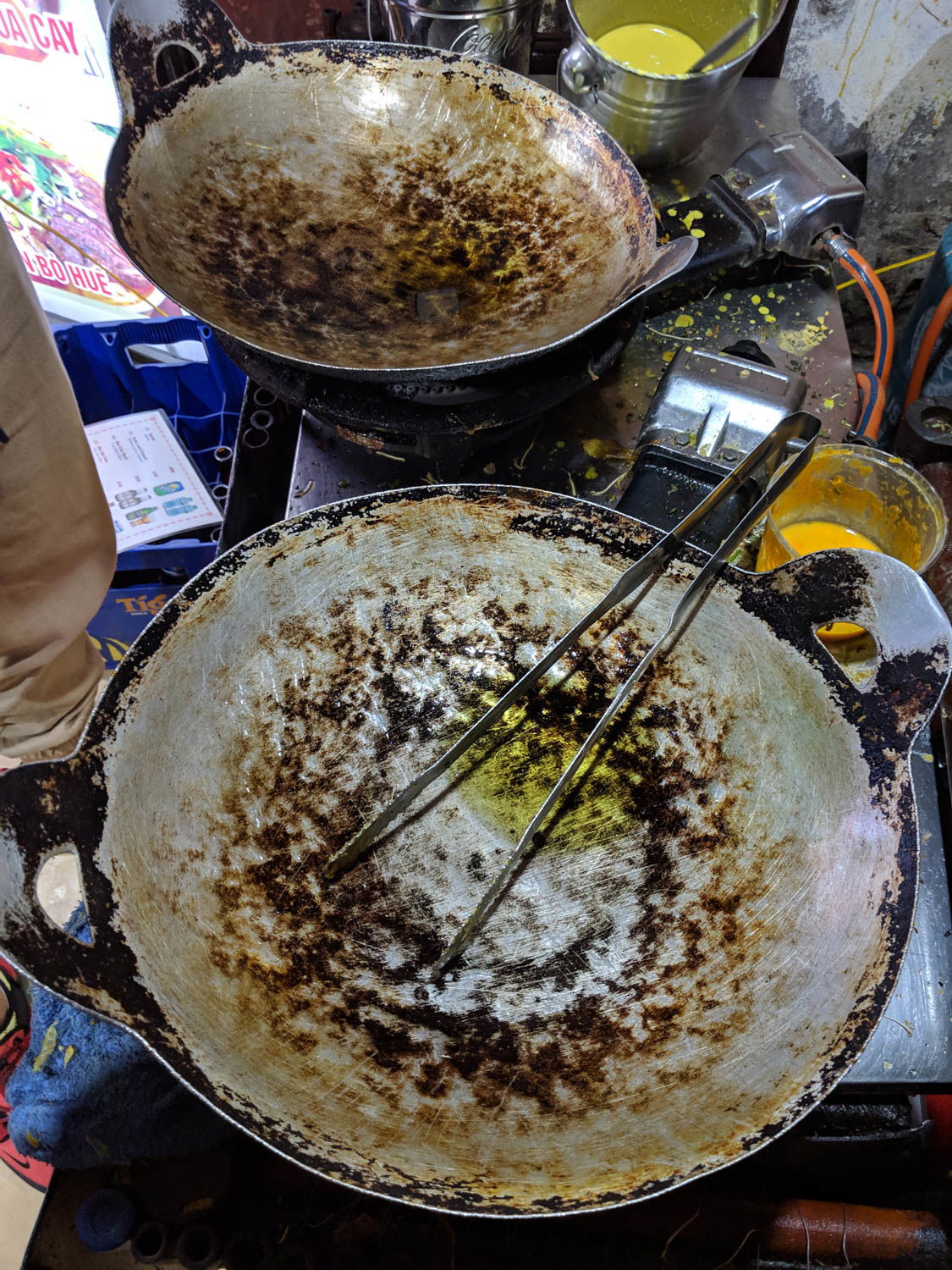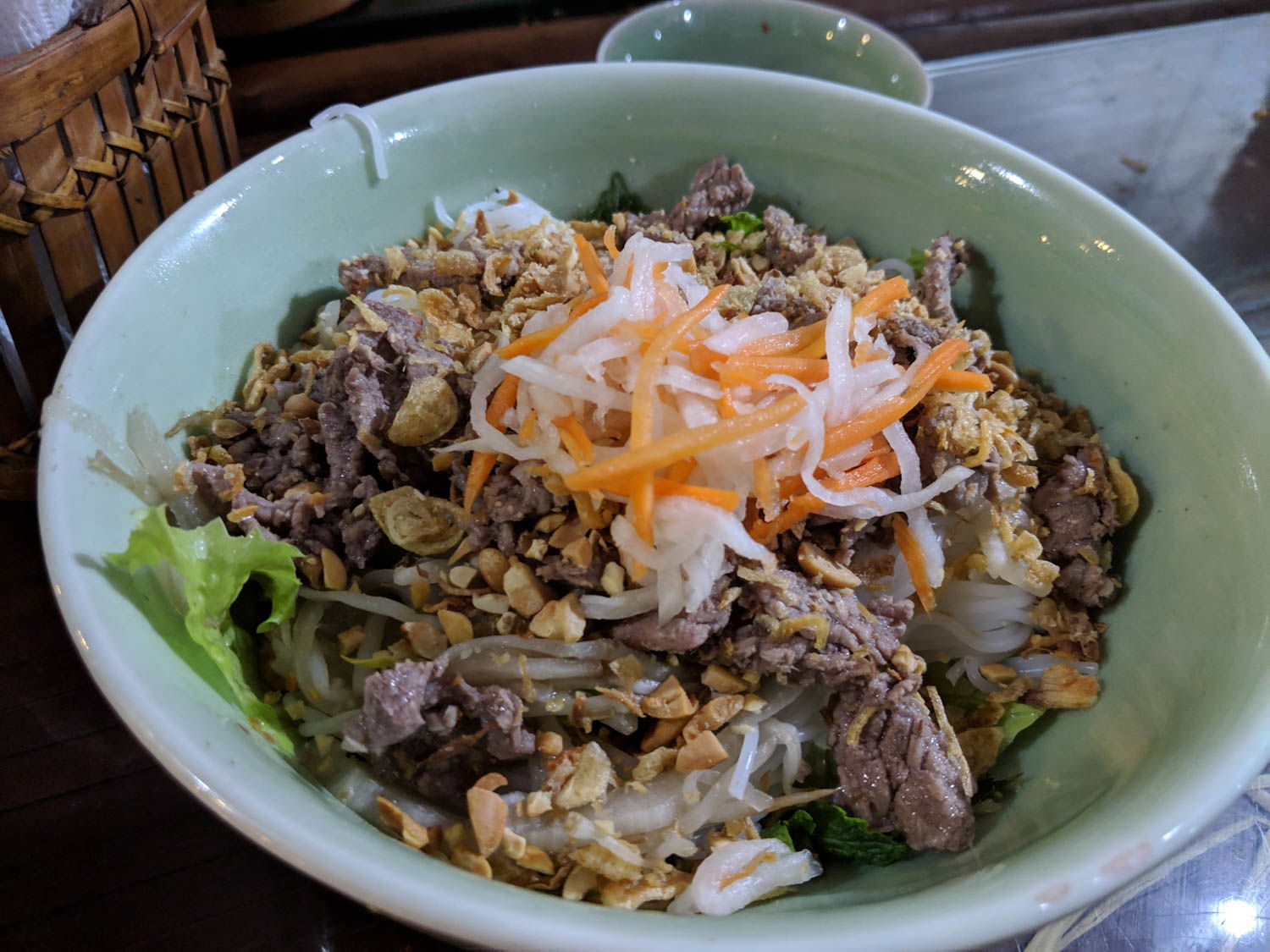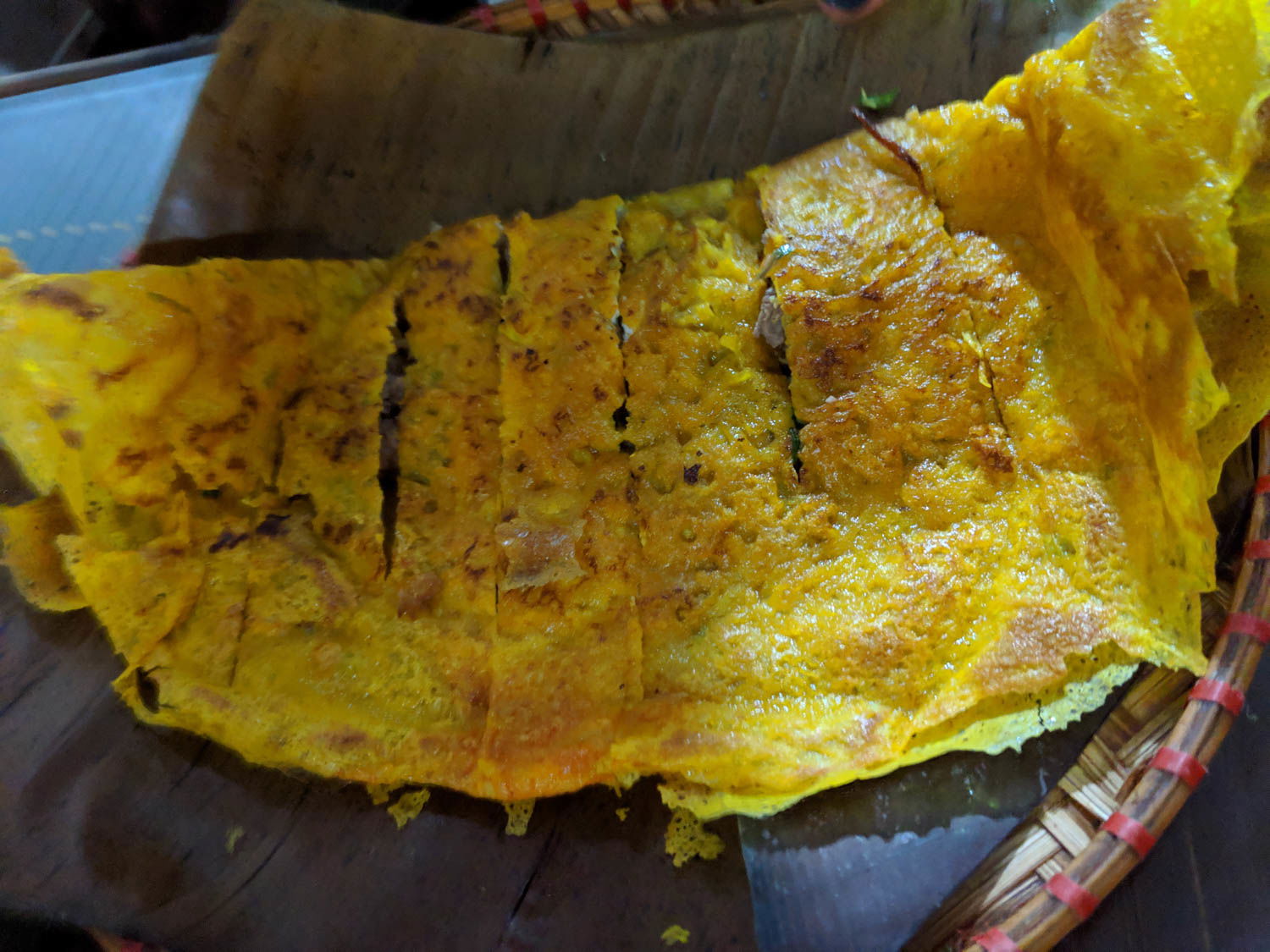 We also went to a casual cafe tucked back into an alleyway (honestly, I'm not sure you could even find it without someone who had been there before even if you knew to look for it), where everything was inspired by the lotus plant. So we got to try several different dishes with various ways of preparing lotus, which was fun.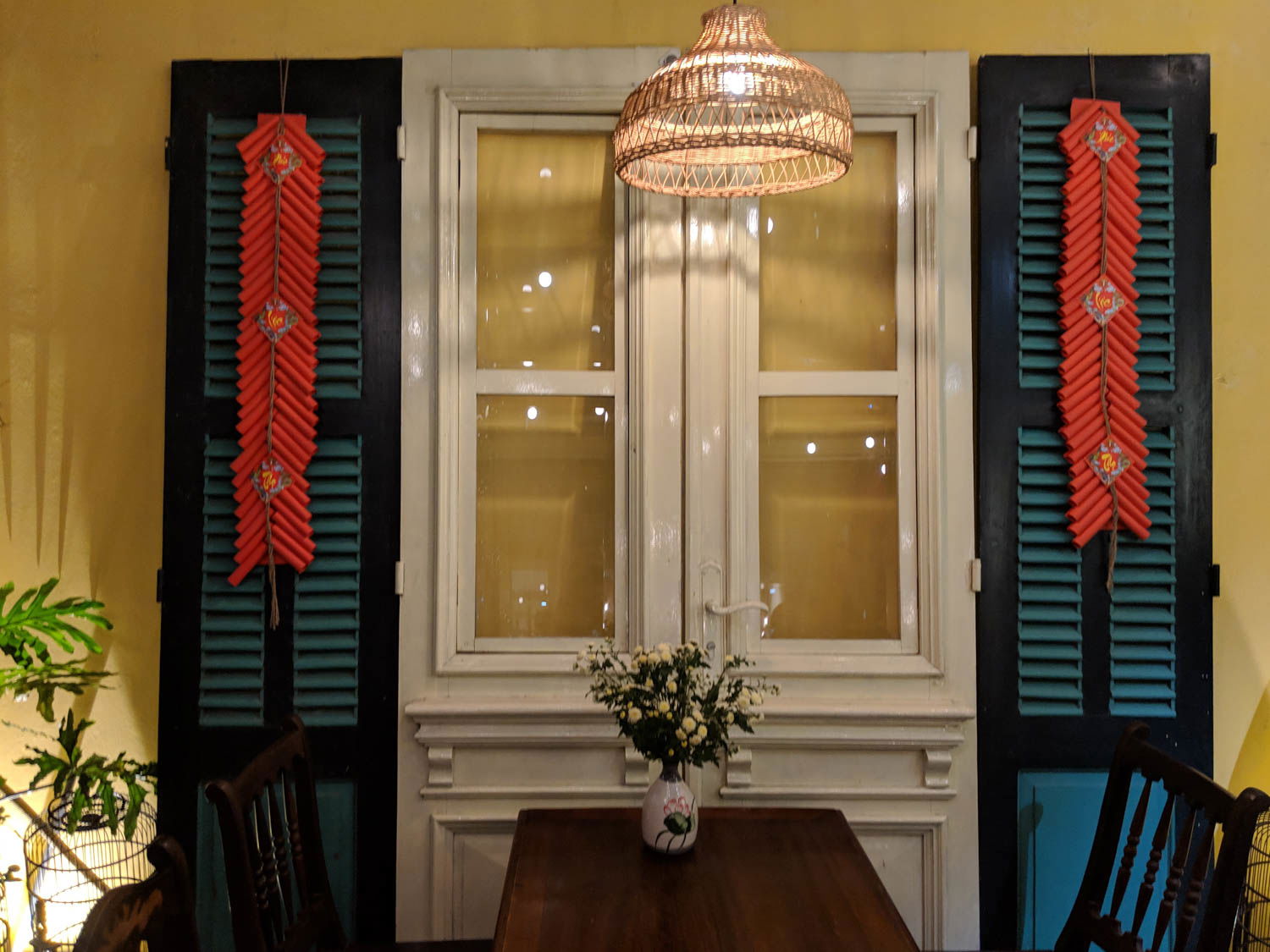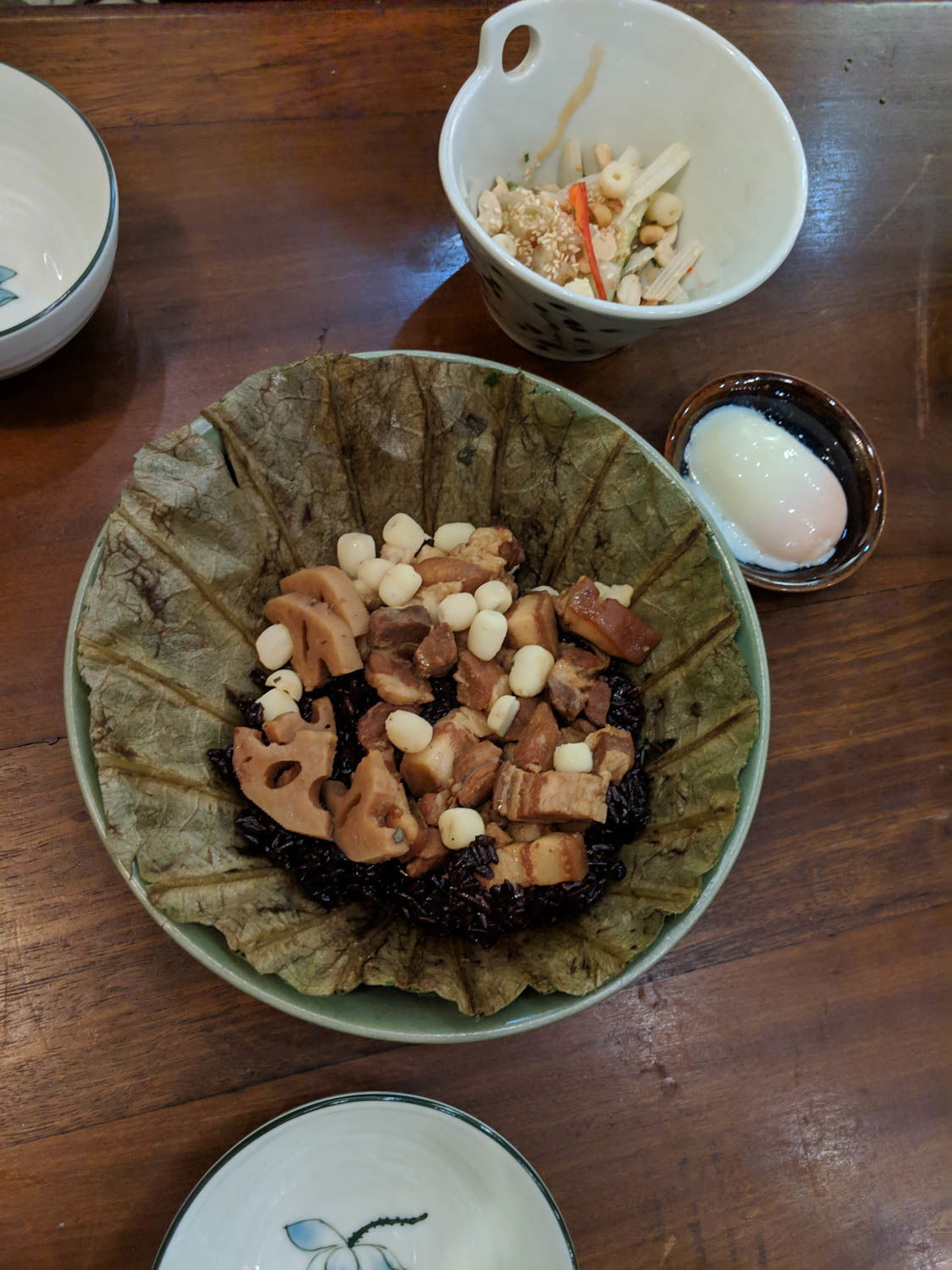 Even a lotus flan! (I didn't like this at all, but…it's a thing).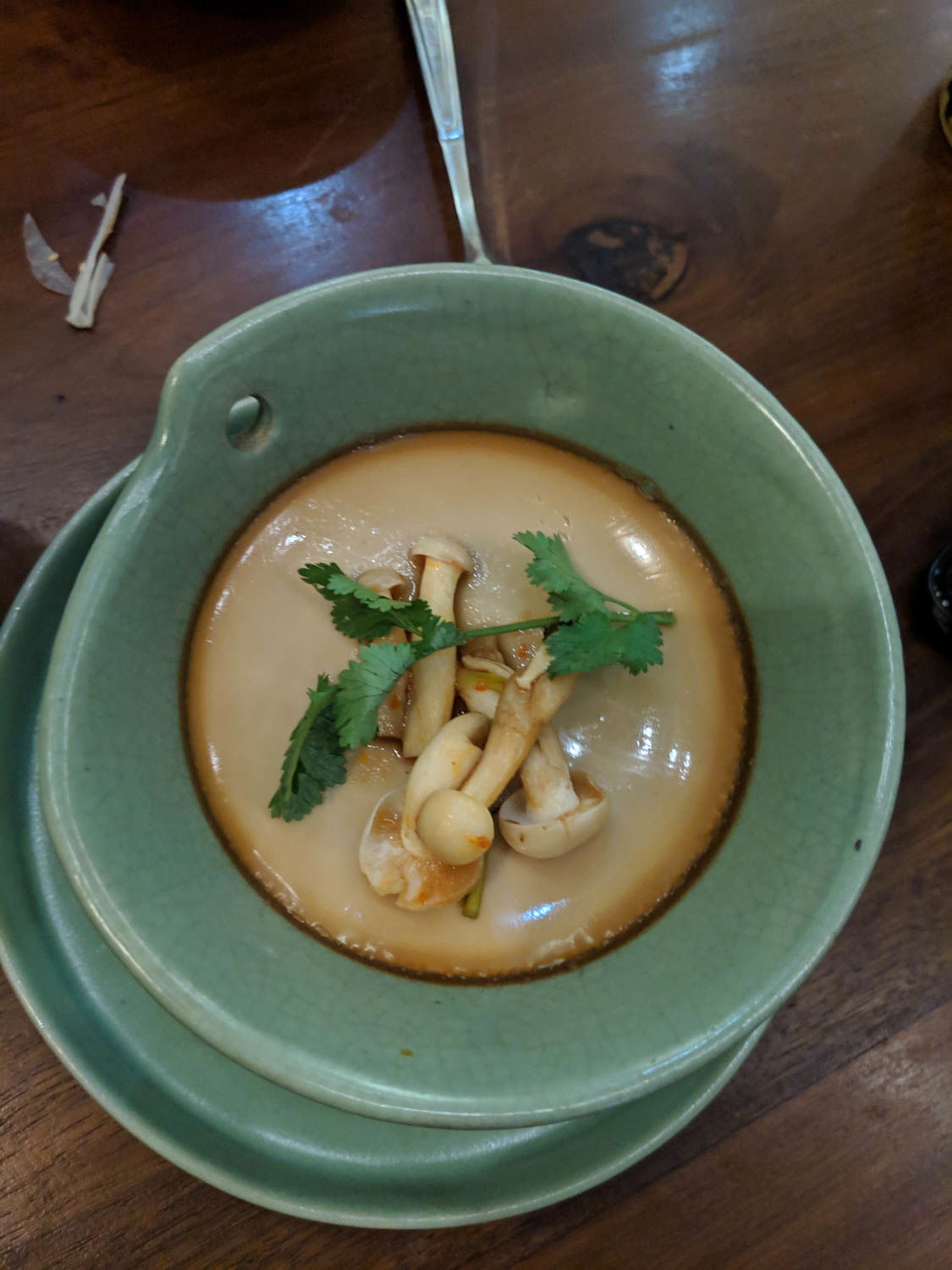 So that was highly enjoyable, and even if you don't take this particular tour, I'd recommend a street food tour in Hanoi as a general way to make the Old Quarter more digestible (hah!) on a short visit.
3. Fun cocktail bars
Hanoi has some very cool bars, and a burgeoning craft cocktail scene.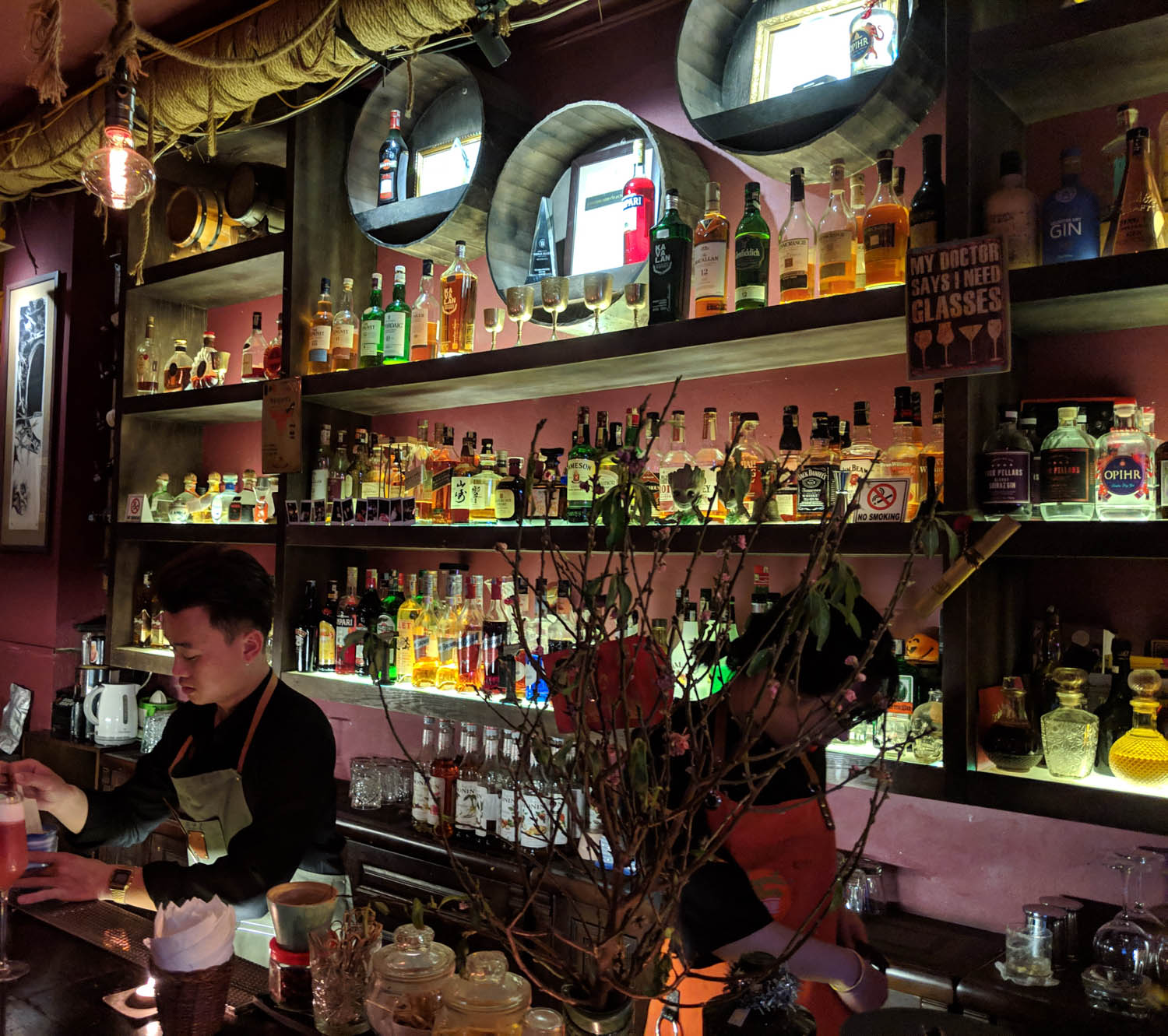 If that sounds like your jam, you'll want to try Ne Cocktail & Wine Bar, and specifically the Pho cocktail.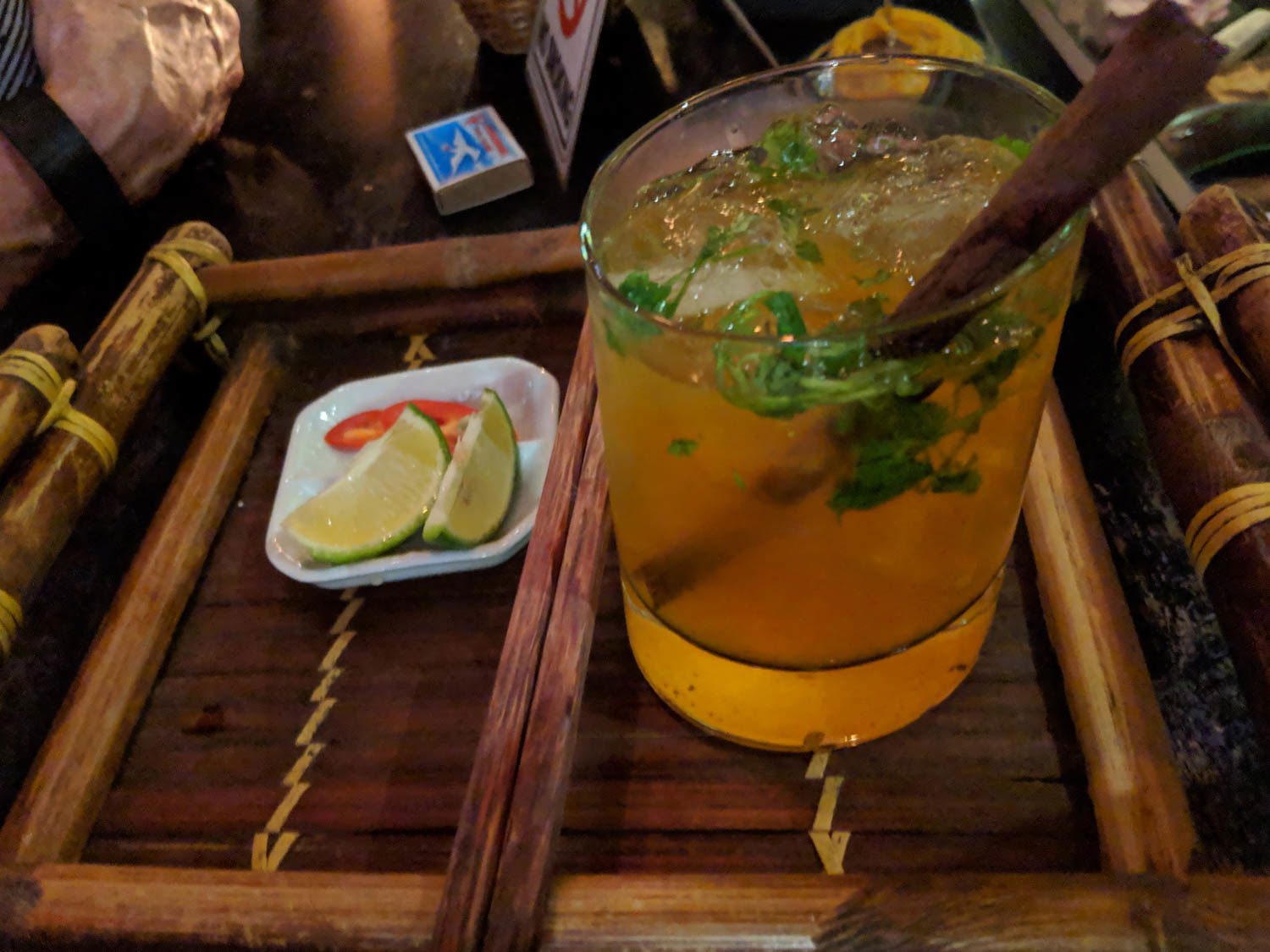 The bartenders infuse the various spices in a complicated preparation that involves heat and possibly magic: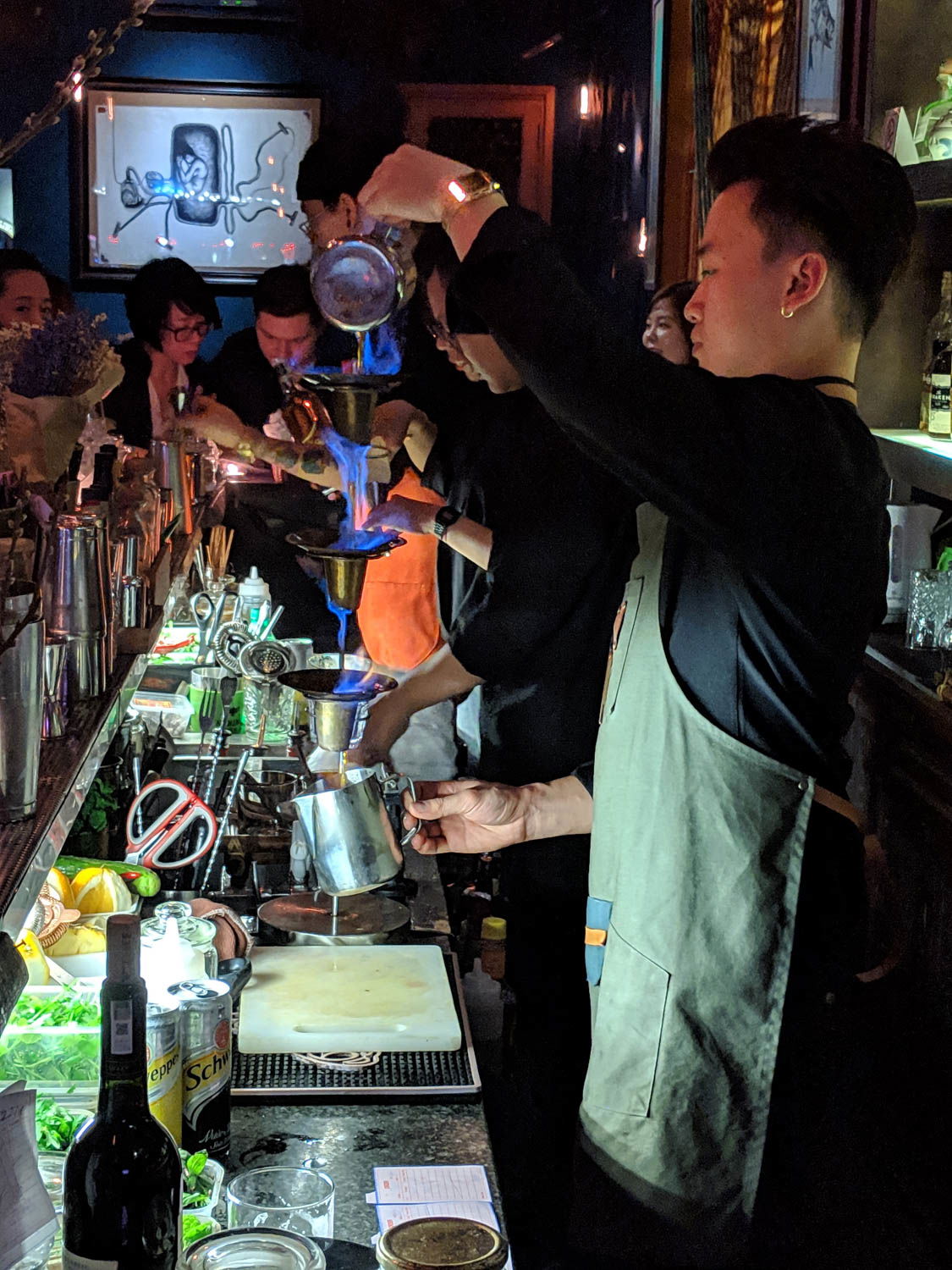 But it's a delicious drink, and the bar has a fun vibe. There are several similar places across the city, so you could definitely spend a night doing a glammed up pub crawl.
4. All the coffee
Hanoi has great coffee, and an amazing coffee shop culture. Almost anywhere local that you go will have a great vibe, but there are of course very strong opinions as to what the best places are (please share yours in the comments!).
Regardless of where you go, definitely try at least one egg coffee, ideally before it gets too warm outside.
5. Sweetest foot massage place ever
We introduced our moms to foot massages on this trip, and they loved the concept, so it quickly became a near-daily activity.
Most night-market-type massage places are roughly the same (though we loved that the shops in Hoi An had outdoor river-view seating). We stumbled into a shop in Hanoi run by a group of utterly lovely young ladies — they were so sweet and fun that I feel it's worth giving them a shout out. And the massages were incredible.
Not like anyone is going to go to Hanoi for a tiny foot-massage parlor, but if you happen to be in that part of town and are deciding between options, Thanh Hoa body & foot massage was great.
6. Museums
This is a bonus section, because we actually didn't make it to any of the Hanoi museums on our list. We'd heard great things about the Vietnamese Women's Museum and the Vietnam Museum of Ethnology, and of course there's the Hoa Lo Prison Museum as well.
But we were having such a nice time people-watching and enjoying the vibe of the city, that we weren't really feeling a museum visit. These are all definitely on my list for next time, but it looks like Hanoi has a bunch of super interesting museums, so if there are others folks should consider please share in the comments!
Overall thoughts
While it was a brief stay, we very much enjoyed our time in Hanoi. Sure, the city is chaotic in terms of traffic, but there's a very chill cafe culture that we loved, and the city has a ton to offer in terms of museums, experiences, and a great food scene.
I can't wait to come back.
What other things do you love to do in Hanoi?