I'll be heading to Vietnam soon for a review trip, which will mark my first trip to Southeast Asia since the start of pandemic. Vietnam still requires visas for most travelers, so in this post I figured I'd outline my experience applying for a Vietnamese e-visa.
Ironically since applying for an e-visa with my US passport, I realized that Vietnam currently has a visa waiver program in effect for those with German passports. So since I have dual citizenship, I didn't actually need to go through this process, but I figured it's an interesting data point nonetheless.
Basics of Vietnam's e-visa process
Traveling to Vietnam from most countries requires a visa, which has to be applied for in advance (visas on arrival typically aren't permitted without an invitation letter). Fortunately nationals of 80 countries can request e-visas. You can find the full list of eligible countries here — as you can see, the United States is included.
Vietnam issues single entry tourist visas at a cost of $25, allowing you to stay for up to 30 days. The good news is that the application process online is easy. The bad news is that it's not an instant process.
Note that Vietnam also has a visa waiver program for citizens of select countries. This includes several European countries, and allows you to visit Vietnam visa-free for up to 15 days.
My experience applying for a Vietnam e-visa
Here's the page where you can apply for a Vietnam e-visa. This page outlines the basics of what you'll need to apply, and then you'll want to select the "For Foreigners" option to get started.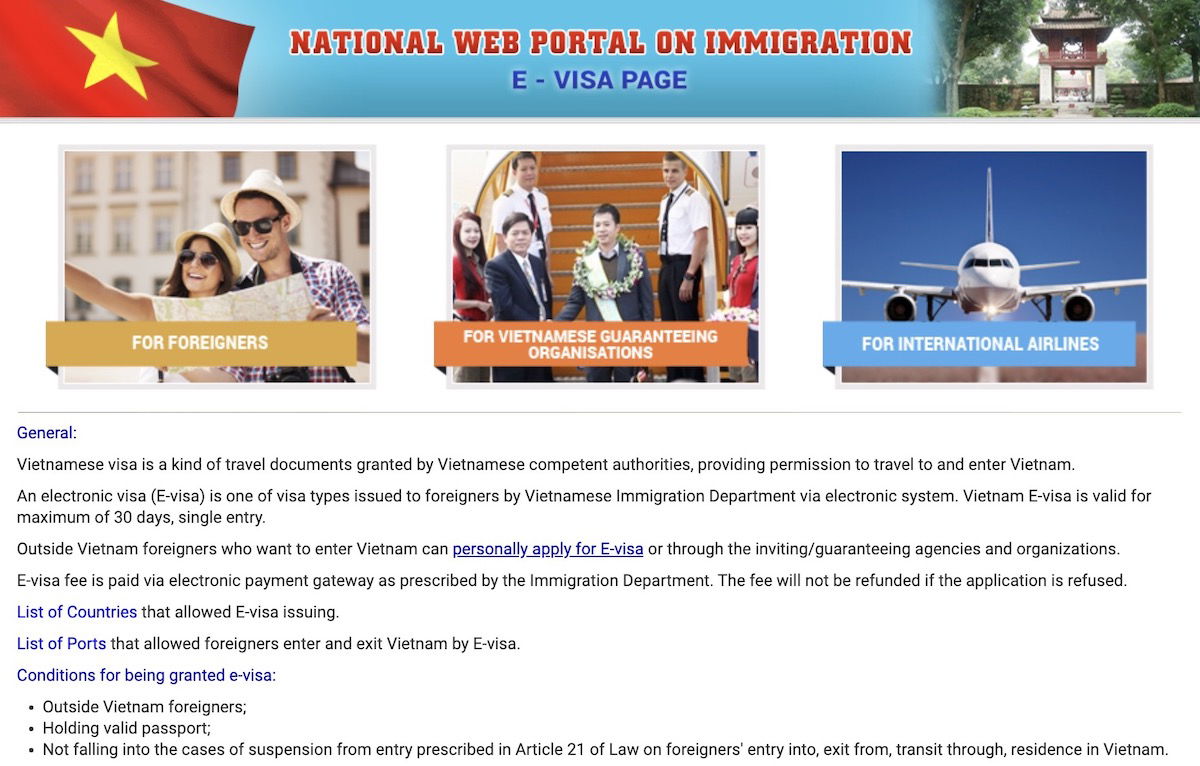 For the first part of the application, you'll have to upload a copy of your passport picture page and a portrait picture. The good news is that neither of these pictures have to be "professional." I just used my iPhone to take a picture of my passport's picture page, and then took a portrait picture with my iPhone (you just have to look straight at the camera and take off glasses), and uploaded that.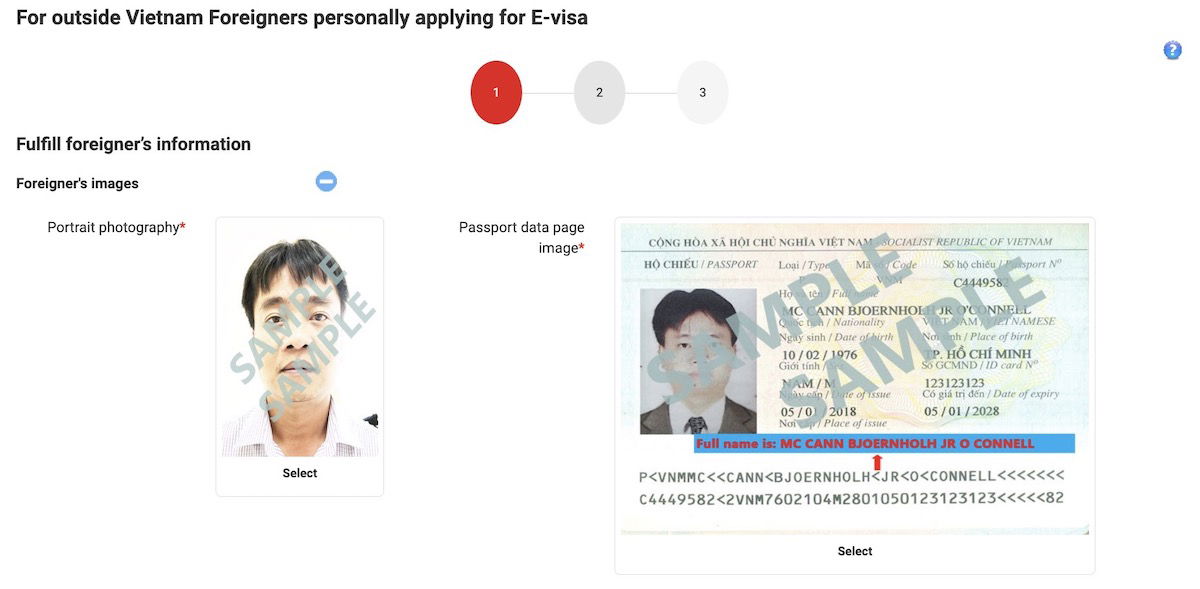 The rest of the form asks the questions you'd expect, including your full passport details, occupation, religion (hmmm…), permanent address, etc. You're also asked your intended date of arrival and departure, as well as your intended points of entry and departure.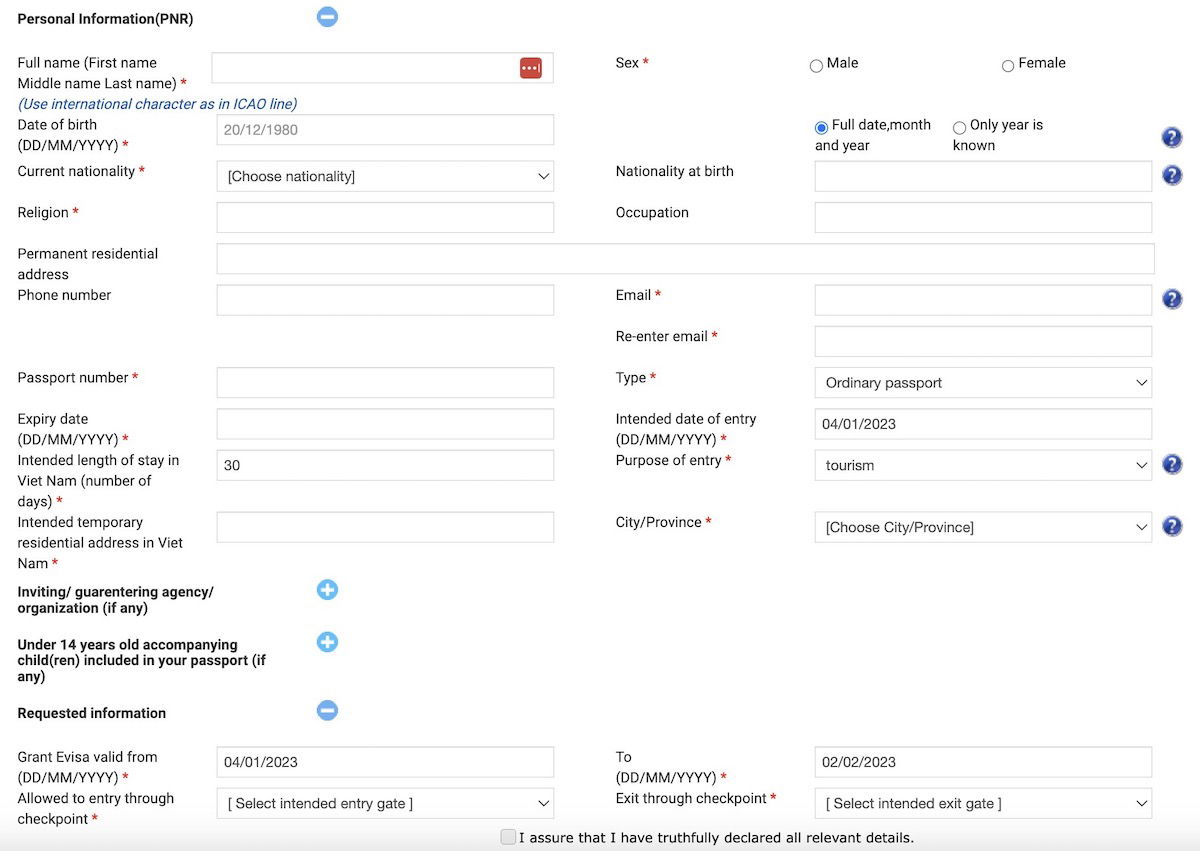 At this point you'll be granted a registration code, which you'll later need to look up the status of your application. This page also asks if you're accompanied by any children under the age of 14.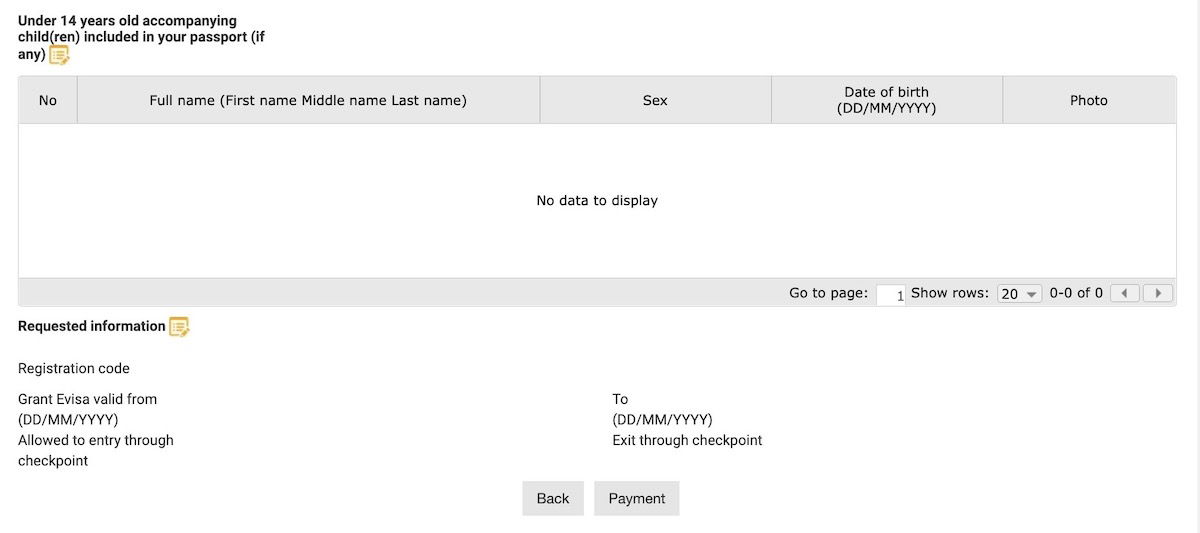 One thing that's not terribly clear is whether you have to enter your exact arrival and departure date, given that the e-visa is valid for 30 days. I just entered the exact dates I'm traveling, though when my visa was actually issued, it was valid for a total of 15 days around my stated dates. That's useful in the event that your plans change, you have irregular operations with your flight, etc.
At this point you'll be asked to pay the $25 non-refundable e-visa application processing fee.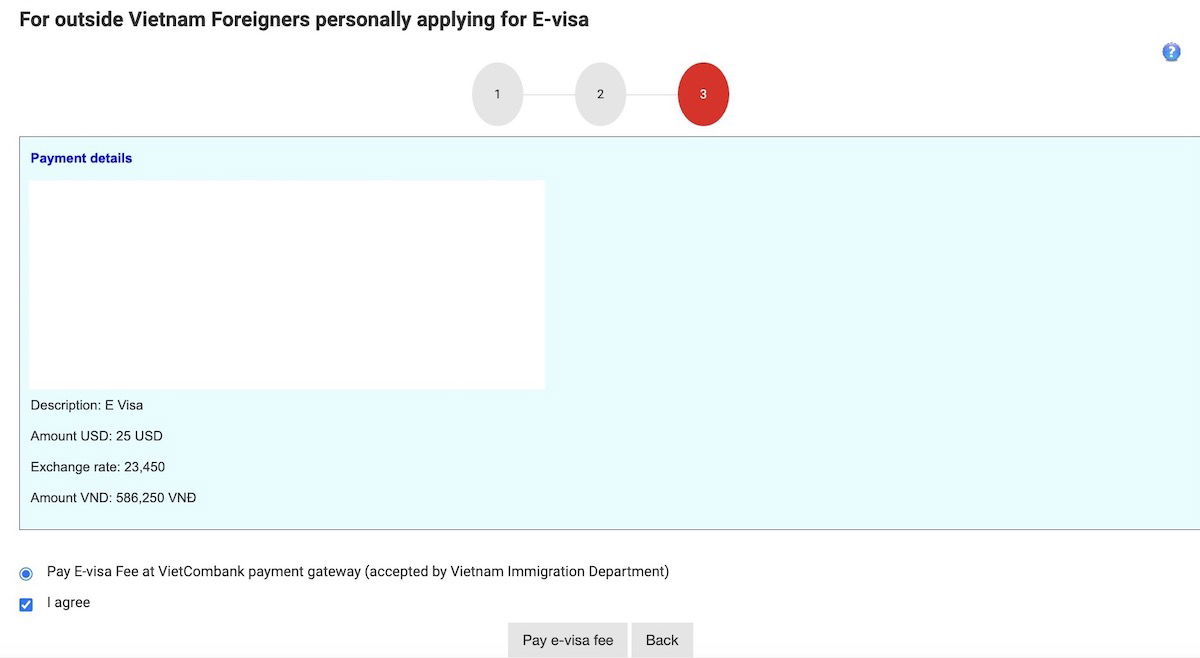 You can pay by credit card, including with an Amex, Mastercard, or Visa.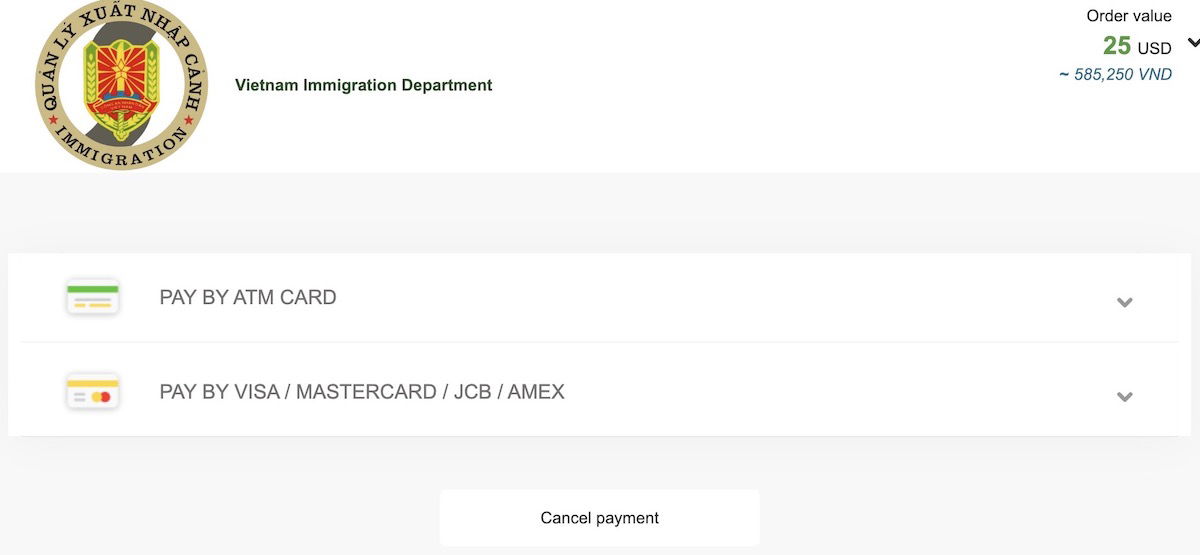 You'll then receive confirmation that your payment was successful.

Checking Vietnam e-visa application status
Vietnam claims that it can take up to three working days for your e-visa to be approved. You can check on the status of your application here. You'll have to provide your registration code, email, and date of birth. That's why it's important that you take note of your registration code (though you should also be emailed this upon submitting your application).
Your application will show as being "in processing" until the approval happens.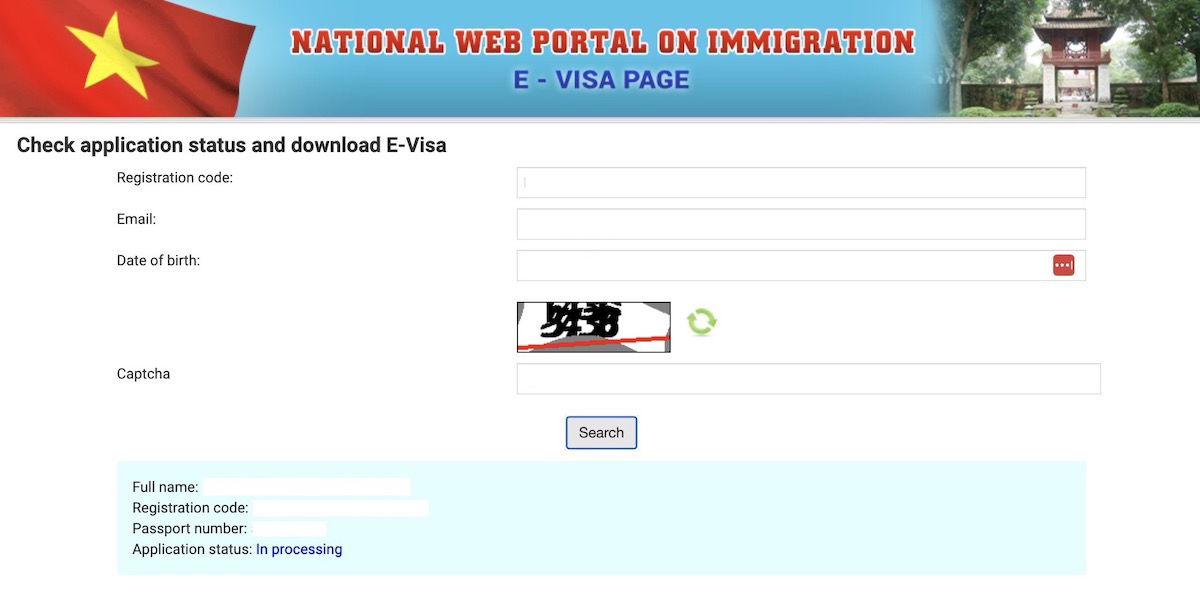 How long Vietnam e-visa approval takes
Vietnam claims it can take up to three working days for a visa to be approved. I planned this trip pretty last minute (around a week out), and submitted my e-visa application on December 30, 2022, at 8:30PM Vietnam time. My visa ended up being approved on January 5, 2023, at 11:30AM Vietnam time.
In other words, it took just under six calendar days to get approved, and just under three "working days" (Saturday and Sunday were the weekend, and Monday was a holiday). So based on my experience, the visa does in fact come through within the promised timeline.
Note that while you should receive an email informing you that your visa has been approved, often that comes with a bit of a delay. So you'll want to always check the status application page, because that may reflect an approved visa earlier. That is also where you'll go to print your visa, once approved.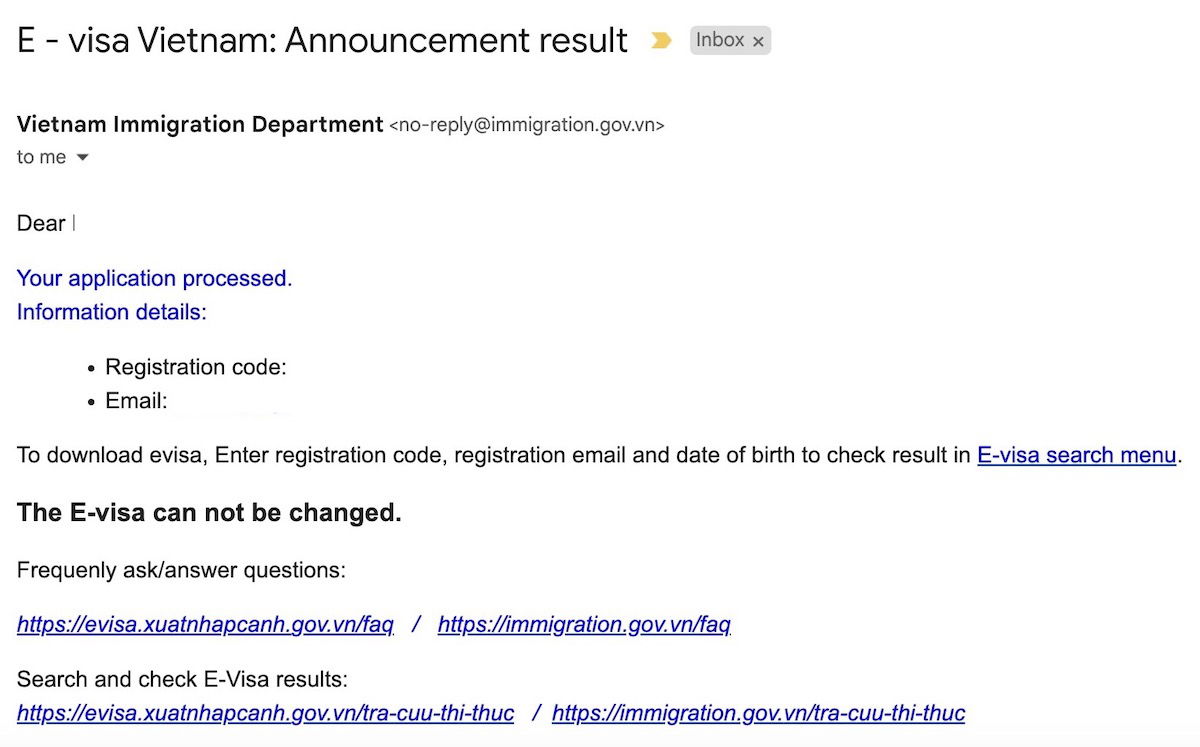 Now, there are some reports from others about it taking a bit longer. The issue in general with these kinds of visa applications is that it's not like there's a customer service phone number you can call. If your application just keeps showing as being "in processing," there's not a whole lot that can be done.
Expediting a Vietnam e-visa approval
What happens if your e-visa takes longer than expected to be approved, or if you plan a last minute trip and don't have time to wait a few working days? Fortunately there are quite a few services that offer expedited visa approval for a fee, within a certain number of working hours (typically same day).
In some cases I believe these services get you an invitation letter for Vietnam, so that you can then get a visa on arrival.
OMAAT readers have lots of recommendations regarding good services in the comments section, so if that would be useful to you, check out those comments. Since I don't have any firsthand experience with any of these, I can't personally recommend one.
Bottom line
Vietnam issues e-visas to nationals of 80 countries. The application process as such is pretty easy, and the cost is $25. The only major consideration is that it can take three working days to process the application, which could pose some issues if you plan a last minute trip, and your days prior to travel are the weekend or a holiday. If you need a visa with less notice than that, fortunately there are lots of services that can help.
If you've applied for a Vietnam e-visa, what was your experience like?