In the interest of full disclosure, OMAAT earns a referral bonus for anyone that's approved through some of the below links. These are the best publicly available offers (terms apply) that we have found for each product or service. Opinions expressed here are the author's alone, not those of the bank, credit card issuer, airline, hotel chain, or product manufacturer/service provider, and have not been reviewed, approved or otherwise endorsed by any of these entities. Please check out
our advertiser policy
for further details about our partners, and thanks for your support!
---
When it came time to book our hotel in Ho Chi Minh City, I didn't even look beyond the Park Hyatt Saigon. Ben had stayed there a few years ago and raved about it (though never wrote a full review), and the location seemed perfect for our purposes.
Booking was slightly more complicated, in a way that I think fellow miles-and-points enthusiasts will appreciate. The Park Hyatt Saigon is a Category 4 property for World of Hyatt, so using my expiring anniversary night from the World of Hyatt Credit Card was a no-brainer. But that would only cover one room, for one night, and we would need a total of four room nights (two rooms for two nights each). Typically this hotel could be a great use of points, as a standard room is just 15,000 points per night, and I could have booked the second room under the Guest of Honor program, ensuring that both rooms received Globalist benefits.
The catch, however, was that in the days leading up to Tết the hotel was fairly reasonably priced. The Hyatt Privé rate was ~$225, and since I value Hyatt points at ~1.5¢ each, that's right on the cusp as to whether or not I feel it makes sense to redeem points. Combined with the $100 property credit and the fact that I'd earn points on a paid rate, that seemed like a better overall value.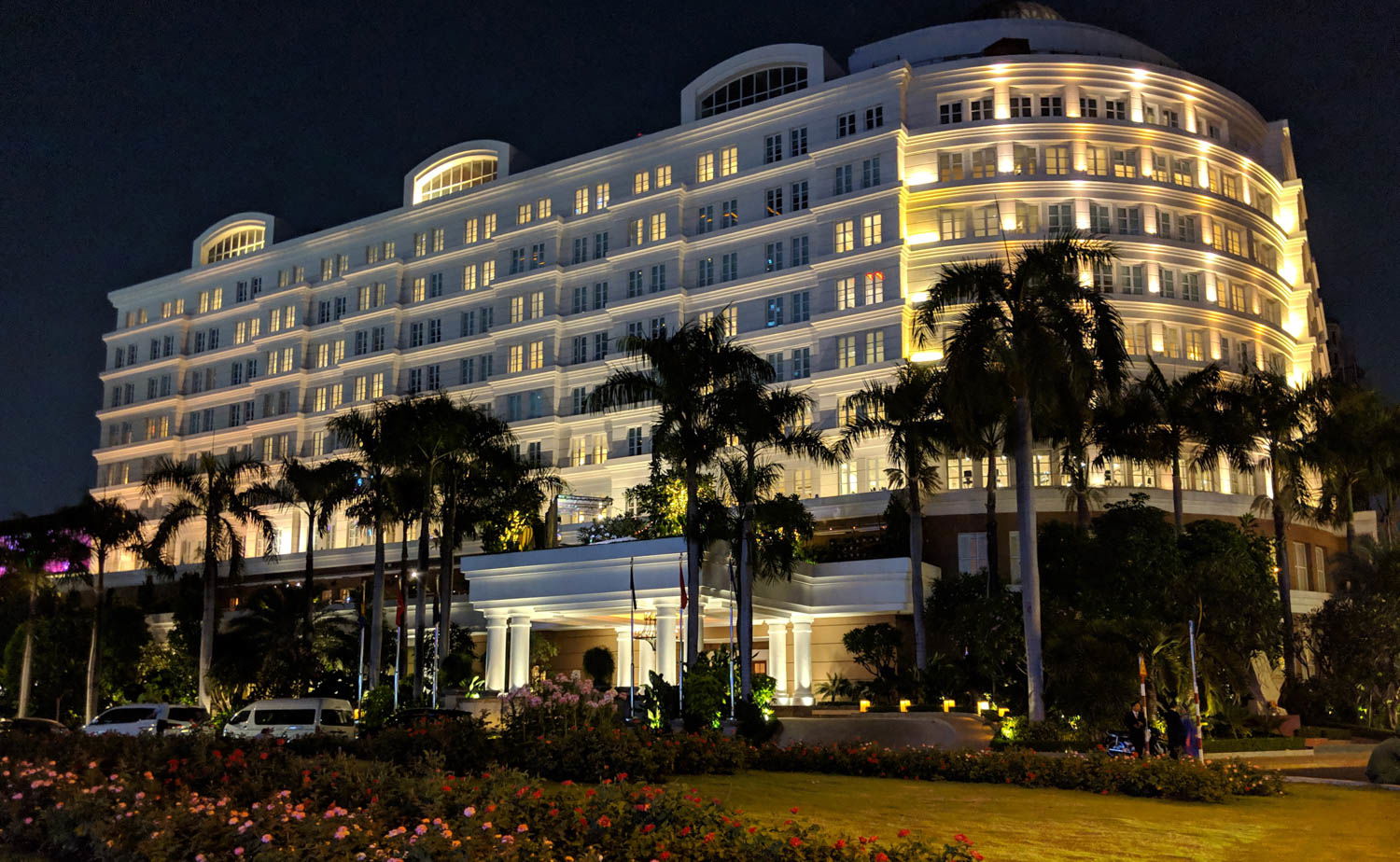 The hotel is directly across from the Saigon Opera House, in a recently-built property on the site of the former Brinks Hotel. The Park Hyatt Saigon draws heavily from French Colonial architecture, and does so in a way that makes the property feel like a converted Vietnamese mansion, not a newly-constructed hotel.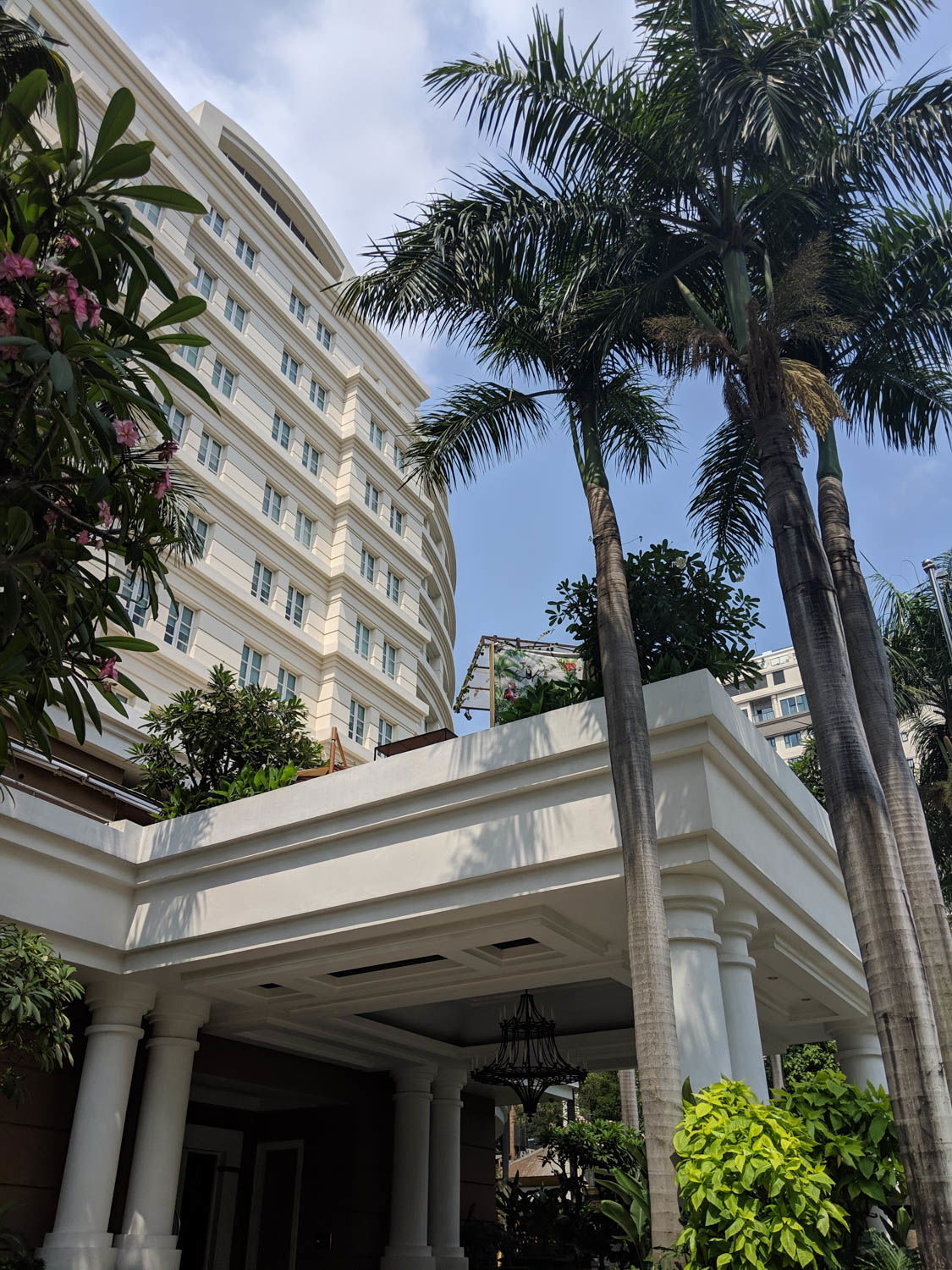 The entrance was stunning, with dripping crystal chandeliers, polished wood flooring accented with chinoiserie rugs, and brilliant yellow floral arrangements.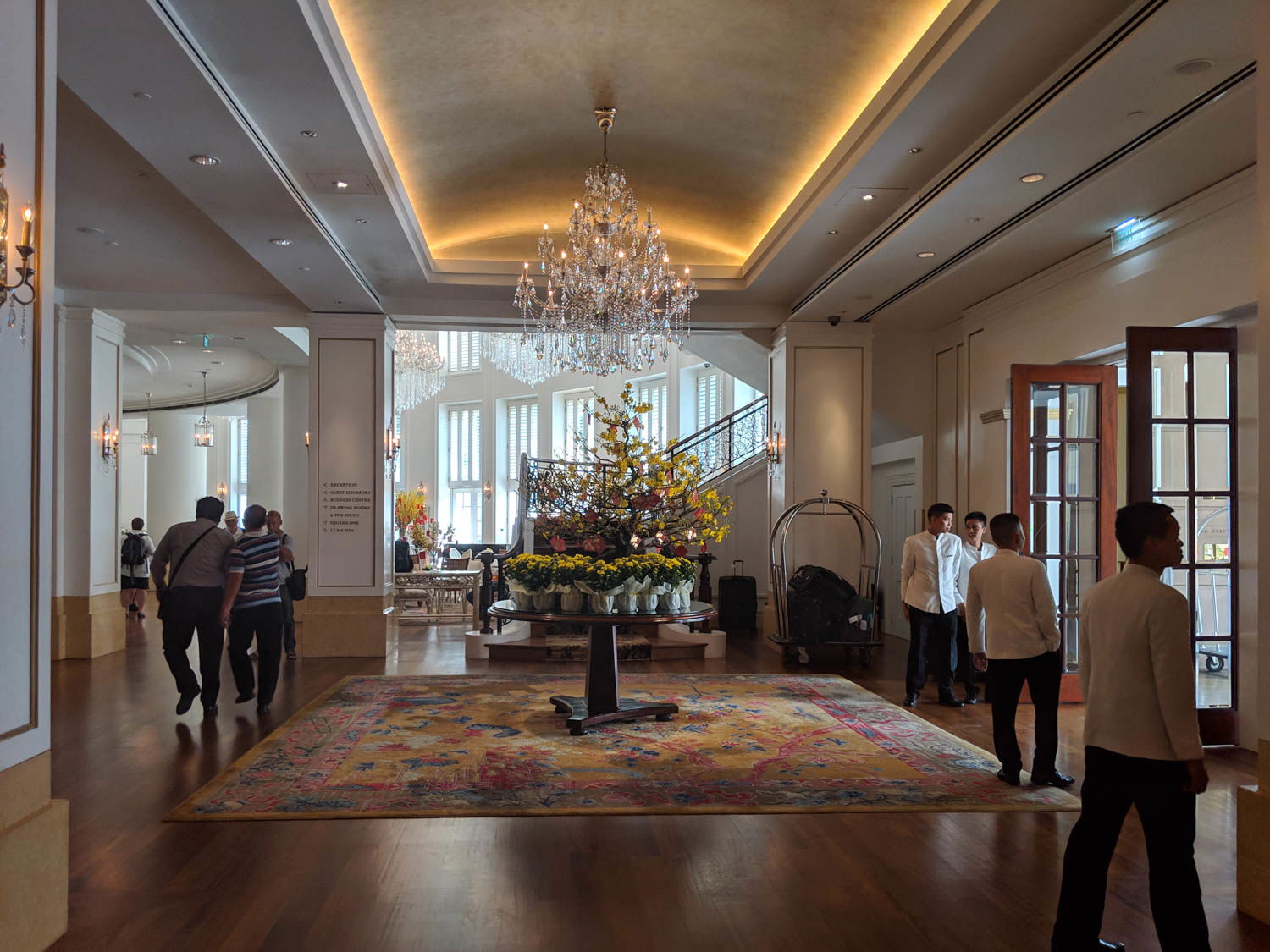 The reception desk was to the back of the lobby, and was extremely well-run. Staff were quick to help any guests who approached, and even our middle-of-the-night arrival was handled efficiently (which is truly not always the case when you arrive at 1AM with a complex reservation).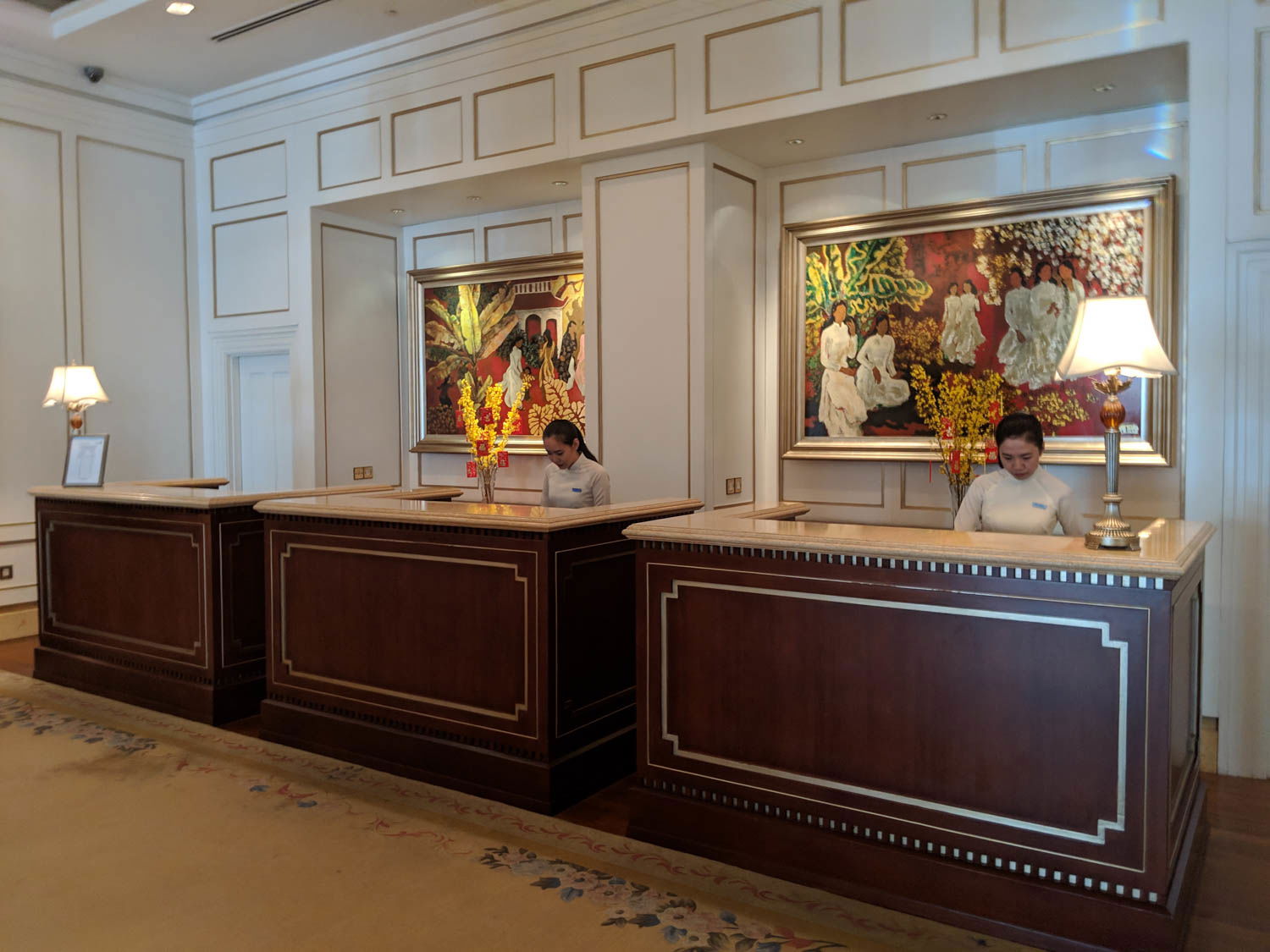 The hotel restaurants fanned out from the lobby, with the Opera restaurant to one side, and the gorgeous bar and tea room on the other.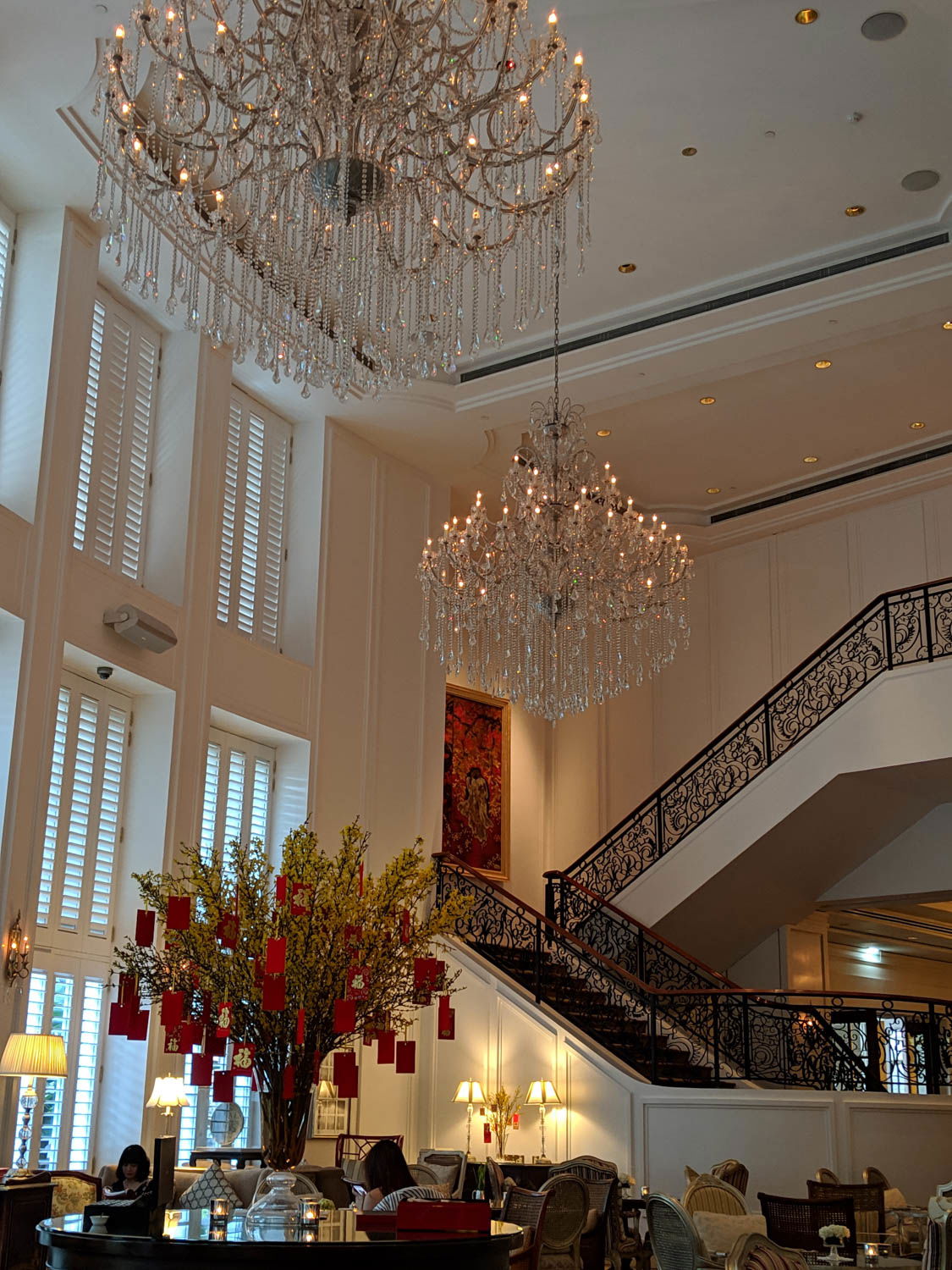 Just to the side of the front desk was an elevator alcove, which whisked us quickly to our rooms on the 5th floor.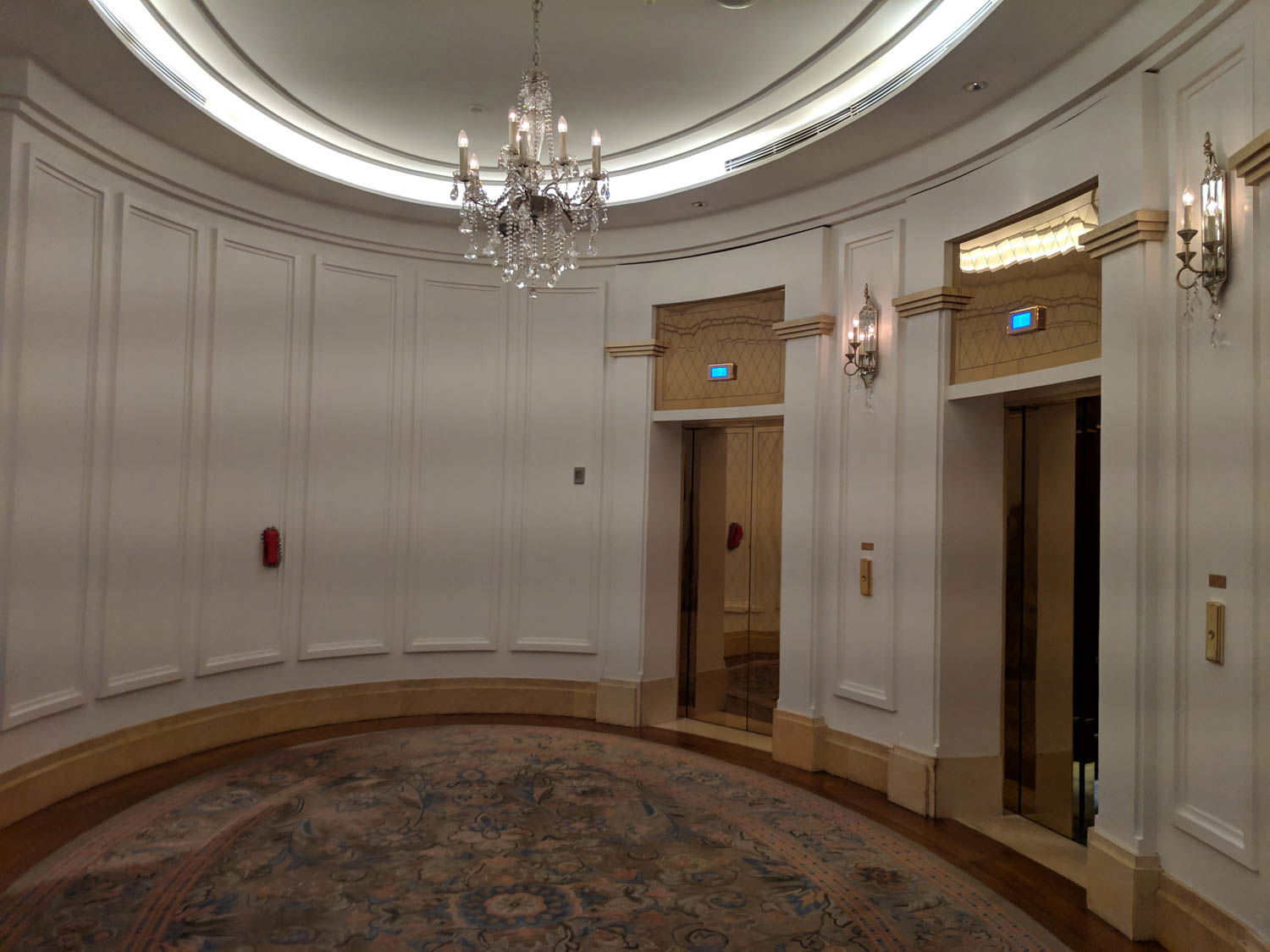 One note about the common spaces of the hotel — throughout our stay, everything was completely spotless. It's rare that I visit a property and don't see scuffed toe-kicks, mirrored surfaces that could use a polish, carpets that look slightly dingy, or air vents with wisps of cobwebs.
Regardless of how luxurious a property aims to be, those details often don't get enough attention, so when I say that the Park Hyatt Saigon was immaculate, I mean that they might have the hardest-working housekeeping and engineering staff I've encountered.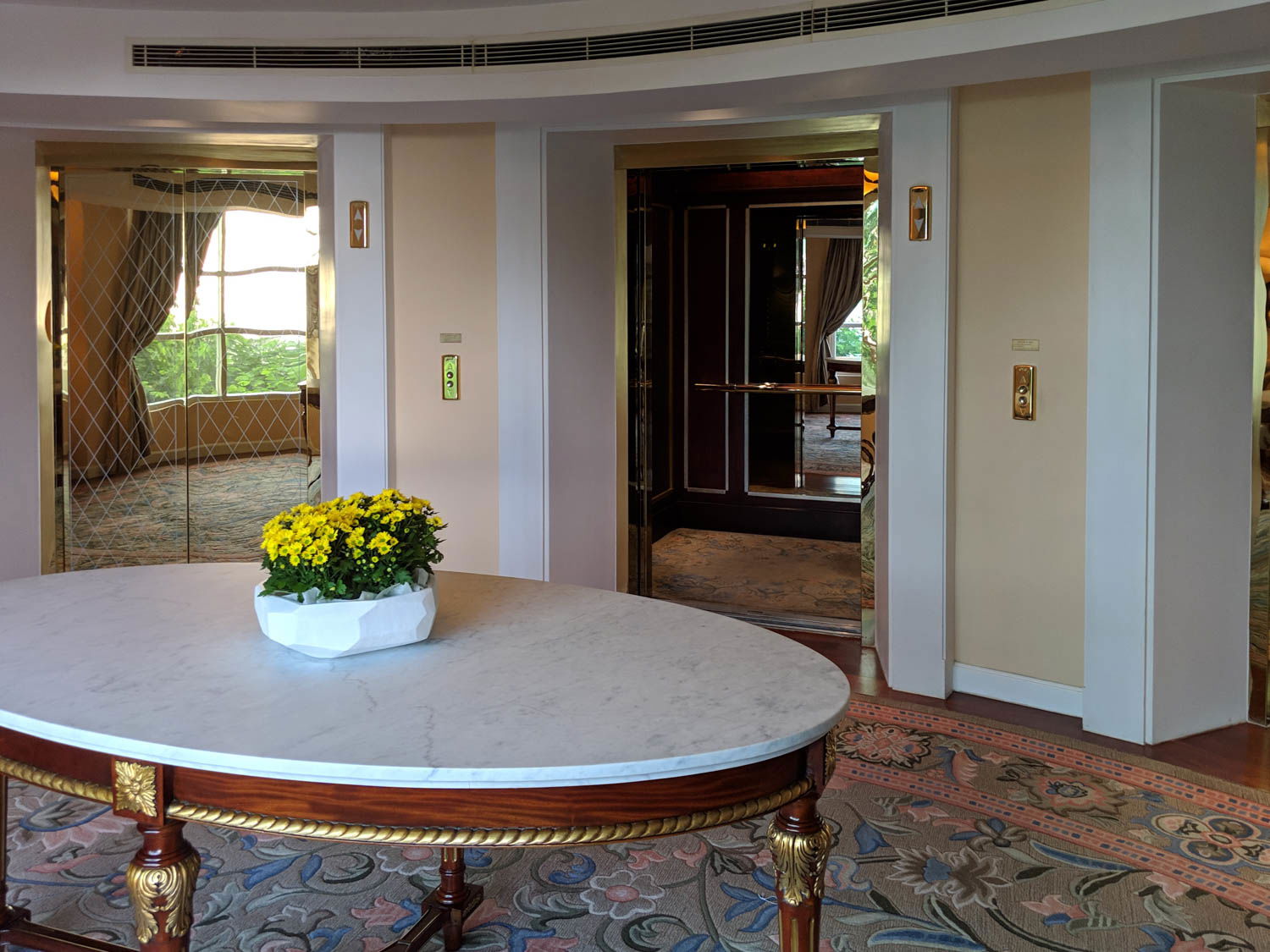 Park Hyatt Saigon Lam Son Suite
With the combination of the Hyatt Privé booking and my Globalist status, the hotel confirmed an upgrade to a Lam Son Suite prior to arrival. Technically the second room was eligible for a potential upgrade as well, but this worked out perfectly as the Lam Son Suite has the option to connect with a second room, effectively giving us a large two-bedroom suite.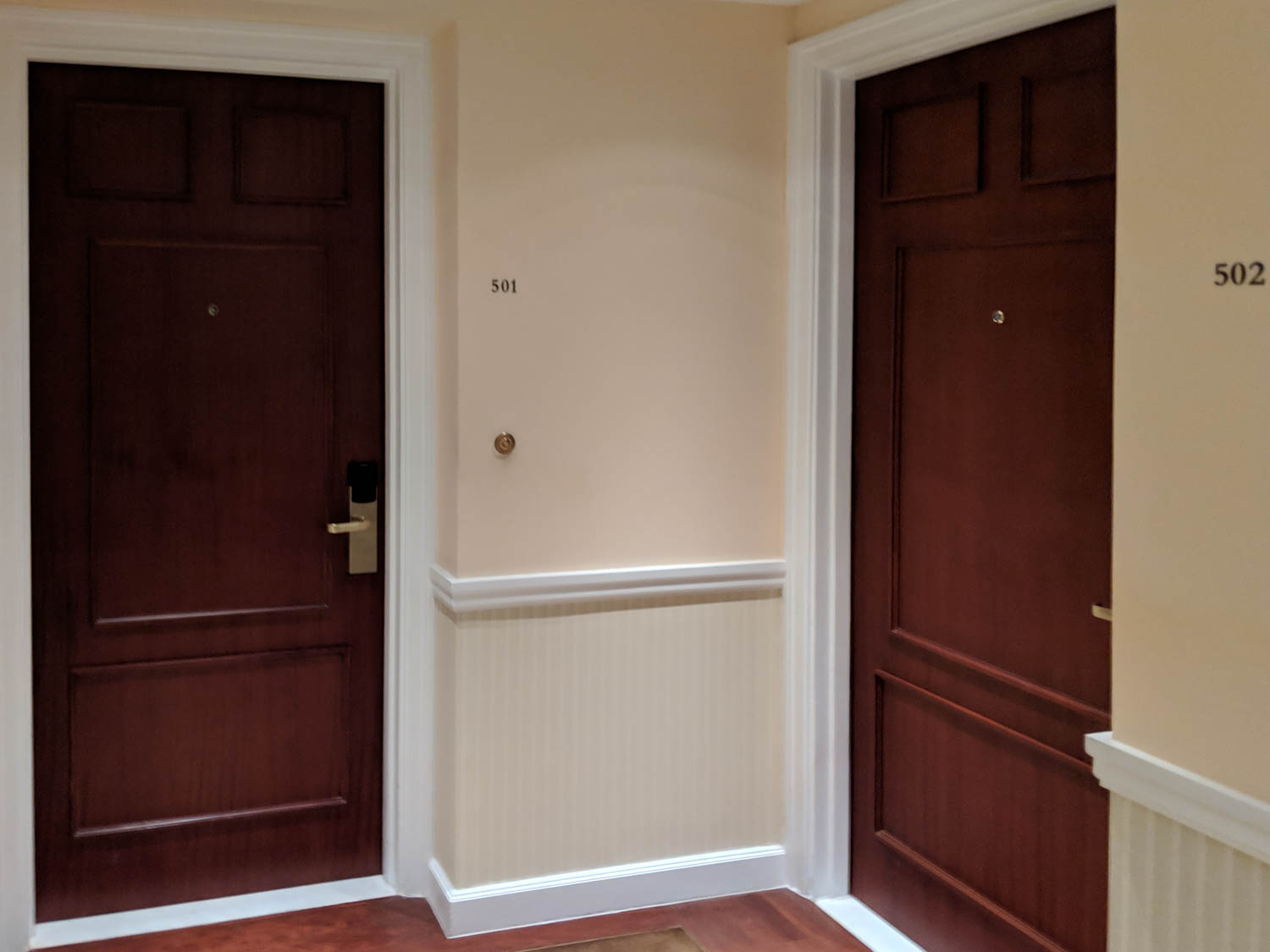 The living area of the suite was spacious, and furnished in an elegant mix of French-inspired and modern pieces.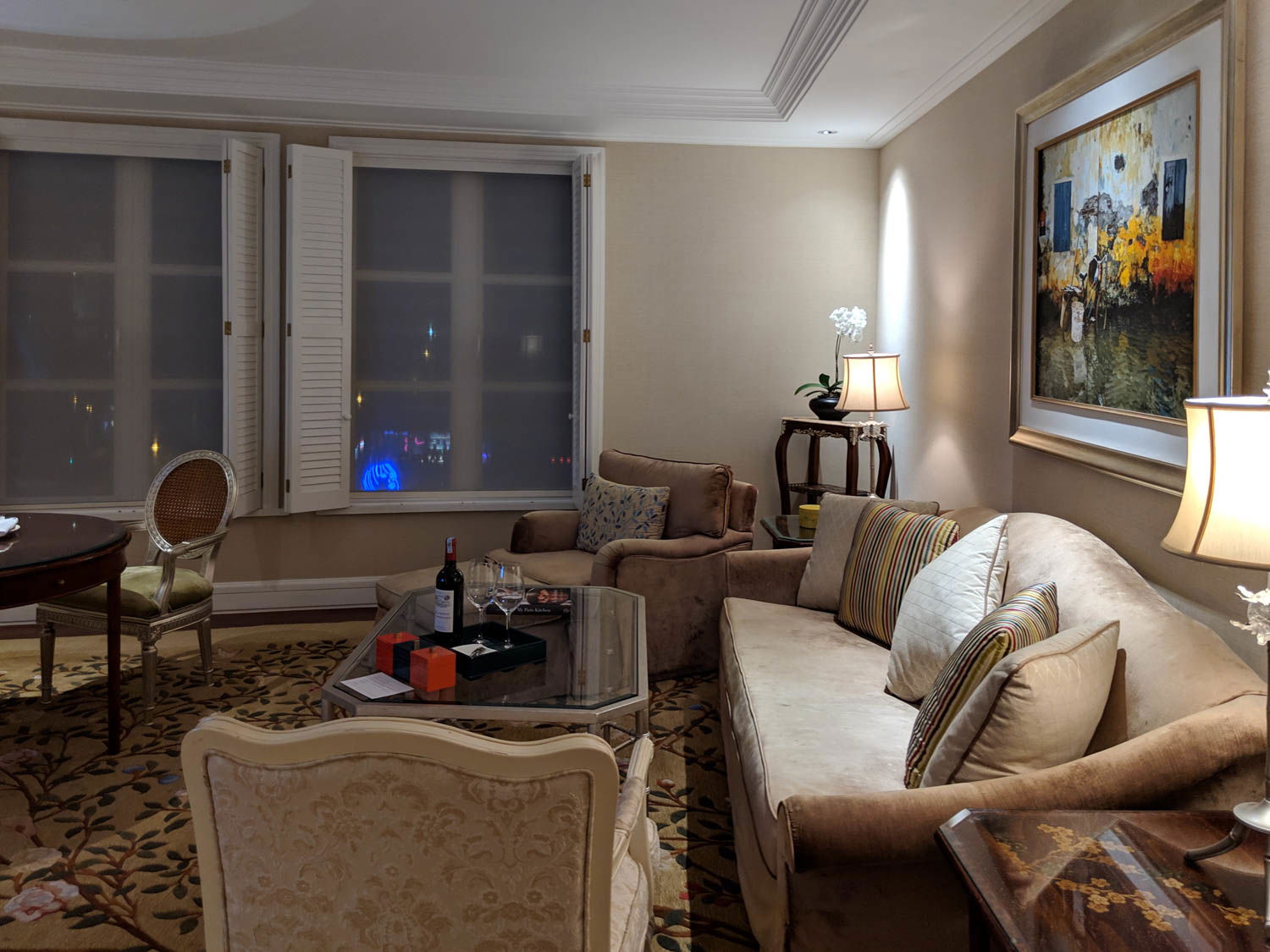 The effect was charming and felt tasteful in a way that truly doesn't photograph well. Heather immediately pronounced this as her favorite hotel ever, but looking at the photos the furniture looks mismatched. I promise it worked in person though!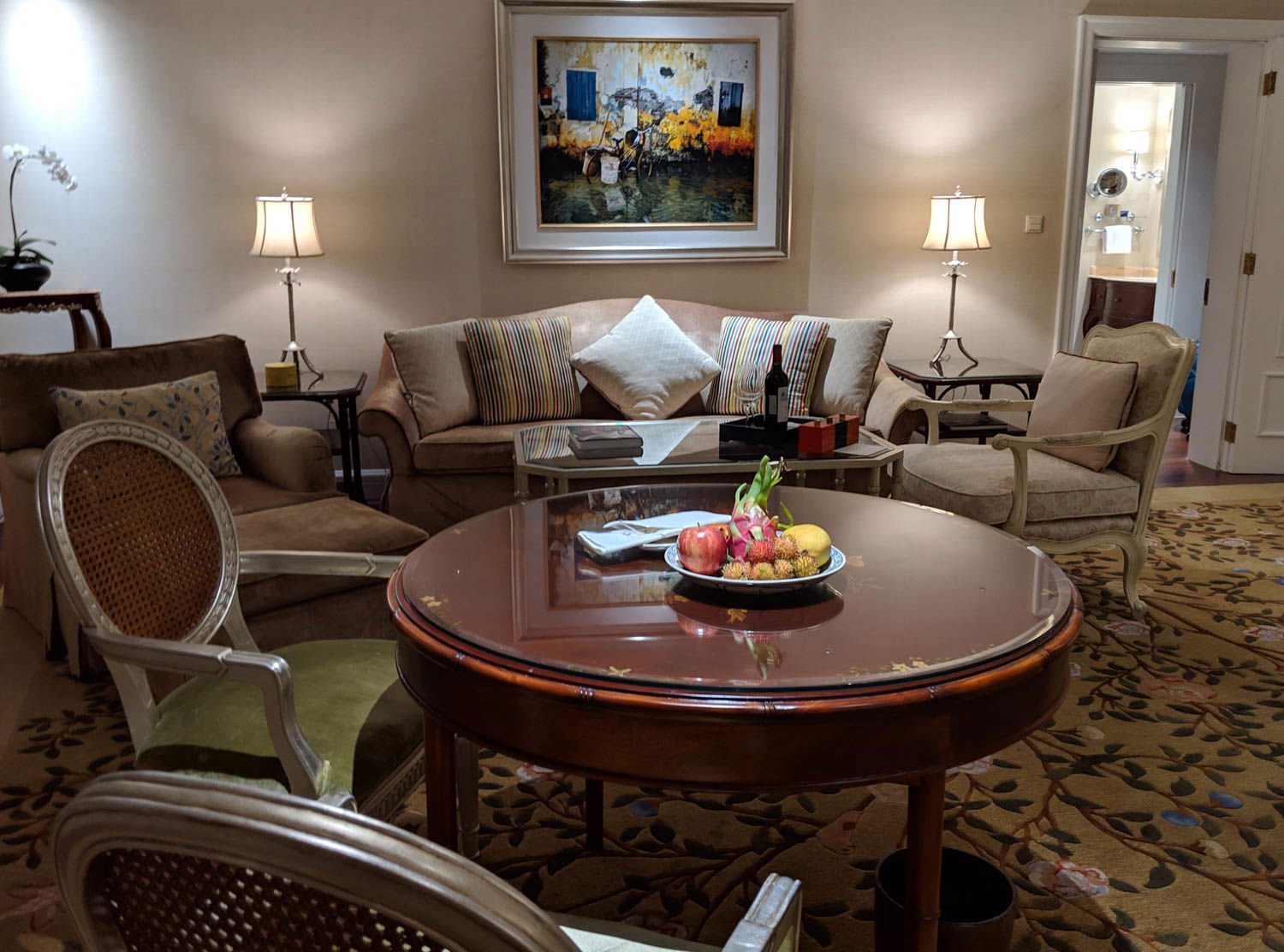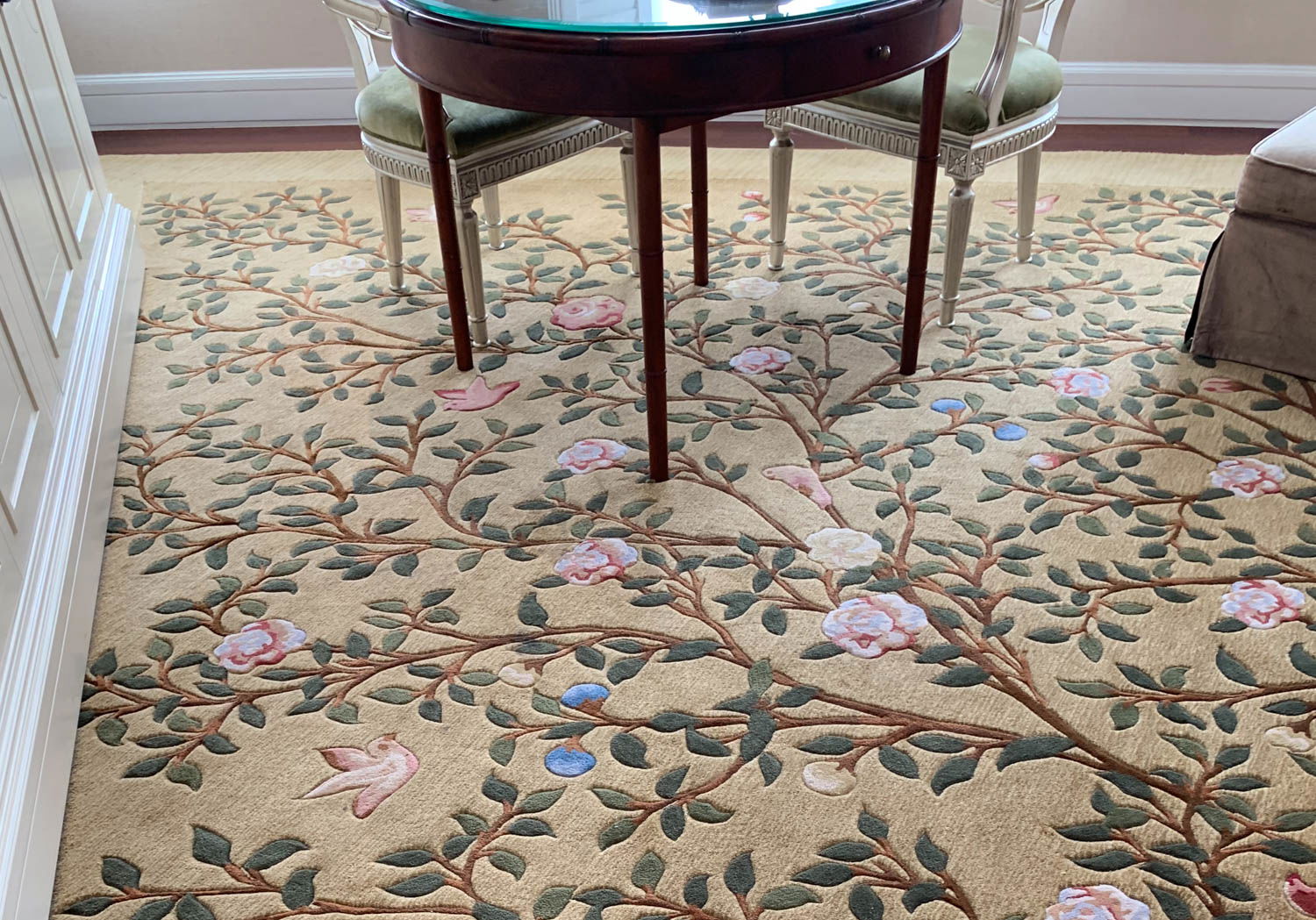 Waiting on the tables were a large plate of fresh fruit, along with a bottle of wine and some boxes of other snacks. The dried soursap was a collective favorite.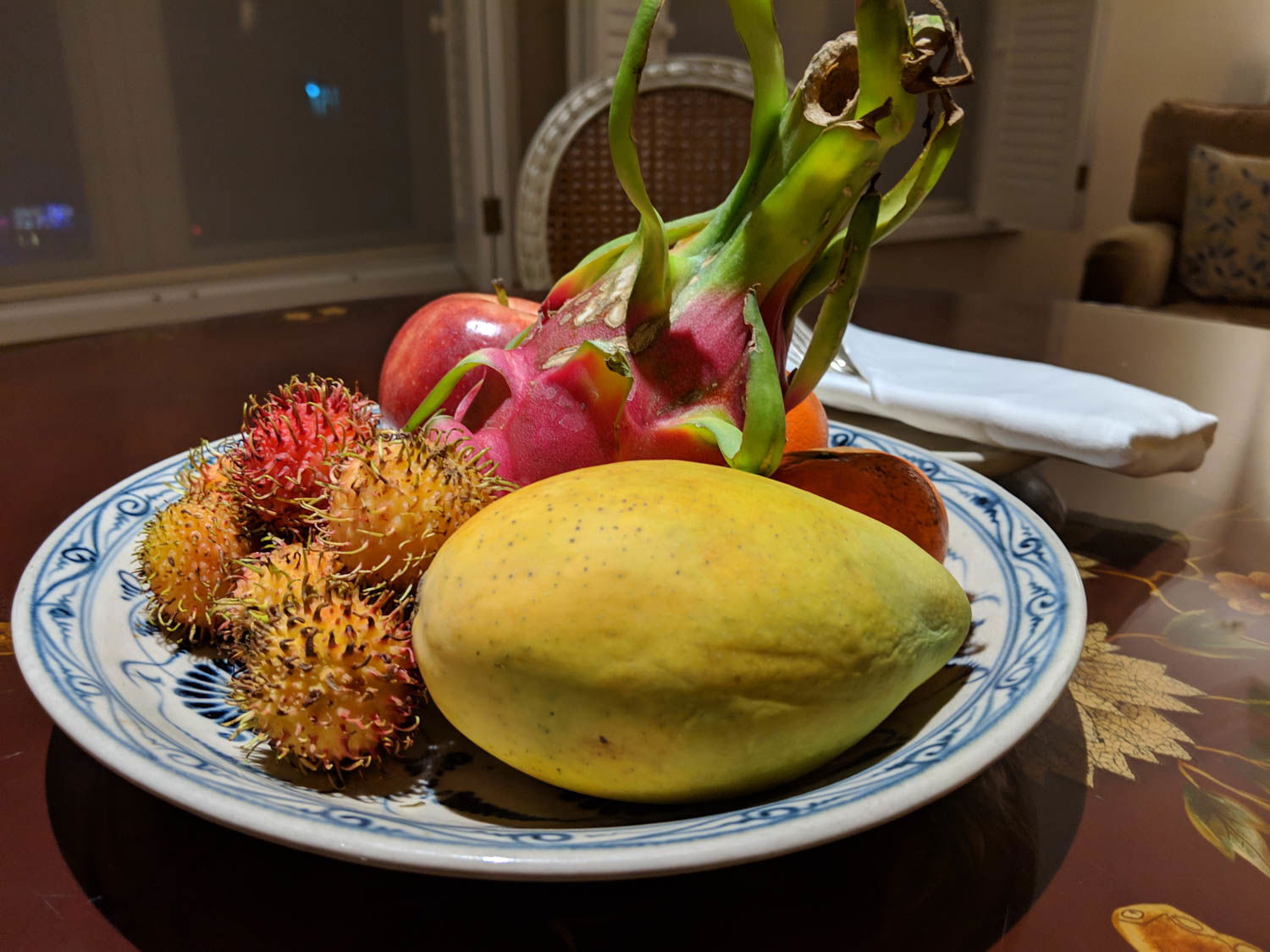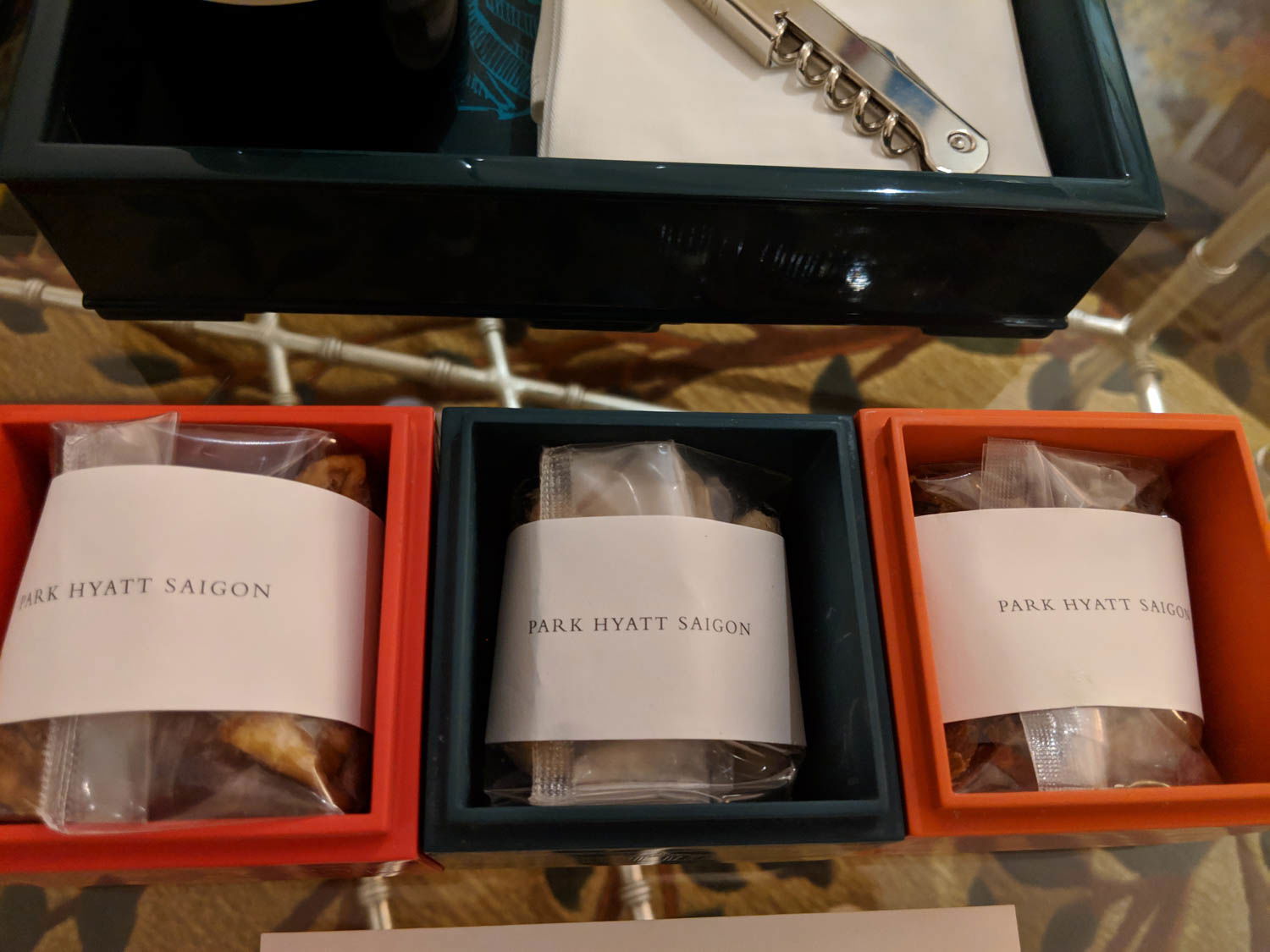 There was also a large television, a mini-bar, and equipment for making both coffee and tea.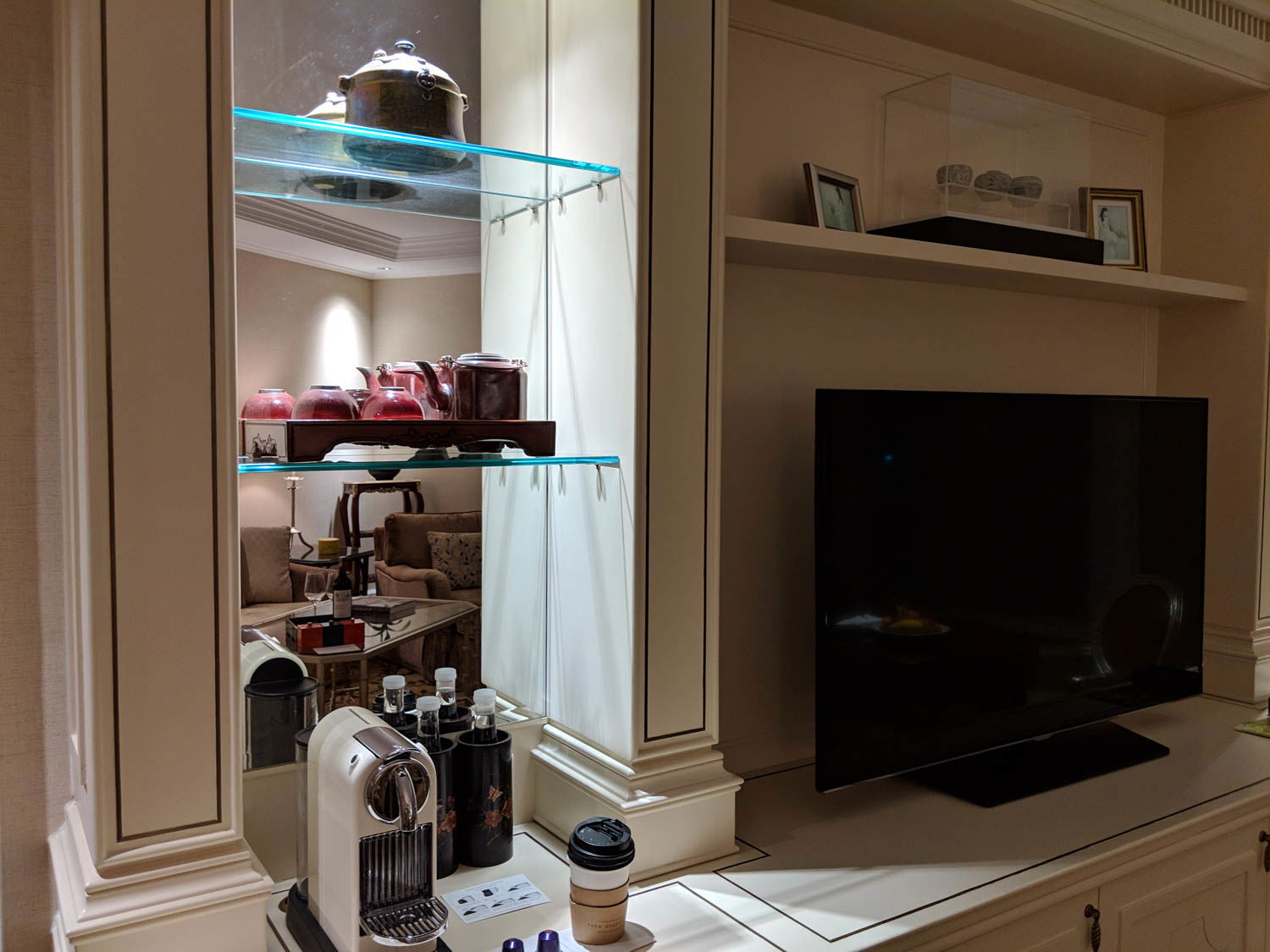 How sweet is this tea set?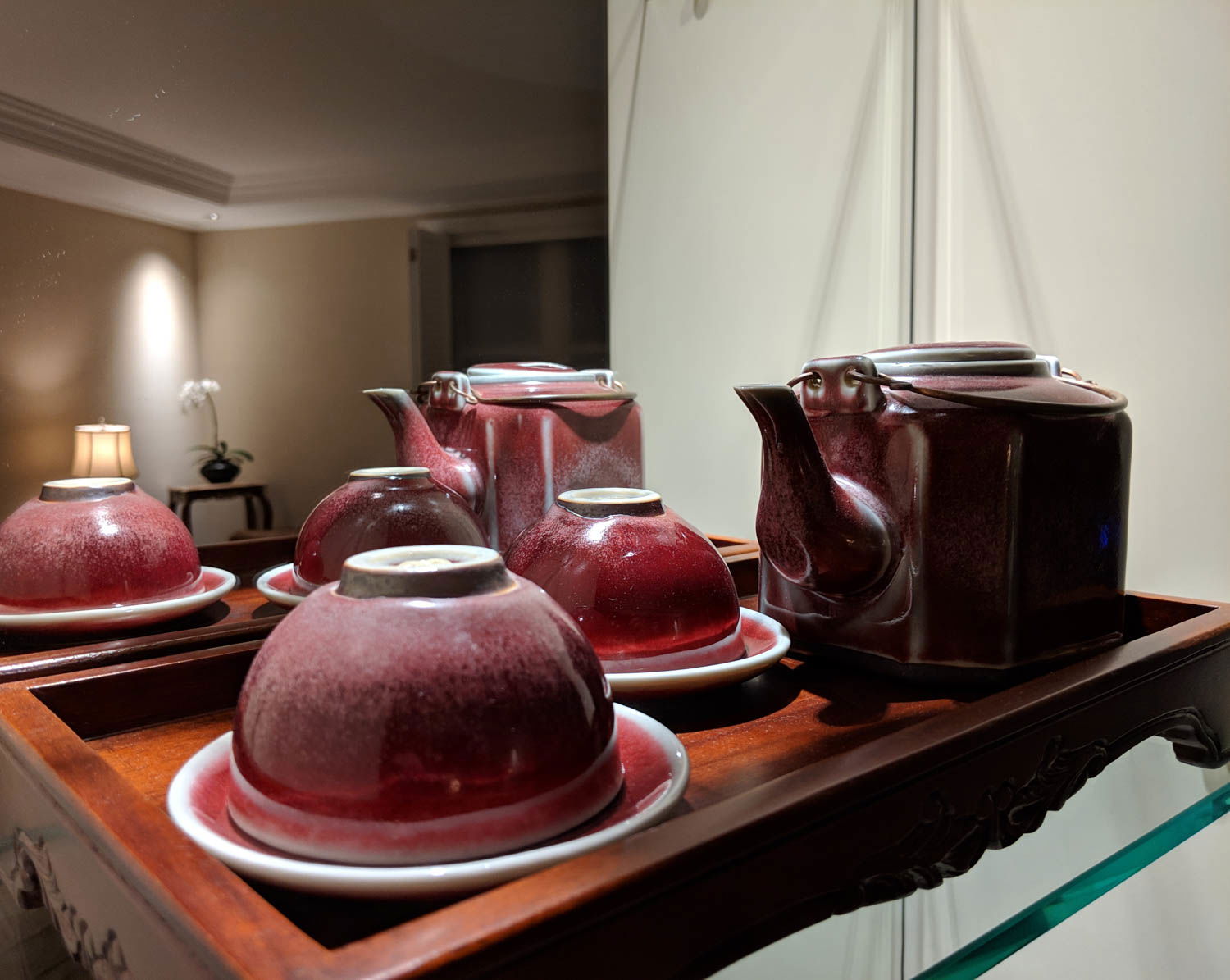 The bedroom had a plush king-size bed, with perfectly-dense pillows, and lovely woodwork.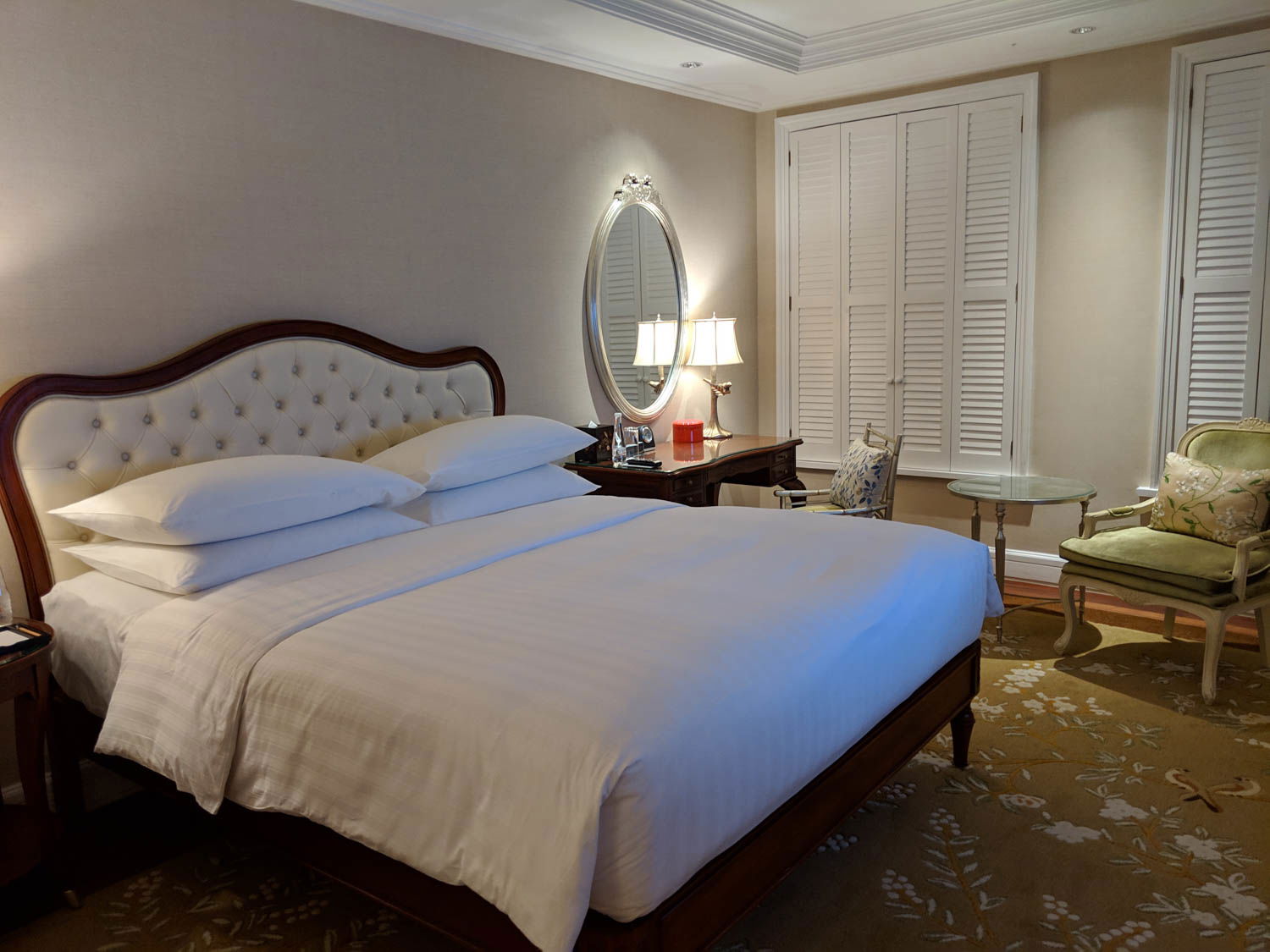 And of course, another beautiful rug.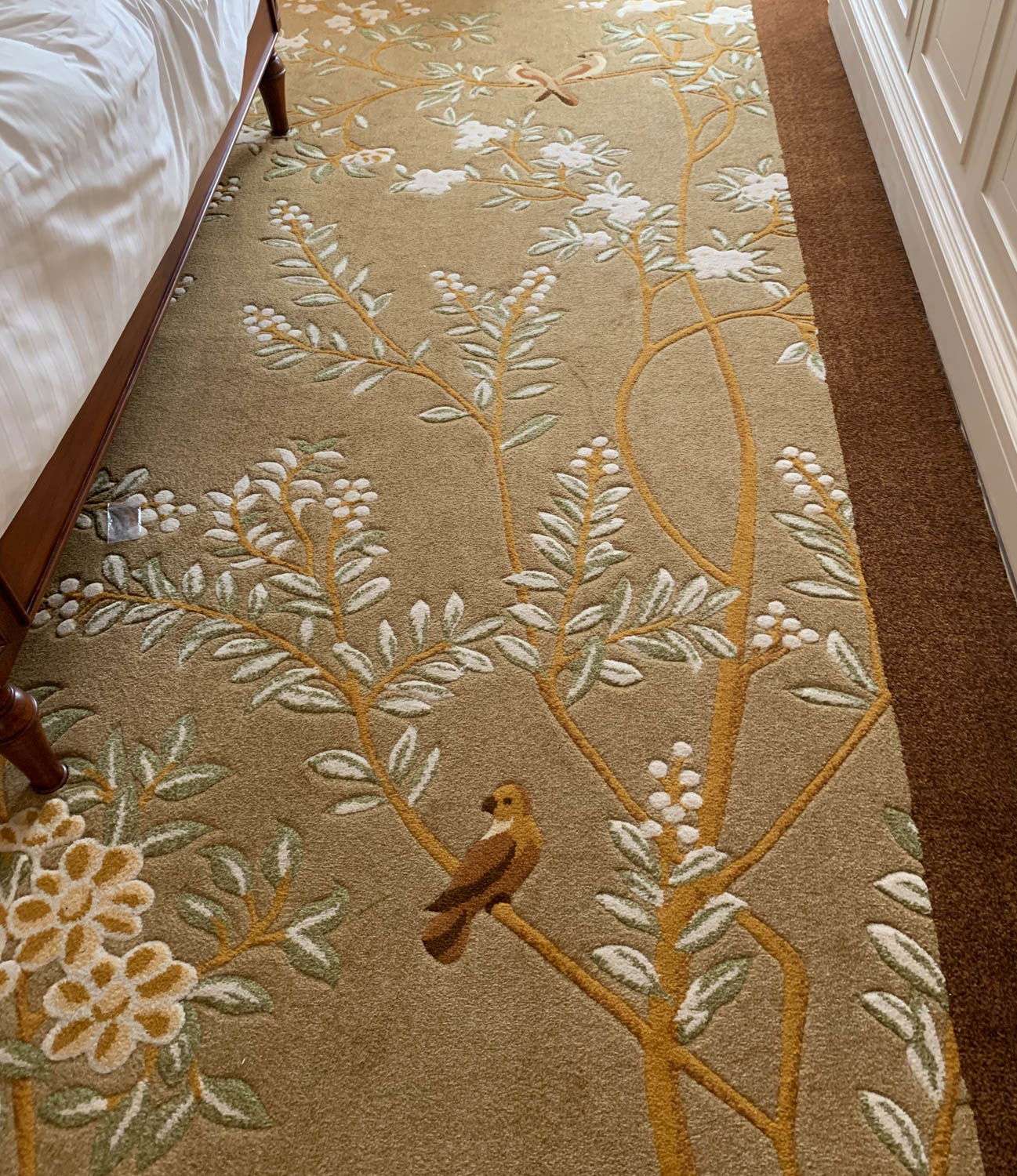 There was a desk to the side of the bed. One thing I particularly liked about this room was the assortment of outlets at arm height — it's much easier to charge things when you don't have to have cords dangling everywhere or devices strewn all over the floor.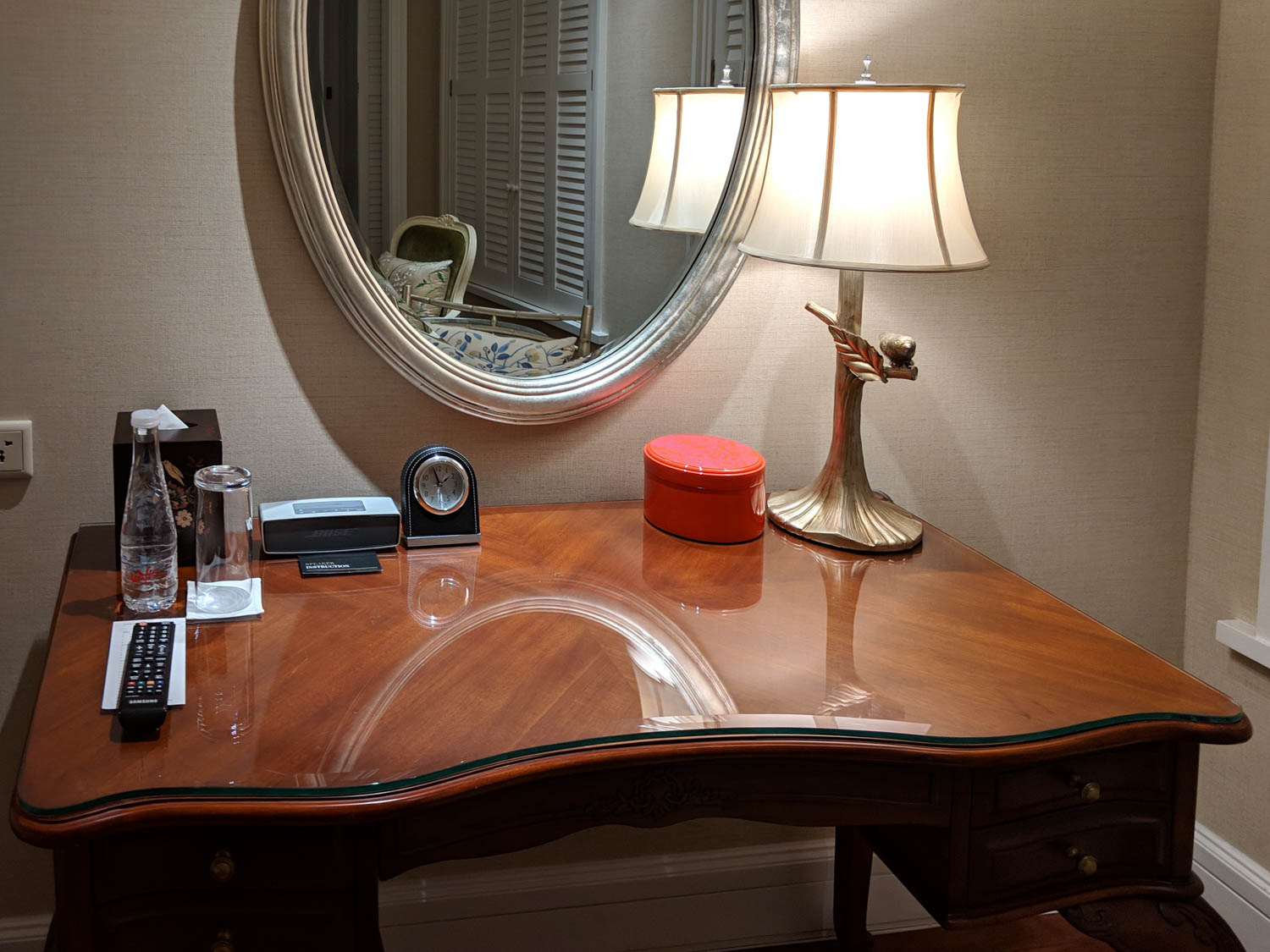 The bedroom had a large tv as well, and a closet in the alcove separating the bedroom, living room, and bathroom.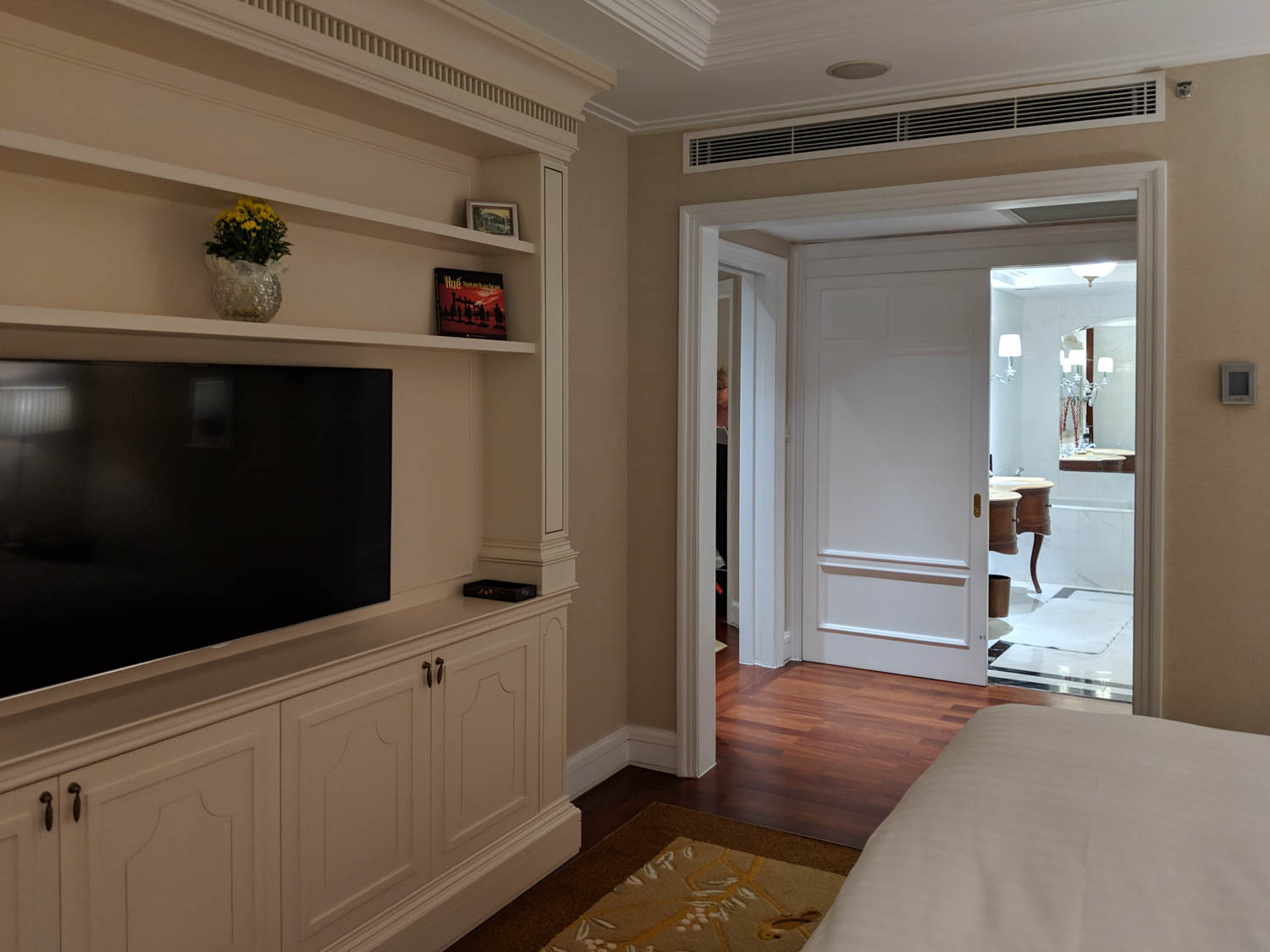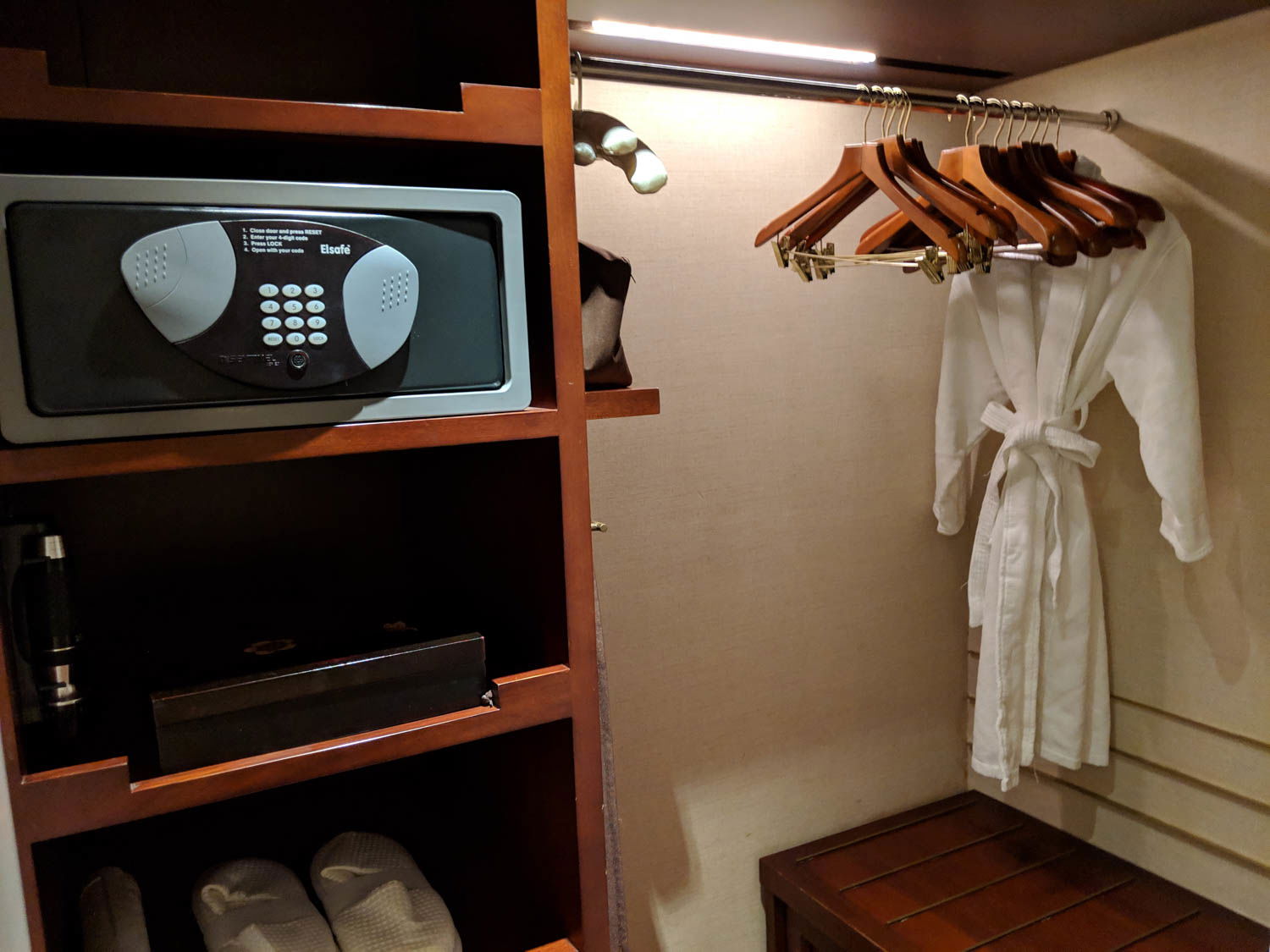 The bathroom was a beautiful mix of marble, with a large tub, rainforest shower, and separate toilet closet.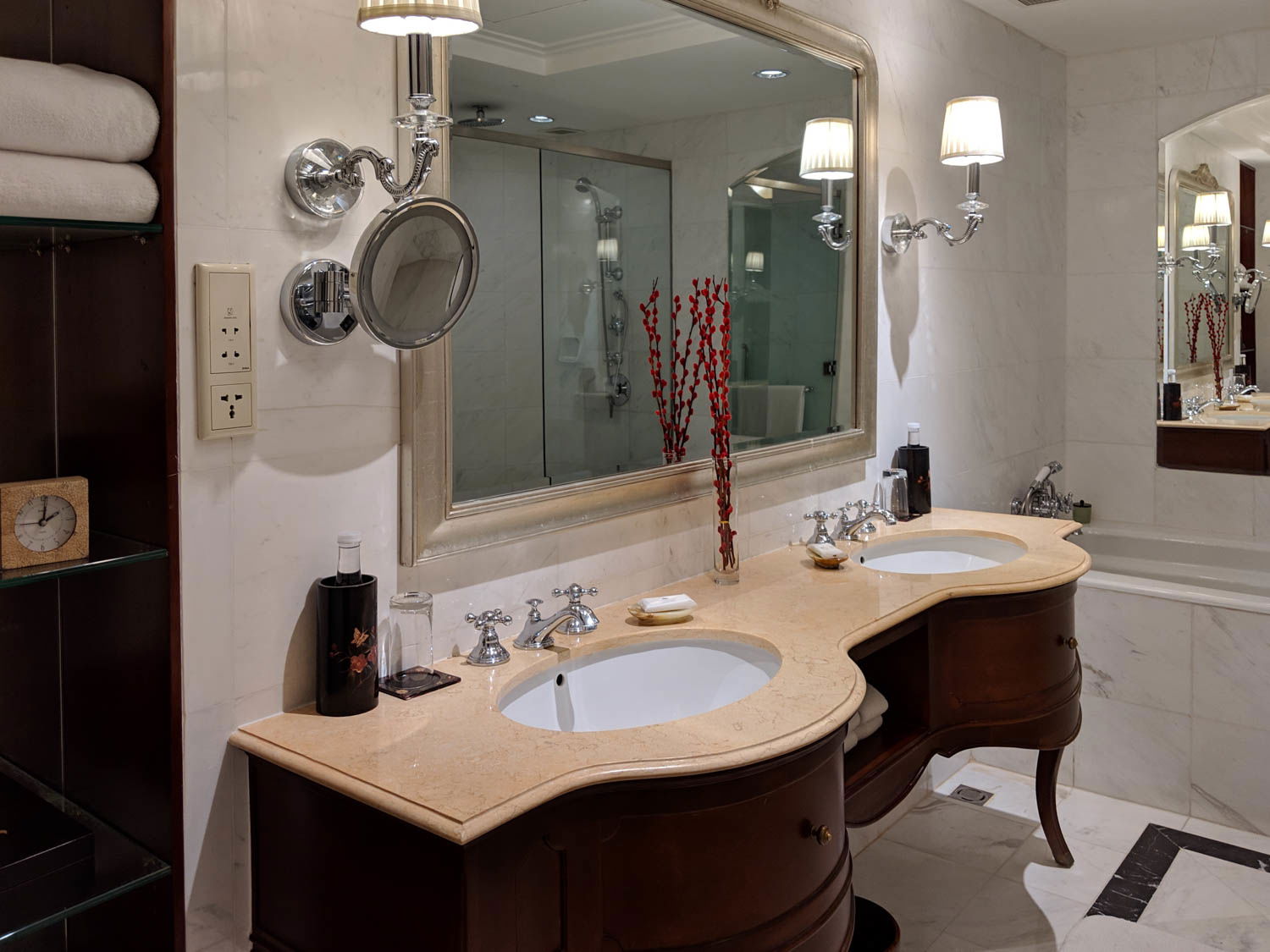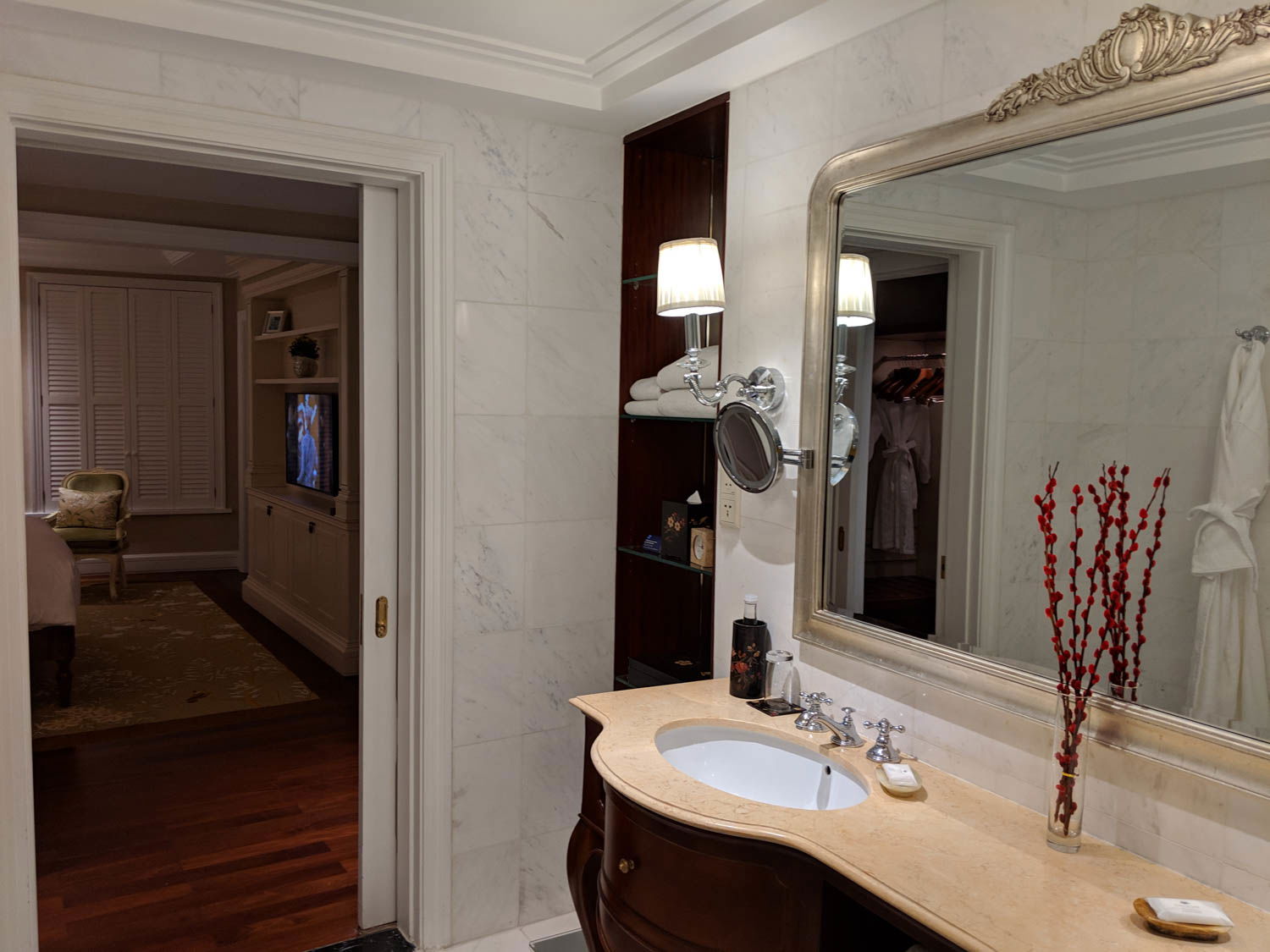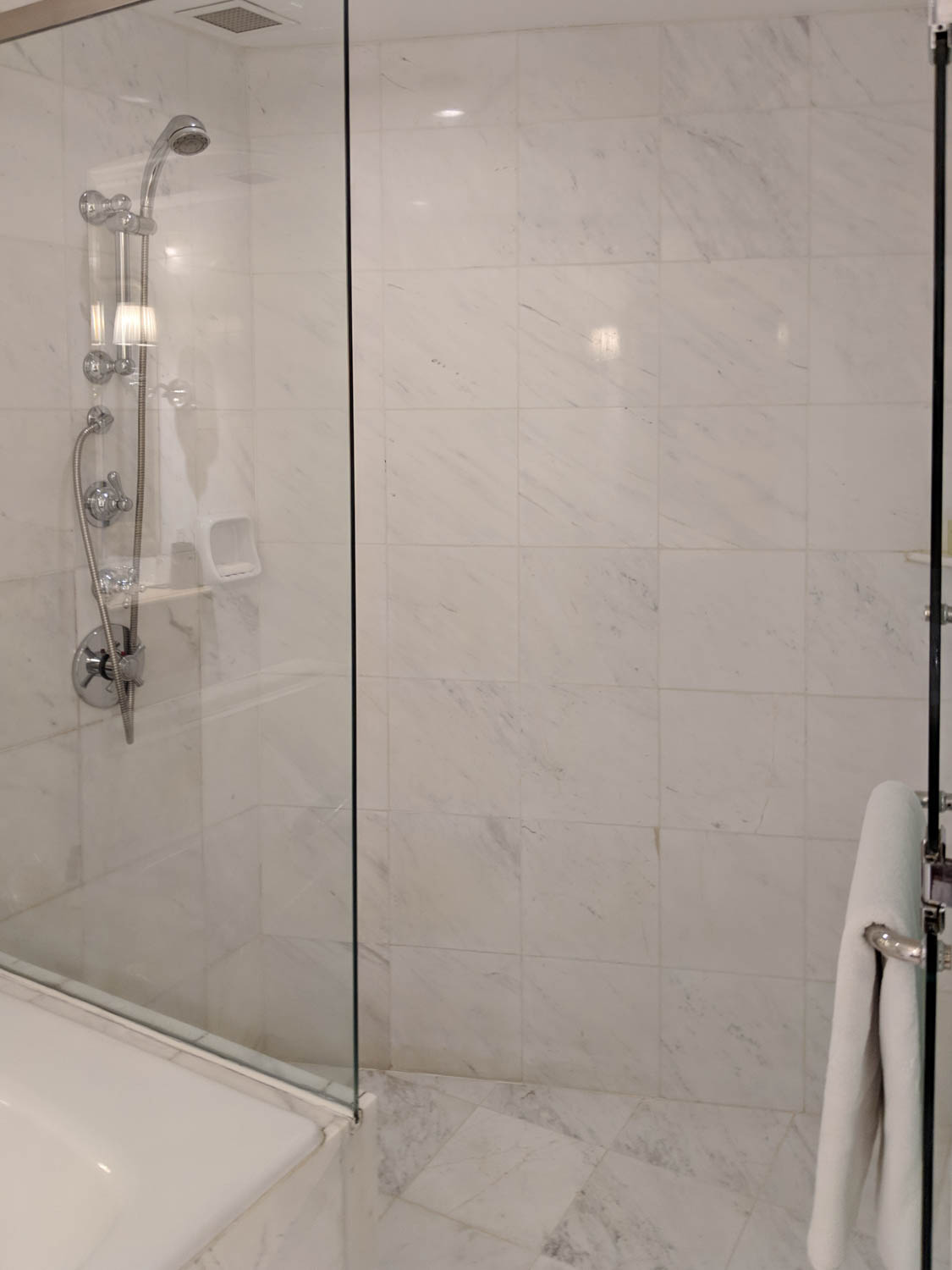 Toiletries were well-stocked, and we all enjoyed the Cochine bath amenities.
Park Hyatt Saigon Twin Room
Room 502 was a twin room, with the option to attach to the suite. I typically don't like adjoining rooms, and would not have preferred this suite had we not been using the second room, but as it was this was a perfect arrangement.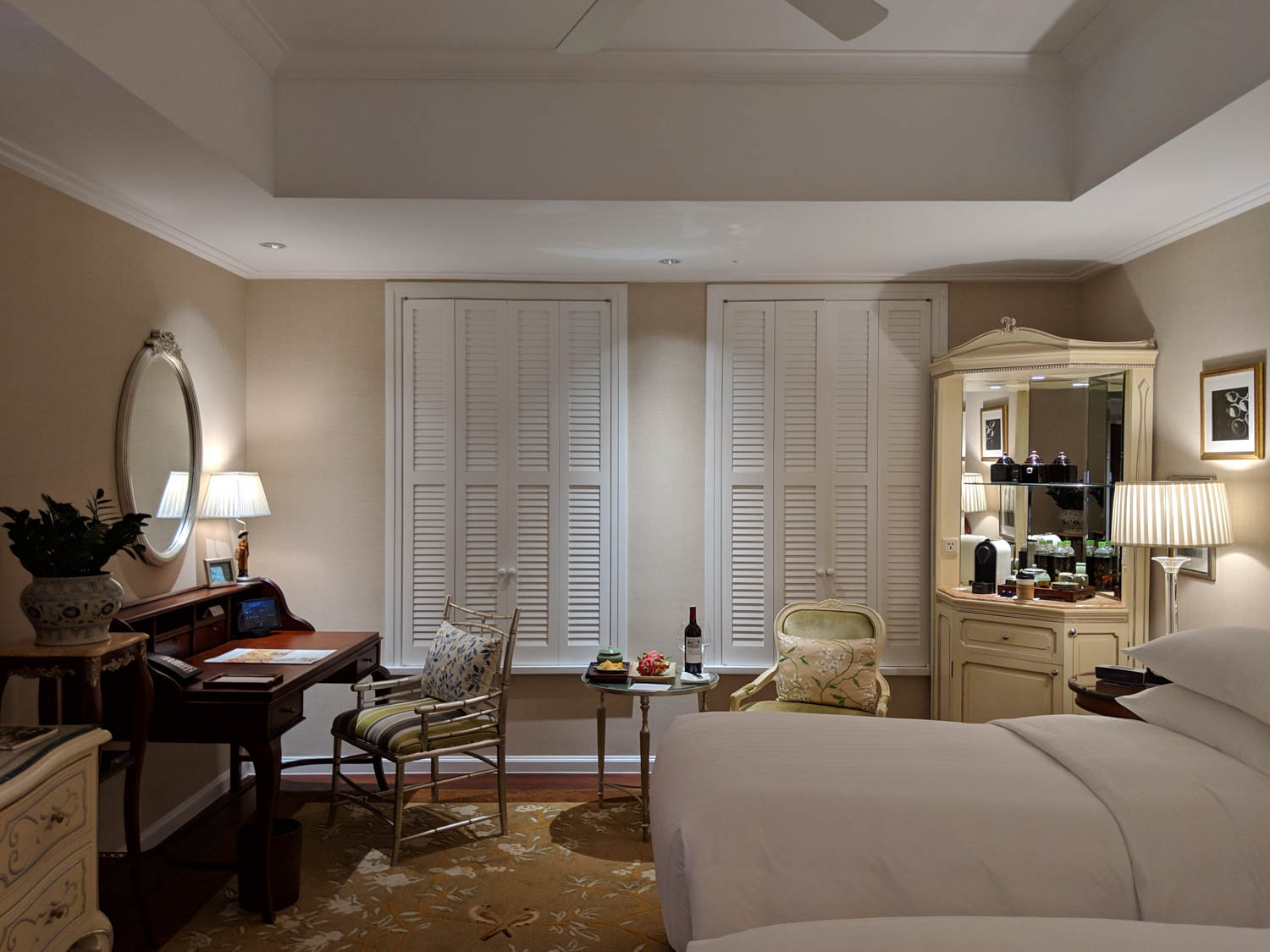 This room was cozy, but the furniture was all sized appropriately so that it didn't feel cramped. The layout was also clever, as not only could you enter the bathroom from either the entryway or the bedroom, the closet was also double-sided, with access from the hallway and the bathroom.
I can't remember having seen this before, but thought it was a great space-saving design.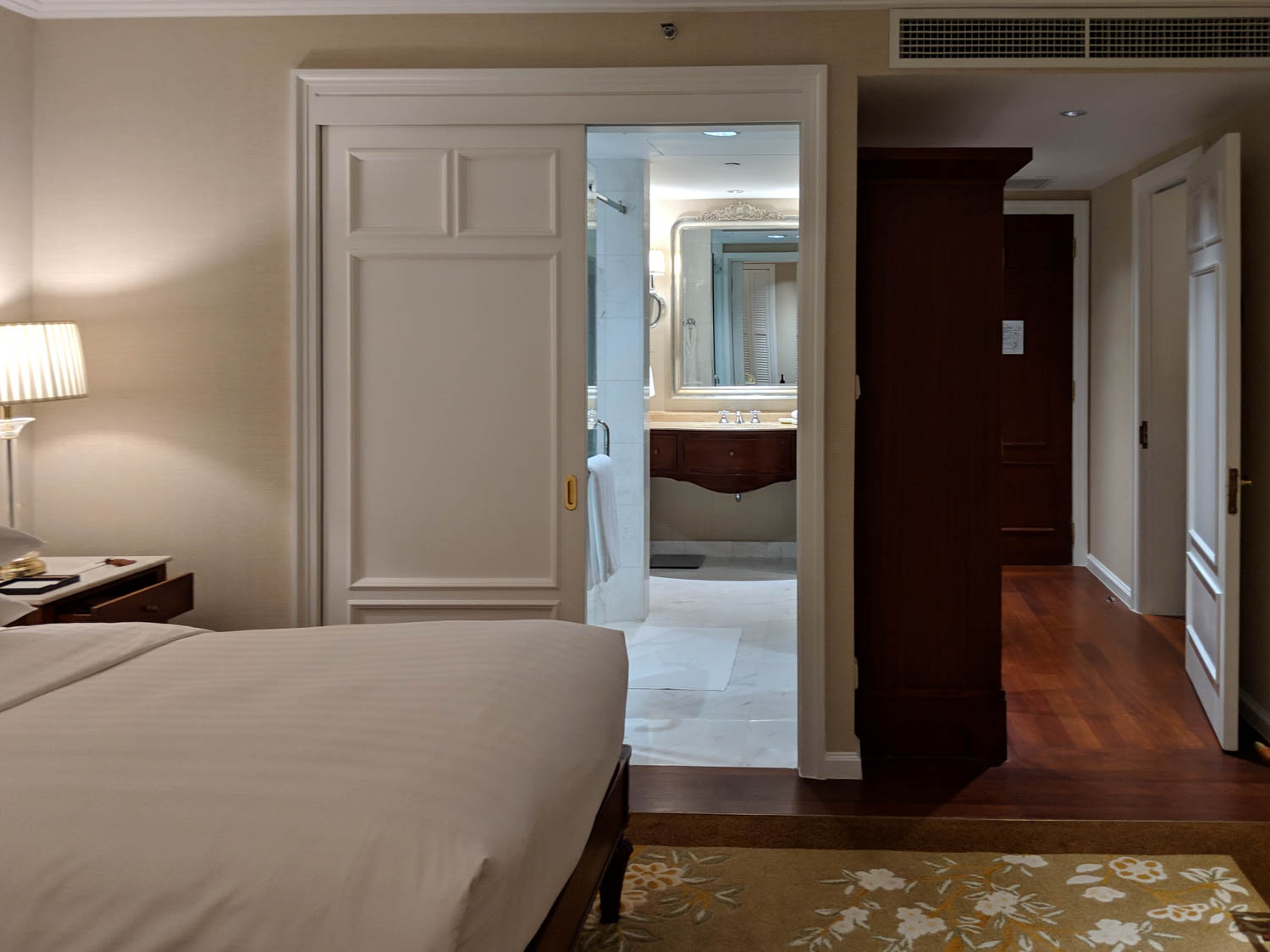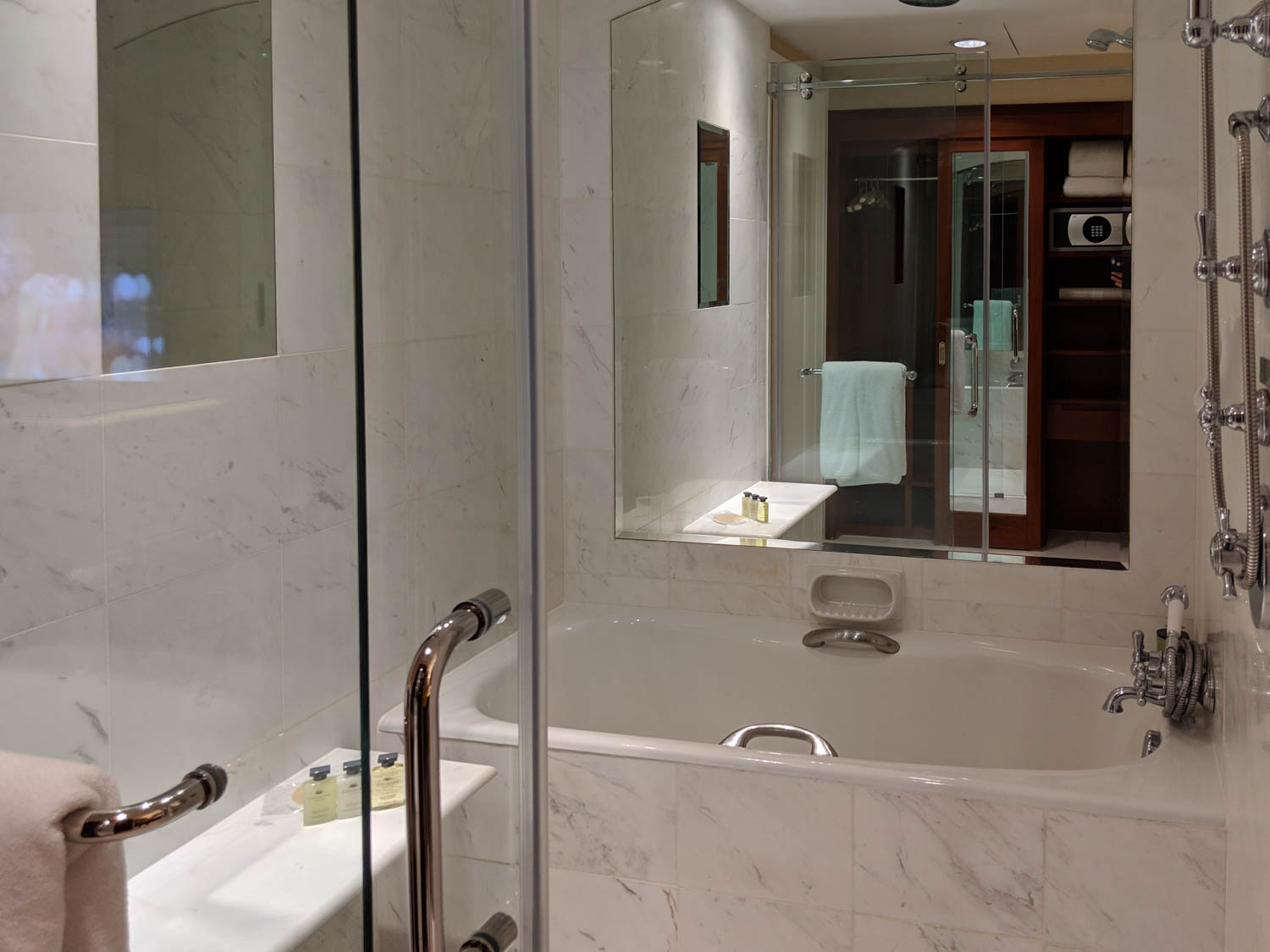 This bathroom was smaller, but again — with a sensible layout. The tub and shower were enclosed into one "wet" area, with a good-sized bench in the shower as well.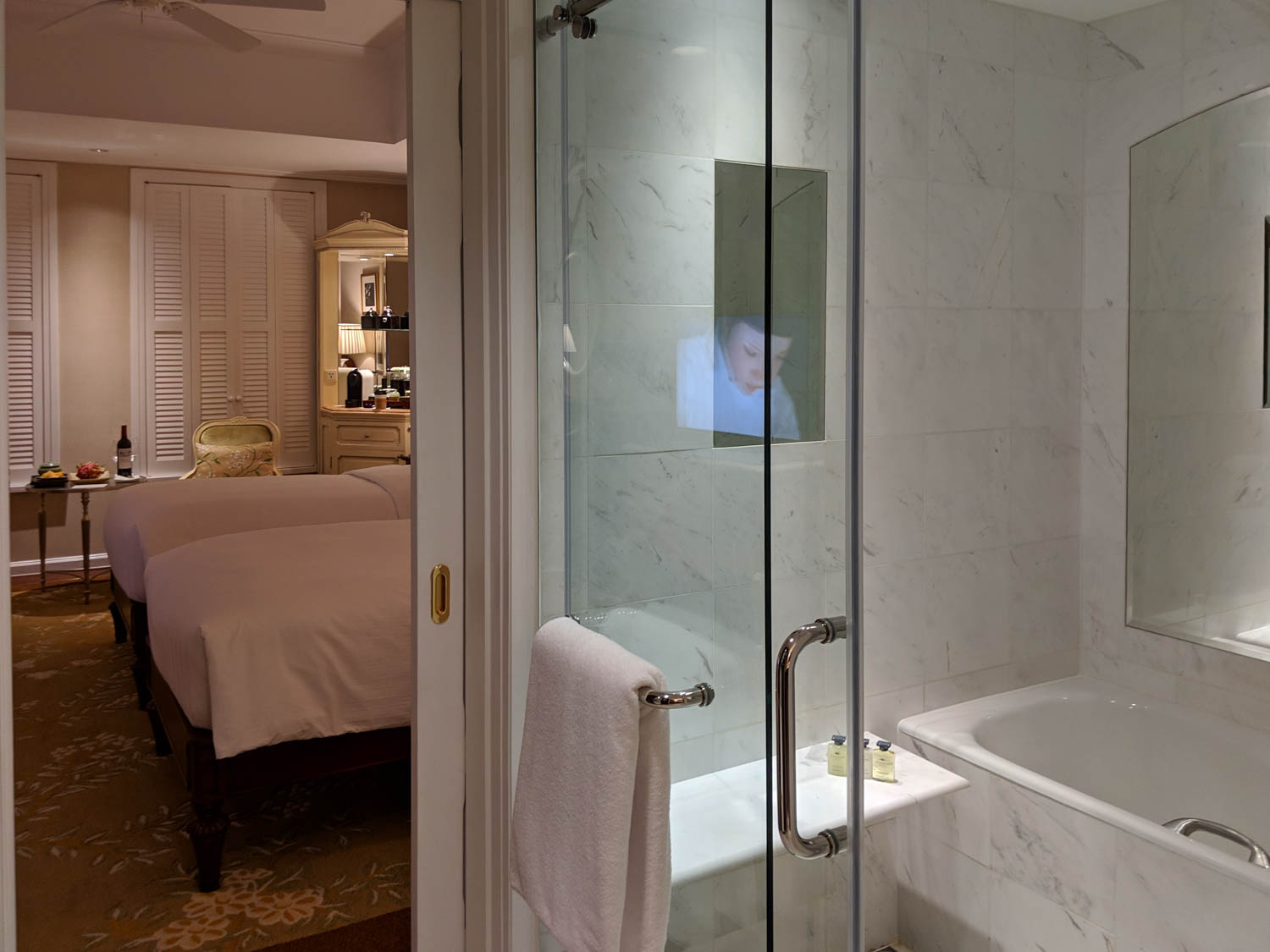 The vanity had a single sink, with plenty of counter space.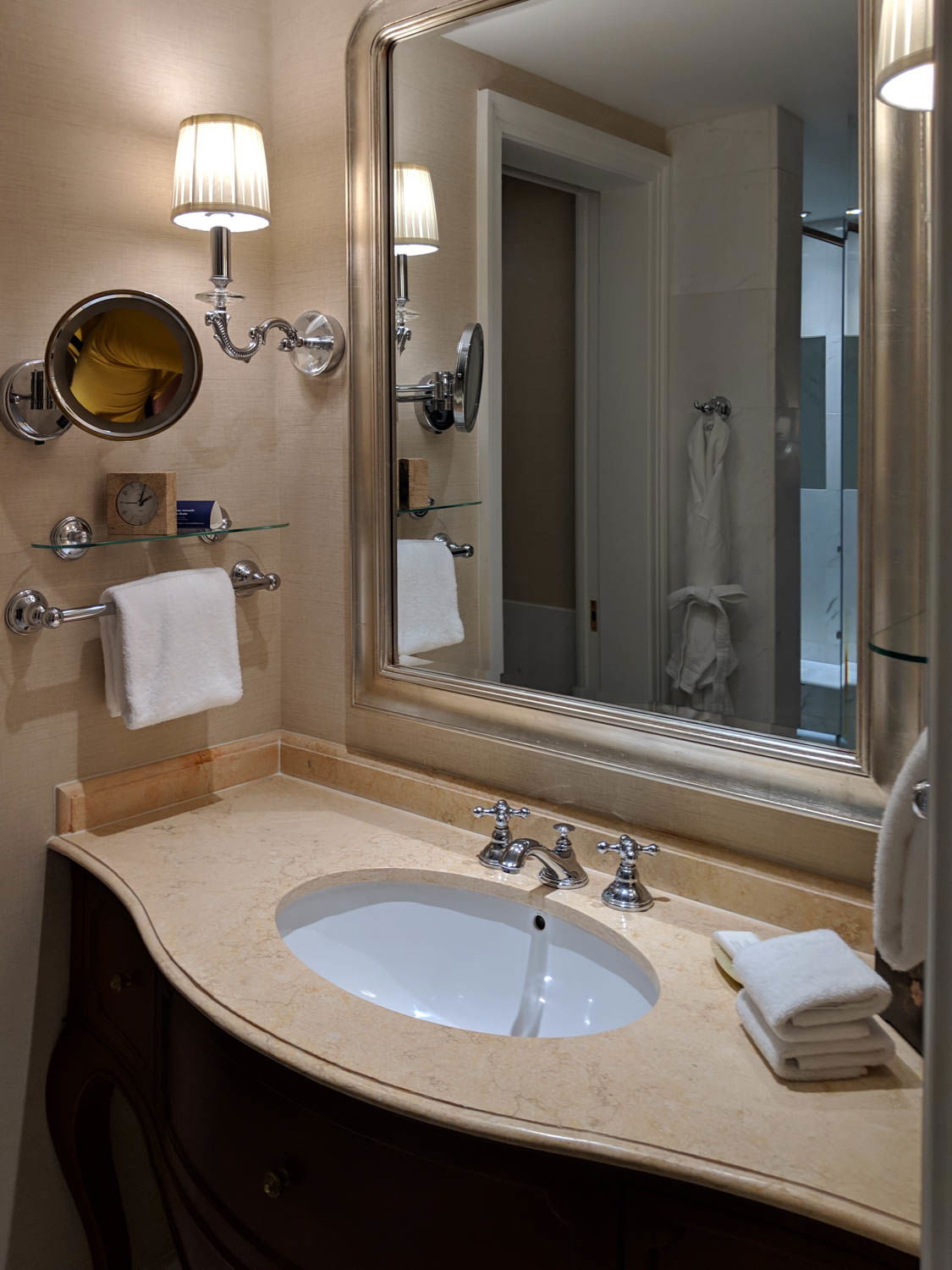 This bedroom had a desk as well, and while the chair wasn't particularly comfortable to work from, I appreciated that both pieces were unique, rather than just generic stock furnishings.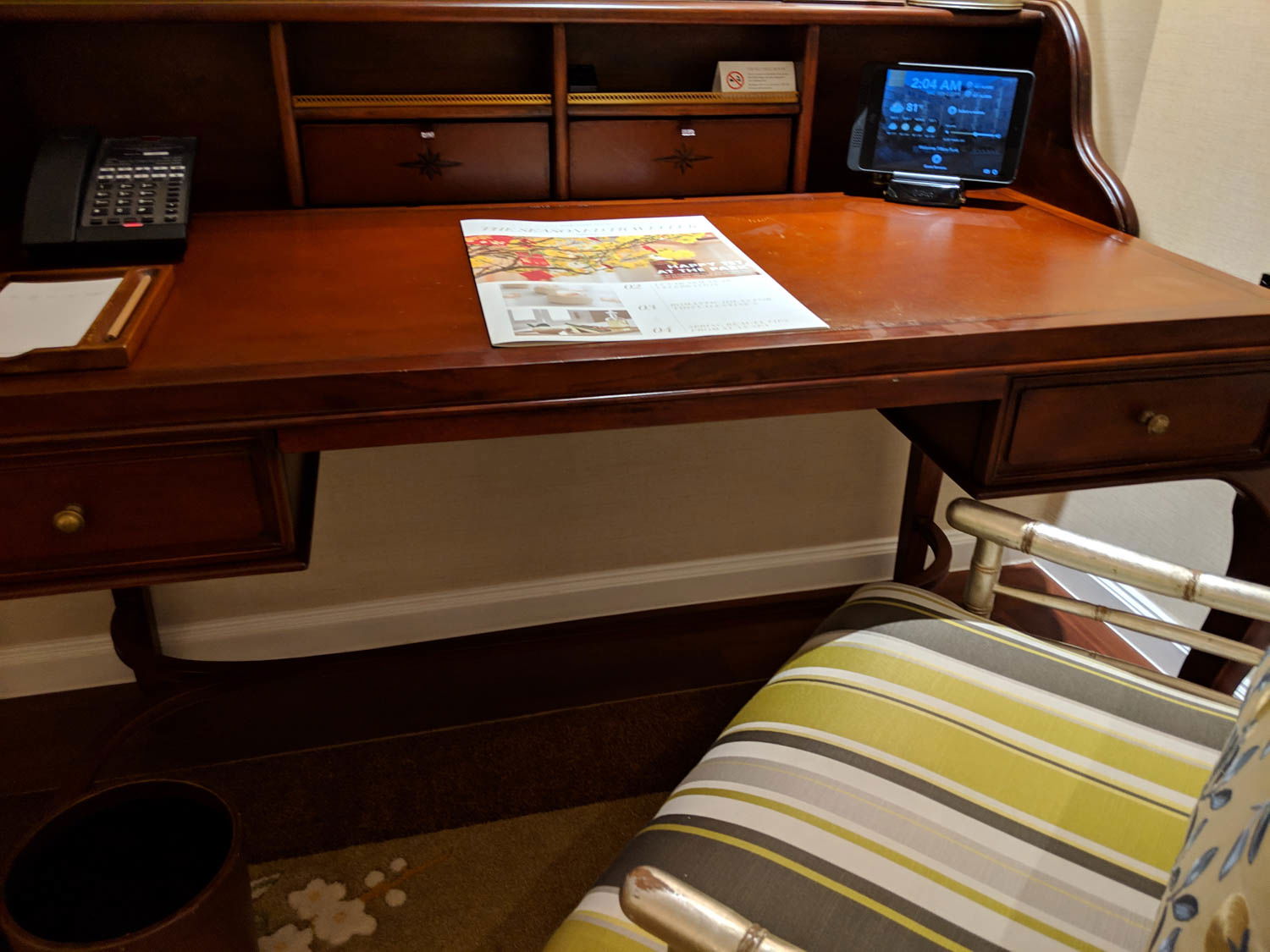 The second room also had an assortment of fresh and dried fruits, and a second bottle of wine. The fruit was tasty (pro tip: dragonfruit peels just like a banana), but we didn't end up drinking any of the wine.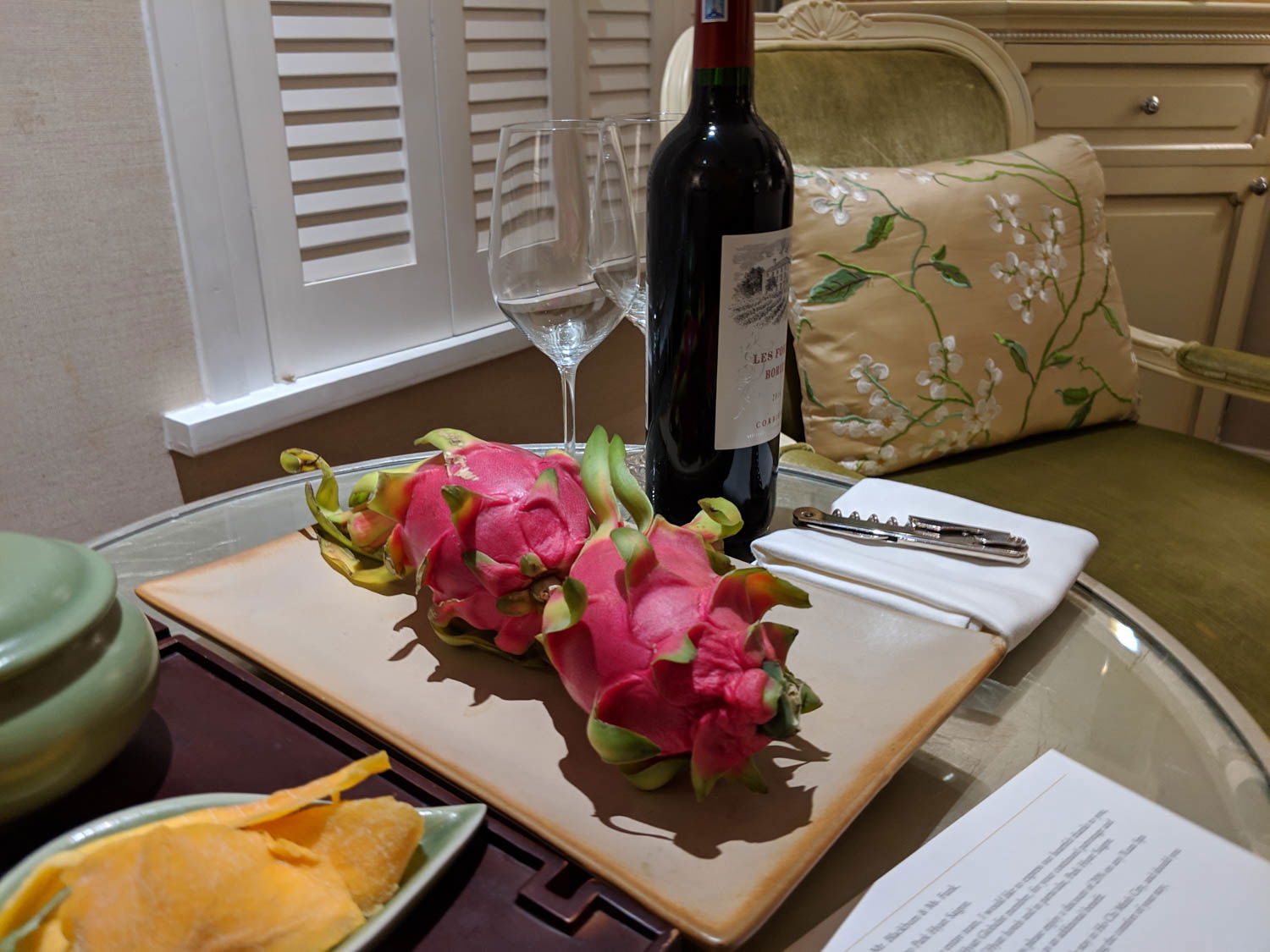 This room also had a mini-bar, with a tea setup that was somehow even more adorable than the first.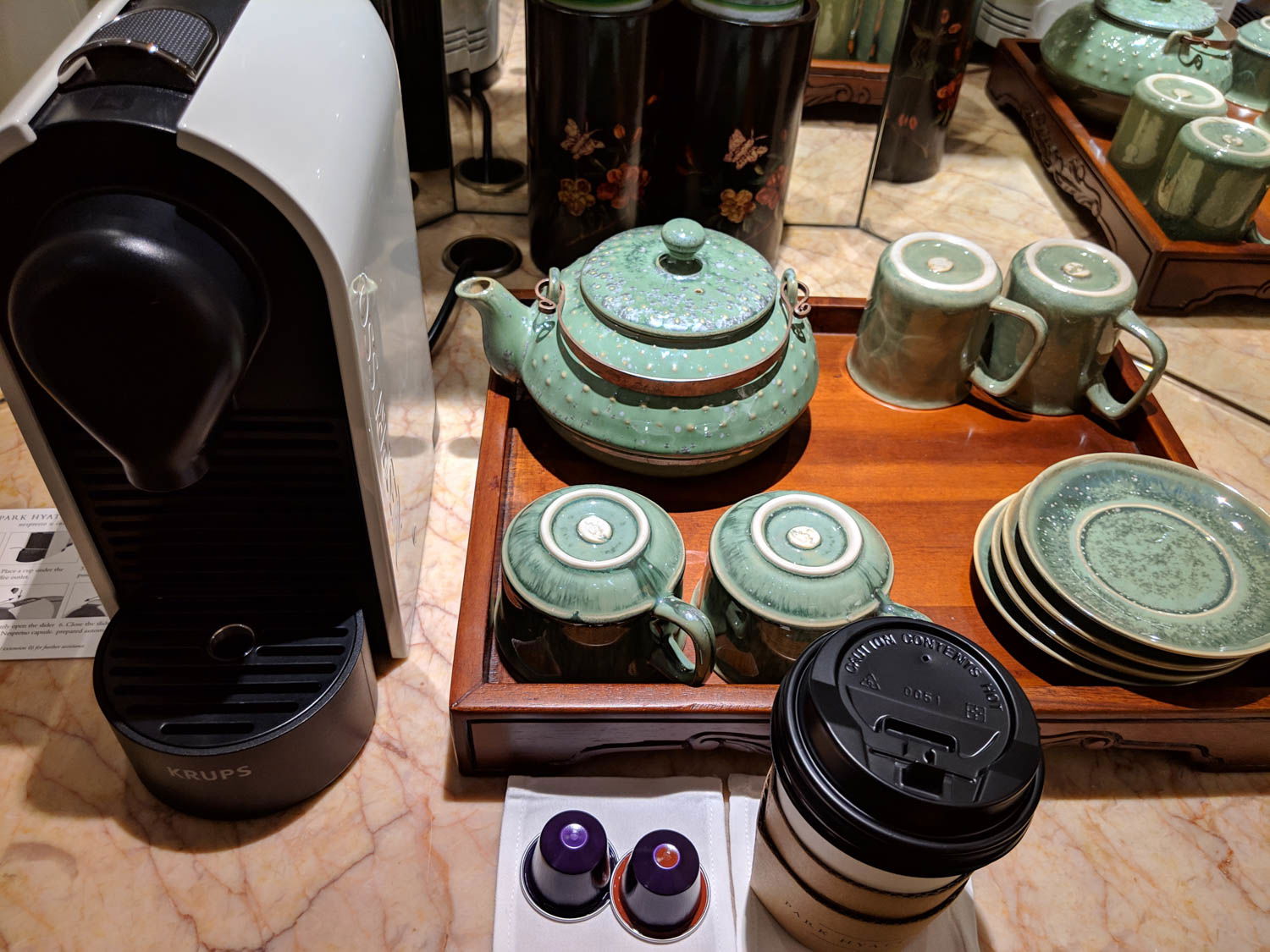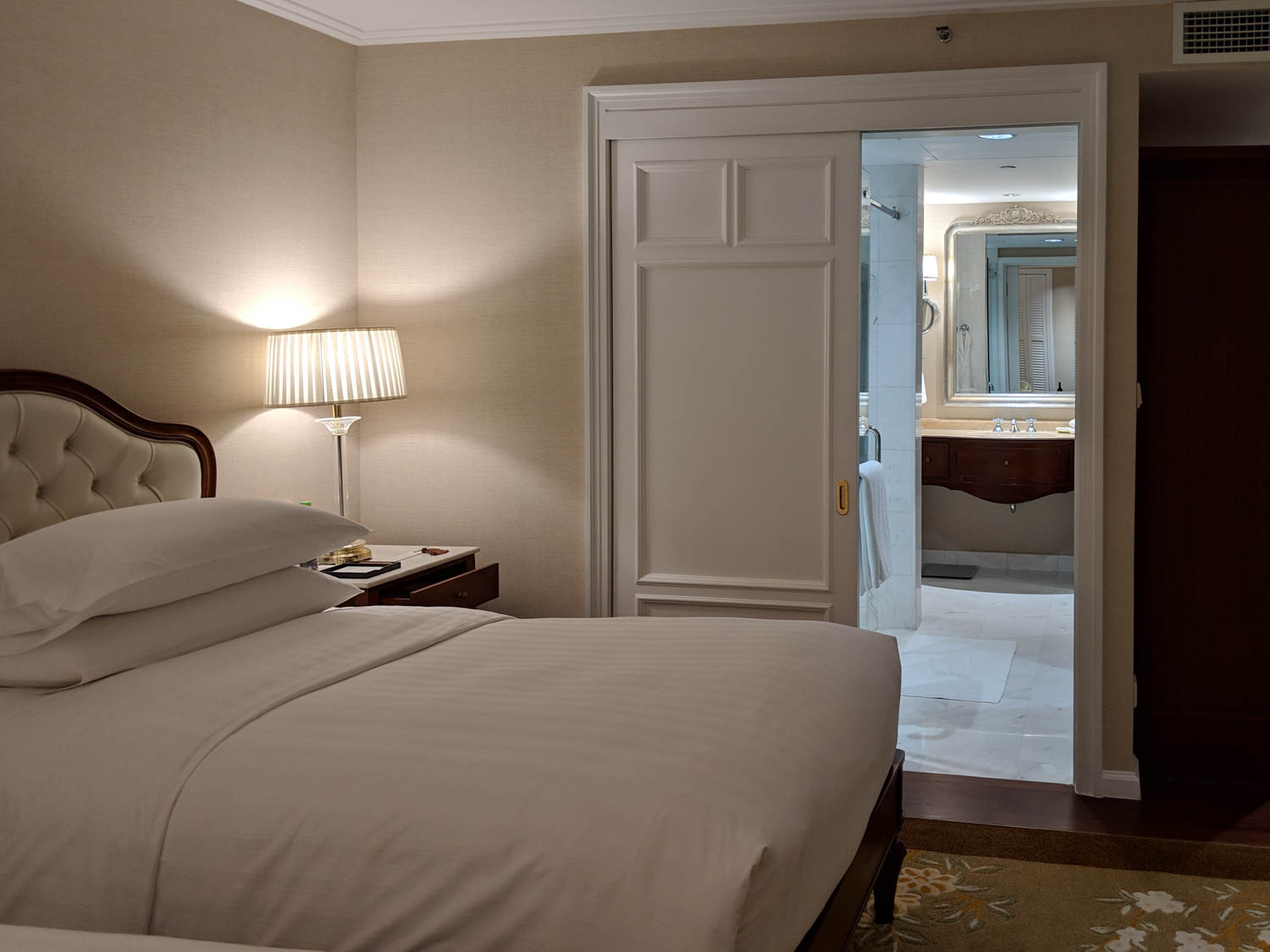 In addition to the rooms being comfortable and well-appointed, I appreciated that there were several bottles of water in both rooms. In fact, between the two, there were 14 bottles of water when we checked in. And when housekeeping made up the rooms the following morning and noticed that almost all the water was gone, they left us another two dozen bottles.
A marked difference from other supposedly-luxurious properties, to be sure.
Park Hyatt Saigon Breakfast
Despite our 2AM arrival, we had planned an early start to our day. We were meeting a guide at 8AM, which was convenient in that I had an empty restaurant to take pictures of 😉 .
The space, of course, was stunning.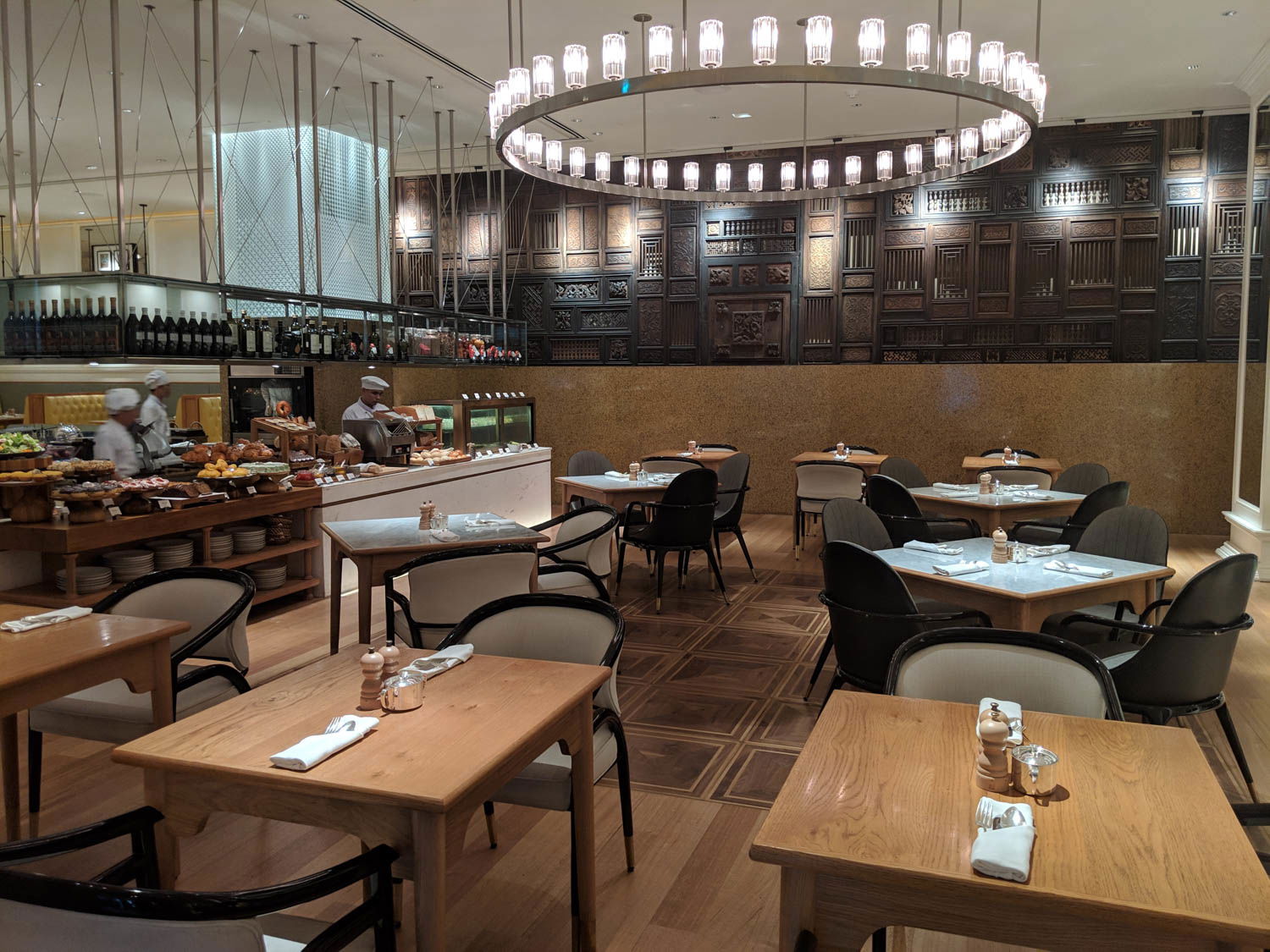 Everything from the inlaid floors, to the cutouts in the buffet, to the very architectural center area — I felt it was fun, and stylish without being stuffy.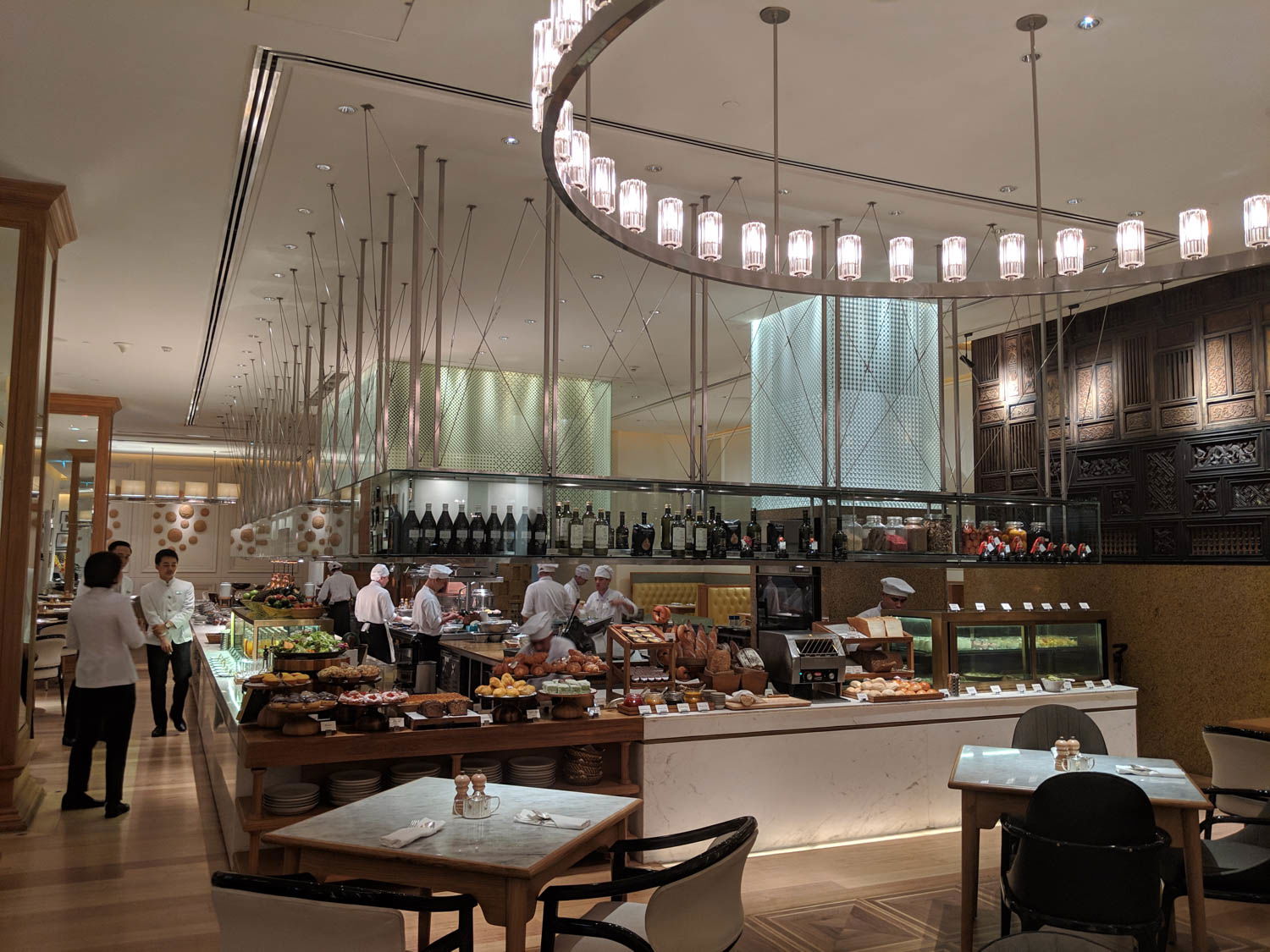 While it wasn't the focus for breakfast, there was also an attached bar — I loved the mix of the modern glass pendants and the vintage prints on the wall.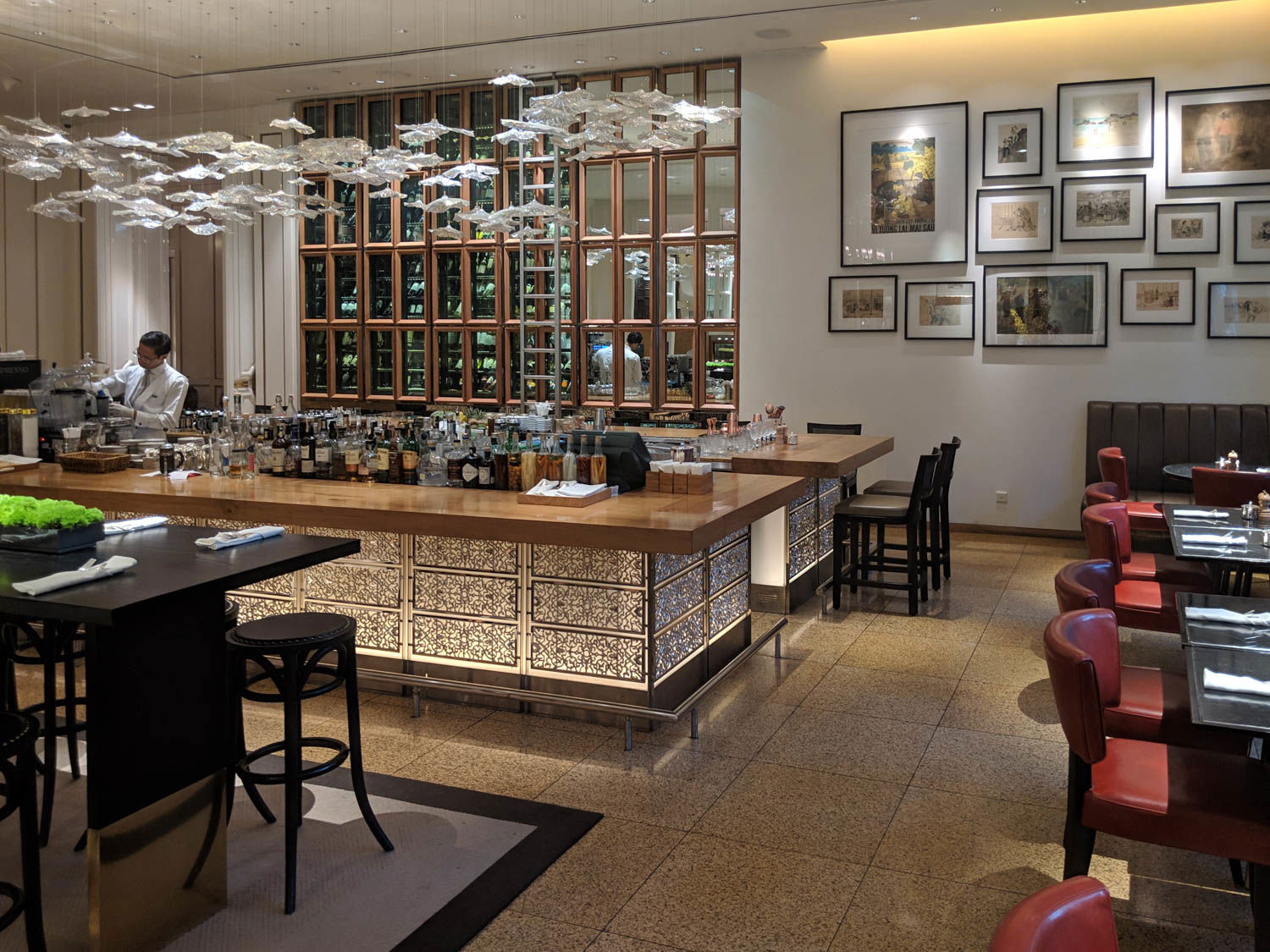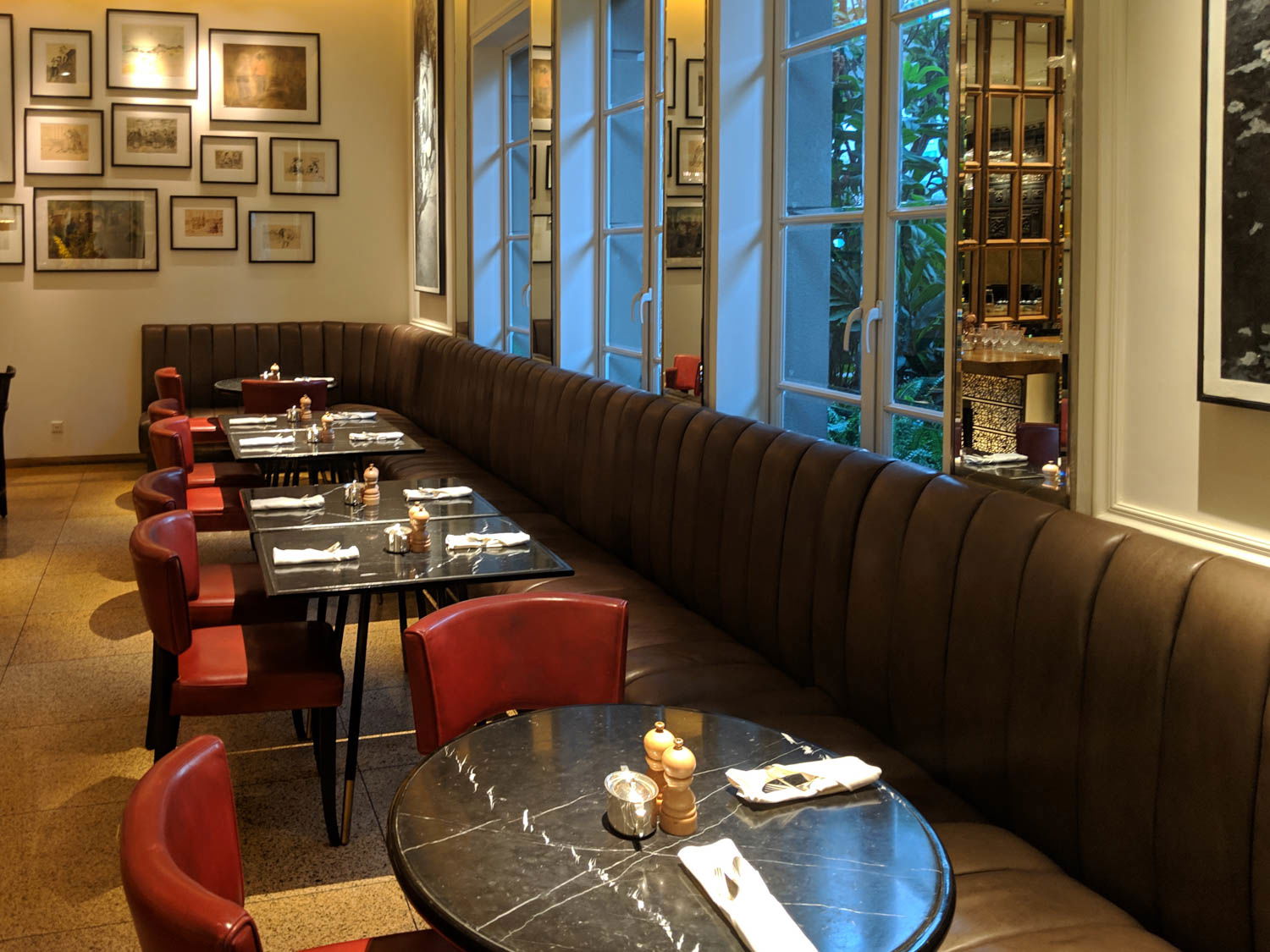 There was also an enclosed terrace, and theoretically outdoor seating, though we never saw anyone using the latter.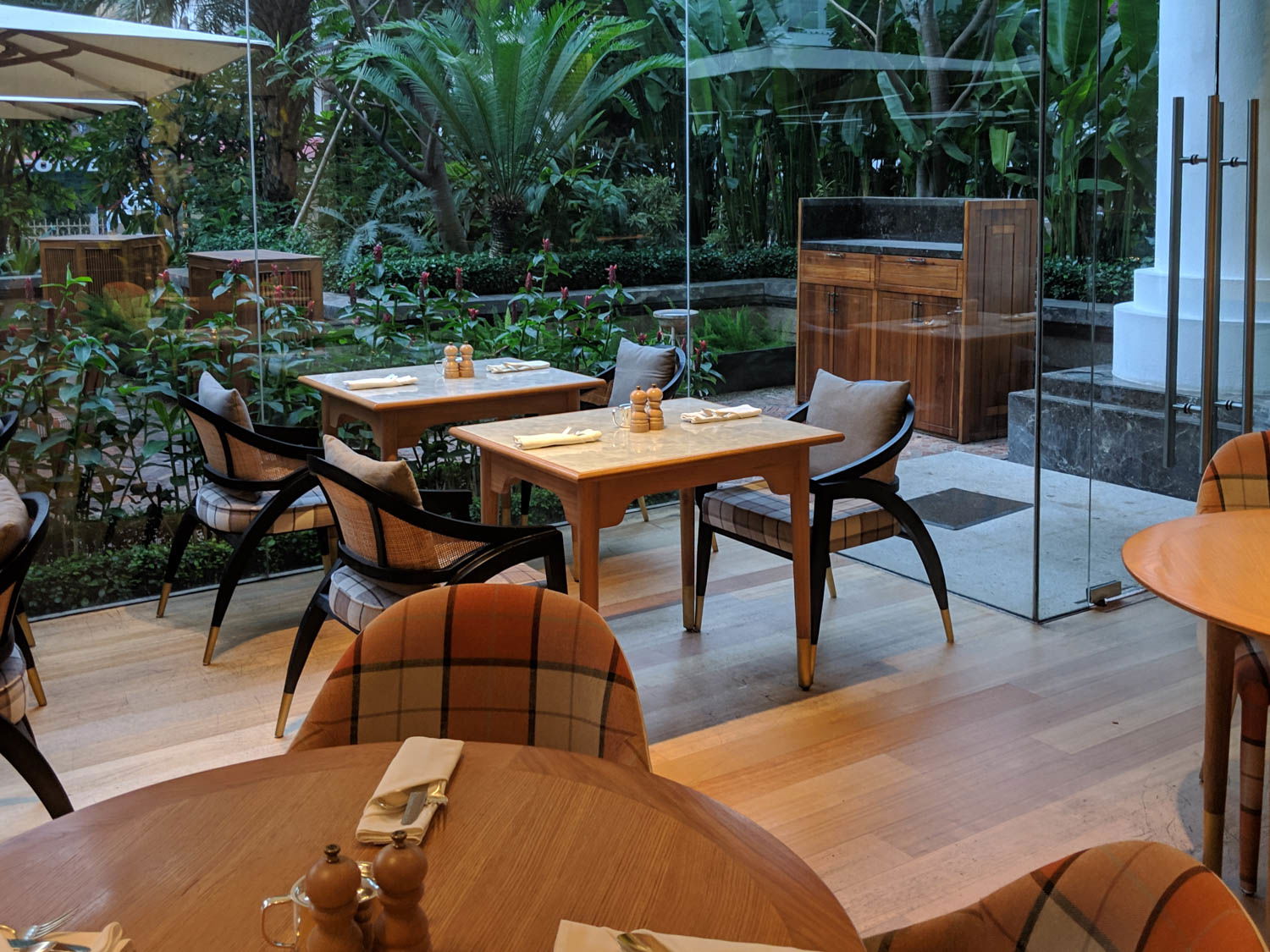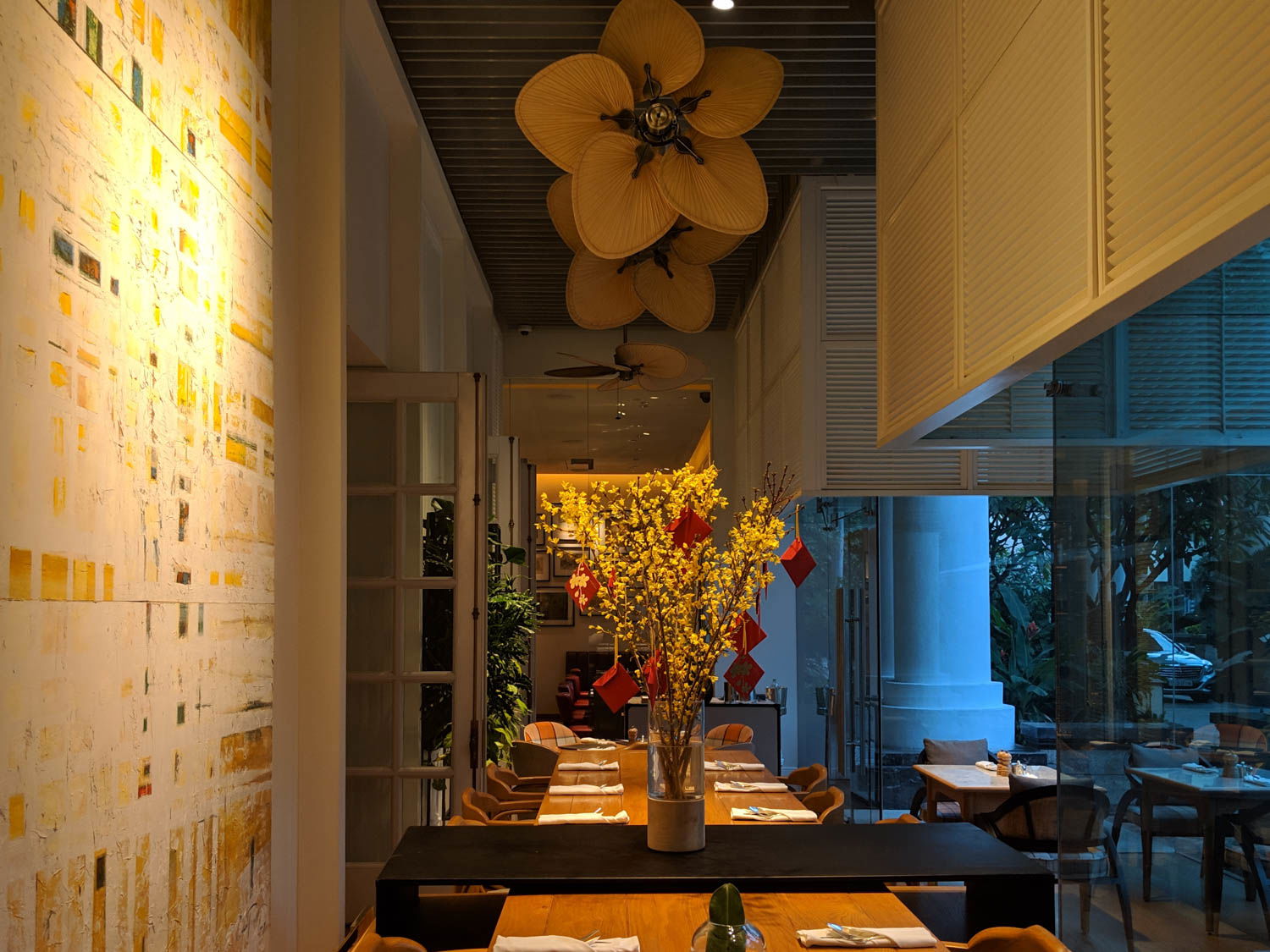 The helpful staff brought coffee and menus (note: the espresso was good, the french press was decent, the drip coffee was horrible, and the cà phê đá is what you should be drinking), then invited us to help ourselves to the buffet.
The pastries looked incredible, and thrilled my mom (who is very hesitant about "Asian" food) to no end: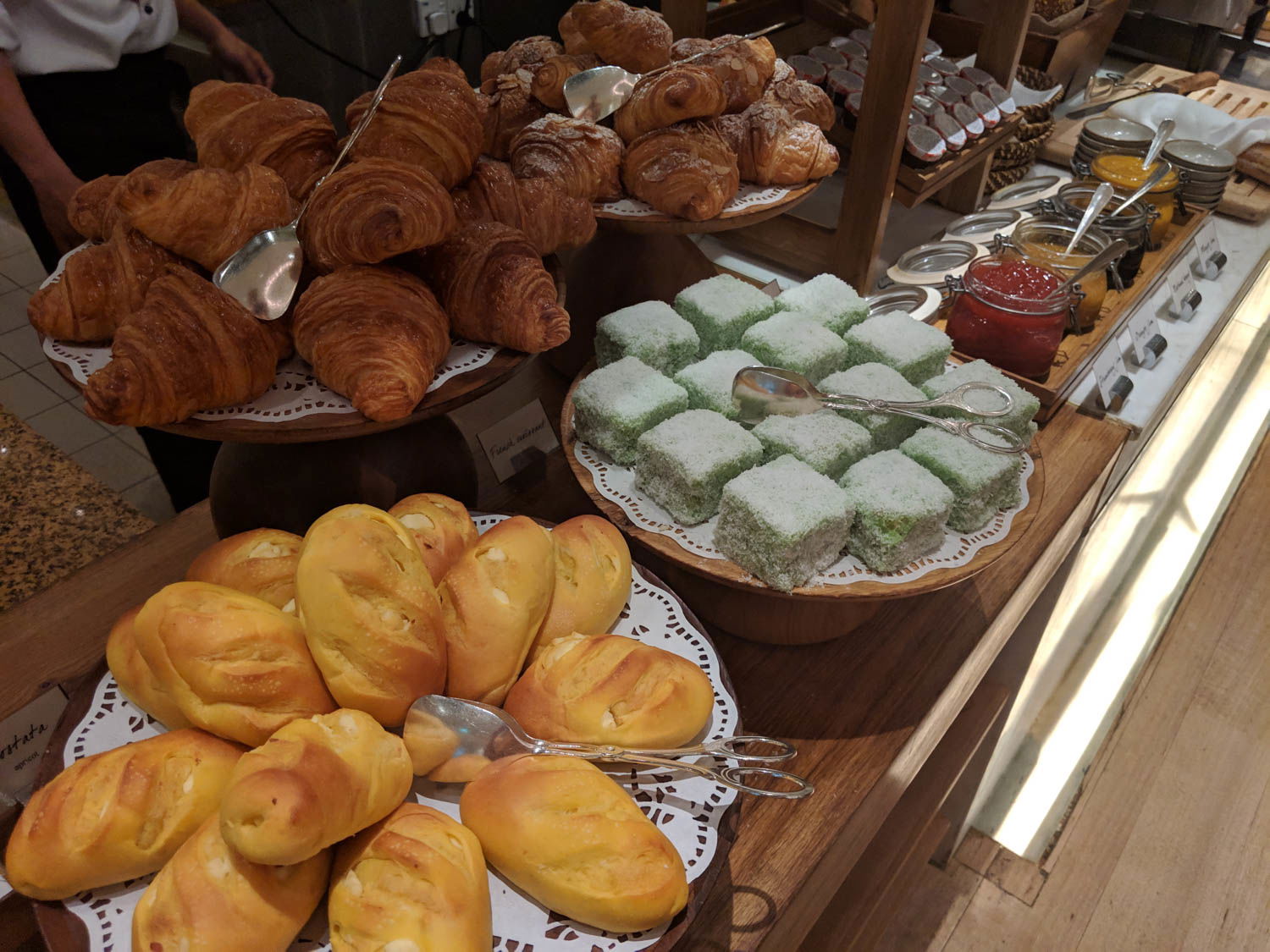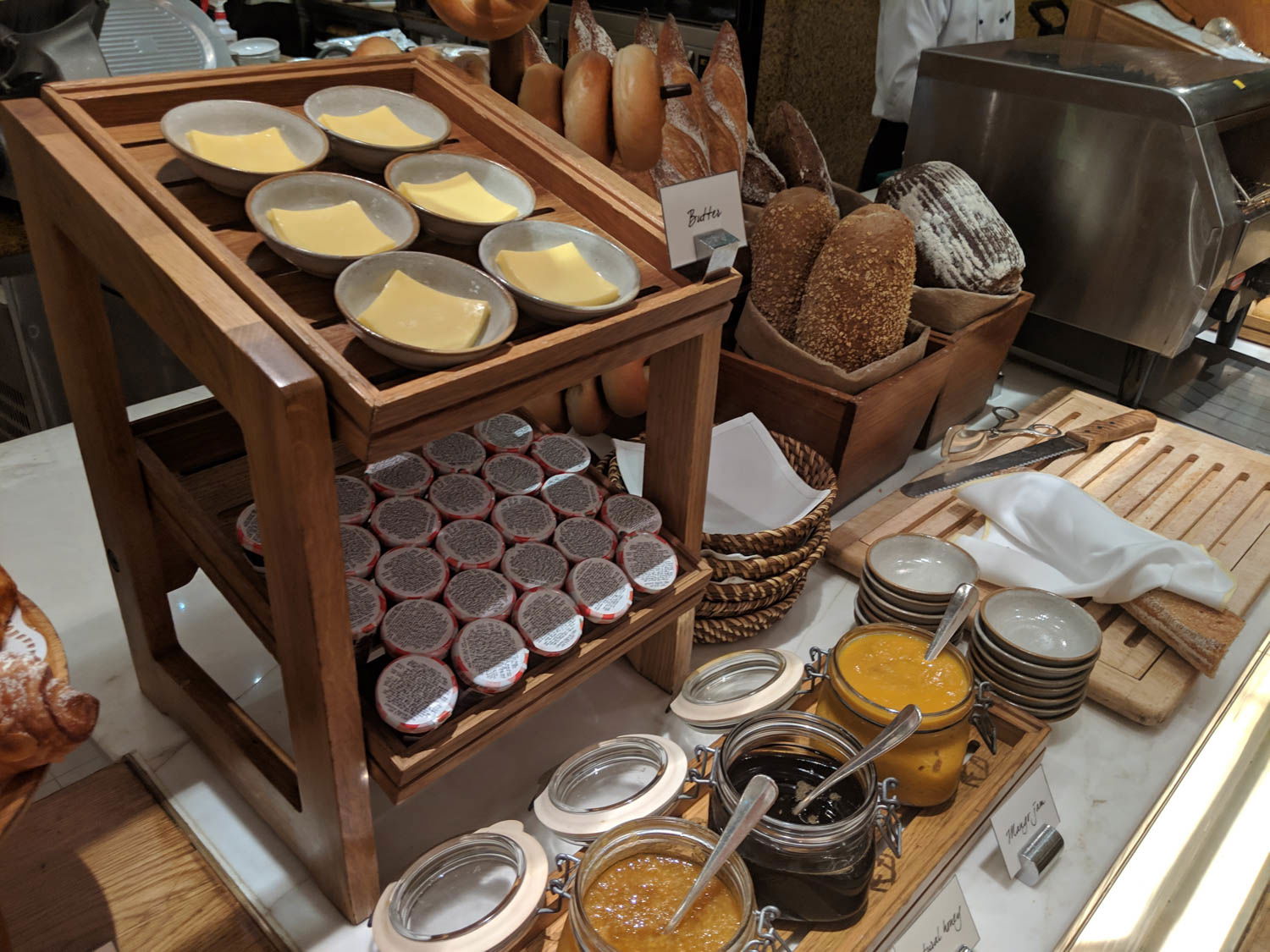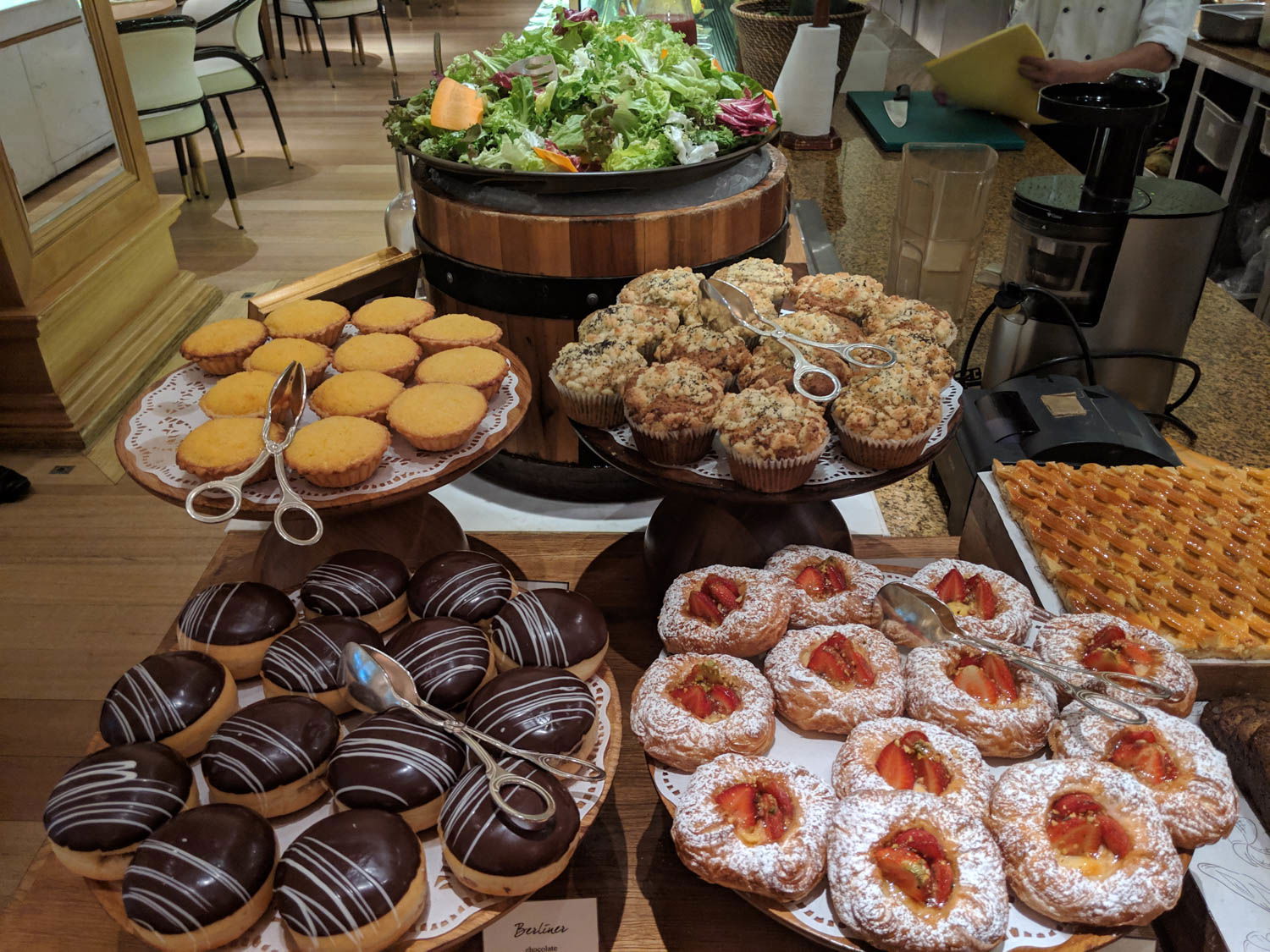 There was also a generous selection of cut and fresh fruit, along with a few different juices.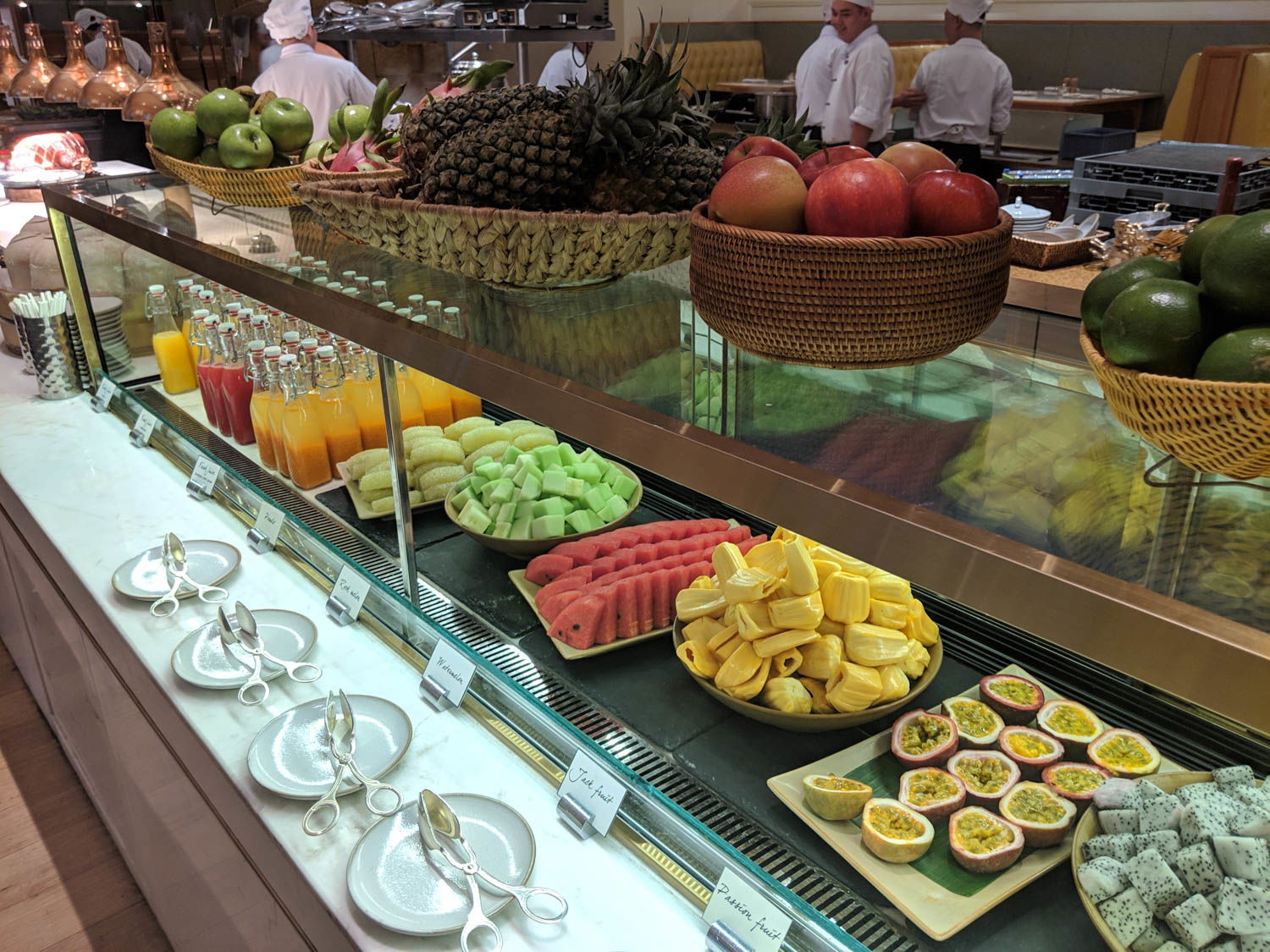 The fresh coconut water was popular as well.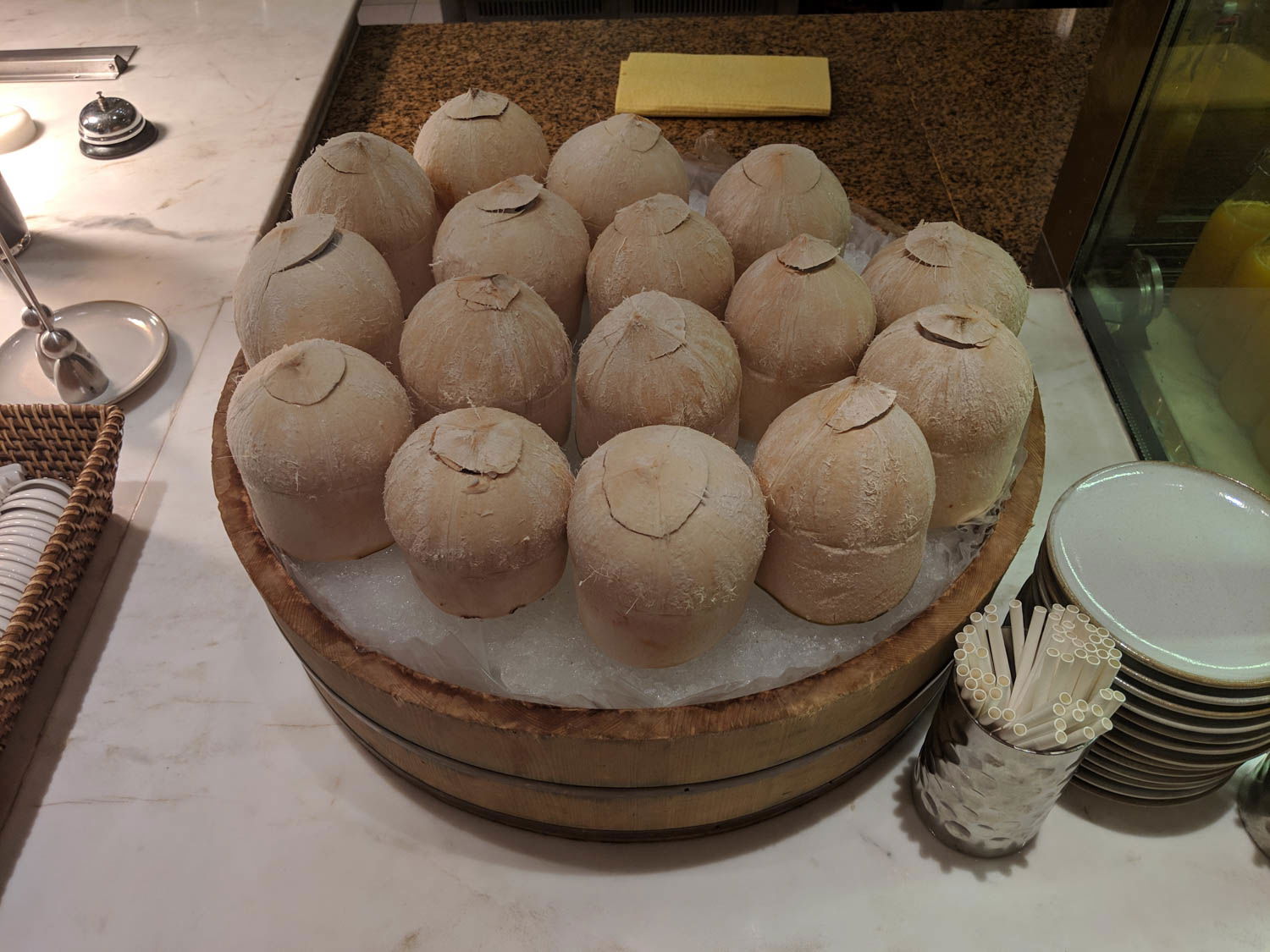 The buffet also featured several of the hot items you'd expect, including potatoes, quiche, this delicious ham, crispy bacon, roasted veggies, etc.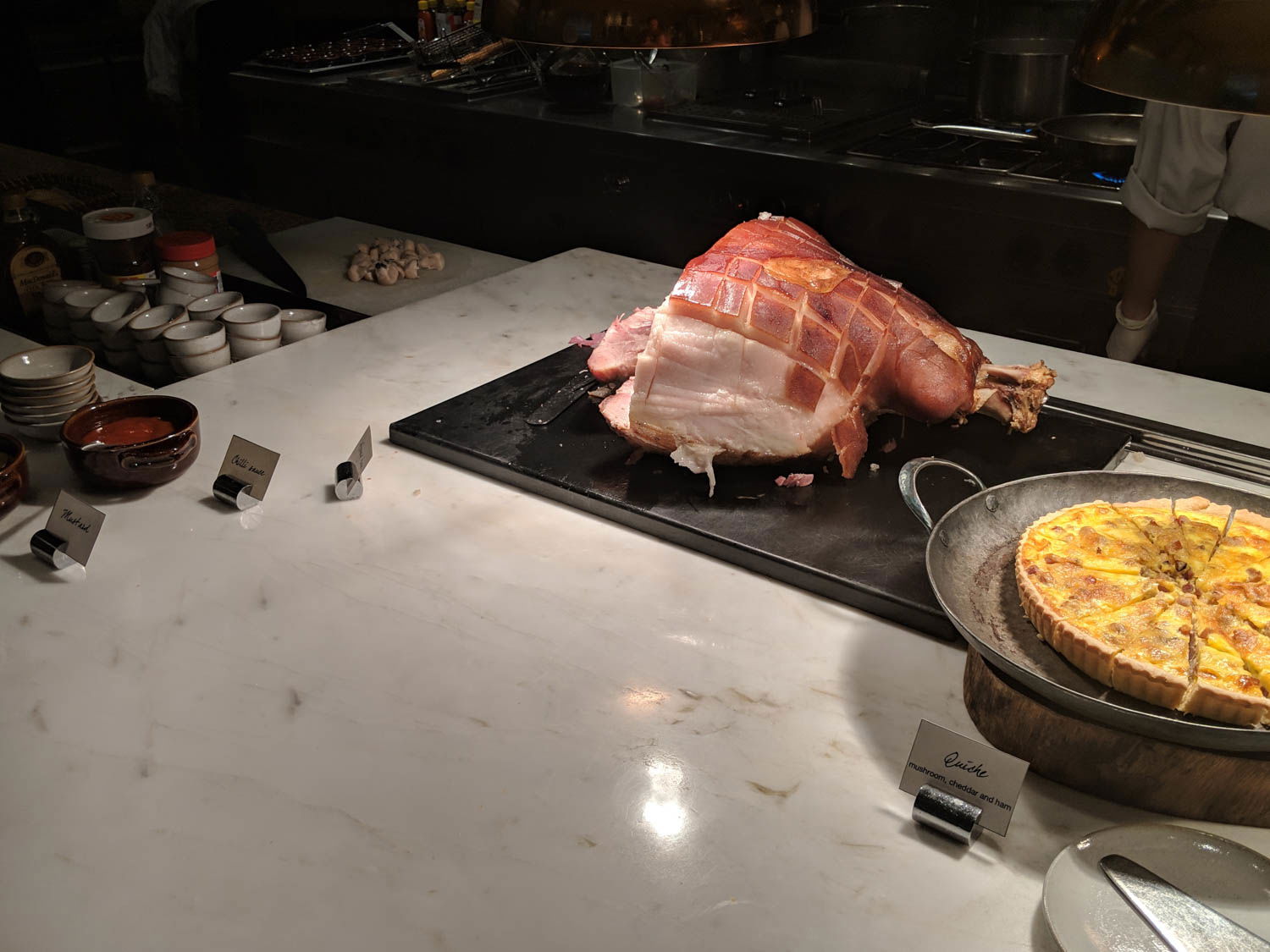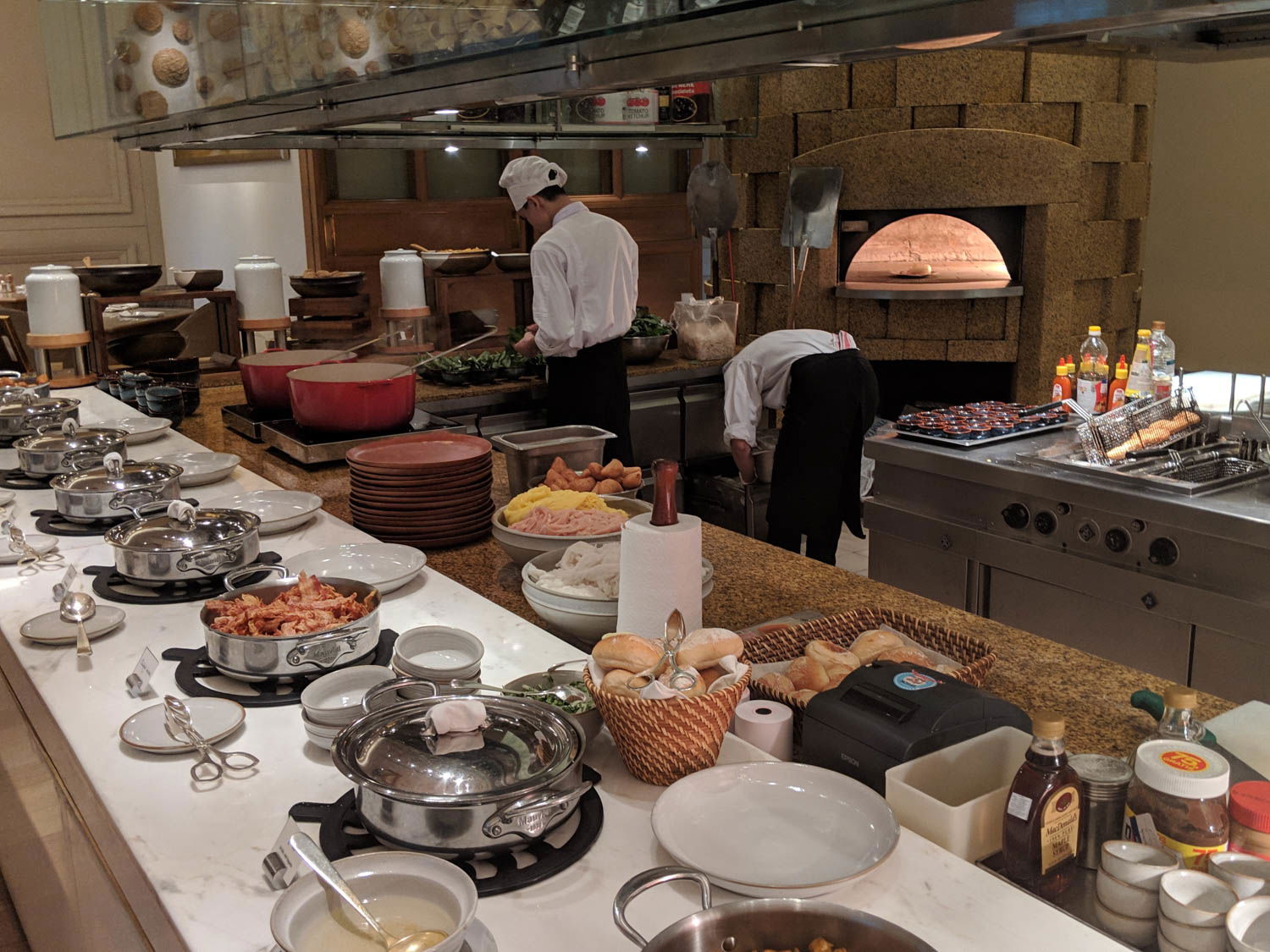 The selection wasn't as extensive as some Asian breakfast buffets can be, but everything was well-prepared and frequently-replenished. There was a great variety of egg and other dishes available from the menu such that we all felt like there were plenty of options.
Park Hyatt Saigon afternoon tea
After a full day out at the Cu Chi tunnels (more about that in a separate installment), we returned to the hotel for a quick shower before our reservation for afternoon tea. It seemed like a great use of the Privé credit, and like an experience our moms would enjoy.
Afternoon tea is taken in the Park Lounge, which is a gorgeous space with floor to ceiling windows on the main level.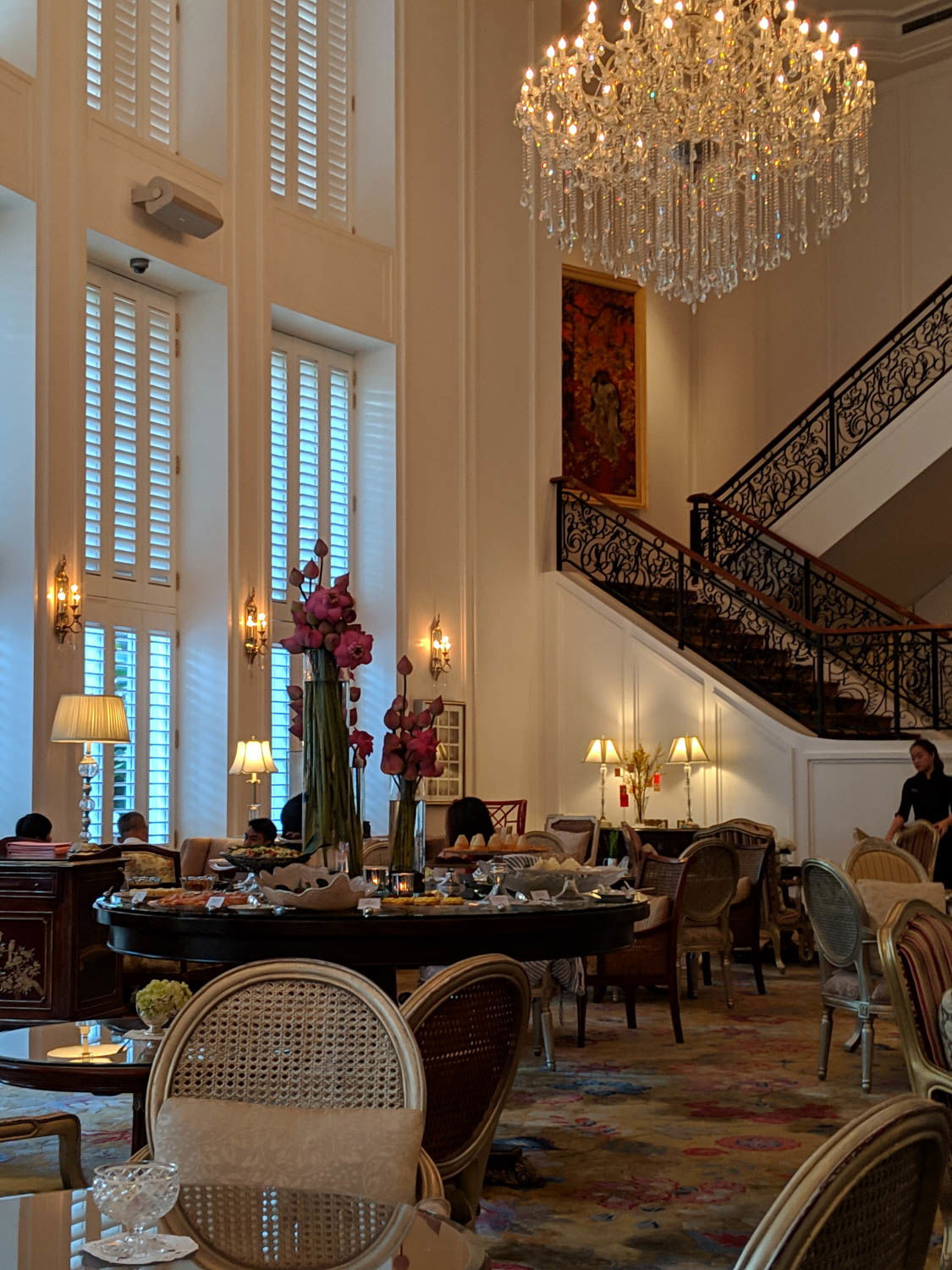 There are two different setups for tea, depending on the day of the week. During weekdays, you can order a la carte or choose a tea set that's served on the traditional tower. On weekends, like when we were there, the hotel runs a tea buffet, which is art-themed.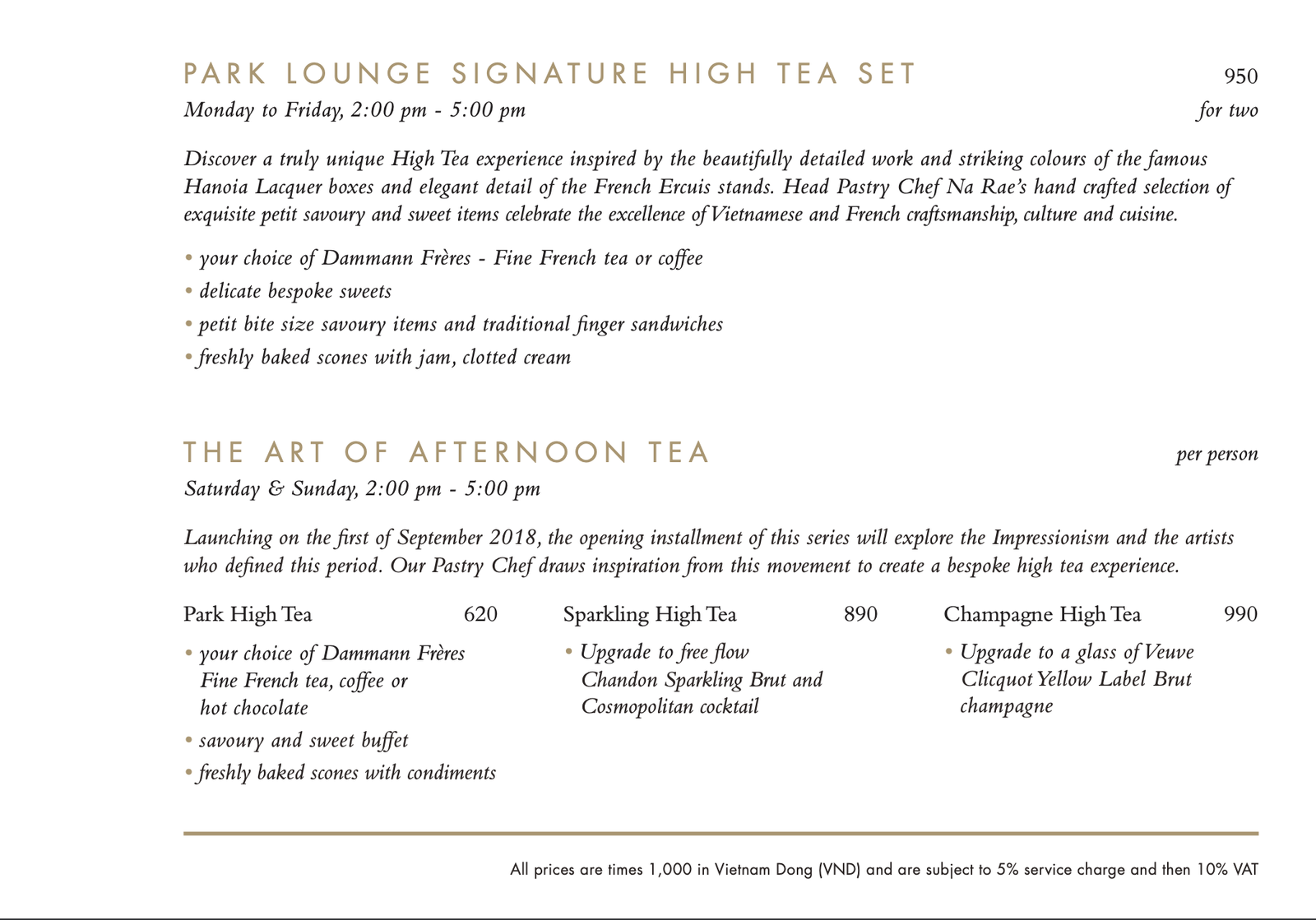 It's worth noting that when they say the weekend "tea experience" runs from 2PM to 5PM, the expectation really is that you'll be there the entire time. The staff happily made a booking for us at 4PM (since that worked best with our schedule), but they were very concerned that we wouldn't have enough time to enjoy everything.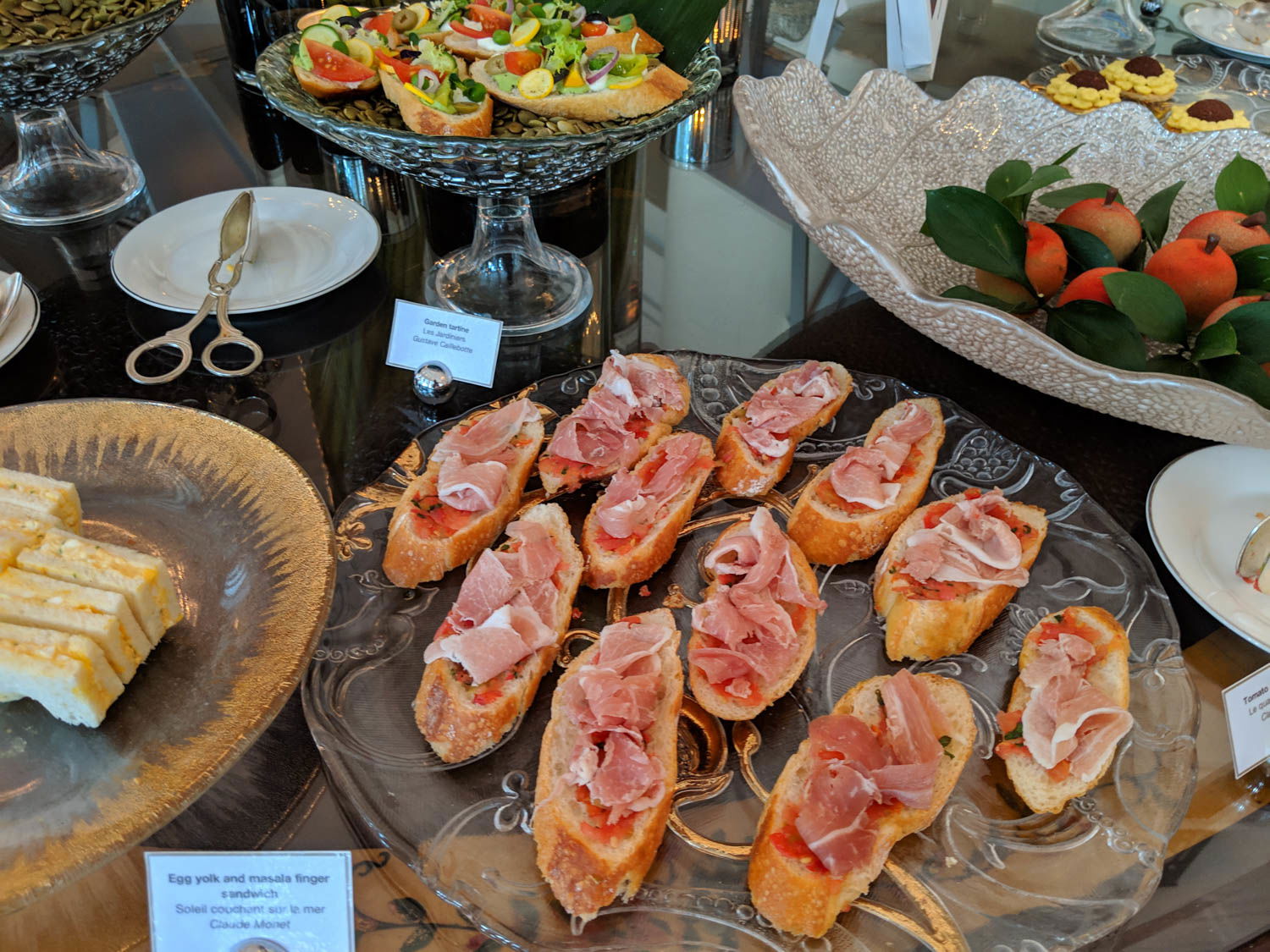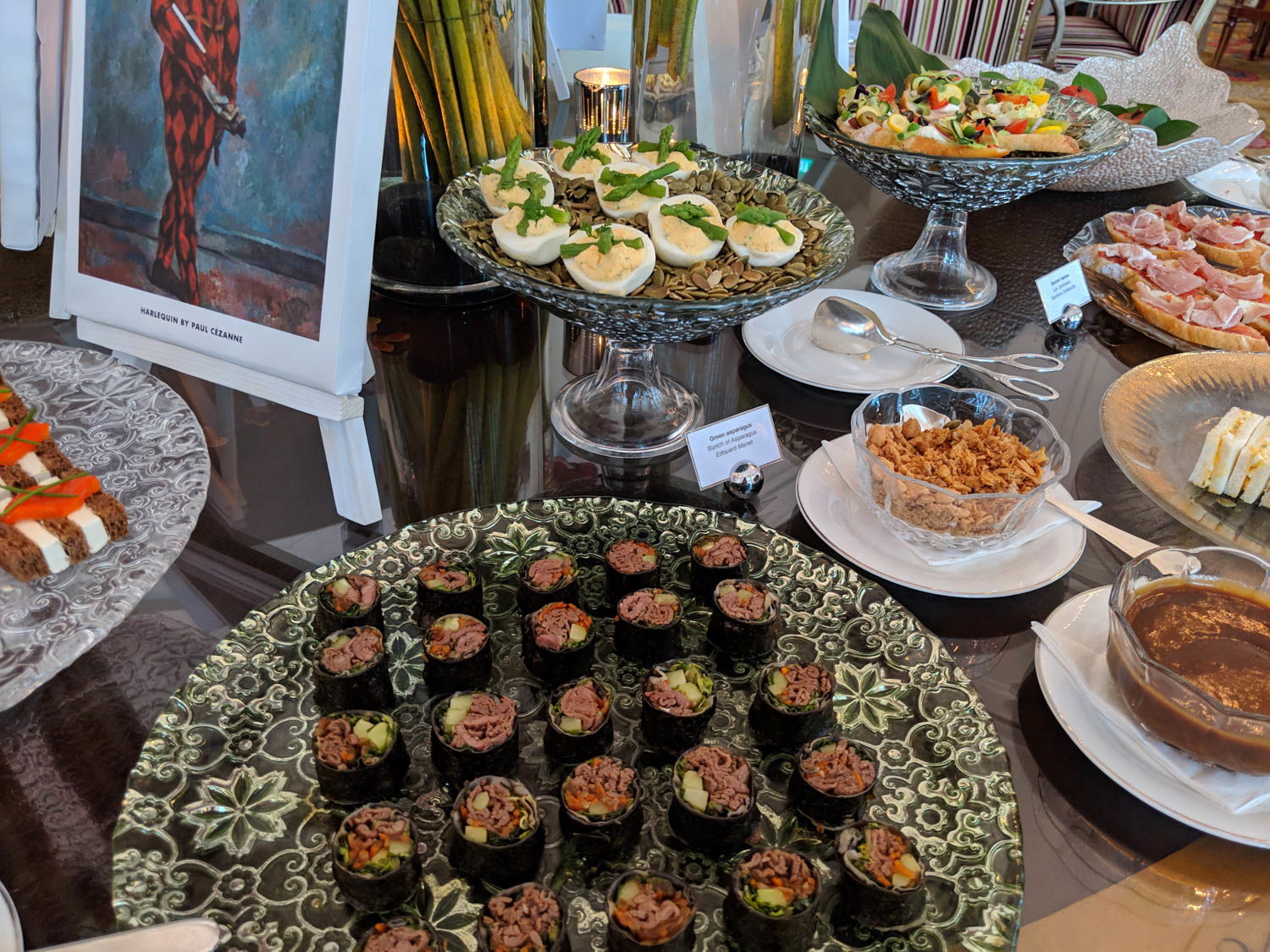 When they advertise the tea as being "Impressionist-inspired", they mean it. Every single item on the buffet was associated with a piece of Impressionist artwork, several of which were displayed.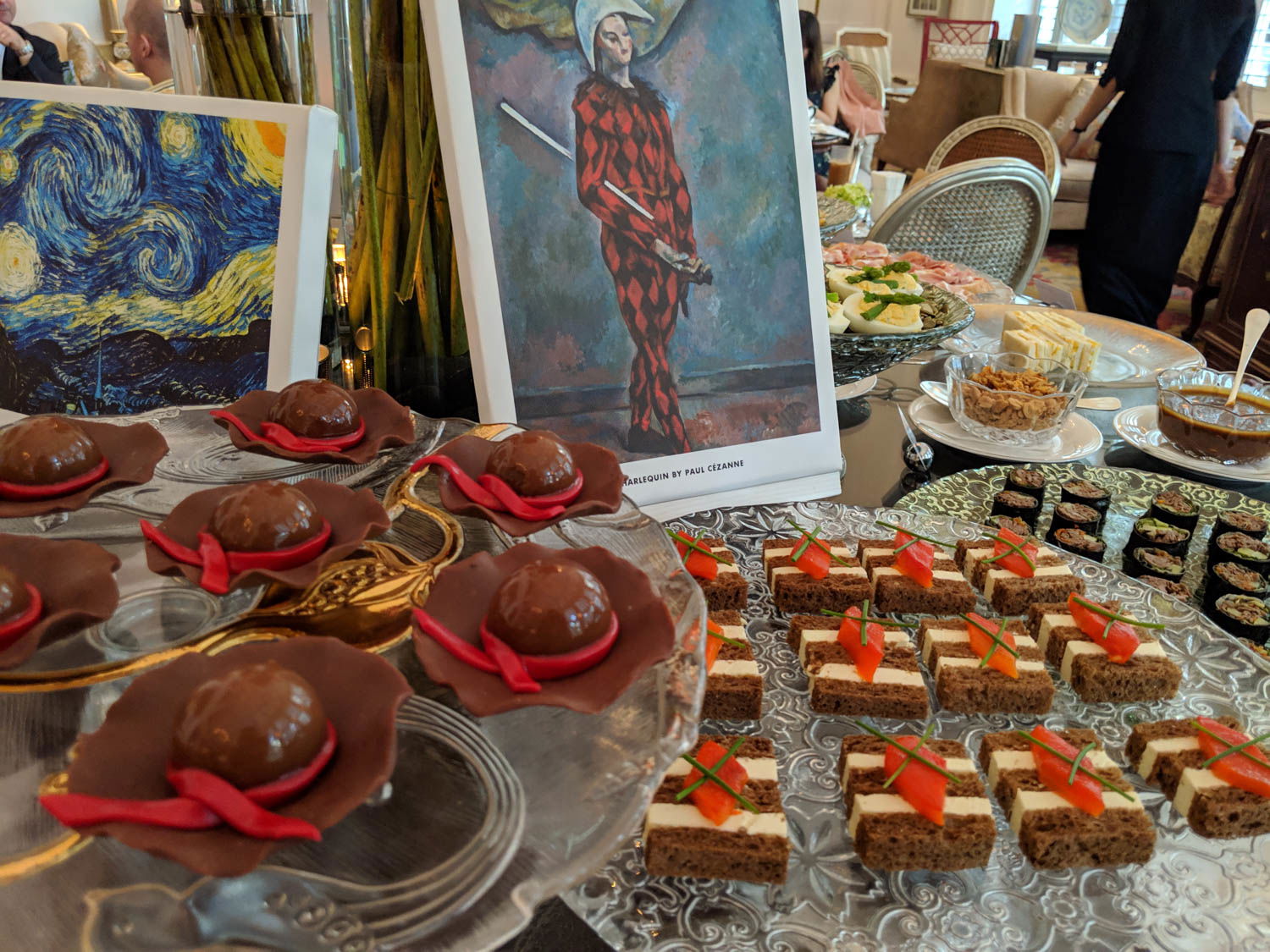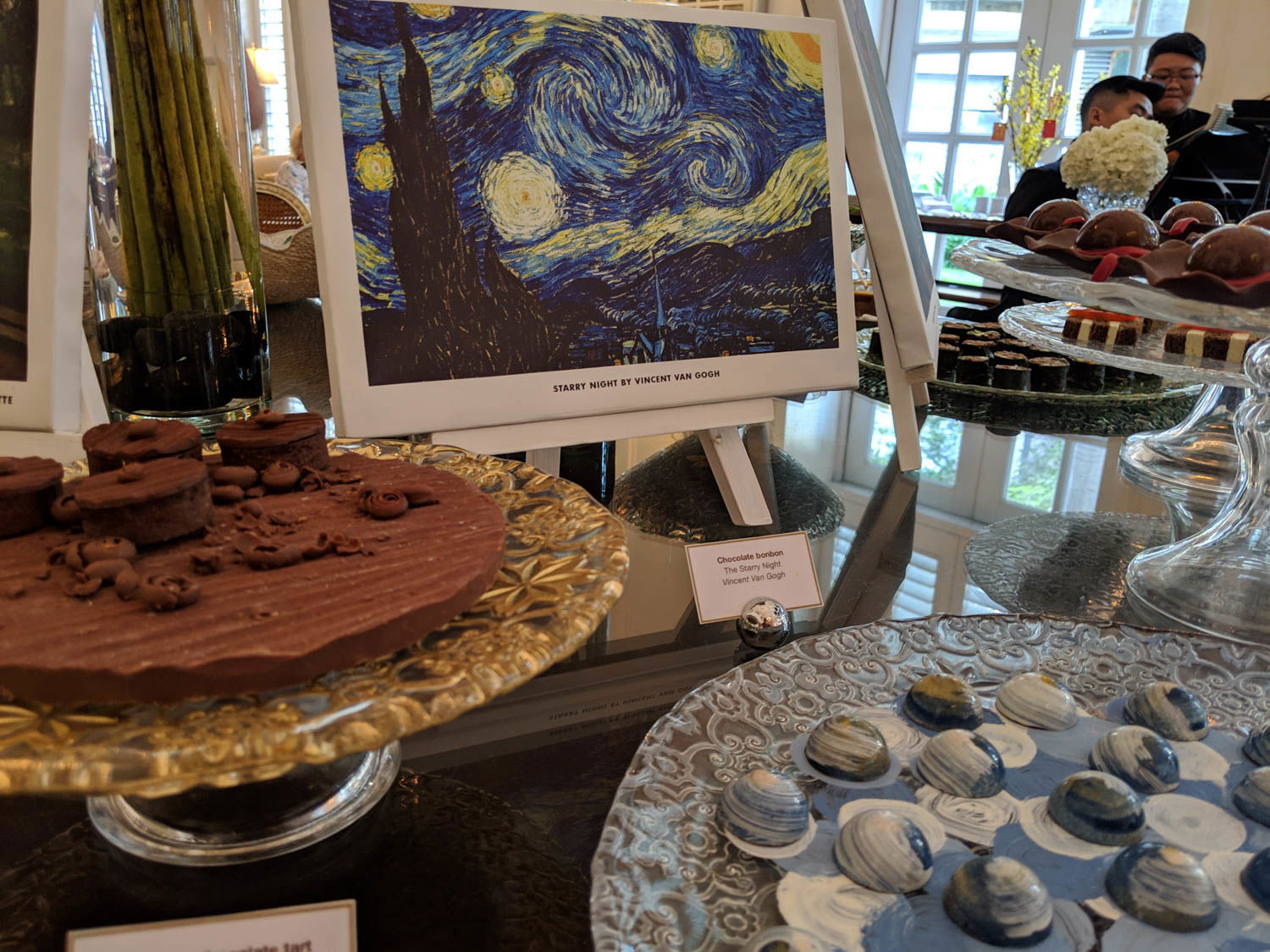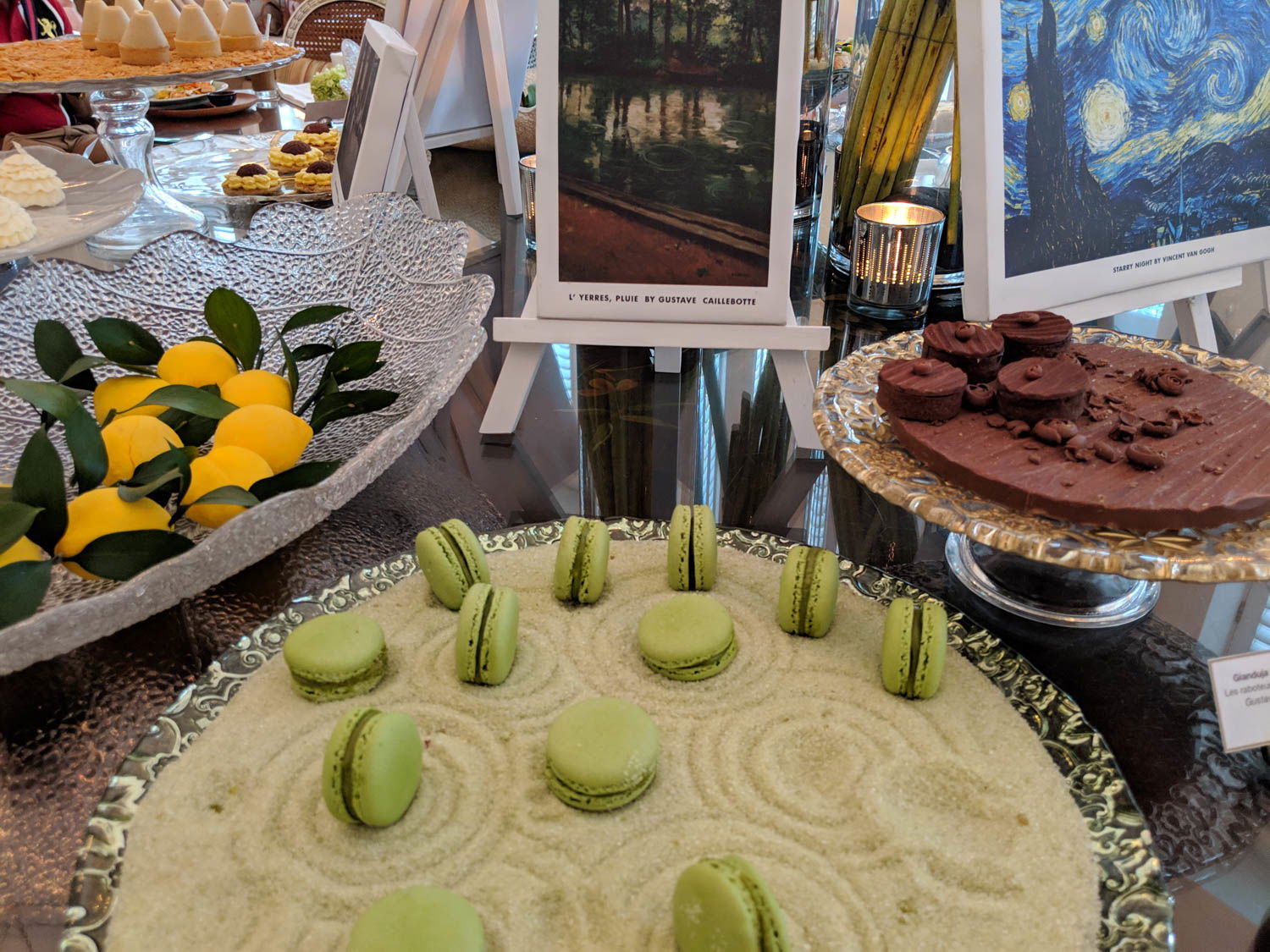 Everything was beautiful, and it was fun seeing the interpretations of art into food — these ballerina tutus were particularly sweet: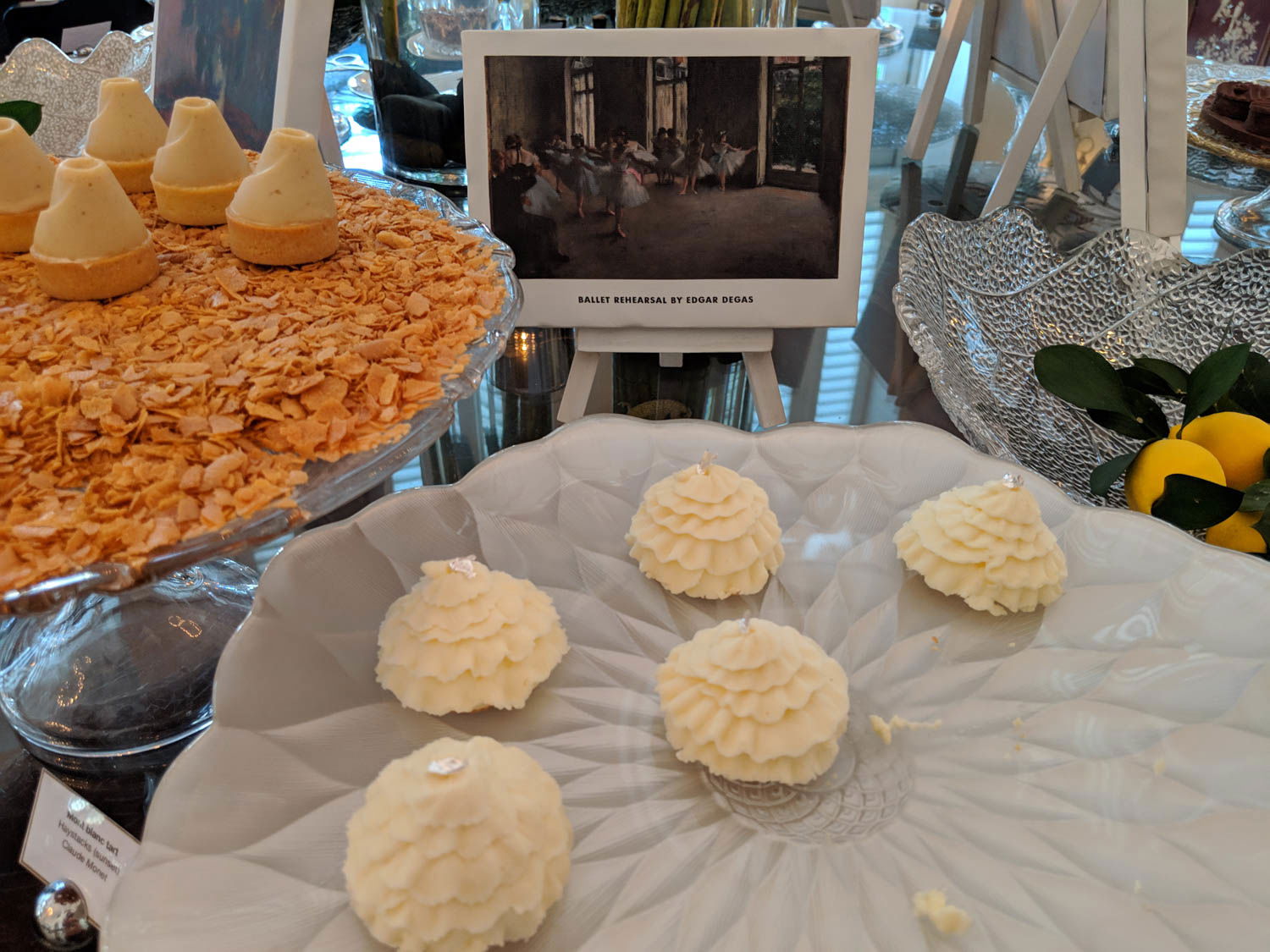 A pianist and violinist accompanied the tea, which I honestly could have done without (they were talented, just very loud, and with an odd selection of music, including, at one point, La Cucaracha).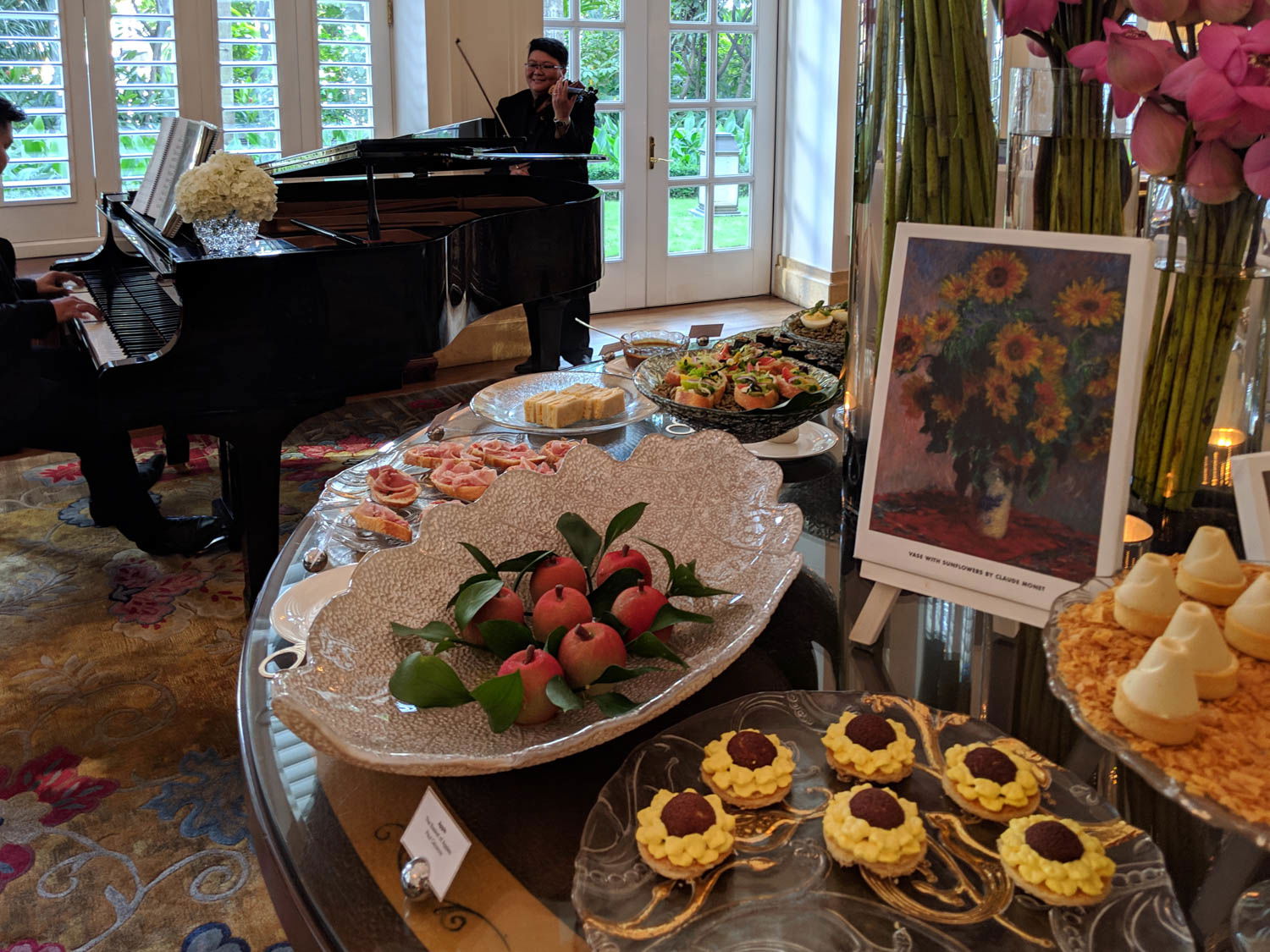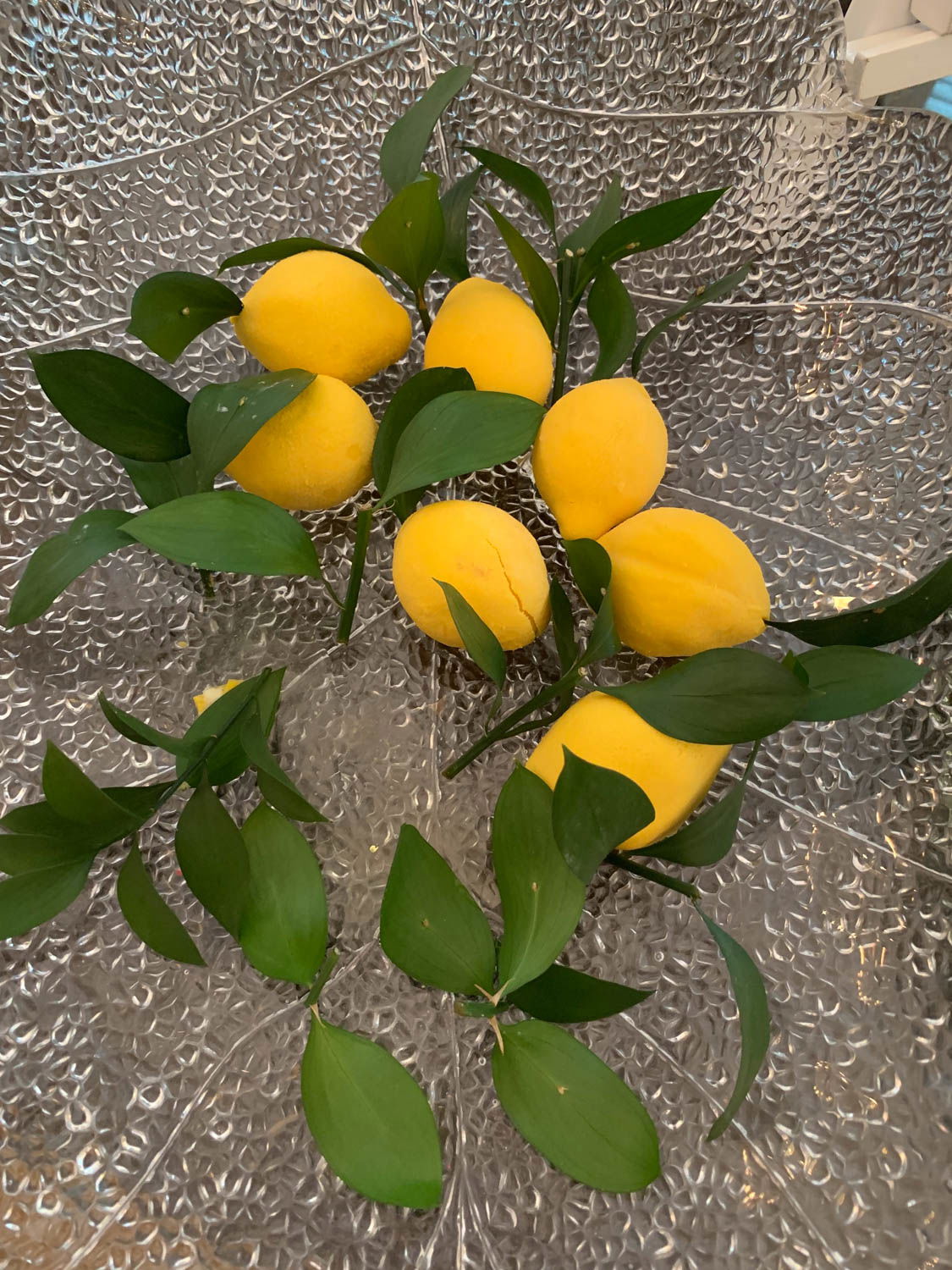 We had booked the Champagne tea, because why not, really, so we had a glass of Champagne each, along with a variety of delicious teas served in intricate silver pots.
Scones were brought to the table along with thickly-clotted cream and very sweet jam. And in a very nice and unexpected touch, the staff brought out a plate of separately-prepared items (I had asked about allergen information when making the booking, more so I could avoid certain things than with any expectation of accommodation).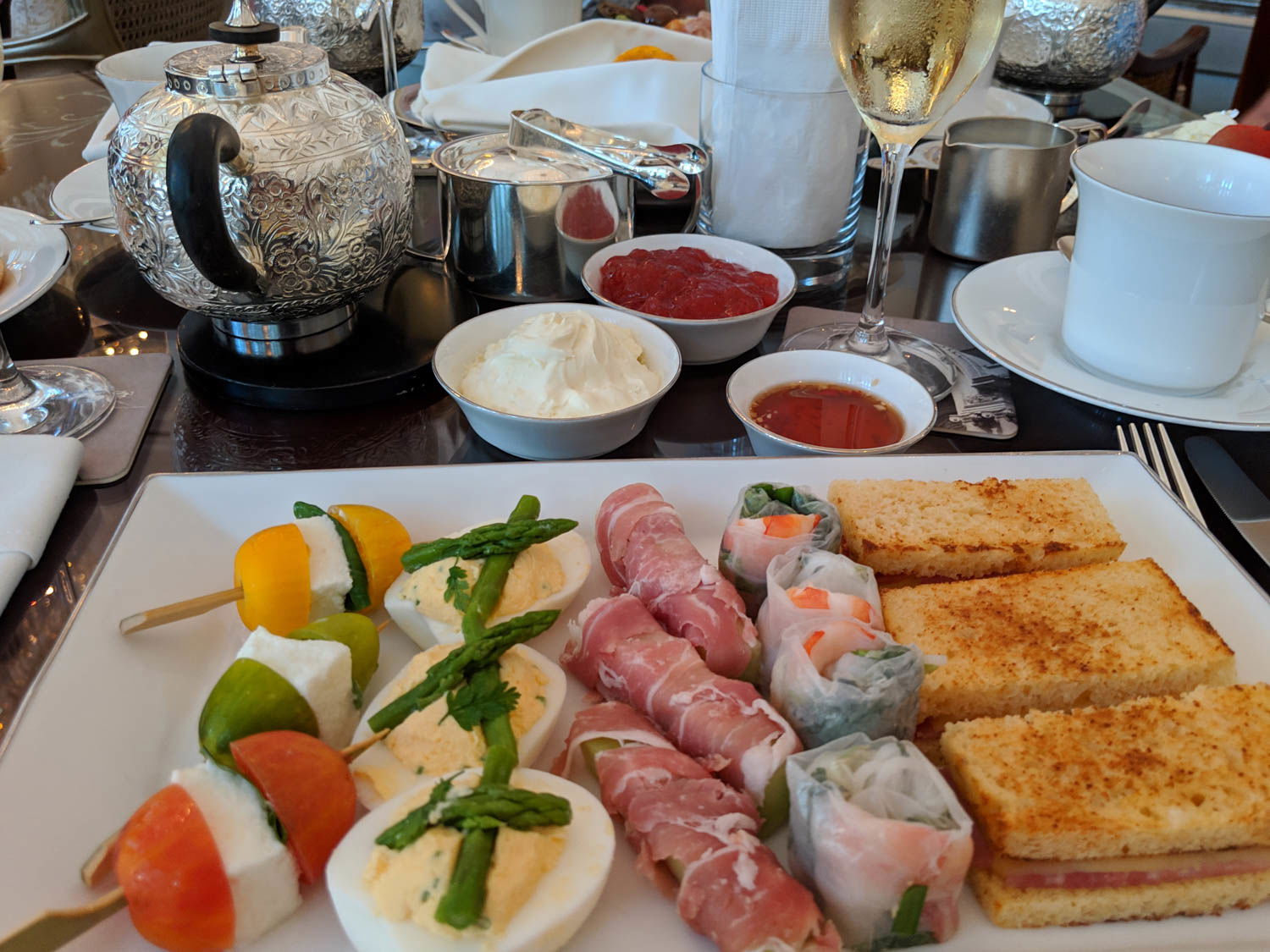 The waitstaff was incredibly patient with answering questions about the various teas, and encouraged everyone to try multiple types of tea. It was a truly lovely experience, and made for a perfect first day for our moms.
I should note, however, that of all the meals we had on our trip, including some very questionable street food, this was the only one that caused universal stomach upset. The only things that everyone tried were the deviled eggs and those darling ballerina tutus, so it's possible that some of the dairy in those had just been sitting out too long, or maybe the few days of travel just finally caught up with all of us. It wasn't anything major, but it was unfortunate timing as we had dinner and drinks planned with friends later that evening, and we were miserable company.
Park Hyatt Saigon pool
I love a good urban hotel pool. Well, I actually love all pools, as I'd much rather swim laps than anything else, but city pools can have such a nice juxtaposition with the bustle around them, which I particularly enjoy.
The Park Hyatt Saigon pool is a perfect example of how a city escape can be. The pool is on both a rooftop, and situated within a garden terrace.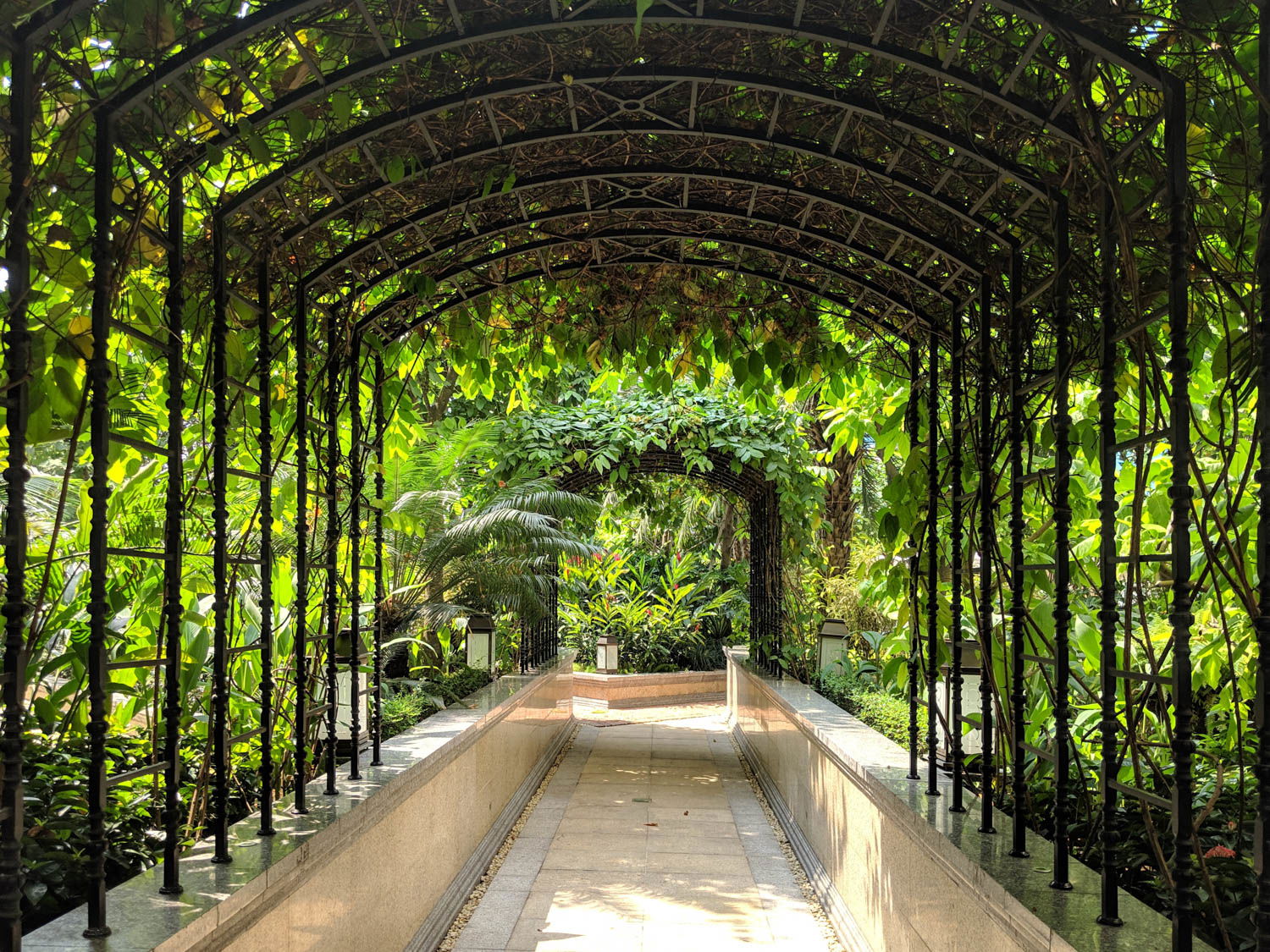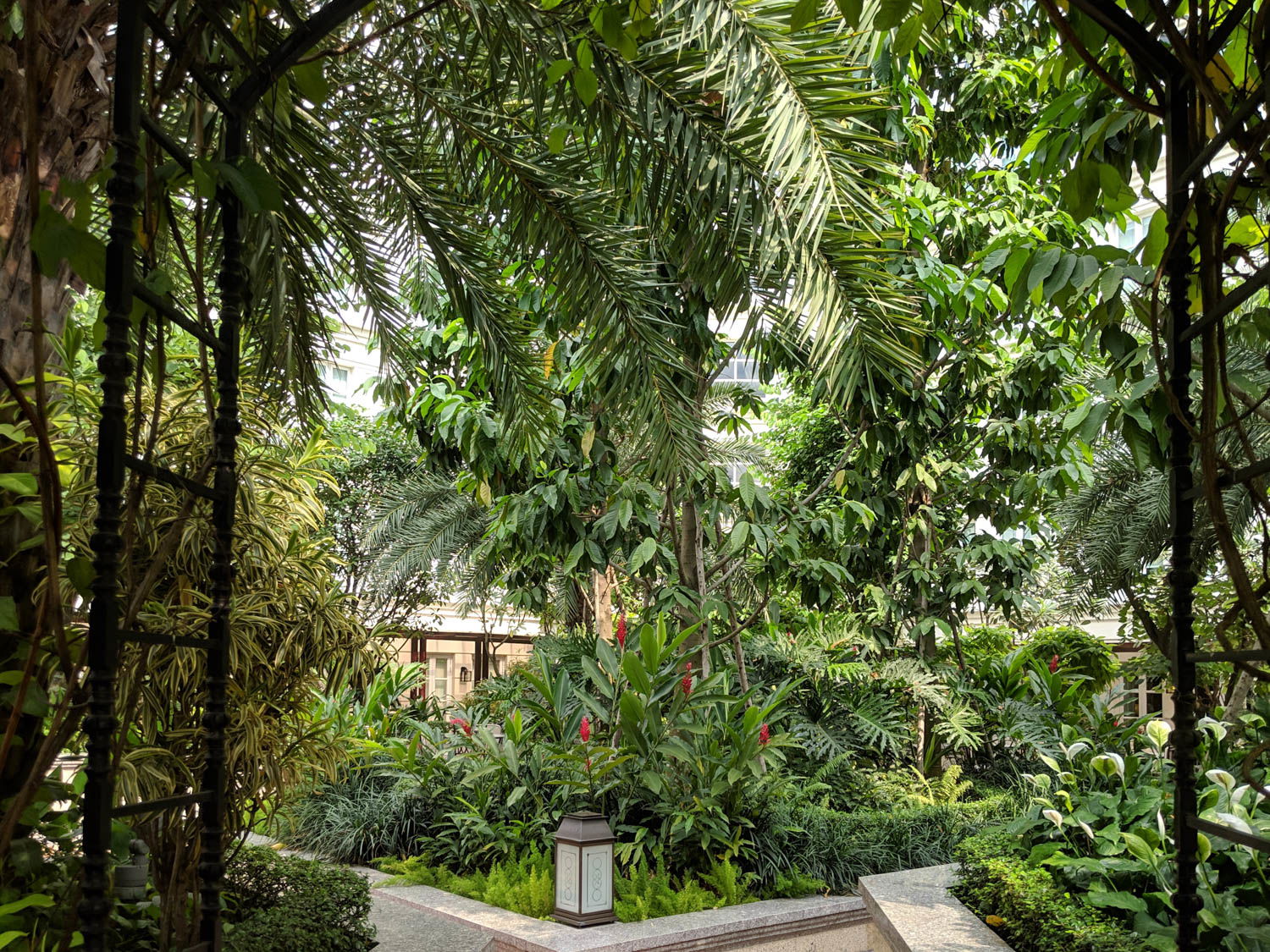 There were a few seating areas tucked into the garden pathways, and several hotel rooms have patios facing the garden.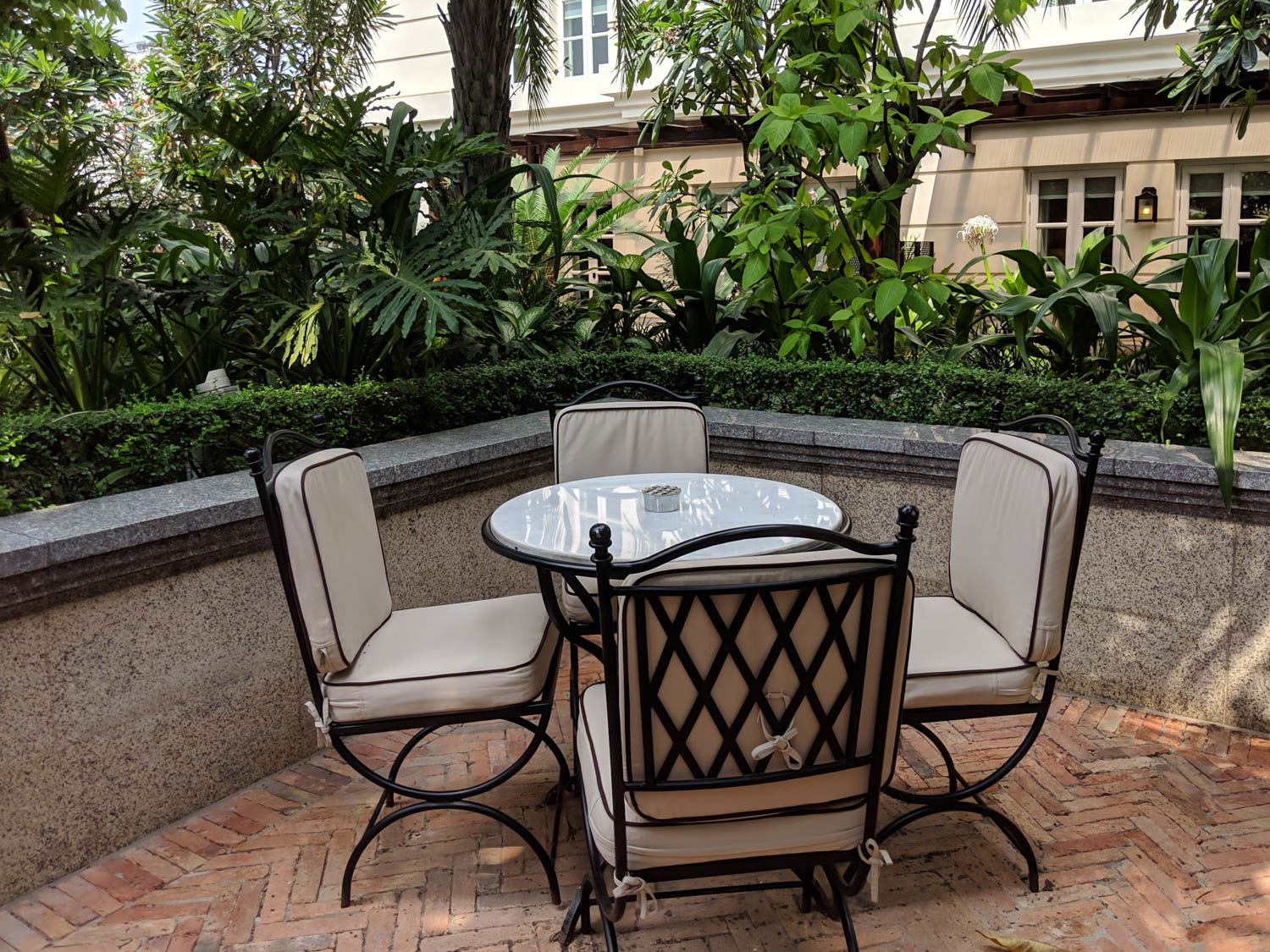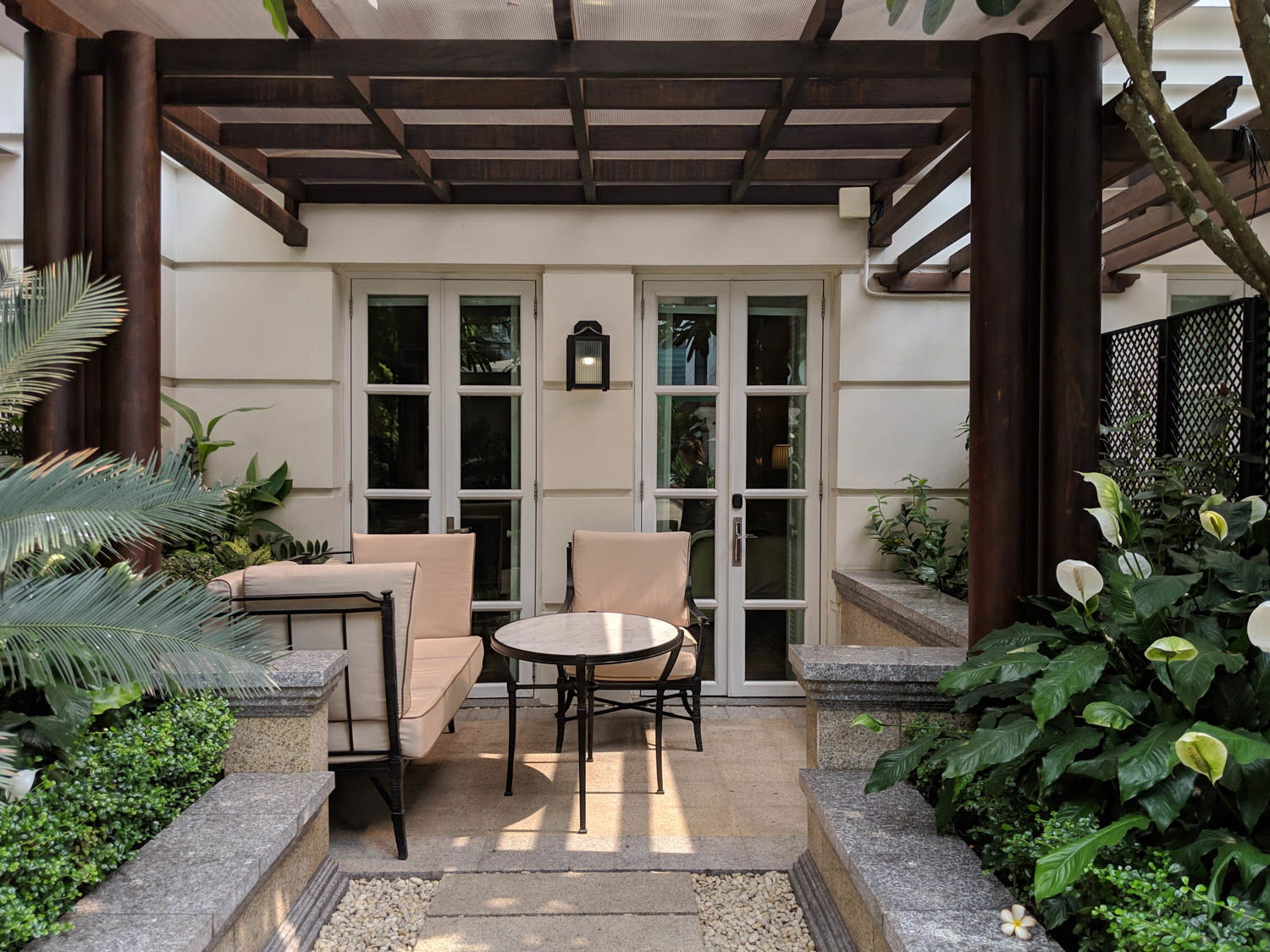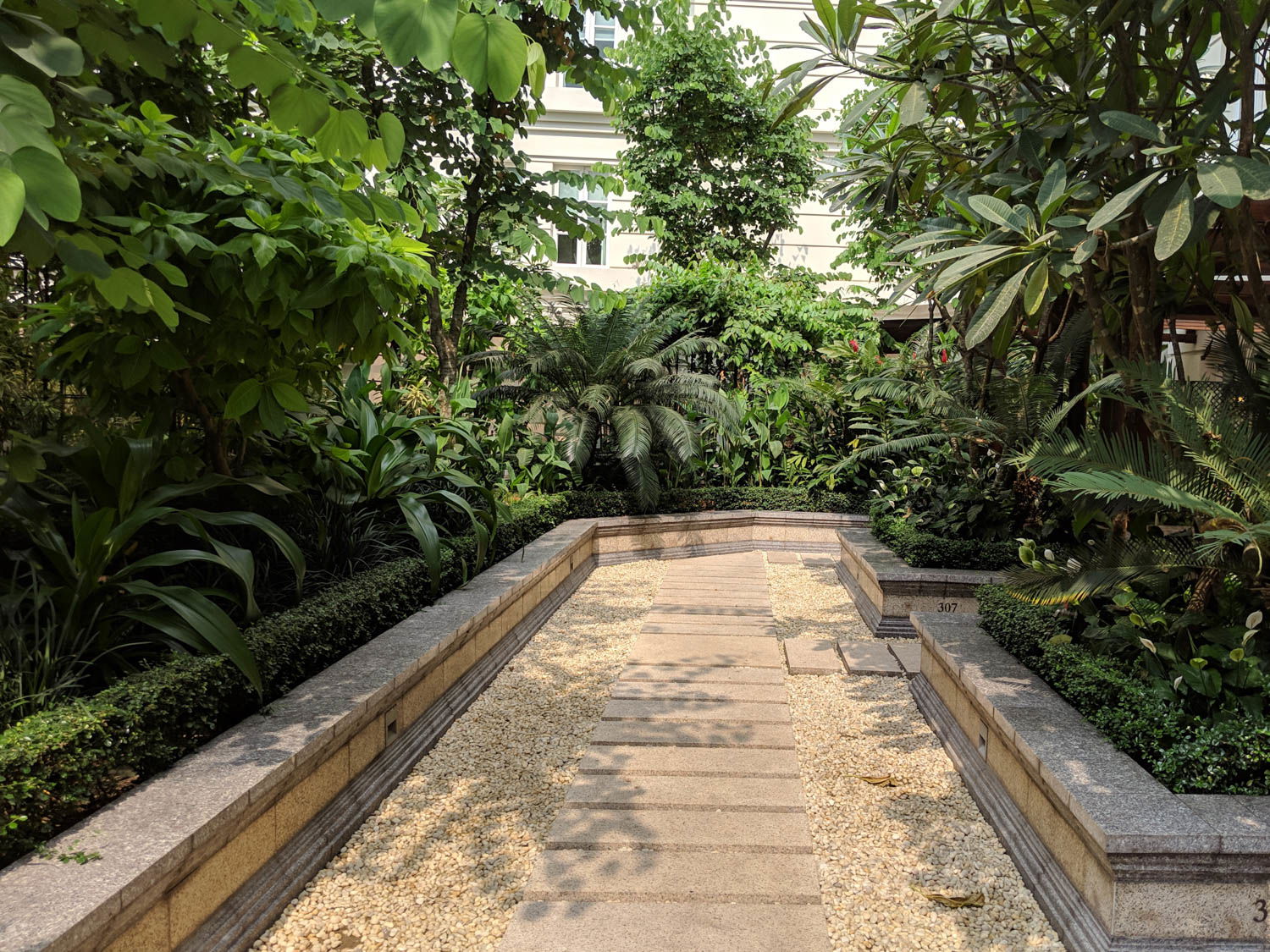 There was a small desk where attendants would provide towels and water, or take drink orders.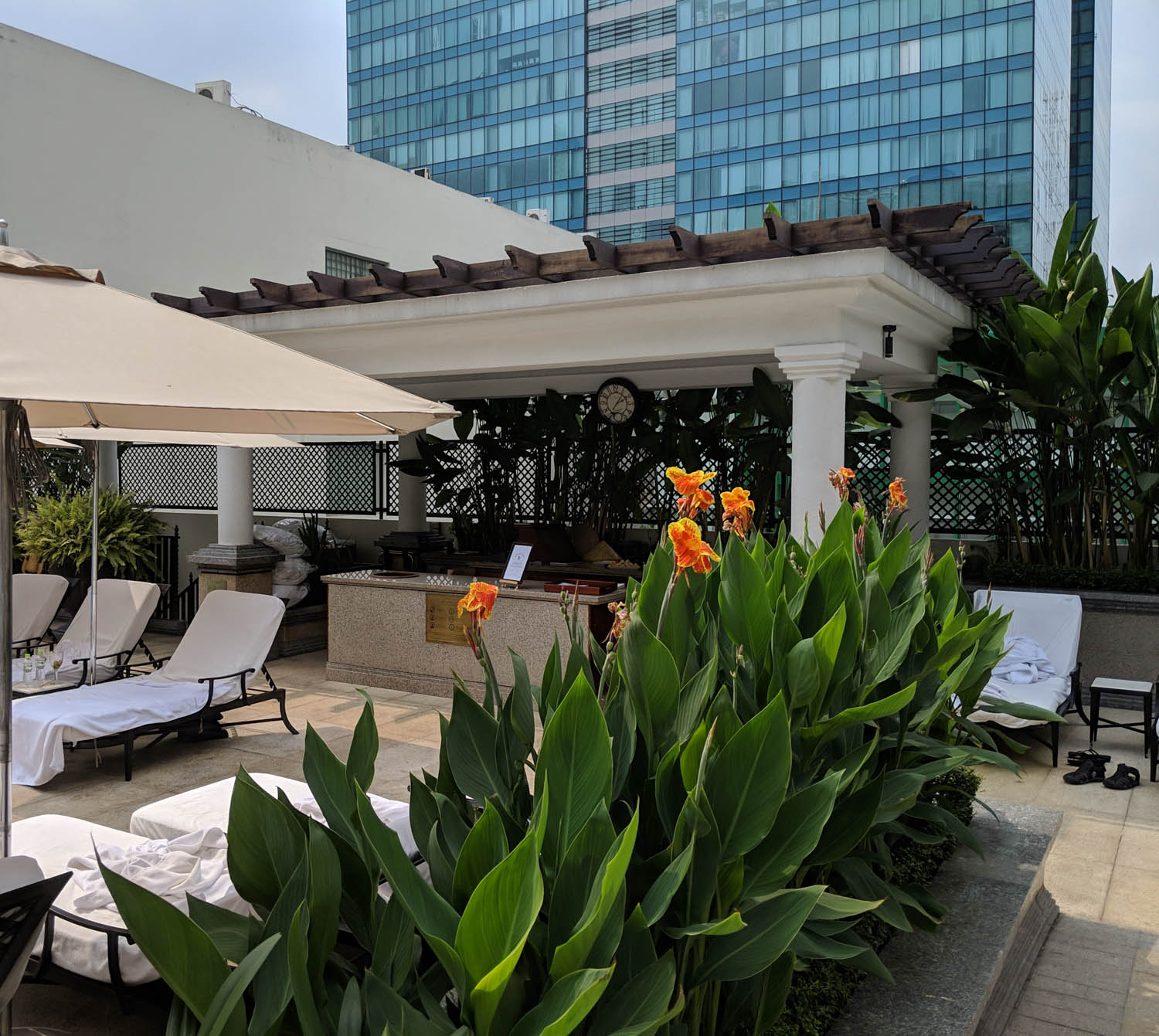 Heather and I visited the pool immediately after a sweltering walk back from the War Remnants Museum, so were easily tempted by the sign advertising the cocktail of the day (we actually didn't look at the bar menu otherwise).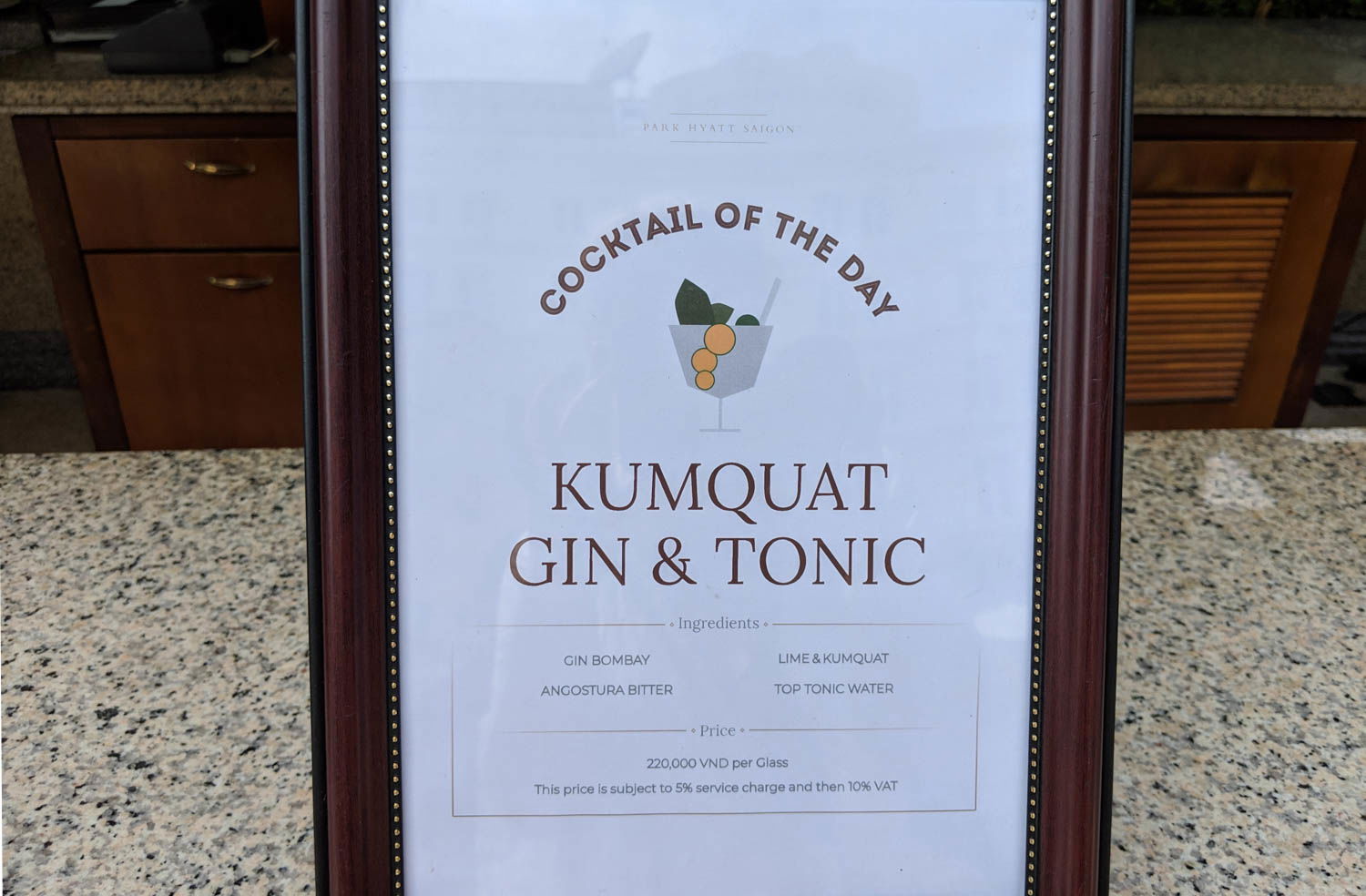 Though I must say, dear reader, that while these weren't the worst cocktails we had on our trip, they were definitely in the bottom two. I think the ratio of fruit juice to tonic water needed to be swapped, as these mostly tasted pulpy and somehow chewy.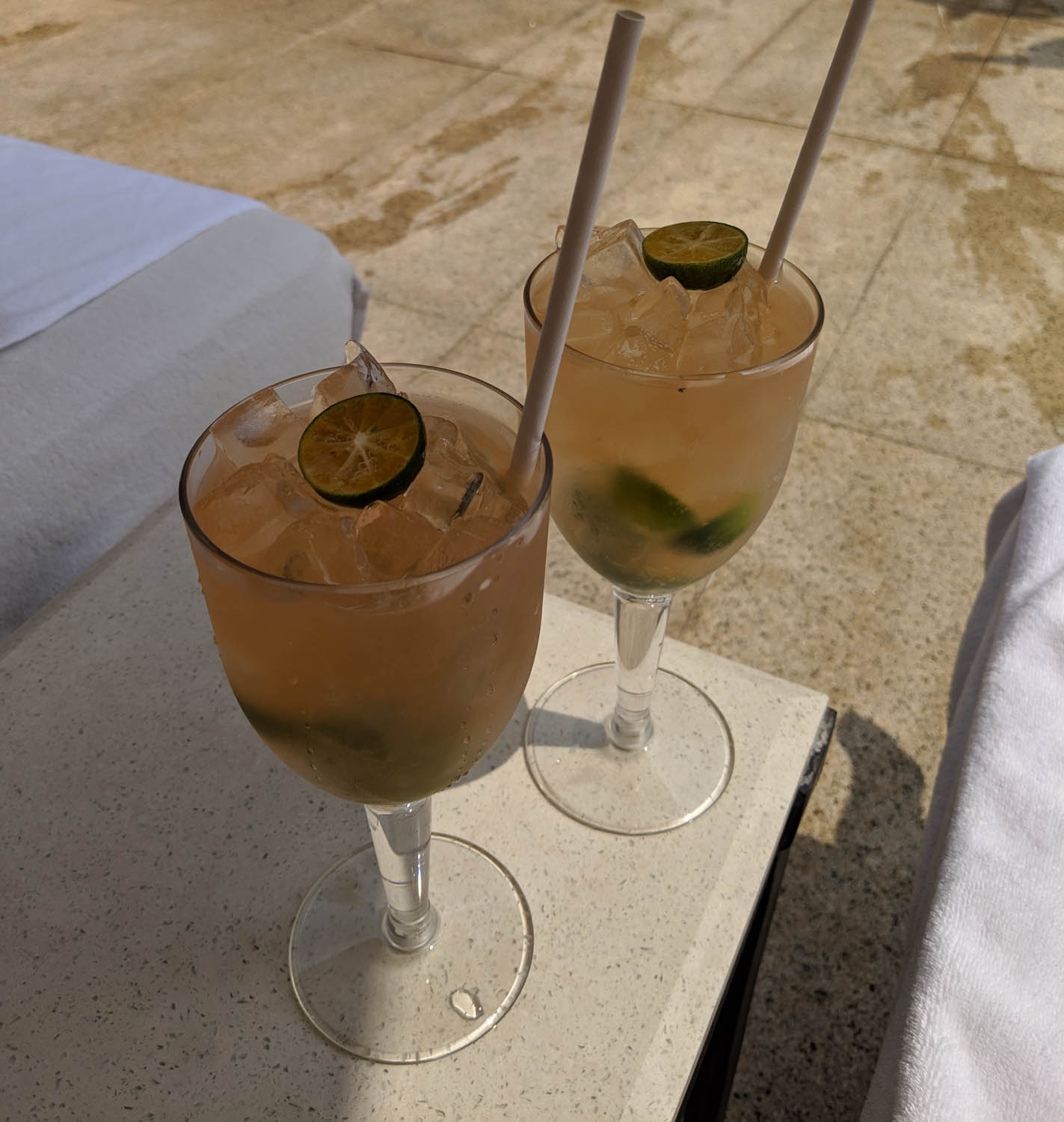 Still, it was a perfect break from the city, and a lovely way to refresh before our late-afternoon flight to Phu Quoc.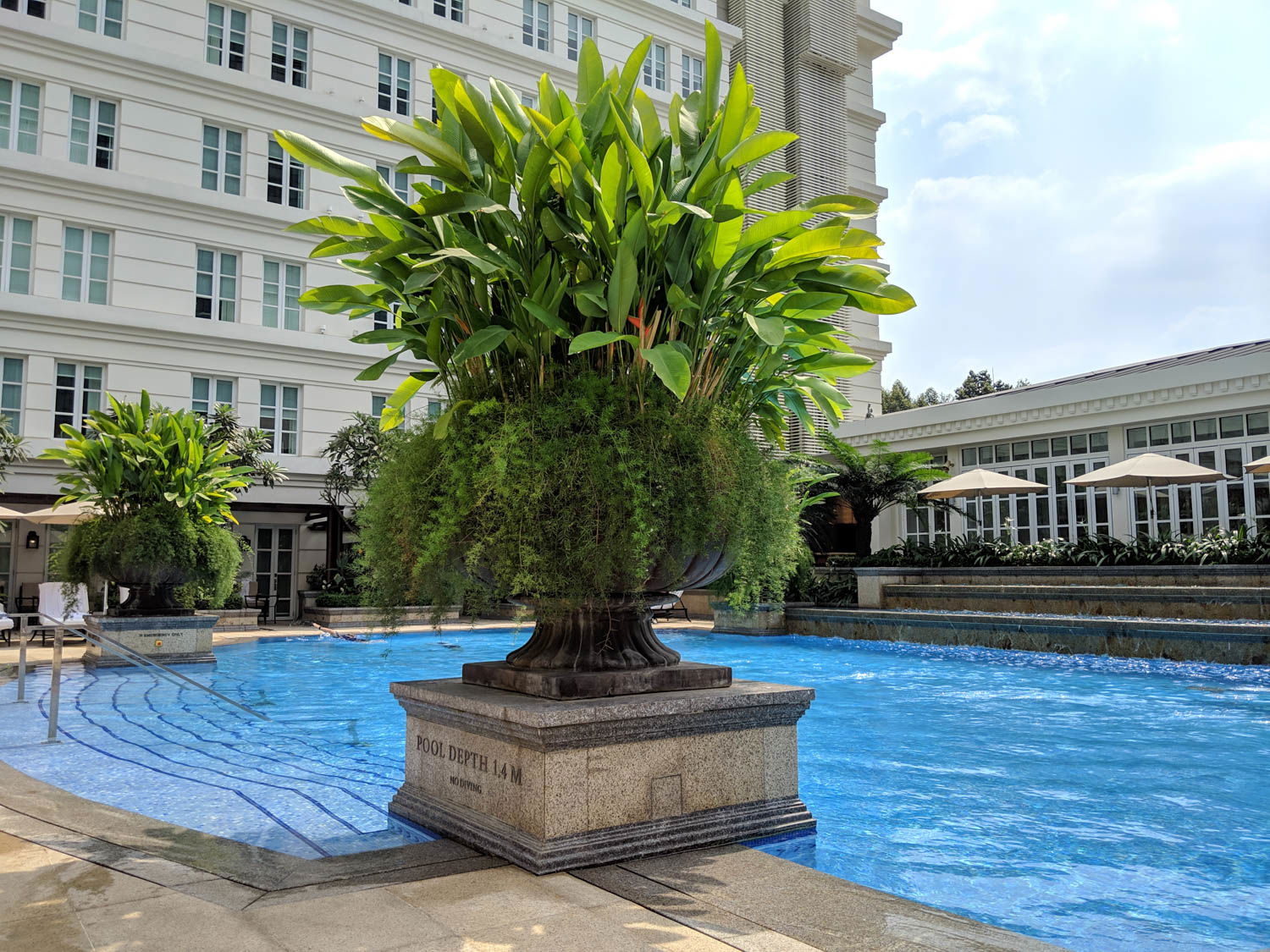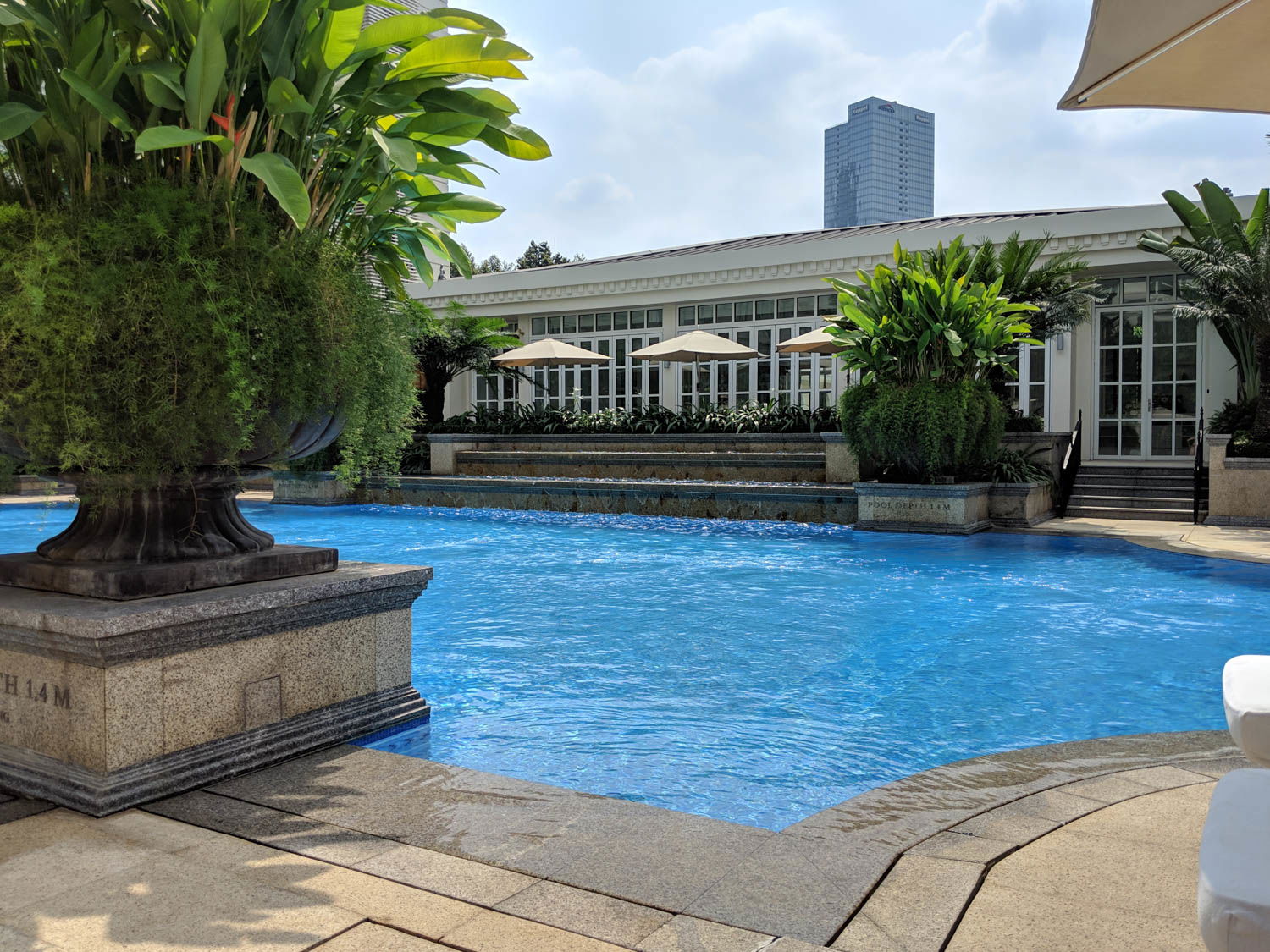 Overall thoughts on the Park Hyatt Saigon
We loved this hotel. It was walking distance to most of the things we wanted to do in the city, the styling was delightful, and the staff did an incredible job.
I wouldn't hesitate to stay here again, and think it's a great value whether you're booking with World of Hyatt points, or on one of the paid rates that offers some extra benefits.
Have you been to the Park Hyatt Saigon? How was your stay?