---
Our boarding gate was close to the lounge, and as we had checked our bags we were in no particular rush. I also suspected we'd be at a remote stand, so we did a bit of shopping on our way in hopes of avoiding lengthy bus queues.
We arrived at the gate about 25 minutes before departure, and boarding had just started.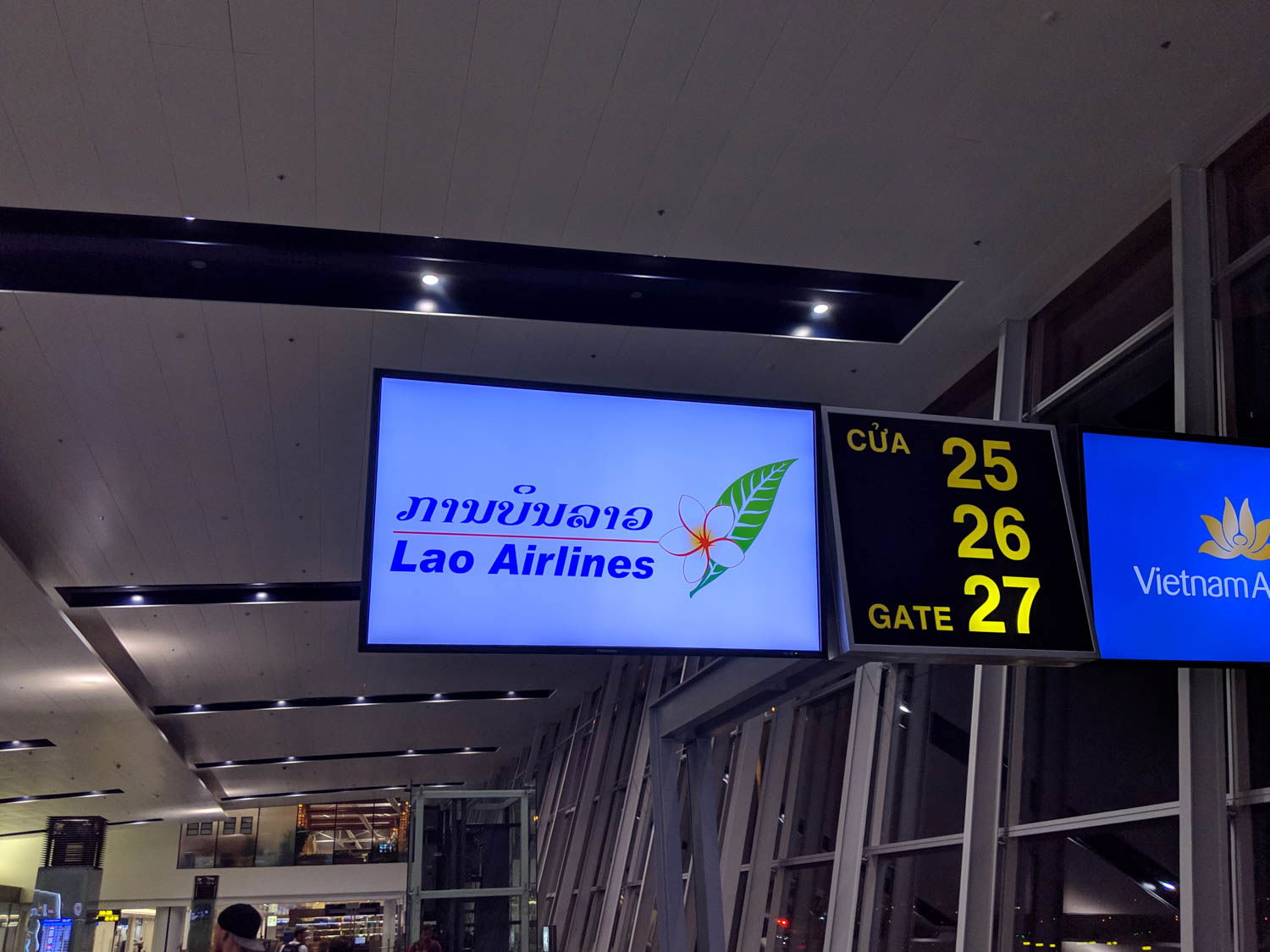 Boarding passes and passports were checked as we entered the queue, after which we made our way down an escalator.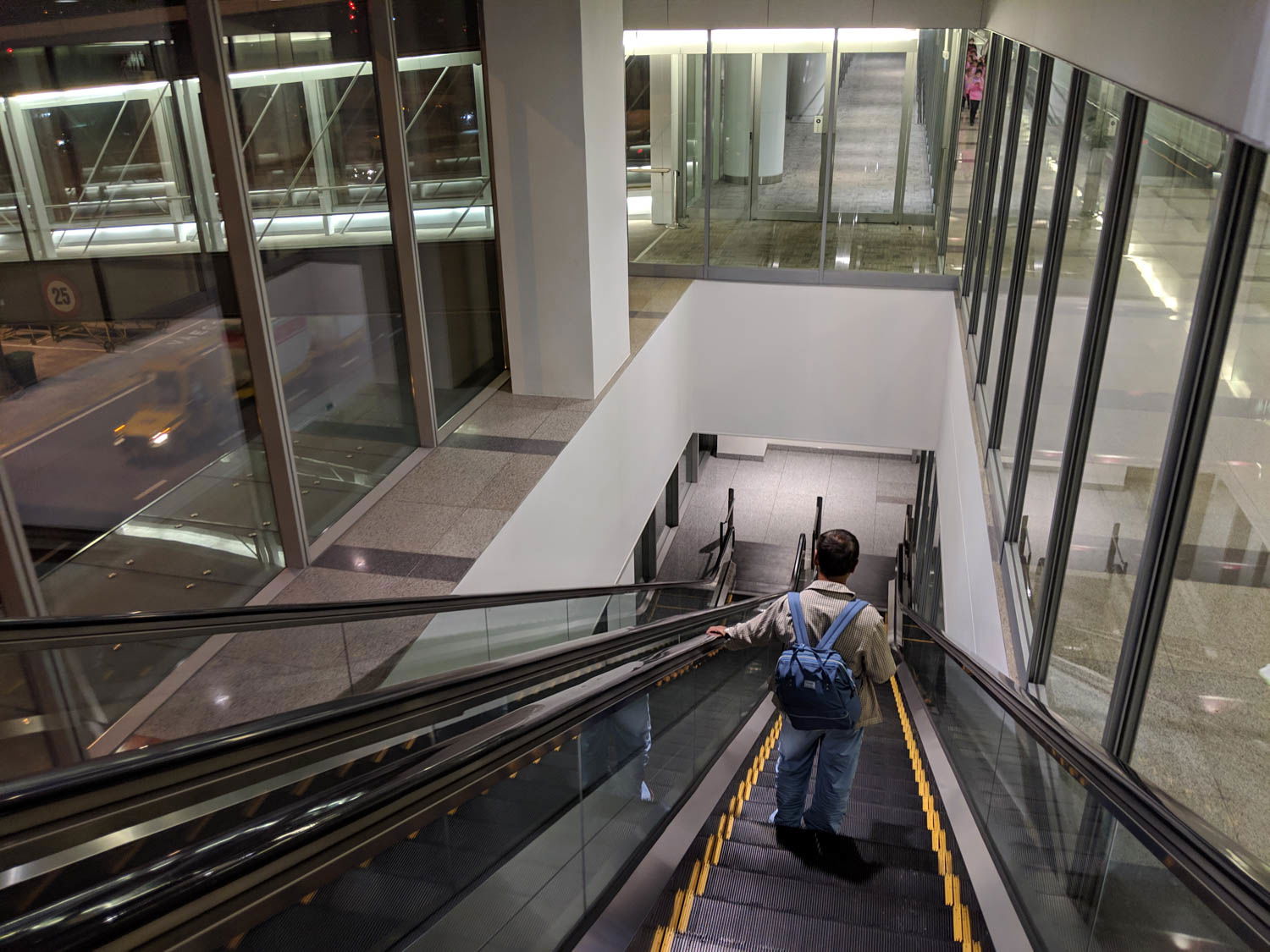 Boarding passes were checked again, then we boarded a bus to take us out to the remote stand.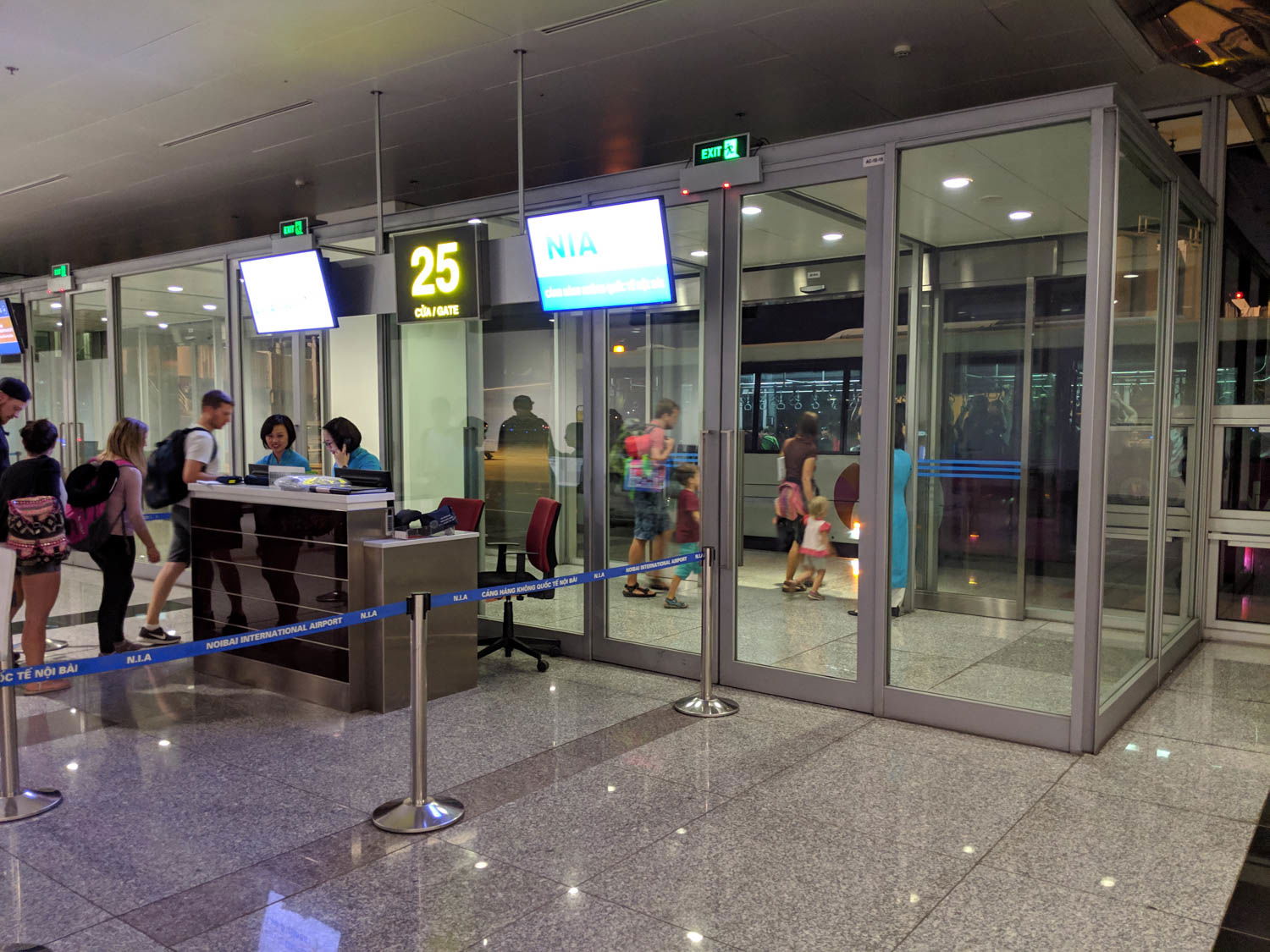 Lao Airlines 314
Hanoi (HAN) – Luang Prabang (LPQ)
Sunday, February 10
Depart: 7:10PM
Arrive: 8:14PM
Duration: 1hr4min
Aircraft: ATR 72-600
Seat: 8A (Economy Class)
Lao Airlines has both ATR 72-500s and 72-600s in their fleet of seven regional planes, but they are fundamentally the same aircraft.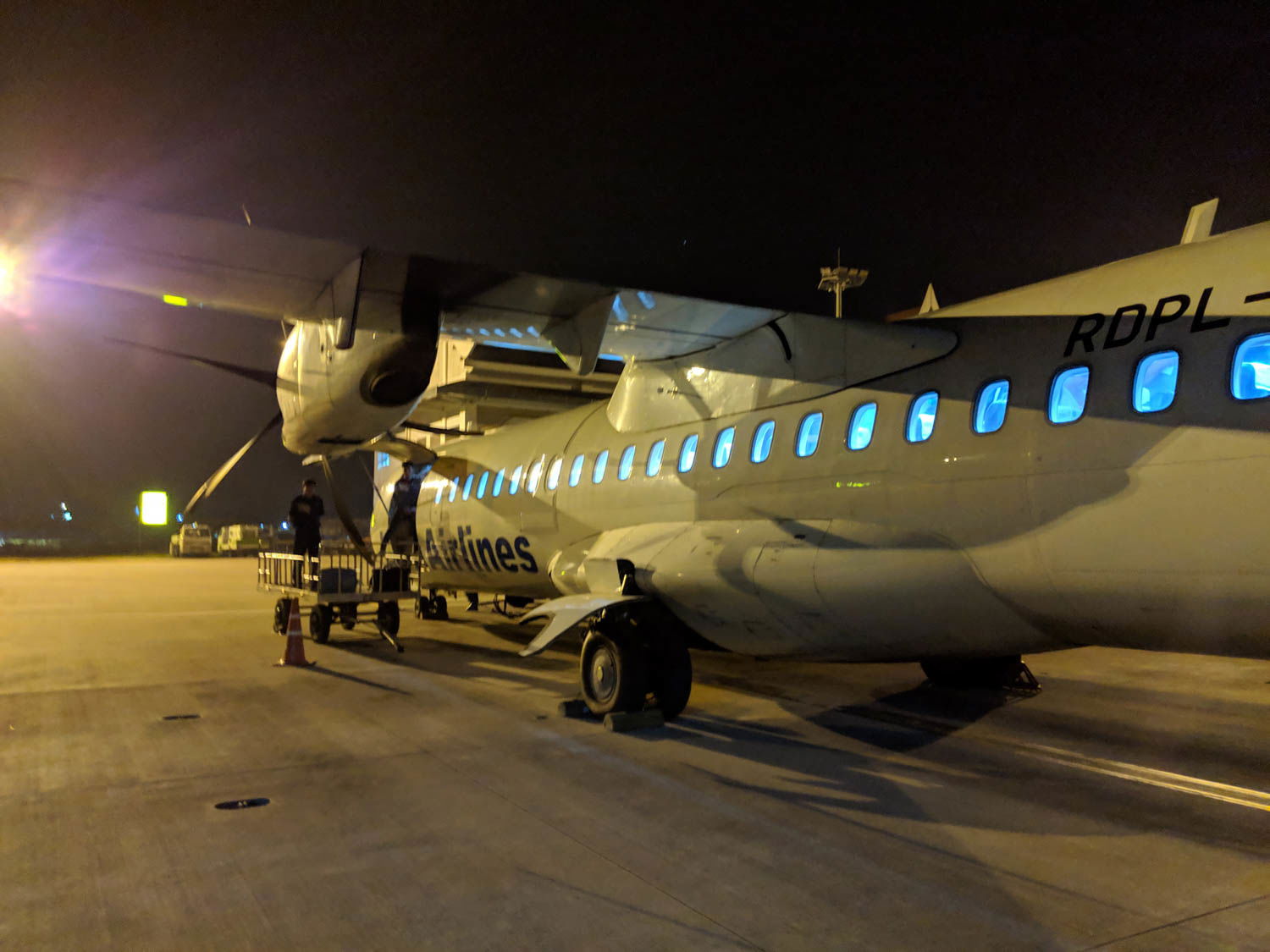 70 seats are spread across 19 rows in a 2-2 configuration. And because it's an ATR 72, the aircraft is boarded from the rear doors. Everyone turns left to get to their seat, so if you'd prefer to imagine this as an all-business configuration you can. 😉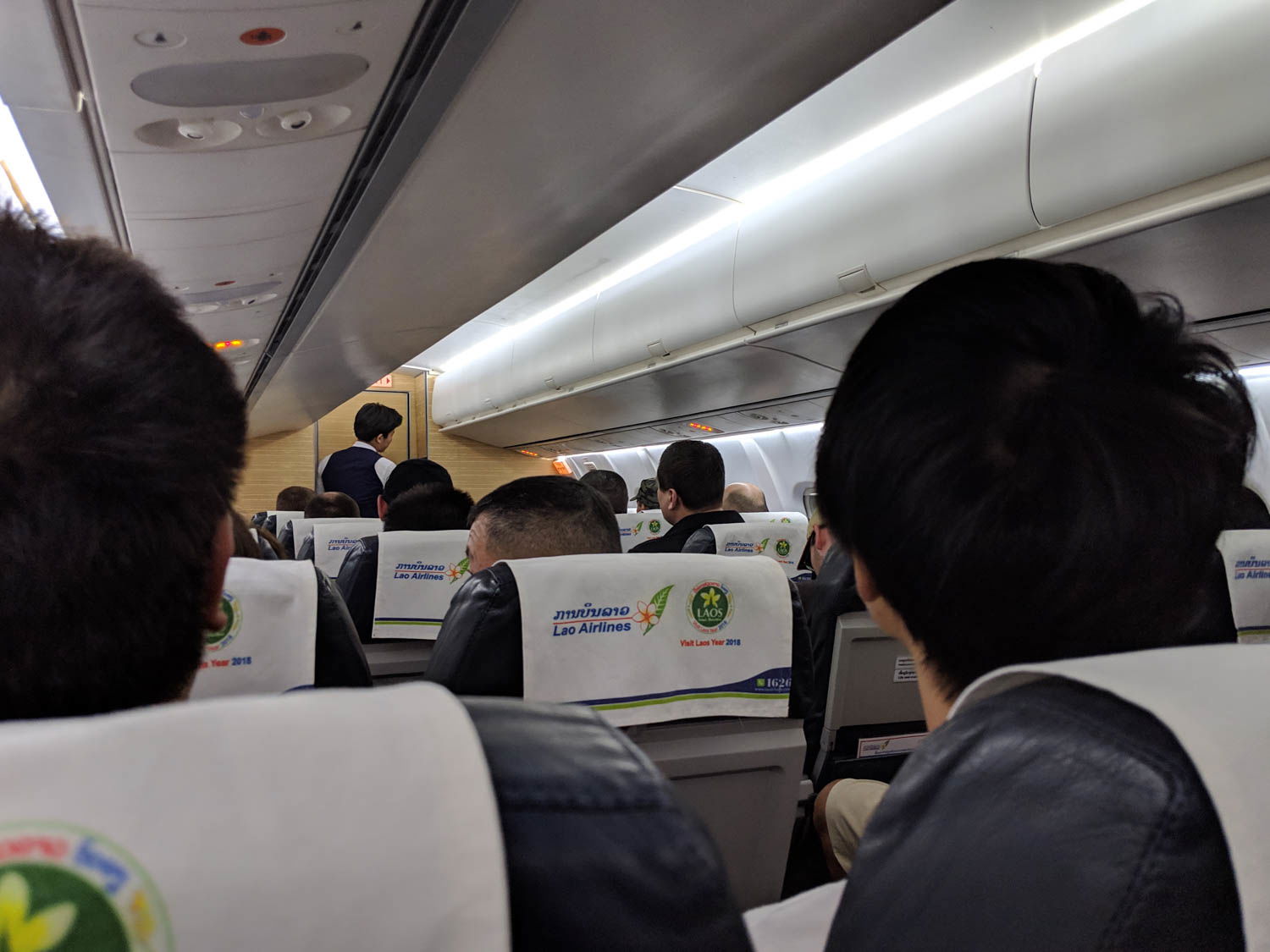 As crowded as the cabin looks, it really wasn't that bad. The seats were comfortable and in good condition: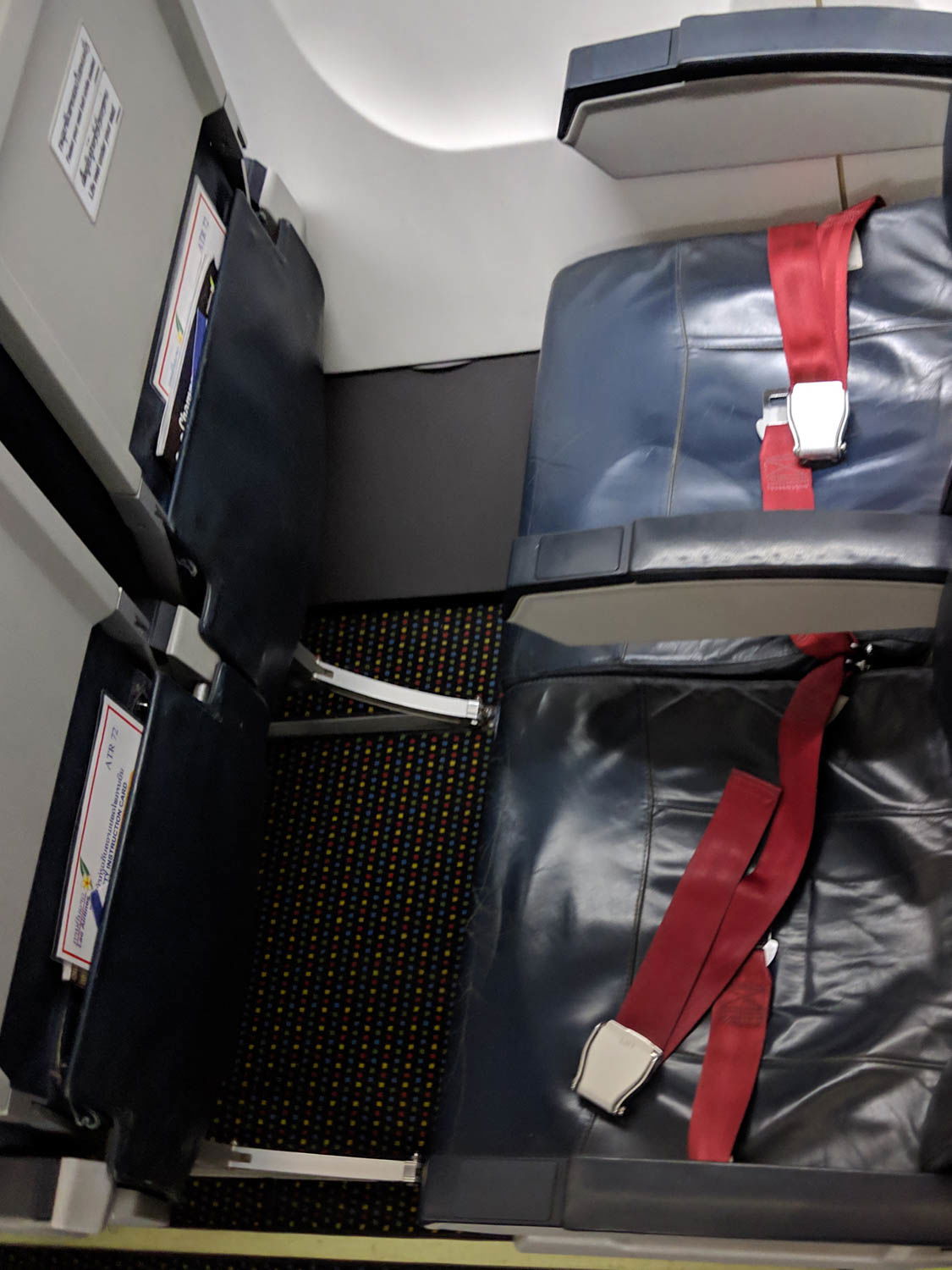 And there was a decent amount of leg room (these are Heather's knees, and she's 5'4″, for comparison).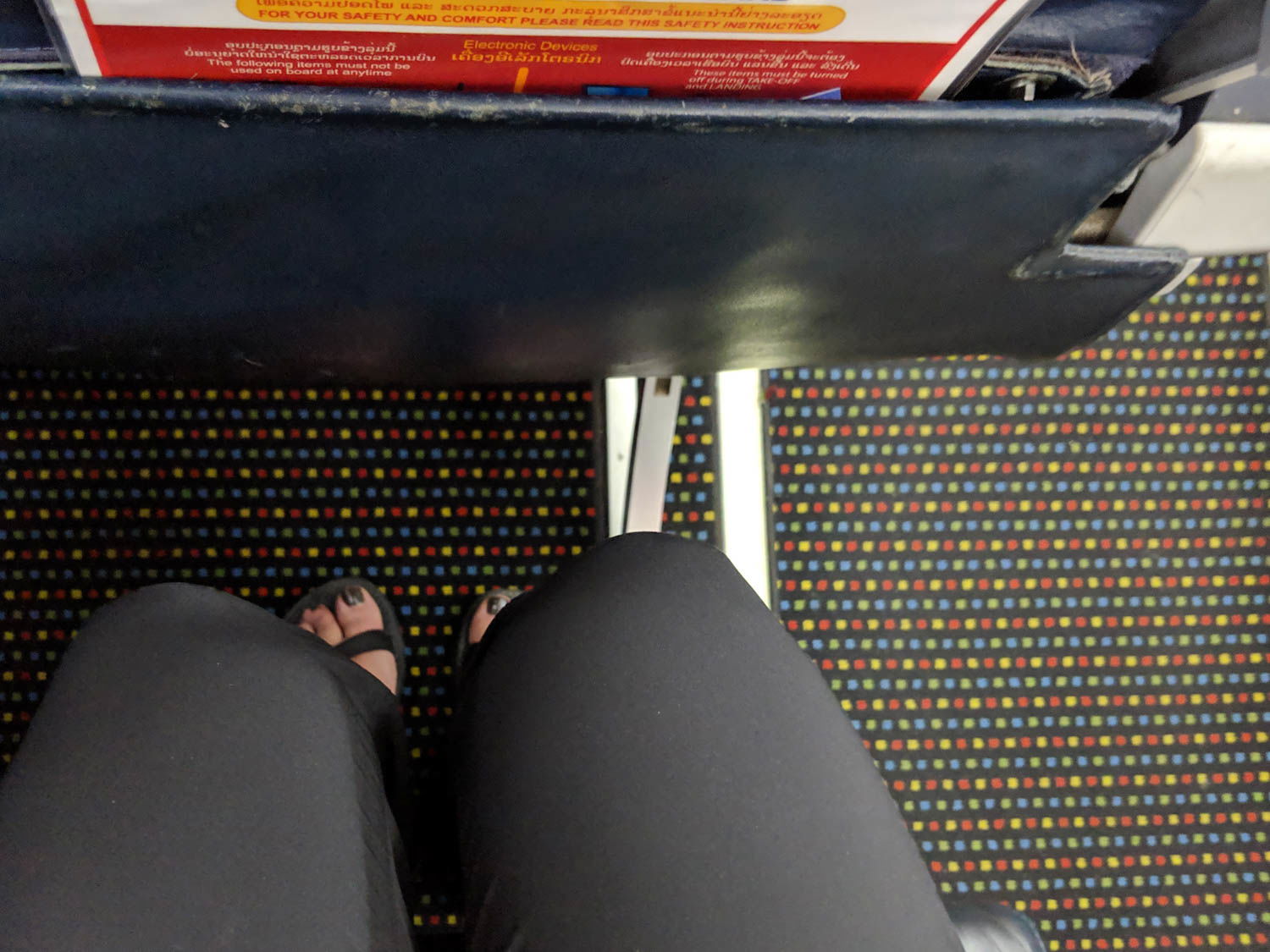 The flight attendants were professional, and greeted all the passengers during boarding. They then performed a manual safety demonstration, and after very quick checks we were in the air.
Once we were at altitude, the crew passed through the cabin with a beverage service, passed out landing cards, and offered some snack boxes.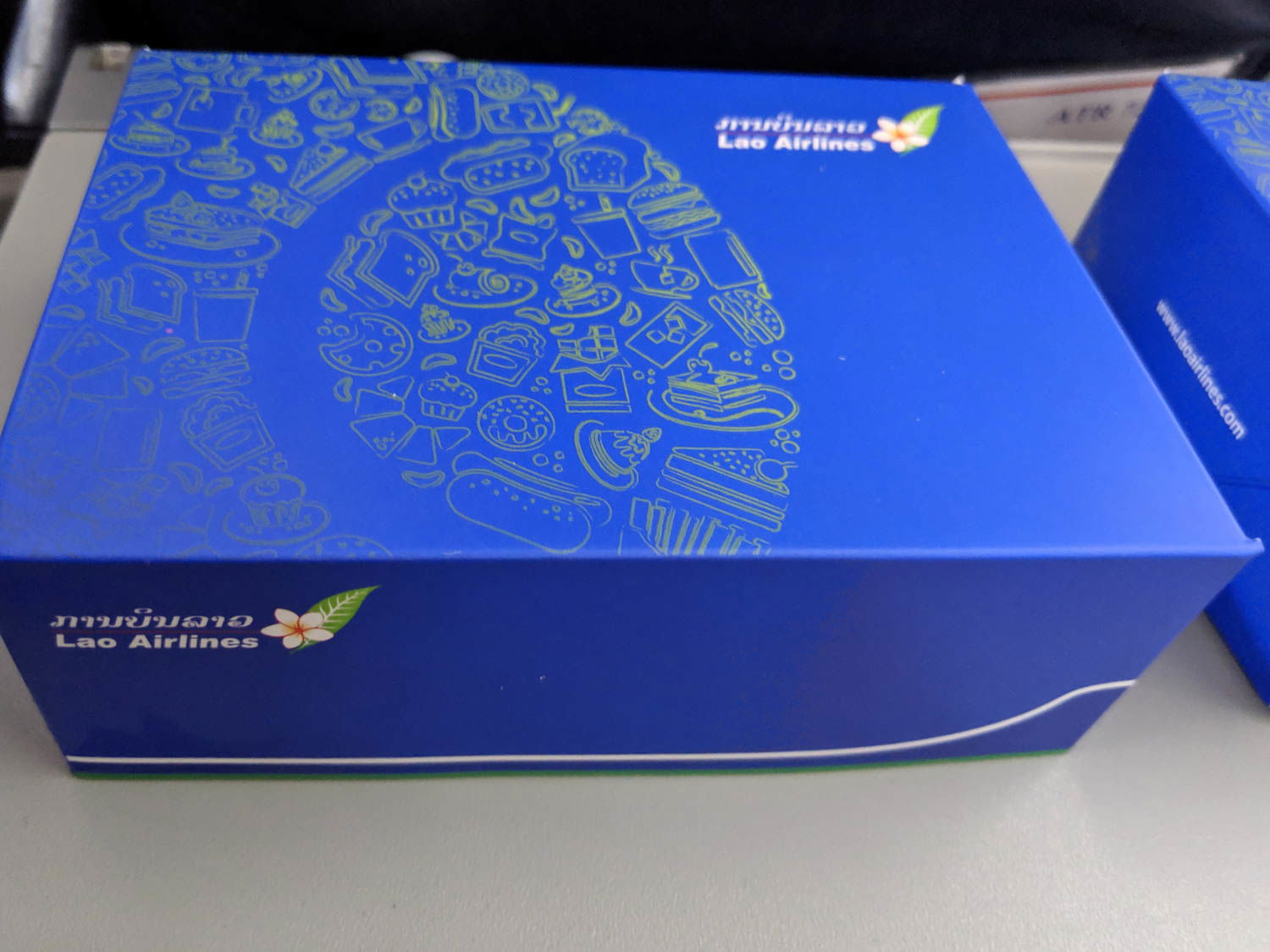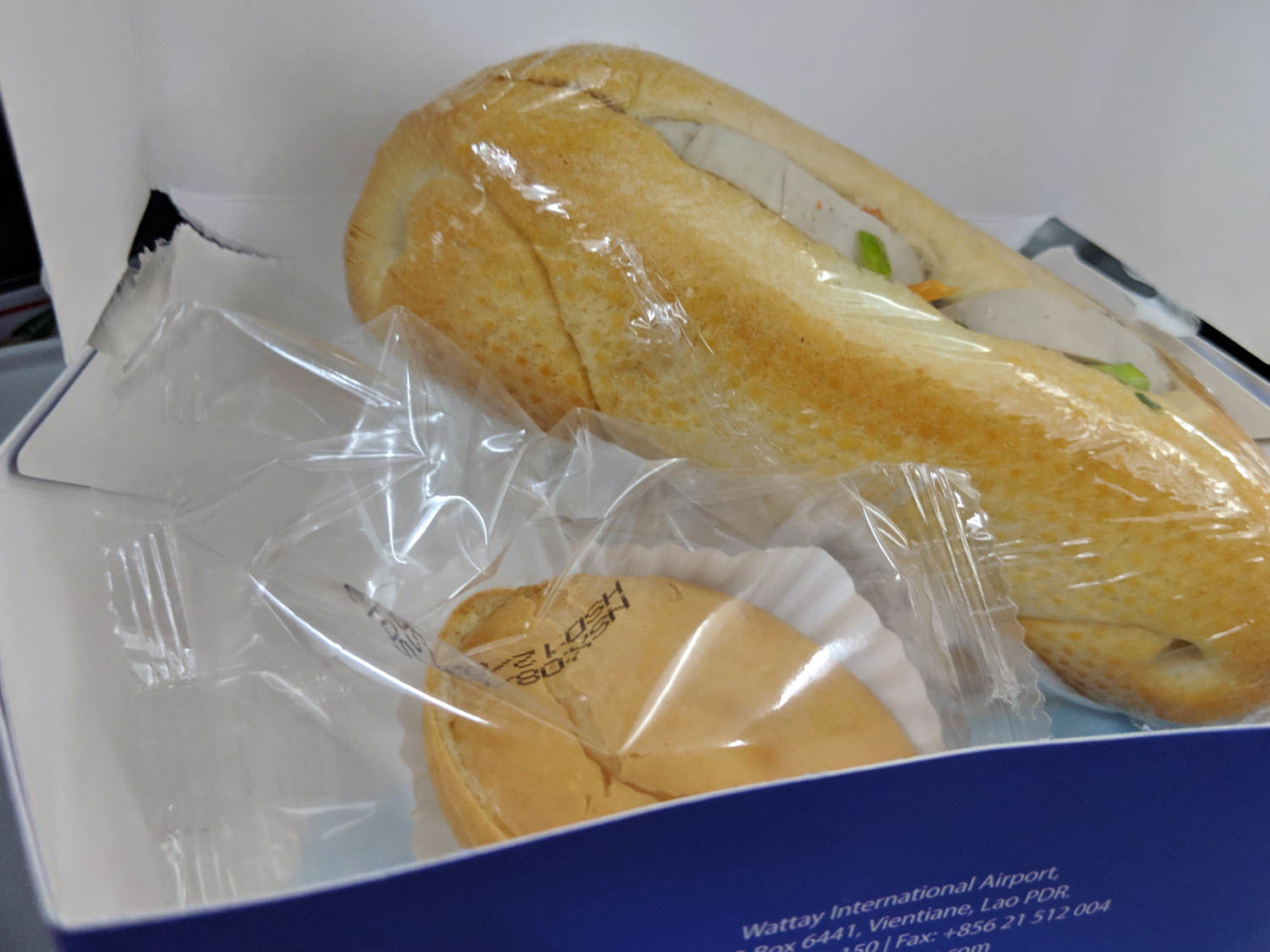 The in-flight magazine was nicely done, especially for such a small airline, and the flight was otherwise uneventful. We spent the bulk of the time filling out the fairly extensive landing cards for Laos.
After about 40 minutes in the air we started our descent, and landed in Luang Prabang 15 minutes ahead of schedule.
Another bus took us to the terminal, and by the time we cleared immigration our bags were waiting. Overall, it was a quick and efficient flight — really everything you can ask for on a short regional trip like this — and I wouldn't hesitate to fly Lao Airlines again.
Immigration & Visas at Luang Prabang Airport
I do want to chat a bit about getting a visa on arrival for Laos, and other immigration formalities.
The majority of nationalities are eligible for a visa on arrival, and the fees range from $30-$40USD depending on what country you're from. There are a few important details:
You must pay for your visa in cash, and in either US Dollars, or Thai Baht — Lao Kip is apocryphally accepted, but given that you aren't supposed to exit or enter Laos with Kip I don't know how that works in practice
You will need a passport-size photo, or can pay an extra $1 to have your passport photo scanned
US passport holders currently pay $35, plus a seemingly-mandatory $1 administration fee
So in practice, Americans are looking at $36 – $37 for your Laos visa, and I'd recommend having extra $1 bills regardless.
The process was quite fast, and the counters were well-staffed. We filled out our visa forms while standing in line to drop them off at the first window, and the queue for the second window moved quickly. The whole thing took about fifteen minutes, which didn't seem bad at all for late on a Sunday evening.
Our driver met us as we exited the terminal, then took us on a short 15-minute drive to our hotel in Luang Prabang (which you'll read about in the next installment).