---
We knew that we wanted to incorporate a few days of beach time into this trip, but had been cautioned that Da Nang and Hoi An would be far too cold to enjoy the beach in February (this ended up being far from the truth, but weather is like that sometimes). To be guaranteed at least a few warm sunny days, we started looking at hotels on the Southern Vietnamese islands, along with beach towns like Kep in Cambodia, before deciding on Phu Quoc as much for logistical ease as anything else.
I had hoped to book at the new JW Marriott, but they were playing games with availability, Bonvoy doesn't have a pathway for getting benefits on two rooms anyway, and while I was trying to get all that resolved I ended up finding an alternative option.
Almost by happenstance — literally, I logged in to the Hyatt website to book the Park Hyatt Saigon and noticed there was suddenly a third hotel listed in Vietnam — I came across the Nam Nghi Hideaway, which was just added to the Hyatt portfolio in October, and only added to the website in late January. At the time I was (attempting) booking, everything was in flux, to the point where it took several rounds of calls from my Hyatt Concierge to actually secure reservations.
Turns out that was perfect foreshadowing for our actual stay, but that's getting ahead of the story.
Notes on Phu Quoc
Before I get into the details of the resort, I want to talk a bit about Phu Quoc.
I didn't have a ton of information about the island beforehand — adding it to our itinerary was a quick decision based on it looking warm, beautiful, and with great opportunities for hiking and snorkeling. By the end of our trip we had a better sense of the island, and knowing what I know now I would still choose to go, but it's honestly not for everyone at this moment in time.
Phu Quoc in general is over-marketed, and frankly under-prepared.
If you go to the south of Phu Quoc, by the JW Marriott, the scene is reminiscent of pre-recession Abu Dhabi. Beautiful (but not necessarily well-constructed) hotels, plentiful international restaurants, debris-covered beaches, and construction as far as the eye can see.
The north has been developed for a bit longer, so has less active construction, but is less fancy. It's a bit more convenient to the national forest, but less convenient to the more popular beaches.
There is not a ton of English spoken on Phu Quoc compared to other parts of Vietnam, and the majority of the tourists are coming from China and Russia. The south seems to be closer to meeting Western tourism standards than the north, but in general I think you need to go in understanding that Phu Quoc is still figuring out what kind of destination it's going to be.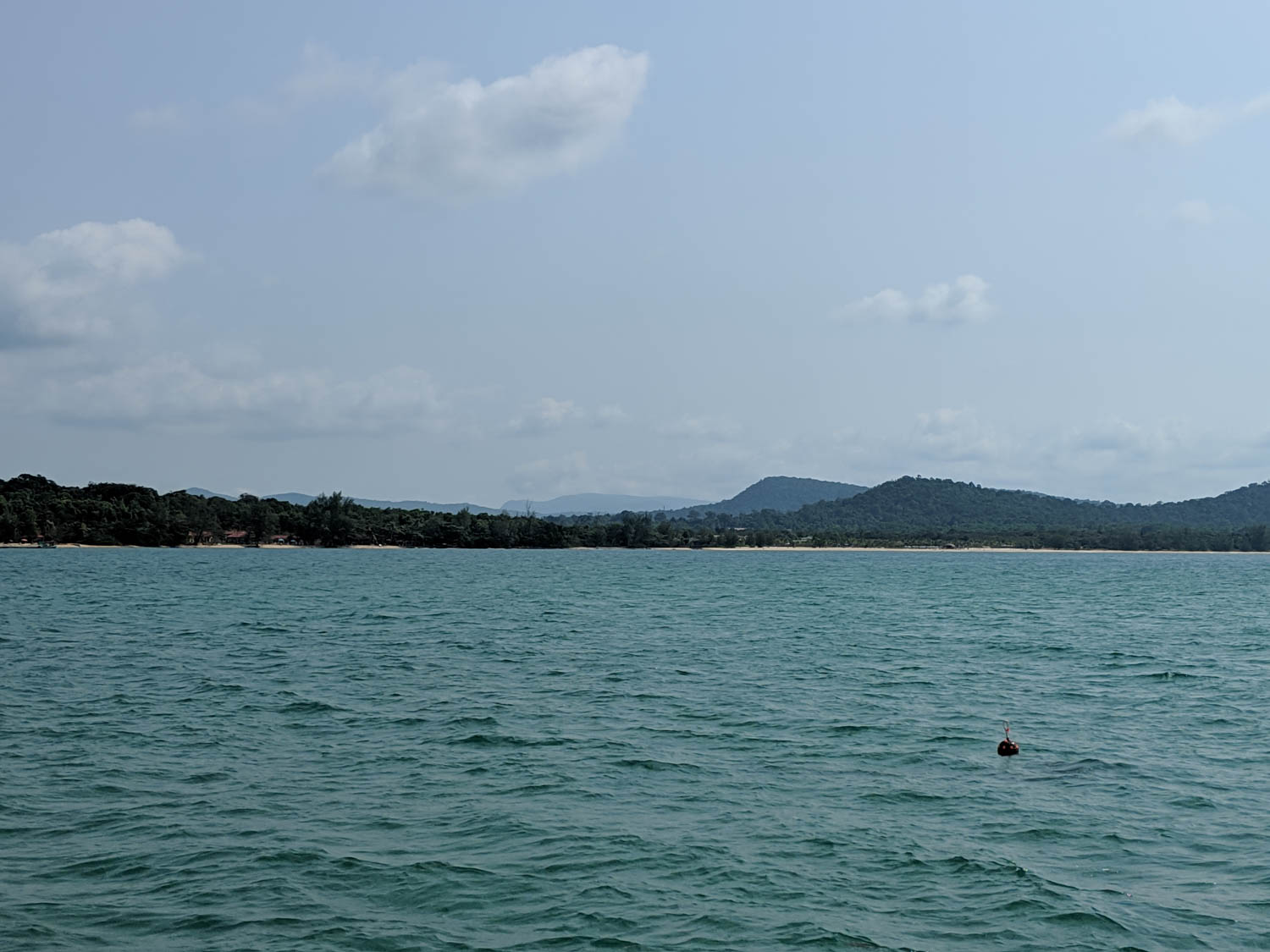 The people are lovely, and seemed generally enthused to be building up their hospitality industry. But the logistics and communication were definitely complicated at times. This is all in contrast to the resorts and travel providers marketing Phu Quoc as a luxury destination.
In talking with people since, both in and out of Vietnam, I've heard things like "Phu Quoc is like Phuket 15 years ago" or "it reminds me of Cancun in the 90's". I'm slightly too young to have been to either of those places at those times, but I can appreciate the sentiment regardless. I suspect that Phu Quoc will be a more-traditionally fantastic vacation destination in maybe 2-5 years, but it's a little bumpy right now, and perhaps a more authentic/less-sterile experience than one might expect from the big brands that are moving in to the island.
That said, we still had a fantastic time, and will absolutely return, but I love seeing places on the cusp — others find them irritating.
So just a heads up on that.
Hyatt Nam Nghi Phu Quoc isn't ready for prime-time either
I want to address this in the context of the background on Phu Quoc, because to be blunt, this was not a great stay by the typical standards you'd have of a major hotel group.
I'm sure that it didn't help that we were coming directly from the impeccable Park Hyatt in Saigon, but if you'd asked me to grade the Nam Nghi Hideaway in the first four hours of our stay, it would have been a D, at best. By the end of our stay, and as we gained a better understanding of Phu Quoc, I would give it an overall B-.
The grade inflation, to be clear, has nothing to do with any efforts made by the property to improve the stay — individually, everyone was extraordinarily nice, but fundamentally the staff just has absolutely no clue what is going on or how to run a hotel that caters to Western guests.
But that is who Hyatt is marketing the property to, so they're going to have to figure it out.
To give a minor example, we had all kinds of issues with the showers in our rooms (two rooms, each with two showers, all with problems ranging from not having hot water to not draining and thus flooding the room). After the latter adventure, we called housekeeping to ask for more towels, given that ours had been donated to a damming operation: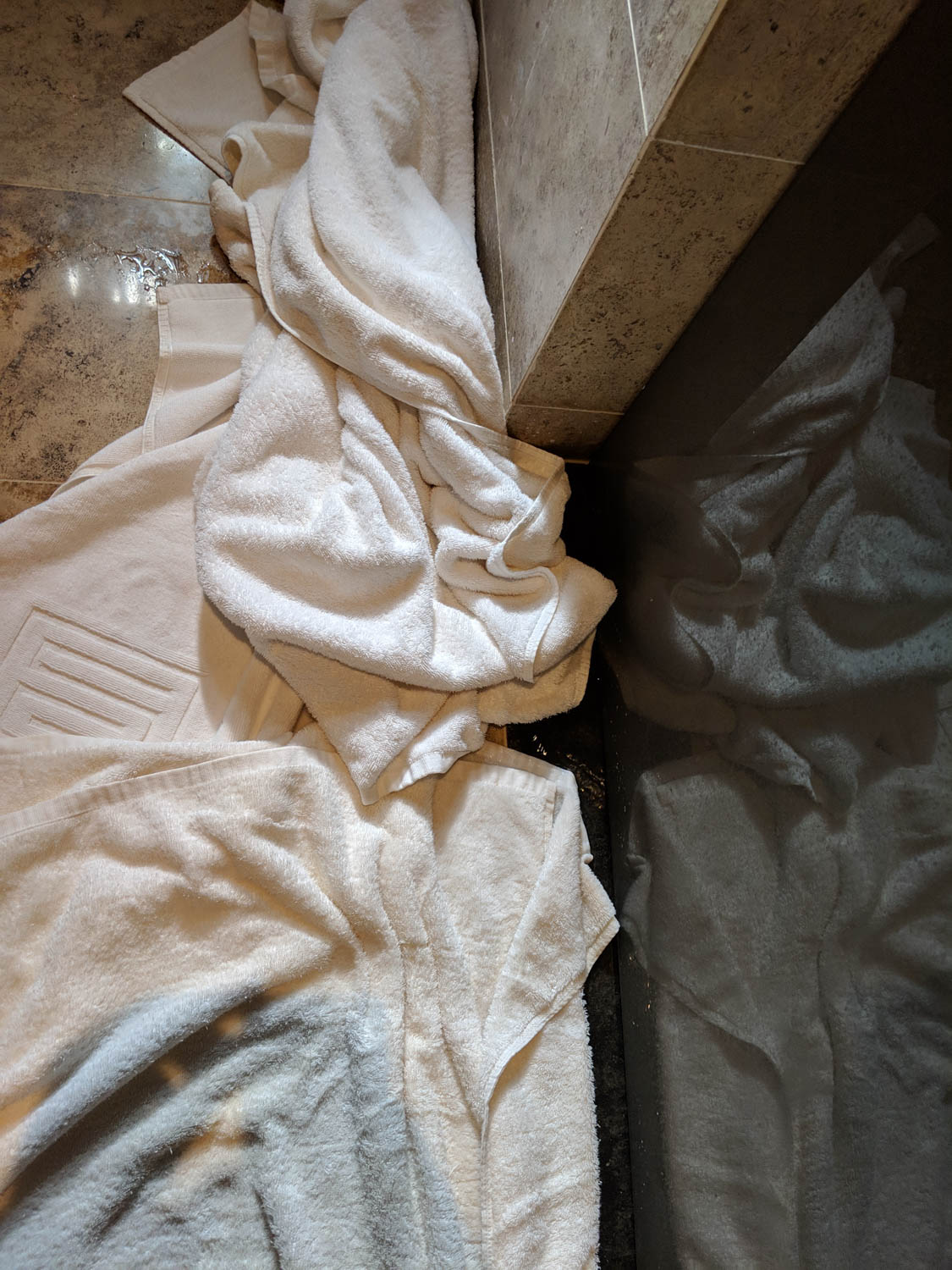 The person on the phone didn't understand the request, so I went down to the front desk, and talked to three different people in an attempt to communicate the situation. I have no idea if they ever talked to housekeeping, or if the maid just figured out the towel situation when they did turndown service. The next morning, someone from maintenance came by and said he was there to look at "the water problem". He walked into the powder room, flushed the toilet, watched it drain, nodded enthusiastically, and left.
And that's how pretty much every interaction with hotel staff went.
Hyatt and hotel management know about all these issues, and in talking with the new GM it sounds like there are plans to help bring the staff up to speed. An English teacher is being brought in (and even the role-playing of guest conversations and potential issues will probably help tremendously, regardless of the language those convos ultimately take place in), they're trying to get a better mix of international staff, and the maintenance issues are supposedly being addressed.
That being said, there's a long way to go. To directly quote a remark from the General Manager during a casual chat about our stay when another guest shared some of the hilarity surrounding (unsuccessfully) ordering what should have been an uncomplicated drink at the pool — a mocktail listed on the menu, but with rum added:
"Please, for the love of God, I beg you — don't order anything off-menu. You have no idea how many difficult months it has been to get anyone to even comprehend what is on-menu."
So, there's that.
It's worth noting that I don't personally think that remark is necessarily as astoundingly arrogant as it sounds. The GM has previously been at the Park Hyatt St. Kitts, and the Park Hyatt Maldives prior to that, so perhaps the tone comes from being someone quite good at his job and having eyes as big as saucers given the to-do list.
Though, to be fair in the other direction, none of the issues that we communicated to hotel staff and management were ever properly followed up on, much less compensated for, so it's thoroughly possible that they're all just resigned to the operational goat rodeo.
I'm going to try not to dwell on the comical assortment of issues we had during the review, because for one, that gets tedious, and two, I'm hopeful that the property is able to get it together quickly.
The heart and spirit of the hotel are incredible, the location is stunning, and the staff seemed to have a lovely familial relationship, and were really trying extraordinarily hard — they just haven't been trained properly. But I do want anyone considering going in the next 6-10 months to know the lay of the land, so will try to find that balance.
Nam Nghi Phu Quoc Island
We arrived at the Phu Quoc airport around 5:30PM, and were met by a driver with a sign for the hotel. The drive took about 35 minutes, despite "traffic" as we went through the local market preparing for the holiday — charmingly set up on an old airfield.
The portico set the stage for the design of the hotel — a more modern feel, balanced with natural materials.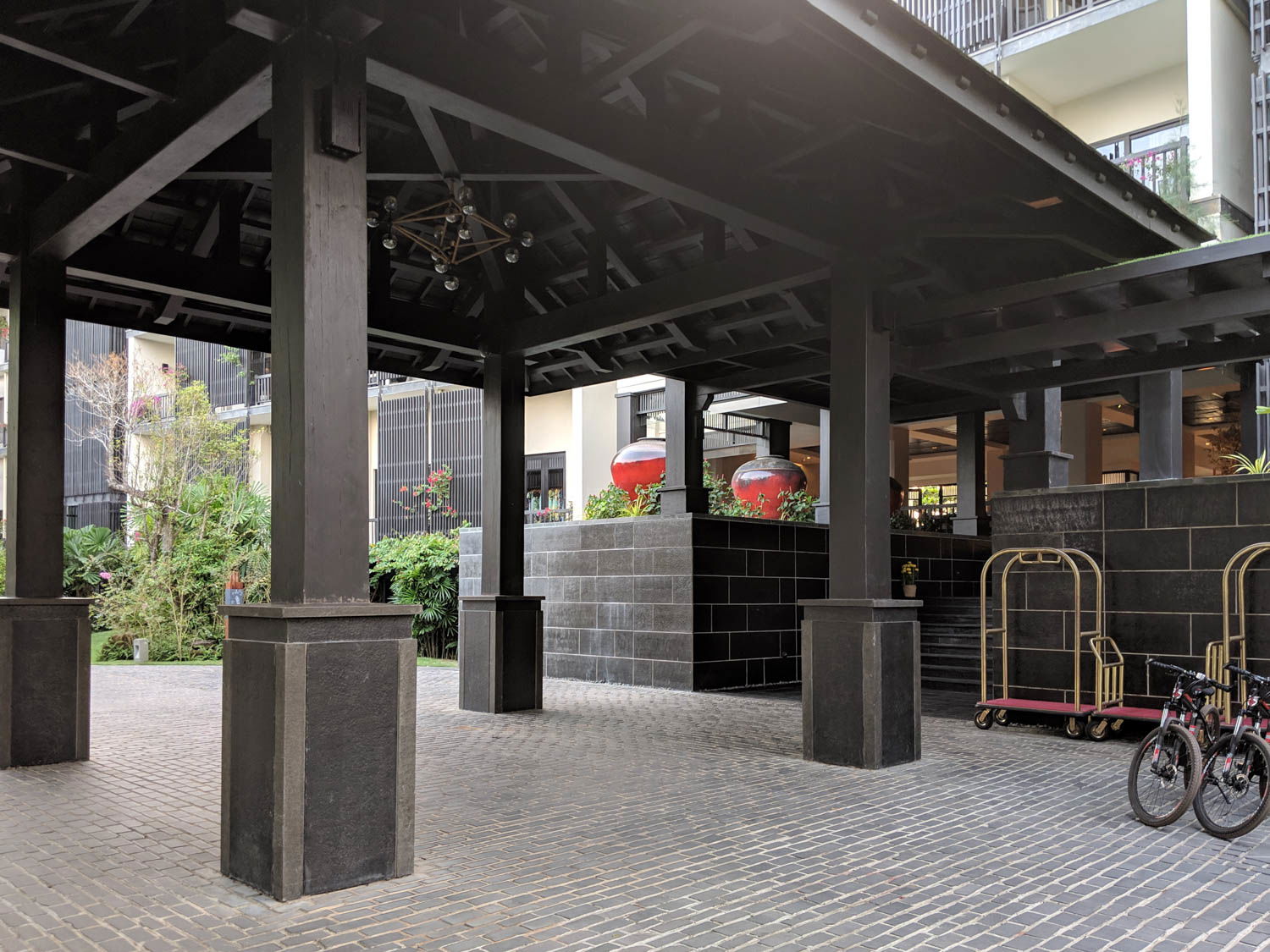 A grand staircase led to an open-air lobby, accented by Vietnamese art pieces and bright yellow floral arrangements.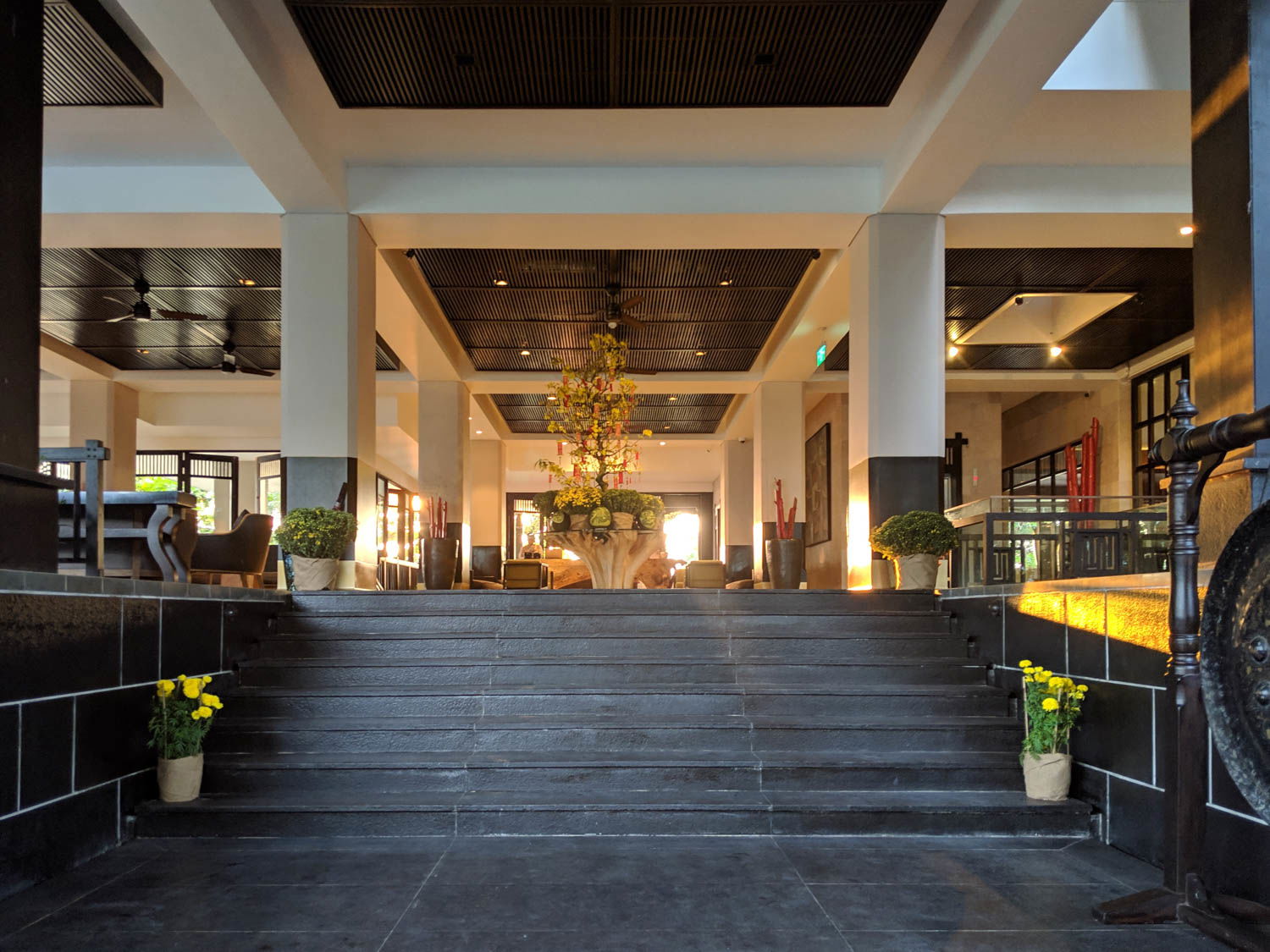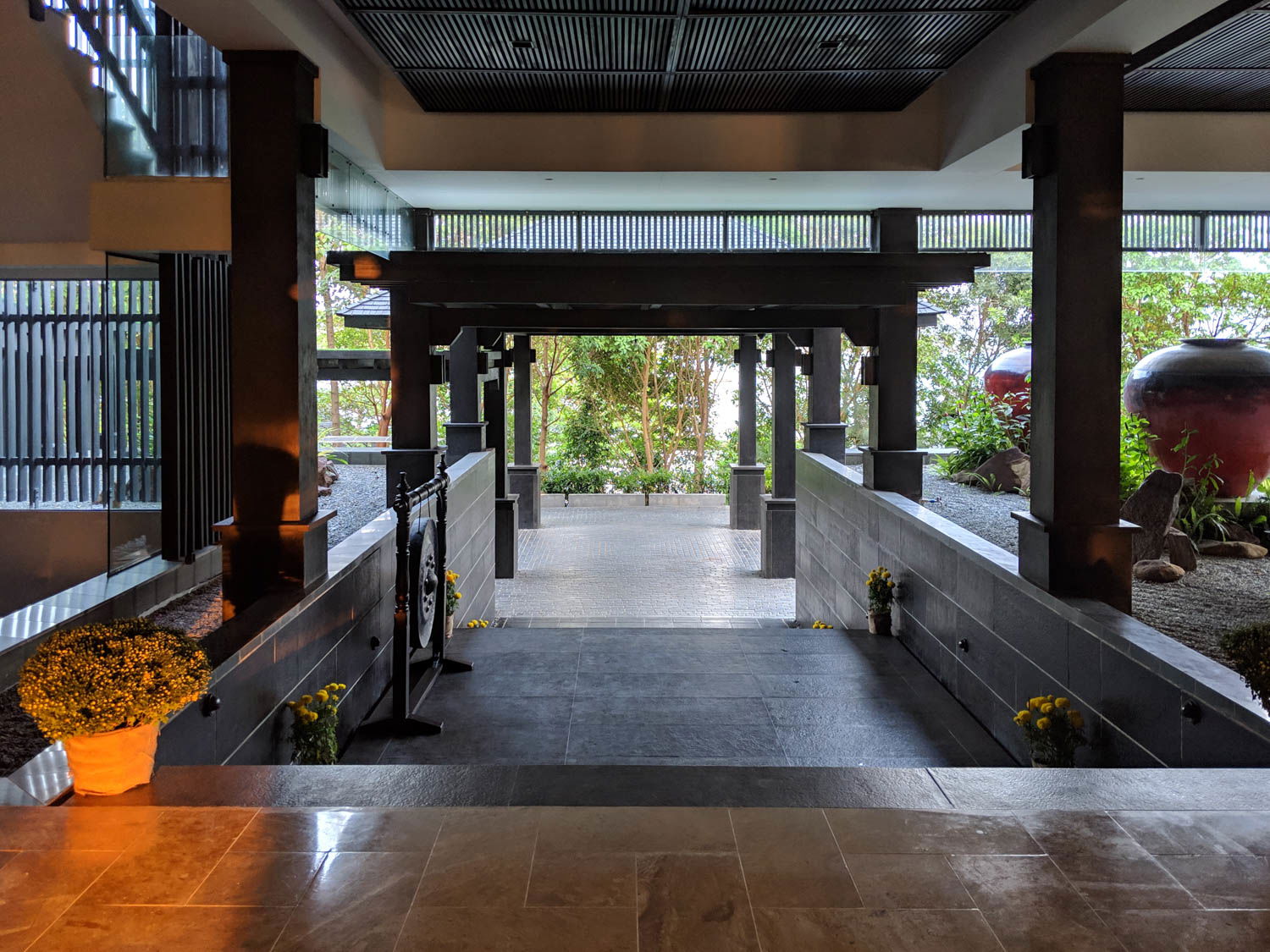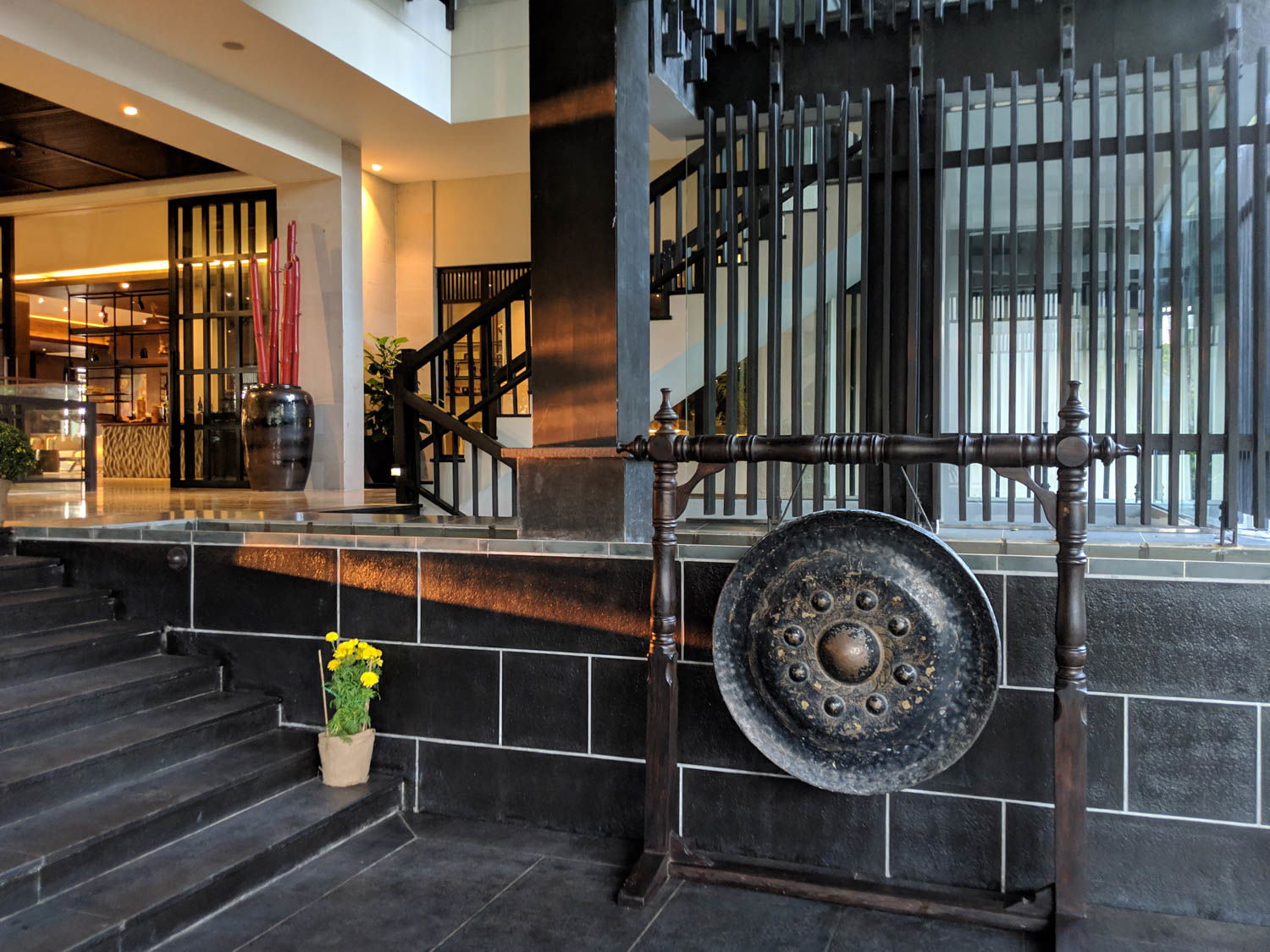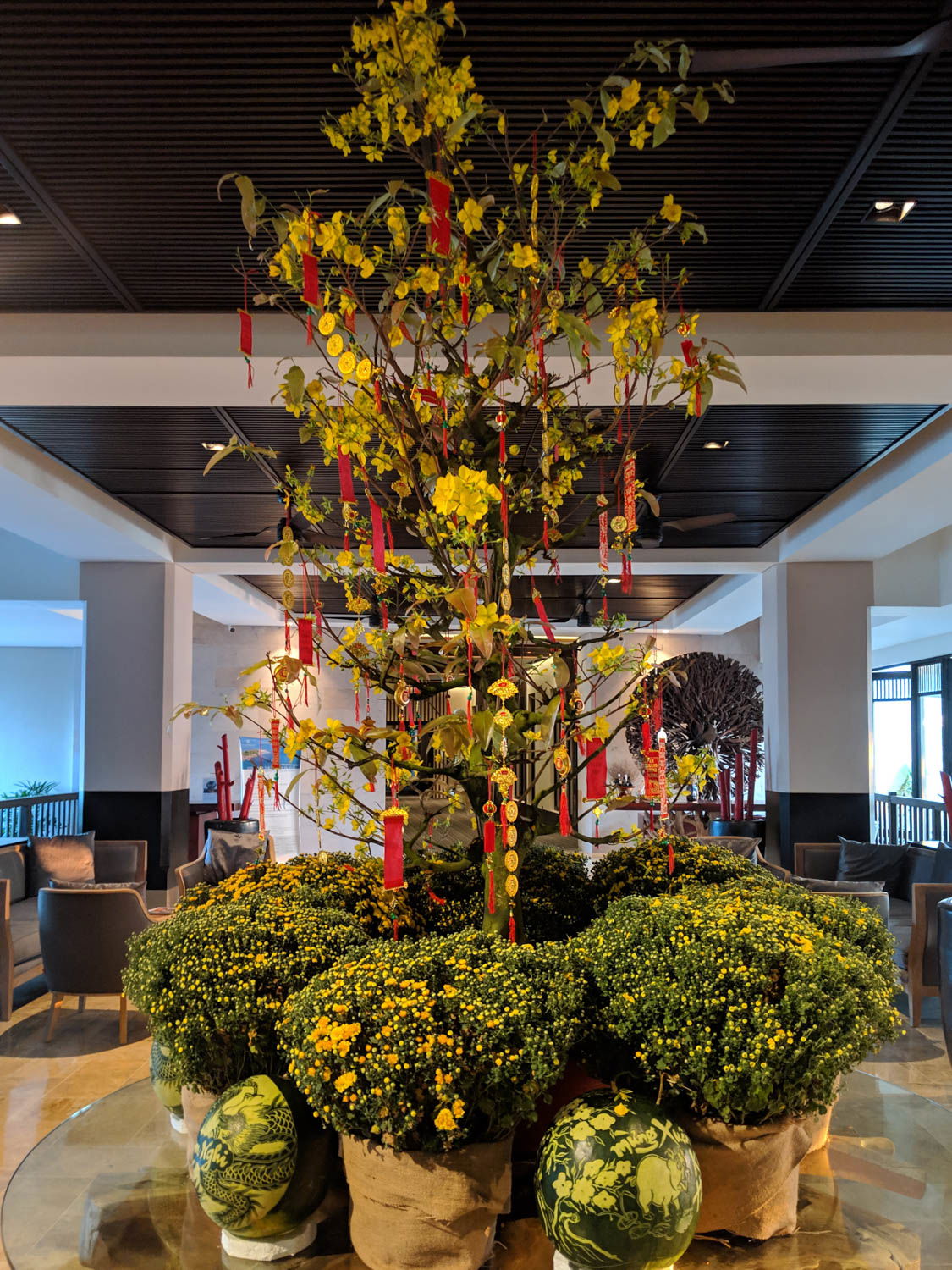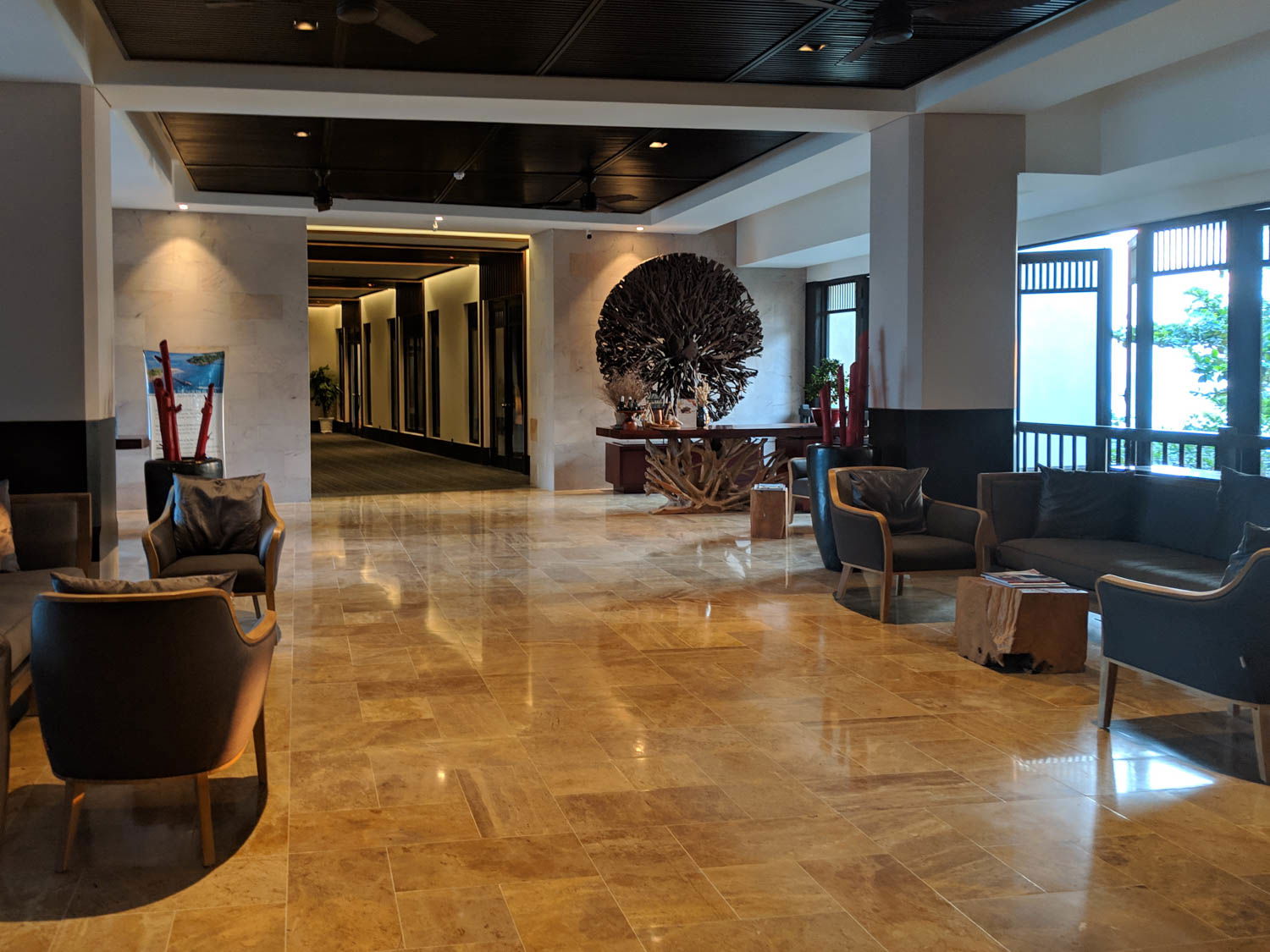 The front-desk staff was welcoming, and invited us to take a seat while they worked on the check-in formalities. I had booked two rooms, one with points (20,000 World of Hyatt points per night) and one under a package rate that included some meals and cocktails, for ~$300/night. That's right about where I value Hyatt points, and since we were planning to spend the bulk of our time at the resort I figured we'd spend quite a bit on food and beverages anyway.
The "Hideaway" rate supposedly included:
Daily complimentary one meal of three-course lunch or dinner for adults.

Complimentary airport transfers and shuttle service to downtown as resort's schedule.

Daily breakfast for two persons / four persons based on room type at Ocean Reflection.

Free access to Rock Island Club

and

free Signature Cocktails per stay (two / four drinks based on room type)

.
Welcome drinks,

fruit basket upon arrival

.

Daily in-room four bottles of mineral water

.

Use of kayaks

and

bicycles for kids and adults

.

Nightly turndown service

.

Wired and wireless internet access throughout the resort

.
Complimentary yoga classes and

meditation

at the Resort Garden or Spa Yoga Studio, subject to availability.

Complimentary access to outdoor Pool, Fitness Centre and Business Lounge

.
It was tough to get any information ahead of time, so for reference, everything I've listed in green seems to be available to all guests, regardless of your room rate. The items listed in red we never received, and the execution of the lunch/dinner benefit was awkwardly obnoxious to where we just gave up on it, so in retrospect I wish I hadn't bothered.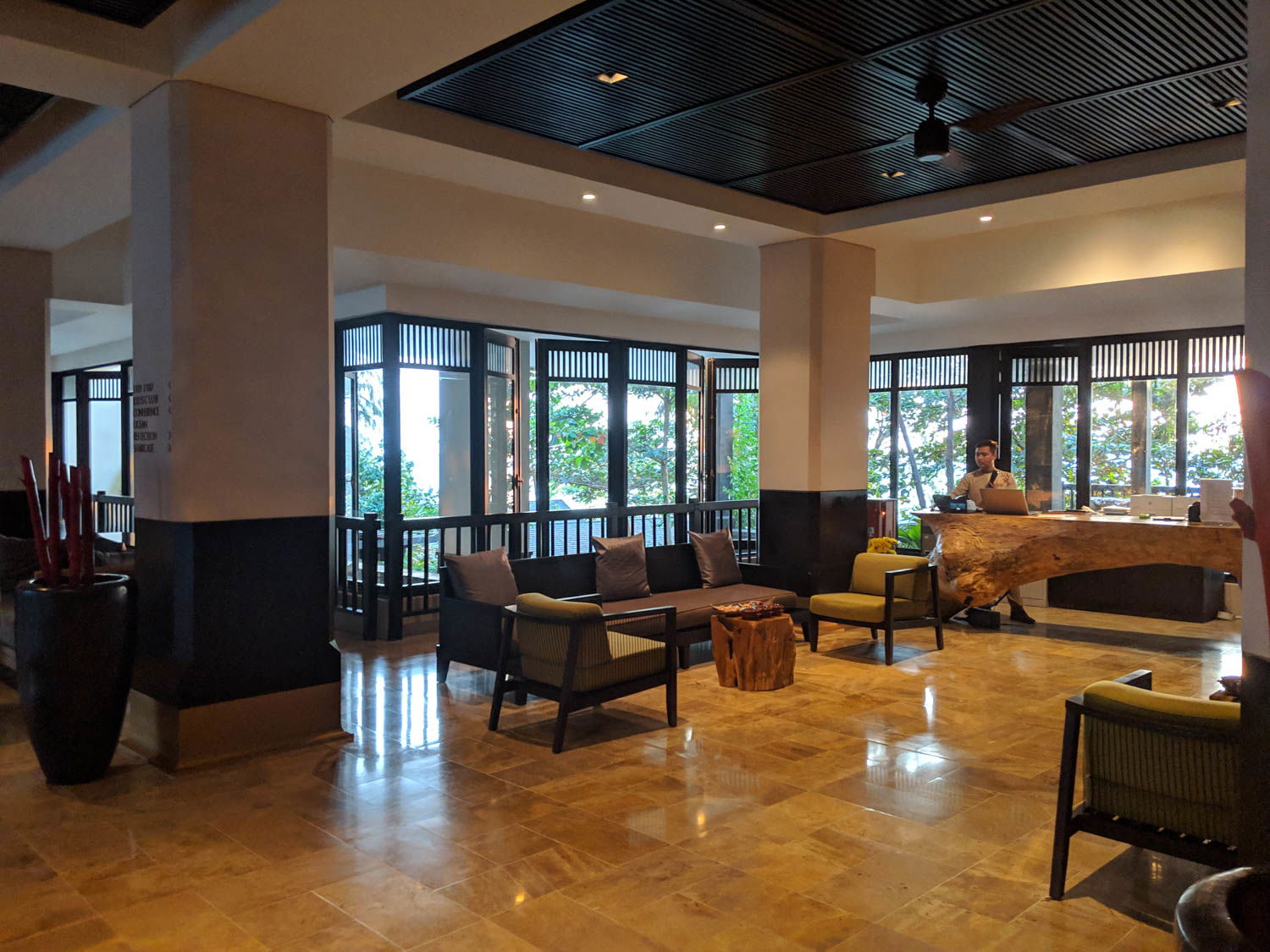 Check-in took about 40 minutes (the package and multiple rooms situation was very complicated for them, to put it mildly), after which we were shown to our rooms. The hallways are lined with photos of the resort: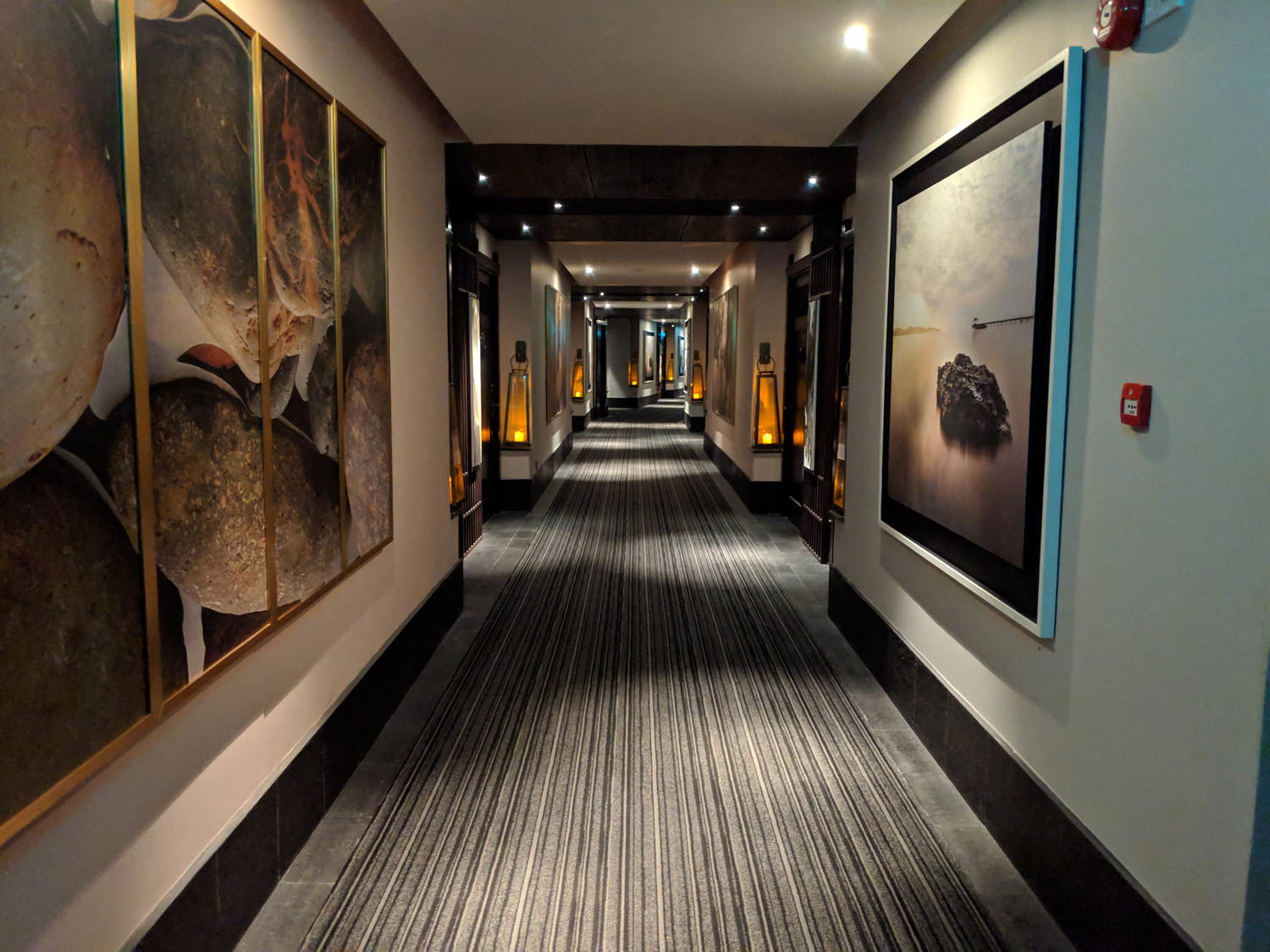 With the occasional break for open-air windows to look out at the views.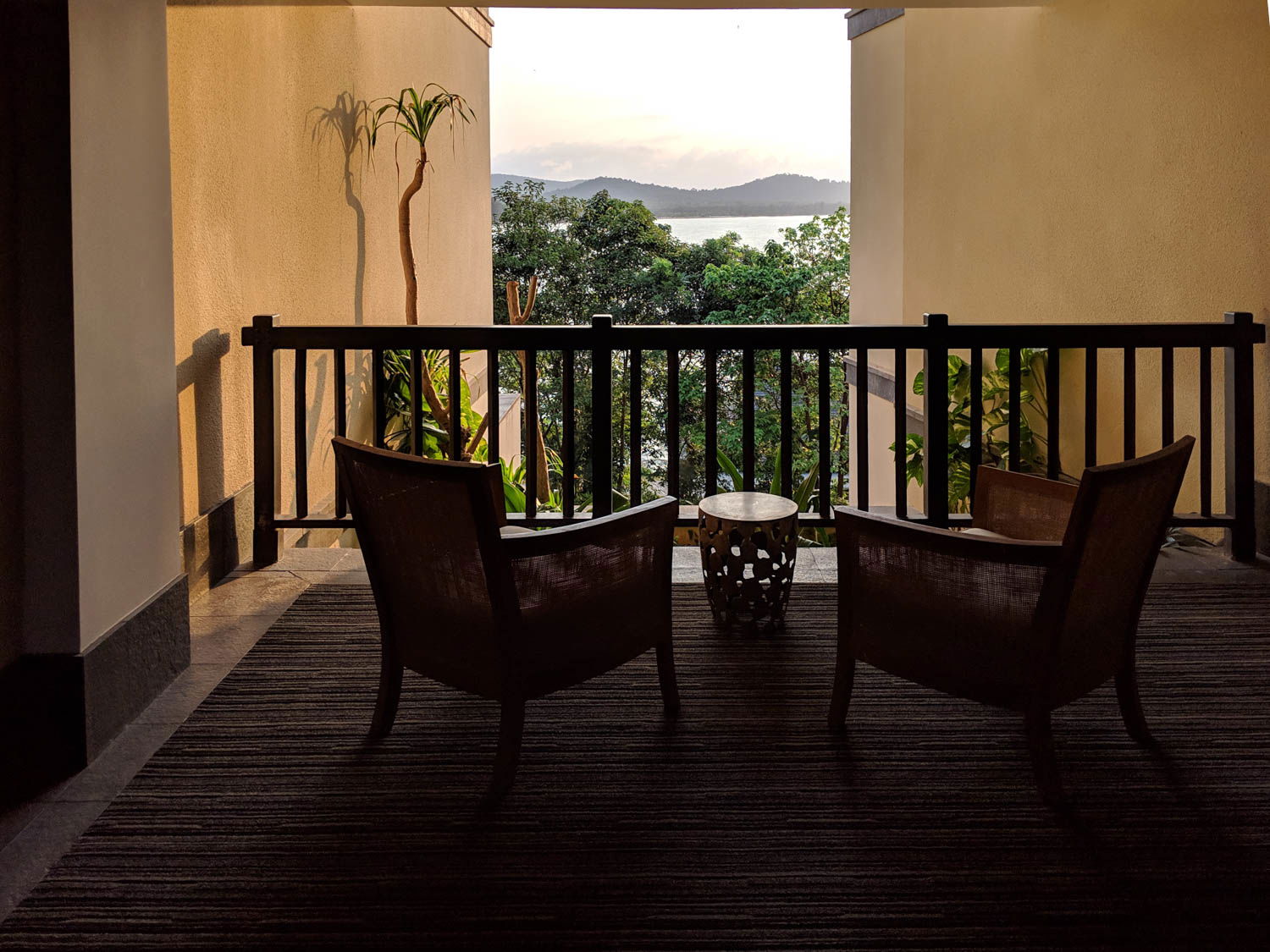 It is worth noting that the hotel has taken an almost eco-lodge approach to evening illumination, and many of the walkways and staircases were not lit, or lit poorly. That's also why many of my photos are mediocre — the lighting was really challenging.
The overall effect was charming, though if you have issues seeing terrain in the dark I would probably avoid the villas, and request a room closer to the center of the main building. There is one elevator on the property, which is over by the lobby, so we mostly used the stairs.
Nam Nghi Phu Quoc Ocean View Suite
I'd upgraded both rooms to suites using my Hyatt Globalist upgrades. According to my Hyatt Concierge, the hotel is using two different room types for tier suite upgrades:
1 Bedroom Ocean View Suite
2 Bedroom Ocean View Suite
I selected the two-bedroom suite for both rooms, since it seemed like we might enjoy spreading out after spending the previous days in closer quarters. For others deciding on suite options, the second bedroom of the two-bedroom suite wouldn't be considered a legal bedroom in the U.S., as it's an internal room with no window (though it does have a closet).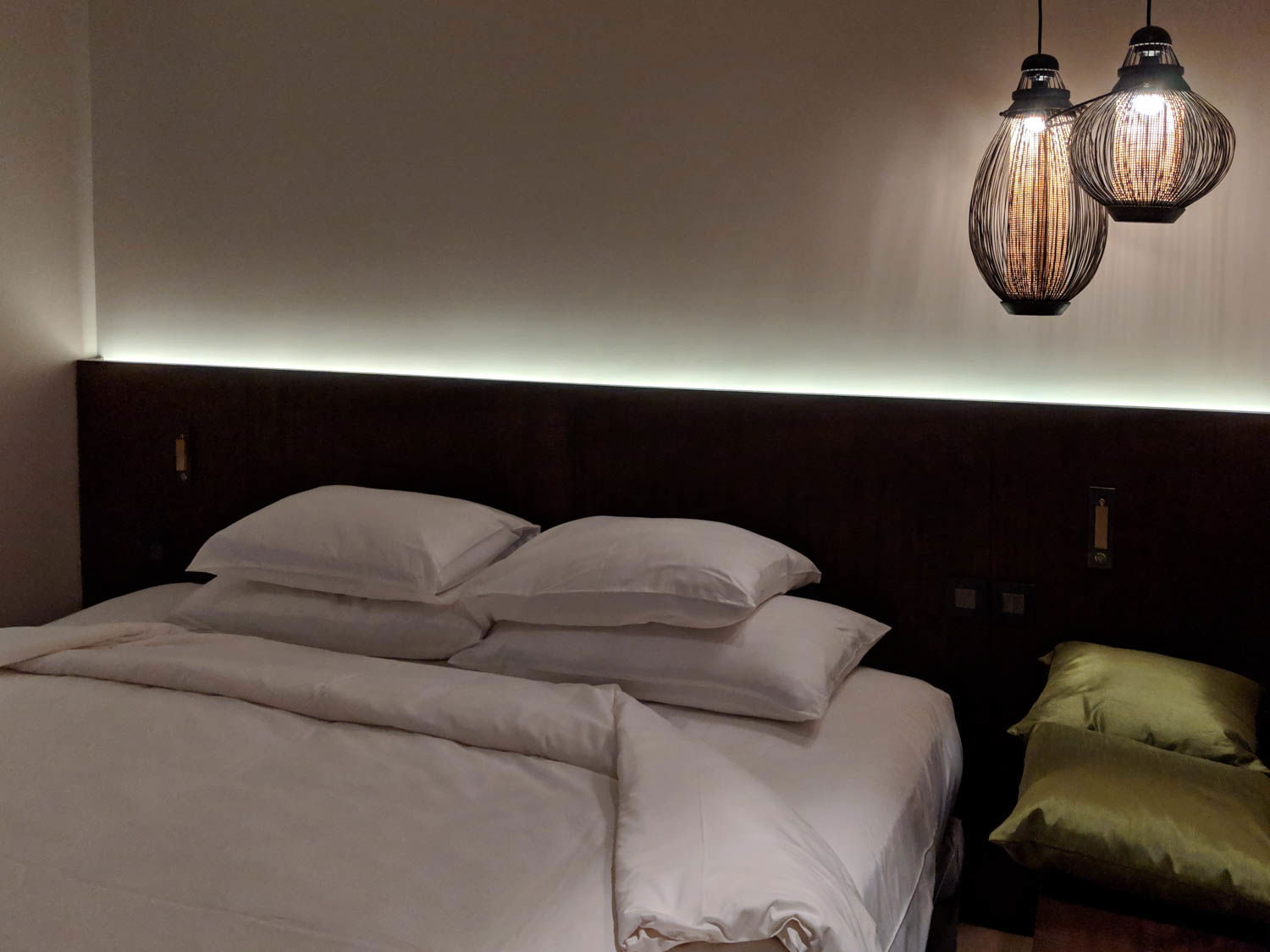 On the flip side, there are two full bathrooms (both with showers, with the master having a tub as well). Had I known about the bathroom situation, I would probably have kept all four of us in one room, since that's usually the breaking point for four women sharing a room. 😉
Anyway, we were assigned 1103, which was at the far end of the main building, and 2103, which was directly above it.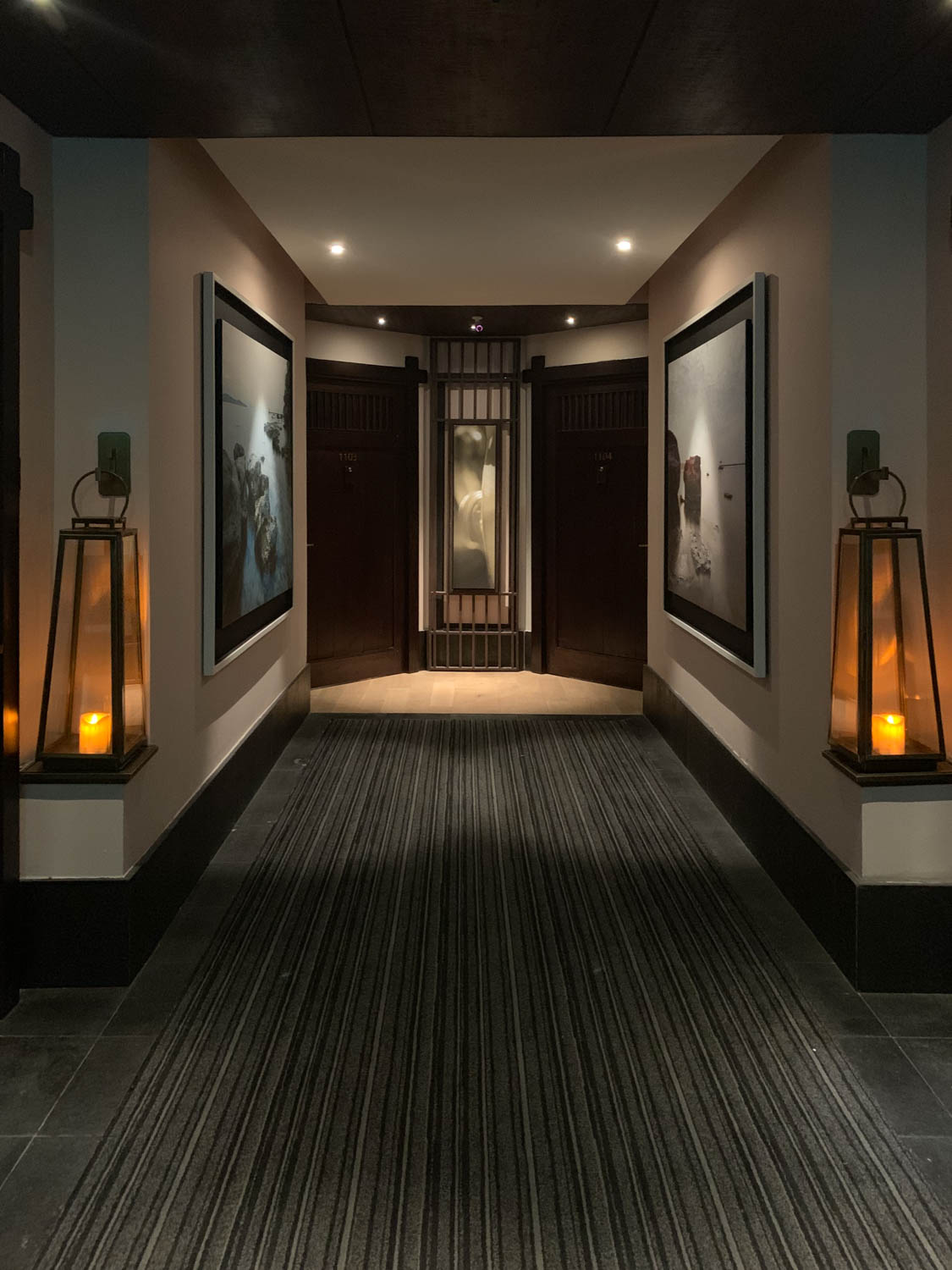 When we entered the first room, it was completely dark, which took the person escorting us by surprise — especially when he wasn't himself sure where the light switches were located.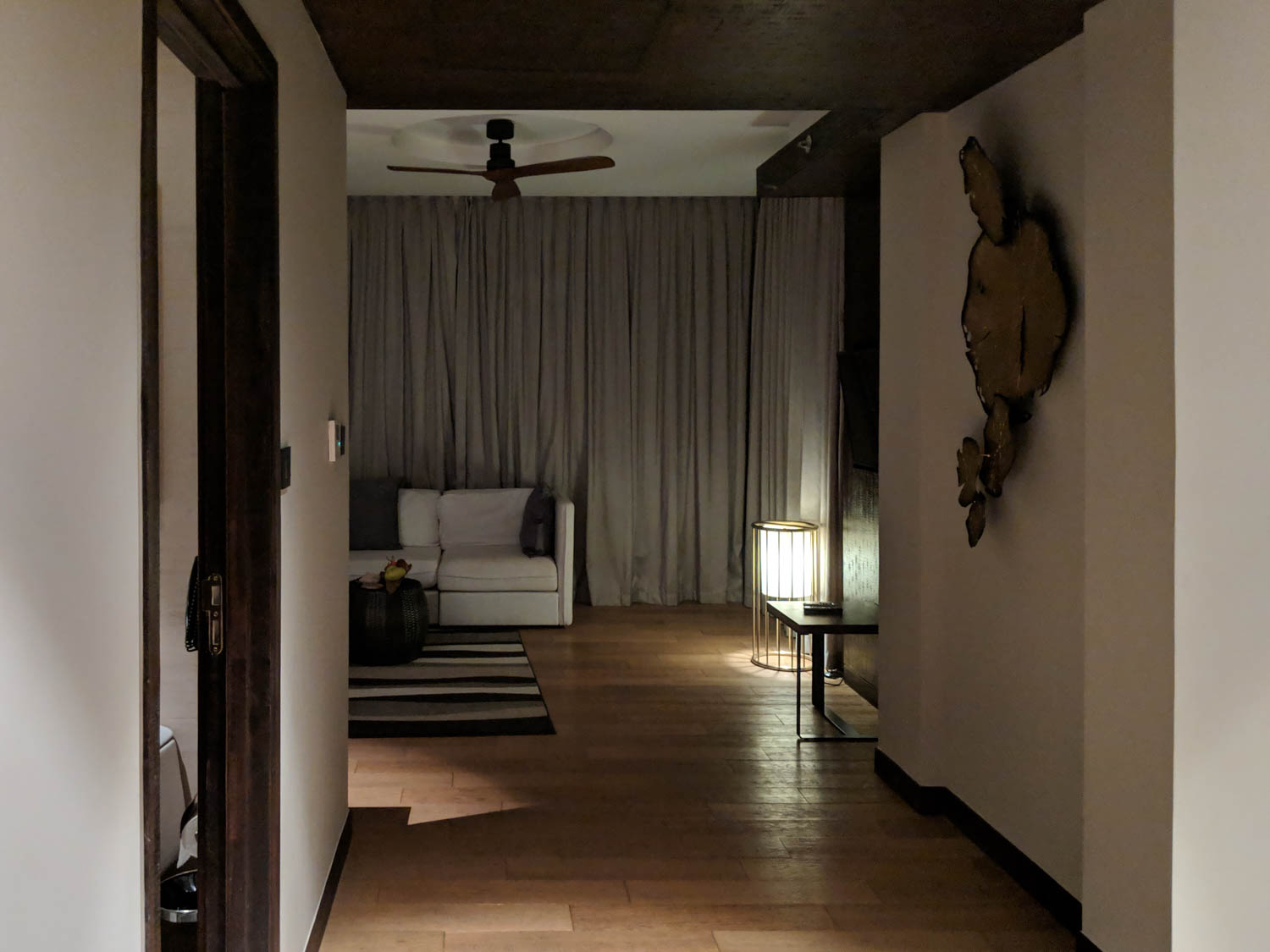 While we were turning on lights, the bellman arrived with luggage, while another colleague brought three welcome drinks.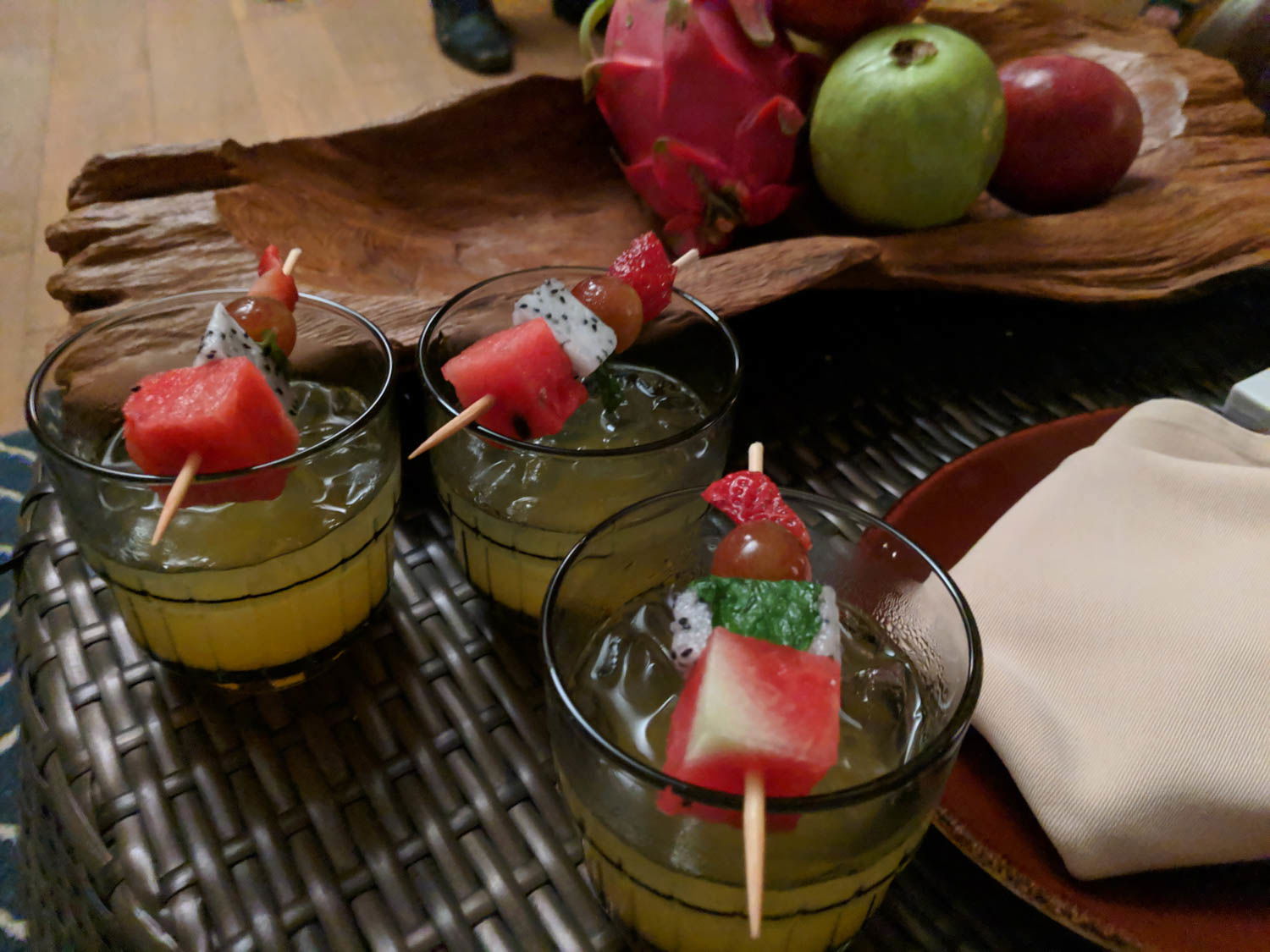 That's technically one more than was included in the package rate, and I don't know if Globalists are supposed to get them, but it was a bit odd, since there were four of us in two rooms, and we'd been sitting in the lobby for 40 minutes. But we just laughed and shared them.
Both rooms were identical in layout, though had slightly different lamps and art pieces (well, and one room didn't have a deadbolt, which was uncomfortable given how dark the property was, but we worked that out too).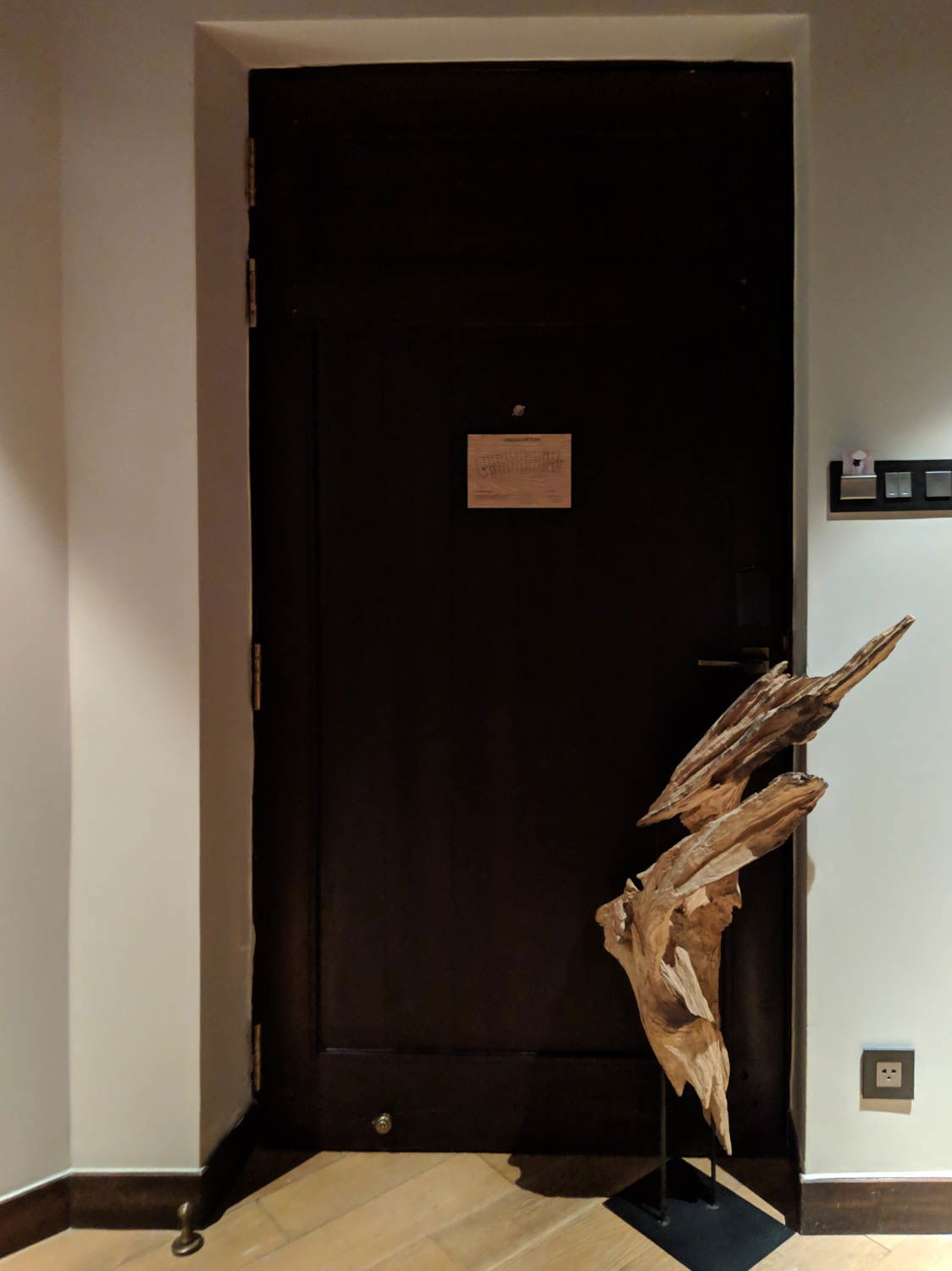 I'm going to mix daytime and nighttime pictures from both rooms, just so you can get a sense of things.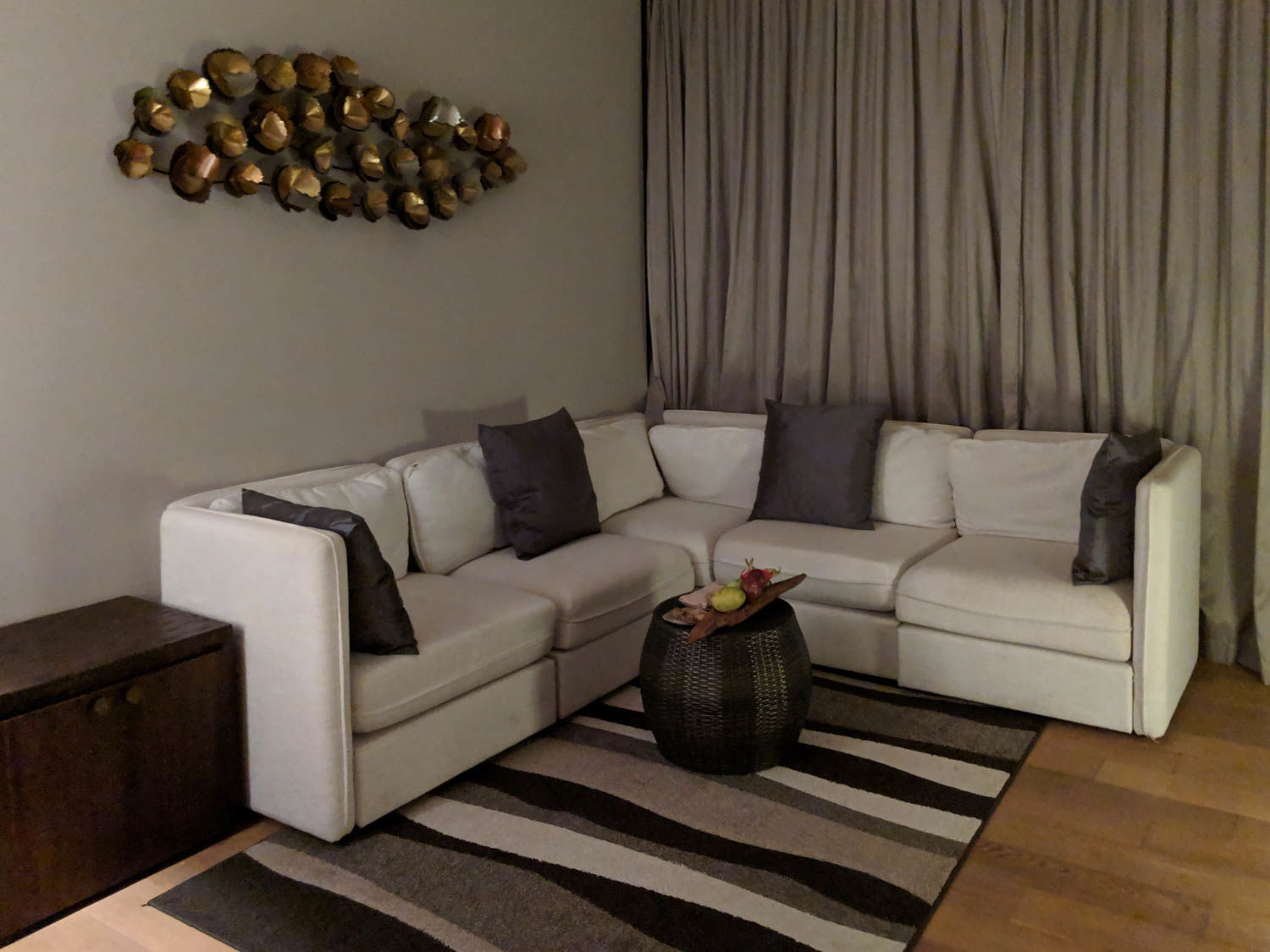 The living area had an L-shaped sofa, a mini-bar, and somewhat obstructed views of the ocean beyond.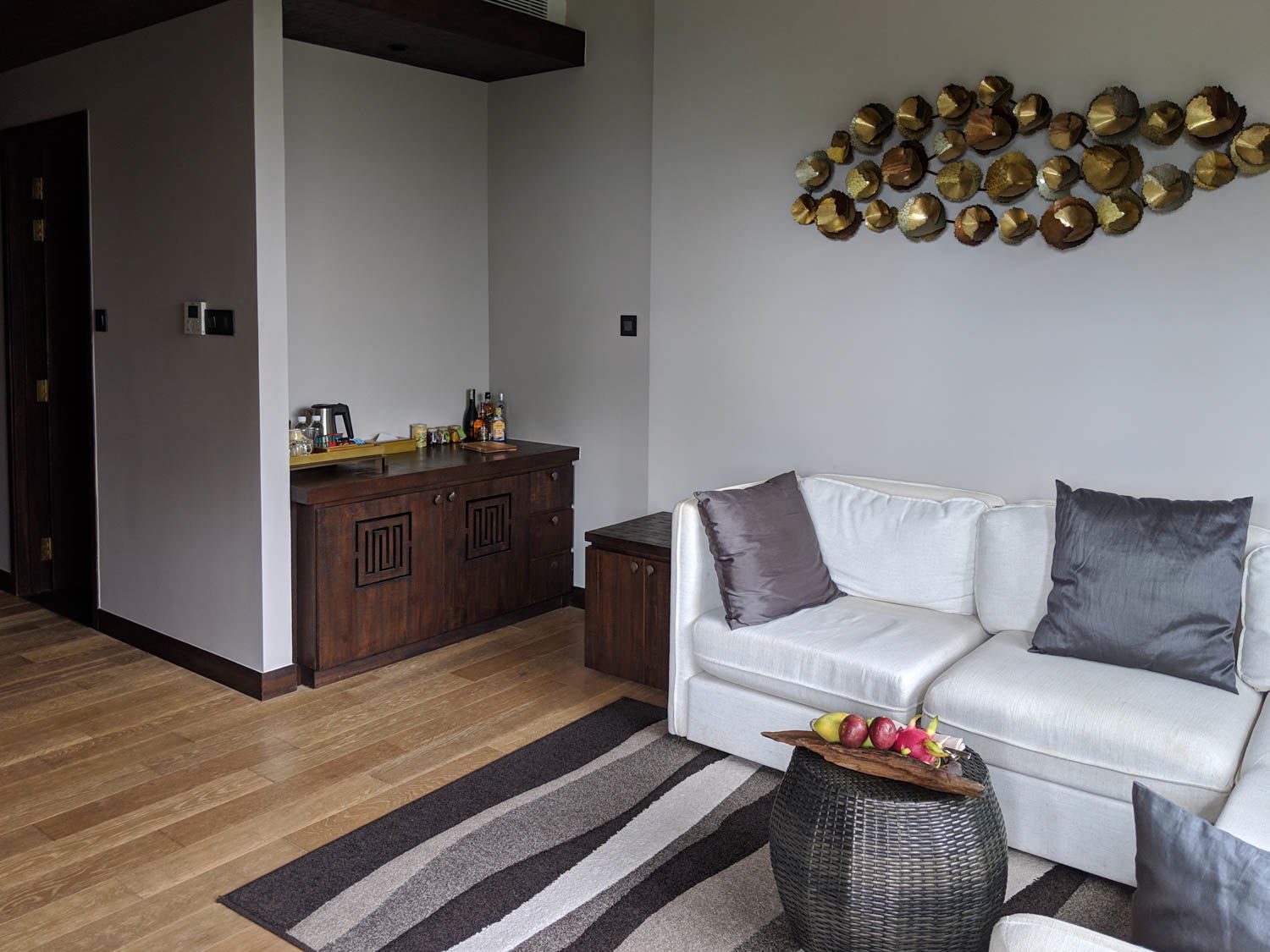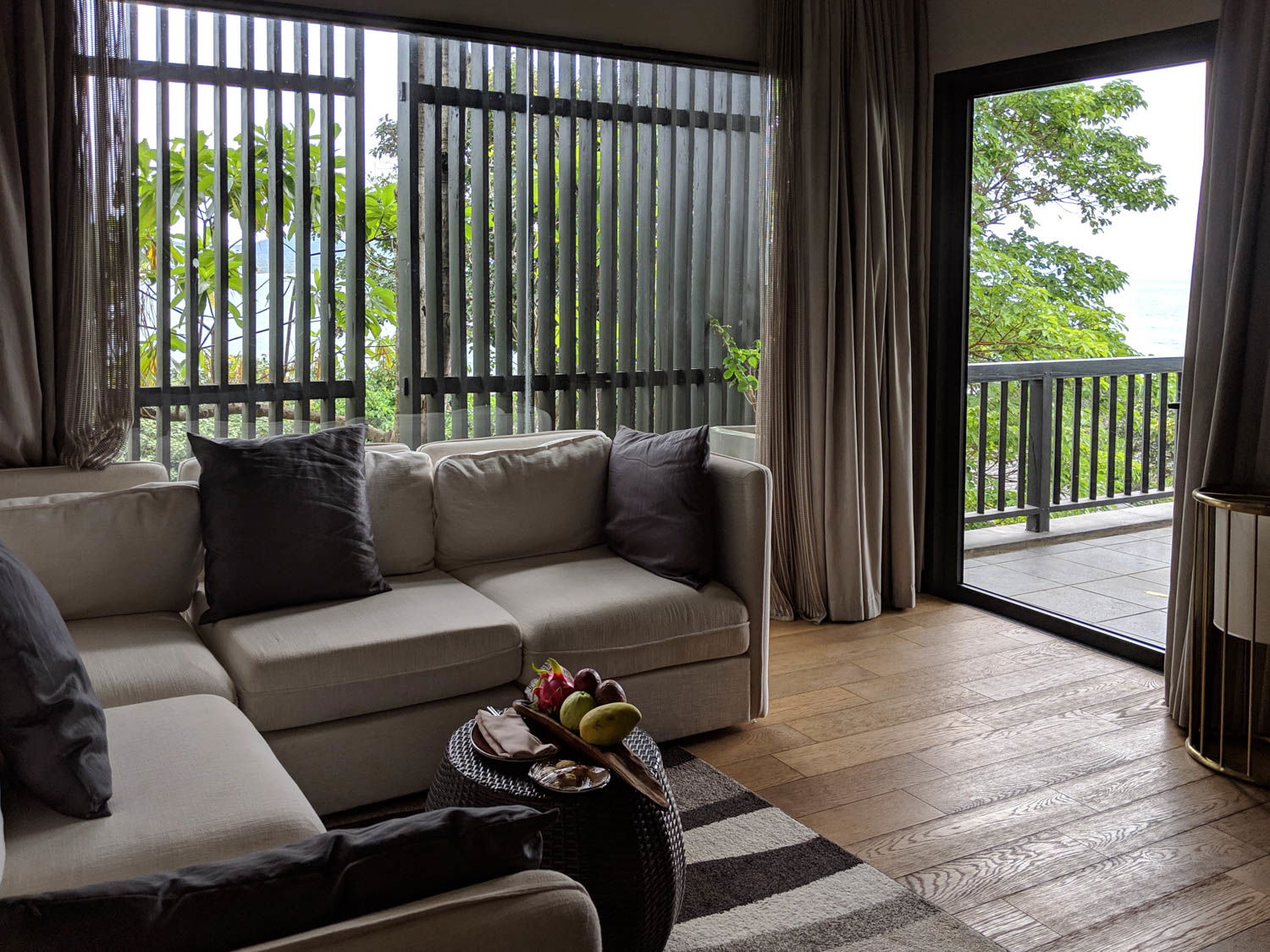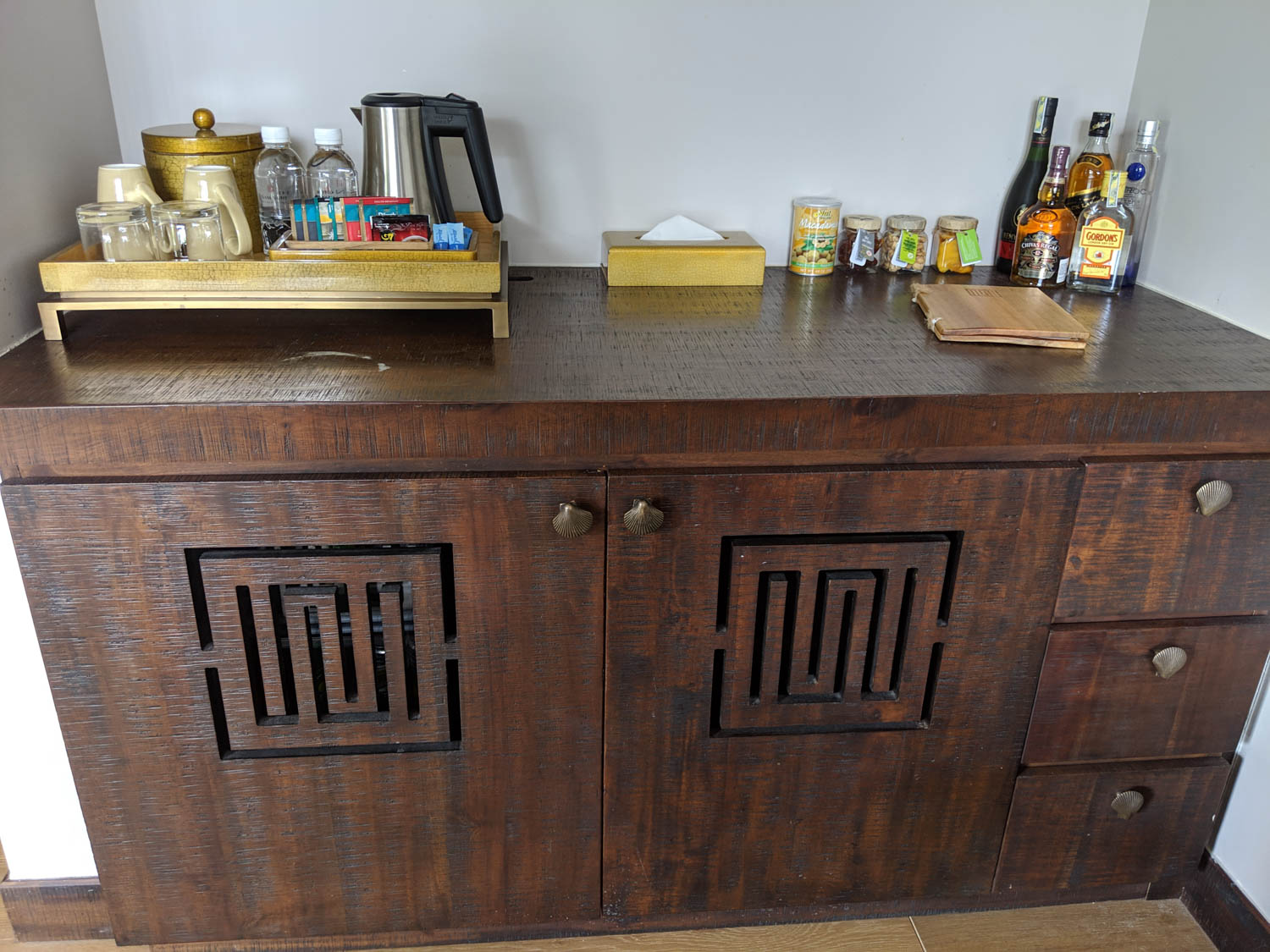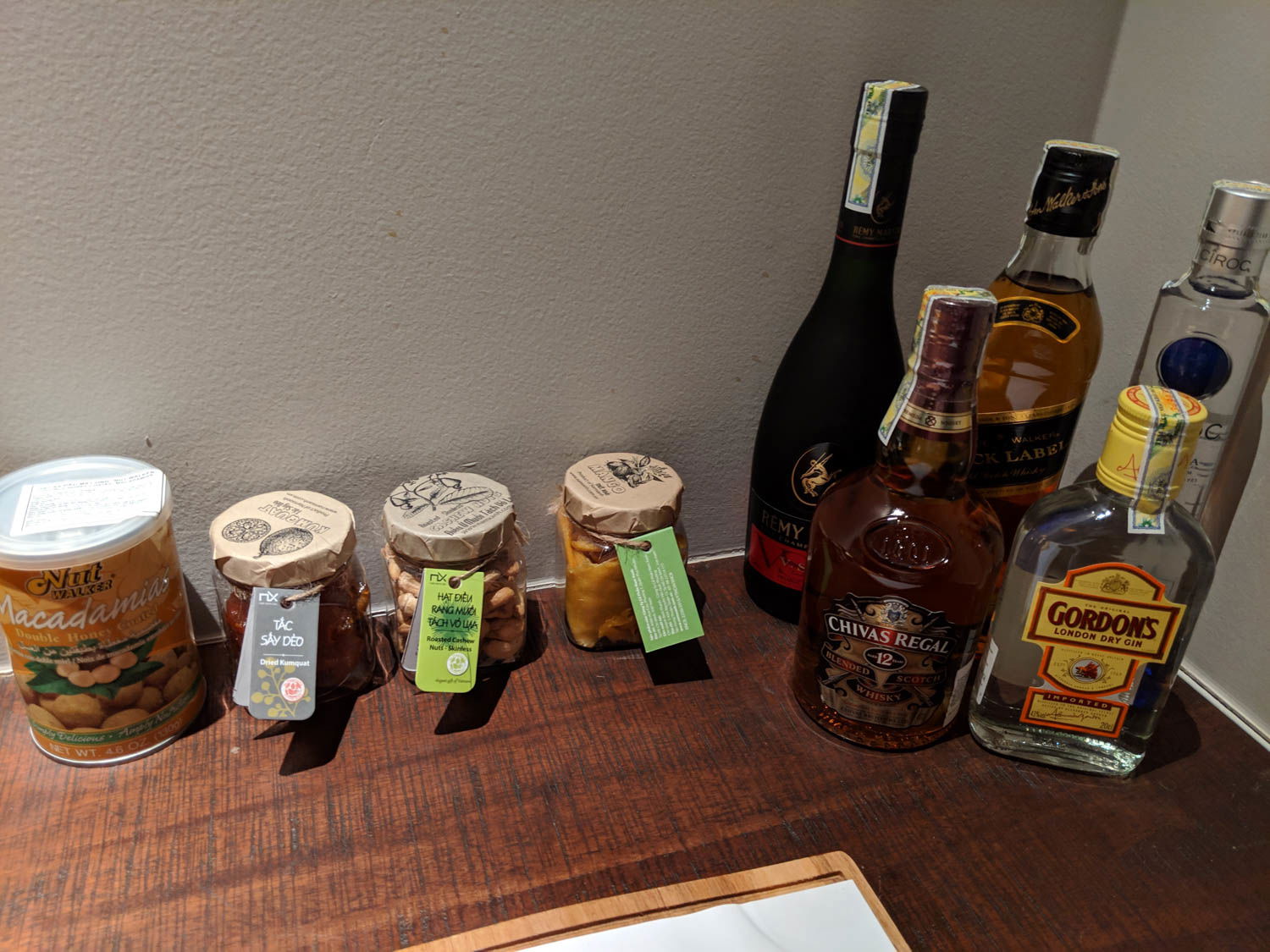 The minibar prices were high for Vietnam, but reasonable as far as minibars go: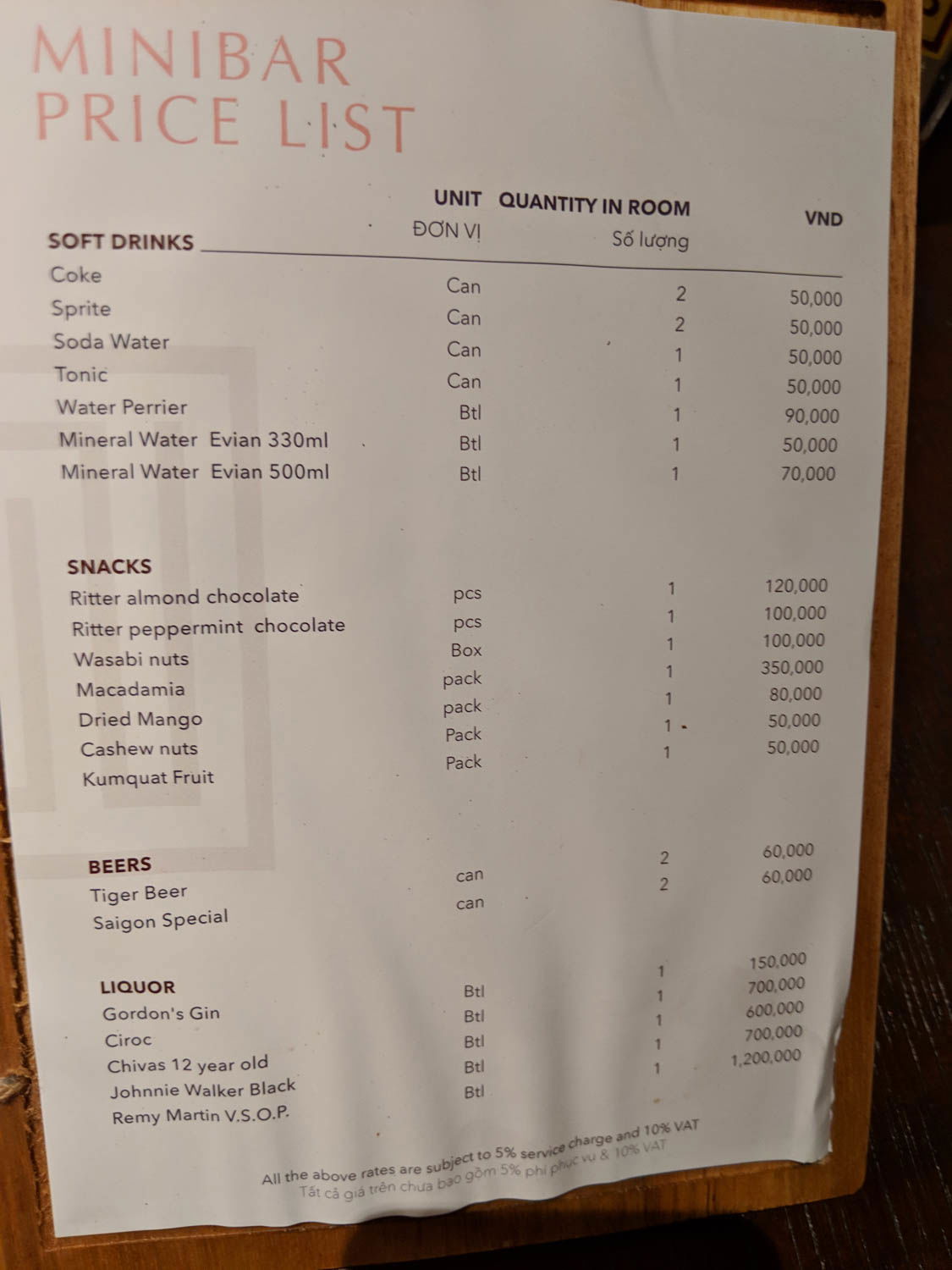 The hallway between the entry and the living room had a bedroom to the right, and a bathroom on the left. The sinks were especially cool!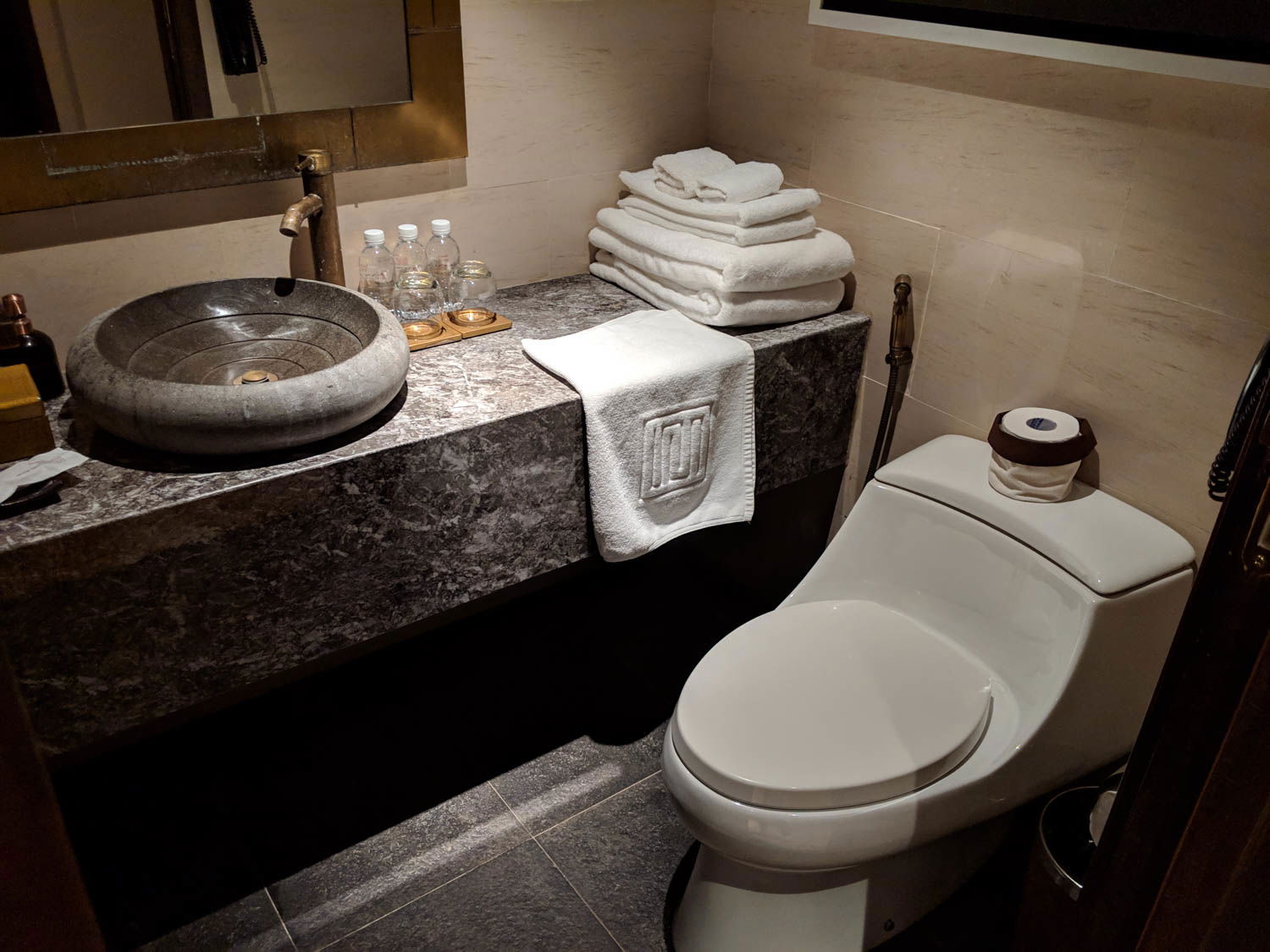 The hall bathroom also had a full shower, with both a waterfall and standard shower head.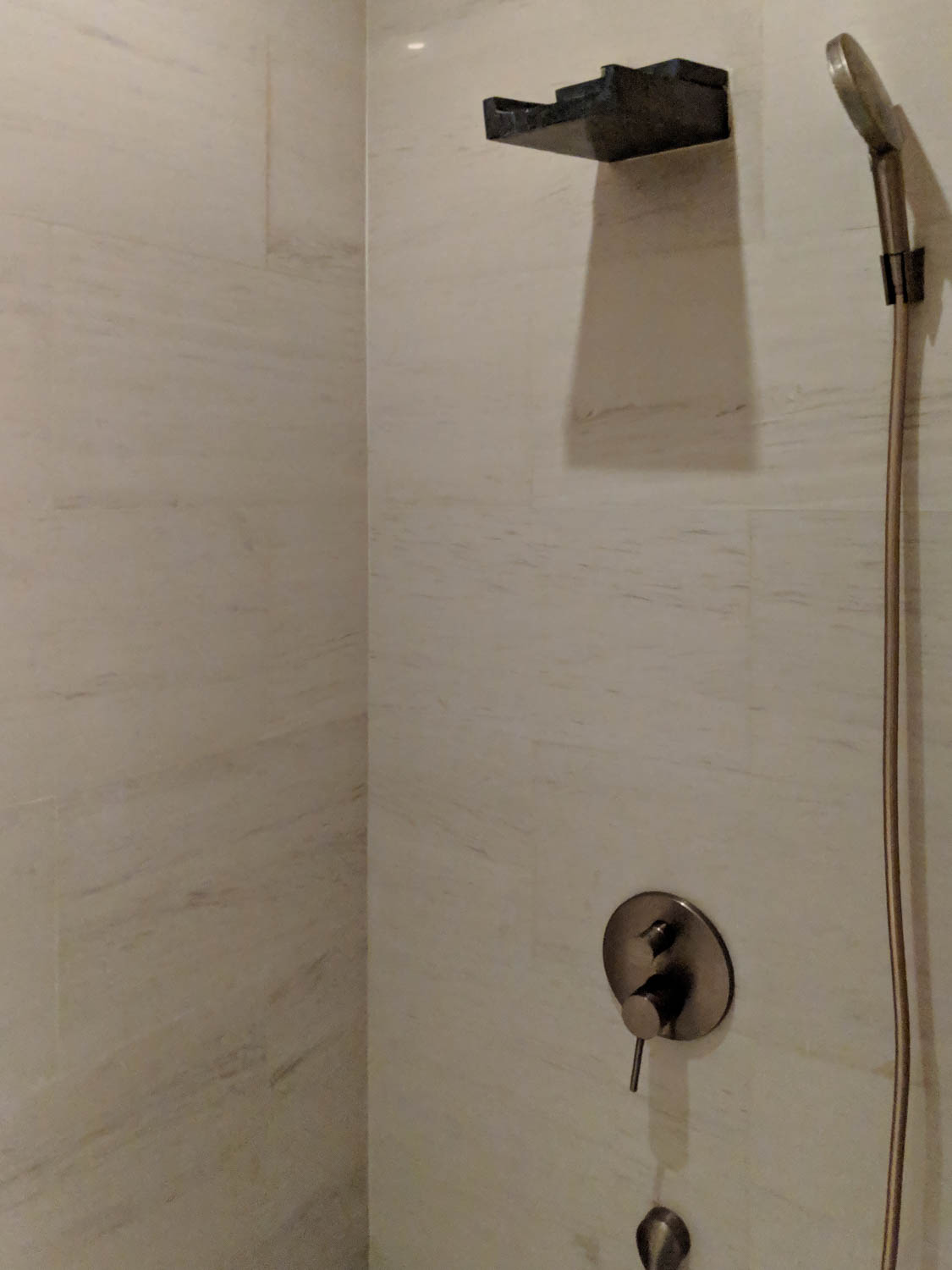 The master bedroom was off the living room, and had a king bed, a desk, and a large closet and luggage storage area.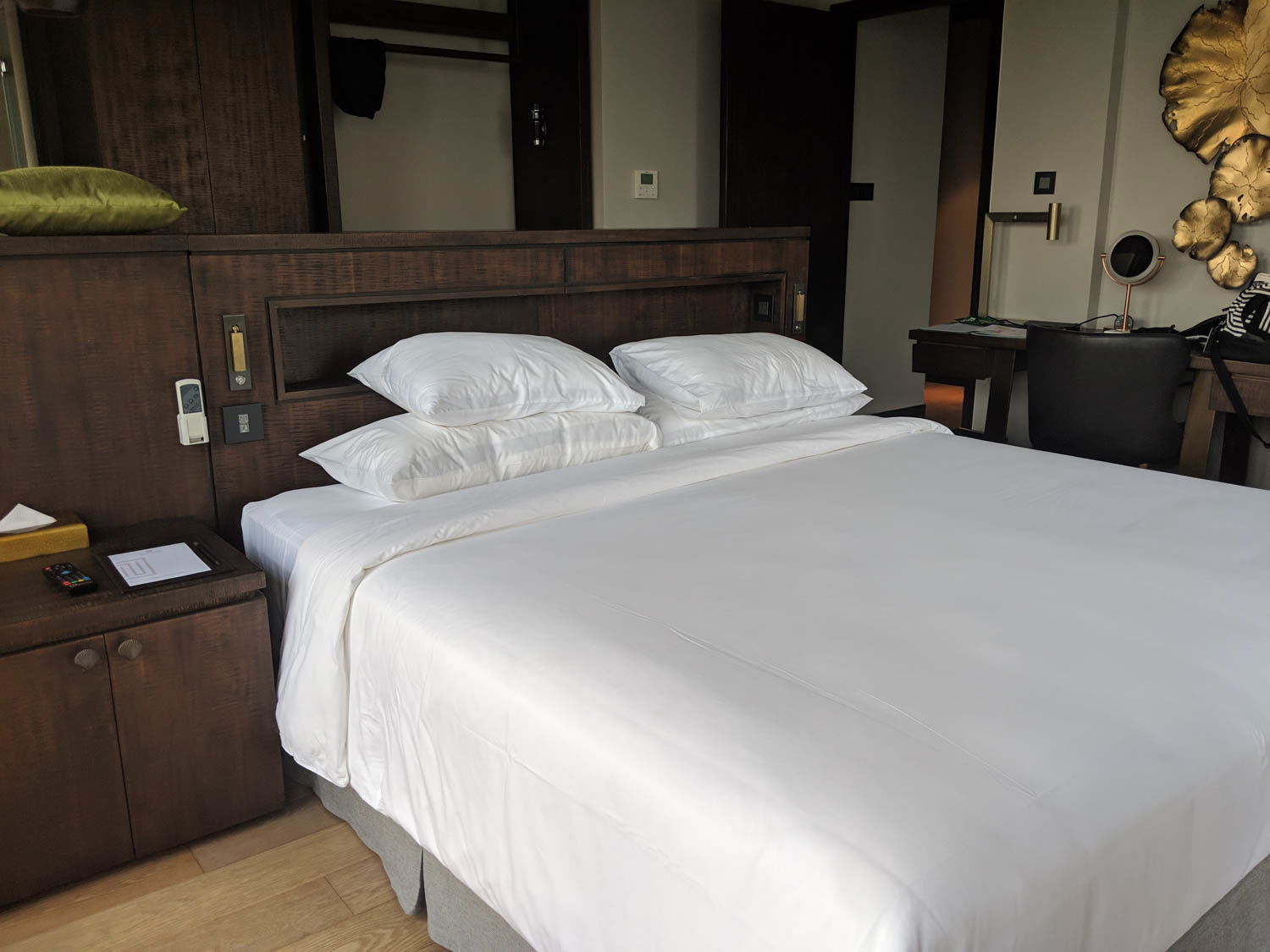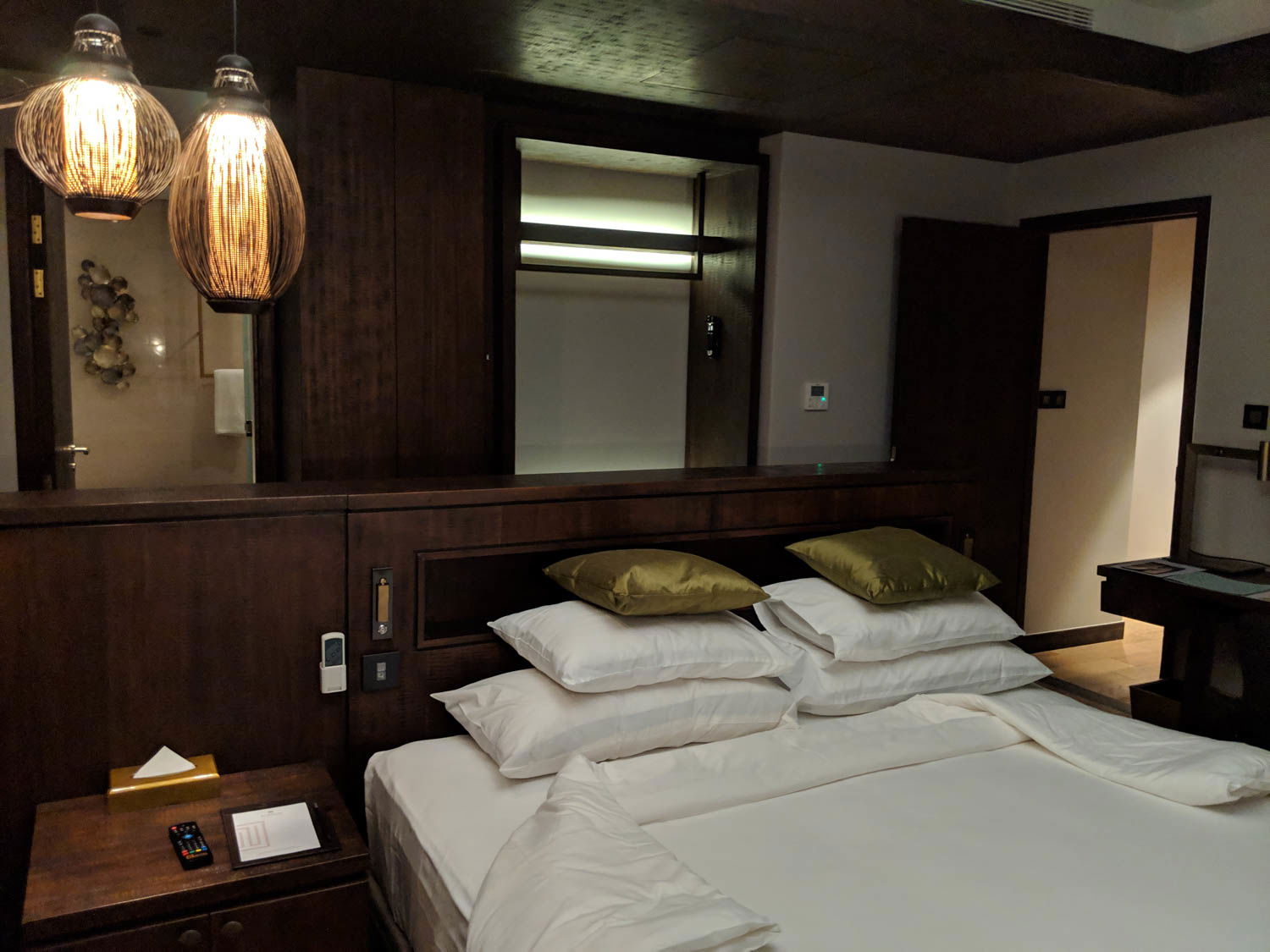 As the room was on the corner, the bedroom was mainly windows, which wasn't that interesting in the evening…
But was gorgeous during the day!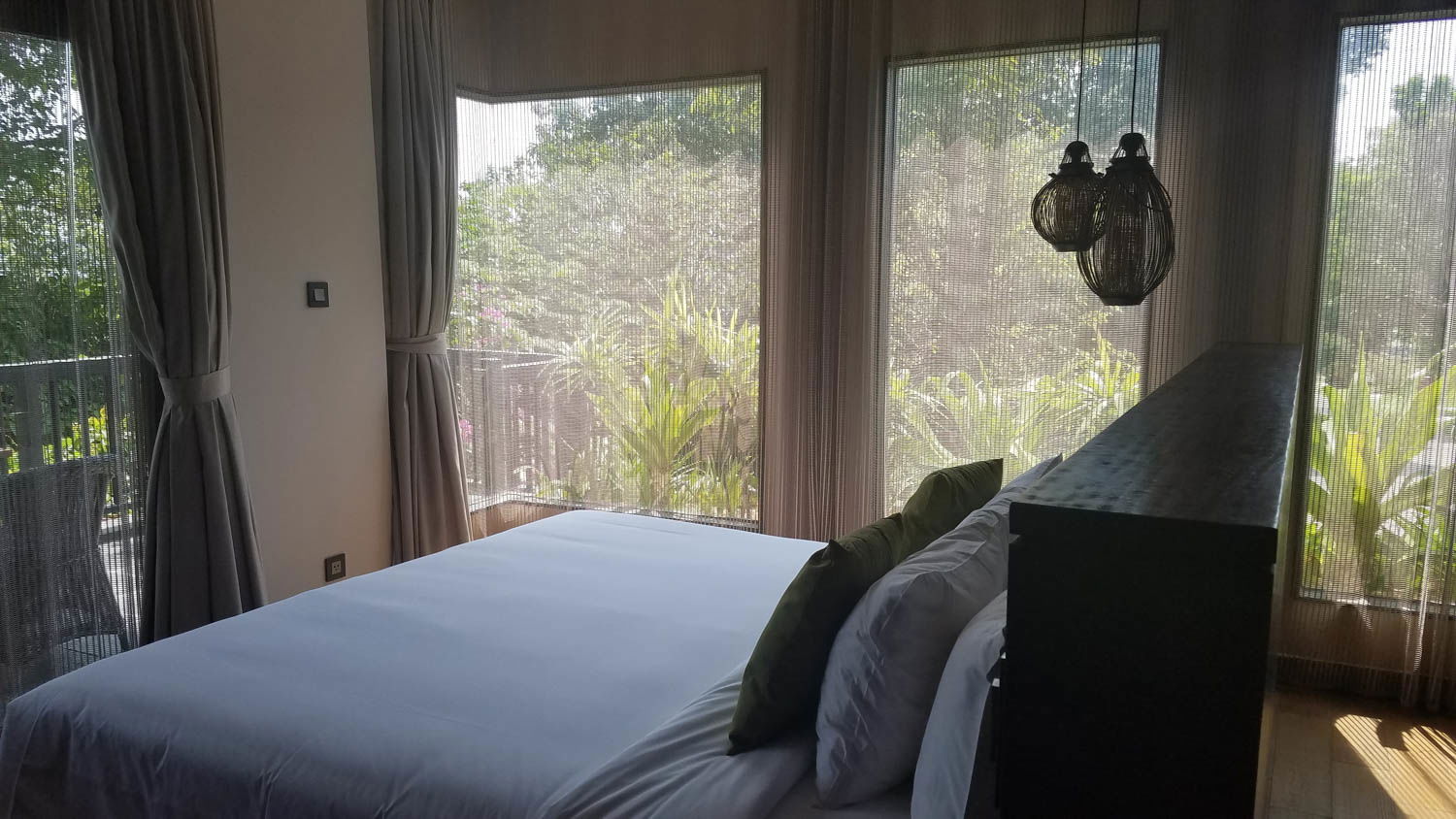 The large bathroom was to the left of the closet, and was beautiful, with a separate shower, soaking tub, and toilet room: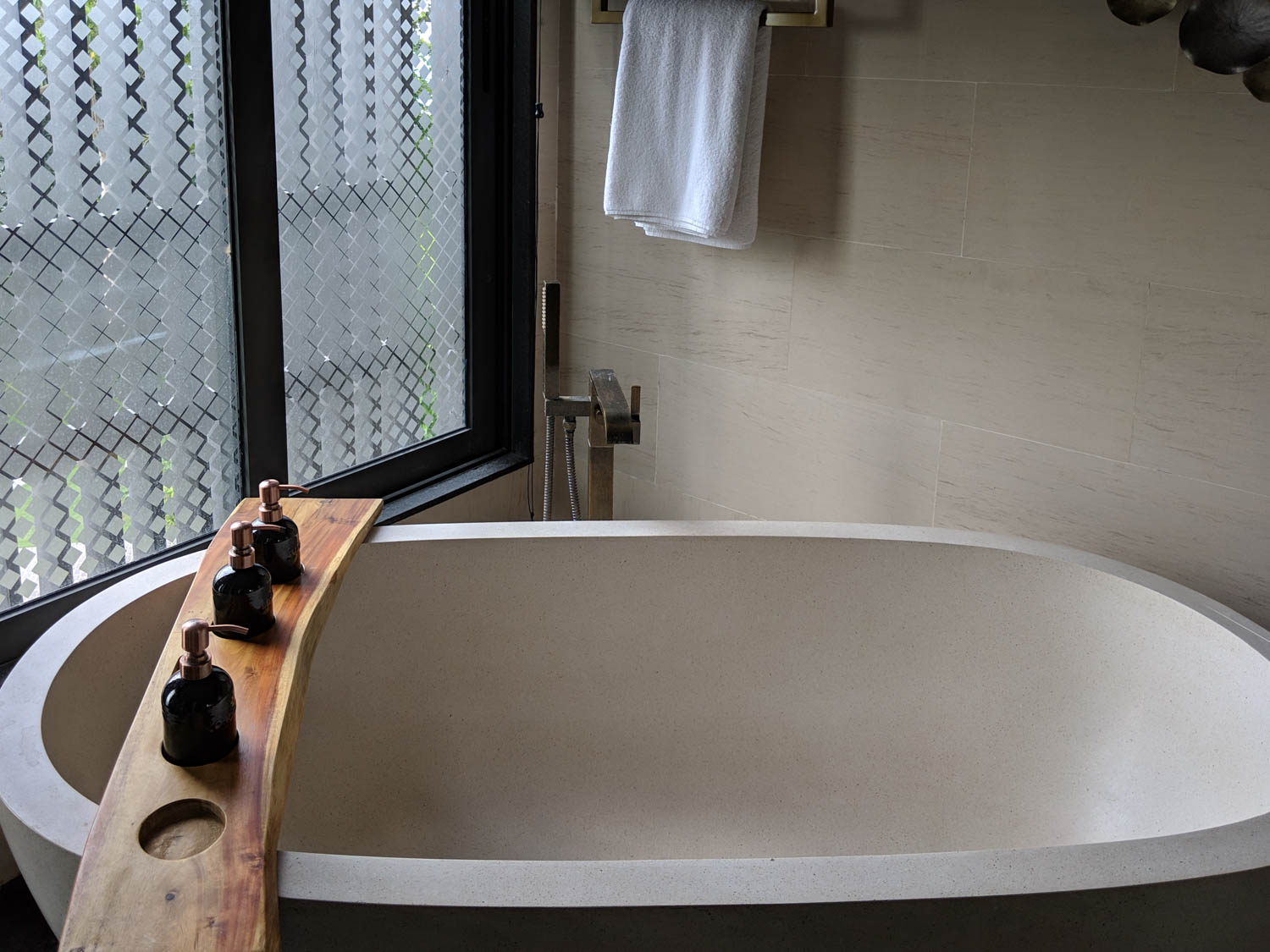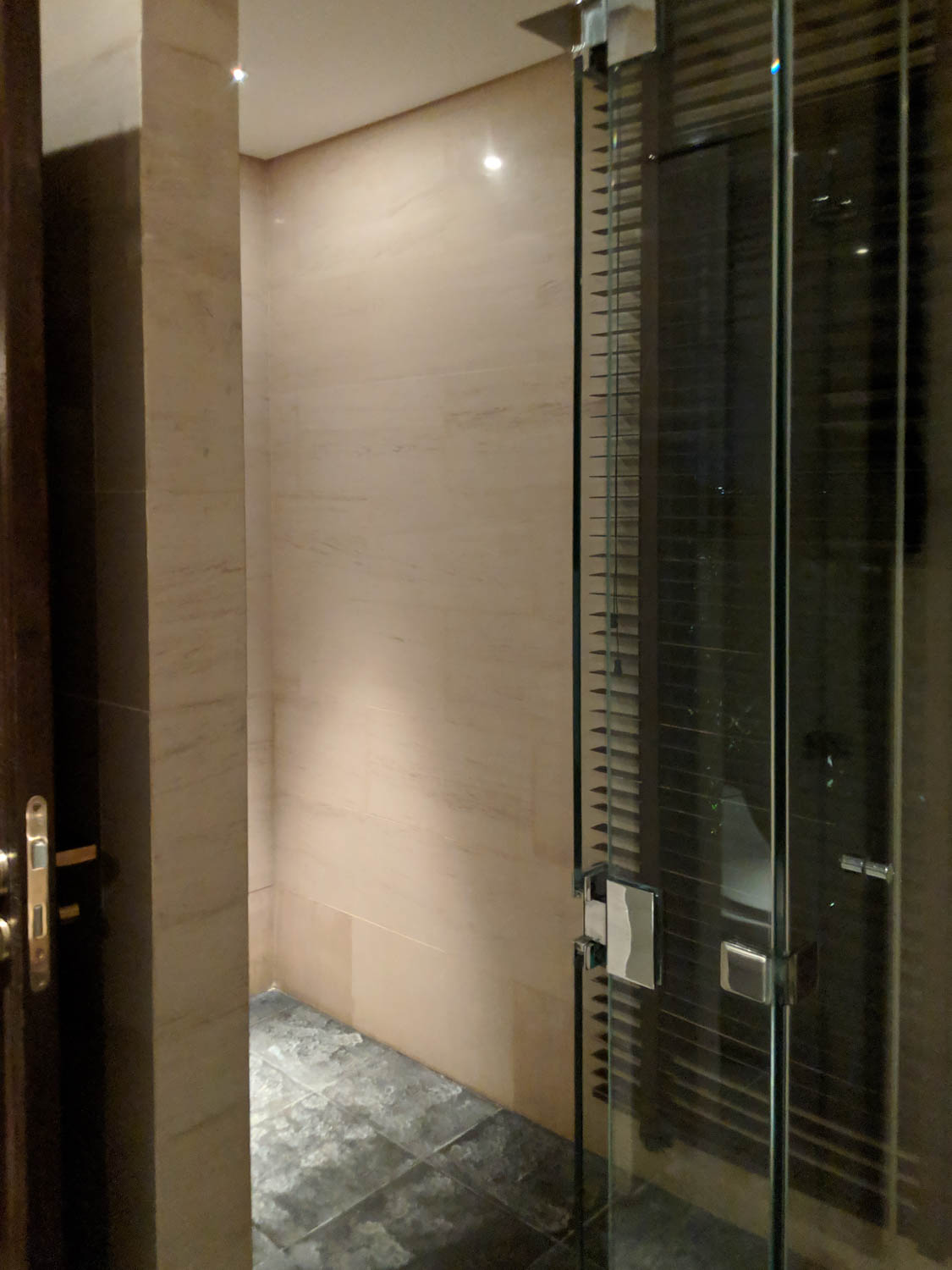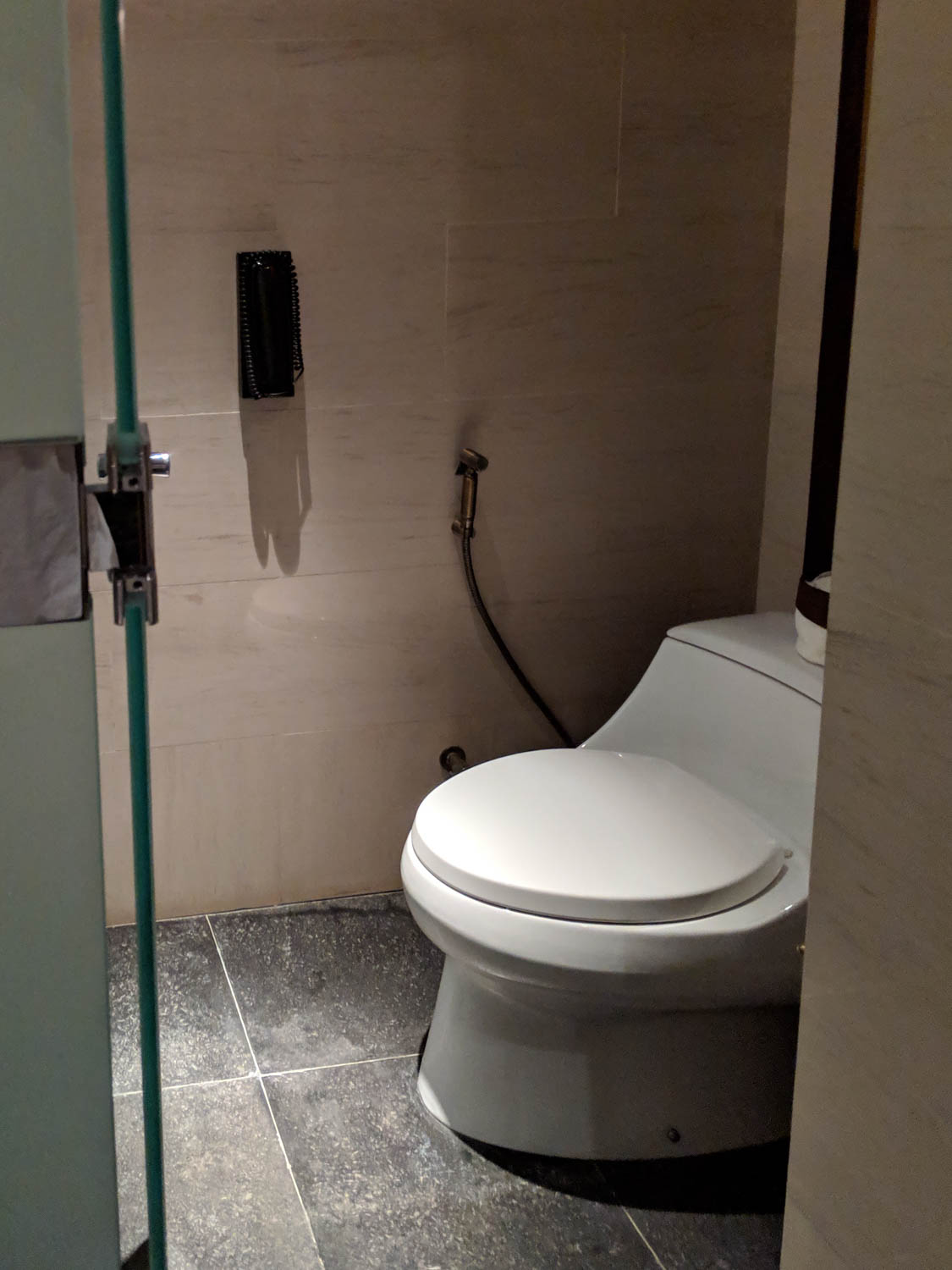 It was also the most impractically designed bathroom I've ever seen in a hotel (and I've put a lot of thought into hotel showers over the years). These sinks are super cool, but where are you supposed to set anything?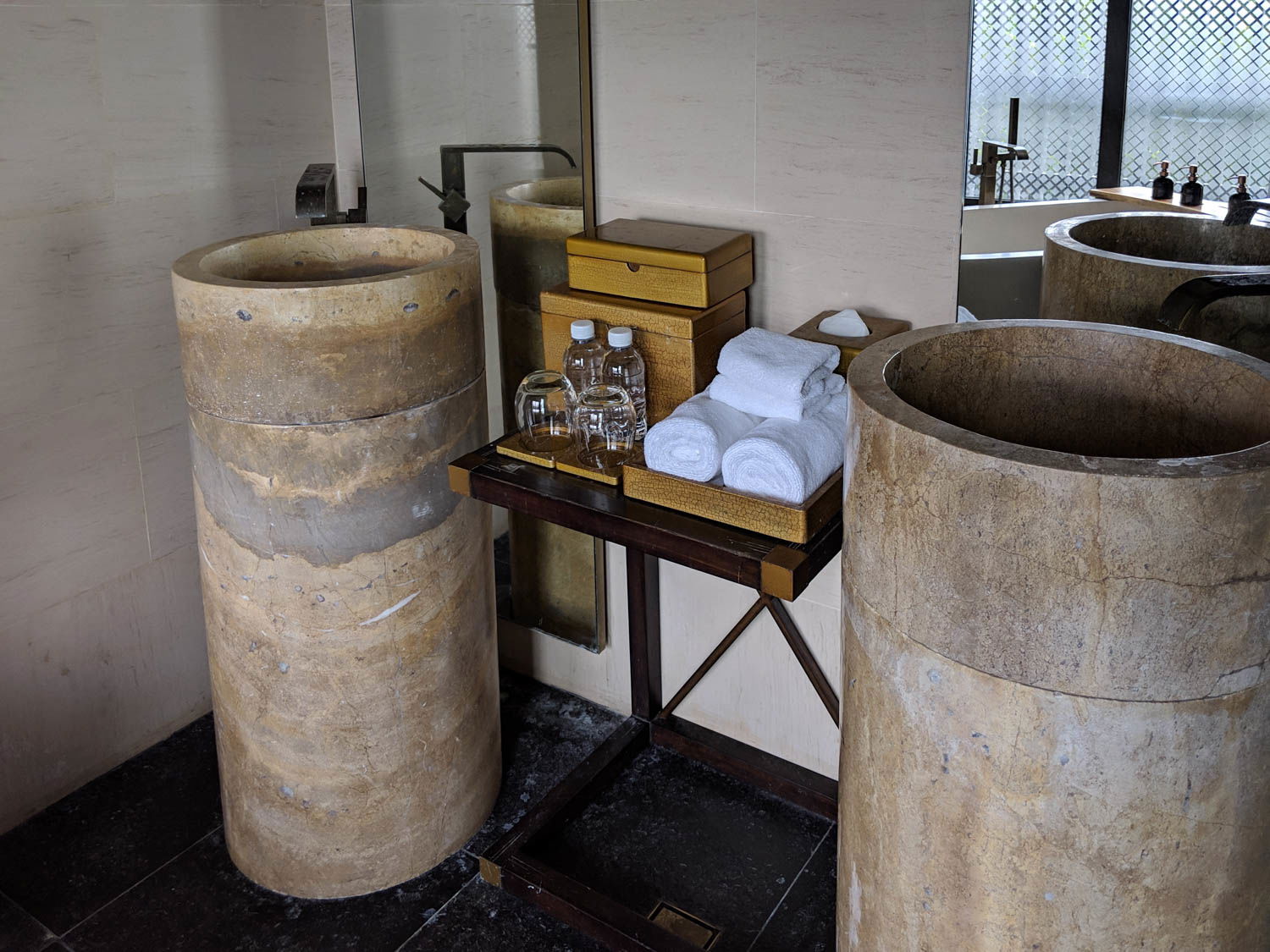 These boxes all ended up on the floor, which wasn't ideal when the bathroom later flooded.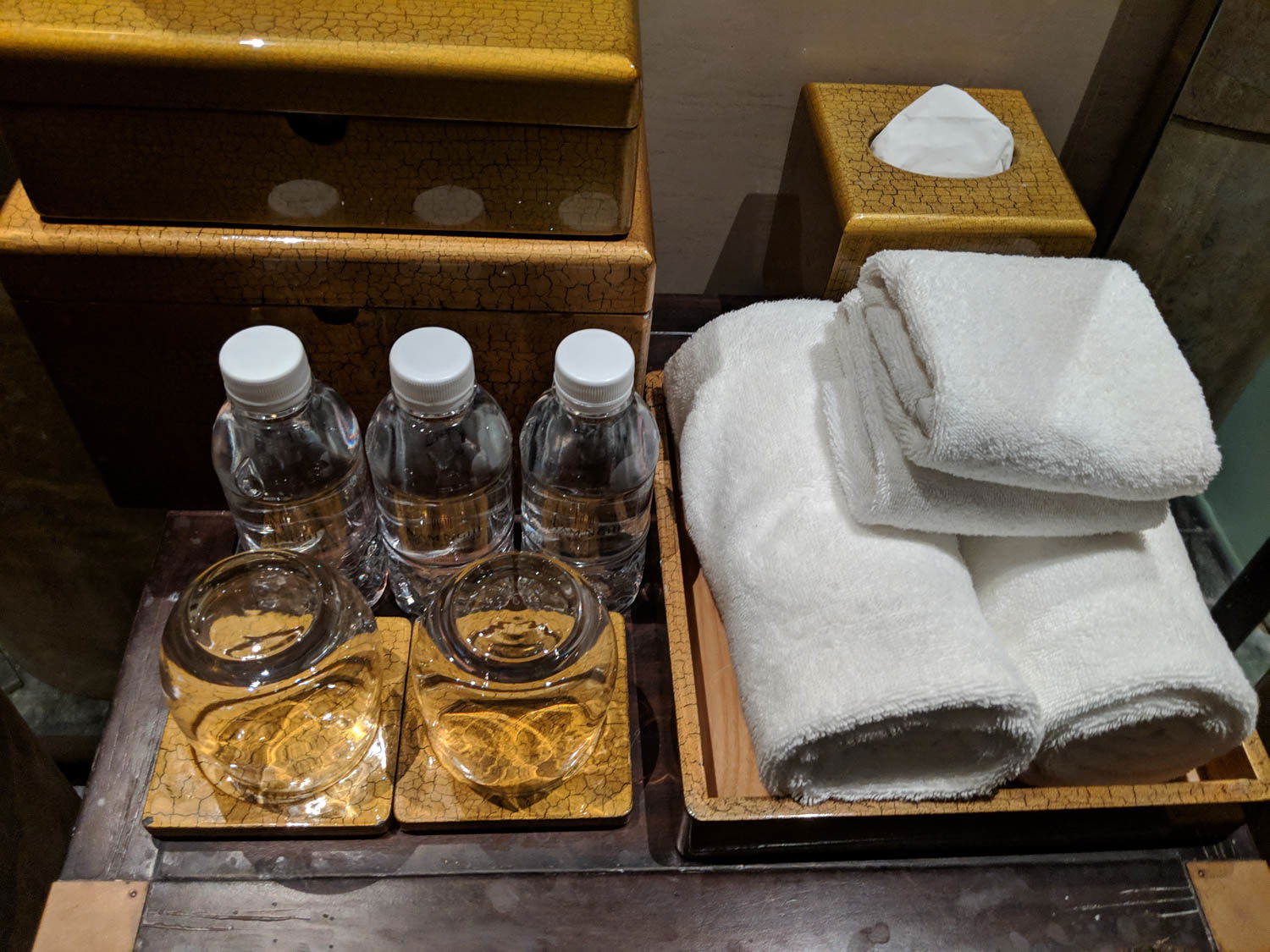 Bath amenities were a mixed bag as well — one of the boxes had the basic kits, plus a bottle of lotion: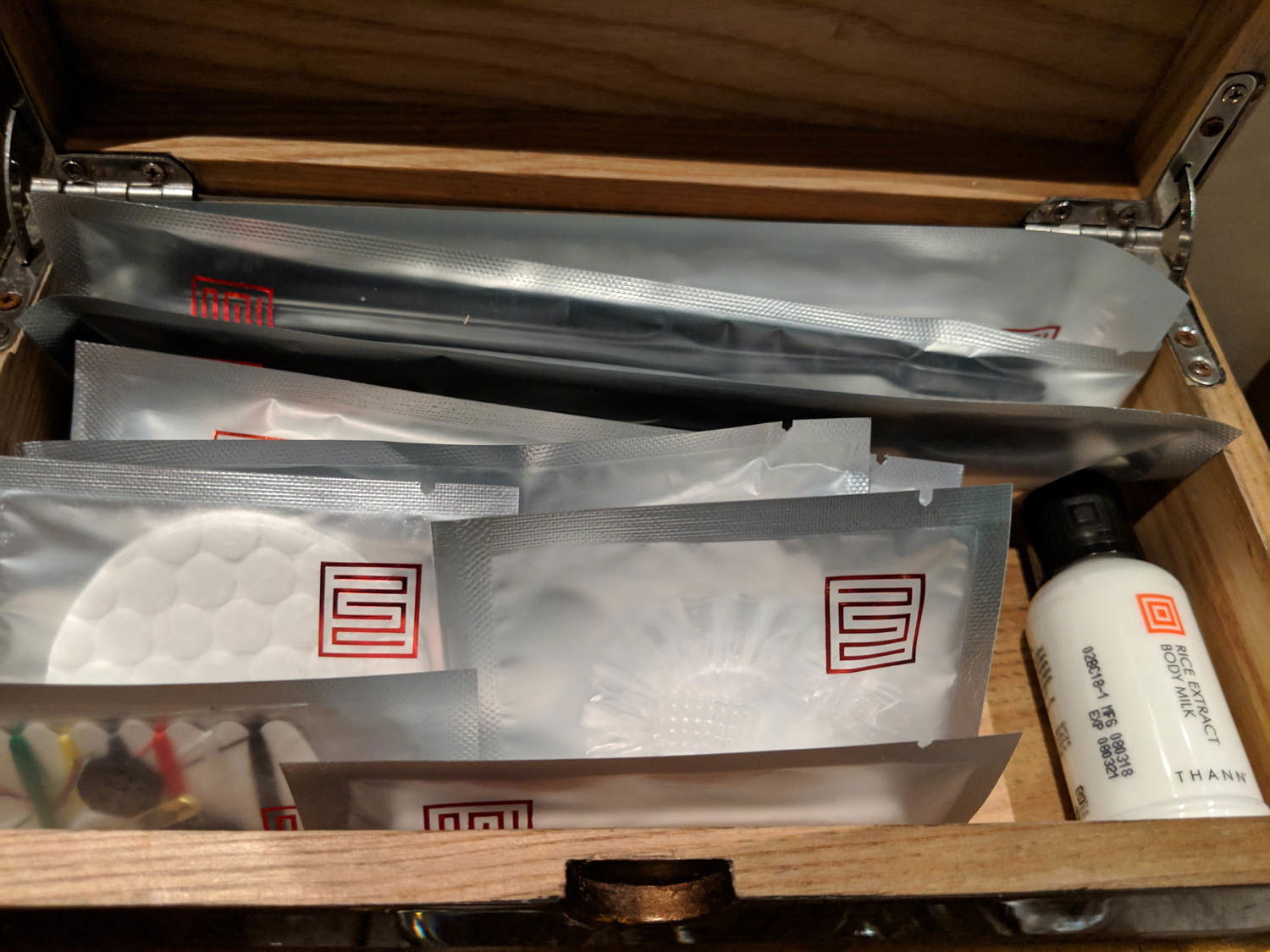 Meanwhile the shampoo, conditioner, and shower gel were in a tray over the tub: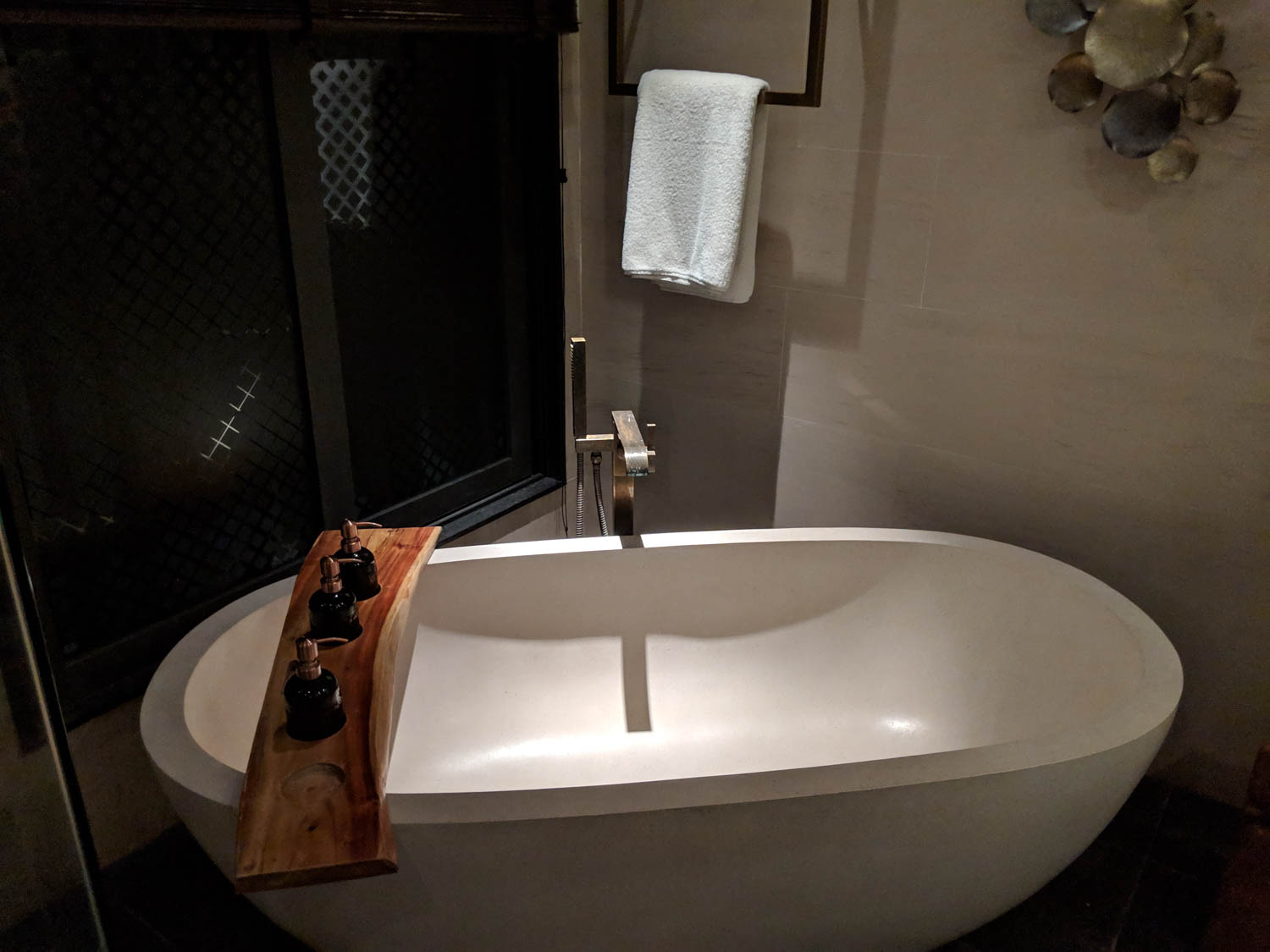 There wasn't a separate set of amenities for the shower, which is fine, especially as there wasn't anywhere in either shower to set anything other than the floor. So that was fun.
But how much can you care about the room when you have this view off the terrace?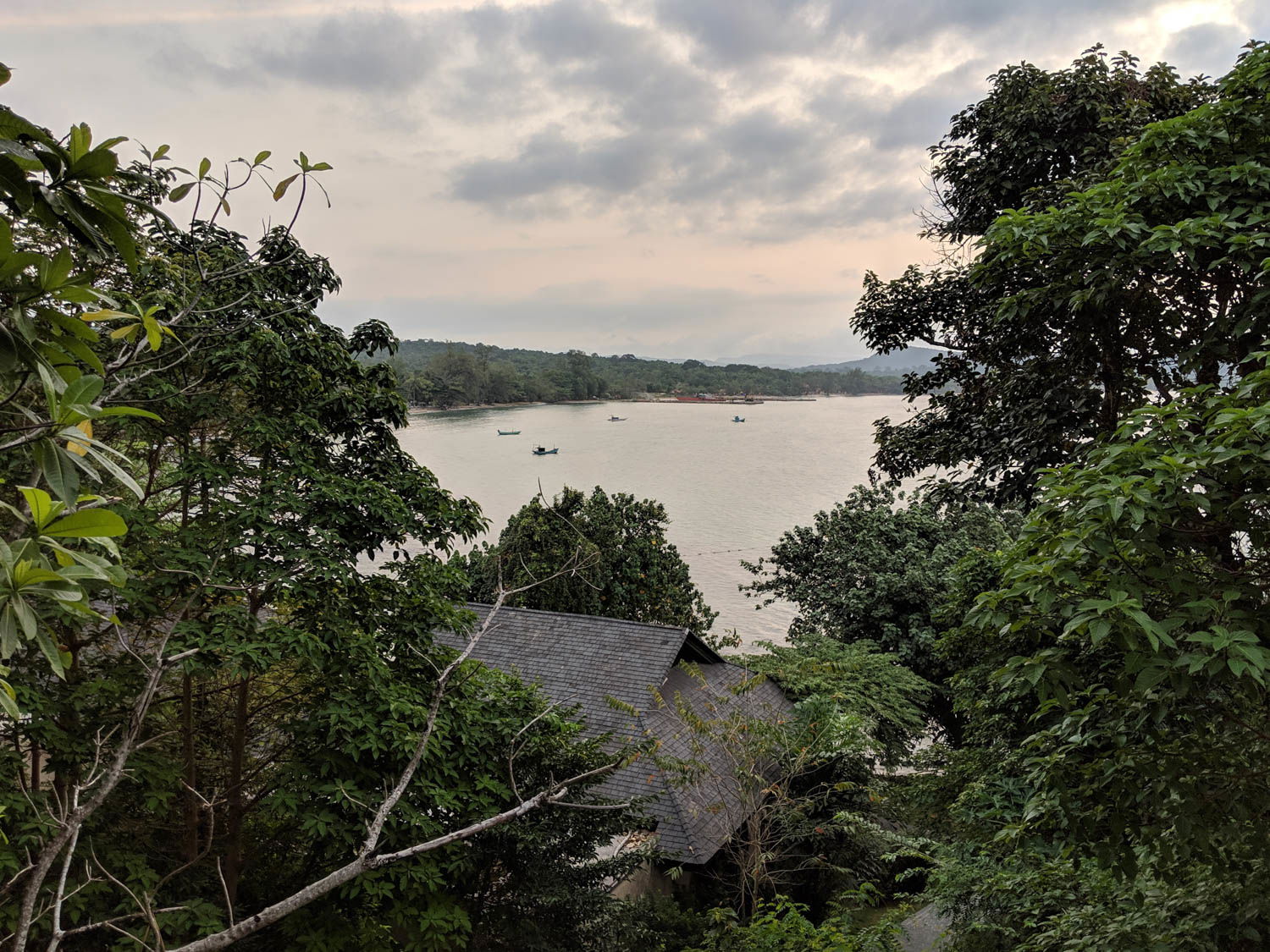 Nam Nghi Phu Quoc Resort and Amenities
Overall, I thought the property was beautiful. The hotel is tucked away on the tip of a peninsula, and felt extremely private. "Hideaway" is a perfect name.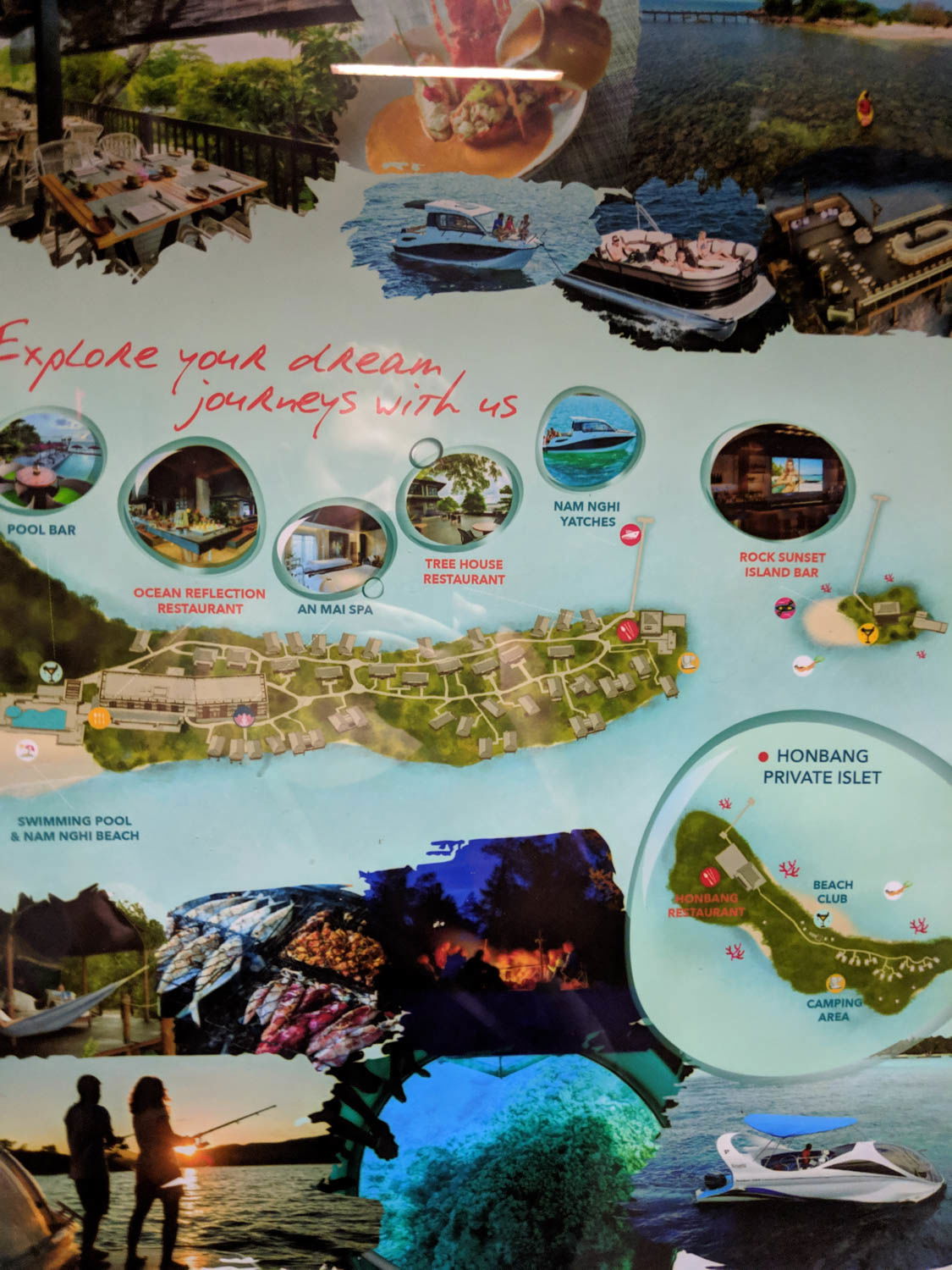 I also appreciated that the main building of the resort was relatively low-rise, which gave the entire complex a cozy feel.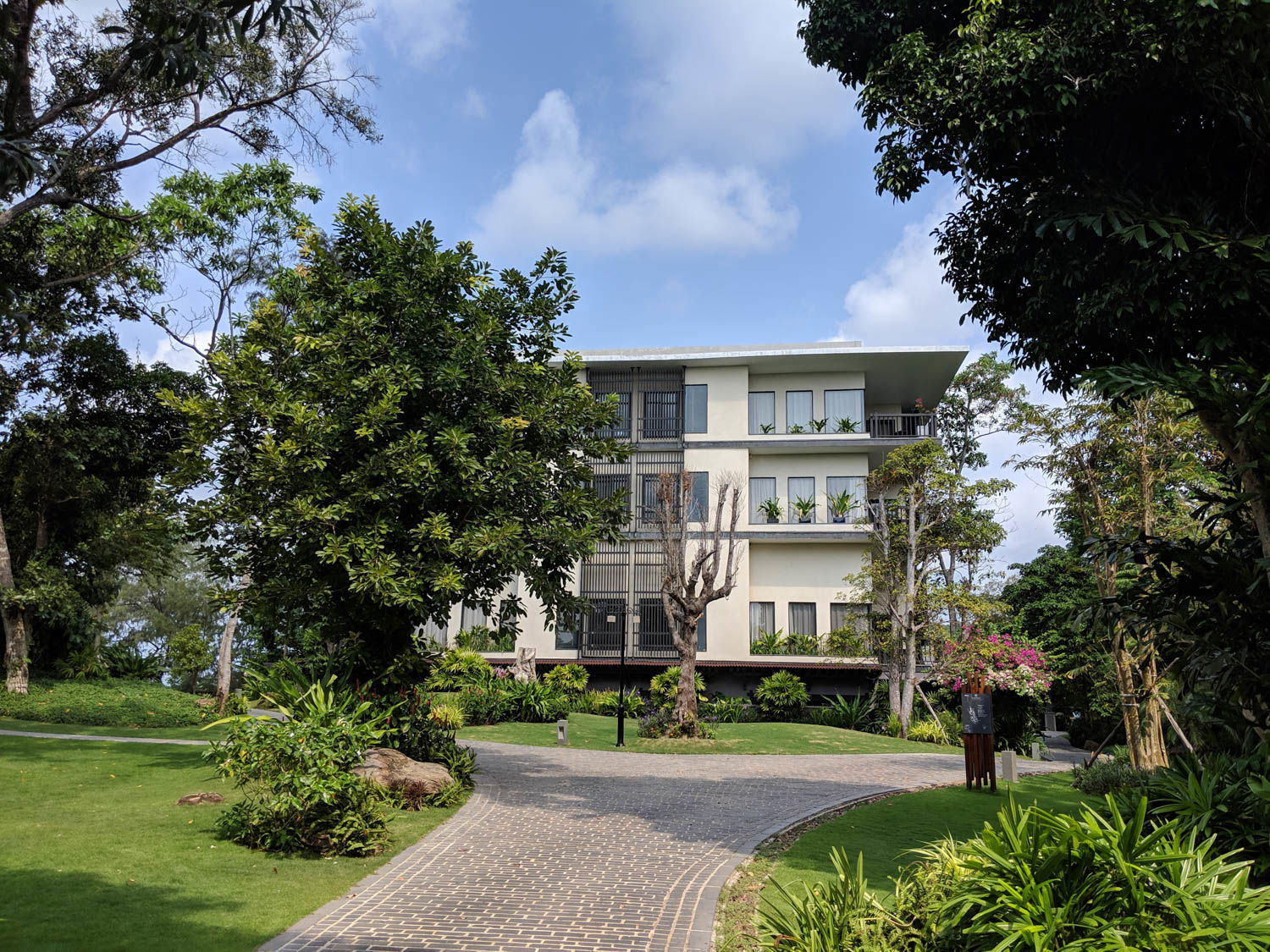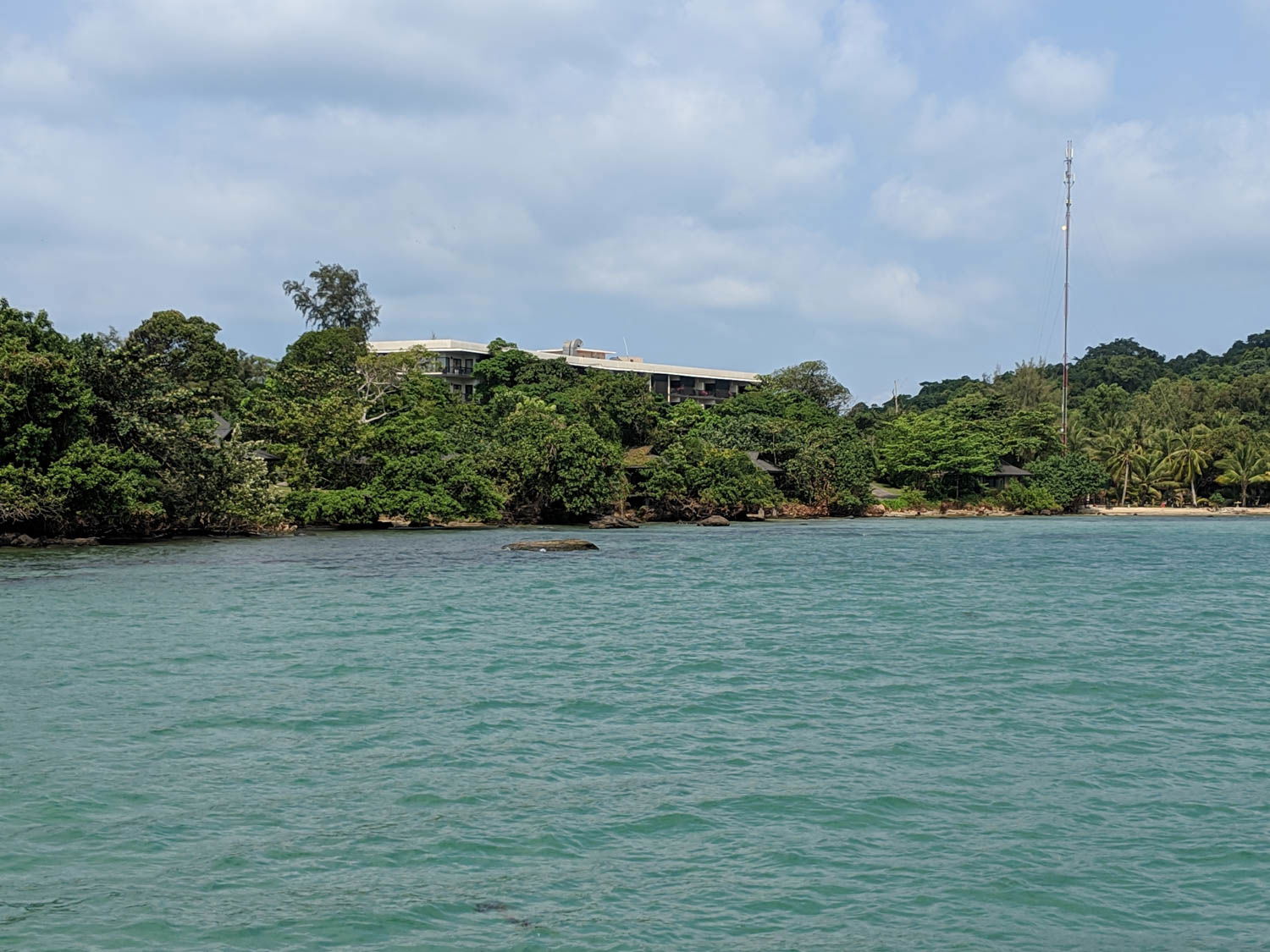 The grounds surrounding the main building were lush, with a variety of interesting plants, rocks, and trees.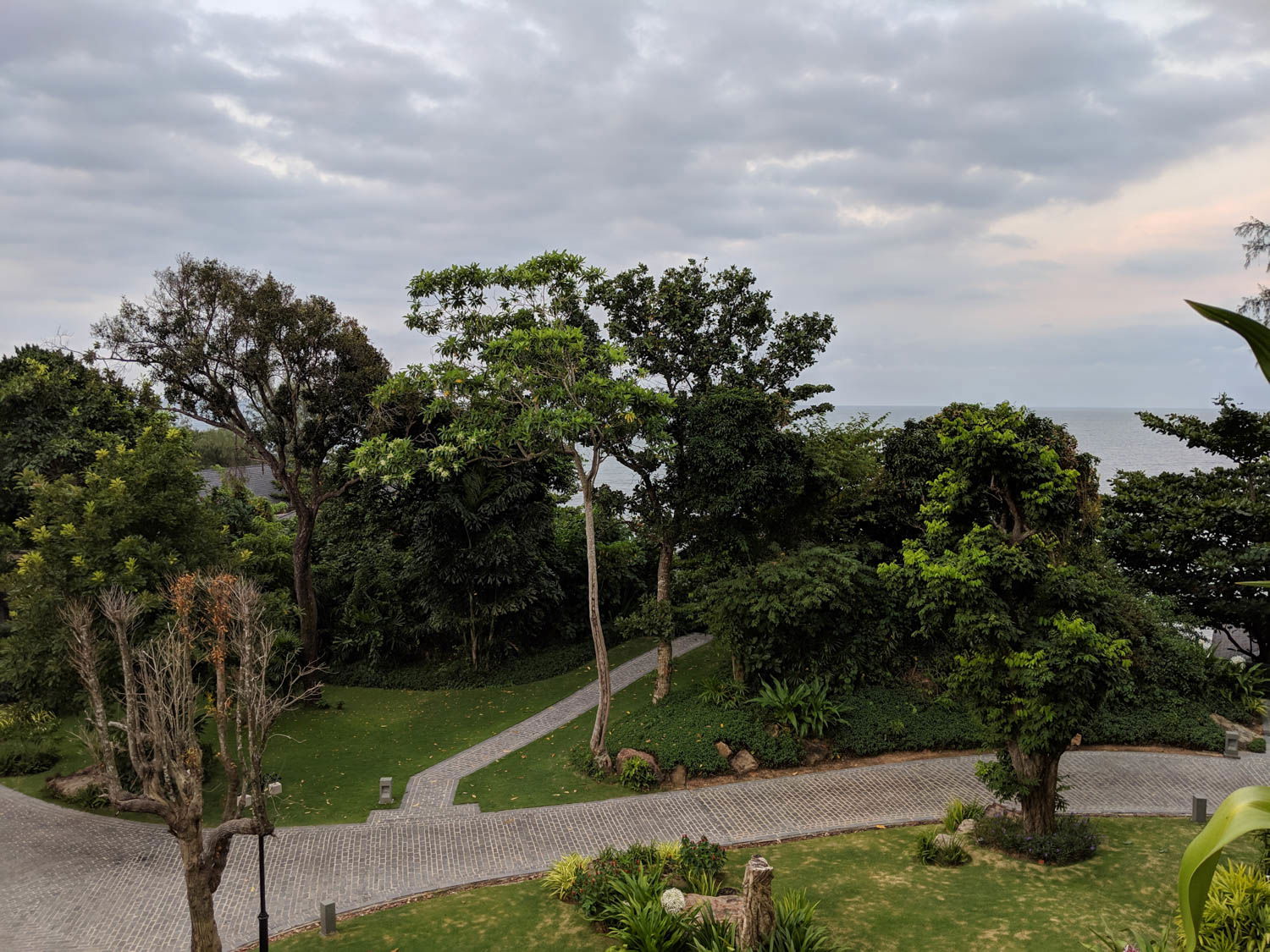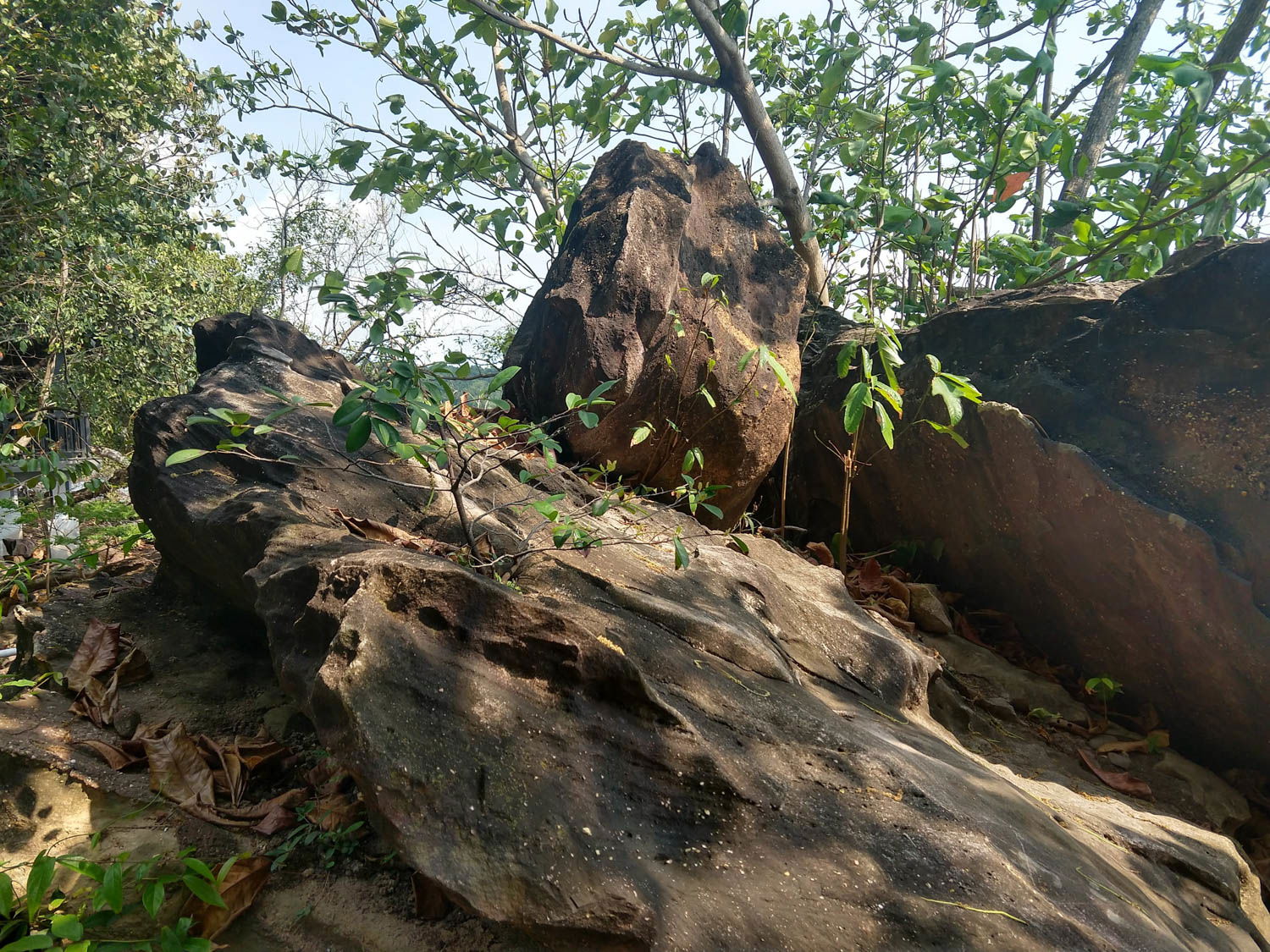 For the most part everything was tidy and well-manicured.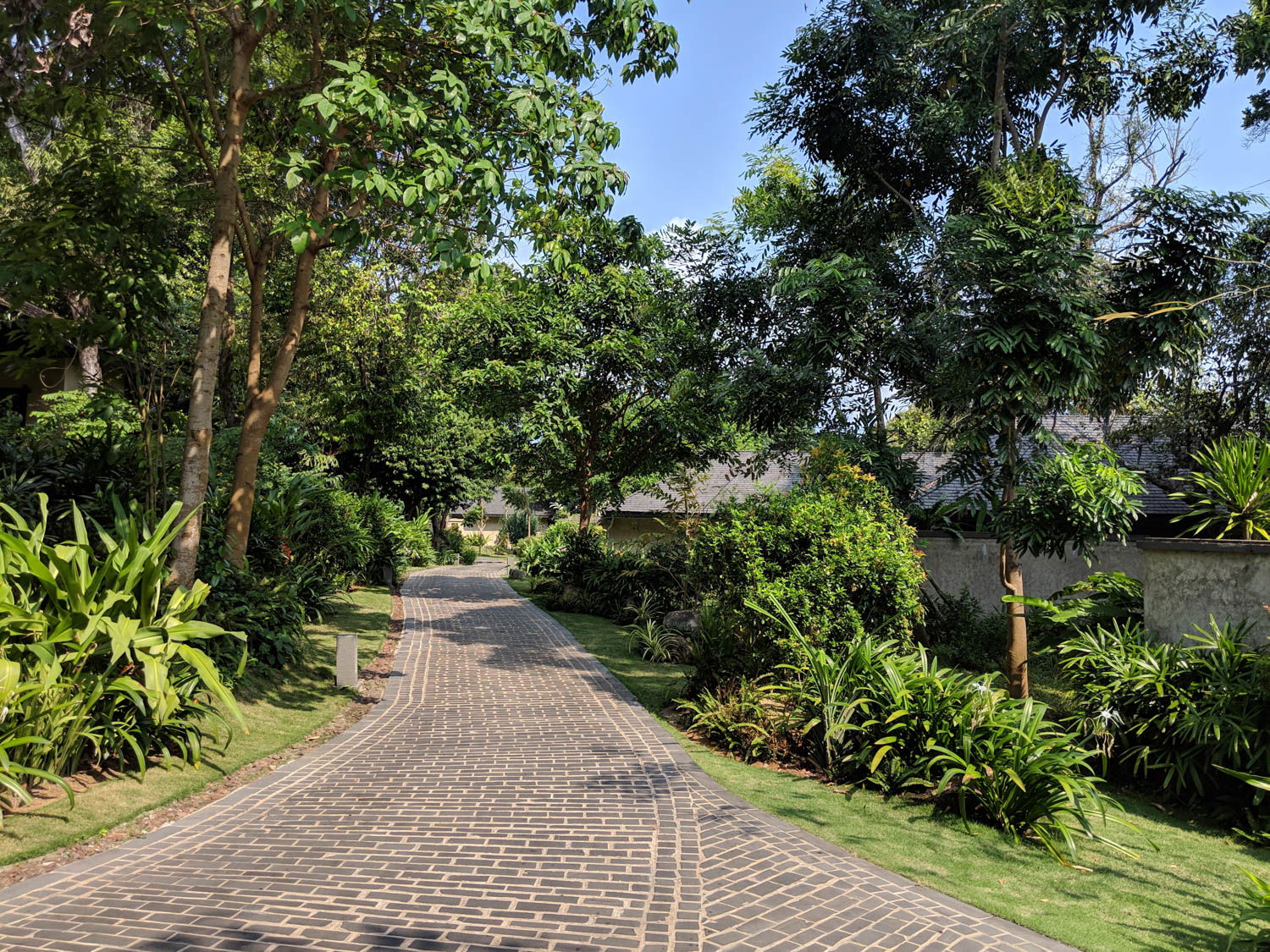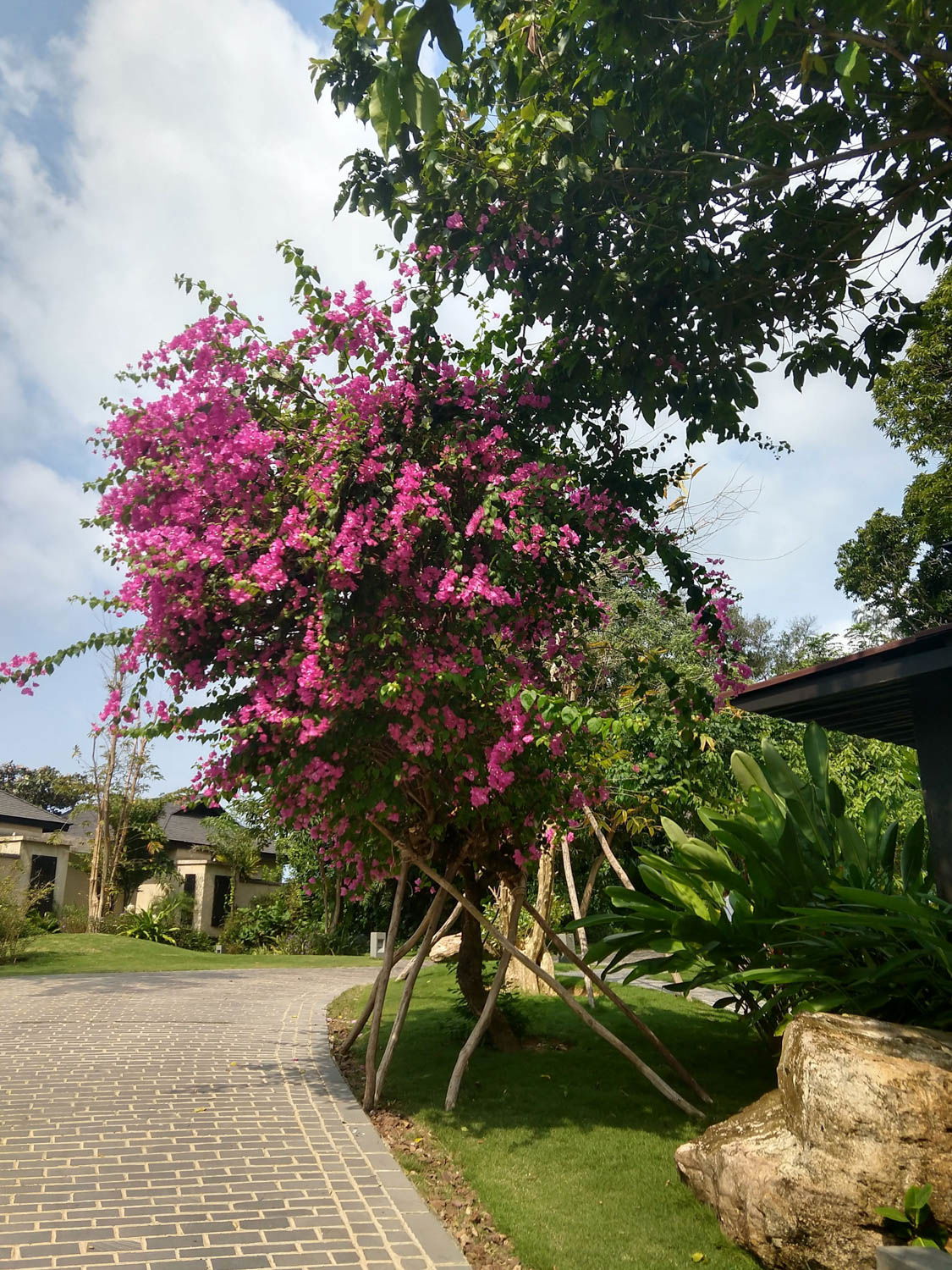 Though there were some obvious works in progress 😉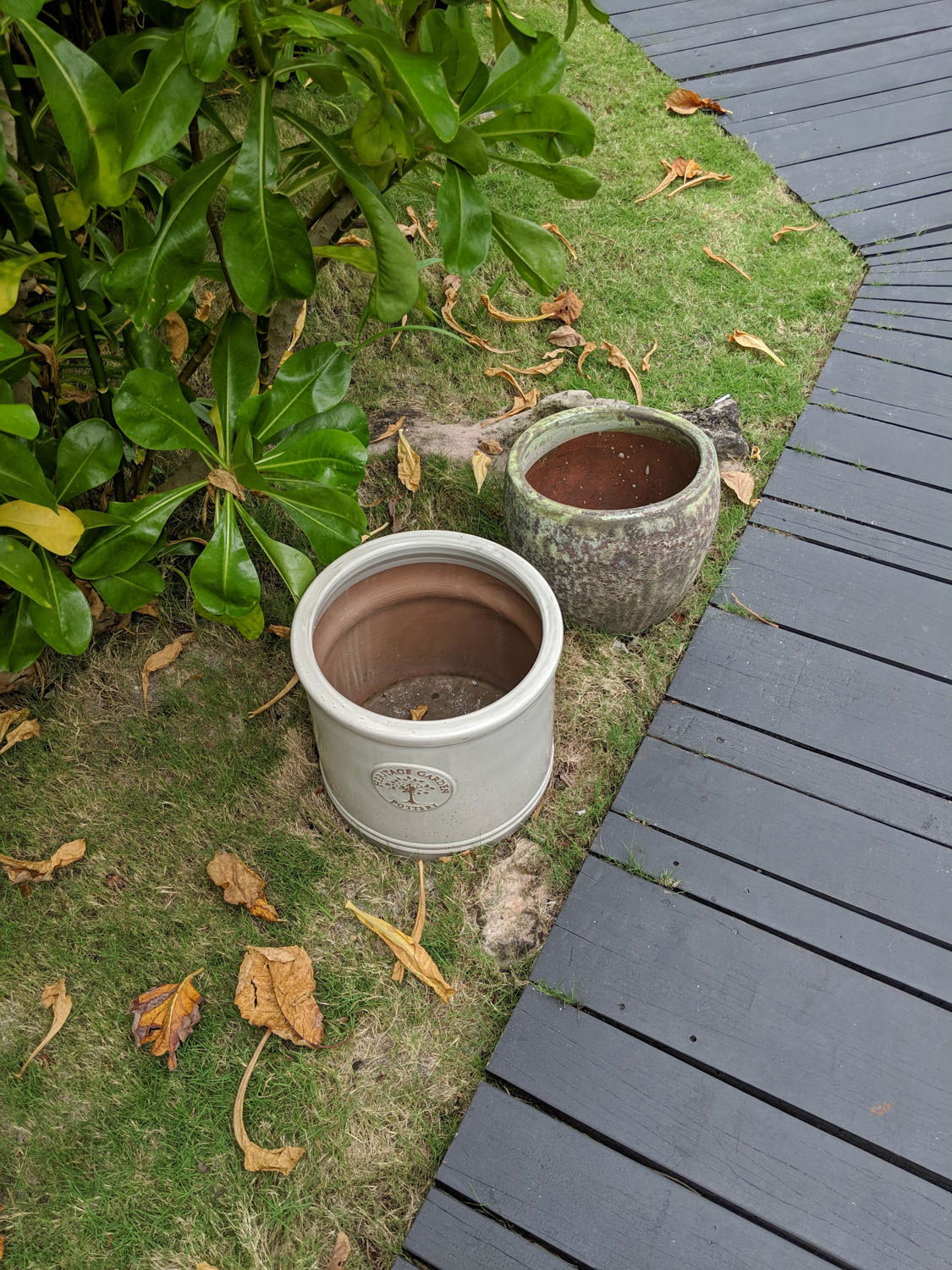 The villas were tucked away throughout the resort, leading down to the dock to go to the Rock Island Beach Club (we'll go over that later).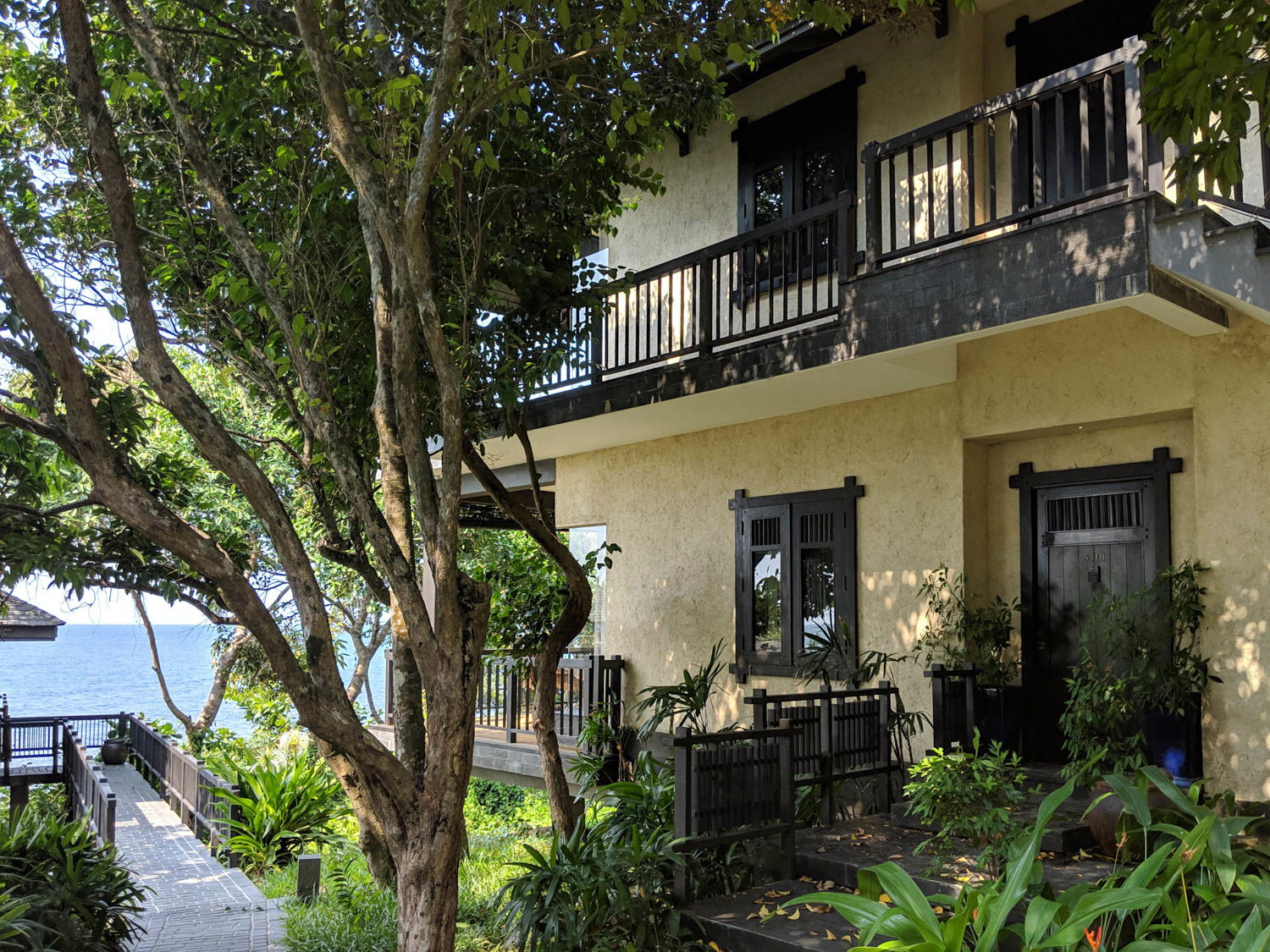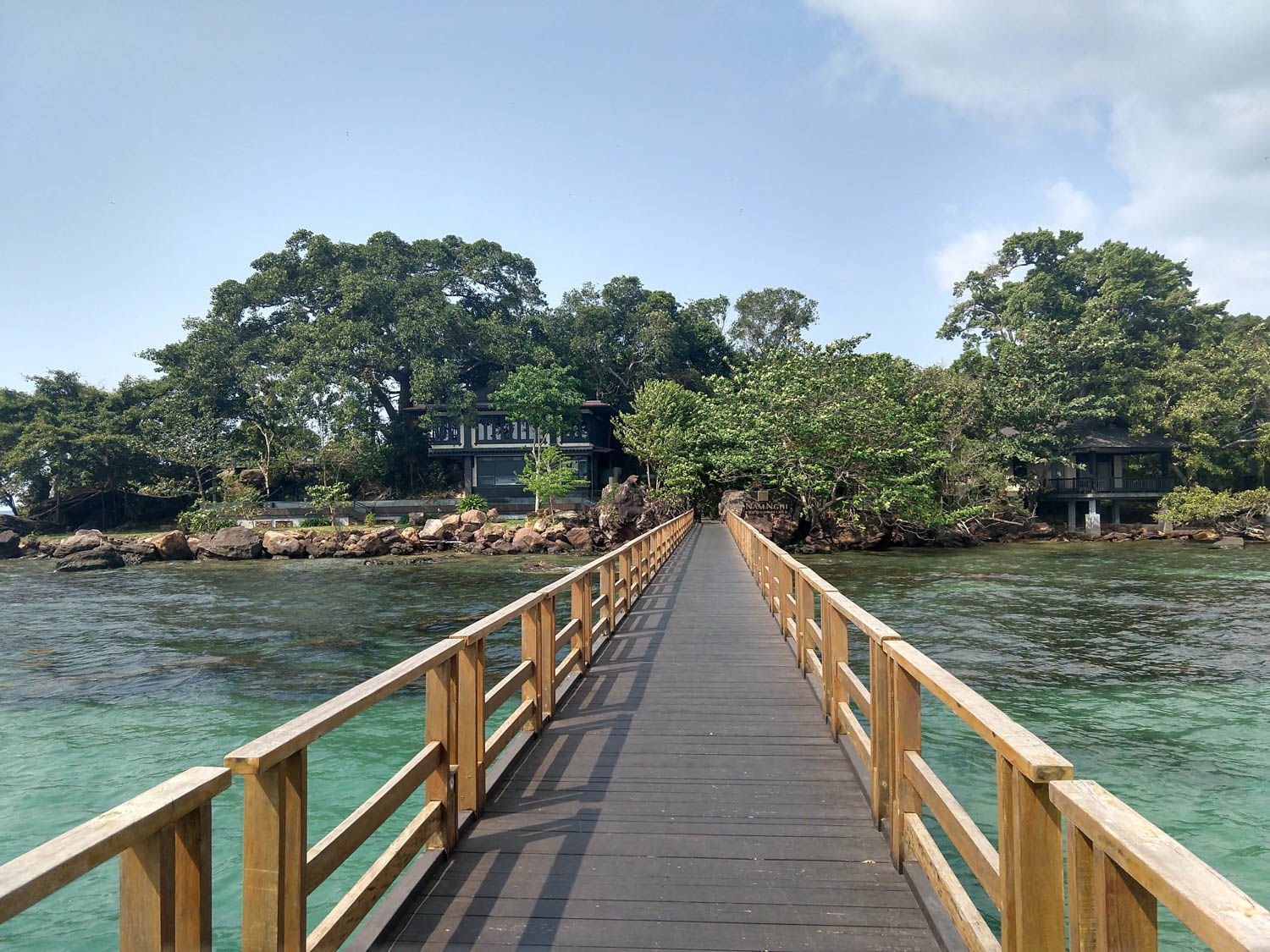 Having the ocean on both sides of the property meant getting to enjoy beautiful sunrises as well as sunsets, which I appreciated.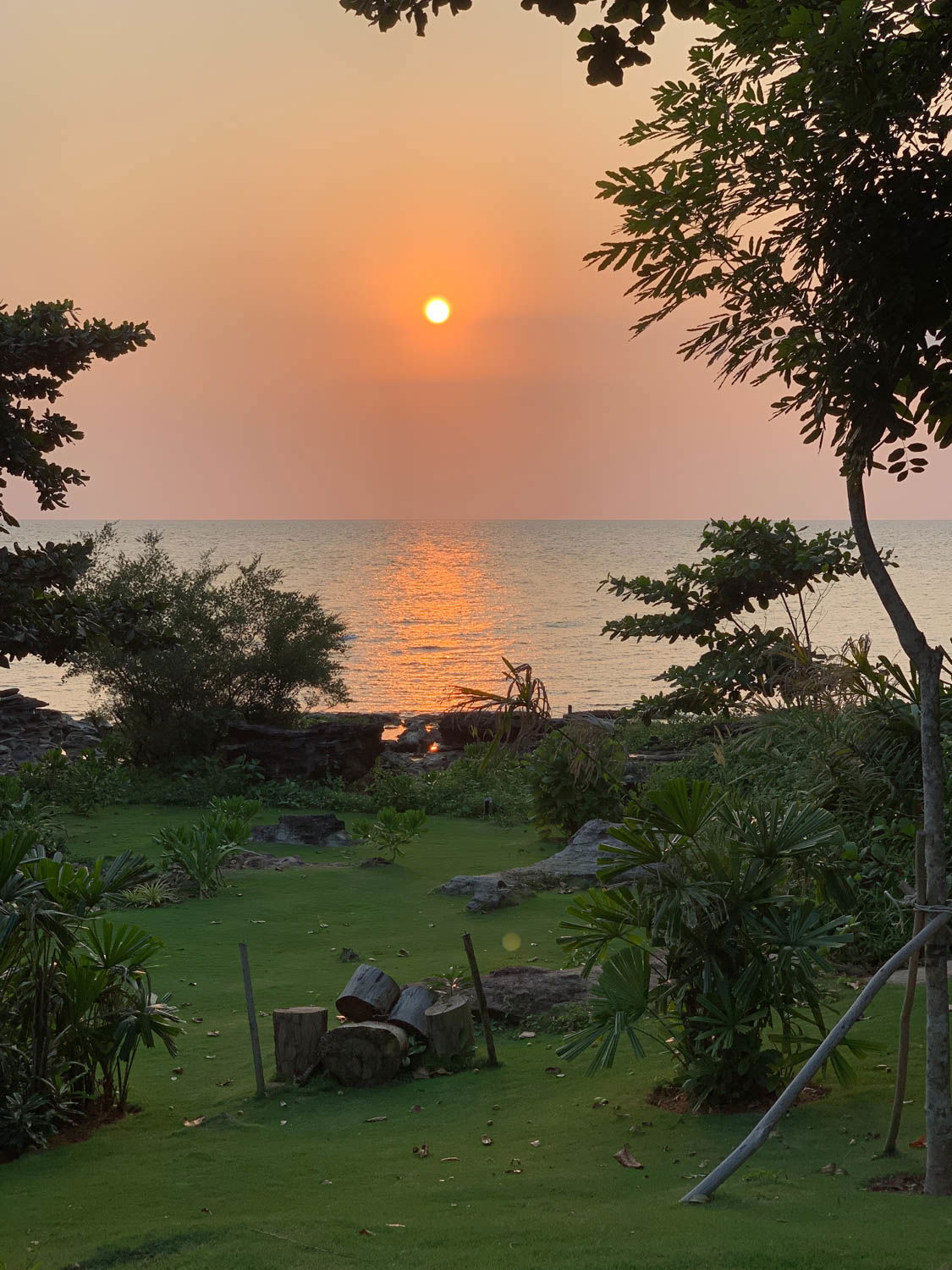 And while the property was very walkable (as long as you're good with low-light), there was also a very posh buggy available for pickups: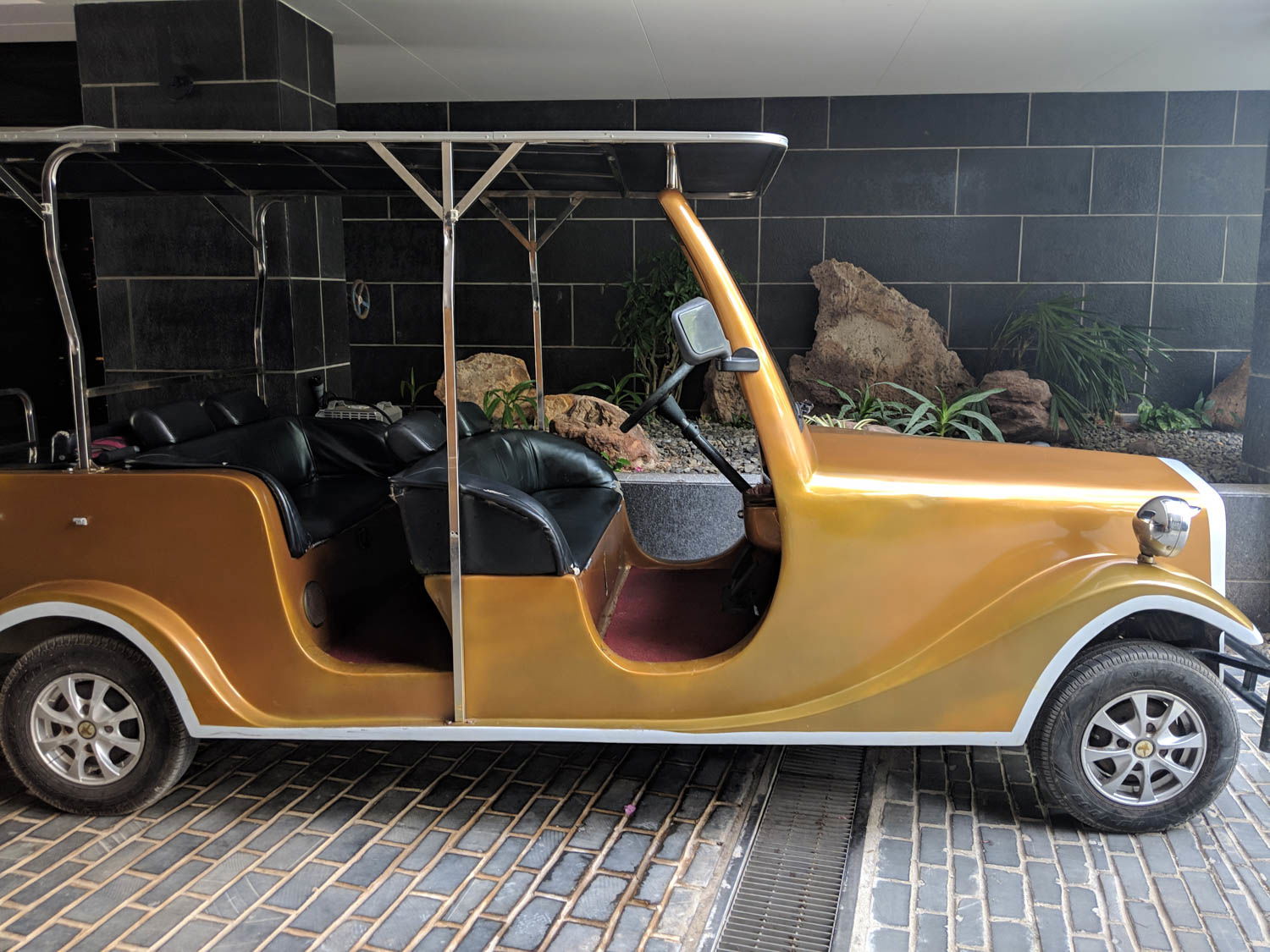 And bicycles, though we never saw anyone using them: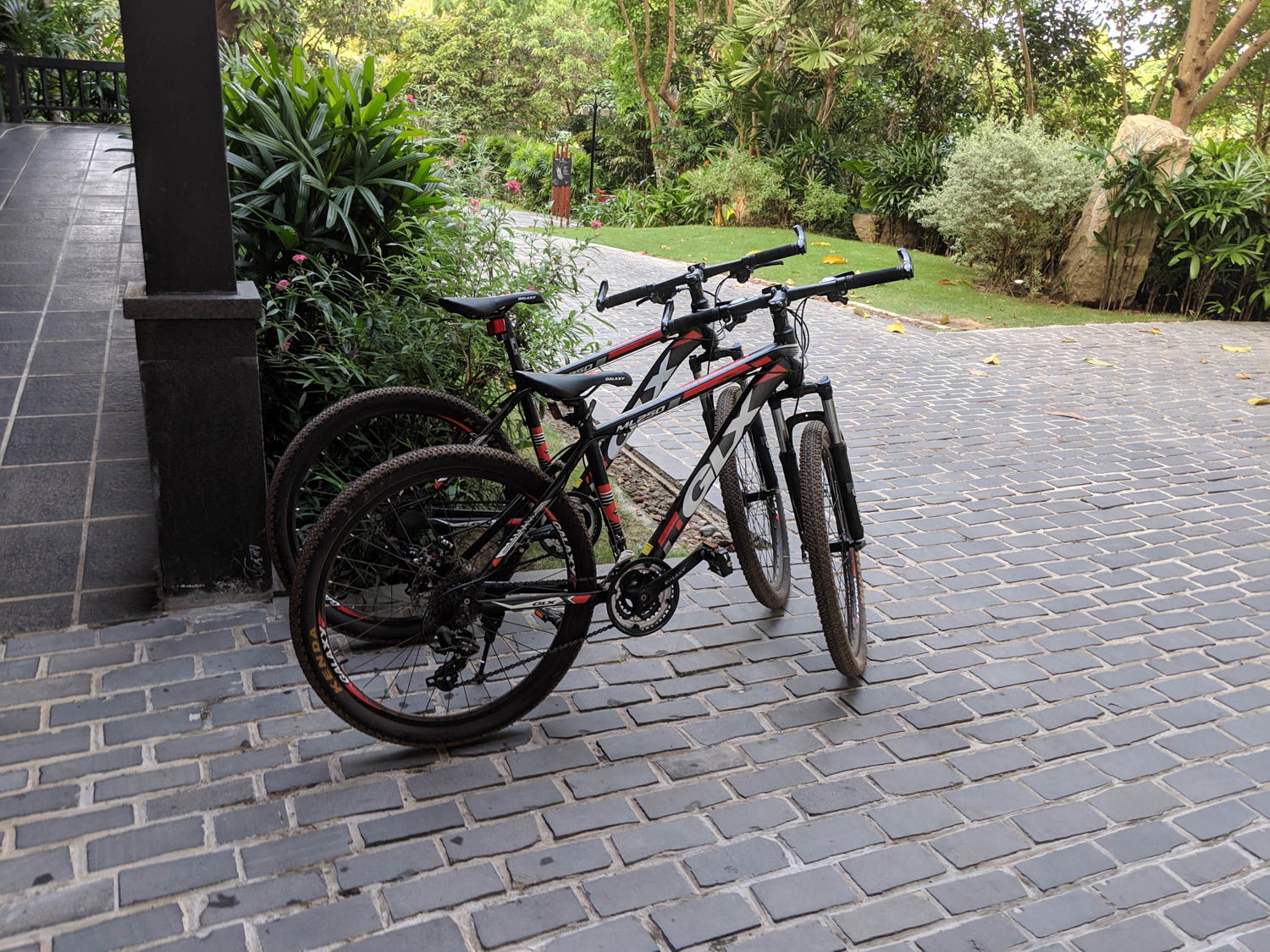 Anmai Spa & Gym
Nam Nghi's spa and fitness center is in the basement of the main building, in a truly lovely space.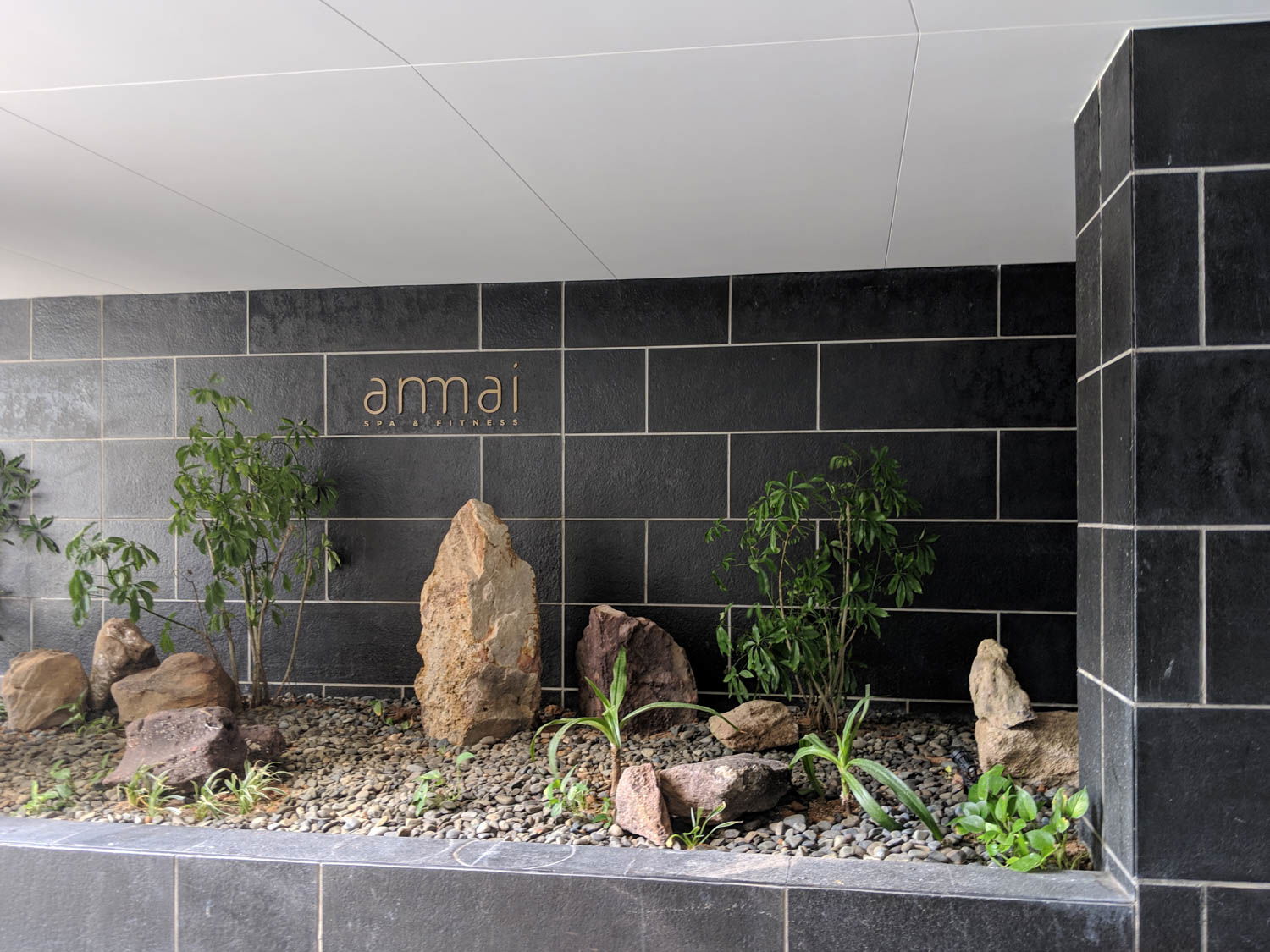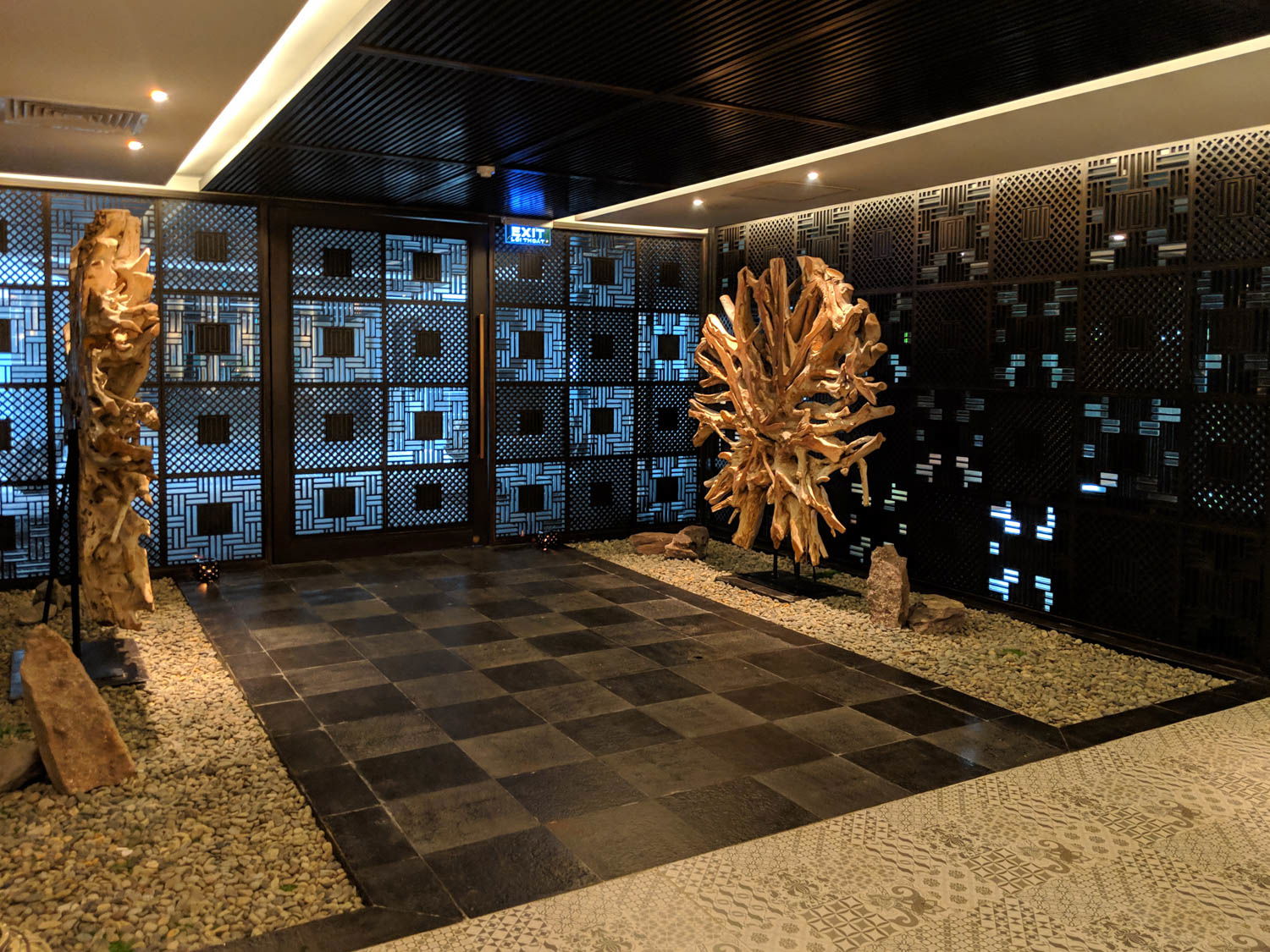 The spa lobby has a reception desk, with a small yoga studio to one side, and a workout room on the other. We did go to yoga twice, which was an adventure. The in-room literature, the front desk, and the spa attendant all had different ideas as to what time the yoga class was, and whether or not you needed to reserve a space. I think that might have been an anomaly due to Tet though.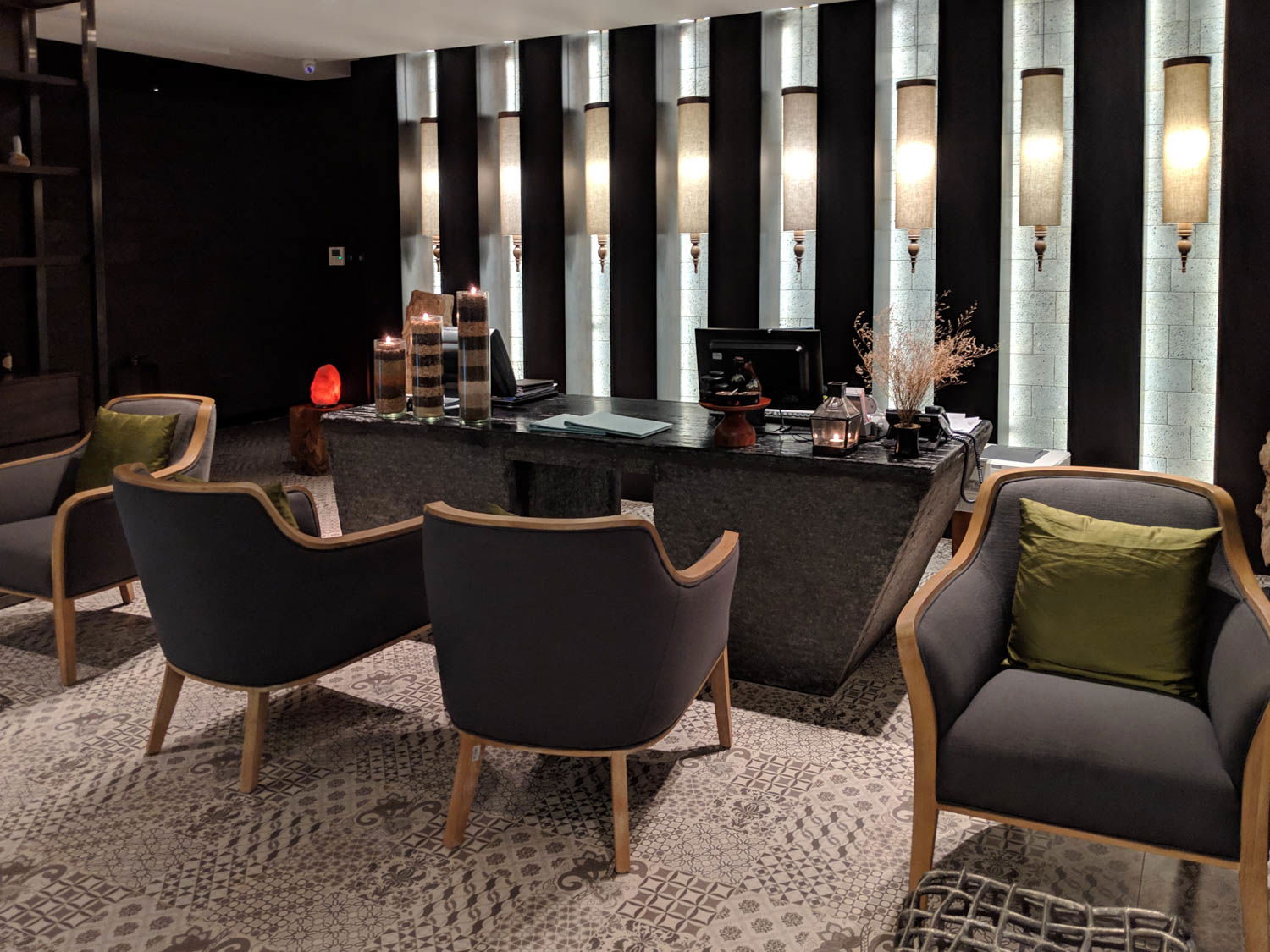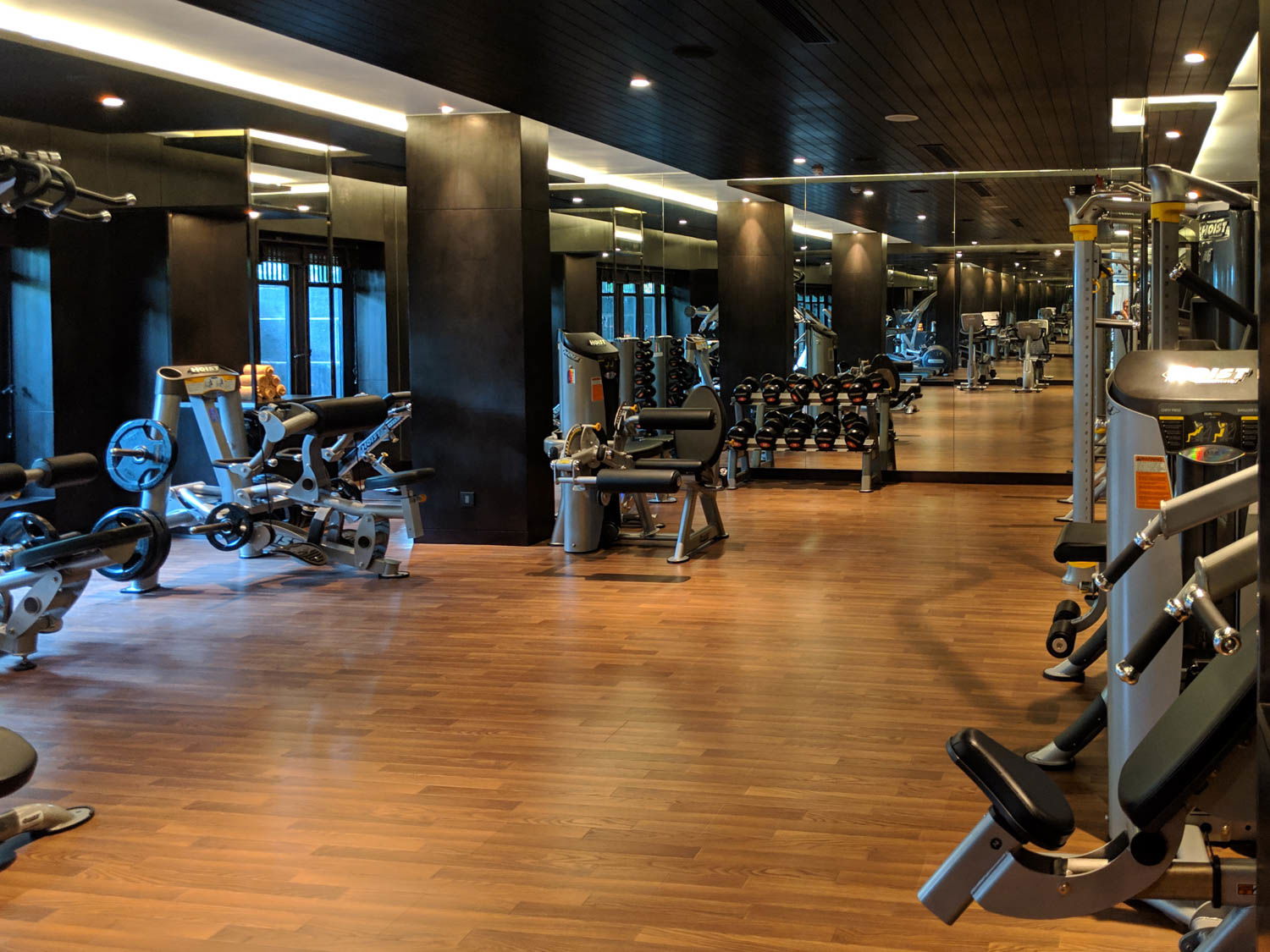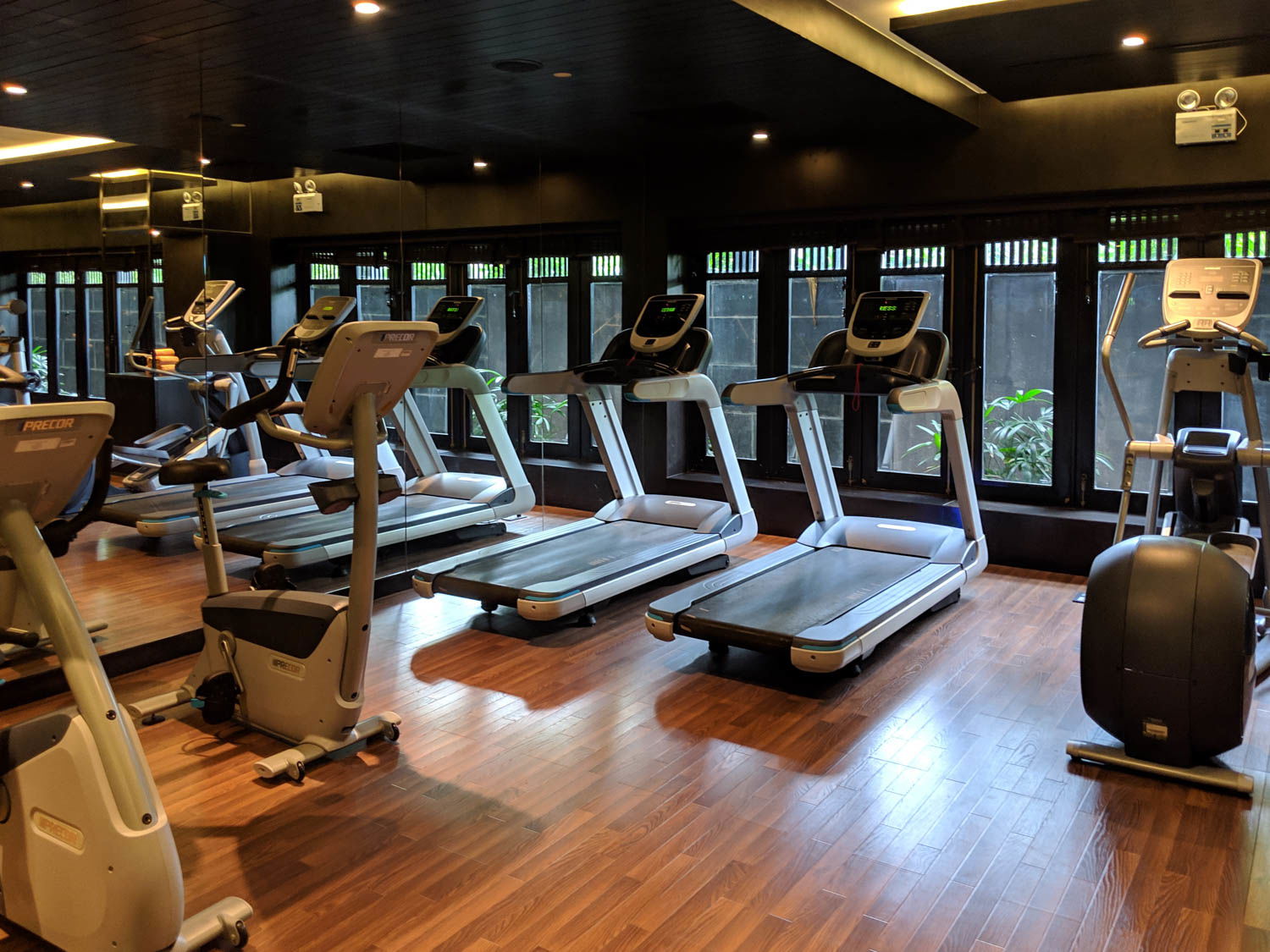 A hallway leads to a handful of changing/locker rooms, as well as steam rooms and saunas. We were warned to call two hours ahead of time if we wanted to use either of the latter, but that's more planning than we ever managed to do, so I can't speak to them.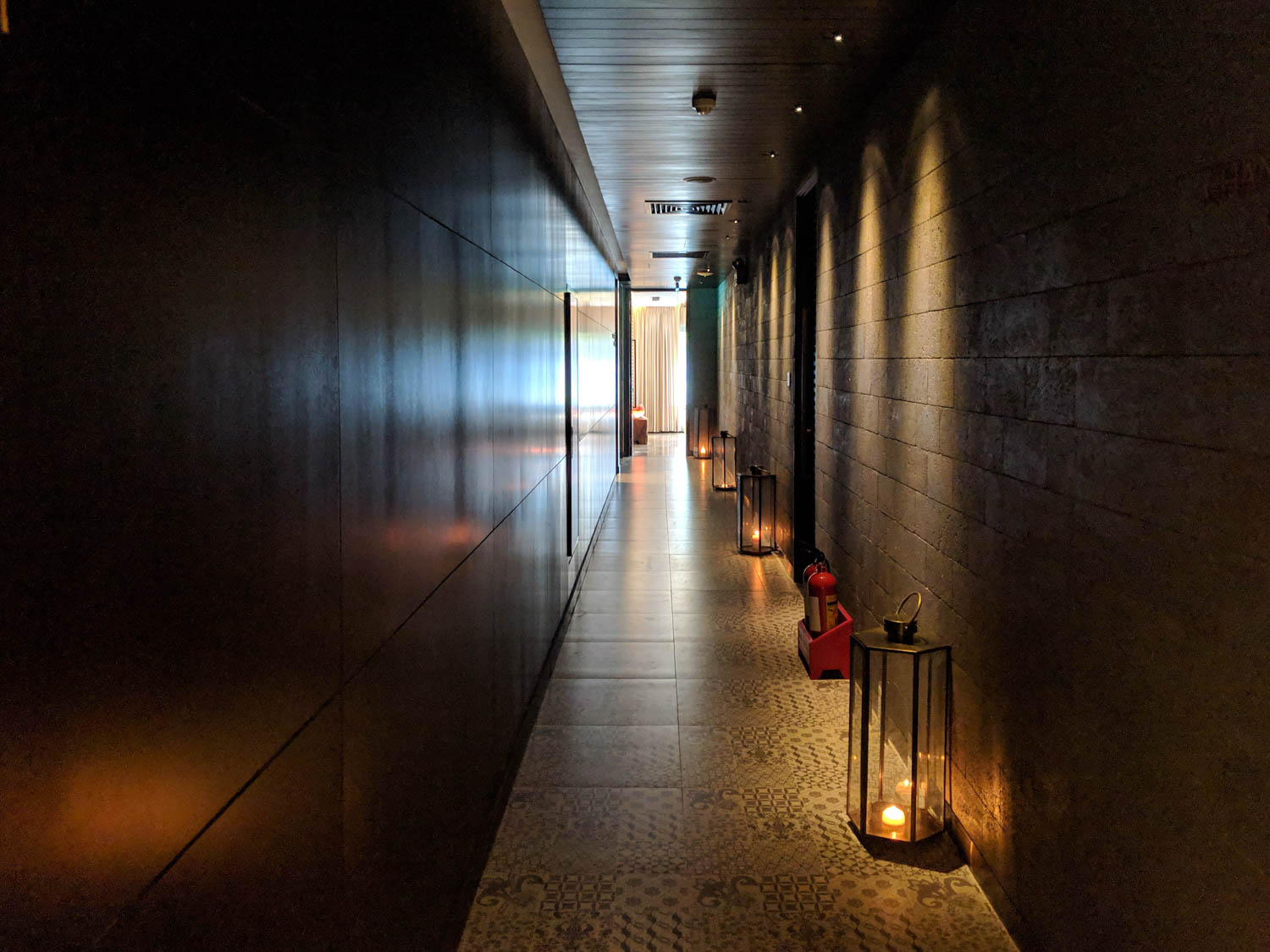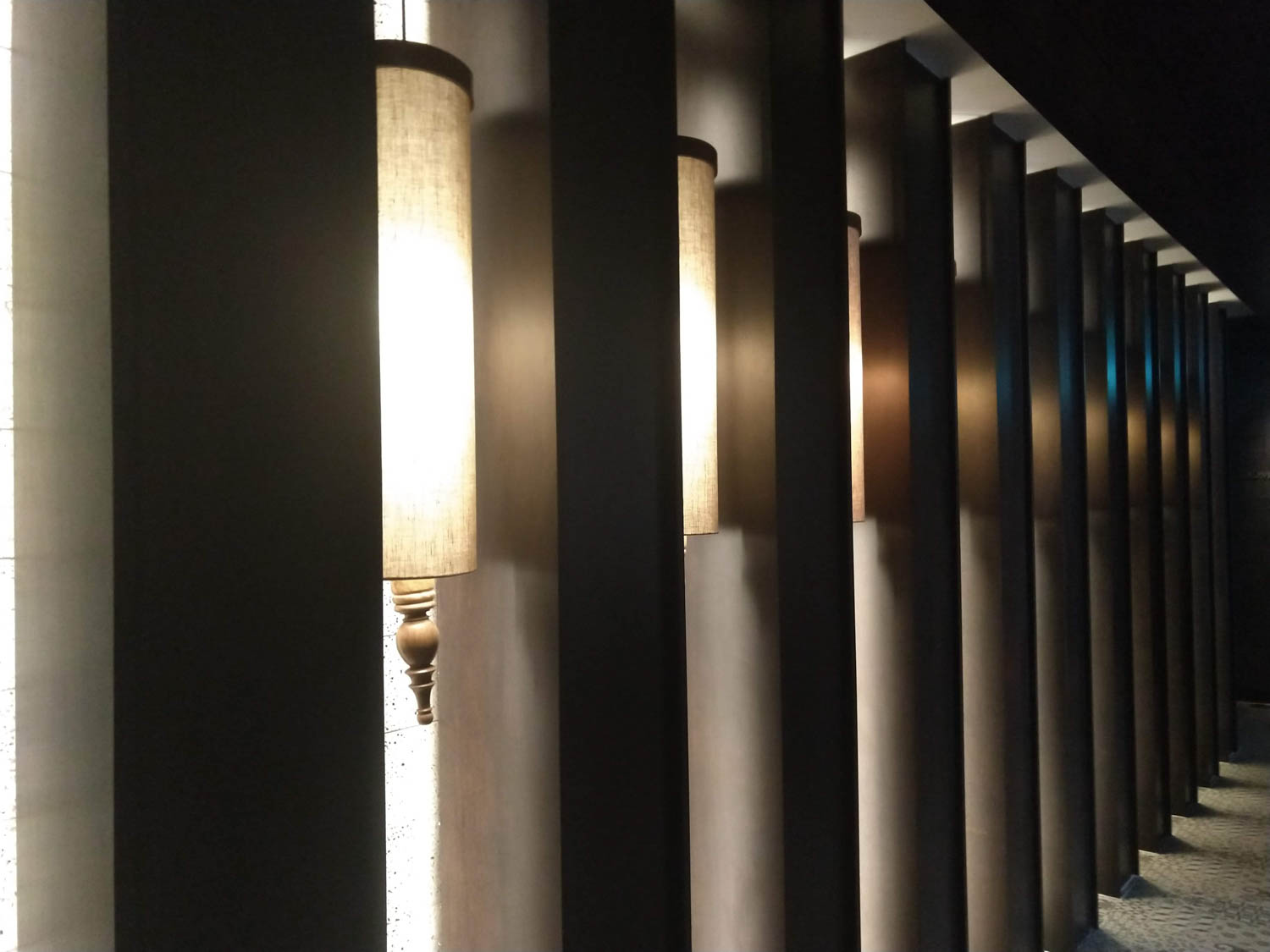 There were single treatment rooms: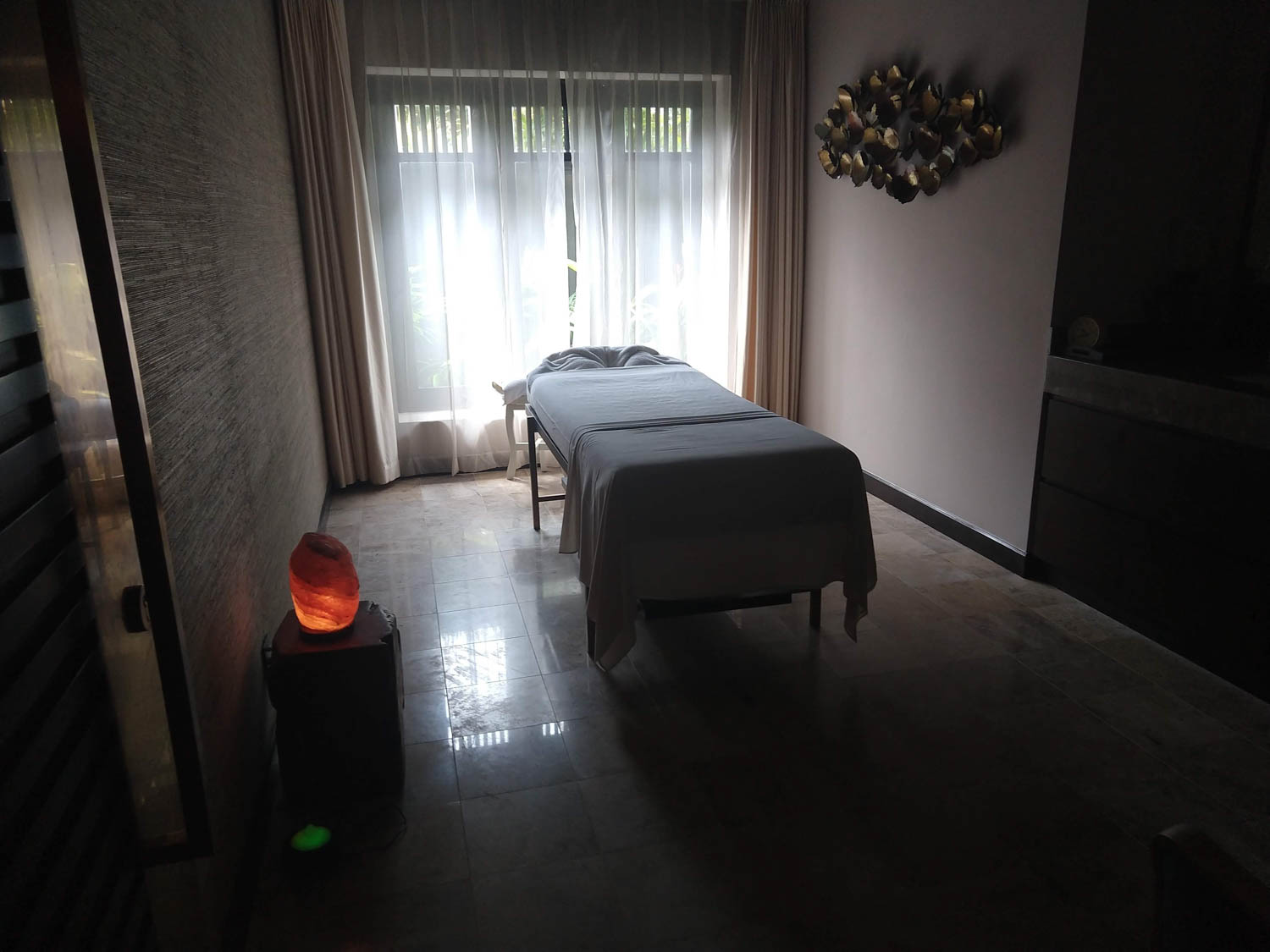 And larger rooms for couples or those who booked packages: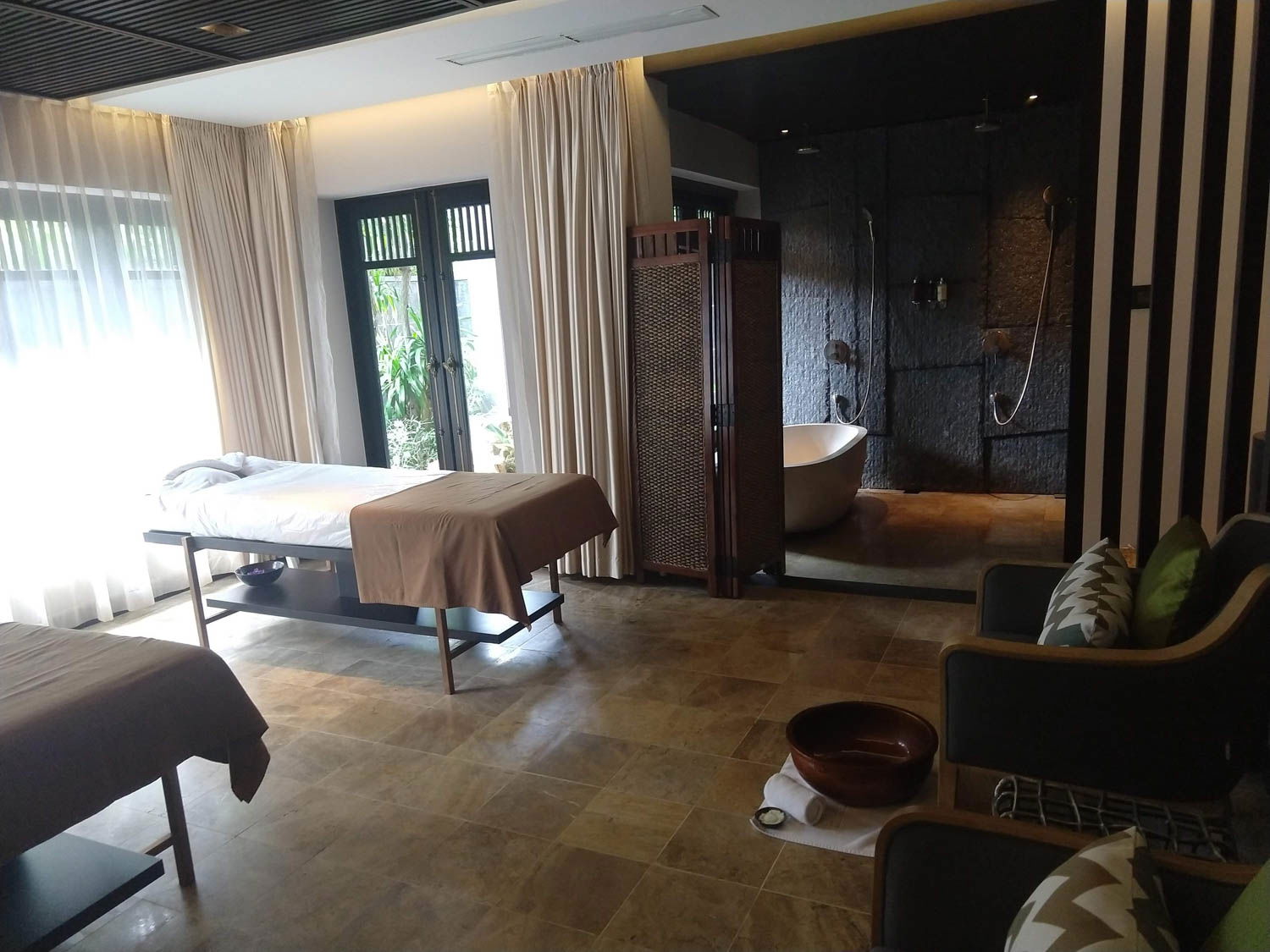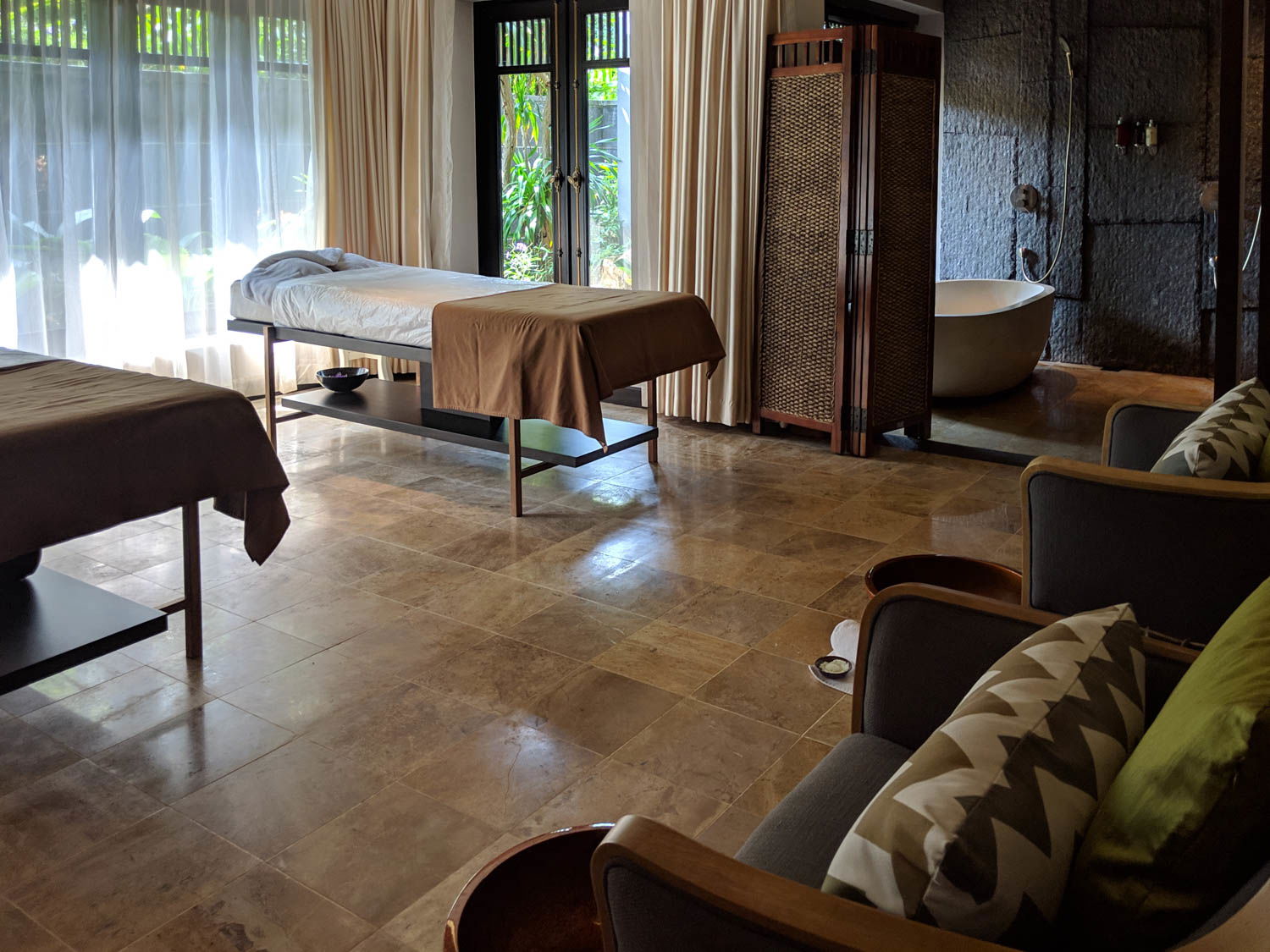 While I felt like most things at Nam Nghi were a bit overpriced, the spa prices were reasonable for a resort (though obviously not as cheap as the night-market massages we enjoyed at other points in the trip). Despite the date, these specials were still in effect: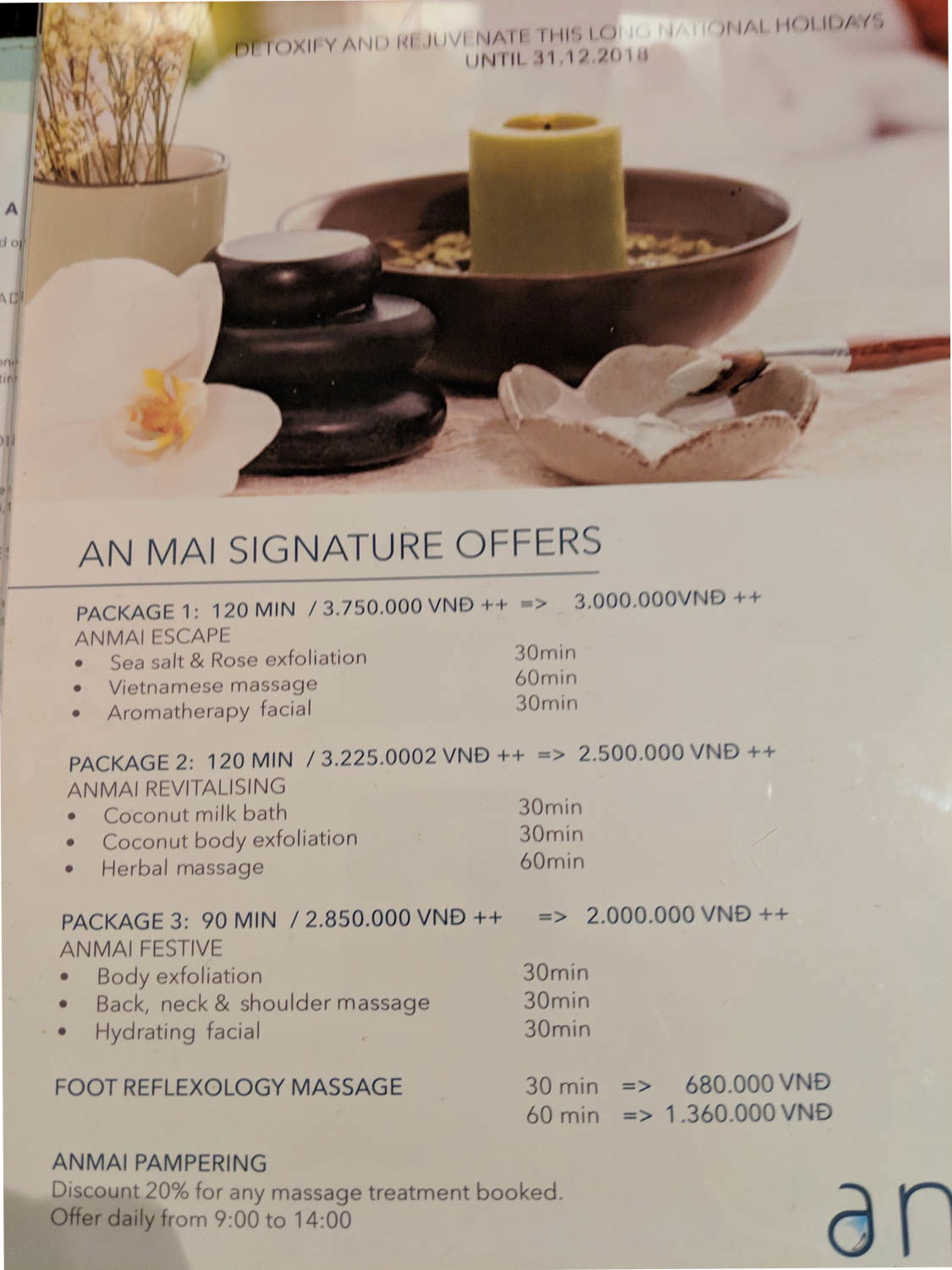 We tried to book package #1, and were told that the esthetician was on holiday, so we'd get 90 minute massages instead of the 60-minute massage and 30-minute facial. We were fine with that, so booked my mom and aunt for later that day, myself for the next morning, and Heather for the last day of our stay.
Our moms got a surprise couple's massage, and rather than a 90-minute massage they were put in the tub together for a 30-minute soak, which they thankfully thought was hilarious. My massage was great, and I was at least prepared enough to decline the bath situation, though that meant I was left alone for 30 minutes between the scrub and the 60-minute massage.
Sadly this isn't a Goldilocks story, and Heather's spa treatment was not the perfect balance of experiences. Rather, she didn't have it at all, because when the spa receptionist asked if she wanted to book at 9AM, she replied with 10AM — he responded with "Yes, 10 is fine," and apparently wrote 9:10AM in the book. So when she showed up at 9:45, she'd missed her appointment.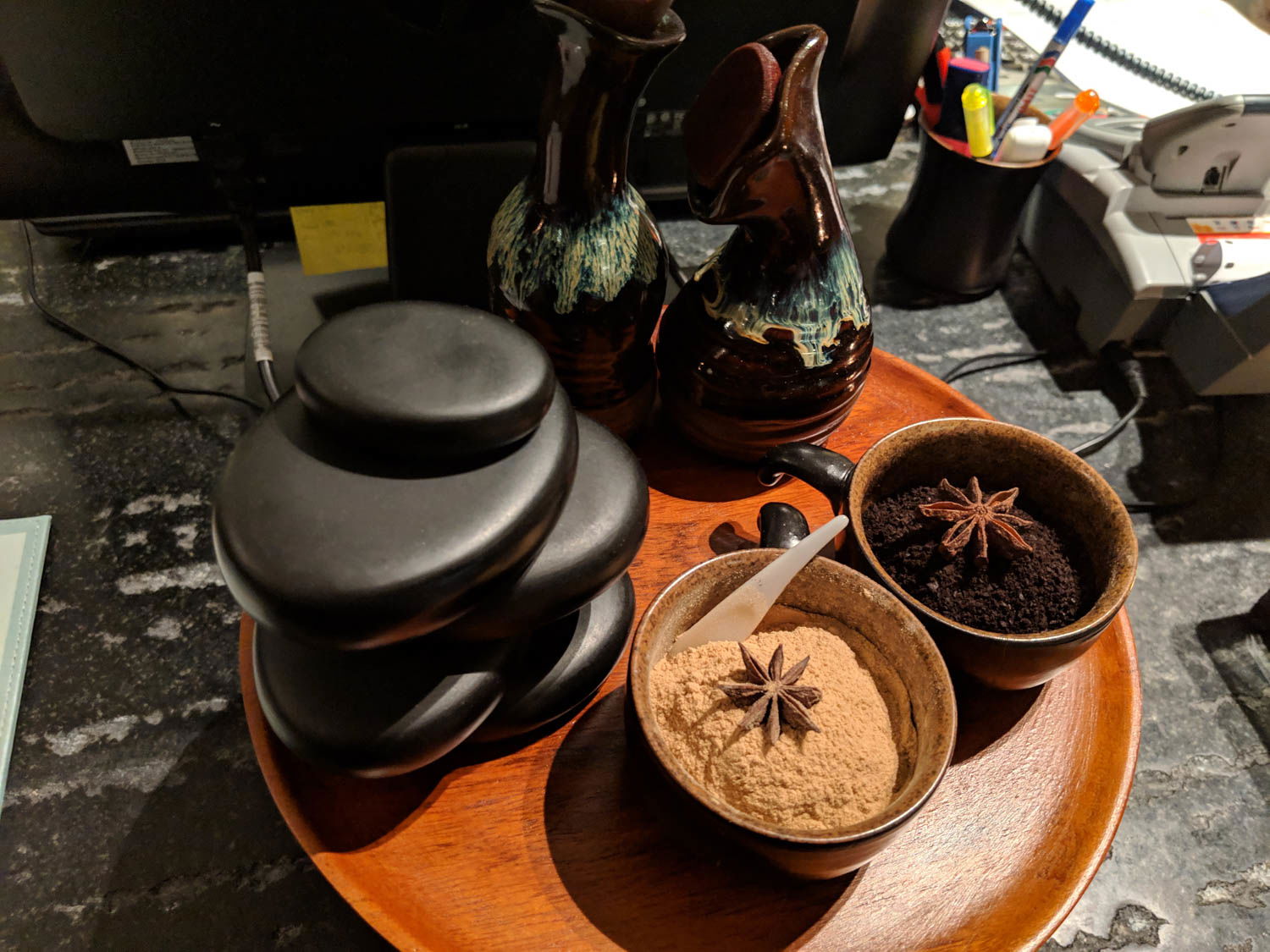 Hyatt Nam Nghi Pool
I love a good pool area, and the setup at Nam Nghi is highly enjoyable.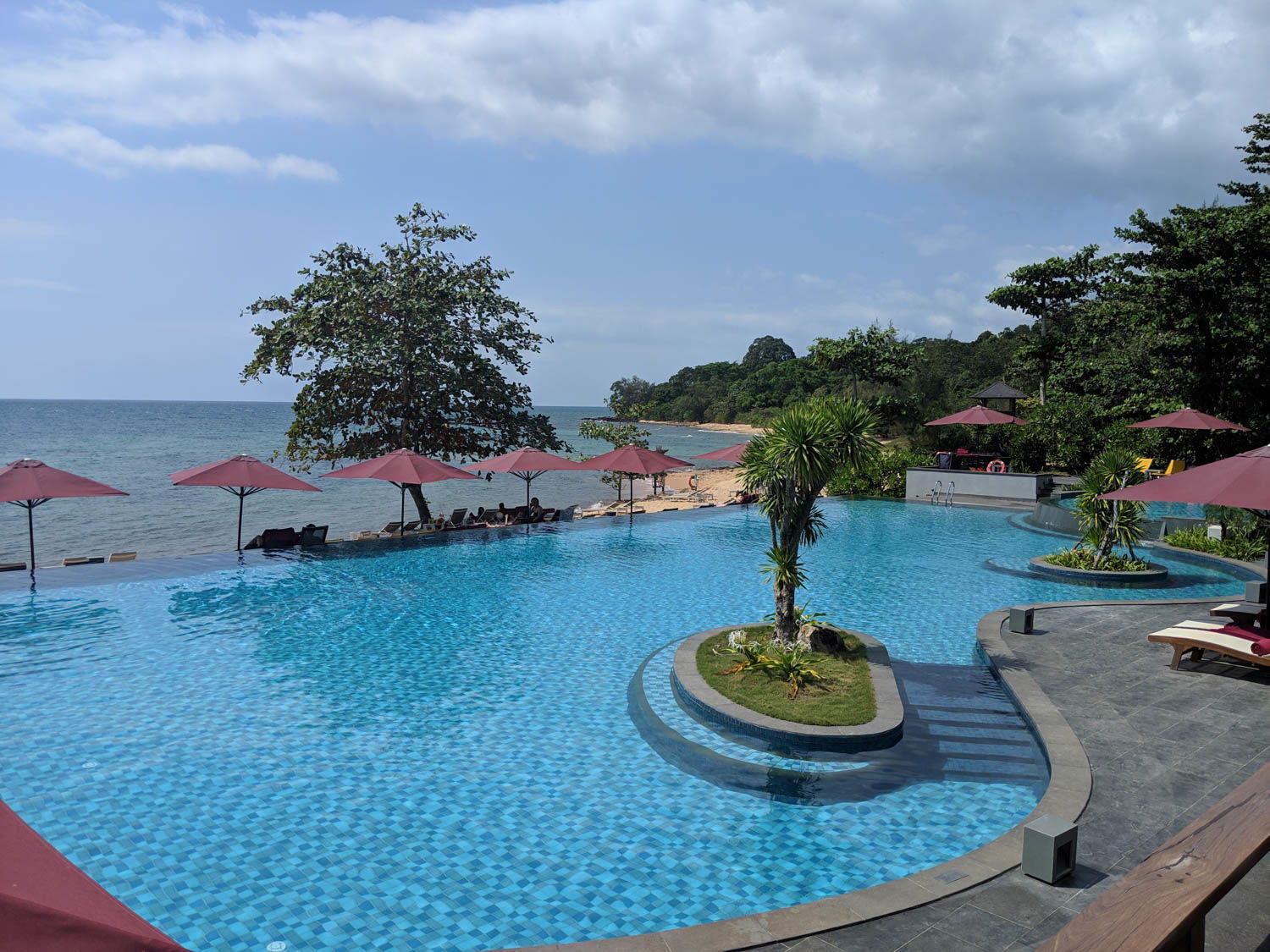 The pool is terraced, and surrounded by an assortment of fun chairs in bold colors, along with some dining areas.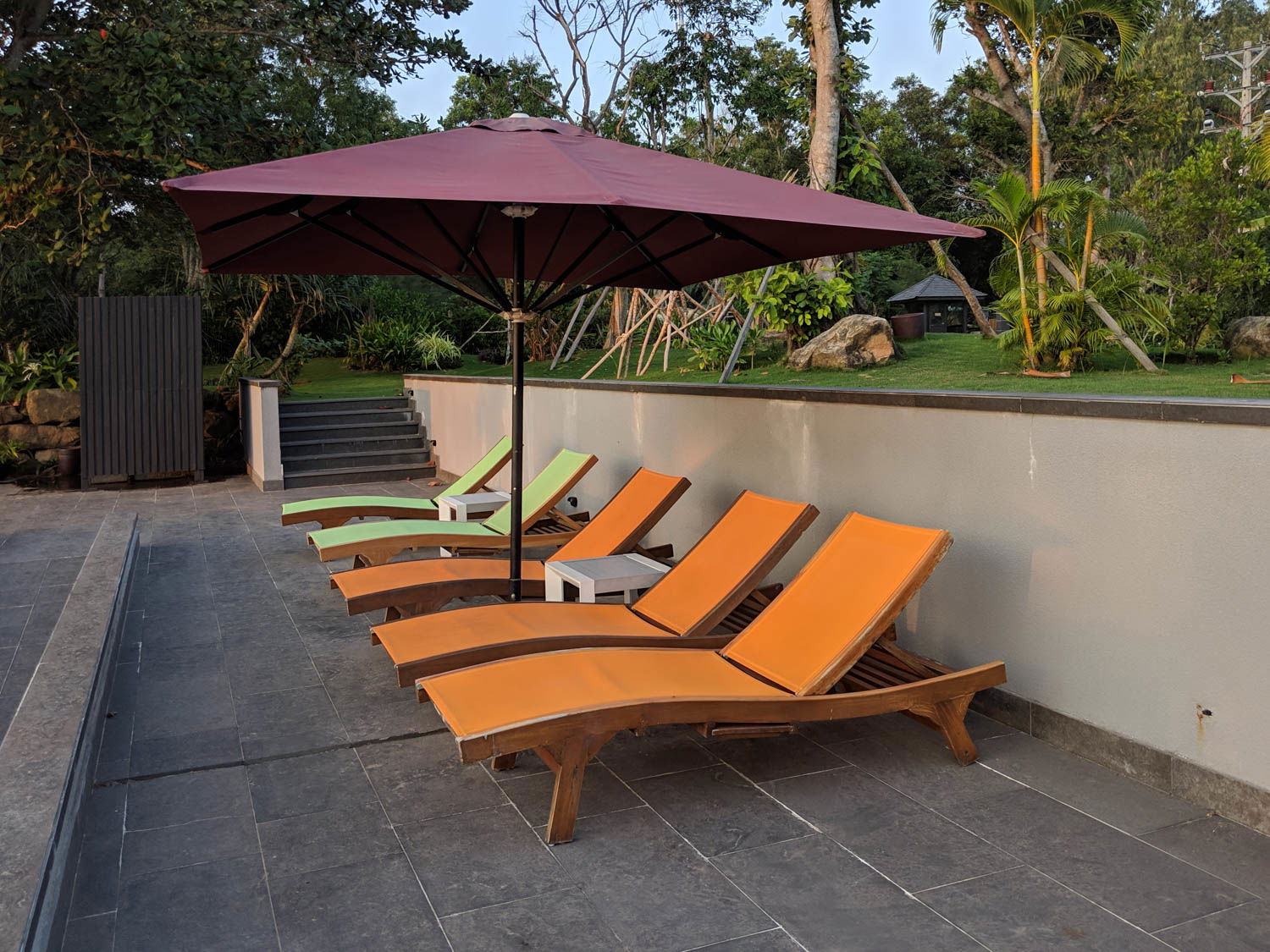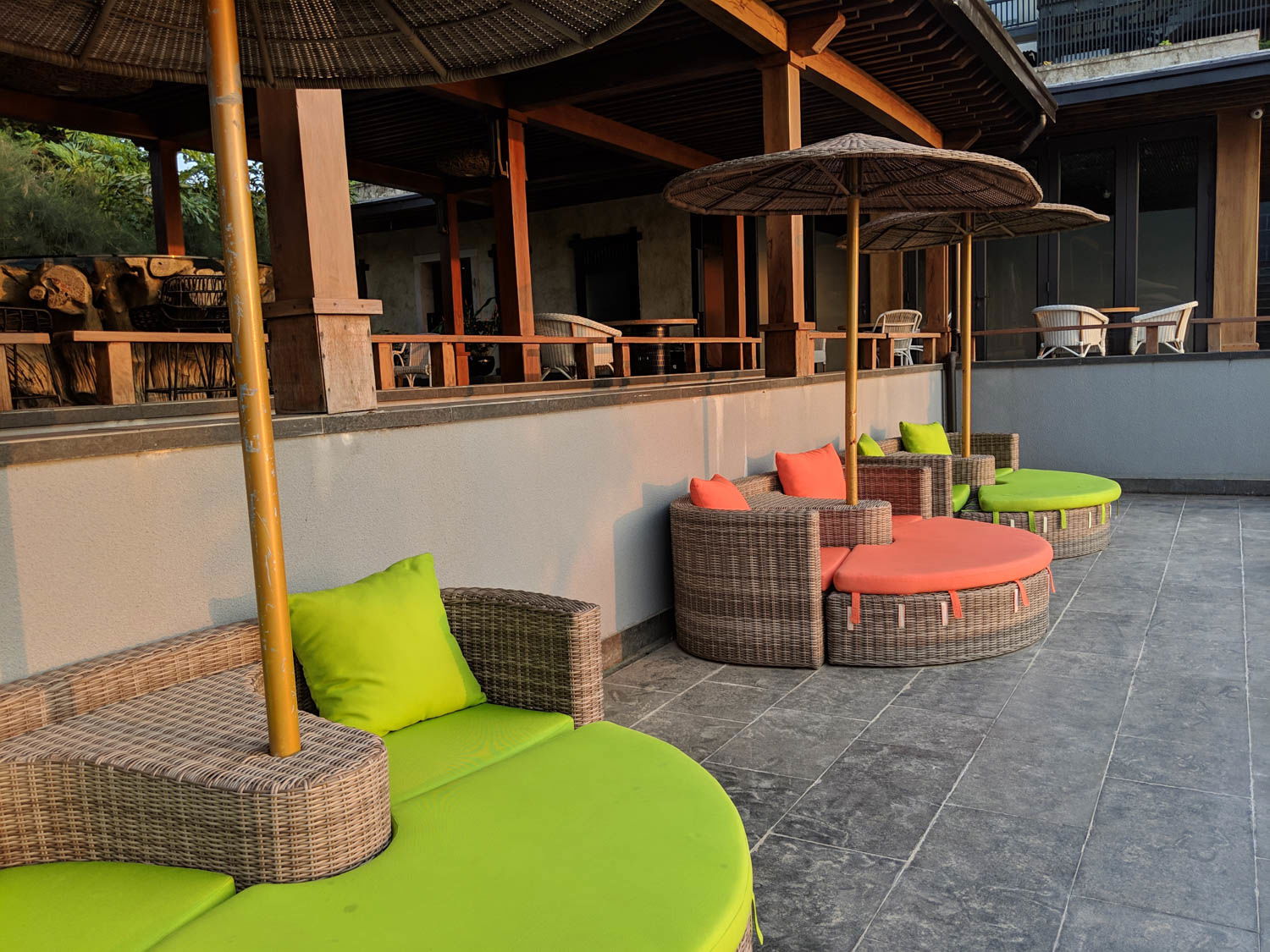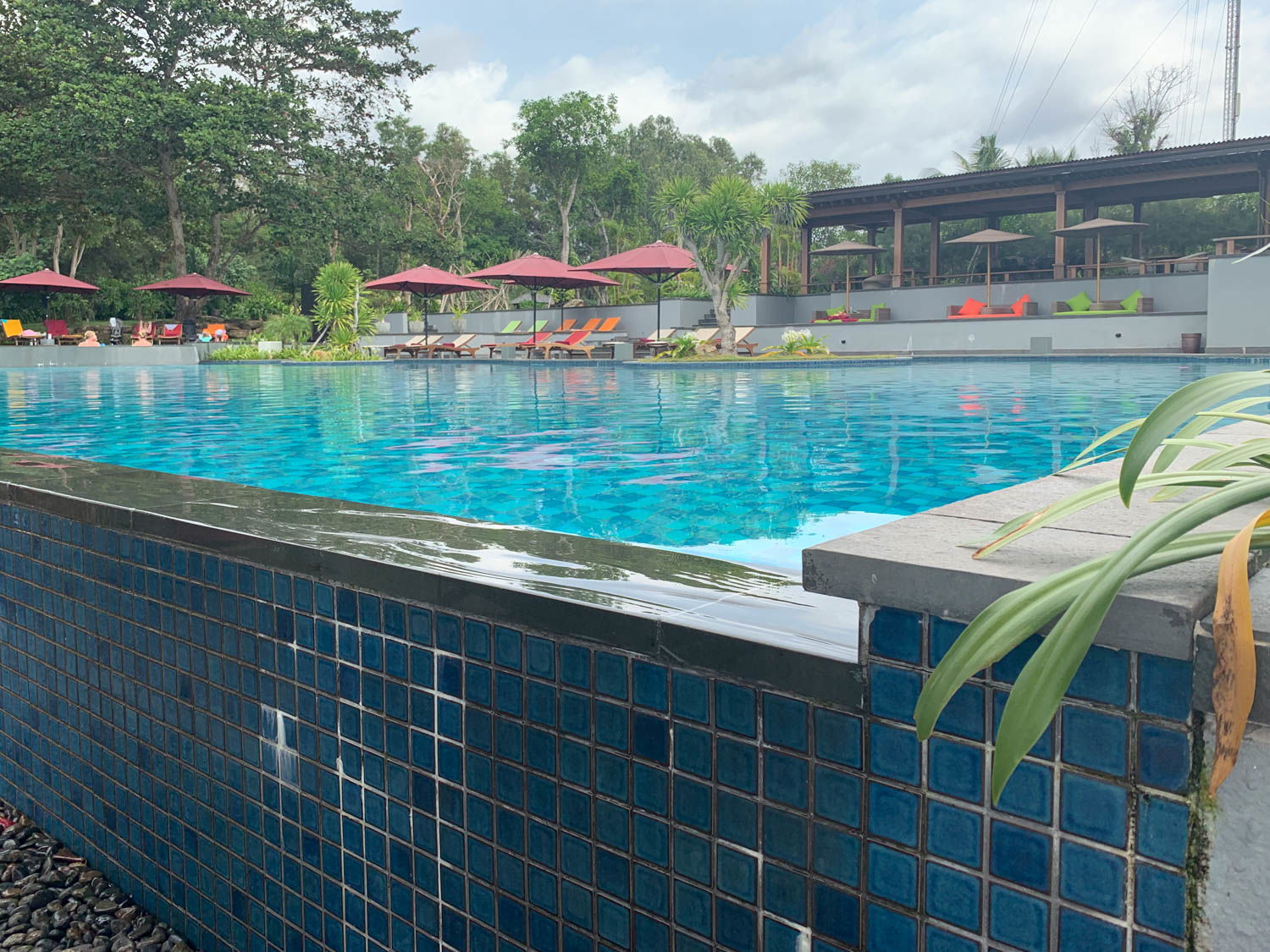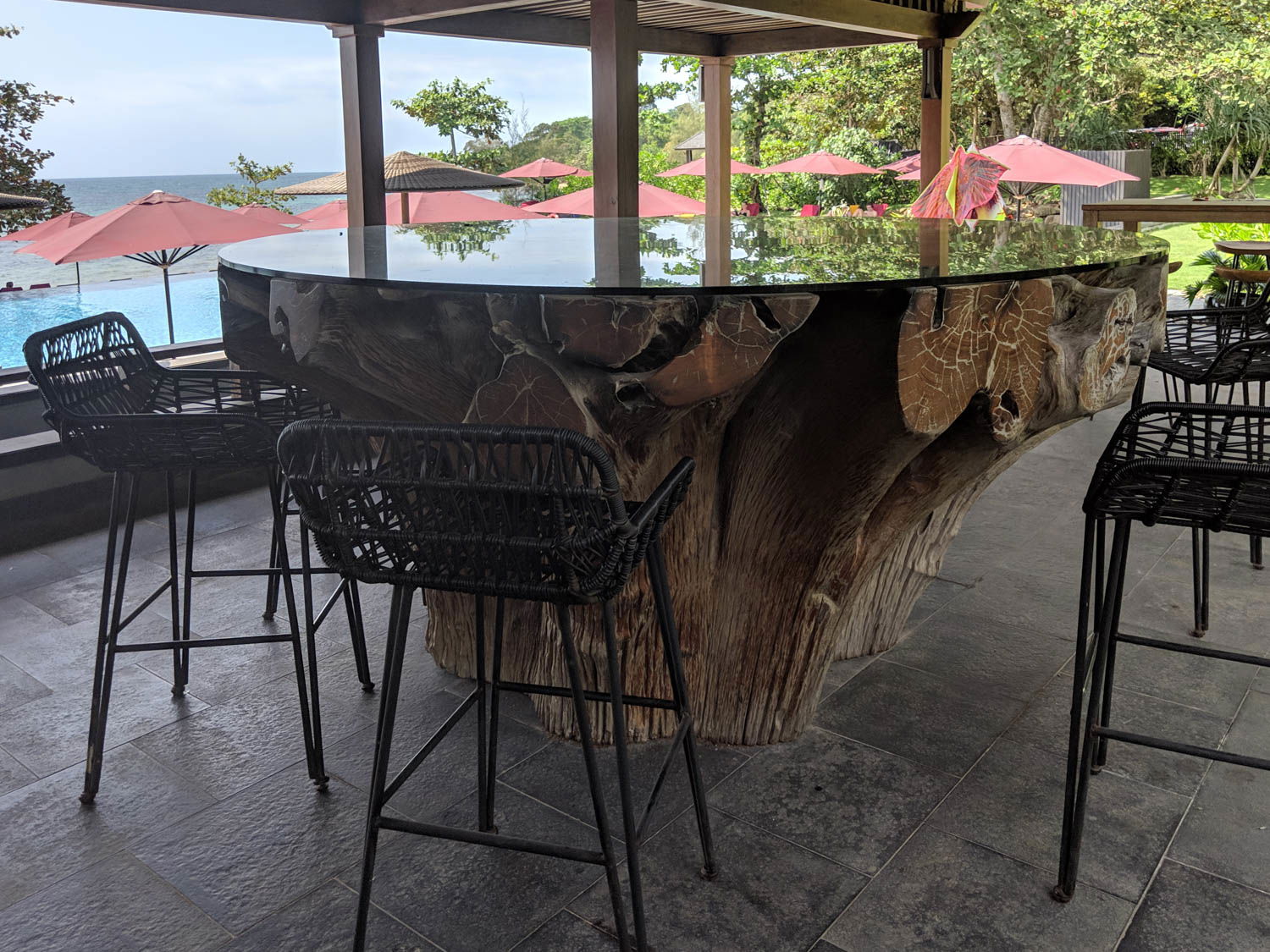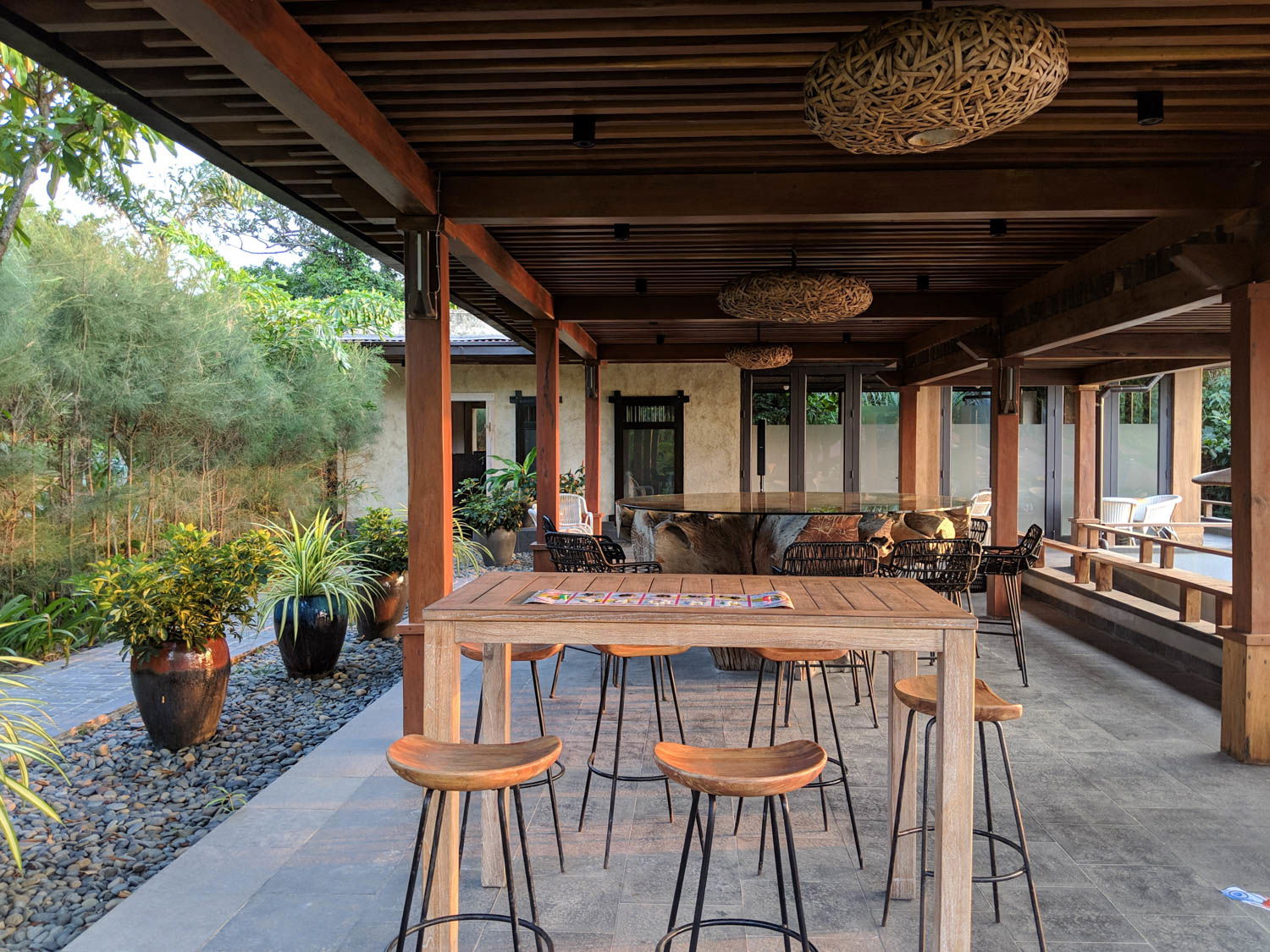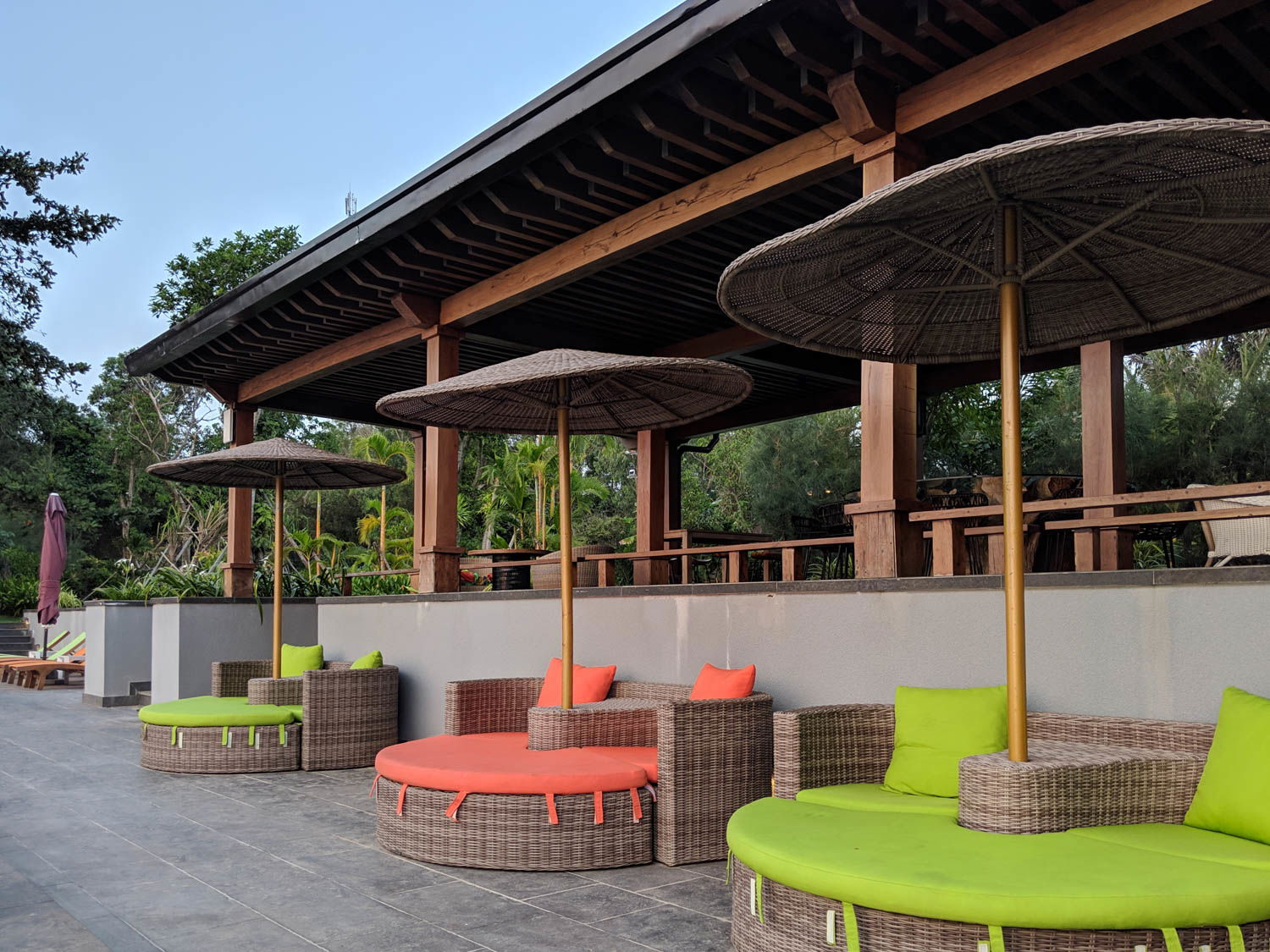 The pool bar staff was attentive, bringing out cold water, fruit, and sorbet, as well as taking food and drink orders. Communication was definitely a challenge, and the people bringing orders didn't ever seem to know who they were for, but we actually had some decent drinks here, and the skewers and pineapple rice we had one day were tasty.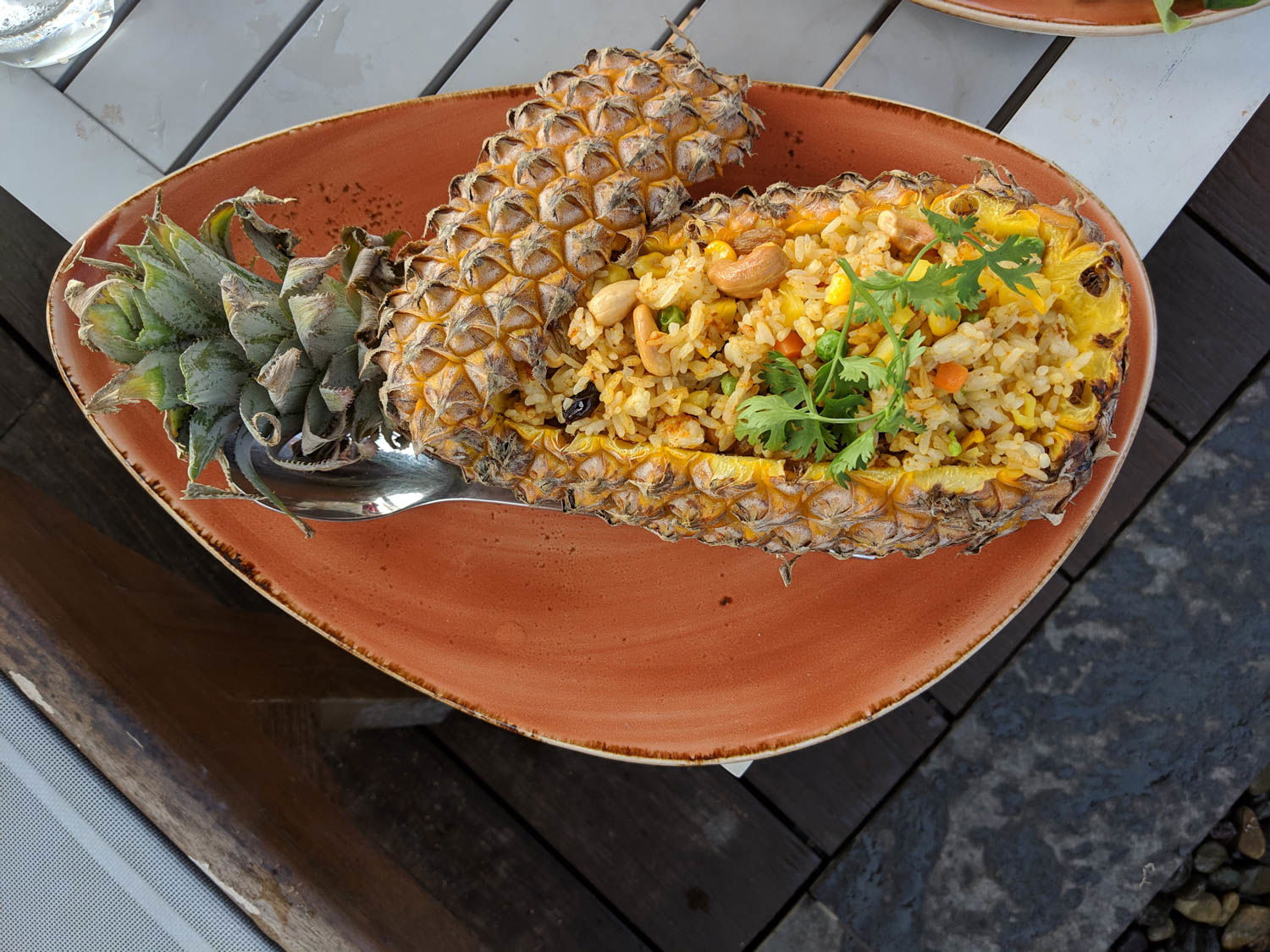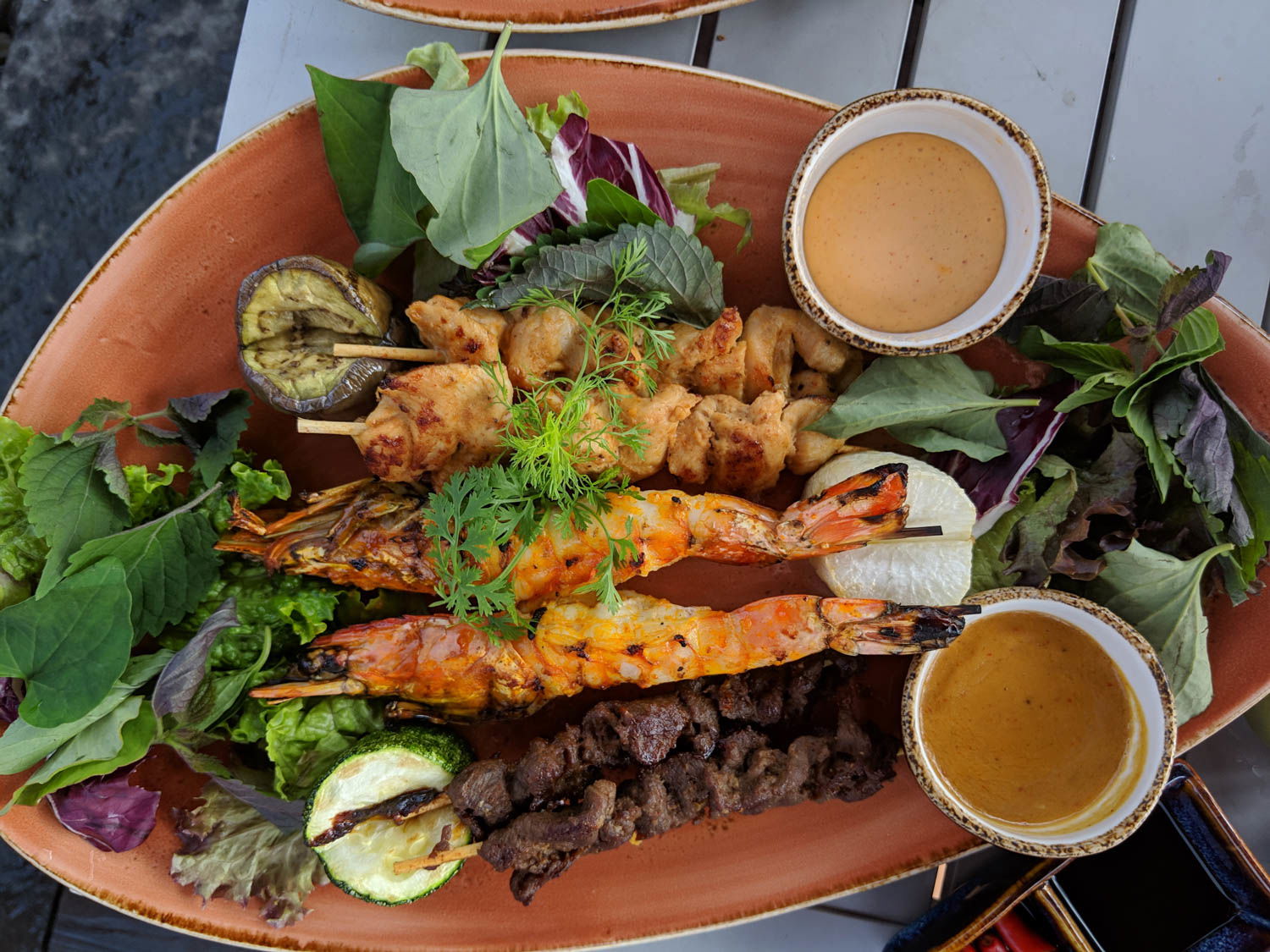 The sunsets were beautiful from the pool as well, so I wish that the bar stayed open later. It seems like this would be a good gathering place given the challenges in accessing the Rock Bar.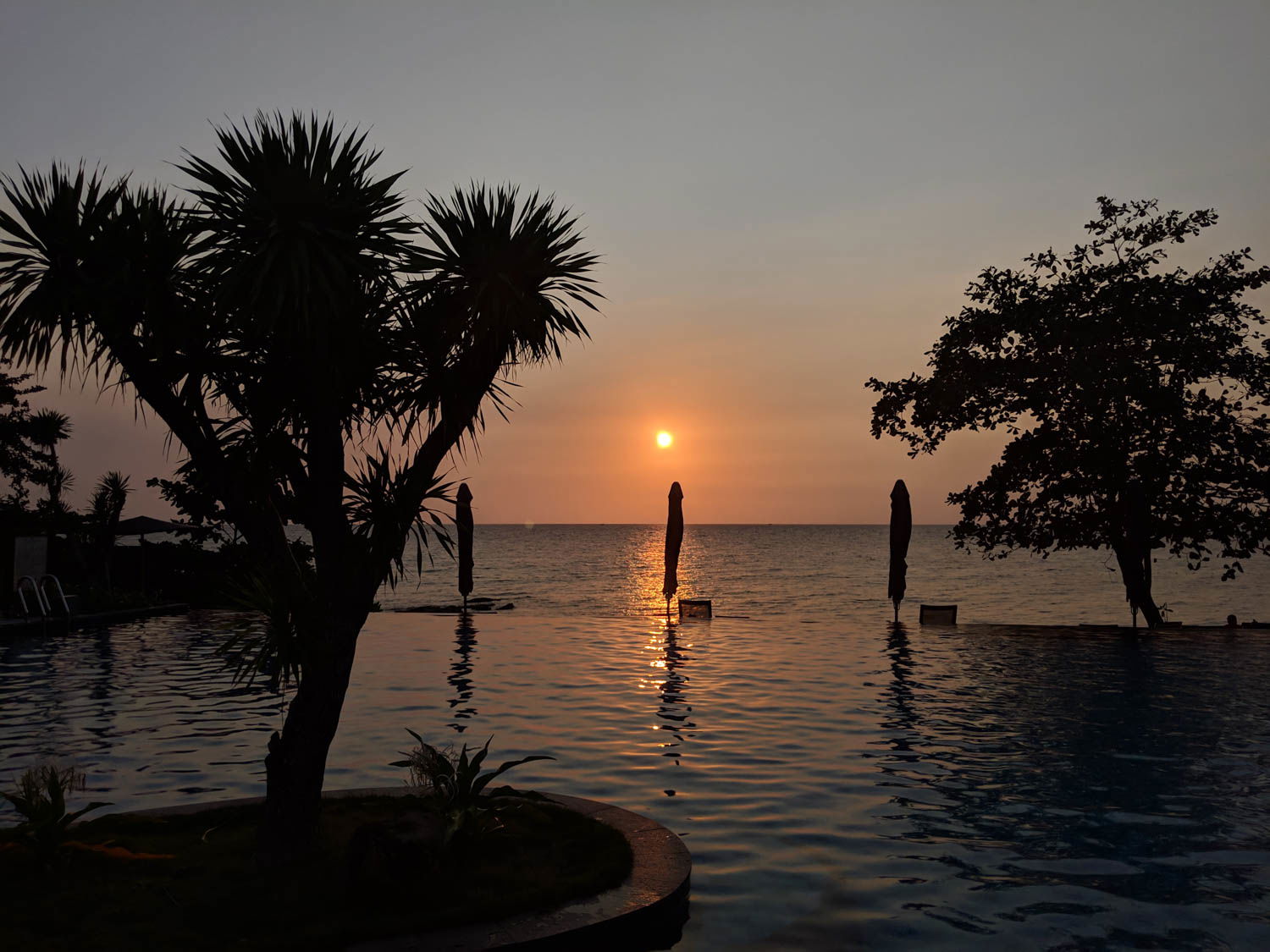 Nam Nghi Phu Quoc Beach
The main beach area was just below the pool, and had an assortment of lounge chairs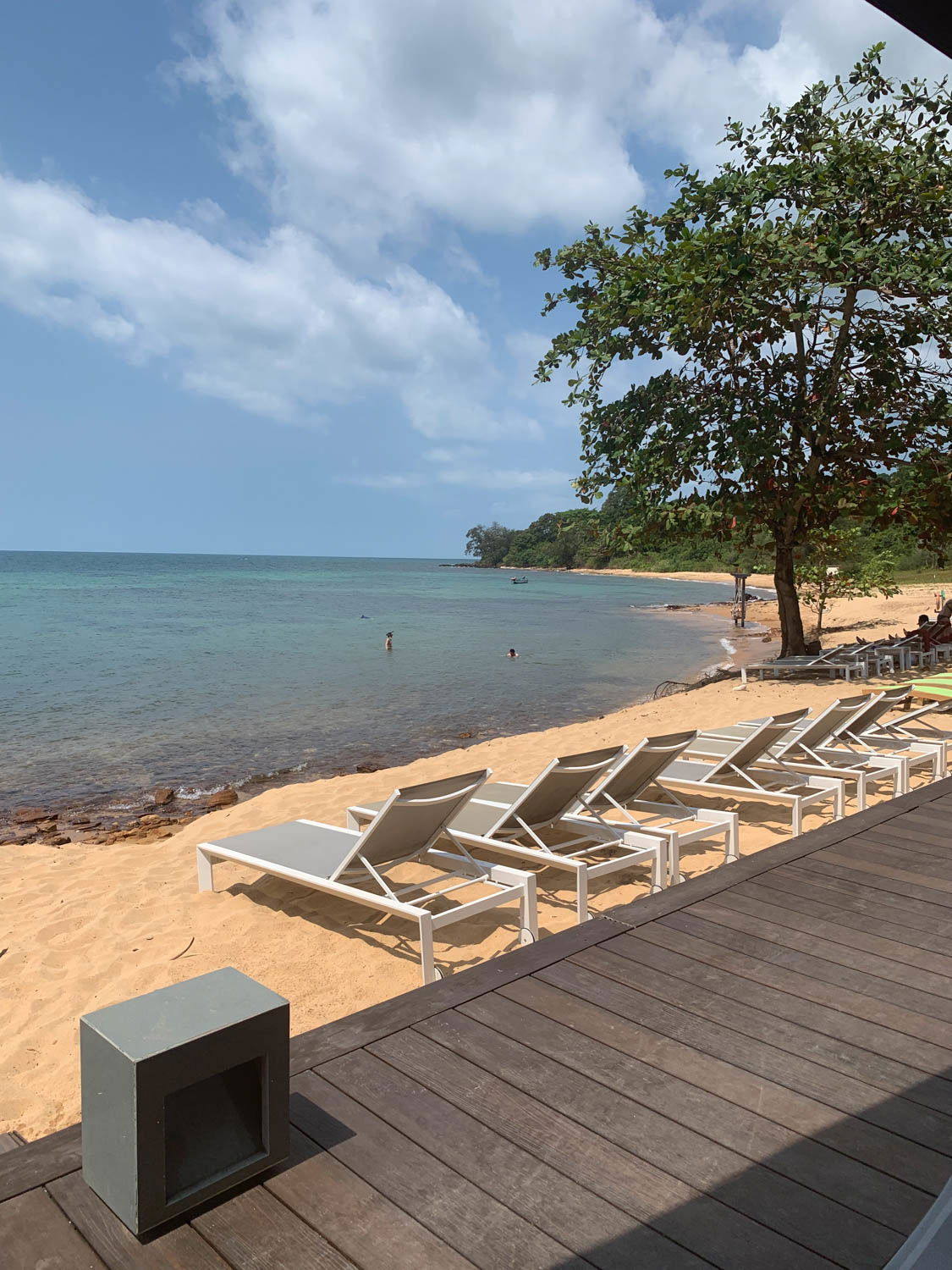 Along with a darling swing: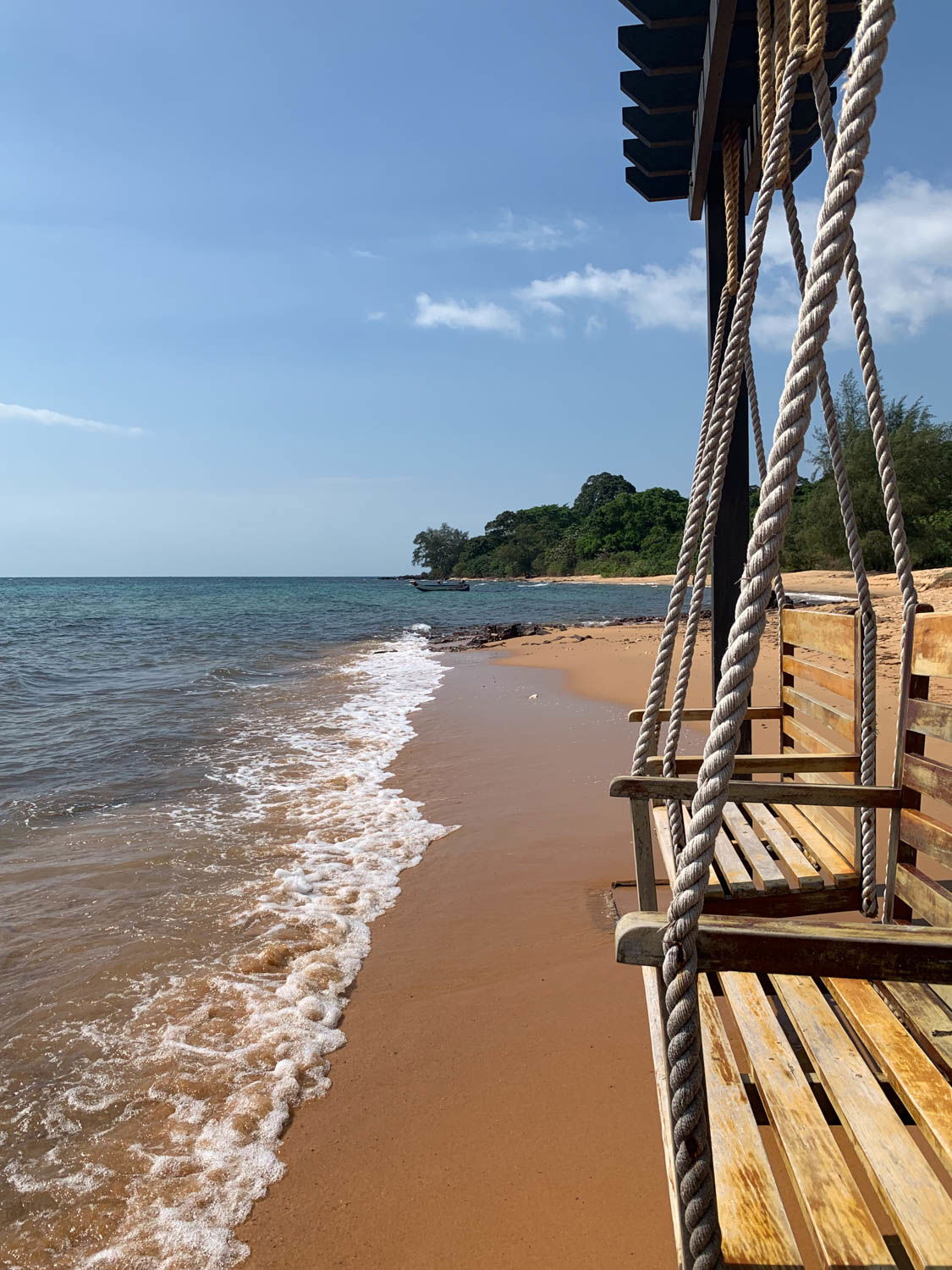 The beach was rocky in spots, but comparatively clean. I think this side of Phu Quoc might be better from a trash perspective, at least as far as currents go? There was still some litter, but it was on par with what I remember seeing as a kid in Hawaii (so more than you'd find now), and not really what I'd consider excessive.
There were kayaks and paddle boards available, but there was a fee to rent them (despite them being included in the package of one room), and we couldn't get that figured out. Ironically, the snorkel equipment was free to borrow over here, versus a charge for it if you picked it up from the dock.
Rock Island Beach Club
In addition to the main beach by the pool, Nam Nghi also has a separate island with…well, it's supposed to be a beach club bar thing, but the concept needs to be revisited.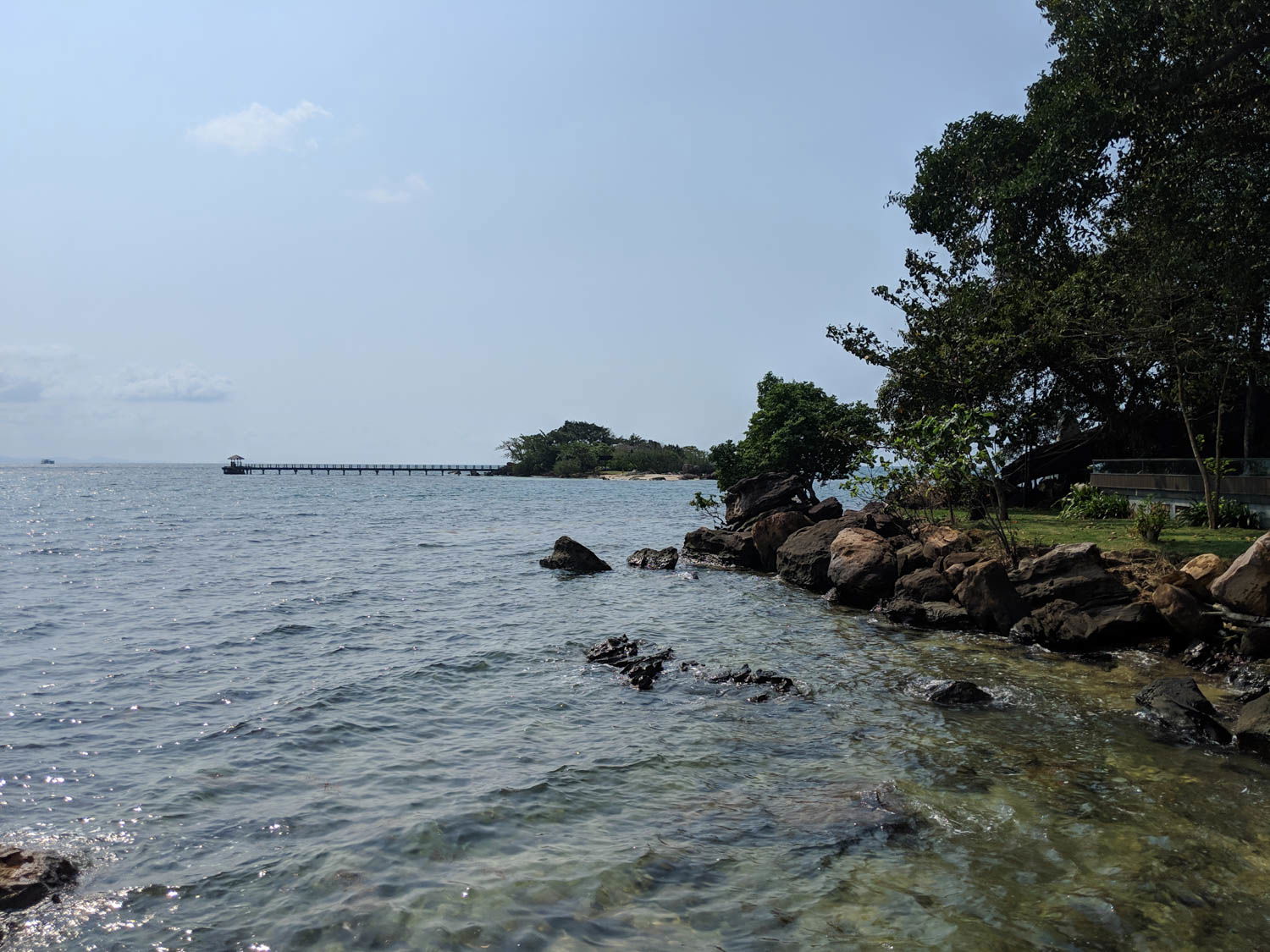 To get there, you first need to go to the hotel reception and get vouchers. They're free, but you have to do this before every trip. I don't really understand why, though perhaps there are aspirations of people coming from other hotels to enjoy the club?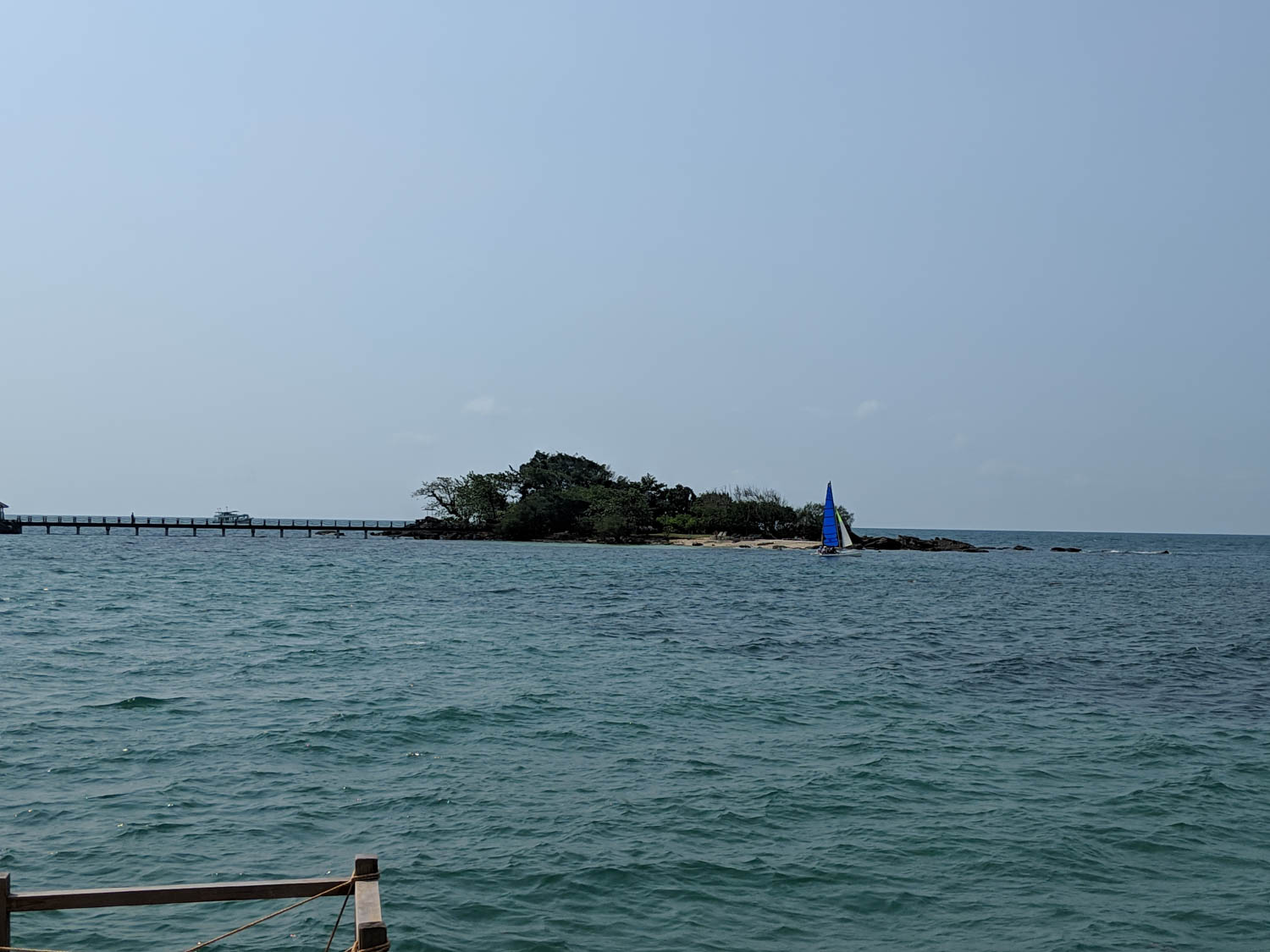 On our first morning, when we asked about snorkeling, the front desk staff advised us that we could get snorkel gear from the staff at the dock for a fee, and then they would take us over to the island, make sure we had towels, chairs, etc., but that the bar wouldn't be open until 2PM.
That sounded fun, so we packed up some drinks and snacks, and headed over in this little pontoon boat.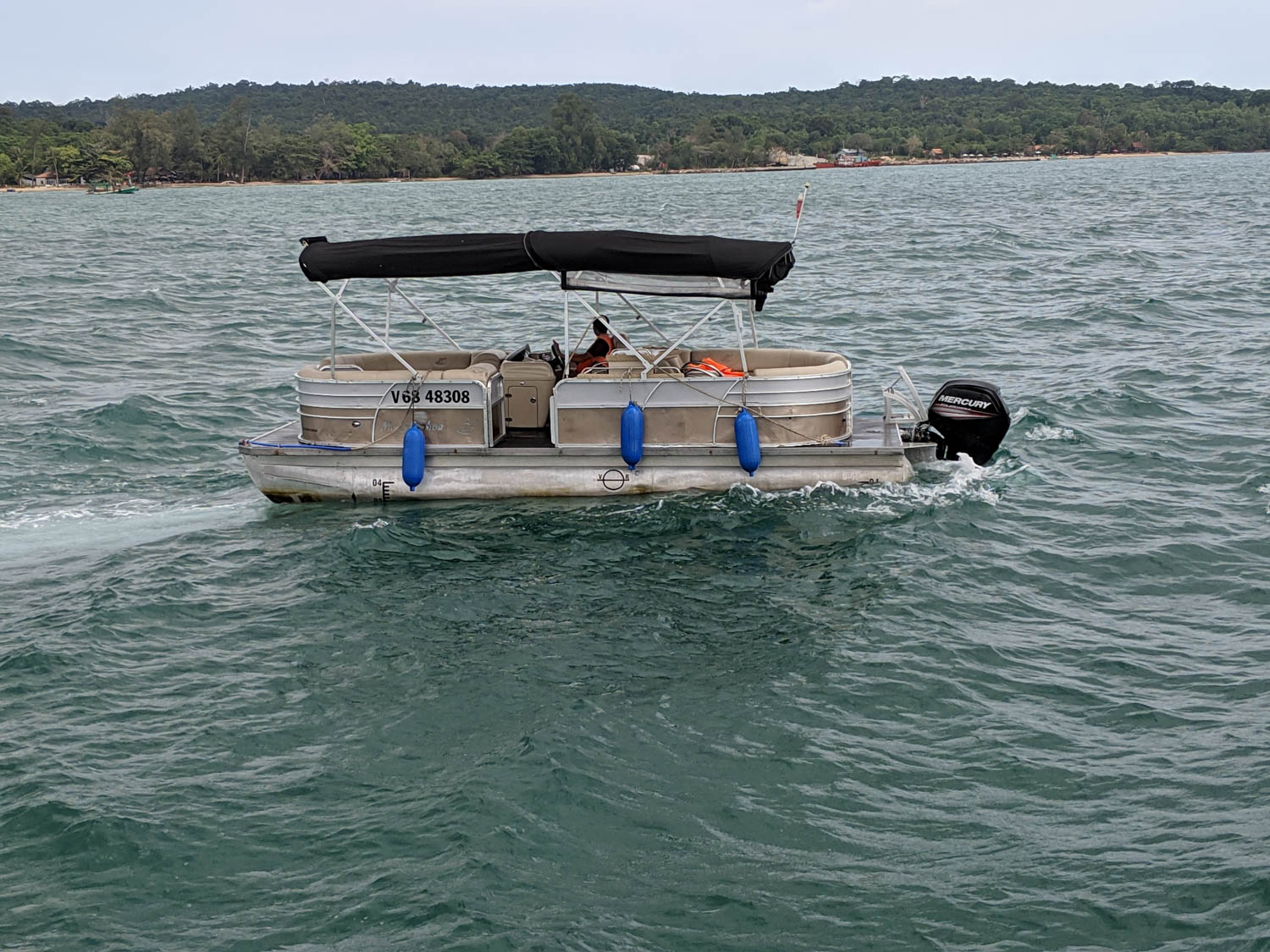 Once we got there, however, we found the place to be deserted.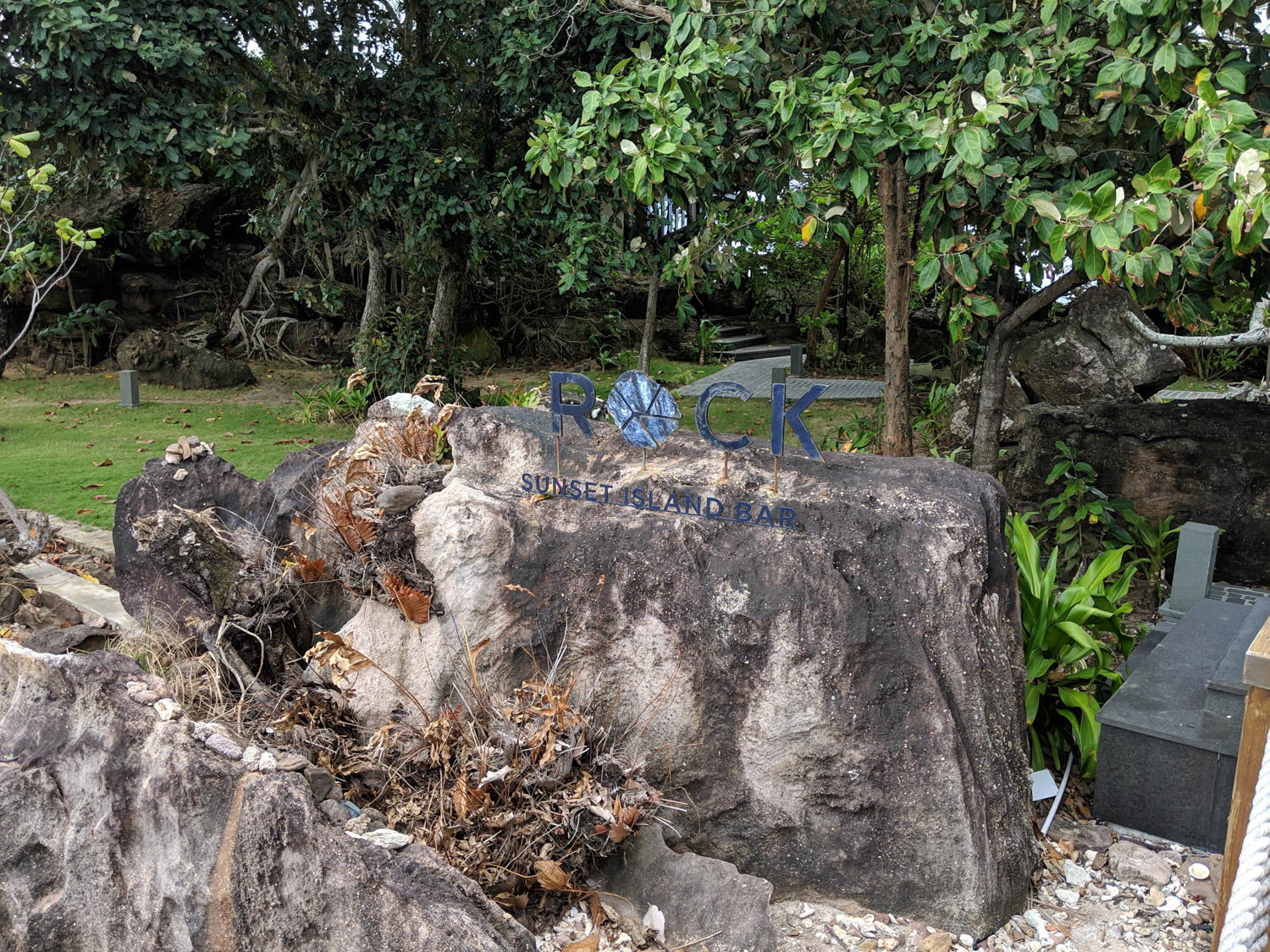 No towels, though there was a place for them: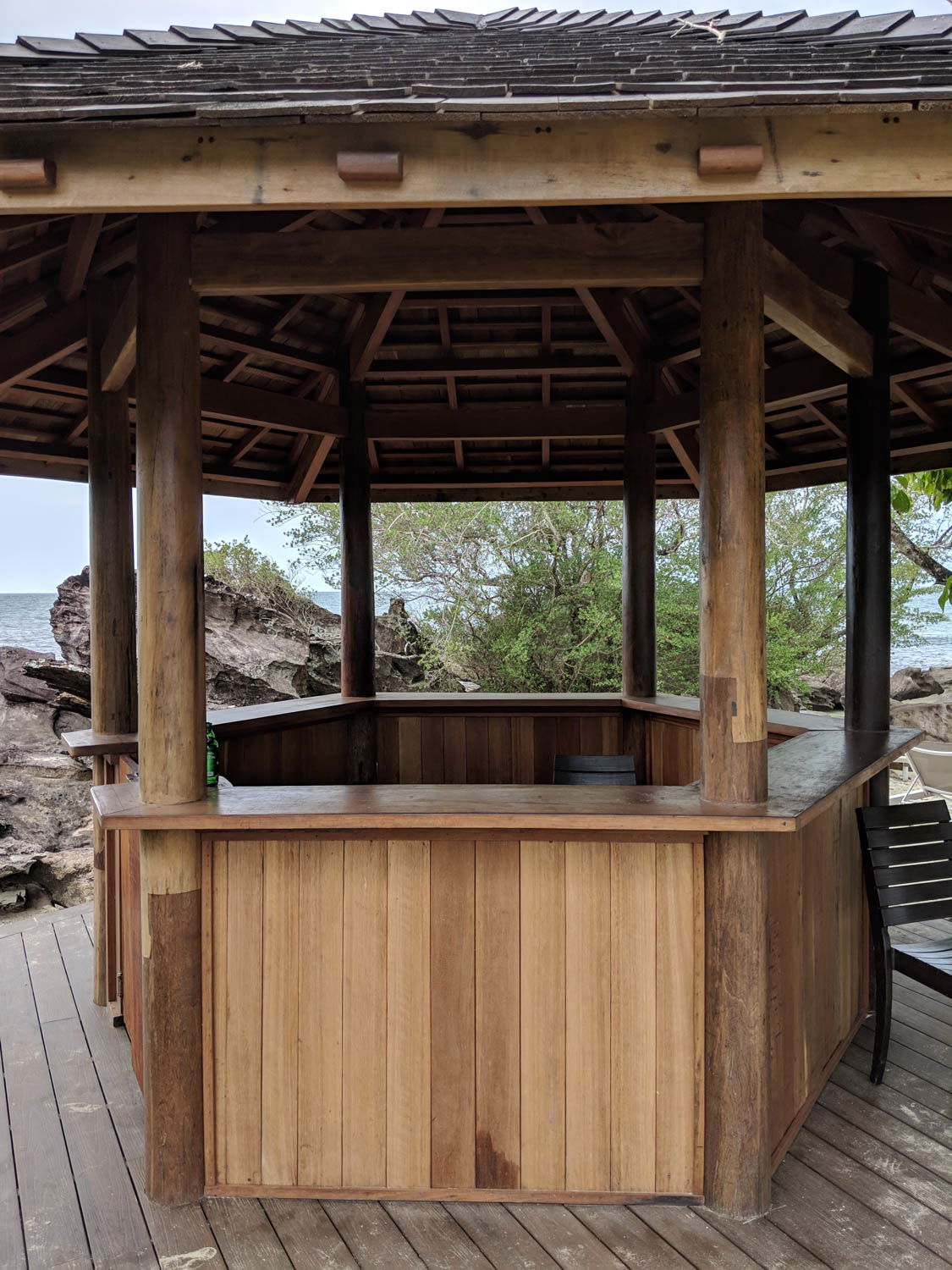 And no staff, other than the contracted security guard who was in charge of radioing the boat when you wanted to leave.
So that was obnoxious, and probably a huge legal liability, but the beach had fun tidepools and good snorkeling, so we had a great time on what was basically a private island for the day.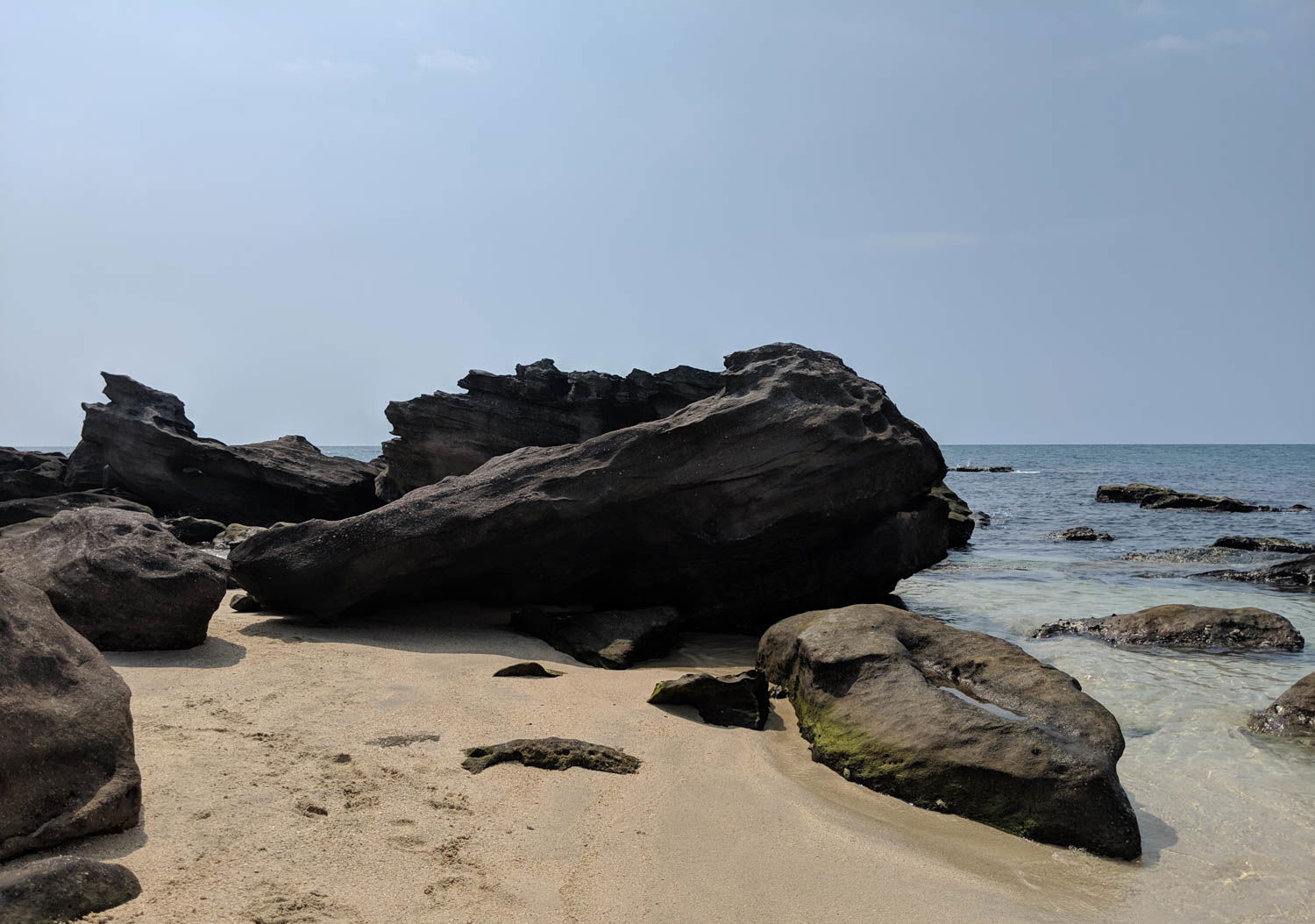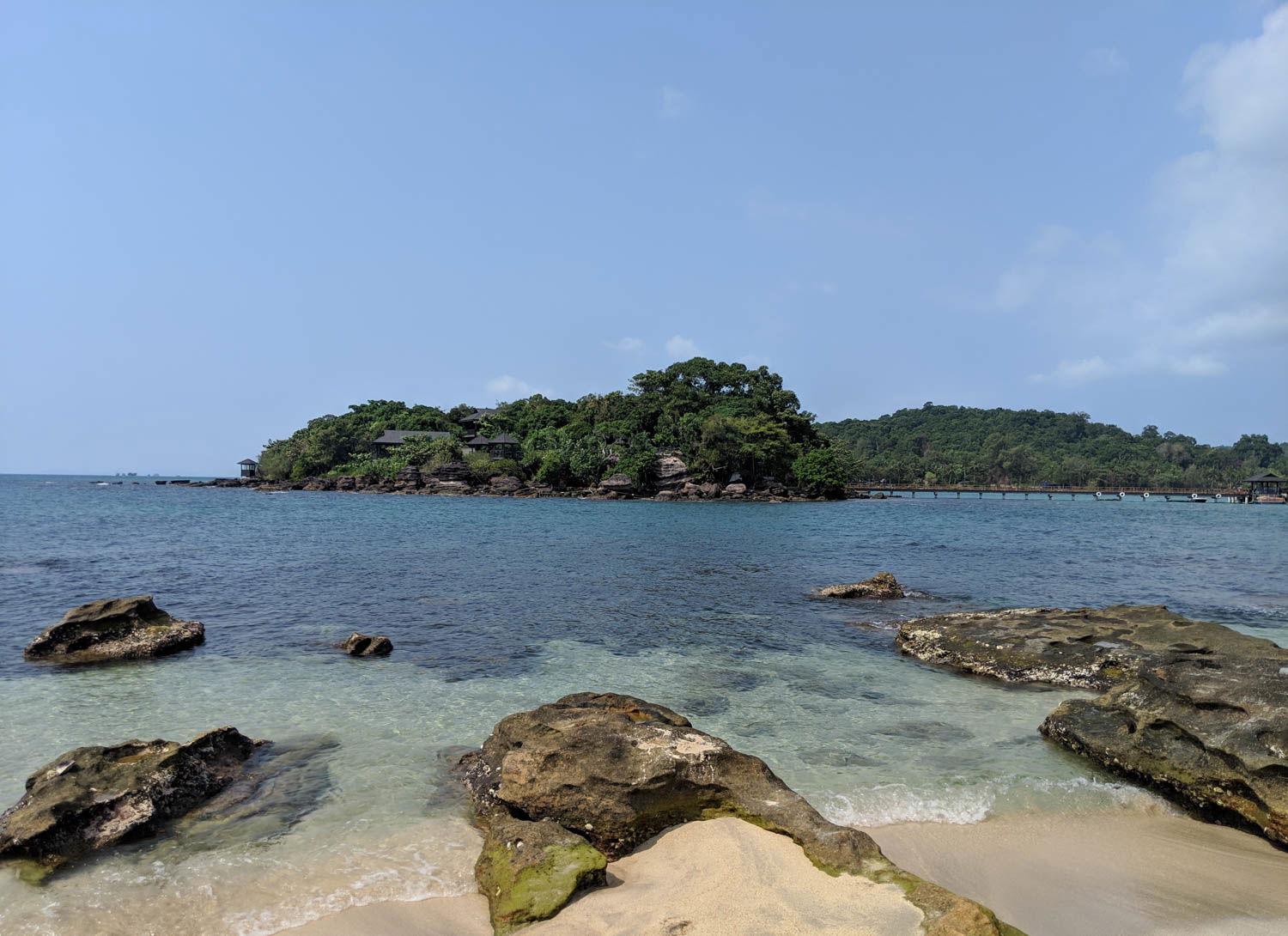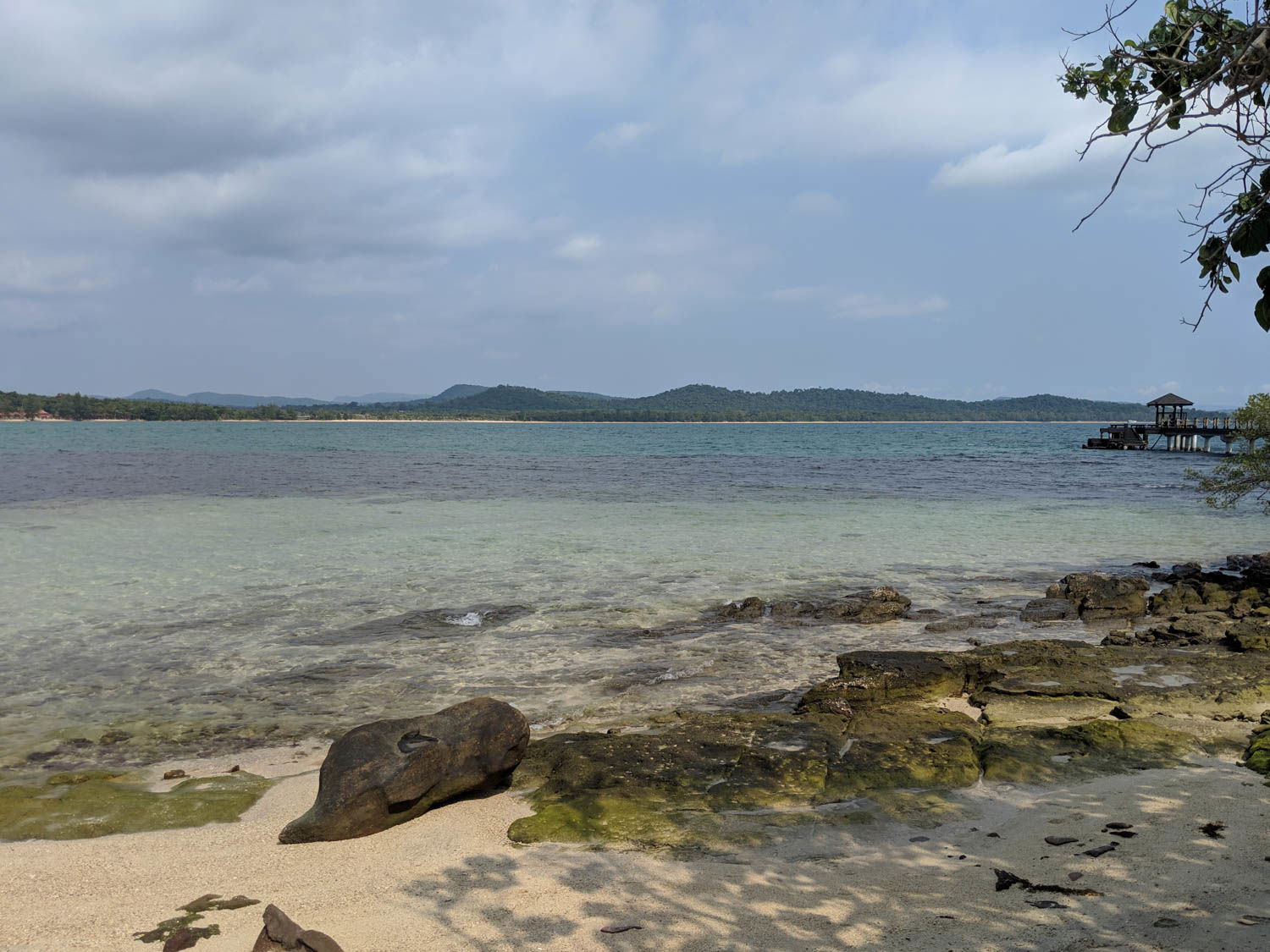 A bit before 2PM a boat full of staff arrived (with towels!), and the official opening of the beach club was heralded by a very load thumping as EDM started getting blasted around the island.
So obviously we had to go check it out. The bar itself was cool, though it was a bit weird with no one there.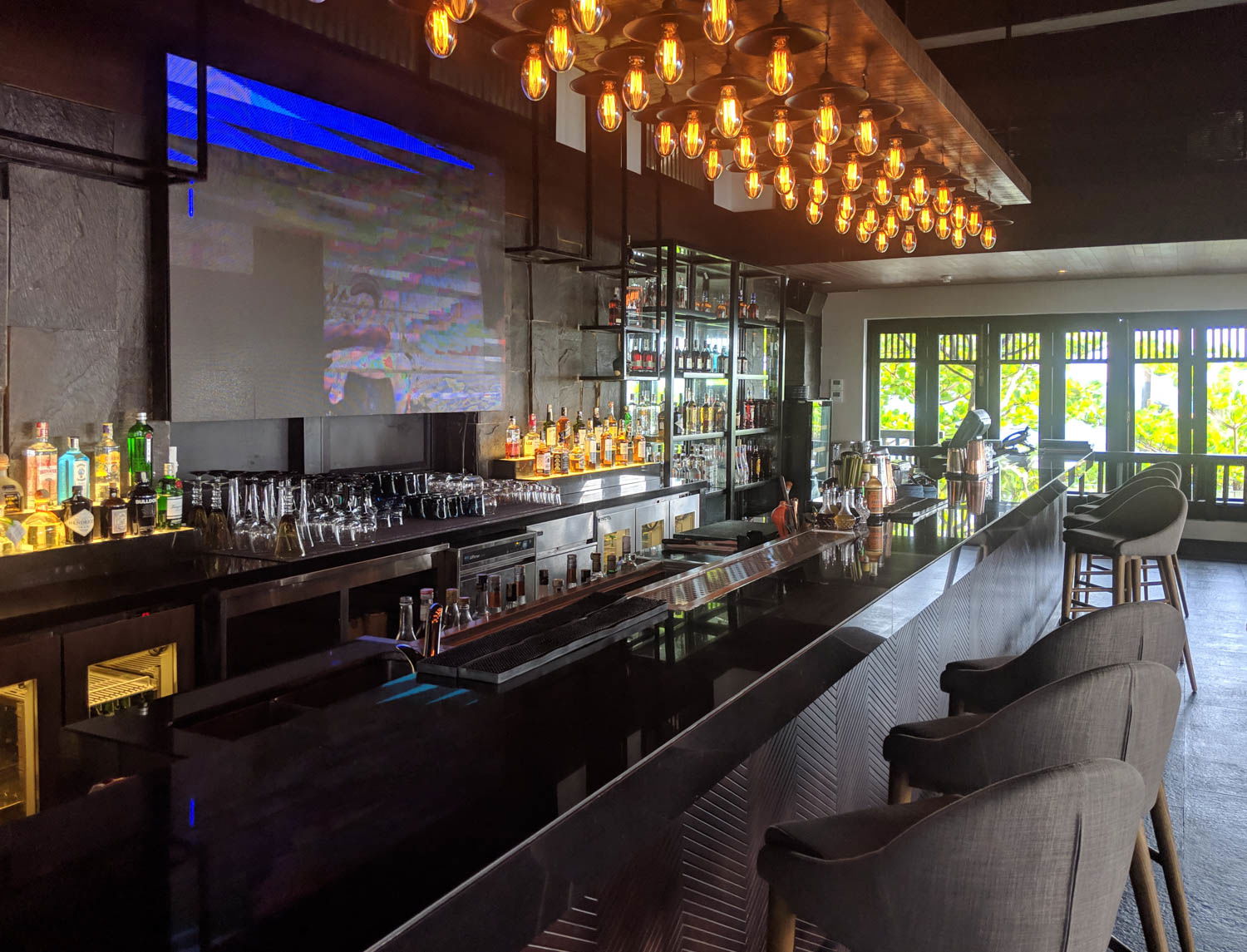 And then there was a massive patio setup, with another large bar (not staffed), different types of bar seating, and…wait for it…a foam/bubble pit.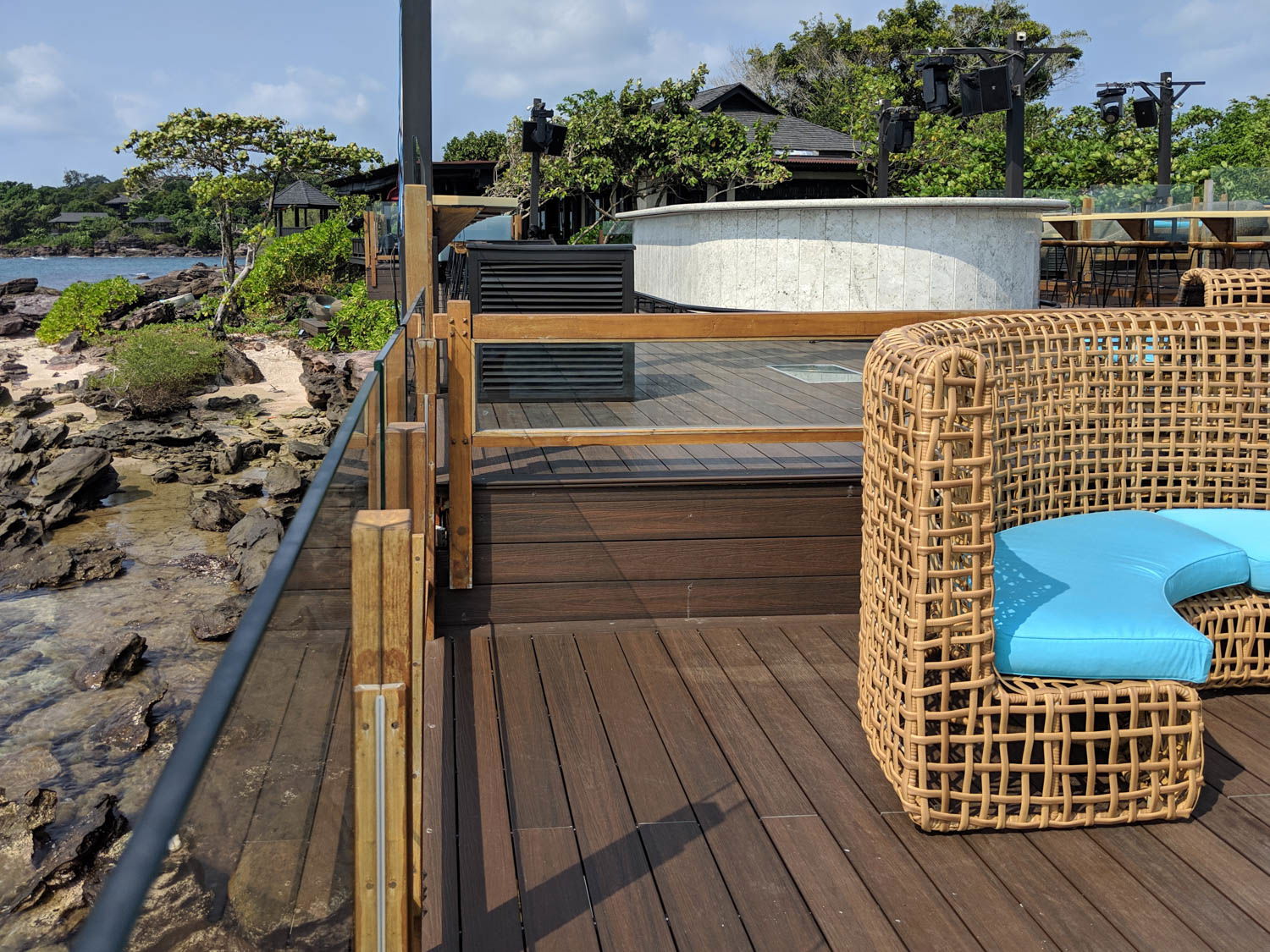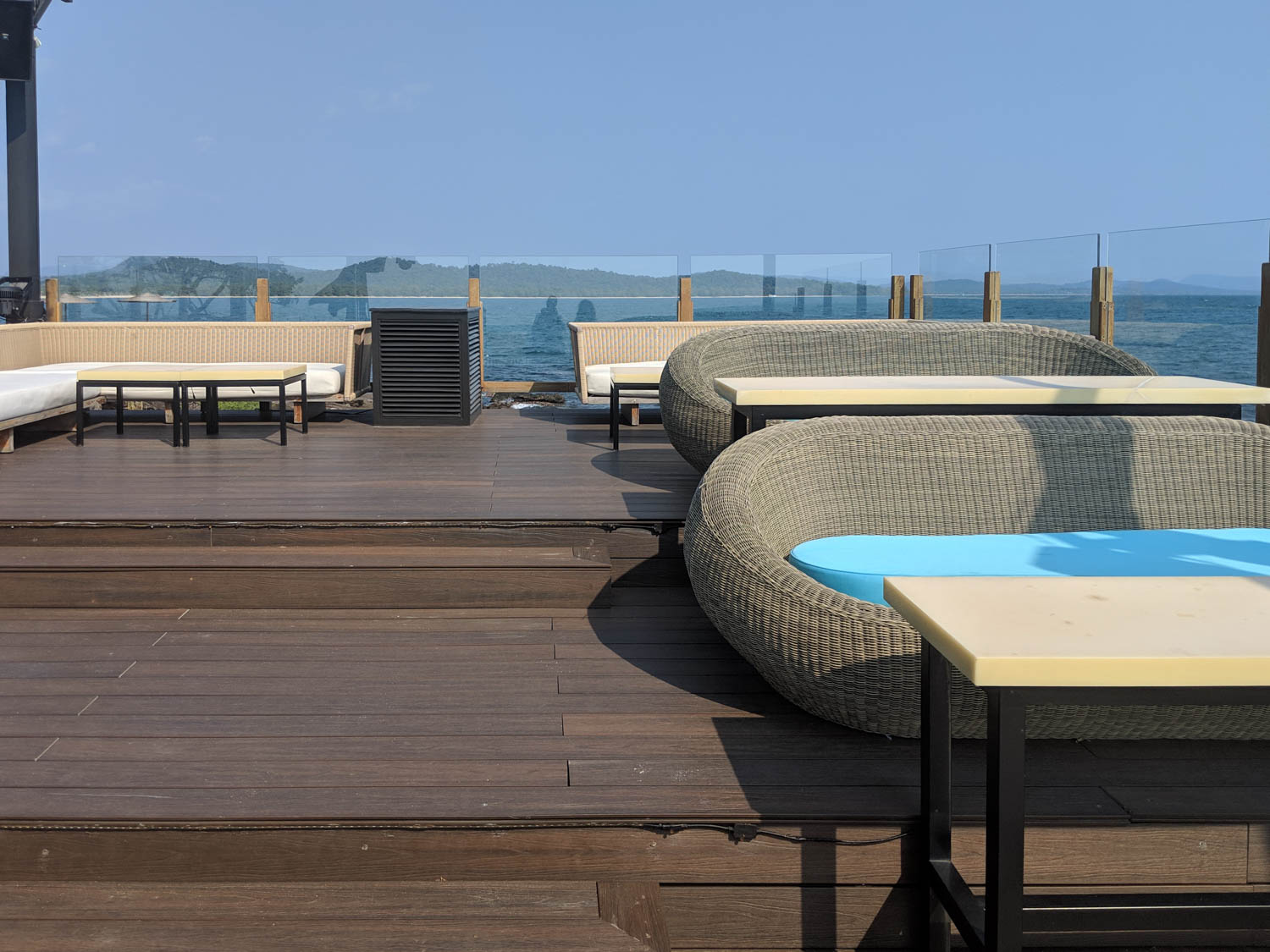 So I'm not sure exactly what kind of parties they think they're going to have, but we were the only ones there, so decided to sit on the patio and order lunch.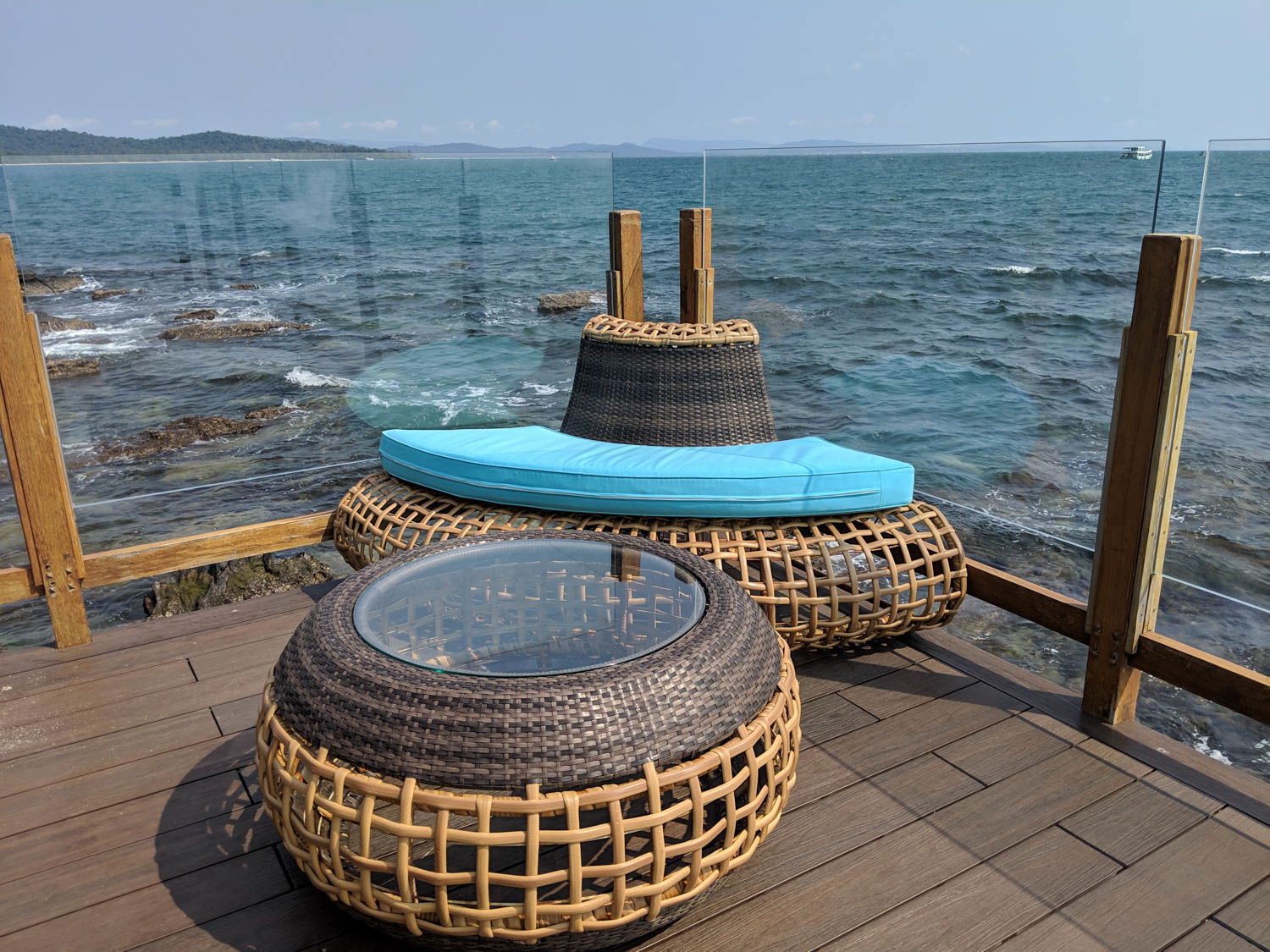 Unfortunately, while the bar opens at 2PM, and the menu listed matching hours for meal service, the waitress said we couldn't order food until 4PM. This seems like something that a luxury resort with multiple restaurant outlets and room service should be able to figure out, but I'm often surprised at how little hotels do to maximize their pool/beach bar revenue, so whatever.
Instead we ate purse almonds, ordered cocktails (the margaritas were fine, the passionfruit things were not), and enjoyed the view.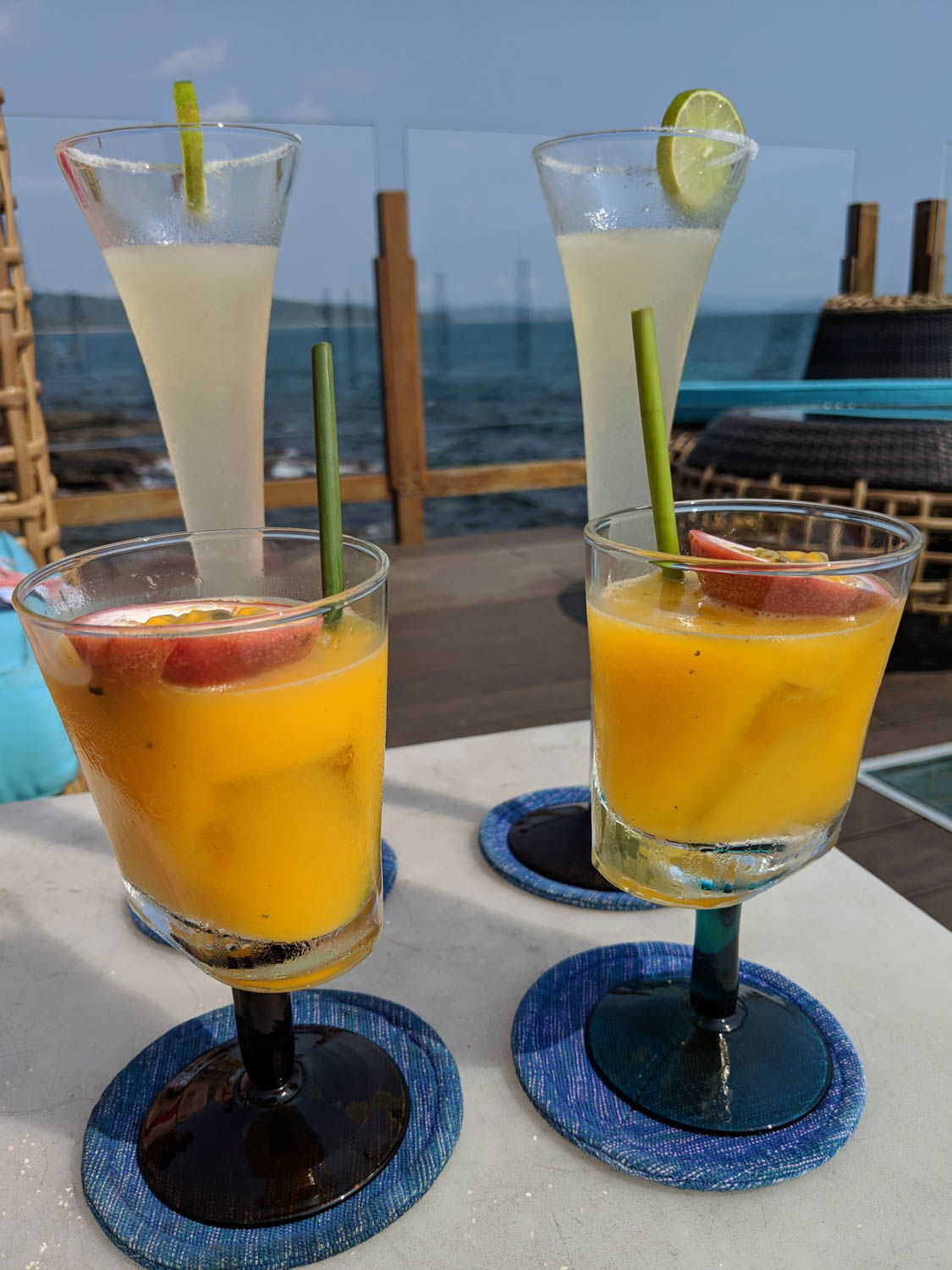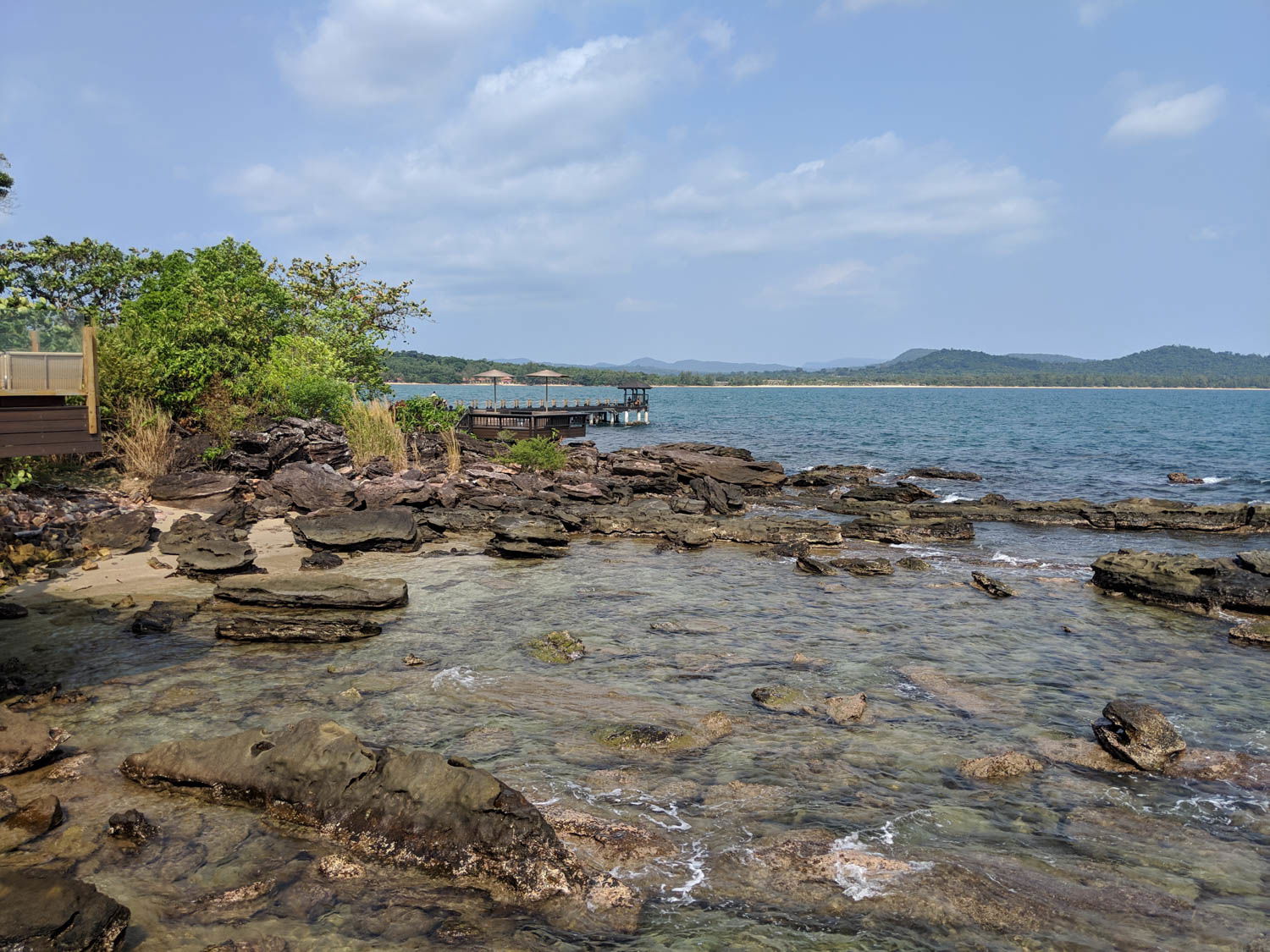 Heather and I tried coming back in the evening — partly in hopes of seeing the bubble pit in action, and also because it was the only non-restaurant venue for getting a cocktail at night, but the seas were too choppy for the boat to operate one night, and then the other night it was closed for Tet.
So yeah, this needs some work.
Hyatt Phu Quoc Restaurants
In addition to the pool and beach bars, Nam Nghi has two other restaurants — the more casual "Ocean Reflection" and the higher-end "Tree House". We went to both so that we could compare.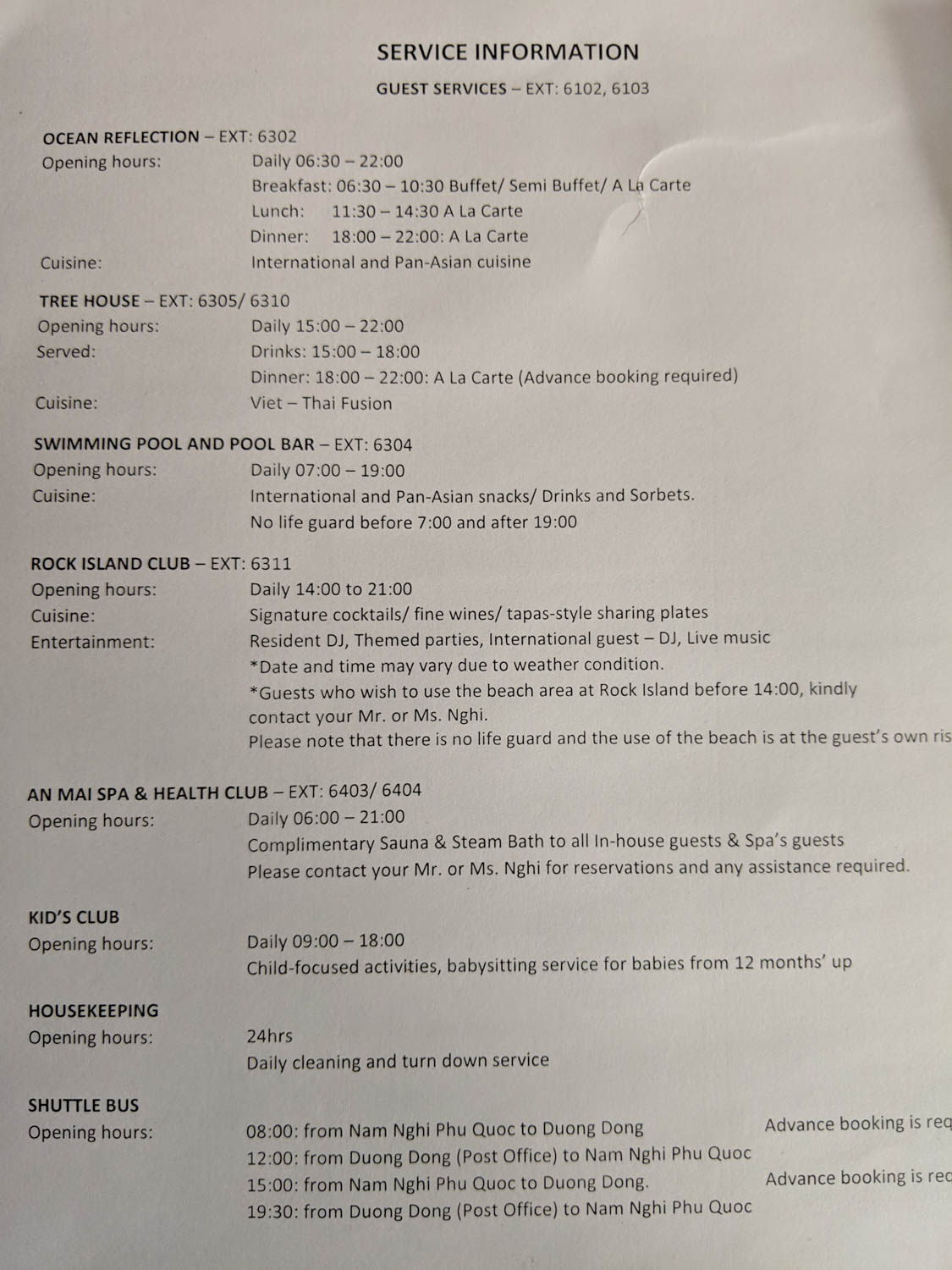 Breakfast at Ocean Reflection
The main restaurant is just off the hotel lobby, and features a semi-open kitchen surrounded by a mix of seating areas, and floor-to-ceiling accordion doors.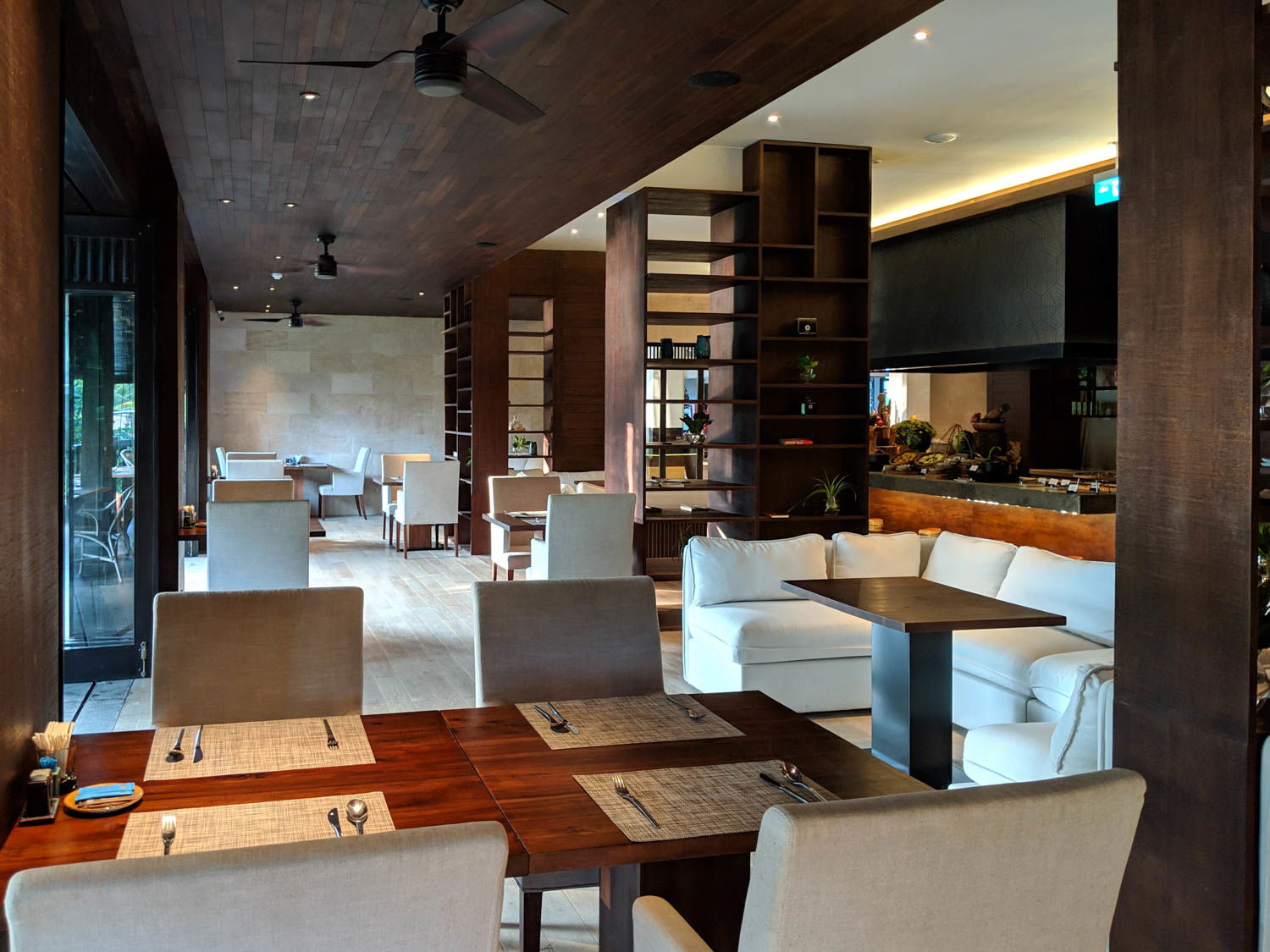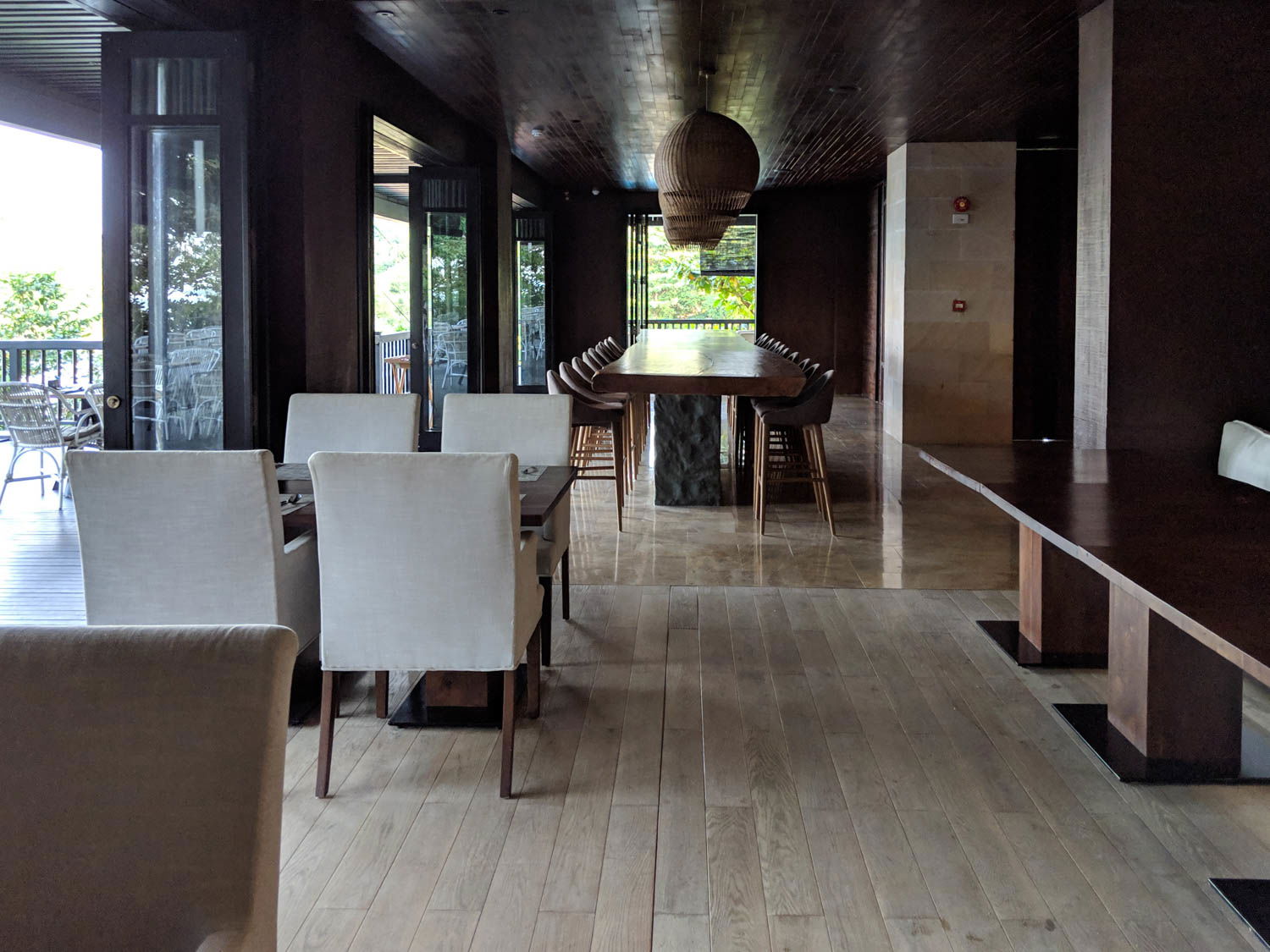 The space felt chic and airy, and the addition of lounge areas and game tables made it feel like a place where you could hang out, not just a restaurant.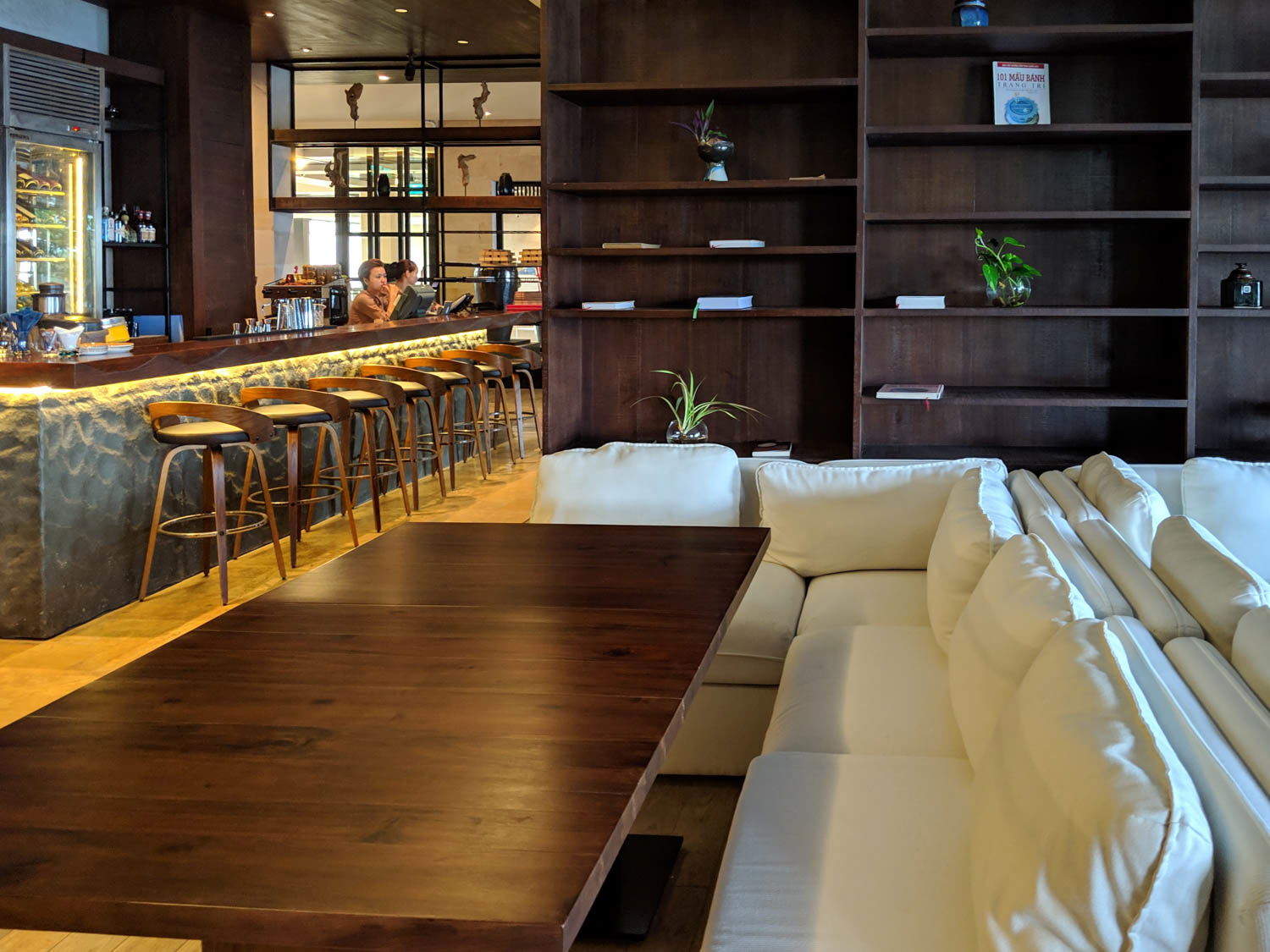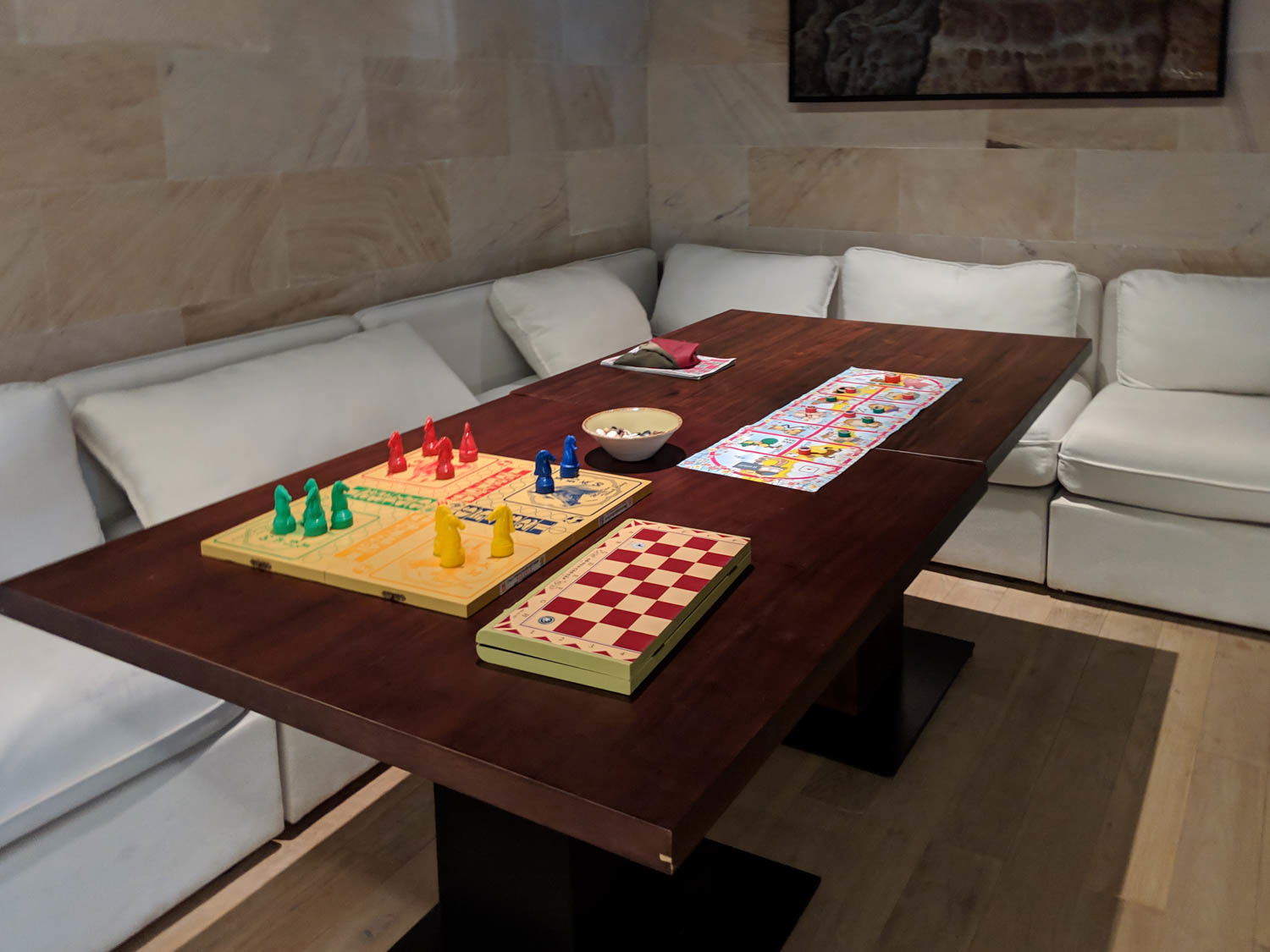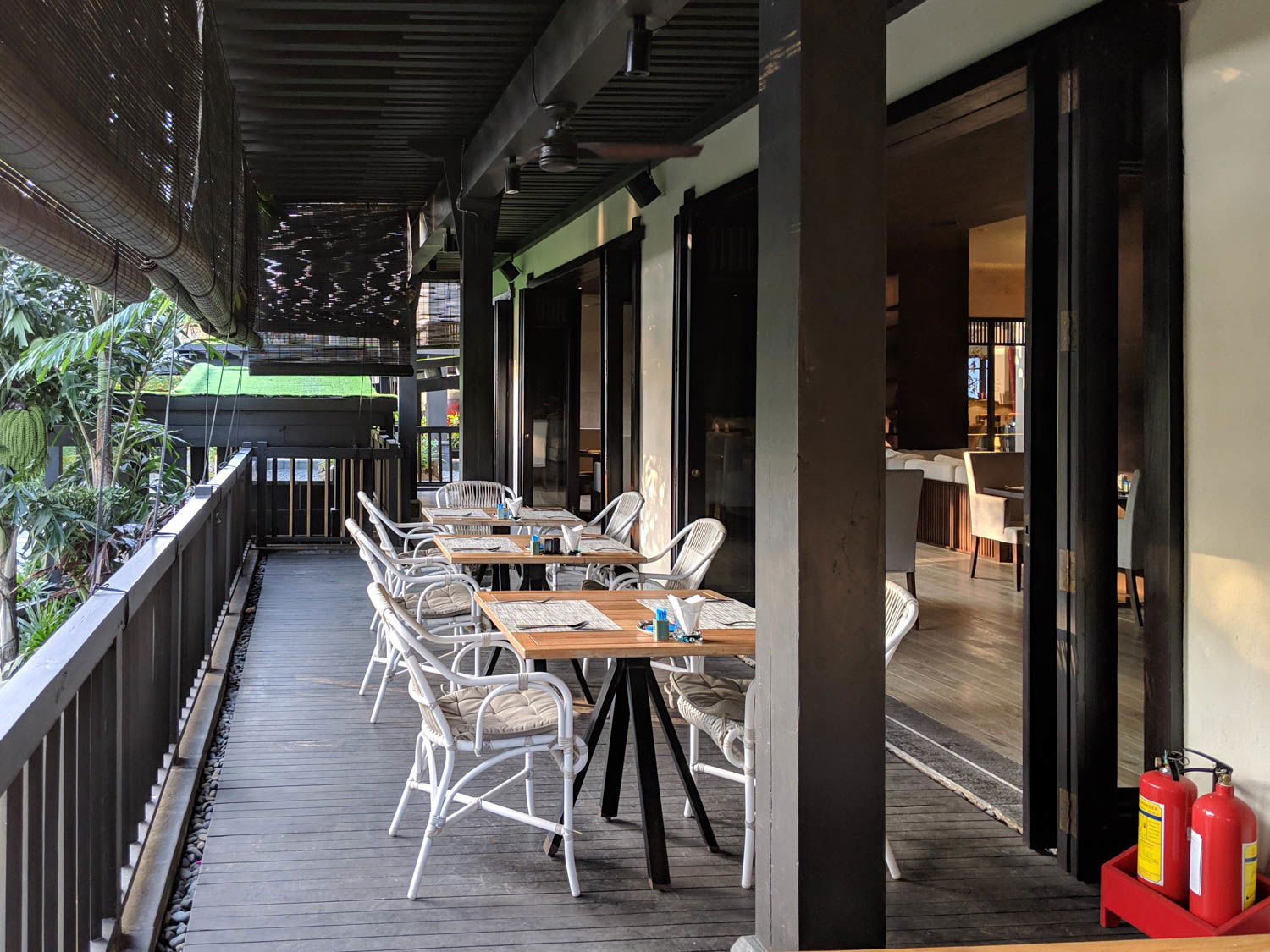 The breakfast spread was fairly expansive, though somewhat at the cost of quality. Everything was good, but nothing was incredible.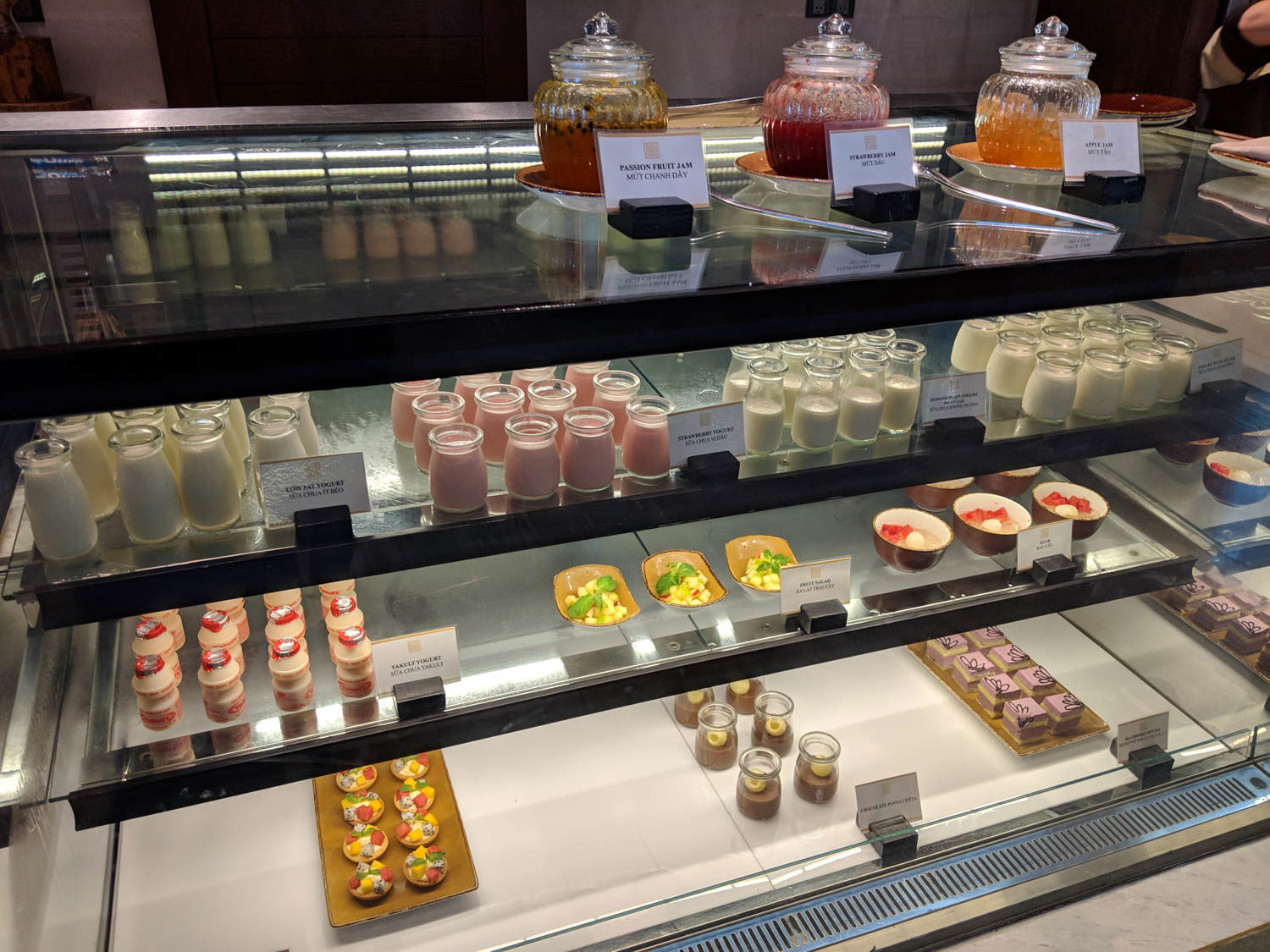 We did appreciate the assortment of coffee and tea choices.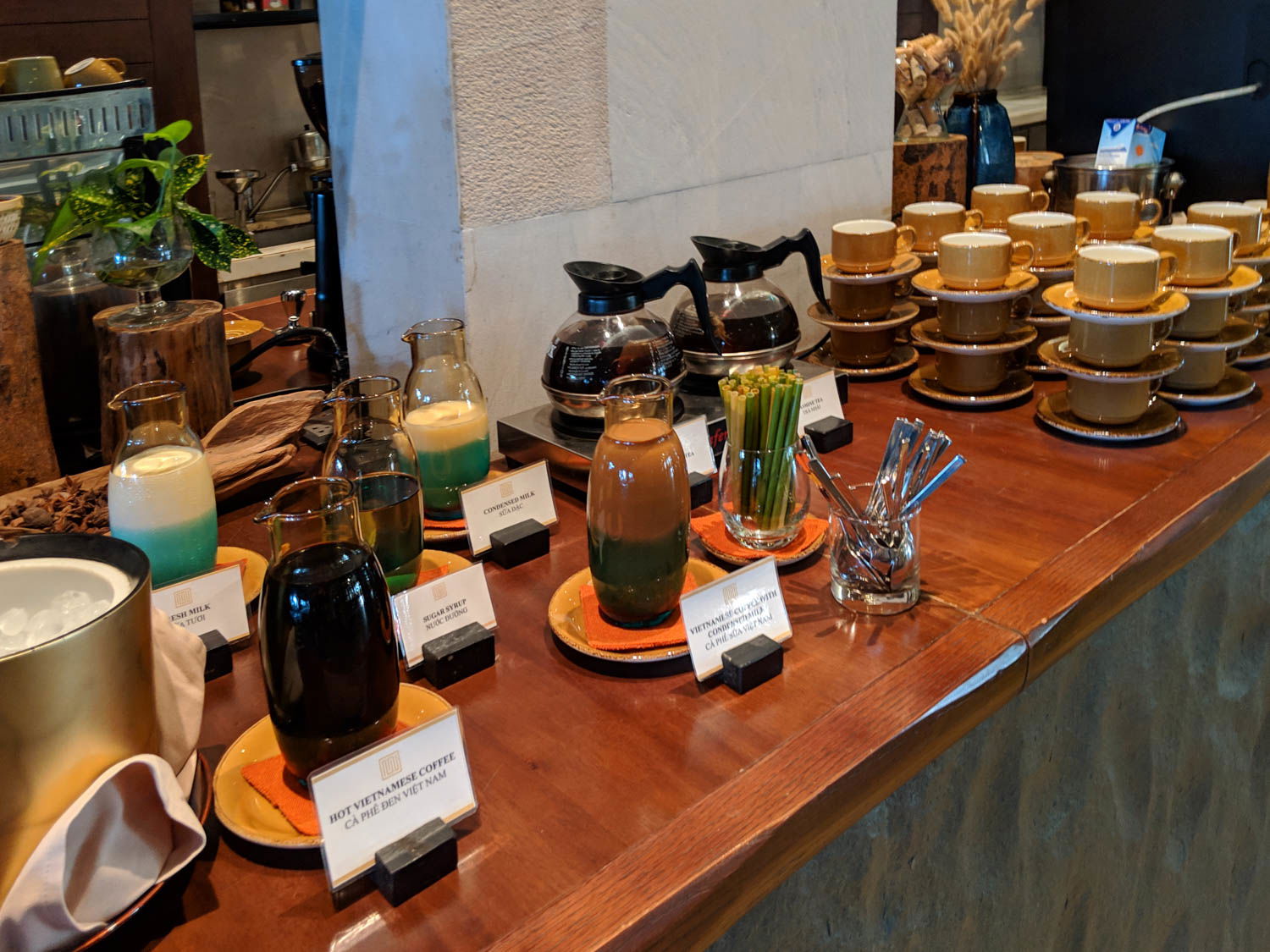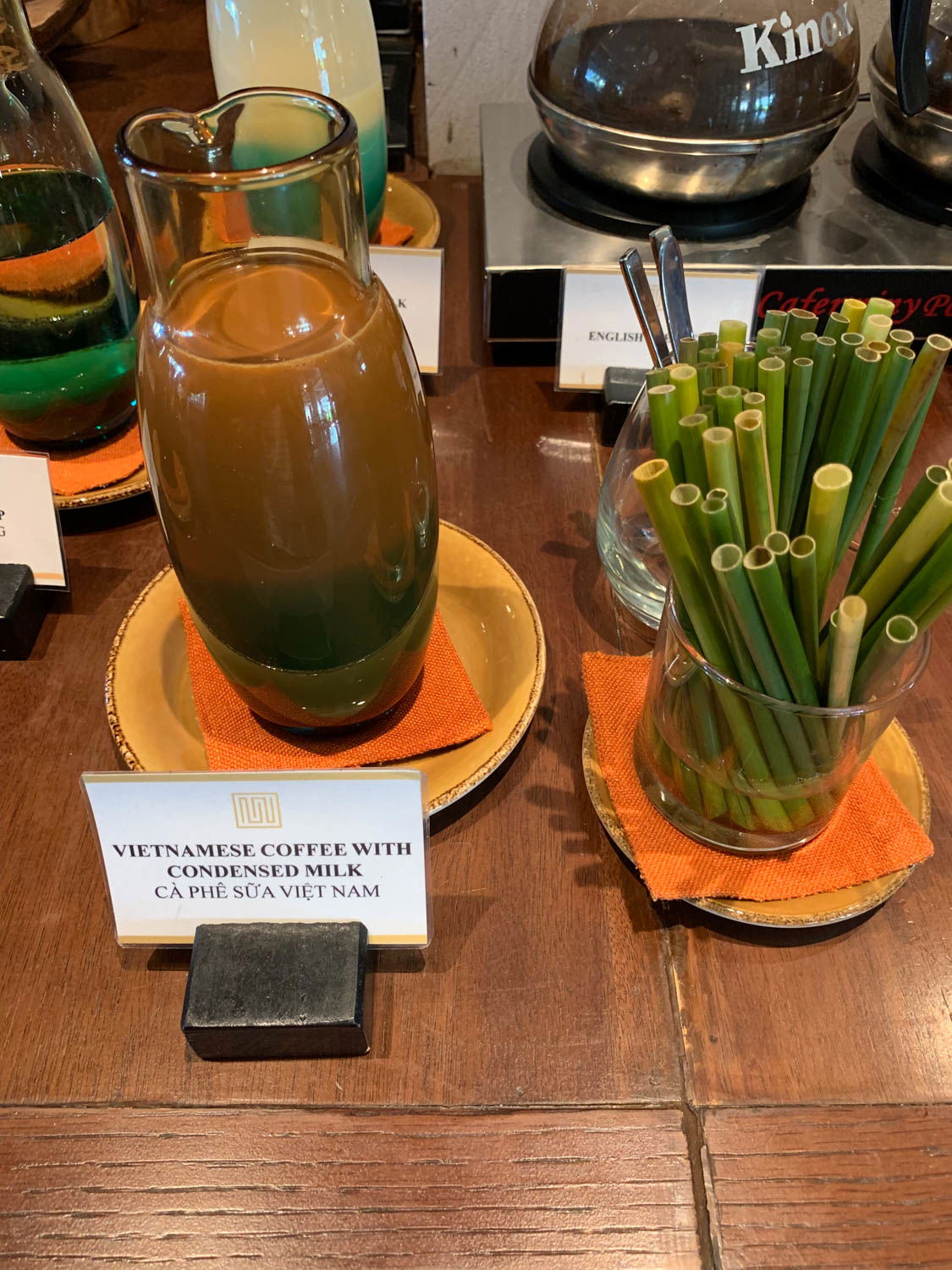 And one day there was an entire display of Tet foods: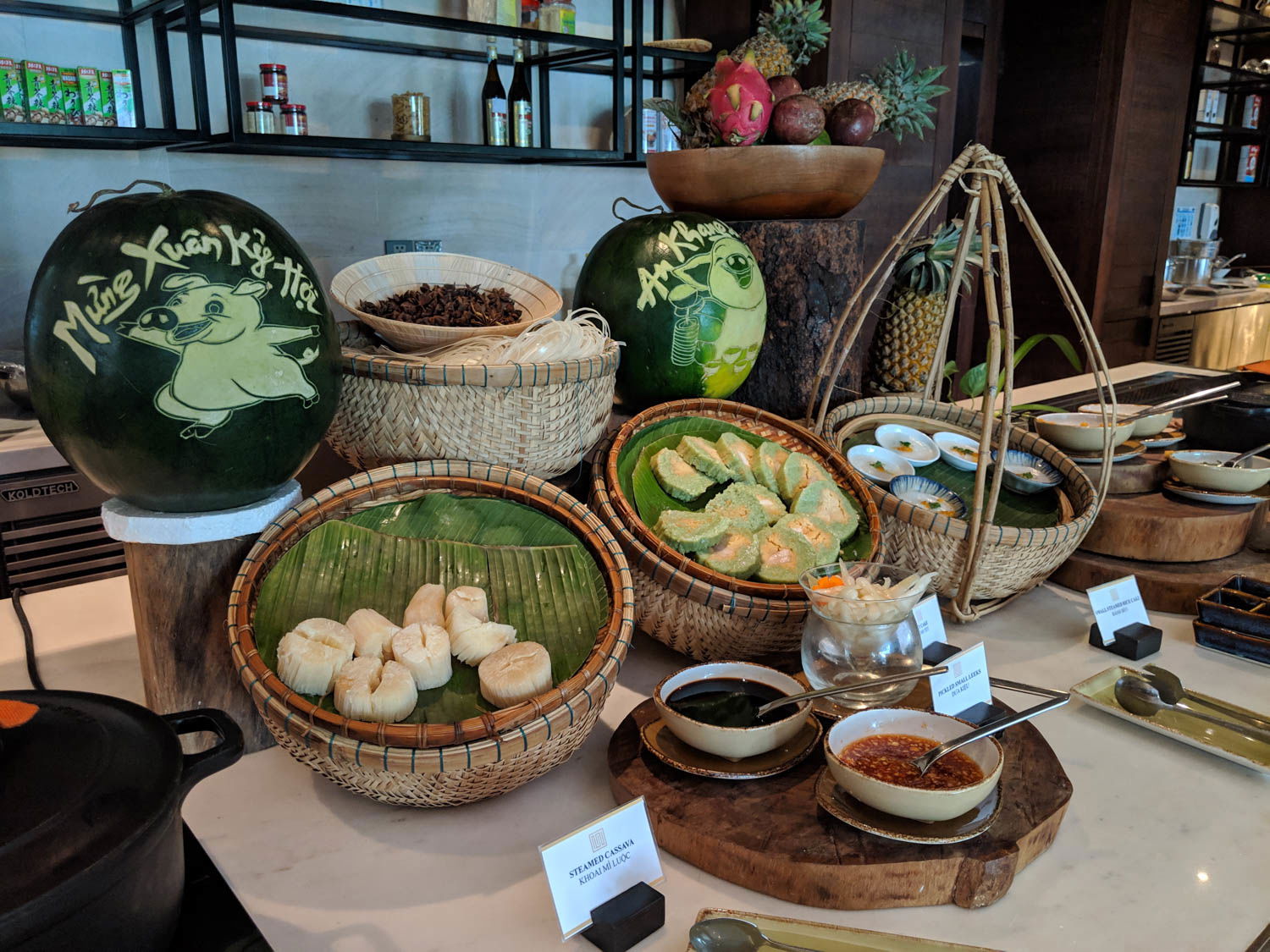 There were always plenty of pastries on offer: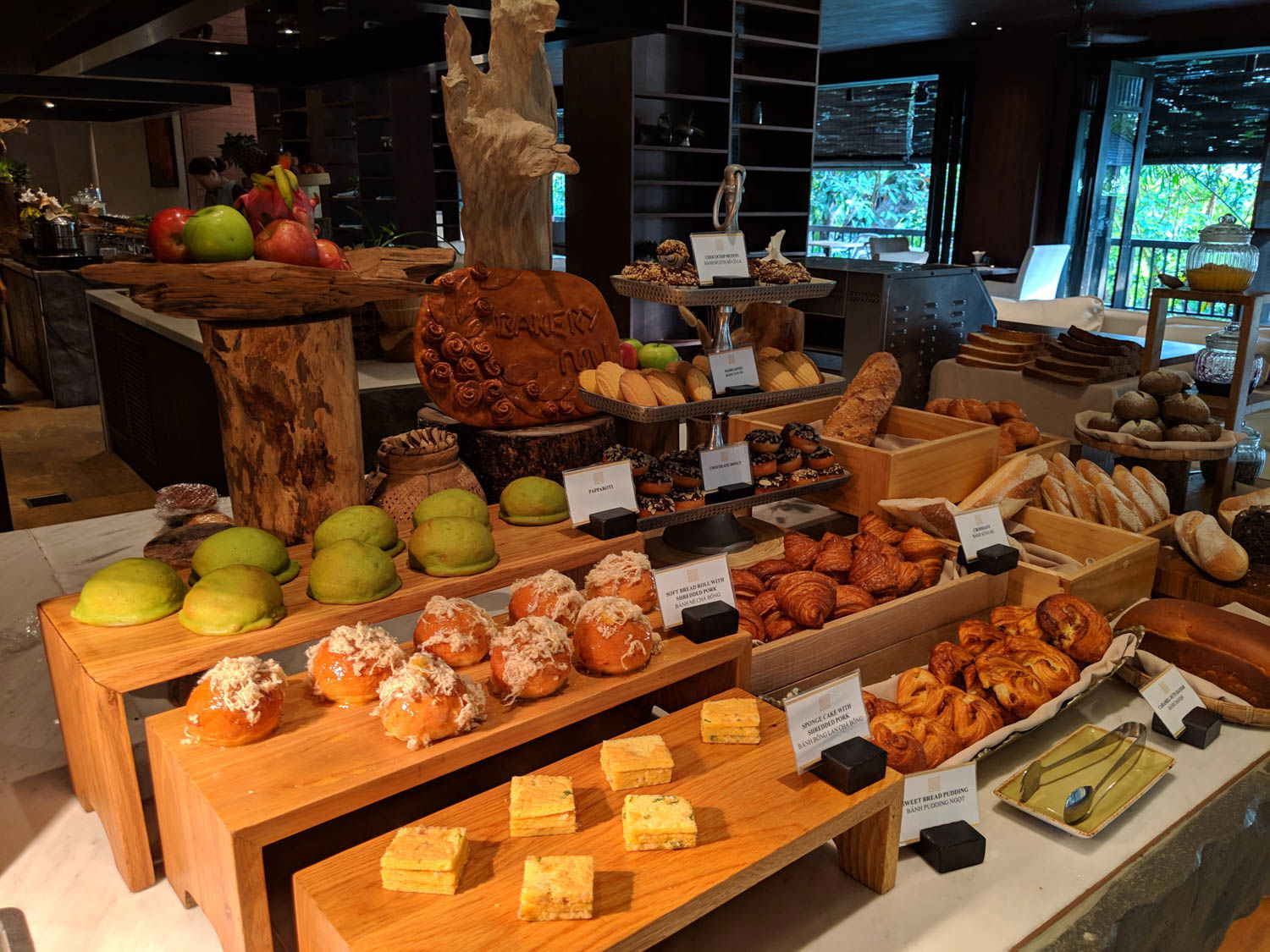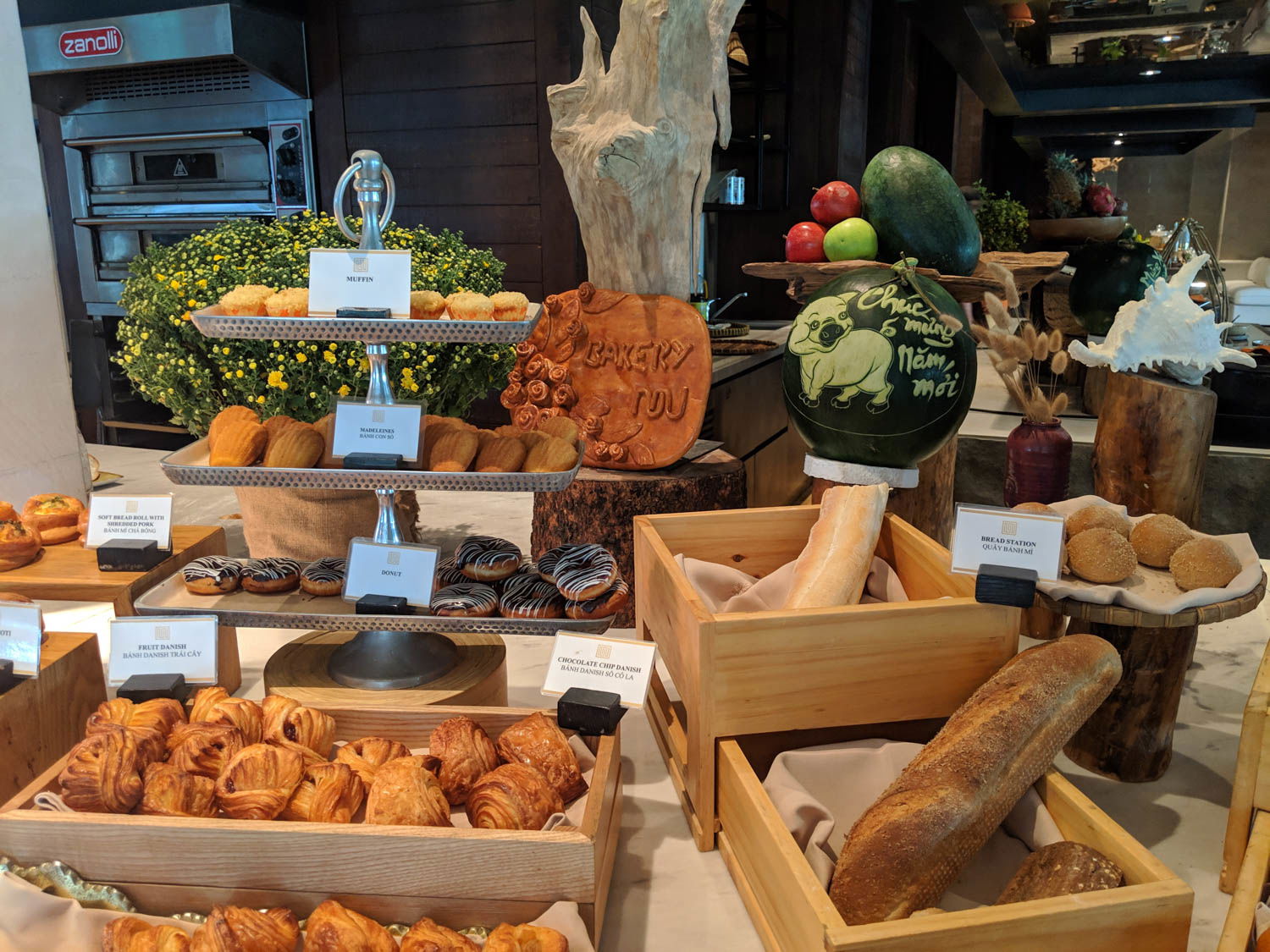 And an assortment of cereals and juices: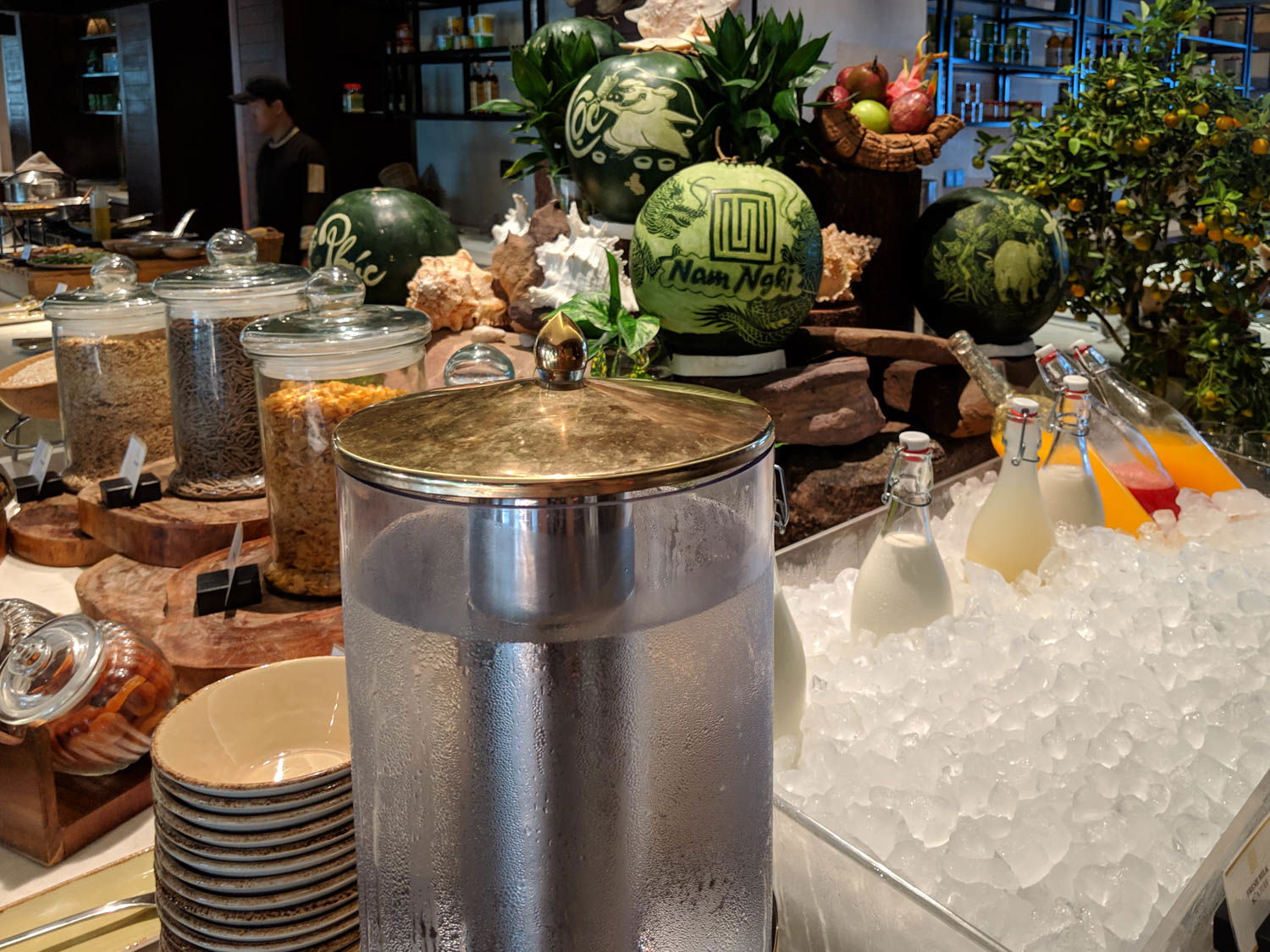 The noodle station varied every day, and these were consistently the best dishes.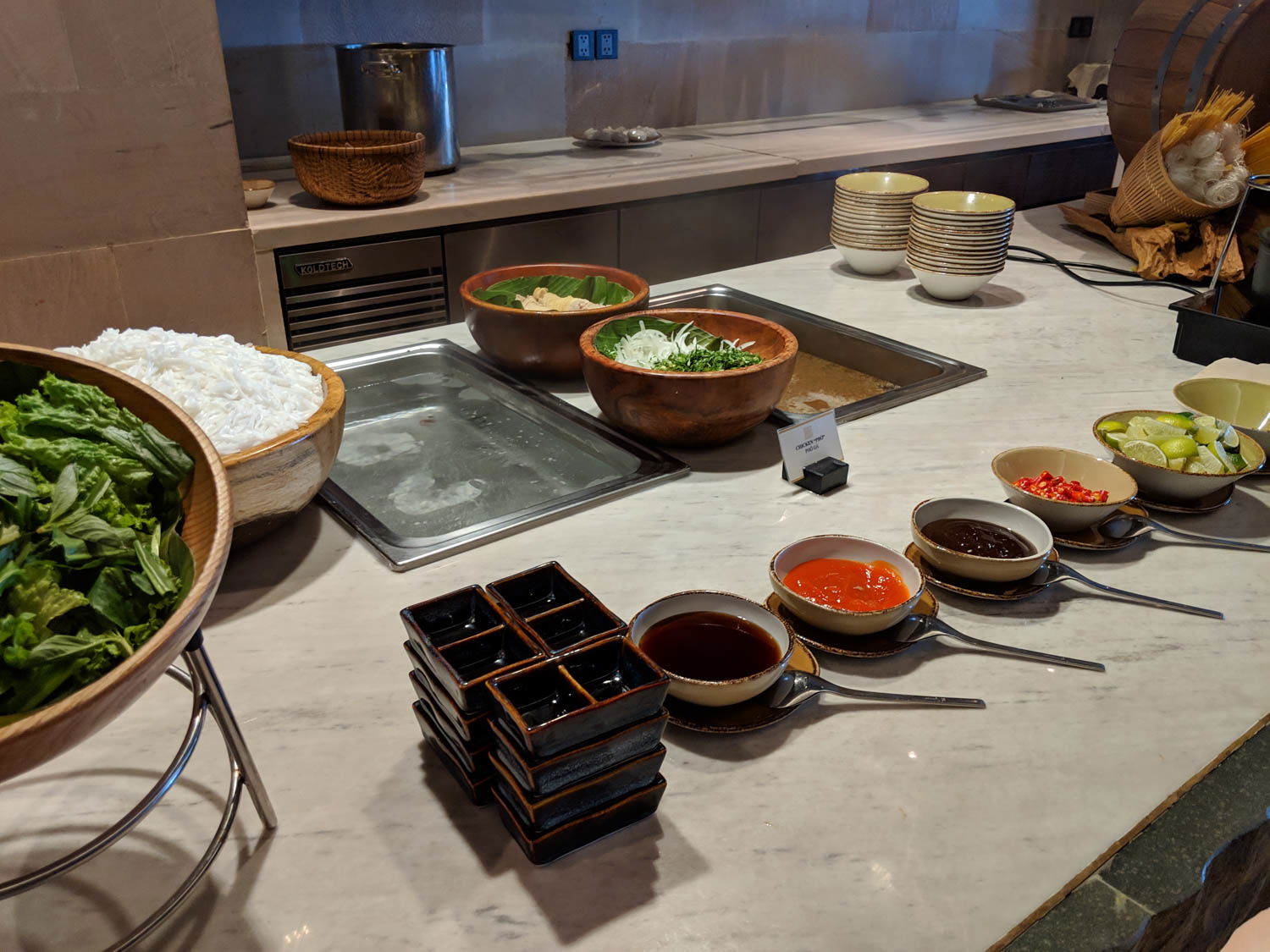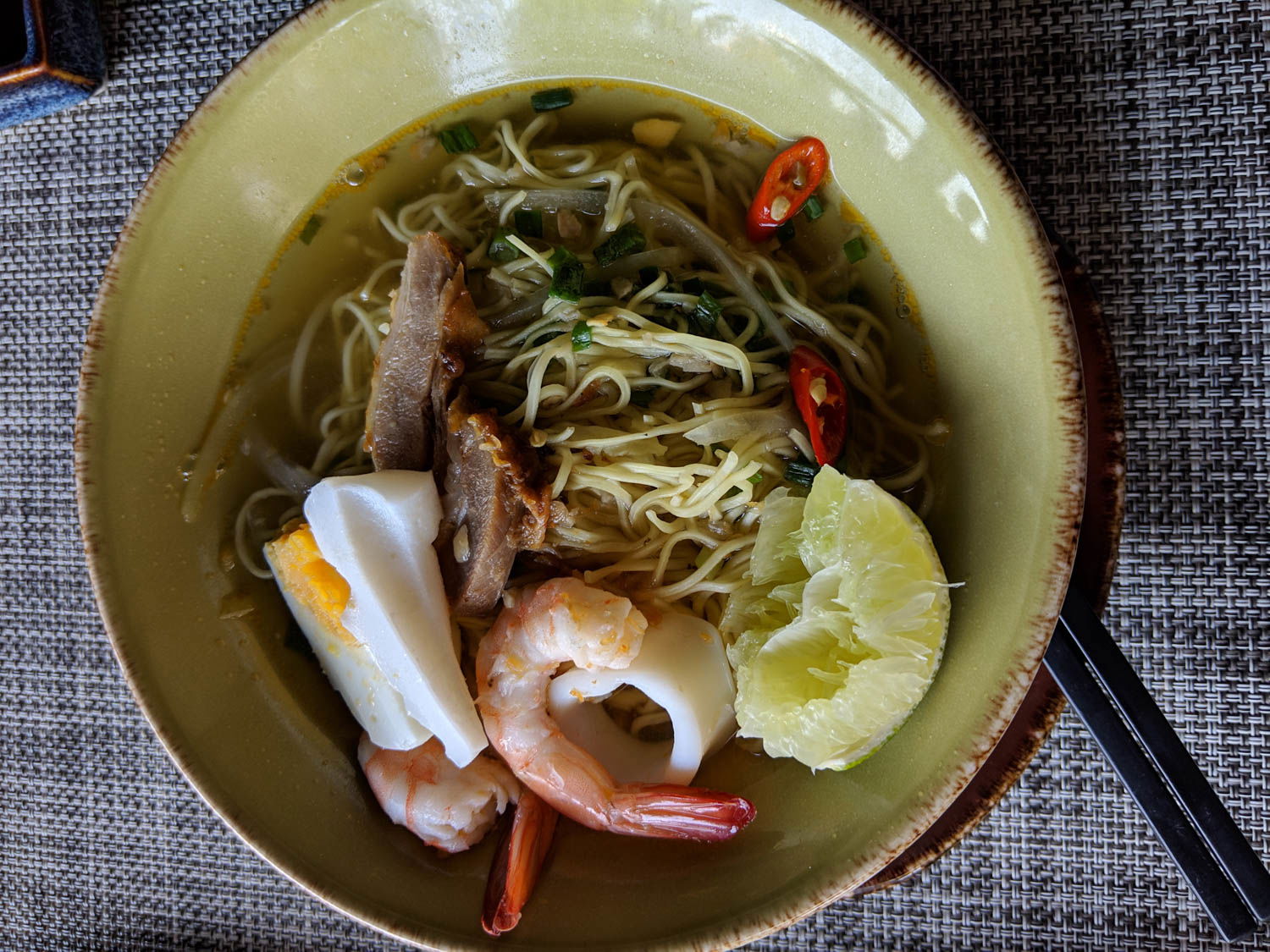 There were stations for both omelettes and banh mi, and dishes with a range of international options that also varied from day to day: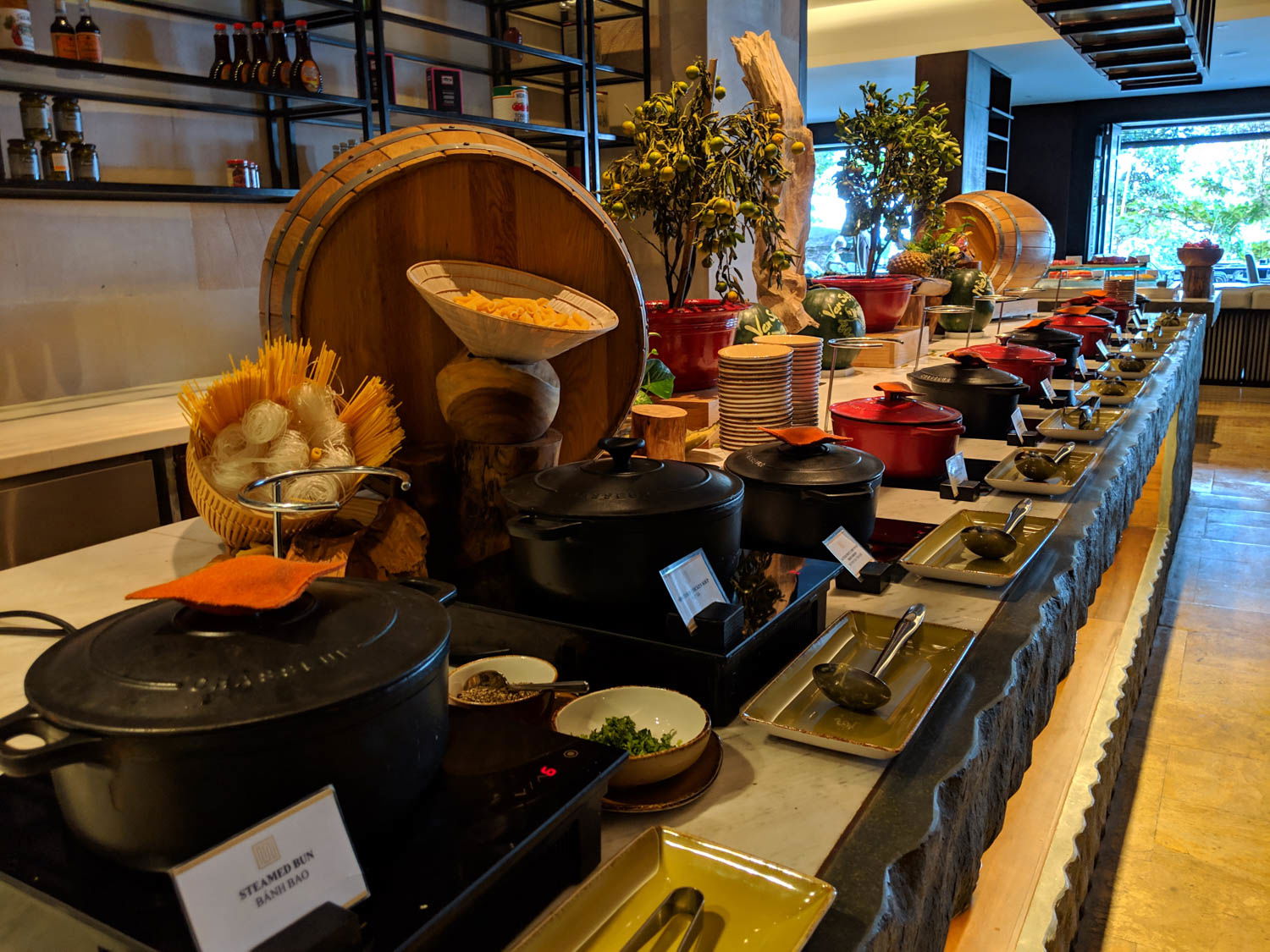 And plenty of fresh fruits and salads: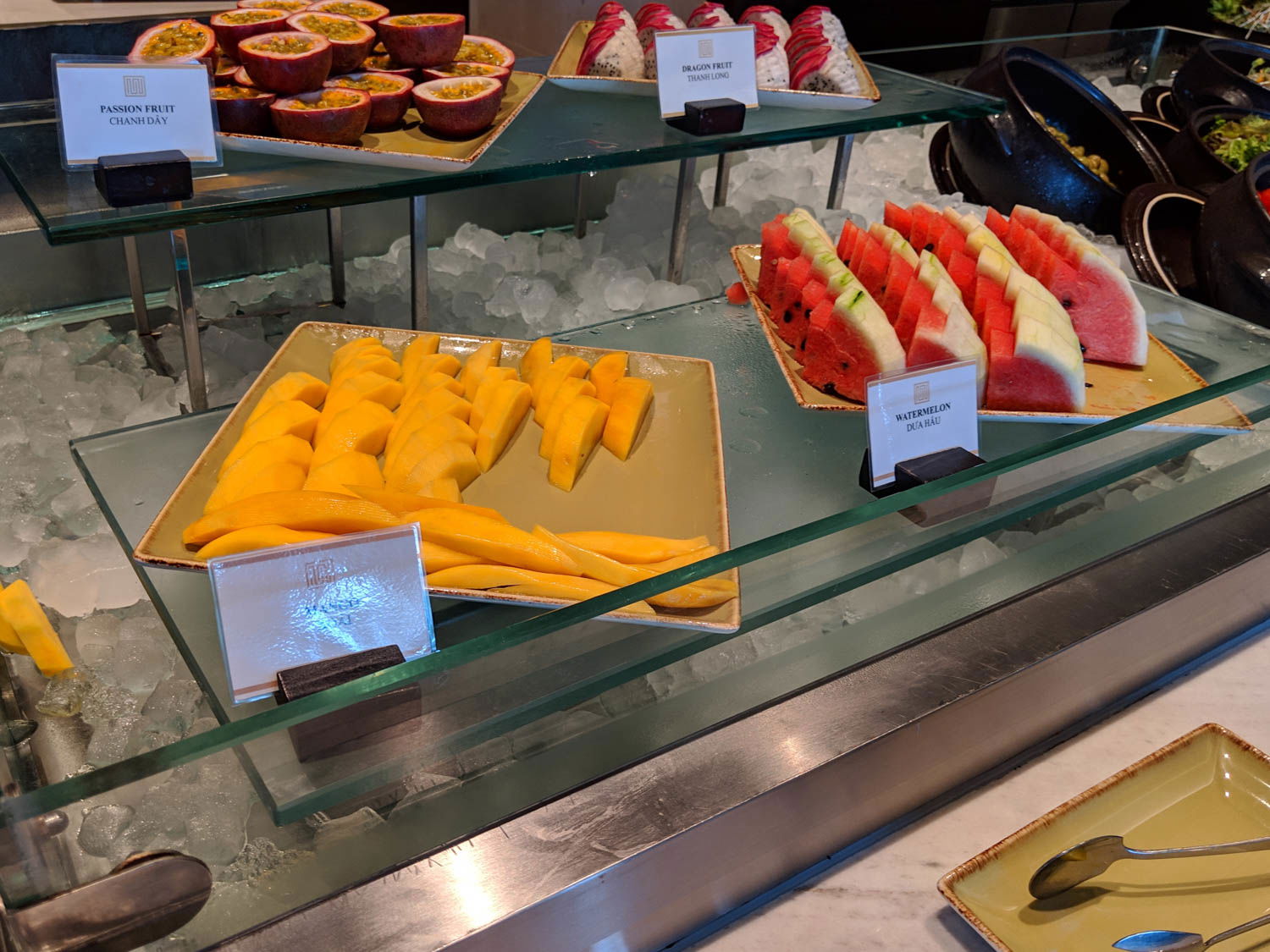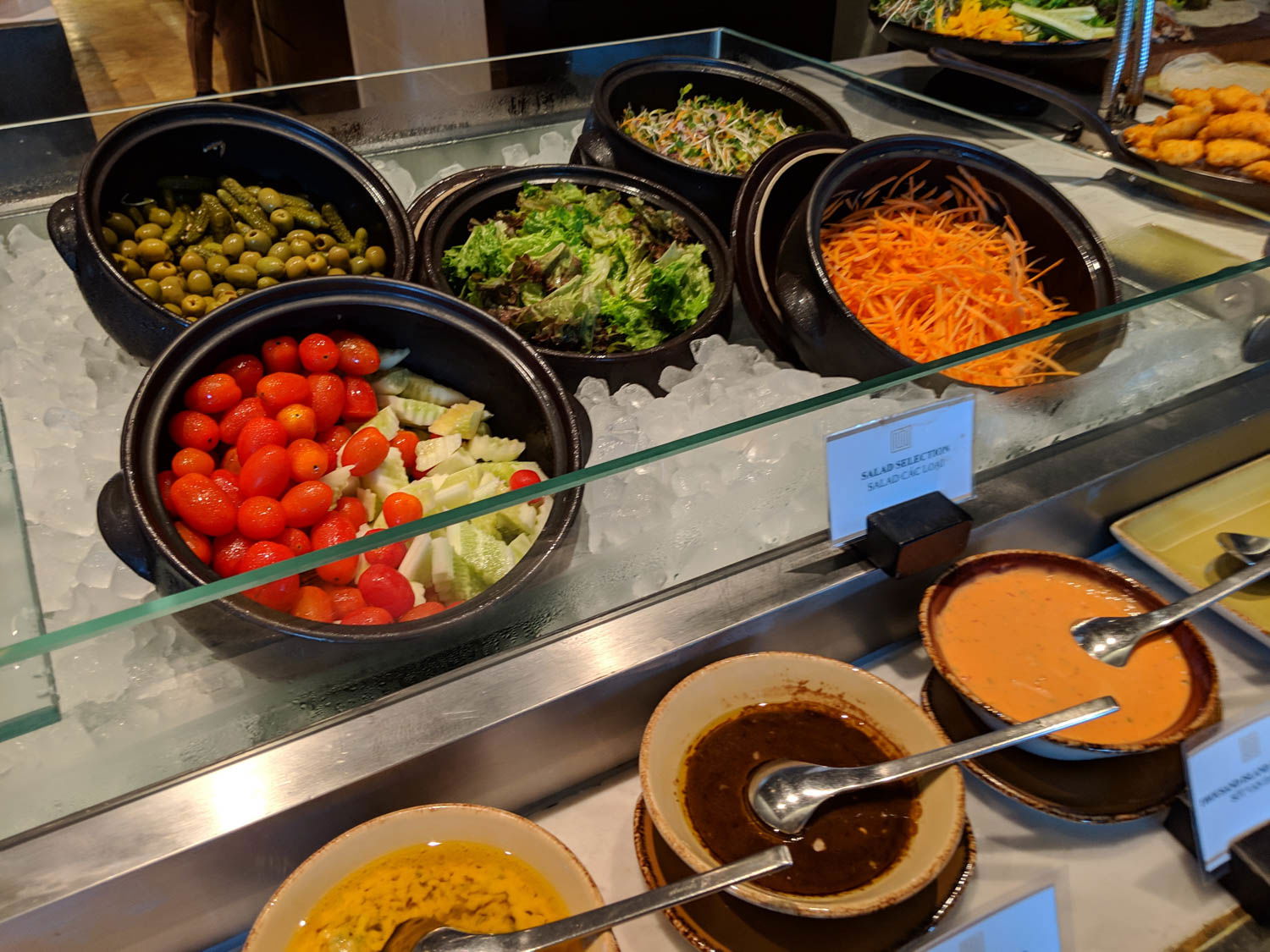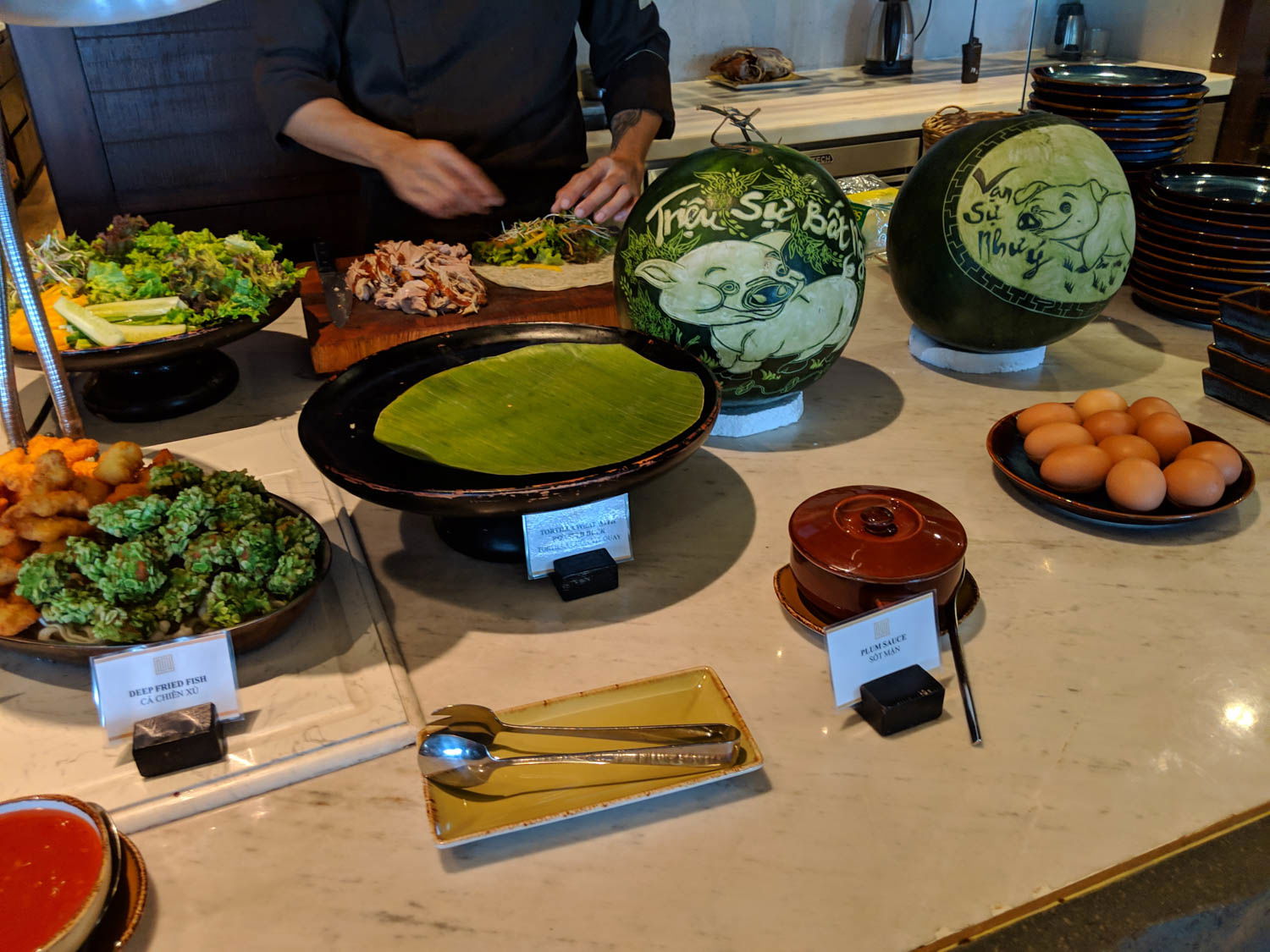 Overall we enjoyed breakfast, there was a good range of options, and the self-serve coffee situation was especially popular. It wasn't the best breakfast spread I've ever encountered, but it was definitely solid.
Dinner at Ocean Reflection
Although this was ostensibly included in the package for one room, we only went here on the night we arrived. It was just too difficult for the staff to handle one table with two rooms and different "plans" — and they didn't seem to get that we were happy to just order food and then pay whatever we needed to.
But, the food was at least good-for-hotel-food. We ordered a couple of curries, a salad, and a beef stir-fry (no bonus points for guessing who had curry and who had western food 😉 ).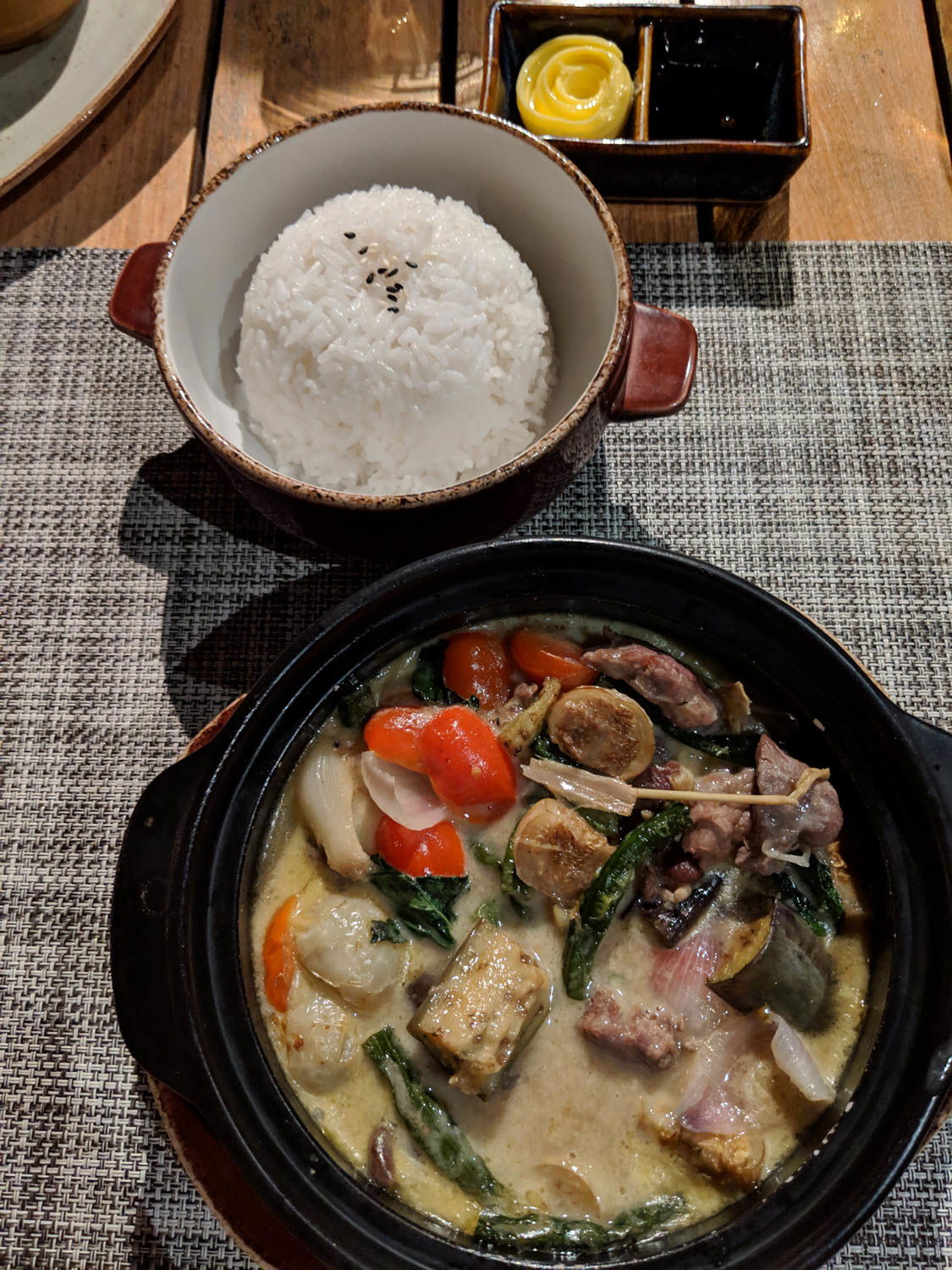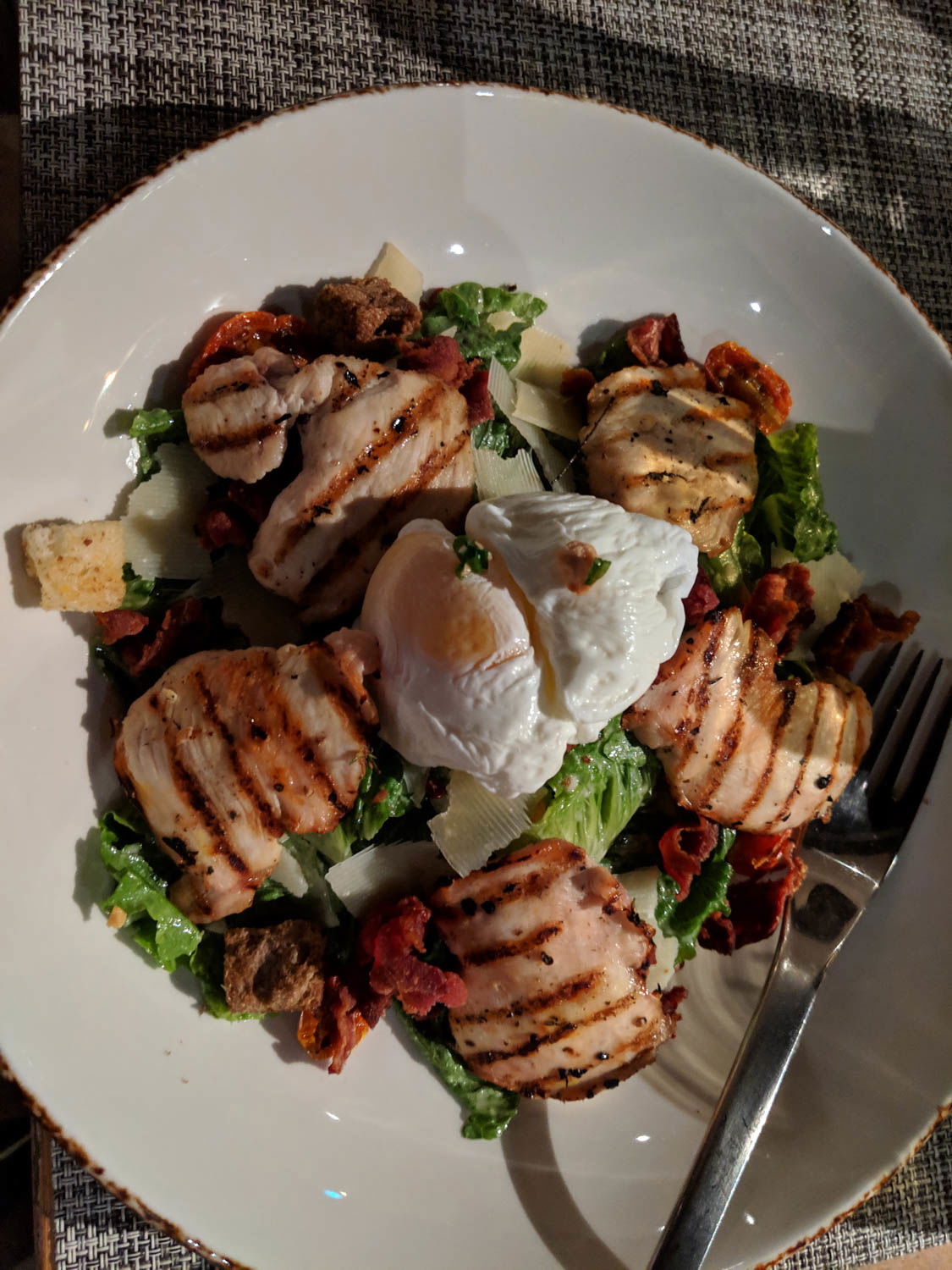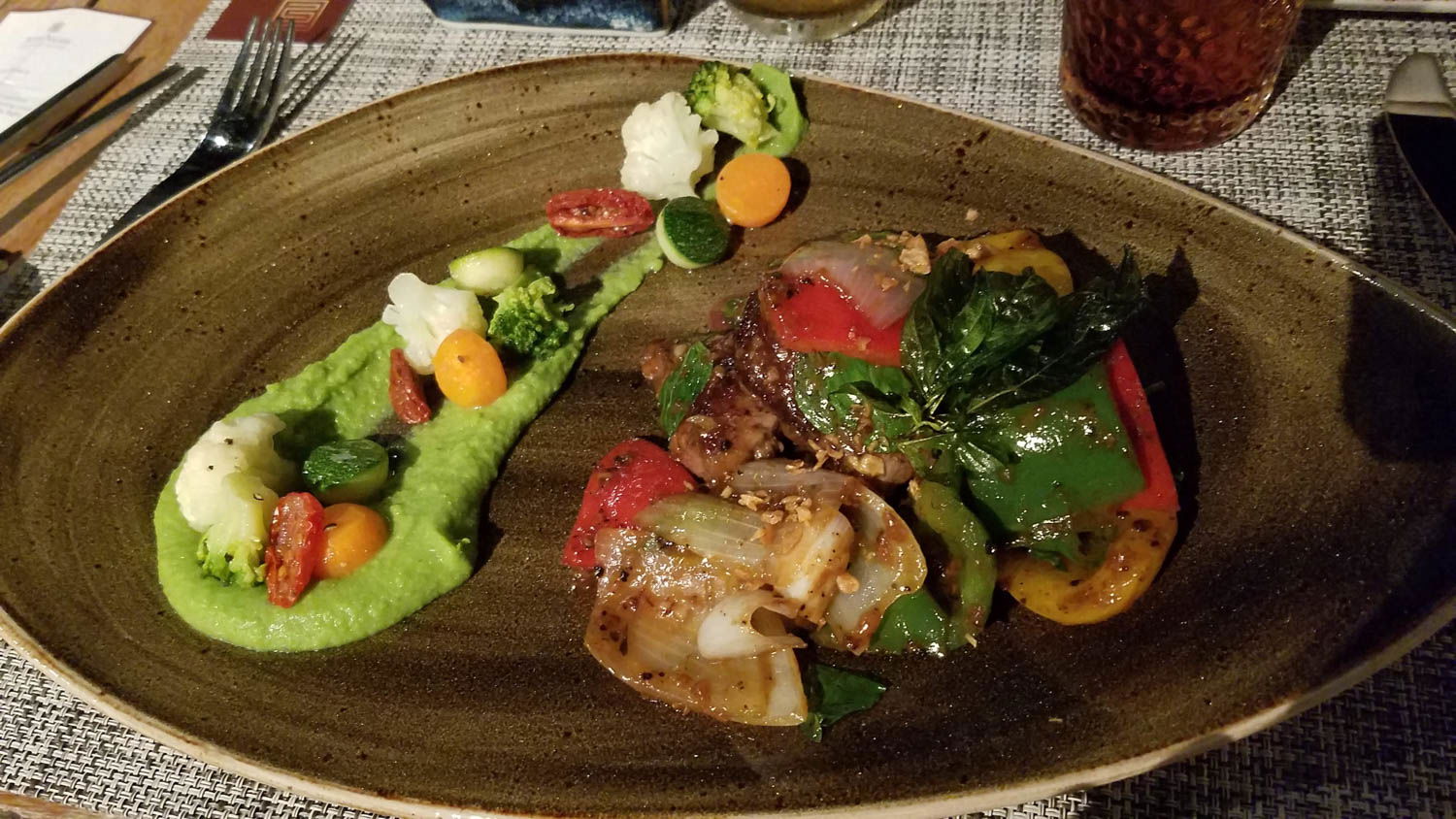 Presentations were great, and the food was fine — I would probably go to dinner in town versus eating here though, just because it wasn't that interesting.
They did bring out a little dessert for my aunt, which was cute (though came after a very frustrating round of not ordering dessert because it wasn't included for everyone, yada yada).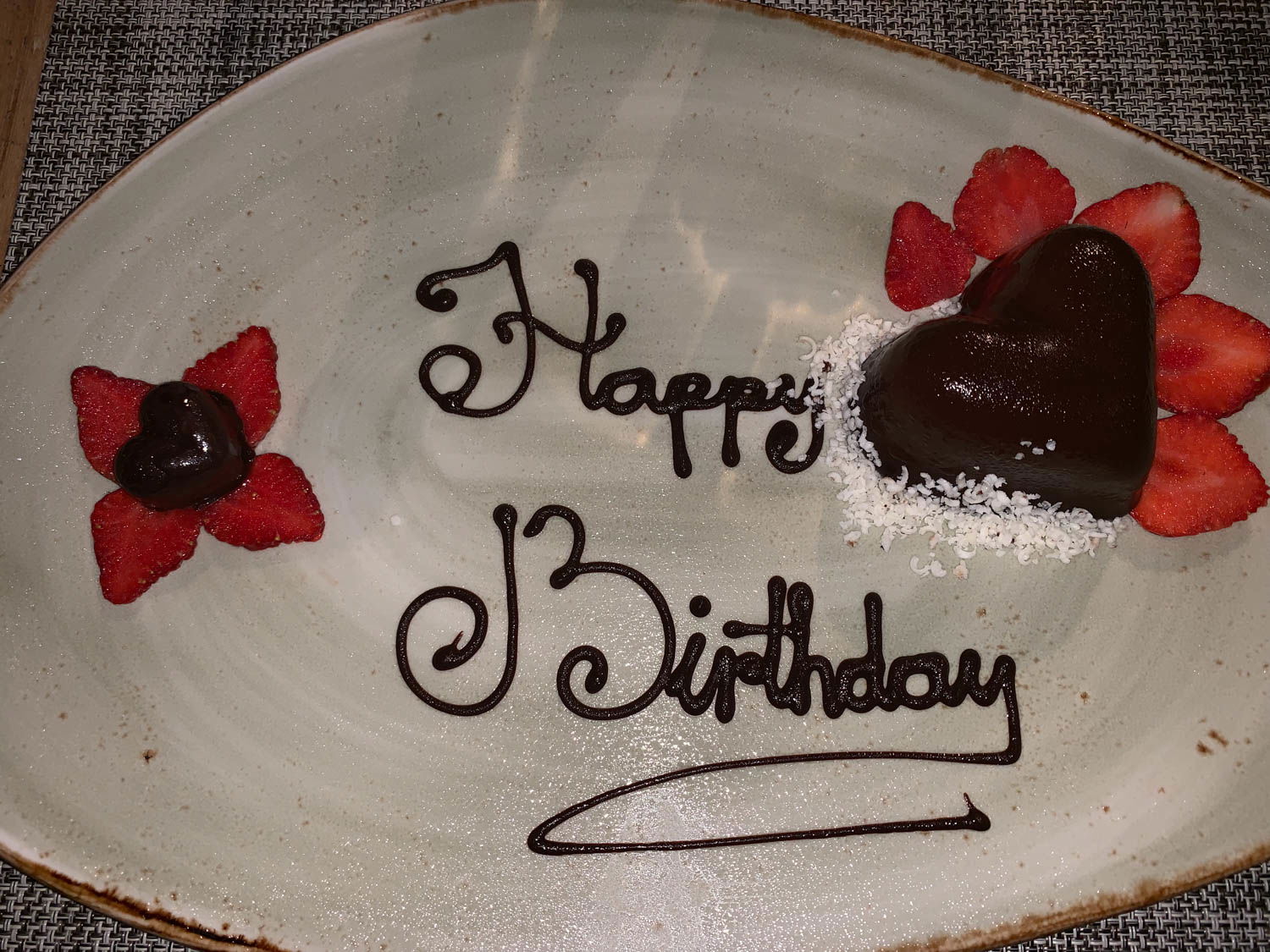 Dinner at Tree House
Nam Nghi's other restaurant is more upscale, and is located at the far end of the resort.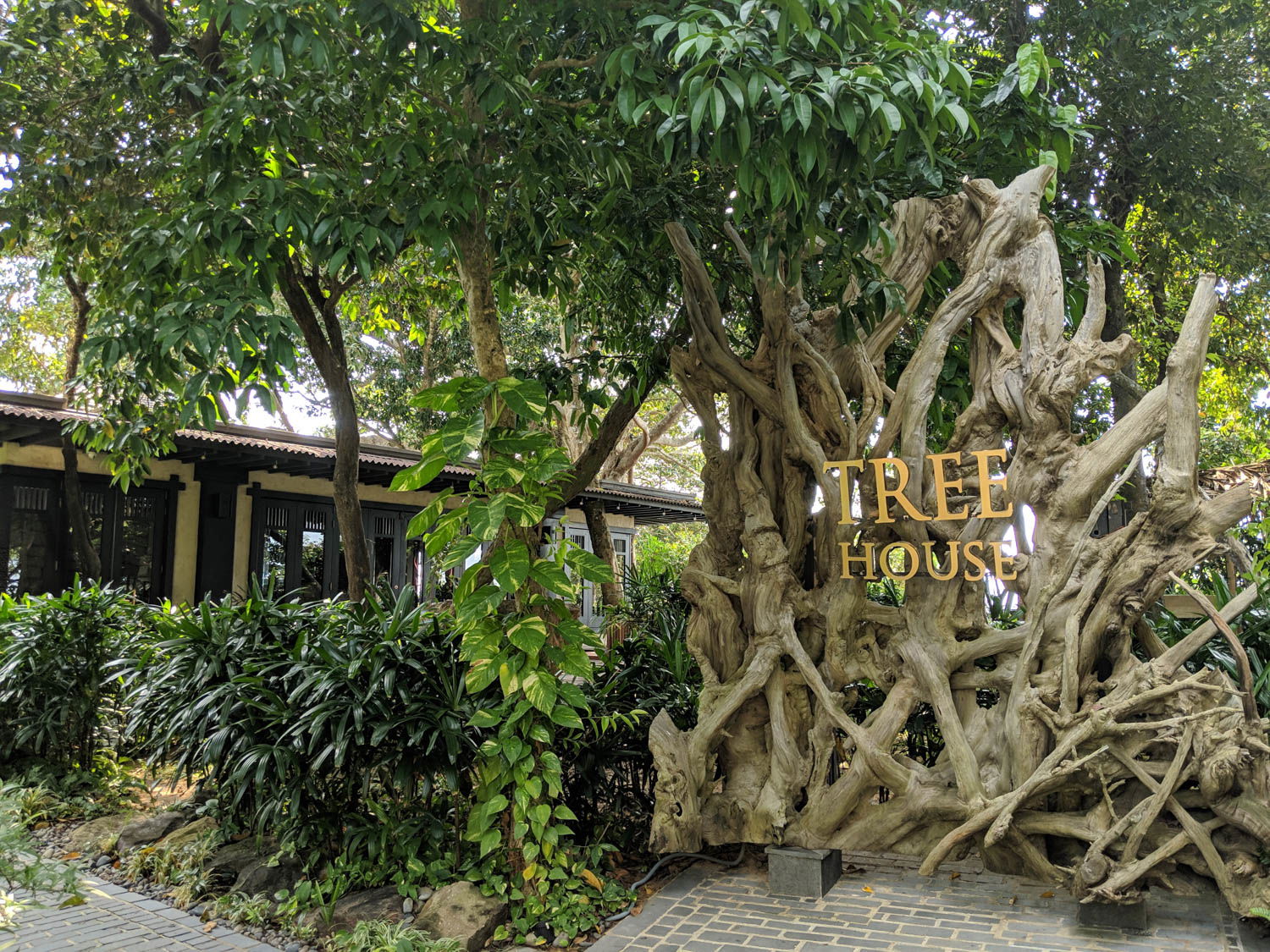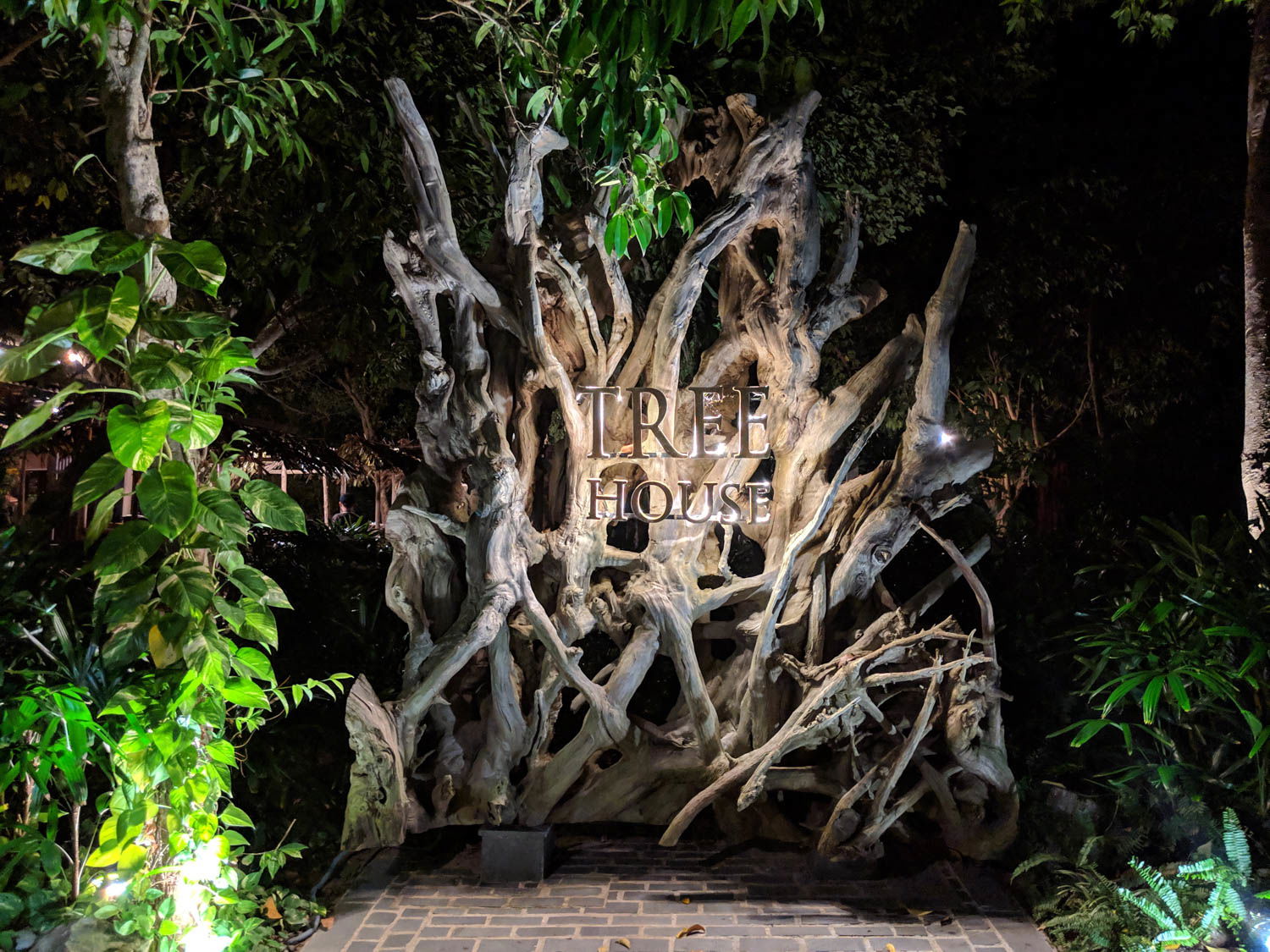 The atmosphere is beautiful, with orchids and gorgeous floor tile, though the chairs are wholly impractical.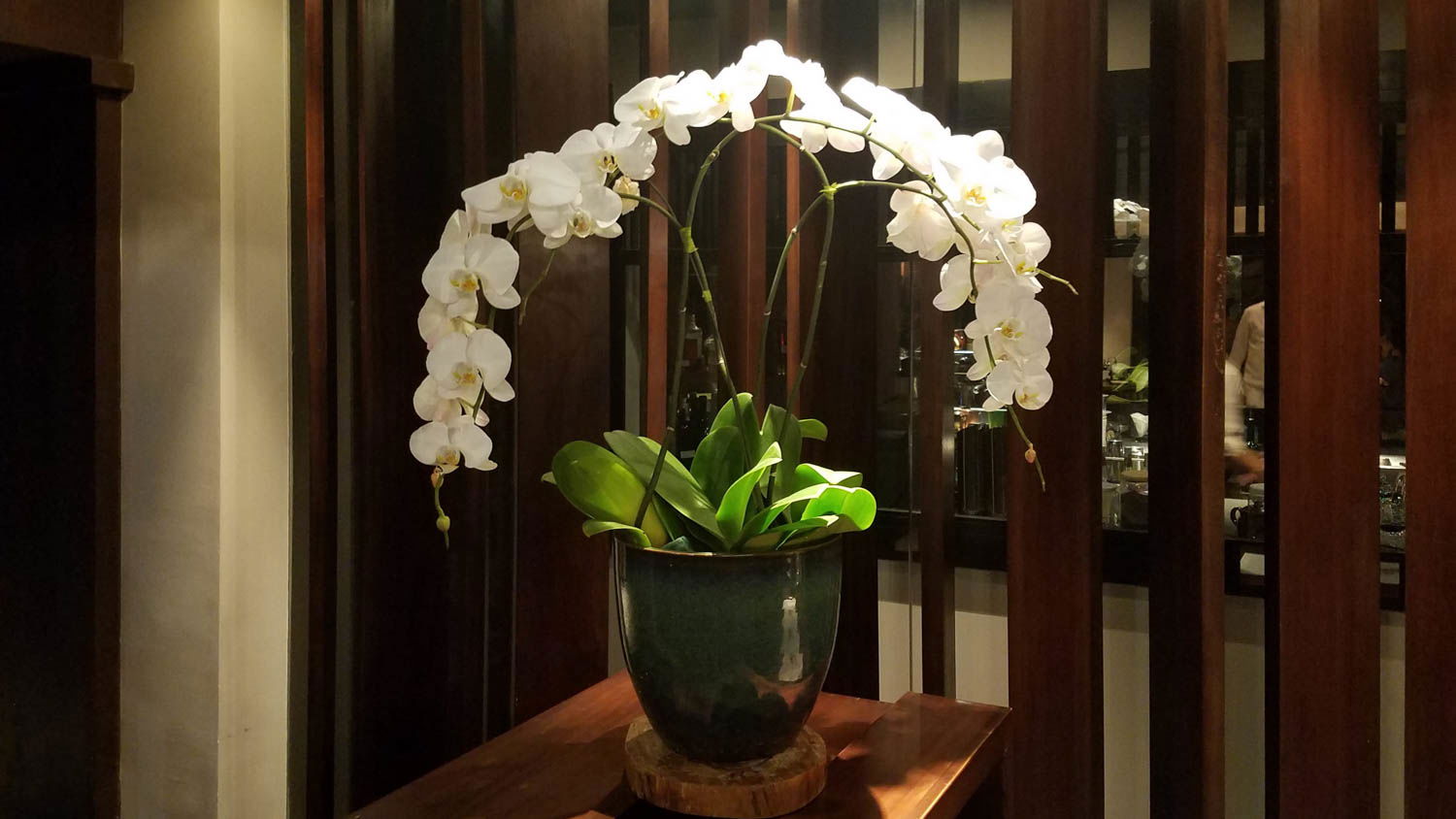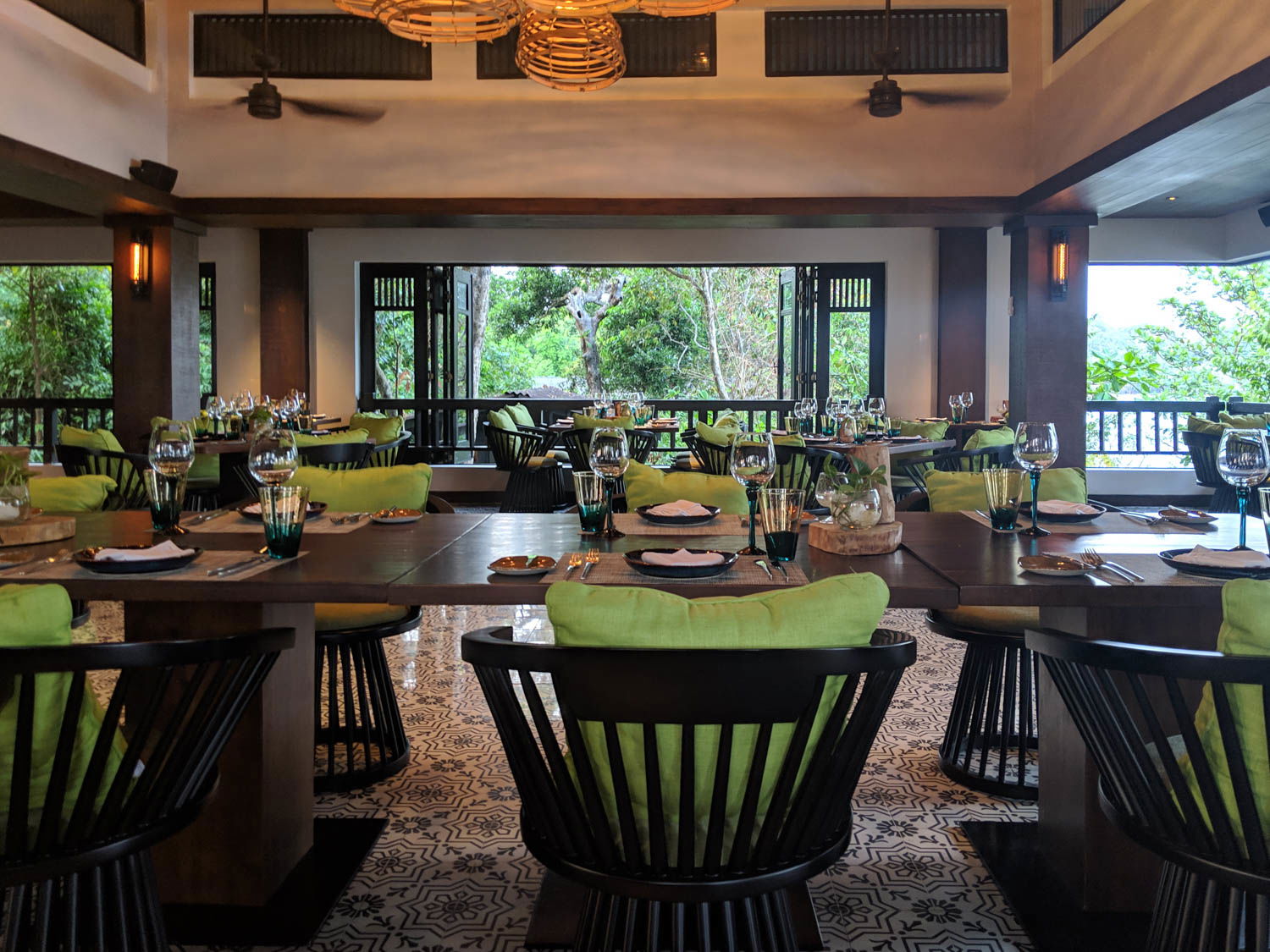 The menu has the kind of pan-Asian-fusion that typically raises red flags, but everything was well-executed, and it was nice to have some regional dishes with slightly different flavors after several consecutive days of Vietnamese food. And the presentations were fun.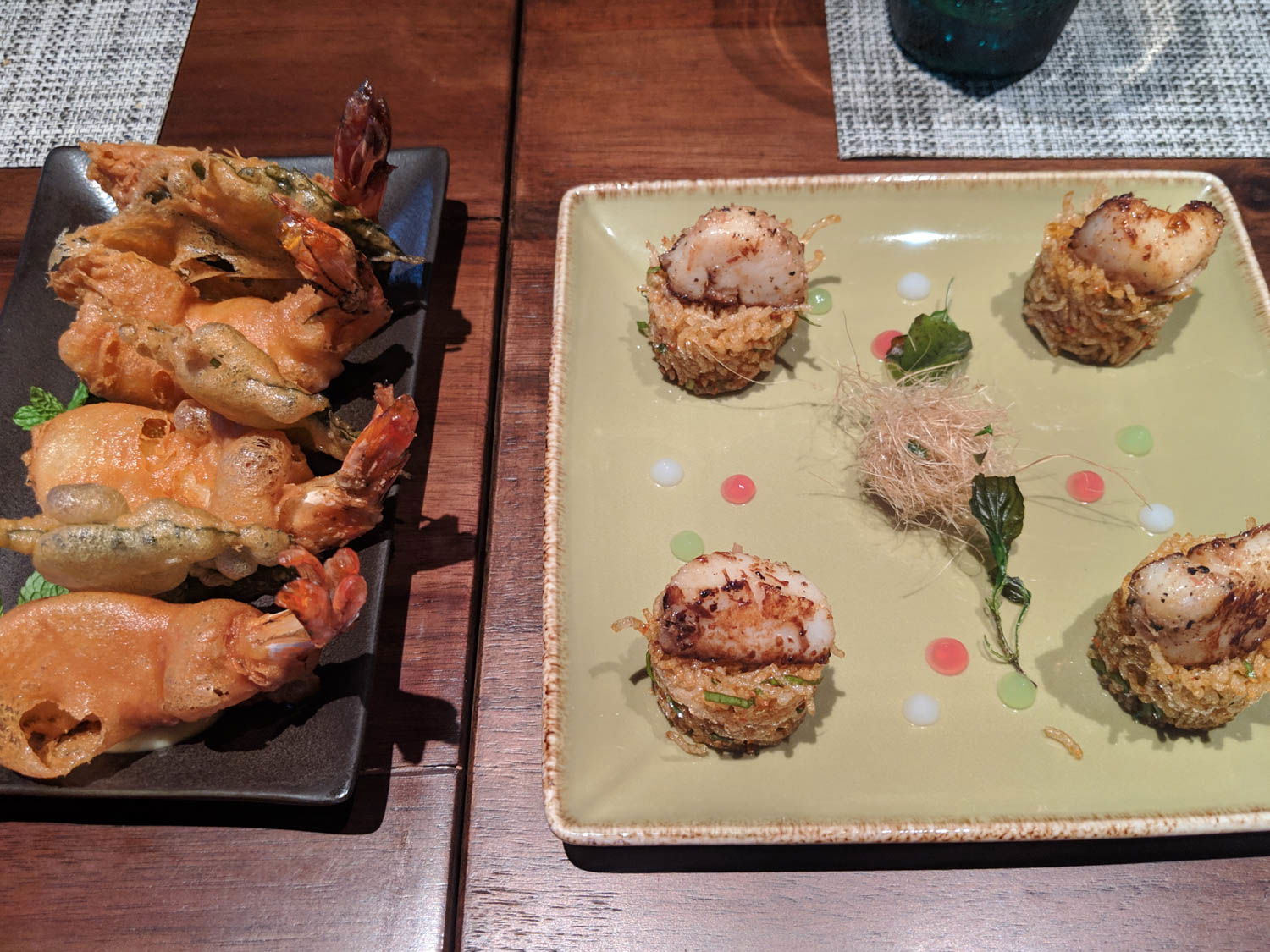 Like, pad thai is clearly not the most sophisticated dish, but I loved how this was plated: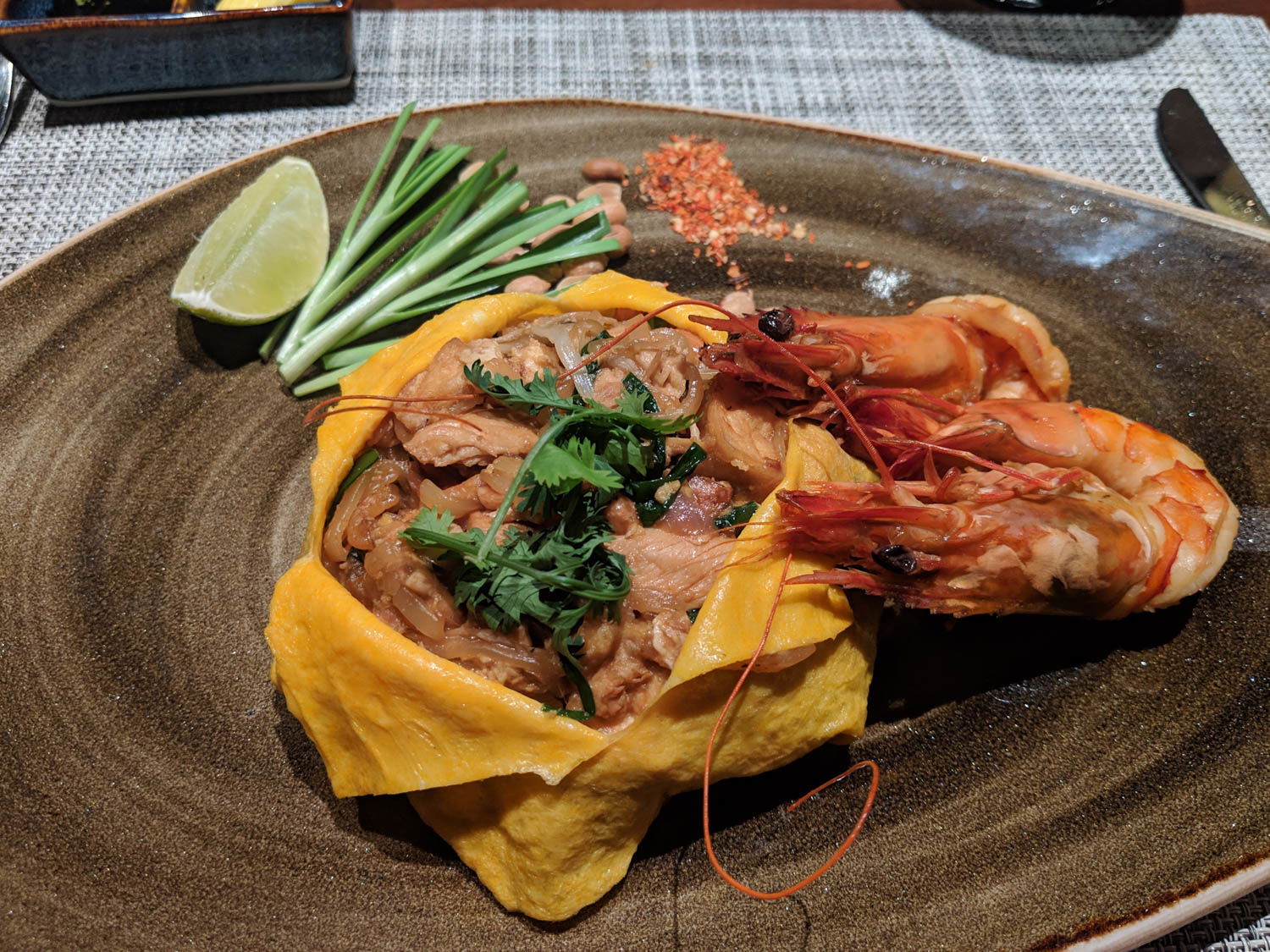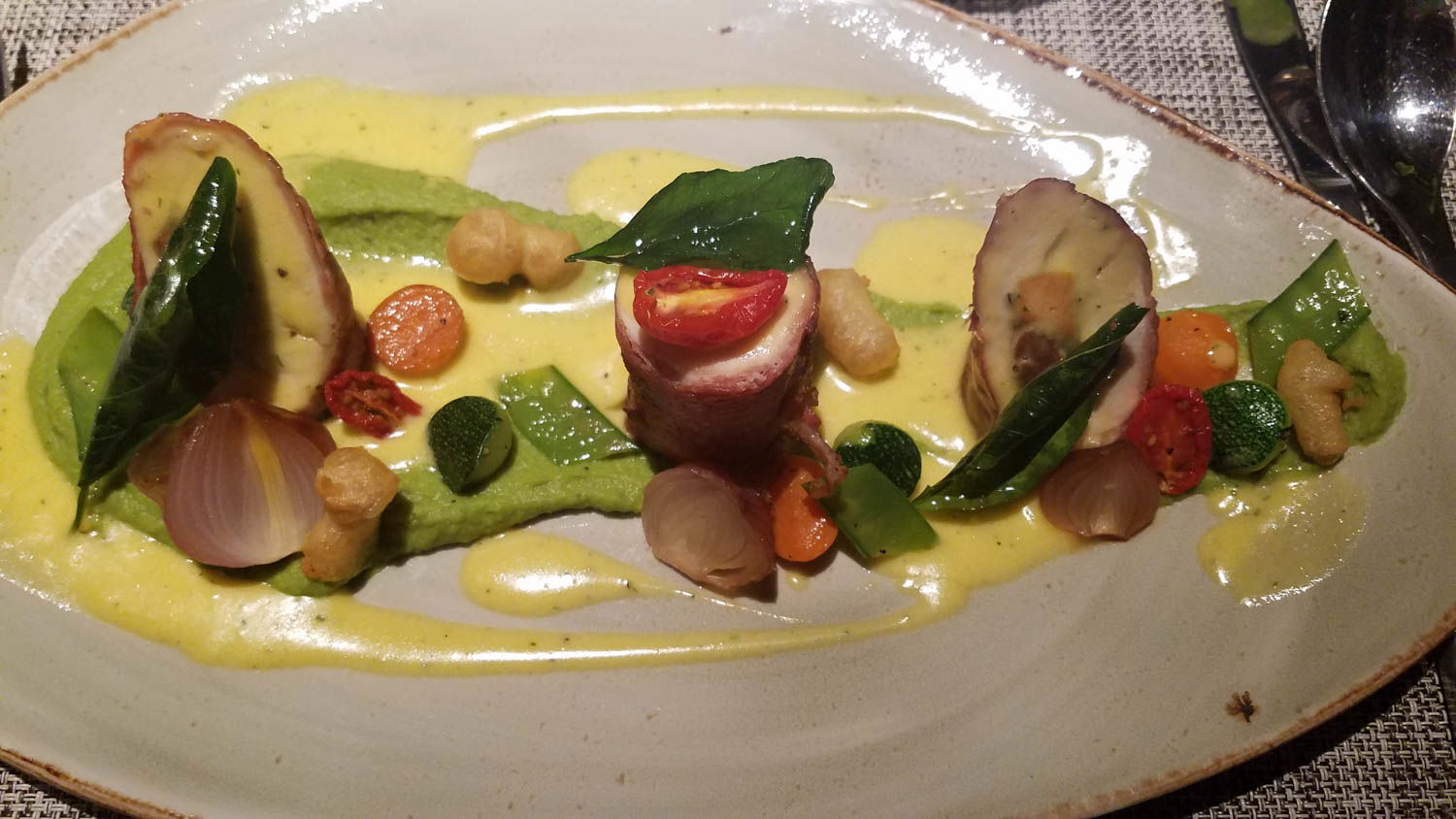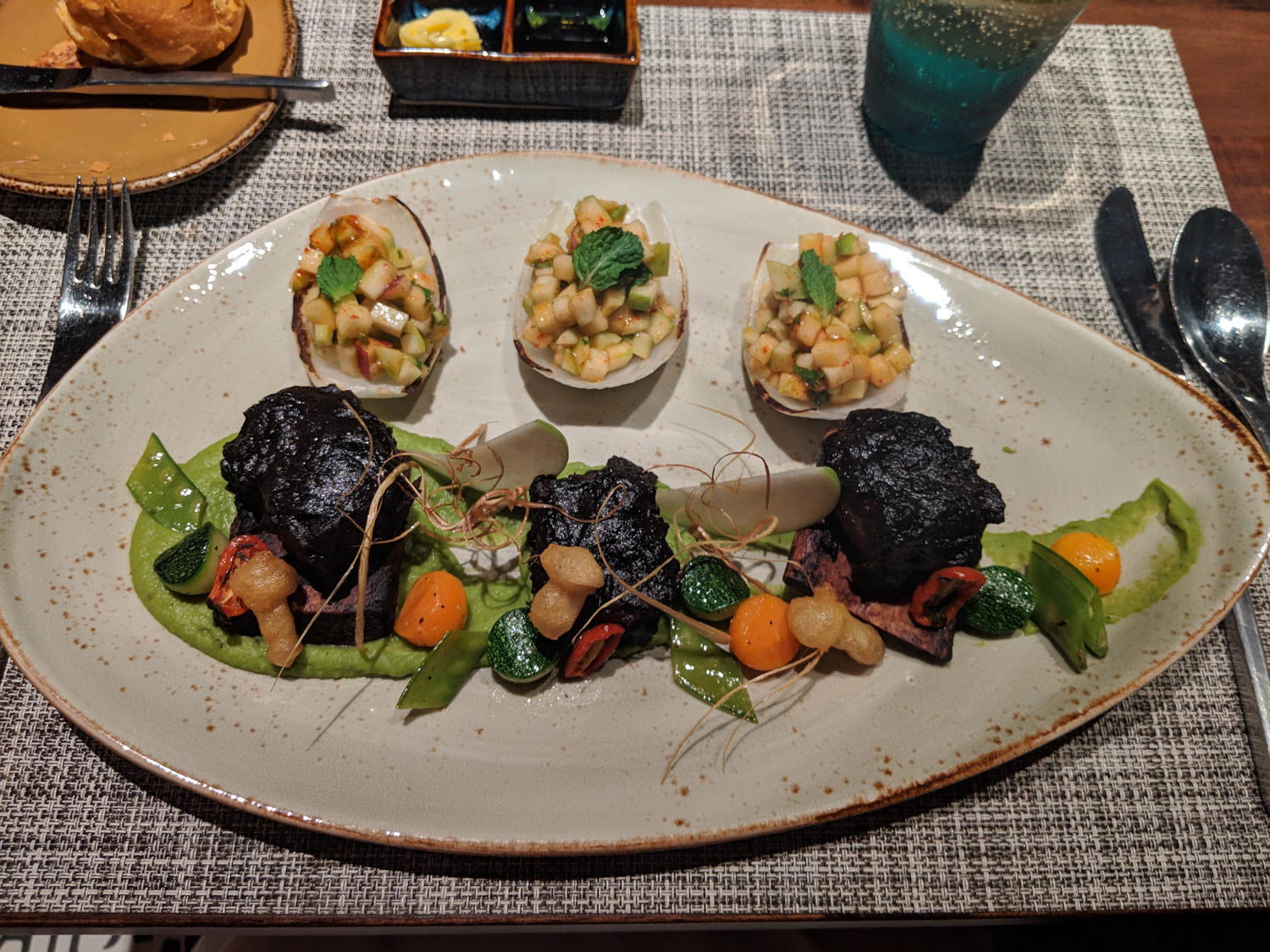 Of the two restaurants, I felt like this was vastly better. The menu was limited though, and I don't think I could eat here every day of a trip, but if you're going to eat at the hotel one night I'd definitely choose this over Ocean Reflection.
Nam Nghi Phu Quoc Tet Celebrations
Being at a resort over a holiday can be tricky. Obviously many employees want the day off, there may be holiday pay involved, and keeping the restaurants open might not be cost-effective. Some properties manage this with "mandatory galas" which usually ends up as one of those compromises that leaves everyone mad.
So I have to give props to Nam Nghi for how they handled Tet. To start, they established a festive atmosphere, with lots of activities (though don't ask me how to read this, because I'm still confused about the date setup):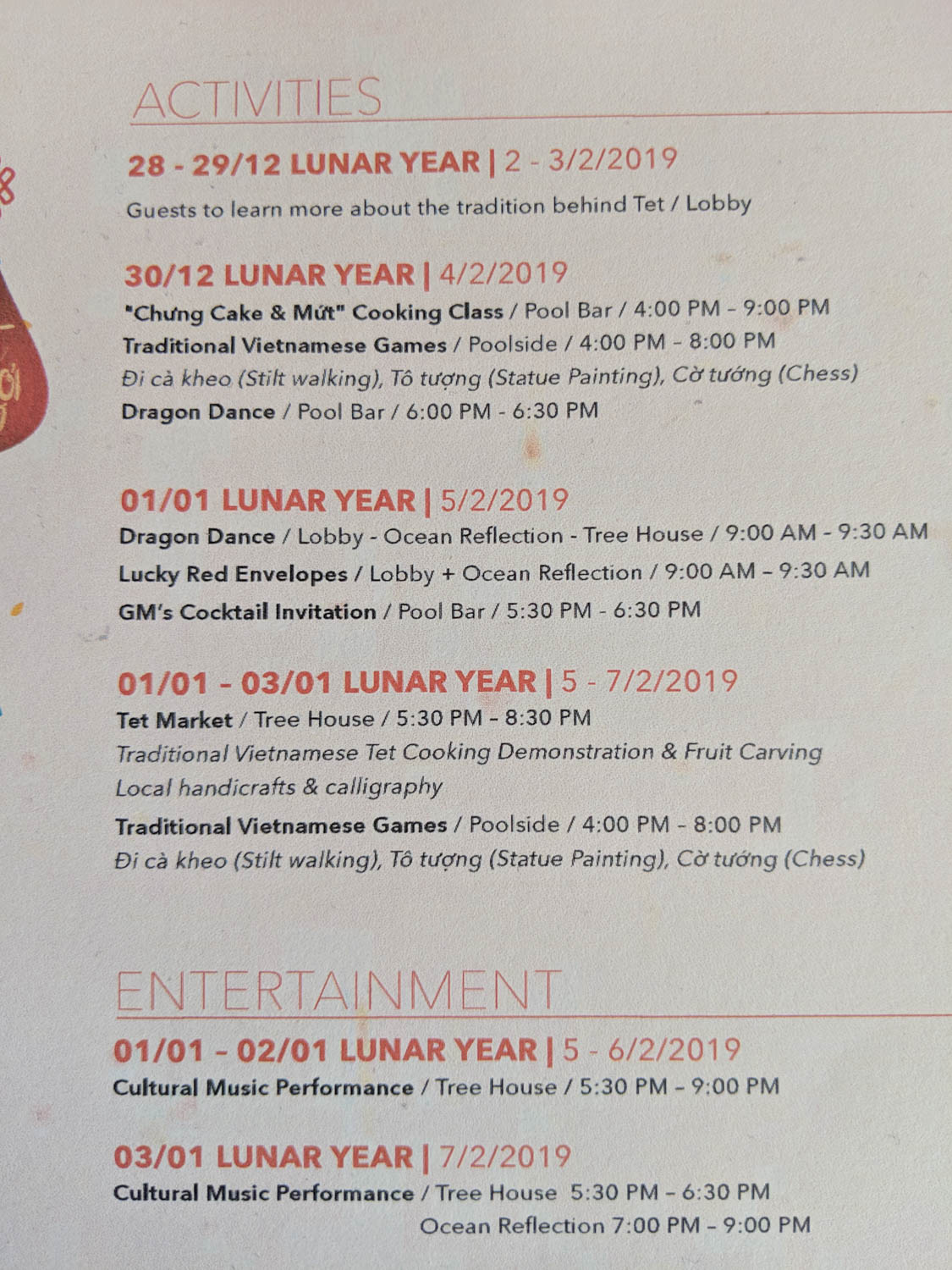 The dragon dance through the breakfast area was particularly fun: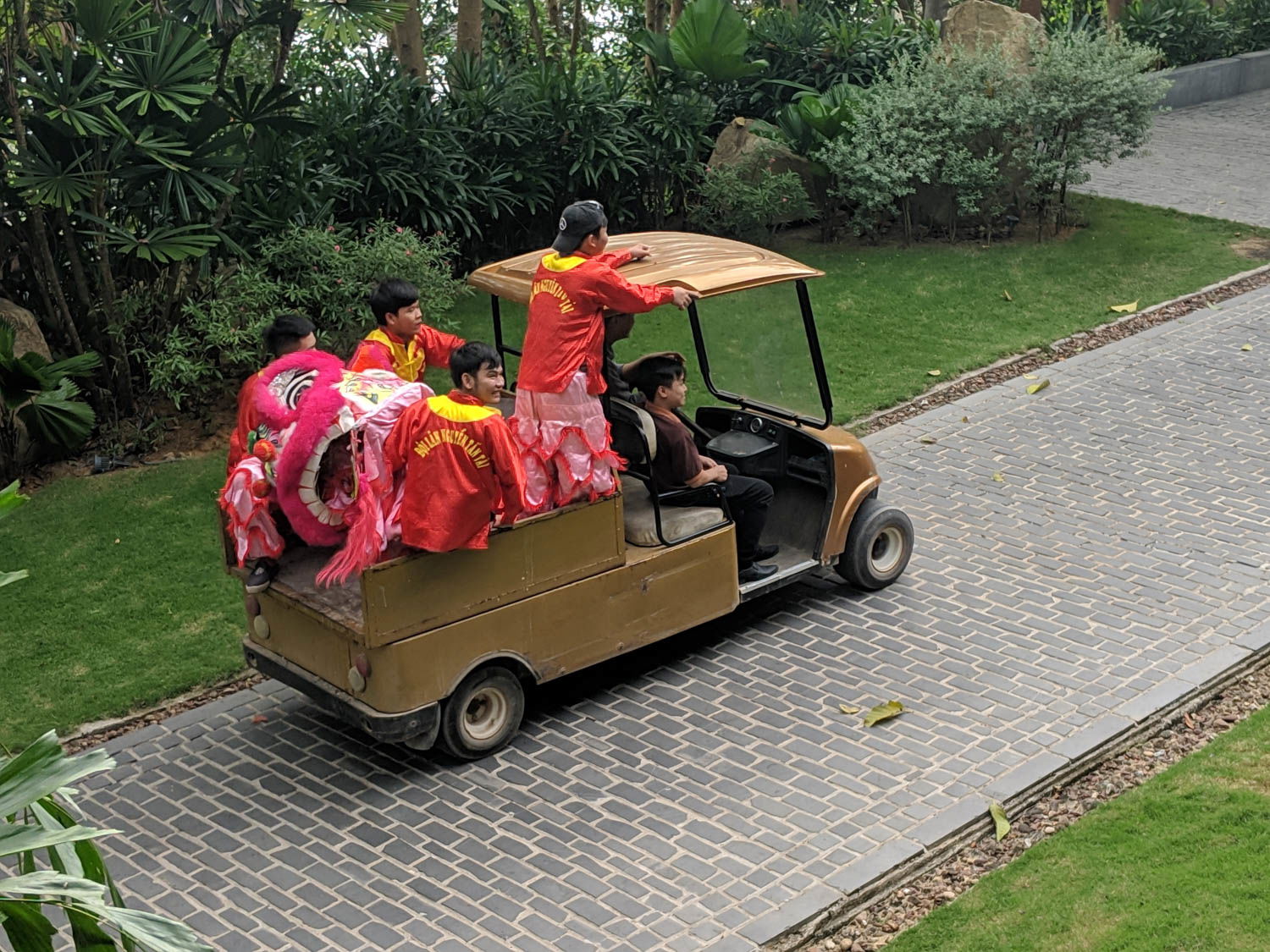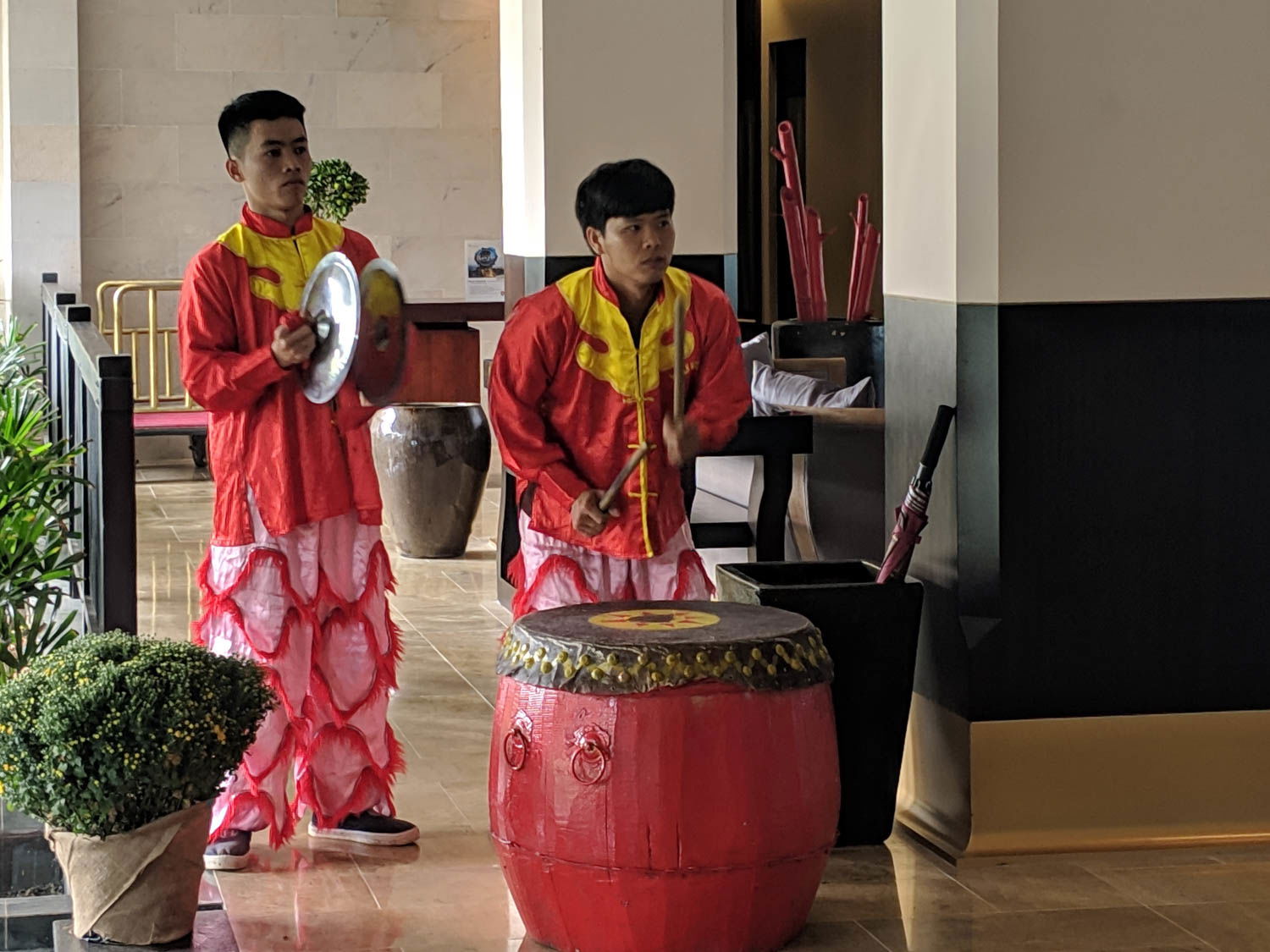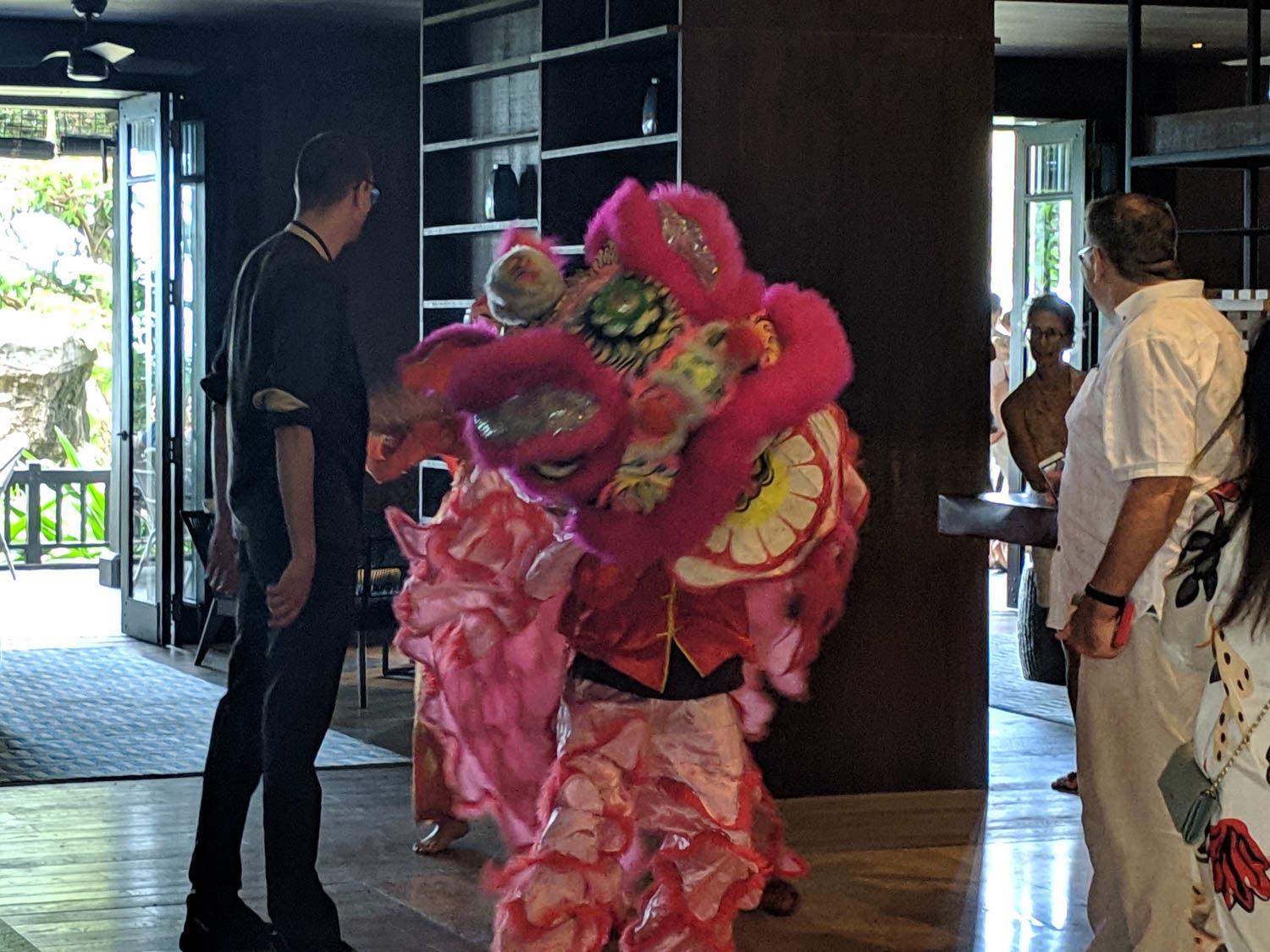 There were also traditional Vietnamese New Year's foods at breakfast: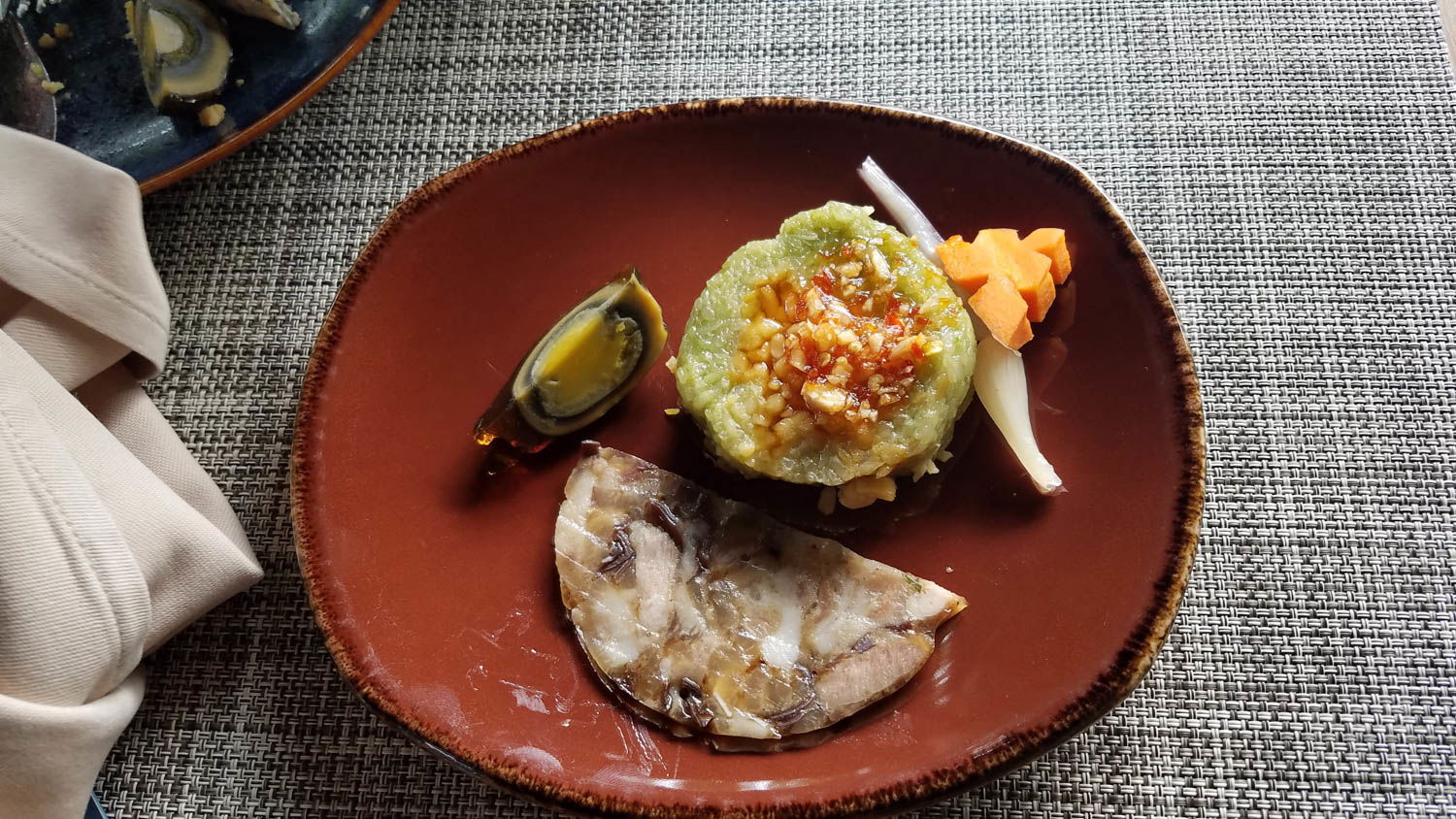 And the GM delivered lucky envelopes to each family: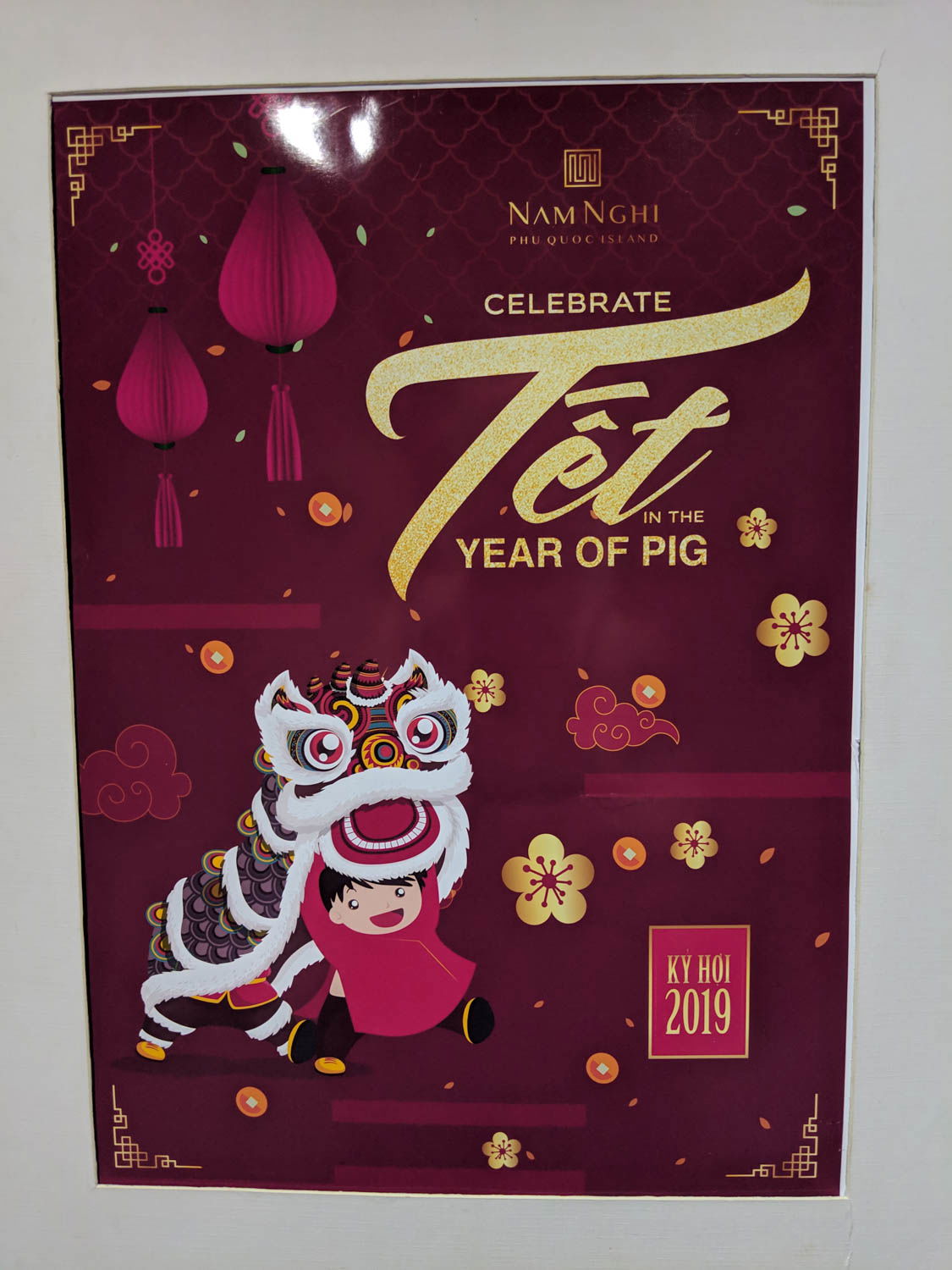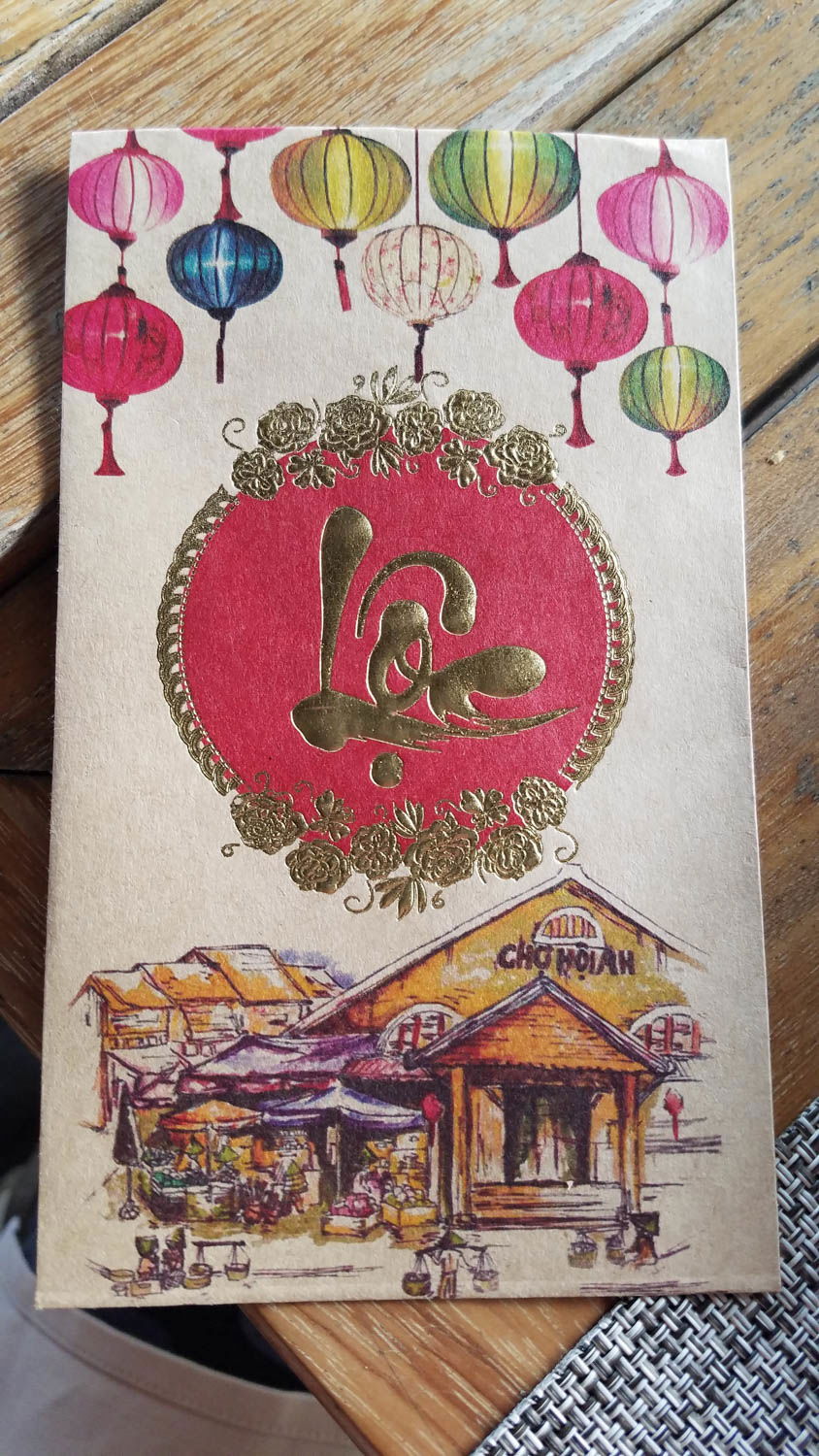 Special treats were put out in the lobby, and delivered to the room: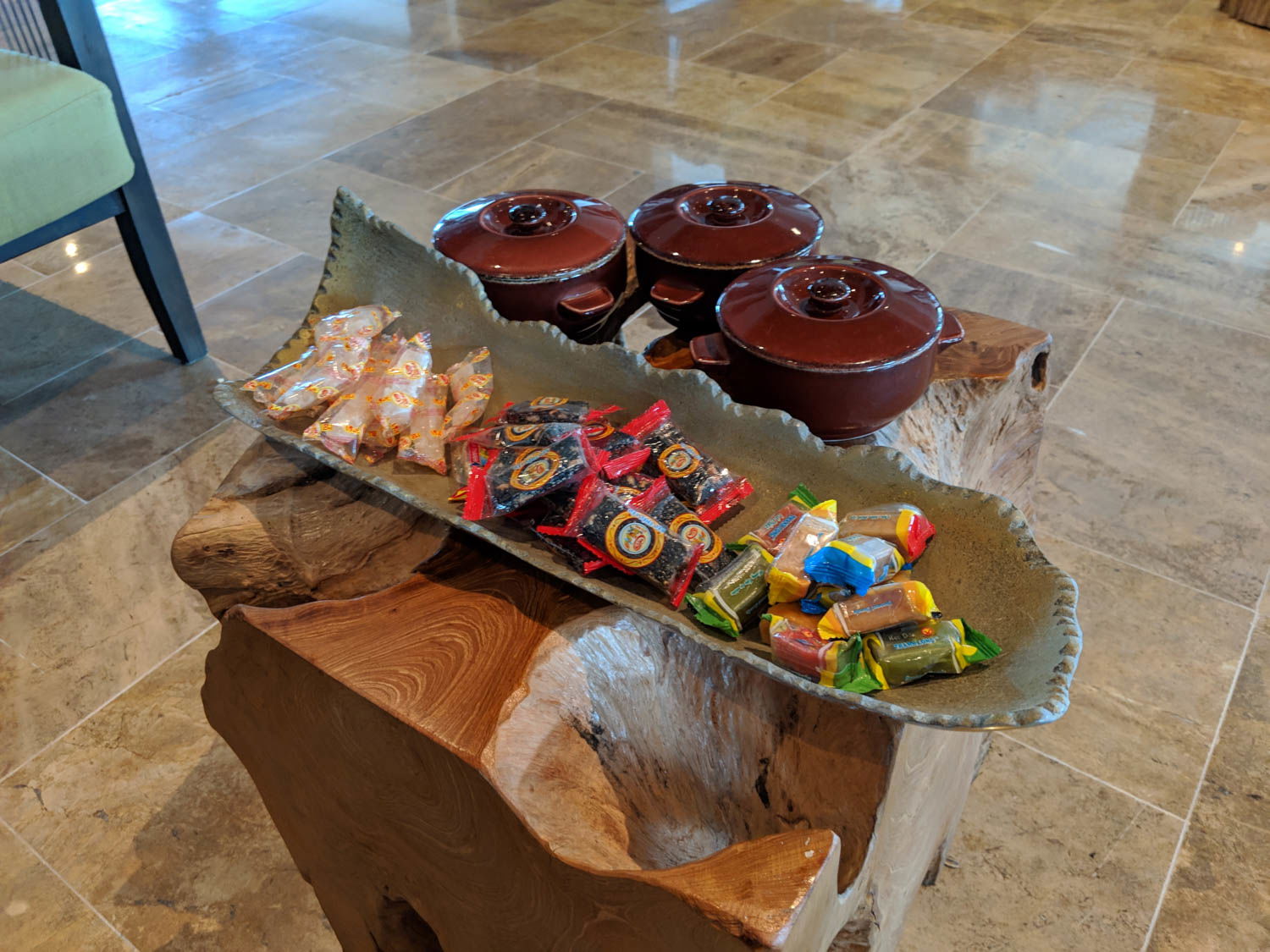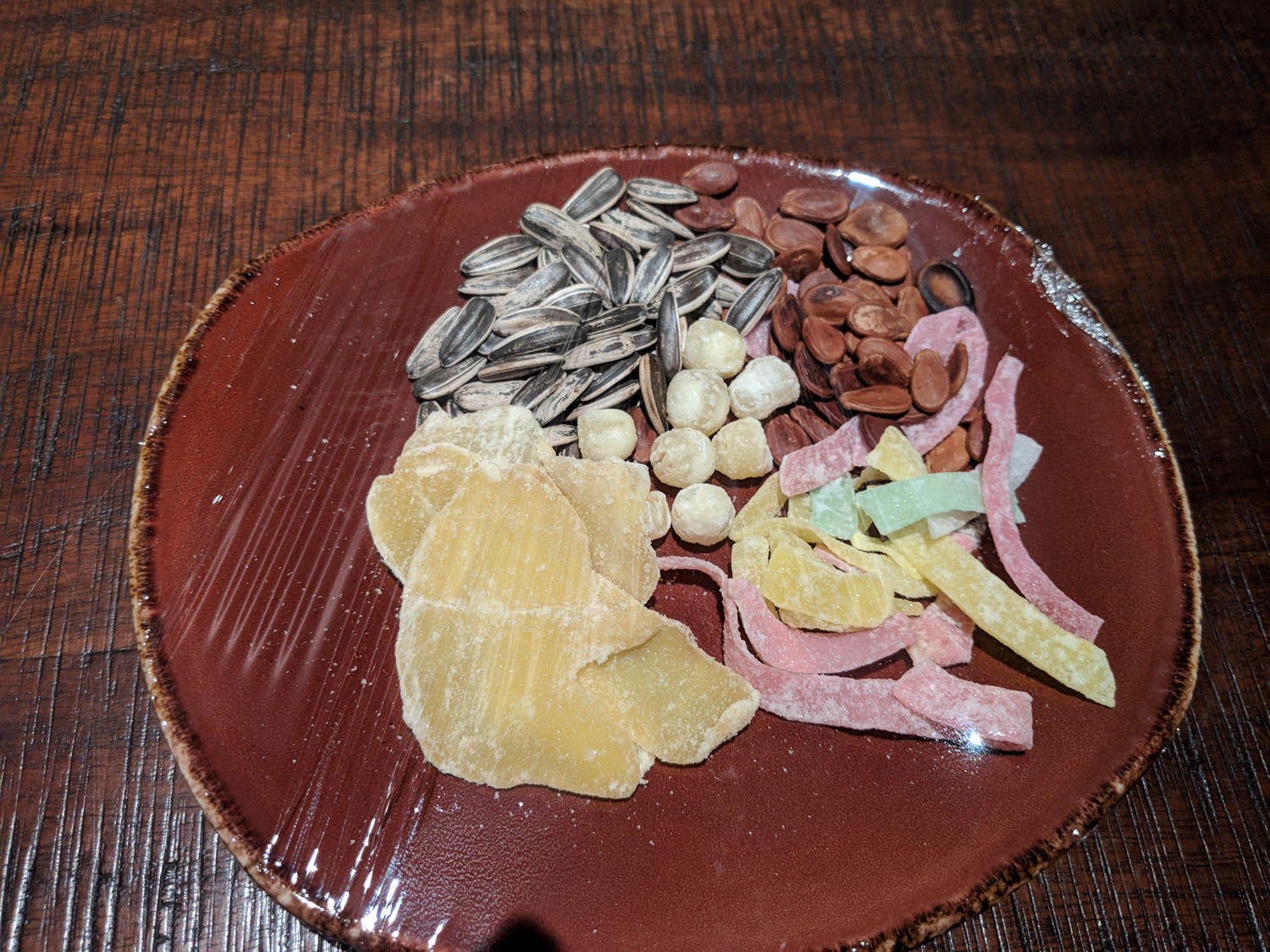 And there were endless decorations: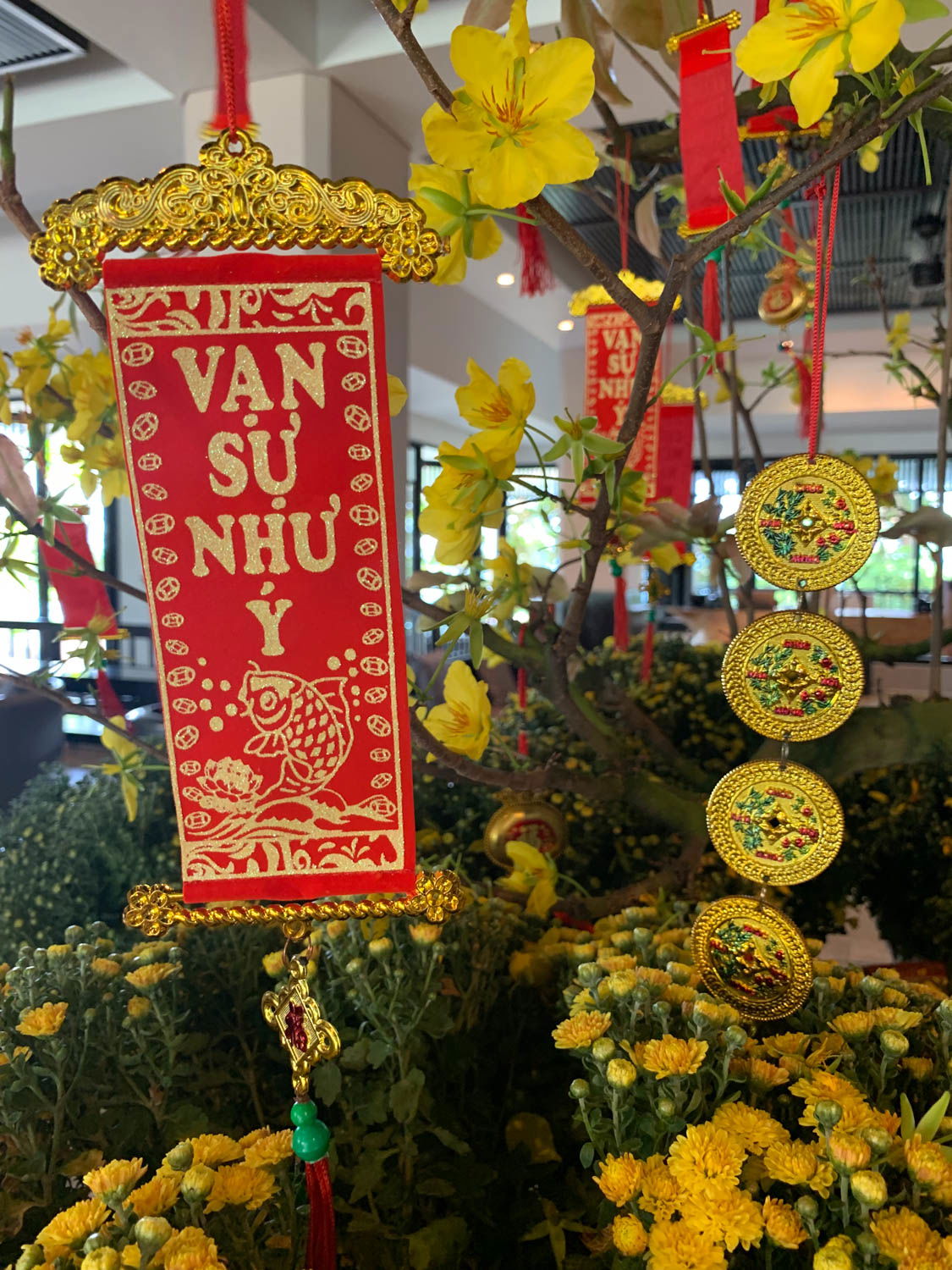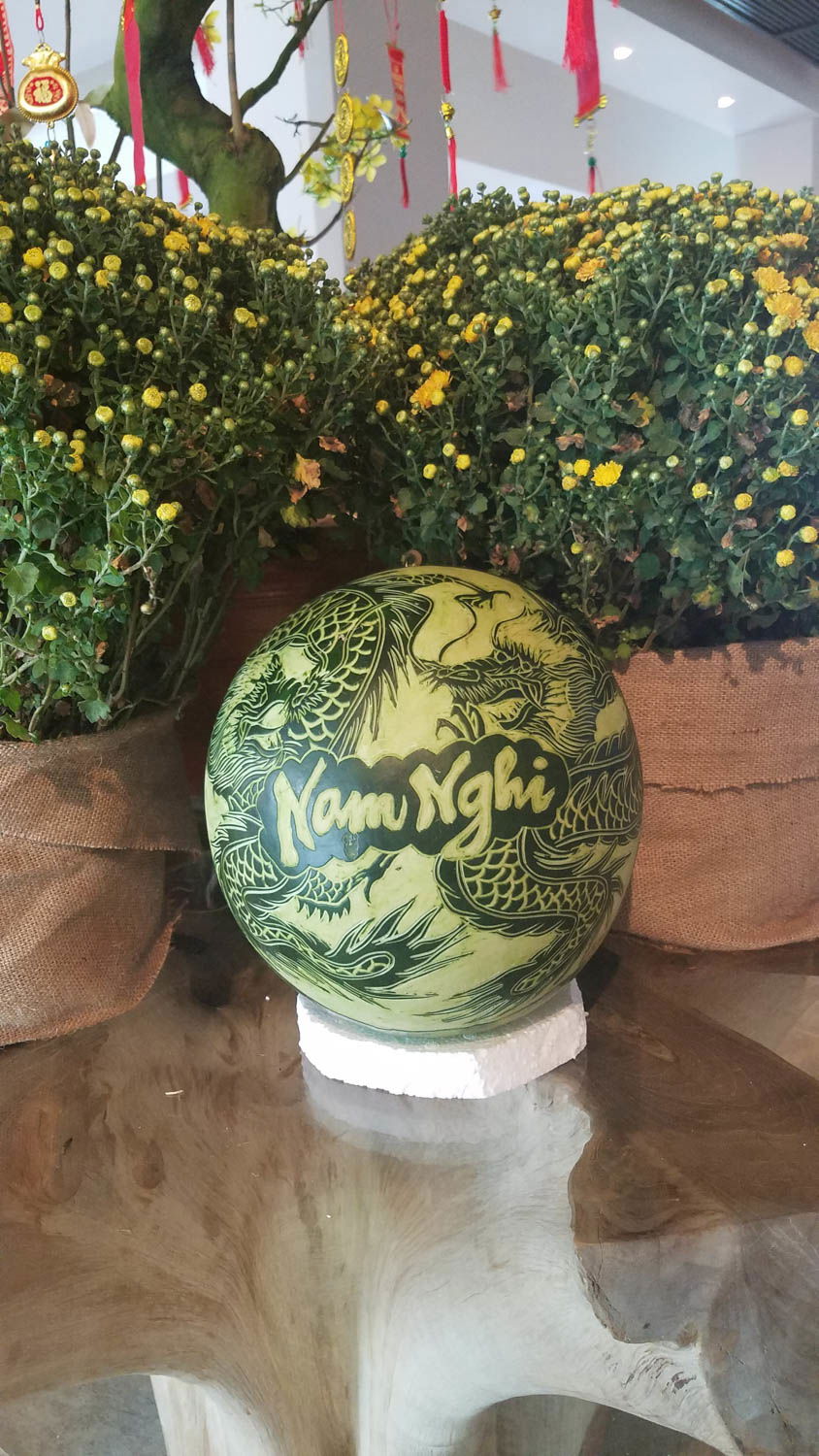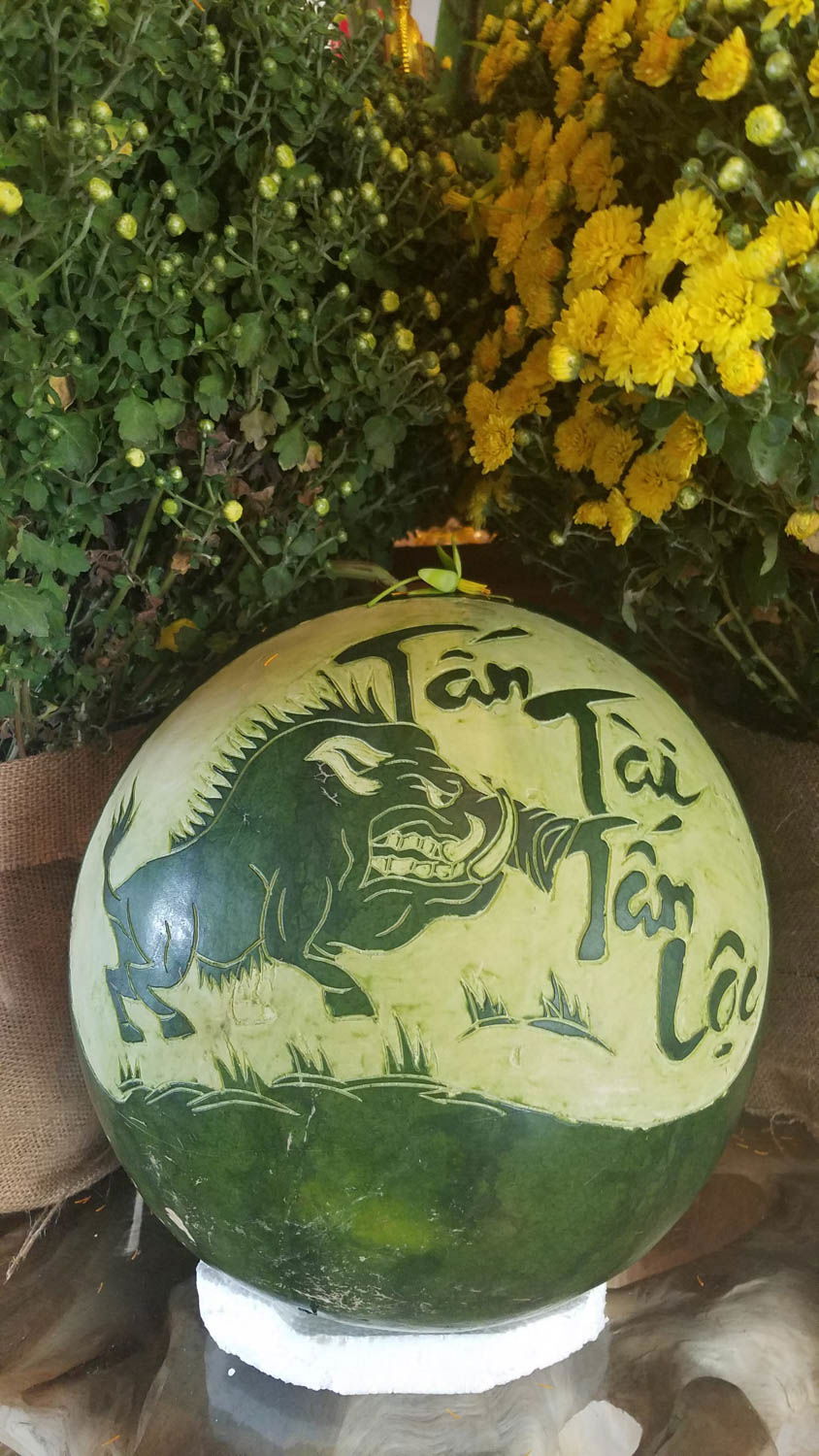 The whole setup felt very festive and welcoming, and to be honest it was the Tet festivities more than anything else that softened our perception of the stay. The staff were so bubbly and excited to share their traditions with guests, in a way that was just adorable. This was probably compounded by how young the staff was (this is likely true for much of our experience), but they were very cute and sweet.
The dining situation was also handled well, I thought. Both restaurants were open, though with set menus — international at Ocean Reflection, and a upmarket Vietnamese street food setup at the Treehouse. We opted for the latter — it was outrageously expensive, but sometimes that's how holidays in hotels work.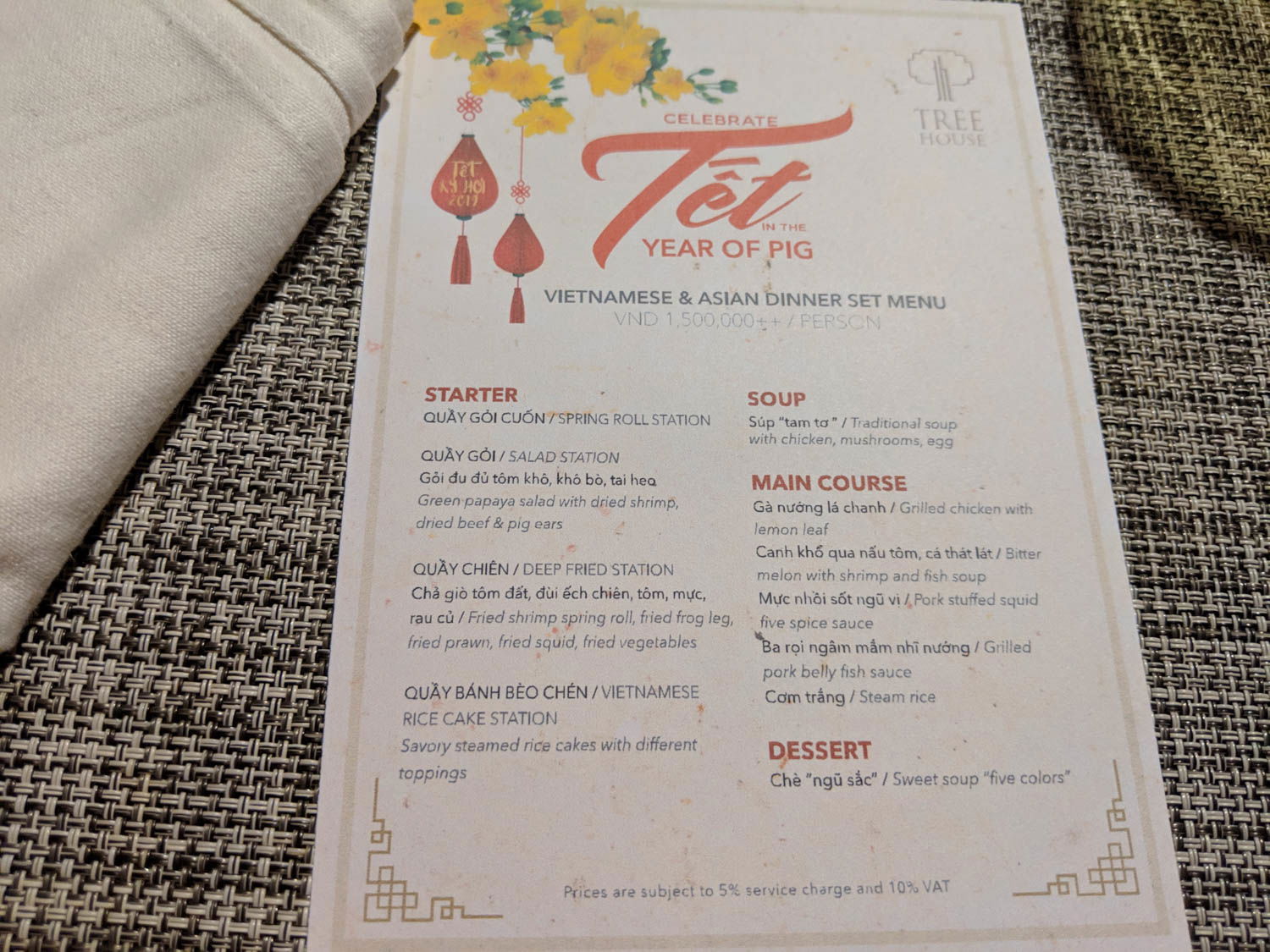 The restaurant was set up to feel like a festive market, and was pretty cute, in a Disney kind of way.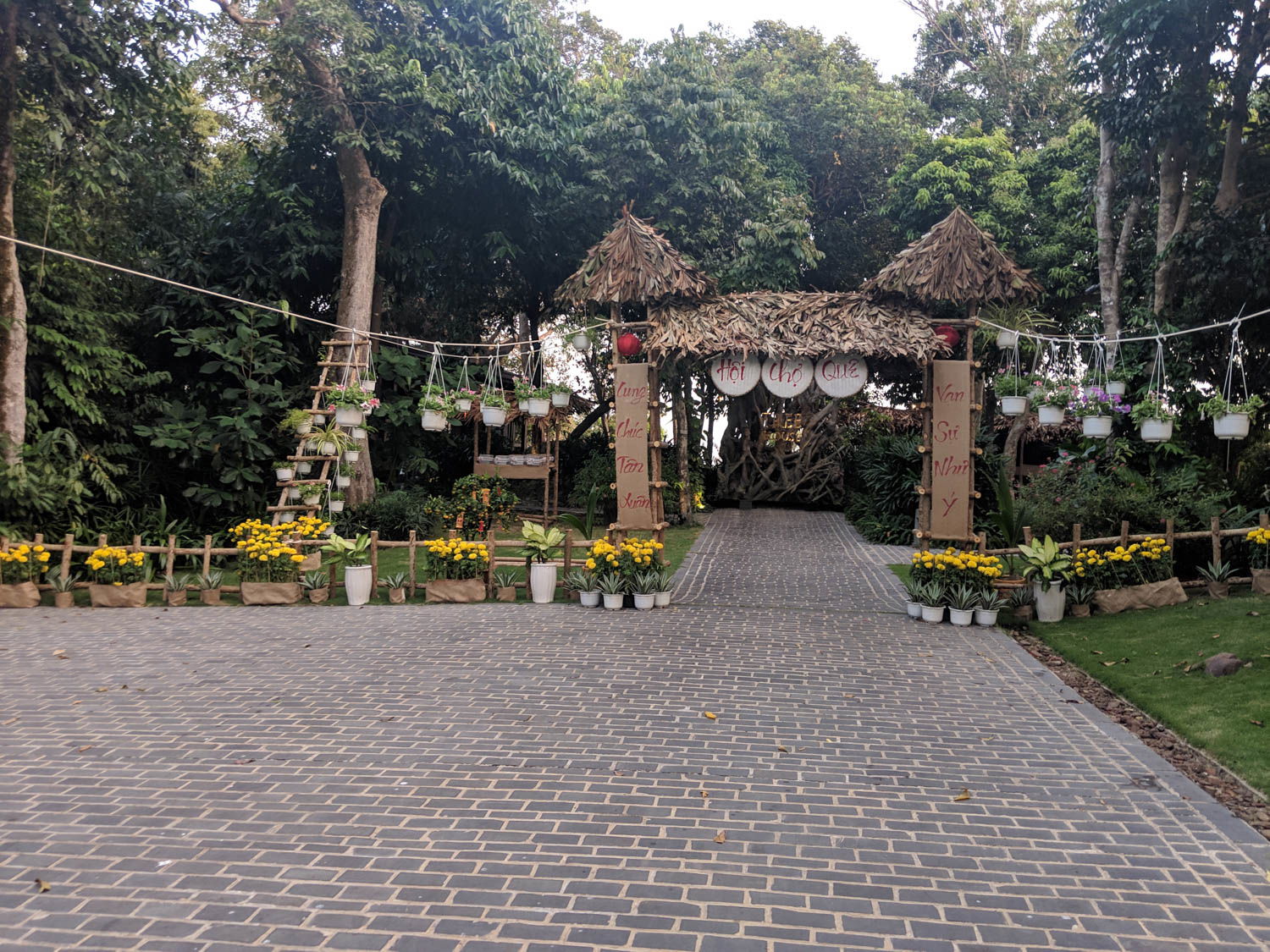 There was lots more melon carving going on, and the gentleman making them was super excited to show us the different tools he used.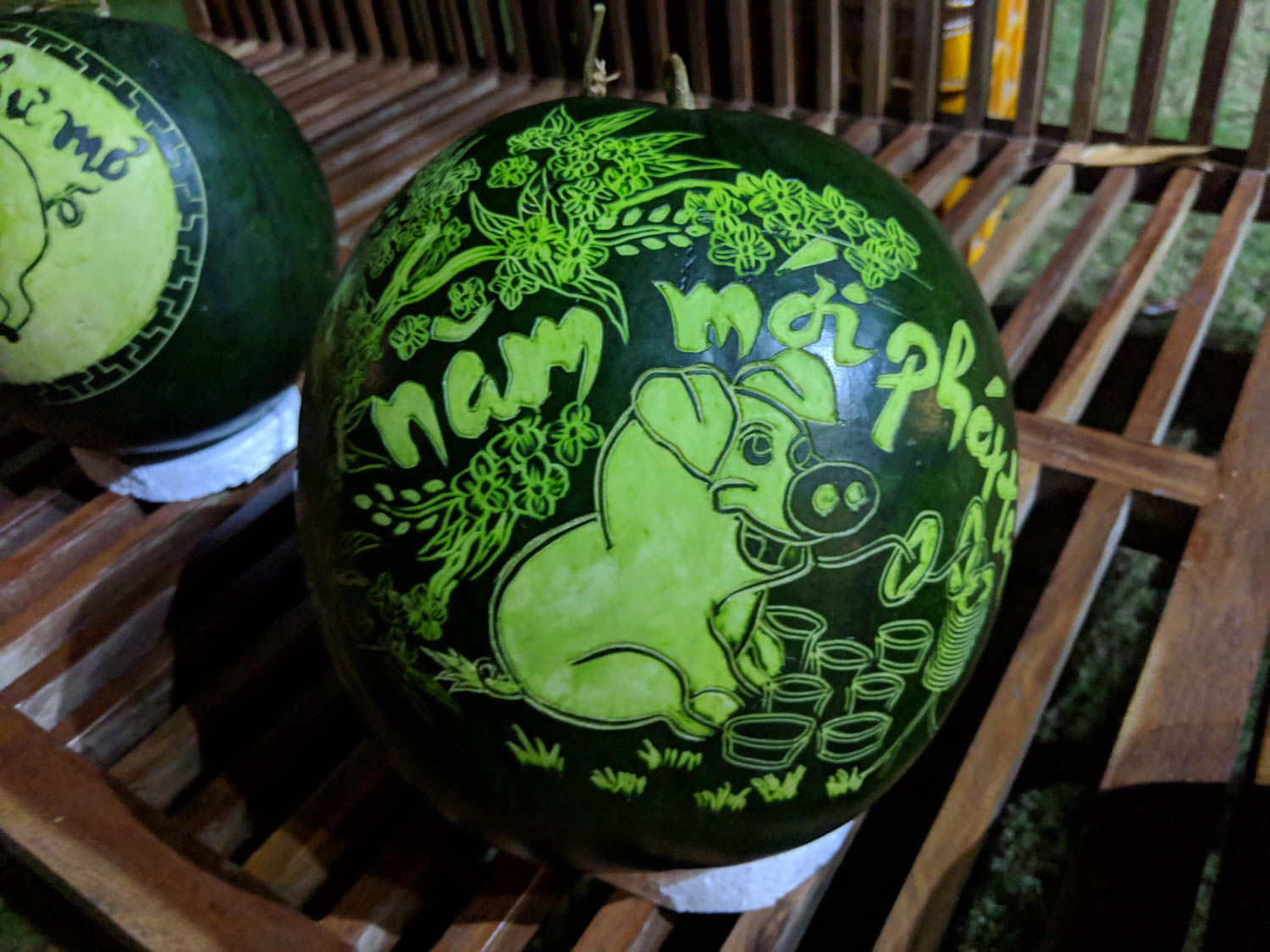 And I'm pretty sure this lady was someone's wife or mom, just there to make Tet cakes, and not a regular hotel employee, which again — pretty cute.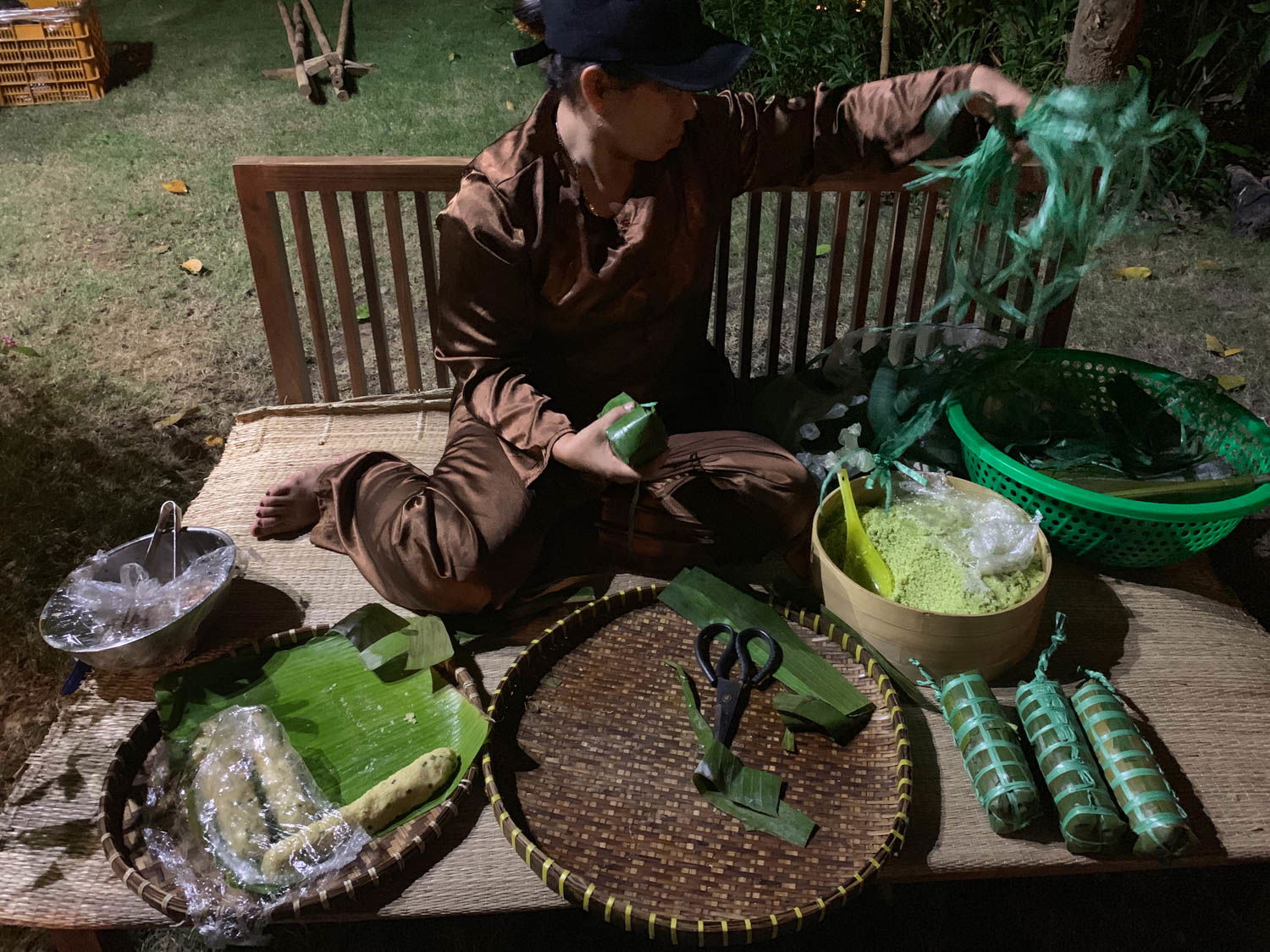 And then there were lots of stations set up with the various foods, with everything being either made or assembled to order.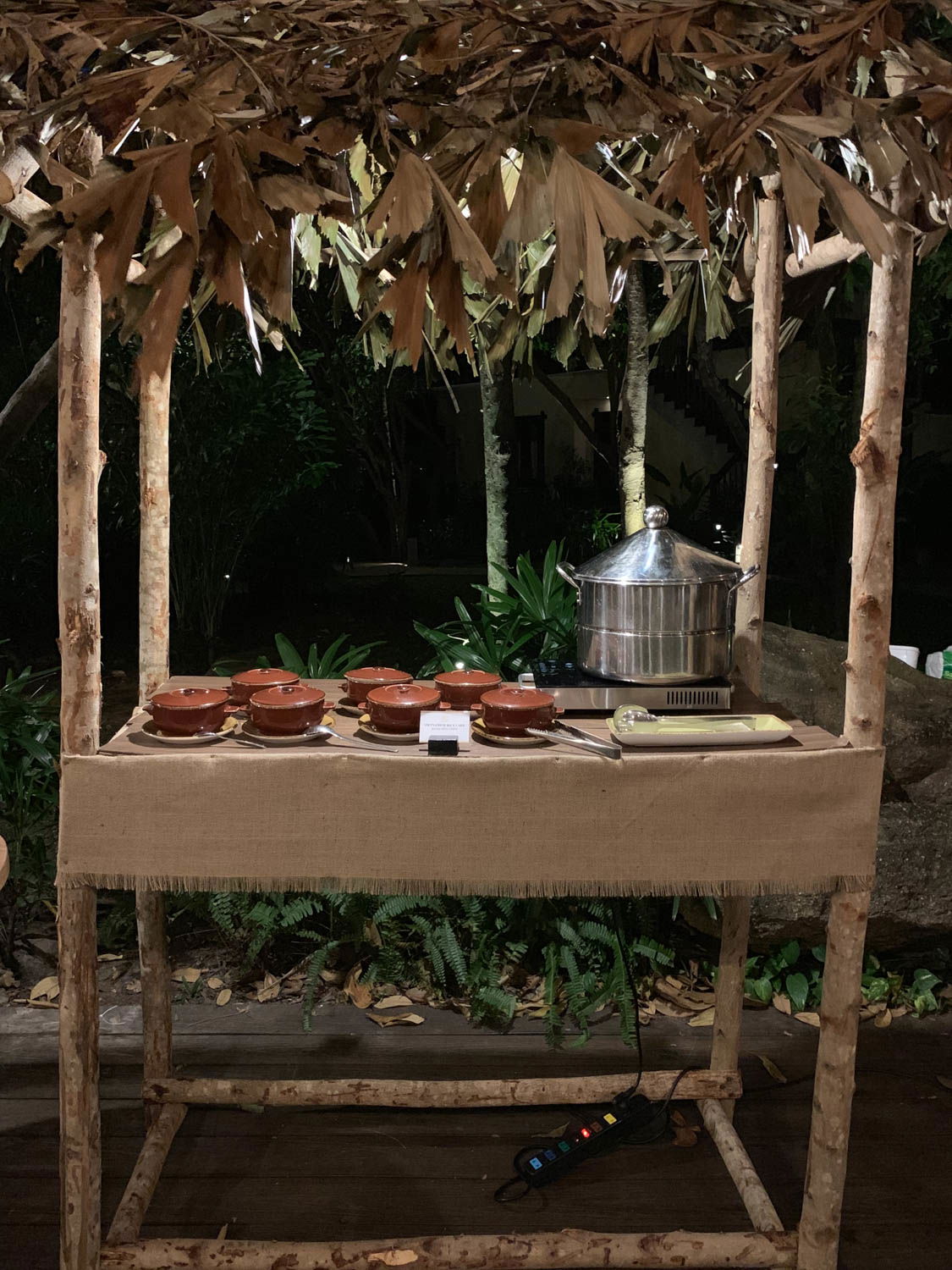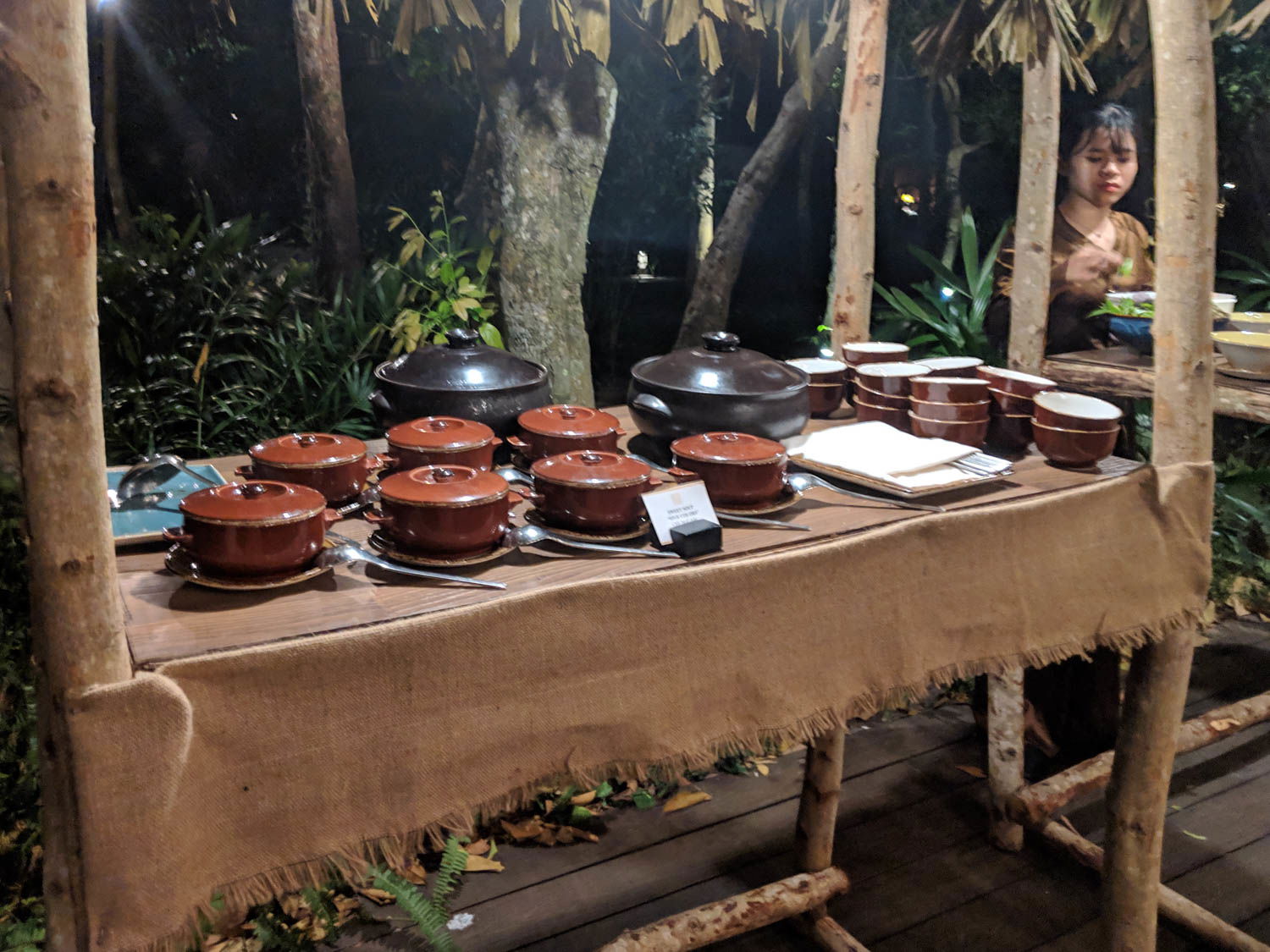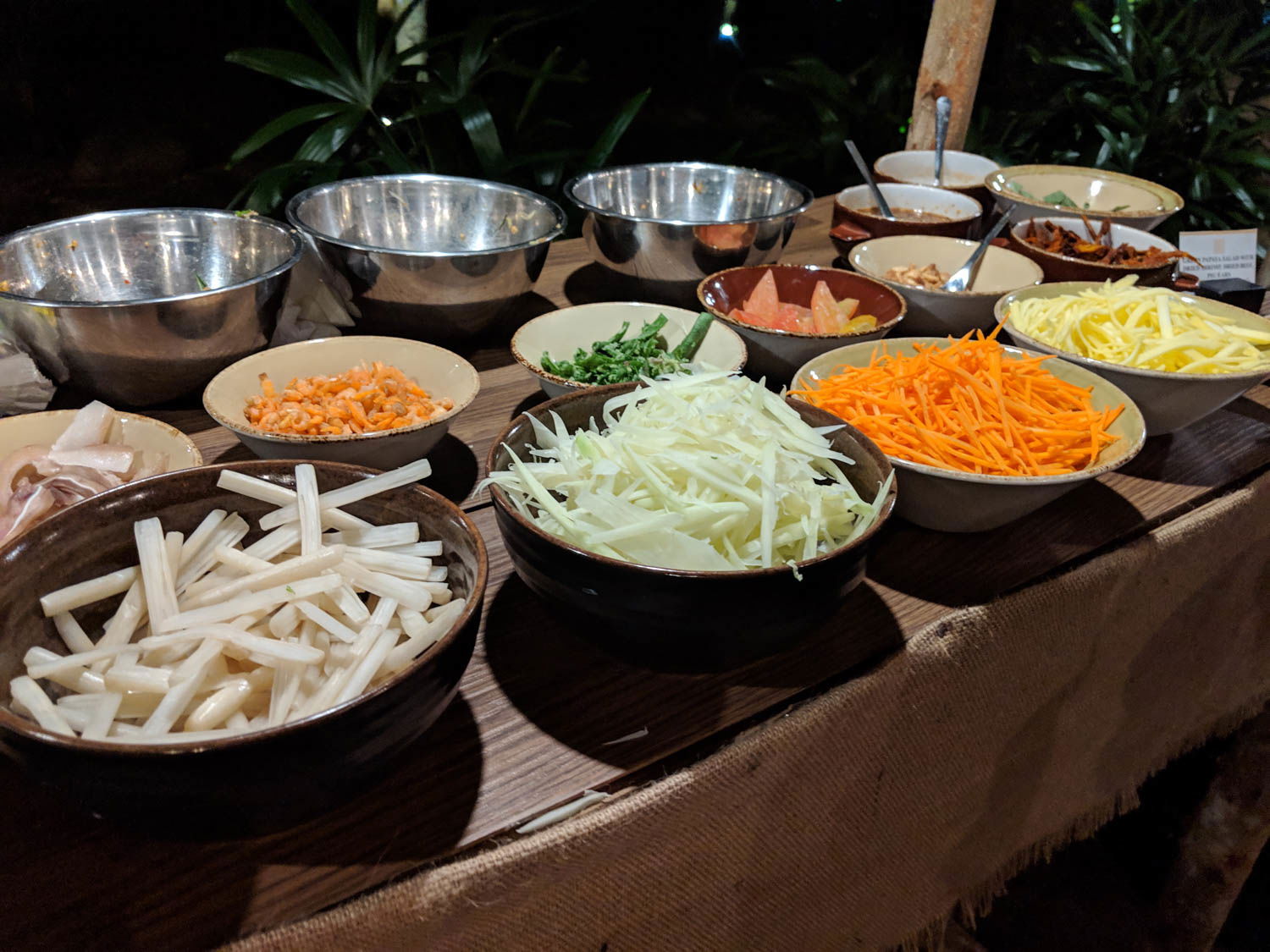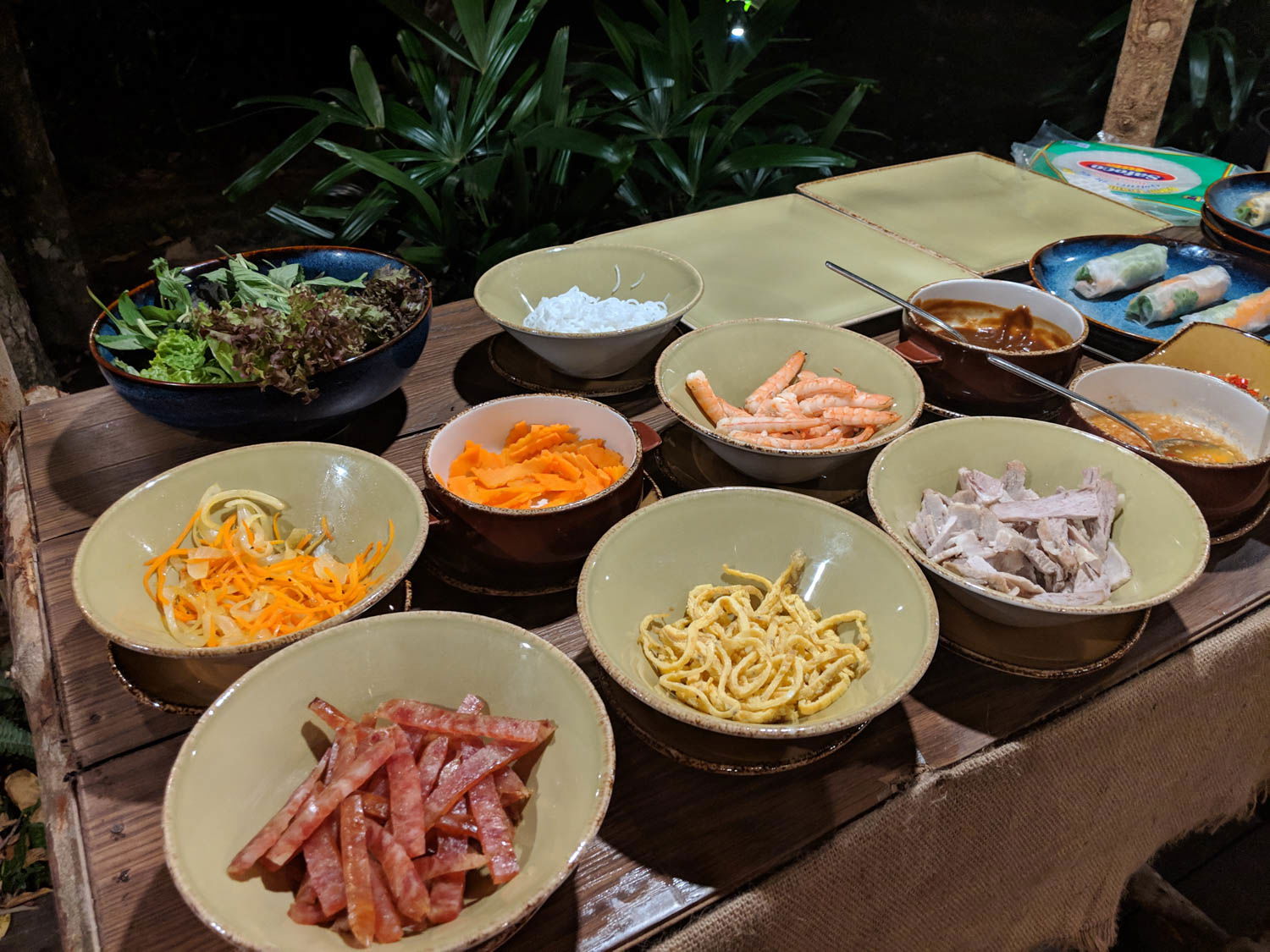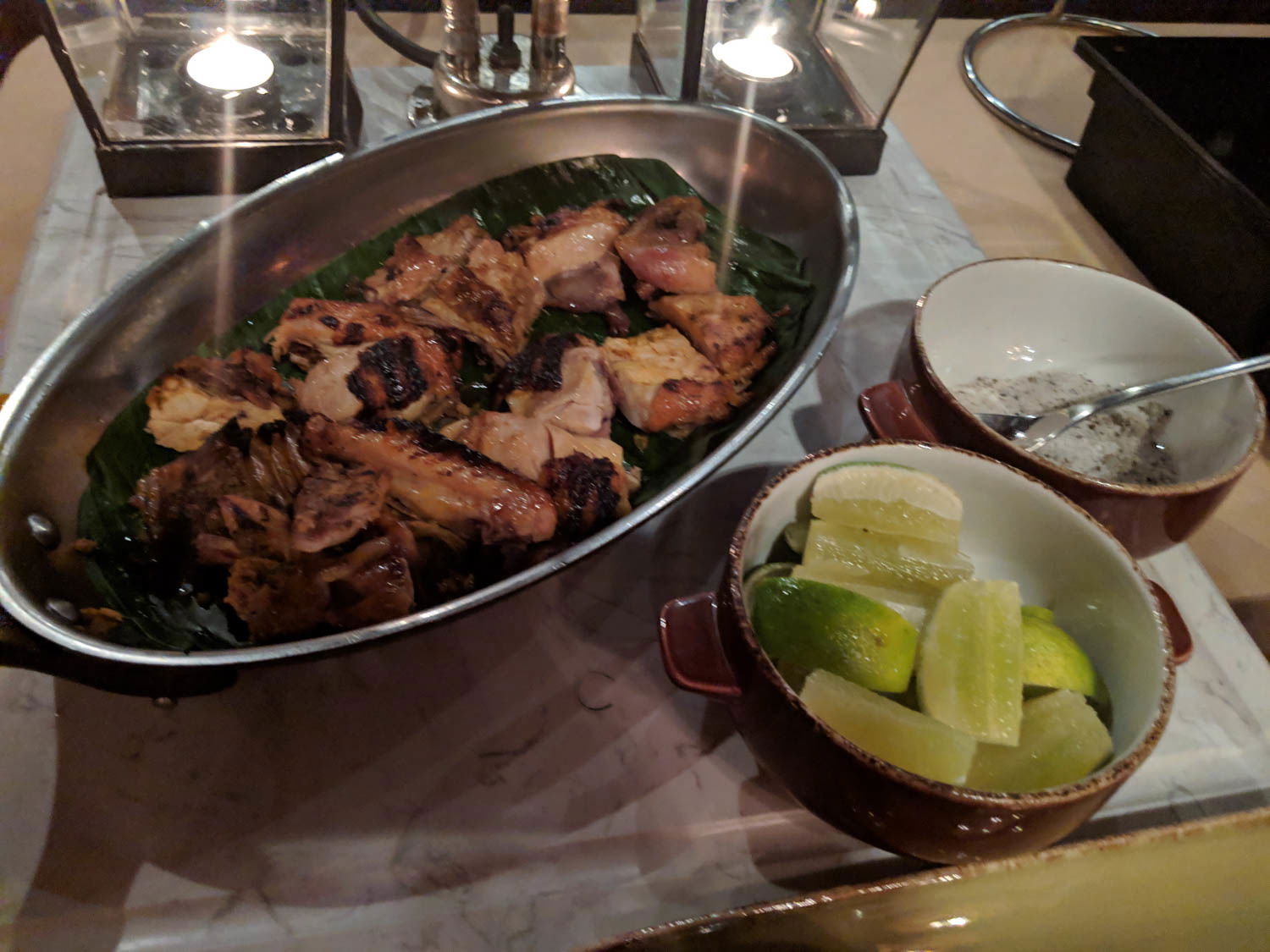 In some cases things were setup to assemble yourself, which resulted in patient instruction and lots of giggles from the restaurant staff.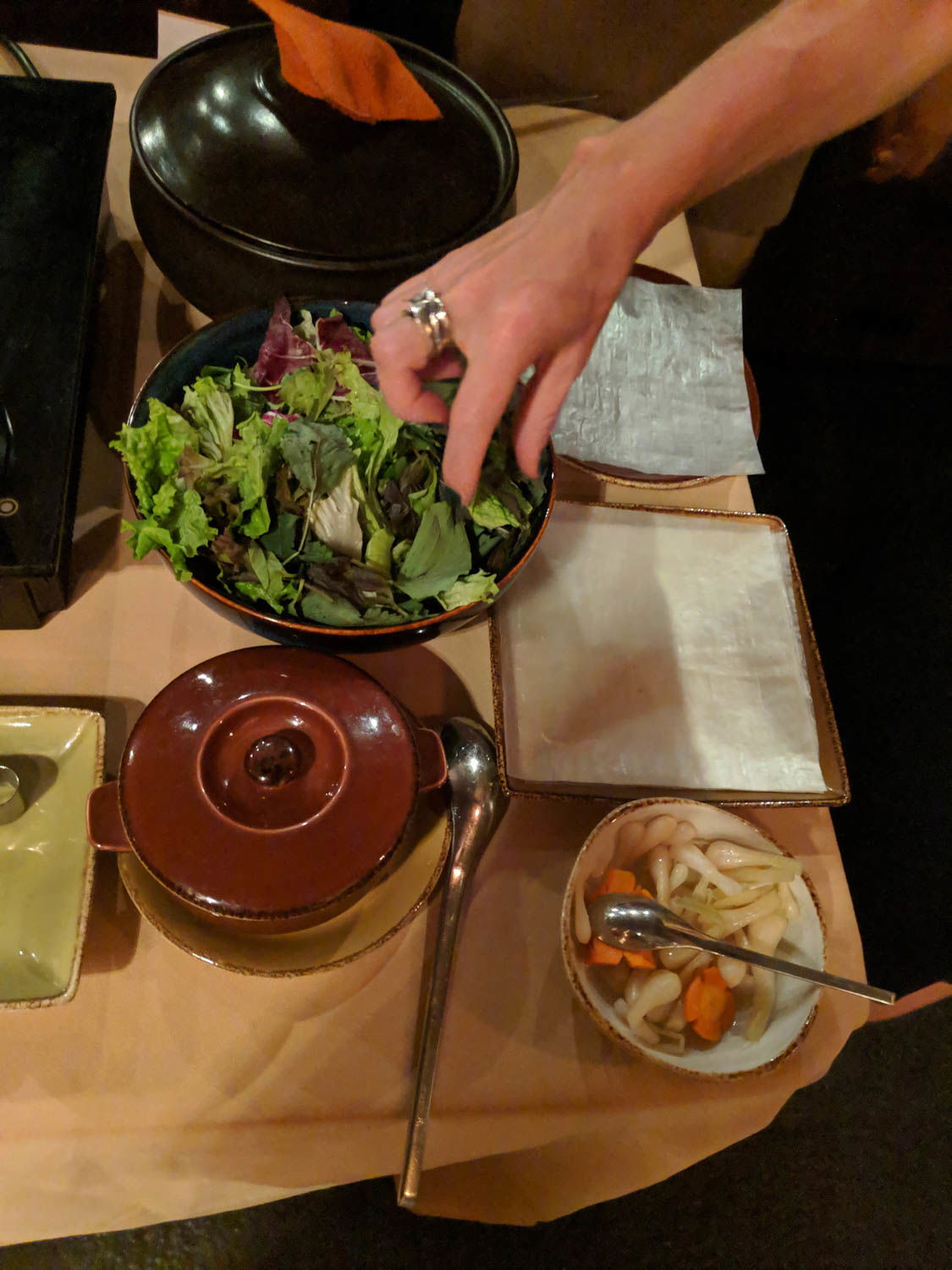 And there were other sweet gestures as well, like the executive chef walking by to check on how things were going, looking at me, glancing at the tempura station, then whisking away to have his sous chef come up with a wheat-free batter.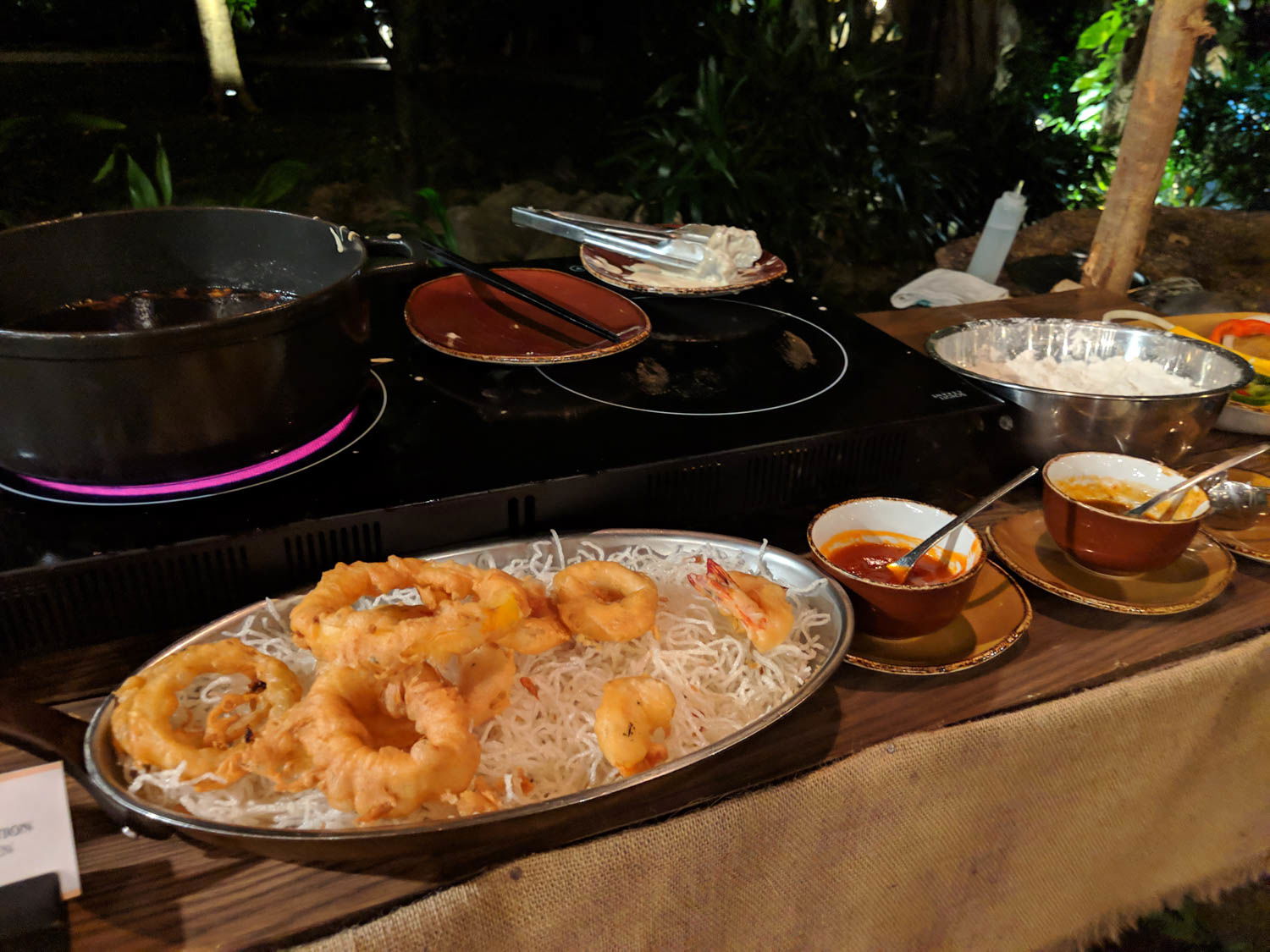 We'd had an ingredient discussion earlier in the stay, but that's never an accommodation I would have asked for, and I thought it was kind of him to both remember and try and do something about it (the substitute tempura was fried in the same oil as the normal batter, so if cross-contamination is a concern for you, you'll want to be very specific).
Little stuff like that was great throughout the stay, and on balance the restaurants were better managed than the hotel as a whole, so I hope the new executive chef is able to keep growing that culture.
Hyatt Nam Nghi Phu Quoc overall thoughts
This property has amazing potential. The staff is enthusiastic, the location is peaceful, and the property has a good design.
But poor upkeep combined with tropical weather means the two-year-old resort looks like it's been through ten years of wear and tear. The staff is under-trained, and management seems thoroughly overwhelmed.
This will probably be a great hotel in a few years, and a good one in another ten months or so. I'd be wary about booking for the next few months though, or at least would suggest doing so knowing that they have a lot of kinks to work out.