---
This will be the final segment of my trip report on Vietnam, Laos, and Cambodia, which feels bittersweet. This has been a very long series (and was a long trip to start with), so it's taken a ridiculous amount of time to put together, but I've so enjoyed sharing the details with y'all. I hope you've enjoyed it as well!
Anyway, we end this adventure in Phnom Penh, at the colonially-opulent Raffles Hotel Le Royal. We booked through Virtuoso, at a rate of ~$280 per room. That's steep (especially for Phnom Penh, as I was otherwise eyeing some gorgeous properties for ~$70/night). But for a one-night stay I thought our moms would enjoy the history, and decided that reviewing a property affiliated with a loyalty program (Raffles is part of the Accor brand), along with Virtuoso and Amex FH&R, would be more potentially useful to OMAAT.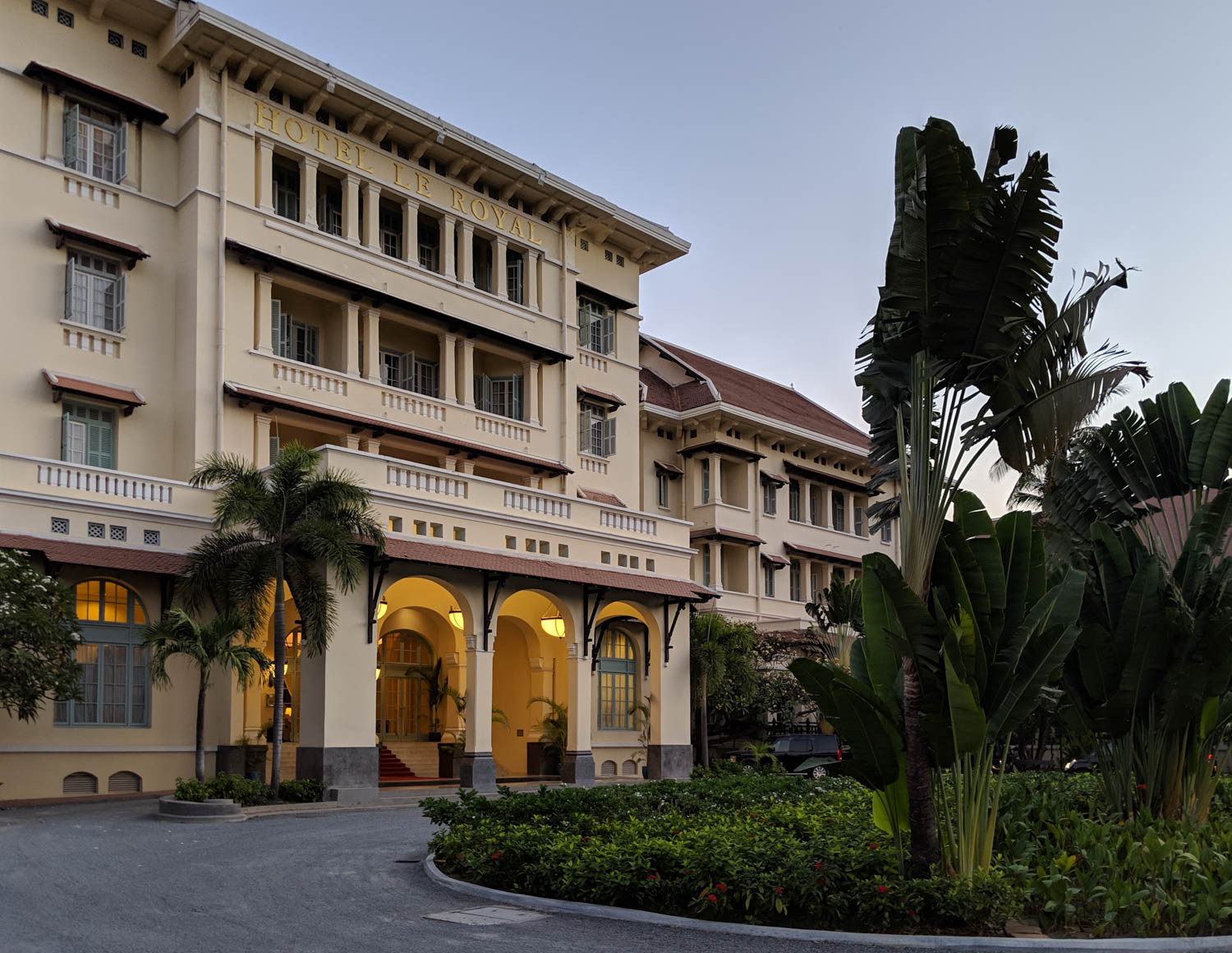 The hotel is set back from the street (which is in and of itself a grand affair — a broad boulevard with a central park leading down to the richly-decorated Wat Phnom), in a neighborhood with various embassies and government buildings. It was a convenient location, but the neighborhood itself felt a bit dull compared to the vibrancy in the rest of the city.
The Hotel Le Royal was built in 1929 (though restored and reopened in 1997), and oozes with the charm of that era. I didn't take pictures of the staff, but the uniforms were clearly inspired by the French colonial era, with the doormen having particularly intricate costumes, replete with embroidered hats.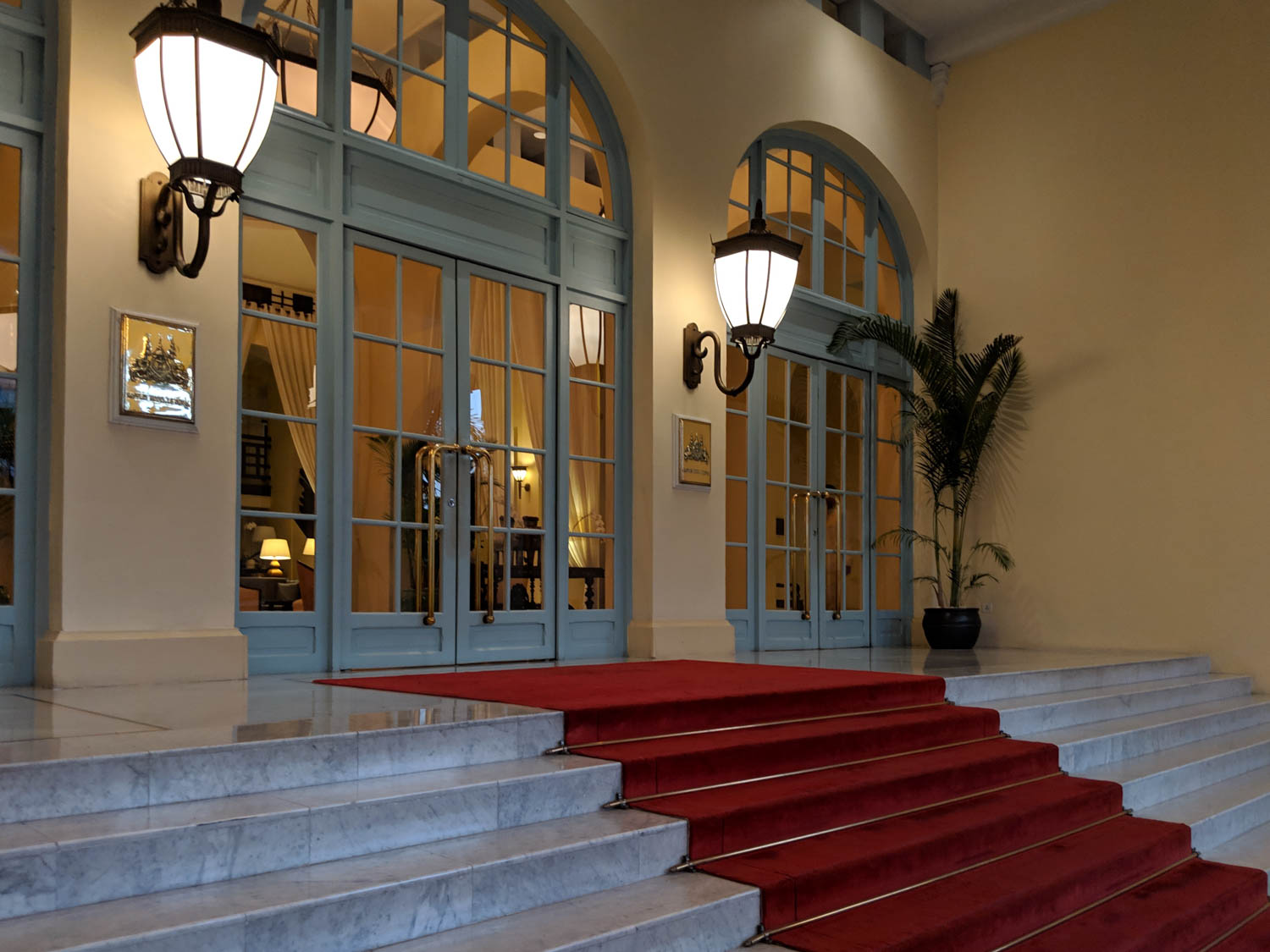 We were welcomed and ushered into the lobby, which looked exactly as you'd expect.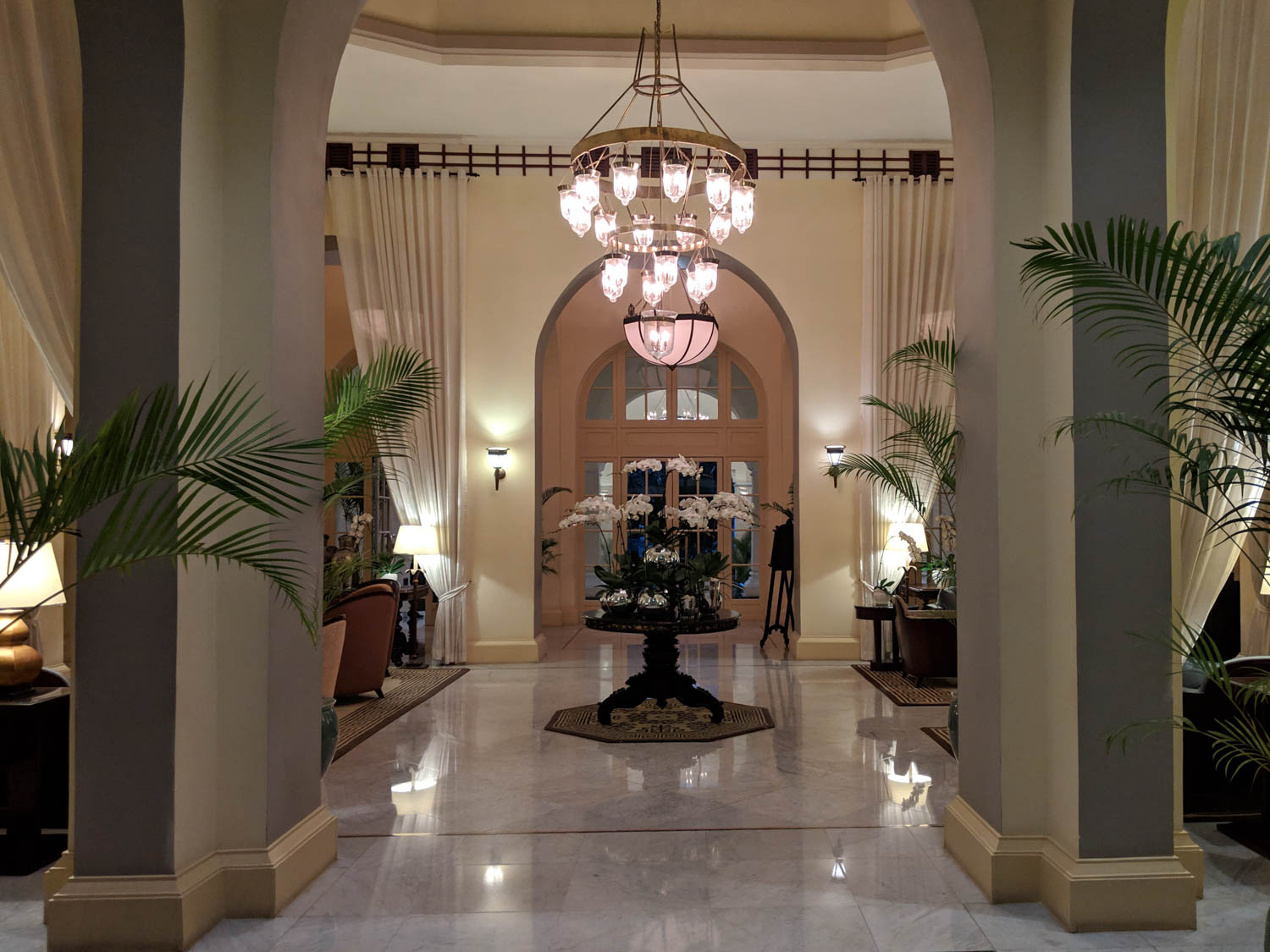 The lobby had a boutique feel (though this would of course have been a large hotel for 1929), with orchids and potted palms in abundance. Linen draperies surrounded the room, softening the noise from the polished marble.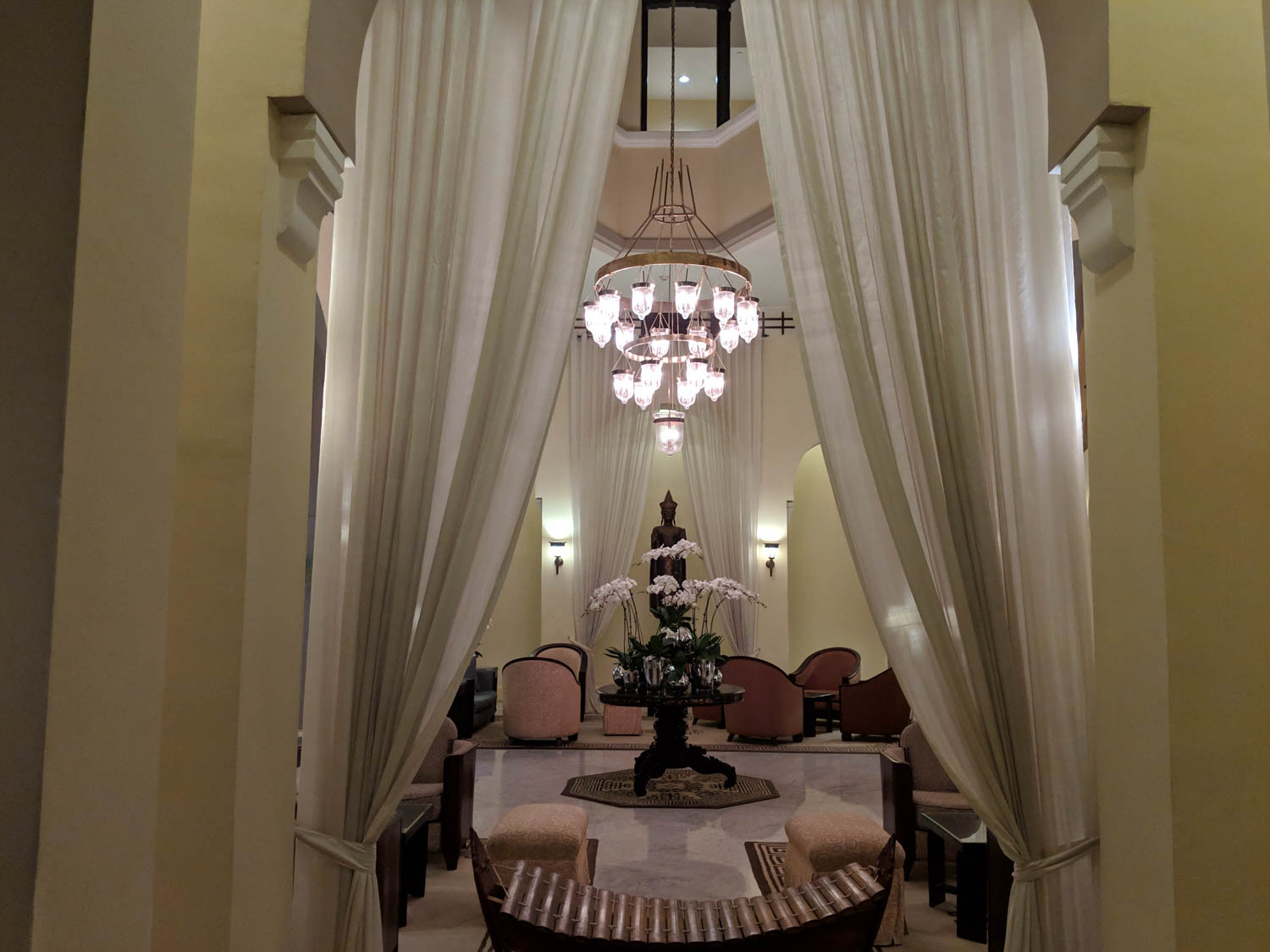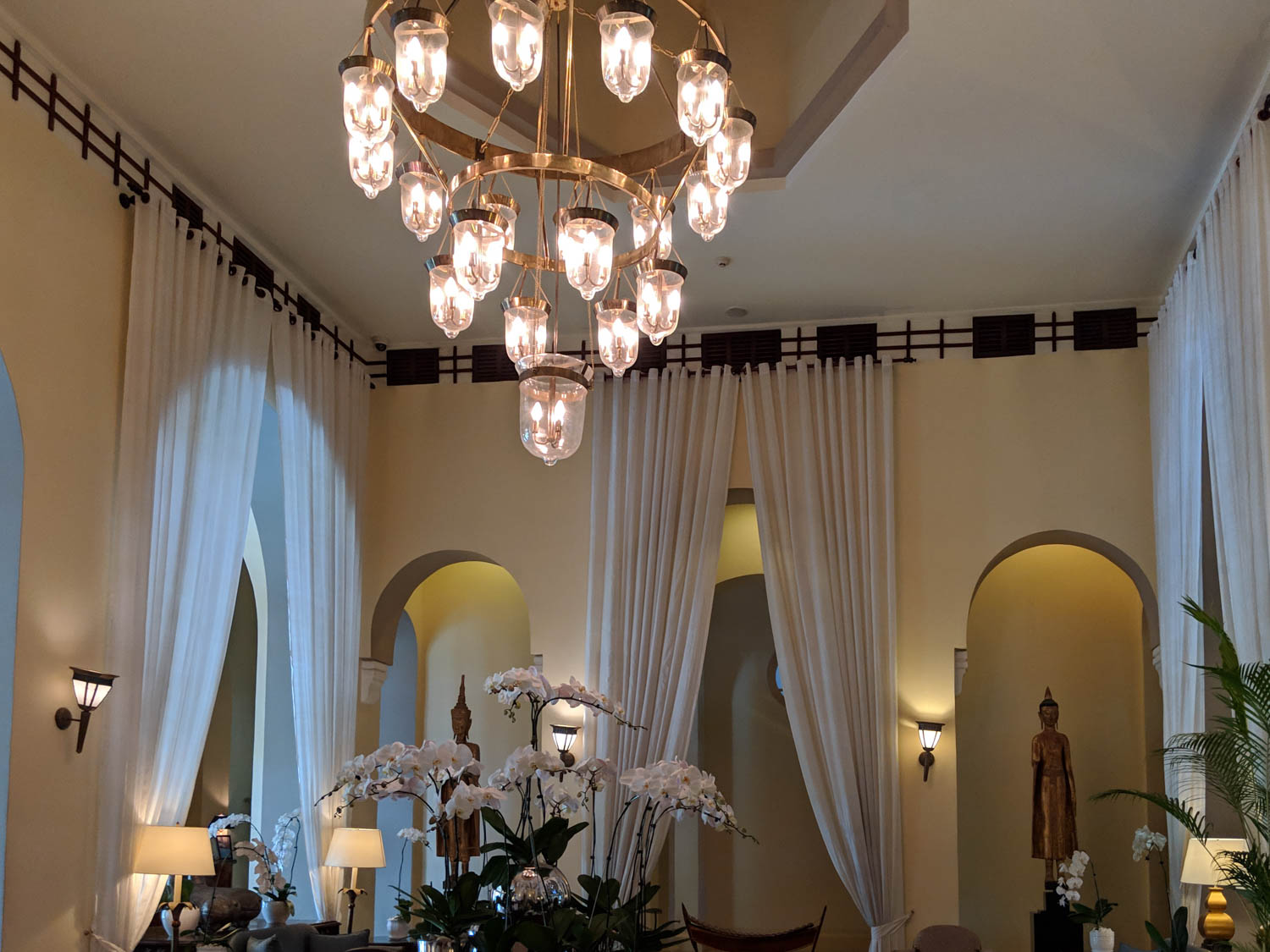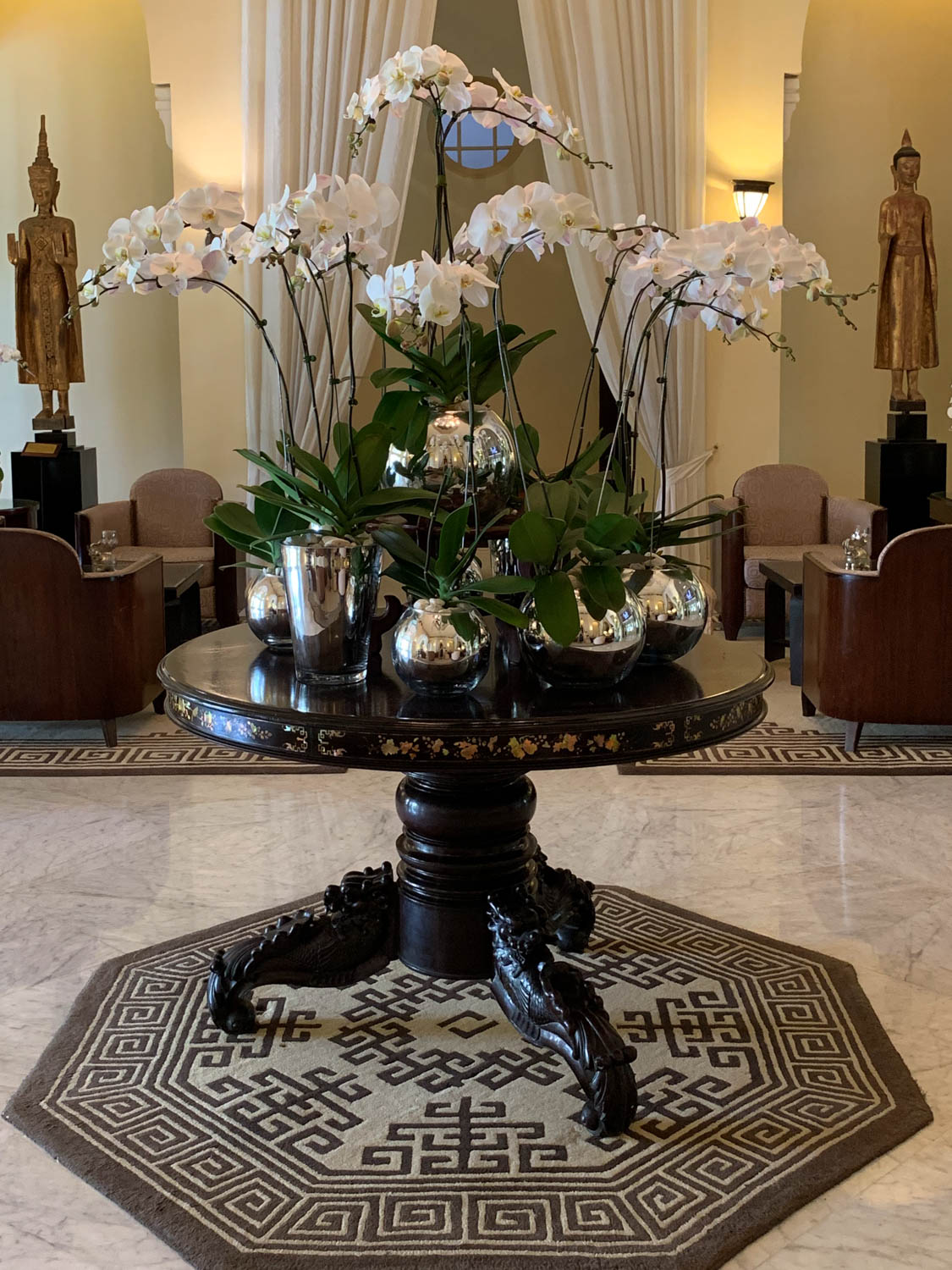 We were invited to take a seat on some plush sofas, then were immediately brought cold towels and iced tea with fresh sugarcane.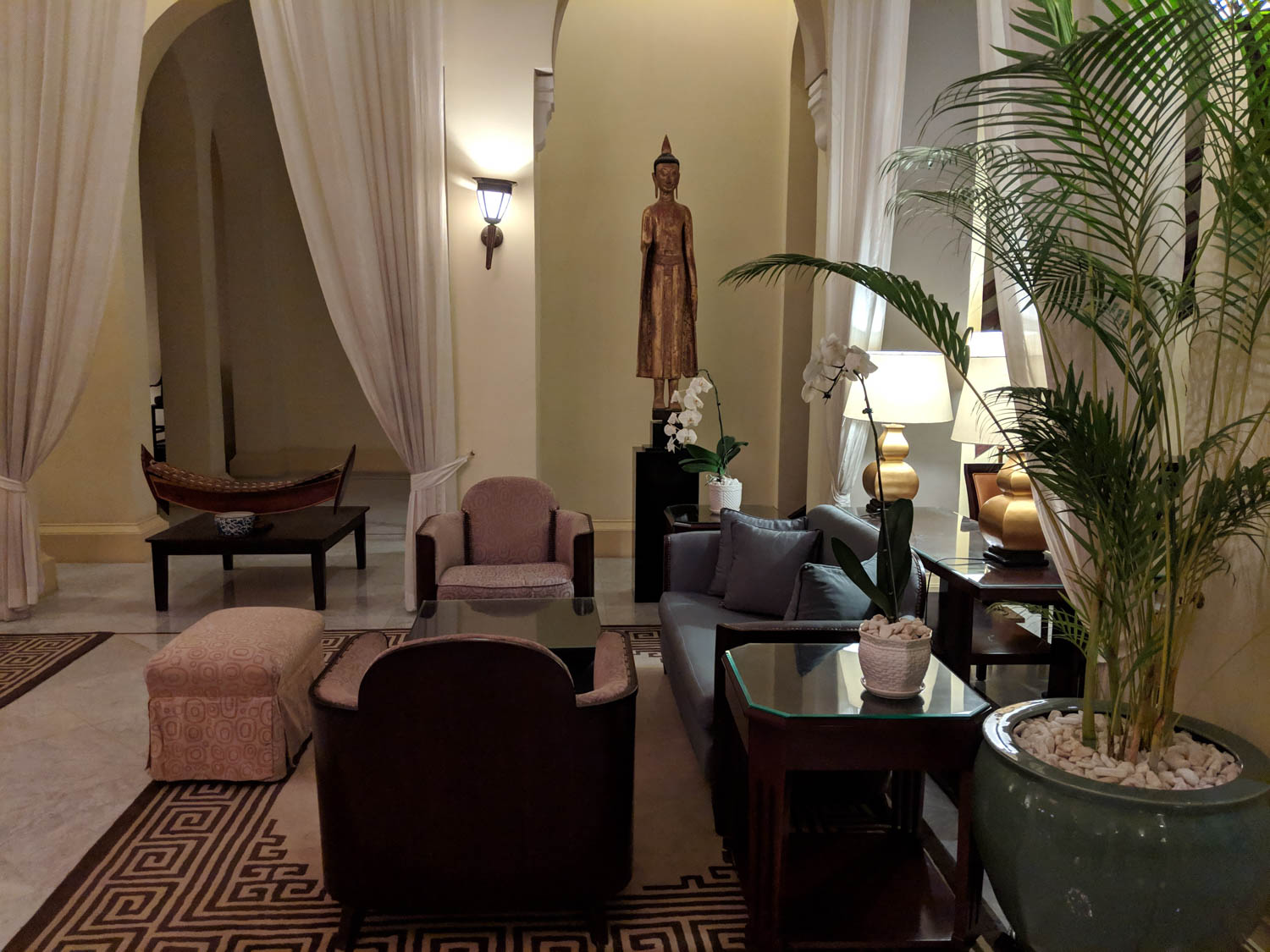 You can tell this was the last stop of the trip, because my family was totally over waiting to enjoy cold towels and drinks until the photos were finished. 😉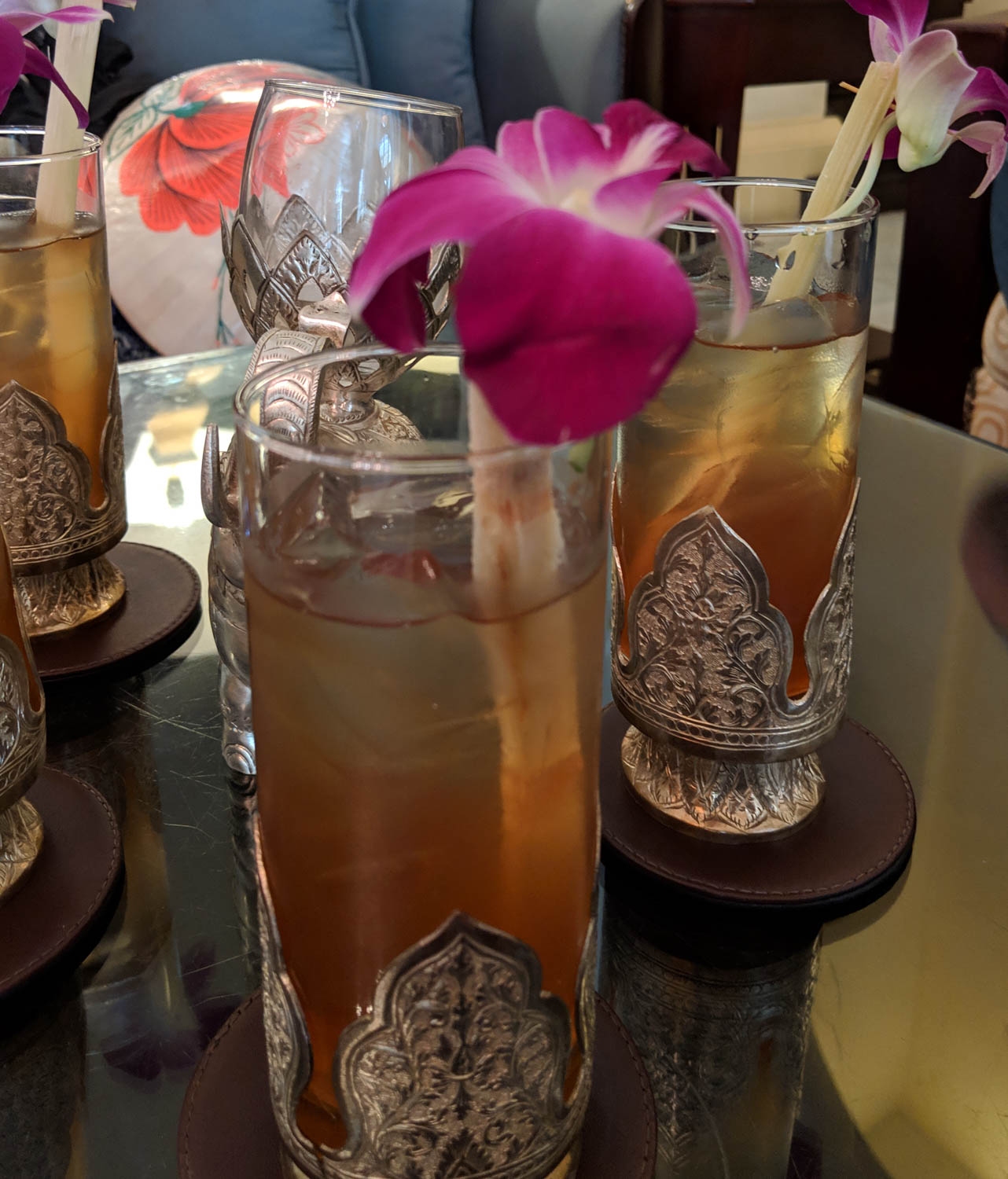 Check-in was efficient, and although we arrived hours before the formal check-in time, our rooms were ready. And how fun are these keys?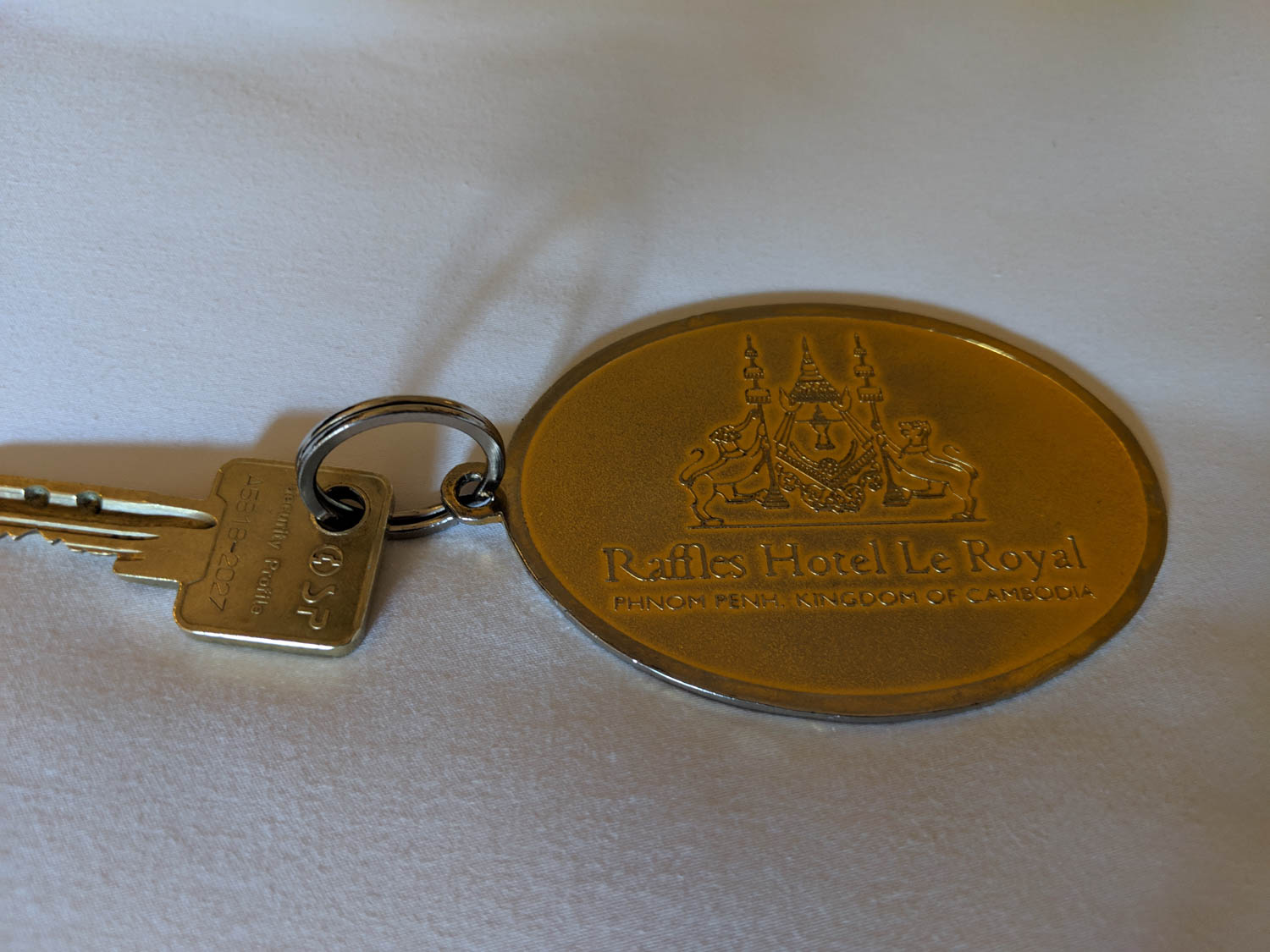 In fact, one of the things that made the Hotel Le Royal feel unique, even on a short stay, was the attention to detail with the decor. From little things, like the water buffalo holding up the footrest on the shoe shine stand (or even having a shoe shine, really), to the various vases, sculptures, antiques, and other pieces of artwork scattered throughout the property.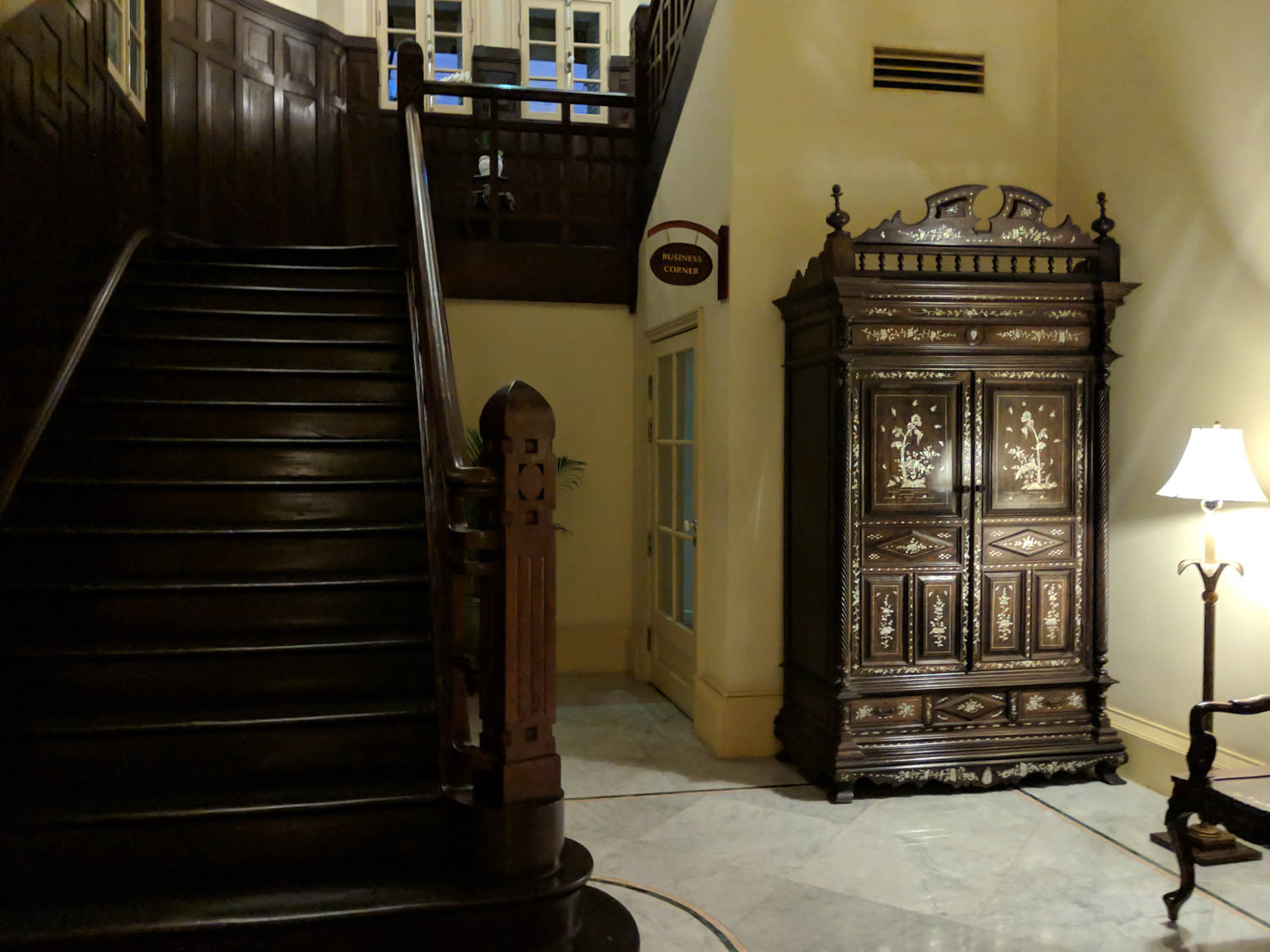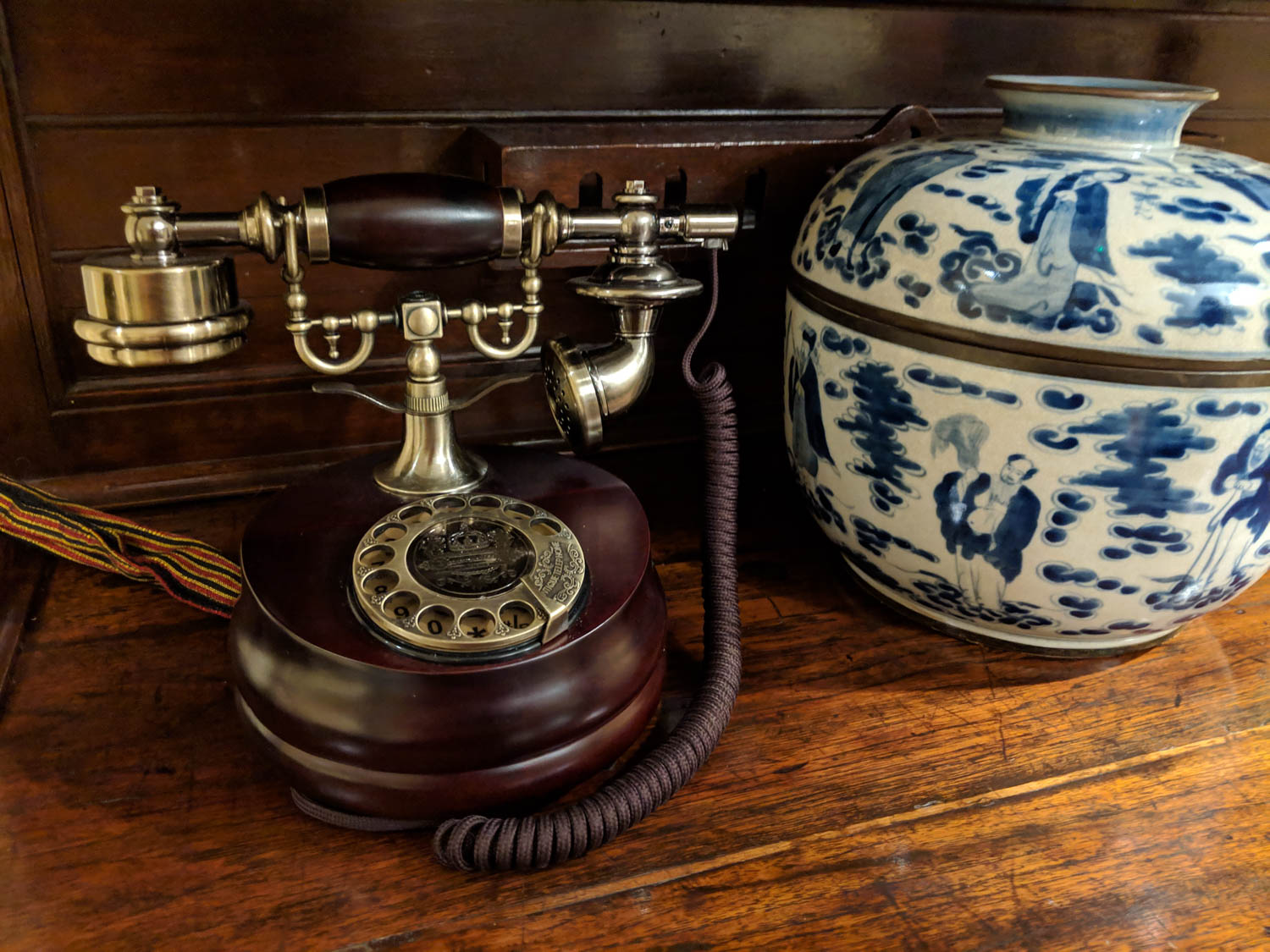 Raffles Hotel Le Royal State room
Our rooms were in the rear wing of the hotel (the property is a long rectangle, set around a central courtyard with a pool).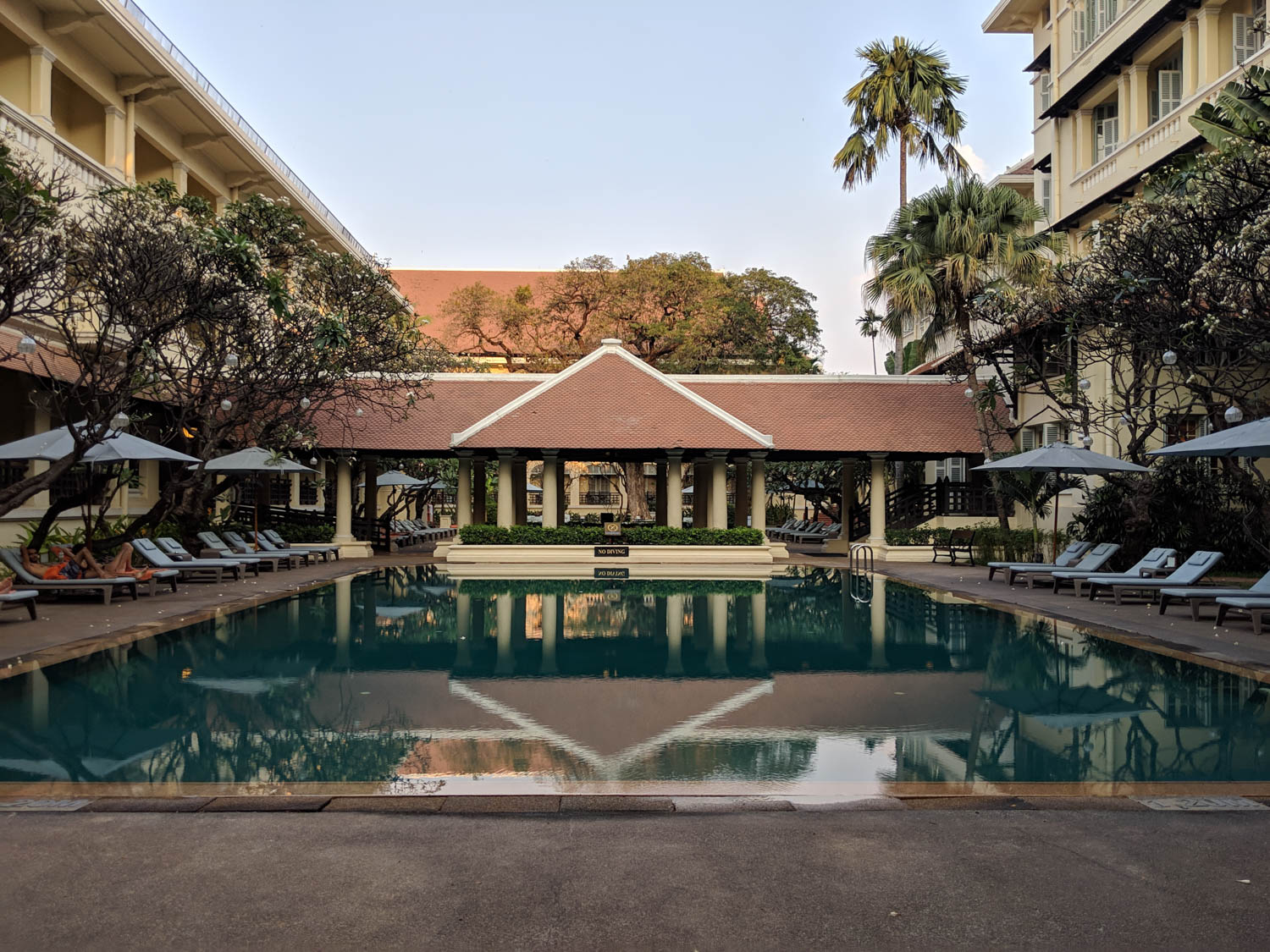 If you like this era of architecture, you'd find the hallways to be an absolute dream.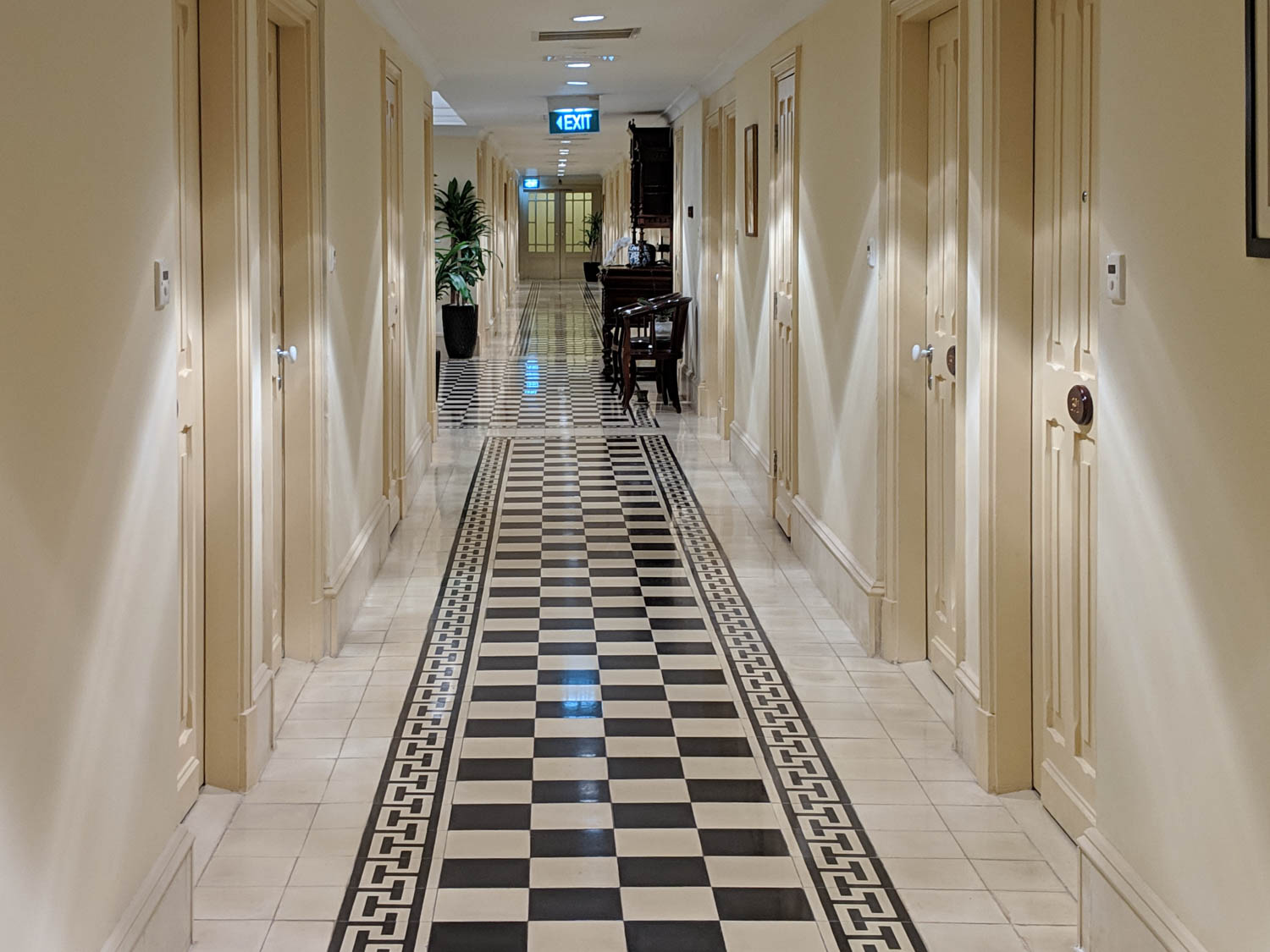 We were assigned adjoining rooms on the third floor, one with a king bed, and the other with two twins.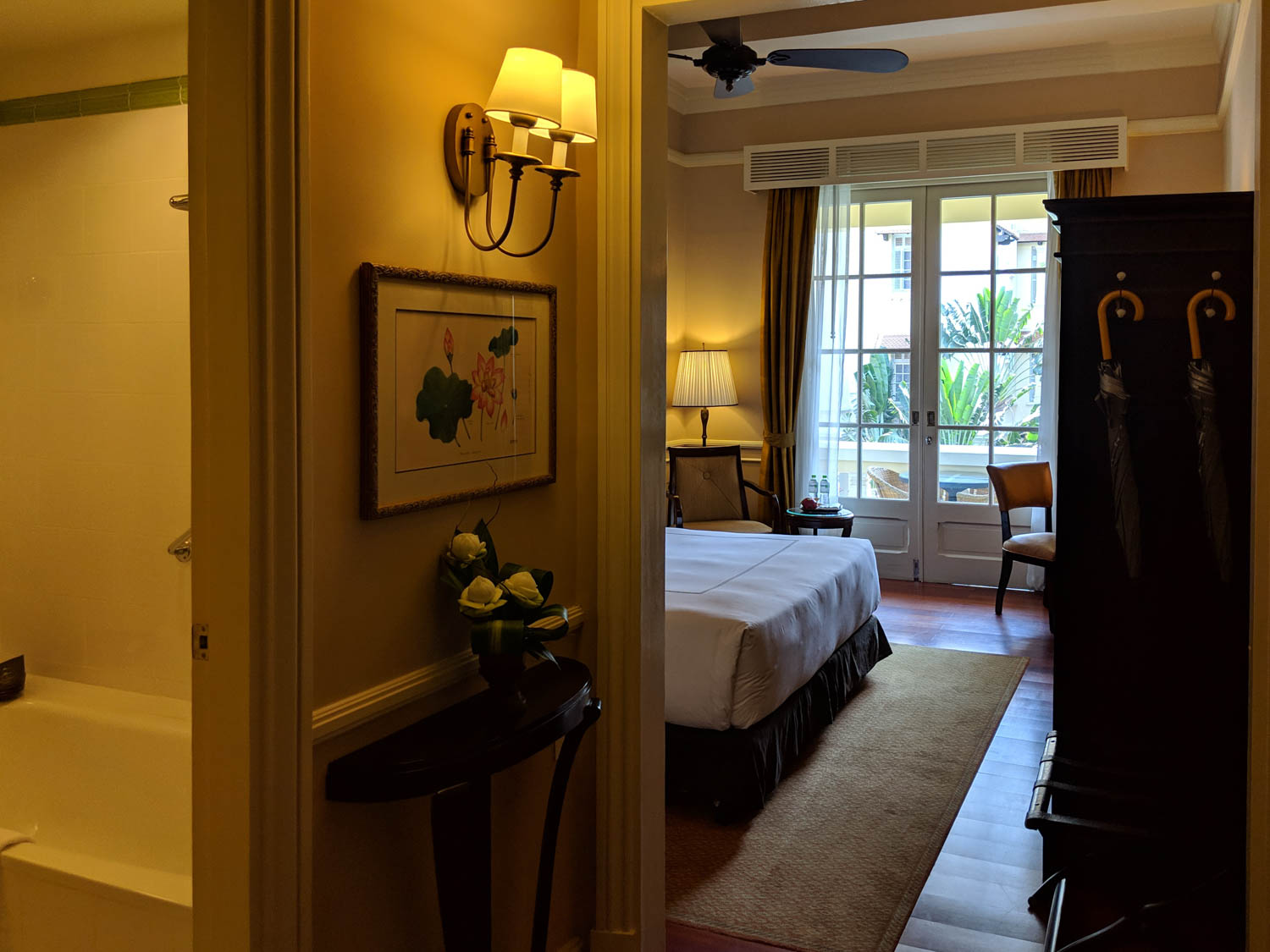 The rooms were average-sized, but impeccably furnished, with hardwood floors, careful wainscoting, and high-quality linens.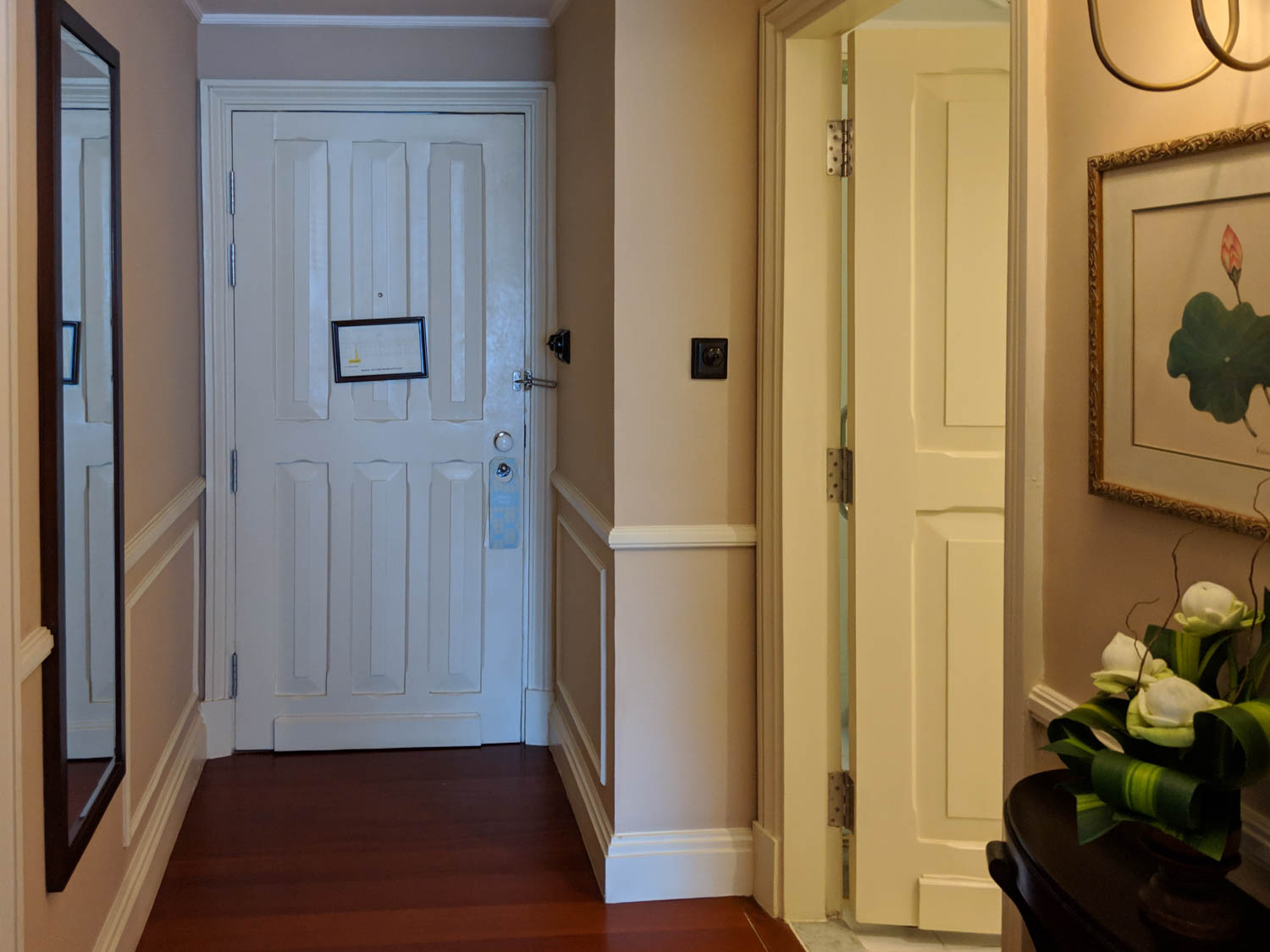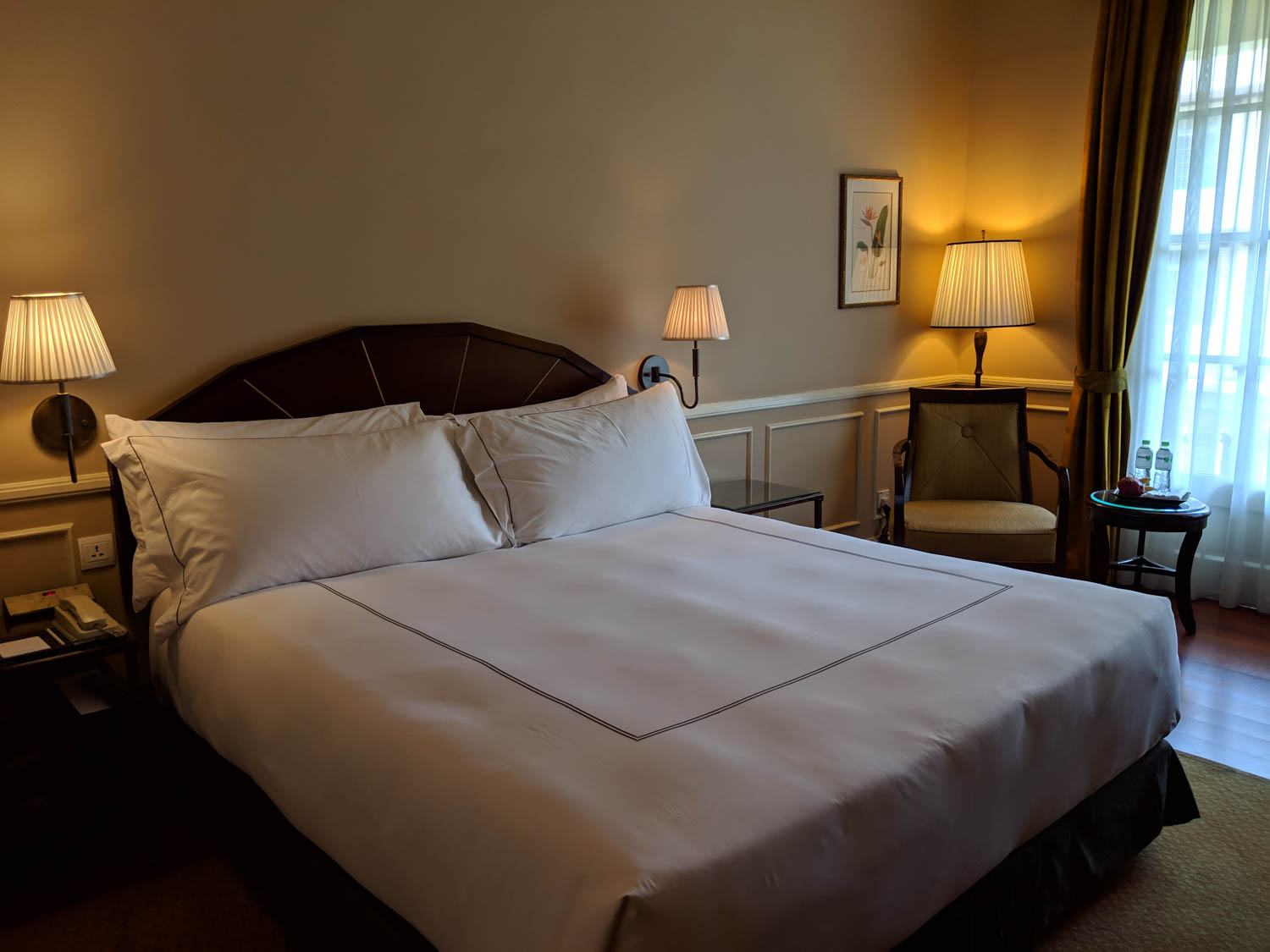 The high ceilings made the rooms feel much larger, and the ceiling fan was a nice touch.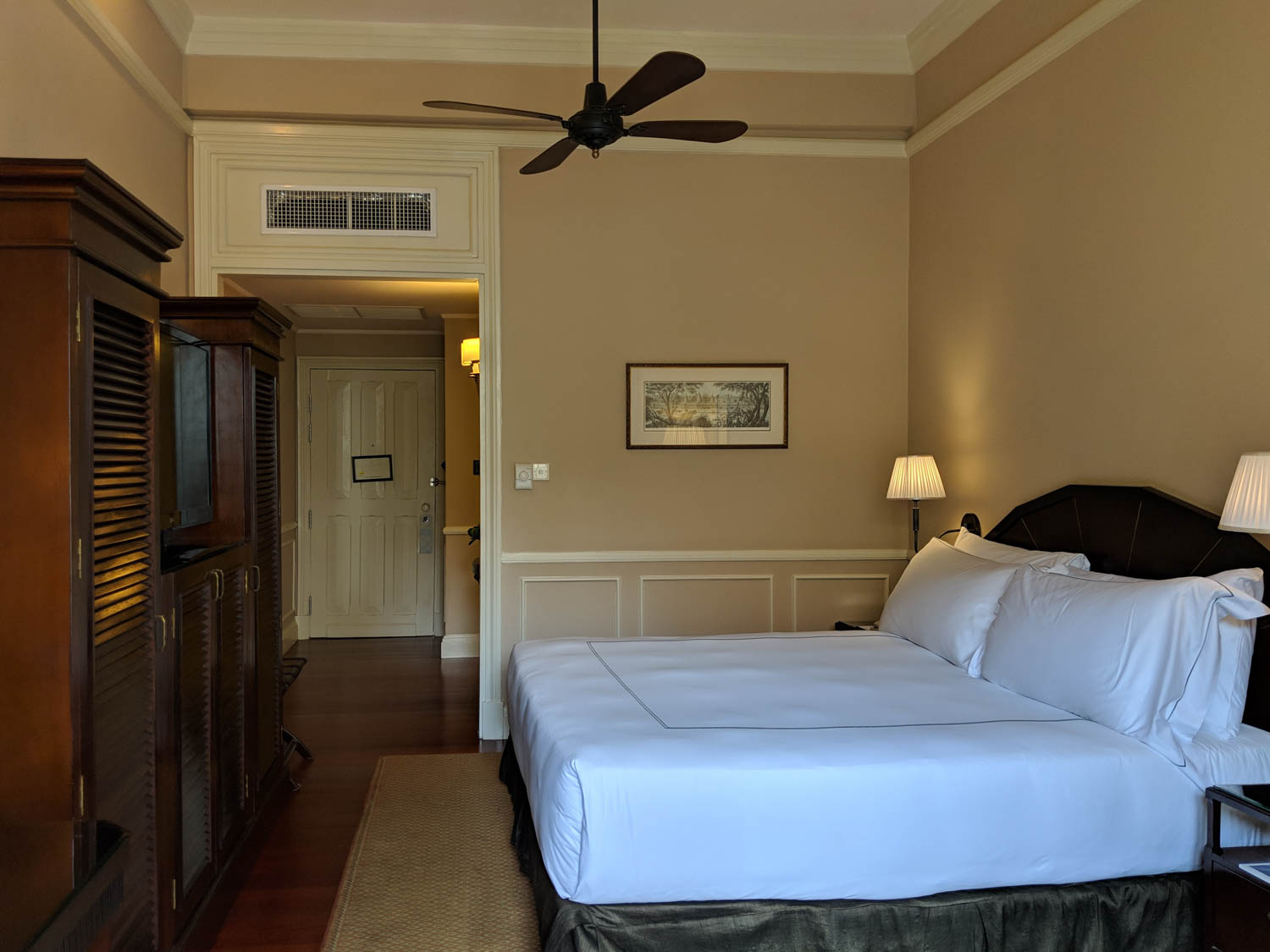 Both rooms also had the best bedside controls I have ever seen in a hotel, full stop, all other contestants can go home. In addition to having sensical buttons for the lights and air conditioning, the clock could be toggled across several different timezones.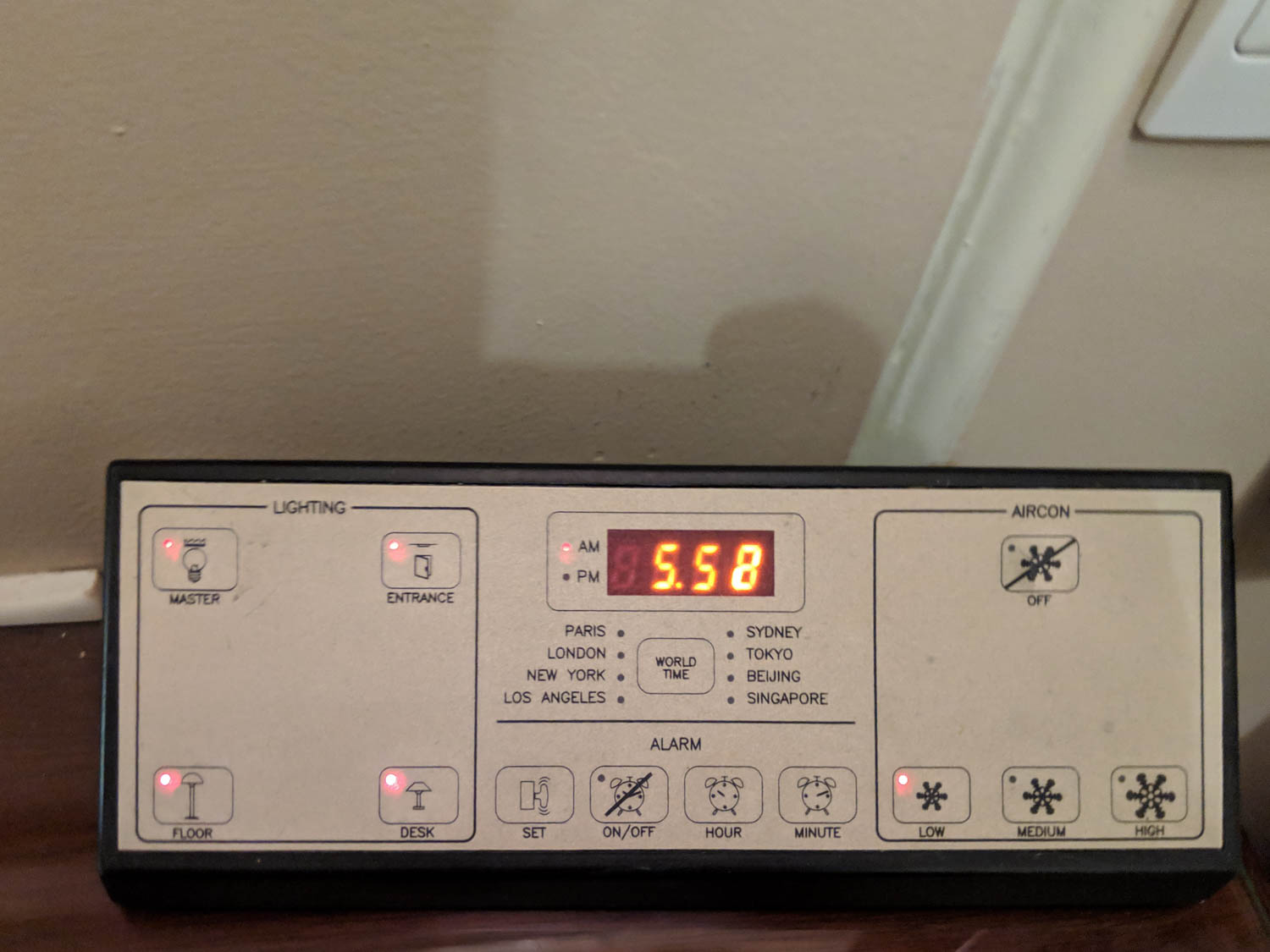 So smart! And very usable, which was a refreshing contrast to modern hotels where attempting to turn the lights off often results in a retina-searing surprise.
Both rooms had writing desks in one corner, with plenty of outlets and a small tea setup.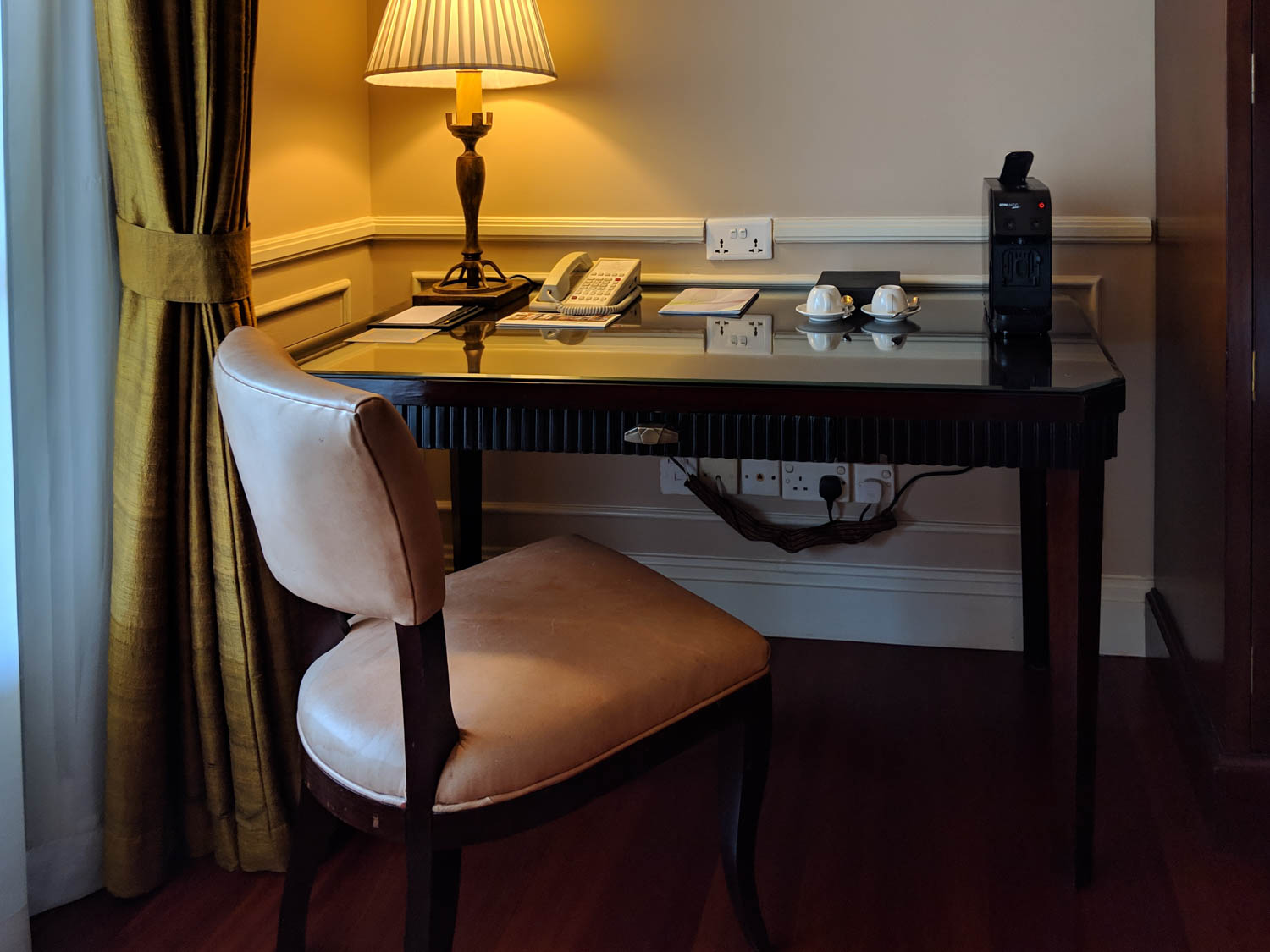 The other corner had an armchair and lamp.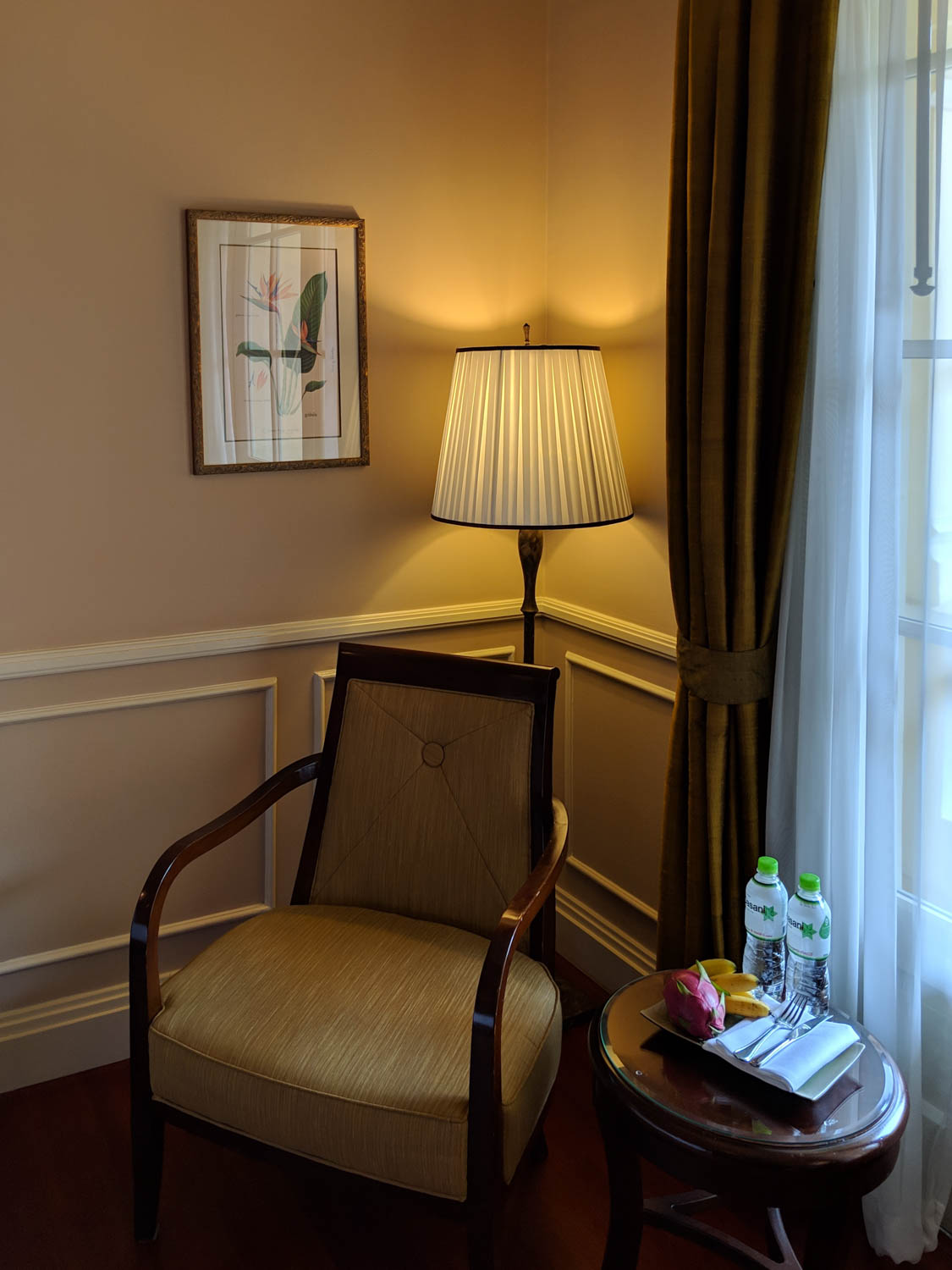 Both rooms had plates of fresh fruit and bottled water as well.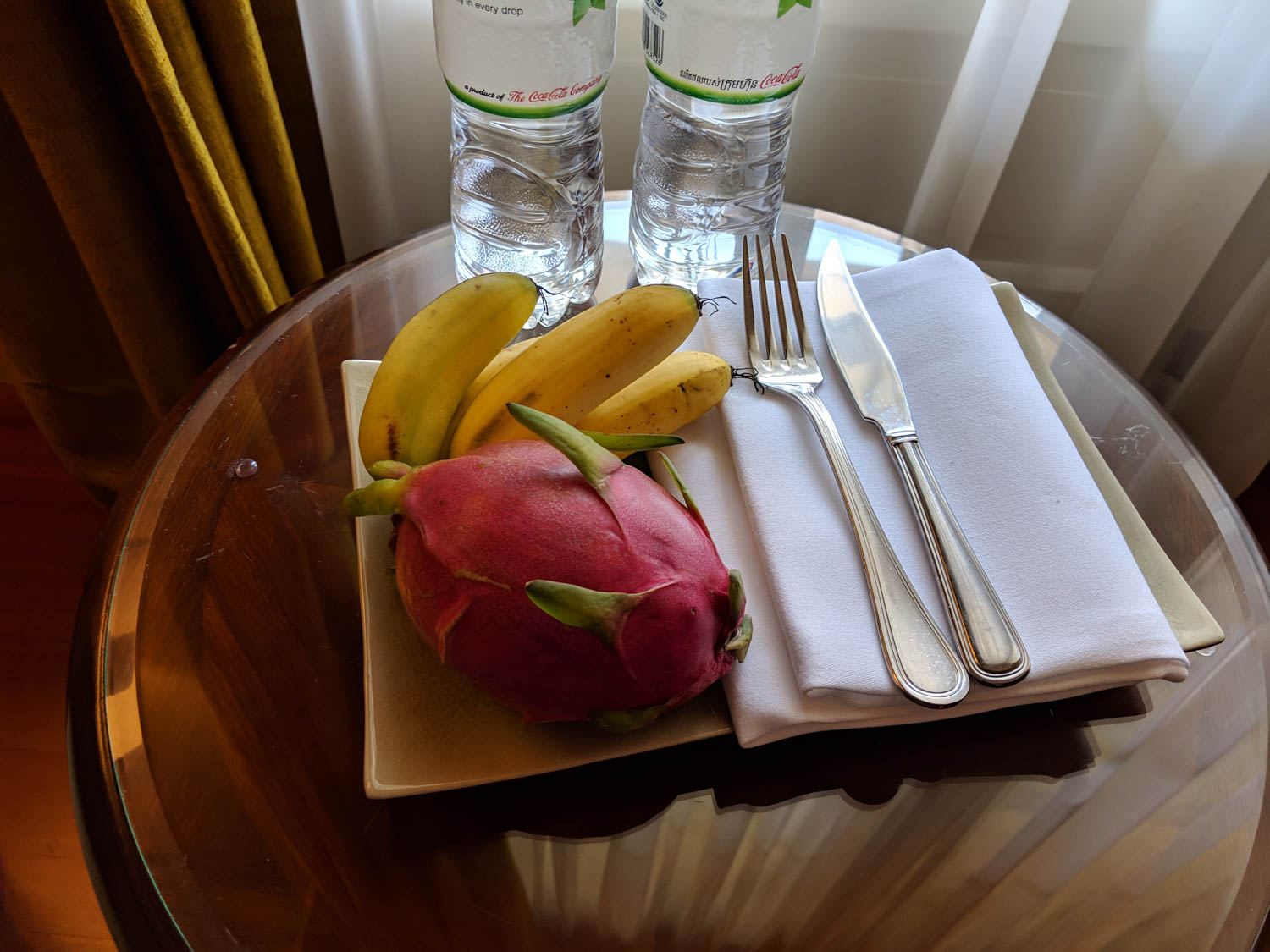 Neither room had a closet, instead the television was integrated into a wardrobe: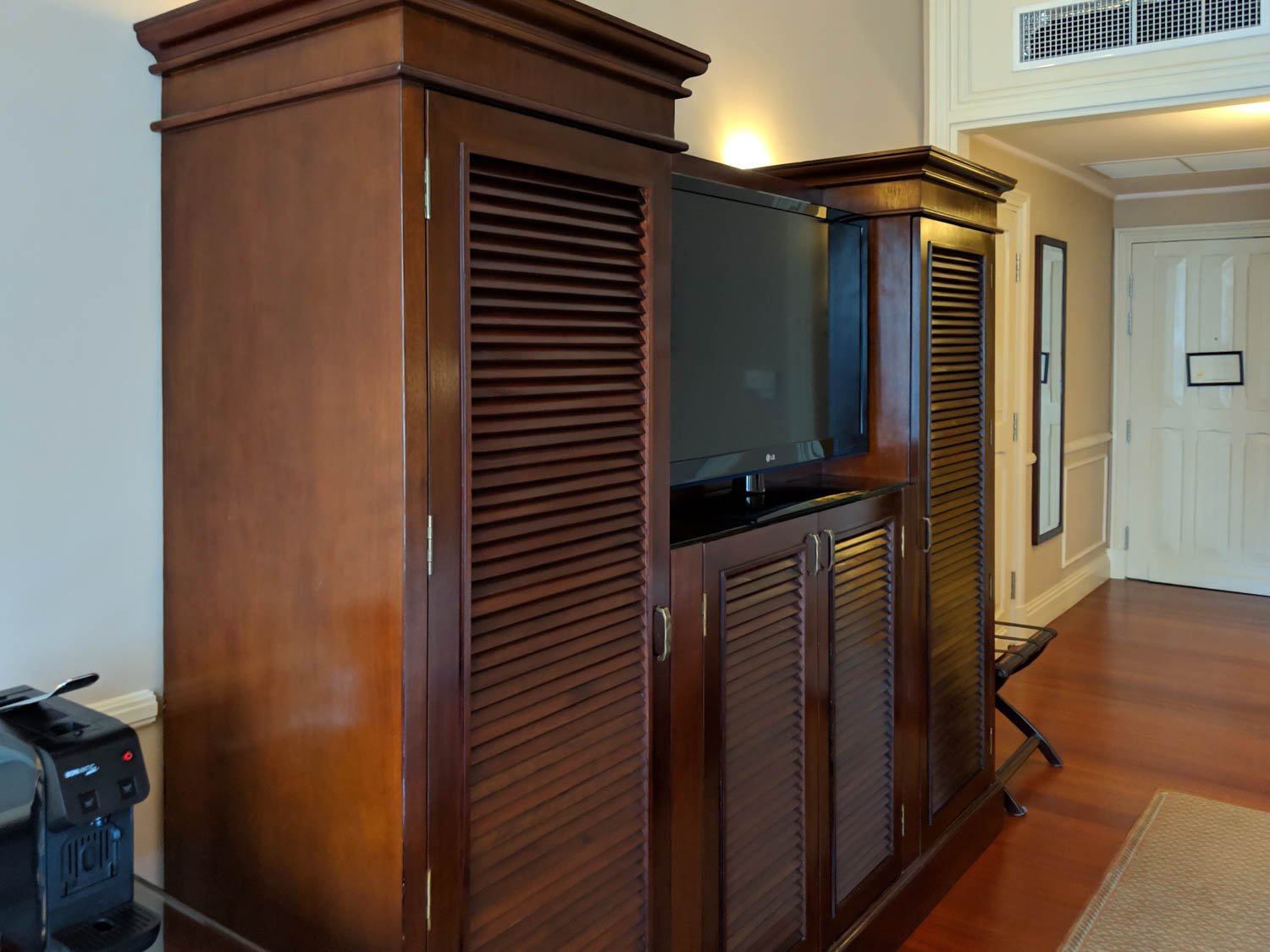 I liked the artwork on the walls, which was a mix of botanical diagrams of tropical plants, and sketches of colonial expeditions.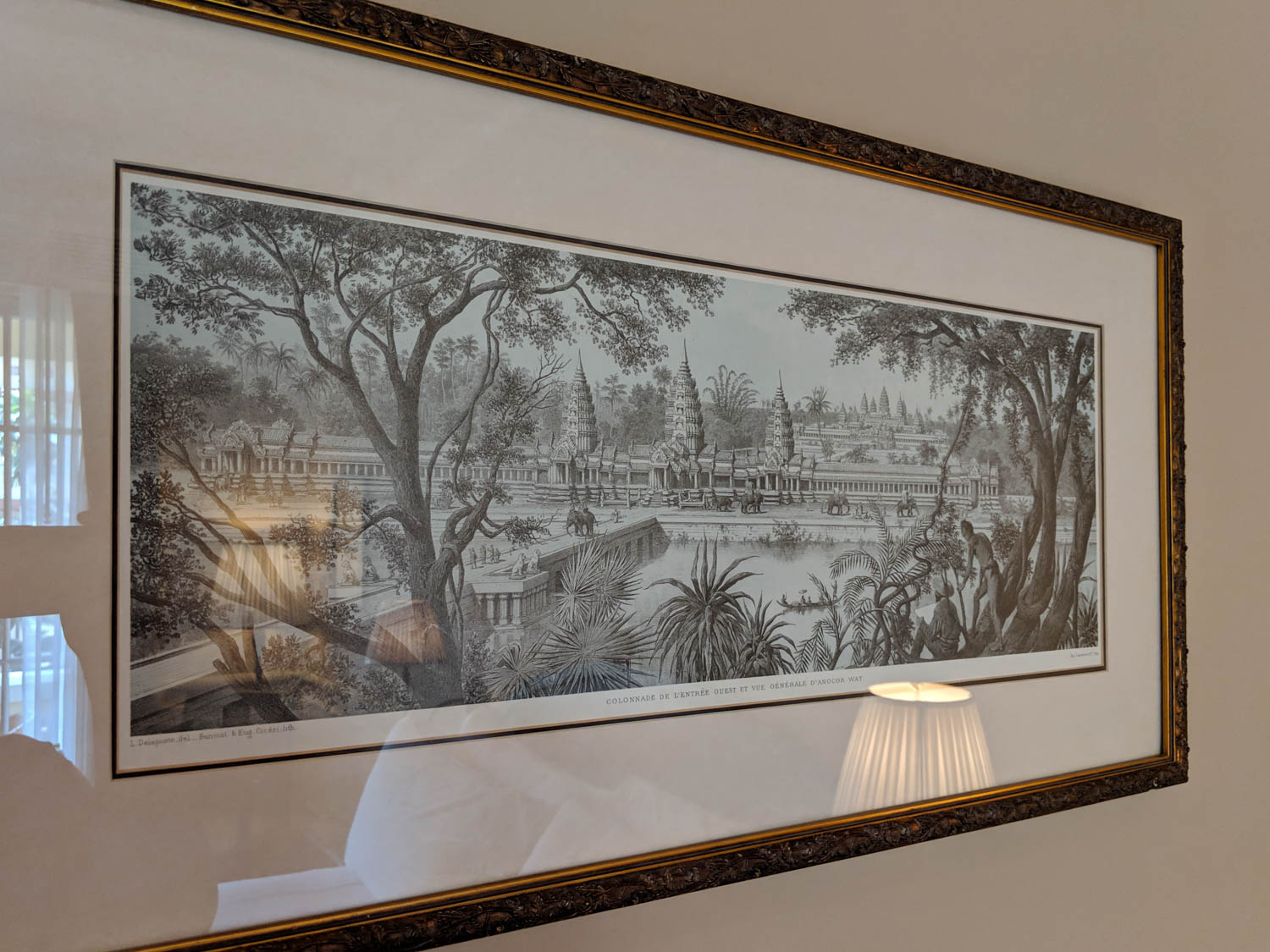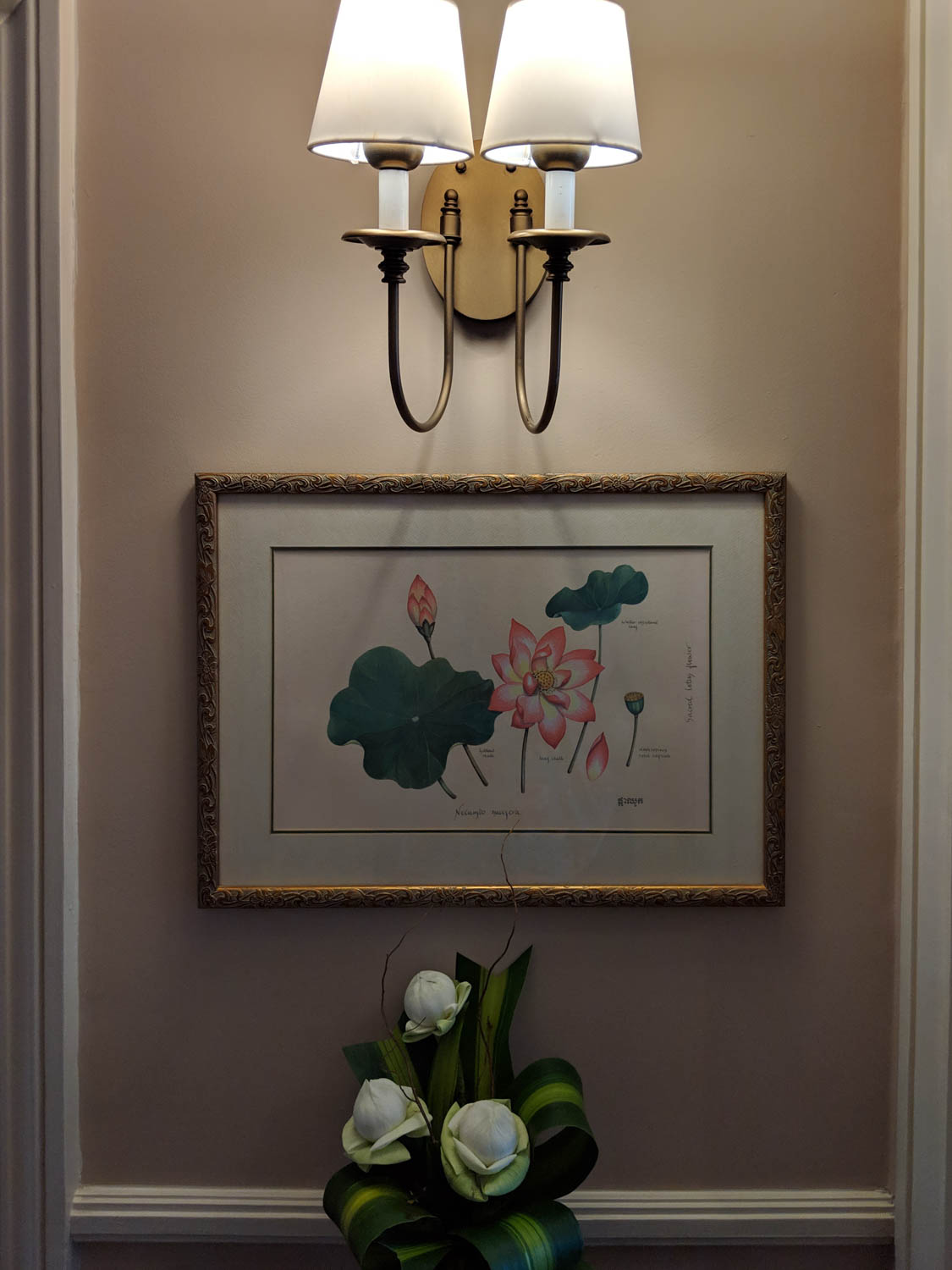 Both rooms had identical artwork, for whatever that's worth. But they did look nice.
We also had a small terrace with a bistro table and rattan chairs, and a lovely view of the pool and hotel grounds.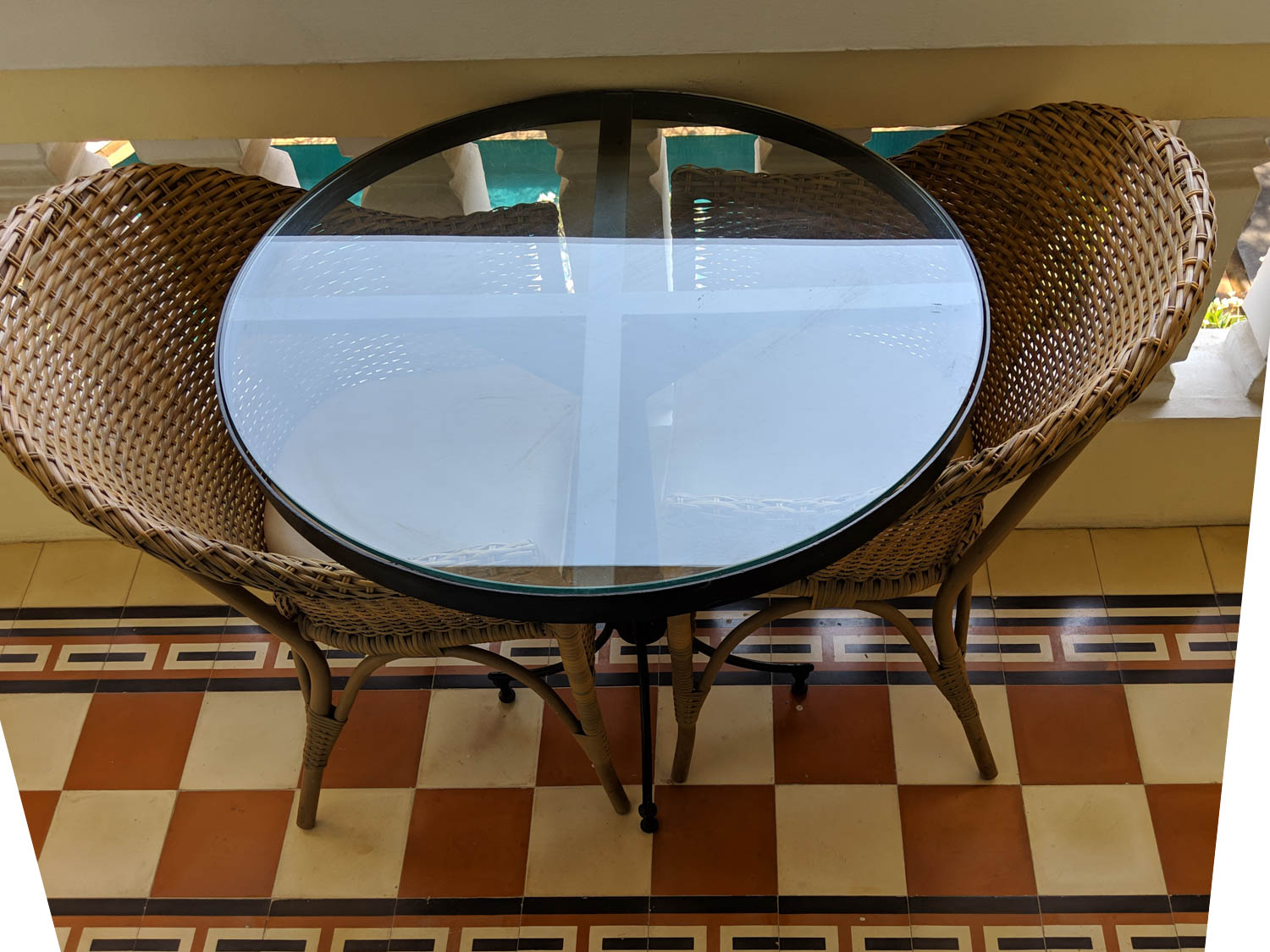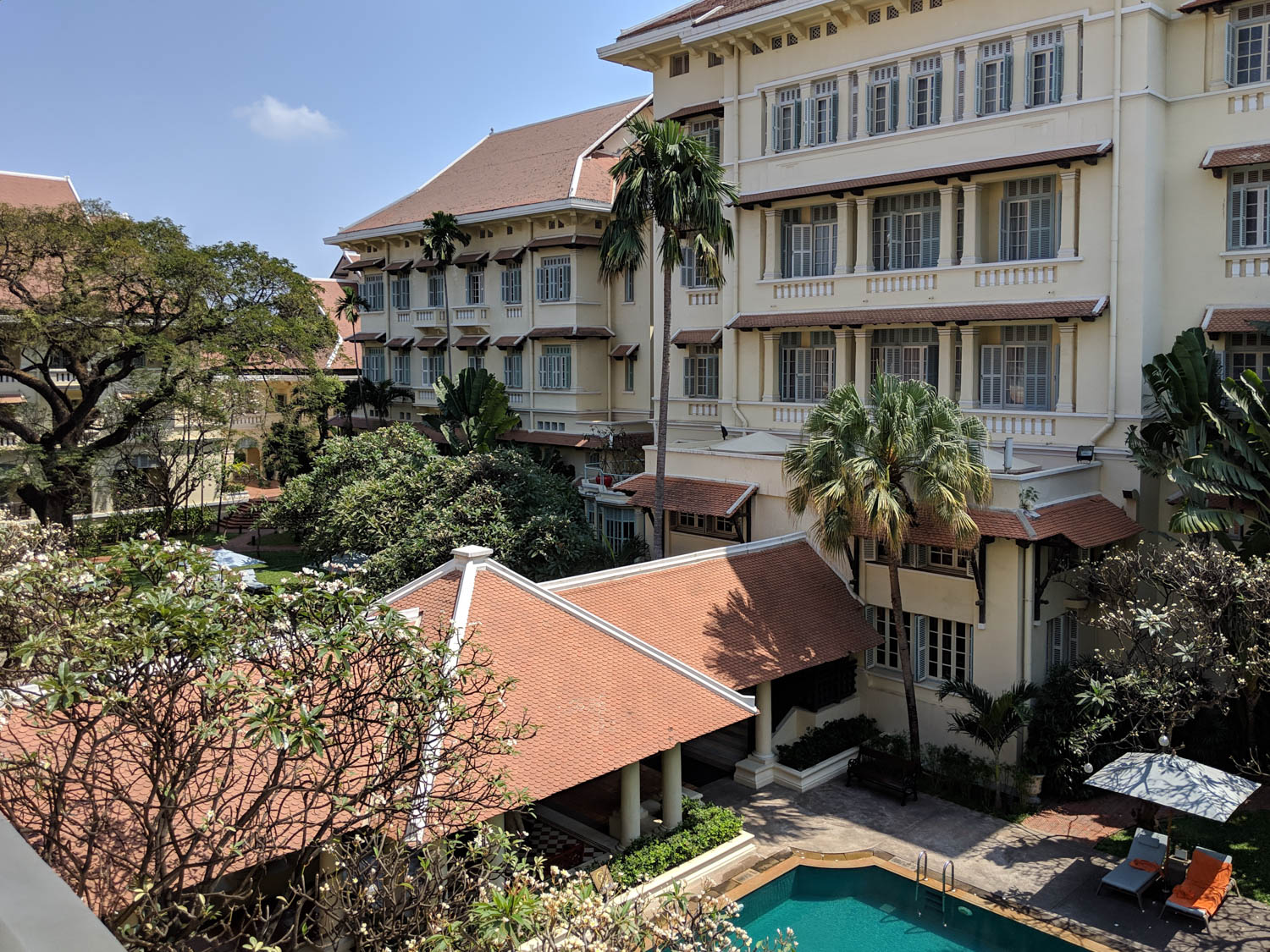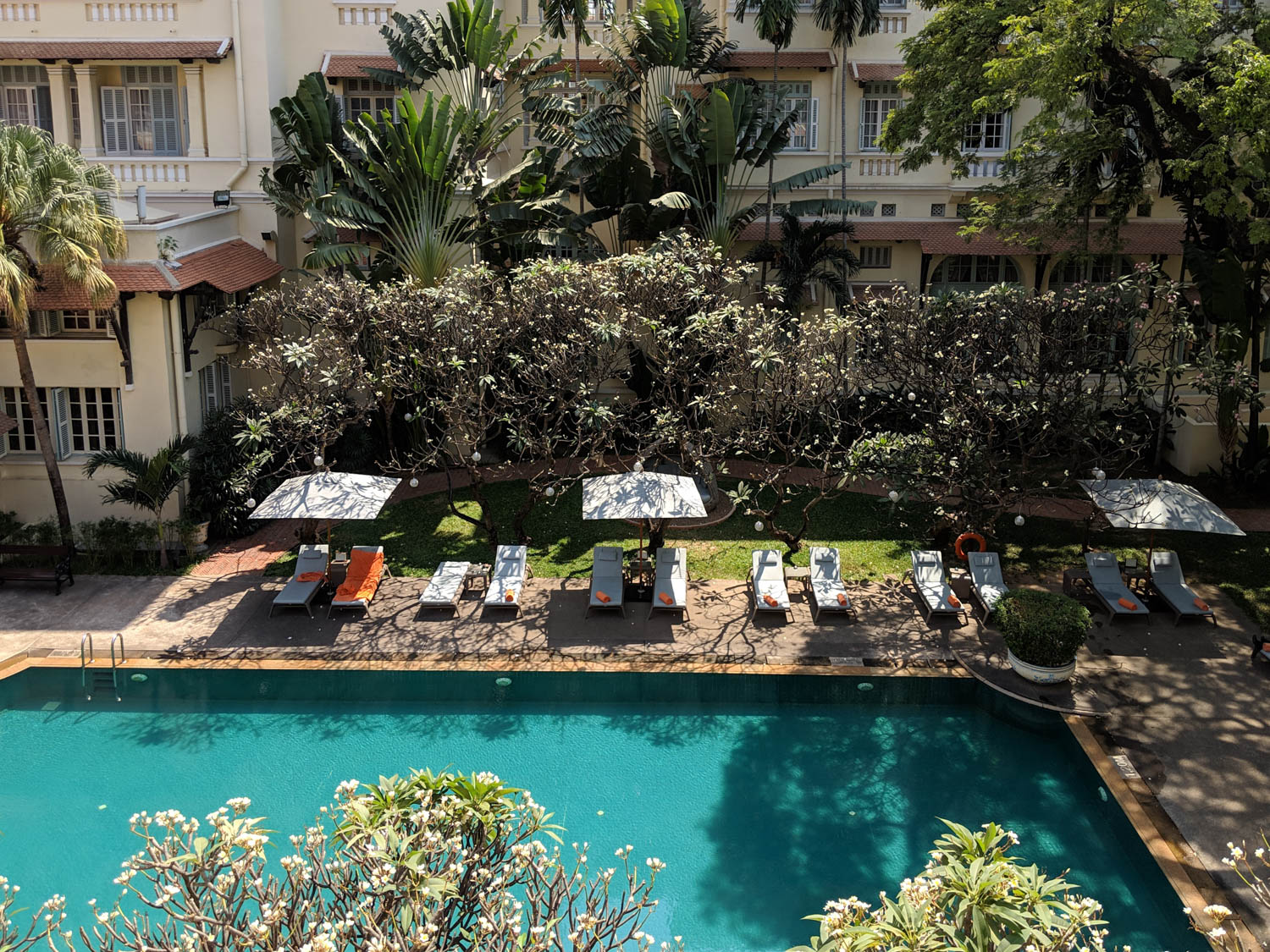 I didn't have high expectations for the bathroom (in my experience, "historic hotel" means "tiny and awkwardly updated bathroom"), and I was not disappointed.
The space was quite small, with a sink and vanity in the center: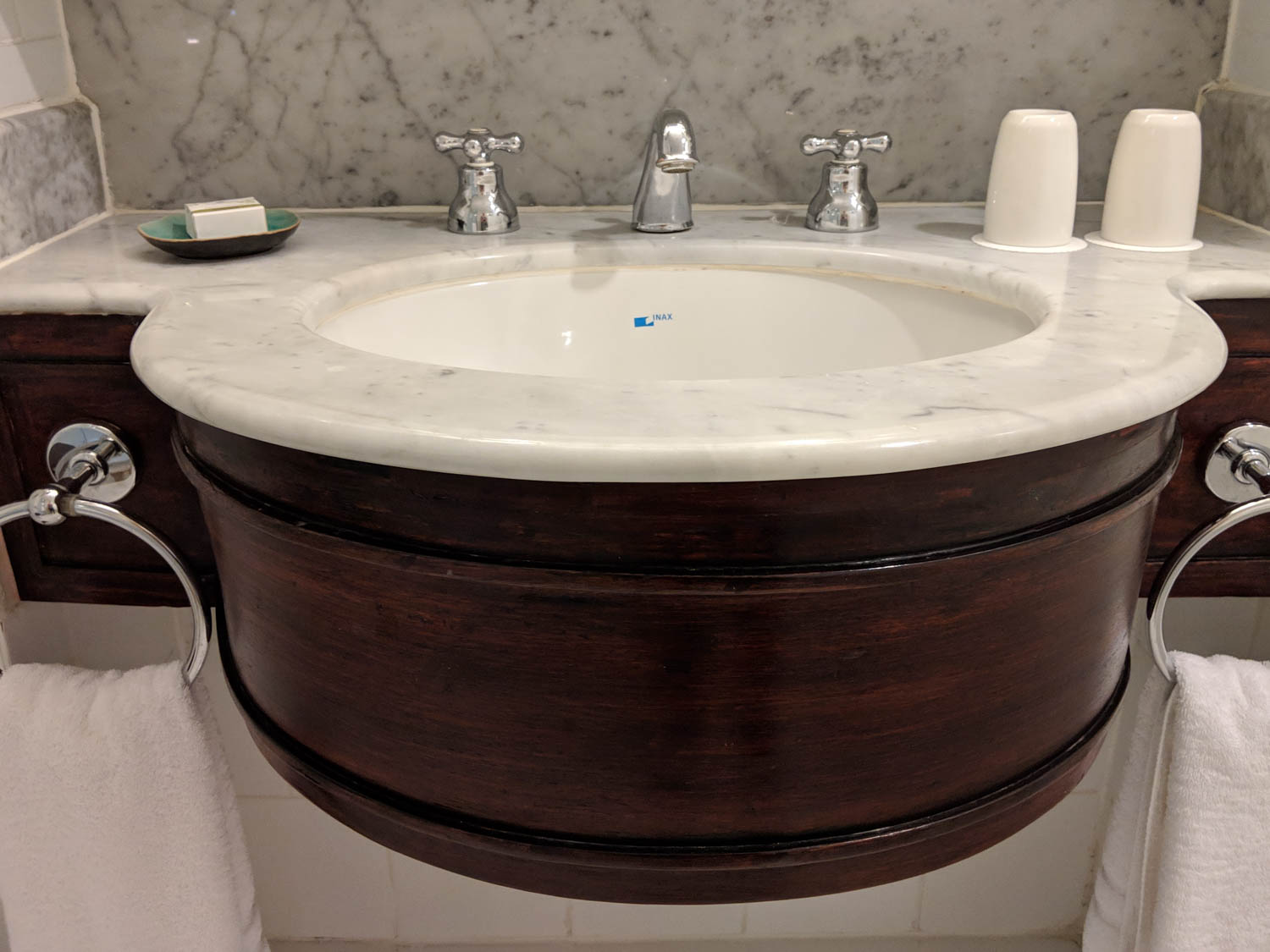 Then a toilet, and a shower wedged into the corner: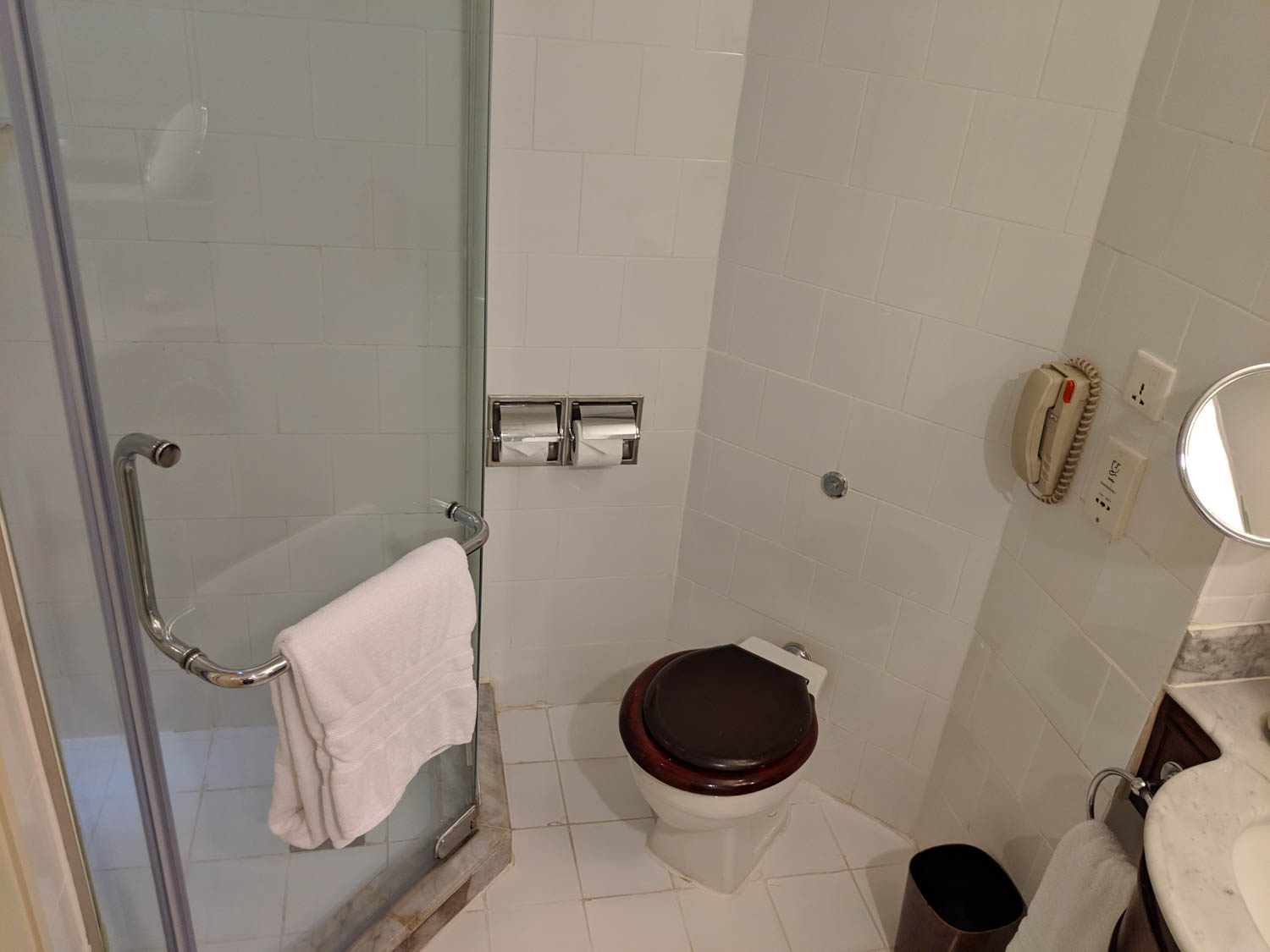 The other side of the sink had a tub, and I did like the choice of vintage-looking tile and fixtures: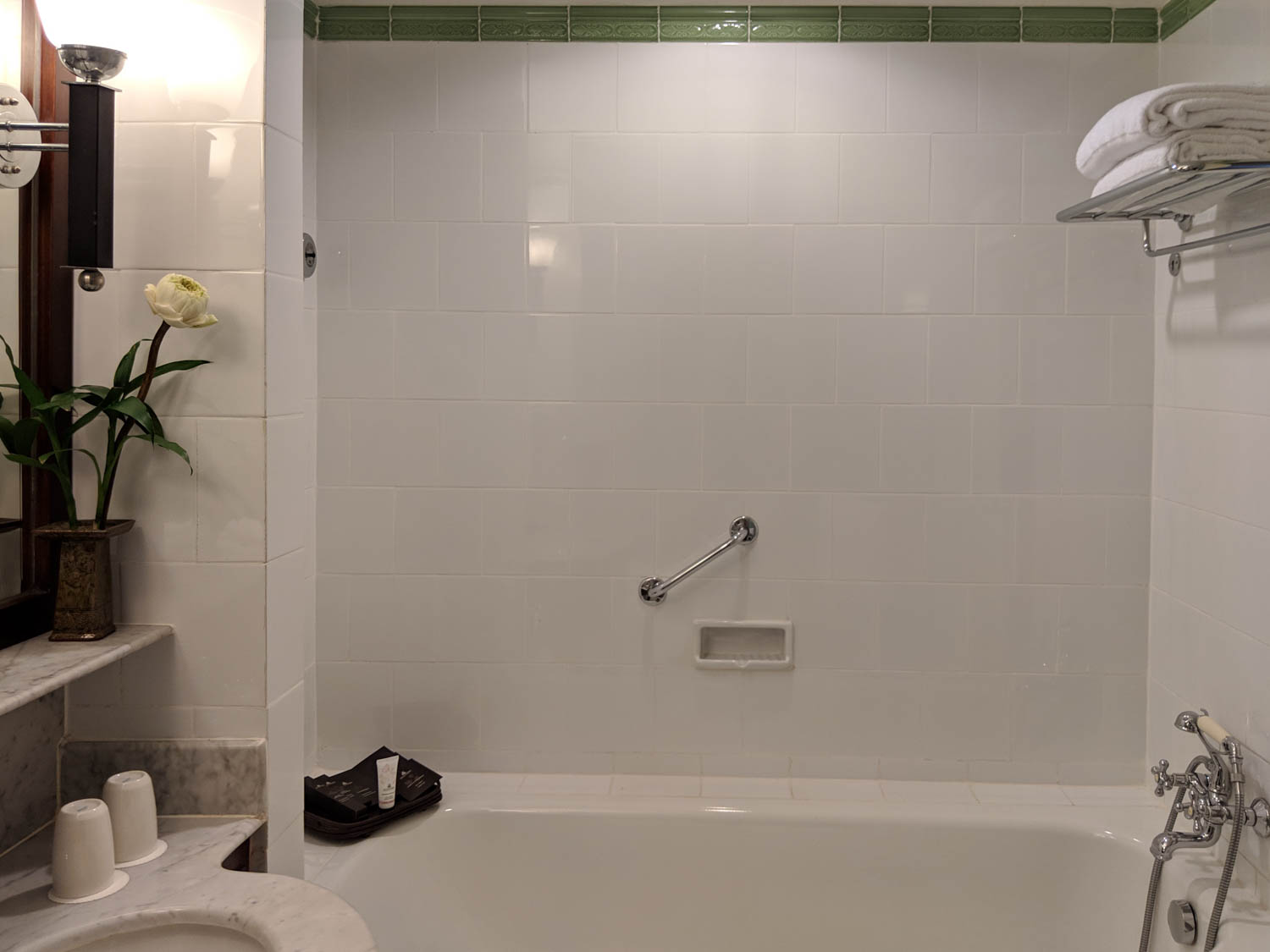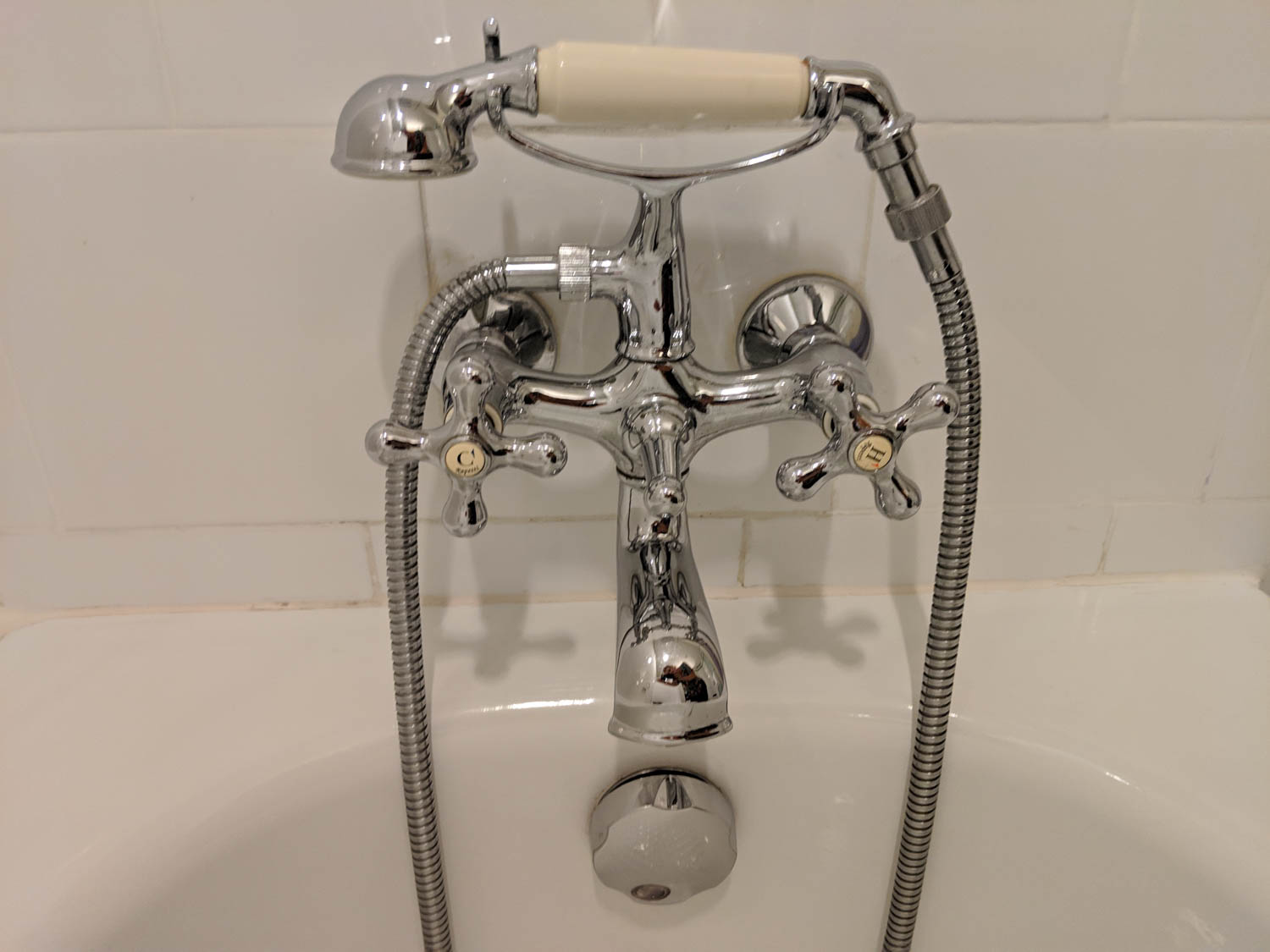 Toiletries were by the French company Algotherm, and had a pleasant scent that wasn't overpowering.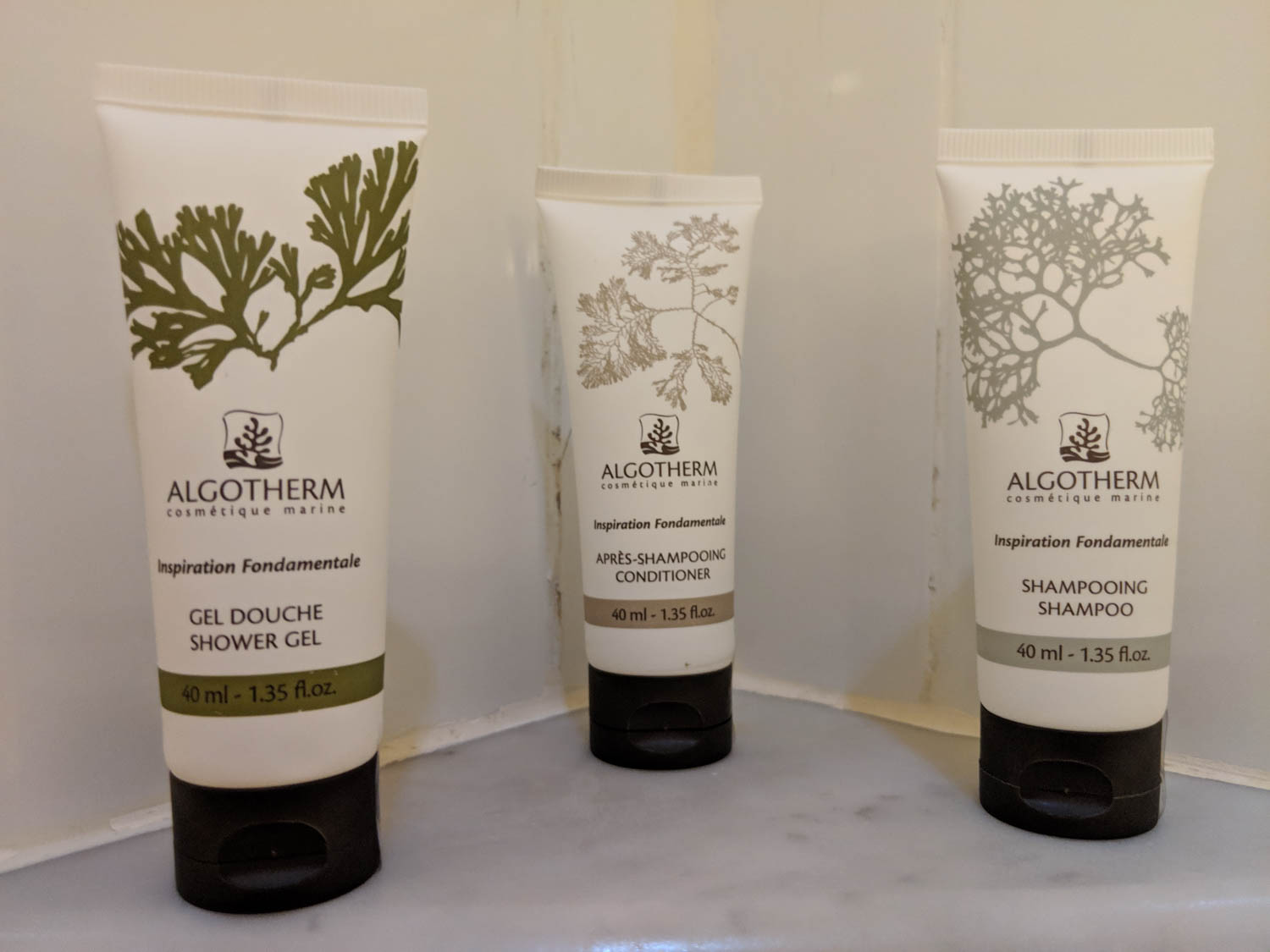 An assortment of bath amenities was provided as well: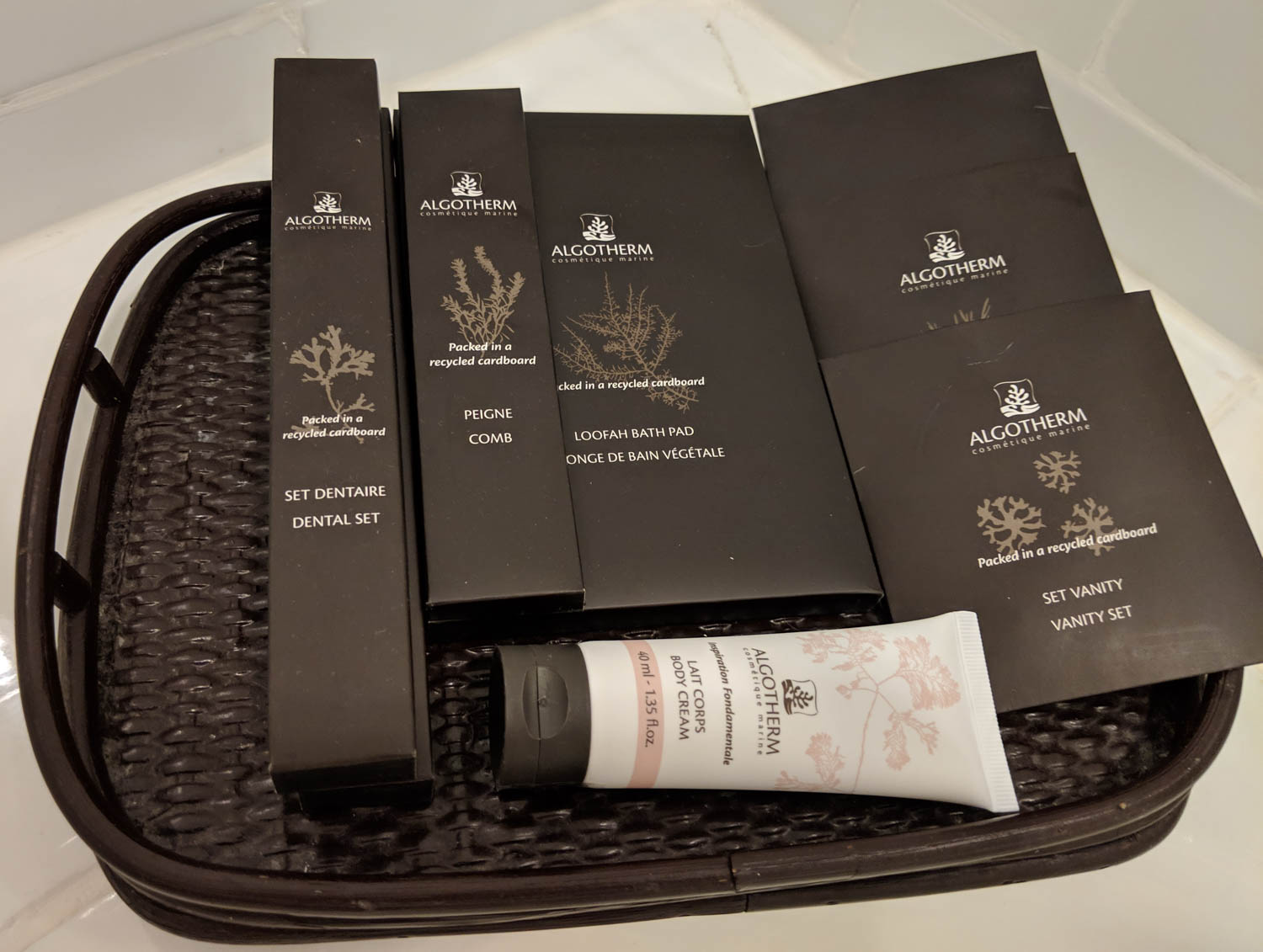 The other room was a mirror-image of the first, though with the exception of the twin beds was identical: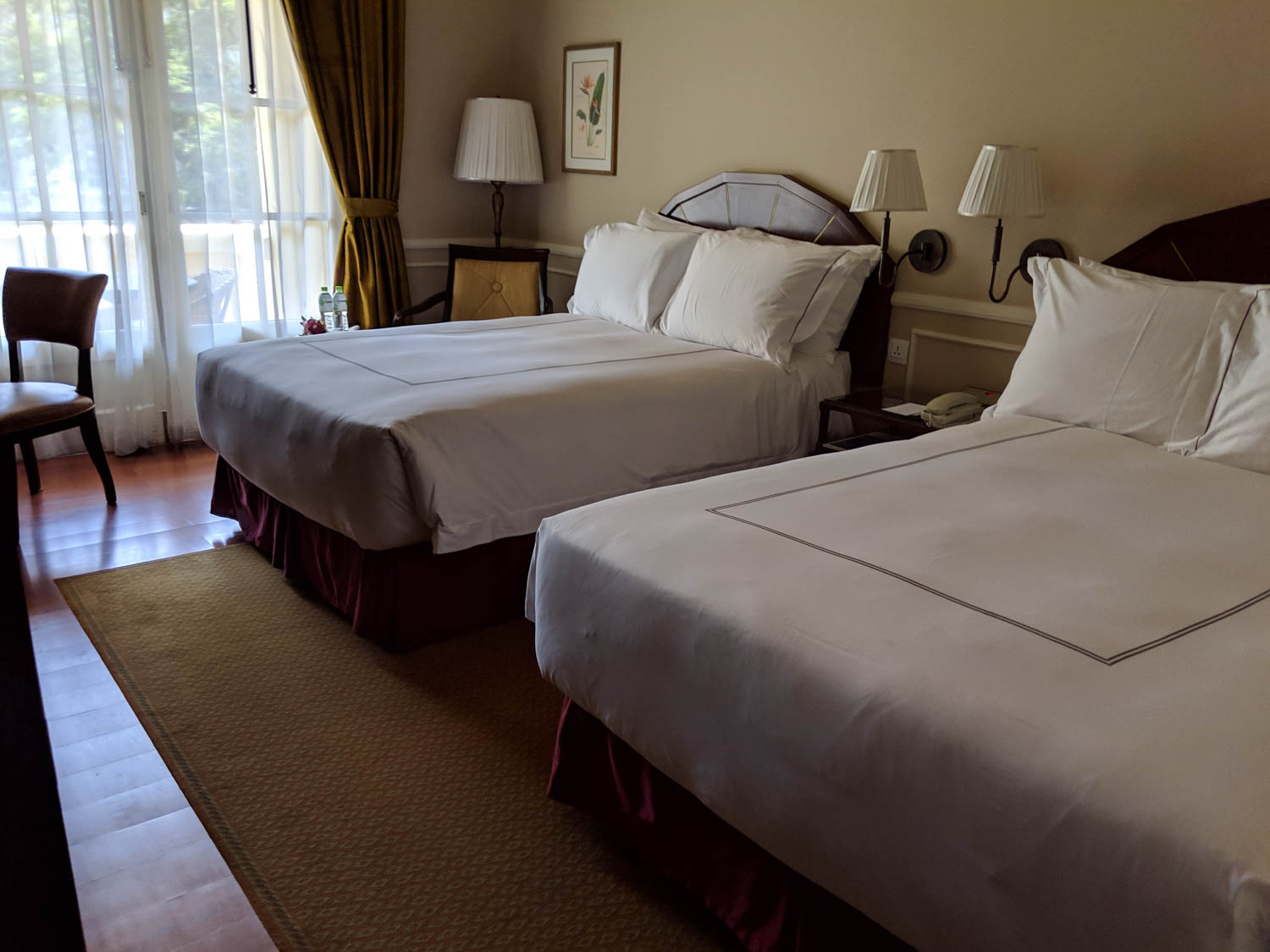 Raffles Hotel Le Royal spa
We didn't linger at the hotel upon arrival, as we had things we wanted to see in Phnom Penh, but returned in the late afternoon to visit the spa. This isn't something I'd typically squeeze in on a short trip (especially when you can have amazing massages for just a few dollars elsewhere in the city), but in this case two 50-minute massages per room were included as the Virtuoso amenity.
The spa and fitness center were to the west of the main building, in what felt like an addition (though may not have been), and the outdoor spaces were still appropriately-styled.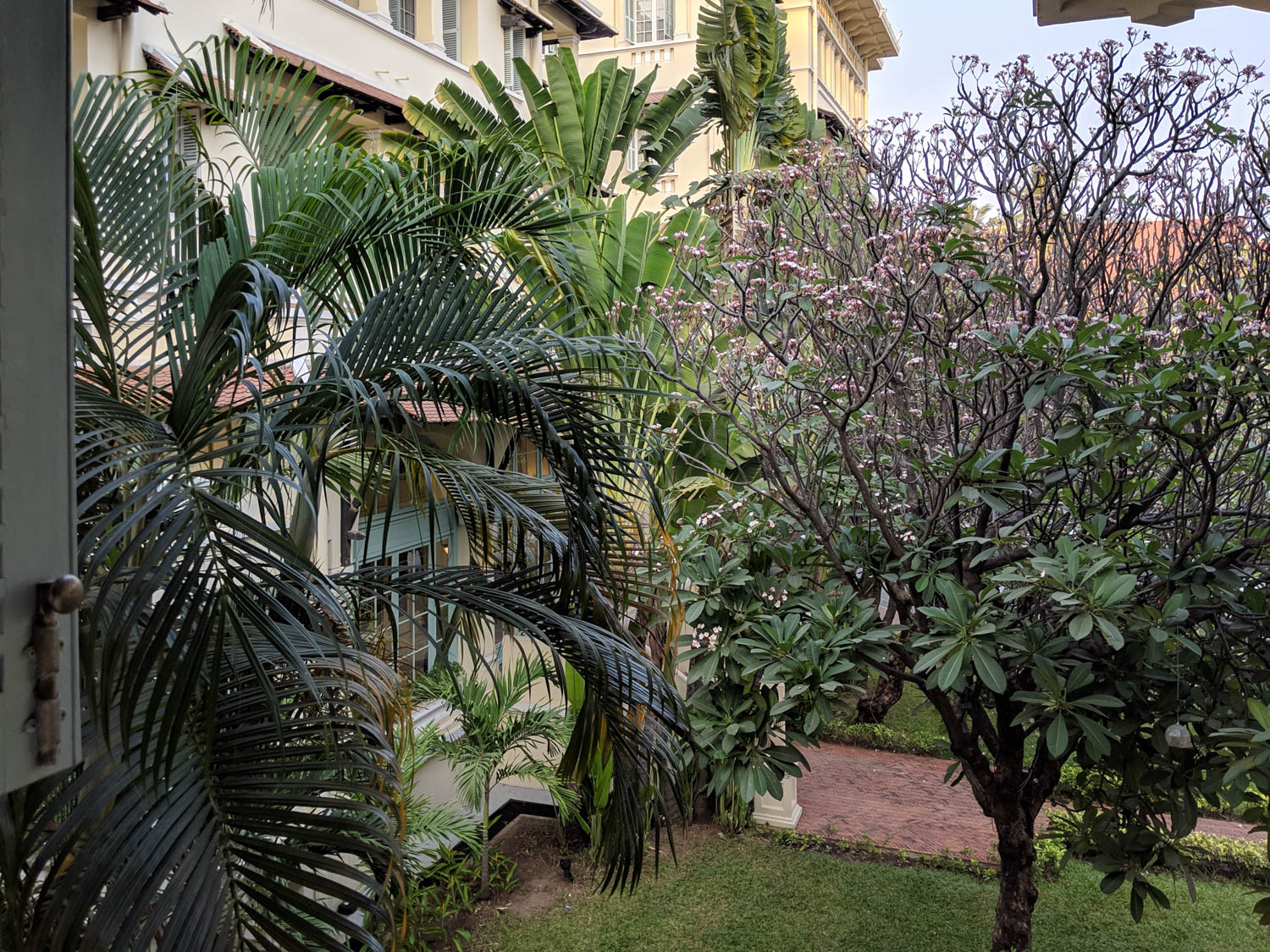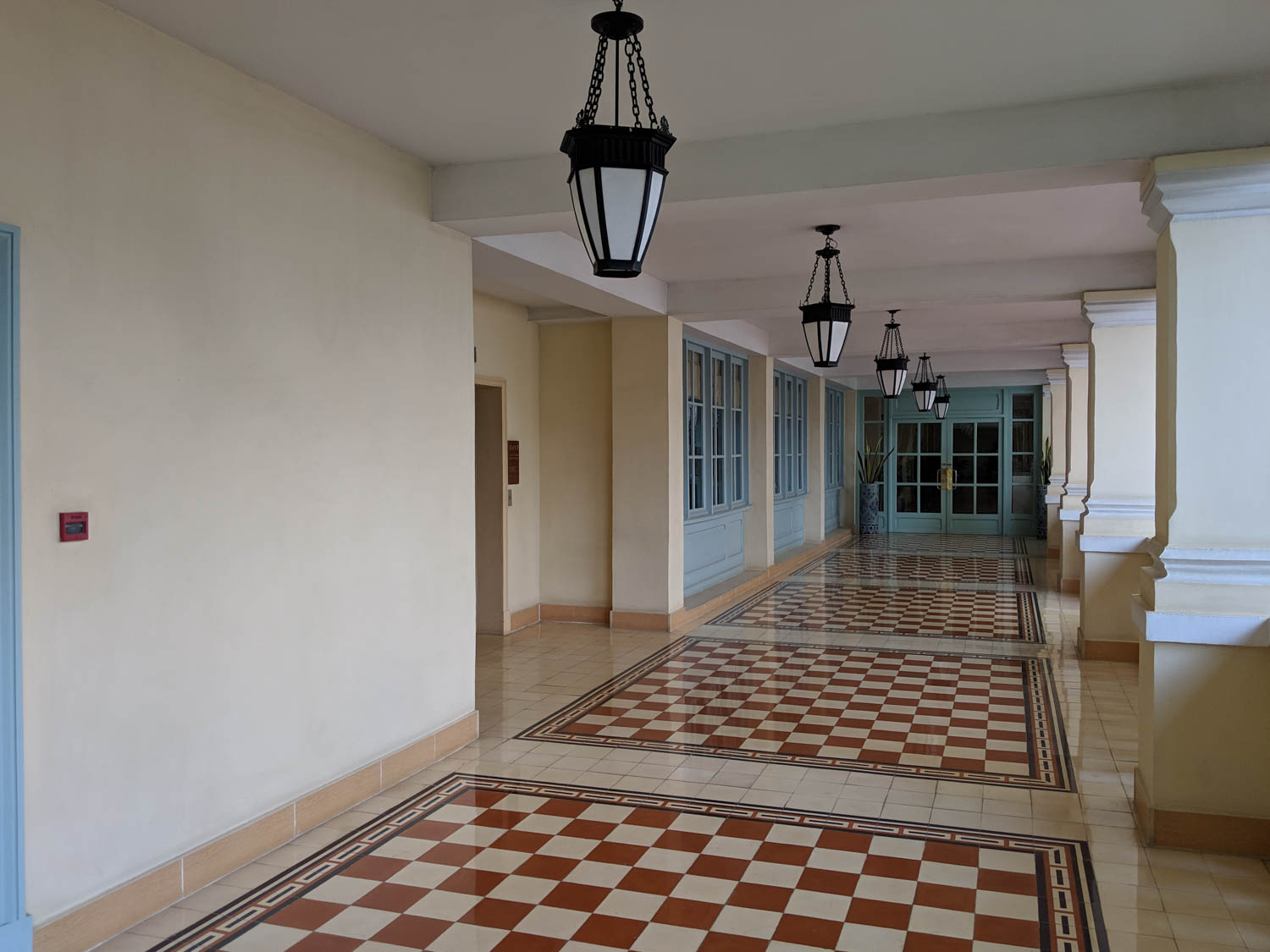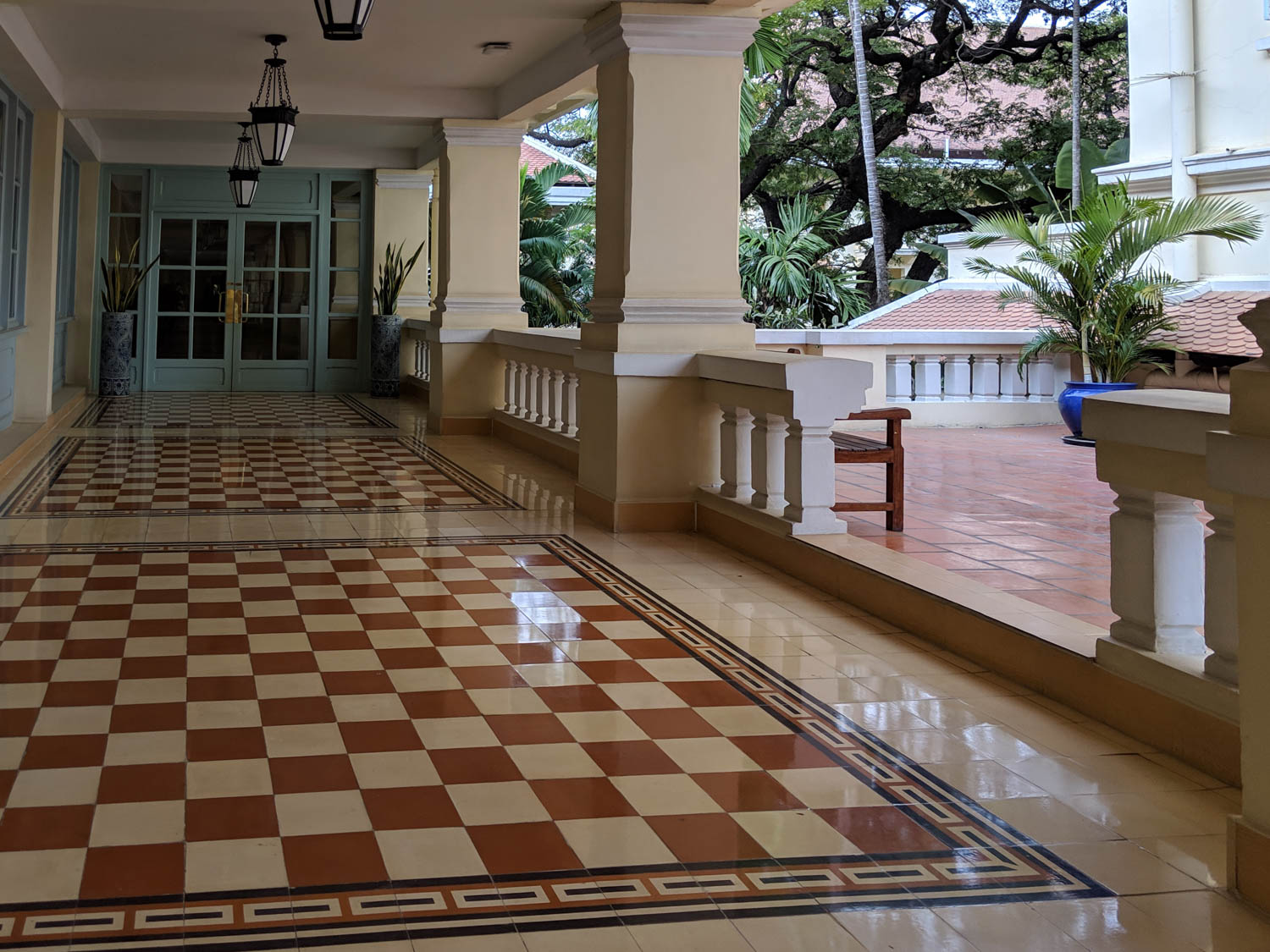 I did love these sweet rocking chairs set on the terrace in front of the spa: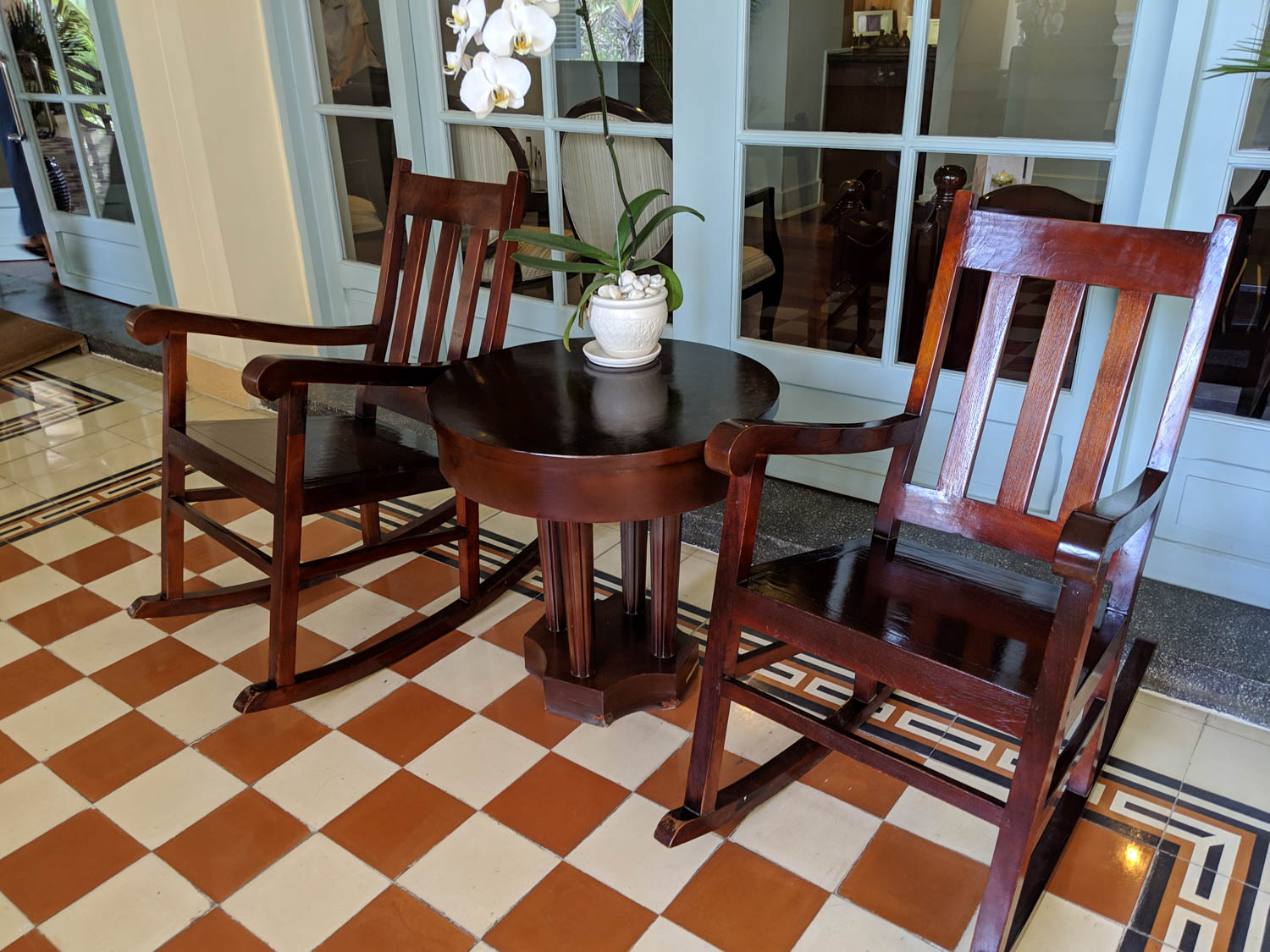 The spa itself felt very…well, it felt bland and generic. Like someone was doing a remodel in 1997, and at the last minute was told that they needed to carve out space for a spa and fitness center, perhaps.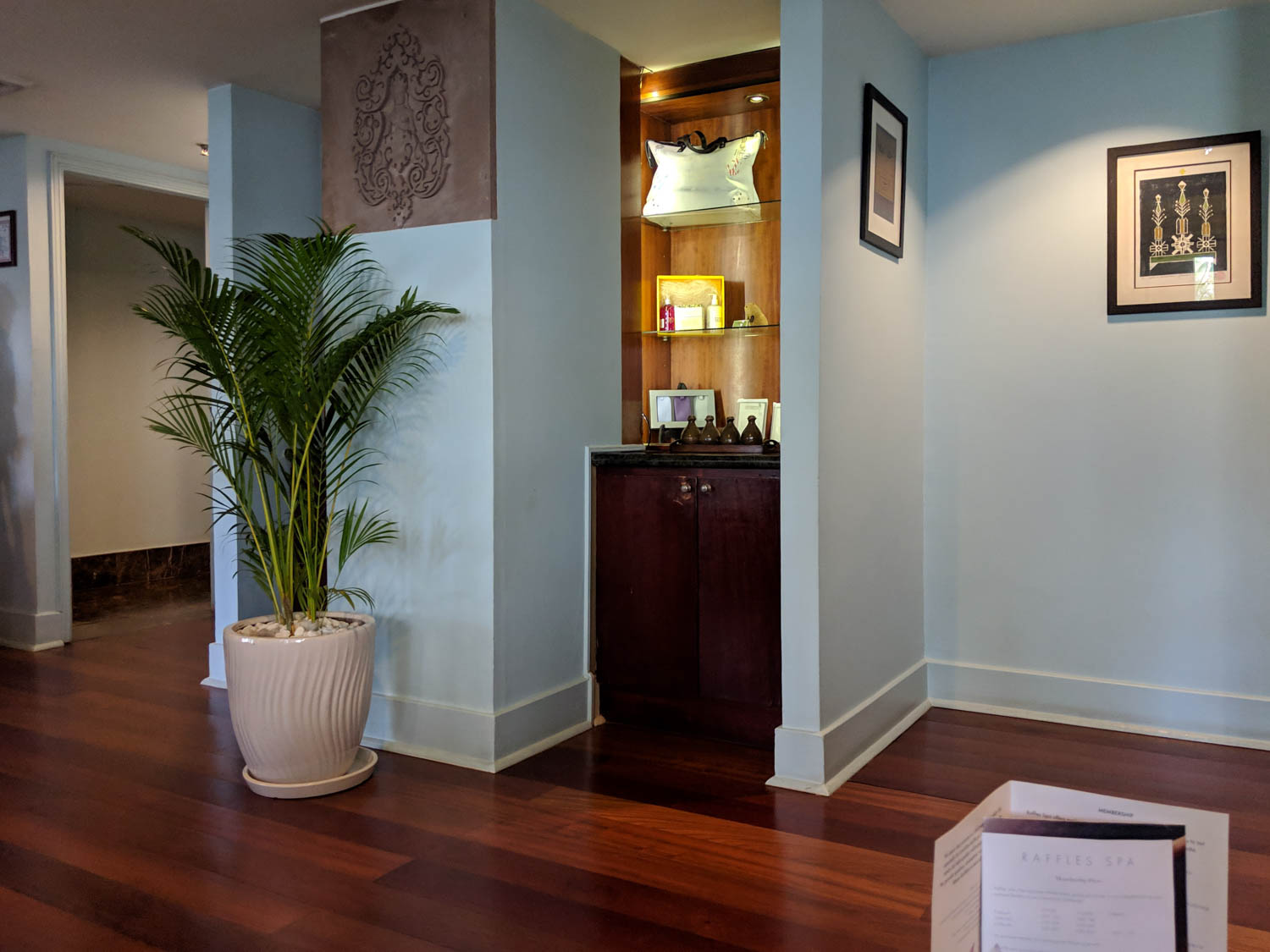 We were brought cold towels and tea at both the beginning and end of our massage treatments, and the therapists were great, but there wasn't anything notable about the experience otherwise. The locker room was cramped, there wasn't a posh relaxation area or anything, and the treatment rooms felt like a vaccination clinic.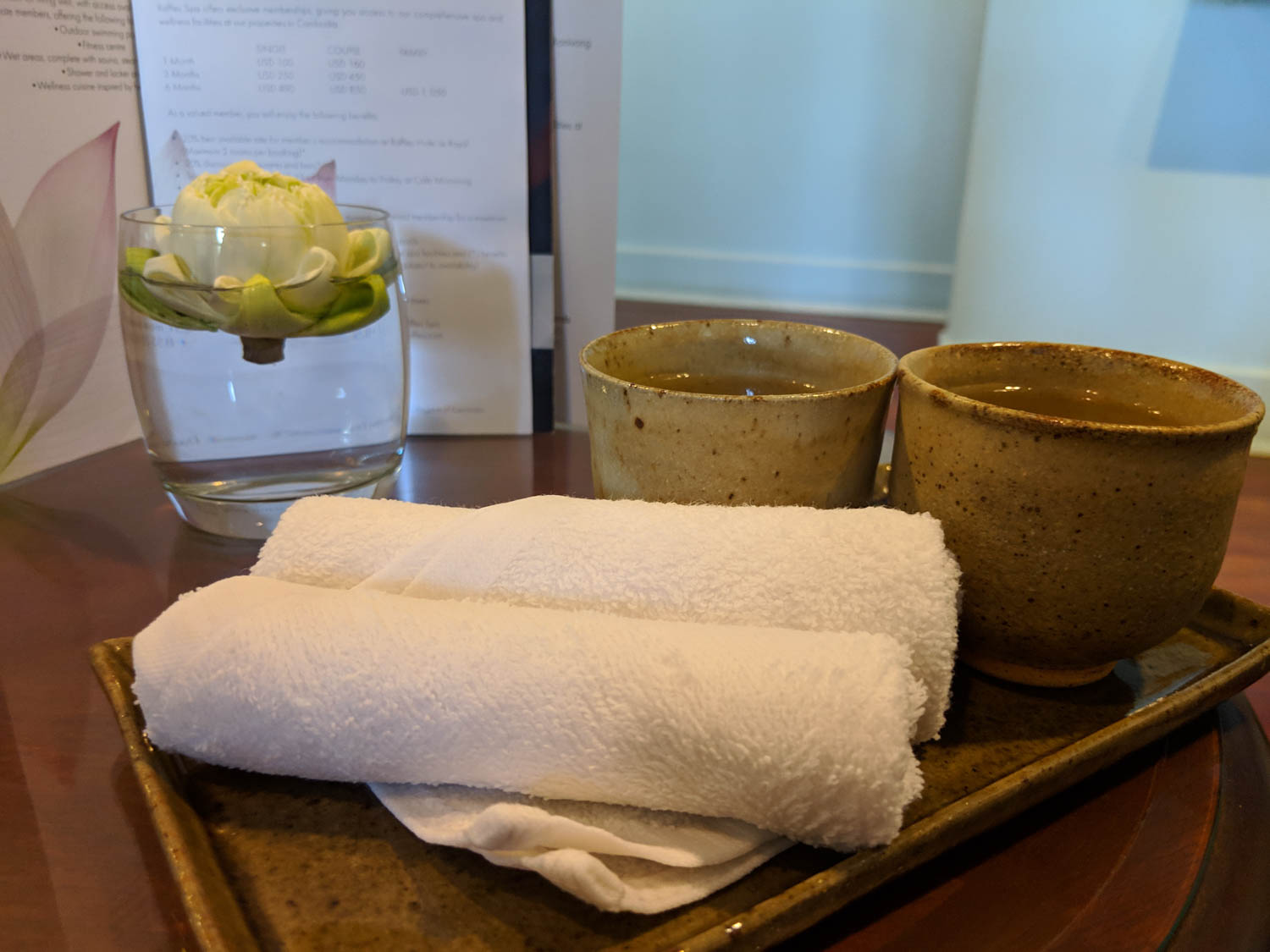 So if it's included in your rate, obviously take advantage, but otherwise I'm not sure I'd seek out the spa here. The massages themselves were great, but the experience wasn't special or luxurious enough to justify the price point otherwise.
The Elephant Bar (sorta)
The bar at the Hotel Le Royal is famous, so we stopped in after our amazing food tour to have a nightcap.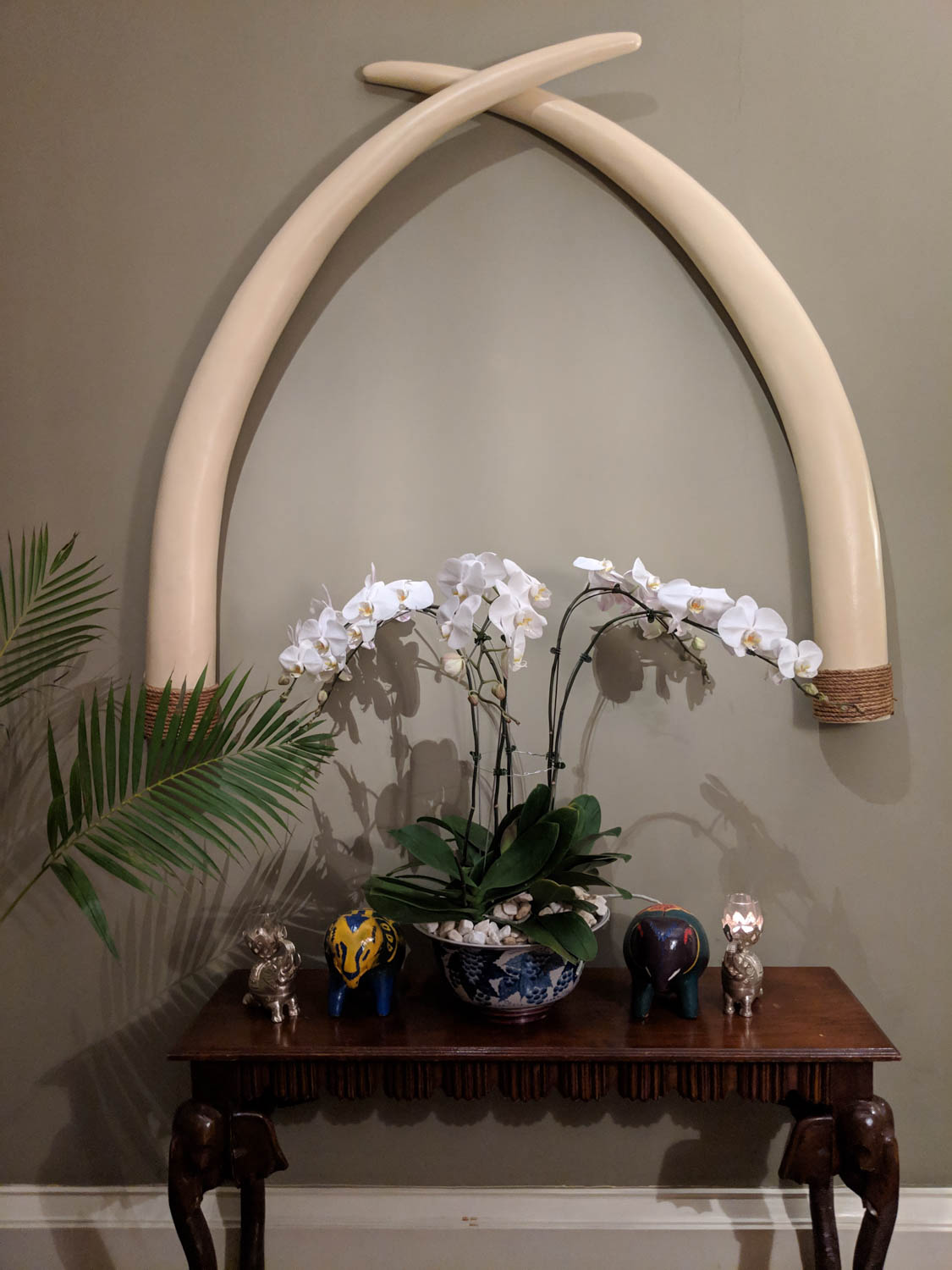 Unfortunately, the bar was insanely crowded. Like to the point where I didn't feel like I could take pictures that weren't of someone's ear canal.
I did take a photo of this very helpful page of the cocktail menu though: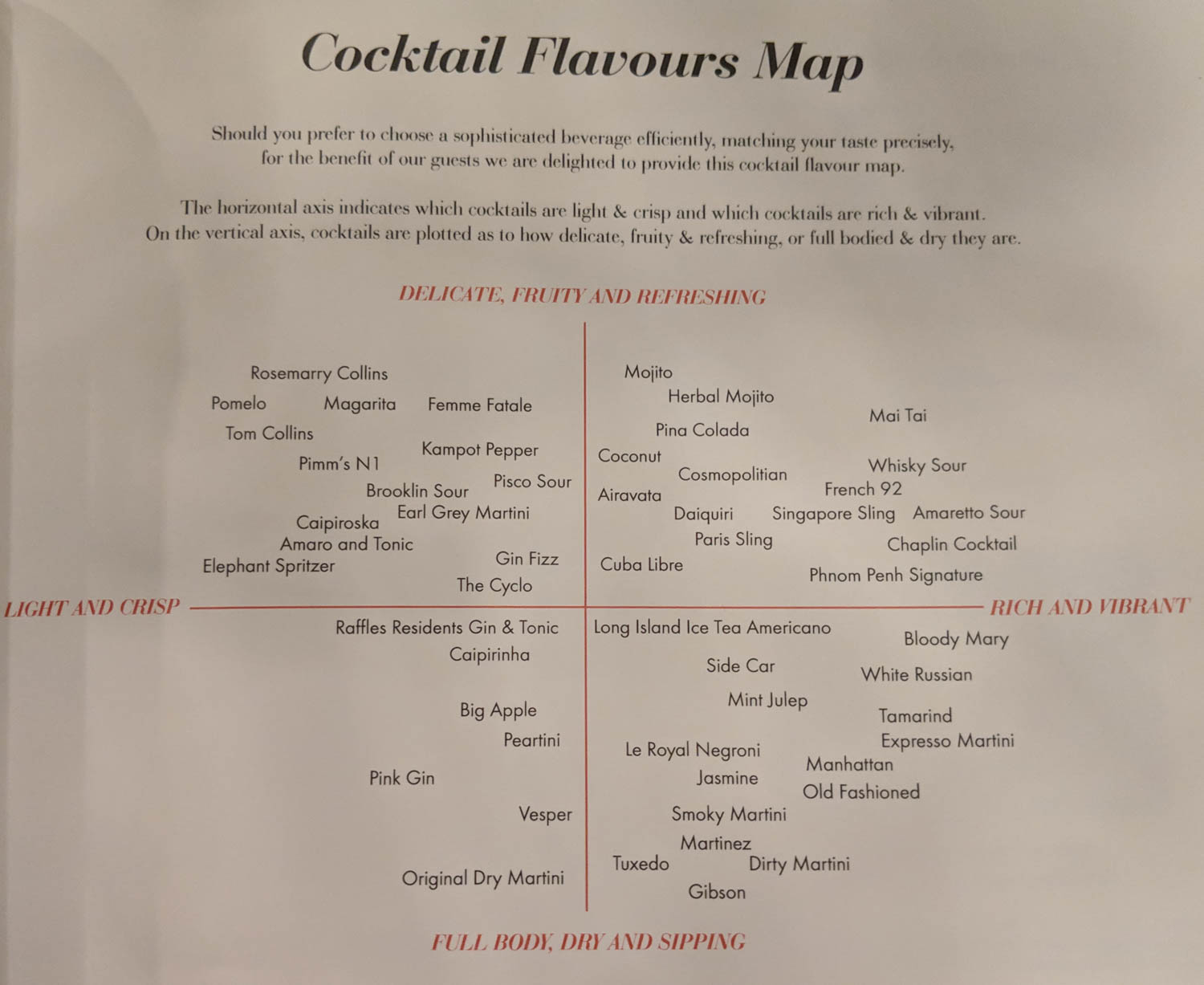 We ended up not staying for drinks, because it was just so crowded (and there was a live band that could have turned their amp down 80% and still been deafening), but if you're interested in a portion of the "famous" gin menu, it's as follows: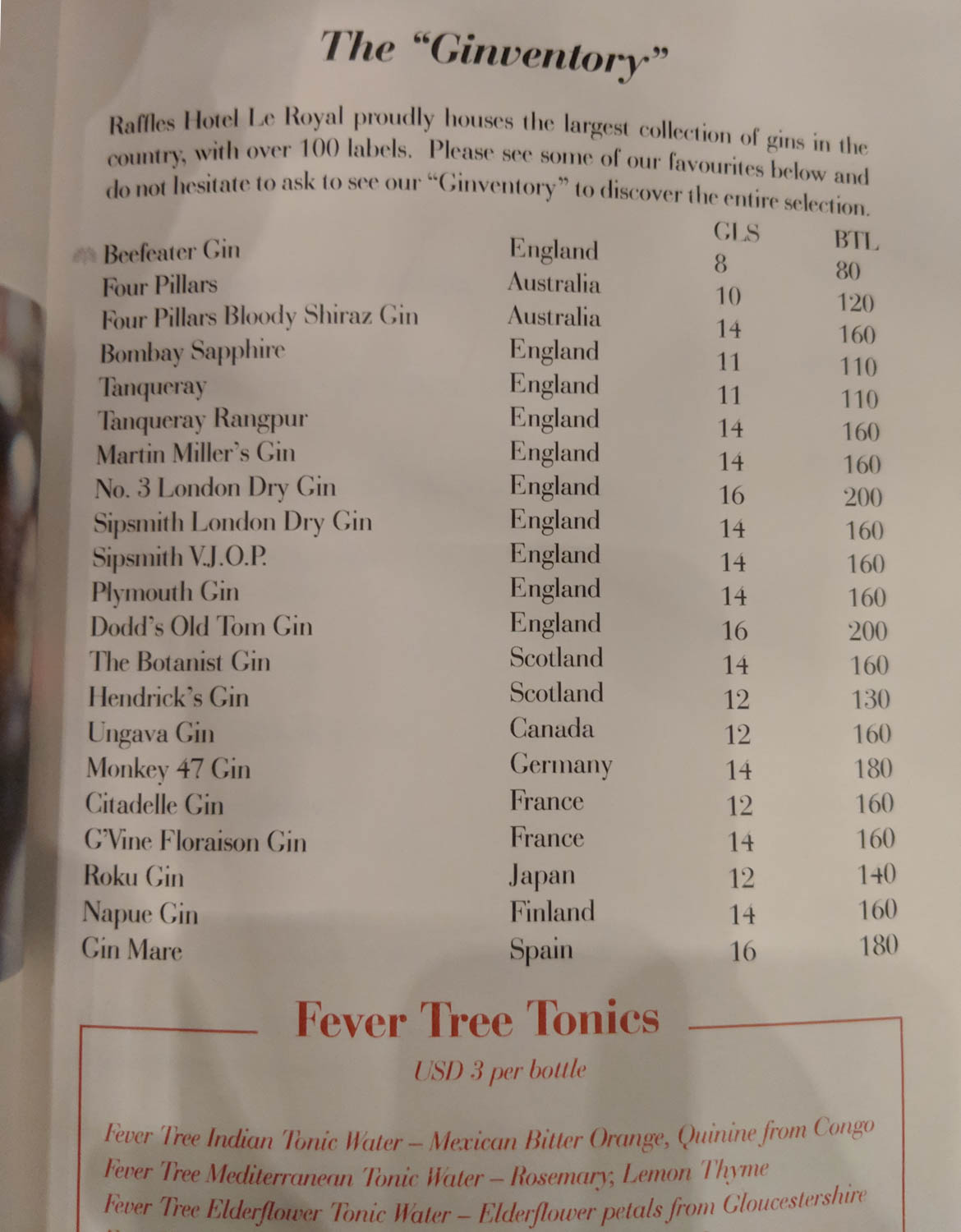 Yes, those prices are in USD, and don't include tonic, tax, or the service charge, so you're really getting the full Mayfair experience in Cambodia.
Hotel Le Royal Breakfast
Breakfast was served on the main level, down a few corridors from the lobby, and essentially underneath the spa.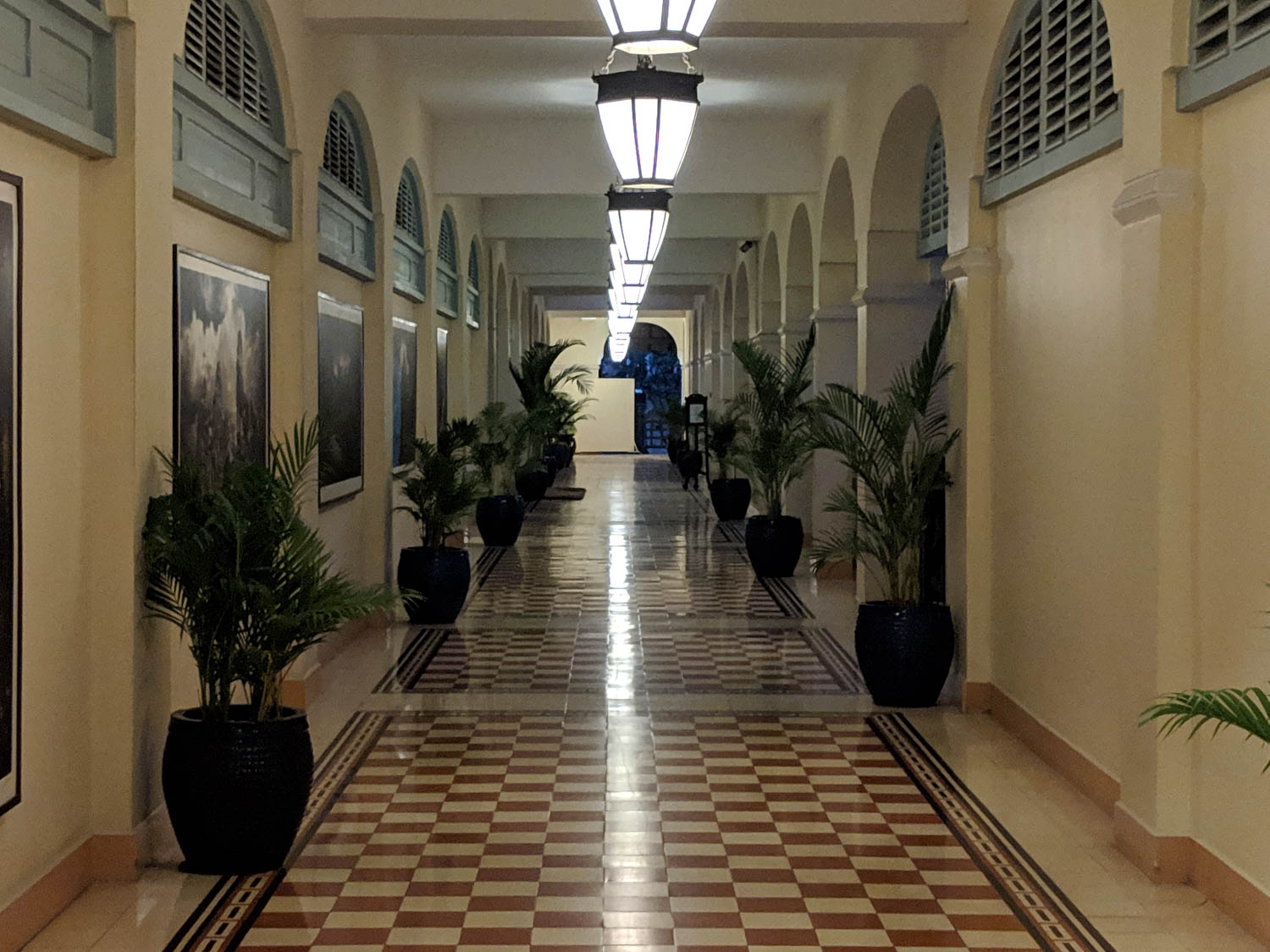 There were a few tables set on the verandah, and then plenty more inside.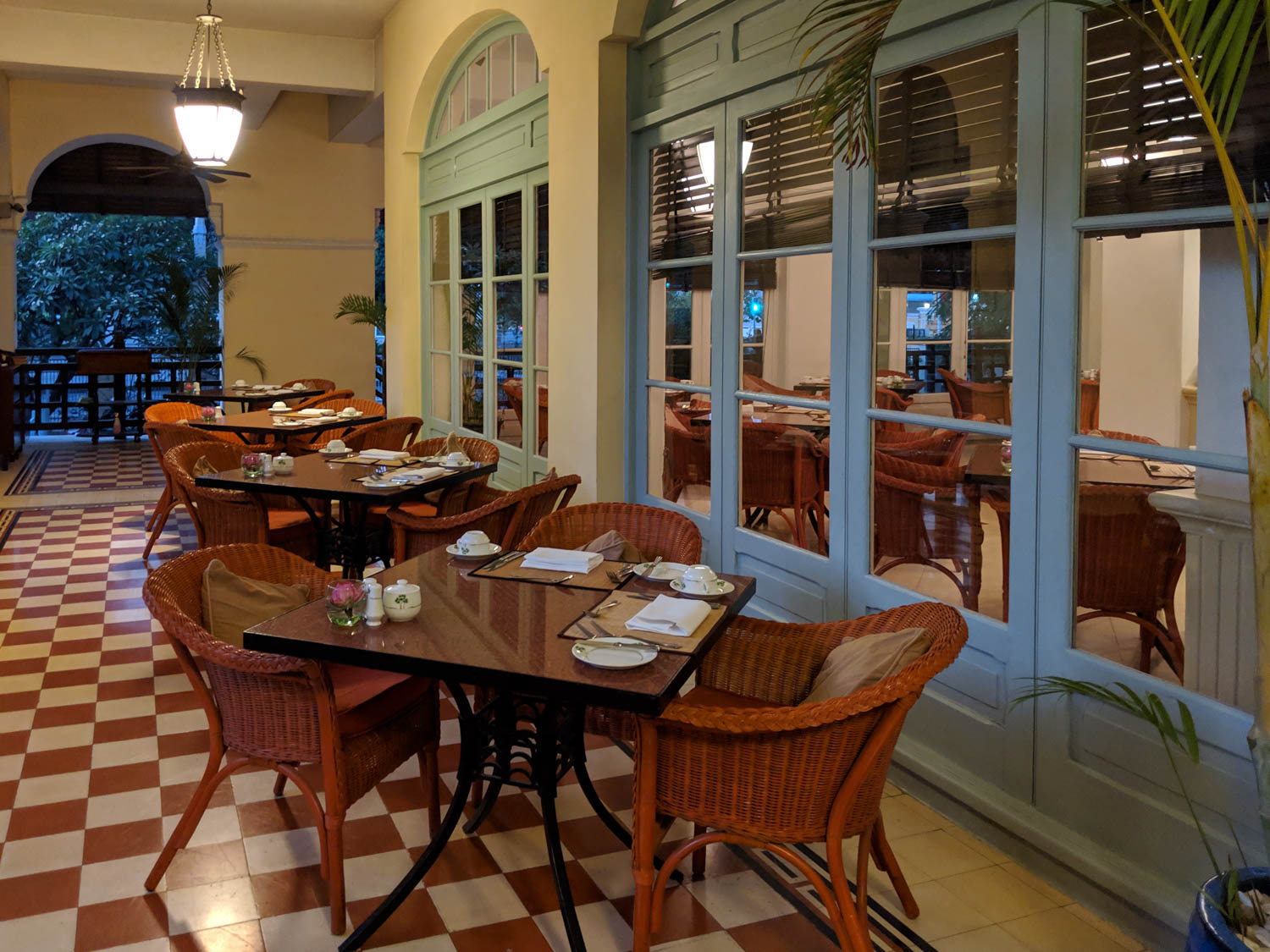 A small table with coffee, pastries, and apples was set up just inside the entrance. They even included to-go cups and waxed paper bags, which was a thoughtful touch for those needing to leave right away.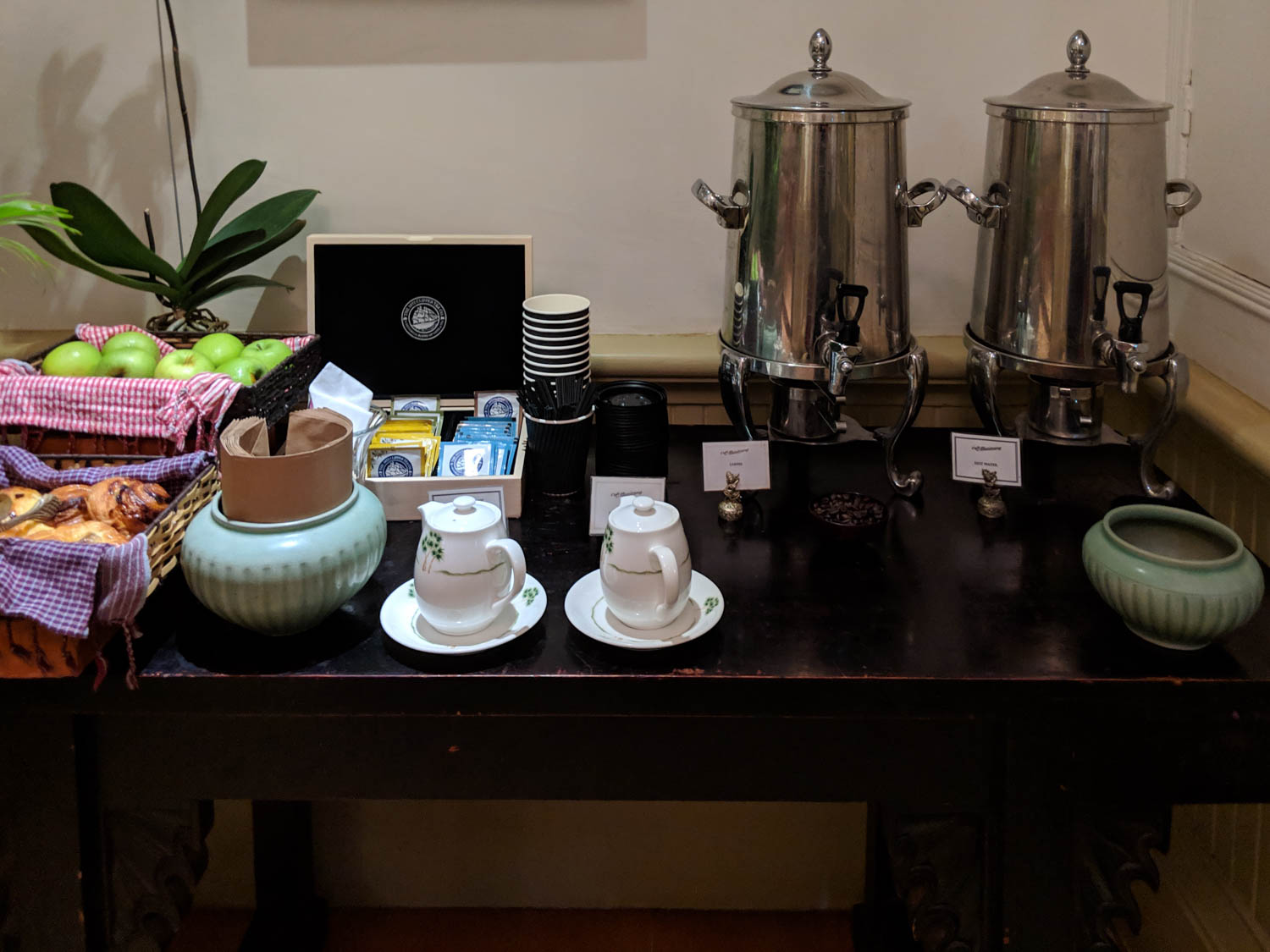 The breakfast was set out in an open-kitchen concept. There was a bar with mimosas and bloody marys, to start: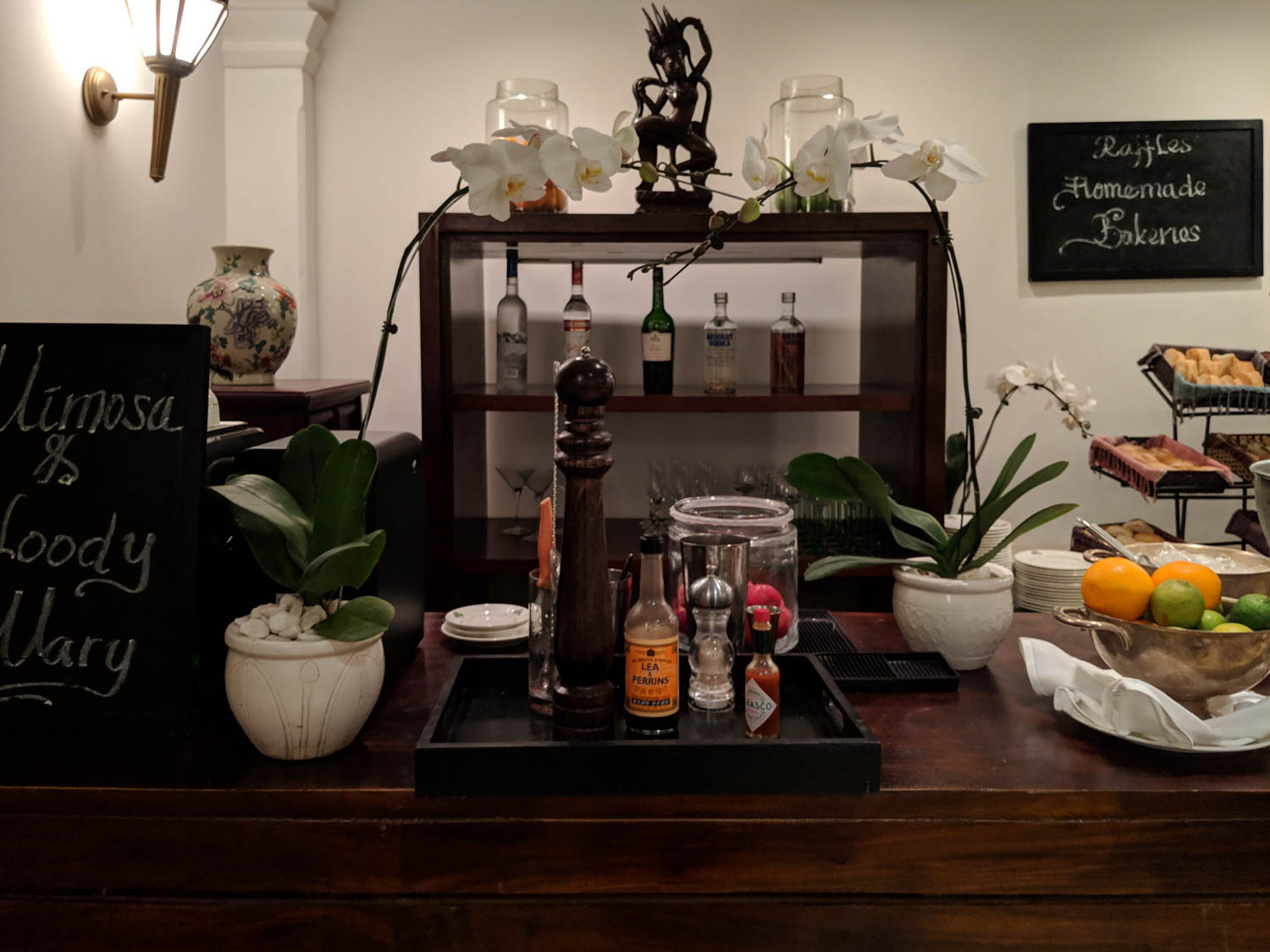 Along with homemade pastries: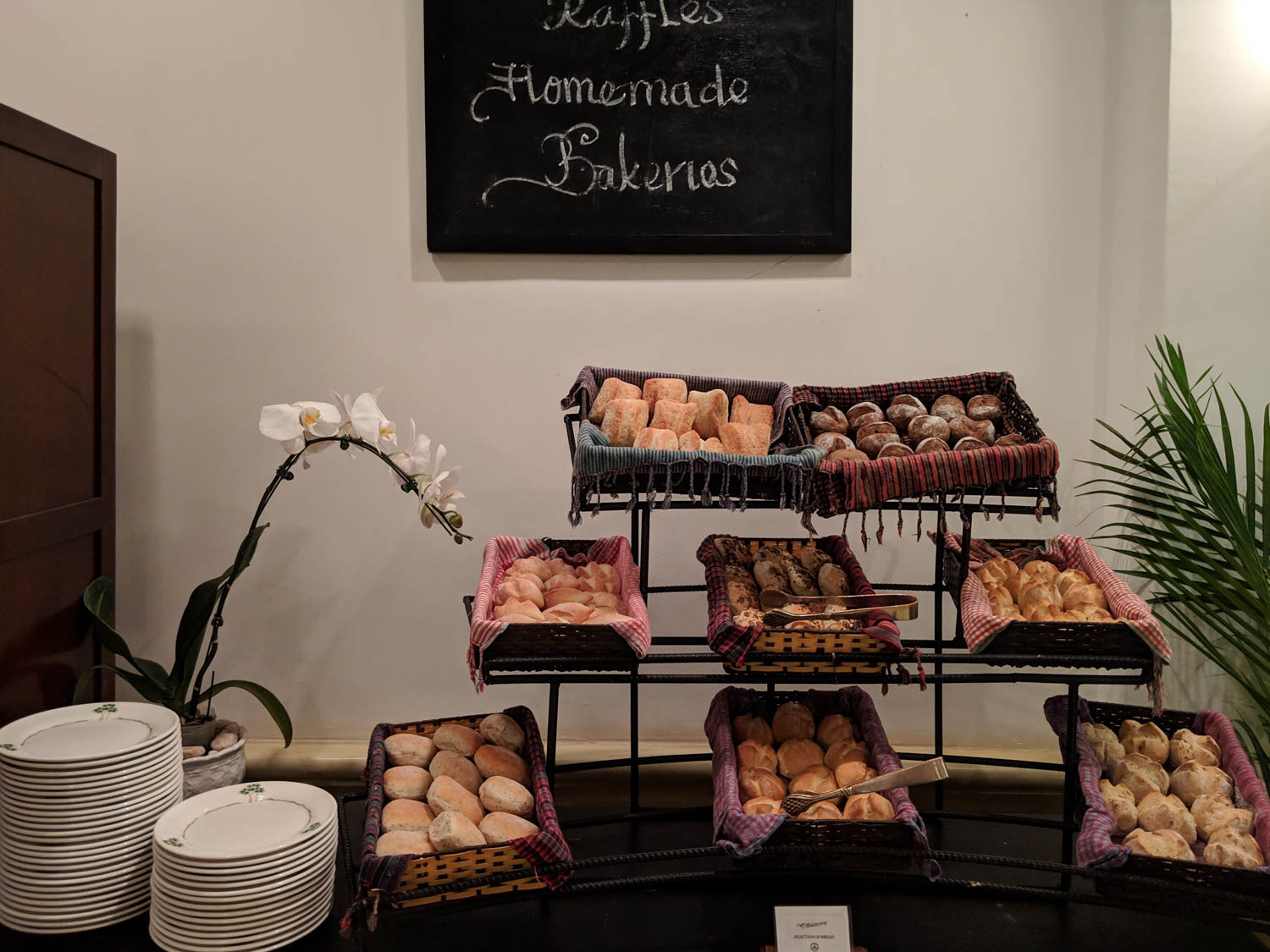 And then additional (but apparently not homemade) pastries: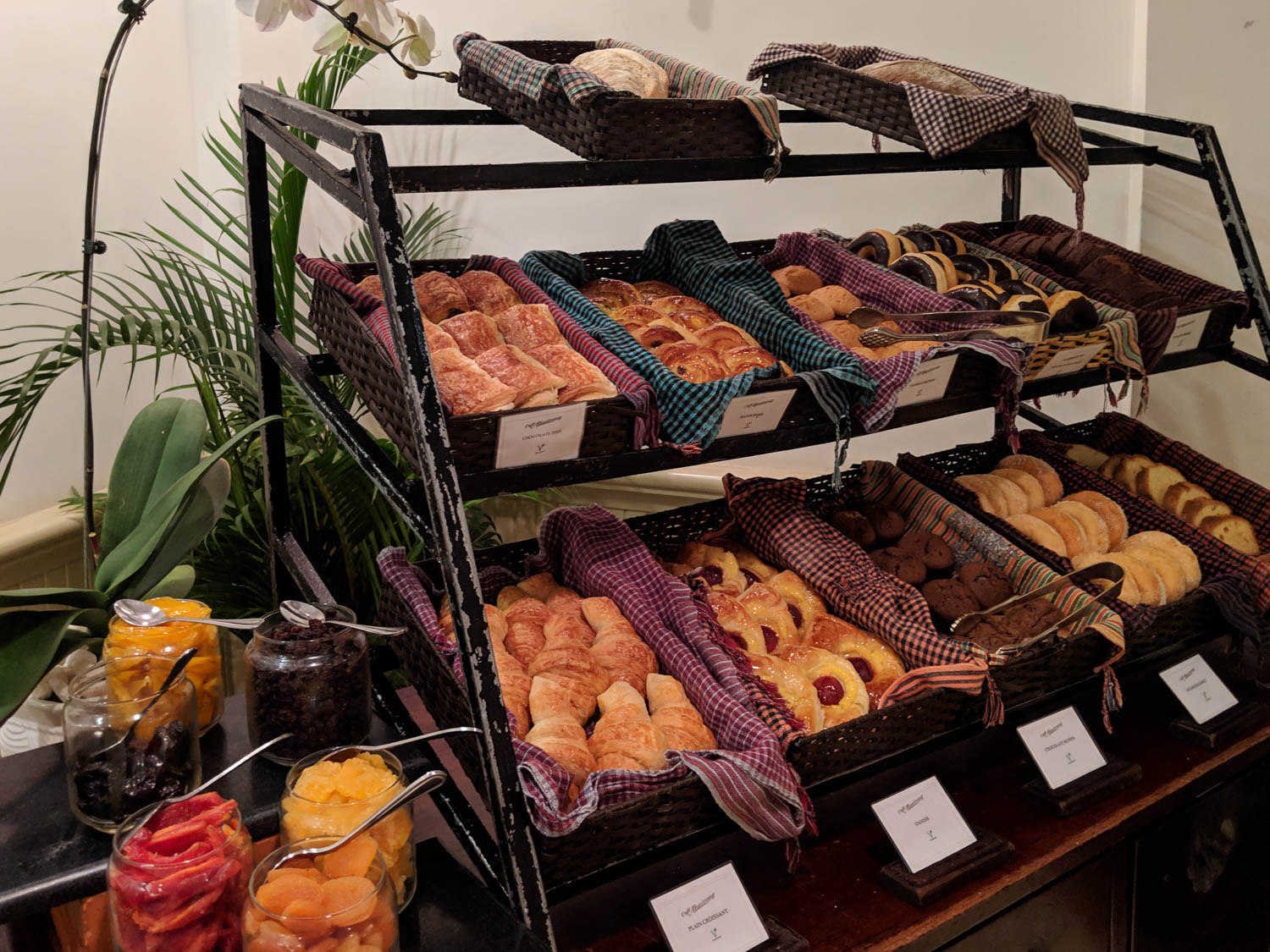 Several different kinds of fruits, yogurts, and nuts: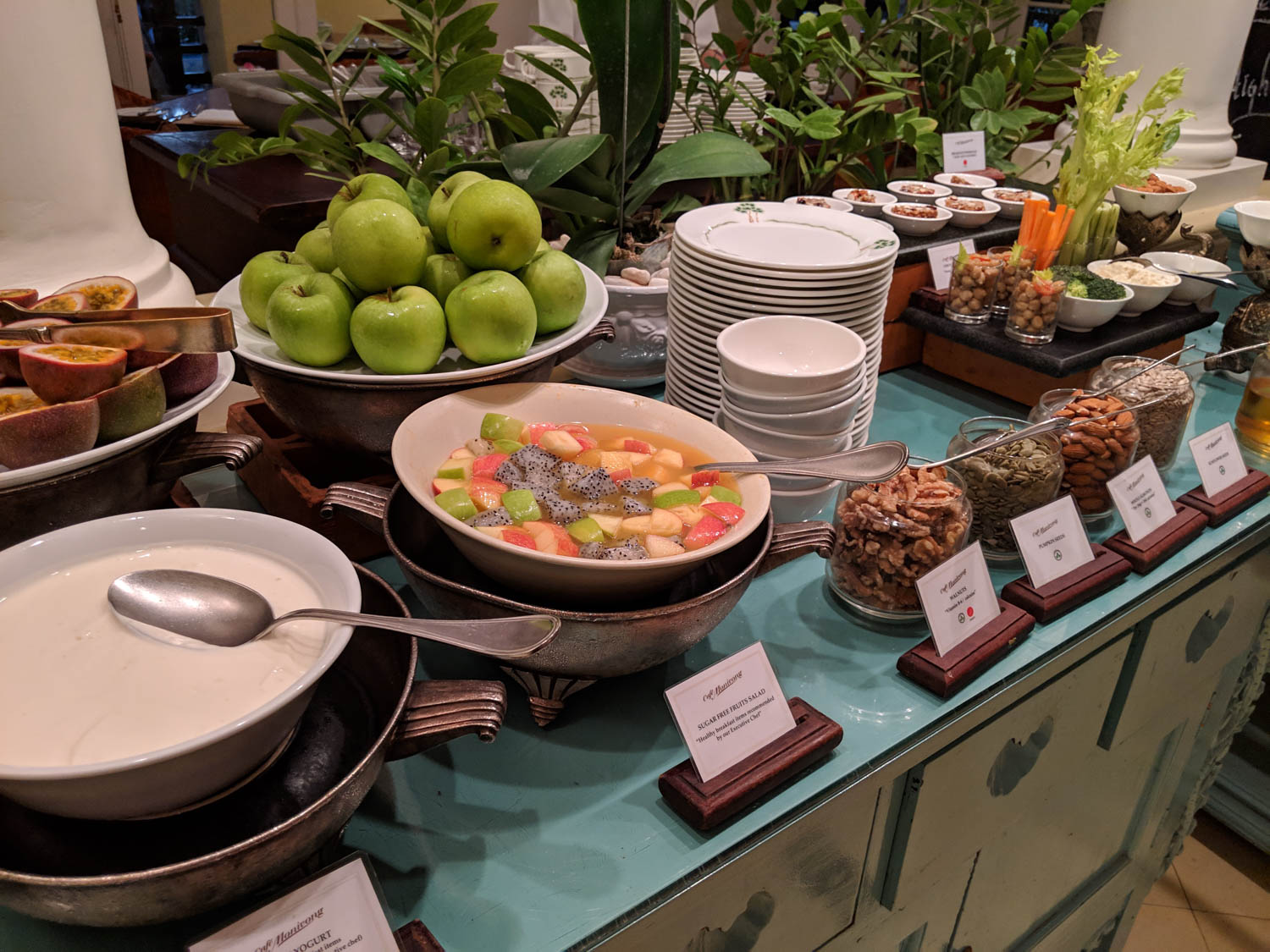 A small section with (nominally) regionally-inspired dishes: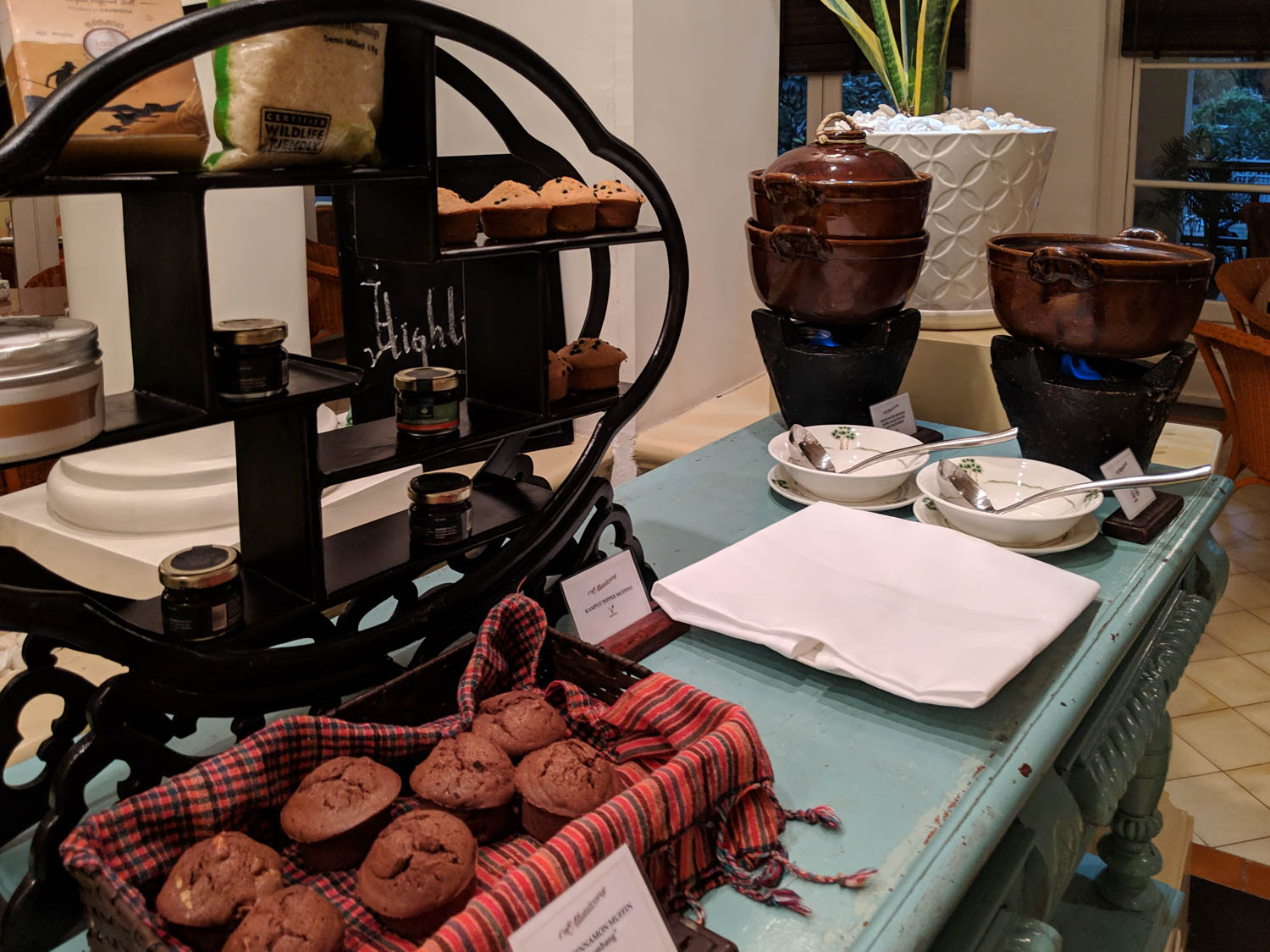 Then a central section with made-to-order noodles: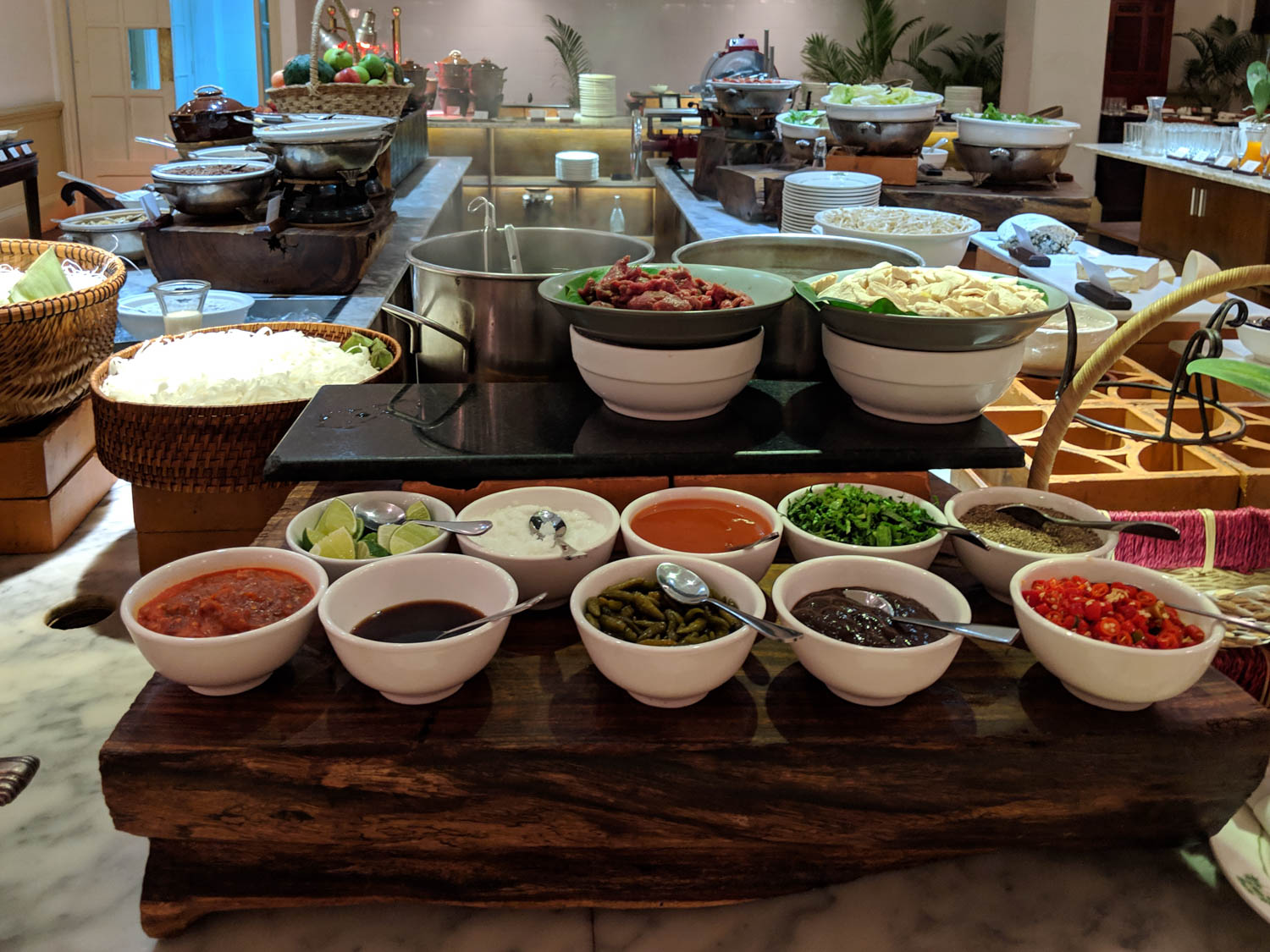 A cheese section: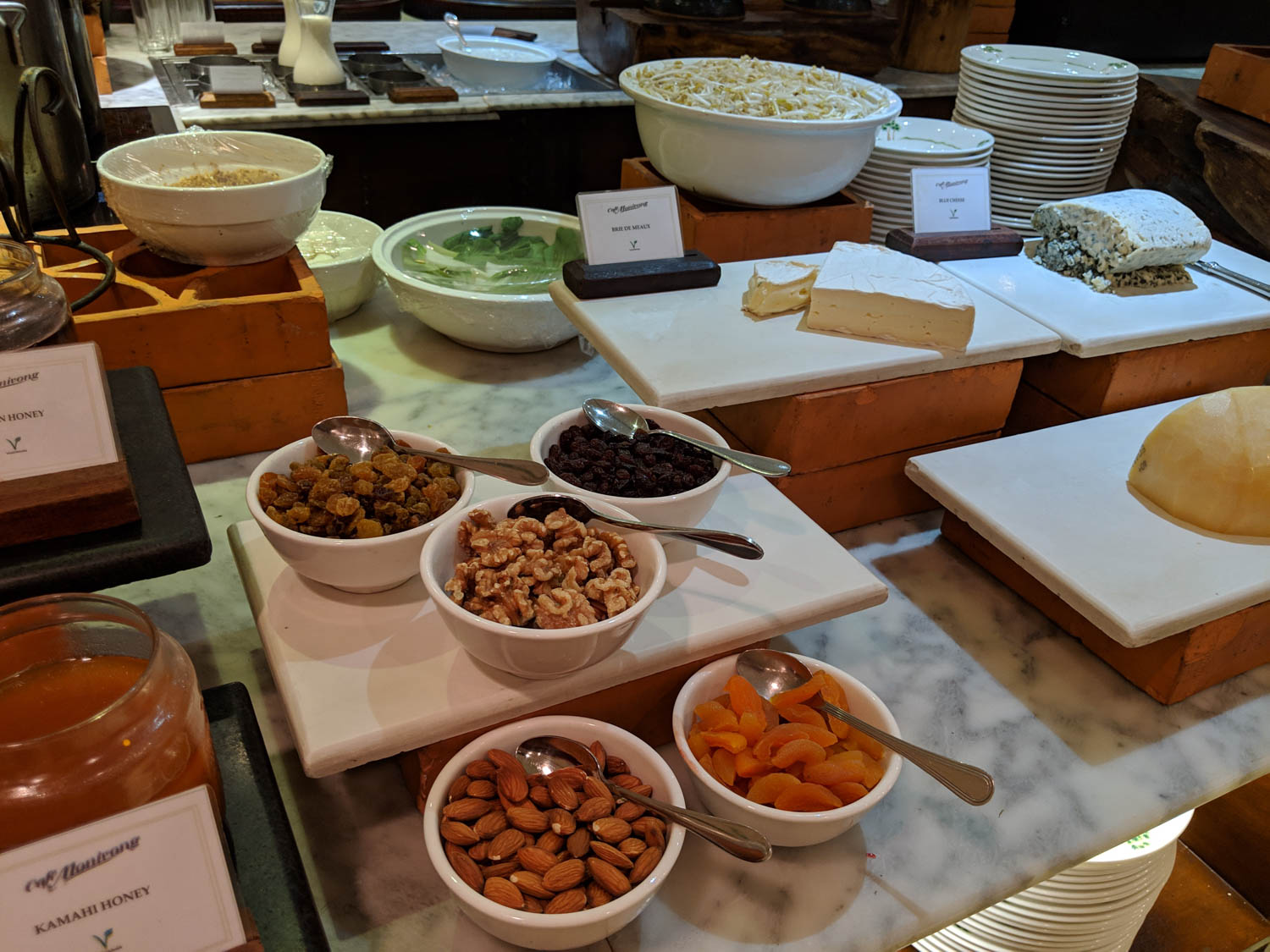 Salads and cold cuts: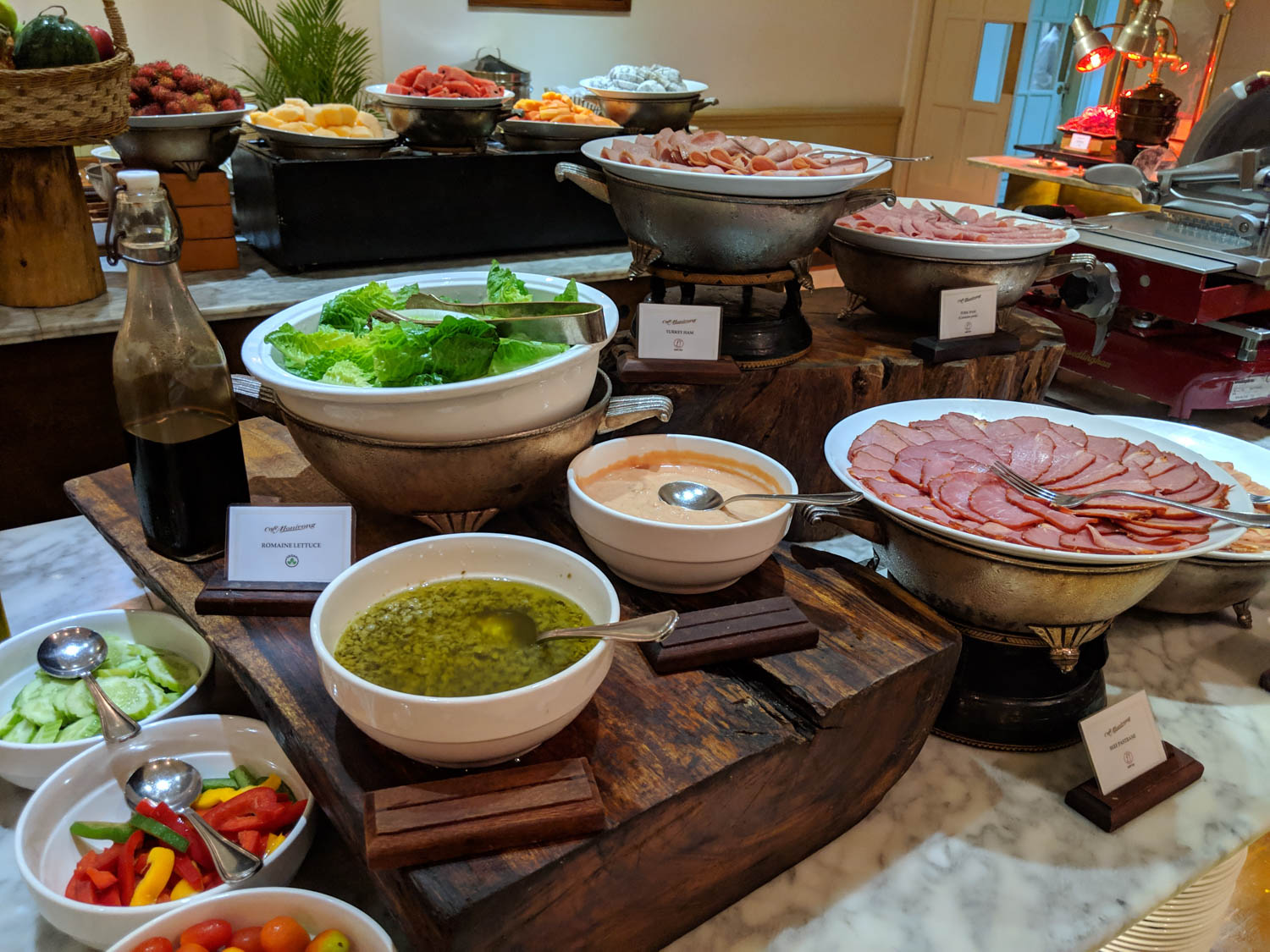 Then a rear section with a carving station, made-to-order eggs, etc.: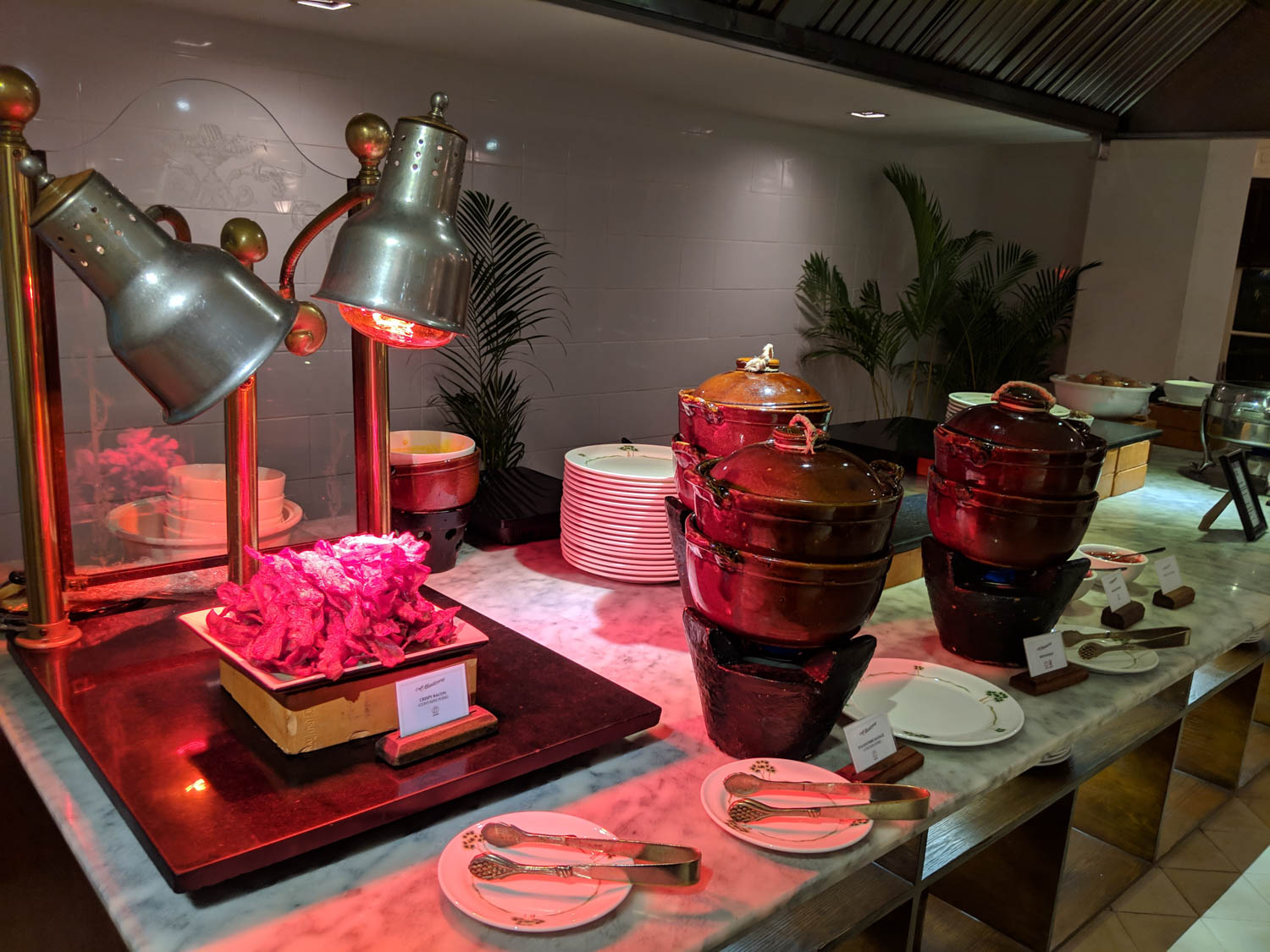 There was a small table with dim sum too: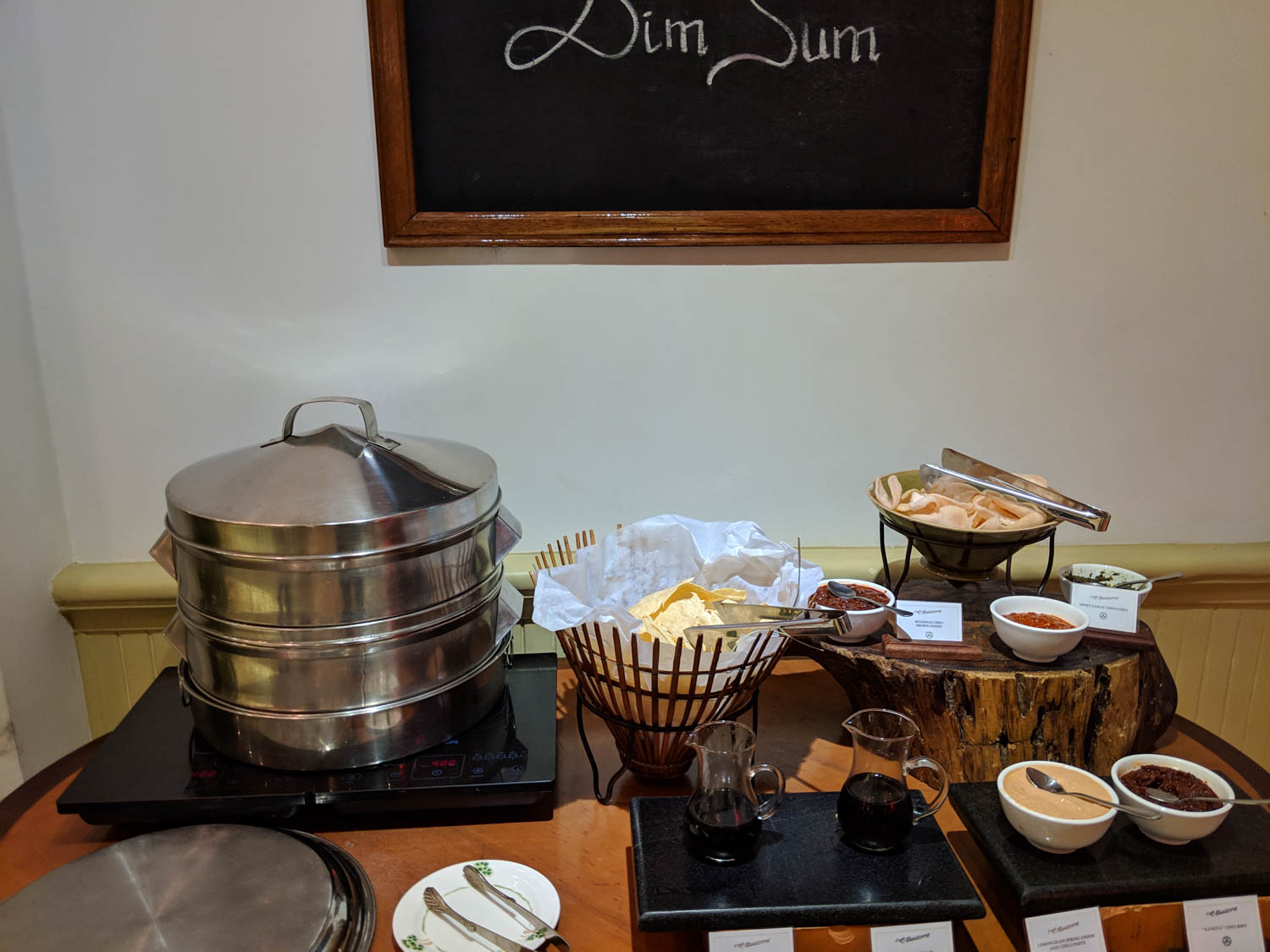 And then back around to even more fresh fruit: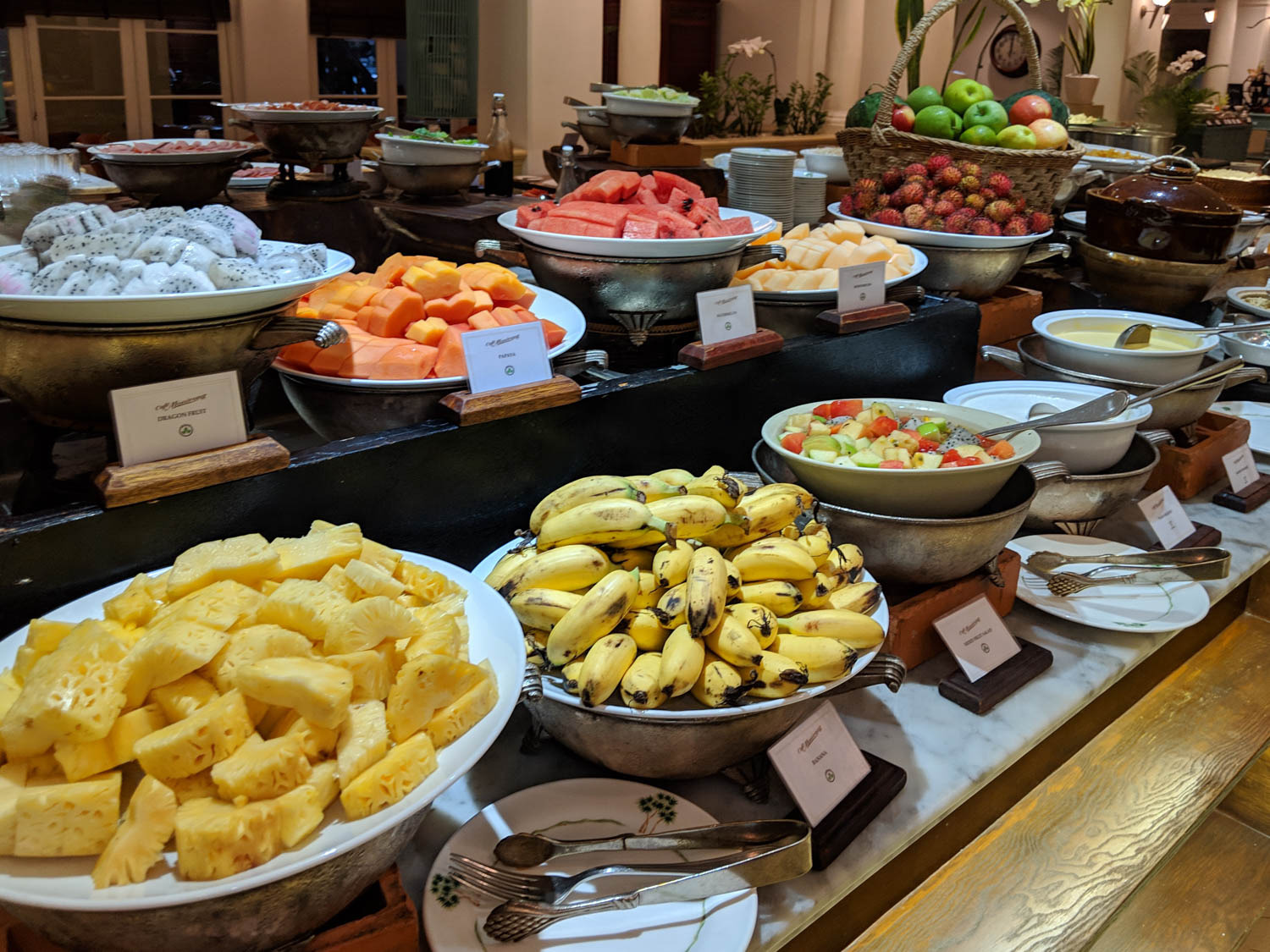 The fruit was really the highlight, which isn't meant to be damning everything else by faint praise, just that the papaya, pineapple, and dragonfruit were perfectly ripe, and made for a nice send-off.
Overall thoughts
I loved the architecture and sense of history of the Hotel Le Royal, and the service was impeccable. And not just "for Southeast Asia impeccable" — everyone we interacted with was intuitive, communicative, and seemed invested in ensuring our stay was perfect.
I'm glad to have experienced it, but given the pricepoint and basic rooms, I'd look elsewhere next time. The new Rosewood is basically across the street, and there are at least dozens of independent and more luxurious hotels commanding a fraction of the room rate.
And that's the end of this trip report series! Thanks so much for following along, and please let me know if you have any other questions about this trip.
Where would you recommend people stay in Phnom Penh?