---
I feel like we've been talking about this trip my cousin Heather and I were going to take with our moms for months now (granted, we booked much further in advance than I typically do), so I'm excited to be finally reporting back with all the fun details.
Our 18-day itinerary
This went through so many evolutions, but when all was said and done our time in Southeast Asia looked roughly like this: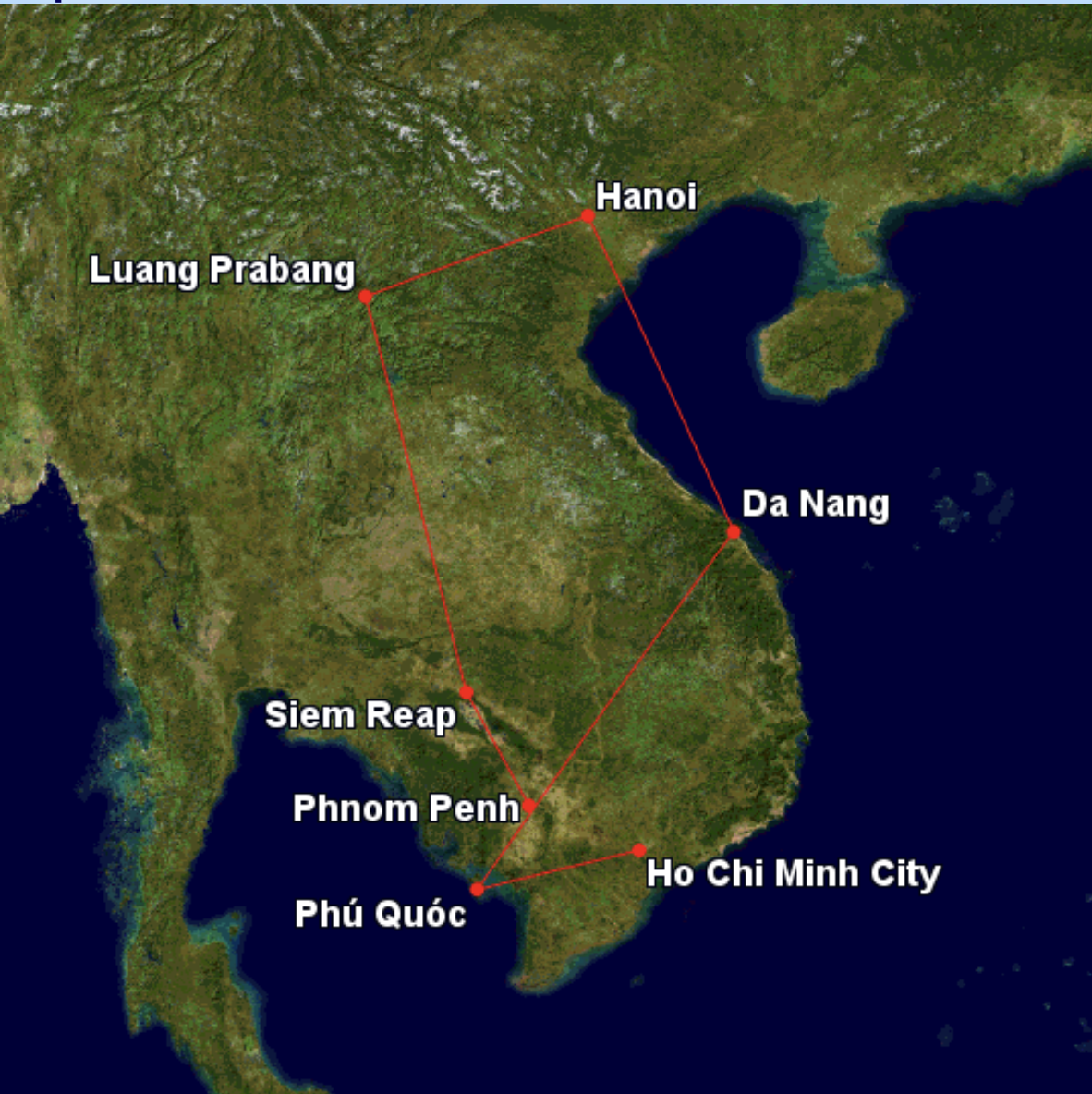 Since we were all coming from different cities, we met in Los Angeles and spent the night. From there, we flew Hong Kong Airlines to Saigon (via Hong Kong), and started an itinerary that looks really fast on paper, but was totally manageable in practice:
To end our trip, an early-morning flight to Bangkok connected us to a China Airlines flight to Taipei, and then to Vancouver, where we had another overnight before flying to our respective homes.
I will say that the timing of the flights was critical, and contributed significantly to what made this a manageable itinerary. One night stopovers have the potential to feel like a waste of time, but the timing was such that we had ~32 hours in Hanoi, which still isn't a lot of time, but we didn't feel rushed.
And the ~20 hours we spent in Phnom Penh were possibly my favorite of the trip.
The outbound flights (and the impetus for the trip) were obviously the Hong Kong Airlines fares. Internal flights were booked with a mix of FlyingBlue miles (when they were available, economy awards on Vietnam Airlines were ~9,000 miles) and cash. Most of the tickets were actually too cheap to warrant using miles — the base fare for our tickets from Siem Reap to Phnom Penh was literally $1, with another ~$13 in taxes.
Hotels were also a mix of cash and points, and I'll try and be good about detailing the costs as we go. Since we needed two rooms everywhere, there were some properties where I used both cash and points, so it will be a fun comparison.
And then in the interest of sanity, not needing multi-entry visas for Vietnam, and generally improving life, we ditched our original Hong Kong airlines return, and booked China Airlines A350 business class home for 85,000 SkyMiles each.
Changes to my (hopefully more-frequent) trip reports
This could actually probably be a post in and of itself, but while we've received a lot of feedback that folks want to hear more about my trips, I'm not sure that many people are really going to care 😉 .
Still, I want to address this up front, because a few things are going to be different with this trip report than with some of the others I've done, or that Ben typically does.
I won't be reviewing most of the flights
I can hear the groans of disappointment from the avgeeks, so let me explain a bit.
While my eye is a bit different than Ben's — I might notice details of the fixtures or nuances to the service — our experiences are usually fundamentally similar. So when it's a product that he's reviewed previously, I don't know how much value I can truly add by creating an additional review.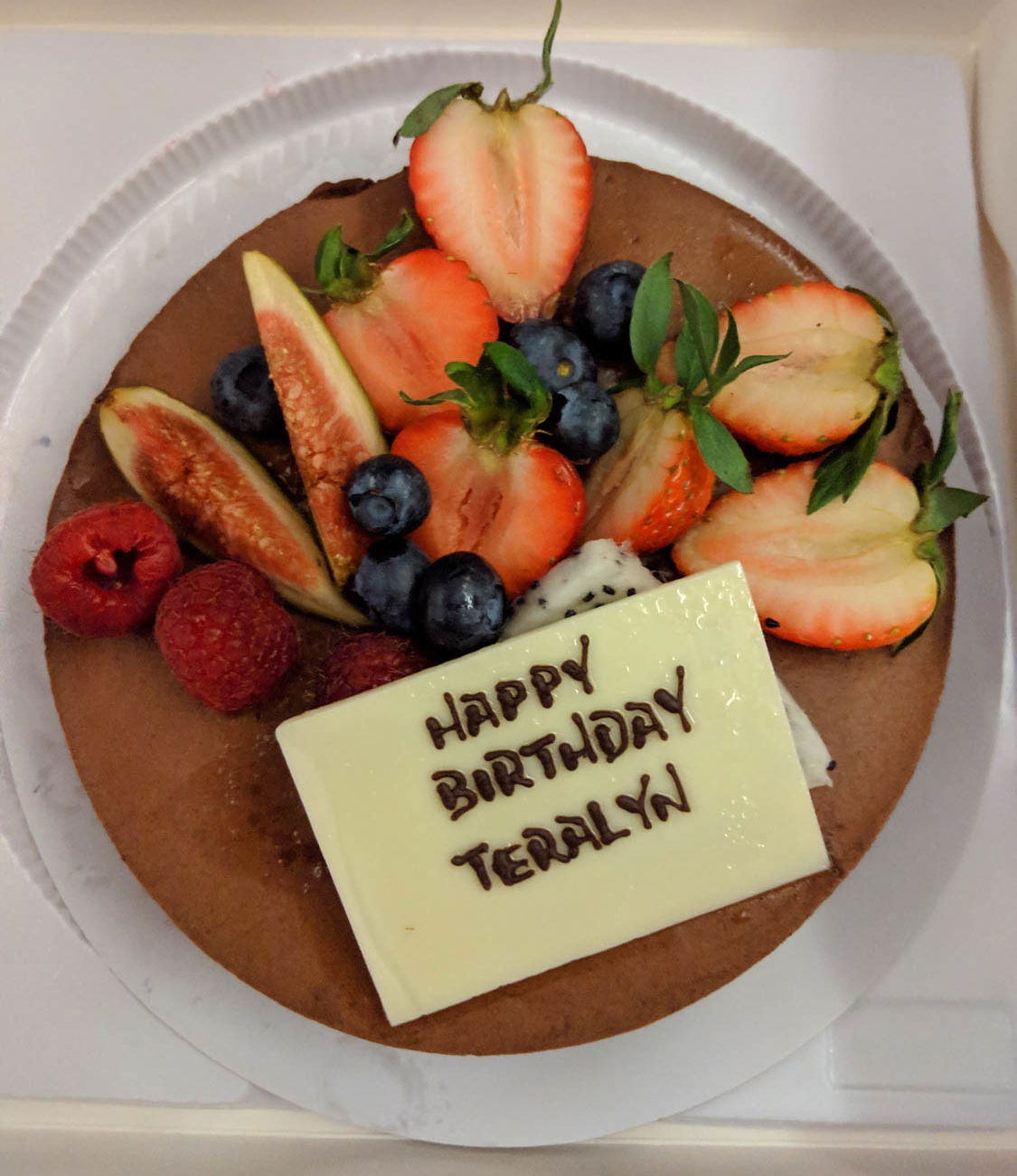 We did order a cake for my aunt on our Hong Kong Airlines flight, but otherwise it was roughly identical to Ben's trip
Beyond that, my priorities on a long-haul flight right now simply have to be sleeping and working. Someday I hope this won't be the case, but the reality is that my days are absolutely packed — a situation that is particularly exacerbated when I'm traveling, and doubly so when I'm with other people. If I don't get at least four hours of sleep, I'm an absolute wreck on the ground (I am incapable of short naps, or sleeping during daylight hours in general). Similarly, the time spent photographing amenity kits and menus is also time I could be spending catching up (or getting ahead) on work so that I have that time on the ground.
To top that all off, due to a variety of fun reasons (including a recent and complicated Celiac diagnosis), there's roughly nothing I can safely eat on most flights at present. Given how much some people grumble about the repetition of "delicious fish dishes", I can't imagine that a series of "the menu looked good, and the dishes emerging from the galley were nicely presented, but I can't vouch for any of them" would be wildly popular anyway.
And that's not even getting into the fact that a flight review usually requires 8-10 hours of time to put together, which is almost exclusively time that gets spent late at night or on weekends, and I'm theoretically trying to be better about how I balance my life.
Besides, Ben is a million times better at flight reviews than pretty much anyone.
I will be spending more time on destination details
Given all those tradeoffs, I've decided to spend the time and energy that I do have for reviews on more of the things on the ground — hotels (including some non-points options), destinations, activities, and some insights into the logistics of everything.
I think I have a more unique perspective there, and more to add in general, because I tend to go places Ben doesn't, or at least in a different way.
I hope it's a useful approach, and look forward to hearing y'alls feedback as we go. And I'm not saying I'll never review a flight again, but for me right now, the only way for Tiffany Trip Reports™ to be a thing at all is for me to skip reviewing the bulk of the flights.
If you're super bummed about that, or just feeling nostalgic, maybe take a gander at the first flight of mine and Ben's I ever reviewed here; a languid piece written during a hot Sicilian summer when our lives were simultaneously simpler and much more complicated. The whole thing is slathered in my snarky love of our friendship, and contains some of the best damn writing I've ever published, so will be more fun to read than one more spin through an aircraft configuration he's already reviewed anyway.
A few key takeaways from this trip
I'll write more about my tips for traveling in the region later on in the series, but a few things standout from a 30,000 foot perspective.
There is no perfect itinerary
I agonized over the itinerary and planning for this trip. And I absolutely appreciate all the comments and insights that you guys shared along the way!
At the end of the day though, the "best" itinerary really comes down to the group of travelers. Heather and I commented throughout the trip how different our days would have looked if we were with our husbands, or her girls, or just each other. There might have been more (or any) late nights out, more time hiking and less time snorkeling, different museums or tours — but what we did was perfect for our moms.
Our packed itinerary was neither too slow, nor too fast. We could absolutely have spent more time in some places (I would plan an entire trip just to the center and highlands of Vietnam), but this was a perfect overview. We got to experience a mix of cities and countrysides, a variety of cuisine, and a generally lovely mix of activities.
So I know some people were concerned about the pace, or that we were only spending a single night in some of the big cities, but it worked out wonderfully for us. I actually think that having a tight window in the cities meant that we saw more things we loved in each than we otherwise would have, as we curated our schedule fairly carefully.
Be wary of the "must-do's"
This goes along with the above, but I think part of travel zen and general life enjoyment is just rolling with things, and not feeling like you have to do certain things just because they are highly recommended or someone said you "can't miss" them.
Maybe some day I'll go back to Hanoi (I probably will, even if only as a jumping off point for other places in North Vietnam that I'd like to visit), and if so, maybe I'll spend hours queuing to see the embalmed corpse of Uncle Ho.
But it was absolutely not a compelling or interesting option for our group on a muggy 90-degree morning. We went for foot massages and enjoyed some egg coffee instead, and had a wonderful time.
Speaking of which, the coffee cup test remains the gold-standard of evaluating a packing situation; learn it and use it friends!
Whenever we had the option, we chose long conversations with locals over rushing from activity to activity (though there was definitely still a fair amount of rushing). I think hearing those perspectives was more interesting and valuable to our moms than seeing Tourist Highlight #47.
A little extra spending can dramatically improve your experience
I get it; we all like to get a deal, and OMAAT readers love to maximize. And I generally do too.
But I've realized that sometimes (especially in Southeast Asia), spending a little bit more money can get you outsized value, particularly when it comes to transportation to and from the airport.
Sure, you can haggle for a tuk tuk or taxi, but when it's late/hot/crowded/whatever, there's something really nice about having what my family now refers to as "a magic car" just show up, with a sign with your name, and a driver that already knows where you're going, and has been paid to take you there. And it was especially nice for me, since the burdens of negotiation (or just not getting scammed), and communication would have fallen on me.
Given how fast our itinerary was, and how many different places we visited, it made life significantly easier to just book cars ahead of time, whether it was through Blacklane, the hotel, or with the help of our Airbnb host.
The one time I didn't pre-book a car led to an exasperated Siem Reap taxi driver asking me five minutes into the drive "how many times have you been to Cambodia?" because I wasn't going along with any of his proposed schemes. I estimate that we spent an extra ~$150 on transportation over our three week trip than if we'd taken the cheapest option available, and it was absolutely worth it.
SkyPriority was a huge perk
I don't generally feel like I get much out of my Delta elite status when traveling internationally, mostly because I'm usually on business class tickets. But most of our intra-Vietnam travel was in economy. And when we had a choice of carriers, I booked SkyTeam partner Vietnam Airlines whenever possible, so that we could leverage my elite benefits.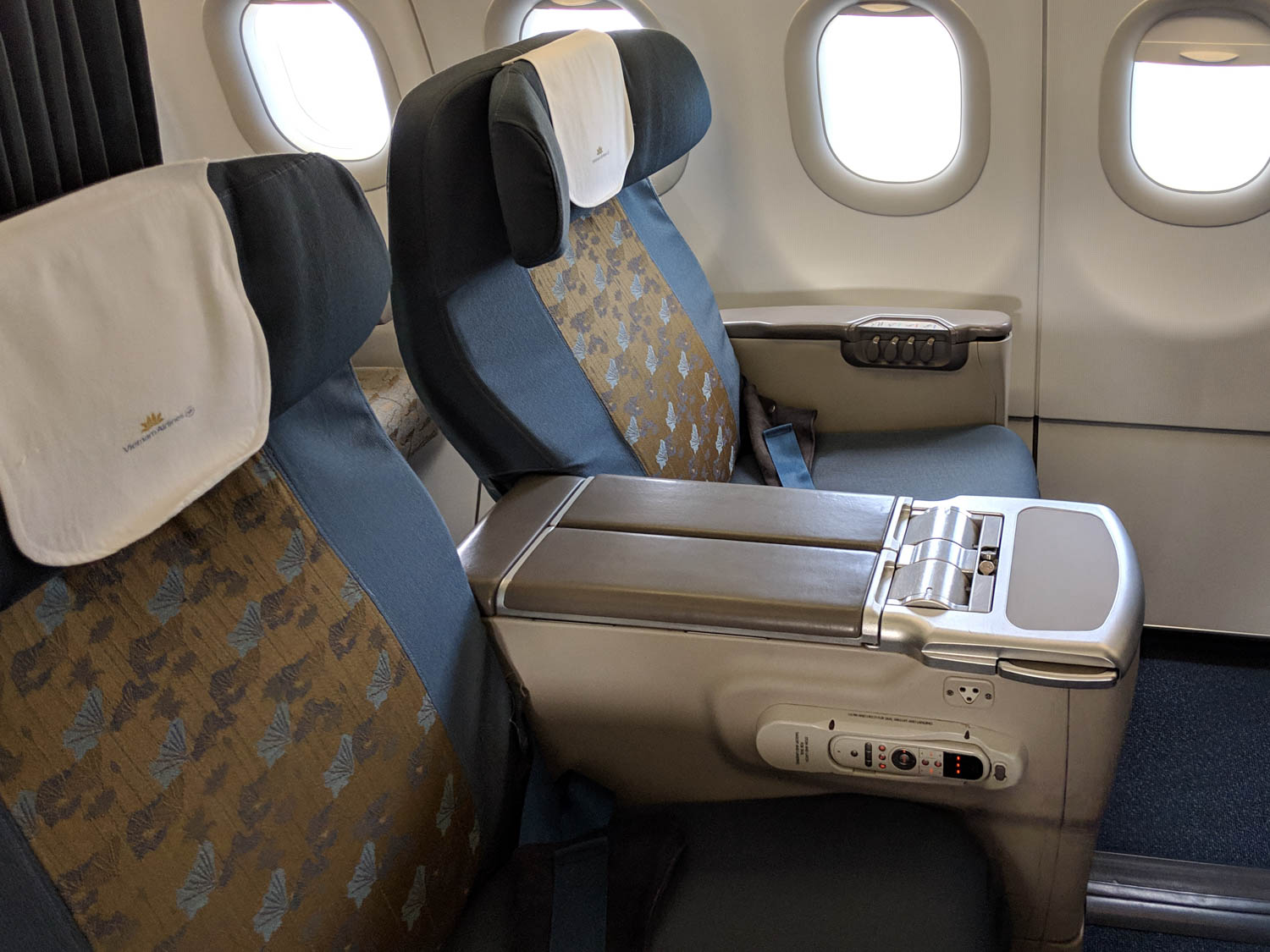 Our one Vietnam Airlines business class flight was mediocre — the economy seats were actually more comfortable for these short one-hour flights
The busy Tet period meant airports were often packed, so getting to use priority security and boarding lanes (and not having anyone ask to weigh our bags) was a tremendous perk. I realize this isn't applicable to everyone, but since it made a significant difference for us on this trip, I feel like it's worth mentioning.
Being in Vietnam during Tết was surprisingly lovely
We had been worried about this, because the advice we'd received basically ranged from "everything will be closed" to "the beaches will be so crowded" to "the ATMs won't have money" to "you might starve", but it was fine. In ways, it was maybe even more pleasant.
We got to see Saigon as the city prepared for the New Year with abundant floral displays and festivities.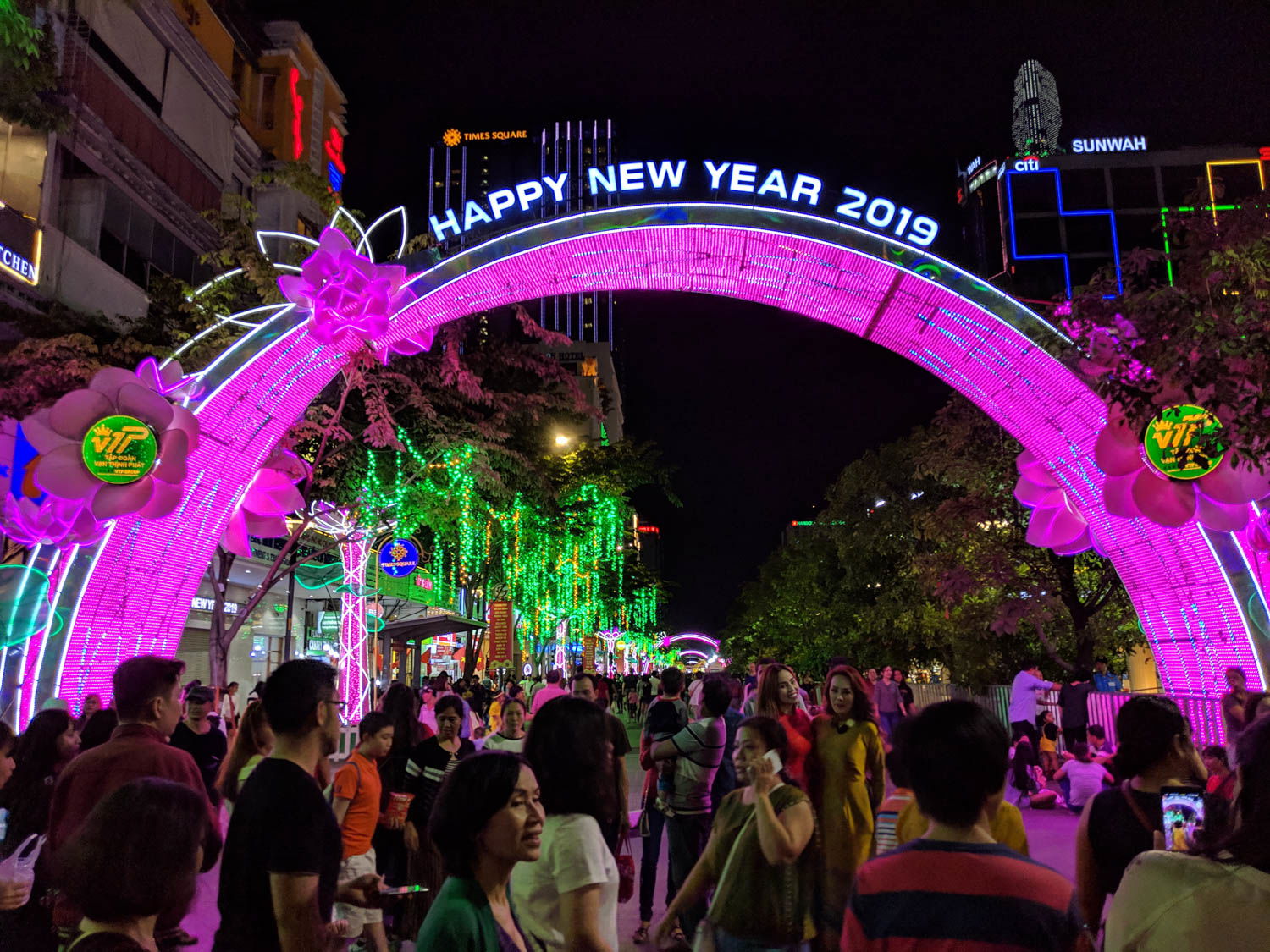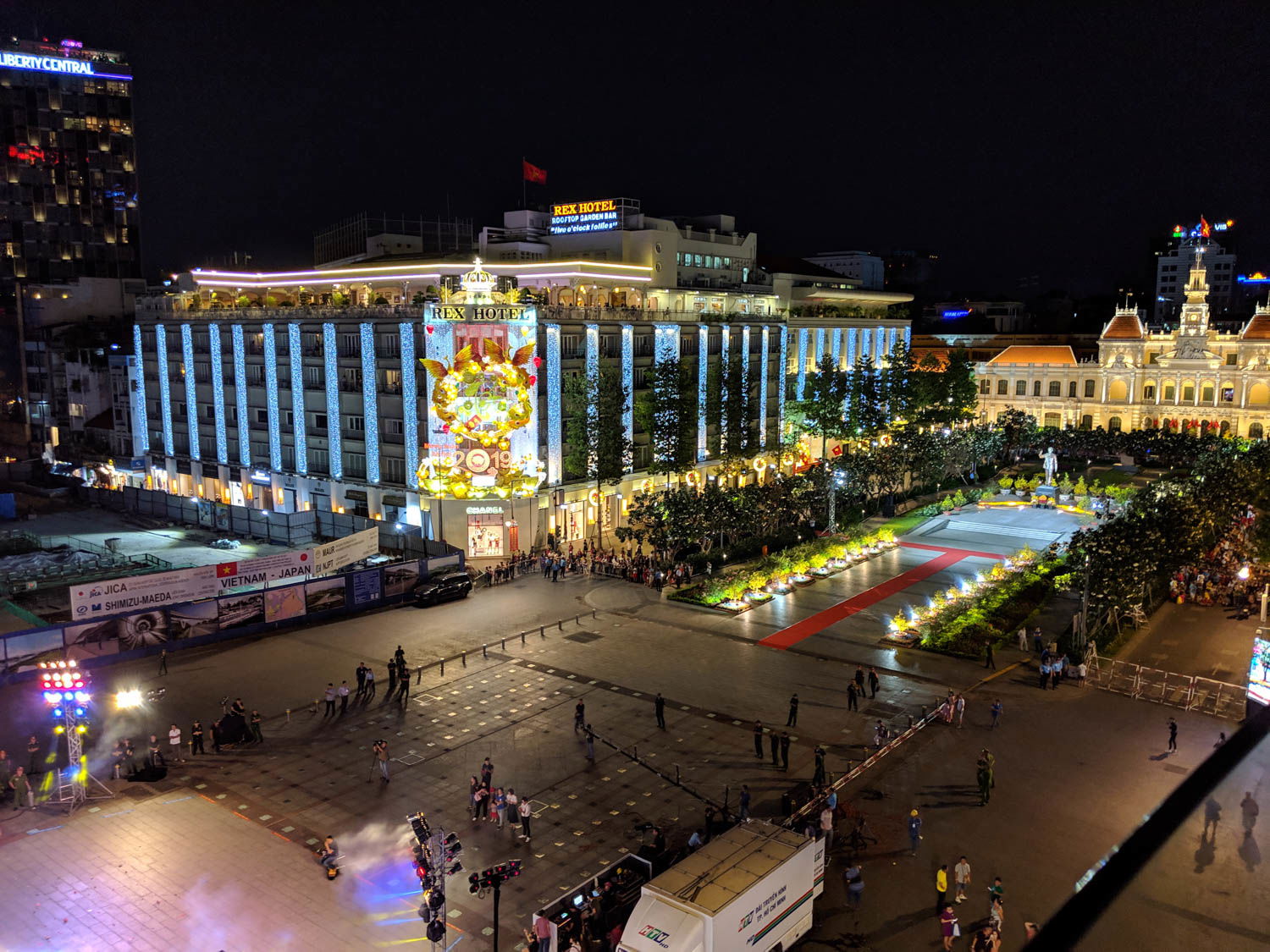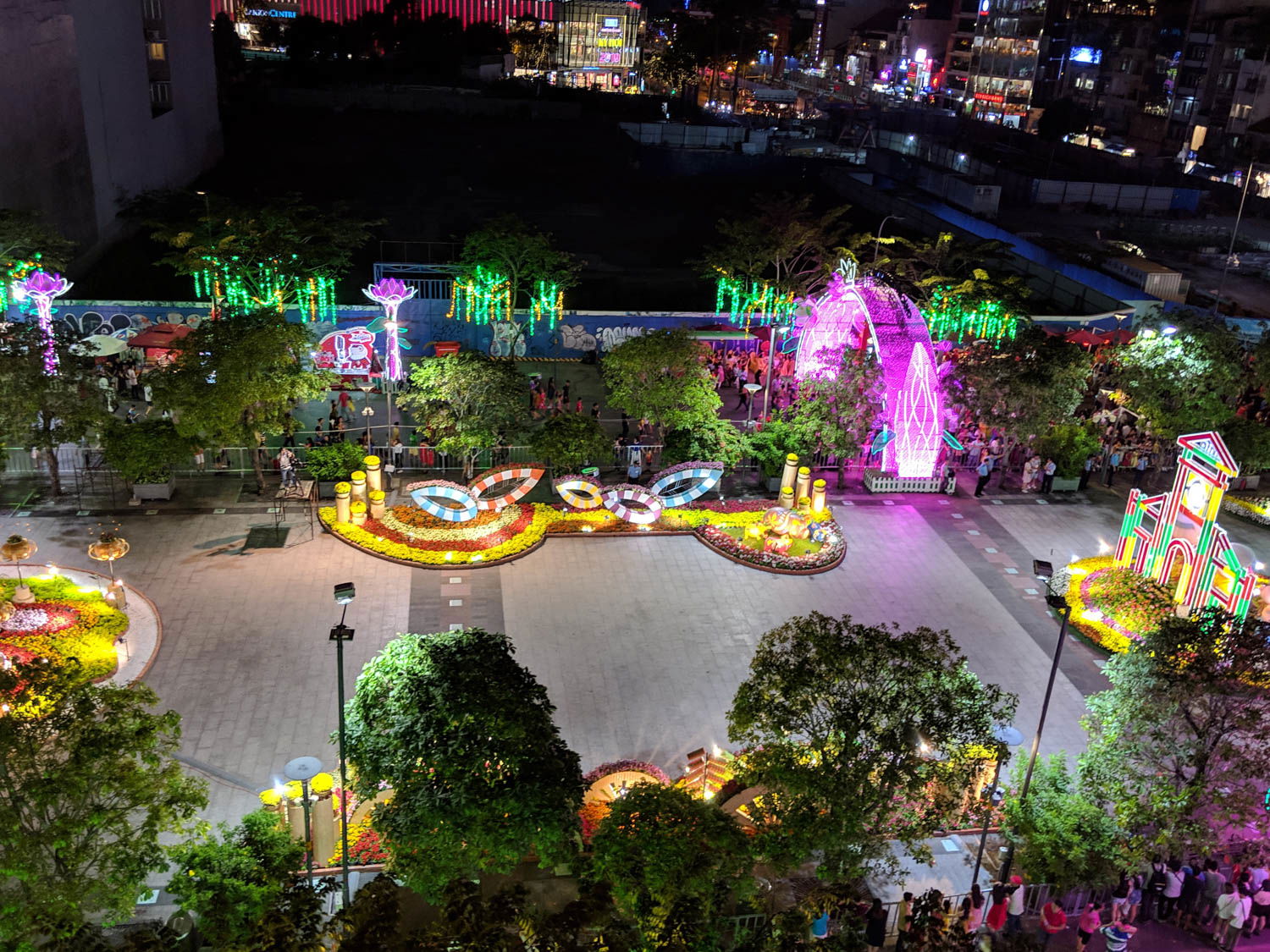 When I say abundant, I mean the city was blanketed in flowers. Even the War Remnants Museum (which I do recommend visiting) had cheerfully incongruous chrysanthemums lining the hallways.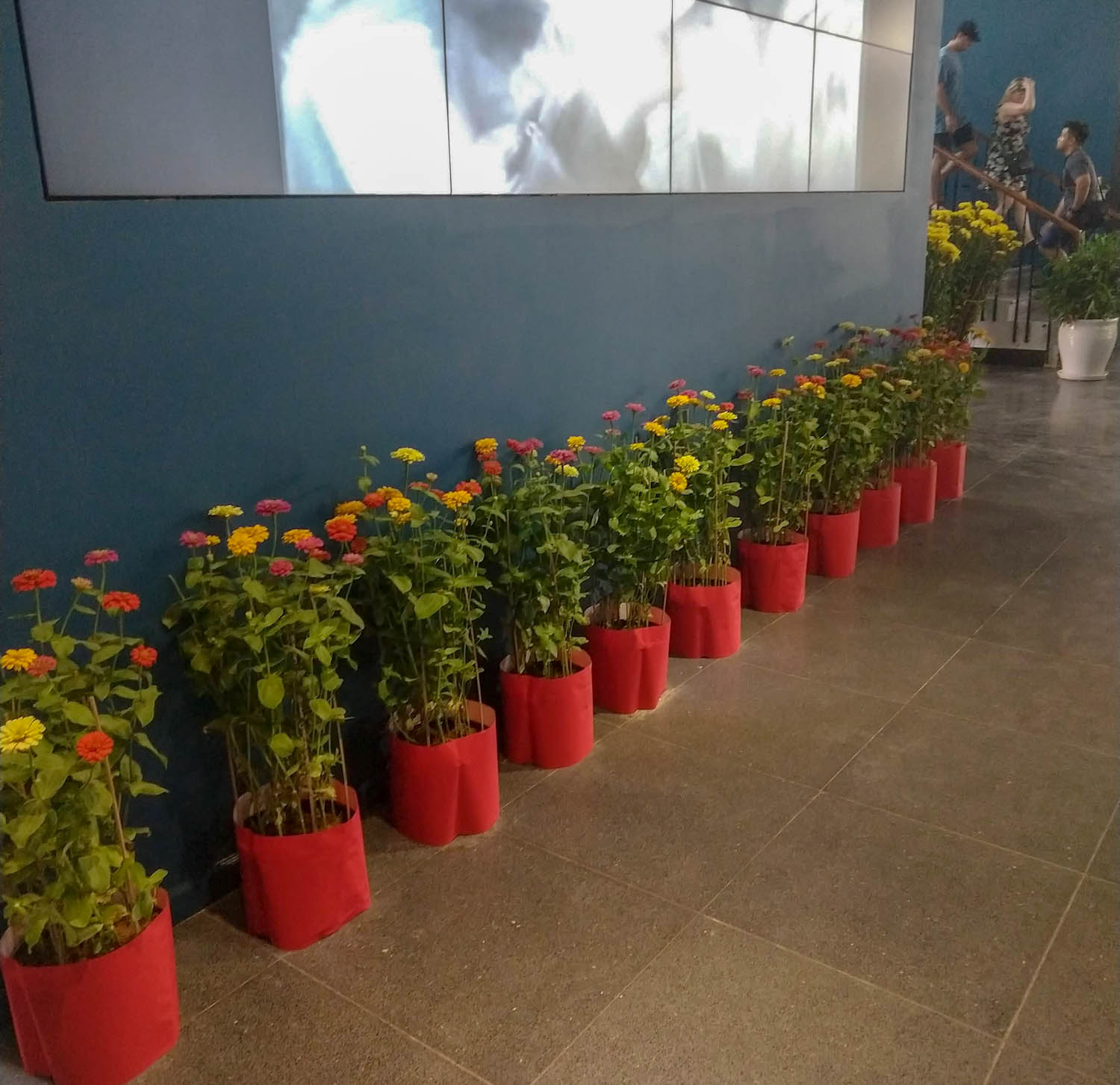 In the days leading up to Tet, we saw endless apricot trees being carried home on scooters, and women frantically finishing holiday shopping. As the holiday period progressed, we enjoyed seeing families out taking photos in their finest clothes, red envelopes being exchanged, and a general sense of pleasantness.
Granted, many establishments in the cities were closed, and while Saigon and Hanoi were probably more enjoyable with so many people being out of town, Hoi An was outrageously crowded. So if you're going to be in Vietnam during Tet I'd plan your itinerary accordingly, but I wouldn't say it's a period to avoid.
Overall thoughts
More than anything else, Heather and I really enjoyed spending the time with each other, and our moms. This isn't the kind of trip that most daughters get to do with their mothers (or vice versa!), and I'm tremendously grateful for miles and points and the life I have that has made it possible to take a few of these trips.
I'm very excited to tell you all about this one. 🙂
Please let me know if you have any questions about the trip or details as we go, and you can see more pictures from the trip on Instagram in the meantime. Thanks as always for reading!