---
After a quick breakfast at our Airbnb in Hoi An we left for the Da Nang airport, arriving about an hour before our 10:30 AM flight. The airport was clean and efficient, our flight was on-time, and our pre-arranged driver met us at arrivals when we landed in Hanoi just before noon.
Easy travel day, and not much to say there.
The Sofitel Legend Metropole Hanoi is highly regarded, but prices started at $350+ for the night we were there. Given that we knew we wouldn't be in the hotel much, that wasn't of interest, especially when the nearby Hilton Opera (which based on the reviews is somewhat opposite of "highly-regarded") was $84 all-in.
I have Hilton Diamond status through the Hilton Honors Aspire Card, while Heather has Hilton Gold because of the Amex Platinum, so we knew we'd at least have breakfast included, and would hopefully be able to avoid the worst rooms in the hotel. We were able to contact the hotel ahead of time and confirm a 4 PM late checkout, which was perfect with our evening flight to Laos, and gave us more time to enjoy Hanoi.
It took us about 20 minutes to drive to the Hilton, which is adjacent to the Hanoi Opera House, near the central business district. The biggest draw for us is that the Hilton is walking distance to the Old Quarter, and pretty much everything we wanted to see in Hanoi.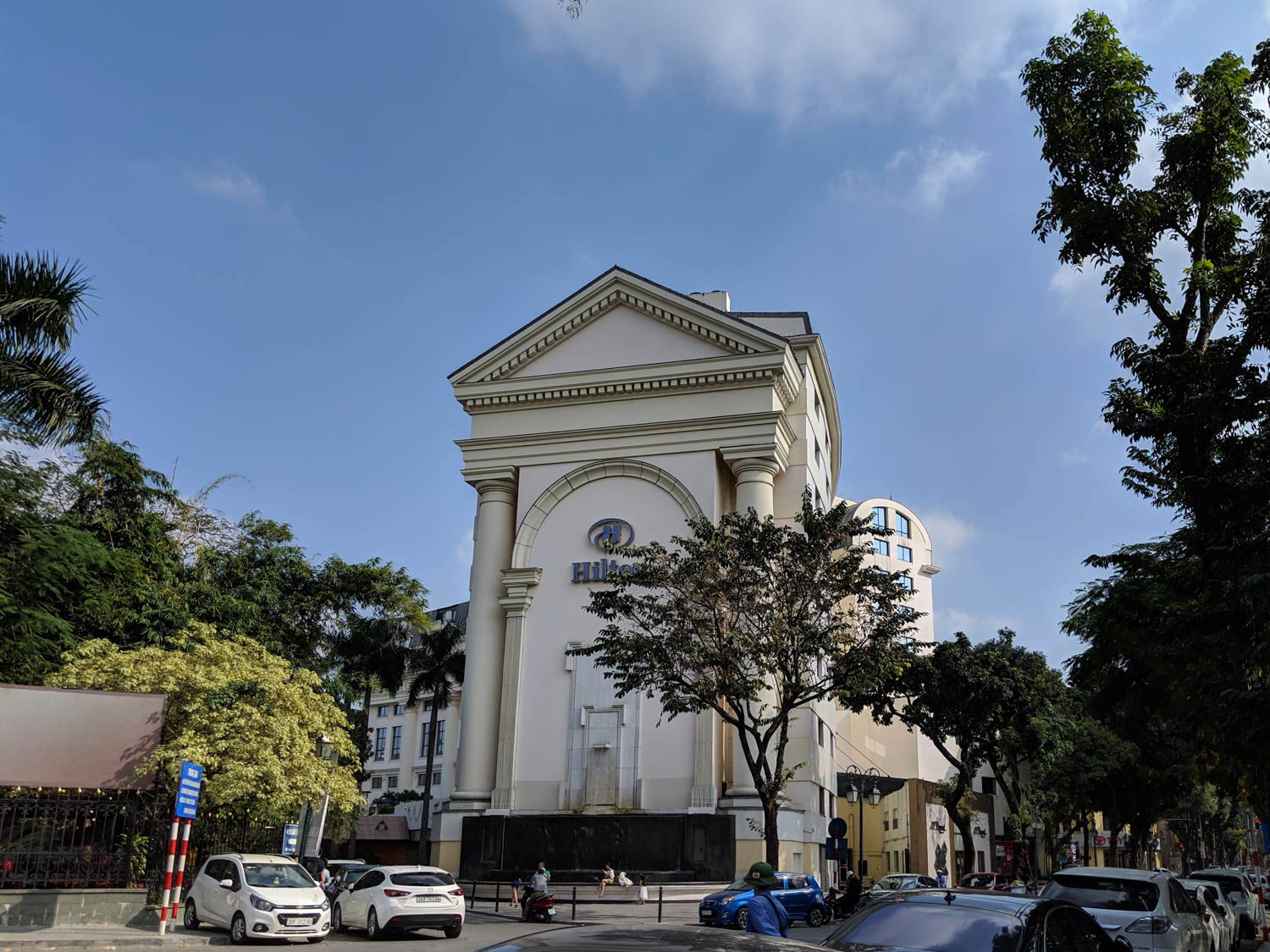 The lobby was large, in that generically-grand kind of way, with abundant natural light.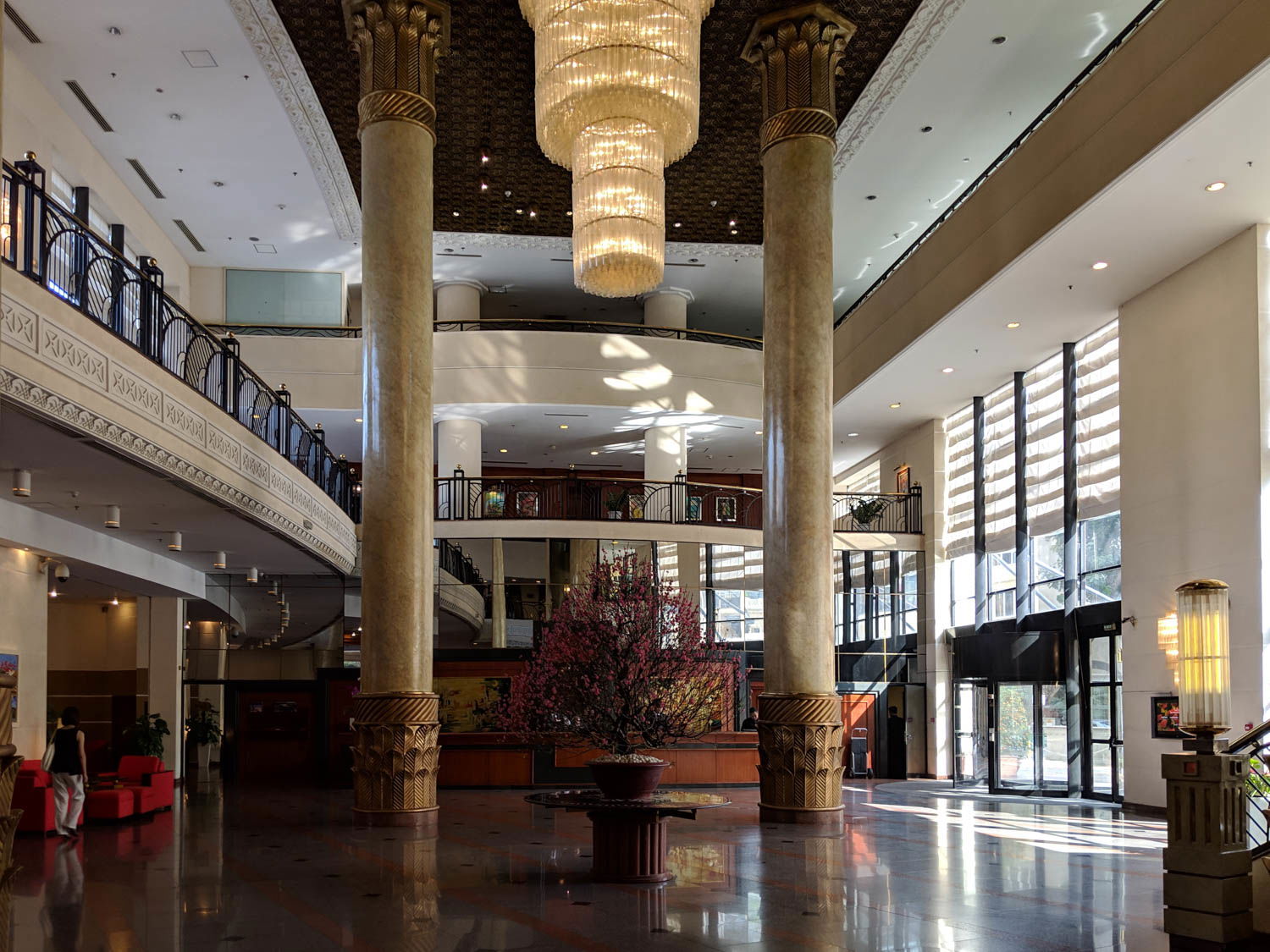 And while the Tet arrangements in the south of Vietnam had been bright yellow, Hanoi was blanketed with pink blossoms.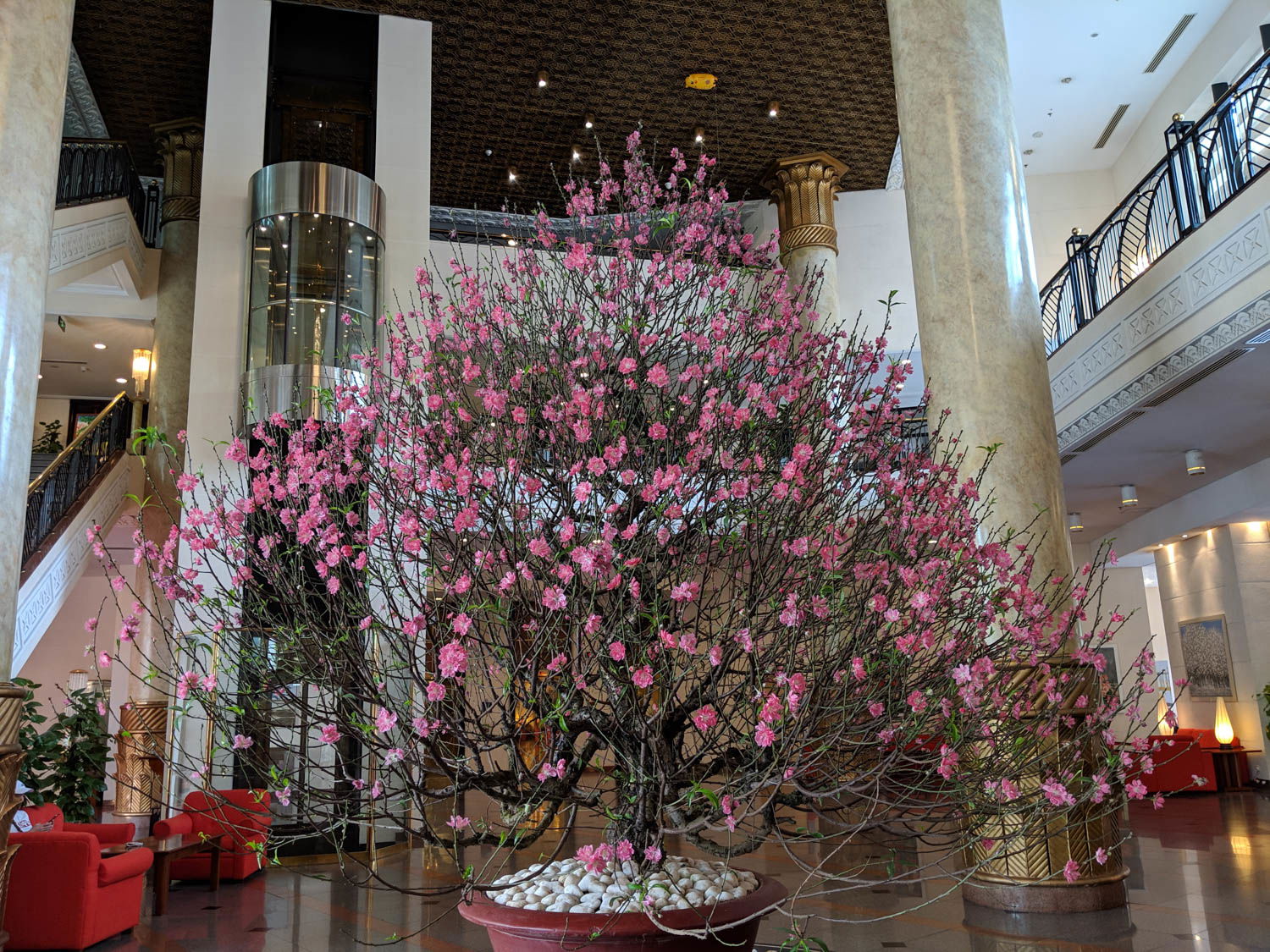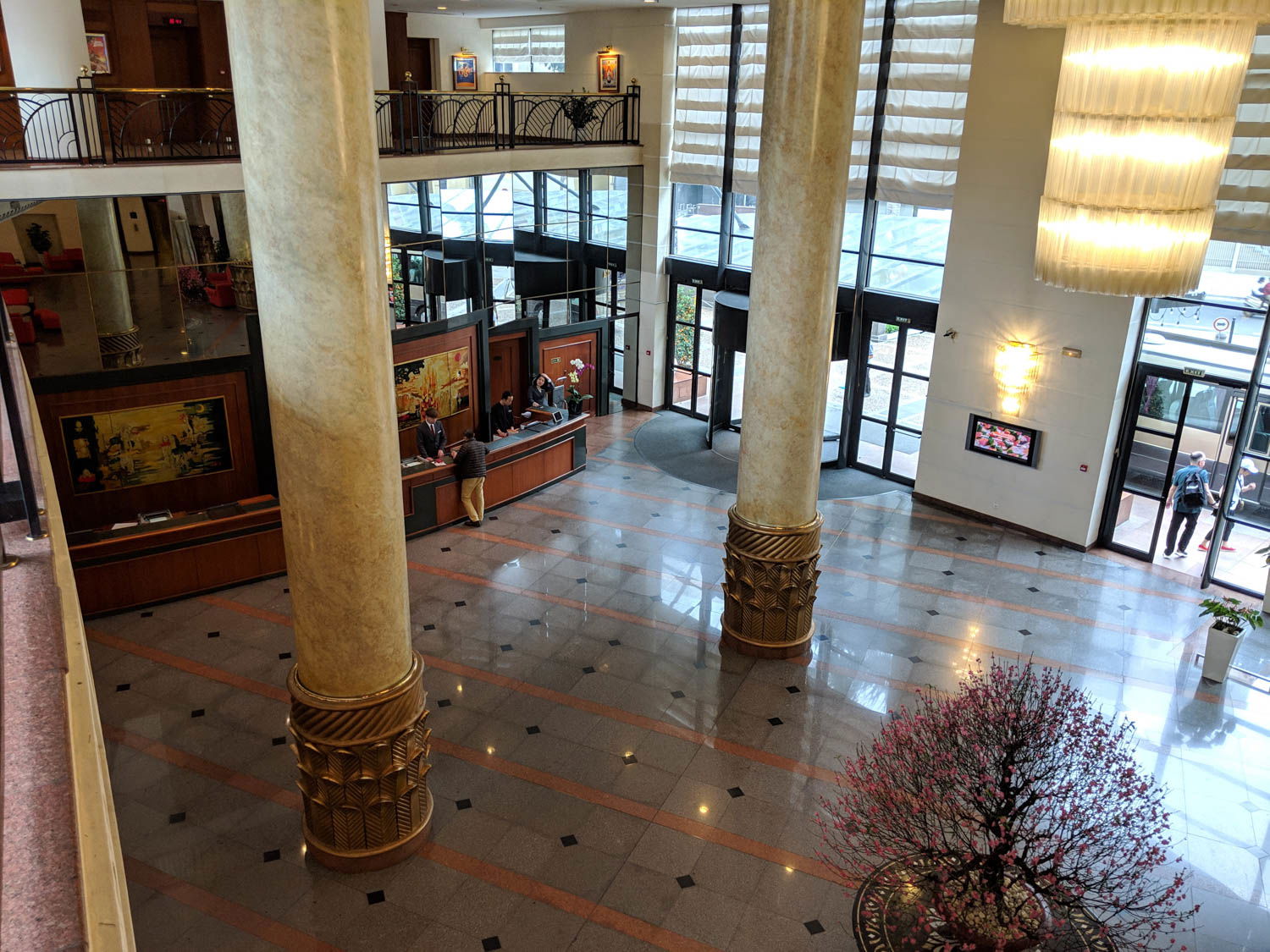 The Hilton is a large hotel, with several restaurants flanking the lobby atrium, along with a coffee shop/lounge on the main level.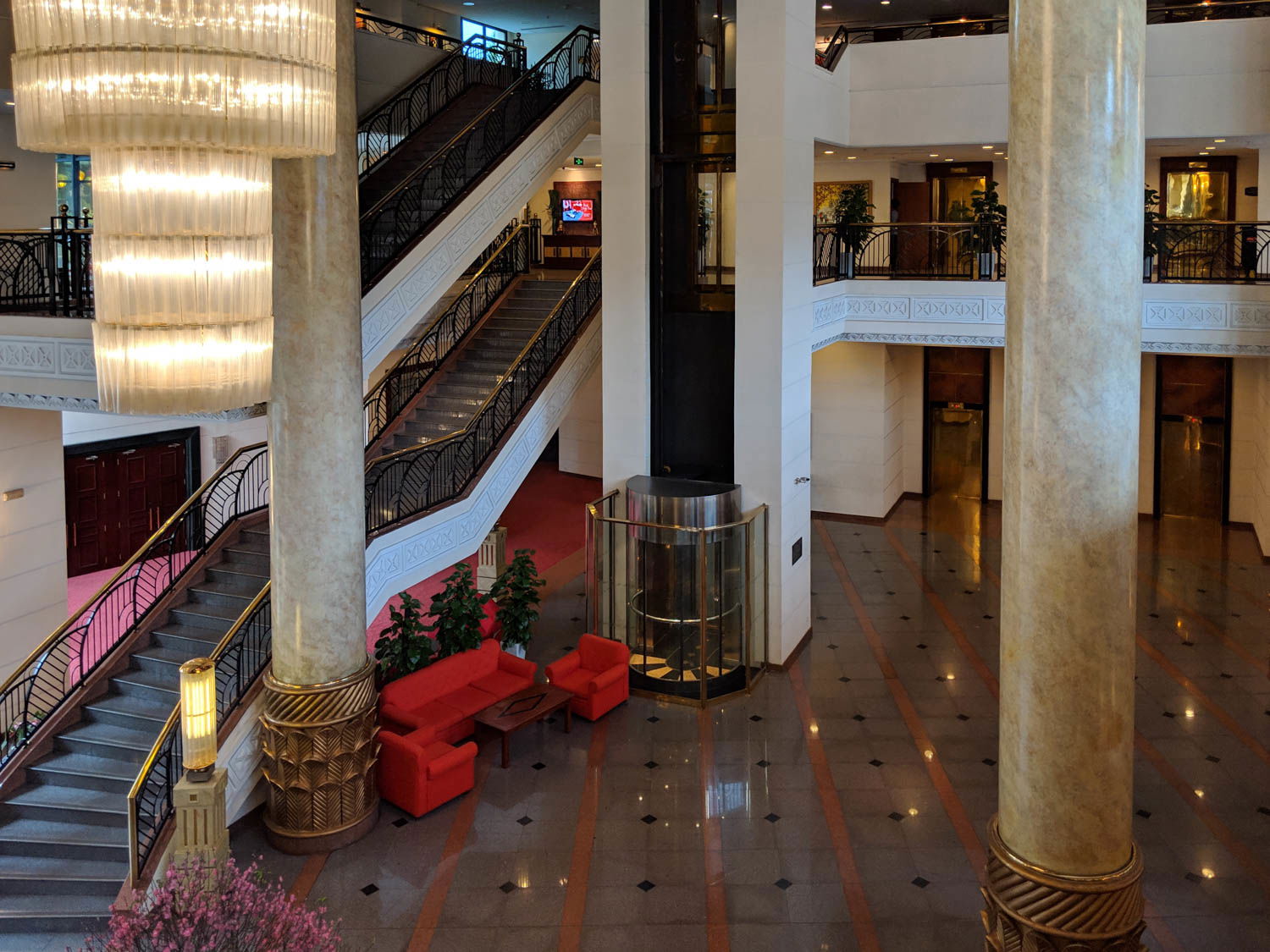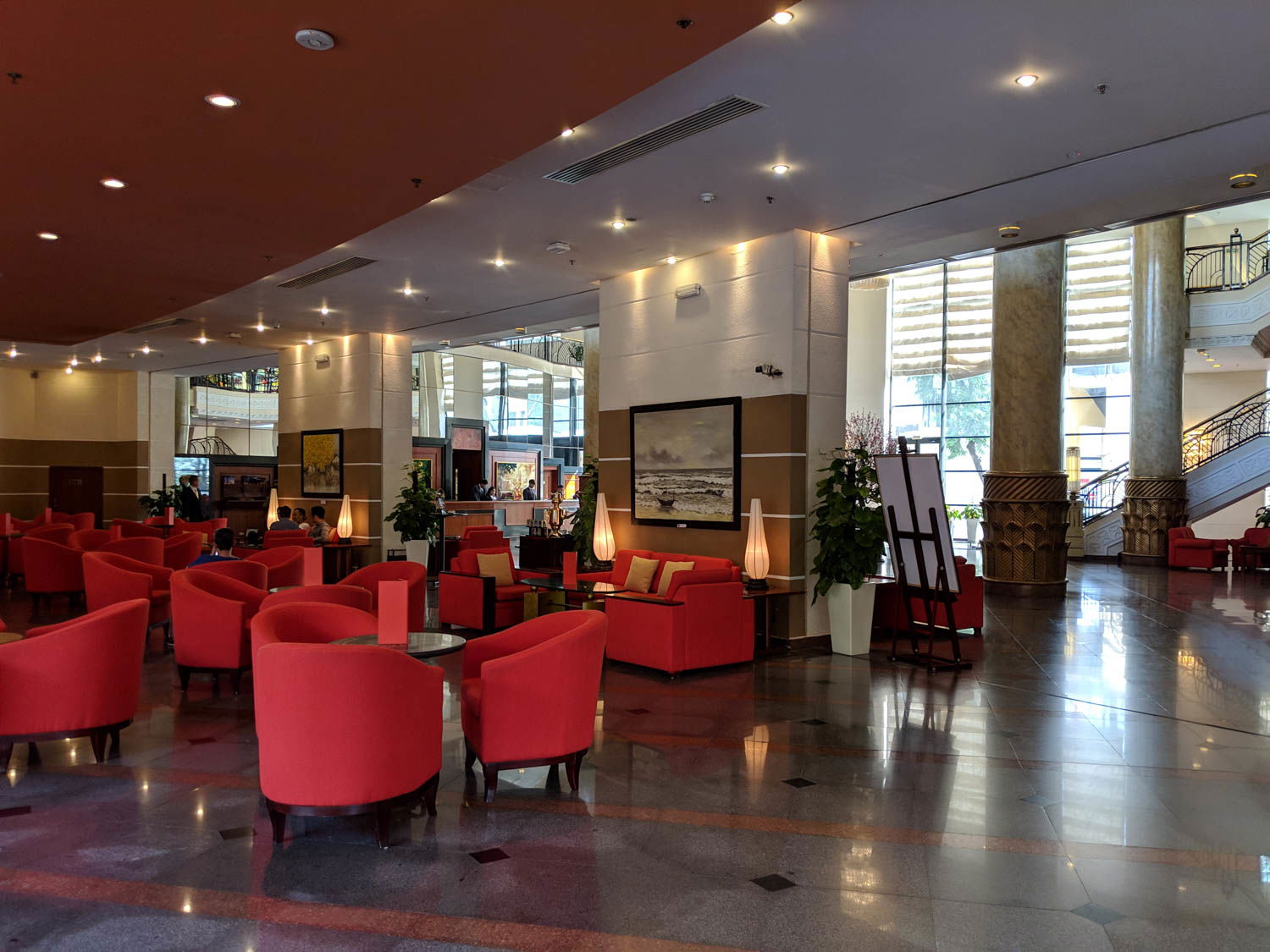 Check-in was extremely efficient — keys had been pre-made for both rooms, so it took only a few minutes to share our passports, sign the rate cards, and be on our way.
We were also given a flyer with the Executive level benefits: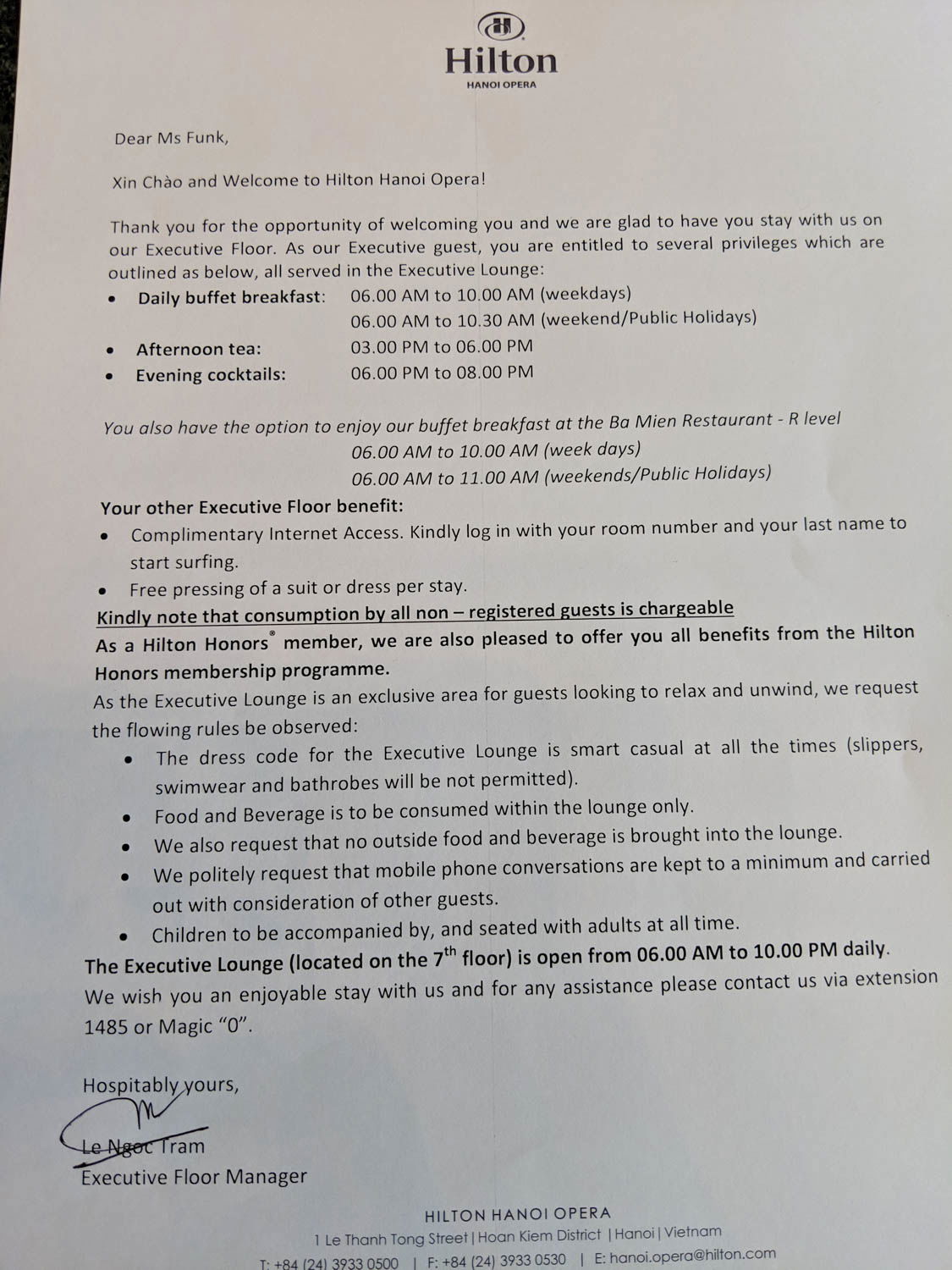 Hilton Hanoi King Executive Room
We'd each booked the base (or "deluxe" room), though as a Hilton Honors Gold Heather was upgraded to a king room on the Executive floor. The room was on the 7th floor, just a few doors down from the lounge.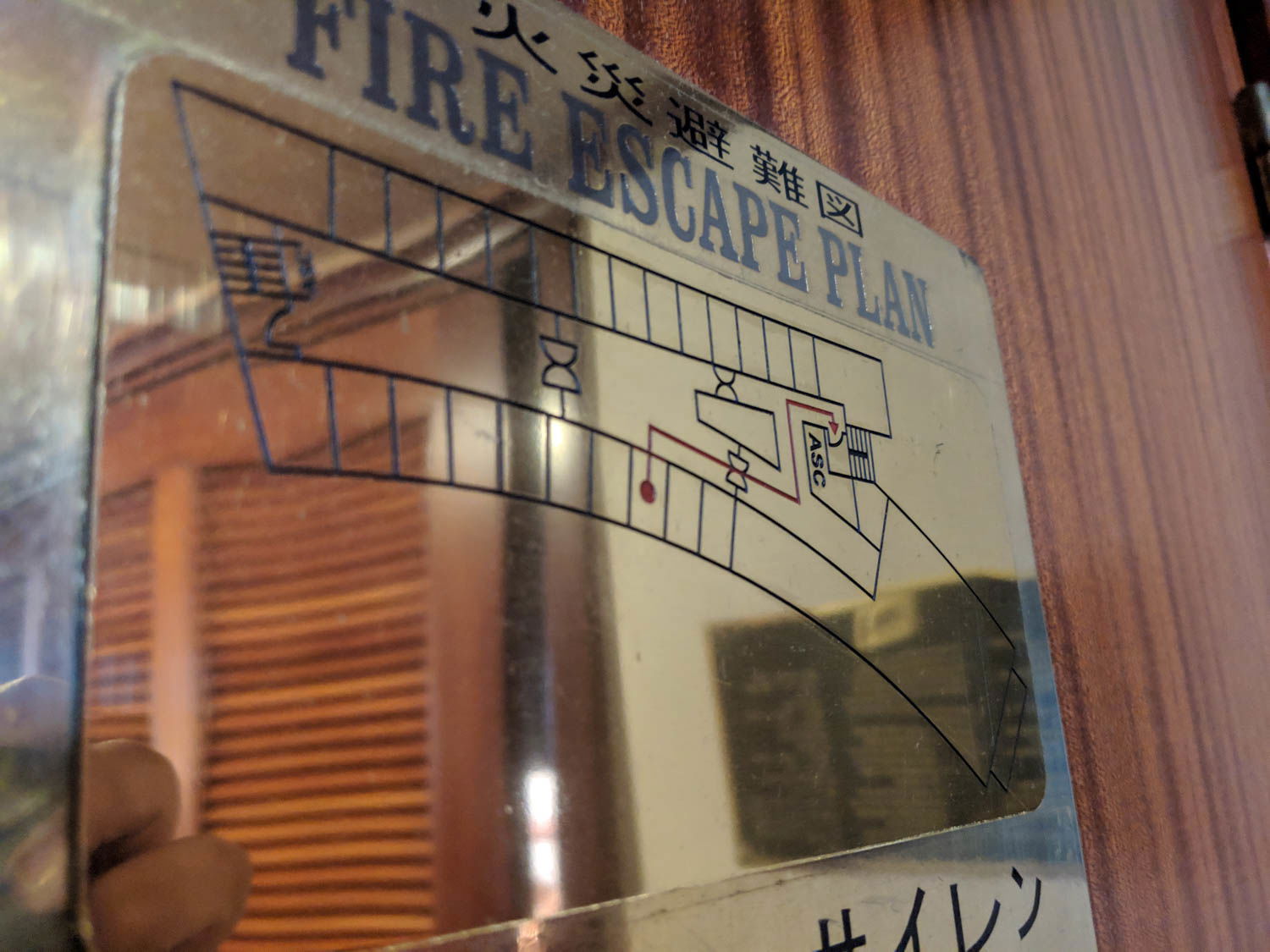 The room…well, it looked like a standard cookie-cutter Hilton of a particular era. I'm sure you've stayed somewhere similar before.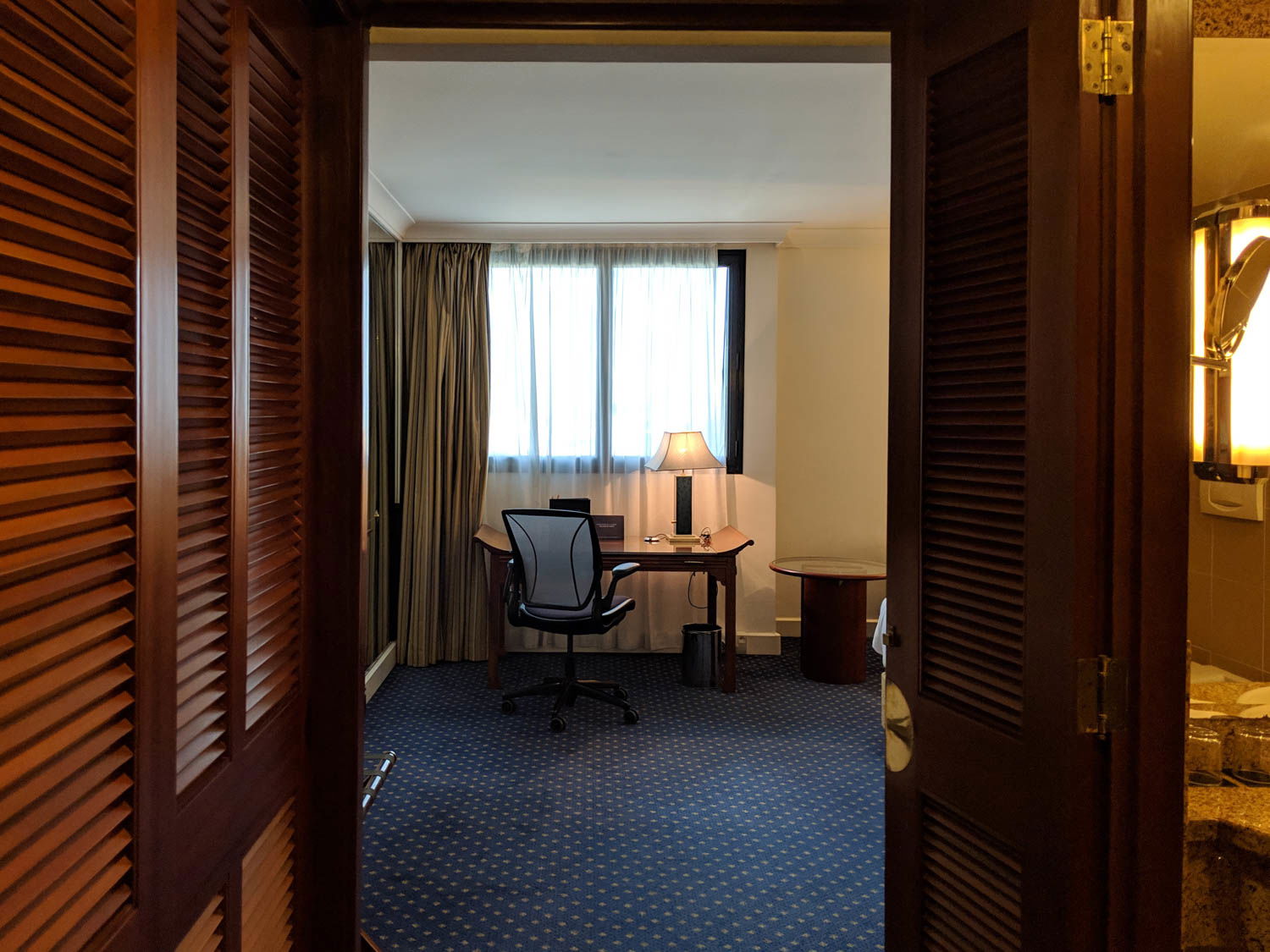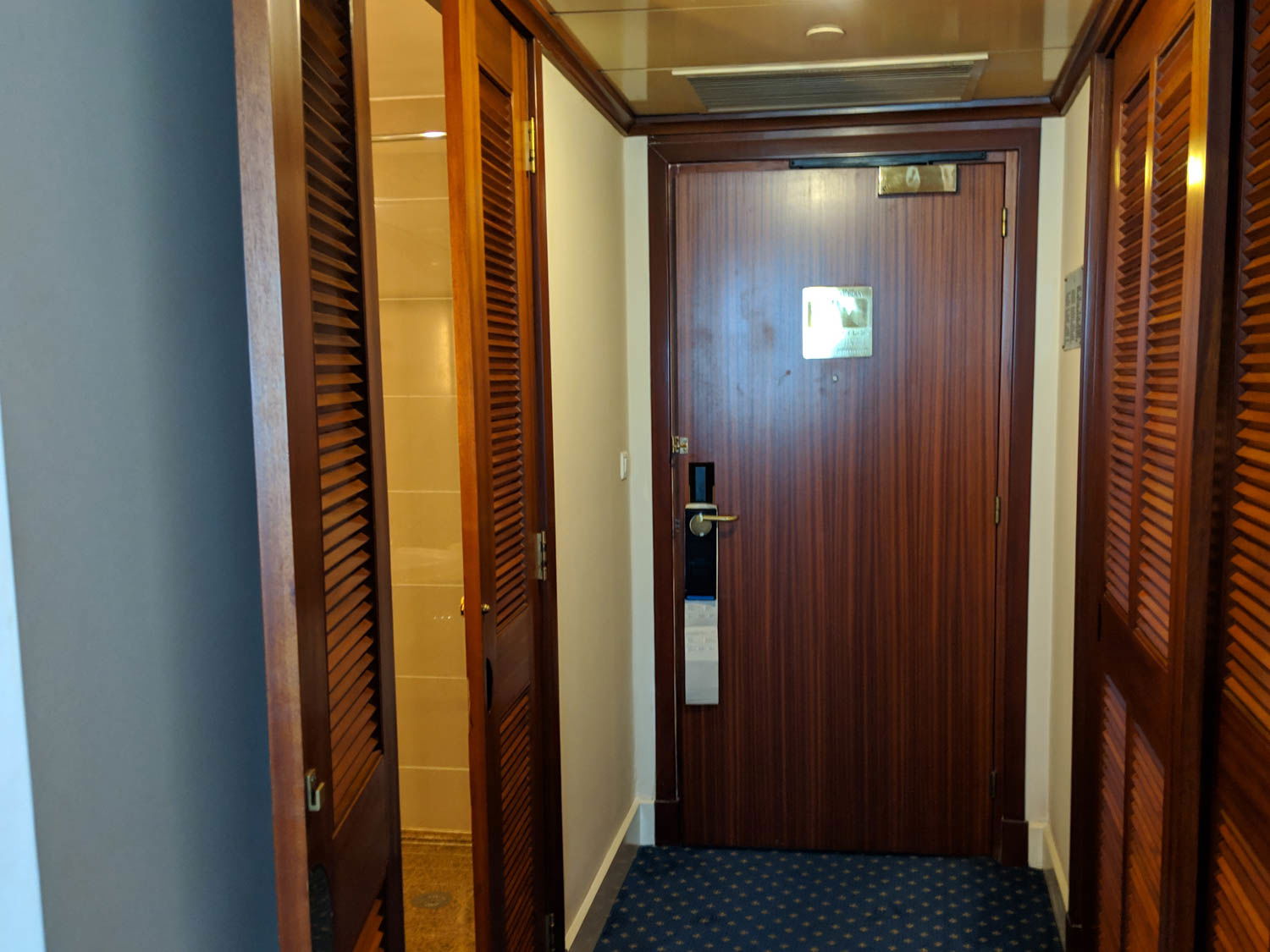 In fact, the room was so familiar-feeling that Heather, who spent a decade as the kind of road warrior who essentially lives in bland hotels exclaimed, "Oh, I am going to sleep so well in this hotel!"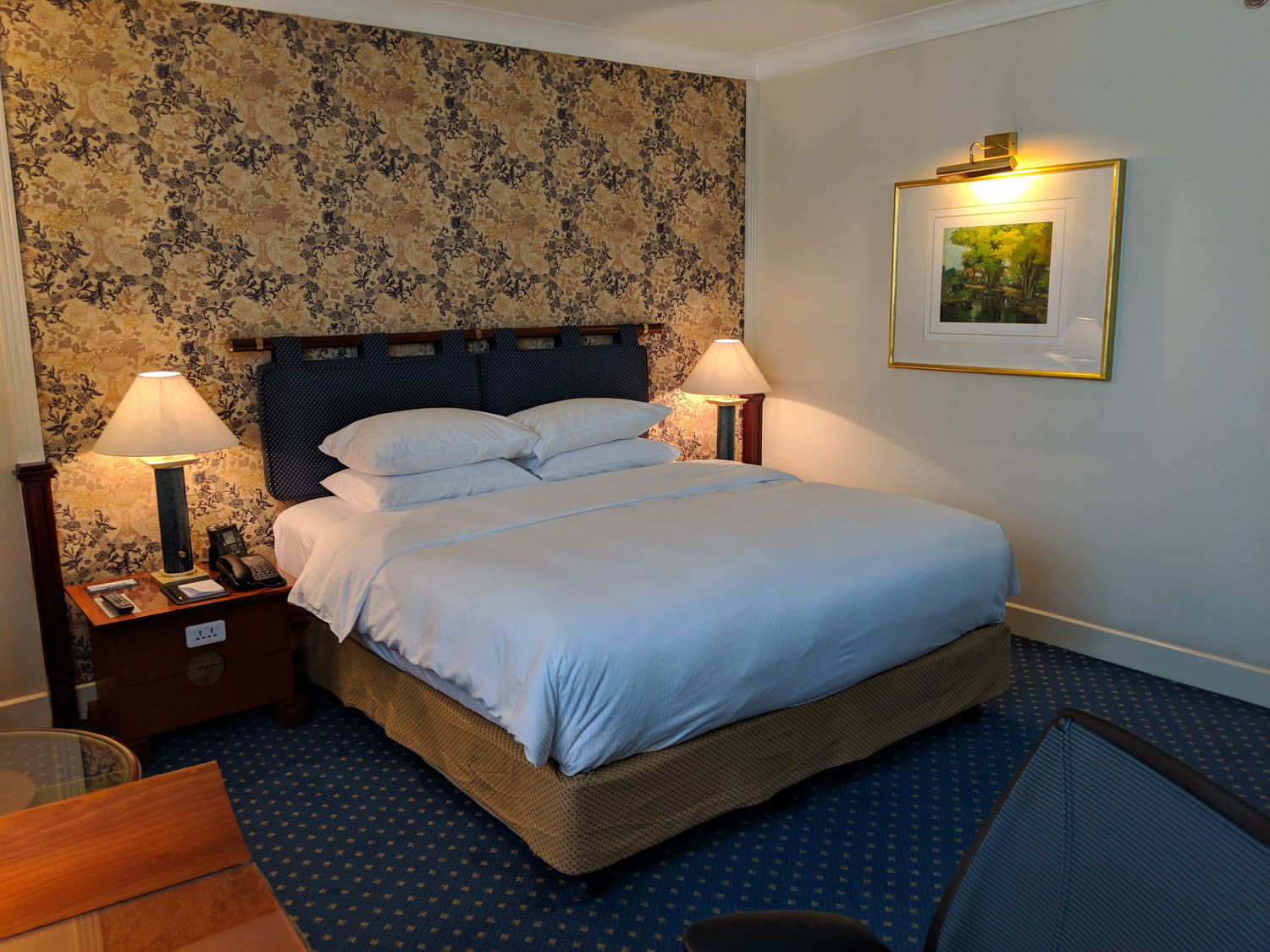 So there is an occasional benefit to very standard hotel rooms. 😉
In addition to the king bed, the room had a desk with an office chair, along with an arm chair and side table.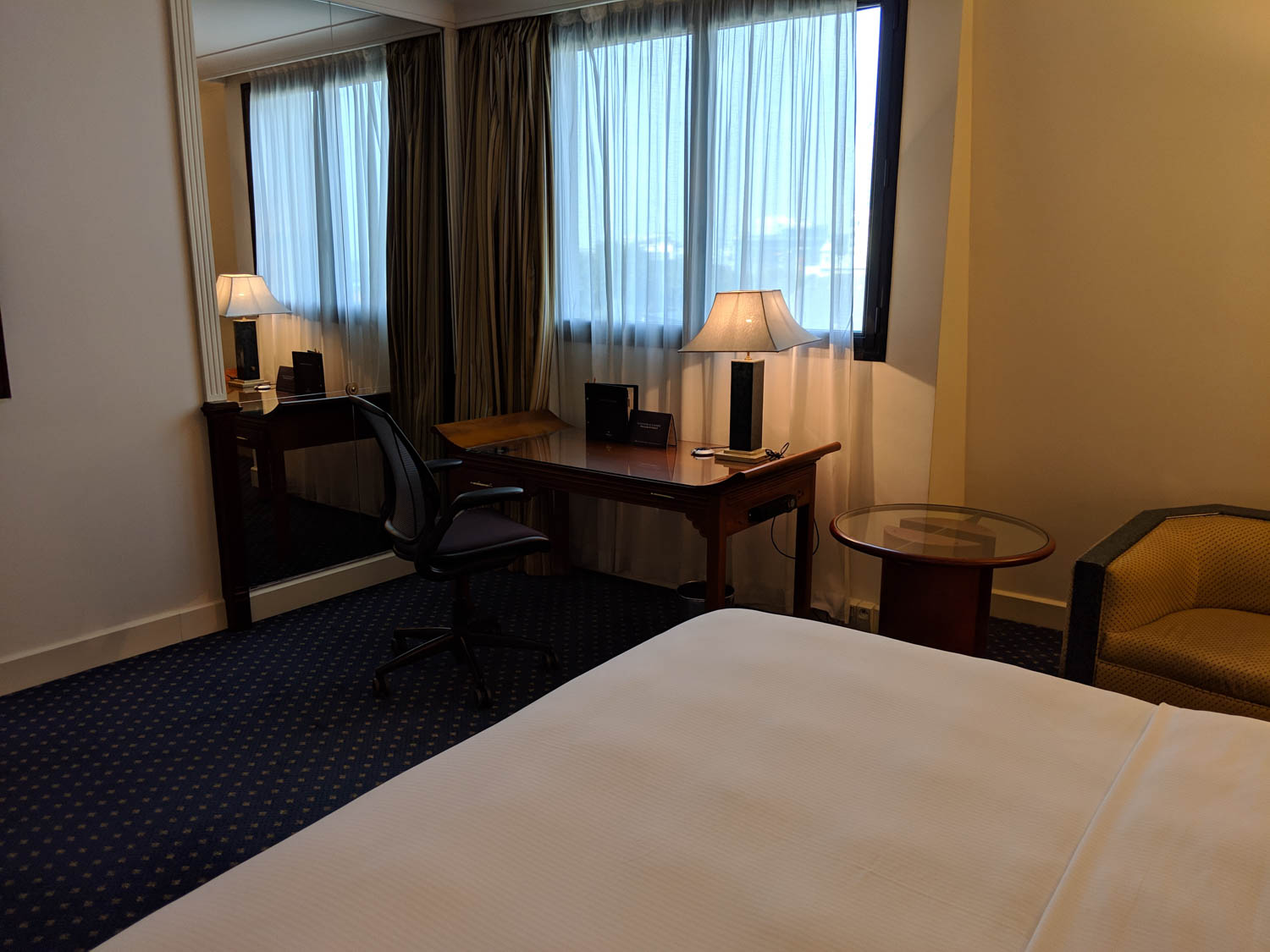 On the plus side, their room did have a lovely view of the Opera House.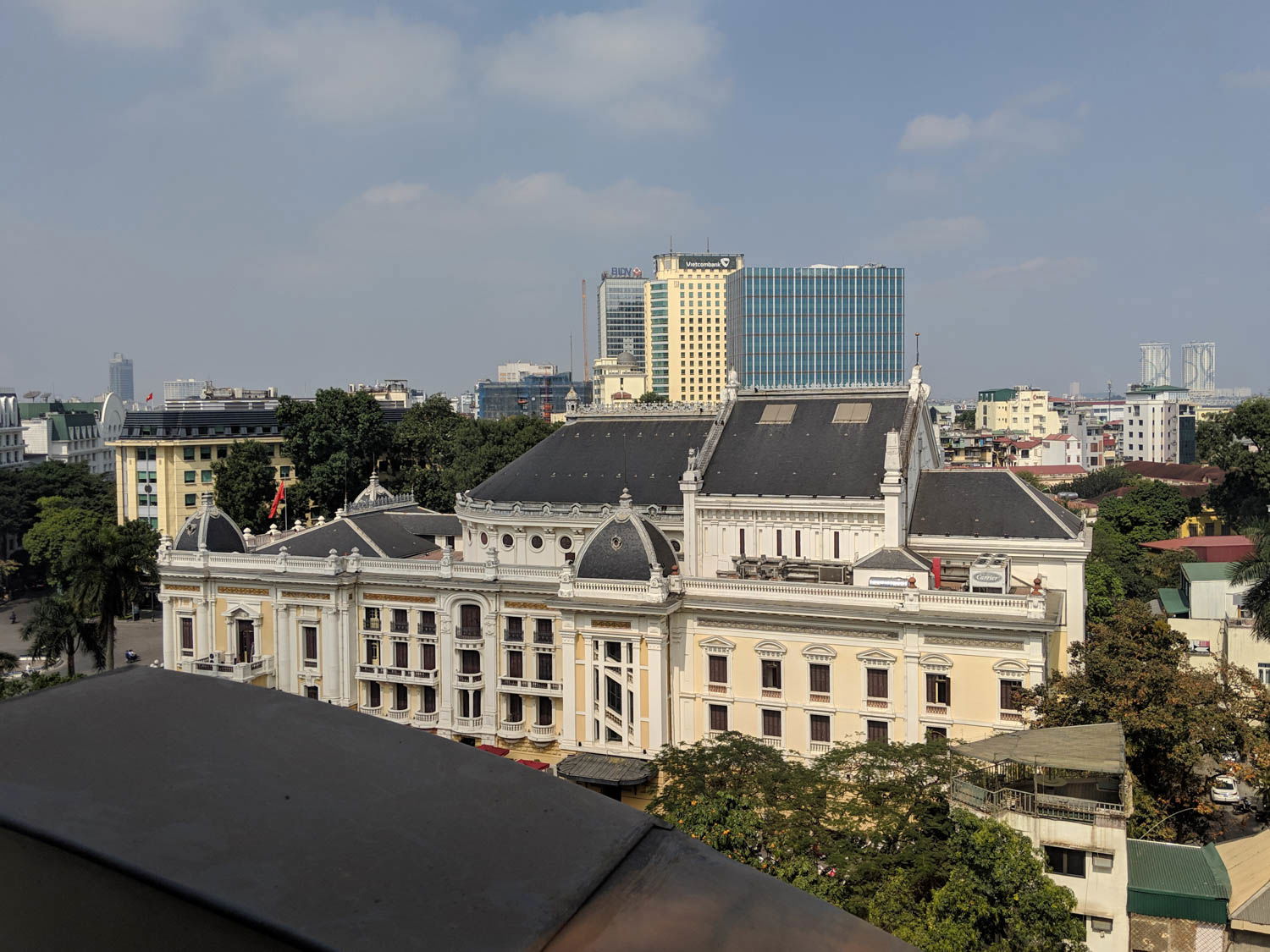 The bathroom was as you'd expect — functional, if not particularly stylish, with a separate tub and shower.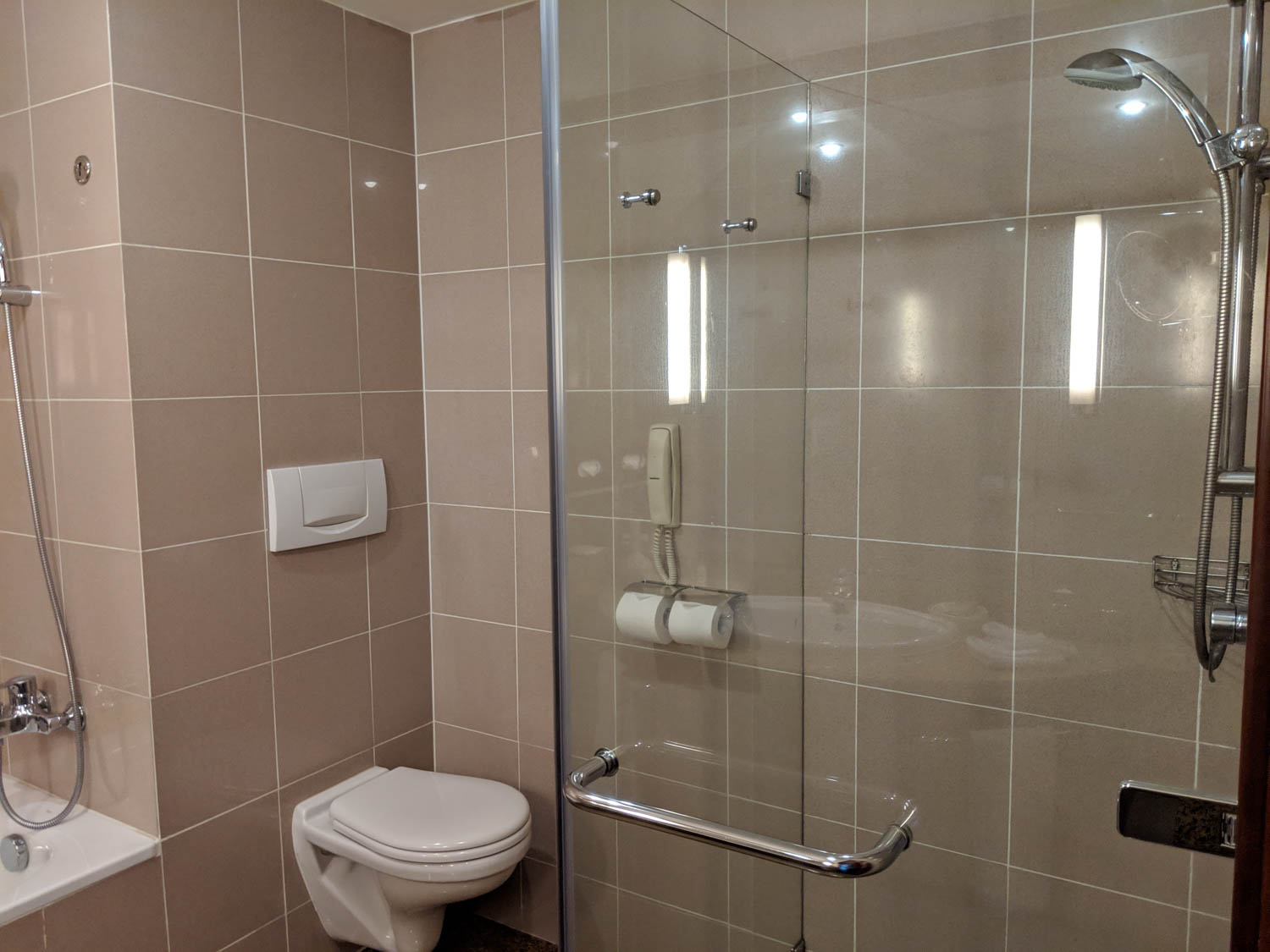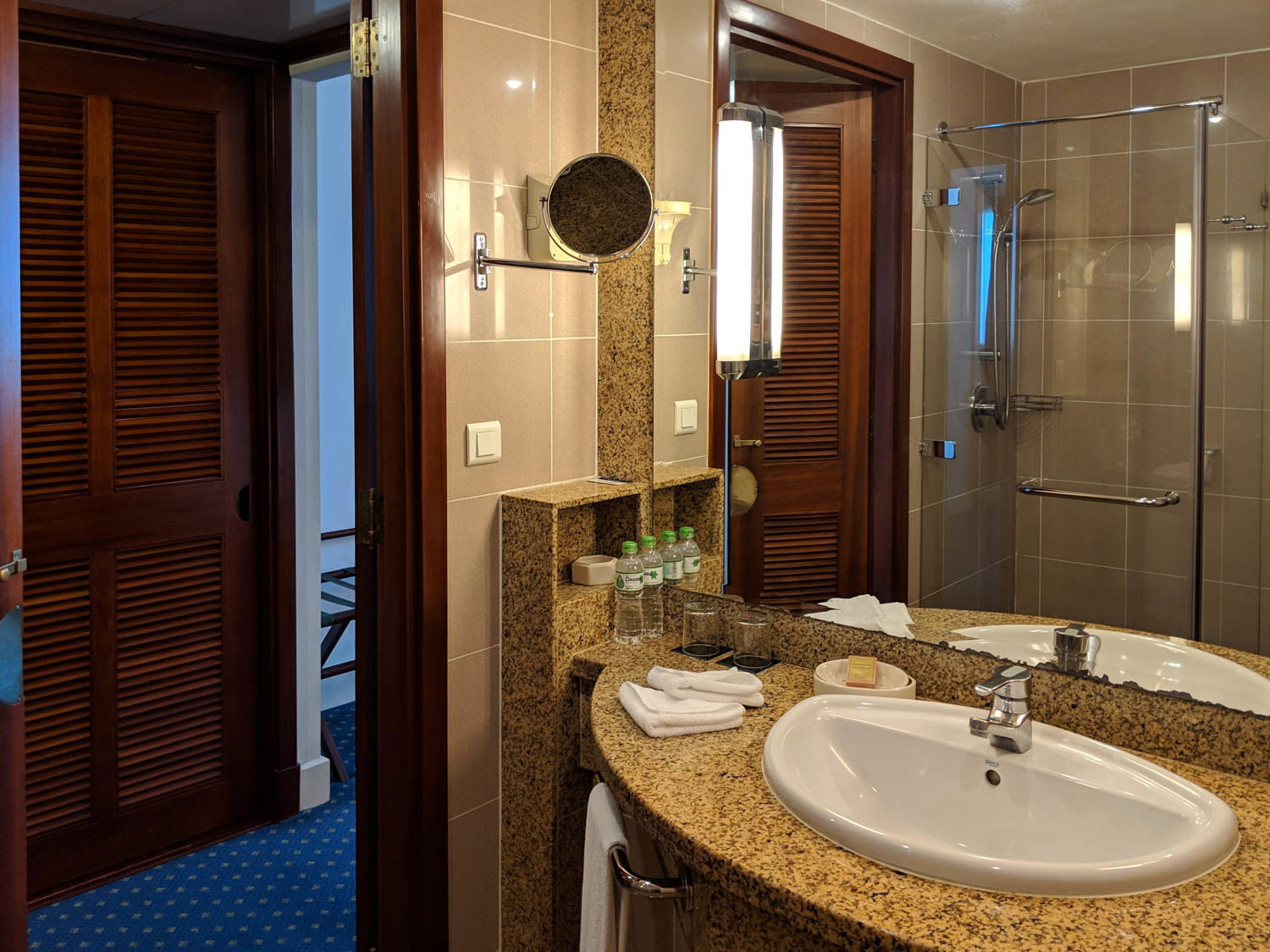 Crabtree & Evelyn bath amenities were provided, along with two bottles of water.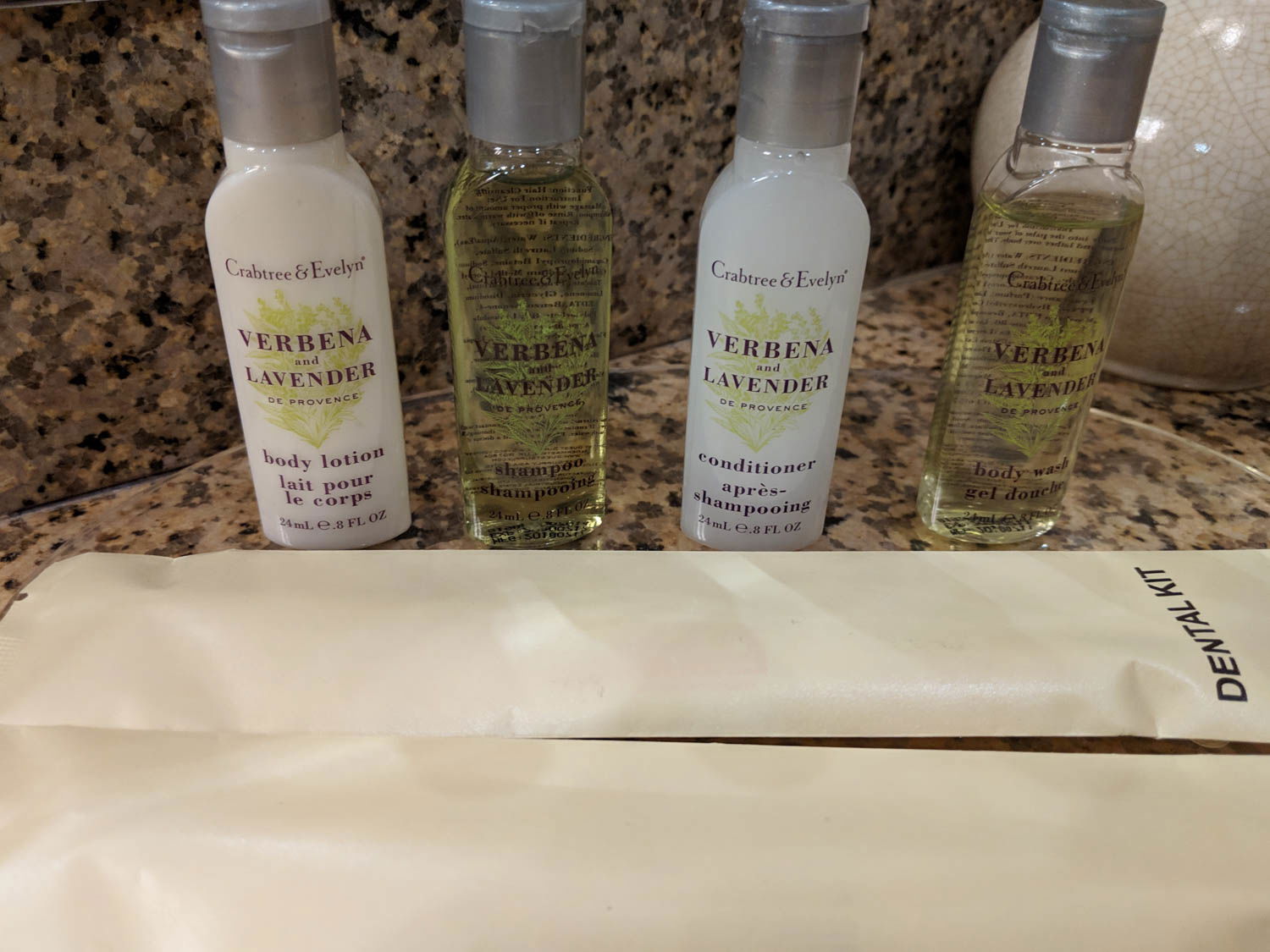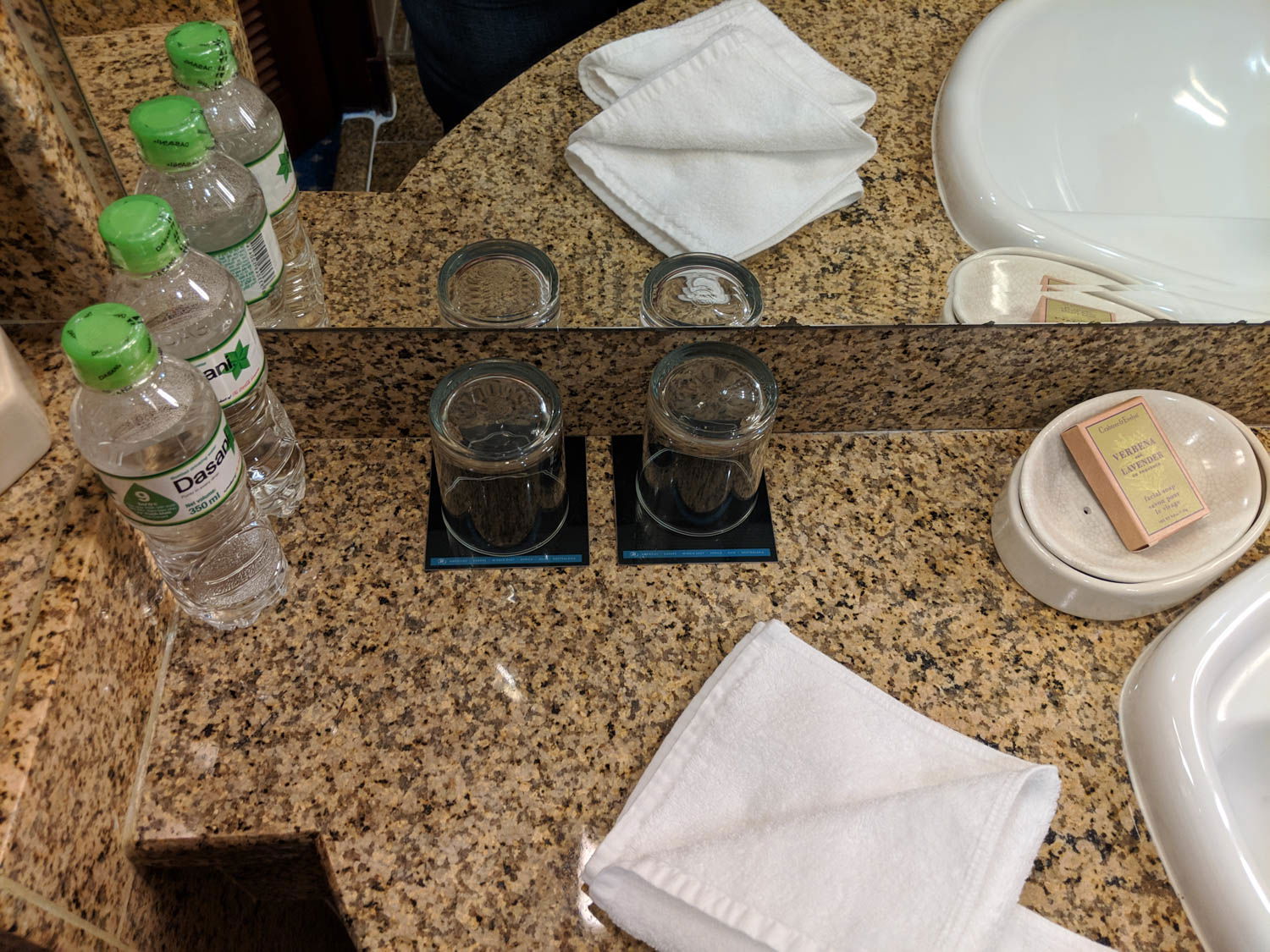 The room had a tea-making setup as well, which was also very generic, but worked.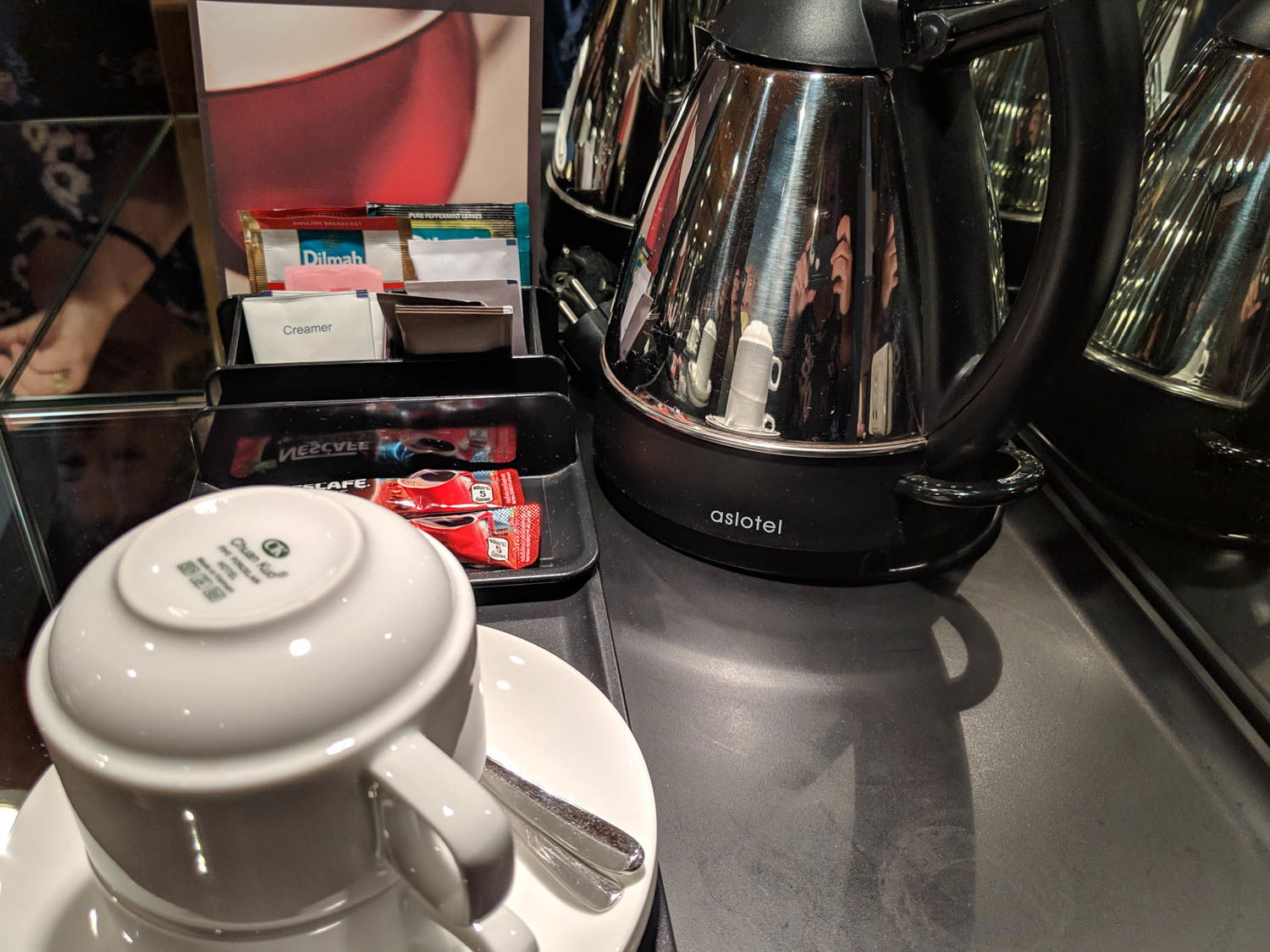 So while the room wasn't that visually exciting, the HVAC worked well, the bed was comfortable, and the room was quiet. Sometimes that's all you really need!
Hilton Hanoi King Executive Suite
I was assigned a suite on the 6th floor, at the far end of the building.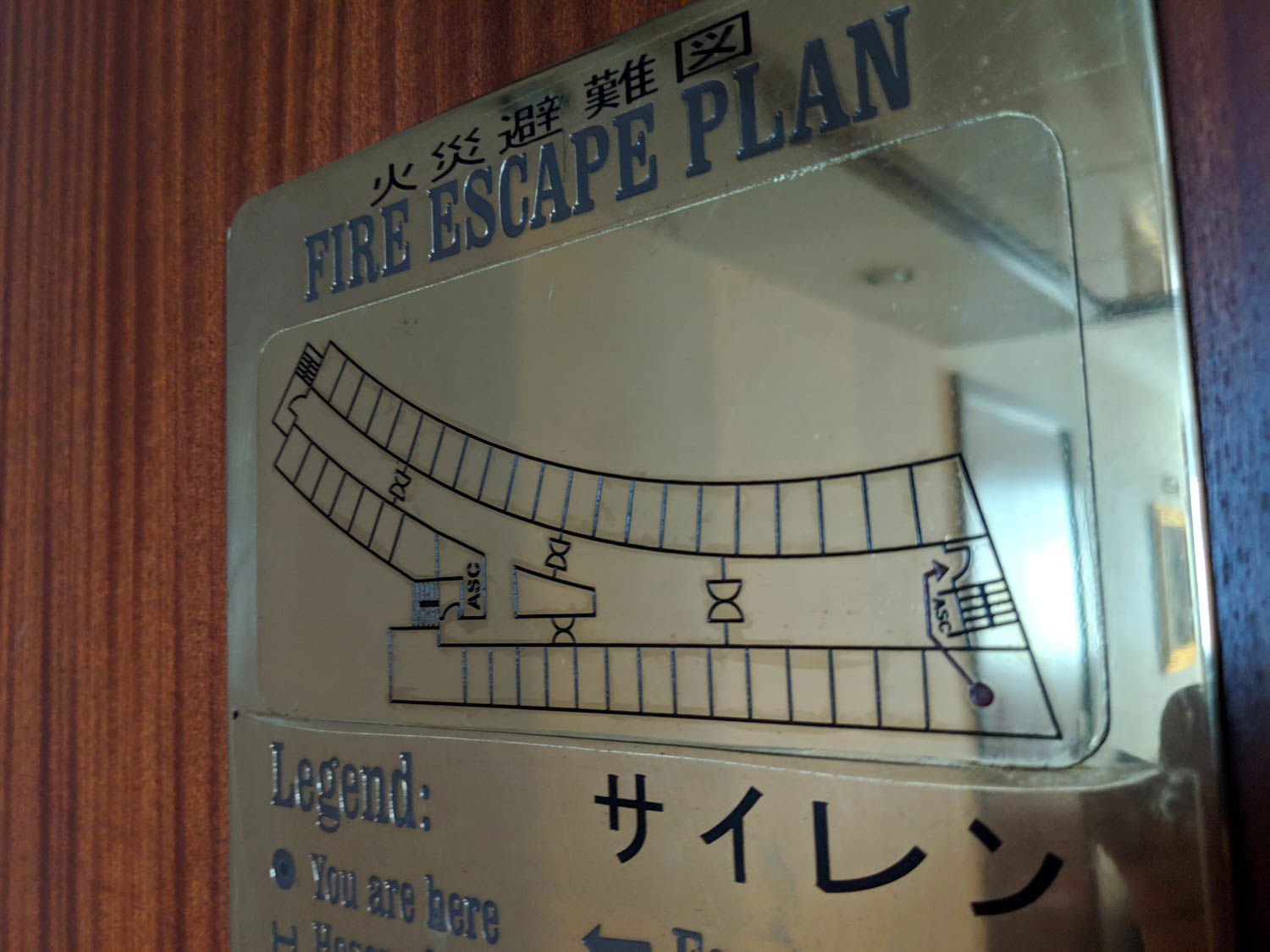 The room opened to a large seating area, with a sofa, two chairs, and then a desk and office chair in the corner.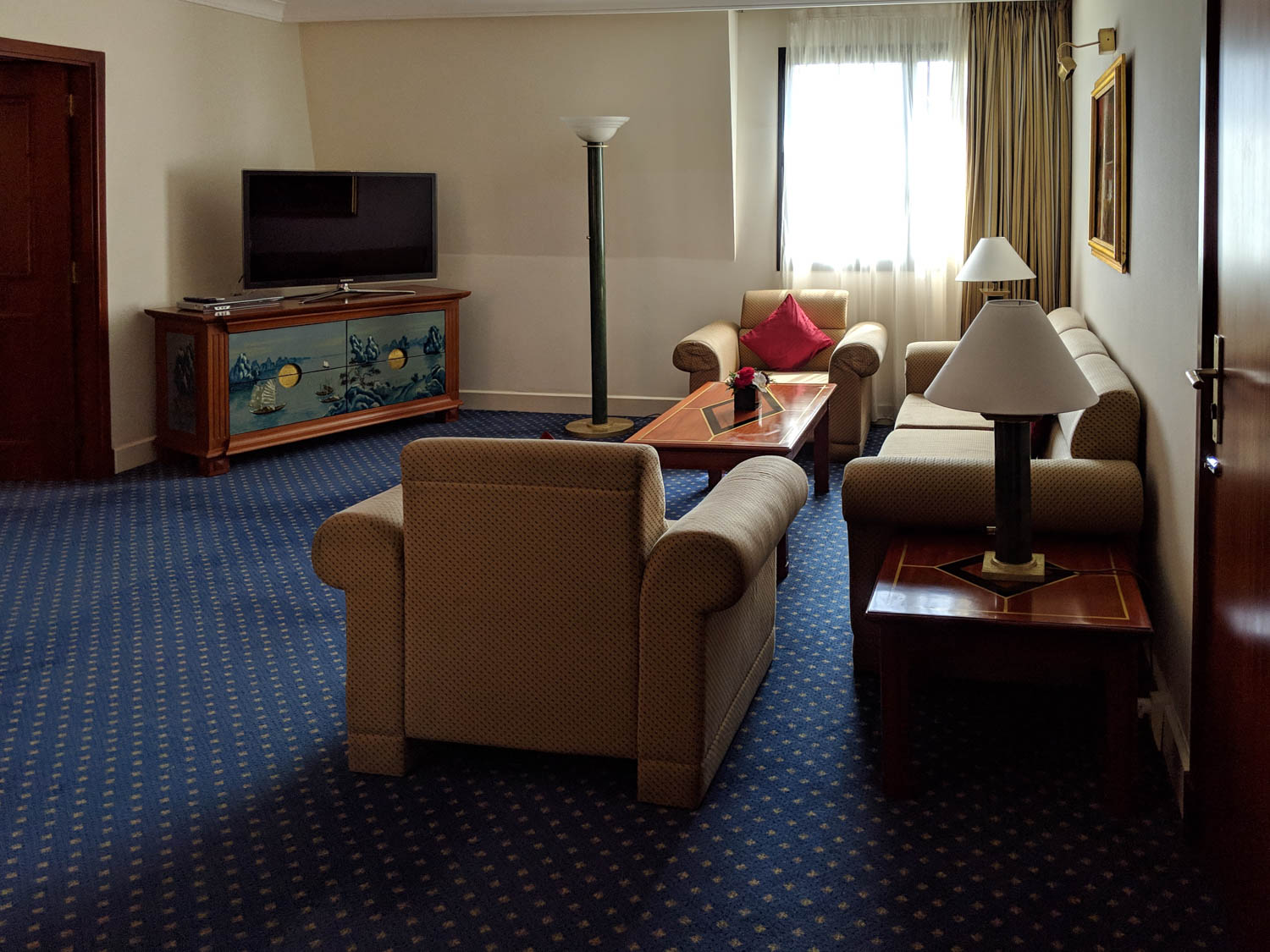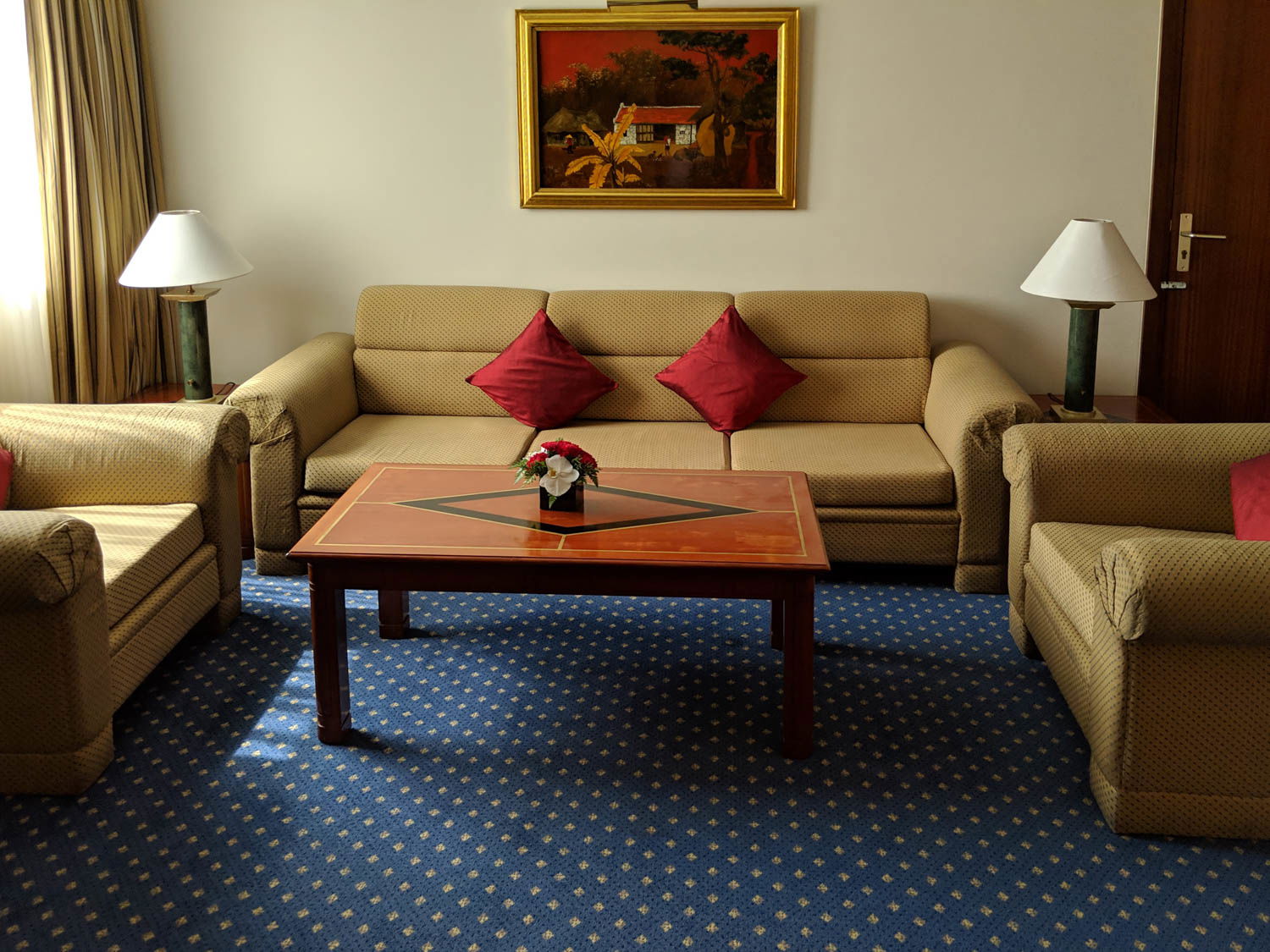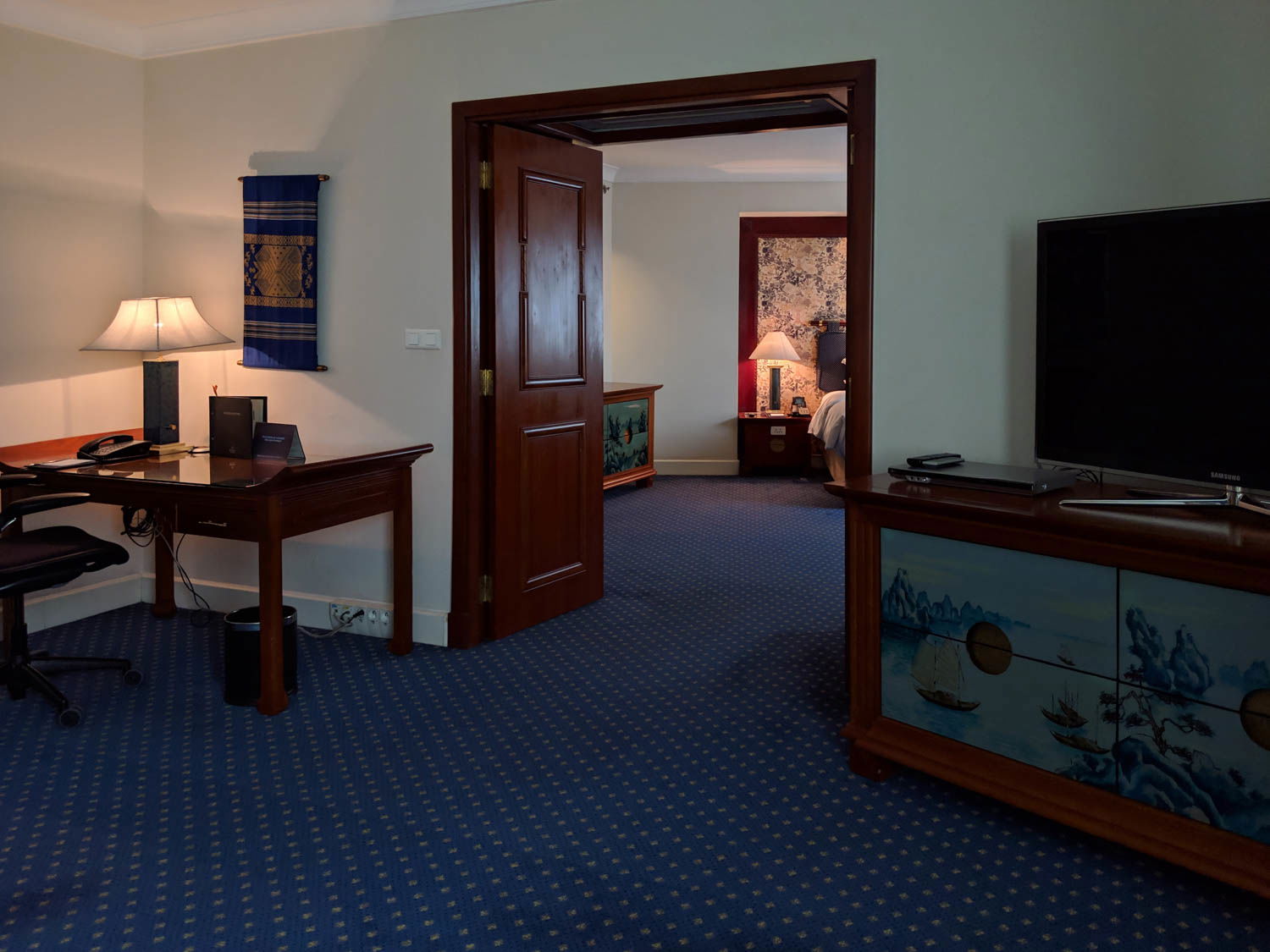 While it was nice having the desk, all the outlets were back behind the trash can, which was slightly awkward to access.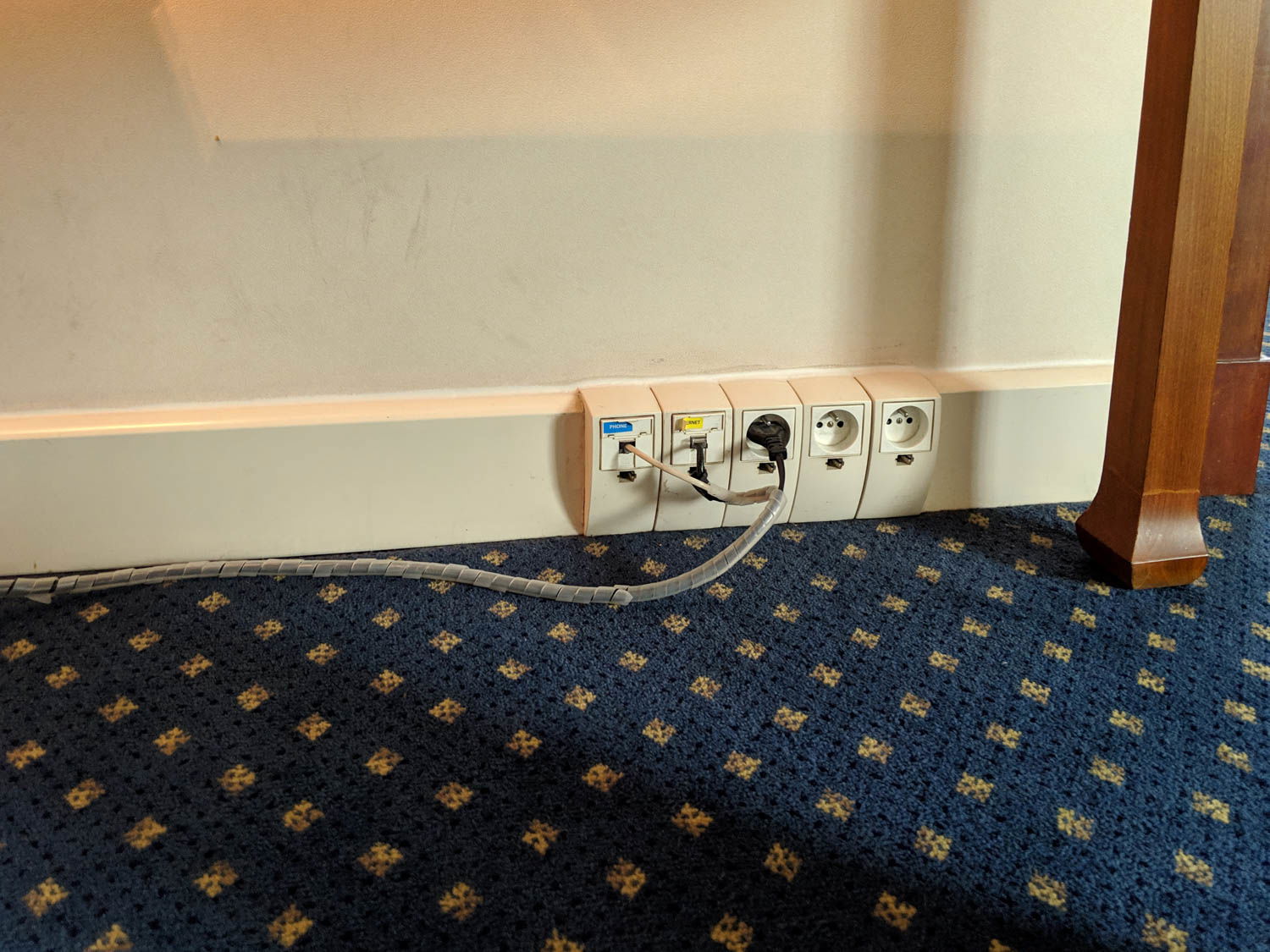 When we returned from dinner later, a plate of fruit and chocolates had been delivered, which was a nice touch.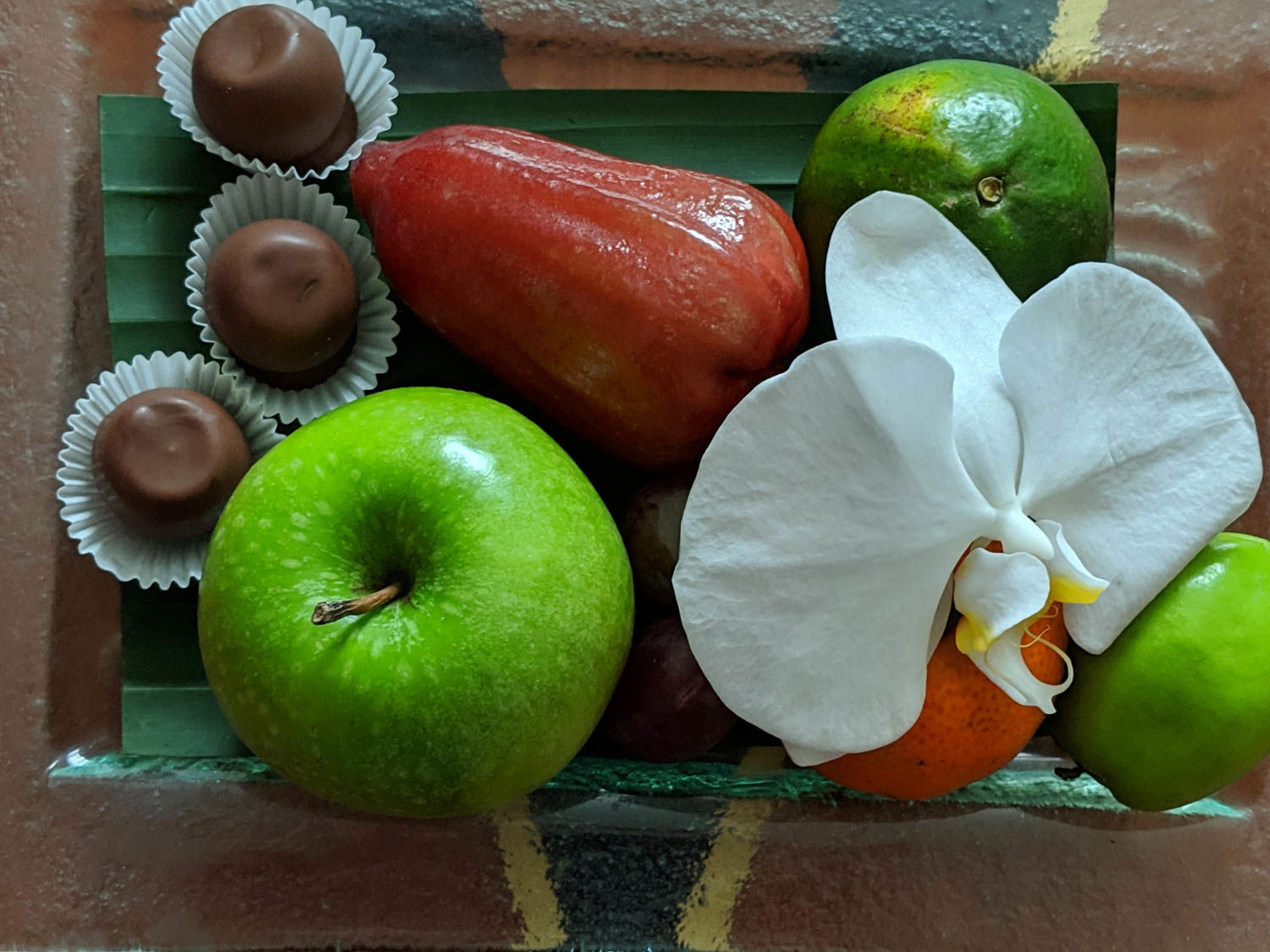 The suite also had a powder room off the living room, with a sink and separate toilet.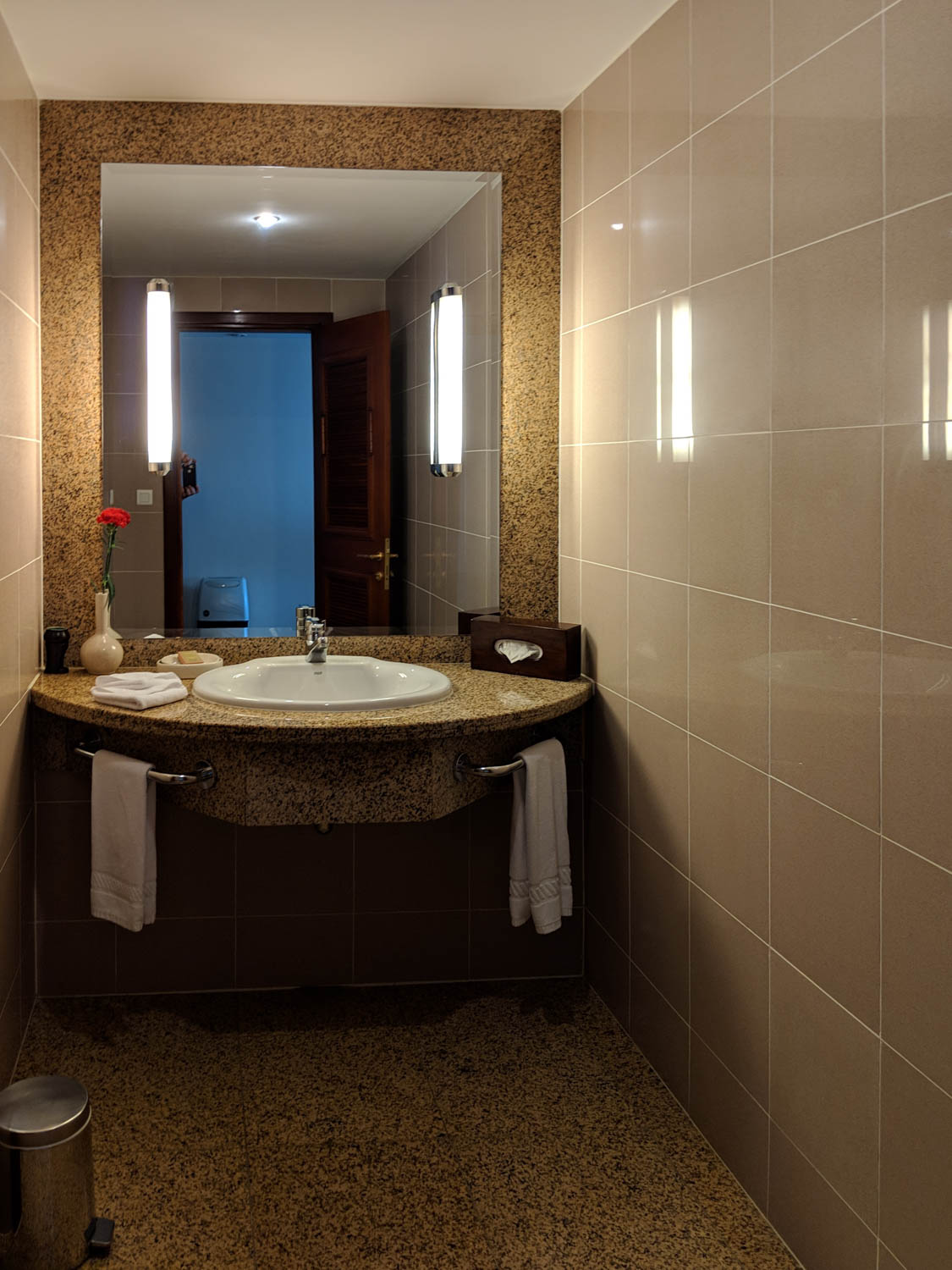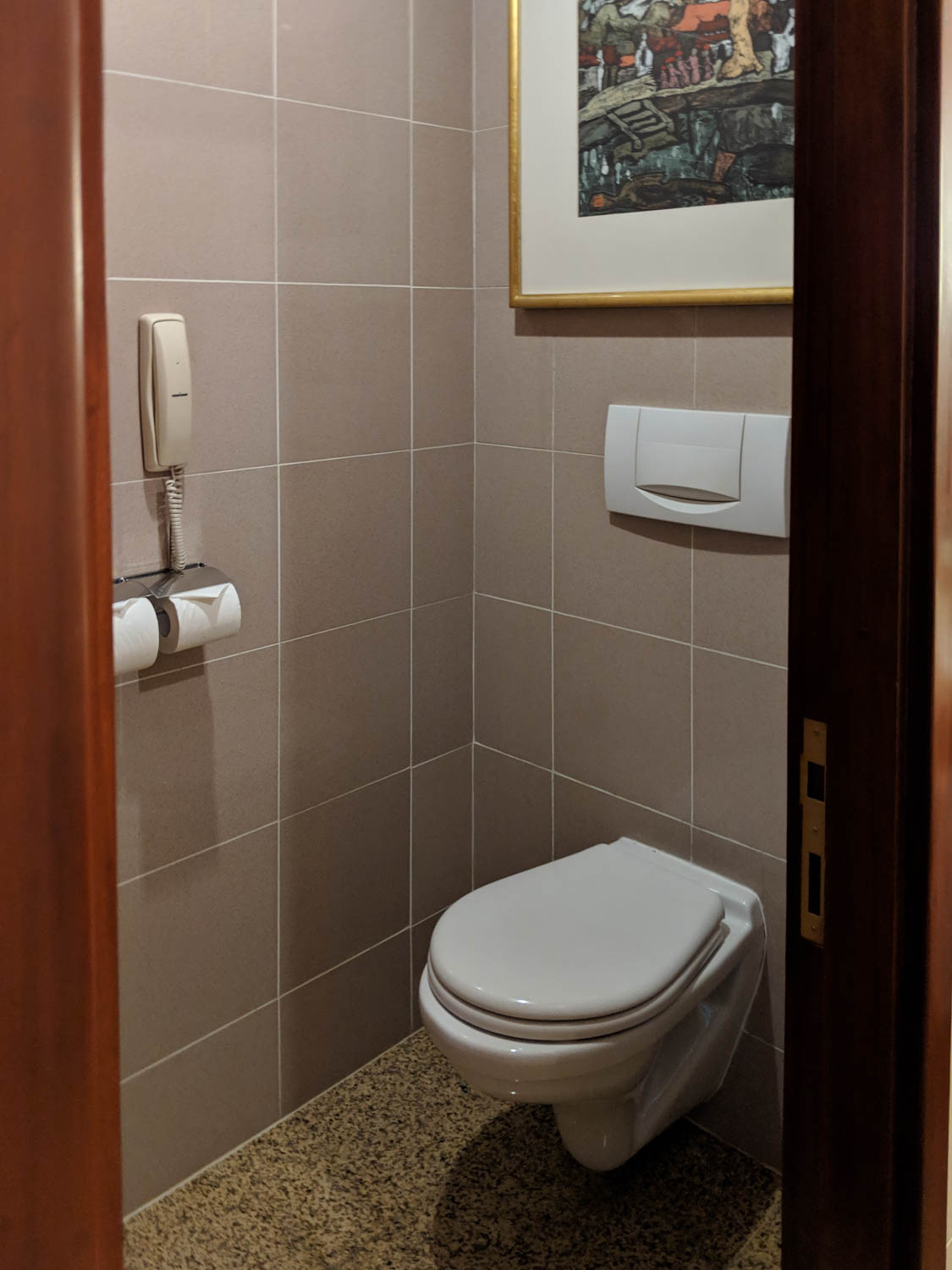 The bedroom was quite large, with a plush king bed, generously-sized dresser, and a built-in closet/entertainment console.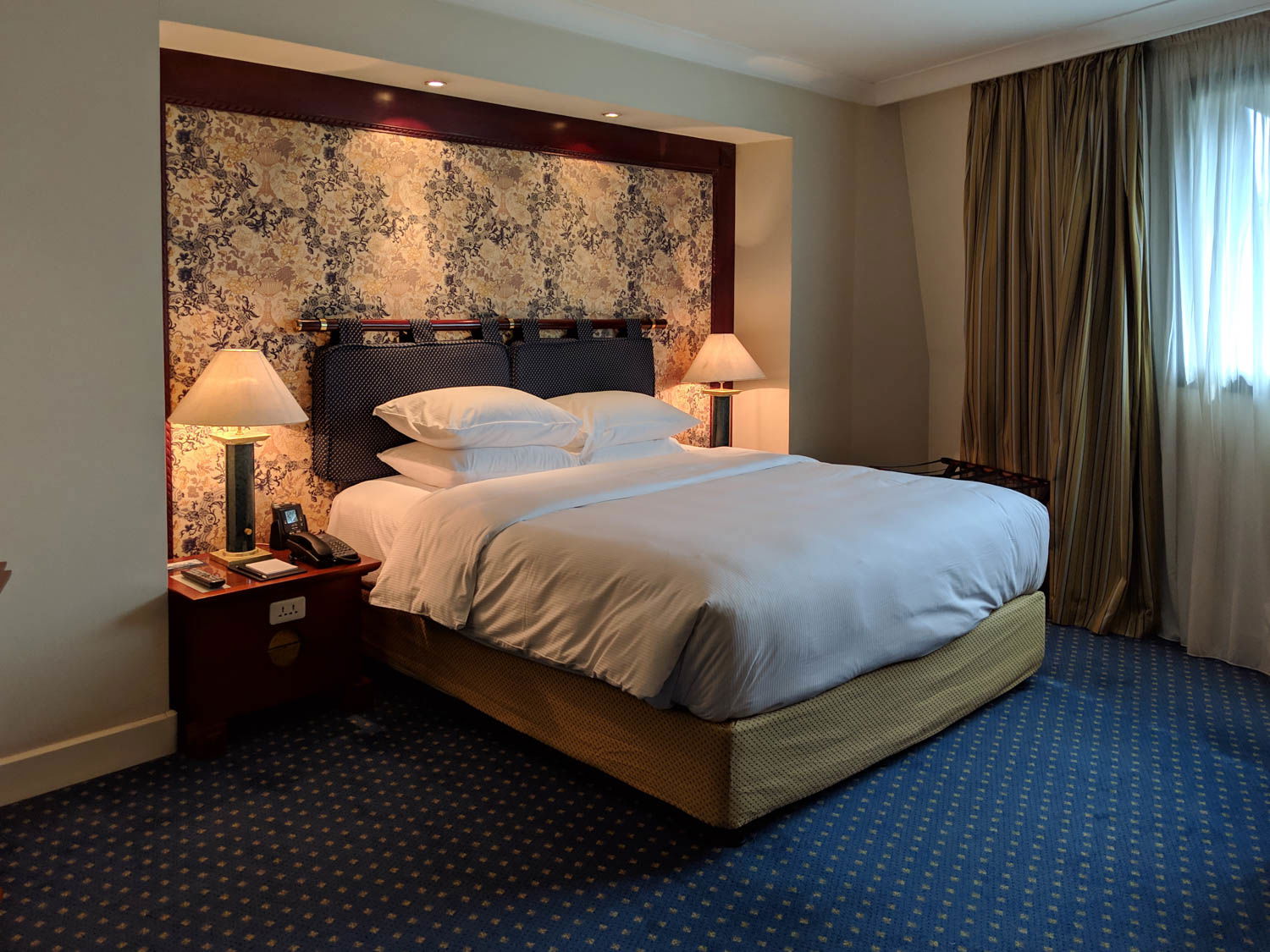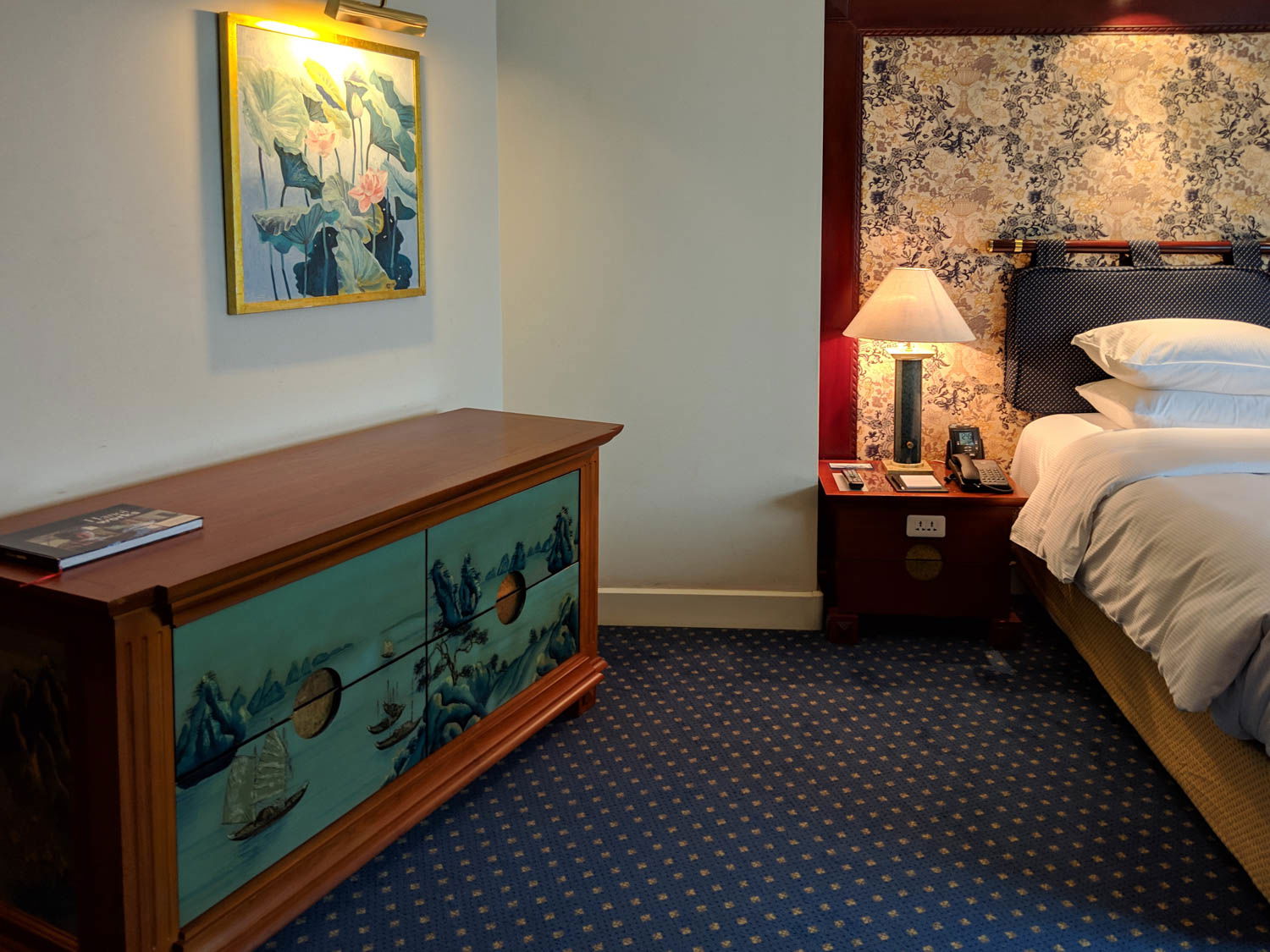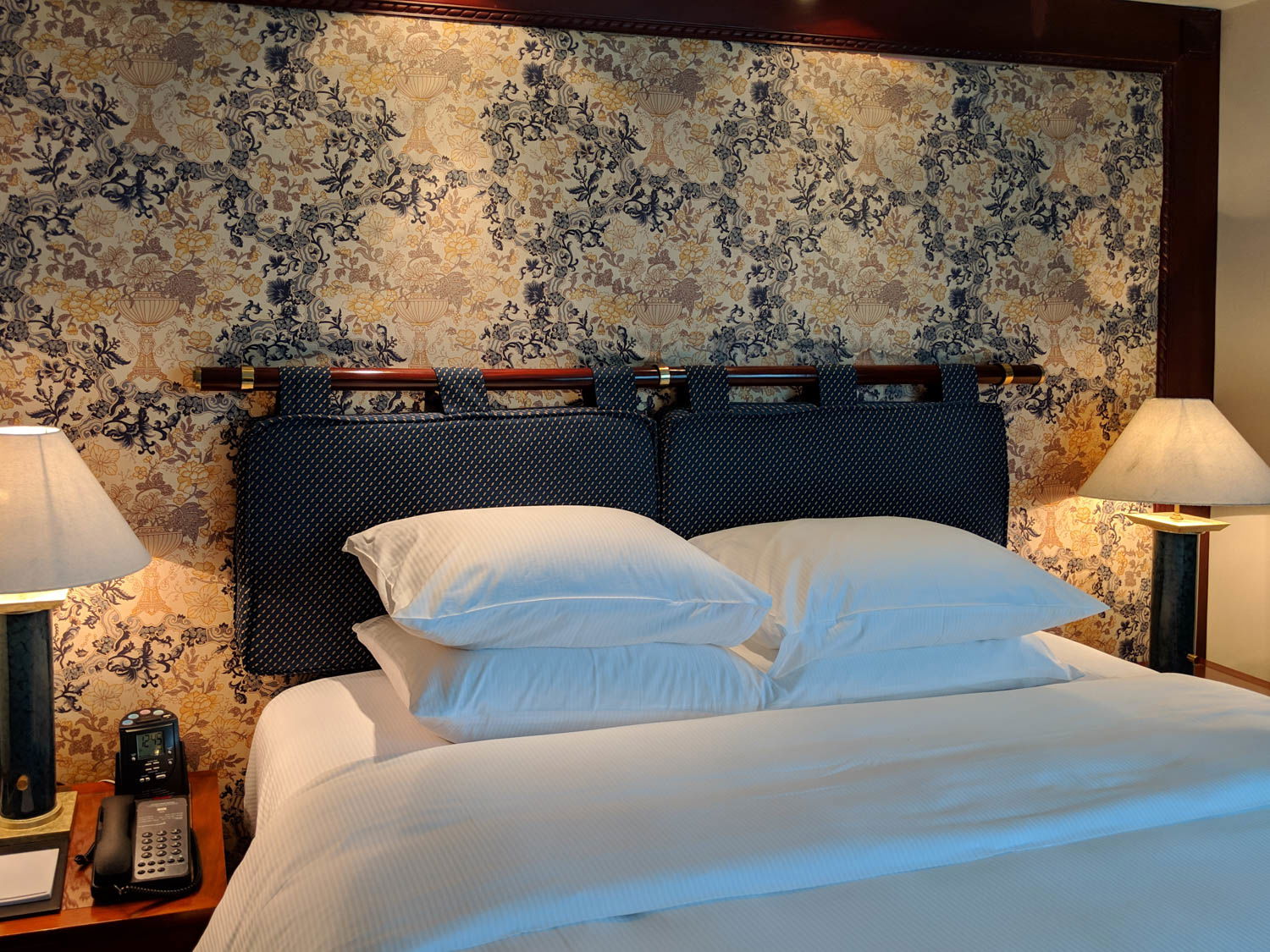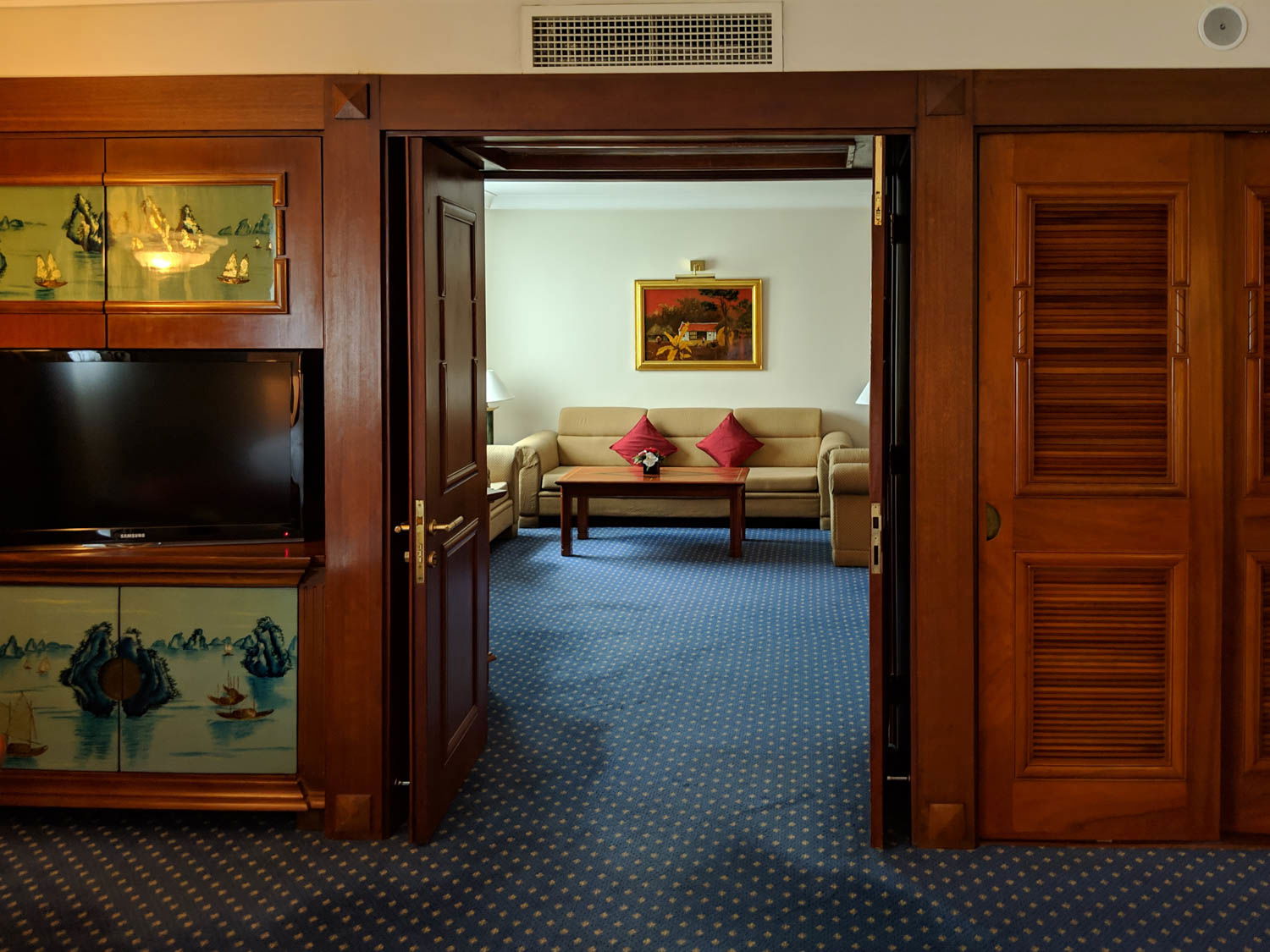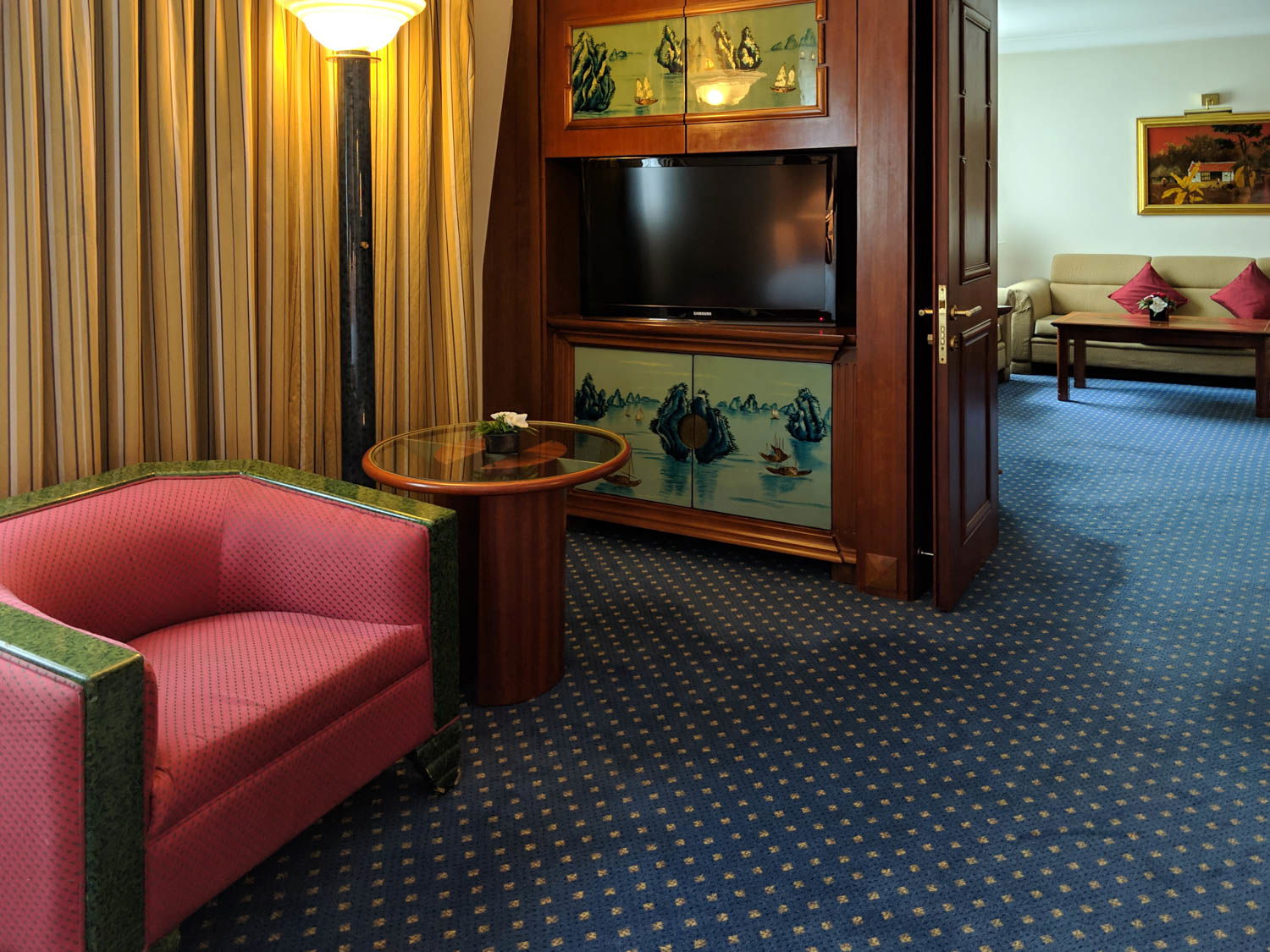 I especially appreciated the outlets at the front of the nightstand, which were much more convenient than the living room outlets.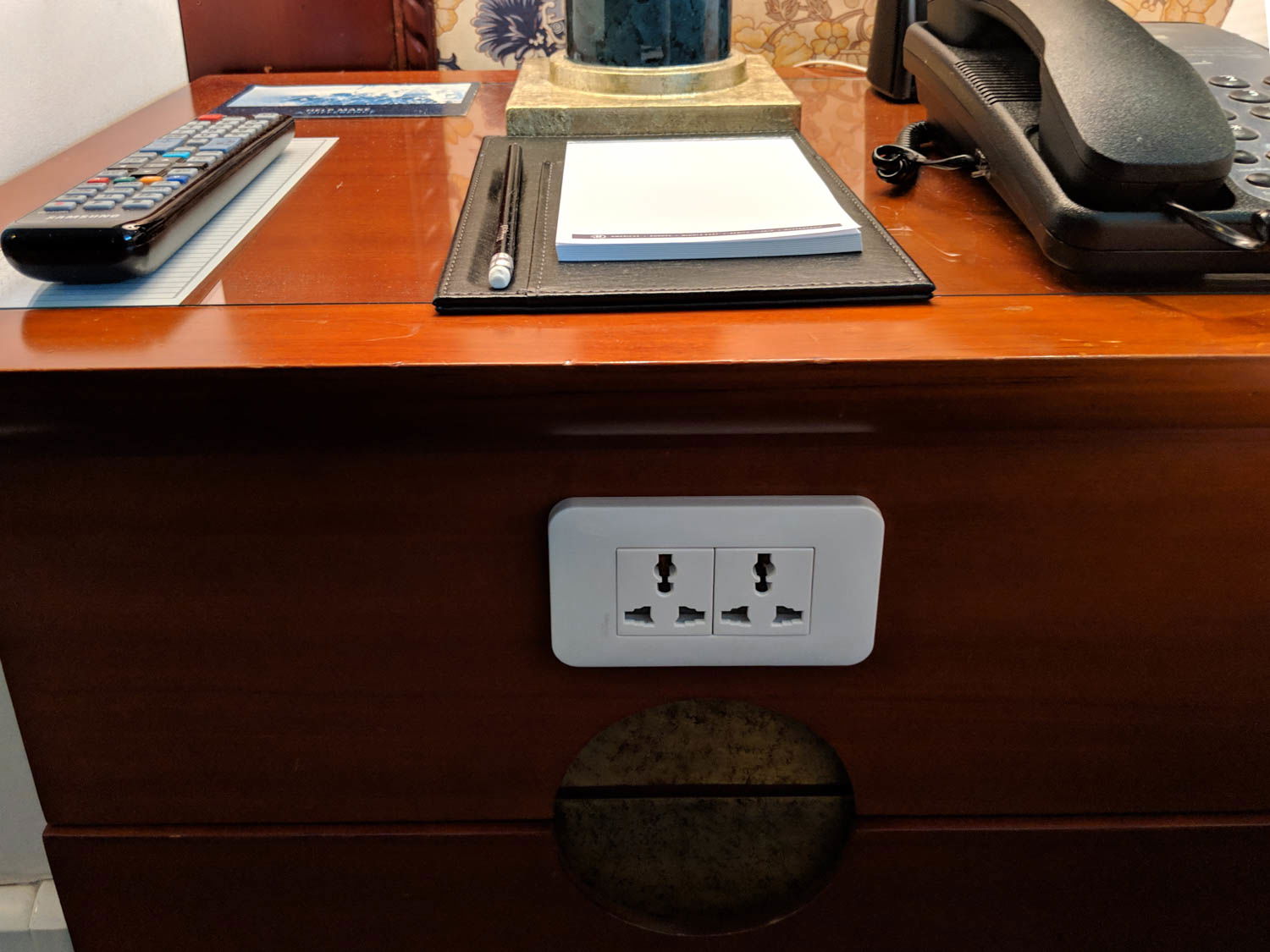 The suite bathroom was large as well, though styled similarly to the other room.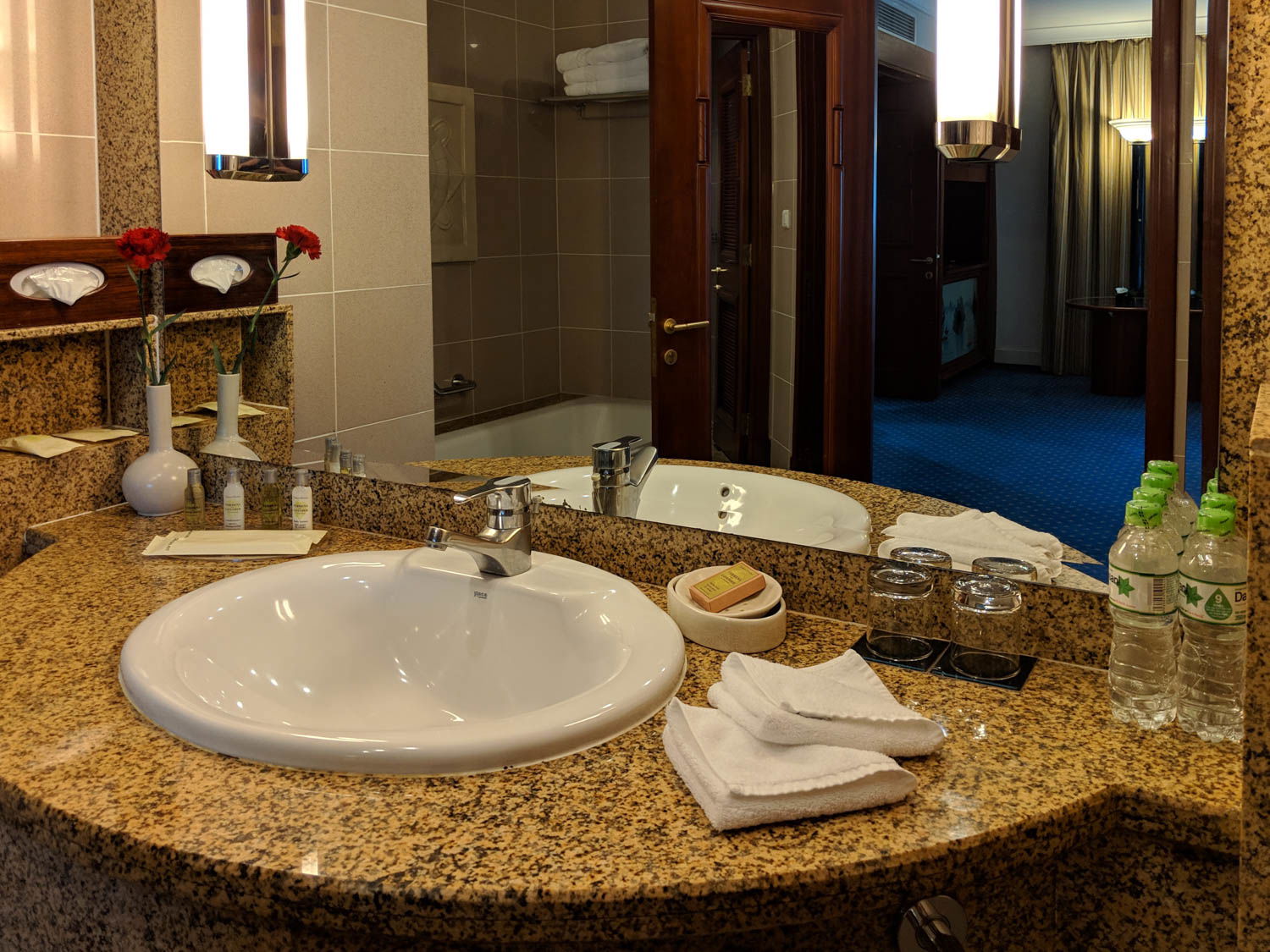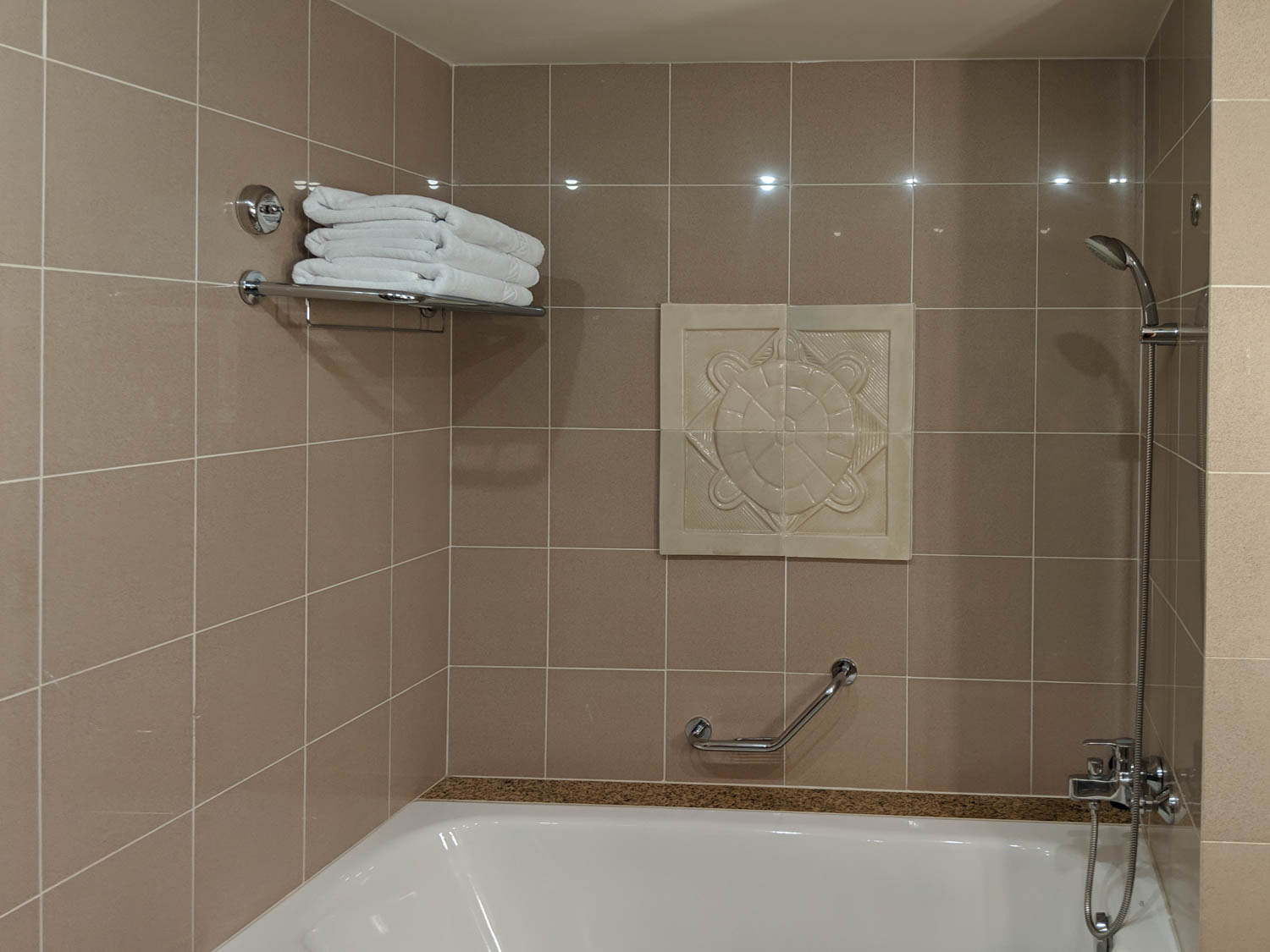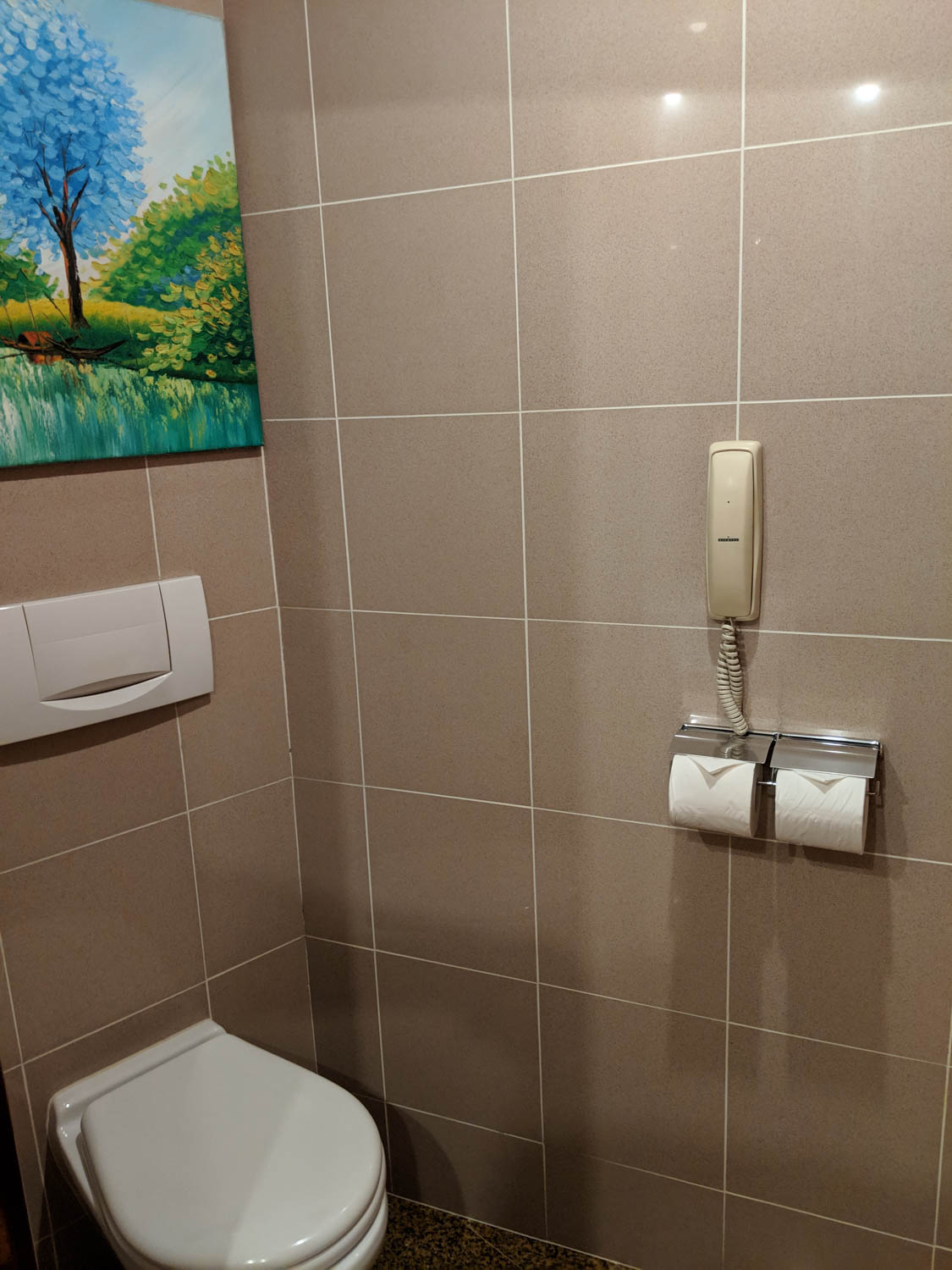 The shower had a wooden door though, which seems like an odd choice from a wear and tear perspective.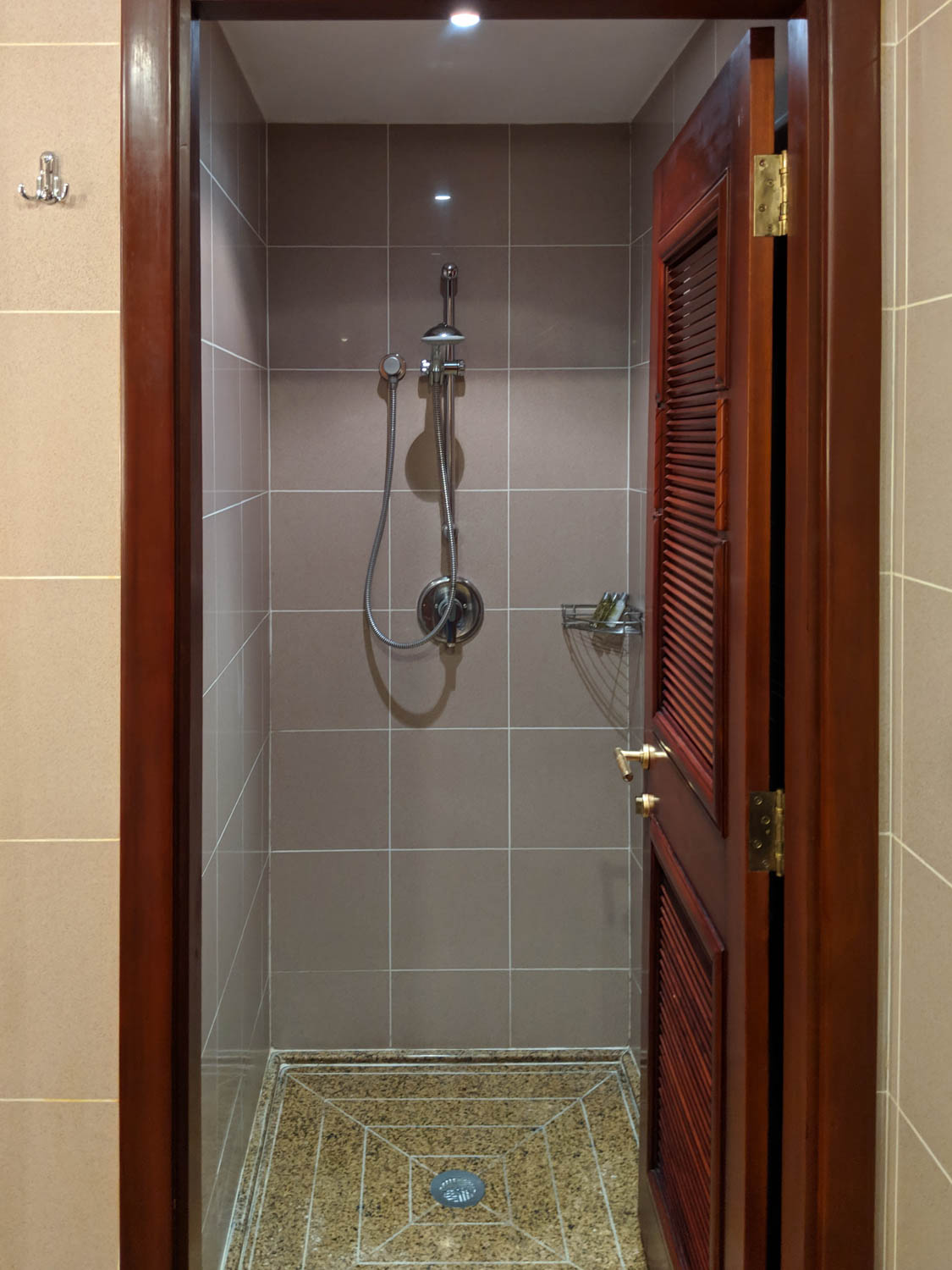 And this room had views of the city, rather than the Opera House.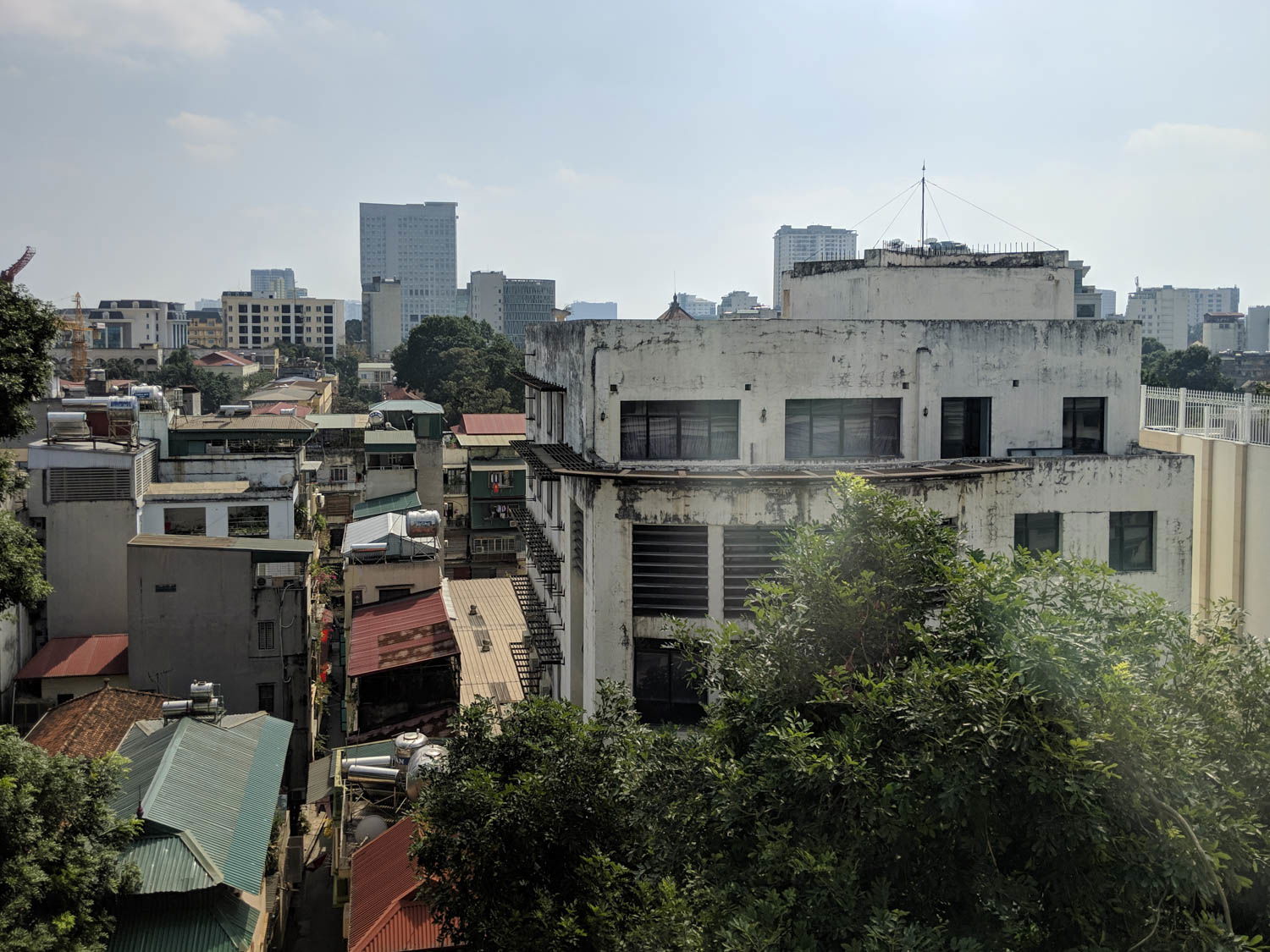 The hallway on the 6th floor was odd, in a way that I think y'all will enjoy seeing.
Most of the hallways in the hotel were rather grim, with dark floors, somewhat dingy-hued lighting, and chipped wood.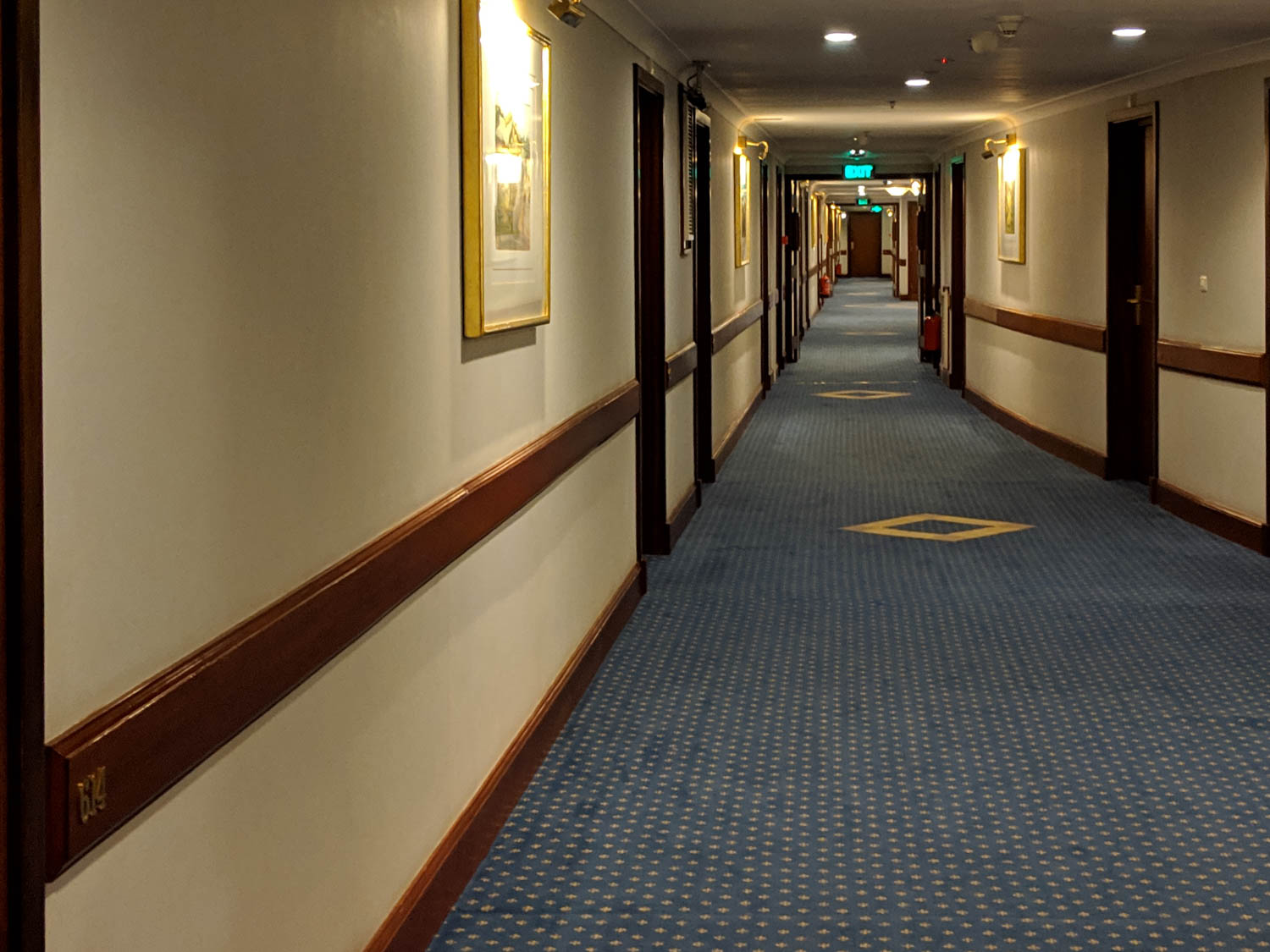 Then, randomly, there was this very bright, clearly updated, section on the right.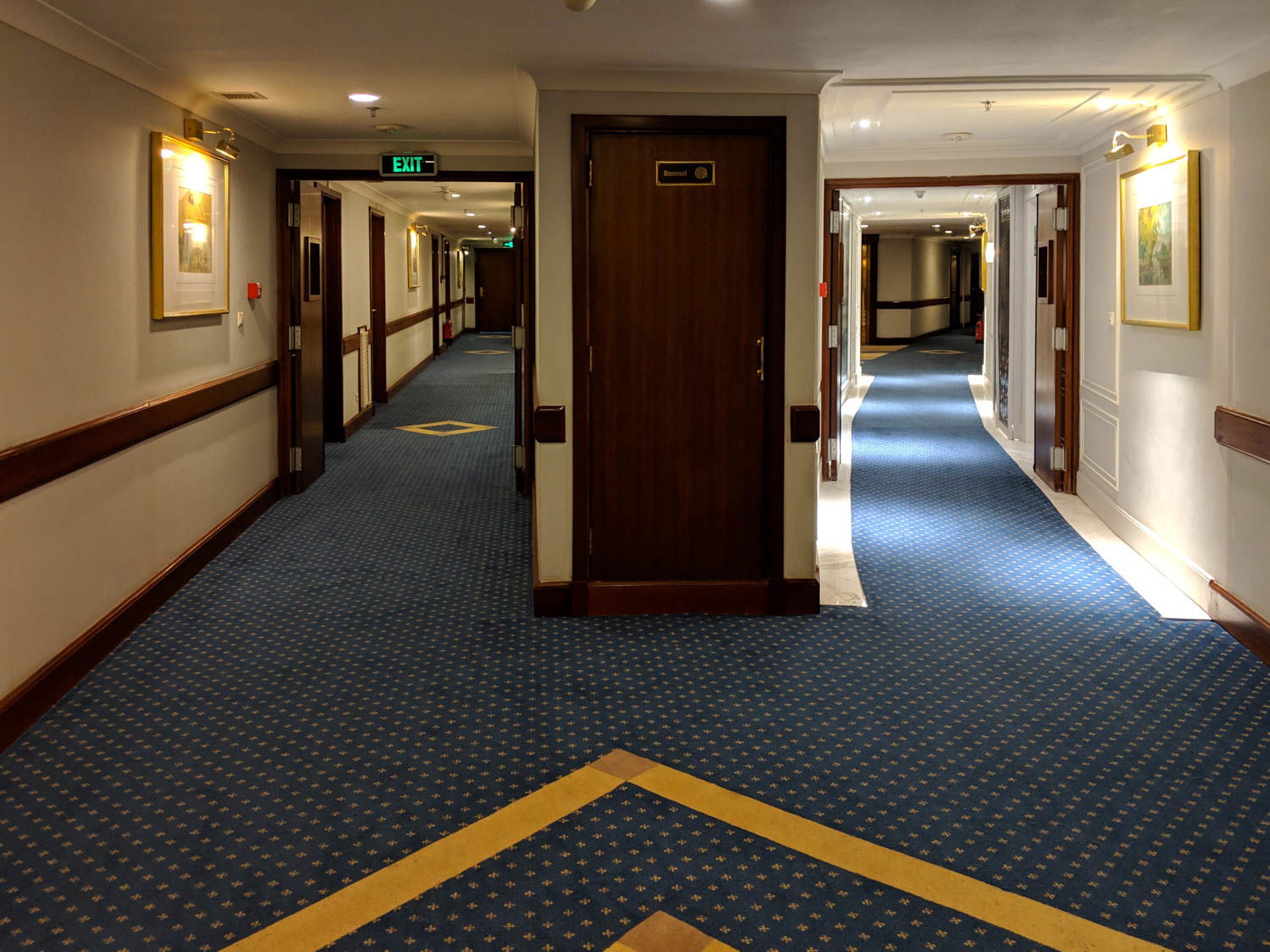 White-painted inlays, LED lighting, marble trim, and polished silver fixtures.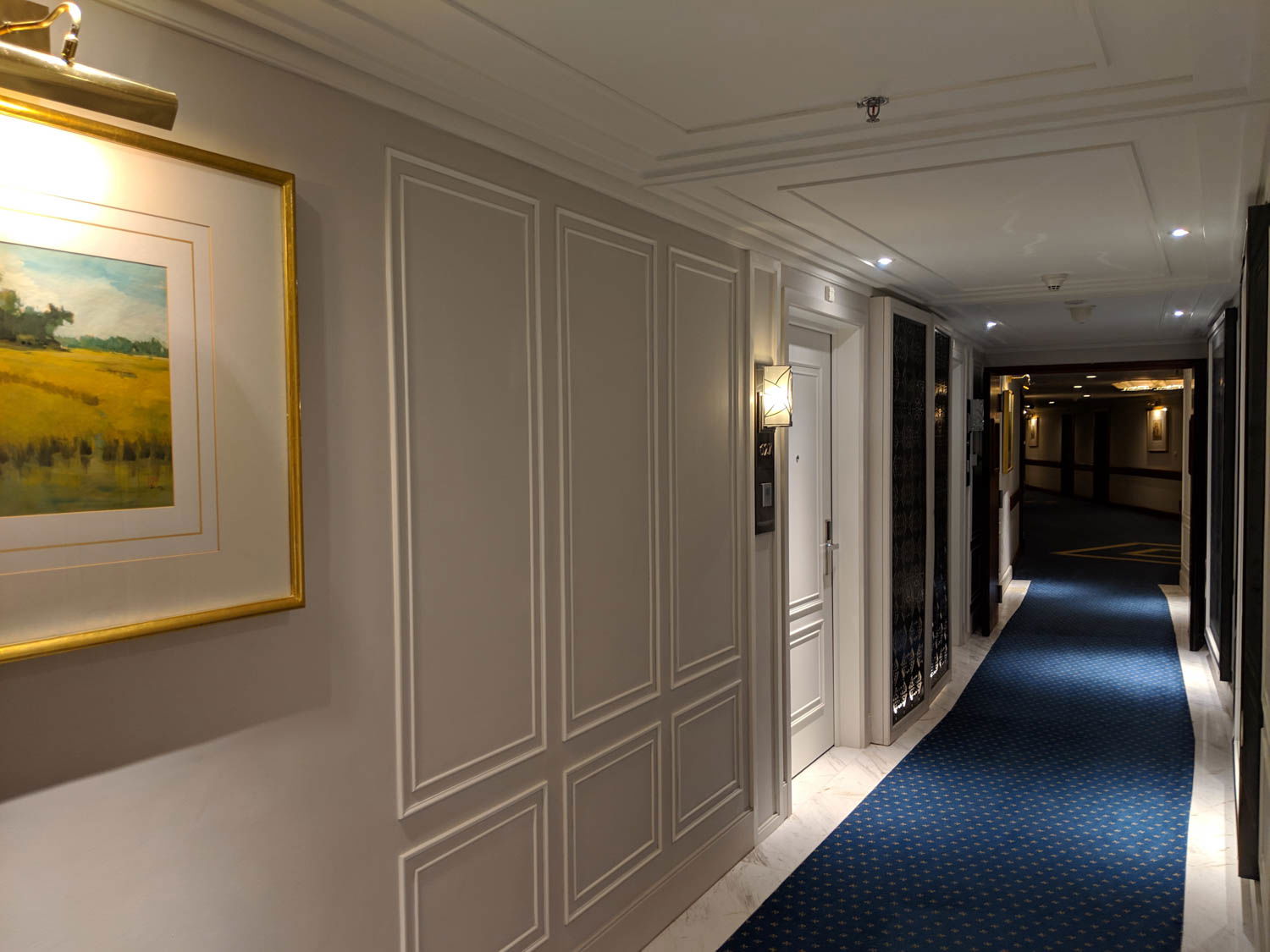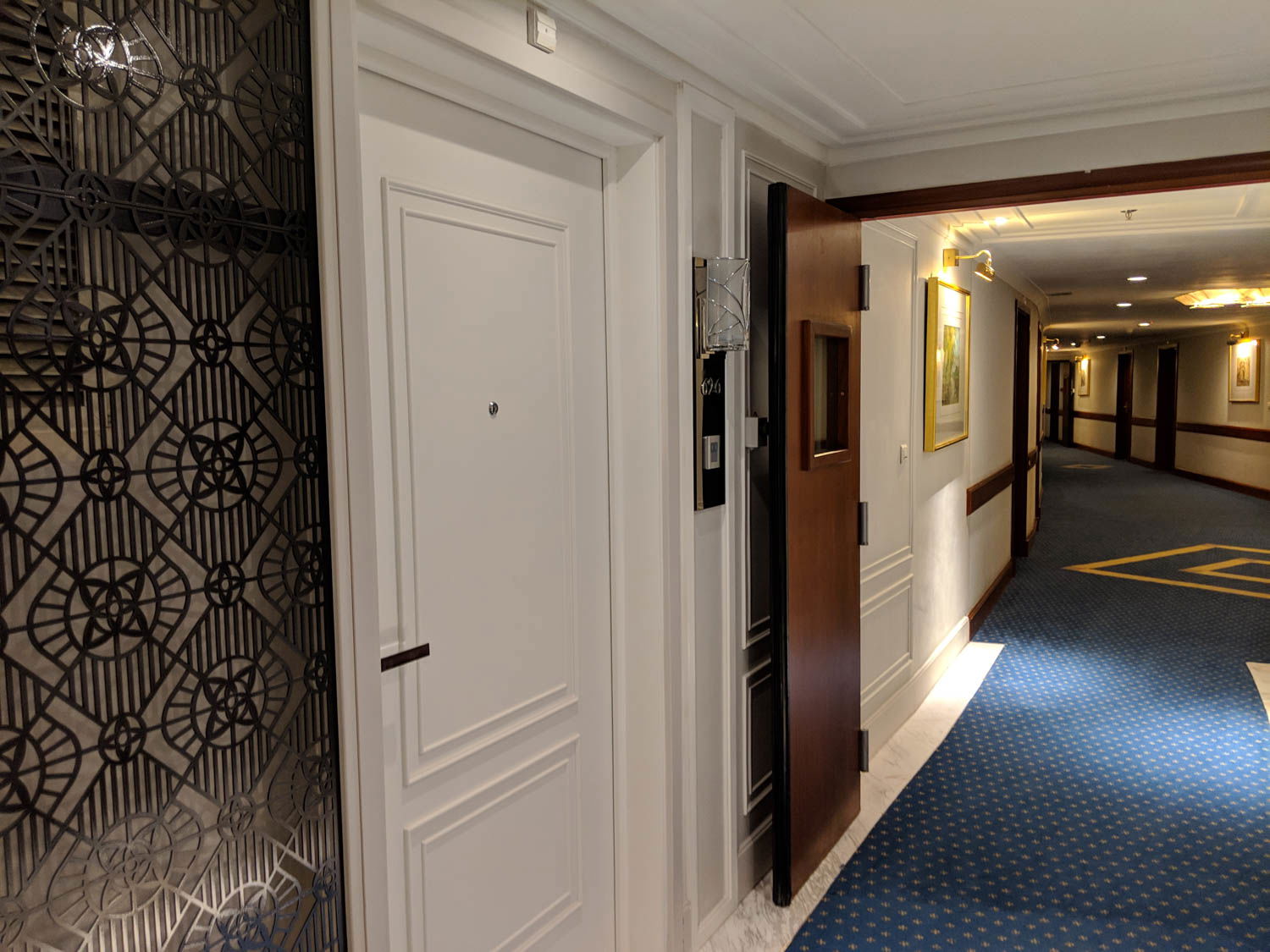 This modern section of hallway only existed for about 20 feet, and then it went abruptly back to the dark wood-trimmed style.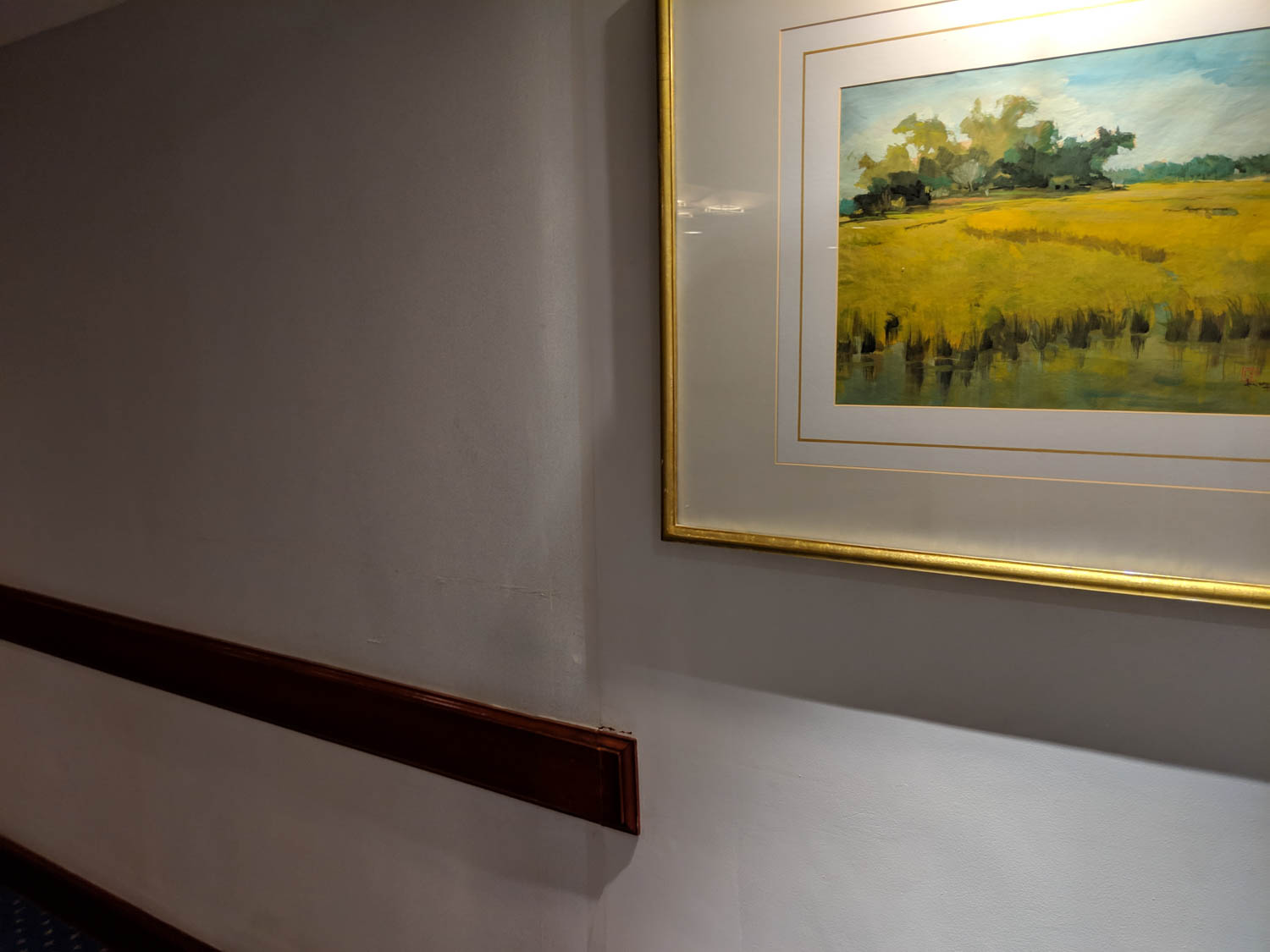 I imagine this is a proof-of-concept for investors or hotel owners, or a similar scenario where someone would benefit from seeing a sample of proposed work.
Or maybe the renovation is extremely piecemeal, and is being done throughout random portions of the hotel. Who knows.
Hilton Hanoi Executive Lounge
The executive lounge was on the 7th floor, in a large series of rooms with tall windows overlooking the Opera House.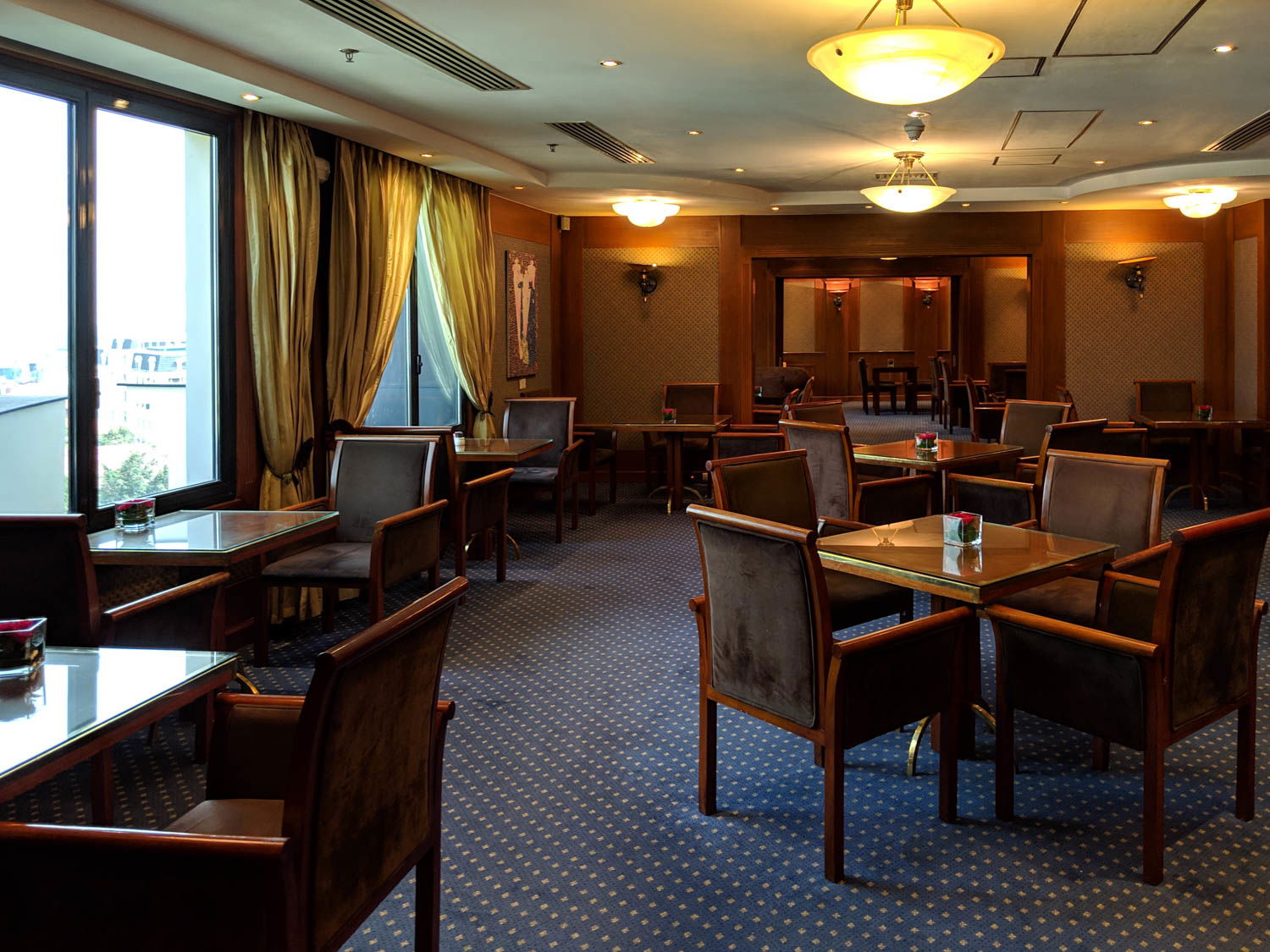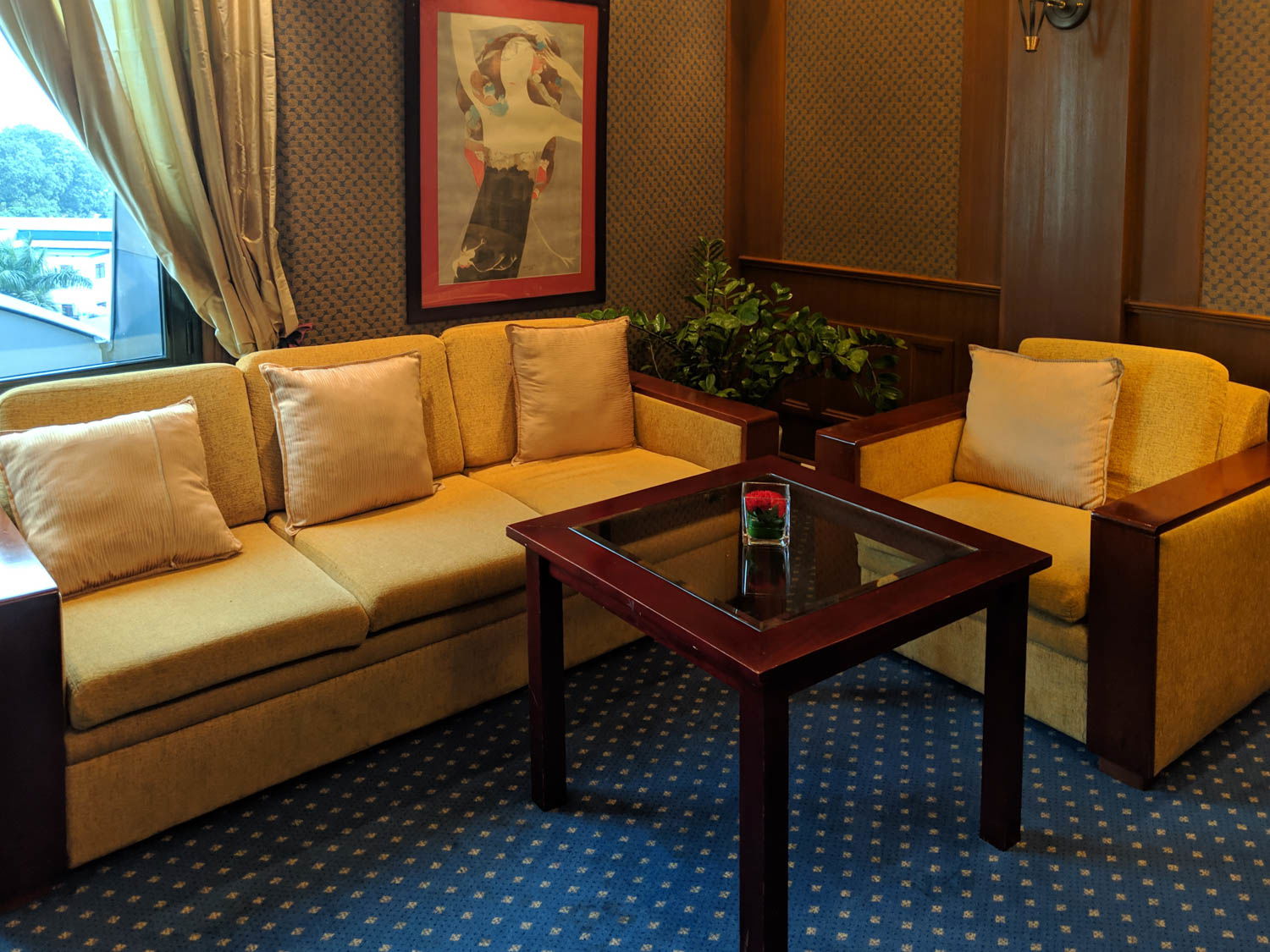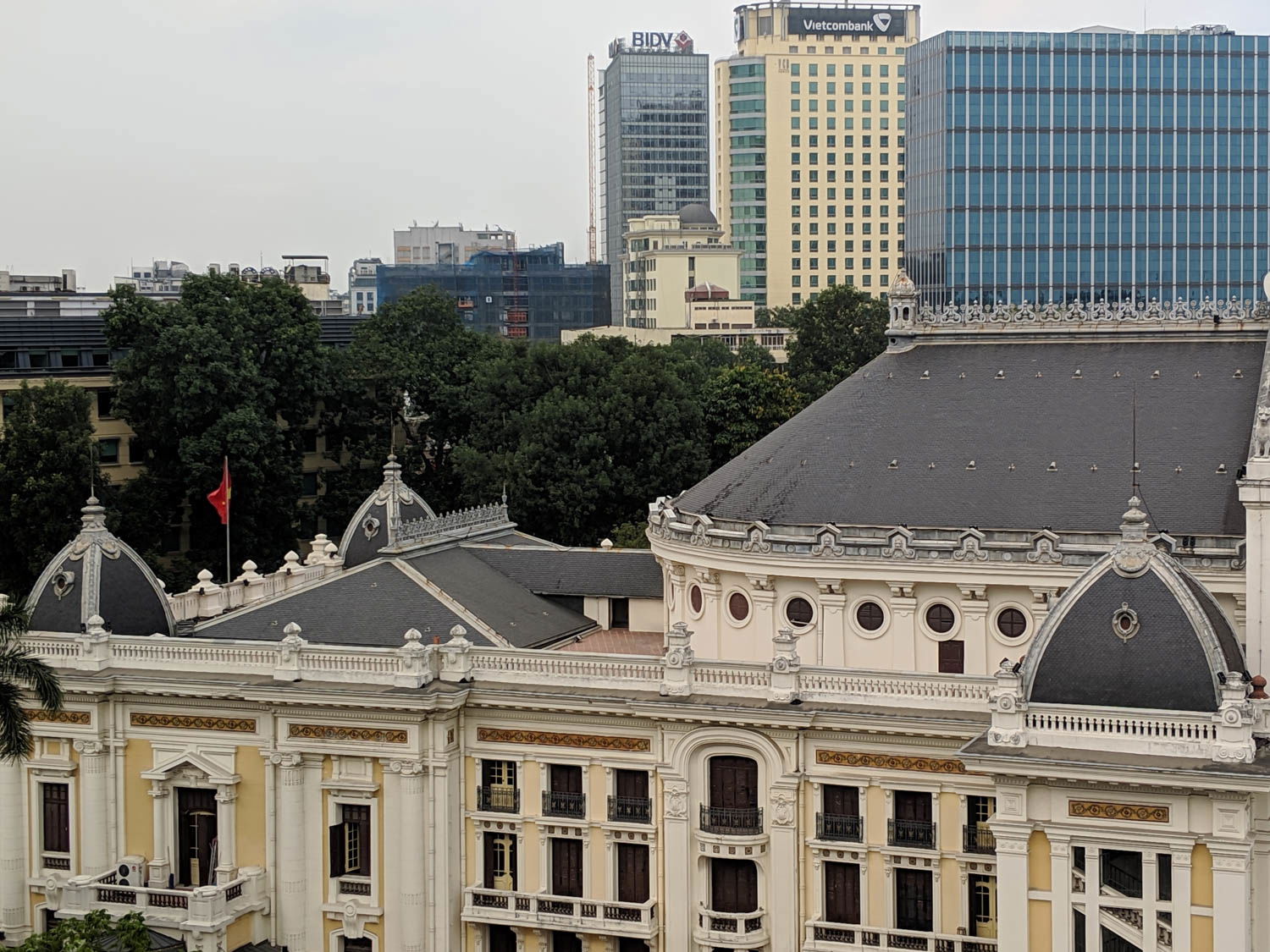 The little shared library was a nice touch, I thought.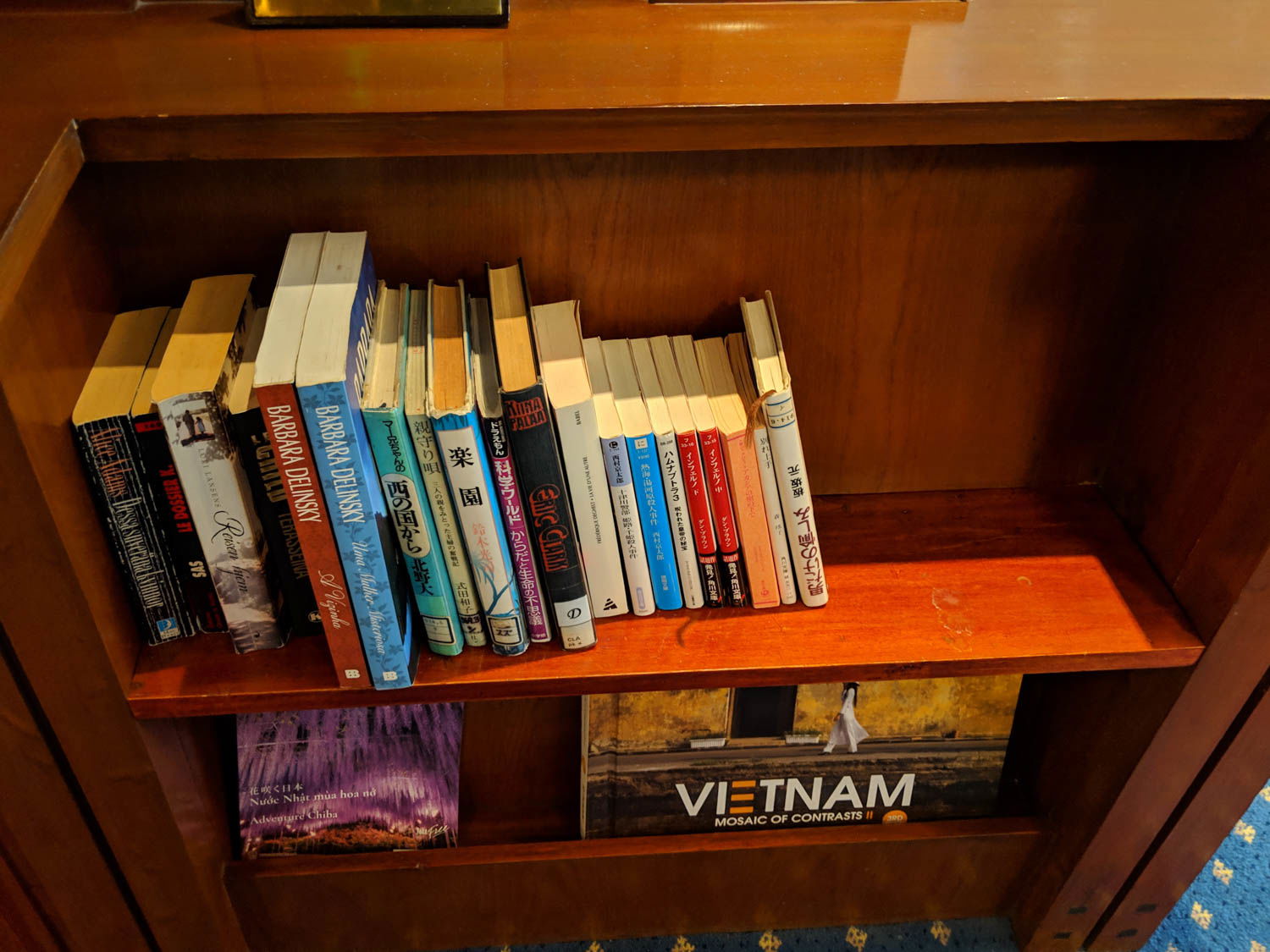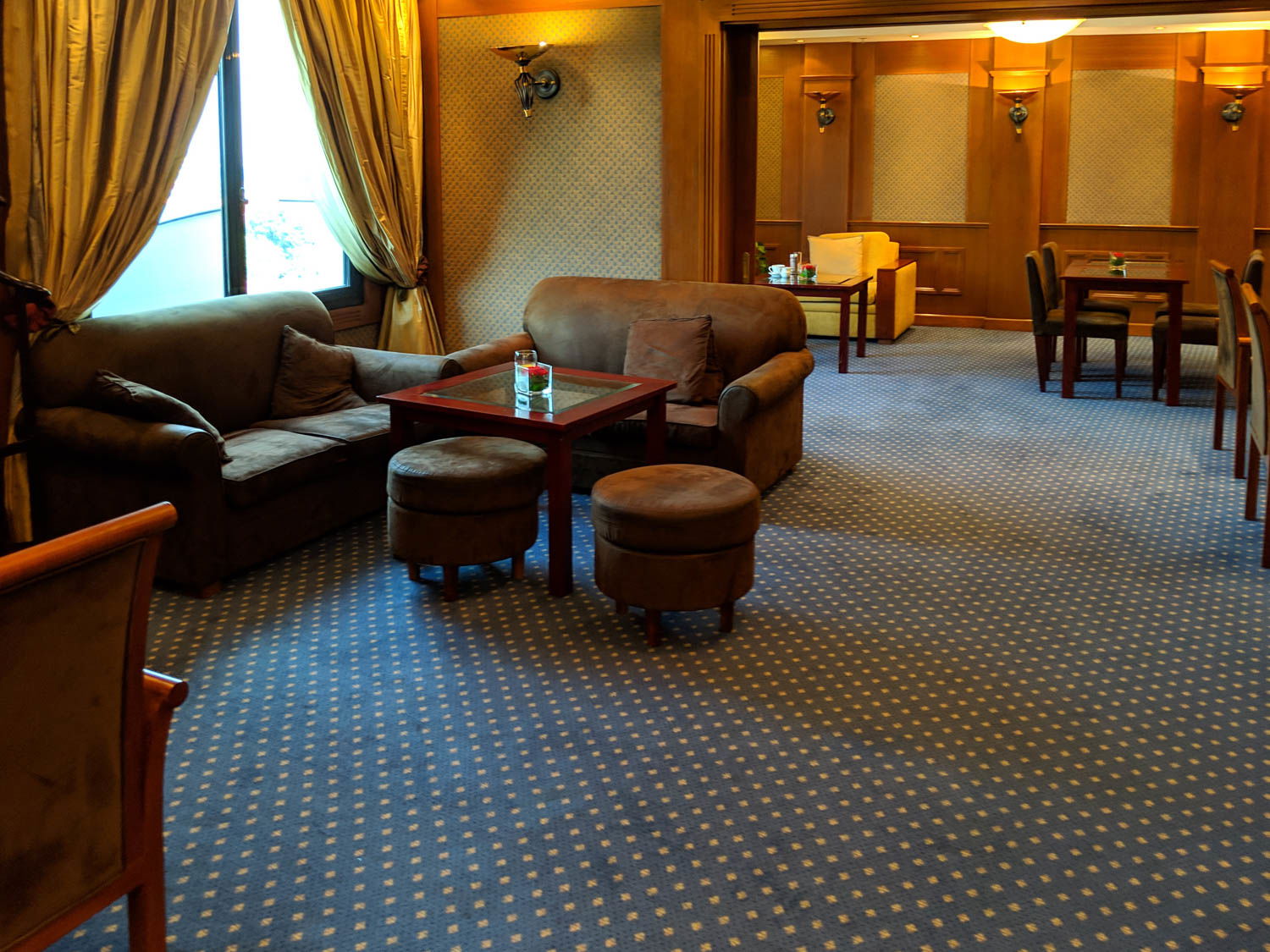 We arrived between service times for the lounge, but there were still a few snacks and drinks available: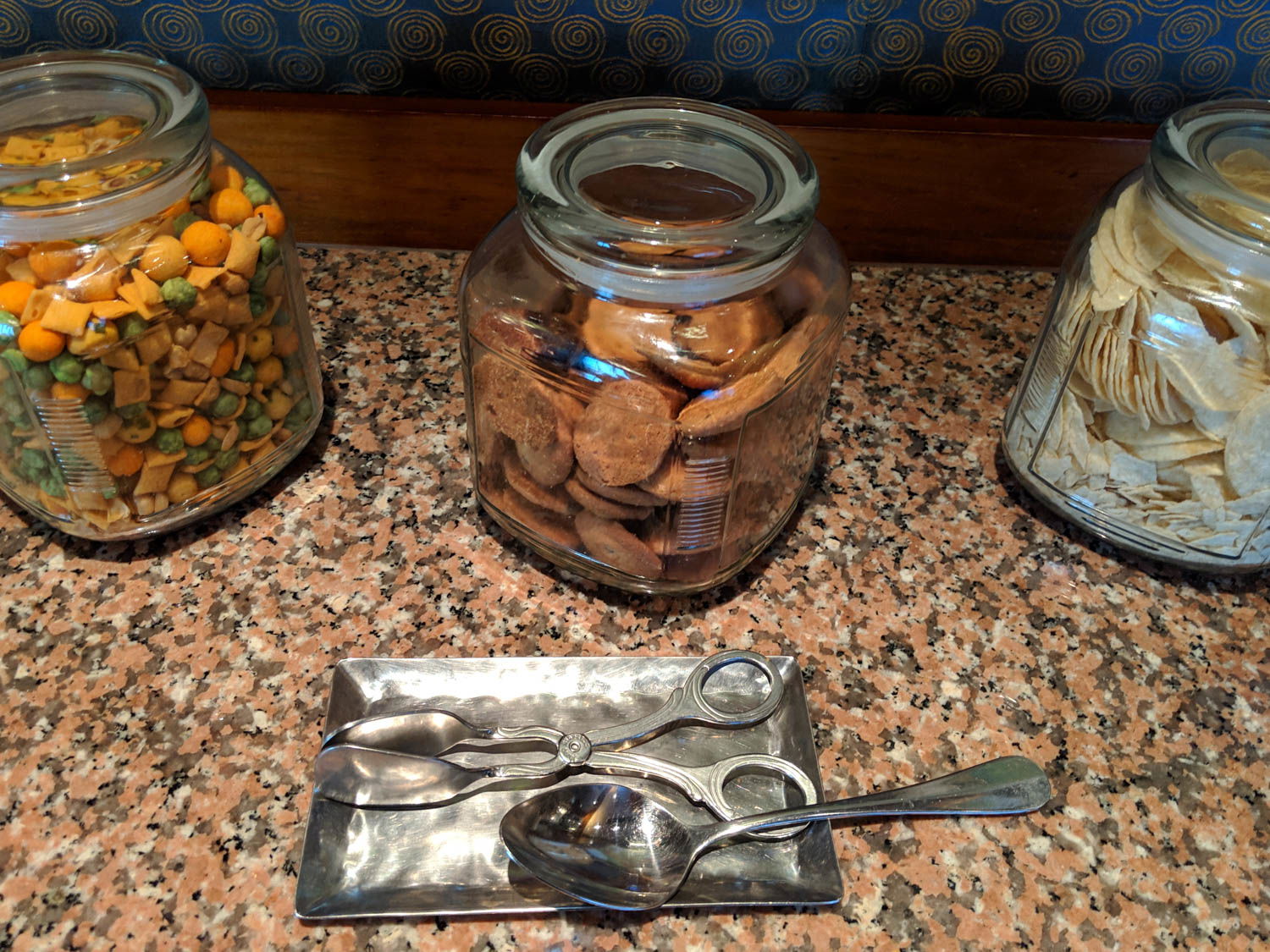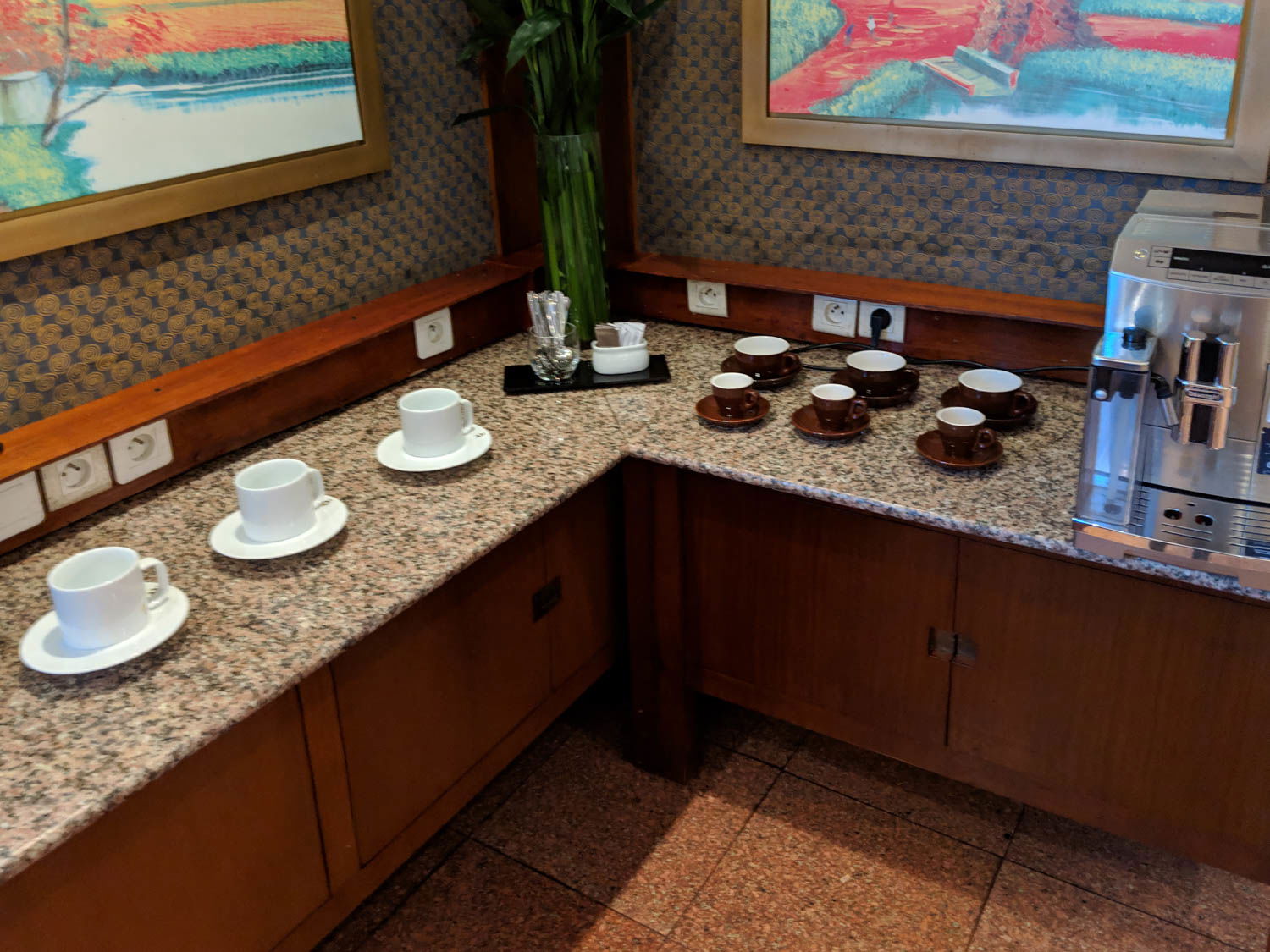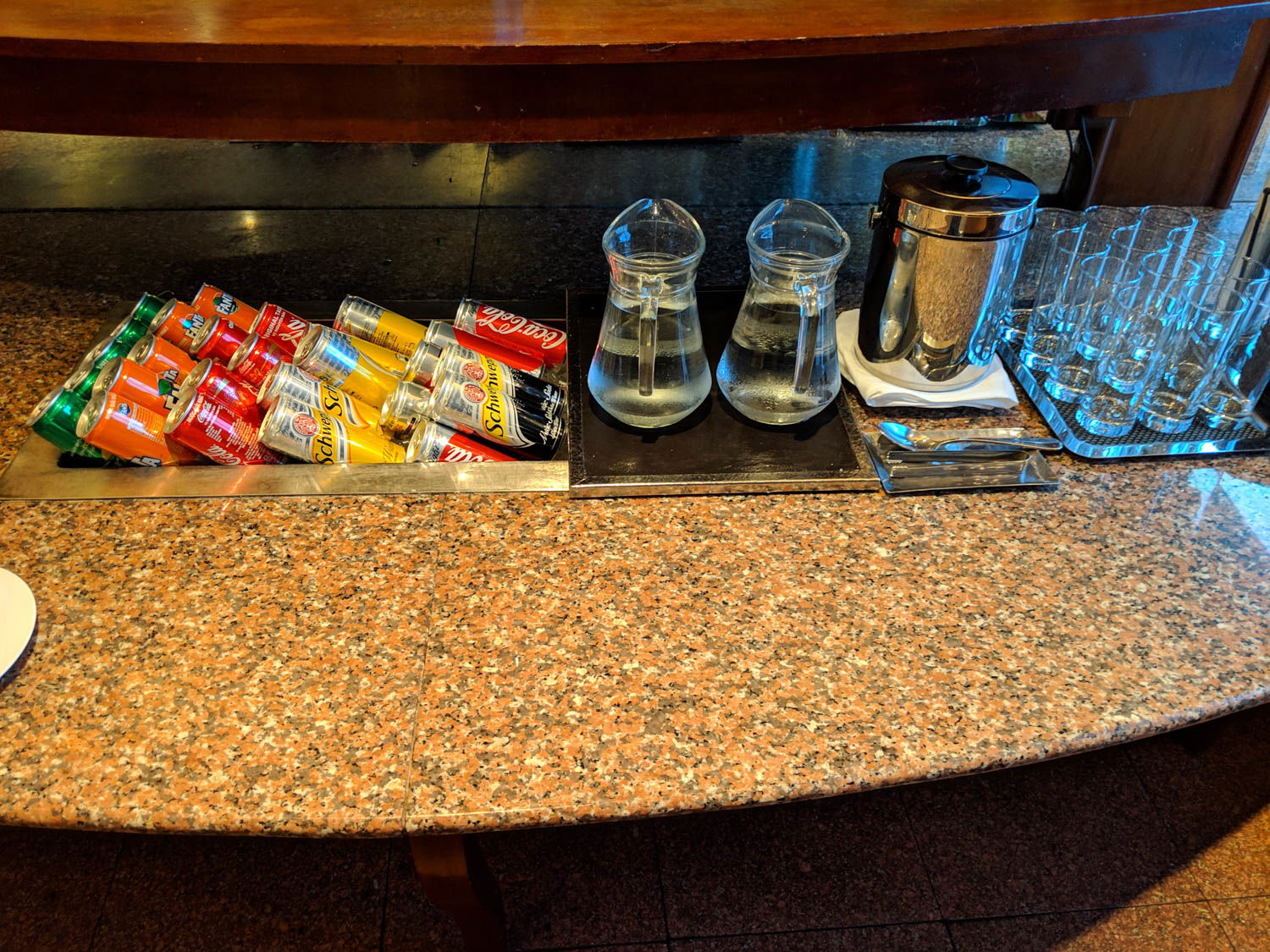 Hilton Hanoi Executive Lounge Breakfast
We weren't really hungry for breakfast the next morning, given the massive variety of local foods we'd sampled the night before, and knew we wanted to try some other Hanoi cafes during the day, so mainly went to the lounge for pre-coffee coffee.
You've been there, I'm sure.
The breakfast spread was decent though, with an assortment of breads and pastries: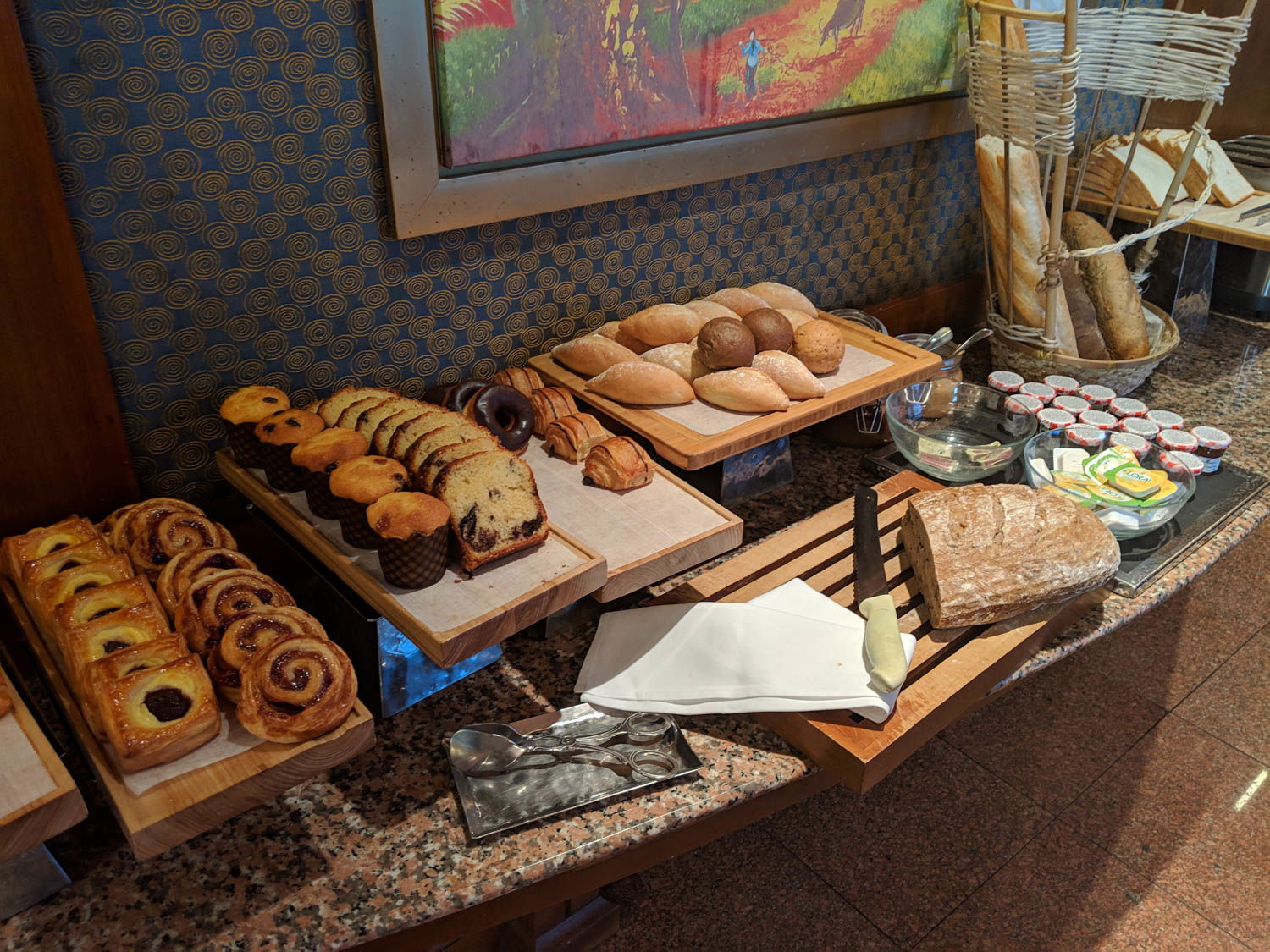 Along with salad fixings, yogurt, cheeses, and muesli: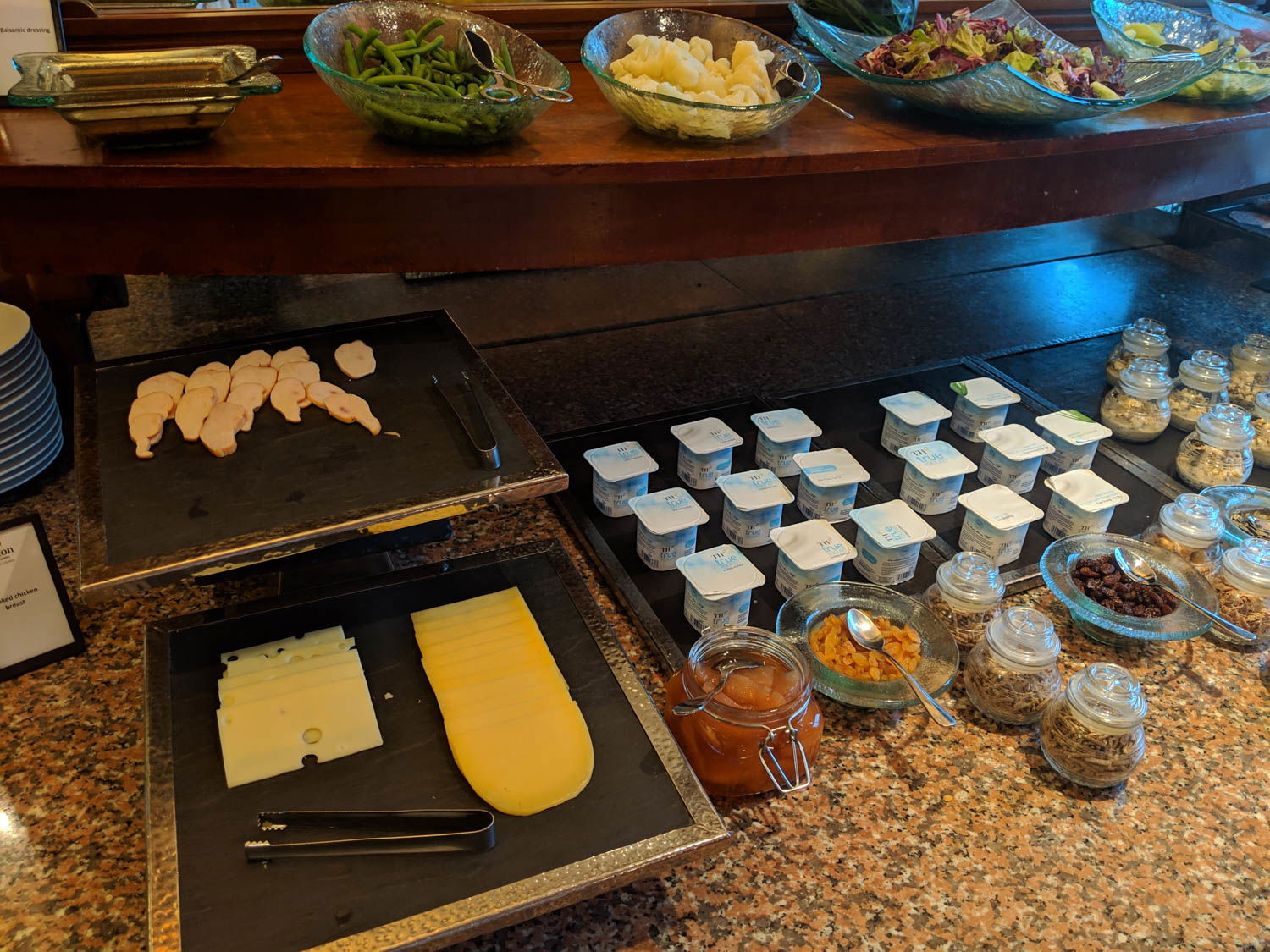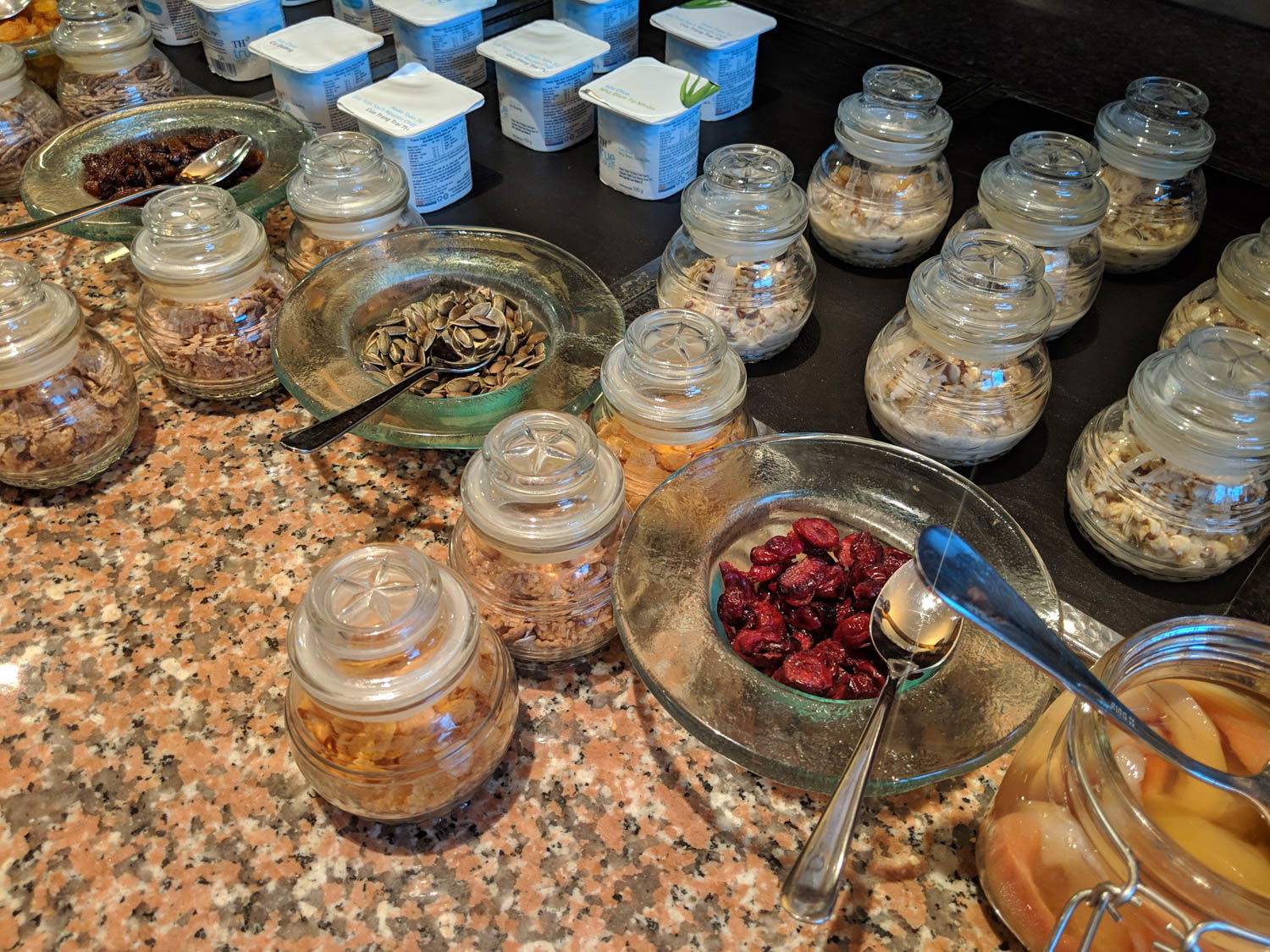 And several varieties of fresh fruit: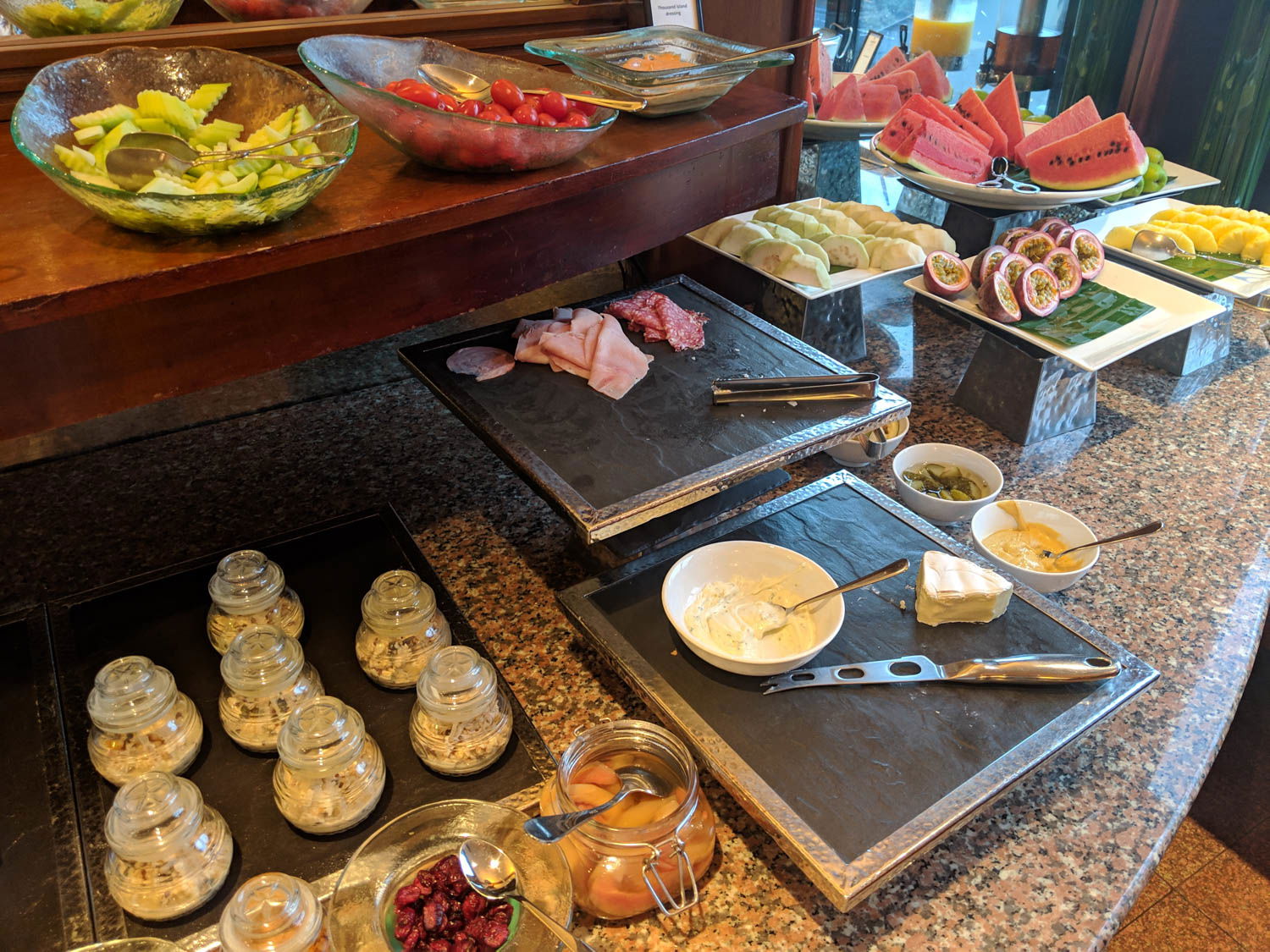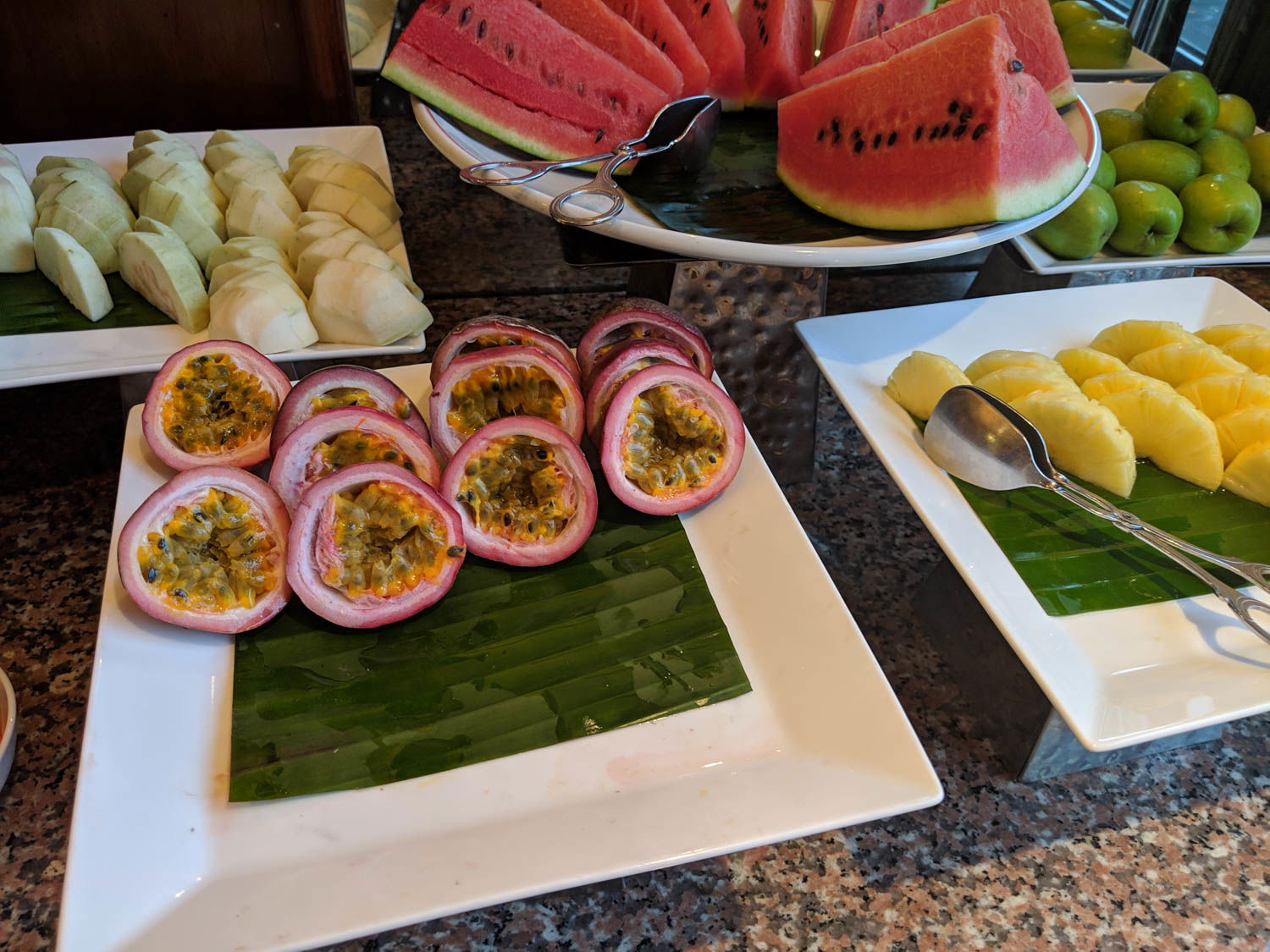 There were two juices on offer, along with espresso, and both western and Vietnamese coffee.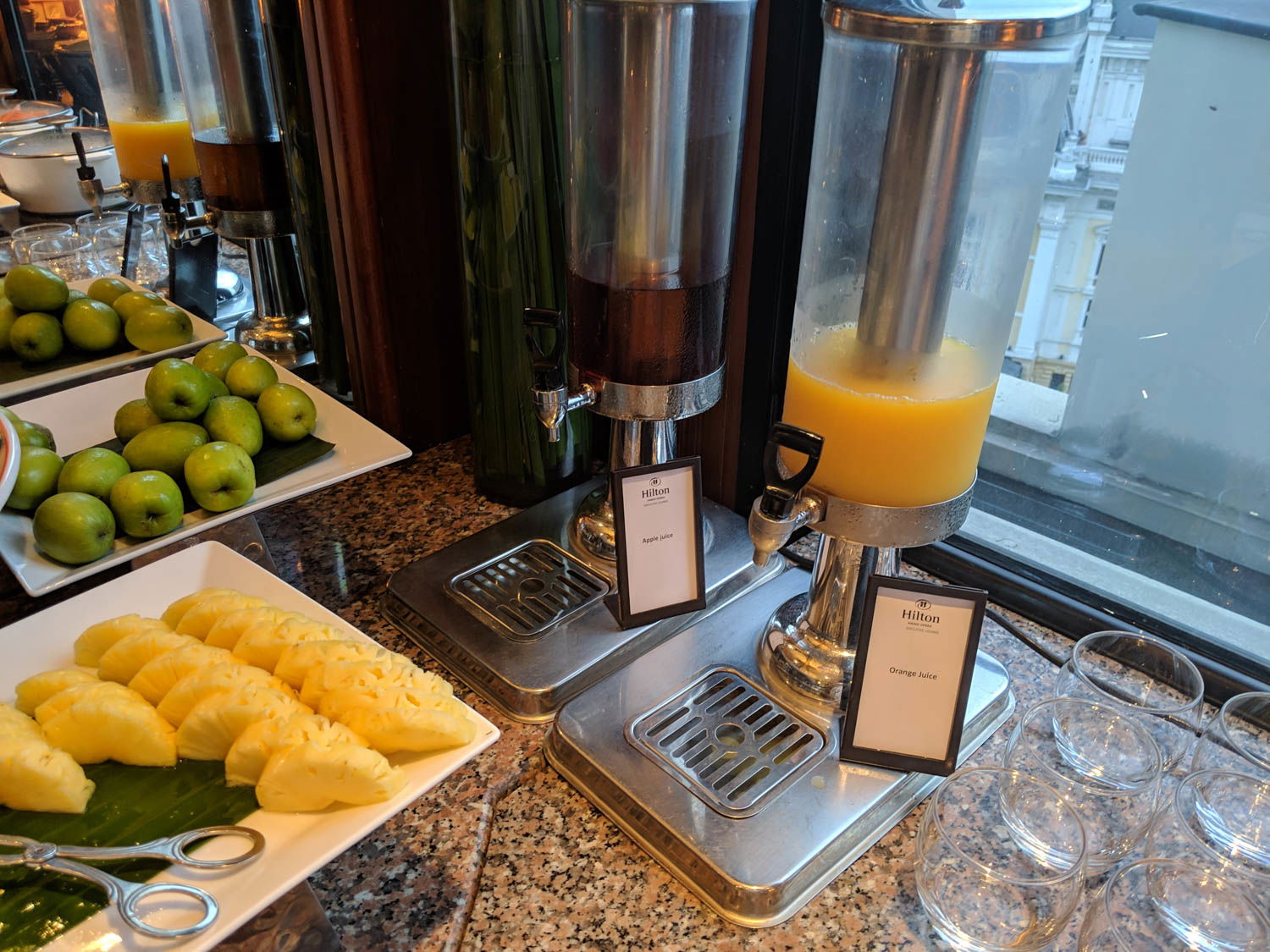 There were a few hot dishes as well, including steamed carrots, which I've never seen in a club lounge breakfast before.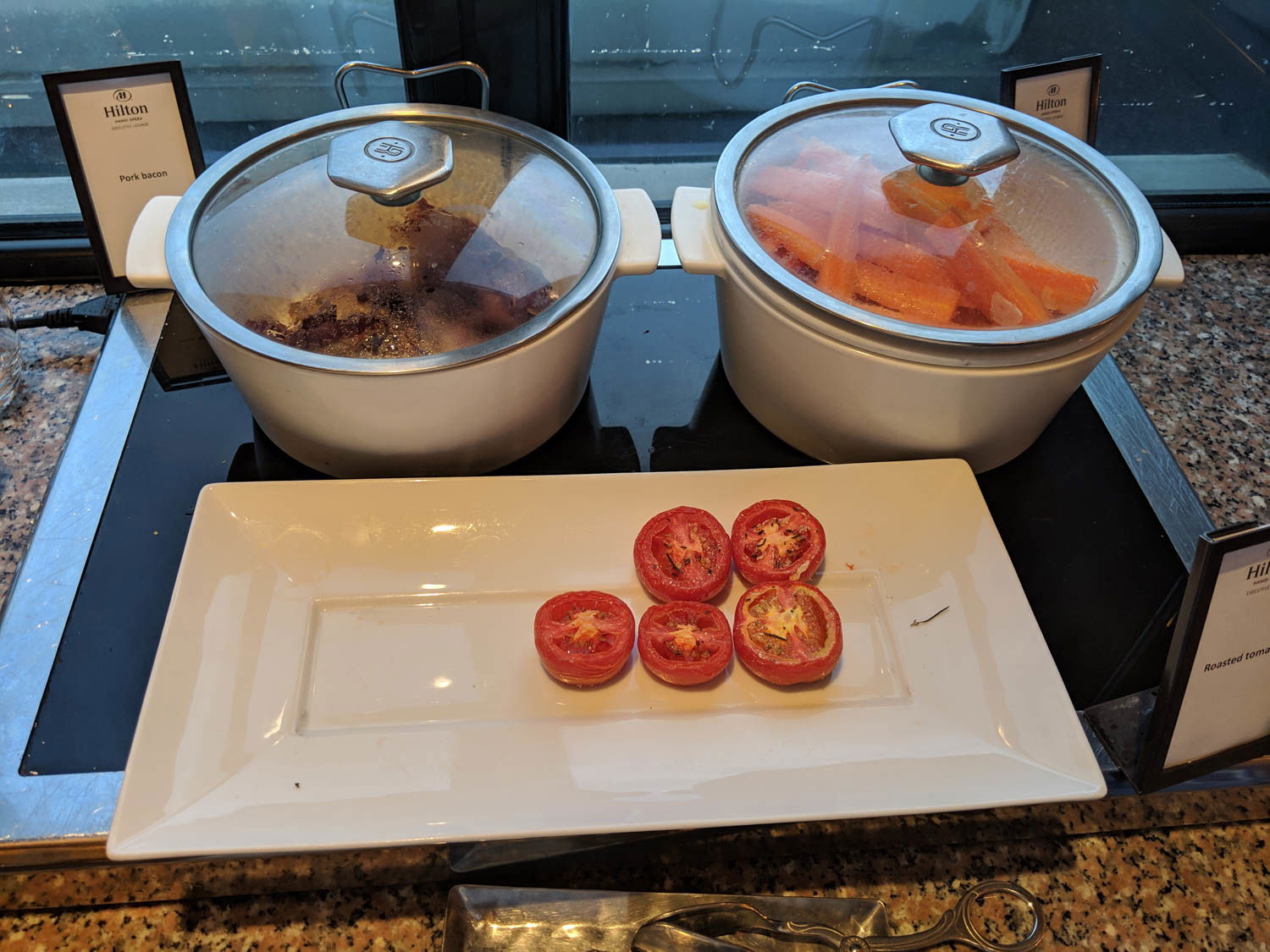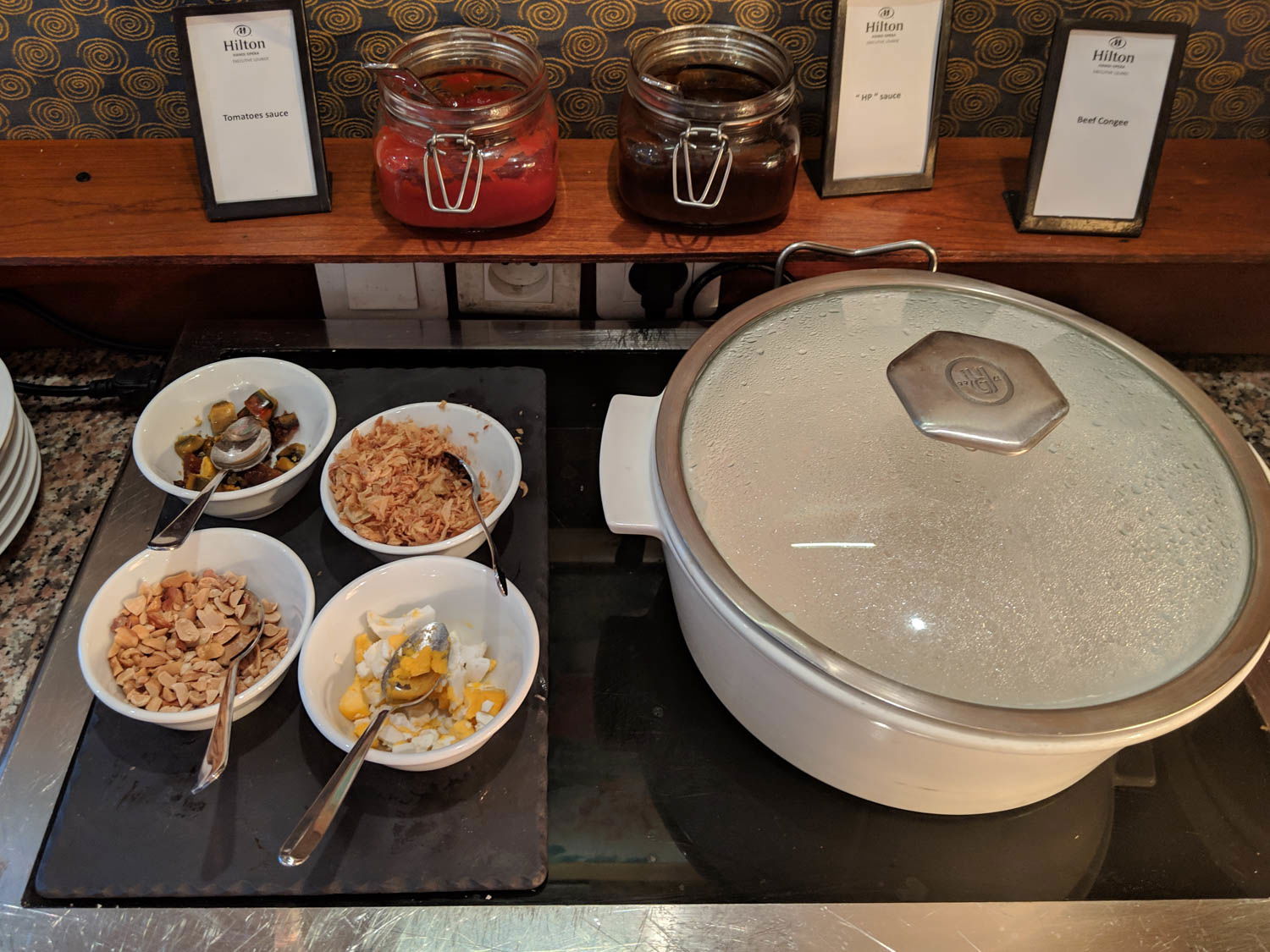 And there were a few varieties of dim sum as well.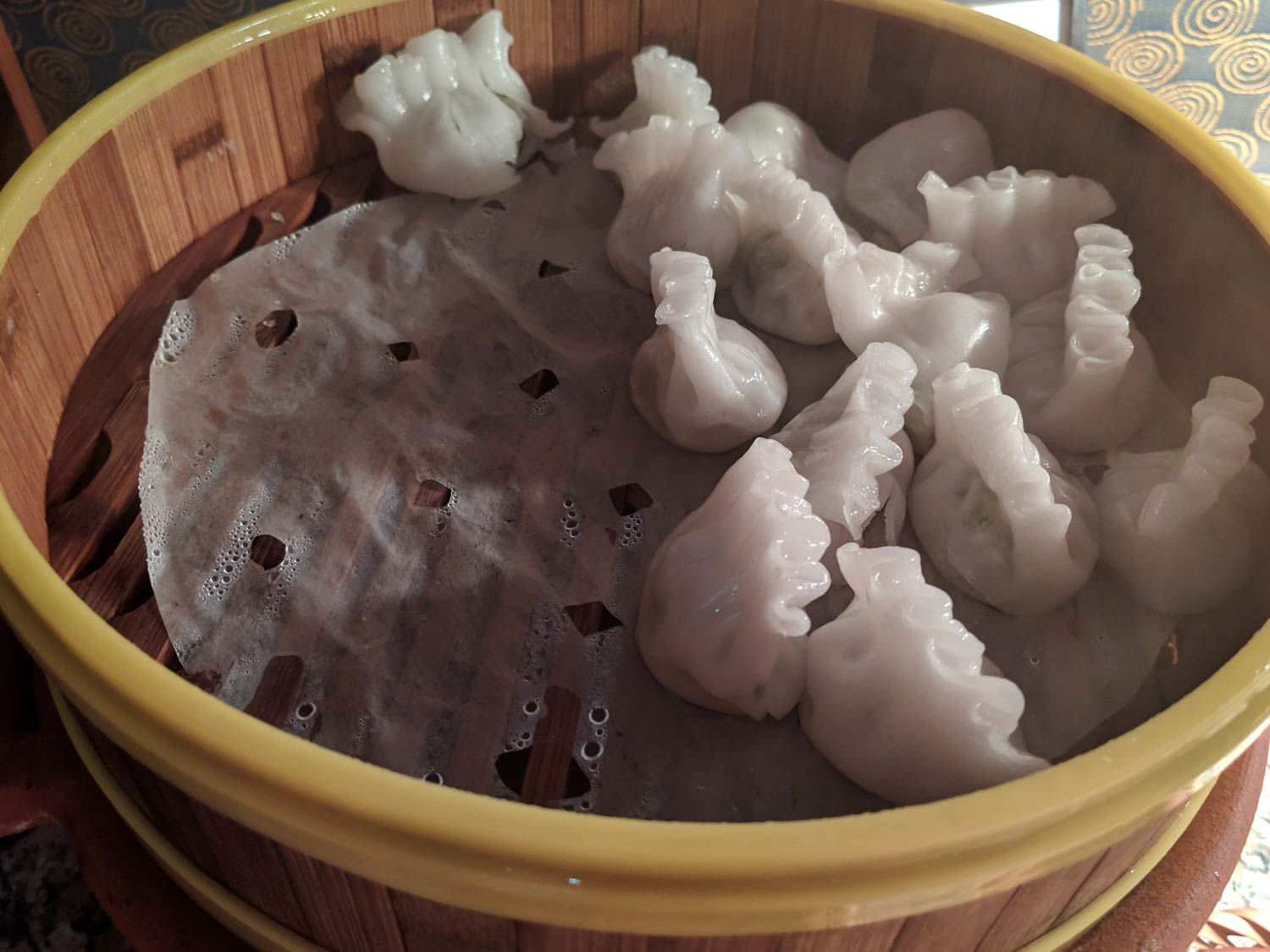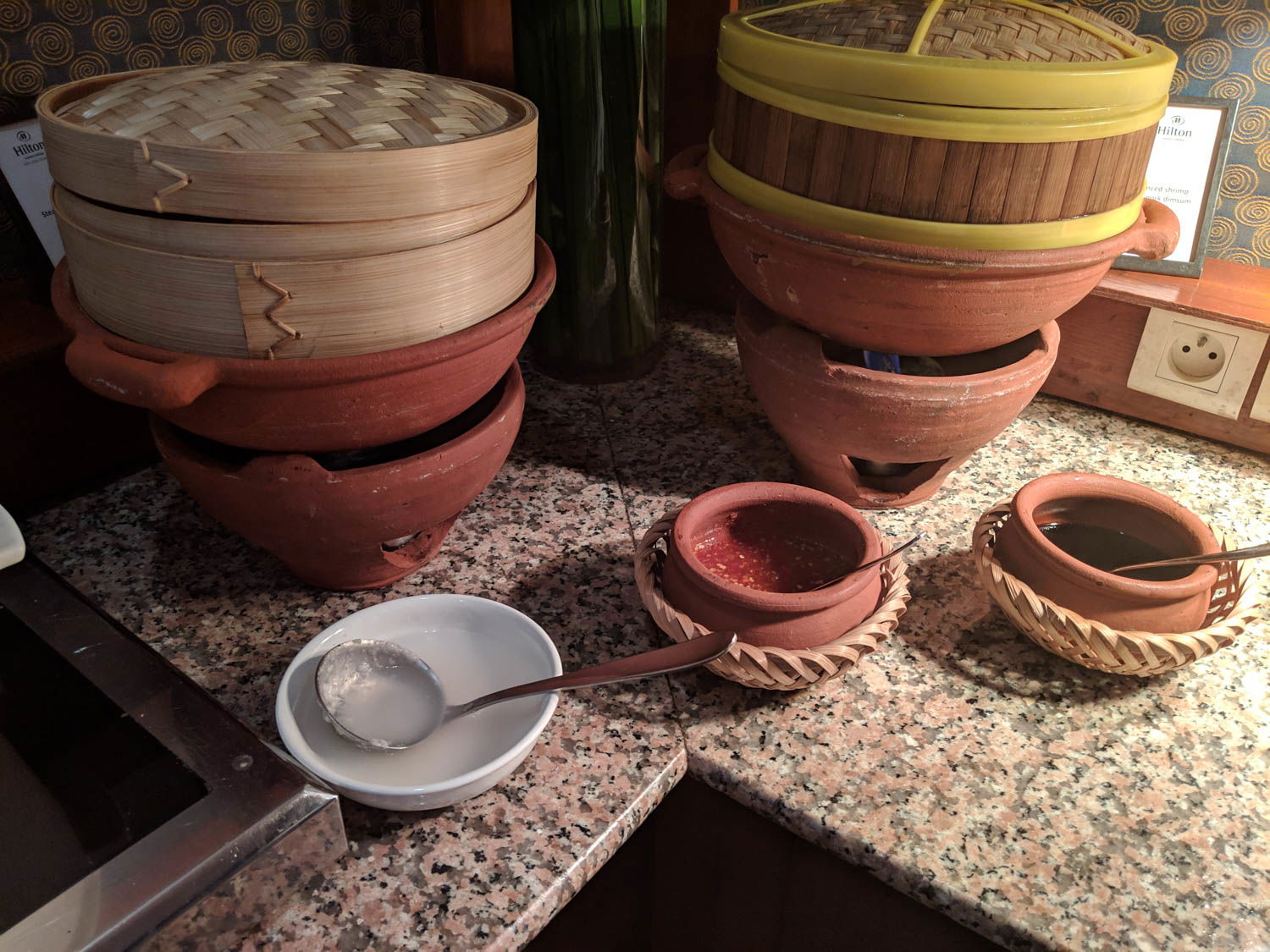 The staff was very attentive, checking to make sure we had enough coffee, offering to bring fresh eggs, and generally being proactive about the breakfast service, even though we were seated far from the buffet.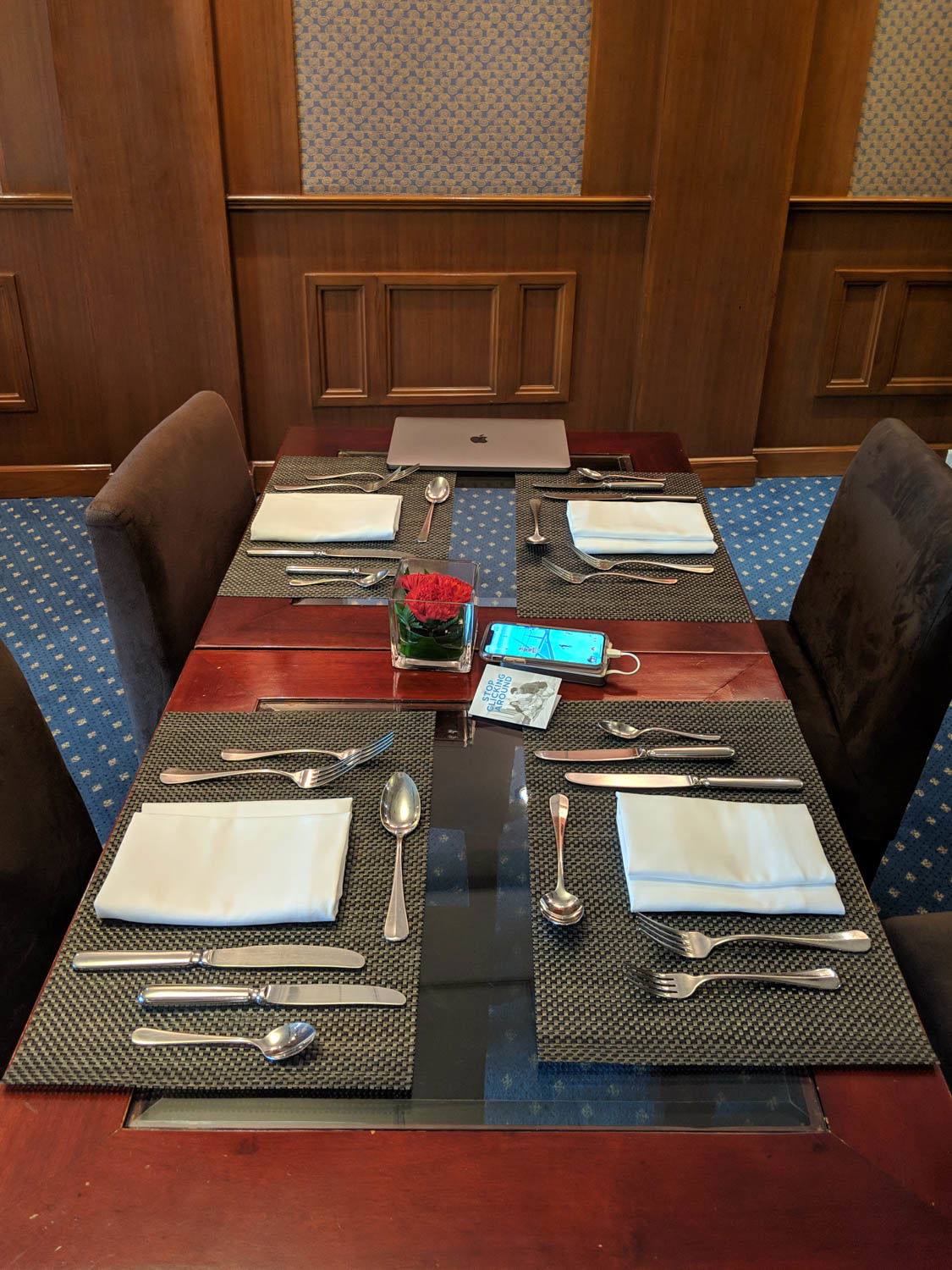 Hilton Hanoi Executive Lounge Afternoon tea
While we didn't partake, the lounge does offer an afternoon tea, so I stopped in on the way to checkout to take a few photos.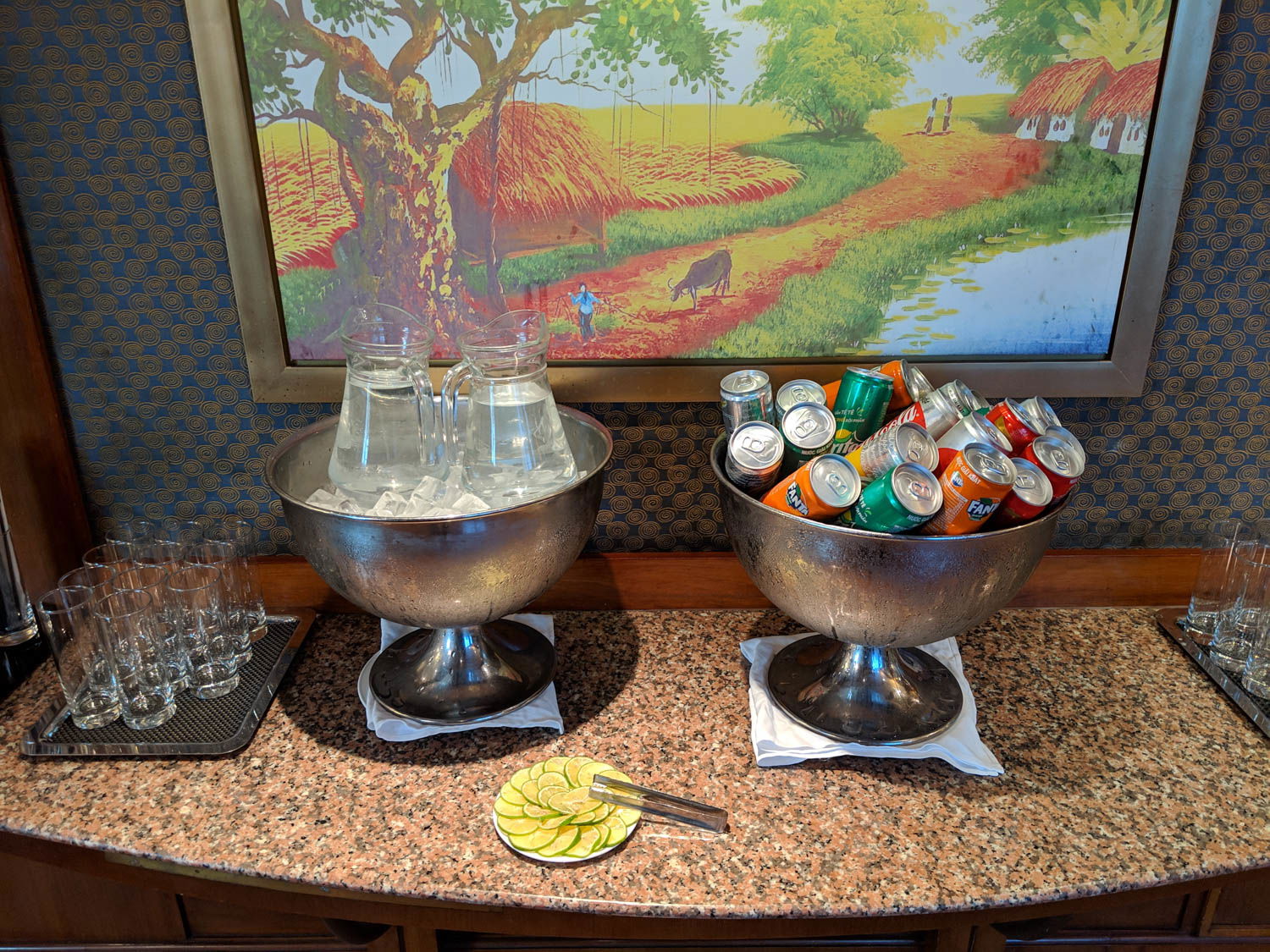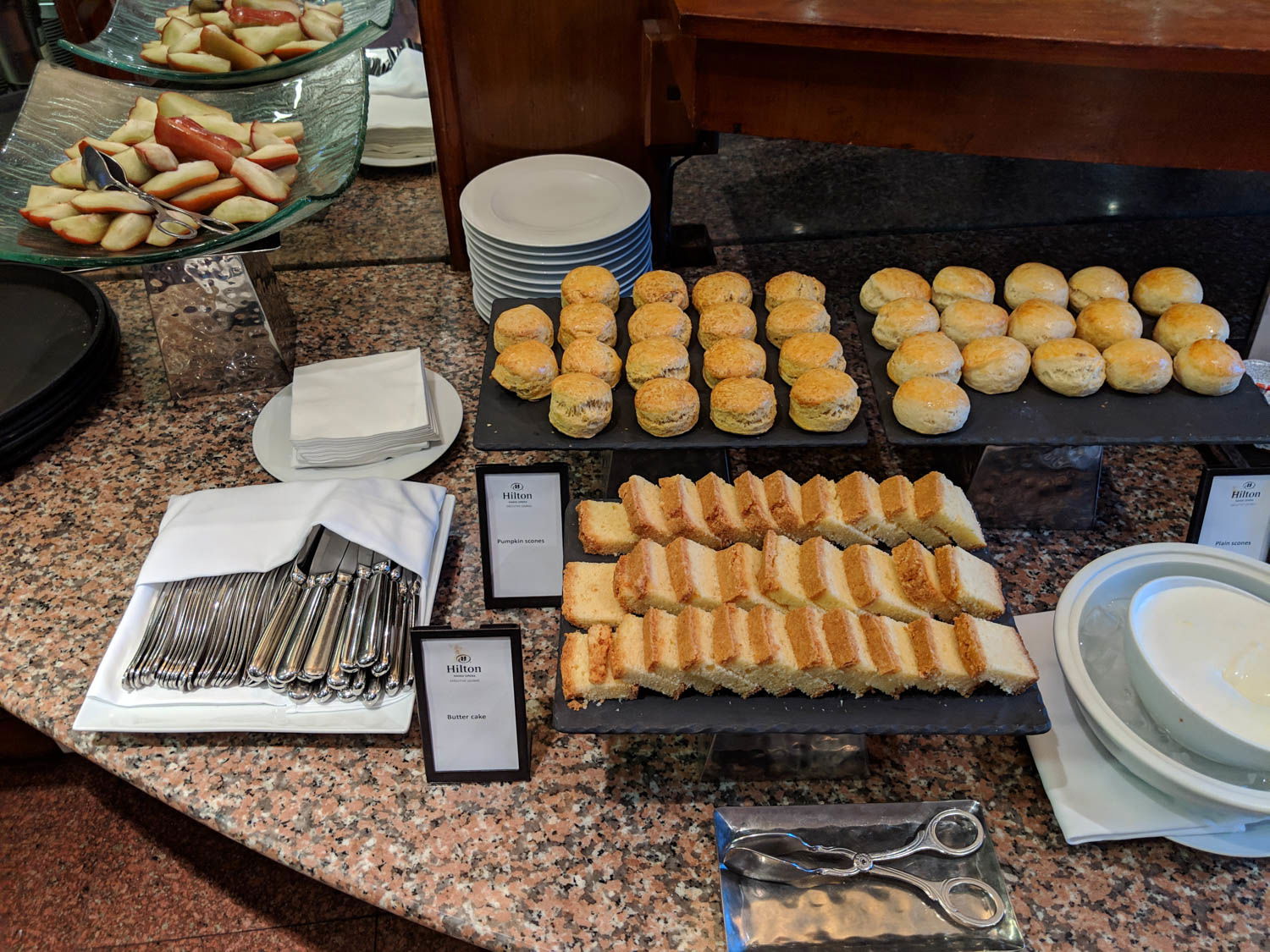 There were quite a few different pastries and sandwiches, though Hanoi has such a lovely cafe culture (and several within a block of the hotel) that I would probably only eat in the lounge as a pinch on a busy work day.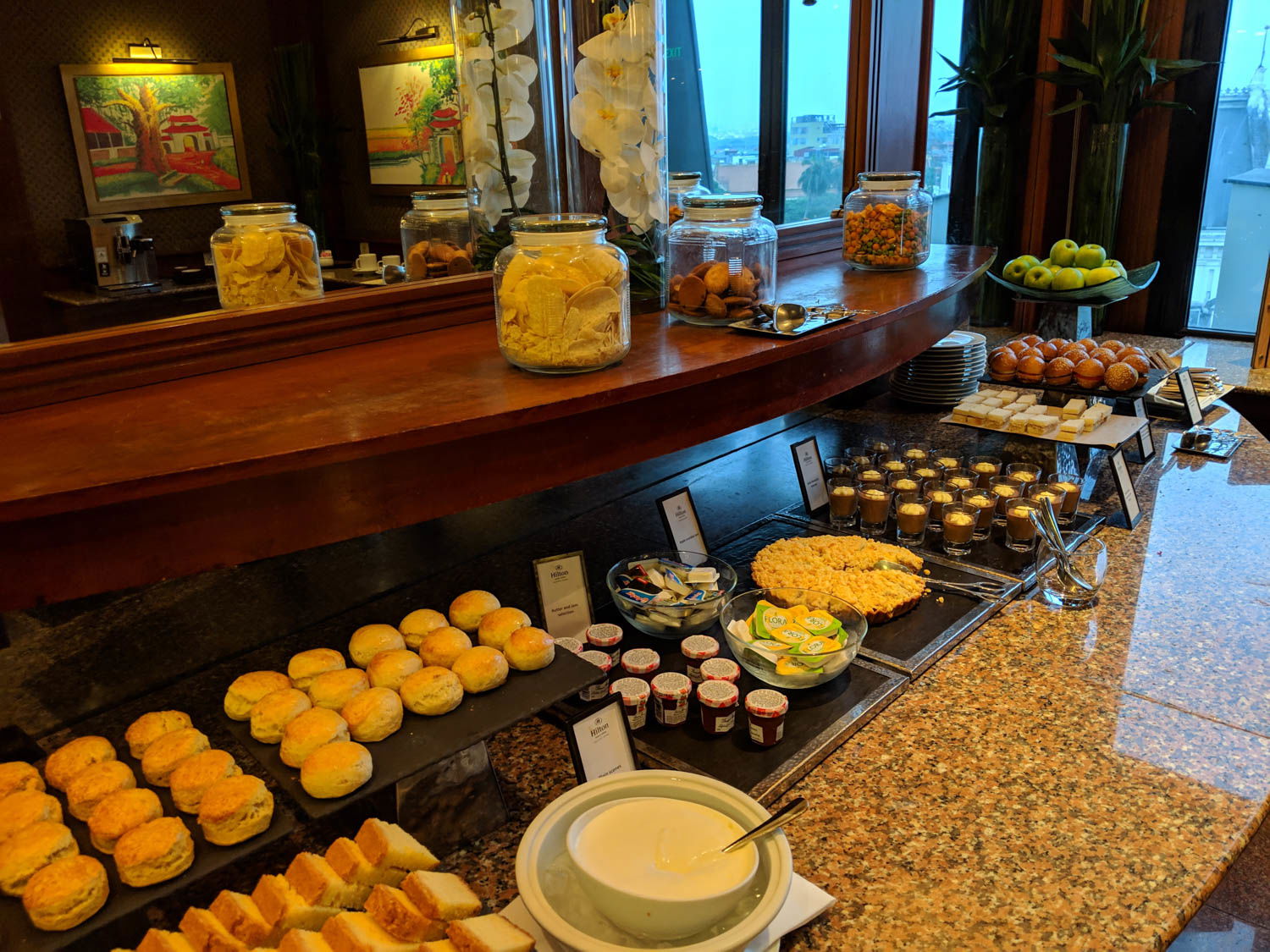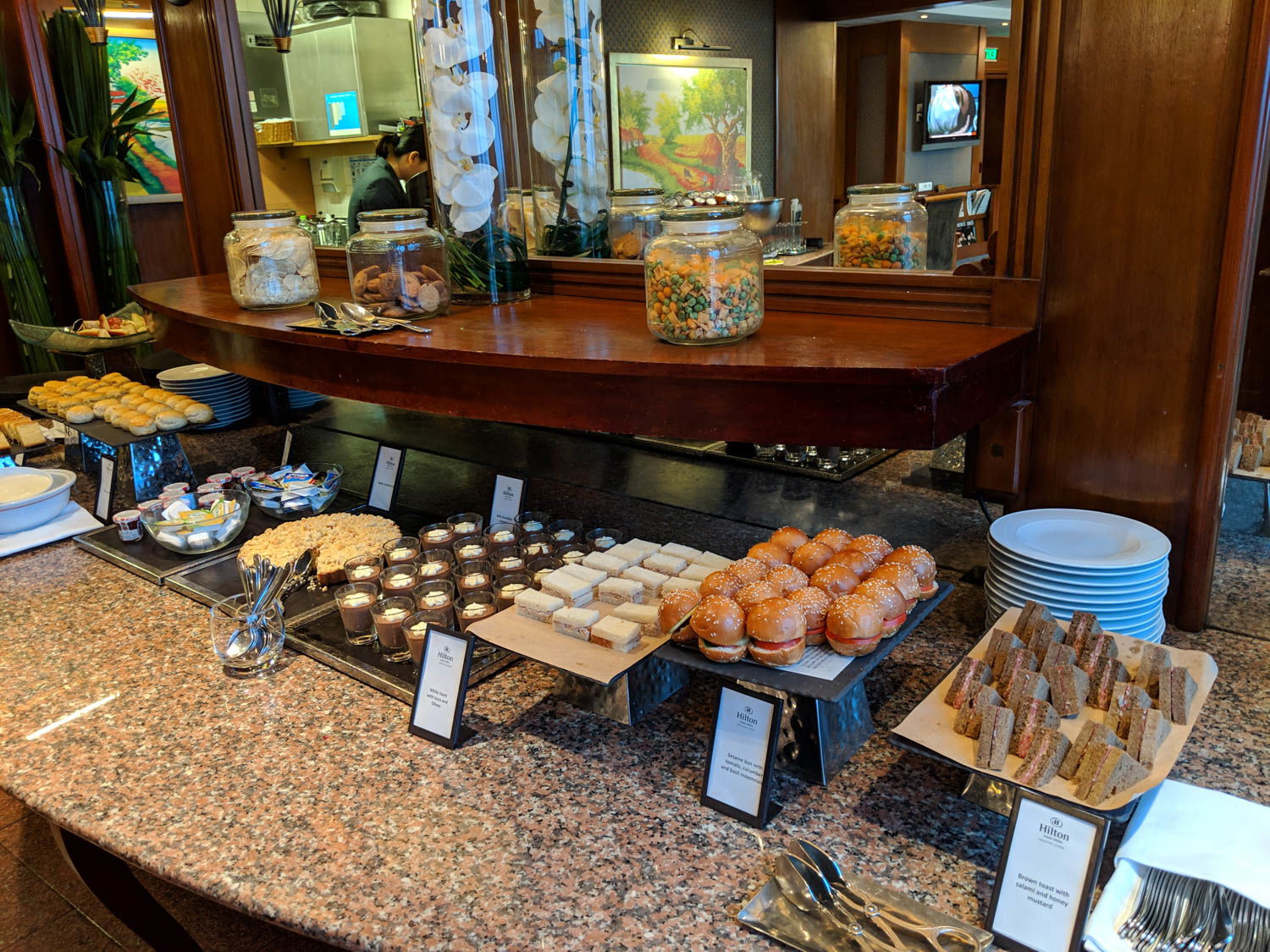 Hilton Hanoi amenities
The Hilton Hanoi is very much a business/conference hotel, and the amenities somewhat reflect that. There are several restaurant outlets (none of which we tried), though the other amenities were more basic.
The gym was small, but functional enough: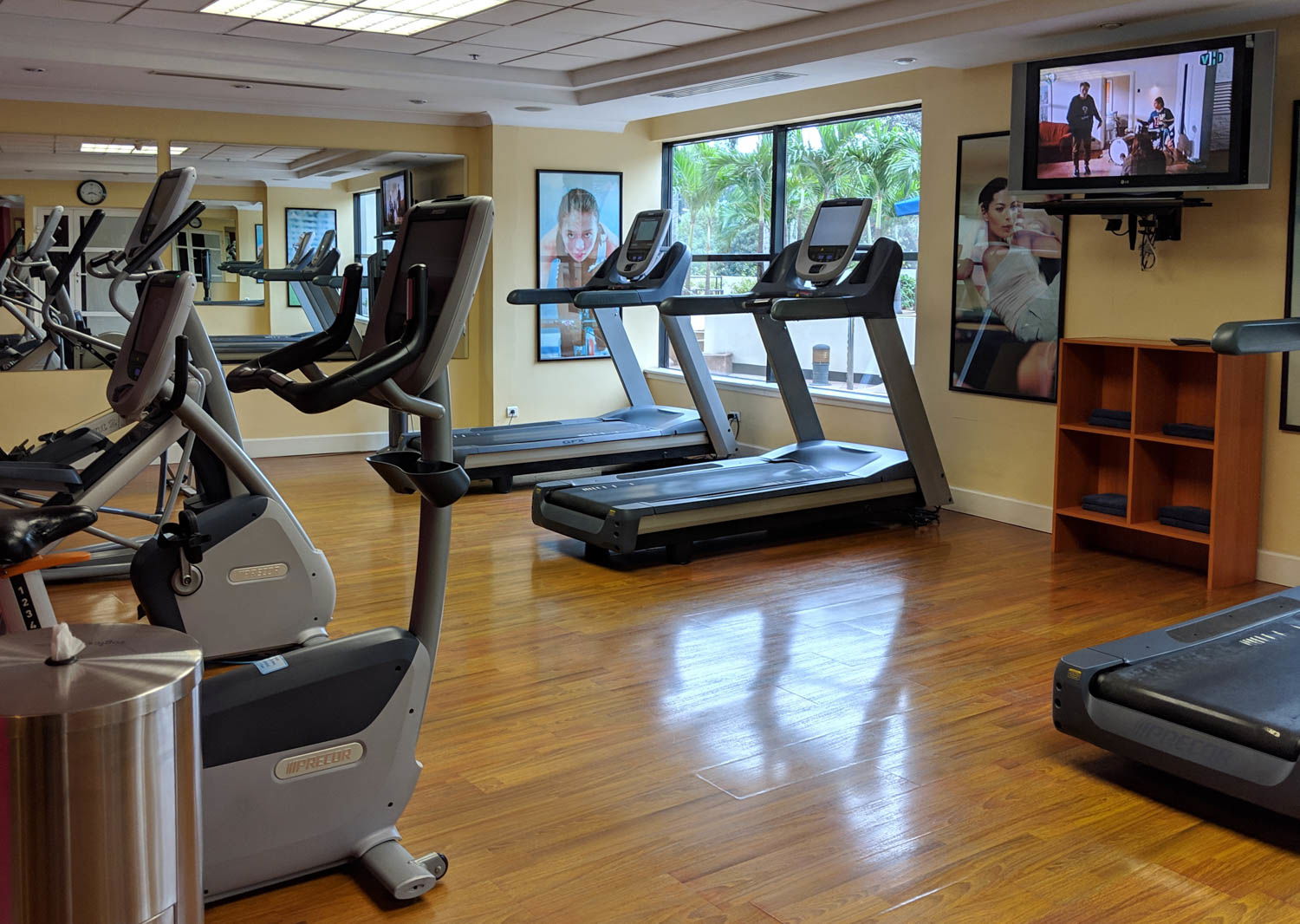 And the pool was also rather small, but on a deck with fun views of the Opera House: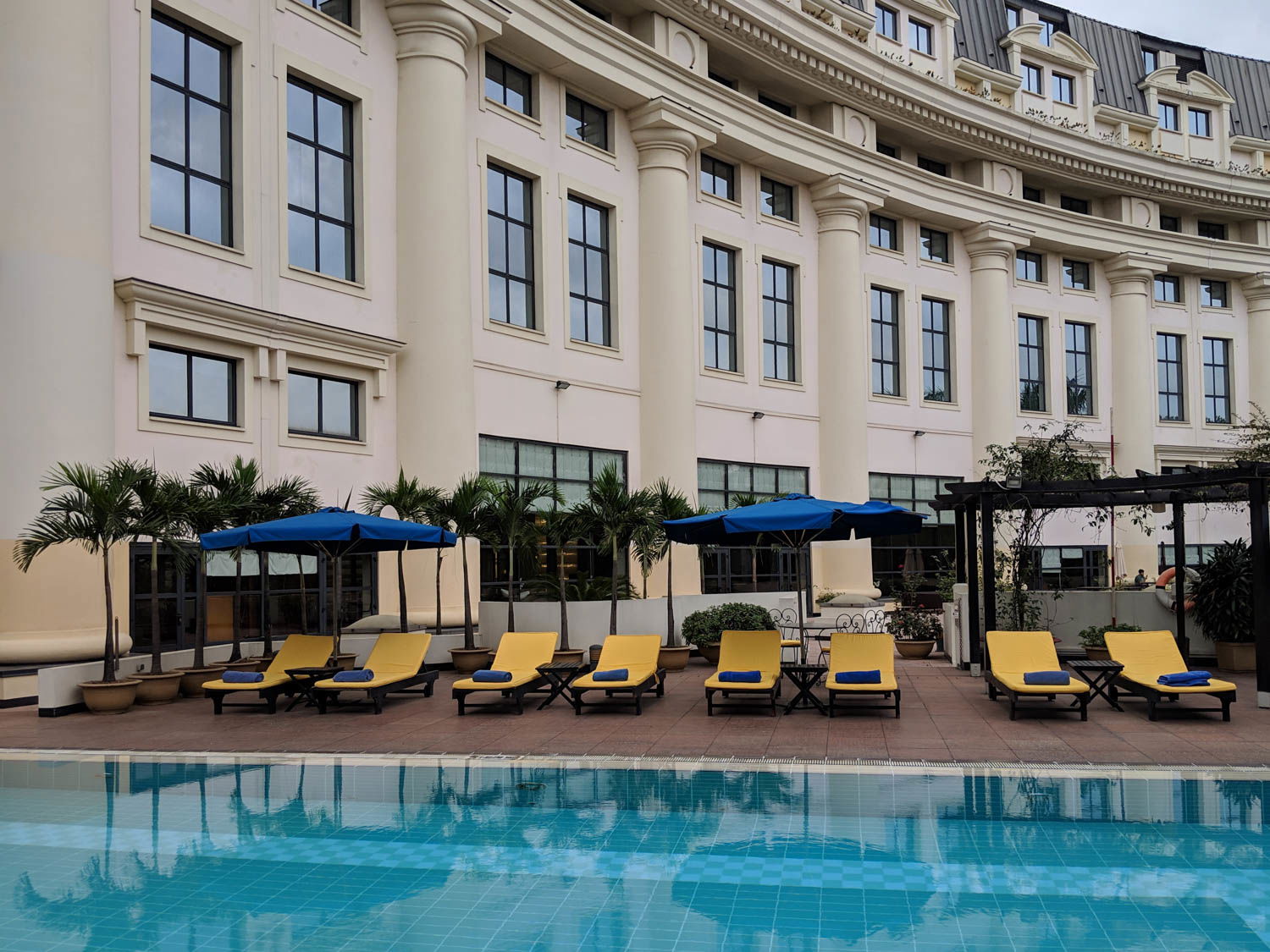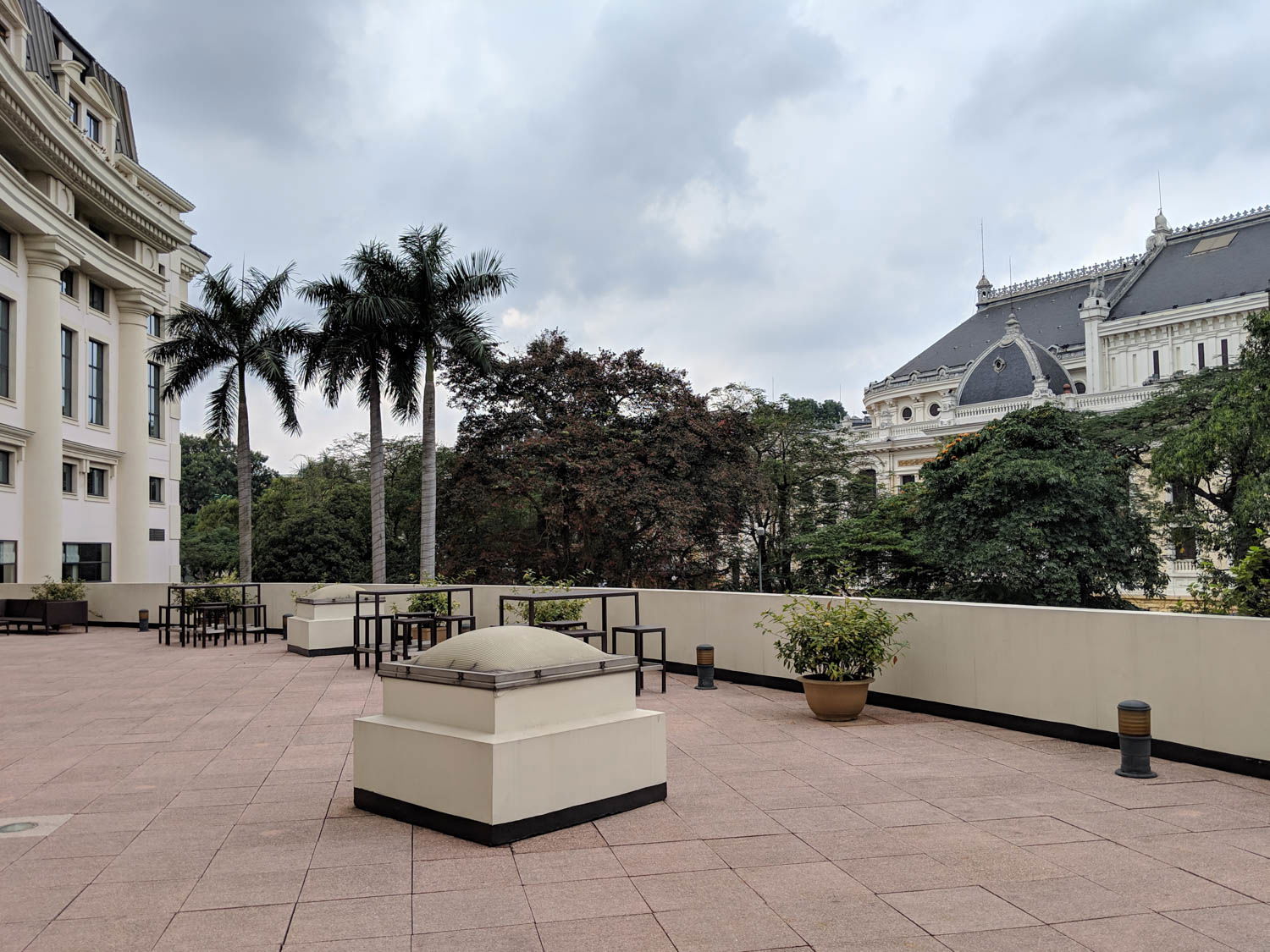 Overall thoughts
There are absolutely more modern, luxurious, or authentic places to stay in Hanoi, without question. But for a short one-night stay, the Hilton met our needs perfectly. The rooms were clean, the staff was friendly and refreshingly competent, and the location was great for us.
It does seem that the hotel hasn't fully completed a renovation recently, and I don't think we'd have enjoyed our stay quite as much had we been put in one of the most dated rooms. So I'd be cognizant of that, but Honors Gold and Diamond elites can probably plan on at least an upgrade to the Executive floor, which has at least been somewhat refreshed.
Has anyone else stayed at the Hilton Hanoi? What was your experience?