---
While you can certainly spend as much time exploring the areas around Siem Reap as you'd like, it's certainly possible to experience at least a taste of the UNESCO site at Angkor on a shorter trip. We planned our itinerary such that we had an evening and then a full day exploring the Angkor Archaeological Park.
Yes, I know that's a fast trip but like with many things, there's no outer bound on the amount of time you can spend. On my last trip to Siem Reap my husband and I spent four full days hiking and photographing temples, and despite getting extreme "ruins fatigue" we felt like we'd barely scratched the surface.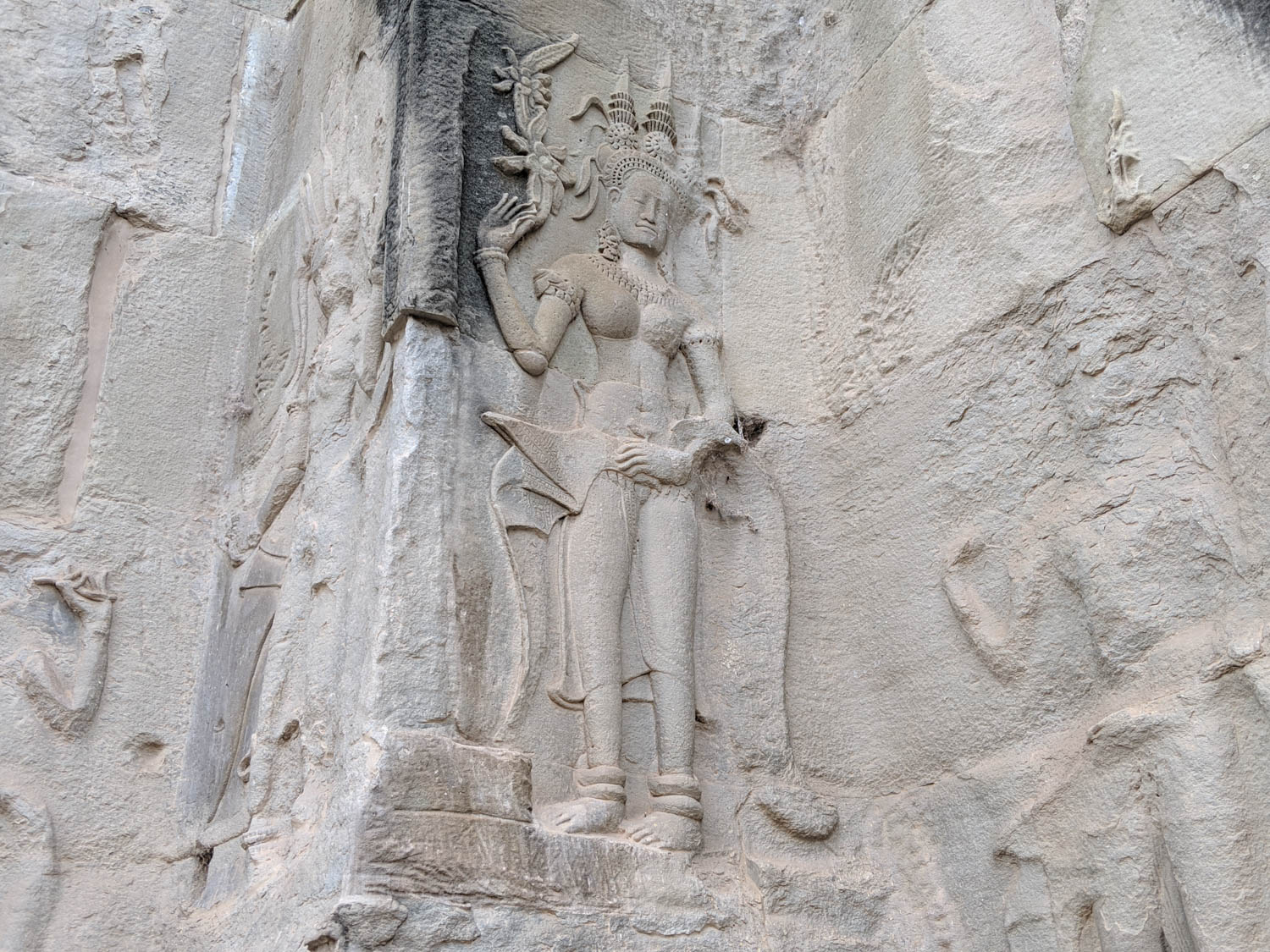 Planning your trip to Angkor
The "right" amount of time to spend will certainly vary based on your group, so I'd suggest looking at some books or videos ahead of time to get a sense of which temples you might find most interesting, how many you'll want to visit (I feel like no more than three or four a day makes for a better trip), and what distances are involved. This will help you determine how many days you'll want to spend in Angkor, and thus how much time you'll need in Siem Reap.
My preference is to start early in the morning, return to the hotel for a late breakfast and enjoy some other activities in town, then return to the temples in the late afternoon. Siem Reap is incredibly humid, so even days that aren't scorchingly hot will still be muggy and draining, so breaking the day up works well for me.
While I'm hardly an expert, this is a trip I've made twice now. Based on those experiences, I thought I'd share a few general tips for getting the most out of a visit to Angkor.
Tickets to the Angkor complex
There's no reason not to purchase your tickets to Angkor directly. I'm sure there are packages and tours that will offer to include your tickets and charge you extra, but you'll still have to stop at the Angkor Enterprise office to buy your Angkor Pass, as foreign visitors have to show a passport to purchase a ticket to the Angkor Archaeological Park.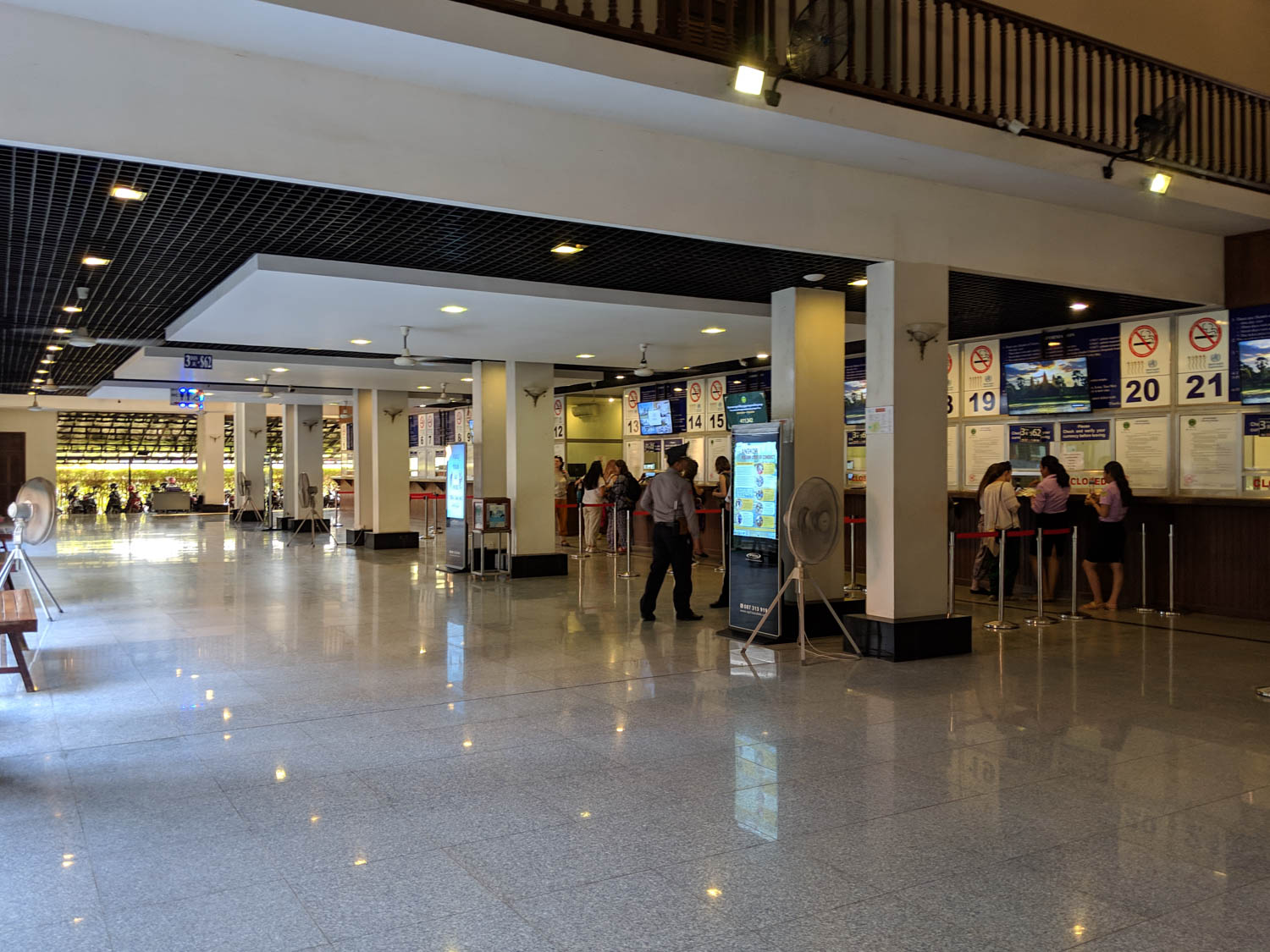 This ticket office is new since I was last in Cambodia, and the cashiers in the large building were efficient and helpful. You can pay in USD if the credit card machines aren't working (foreign credit cards are accepted, and ATMs are on-site). The ticket office is open from 5AM to 5:30PM every day, and current ticket prices for visiting Angkor are as follows:
1 day — $37 USD
3 days (valid over a 10-day period) — $62 USD
7 days (valid over a 30-day period) — $72 USD
With all the passes, you can enter and exit the archaeological area as many times on a given day as you'd like.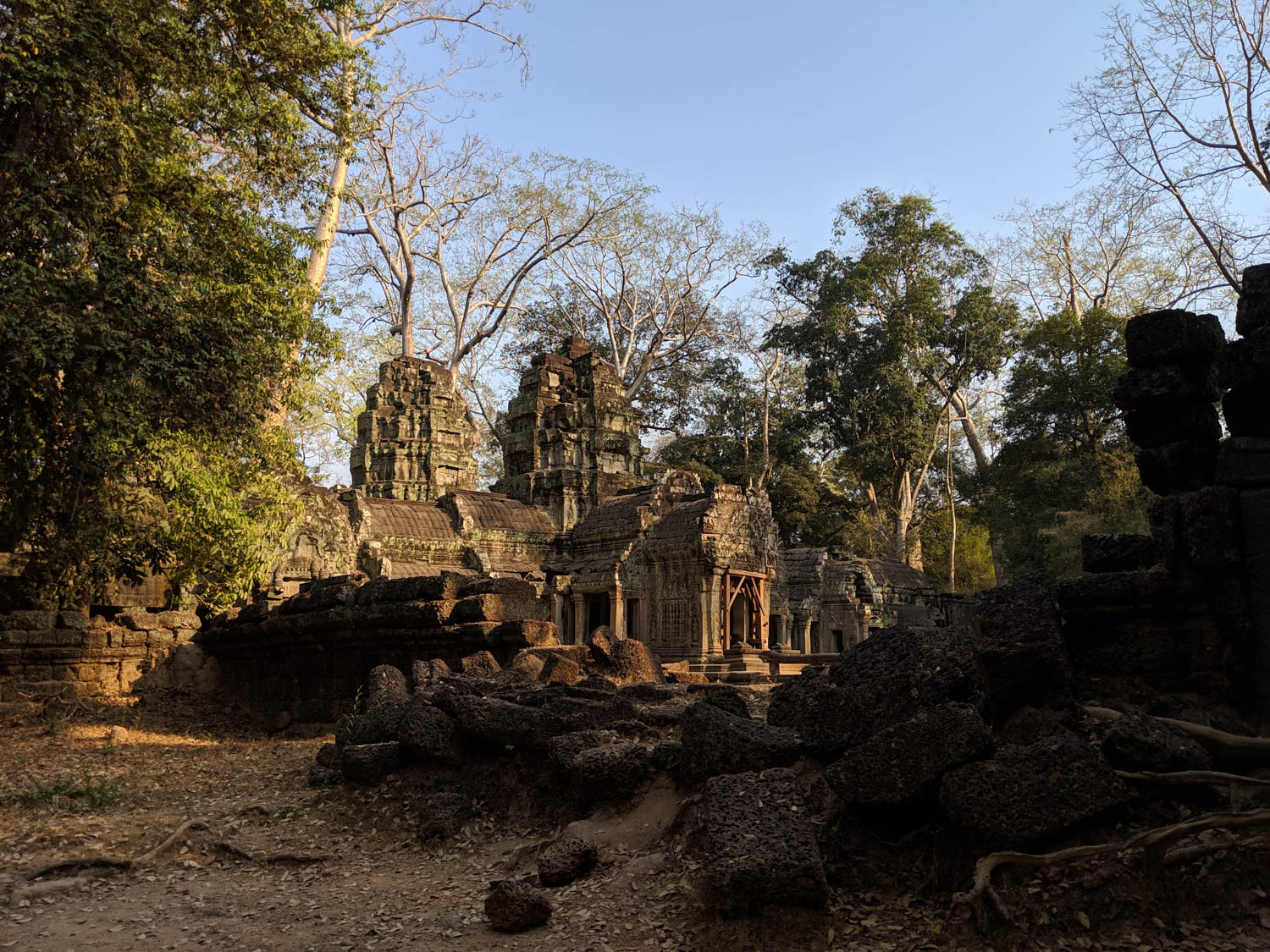 Evening in Ta Prhom
I'd also recommend getting your tickets the night before you intend to use them. This is particularly valuable on a short trip, or for those who don't think they'll want to do 3+ days of temples. The Angkor Enterprise office is open until 5:30PM, and tickets purchased after 5PM can be used that day, and the following day. Most temples close at 5:30PM as well, so you may not have time for an extensive visit, but Phnom Bakheng and Pre Rup, which both have incredible sunset views, are open until 7PM.
Guides
You really don't need a guide to enjoy a visit to Angkor, and you definitely don't need to be on an organized tour.
On my last trip to Siem Reap we hired a driver for three days, and had a fabulous time visiting more remote and uncrowded areas. Some advance research, a good book, or even an audio tour can all provide you with enough detail to understand what you're seeing beyond "cool piles of rocks".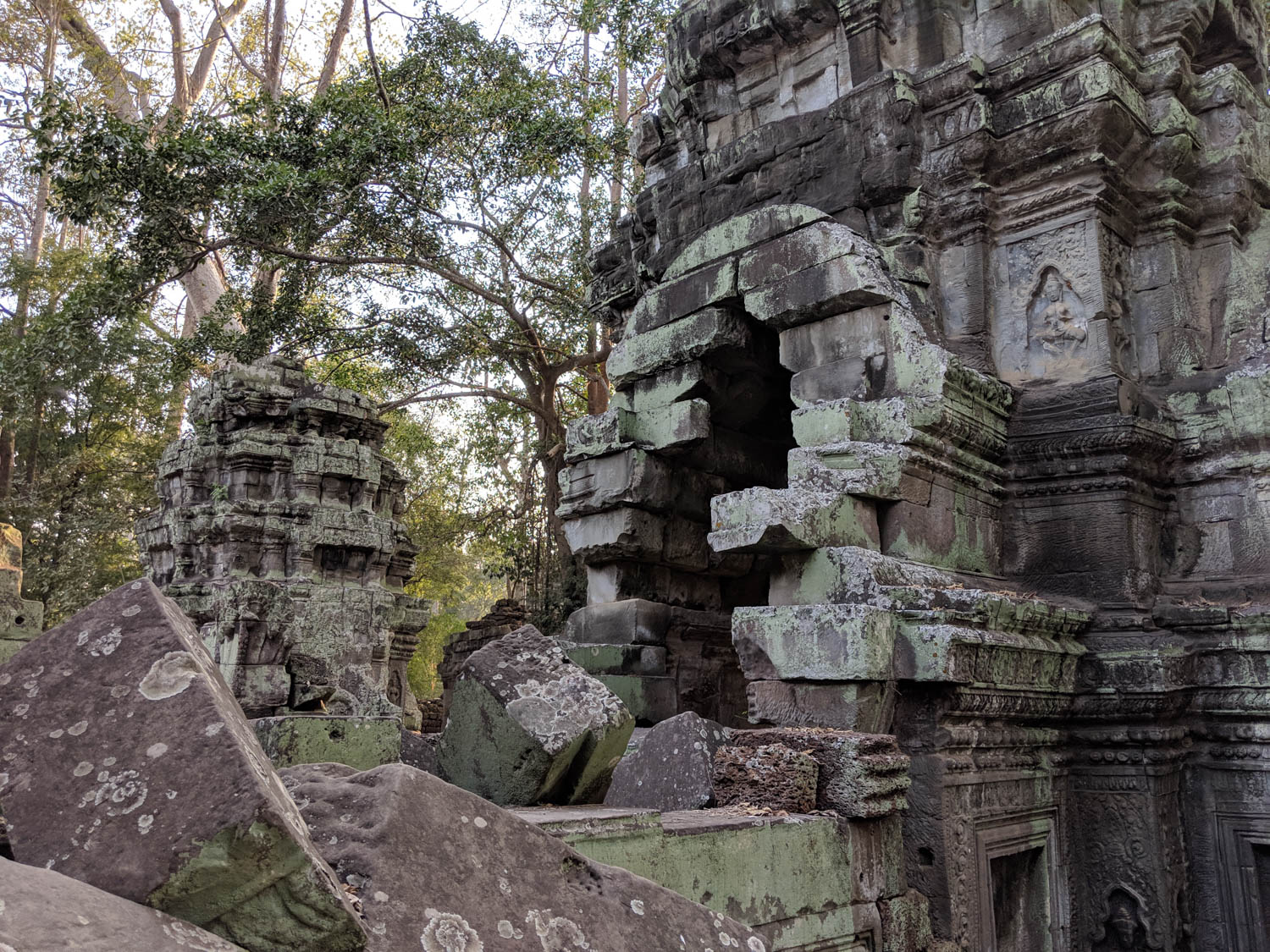 Though the ruins themselves are certainly atmospheric!
For this trip I arranged for a guide (through the Park Hyatt concierge) with the expectation that a reputable guide would be able to answer my mom's questions about the history and technology of the ancient Khmer city, and would take some of the pressure of me. There's also something to be said in a place like Siem Reap of hiring one tout to keep the other touts at a distance.
Sounds great in theory, but the guide was a disaster. There are so many fascinating stories and details about what was one of largest and most advanced pre-Industrial civilizations, and he knew none of them (or at least wasn't able to communicate them).
Take the example of King Jayavarman VII, who came to power after ousting Cham invaders in an epic naval battle on the Tonle Sap, and built 102 hospitals (where advanced surgeries were performed using techniques and medicines they'd learned and adapted from a complex trading network), along with reservoirs, rest houses, and other public works, in addition to the temples at Ta Prohm and Preah Khan, before building a new city center surrounding the Bayon at Angkor Thom, and partly inspired the eventual national conversion to Buddhism which played no small part in the eventual decline of the Angkor Empire (as Buddhism is not inherently compatible with absolute monarchy).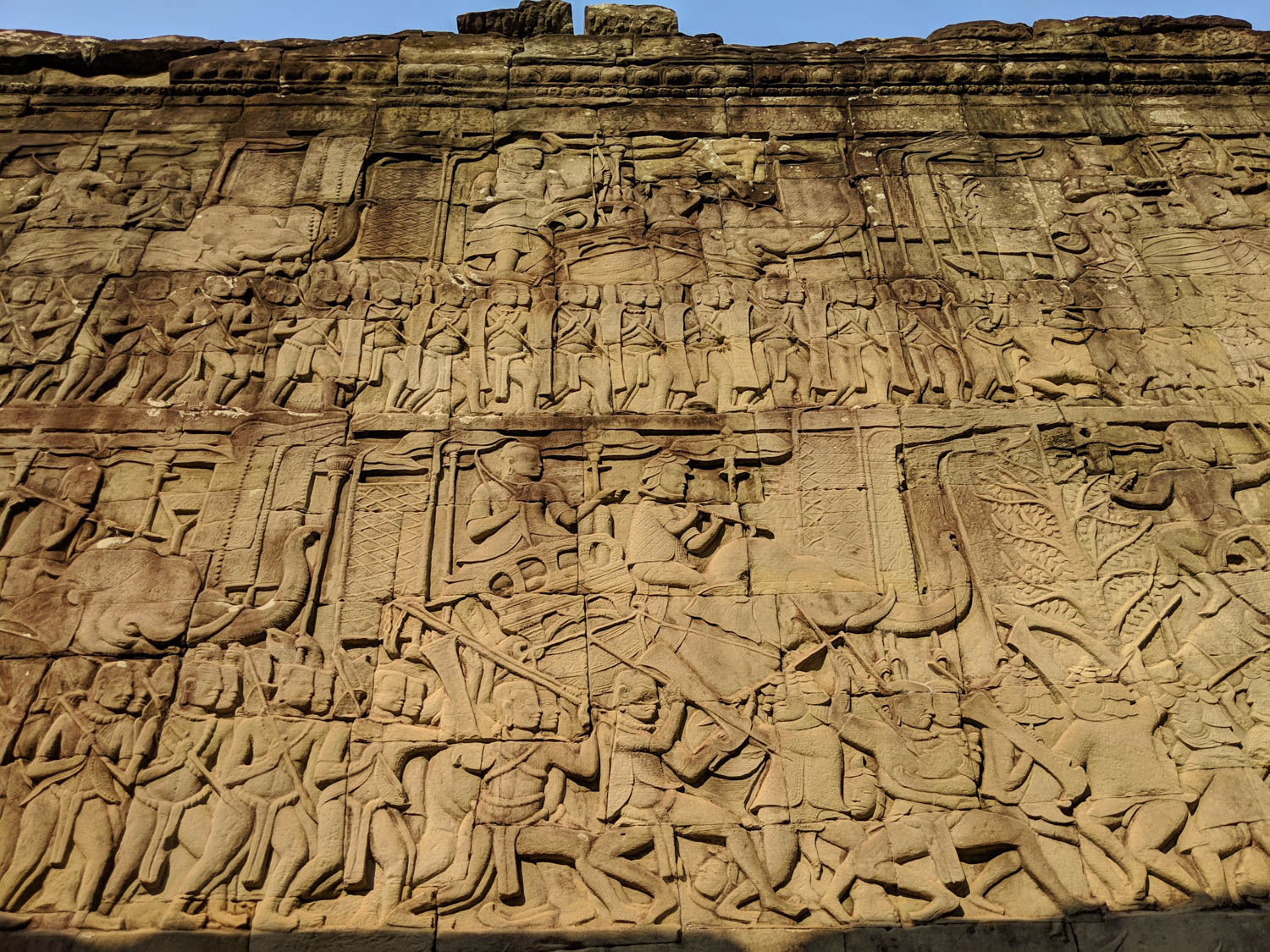 One of many bas-reliefs showcasing battles and other history of the Khmer Empire
Our guide summed him up as:
"Built by King #7, who was a very good king. Cared for the people."
Which he repeated about ninety times. That and:
"See? Has the face of Buddha. Buddha is for compassion."
https://www.instagram.com/p/Bt-DxLXljUv/
One of the 200 faces of Lokesvara at the Bayon
Combined with the fact that he explicitly ignored our requests to go to less crowded temples, and argued with us about every little thing (even restroom breaks!), it just made for a truly unpleasant day.
So if you think you'll want an expert to guide you around the UNESCO site, I'd recommend researching on TripAdvisor or similar to find someone with a knowledge level appropriate to your interests.
Transportation
If you arrange for a guide, they will likely have a driver they want to work with, and will probably inflate the price by a few dollars. On balance I tend to feel like this is fine, as paying maybe $5-$10 more to avoid conversations about stopping at certain shops or restaurants is well worth it to me. But you still shouldn't pay more than ~$35 for a car and driver for the day, or maybe $45 for a van.
If you book your own transportation, you'll pay less. The taxi driver taking you from the airport to your hotel will offer to drive you during your time in Angkor, and if you like the driver and vehicle you may as well book it. If you're going to the "main" temples Angkor, expect to pay ~$25 for a standard taxi car, maybe $35 at most for a van. If you want to go out to some of the more remote temples, the price could double, so having a plan ahead of time for which sites you want to visit will help in the negotiating process.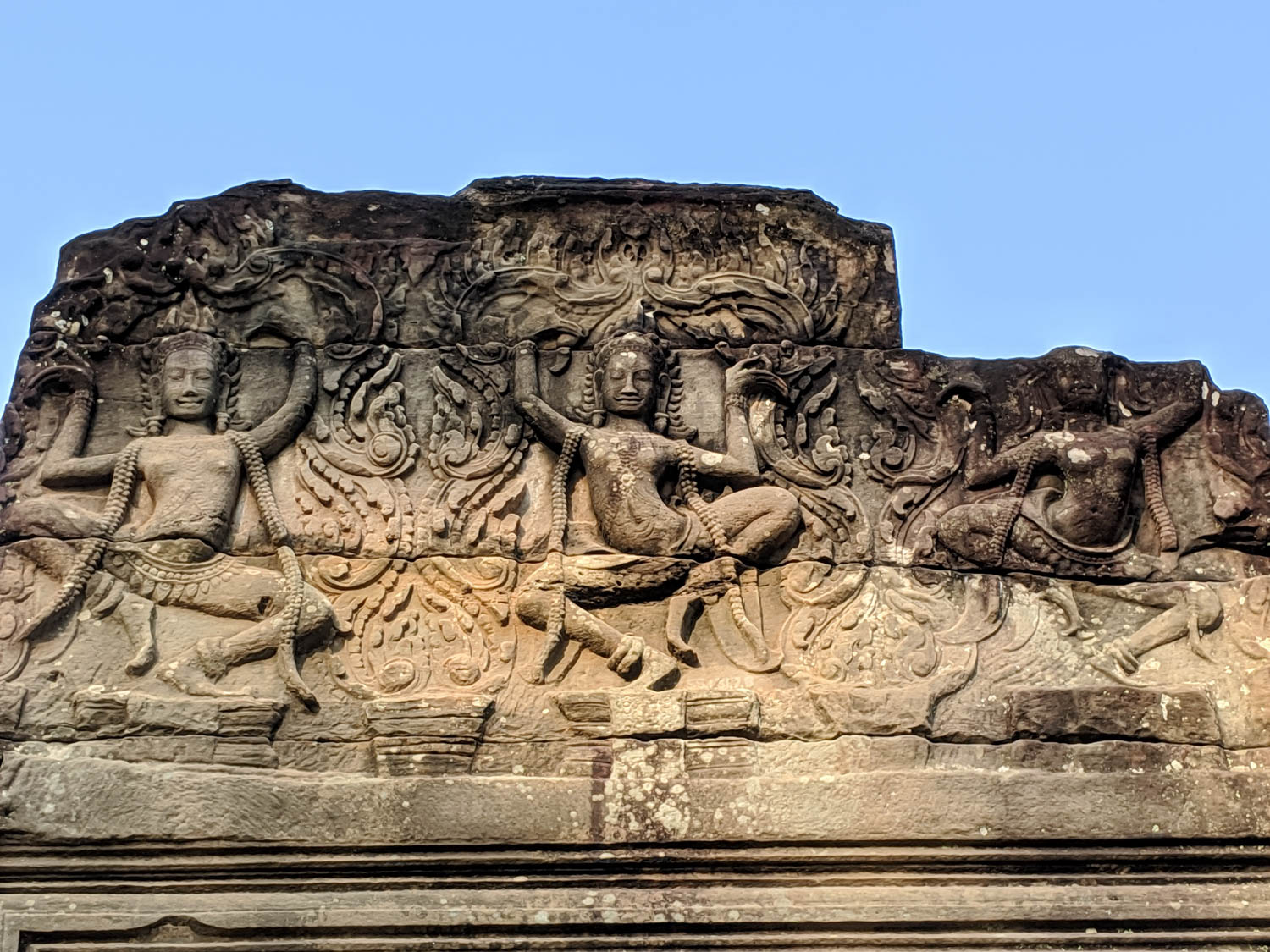 As an alternative, you can book a tuk tuk for the day for between $15-$25, depending on your negotiating skills and the knowledge level of your driver. Someone who speaks great English, for example, can command a higher price, and knows it. If you go below that (which is certainly possible), you could risk getting ditched for someone who will pay better.
In all cases, drivers and guides will be loyal to your anticipated tip. Be sure to plan for that as well, and be clear about your expectations in terms of timing, locations, and so forth before you set out.
Avoiding crowds at Angkor Wat
If you want to have the classic experience of seeing the sunrise behind the silhouetted turrets of Angkor Wat, I can't help you. There are going to be thousands of other people arriving in tour busses to take the same washed-out selfies before breakfast, so it's just going to be crowded.
Plan on it.
Alternatively, if you want to visit in the pre-dawn hours in relative tranquility, ask your driver to take you to the back gate.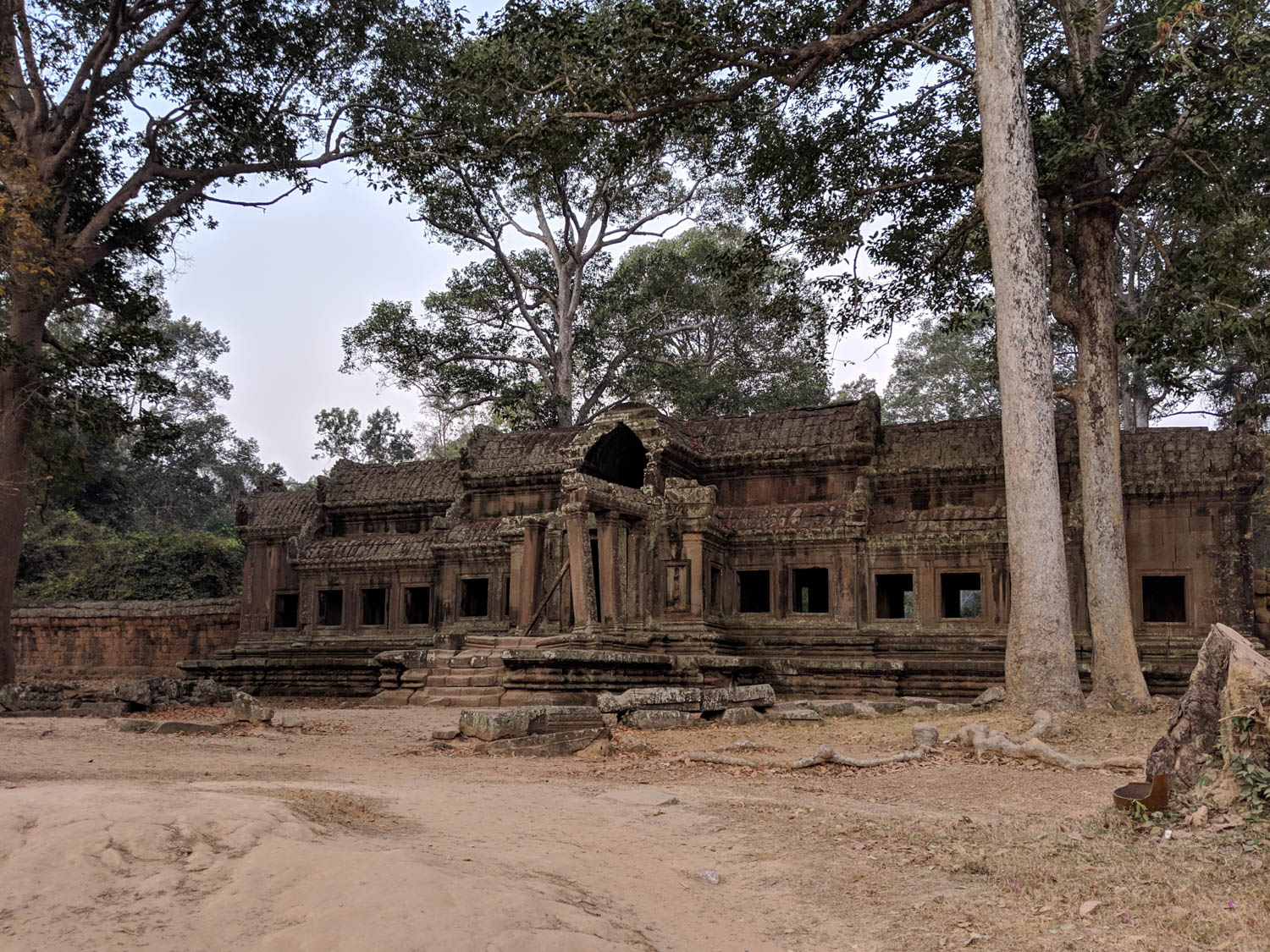 There's unlikely to be many other people there, and you can explore the Eastern side of the complex without much chaos. Even as you make your way to the center of the ancient city, there won't be many (or in our case any other visitors), which makes examining the sculptures and reliefs much more pleasant.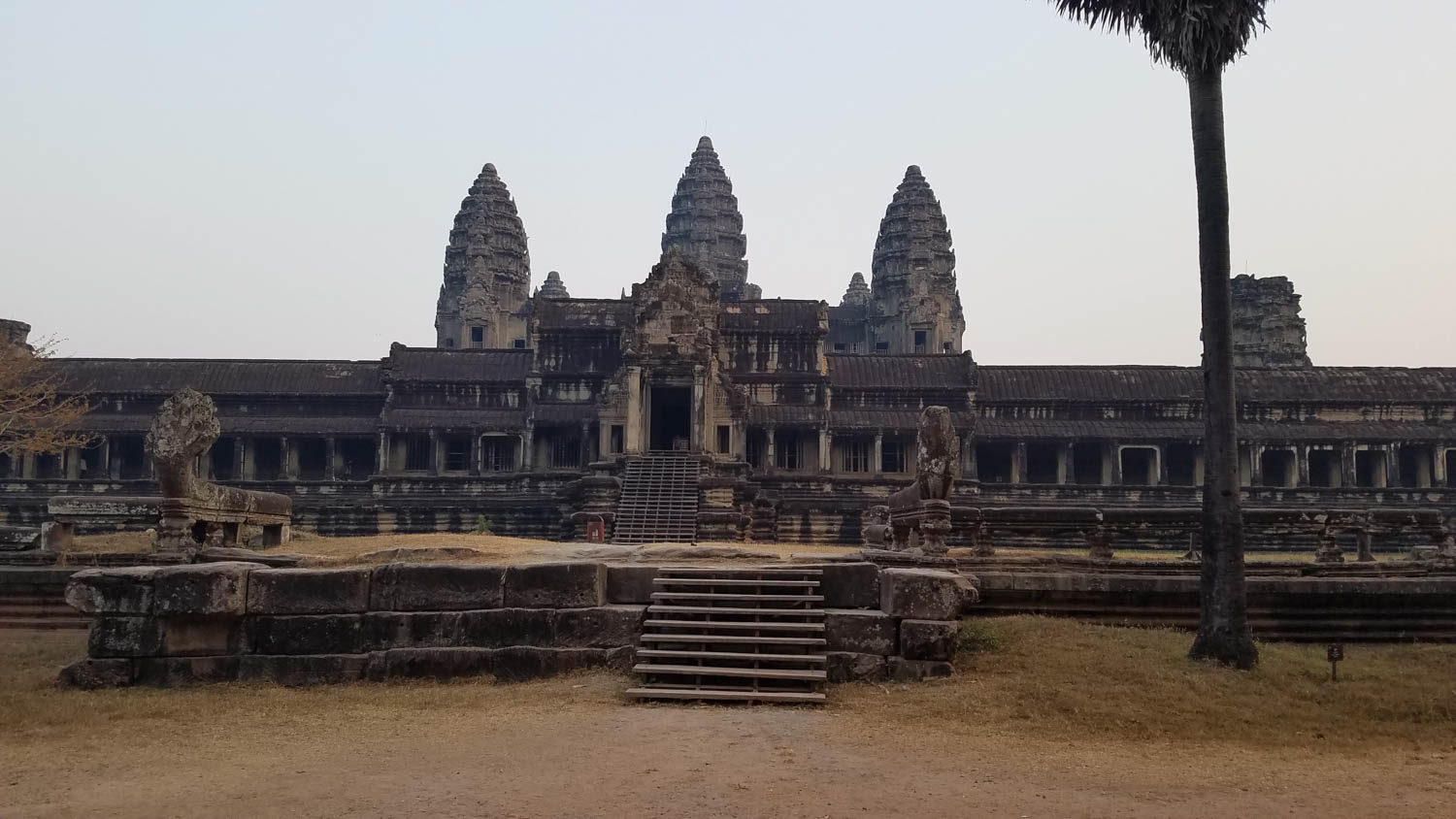 And you'll still have the opportunity to see the sunrise.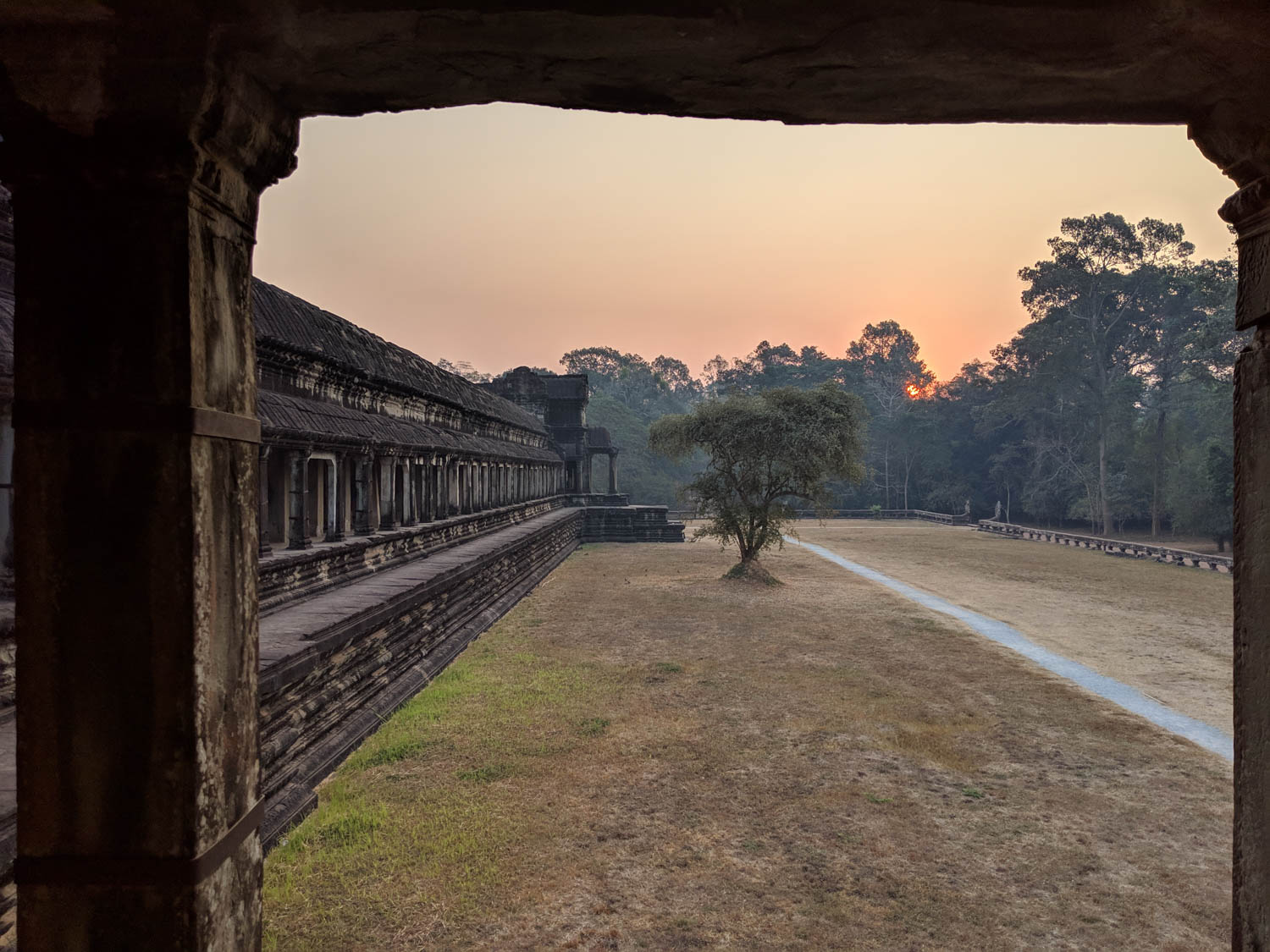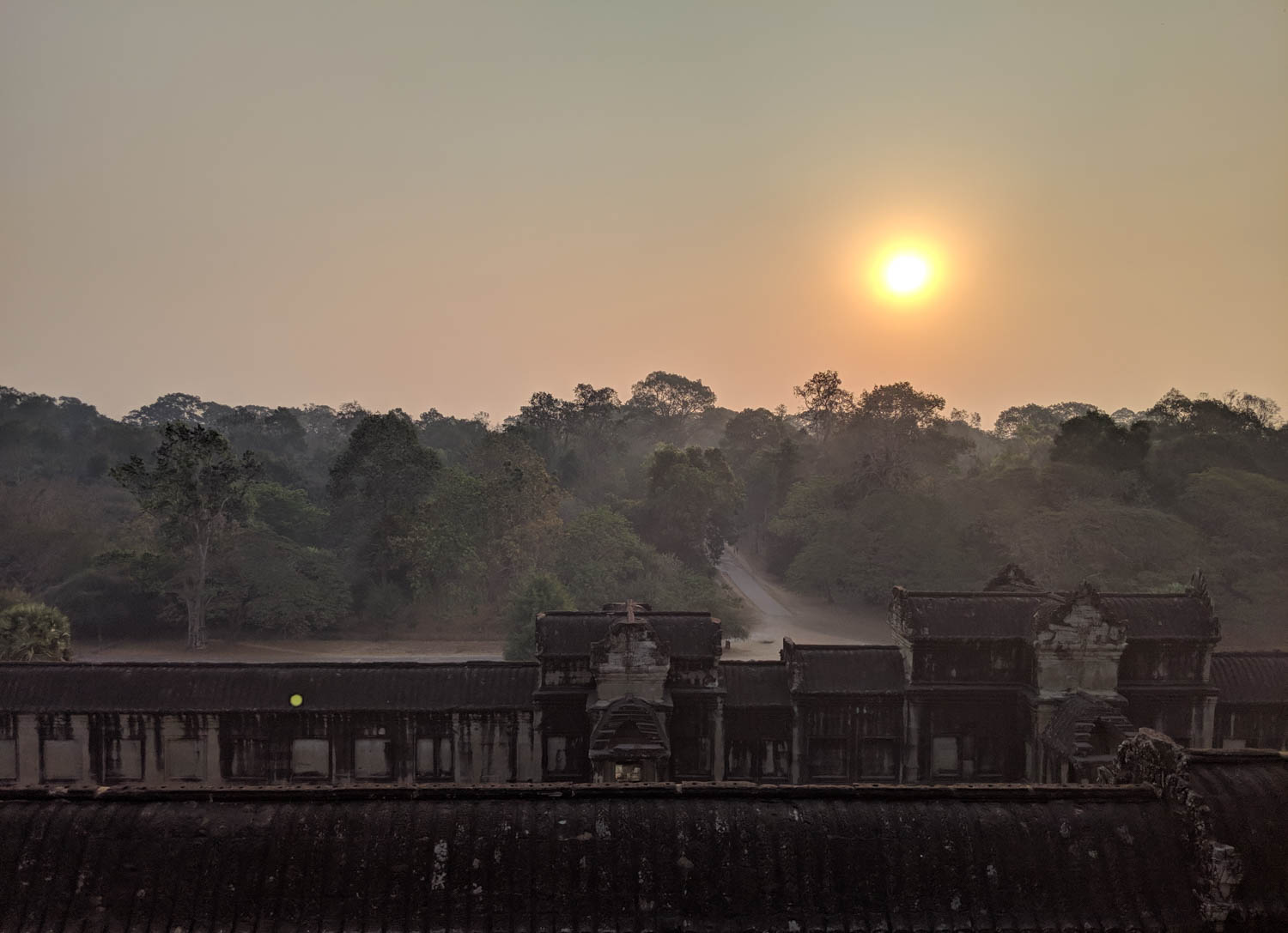 Even better, the sun will be behind you as you approach the central temple, which makes for some lovely lighting.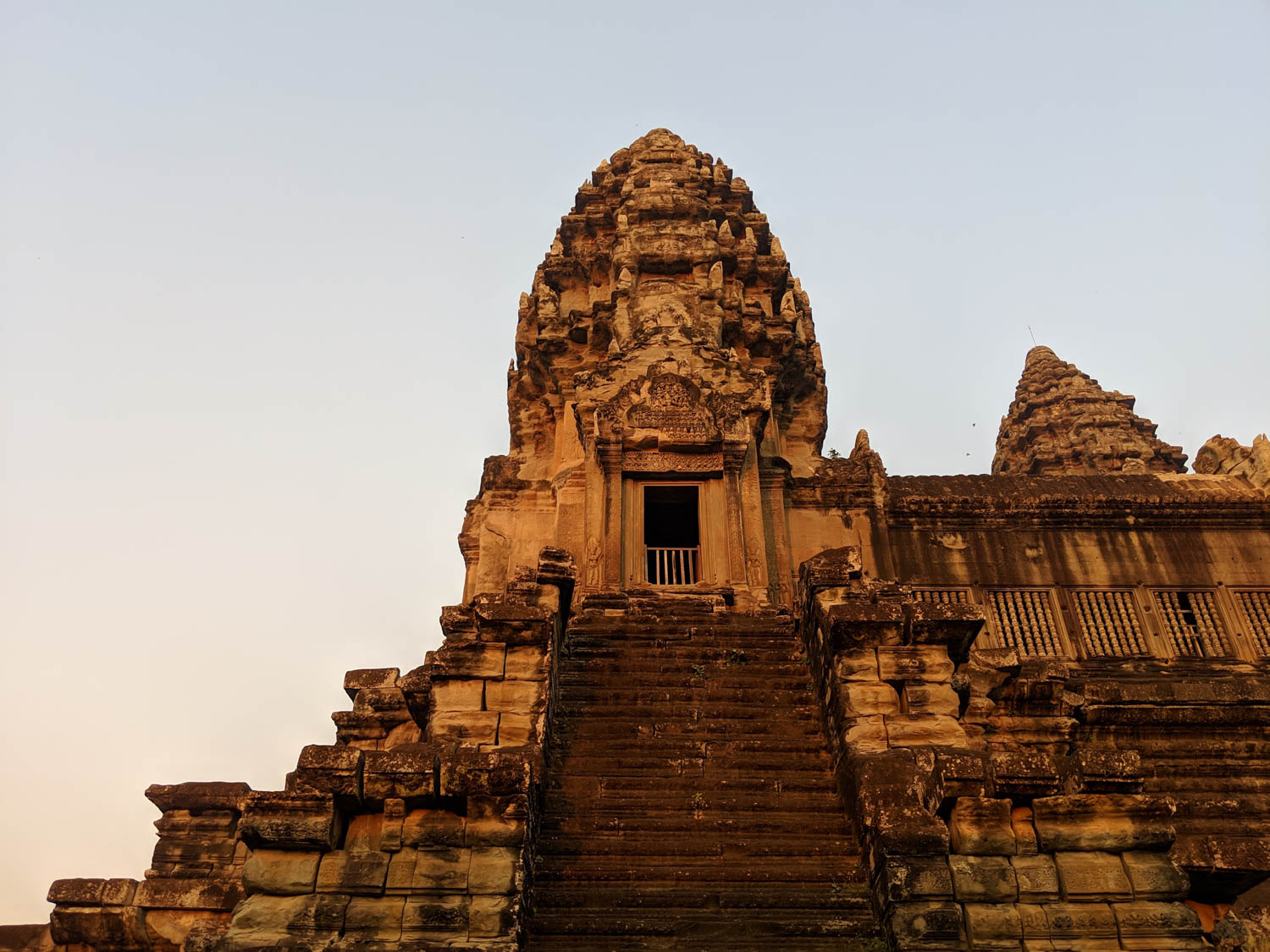 And you'll get there long before anyone who was watching the sunrise from the Western gate, so won't have to wait in endless queues to climb to the upper levels.
I've also visited Angkor Wat in the evening, which was a similarly lovely and uncrowded experience. In that case you'll want to enter from the West, and have your driver meet you on the Eastern side — that way the sun will be to your back as you meander through the city, which is much more pleasant than squinting in the heat.
Overall thoughts
I still can't believe how developed Siem Reap has become, but if there is a plus side, it's that visiting independently is pretty easy. Be sure to do a bit of research ahead of time, so that you know which temples you want to see (or which experiences you definitely want to avoid), and be upfront about those things when arranging drivers or guides.
What other suggestions do you have for visiting the Angkor complex?