Turkish Airlines is known for having an excellent soft product in business class, with top notch food and drinks. However, the carrier's hard product leaves a lot to be desired. Turkish Airlines has nearly a dozen different kinds of business class seats throughout their fleet, though none are especially good.
The airline has a few A330s with herringbone seats in business class, which are tired and outdated. These are the only planes they have with direct aisle access from every business class seat.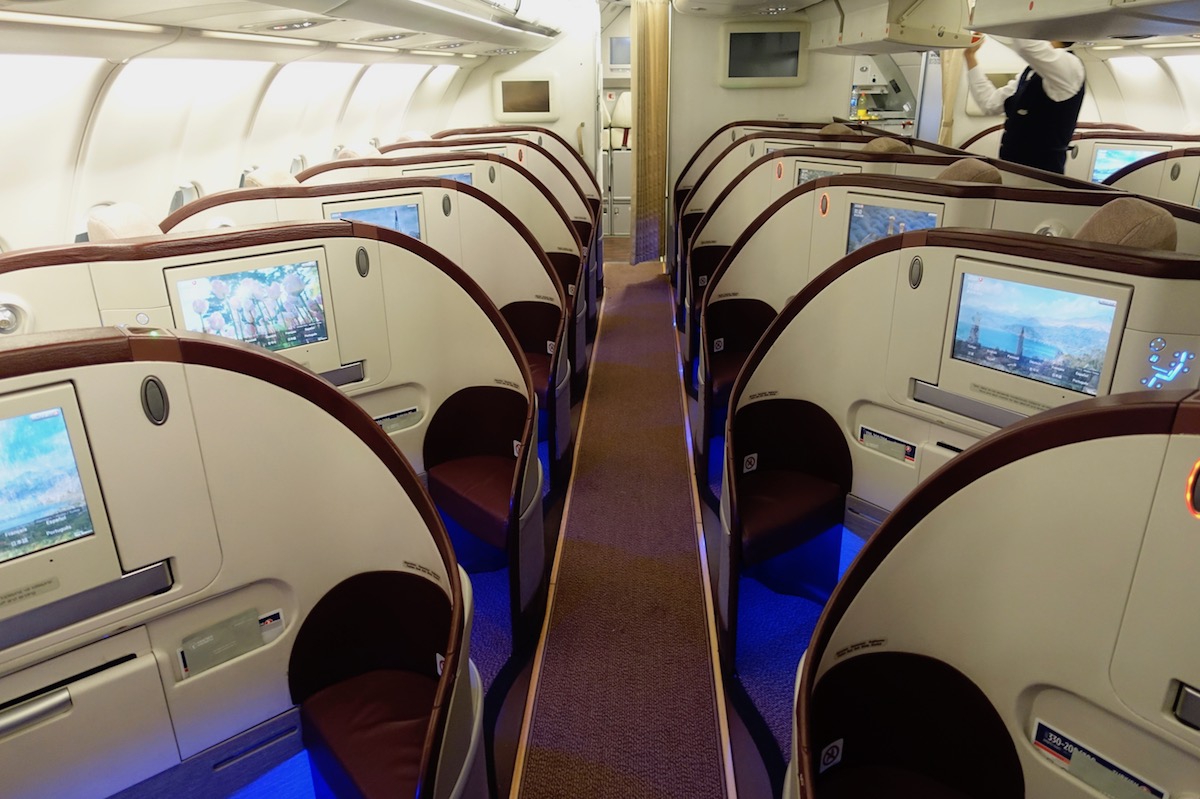 Turkish Airlines A330 business class
Otherwise their best hard product is on the 777, which features flat bed seats in a 2-3-2 configuration.

Turkish Airlines 777 business class
The good news is that next summer Turkish Airlines will be taking delivery of some Boeing 787s. In September Turkish Airlines revealed that they'll introduce a new business class product on these planes, though they've been tight-lipped with the details.
The airline indicated that the layout will be in a 1-2-1 configuration, that the seats will be very private, that the seat will feature 44 inch knee distance, and that the seat is still in the design stage. That's all they've said.
That obviously is very open to interpretation. While we know privacy will be a priority, we don't know if they'll introduce fully enclosed business class seats or not, like the Delta One Suites or Qatar Airways Qsuites.
We at least now have some new hints about what to expect. Turkish Airlines has loaded the seatmaps for their new 787-9s, which will start flying next September from Istanbul to both Panama City and Bogota (thanks to @airlineroute for the heads up on that). These won't necessarily be the first routes to get the planes, but they are routes that have the aircraft scheduled as of now (though that's subject to change).
The fact that they have an exact seatmap already suggests to me that they may be further into the design process of these seats than we may have thought. Here's the seatmap:
Based on the seatmap:
There will be 30 business class seats, presumably between doors one and two, which matches the density you'll find on airlines that have reverse herringbone seats in this space; that should give you a sense of the real estate per seat
Seats will be in some sort of a staggered configuration; I don't think the seatmap is completely accurate in it showing alternating rows of 2-2 and 1-2-1, but rather I think that's just how the seatmap displays it, when in reality there will be one seat along each window and two seats staggered in the center section
Like I said, this doesn't paint a full picture of what the new seat will like, though I do find it interesting that it gives us a sense of how many seats there will be, how much real estate they'll take up, and what the general configuration will look like.
What are your initial thoughts based on seeing the Turkish 787 seatmap?