---
Gosh we have had incredible weather this week! I'm sure we'd be having a grand time regardless, but the literally picture-perfect autumn glow making everything golden and cozy sure doesn't hurt.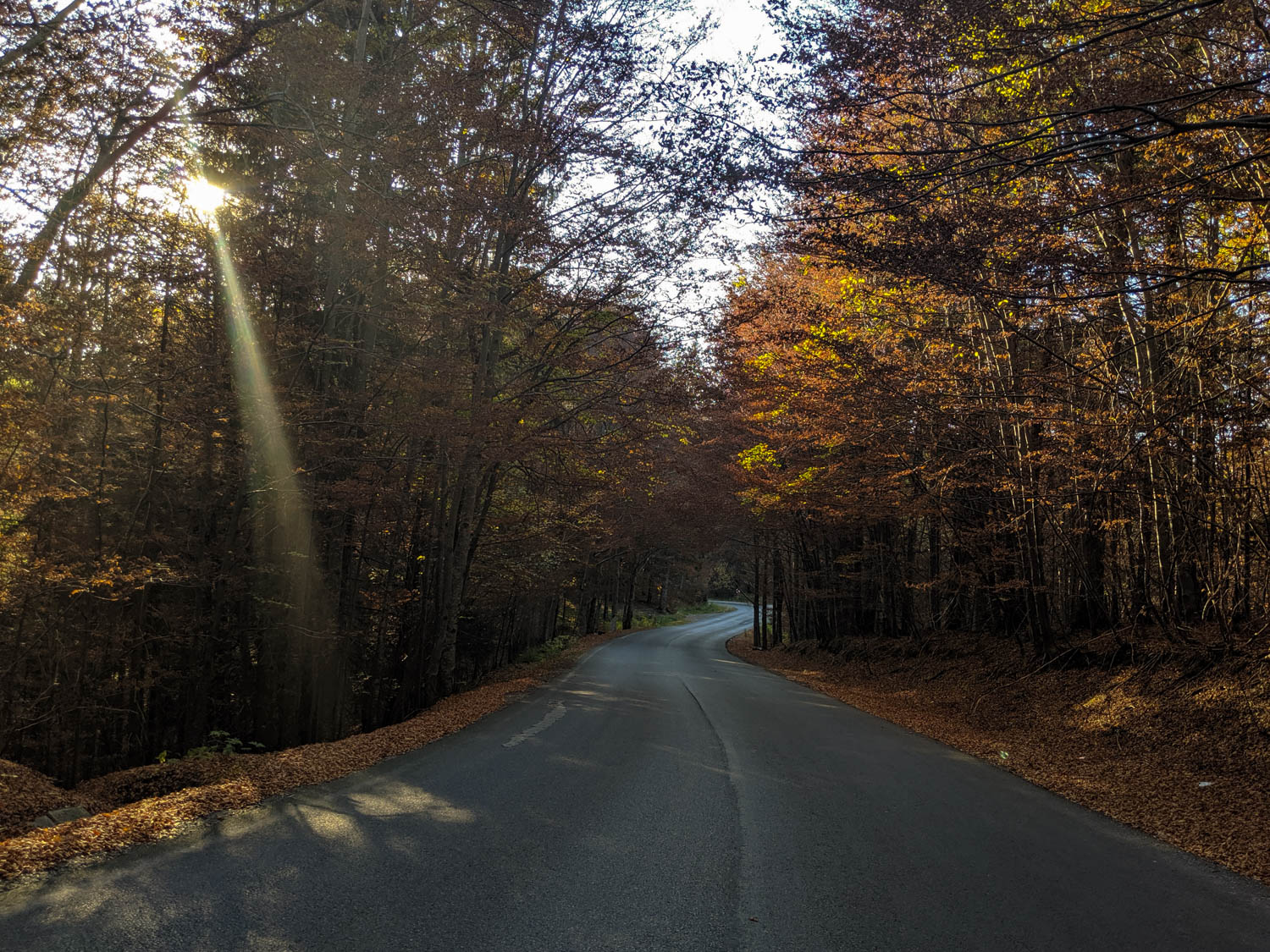 Other than exclaiming in delight at the landscape as we round every corner, here's what we've been up to.
Day Three — Copsa Mare to Sighișoara (via the Transfagarasan)
I'd saved the halfway point in our trip as a "buffer day," where we wouldn't have to do significant driving if we needed to work or just rest.
But then Ben heard about the Transfagarasan highway, decided it was a must-do, and so we made a day trip out of it.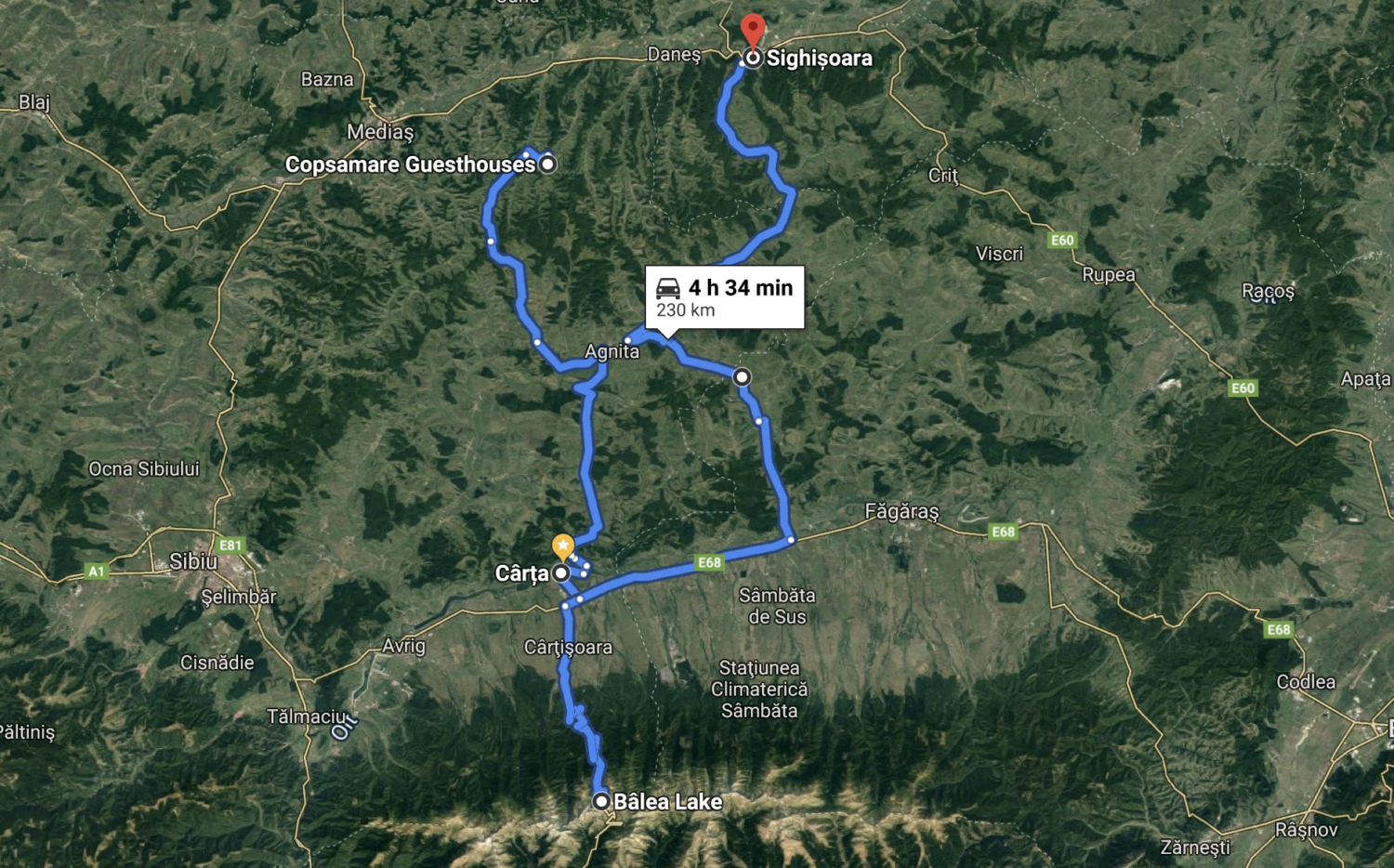 This is clearly and obviously one of the least efficient paths you could take, but it was still super doable in an easy day of driving.
The monastery at Carta
On our way south, we stopped to see the old Cistercian Abbey of Carta. Even without the historical considerations, this is an interesting piece of architecture, and the grounds were immaculately kept.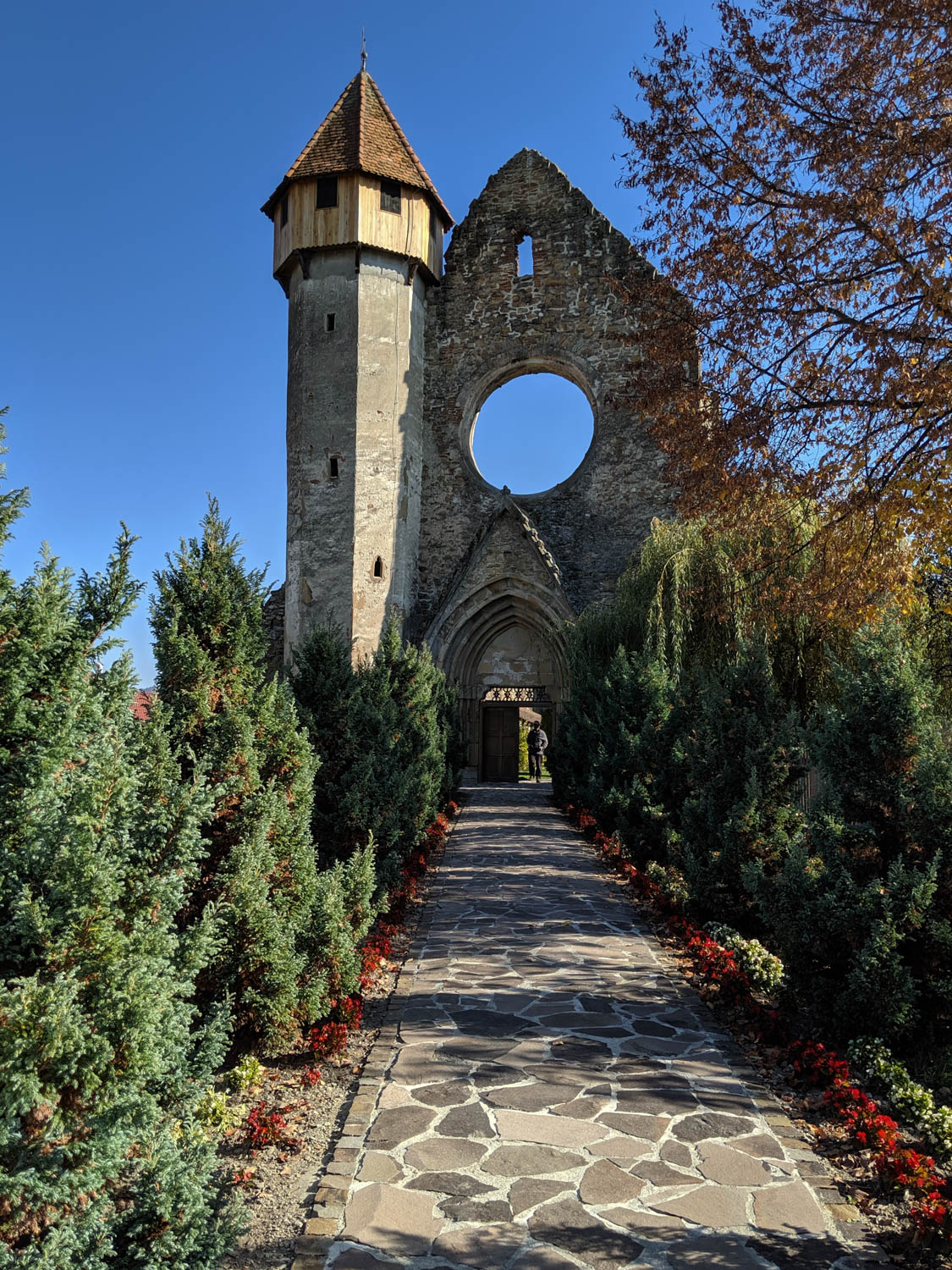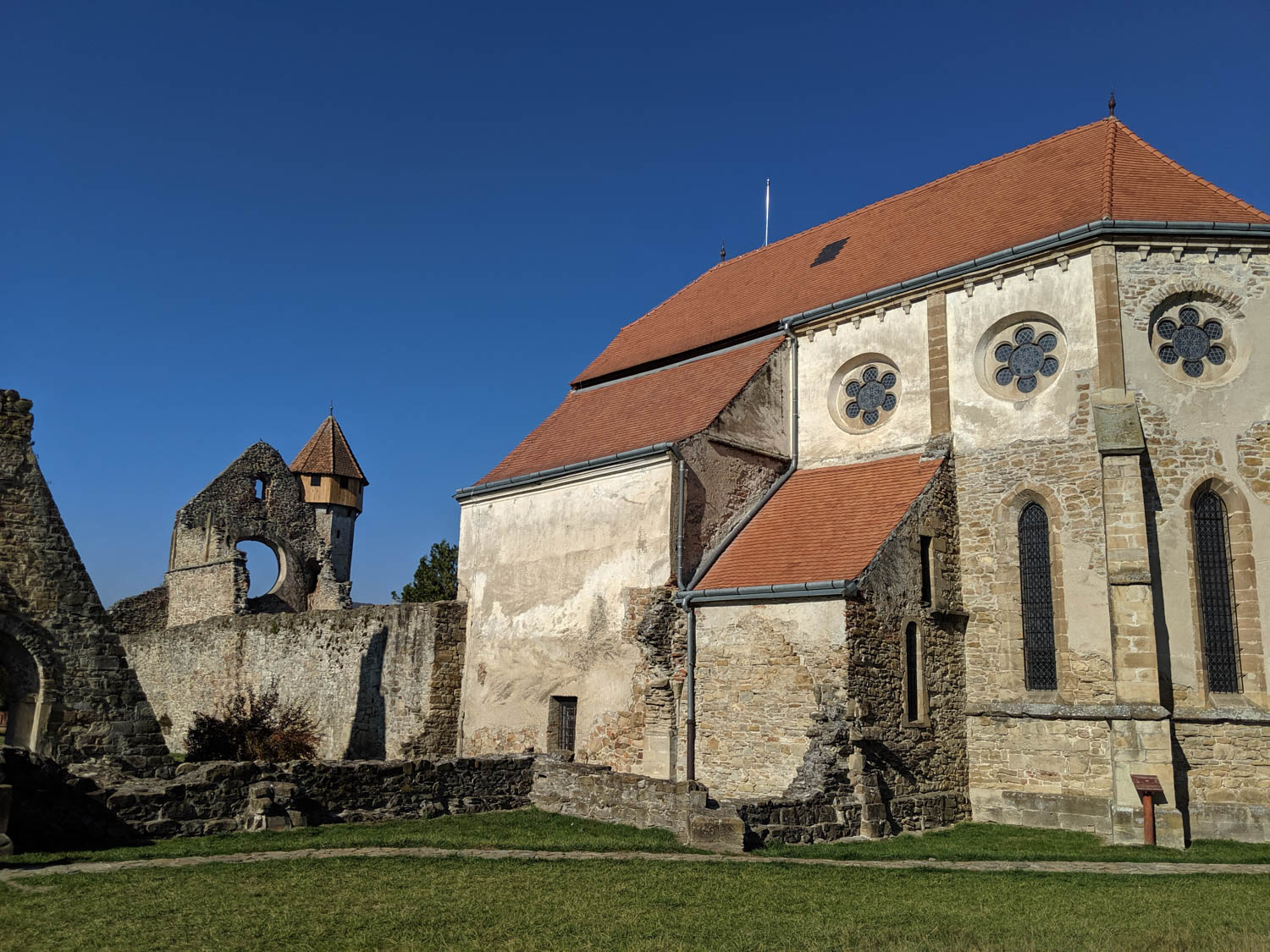 I'd highly recommend a stop here when you're passing through the area, as even a quick visit was enjoyable. And while the abbey is supposedly haunted, we didn't encounter any poltergeists (or demon nuns) during our morning visit.
The Transfagarasan
I'll save the details on what it was like to drive this infamous highway for Ben, since he actually did the driving, but as a passenger it was a surprisingly non-horrifying experience.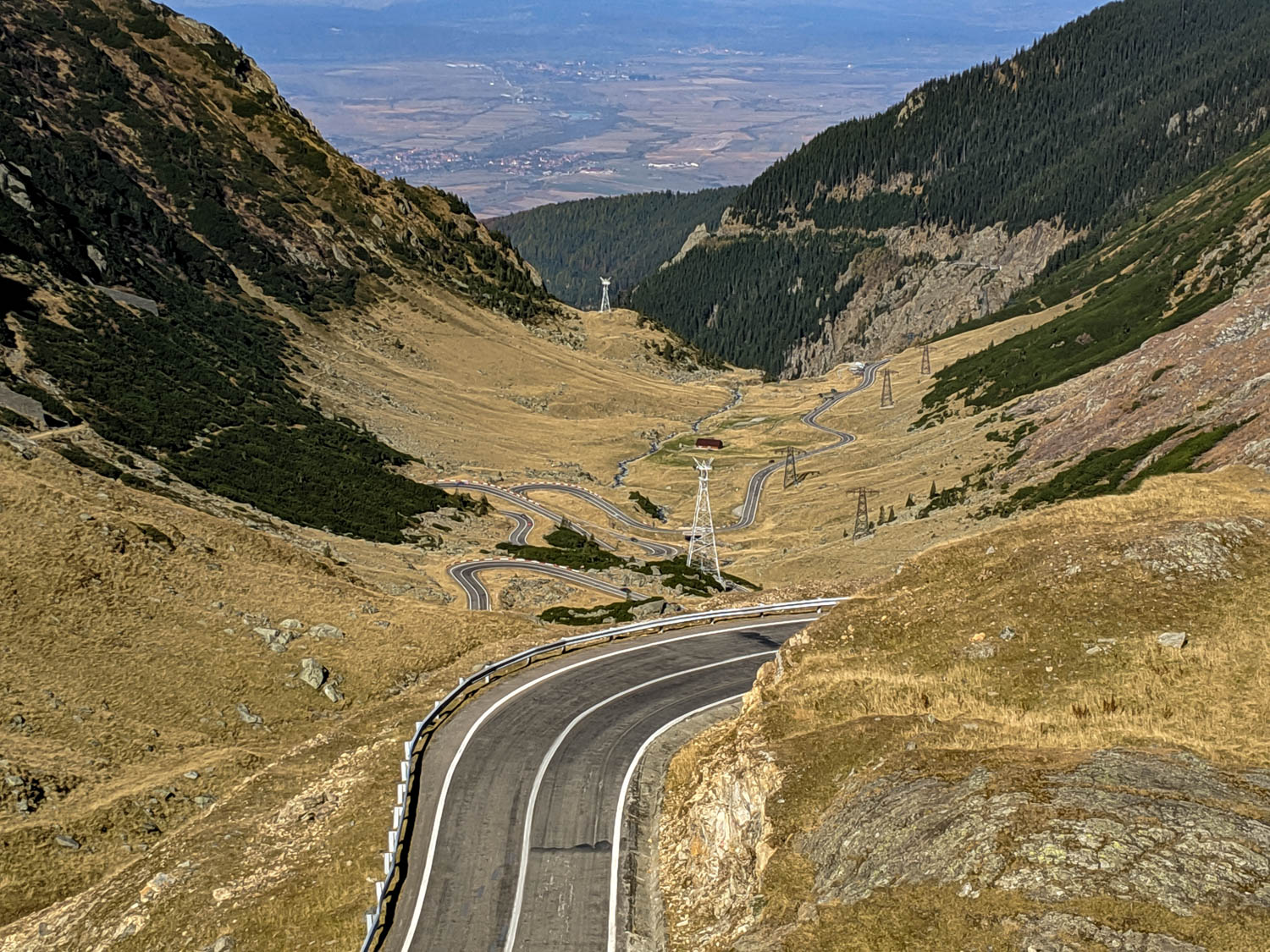 The highway closes from November until Spring, so lots of people were out taking advantage of the final weekend, which lead to a festive atmosphere (and only a little bit of congestion).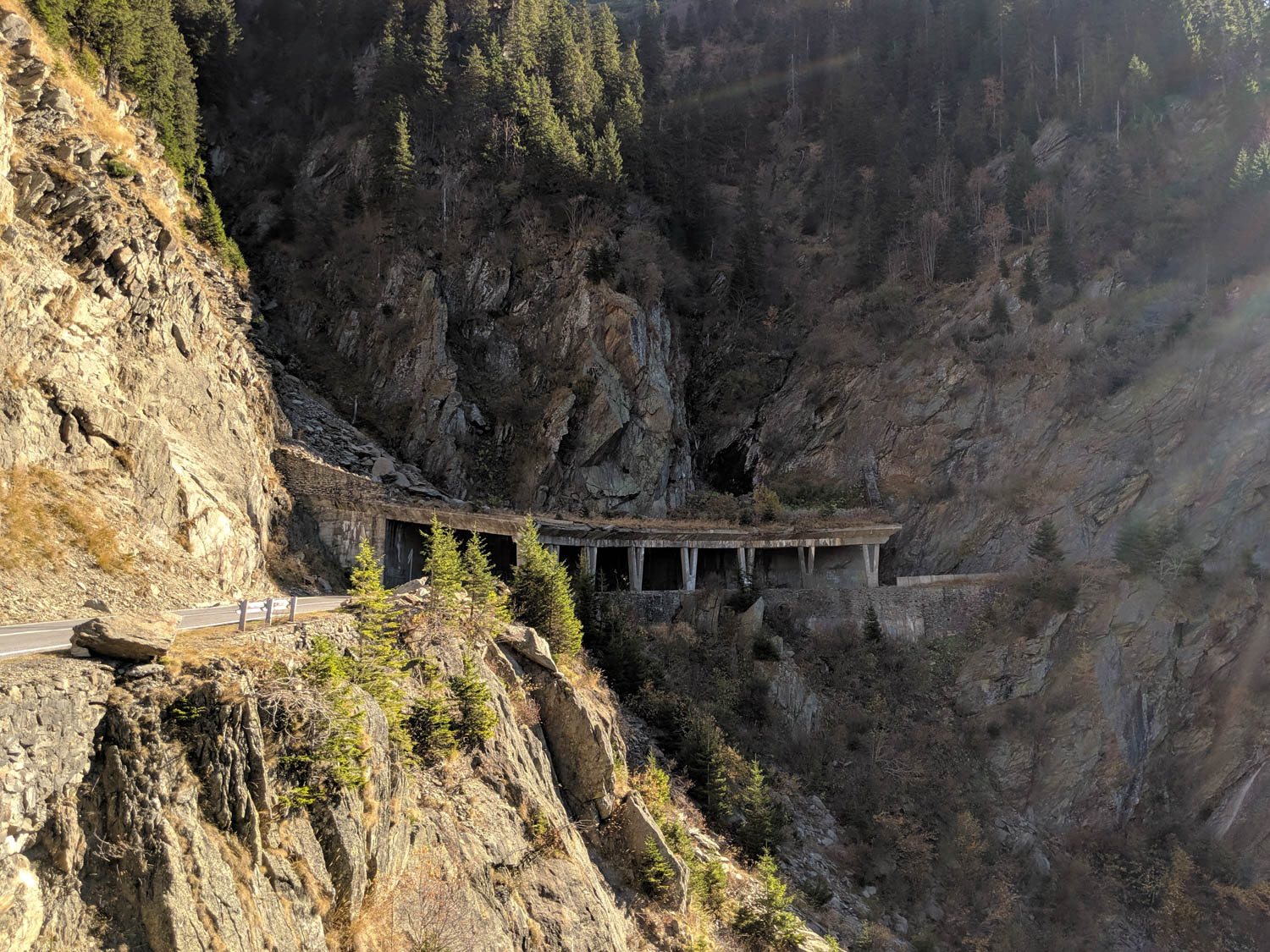 The area around Balea Lake was jam-packed with people and vendors, so we didn't really linger, but one certainly could.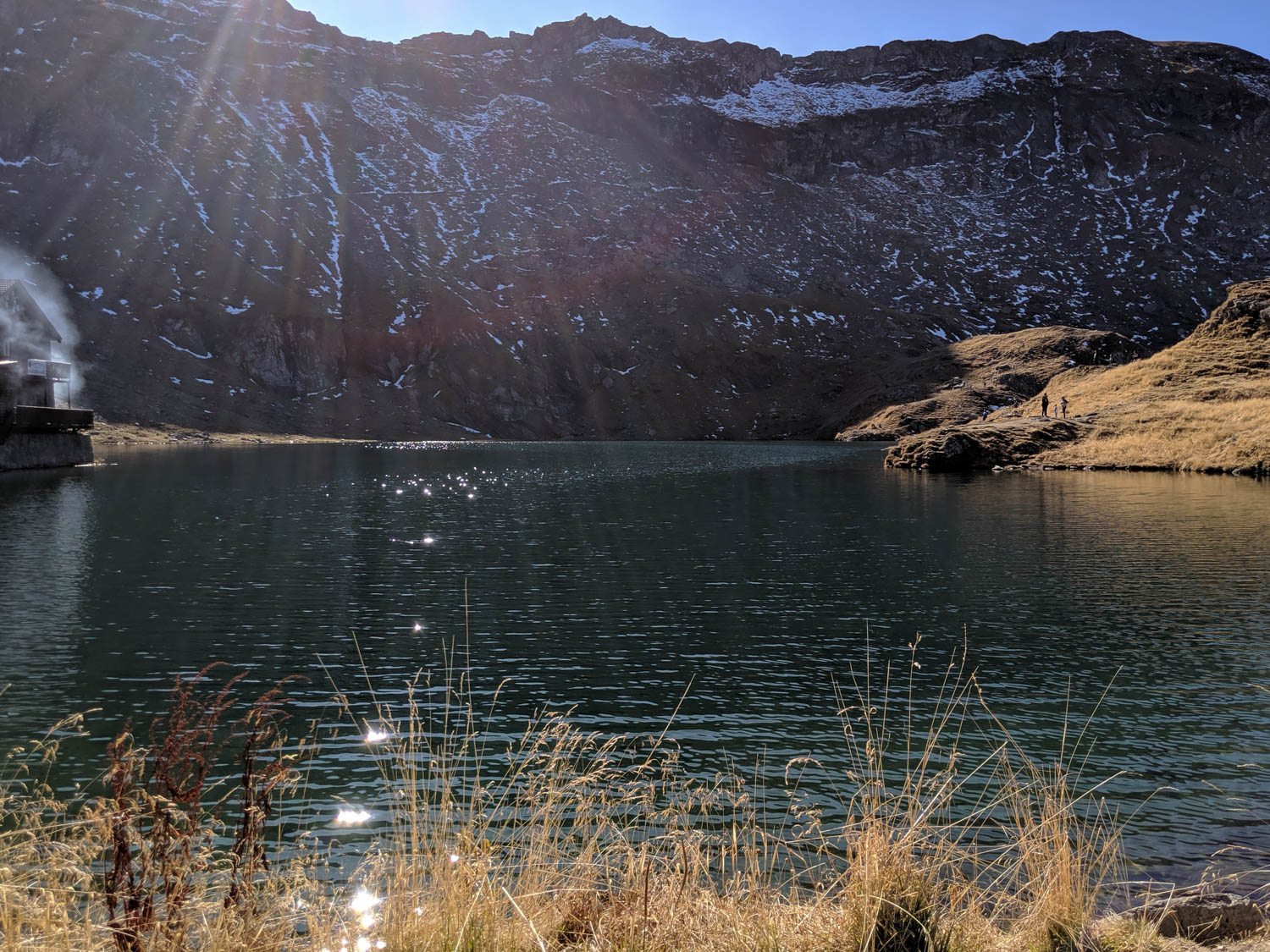 Instead, we circled back the way we'd came, making it to Sighișoara in time to enjoy some afternoon coffees.
Sighișoara
While I don't know that I'd want to live here (though we saw many more locals out and about and generally interacting with the historic center than we had in Sibiu), Sighișoara is a delightful town to visit for a day or so.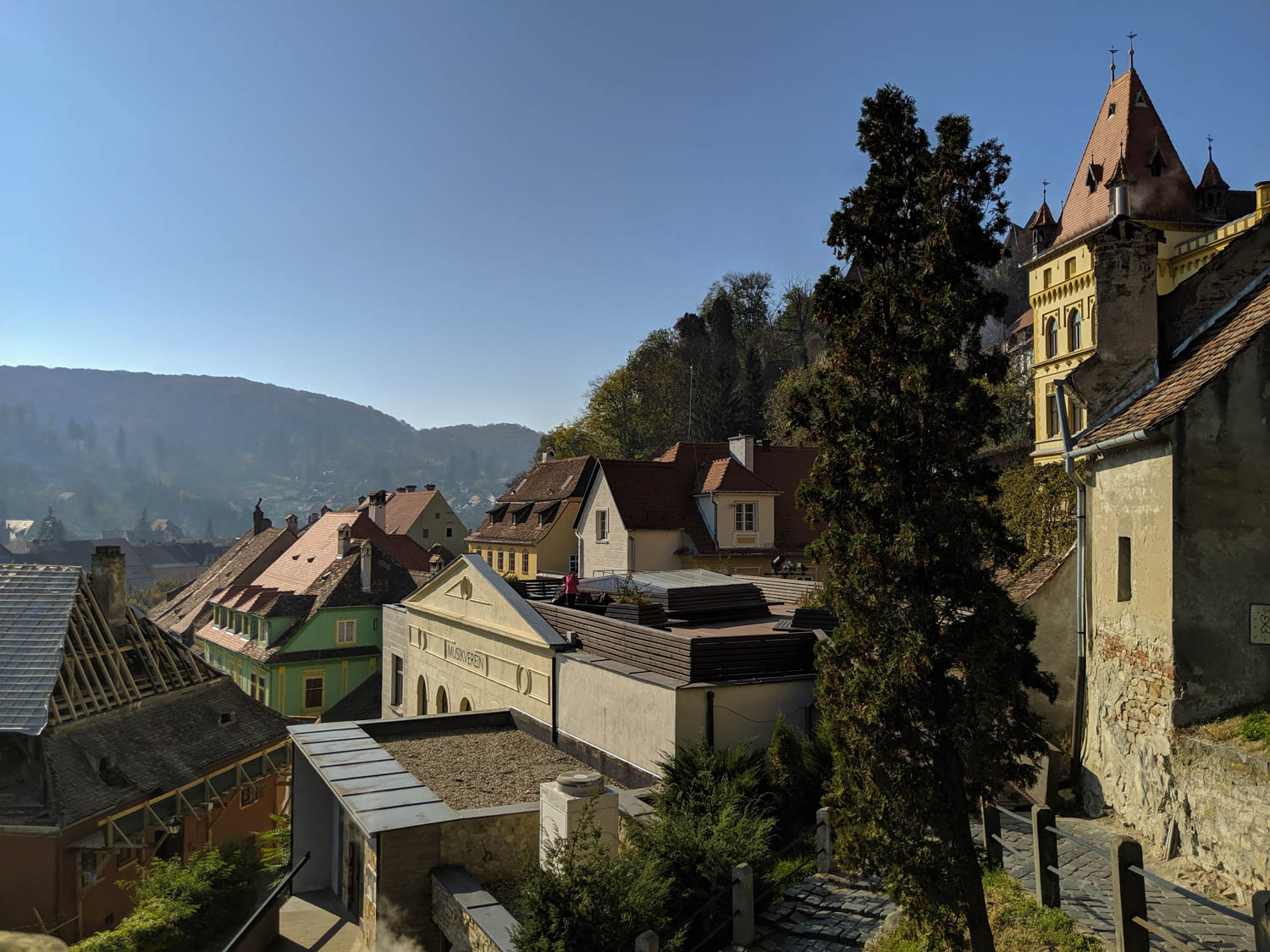 The citadel in the center of town is packed with brightly-colored buildings flanking charming alleyways, and is generally a lovely place to wander around.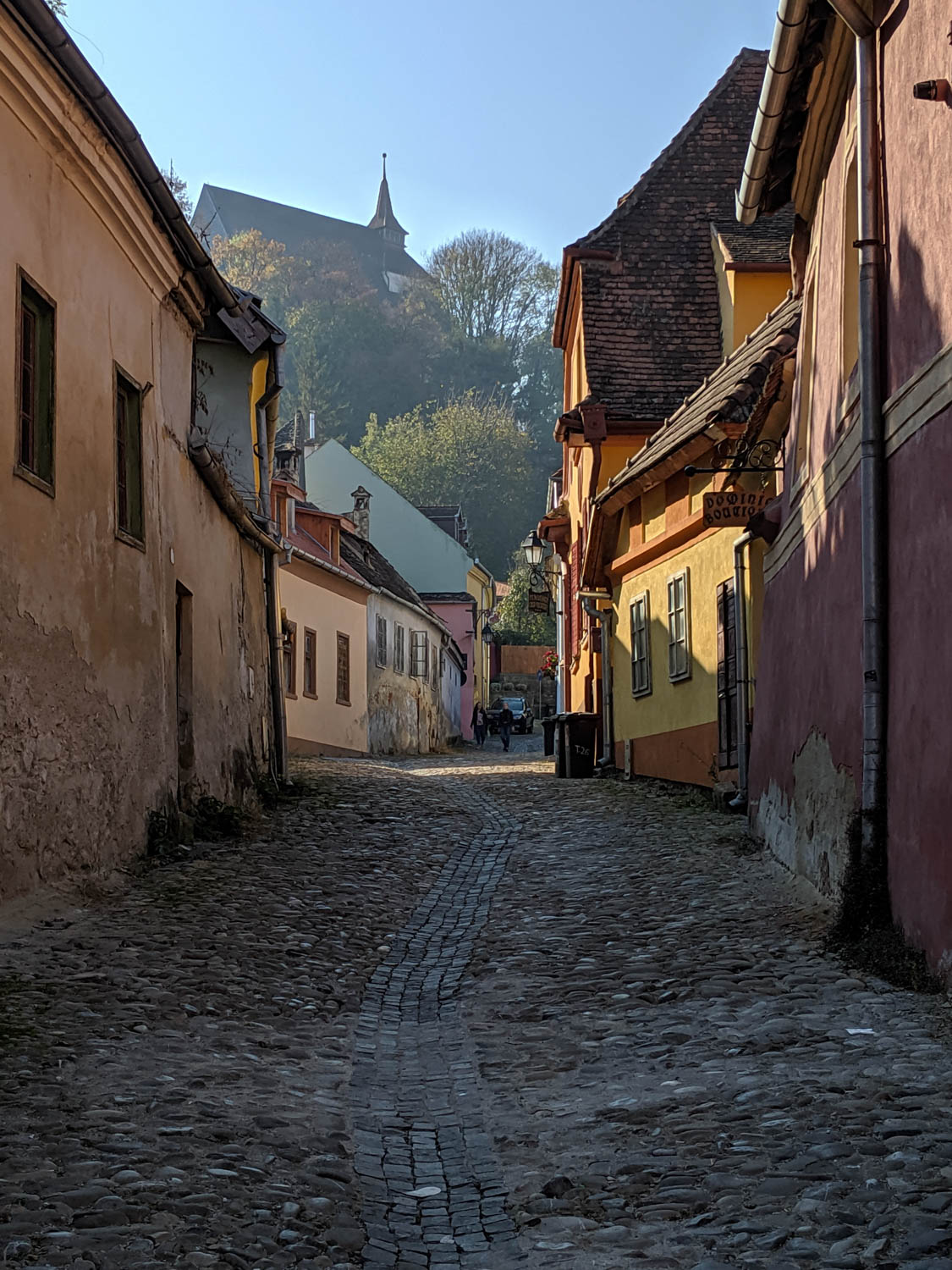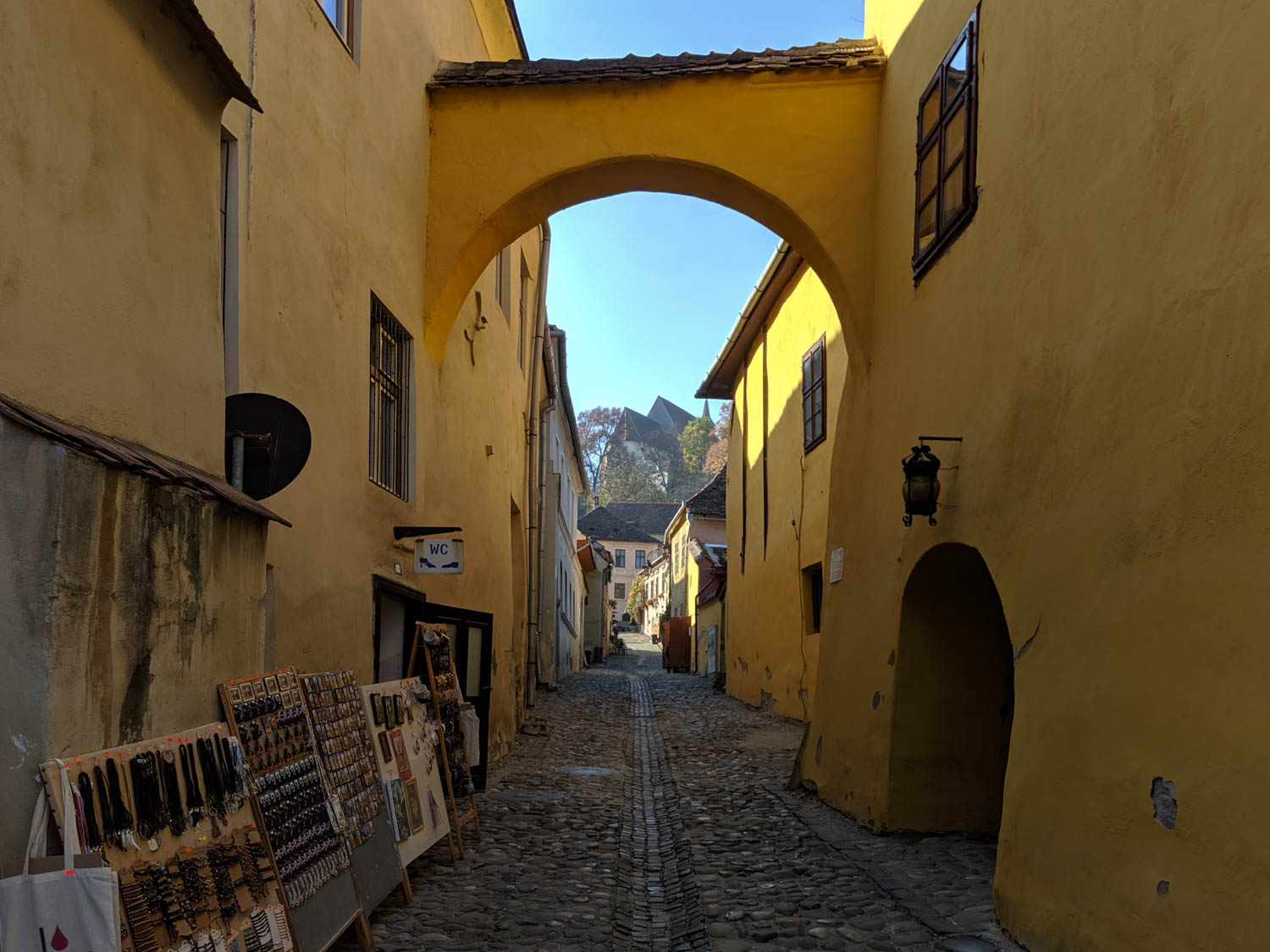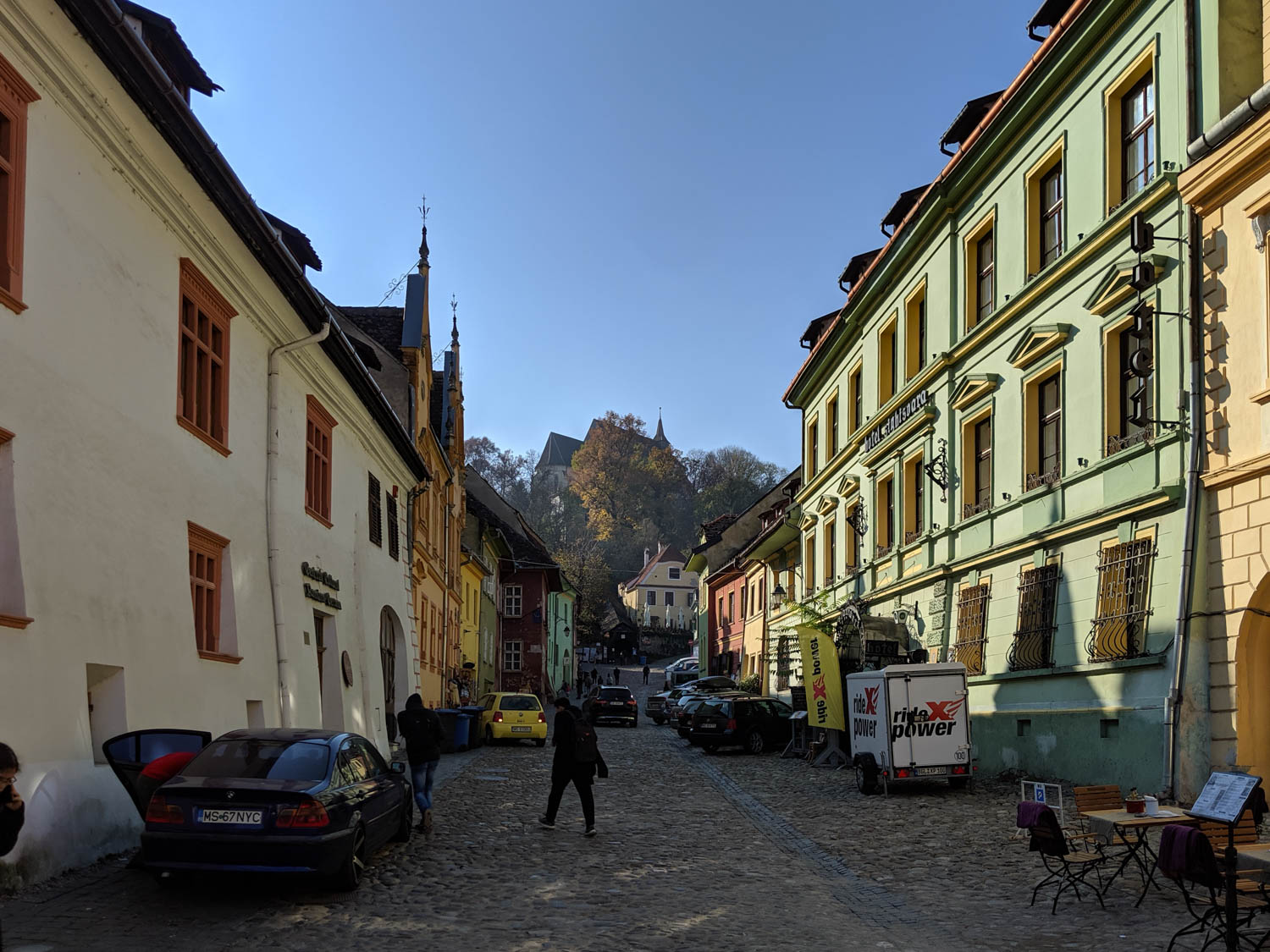 There's also quite a bit of local history here, and visiting the various guild towers was interesting, but even if you only have a few hours to spend I think this is a town worth stopping in.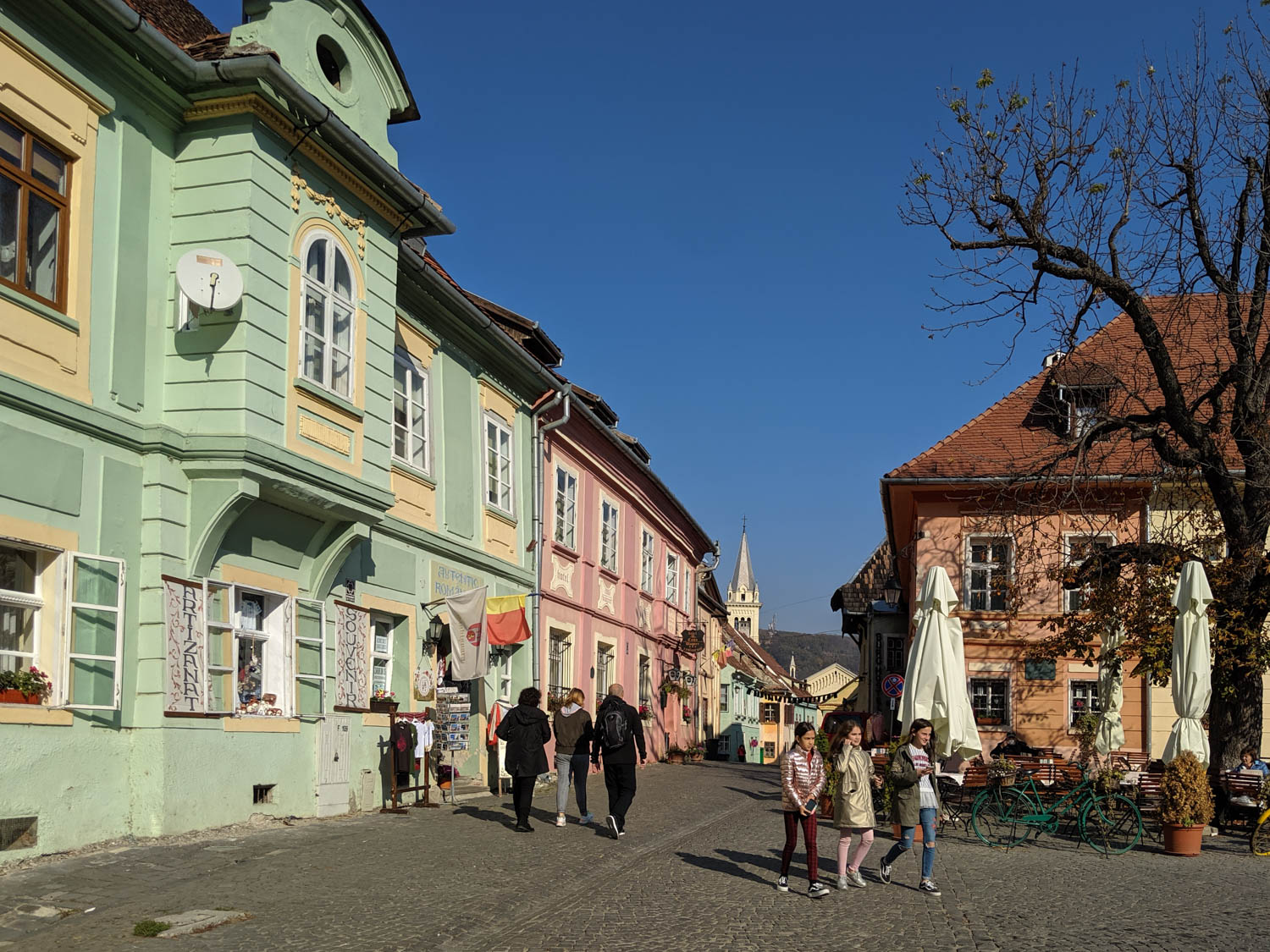 And if you have the time, we particularly enjoyed walking around the citadel in the evening (via the darling but treacherous back stairs of our hotel), with the place mostly to ourselves.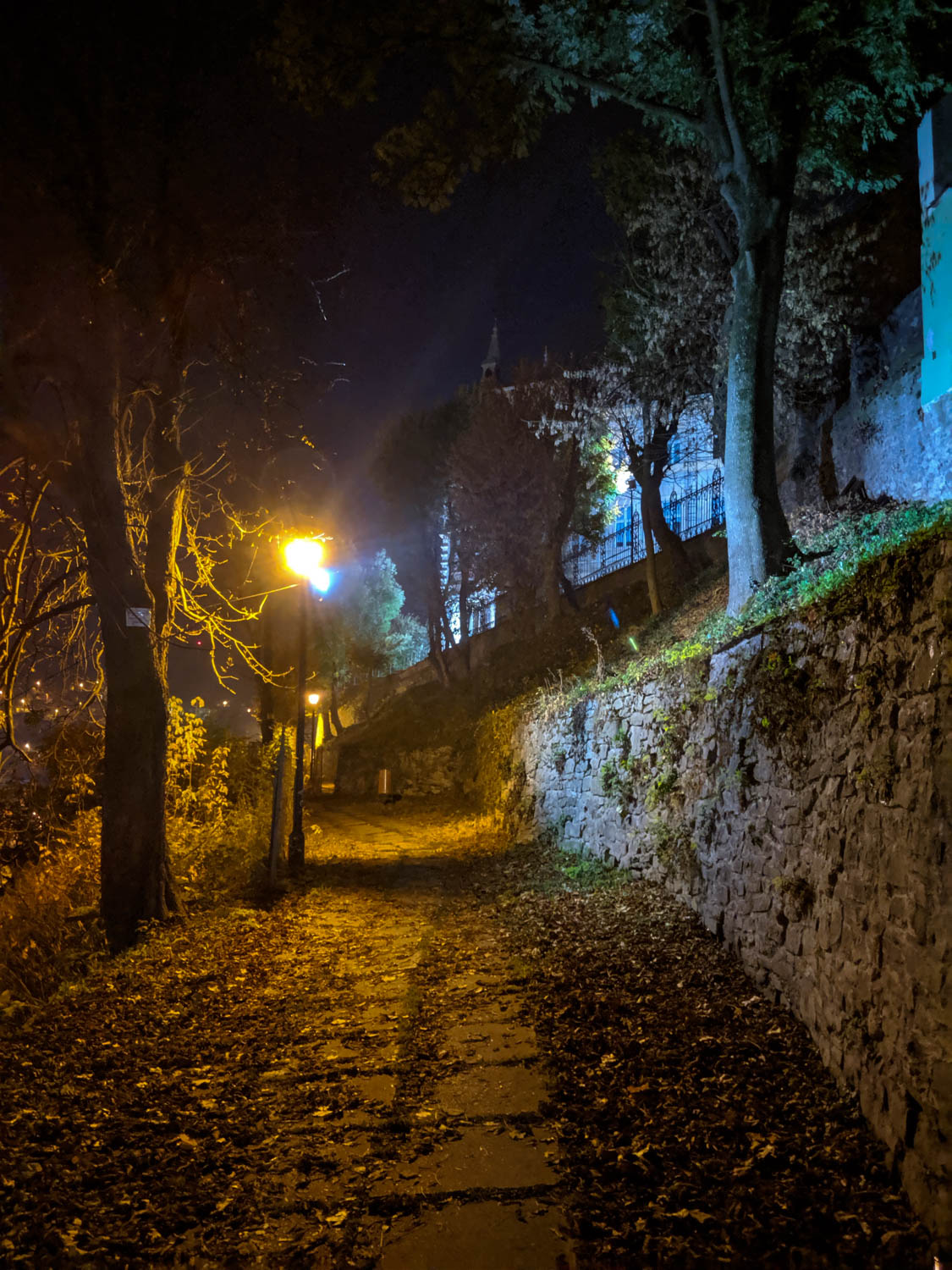 Day Four — Sighișoara to Sinaia
In retrospect this day could have been planned out a bit better, or at least we should have left Sighișoara earlier.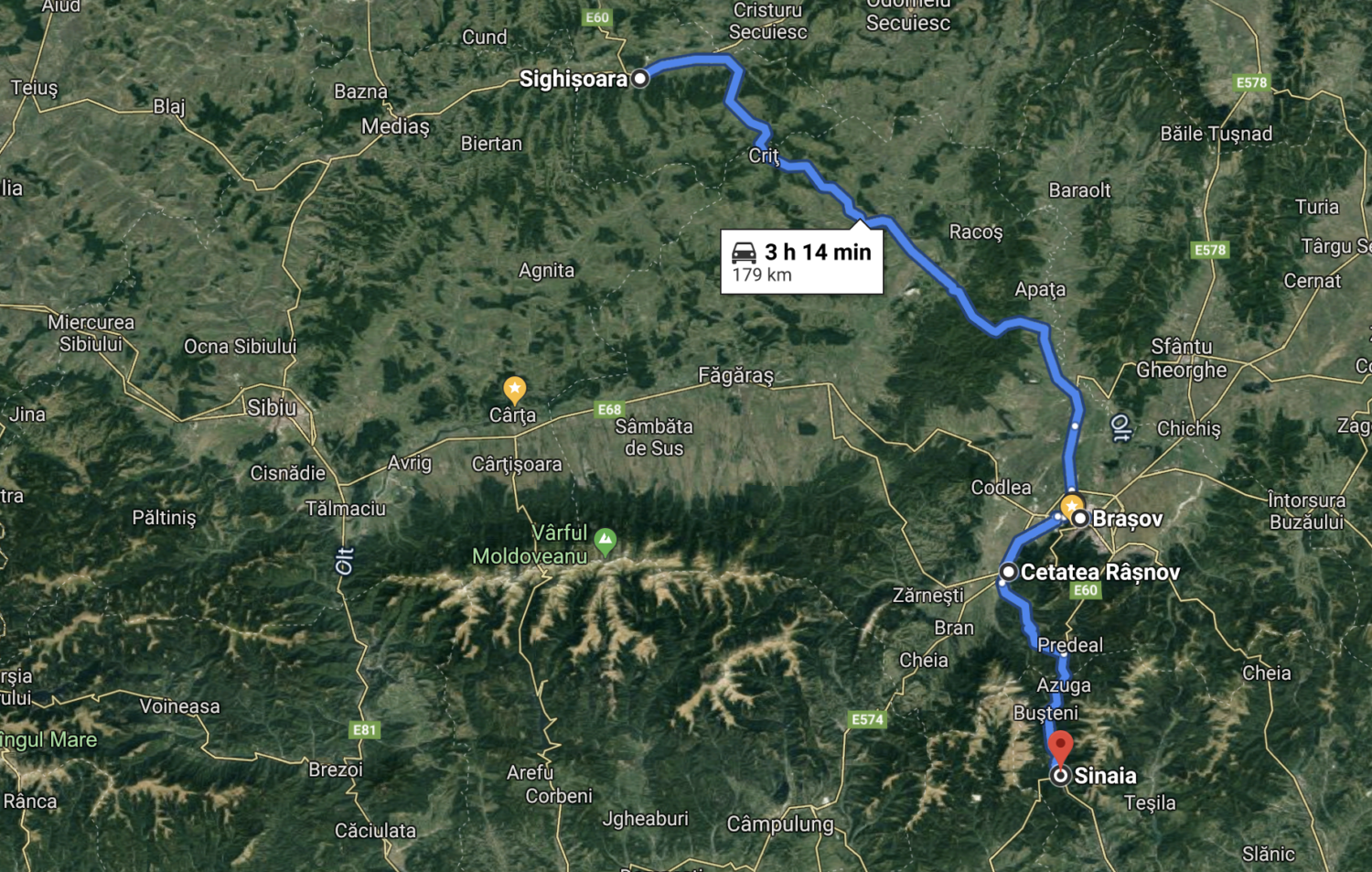 As we got closer to Brasov the roads and traffic shifted from being mainly like this: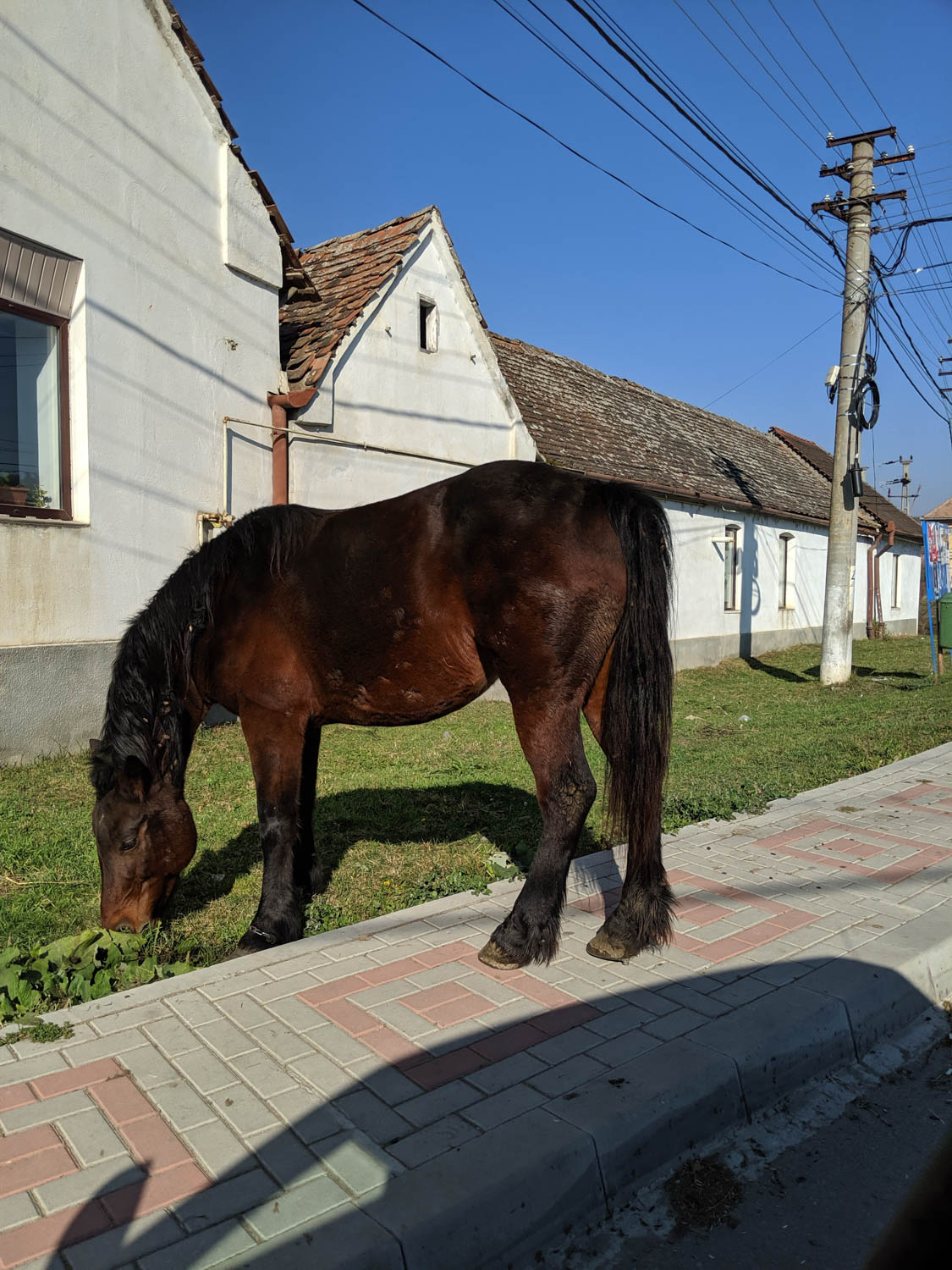 To more like this: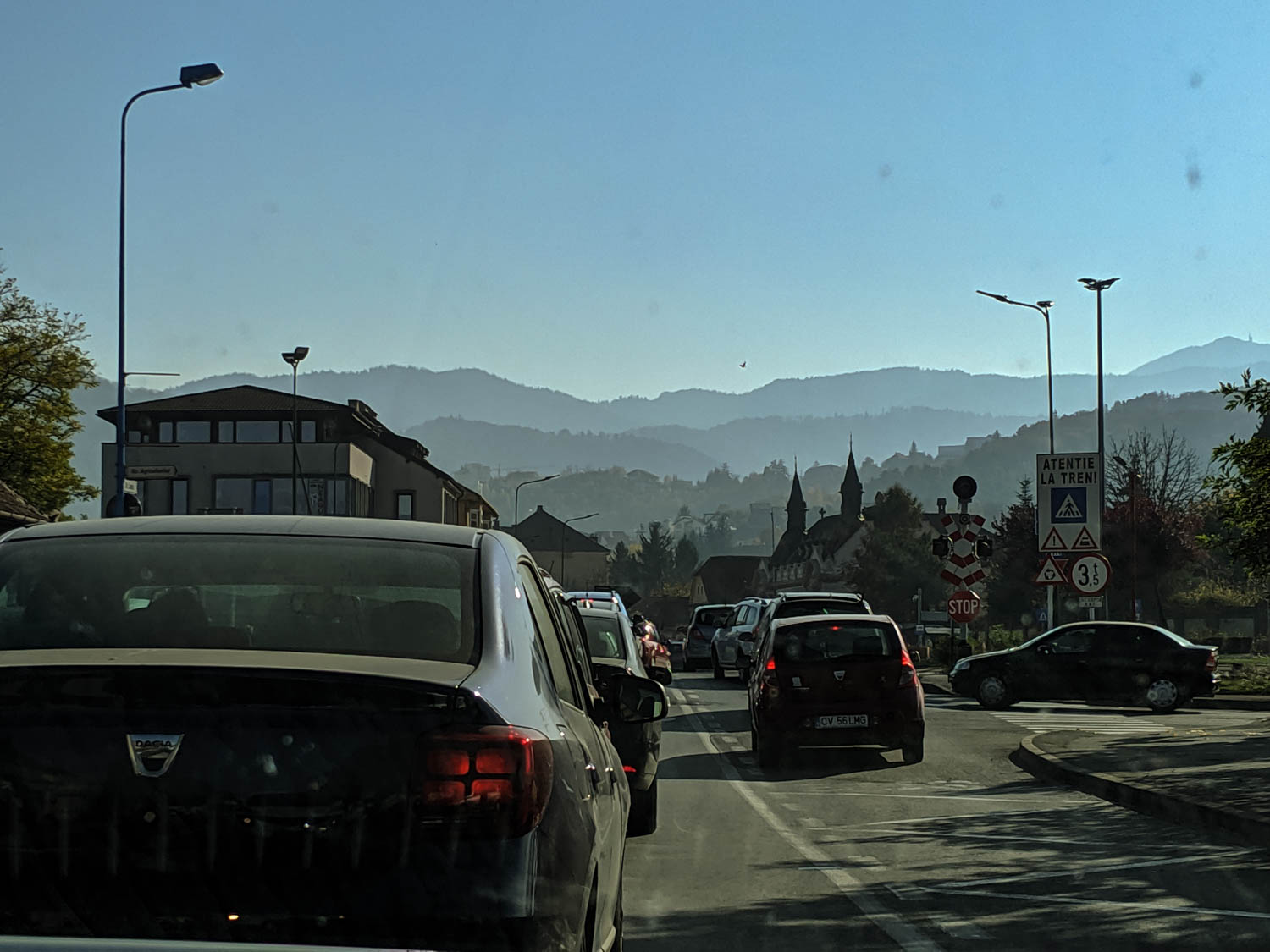 So everything just took longer. Which would be fine in the summer, or even if we'd been there a few days earlier, but with the time change it was dark by 5PM, which ended up being a bit limiting in terms of the things we'd planned to do.
Brasov
Despite the traffic, Brasov was lovely, and I can see why it's such a popular destination.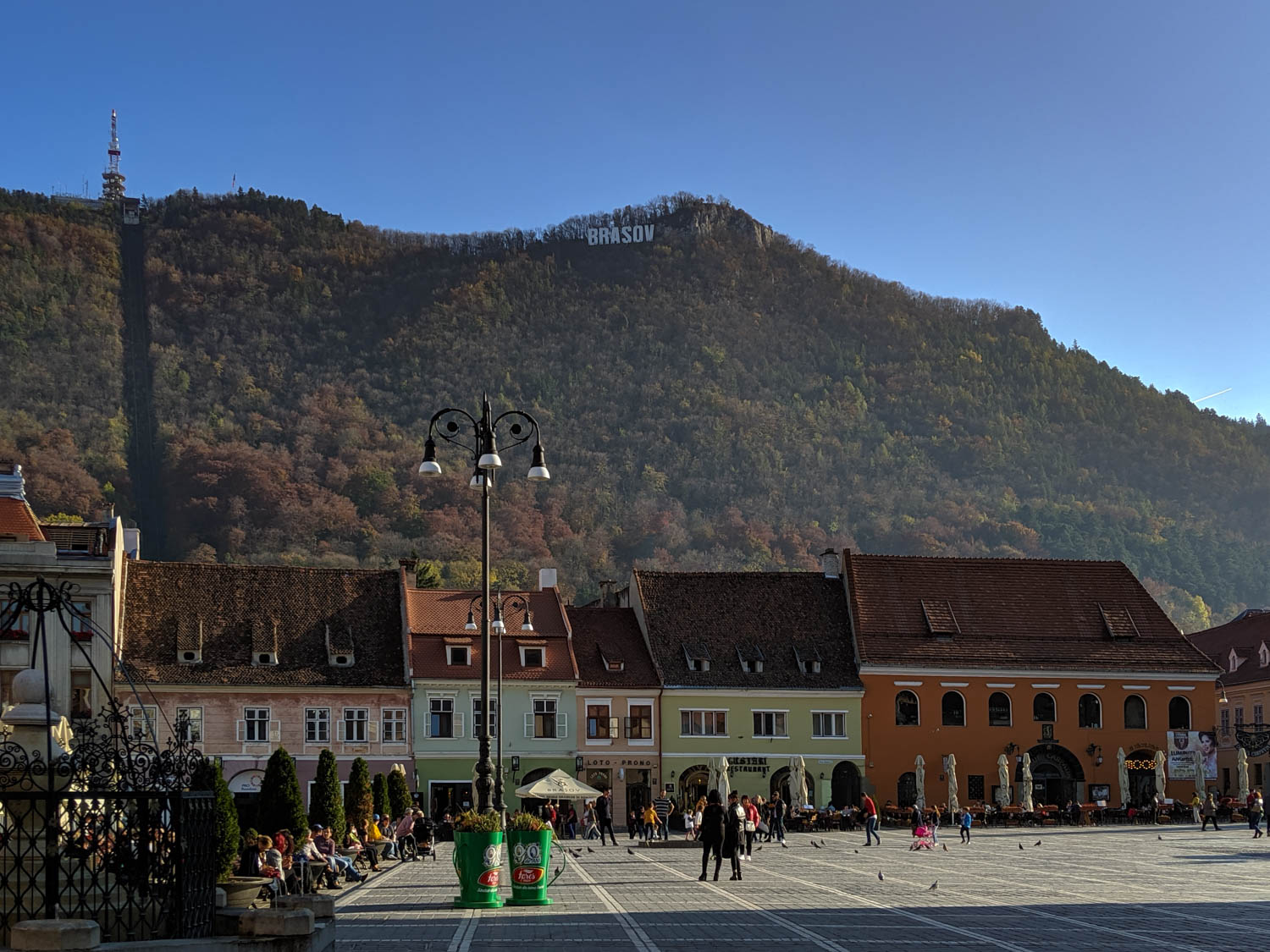 The central square was busier than others we encountered on this trip, with street musicians and vendors and pretty much everything you'd "expect" to see in a European city center.
The buildings in Brasov were painted in the the same candy-colored hues we saw elsewhere in Transylvania, though with much grander construction.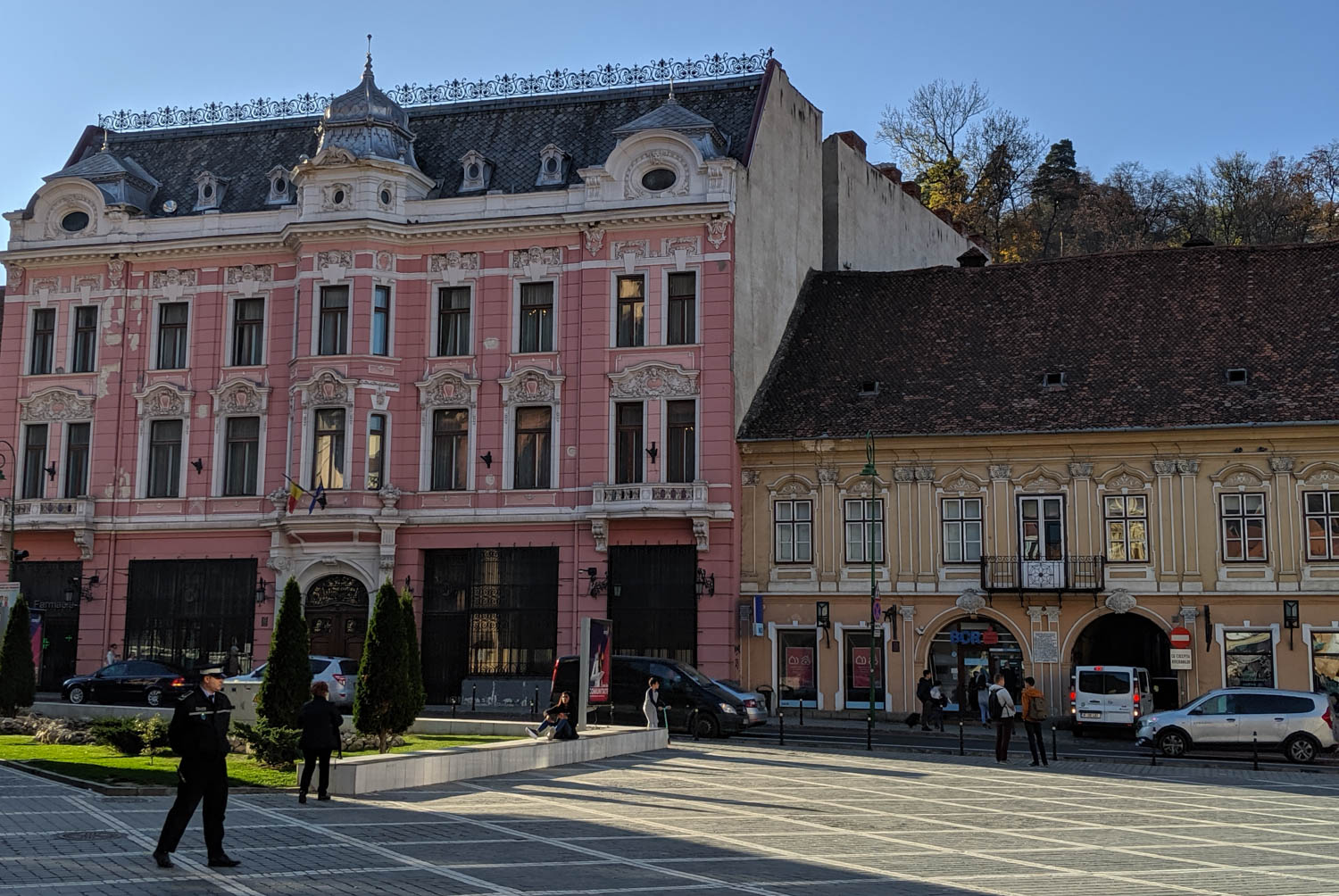 We spent some time wandering the side streets, worked for a few hours from a combination of a fabulous restaurant followed by a quaint coffee shop, and generally enjoyed the city.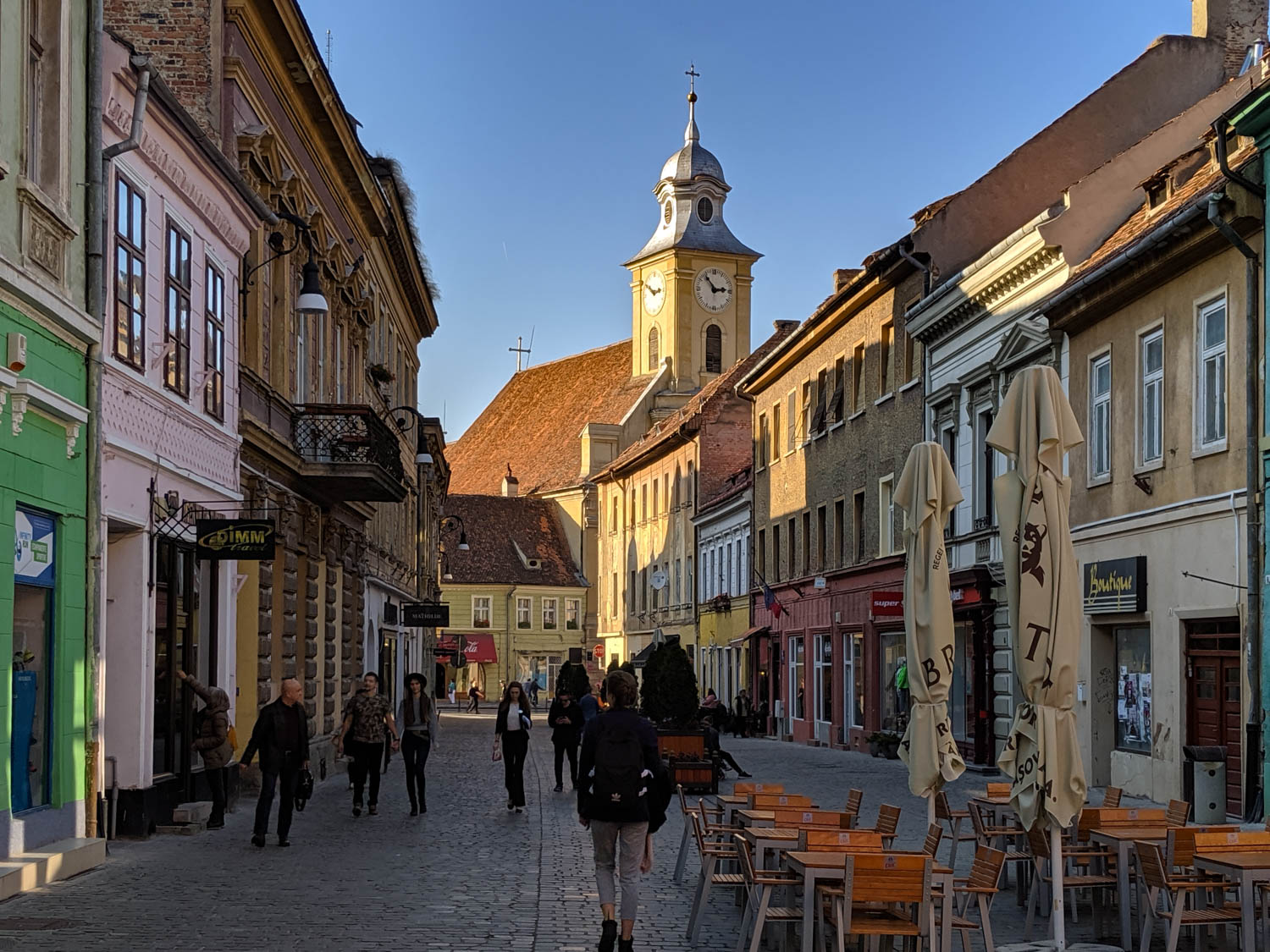 Given that there was generally more going on, and a vastly better selection of restaurants, I can see basing oneself in Brasov and taking day trips being a good option. But it was definitely less charming than the other towns we visited, and traffic is a consideration.
Rasnov
Having lingered in Brasov, we took the mountain road out of town towards Rasnov. There is also a highway you can take around the mountain, but weather-permitting I highly recommend going up and over instead, as it was gorgeous, and different than other scenery we saw.
Rasnov itself is cute, but we were mostly here for the fortress.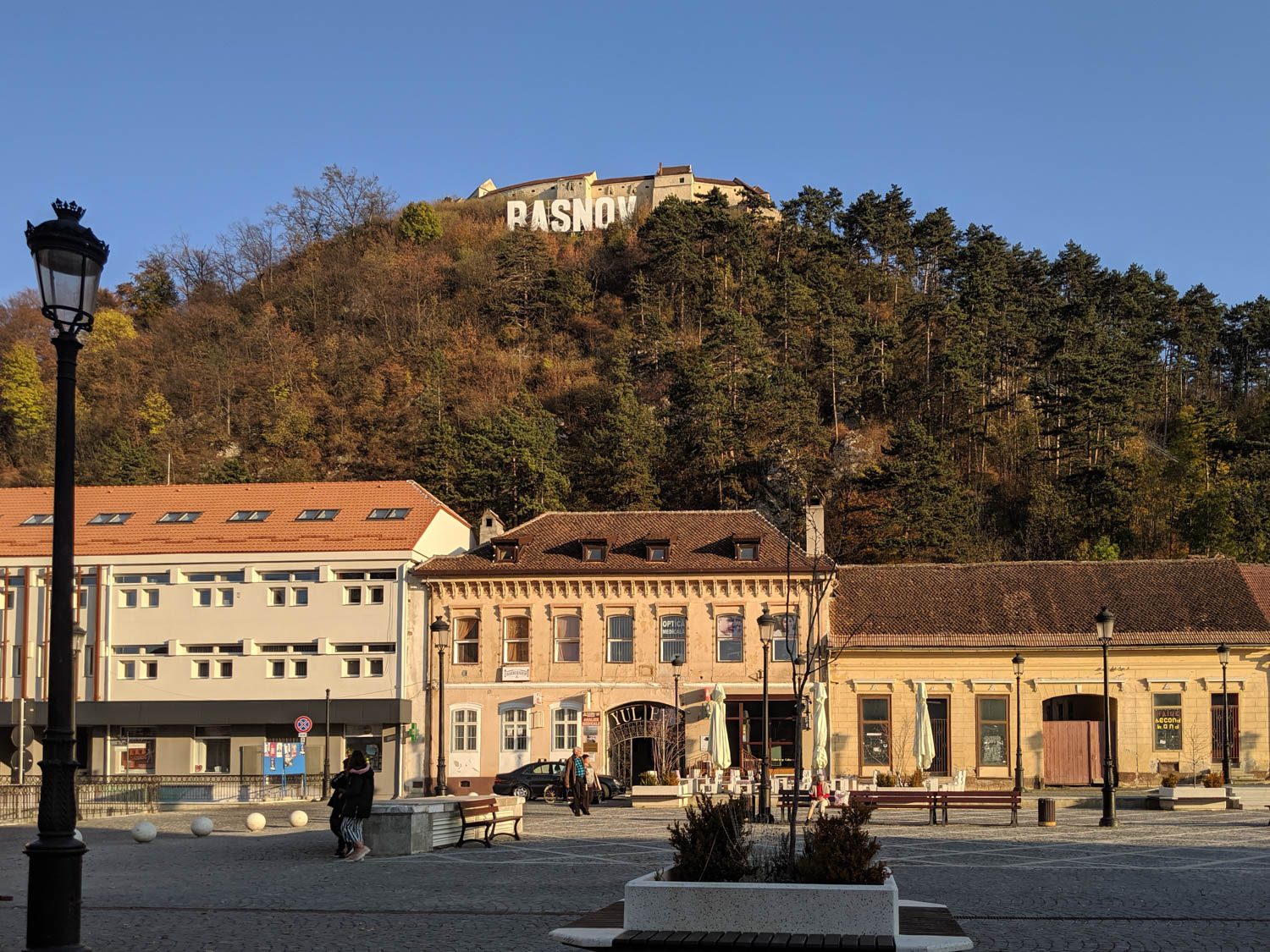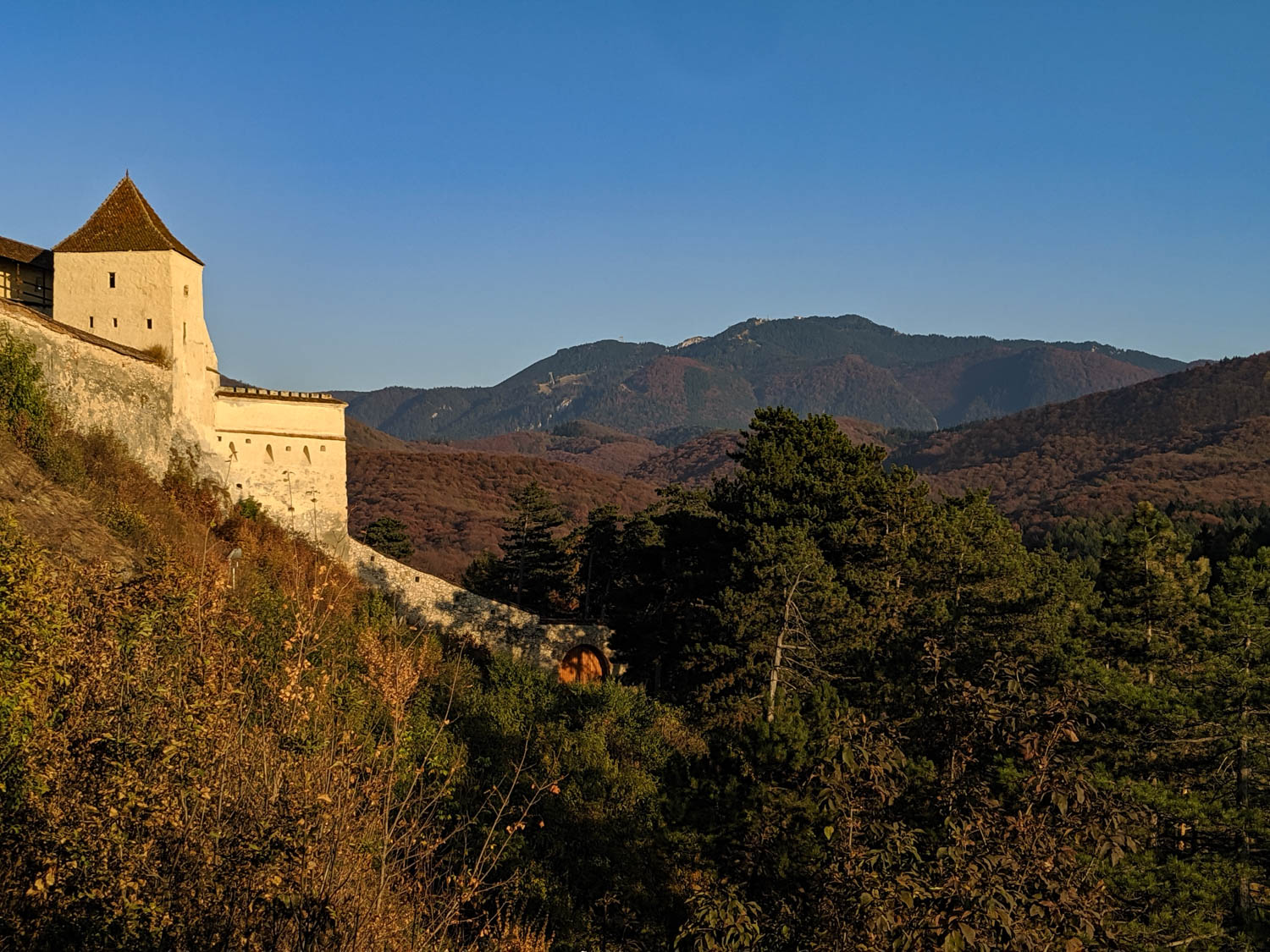 We took the funicular up from town, which presented some incredible views over Rasnov and the surrounding valley.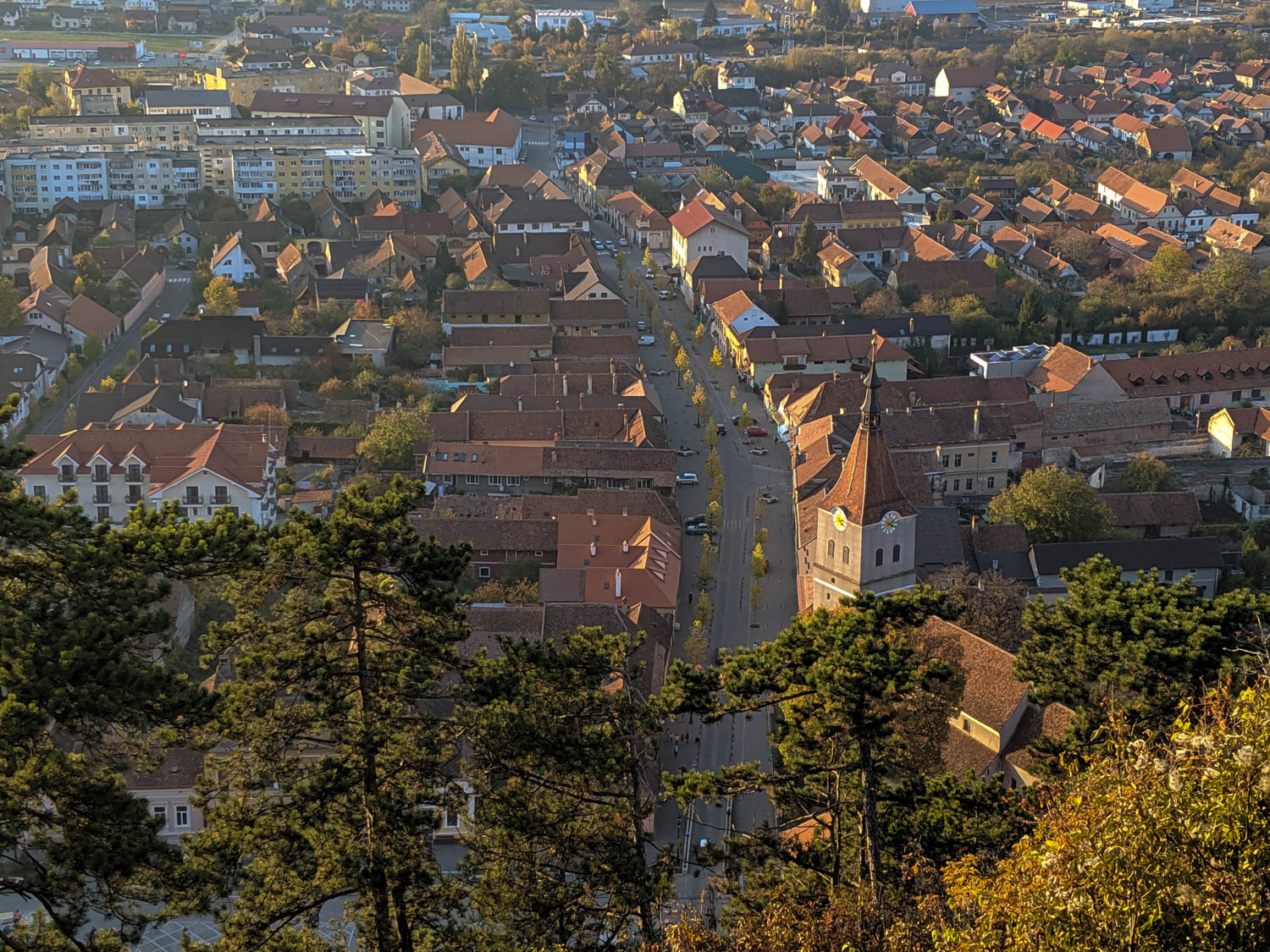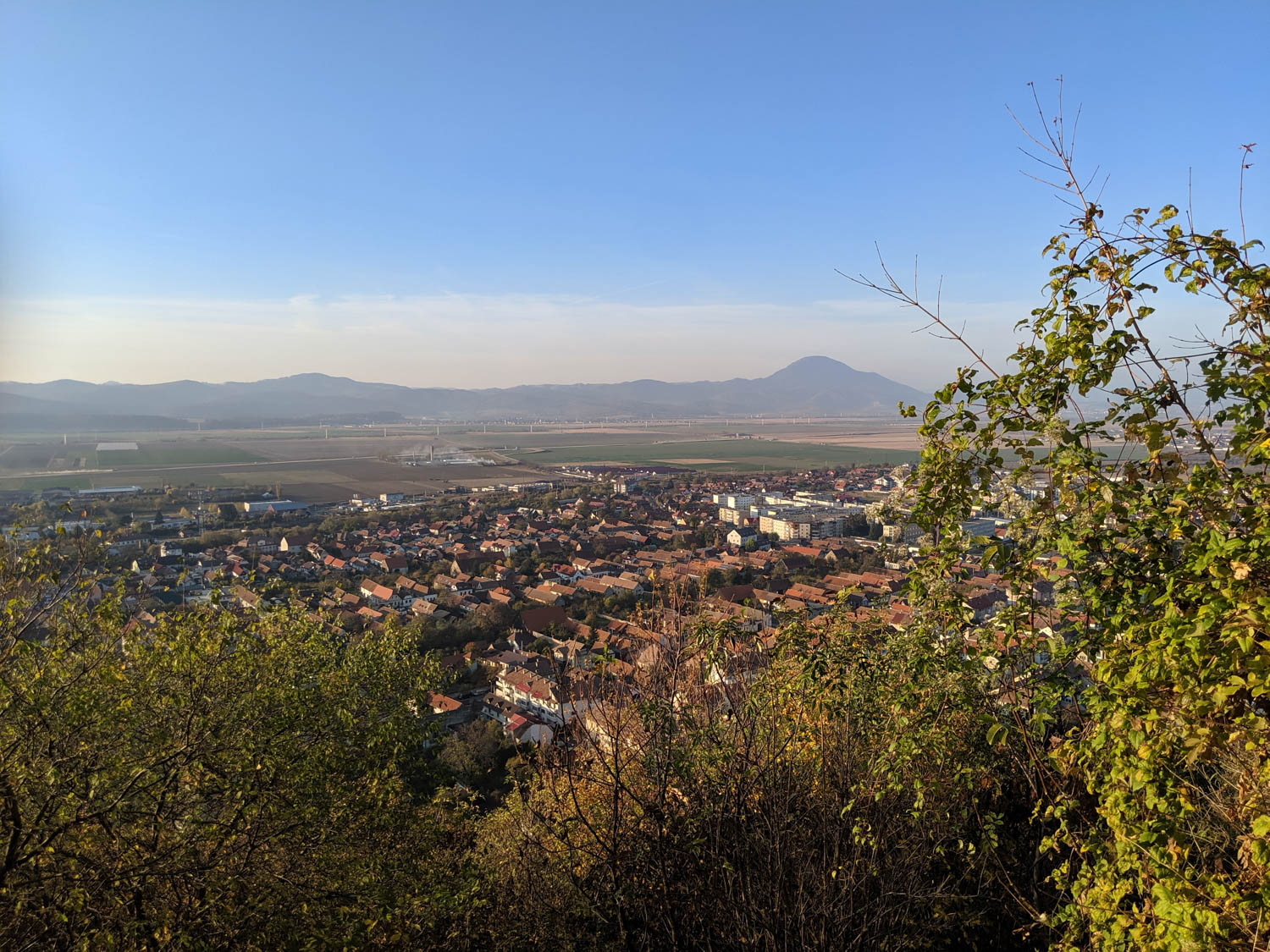 It's worth nothing that while efficient, the funicular is an ironically poor option for the elderly or mobility-challenged — you'll want to take the trams from the parking lot on the outskirts of Rasnov if you can't negotiate uneven terrain and rickety stairs.
Day Five — Sinaia to Bucharest
Our last driving day was one of the easiest (on paper), as it was a straight shot from Sinaia to OTP airport, where we'd be returning the car before heading in to Bucharest.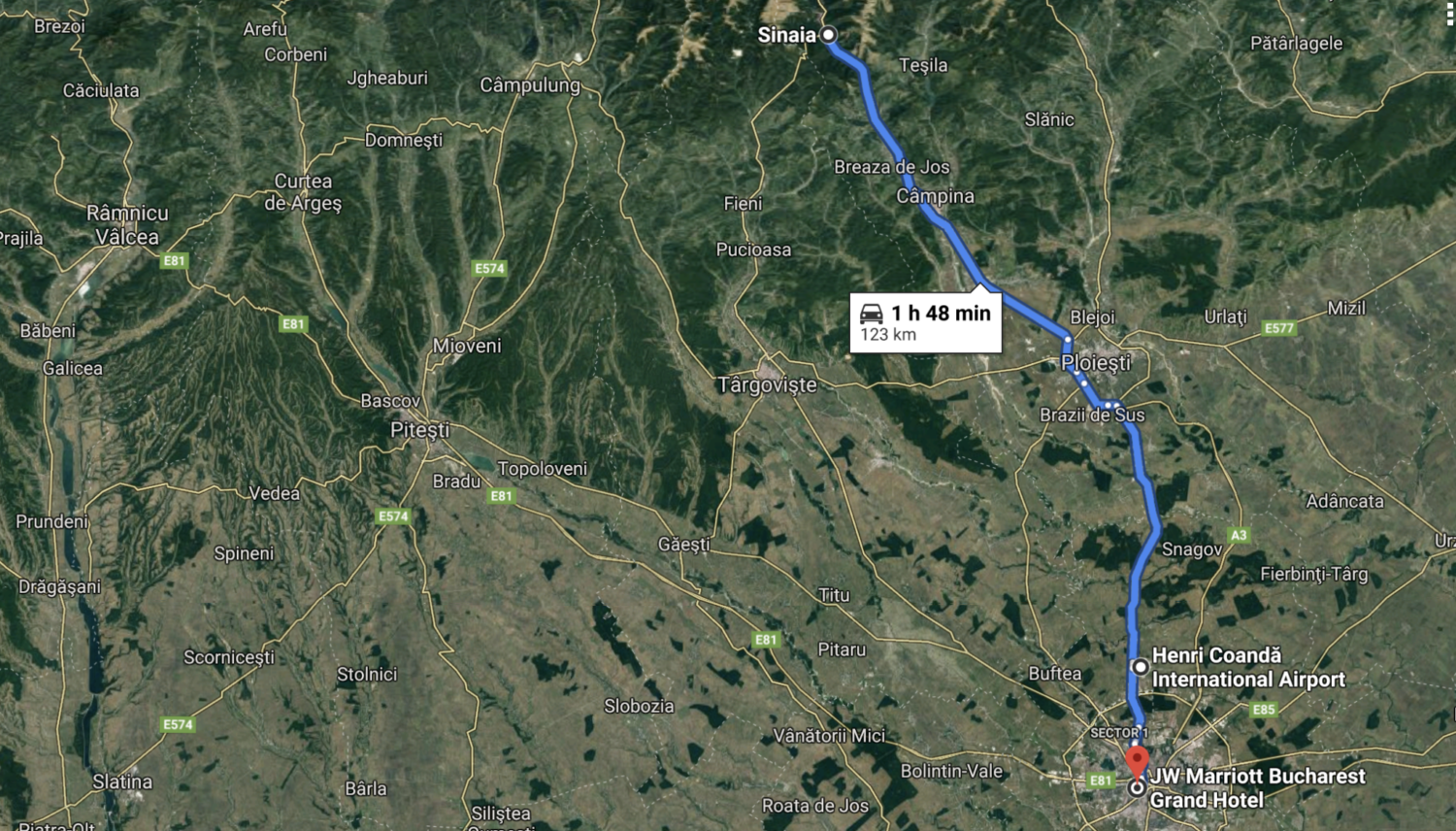 In practice, of course, things are never easy, and the driving was mostly like this the entire way: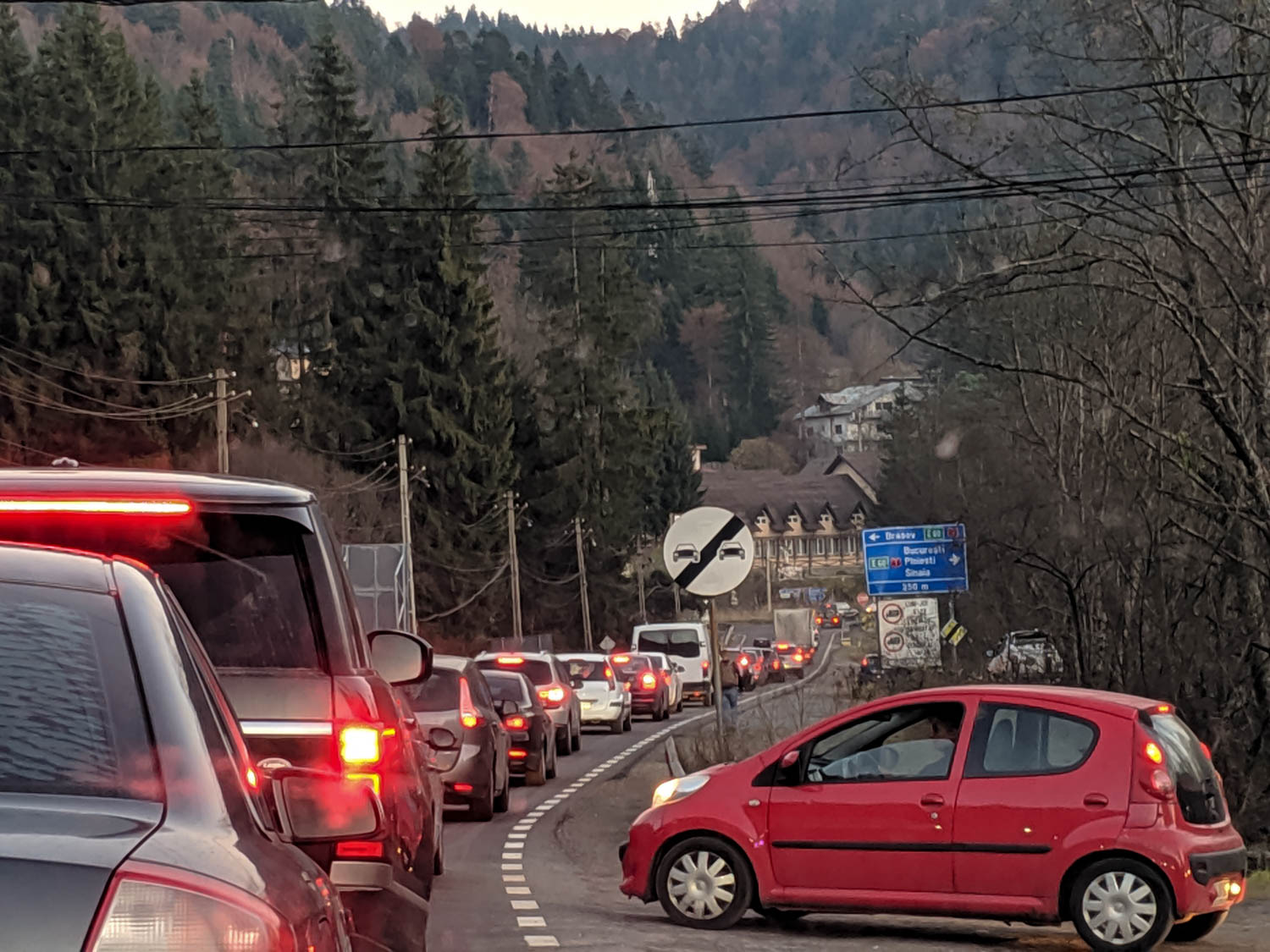 Oh well.
Peles Castle
We had planned to do some hiking in the mountains around Sinaia before heading out of town, but it was very cold and damp that morning, so we contented ourselves with a stroll through the woods near Peles Castle.

And while Sinaia itself is cute (in that ski-town kind of way), our overnight here was mostly driven by wanting to see the palace anyway.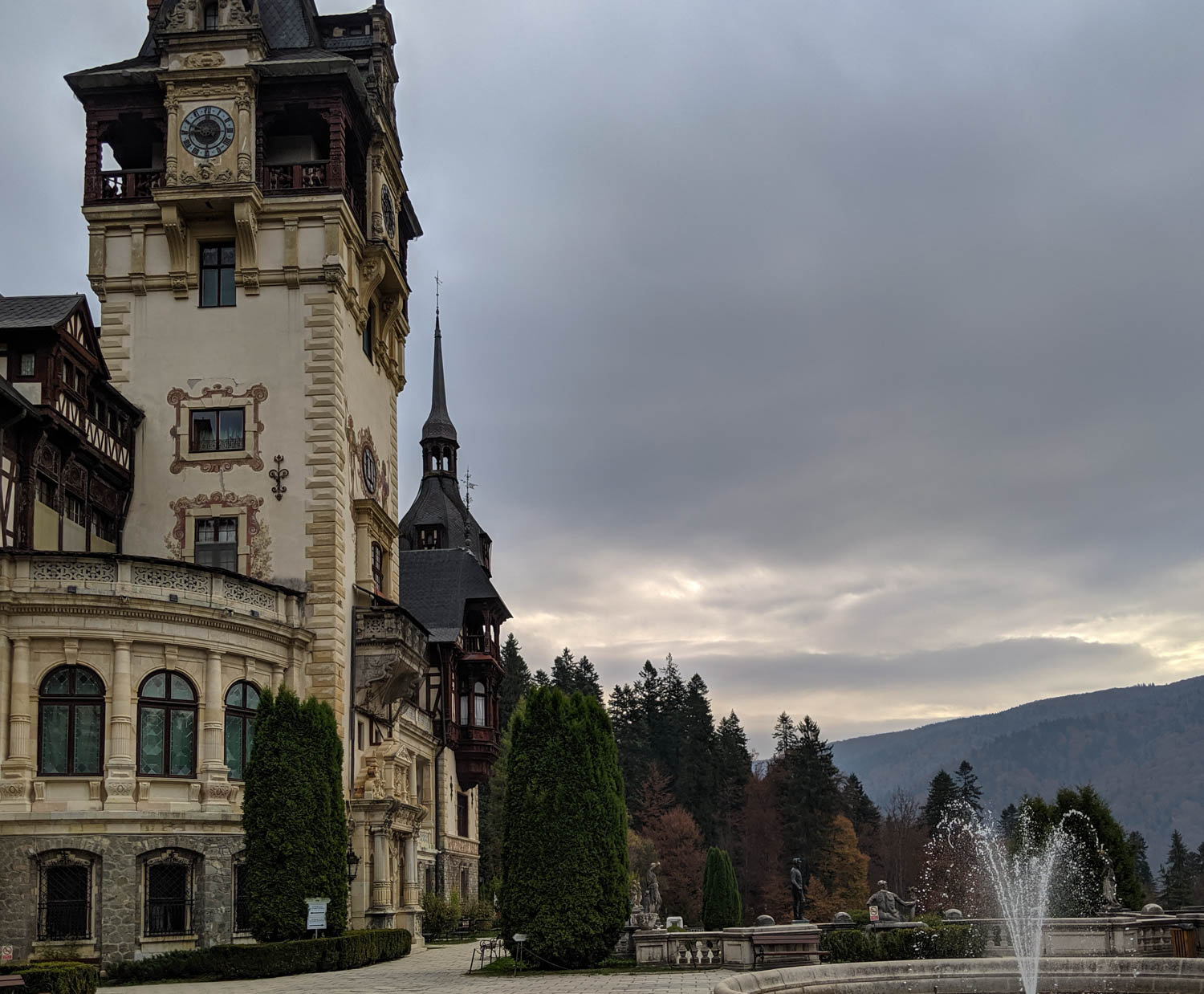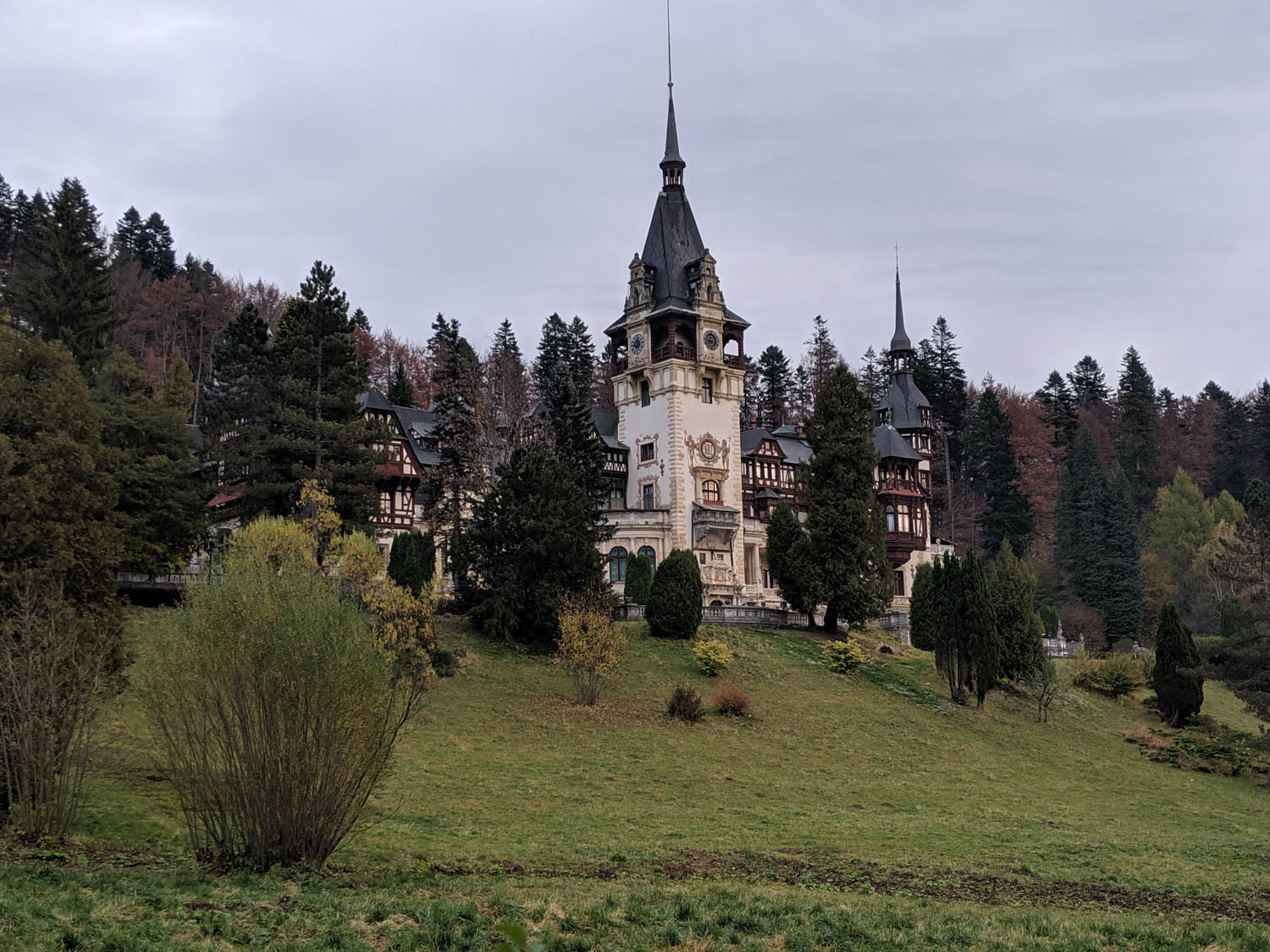 You also want to see this castle, in part because it's so beautifully located, but also because it's a relatively modern palace, that's well-preserved. Note that the palace is closed on Monday, and has limited access on Tuesdays — the signs and other websites don't necessarily have accurate info, but the official website seems to be updated to reflect the actual opening times.
Romanian Parliament / People's Palace
Fast-forwarding to Bucharest, after a very easy rental car return and drive into the city, where the weather was still abysmal, we decided on a tour of the "People's Palace" in Bucharest as a rainy-afternoon activity.
Or rather, I'd intended to see the Ceaușescu mansion, got the two buildings mixed up in my head, and realized too late to recover.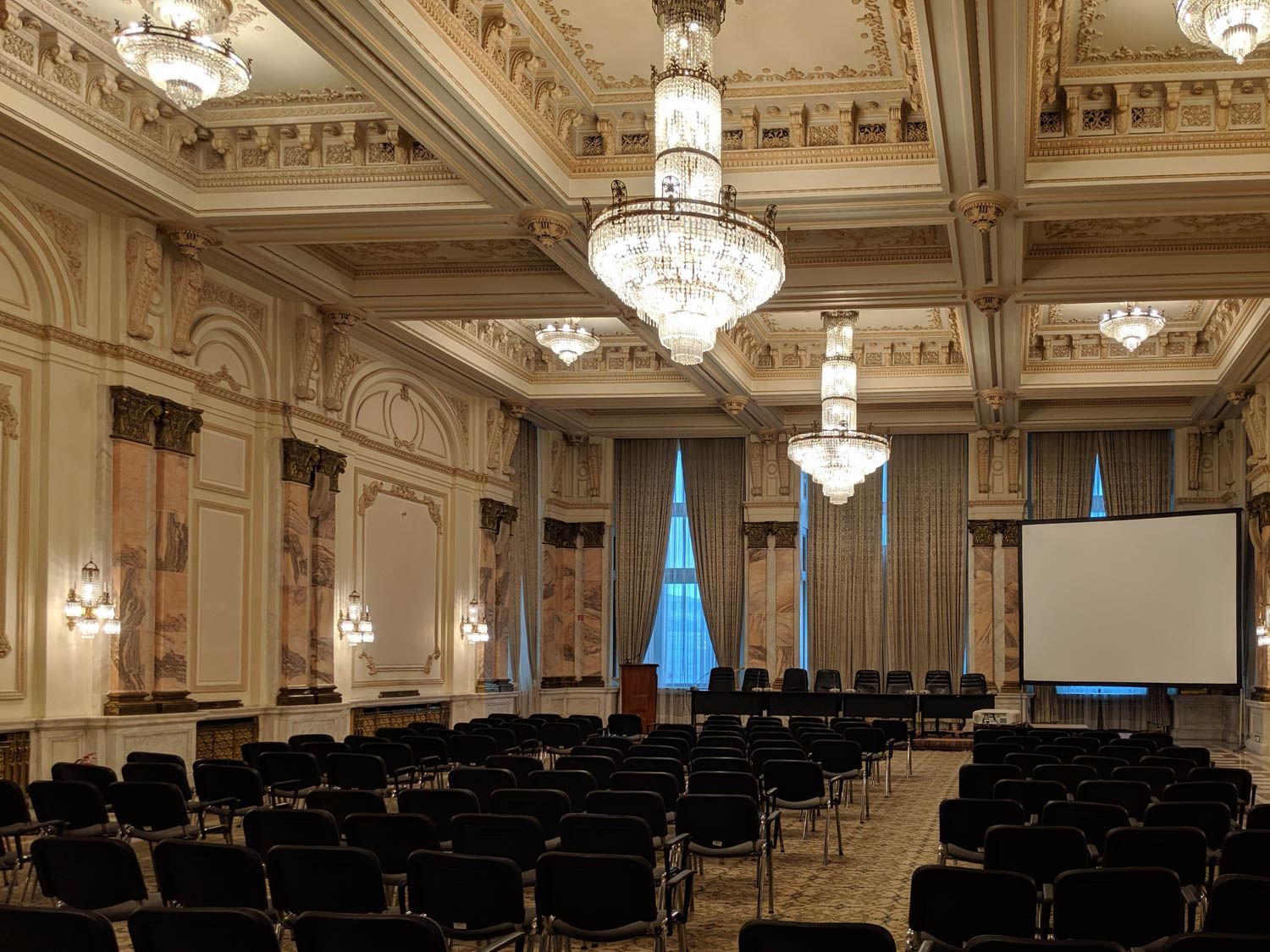 I'd say the tour was interesting, but it was honestly mostly only interesting because of the near-brawl that happened amongst our fellow tour-goers.
The building itself is of course massive, and what we saw of it was impressive in ways, with grand spaces and soaring ceilings.
But only a fraction of the building is used (and many parts were apparently never finished), and the stained carpets and cracked plaster contributed to a general feeling of neglect. Combined with the lack of light (electricity for the building costs $6M/year, apparently, so many lights are off or dimmed to help keep expenses down), and it was mostly just depressing.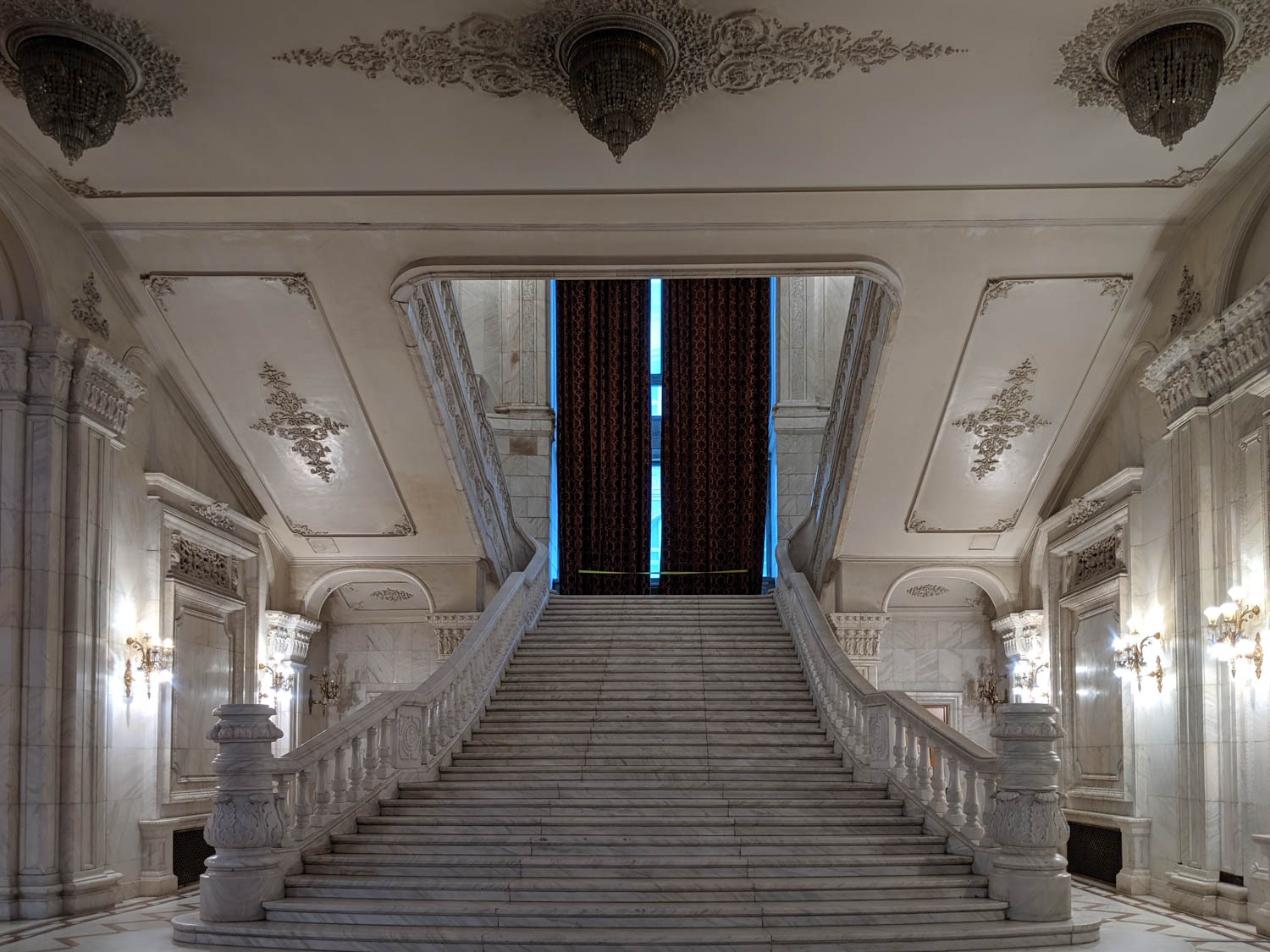 Still, I don't want to say don't tour the Parliament building, because some people might really enjoy it. I'll just say that I wish we'd spent our limited time in Bucharest on a different activity.
Overall
This has been such a lovely trip, and I'm so glad we came. We couldn't have asked for better weather, and I was so pleasantly surprised by how easy it was to get around Romania in general. I'd love to return and spend more time exploring Bucharest, and venturing beyond Transylvania.
While I think Ben was initially hesitant about the concept of a driving vacation in general, it ended up being a great style of trip for us, and something we'll probably look to do more of together in the future.
Any suggestions for a future road trip?