---
Before we get into the actual trip report, I wanted to share my experience getting an International Driving Permit. I rarely rent cars when I travel, though given that we were going on a road trip, that was kind of necessary.
Tiffany smartly suggested I drive — not because she's a bad driver, and not because I'm a great driver, but because I'm a significantly worse passenger than driver.
Driving in Romania requires an International Driving Permit, so I had to get one of those before the trip. I was expecting it to be a time consuming process, but much to my surprise it was quick and seamless.
I regret not getting this in the past, because last summer I was in Greece and wanted to rent an ATV, but was informed that the country had cracked down and started requiring IDPs.
In this post I wanted to outline my experience finally picking up an IDP.
What Is An International Driving Permit?
Essentially an International Driving Permit is a form of identification that translates your driver's license information into 10 languages. Many countries require this, because they may not otherwise have a practical way to tell if your license is valid.
IDPs are valid in about 150 countries worldwide (you can find the countries that honor them on page two of this document). You always need to present your valid IDP in conjunction with your valid driver's license.
While IDPs are issued in many countries around the world, if you have a US driver's license then your IDP also has to be issued in the US.
How Do You Get An International Driving Permit?
You can get an IDP through AAA, which is what I did, and based on my experience I'd say it can't get easier. They're the largest organization authorized by the US Department of State to issue these.
To get an IDP you need:
To fill out an application, which you can download online or fill out in-person at a AAA branch
You'll also need two original passport pictures, which you can either bring with you, or have taken at a AAA branch
You'll need a valid US driver's license
You'll have to pay a fee of $20 for the IDP
Then you have two options for processing your application through AAA:
If convenient, you can just go to your nearest AAA branch office
Alternatively you can mail your completed IDP application form, two original passport photos, $20, and a copy of both sides of your driver's license, to the nearest AAA branch office
How Long Is An International Driving Permit Valid For?
The IDP is valid for one year. In my case my driver's license is only valid for another six months. However, it seems like the IDP would transfer over to a new driver's license, since the IDP doesn't list my driver's license number anywhere.
Do You Need To Pass A Test To Get An International Driving Permit?
There's not any sort of test or anything required to get an IDP. An IDP isn't somehow certifying you as an amazing international driver or that you're familiar with road rules around the world.
Rather it's just intended to translate and confirm the fact that you have a valid driver's license in the US (or whatever country you have it issued in).
My Experience Applying For An IDP
I stopped by a AAA office in Tampa two days before our trip, and didn't bring the application or pictures. Much to my surprise, the process couldn't have been easier, and took maybe 10 minutes total.
I explained to the person at the entrance that I needed an IDP. She asked for my driver's license and gave me a short form to fill out.
She then charged me $33 for the IDP plus the passport photos. The photos were taken within a minute, and then I was brought to another desk, where a guy issued by IDP. This was a printed pamphlet (it's quite big because it's in 10 languages), and then he just wrote some of my personal details on there, and put a AAA stamp on it.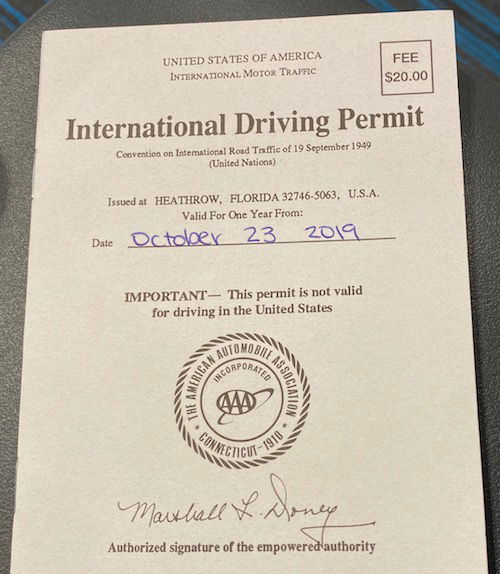 Bottom Line
I put off getting an International Driving Permit for so long because I figured it would be a pain. Fortunately that wasn't the case at all. I visited a AAA branch just a few minutes from Tampa Airport (which I had just landed at anyway), and the whole process took just 10 minutes.
If you've gotten an International Driving Permit, what was your experience like?