---
After an incredible Turkish Airlines 787 business class flight and a quick layover, it was time to connect to Romania on Turkish Airlines (you can see the previous installment for details on how we redeemed miles for this flight). Our flight was leaving from a remote stand, so it was about a 10 minute drive from the terminal to the plane.
While Turkish Airlines has separate business class buses on arrival (at least for long haul flights), they put everyone on the same bus on departure for regional flights.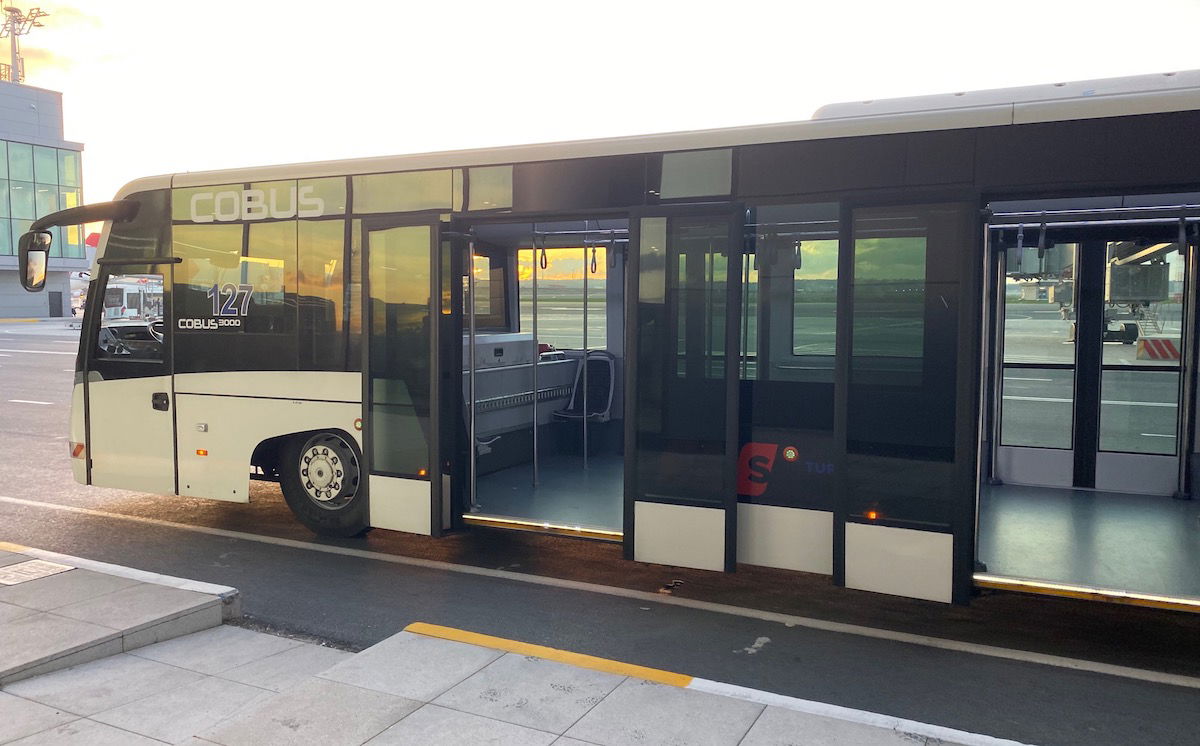 Istanbul Airport bus to plane
Our flight to Cluj would be operated by an Airbus A319 in the Star Alliance livery.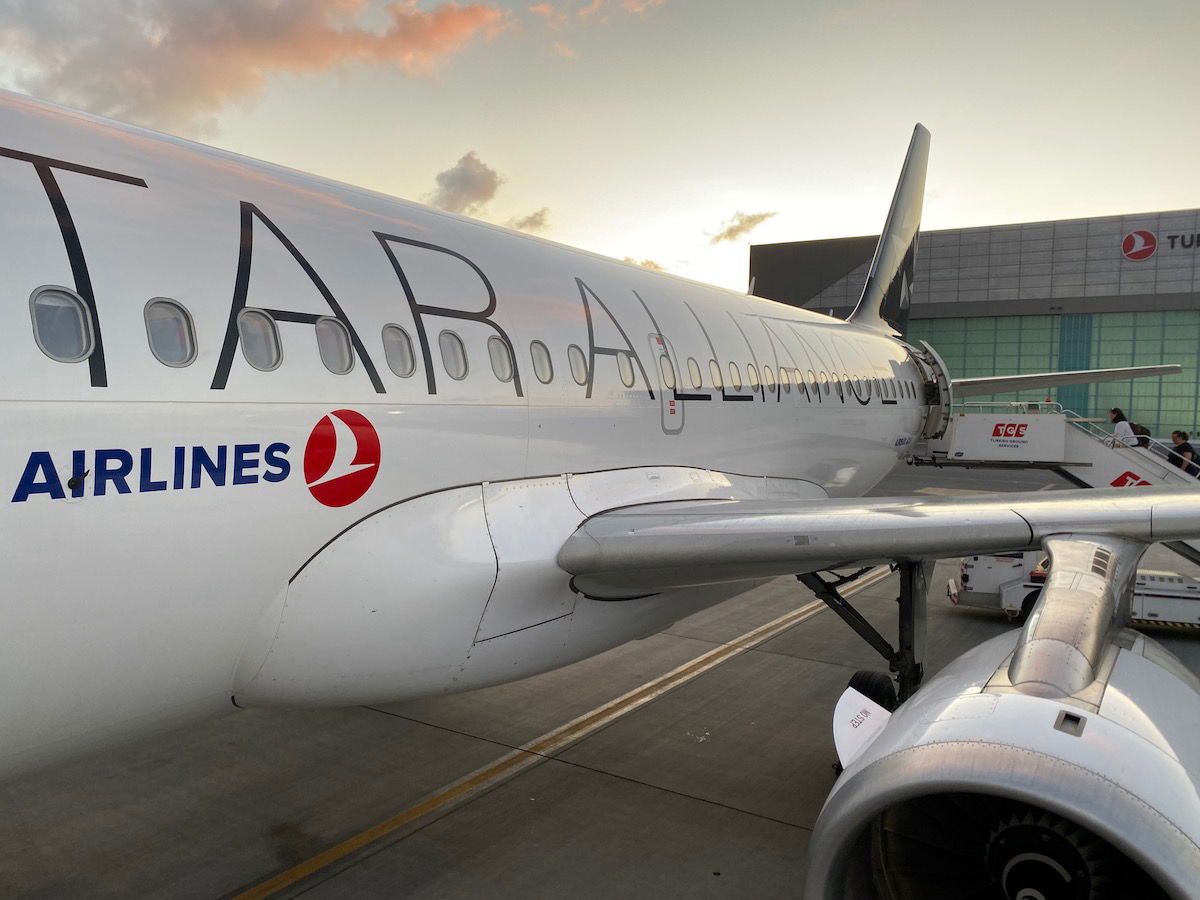 Turkish Airlines A319 Istanbul Airport
Turkish Airlines 1347
Istanbul (IST) – Cluj (CLJ)
Thursday, October 24
Depart: 6:45PM
Arrive: 8:30PM
Duration: 1hr45min
Aircraft: Airbus A319
Seat: 2C (Business Class)
One of the things that I love about Turkish Airlines is how well they do when it comes to their short haul product. A majority of Turkish Airlines' narrow body planes have "proper" business class seats, while some A320 and 737 family aircraft use economy seats with more legroom and blocked middle seats as business class.
In this case we were on an A319 with the "worst" business class seats the airline has, though even so I was very happy. Turkish has 12 business class seats on the A319, with two seats on each side per row.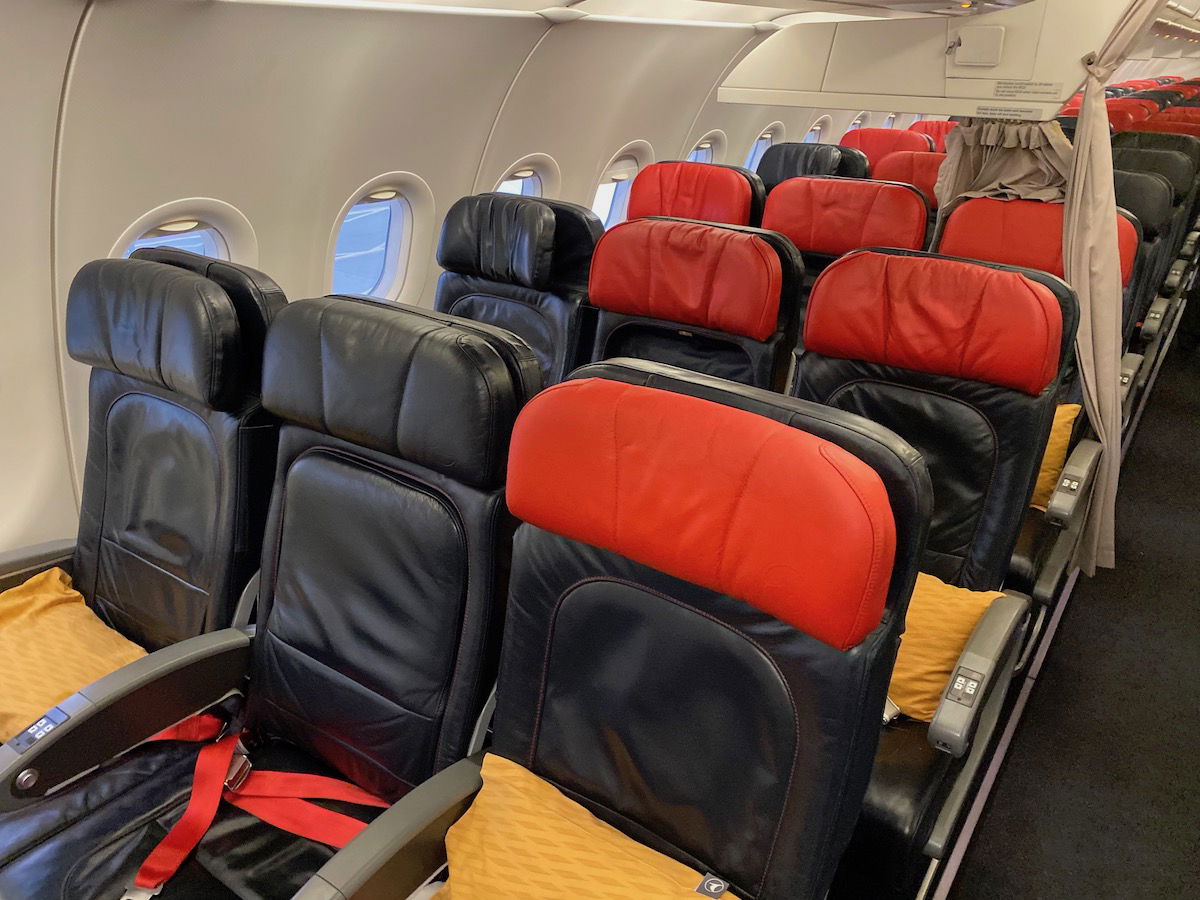 Turkish Airlines business class A319
While these obviously aren't amazing seats, the nice thing is that legroom is quite good, similar to extra legroom economy in the US. This makes a huge difference compared to the intra-Europe business class products on British Airways and Lufthansa, where you have about 30″ of pitch. We were in seats 2A & 2C.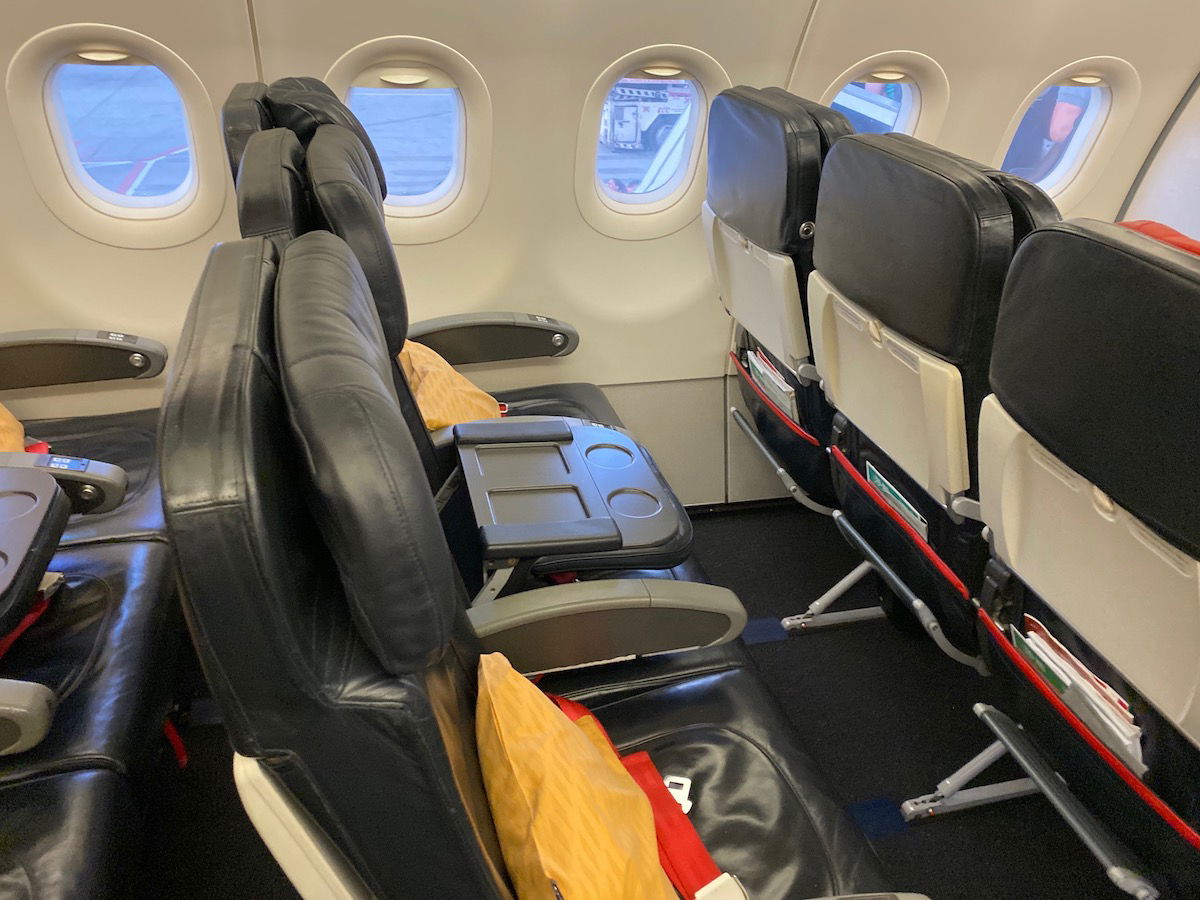 Turkish Airlines business class seats A319
Usually I'd choose a bulkhead on an intra-Europe flight, but given the good legroom in the other rows, I didn't think that was necessary.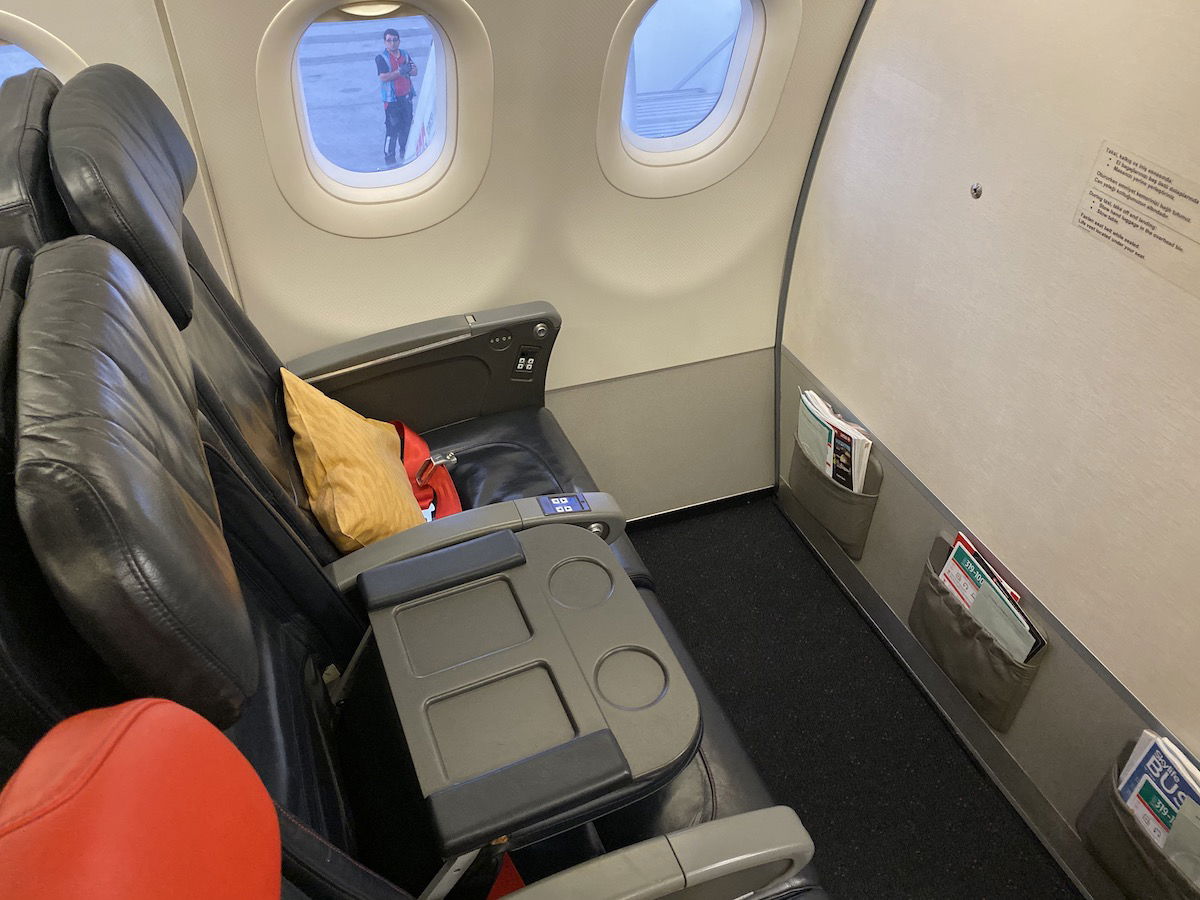 Turkish Airlines business class seat
The tray on the center seat is a useful touch, since you can place drinks and other items there during the flight.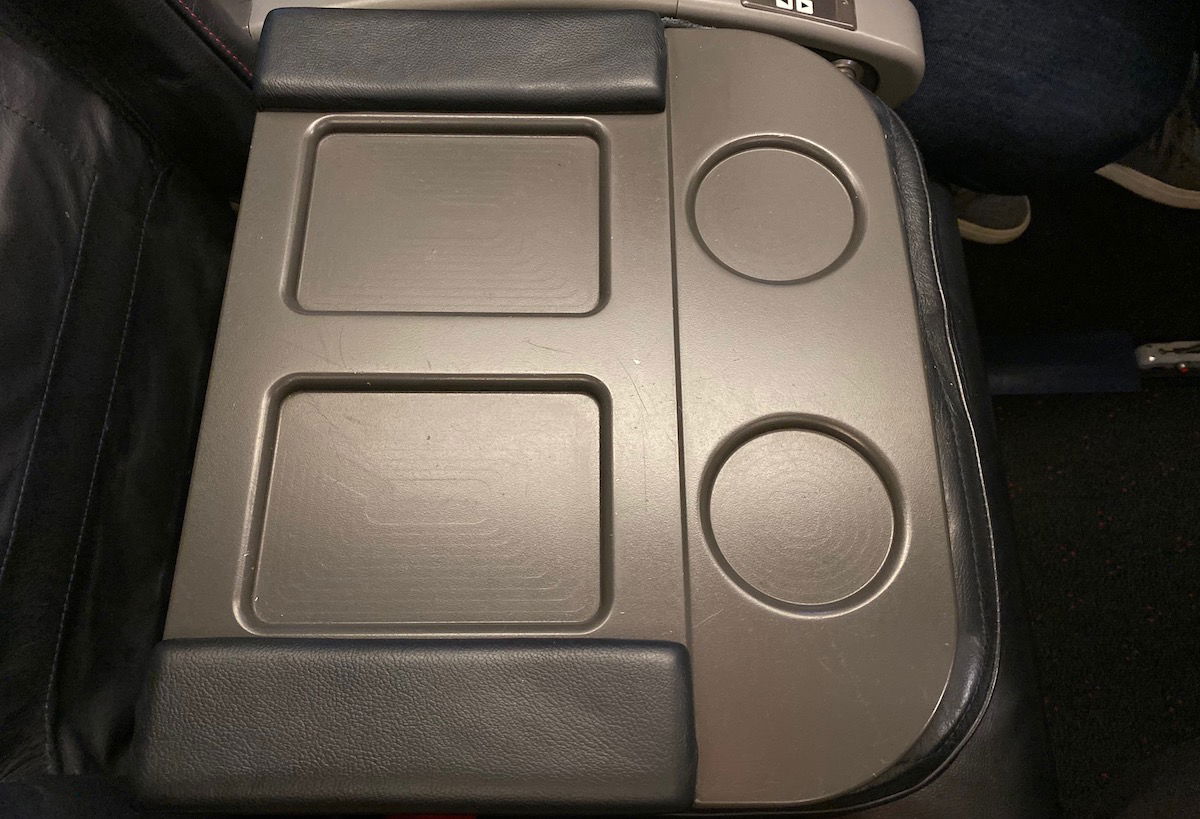 Turkish Airlines business class blocked middle seat
Each seat also had a footrest, and given the sufficient legroom, that came in handy.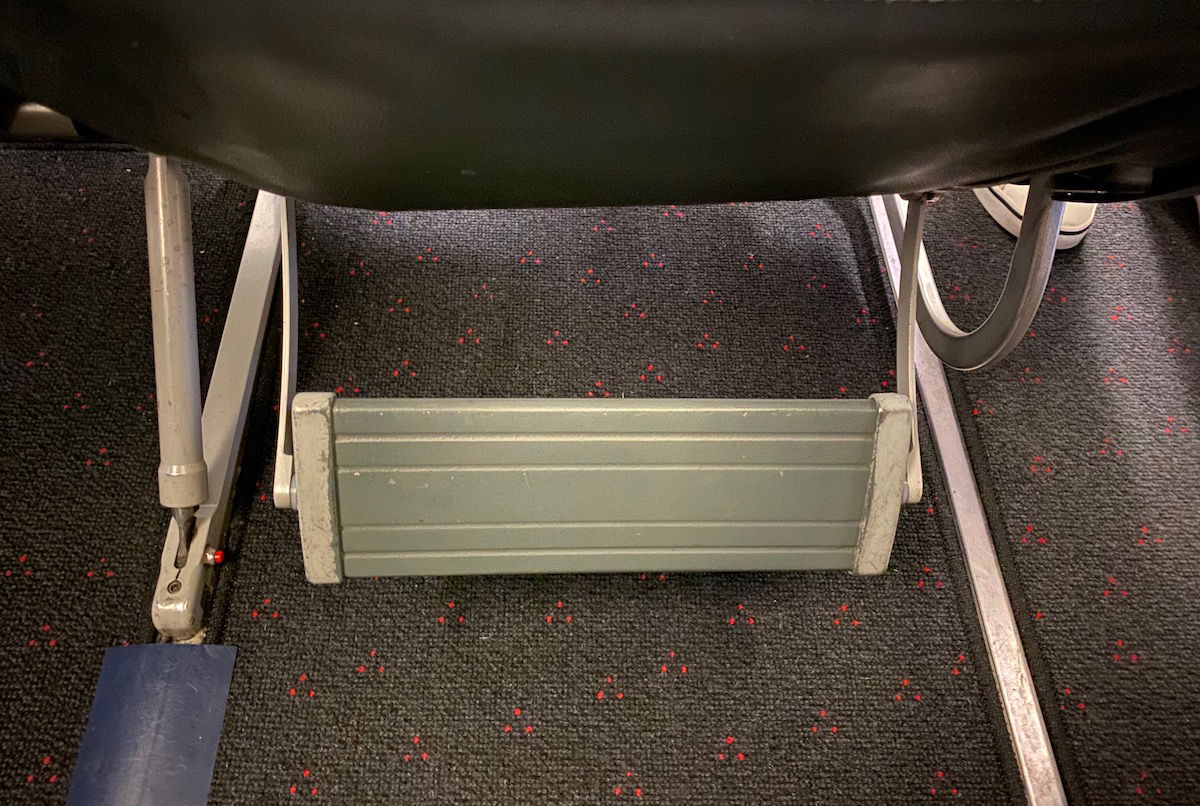 Turkish Airlines business class footrest
The tray table folded out from in front, as is standard in these configurations.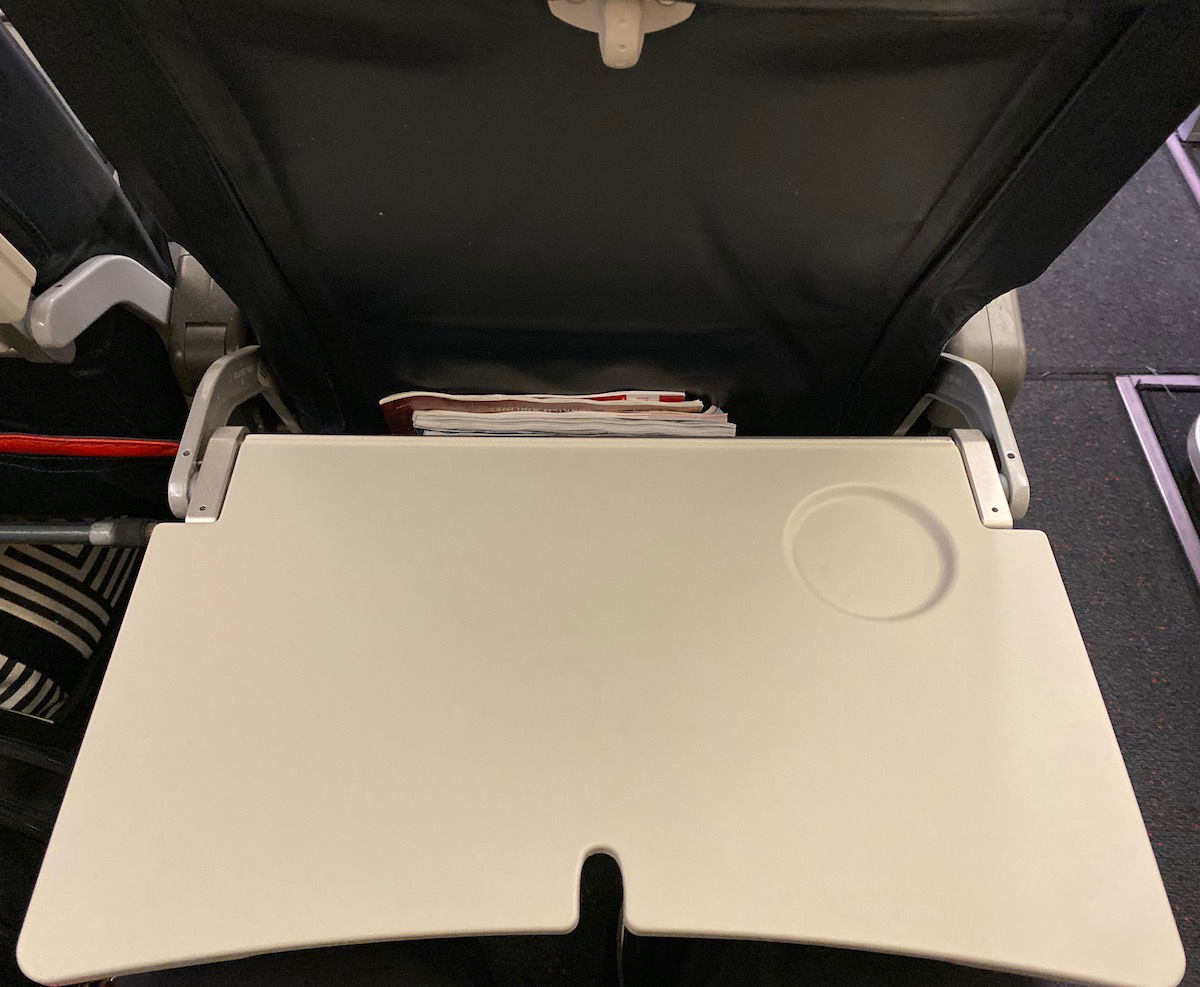 Turkish Airlines business class tray table
My only frustration with the seats was the lack of power outlets.
Not only are Turkish's seats more comfortable than you'd typically find intra-Europe, but the service is in a completely different league. As soon as we settled in we were offered pre-departure drinks, with the choice of fresh raspberry juice, fresh orange juice, lime-mint juice, or water. We were also offered the menus and some packaged hazelnuts.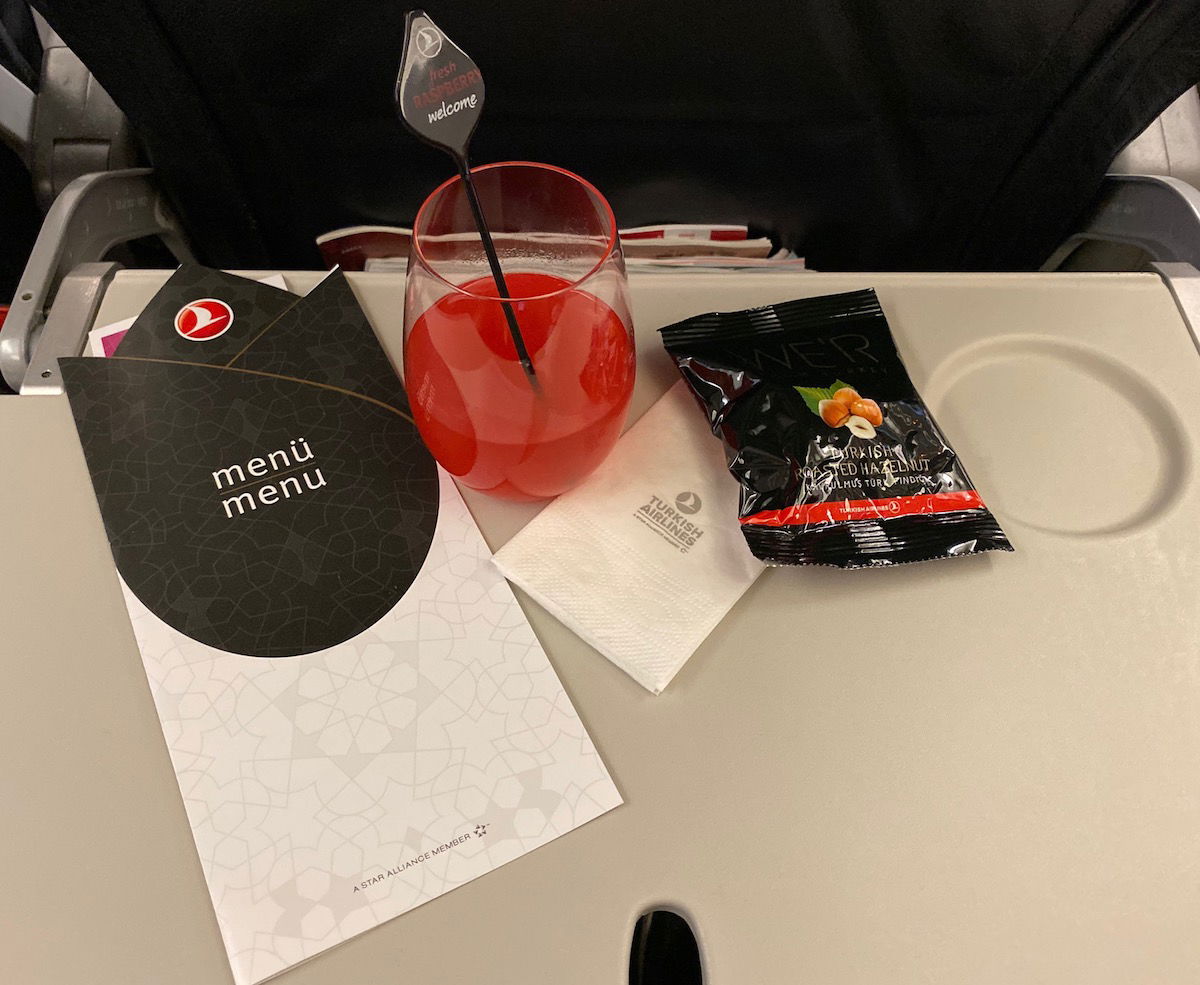 Turkish Airlines business class pre-departure drink, nuts, and menu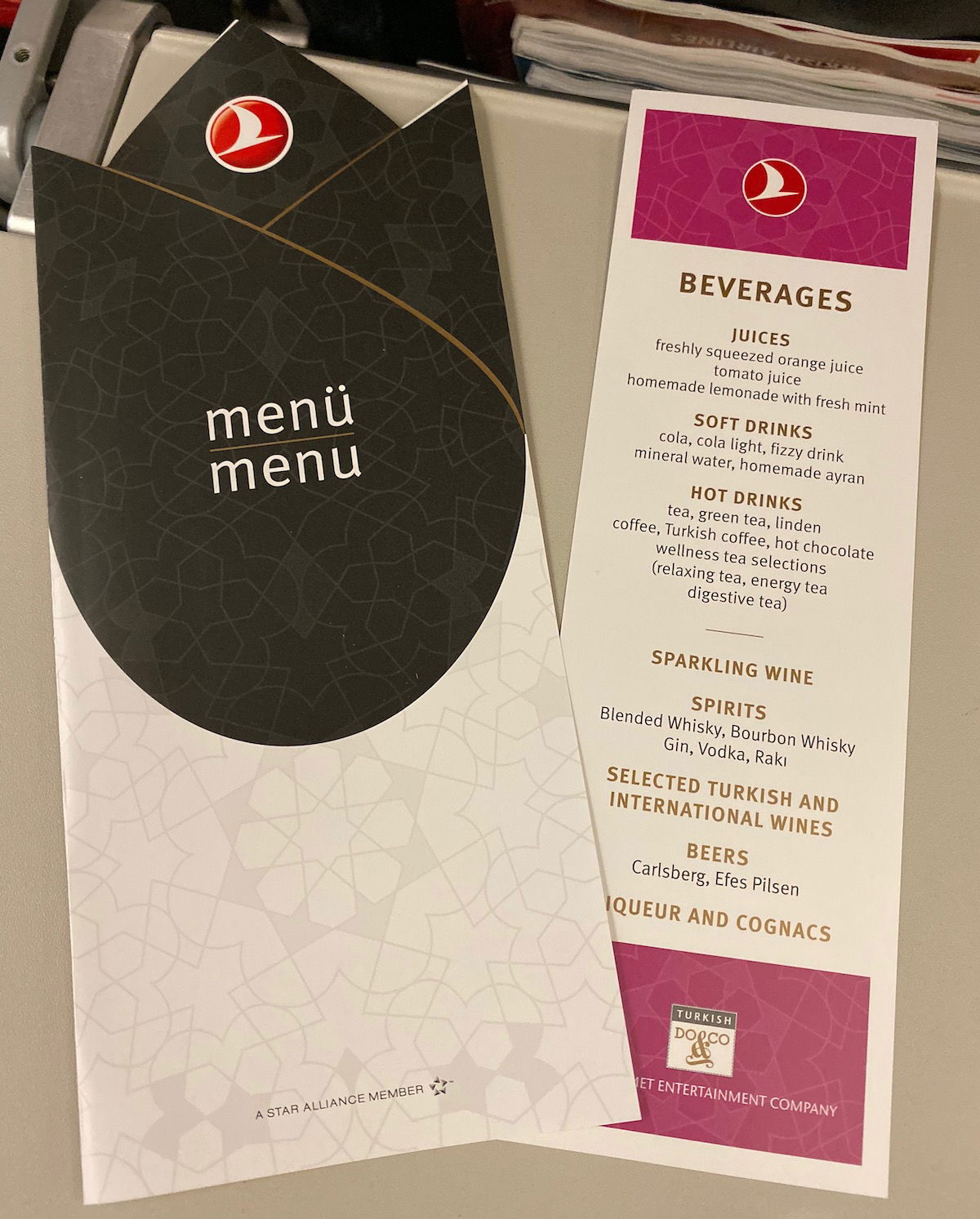 Turkish Airlines business class menu
We were then also offered pretty high quality headphones — I'm not sure for what, exactly. There were some dropdown screens showing the moving map, but that was it.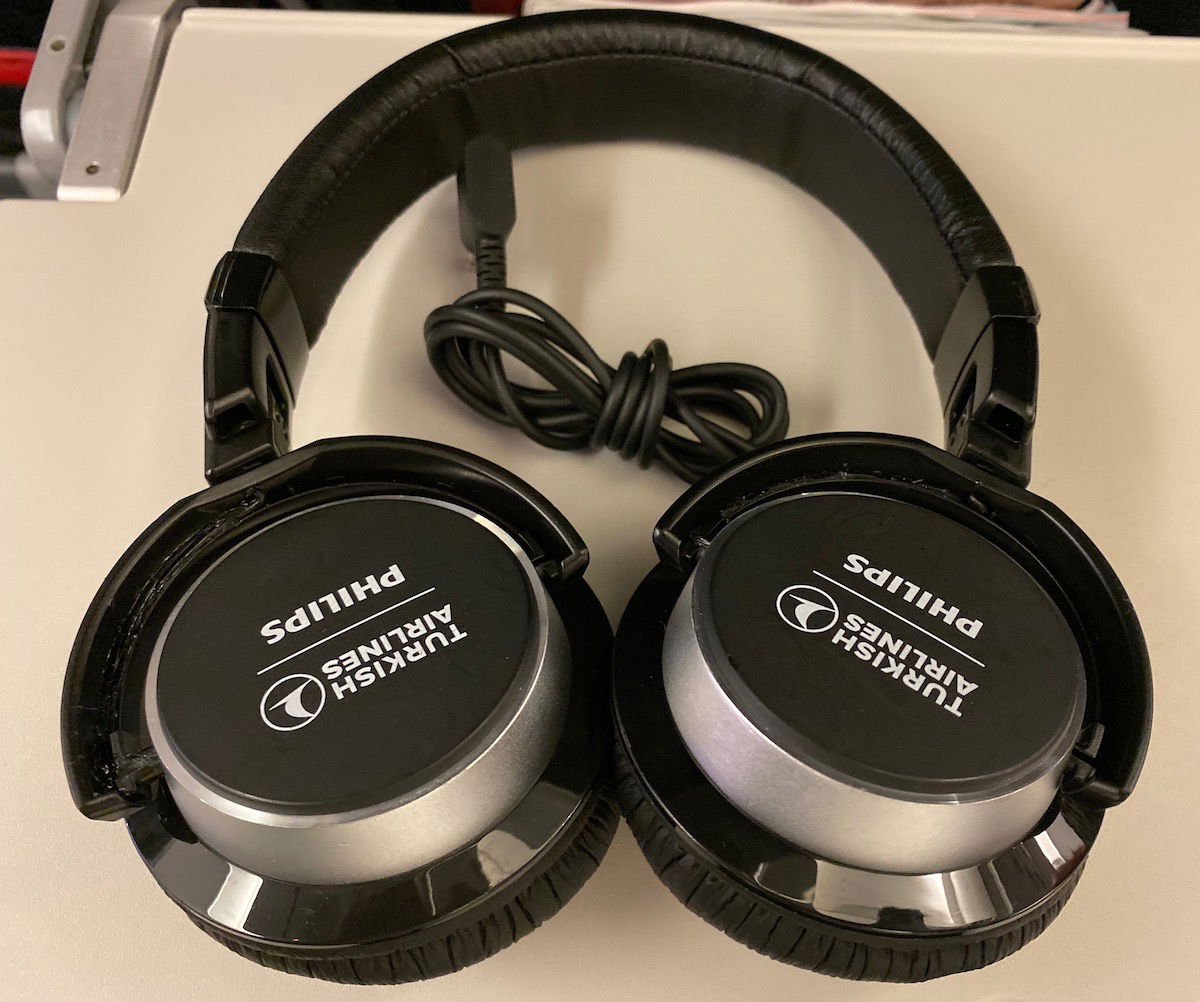 Turkish Airlines business class headphones
We were also given proper pillows and light blankets.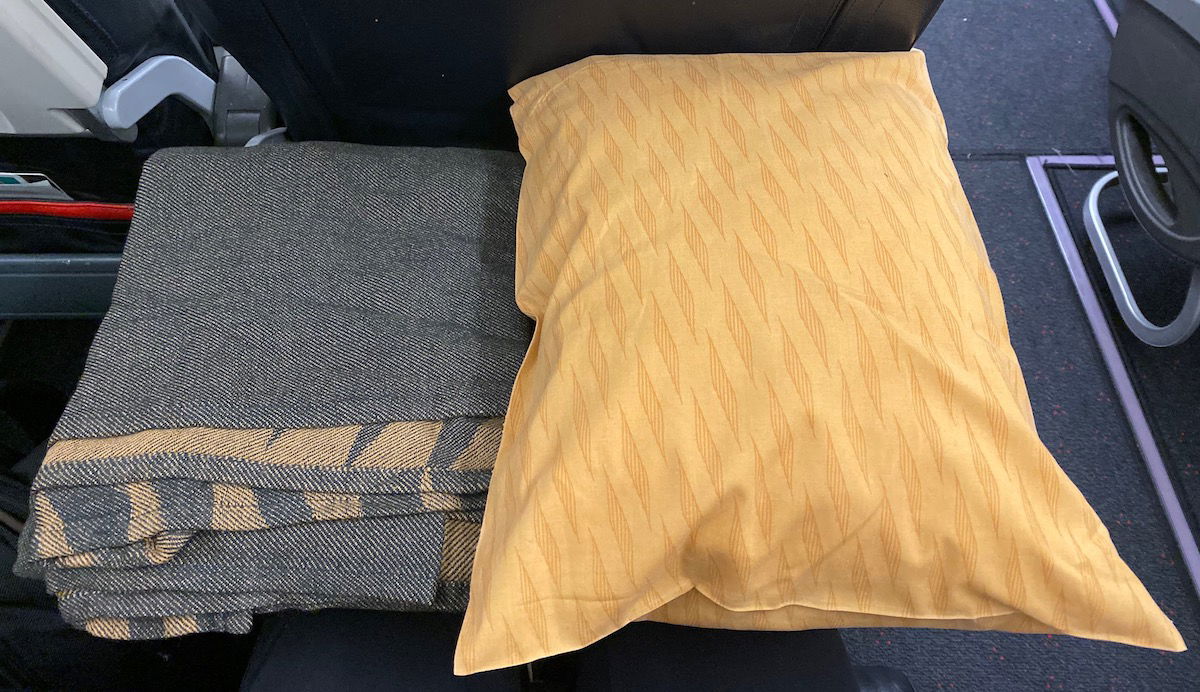 Turkish Airlines business class blanket & pillow
At 6:30PM the captain announced our flight time of 70 minutes, and our cruising altitude of 32,000 feet. He said he expected we would be on-time.
At 6:35PM boarding was complete, and at 6:40PM the main cabin door closed. At that point there were a total of seven business class passengers, including us. It was an interesting crowd:
One of the other passengers just randomly ended up in a three room guest house with us a couple of days later in a rural part of Transylvania
There were two ladies together who tried to change seats three separate times
There was another lady who spent at least half of the flight taking selfies
At 6:45PM we began our pushback, at which point the safety video was screened. We had a really quick taxi to the runway (at least by New Istanbul Airport standards) and were airborne by 7PM.
We had a smooth takeoff, though a few minutes after takeoff I wondered if we might be returning to the airport due to some sort of problem. Individually none of these things are weird, but when you combine them:
We leveled off at a very low altitude (maybe a few thousand feet)
Then the cabin chief received a phone call, and then she made a phone call causing another chime; this made me believe the cockpit might be calling, and that she was relaying that info to the flight attendants in the back
We then entered a holding pattern
Sure enough after several minutes we once again started a steep climb, though for a moment I thought we were in for some fun. It seems my perception of the flight path wasn't totally off, since we did indeed enter a holding pattern.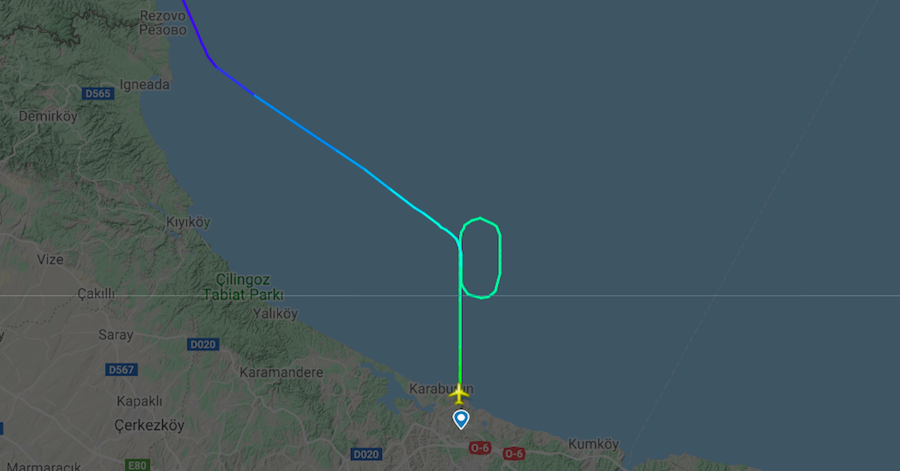 Our flight path
In retrospect I think the airspace around Istanbul is just really crowded given that they have three airports, and that's probably why we entered a pattern.
Anyway, about 10 minutes after takeoff the seatbelt sign was turned off, at which point I checked out the lavatory, which was spotless and had Molton Brown amenities.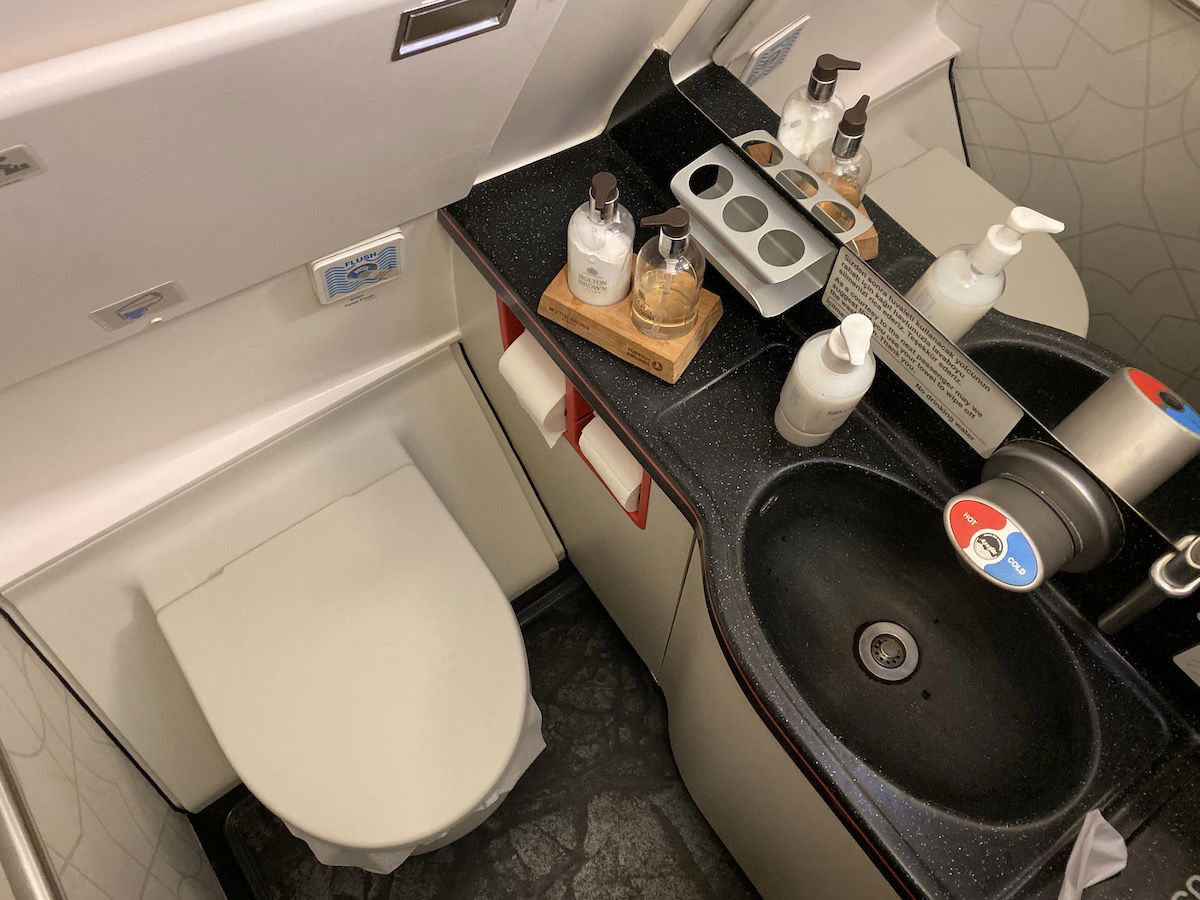 Turkish Airlines A319 lavatory
About 15 minutes after takeoff the crew came around to ask if we wanted to eat and what we wanted to drink. The menu read as follows: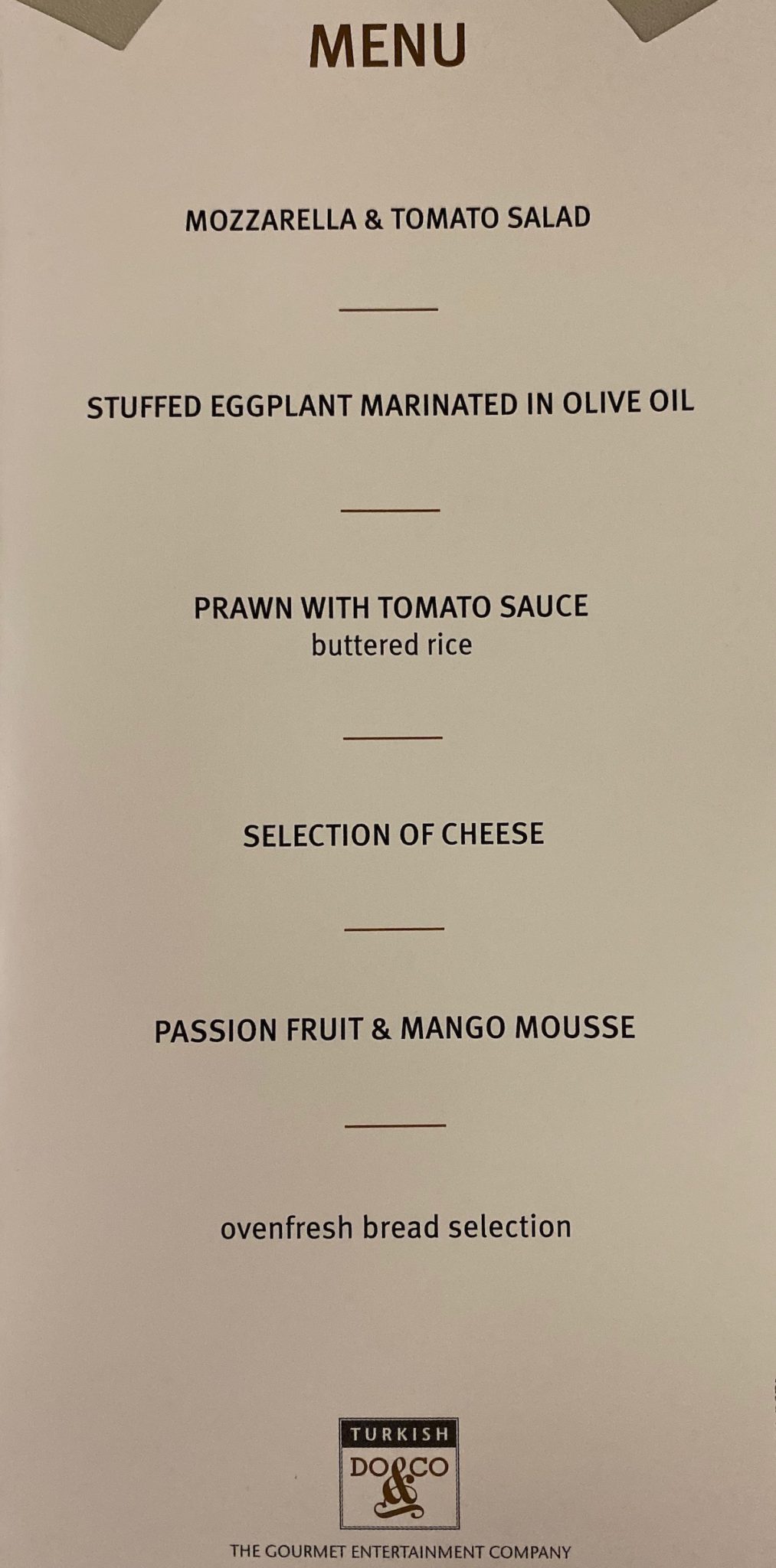 The drink list read as follows: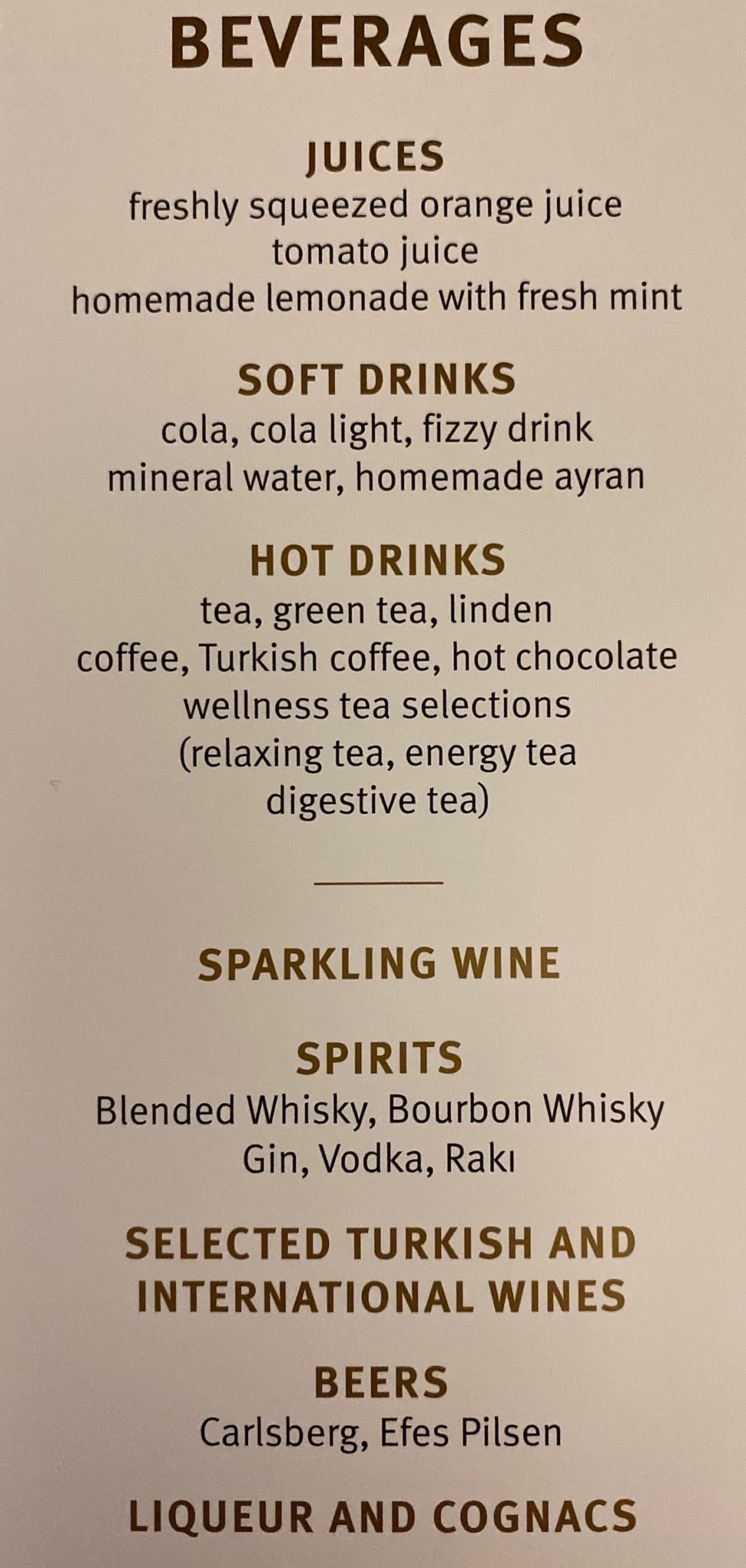 To start we were brought warm towels.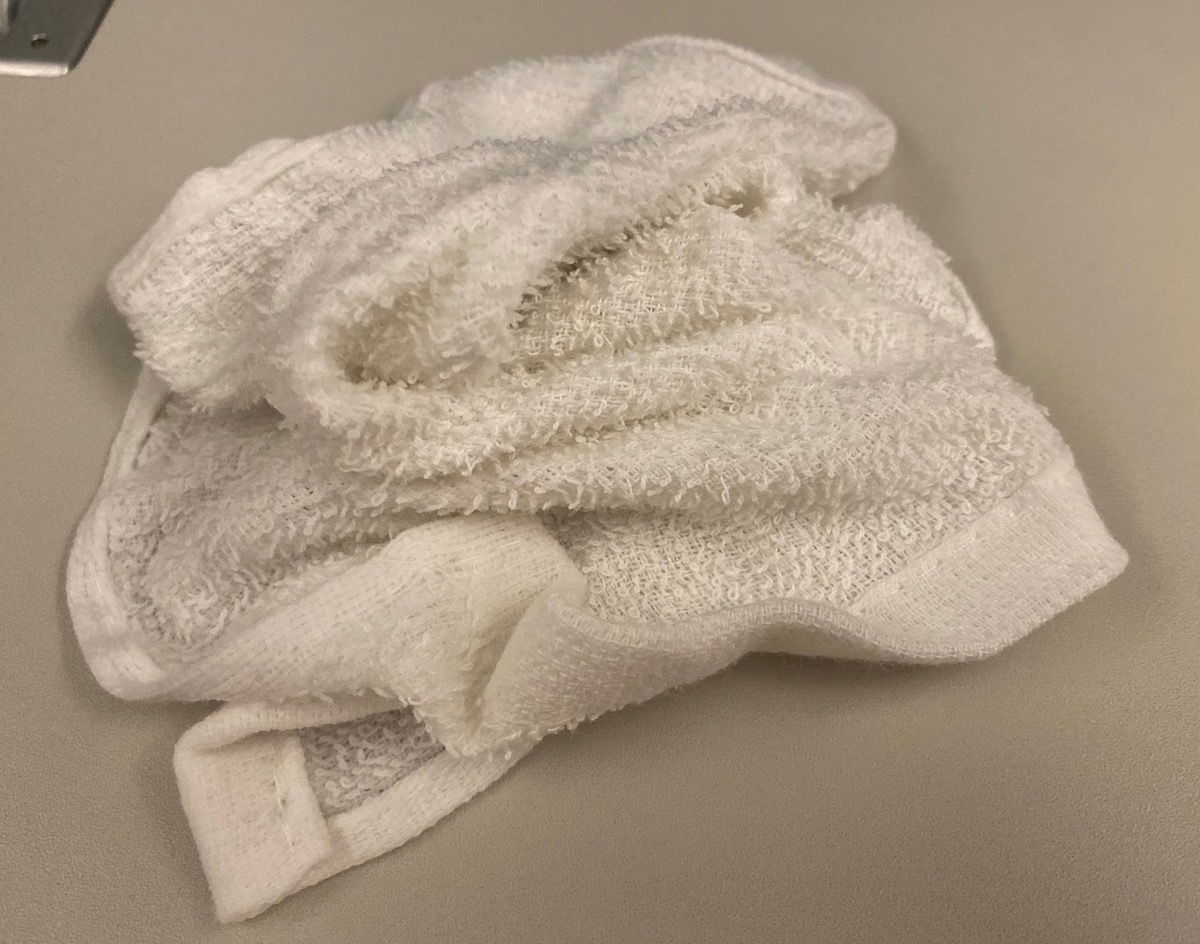 Turkish Airlines business class warm towel
Then about 20 minutes after takeoff we were served drinks. We both just had water, given that we had a rental car, and Romania doesn't allow any amount of drinking and driving.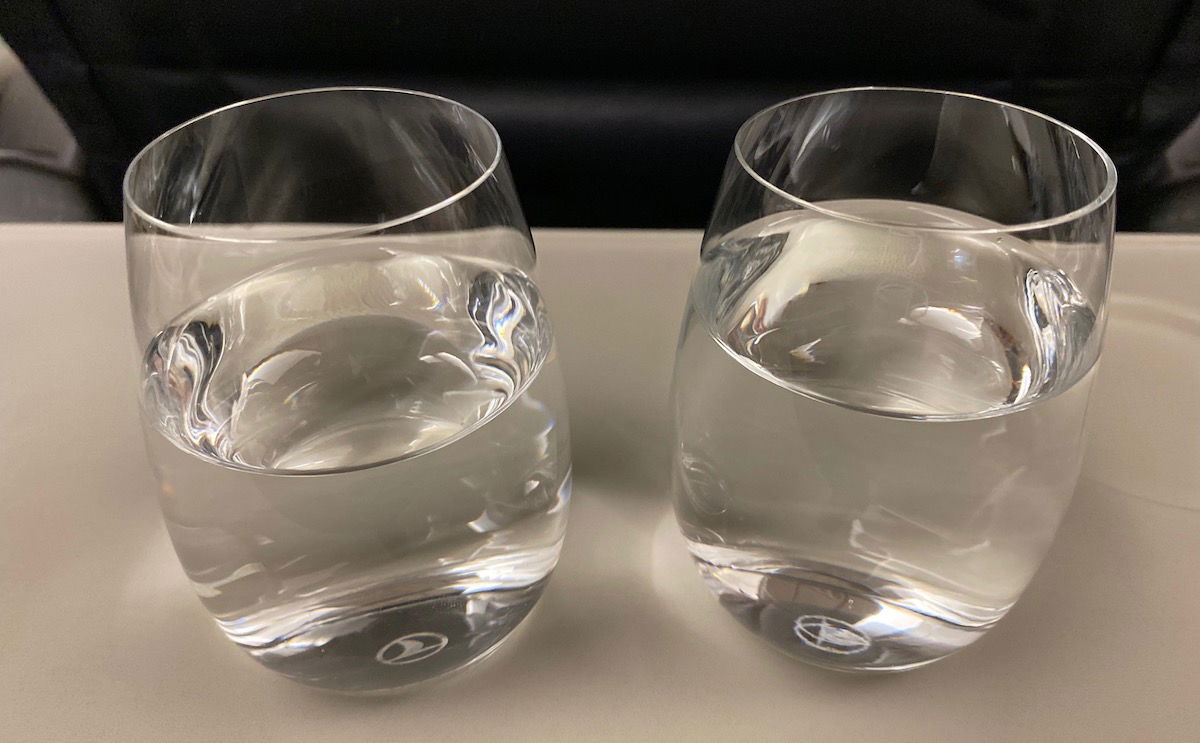 Turkish Airlines business class water
Then the meal was served — wow, how spectacular for a 70 minute flight!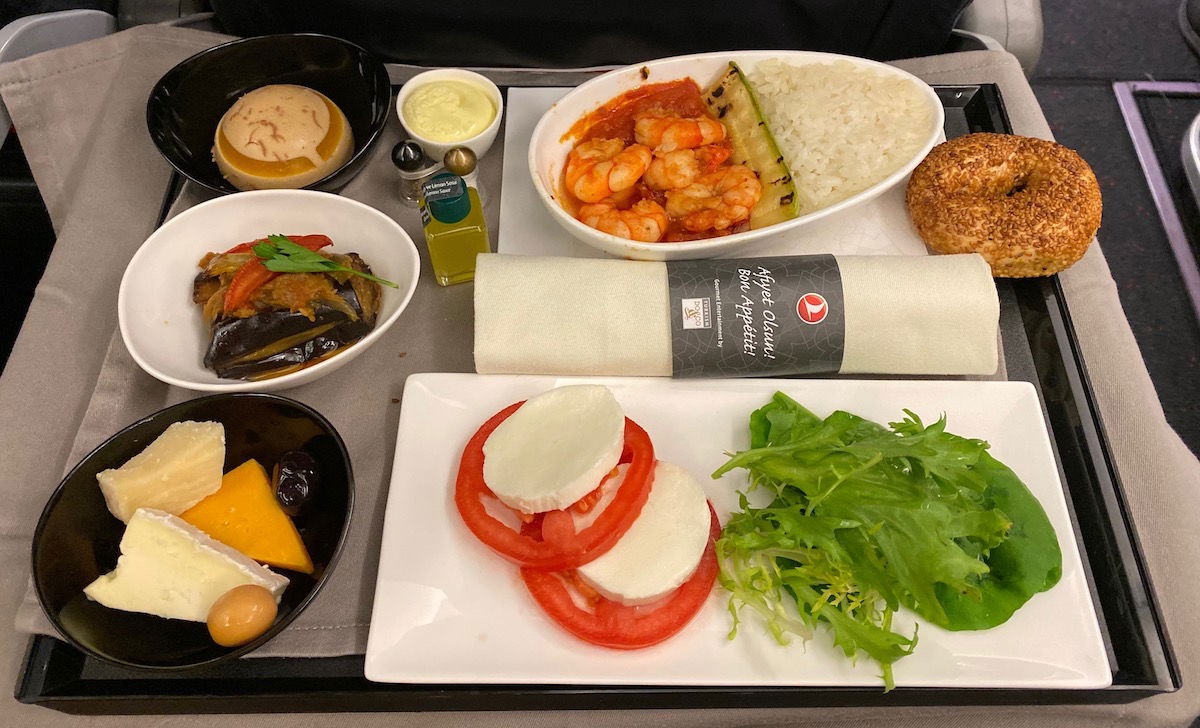 Turkish Airlines business class dinner
The meal consisted of mozzarella and tomato salad, stuffed eggplant marinated in olive oil, prawns with tomato sauce and buttered rice, a selection of cheese, and then a passionfruit and mango mousse.
Turkish's catering isn't just incredible on long haul flights, but they're equally impressive on short haul flights.
Tiffany had ordered a gluten-free meal, which even came with a separate menu (which is nice, since usually when you order a special meal you don't actually know what you're getting). Here's the gluten-free menu: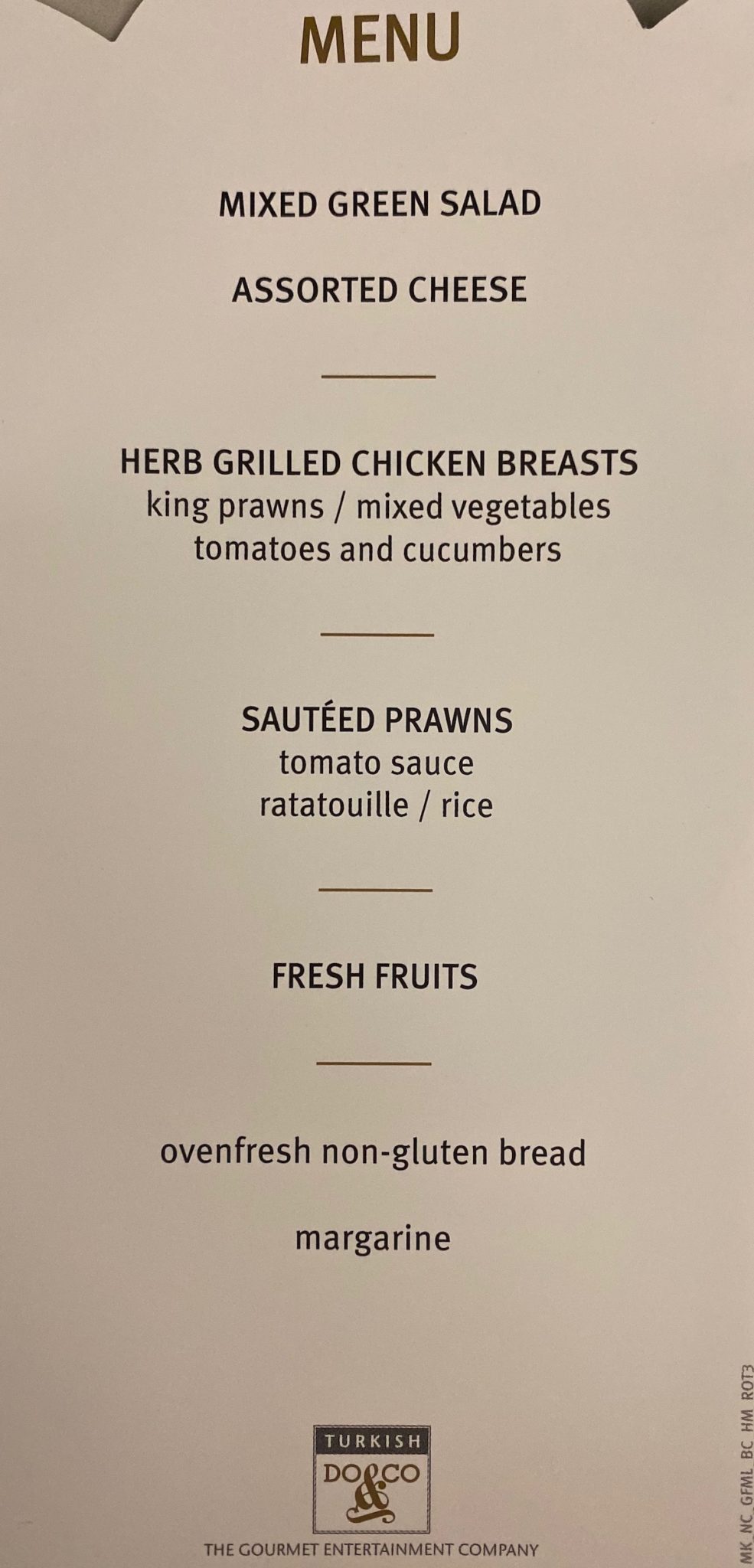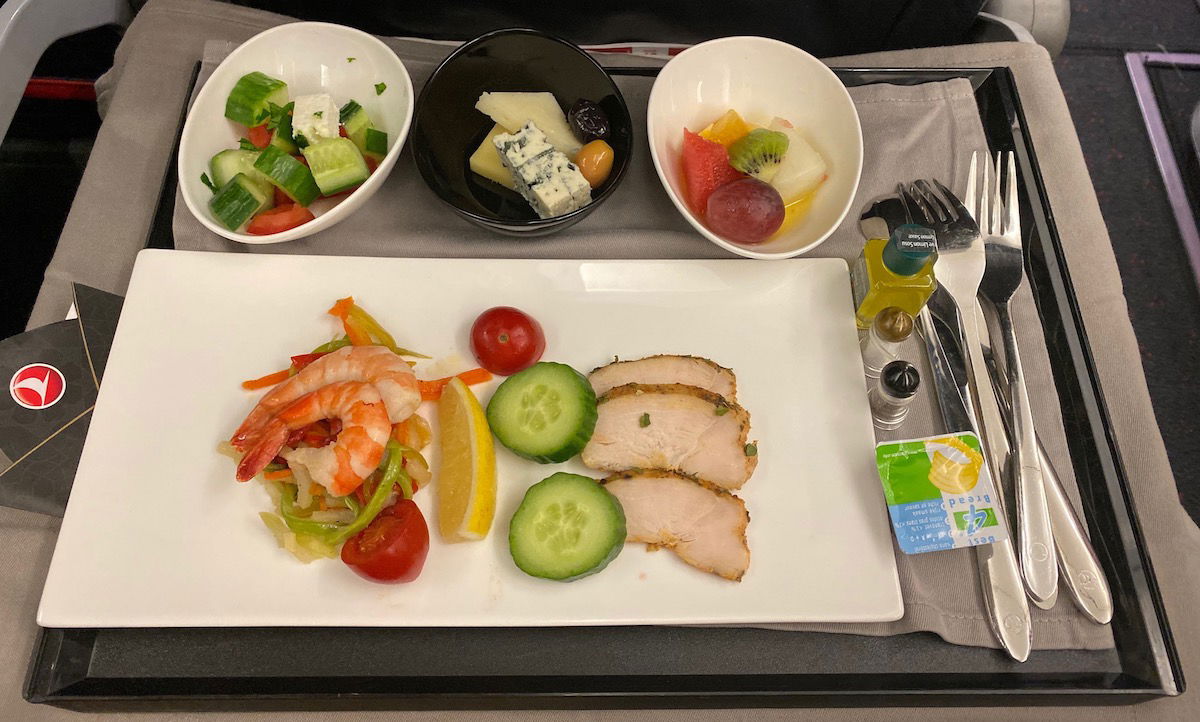 Turkish Airlines business class dinner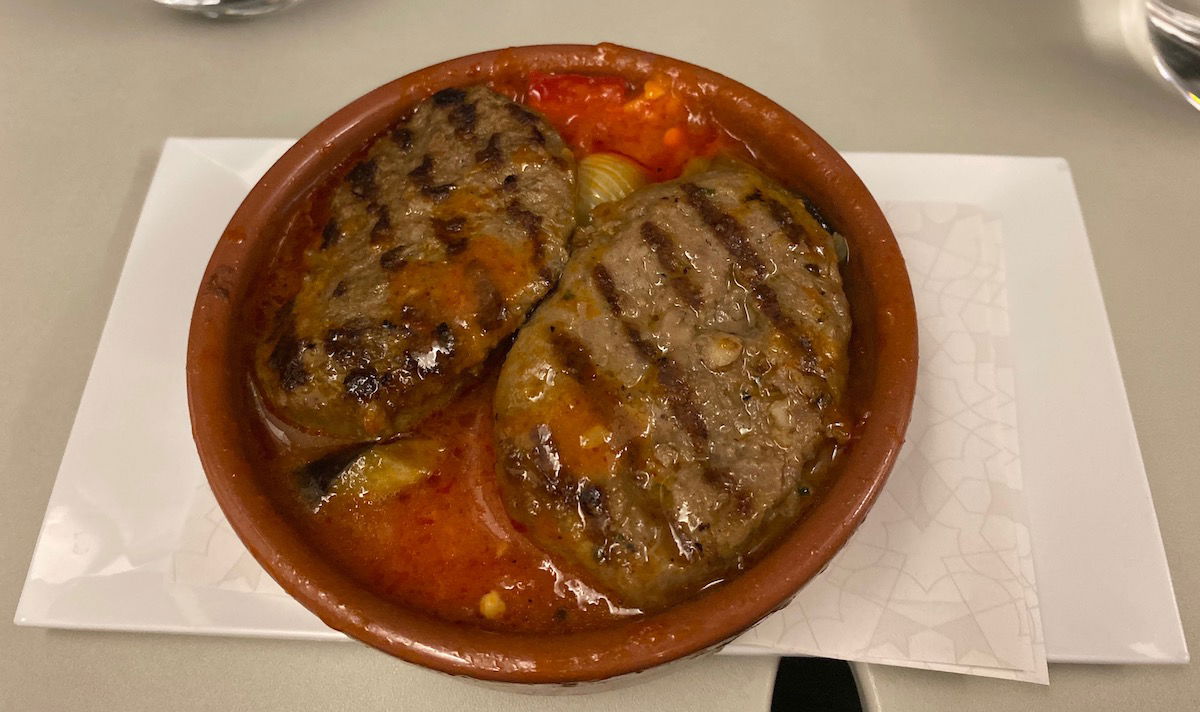 Turkish Airlines business class dinner
The crew was attentive and friendly, and after the meal I ordered a cup of coffee.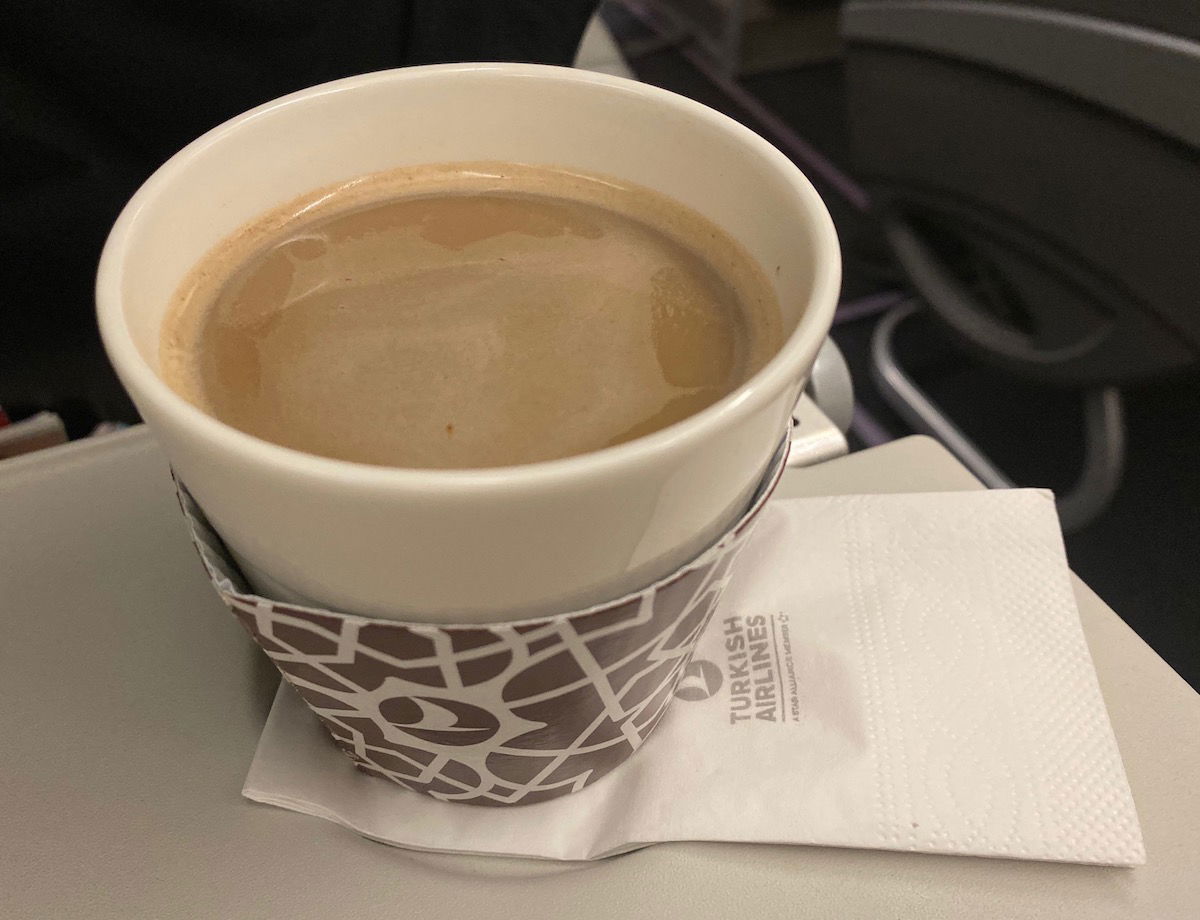 Turkish Airlines business class coffee
Turkish doesn't have Wi-Fi on the A319, though they do have streaming entertainment, though I didn't take advantage of that.
At 7:45PM the captain announced we would be landing at 8:20PM, and a few minutes later we started our descent. We ended up landing earlier than expected, at 8:10PM. On landing just about everyone on the plane clapped. Ah, Romania is one of those countries!
We had a short five minute taxi to our arrival stand, and were there 15 minutes ahead of schedule. Remote stand number three of the day, yay!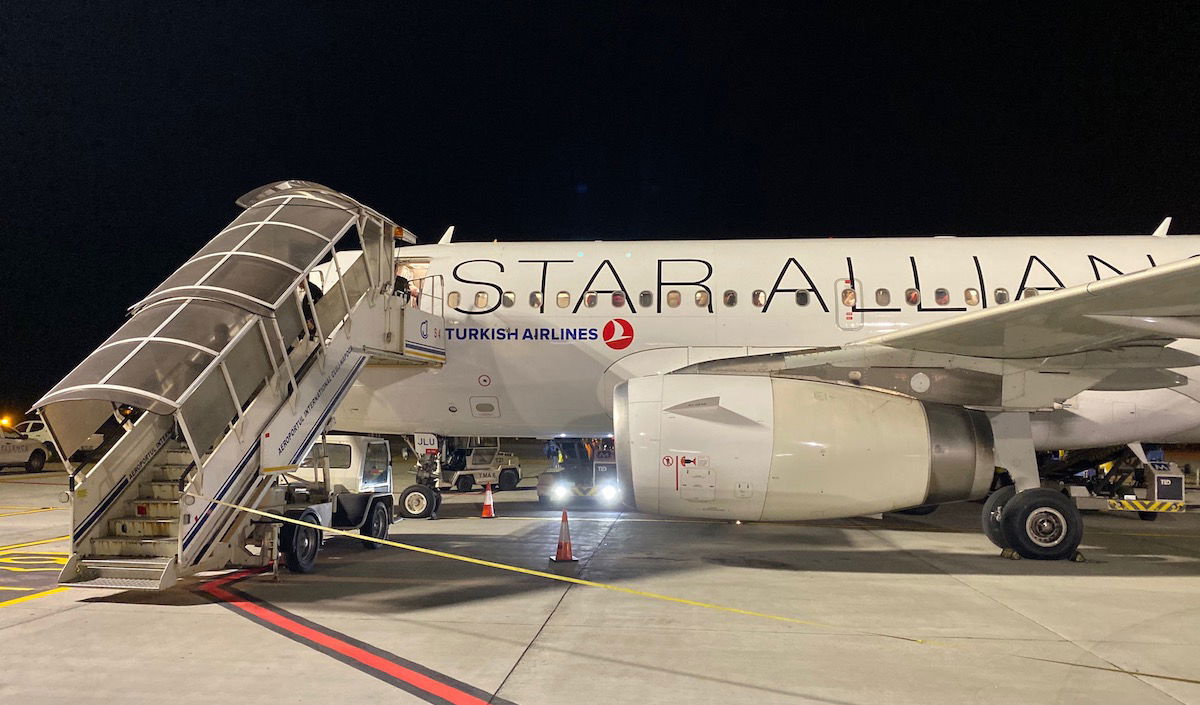 Turkish Airlines A319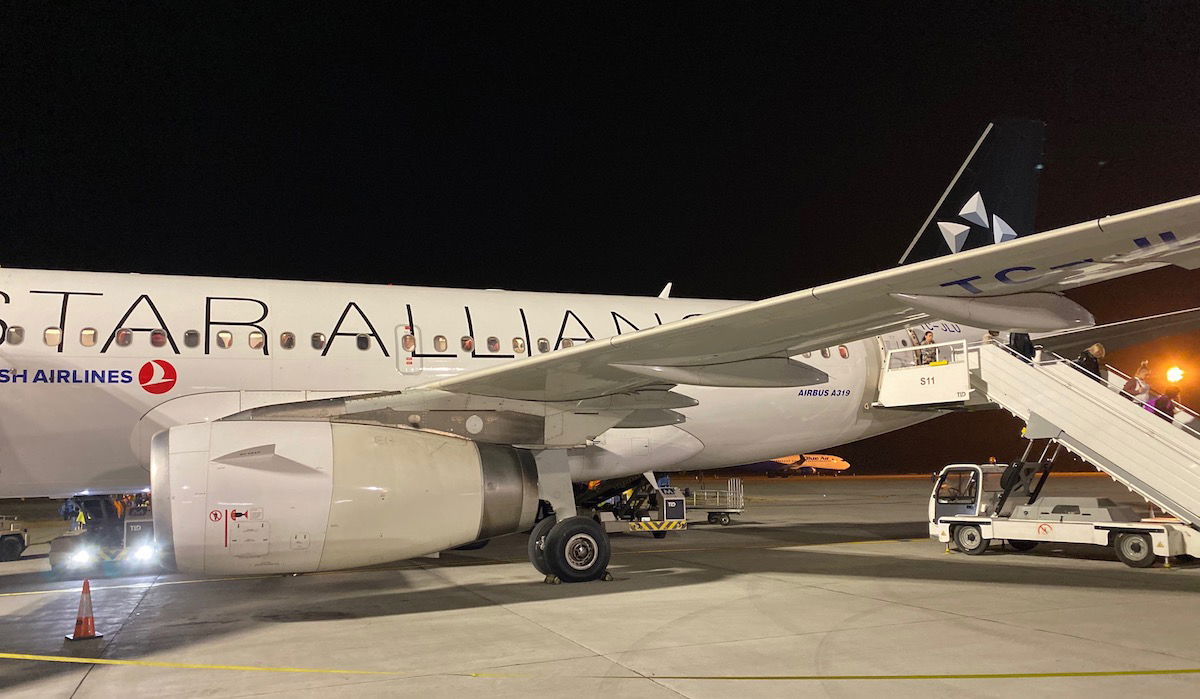 Turkish Airlines A319
Immigration was quick, and within 30 minutes of landing we had our rental car and were ready for our Romanian adventure.
Turkish Airlines Business Class A319 Bottom Line
This flight was operated by a plane with Turkish Airlines' "worst" regional business class product. Despite that, it was a really top notch flight.
Turkish Airlines' soft product delights, both on short and long haul flights. To have a 70 minute flight with pre-departure drinks and nuts, a delicious meal, friendly service, a pillow and blanket, etc., really is lovely.
It just reminds you of how little effort other airlines put into their product on regional flights.
If you've flown Turkish Airlines' A319 business class, what was your experience like?