---
Our fifth (and last) night in Transylvania was spent in the town of Sinaia. Below Tiffany will share why she chose this property, and then I'll share my review.
Booking Vila Economat
While I looked at hotels in Brasov, in plotting out our activities and the distances between them, it made more sense to break up our trip with a stay in the mountain/resort town of Sinaia. This would put us a bit closer to Bucharest, and weather-permitting allow us to do some hiking in the surrounding mountains (though sadly the weather did not permit).
Sinaia has a resort-town feel, and (someone please correct me if I'm wrong) at least in terms of lodging options seems like a more popular weekend destination for Romanians looking for a break from the city than a place necessarily catering to international tourists.
There are casinos and ski slopes nearby, and many places have spas, or advertise their conference facilities. There are some smaller bed and breakfasts in town as well, but nothing that stood out as incredibly charming.
On the outskirts of town, however, was the Vila Economat, which I ultimately booked for two reasons.
One, to see the look on Ben's face when I told him we were staying at a place called "Vila Economat," which paid off spectacularly, and staying here would have 1000% been worth it for that alone.
Secondly, because the hotel is on the grounds of the Peles Castle, meaning this is the view you wake up to:
https://www.instagram.com/p/B4Pq_pbB2-u/
"Economat" for those concerned, doesn't have any relation to either price points or laundromats — rather it comes from French, and the association here is more with a steward or bursar. The building was originally used by palace staff and officials, hence the name.
When I made the reservation through booking.com there was only one double room and two suites available (which is odd, as the hotel didn't seem that occupied), so I booked one of each. The total for the two rooms, including taxes and breakfast, was ~$260, which is still reasonable, but as you'll see in the review the premium for the "suite" wasn't really worth it, so if you can book one or multiples of the "superior double" that would be my recommendation.
Vila Economat Review
Vila Economat was one of the only hotels we arrived at after dark, and the entire arrival experience felt a bit eery. In the towns leading up to Sinaia Tiffany and I couldn't help but continuously comment on how just about everything looked haunted, and I think Vila Economat was the culmination of that.
At first we had trouble finding the property, which seemed to be a common complaint based on online reviews. That's a pretty cool exterior, eh?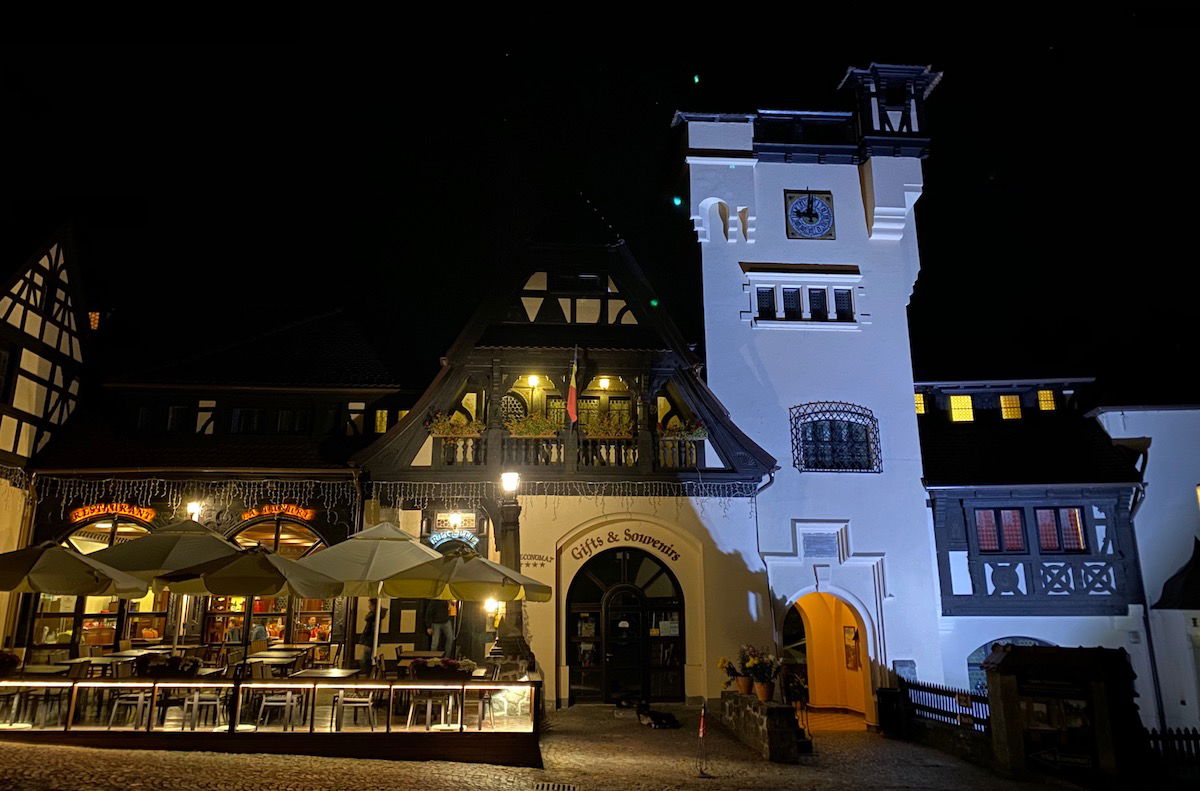 Vila Economat Sinaia exterior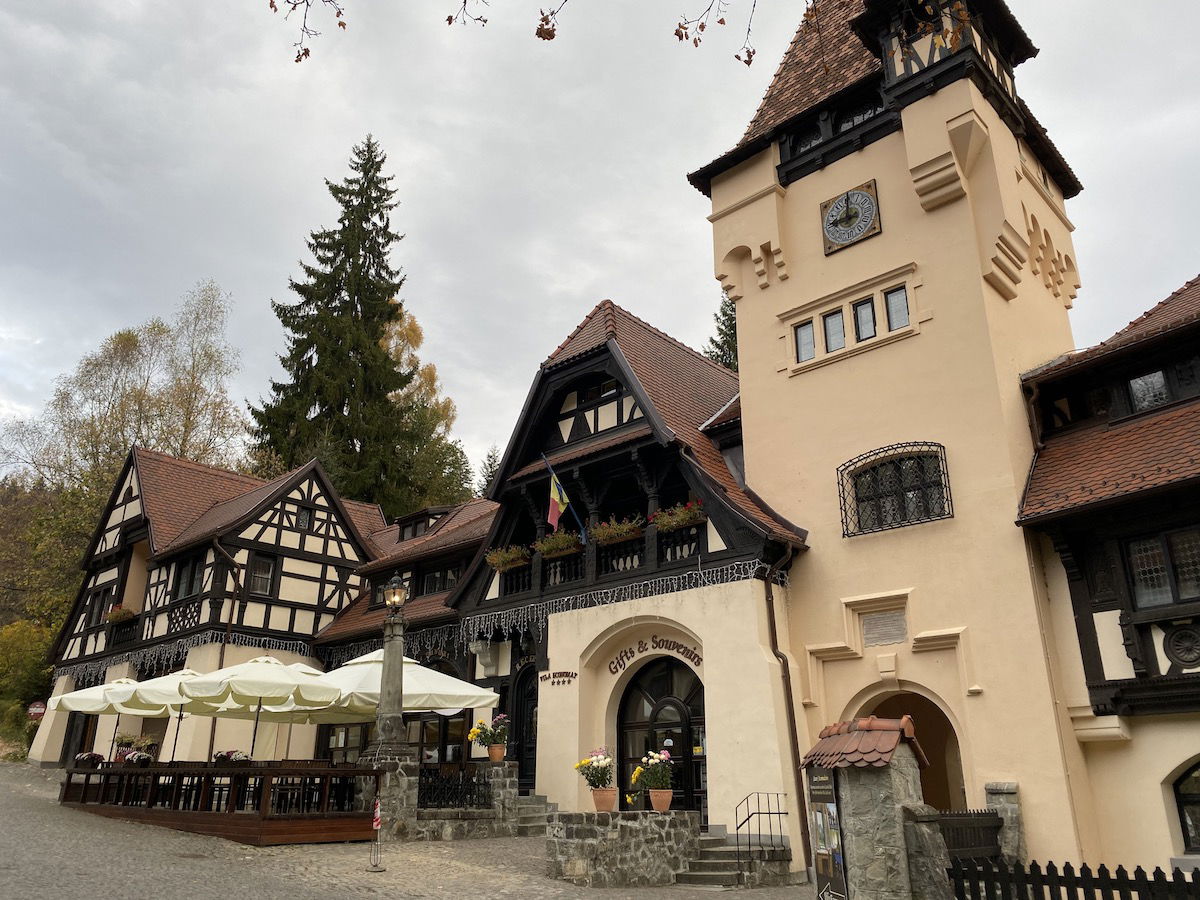 Vila Economat exterior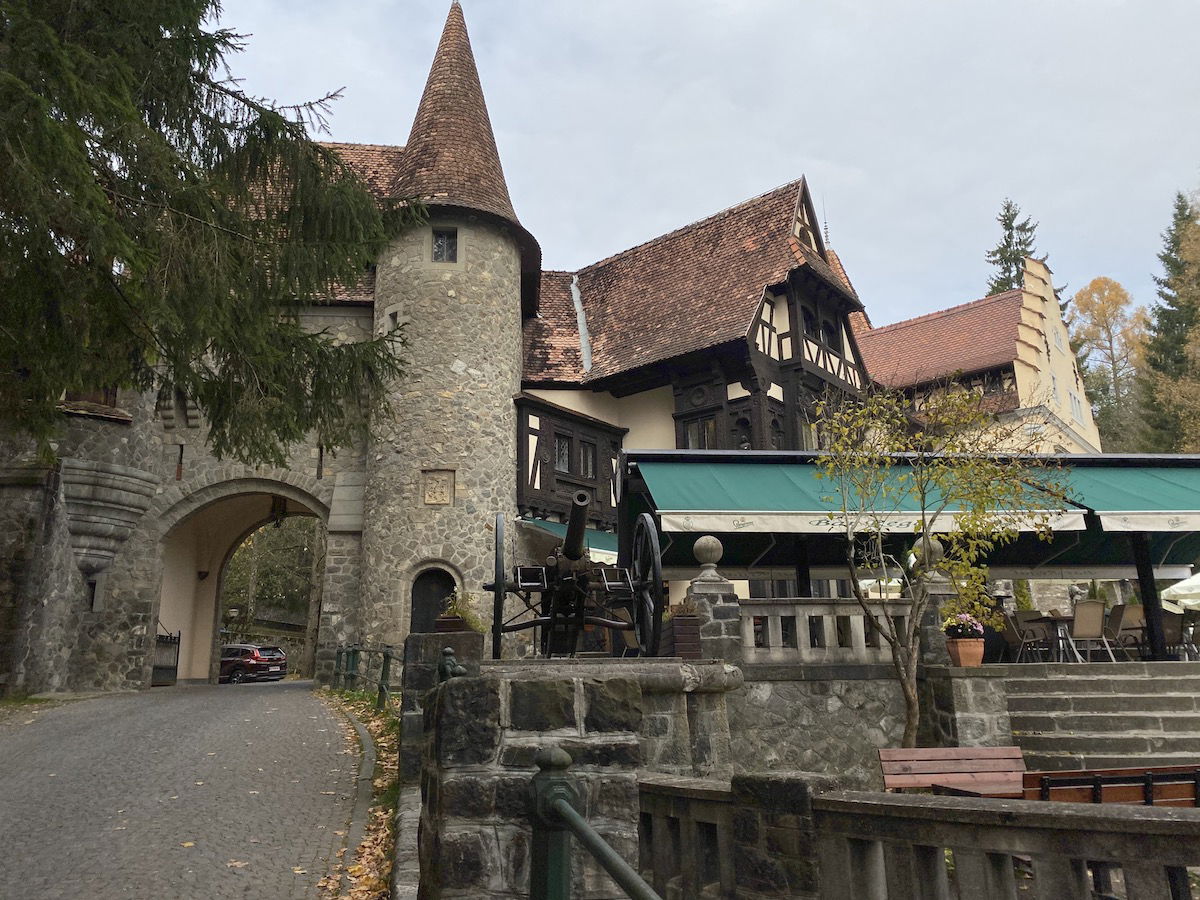 Vila Economat exterior
There was plentiful free parking out in front of the hotel, and we quickly found reception. However, there was no one at the reception desk — as it turns out the front desk agent was eating her dinner in the restaurant.
She eventually showed up, and the whole thing just reminded me of Tower of Terror, or something. I swear every employee working at this hotel had a uniform that looked like a Halloween costume version of a hotel uniform.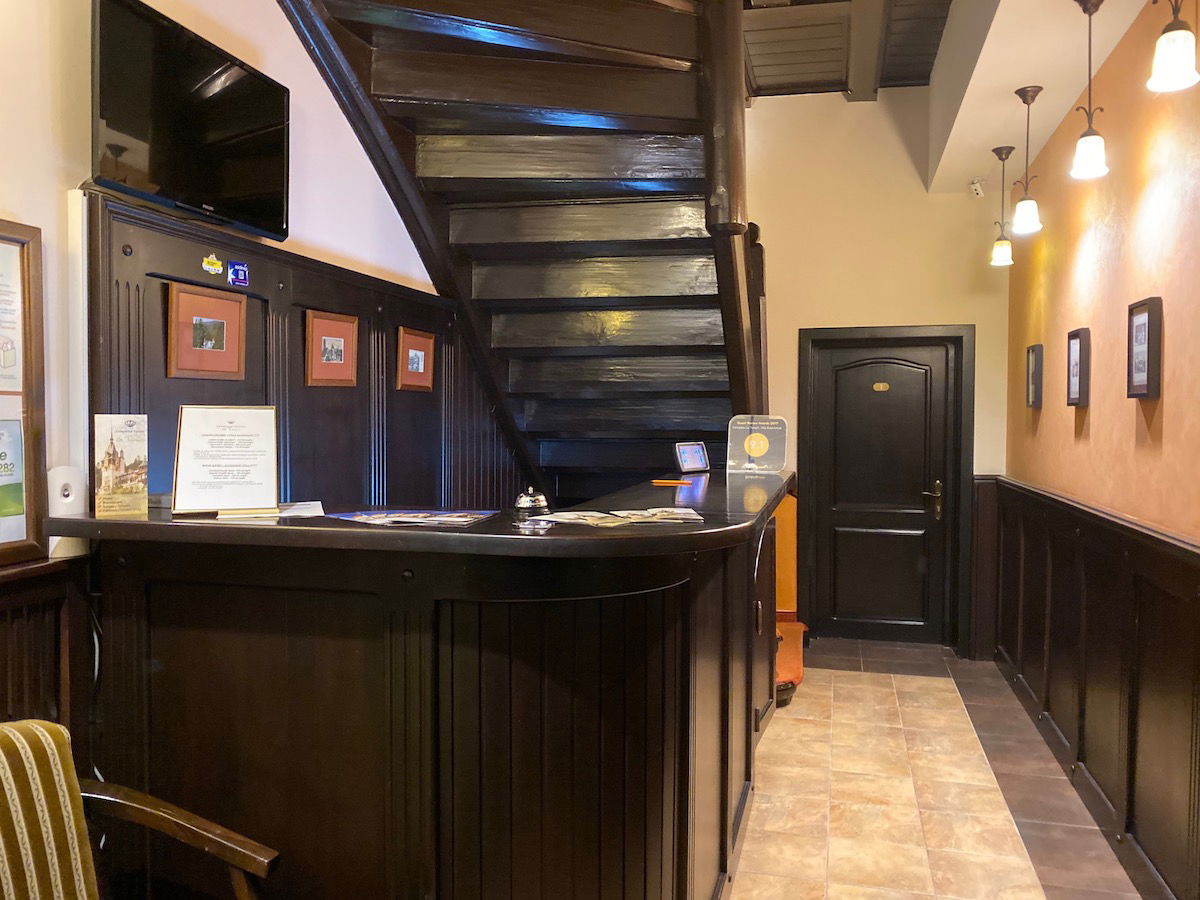 Vila Economat Sinaia reception
The check-in experience — and the service in general, for that matter — lacked warmth. The front desk agent brought us to our rooms, which required walking outside, as the rooms were in a separate wing of the building.
I don't want to sound totally crazy, though sometimes places seem to me like they have bad "energy," and this was definitely one of those places. Frankly it may have partly been because the carpets were disgusting and the floors squeaked with every step. Also, I feel like they could have made some less harsh lighting choices.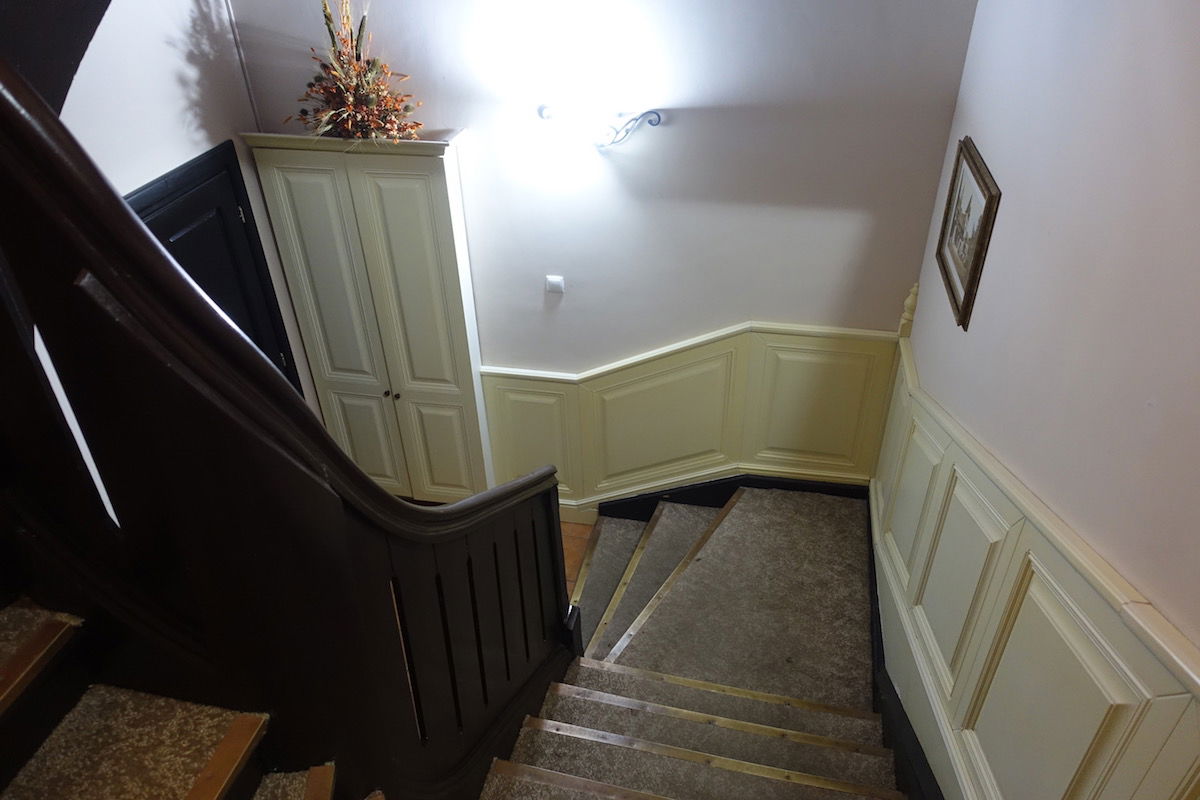 Vila Economat Sinaia stairs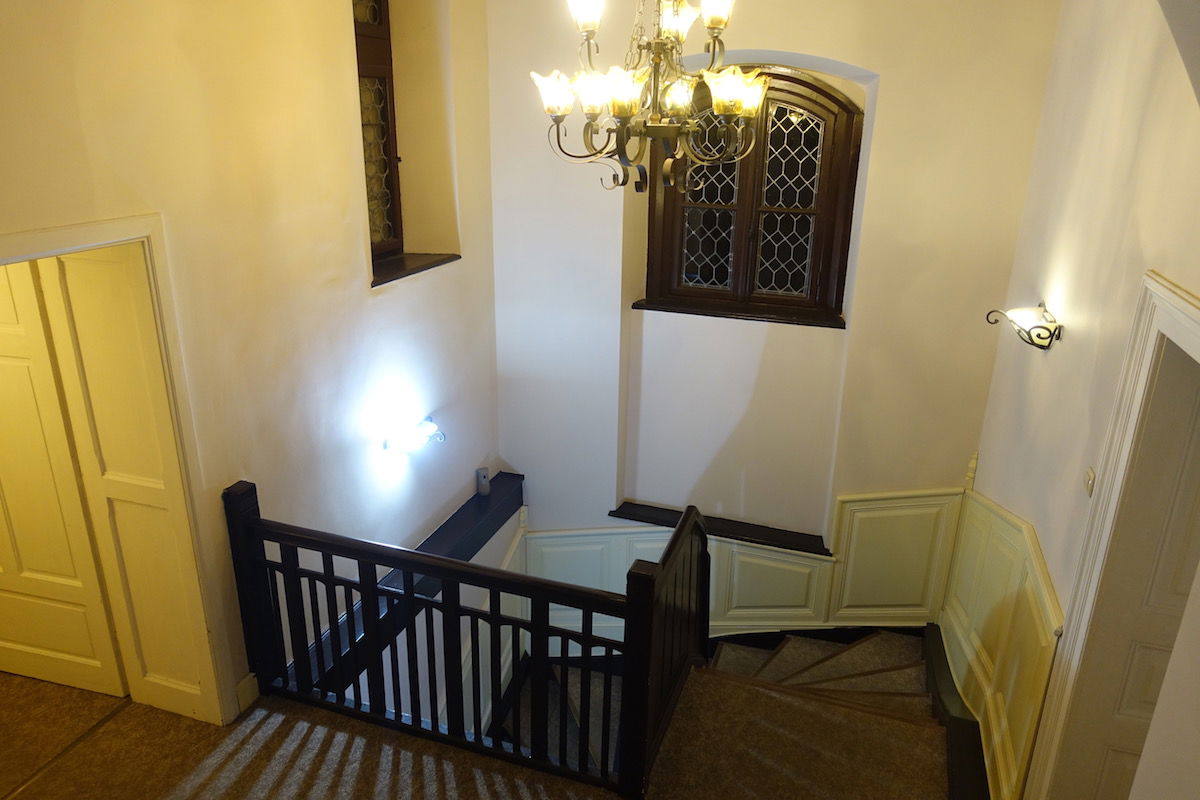 Vila Economat Sinaia stairs
Our rooms were both on the second floor and to the right.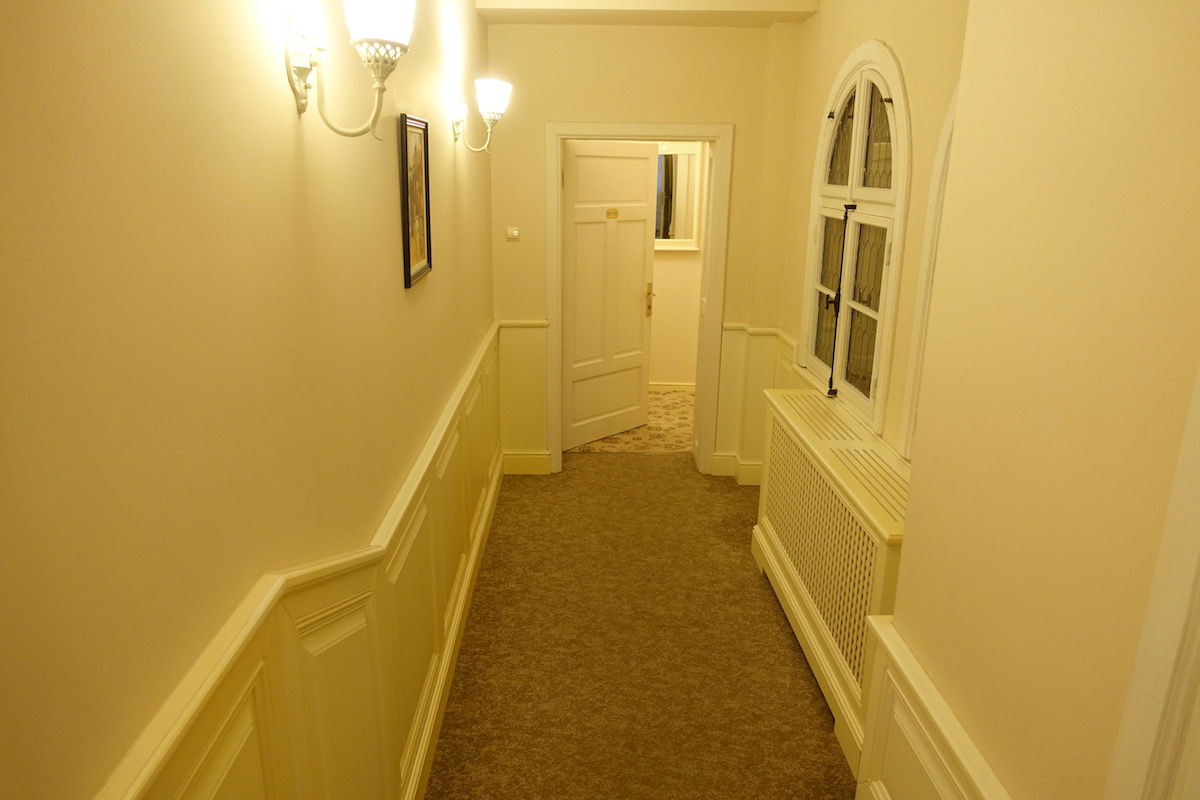 Vila Economat hallway
I received a suite, which sure was… cream-colored.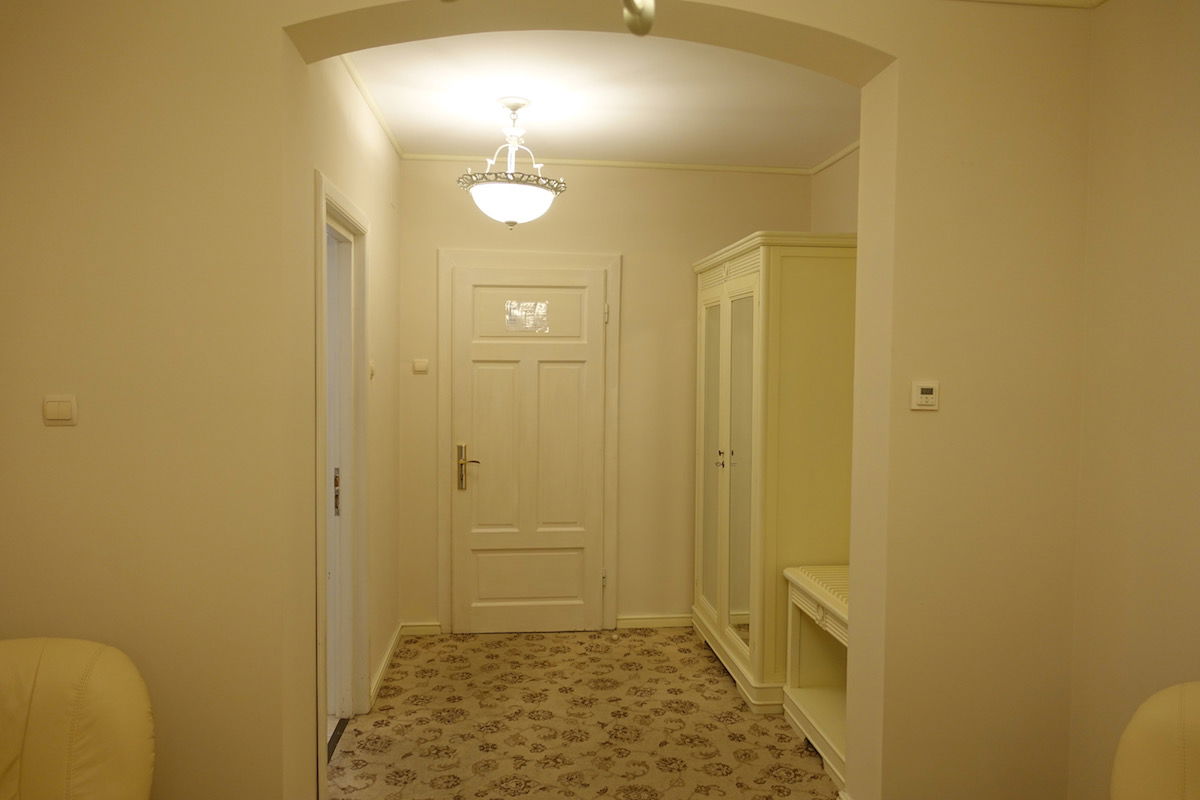 Vila Economat room entryway
There was a living area with a couch and two chairs, and then a desk and TV deeper into the room. I can't emphasize enough the extent to which the floor squeaked with every step.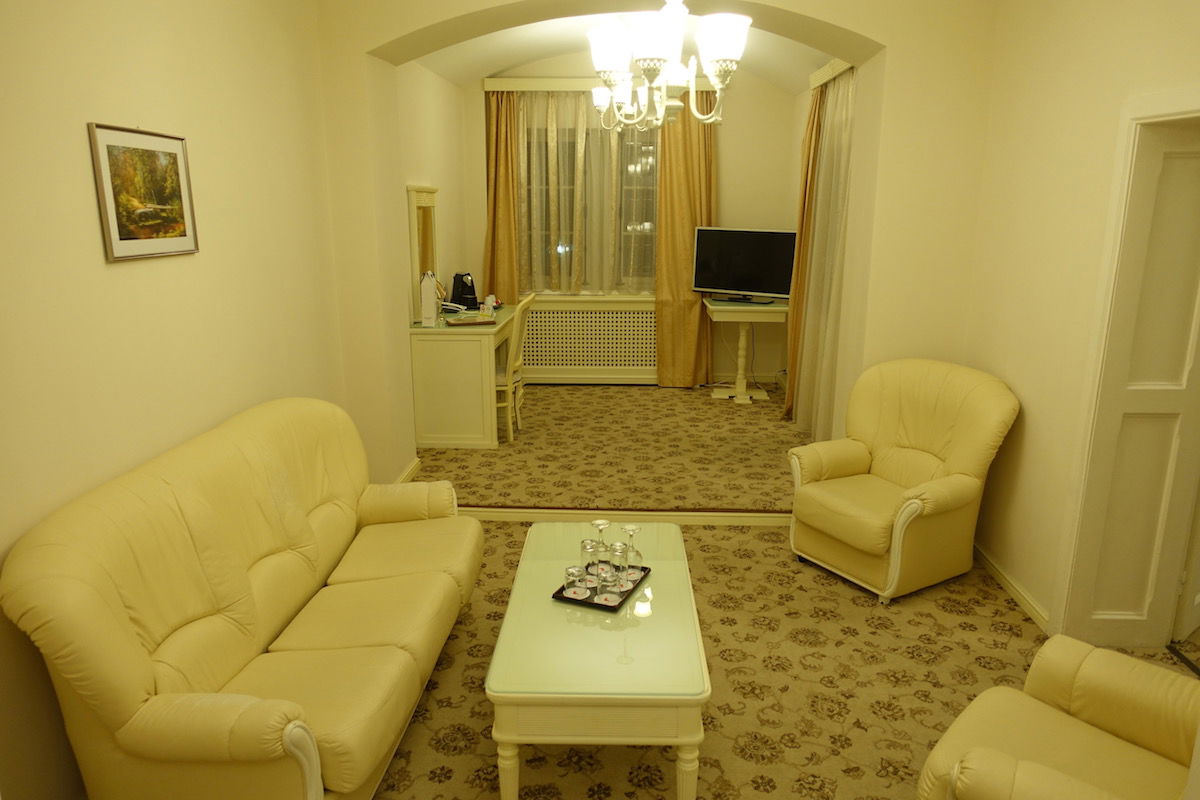 Vila Economat living room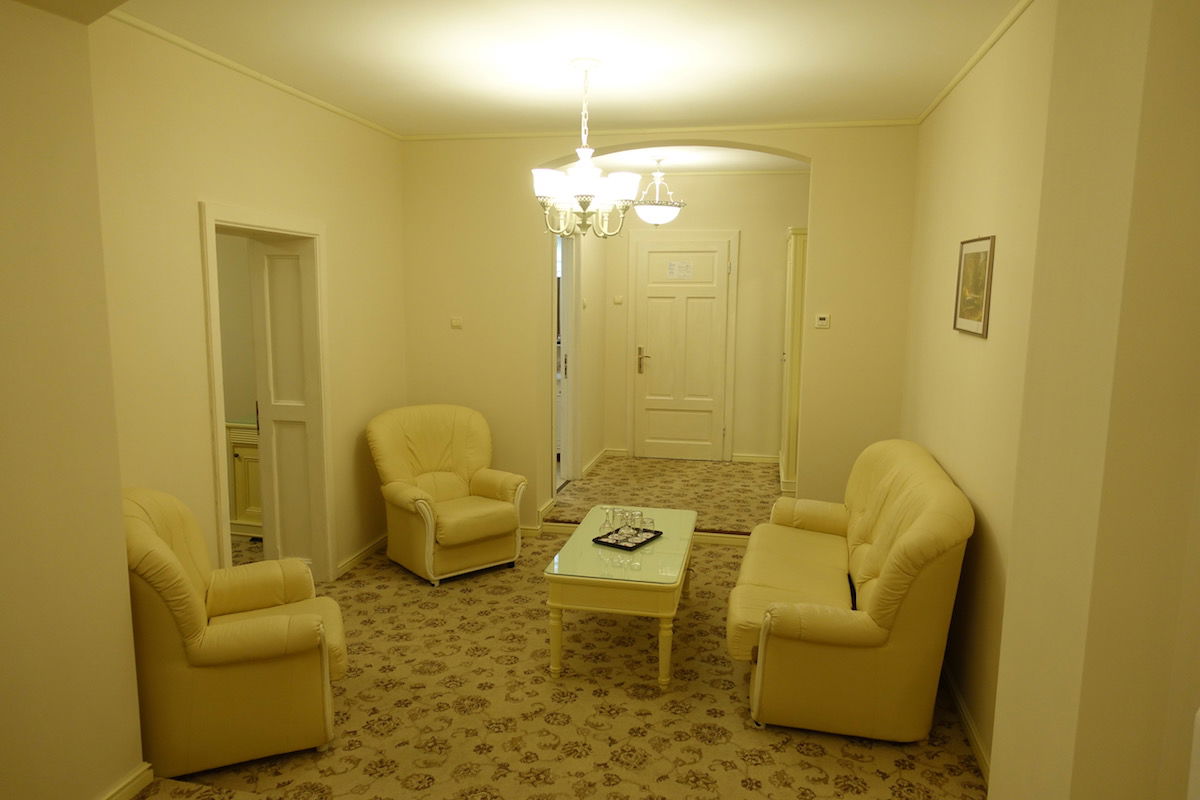 Vila Economat living room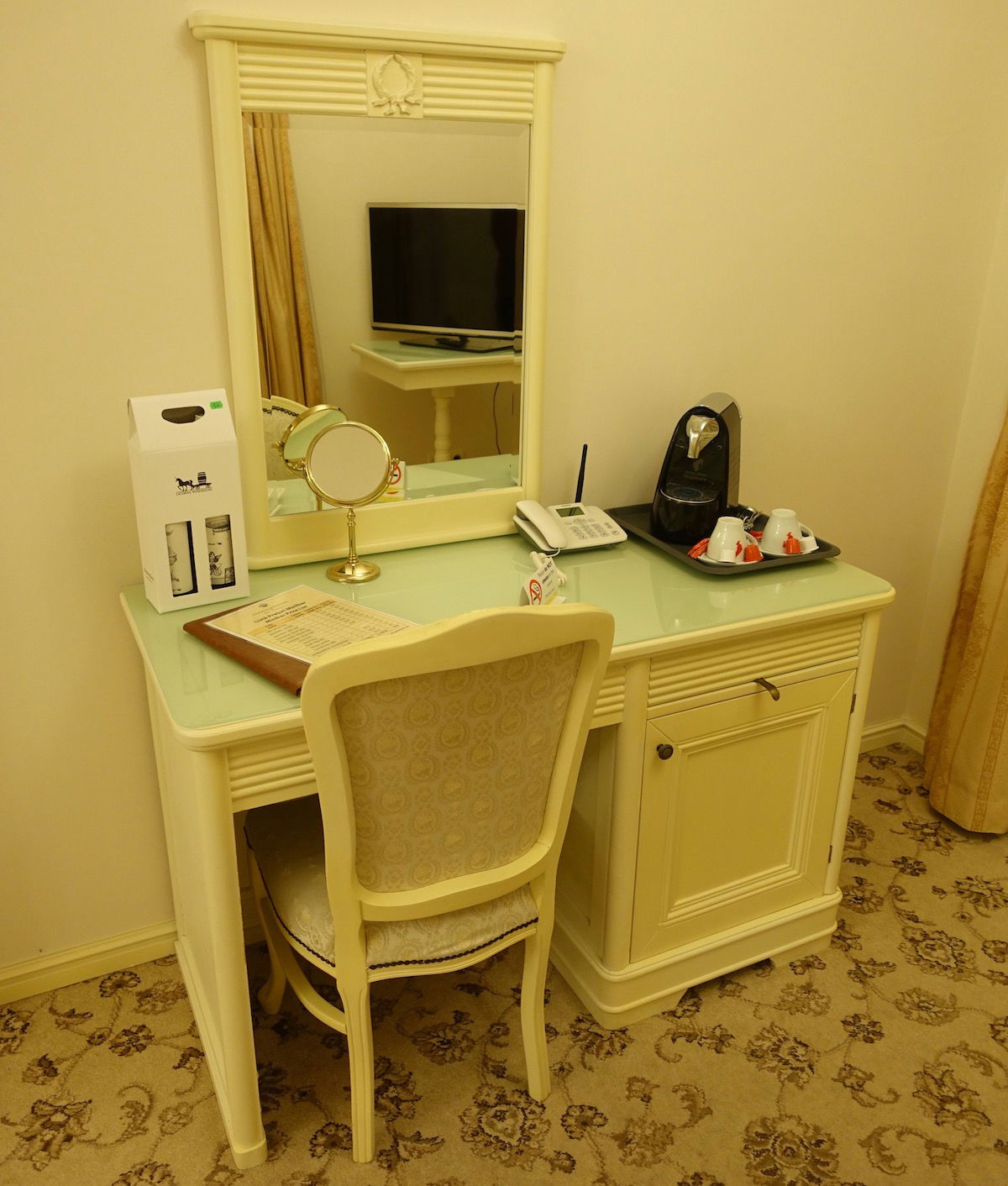 Vila Economat living area
On the desk was a coffee machine, along with a minibar.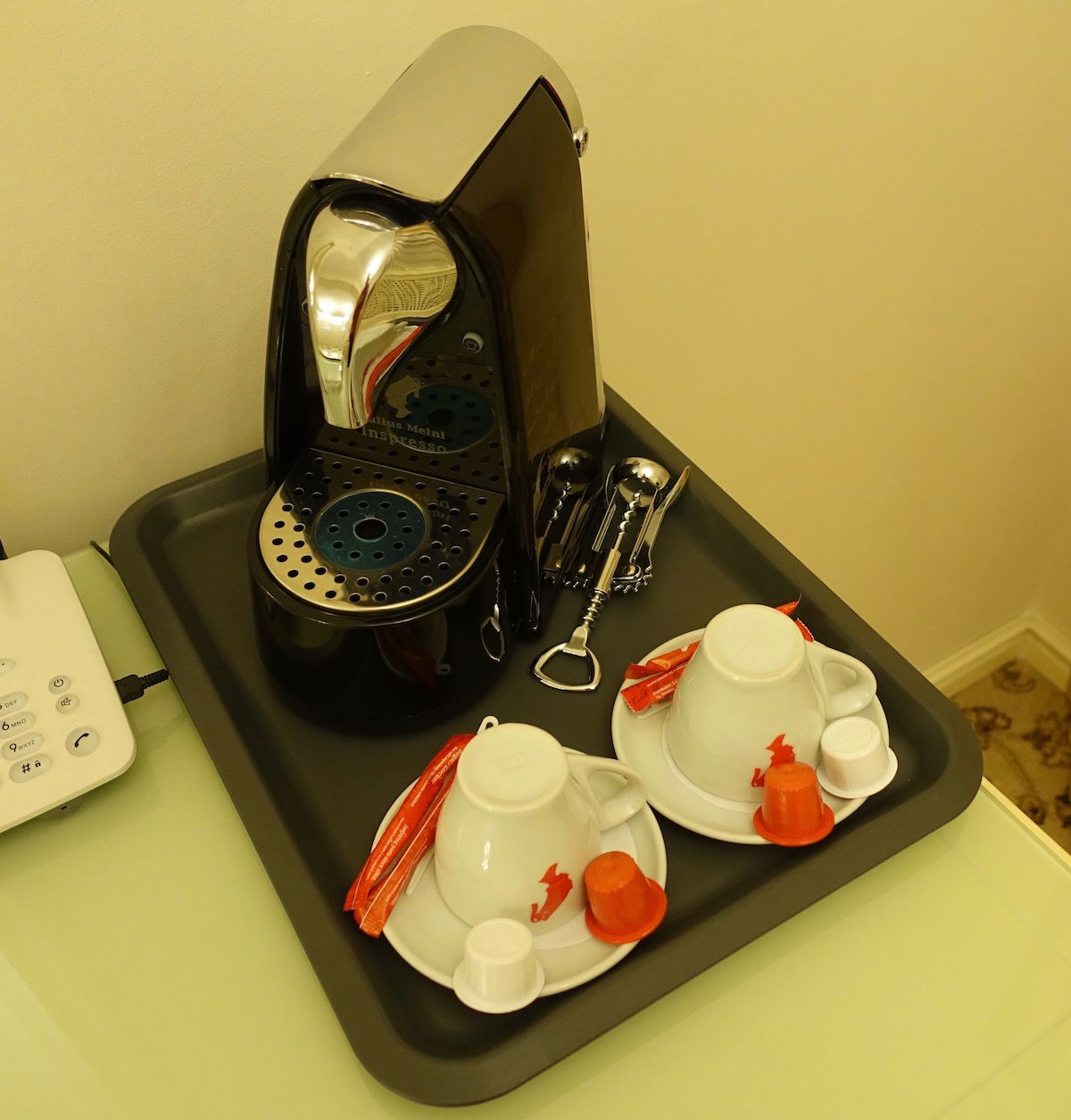 Vila Economat coffee machine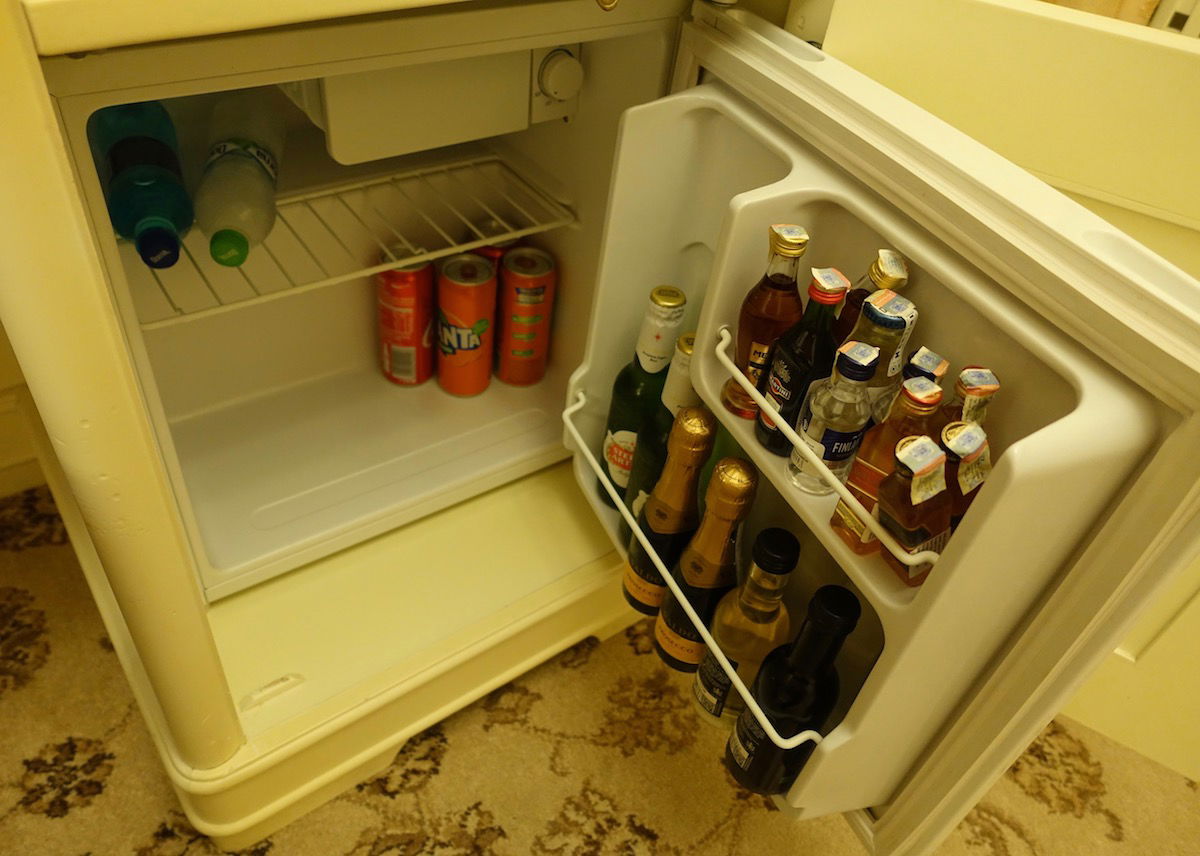 Vila Economat minibar
Off the living room was the small bedroom. The bed was extremely hard, and the tootsie-roll shaped bed accessory looked like it hadn't been replaced in a decade.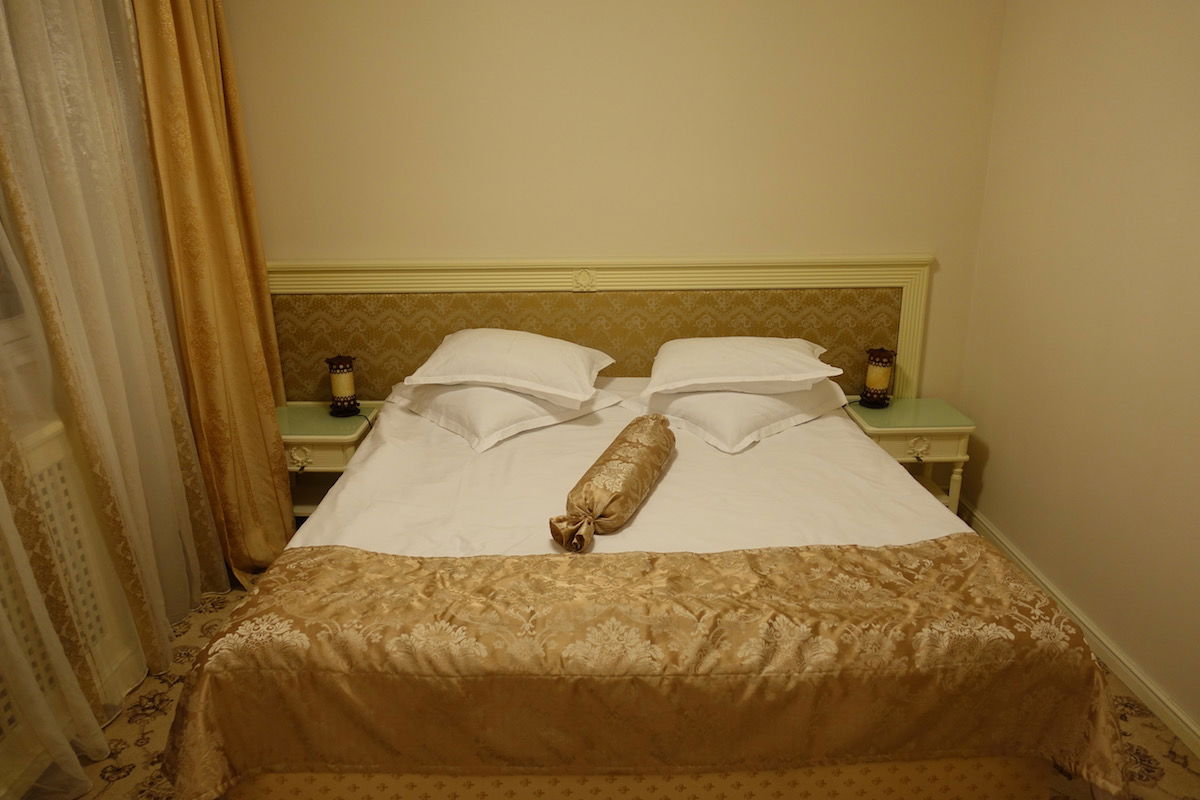 Vila Economat bedroom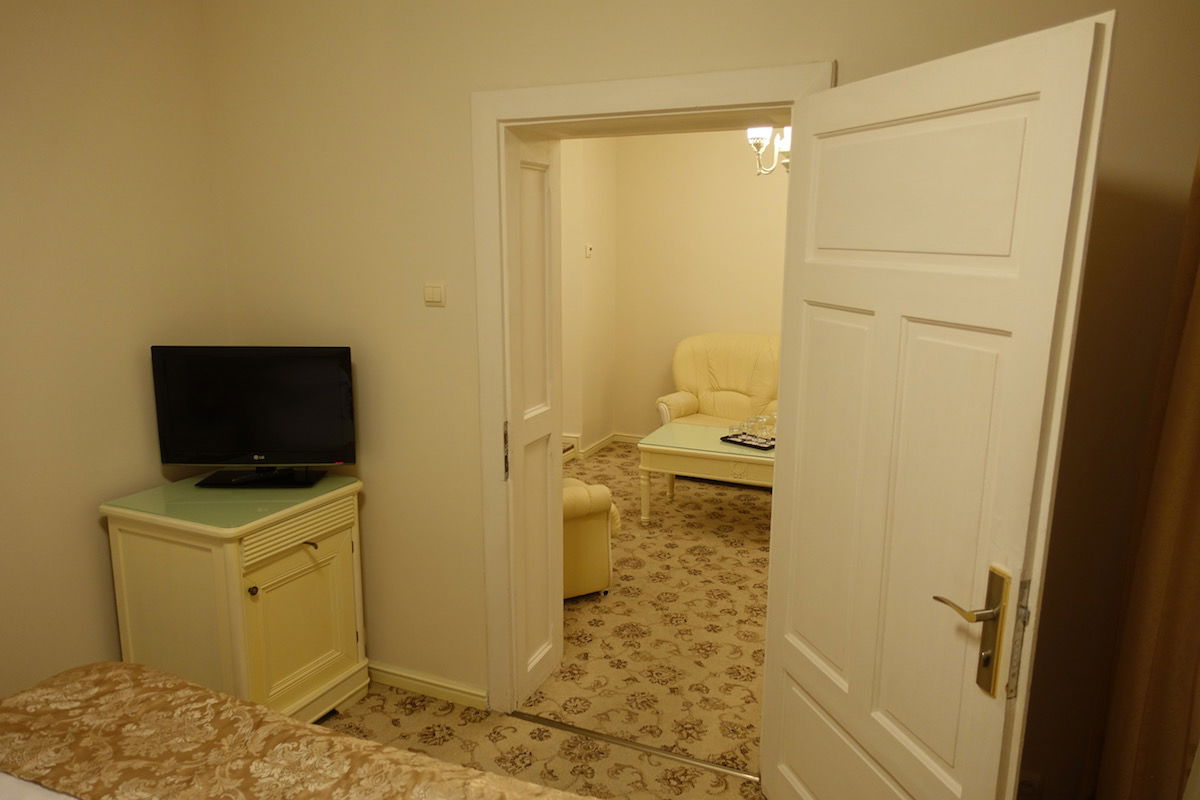 Vila Economat bedroom
The suite had one bathroom, which was back towards the entrance and featured a walk-in shower, toilet, and sink.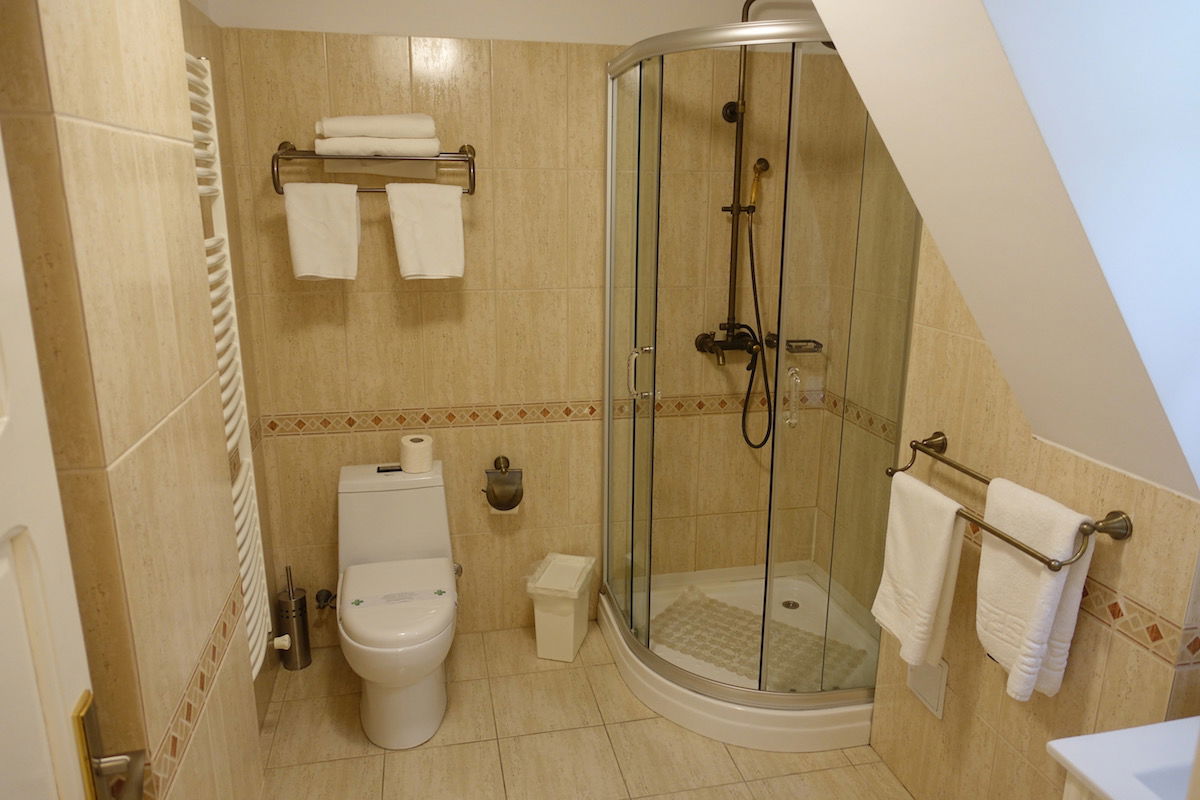 Vila Economat bathroom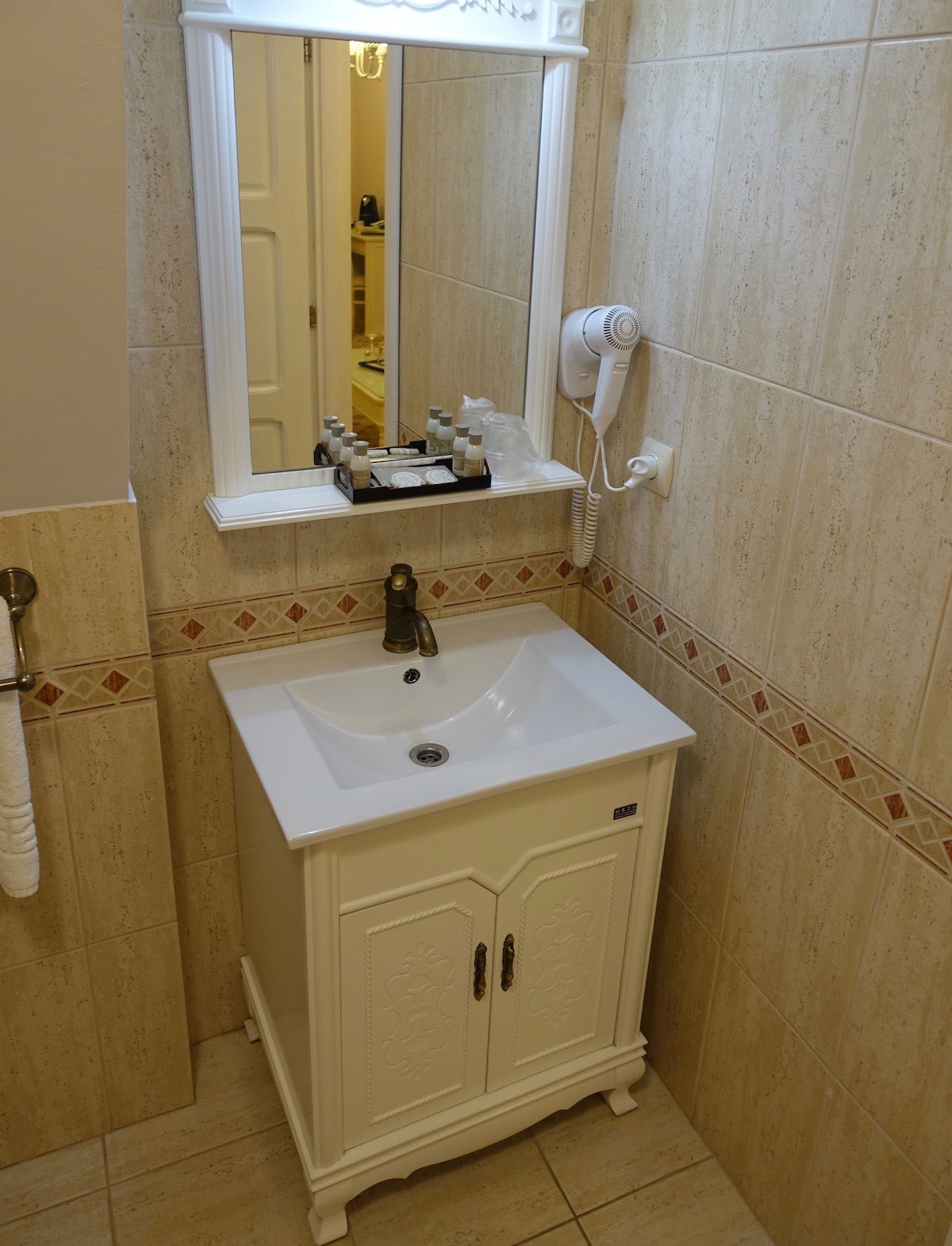 Vila Economat bathroom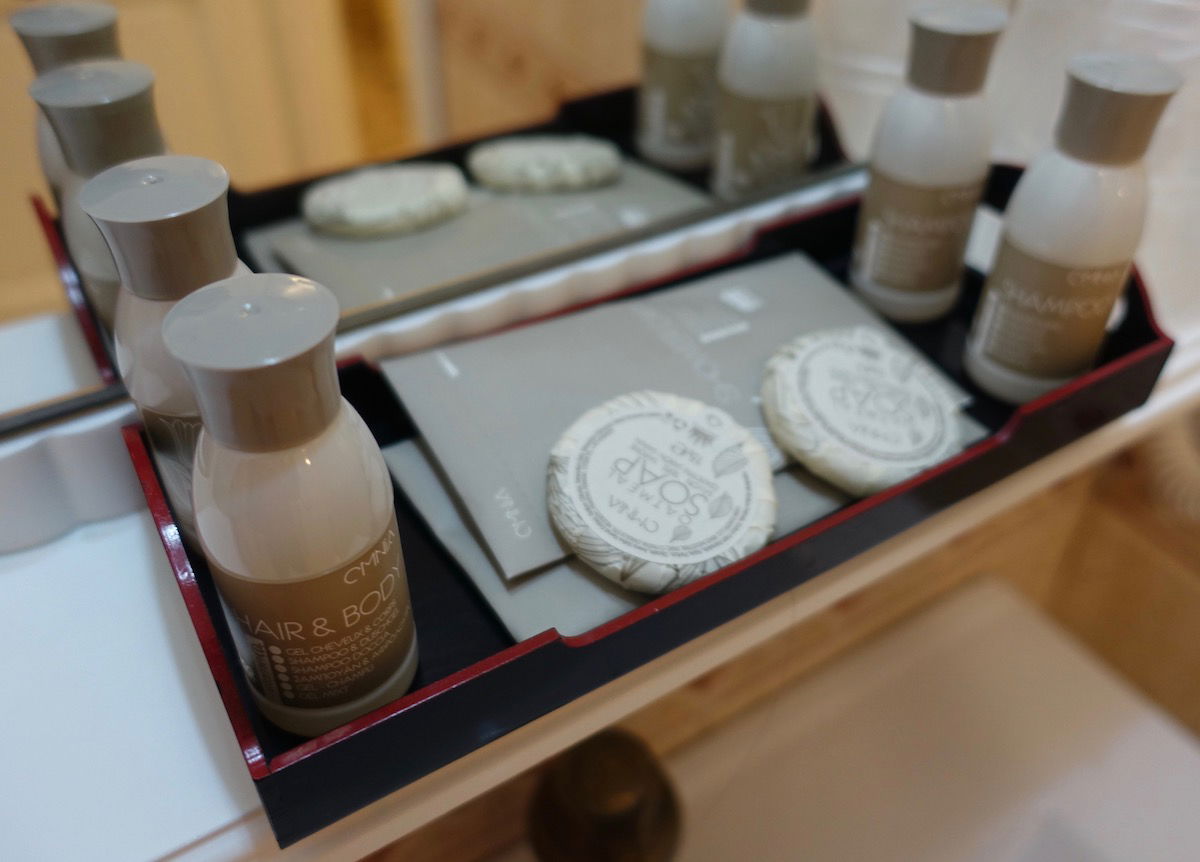 Vila Economat toiletries
The room also had a balcony with a couple of seats.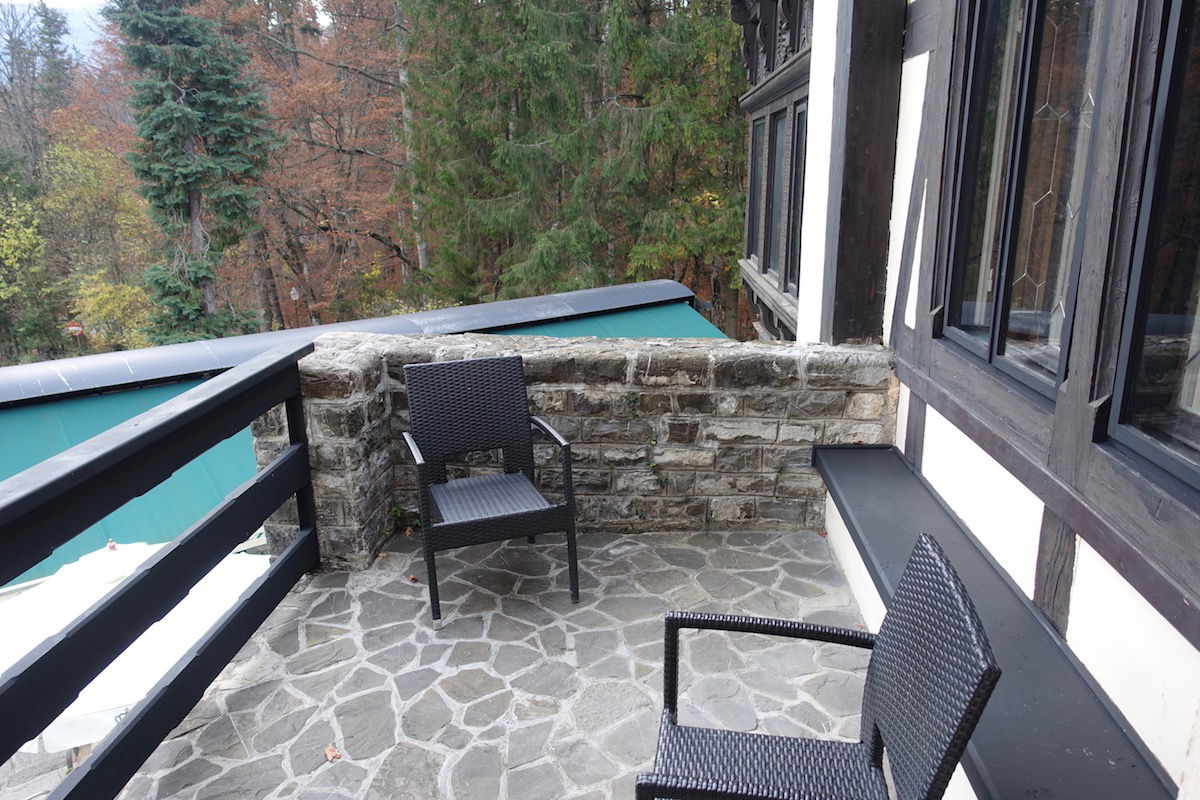 Vila Economat balcony
This overlooked Peles Castle, which was a very cool view to have.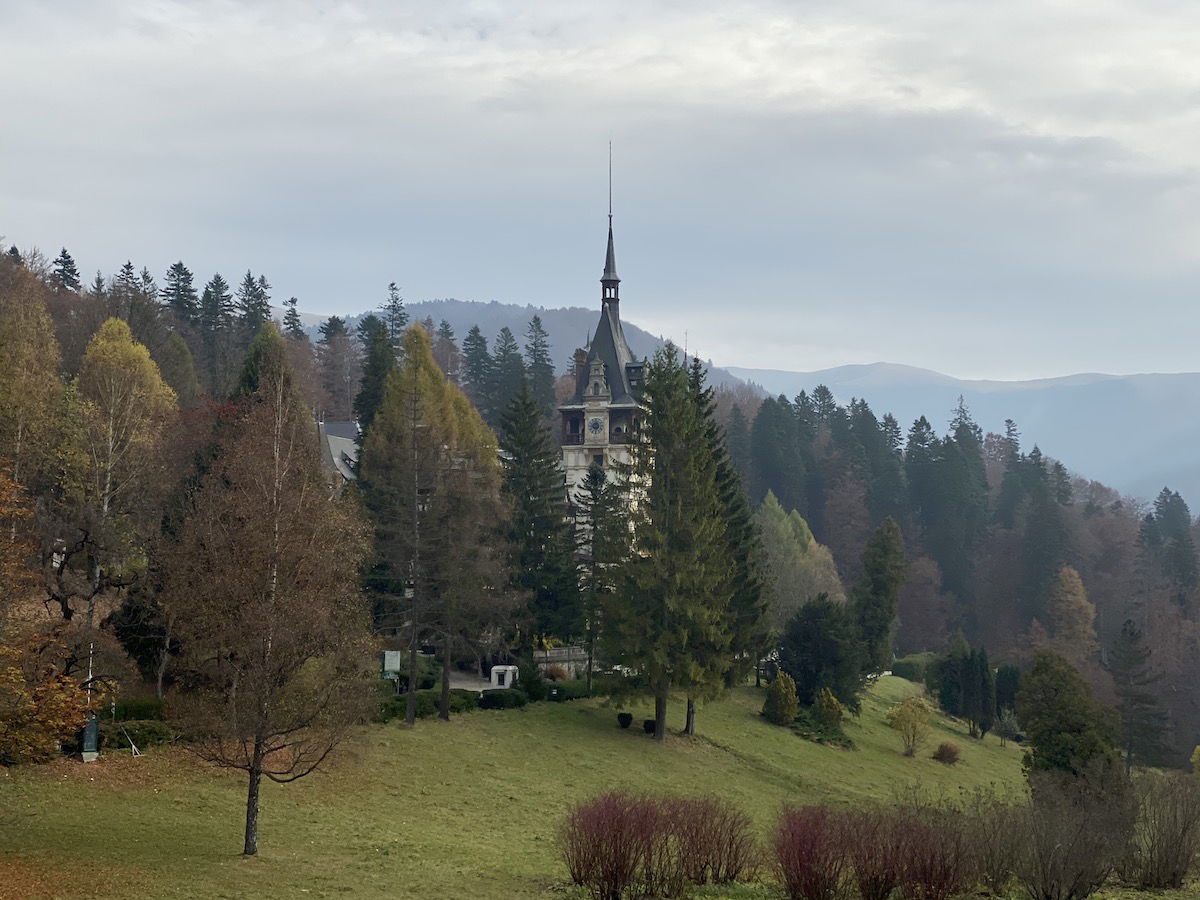 Vila Economat balcony view
The hotel had complimentary Wi-Fi, and the speeds were better than one might assume.
I think Tiffany's superior room may have had the all around better layout (though her toilet setup was a bit weird).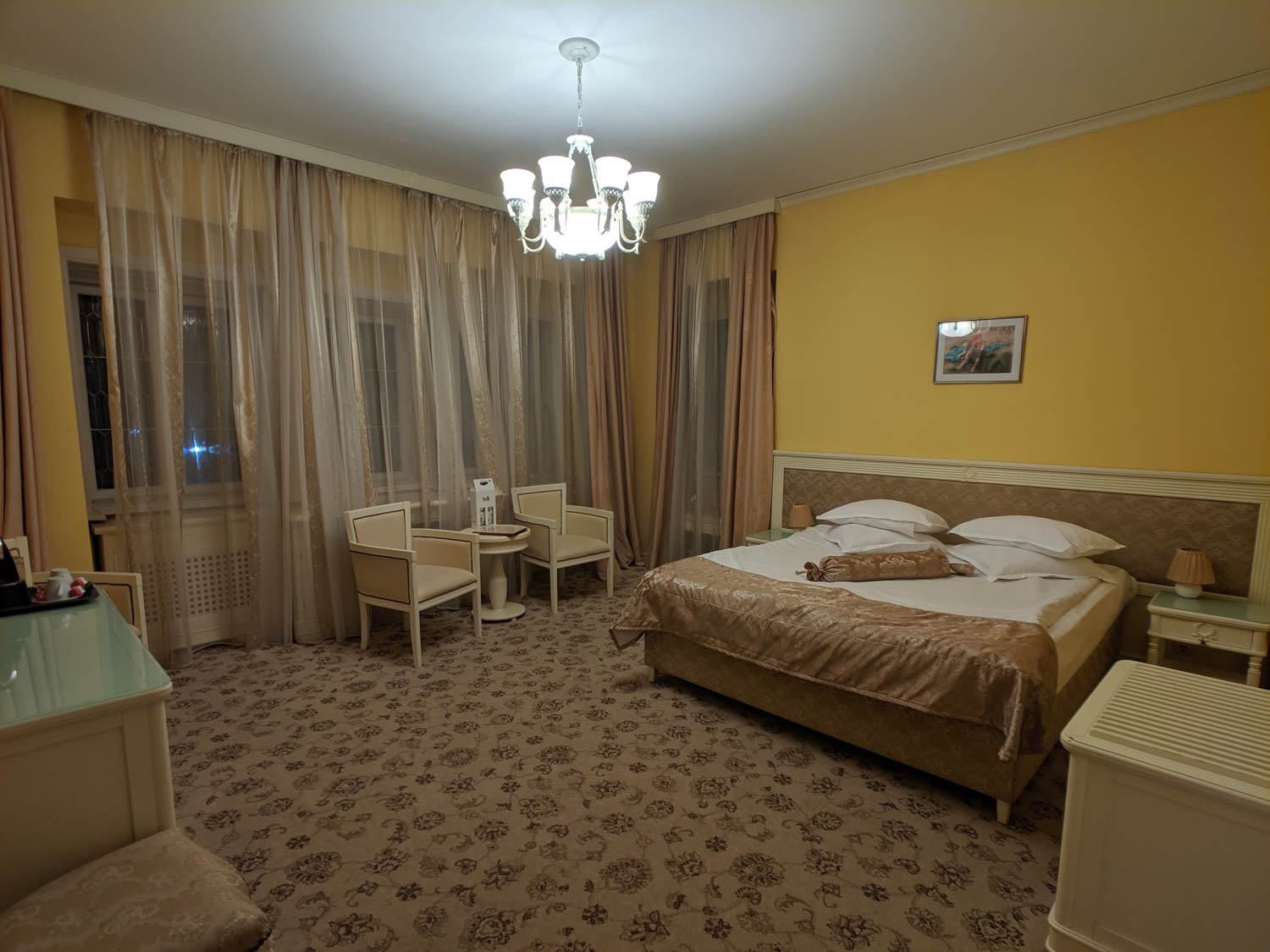 Vila Economat superior double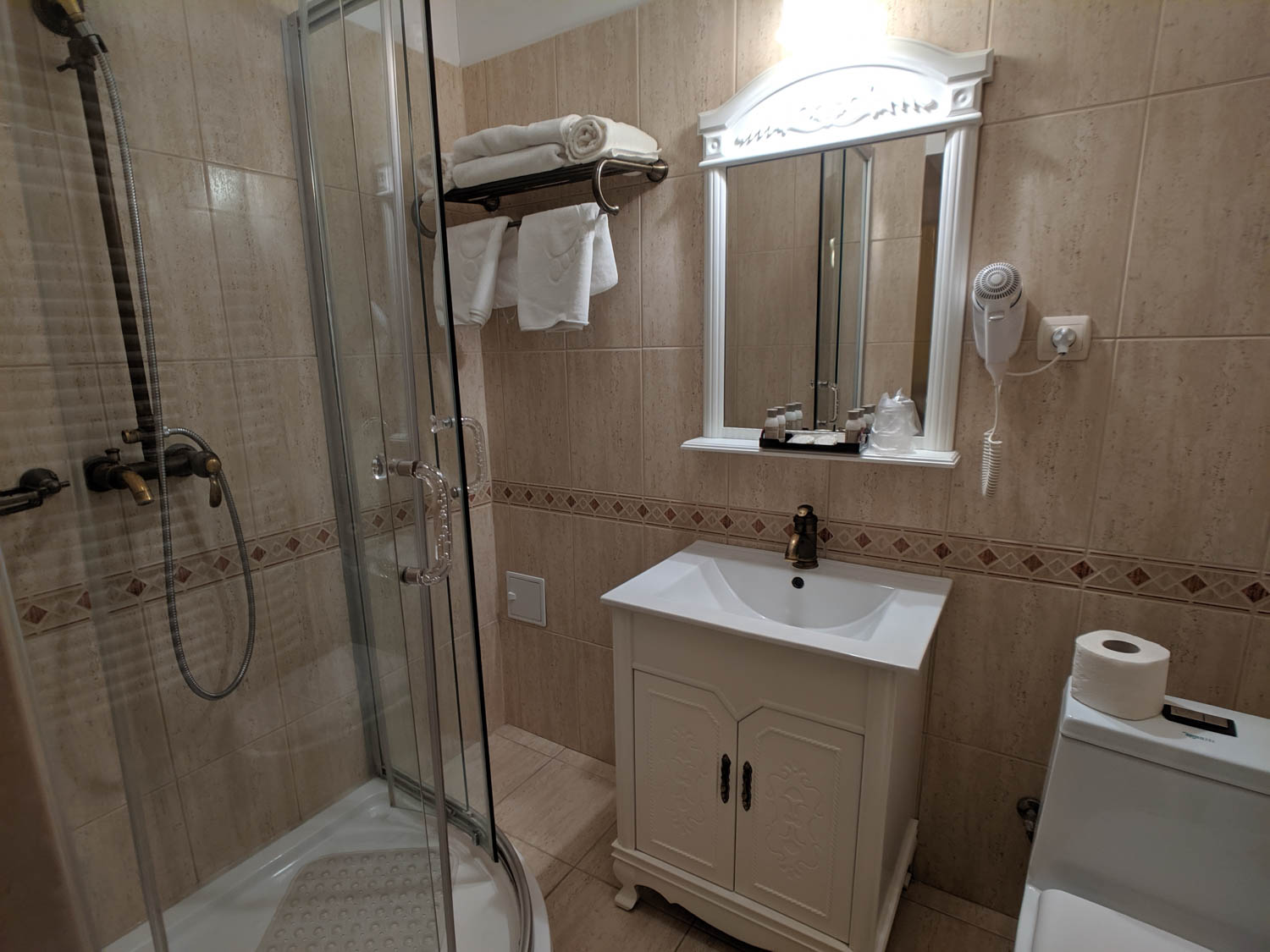 Vila Economat superior double bathroom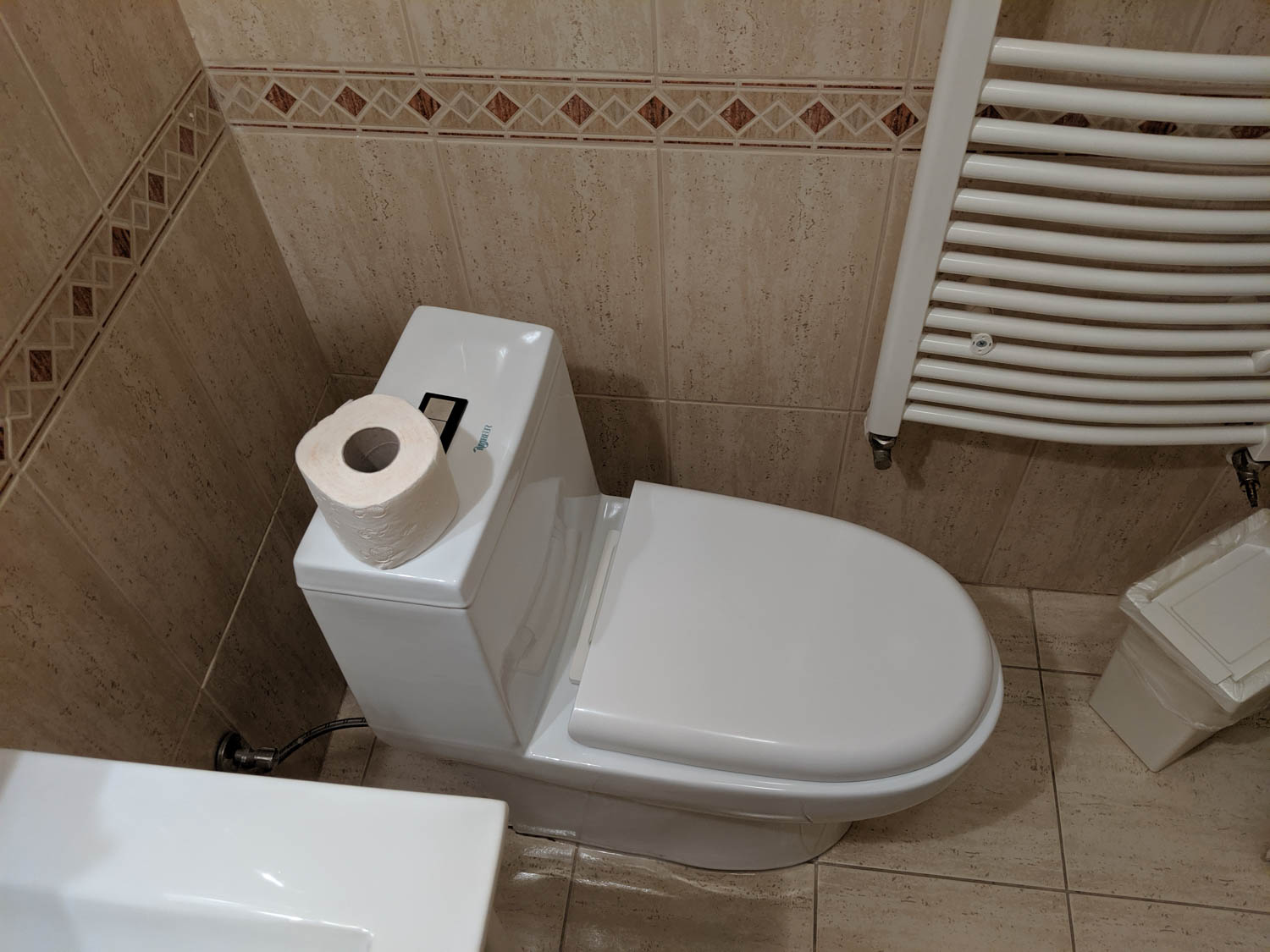 Vila Economat superior double bathroom
The hotel had a restaurant located right next to reception. There was indoor and outdoor seating, though it was too cold to sit outside.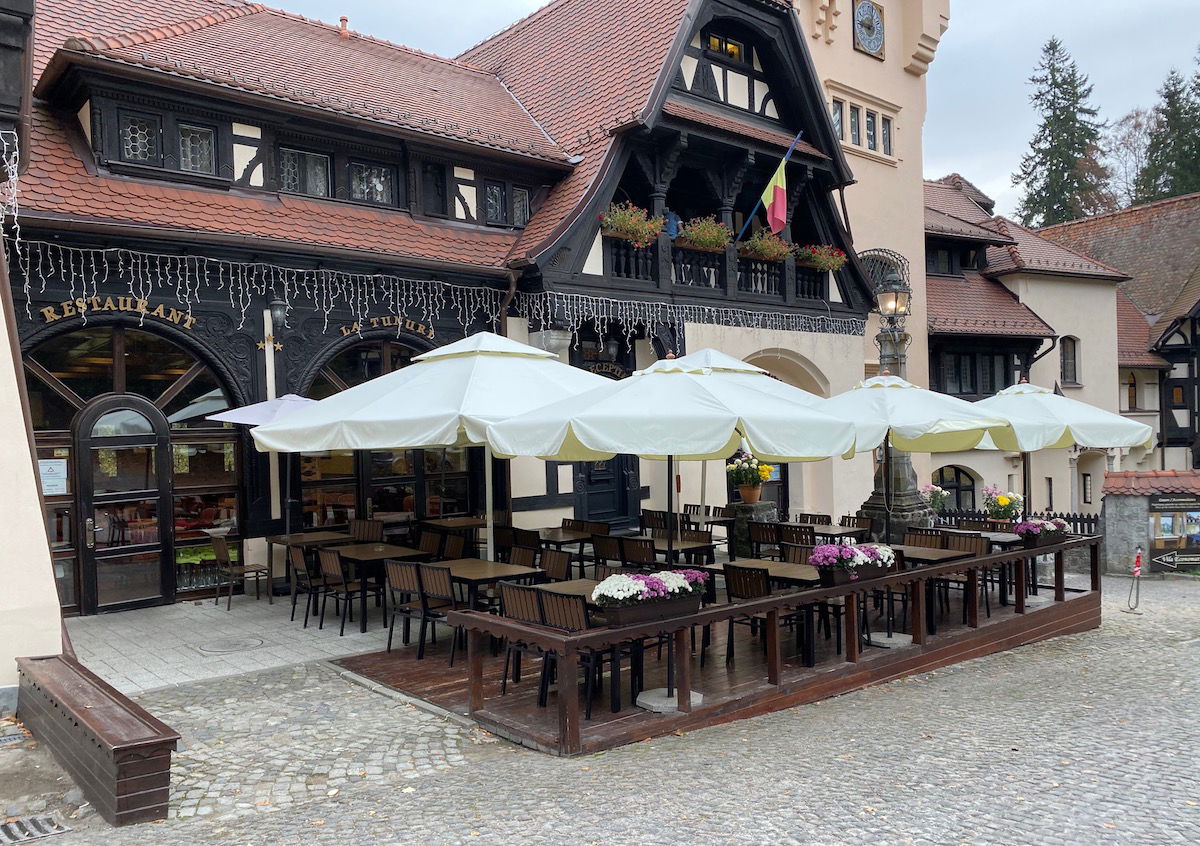 Vila Economat exterior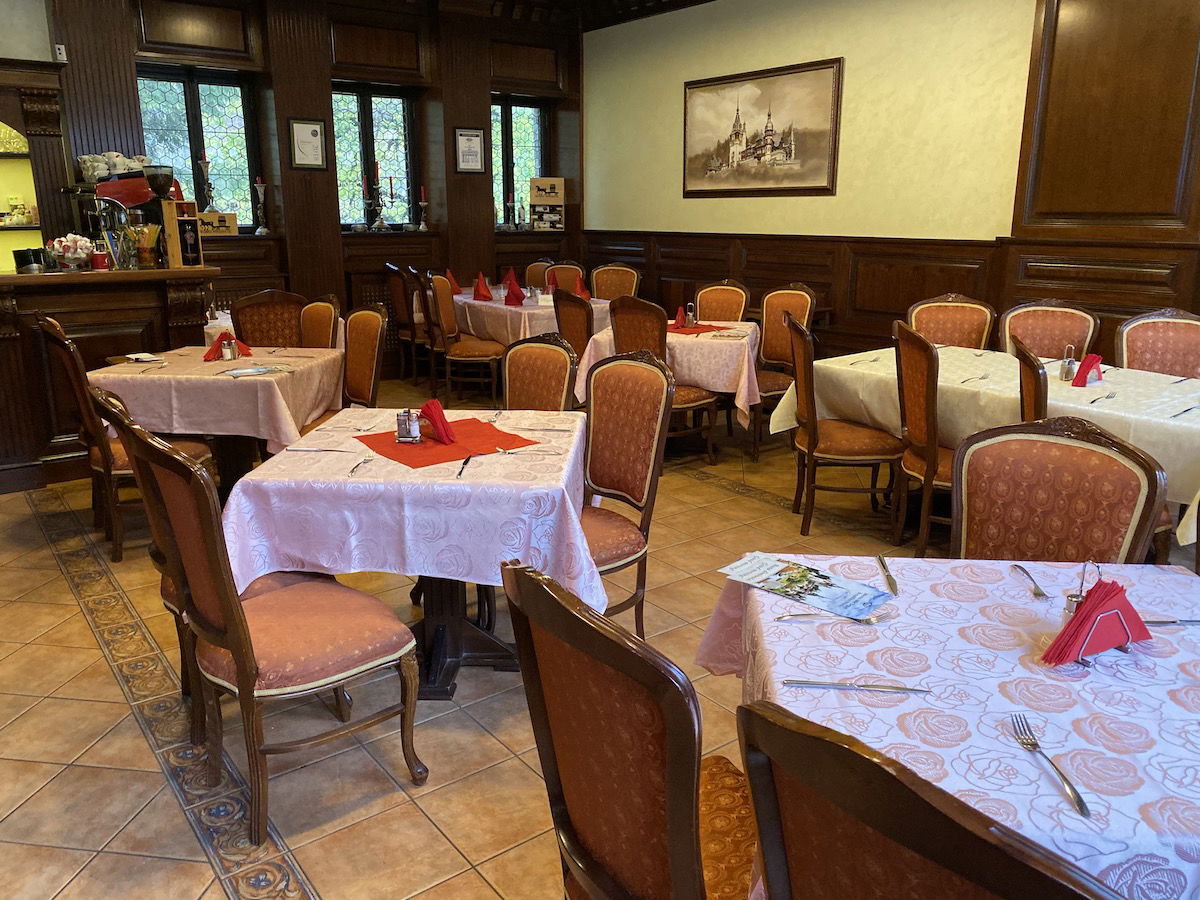 Vila Economat restaurant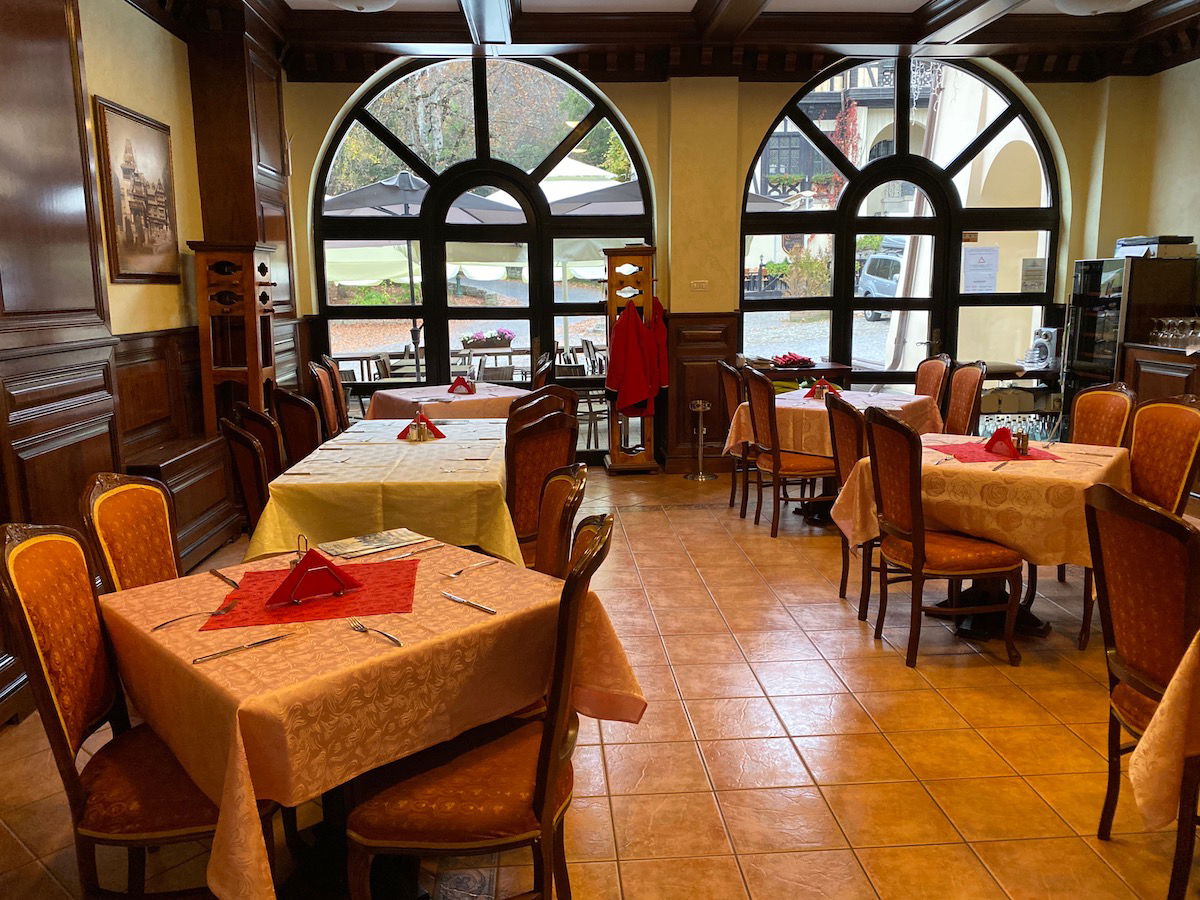 Vila Economat restaurant
We had dinner in the hotel's restaurant. The menu read as follows (one dollar is about four lei):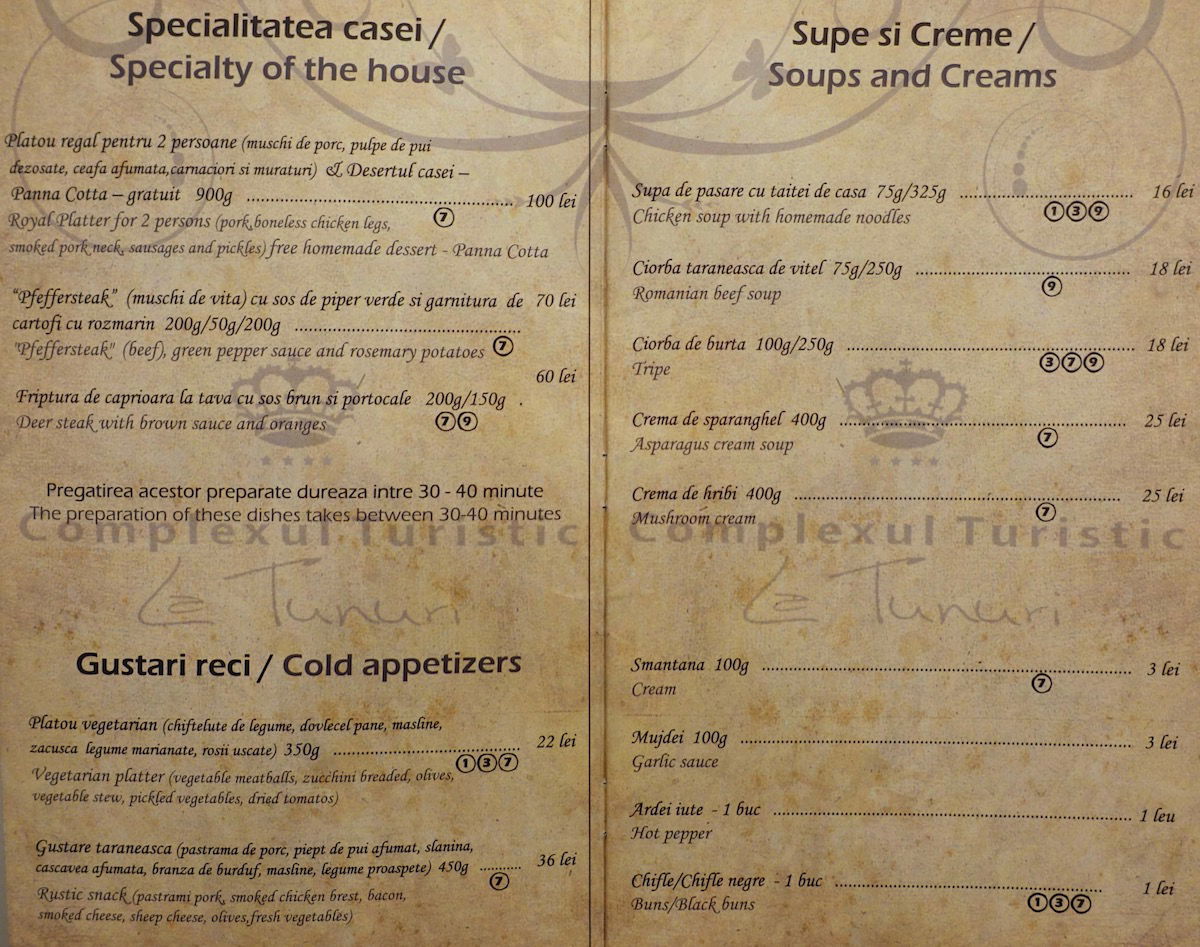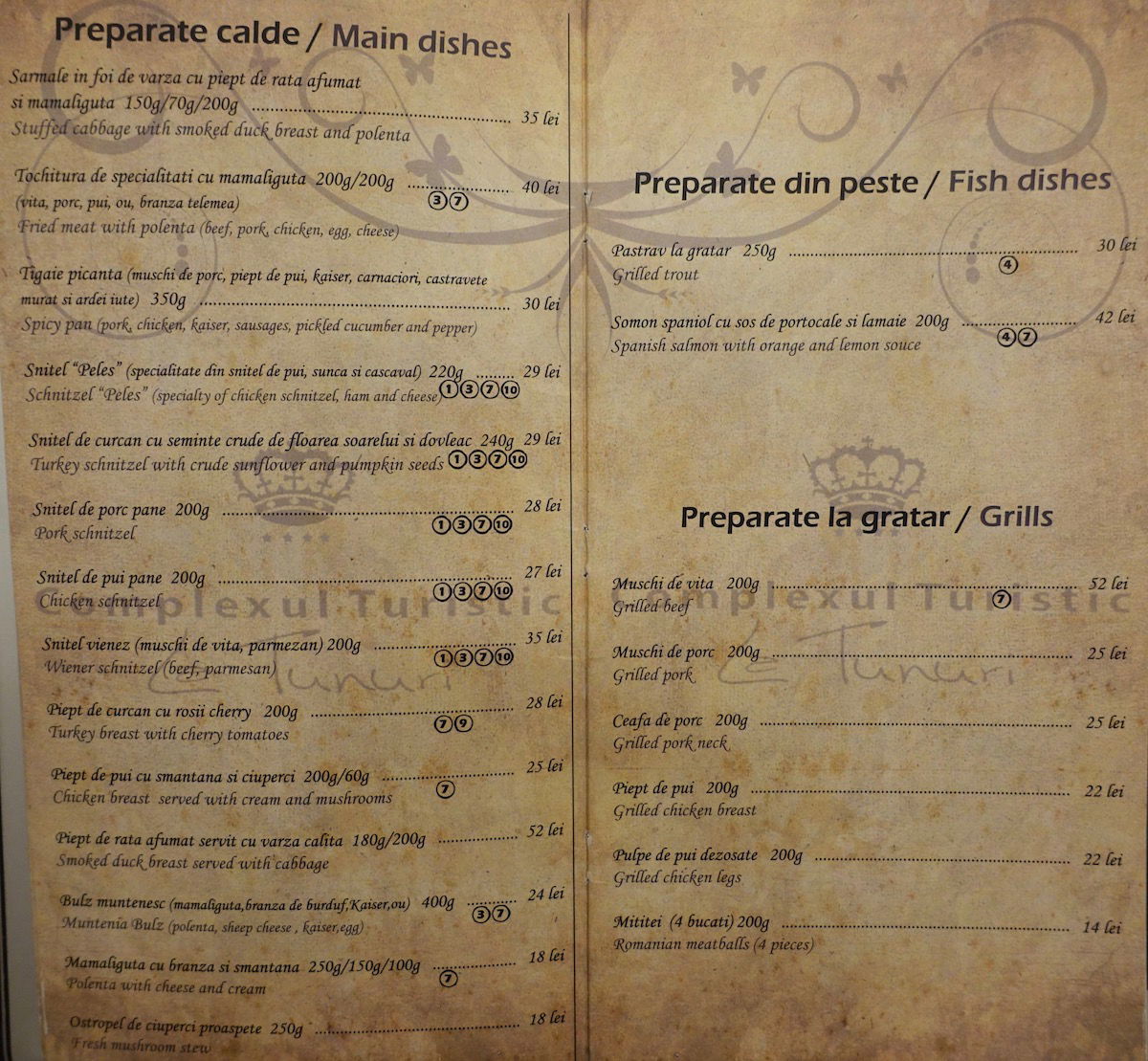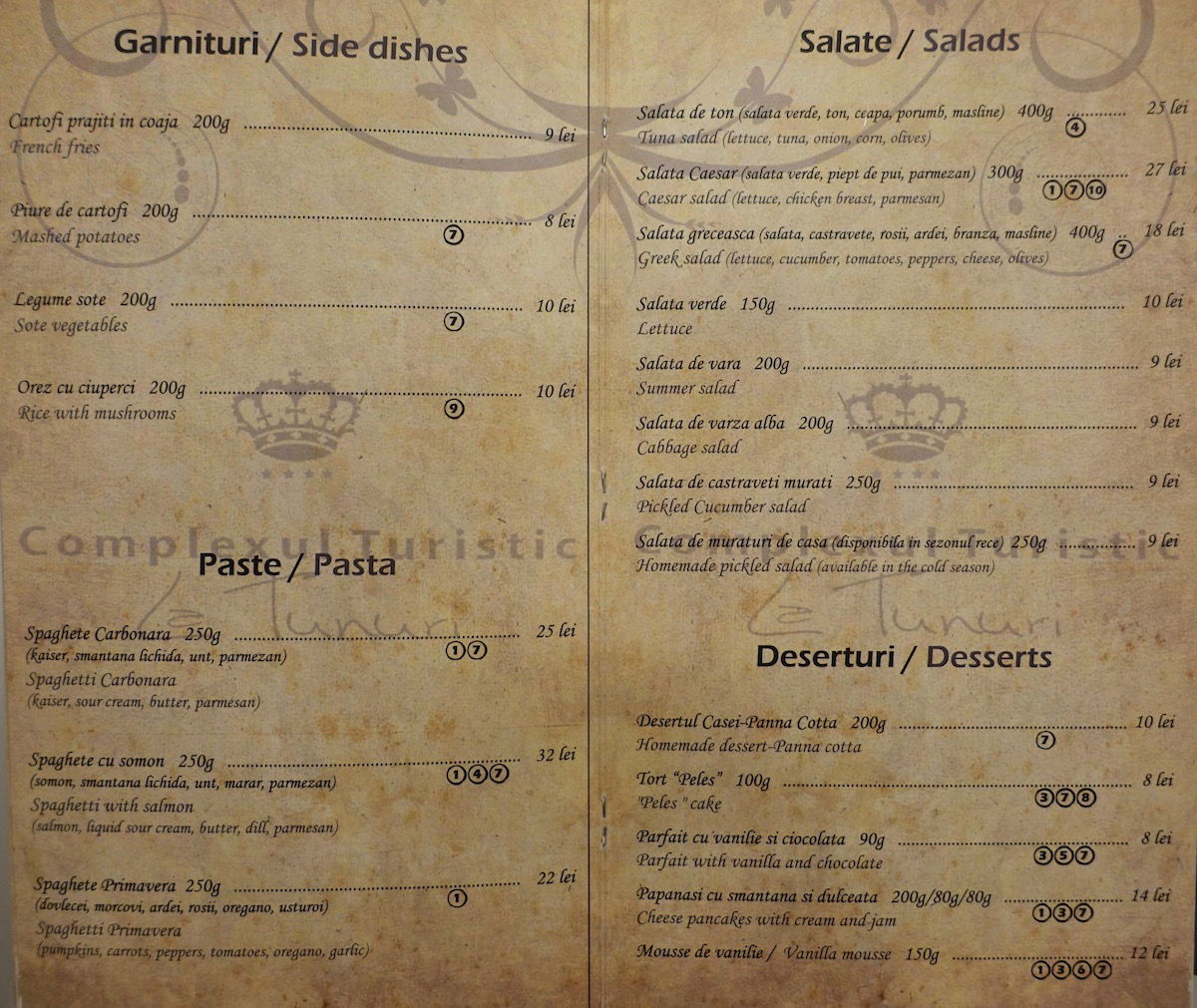 I had the mushroom stew, while Tiffany had the chicken with cream and mushrooms.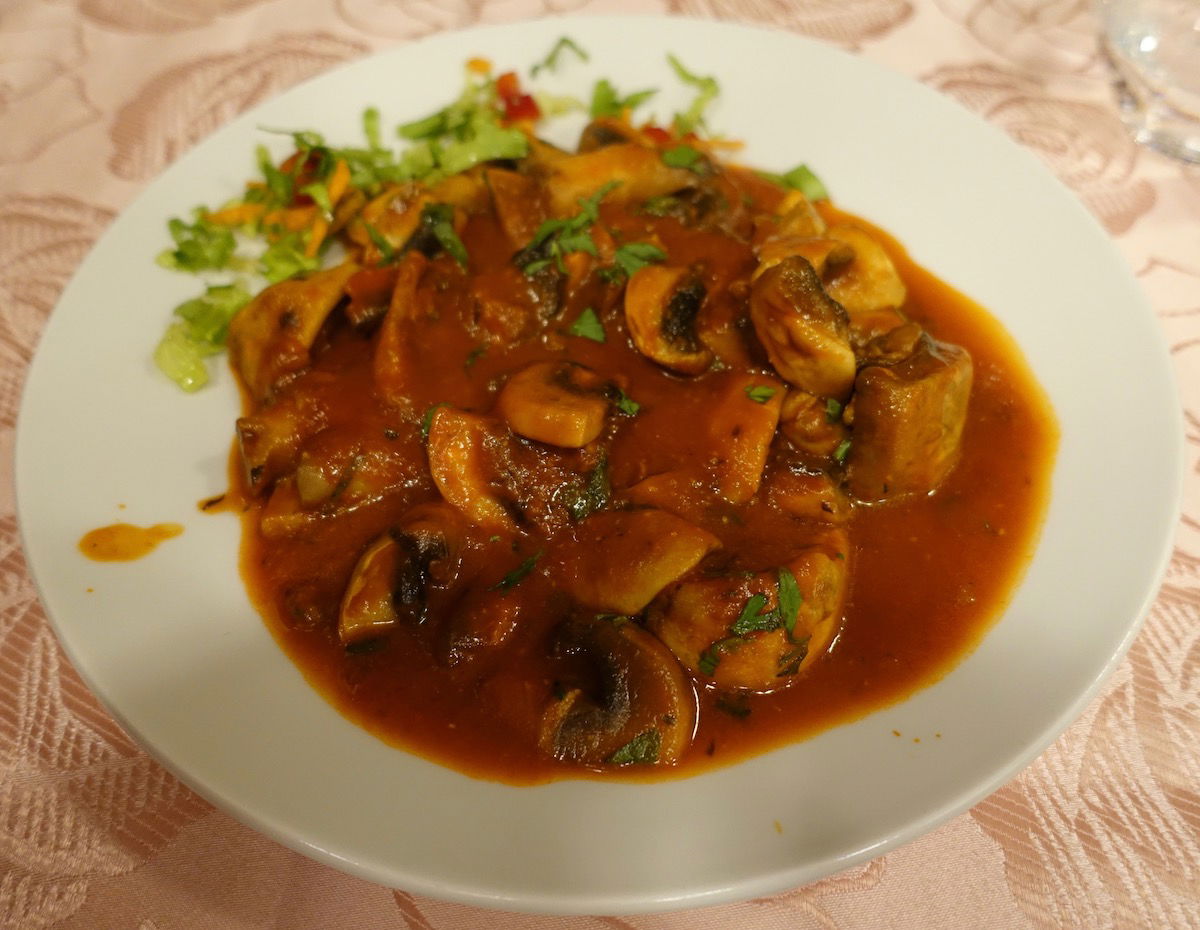 Vila Economat dinner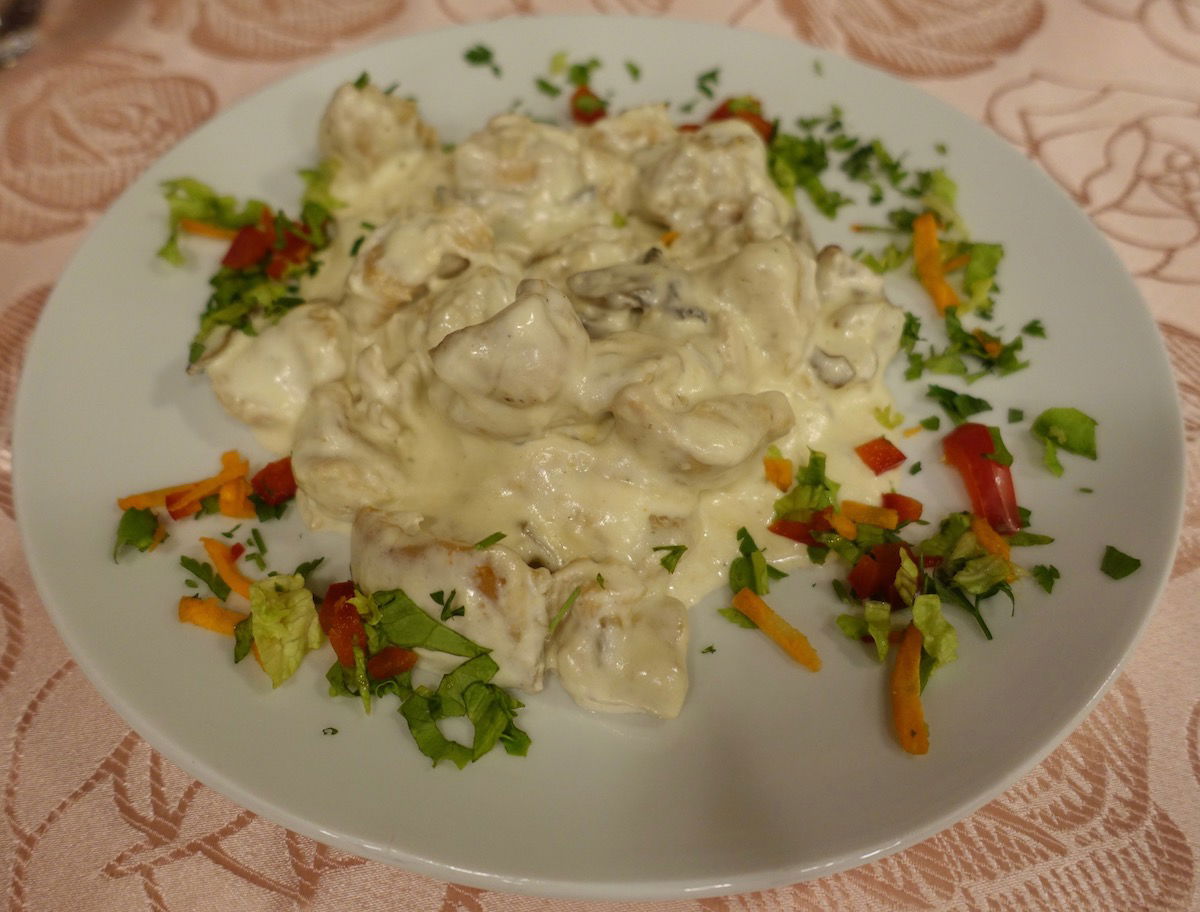 Vila Economat dinner
For dessert I had the peles cake, while Tiffany had the vanilla and chocolate parfait.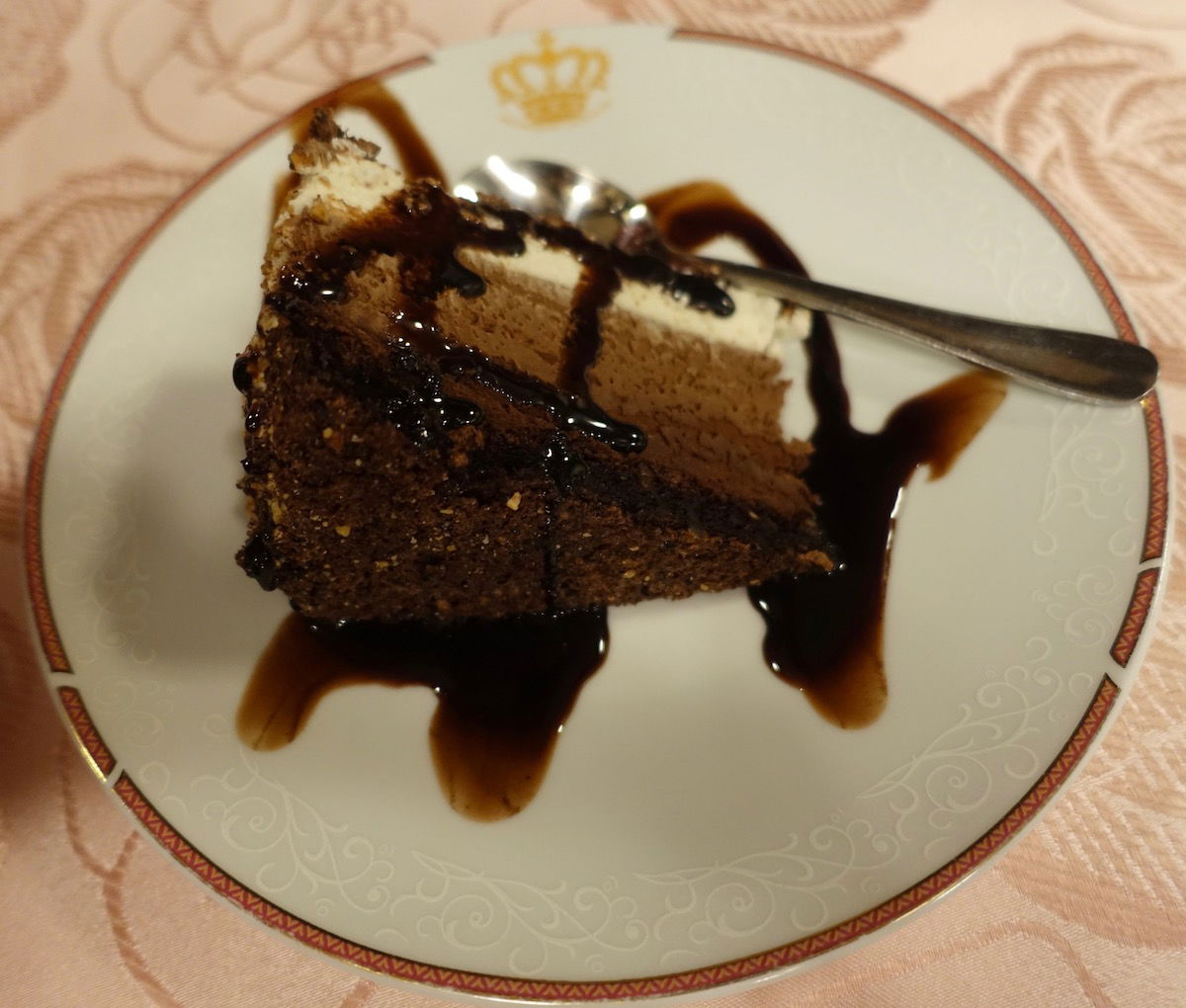 Vila Economat dinner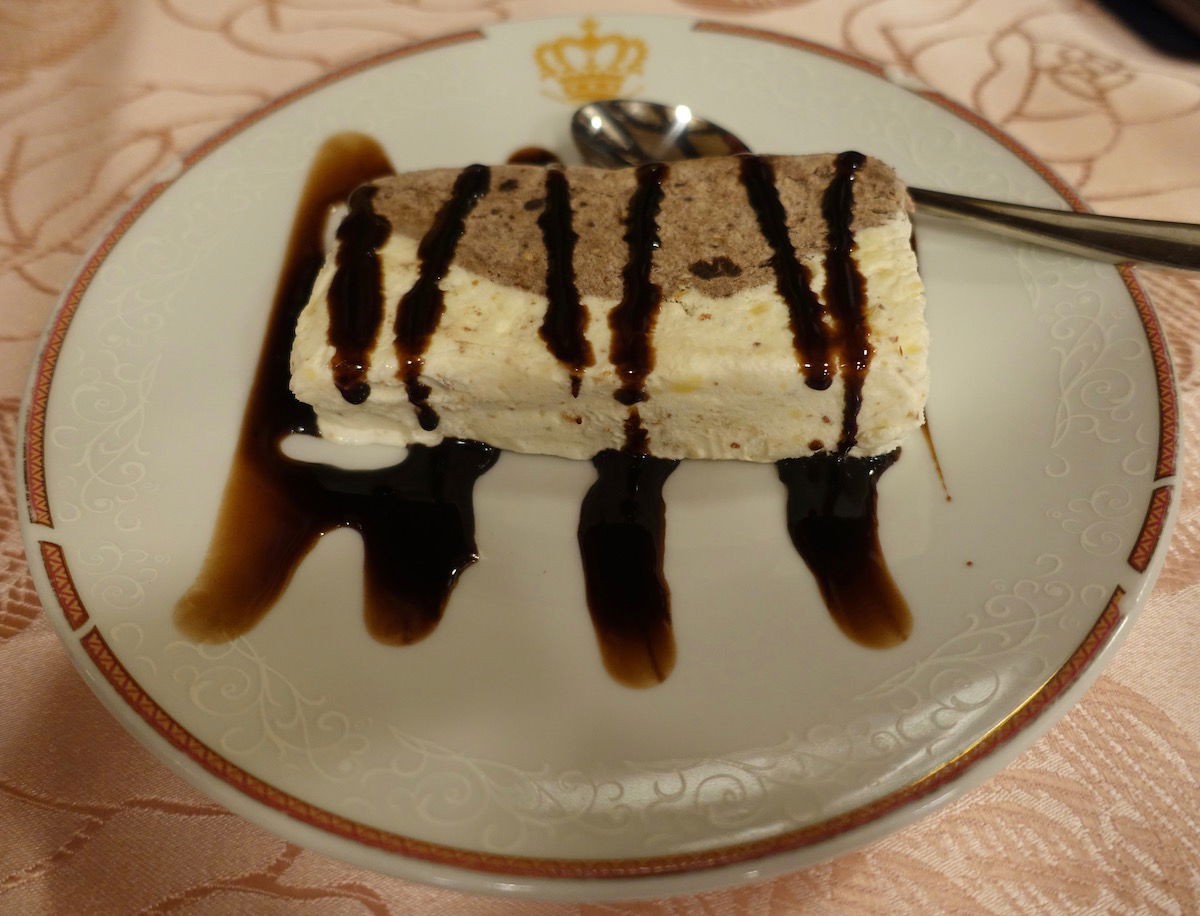 Vila Economat dinner
The service was exceedingly unfriendly and inattentive. Perhaps the highlight of the dining experience (other than Tiffany's company) was that they had a TV on the wall playing music videos quite loudly, including of Shawn Mendes (there's just something about the Señorita music video, ya know?). It did feel a bit out of place, though…
Our rate also included breakfast, and that menu read as follows: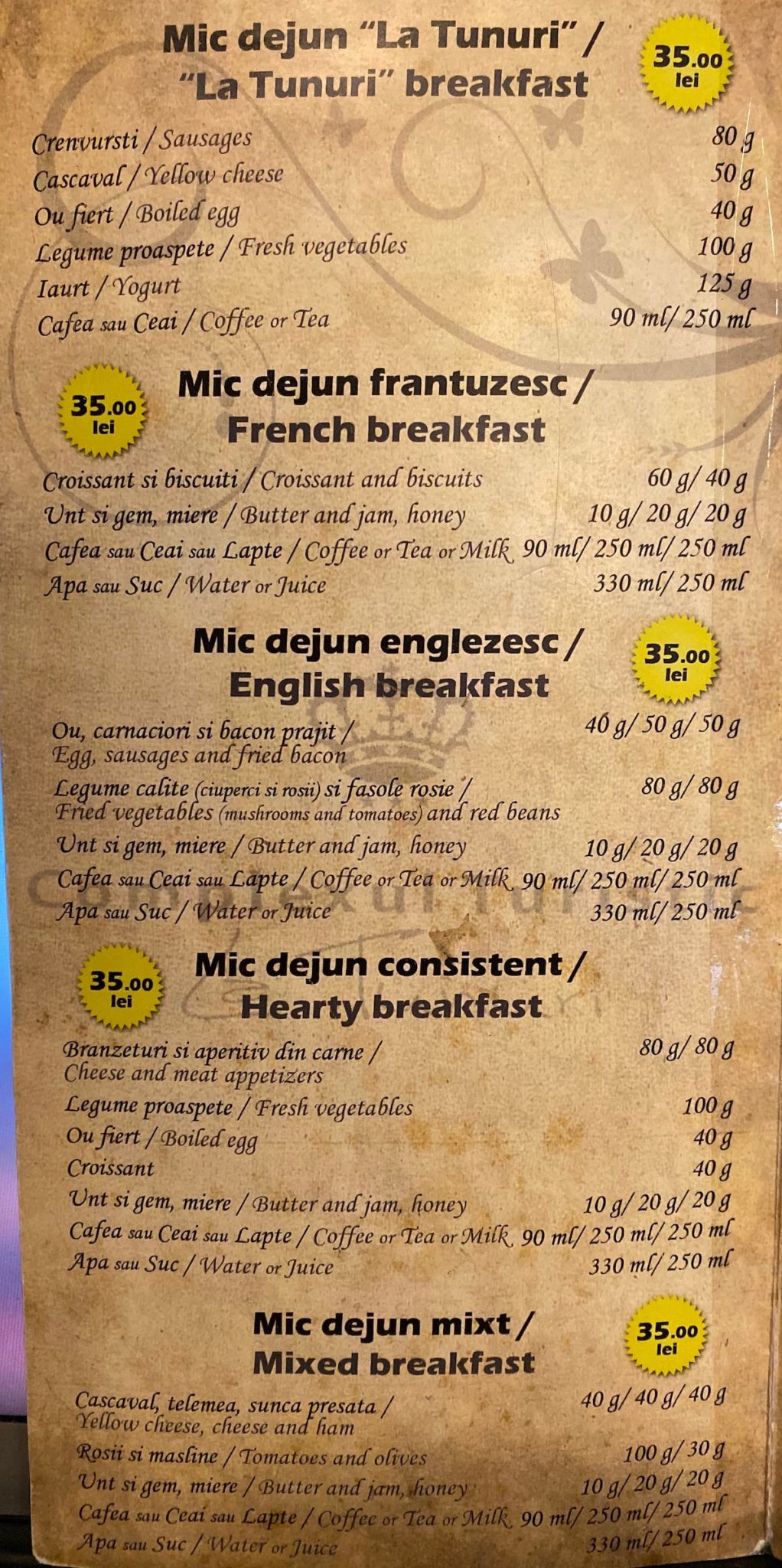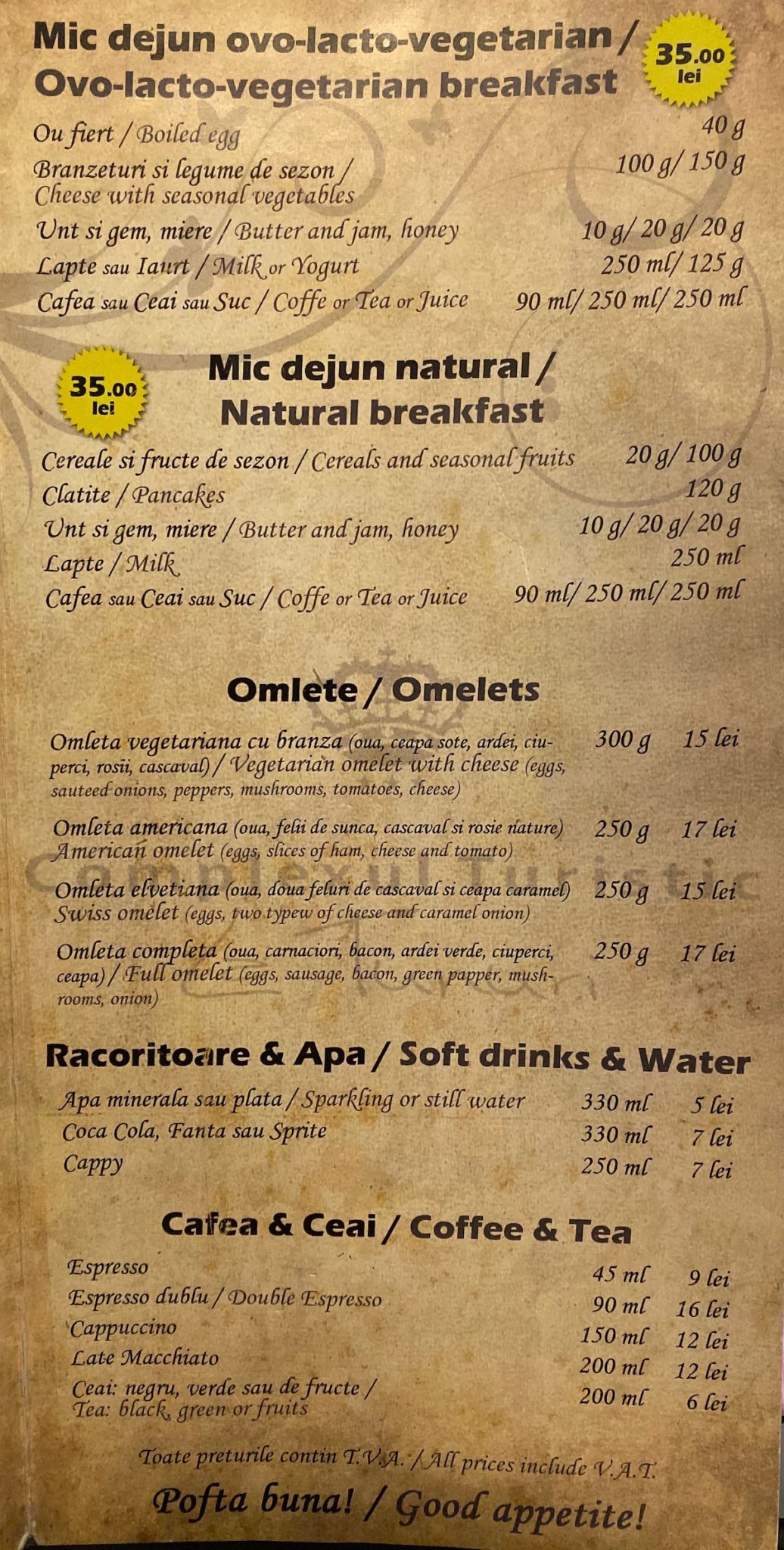 We could order any of the set menus, or could have an omelet with bread. Service at breakfast was friendlier than in the evening. The coffee drinks were very good, at least.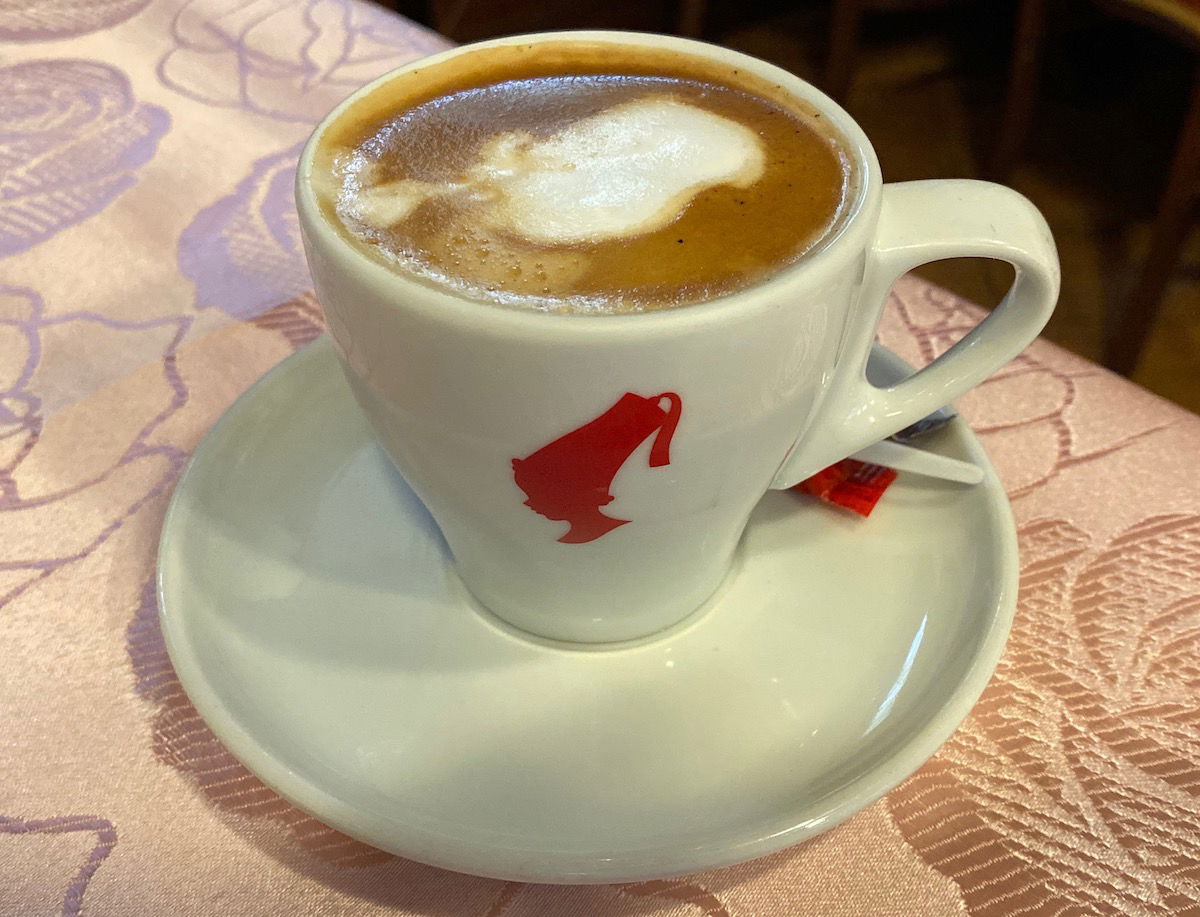 Vila Economat coffee
The "bread" we were offered with breakfast turned out to just be hamburger buns that were a couple of days old.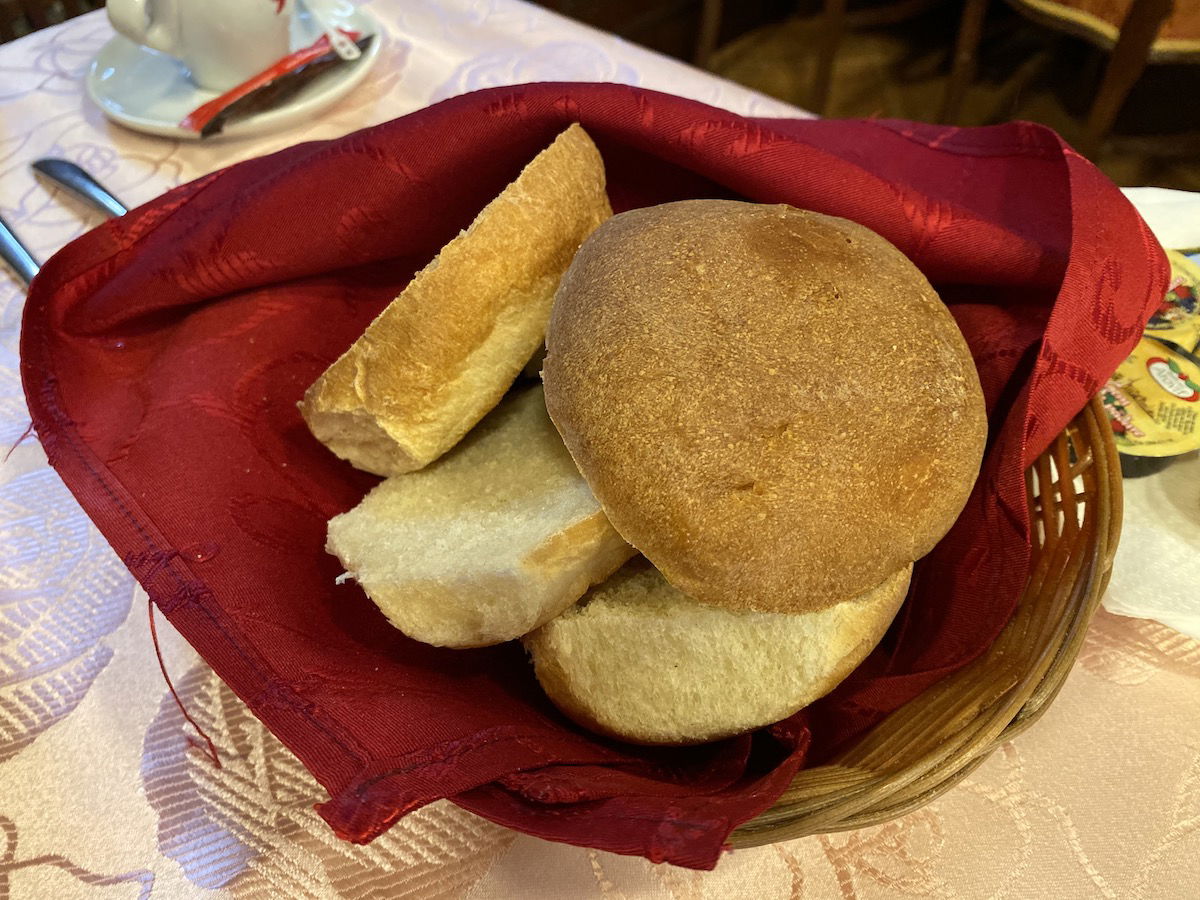 Vila Economat breakfast
The vegetable omelet was quite good, at least.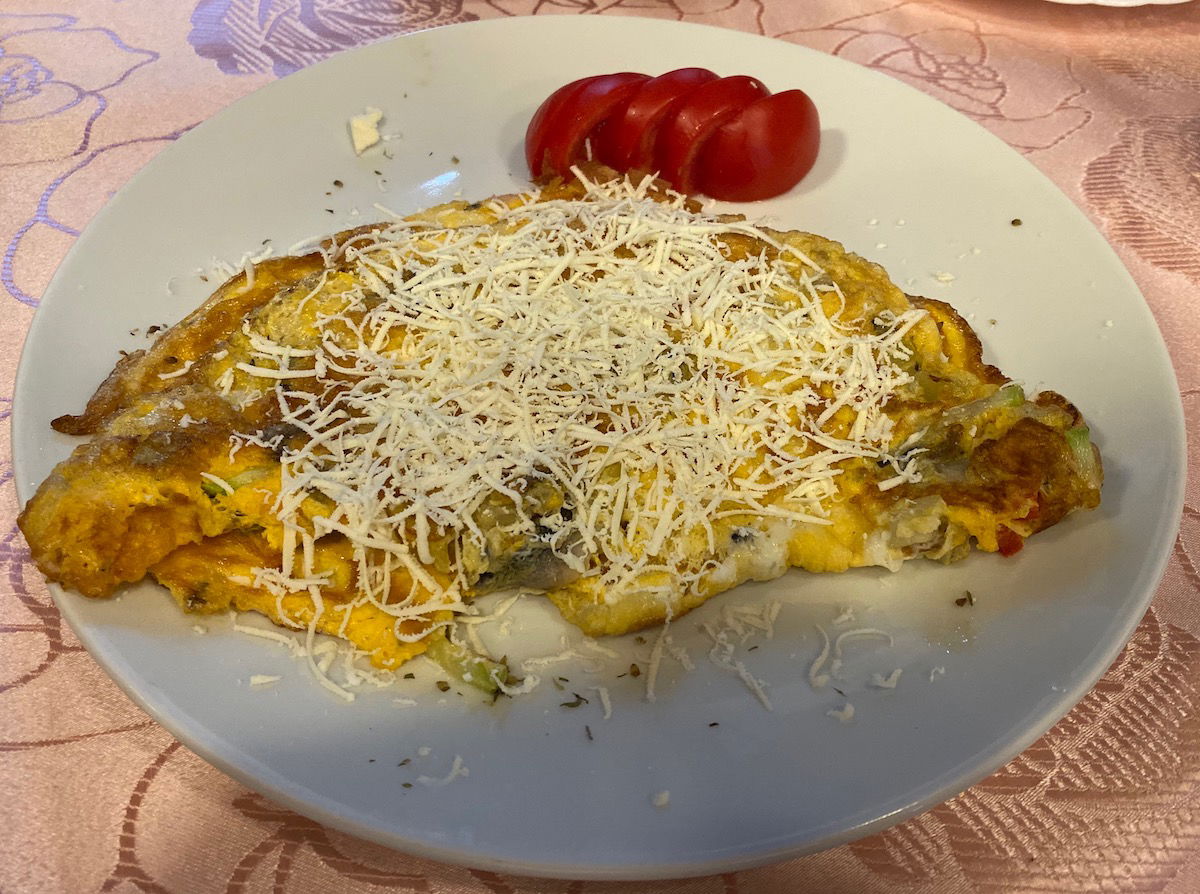 Vila Economat breakfast
The reason to stay here is because of the proximity to Peles Castle, which is just a very short walk away.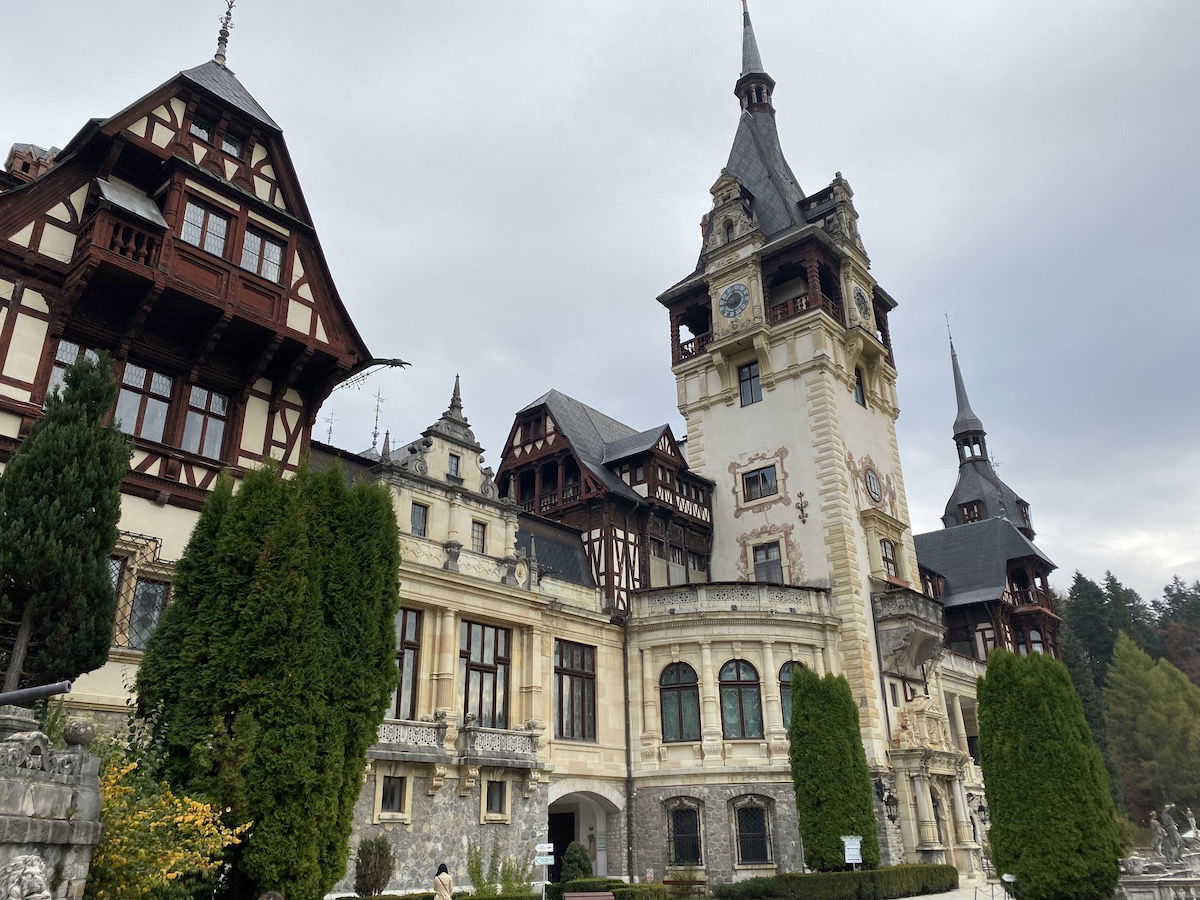 Peles Castle in Sinaia
The grounds of the property were pretty as well.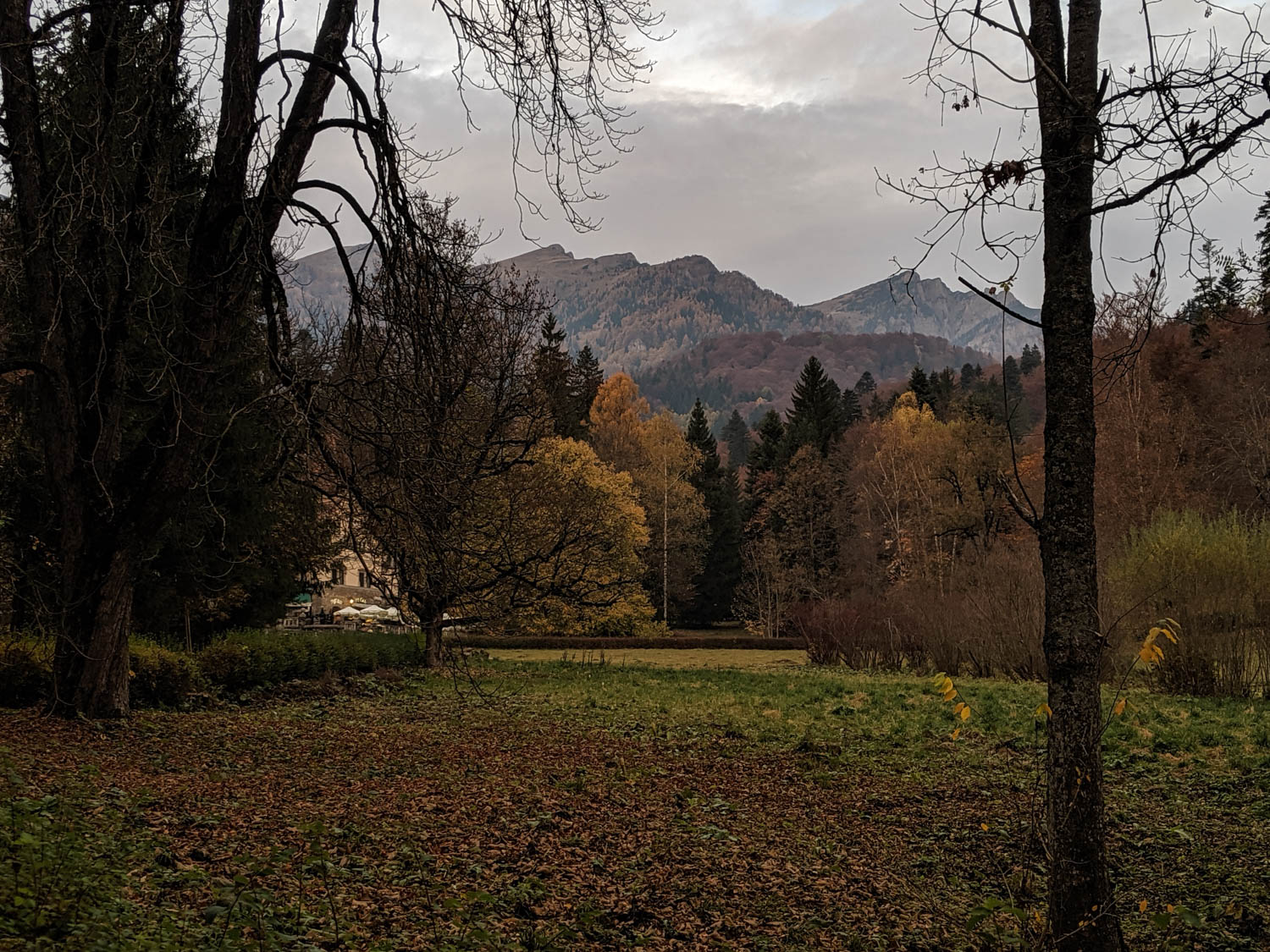 Vila Economat grounds
In the morning we checked out after touring the castle, and headed to Bucharest Airport, which was about a 90 minute drive away.
Vila Economat Bottom Line
There's something charming about Vila Economat, though also not really. The hotel is really outdated, and service wasn't friendly. That being said, the reason you stay here is because of the property's proximity to Peles Castle, so the convenience is tough to beat.
If I were to do this trip again I'd probably just stop at Peles Castle enroute to Bucharest, since it's only about 90 minutes away. I wouldn't stay here again, personally, unless I really wanted to spend a lot of time in Sinaia.