---
The next stop on our Transylvanian road trip was in the cute town of Copsa Mare. As usual, I'll let Tiffany share the booking process, and then I'll share my thoughts on the experience as such.
Booking The Copsamare Guesthouses
One of the things I wanted to do on this trip was spend a bit of time in rural Transylvania. There are an abundance of guesthouses and small inns dotting the countryside, including one run by the Prince of Wales Foundation, though there's quite a range in terms of available amenities. Some have taken a more intentionally spartan approach (such as not having Wi-Fi), others have more planned activities, and so forth.
From the research I did, Copsamare seemed to have a good balance that would let us have the countryside feel without feeling like we were glamping. The property is aiming for a higher-end experience (filter: for a Transylvanian countryside guesthouse), and is partnered with Mr. & Mrs. Smith, so there will potentially be a possibility to earn/redeem IHG points here next year.
They own (and are restoring) several of the houses in the tiny hamlet, and are engaged with the local community for both the repairs, and for the various activities. You can take a horse-drawn cart up to the hill above town, learn about glass-painting and honey from the local priest, and enjoy other aspects of country life.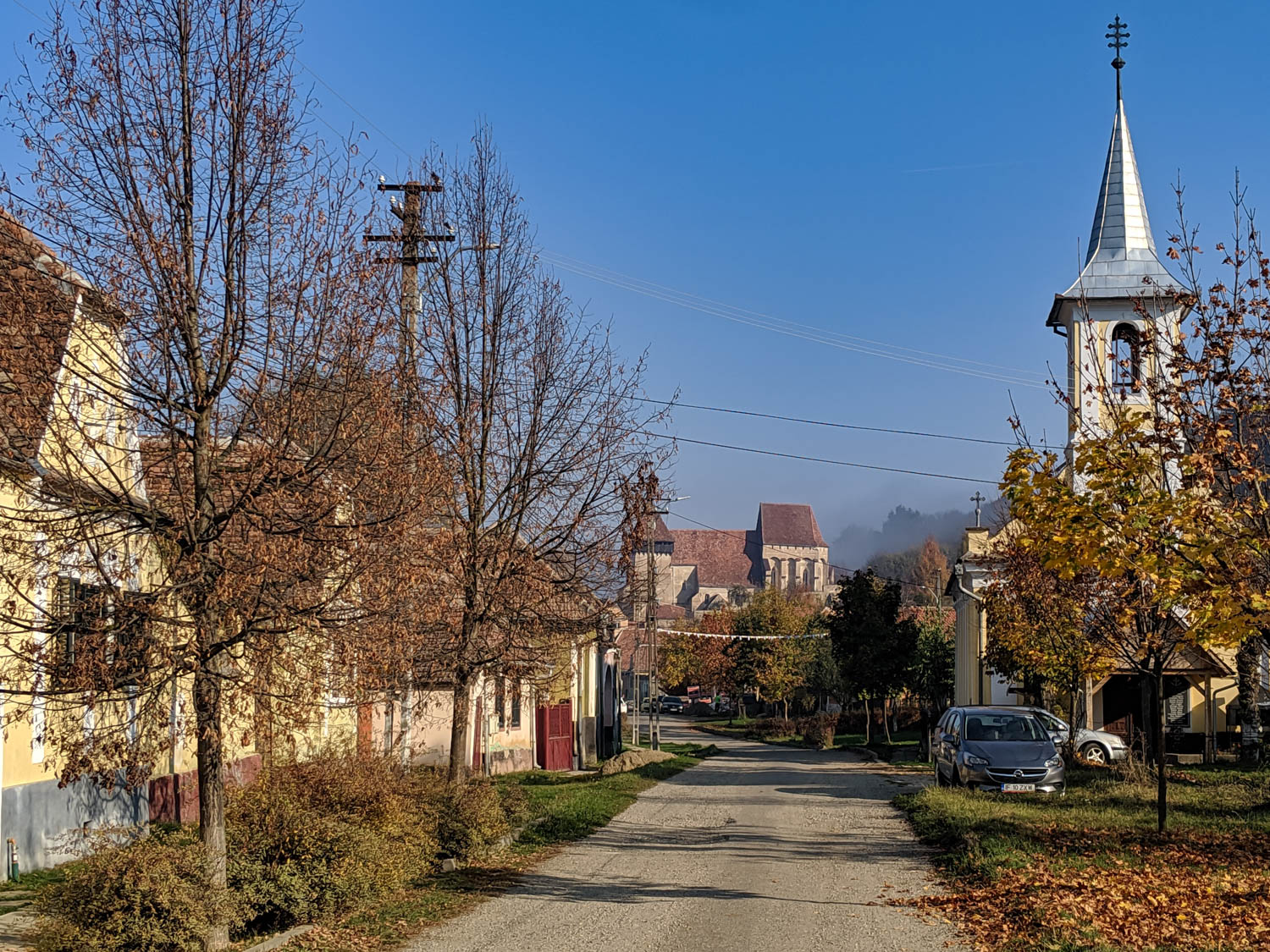 Copsa Mare, Transylvania
I booked directly through the property — the Copsamare website is helpful for seeing the different rooms, but not great for booking multiple rooms unless you're trying to book an entire house. A quick email to the owner, Giovanna, along with a wired 35 EUR deposit secured our reservation.
Before Ben gets into the review, it's worth noting that while I'd originally booked double rooms in the "main" Yellow House (for ~114 EUR per room), when we checked in the Wi-Fi was out in that building, so they proactively moved us to twin rooms in the "White" house down the street (which is actually golden-yellow), as I'd emphasized that as a priority for us.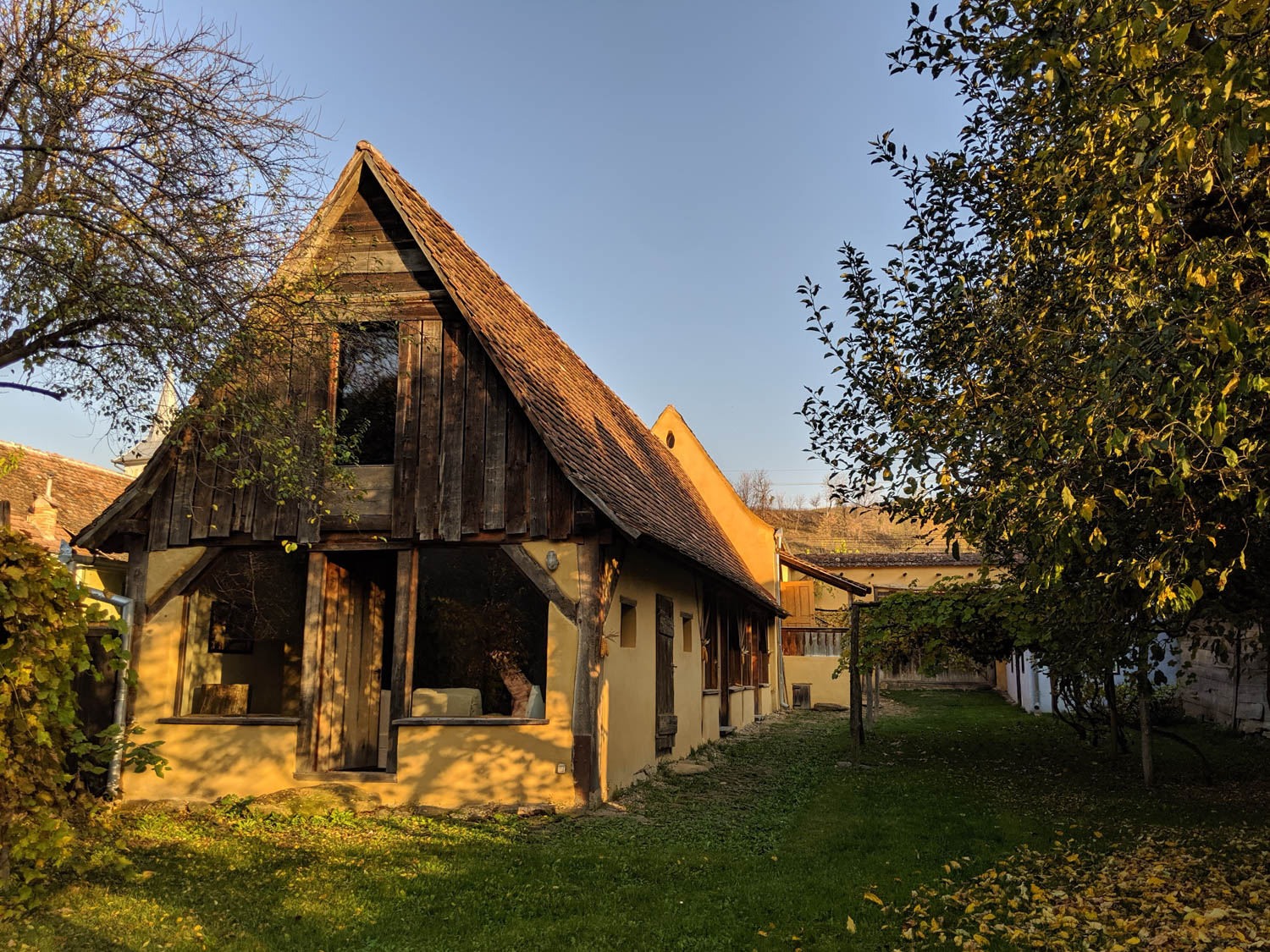 Copsamare Guesthouses
Those rooms are a little less (106 EUR), and looking at our final bill it seems they not only charged us the correct (lower) price based on the rooms we actually occupied, but also gave us a discount on dinner (including not charging us for a bottle of wine), which is a nice gesture. So our total stay for the two rooms, including dinner, wine, breakfast, and taxes was ~$270.
Copsamare Guesthouses Review
Copsa Mare was a ridiculously adorable little town, and definitely the most rural of our stops. The town had one main road, and at first we struggled to find where we were staying. It's only after Googling pictures of the guesthouses that we managed to figure out where to go, based on the exterior.
It wasn't very clear where check in was located, so we just entered a door that had the logo for the guesthouses, and were quickly approached by Simona, the innkeeper.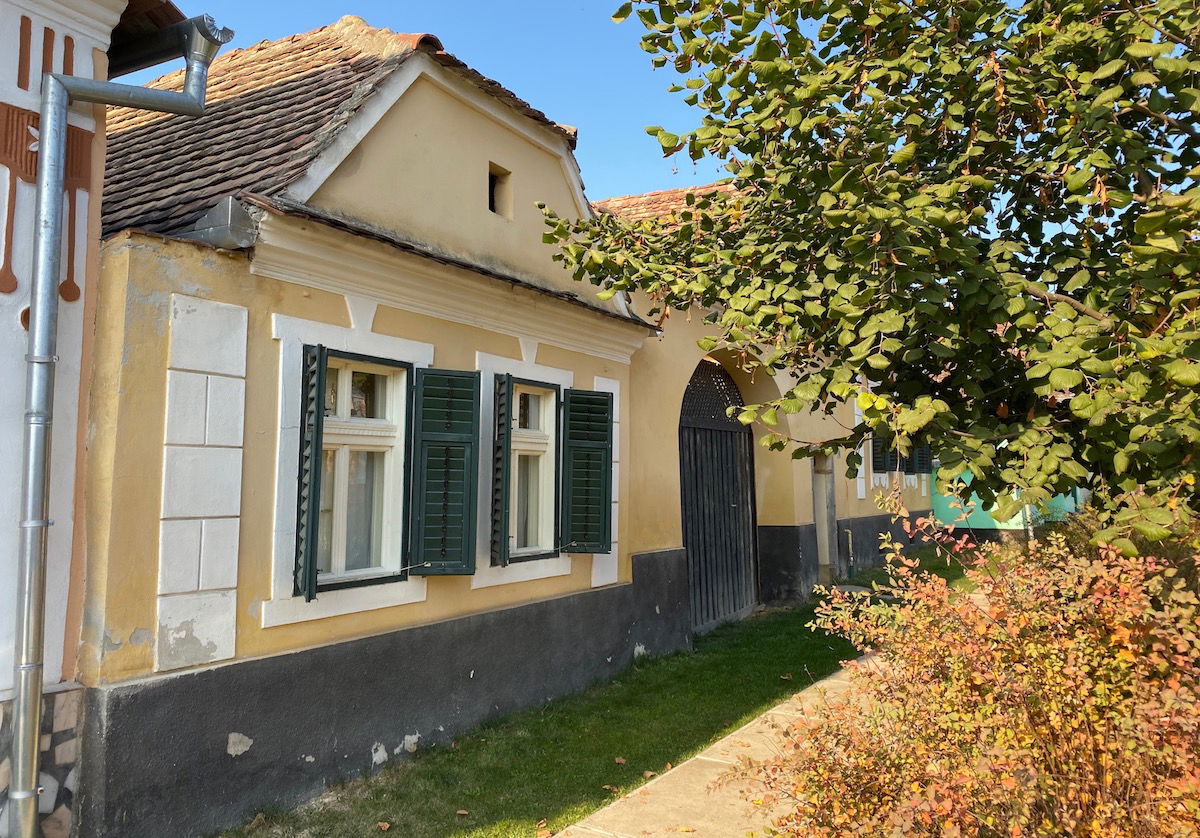 Copsamare Guesthouses exterior
Seriously, how adorable is this garden?!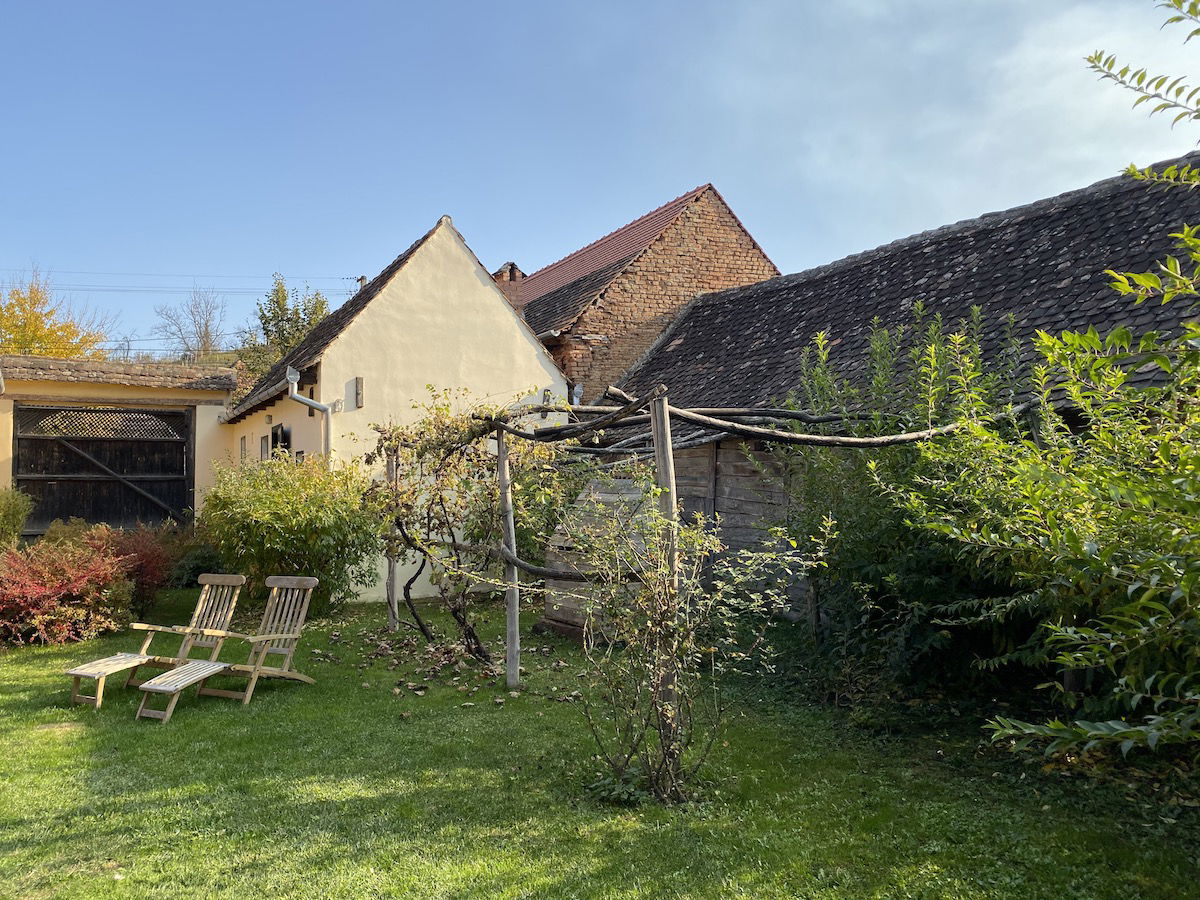 Copsamare Guesthouses garden
She then escorted us about a block away, where we'd be staying. As Tiffany mentioned above, several buildings in the town belong to the guesthouses, and we weren't staying in the main one. On the plus side, our guesthouse had an equally nice garden.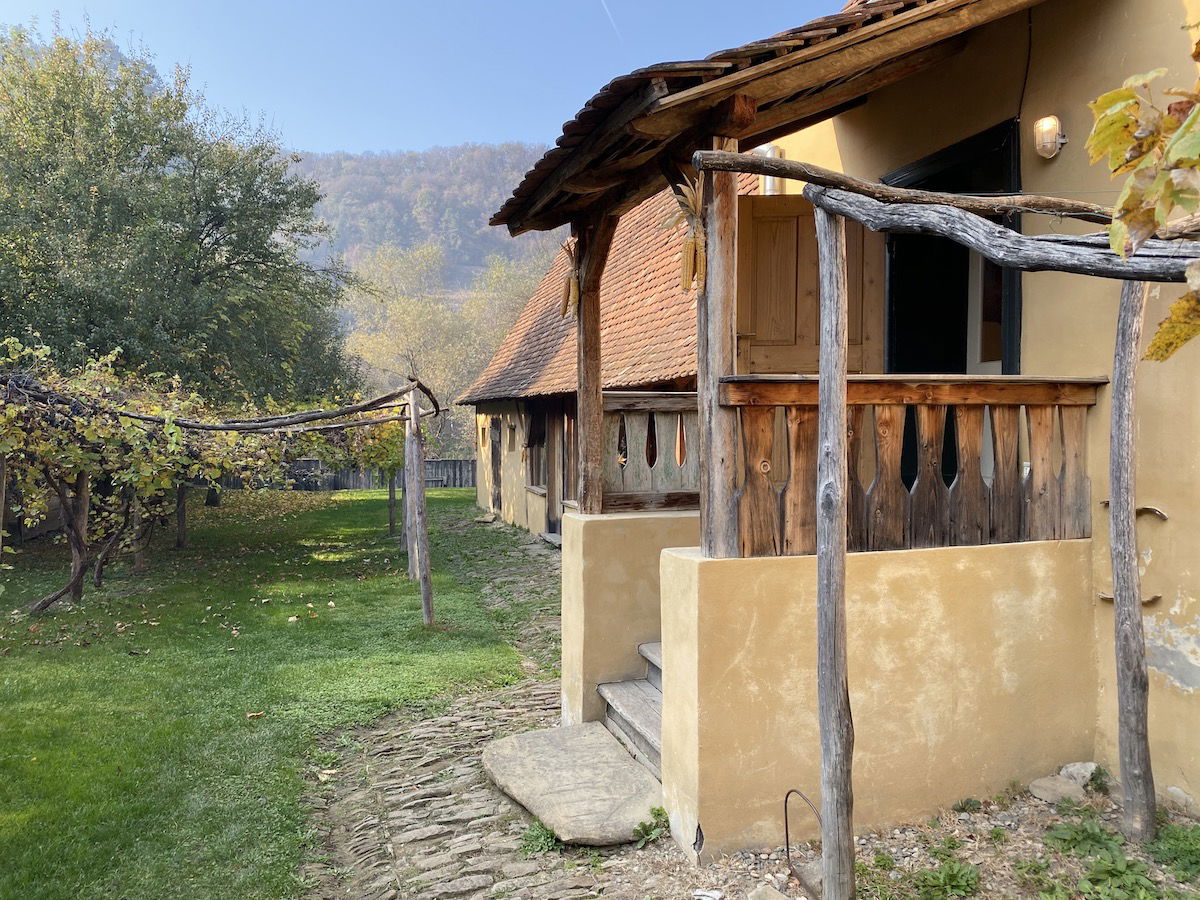 Copsamare Guesthouses exterior
I was surprised by the layout of the house that we were brought to, as it featured a large living area. This included a table with two benches, two leather chairs overlooking a fire place, and then a living room with a desk.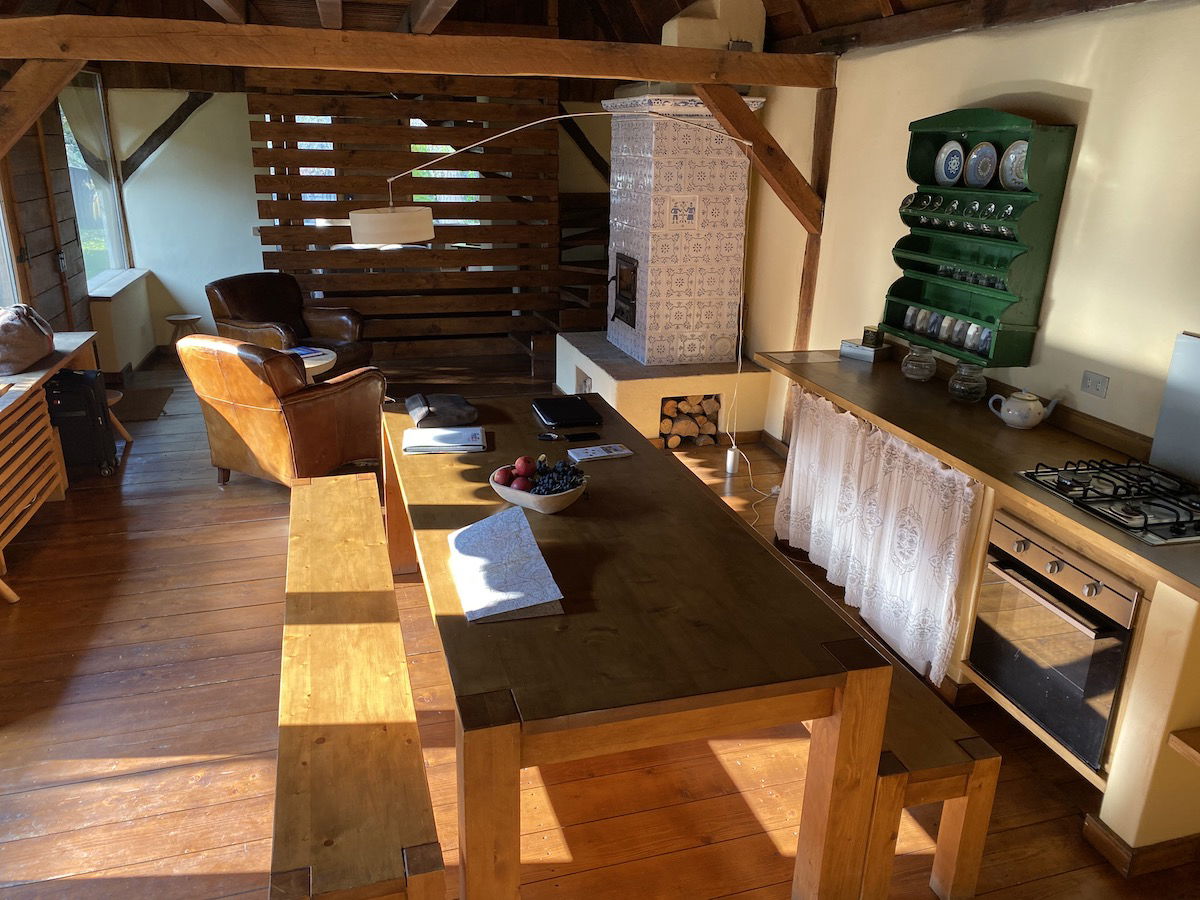 Copsamare Guesthouses living area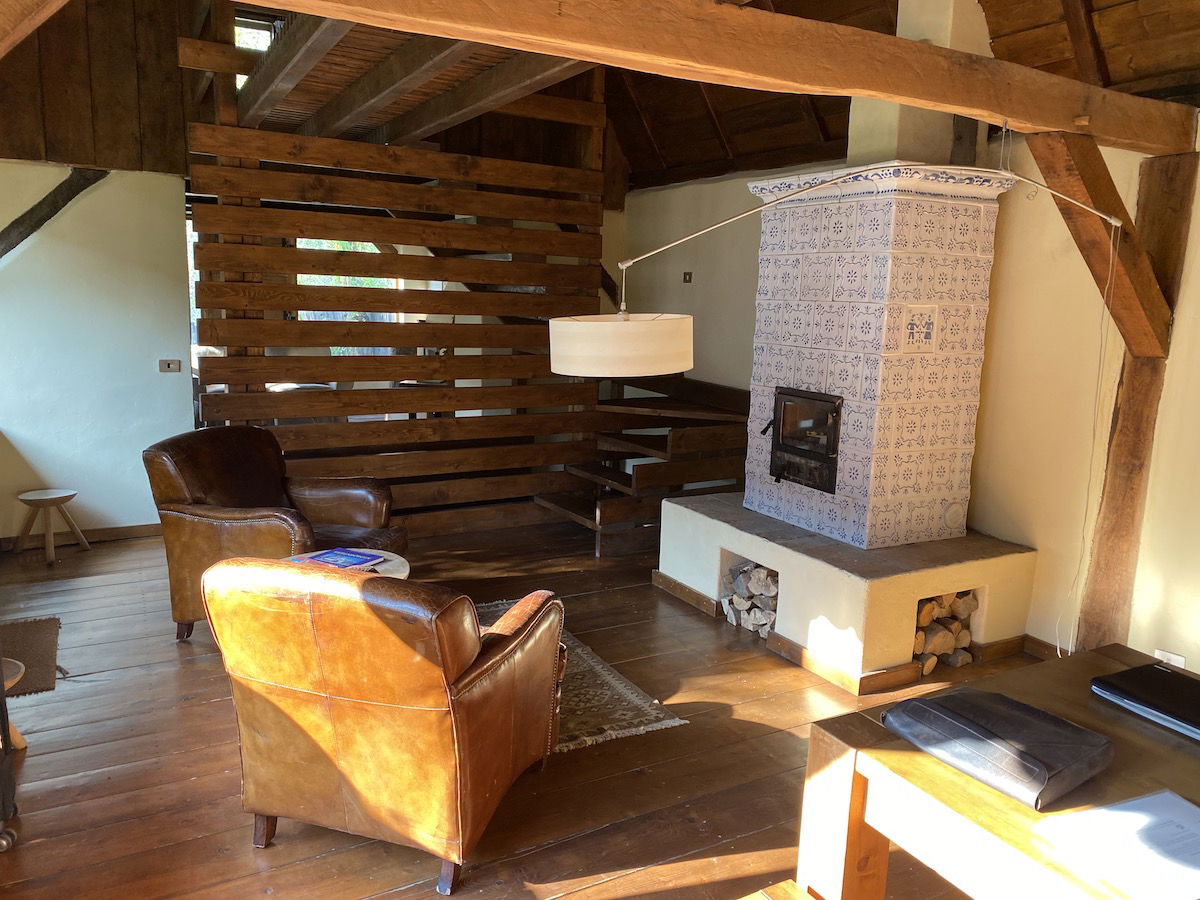 Copsamare Guesthouses living area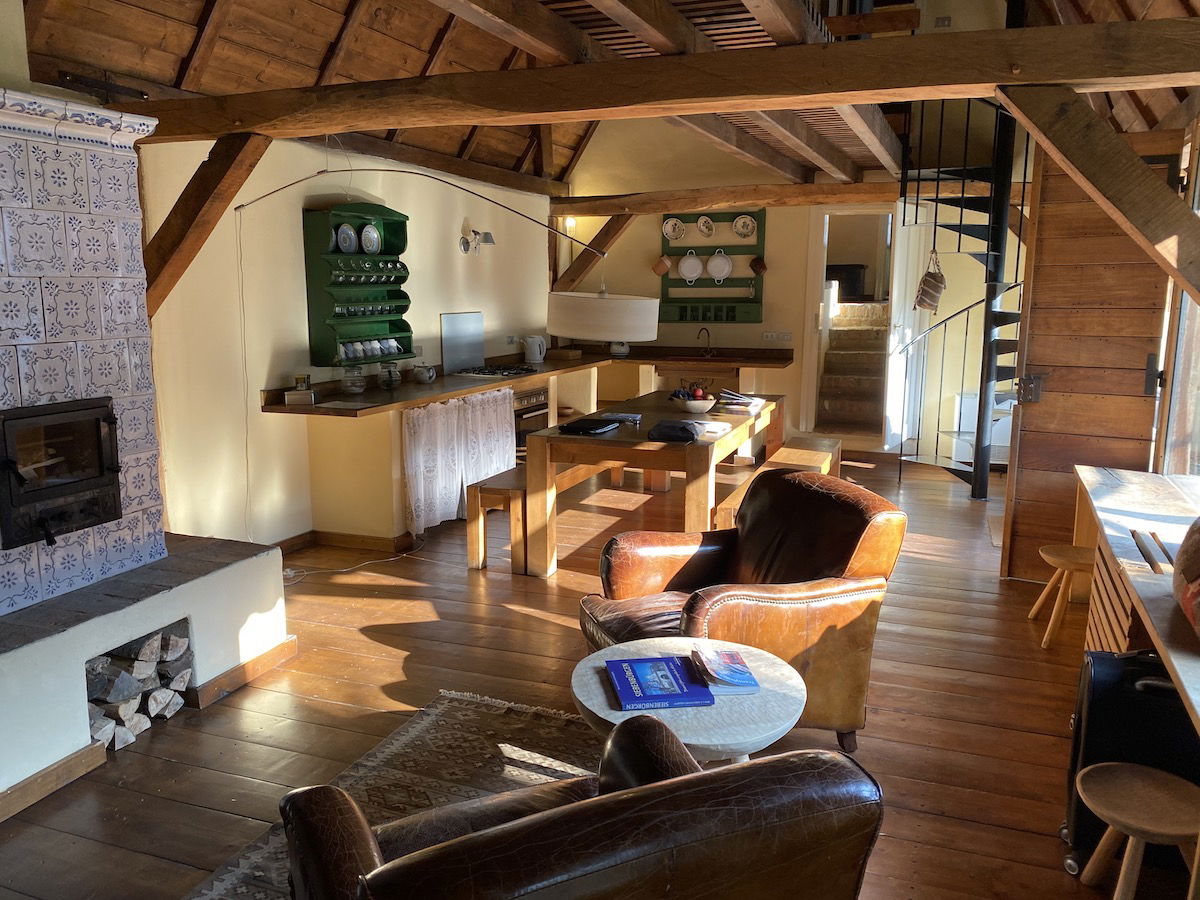 Copsamare Guesthouses living area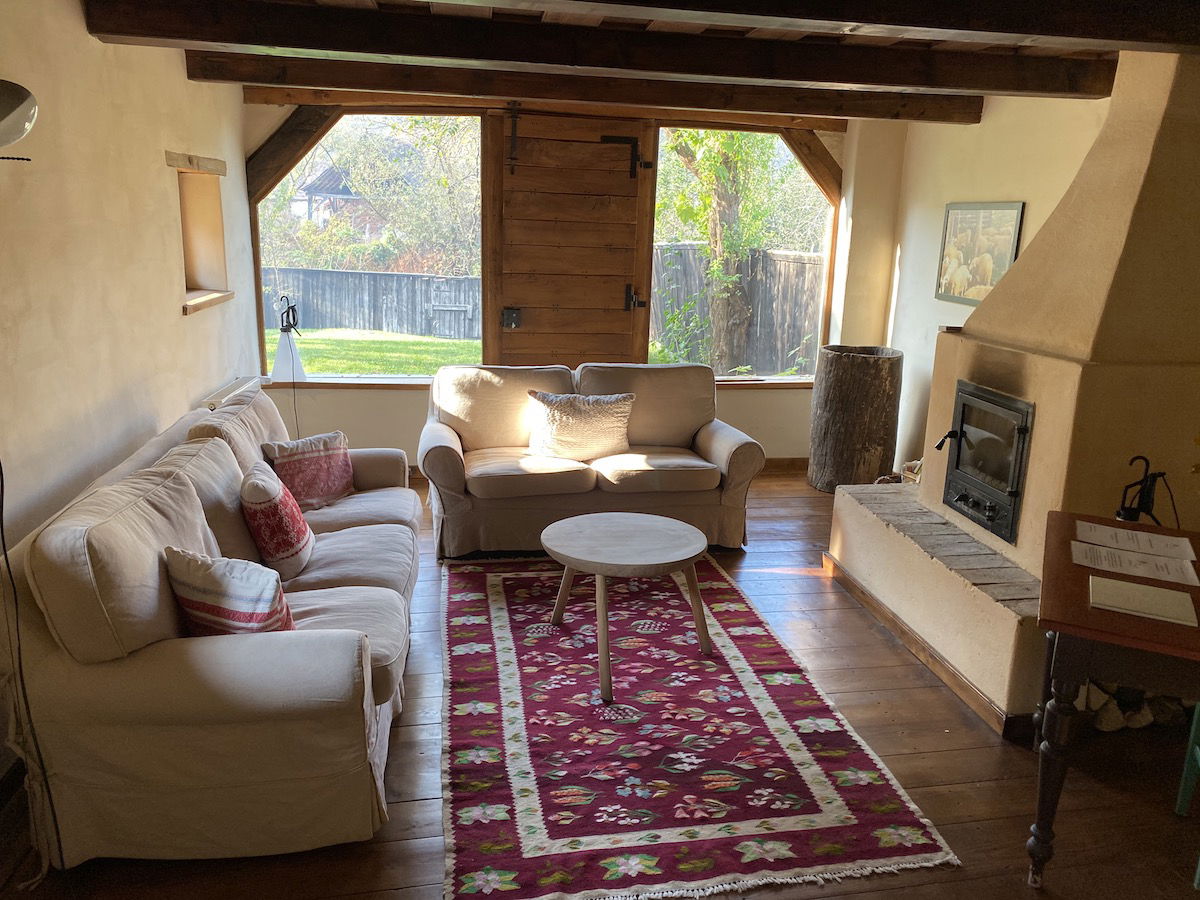 Copsamare Guesthouses living room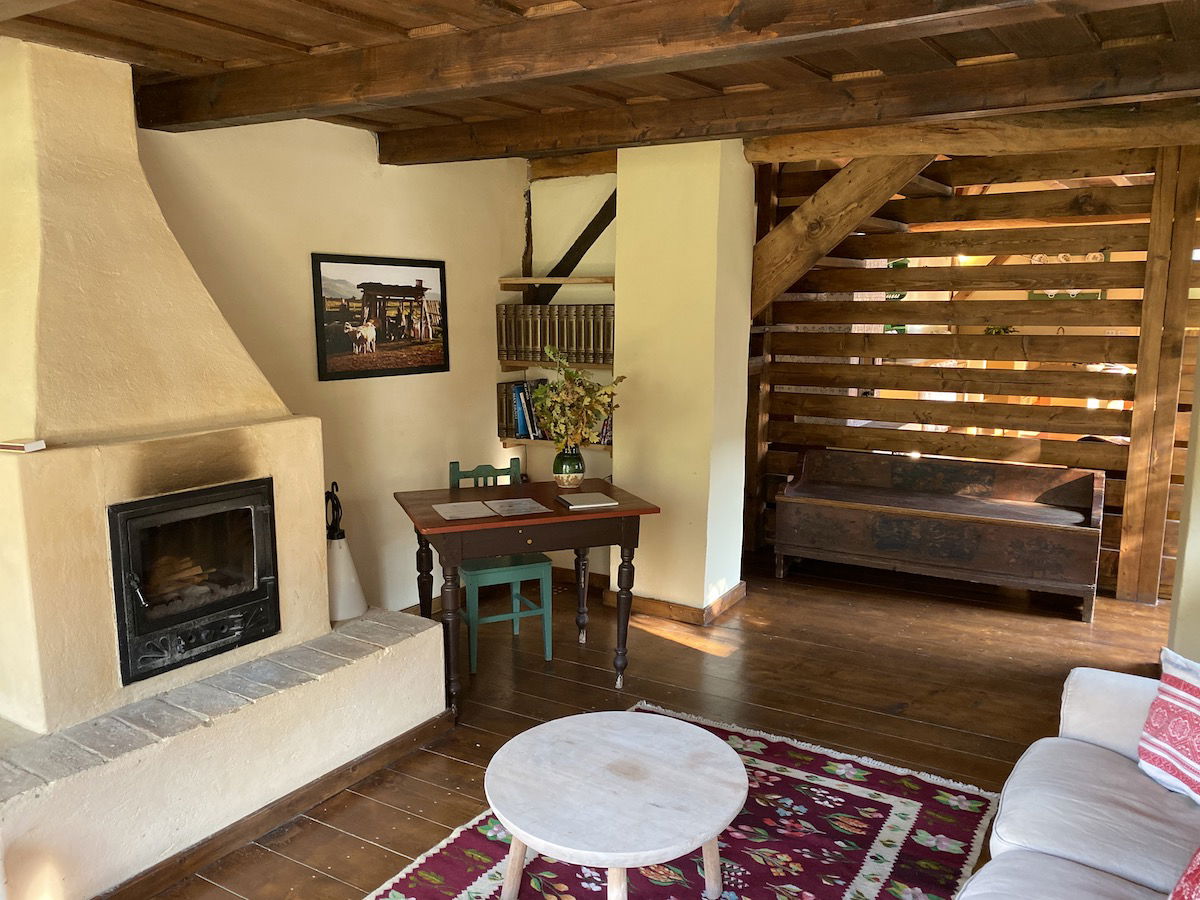 Copsamare Guesthouses living room
Tiffany's bedroom was just off the living room, and featured two twin beds, along with a desk across from them.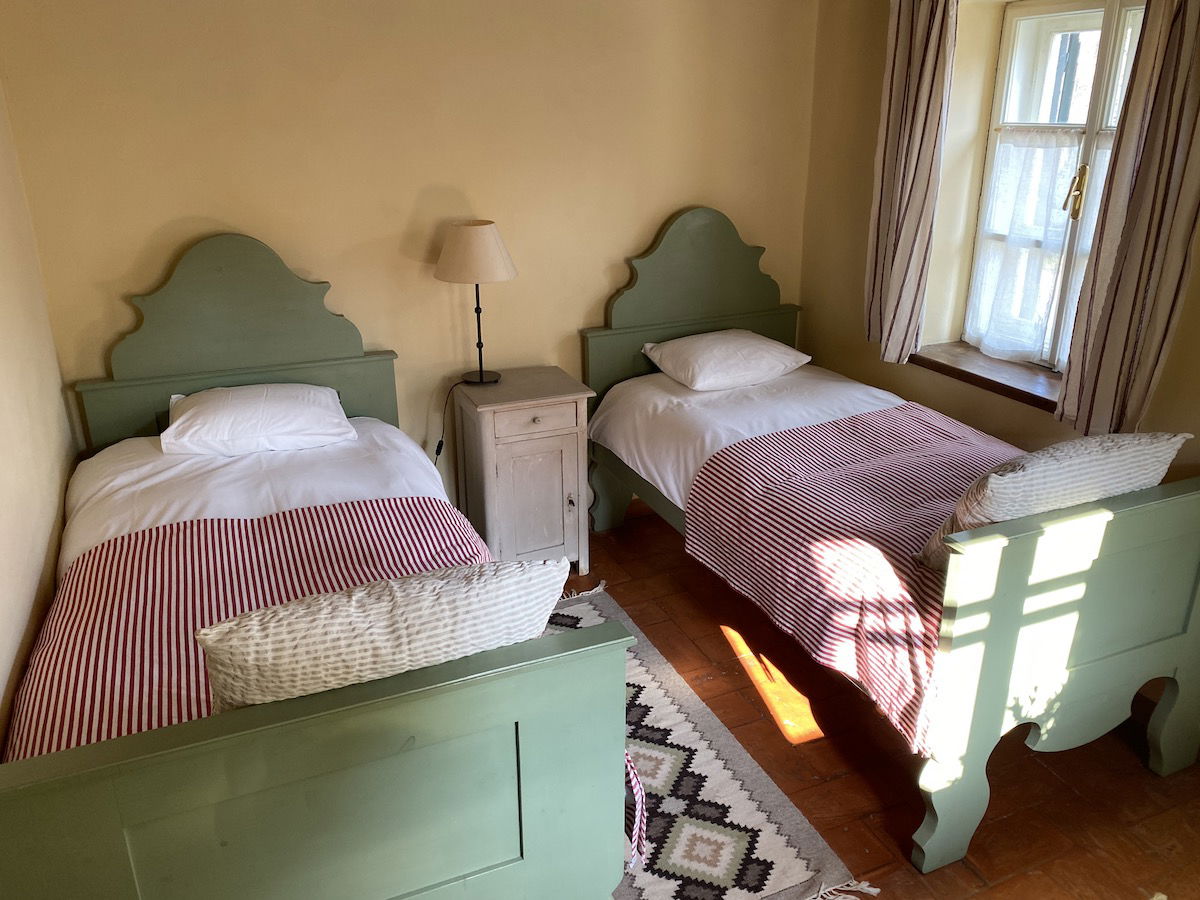 Copsamare Guesthouses bedroom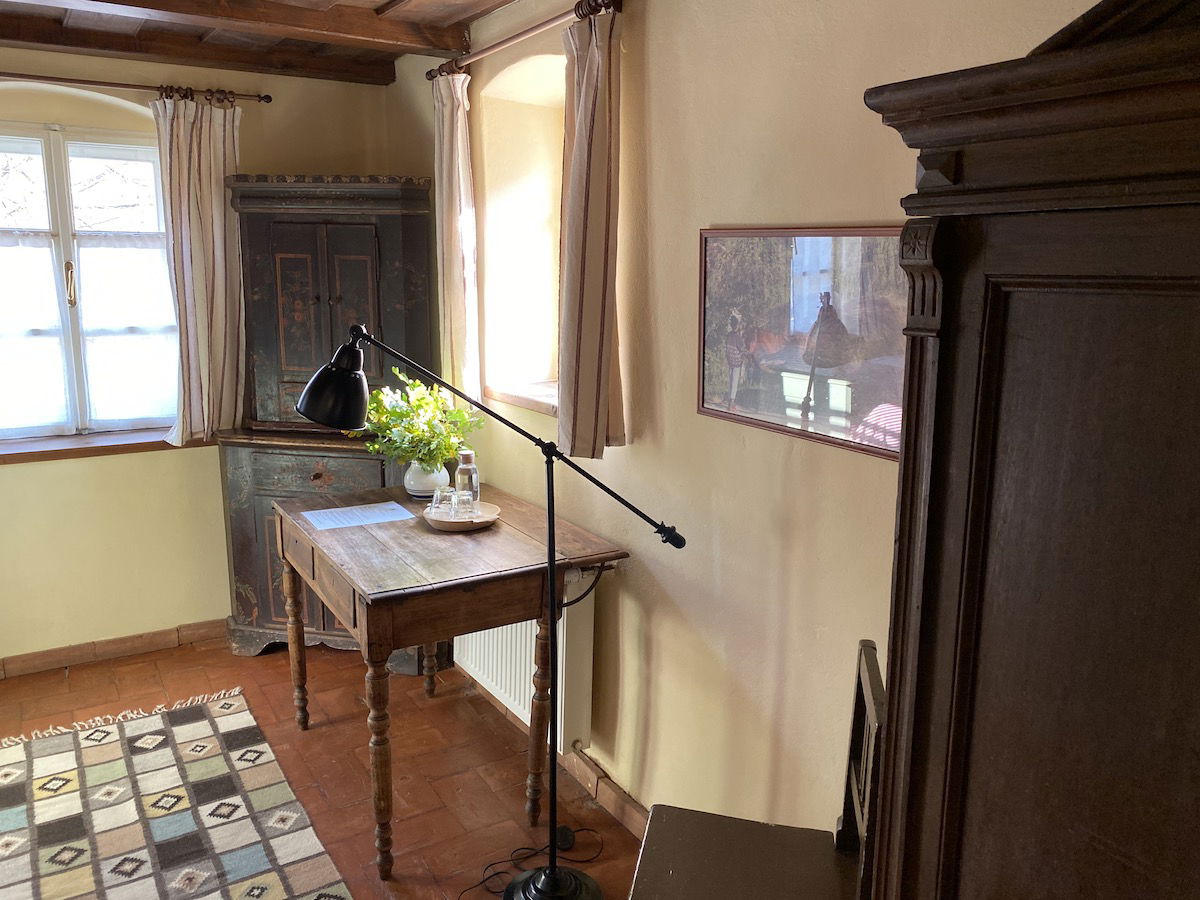 Copsamare Guesthouses bedroom
She had a private bathroom with a sink, toilet, and tub, though the bathtub wasn't exactly ideal for showering.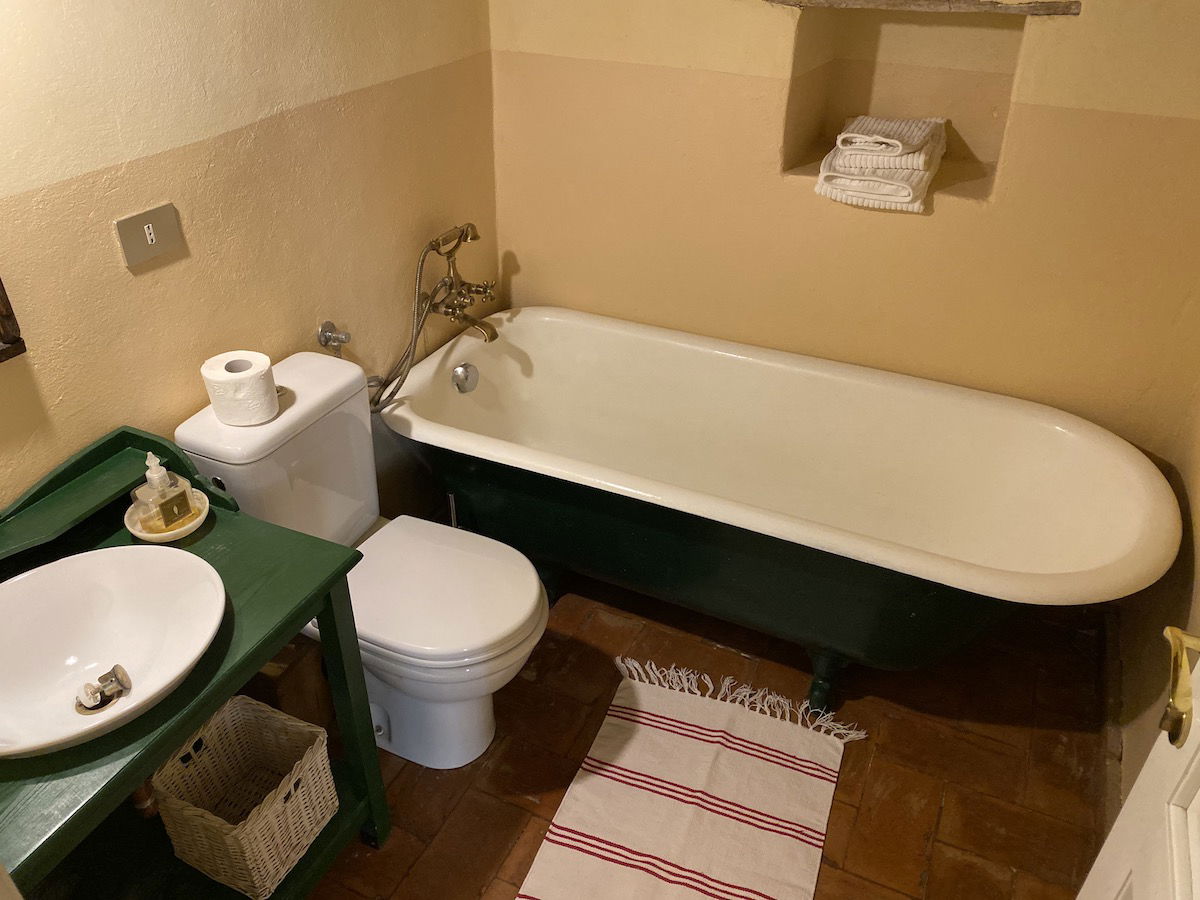 Copsamare Guesthouses bathroom
My accommodation was up the spiral staircase, immediately above Tiffany's.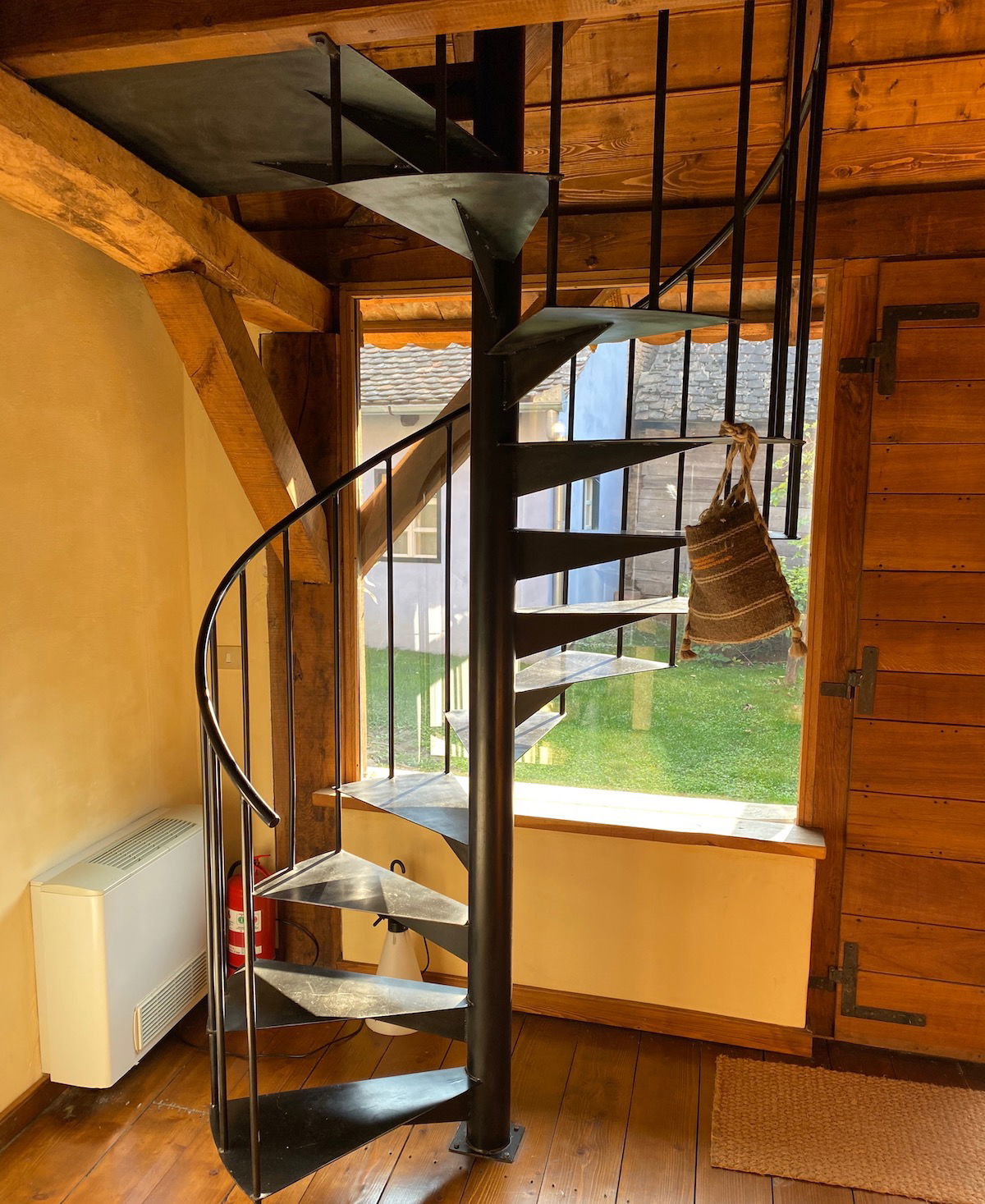 Copsamare Guesthouses stairs
There were some wooden planks stretching the entire length of the house, leading to another bedroom (though there were railings, so you wouldn't actually walk on that).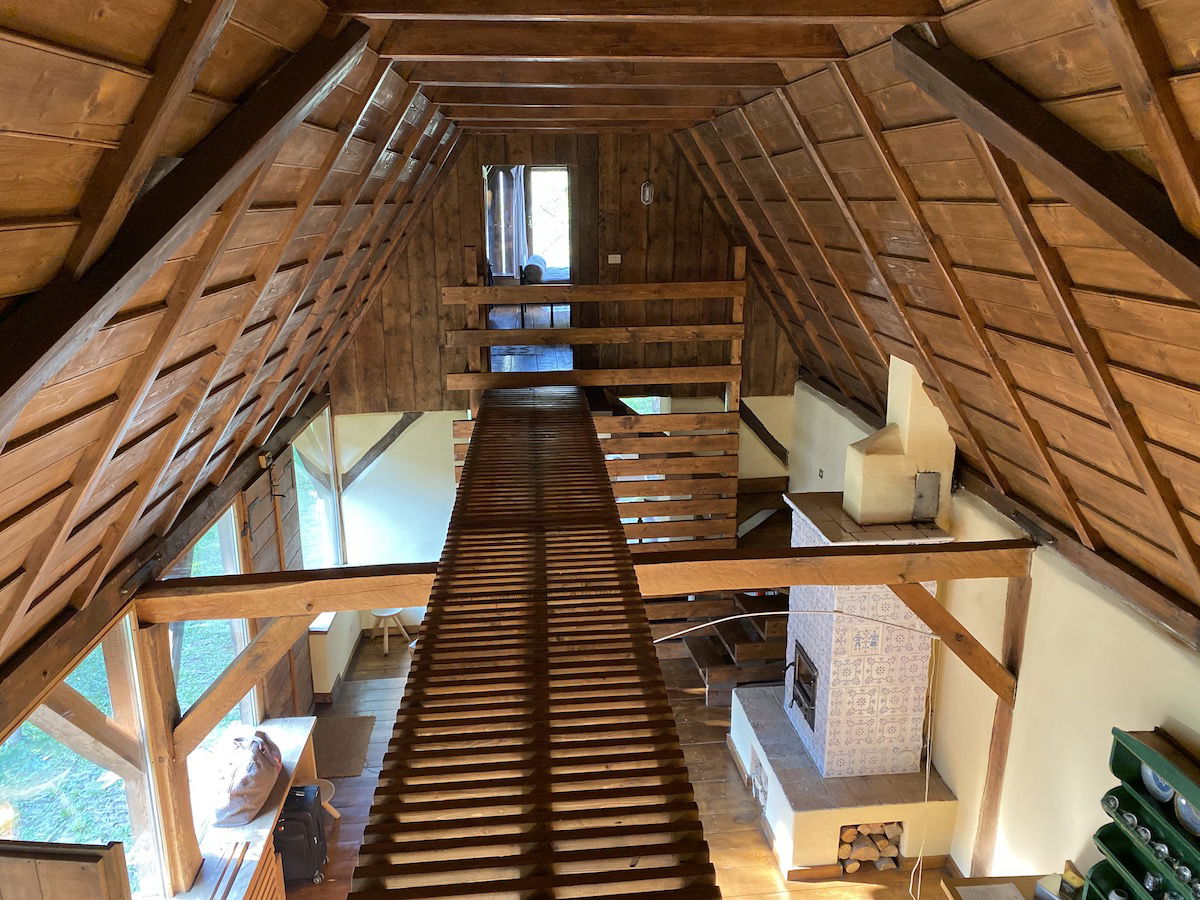 Copsamare Guesthouse
My room also had two twin beds, as well as a crib and a desk.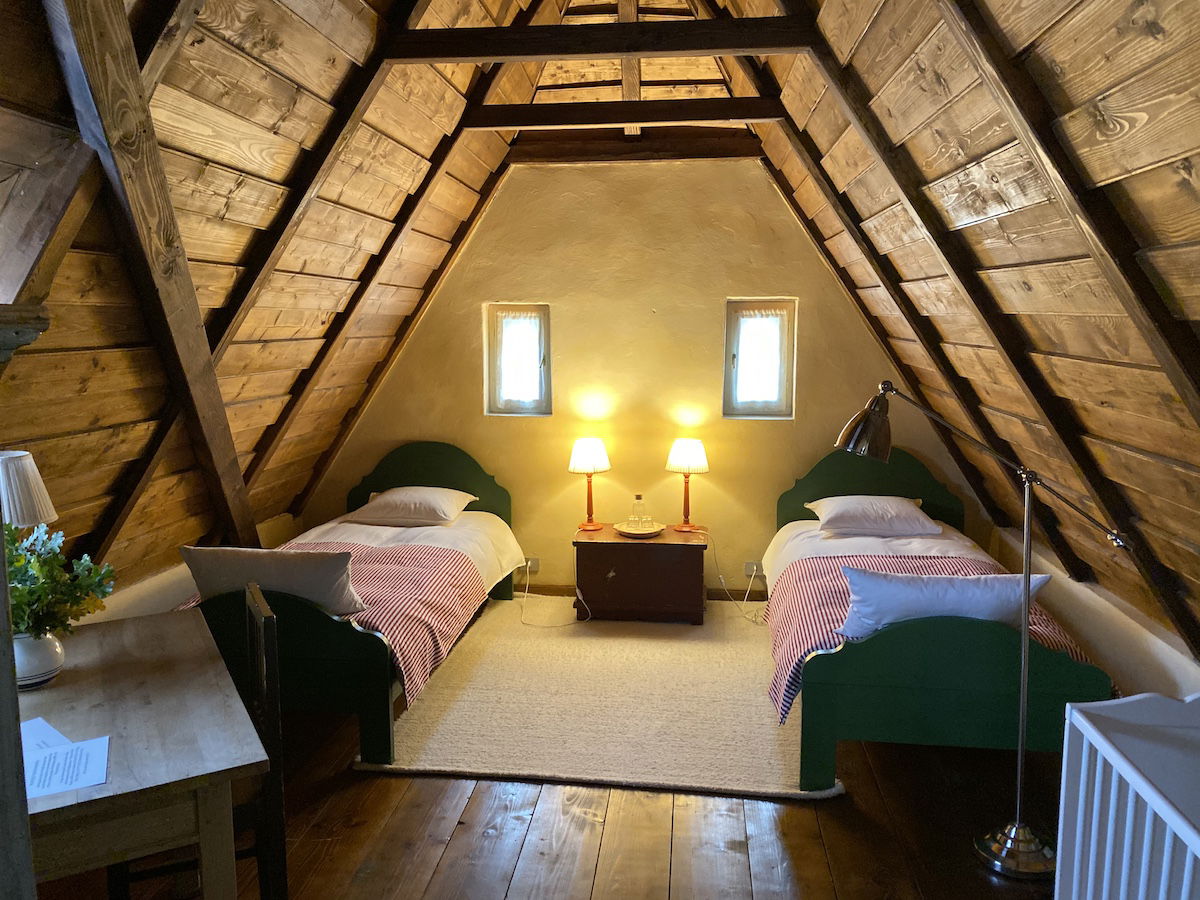 Copsamare Guesthouses bedroom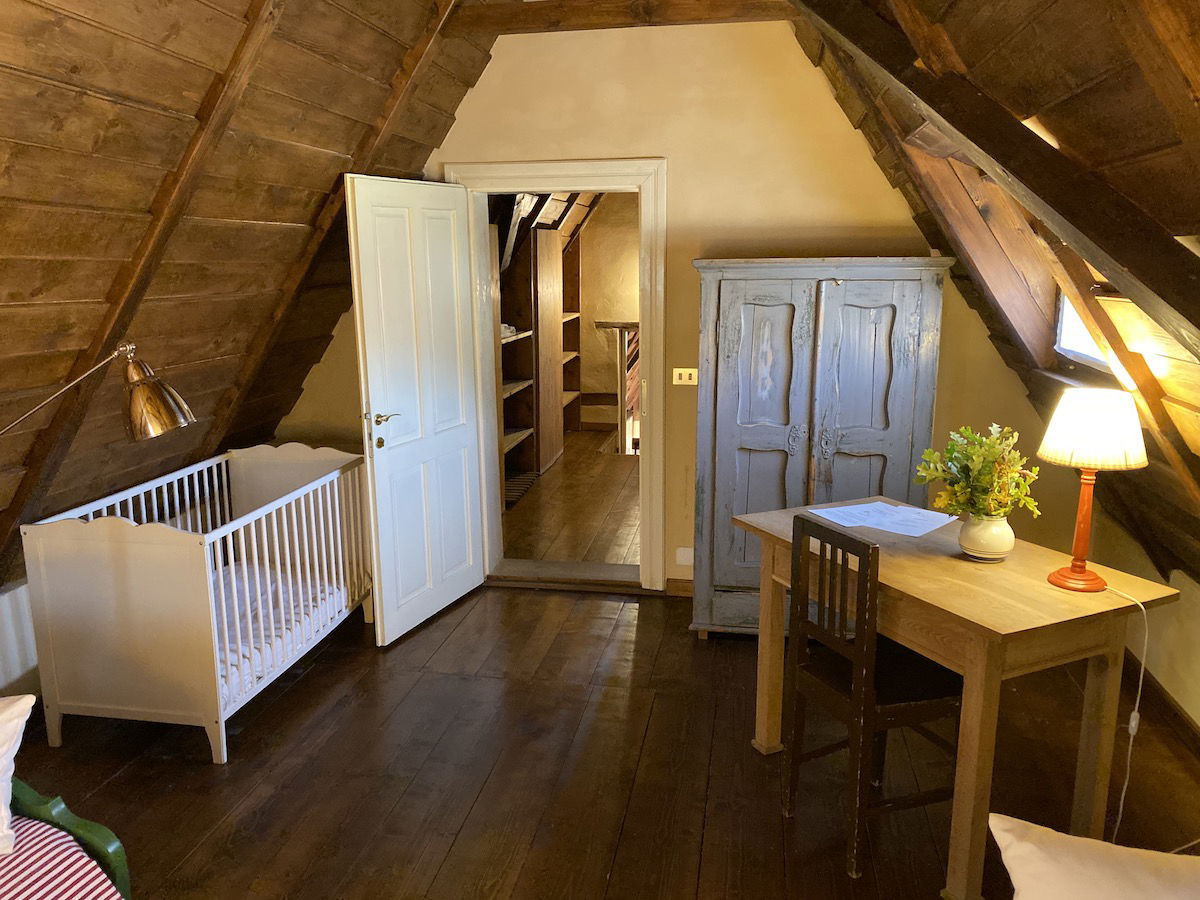 Copsamare Guesthouses bedroom
Outside the door was the bathroom, in two separate rooms — one room had a sink and toilet, while the other room had a sink and shower.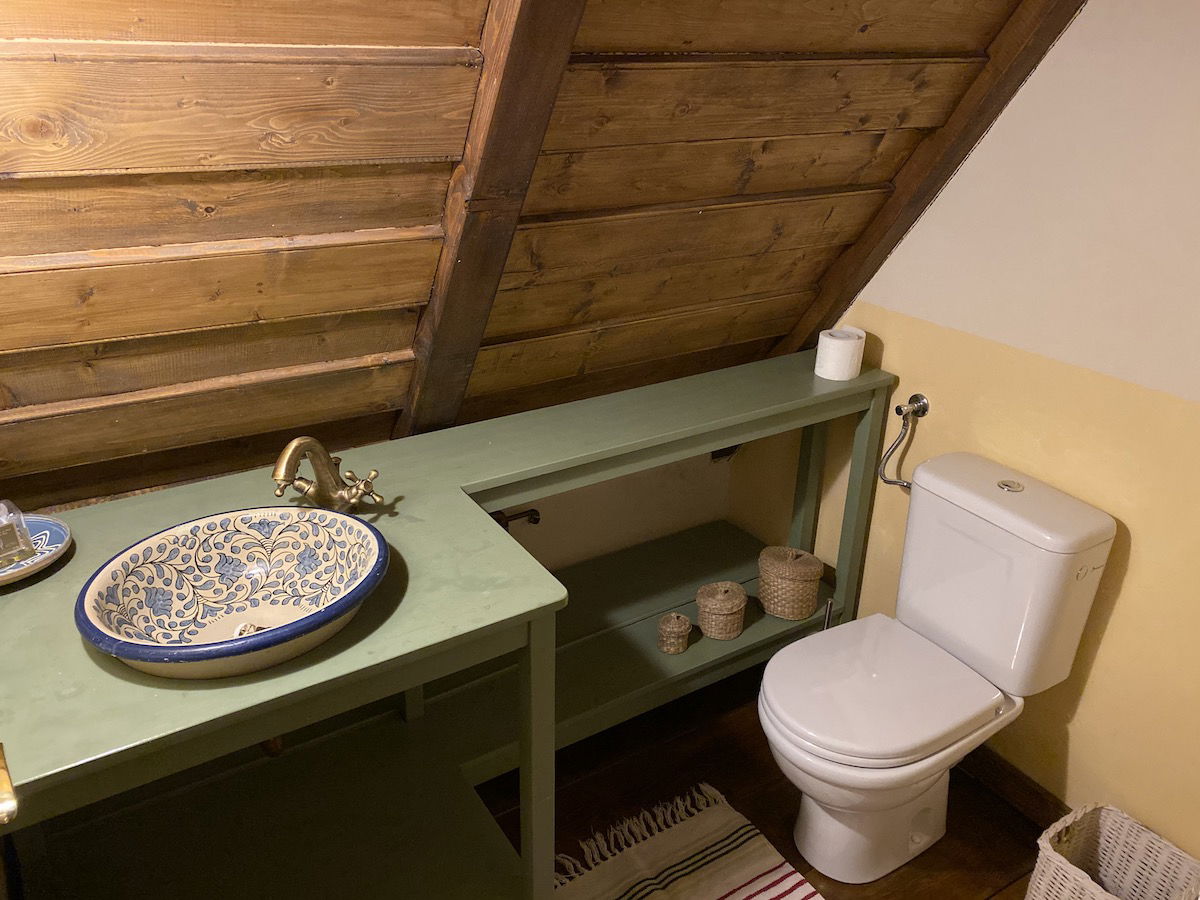 Copsamare Guesthouses bathroom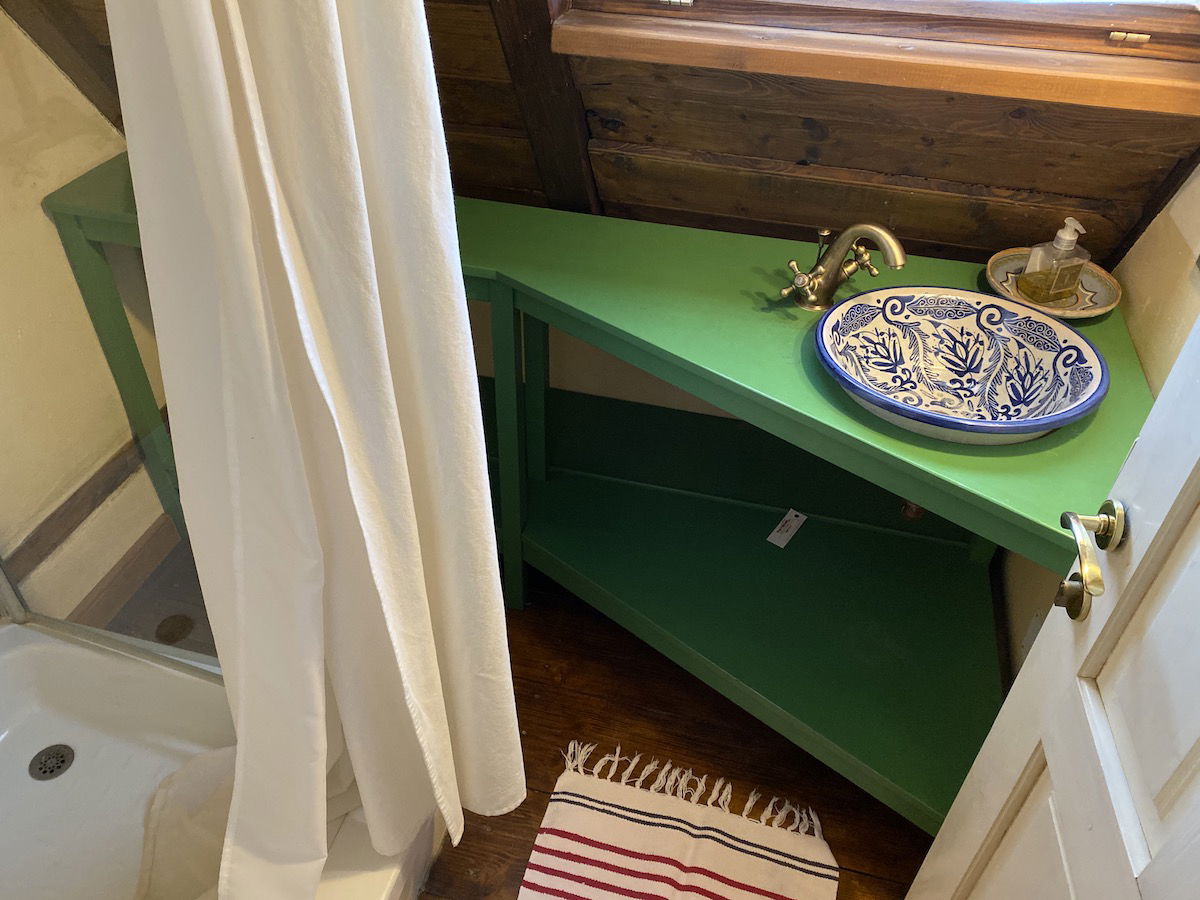 Copsamare Guesthouses bathroom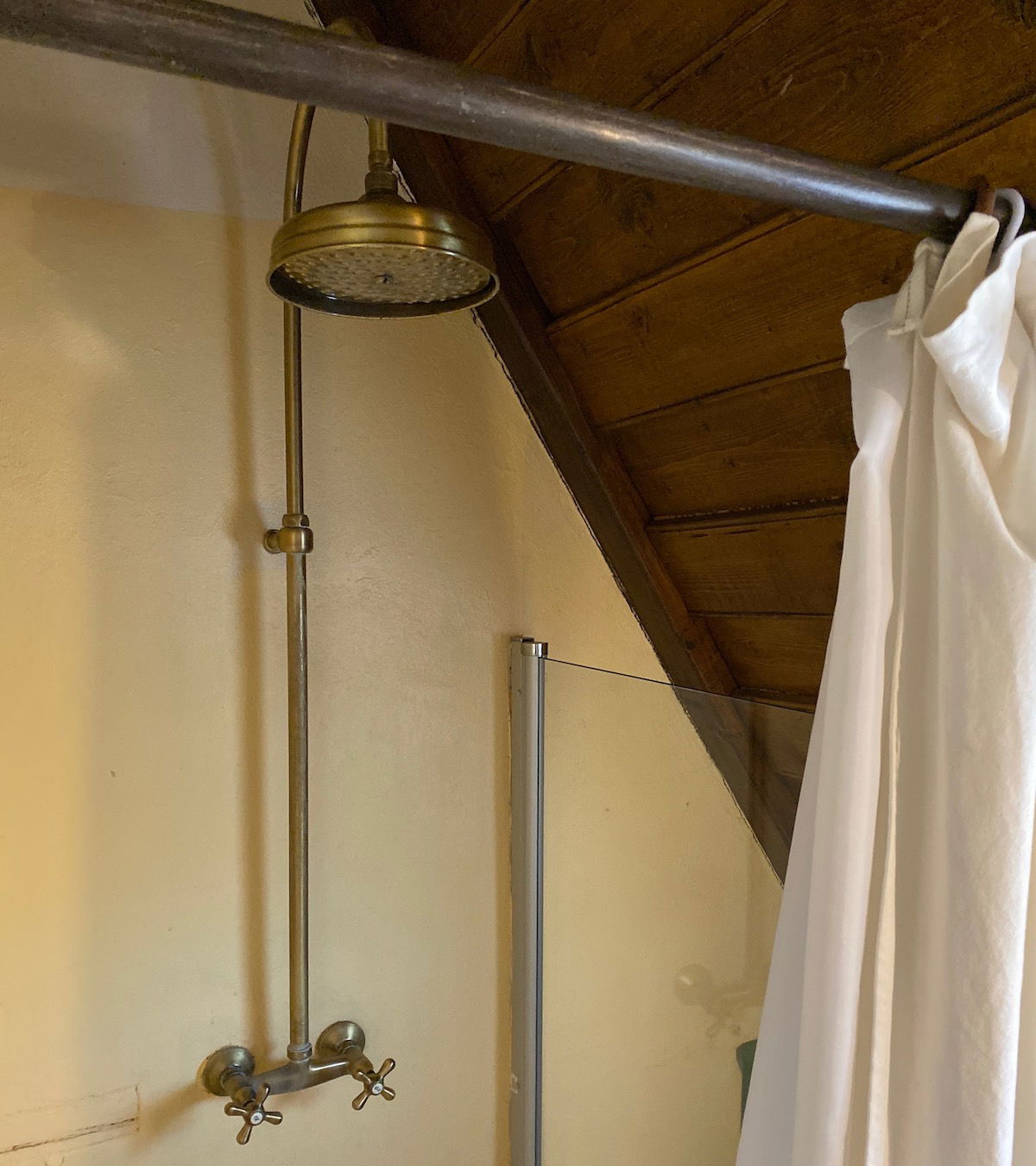 Copsamare Guesthouses shower
At first we were a bit confused. As Tiffany mentioned above, we had reserved two rooms with one bed each, and thought we had private rooms. After expressing that to Simona she went to make a phone call. She then told us that we had been moved to these rooms because the Wi-Fi in the main house wasn't working, and we had expressed functioning Wi-Fi was a priority.
It would have been nice if that was explained to us proactively, but it all worked out in the end. The twin beds were very comfortable, both in terms of the mattress and bedding.
There was someone else staying in the third bedroom in the house. The good news is that he was really quiet and was out most of the time, though otherwise I could see that being a bit awkward, at least if you weren't expecting it.
Funny enough that guy was actually on our Turkish Airlines flight into Cluj, and was seated immediately behind us. What are the odds of that?!
In the future I think it could be nice to stay here as a group and reserve all three rooms, since you'd get three bedrooms and the entire living area to yourself.
While I thought the setup was nice, I should note:
The sound insulation was really bad; when Tiffany quietly made a phone call from her bedroom I could hear every word from my bedroom, as if I was sitting next to her (and both of our doors were closed)
For a small town it sure was damn noisy; the neighbor's dog literally barked for hours on end, while a guy with a loudspeaker kept driving down the main street yelling, over, and over, and over, both in the evening and in the morning (any guesses what was going on?)
Dining At Copsamare Guesthouses
While our accommodation was cute, the main kitchen and dining area of the guesthouses was even cuter. This was back in the main building. Based on the exterior of the building…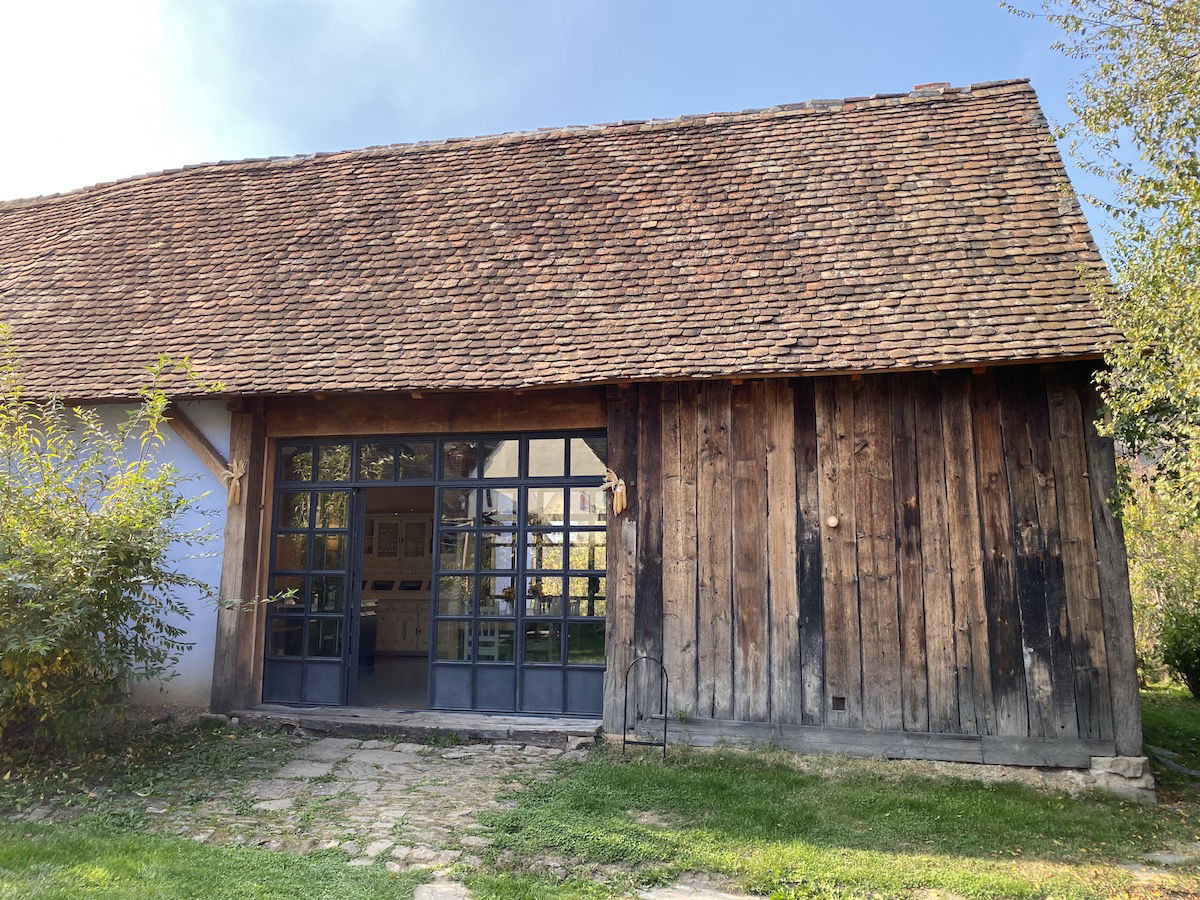 Copsamare Guesthouses main building
…you sure wouldn't expect such a modern kitchen and dining area.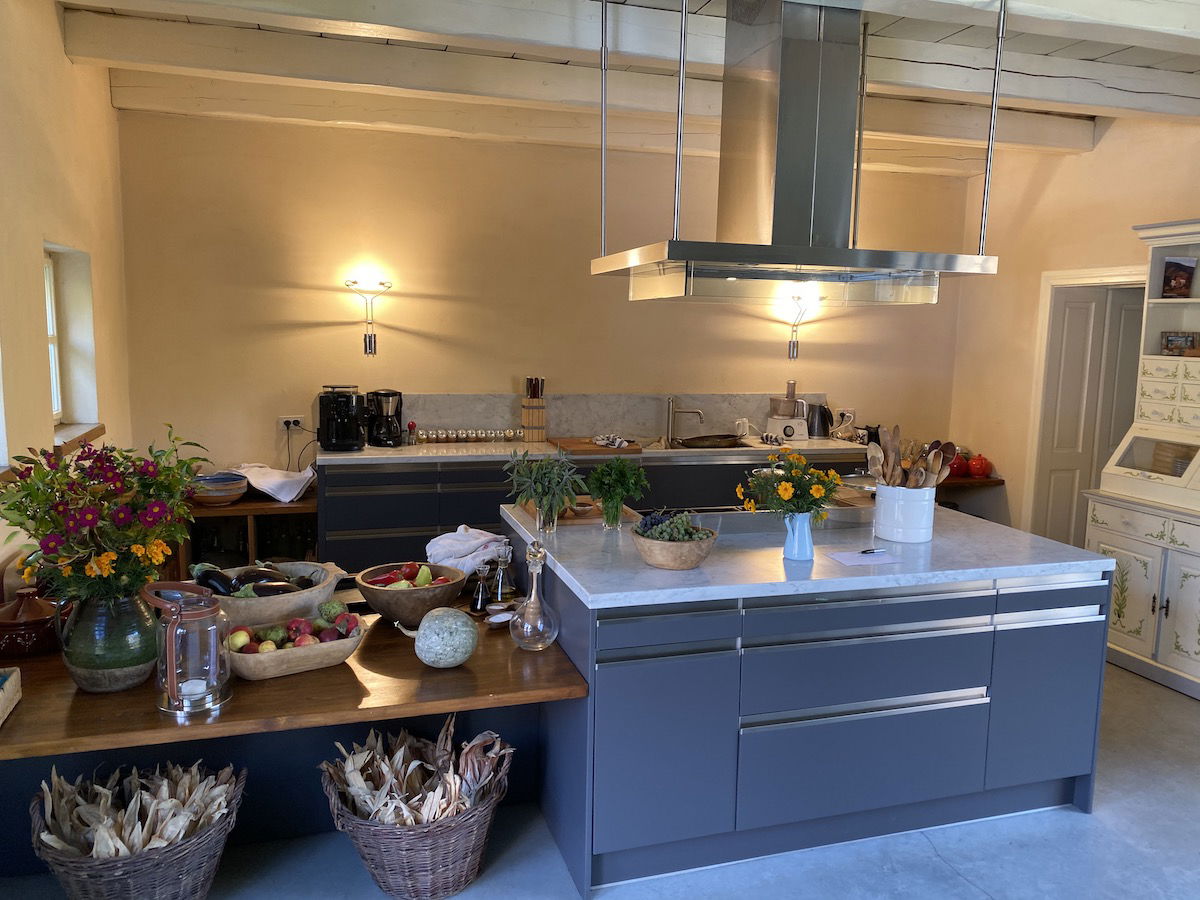 Copsamare Guesthouses kitchen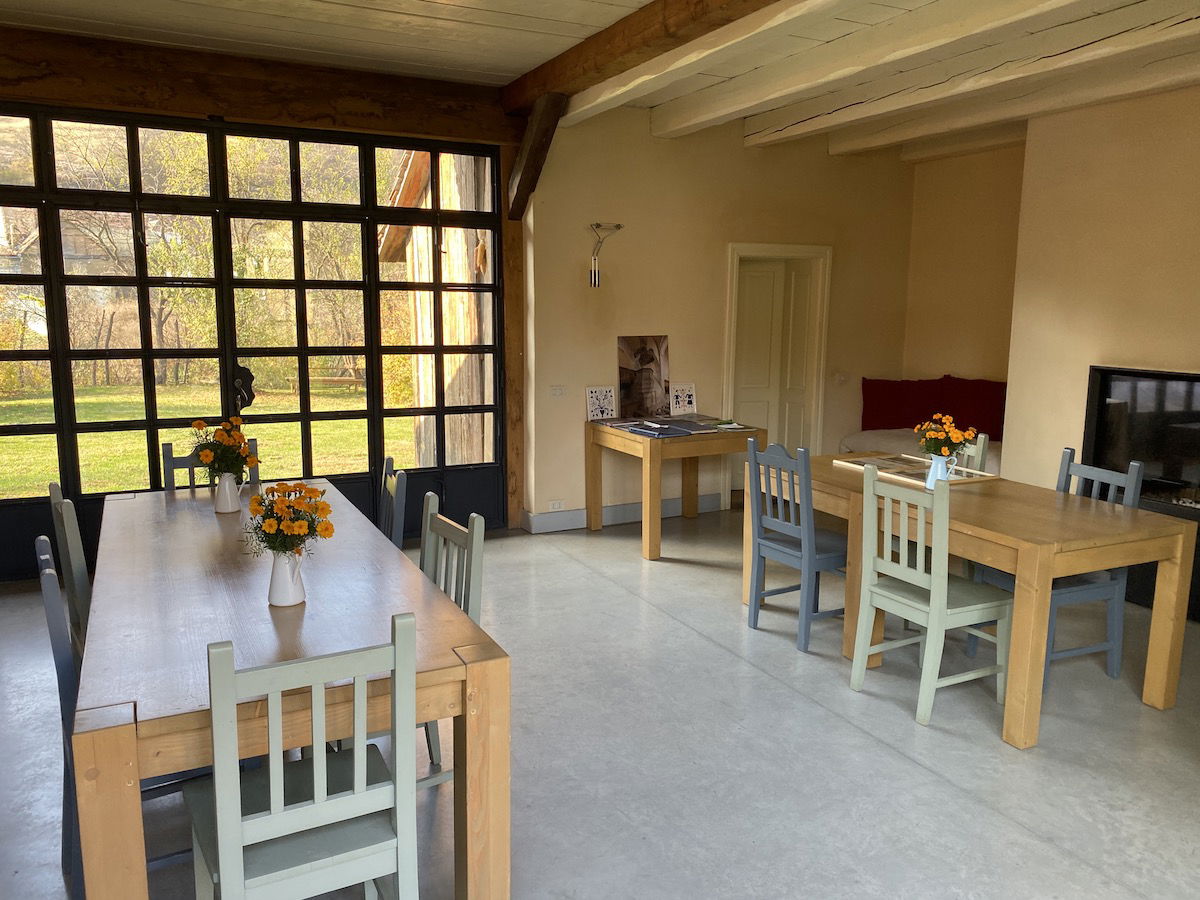 Copsamare Guesthouses dining area
I imagine in summer it would also be nice to dine outside, though it was too cold in the mornings and evenings for us to do that in fall.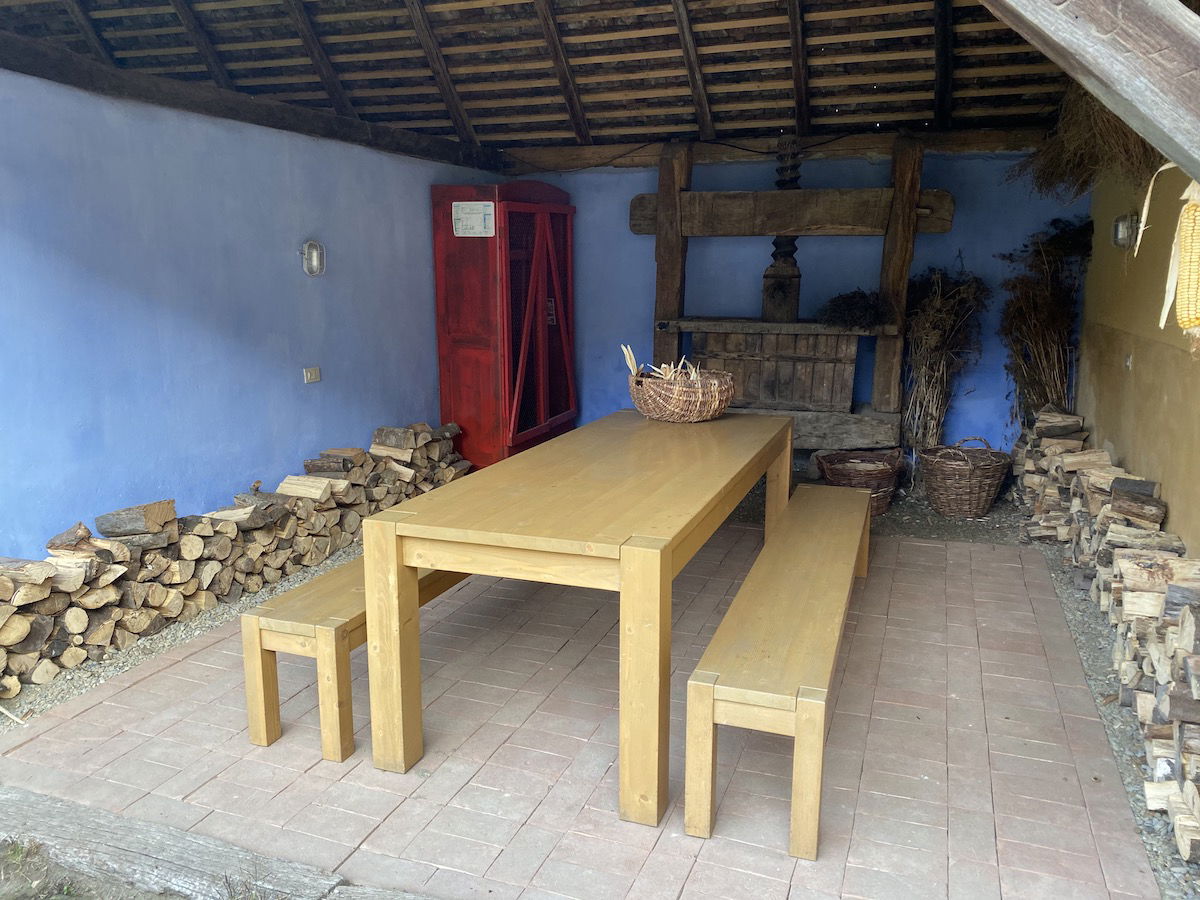 Copsamare Guesthouses dining area
Breakfast is included for all guests, though on demand they'll also prepare lunch or dinner. We decided to have dinner at the guesthouses at 7:30PM (apparently the cost is about 20EUR per person).
When we arrived we found the table already set up, and a fire burning. I imagine the dining area has more people in summer, but in this case we had the place to ourselves. Simona cooked us dinner, so it really was a home cooked meal.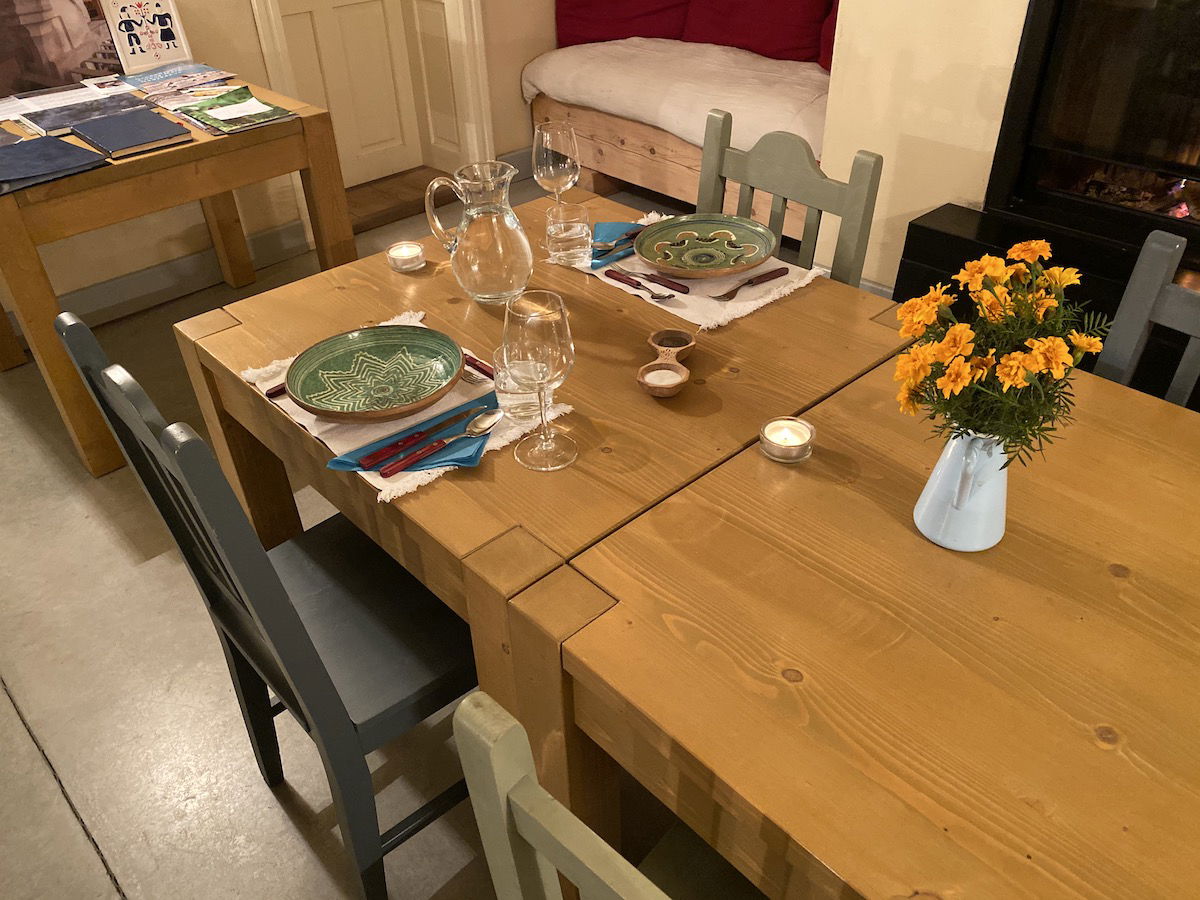 Copsamare Guesthouses dinner
We ordered a Romanian white wine to drink, which was tasty.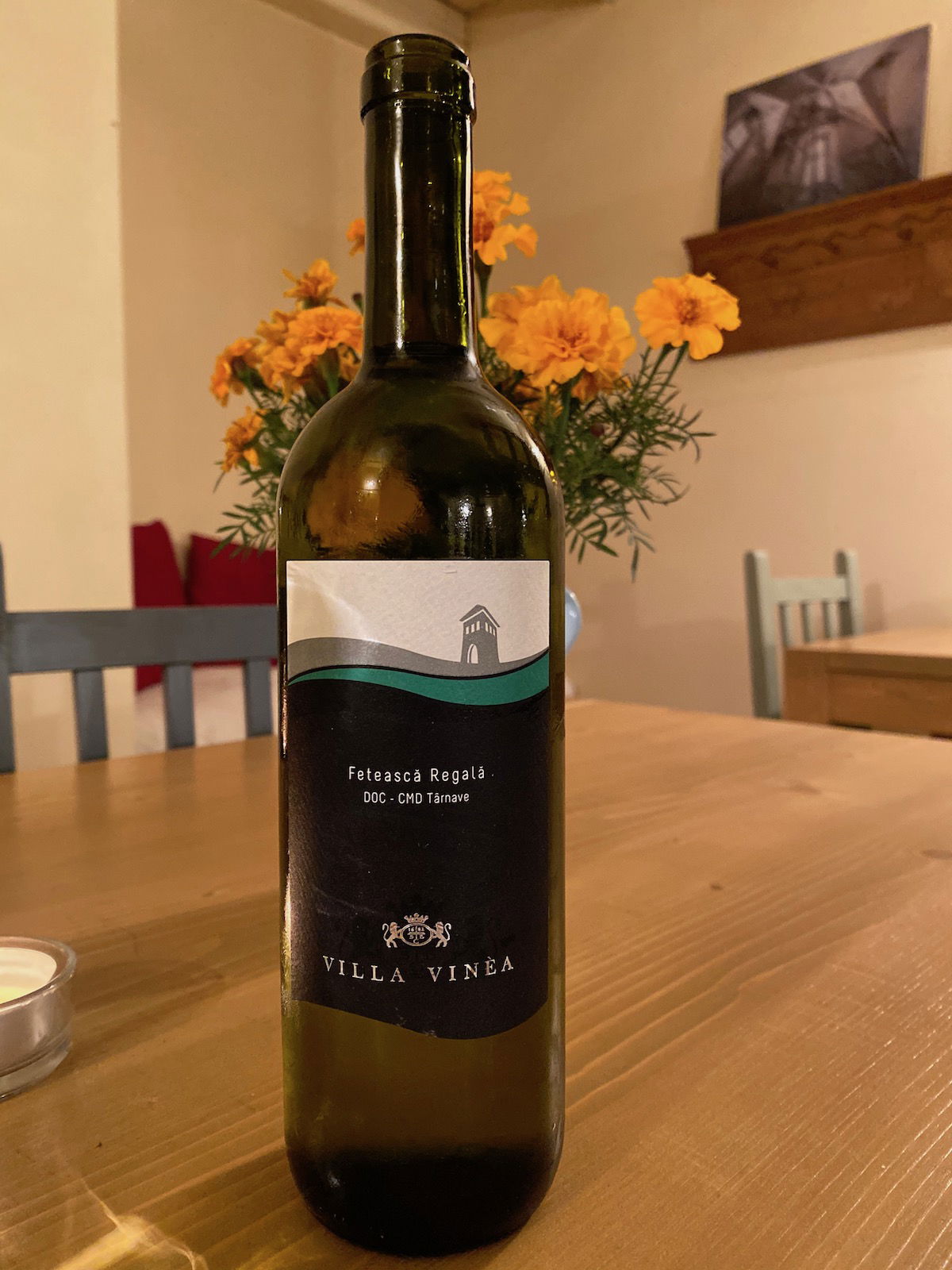 Copsamare Guesthouses wine
There was no menu, but rather Simona prepared something for us based on dietary restrictions expressed in advance (Tiffany is gluten free, and I don't eat pork).
To start we were served a flavorful bean soup.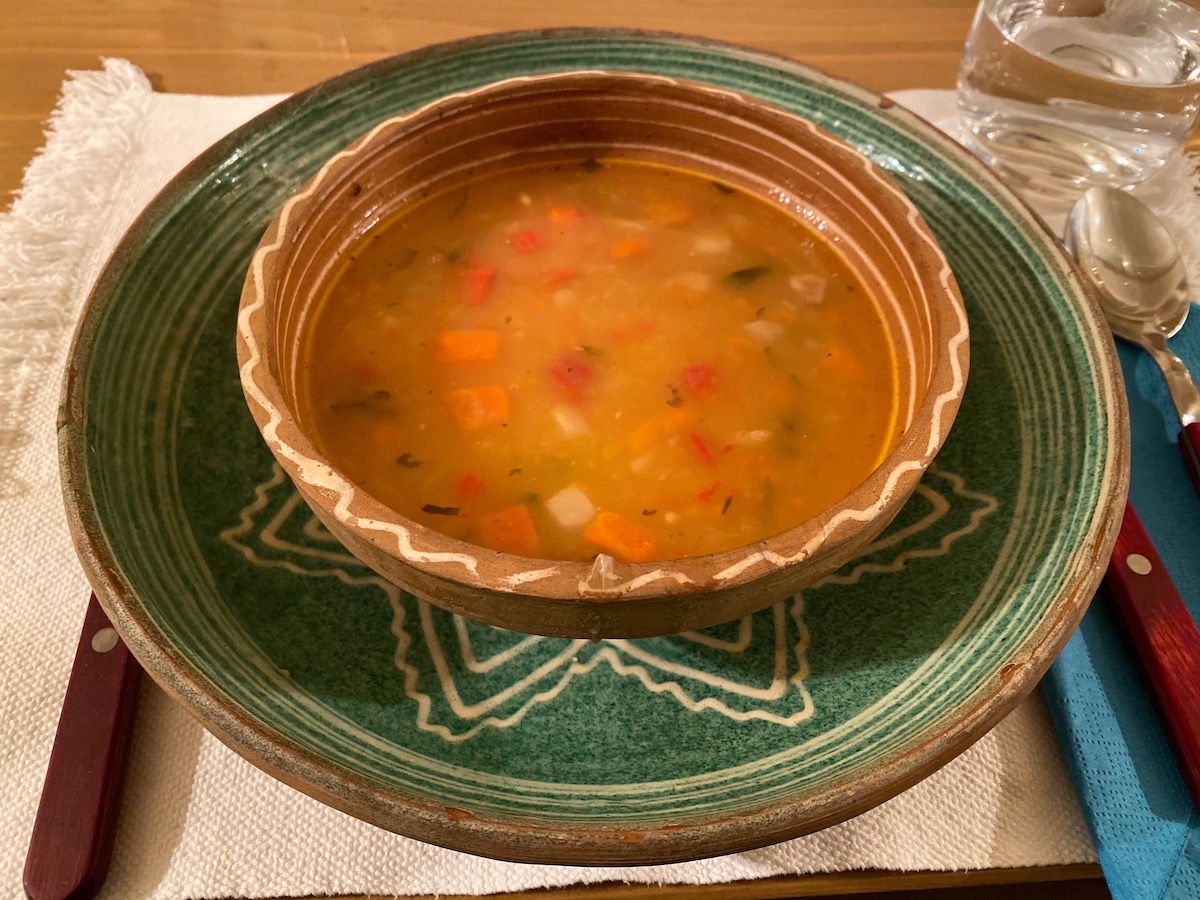 Copsamare Guesthouses dinner
For the main course she prepared eggplant, as well as potatoes with onions and peppers.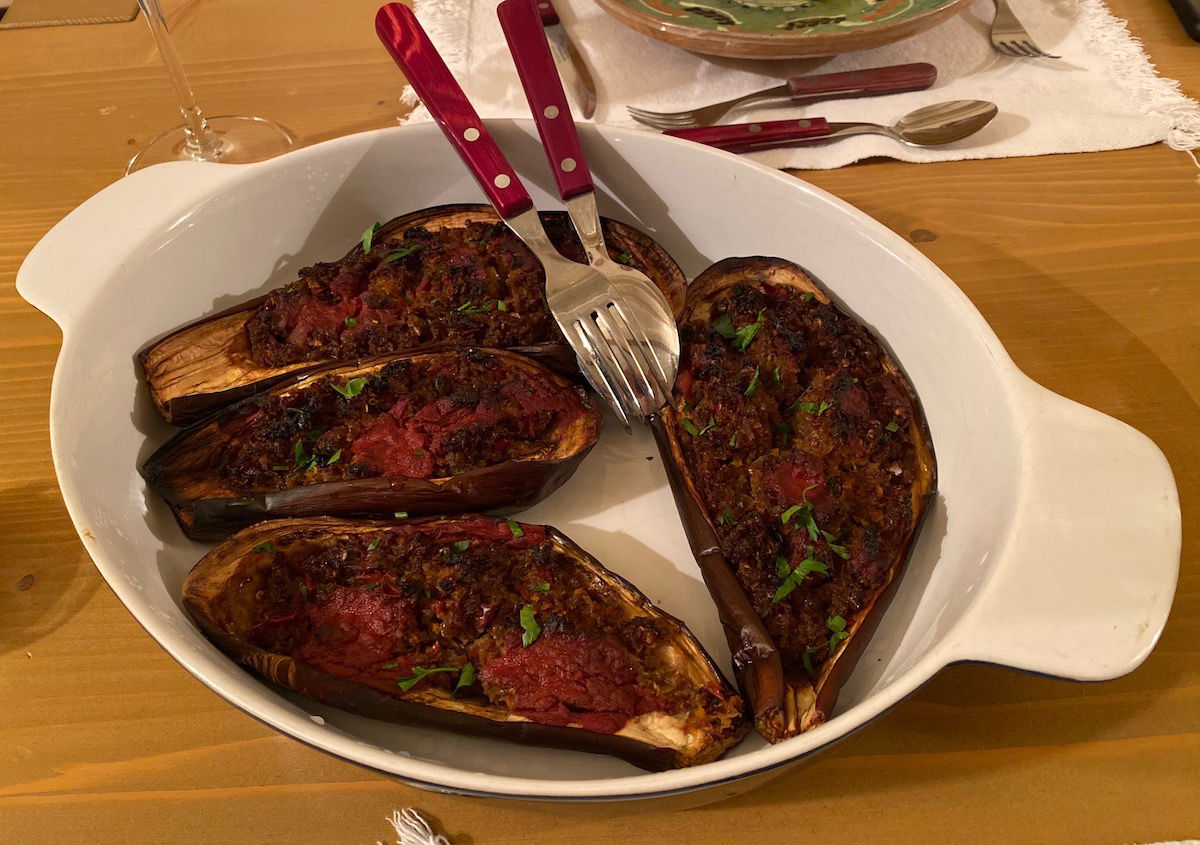 Copsamare Guesthouses dinner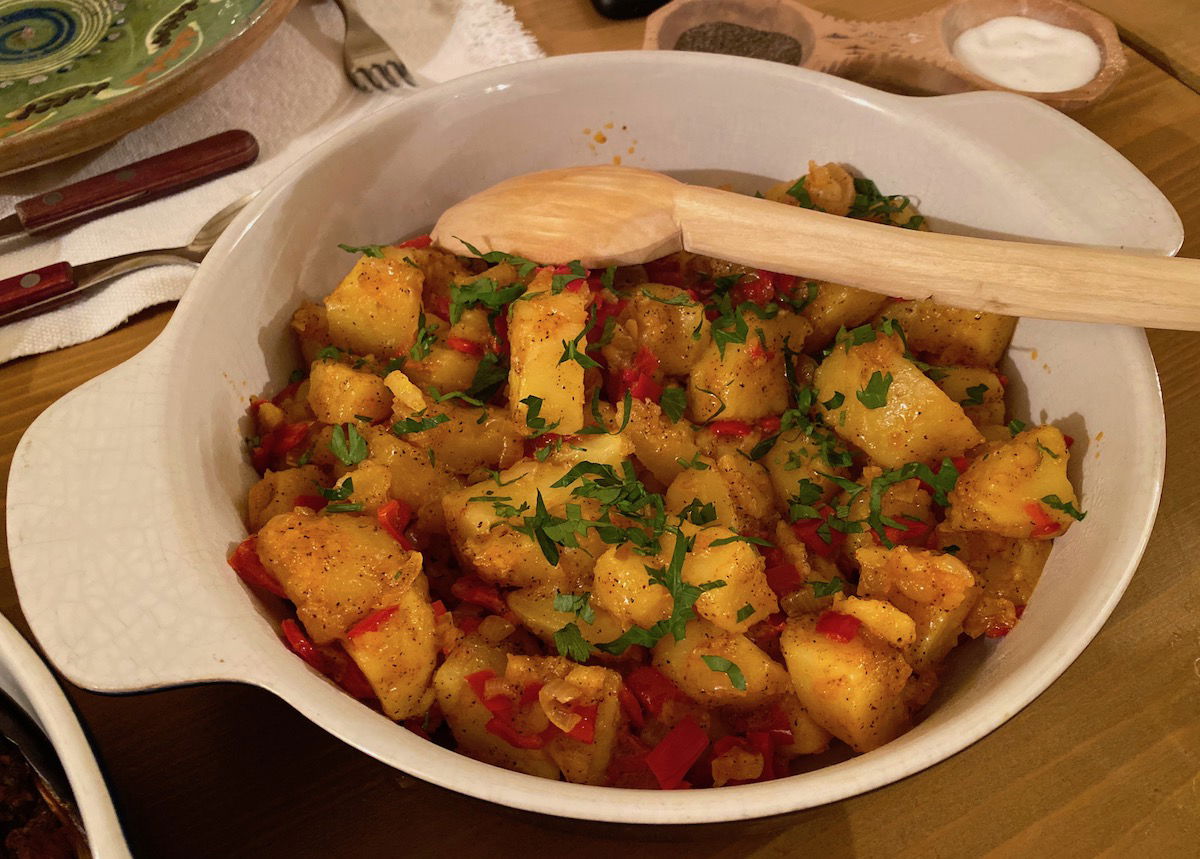 Copsamare Guesthouses dinner
For dessert we had baked apples with orange and yogurt mint sauce.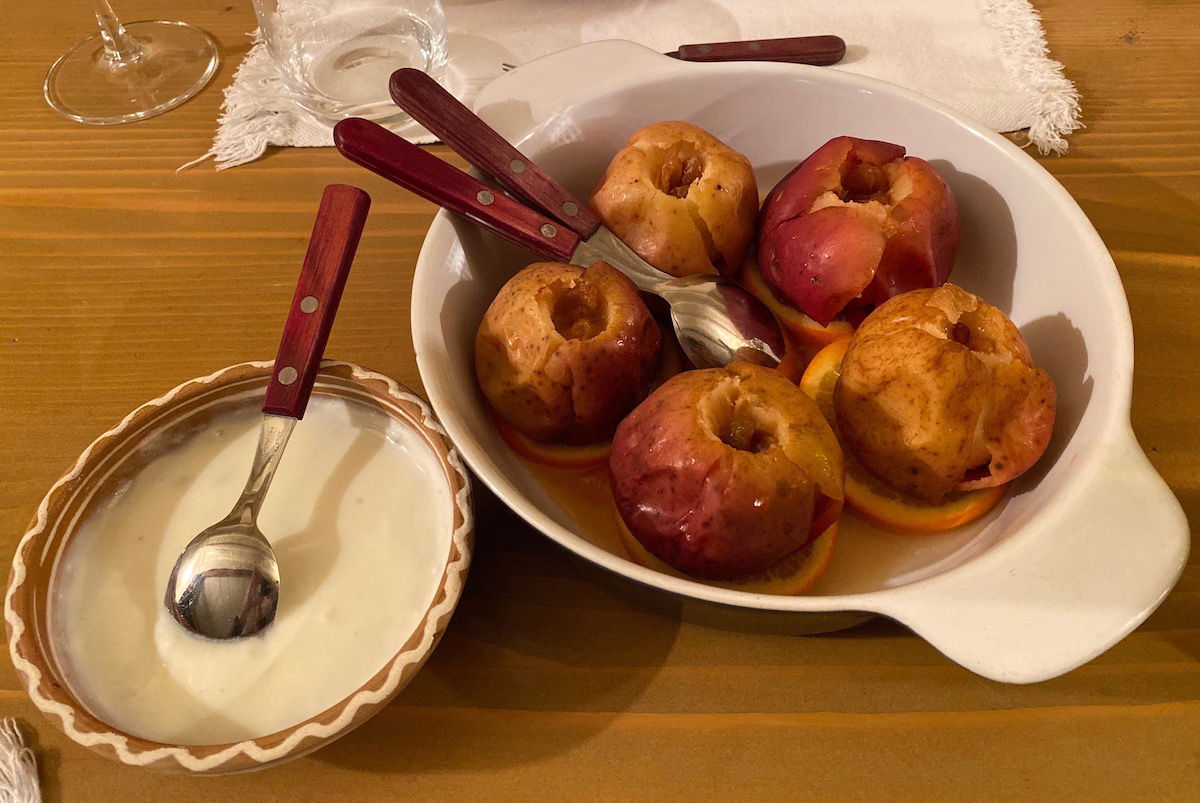 Copsamare Guesthouses dinner
The meal, and entire dining experience, for that matter, was sublime.
Breakfast at Copsamare is served between 8:30AM and 10AM, so we had breakfast right at 8:30AM, before hitting the road. Once again our table had already been set.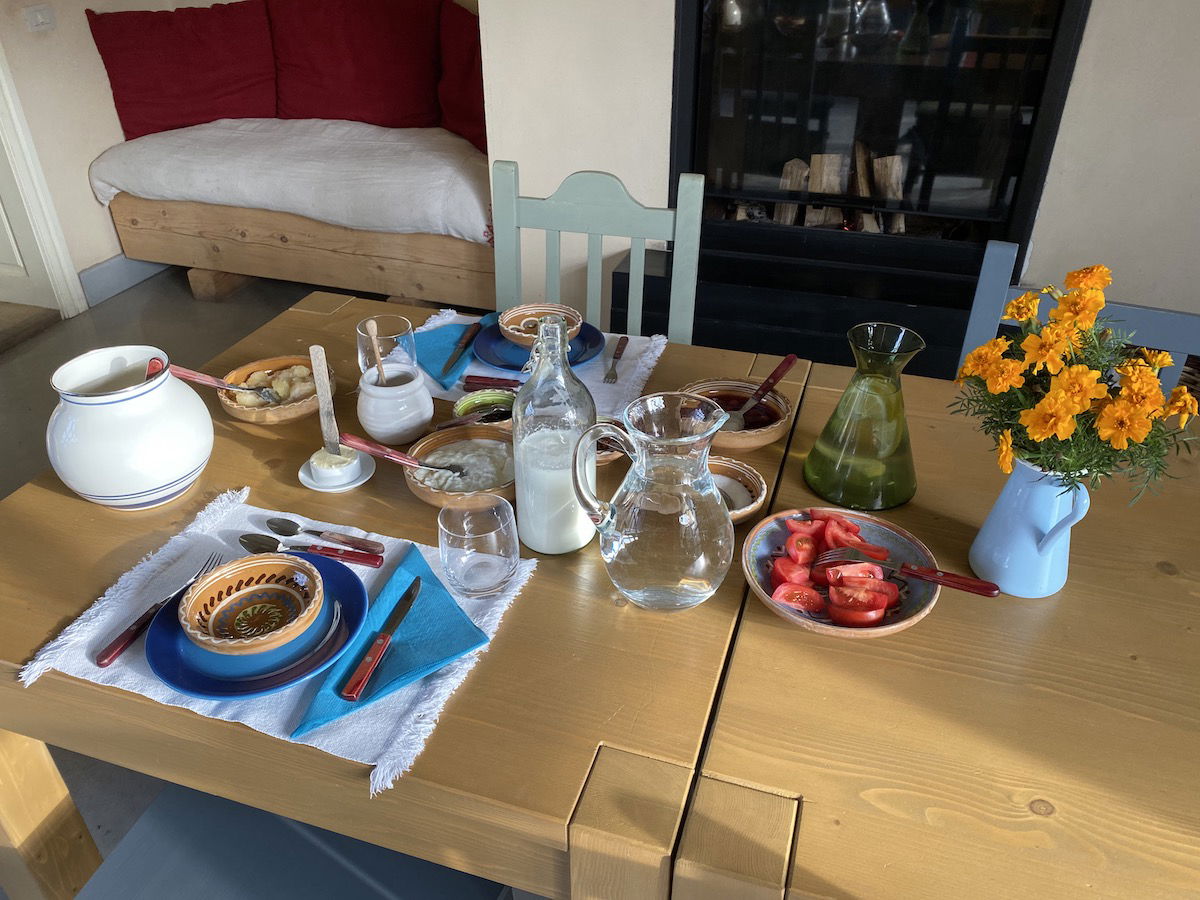 Copsamare Guesthouses breakfast
There were a variety of dishes on the table, including yogurt, muesli, tomatoes, bread, apples, fresh honey and jams, and more.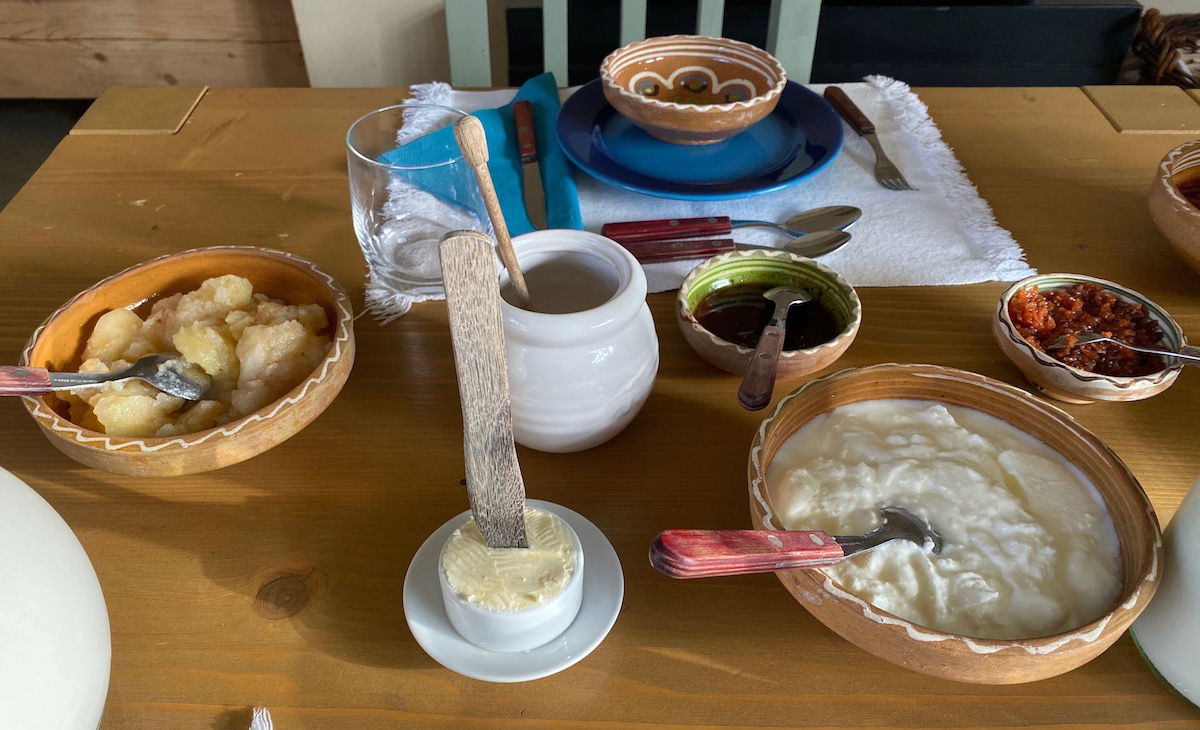 Copsamare Guesthouses breakfast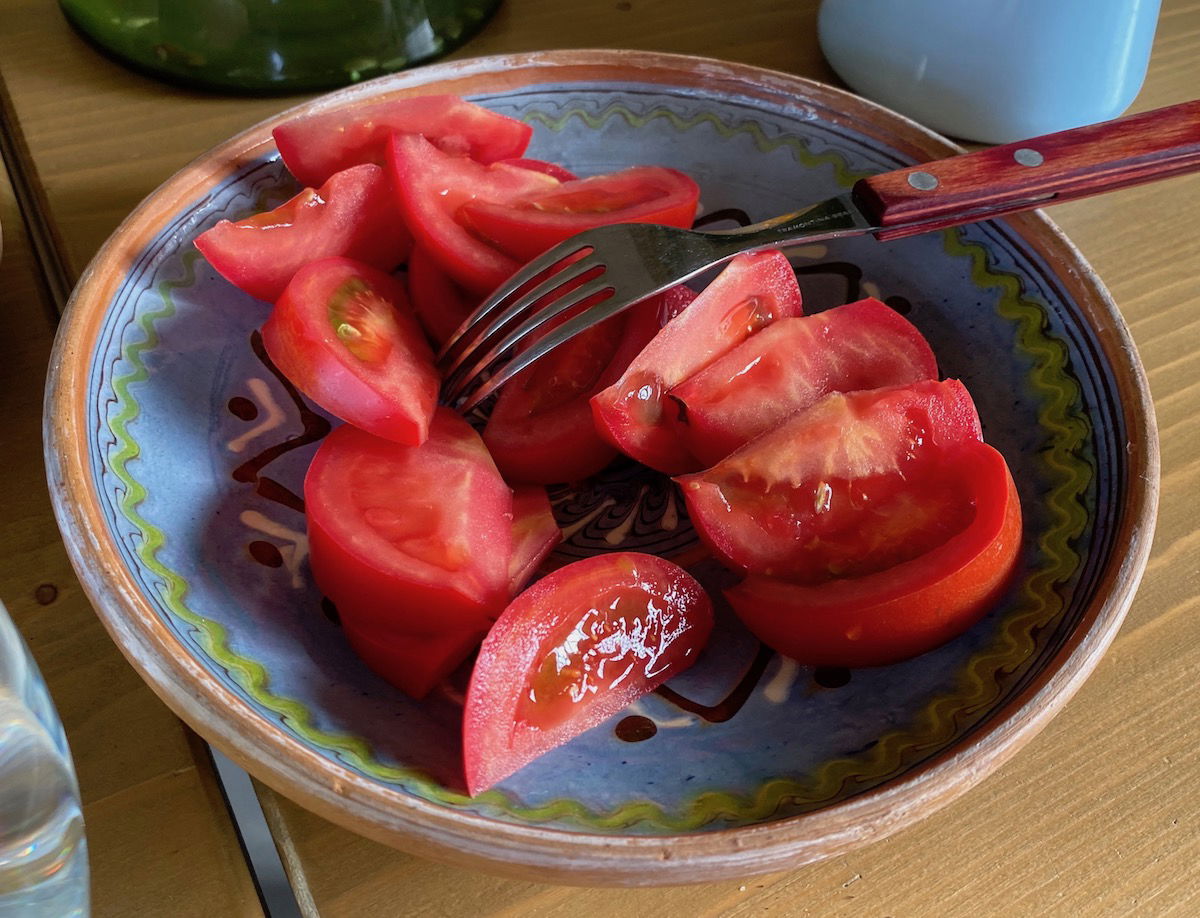 Copsamare Guesthouses breakfast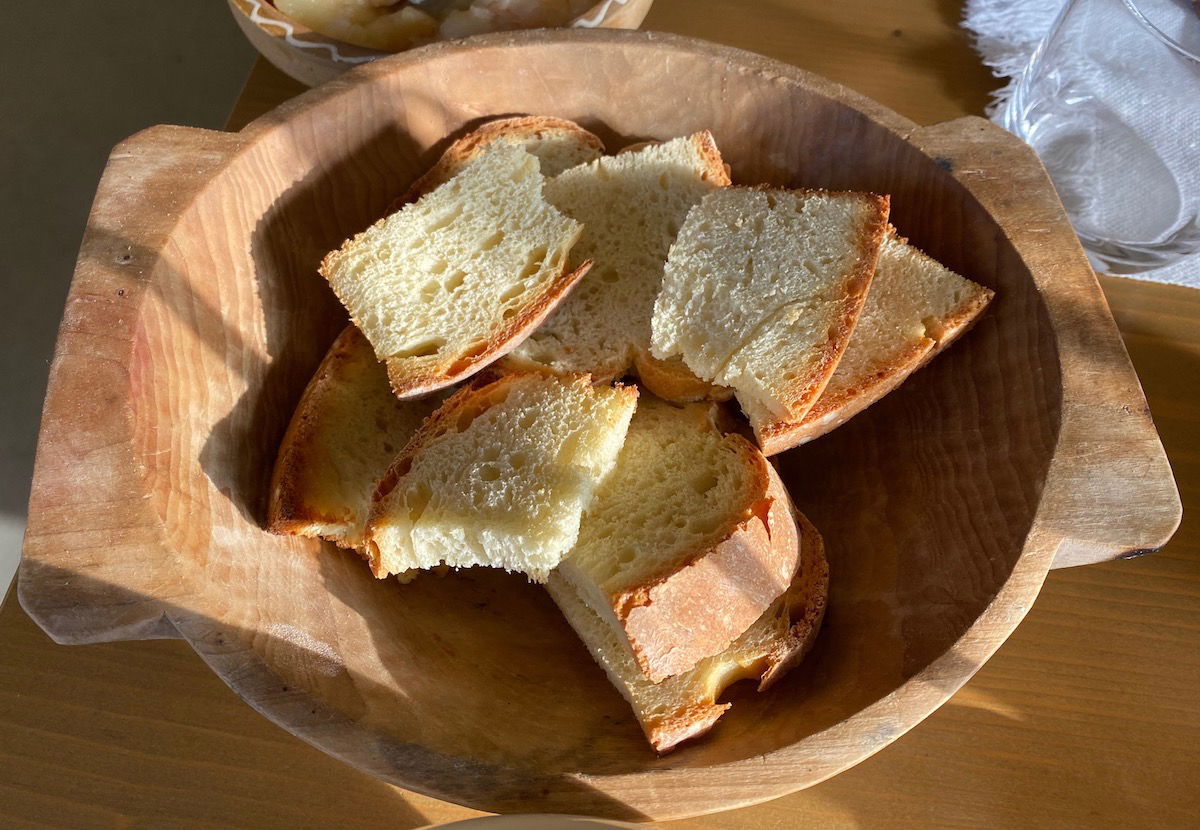 Copsamare Guesthouses breakfast
We were also offered cooked to order eggs.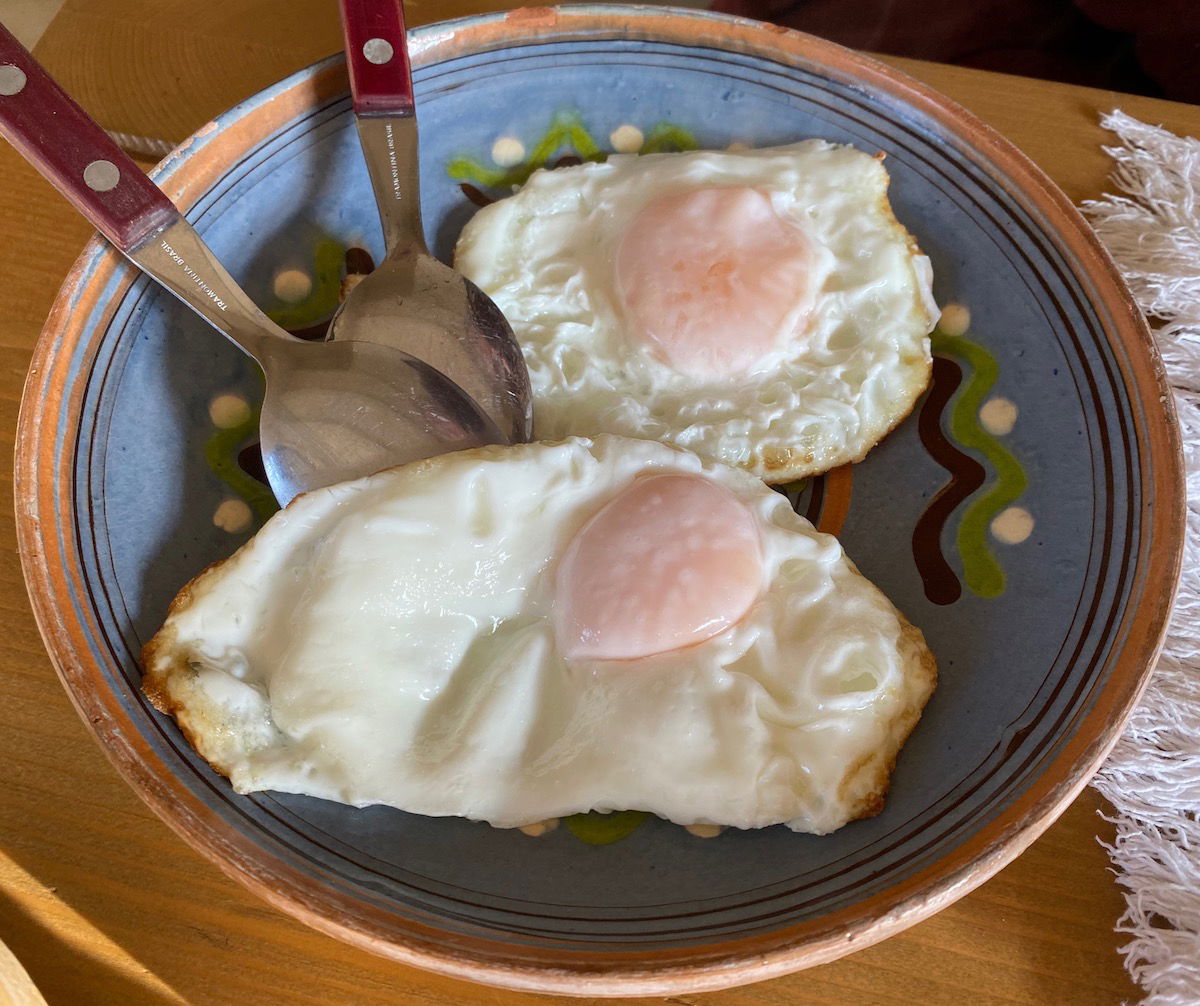 Copsamare Guesthouses breakfast
This beats a hotel breakfast any day of the week!
Copsamare Guesthouses Activities
Since we were on a road trip, ultimately this was just a quick overnight stop for us. We arrived in the afternoon and left in the morning. To provide some constructive feedback, I do think they could do a much better job promoting what there is to do in the town.
We weren't proactively told about any activities, and only upon leaving did we see a sheet that listed some of the possible activities, some of which sounded intriguing.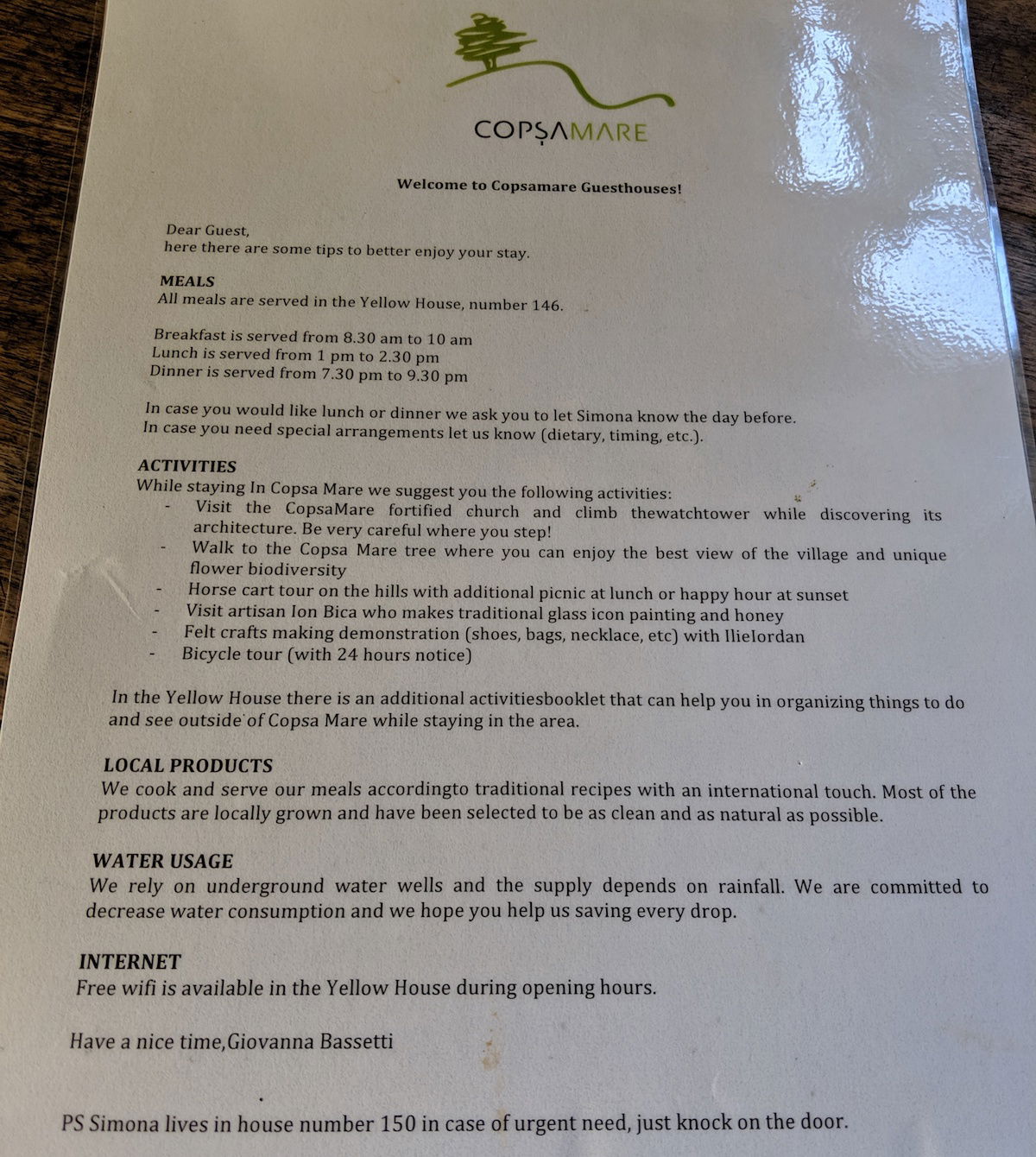 Copsamare Guesthouses Bottom Line
All things considered we had an excellent stay at Copsamare Guesthouse. This was such a charming property, and the food in particular was a highlight. I also thought the guesthouse as such was great (perhaps minus the bathroom situation and sound insulation), and I think it could be even more enjoyable if you take up all three rooms and have the space to yourself.