---
I don't know why I was so excited about flying TAROM business class, given that intra-Europe business class is rarely anything to get excited about. I guess there were potentially a couple of reasons:
TAROM is one of the last several airlines belonging to the "big three" alliances that I haven't flown; at this point the only remaining ones are Aerolineas Argentinas, Copa, Juneyao Airlines, S7 Airlines, and Shenzhen Airlines
It was my understanding that at least some TAROM planes have (or at least had) "proper" seats in intra-Europe business class, so I wasn't sure what we would get; there's not much info out there on them
Booking TAROM Business Class
Obviously reviewing flights is a big motivator in taking these trips. I was happy we were able to try Turkish's new 787-9 business class on the way out, and on the return I also wanted to try something new:
Since we were leaving Romania, I figured it was the chance to finally try TAROM
I really wanted to review Virgin Atlantic's brand new A350-1000 Upper Class, which just recently debuted between London and New York
In theory I could have booked all of this on a Delta SkyMiles award ticket, though there wasn't award availability for our dates, not to mention the mileage cost would have been steep, and there would have been carrier imposed surcharges.
Fortunately there were some really good paid rates. We managed to book a roundtrip ticket from Bucharest to New York for $1,200, with the outbound in business class and the return in economy.
The outbound portion of the ticket (in business class) looked as follows:
10/30 RO391 Bucharest to London departing 12:20PM arriving 2:05PM
10/31 VS139 London to New York departing 12:30PM arriving 4:20PM
I'd say that's a solid deal.
TAROM Business Class Review
TAROM 391
Bucharest (OTP) – London (LHR)
Wednesday, October 30
Depart: 12:20PM
Arrive: 2:05PM
Duration: 3hr45min
Aircraft: Airbus A318
Seat: 2C (Business Class)
The A318 is such a cute little jet, and you don't see them at very many airlines. It's the smallest version of the A320 family, and the plane seats about 110 people. Economy was in a 3-3 configuration, with a fairly outdated cabin (which is often a good thing, since it means they haven't installed the new "enhanced" slimline seats), though they did have dropdown monitors.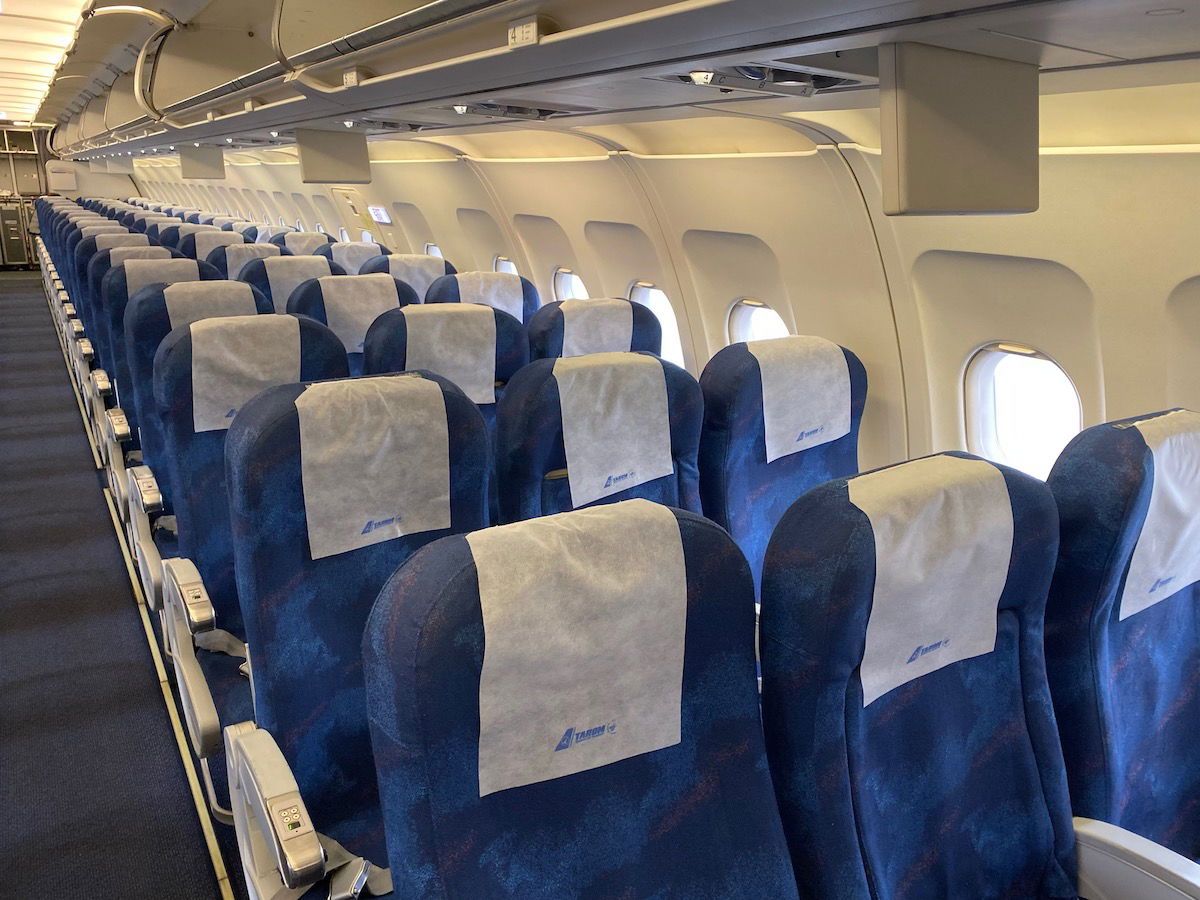 TAROM A318 cabin
Unfortunately on this plane business class just consisted of economy seats with blocked middles. There were a total of six business class seats, as there were two rows on the left side, and one row on the right side.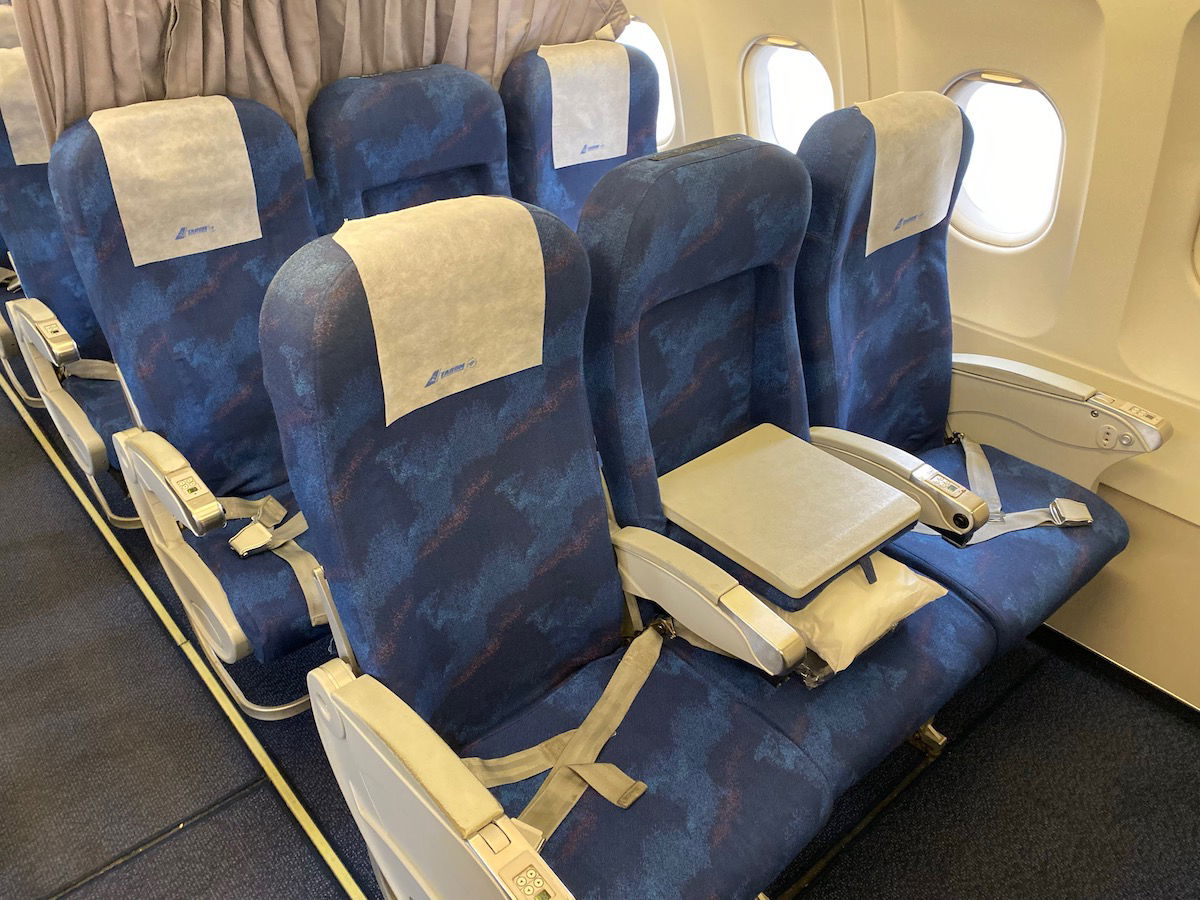 TAROM A318 business class seats
Both of the bulkhead rows had tons of legroom, and in the future I'd probably choose the bulkhead on the right side due to how much space it had.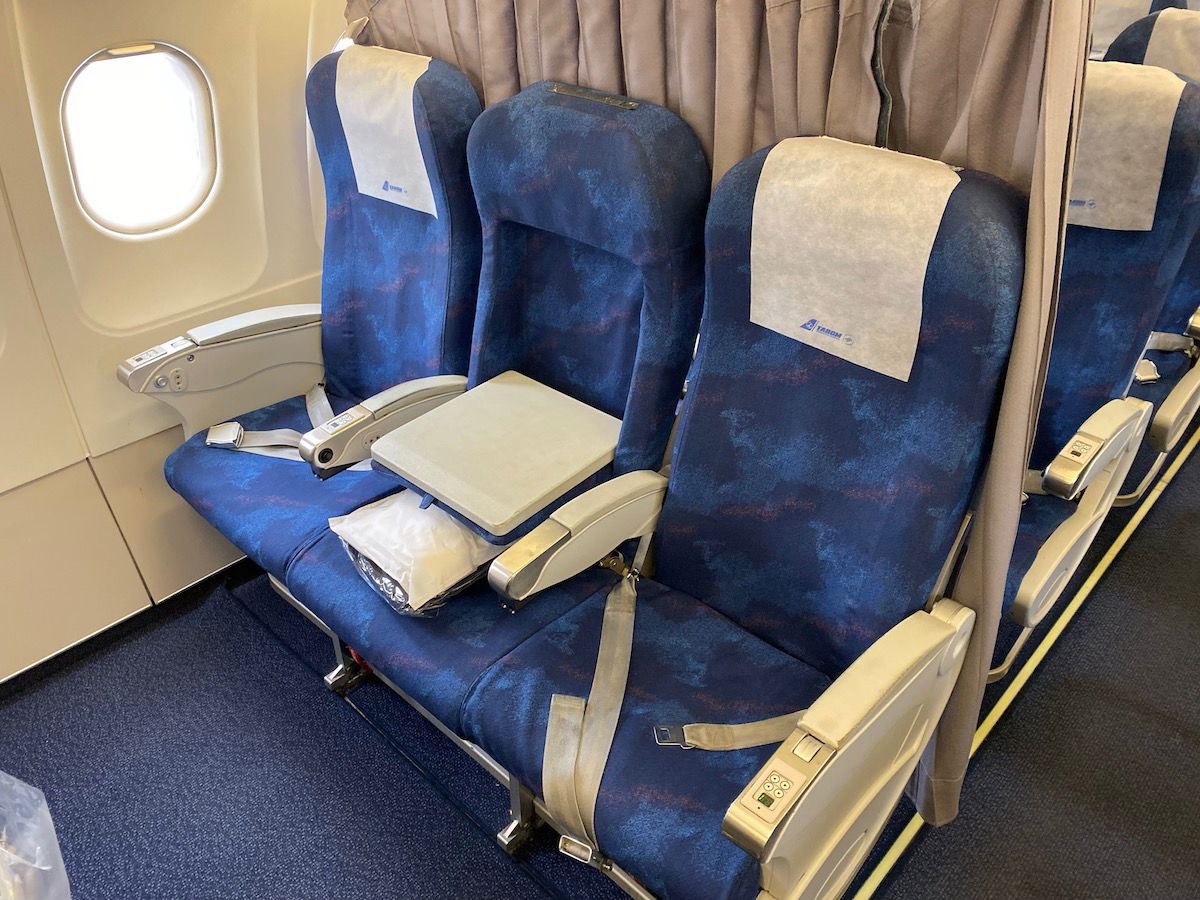 TAROM business class seats A318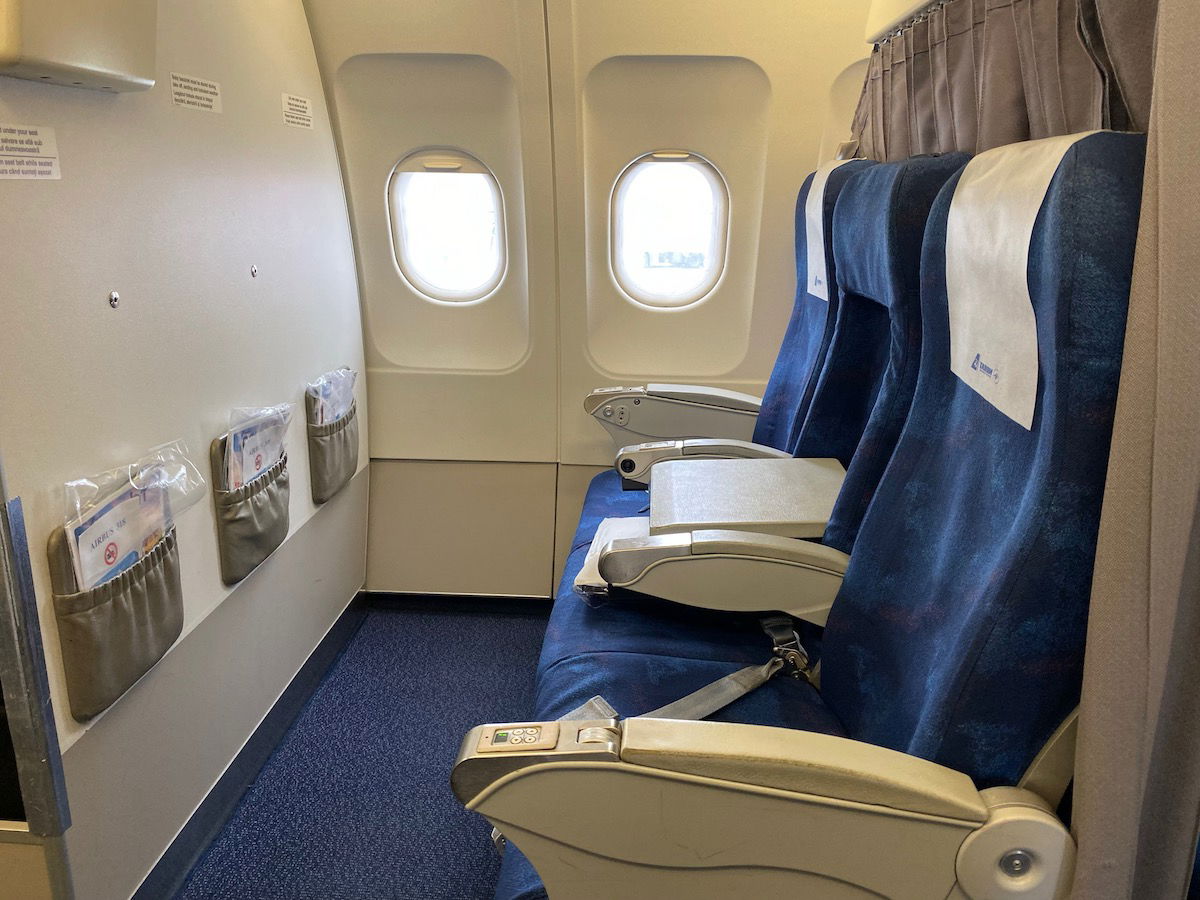 TAROM business class seats A318
But even in the row with seats in front, I found legroom to be quite good, well above average for a regionally configured aircraft.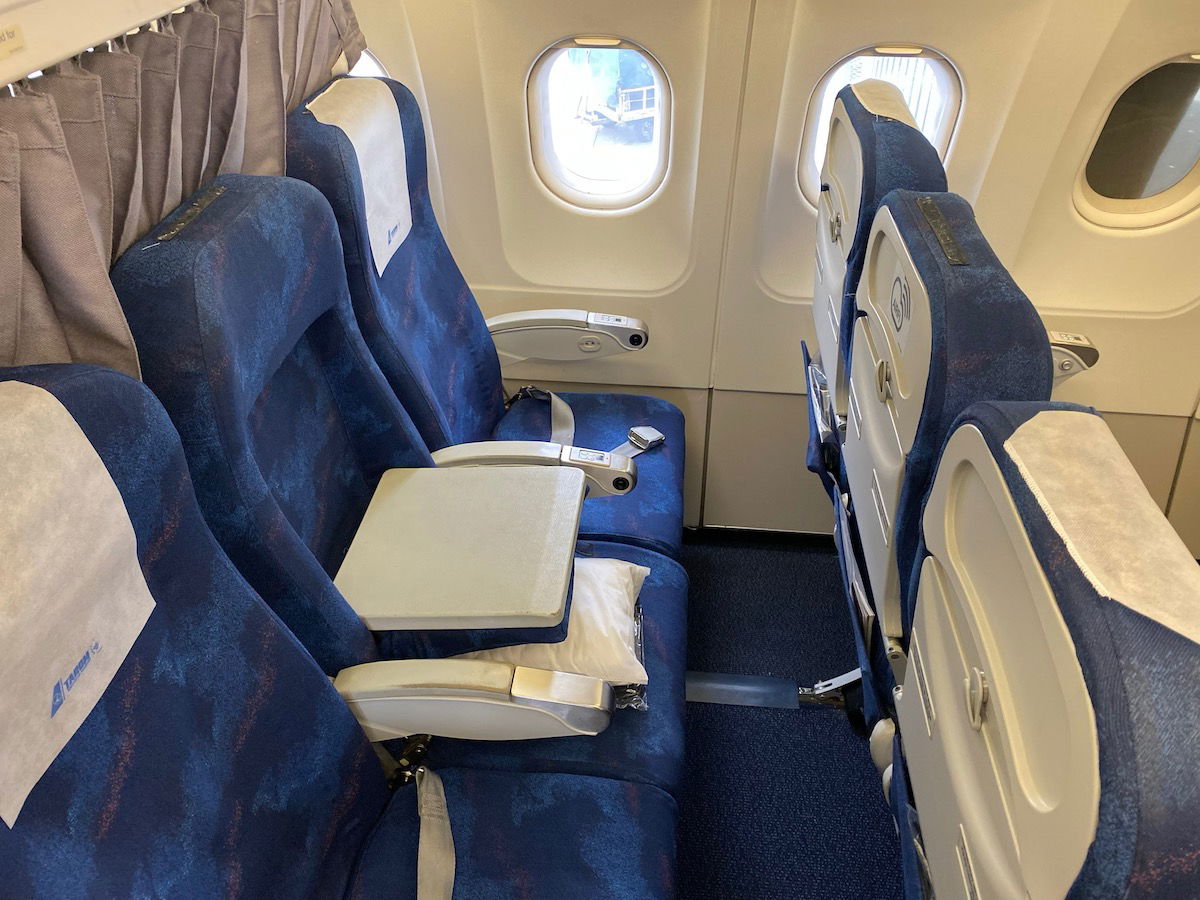 TAROM business class seats A318
As it the norm in intra-Europe business class, the center seat had a tray on it, so you can place drinks there without taking out your tray table.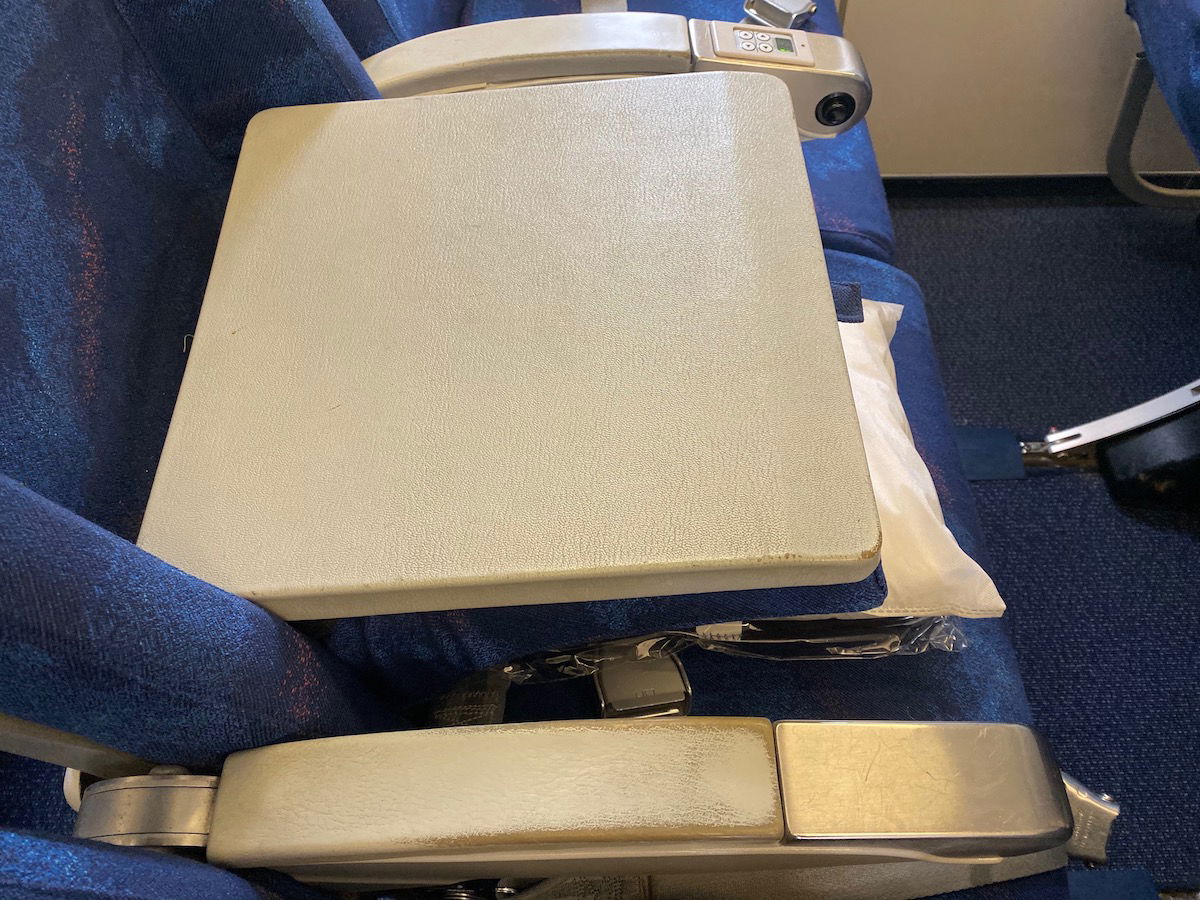 TAROM business class blocked middle seat
The tray table was a standard economy one, and folded out from the seat in front.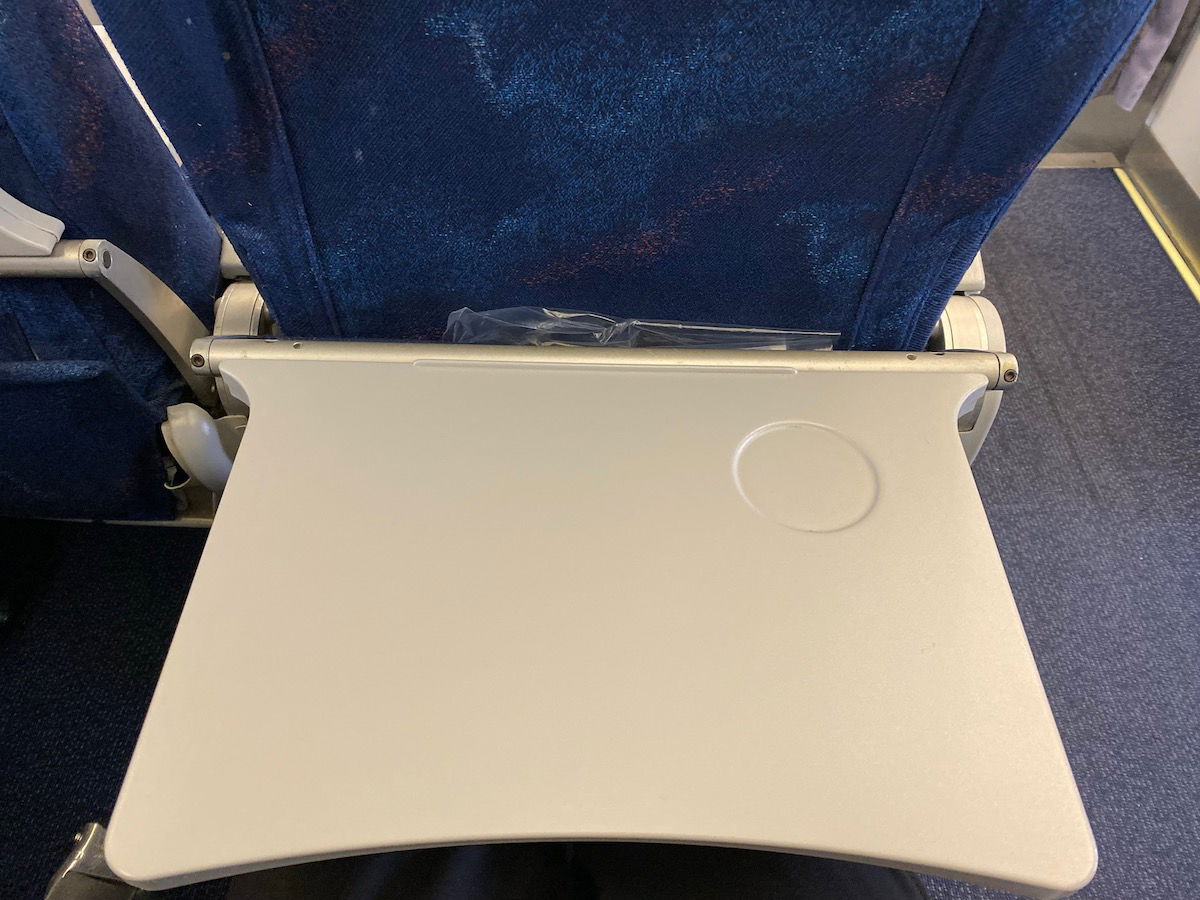 TAROM business class tray table
There were individual air nozzles and reading lights at every seat.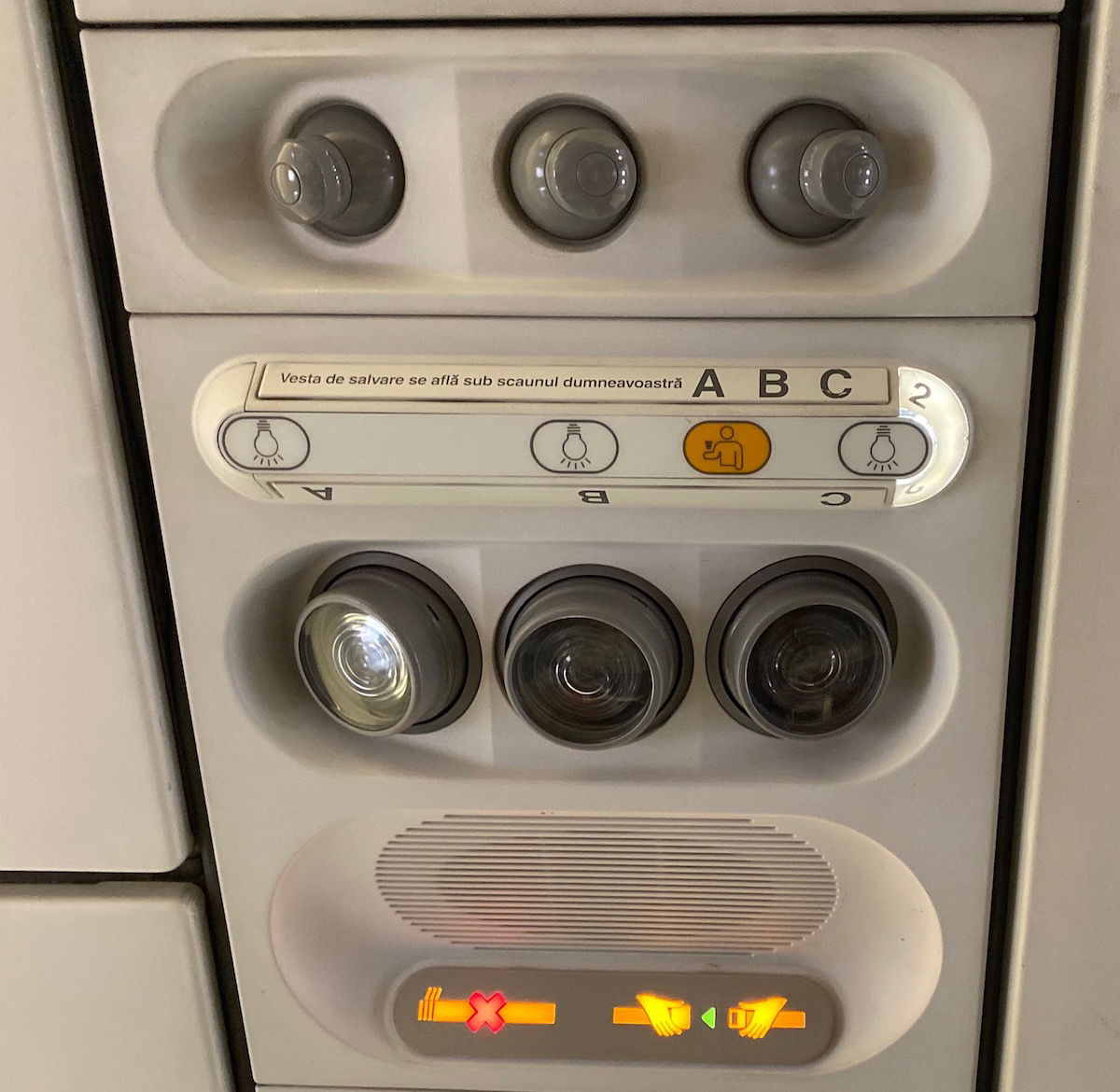 TAROM business class individual air nozzles
Waiting at each seat was a pillow and blanket, which you often don't find in intra-Europe business class, so that was nice.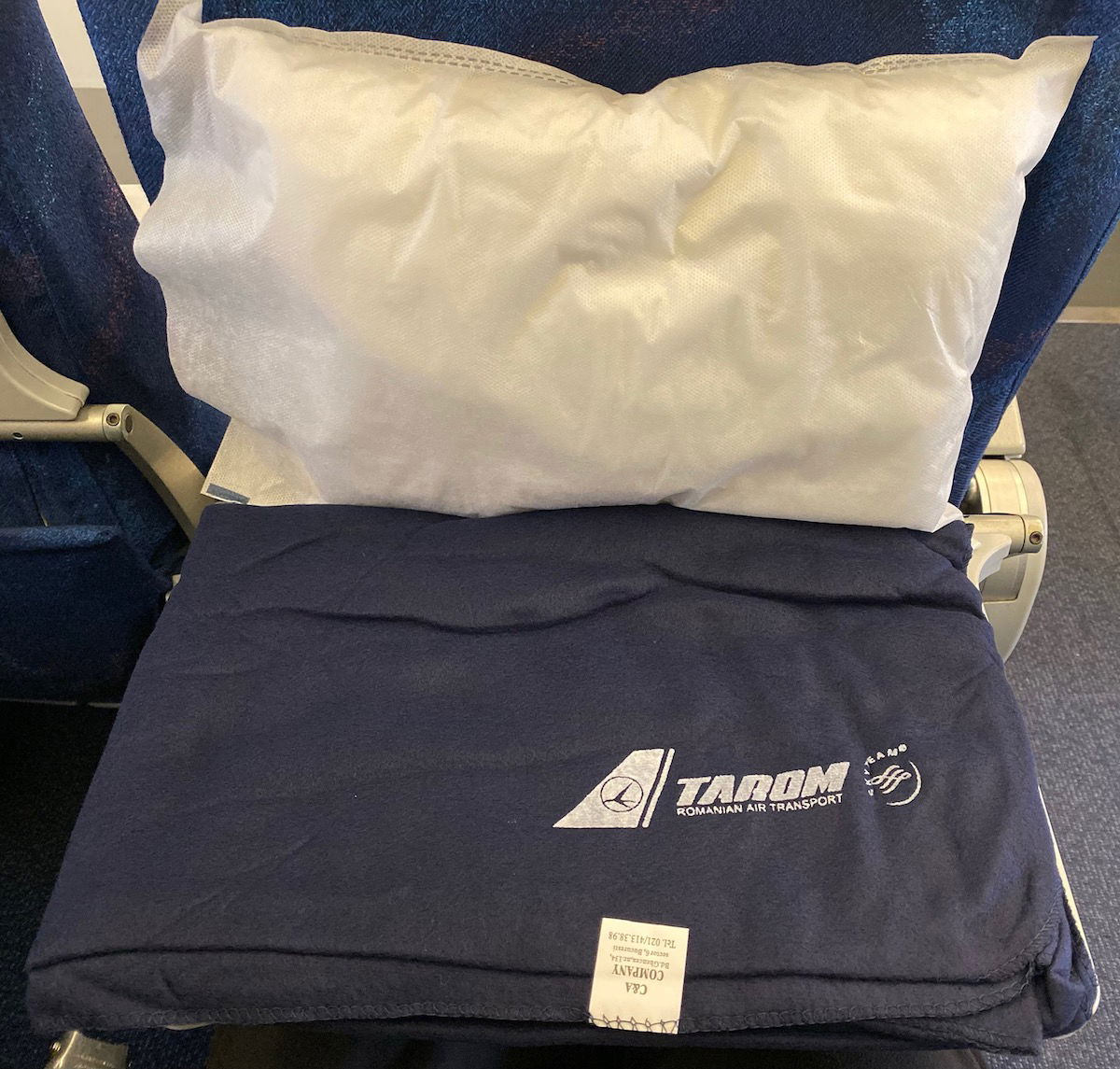 TAROM business class pillow & blanket
The reason there was an additional row on the left side was because there was a big closet in the front on the right side.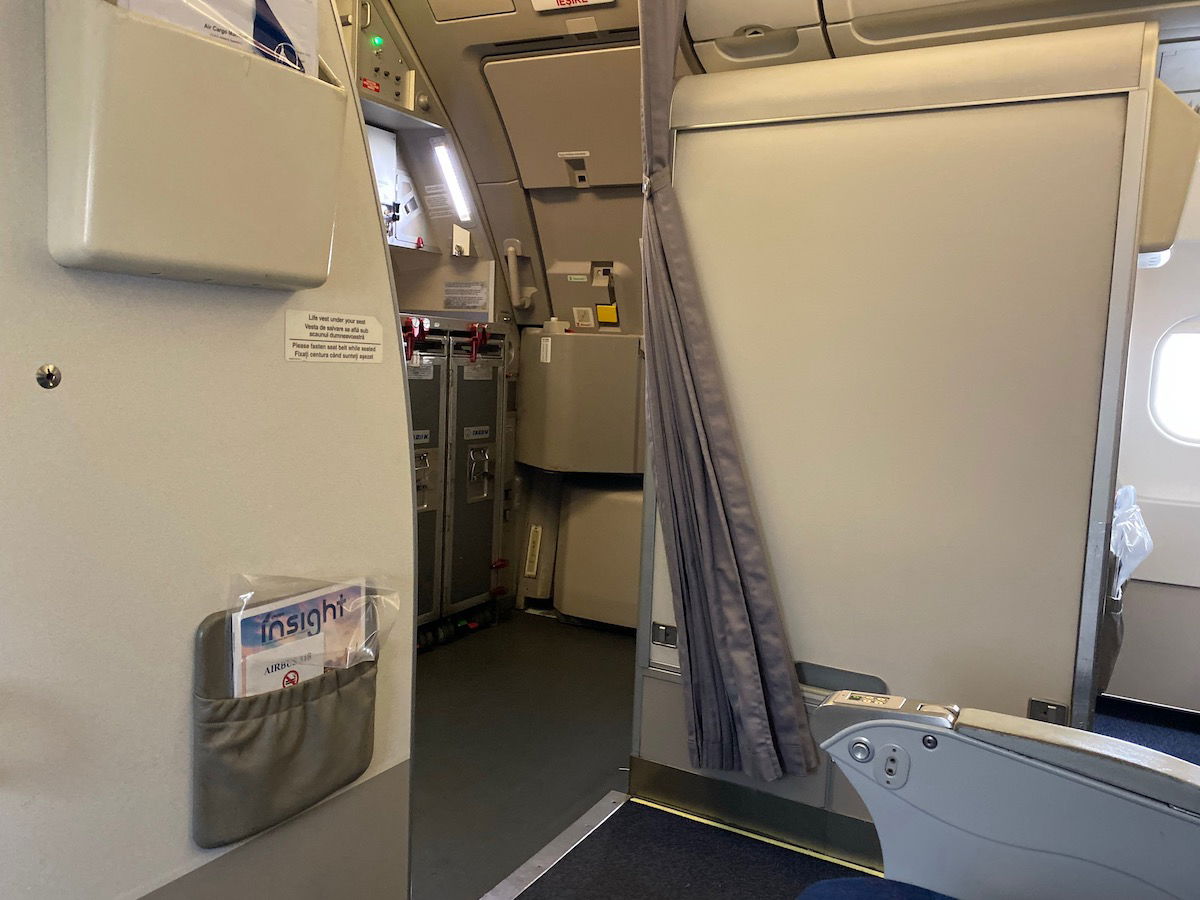 TAROM business class closet
As I boarded the plane I was obviously snapping a lot of pictures (with my iPhone) as subtly as possible. I guess it's not every day someone boards a TAROM flight and is excited about the cabin, so when the cabin manager saw me do this she asked about it:
"Is everything okay?"
"Oh yes, it's a very nice cabin. I just like trying different airlines, and this is my first time on TAROM."
"Well then we will make sure it is a good flight."
Whew, that's a nicer response than I was expecting!
The flight was almost completely full in economy, so there wasn't much service during boarding. Eventually the two other business class passengers showed up, who sat on the right side.
As boarding finished up we were offered pre-departure drinks in proper glasses, with the choice between water, orange juice, and sparkling wine.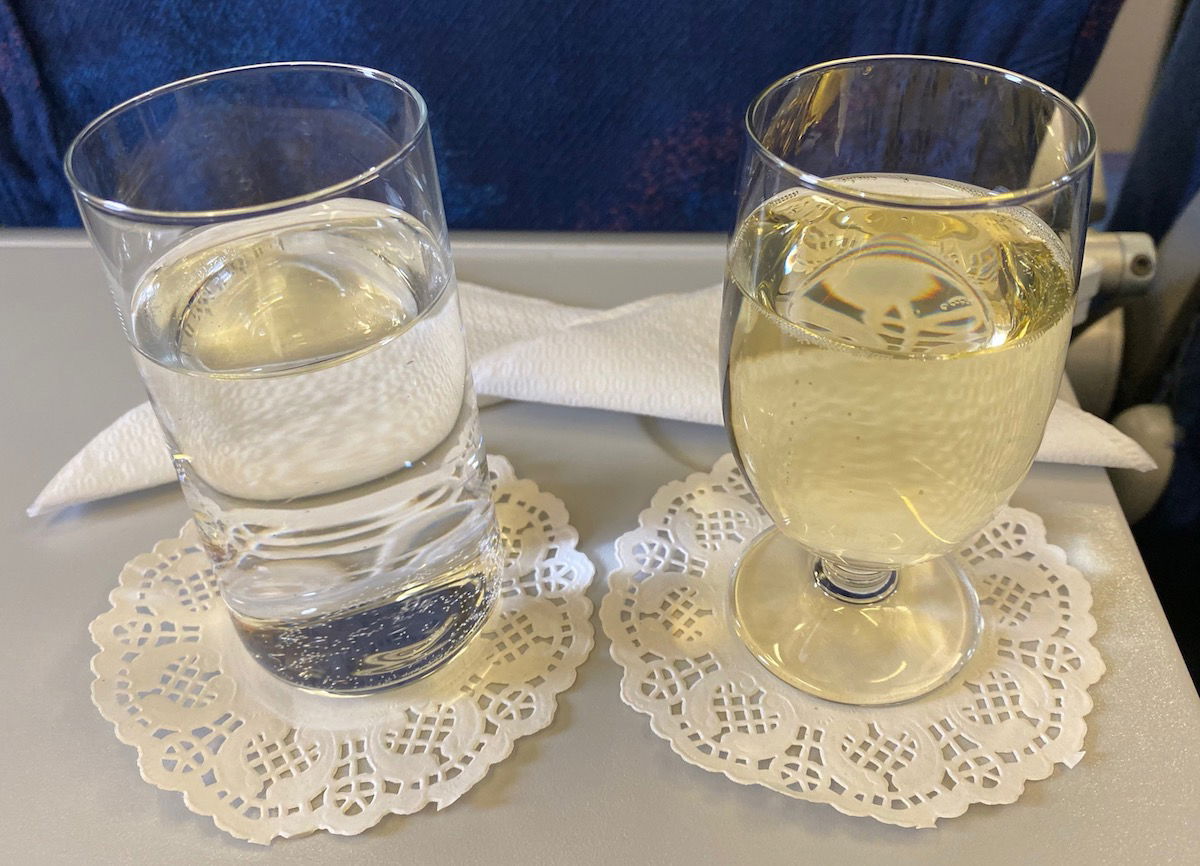 TAROM business class pre-departure drinks
At 12:20PM the captain made his welcome aboard announcement, informing us that we'd be delayed by 15 minutes on departure due to ATC. He explained we would take off to the east, would cruise at 11,600 meters, and would overly Hungary, Slovakia, Czech Republic, Germany, Belgium, and Holland. He also explained that the flight time would be three hours.
As we waited to push back, the Qatar Airways A320 next to us departed.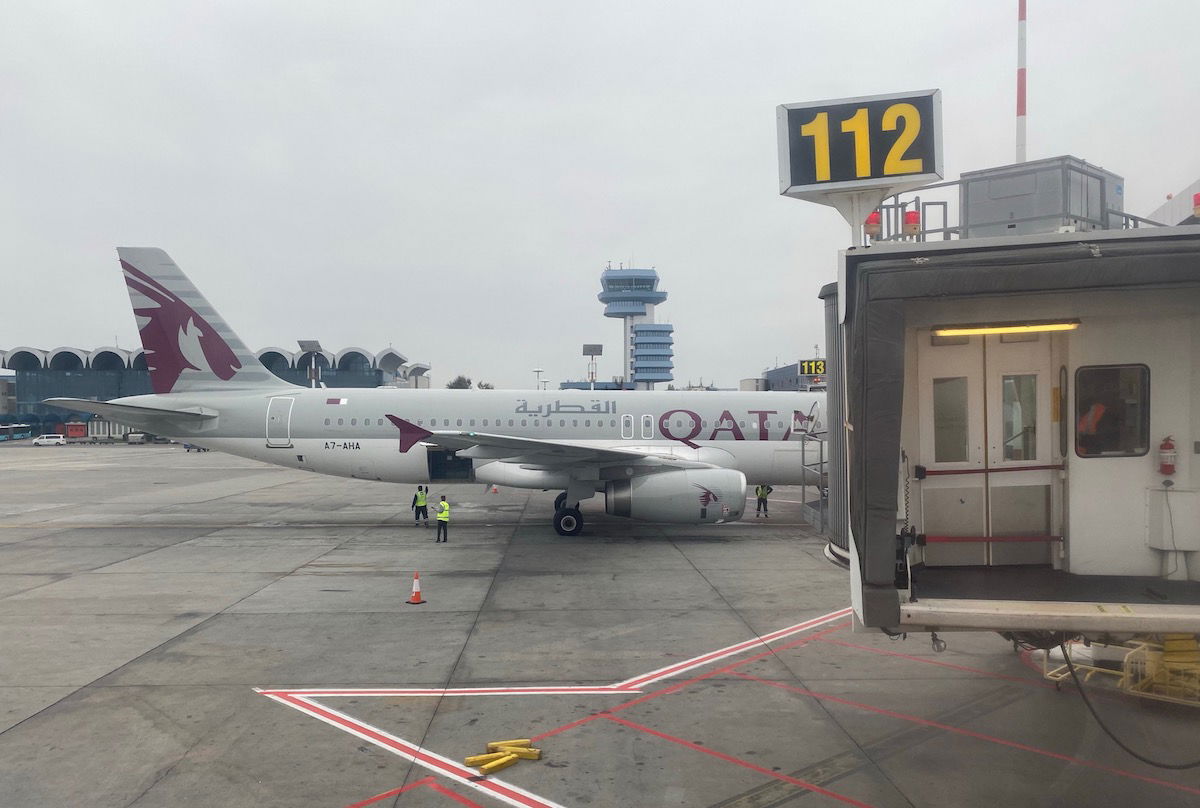 Pushing back Bucharest Airport
At around 12:25PM the crew performed a manual safety demonstration — there were three flight attendants onboard.
At 12:30PM we began our pushback, and five minutes later we began our taxi.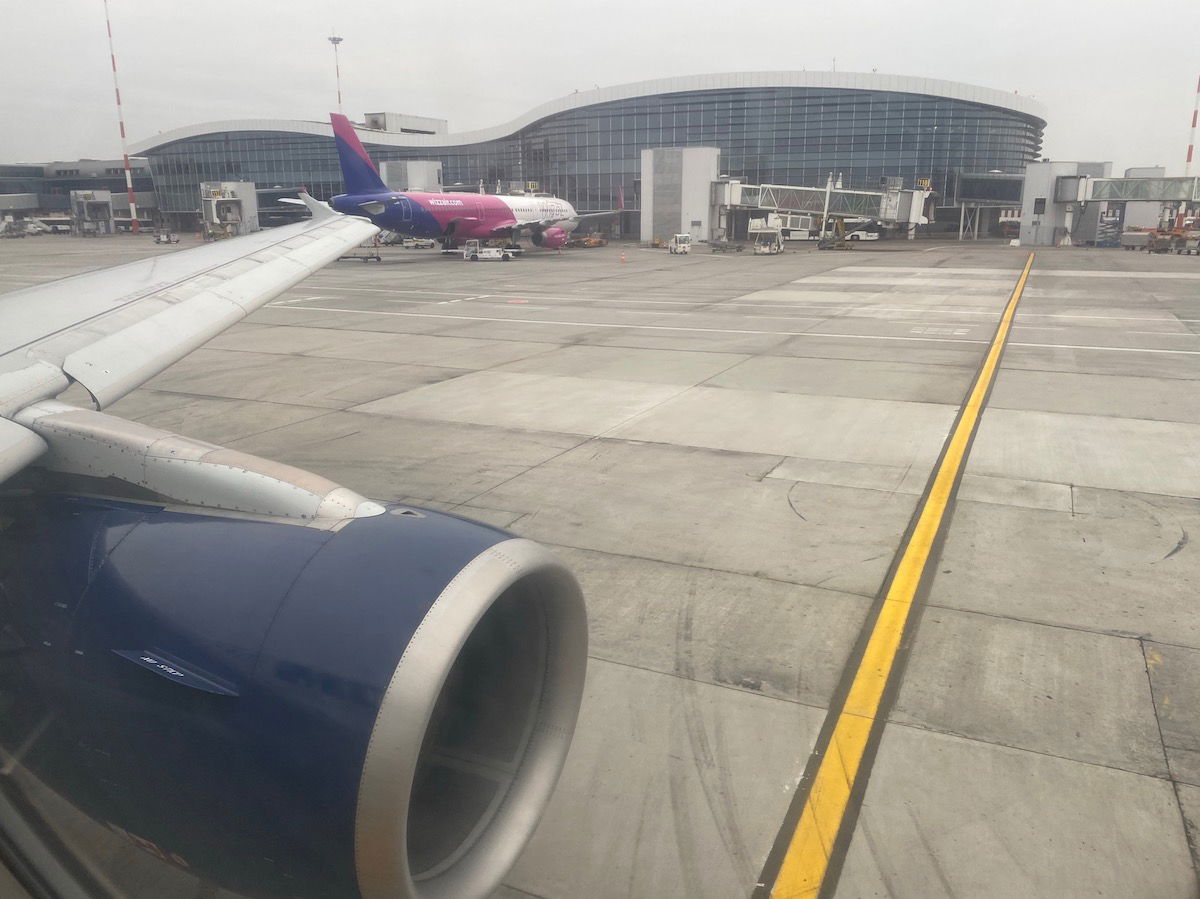 Taxiing Bucharest Airport
At 12:45PM we were cleared for takeoff, and we had a quick takeoff roll and smooth climb out.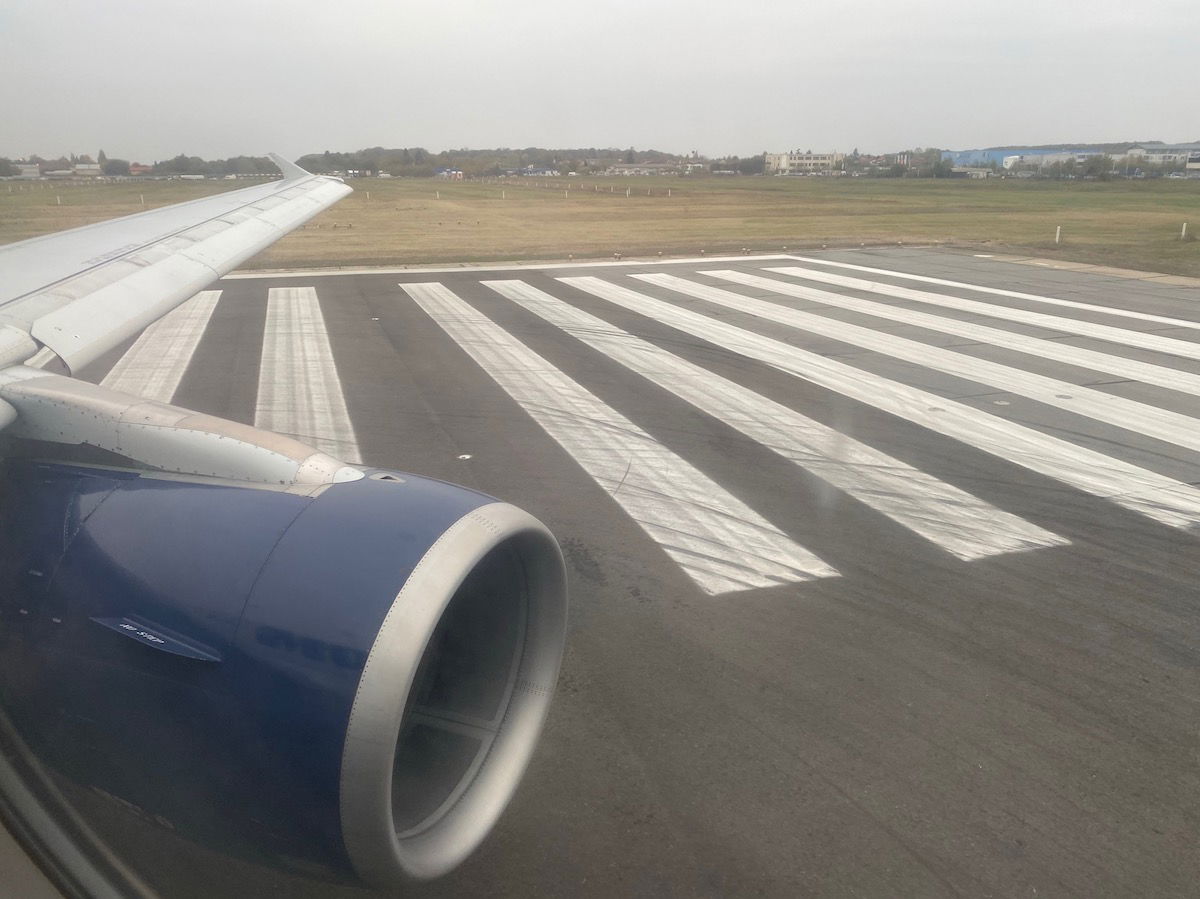 Taking off Bucharest Airport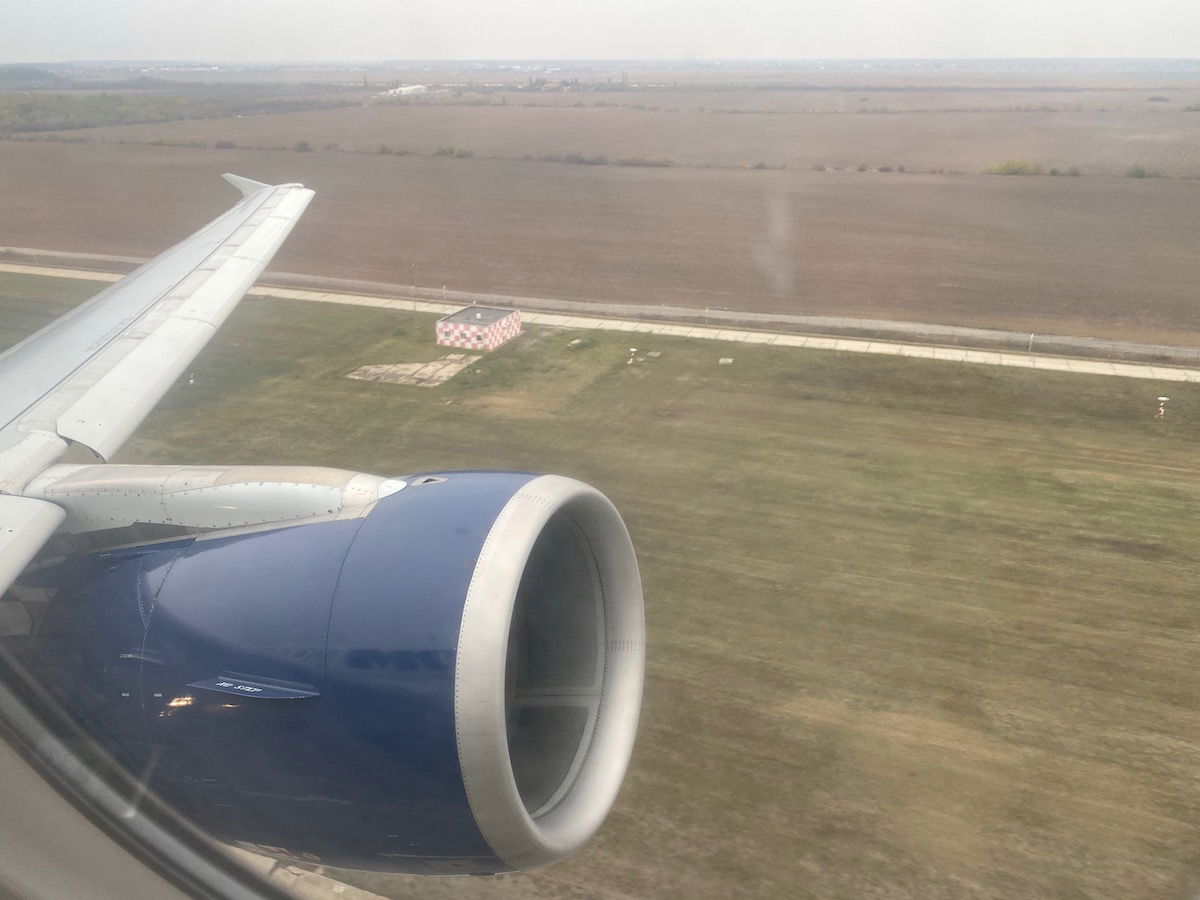 View after takeoff from Bucharest
The seatbelt sign was turned off about five minutes after takeoff. About 10 minutes after takeoff we were presented with drink lists for the flight, though no food menus.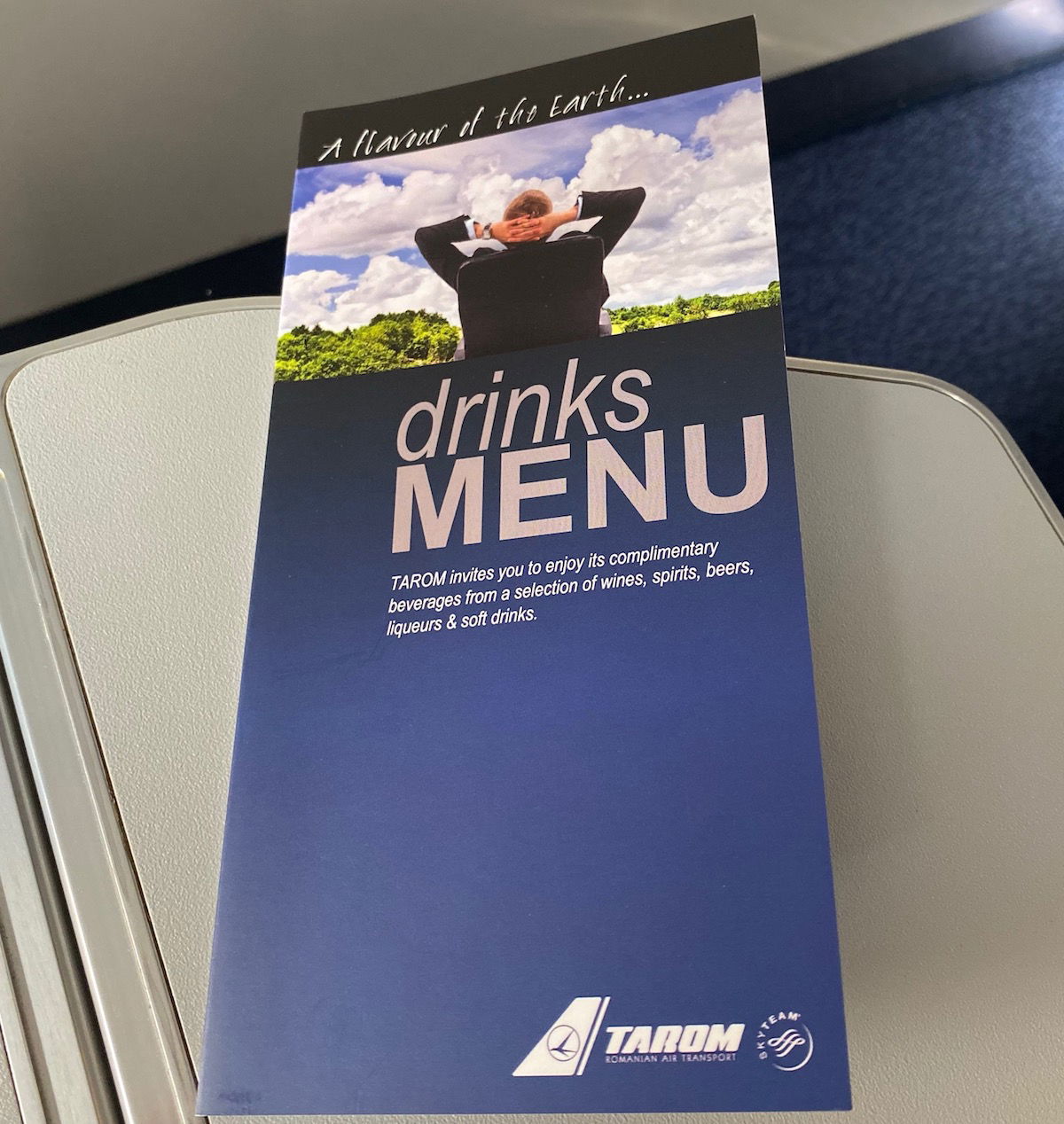 TAROM business class drinks menu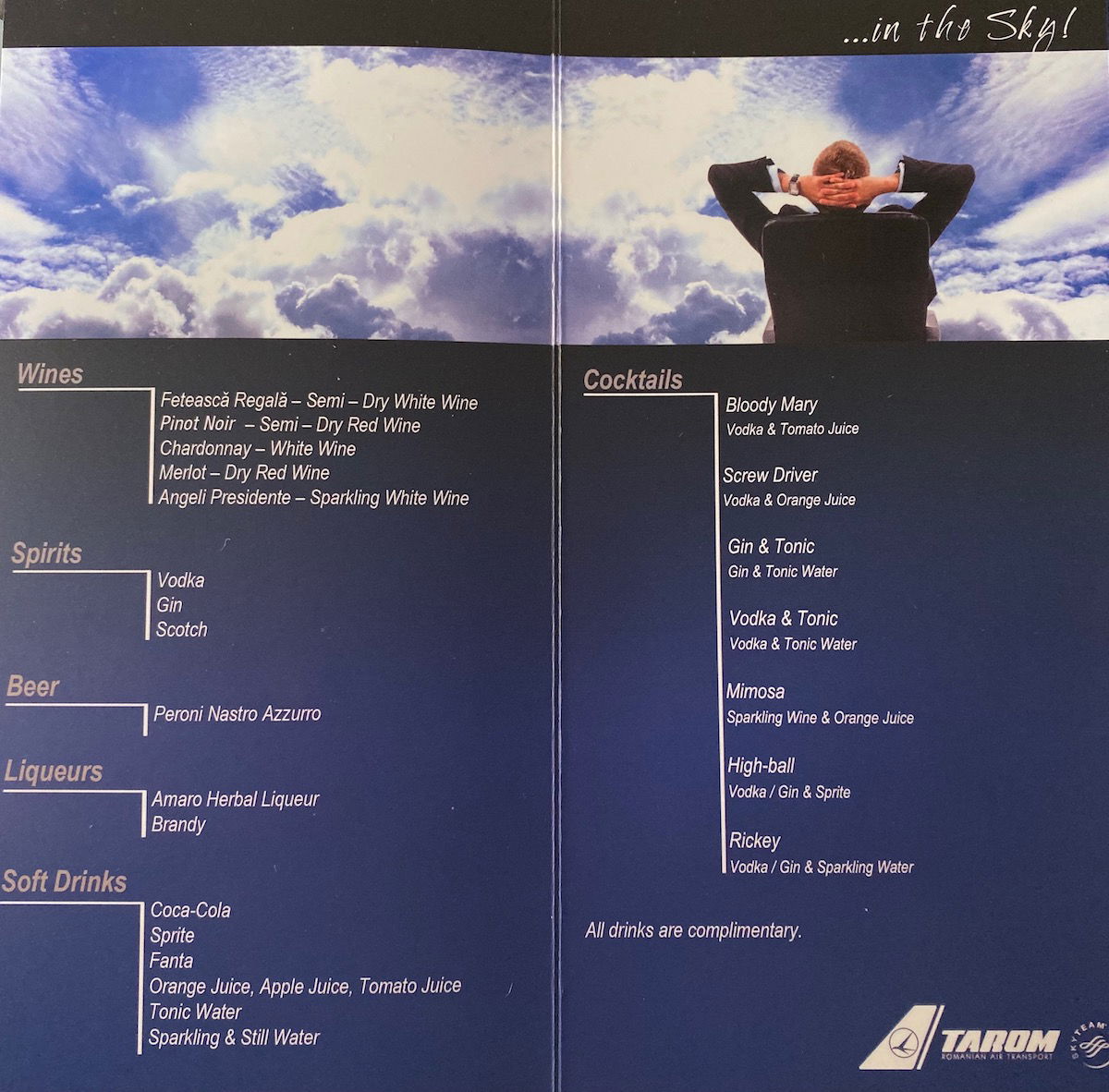 TAROM business class drinks menu
Then 15 minutes after takeoff we were presented with warm towels.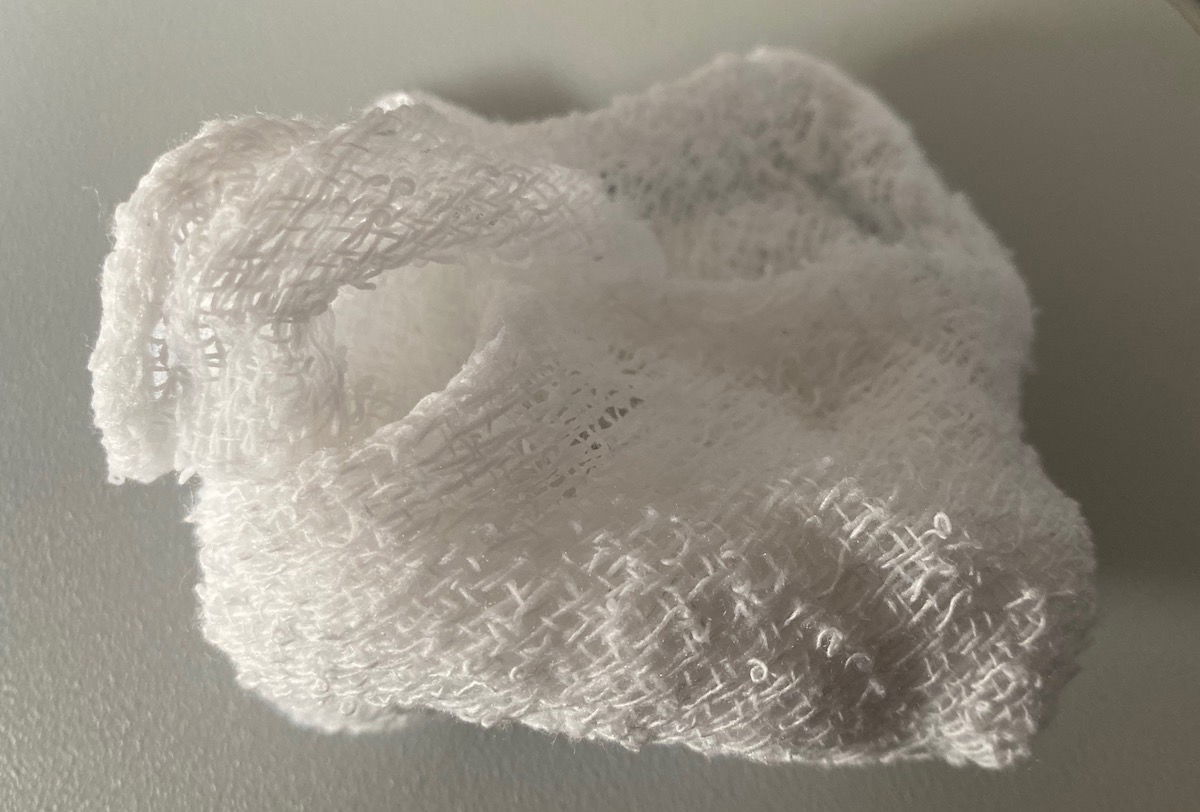 TAROM business class warm towel
20 minutes after takeoff we were offered drinks. I had a glass of the Feteasca Regala white wine, while Tiffany had the merlot. On the plus side, the presentation was cute. Unfortunately the wine was borderline undrinkable, at least according to my tastebuds.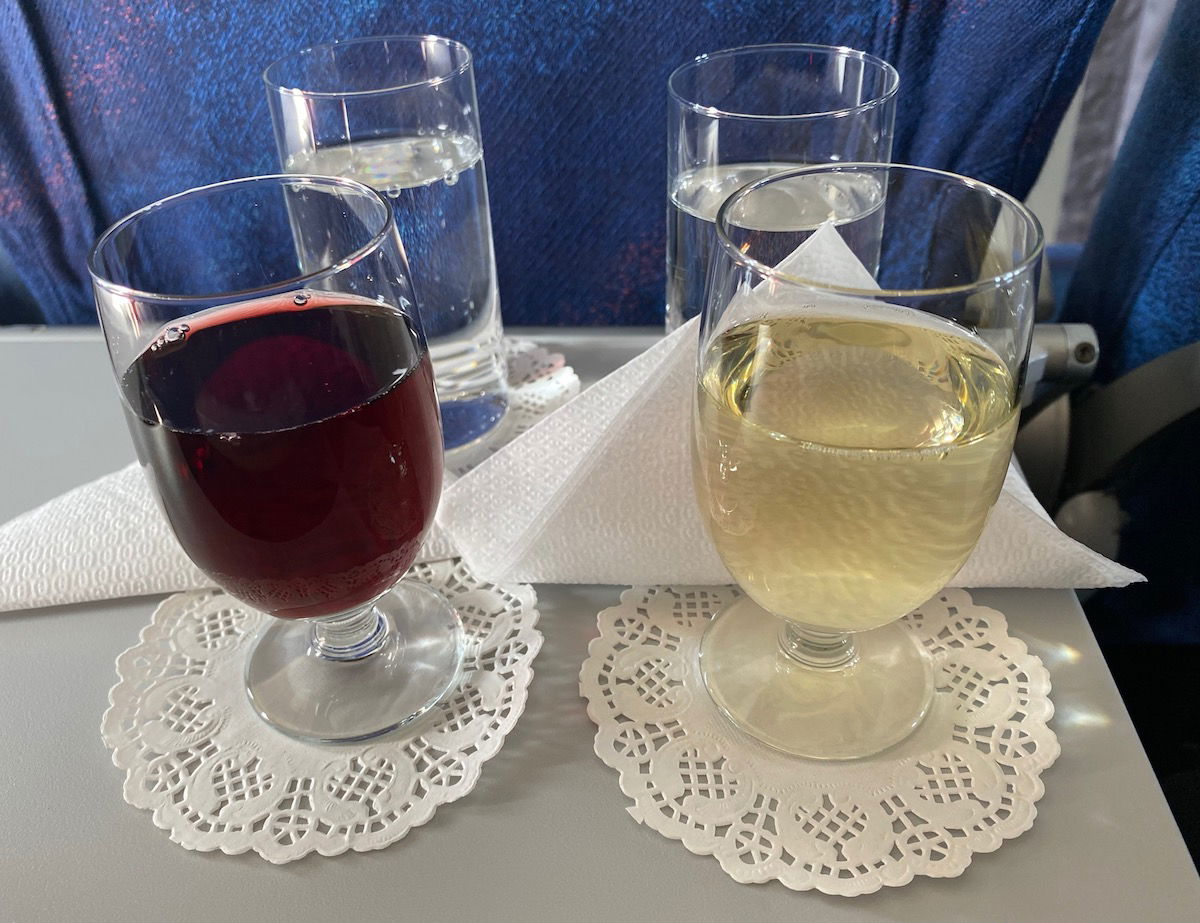 TAROM business class drinks
Then about 30 minutes after takeoff we were served the meal. There were no choices, but rather everyone got the same meal. The lunch consisted of some sort of beef with rice and vegetables, a salad with cucumbers, tomatoes, olives, and feta, two pieces of bread, and a berry tart for dessert.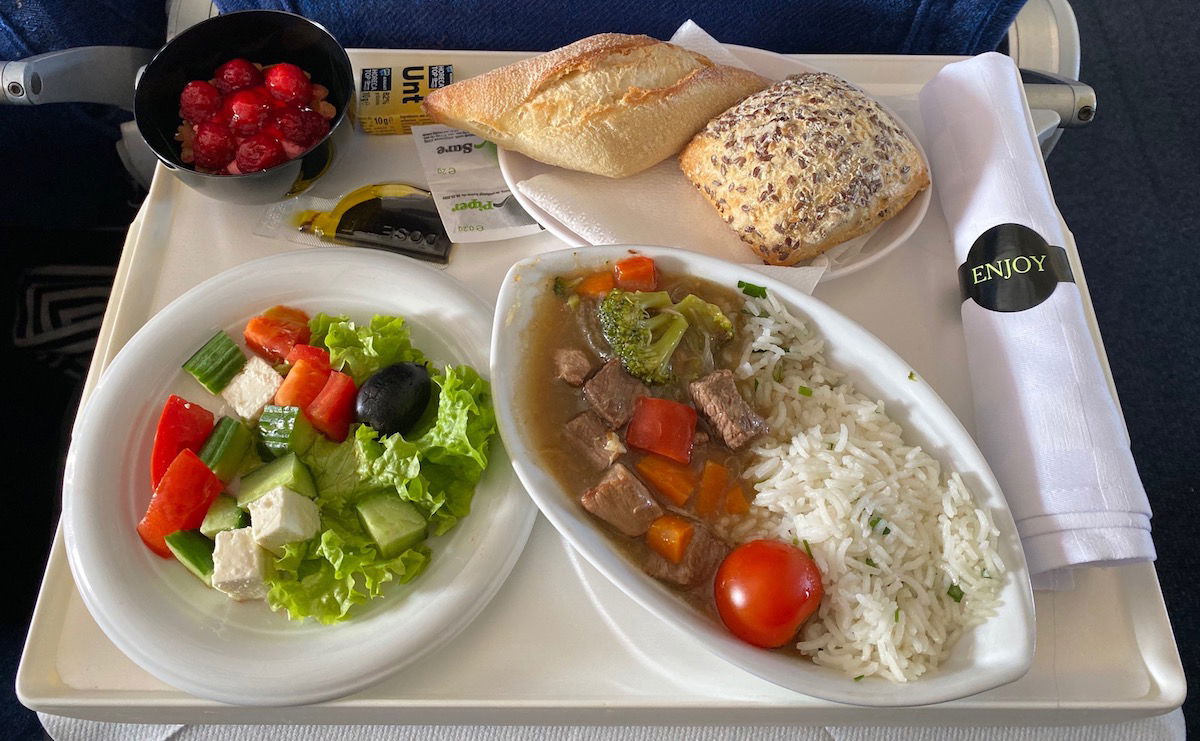 TAROM business class meal
The meal was… alright? It wasn't terrible, but wasn't good either.
Tiffany had ordered the gluten free meal, which consisted of a chicken breast with some potatoes, some veggies, and a side of fruit.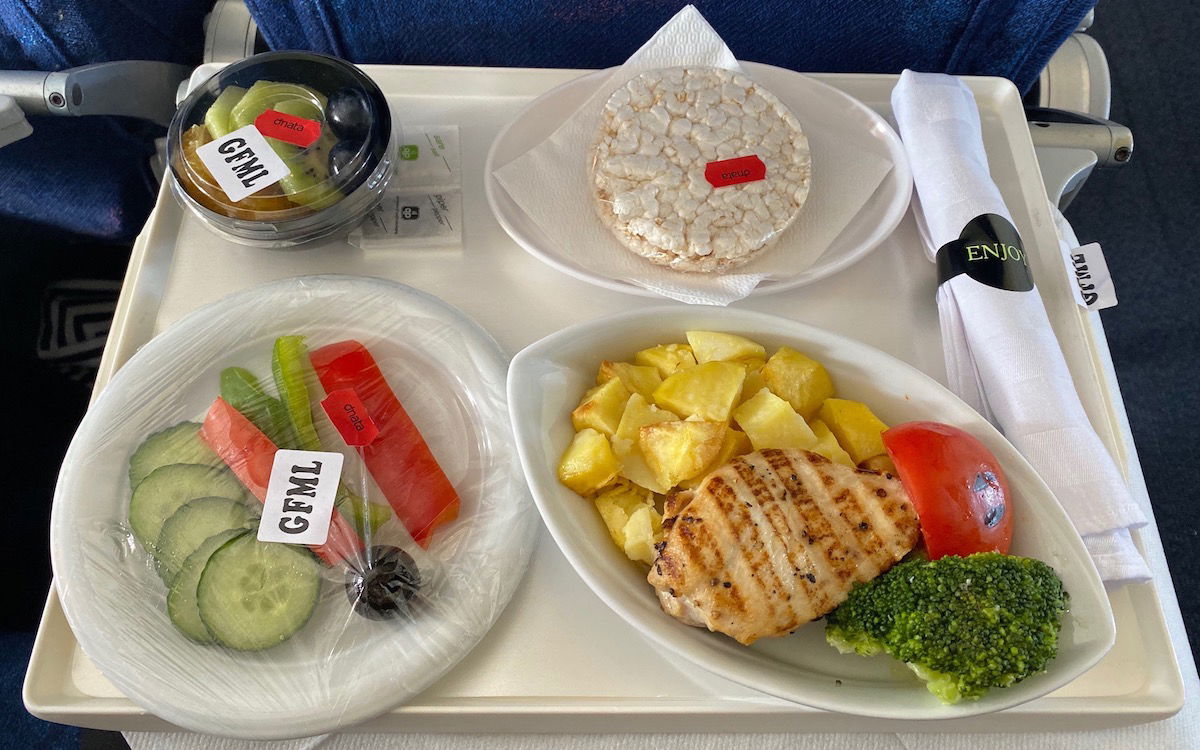 TAROM business class gluten free meal
After the meal we were asked if we wanted anything else to drink — I ordered a coffee.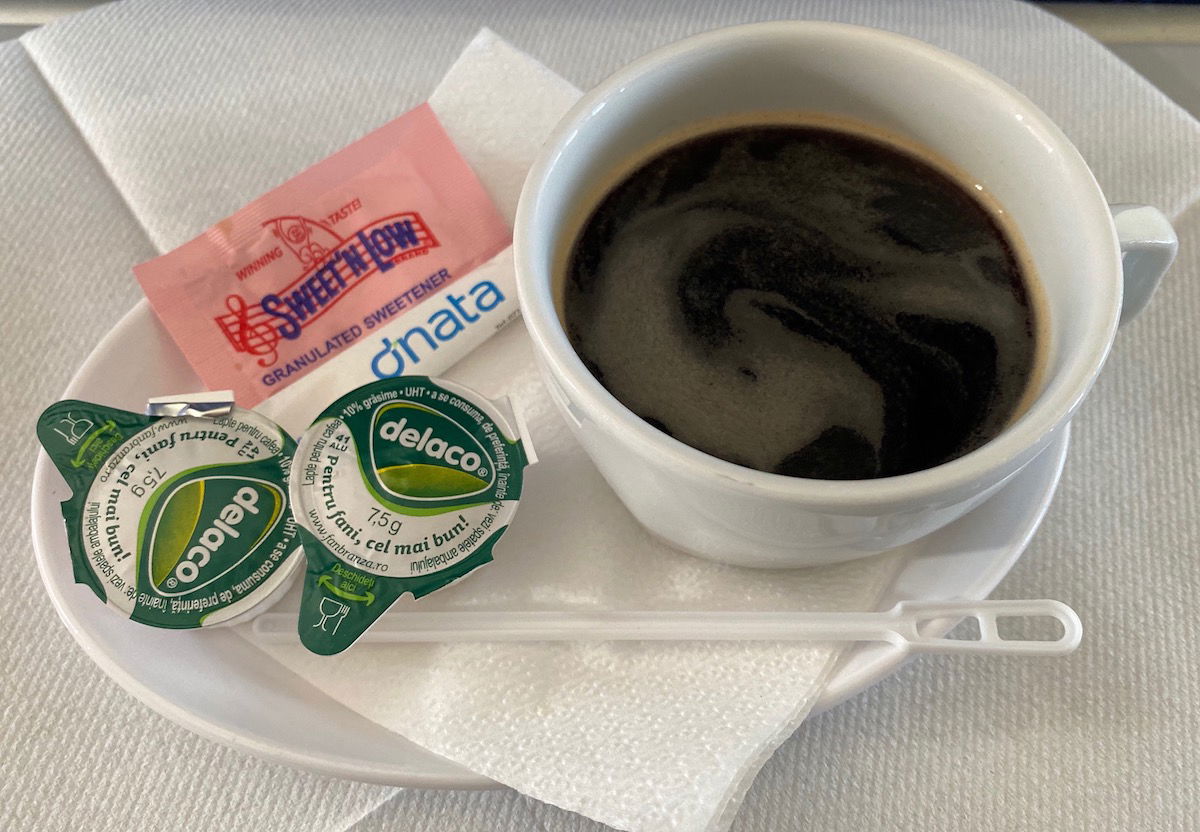 TAROM business class coffee
The TAROM A318 had overhead monitors where they showed the moving map, but there was no other entertainment.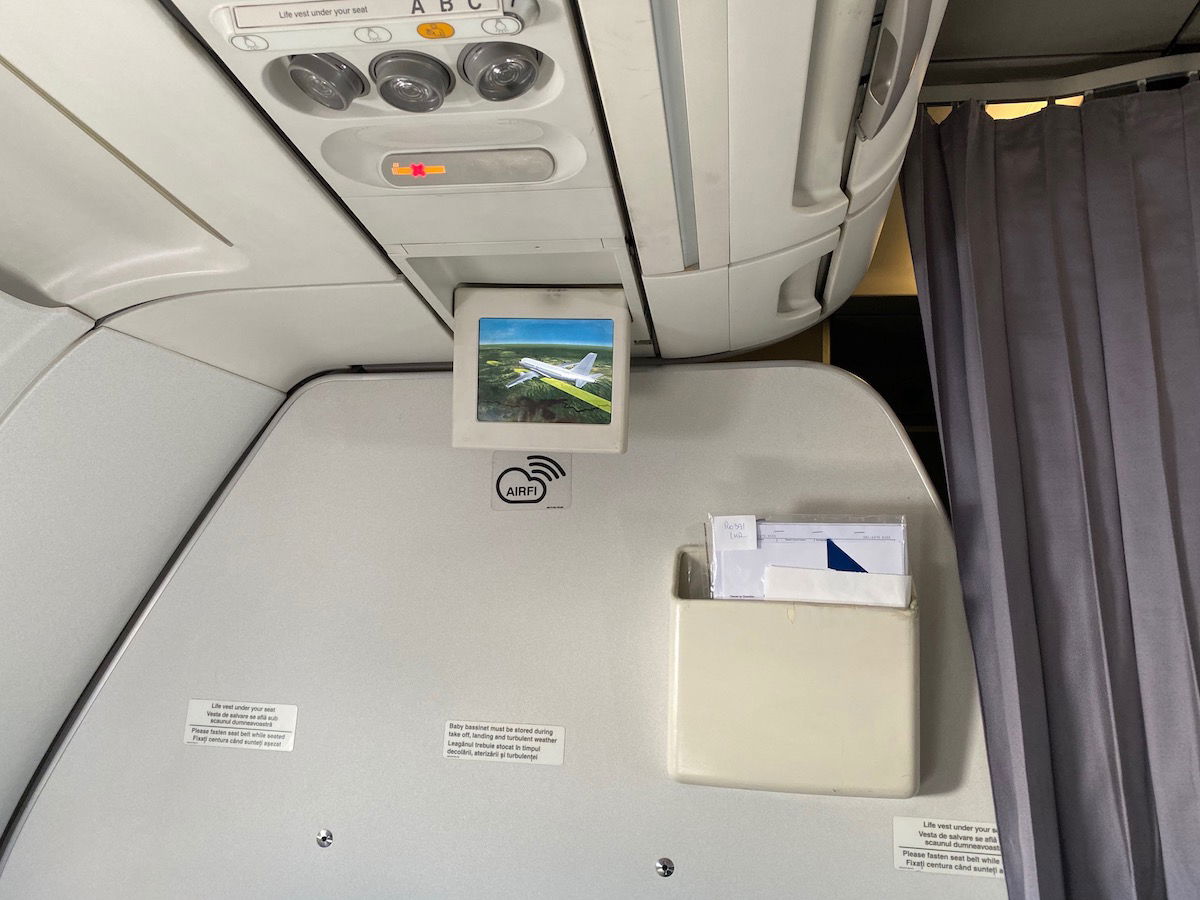 TAROM business class entertainment
In theory there's supposed to be streaming entertainment — as you can see there are Airfi logos throughout the cabin.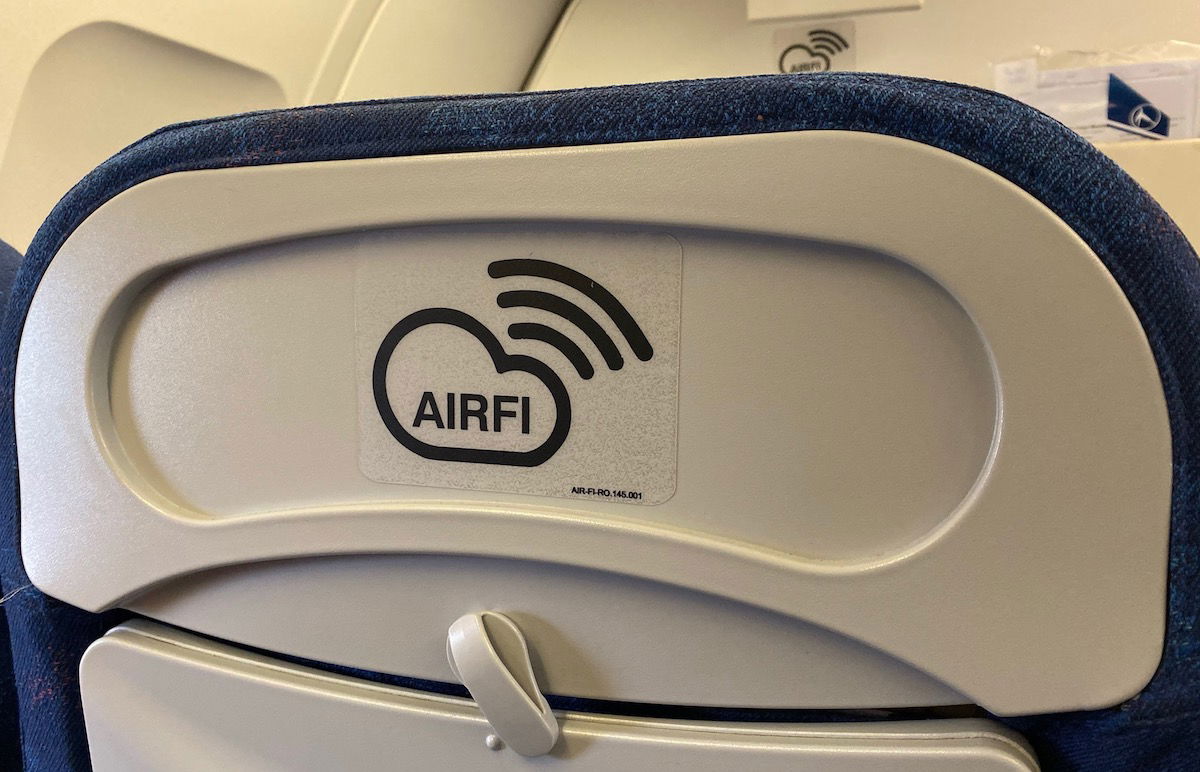 TAROM Airfi A318
Unfortunately the service wasn't actually functioning — they tried to reboot it, but didn't have luck. TAROM also doesn't have Wi-Fi.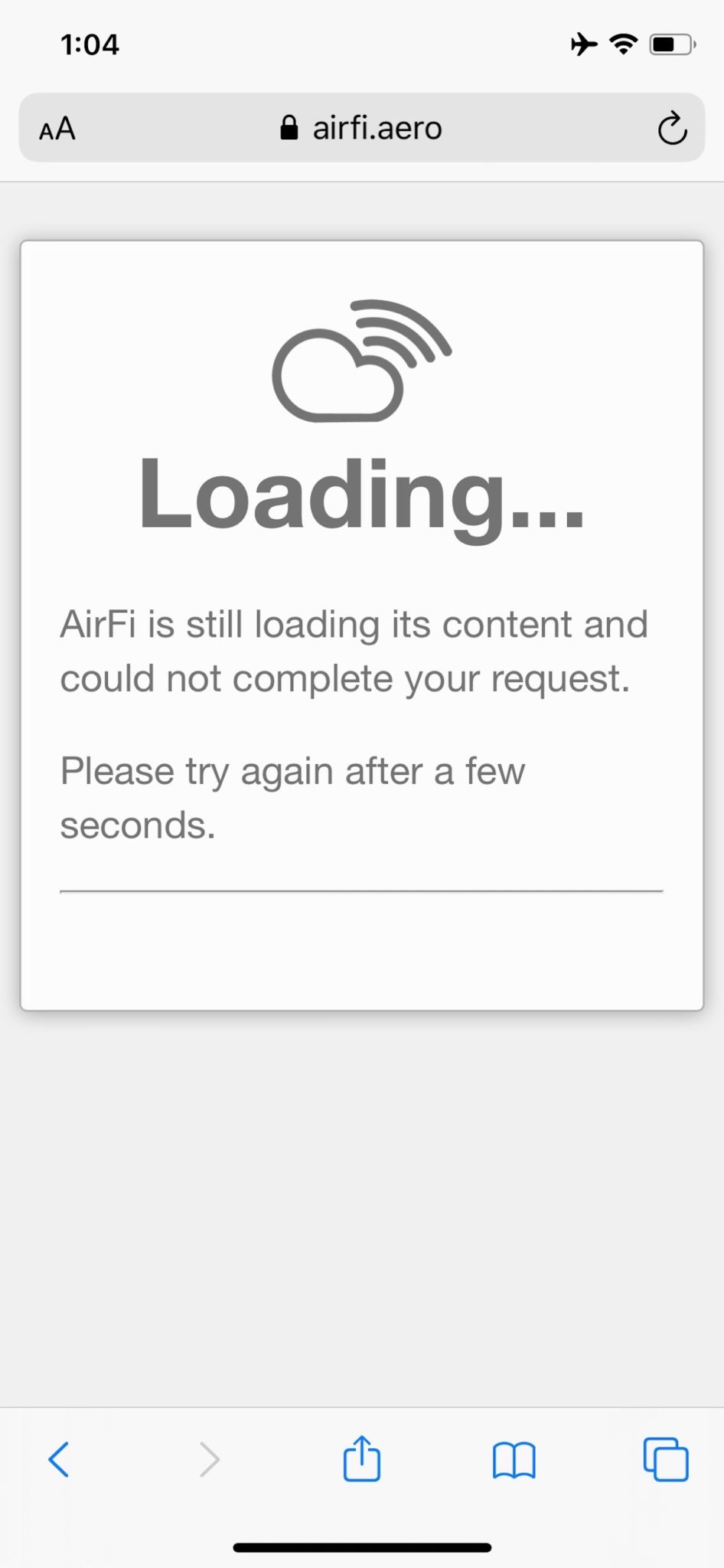 TAROM streaming entertainment
So I just worked on my laptop for a bit without Wi-Fi, though note that TAROM doesn't have power ports at seats, so make sure you board with your electronics charged.
Towards the end of the flight I checked out the lavatory, located at the front of the cabin. It was pretty bare bones. The crew let people from economy use the business class lavatory. That's not a huge issue, but it's something that other airlines strictly prohibit.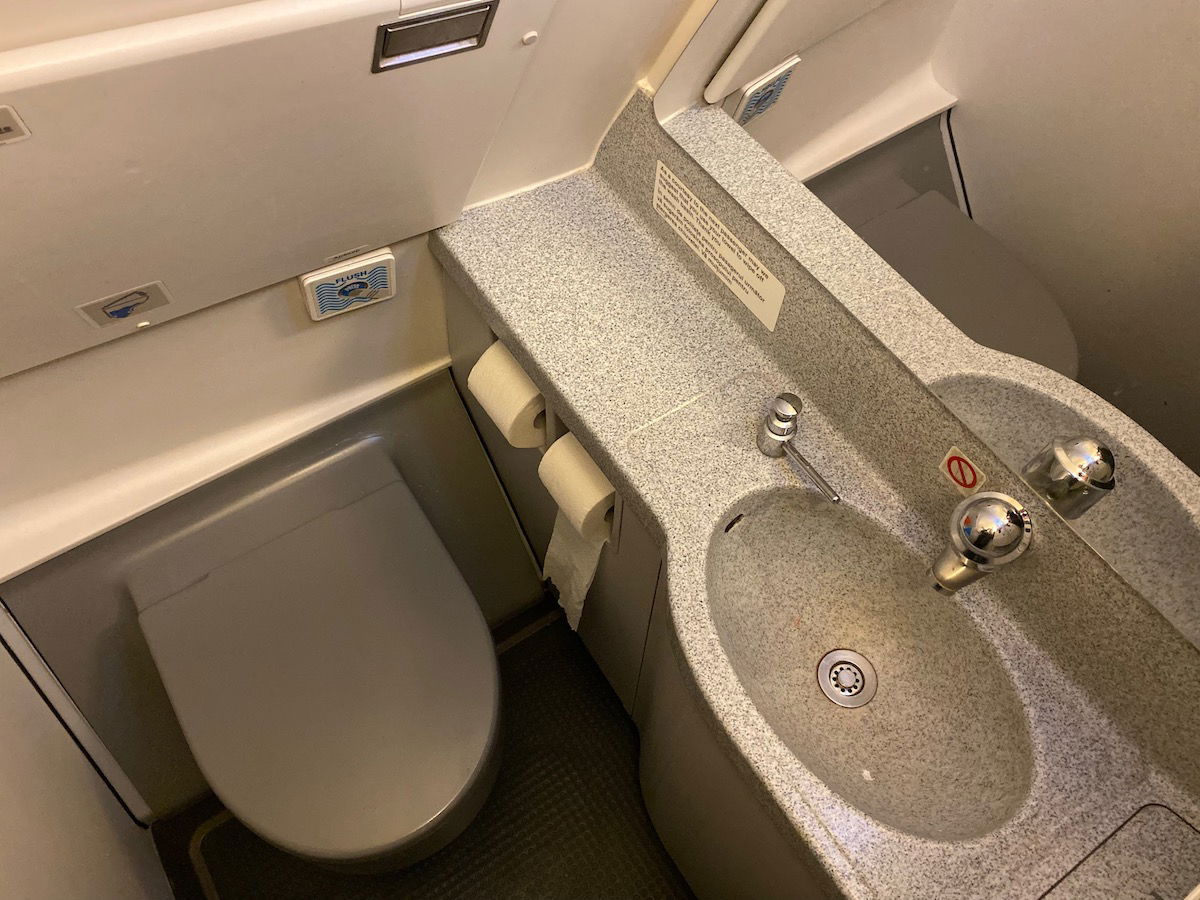 TAROM A318 lavatory
Even though the flight was "only" three hours, it felt so much longer than that. For about 90 minutes the flight attendant didn't check on the cabin — though I imagine she would have responded if a call bell were pushed — and then a bit over 30 minutes before landing she came through the cabin again to see if we wanted anything.
At 1:30PM London time the seatbelt sign was turned on, and it was announced that we would be landing in 20 minutes.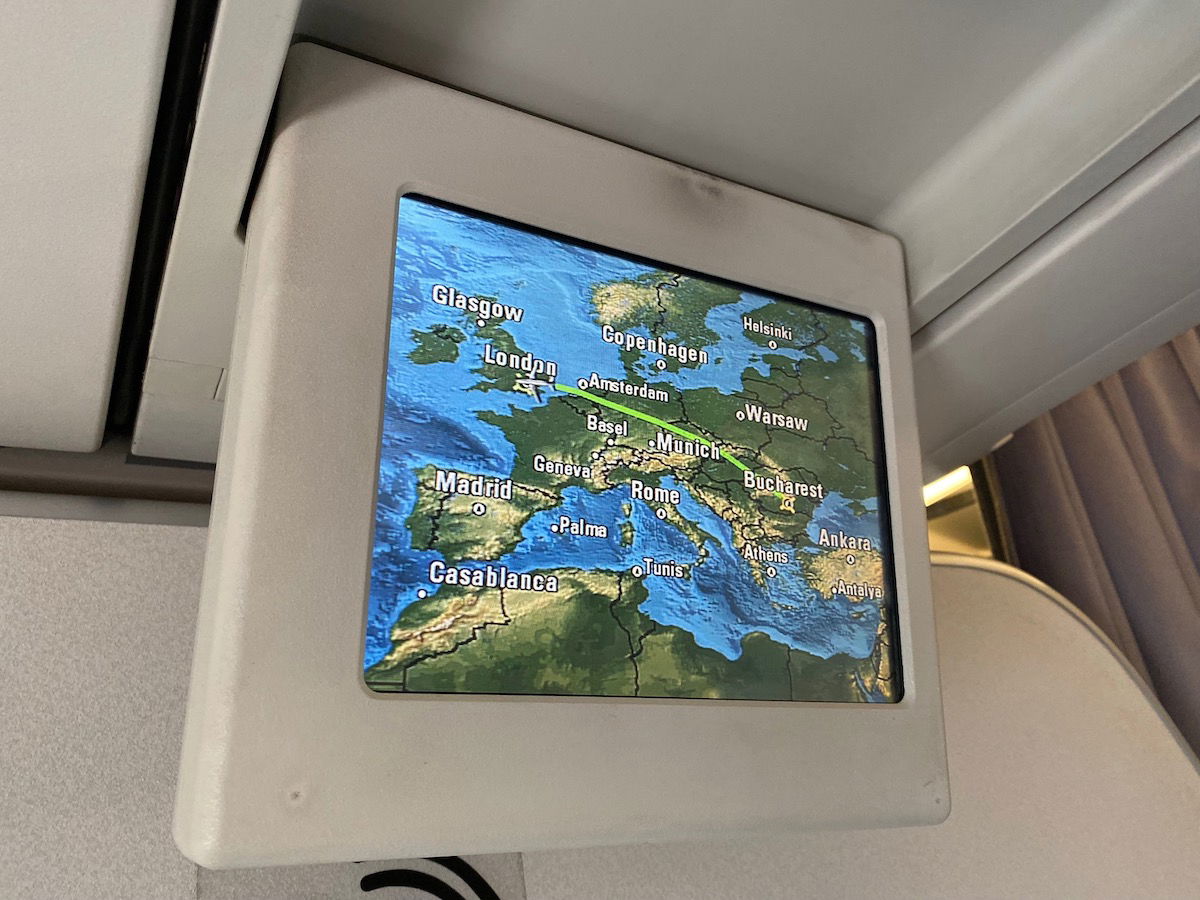 TAROM moving map
We ended up circling for a bit, and landed in London at 1:55PM local time.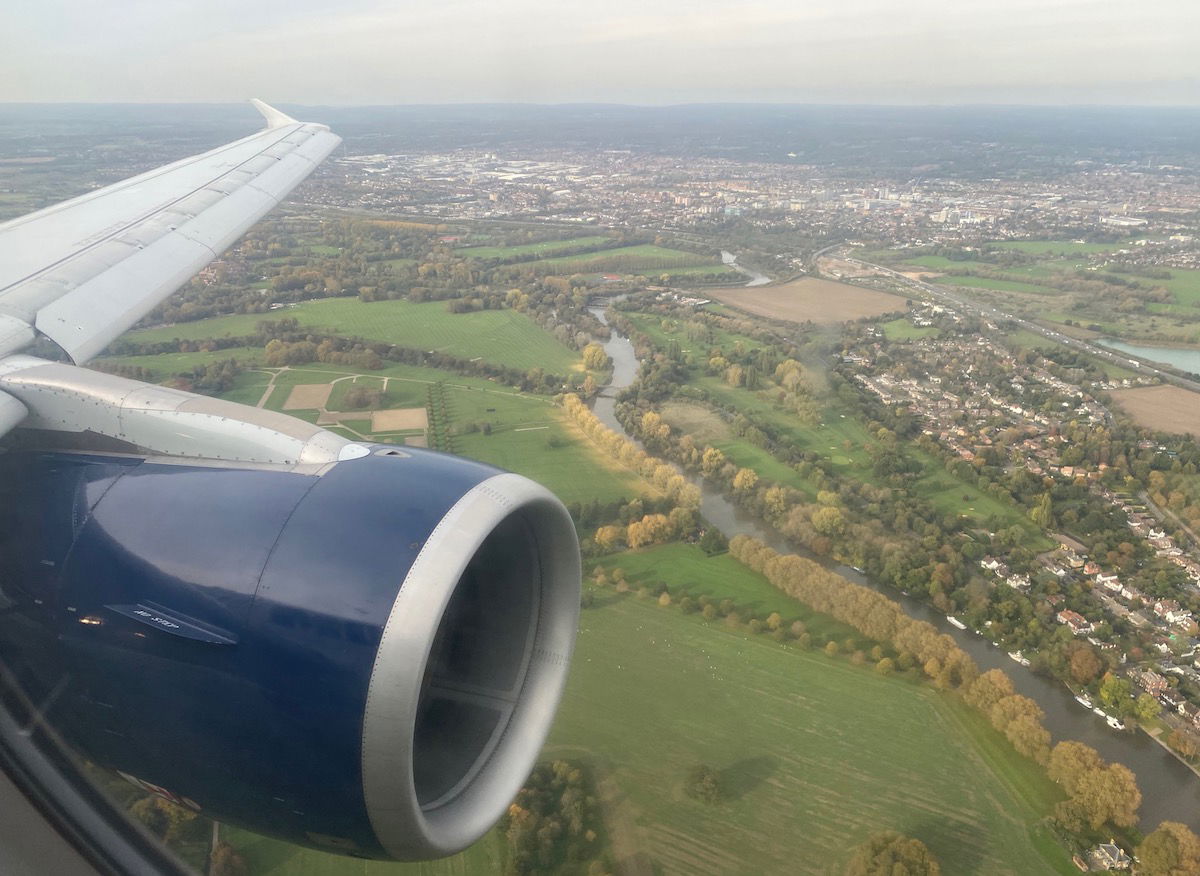 View approaching London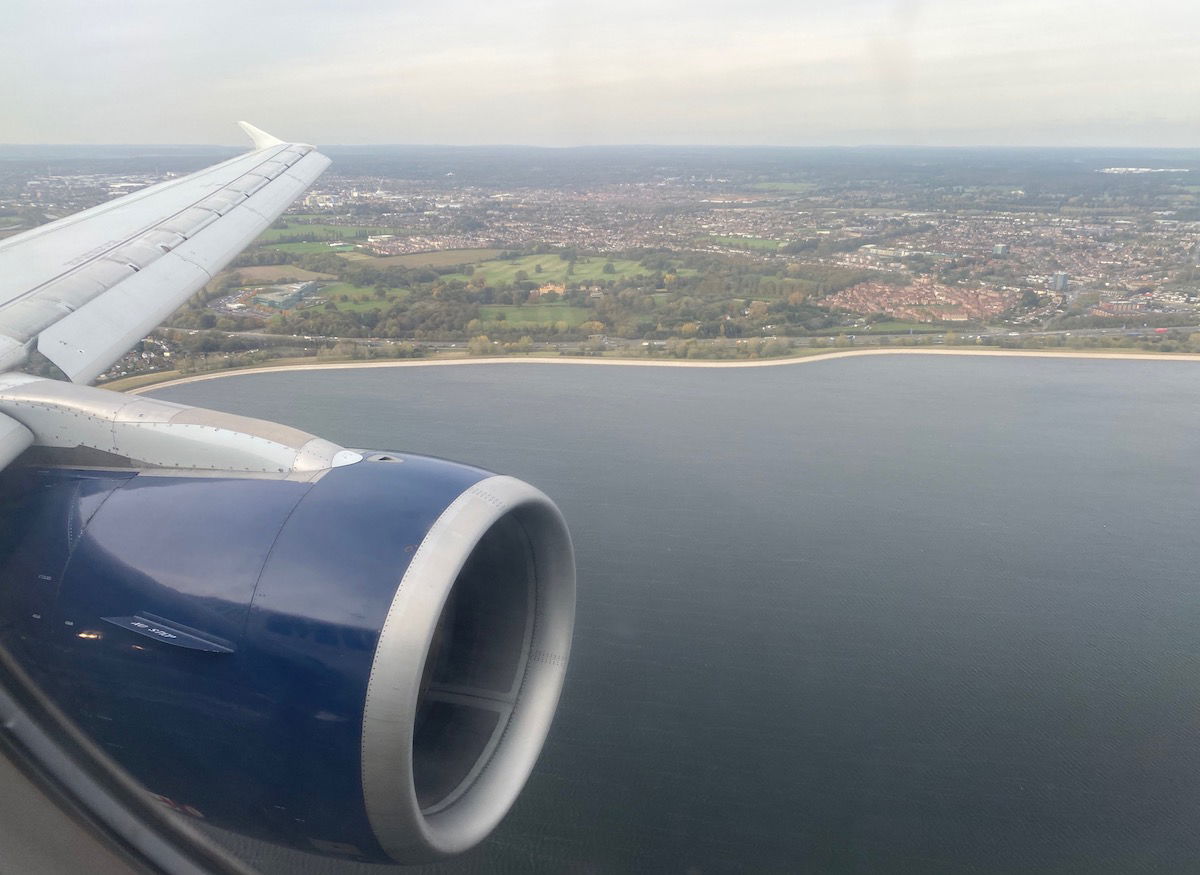 View approaching London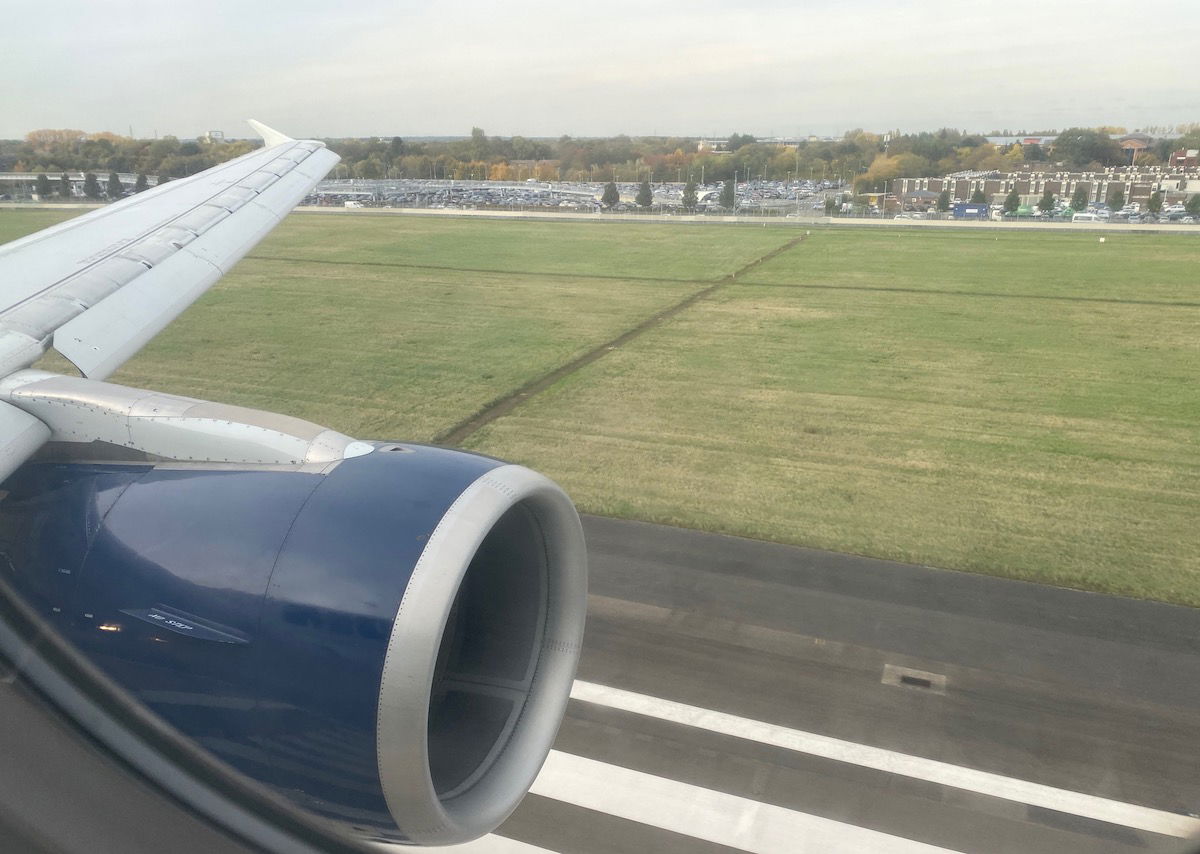 Landing at Heathrow Airport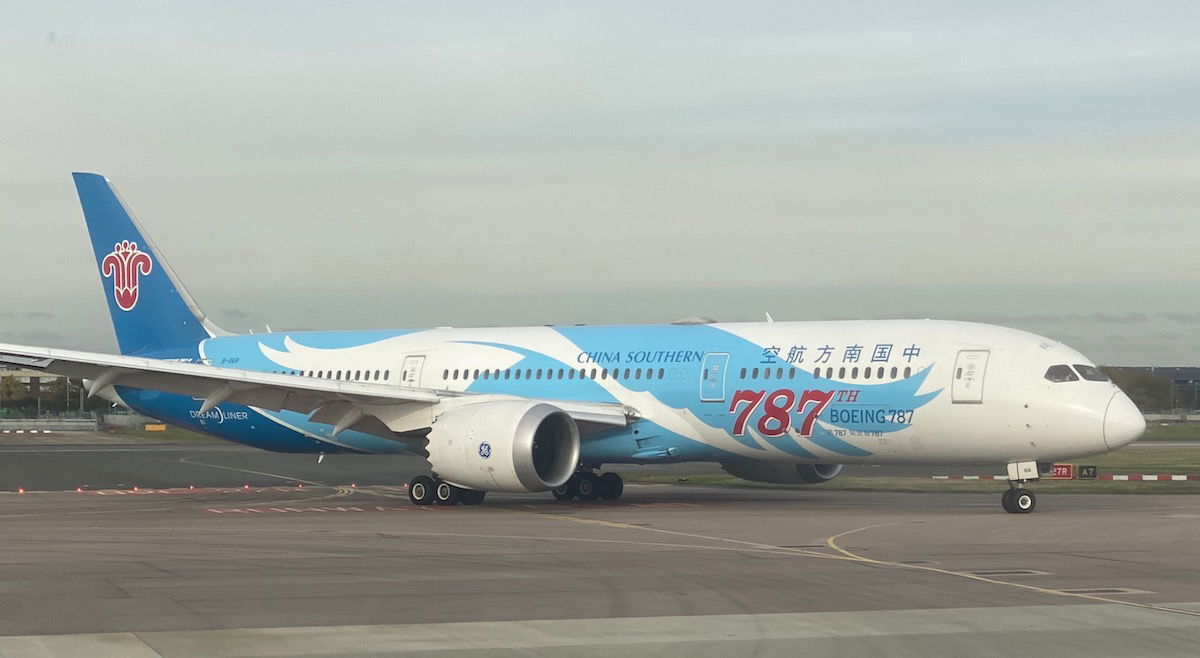 China Southern 787 Heathrow Airport
Our taxi to our arrival gate at Terminal 4 ended up taking about 20 minutes. That's because we had to wait for about 10 minutes to cross runway 27L.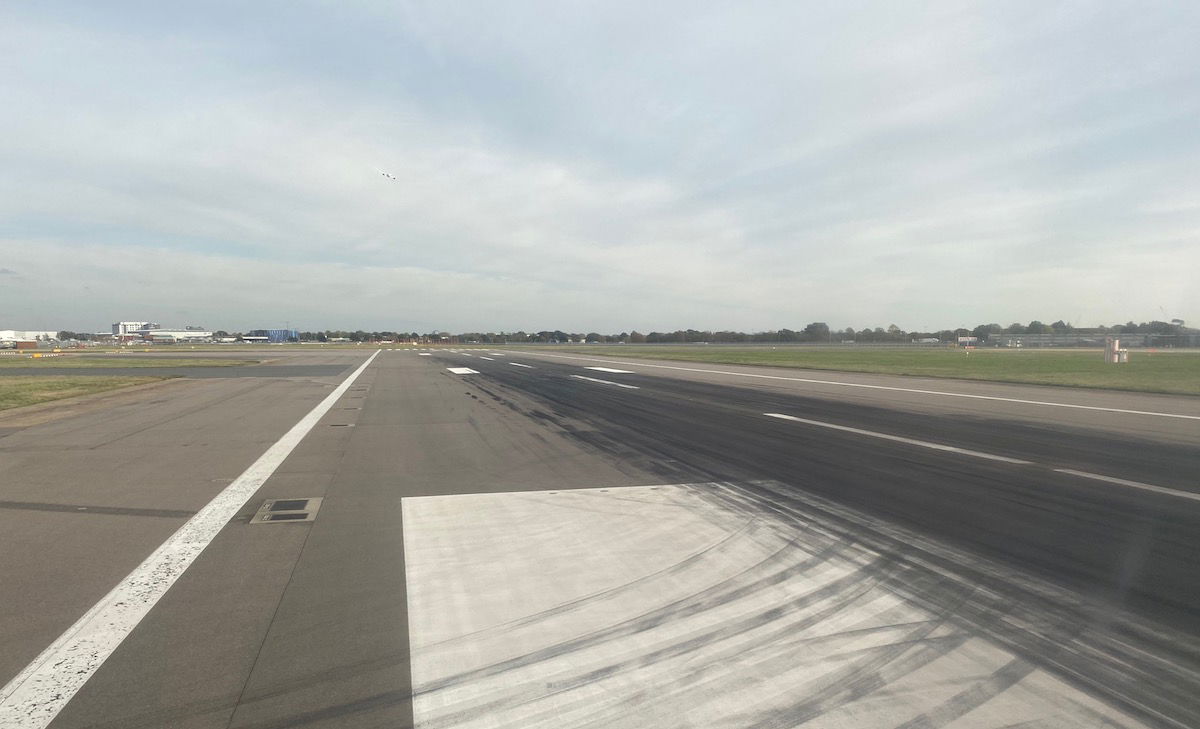 Crossing runway at Heathrow
You've gotta love the politics of Terminal 4 — you have Etihad Airways parked next to Qatar Airways, and EL AL parked next to Kuwait Airways.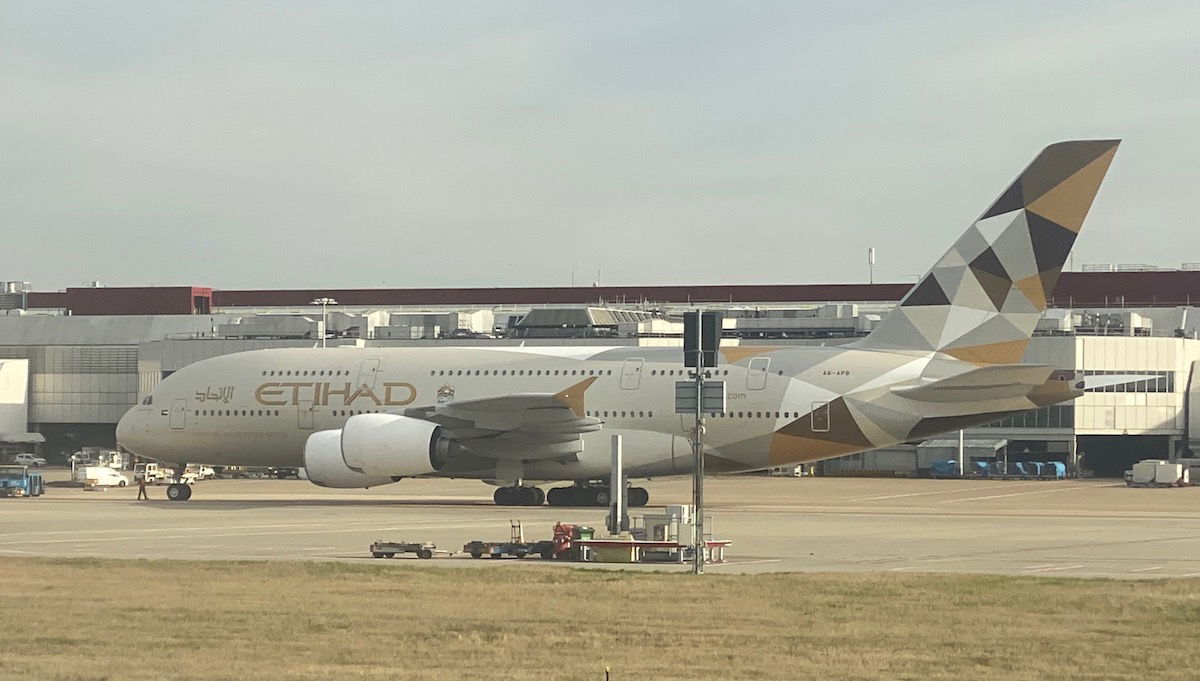 Etihad A380 Heathrow Airport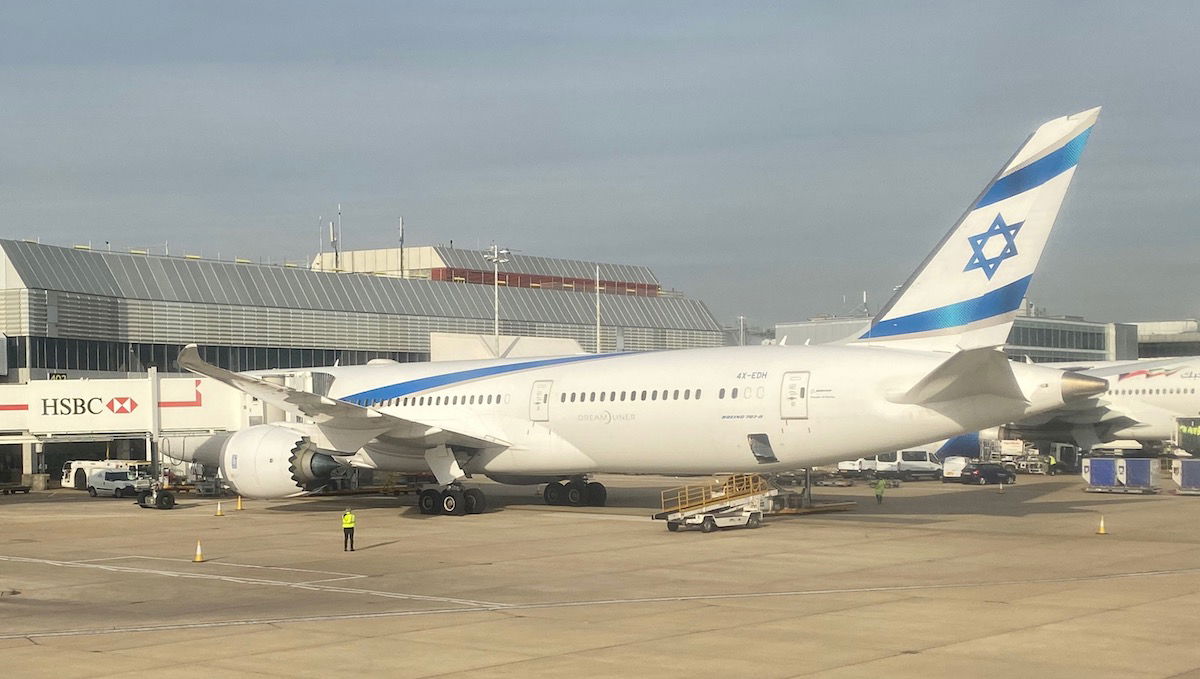 EL AL 787 Heathrow Airport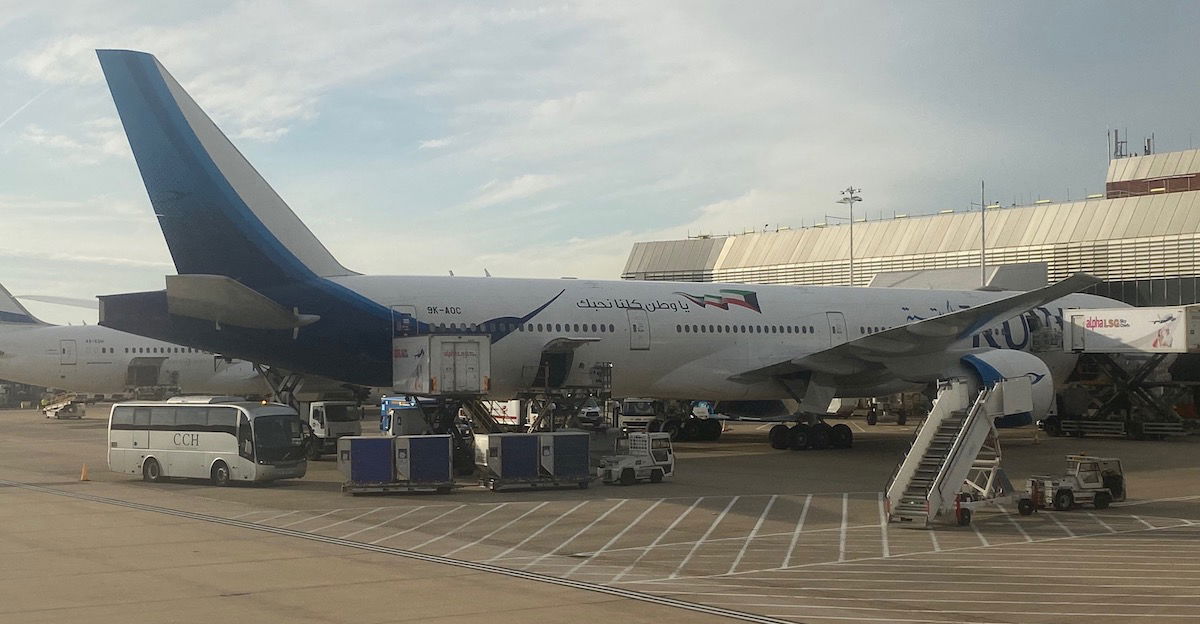 Kuwait 777 Heathrow Airport
We ended up pulling in at the very end of the terminal, next to a Kuwait Airways 777.
TAROM A318 Business Class Bottom Line
I may have been a bit too excited about my first flight on TAROM, as it ended up being your run of the mill intra-Europe business class experience. On the plus side, the flight attendant was friendly and each passenger had a pillow and blanket. As an aviation geek I was also happy to fly an A318.
But overall the food and service was just alright. I was also secretly hoping we'd be on one of their planes featuring "proper" business class seats, though perhaps those don't actually exist anymore.
If you've flown TAROM, what was your experience like?