---
On this trip we had the chance to fly Virgin Atlantic's brand new A350-1000 Upper Class. The airline unveiled this seat earlier in the year, and it only began flying between London and New York as of a few weeks ago.
Before I formally review the flight, I first wanted to talk a bit about the new Upper Class business class seat, because I'm rather confused.
I Love Virgin Atlantic, And I Love Their New Business Class Experience
Spoiler alert — I love Virgin Atlantic's new business class experience, but I don't get the decisions they made with their seat. So this post is merely intended to share some thoughts on their new seat, rather than suggest that this isn't a good product (which in absolute terms I think it is, even if it's not groundbreaking).
I love the Virgin Atlantic Upper Class experience — I really like the Clubhouse lounge they have, I find Virgin Atlantic employees to consistently be fun and customer focused, and the new business class seats is a massive improvement over the old one.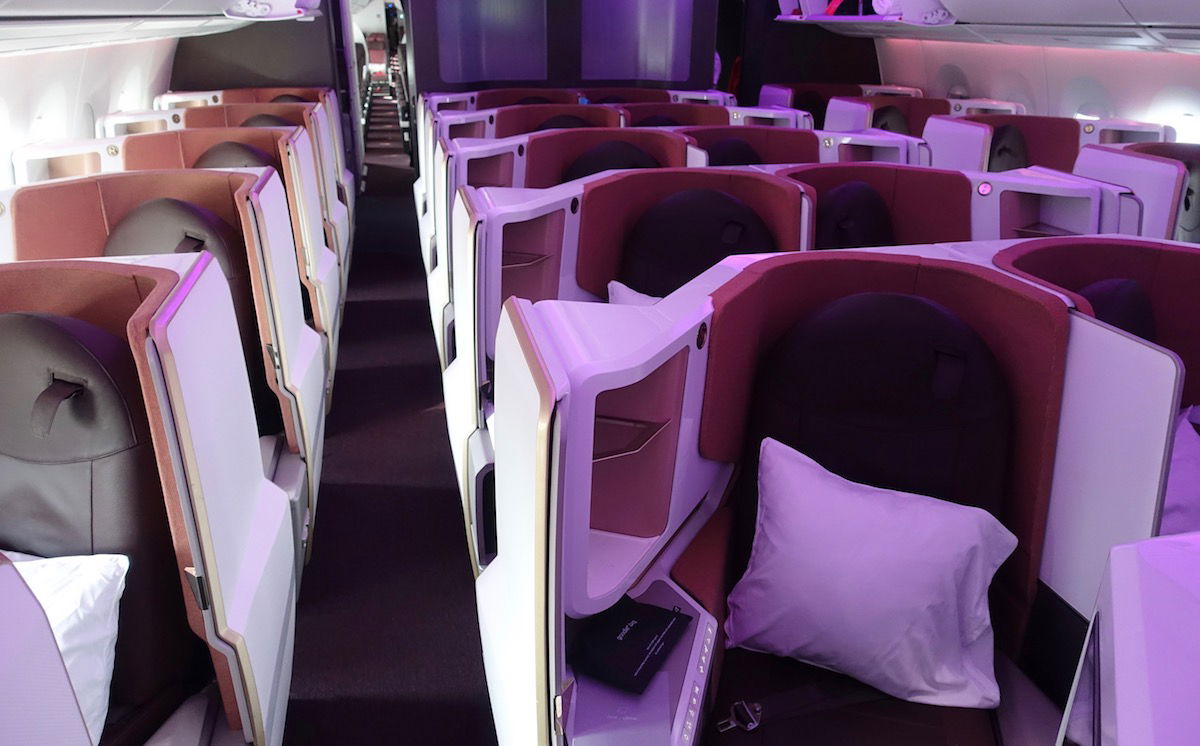 Virgin Atlantic's A350 Upper Class cabin
I'd go out of my way to fly Virgin Atlantic again in their new A350 business class. But that won't stop me from sharing some constructive criticism about the seat.
What I Don't Understand About Virgin Atlantic's New Business Class
Typically when airlines introduce new business class products, they do so in one of three ways:
They introduce a new seat altogether
They purchase one of the existing "generic" seats
They take an existing seat and improve on it
Just to give some examples, we continue to see lots of airlines choose B/E Aerospace Super Diamond reverse herringbone seats. These are pretty generic seats, but they're excellent (among my favorite business class seats), so I'm all for it.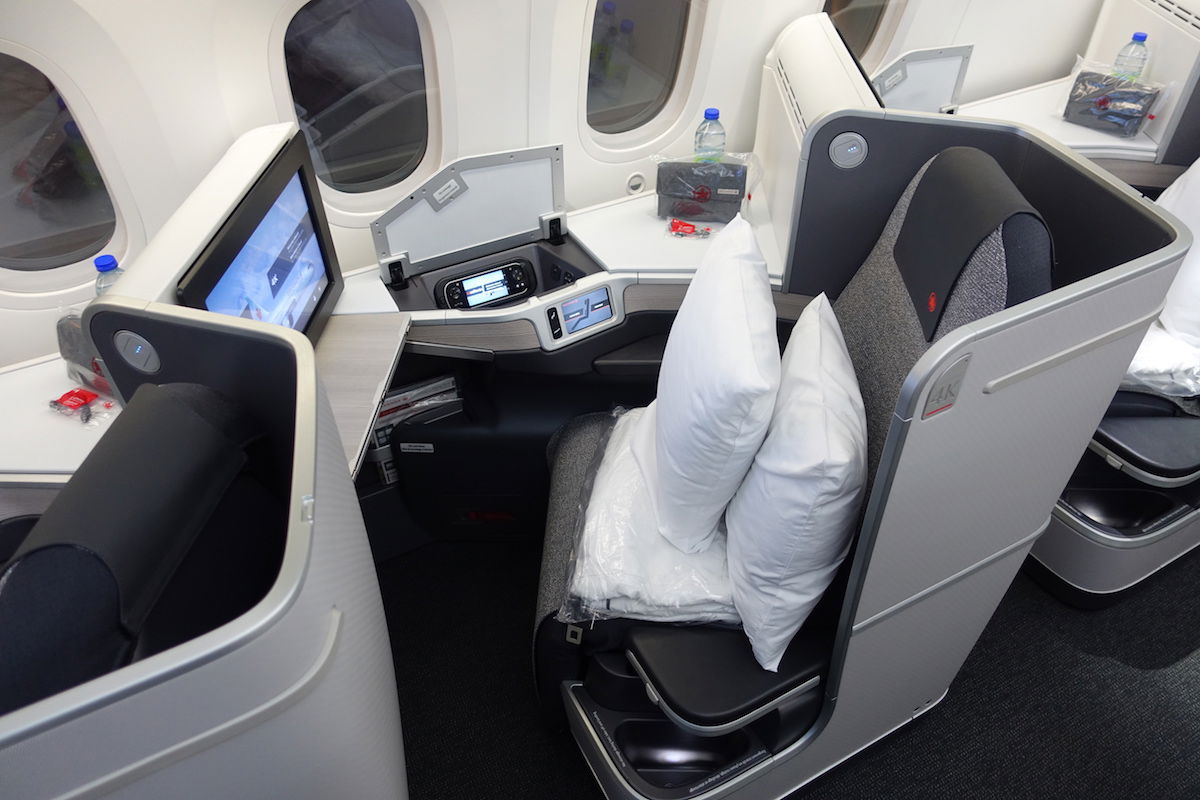 Air Canada B/E Aerospace Super Diamond reverse herringbone seats
Then you have some airlines that have improved on seats. For example, British Airways took B/E Aerospace Super Diamond seats for their new business class, and they put a door on it.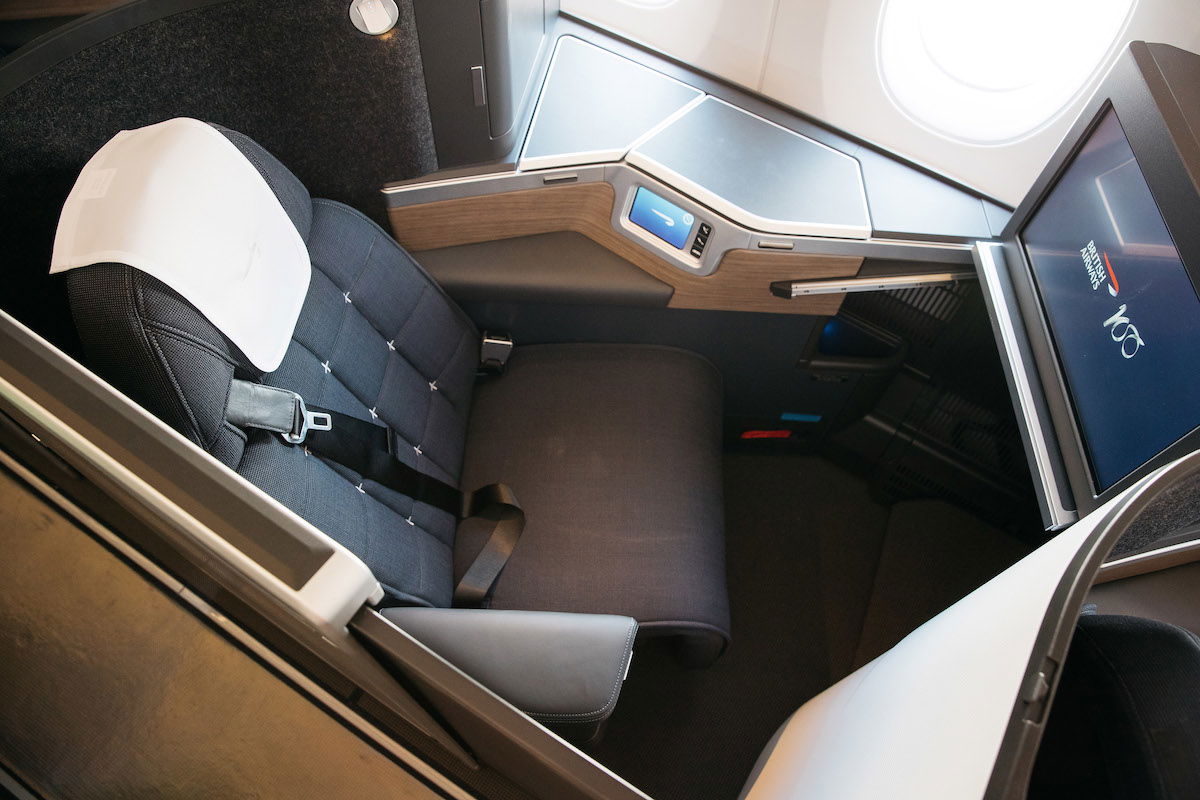 British Airways' new product is a customized reverse herringbone seat with a door
That brings us to Virgin Atlantic's new Upper Class business class seat. They've essentially taken elements of various seats, but they haven't actually improved on them… and that's sort of confusing?
So, what design choices don't I get about the new seat?
The Center Herringbone Seats
With Virgin Atlantic's new Upper Class layout, the seats along the windows are reverse herringbone, which is to say that they face towards the windows. Great!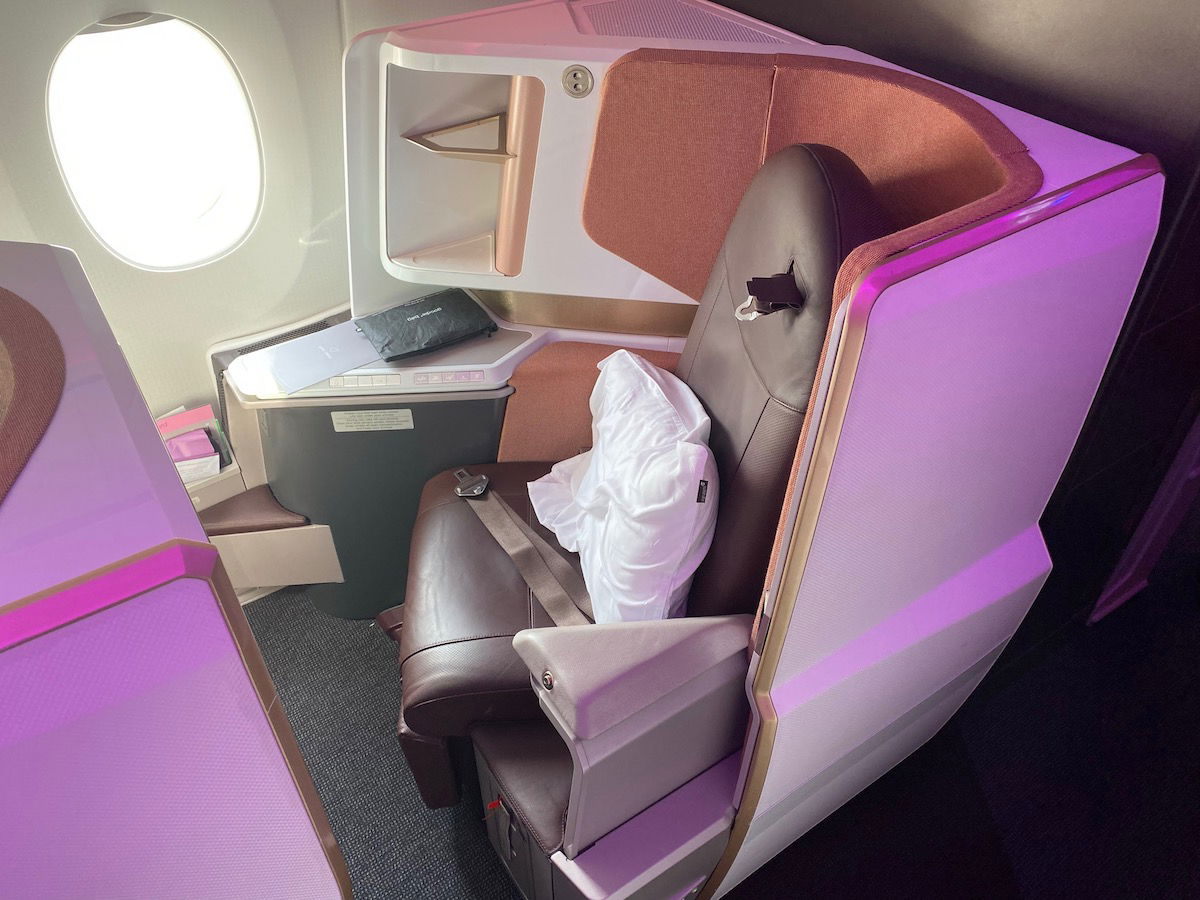 Virgin Atlantic's A350 Upper Class seat
This is where things get weird. Rather than having the center seats also be reverse herringbone (facing towards the center of the aircraft), they instead made them herringbone seats. This means that:
Passengers in the center section face the aisle, rather than the center of the aircraft
If you're traveling with someone and seated in the middle, you're faced away from one another, which doesn't seem ideal (when seats face one another there's otherwise typically a privacy divider)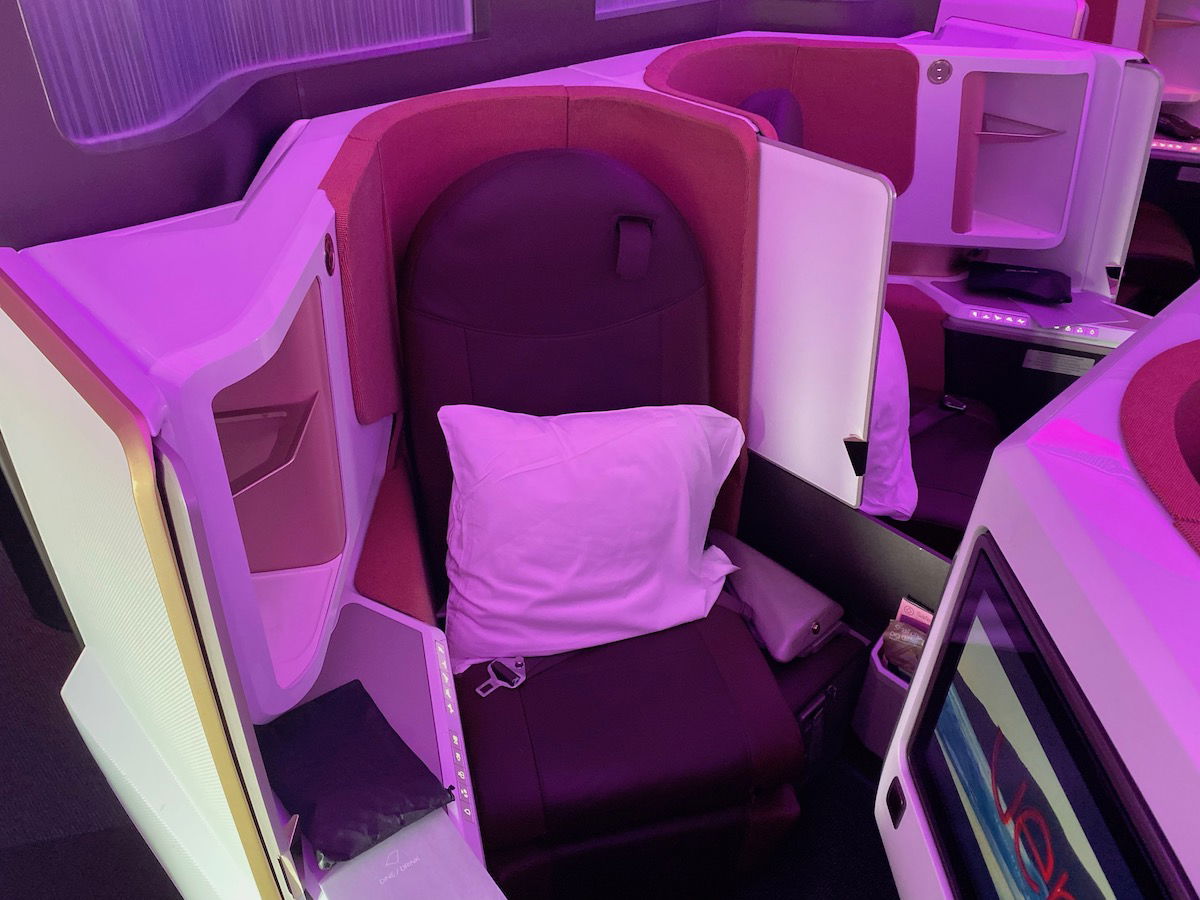 Virgin Atlantic's A350 Upper Class seat
I'd be curious to know what motivated them to go with a hybrid herringbone and reverse herringbone configuration. I don't see the benefit of this "innovation."
The Poorly Designed Tray Tables
Apparently this is an issue that Virgin Atlantic is already addressing with future aircraft, because this has been a huge complaint. The tray table for the new seat folds out from the front side of the seat (it's that thing with the silver lining in the left of the below picture).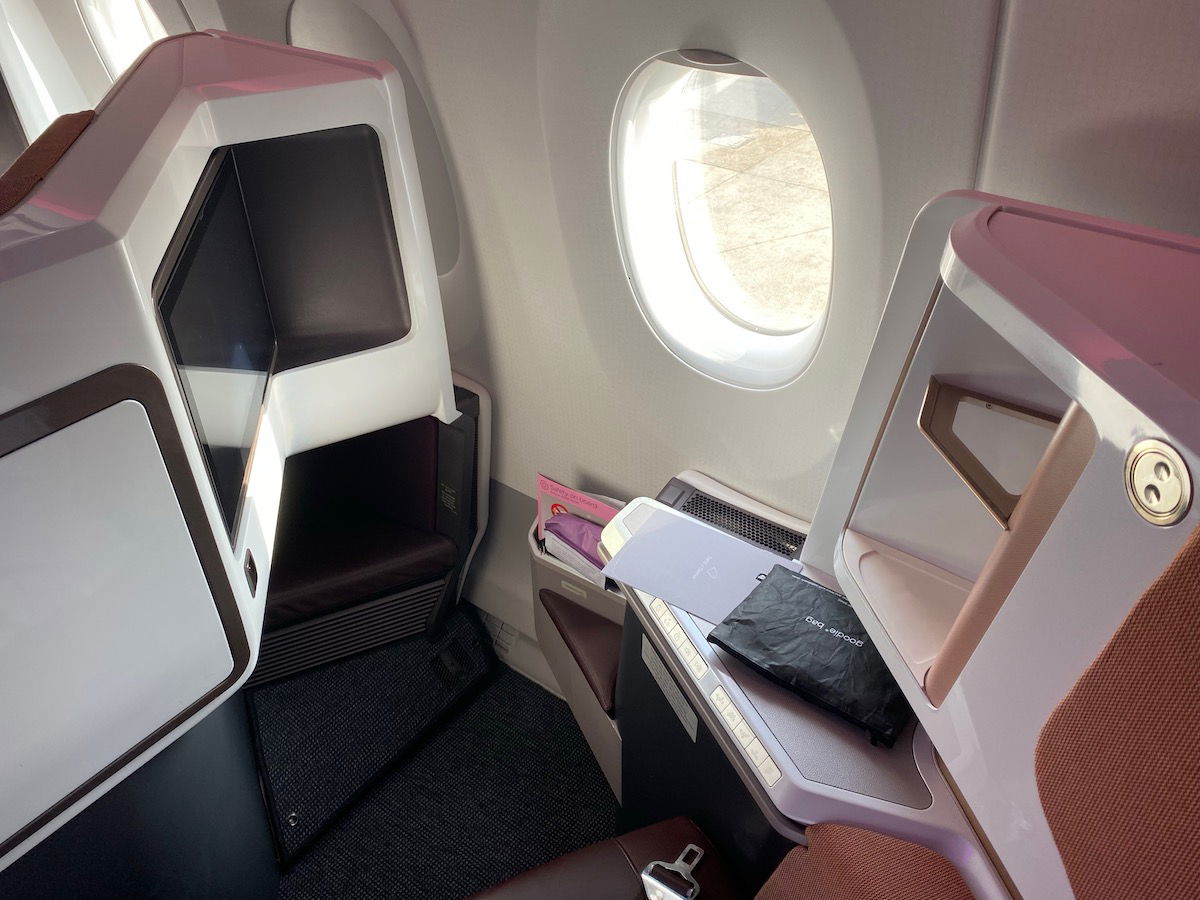 Virgin Atlantic's A350 Upper Class seat
You can extend the table out there so that you essentially have a side table, which sounds nice, in theory.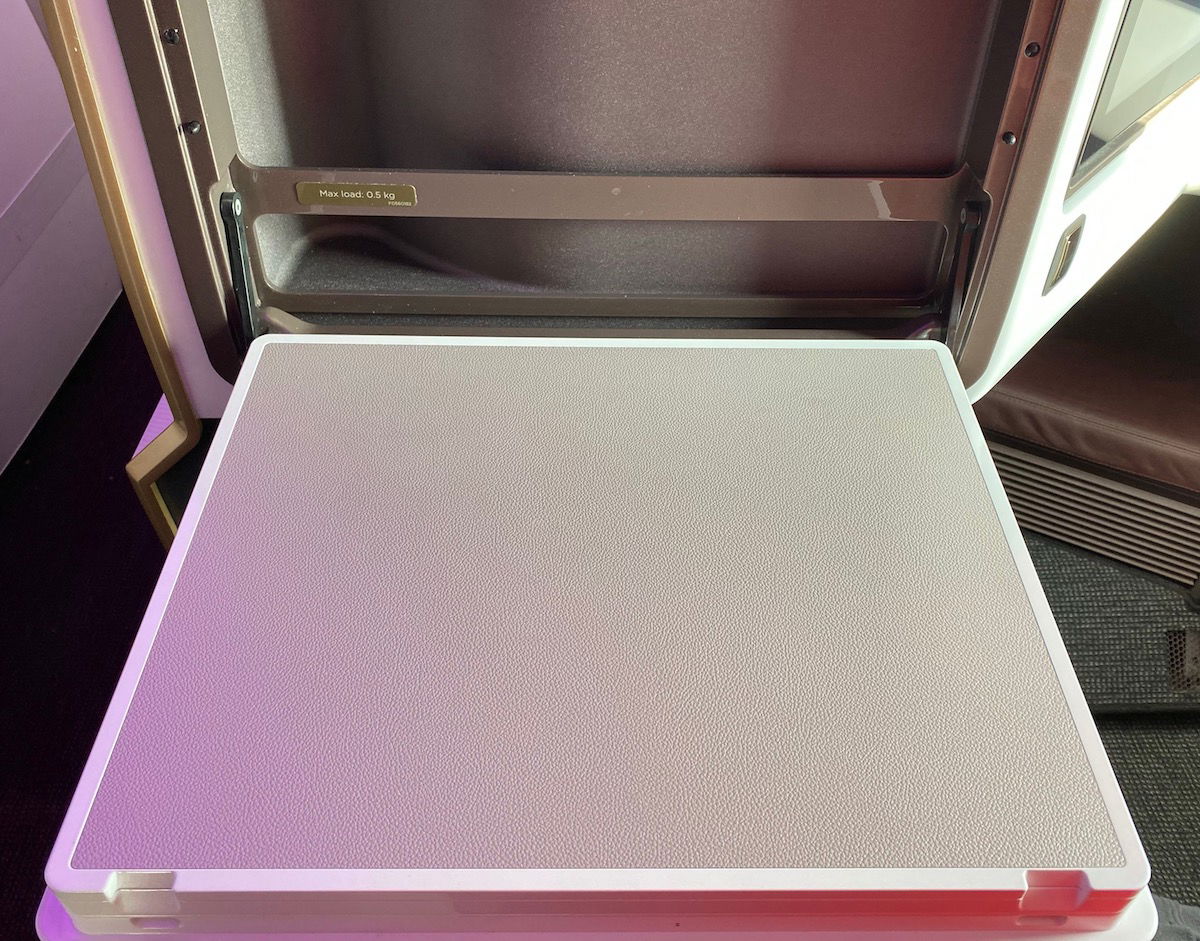 Virgin Atlantic's new business class tray table
The problem is that the tray table can't be moved very far back. For example, below is a picture of the most space you can have between the seat and the tray table. There have been so many reports of many people not being able to fit in the seat with the tray table extended.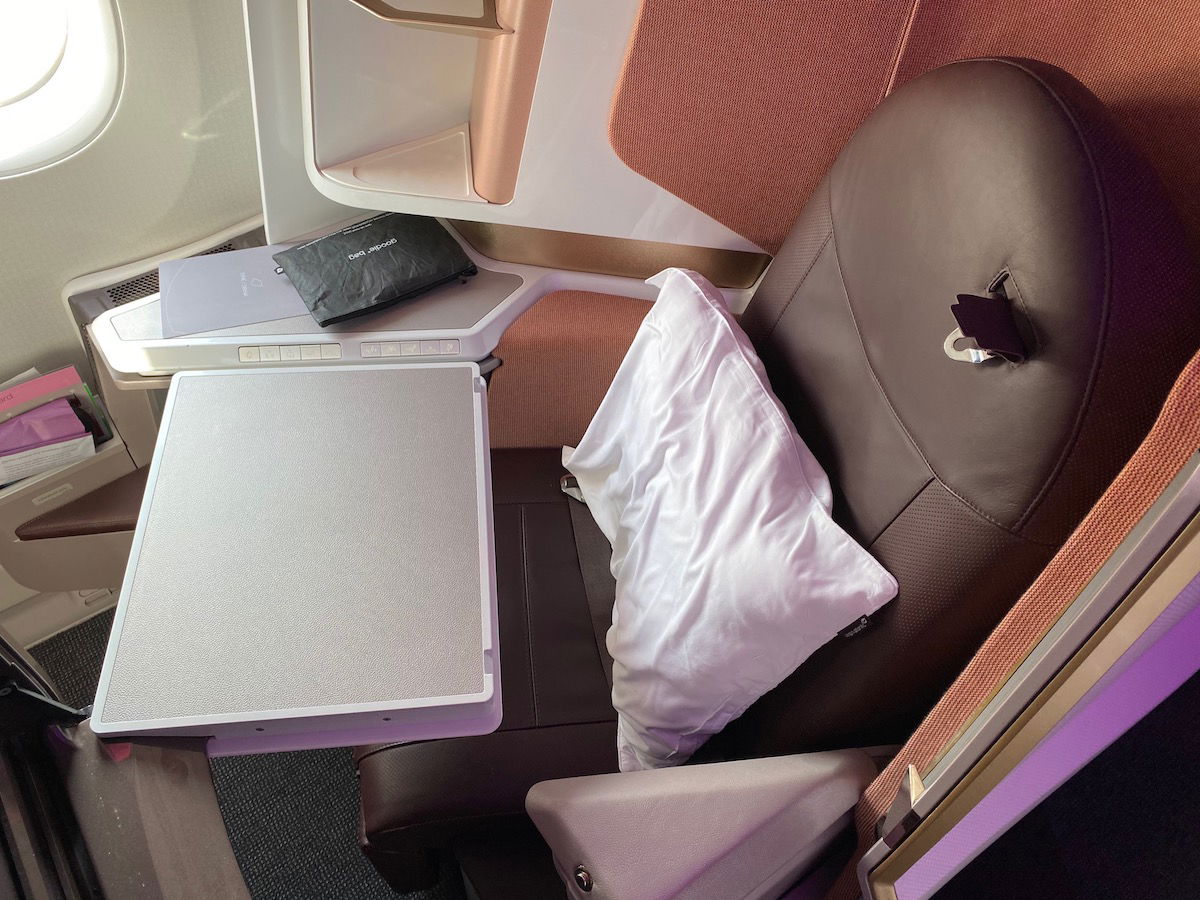 Virgin Atlantic's new business class tray table
Like, I didn't have issues with fitting into the seat with the tray down, but I consistently found myself wishing I could push the tray table further away from me, because it felt unnaturally close. I can't imagine what it's like for someone larger or with a different shape.
The Lack Of Storage
Virgin Atlantic's new business class seat lacks storage. When you look at the two popular "off the shelf" reverse herringbone products out there, both have storage. In Virgin Atlantic A350 Upper Class:
The storage area next to the seat is small, and is exposed, and really isn't big enough to store anything
Often in this configuration there will be an armrest on the aisle-side that can be popped open for storage, but here there's no storage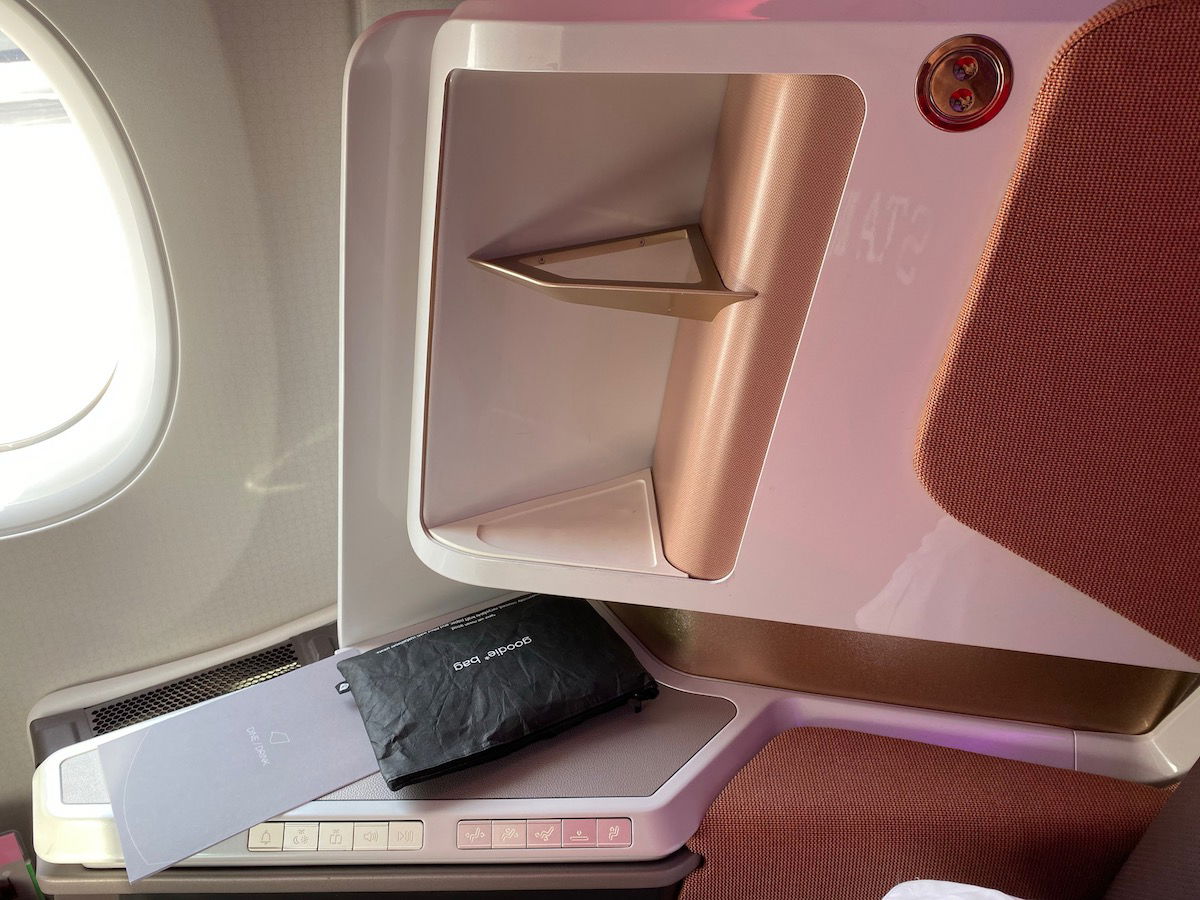 Virgin Atlantic's new business class storage
The Seat Button Location
While minor in the grand scheme of things, I don't understand the location of the seat controls. They're to the side of the seat on a panel, and they're where you'd usually place your arm or hand. So several times during the flight I accidentally hit the buttons without meaning to.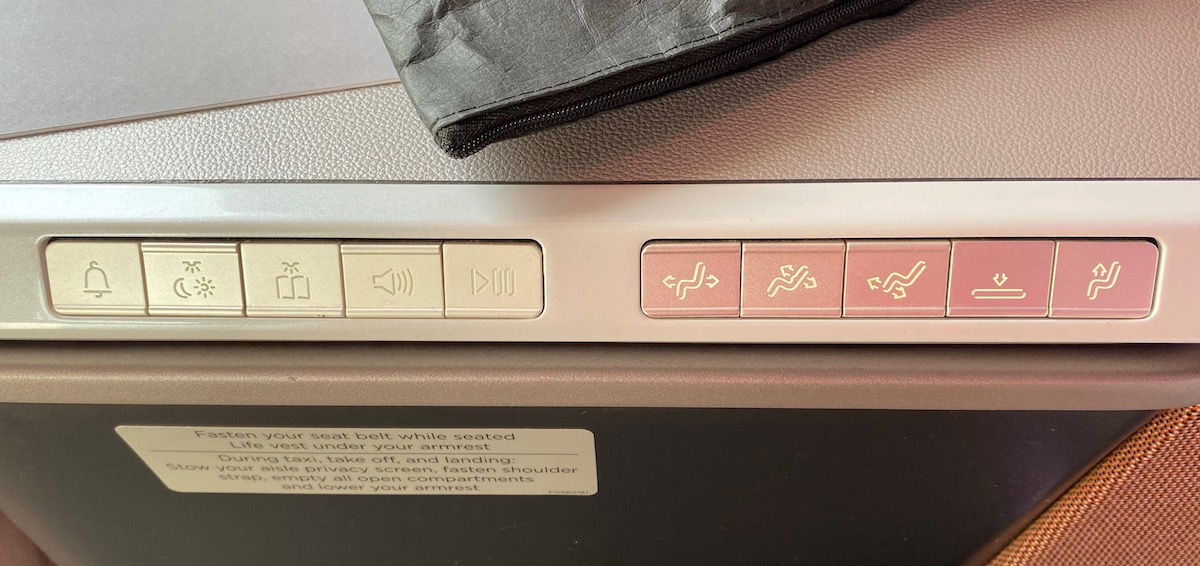 Virgin Atlantic's new business class seat controls
The Lack Of Curtains
While not a design flaw with the seats as such, I do find Virgin Atlantic's onboard lounge decision to be surprising. The airline has introduced a lounge rather than the bar they have on all of their other aircraft, which I don't actually mind.
But they've decided not to add a curtain between the cabin and the lounge. The way it was explained to me, this is to create a more social atmosphere. However, being seated in the last row meant that I could hear the loud conversation of the people in the lounge even with headphones on.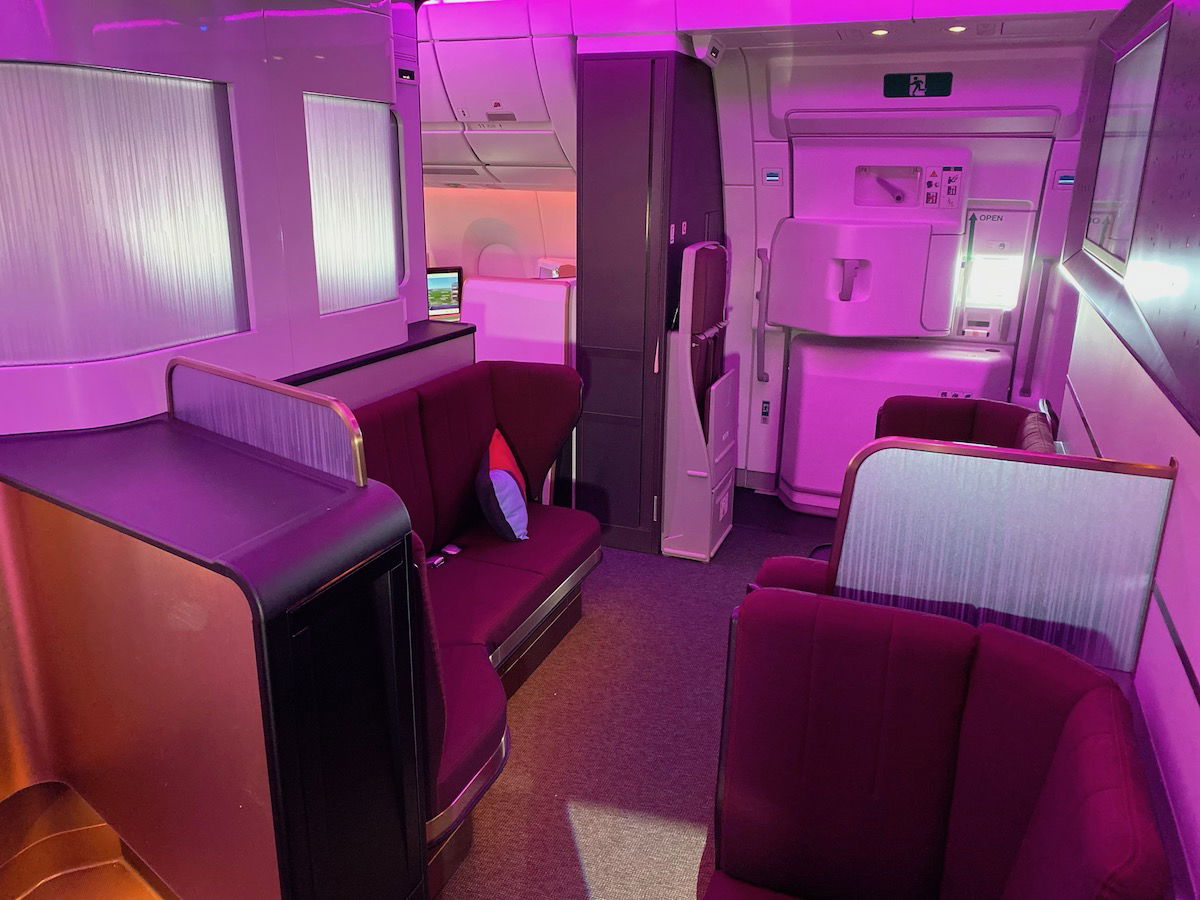 Virgin Atlantic's new business class lounge
Bottom Line
I'll have a full review of Virgin Atlantic's new Upper Class shortly. The above isn't at all meant to suggest that I didn't enjoy the flight. Quite to the contrary, I thought Virgin Atlantic's new business class was excellent, and I also thought the seat was extremely comfortable.
However, I sometimes wonder about the thought that goes into airline decisions. Did Virgin Atlantic choose this cabin layout because they actually thought it was an improvement over your typical reverse herringbone configuration, was it much cheaper for them to come up with this concept, or what?
It just seems like they made some pretty obvious mistakes, subtle as they might be. Usually customization is supposed to lead to improvements, but I don't think that's the case here.
What do you make of Virgin Atlantic's new business class seat?