Prior to my FlyDubai Boeing 737 MAX business class flight to Belgrade, I had the chance to check out the Emirates business class lounge located in Concourse B of Terminal 3 at Dubai International Airport (DXB). This is one of Emirates' two biggest business class lounges at the airport (along with the one in Concourse A, which I've reviewed), and it was fully renovated in 2016.
There's a lot to love about this massive lounge — it has solid food, all kinds of different zones you can sit in, and also some unique amenities, like a Costa Coffee stand, a champagne bar, and a health zone. However, there are also some drawbacks.
Emirates business class check-in Dubai
FlyDubai primarily operates out of Terminal 2 at Dubai Airport, though at the moment the carrier is operating select flights out of Terminal 3. To be honest I was bummed about that. I wanted to check out the FlyDubai lounge in Terminal 2, but they won't let you in the terminal there unless your flight departs from the terminal (and trust me, I tried).
Objectively departing from Terminal 3 is an upgrade, since the Emirates lounge is presumably better than the FlyDubai lounge, but of course I also like to review new experiences.
Anyway, in Terminal 3 there's a dedicated area for first & business class passengers, and I was printed a boarding pass for my flight to Belgrade in no time. I then headed straight through security.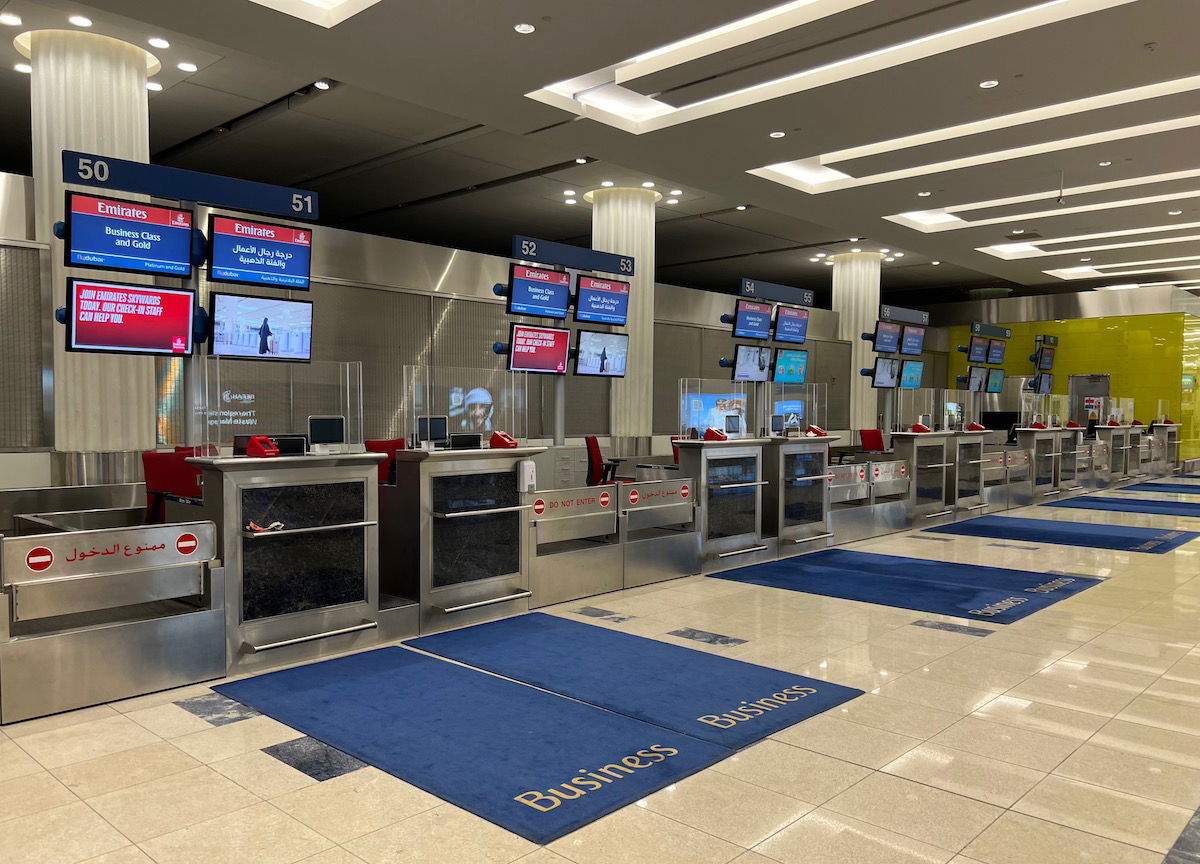 Emirates business class lounge Dubai location & hours
Once you're in Concourse B, it's pretty easy to find the Emirates business class lounge. The entrance is located between gates B16 and B18, and the signage is clear.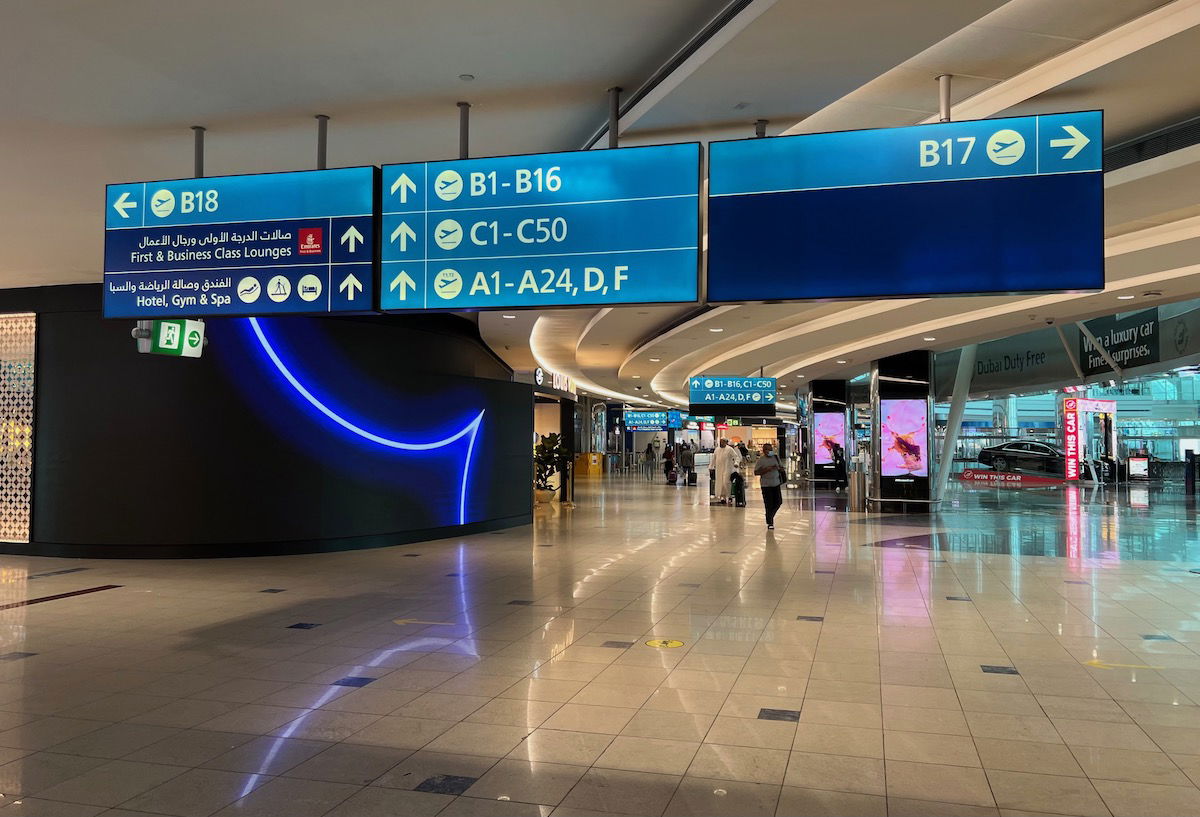 The lounge is located one level above the concourse, and can be accessed by elevators or escalators.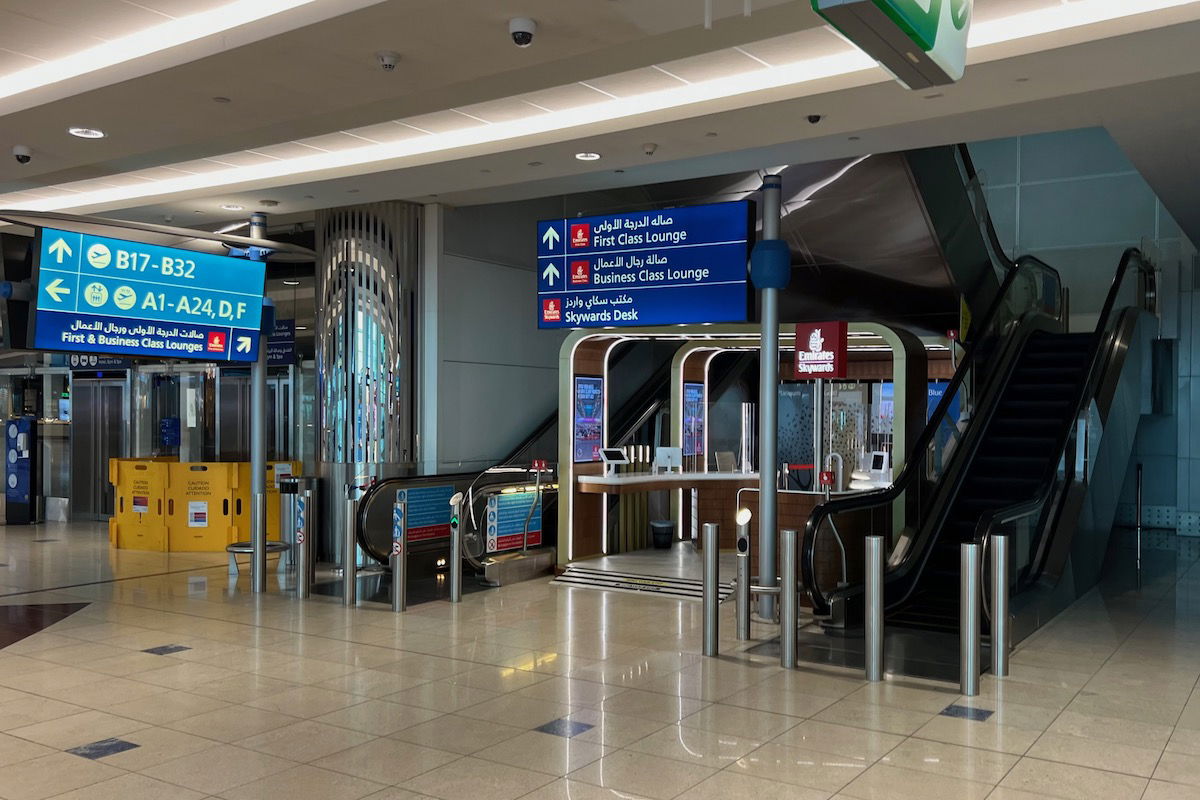 Once you go up a level, the entrance to the business class lounge is to the left.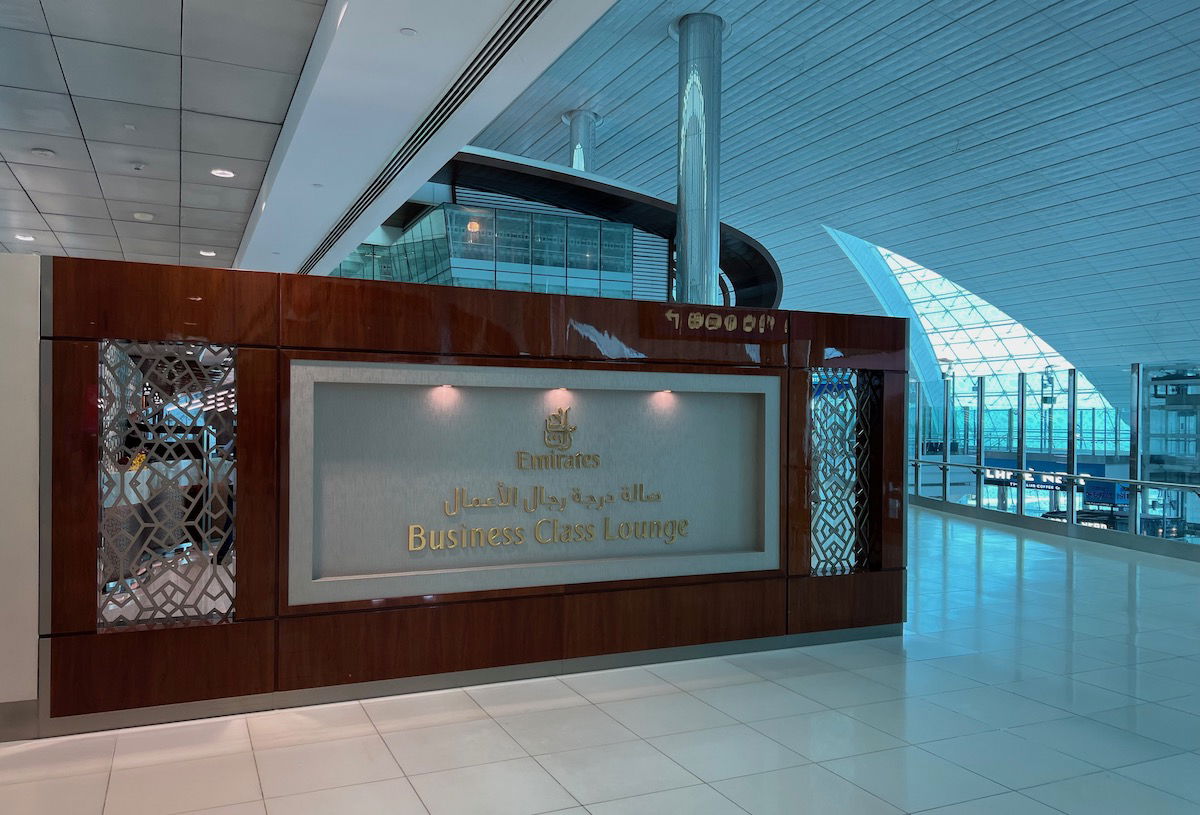 All Emirates lounges in Dubai are open 24/7, reflecting that the airline has flights all hours of the day and night.
Emirates business class lounge Dubai entry requirements
The Emirates business class lounge is open to the following passengers:
Emirates & FlyDubai business class passengers
Emirates Skywards Silver & Gold members
Access can be purchased — if you're in Emirates economy class, you can buy access for $150 ($125 if you're a Skywards member)
Emirates business class lounge Dubai seating & layout
The Emirates business class lounge Dubai is massive, and has seating for 1,500 people. When Emirates renovated the lounge in 2016 it claimed that the lounge is 10,000 square feet, though that's definitely not correct. I suspect the lounge is actually 10,000 square meters, which is ~108,000 square feet. That sounds about right to me, as this lounge is almost as large as the Emirates first class lounge.
There's plenty of signage throughout the lounge, which is needed, because otherwise it's easy to get lost.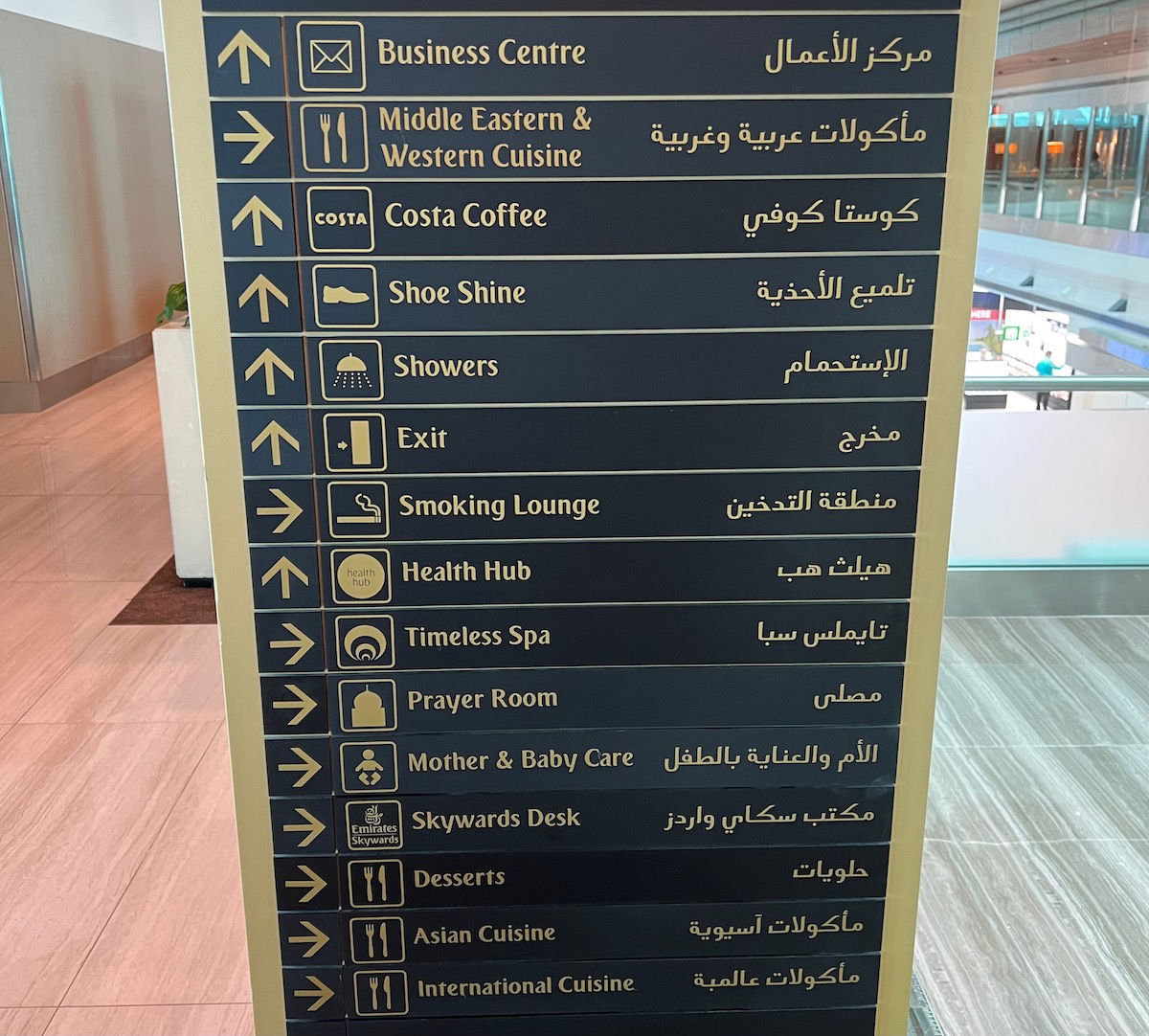 There's a beautiful seating setup just inside the entrance, which frankly is by far the most elegant part of the lounge. However, it's also the least utilized, since there's the most foot traffic near here, and it's also quite far from the food & drink stations.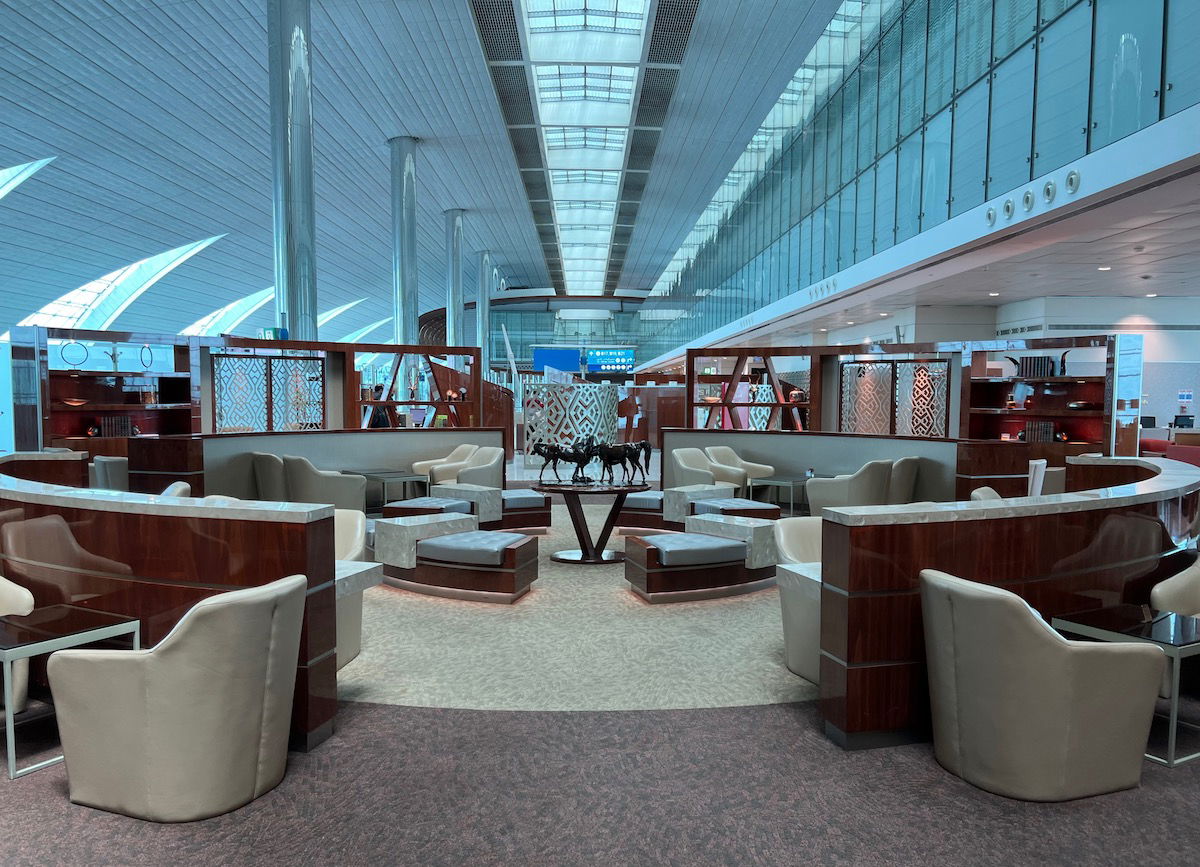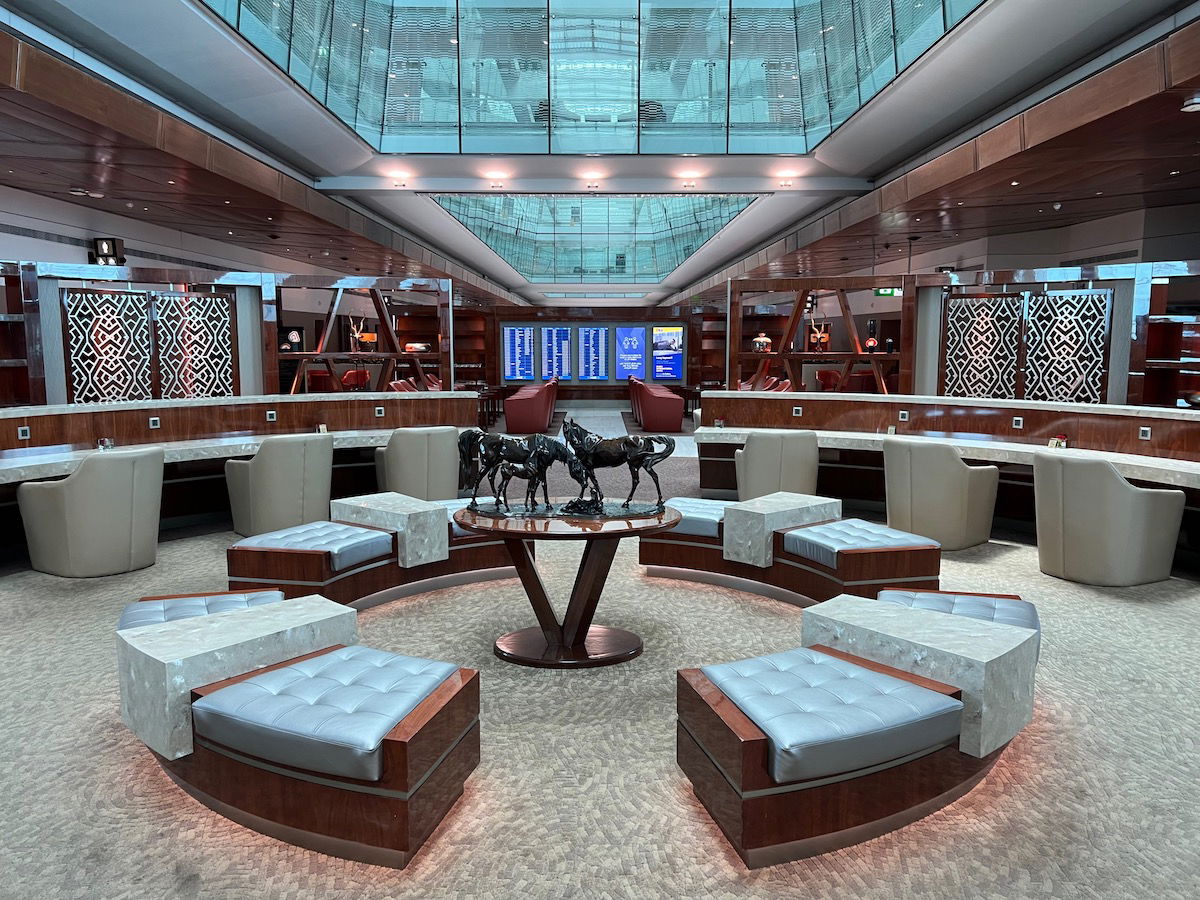 To give you a sense of the lounge's layout, it's long and thin and located above the main part of the concourse, so throughout the lounge you can see how busy it is down in the terminal.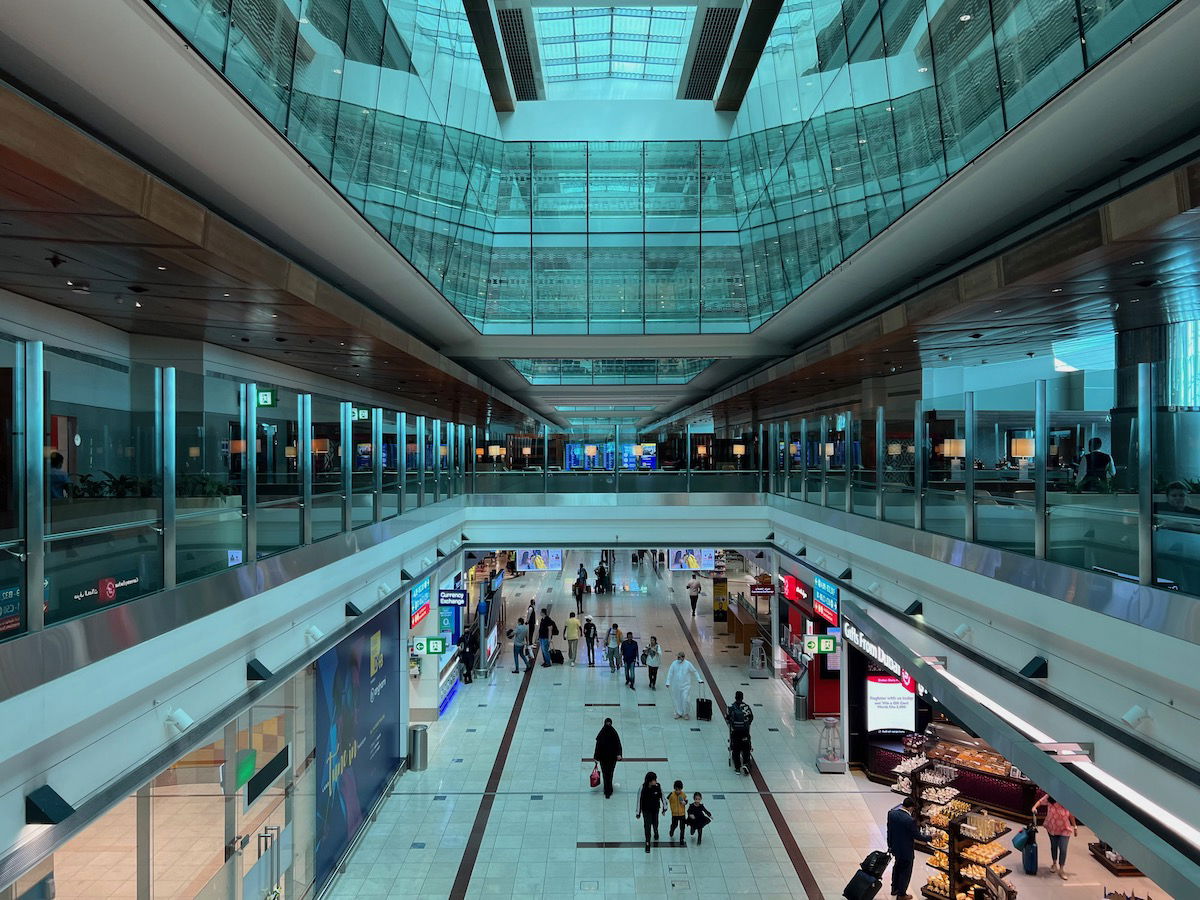 Because of the layout, there's lots of seating along this central walkway of the lounge.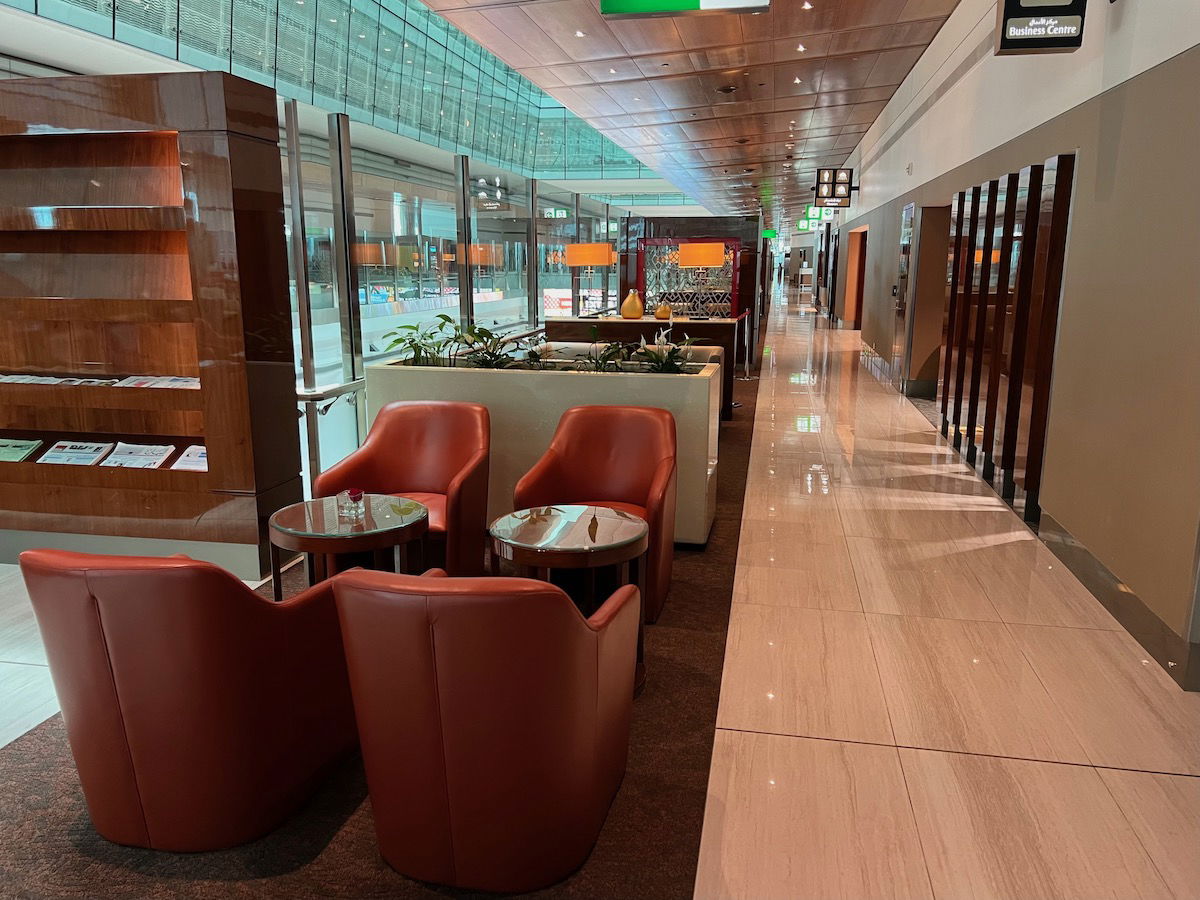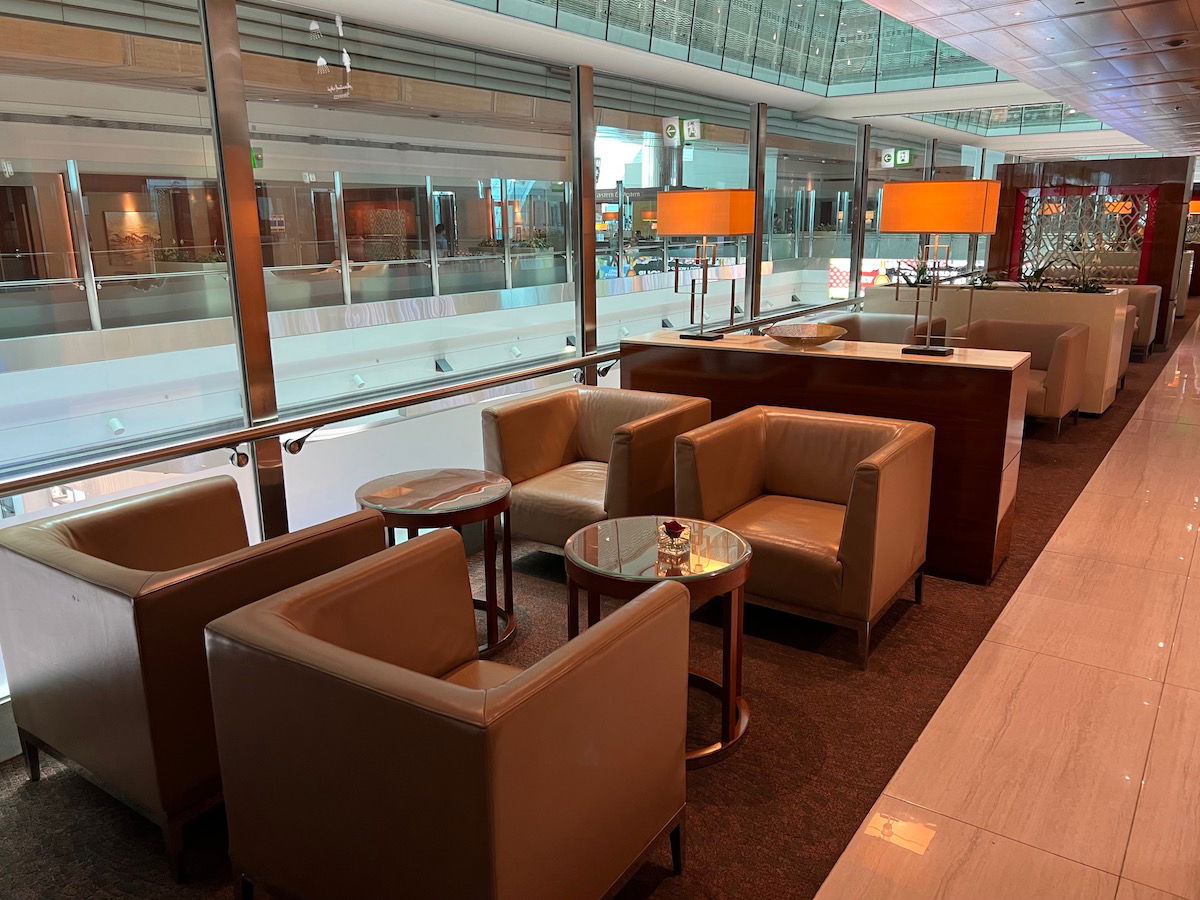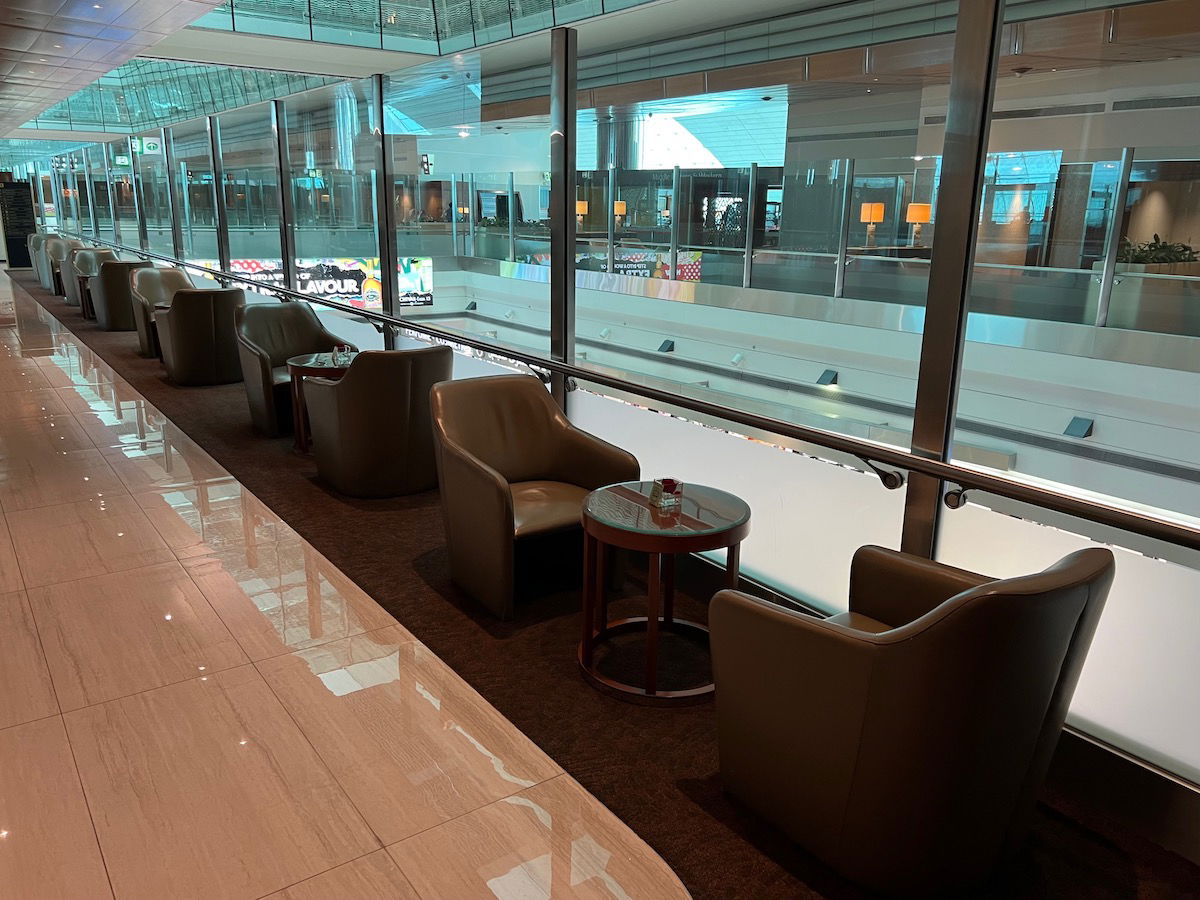 There are endless seating arrangements.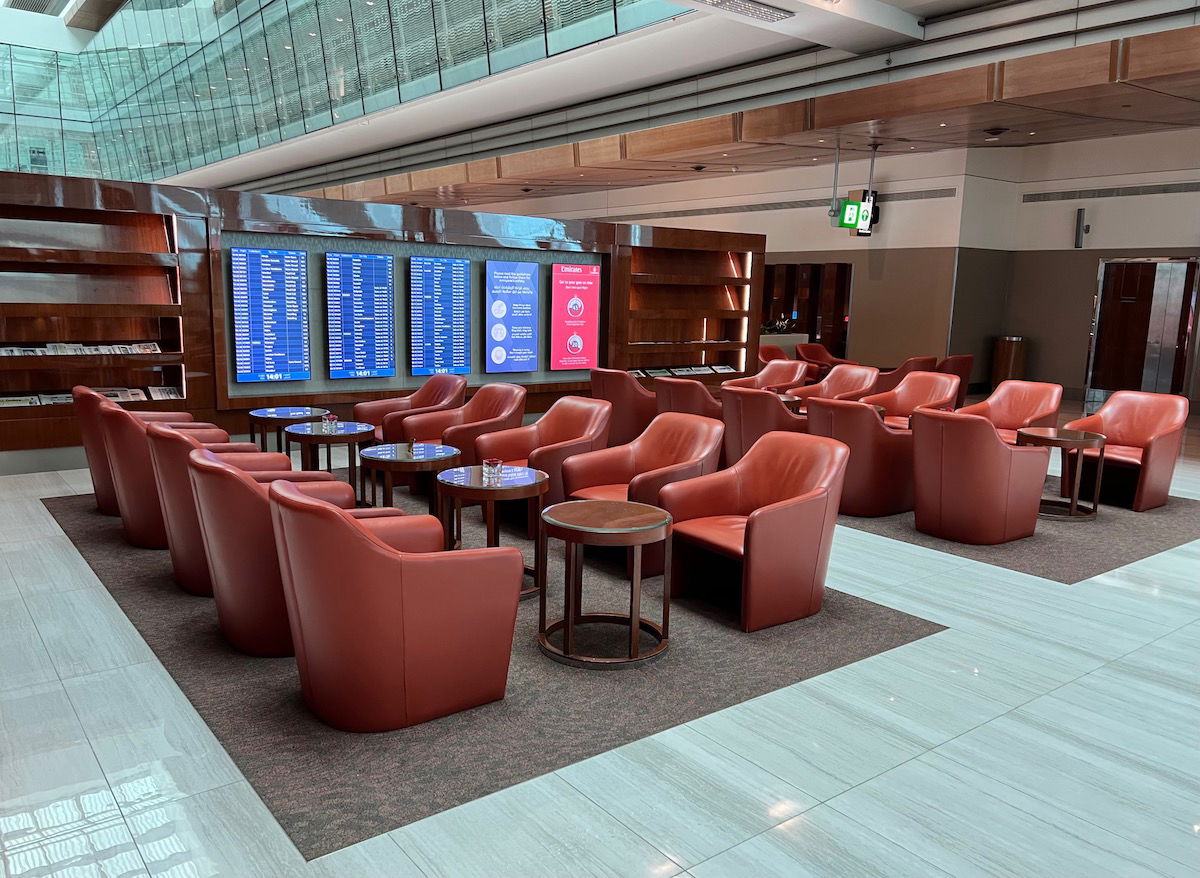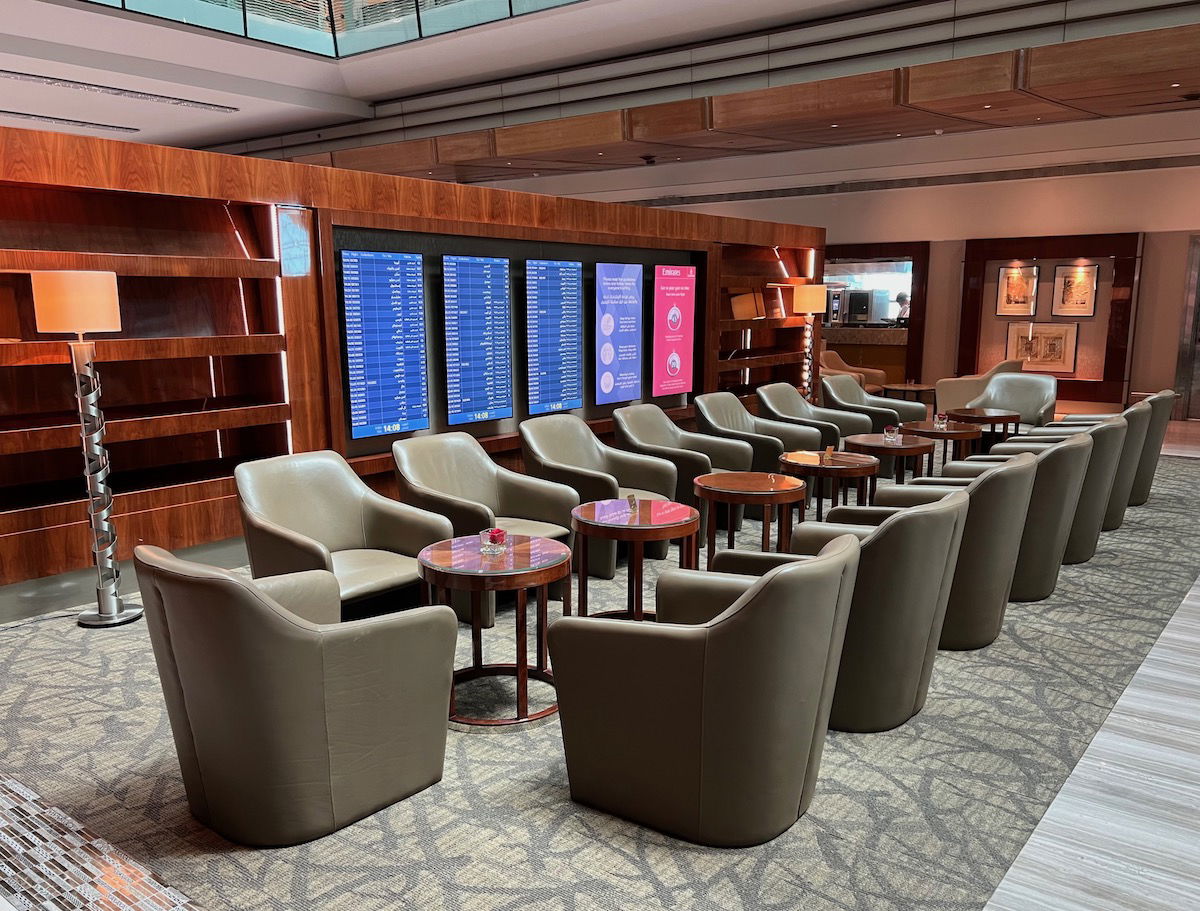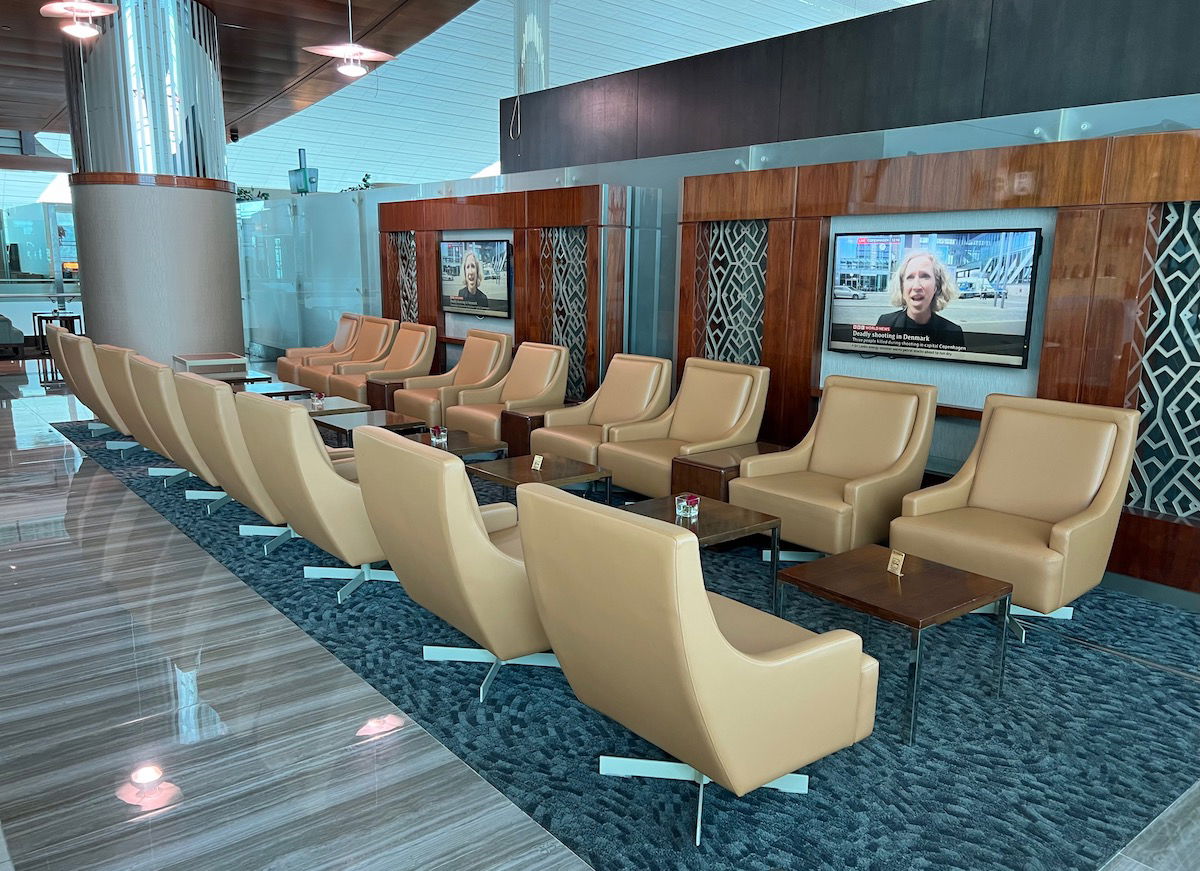 One side of the lounge has more traditional lounge seating, with leather chairs in rows facing one another. This side is ideal for those who aren't looking to dine.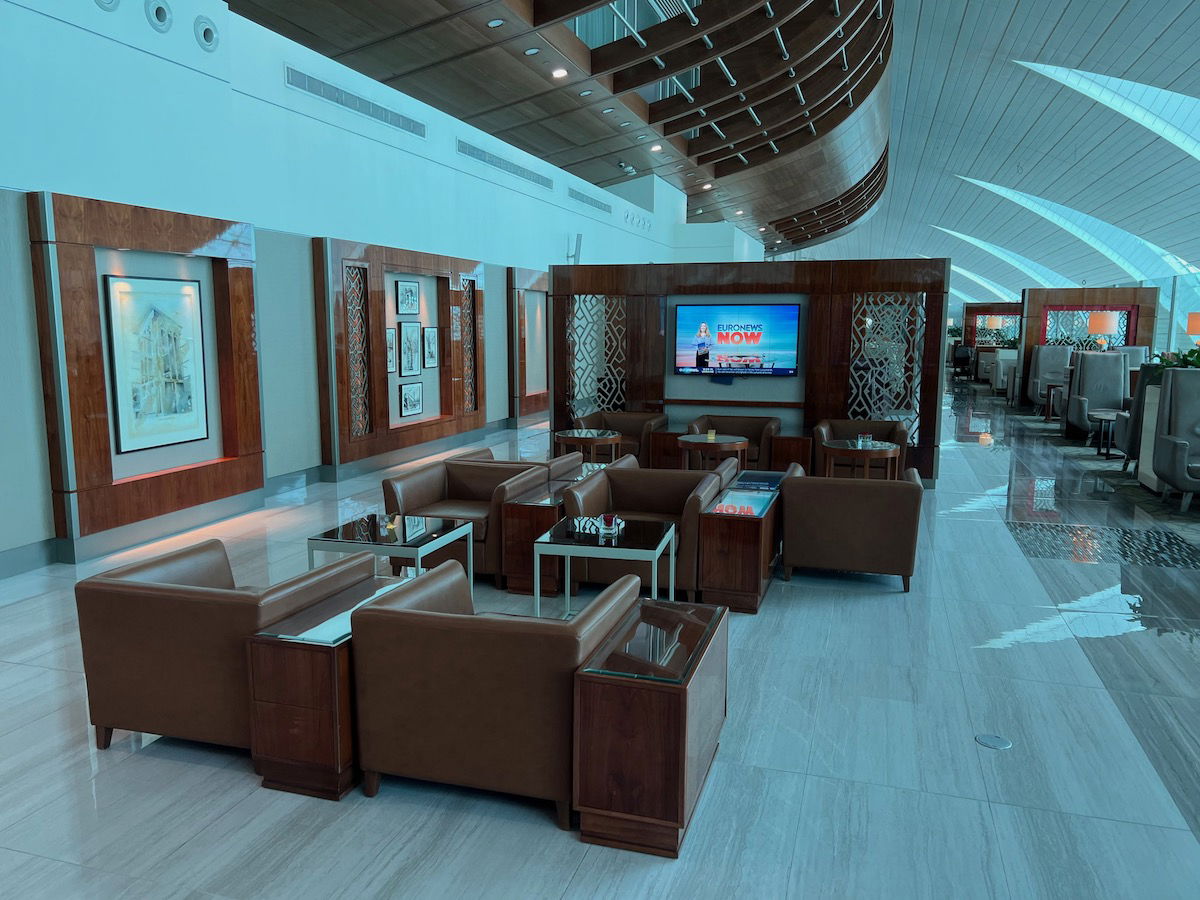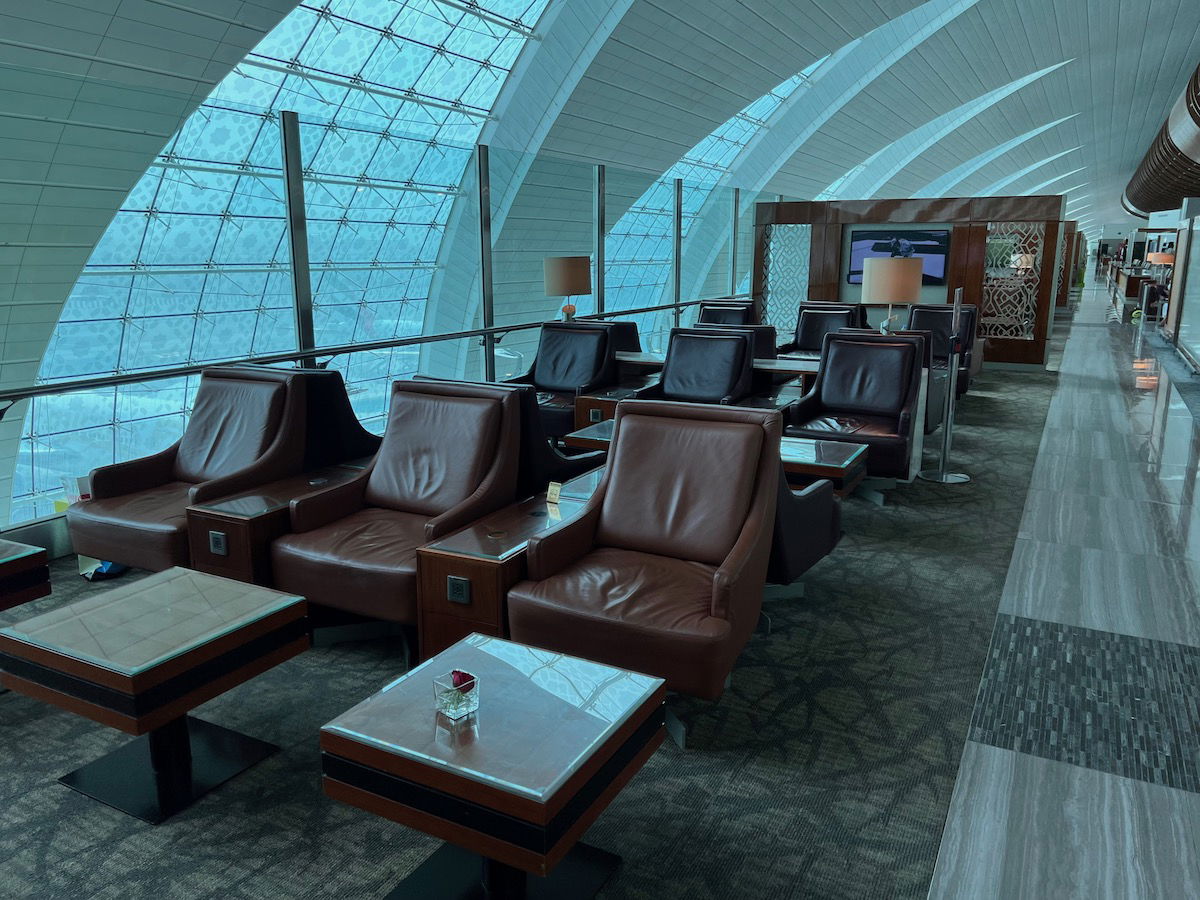 Meanwhile the other side of the lounge is dedicated to dining. I was in the lounge during a mostly quiet time (around 2PM until 5PM), and it's just kind of unbelievable how much empty seating there is in the lounge. I'll let the pictures of the seating in the dining area speak mostly for themselves, but it's truly endless.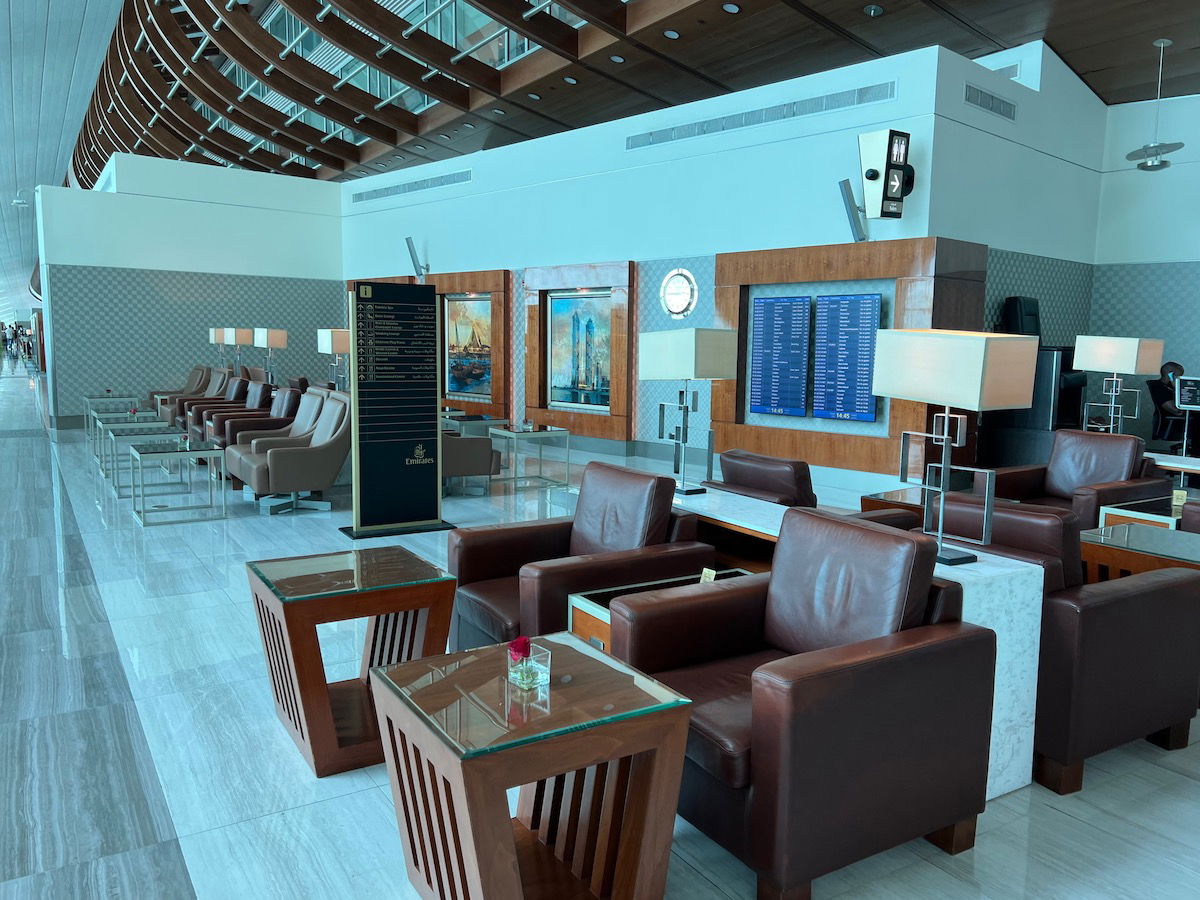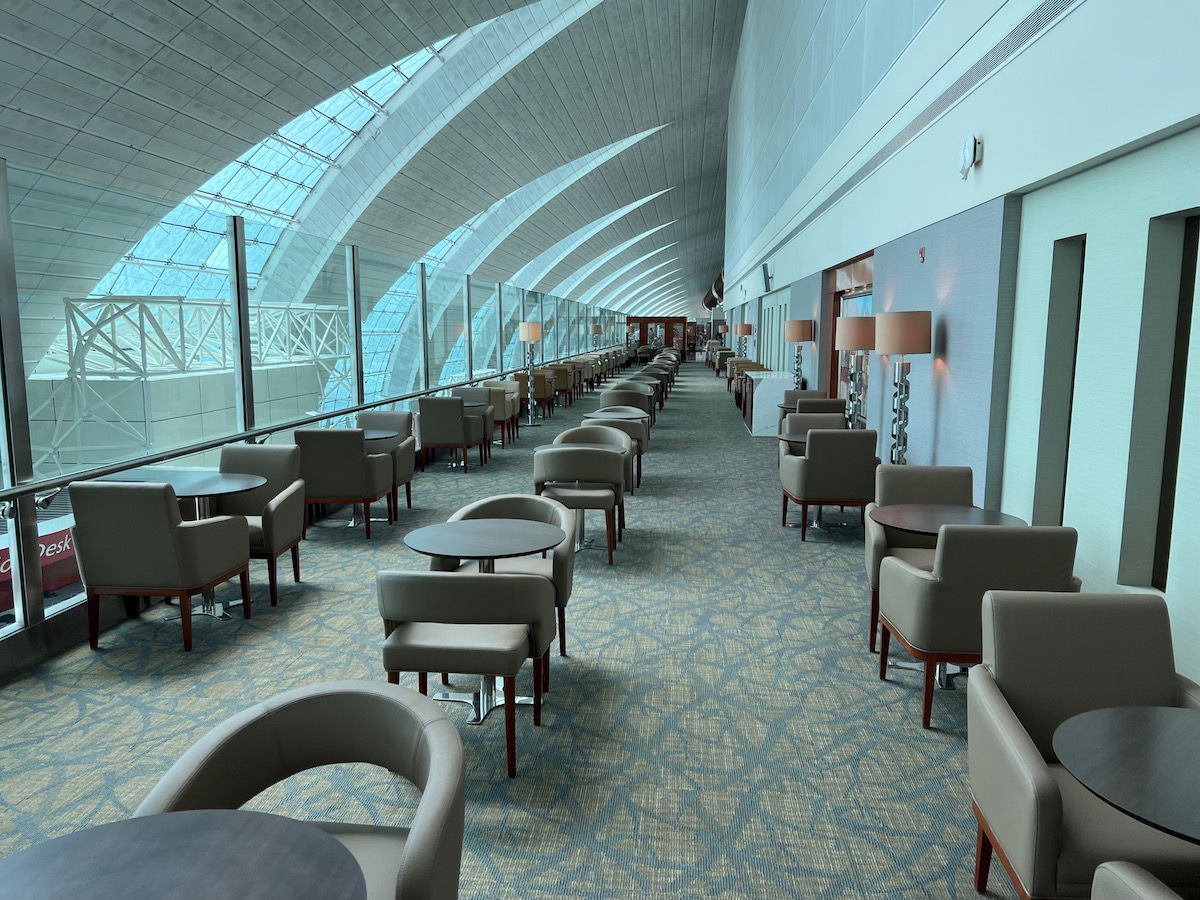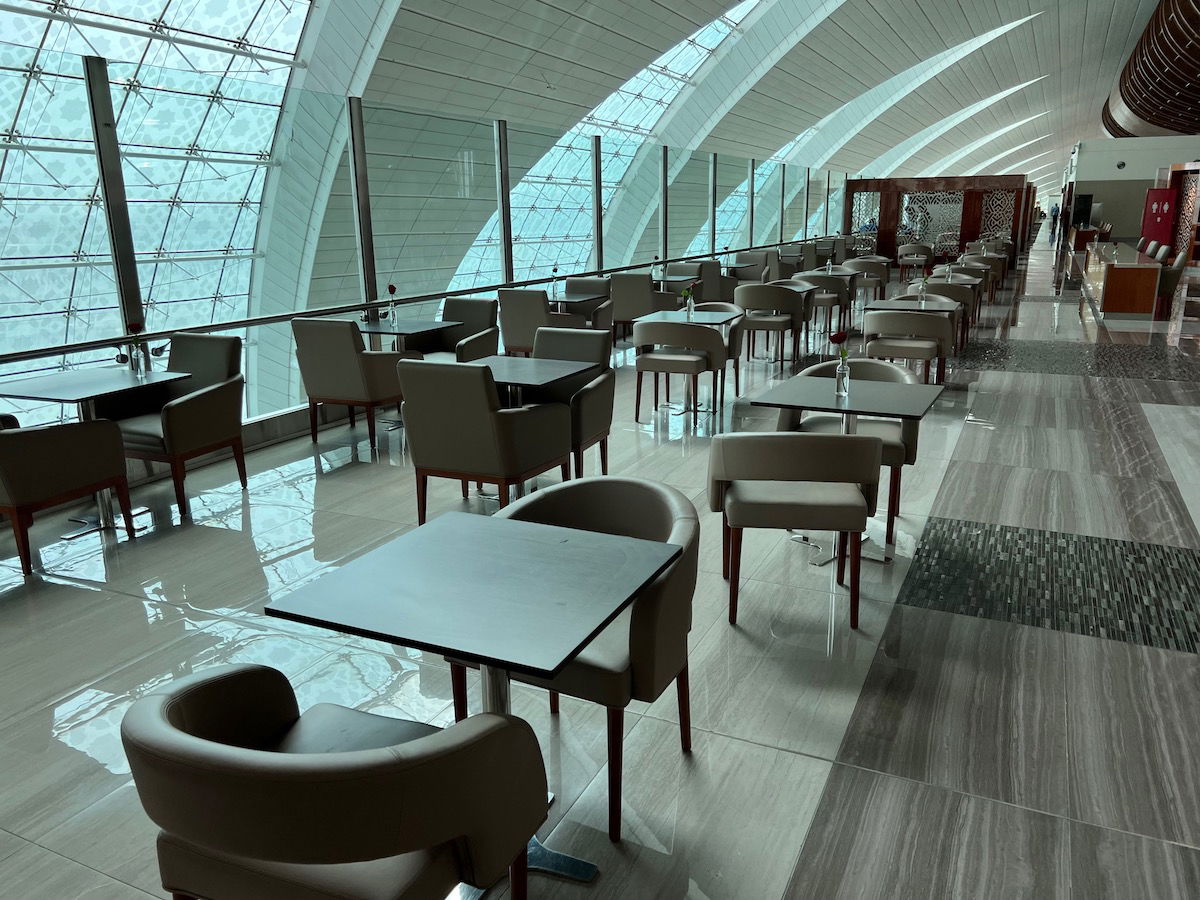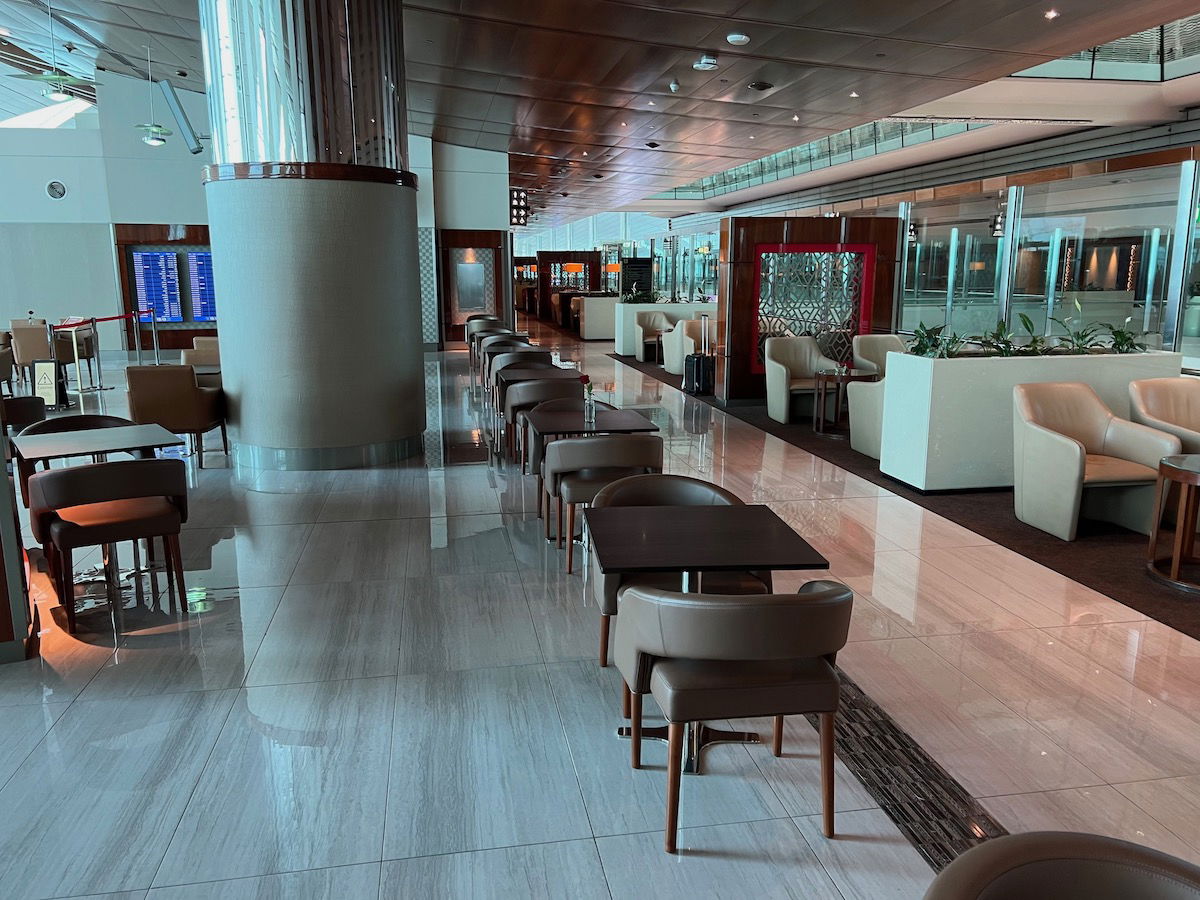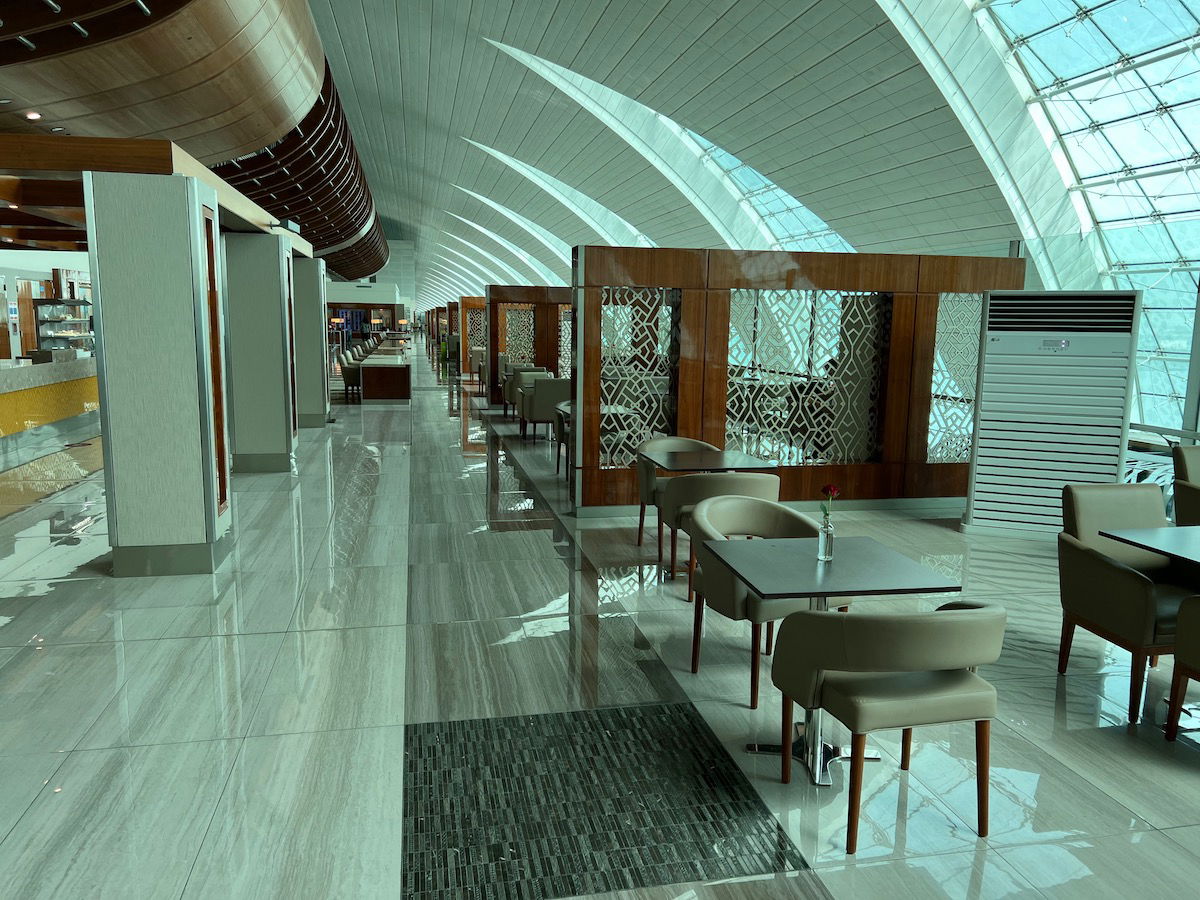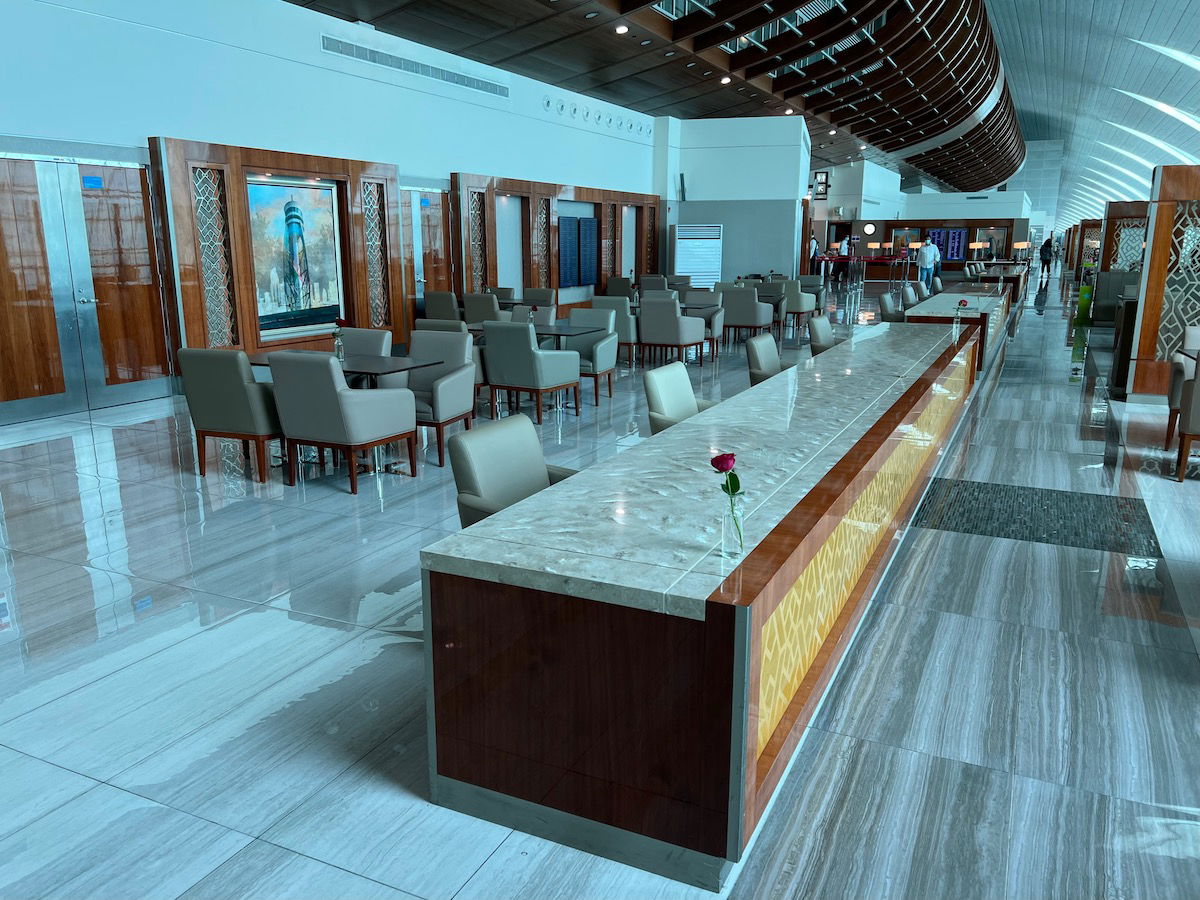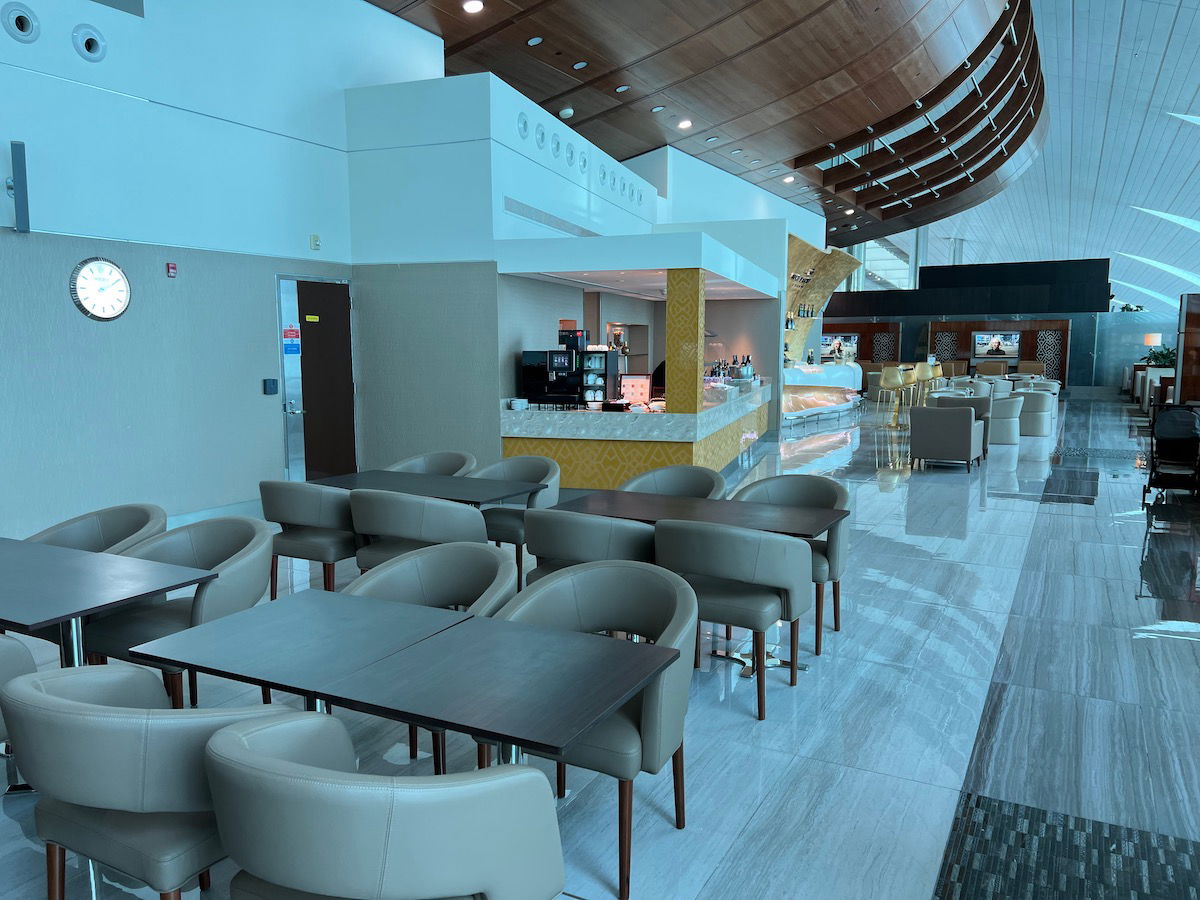 One frustrating aspect of the lounge seating is the lack of outlets. Most of the tables don't have any outlets. I guess the airline just didn't want to invest in that, since that would be expensive to retrofit.
If you look carefully, the lounge also has a couple of semi-private pods along the center area, which are cool. They almost feel like first class suites.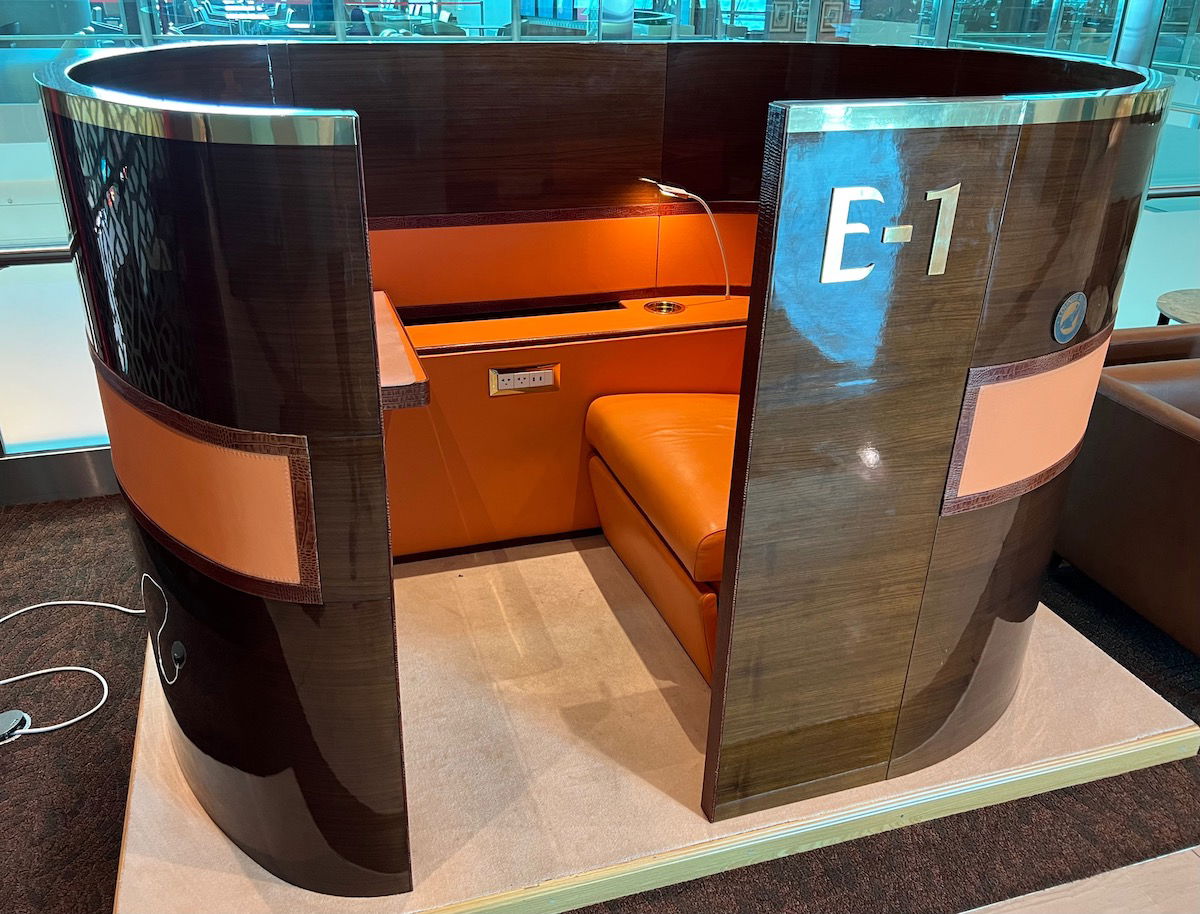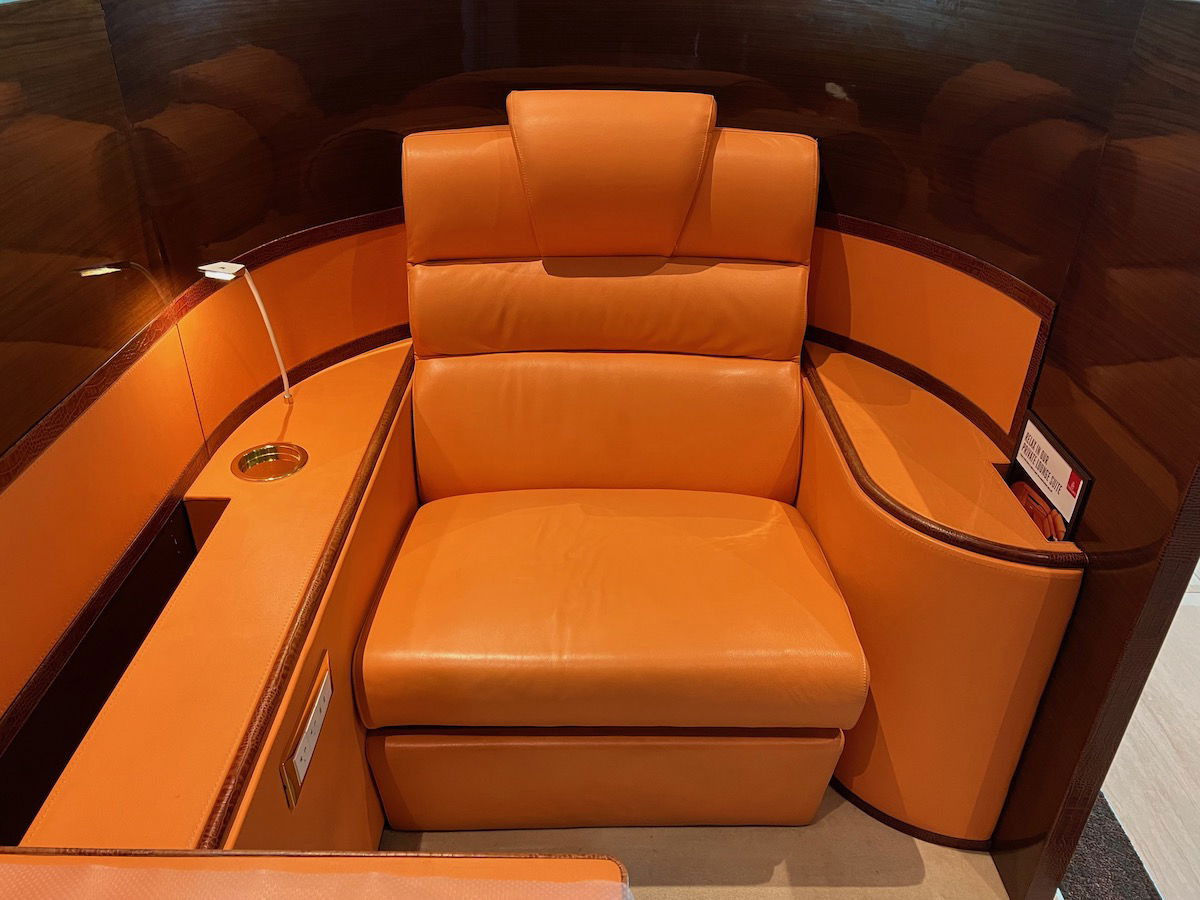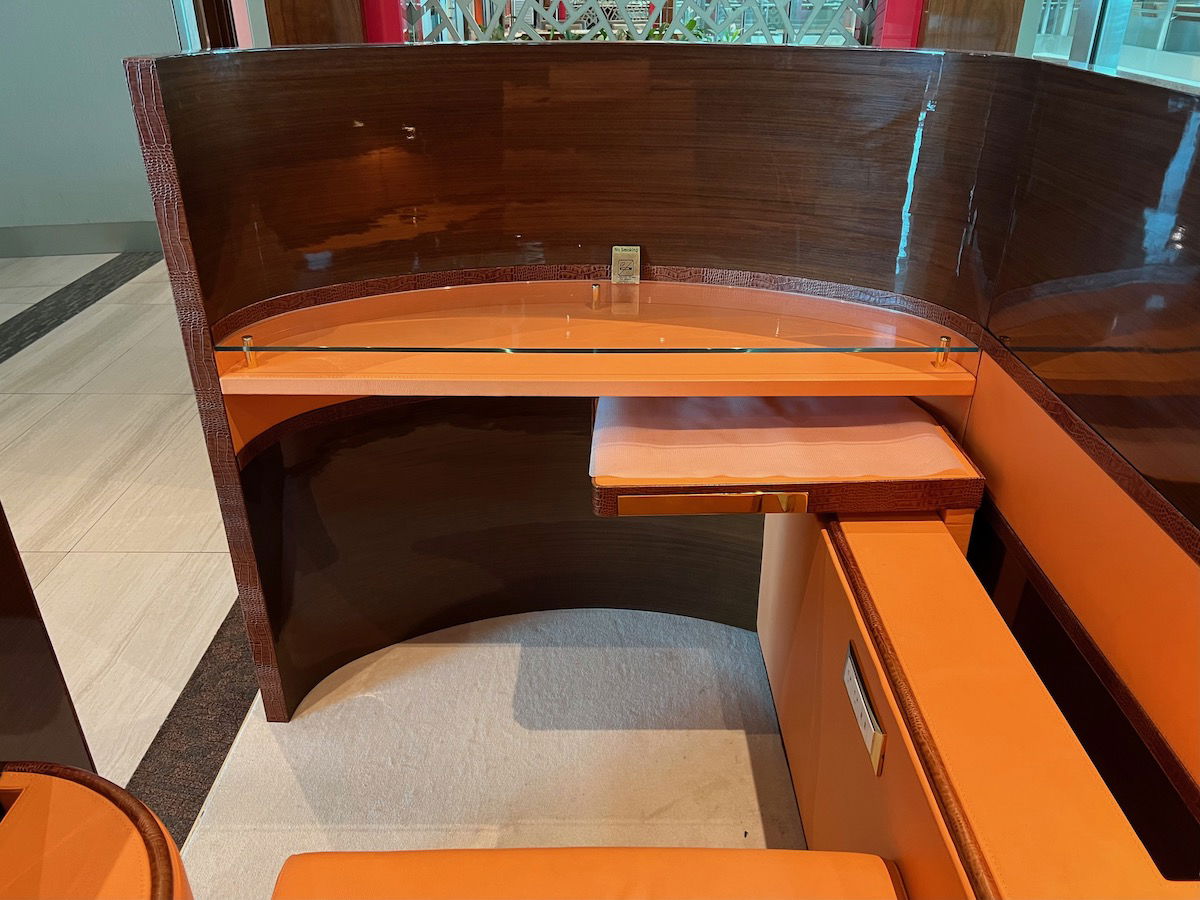 Anyway, the lounge is incredibly spacious, and the renovation in 2016 makes the lounge feel much nicer than it was before. However, even with the renovation I wouldn't exactly call it cutting edge. Then again, we're talking about Emirates, which has historically taken design cues from Las Vegas in the 1990s.
Emirates business class lounge Dubai dining
Dining in Emirates' business class lounge is entirely from buffets, with an extensive selection. I also appreciate that the lounge has "open" kitchens, so you can see the food being cooked — they're not just microwaving stuff.
Given the potential number of passengers in this lounge, Emirates has (smartly) spread out the buffets, so that there's not too much crowding in one area. There's one buffet for Middle Eastern & Western food, there's another buffet for Asian food, and then there's a separate dessert buffet.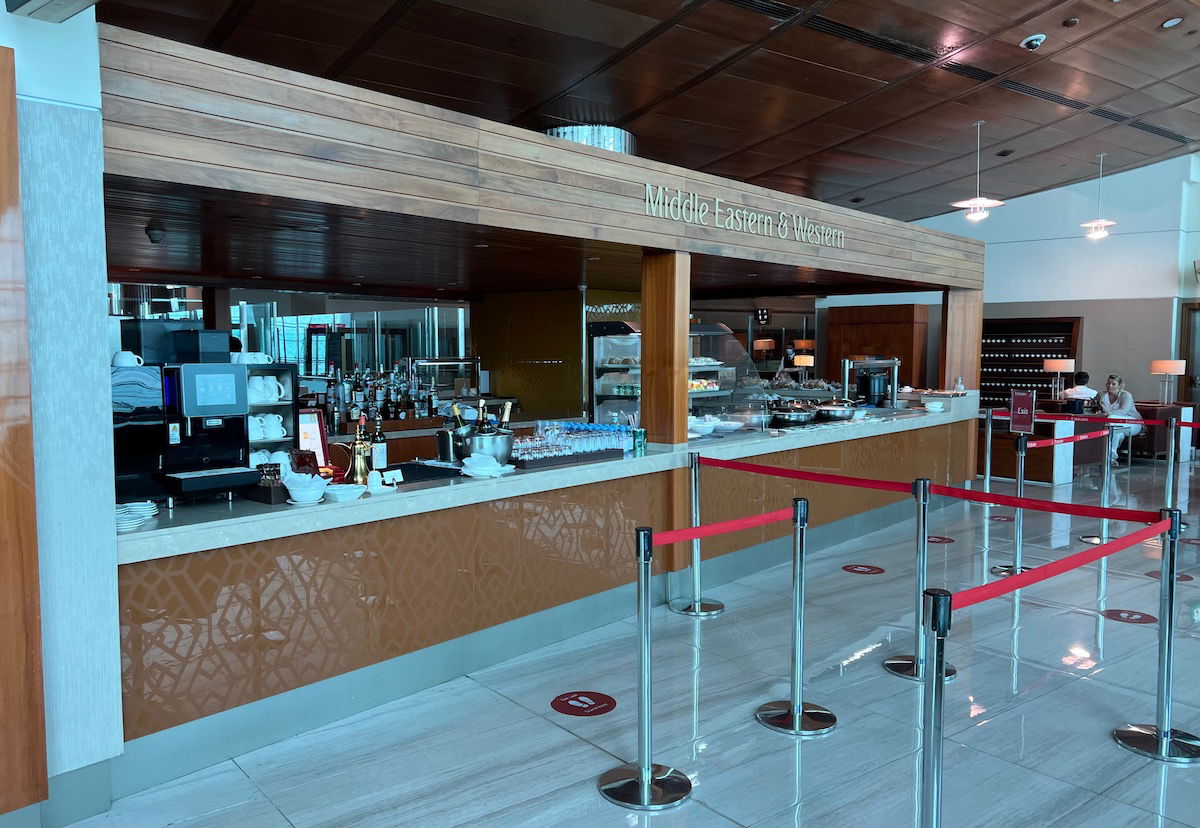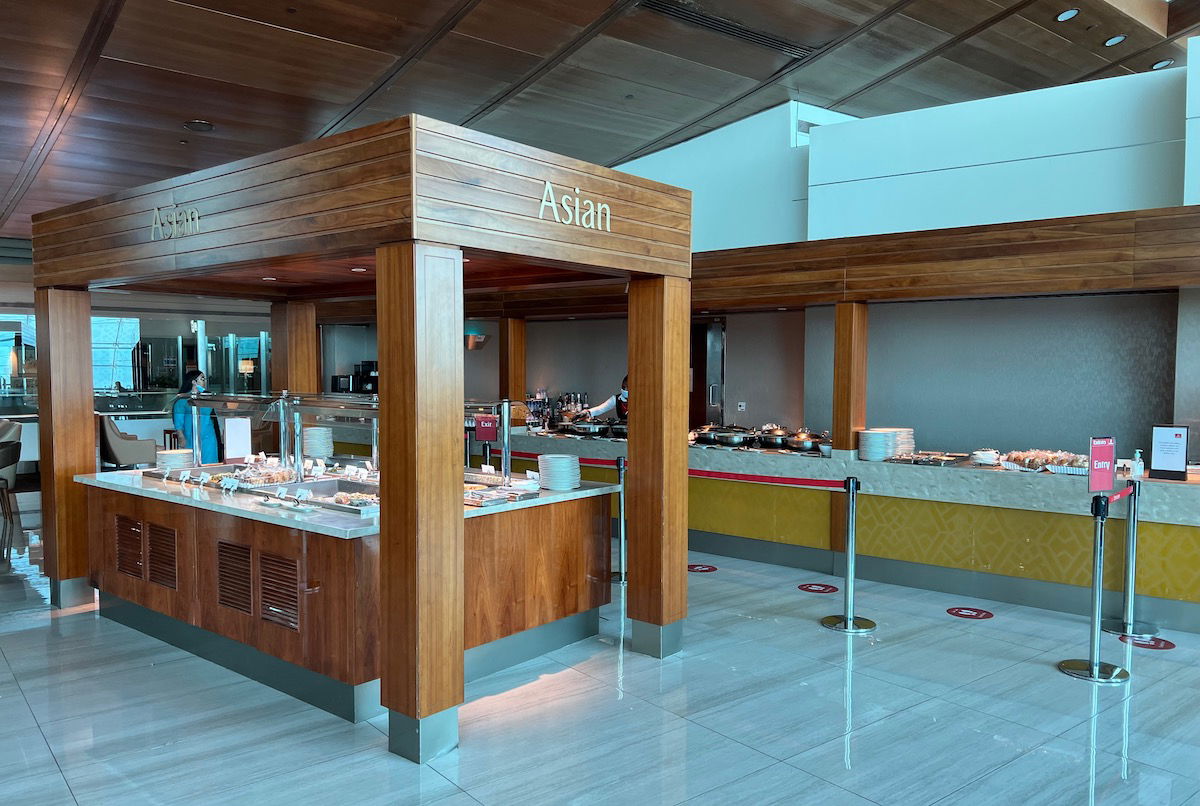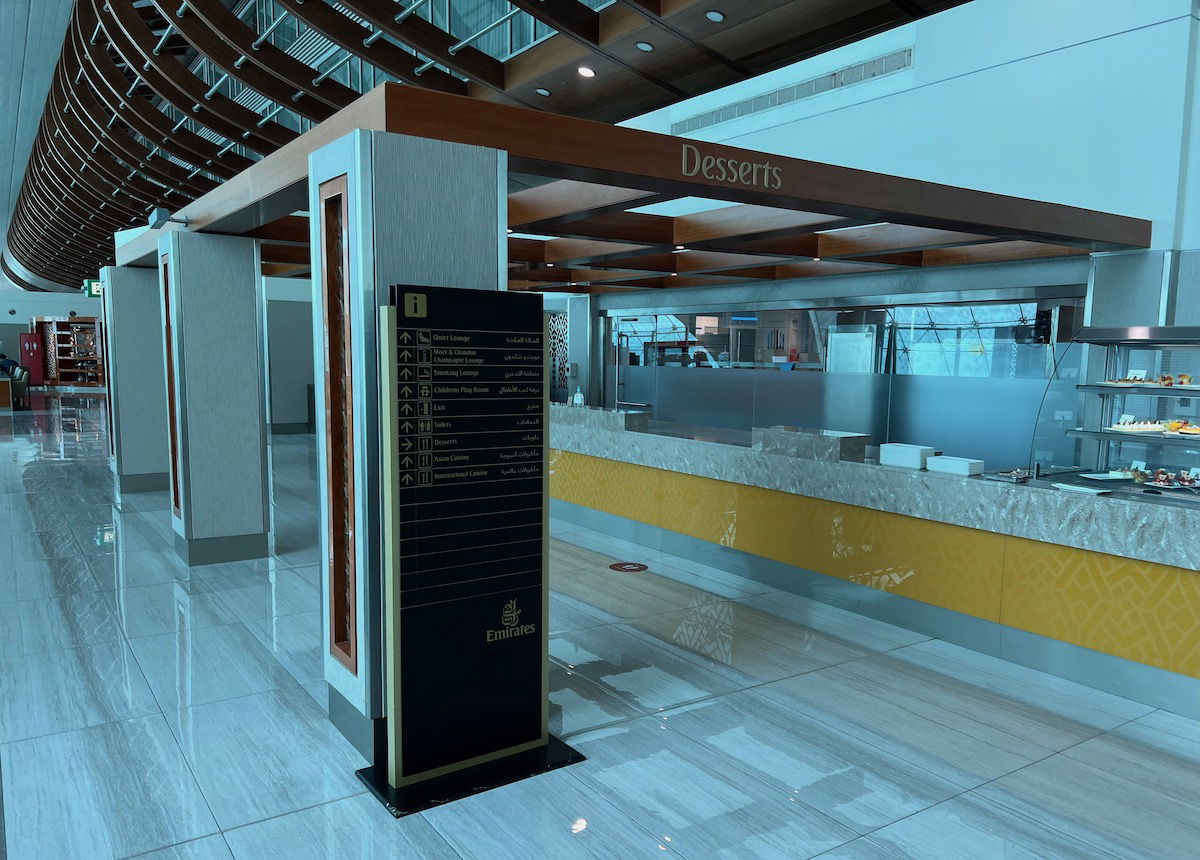 Honestly the food selection was surprisingly tasty. I usually shy away from buffets in lounges, but I tried some items here, and enjoyed all of them. Below is a sampling of some of the stuff on offer.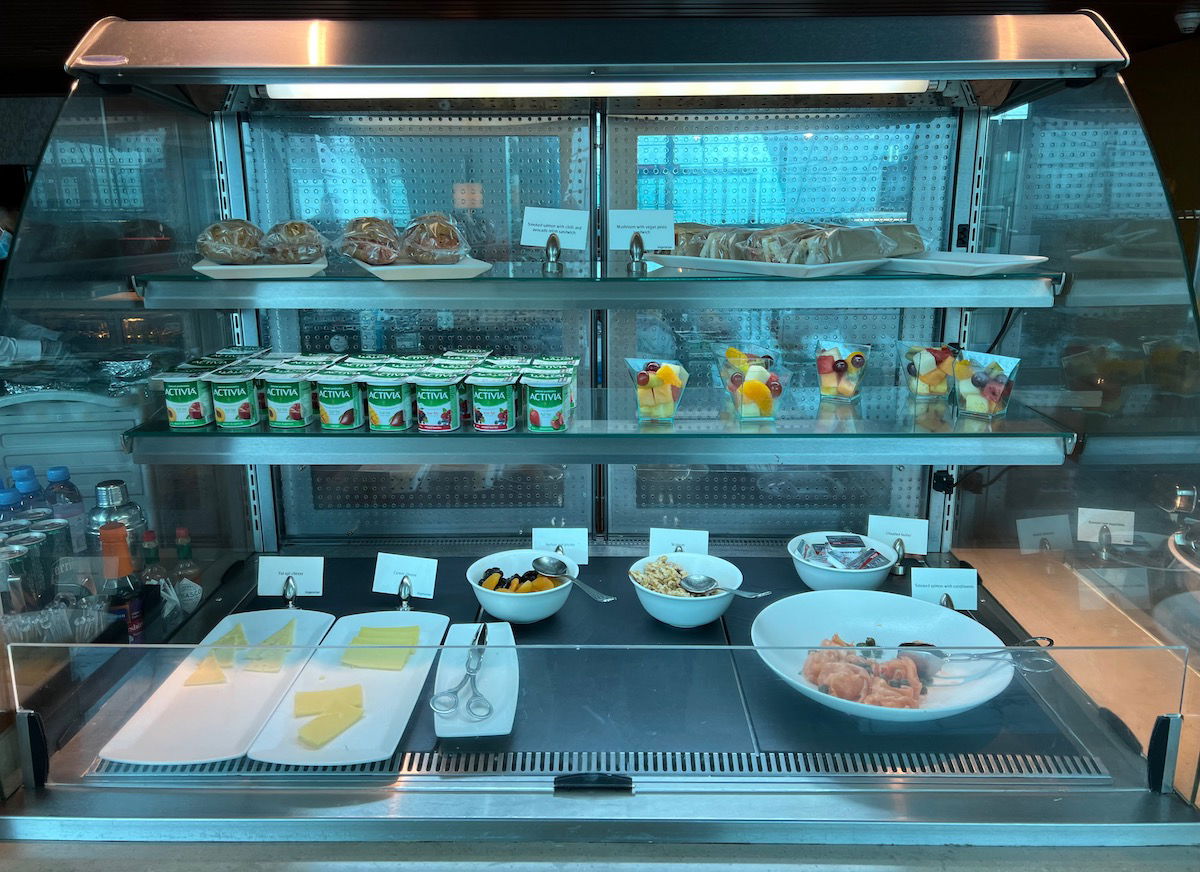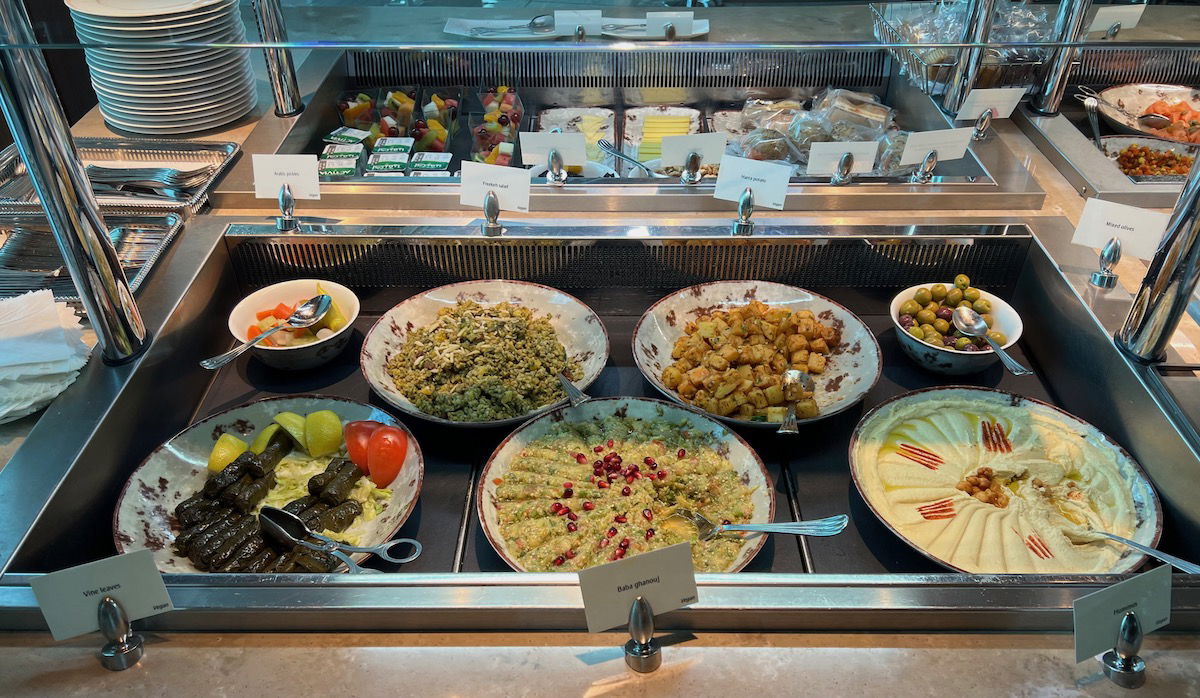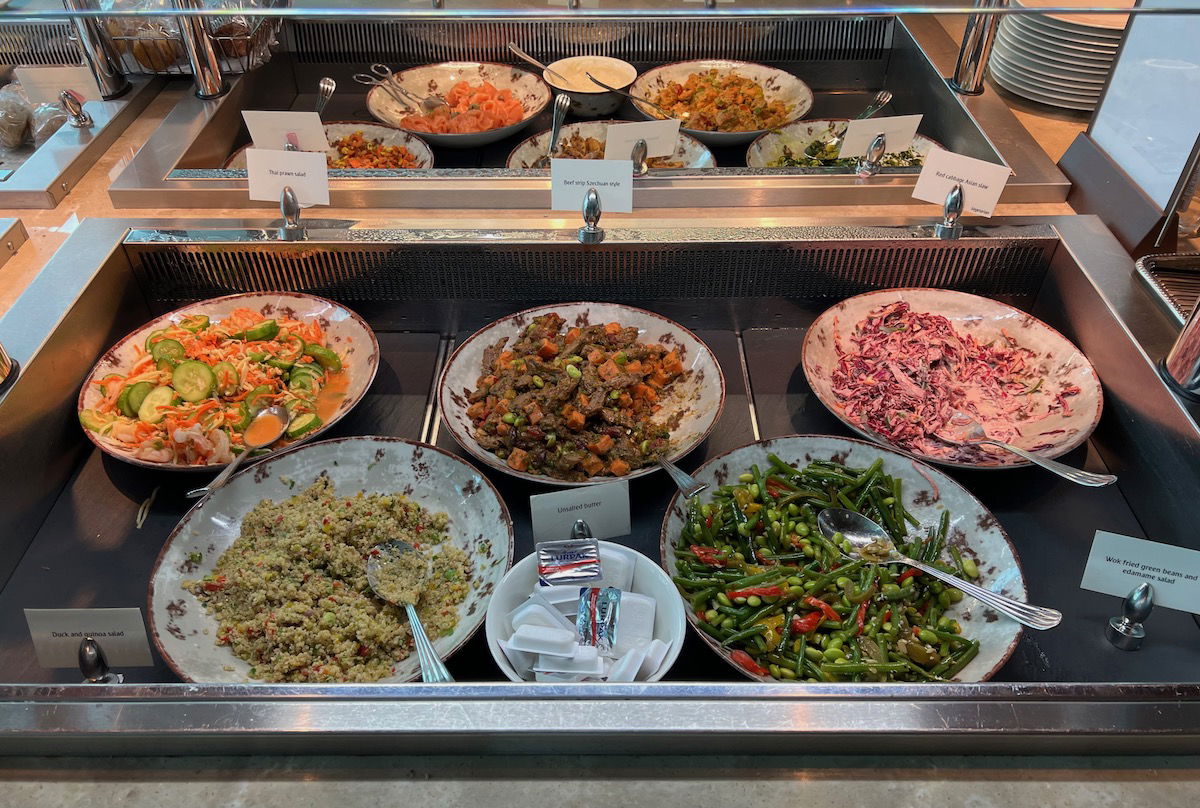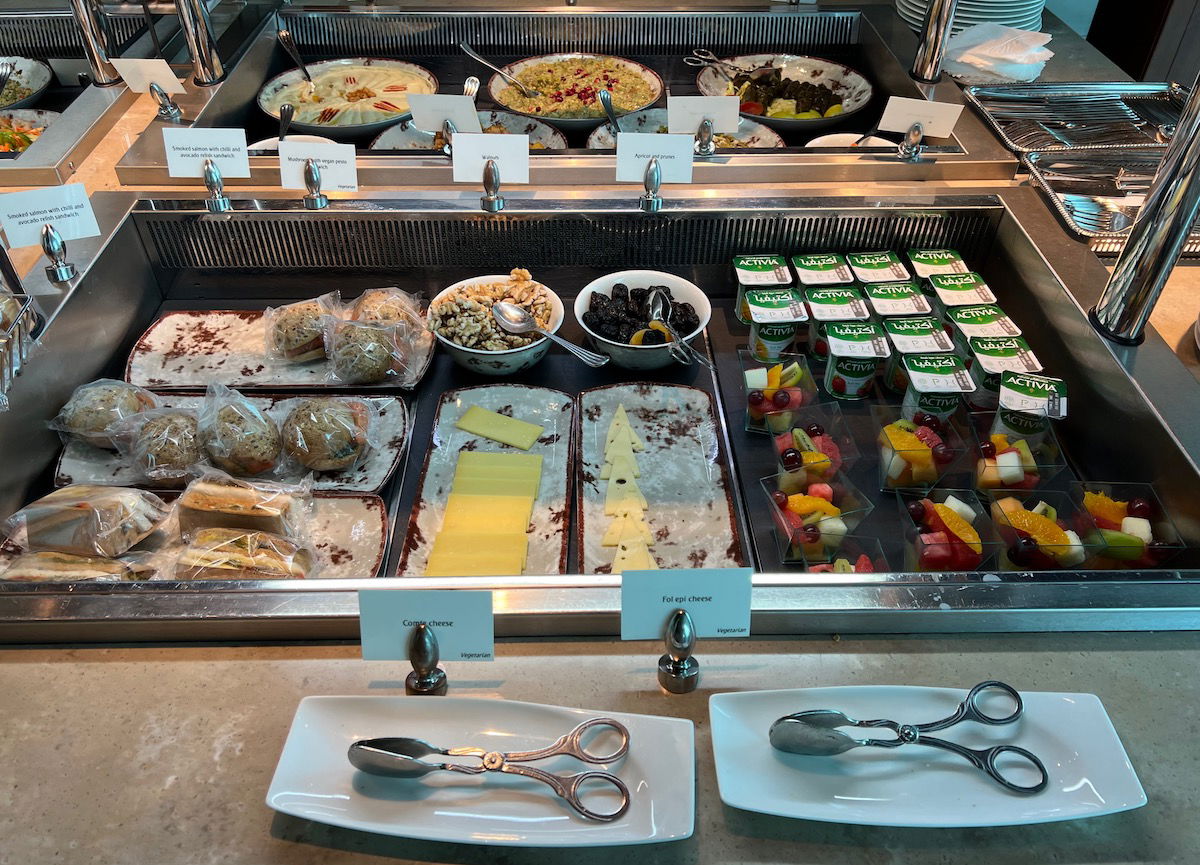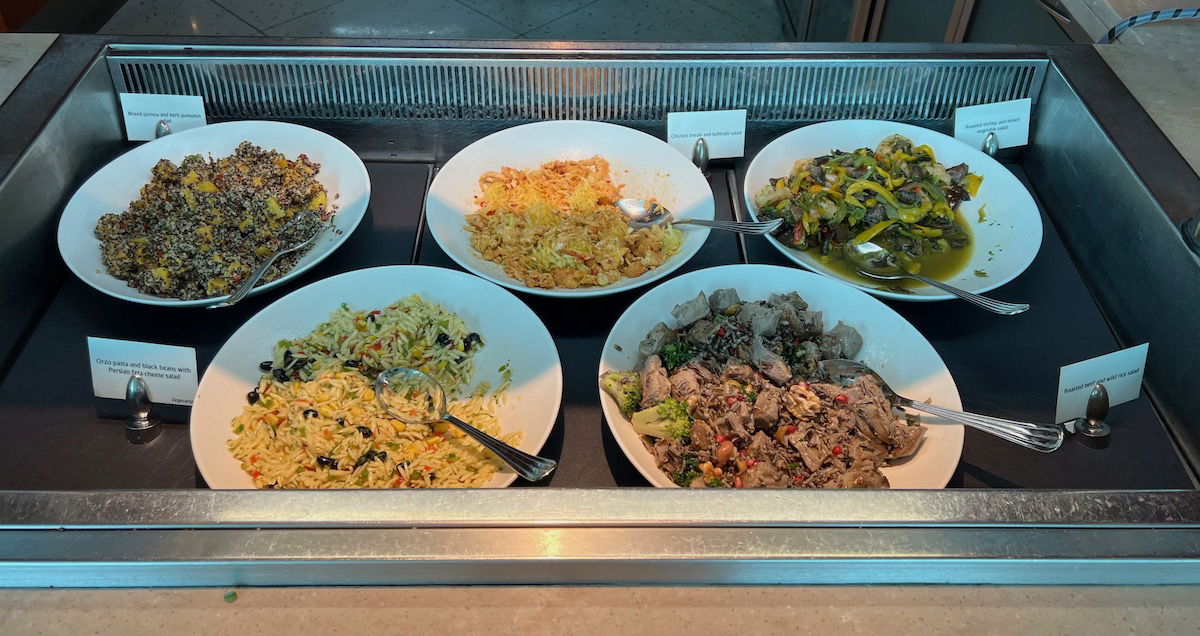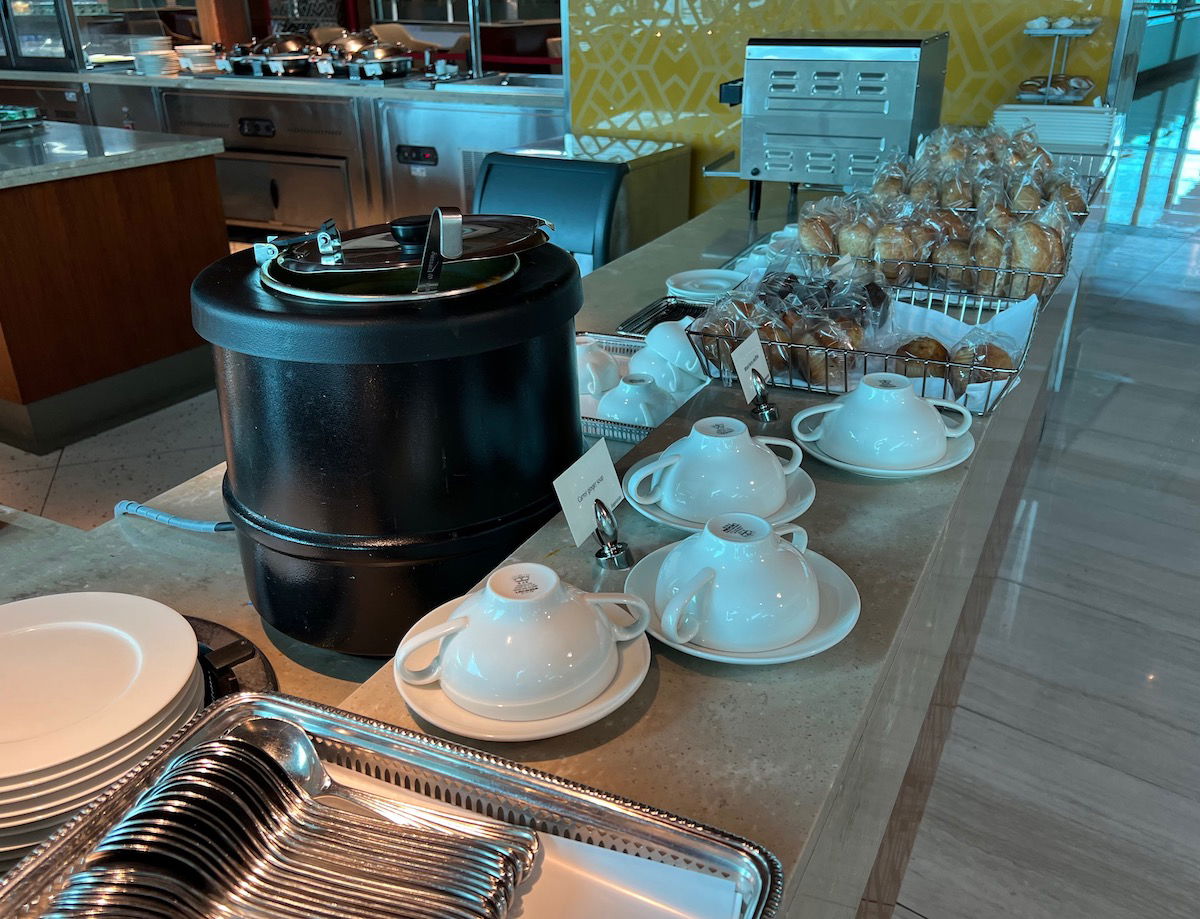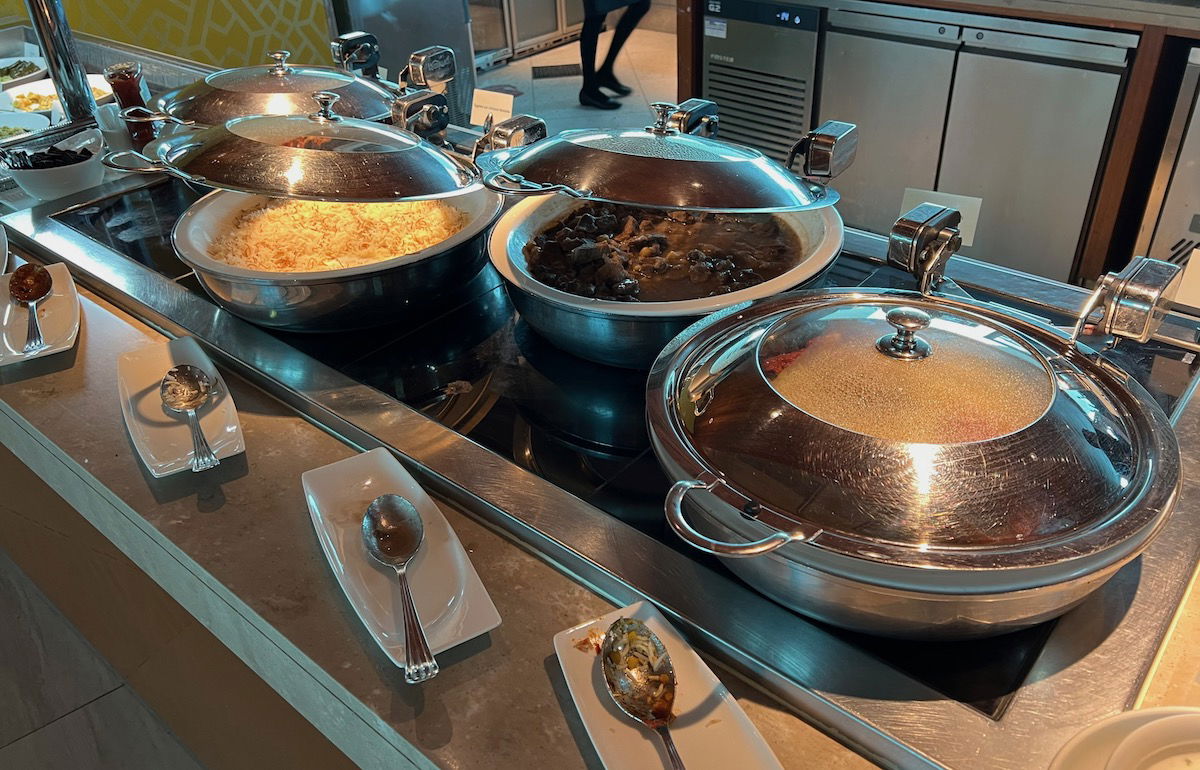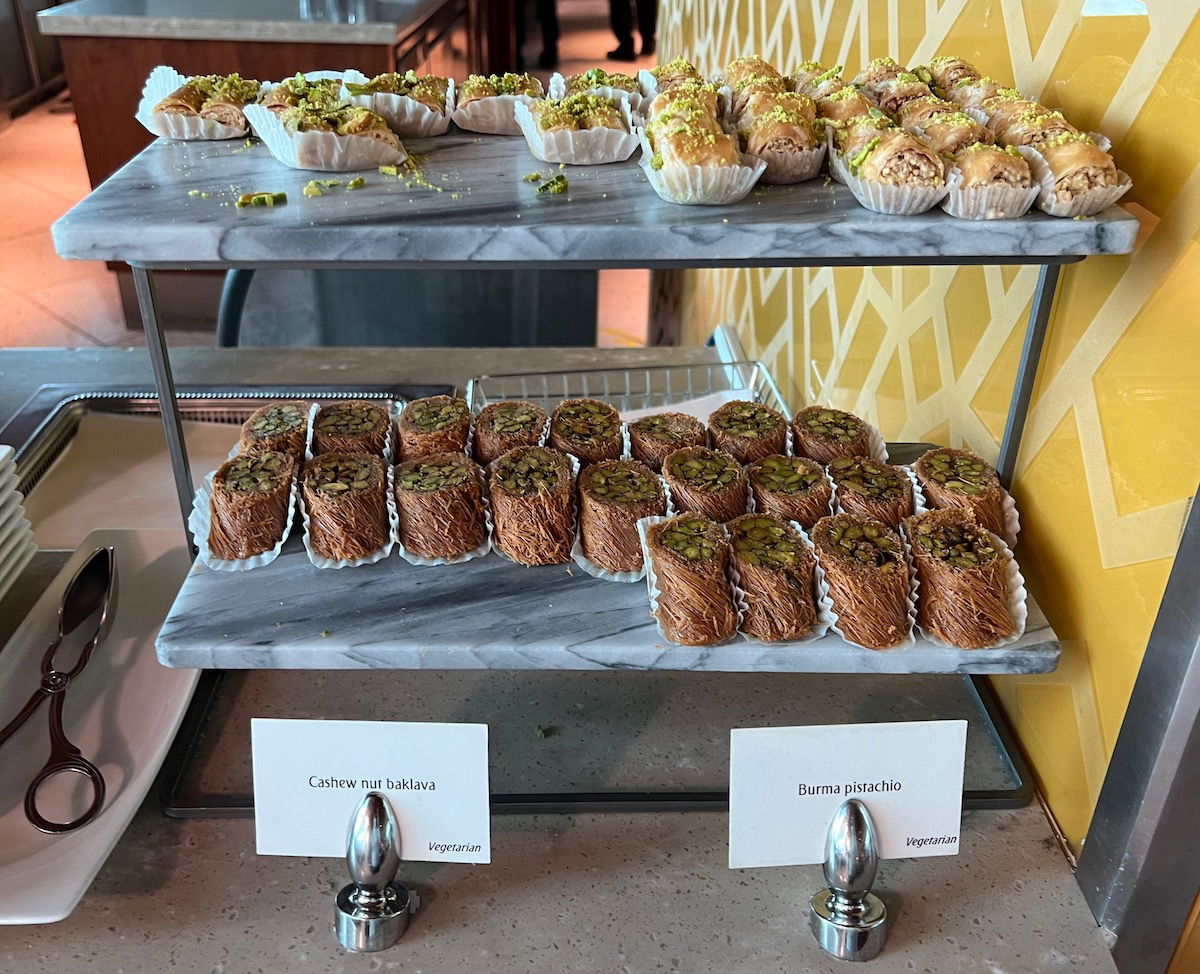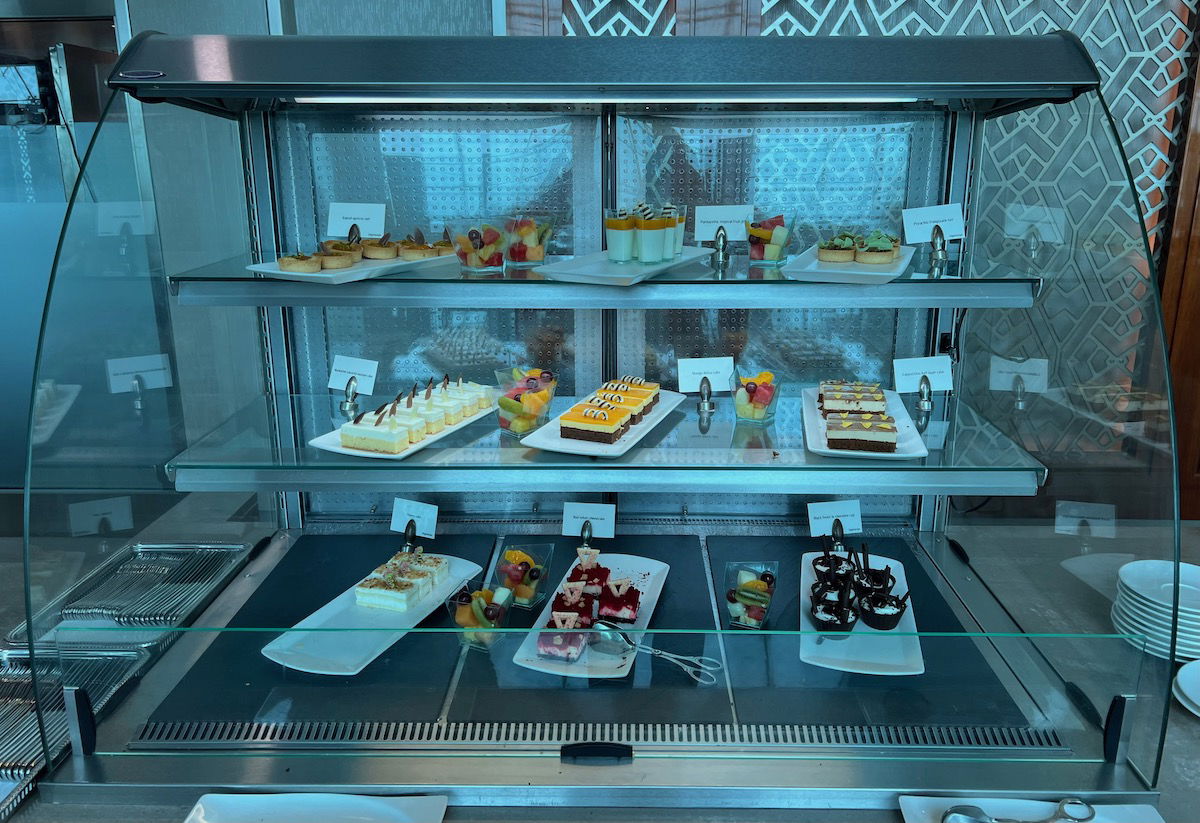 I particularly enjoyed some of the Indian vegetarian food, as well as some of the Middle Eastern dips.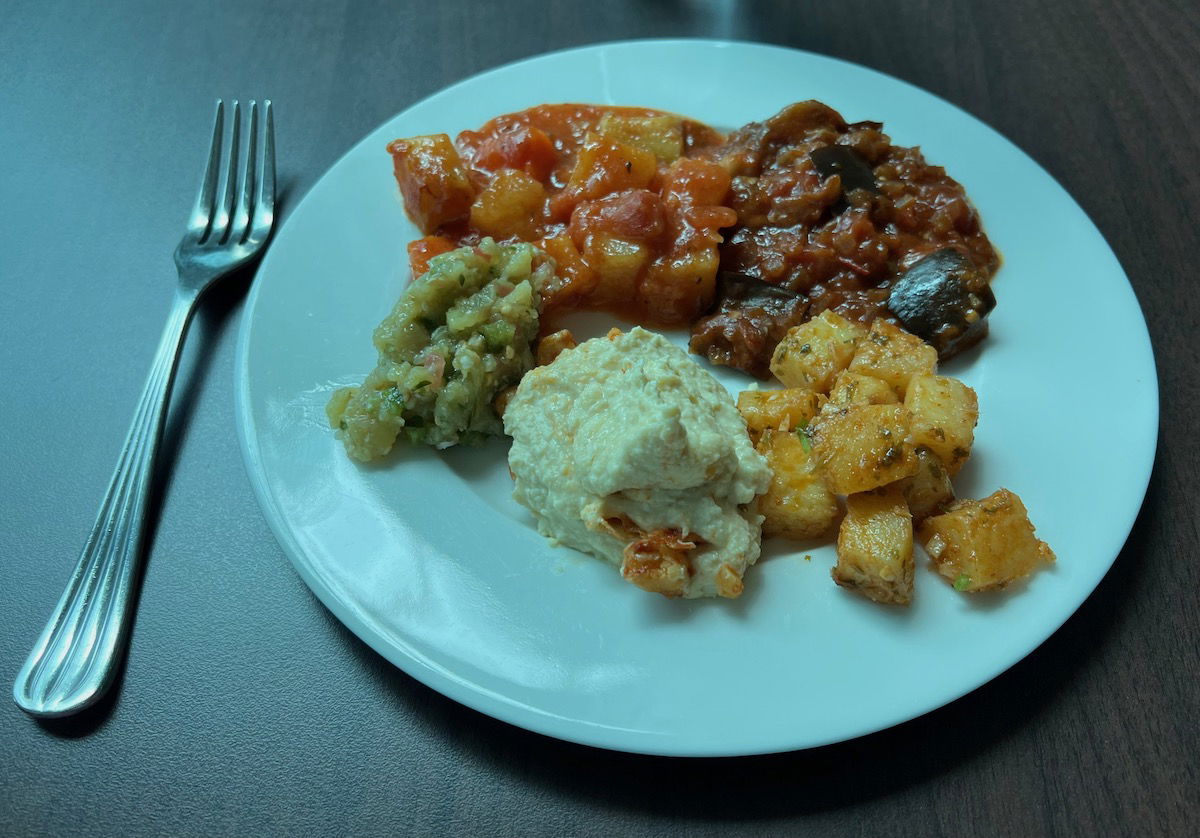 In terms of drinks, there were several coffee machines, tea, and self-serve wine and liquor.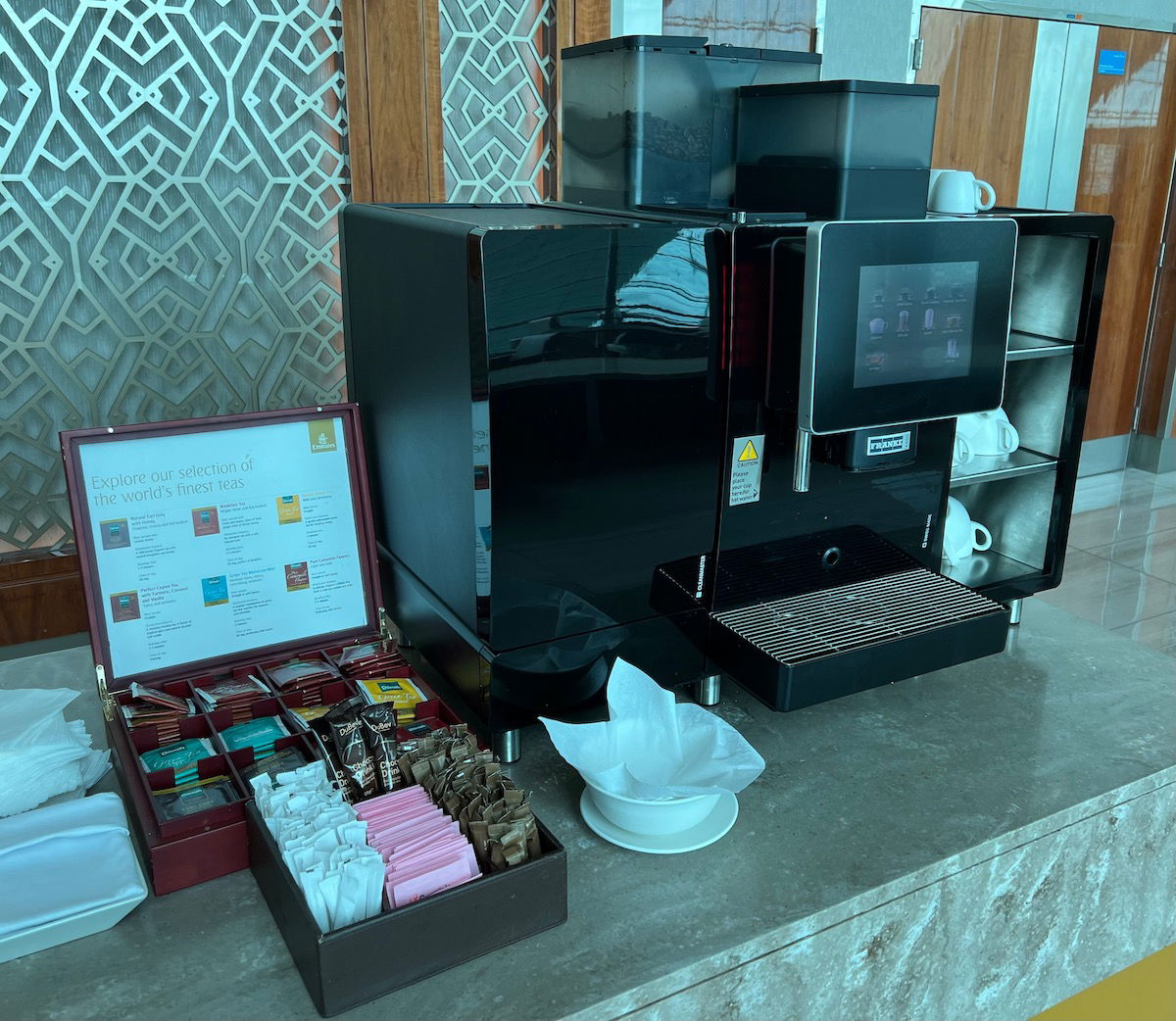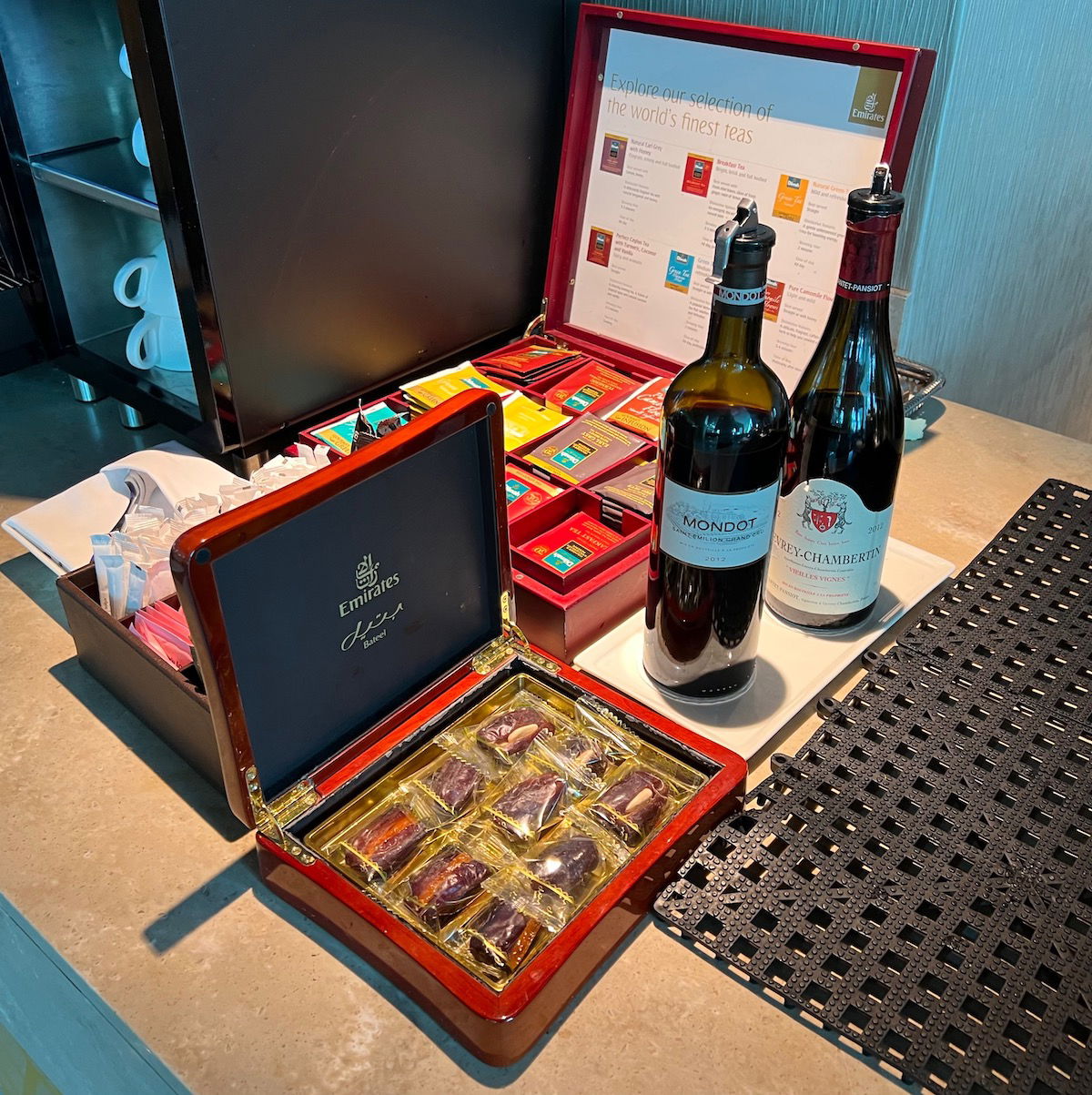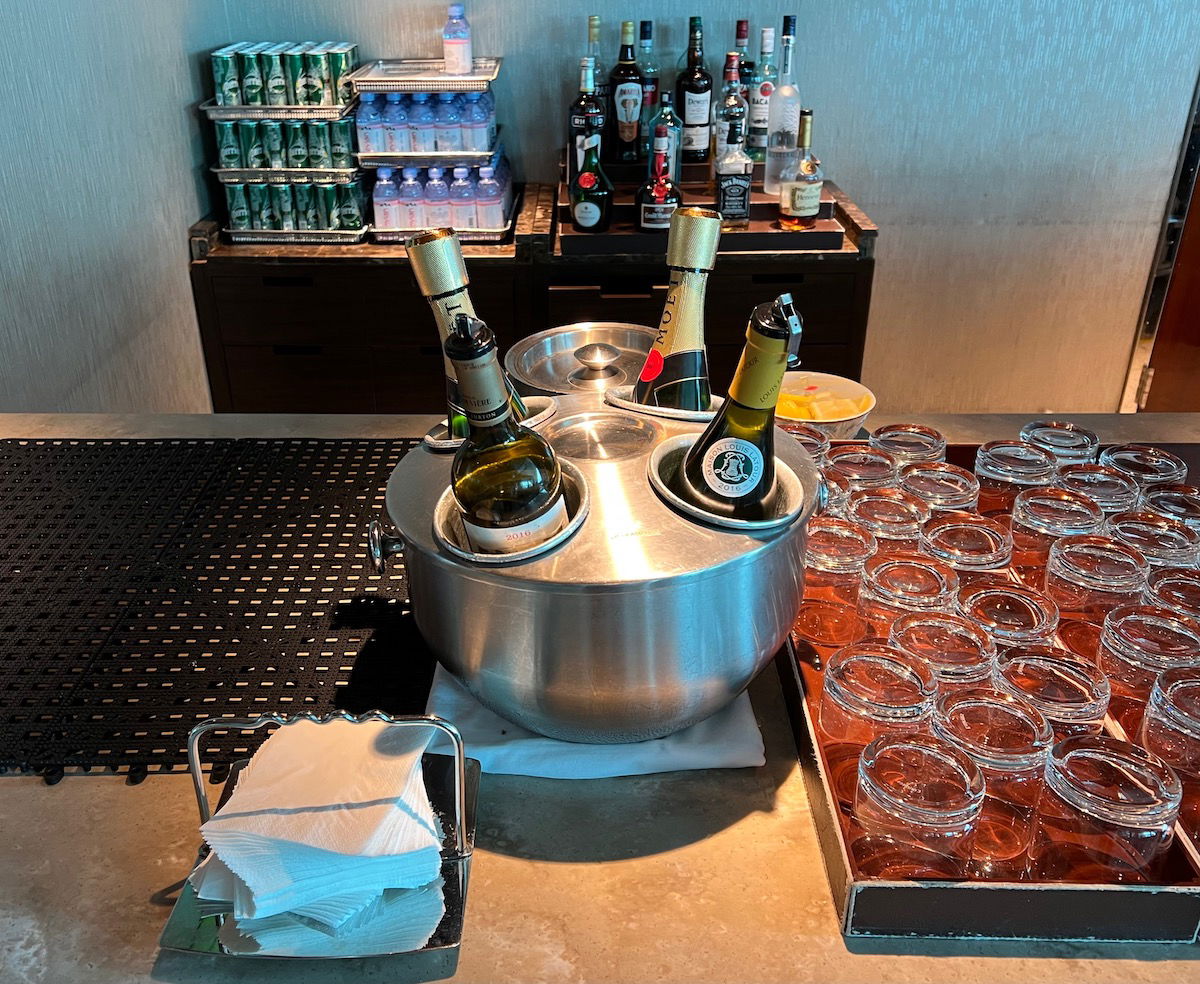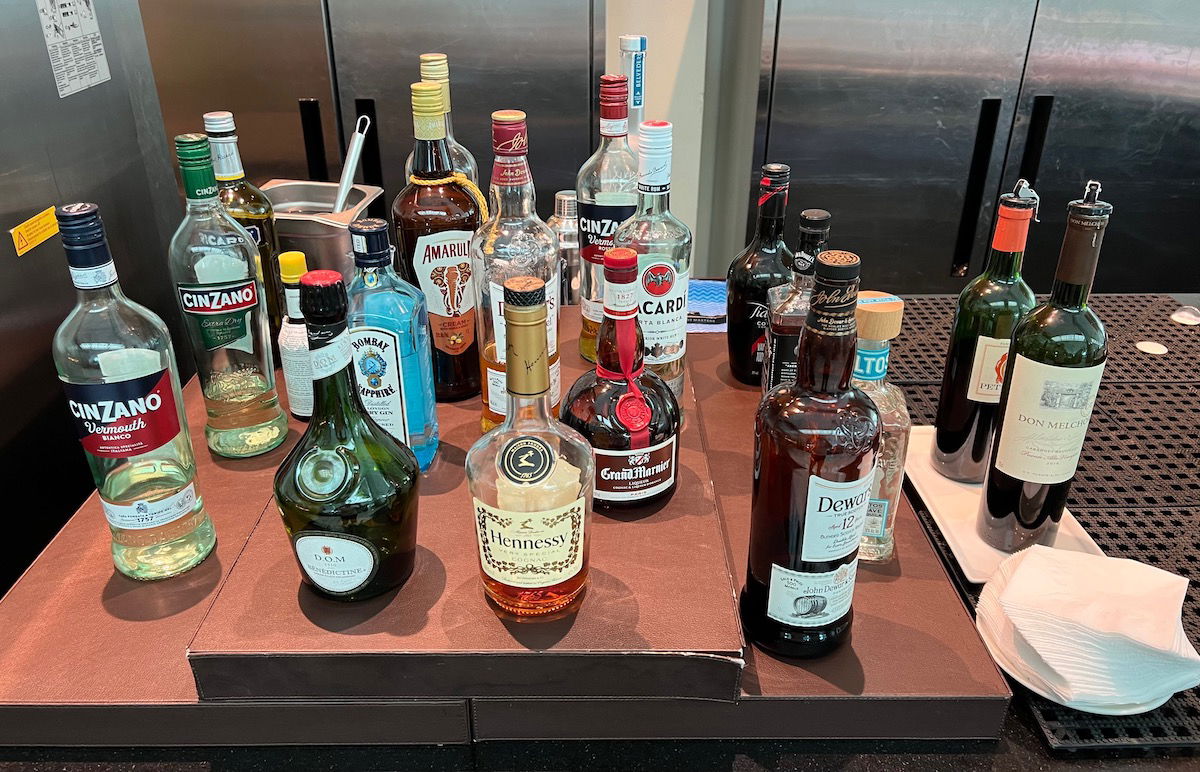 Emirates business class lounge Dubai health hub
When Emirates renovated the business class lounge, it introduced several new concepts. One of those is a health hub, intended to have healthy dining options. This included still and sparkling water, bread rolls, fresh fruit, several pre-made salads, and even a make-your-own-salad option.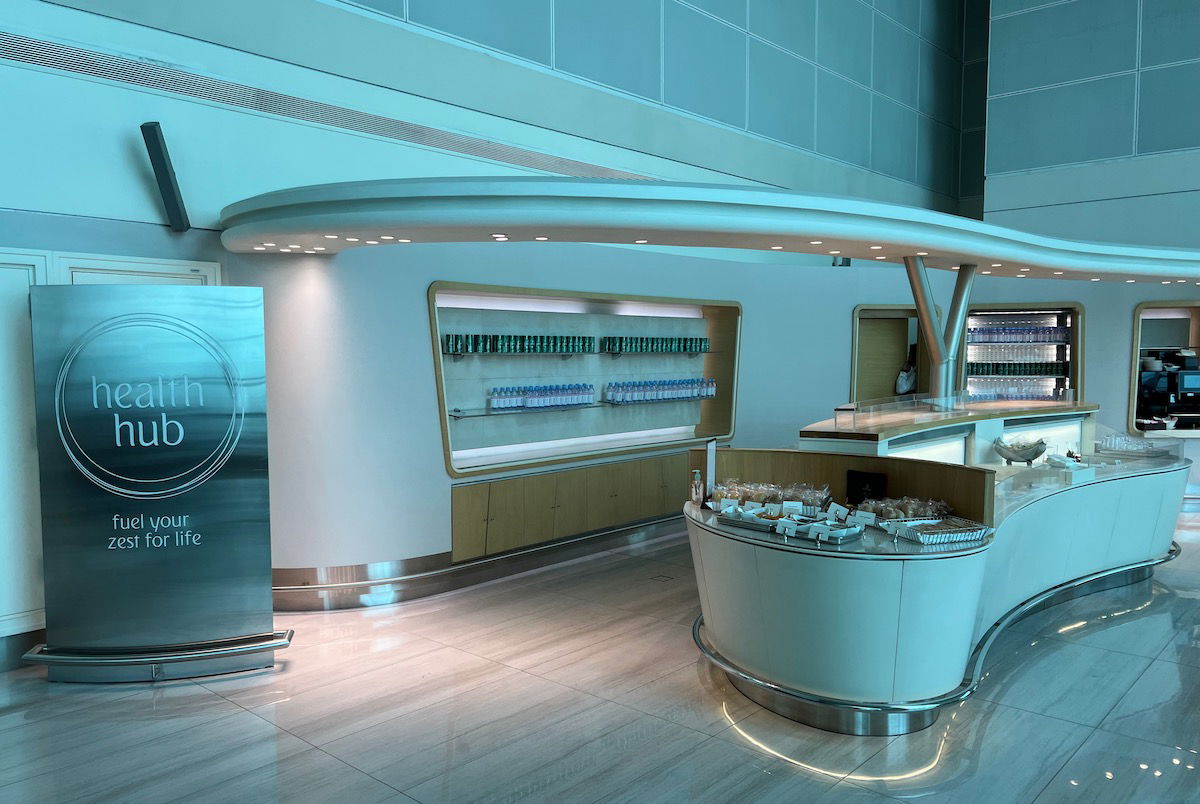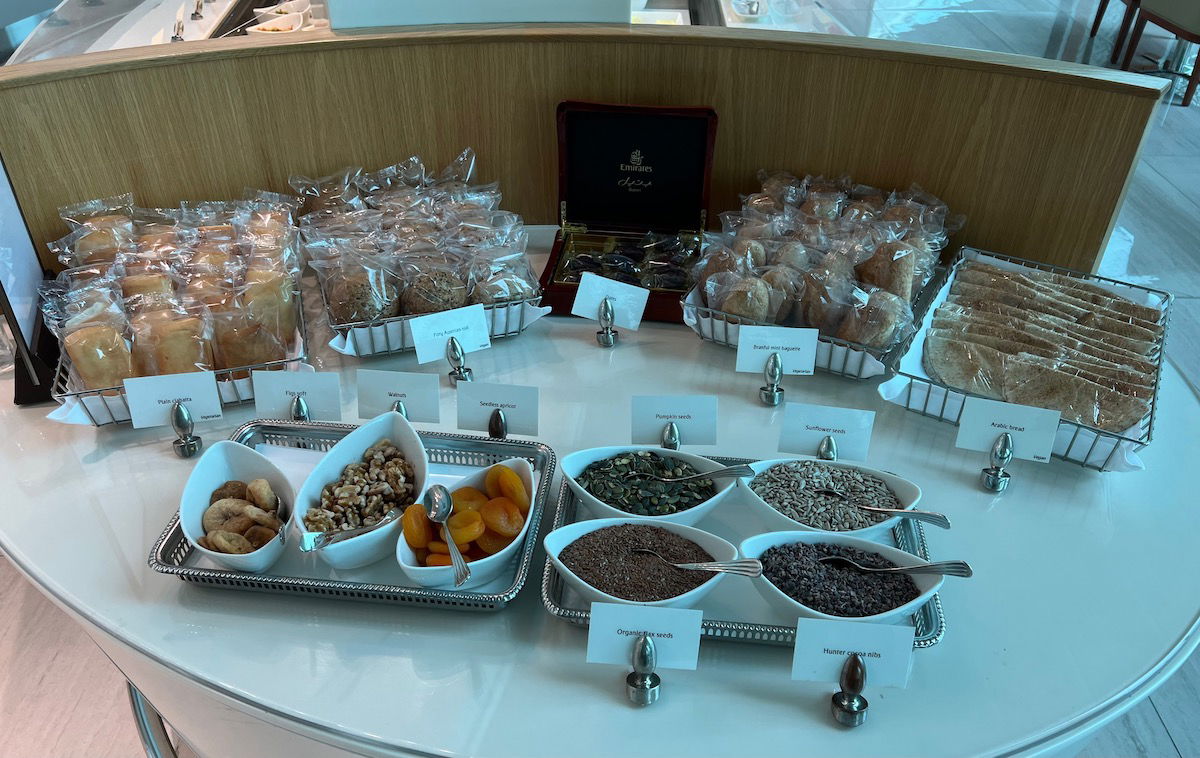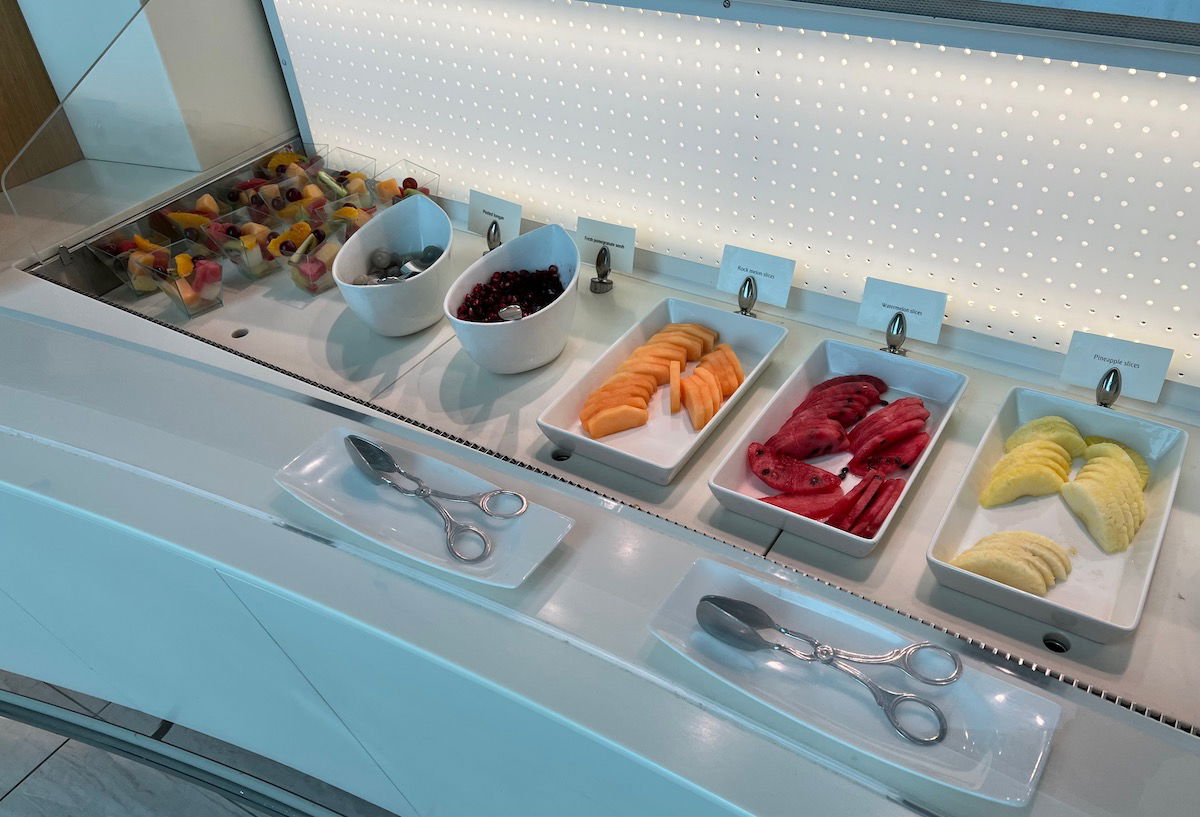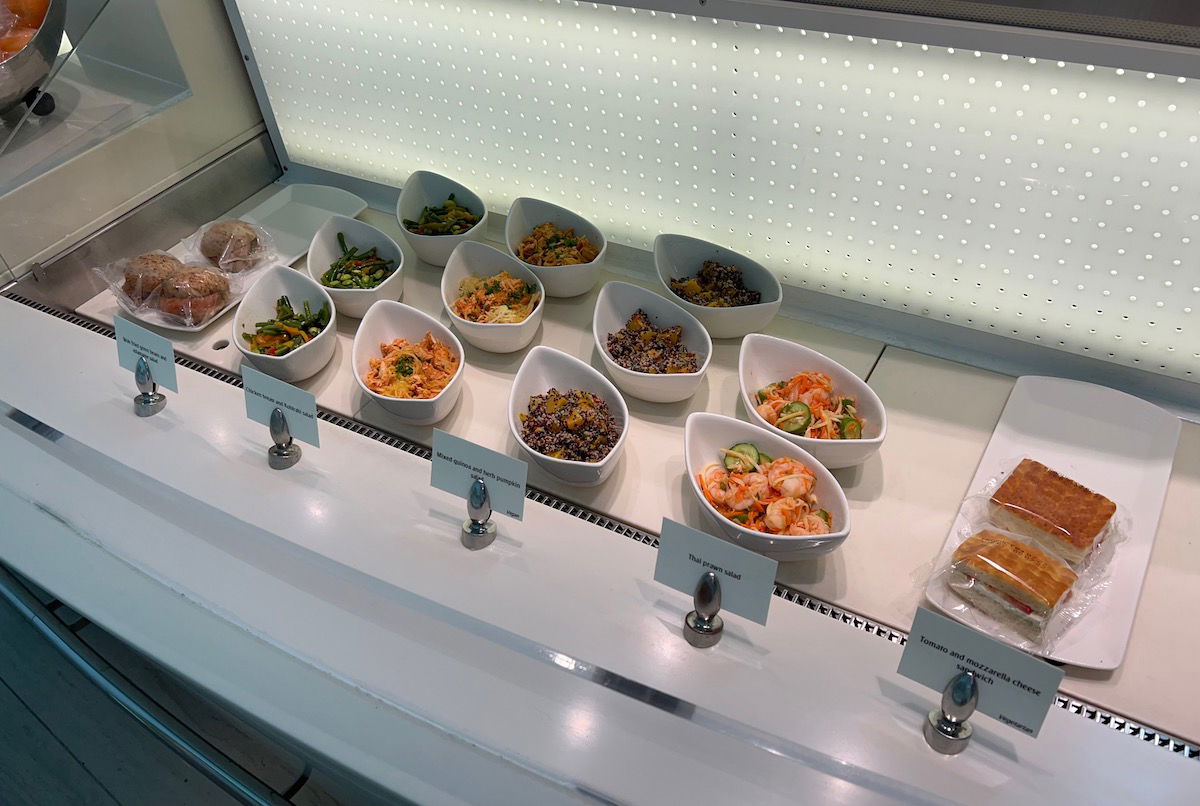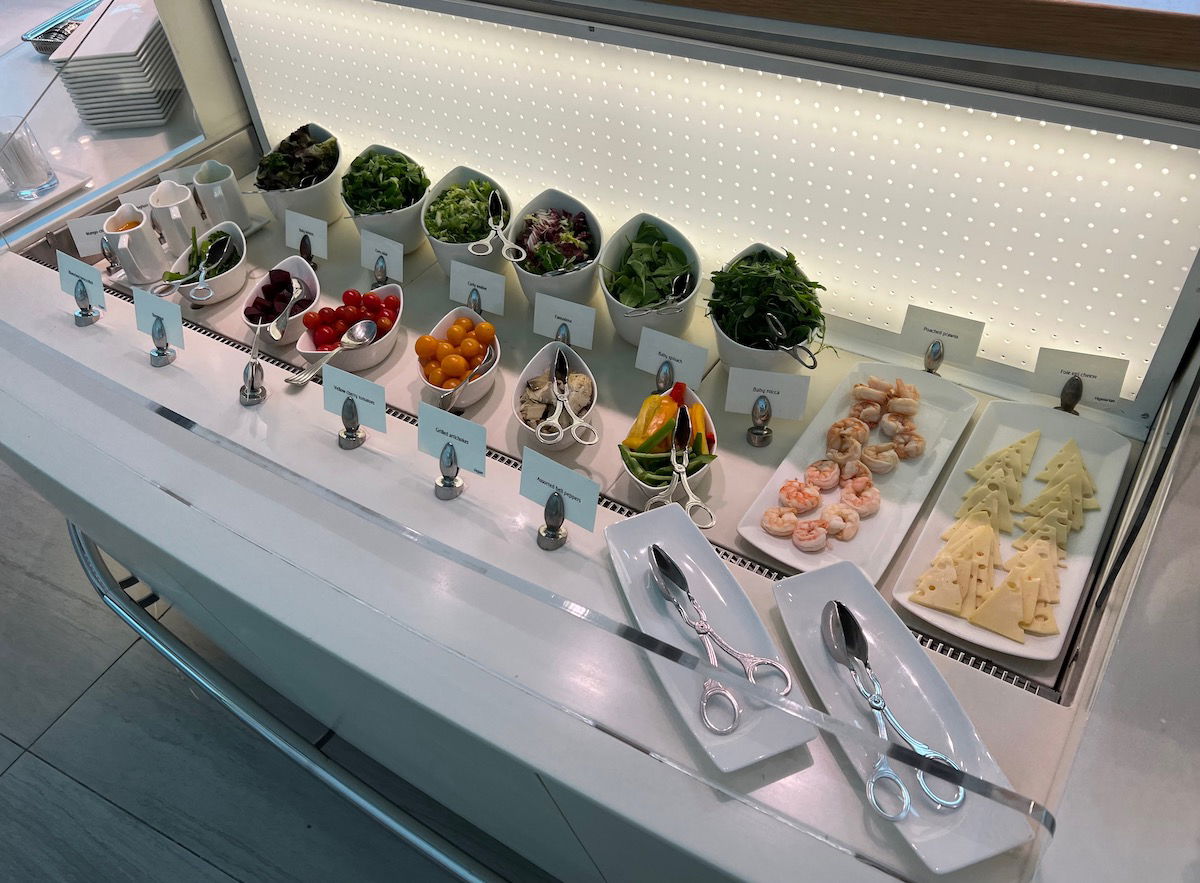 Emirates business class lounge Dubai champagne bar
The Emirates business class lounge has a Moet & Chandon champagne bar. What a cool amenity, as even the first class lounge doesn't have a feature like this. It's visually a cool space too.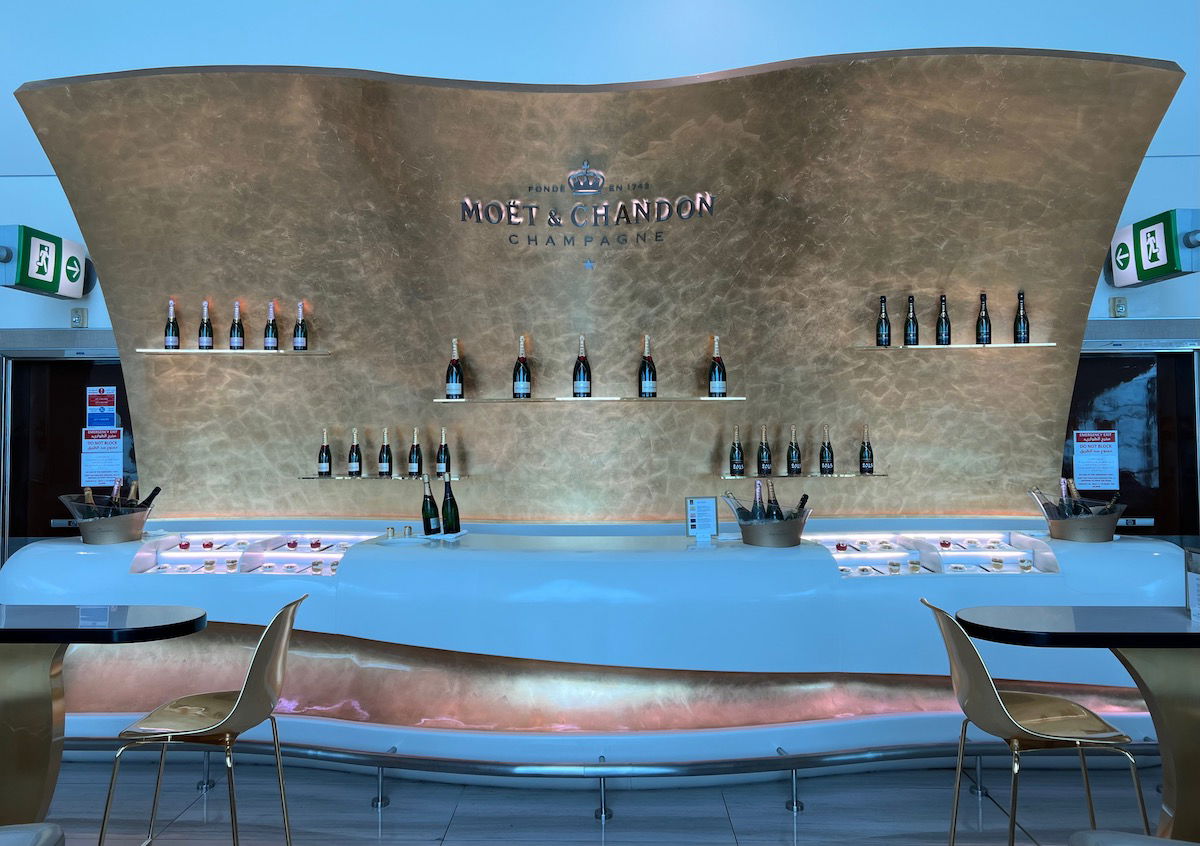 The champagne is self-serve, and during my visit there were four choices:
Moet & Chandon Imperial
Moet & Chandon Rose Imperial
Moet & Chandon Nectar Imperial
Moet & Chandon Grand Vintage 2013
This is an exceptionally good champagne selection for a business class lounge, especially the 2013 vintage. Very impressive.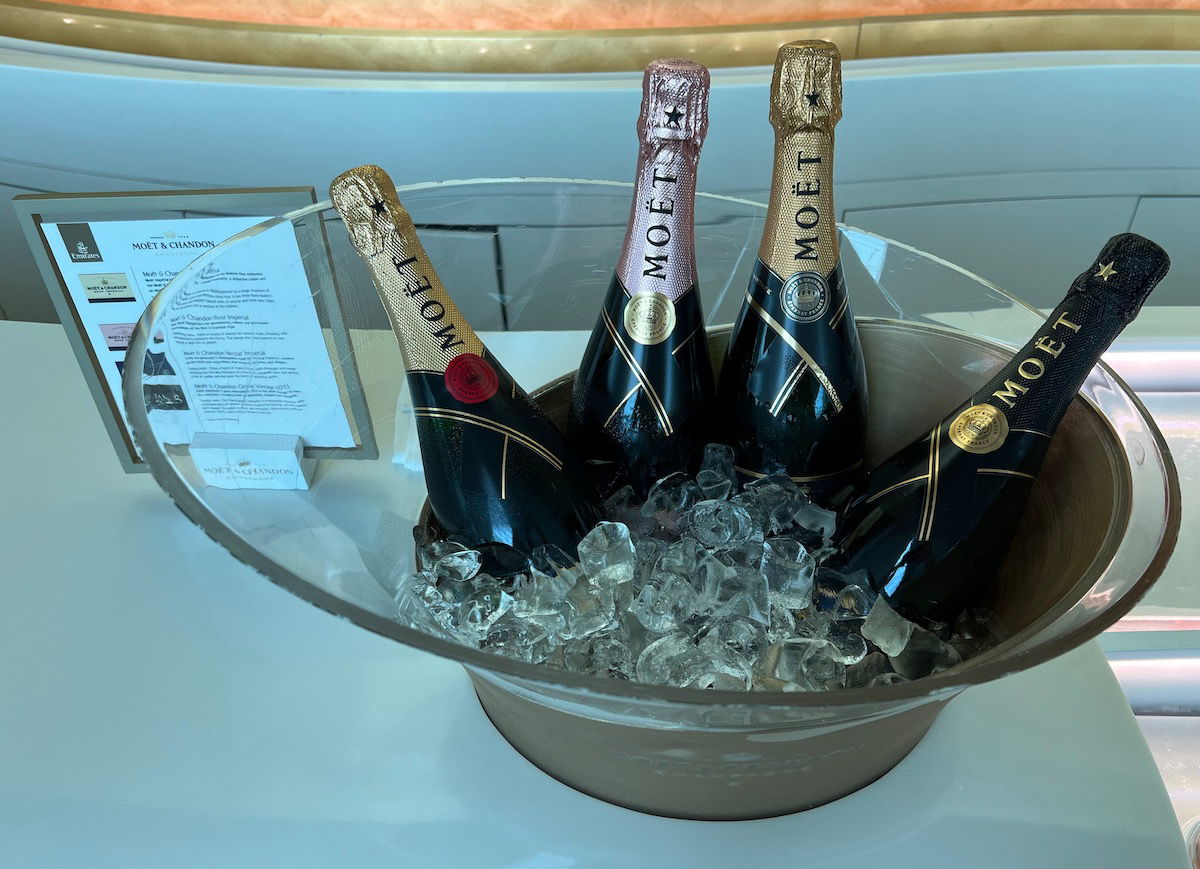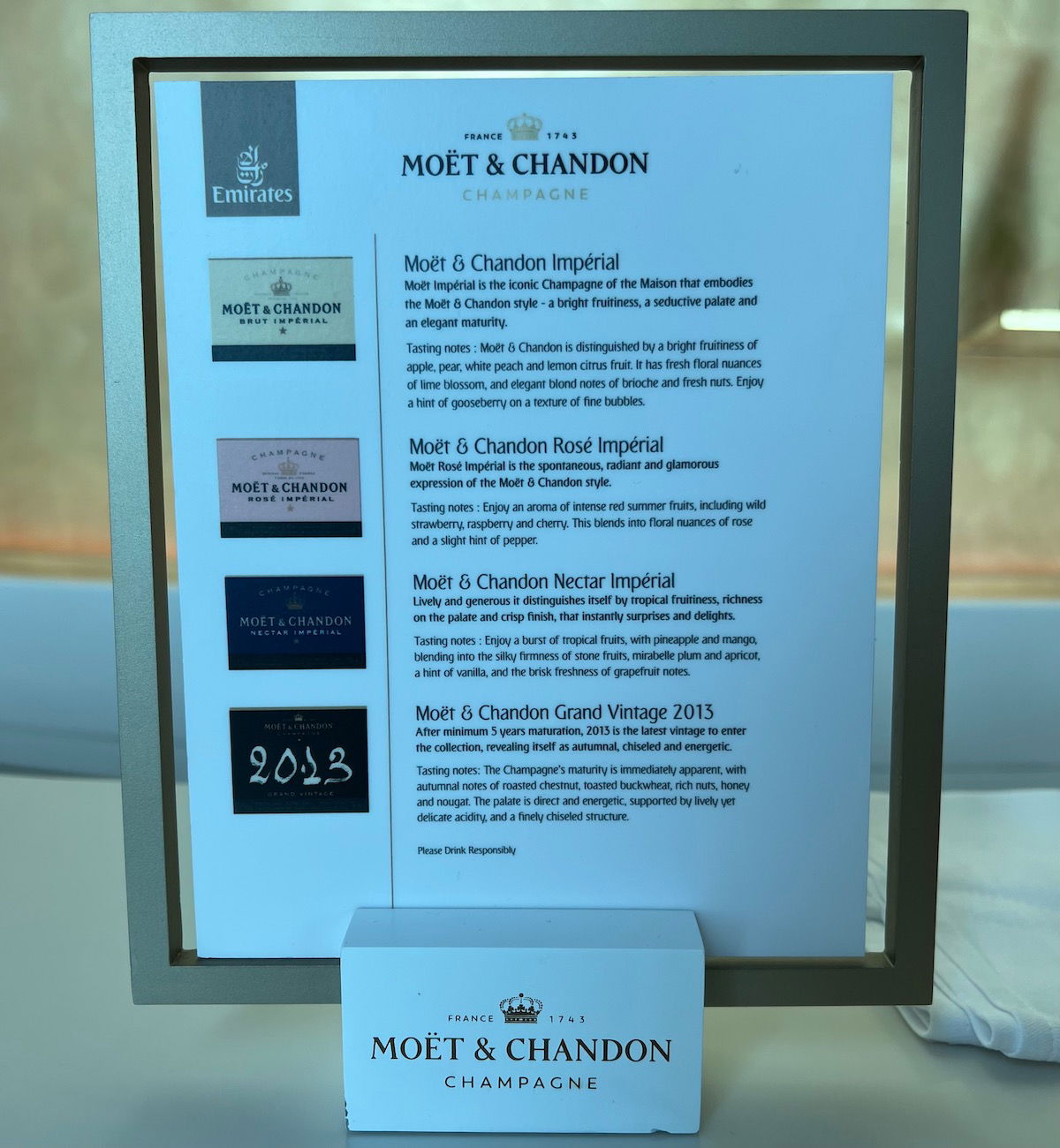 There are also a selection of canapés at the bar, intended to pair with the champagne.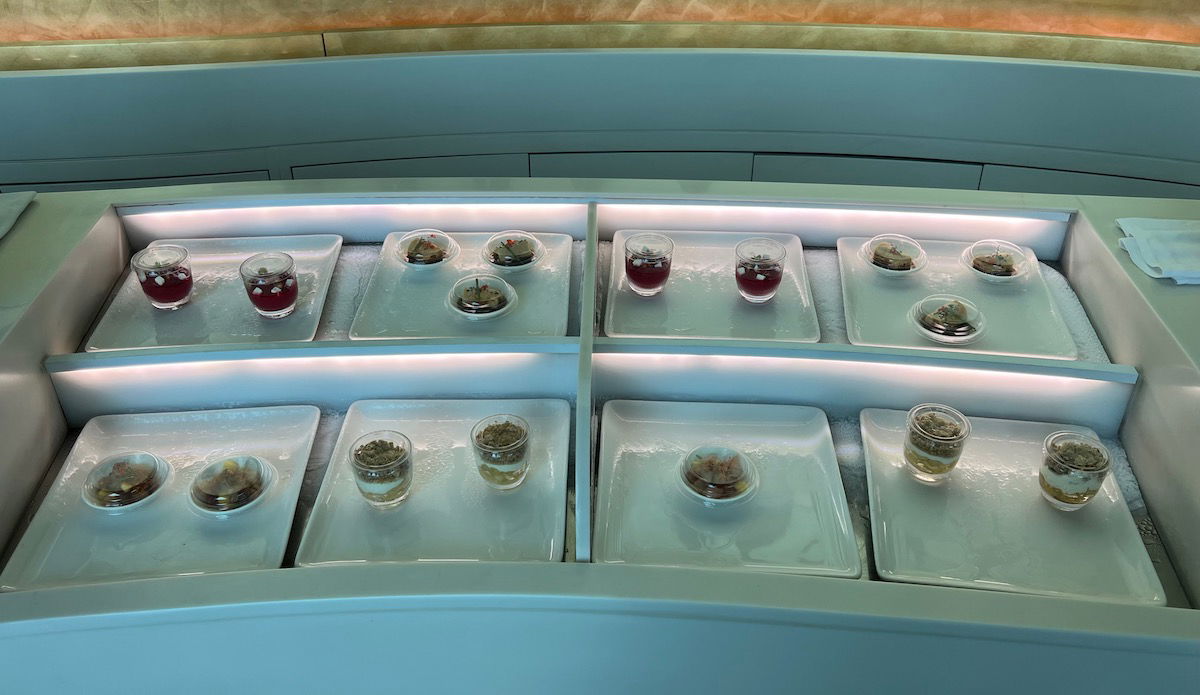 Emirates business class lounge Dubai Costa Coffee stand
Okay, here's my favorite and least favorite part of the lounge. As longtime OMAAT readers know, I love good coffee. A barista-made coffee will almost always be better than a machine made one, especially if you're getting a milk-based coffee (cappuccino, latte, etc.).
So the Emirates business class lounge has what's possibly my favorite lounge feature in the world — a complimentary Costa Coffee station, where you can choose from a wide variety of barista-made drinks.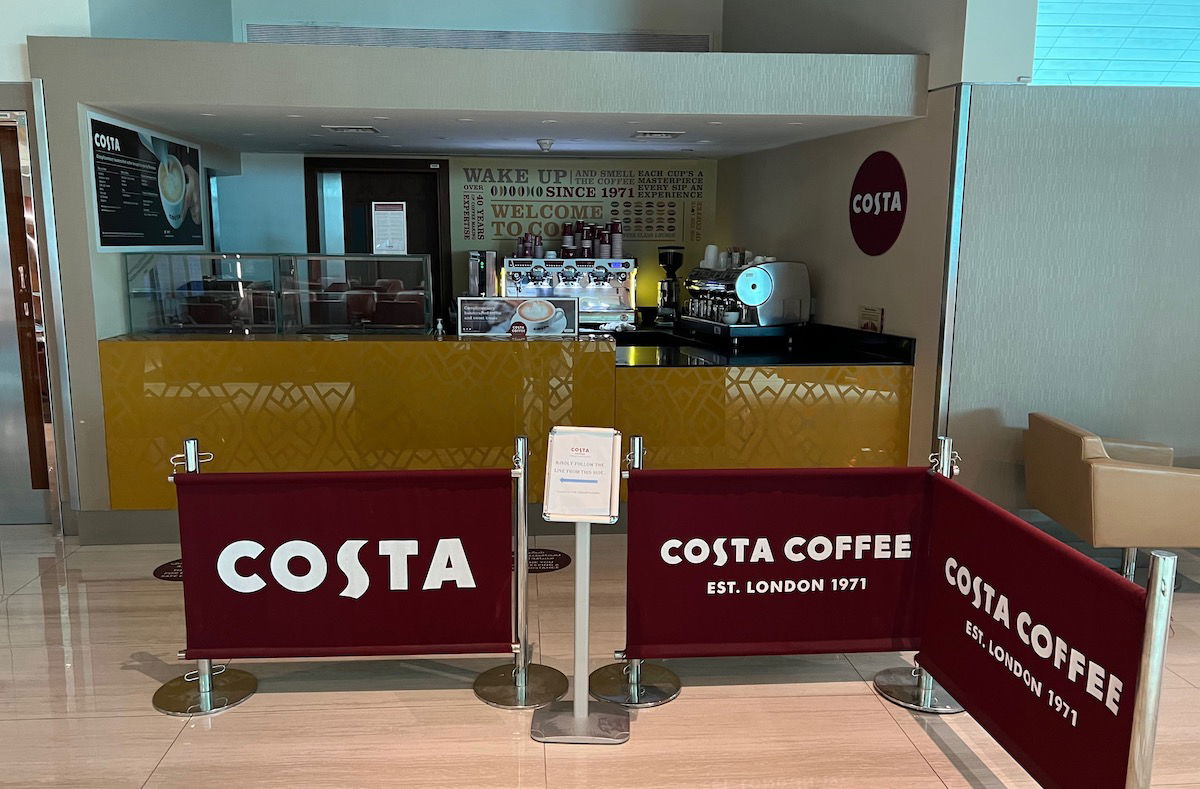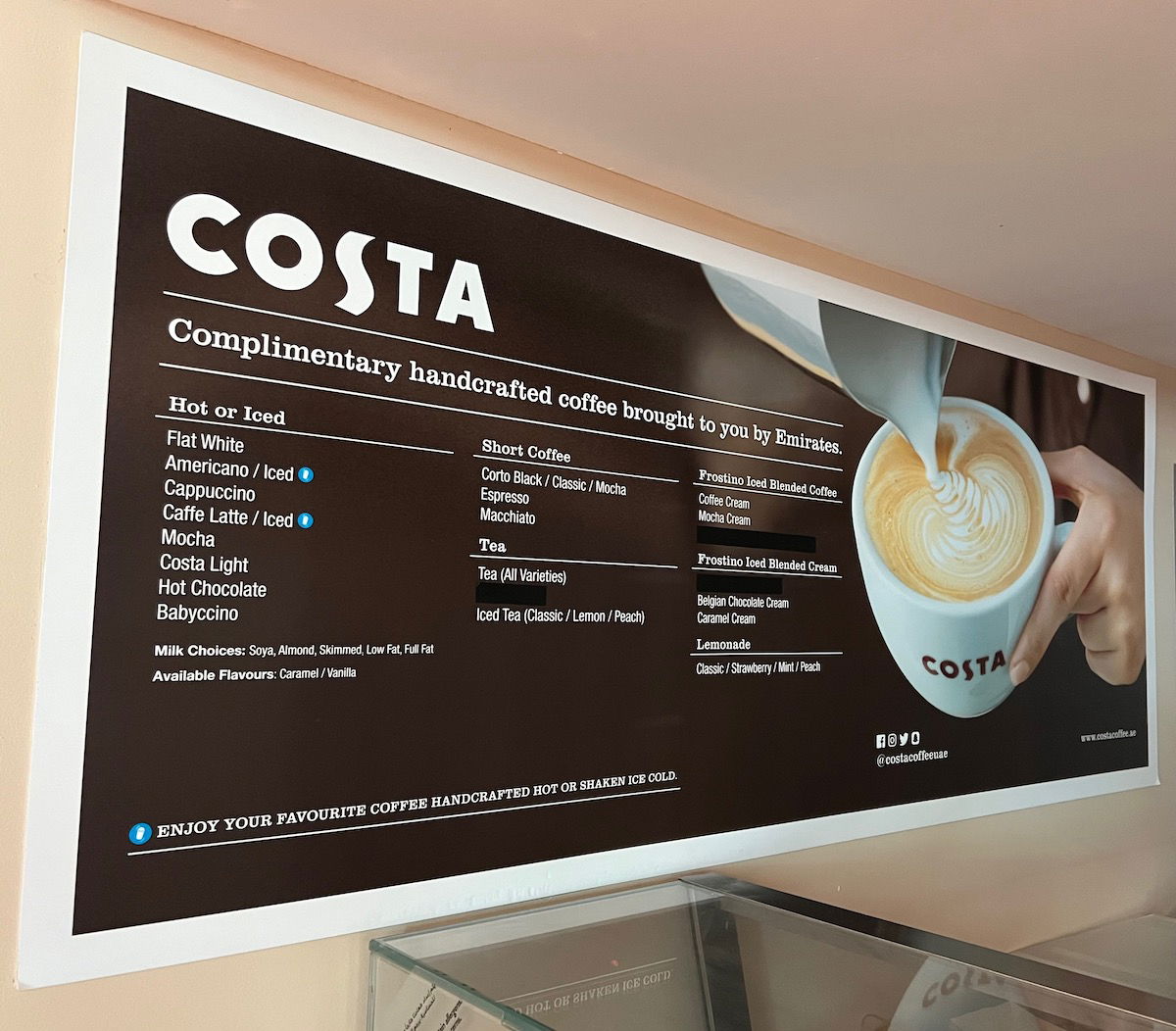 HOW AMAZING IS THAT? Well, unfortunately not that amazing, because it was closed during my afternoon visit. Apparently it's only open in the mornings until 10AM.
Seriously? Does Emirates not understand that it's running a global airline with people connecting to different timezones all hours of the day and night? Is this due to a staffing shortage? Because there were countless employees in the lounge just standing around. Is milk too expensive? Why, Emirates, why?!?!
I recognize I'm being a bit dramatic here, but this is such an amazing concept, but it's downright silly to only have it open in the mornings until 10AM. I mean, c'mon, we're talking about an airport where the peak rush hour is 2AM.
Emirates business class lounge Dubai smoking area
Smokers will probably be delighted to learn that there's not only a smoking section of the lounge, but it's a large, open-air portion of the lounge. There are dozens of seats in this section, and other than being allowed to smoke, it's the same as the rest of the lounge.
Those sensitive to smoke may not be delighted to learn that the smoke does spread a bit, and can be smelled in other parts of the lounge as well.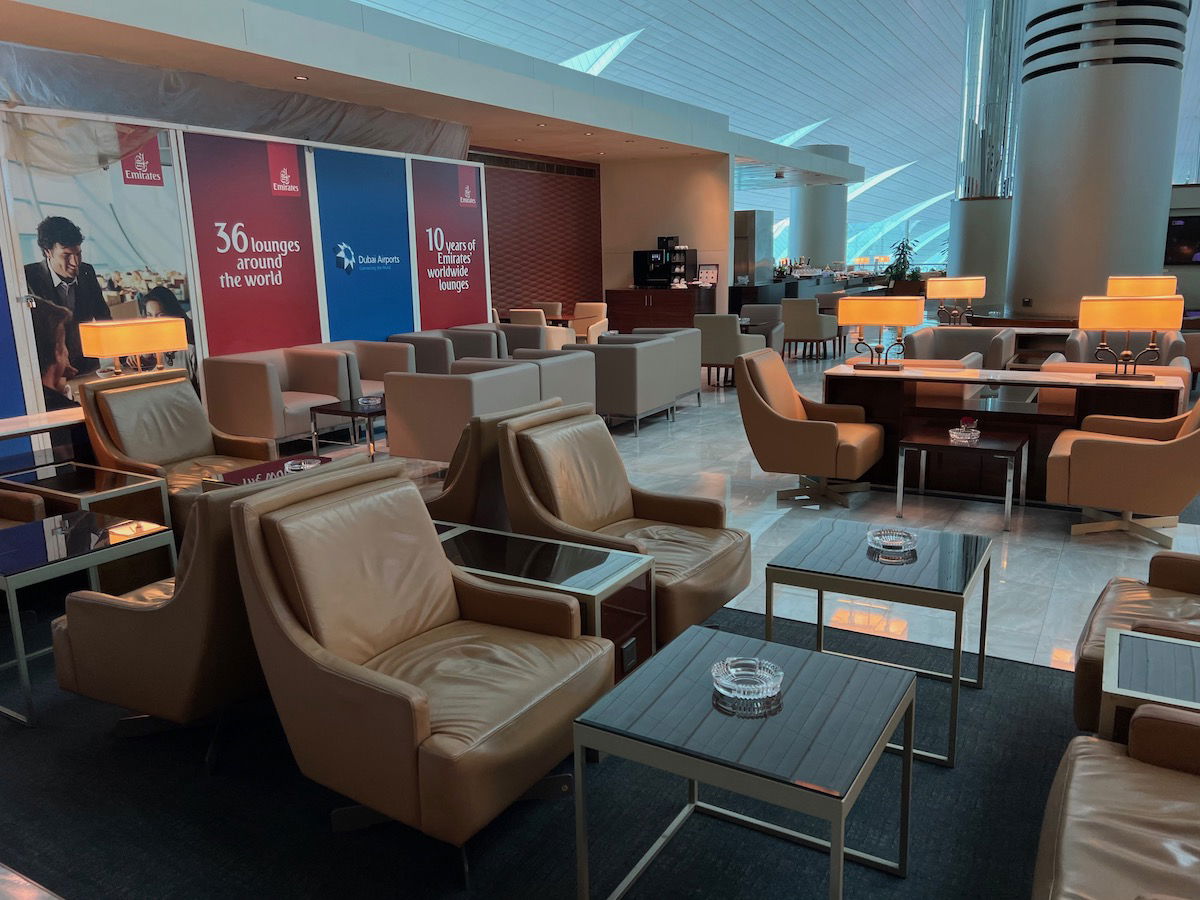 Emirates business class lounge Dubai nap & rest area
The Emirates business class lounge has dozens of daybeds of sorts, with blankets. There are dividers between them, but you still won't have full privacy. If you just want to escape the crowds or rest for a bit, this could be a good place to hang out, but I wouldn't plan on getting a proper night of sleep here if you have a long layover. In those situations I'd recommend the Dubai International Airport Hotel, which is also airside, and is a proper hotel.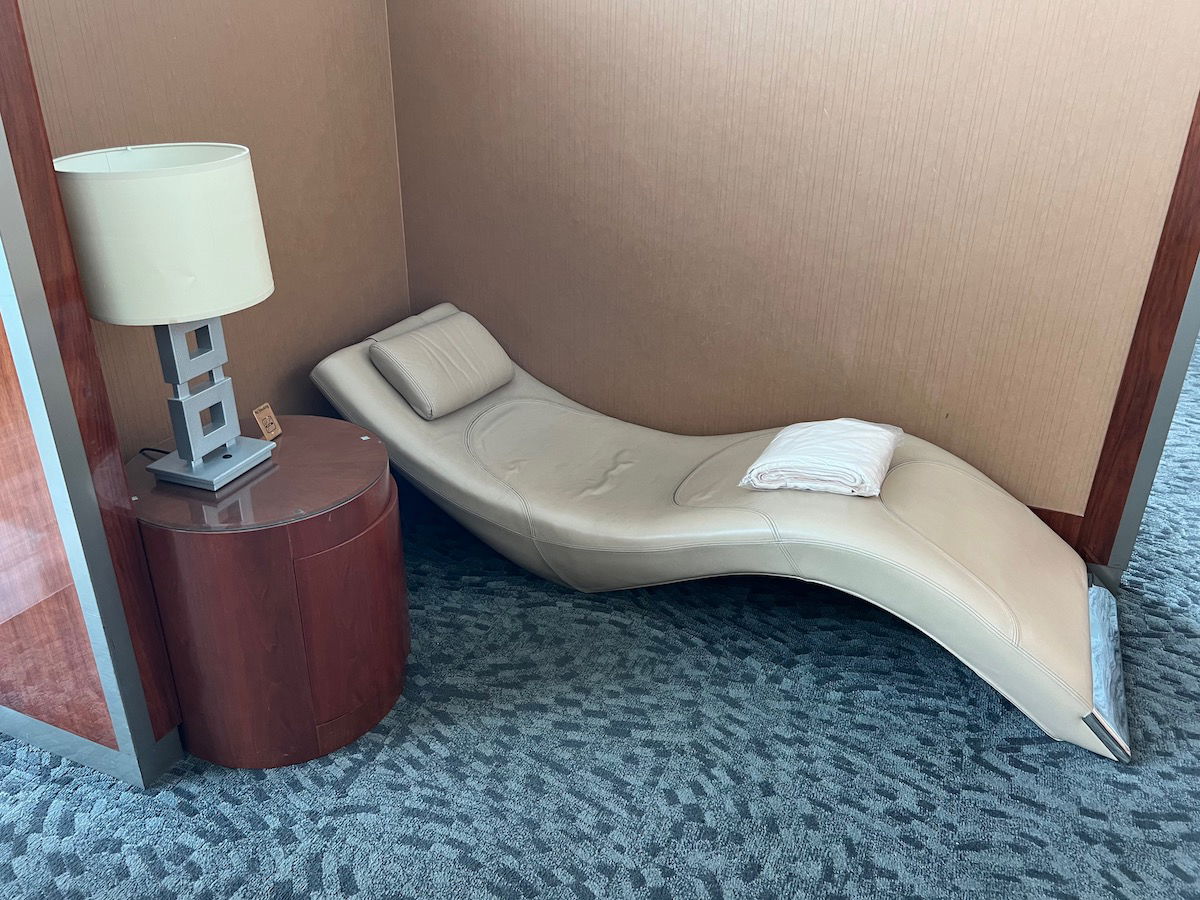 Emirates business class lounge Dubai business center
The Emirates business class lounge has a business center with some PCs. There aren't any empty workstations, so this isn't a place you'd want to come if you just want to work on your laptop (for that matter, the lack of natural light might be a reason to avoid this place).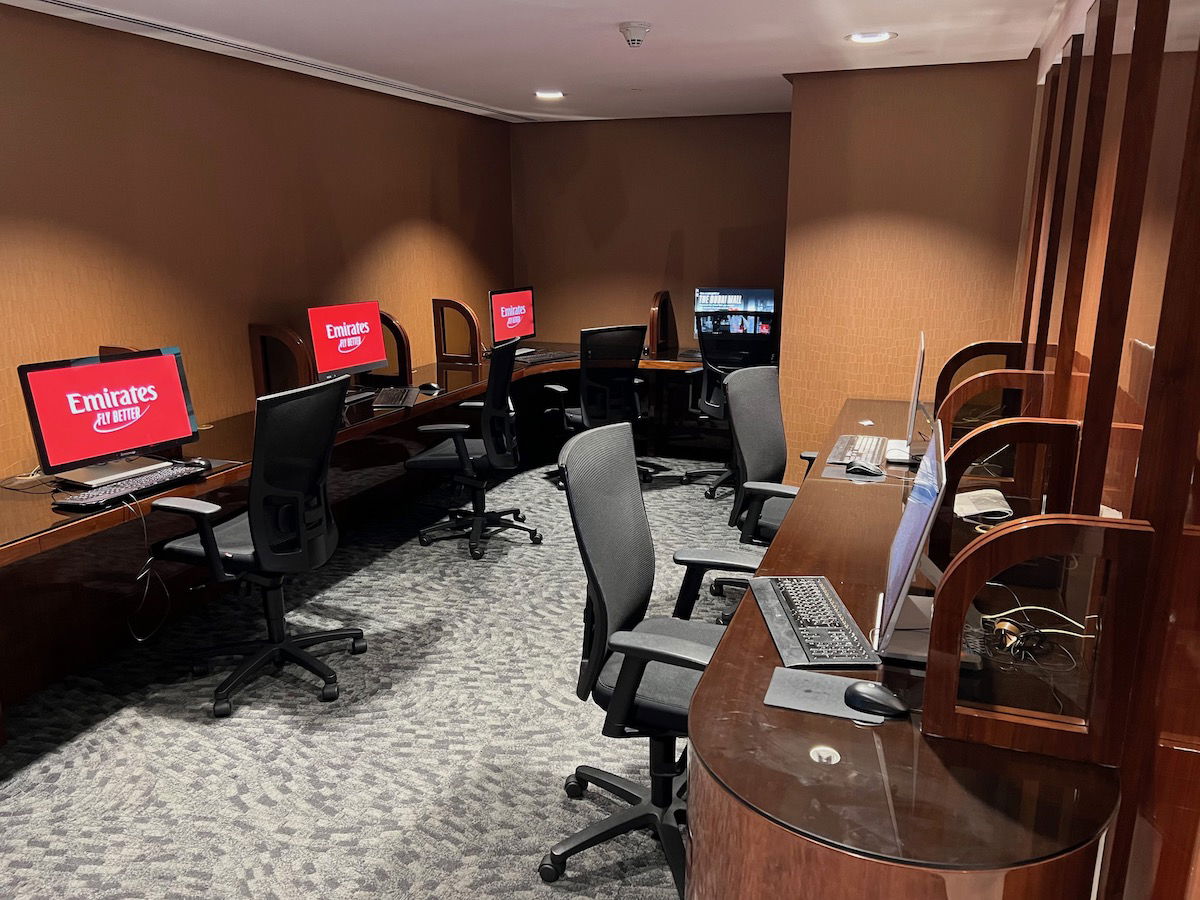 Emirates business class lounge Dubai kids play area
If you're traveling with kids, the Emirates business class lounge has a play area, which even has arcade games.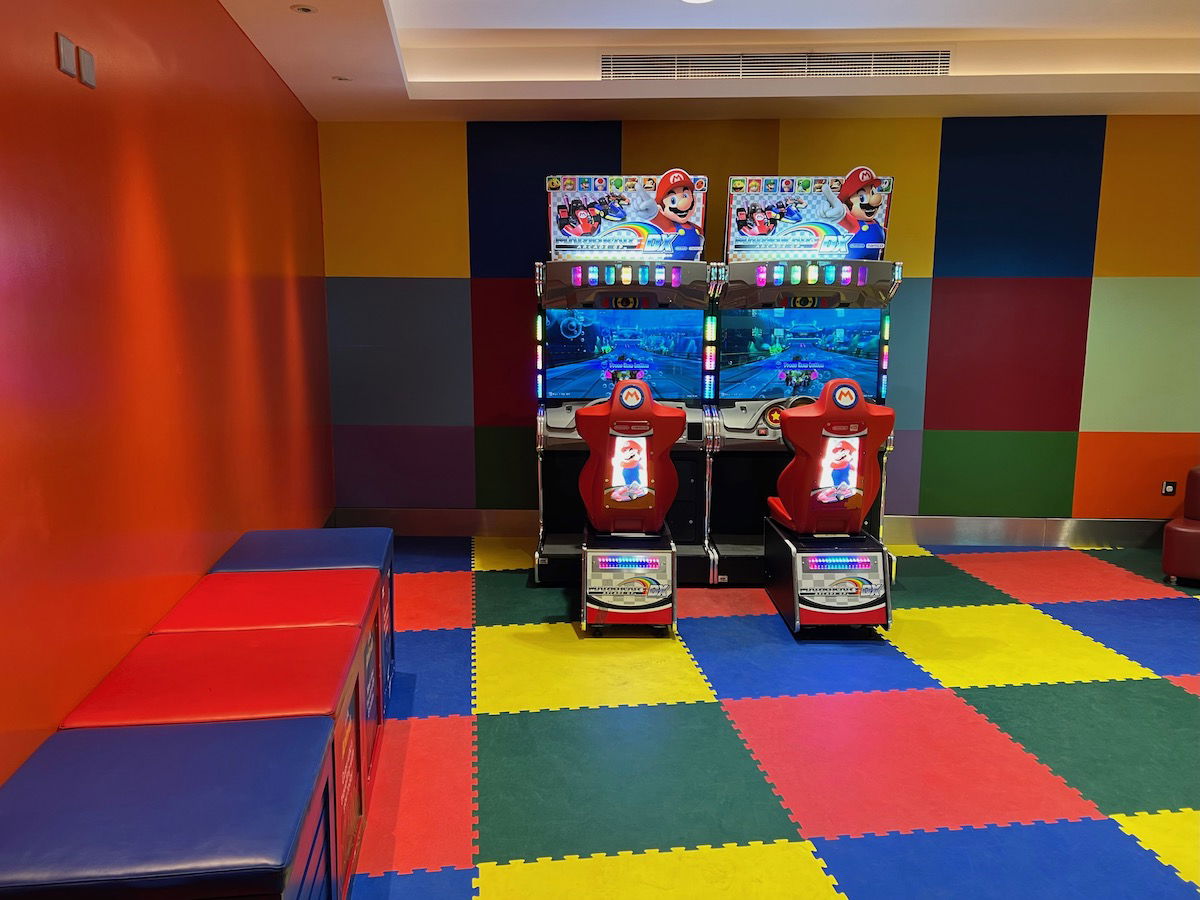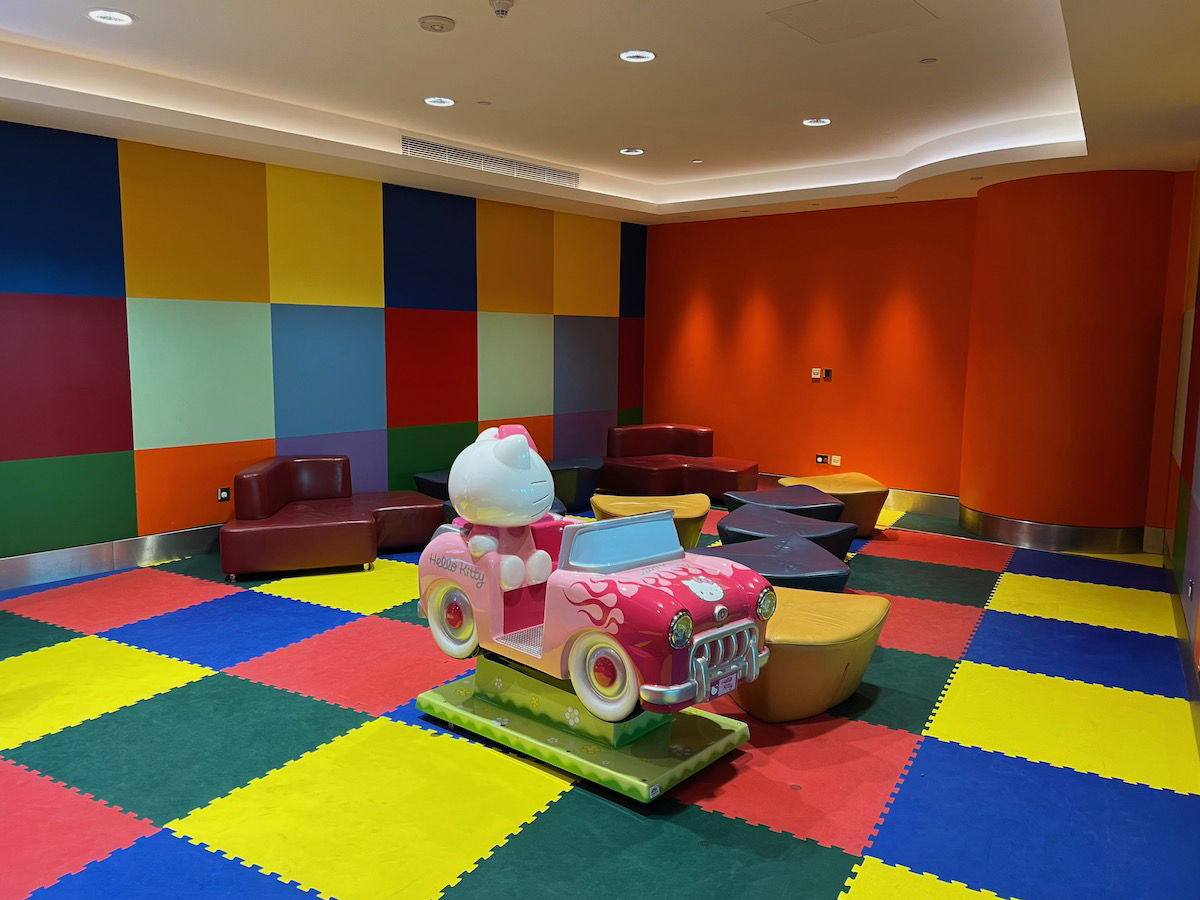 Emirates business class lounge Dubai spa
The Emirates business class lounge has a Timeless Spa. 15 minute treatments are complimentary for Emirates first class passengers, though first class passengers would logically use the spa in the first class lounge. So for all practical purposes, most guests will have to pay for treatments here.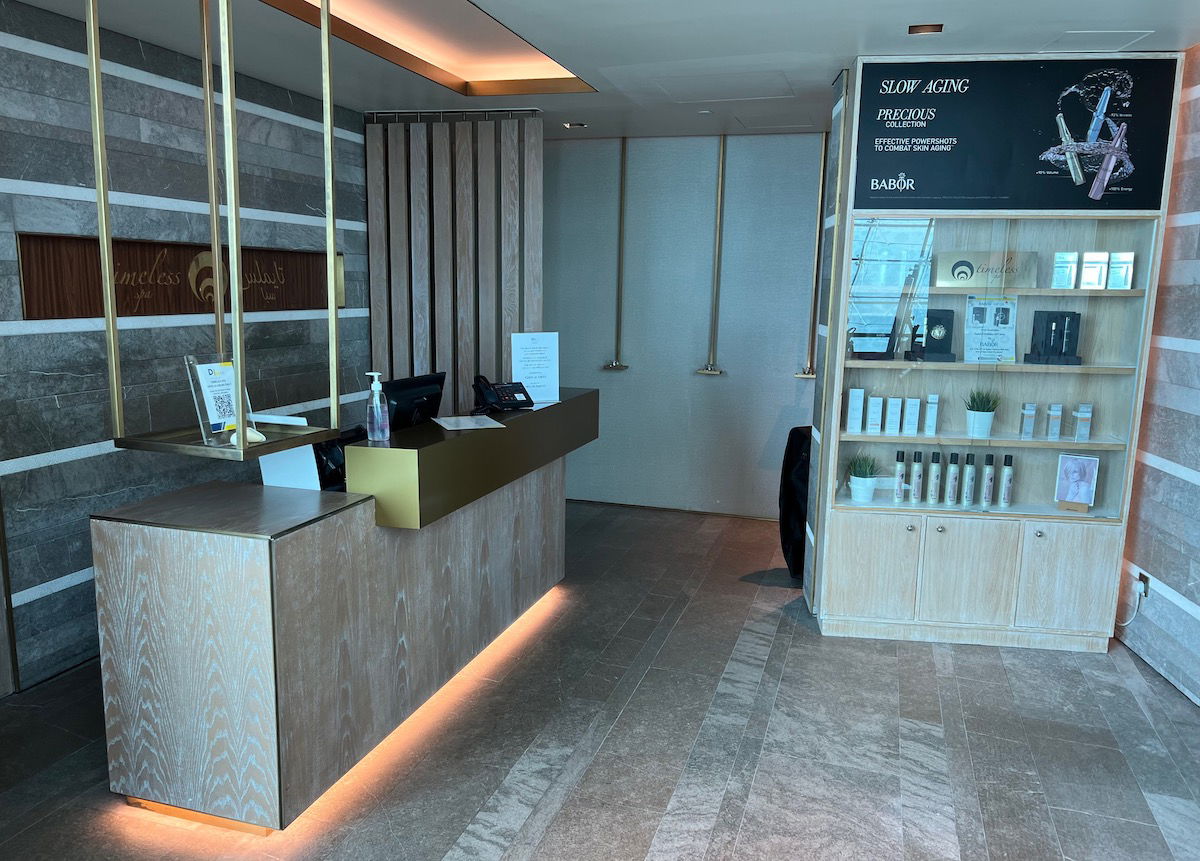 You can find the spa menu below (for context, 1 USD is 3.67 AED).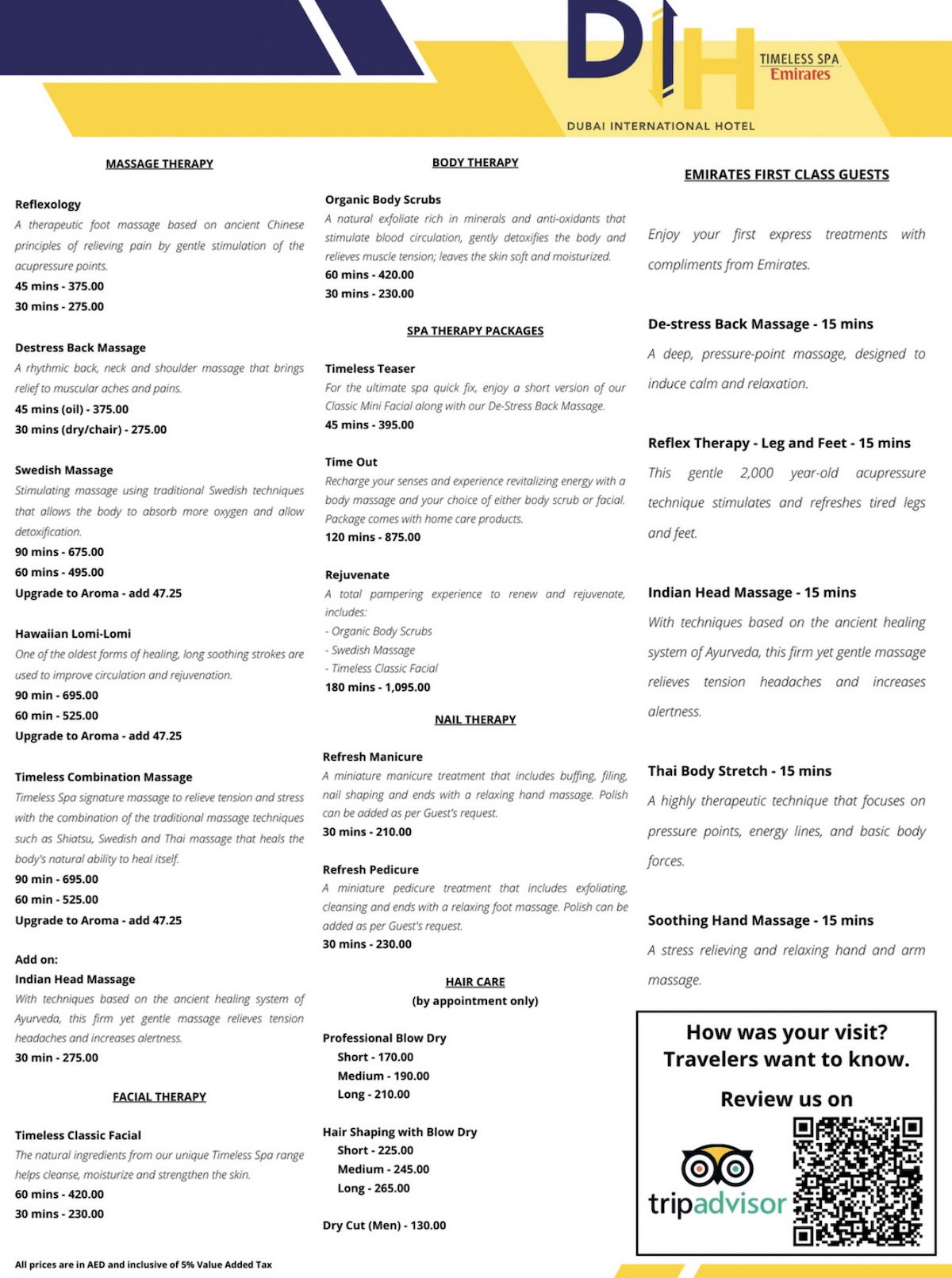 Emirates business class lounge Dubai shoe shine
The Emirates business class lounge has a shoe shine chair, near the smoking area. There wasn't anyone working there when I visited this time around, so maybe it's only staffed during peak hours. This could be worth a visit, as they don't just do shoe shines, but also things like cleaning up sneakers.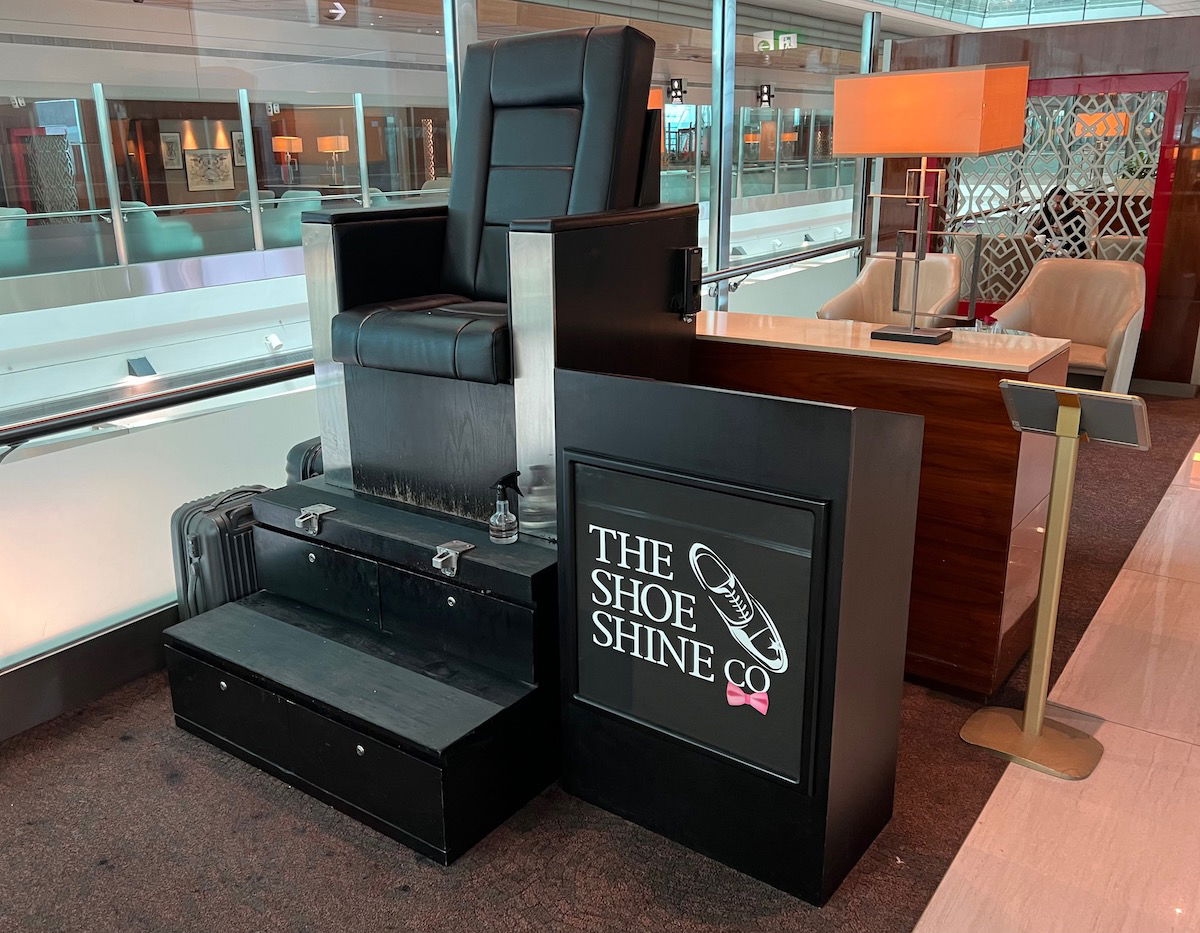 Emirates business class lounge Dubai showers & bathrooms
There are bathrooms throughout the Emirates business class lounge. The bathrooms are very well staffed, as there seem to be one or two people assigned to work in each full time. They seem to clean up after almost every use.
There are also plenty of shower rooms, though unfortunately they're basic. While showers are in individual rooms, the shower rooms don't have toilets or sinks, but rather those are in communal areas. Personally I appreciate when a shower suite has a sink and toilet as well. So this is better than nothing, but not ideal.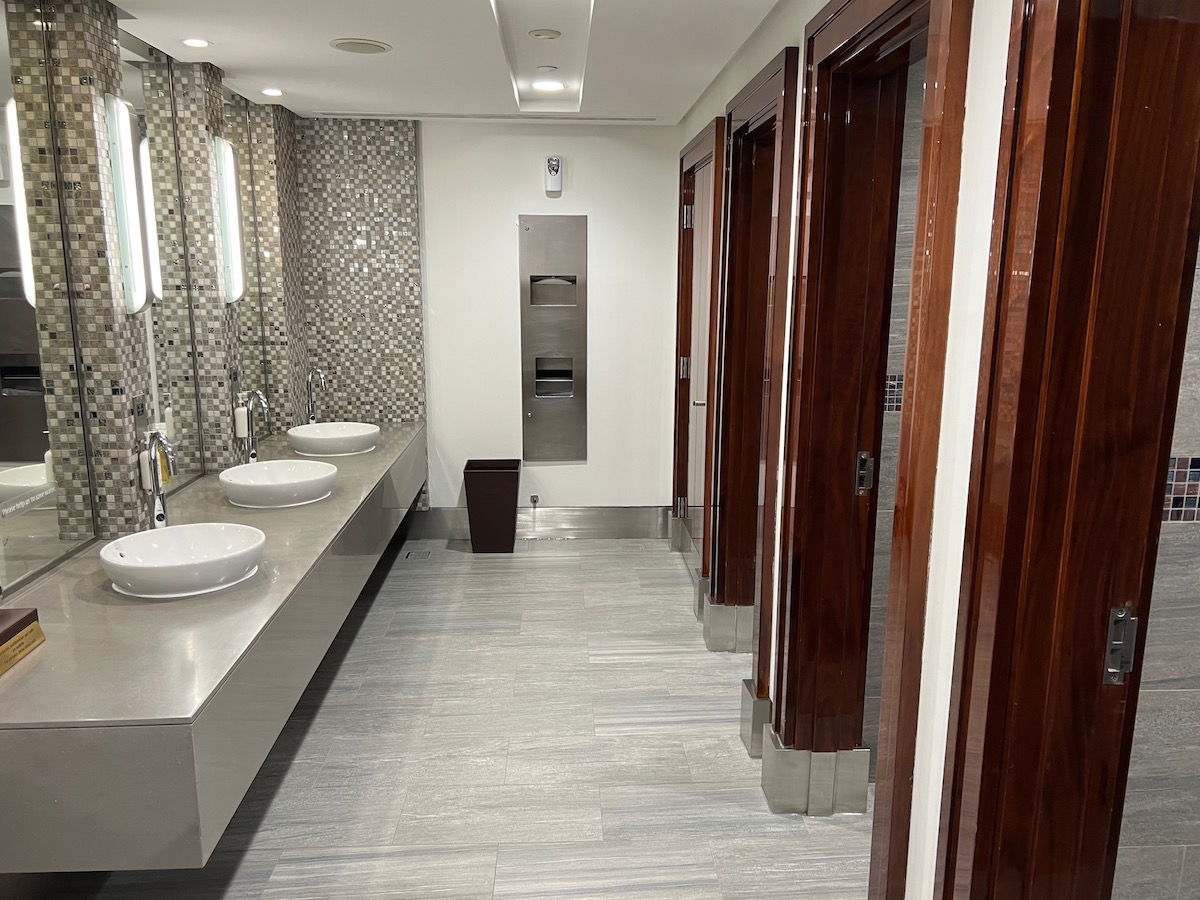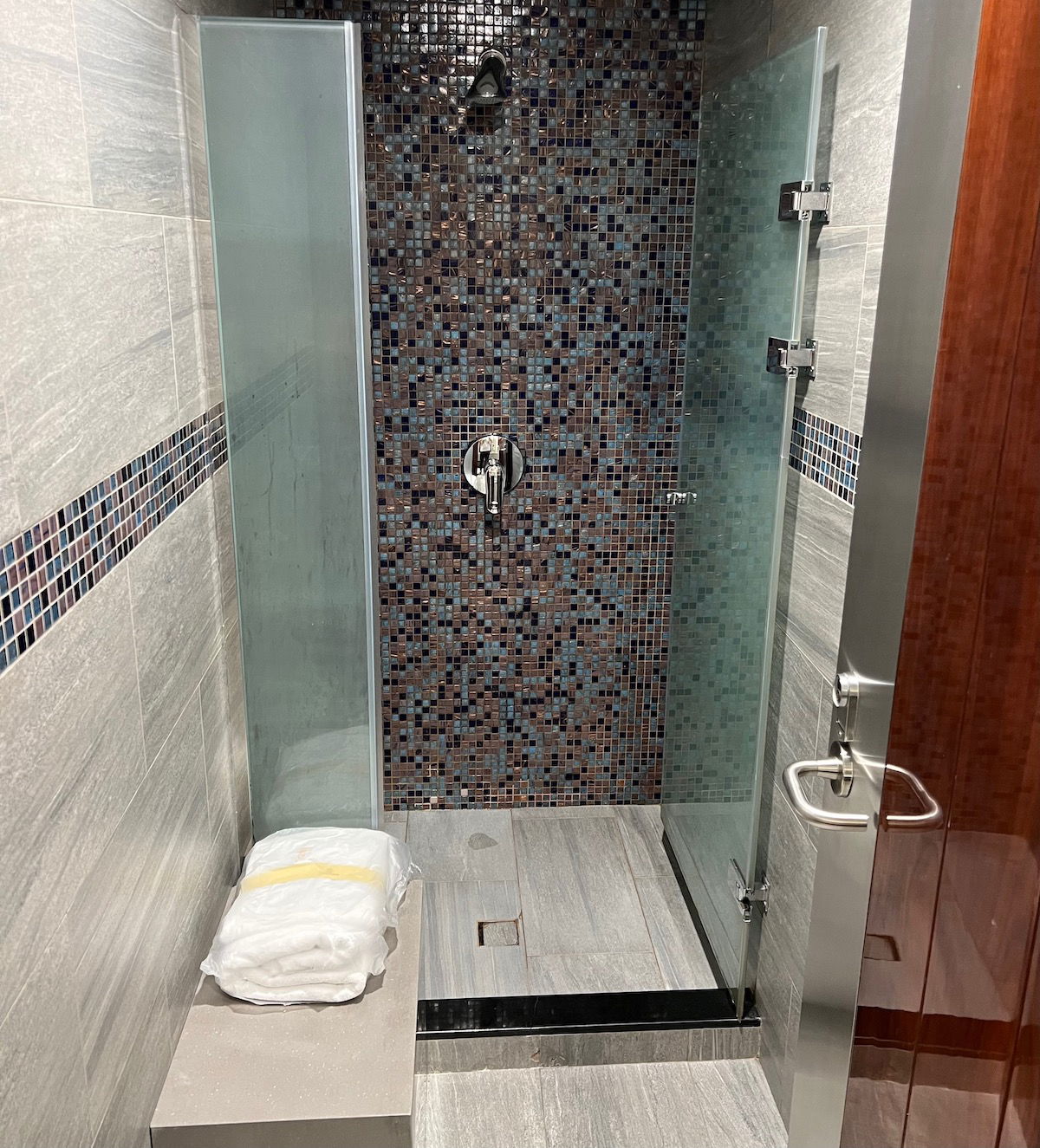 Bottom line
The Emirates business class lounge in Concourse B at Dubai Airport is impressive, for the most part. The lounge is huge, and has different areas that could suit just about any mood. The lounge also has a solid dining selection, plus a health section, champagne bar, and coffee stand (which needs longer hours).
On balance I'd say this is a solid lounge. Just don't expect a lounge that's very personal, and also be warned that there aren't conveniently placed power outlets everywhere. I also wouldn't consider the lounge's decor to be particularly inspiring, for the most part (compared to the Qatar Airways Al Mourjan Business Lounge, for example).
If you've visited the Emirates business class lounge Dubai, what was your experience like?