Hello from Paris, as I'm currently on a review trip! After a rough night in Cairo Airport, I flew EgyptAir's Boeing 787-9 business class on the 4.5 hour flight to Paris.
Several years back I flew EgyptAir's Boeing 777-300ER business class. My hope was that with the airline taking delivery of a new generation of planes with much better seats, the airline would also work on improving its services. Well, I can now officially report back that this is not the case.
While EgyptAir's Boeing 787 business class experience has some things going for it, I can't help but find the whole experience to be soulless and lacking in effort.
EgyptAir's Boeing 787 business class cabin is nice
To EgyptAir's credit, the airline has reverse herringbone seats in business class on its Boeing 787-9s, which is a perfectly nice product. You'll find this on many airlines nowadays, and it's much better than what EgyptAir offers on its other long haul aircraft.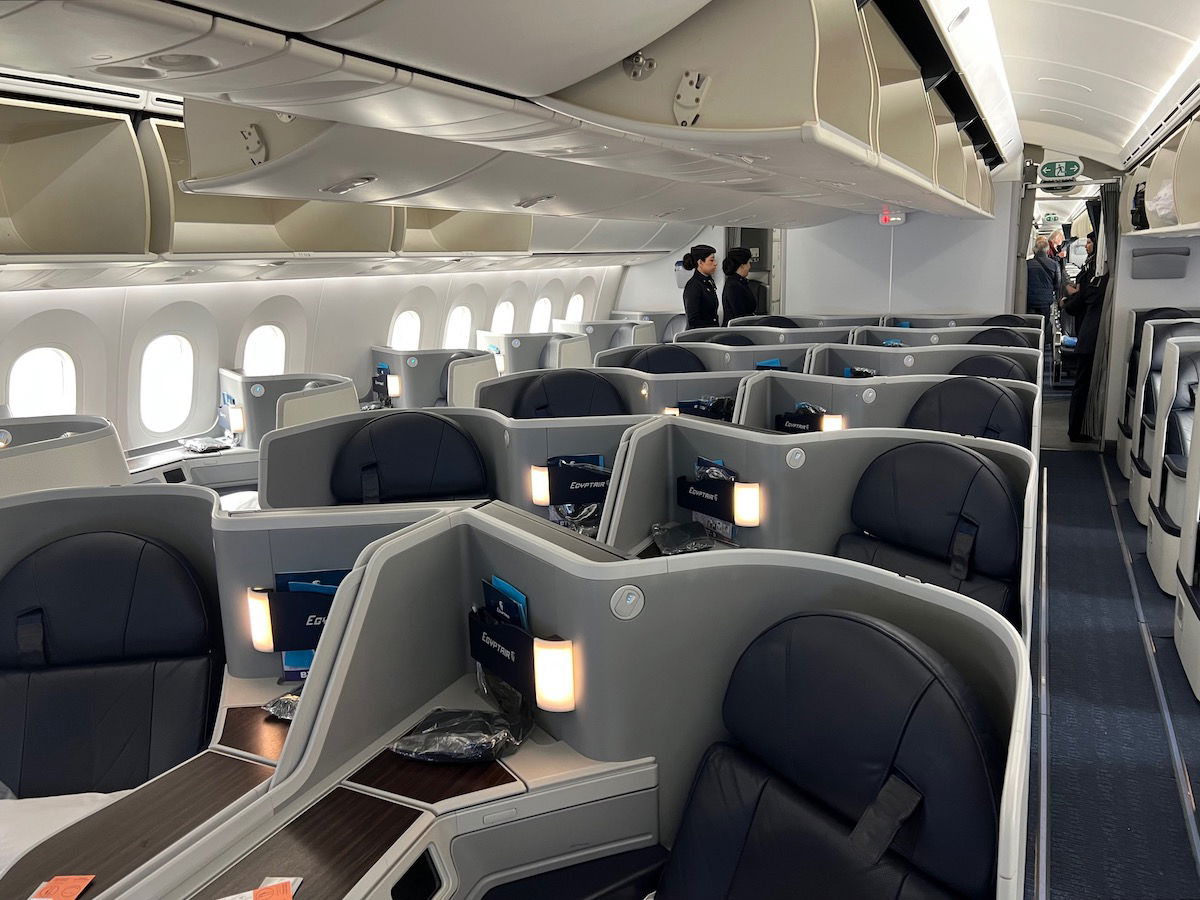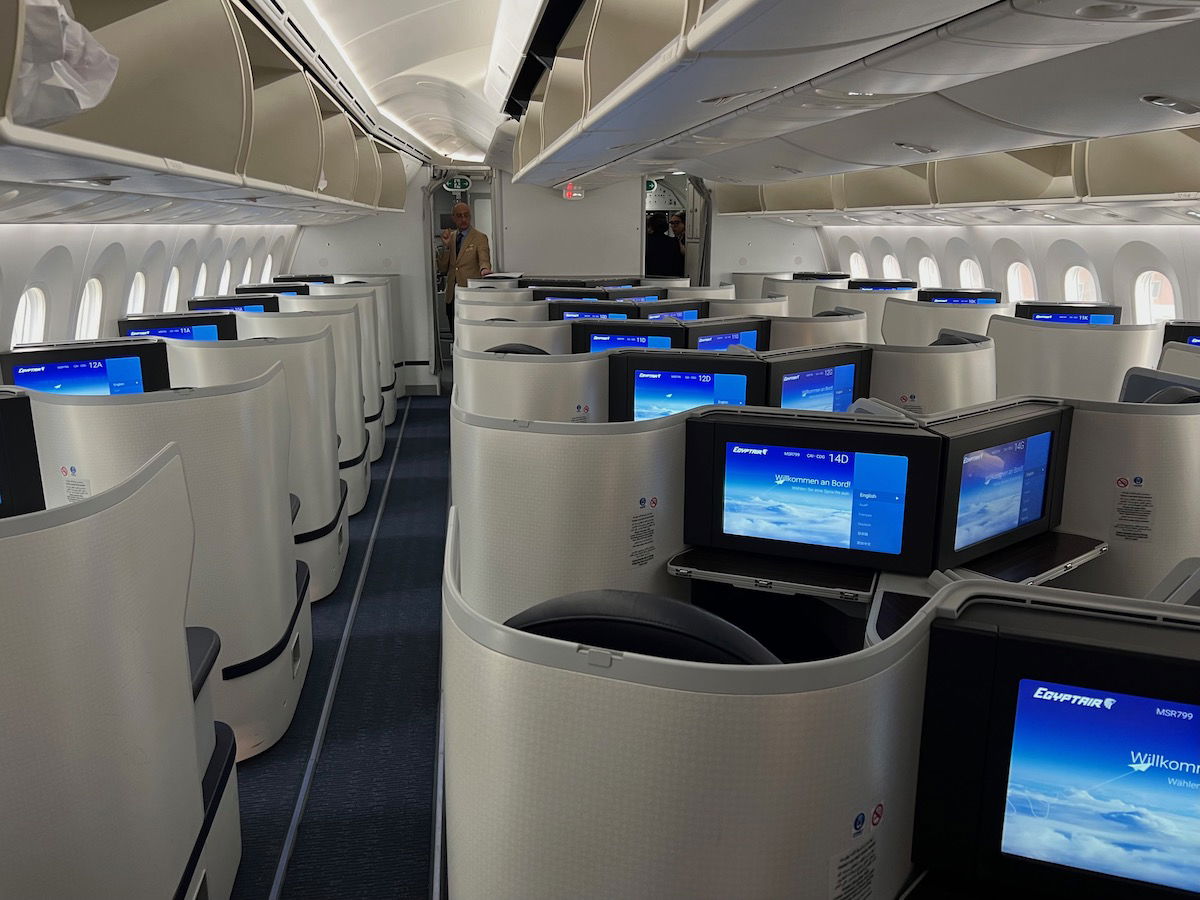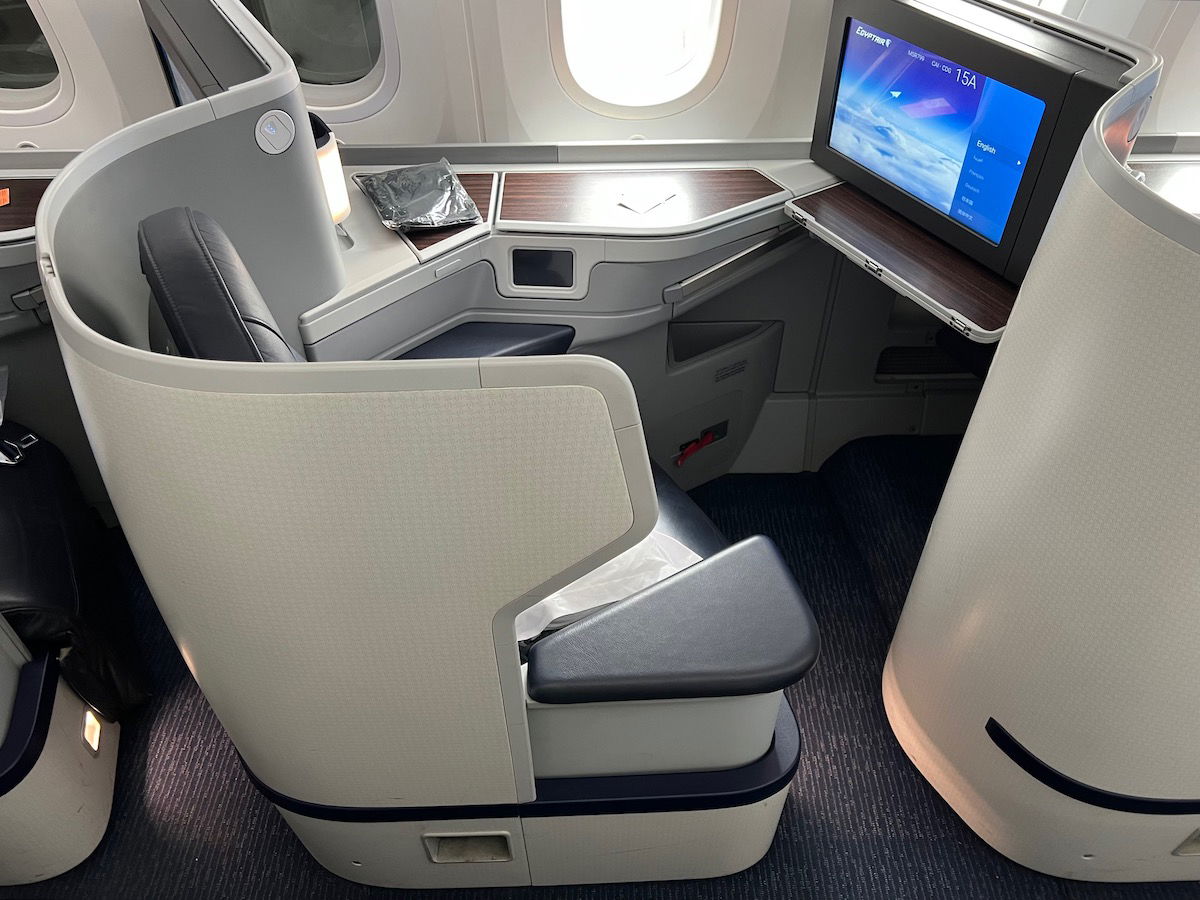 To be nice about a couple of other things, I was pleasantly surprised that there was an amenity kit on this fairly short daytime flight. It was clear EgyptAir was offering its full long haul business class experience on this route.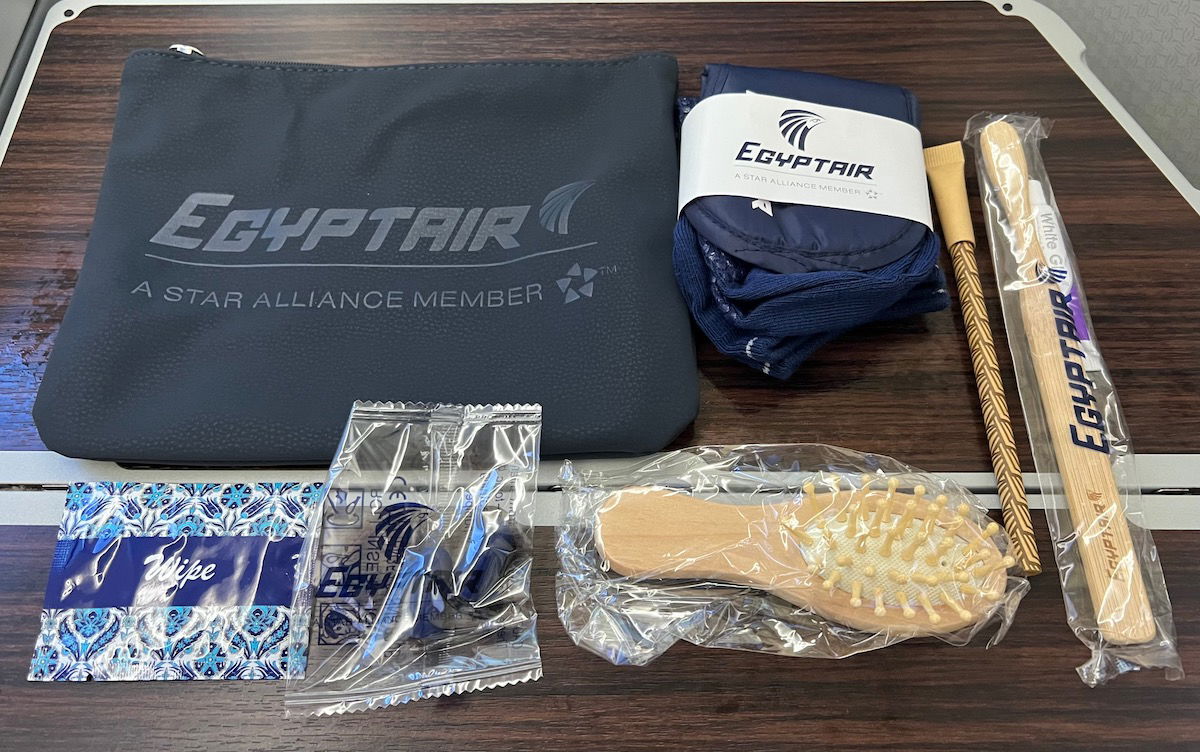 Also, I do love EgyptAir's livery.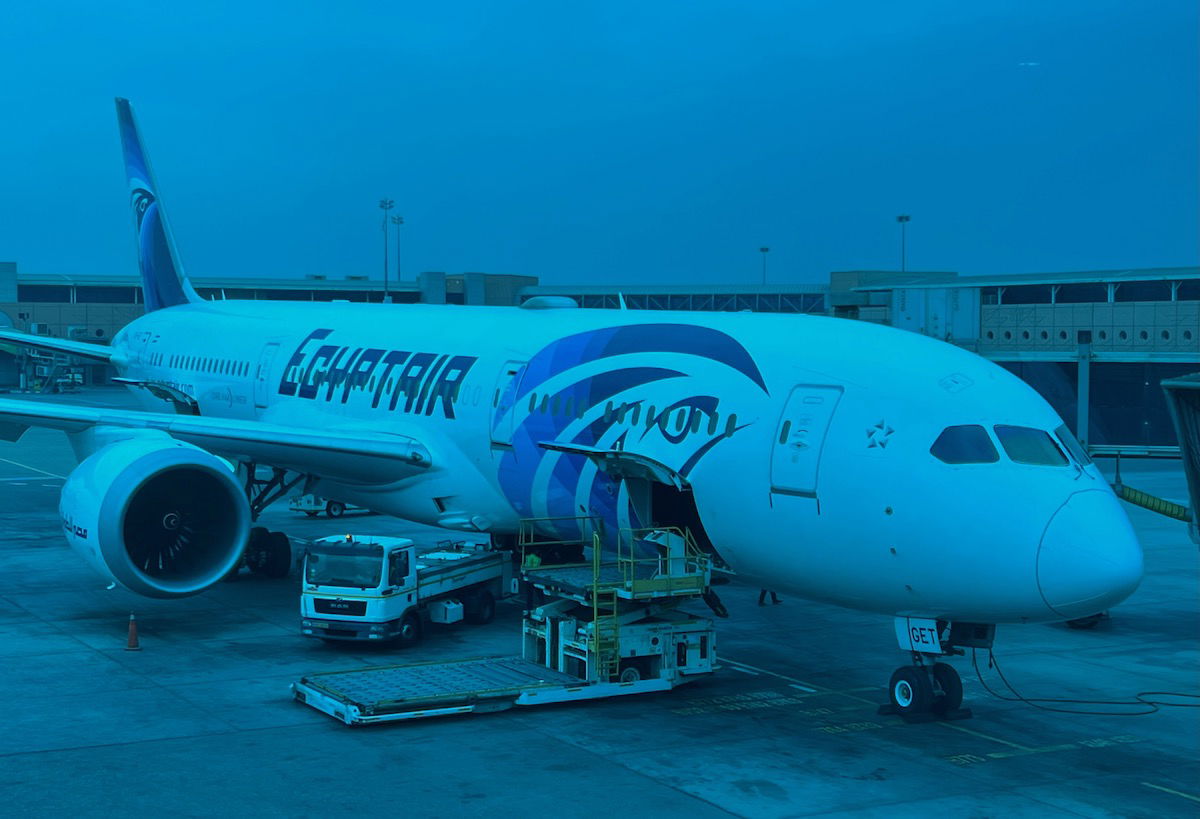 Unfortunately that's where the good things end…
EgyptAir 787 Wi-Fi & entertainment issues
EgyptAir's Boeing 787-9s have Wi-Fi. Well, they're supposed to have Wi-Fi. Unfortunately Wi-Fi was broken on this flight. Admittedly technology breaks sometimes (it's amazing there's Wi-Fi on planes to begin with!), but based on the crew's tone, I got the sense that this might not be such an uncommon occurrence.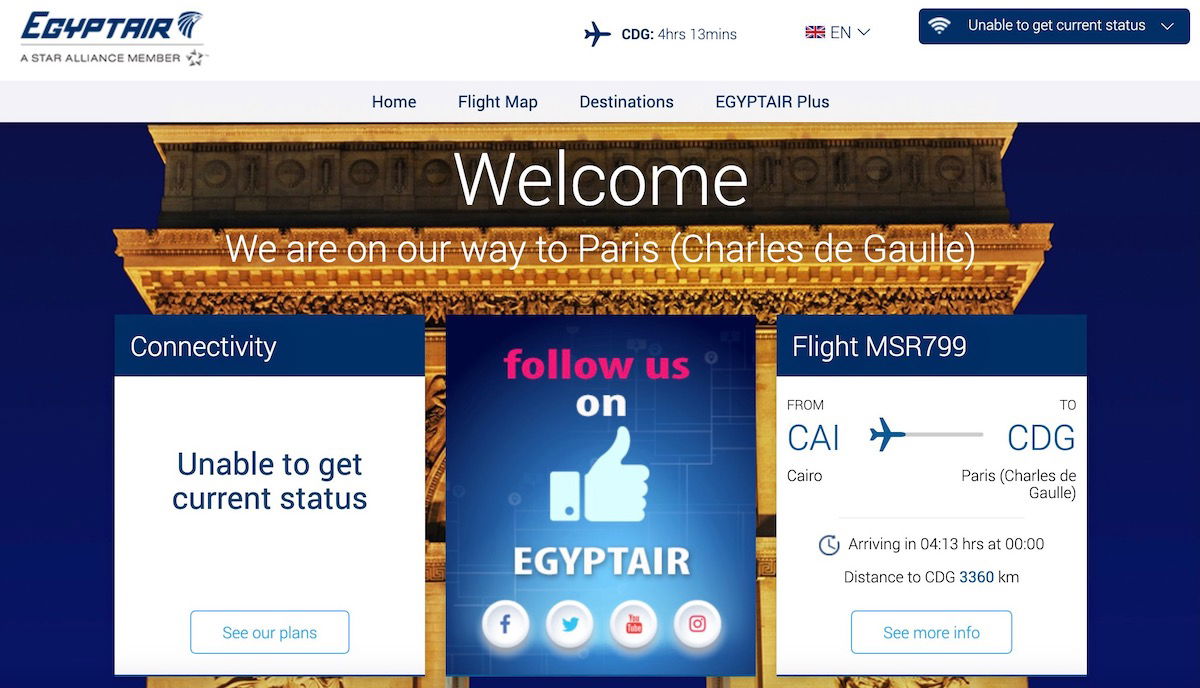 While I was planning on working for the flight, I instead turned to the entertainment selection. EgyptAir's entertainment selection is the best in the industry… if you want to listen to an audio book of the entire Quran.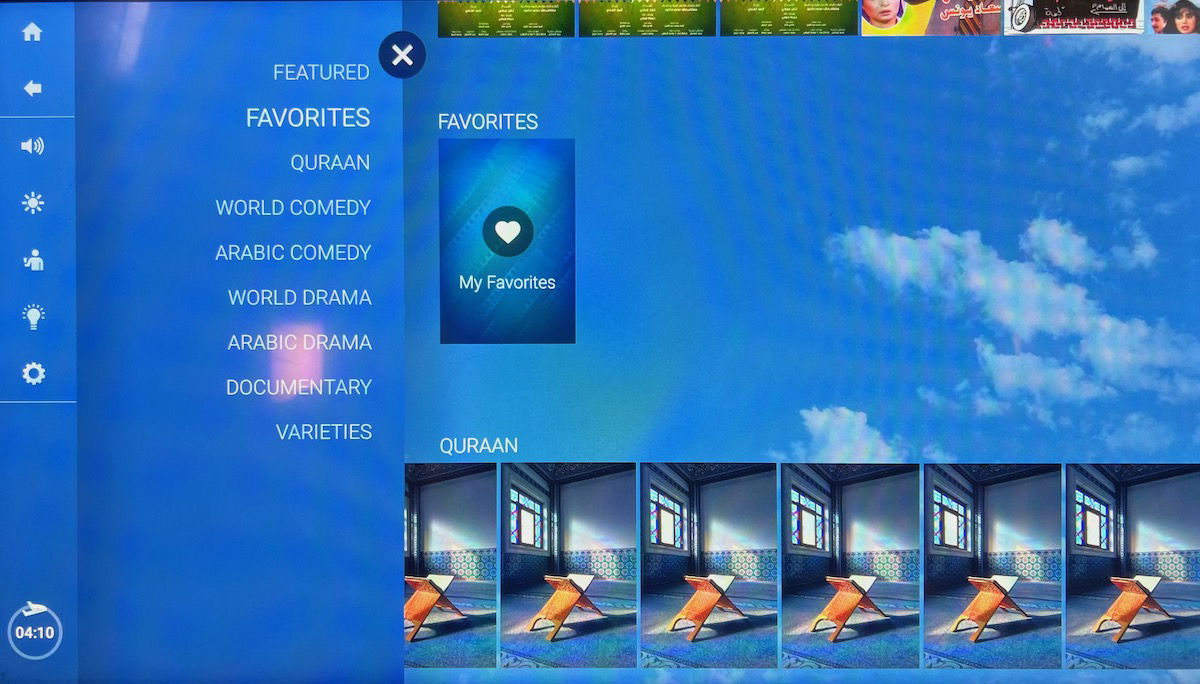 Aside from that, this is possibly the most limited inflight entertainment selection I've ever seen on an airline flying new wide body jets. It was hard to count exactly how many shows and movies there were due to the odd organization, but I genuinely believe there may have been more "episodes" of the Quran than all other shows and movies combined.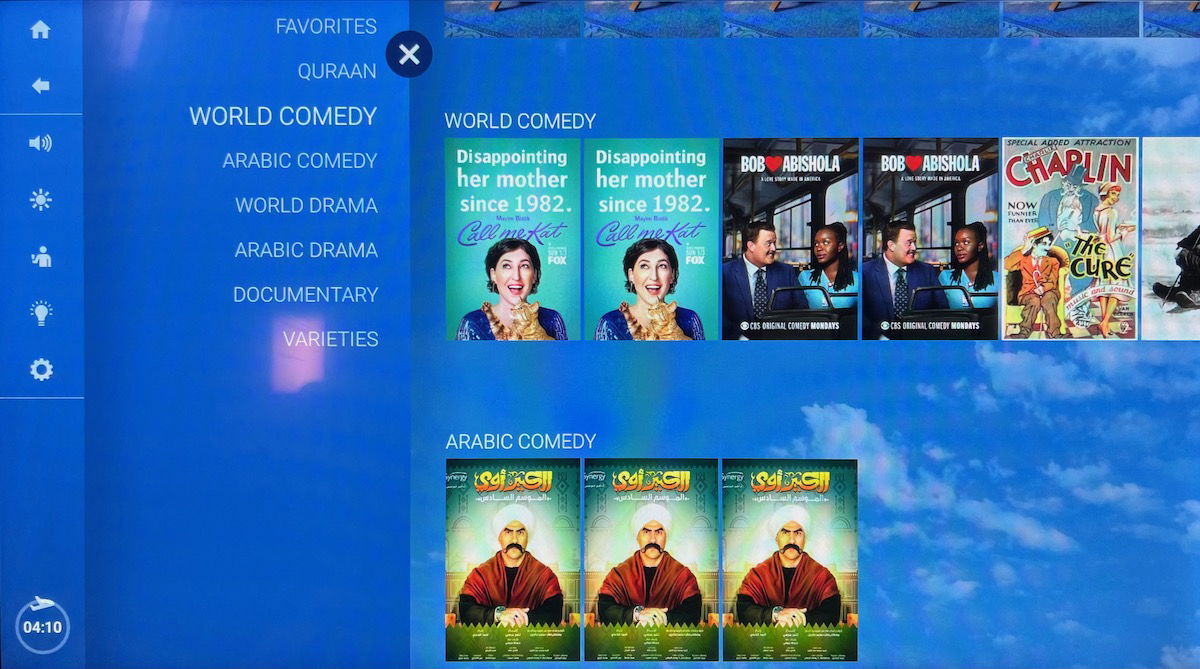 Oh, and it doesn't actually matter what the entertainment selection consists of, because my audio jack was broken, so I couldn't actually hear anything. In typical EgyptAir fashion, there weren't any empty seats in business class, due to the common practice of upgrading friends and family once the door closes.
EgyptAir's business class meal service
As anyone who has read my airline reviews knows, I love when airlines integrate their culture into the inflight experience. For example, on the flight out, that's one of the things that I loved about the ITA Airways business class experience, as the airline had everything from aperol spritzes, to great Italian wines, to primi and secondi to eat.
Sadly EgyptAir does little to integrate its culture into the inflight food and drink service. The meal wasn't necessarily terrible, it was just totally forgettable. The use of pomegranate in a side salad was the only thing that can even remotely be described as having any connection to Egypt.
It's odd, the meal was served at the halfway point of the flight, seemingly designed to make sure no one can actually take a proper nap. Service began with a tray that had a smoked salmon and shrimp appetizer, a side salad, and a cheese plate.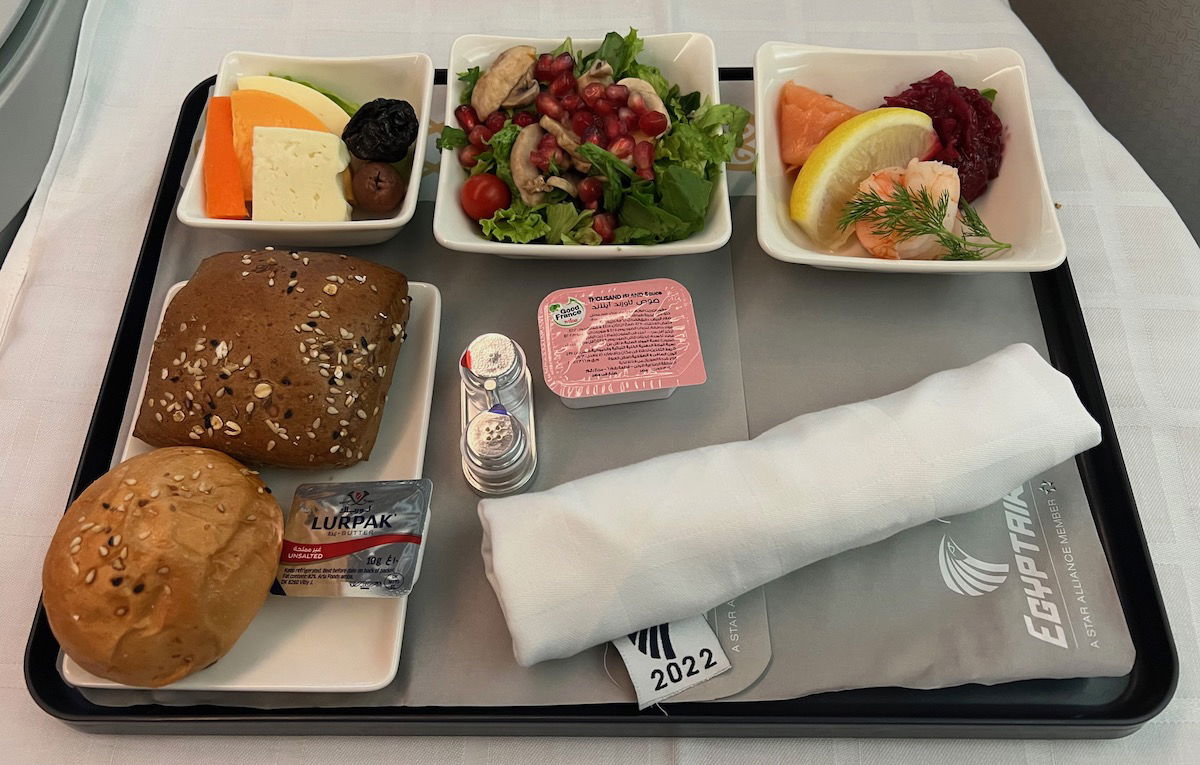 There were three choices for the mains, all of which were western. I selected the shrimp with rice and veggies. The presentation wasn't great, and the shrimp were way overcooked and chewy.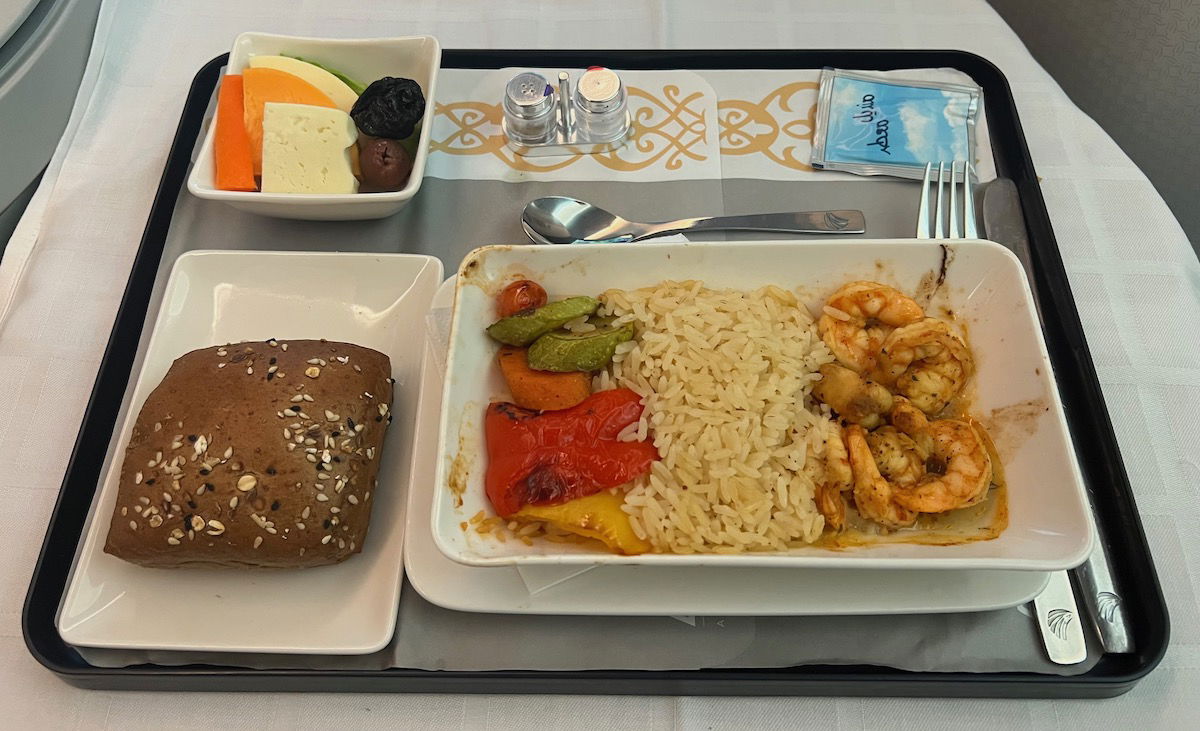 Then for dessert there was the choice of chocolate cake or red velvet cake.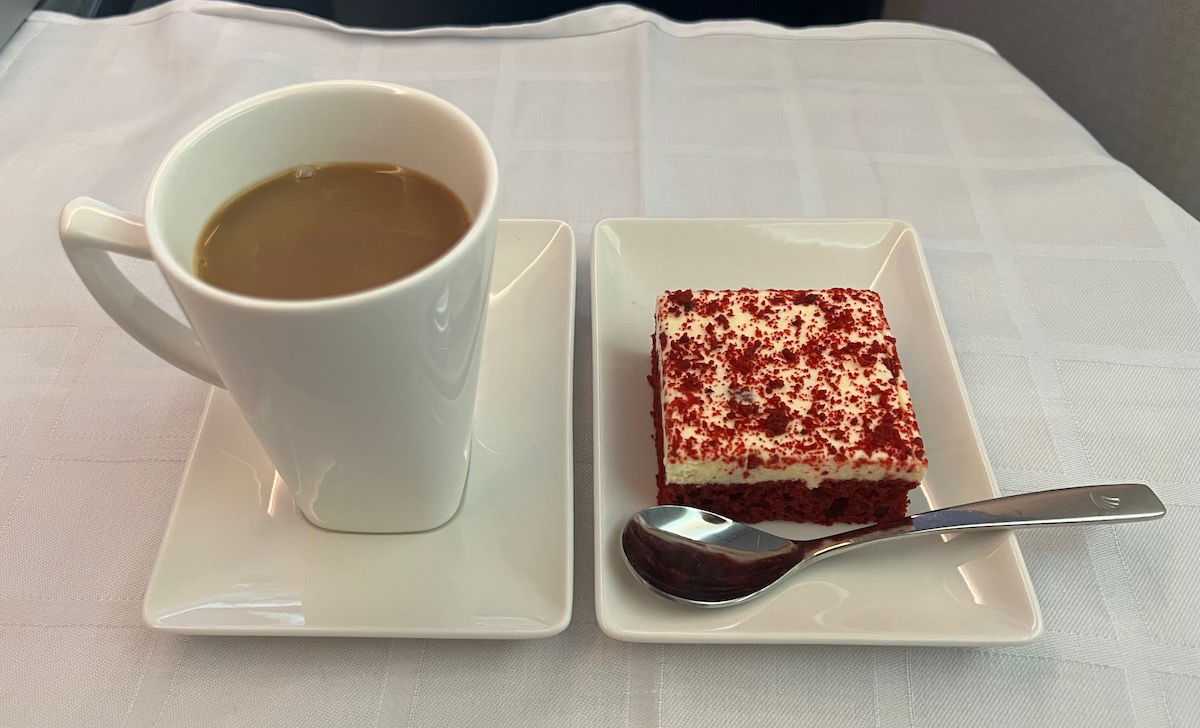 I don't get it. Egypt has amazing food, from appetizers, to main courses, to desserts. Would it kill EgyptAir to integrate a bit of that into its inflight experience, or at least give passengers the option to enjoy something Egyptian?
EgyptAir is also a dry airline, and the airline seemingly doesn't even put any effort into its non-alcoholic drink selection. How about some lemon mint juice, or some tea served in a fun way, like you'd actually get in Egypt, rather than something like the below.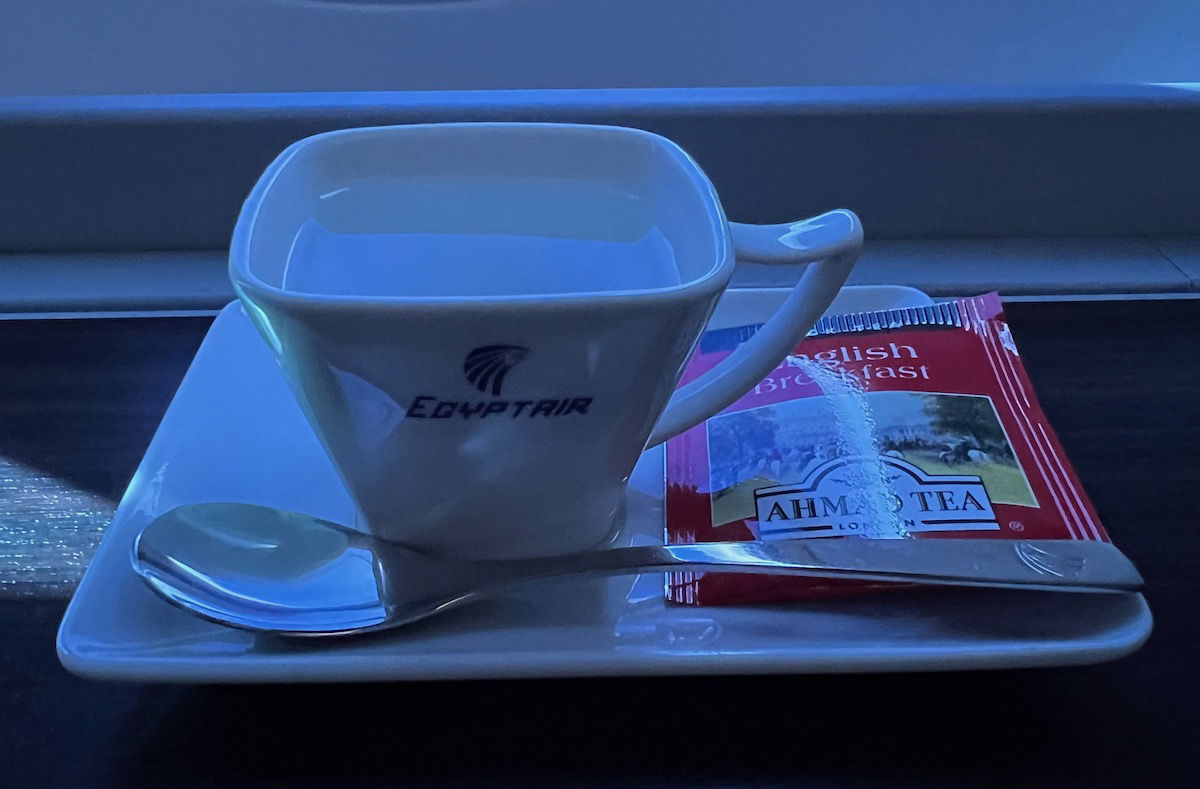 As far as the service goes, it also couldn't have been more forgettable. The crew wasn't rude at all, but showed zero personality or interest either. They went through the motions. Nothing more, nothing less.
Bottom line
I was excited when EgyptAir started flying Boeing 787-9s, since I hoped it would be part of a bigger refresh by the airline. Unfortunately that's not the case. While EgyptAir's 787s have comfortable seats, that's about it.
On my flight, the Wi-Fi was broken and my entertainment audio didn't work. But the entertainment audio not working wasn't a huge deal, as EgyptAir's entertainment selection is abysmal. While the inflight food wasn't bad, it was missing any connection to Egypt.
In terms of inflight service, it's almost like EgyptAir wants to make sure you don't know it's an Egyptian airline, based on the food selection. I love when airlines try to give us the best a country has to offer, and unfortunately that's very much lacking on EgyptAir.
I'm happy to have tried EgyptAir's 787, though I don't need to repeat the experience.
What do you make of EgyptAir's 787 business class?