Unfortunately things went downhill pretty quickly after our incredible JetBlue Mint flight from New York to London…
London Heathrow immigration lines galore
JetBlue operates out of Terminal 2 at Heathrow Airport. We arrived at Terminal 2B, the far pier that requires quite a walk to get to immigration. I had heard so many horror stories about Heathrow immigration wait times lately.
There wasn't a single soul in sight as we began the long trek to the main part of the terminal, and I thought to myself we were in the clear, and that we lucked out due to our arrival time. Based on the planes at the terminal, it seemed that most arrivals were from Africa, India, and the Middle East, so I figured they got in at the crack of dawn, and perhaps 10AM was a good time to arrive.
Wrong.
As we entered the main immigration hall… OMG. I've never in my life seen an immigration line like this before. It wasn't just that people couldn't fit into the standard queuing area, but they had set up overflow queuing like I've never seen before.
All passengers, regardless of passport, got in a single line. It snaked in every direction possible in the terminal. I would conservatively guess that the line was half a mile long. I didn't take a lot of pictures because I wanted to respect peoples' privacy and didn't want to be yelled at, but hopefully the below gives you a sense of what I'm talking about (and this is only a very small portion of the line).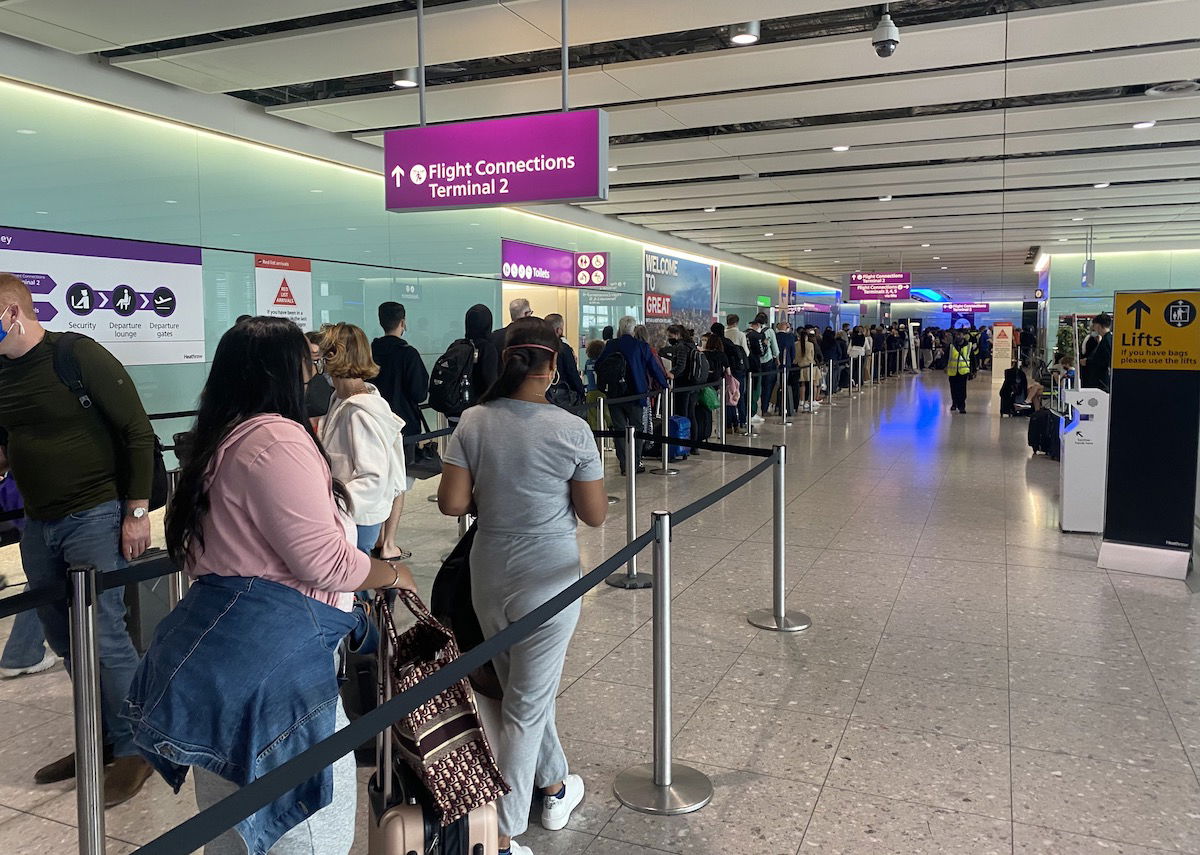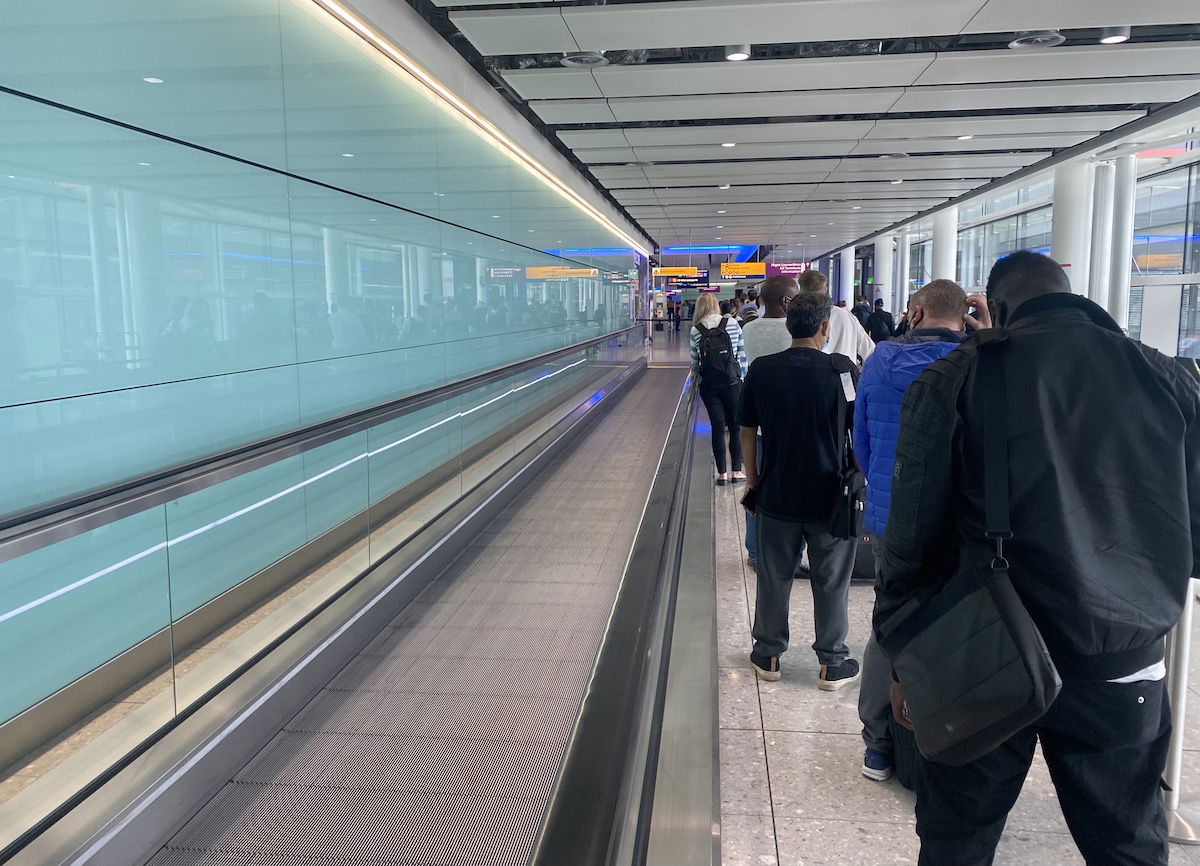 I have to give the queue management people credit — they designed the line in such a way that you never actually knew how much longer you'd have to wait, since it just kept curving around. You always thought that maybe you were nearing the end of the line, only to find out you were about to be sent in the opposite direction.
Suffice to say the vibe in the line was interesting as well. On one end of the spectrum you had people like this (honestly, 18+ months into the pandemic, is this is a joke, or does this person just have a different understanding of how coronavirus spreads than I do?)…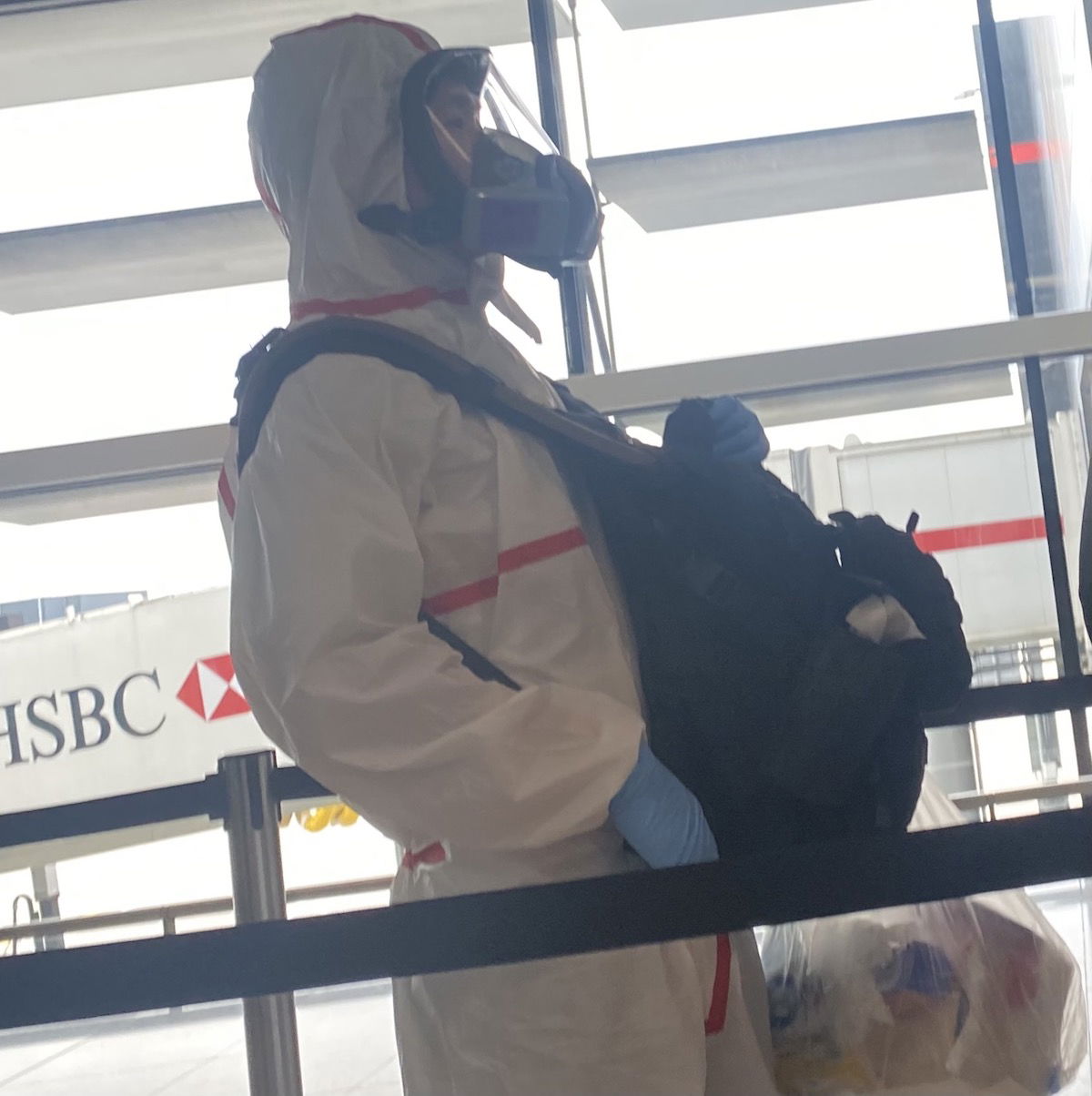 Then on the other end of the spectrum (or perhaps same end of the spectrum, depending on how you look at it), you had the lady behind me, who took off her mask the entire time yet kept complaining to me about how she was going to catch coronavirus in this line. She wouldn't stop talking, and she kept trying to tell me "they call me the queen of Addis." Alrighty then…
I was amused to overhear one of the queue control people tell a colleague "how many people are going to say 'I'm a diplomat' or 'I'm a NATO specialist' to try to jump the bloody queue."
I have to say, while the line was beyond ridiculously long, it moved pretty quickly. The line got to the point where there wasn't even overflow space for people anymore, so at that point they fully opened up the e-gates, and just let people through.
I believe the intent was for many people to be screened by an immigration officer given the UK's entry requirements, but clearly they gave up on that.
In the end the wait was just over 90 minutes. Ultimately the line moved a lot faster than I was expecting given how long it was — this was definitely the biggest immigration line I've ever seen, and it was tied with Cancun Airport for my longest wait at immigration ever (which I guess makes me lucky, because I've heard of even longer waits).
Why are Heathrow immigration lines so long?
These unbelievably long immigration lines seem to be the standard at Heathrow for the past several weeks, especially as the country has increasingly opened up. In general there hasn't been much accountability among officials from Border Force or Heathrow Airport.
Officials have simply acknowledged that there are "some delays" due to "additional spot checks to ensure passenger compliance with the UK Government's latest entry requirements."
That probably doesn't quite due justice to the extent of the delays we're seeing — even weeks into the country largely reopening, airport officials haven't been able to state how long average wait times have been, and the response has simply been that officials are "looking into this."
A Home Office spokesperson said the following about the wait times:
"Our utmost priority is protecting the safety and health of the public. That means, occasionally, passengers will need to accept an increase in the time taken to cross the border, especially during peak travel periods. We will never compromise on border security and continue to fulfil our vital function of keeping the border secure while checking that passengers are compliant with the current health measures."
Essentially what it seems to come down to is that Border Force is understaffed (for unknown reasons), and officers insist on doing additional checks on many passengers.
Now, let me clear — I'm not trying to play victim here, especially as someone choosing to travel to the UK for non-essential reasons (which, to be clear, the country isn't discouraging, but…). While I think the wait times are ridiculous and silly:
I think most travelers have heard of the horror stories of Heathrow immigration, so should expect that; if you're traveling for non-essential reasons, you know what you're getting yourself into, and you're making a choice to take on that risk
I think it's a bit disingenuous to play the "but Heathrow is putting us in danger" card while people are traveling for leisure; realistically speaking, the risk of catching coronavirus in an area with pretty consistent mask usage is probably low, at least compared to other venues, where masks are no longer the standard
Nonetheless, Heathrow is an absolute cluster-you-know-what right now…
Bottom line
Wait times at Heathrow Airport are pretty awful nowadays, so if you choose to enter the UK through the airport, come in expecting that. Go to the bathroom before getting in line, bring a bottle of water, etc.
While the immigration checkpoint had the longest line I've ever seen in my life (of any sort), it moved surprisingly quickly, and I was through within around 90 minutes.
If you've entered the UK through Heathrow in recent weeks or months, what was your experience like?