Update: Read my full British Airways First Class 787 San Jose To London review.
Hello from London! I just flew British Airways' 787-9 first class on the 10 hour flight from San Jose, and in this post wanted to share my initial thoughts. I specifically sought out this routing because it was operated by the 787-9, and I haven't yet flown British Airways' 787 first class.
The 787 first class cabin consisted of just eight seats, spread across two rows in a 1-2-1 layout. This is by far the smallest first class cabin British Airways has on any of their planes. I was quite impressed by the hard product. The cabin was extremely stylish and sleek. I found that to be the case on British Airways' other planes in first class as well, but the 787 is even more beautiful.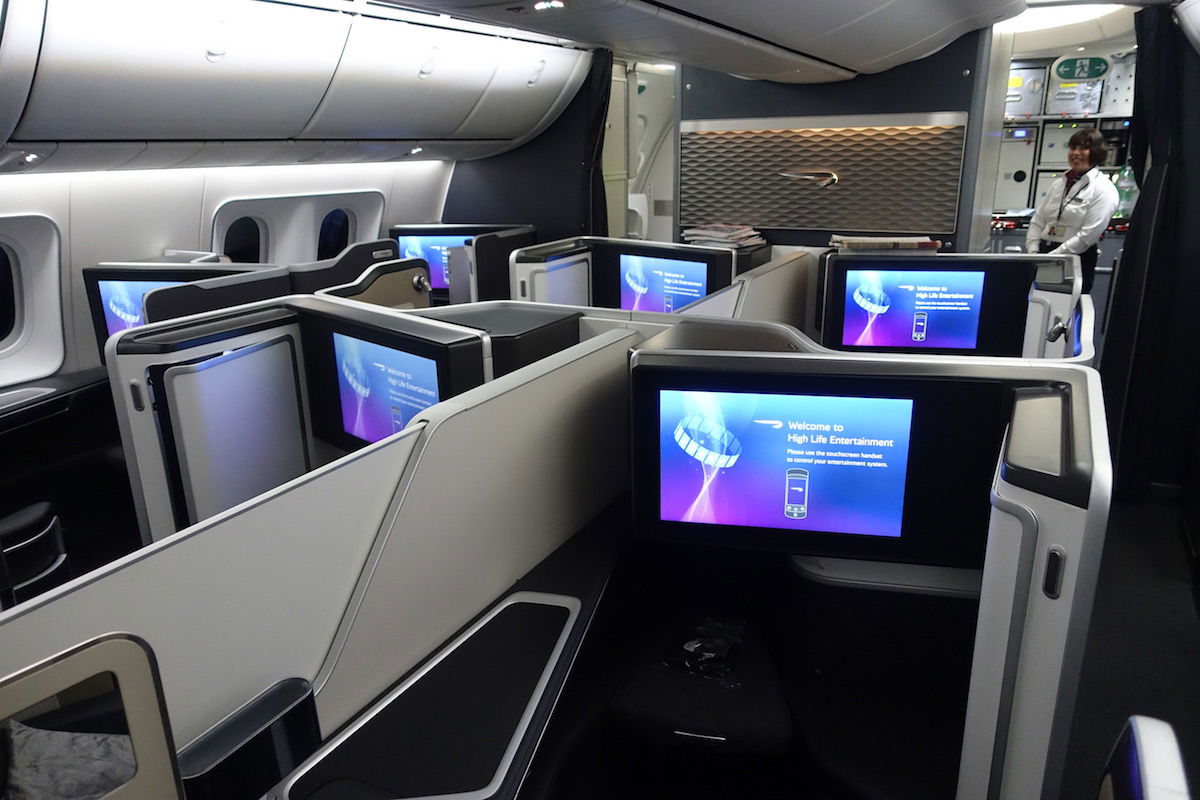 I had heard lots of people say that these seats are especially tight, though I didn't find that to be the case. Don't get me wrong, this isn't the Etihad Apartment in terms of personal space, but I found the seat to feel like a larger reverse herringbone seat. I thought the cabin felt more spacious than first class on the British Airways 747.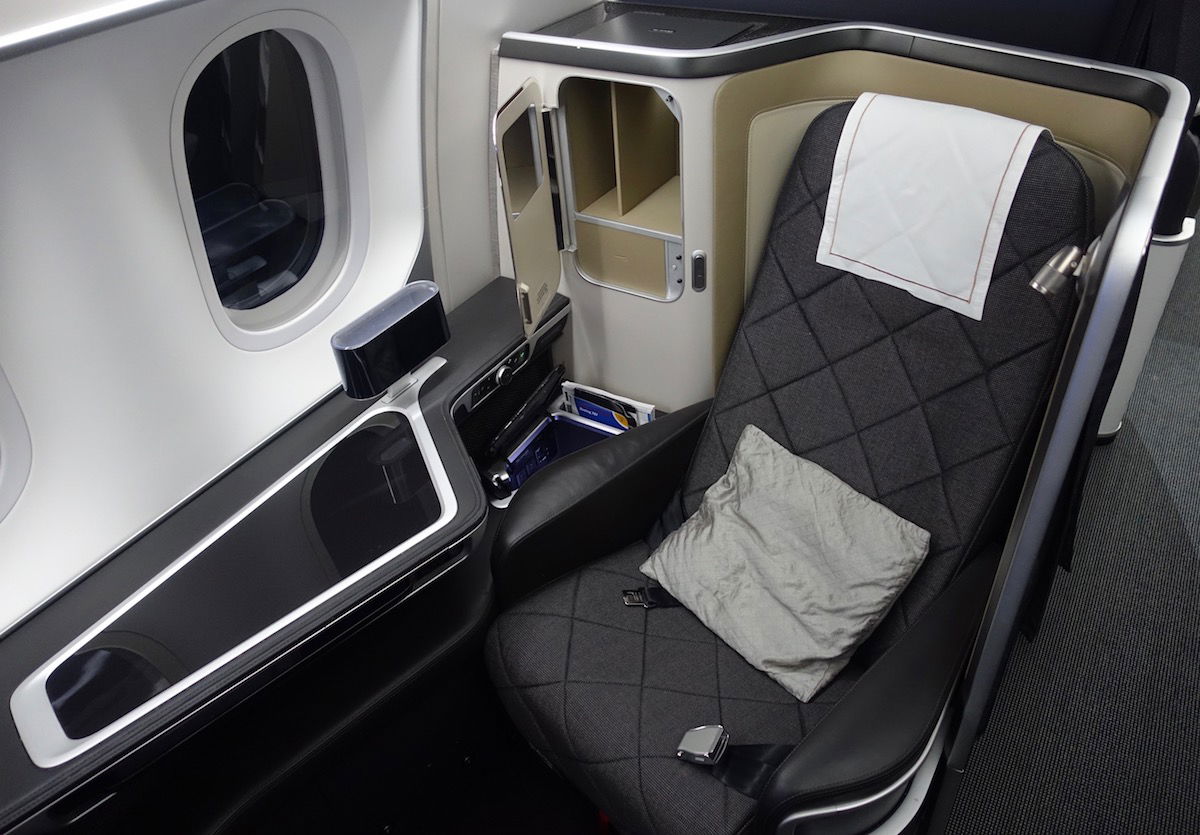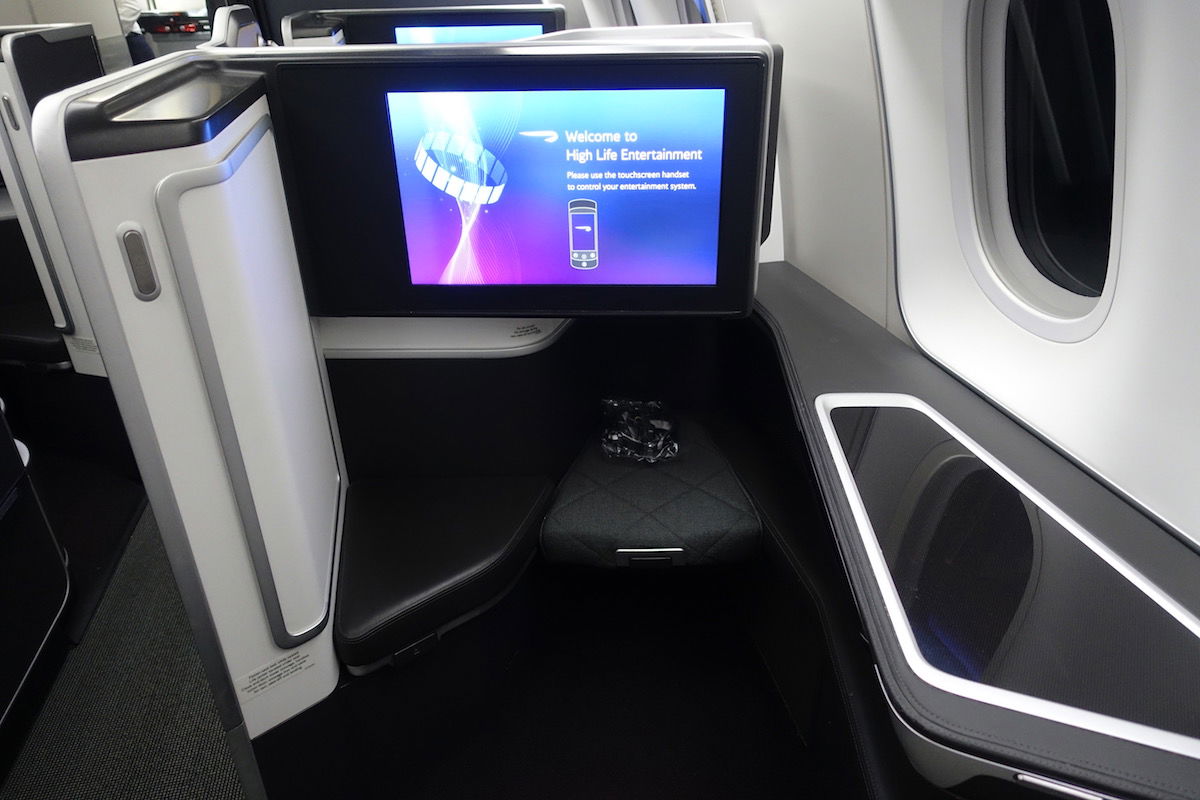 I did think aspects of the seat were poorly designed (specifically, the seat controls, and the ability to only control entertainment on the handset rather than directly on the screen), but overall I liked this stylish and intimate cabin.
This flight had dinner and breakfast, and the food was… alright. I honestly can't complain about the quality, but it also wasn't great. It was just unmemorable.
After takeoff there was a canapé consisting of cheese and prosciutto.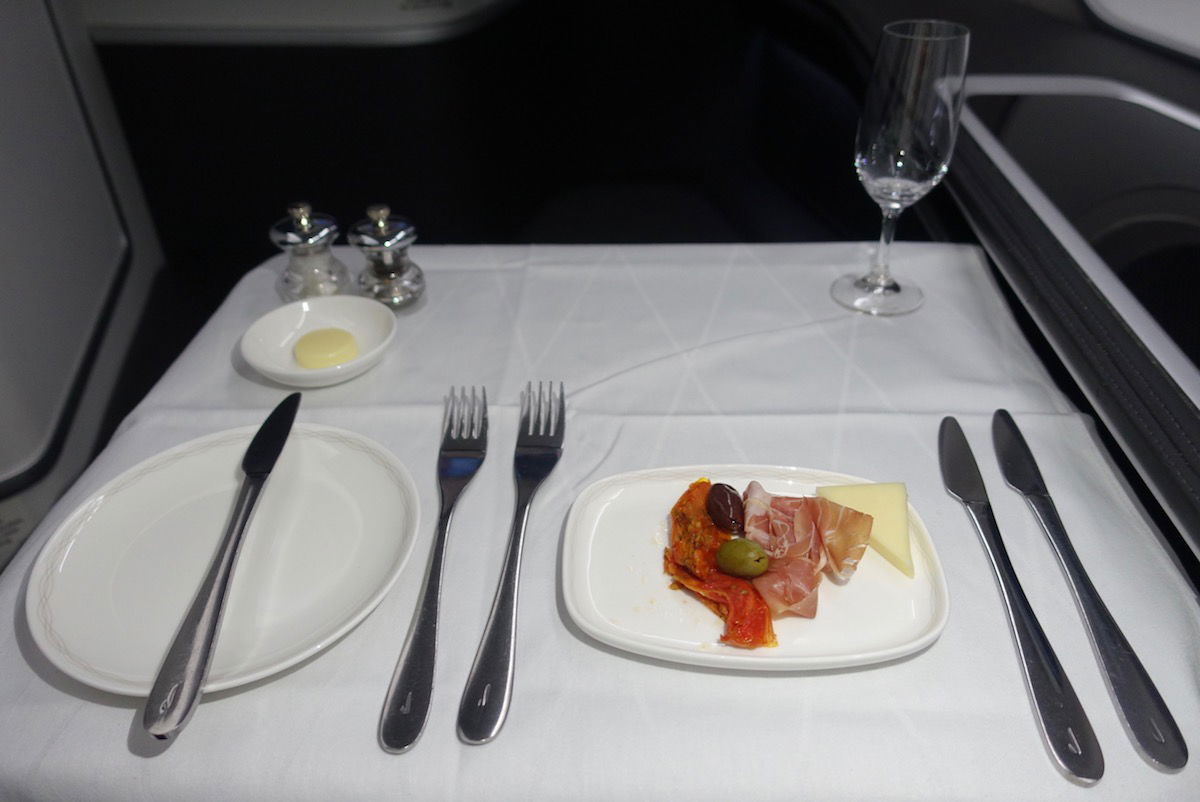 Then for the appetizer I selected the smoked salmon cannelloni with lemon puree, pickled yellow beetroot, and a little bit of caviar.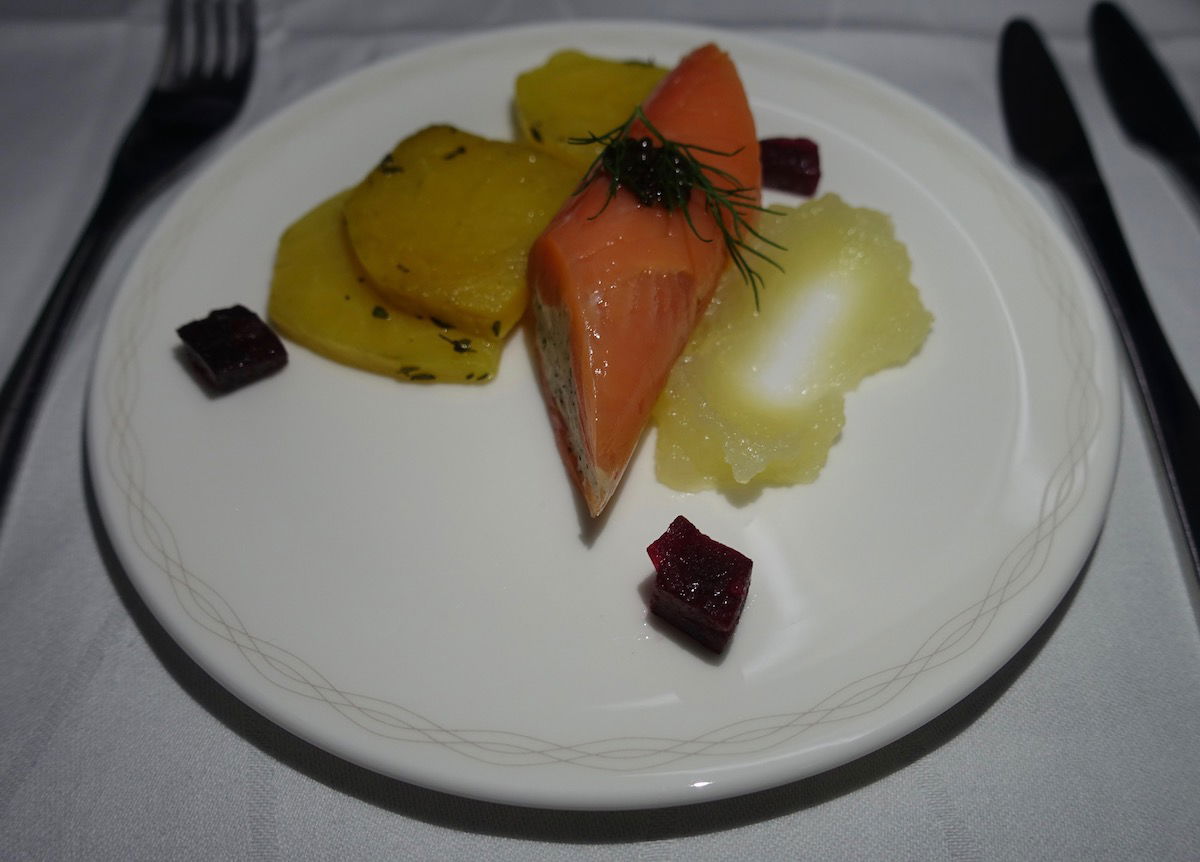 I then had a leek and potato soup, which was flavorful but watery.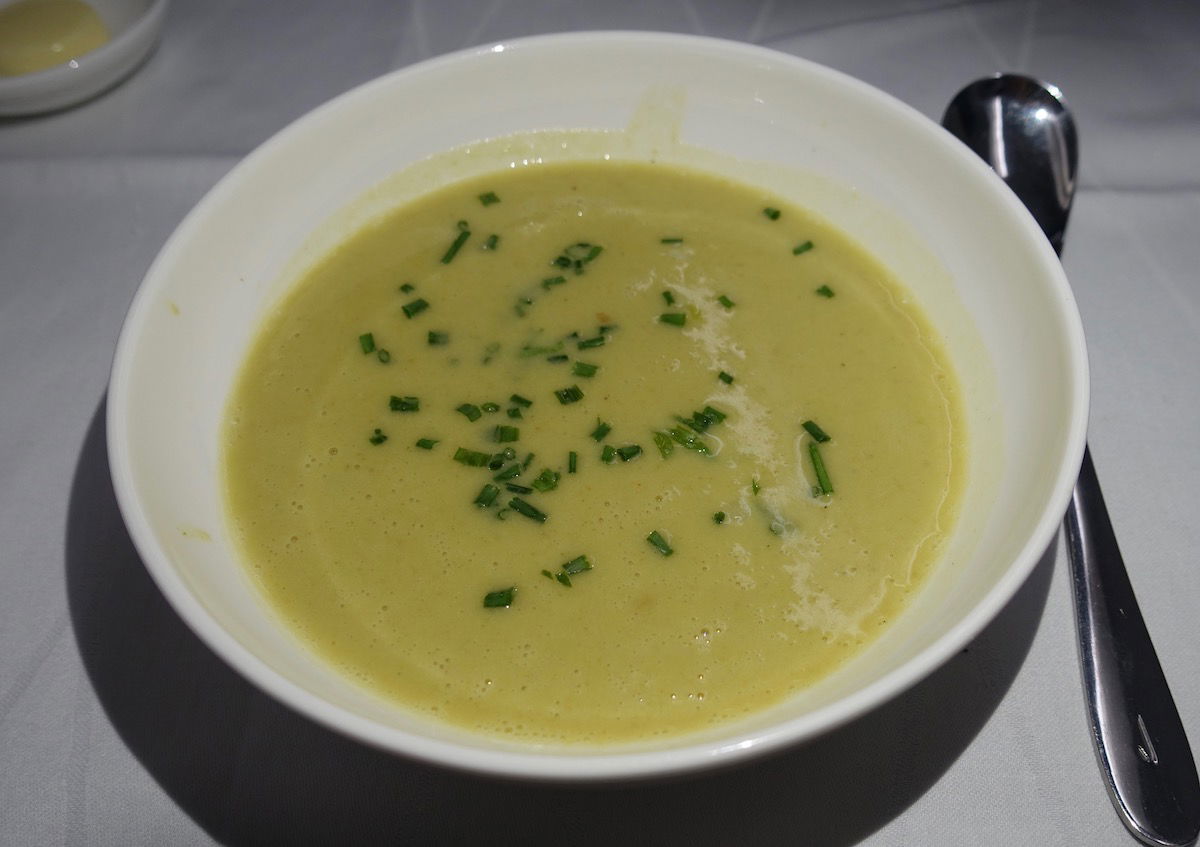 For the main course my first choice wasn't available. Maybe they were having a bad day, though I'd note that the only airlines I've flown in the past couple of years in first class where I didn't get my first choice were China Eastern and TAAG Angola.
So I had the chicken kiev with spicy tomato chutney, herb roasted fingerling potatoes, and shallot jus. Usually I'm not a huge fan of breaded chicken, though it was the most appealing sounding to me of the non-fish options.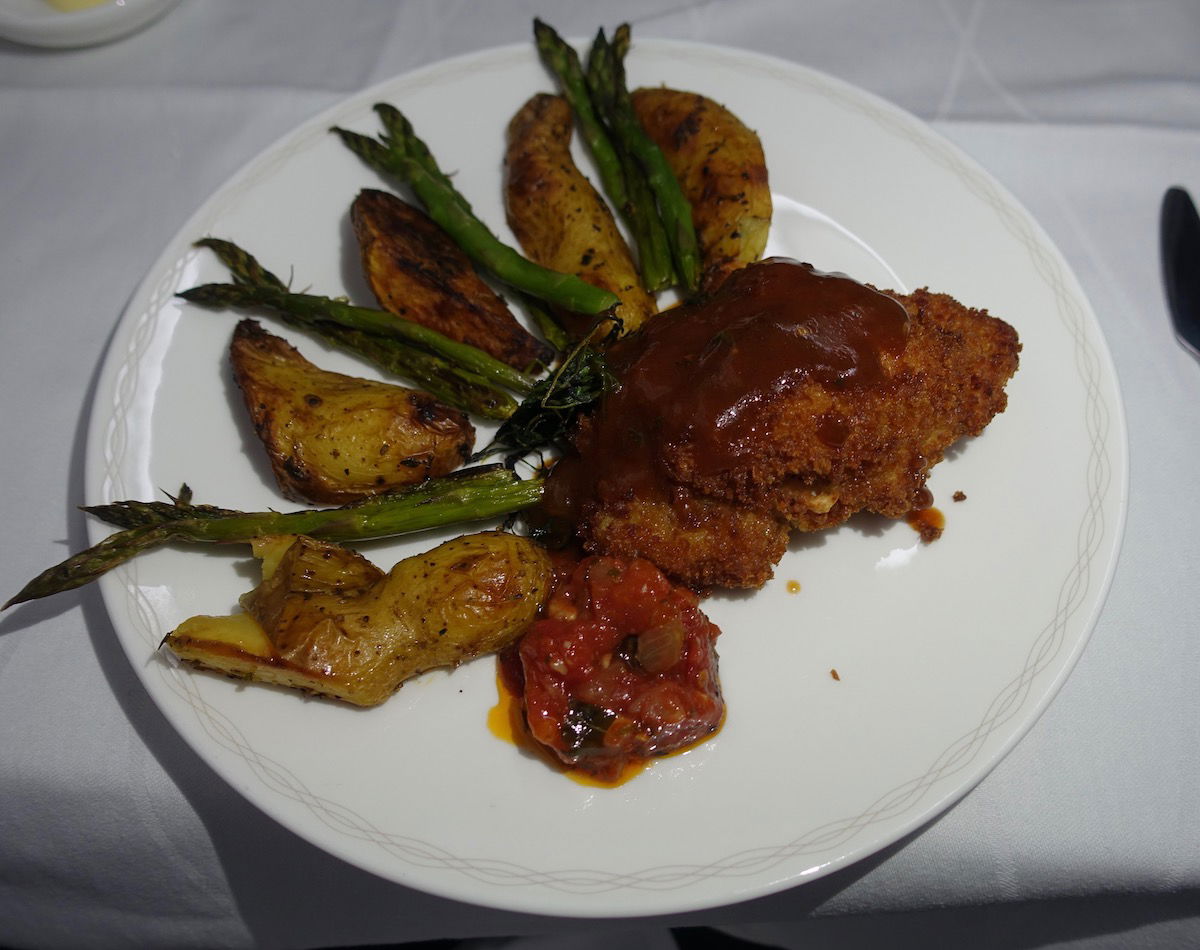 Then for dessert I had a lemon tart with lemon curd and strawberry, which was excellent.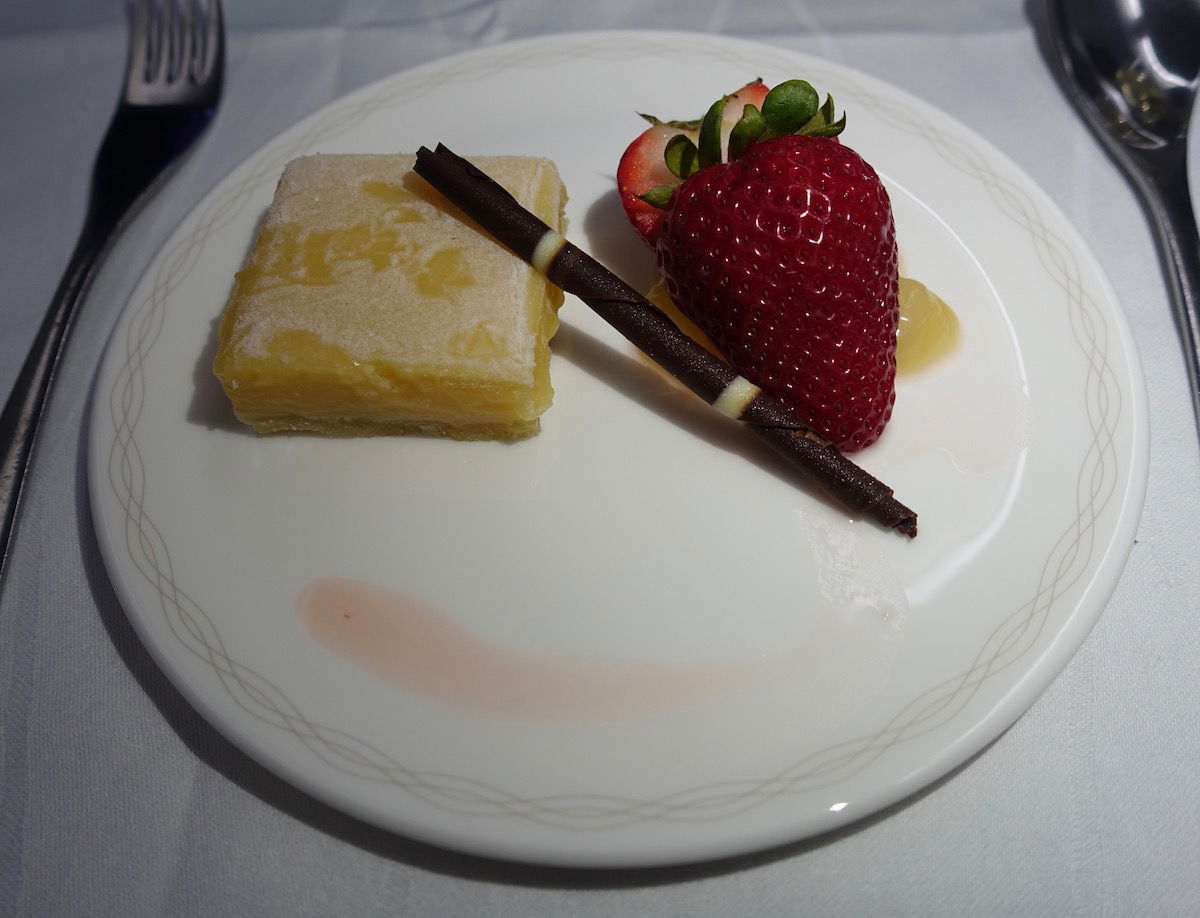 Overall the food was alright. Both the quality and presentation simply weren't on par with what you'd get on Air France, Lufthansa, or Swiss (the other European airlines offering first class on transatlantic flights).
British Airways serves Laurent-Perrier Grand Siecle champagne in first class, which is lovely.
The bed was comfortable, and as a side sleeper I could sleep in just about any direction without feeling restricted.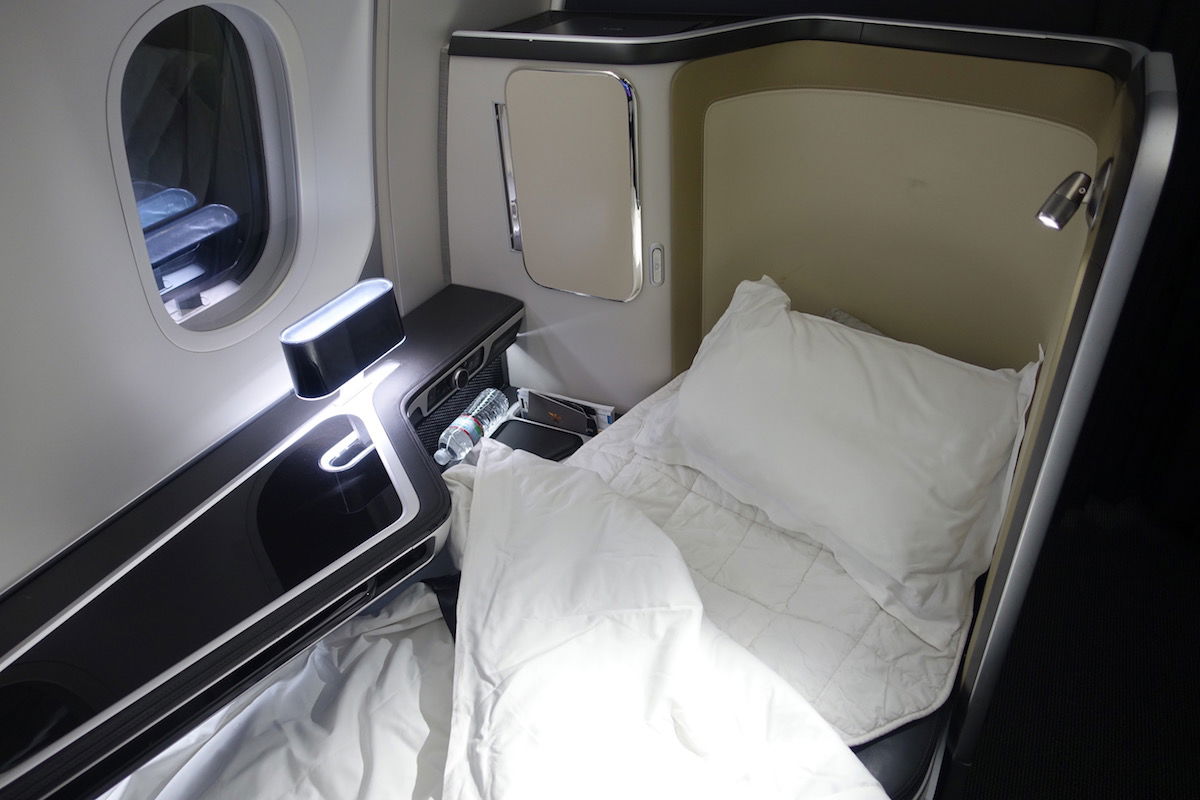 The amenities were also good — I quite like British Airways' pajamas (though don't put them in a dryer, as they shrink), and they amenity kit is also good.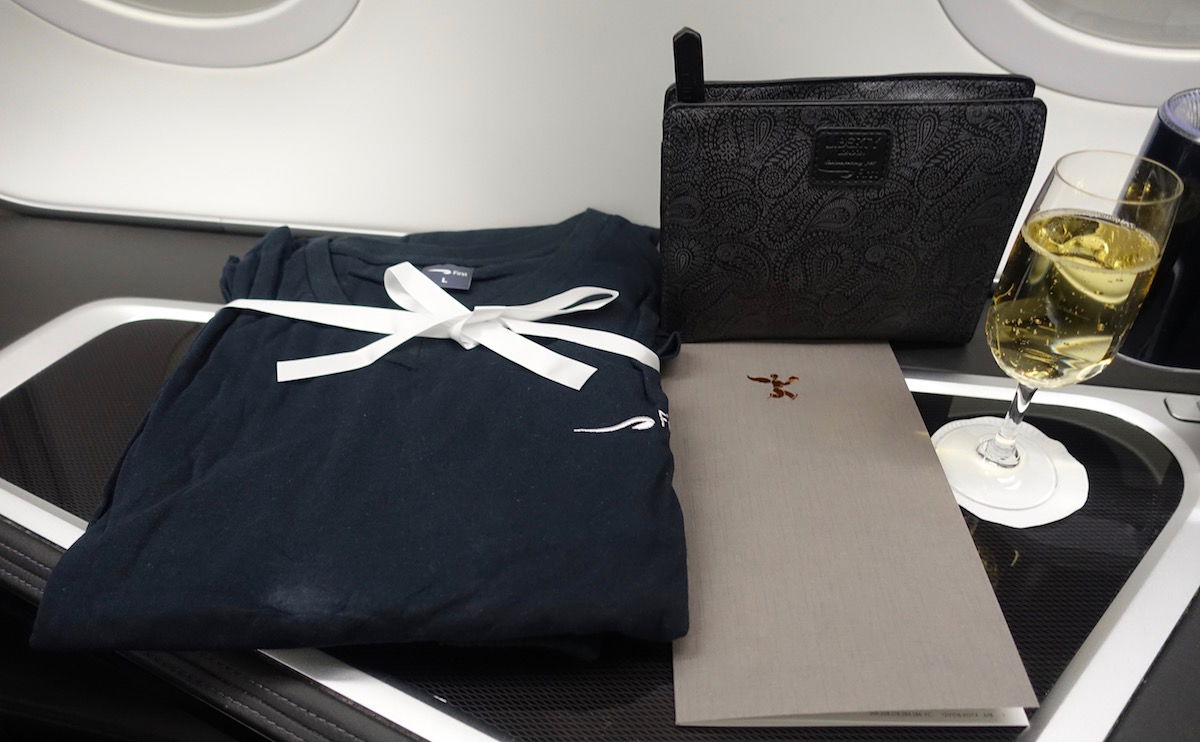 On the service front, this flight is operated by British Airways' "mixed fleet" crews, which are the flight attendants British Airways hired on ridiculously cheap contracts. Many have referred to their pay as "poverty wages." Flying with mixed fleet crews sort of feels like it's "bring your kid to work day," only they leave the parents at home. Half of the crew were probably teenagers, and I'd guess only one flight attendant was older than me.
I don't mind that because they're actually more enthusiastic and well intentioned, and this crew was no exception. However, it also means the service isn't terribly polished. I was never addressed by name, and very few aspects of the service were proactive. It felt more like a decent business class service than what you'd expect in first class.
However, they always quickly took care of any requests I had, and they were genuinely friendly, so…
Where does that leave British Airways' 787 first class? I quite like their 787 seats, as the cabin is intimate and sleek. The food was alright and service was alright, though the soft product basically makes you feel like you're in a really good business class. I'd say the only thing about this product that's truly first class is their champagne.
British Airways continues to rank last when it comes to transatlantic first class products from European airlines. Air France is best, followed by Lufthansa and Swiss, and then British Airways is a distant fourth.
However, it is worth acknowledging that British Airways first class is more readily available than the rest using miles — Air France first class awards can only be booked by elite members of the FlyingBlue program and the cost is 200,000 miles one-way, Swiss first class awards can only be booked by Miles & More elite members, and Lufthansa first class can only be booked through partner frequent flyer programs at most 15 days out. Meanwhile British Airways first class is easier to book in advance, assuming you're willing to pay the $500 one-way fuel surcharges.
If you've flown British Airways first class, how does this compare to your experience?