I had a comically unlucky travel day yesterday. I had booked a nonstop flight on Delta from New York (JFK) to Tampa (TPA), though that's not how things played out. It has been some time since I've had major irregular operations, so to be honest I almost enjoyed the whole ordeal, as it made me appreciate how smooth my travels usually are.
Delta cancels my New York to Tampa flight
I woke up bright and early on Sunday morning for my 7:35AM flight from New York to Tampa. Unfortunately I had received a text from Delta overnight, indicating that my flight had in fact been canceled, and I was rebooked on an itinerary through Atlanta that would get me to Tampa around 12 hours behind schedule.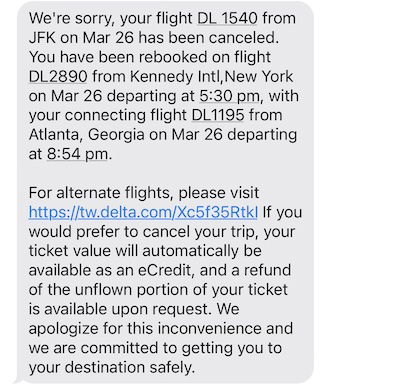 I didn't want to stick around for that long, and after browsing options, I confirmed Delta simply had nothing available earlier that would get me to Tampa at a reasonable hour. So I refunded my Delta ticket, and instead booked American for an itinerary from New York to Tampa via Charlotte. It wasn't ideal, but it would depart around 10AM and arrive around 2PM, so it was better than the Delta option… or so I thought.
A question for Delta flyers — is it normal for the airline to lack transparency about the cause of cancelations? United is very upfront about the reason for flight cancelations, but there was nothing on Delta's website indicating why the flight was canceled. Heck, even ExpertFlyer's flight status notes don't show any reason.
Weather in New York was fine on Sunday morning, though I know there were some delays the evening before.
My New York to Charlotte American flight diverts
Everything was looking good. I checked in for my American flight, we took off on schedule, and we initiated our approach to Charlotte… and then we entered a holding pattern. The captain announced that Charlotte Airport had shut down due to thunderstorms in the area, and we'd need to divert to Raleigh to refuel and regroup. Just under two hours after taking off from New York, we touched down in Raleigh.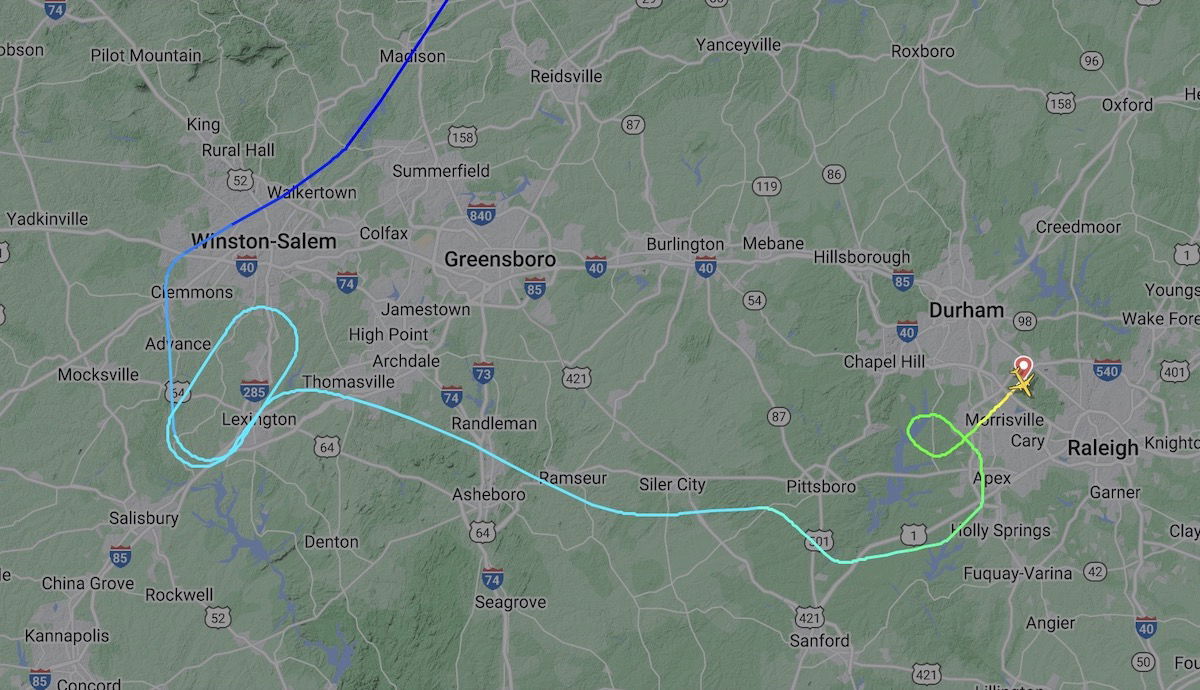 The timing here was unlucky, because the airport did end up reopening a short while later. Planes that left shortly before us and shortly after us landed in Charlotte just fine, though we were in that brief window of flights that couldn't be accommodated.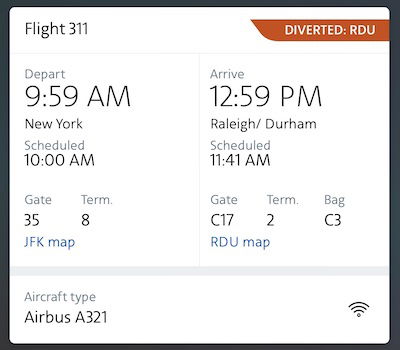 We spent just over an hour on the ground in Raleigh. First we had to wait for a gate, then we had to be refueled, and then we had to wait for clearance to depart.
The captain did a phenomenal job keeping passengers updated to the best of his ability, and making passengers feel reassured. I can't necessarily say the same about the flight attendants. They all seemed to be new hires, and they spent the time on the ground enjoying their own meals, complaining about being on reserve, and talking about how annoying some passengers were being. Even in first class, there wasn't even water offered while on the ground.
Shortly after 2PM, we were cleared to depart to Charlotte. Around 75 minutes later we landed there, nearly three hours behind schedule. The only thing the pilots didn't do a great job with was that landing. 😉 It might have been the roughest I've experienced in my millions of miles of flying.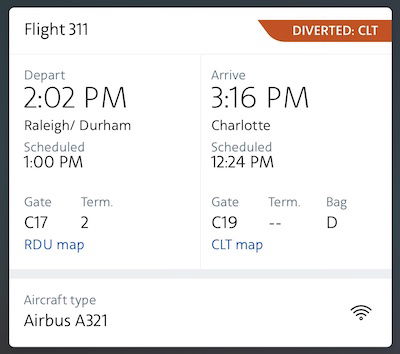 The joys of Charlotte during a weather event
Charlotte is by far my least favorite American hub. Even under normal circumstances it offers a terrible passenger experience, with an uncomfortable level of crowding, and one of the worst Admirals Clubs in the system. American just doesn't try in Charlotte when it comes to passenger experience.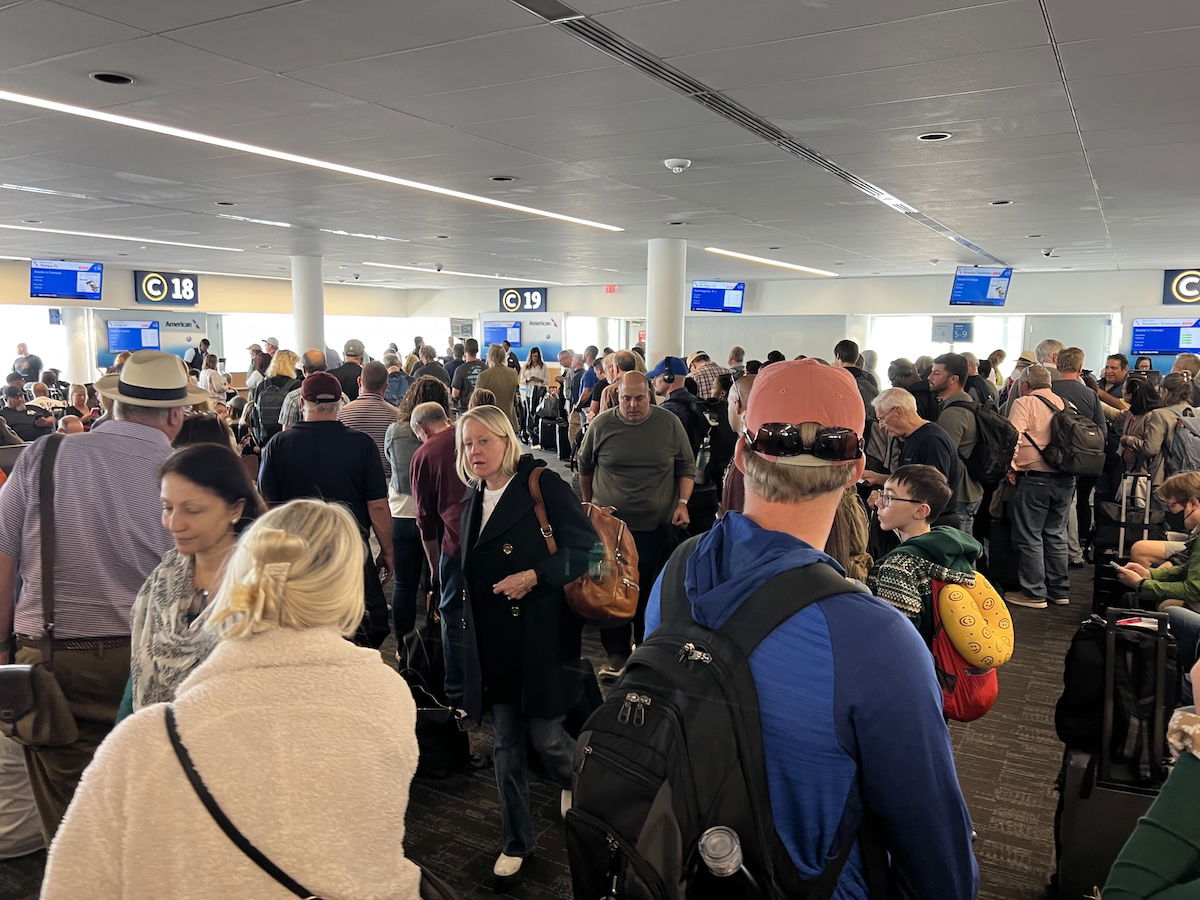 When you add in any sort of irregular operations, Charlotte gets even worse. While on the ground in Charlotte, I had rebooked on a 6:25PM Charlotte to Tampa flight, since I'd be misconnecting there. I had analyzed all the flights that I could potentially rebook on, and decided that one had the best odds of departing on-time (and that ended up being true).
That did mean spending about three hours at Charlotte Airport, which wasn't very pleasant, even in the Admirals Club. I was luckier than most, as the lines for the customer service desks must have been half a mile long.
A strong finish for the evening
By comparison to the rest of the day, things finished rather smoothly. The flight from Charlotte to Tampa boarded on-time. We initially didn't have pilots, and on top of that when the pilots did show up, they said there was a minor maintenance issue. Despite that, we managed to depart only around 35 minutes late, and arrived in Tampa around 50 minutes late.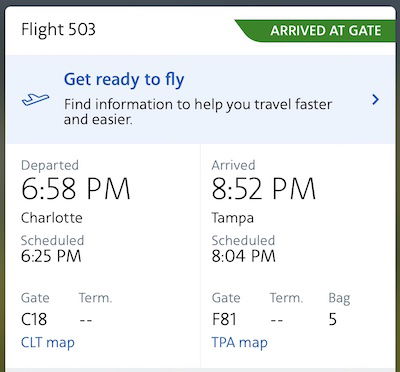 Perhaps the most interesting part of this flight is that there were 11 people connecting in Tampa, including the lady next to me. The group had also dealt with irregular operations, and was trying to get from Charlotte to Baltimore. The only thing that was available was Charlotte to Tampa to Washington. Fortunately they held the connecting flight for that group, or else they would have been stuck in Tampa.
Rather than landing at 10:37AM, I arrived at 8:52PM. What impressed me most is that I had a checked bag, and that was automatically rerouted onto my flight, and showed up at baggage claim. That could have gone much worse.
Bottom line
Some travel days are rougher than others, and for me, yesterday was one of those days. I was supposed to take a three hour nonstop flight, but ended up getting to Tampa well over 10 hours behind schedule. My Delta flight canceled, my American flight diverted, and then I misconnected.
Truth be told, I sort of enjoyed the day. I like flying, I don't mind a bit of excitement, and I also enjoy observing people. There was lots of all of that yesterday.
Anyone else have a rough travel day yesterday?