---
Following up on my review yesterday of Lufthansa first class, I asked my friend and travel companion Tiffany to share her thoughts on the experience as well. As a self proclaimed Lufthansa cheerleader I figured it would be fun to get a different (and perhaps more unbiased) perspective of Lufthansa first class.
Thanks for sharing your thoughts, Tiffany!
I set out to write a "Devil's Advocate" review on Lufthansa, given that while Ben is one of the most sincere people I've ever met, when it comes to Lufthansa he's not necessarily what one might call a "reliable narrator."
I quickly realized that without the context and backstory my perspective wasn't especially valuable either, and this somehow snowballed into something much lengthier than I was intending.
So please bear with me, as this is more than a little long, and I don't make a habit of writing in general, much less long-form narratives or trip reports.
To start, I should probably explain that being friends with Ben is every bit as fun and awesome as you might think, with two very small disclaimers (neither of which will come as any surprise to you):
He likes to have passionate discussions about things that really don't matter.
And he loves Lufthansa.
So it's not uncommon for us to be walking down a city street, or riding an airport shuttle, and have him catch my attention and state with a mischievous smirk, "Lufthansa is the greatest airline in the world."
It's like baiting a bear, and I nearly always fall for it.
"Seriously. Lufthansa is the Greatest and Most Perfect of all airlines."
"Better than Cathay Pacific?"
"Absolutely."
"So, you're saying angled-flat seats that are fewer than 20 inches wide are better than full-flat reverse herringbone seats that are 60% wider?"
"Of course not. We're not talking about business class."
"Okay, so I will concede that for up to eight passengers per flight, on the ~60% of the fleet that has been reconfigured, when departing from Frankfurt, that Lufthansa offers a great first class."
"The Best First Class."
"Does that include the catering? How does it compare to Air France or Asiana?"
"Whatever. Those are outliers. Lufthansa is the greatest airline in the world."
And so on.
To be clear, I don't dislike Lufthansa. I've flown a half-dozen longhaul segments in their First Class in the past year; I love the bedding, the caviar service, and the international WiFi, and for the most part my crews have been at least decent.
But I also don't have orange and blue pompoms affixed to my hands, and I think that the experience is markedly different for some travelers than others.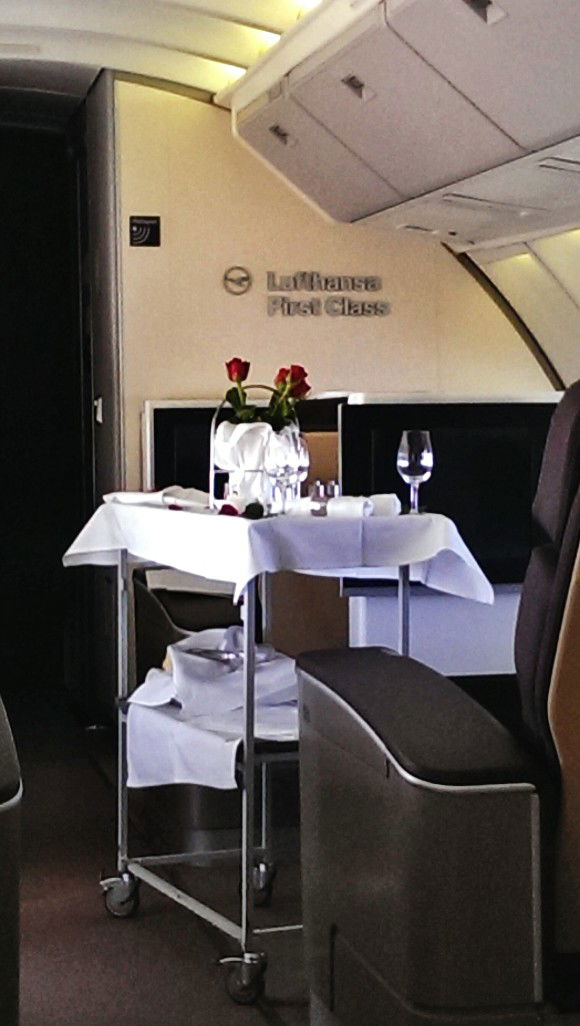 It seems to me that much of it comes down to language barriers, rather than the "German Country Club" approach so many fault Lufthansa for having.
It's one thing to be competent in a second language, and quite another to be comfortable enough to be warm and effusive to someone in their native tongue. So that "perfect balance between being professional, attentive, and personable" is more difficult to achieve for non-German passengers, which is totally and completely understandable.
But also something my blue-eyed best friend with his burgundy passport has absolutely no context for.
While we've flown some fun products together, schedules have never quite worked out for us to finally settle the argument by flying Lufthansa, so when the opportunity presented itself to book Lufthansa First Class more than 15 days out, we snatched up two Vancouver-Munich tickets.
Of course, this is travel with Lucky, so we didn't ultimately fly Vancouver-Munich.
The morning of departure began with the following exchange:
Ben: Our YVR-MUC flight is 8/8. Wanna switch to YVR-FRA @ 16:10?
Me: Love the separate bed on Lufty, and empty cabin means more caviar.
Ben: Booking now then – want to call LifeMiles to cancel other tickets? 😉
Me: Gee. Thanks.
Ben: Best. Airline. EVER!!!!!!!!!!!!!
I was already in Vancouver, so the plan was to just meet at the airport. I am not a professional blogger, so I don't have photo evidence, but check-in was an absolute cluster. Lufthansa uses contract workers in Vancouver, but I tend to find Lufthansa's ground services to be a major weak point regardless, so that probably doesn't make a difference.
Ben has scolded me for this in the past, and as one of his main arguments is that I'm not properly taking advantage of the benefits of the Best Airline In The World, I proactively asked if there was an escort through security.
"Umm. No. Just show them this sticker."
Okay then.
Needless to say, the security queue experience was less than pleasurable, and it ultimately took over 45 minutes to get from the check-in desk to the Plaza Premium Lounge.
A far cry from what is advertised on the Lufthansa website:

Traveling with Ben is always an interesting experience, mainly because he is working all the time.
Literally.
During the two hours we spent in the lounge (nearly all of which I spent on the phone with Avianca trying to cancel our later tickets to Munich), he was either up and taking pictures, calling airlines for clients, or frantically typing.
It's insane.
The picture-taking is the most challenging/awesome part though. One doesn't so much "walk to the gate" with Ben when he's in "Lucky The Travel Blogger Mode" as much as participate in an incredibly complex dance through the terminal.
Move forward twenty feet.
Departures board.
Avoid the moving sidewalk – too crowded.
Ooh! An Air New Zealand 777!
Five feet further.
Good view of the concourse.
Fifteen feet this time.
Nice seating area.
And so on. I love it, but it's a bit of a tripping hazard. 🙂
We waited at the gate a bit prior to boarding, which was a bit surprising to me. When I've flown Lufthansa in the past I've always been the first to board, which is particularly efficient on the 744.
You have only a few people going upstairs, so it really doesn't make sense to have your first class passengers wait for pre-boards, etc., but this time we were asked to wait, and ultimately First Class passengers were invited to board, along with what seemed like every Business, HON Circle, Senator, and Star Gold traveler.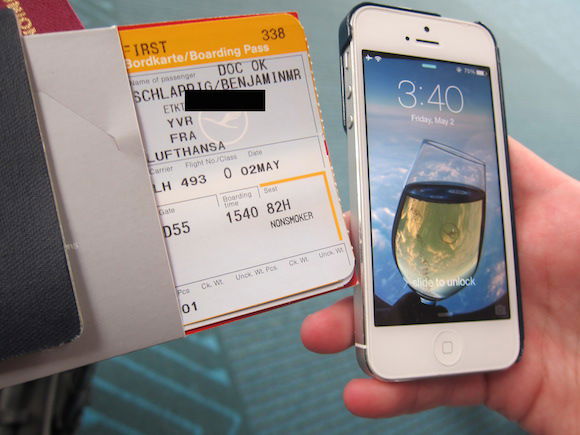 Not exactly a pünktlich boarding…
Once upstairs, we dropped our bags in the galley and headed towards our seats. Ben had some grand strategy for changing our seat assignments, which was made easier by the fact that the power wasn't functioning in my original seat.
Or something. I didn't catch all of it, because the conversation was, of course, in German.
Which, to be clear, was fine by me! After all, I've been asserting that the Lufthansa First Class experience is different in German than in English, so I was perfectly content to let Ben do the bulk of the talking, and I was prepared to litter the conversation with smiles, Bittes, and Dankes as appropriate.
Of course, that plan was ruined about five minutes in with a laugh and a clipped "Sie spricht kein Deutsch" from my travel companion.
So much for science. 😉
It's probably worth noting at this point that I am incredibly shy, and really don't like to ask for things – not even when flying an international premium cabin where making requests is more than appropriate, so I tend to appreciate a crew that is more proactive than reactive.
And my number one pet peeve on an airplane (and something that has become a bit of a game when traveling with Ben), is not having my jacket taken and hung.
I never ask, but that's a basic service that I expect to be proactively offered. Heck, frickin' Alaska Airlines will take your coat, and they consider water in a plastic cup to be a pre-departure perk!
So as we were settling in to our seats I set my jacket on the bed, then began trying to take a good photo for instagram organizing some of my other things. Ben did the same, and the flight attendant promptly came by and offered to take his jacket.
Emphasis on his jacket. Mine stayed on the bed.
"Did they ask to take your coat?"
"Nope. What am I missing?"
"On the bed it looks like you want to keep it. There's a hook, you know."
Thus began the theme of "Lufthansa First Class: You're doing it wrong" from my travel companion.
Which wasn't really unexpected, if I'm being honest.
One thing I do love about Lufthansa is their entirely inoffensive selection of Champagne. I'm not a champagne expert, but I always prefer interesting offerings (even if non-vintage) to the "It's Dom Perignon, so it must be good, even the 2003" approach.
That being said, the Taittinger made for an excellent start to the evening. 🙂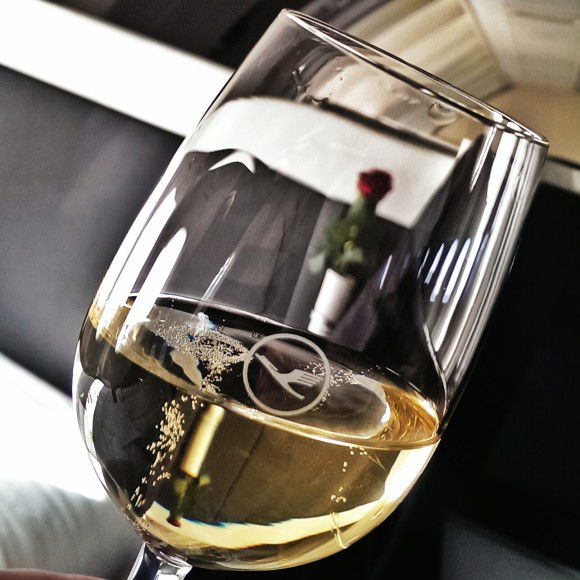 It's interesting to note that neither the pilot nor the purser ever introduced themselves on our flight.
That's not something that necessarily bothers me (see earlier comments about being shy), but it's probably worth mentioning nonetheless. Lufthansa prides themselves on their consistency (and that's always one of Ben's main arguments in favor of the airline), but I haven't actually found the service to be as flawlessly executed as he has, though granted he has a much larger sample size.
On one of my last Lufthansa flights, for example, we had the following exchange: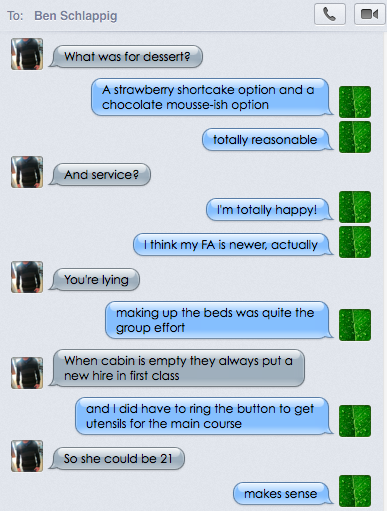 Yes, I do have the Hong Kong sweater as a default picture for Ben. Everyone should, really.
After a glass of Champagne (or two – I was trying to keep up with Ben, afterall), I excused myself to change into pajamas. Upon returning, I found Ben had changed as well, and the flight attendant was hanging his clothes in the galley.
"Wait. They do that on Lufthansa?"
"Of course. Don't be ridiculous."
"How would I know that?"
"What you don't understand is that the German culture is incredibly low-context. I glanced at the galley, then at my clothes, and she promptly took everything away to be hung."
"Seriously Ben? How the eff is that low-context?"
So, future Lufthansa travelers, if you'd like your clothes to be hung, it's apparently a matter of looking at the crew just so. 😉
Something else that is apparently theoretically possible when flying Lufthansa First Class is to have the meal whenever you'd like. I've never taken advantage, partly because that's never been well communicated in English, and partly because I don't see much point of Lufthansa catering after the caviar service.
Lufthansa is actually the largest consumer of caviar in the world, purchasing 5% of everything that's produced, and their presentation is always lovely.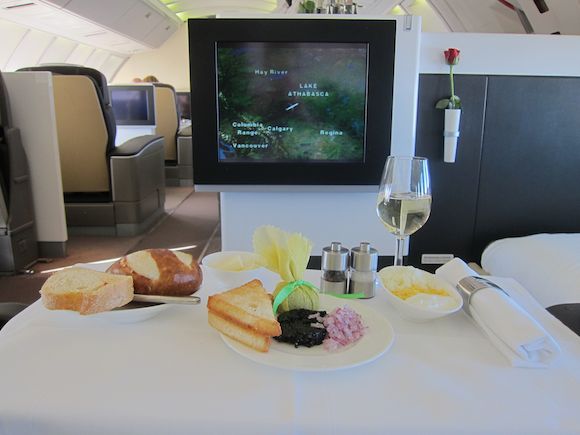 I really wish they would include a spoon though, as I always end up chasing pearls of caviar all over the plate, but other than ANA I don't know of any airline that has caviar spoons, so I should probably just get over it.
Outside of the caviar, I find Lufthansa's catering pretty skip-able, so just nibbled at things while we progressed through the champagne stores.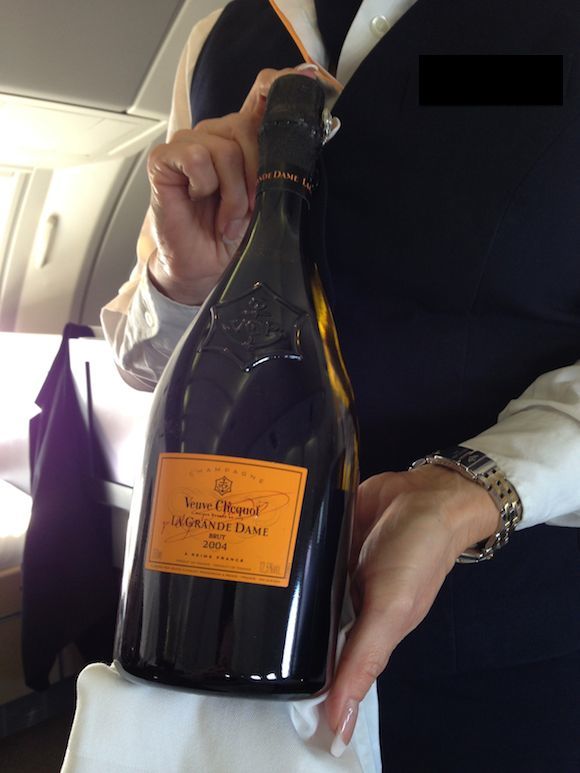 Please ignore the jacket hanging in the background. Goodness knows the crew did.
The best part of the flight, by far, was watching Lucky in his element, explaining to the passengers in Row 81 all the reasons why Lufthansa is the best airline EVAR, and doing an admirable job of enlisting their assistance in drinking the champagne.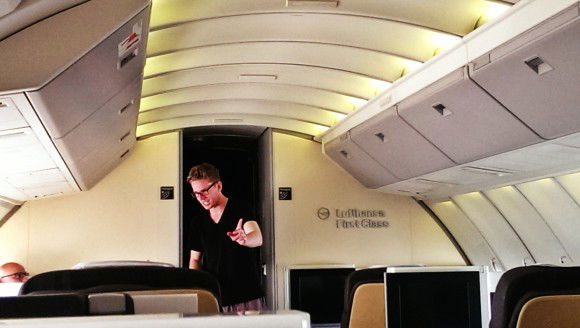 "Without question, the best airline to have ever existed. Let me tell you…"
Not having quite held up my end of the champagne consumption, I worked for an hour or so after dinner, while Ben went right to sleep.
One advantage of the 744 is the bed is pre-made, so you don't have to ask the attendant to make up the bed, though the disadvantage is the crews tend to be less interested in tidying up in the morning, and don't seem to check on the cabin as often as they might otherwise. I slept for about two hours, then woke up because Lufthansa cabins are always so hot, as my travel companion was snoring through his post-champagne nap, to get some work done.
I made a quick trip to the lav, shared a smile and a Guten Morgen with the crew, and asked for some water before heading back to my seat and opening my laptop.
And here, ultimately, is where I find Lufthansa crews often fall short, and this one in particular. Not only did said water never arrive (well, at least not until we were on final approach a few hours later), but I really feel a bit of logic could go a long way.
One, this isn't Cathay Pacific, and I do expect the crew to be keeping half an eye on the cabin. So if you see that I'm up and working, and it's only two hours prior to arrival, a quick check-in to see if I need anything, or would like some coffee, etc., would, at least to me, be something that helps to enhance the first class experience.
And yes, I realize I could have asked again, but I was more interested in seeing what the crew would do left to their own devices. And unlike the Asian airlines that want you to press the call button and ask for things, I've never felt particularly welcome to make any request on Lufthansa.
Eventually Ben woke up, at which point I was brought orange juice (unprompted, though I guess Ben may have asked for it), and still no water. The attendant then asked if we wanted eggs, which is always a tricky question for me on Lufthansa.
I mean, I don't want eggs, not on an airplane, not even if they're freshly scrambled, Sam-I-Am, but on past flights I have had "no eggs, thank you" interpreted as "no breakfast, thank you."
And I really wanted coffee.
Eventually we had breakfast, and coffee (though I had to specifically ask for more coffee), and the remainder of the flight was perfectly pleasant.
It might be worth noting that at no point did the crew make up the bed or make any effort to tidy. I'm not really sure if they're supposed to, and given the separate bed it's not like anything was in my way, but it was a bit odd to have a rumple of pillows and blankets on descent.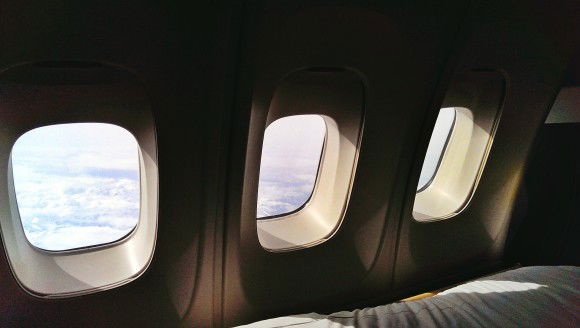 Upon landing at Frankfurt we gathered our belongings, retrieved our carry-ons from the storage area, and headed down the stairs. We were overnighting in Frankfurt, so it really didn't matter, but it's worth mentioning that unless you're arriving at a remote stand, Lufthansa's arrival and ground services are really lacking.
At no point in time were we ever informed of what lounges might be available, given directions, or guided through the process in any way. And it's not like the wayfinding in Frankfurt is particularly good if you're trying to find a lounge.
Which, we know what we're doing, and that's fine – I don't really need or expect my hand to be held throughout my travel day, but that doesn't really match up to a certain someone's claims that "the whole Lufthansa first class travel experience is the least stressful there is."
It's just less stressful for him because he's able to communicate effectively, and already knows what is going on.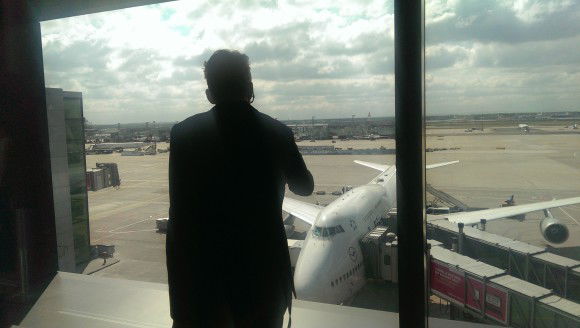 Being a travel blogger is more difficult after several bottles of champagne, apparently.
At any rate, the flight overall was fine, and Lufthansa in general is certainly the best transatlantic premium product available with miles or points.
I just struggle to award the "Best Airline In The World" title to an experience that is often less than consistent.
I'm sure Ben will find a way to "prove" me wrong though. 😉