Hilton should have a fantastic new luxury hotel opening in London, though we'll have to wait a few years…
Admiralty Arch becoming Waldorf Astoria
The Waldorf Astoria London Admiralty Arch is expected to open in 2025. For context, Admiralty Arch is one of London's most iconic landmarks — it was initially commissioned by King Edward VII in memory of Queen Victoria, and it's located at the end of The Mall, opposite Buckingham Palace, offering views of Buckingham Palace, Nelson's Column, and Trafalgar Square.
Admiralty Arch has been home to people ranging from Sir Winston Churchill (whose office was within the arch), to the author of the James Bond novels, Ian Fleming. Even today, it plays an integral role in many ceremonial occasions.
In 2012 plans were revealed for this landmark to be converted into a luxury hotel, thanks to a 250-year lease. This has moved at a snail's pace, and in 2017 it was announced that this would become a Waldorf Astoria. However, earlier this year there was an ownership change, as Investors Capital Limited sold the property to Reuben Brothers.
Under new ownership, the plan is for this project to be expedited, and the Waldorf Astoria should open in 2025. Of course I imagine construction delays are likely, given how common they are with hotels, and this is an especially complicated project.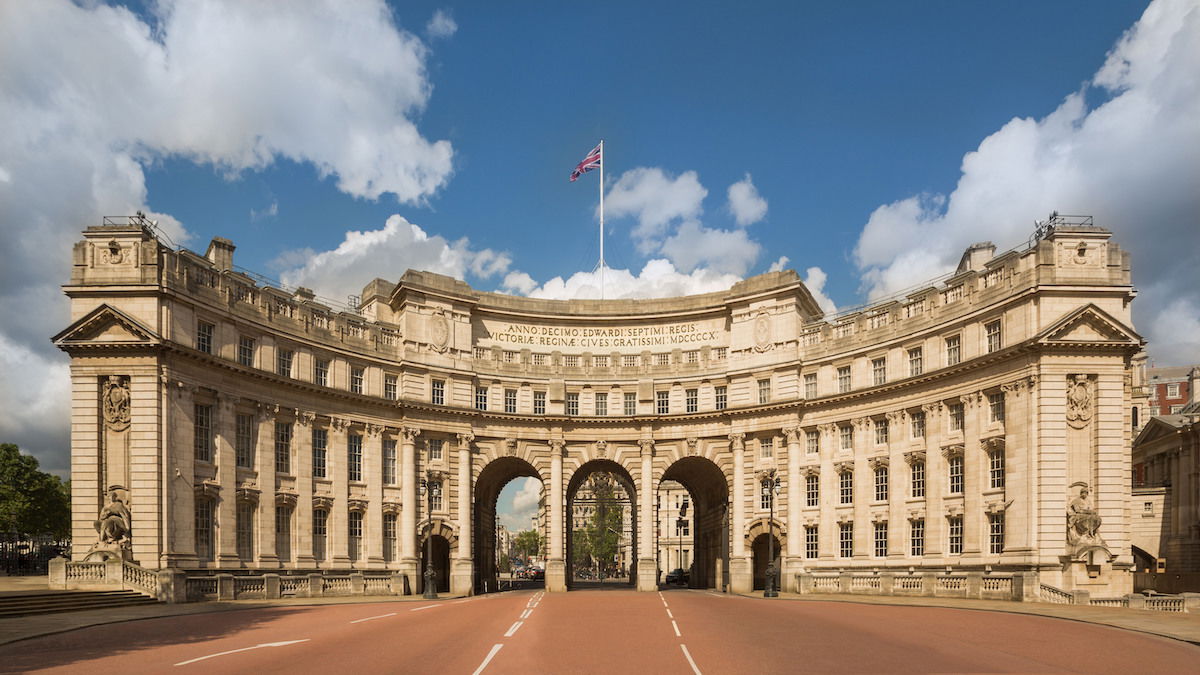 Basics of the Waldorf Astoria London
Details about the Waldorf Astoria London Admiralty Arch continue to remain limited, and we don't know exactly how many rooms the property will have. We do know that the hotel will offer "exciting restaurants and bars with world-renowned chefs," two outdoor spaces (including a sixth floor rooftop terrace and a terrace on the ground floor), and a spa.
Here's how Hilton CEO Christopher Nassetta describes this project:
"Admiralty Arch is undoubtedly one of the most iconic landmarks in London and we are delighted to be working with Reuben Brothers on this magnificent hotel. With a legacy of preserving and enhancing incredible historical buildings, Waldorf Astoria is a natural fit for this development, and Reuben Brothers' proven track record in delivering projects of this magnitude makes them a wonderful partner. Together we will write the next chapter of this exceptional building's rich story and we look forward to expanding our partnership over the coming years."
Meanwhile here's how Jamie Reuben of Reuben Brothers describes this project:
"Transforming and restoring Admiralty Arch – a true London landmark – into a five-star luxury hotel with restaurants, bars, a ballroom, spa and residences is an incredible honour for us. We are excited to be working with our esteemed partner, Hilton, to bring the Waldorf Astoria brand to the heart of London, and revitalising the area for hotel guests, visitors and London locals to experience and enjoy."
Bottom line
The Waldorf Astoria London is expected to open in 2025, as there are now new developers behind the Admiralty Arch landmark. This property sounds great, though details are very limited as of now.
It's fantastic to see the number of new luxury points hotels coming to London, between this, the Park Hyatt, and the St. Regis, among others. The Waldorf Astoria seems like the most spectacular, though, purely based on the history of the building it's located in.
What do you make of the Waldorf Astoria London?