---
Having recently reviewed Virgin Atlantic's A350 business class, I figured it made sense to also review their 787 business class. Virgin Atlantic doesn't have any immediate plans to introduce their new business class seats on the 787, so how does the "old" seat compare on a very short overnight flight?
Redeeming Miles For Virgin Atlantic Upper Class
I booked my Upper Class ticket directly through Virgin Atlantic's Flying Club program just a day before departure.
I booked the following one-way ticket for just 47,500 Virgin Atlantic Flying Club miles plus $674 in taxes, fees, and carrier imposed surcharges:
01/24 VS12 Boston to London departing 9:50PM arriving 9:30AM (+1 day) [Business]
The cost in miles is excellent, though it goes without saying that the carrier imposed surcharges (often referred to as fuel surcharges) really sting. For what it's worth, the 47,500 miles price was for a "standard" season ticket, while a "peak" ticket would have cost 57,500 miles.
Virgin Atlantic Flying Club is transfer partners with Amex Membership Rewards, Chase Ultimate Rewards, and Citi ThankYou, so there are lots of ways to easily earn miles with them.
Personally I transferred points from Amex to Virgin Atlantic when there was a 30% transfer bonus, so really the ticket only cost me 37,000 Amex points plus the taxes and surcharges.
Lastly, I should mention that I could have avoided the carrier surcharges by booking through Delta, as they don't impose surcharges for Virgin Atlantic awards originating in the US. However, for booking last minute they would have charged an unconscionable 160,000 SkyMiles (which is outrageous when there's saver award space).
Virgin Atlantic Upper Class 787-9 Review
After a nice evening in the Clubhouse, I headed to gate E8 at around 8:45PM, just over an hour before departure. This was just a short walk from the lounge, and I had a good view of the 787-9 from the gate area.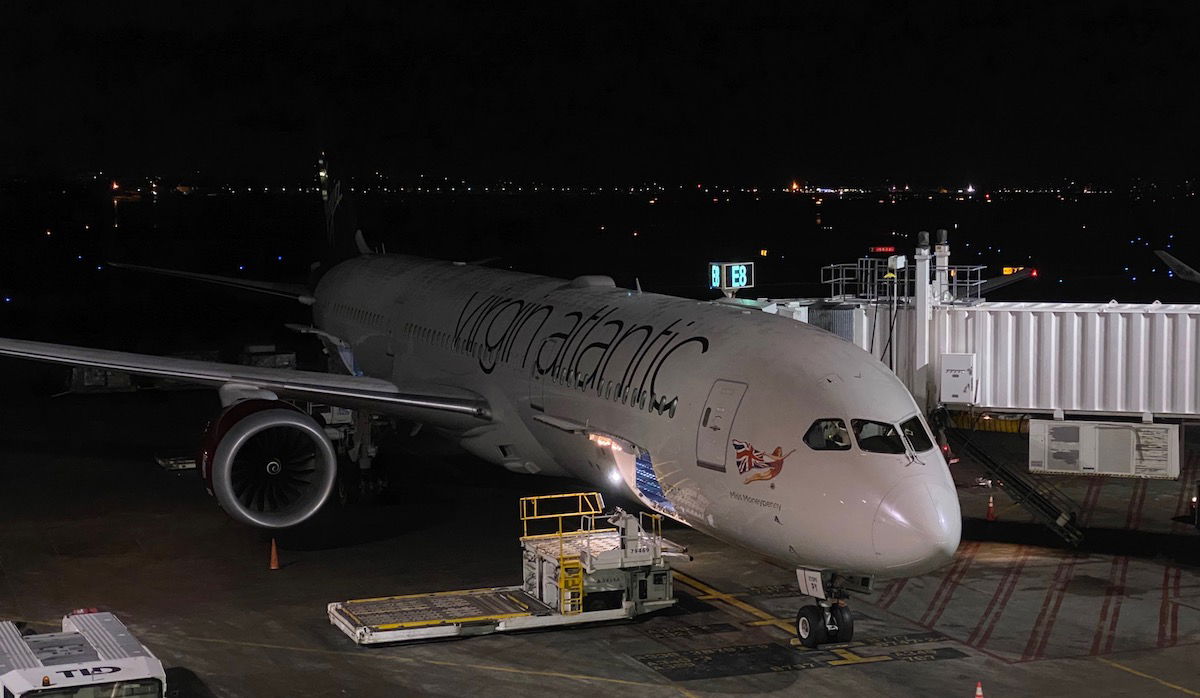 Virgin Atlantic 787-9 Boston
My boarding pass indicated that boarding was supposed to start 40 minutes before departure (at 9:10PM), though it ended up starting at 9PM, 10 minutes ahead of schedule. Now that's rare!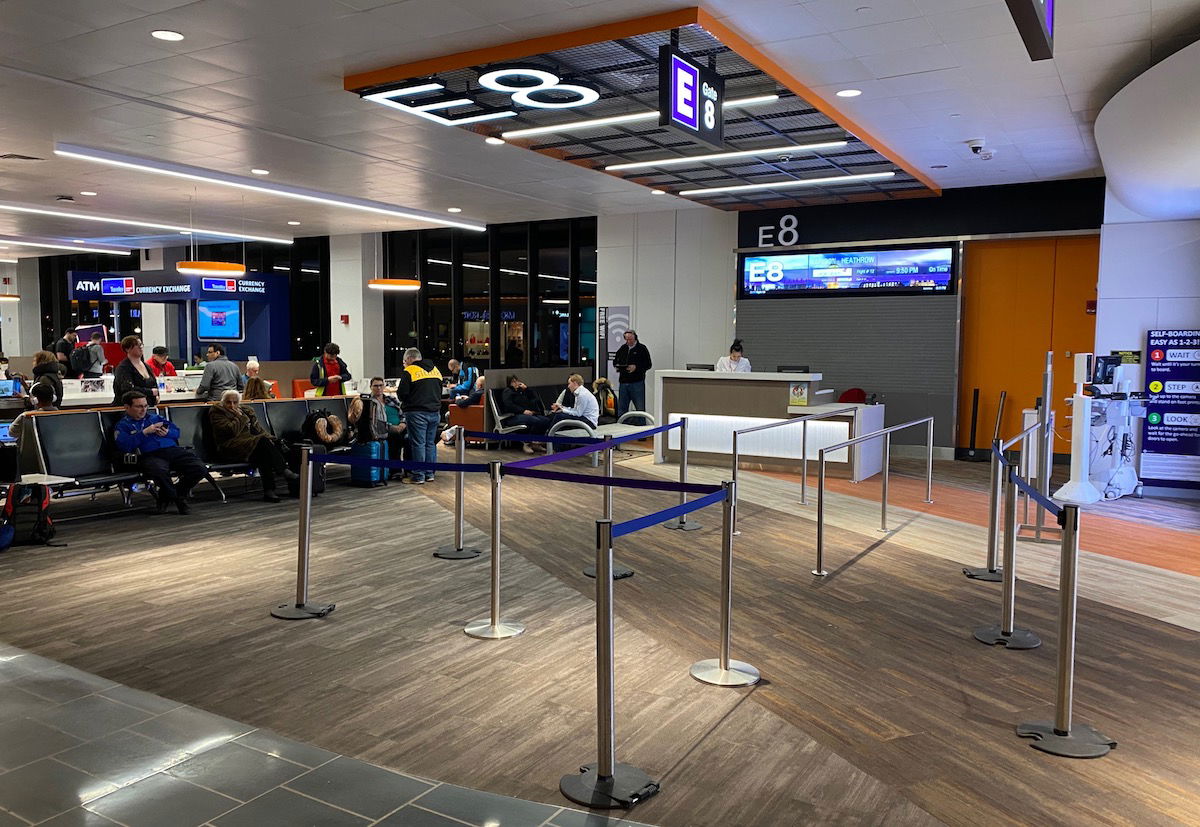 Virgin Atlantic departure gate Boston
Virgin Atlantic 12
Boston (BOS) – London (LHR)
Friday, January 24
Depart: 9:50PM
Arrive: 9:30AM (+1 day)
Duration: 6hr40min
Aircraft: Boeing 787-9
Seat: 11A (Upper Class Business Class)
I boarded through the second set of doors, and was pointed left into the Upper Class cabin by the flight manager. Right at that door was Virgin Atlantic's signature onboard bar.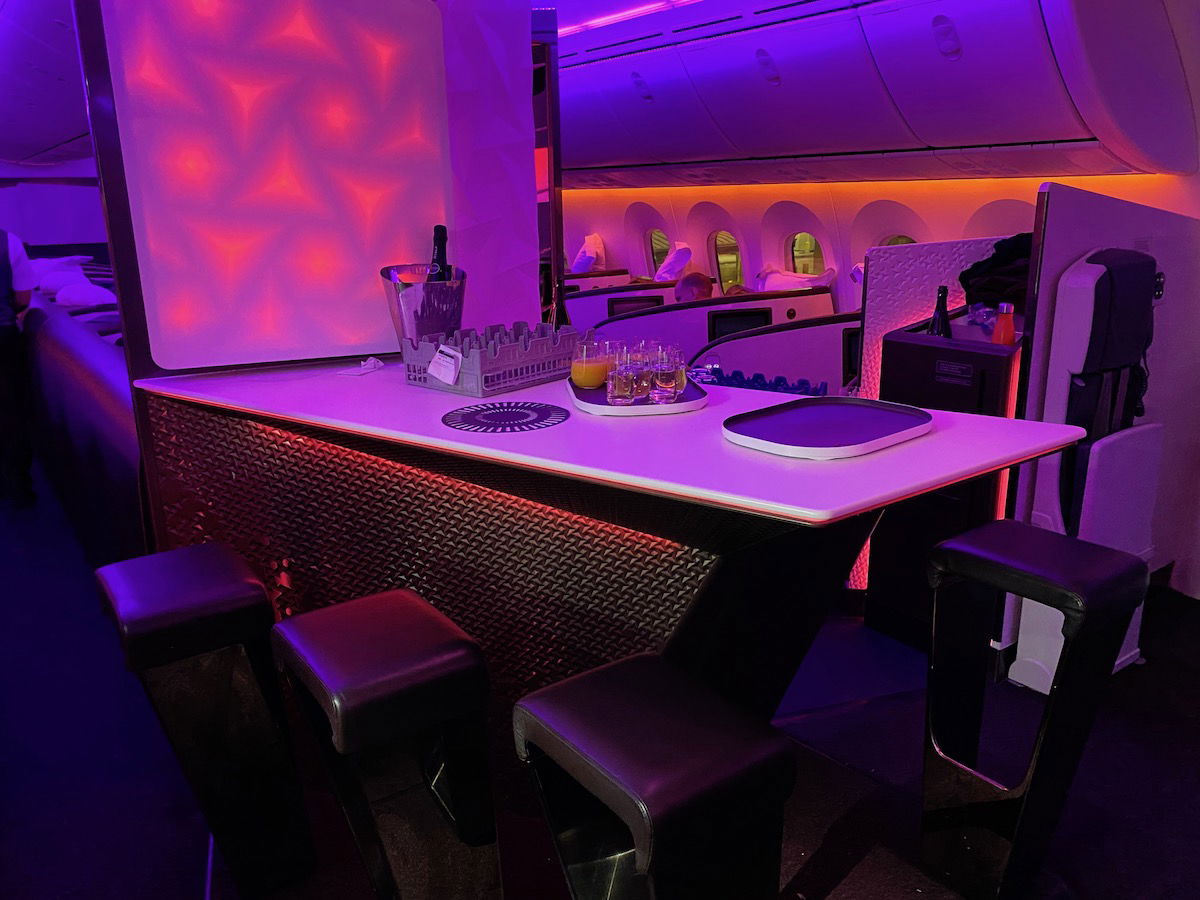 Virgin Atlantic Upper Class bar 787
Virgin Atlantic has 31 Upper Class seats on the 787-9, all located between doors one and two. There's no denying that the cabin looks incredibly swanky with the mood lighting. Though in many ways the mood lighting is just a distraction from what's otherwise a subpar business class seat.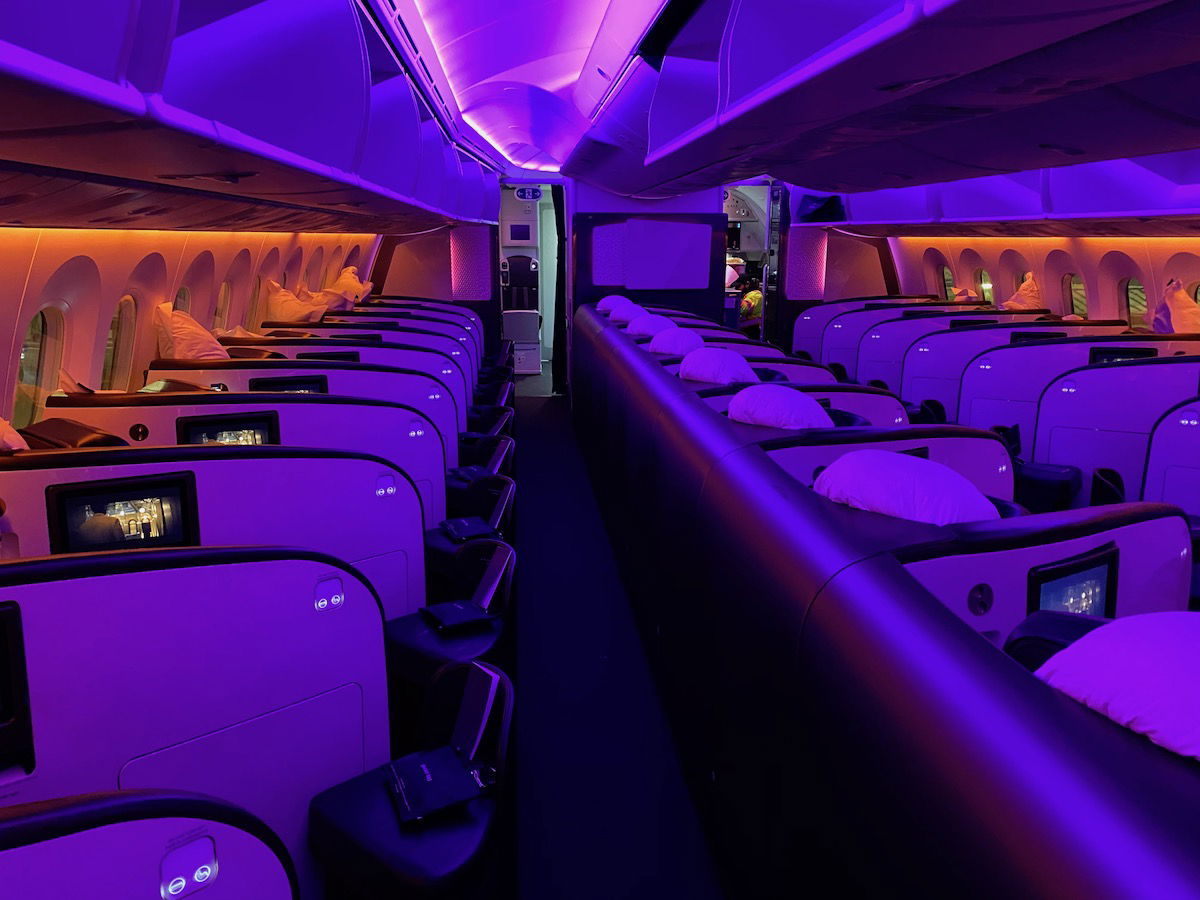 Virgin Atlantic 787 Upper Class cabin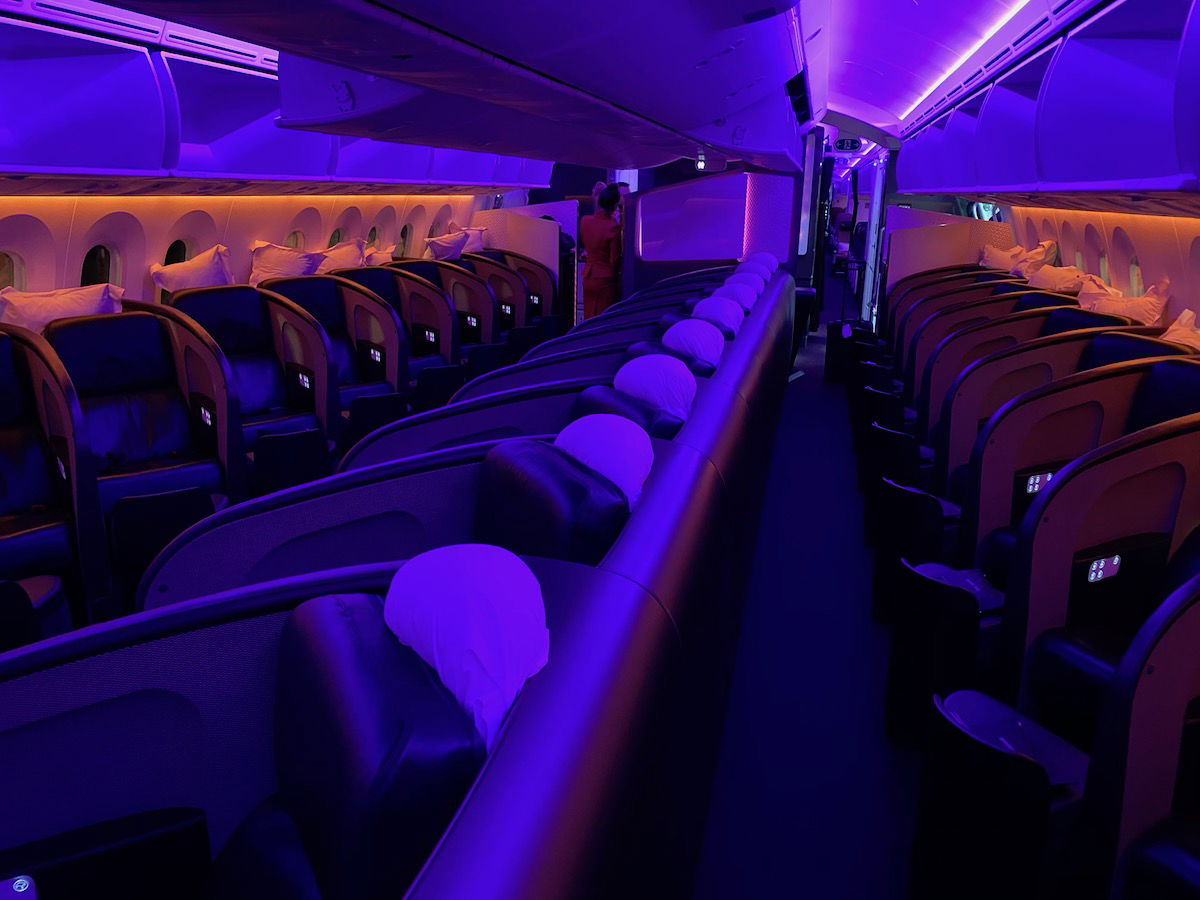 Virgin Atlantic Upper Class cabin 787
The way the cabin is configured, there are 11 seats along the left windows. These seats tend to be booked the fastest, since the seats on the left have an aisle all to themselves.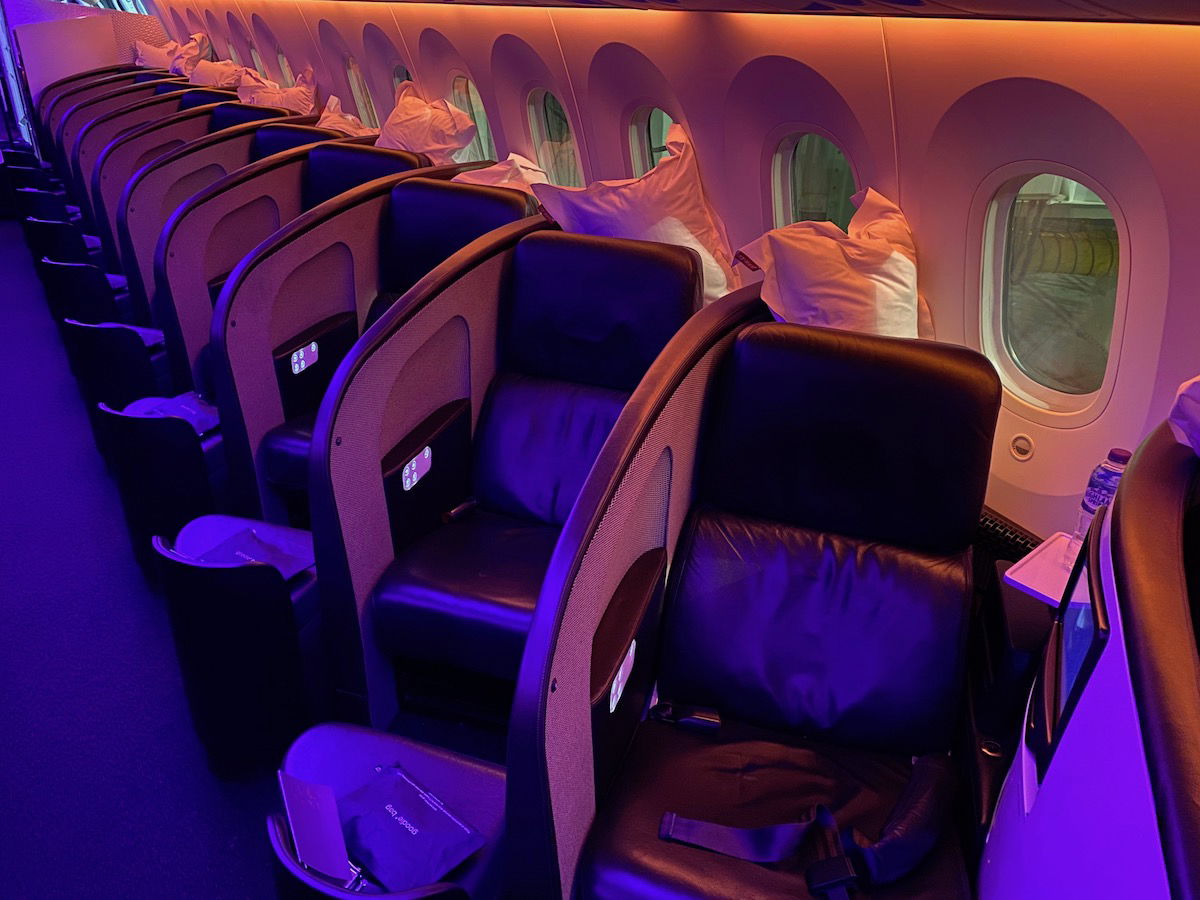 Virgin Atlantic business class cabin 787
Then there are 21 seats facing the right aisle — this includes 10 seats in the center section, and 11 seats on the very right of the plane.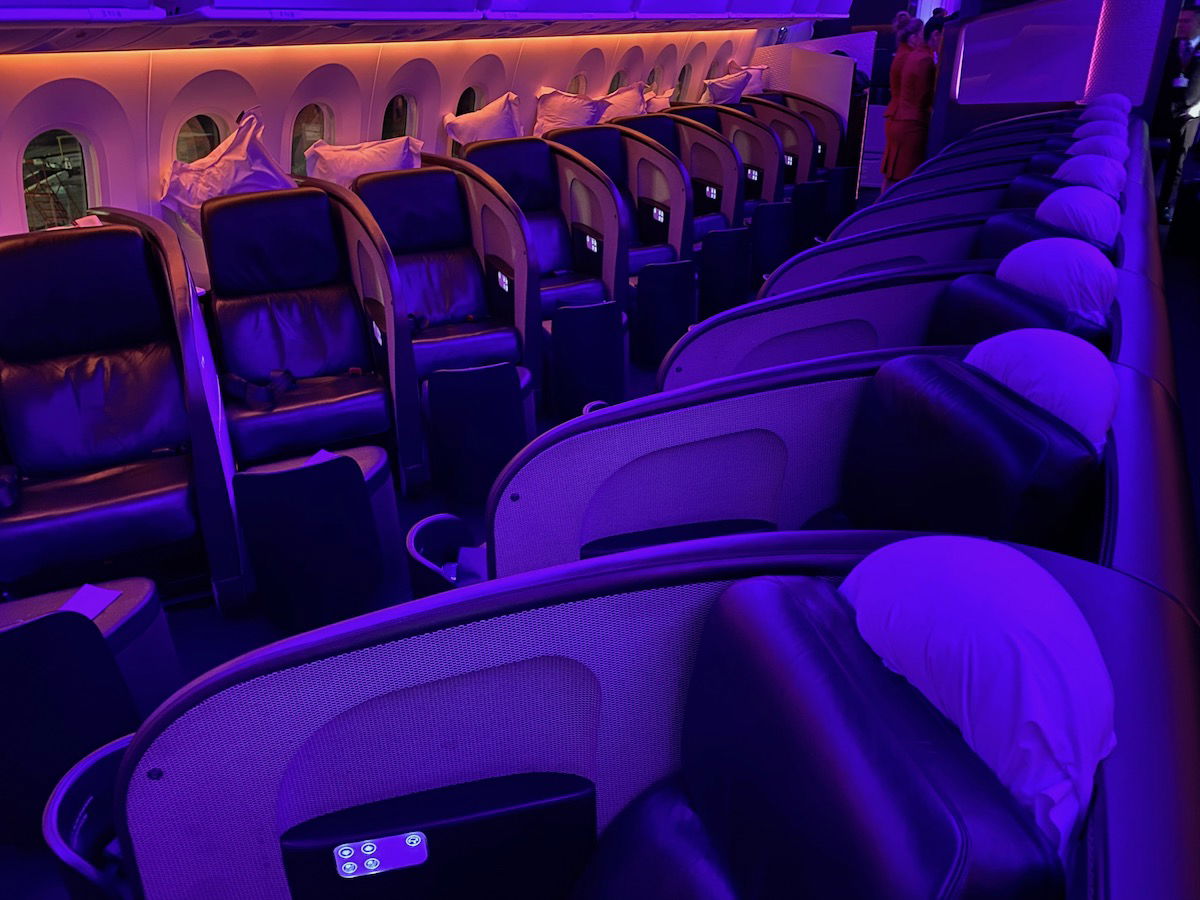 Virgin Atlantic 787 business class seat
In this configuration I'd choose the "A" seats (left) as my first choice, followed by the "K" seats (right), followed by the G seats (center).
I assigned myself seat 11A, the window seat on the left side in the last row. When I booked all of the seats on the left were taken except 10A and 11A, so I figured I'd take 11A.
These herringbone seats are definitely on the narrow side, and lack storage.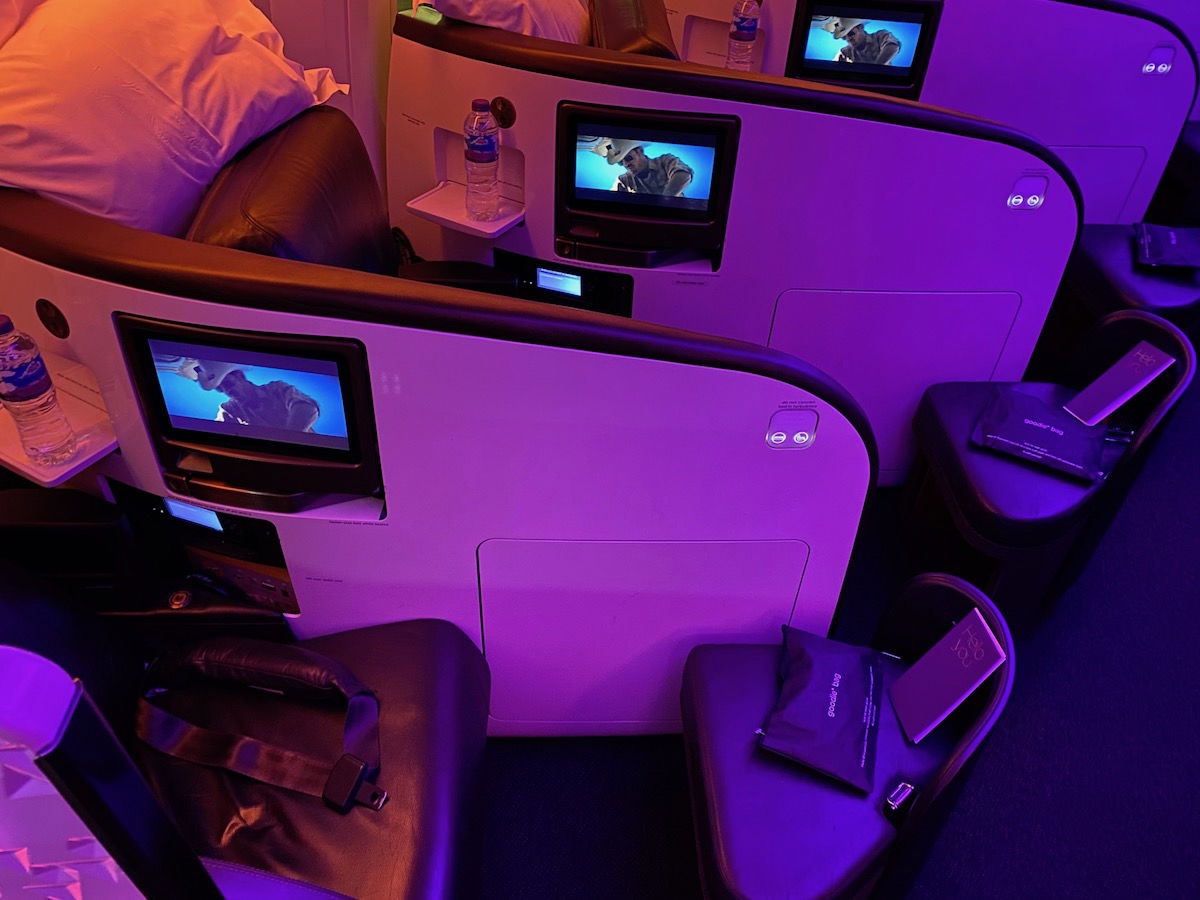 Virgin Atlantic Upper Class seat 787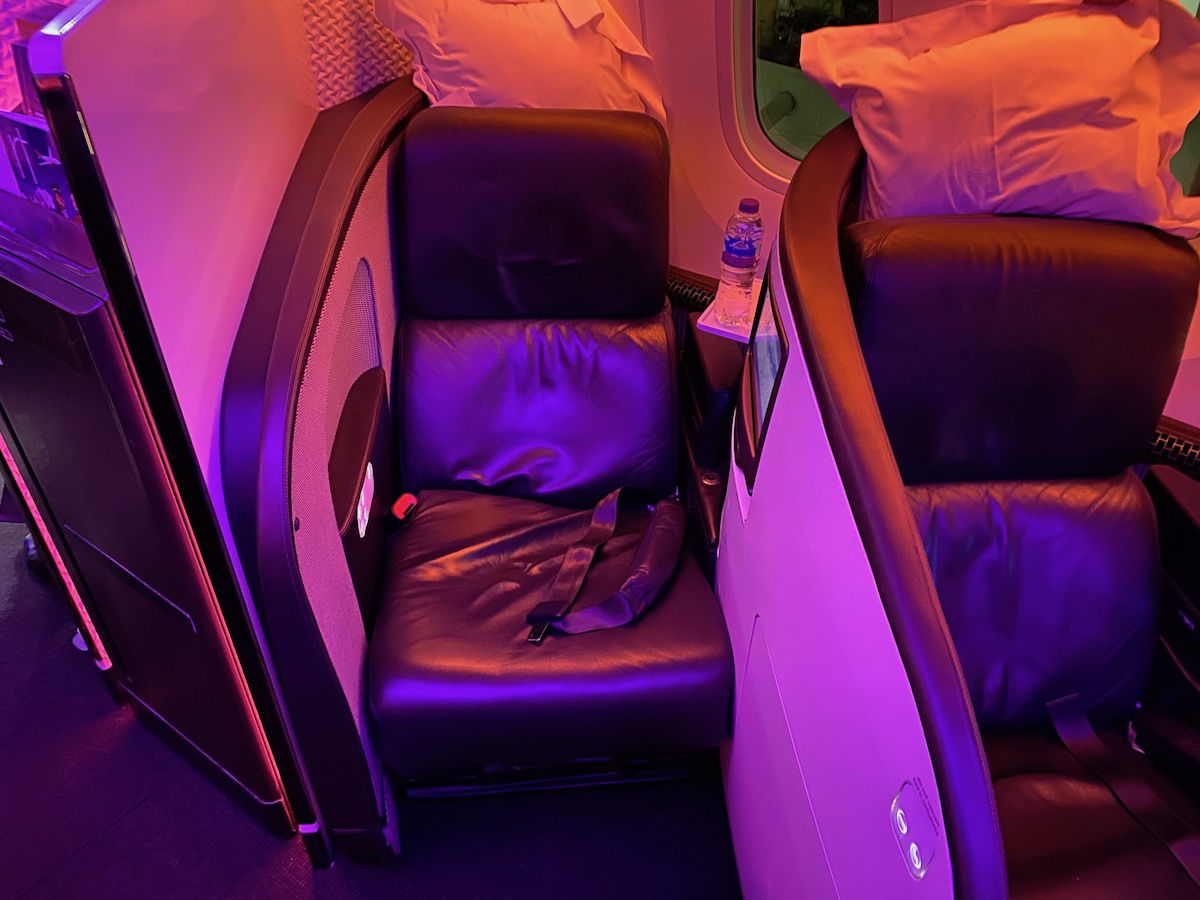 Virgin Atlantic Upper Class seat 787
Each seat had an ottoman, so at least your feet aren't in a tight footwell, though at the same time your feet basically feel like they're in the aisle.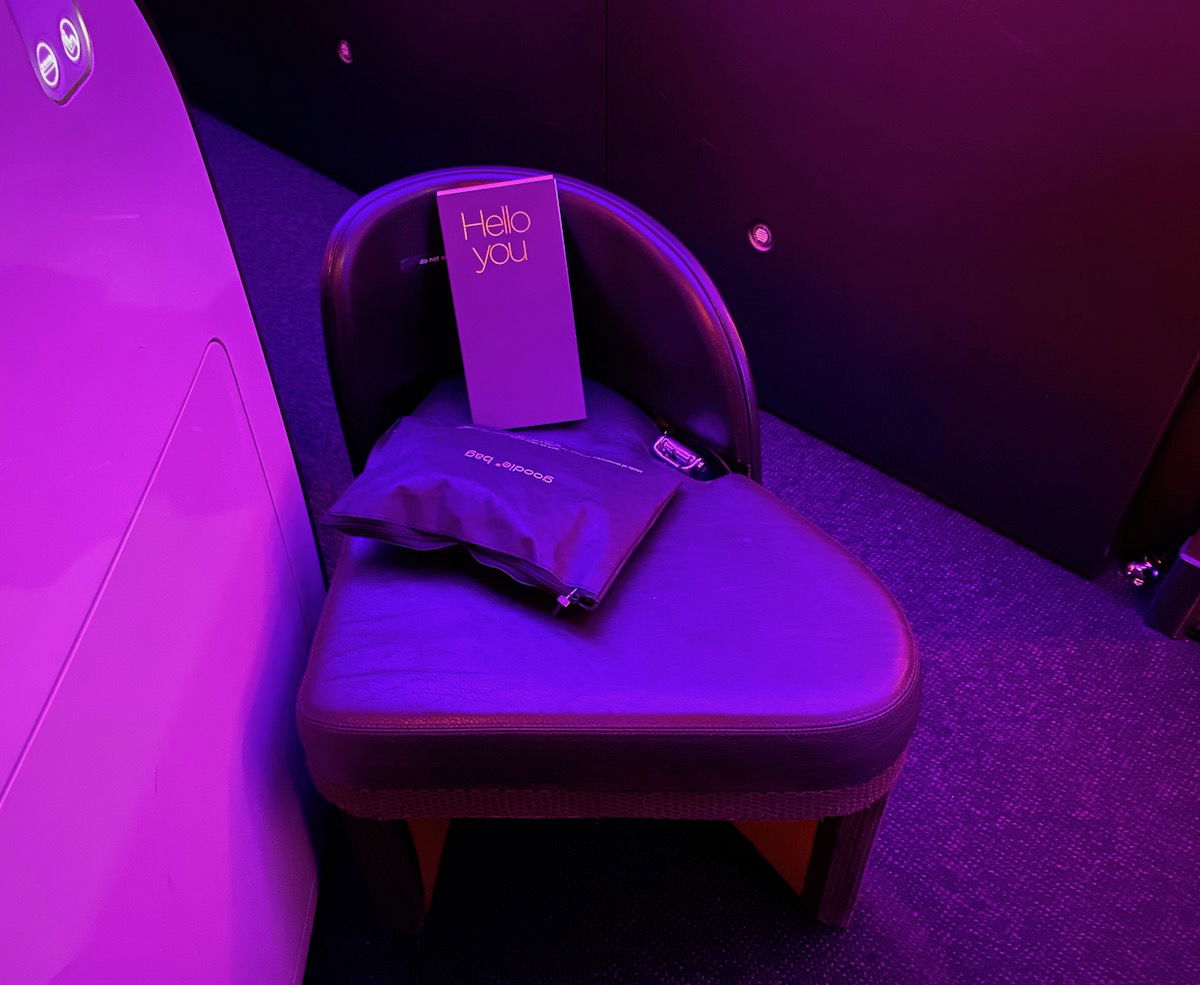 Virgin Atlantic Upper Class ottoman
These seats have literally no storage. To the side of the seat was a small tray that could be folded down, where there was a bottle of water.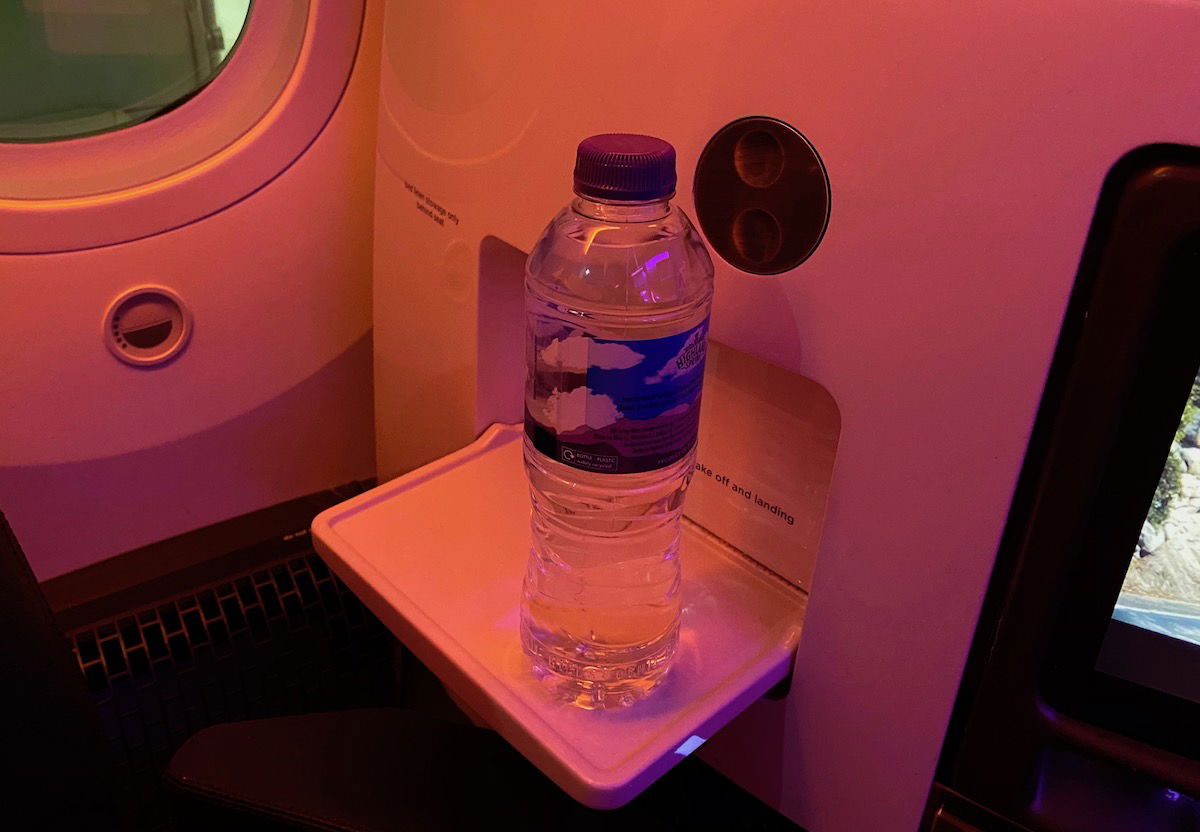 Virgin Atlantic Upper Class seat tray
The literature pocket, entertainment controller, and power outlet, were to the left of the seat as well.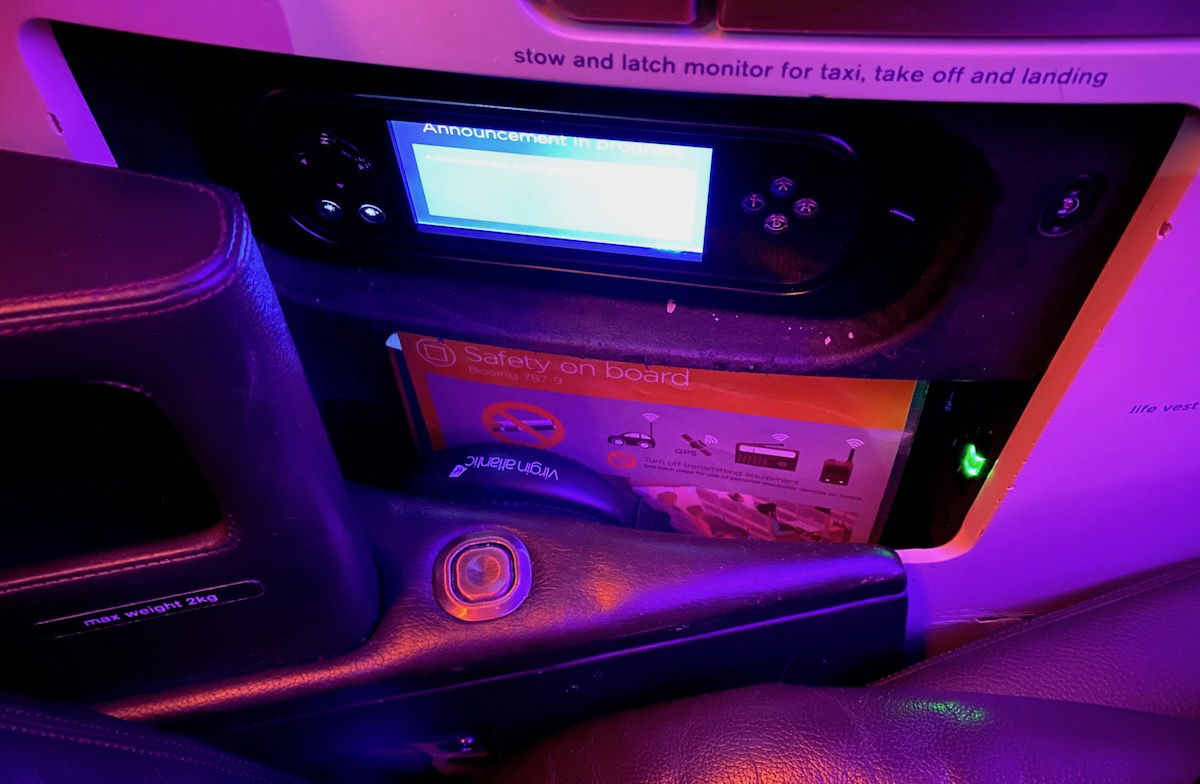 Virgin Atlantic Upper Class seat entertainment controller
The tray table also folded out from the left of the seat, and was a single large table that couldn't be folded over in half, or anything.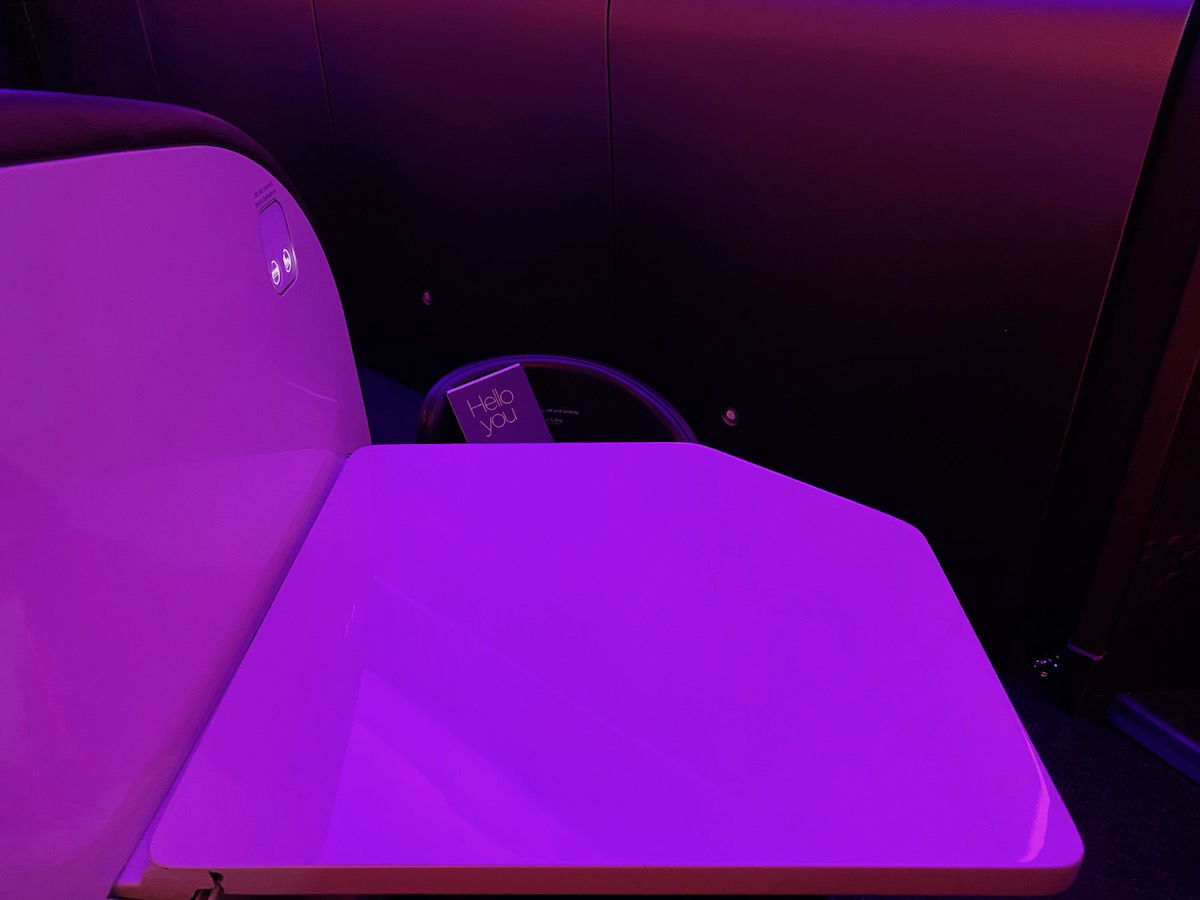 Virgin Atlantic Upper Class tray table
The seat controls were to the right of the seat, and were easy to use. Note that in order to extend the tray you have to push the button on the right, which is something that seems to confuse many.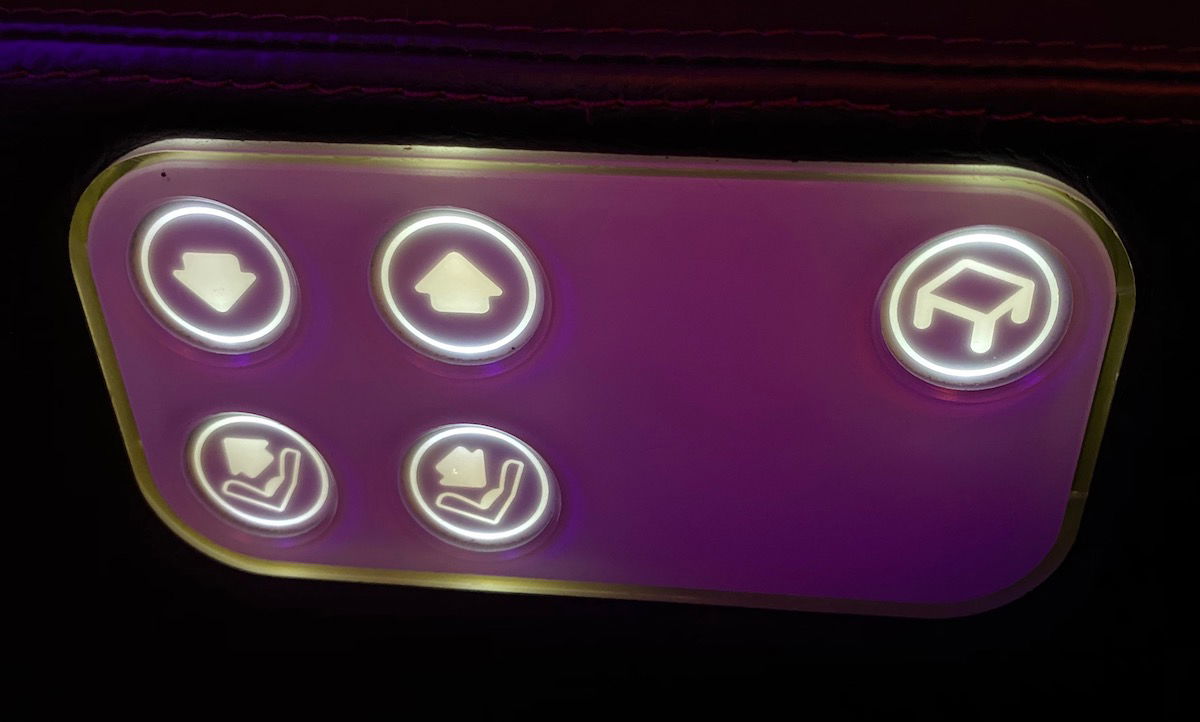 Virgin Atlantic Upper Class seat controls
Each seat had individual air nozzles, which is a useful feature.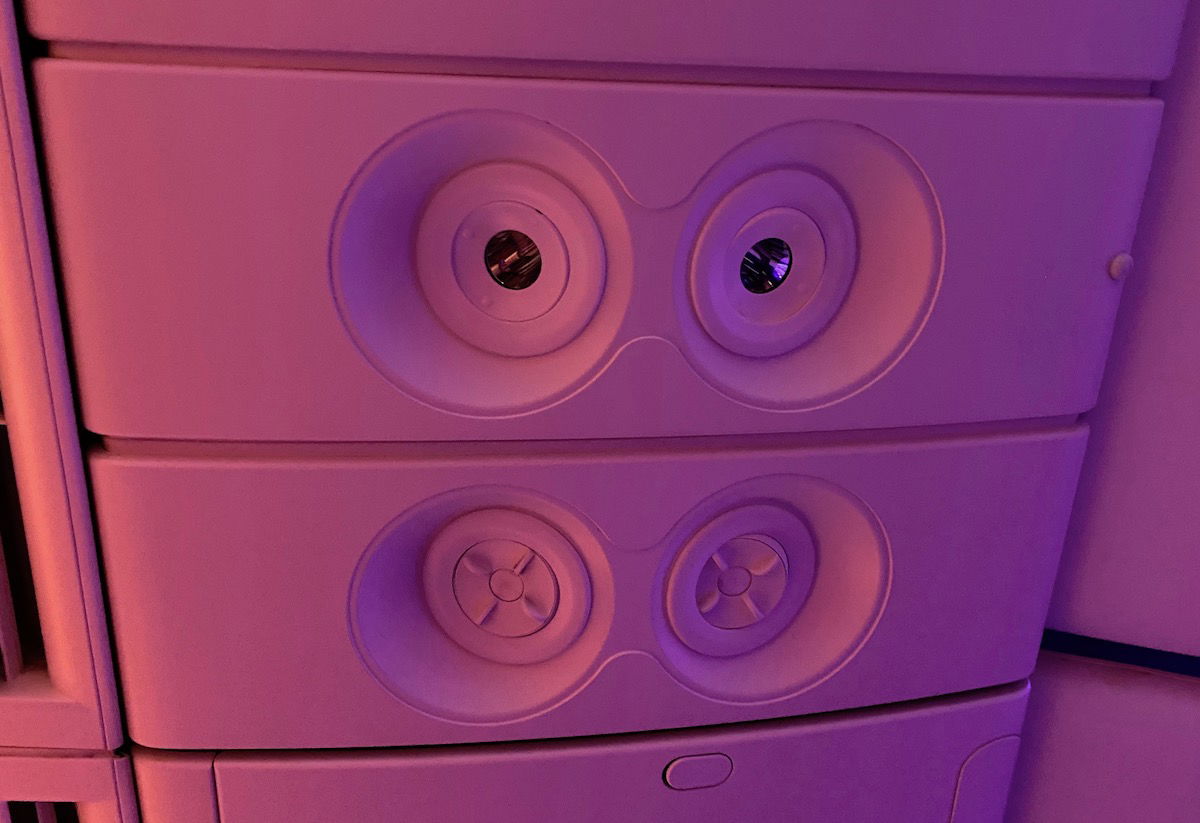 Virgin Atlantic 787 air nozzles
Sitting on the left side I was facing a wall, which is better than facing another seat.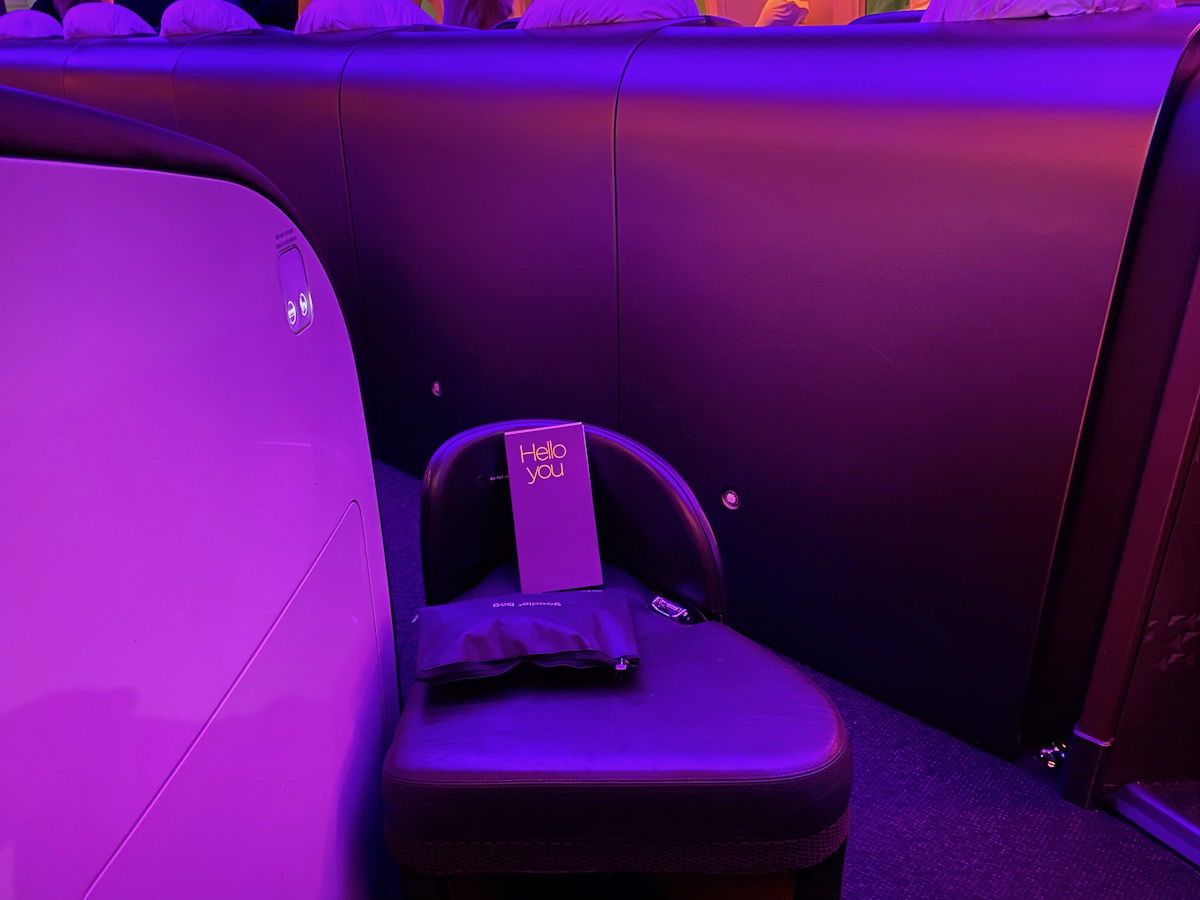 Virgin Atlantic Upper Class seat view
The bad part of sitting in 11A is that you might as well be sitting at the bar, because it's that close. There's no curtain between the bar and the cabin, and the below picture was literally taken from my seat.
I'd highly recommend avoiding the last few rows on a daytime flight, though on a short redeye there wasn't anyone using the bar.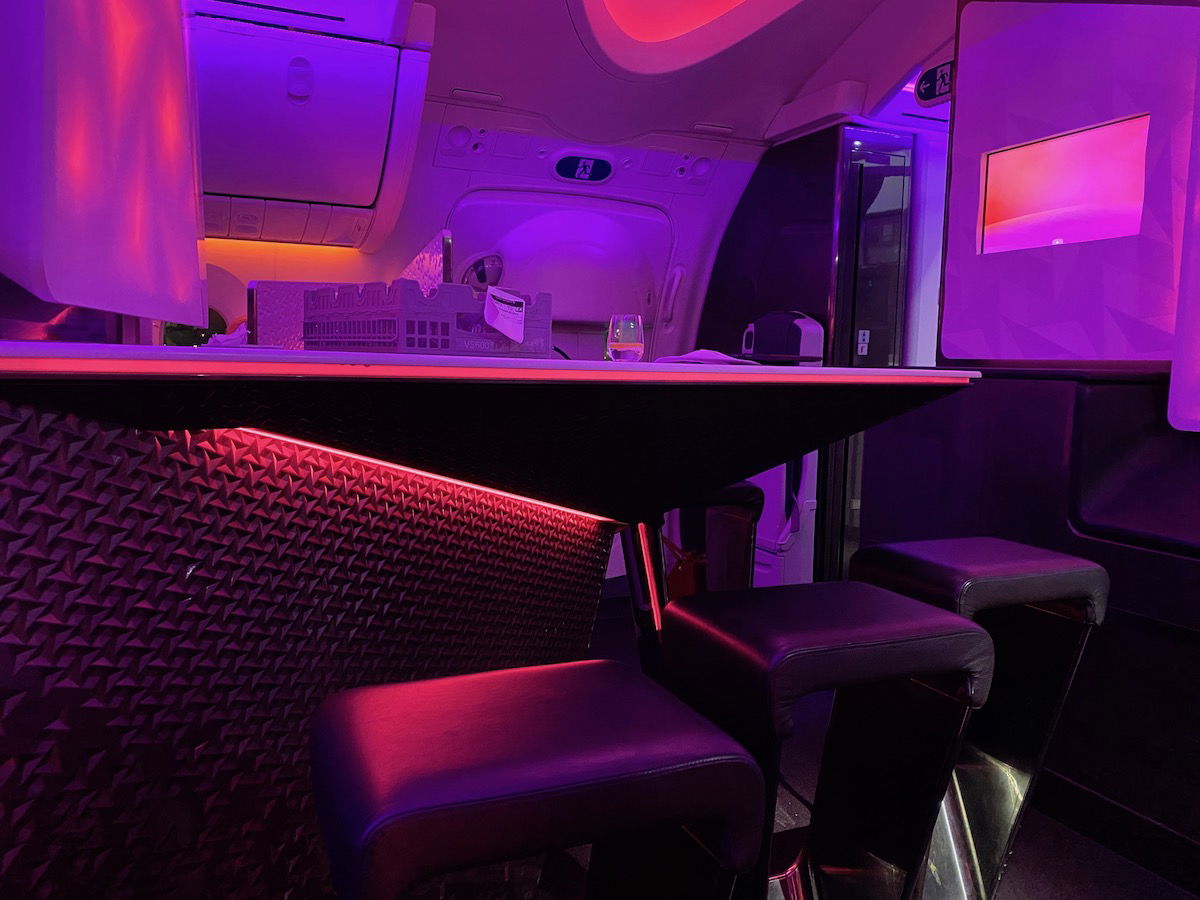 Virgin Atlantic Upper Class seat view
As far as the Upper Class amenities go, waiting at my seat was an amenity kit made mostly of recycled materials. The amenity kit had socks, eyeshades, earplugs, a pen, a dental kit, and some lotions.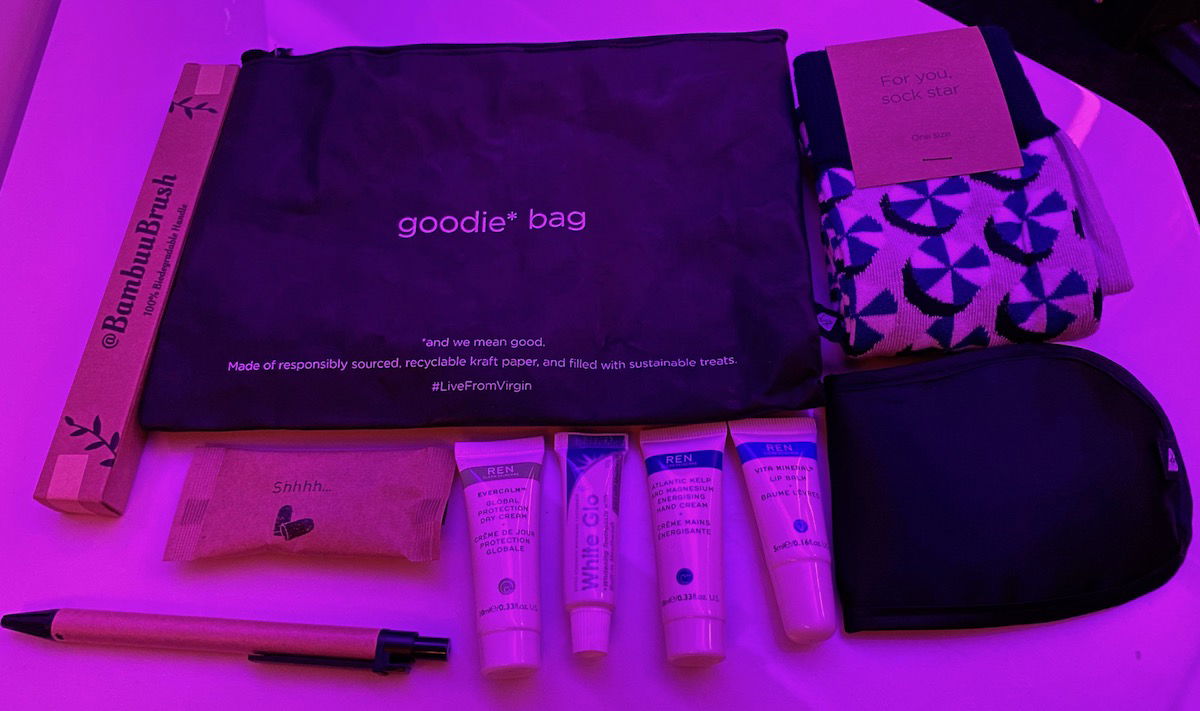 Virgin Atlantic business class amenity kit
A few minutes after settling in I was offered pajamas. It's impressive that Virgin Atlantic offers pajamas in business class on all redeyes, even these short sub-six hour flights.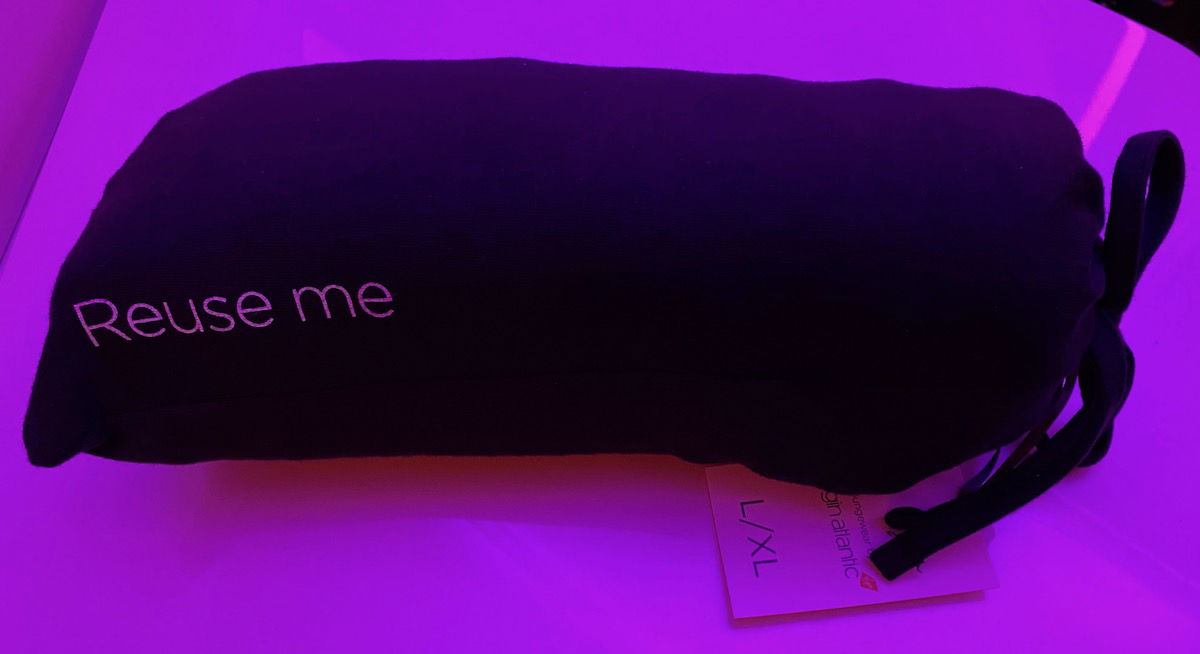 Virgin Atlantic business class pajamas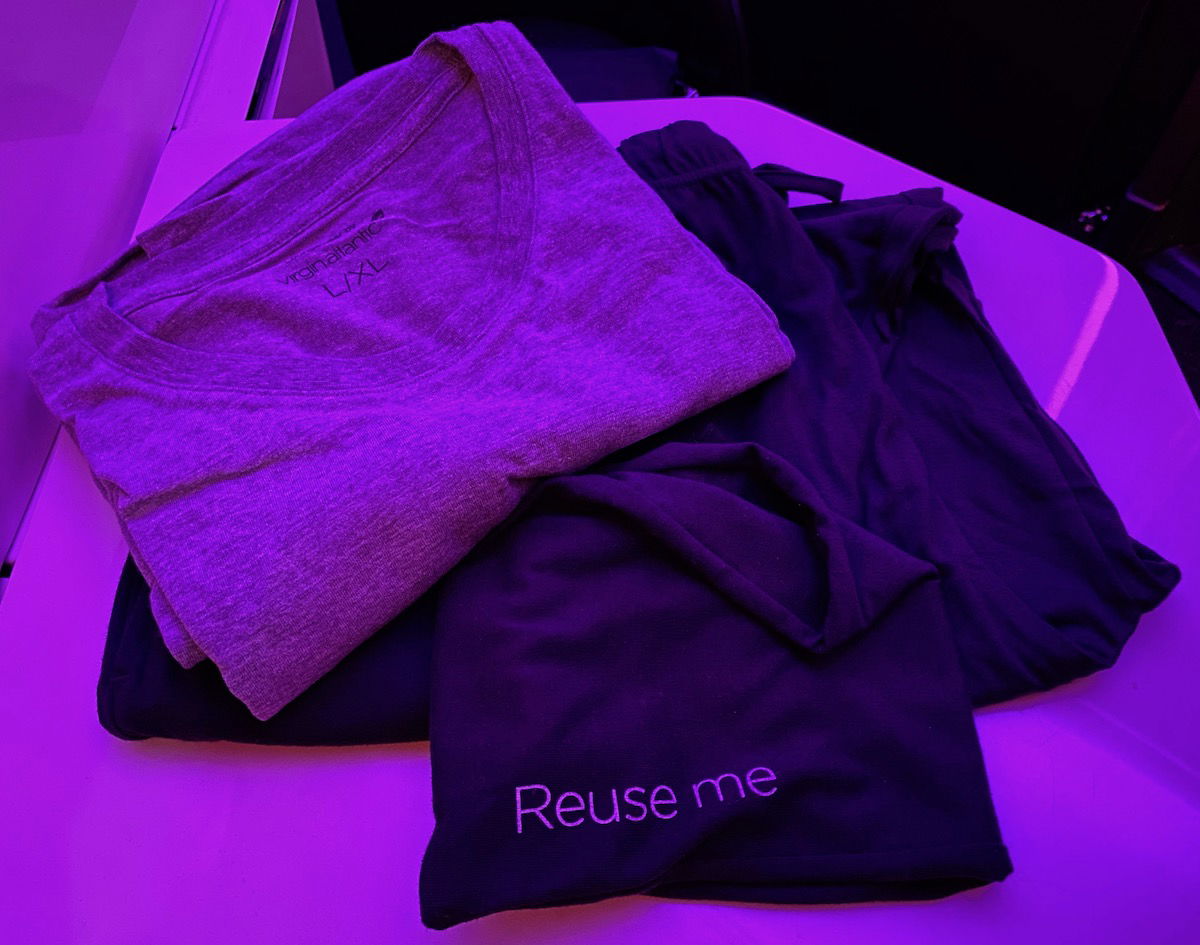 Virgin Atlantic business class pajamas
There were also some headphones waiting at my seat, which weren't particularly high quality.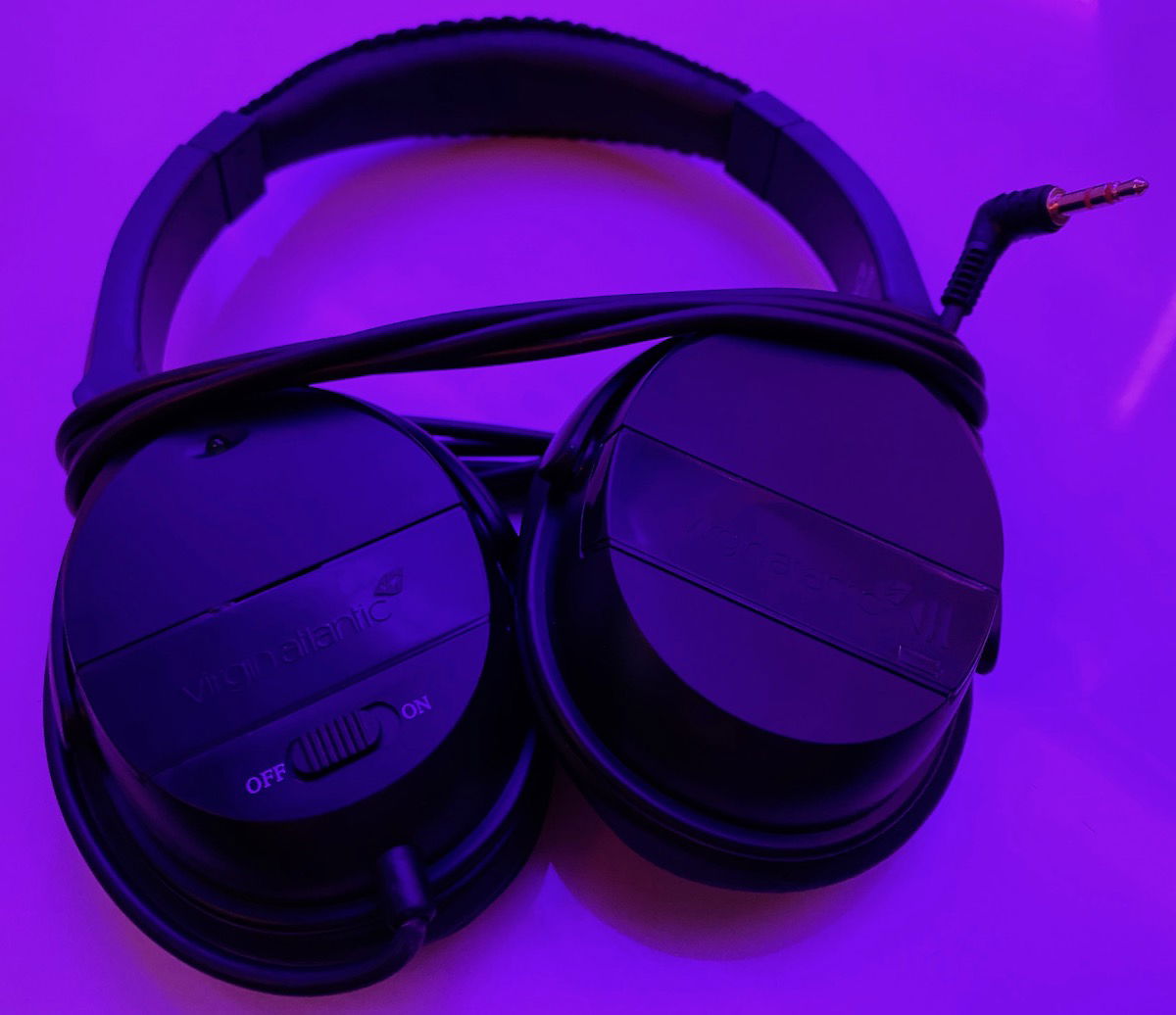 Virgin Atlantic business class headphones
Lastly, a menu and breakfast card were waiting on my ottoman upon boarding.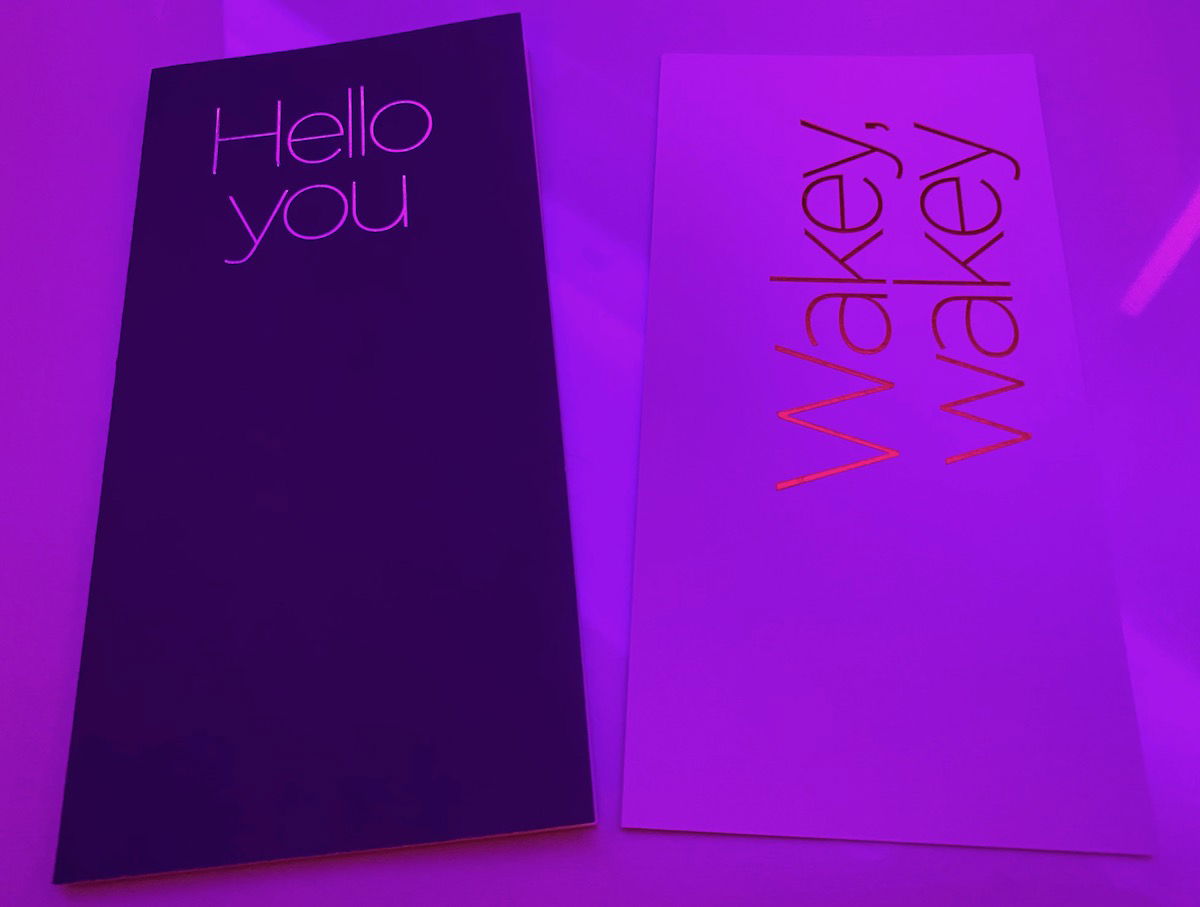 Virgin Atlantic business class menu & breakfast card
A few minutes after settling in a flight attendant stopped by my seat to offer me a pre-departure drink, with the choice of water, orange juice, or champagne. I selected the champagne.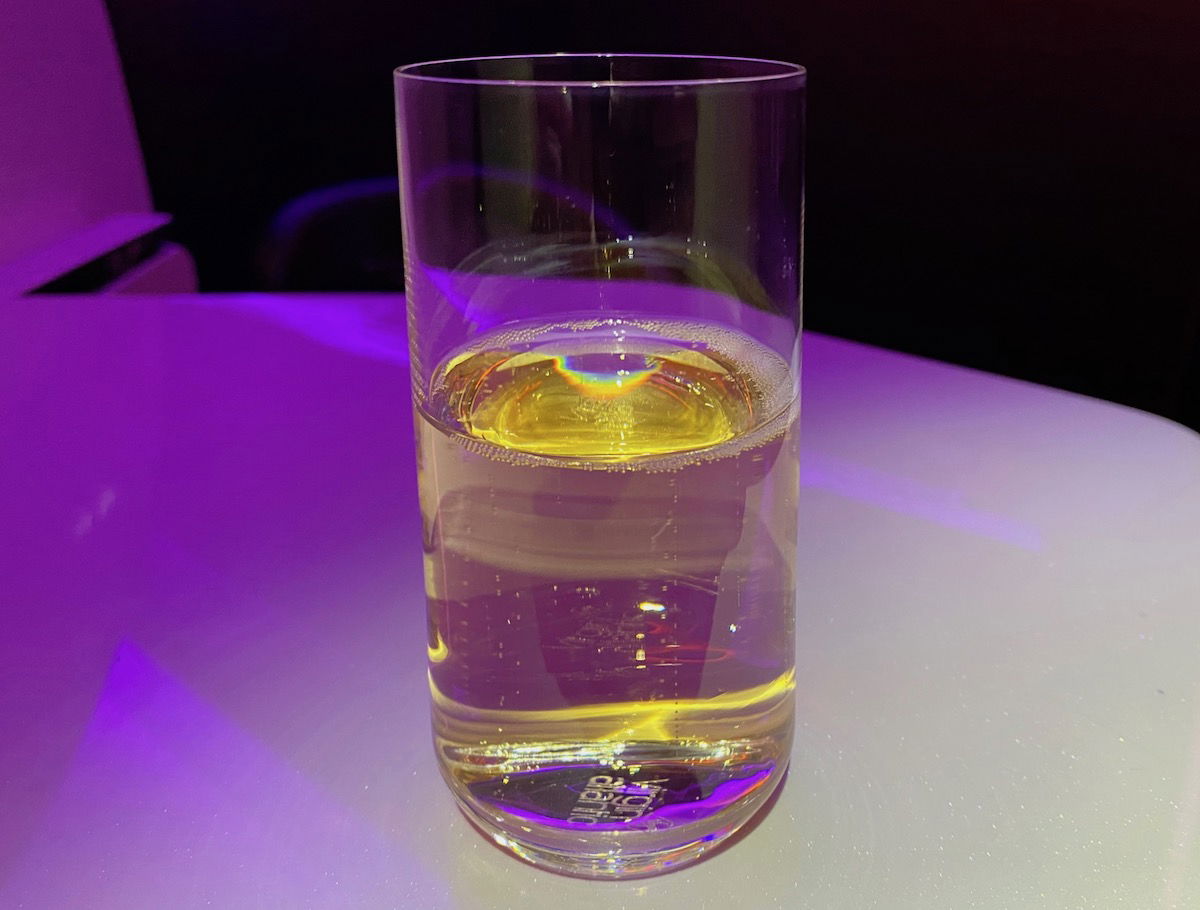 Virgin Atlantic business class pre-departure champagne
Every other time I've flown Virgin Atlantic the flight attendant has introduced themselves by name and asked if I was familiar with the seat, though they didn't do that this time around. That wasn't an issue, but just something that stood out to me.
By 9:30PM boarding was complete (a full 20 minutes before scheduled departure), and around this time the captain made his welcome aboard announcement. He said we had a light load, and that we'd be cruising at an altitude of 37,000 feet for our "rapid flight" of 5hr45min.
Also at 9:30PM the main cabin door closed, at which point the flight manager made his welcome aboard announcement. This announcement started with "on behalf of Richard Branson," which I don't recall hearing before on Virgin Atlantic.
One other interesting thing about Virgin Atlantic is that they announce how many passengers are onboard — on this flight there were only 118 customers, with 19 of the 31 business class seats being occupied.
While we were boarded quickly, we only ended up pushing back at 9:55PM. Then at 10PM we began our taxi, and 10 minutes after that we were airborne. Our takeoff roll must have been the fastest I've ever experienced on a transatlantic flight, which I guess isn't surprising given the light load and short flight time.
Five minutes after takeoff the seatbelt sign was turned off. As we climbed out I browsed the entertainment selection. There were over 150 movies and over 40 TV shows to choose from.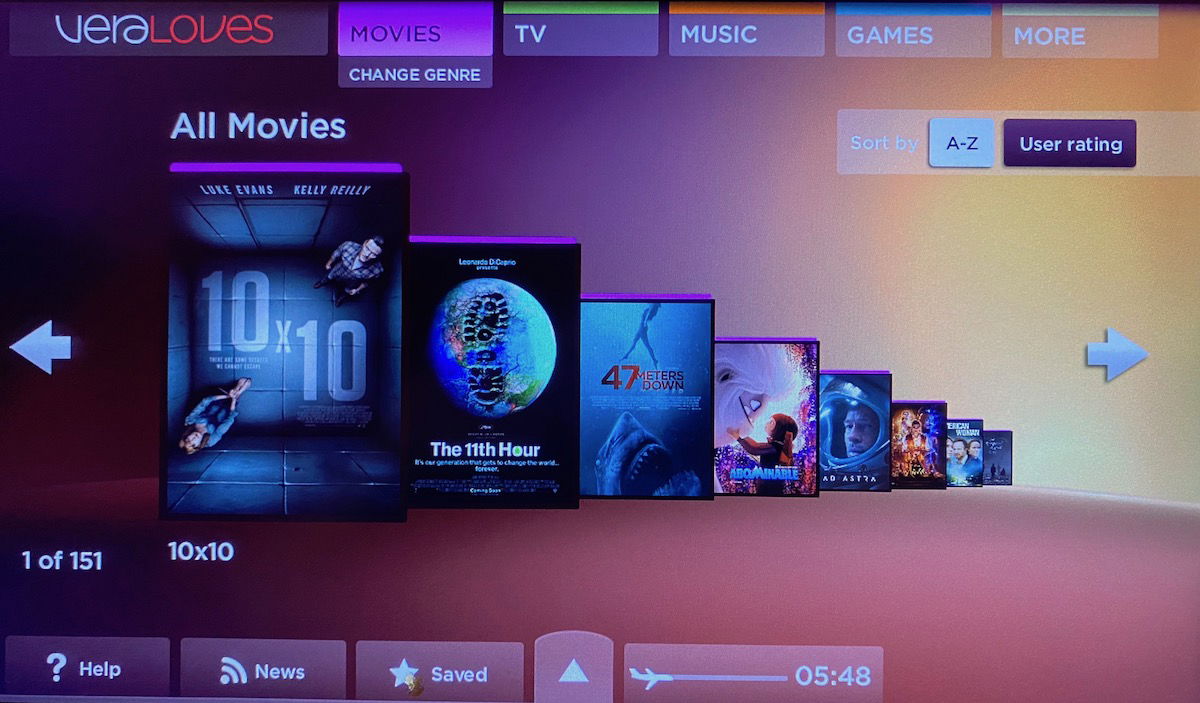 Virgin Atlantic entertainment system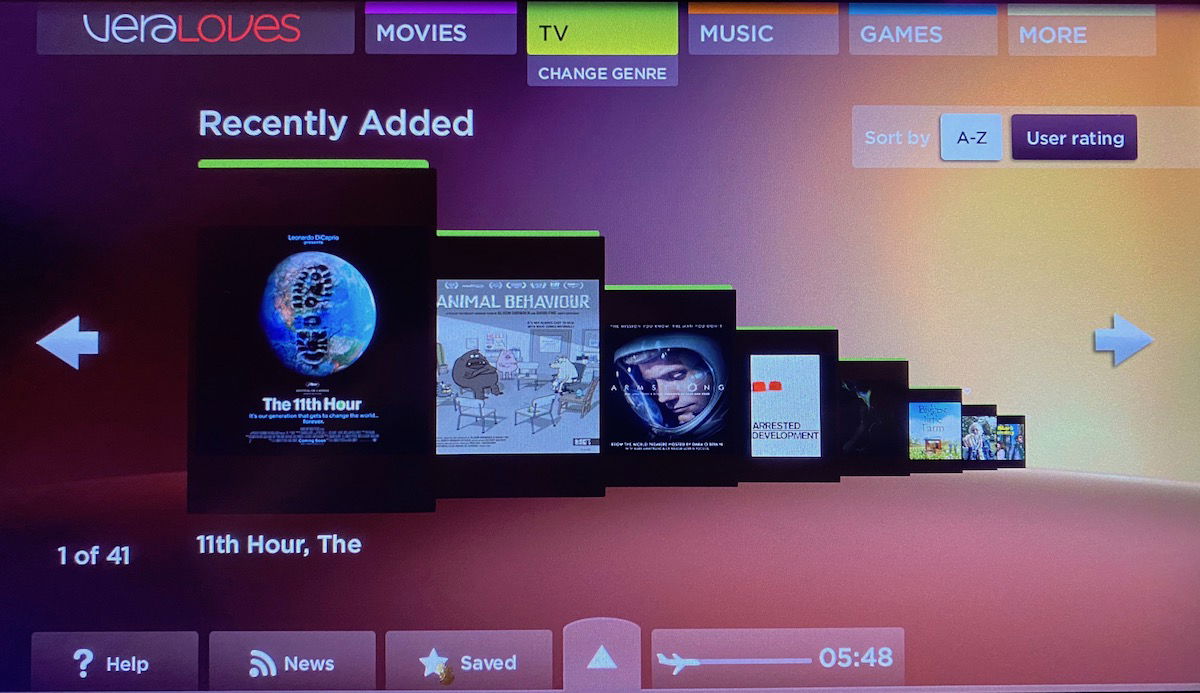 Virgin Atlantic entertainment system
I also checked out the airshow for our flight to London.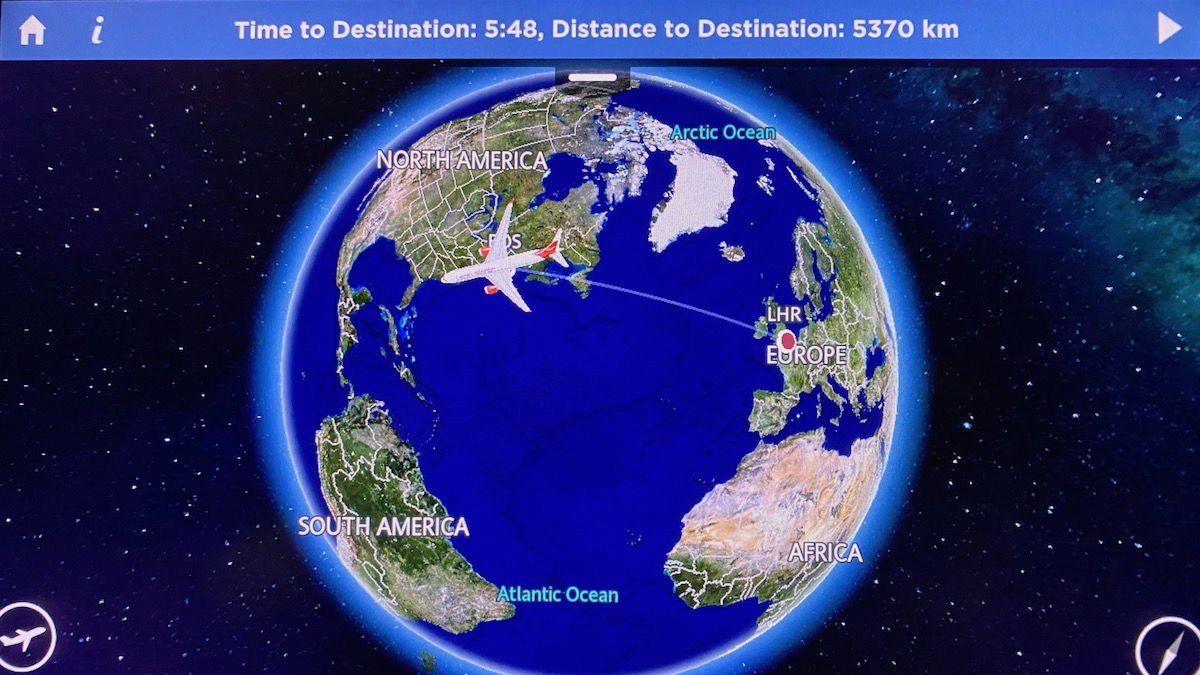 Map enroute to London
I decided to watch an episode of Curb Your Enthusiasm. I had seen the episode before, but to me Curb Your Enthusiasm is one show where I can watch the same episodes over and over and never get bored.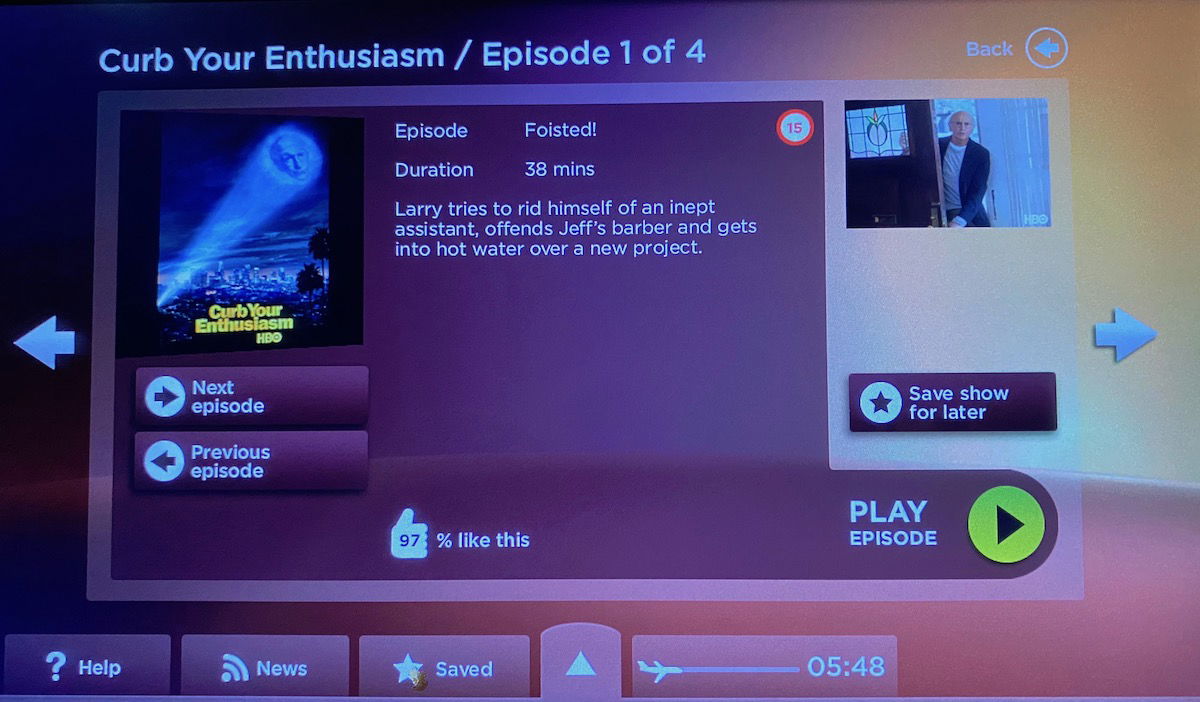 Virgin Atlantic entertainment system
The entertainment screens can be extended from the side of the seat for better viewing. The major catch is that the TVs are really small, especially with some of the massive TVs we see nowadays on airlines.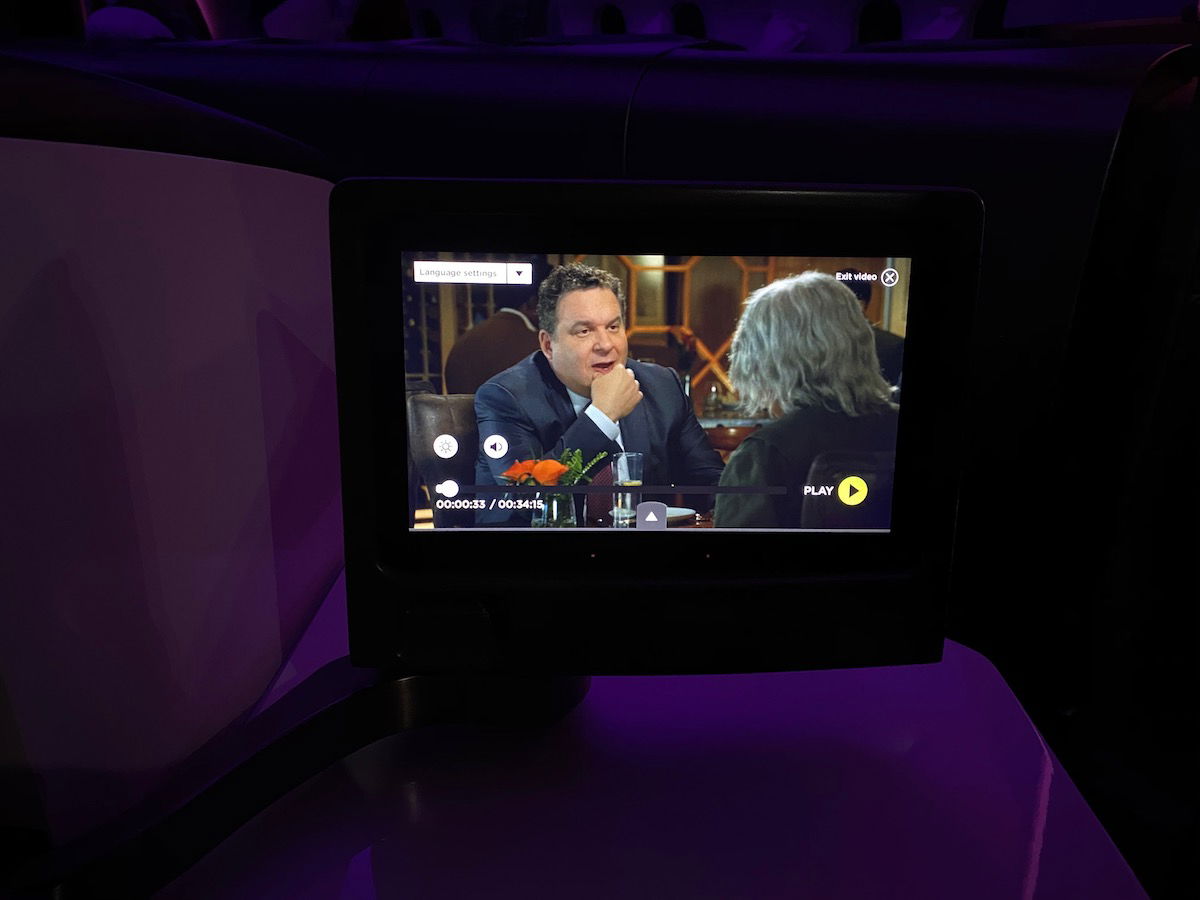 Extending Virgin Atlantic entertainment system
Virgin Atlantic also has Wi-Fi on the 787-9.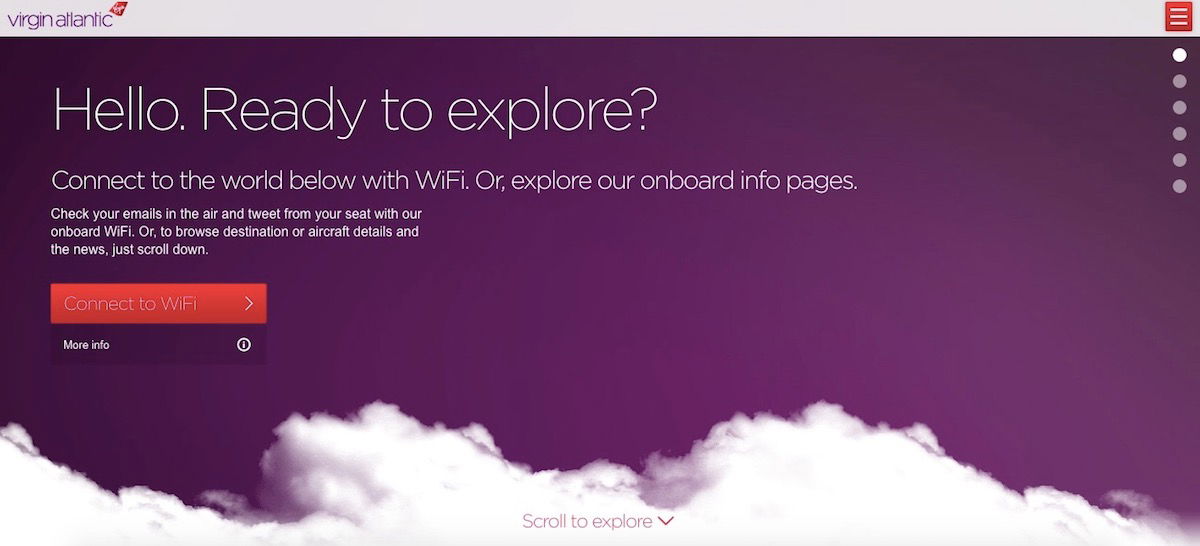 Virgin Atlantic 787 Wi-Fi system
On the 787 Virgin Atlantic charges for Wi-Fi based on data, with the following costs:
$3.99 for 20MB
$16.99 for 150MB
$39.99 for 500MB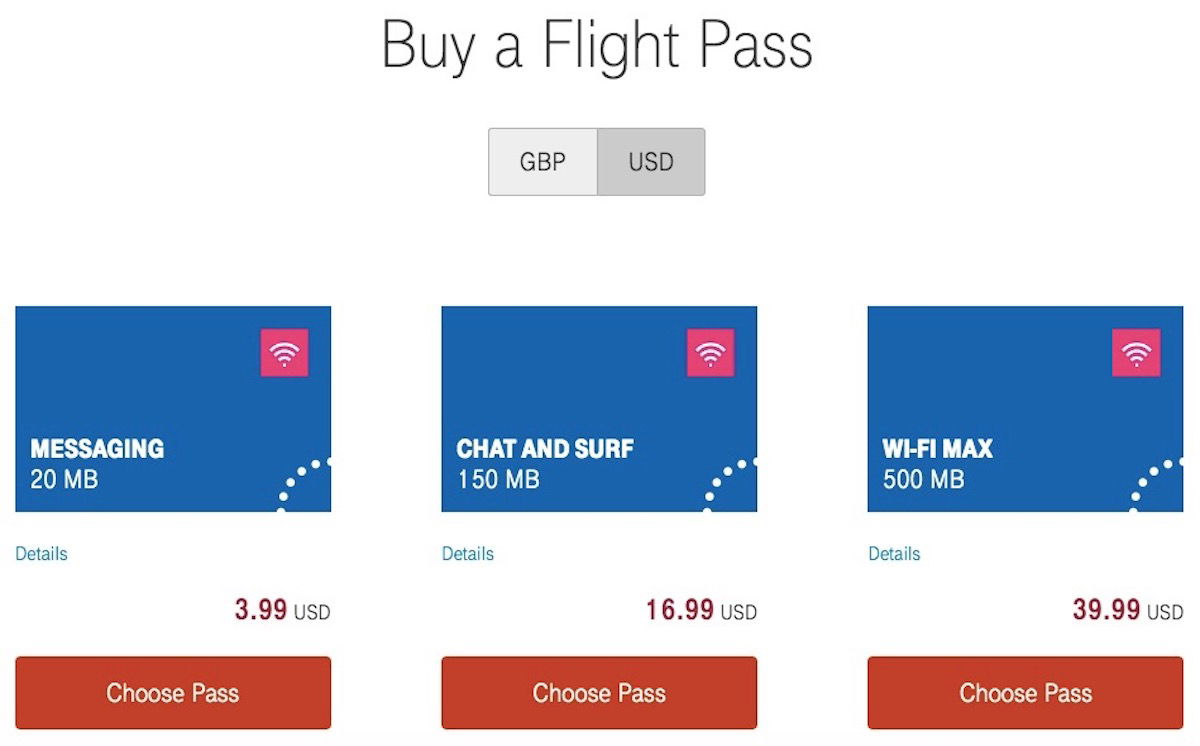 Virgin Atlantic Wi-Fi pricing
While the pricing is on the steep side, at least 500MB is a very big allowance, should you be on a daytime flight where you need to work. I only briefly used the Wi-Fi, and found the speeds to be decent, though not as good as Gogo 2Ku or Viasat.
Virgin Atlantic has short transatlantic flights down to a science, as you'd expect, given how many of them they operate.
For this flight the menu read as follows: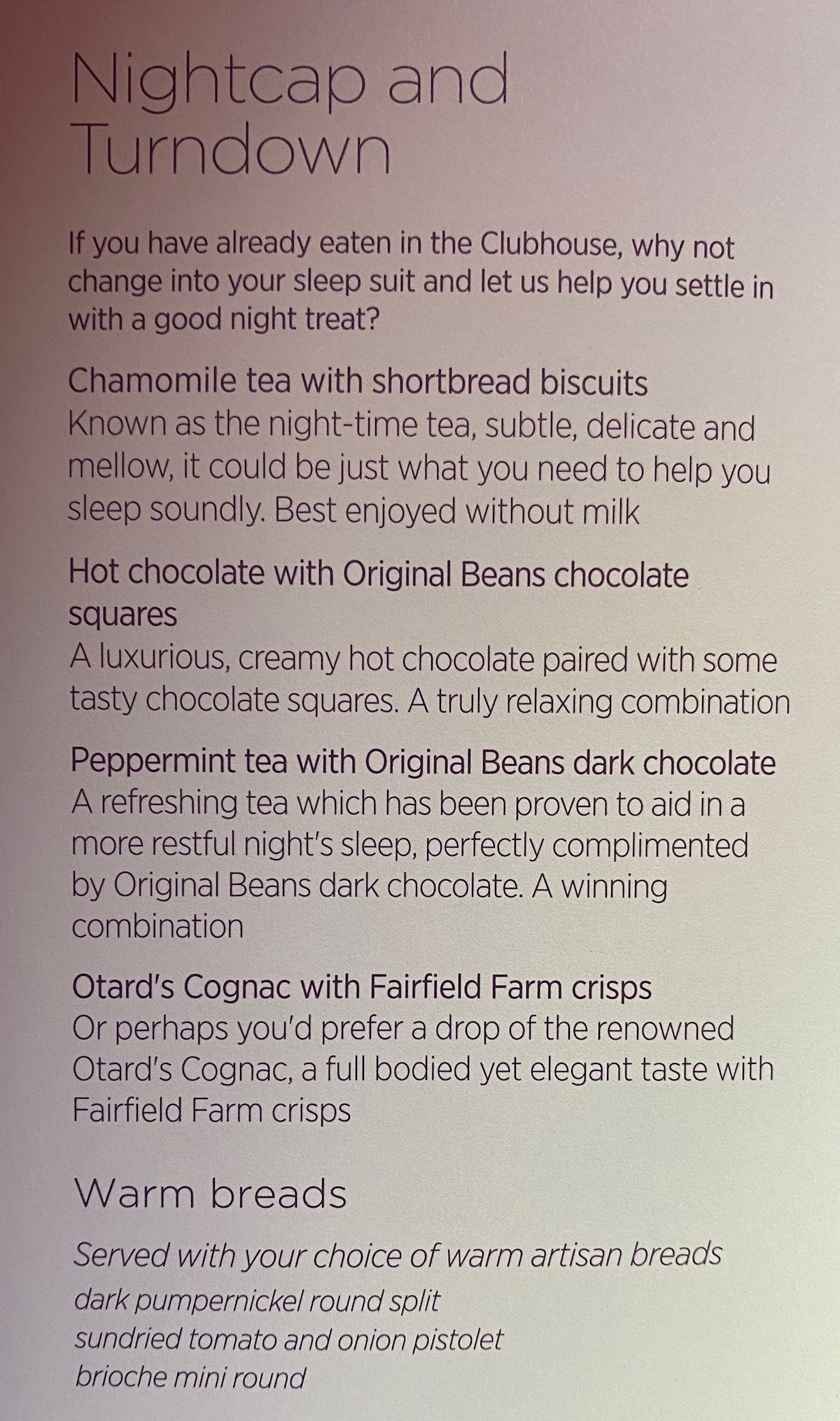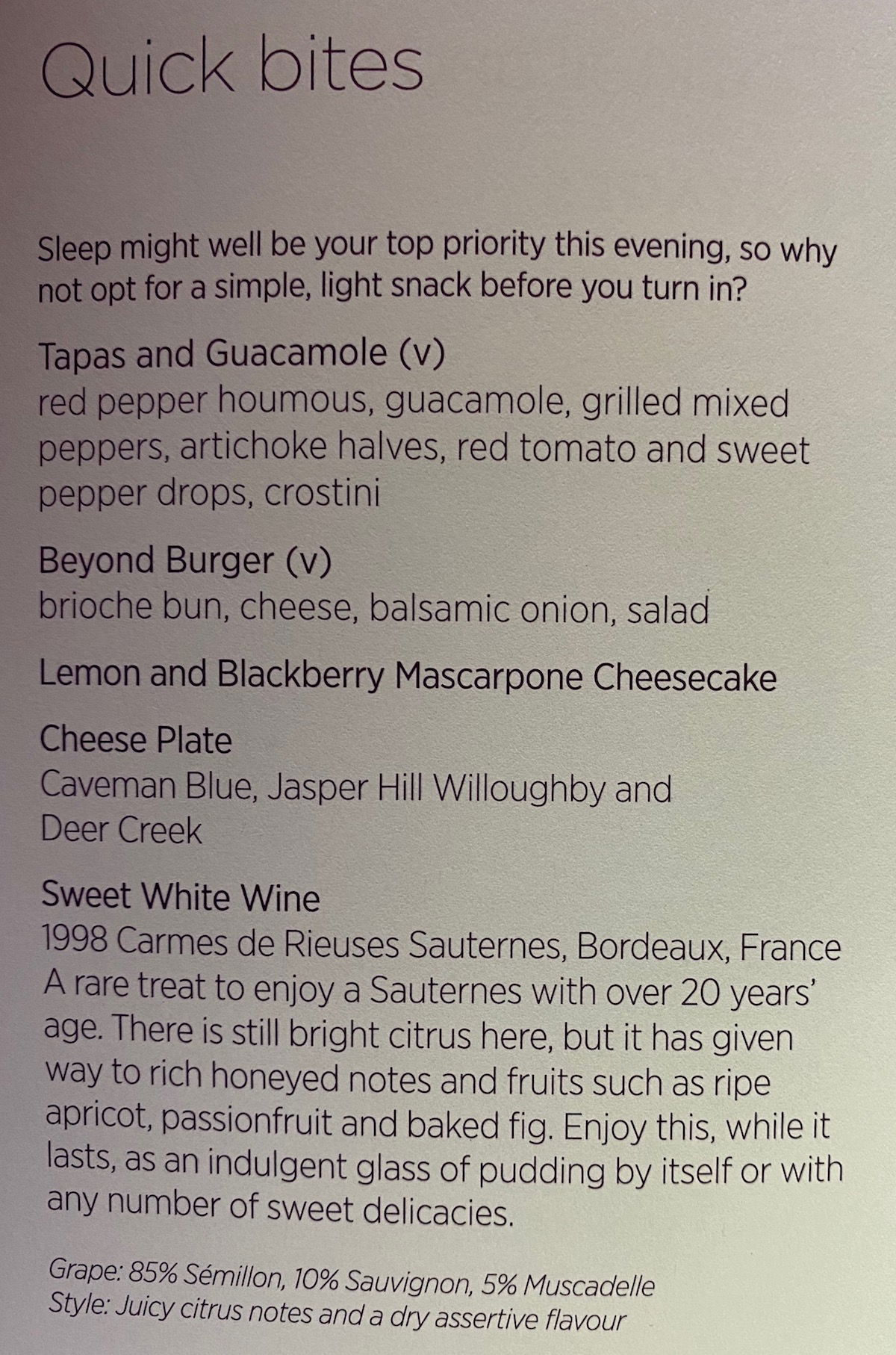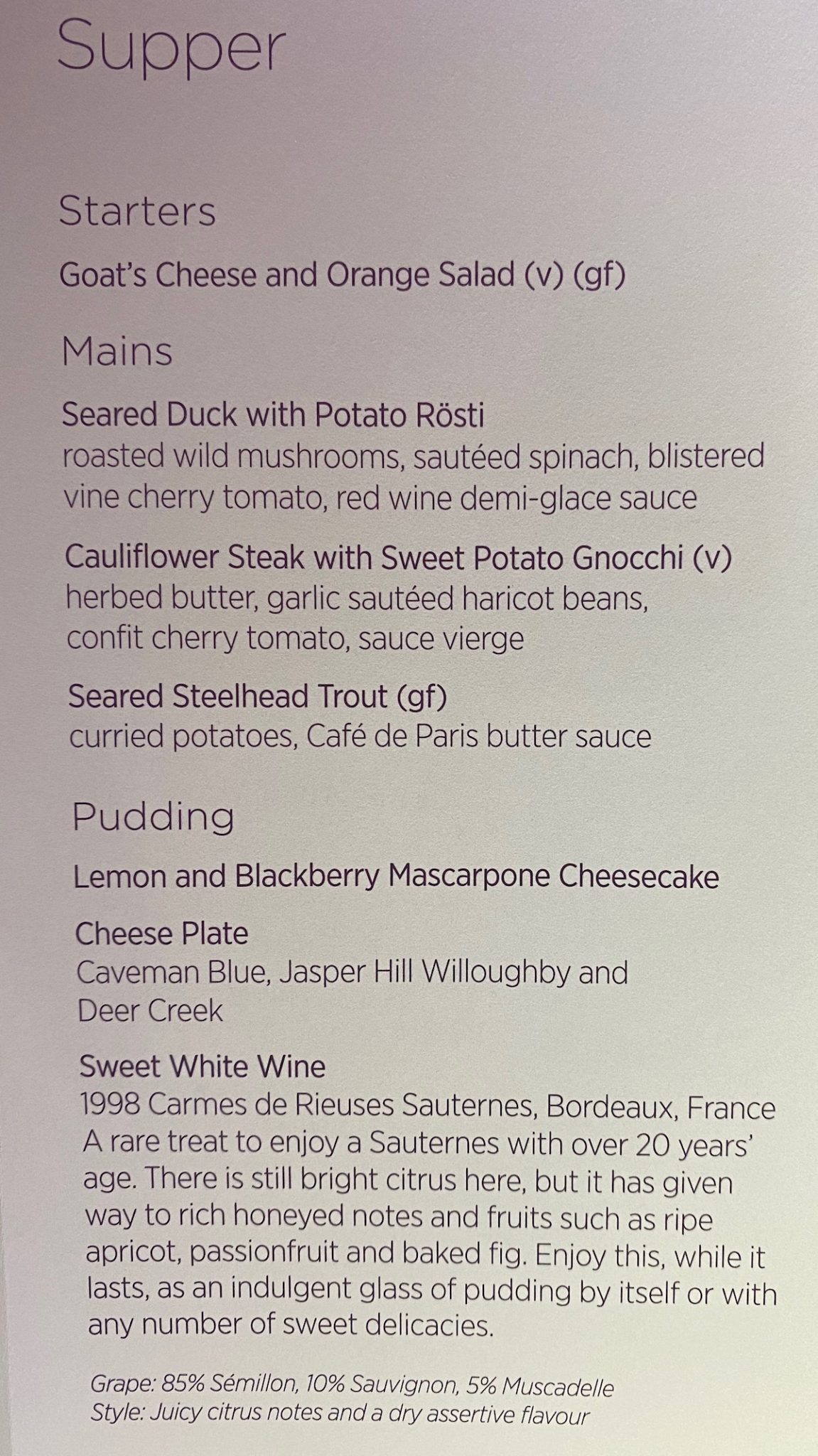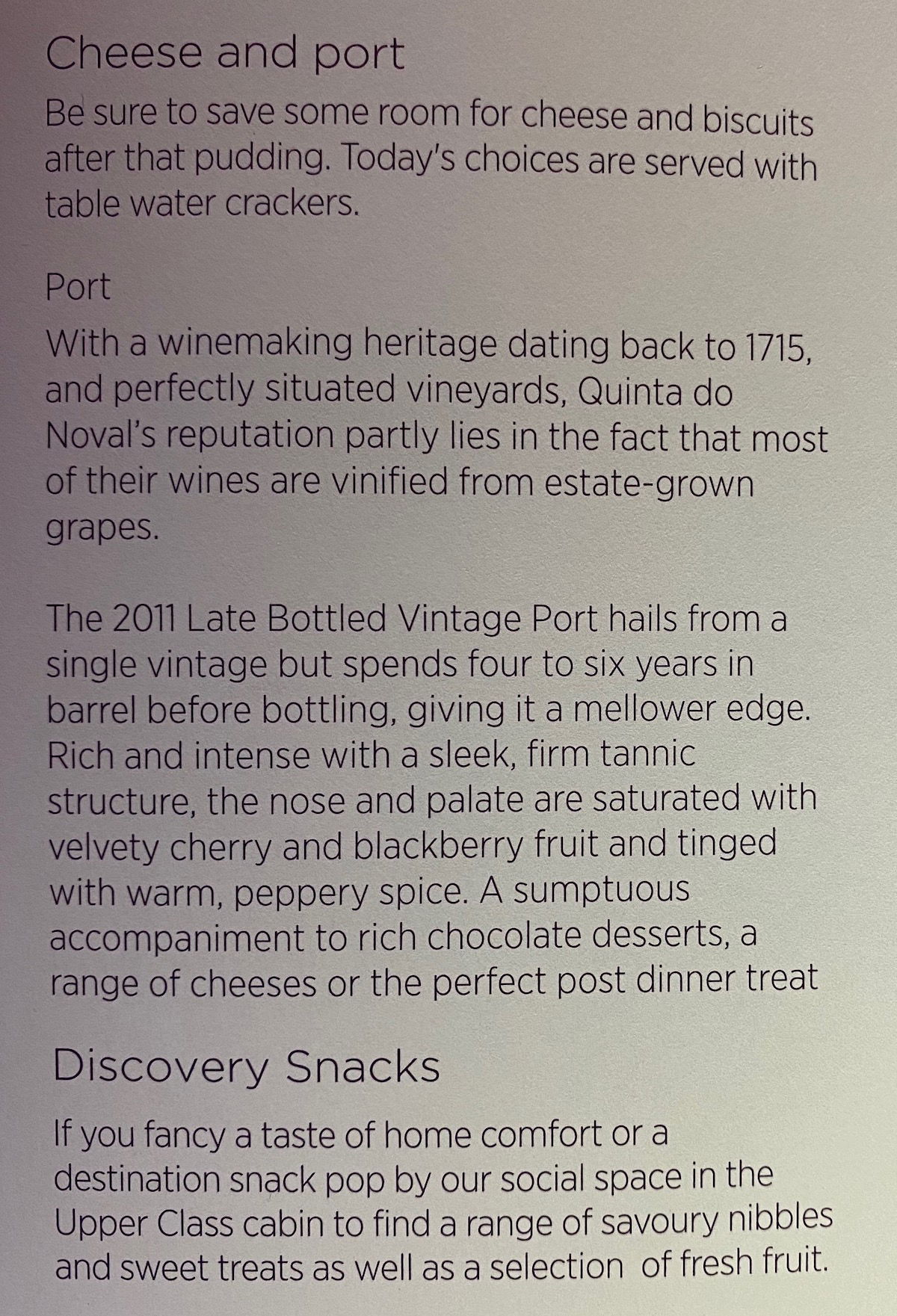 Then there was also a breakfast card, which the crew collected before people went to sleep. That read as follows: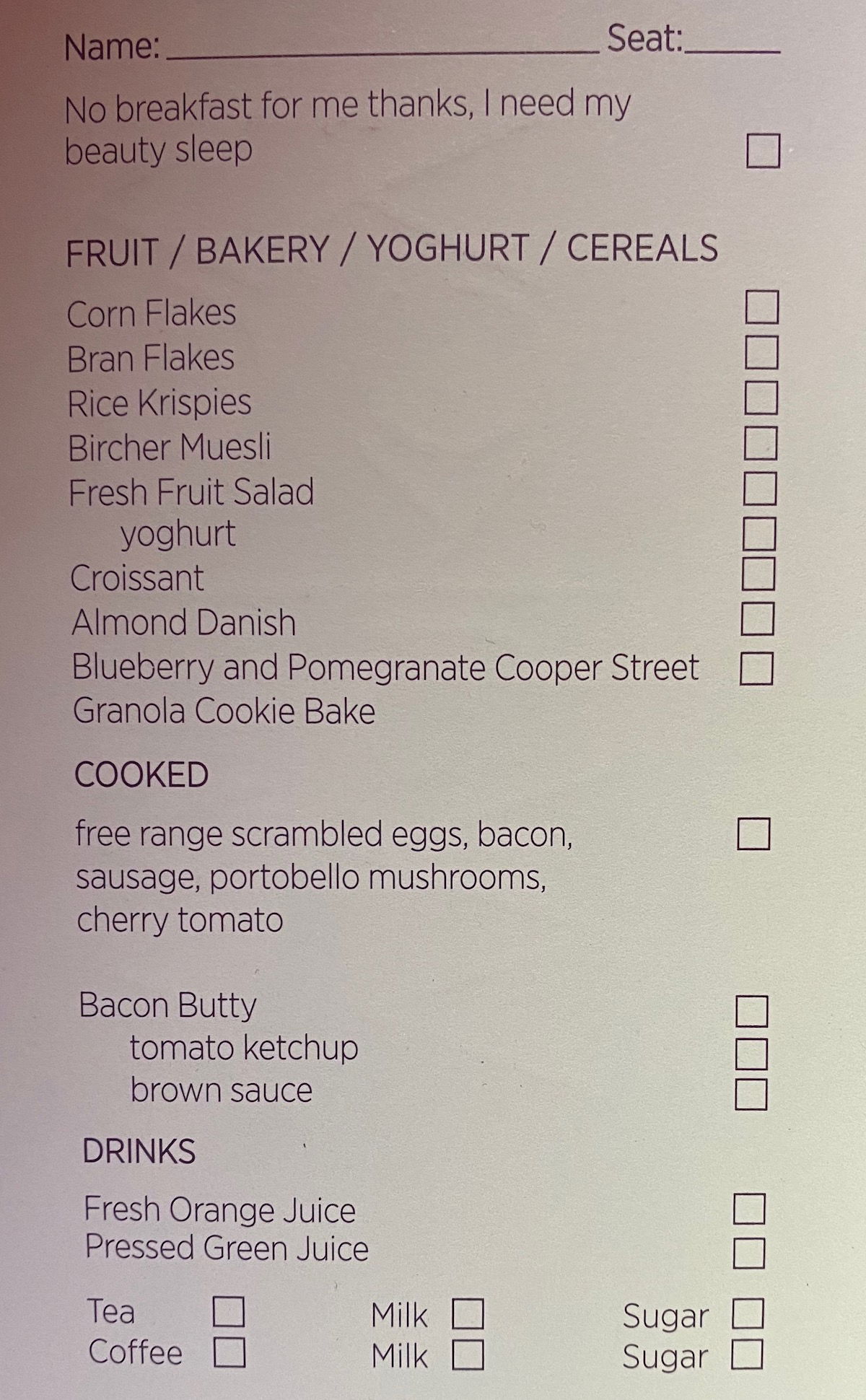 The drink list read as follows: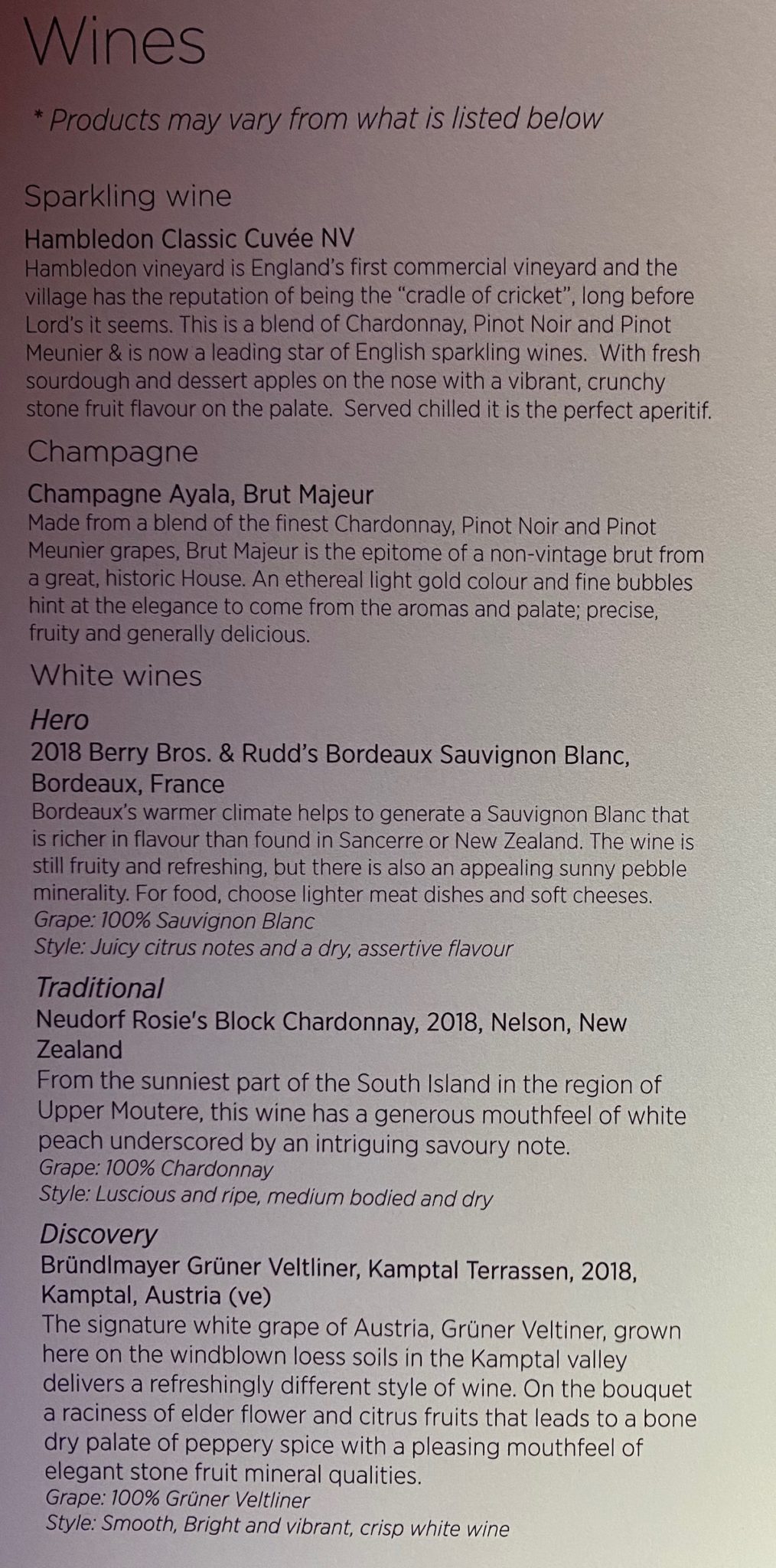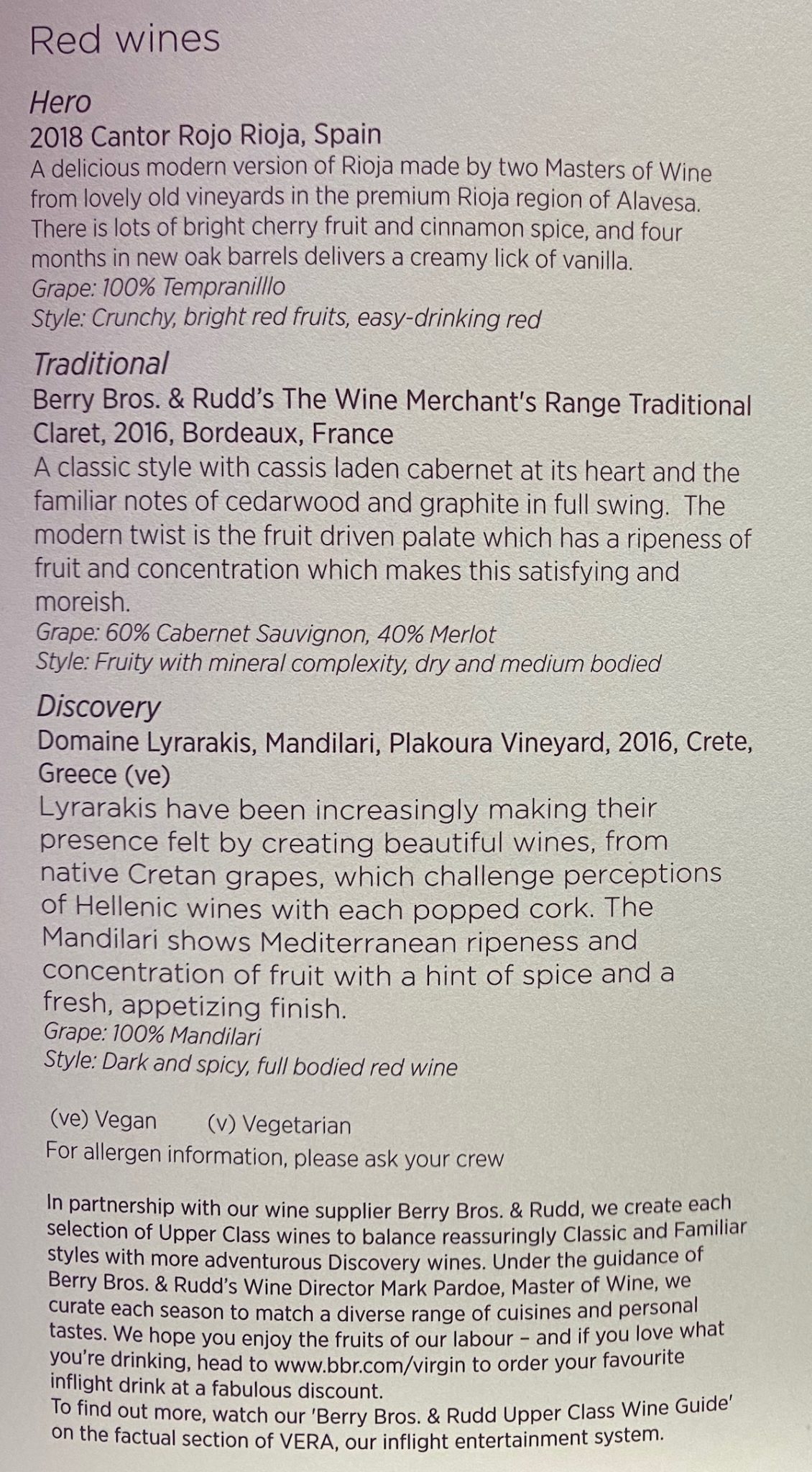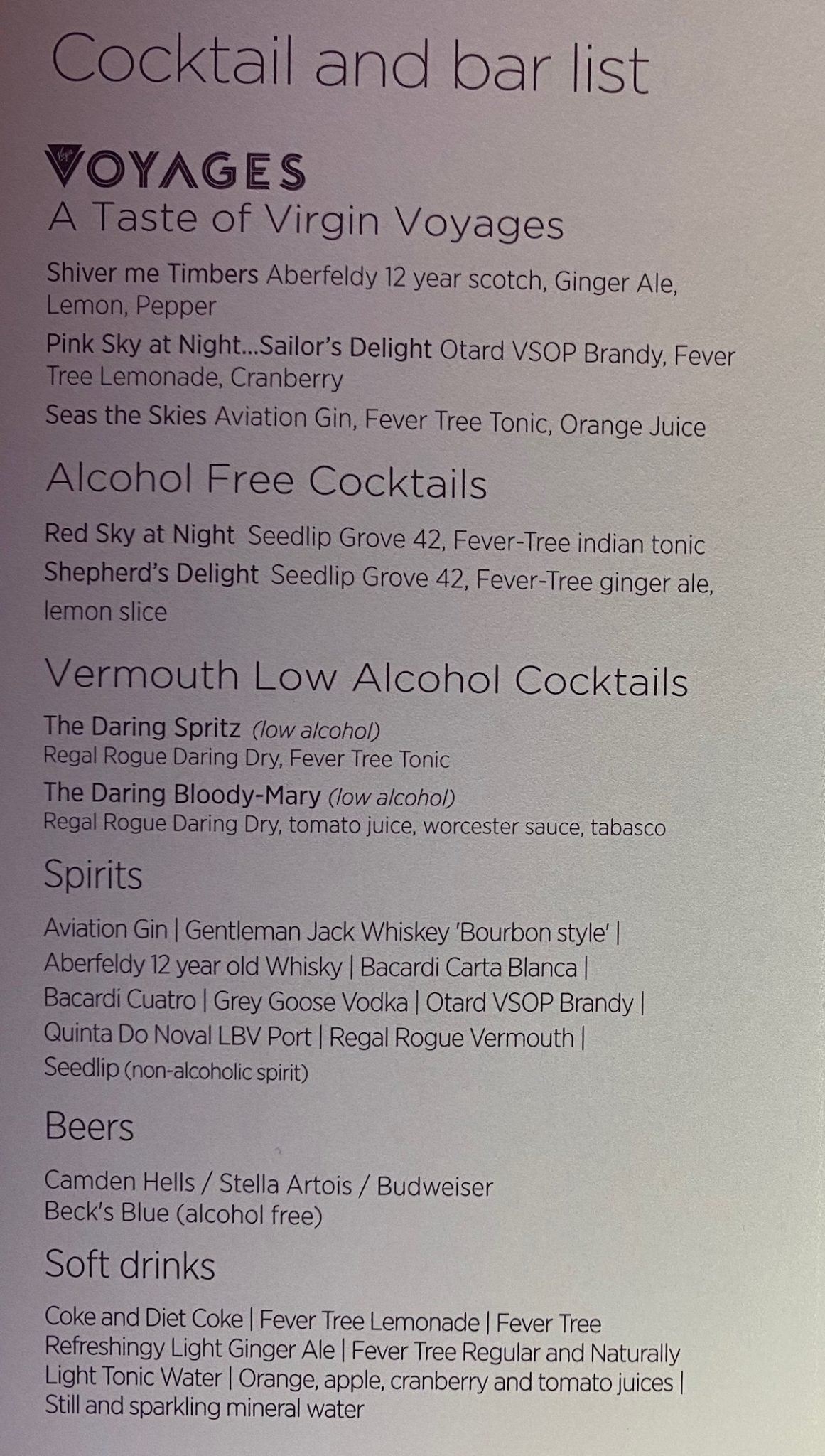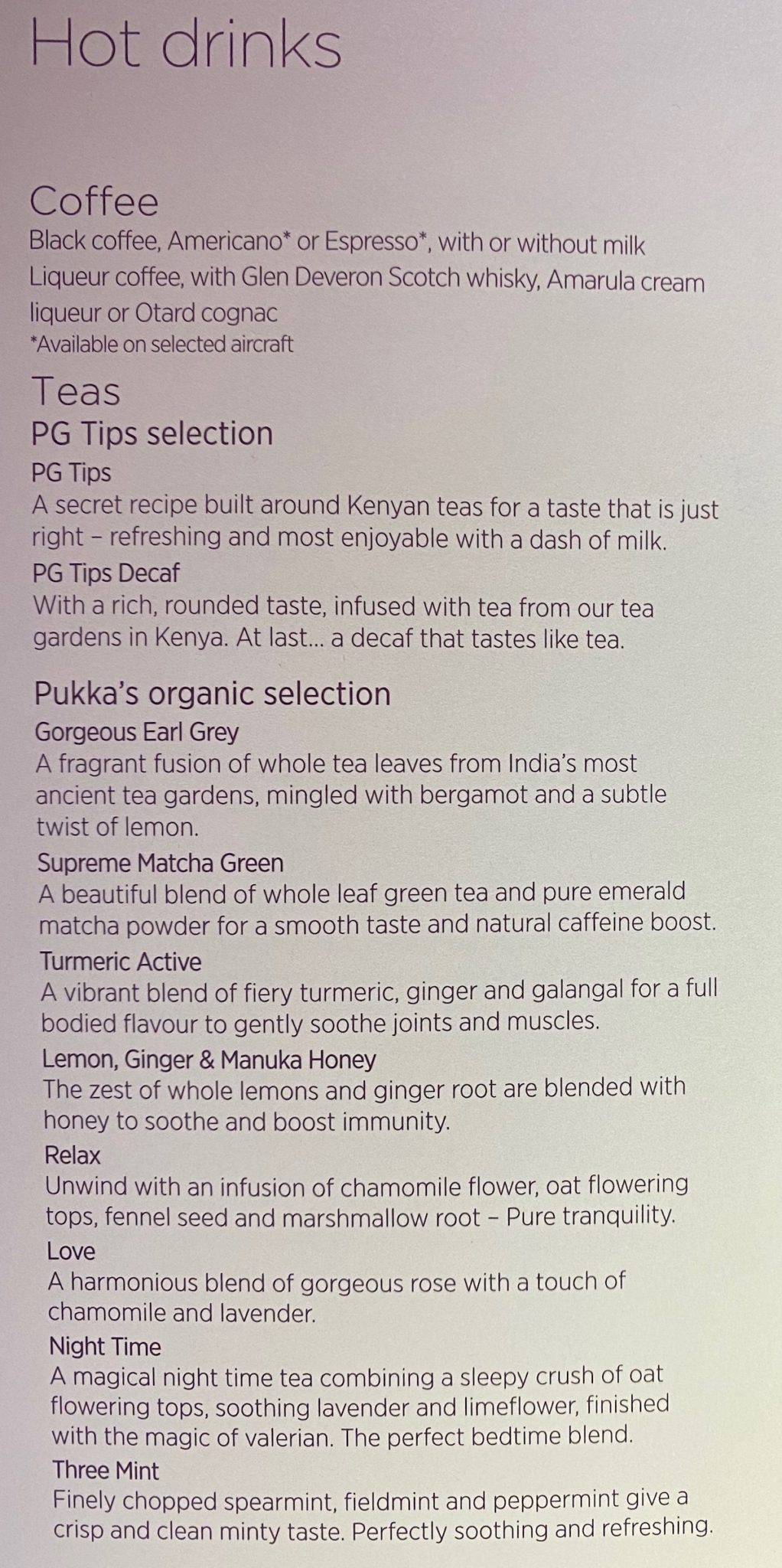 I find Virgin Atlantic's menu design to be thoughtful. Rather than just having a full menu or even an express dining option, they have specific recommendations for people who just want a light snack or a nightcap.
While I wasn't really hungry, I figured I had to order something for review purposes. Of the 19 business class passengers, only one other person didn't go right to sleep. As you'd hope, service was very quick in light of that.
Just 10 minutes after takeoff I was asked if I wanted something, and was offered a warm towel.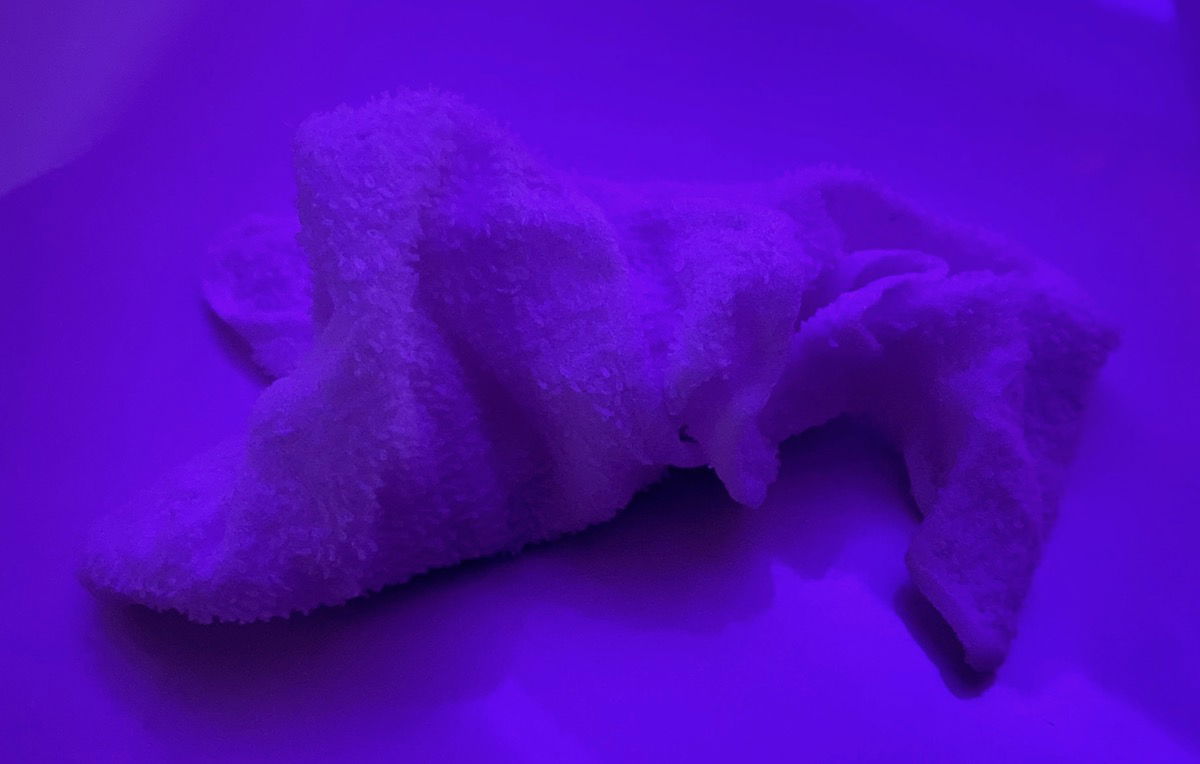 Virgin Atlantic Upper Class warm towel
As you can see above, the supper menu includes one starter, three main course choices, and then the choice of cheese or dessert. That's more than sufficient, given that almost no one actually eats.
Just 20 minutes after takeoff my table was set, and I was brought the appetizer, which was a goat cheese and orange salad. I like that they serve the meal directly on the tray table, rather than bringing it out on a tray.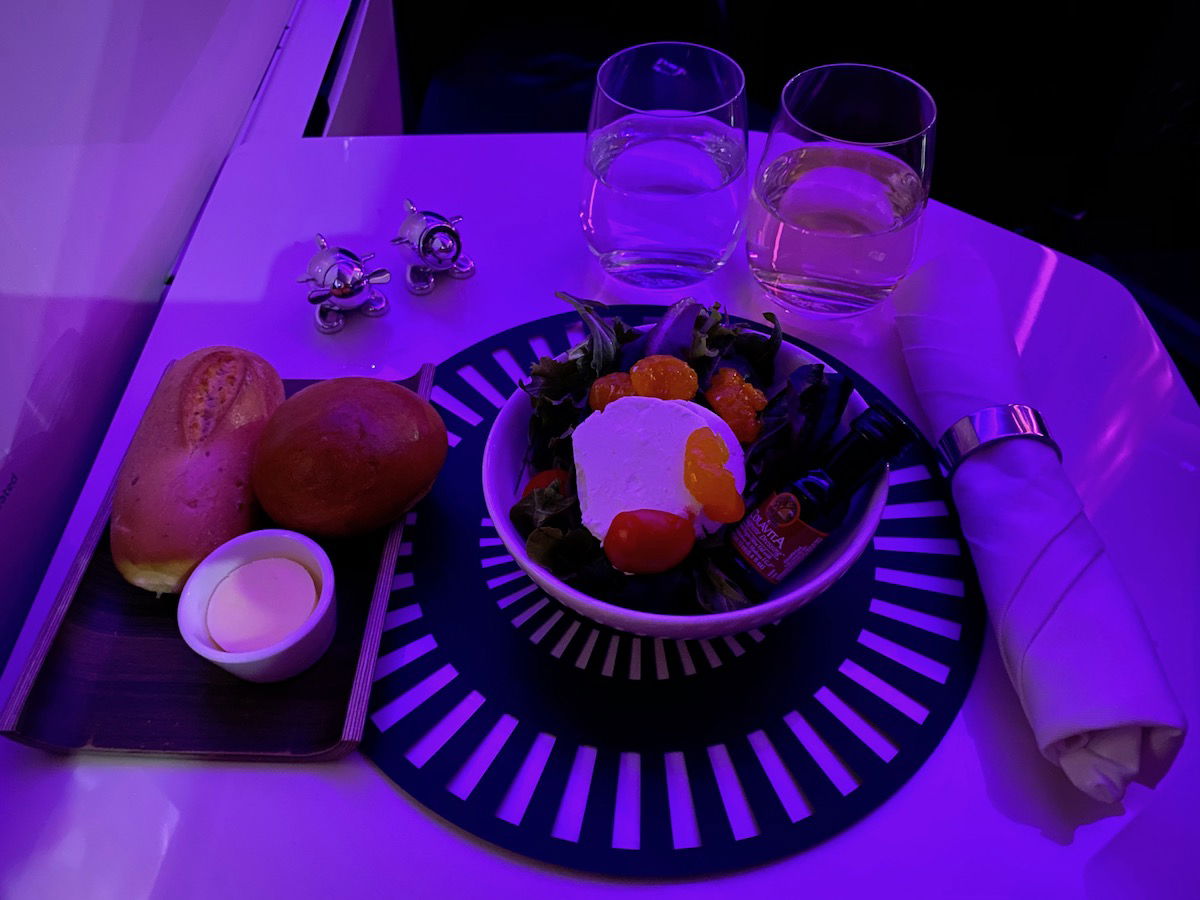 Virgin Atlantic business class dinner service — appetizer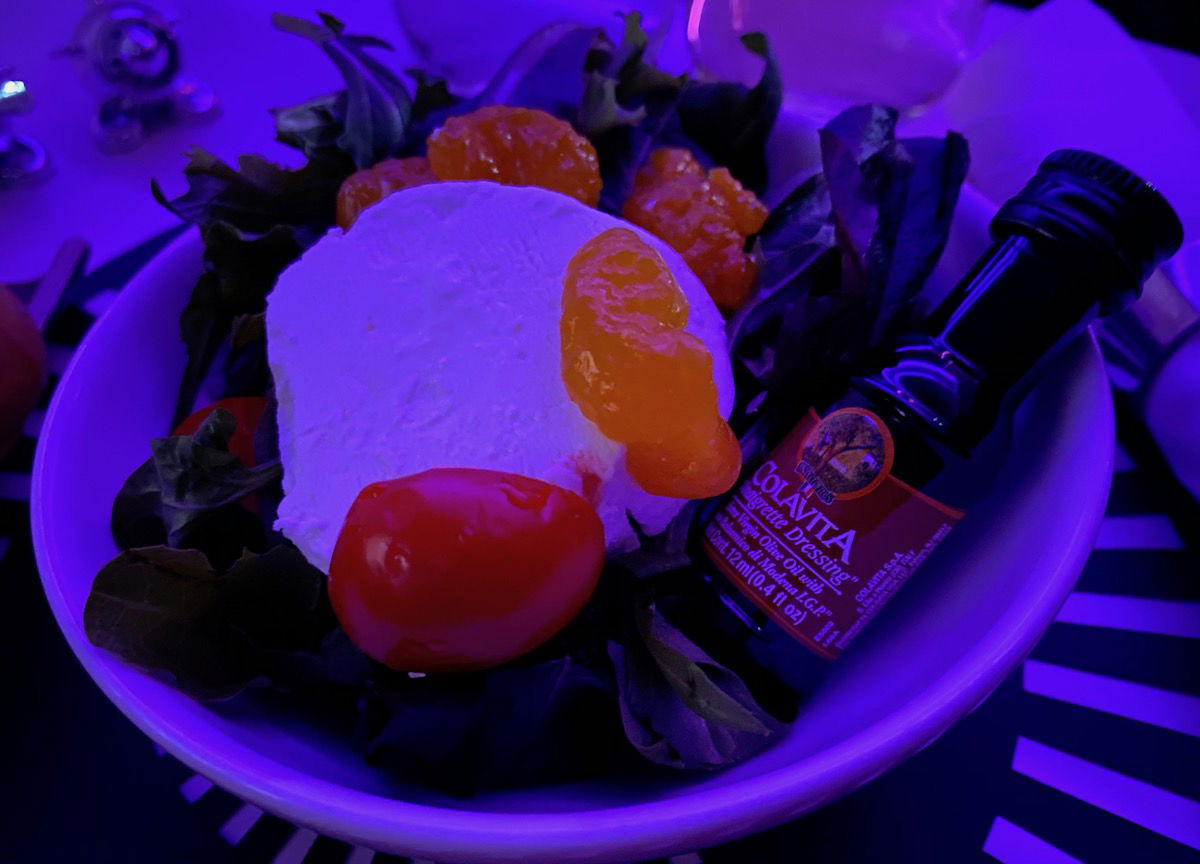 Virgin Atlantic business class dinner service — appetizer
For the main course I ordered the cauliflower steak with sweet potato gnocchi, with herbed butter, garlic sautéed haricot beans, confit cherry tomato, and sauce vierge. This was really good, much better than I was expecting.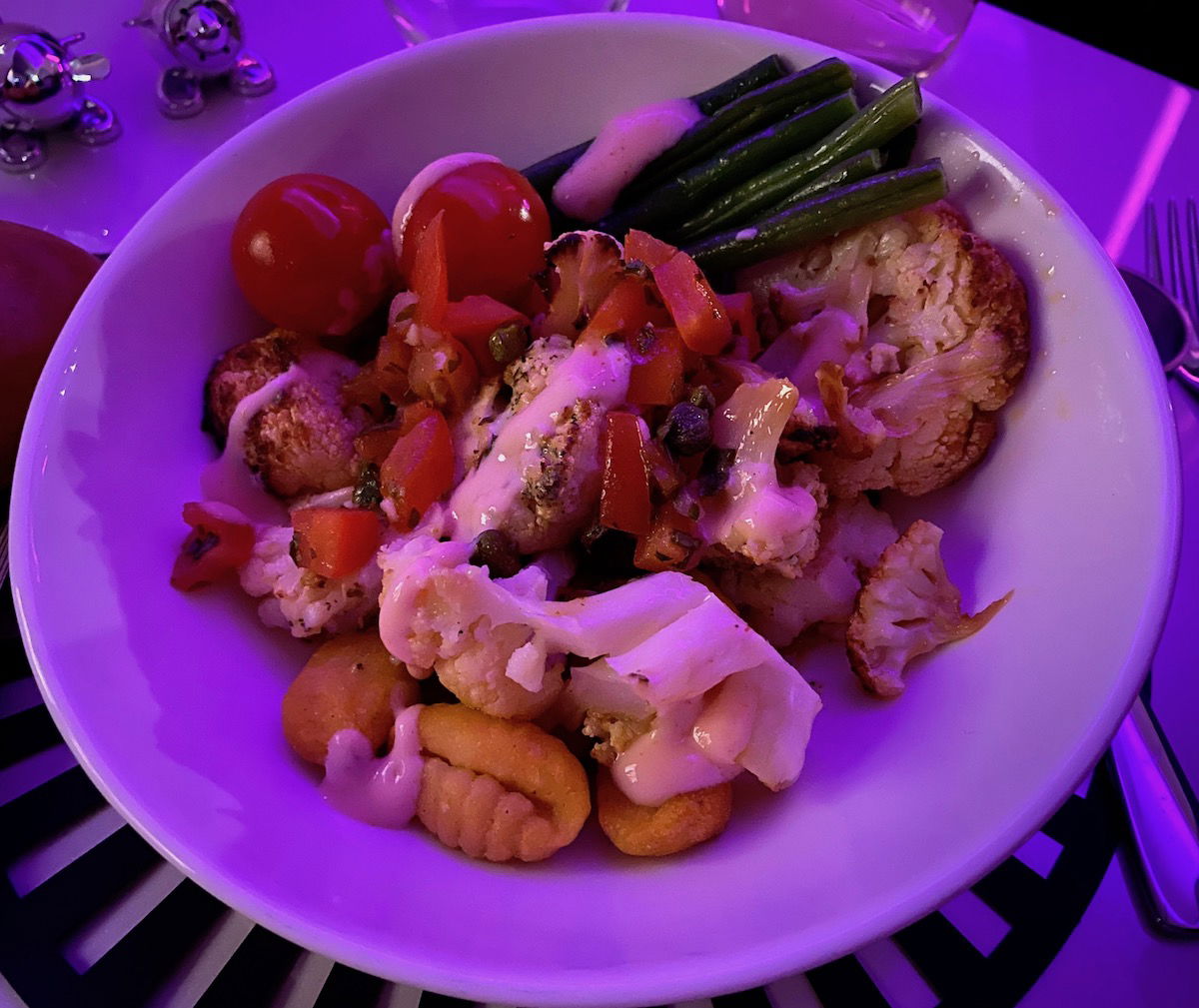 Virgin Atlantic business class dinner service — main course
Lastly for dessert I had the lemon and blackberry mascarpone cheesecake, which was excellent as well.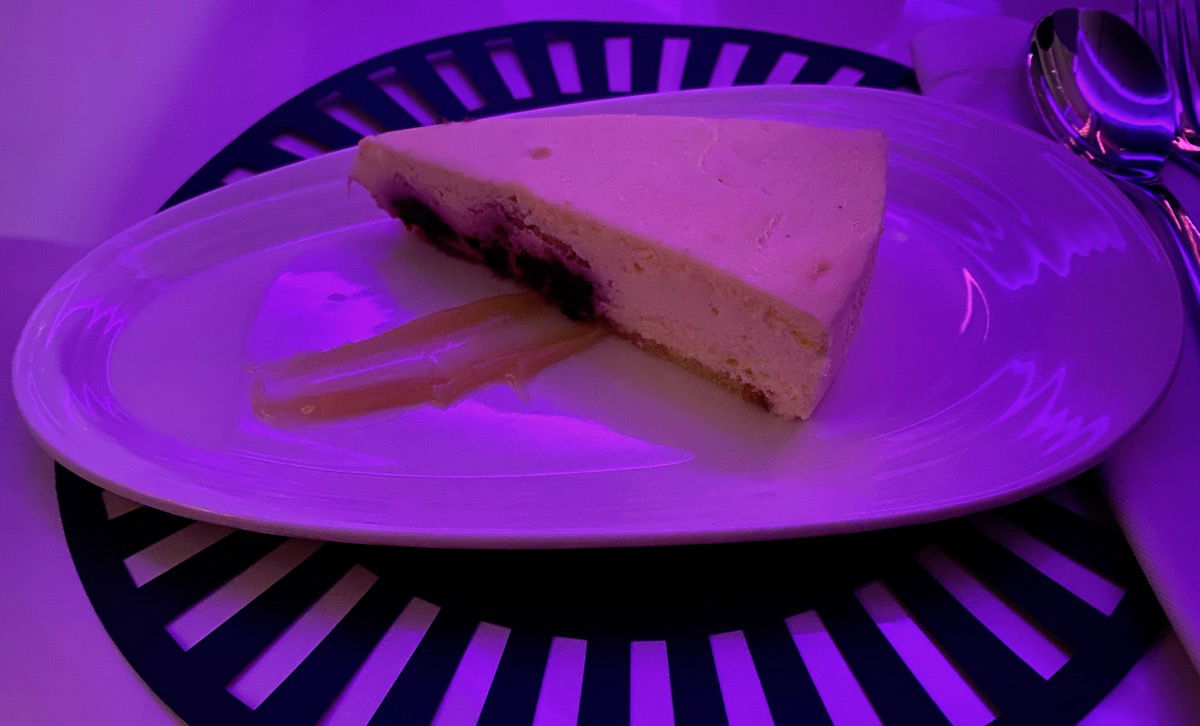 Virgin Atlantic business class dinner service — dessert
Not only was the food good, but my meal was done just over 45 minutes after takeoff. That's incredible, and exactly how it should be (though all too often it's not).
As far as service goes, I appreciated the efficiency of it all, though I've had more enthusiastic Virgin Atlantic crews. The flight attendant working my aisle wasn't rude at all, but her priority seemed to be providing the service as quickly as possible, which I'm totally fine with on a flight like this.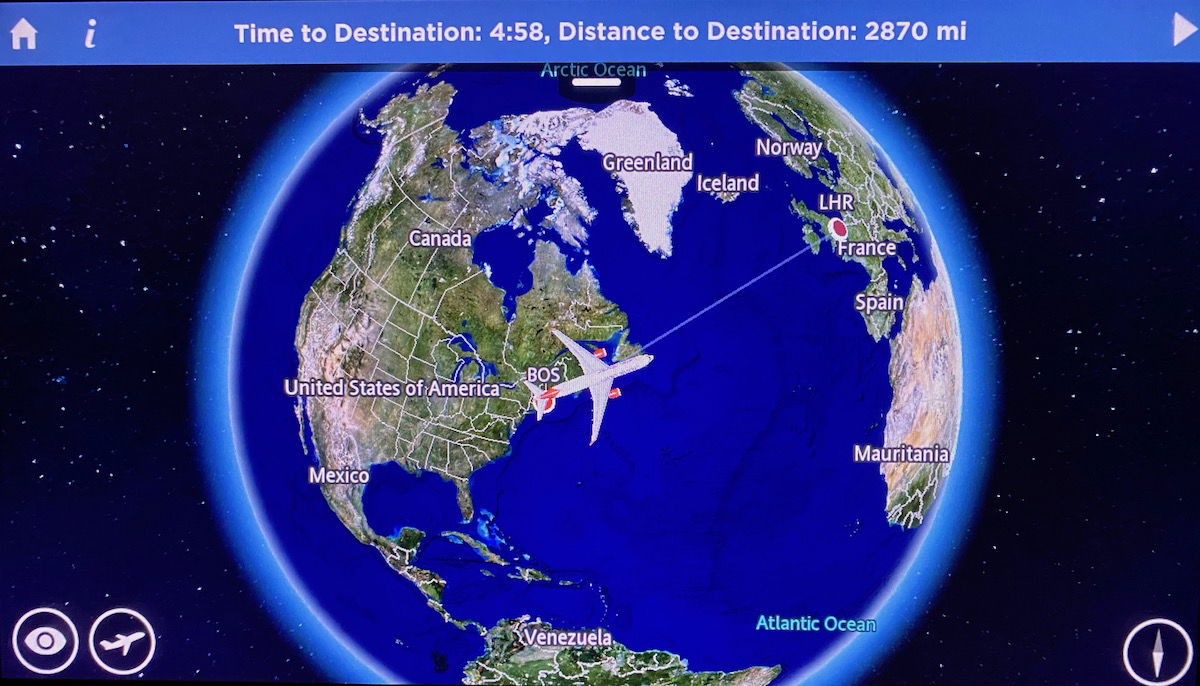 Map enroute to London
Upon the conclusion of my meal I was asked if I wanted turndown service. While that was being done, I went to the lavatory, of which there are two behind business class.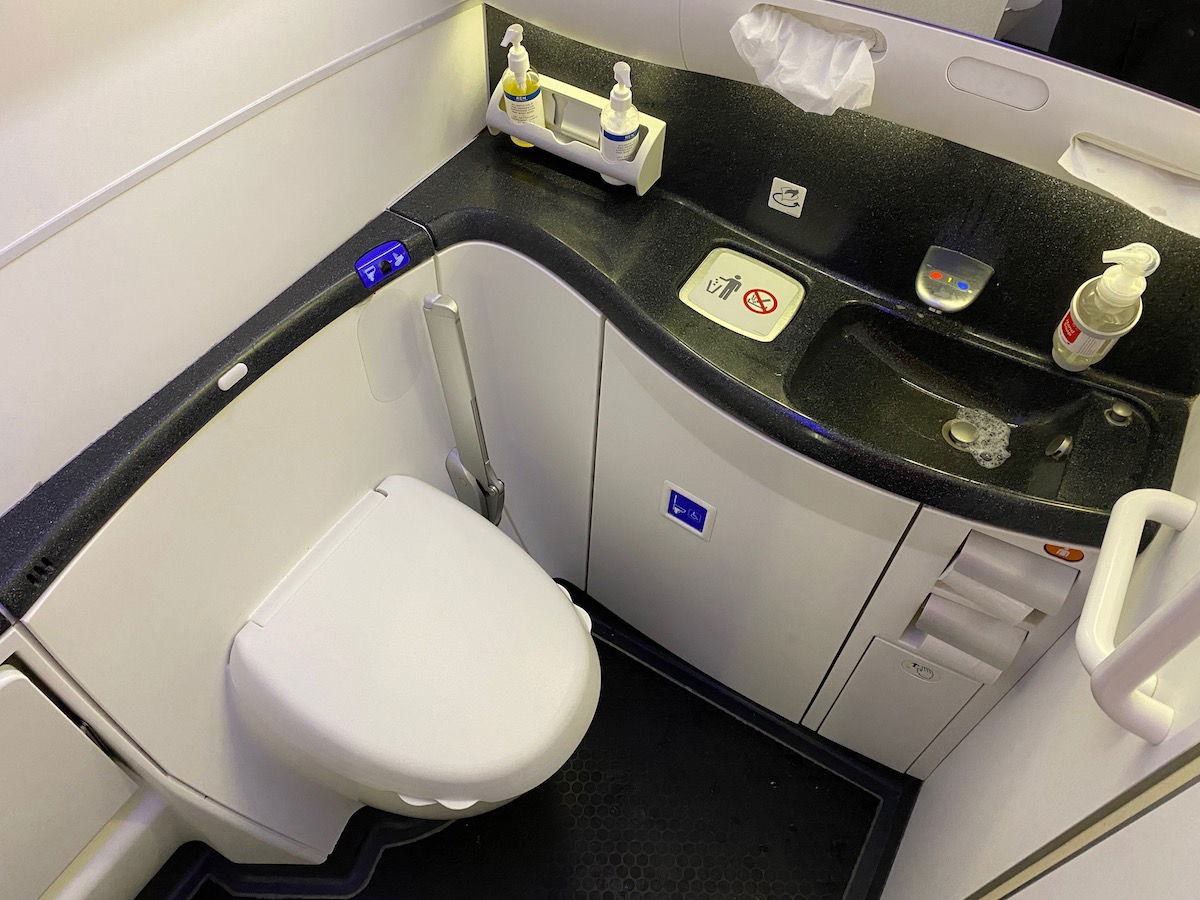 Virgin Atlantic 787 lavatory
At this point the bar was set up with some snacks as well, though it was otherwise quiet.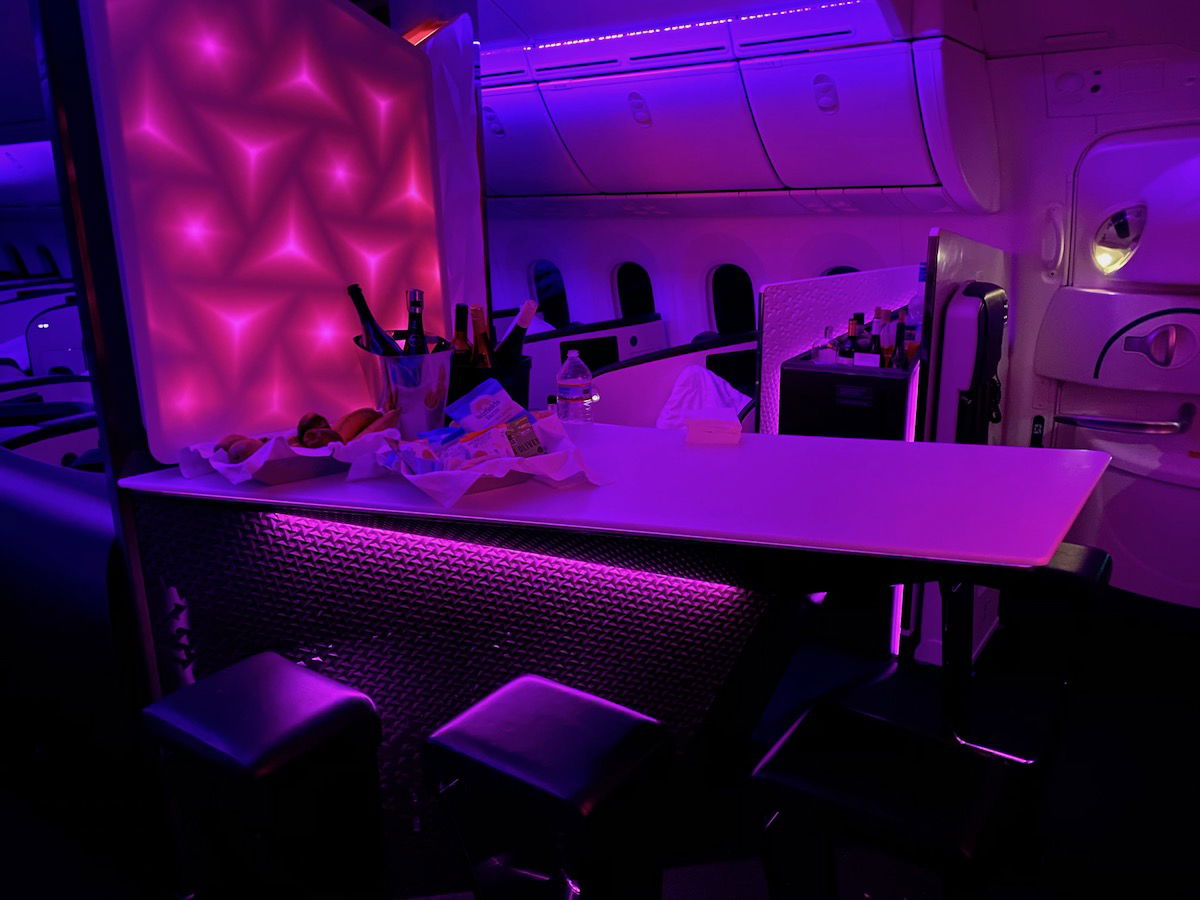 Virgin Atlantic business class bar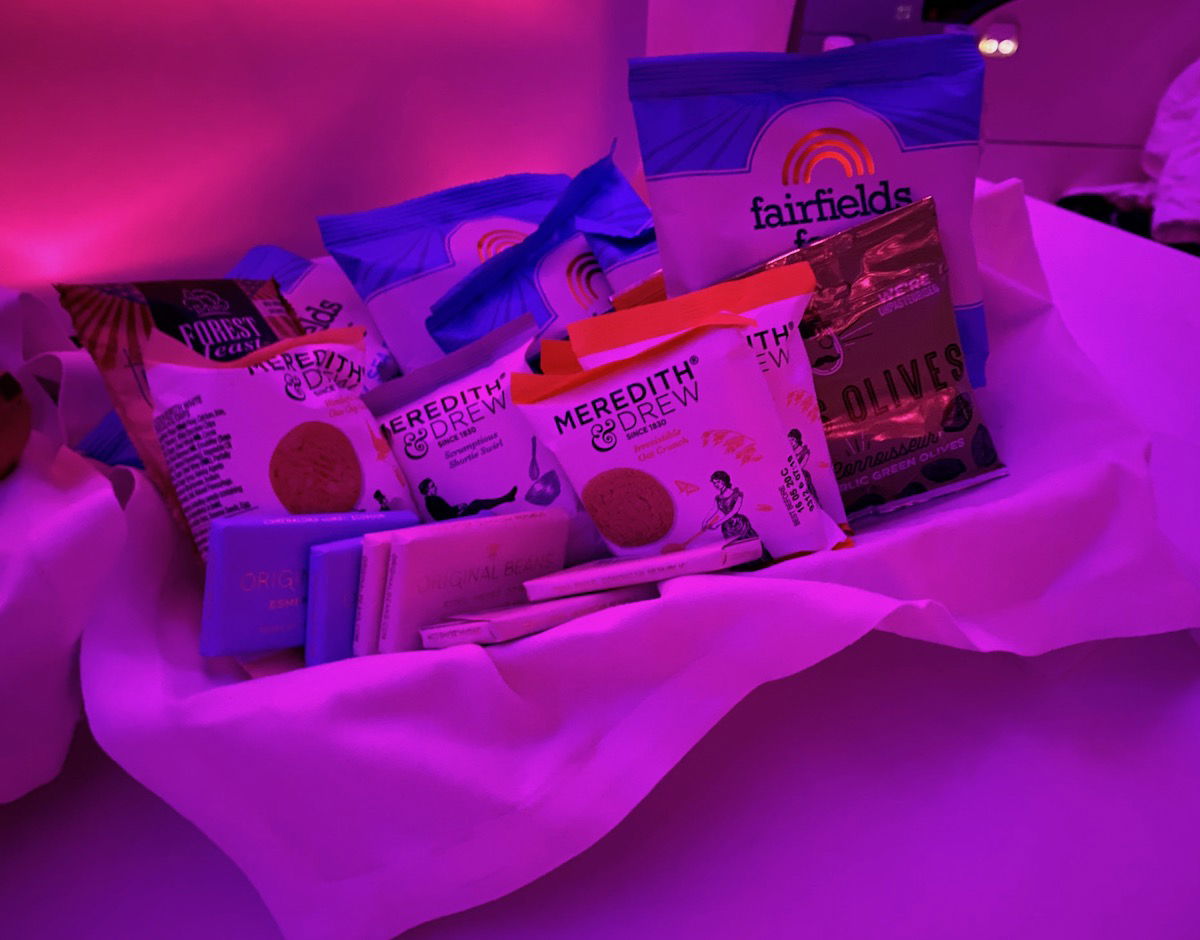 Virgin Atlantic business class snacks
Virgin Atlantic has solid bedding, with a nice duvet and a large pillow. I'm usually someone who finds pillows to not be substantial enough, though Virgin Atlantic's was almost too thick for me.
Unfortunately the bed as such is hard, and the mattress sheet doesn't do much to help. I also don't like these herringbone seats because they have to flipped over to turn into beds, and this also means that you can't slightly incline your bed, which I otherwise like to do.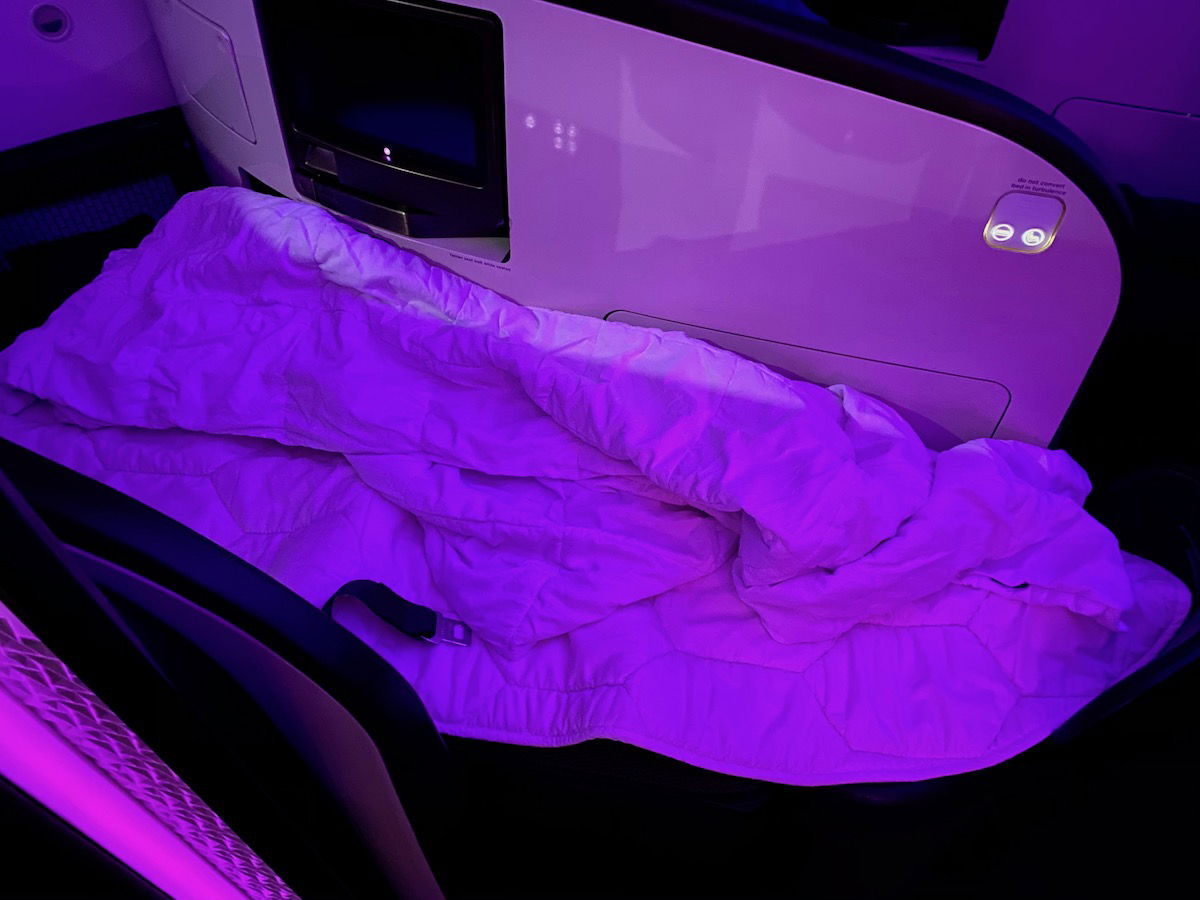 Virgin Atlantic Upper Class turndown service
I managed to fall asleep pretty quickly, and woke up about 90 minutes before landing in London.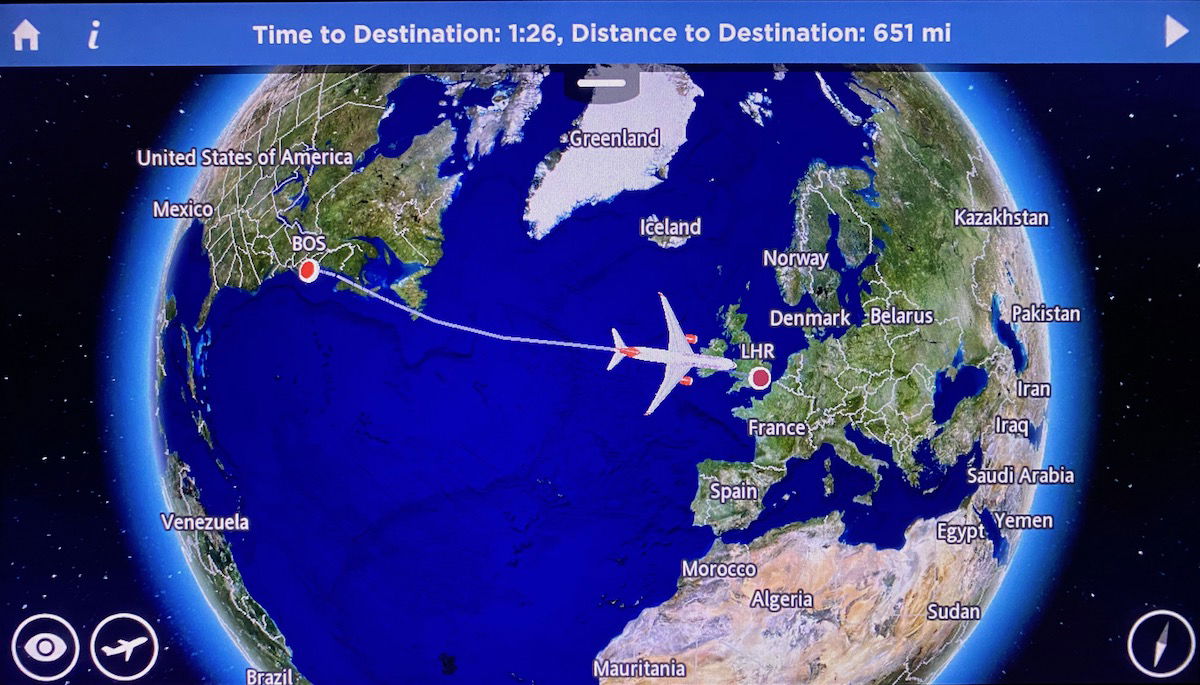 Map enroute to London
About an hour before landing I was brought my breakfast, based on the card that I had filled out before departure. I decided to order some fresh fruit and yogurt, some bircher muesli, and a "cookie bake."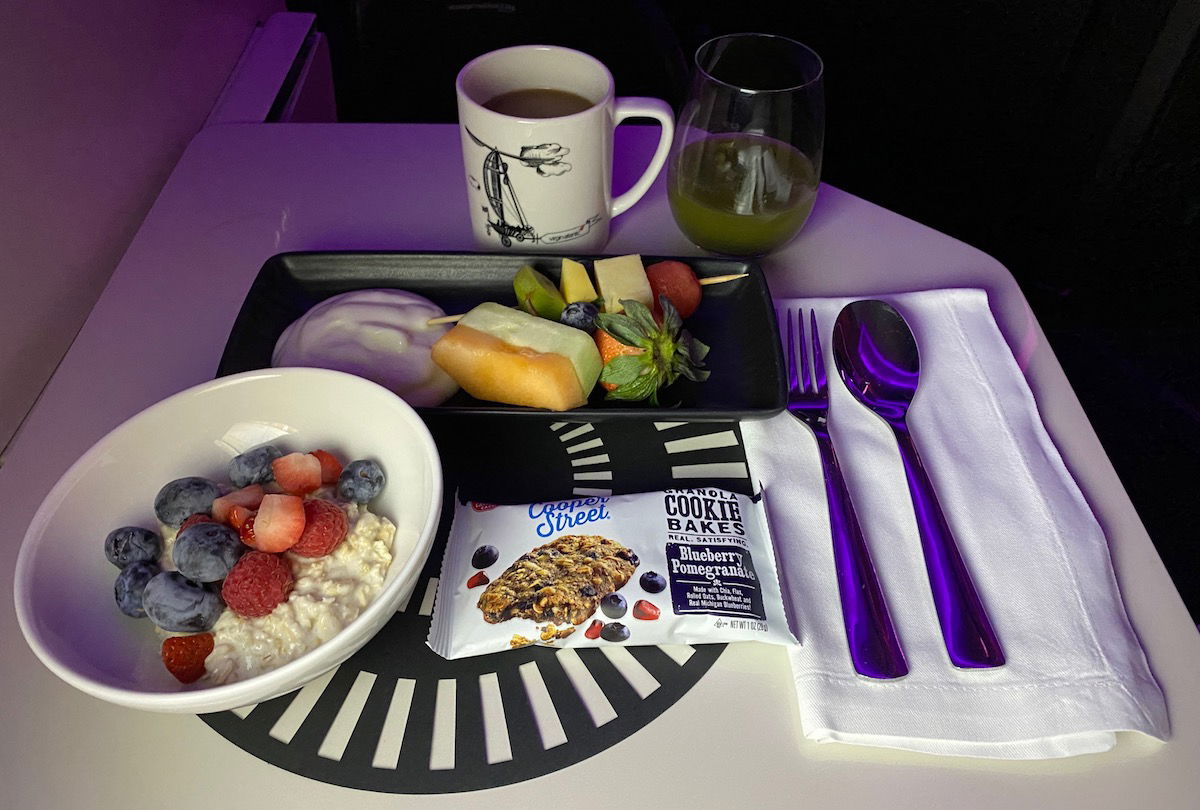 Virgin Atlantic 787 breakfast service
Virgin Atlantic does even offer hot breakfast, which many airlines don't on such a short flight.
At around 8:15AM London time the captain announced that we'd be landing at 9AM, and about 15 minutes after that we began our descent. There was a lovely sunrise as we approached London.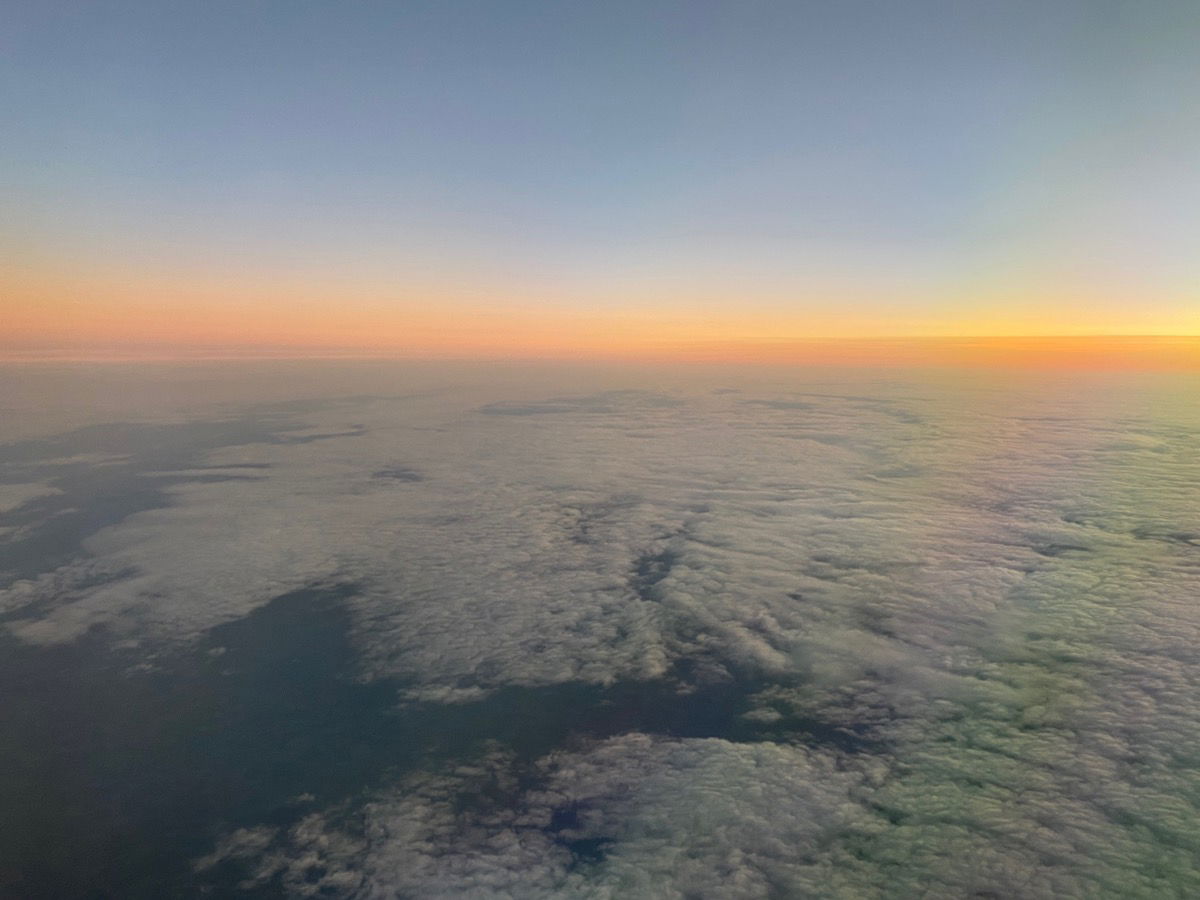 Sunrise approaching London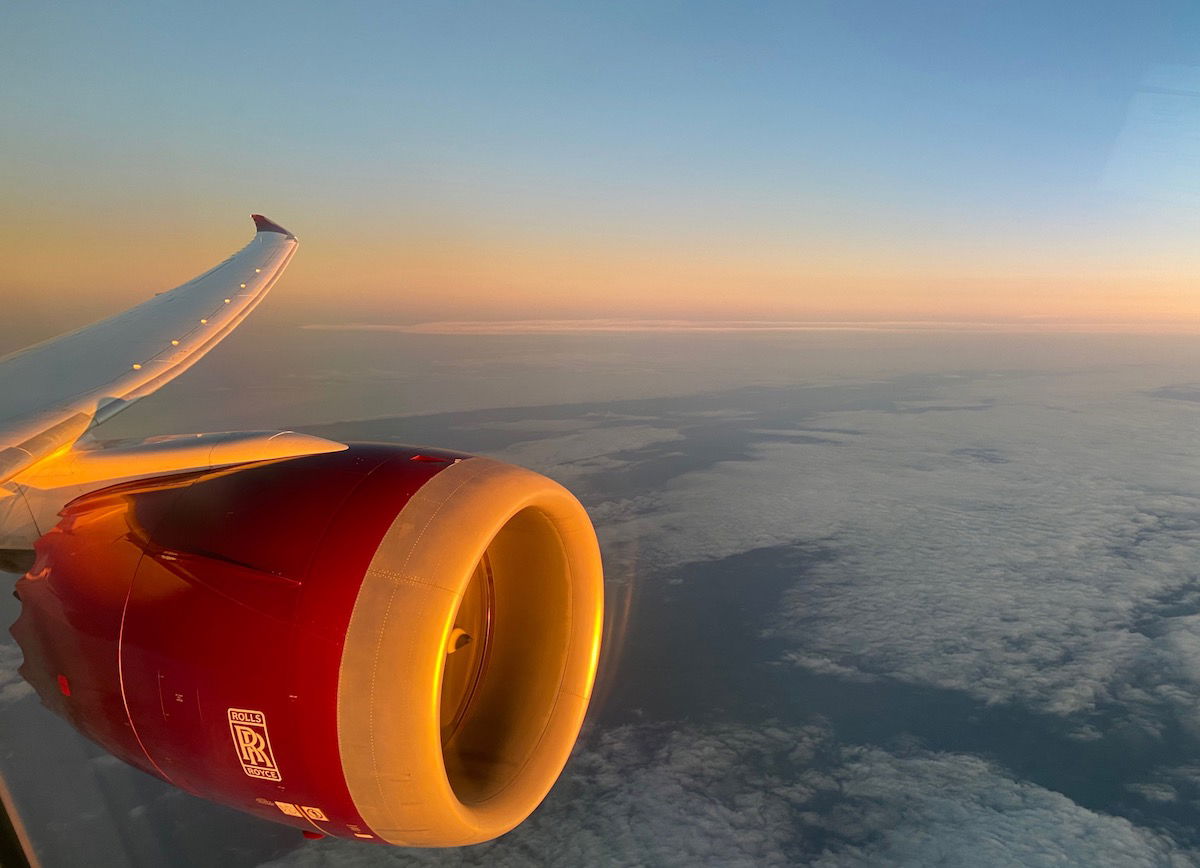 Virgin Atlantic 787 wing view
About 20 minutes before landing the crew passed out fast track cards, though those aren't worth much to many of us, thanks to the e-gates.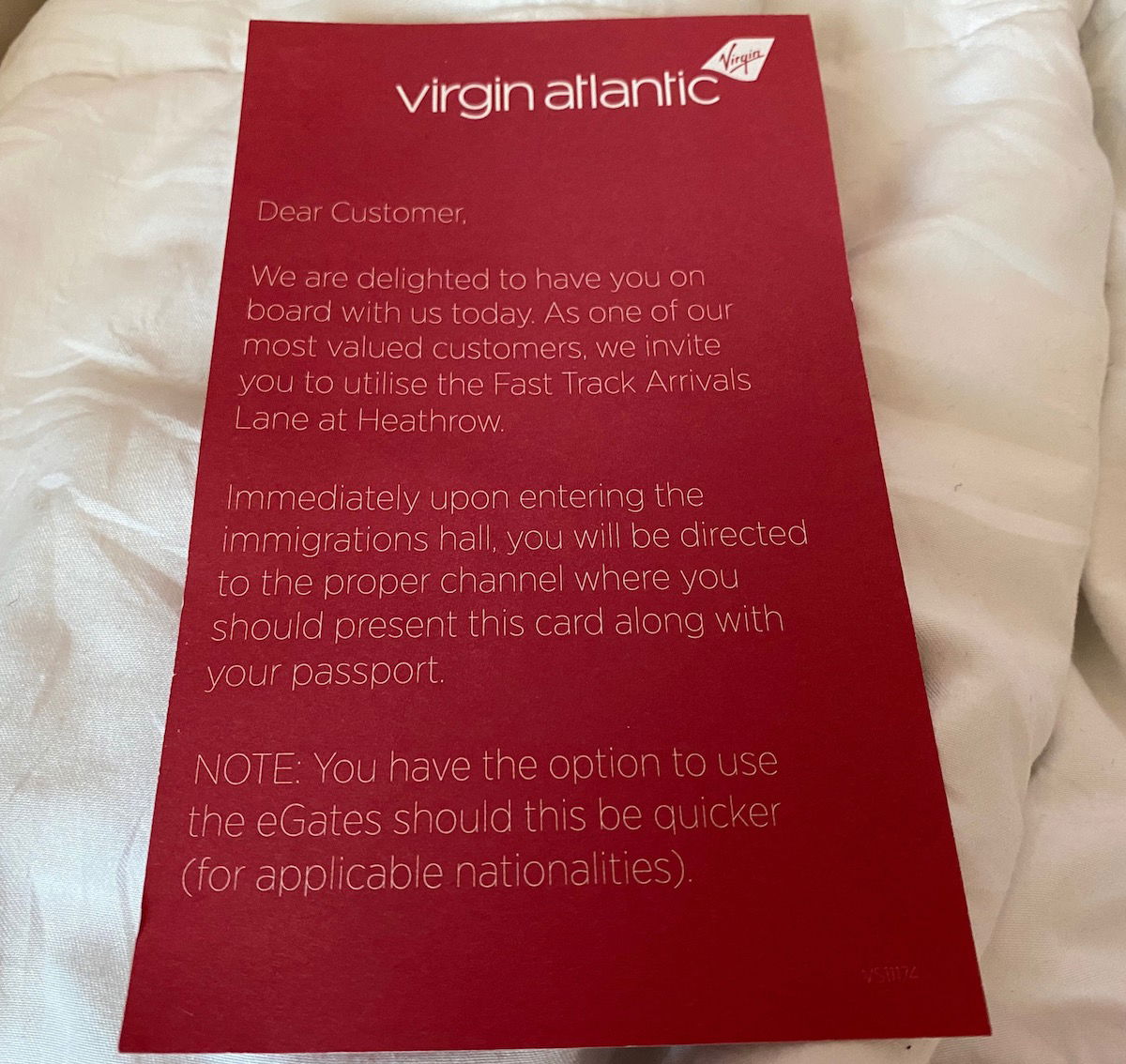 Heathrow fast track card
By the way, it's amazing how much of a difference mood lighting makes. The Upper Class cabin looks super swanky in the dark, but much less so during the day.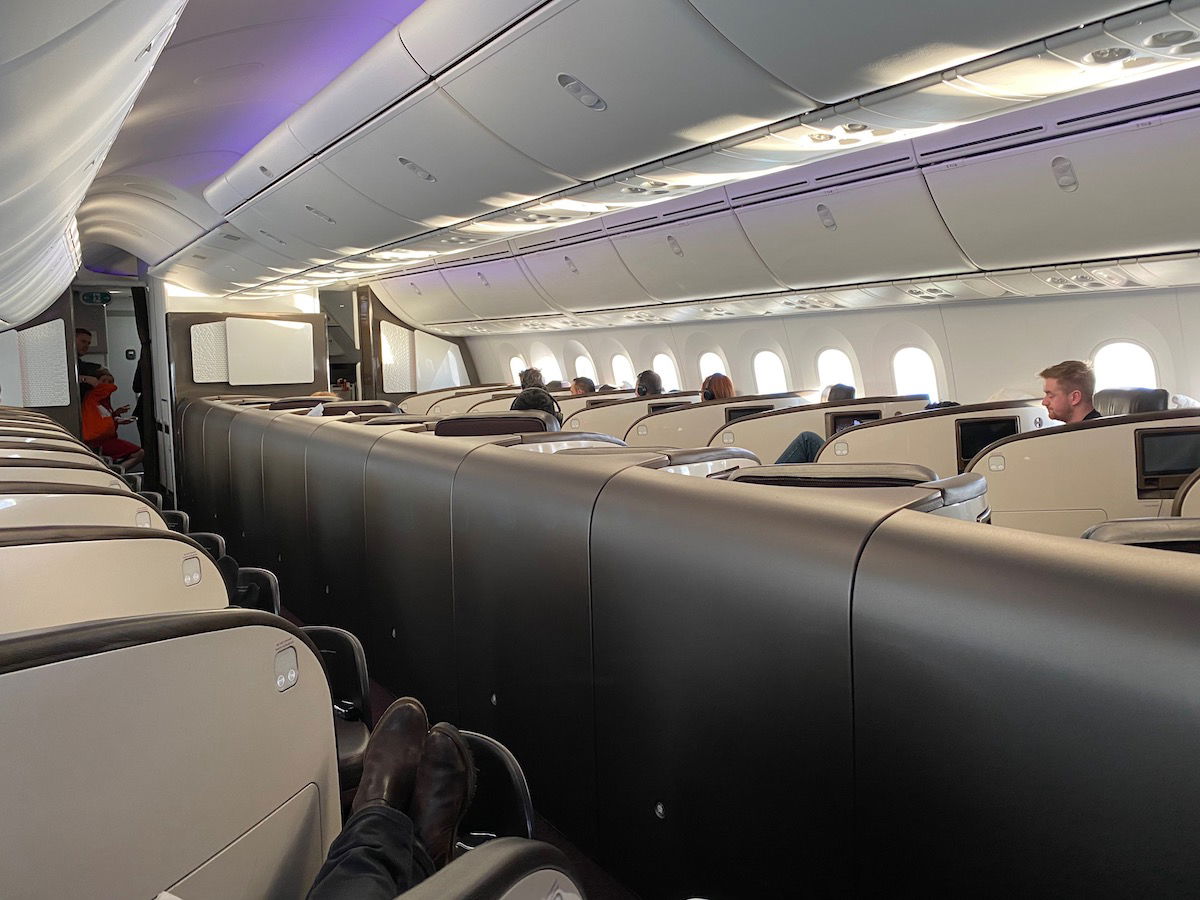 Virgin Atlantic 787 cabin view
While the sunrise was beautiful, unfortunately it was a significantly less nice day under the clouds.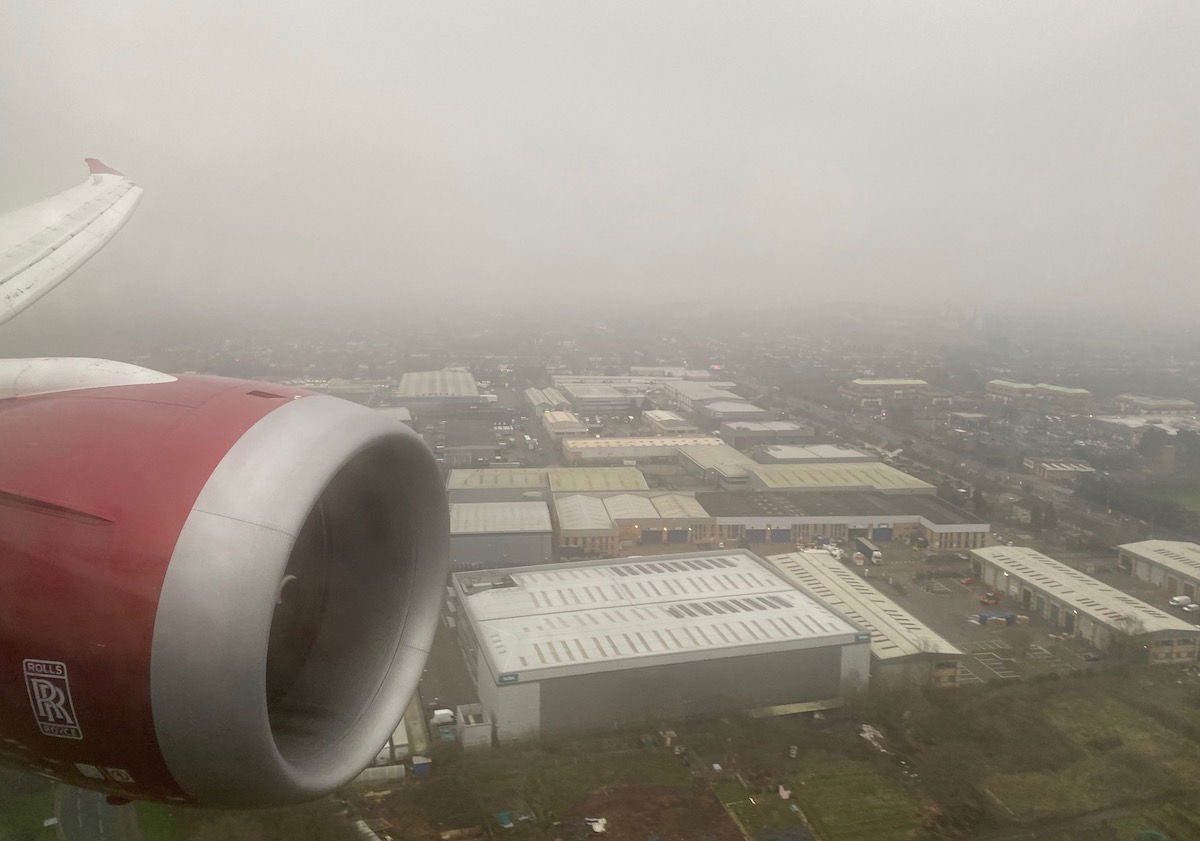 View approaching Heathrow
We ended up landing at 9AM, and had just a five minute taxi to Terminal 3. Because we were arriving early, unfortunately we were assigned a remote stand, which I think might be a first for me at Terminal 3.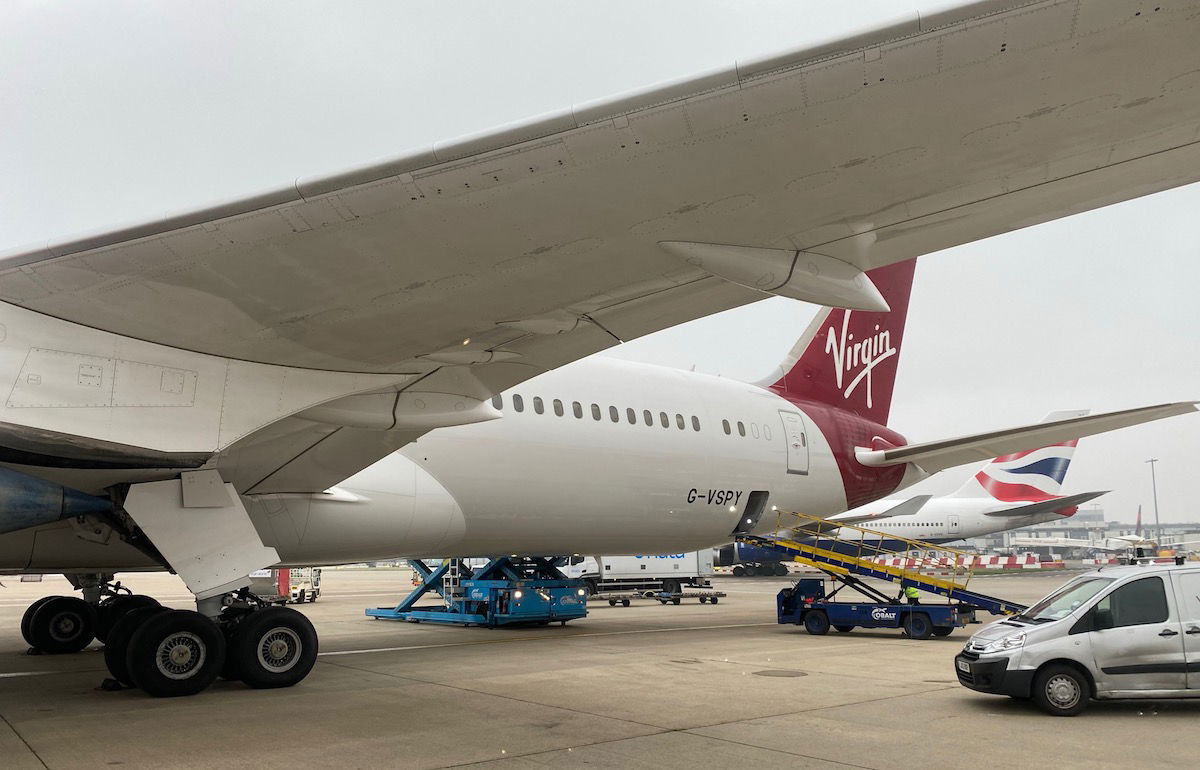 Virgin Atlantic 787 at remote stand
Getting such a close-up view of the 787 was cool. The rest of the experience wasn't, though. Somehow the bus ride to the terminal took 15 minutes, and even from where we were dropped off it was still a long walk to immigration.
Upon arrival I headed to the Virgin Atlantic arrivals lounge, which I'll be reviewing in the next installment.
Virgin Atlantic Business Class Bottom Line
Virgin Atlantic has their transatlantic soft product down to a science, especially for these painfully short East Coast to London flights.
The amenities were top notch (amenity kits, pajamas, etc.), and the menu was extensive, with the option to have light snacks, hot dinner, and/or hot breakfast. On top of that, service was quick, which is important on these flights.
That being said, these herringbone seats barely cut it anymore as far as business class seats go — they have no storage, they're hard as a rock in bed mode, and the TVs are small. I still can't fully rationalize how Virgin Atlantic was taking delivery of brand new planes in 2018 with herringbone seats.
Virgin Atlantic's new A350 business class is a huge improvement, though it's quite disappointing that the airline doesn't have any immediate plans to install these seats on 787s.
If you've flown Virgin Atlantic's 787 business class, what was your experience like?