A fully redesigned Park Hyatt is opening today, but I'm not sure I'm that impressed?
Park Hyatt Toronto reopens after four years
In late 2017 the Park Hyatt Toronto closed in order to undergo a significant renovation. The renovation was initially only supposed to take two years, but ended up taking longer than that. I guess that's for the best anyway, since I can't imagine early 2020 would have been a great time to reopen a hotel. 😉
The renovated Park Hyatt Toronto has opened its doors as of today (September 15, 2021). Here's how the concept behind the redesign is described:
The re-imagined Park Hyatt Toronto hotel combines luxury, sophistication, and glamour with a distinctive nod to Canadian heritage, art deco, and literature. The hotel collaborated with world-renowned designer Alessandro Munge of Studio Munge, who drew inspiration from Canada's striking seasons and natural landscapes to bring this experience to life. The luxurious property offers an elevated home-away-from-home experience with purpose and style through modern materials and soothing color schemes.
The Park Hyatt features a total of 219 accommodations (including 40 suites), a rooftop cocktail bar (now known as Writers Room), a new all-day dining restaurant (named Joni), as well as a gym. A spa and "wellness destination" will be unveiled at a later date.
Even though the hotel is once again open, only three photos have been shared of the redesign, which you can find below.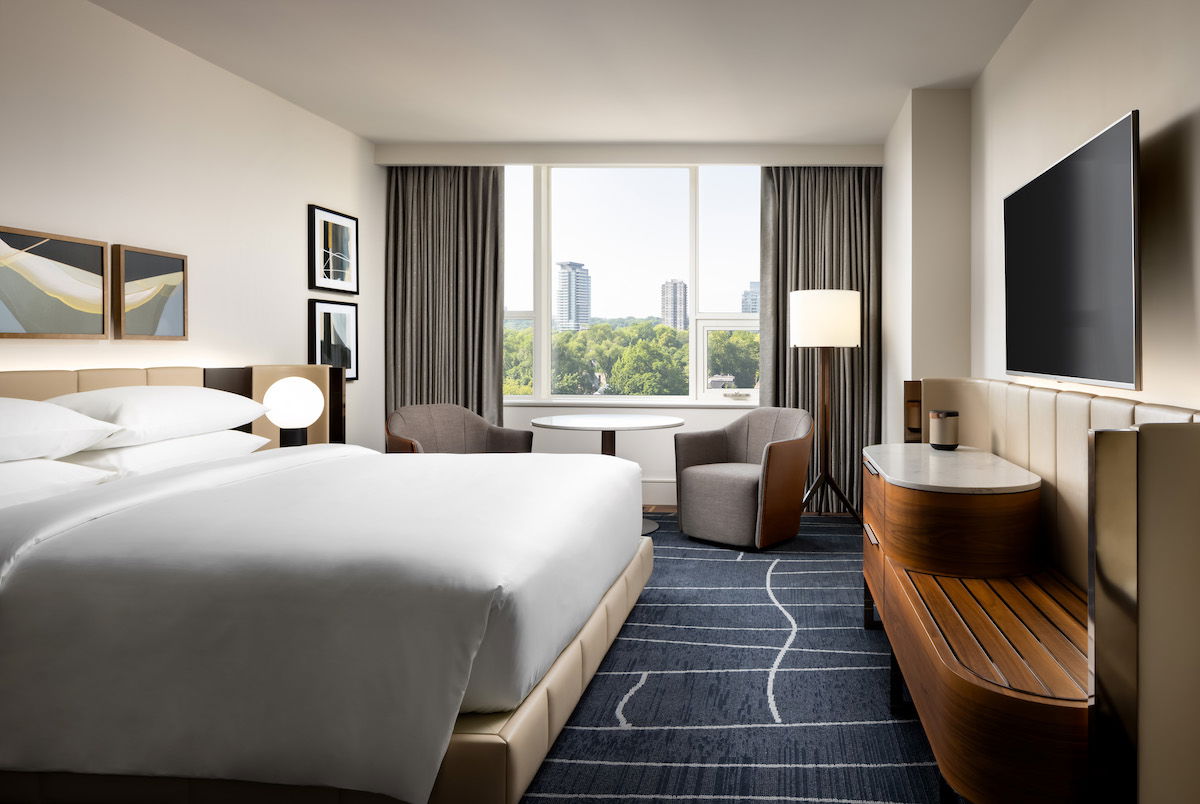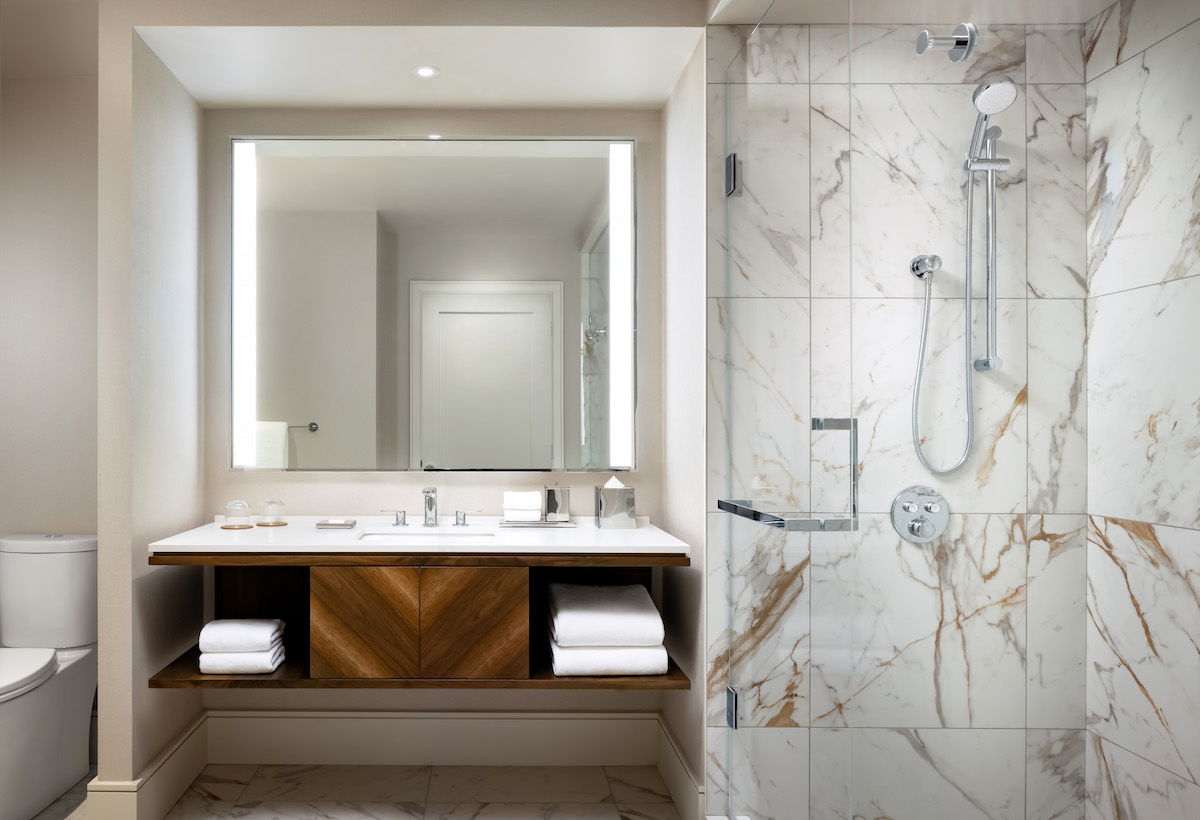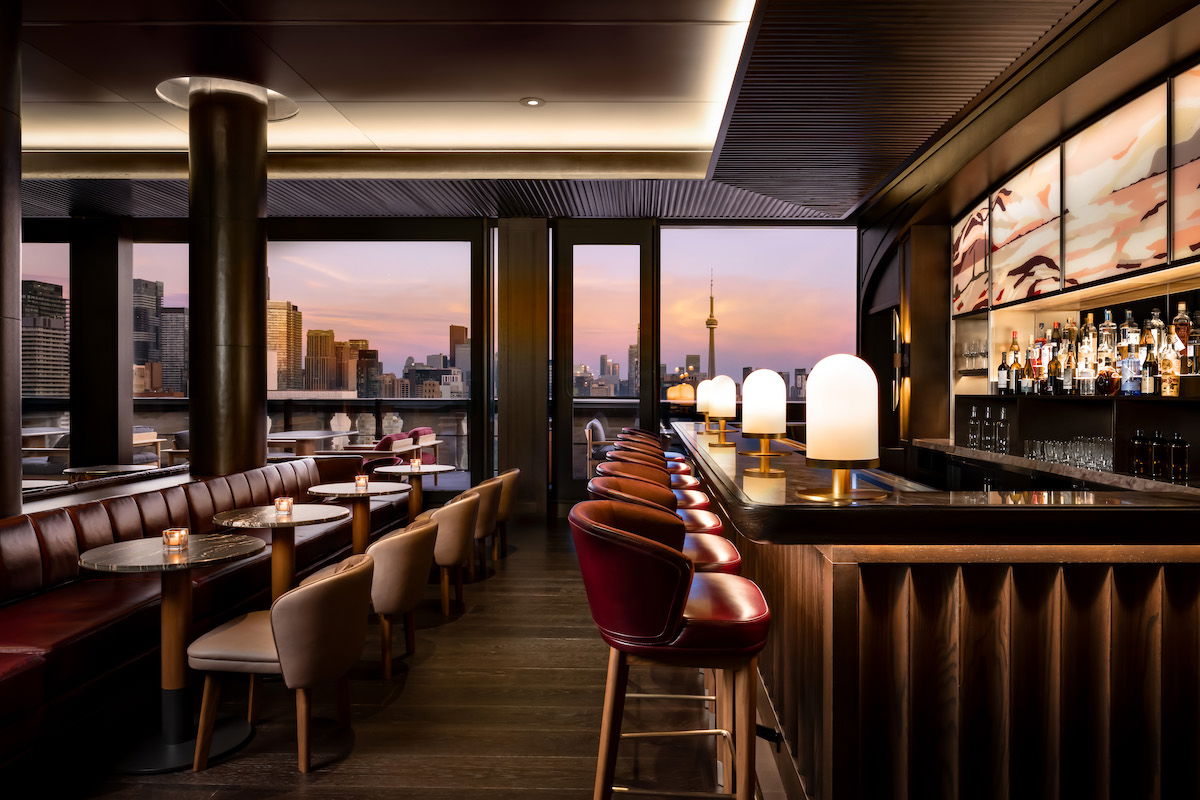 Looking at the pictures, am I the only one who is rather underwhelmed? To me the room design looks like a modern Grand Hyatt, rather than something uber-luxurious that I'd expect from a newly renovated Park Hyatt. The bathroom looks particularly unimpressive.
I reviewed the Park Hyatt Toronto in 2016 — I thought it was a solid city hotel, but hardly competitive to some of the better Park Hyatts out there.
Park Hyatt Toronto rates & points requirements
The Park Hyatt Toronto is a Category 6 World of Hyatt property, which is the second highest award category for Hyatt properties. This means a free night redemption will cost you the following number of points:
25,000 points per night for a standard room; a standard room is a "1 King Bed" or "2 Queen Beds" room
40,000 points per night for a standard suite; a standard suite is a "1 Bedroom Suite High Floor" or "1 Bedroom Corner Suite"
50,000 points per night for a premium suite; a premium suite is a "1 Bedroom Deluxe Corner Suite High Floor"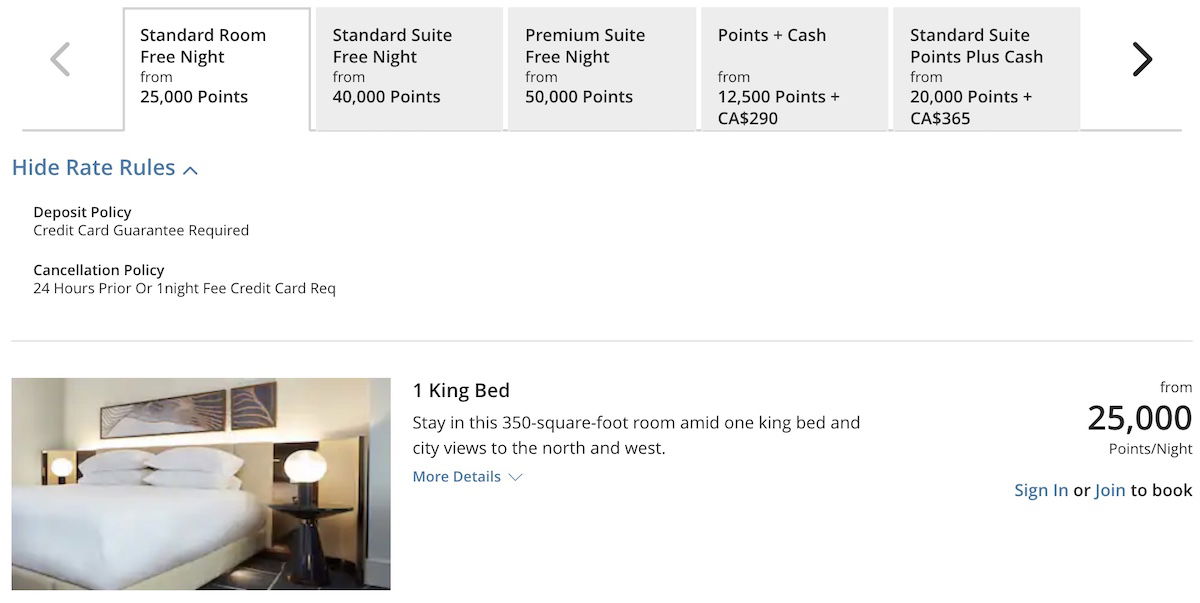 As far as paid rates go, they seem to start at somewhere around 550-700CAD (~435-550USD) per night, depending on the time of year and days of the week. That's steep pricing for Toronto, especially in light of the current business travel climate. I'm curious if the hotel can sustain those rates.
If you do book a paid stay at the Park Hyatt Toronto, I'd highly recommend booking through the Hyatt Privé program, which offers extra perks like room upgrades, complimentary breakfast, and a hotel credit.
Bottom line
The Park Hyatt Toronto is reopening as of today, after being closed for nearly four years. The hotel has undergone a major (and much needed) renovation, which should no doubt elevate the property.
That being said, based on the pictures that have been released so far, I can't say that I'm all that impressed. Based on what I've seen, this looks to me a lot more like a nice Grand Hyatt than a cutting edge Park Hyatt. But maybe that's just me, or maybe it's just the few pictures that have been released so far. I'll probably check this hotel out the next time I visit Toronto.
What do you make of the refreshed Park Hyatt Toronto?