---
I spent the night at the Marriott Newark Airport (which I've reviewed before, so I won't be reviewing it this time around), and early the next morning I headed to Newark Airport bright-eyed and bushy-tailed (or something like that) for my daytime United Polaris flight to London Heathrow, on their very intriguing low density 767-300.
How I Booked My United Polaris Ticket
I only booked this trip a bit over a week before departure, and was happy to find that United had some saver award seats on their daytime flight from Newark to London Heathrow. I was excited about this for two reasons:
It would be my first-ever time on a daytime eastbound transatlantic flight (I'll share my overall thought on these kinds of flights in a separate post)
This flight was operated by United's 767-300 with an astounding 46 business class seats; this is a plane unlike anything else offered by a US airline
Anyway, I booked the one-way ticket using Air Canada Aeroplan miles, which I had transferred over from Amex Membership Rewards (see here for the best credit cards for earning Amex points). The ticket cost just 55,000 miles plus $5.60 in taxes and fees. That's quite a deal, if you ask me!
I booked through Aeroplan because they had a combination of the lowest redemption rates and the easiest booking process.
Full Disclosure…
I pride myself in the independence of my reviews, and that includes doing everything in my power to "fly under the radar." However, in this case I had contacted United in advance to ask if I could board early.
Usually I'm just really good at being "gate lice" and getting on the plane first, but at United both Global Services and 1K members can board before business class, so it's really hard to get good cabin pictures.
I needed some more shots of United cabins for the blog, I wanted to photograph this unique Polaris cabin as "cleanly" as possible, and I also wanted to take a look at United's premium economy seats.
So this is just a heads up of that, and also that the crew seemed to know that I'm a blogger. Everything else about the experience was the same (the food, the seat, etc.), but I won't be talking much about the service, since they knew what I was doing.
Fortunately I've reviewed United plenty in the past, and I find service is consistently inconsistent.
United Polaris Lounge Newark
I woke up at around 4AM so I'd have some time to work before the flight, and I ended up getting to Newark at around 5AM. I've reviewed the Polaris Lounge Newark before, so won't be doing so again.
I absolutely love this lounge, though, and would note that it's especially calm in the morning, as there's virtually no one there.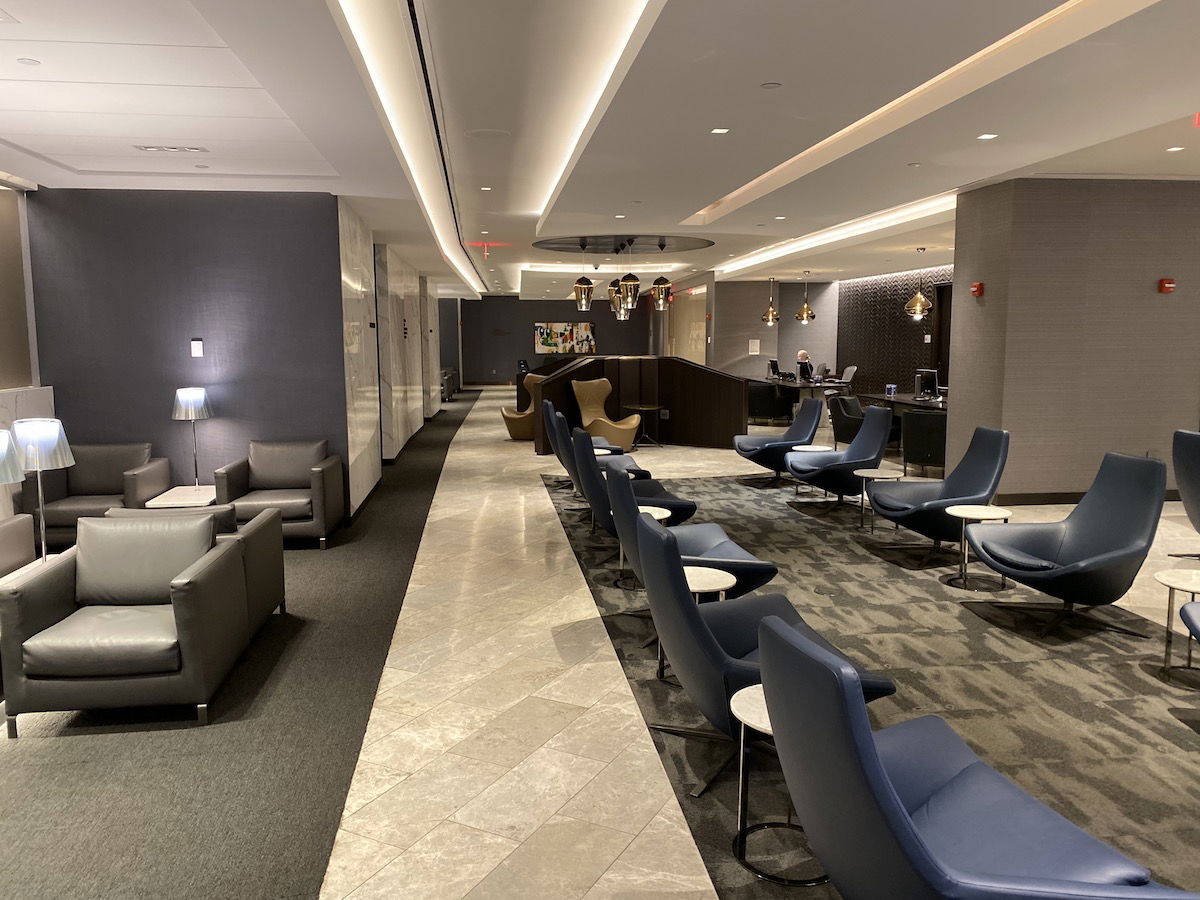 United Polaris Lounge Newark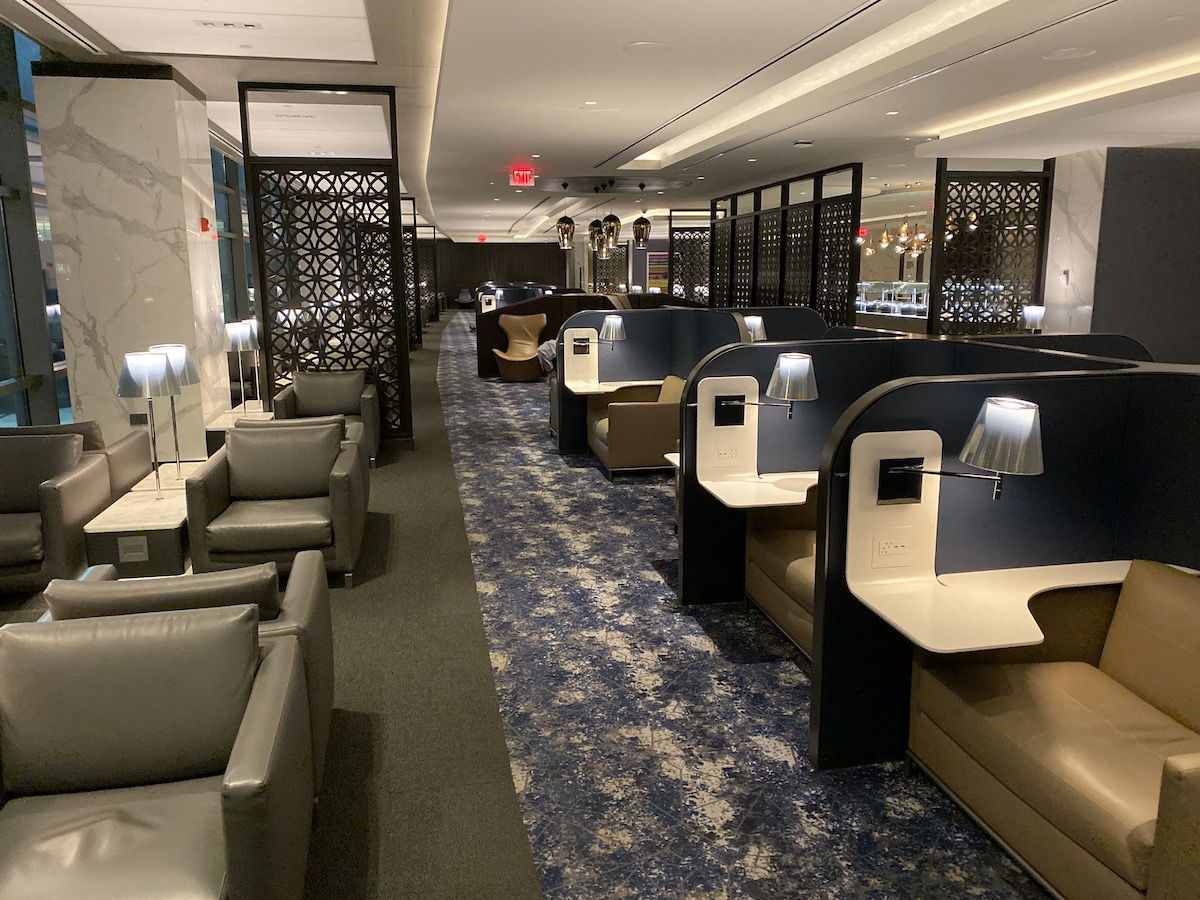 United Polaris Lounge Newark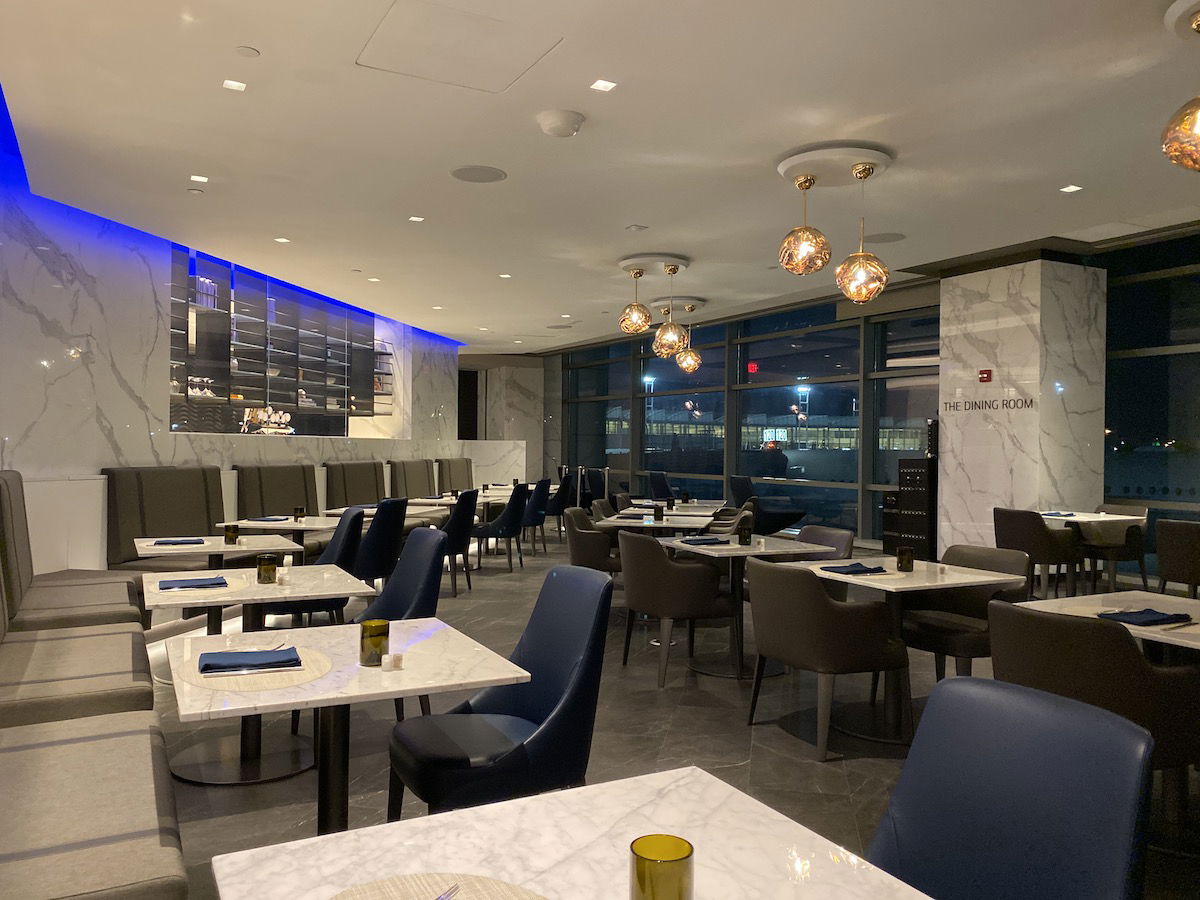 United Polaris Lounge Newark
I had an early breakfast in the lounge, and the menu for that read as follows: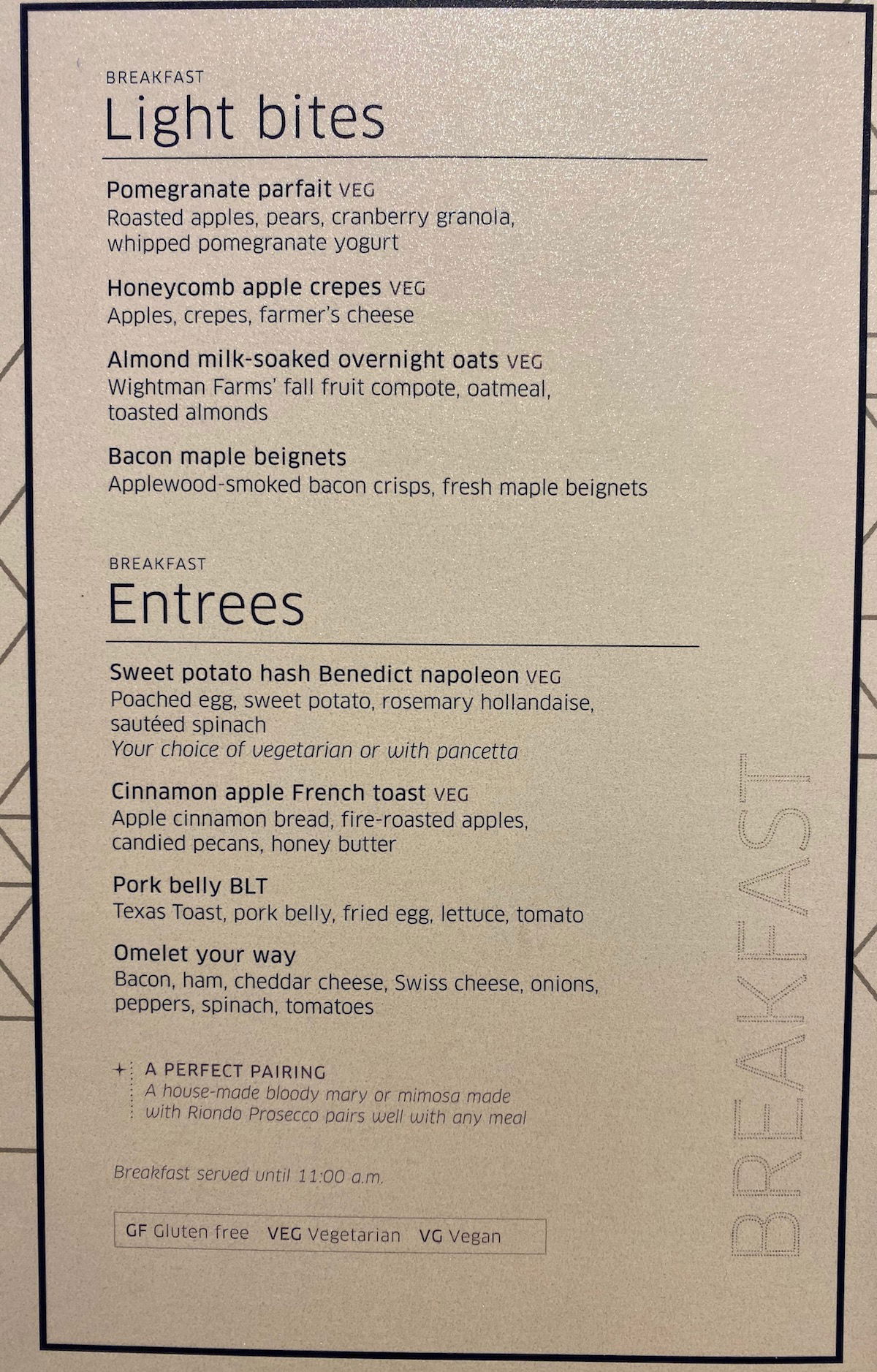 I had a pomegranate parfait, a veggie omelet, and a cappuccino, which was excellent. I still can't fully believe that this is a US airline lounge.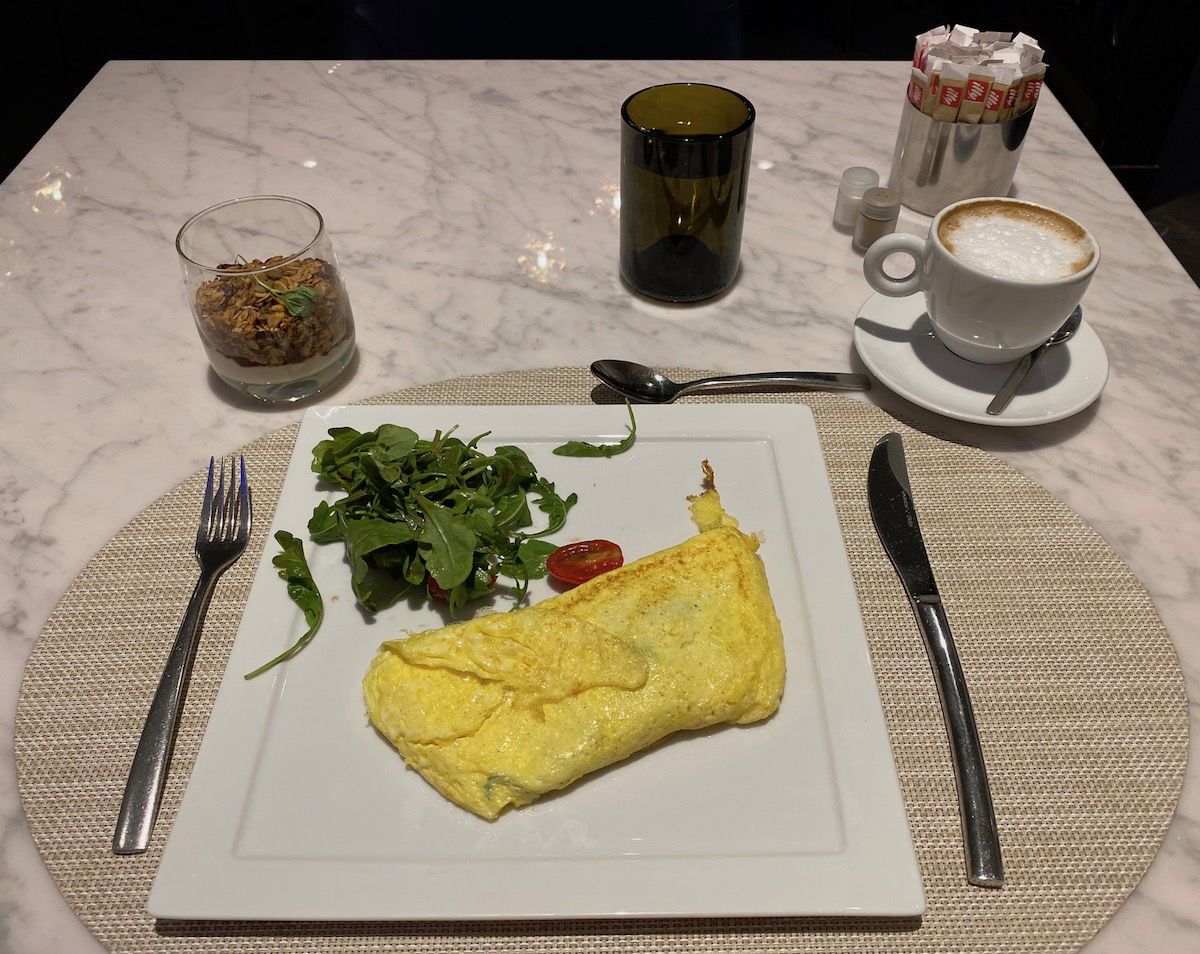 United Polaris Lounge Newark breakfast
What made this extra special was that the lady working In the restaurant was Sonya (I'm not sure how exactly her name is spelled), and she was just the loveliest person imaginable.
Some people are just genuinely happy and can't help but put a smile on everyone's face, and she was one of those people. I don't think there was a single person in the restaurant area who wasn't delighted and inspired by her positive attitude. Heck, I heard two other people mention to her how friendly she is.
Anyway, boarding for my flight was scheduled to start at 7:40AM, so at around 7:20AM I headed over to gate C90, which was about a 10 minute walk away.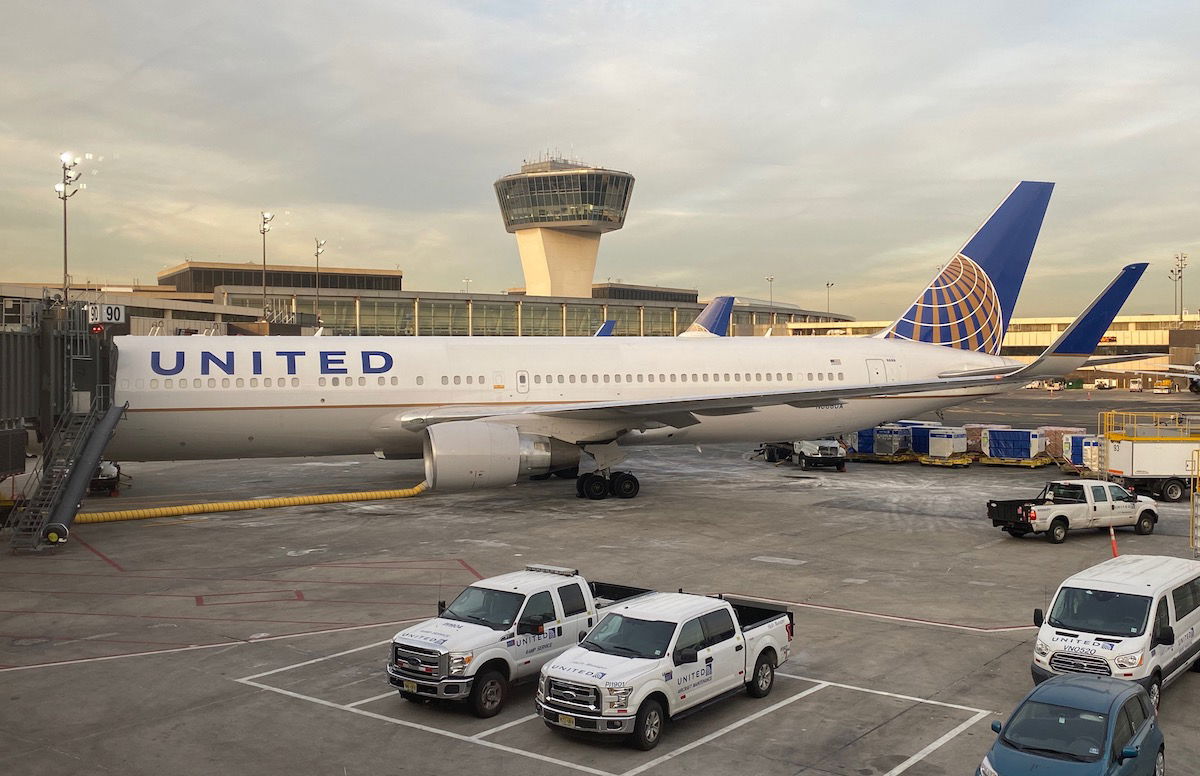 United 767-300 Newark Airport
I was let on the plane just a few minutes early so I could grab some pictures, but boarding started right on time.
United 934
Newark (EWR) – London (LHR)
Thursday, November 14
Depart: 8:30AM
Arrive: 8:35PM
Duration: 7hr5min
Aircraft: Boeing 767-300
Seat: 11A (Polaris Business Class)
While I've reviewed United's new Polaris seats on their 777-300ERs and 787-10s, I was probably most excited to check out the business class seats on this ~17 year old 767-300 (I was flying N686UA).
What Makes these 767s so special?
Most airlines have outdated cabins on their 767s, while United is installing their newest and best business class seats on them
United has done something unique with their 767s, by putting a subset of them in a really premium configuration, with just 167 seats — this includes 46 business class seats, 22 premium economy seats, and then 99 economy seats (as a point of comparison, their other version of the plane has 214 seats)
I boarded through the forward door (as does everyone on the 767-300, given the lack of a mid-cabin door), and was immediately blown away by the the sheer size of the Polaris cabin.
There are 16 rows of seats, in a 1-1-1 configuration. Arguably this might just be United's most comfortable Polaris cabin if traveling alone, given the 1-1-1 layout rather than the 1-2-1 layout on the 777 and 787.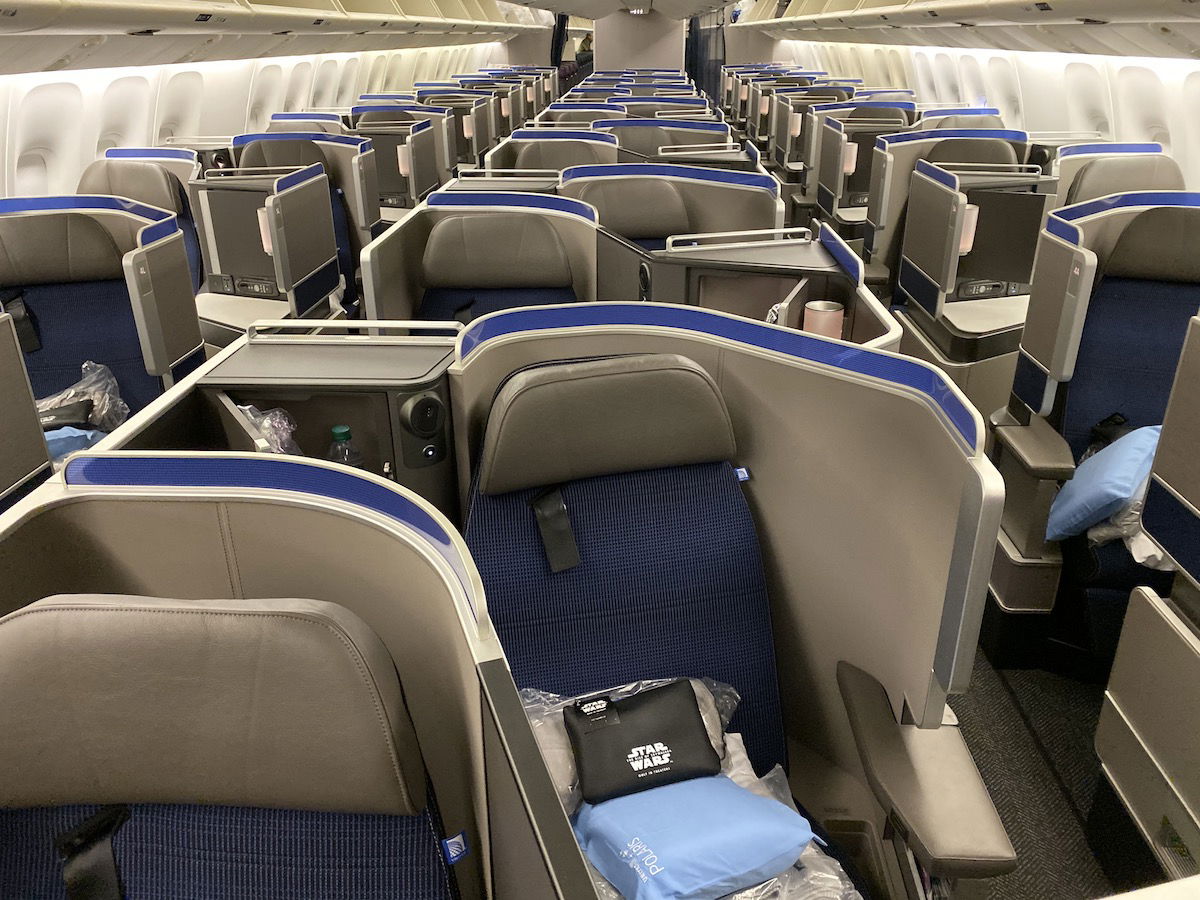 United Polaris business class cabin 767-300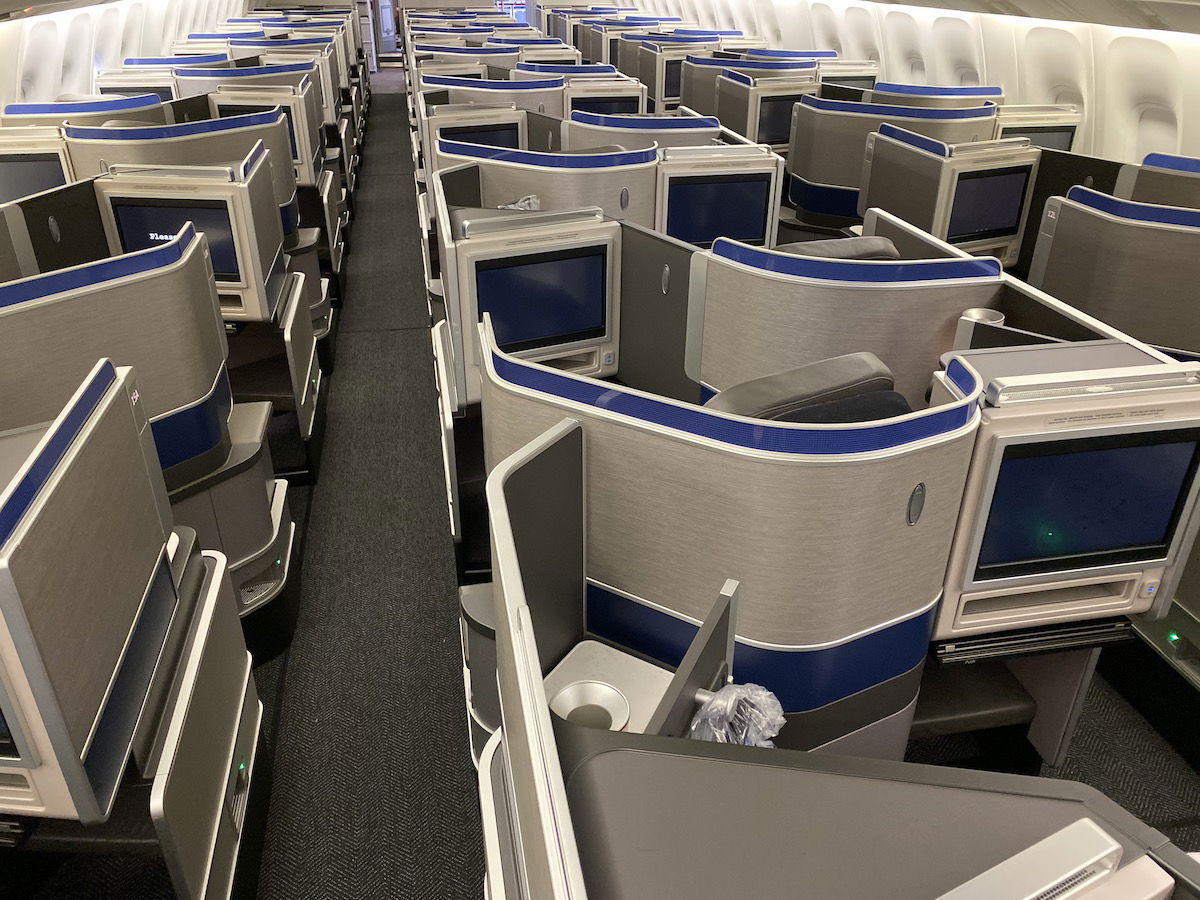 United Polaris business class cabin 767-300
This is without a doubt the sleekest commercial 767 in the sky, and I can't think of another airline with business class seats this good on the 767.
I also quickly popped my head into the 22 seat Premium Plus section (the name of United's premium economy cabin). The seats looked reasonably comfortable, and the narrow fuselage means that there are no middle seats in premium economy, as the configuration is 2-2-2. Very nice.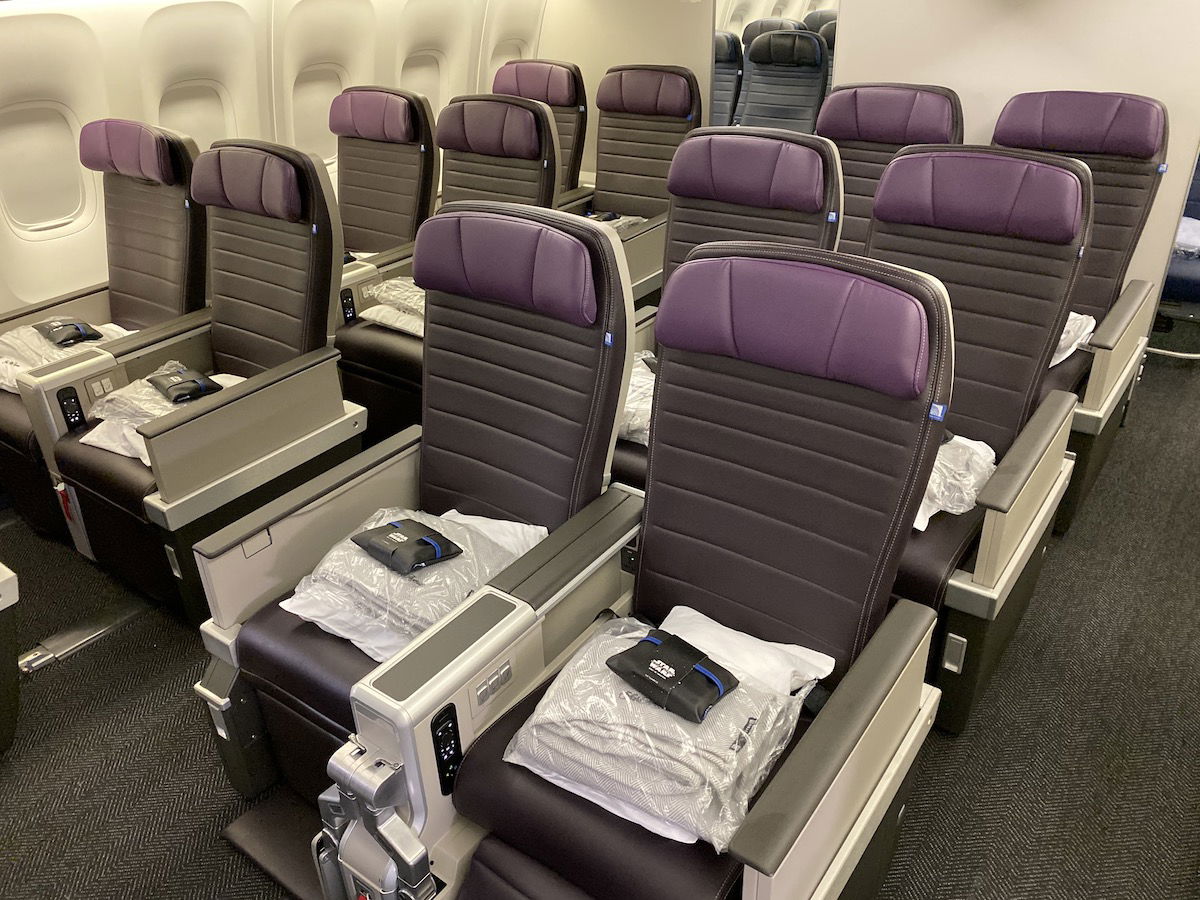 United Premium Plus 767-300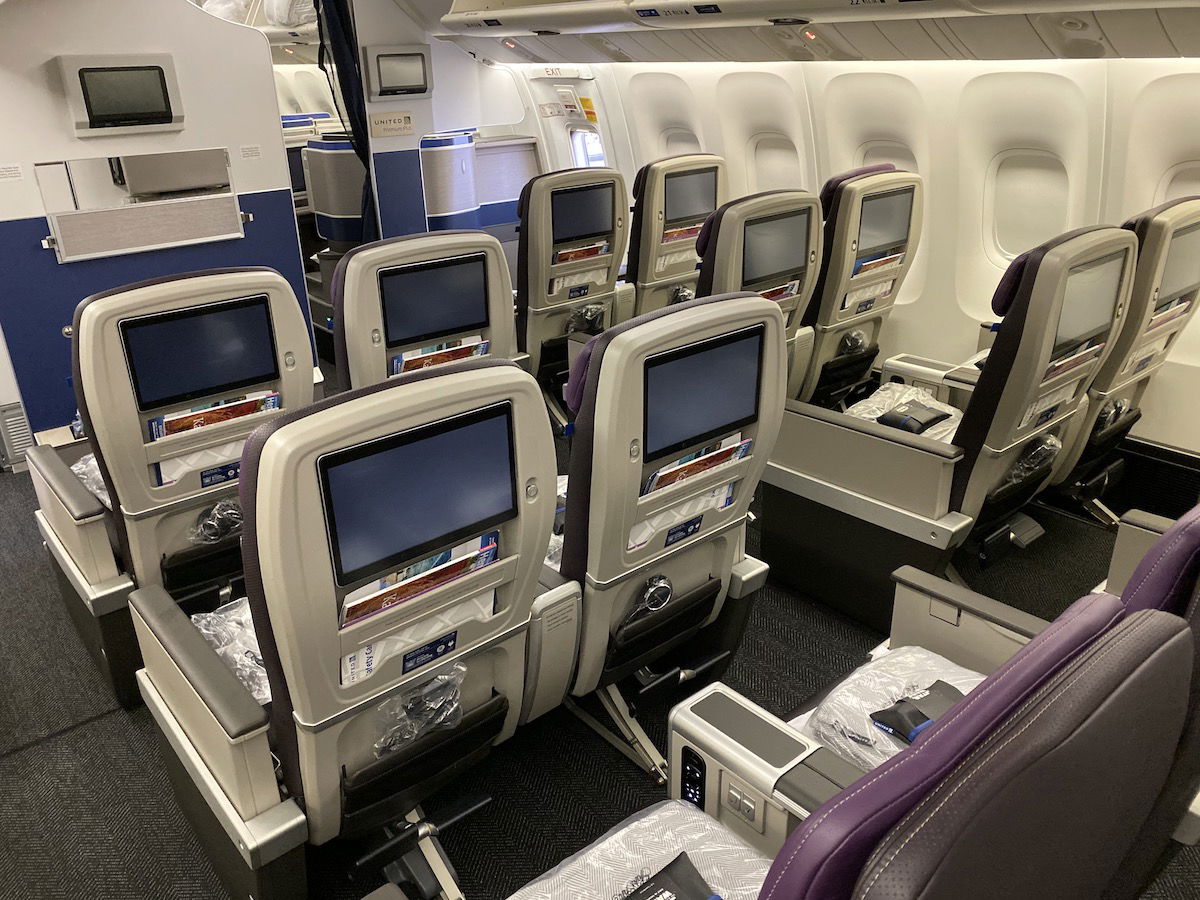 United Premium Plus 767-300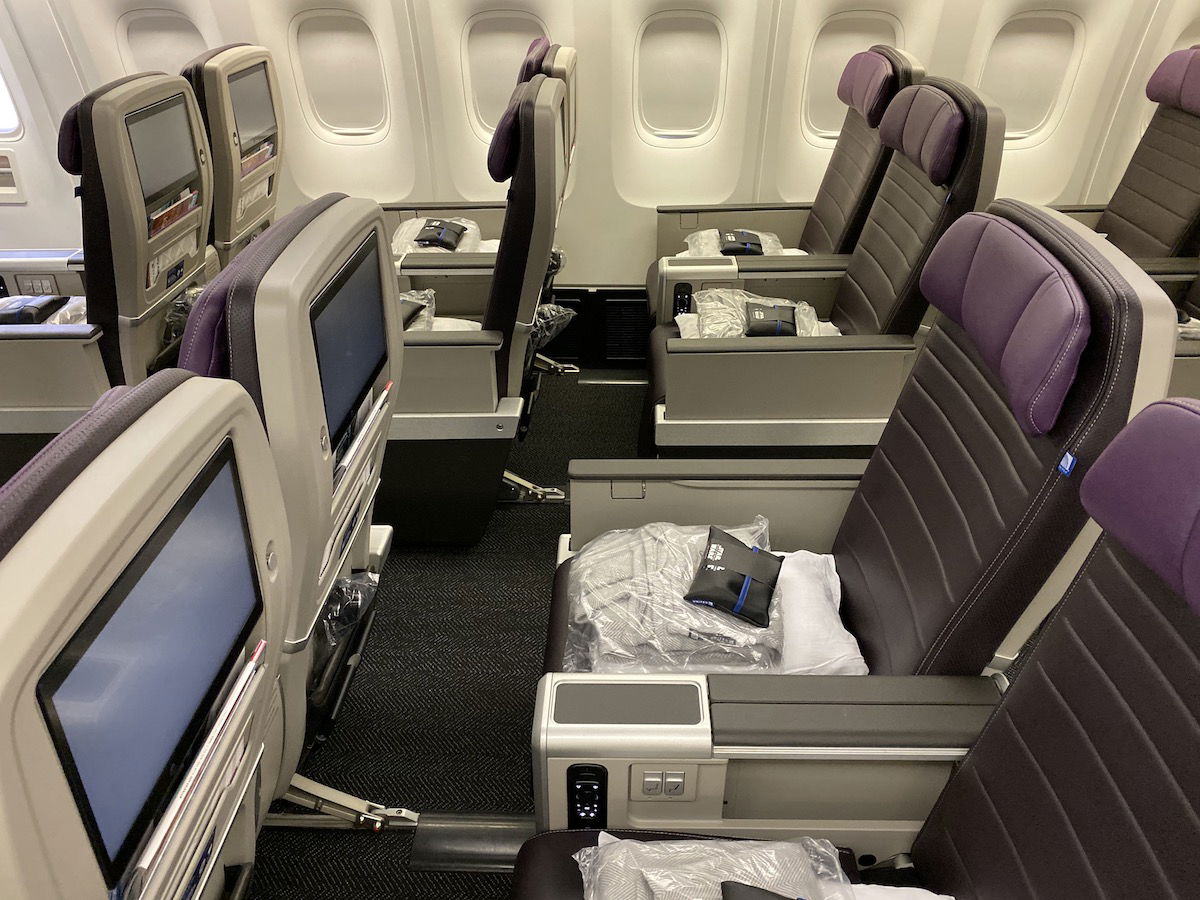 United 767-300 Premium Plus seats
Even the 99 seat economy cabin felt quite intimate. It's interesting to note that Economy Plus (extra legroom economy) includes all the seats along the windows, with the exception of the last three rows. The seats with the darker headrests are Economy Plus, while the seats with the lighter blue headrests are regular economy.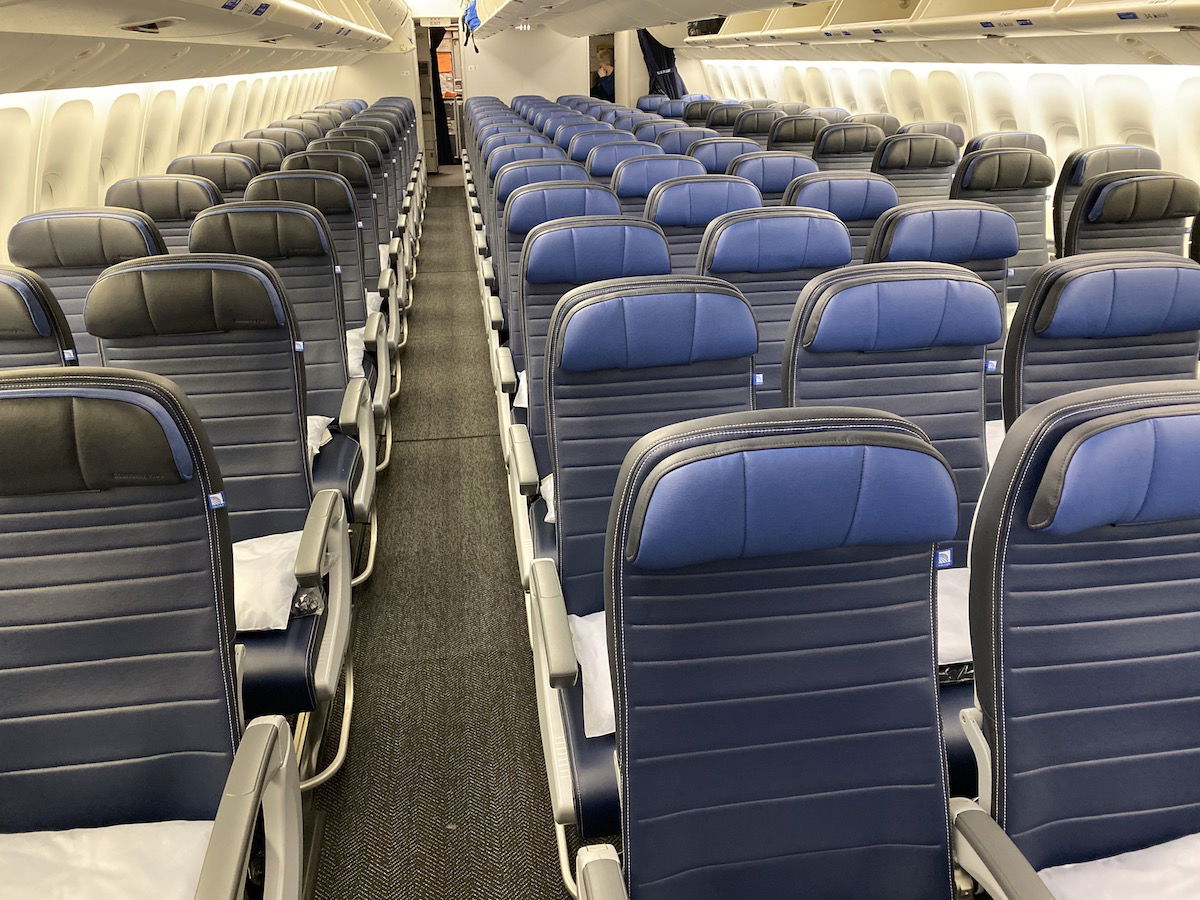 United 767 economy cabin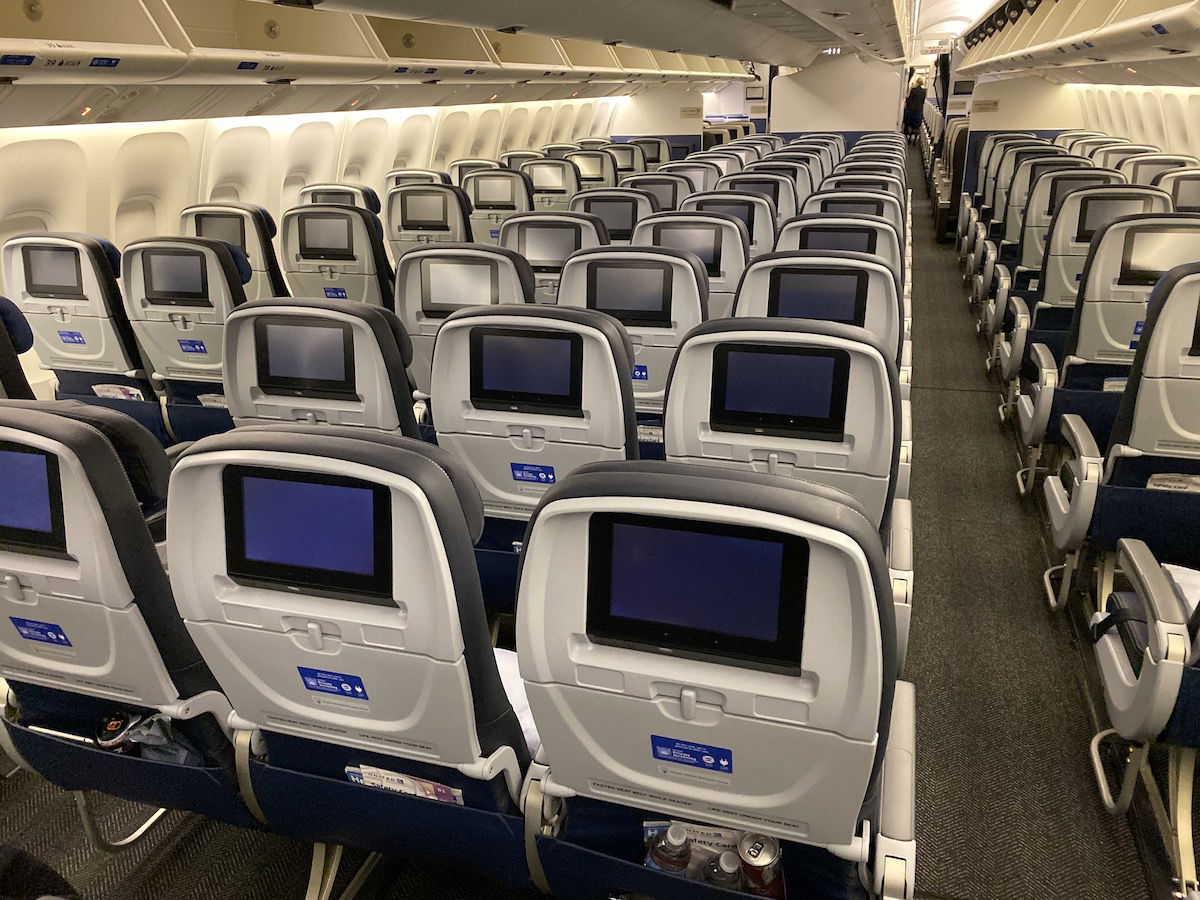 United 767 economy cabin
Anyway, back in Polaris I found the same configuration I was used to from the 777 and 787 — it seems like no compromises were made on the seats. In each row the configuration alternated.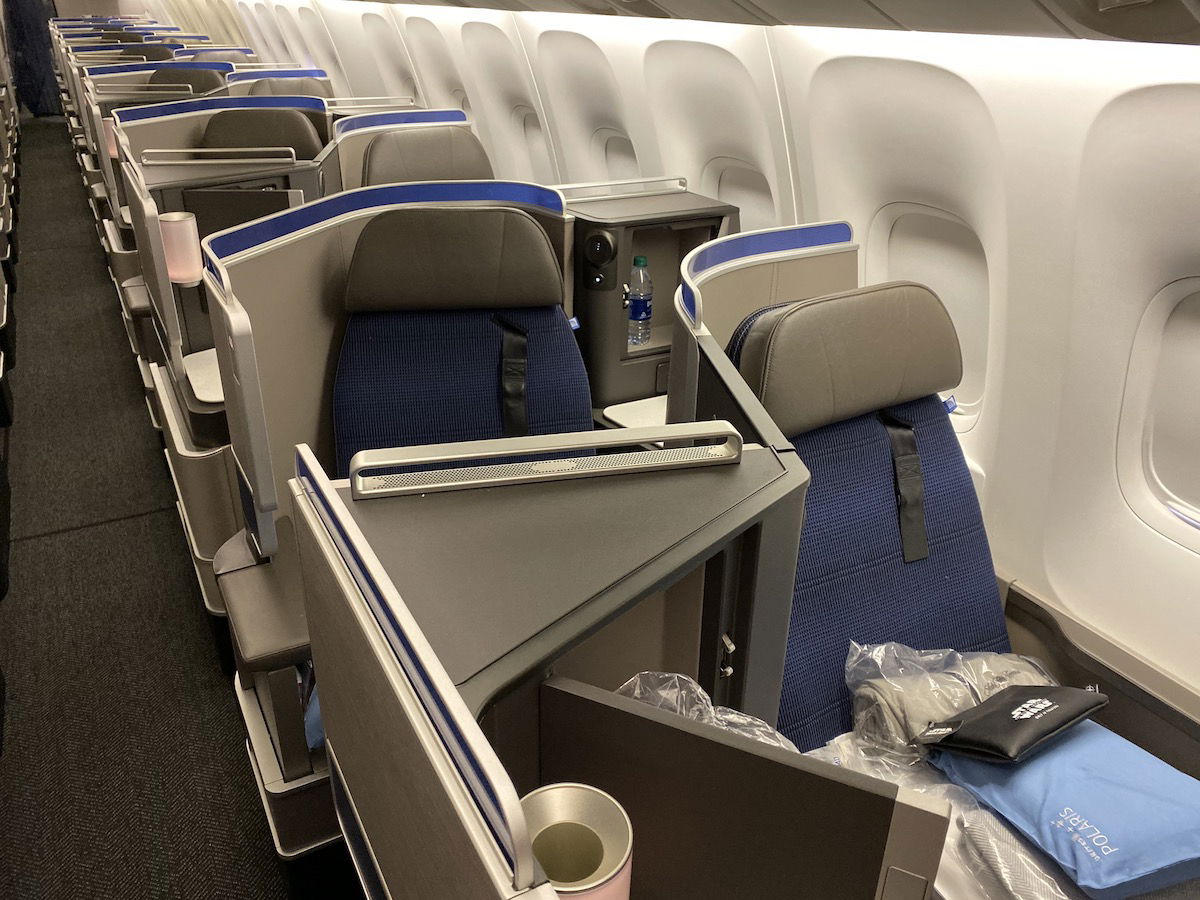 United Polaris business class seats 767-300
In the center section and along the left aisle (the "D" seats), all the seats faced towards the aisle, so they felt a bit exposed.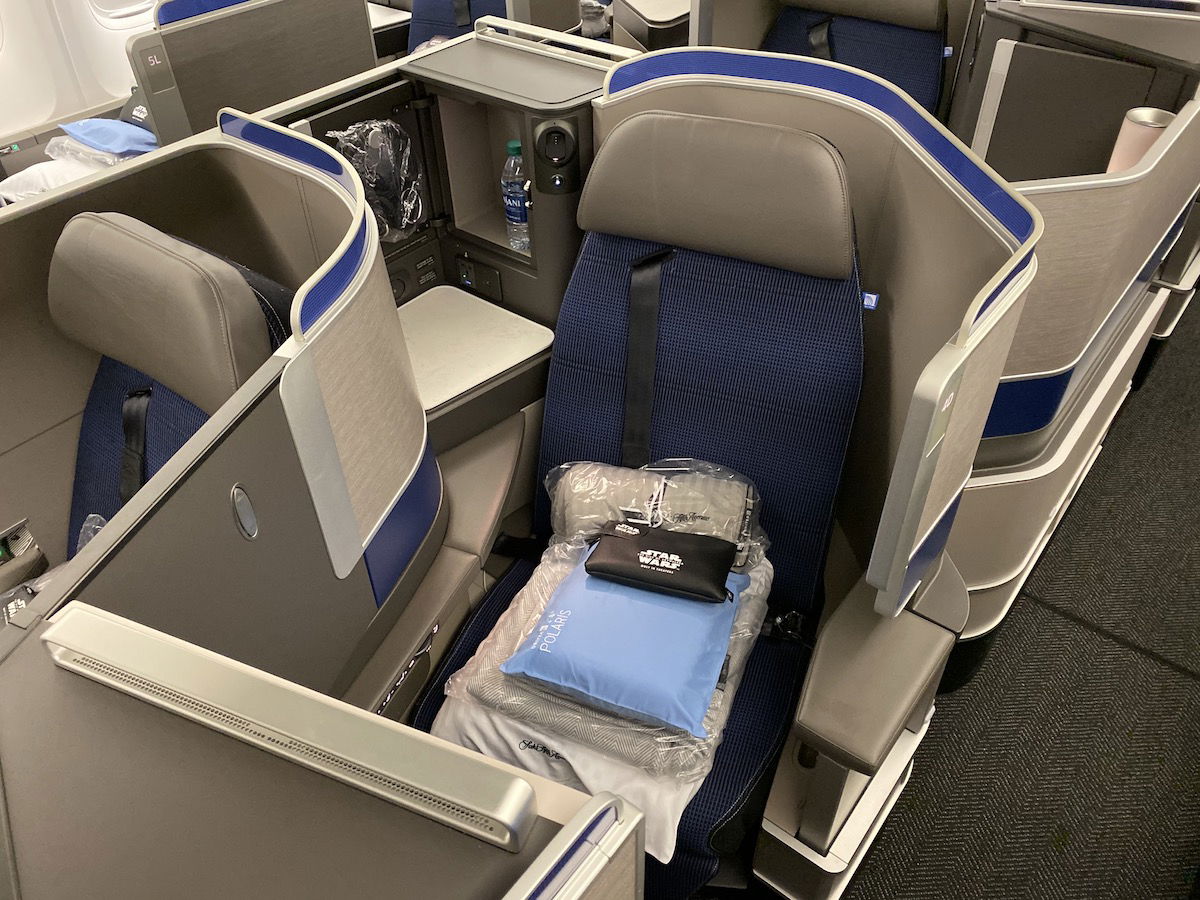 United Polaris business class seats
Meanwhile in the center section and along the right aisle (the "F" seats), all the seats faced directly forward. I wouldn't choose to sit in one of the center seats if window seats were available, though in general center seats don't get better than this.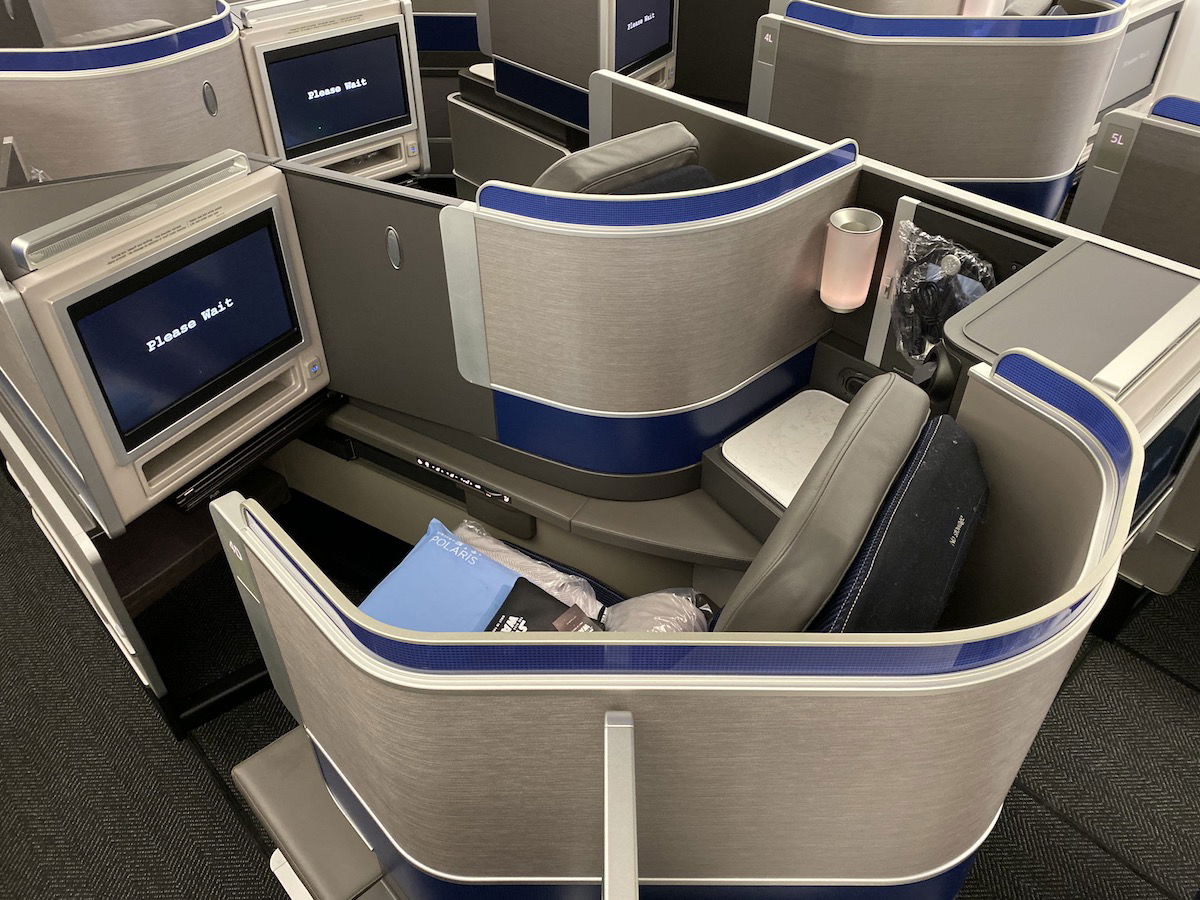 United Polaris business class seats
Along the windows, seats alternated as well. In even numbered rows, seats were further from the windows and closer to the aisle, which means you feel a bit exposed and also can't necessarily easily look out the window. I prefer to be further from the aisle, so these wouldn't be my first picks either.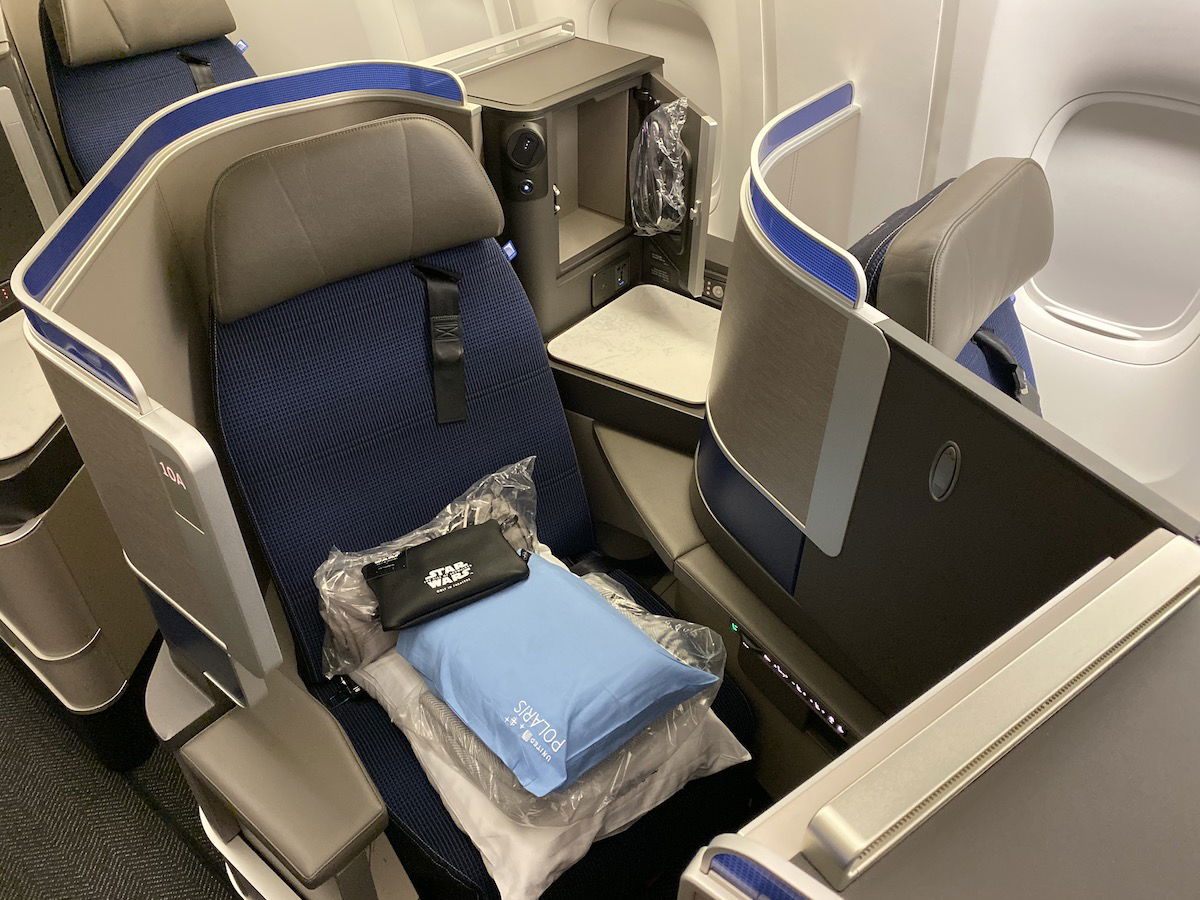 United Polaris business class seats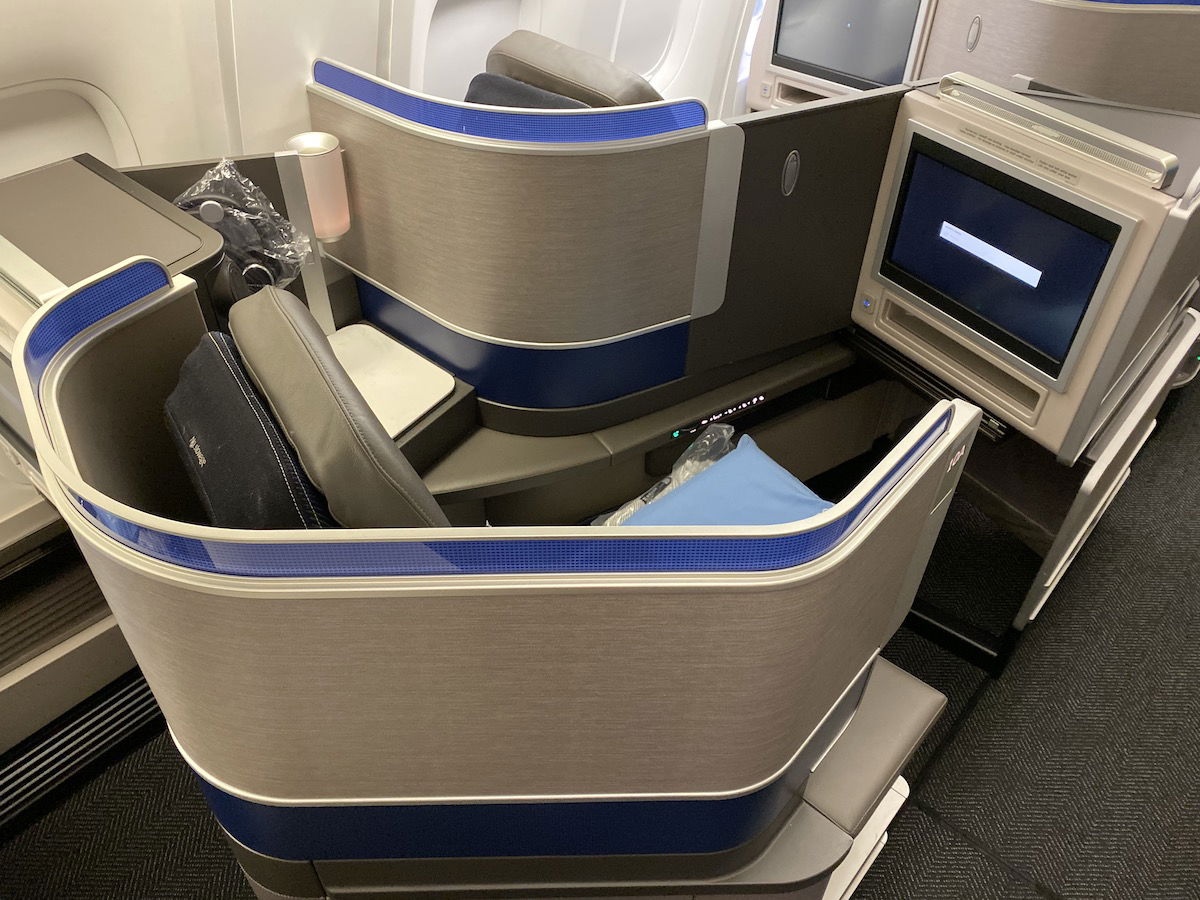 United Polaris business class seats
Instead the absolute best seats here are the "true" window seats, which are in odd numbered rows. These seats have the most privacy and also the best window views.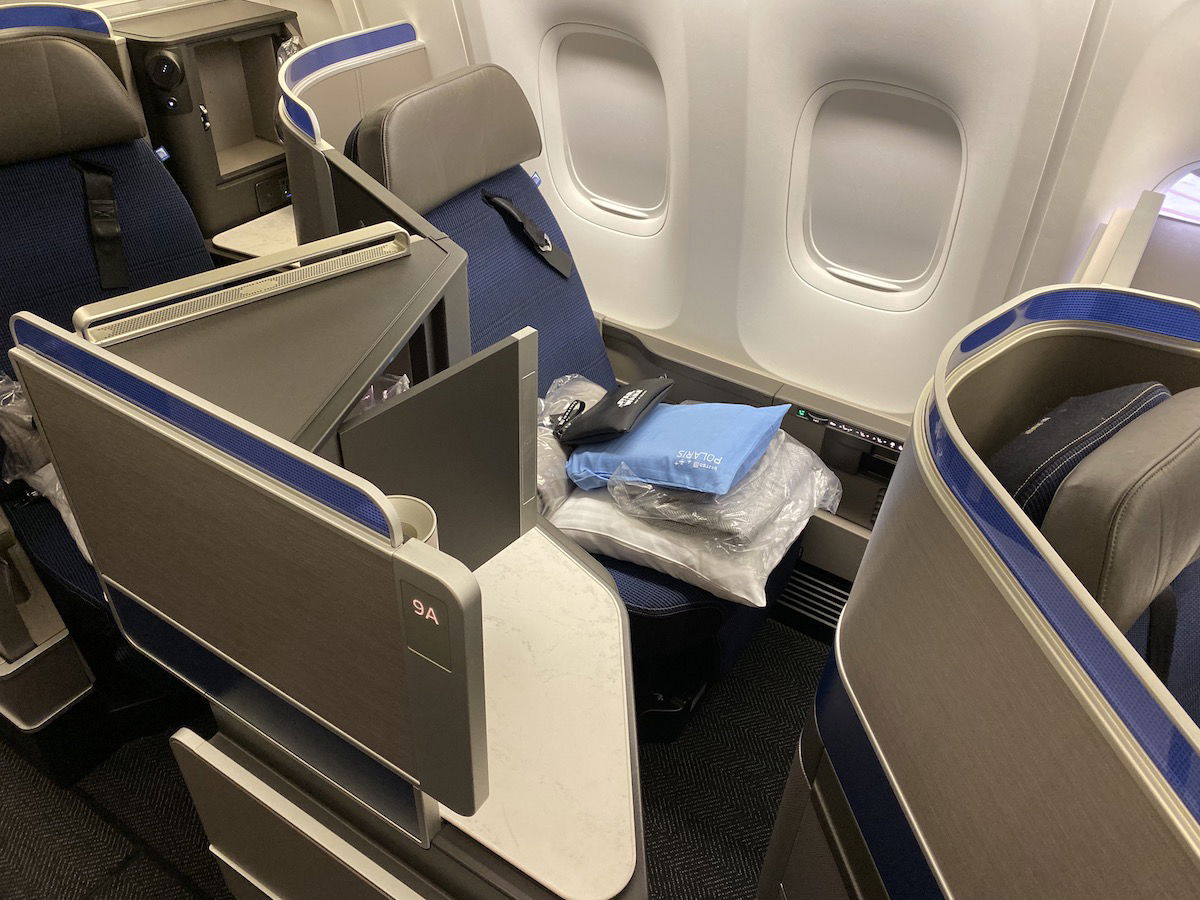 United 767 Polaris seats
I had assigned myself seat 11A, located about two thirds of the way back in the cabin (this was a great choice in terms of having a nice view of the wing & engine).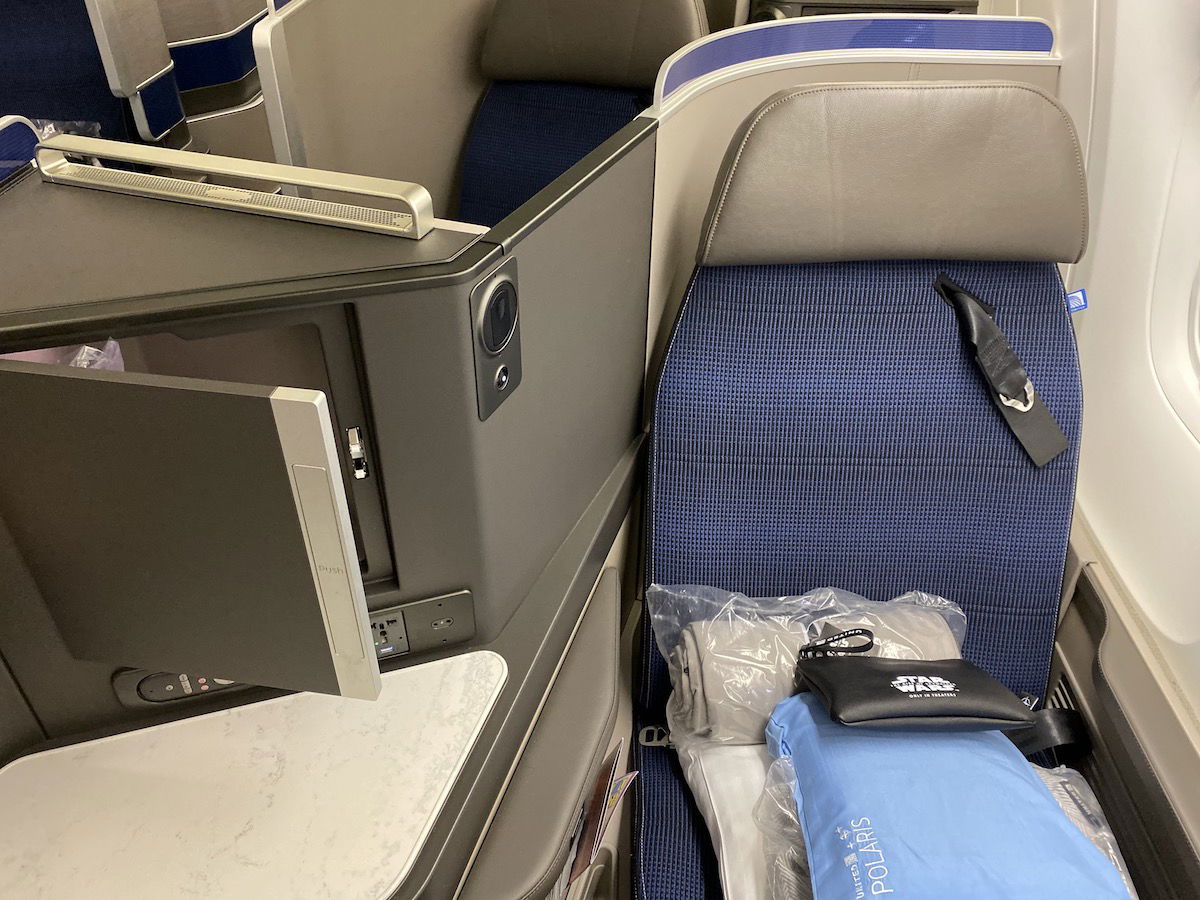 United 767 Polaris seats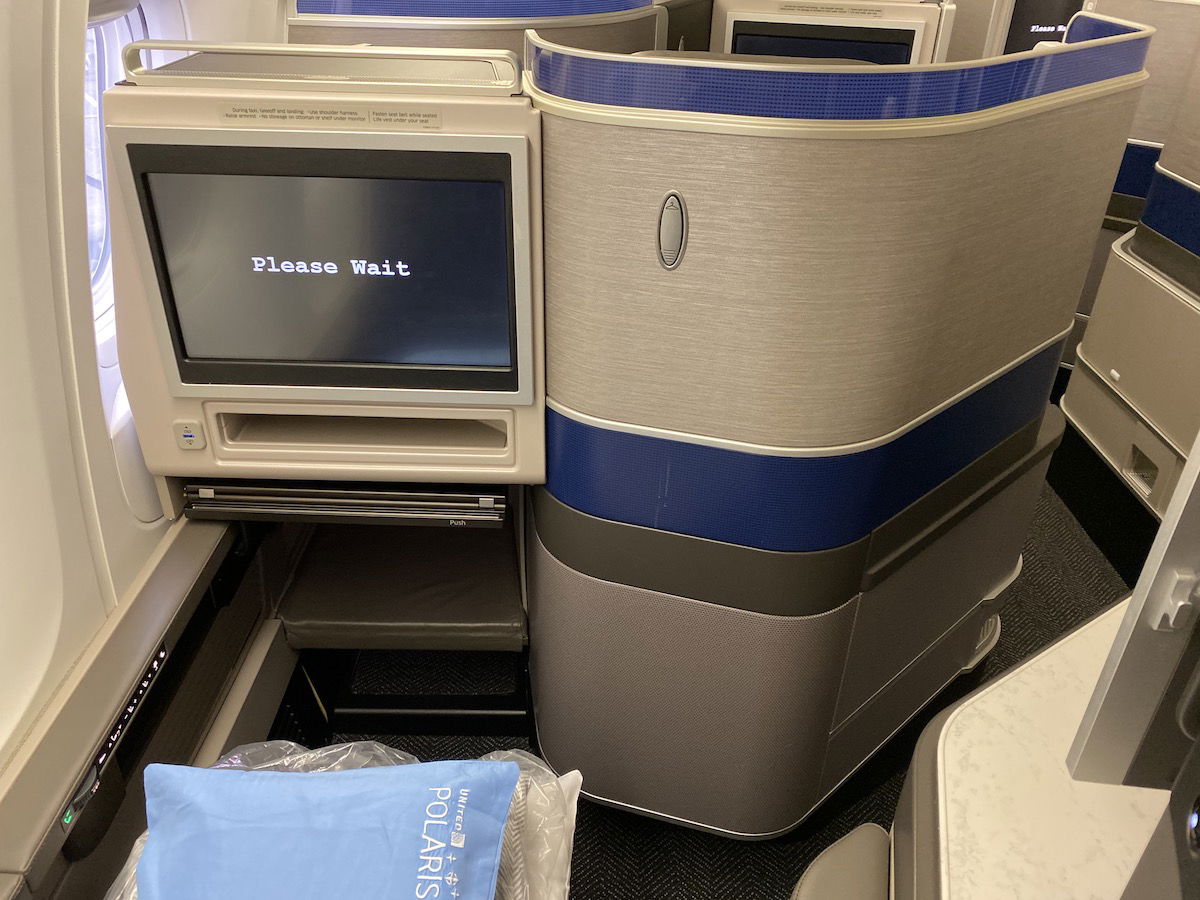 United 767 Polaris seats
To the side of the seat was an enclosed storage console as well as a mirror, where the headphones and water bottle were located.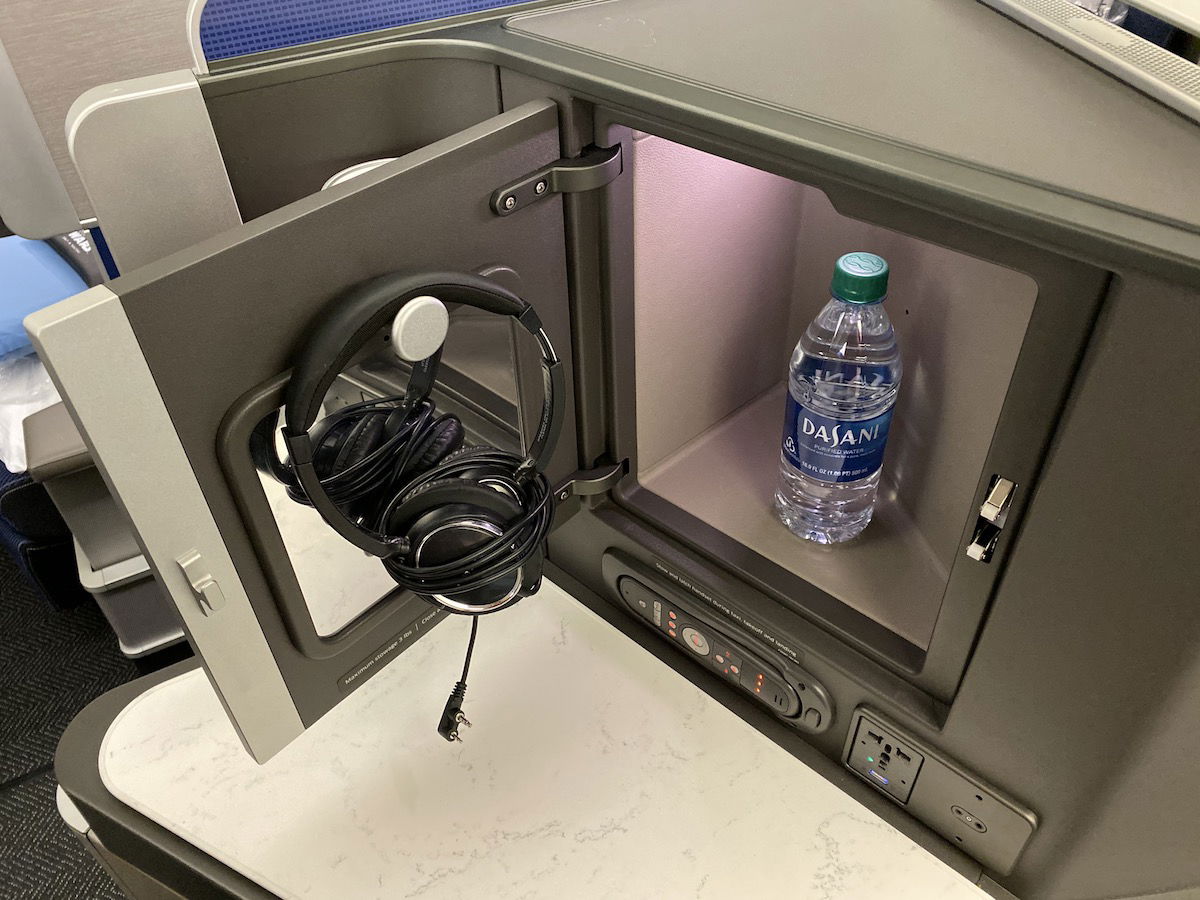 United Polaris seat storage
When closed, this could also act as a counter where you could place a laptop or book. This area also has a lamp at the far corner of the seat, and a reading light immediately next to where you sit.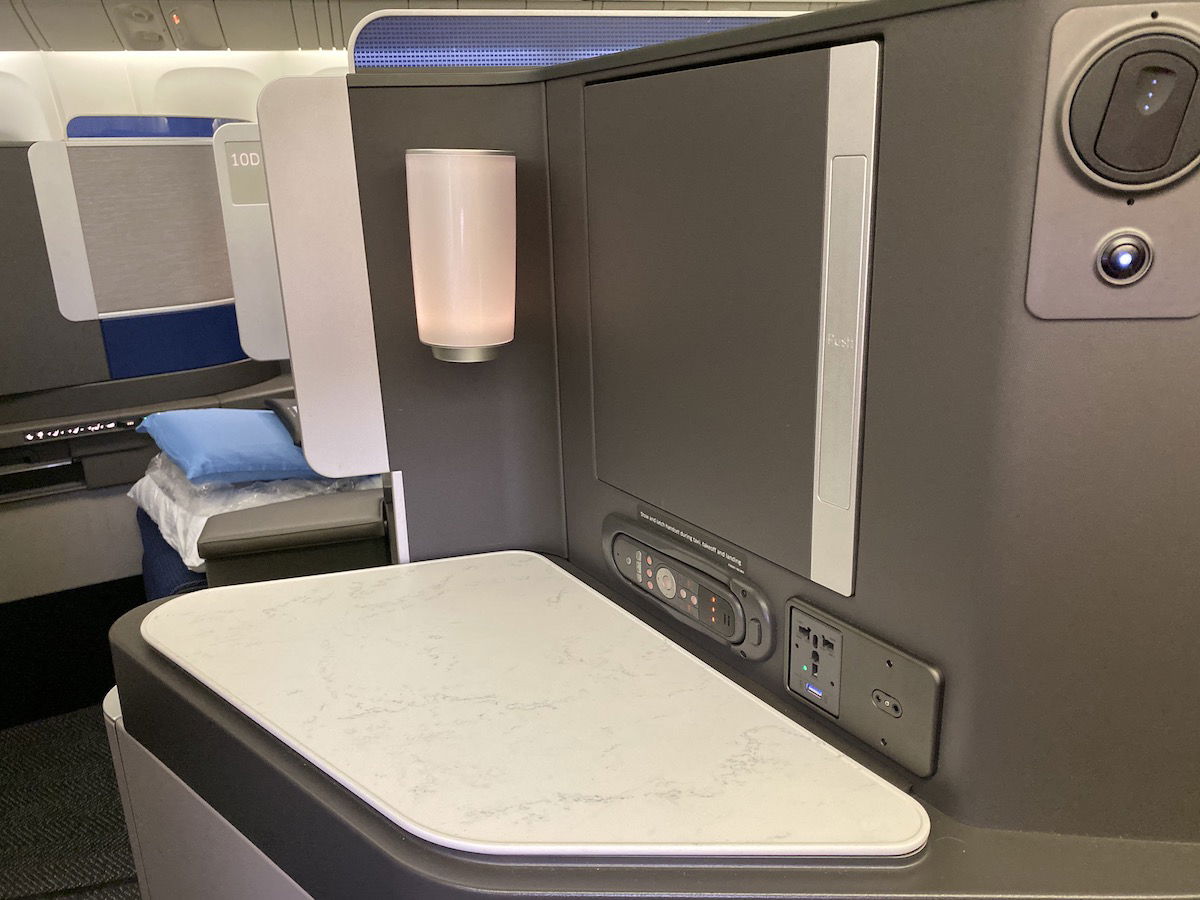 United Polaris seat storage
Underneath the storage compartment were outlets (110v and USB), an entertainment controller, and the headphone jack.


United Polaris entertainment controls & outlets
To the left of the seat were all of the seat controls, including a knob you could push to transition the seat from the upright position to the fully reclined position.

United Polaris seat controls
The tray table folded out from the seat in front, from right underneath the television. You could fold this over in half.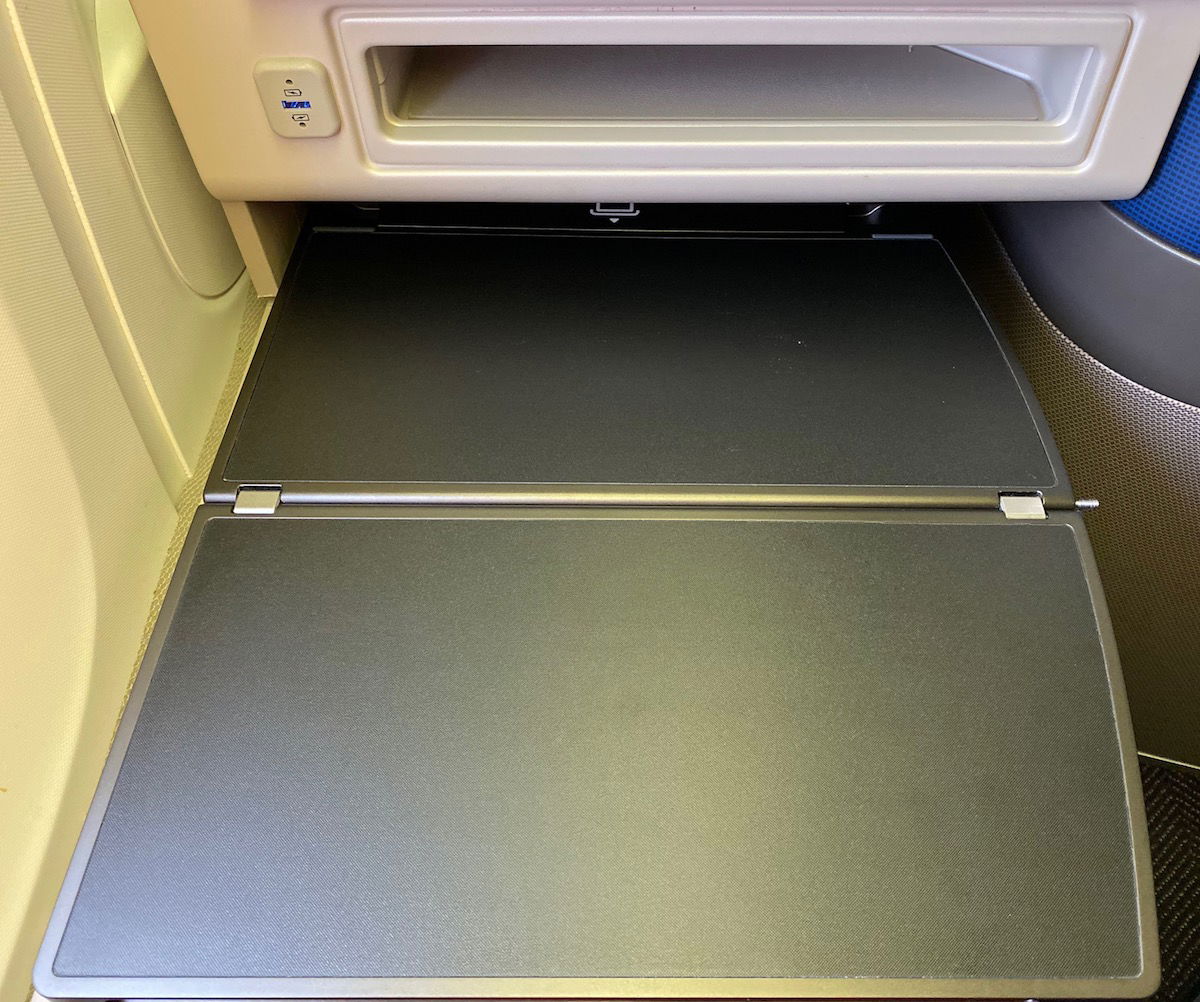 United Polaris tray table
While a footwell is generally a concern in this configuration in terms of getting comfortable, this one was plenty big.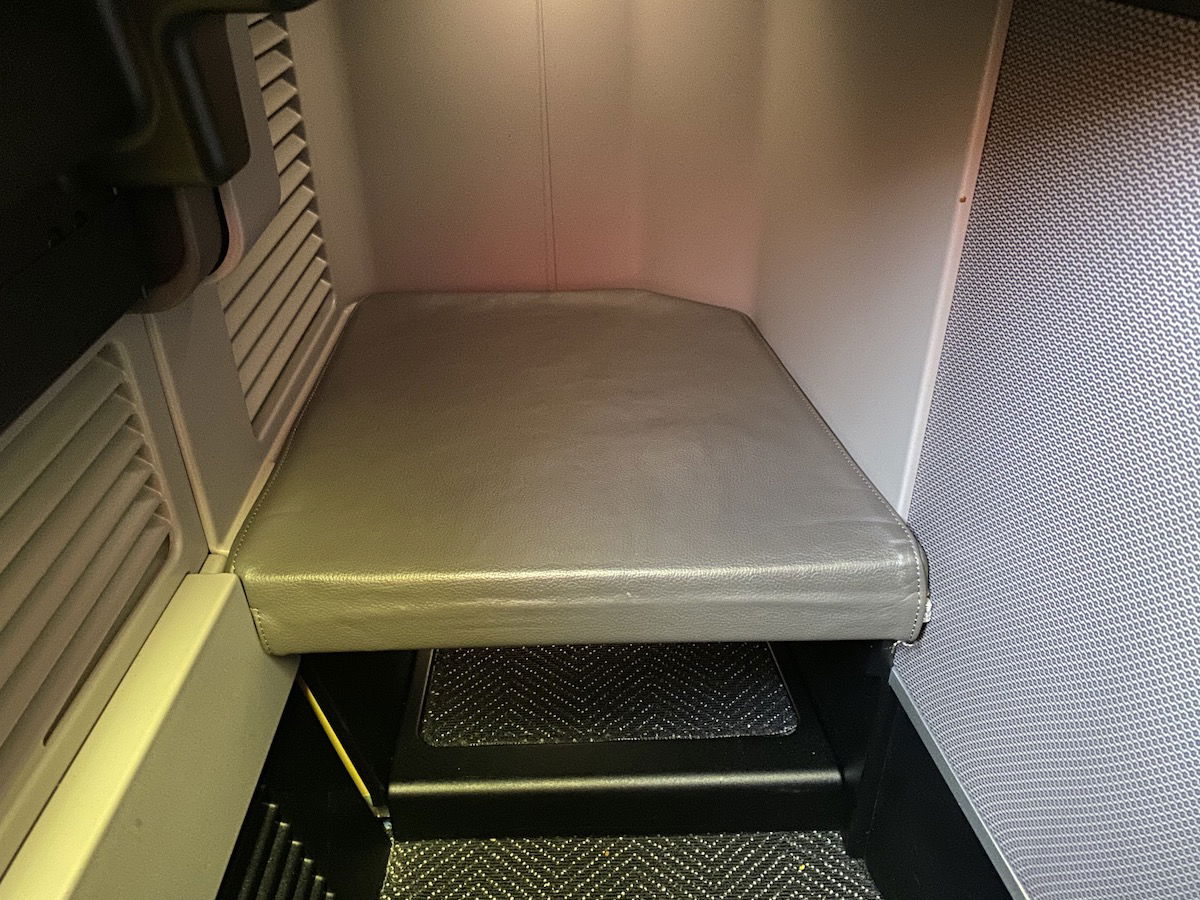 United Polaris footwell
My one disappointment with the seat was that there were no individual air nozzles on the 767-300.
Waiting at my seat was United's bedding, which is without a doubt the best business class bedding in the world. This included a plush pillow, a gel pillow, a duvet, and a day blanket.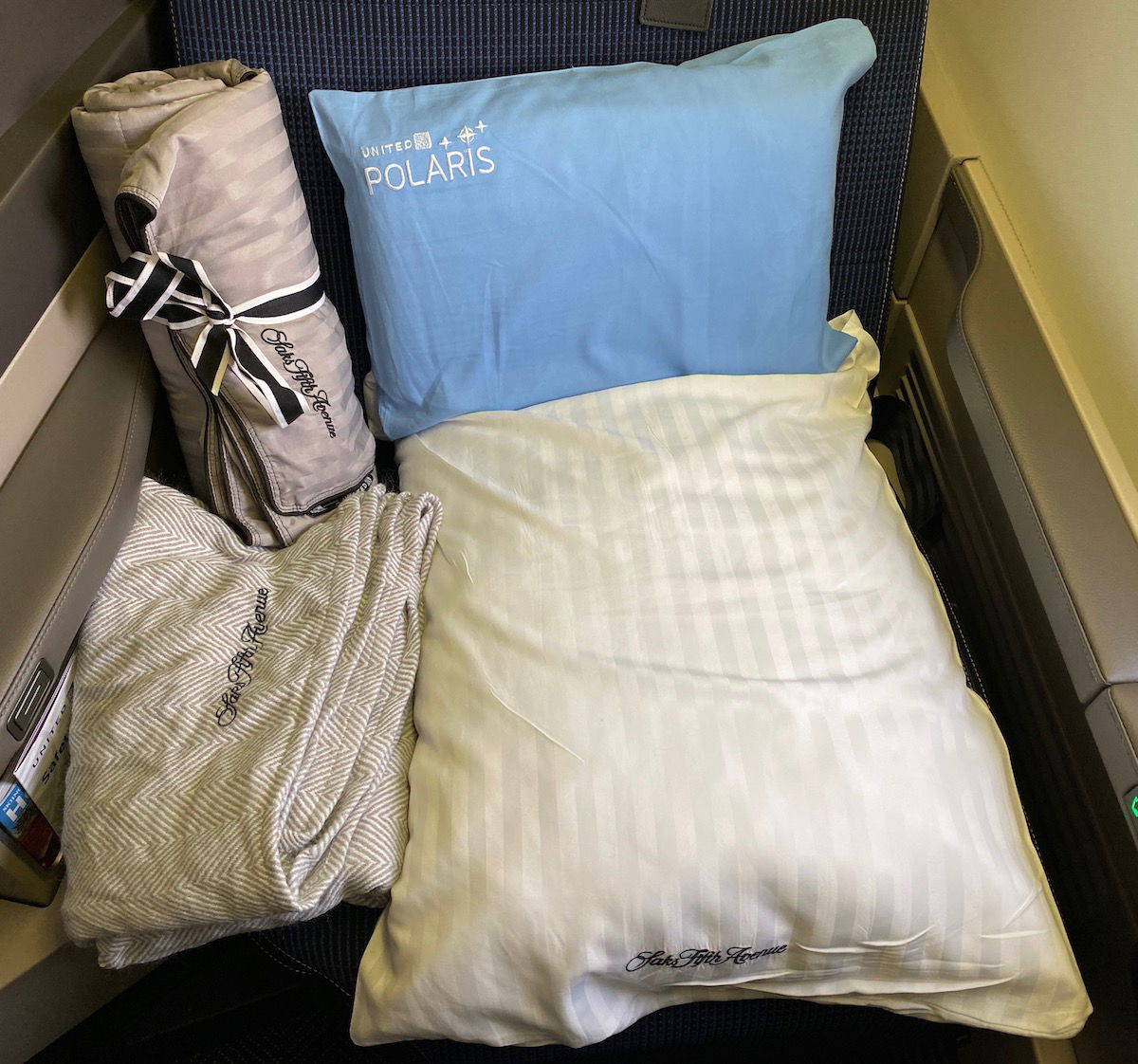 United Polaris bedding
United Airlines has a partnership with Star Wars, so there was a Star Wars themed amenity kit. The kit was well stocked, with socks, eyeshades, earplugs, a pen, tissues, a dental kit, and some products from Sunday Riley.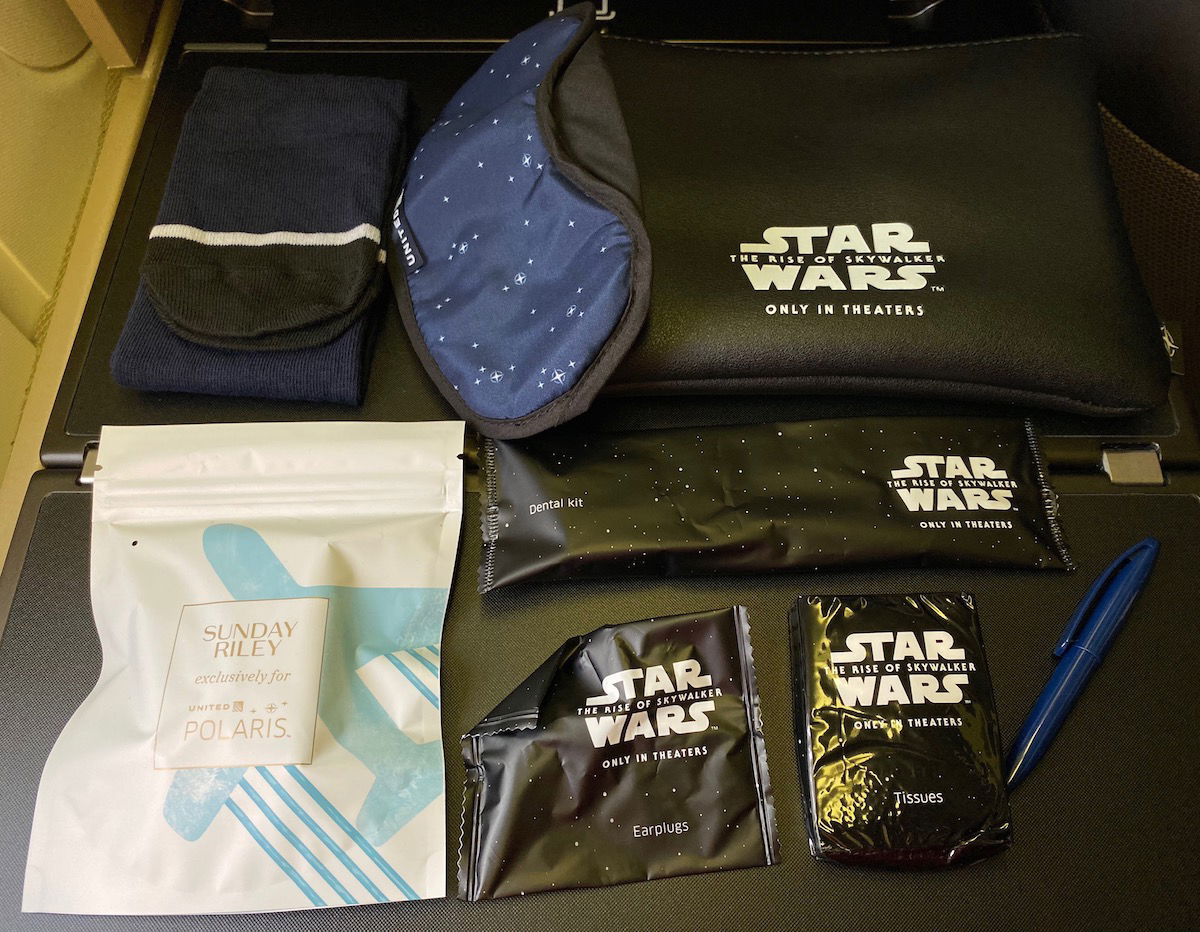 United Polaris Star Wars amenity kit
A few minutes after settling in the crew offered me some slippers, which were nice and thick/comfortable.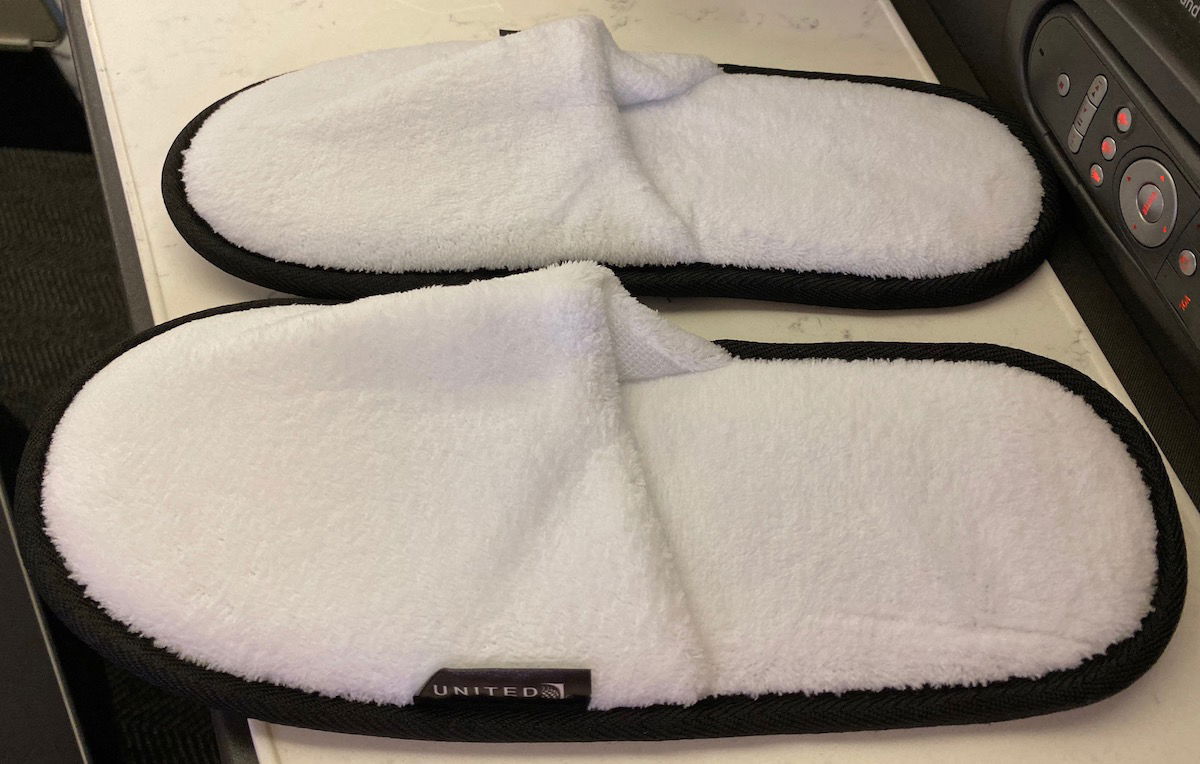 United Polaris slippers
I was then also presented with the menu, as well as a fast track card.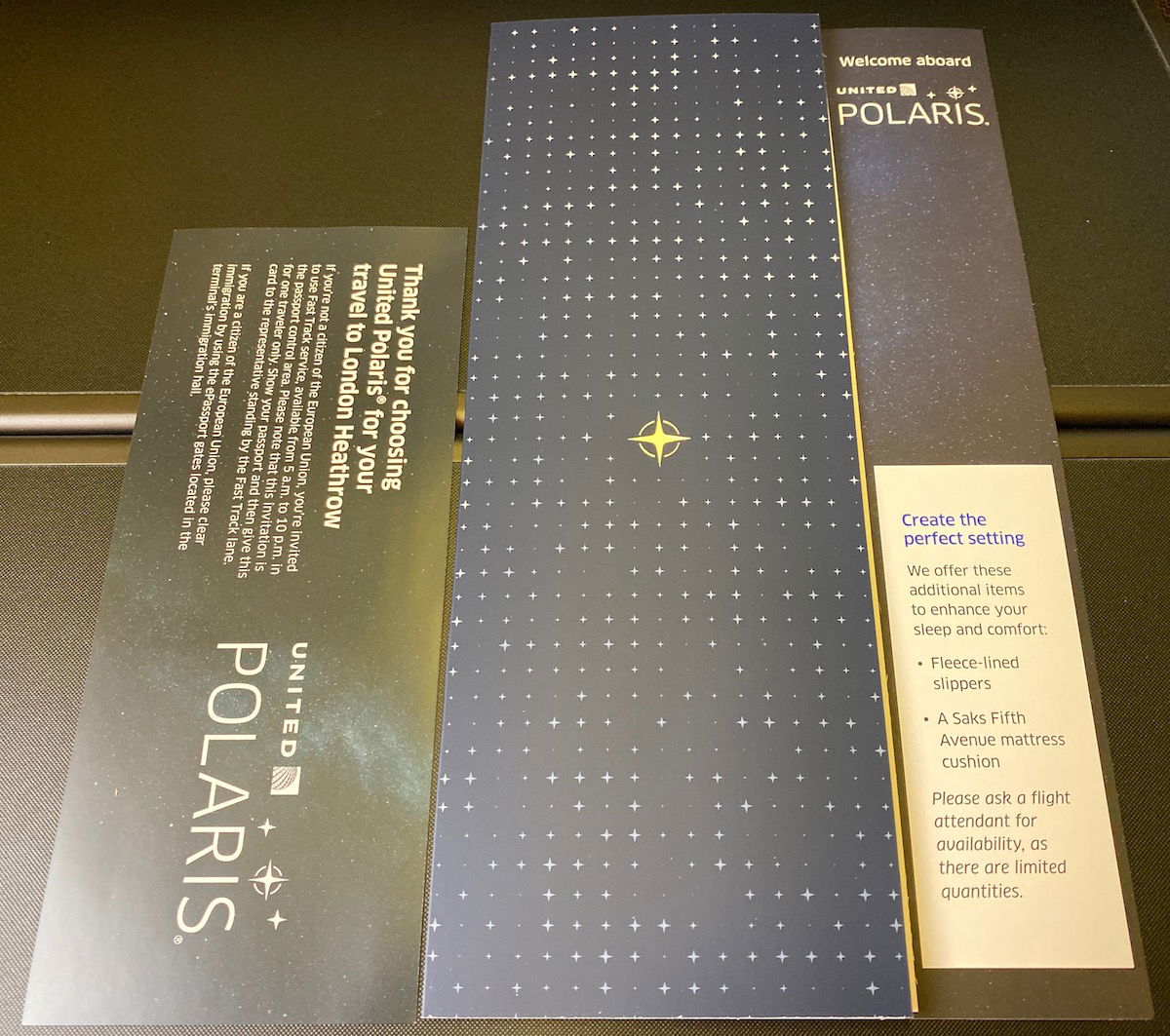 United Polaris menu & fast track card
About 10 minutes after boarding started pre-departure drinks were offered, with the choice of sparkling wine, orange juice, and water — now that's a pour!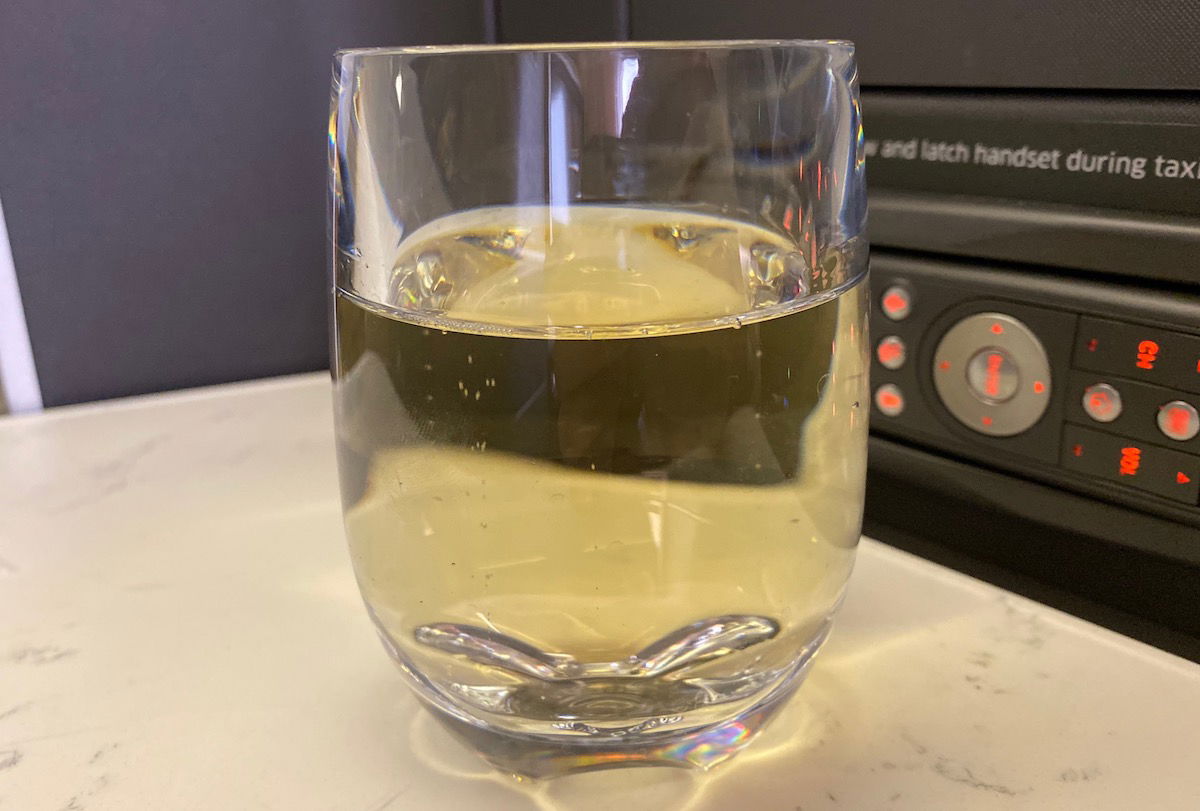 United Polaris pre-departure champagne
At around 8:10AM the crew came around to take meal orders, and then about five minutes after that the main cabin door closed.
I was surprised by how empty the cabin was — prior to boarding over 20 of the business class seats were unoccupied with no one on the upgrade list. The plane ended up going out with around 10 empty seats, as there were about 10 non-revs.
At 8:20AM the captain made a welcome aboard announcement on behalf of himself and the two first officers, informing us of our flight time of 6hr20min (this must be a pretty cushy trip for the pilots, since it's a short daytime flight and they even have a relief pilot, so they get some rest).
At 8:25AM we began our taxi, and at the same time the Star Wars safety video was screened. As mentioned above, row 11 was great for the wing & engine views.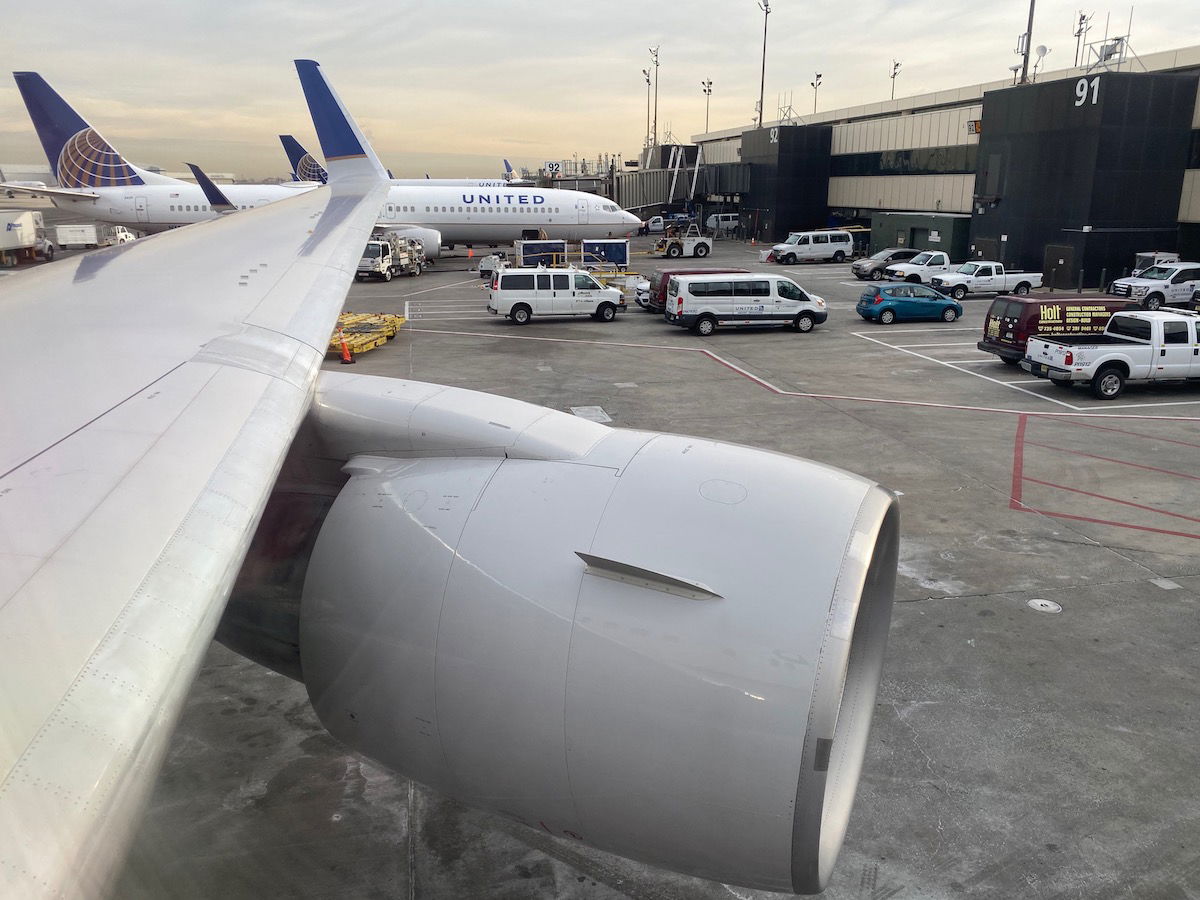 Pushing back Newark Airport
We had a short taxi, and by 8:45AM we were cleared for takeoff on runway 22R.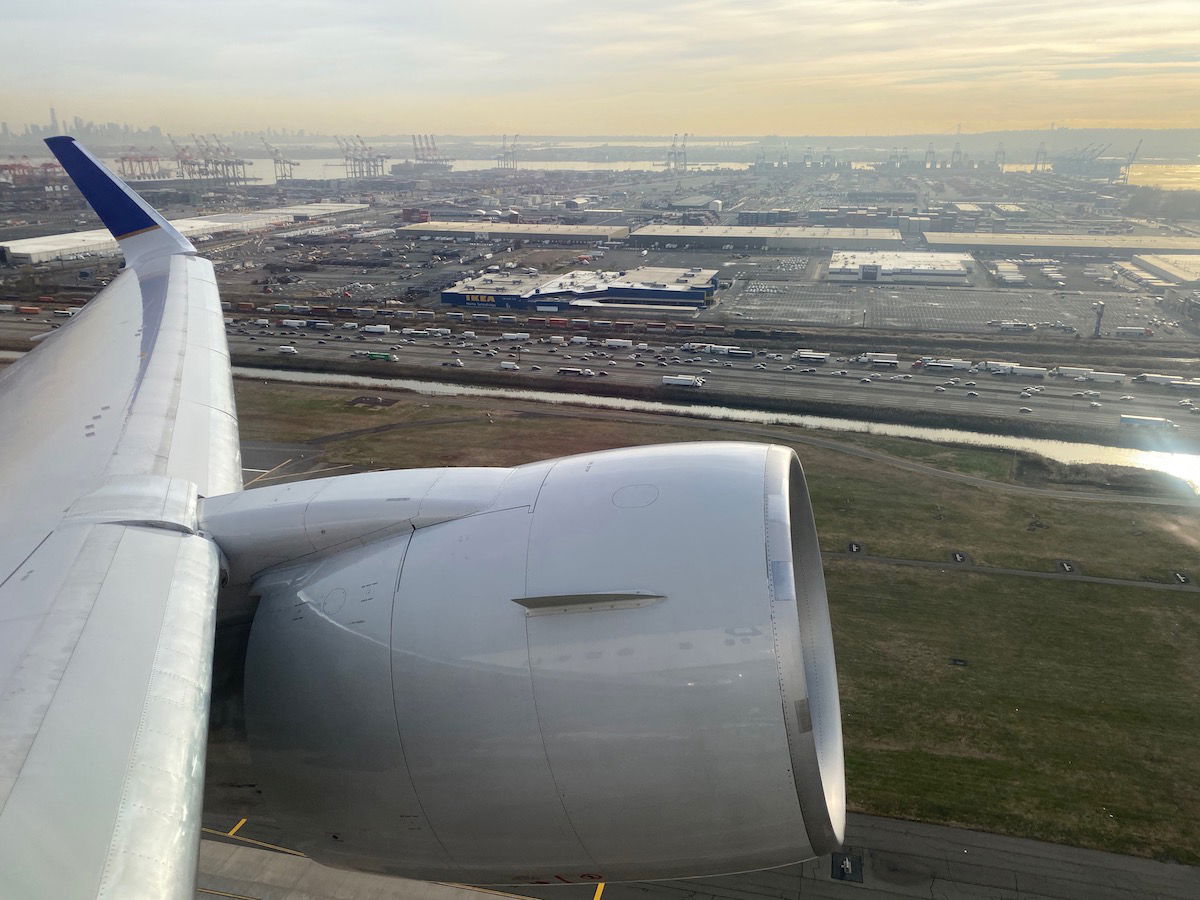 View after takeoff from Newark
As we climbed out I browsed the entertainment selection — United has a good selection, even on these older planes.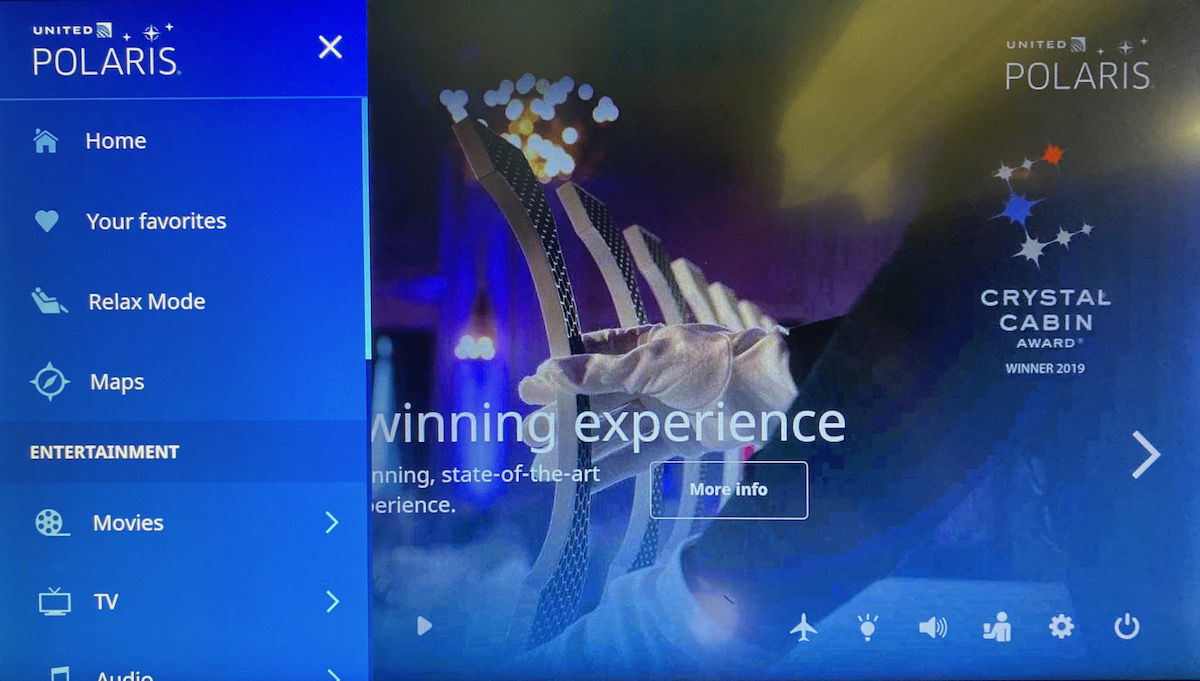 United entertainment system 767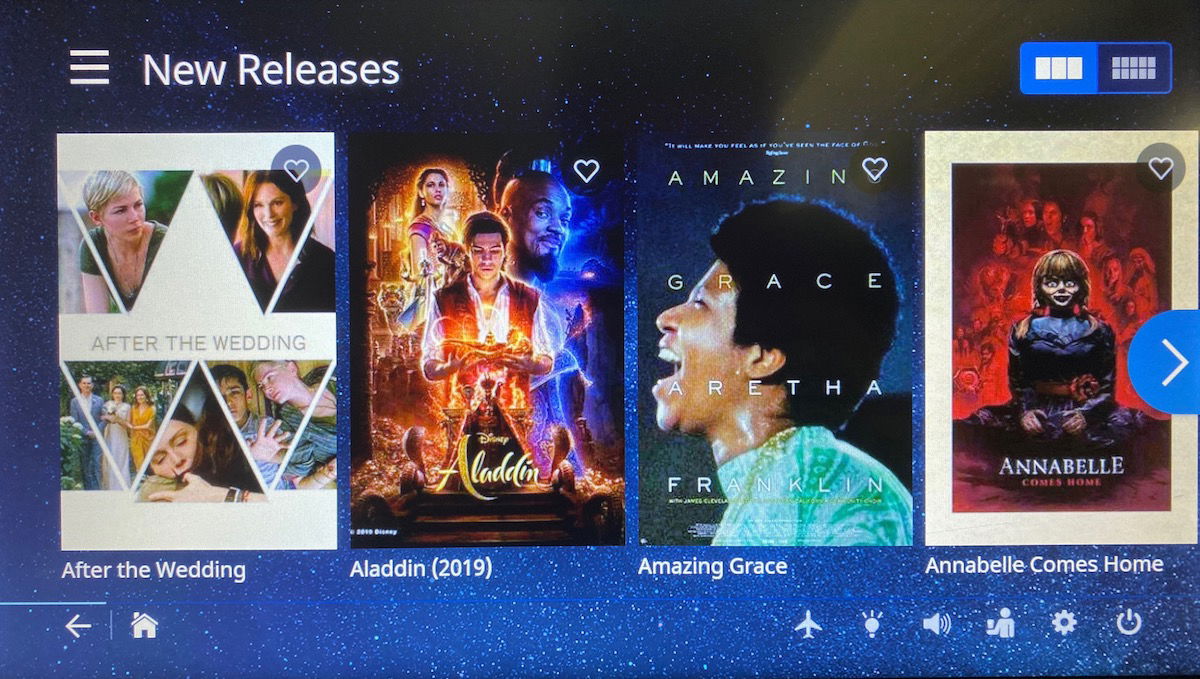 United entertainment system 767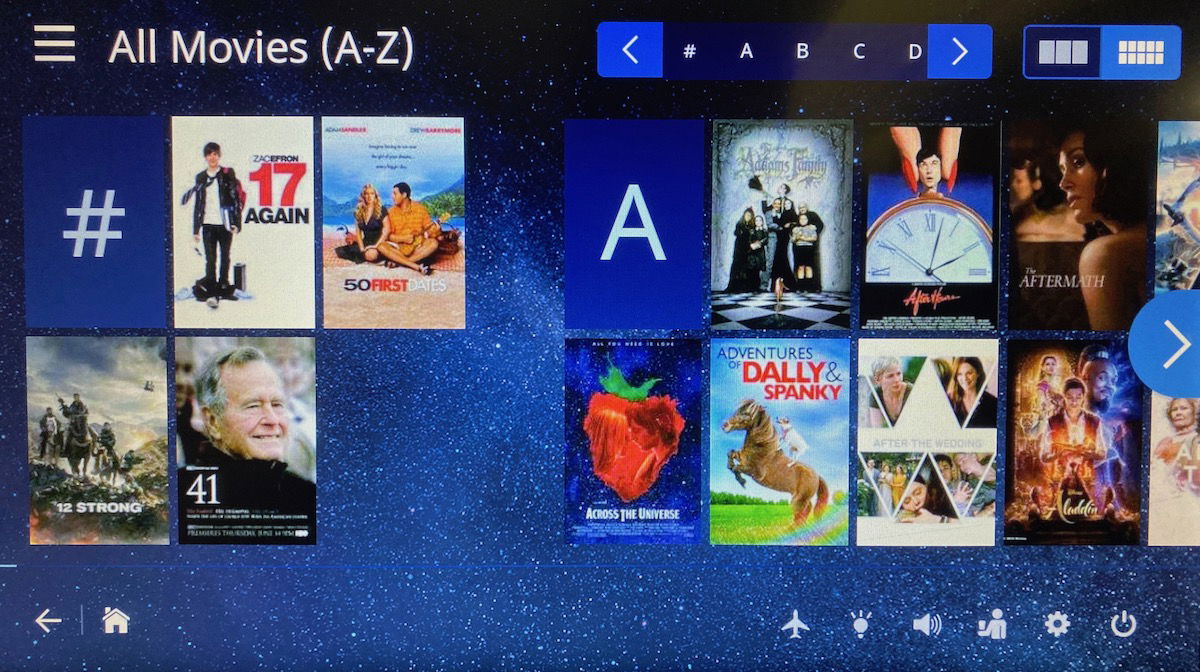 United entertainment system 767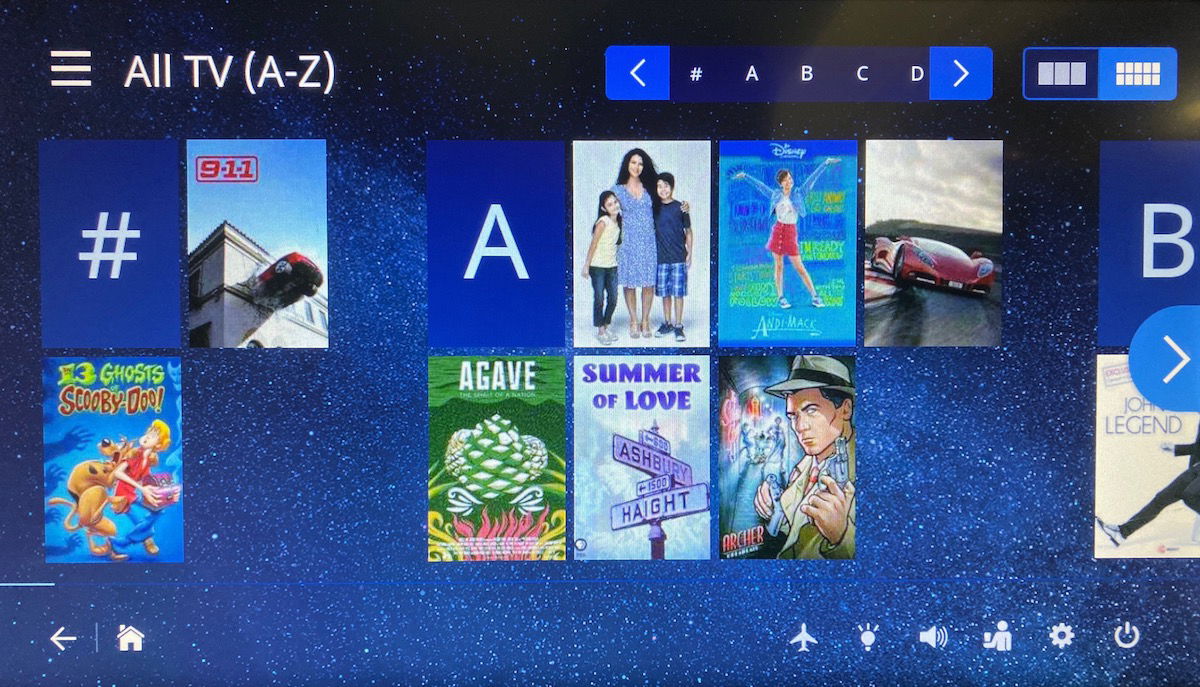 United entertainment system 767
I also like how they have a page that shows the service flow for the flight.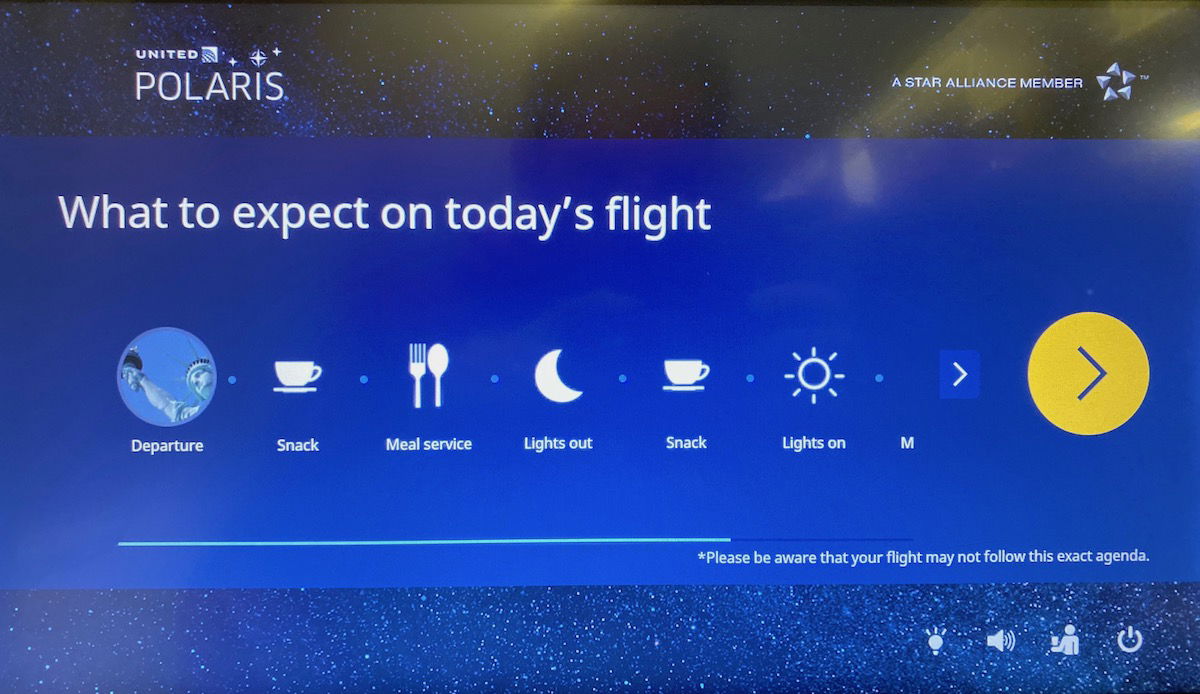 United entertainment system 767
I just spent most of the flight with the monitor just showing the map.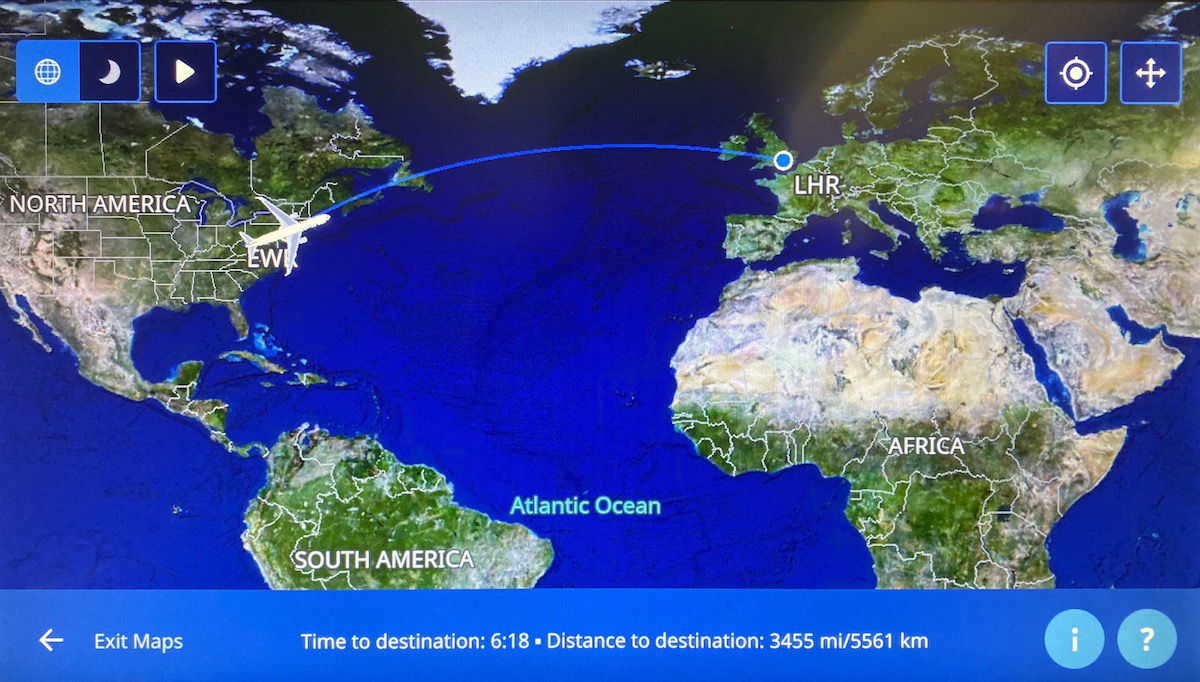 Map for flight to London
Since this was a daytime weekday flight, I connected to the Wi-Fi right away and worked for virtually all of the flight.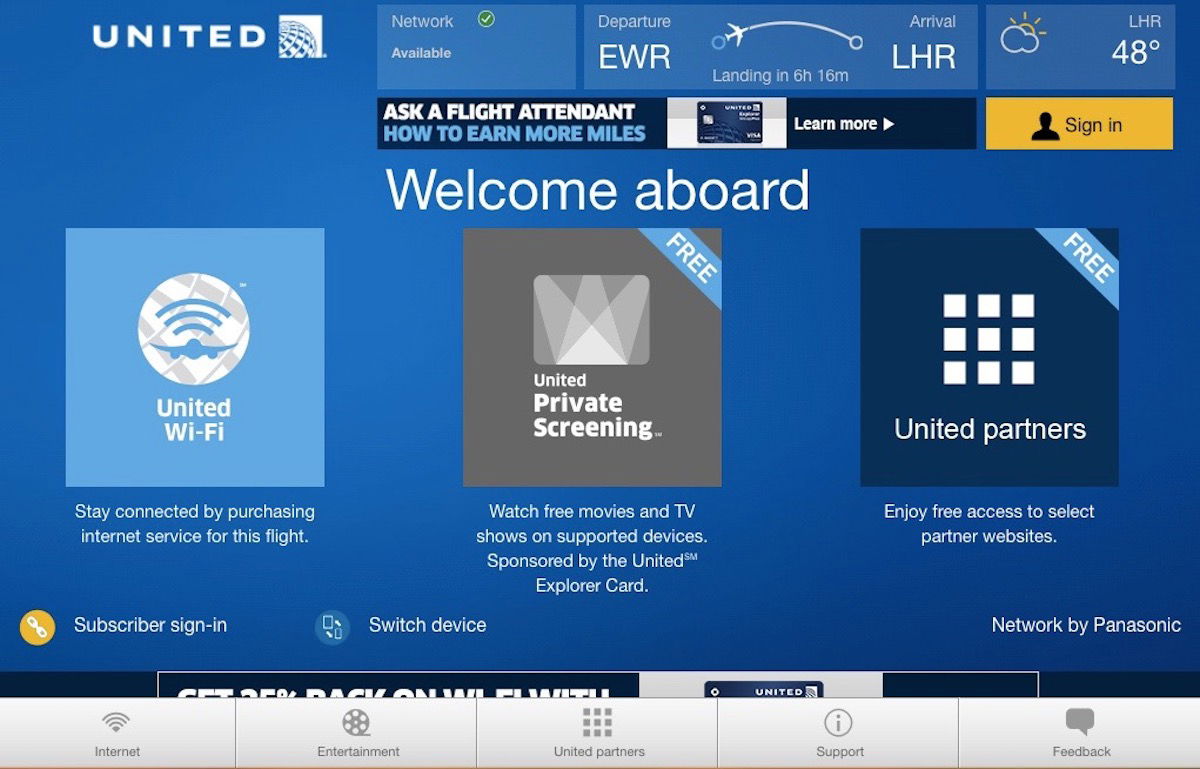 United Airlines Wi-Fi 767
United has three Wi-Fi pricing options:
Wifi for one hour costs $12.99
Wifi for two hours costs $16.99
Wifi for the full flight costs $27.99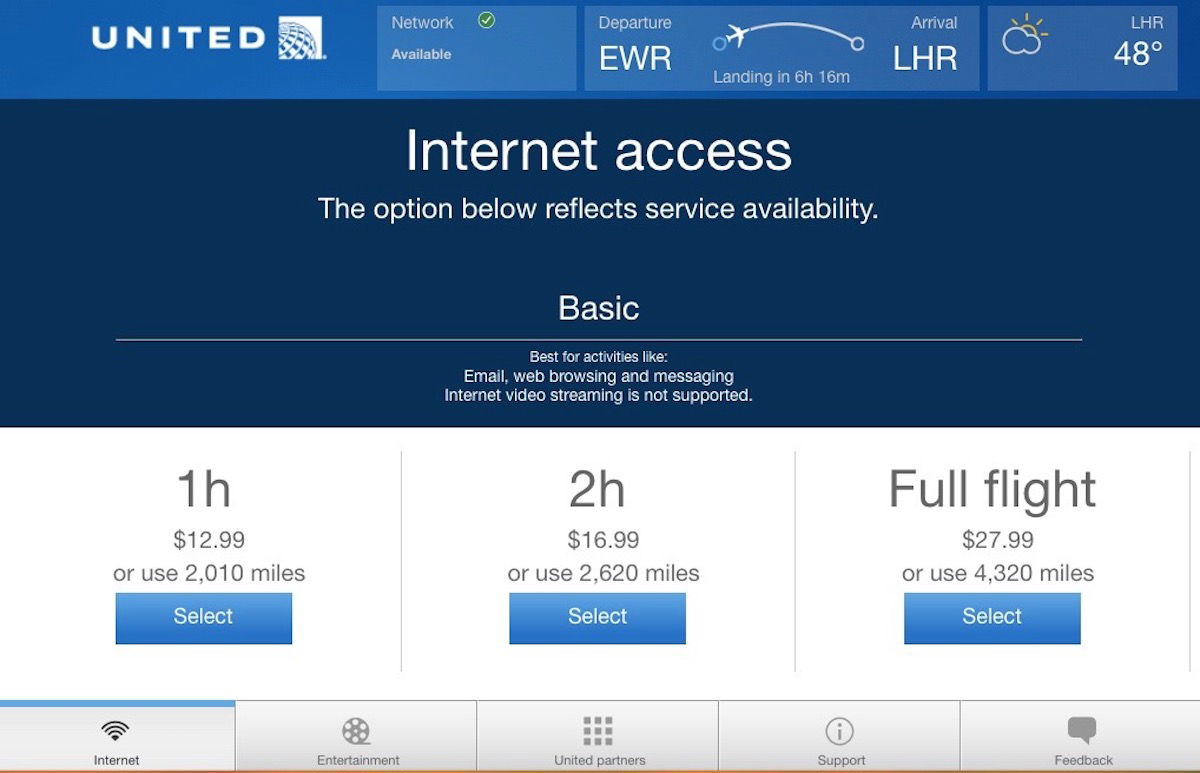 United Airlines Wi-Fi pricing
The Wi-Fi speeds were quite good, much better than I was expecting, since I assumed many people would be connecting on a daytime flight, thereby slowing down speeds. I had no problems being productive.
After takeoff I also checked out the lavatories. There's a big lavatory behind business class, and then two at the front of the cabin. I'm impressed that United refreshed these lavatories, because I know many other airlines that installed new seats on 767s, but maintained the outdated lavatories.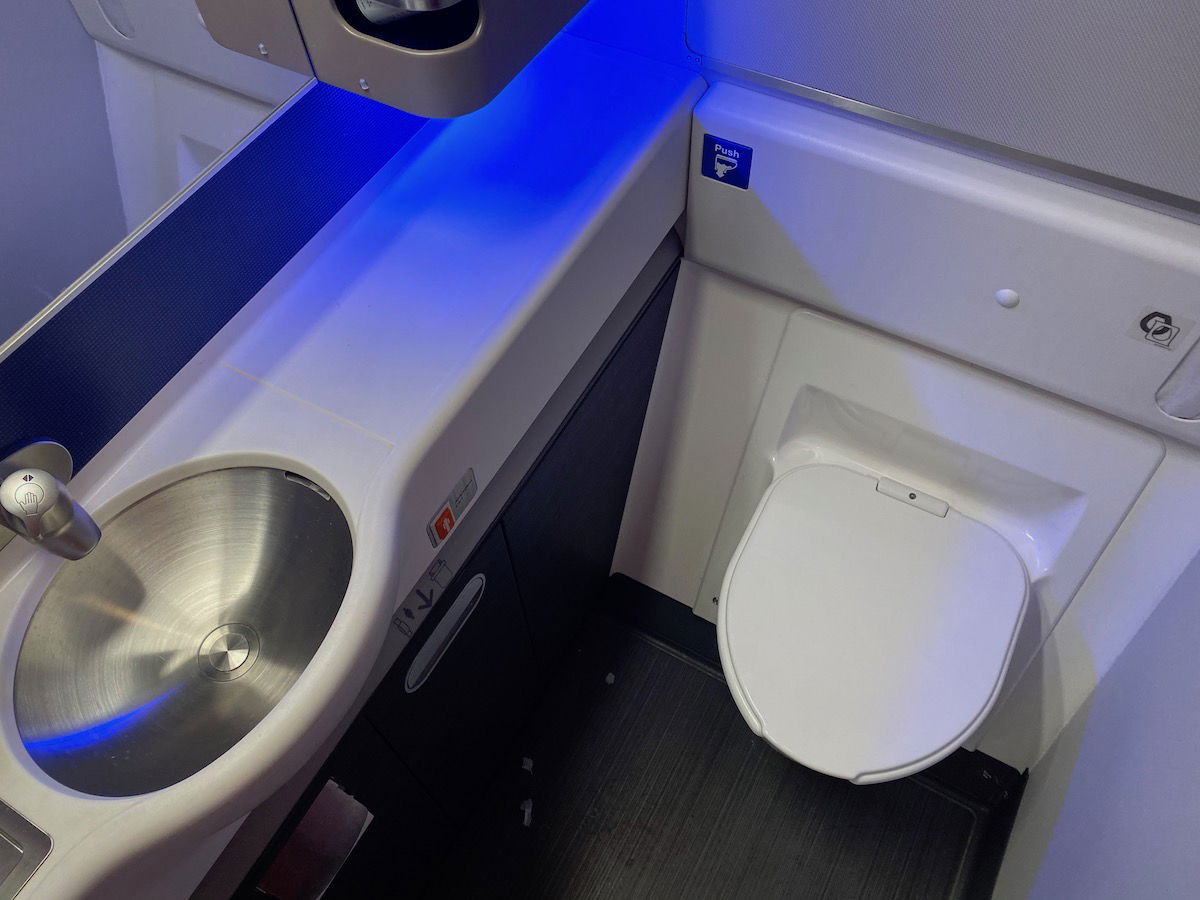 United 767 Polaris lavatory
Soon after takeoff the (very odd) meal service began. Let me start by sharing my expectations:
I assumed that on eastbound daytime transatlantic flights that there was a light breakfast after takeoff, and then the main meal is served before landing
Alternatively, I assumed there was a "proper" breakfast after takeoff, and then a lunch or dinner type snack before landing
What was it actually like? Well, here's the menu: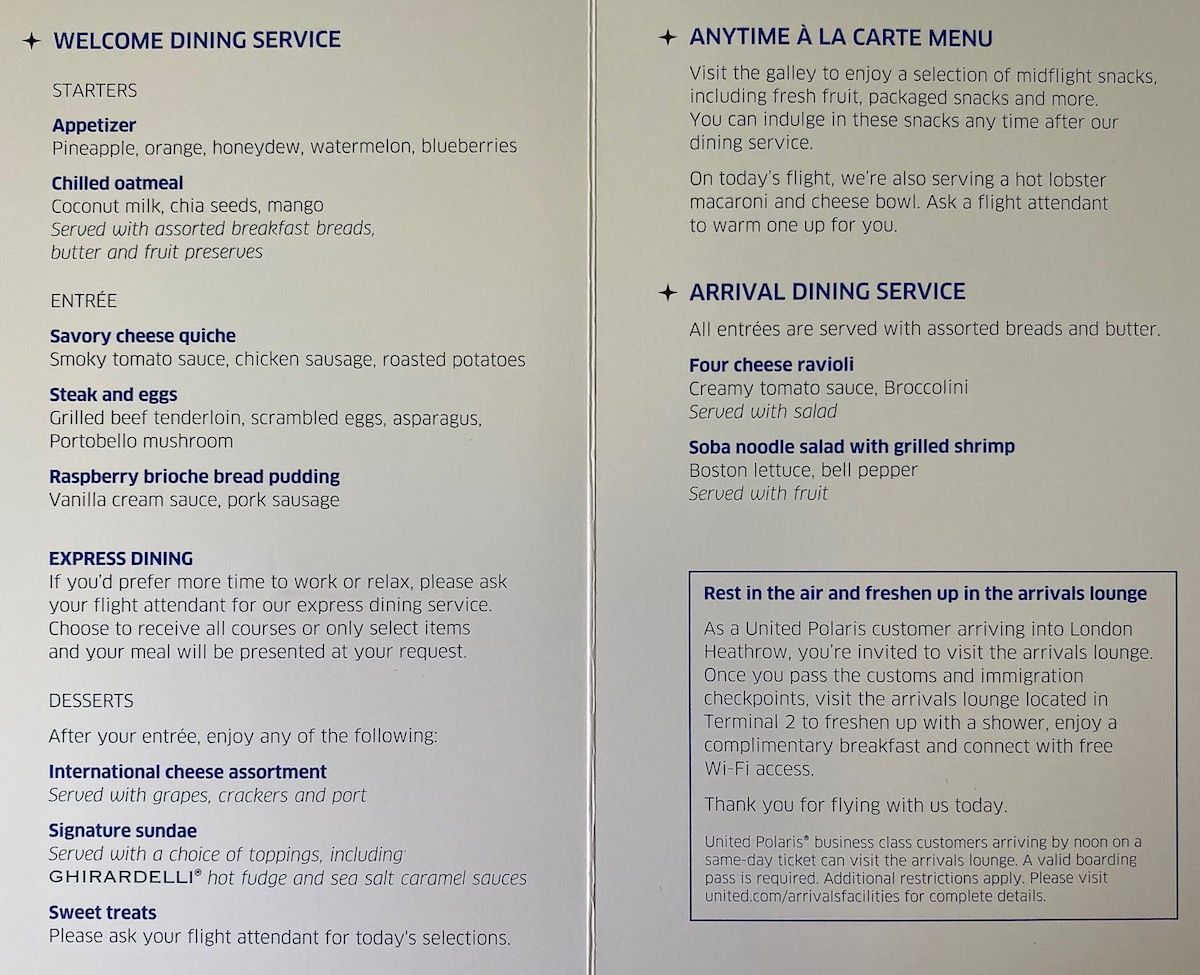 The drink list read as follows: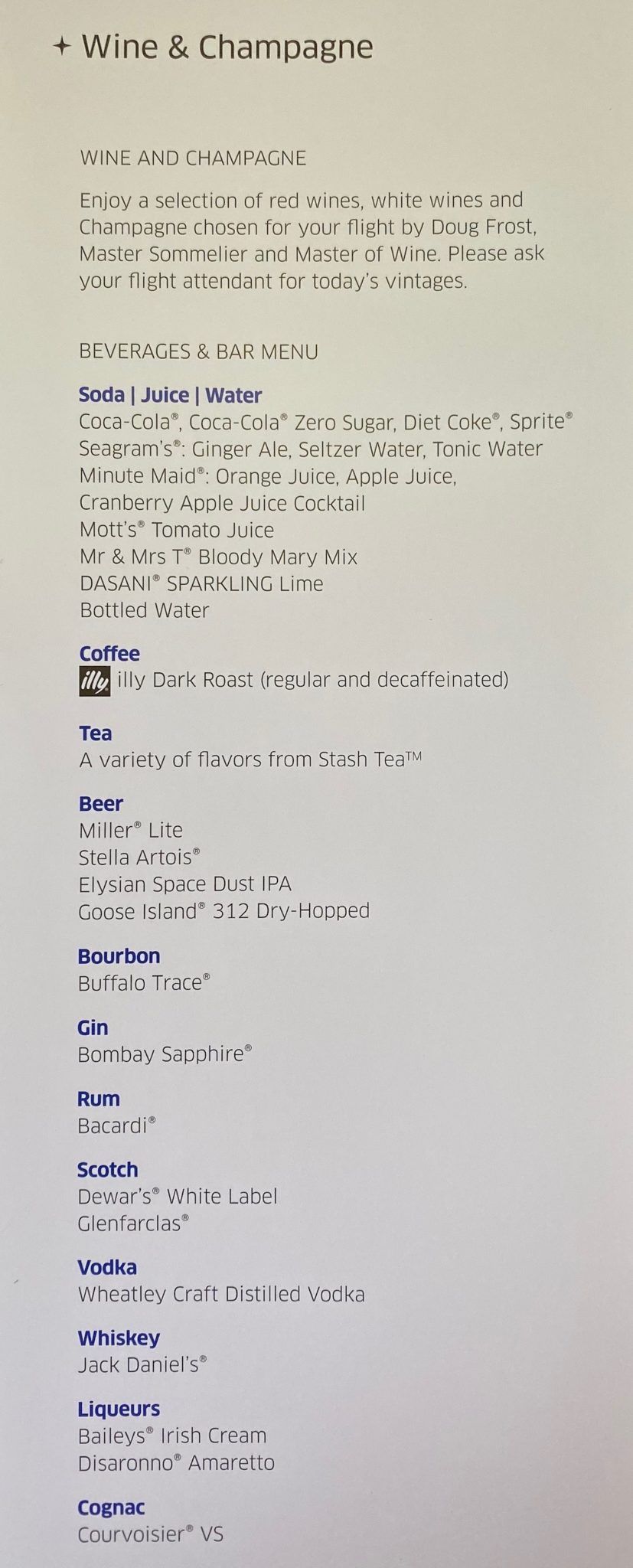 About 20 minutes after takeoff warm towels were distributed.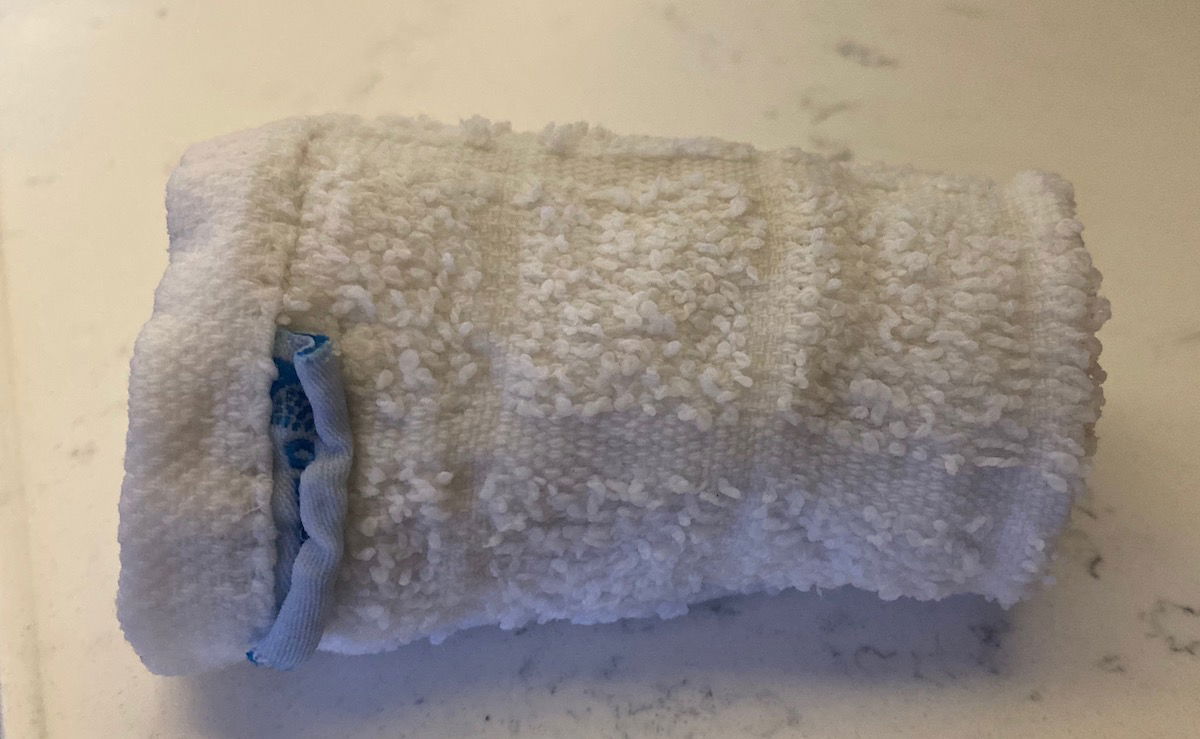 United Polaris warm towel
Around 15 minutes later drinks were served. I wanted a cup of coffee since it was morning, but was surprised that I was offered warm nuts to go along with it. Warm nuts before breakfast, really?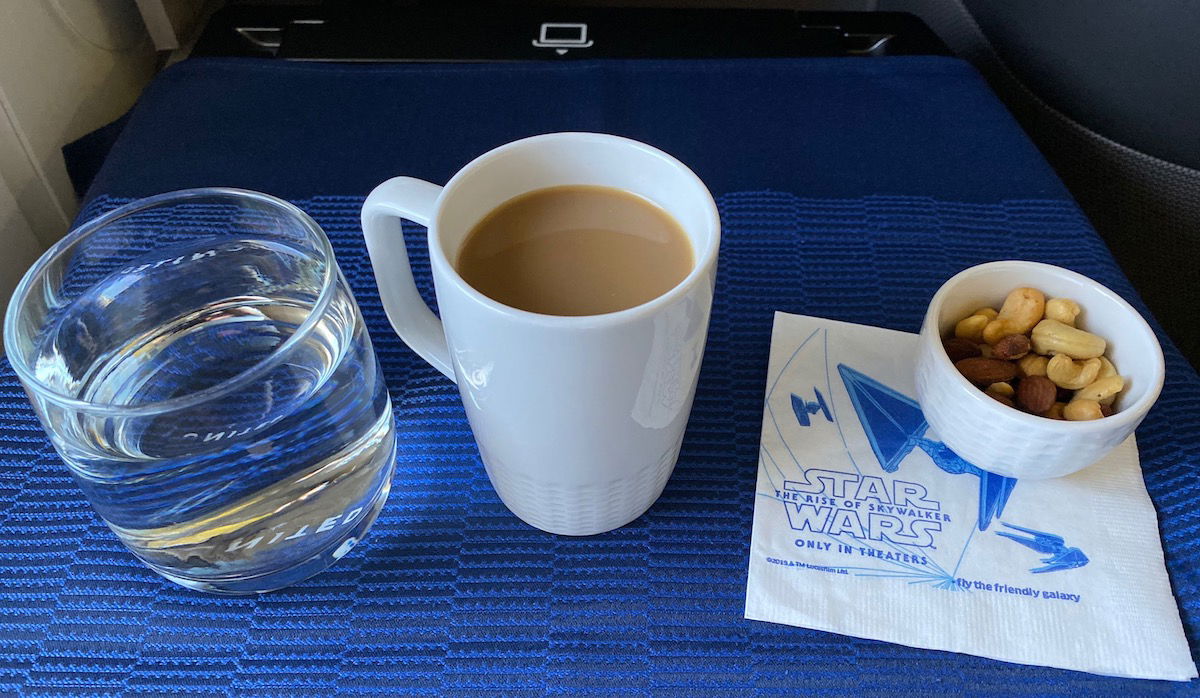 United Polaris meal — coffee & mixed nuts
About 50 minutes after takeoff the (filling) first course was served. This included a generous fruit plate, a delicious chilled oatmeal with coconut, chia seeds, and mango, a yogurt, and a selection from the breadbasket.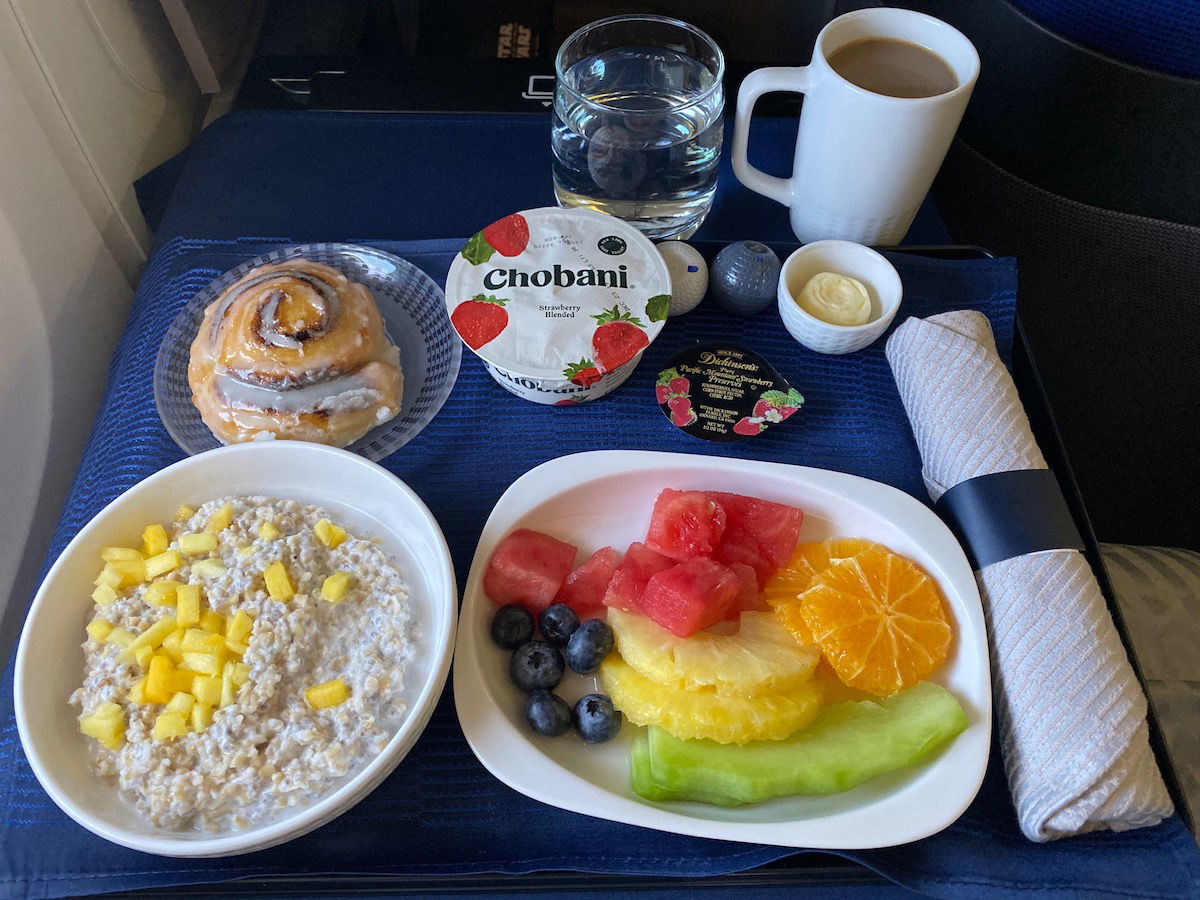 United Polaris meal — breakfast
I decided to take the cinnamon roll from the snack basket, not because I was going to eat it, but because it might just be the tastiest thing you'll find in any airline breadbasket, so it needed to be in that picture. 😉
For the main course I decided to order the steak and eggs, which consisted of grilled beef tenderloin with scrambled eggs, asparagus, and portobello mushrooms. The scrambled eggs were pretty good, while the steak was really tough, which I guess shouldn't come as much of a surprise.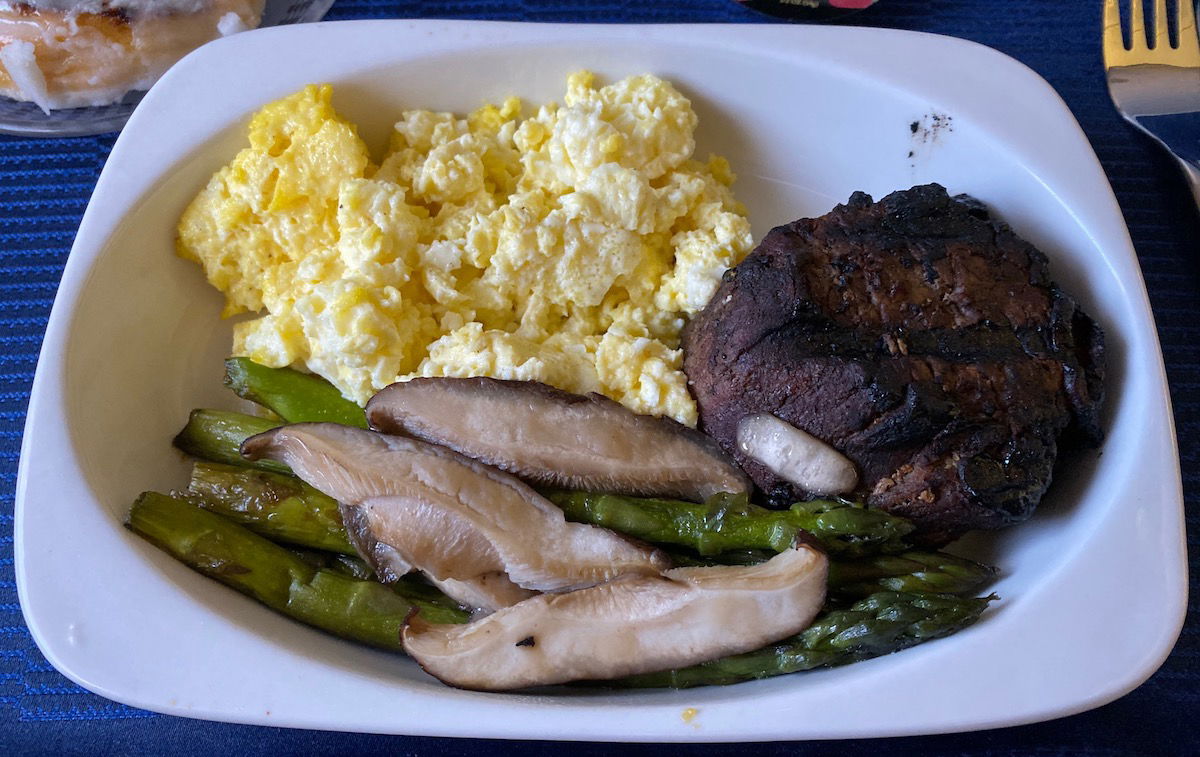 United Polaris meal — breakfast
After that the typical dessert trolley was rolled down the aisle with ice cream sundaes, other sweet treats, and cheese plates.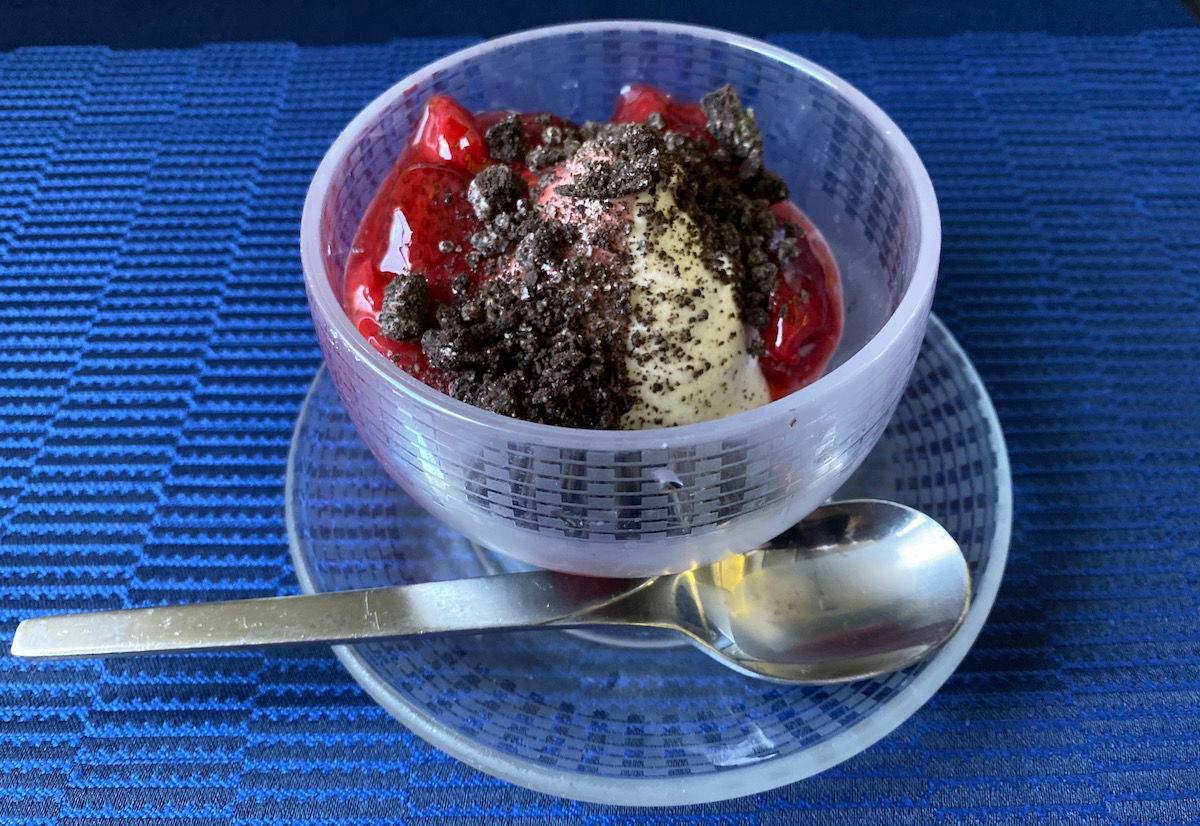 United Polaris meal — breakfast
The meal was served at a good pace, and was done about 90 minutes after takeoff. Overall the food was pretty good — especially the chilled oatmeal — though I found the meal design to be bizarre.
The first meal is a full-on breakfast, but then they start it with hot nuts, and finish it with an ice cream sundae cart? Am I the only one who finds that to be strange?
Not surprisingly, everyone on this flight seemed to be on a completely different schedule. You had some people working on their laptops the whole flight, you had some people watching movies, and you had others sleeping almost the entire flight.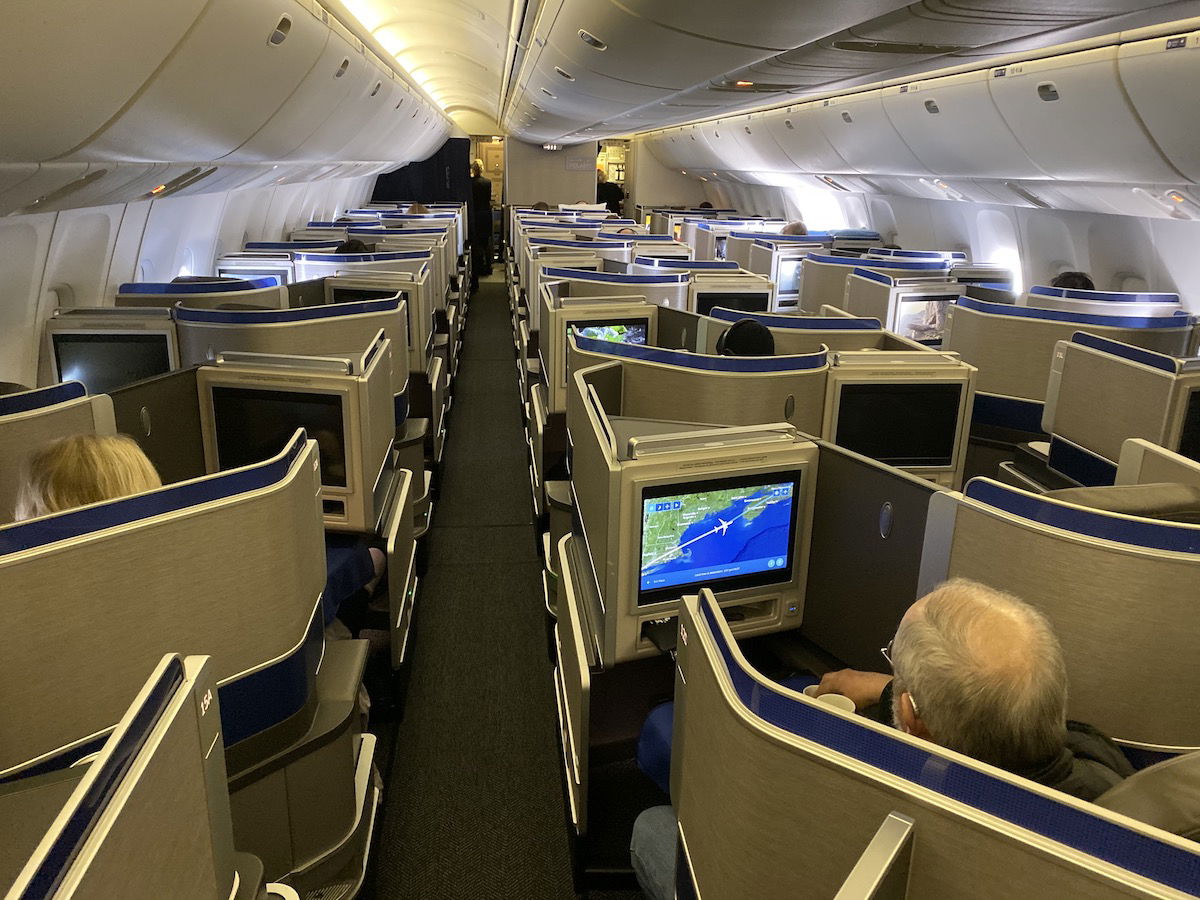 United 767 Polaris cabin
By the time the meal was done we were just over Newfoundland, about to start our Atlantic crossing.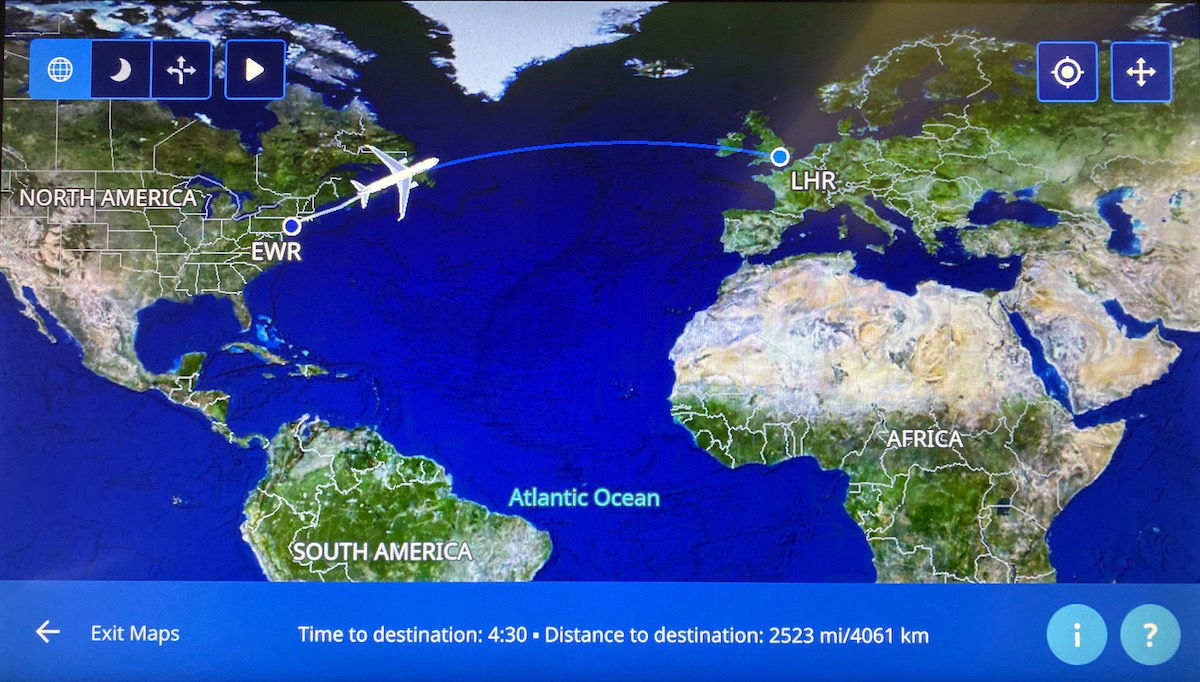 Map enroute to London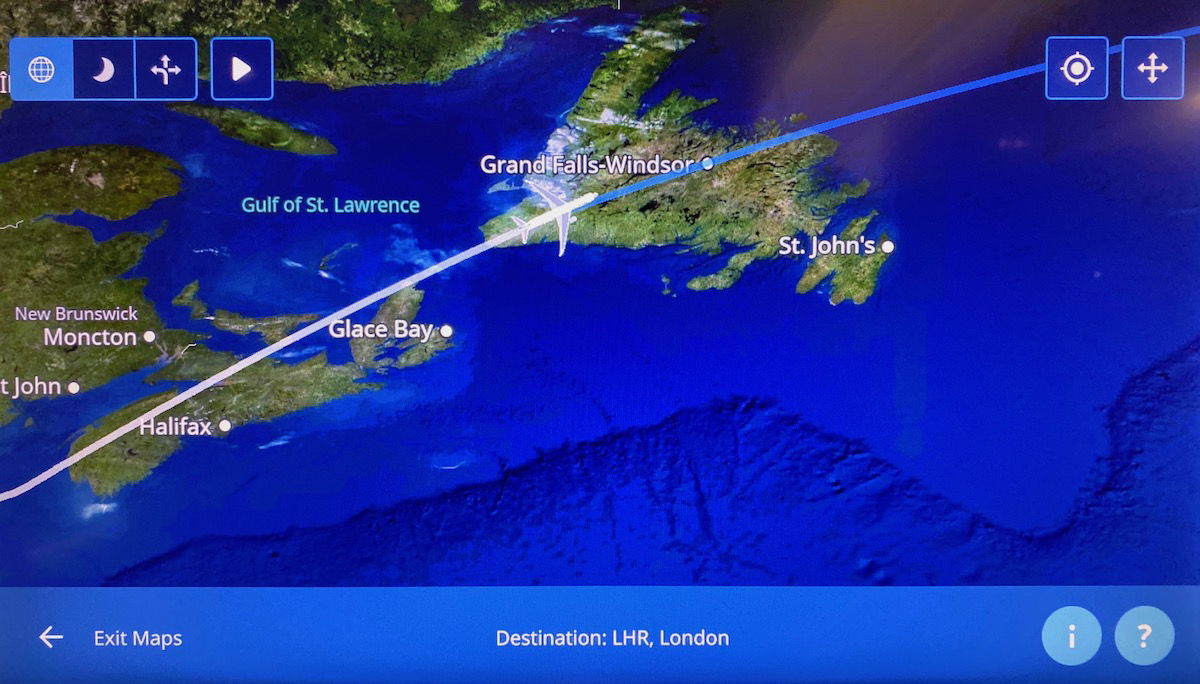 Map enroute to London
I spent almost the entire flight working, and also occasionally taking a look outside the window.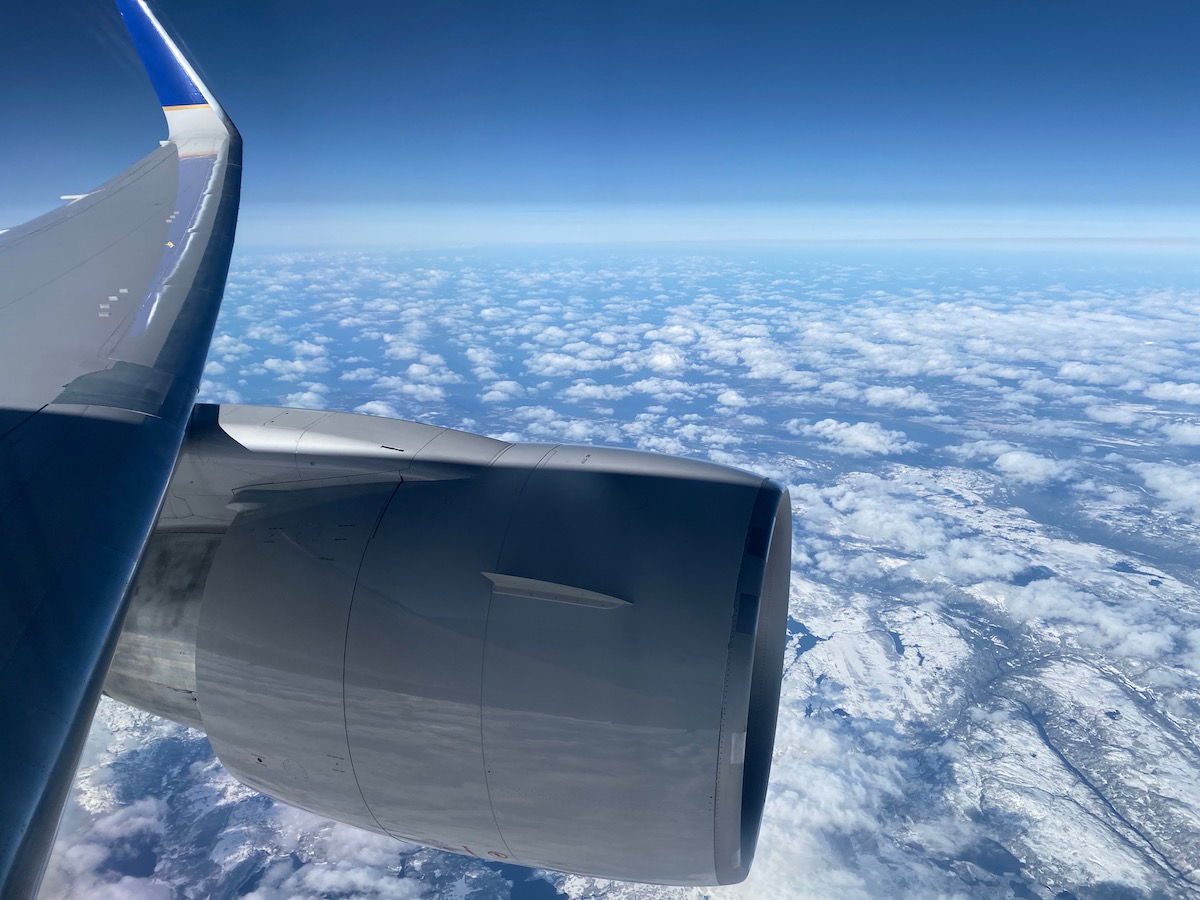 View enroute to London
This was a very short day for me, as about two hours before landing the sun already set. It was also a quick sunset, given that we were flying east — it was completely bright outside, and then 30 minutes later was pitch dark.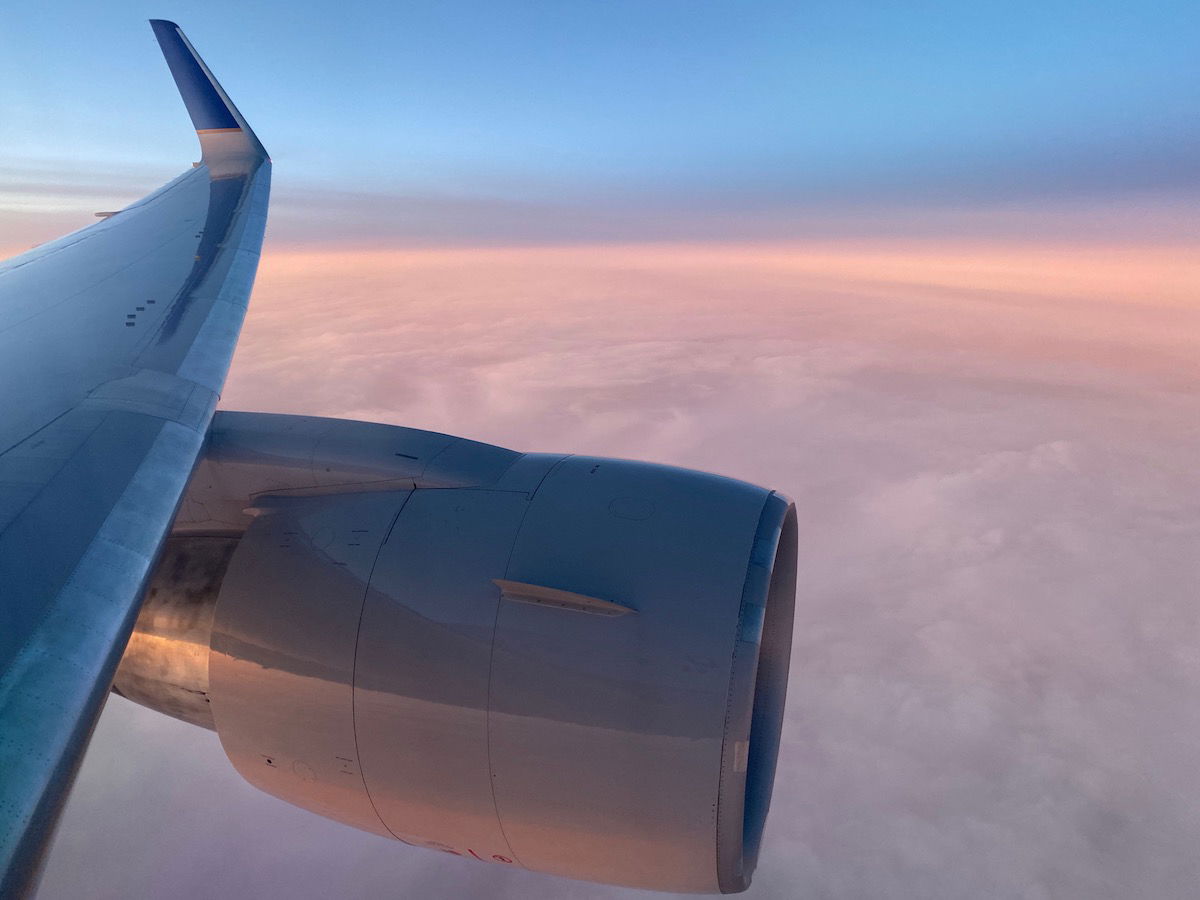 View enroute to London
While I didn't sleep on this flight, I did briefly test out the bed, which was every bit as comfortable on the other planes where I've flown Polaris, especially with the bedding.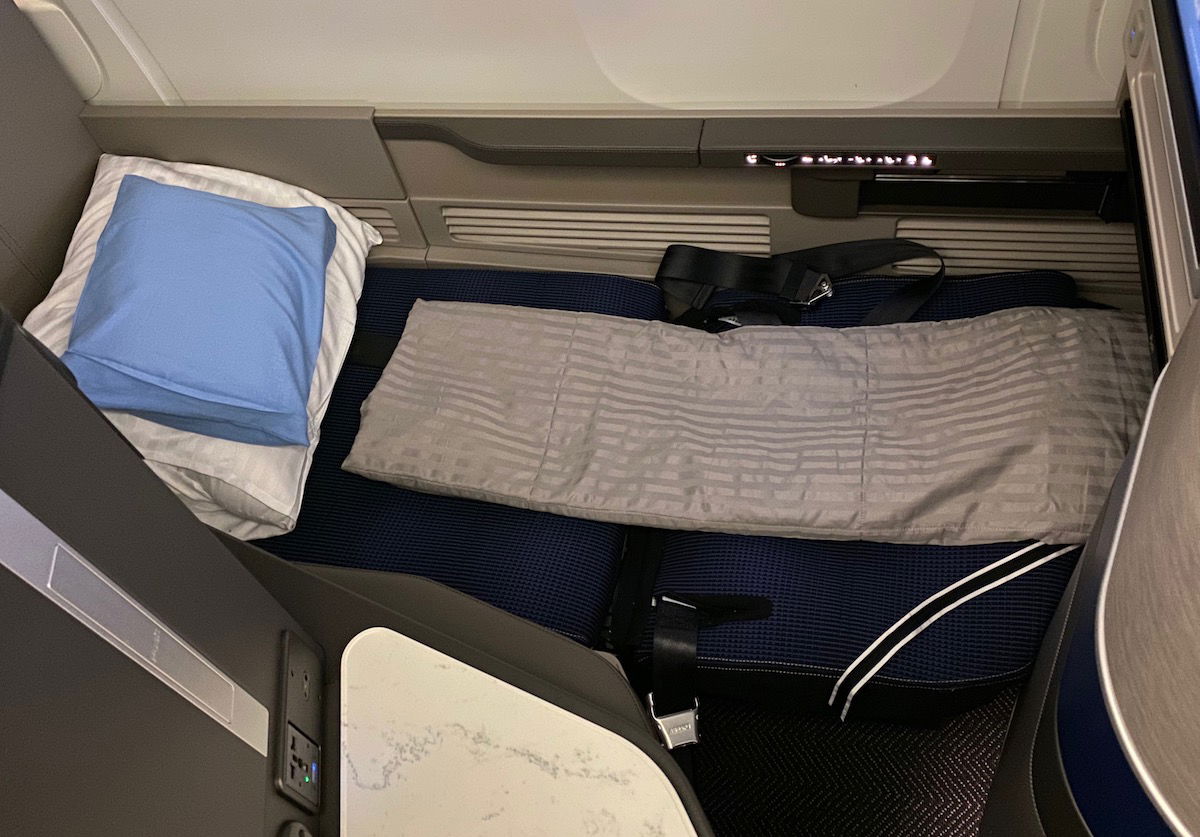 United Polaris bed
About 80 minutes before landing a snack was served.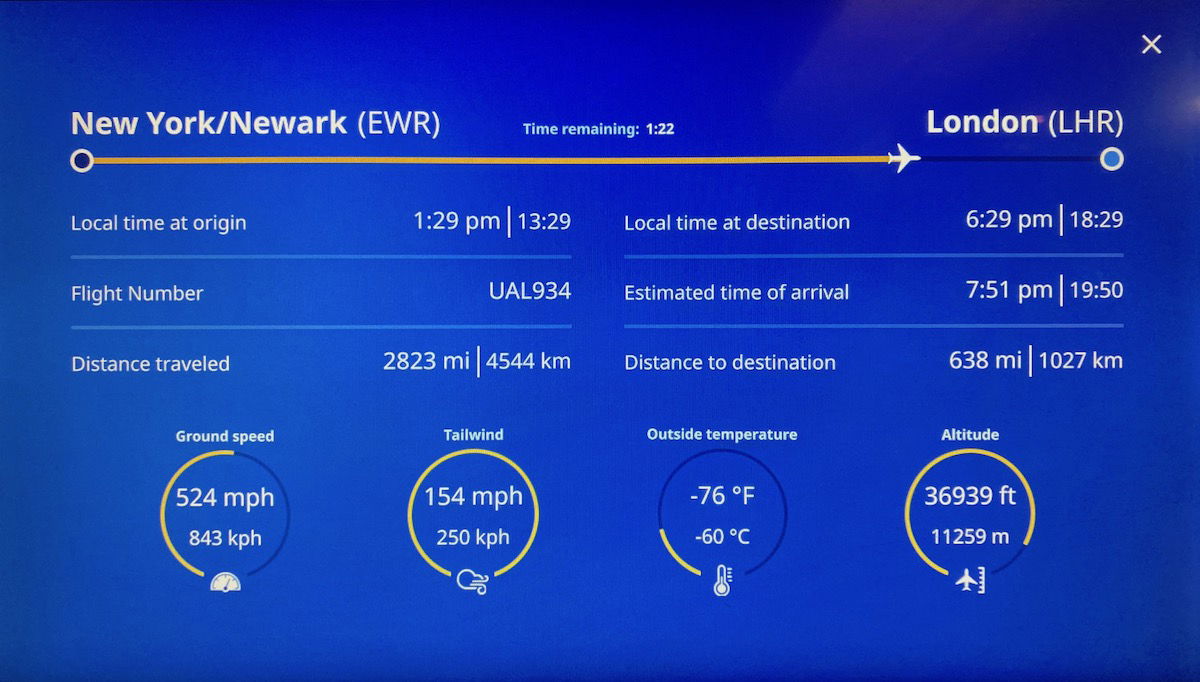 Progress to London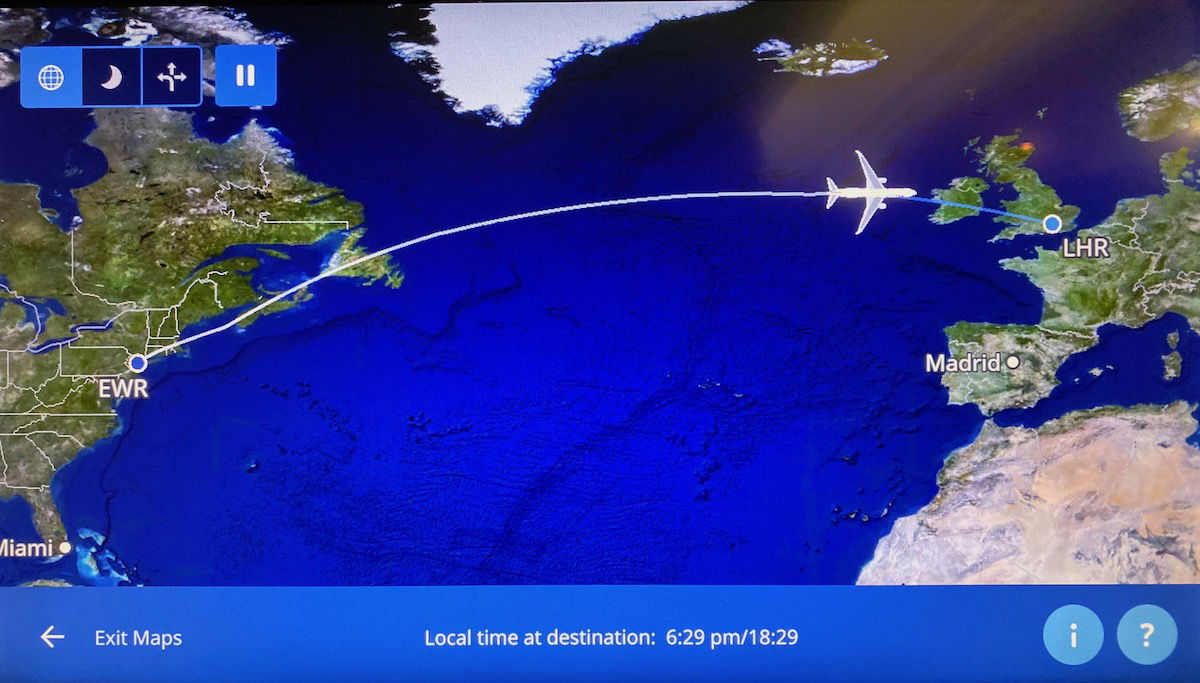 Progress to London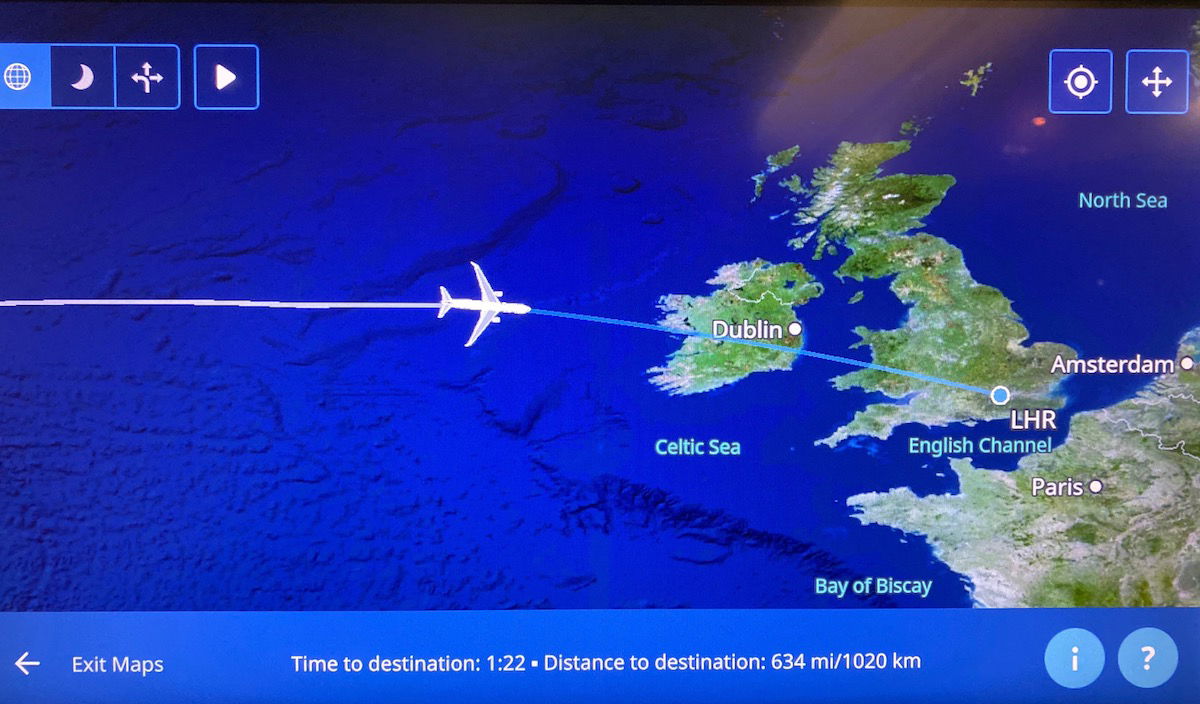 Progress to London
There were three choices — four cheese ravioli, soba noodle salad with grilled shrimp, and lobster mac & cheese. I ordered the soba noodles with shrimp. The shrimp were warm and tasty, and the meal was served with fresh fruit, a selection of bread (mmmm pretzel bread), and a packaged cookie.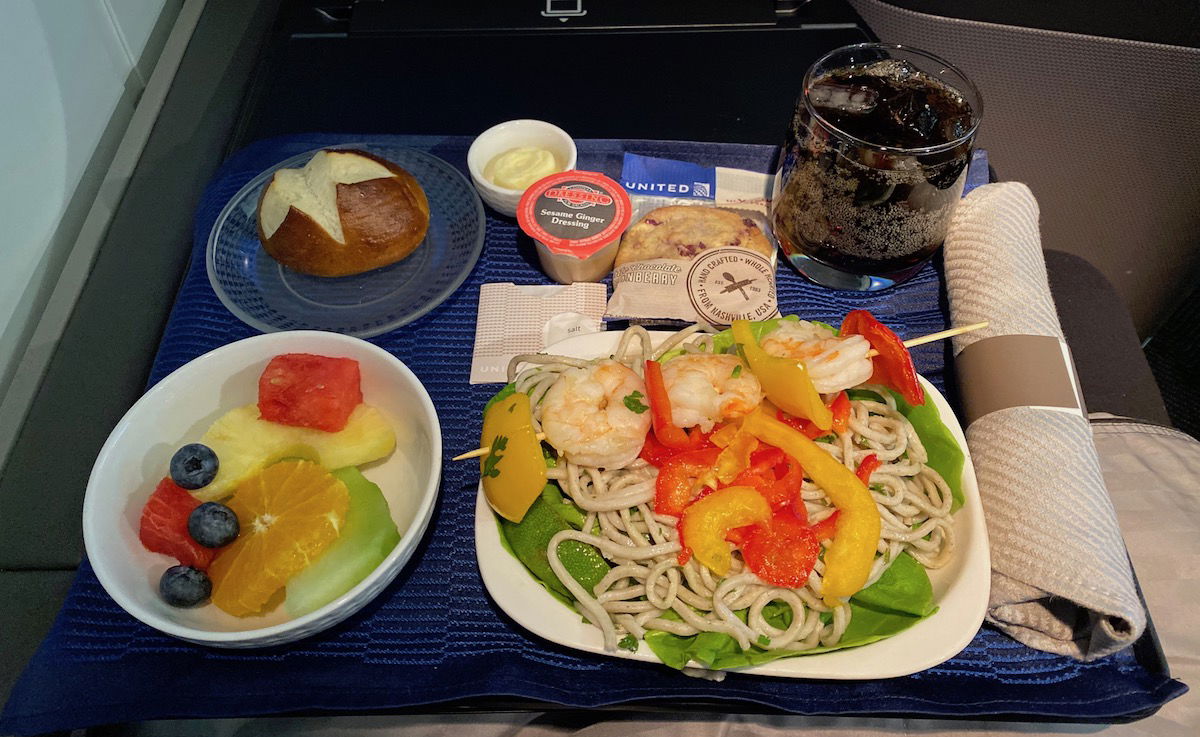 United Polaris snack service
At around 7:25PM London time the captain announced that we'd be landing in 30 minutes. From there we had a smooth descent, and we ended up touching down in London at around 8PM.
We had a 10 minute taxi to our arrival gate. It would usually be faster, but the captain advised that our gate was still occupied when we landed.
United Polaris 767 Bottom Line
There are some things that United does really well. This includes the new routes they've launched (they're becoming such a global airline), and also the risks they've taken in configuring some planes in premium layouts.
United's premium 767 is the most gorgeous 767 I've ever flown on, not that that's saying a whole lot. It's great to see an older and smaller plane like this not only get United's new Polaris seats, but get so many of them.
United is primarily operating these planes in key business markets, including many of their flights to London, and that seems like a good strategy.
As far as the soft product goes, the Wi-Fi was good, the amenities were nice, I love Polaris bedding, and the food quality as such was above average.
That being said, I can't wrap my head around United's meal service on this flight — they serve breakfast after takeoff, but have warm mixed nuts and an ice cream sundae cart to go along with that?
All around this was an excellent flight, though. In a separate post I'll share my thoughts on taking a daytime eastbound transatlantic flight, because my feelings on it surprised me.