In 2020, Hyatt launched the "Pay My Way" feature, whereby you can book a reservation using a combination of cash, points, and free night awards.
I wanted to recap how this works, and also note that Hyatt has just made a positive change to this — you can now select exactly which free night certificate you want pulled with a particular reservation, rather than the system automatically pulling the one that's supposed to expire next.
World of Hyatt Pay My Way booking option
The Pay My Way feature should be available to all World of Hyatt members, and allows them to book their stay using multiple payment types in a single reservation. In other words, say you want to book a two night stay, and want to redeem points for one night and pay with cash for the other night.
While you'd otherwise have to make two separate reservations, the Pay My Way feature allows you to do this in one reservation online. With the Pay My Way feature:
Members can book a combination of cash, points, free night awards, or Points + Cash rates, on a single booking
As far as paid rates go, this is limited to member rates and standard rates, while other pre-paid, negotiated, and package rates aren't eligible
One very nice recent improvements is that if you want to redeem a free night award, you can now specifically pick which one you want to redeem (this could be valuable if you have both Category 1-4 and Category 1-7 free night awards)
Hyatt's Pay My Way booking process
Let me give an example of how this works in practice. Say you want to make a three night booking at the Hyatt Regency Seattle, which is a Category 4 World of Hyatt property. When you start your search and get to the page displaying the various rates, you'll see that some rooms have a "Pay My Way" option in addition to a "Book Now" option.

Once you click that, you'll be brought to a page with a cool visual, giving you the option to select your payment method for each night, whether you want to book with cash, points, Points + Cash, or with a free night award. If you book with a free night award, you can even select which one you want to redeem, as it won't automatically select the one expiring next.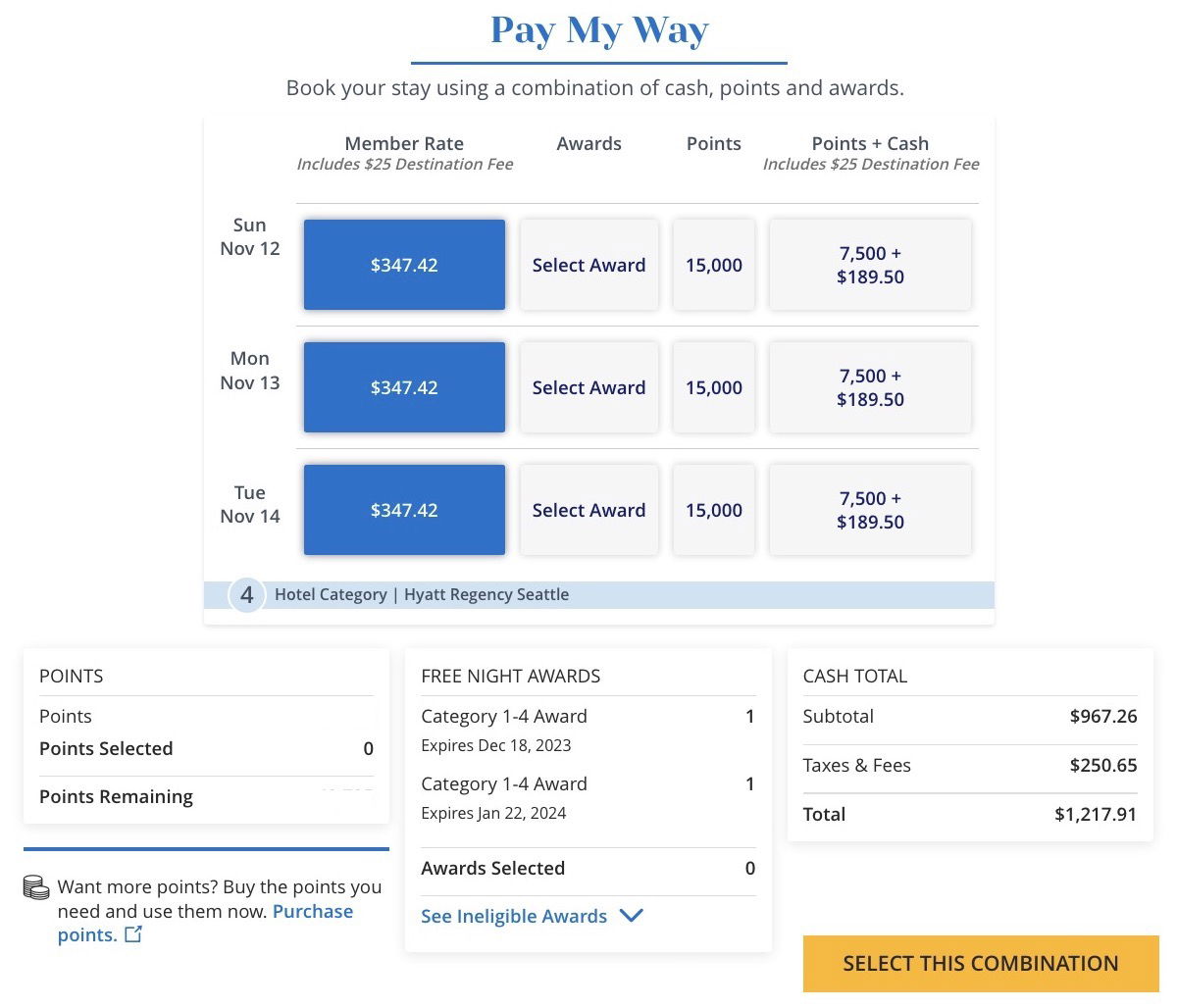 This feature is really easy to use, both in terms of being able to make a different selection every night, and also in terms of all your points and awards being displayed in one place.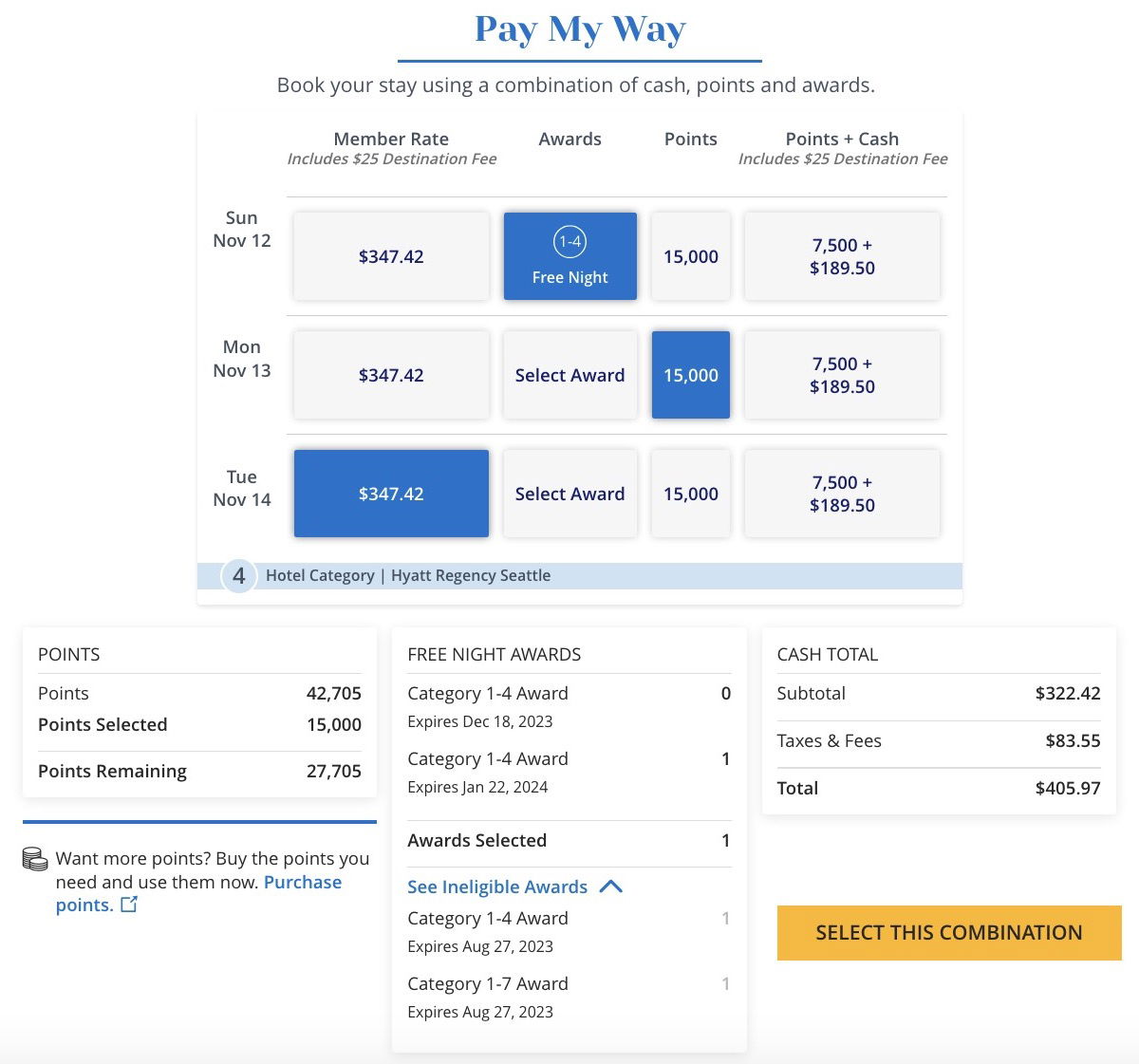 It's my understanding that using this feature wouldn't have any implications for points earning. In other words, you'd still earn points and qualify for promotions in the same way you usually would, based on each individual night.
Why I consider this feature to be of limited use
While Pay My Way is visually cool and easy to use, as someone who likes to maximize value, this is still of limited use as of now:
If you want to include a paid night, only member and standard rates qualify, so you couldn't book one of the lower rates, whether pre-paid, AAA, Hyatt Privé, or whatever else; more often than not, I book some sort of discounted or special rate with Hyatt
Suite upgrade awards, which Globalist members can earn through the Milestone Rewards program, can't be used on these types of reservations; however, this is something that could be rolled out in the future
The one circumstance where I could see myself using this for now is if I wanted to book a stay where I'm redeeming points for some nights and free night awards for others, and didn't care about confirming a suite upgrade
Bottom line
Hyatt's Pay My Way feature is a great concept, as it allows guests to book multiple rate types on a single reservation. There are all kinds of circumstances where you may otherwise find yourself booking back-to-back stays, and having everything under one reservation sure makes it easier, for both the hotel and the guest.
While this was first rolled out in 2020, we've seen a positive change introduced, whereby you can specifically select which certificate you'd like to use with one of these bookings.
Unfortunately I still don't see myself using this much, given the restrictions on which paid rate you can use in conjunction with this. If the functionality were improved just a bit further with paid rates, I could see myself using this all of the time.
What do you make of the Hyatt Pay My Way feature, and could you see yourself using this?