Note: I visited The Private Room about a year ago, so feel free to check out that review as well, which is a bit more detailed.

We left the Hilton at 7 AM and made it to Changi Airport by 7:30 AM for our 9:25 AM flight. Unlike the last time I flew Singapore first-class out of Changi, I actually remembered to use the drive-up first-class check-in area this time. As you pull up to terminal three there's a special driveway for first-class passengers, where porters are waiting to take your bags as you get out of your taxi.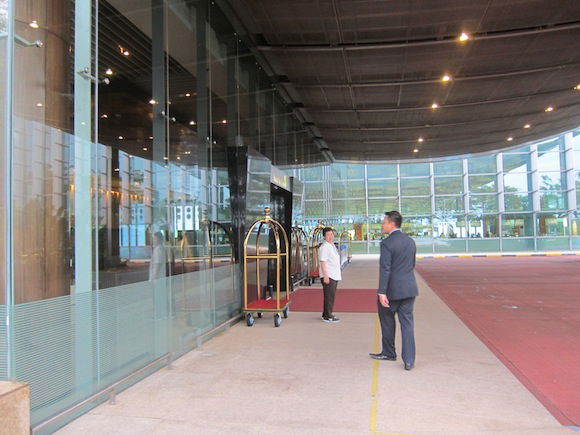 First class entrance
Inside the door was a large room with several seating areas. We were invited to take a seat while they processed our check-in. The porter had taken our bags assuming we wanted them checked, though to my surprise when we requested to carry them aboard they didn't say a word, even though they were well over the 8kg limit.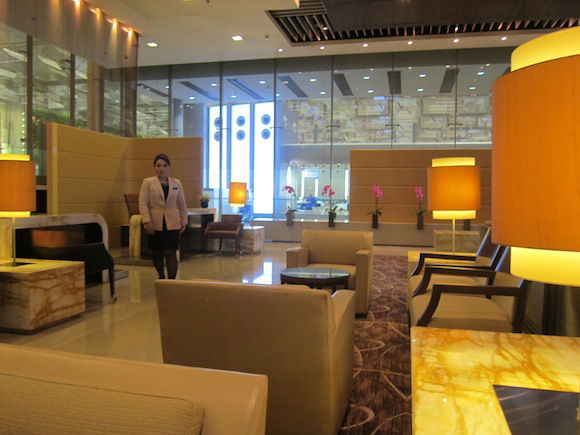 First class check-in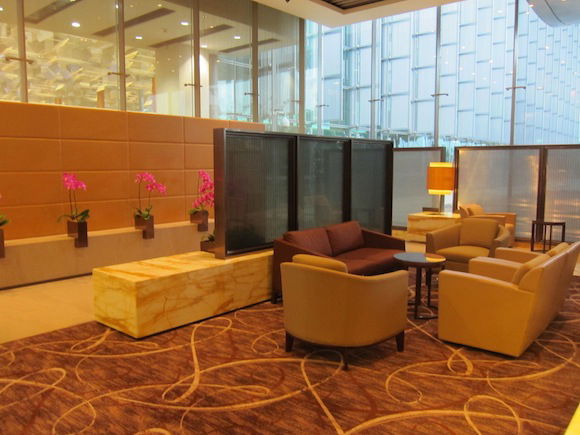 Seating area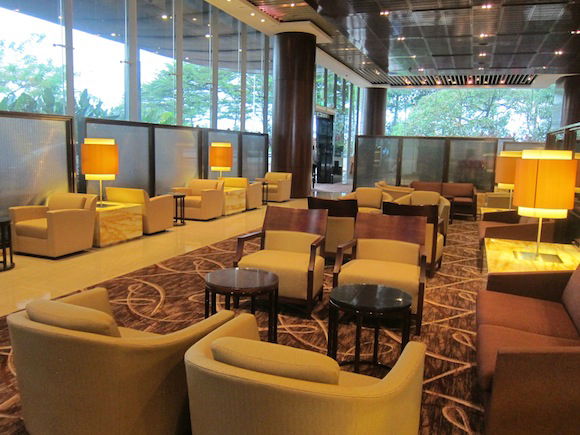 Seating areas — As we waited for our check-in to be processed we were offered cold towels.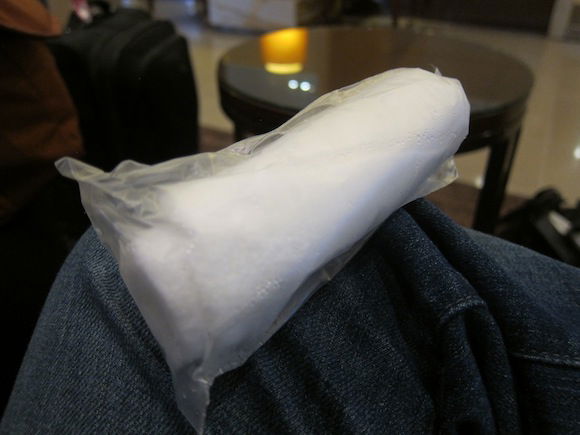 Cold towel
Within a few minutes we were issued boarding passes and invited to use the first class immigration queue which is located just past the entrance of the lounge. Not surprisingly there was no queue there, so we were in the terminal in no time (at Changi Airport, security is at each individual gate).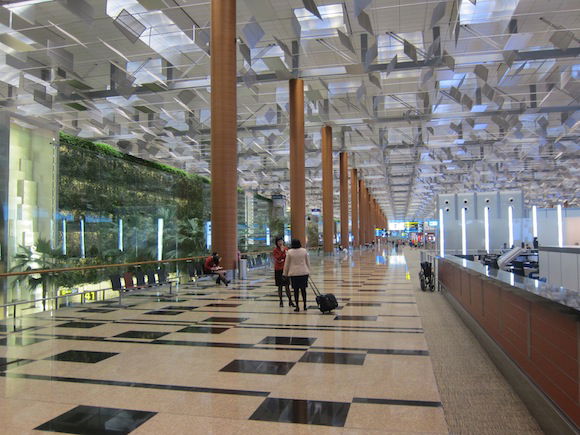 Terminal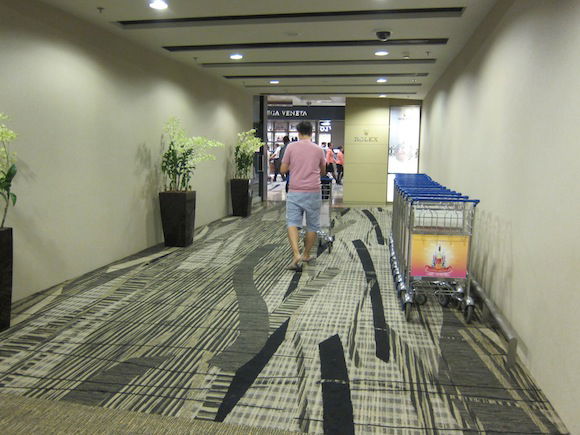 First class immigration hallway
The immigration queue lets out just near the center of terminal three, so it was a very short walk to the Silver Kris Lounge.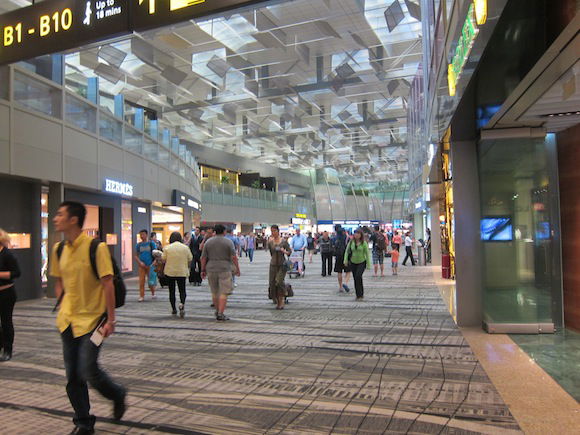 Terminal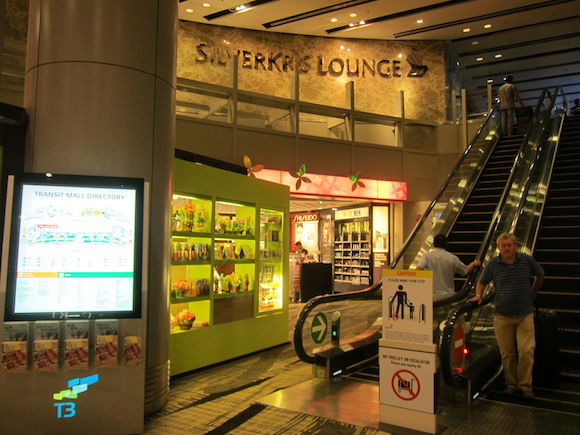 Escalator to lounge
Now, The Private Room is interesting on many levels. First of all, up until a couple of years ago they only allowed passengers on revenue first-class tickets to use the lounge. If you upgraded or were on an award ticket you could only use the first-class lounge and not The Private Room. Fortunately, that policy changed, and now passengers on award tickets and upgrades can use the lounge.
The other funny thing about the lounge is that it has to be one of the most guarded out there. First, you enter the Silver Kris Lounge, then one of the agents escorts you to the first class lounge, and then The Private Room is located in the back of that. So it's kind of funny that you have to go through two "layers" of lounges to get there.
The lounge itself is nothing spectacular, in my opinion. It has a very sophisticated feel to it thanks to the dark colors and furniture, but it lacks any amenities that really set it apart.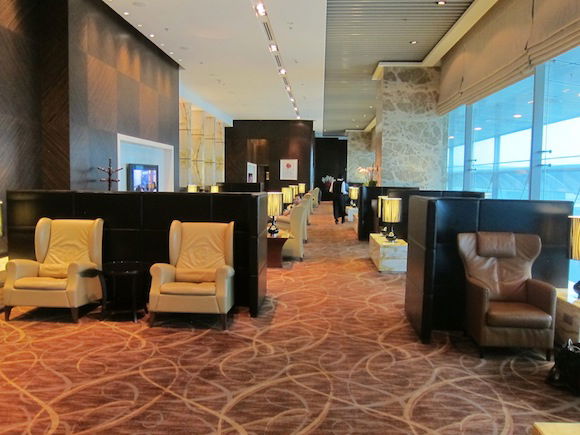 The Private Room seating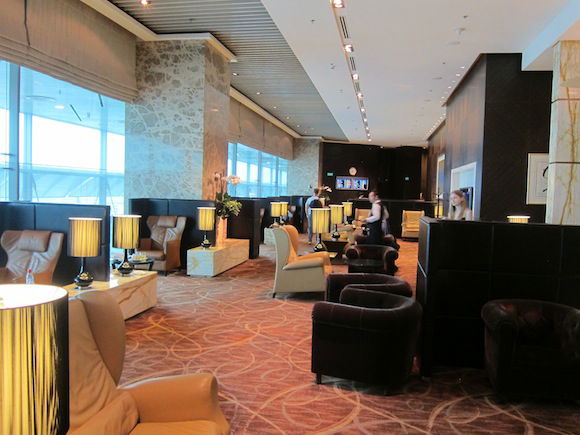 The Private Room seating
The Private Room has a small business center, a playroom, and also a couple of individual rooms with doors and chairs, but aside from that it's pretty "no frills."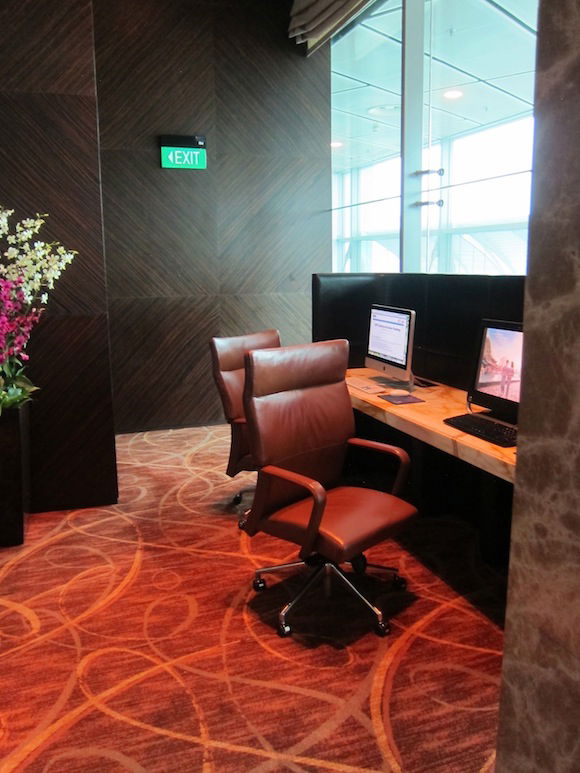 Business center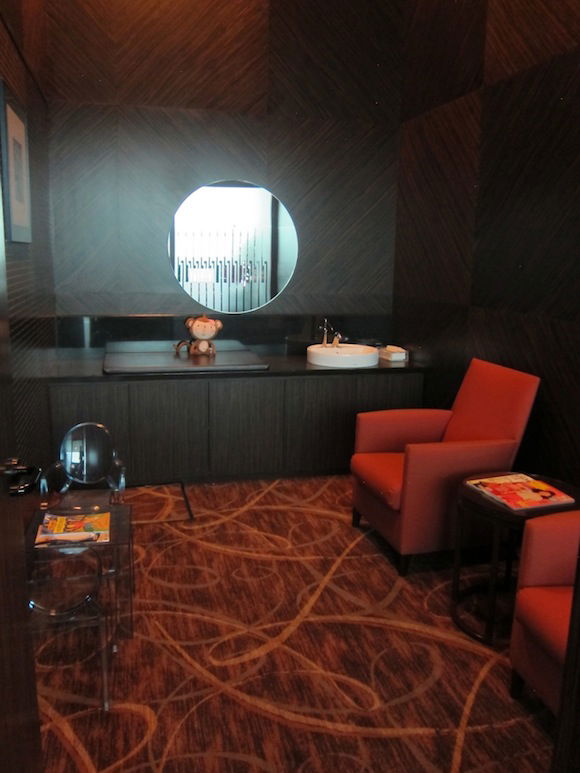 Children's lounge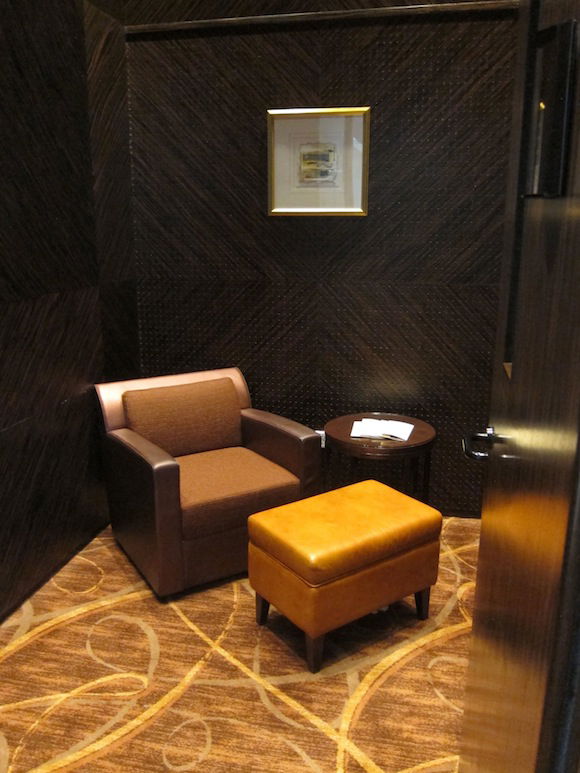 Private room
The lounge also has a dining area. It features both a (truly) tiny buffet and then an a la carte menu.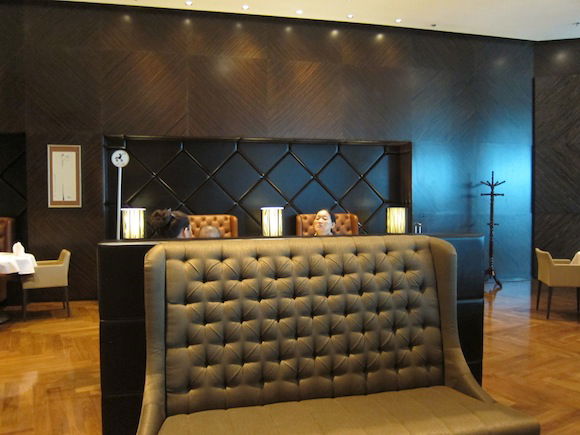 Dining area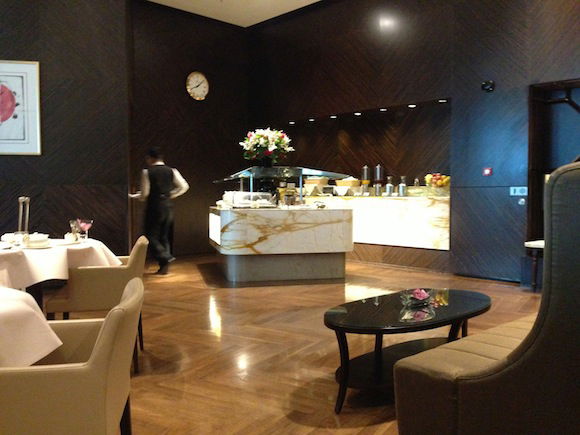 Dining area
In this case the buffet just had finger sandwiches, juice, muesli, and cereal.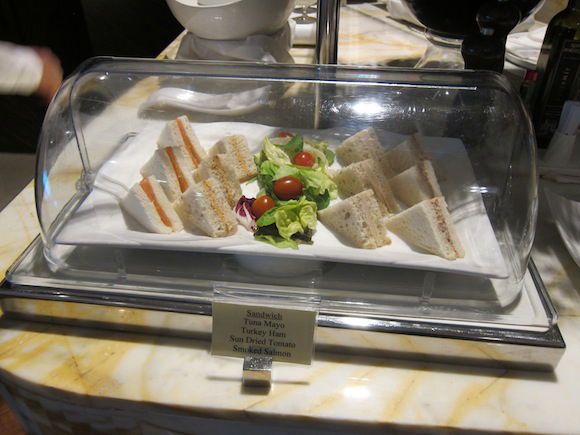 Finger sandwiches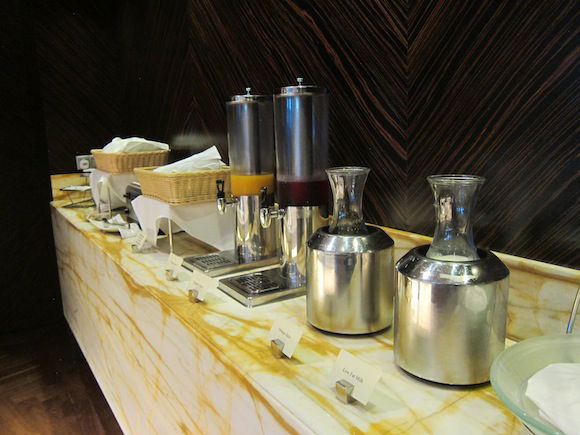 Water and juice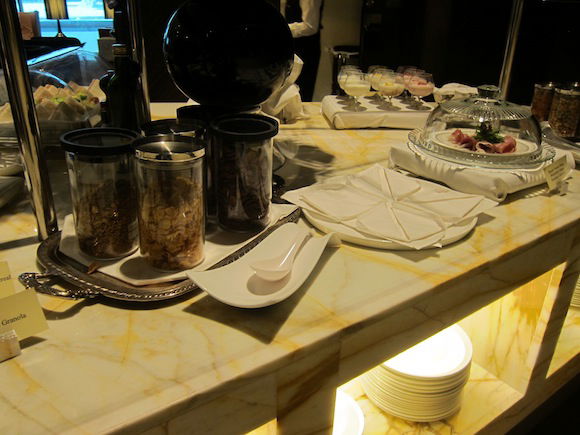 Cereals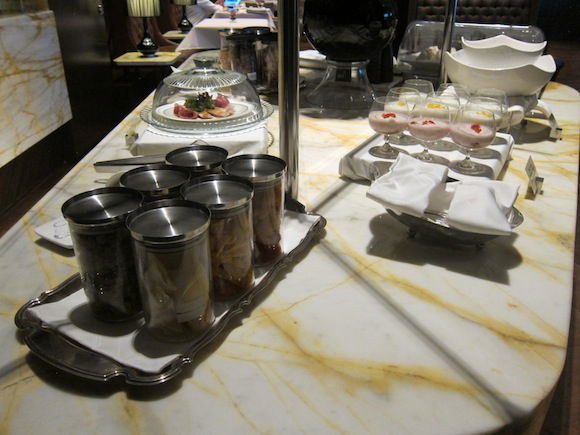 Buffet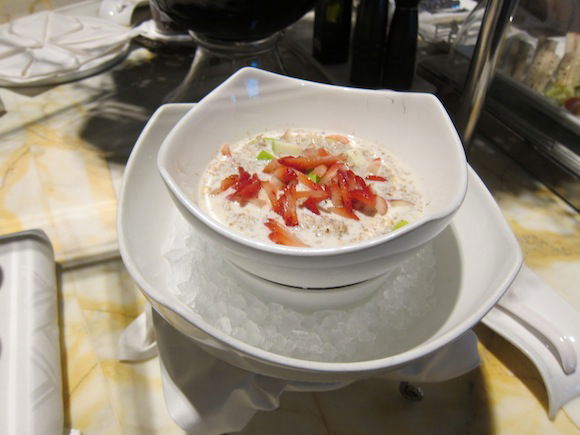 Buffet
The a la carte menu read as follows: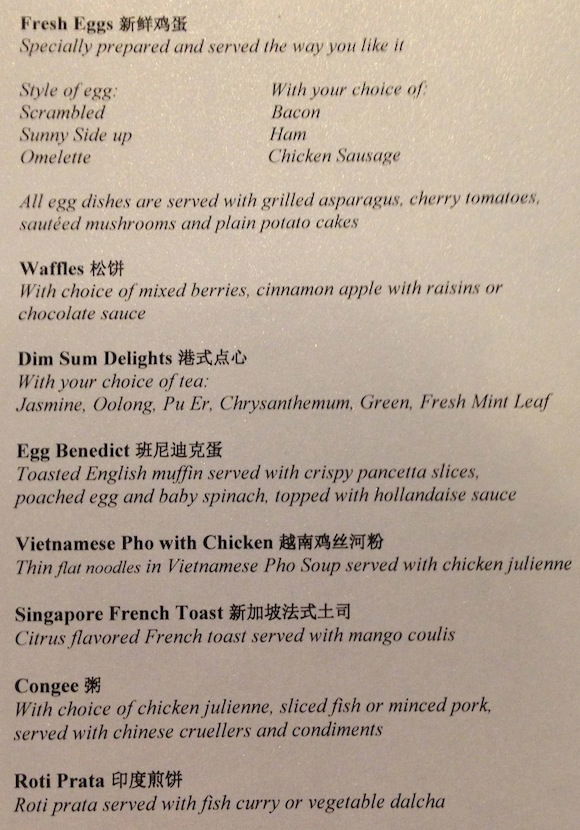 I didn't have breakfast at the hotel, so ordered the waffles with berry compote, which were fine — nothing memorable one way or the other.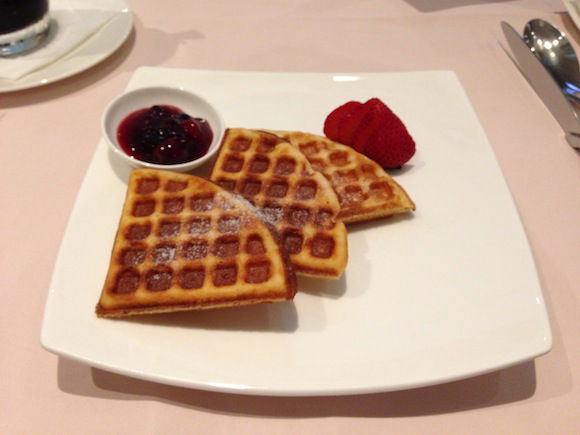 Waffles
Service in The Private Room is generally attentive. Regardless of where you're sitting there are several servers roaming around being as proactive as possible. Interestingly this time around The Private Room was as full as I've ever seen it. I've never otherwise seen more than one or two other people in it, which I can't make sense of given how many flights out of Singapore feature a Suites/first class cabin. But this time around there were maybe a dozen passengers in the lounge.
At about 8:45AM we decided to leave the lounge for the gate. Our flight was departing from gate A9, which was less than a five minute walk away.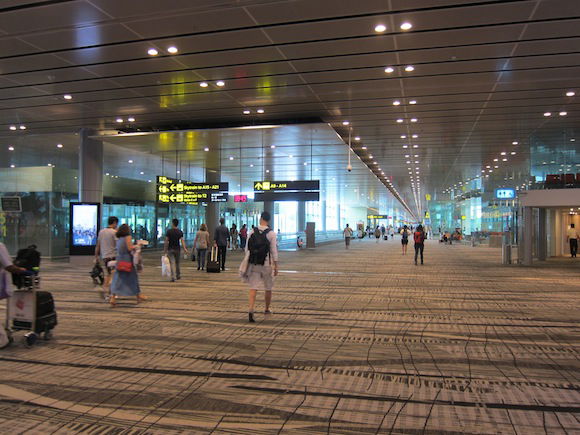 Terminal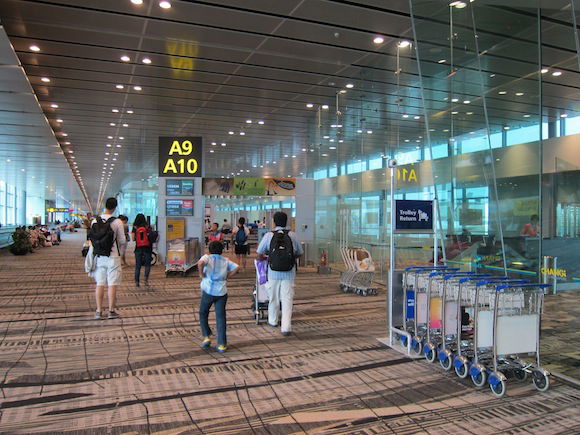 Gate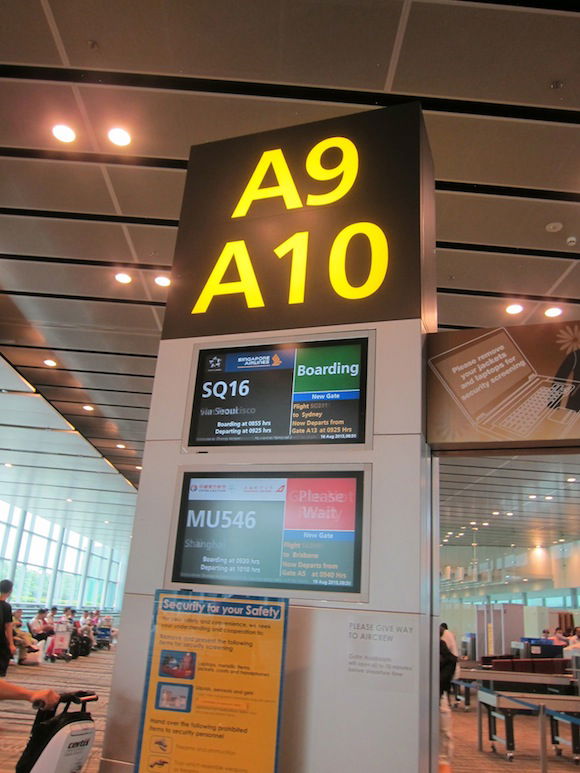 Entrance to gate area
Security at the gate took about five minutes, which wasn't too bad given that most passengers had already cleared at that point.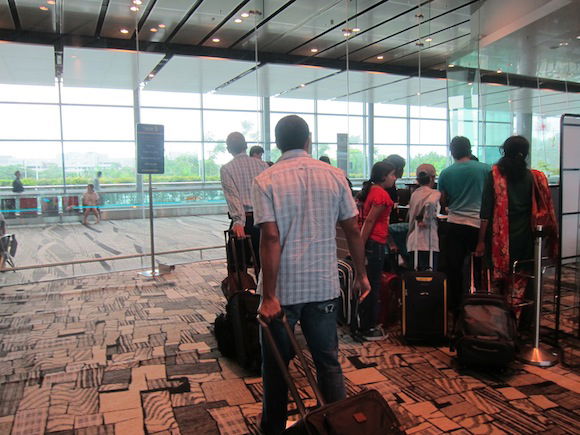 Screening area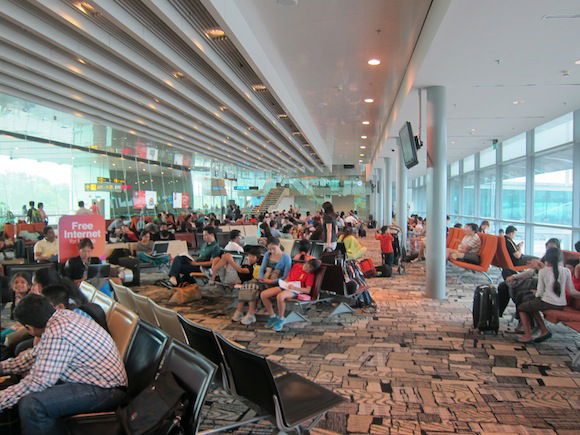 Gate seating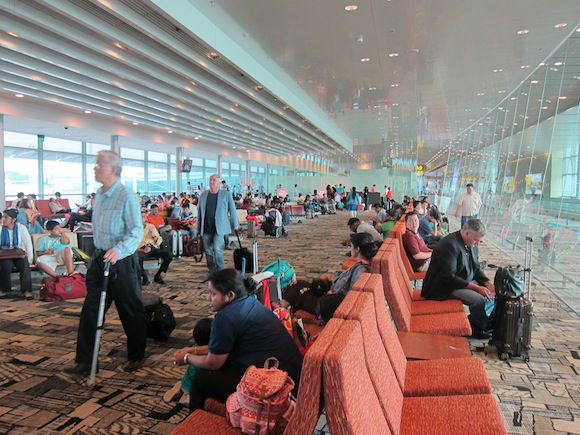 Gate seating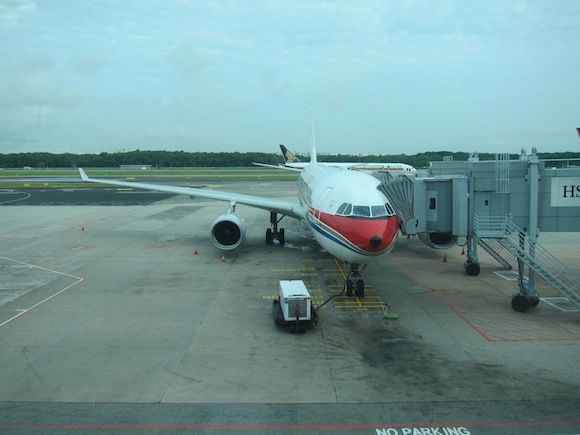 China Eastern A330 at gate next to us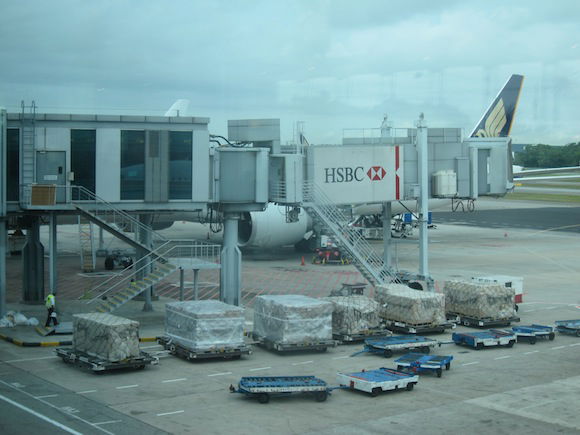 Views from gate
At around 9 AM boarding was called, and on we went for our long journey back home.
The Private Room is a nice lounge, though definitely not in the league of the some of the best airport lounges in the world, like the Emirates A380 lounge in Dubai, the Lufthansa First Class Terminal in Frankfurt, and the Thai Airways first class lounge in Bangkok. I'd say it's more on par with the Asiana first class lounge in Seoul Incheon, the British Airways Concorde Room in London Heathrow T5, and the Etihad first class lounge in Abu Dhabi.