Upon arrival at Narita I headed towards transit security, where there was no queue, so I was through in a matter of minutes.
The security checkpoint lets out right in front of the ANA First Class Suite Lounge, which I used during my 3.5 hours. At the entrance I was welcomed by a friendly associate, who spent about two seconds looking at my boarding pass and then said "thank you for waiting," and then pointed me right towards the lounge.
As a reminder, there are several other options available in Tokyo if you have a credit card with lounge access, and aren't traveling in a premium cabin.
I'm not sure what it is with the phrase "thank you for waiting" and Japan, but I'm pretty sure whoever's responsible for teaching English in Japan is lying to everyone, because it seems to be used much in the same way as we would use a pause like "ummm." It actually makes a great drinking game for a layover at Narita. Take a shot every time someone says "thank you for waiting" to you, and I guarantee you'll be denied boarding for your connection.
I always find the service in the ANA first class lounge at Narita to be a bit odd. Once you sit down, a server comes by and offers you a cold towel and a drink, though that's the last you see of them. I know others report getting refills, but in my dozen or so visits to the lounge I've not once been offered a refill. Not that that's an issue, but given how highly they seem to staff the lounge, it just seems a bit odd.
Since I just got off a longhaul flight I decided to sit down in a cubicle to catch up on some work, which I did for about two hours. The Wi-Fi speed in the lounge is fairly good, which for me is one of the most important features of a lounge.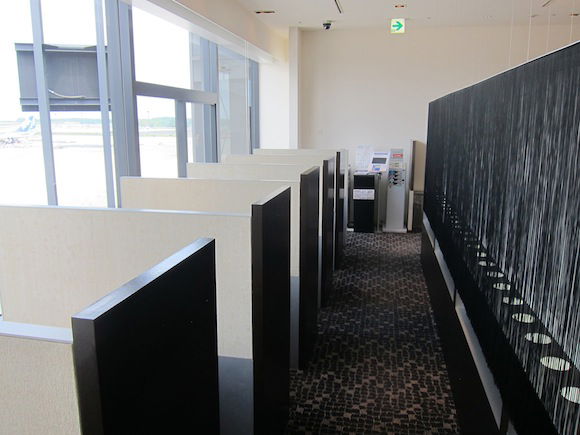 Work area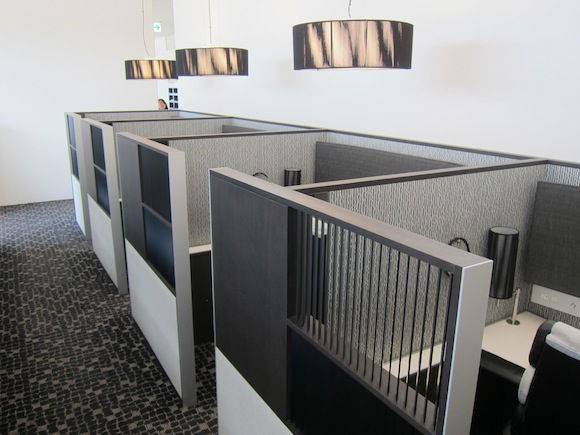 Cubicles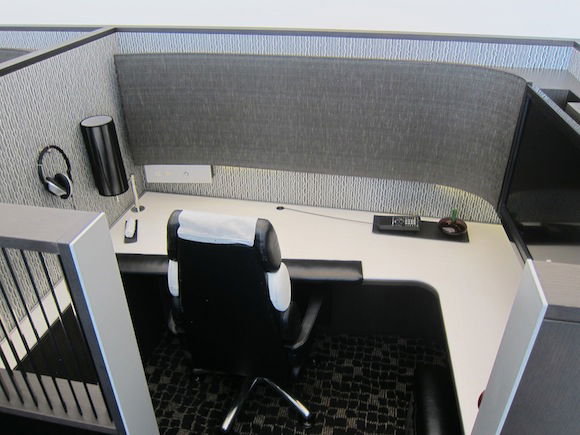 Cubicle
About an hour after getting to the lounge a representative approached me and said "Are you Mr. Lucky traveling to Bangkok?" "Yes," I said. "Thank you for waiting, I'm very sorry to say that there has been a change to your flight." "Oh, how much is my flight delayed?" "Unfortunately your flight has been changed from departing from gate 45 to now departing from gate 46. I am very sorry for the inconvenience." Only in Japan!
The lounge itself is on the small side, though rarely crowded given how few first class passengers ANA seems to have.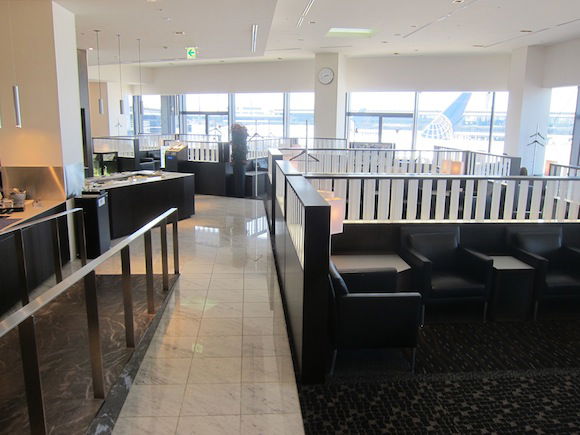 Lounge seating
There's a modest buffet with mostly cold options, and then a noodle bar, which is pretty awesome.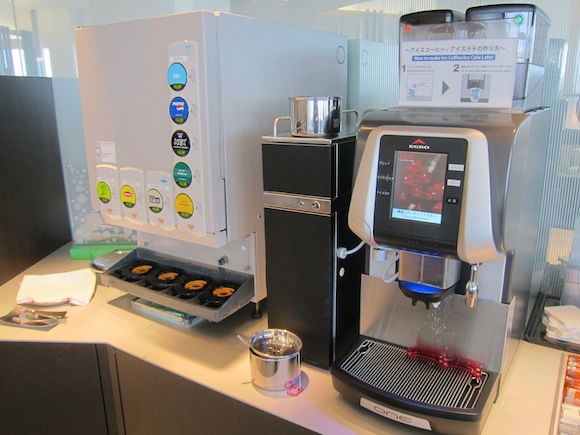 Beverage machines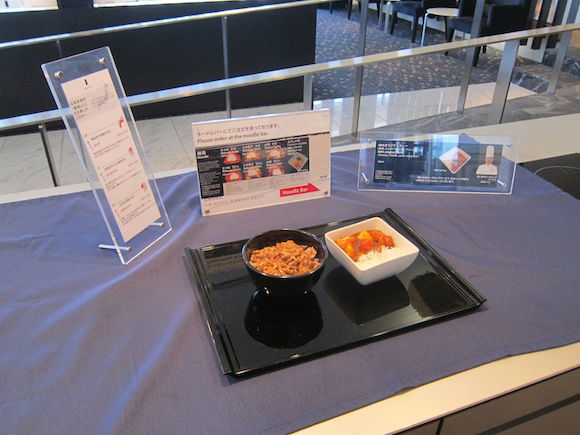 Noodle Bar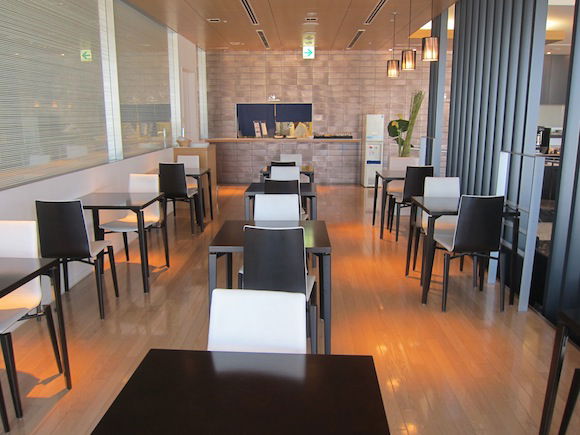 Noodle bar
My one complaint about the first class lounge is that it has no massage chair, while the business class lounge does. It's a bit of a tradeoff since the first class lounge has nicer cubicles, while the business class lounge has massage chairs.
I actually wasn't positive at the beginning that the lounge didn't have massage chairs, so I asked one of the associates at the desk. She confirmed there weren't, apologized profusely, and thanked me for waiting, and I thought that was the end of it. I headed back to my cubicle, and about 10 minutes later three associates showed up and said "thank you for waiting, we are here to escort you to the massage chairs in the business class lounge." Three people, really?!?
At around 4PM I decided to shower. The shower facilities are located across the way from the main lounge, and at the entrance you hand them your boarding pass and they direct you to a shower room.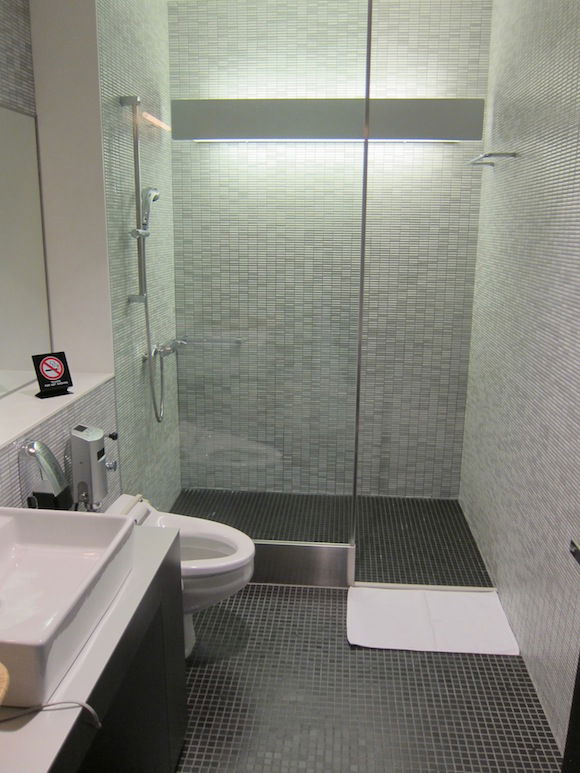 Shower room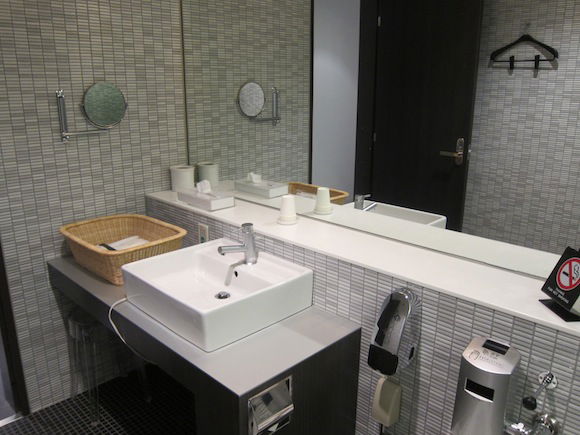 Sink
On the plus side the first class lounge now seems to have individual bottles of Shiseido toiletries, vs. the old system where they had tiny packets of shampoo and soap.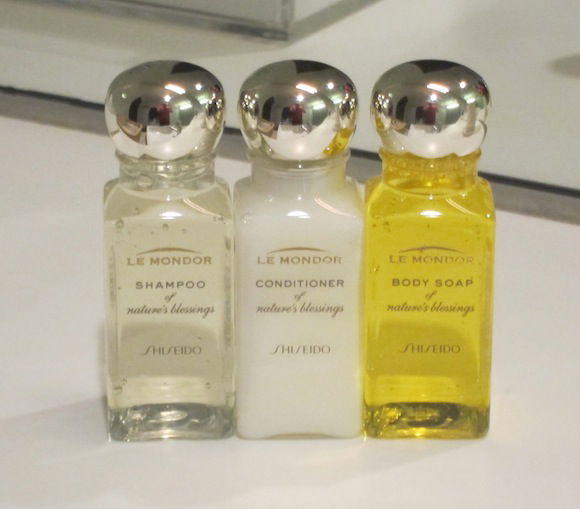 Bath amenities
The water pressure in the showers is abso-friggin-lutely fantastic, almost painfully so.
By the time I was done with my shower it was about 4:30PM, and shortly thereafter I decided to head to my departure gate, which was just a short walk away.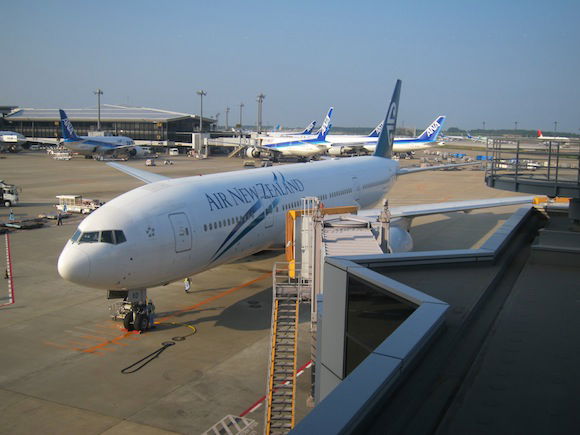 Air New Zealand 777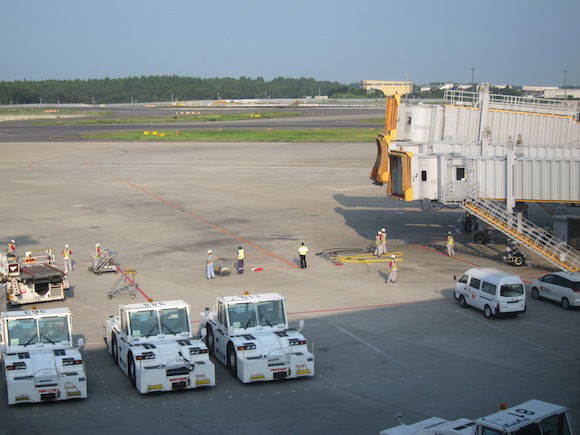 Where's my plane?
Upon arrival at the gate I noticed that the A380 hadn't even arrived, and given that we were scheduled to depart in just 45 minutes, we were obviously delayed. I went up to the counter and asked about the new flight departure time, and they said the flight is scheduled to be on-time.
I pointed to the gate and said "but the plane isn't here yet," and they acted as if they had no clue. They made a few phone calls, and after that said "thank you for waiting, flight delayed, but we don't know how much."
Okay, so I decided to head back to the first class lounge.
Gate 46 is actually visible directly from the lounge, so at around 5PM I saw the plane pull in. Shortly thereafter an army of cleaning crews got onboard the aircraft, and I decided to head to the gate after about 20 trash bags were thrown into the dumpster by the cleaning crew, at around 5:30PM.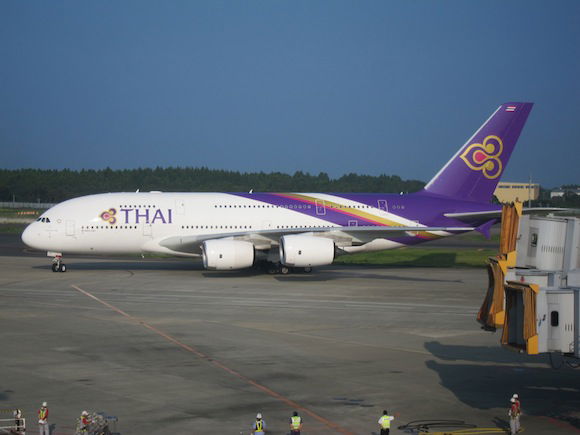 There it is!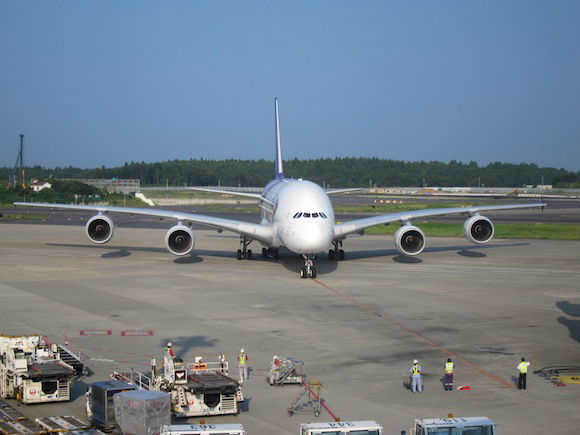 Thai A380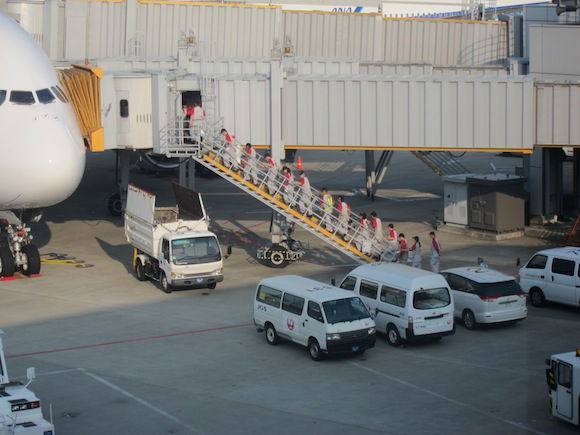 This is how you clean an A380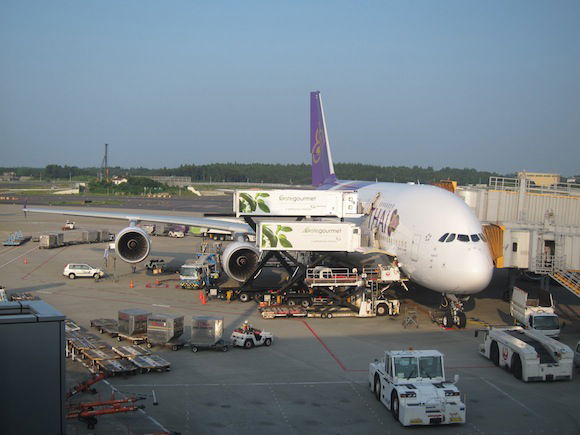 Loading catering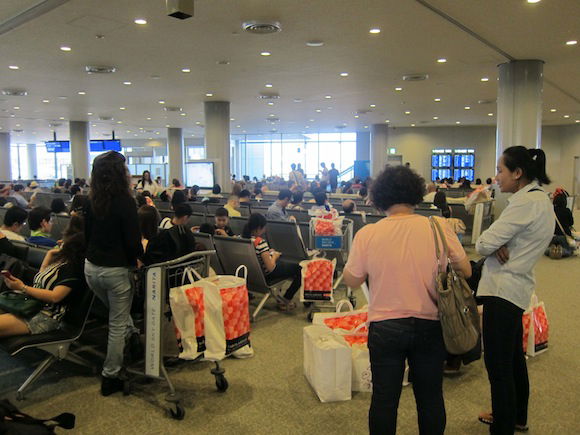 Gate area

Gate area
Sure enough within a few minutes boarding was announced. There was a first and business class lane, though while checking passports I was brought to the side of the queue, where apparently first class can line up.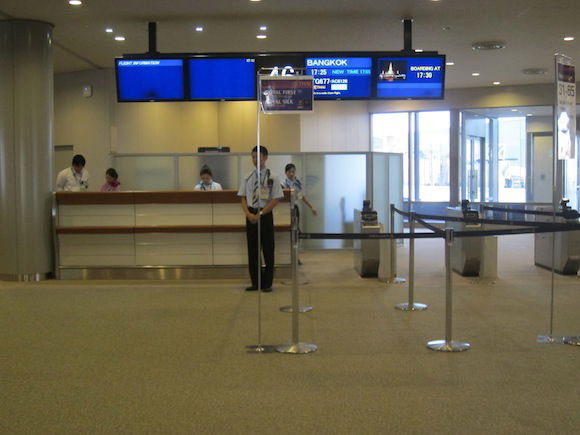 Boarding gate