Singapore 16
Singapore (SIN) – Seoul (ICN)
Sunday, August 18
Depart: 9:25AM
Arrive: 4:45PM
Duration: 6hr20min
Aircraft: Boeing 777-300ER
Seat: 2A (First Class)
Once aboard we were pointed to our seats, 1A and 2A. I was in 2A, which is one of Singapore's standard first class seats. The funny thing about their "new" first and business class product is that the hard products are actually very similar. Both are in a 1-2-1 configuration, with more width than necessary. Actually, when the seats first rolled out people complained they were too wide, so Singapore added a pillow/pad to the side of the seat.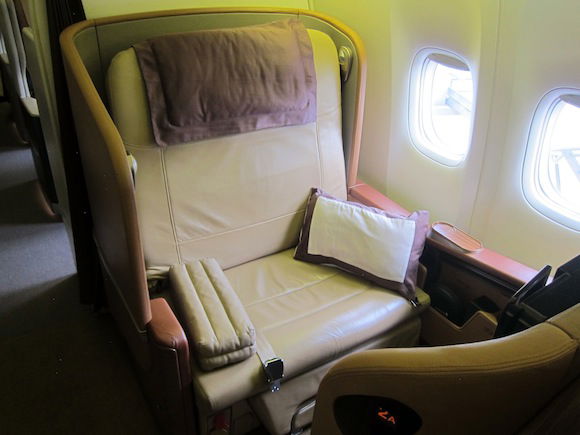 My seat, 2A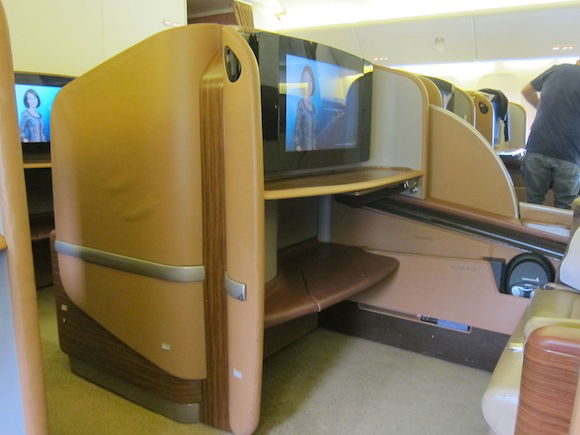 View across cabin
The cabin doesn't have any overhead bins, so all bags need to be stored underneath the seats. I had a rollaboard, a laptop bag, and a duty free bag, so I ended up storing my rollaboard underneath the seat across the aisle from me, which was the only other empty seat in the first class cabin.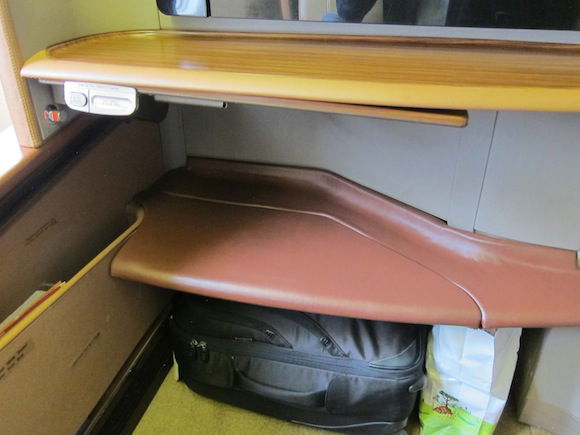 Footrest and storage
In terms of the seat, the entertainment remote and seat controls are located to the right side of the seat.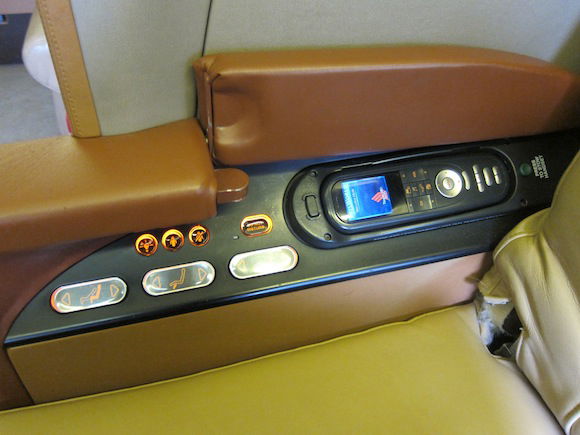 Entertainment and seat controls
There's also a reading light and the headphone jack above them.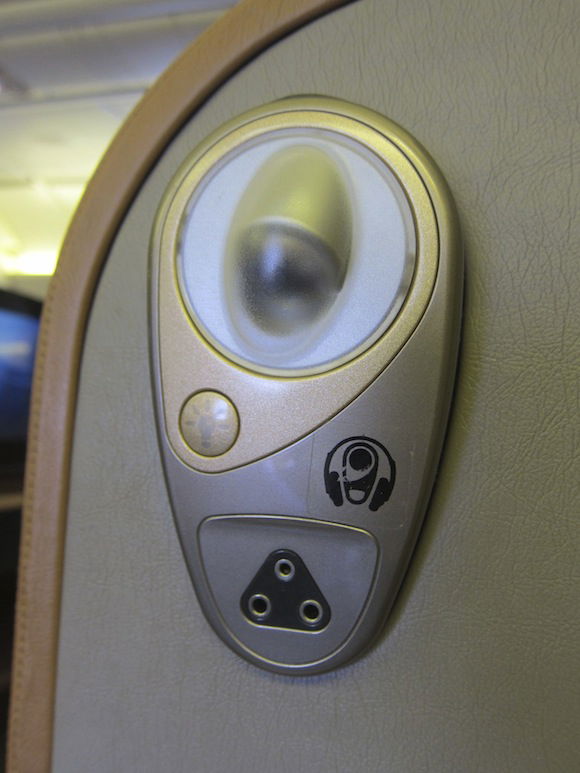 Reading light and headphone jack
To the left of the seat is plenty of storage and the in-seat power supply, as well as a pair of Bose noise canceling headphones. It's great that they added these to the new product, since the old headphones were pretty horrible.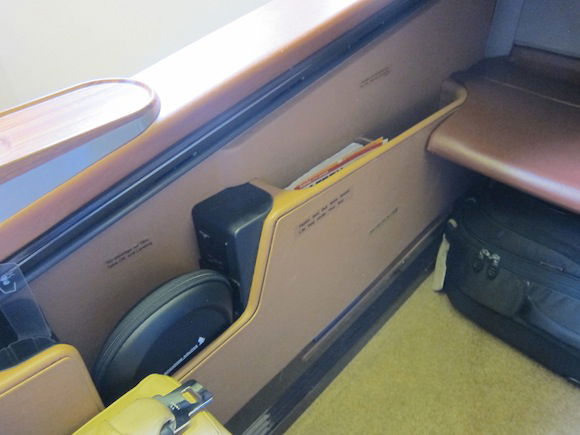 Headphones and storage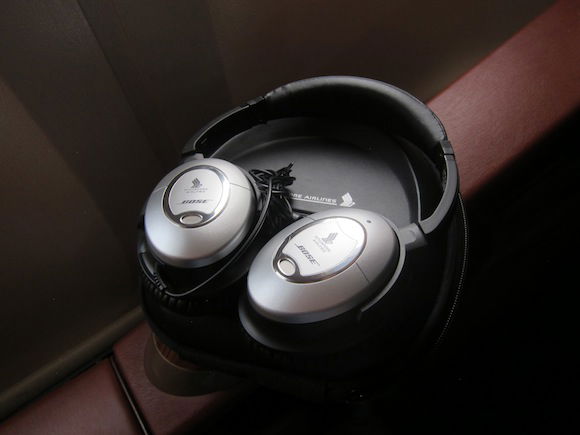 Headphones
Once settled in the leading steward offered me a pre-departure beverage. But he didn't ask what I wanted to drink, but instead asked if I might like something to drink, like a water or orange juice. Seriously?! That's the first time I've been in Singapore first class where they've suggested anything other than Dom or Krug. I asked for a glass of Krug, which the leading steward served me a few minutes later.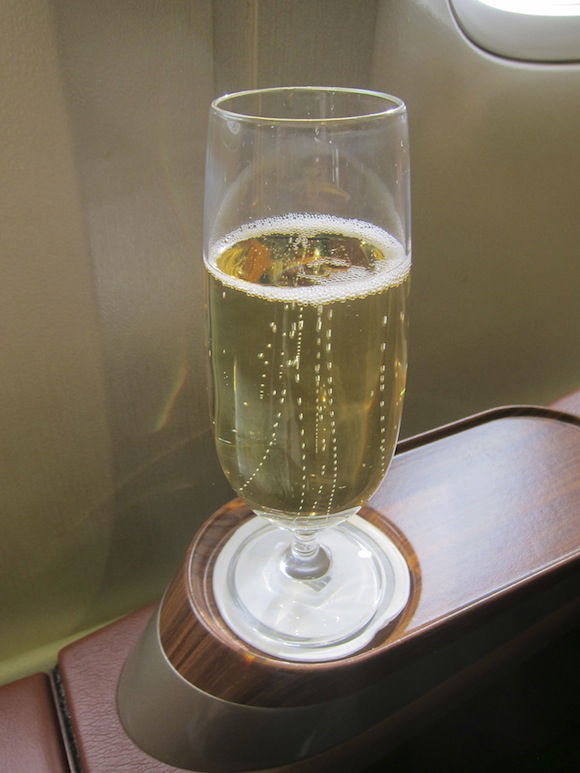 Pre-departure Krug
Shortly thereafter I was presented with the menu, which was in a leather case.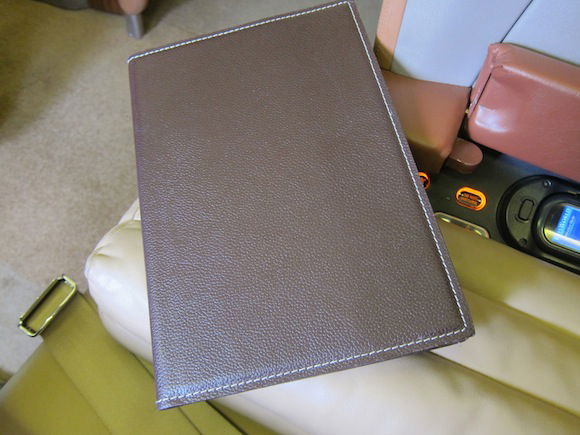 Menu folder

Usually the crew also distributes other amenities while on the ground, though I didn't see much of this crew prior to departure. There were no introductions by the inflight supervisor, leading steward, or leading stewardess, which is unusual for Singapore.
Shortly before pushback the captain came on the PA to inform us of our flight time of 6hr15min, which was longer than usual and he anticipated would put us into Incheon a bit behind schedule.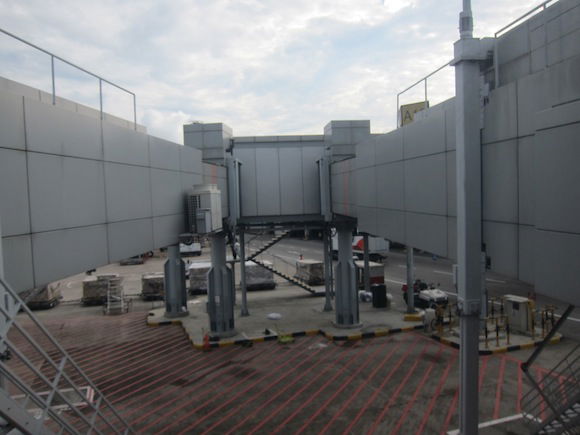 View prior to pushback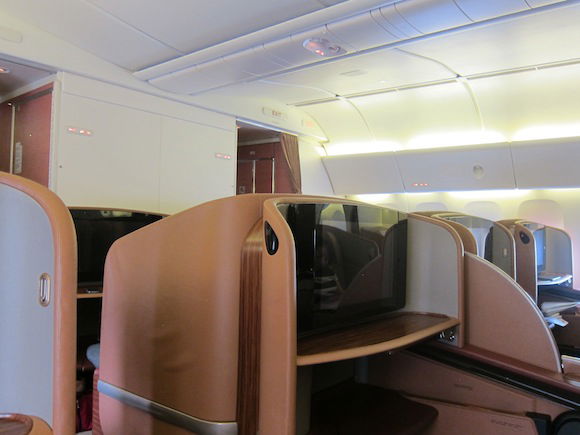 First class cabin
We pushed back on schedule, though unfortunately were taking off on the other side of the airport, on runway 20C. So our taxi took about 20 minutes, though at least the scenery was nice.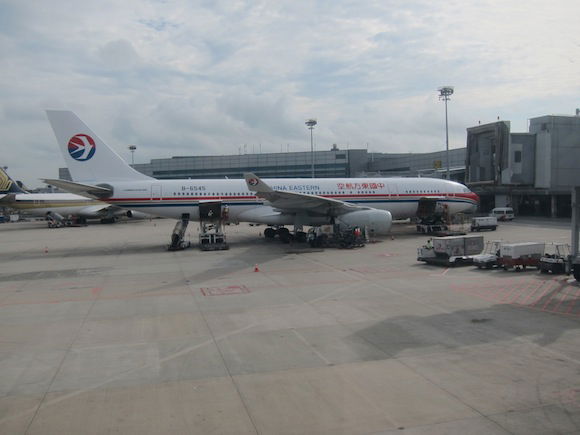 China Eastern A330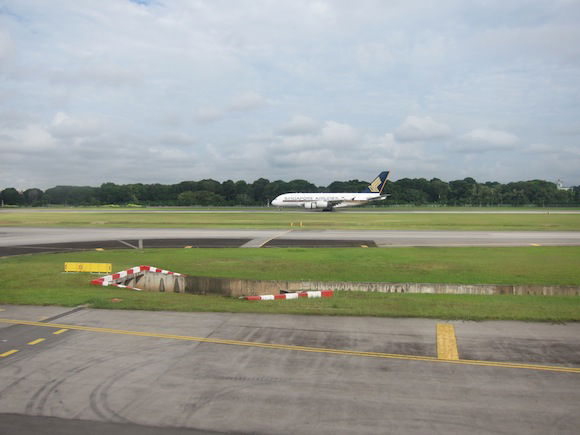 A380 landing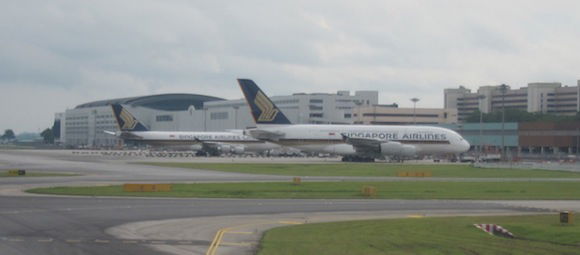 Tarmac views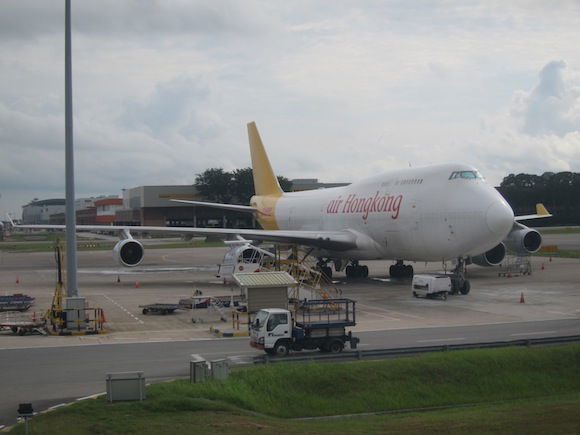 Air Hongkong 747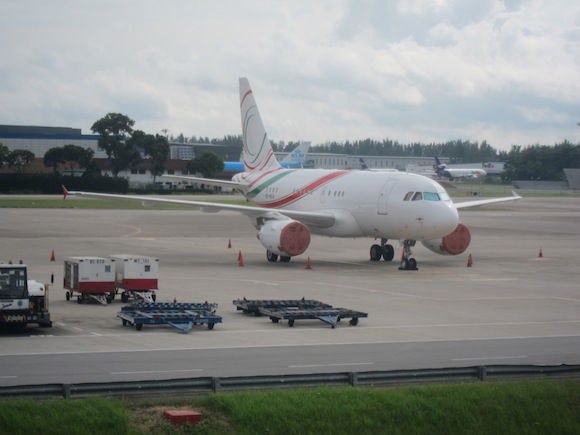 Anyone know what that is?


KLM Cargo 747




LAN A340 (anyone know what it's doing here?)
Once at runway 20C we were number one for takeoff, and were airborne within a few minutes.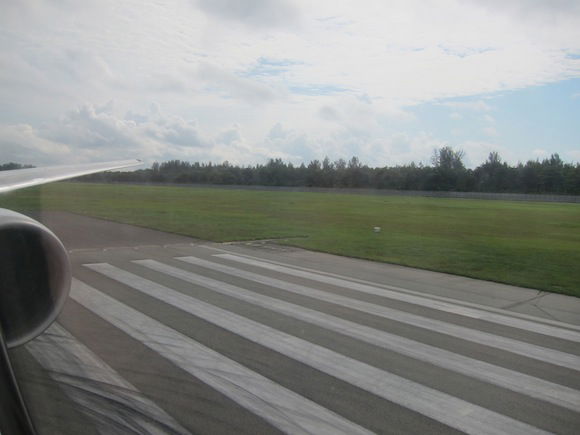 Getting into position runway 20C
Our climb out was smooth and steep, and once we passed through 15,000 feet the seatbelt sign was turned off.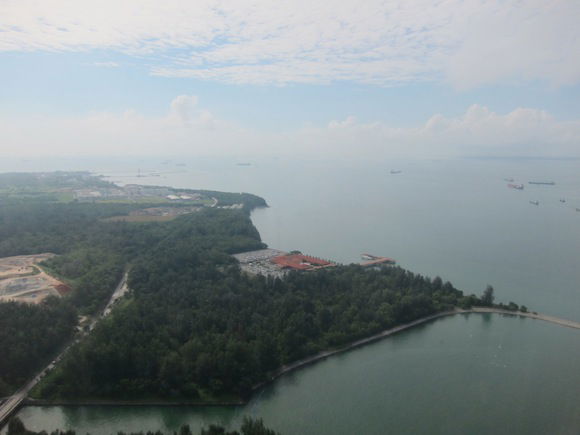 View on climb out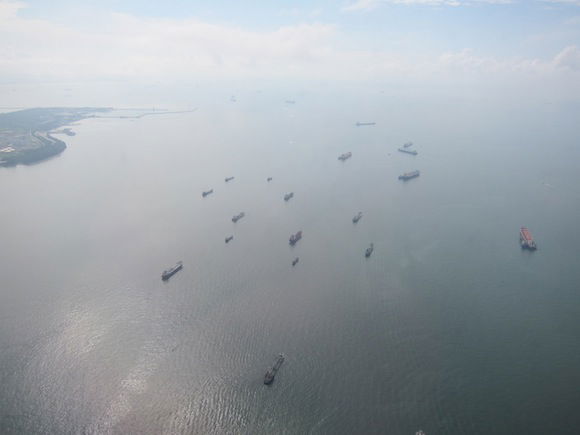 View on climb out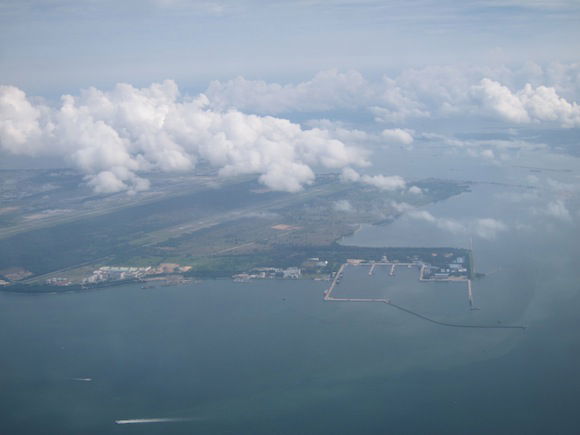 View on climb out

As soon as the seatbelt sign was turned off the crew closed the curtains between the galley and first class and also the curtains between first and business class. They started the service by distributing socks, slippers, and eyeshades.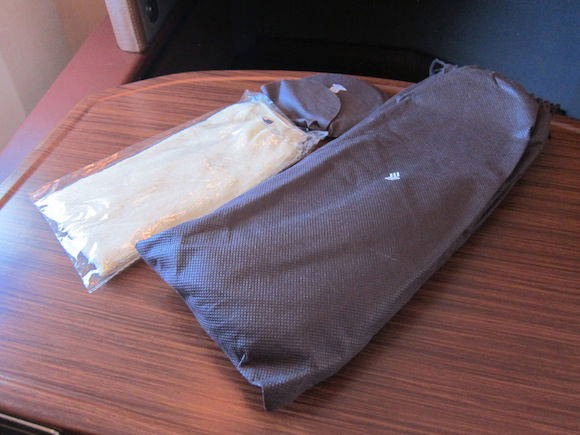 Amenities
I asked if they had pajamas and an amenity kit, as I was hoping to change into the pajamas immediately given the 20 hour journey ahead of us. They informed me that they had only had pajamas on the sector to San Francisco, which was disappointing.
As the leading stewardess walked by she asked if I wanted my bed made. I found that a bit odd, since the meal service didn't even begin yet. The only explanation I can come up with is that she wanted to knock me out before the meal service so she wouldn't have to serve me.
At that point the meal service began. The lunch menu read as follows: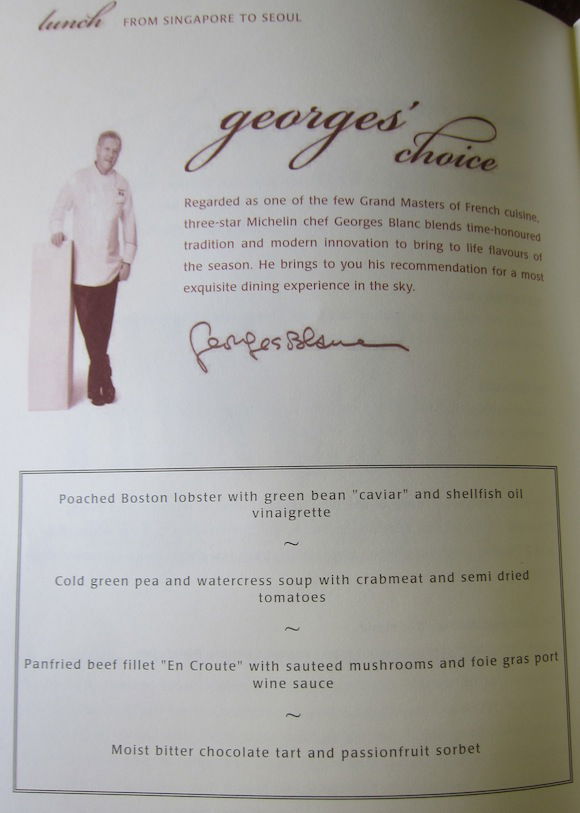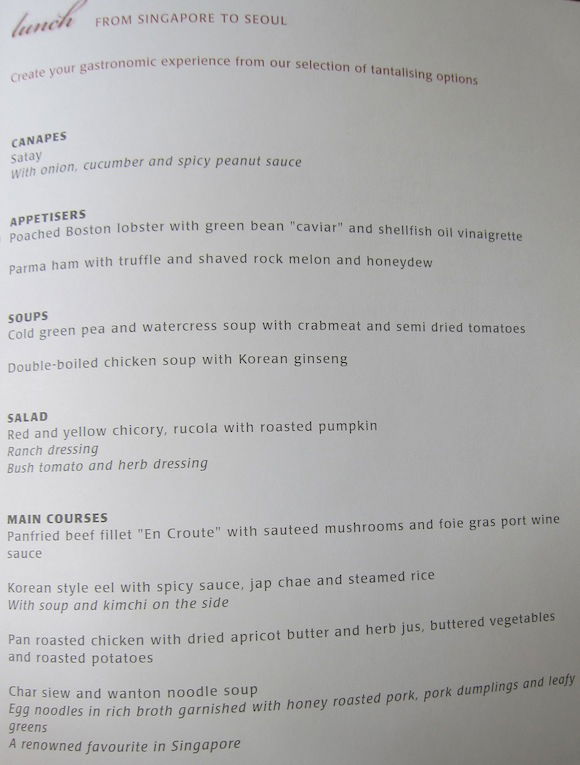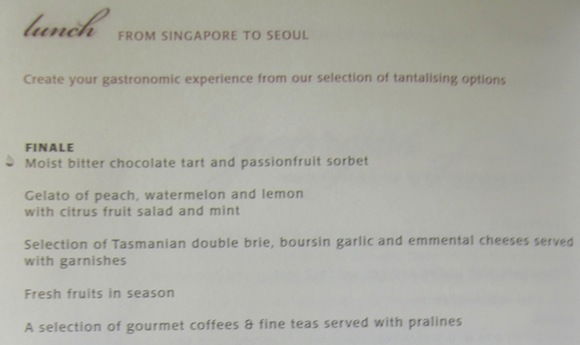 And the wine, drink, coffee, and tea list read as follows: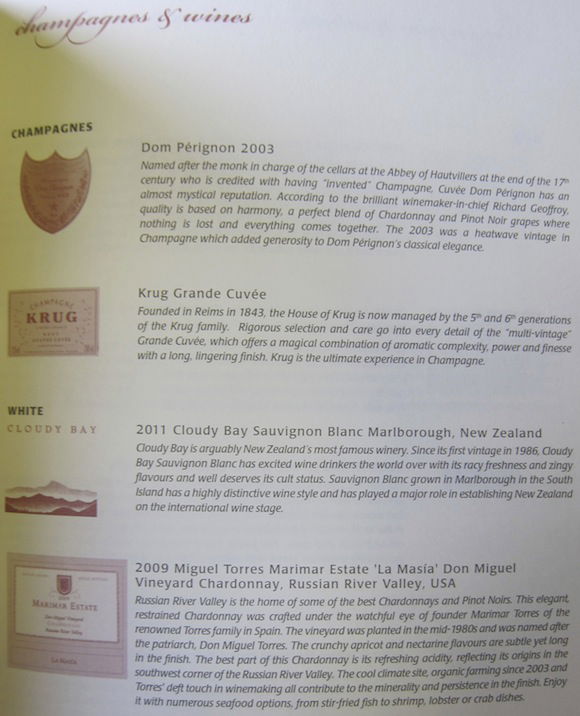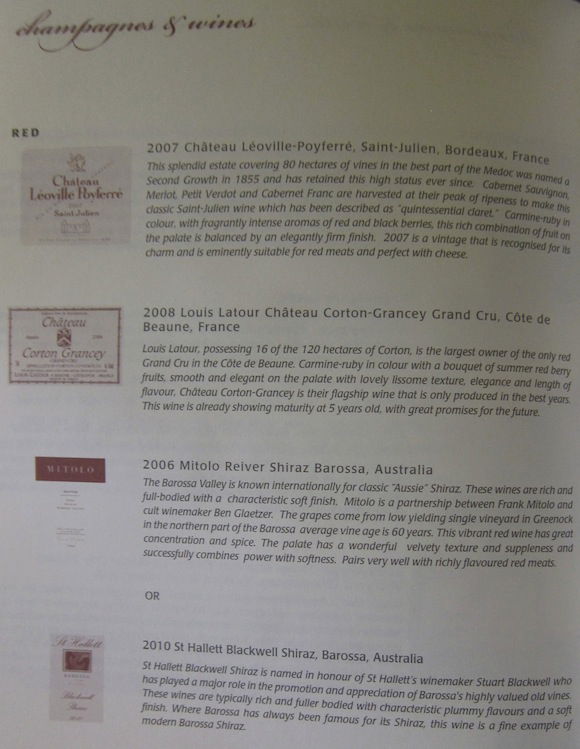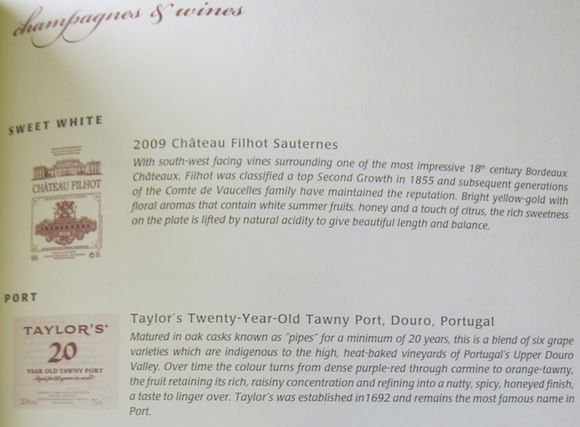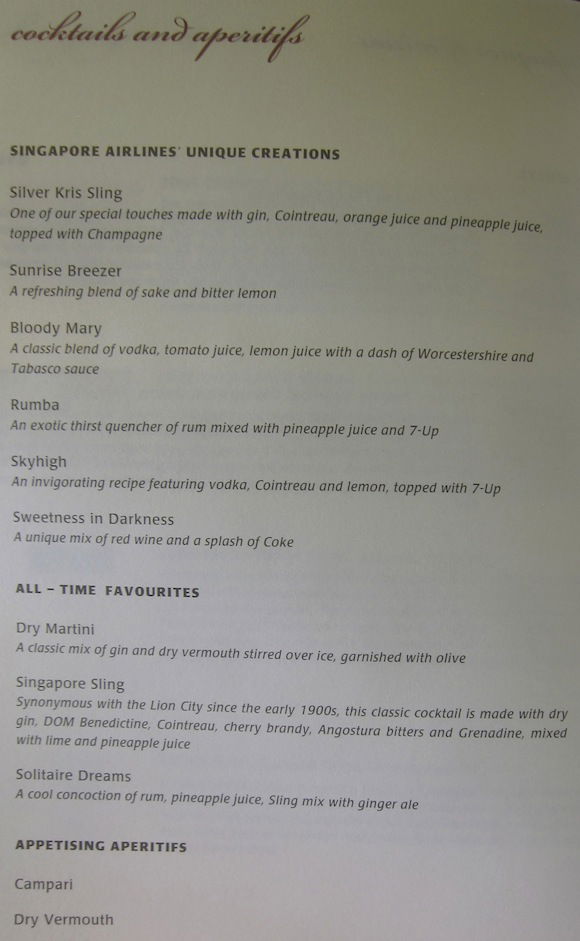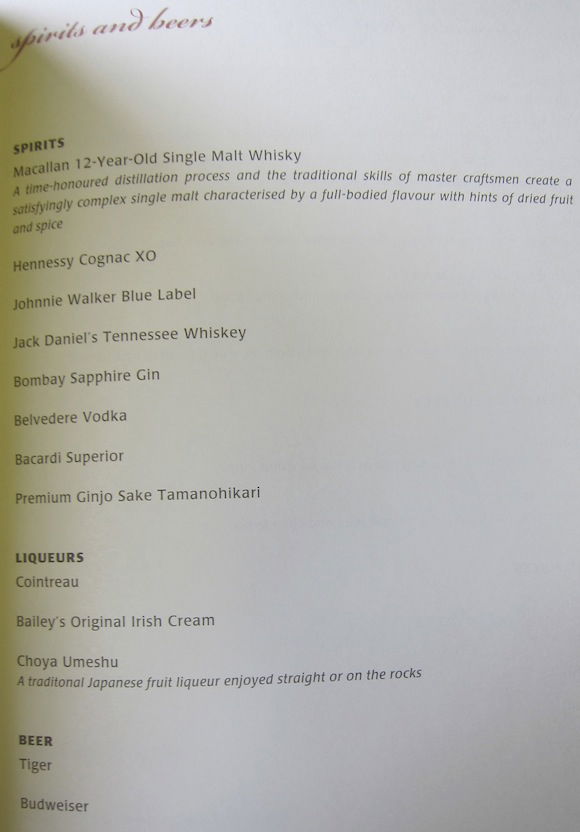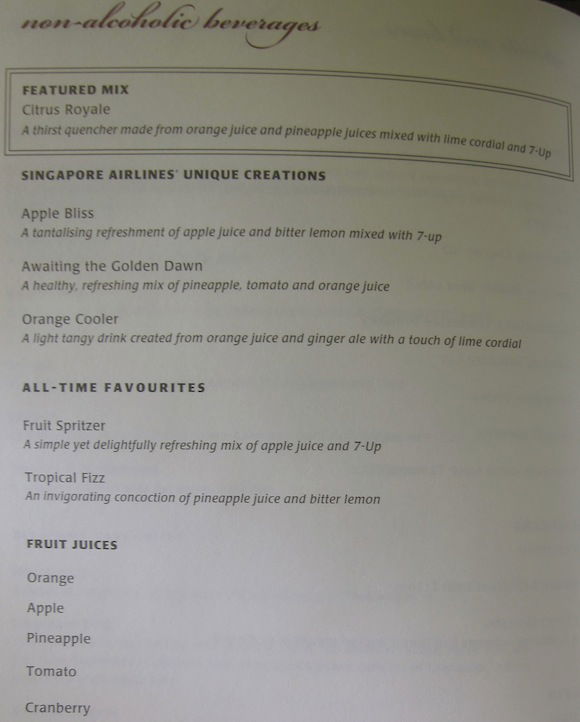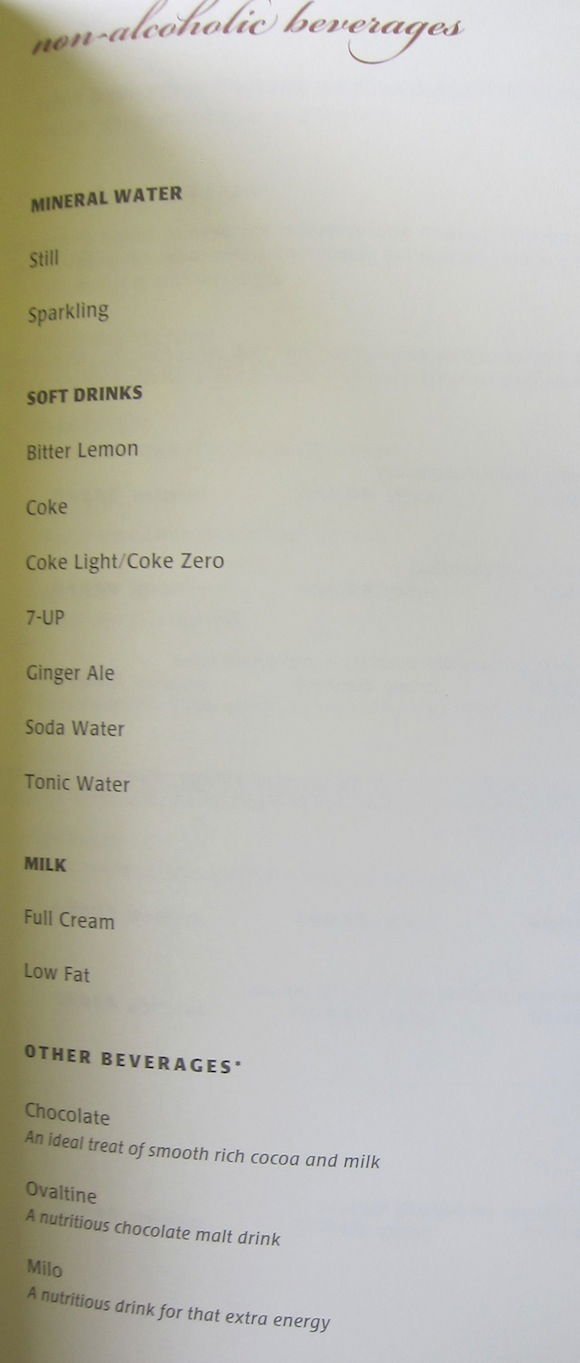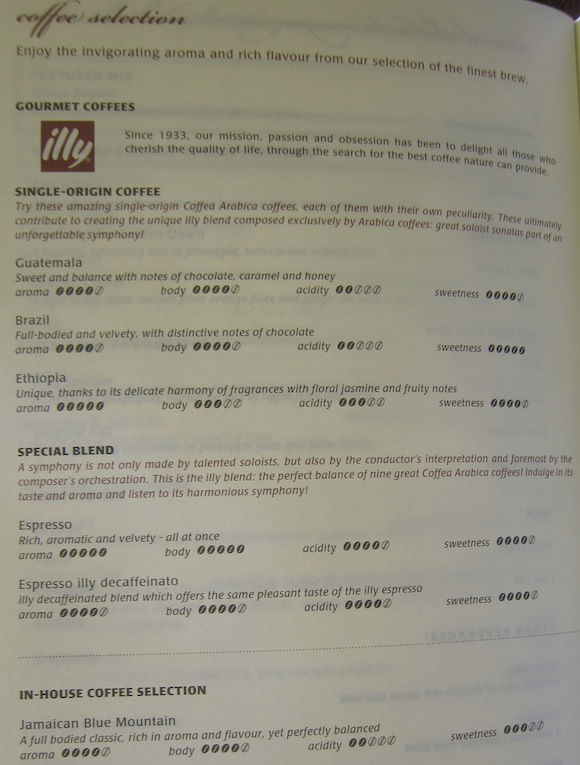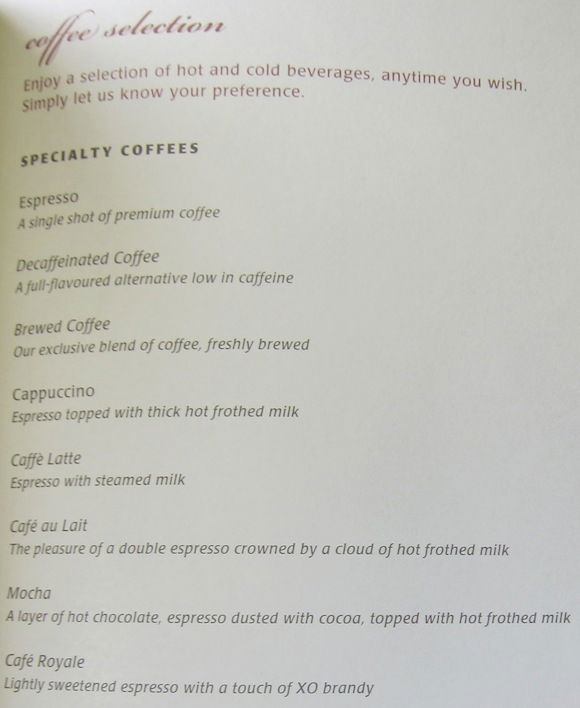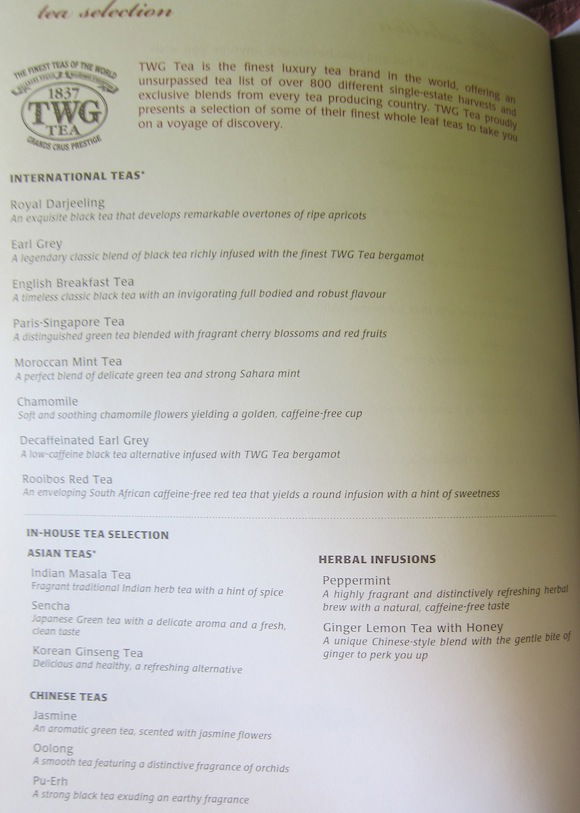 Once we leveled off the leading stewardess came around the cabin to take meal orders. Rather than asking when I'd like to eat, she suggested I eat at 11:30AM Singapore time. Again, without knowing if/when I had eaten that day, not sure why she'd tell me when to eat vs. ask when I'd like to eat, but it was pretty clear at this point that this was a sub-par crew. Actually, I realized that long before we even took off.
So I decided to browse the entertainment selection and decided to watch a couple of episodes of Two Broke Girls.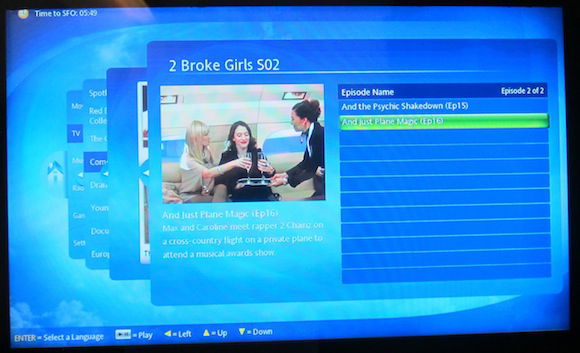 Entertainment selection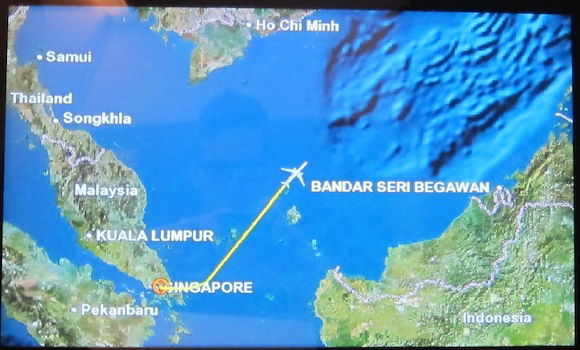 Airshow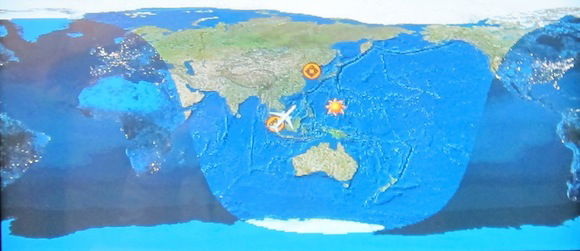 Airshow
Eventually the meal service began, starting with satay, probably my favorite dish on Singapore. In this case they had chicken and lamb satay, which was excellent.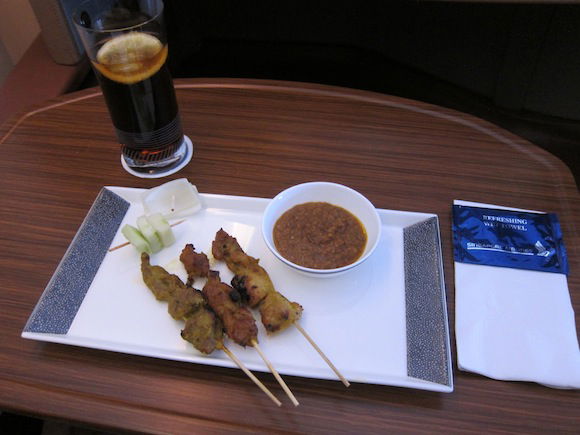 Satay!
Then for the appetizer I selected the poached lobster, which was great. The leading steward came around with a selection from the bread basket, and I chose some garlic and focaccia bread.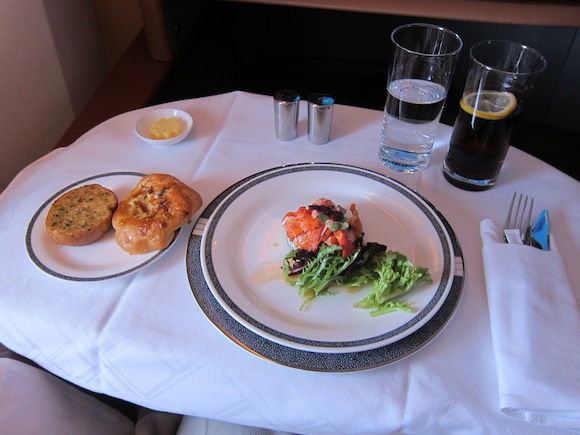 Poached lobster appetizer
Meanwhile my friend ordered the parma ham appetizer.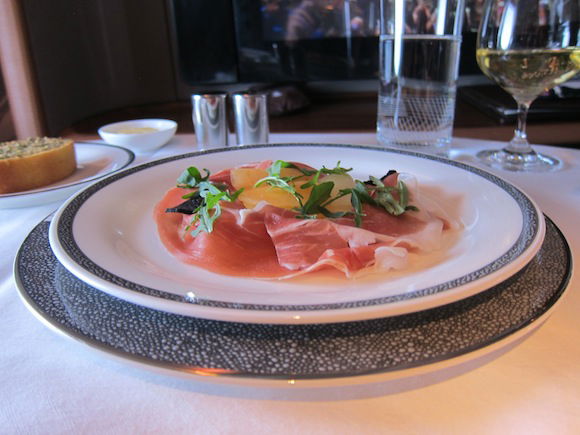 Parma ham appetizer
While I skipped the soup, I did have the red and yellow chicory, rucola, and roasted pumpkin salad with tomato dressing, which was quite good.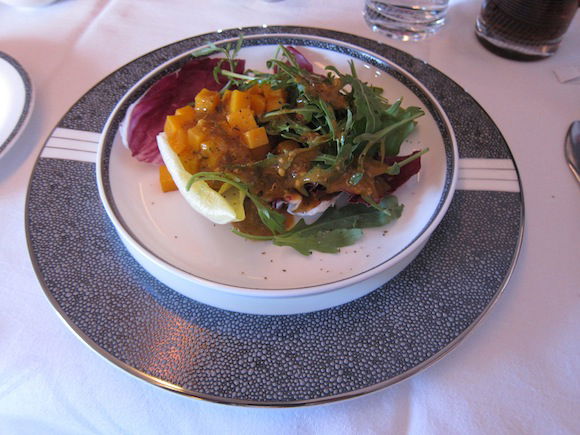 Salad with tomato dressing
Then for the main course I had "Booked The Cook" and ordered the lobster thermidor, which I have to say was mediocre at best.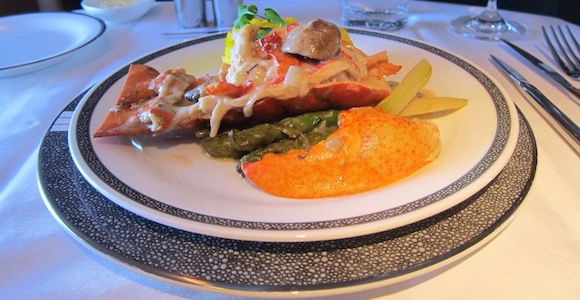 Lobster thermidor from Book the Cook menu
For dessert I had the moist bitter chocolate tart with passion fruit sorbet, which was spectacular.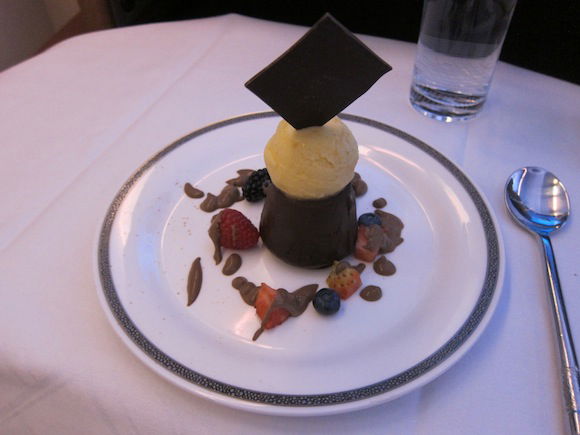 Chocolate tart
Lastly, to finish off the meal I had a cappuccino, which was served with some pralines.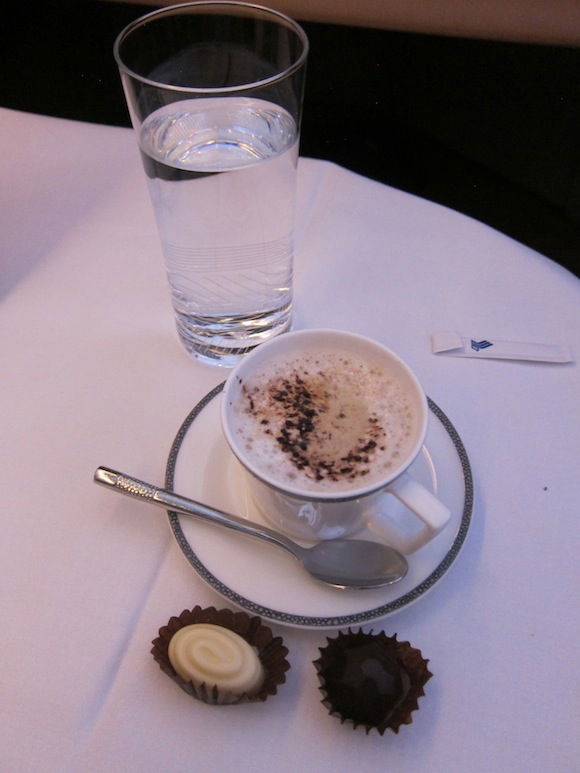 Cappuccino
Once the meal service was complete I was also given a bottle of water.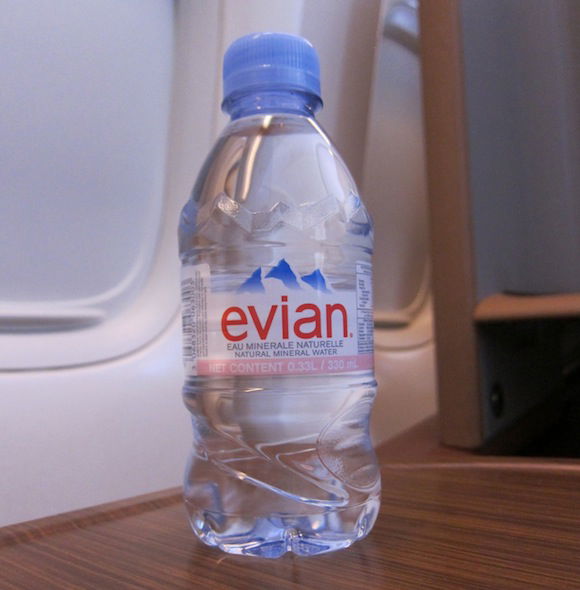 Bottled water
The issue with Singapore's first class seats is that they're not very comfortable for "lounging." In order to turn the seat into a bed you have to "flip" the seatback over, so the seat only reclined a little bit without going into the bed position. So as a result when flying Singapore first class I almost always turn the seat into a bed even if I don't intend to sleep, so that I can lounge that way. So I requested for the seat to be turned into a bed, which was promptly taken care of.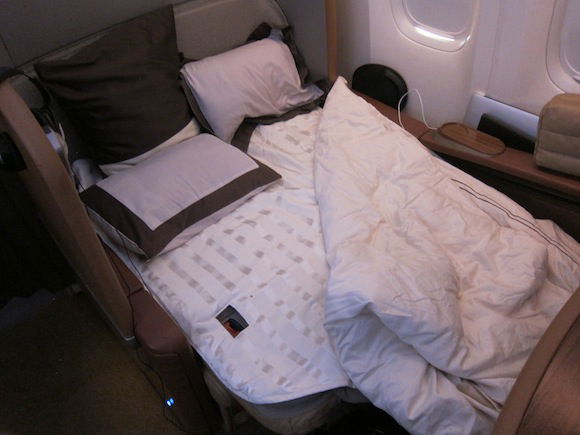 Turndown service
I decided to watch a few episodes of Two and a Half Men. Shockingly enough they were episodes I hadn't seen before.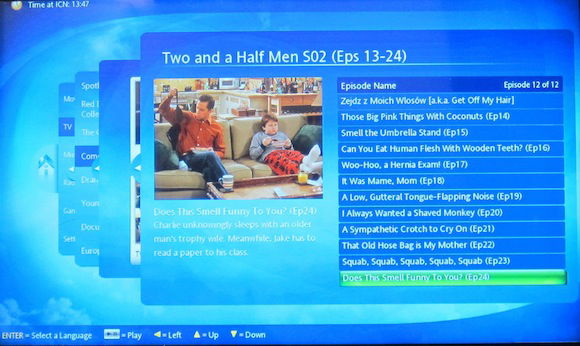 Two and a Half Men
I don't think the crew appeared in the cabin once after the meal service, which is incredibly uncharacteristic of Singapore (while it would be the norm on Cathay Pacific, but by design). So I had to push my call button whenever I wanted anything. After finishing the bottle of water I had to push the call button for more water, and you'd think maybe 10 minutes after they served that they'd check back to see if I wanted a refill, but that never happened.
My only interaction with the inflight supervisor was when I went to the lavatory and talked to him briefly. The extent of our conversation was him asking "did you stay at the casino hotel in Singapore? You people always seem to stay there."
I don't think I have to say anything else about the crew…
Anyway, 30 minutes out we began our descent, which was smooth.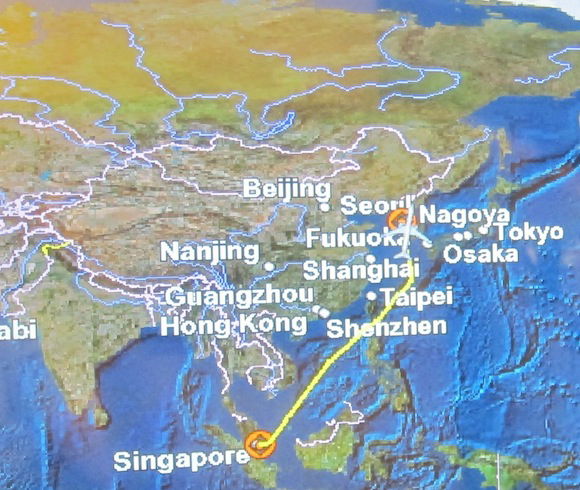 Airshow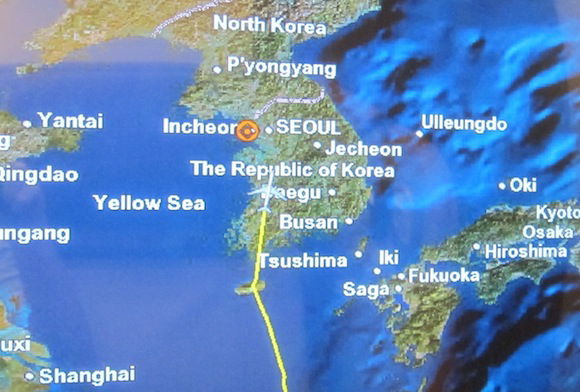 Airshow
On approach there was limited visibility, and we touched down at about 4:55PM, and only made it to the gate at around 5:05PM, 20 minutes behind schedule.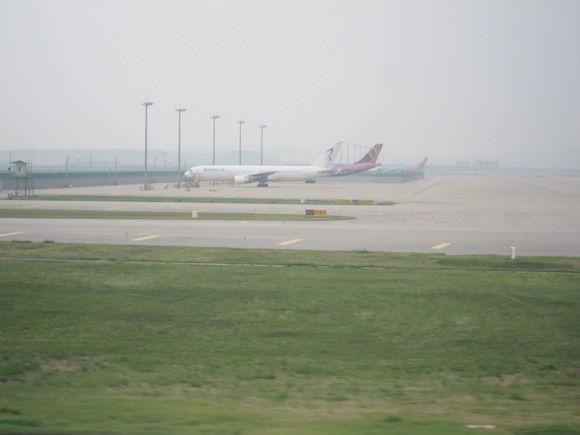 Views on taxi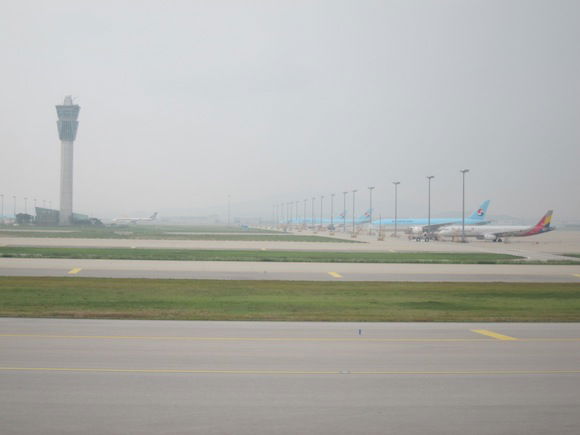 Views on taxi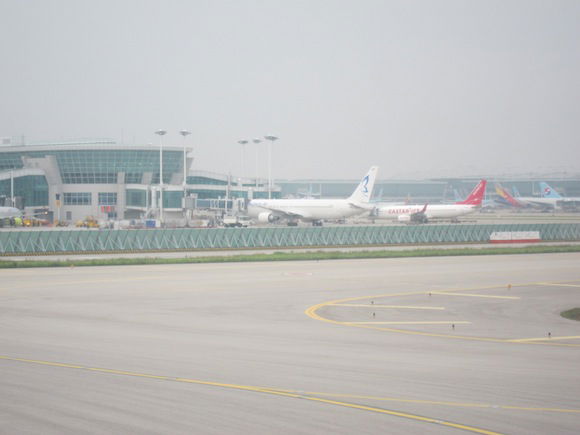 Tarmac views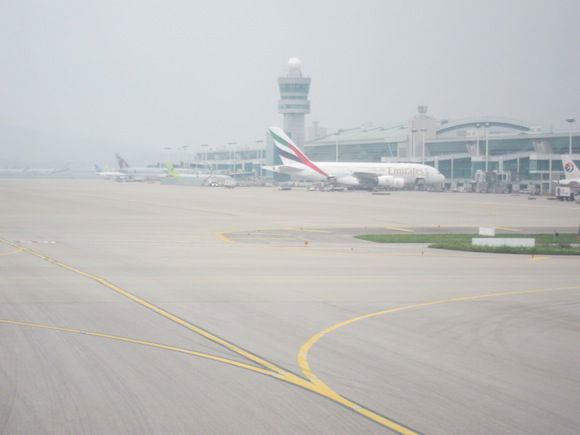 Emirates A380
We parked next to a Qatar Airways 777.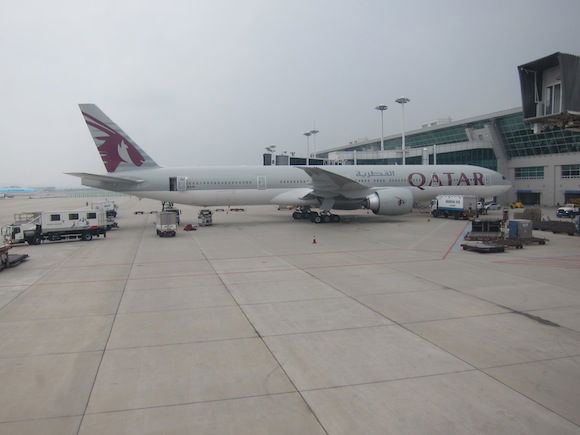 Qatar 777
Upon deplaning we were handed transit cards and headed for security and then the Silver Kris Lounge given our delayed departure.
On the whole this was the most disappointing flight I've had in Singapore Airlines first class. While the food was actually great overall, the crew was indifferent at best.
Fortunately the next flight would be a stark contrast, given who was working it…