"For an otherwise nice room, this is really a C- shower experience. Maybe even a D."
Ben and I checked into a for-now-undisclosed hotel late last night after our super awesome Aeroflot flight. And the hotel itself is lovely, but man the shower could use some help.
Now, some of the best showers of my life (and probably yours) have been in airport lounges (holla DFW Terminal A Admirals Club!). Not only are they really appreciated, but for the most part they nail the basics. It's a shower. It can be no-frills and still be well-executed.
Yet somehow hotels can completely miss the mark with their showers. Either due to poor design, deferred maintenance, or whatever else, even luxury hotels can have mediocre shower setups.
In the interest of entertainment science, I've put together a comprehensive and definitive rating system for hotel showers. And by definitive, of course, I mean "something I came up with a few minutes ago during a desperately needed yet somewhat disappointing post-long-travel-day shower."
So it's super legit.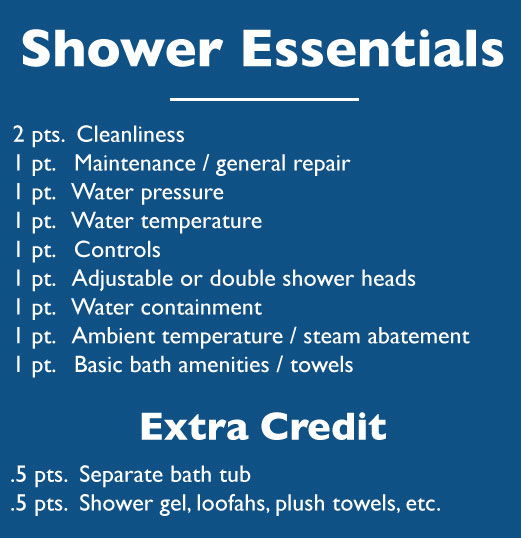 Let me explain more about each category.
Cleanliness
This is critical, so I weighted this category. No one wants to feel like they need to shower after their shower.
Maintenance / general repair
Does the shower drain? Are the fixtures well-attached? How is the grout and tile looking? Is the enamel peeling off the pan/tub? Will the soap ledge collapse if I set my shampoo bottle on it?
These are important questions.
Water pressure
I don't know that I'd necessarily mark a shower down if the pressure was too aggressive (though I remember feeling like I'd been sandblasted whenever I'd use the firehose-esque shower at Ben's old apartment in Bellevue), but a weak stream is always a disappointment.
Pressure should also be consistent, as blast-drizzle-blast isn't super enjoyable either.
Water temperature
Hot water is important, of course, but so is consistency of temperature.
Some older buildings have temperature fluctuations, and there's not always much that can be done about old plumbing, but there's no excuse in new construction. A surprise scalding isn't fun.
Shower controls
These should be (relatively) intuitive, and easily managed. It shouldn't take five minutes to negotiate the right ratios of hot and cold water from different spigots, or a mechanical engineering degree to get water to the shower head.
Beyond that, one should be able to do all that manipulation without having to get in the shower, or should at least not have to get drenched in cold water while figuring out the controls.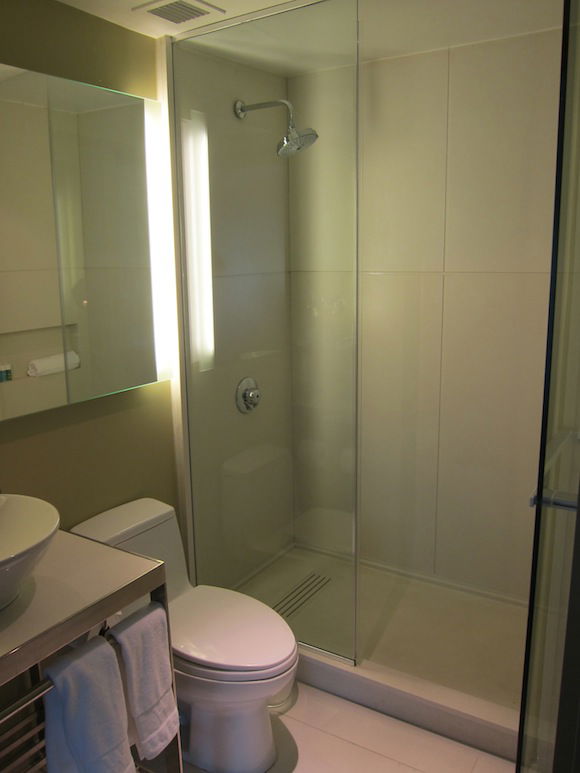 Just try to set the temperature here without getting wet
Adjustable or double shower heads
This might just be my personal rant against rainforest shower heads, but the ideal shower setup allows for flexibility.
I don't always want to get my hair or face wet when showering, so being able to angle a shower head is nice. A separate wand works in the case of "fancier" showers too.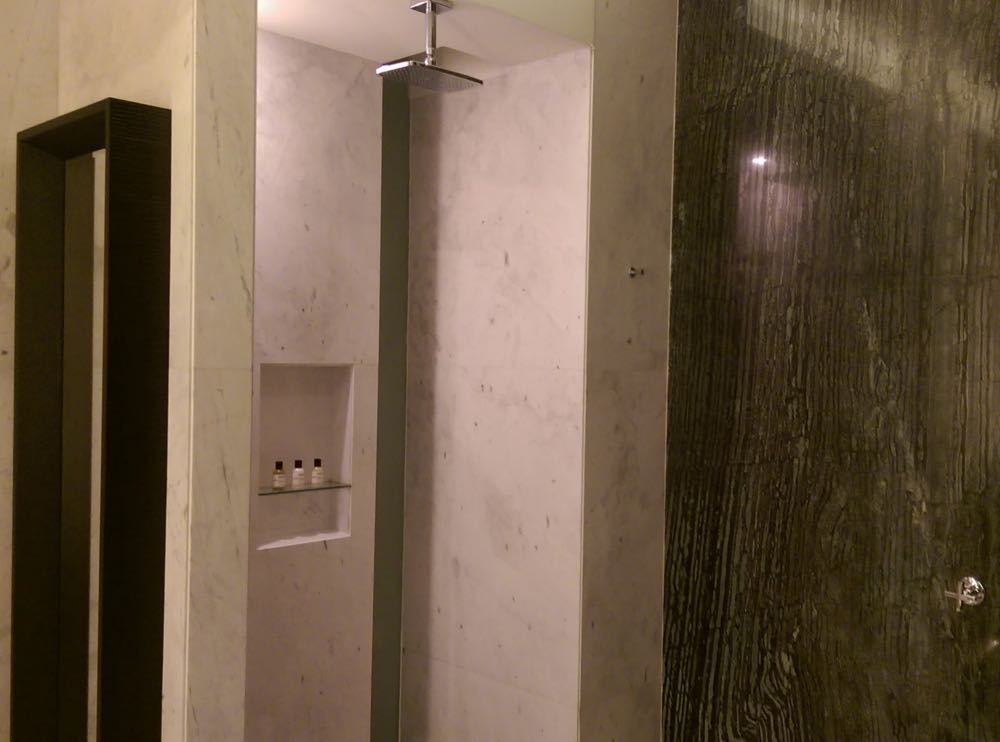 This is a beautiful shower, but you're committed
Water containment
Does the bathroom flood while I'm showering?
I don't really care whether there's a curtain, door, ledge, creative angle, or whatever else. I just want the remainder of the bathroom to stay relatively dry.
Has the person who designed this ever showered anywhere?
Ambient temperature / steam abatement
While the water containment situation might be resolved by creative angles, what does that mean for the overall experience?
A shower that's overly-exposed to the air can be hard to keep warm (or it can be shockingly cold when you turn off the hot water), and a lack of doors or curtains can make the bathroom itself so steamy as to be unusable for several minutes after showering.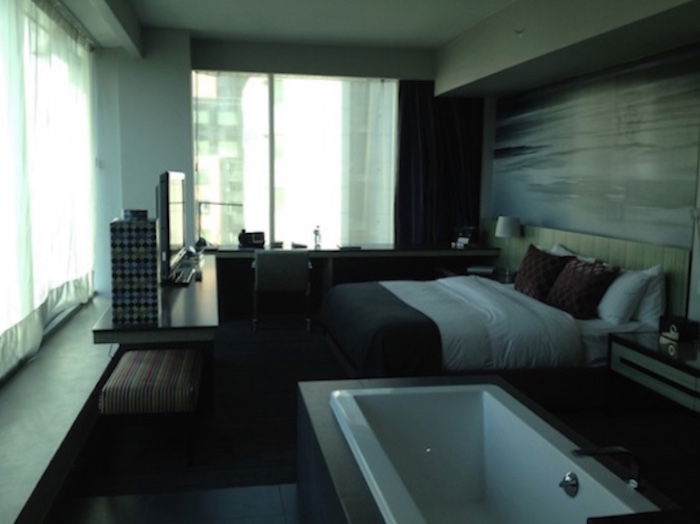 Fun, perhaps, but not super practical
Basic bath amenities
This should be a "gimme" category, but I've stayed at enough hotels that randomly didn't offer washcloths, or enough towels for the registered guests, or more than one bar of soap that I think it's worth including.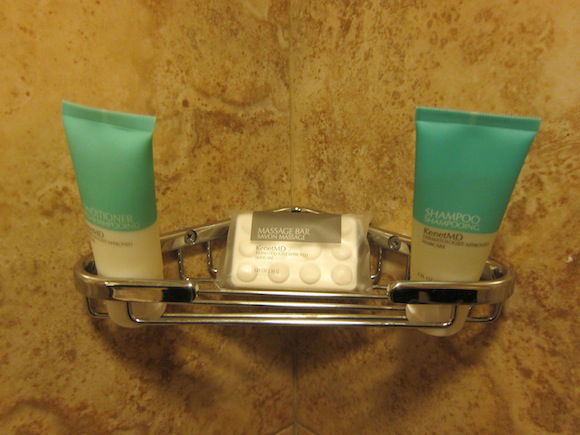 Whatever gets the job done
Extra credit
There are also a couple of things that are minor, but can make a big difference to the overall shower experience, so they each get a half point, potentially.
Separate tub
This obviously isn't always practical, and we're talking about showers here, not bathrooms overall. It's always nice when the tub is separated from the shower though.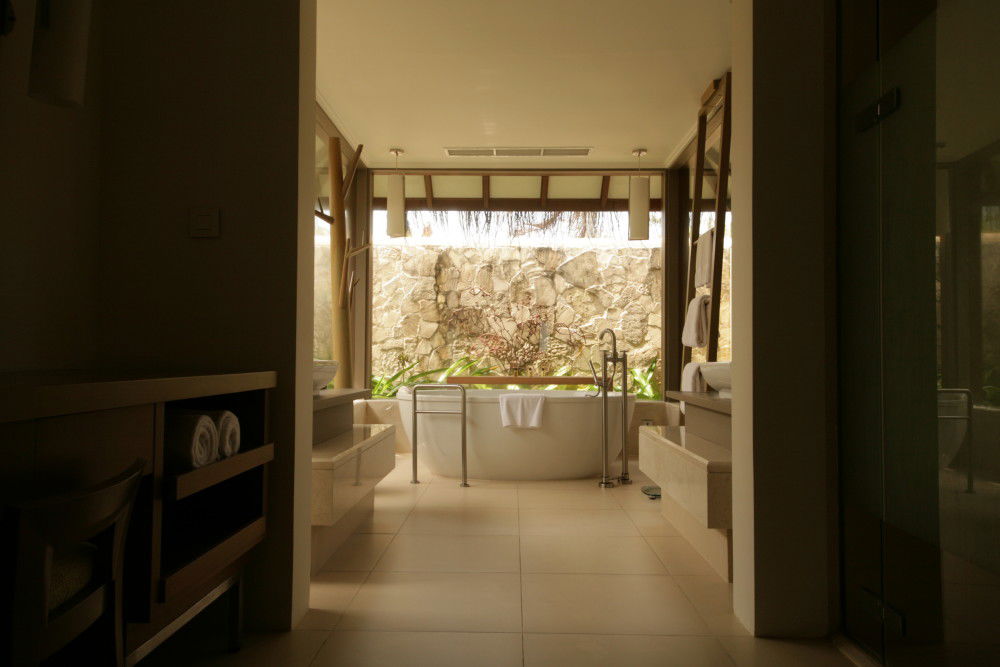 Separate tubs are also pretty
Upgraded amenities
Little things can make a difference, which is where the nicer amenities come into play. I wouldn't score a shower down for not having shower gel, but it's certainly appreciated.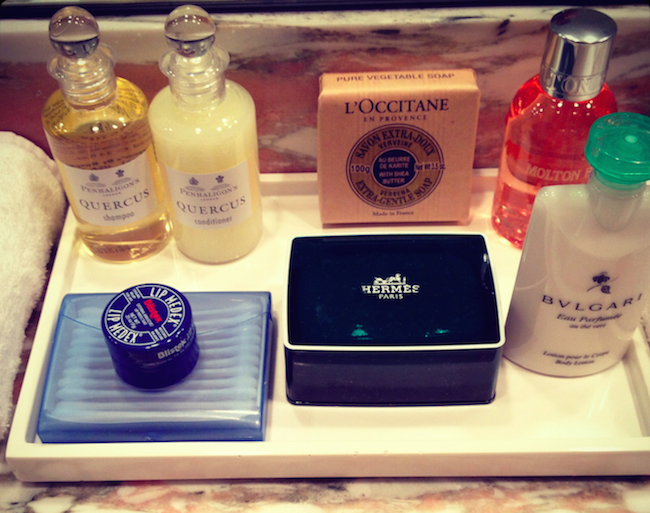 Taken to extremes at the Parker Palm Springs
Back to that C-/D shower…
Given all that, how does the shower at my present hotel measure up?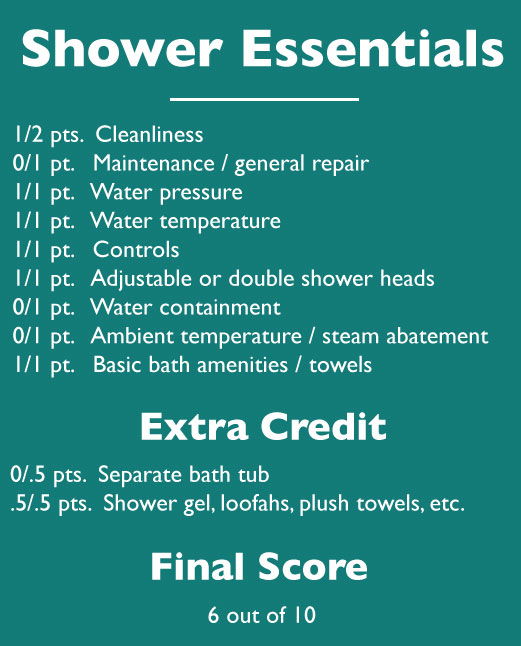 I guess the letter grade depends on your rubric. All I know is that there is water everywhere.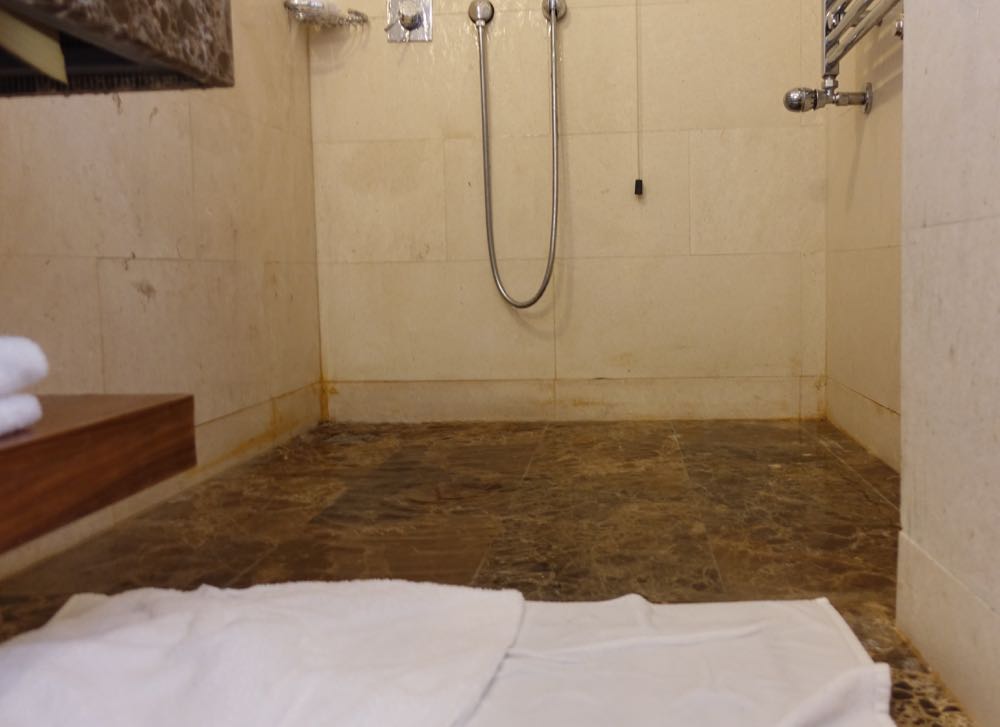 You might not be able to see the standing water, but trust me
How would you rate hotel showers? Anything I missed? And any hotels that knock it out of the park?