I don't think I've ever had a flight that I've anticipated as intensely as this one. Part of it was probably that I only had two hours notice about the flight, so my anticipation was naturally more intense than if I had 10 months to look forward to it. But beyond that, Emirates is an airline I've always wanted to fly up front. When you ask the average person what the world's best airline is, chances are they'll say Emirates or Singapore. Having flown Singapore many times, I was curious to see how Emirates compared.
Lastly, I've flown the other two premium Middle Eastern airlines — Etihad Airways and Qatar Airways — so was curious to see how Emirates stacked up.
Emirates 30
London (LHR) – Dubai (DXB)
Wednesday, December 12
Depart: 4:30PM
Arrive: 3:15AM (+1 day)
Duration: 6hr45min
Aircraft: Airbus 380
Seat: 2E (First Class)
The jet bridge let out at the upper deck door right behind first class, where the purser, Toby, was greeting passengers. He escorted us to our seats in row two, and saw the British Midland Gold tag on my laptop bag. He said it was the first of that style he had seen, and as it turned out he used to work for British Midland.
My initial reaction of the cabin? Holy crap, this is gaudy as could be! But awesome gaudy… if there is such a thing. The cabin had 14 seats, with three pairs of center seats and four seats on each side by the windows.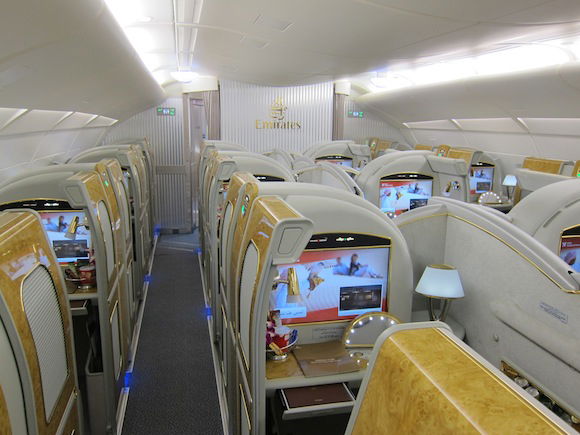 First class cabin
While I was in seat 2E I took the opportunity to snap some pictures of the window seats before the cabin filled up.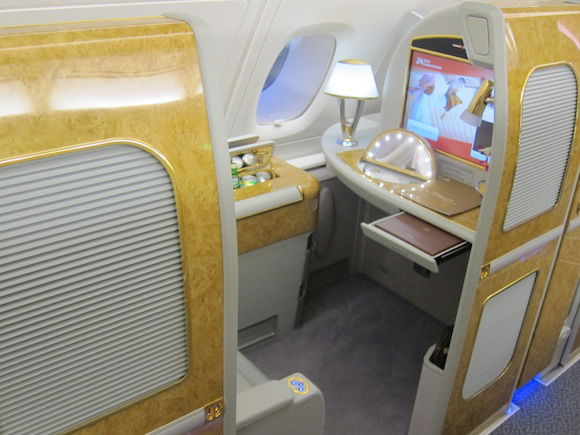 Seat 2A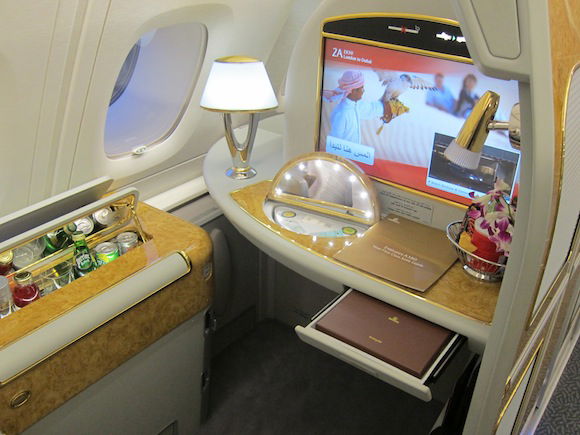 Seat 2A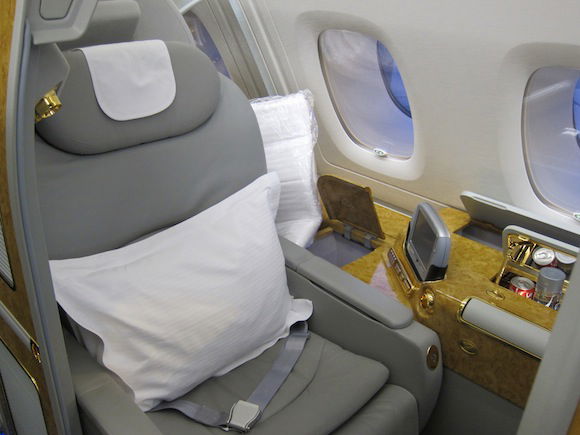 Seat 2A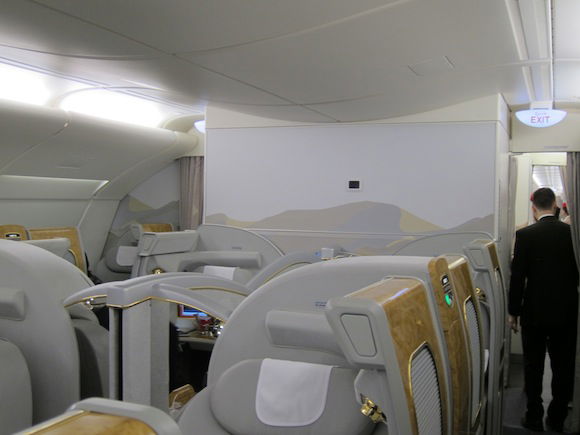 Looking towards the back of the cabin
After snapping a few pictures I settled into my seat, 2E.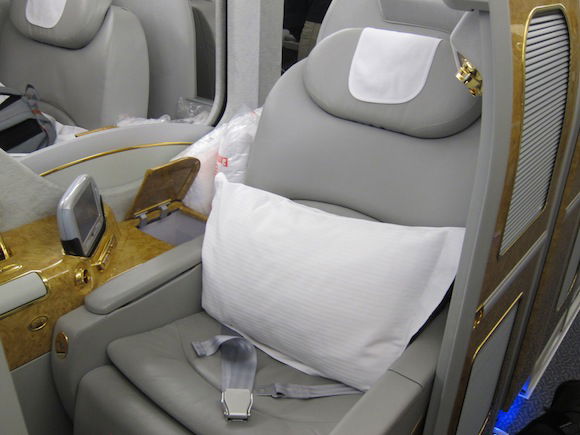 Seat 2E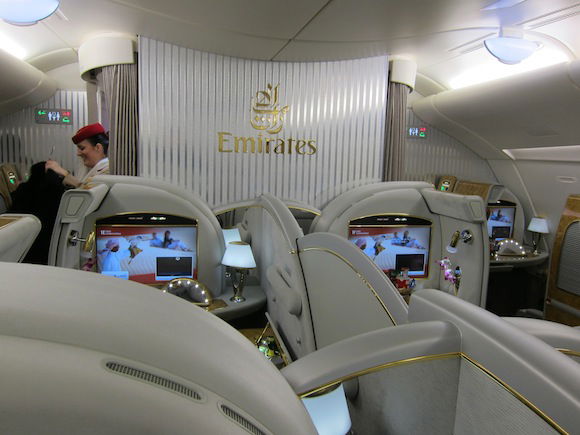 Cabin view from 2E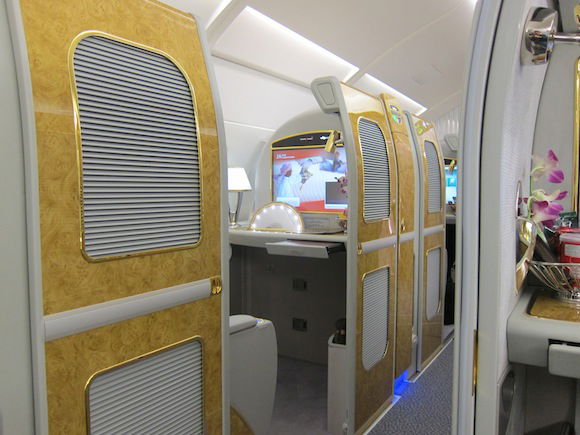 View from seat 2E
While the seat itself is modest enough (in that it's not gold plated and doesn't have signage saying "the person sitting in this seat is AWESOME"), the same can't be said for the rest of the suite.
Everything else is gold-colored, and there's even a vanity mirror right by the entertainment system. After all, what would anyone rather do for a seven hour flight than, like, look at themselves the whole time?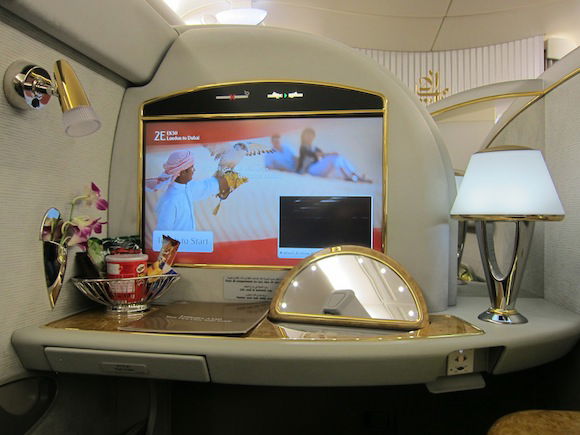 Seat 2E console
Immediately below the vanity mirror was a kit consisting of Temple Spa branded toiletries, including shower, foot, body, nose, and eye balm (whatever that actually means)…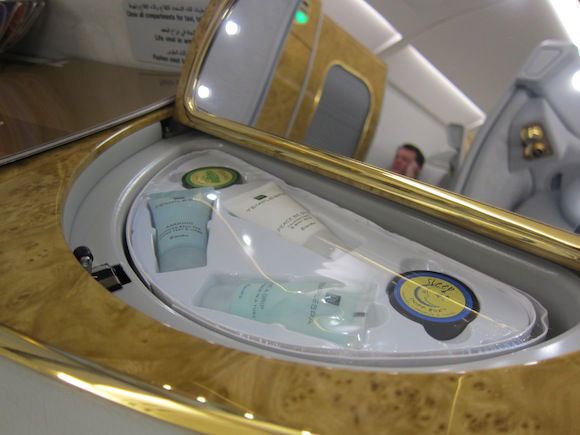 Enough balms for a mortician
Also below the main console was a writing kit with all kinds of Emirates branded stationery.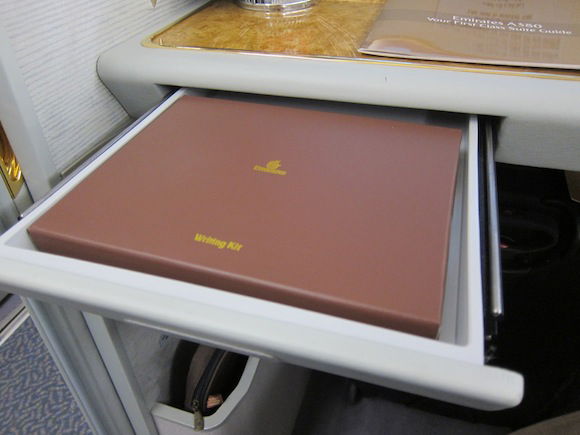 Writing kit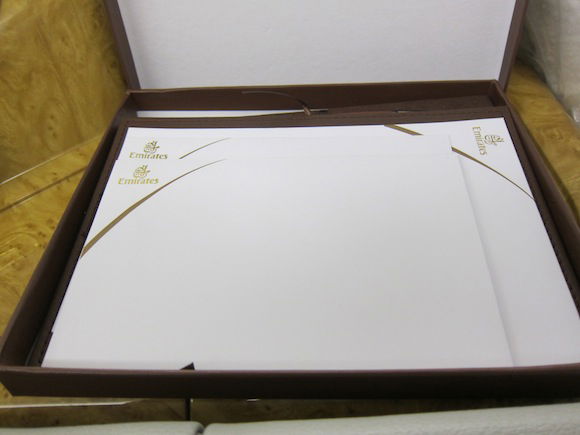 Writing kit
Also redefining first class service is the minibar, consisting of soda, juice, and water. There's such a high degree of irony to the minibar, given that the whole concept of first class on an airline like Emirates is that you don't have to serve yourself, and instead that someone looks after you. But that's part of what makes Emirates first class so damn awesome — they have some amenities not for good reason, but just because they can.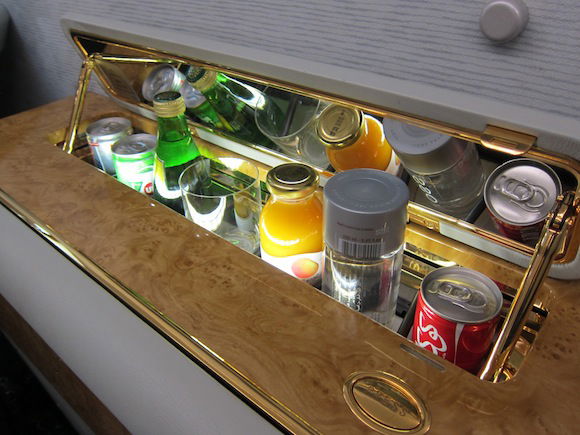 Minibar
Also at the seat is a small snack basket with all the things that Emirates imagines their first class passengers wouldn't eat — Pringles, Mars bars, granola bars, Toblerone, mints, etc. The funny thing is that the snack basket sits loosely on the counter, so it's there during boarding, then they collect it before takeoff, then bring it back after takeoff, and then collect it again before landing.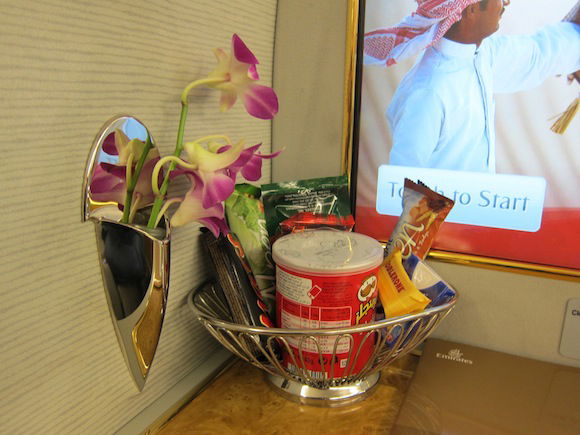 Snack basket
One of the aspects of the seats that really impressed me was that there was plenty of storage. There was a huge compartment at the back right of the seat, which could fit just about anything.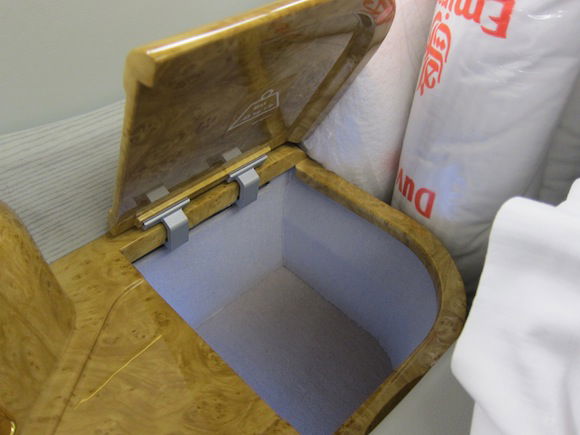 Storage unit
Then to the left of the seat was a small compartment for glasses/passports/etc.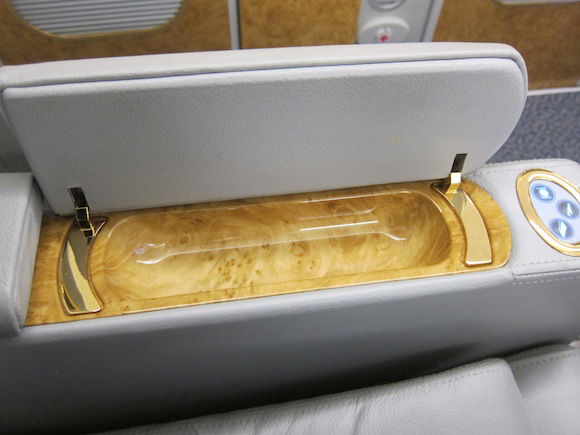 Storage unit
Then on the right side of the seat was the entertainment control.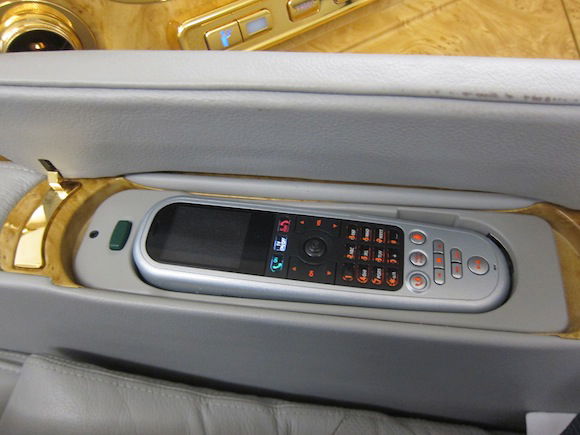 Entertainment control
And immediately above was the control unit for the seat, which controlled lighting, seat positions, etc.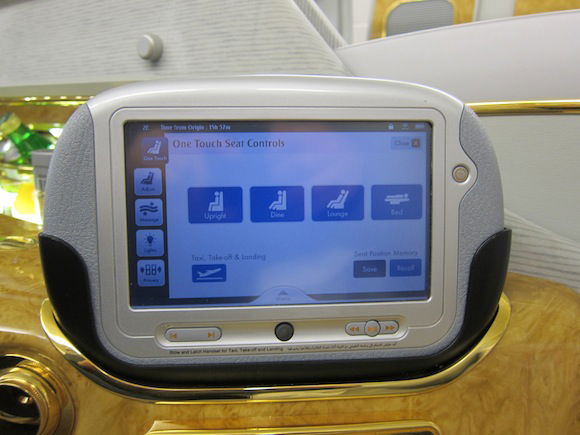 Control unit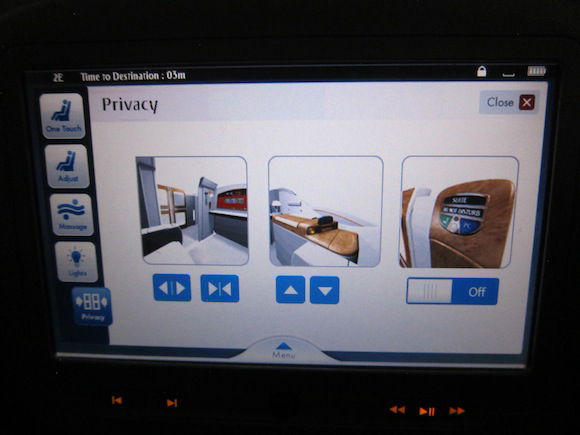 Privacy controls
The cabin doesn't have any overhead bins so that it feels more spacious, but there's plenty of space in the front of the suite for storing bags.
Once settled in the rather charming flight attendant working my aisle bowed down at the side of my seat, introduced herself, and said it would be her absolute privilege to be serving me today, and to not hesitate to let her know if I needed anything.
I ordered a glass of Dom to start, which was poured at my seat.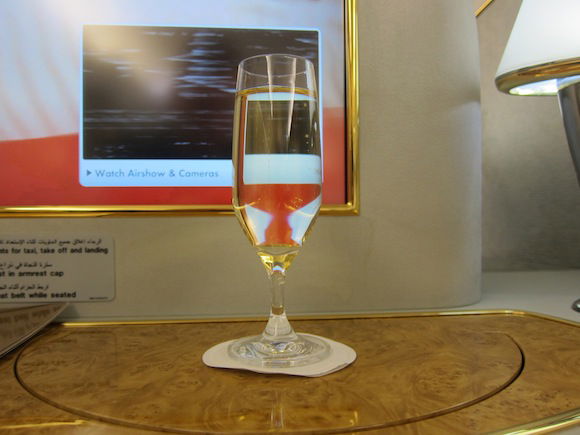 Pre-departure champagne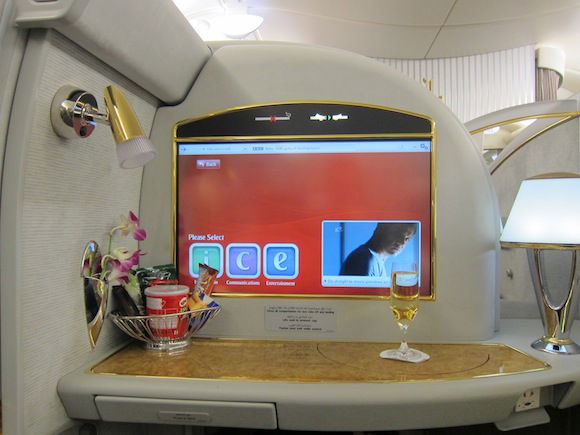 Console with champagne
Meanwhile I was also offered slippers, eye shades, and an Emirates branded beach bag of sorts.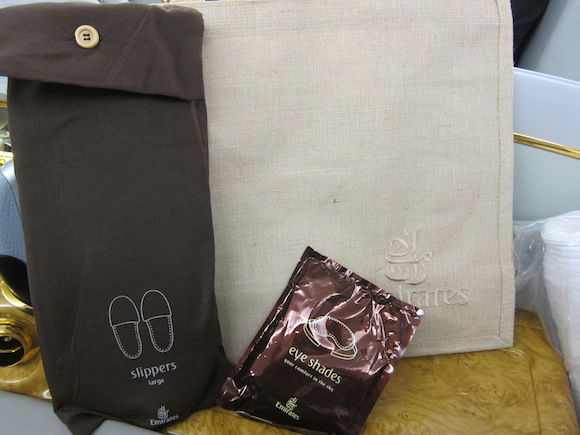 Slippers, eye shades, and Emirates bag
I was also offered noise canceling headphones.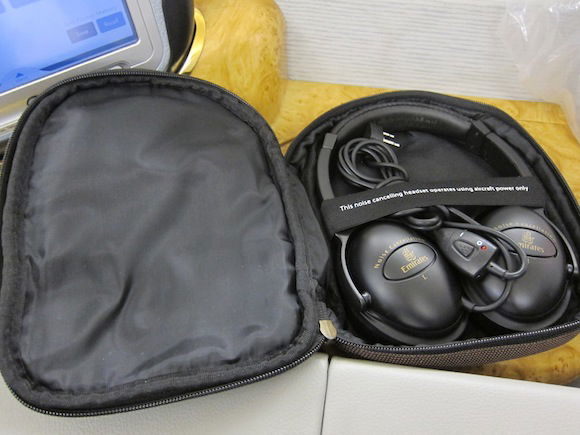 Noise canceling headphones
As the departure time approached the cabin crew offered Arabic coffee and dates, which I gladly accepted. Refills were also offered, though one is about my limit.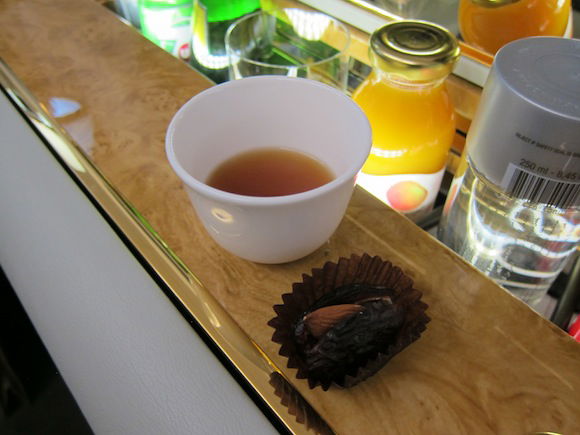 Arabic coffee and dates
We were also offered hot towels and the menus.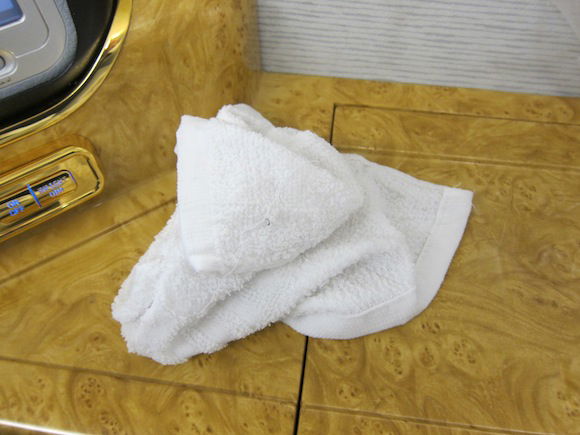 Yes, that's what a towel looks like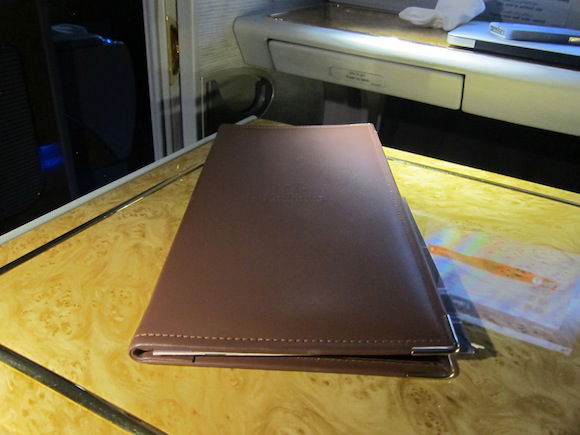 Menu
About five minutes before our scheduled departure time the captain came on the PA to announce our flight time of 6hr20min, and that he was anticipating a smooth ride to Dubai.
At this point the shower spa attendant made a round through the cabin for reservations. The coolest part of Emirates first class on the Airbus 380 has to be the two shower suites. The attendant is solely responsible for the shower suites, and asked at what time I wanted to shower. I asked to shower after dinner, about 2.5 hours into the flight. It seemed most others didn't want to shower, so there wasn't a need to give an exact time.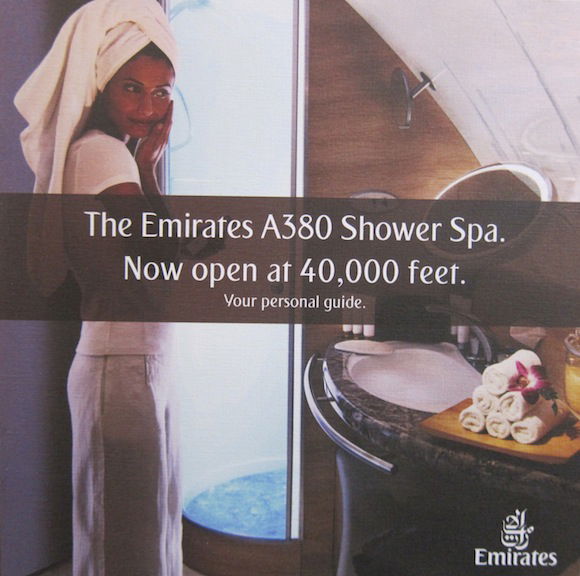 Shower spa brochure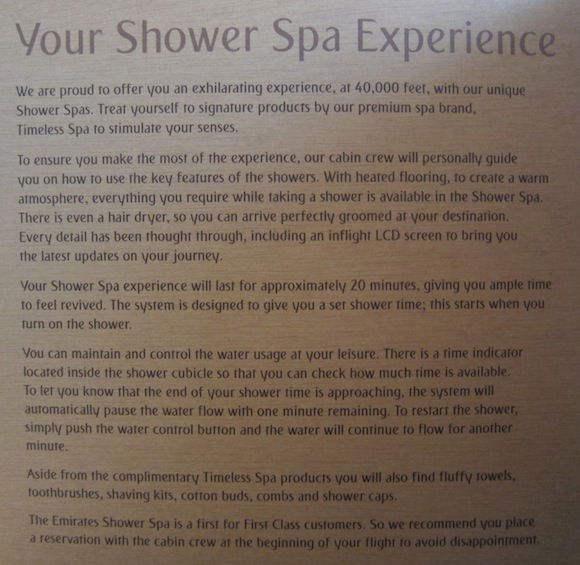 Shower spa brochure
As departure time rolled around I asked for a pair of pajamas, which I guess the flight attendant forgot to distribute, as she was confused why I didn't have a pair yet. The pajamas were surprisingly modest for Emirates (I was fully expecting a Flavor Flav bathrobe and gold watch). As the door closed there were only two empty seats in the cabin, so it was a pretty full load.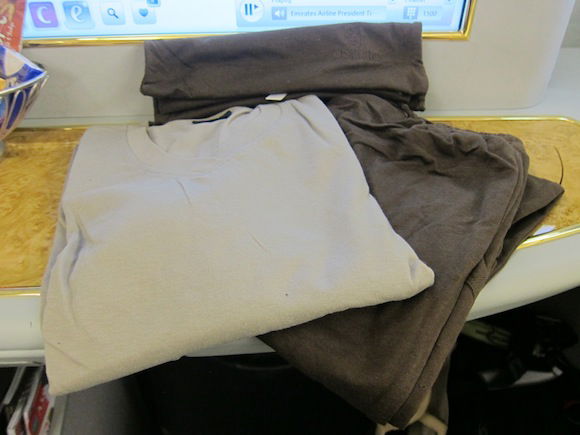 Pajamas
The safety demo began to play as we pushed back. Once the video finished I began playing around with the entertainment system, ICE (which stands for Information, Communication, and Entertainment). The variety of shows and movies was fantastic, on par with Singapore's Kris World and Cathay Pacific's StudioCX.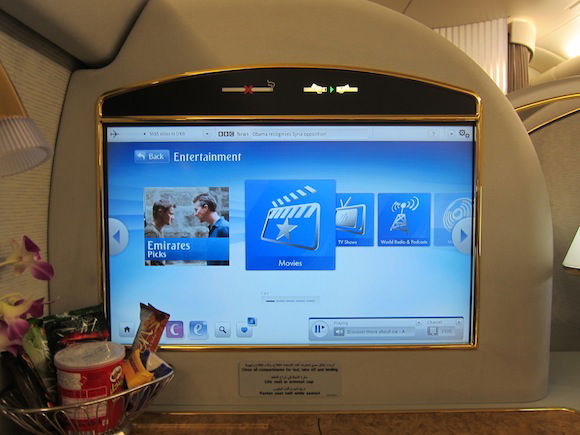 ICE entertainment system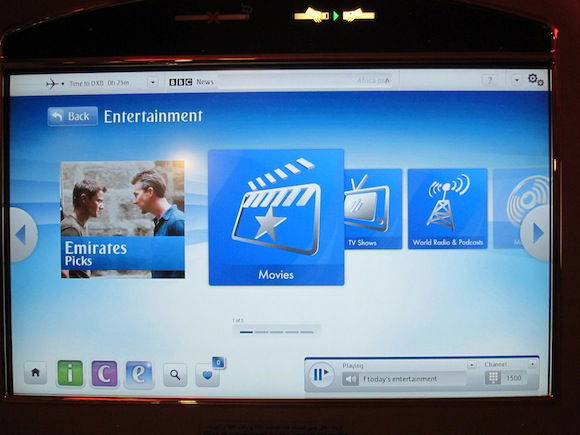 ICE entertainment system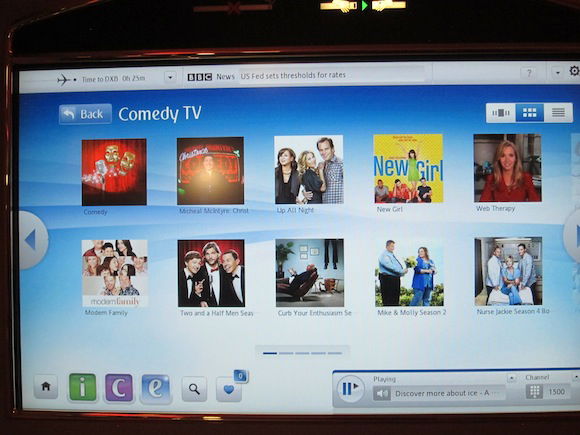 ICE entertainment system
For takeoff, I switched to the nose camera view, which almost every airline offers on the Airbus 380.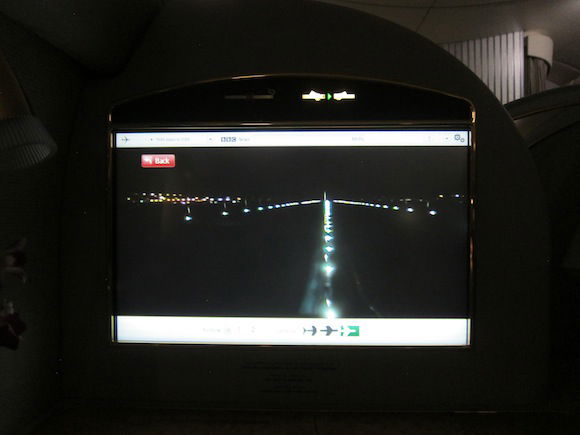 Nose camera on the runway
There was a bit of chop on our climb out of London, though after about 10 minutes it smoothed out a bit. I took the opportunity to connect to Emirates' On Air Wi-Fi service, as it would be my first time using Wi-Fi on a longhaul flight. The Wi-Fi was reasonably priced at $20 for 100MB. I ended up needing two sessions, as I used the Wi-Fi extensively (I blogged, Tweeted, and Instagrammed just about the whole flight). The only thing I'm a bit confused about is that 100MB costs $20, while each additional 100KB costs 7.3 cents. Unless I'm missing something, isn't that substantially more expensive — the marginal cost increases the more you use it? That's why I did two different sessions, though I feel like my math is probably just a bit off here.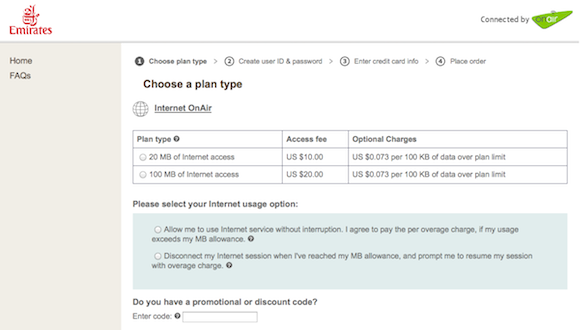 On Air sign in page
Anyway, as we continued our climb out meal orders were taken. The flight times were awfully strange, as it departed in the afternoon and landed in the middle of the night, so they had an a la carte menu, whereby you could eat what you want when you want. The menu read as follows: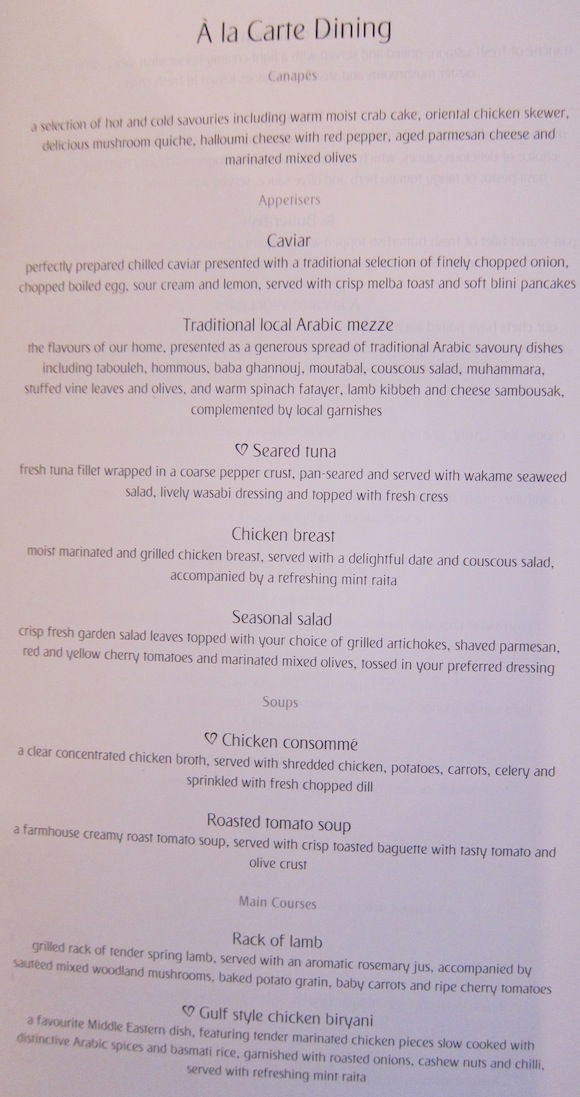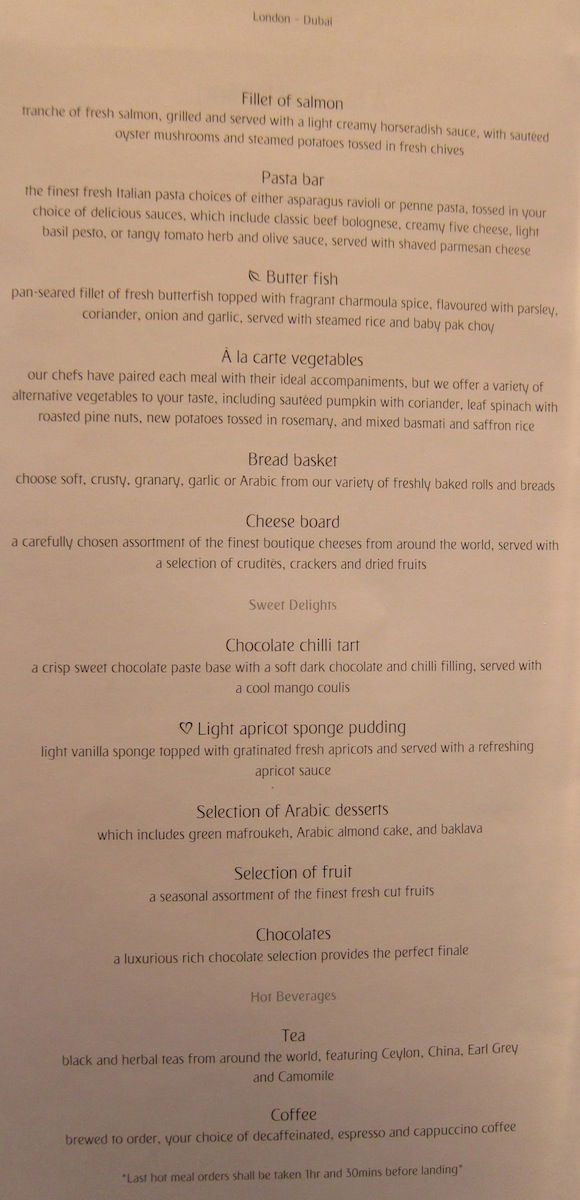 The wine/drink list read as follows: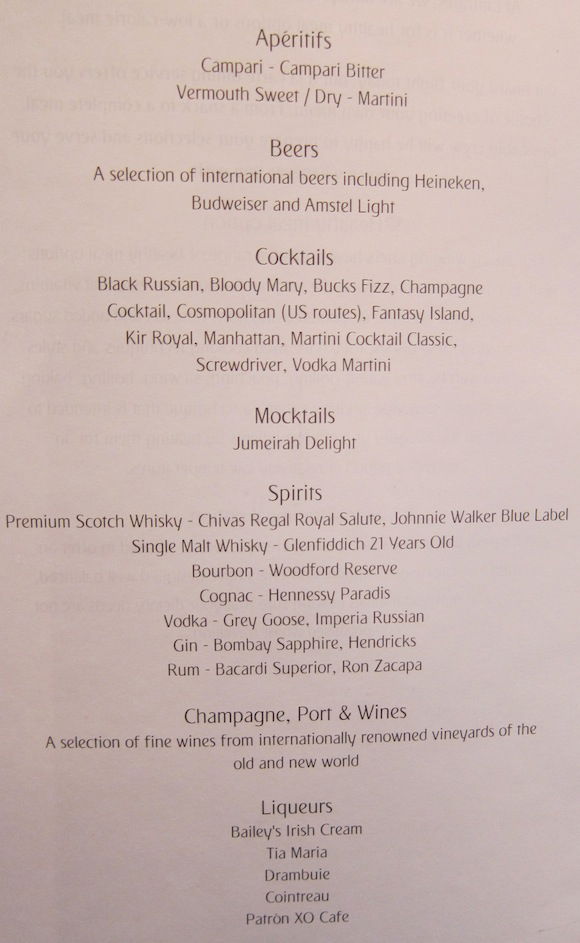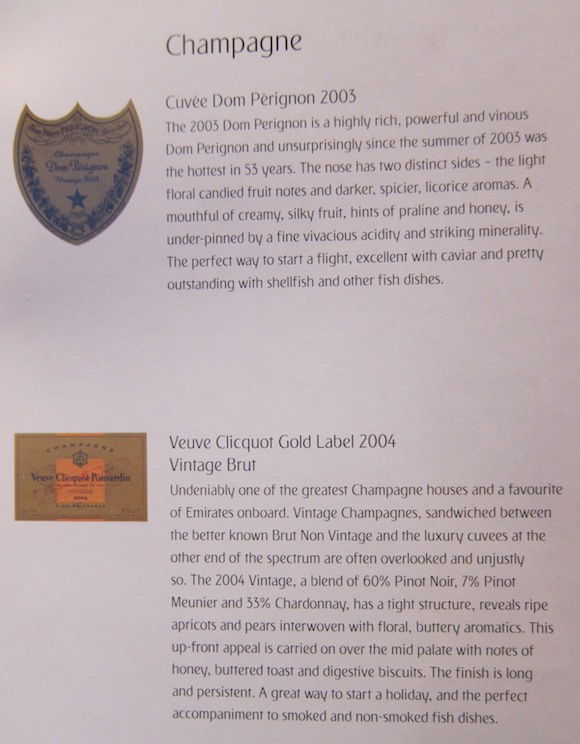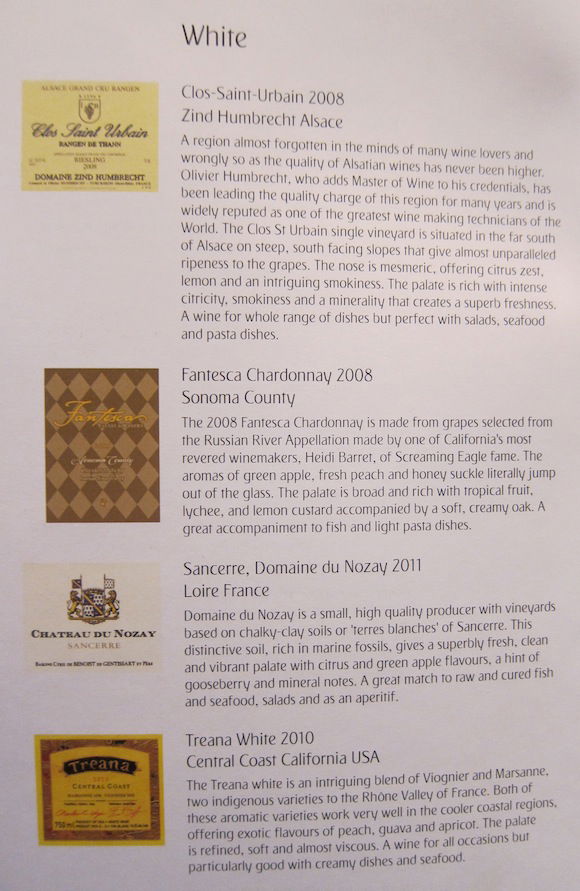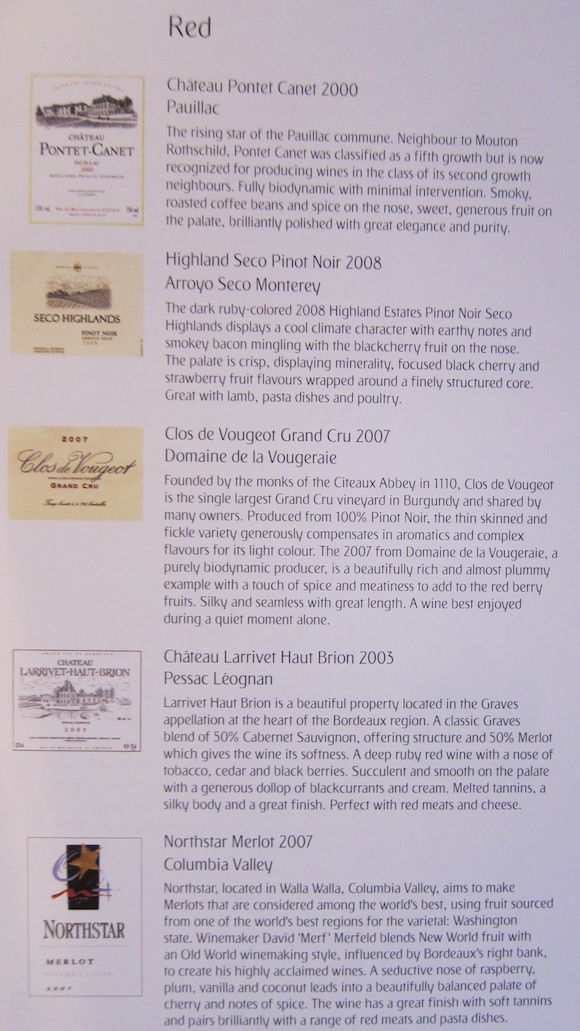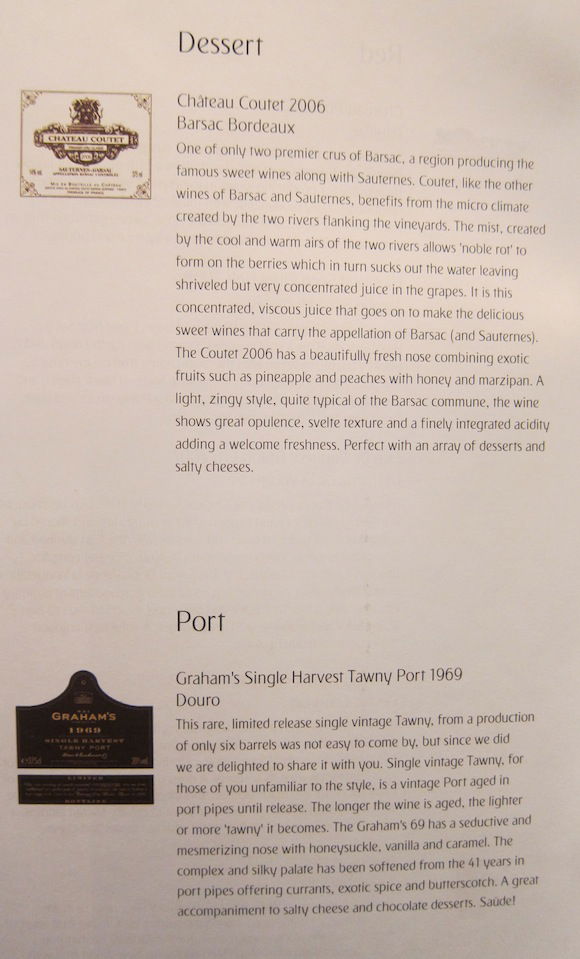 Drink orders were taken first, and I ordered a Diet Coke with lemon, which was served with mixed, warm nuts.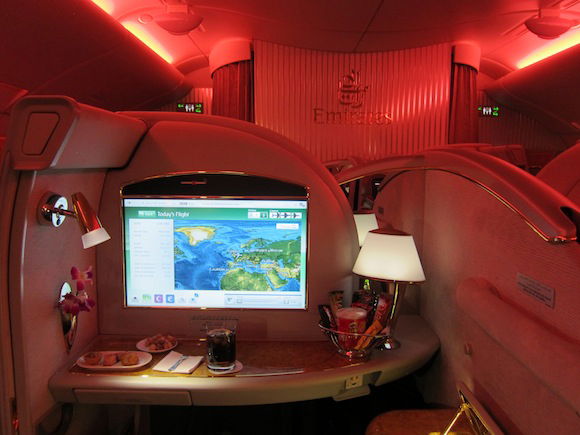 Diet Coke with lemon and mixed nuts
This was also served with canapes, including mushroom quiche, a crab cake, and chicken skewer.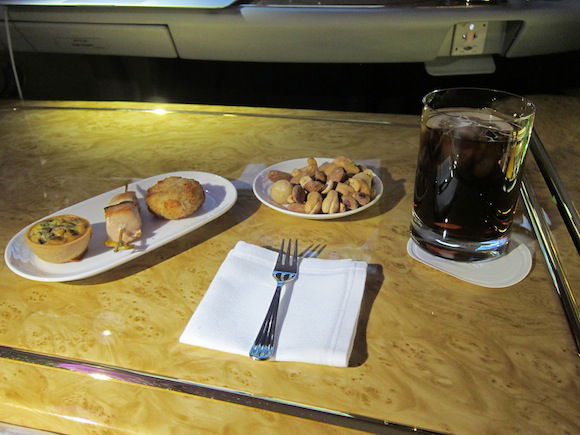 Diet Coke, mixed nuts, and canapes
About an hour into the flight the meal service began, starting with the tray table being set. I was also offered a bread basket, which must be one of the biggest I've ever gotten on an airplane.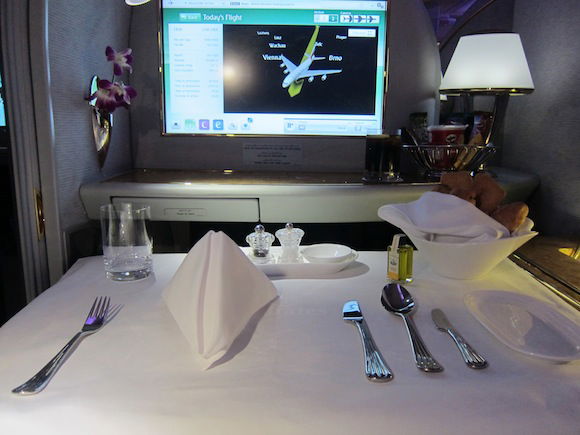 Table setting
For the first course I ordered caviar, with was well presented.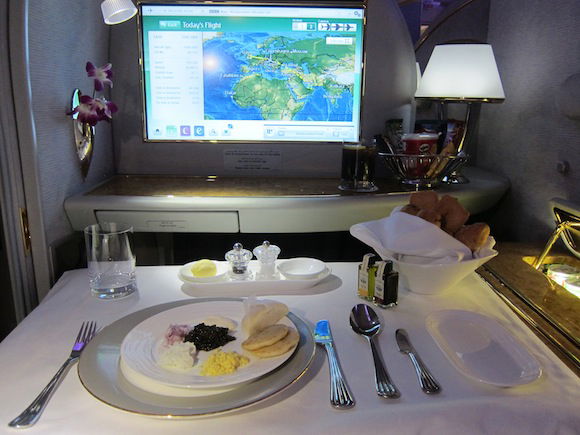 Caviar
For the next course I ordered Arabic mezze, which was top notch.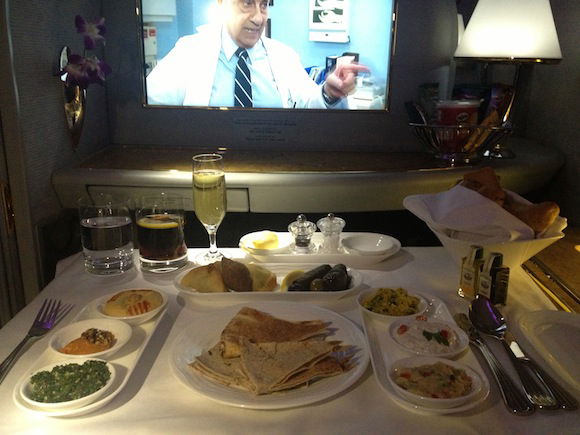 Arabic mezze
Then I had the roasted tomato soup, which was probably the best soup I've had on a plane.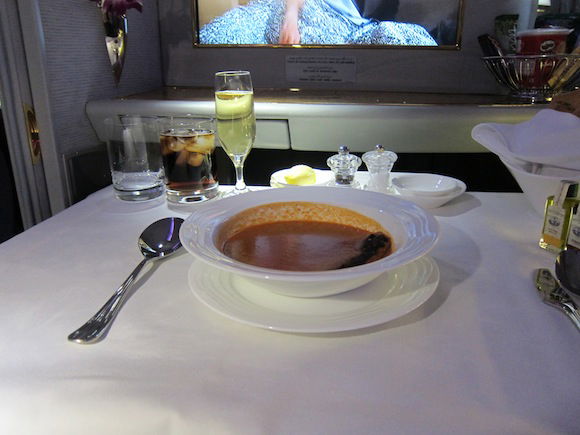 Roasted tomato soup
At this point I wasn't hungry so didn't have a main course or dessert, though figured I might get back to that closer to landing.
Meanwhile my friend had the lamb as the main course.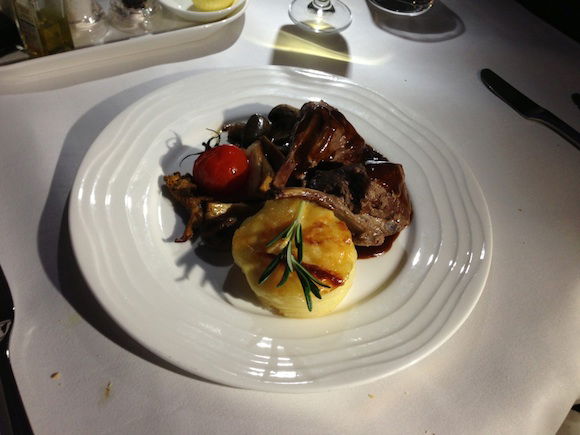 Rack of lamb
And the apricot sponge pudding for dessert.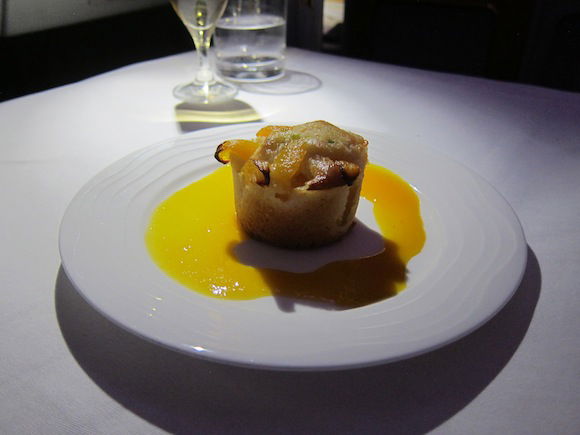 Light apricot sponge pudding
I found the service throughout the meal from the flight attendant working my aisle to be consistent with what I've experienced on Etihad and Qatar. It wasn't especially sincere or attentive, despite the over-the-top verbiage and gestures. I had to push the call button several times during the meal service for refills, to have my tray cleared, etc.
After dinner it was time for my shower, so I headed to the front of the cabin, where there's a small first class bar and also the stairs to the main deck.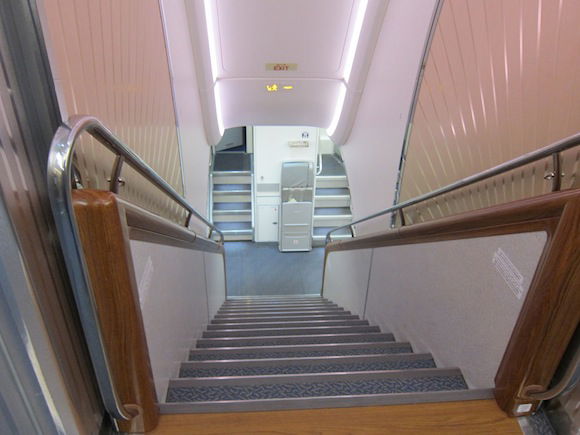 Stairs to main deck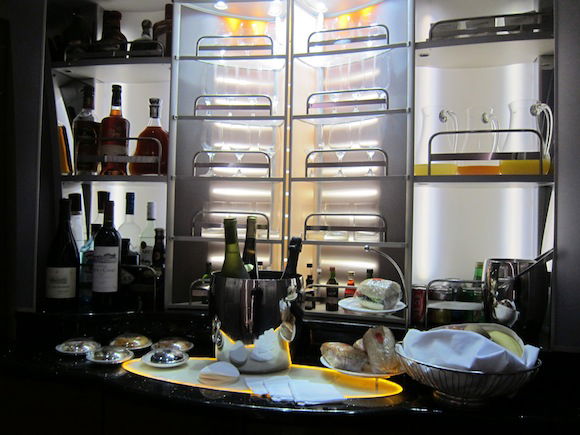 First class bar
The flight attendant directed me to one of the shower spas, and explained the features to me. I wasn't given a time limit for actually using the room, though you're limited to five minutes of water. The good news is that you can turn the water on and off at will, so it really is plenty of time for a shower.
She explained that if there was turbulence I should sit down on the bench in the shower, and also explained the location of the oxygen mask.
Lastly, she familiarized me with the other amenities, and explained that the floors were heated.
Look, I'd like to be all suave about this and play it off as if it's nothing special, but this was quite possibly the coolest damn thing ever. Ever since this flight, all I can think about is showering on an airplane. For the 20 or so minutes I was in the shower spa, I was giggling almost nonstop.
It. Was. Awesome.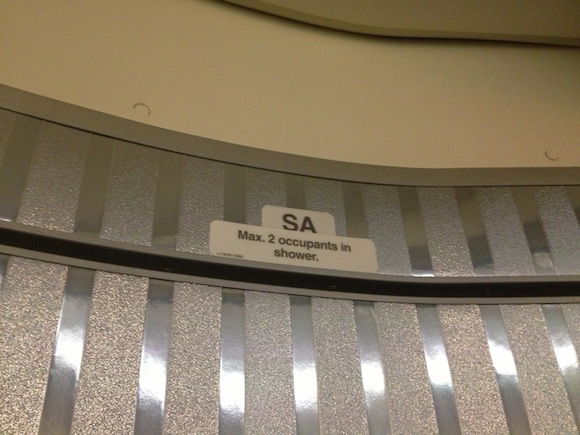 How many people are allowed in the shower spa?! 😉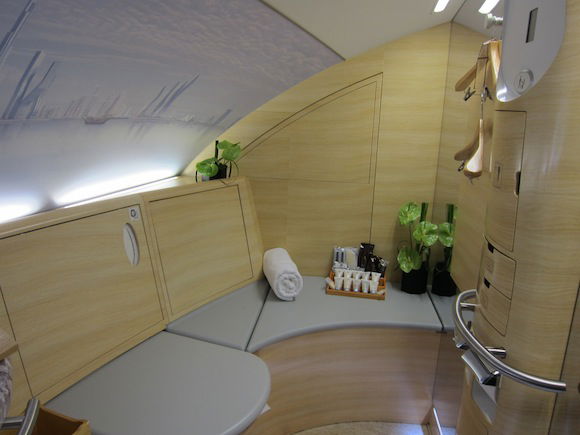 Shower spa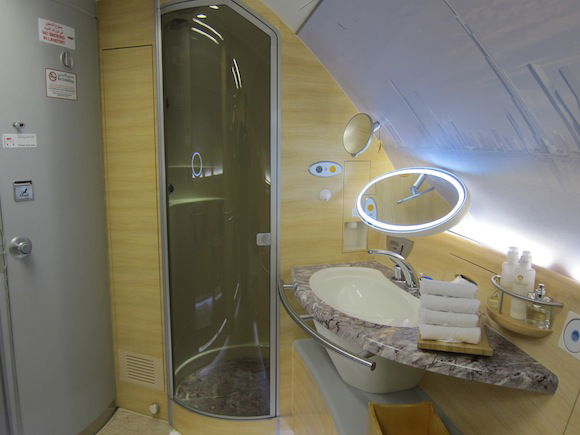 Shower and sink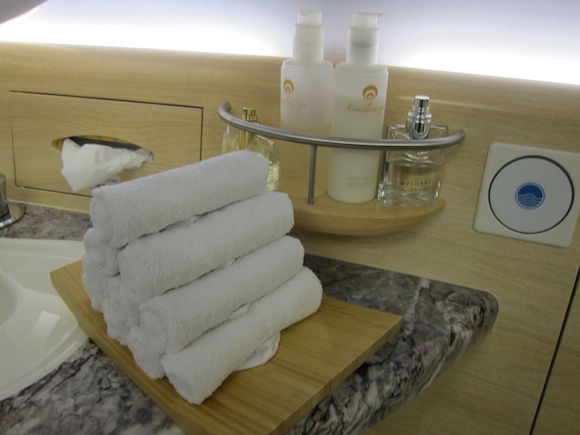 The number of towels doesn't seem sufficiently over the top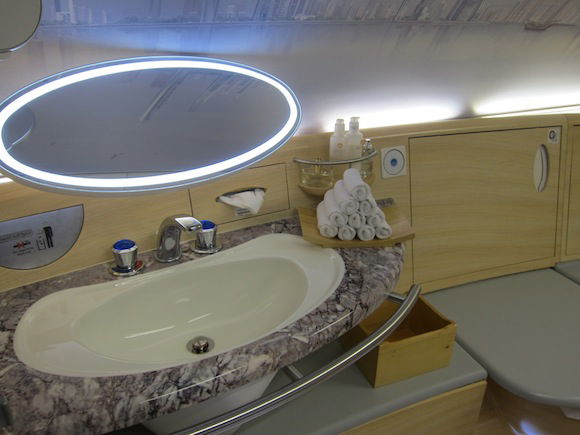 Sink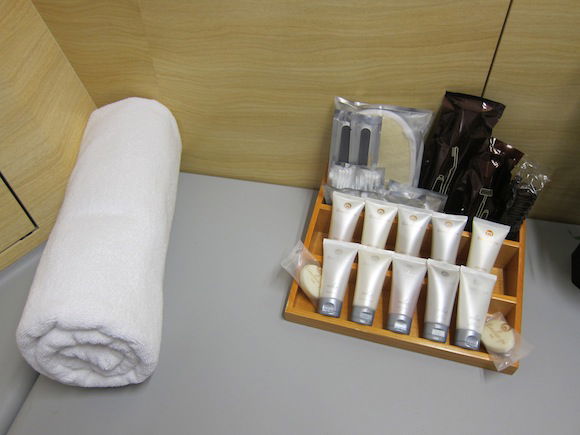 Towel and toiletries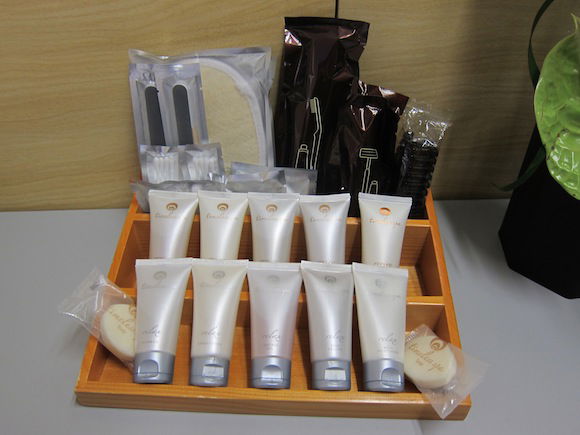 Toiletries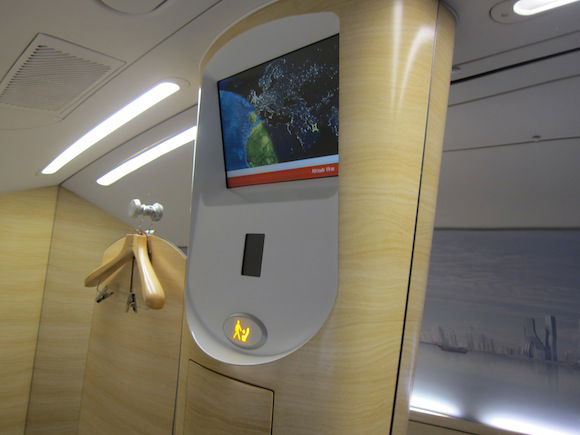 Airshow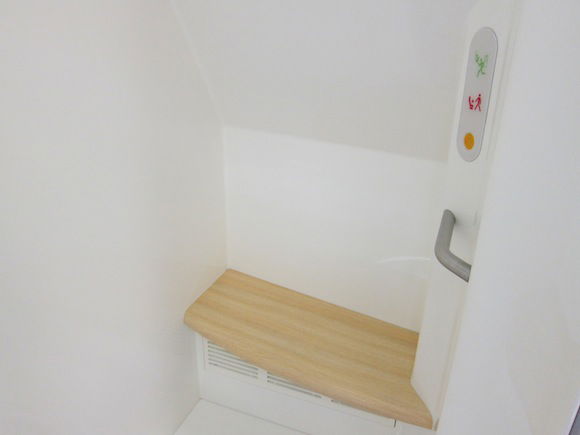 Bench in shower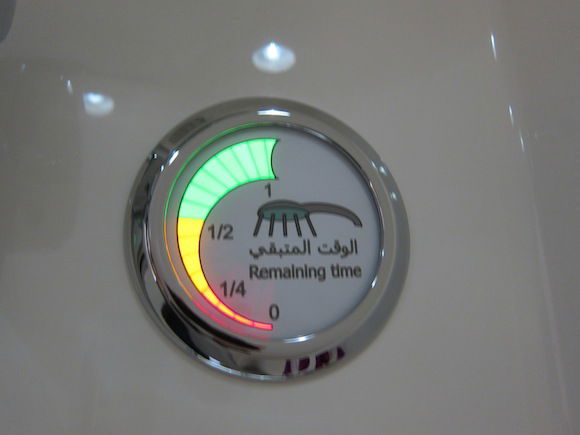 Shower timer
The water pressure was surprisingly good for a plane, and so began quite possibly the most enjoyable five minutes of my life.
I'd like to say a shower on a plane is a gimmick, though I really don't think it is. As much as I love flying I also associate it with being groggy and tired, and I didn't feel like that for the first time after getting out of the shower.
The shower attendant was standing right outside the shower spa as I exited, and asked me how I enjoyed my shower.
When I returned to my seat I found a small fruit plate with a dipping sauce.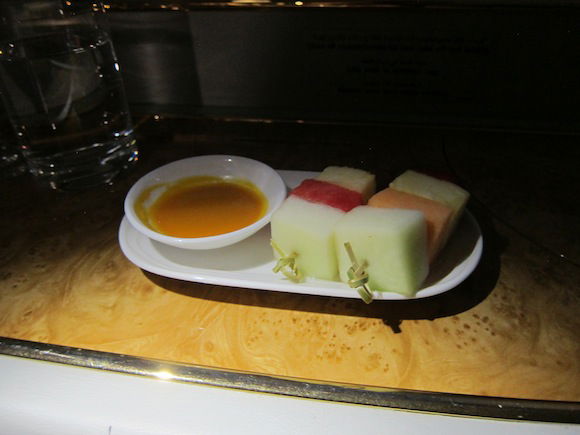 Fruit plate
At this point I asked for turndown service, and took the opportunity to check out the business class cabin and bar, which takes up the rest of the upper deck.
I find it funny how when you go from first class to business class the seating looks so uncomfortable, while if you hadn't seen first class it would look perfectly comfortable. The product actually looked quite nice, though, and the cabin was nearly full.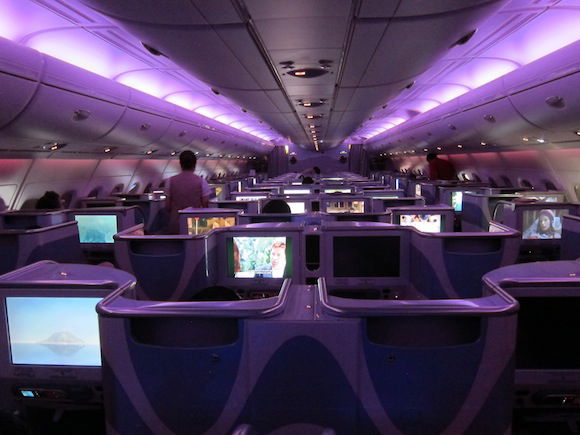 Business class
All the way in the back of the cabin is a huge bar and lounge, with two couches, a bar, and a self serve area with a large flat screen TV.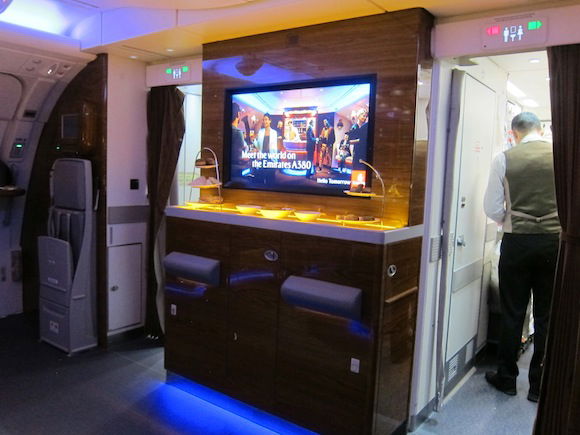 Business class bar & lounge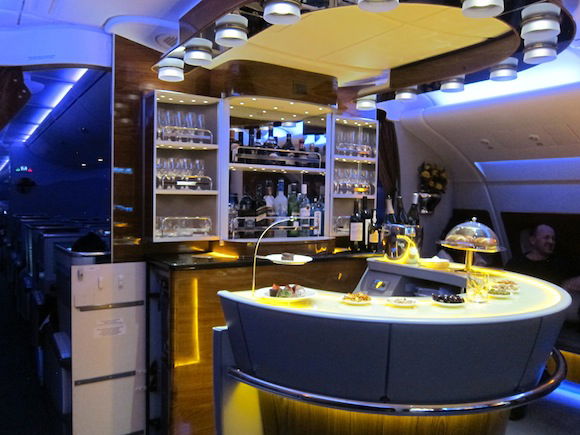 Business class bar & lounge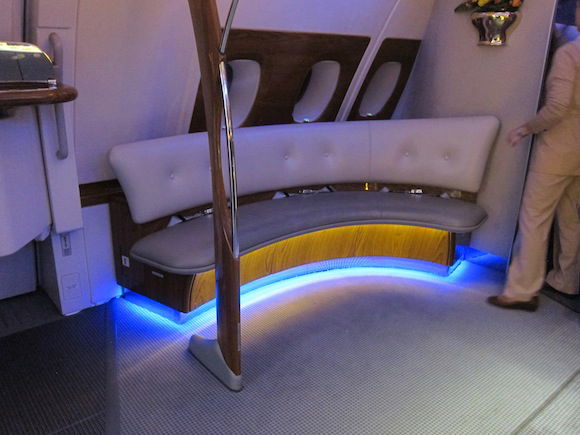 Business class bar & lounge
When I returned to my seat turndown service had been completed with great precision (a bit more than on Thai Airways), and there was even a box of Godiva chocolates and a flower left on my pillow.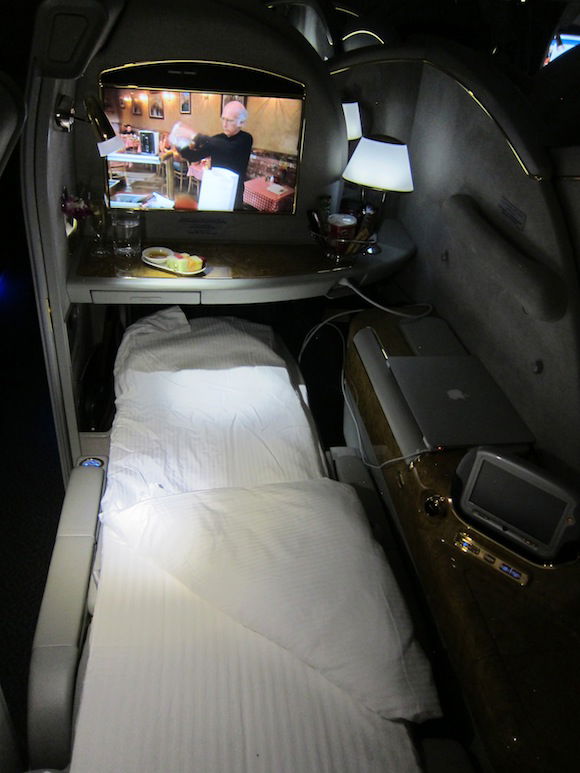 Turndown service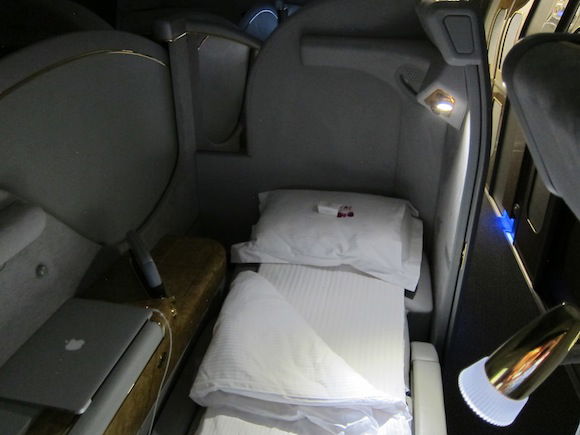 Turndown service

Chocolate and flower on pillow
Now, this was a short flight landing in the middle of the night and I wasn't about to sleep, though I do prefer watching TV while curled up in a comfortable bed with my door closed.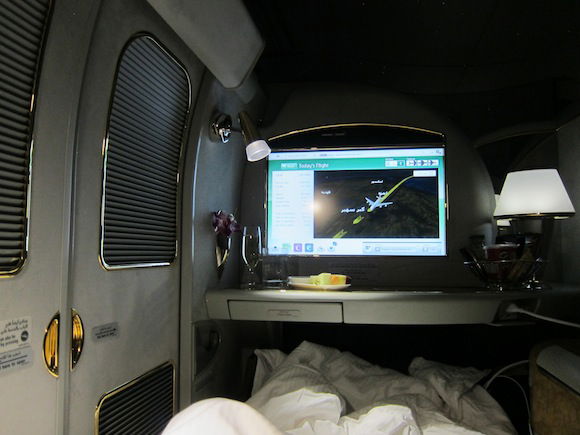 The good life…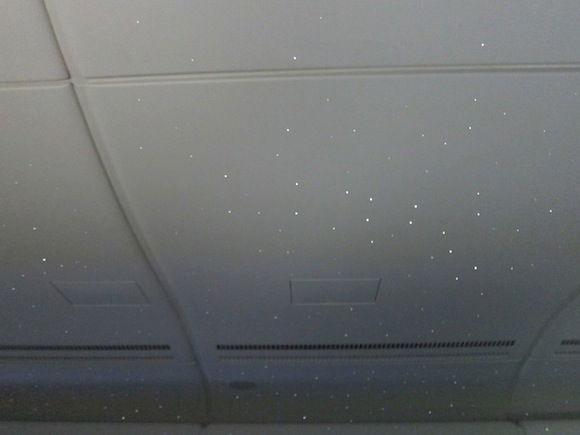 Stars on the ceiling
About two hours out of Dubai I decided to order dessert, and pushed the call button to do so. They label this as "room service," which I thought was hilarious.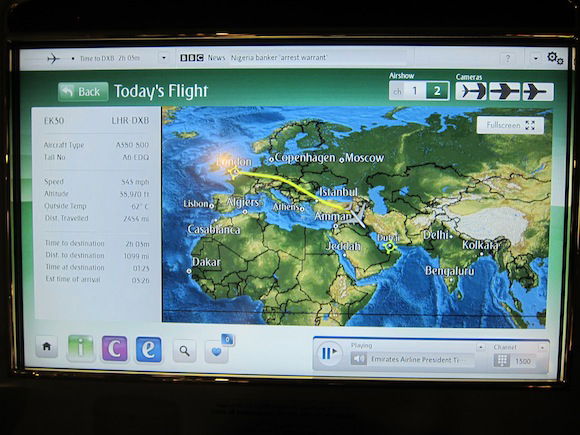 Airshow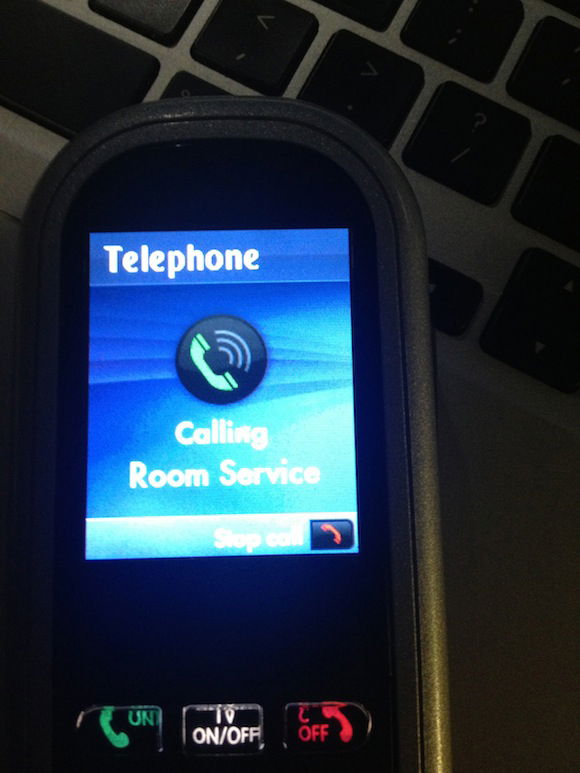 "Room service"
For dessert I ordered the chocolate chilli tart, which sounded mighty odd. It was a really interesting dessert, as it was basically a chocolate tart with a chilli filing, which is a combo I've never had before. I had some breakfast tea with dessert.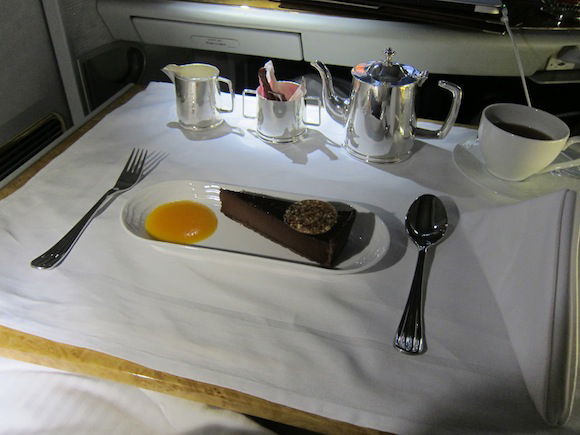 Chocolate chilli tart
About 30 minutes out we began our descent, and the flight was nearing an end far too soon. The purser, Toby, once again made a pass through the cabin to thank each passenger for flying Emirates. He was the one crew member that seemed to genuinely enjoy his job, and it showed. The rest of the crew were friendly, though executed the service in a manner that felt a bit forced.
Another crew member distributed the fast track cards for Dubai.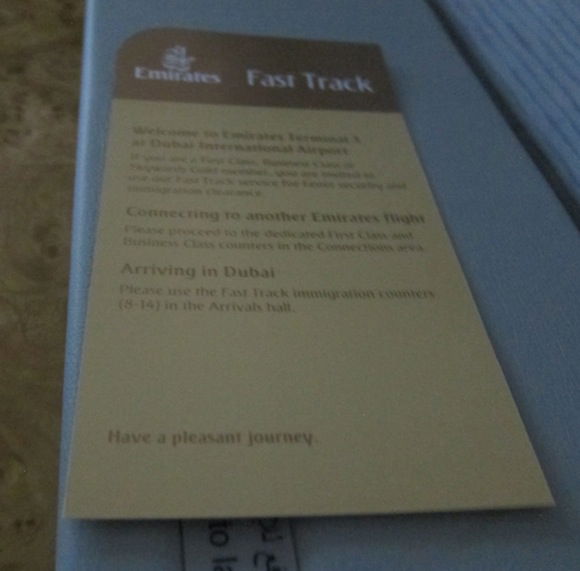 Fast Track card
For our descent I once again switched to the nose camera view.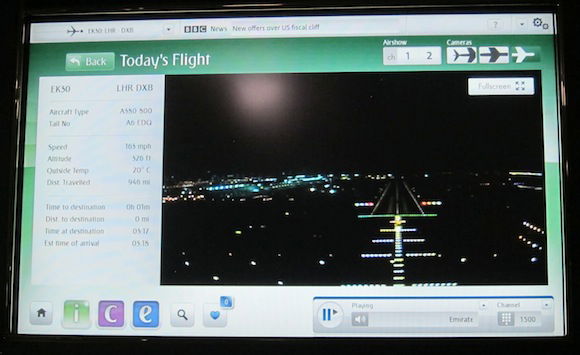 View on final approach
We had a fairly quick taxi to the gate, and arrived right on-time.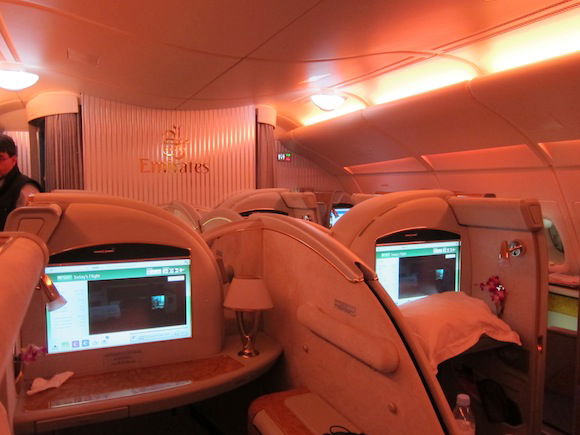 Cabin upon deplaning
This was my first time flying into Dubai Airport, and the terminal had a very airy feel to it.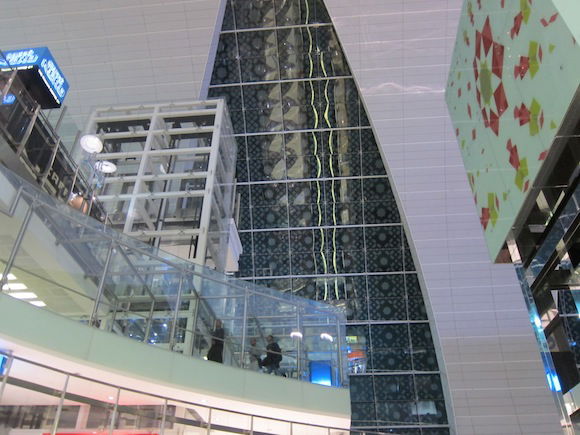 Dubai Airport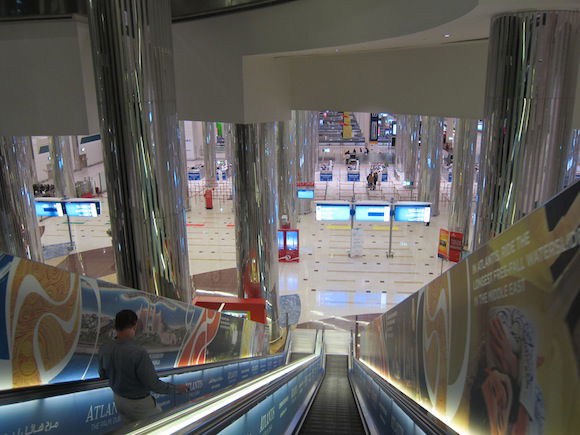 Dubai Airport
Immigration queues were non-existent, so we just had to wait 10 minutes for my bag at baggage claim.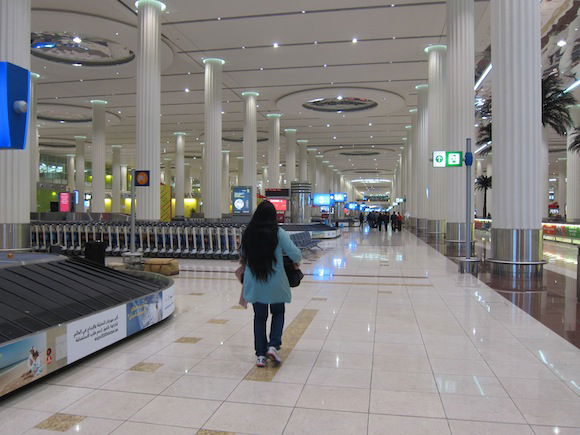 Baggage claim
Just outside immigration is Emirates' limo service desk. Typically this service has to be booked in advance, though I explained we had been rebooked, and they gladly arranged a limo for us (free of charge) to the Grosvenor House.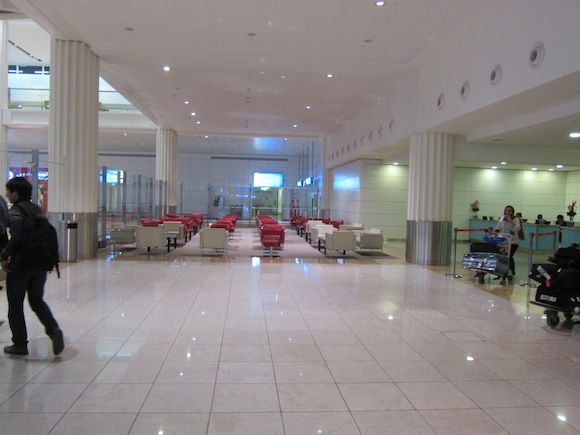 Limo desk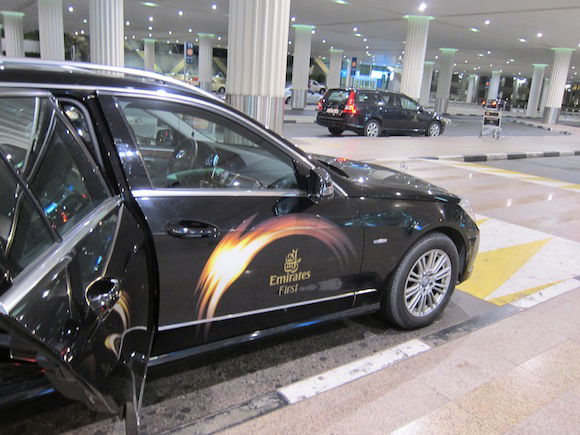 Limo to Grosvenor House
We made it to the Grosvenor House shortly after 4AM, where a whole new adventure started as we didn't have a reservation for that night (given that we were originally scheduled to arrive several hours later).
Conclusion
I'm trying to properly summarize my Emirates experience, and I'm really struggling with it. First let me say this — the flight was awesome, and there's no airline I'm more obsessed with traveling on in the future than Emirates.
The first class suites were uncomfortably awesome. That's to say that it doesn't feature soothing tones and finishes, but instead was blingy as could be.
The purser, Toby, was awesome and sincere, though the rest of the crew was more style over substance. There are some airlines where you get consistently excellent/sincere service, like ANA, Asiana, etc., so I'd say they probably come out ahead in that area.
But at the same time it's simply a phenomenal product. The food was fantastic. And the amenities themselves were great.
Best of all, there's just something about Emirates first class that makes you feel like you're just not worthy… and for whatever reason it makes them even better.