Hello from Kuala Lumpur, where I'm spending a quick overnight en route to Bali.
I haven't been to Bali since I took my mom for her birthday a few years ago, and Ford has never been at all. Bali is one of my favorite places on earth, so I'm quite excited to spend a few days there.
Featured Stories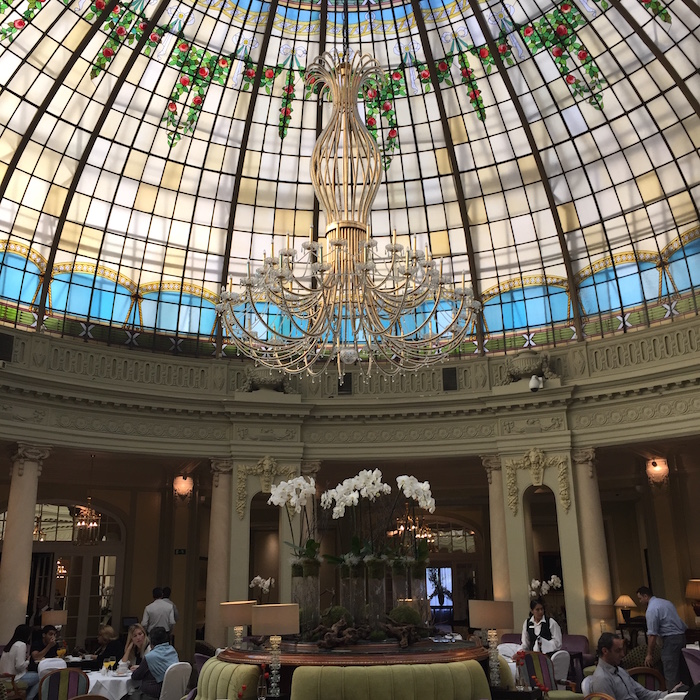 I had a fantastic stay at the Westin Madrid, and it exceeded my expectations. It was anything but a "cookie cutter" Westin, as it combined the amenities you expect from a Westin with a unique property which has a 100+ year history. If anything, this felt more like a Luxury Collection property than a Westin.
Between the rooms, public facilities, and location, I'd return in a heartbeat.
---
Tim Ho Wan is the cheapest Michelin star restaurant in the world, and while it's not a place I'd go out of my way to visit on my own, it seemed like a good place to take Ford on his first trip to Hong Kong.
The dim sum was excellent, and our filling meal cost a mere 117HKD (~15USD). And the funny thing is that even though this place has a Michelin star and is a huge tourist destination, it's actually 95%+ locals who come here to eat, who clearly couldn't care less that the place has a Michelin star. That's a testament to the quality of what they serve.
---
I love Alaska Mileage Plan miles, and have used them for so many great redemptions over the years, in particular in Emirates first class. 40% is about as good as the mileage purchase bonus typically gets, so be sure you check to see what kind of a bonus you were targeted for.
Alaska seems to have recently removed the restriction preventing foreign residents from buying miles. So in many cases (especially for Australians!), it might make sense to buy miles with Alaska versus paying the very high fuel surcharges you'd typically pay when redeeming other miles.
---

TIPS: Earning Miles & Promos
More Citi Prestige Fourth Night Free Experiences
Great Deal: Up To 50% Bonus On Purchased Alaska Miles
Great Deal: 50,000 AAdvantage Miles With American Business Card
TRICKS: Redeeming Miles
Airberlin Transatlantic Business Class Awards Wide Open!
Is The Park Hyatt Maldives a Good Use of Points?
Hyatt Points + Cash Finally Bookable Online!
Hyatt Guest Of Honor Benefit Extended Through 2016
The Next Award Redemption I'm Most Excited To Make
TRAVEL With Ben (Lucky)
Don't Forget To Read The Comments
Does TripAdvisor Take The Shame Out Of Picture Taking?
Strong-Arming Hotels Into Honoring Guaranteed Benefits…
I Finally Earned SPG Ambassador Status!
I LOVE POINTS & STATUS!
Ford's First Time In Cathay Pacific First Class
Video: The Singing Hong Kong Taxi Driver You Have To See To Believe
Tim Ho Wan, The World's Cheapest Michelin Star Restaurant
Possibly My Favorite Hotel Amenity Ever
REVIEWS & Trip Reports
Exploring Madrid
Review: Westin Palace Madrid Hotel
First Look: New Alaska Airlines Seattle Board Room
Review: British Airways First Class 777 Austin To London
Review: American Flagship Lounge Dallas DFW Airport
NEWS & Updates
Is It Wrong For Airlines To Raise Baggage Fees Over The Holidays?
American Offering Improved Amenities On New Sydney Flight
Verizon Offering New International Cell Phone Service Option
Details Of The New Starwood & Design Hotels Partnership
Lufthansa & Singapore Announce A Joint Venture
The Queen Of The Skies Flying To San Diego!
Easyjet Unveils The Most Ridiculous Uniforms. Ever.
DOJ Finally Steps In To Block The Airline Oligopoly
Airberlin's Huge US Expansion: Boston, Dallas, And San Francisco Flights
SeaTac Airport Adding Remote Stands As Means Of "Crisis Management"
Oneworld Clarifies Qantas Lounge LAX Access Policy
American Launching Los Angeles To Auckland Flight In June 2016
SLS Las Vegas To Be Acquired By Starwood!
Unbelievable: Strike Cancles Virtually All Lufthansa Flights Today
Amex Centurion Lounge Coming To LAX (Supposedly)!
American Announcing Flights To New Zealand Tomorrow!
How Would Rumored 2016 AAdvantage Changes Impact My Travels?
---
What is everyone else up to this weekend?