On average I spend more than half my time outside the US. Despite that, I suck at staying connected, and typically don't use data when abroad, instead relying on Wi-Fi hotspots. I know that I really should switch to T-Mobile's Simple Choice International Plan, which seems right up my alley. But in general I hate cell phone providers so much that I can't bring myself to make the change. I know I should just bite the bullet and do it, though.
When I stayed at the Hyatt Regency Tsim Sha Tsui in Hong Kong a bit over a year ago, I noted how the hotel offers all guests complimentary smartphones for the duration of their stay. These can be used as a wireless hotspot with unlimited mobile 3G internet access. Furthermore, you can make complimentary phone calls to the US, UK, Australia, Singapore, and China.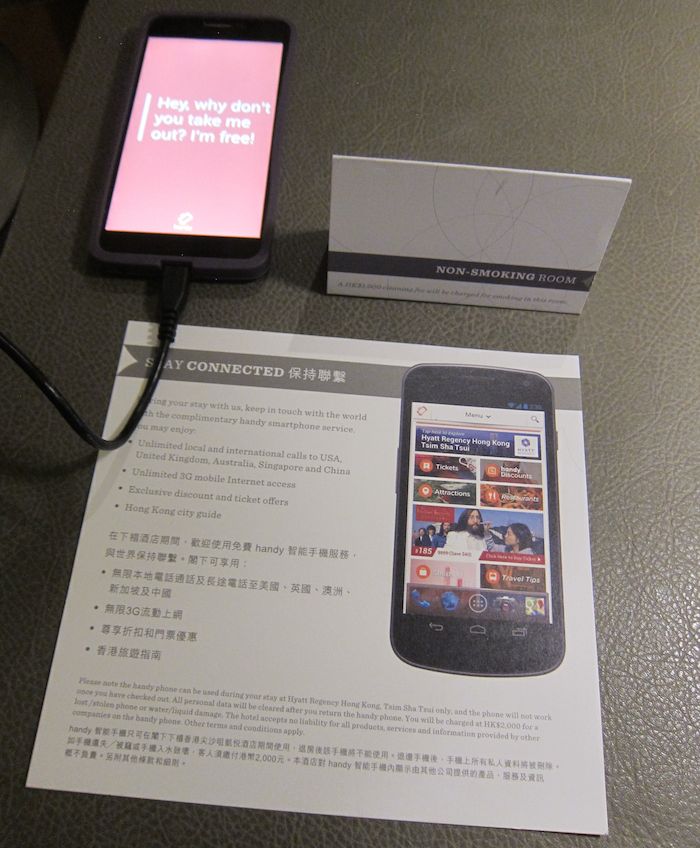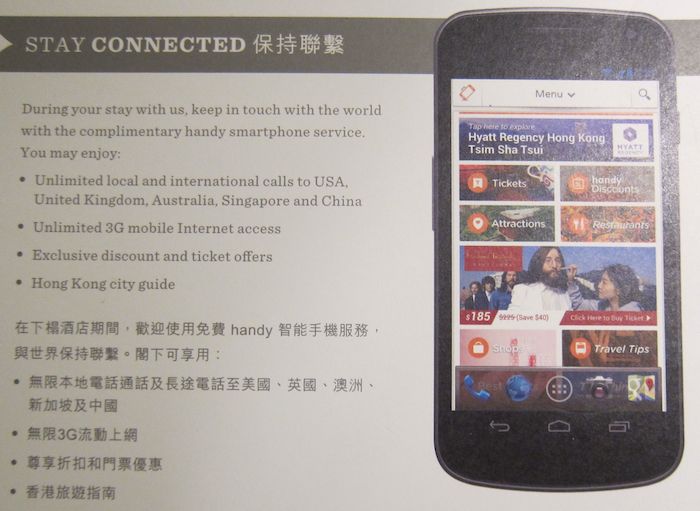 I thought this was an epically awesome perk, as it was easy to use and allowed me to have a hotspot and make free calls no matter where I went.
Well, I'm presently at the Grand Hyatt Hong Kong, which is one of my favorite Hyatt properties, and they now have a similar offering. Except it's even better.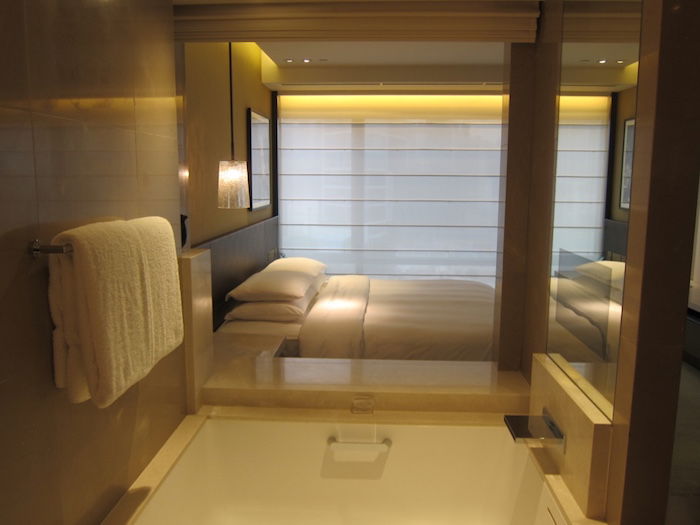 I don't know how long they've offered it, but the Grand Hyatt Hong Kong offers a complimentary smartphone with 4G coverage. Here's how they describe it:
Experience ultimate convenience during stays at Grand Hyatt Hong Kong, as all guestrooms are now equipped with a handy complimentary smartphone. Whether guests are traveling on business or leisure, this phone will be the ideal companion.

With the handy smartphone, all registered guests staying at Grand Hyatt Hong Kong can enjoy:

Complimentary 4G Internet access
Ability to share 4G Internet access with multiple devices via a Wi-Fi hotspot
Unlimited local calls and international calls to the United States, United Kingdom, Australia, Singapore and China
Popular pre-set travel information, including Hong Kong city guide and interactive maps
Full access, just like with a personal handheld device, allowing guests to download and install their favorite apps

Guests can take the complimentary smartphone out of the hotel to stay connected with friends, family and business partners while exploring beautiful Hong Kong.
A Wi-Fi hotspot and free calls to the US? Deal!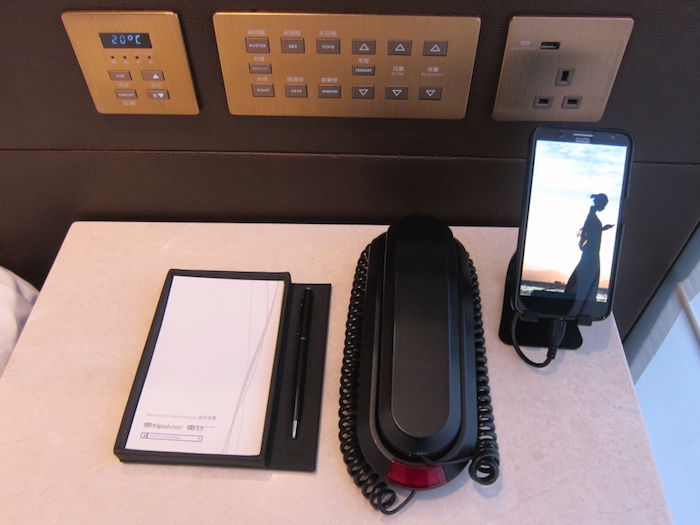 I can't even begin to say how much of a value-add service I find this to be. I'd certainly go out of my way to stay at one of the two Hyatts in Hong Kong over similar options from competitors because of this feature.
Presumably it doesn't cost the hotel that much, yet it's something which really sets them apart, as this is something I've only ever seen at the two Hyatts in Hong Kong.
Anyone else find this feature to be as awesome as I do? Or am I just insane for still not having T-Mobile/using data internationally?