My wife and I have our tenth anniversary coming up next year so I've been working on a big trip to celebrate. The two of us decided the Maldives would be a great destination.
The Park Hyatt in the Maldives is clearly an aspirational property for many miles and points geeks. In fact, the three Boarding Area blogs I read most often (OMAAT, View from the Wing and Mommy Points) have all done at least one review of the property.
I obviously love using miles and points to make a trip more affordable. But the reviews I've read of the Park Hyatt have left me unconvinced this property is a wise use of points. As I see it, there are three major downsides to staying at the Park Hyatt.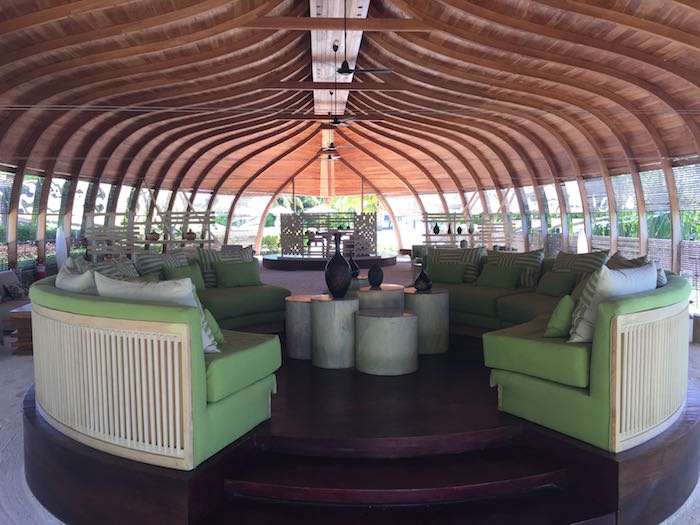 1. Points and Upgrade Costs at the Park Hyatt
As many of you might know, the Park Hyatt has bounced around Hyatt's categories a few times lately. But, it's currently a category 6 property requiring 25,000 points per night.
This gets you into the base Park Villa, which Ben did a thorough review of earlier this year.
The hotel offers several upgrade options beyond the Park Villa. Ben's post goes into more detail. But, the Reader's Digest version is:
$250 per night for a plunge pool
$500 per night to be over the water
$750 per night to be over the water with a better view and more privacy
All of these costs are in addition to the 25,000 points per night. At Ben's valuation of 1.4 cents per mile for Hyatt Gold Passport points, an overwater bungalow will run you $850 per night when you include the upgrade cost and the value of points being used.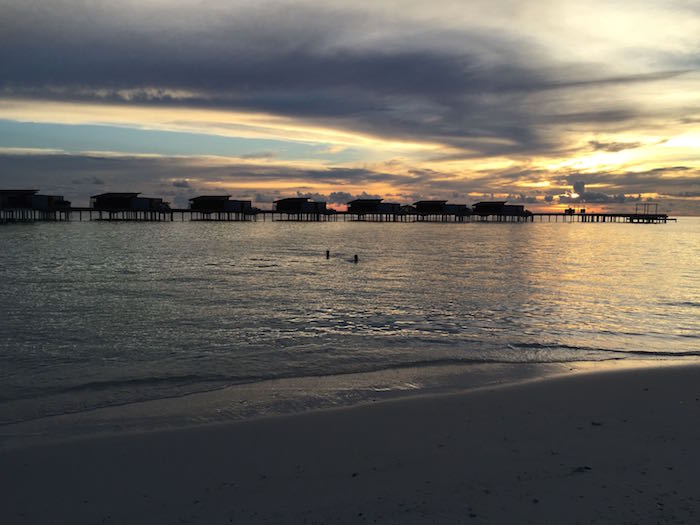 2. The Park Hyatt's Location
Let's also consider the Park Hyatt's location and the process to get there. The Park Hyatt describes their transfer as follows:
Domestic flights are arranged via Maldivian Airlines and waiting times may vary from min 1 hour to max 4 hours. The shortest flight from Male International Airport to Kooddoo Domestic Airport is approximately 1 hour and the longest flight approximately 1 hour 45 min due to "stop over" in Kadhdhoo Domestic Airport. A short speedboat journey of approximately 30-40 minutes will follow as the final stretch of your journey to our island.
At $510 per adult, the transfer is expensive and you have no control over your schedule since it's handled completely by the Park Hyatt staff. For a five-night stay, this adds another $200 per night.
And even more important than the cost is the fact the transfer cuts into the amount of time spent relaxing and enjoying the resort.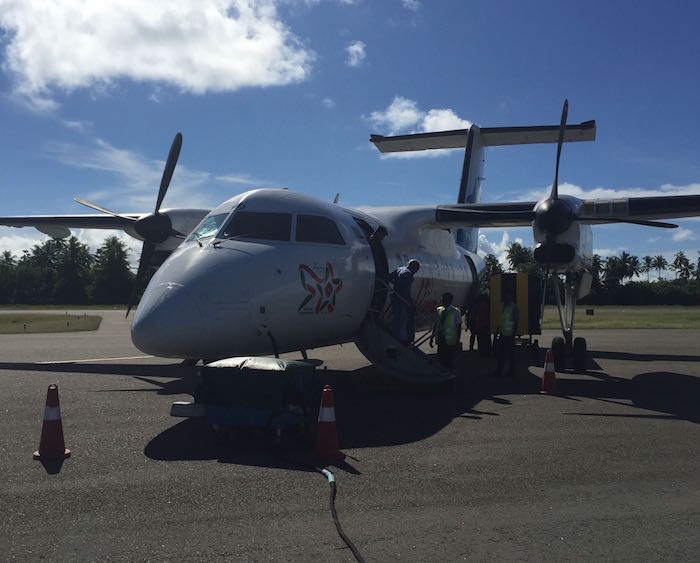 3. Cost of Dining
Diamonds and paid guests have breakfast included for free. I have platinum status with Hyatt so staying on points would mean spending $30 per person for breakfast. To be fair, the breakfasts are plentiful and get great reviews.
The rest of the meals and drinks aren't cheap. And I think it's completely reasonable they charge a premium considering how remote the property is. There are clearly real costs involved with getting ingredients to the island and preparing quality food.
Gary estimates the daily cost of food at about $130 per person per day for non-diamonds. He posted all the menus from his most recent trip and says there are ways to be more economical if cost is a concern. Mommy Points confirmed it would be easy to hit $160 per day as her review of the food options at the Park Hyatt suggests. And Ben told me $160 sounds about right but the cost is highly dependent on alcohol/beverage consumption.
For our purposes, let's be conservative and stick with Gary's $130 per person per day. So, tack on another $260 per day to our running total.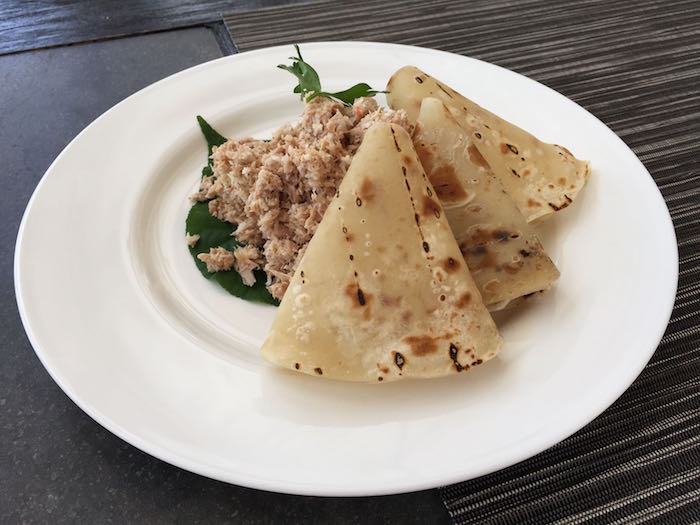 Adding It All Up
An overwater villa (not the special view ones) will run $850 including the value of the points. The transfer for two works out to $200 per night when you average it over a five night stay. And the conservative estimate for food and drinks is $260 per night for two people. So, a stay at the Park Hyatt Maldives would have cost us $1,310 per night all-in.
I didn't expect a trip to the Maldives to be cheap. But, the more I considered the costs involved, the more I realized I needed to explore another option.
Another Resort Option
Thankfully, just as I was evaluating hotel options for the trip Wendy Perrin mentioned Gili Lankanfushi in a post about how to book the World's Best Hotels. Gili had recently won TripAdvisor's Best Hotel in the World Award for 2015.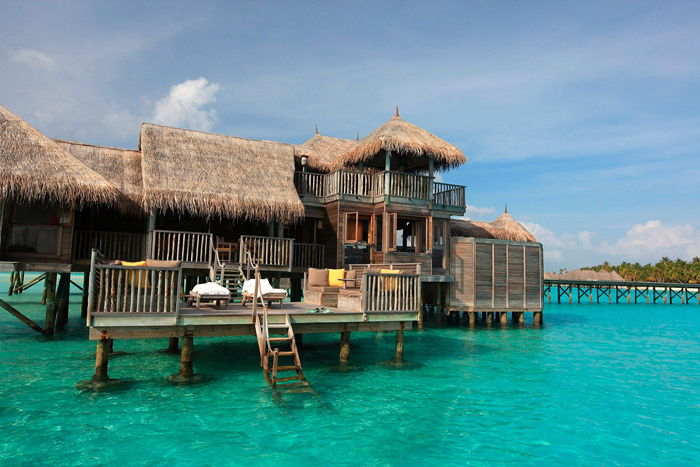 I was pretty blown away the more I looked into reviews of Gili. It's clear they earned the "Best" award for a reason. The 2,260 square feet villas are all overwater, the property has a more casual approach (No News, No Shoes is their motto) and it's clear the staff love their jobs.
What stood out most was the $6,000 price quoted for an 8 night stay in May. At $750 per night, it's an absolute steal. But, it gets even better because the rate also includes:
Breakfast and dinner
Complimentary transfers from Male
30 minute spa treatment for two
$100 food and beverage credit
The food at Gili gets great reviews from travelers. And the resort is a quick 25-minute speedboat ride away from the main airport in Male. The fact we'd get to the resort quicker was a big plus.
For us, this all made booking Gili a no-brainer. We booked a five night stay next June. The rate for the shorter stay is a little more per night than the price mentioned above. But, it's still clearly the better value to me and I can't wait to write a review for you all next summer.
There Are Other Factors To Consider
It's worth pointing out there are three big variables involved here that all factored into our decision to skip the Park Hyatt but could easily mean a different conclusion for you:
Timing – The rates at Gili are seasonal. We had two windows that would work for the trip and one was roughly $1,200 more for the five night stay. We went with the cheaper option to travel in June. If you prefer to travel in high season, that could very well make a points stay at the Park Hyatt a more attractive value.
Status – Only having platinum status with Hyatt factored into the cost of our food and made it unlikely we'd be upgraded to a villa on the beach with a plunge pool. If I was a diamond, it might have made the decision a little more difficult.
Personal Preferences – Is the overwater villa an absolute must? Probably not. But, if we're going to go all the way to the Maldives, we wanted to be over the water and that gave Gili a distinct advantage. You can also make your own determination about the proximity to the airport. Very few reviews of Gili have mentioned seeing planes from the resort. And Gary argues the difficulty getting to the Park Hyatt is one of the best features of the resort because it forces you to truly relax and be away from the real world. For us, the cheaper and faster transfer held the advantage. But, I see merit in Gary's argument.
One final note of thanks to Summer at Mommy Points, Gary at View from the Wing and Ben here at OMAAT. They all quickly replied with very useful information that helped put this post together.