The comments section is an interesting place here at OMAAT because there is a little bit of everything.
Like anywhere else on the internet, there are people who seem to take pleasure in telling others how much they suck. If you ever feel a little full of yourself, just post something online. It's a surefire way to give the trolls of the world a chance to try and knock you down a peg.
I think it was Gary at View from the Wing who said those comments are often more of a reflection of the person writing them than the person they're directed at. I tend to agree.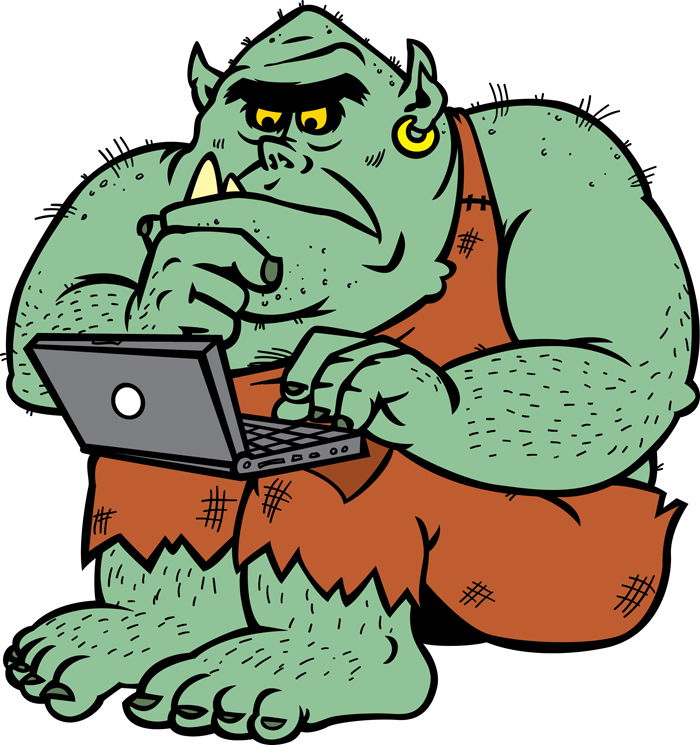 It's Much More Than Trolls Saying Useless Things
Beyond the trolls, there is so much more to the comments sections in the miles and points community. There are smart, travel-savvy readers who are willing to share their knowledge. They add to the discussion and make the blogs better. And that's definitely true here.
Take my recent post about Verizon's new international data option for example. I put it together quickly as an FYI to Verizon customers that they have another option when traveling. I didn't think it was a particularly great deal but figured some readers might find it useful.
A reader named Roger who commented about the simplicity of the new offering being the reason he signed up was exactly why I thought this might be useful and worth posting.

But the other readers added to the discussion and took it beyond Verizon. Some pointed out they had a much faster connection than the 2G service I experienced roaming with T-Mobile in Ireland. Others pointed out Google Fi is a great new option for staying connected abroad. And others discussed local SIM cards.
It's great to see readers asking and answering questions. These contributions clearly add value to the post. And this is just one quick example.
The point of all this is to say if you're only reading the posts and skipping the comments, you're missing out on some great information. Trip reports often elicit additional data points of good and bad experiences at a property or an airline. I find that valuable as I decide which airline I want to fly or where I want to stay. So I always try to click through to the post and read the comments when there is a topic I find interesting.
Adding Your Own Avatar to Comments
One other note on the comments section: Some of you might have noticed some commenters have pictures (or avatars) next to their names in their comments. Before I started contributing to the blog, I had no idea why some people had avatars while others didn't.
Then Ben showed me how to use Gravatar to add my picture to the blog. I like how the avatar helps foster that sense of community when people see a small glimpse of you or your interests with an avatar. So, if you want to set one up, here is the link to Gravatar. It's a pretty easy process.
For those who enjoy telling people they suck, perhaps this image would work for your Gravatar.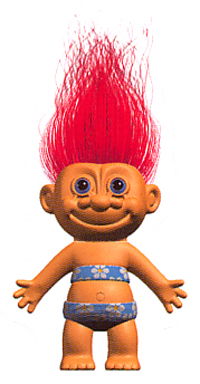 Don't Forget About the Ask Lucky Forum
Another great resource for this "community" of travel geeks is the Ask Lucky forum. As great as the blog post comments are, if you have a question about something specific it might not be on topic for the latest posts.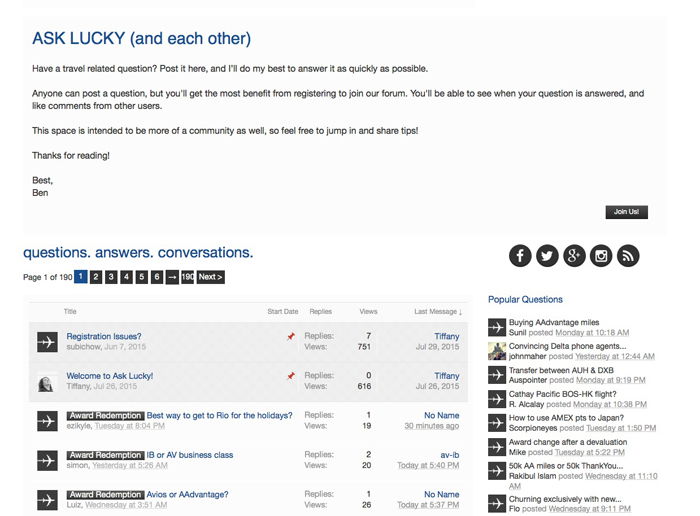 Ask Lucky allows you to search for the answer or ask your own question and have it answered by Ben, Tiffany or any of the other knowledgeable readers over there. Skimming through the questions and answers on the forum, I can tell you this is a great resource.
Finally, thanks to those of you who do comment with helpful tips and insights. I know I've benefited from them more times than I can count.