A couple of weeks ago I wrote about how Starwood announced during their third quarter earnings call that they were planning a marketing partnership with Design Hotels. As I explained, Design Hotels is a group of almost 300 independent hotels around the world, all of which are extremely stylish and local.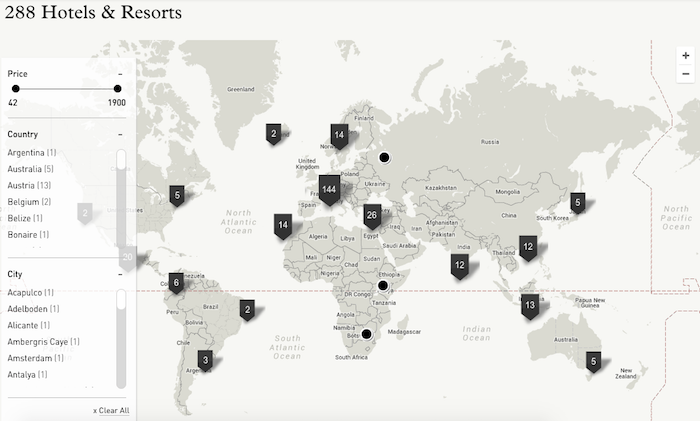 I was extremely curious to see how this would be executed in practice, and it seems we now have more information.
The Starwood and Design Hotels partnership is now official. More details of the new partnership will go live later today at spg.com/designhotels. Here's what we know so far:
5 Design Hotels are joining SPG to start
Today marks the soft launch of the partnership, as just five Design Hotels are joining the SPG marketing agreement to start. Additional hotels will follow on a regular basis, with a target of 40 Design Hotels projected to join by the beginning of 2016.
Here are the first five Design Hotels which will be added to the SPG marketing agreement immediately: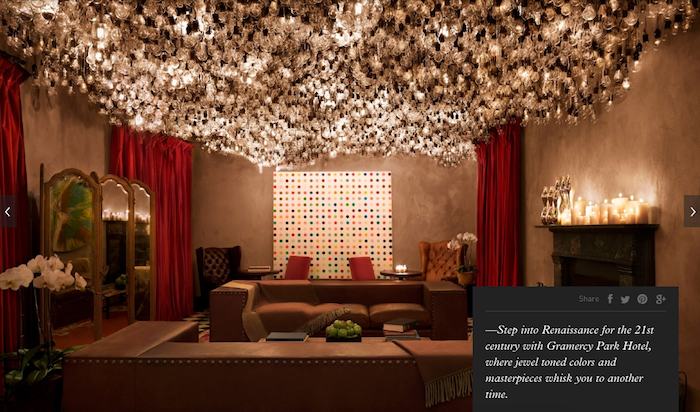 The Gramercy Park Hotel in New York City
Earning Starpoints at Design Hotels
SPG benefits are a bit different at Design Hotels than other SPG brands, given how unique this partnership is. SPG members will only earn Starpoints if they're booking through Starwood channels. I would assume Starwood channels will have the same rates as the hotels directly, but the intent is that the hotels probably only want to award Starpoints for business which Starwood is bringing them.
Starpoints can be accrued at the same rate as at other SPG properties:
2 Starpoints per dollar spent for base members
3 Starpoints per dollar spent for Gold and Platinum members
4 Starpoints per dollar spent for 75 night Platinum members
Those paying with a co-brand Amex/Starwood credit card earn 2 Starpoints per dollar spent at Design Hotels, just as they would at other Starwood properties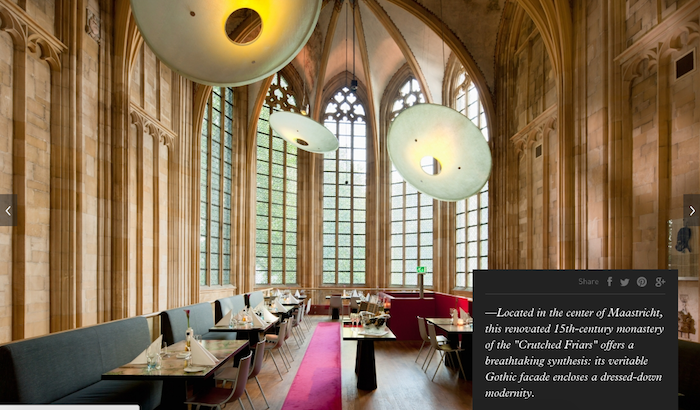 The Kruisherenhotel Maastricht Hotel in Maastricht, Netherlands
Redeeming Starpoints at Design Hotels
Starpoints redemptions at Design Hotels will be possible as of early 2016, though that's all we know as of now.
The big question is whether Design Hotels will follow the "traditional" award chart, whereby they'll be Category 1-7 properties at fixed costs.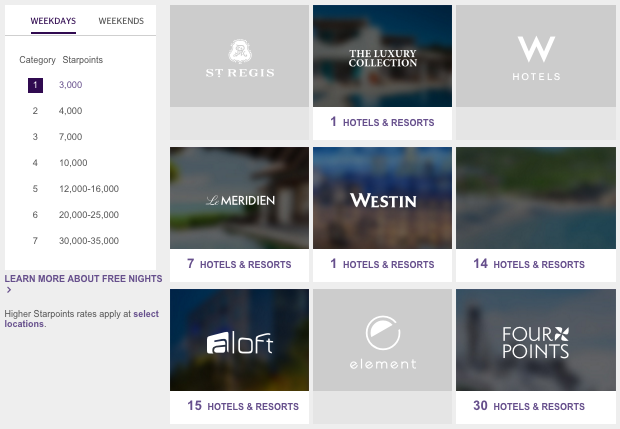 The alternative is some sort of dynamic pricing. For example, SPG partners with Caesars, a partnership which also has quite a few restrictions. While you can redeem Starpoints at Caesars properties, the redemption value is typically pretty bad, as you'll never get more than ~1.5 cents per Starpoint redeeming for stays at Caesars properties.
I'm hoping the arrangement here is more like the former than the latter.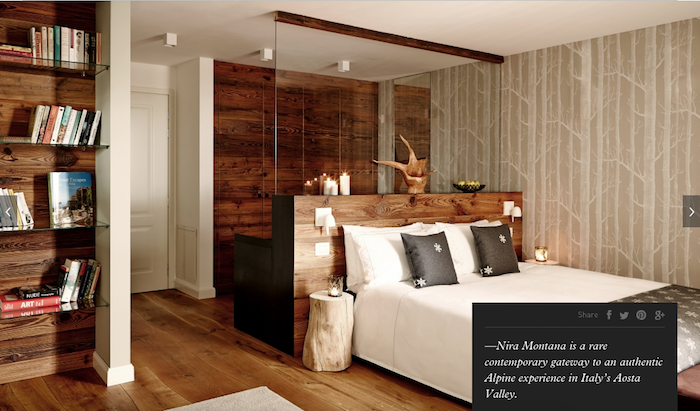 The Nira Montana in La Thuile, Italy
SPG elite benefits at Design Hotels
Unfortunately Starwood elite benefits at Design Hotels will be limited:
SPG members will receive high-speed internet access and complimentary bottled water in-room
Gold and Platinum members will automatically receive a Starpoints bonus as their welcome gift
As of now that's the extent of Starwood benefits at Design Hotels. There are no upgrades, guaranteed late check-out, complimentary breakfast, etc.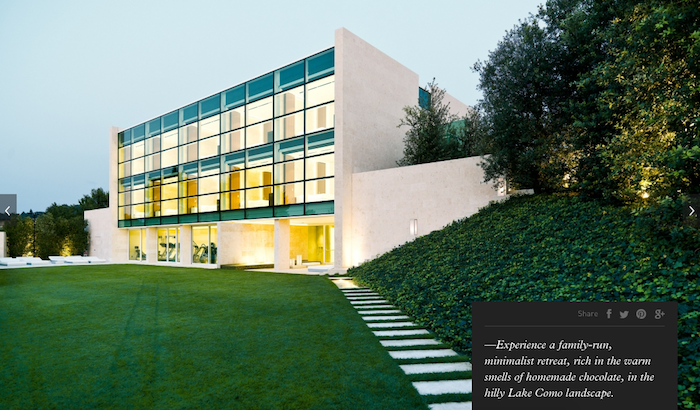 The C-Hotel in Lake Como, Italy
My take on the Starwood & Design Hotels partnership
I'm very excited about this partnership, as it combines two of my favorite things — quirky/unique hotels, and the ability to earn points.
Would it be nice if all ~300 Design Hotels immediately joined SPG and fully participated in the program in terms of earning and redeeming Starpoints and also honoring all elite benefits? Of course!
But I also wasn't expecting that to be the case. This is a big risk for Design Hotels, and I'm guessing they want to ease their way into this. Beyond that, keep in mind that Design Hotels are all independent hotels, so presumably they each have the choice of whether or not they want to participate in this arrangement.
If the partnership proves successful, I suspect we'll see it grow not just in terms of the number of properties participating, but also in terms of benefits.
In the meantime I'd certainly be more likely to check out one of these unique Design Hotels properties thanks to the ability to earn Starpoints and elite stay/night credits.
My hope is that Starpoints redemptions follow "traditional" categories as opposed to dynamic pricing.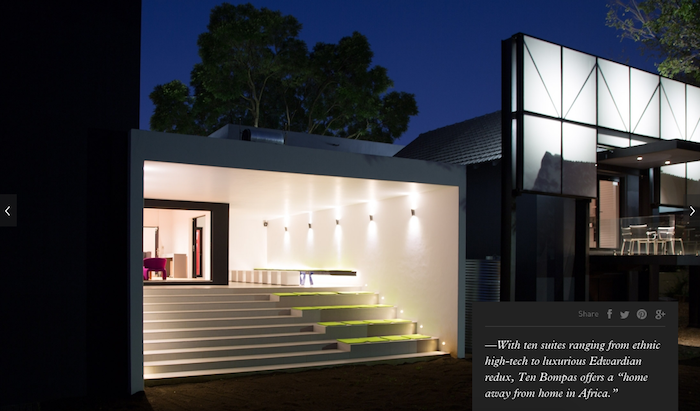 The Ten Bompas Hotel in Johannesburg, South Africa
Bottom line
I'm really excited about this new partnership, and am curious to see how it develops over the coming months. The five Design Hotels that are starting in this arrangement are pretty cool looking, and I can't wait to try them out.
Here's to hoping the partnership continues to grow, and that the redemptions at Design Hotels prove to be lucrative.
In the meantime, this partnership make me much more likely to try one of the Design Hotels.
What do you make of the new partnership between Starwood and Design Hotels?